The Motto
Culture - Connection - Art - Adventure
Culture
Culture is often defined in terms of what the media shows us on television or older versions of 'what once was'. Just as time moves, so does the movement of cultural practices within a city, town, and country. Our roots are made of our past history, our own backgrounds, and the population goals for a better future for them and their children. It is important to learn about what makes a culture different from our own, so we can better connect with those we come into contact with. It is critical that we seek first to understand, then support that understanding to the best of our abilities.
Connection
I truly feel our characters are the sum of the places and people that we meet, so why not connect with as many as we can. Being able to sit across from a stranger and obtain a certain measure of trust, to the point that they will share their story - is the greatest feeling I have experienced.
There is more than just listening to a story, there is also being a part of that story. The friendships you can create while traveling doesn't have to short-lived, they can last for a lifetime. Connecting with locals through humanitarian work, attending festivals, and sitting down to have a conversation in a cafe are all great ways we as Culture Trekkers can do this.
Art
Art can help to build cultural bridges essential to blurring our own sense of self, allowing us to merge our voice with many others. This can be a critical portion to higher personal understanding and opening the mind to new possibilities. It can question identity in a way that allows us to think outside our boxes that we so often put ourselves and others in. It creates a heritage of understanding and a reflection on the intricacy of human culture intermingling voices that would not have been heard without it.
Adventure
Life should be more than just about existing, living through the same routine day after day. Exploring and finding those unique adventures is what makes us feel human. It provides an avenue for creating new memories and immersing ourselves in nature and culture. A diver or a backpacker can provide eloquent adjectives for what it feels like to breathe underwater for the first time, or wake up to the mist coming up off the mountain floor in the morning light on a crisp autumn day; but they can't tell you how things tasted, the exact fragrances they experienced, and how to pinpoint exactly why they felt fulfilled by it. There is a need within each of us to continually learn, and grow....if not we are no better than a rock on a hill. Come with me on a journey of connecting cultures and experiencing art and adventure wherever you may be. Commit to being a Culture Trekker, seeking first to understand, finding unique adventures, then connect with our community and sharing your experiences and how they changed the world within you.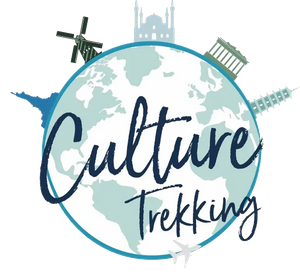 Culture - Connection - Art - Adventure