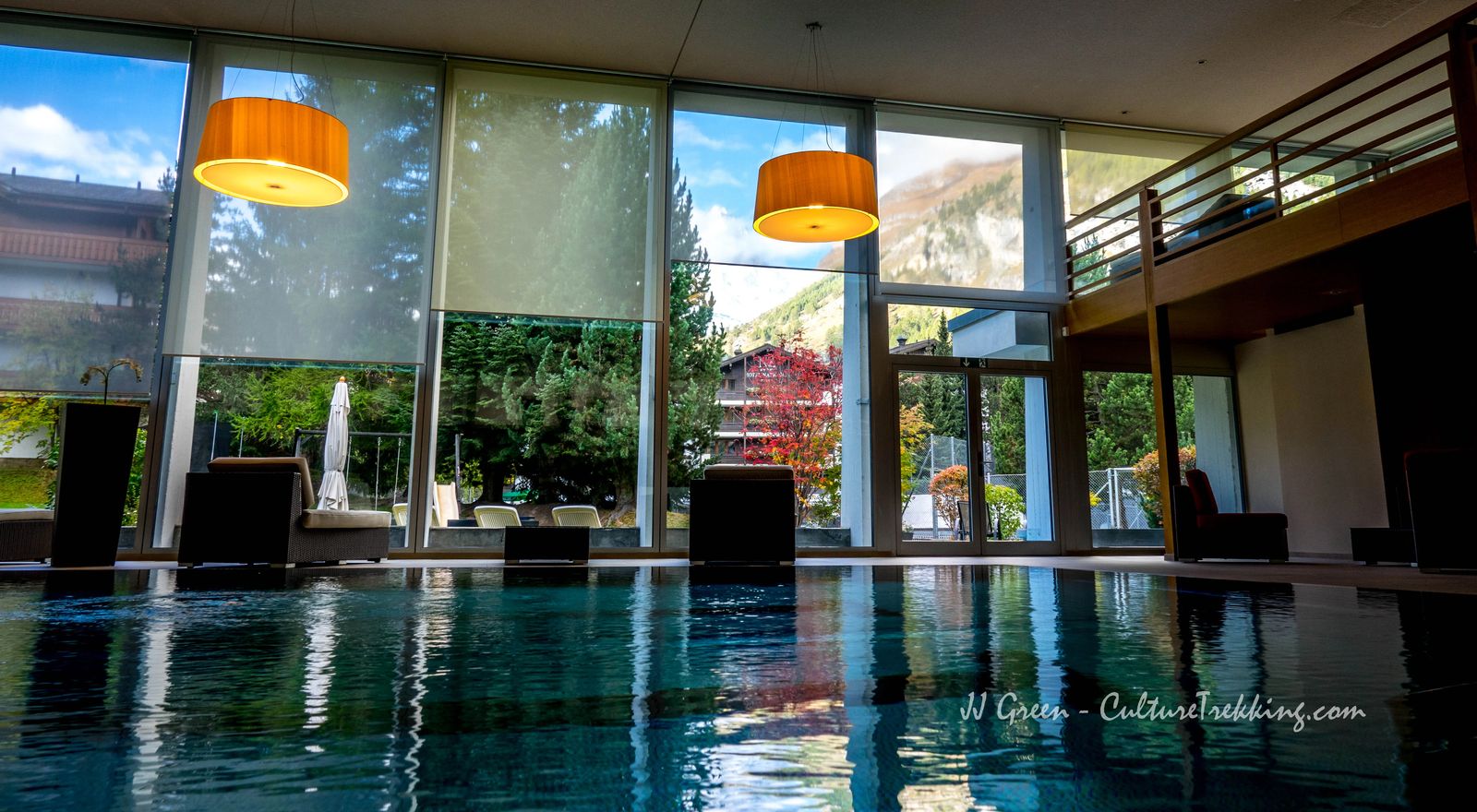 The Perfect Hotel in Zermatt: Christiania Mountain Spa & Resort
Christiania Mountain Spa and Resort is a perfect hotel retreat and will make you want to stay in the incredible Swiss Alps forever. I have always wanted to see the Matterhorn, it has been on my Bucket list for quite some time & I was finally able to make cross it off my list! It was quite the journey to get there from Berlin, complete with my train catching on fire (an unusual occurrence as I was told).
Traveling to Zermatt, Switzerland:
Traveler Tip: If you want to spend a week in the Swiss Alps, fly into Bern Switzerland, take the ICE train from there to VISP, transfer to a train headed to your final destination, Zermatt.
With my EUrail Pass I was able to travel easily into Zermatt with stunning views along the way which had my nose glued to the panoramic windows. The train from Bern to Visp does get quite crowded so be sure to reserve a seat on the way there for about 3 Euro. Once you arrive in Zermatt at the local train station, the Hotel is only a short and surprisingly relaxing 10-minute walk up the street. If you choose to take a small taxi to the Hotel do not pay more than 8-10 Swiss Franc.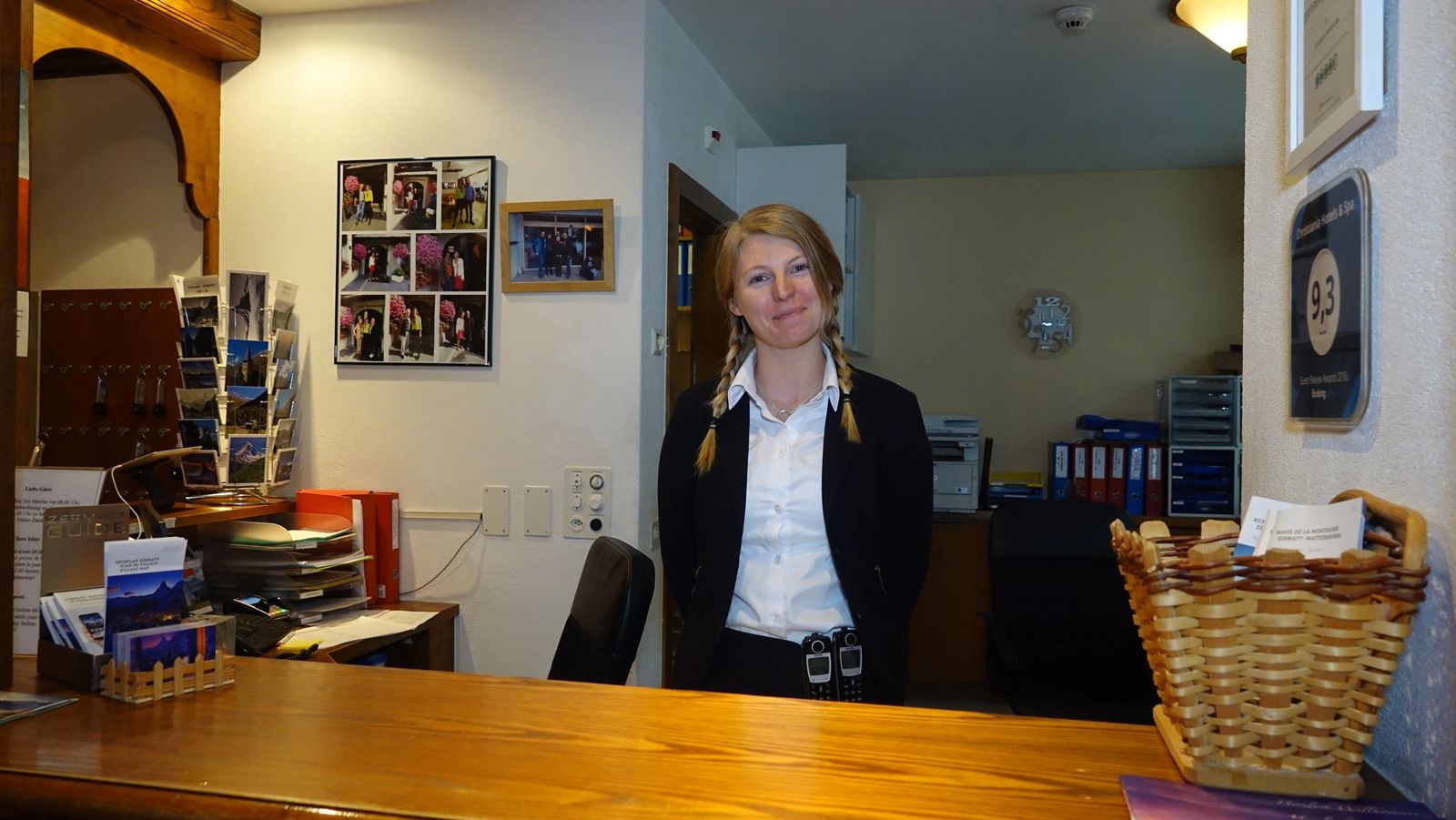 Checking in at Christiania Mountain Resort and Spa:
After arriving at Christiania Resort, I was promptly greeted and asked my name, then the receptionist informed me, my room was ready for my stay. I was advised to set my bags down as the bell boy would be promptly bringing my bags to my room. The kind receptionist then took me on a tour of the Hotel, showed me where all the amenities of the Resort were. I was also shown the dining area and informed of when breakfast and dinner would start and finish for the day. The keys used for the hotel rooms added a certain whimsical charm to this Mountain Resort, and she kindly showed me how to use them with my room. I was left to my own devices in my hotel room and explored my new accommodation. My bags arrived within 45 seconds of the receptionist leaving, the bell boy was winded, smiled, thanked me for coming and promptly left without even a chance for me to give him a proper tip.
Traveler Tip: There is no parking available anywhere in the city unless you are either a local or you are a small taxi driver. The city itself has pushed to be a car-free city & self-sustaining. Please keep this in mind when planning your trip here.
The Room:
Sheets are changed daily and are not too starched to the point you can't get to sleep. Despite the daily cleaning they still feel soft and cozy, perfect for the cool and crisp nights of the Swiss Alps. The tub and shower are cleaned with sanitizer after each guest leaves. This is something I make sure to note at each of the hotels I stay at. Of the friends who use to work in the Hotel Maid Service Industry in Las Vegas not properly cleaning the tub & shower is something they report is quite often missed. I do not know if carpets are routinely cleaned here, but in general, they appeared to be without spots or any particular smell. There are safe's available for guests in each room.
Traveler Tip: A single room ranges from 160-260 USD. Double Rooms are anywhere between 260-500 USD. Cost variance seems to depend on the view of the room and the amenities you desire. If you find you will be out all day on hiking or skiing adventures, I would suggest rooms without a view since you will be outside anyway. If you, however, are going for the Romantic Winter settings and like to have a relaxing evening, then go for the rooms with a direct view of the Matterhorn and set the perfect mood for your Swiss Alps getaway.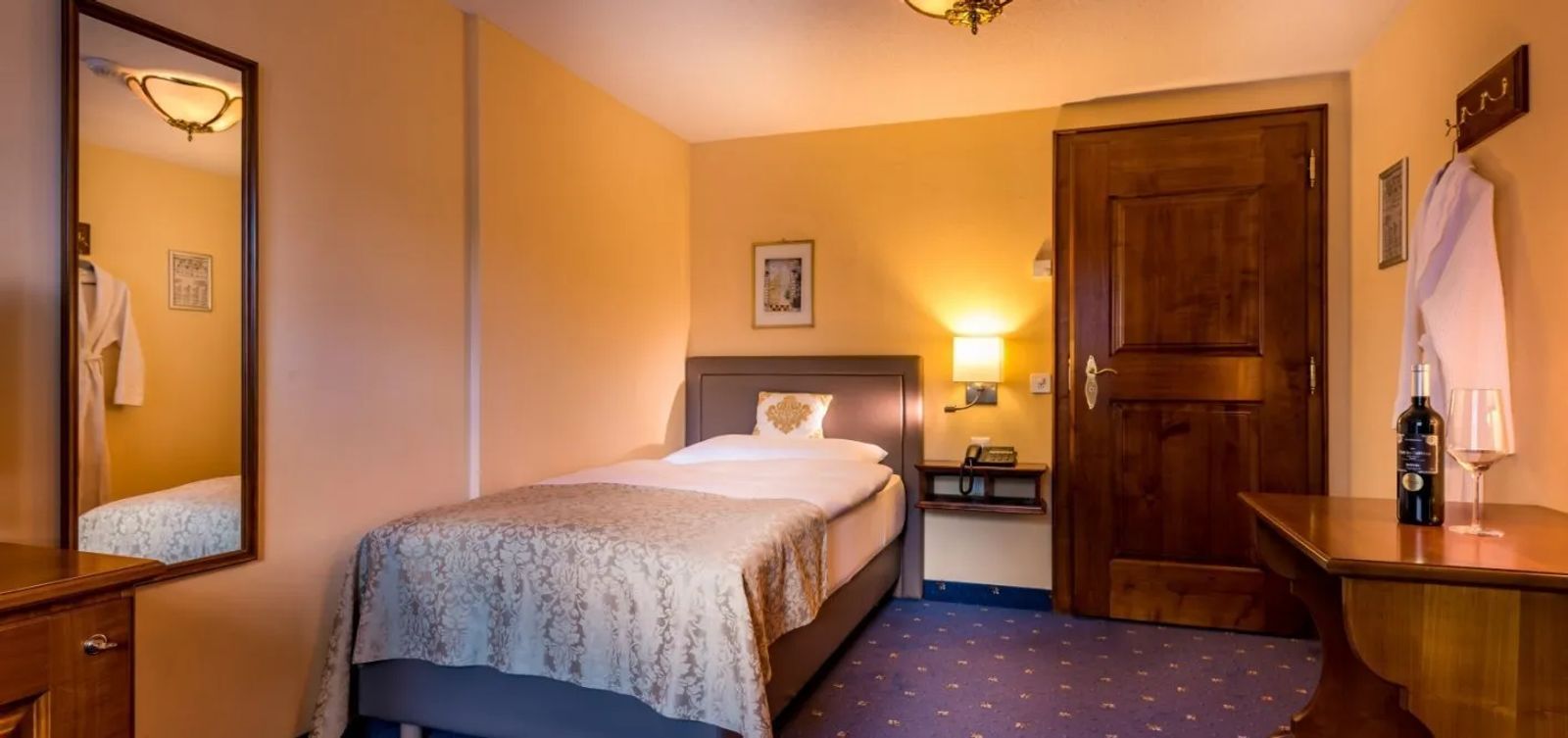 The bed in the single room I was in, was firm enough for the support, yet soft enough to not make my back or hips ache in the morning. If upon awakening, my back and hips hurt, this is my own indicator the beds in the hotel are terrible. In my single bedroom, there was a shower with a glass enclosure, a handheld shower spout with both hot and cold water available. There was a Privy available as well with two types of flushing capabilities (small vs large load if you will). Shampoo, lotion, hand soap are provided in the room for your convenience. If you would like conditioner, you can bring your own or it is offered in the beauty shop near the spa. These supplies are obtained locally and provided at the hotel for each room.
Something I found extremely welcoming was the small bag of Swiss Chocolate left on the table for me with a kind note welcoming me to the Hotel.
There was an armoire where I could hang my clothes, but would also be an ideal place to keep your ski clothing. The clothing closet also contained brand new slippers, neatly tucked into a plastic bag. These slippers were somehow the highlight for me; out of the hundreds of hotels I have stayed in it was the first time I had ever seen FREE slippers which were clean and previously unused! I love slippers, and having this small gift in my room made it feel like home.
I personally like to sleep in a cool room under several blankets, so the windows opening to the fresh mountain air was also another positive quality I found in the room. The windows open several different ways depending on how much you want to hear the quiet hum of the city life around your hotel. I am a light sleeper and even despite this was able to sleep soundly with the window open all night long. I loved watching the locals tend to their garden and pass through the side streets to their homes.
If you plan on posting to social media about your stay there, free Wifi is available and I had no issues with the connection.
History of the Hotel and My impression of the management:
The Frazen-Bieri family puts heart and soul into ensuring nothing is missing from your stay at Christiania Mountain Spa & Resort. They are 2nd and 3rd generation hosts who come Highly recommended on both Trip Advisor and Booking.com -- They have a dog named Mousse!!! Anyone who has a dog I immediately trust.
I was able to meet two of the members of the Frazen-Bieri family and they had a warm countenance with a genuine interest in how my stay was going. I was able to observe them during dinner service in the evening, aiding the staff in whatever capacity was needed.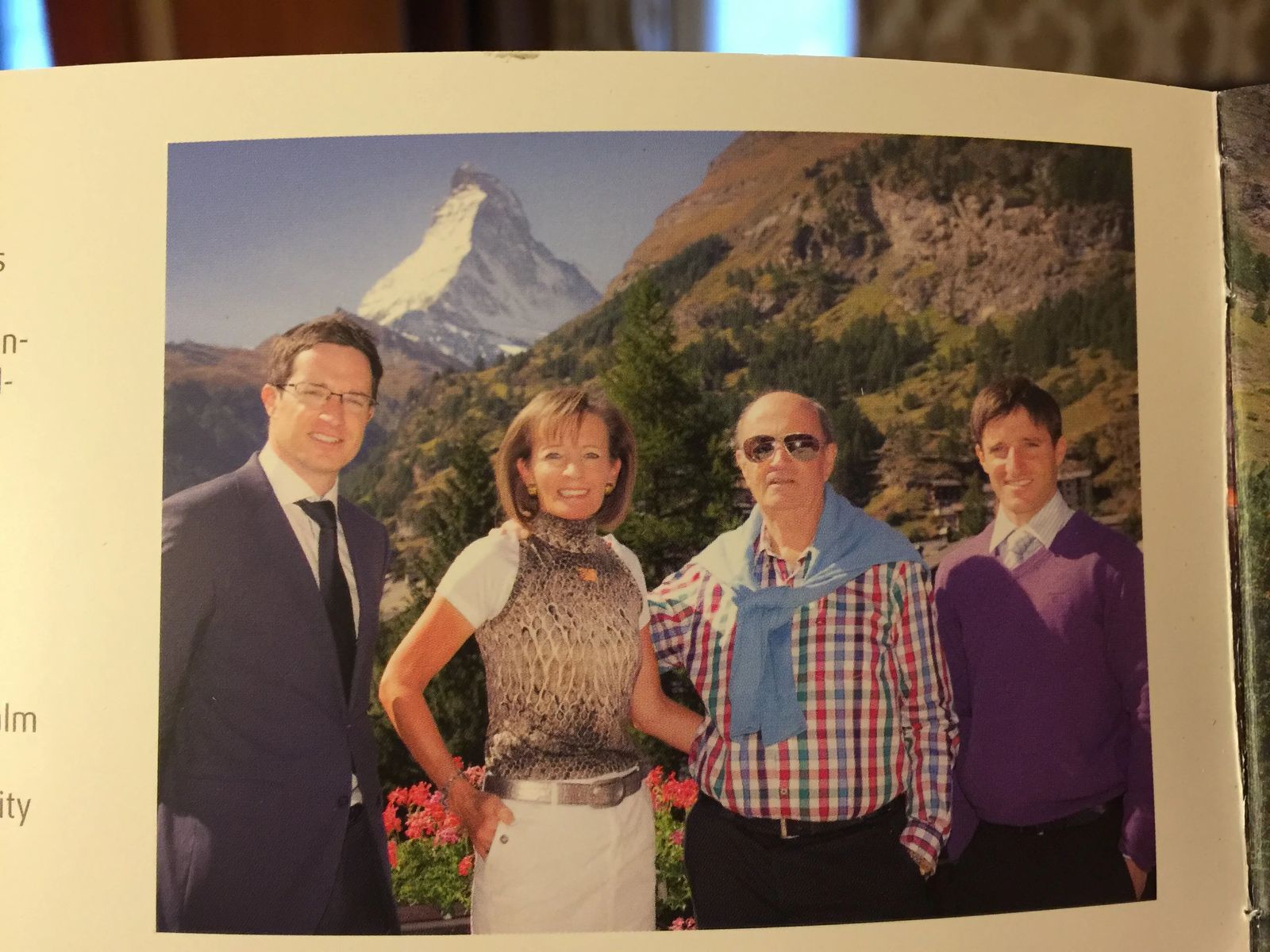 I have stayed in hotels all across the United States and all over the world, from the Biltmore in Florida, Hilton in New York City, Bed & Breakfasts in Scotland and throughout the EU. I have never seen such a warm and dedicated sense of commitment to a vision of a hotel in all my years. In seeing this commitment by the owners to both its staff, facility, and guests I can confidently recommend this Hotel to anyone who visits Zermatt.
I was offered a Dinner reservation around 8 pm in order to be able to meet the famous Chef Jorg Elsen. Reservations for dinner are required so as to give each guest the ultimate dining experience. The busiest times at the restaurant are going to be between 6-730pm.

For your meal, I would plan on at least 1.5-2 hours of indulgence. The service is impeccable, precise and not overbearing. The staff is well educated on both food, wine and offer fabulous suggestions on pairings of both. I would suggest dressing in business casual as the setting of the restaurant seems to subconsciously encourage this.
Tipping in Switzerland is appreciated at 10-15% but not expected. Anything more than 10-15% is considered extremely generous. I was so impressed with the service I gave a 25% tip and was sought out the next day by the waitress who had helped me and gratitude was showered upon me.
Read my Full Review of Jorg Restaurant at Christiania Mountain Spa & Resort
Traveler Tip: There is no surcharge applied for your table reservation, the only cost to you is what you choose as your meal & drink. If you want the perfect romantic setting for a meal, I would suggest reserving a time for 8 pm with a table and a view of the city with the Matterhorn lit by moonlight.
Christiania Mountain Spa Luxuries are second to NONE:
Surprisingly the list of Spa services is not listed on their website (for a full list of the services offered by their Spa team, please see below). Utilizing the Spa services Christiania Resort has, is something I would HIGHLY suggest you do not pass up. To round out my stay at this exceptional resort I was able to receive a 1-hour deep tissue massage. The Spa therapeutic services are available between 3 pm - 9 pm or by special appointment. My appointment was at 3 pm prior to my 6 o'clock train to Vienna was due to depart.
I was greeted warmly by the massage therapist and deftly shown into the massage room. I was given instructions to disrobe to my comfort level & didn't quite understand what to do next. The therapist stepped out of the room and I was left to my own devices. I am accustomed to a large blanket on the massage table, with a sheet lining it. I disrobed and put on the disposable underwear which was provided, just in case. I was getting ready to lay face down on the table, and the massage therapist knocked. I tried to say wait one minute, alas I don't know if there was a communication error or not but I was caught in a rather unsightly position - which I quickly rectified. A large bath towel is what is available to cover yourself once you disrobe, so if you are a little curvier like me, make sure to position it properly.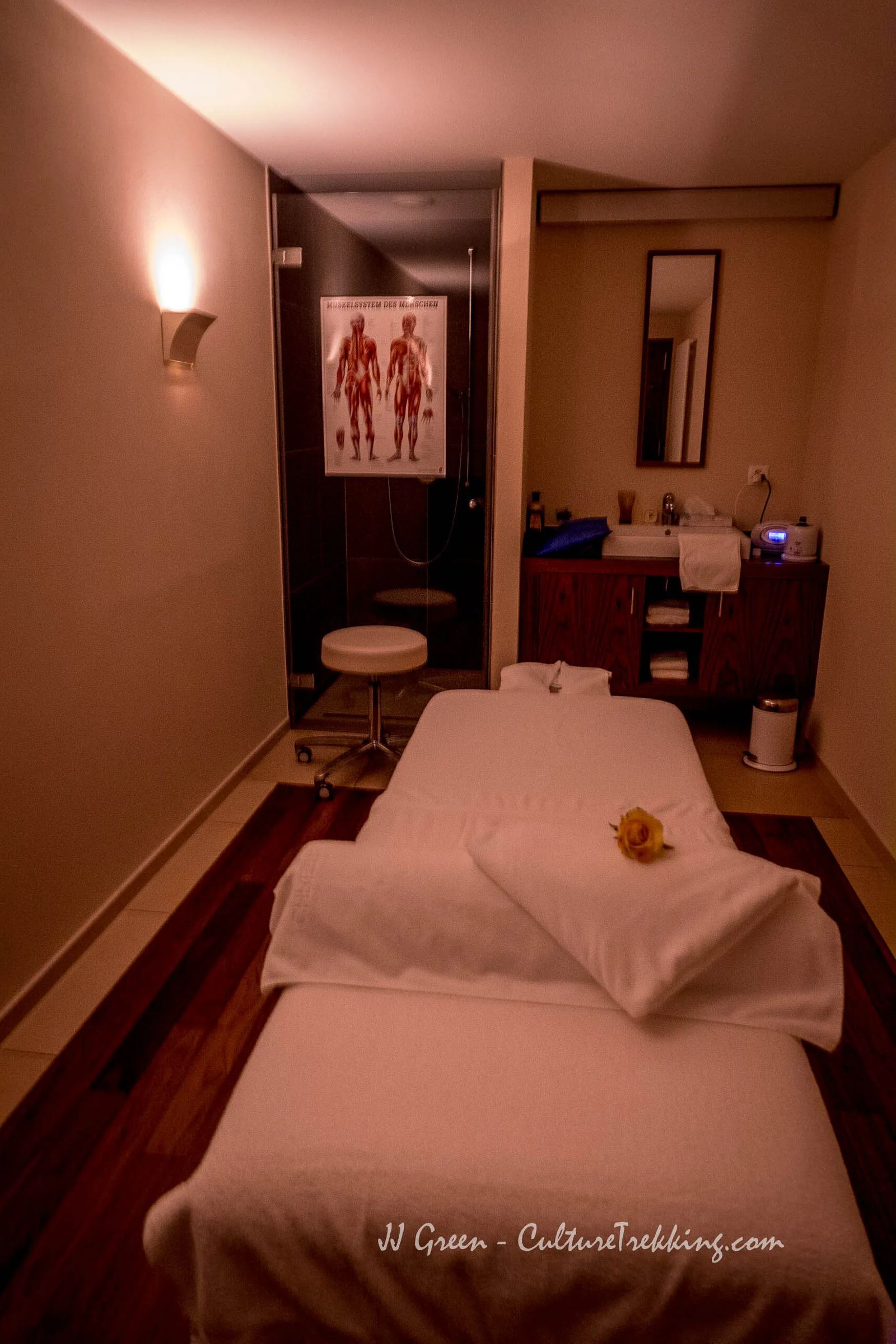 The female masseuse helped me get comfortable on the table and inquired as to how I would like my massage. I informed her I would like only my back and legs worked on, as all the train travel I had been experiencing was making me quite uncomfortable. I was still a little embarrassed by being caught in the awkward position upon her re-entry, but let me tell you, as soon as she started to massage my muscles - my embarrassment quickly dissipated.
I am a Physician Assistant and know my Anatomy quite well. I also have myofascial problems and have frequented the best massage therapists in the United States and on Cruise ships. Without a doubt, this masseuse knew her anatomy, and also knew how to work the fascia and muscles in ways which were both effective as well as relaxing. She kept constant comfortable pressure so I knew exactly where she was in the room and allowed me to anticipate where she was massaging next. I feel when you are able to anticipate where they will massage next, it helps to curb any feeling of discomfort. My sore traveling muscles melted like butter under her precise and therapeutic touch & I drifted to sleep. I was gently awoken with her soothing voice asking me if there was any other area I would like addressed. She ended with a few pressure points on my neck and a relaxing cranial massage.
My massage therapist left the room and allowed me to redress. The only thing I could have requested more of is to have a warm moist towel which I could have used to wipe excess lotion off my arms and legs & a dry one on the floor so I would not slip. Otherwise, I thoroughly enjoyed my massage, which is a huge compliment from me as I am typically a harsh critic of most massage therapists I encounter.
The Pool, Jacuzzi, and Sauna at Christiania Mountain Resort:
I wish I could have stayed another two days to properly utilize their Spa facility and Pool area. After my massage, I took a tour of the Pool, Jacuzzi and Sauna area. It is a comprehensive wellness arena which also has a secret Ice Cave (for those who need a good ice down after a long day of skiing). This is the place to escape the rat race of life and find your ultimate Zen. The pool itself is only available to the Hotel guests & is generally quiet during the day and busier at night. It is perfectly situated to let you enjoy the sweeping views of the surrounding Alps. I was personally taken aback by how warm the entire enclosure was. I had been told and read online how amazing their spa was, but the entire enclosure is like a dry Sauna! I was so surprised!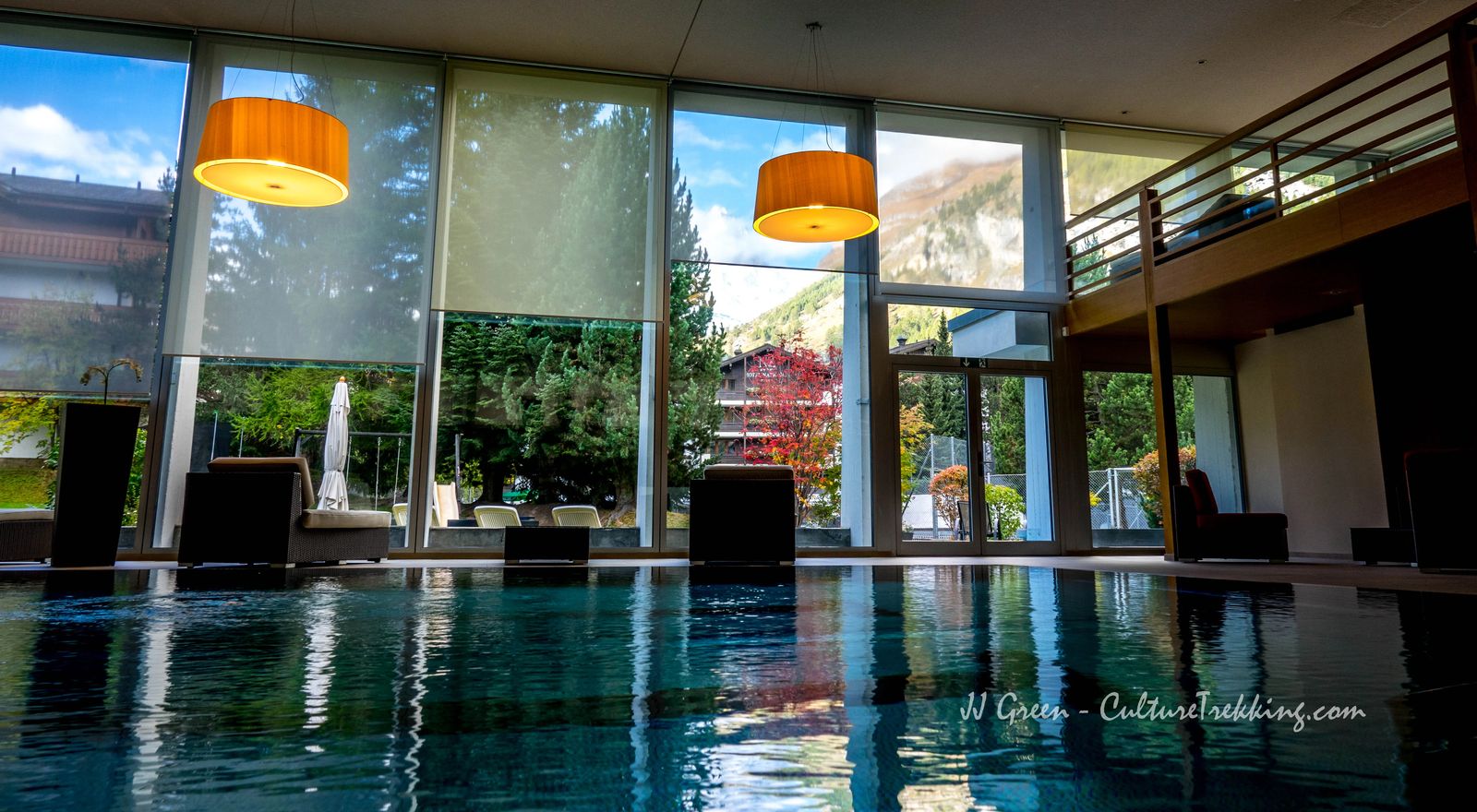 Traveler Tip: There are no shoes allowed in the area, and robes are available in each hotel room, along with slippers to take with you to the pool.

There is even a Vegas-style Cabana located just poolside. An enormous hot tub adorns the corner of this expansive area and is hot, clean and bubbling with healing goodness. This hot tub is so large, you could likely fit around 20 people in it comfortably. I was especially impressed at how clean the surrounding windows enclosing the area were. Typically when you have a pool and a hot tub in an enclosure like this, the windows become dirty, the air smells of chlorine and chemicals (which tends to trigger my Asthma terribly), I'm pleased to report this was not the case for their pool area. I personally am training for a Triathalon and have spent a lot of time, in a lot of pools throughout the country, and this is the BEST POOL and spa I have ever encountered!

The pool itself is 25 meters long, complimented brilliantly by a Bio Sauna, Finnish Sauna, Steam bath, quiet room with integrated fireplace, a modern fitness center, a hairdresser & beauty salon. I don't think guests who stay here realize what amazing internal amenities this particular Mountain Resort has to offer. This is why Christiania Mountain Spa & Resort is the ultimate destination, due to the fact that no matter what the weather is, on the commanding Swiss Alps, you will always have an activity you can entertain yourself with which ultimately leads to perfect relaxation for you and the entire family.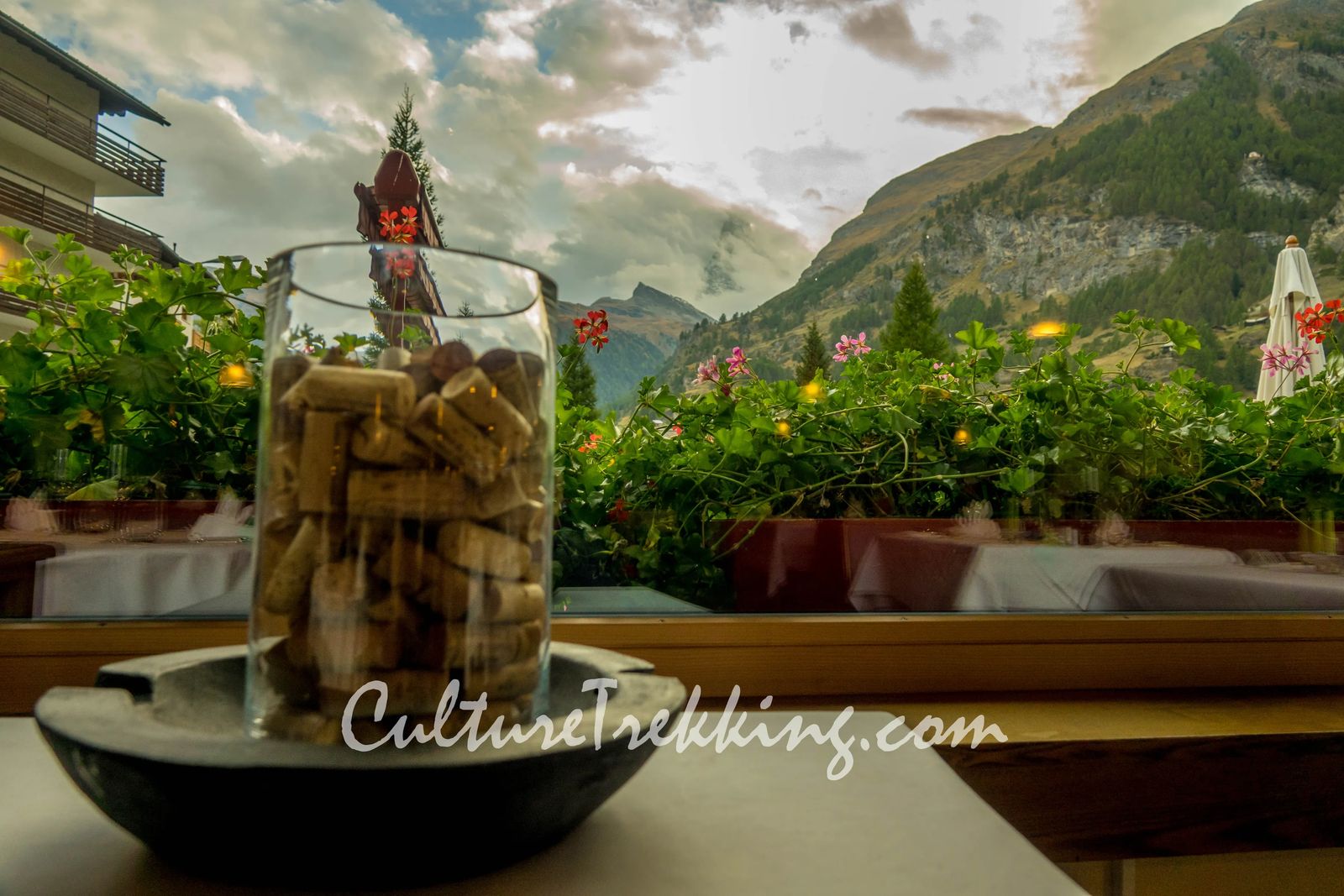 How clean is the Hotel?
With my research on Christiania Mountain Spa & Resort, I am pleased to announce to my readers there have been no complaints made of infestations, no calls for rodents or any need for an exterminator. With Bed Bugs being on the rise in the United States (nearly 44% increase in New York Hotels alone) and throughout the world. I personally make sure to do research extensively on the cleanliness of the accommodation prior to visiting an accommodation.
The laundry facility was neatly kept, swept and brightly lit giving it an appearance of hospital type quality cleanliness. I am pleased to report their facility was so clean, even I could not find fault, even for this former Surgical Technician.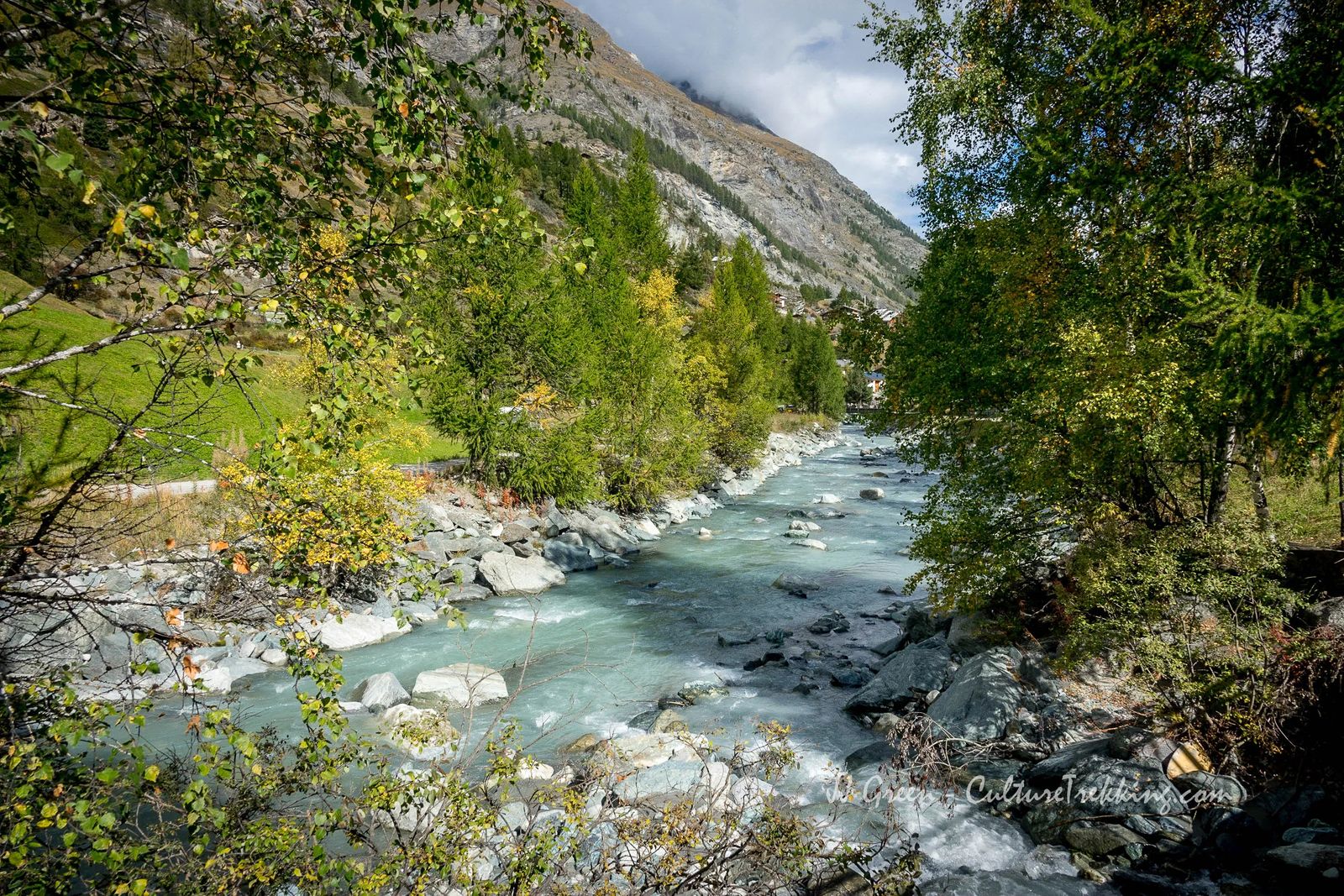 Is Christiania Mountain Resort Safe? Is it in a Safe location?
The Resort itself is located in a quiet area of town, away from the bustle of the city. There are locals staying near the hotel, in fact, my room overlooked a charming little garden. I felt extremely safe here as a single female traveling alone. There are also security cameras throughout the hotel.
If you decide to leave your luggage at the front desk (for an early check-in, or late check-out) then you may want to know a few things. Your luggage will be kept in front of the hotel desk, or in an area near the hotel desk under the watchful eye of the receptionist. Each piece of luggage is marked with a handwritten note with either your name or room number on it.
Who is their ideal clientele? Is Christiania Resort Family friendly?
Christiania Mountain Spa is a great place for relaxation after a day of adventures, or for a romantic evening with your significant other. I would highly recommend this Hotel for family vacations as well because there is an ~800 sq ft room dedicated to children and their entertainment! I thought it was brilliant to put the children's playroom complete with videos, toys etc... right next to the workout room & spa facility. There is a separate pool and play area if you choose to use their expansive spa facility, including a little splash pad for the wee ones if you so wish.
If you are looking to have your children come with you but want to have a day to work on the romance or hit the amazing slopes of the Alps, you will be pleased to know the Hotel is associated with 'Alpine Nanny' a locally sourced company who can watch your little ones while your cutting those slopes with your ski's.
With so many activities available for the kids within the Zermatt community, it will be hard for you to choose what to do. There is a Forest Fun Park with an AMAZING obstacle course (even I found it so enticing I wanted to stay longer in order to see if I could complete the course, I will have to see if they allow adults).
Holding a business retreat at Christiania Mountain Spa & Resort may be a little more difficult as I was not aware of any community fax machines, copiers, or meeting rooms available within the facility.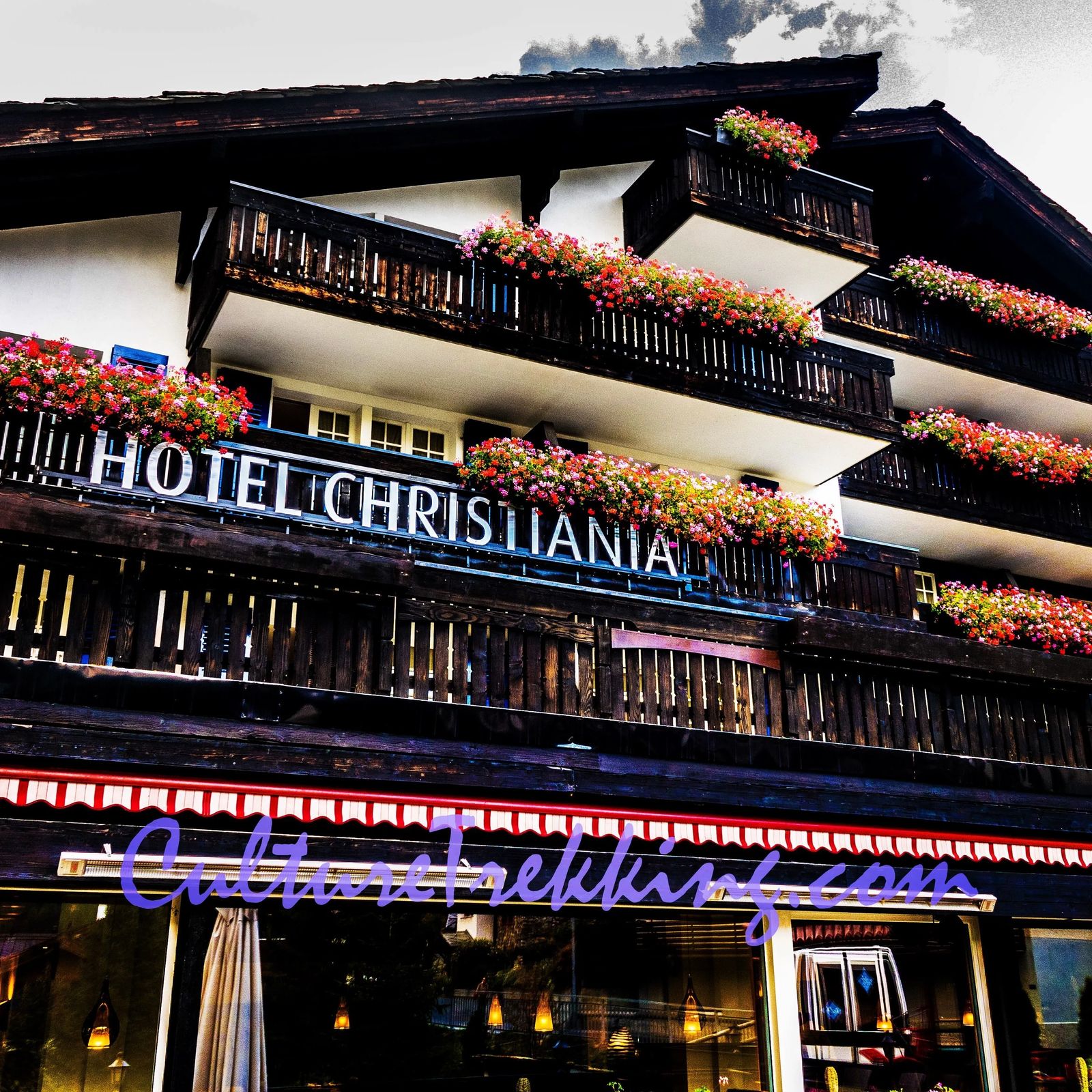 Festivals in Town:
There are several festivals which seem to be quite entertaining & would be worthwhile planning your trip here for (if skiing isn't your thing, there are also plenty of other activities to choose from-- My Full Review of Zermatt Switzerland is coming soon). These festivals include Zermatt Unplugged, Impulse, and Zermatt Fashion Week.
Other useful Information for CHRISTIANIA MOUNTAIN SPA:
The hotel is about a 5-minute walk from the main Sunnega lift if you are visiting Zermatt for skiing. This is the main Ski lift in Zermatt, so it's quite convenient especially if you are walking around in your ski boots.
The hotel is a 15 min walk to Gorner Gorge or the Forest Adventure Park
I do not know if they recycle the hotel bottles they utilize, but I am sure, if you feel so inclined, there are two recycling facilities with the closest one being at Bahnhofpl. 6, 3920 Zermatt - near the tourist information center.
Zermatt is the most self-sustaining destination in Switzerland.
Christiania Mountain Spa & Resort offers Breakfast in morning starting at 8 am and it does not require a reservation. Breakfast is included in the cost of your room
If you would like to have Lunch, they do offer Lunch to their guests on the weekends.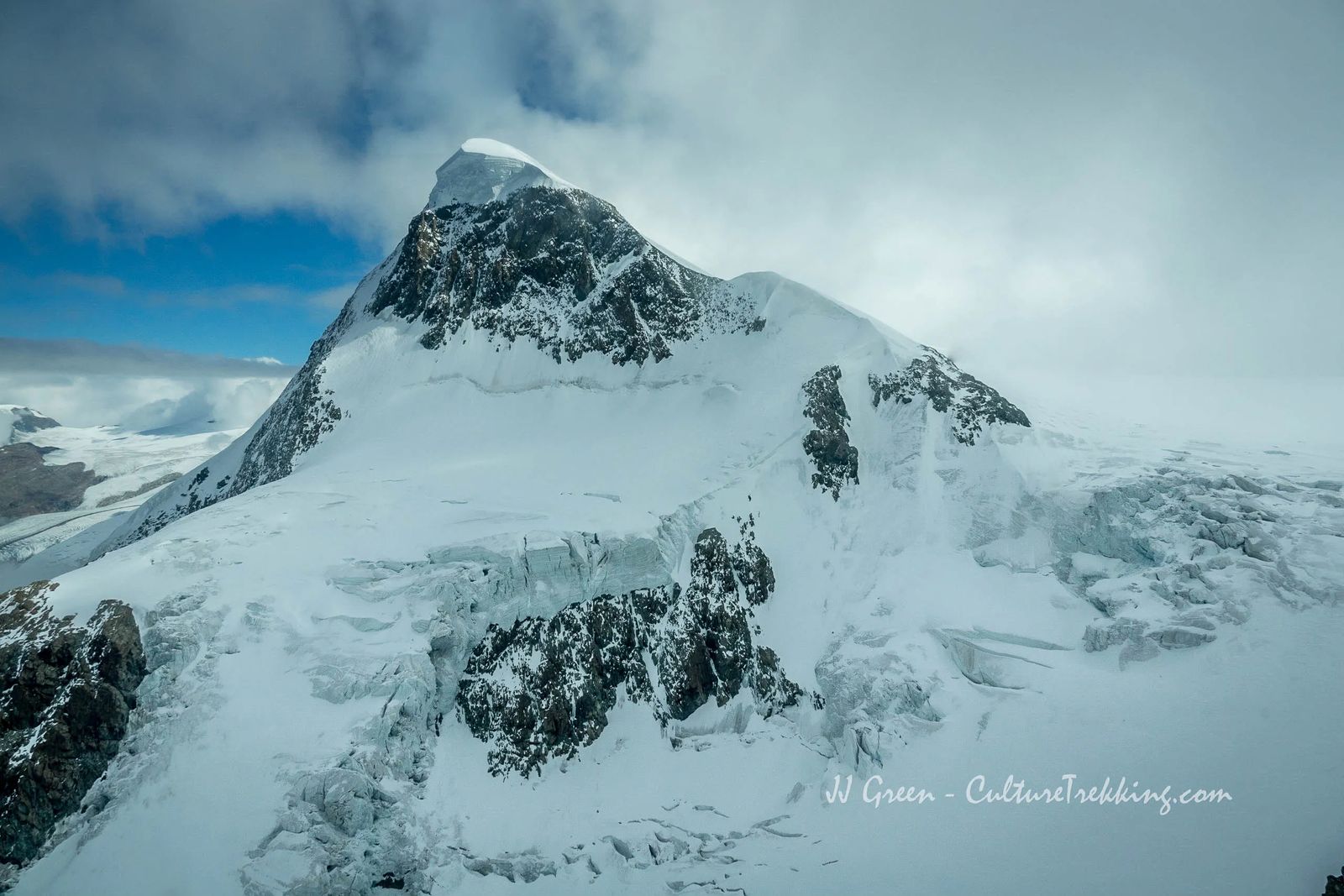 The Takeaway For Christiania Mountain Spa & Resort
Overall I found Christiania Mountain Spa and Resort to have incredible charm with the warmth of home, and hospitality fit for Royalty. The most shocking part to me was how affordable it was compared to other hotels in the Zermatt area. If you ever decide to fulfill your own bucket list and see the iconic Matterhorn, be sure to book with Christiania Mountain Spa and Resort & include time for the amazing dinner selections. Happy Travels, Happy Tales, and see you on the flip side, my friends.
Like it? Pin it! Sharing is Caring!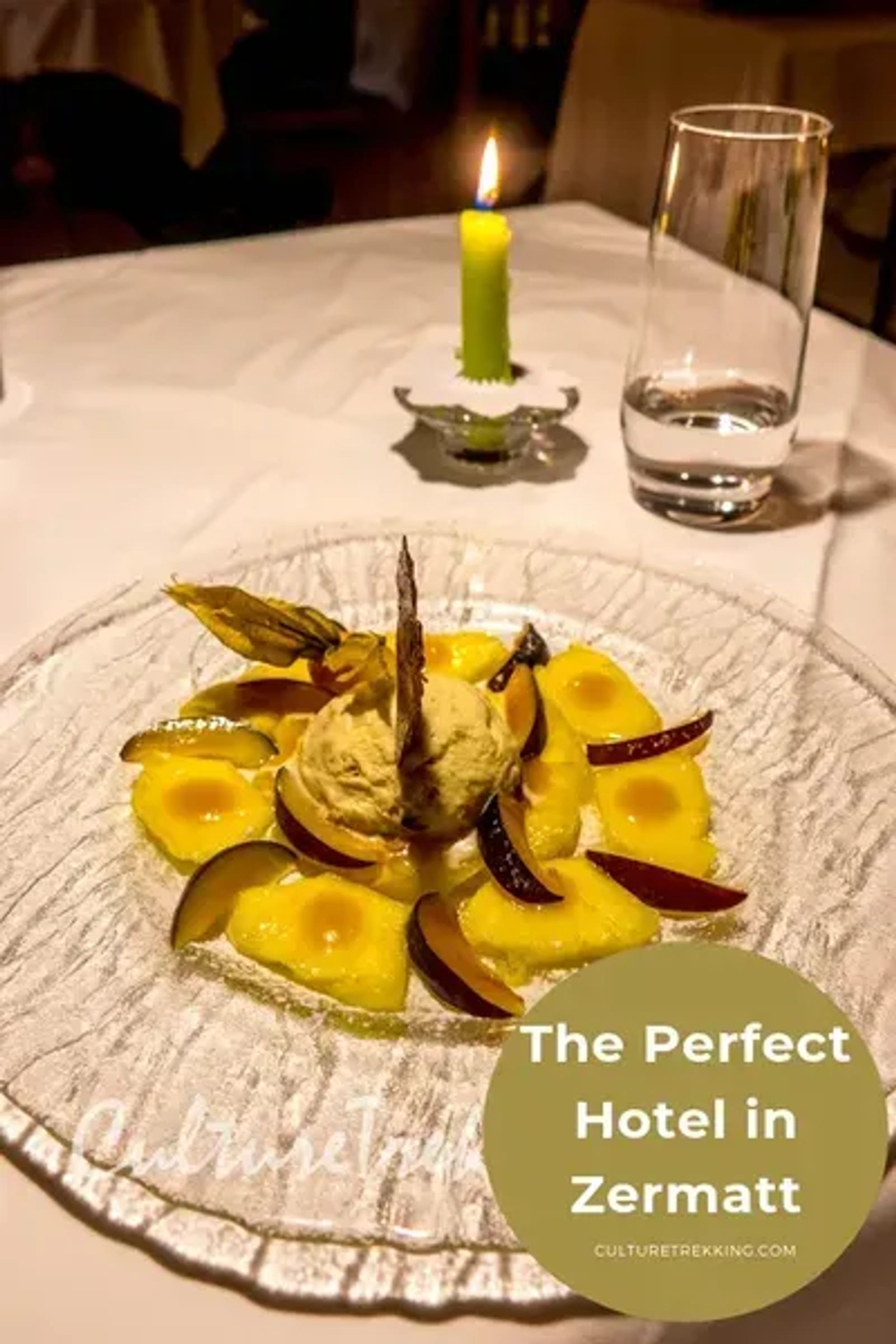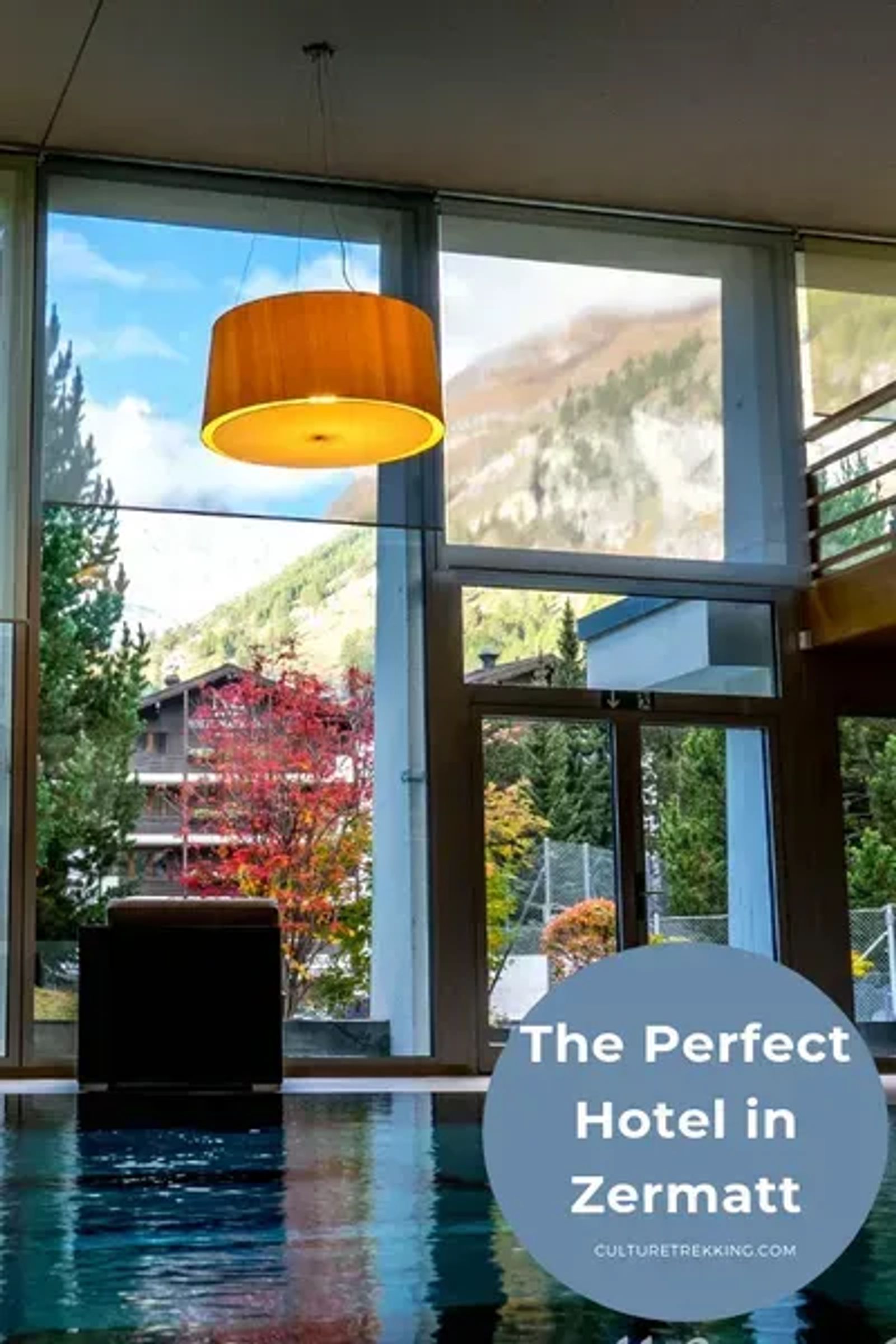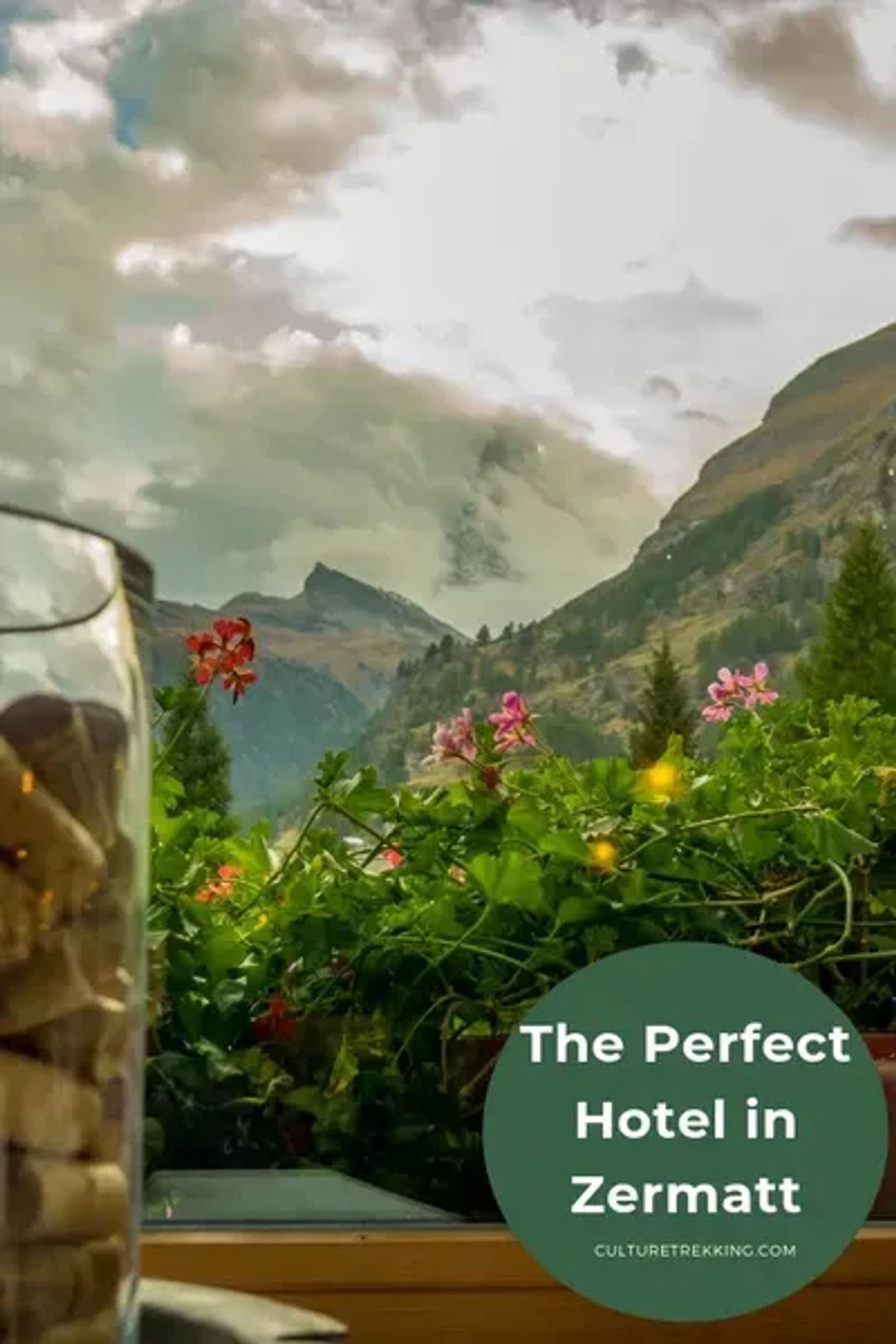 Spa Luxuries available at Christiania: (not listed on their website)
Classic Massage: Customized massage designed to boost your immune system, relieve aches and pains. It is a Swedish & Deep Tissue Massage with long relaxing strokes, combined with pressure point work and relief of tension trouble spots.  (Available in Full or Half-body massage at 25, 50, and 80 minutes)
Aromatherapy Massage:  This is one of the oldest forms of treatment. Combine your massage with aromatherapy oils targeted to your specific needs resulting in maximum recovery. (Available in Full or Half-body massage at 25, 50, and 80 minutes)
Sport Massage: Alleviates the build-up of Lactic Acid in the muscles after a long day of skiing or workout. (Available on back and legs for 40 minutes)
Lomi Lomi Nui: Originating from Hawaii, this technique focuses on finding congested areas in the body and redistributes them by moving the palms, thumbs, elbows, and forearms in a rhythmic motion, using long flowing connected strokes. This technique alleviates nerve pain, improves blood and lymphatic circulation thus relieving tension, increasing circulation and relieving pain. (Available in 45, 65, and 85 minutes)
Lymphatic Drainage: A technique that stimulates the lymphatic system with gentle massaging strokes, thus alleviating the lower extremity swelling that often plagues travelers and skiers. (Available in 25 and 50-minute increments).
Thai Foot Massage or Nuad Thao: This is a massage of the lower legs and feet, a type of reflexology that stimulates the pressure points of the feet resulting in reduced stress levels, increased energy and overall balance to the body. This particular technique combines hand massage as well as massage with a wooden stick. (Available in 25 and 50-minute increments)
Head and Face Massage: Tension is often stored in the facial muscles without us realizing it until a massive migraine hits. Keep ahead of the stresses of traveling with this relaxing and invigorating massage that will leave you feeling revitalized and fresh for the days to come. (Available in a 25-minute increment)
Reflexology: This will relax the body and bring it back into balance by focusing on specific areas of the feet that are believed to be connected to systems within our bodies. It will improve blood circulation and leads to better vitality. (Available in 25 and 50-minute increments)
Honey massage: A unique way of improving blood circulation, relaxing muscles and opens the pores, reduces cellulite that provides a healthier body. The Honey is absorbed through the skin, activating the metabolism to pull out the toxins, resulting in increased oxygen flow to the areas and nutrient rich blood into the cells that often go neglected. (Available in Full Body and Half body massage at 25 and 50 minutes respectively)
To schedule your appointment please arrange it with either the Front Desk or the Spa facility Reception area.
**Disclosure: This review of Christiana Mountain Spa and Resort was written in exchange for a discounted stay. All opinions are my own. Read my Full Hotel Disclosure.**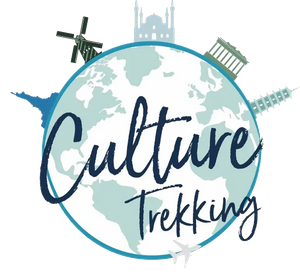 Culture - Connection - Art - Adventure