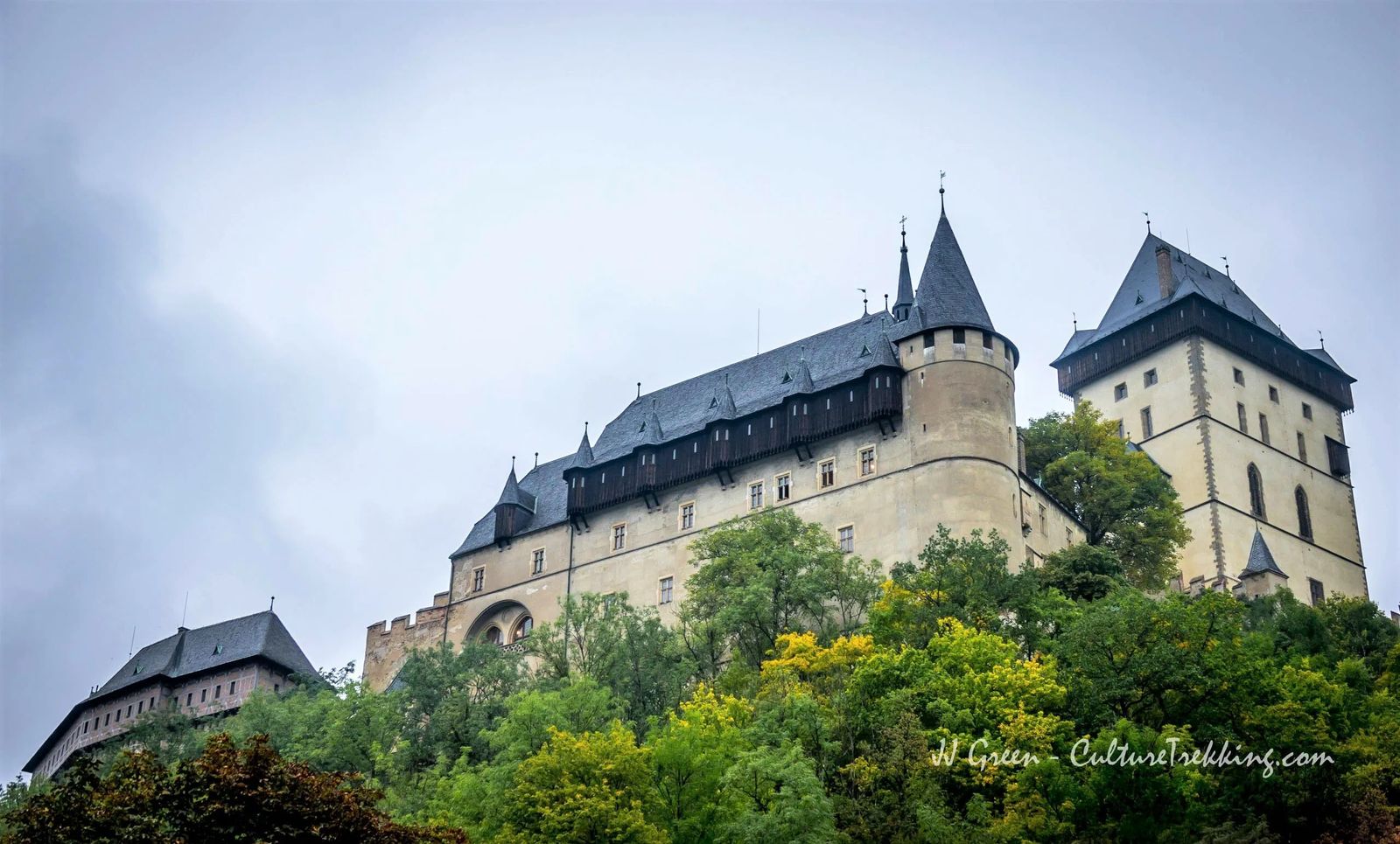 Is Karlstejn Castle Worth Visiting?
I was leaning forward in my seat, a large Czech man in the driver's seat and all I could think was 'faster, he needs to go faster'. This was with one Czech Castle I really wanted to see. It was three o'clock in the afternoon in September, and due to it being the off-season Karlstejn Castle was going to close earlier than usual. The last tour was set to be at four-thirty and it was going to take too long to get there.
Is Karlstejn Castle Worth Visiting?
The approach to the castle in and of itself is worth the views, I wish I would have stayed in this quaint town overnight because of the calm quiet nature and friendliness of the locals. The hike up to Karlstejn castle is an easy one, but if you have to run to the gates before they close it seems incredibly steep. When you first enter the castle it can seem a bit disappointing because the welcoming room is quite spacious and roomy with very little in the room other than a replica of the castle and your guide. HOWEVER, as you move through the castle there are army barracks set up inside like they used to be, crown jewels, and even a golden room where all the walls are gilded that is the main attraction most people come to see here. The golden room does require a special ticket to get in, and it costs extra - of the fellow tourists I asked while there they definitely said it was worth it (with golden gleams in their eyes).
I can't tell you if the drive and the time to drive out there is worth it for you or not. If you are staying more than a week and have time to see the other sites in Prague I would personally say it is worth it as this was a seat of power for many years. Travel is subjective though, so keep reading and I will provide more details about the castle to be able to give you better ideas about its worth and hopefully convince you to visit.
Making the Choice between Karlstejn Castle and Sedlec Ossuary
It was a toss-up between Karlstejn Castle and the Sedlec Ossuary. I knew I wanted a day trip from Prague to see a unique destination in the Czech Republic. I was feeling a little nervous already from my first European Train hopscotch I would be playing the next day, so I settled for Karlstejn. I didn't want to take the chance of getting lost by getting on the wrong bus, in the wrong direction -- so I did what any American would do-- I called Uber.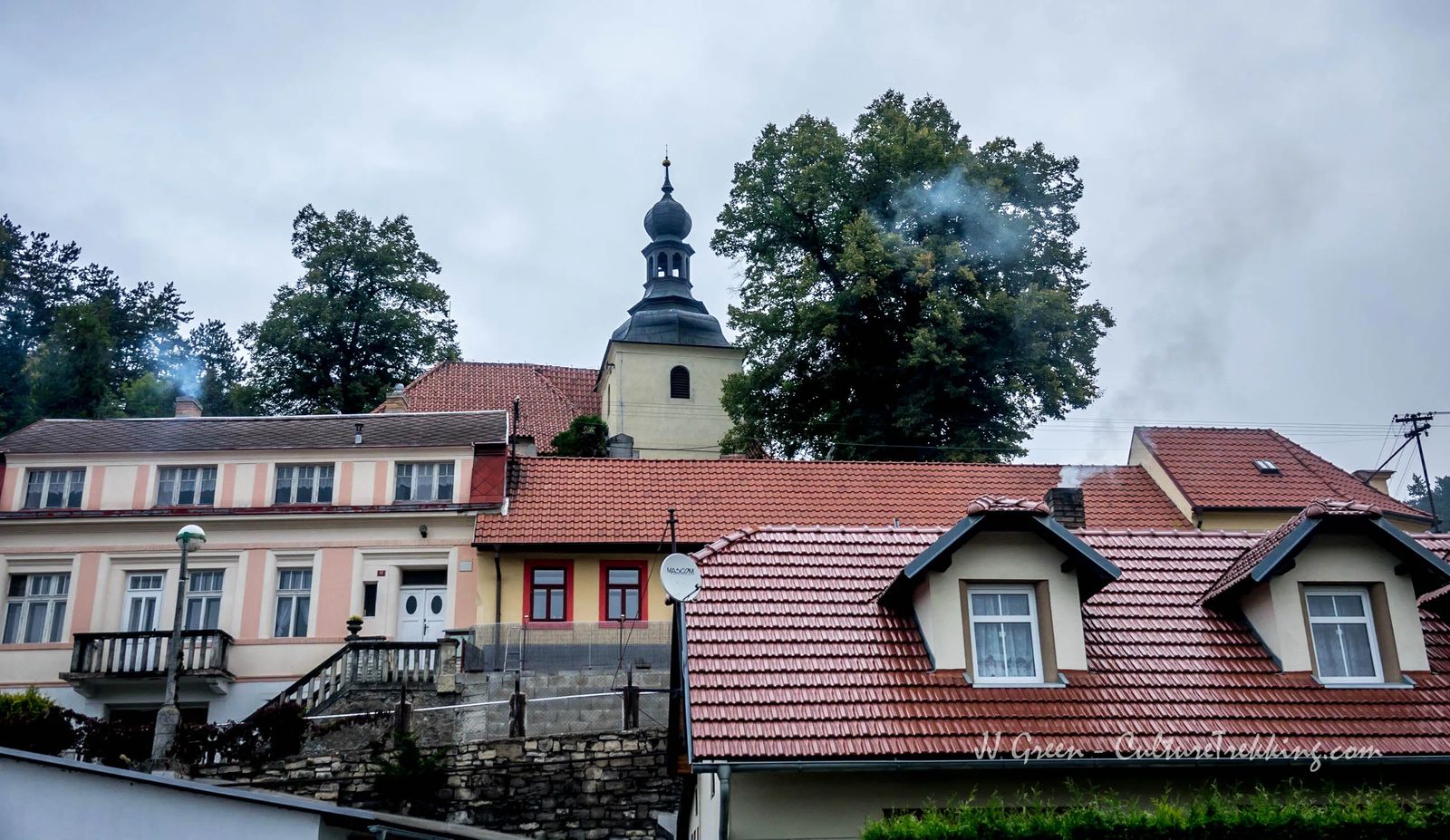 My Uber arrived, and I felt like I was climbing into a car with a Russian Bear. It was this tiny little car with this giant man with his knees about 3 inches from his chest. He spoke little English but smiled at me with his toothy smile.
It was such an odd situation, I nearly laughed, but didn't want to piss off the Russian Bear, so I choked the laughter down and climbed in. Using Google Translate when I had service, I was able to find out he was actually Czech. He was a kind sort of fellow, the type of person you want to hug when you have a hard day. He is married with 2 children that when he spoke about them (via translation) his face would light up, and his squinty eyes would disappear into his smile.
Pulled Over by the Police
He sped along as fast as he could and even drove as far into the Castle's entrance as possible. We ended up getting pulled over, which led to even further delay. When the cop started to talk to us, my stomach dropped and my conversational valley girl came out. It is always good to help your driver out by playing the ditzy American that didn't know any better.
I helped to talk him out of a ticket and arranged to have him wait nearby while I toured the castle. In total, I thought this would cost me about $50 in total, but apparently, they charge by the hour if you make them wait. So make sure that you arrange something before you get into the car, because as I was in the middle of nowhere and on a time constraint.....I didn't really have a choice....darn it.
Getting to Karlstejn Castle - A Long Climb
I hopped out the car, made my arrangements with him, and turned around to a massive mountain with what looked like 500 switchbacks. Yes, I am exaggerating, but I was determined to get up to the entrance before they closed.
When researching this online, you have to know they recommend giving yourself 45 minutes to walk from town, up the long hill to the actual entrance. I did not have that kind of time....so I ran up the hill. Now you have to realize something.....I am in terrible shape at the moment, three years ago this would not have been an issue.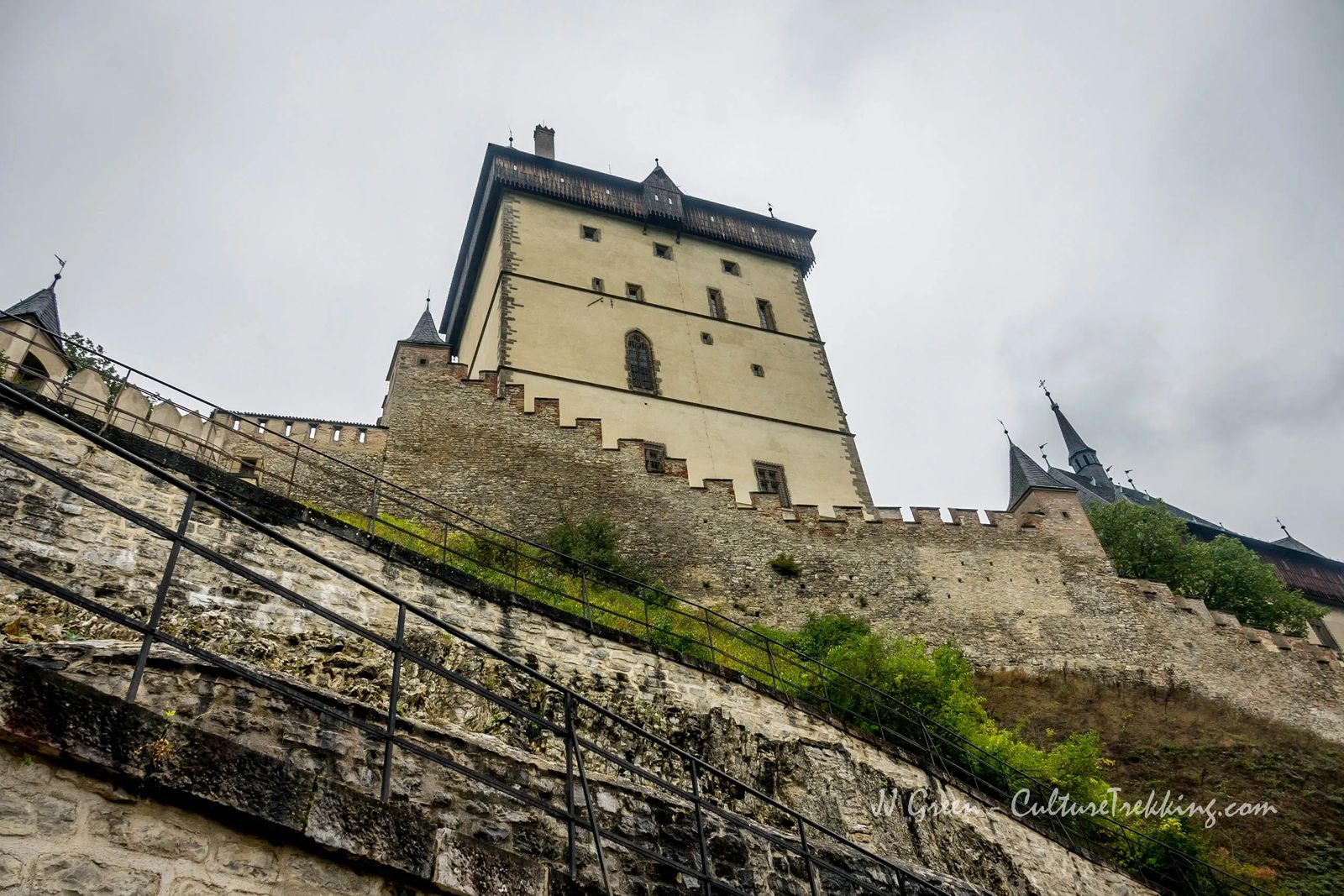 Three years ago I would tell you I could have done this uphill run in my sleep, but this day.....was not so easy. My calves and quadriceps started burning about 5 minutes into the run-up this hill. I felt like I was running but probably looked as if I was quickly waddling my way up this mountain. I started wheezing, gasping, cursing and then caught up with the family that was leisurely walking up the hill in front of me.
I felt so embarrassed about my breathless state, I think I may have attempted to hold my gasps in until I was past them. I checked my watch, groaned and went faster. I swore if they closed the gates on me, I would climb the castle walls, or start screaming until they opened the gates to tell me to shut up & then would slip in.
Getting the Ticket to See This Storybook Czech Castle
I made the climb in 20 minutes....and walked through the gates just as the first cashier was closing her window. There was one left....I hurried over, told her I wanted one ticket & didn't care at this point what the hell she thought of my current appearance, I just wanted the damn ticket as a consolatory prize for making it up the hill that quickly. I thanked her, took my ticket, and walked over to join the last tour that started just as I was approaching.
The tickets are around 300 Czk or $14 for the tour of the chapel (which is a must), or around 120 Czk around $6 for all the floors in the tower except the chapel. I was too late to do a tour of the chapel, but I hear it is inspiring. I was just grateful to be alive after coming up the hill.
The History of Karlštejn
Our guide led us up the stairs that looked like you were climbing into heaven. I nearly crawled up the last few steps. We entered the castle and the history of the castle was intriguing and impressive.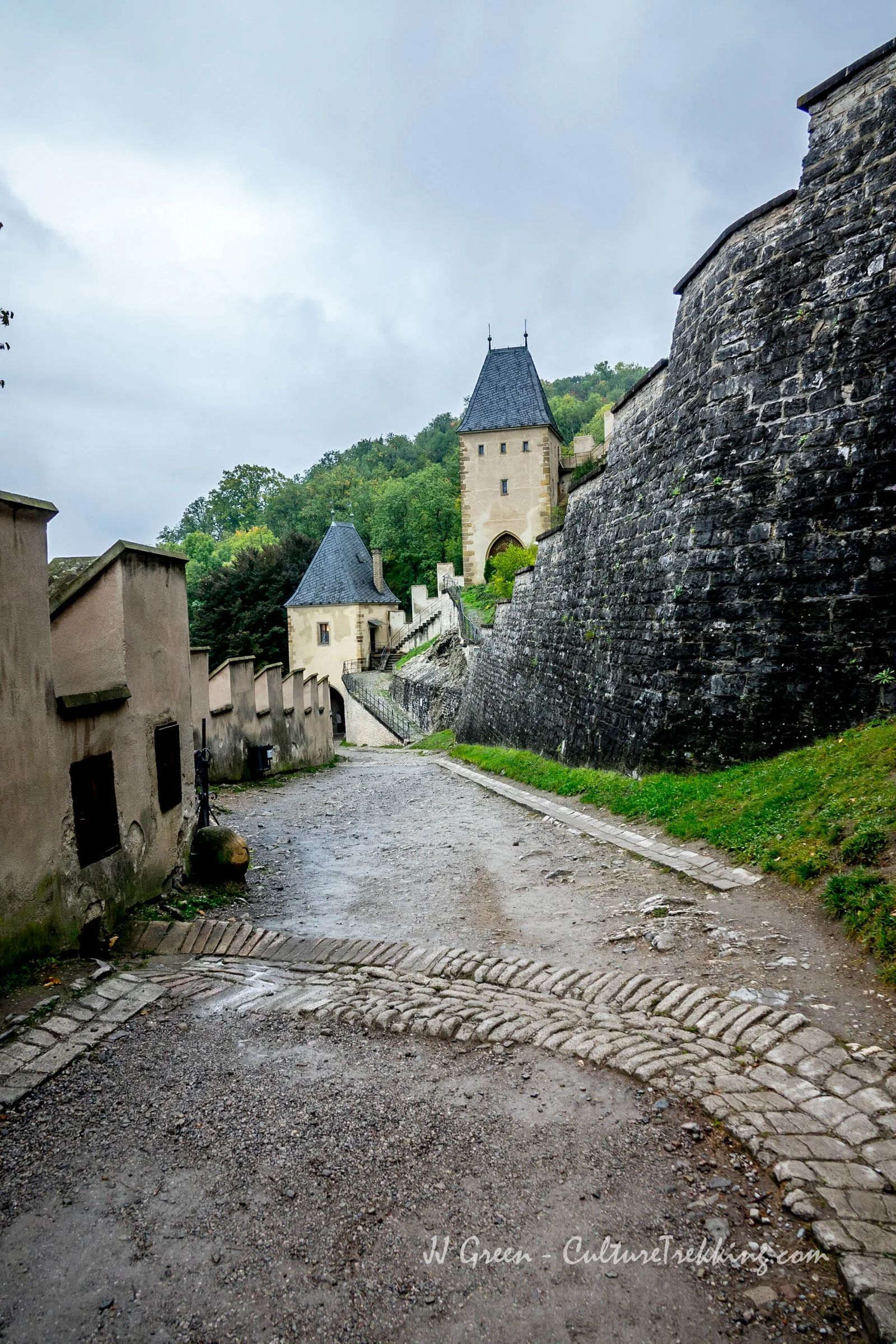 Built by Charles IV as a fortification for his royal treasury in the early 1300's. Holding both the crown jewels, and the crown of St Wenceslaus it was a prime target for raiders. If the jewels were not reason enough to entice neighboring kingdoms to raid, he also built a cathedral of gold.
The Famous Chapel of Gold
The crown jewel of this castle is not something you wear on your head. It is a place you enter into gemstones, Venetian glassware, portraits depicting the whole host of the army of heaven, gold chains and any other extravagance you can imagine. If there was ever an effort to build heaven on earth, I think Charles IV may have almost succeeded when he built the Chapel of Holy Rood.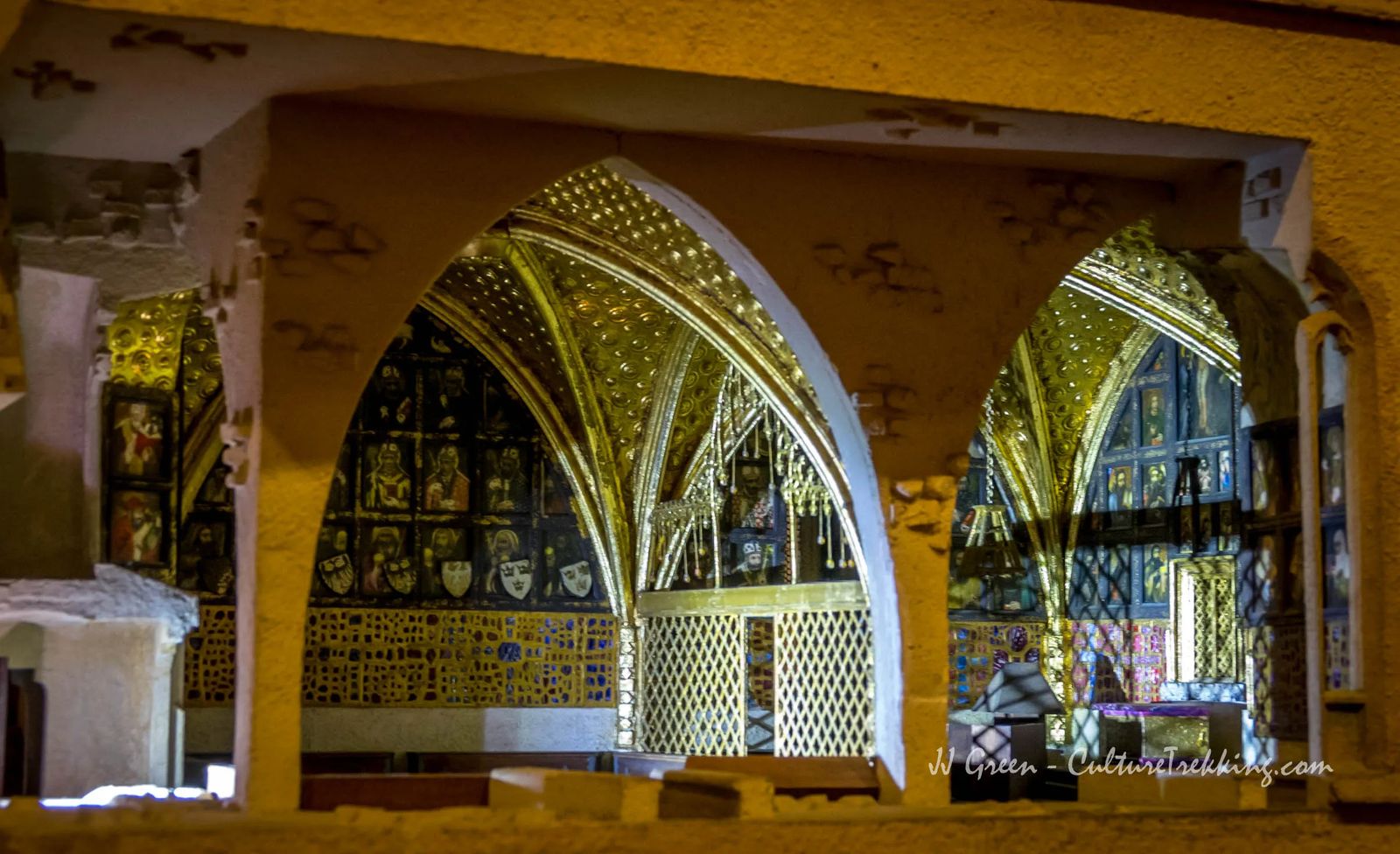 Located in the tower behind three iron doors and nine locks, Charles IV held the Chapel of Holy Rood in his home with such revere that he would only enter barefoot.
Although this is the most well-known chapel, there are two other chapels and one additional church located in this castle. (St Nicholas Chapel, St Catherine's Chapel, St Mary's Church).
An Impregnable Fortification
The miners of Kutna Hora came to this area to dig for silver and gold ores. They dug nearly 200 feet down into the rock with hand tools and found only water. The Emperor of the time had them convert this into a water table so that once the castle was fortified, they would have an internal source of water during sieges.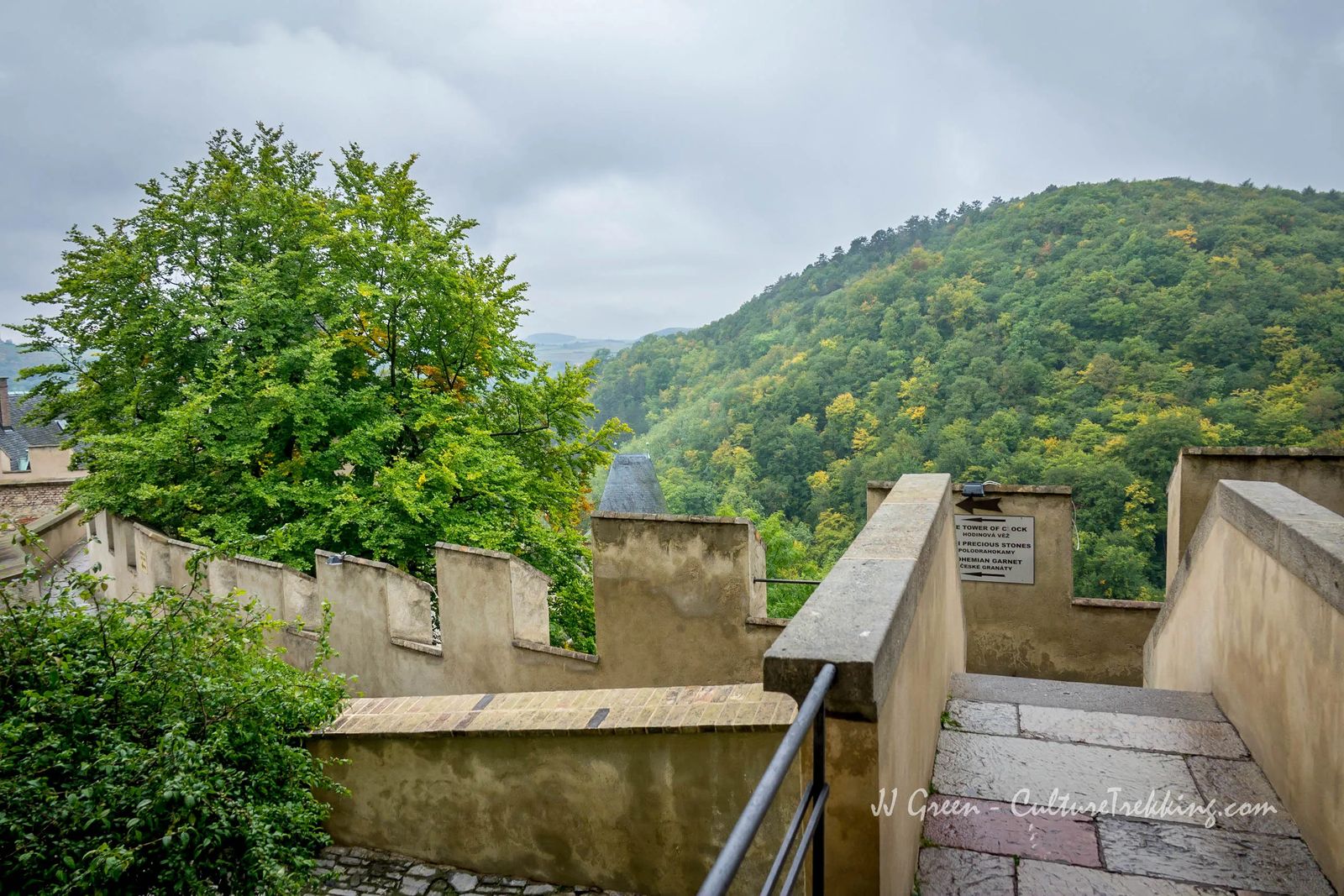 The Emperor left nothing to chance, guarding the parapets 24 hours a day 7 days per week, ensuring no surprises. Walls nearly 30 feet thick, the great tower 175 feet high. You can still be a witness to the former soldiers' barracks within the castle itself.
Each soldier would get a wooden box with his regalia painted on the front. The soldiers would remain within the castle walls and rotate their shifts. The soldiers would also get a portion of a closet to store their armor and their heavy chain mail.
Despite the manpower the Emperor employed, there were still several attempts of siege. Different towers were completely sieged at different times, but the great tower has never been conquered.
The Hussite Sieges
The siege of the Hussite armies, where the first biological warfare was used. The biological warfare used wasn't what you typically think of in the modern sense of the word, but they used the next 'best' thing.....dead bodies.
It was well known during that time period that dead bodies brought disease, although most may not have known the intricate details as to why it is a common reason for the spread of disease of that time period. The bodies were flung over the walls with catapults. It was not just dead bodies though, it was carriages full of feces of all kinds and variety....ew.....and I thought our methods of war were barbaric, but this is just cruel and disturbing.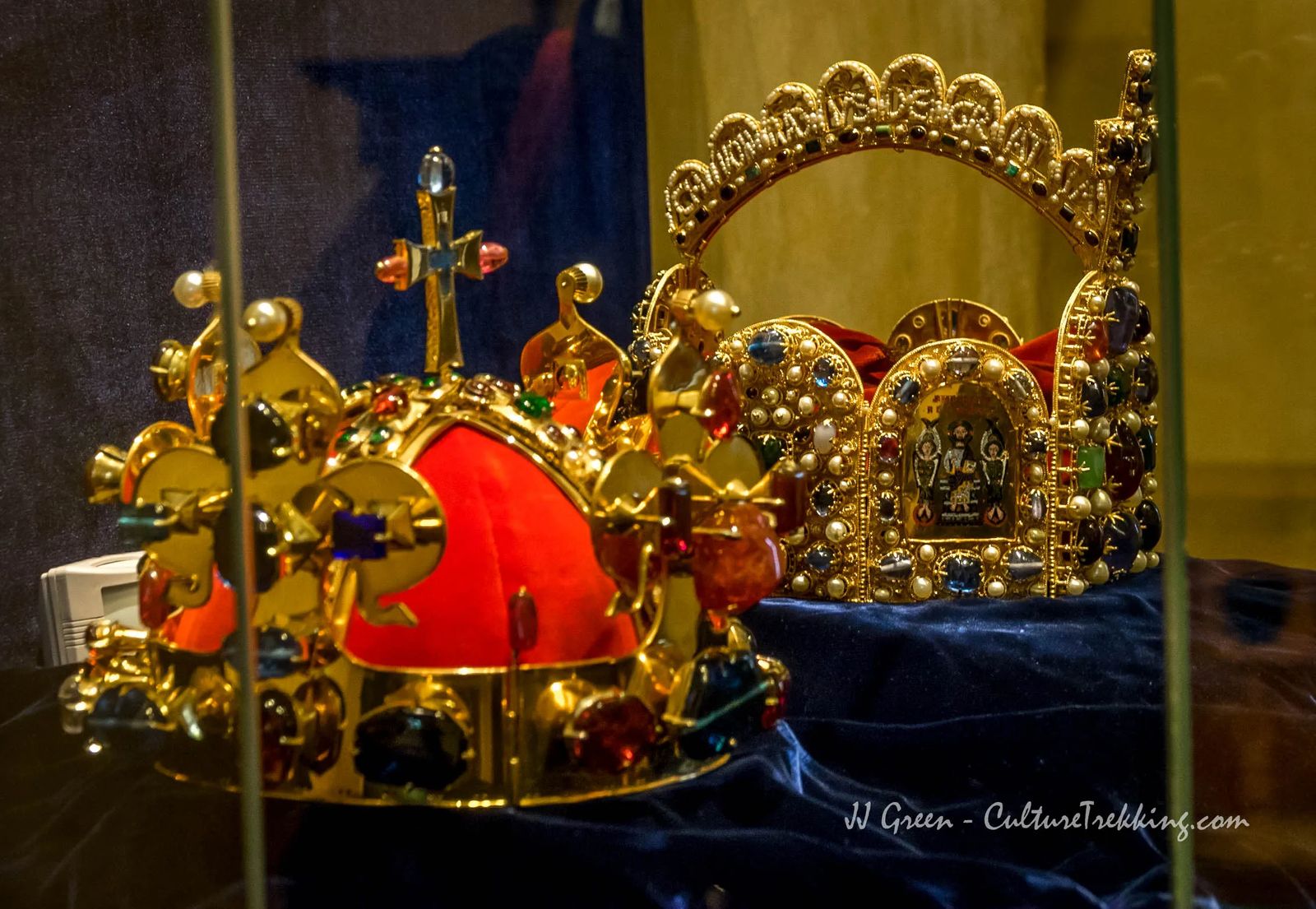 The Crown Jewels
The original crown jewels can be seen in Prague castle but were originally located here at Karlsteijn castle. The replicas do give quite the impression on just how extravagant the originals are. This is likely the only way you will be able to see what they look like beyond a google image search, as the originals are only shown every 5 years to the public.
The Ending to my Fairytale
It was the classic fairy tale travel story for me. The angst and struggle of getting to the castle, the evil police pulling us over. The fairy godmother that whispered in the cops ear to let us go. I was rewarded with the crown jewels, a view of the sparkling river below, and a walk through one of the most stunning and intriguing castles of Prague.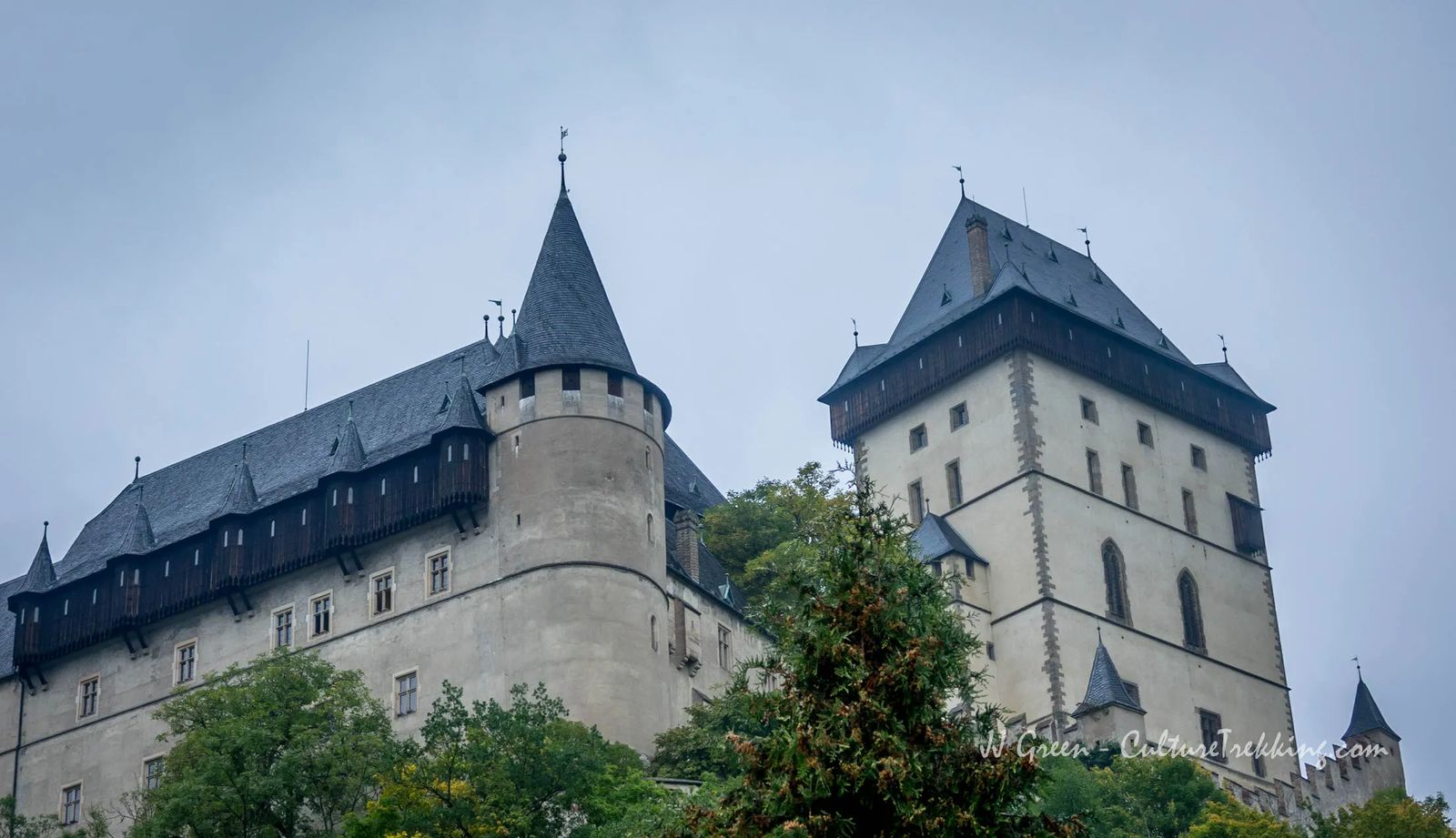 If you find yourself in this fascinating country, make sure you take a side trip to this Storybook Karlstejn Castle.
How To Get To Karlstejn
Uber with the driver waiting for you will cost around $72 USD with a tip (2 hours of driving, with 2 hours of waiting - at minimum).
For a more relaxed stay and time to wander this quaint city with shuttered windows and hobbit looking houses, take the train from Prague station to Karlstejn. This will cost you around $8 round trip on one of the Czech Railway Lines. If you have the time whilst there, make sure to book an overnight stay here. The town is the most adorable town, the people are warm, kind, and very friendly. It does not have the busy city feeling of Prague, and you can experience what it must have been like to live inside Karjlstein Castle's shadow.
Like it? Pin it! Sharing is caring :)