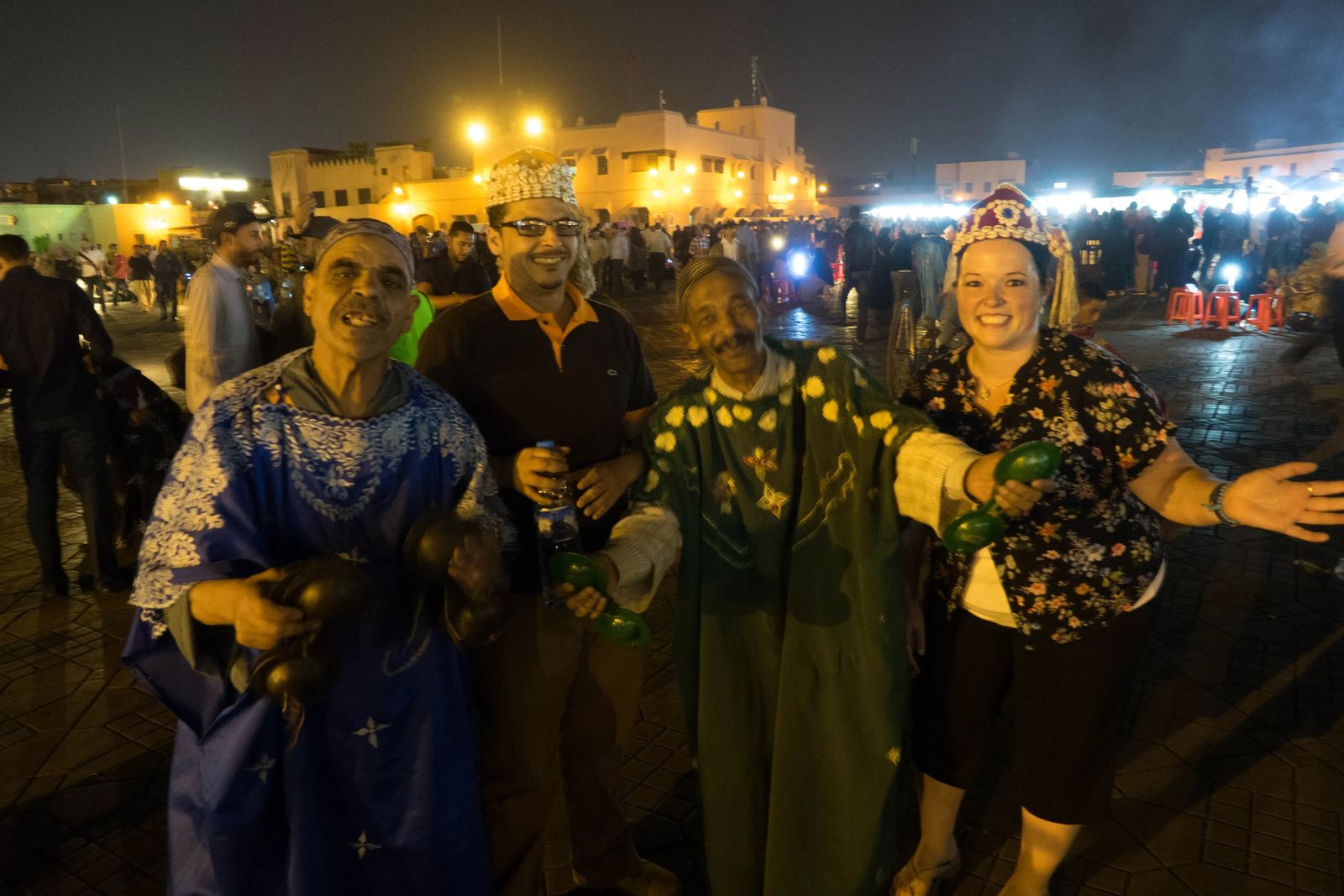 Traveling as a Solo Female Traveler in Marrakesh Morocco and What to Expect
I was quite surprised when I arrived in Marrakesh Morocco, how modern it looked, and that it actually had nightclubs, casinos, and bars. The buildings reminded me of those you find in New Mexico in the United States. The flat-topped roofs and all the buildings were a Clay Red color adorned with embrasures that are distinctly Moroccan with a touch of Moorish influence on them.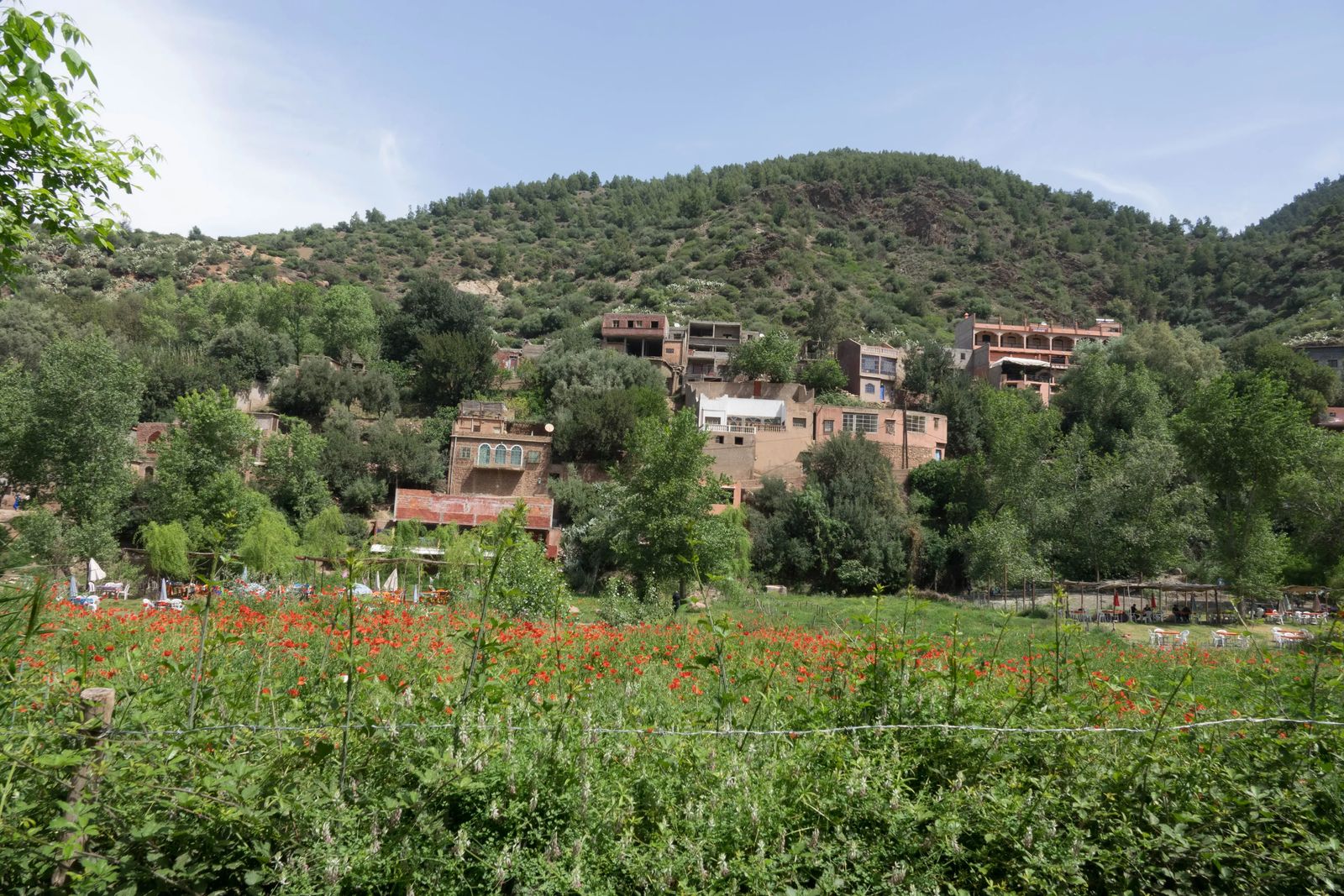 The Climate of Marrakesh
The air here is warm and dry, but I could see that the people knew how to dress for the weather when it gets extremely hot here. In the winter months (Nov-Feb) Average Highs are 73F (23C)-68F (20C), for the Summer months (March-October) it can range anywhere from 110F (39C)-to a cooler 77F (25C); so the best times to visit are really in March, April and October — if you are like me and have a hard time in the hotter weather. The humidity is not as bad here as it is in Rabat or the coastal cities, so expect it to be more of a drier climate. Nights can be relatively cool, but never reaching below 42F, and rarely going above 70F. For this reason, this is a city that is much livelier at night and sleeps in til around 11am. If you are an early riser, I suggest you grab something to snack on for breakfast, unless you are ok with having brunch.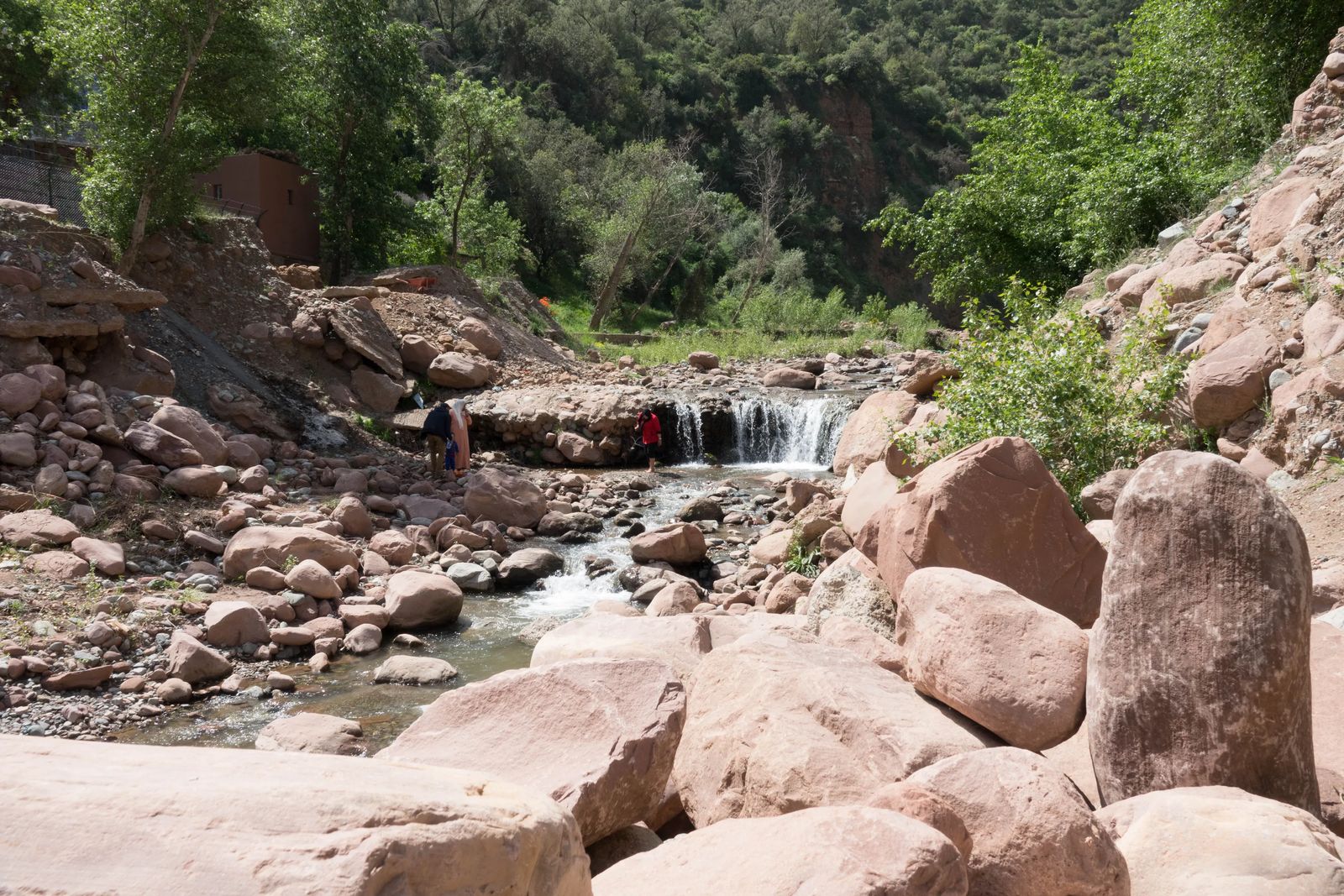 Where to Stay in Marrakesh
I stayed in an apartment on Geliz street, a main thoroughfare of Marrakesh. It had nice furnishings, a great AC, hot shower, washer, and a refrigerator with a working flat screen TV. There are other apartments & guest houses on this street that are a great location, typically have security at the door for you to check in with & prevent anyone who shouldn't be coming to see you from even entering the building. I mistakenly went to the wrong elevators, and before the doors even opened, the security guard led me to the correct elevators. It was nice to know that they were actually just doing their job, and not watching television while on duty. The apartment was quiet (for a city apartment). Just realize the construction in Morocco doesn't use insulation like America does so you will hear the chairs above you, or doors closing in the hallway — but conversations not as much, only if the people above you are talking quite loud. Most of the buildings are cement. This helps cut costs for cooling and such as most of the nights are cool and it helps retain that coolness throughout the day.
If you are looking to stay at a fancier hotel (note: I am not sponsored to say this) – this one is a great location, with super nice and traditional Moroccan Décor. Typically you cannot enter places like this unless you are either a hotel guest or have a reservation. We just politely asked the security guards and they let us in to take a look around & encouraged the photos 🙂
The best way to find these guest houses is either through booking.com or Avito. If you have a local guide with you, they will likely have a friend or two that has a guest house you could use, that you will likely get a great deal on as well. Most areas in Marrakech are safe if you stay near the busier parts of town. Asking a local is always a good idea when traveling overseas.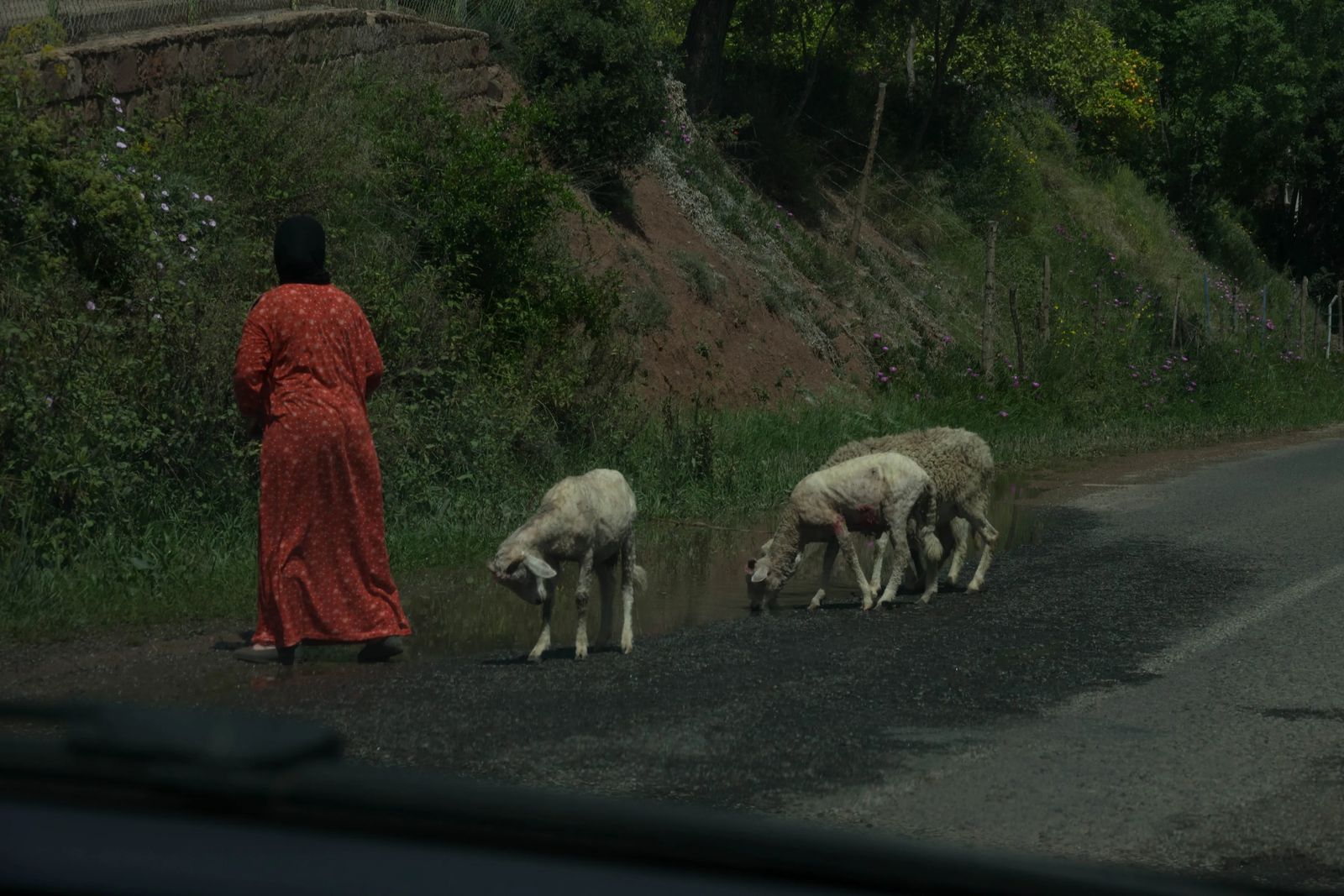 Breakfast, as I mentioned is taken late in the evening. Most people sit out on the patio, and I would say about 1/2 of them typically smoke. There is not etiquette here like in the States regarding second-hand smoke, so don't be offended or give dirty looks if someone next to you is smoking like chimney, I don't think the effects of second-hand smoke is widely discussed in the population in Morocco. Just ask to move to another table upwind 🙂 Eggs are great here, and Moroccan "bacon" is actually shredded beef (and it's delicious). Olives are common pre-meal 'appetite openers', and given that I am not much of an olive fan, I became an olive fan here. The black ones are the best, with a little bit of the cheese on it. I don't really know what most of the food I ate here was, I only know that 99% of it was fantastic & so delicious I want to go back just to have seconds 😉 If you have any allergies to particular foods or aversions to particular foods, make sure you write them down on a pad of paper in either Arabic or French (if you can't write Arabic, then take a screenshot and have it on hand when ordering). For example, I would just show them the photo for Paviron Rouge (Red Peppers), and then say La, and grab my stomach and make a very pained face. This got the message across, and I never had a problem. If I tried to say it, it never got the message across. But for those Moroccans who do speak French, most of them know what Allergia (Allergy) means.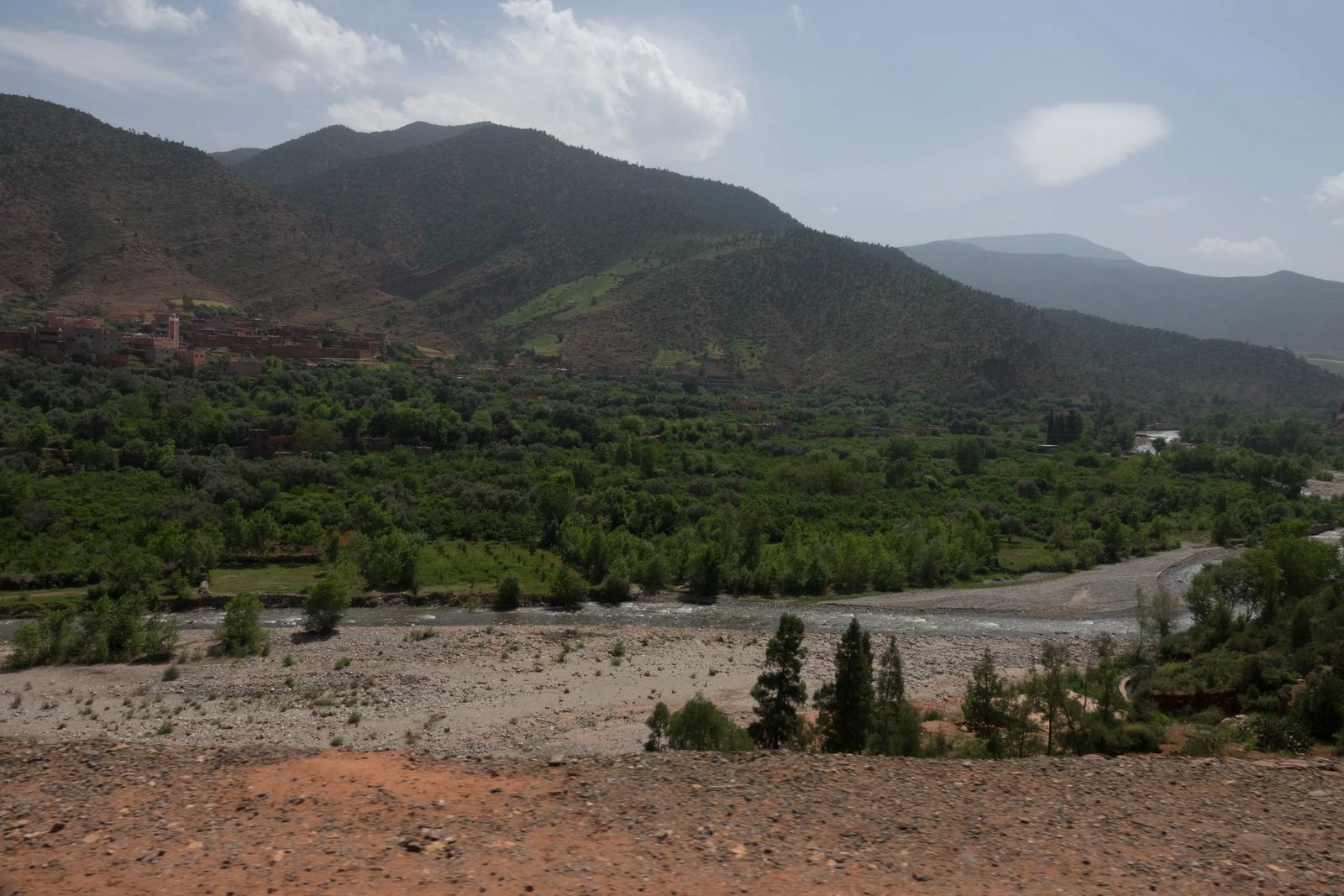 Things to do near Marrakesh
I was able to visit the Atlas Mountains while in Marrakesh, and they are much taller than I imagined, we were there when it was slightly cloudy, so it was difficult to get a decent picture of them.
But they are well worth the visit, as there are cafe's where you can literally sit in the middle of a river and drink the classic Moroccan Mint Tea from a Berber. I also was able to have an interview with a Berber man in the mountains, check out that interview on our YouTube channel "Gypsy Soul Adventure", where I was able to be humbled by this man who was attempting to provide for TWO families, was an Imam to his city (a Muslim religious leader in the community), and was so happy and kind and tried to give me a necklace for free for buying 3 of them.
I couldn't take the free necklace, but those necklaces are now the most prized possession I have with me from that trip (along with my sandals that I will tell you about later)– mostly because of the story behind the person I received it from. I realize I take WAY too much for granted in my life, and need to be more grateful for everything I do have. Its easy to fall into the trap of 'need, need, need' and/or 'want, want, want'. There are so many people who are happy in this world just literally by being able to put food in their children's mouths or give everything they have and are just to be able to send them to school.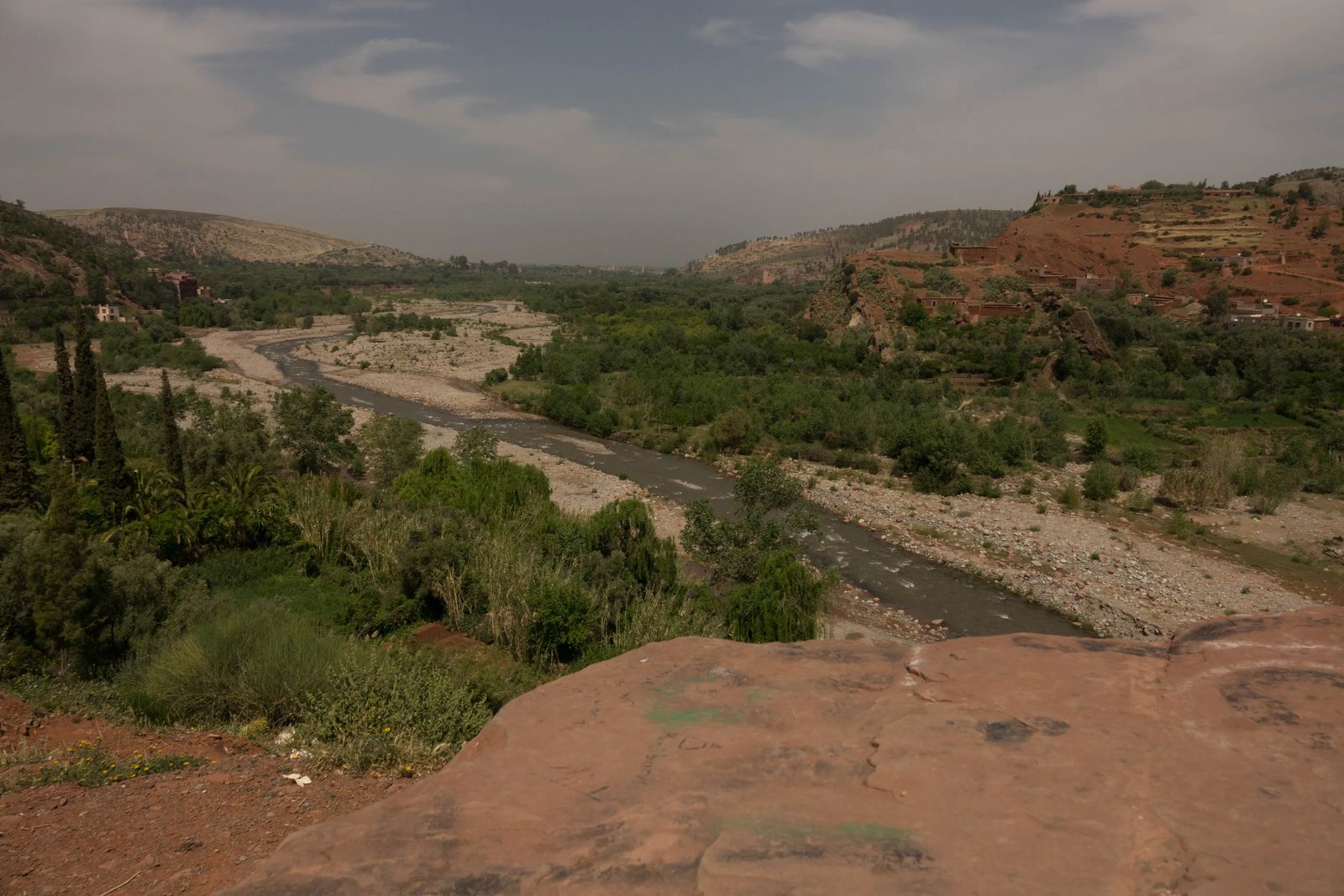 Next, we went to the Menara Gardens and Pavillion, we visited these on our way out to the Atlas Mountains. There are fish there that are fun to feed, and men playing gimbris. It doesn't have the pizzaz that other places inside Marrakesh do, but if you think about how amazing it is that someone built this place in the 12th century, explore the nooks and crannies of the building, and realize that this was a place of gathering, reflection, and a place to get away from the busy city rhythm, then I think you may appreciate just how incredible it is that something built so long ago is still standing today.
In addition to that, the Olive Trees surrounding this place is actually cultivated and olives gleaned and given to the poorer areas of the region for the people to have a source of income. If you go there and expect to see a lush garden with lots of photo 'ops' then this is probably not the place for you.
But if you go realizing that this was actually built by the Sultan in the early Saadi dynasty; who increased his power by controlling a water source & did I mention it was built in the 12th Century! Then you may appreciate this place of reflection and peace. Make sure to go in the morning, as this can get quite hot here. Plus it's free to get in here 🙂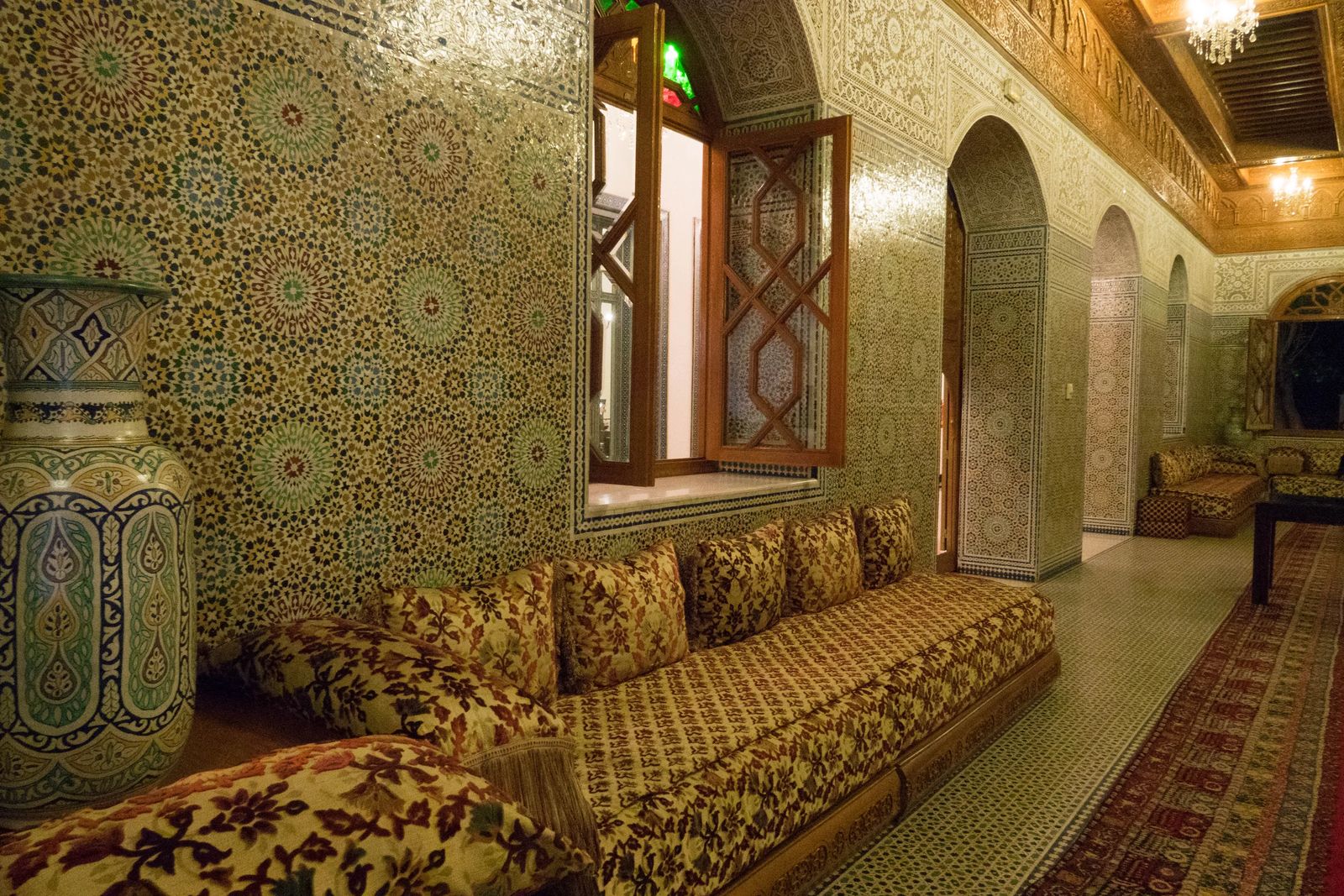 I did go to Jamaa el-fna, or the famous Medina in Marrakesh whose vibe changes from day to night and so do the shops. El-fna actually means (to some) Armeggedon, or the Assembly of the dead, or Mosque at the End of the World. It has a lot of different meanings and has been used for many different things throughout the centuries. In 1050 AD it was actually used for public executions, then it was renovated along with much of the city after the Almohads took over in 1147 AD, and after many rises and falls was eventually turned into a thriving market that both local and tourists visit.
During the day you can find orange juice stalls, Leather, Barbary apes you can hold, snake charmers (yes really, and just like you see in the movies), the shops are all open, the smell of spices and dates and olives fill the air. This particular spice shop featured above actually had a traditional sinus cleansing 'spice' that was placed in a small cup of hot water, and I'm telling you, I was still smelling that stuff about 20 minutes later. I figure it must be what they use in smelling salts because it was pretty potent. I don't know what the name of it was, but it actually looked like small clear white crystals, that when placed in hot water puts out an even more potent smell.
I found it fascinating that most of the people in Morocco actually found Americans to be over medicated, they feel that the pharmacy industry was actually making people in America sicker than helping them heal. So places like this spice shop, actually double as a sort of apothecary that gives locals traditional ways of healing common ailments. Very interesting to me, as I work in the medical field; and yet I disagreed with this thought as well, as one of my traveling companions shared that his brother actually passed away from an Asthma attack. Something that would have been so simple to remedy, if they had the appropriate medicine. It made me sad that there wasn't more public knowledge about simple medications like this.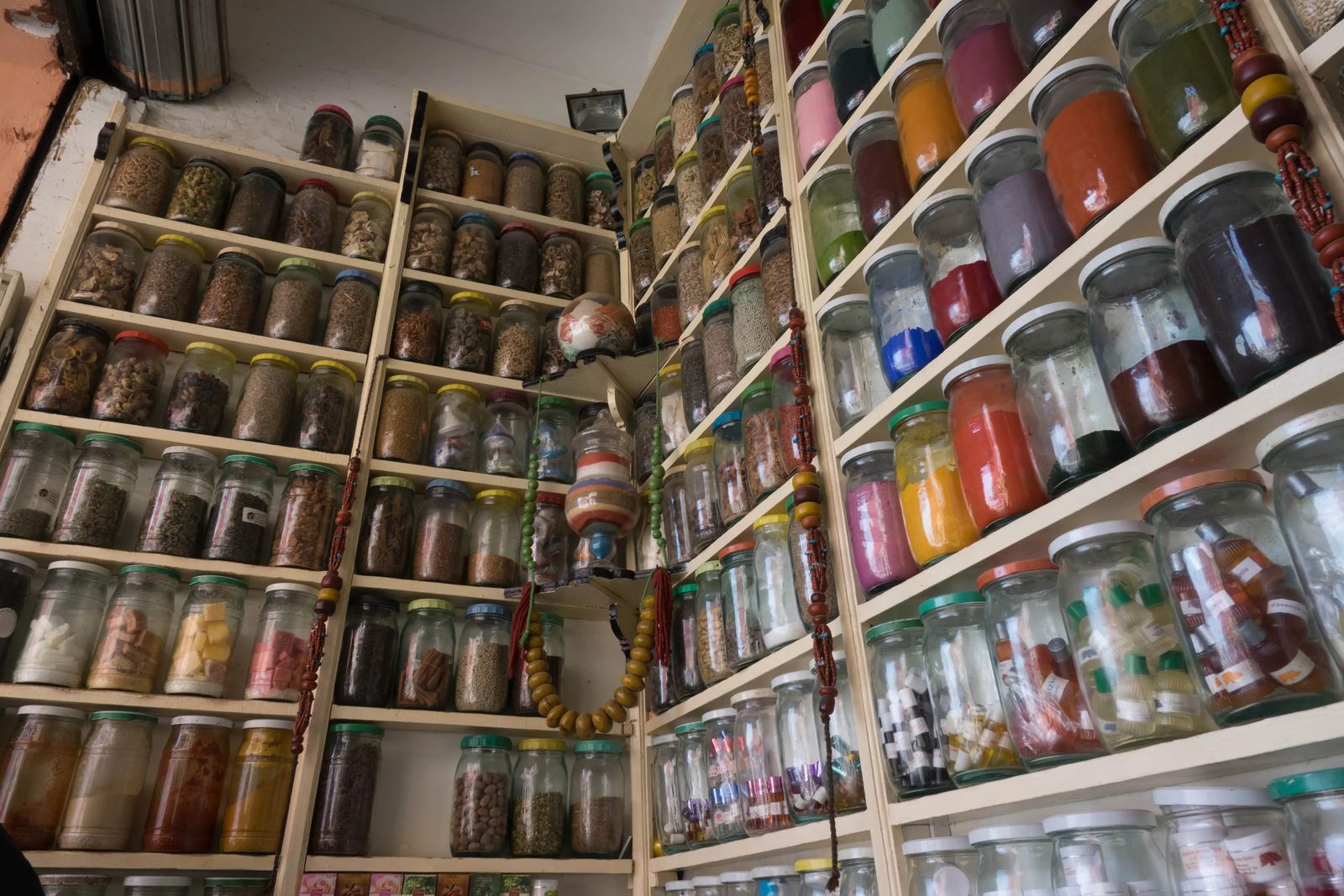 Then as the sun sets, the shops close, and the traditional dancing Berber men with their twirling hats come in, Moroccan lanterns are lit with tiny candles, the smell of meat fills the air with smoke wafting above the square and can make you salivate to partake of it even if you are still a mile from the square.
There is also an abundant flowing of Moroccan Mint tea of course, the best way to enjoy the square is on a Café Terrace overlooking the square. This way you are not hounded by the dancing Berber men wanting to put a hat on your head and take a photo for $2-$3.
If you take a photo or get excited about a particular item you wish to purchase, it will likely cost you money in this place. As opposed to during the day, where locals come to buy supplies at the Souk's (traditional North African Market) where bartering is expected & the craftsman that makes the traditional souvenirs will likely cost you much less if you go directly to them.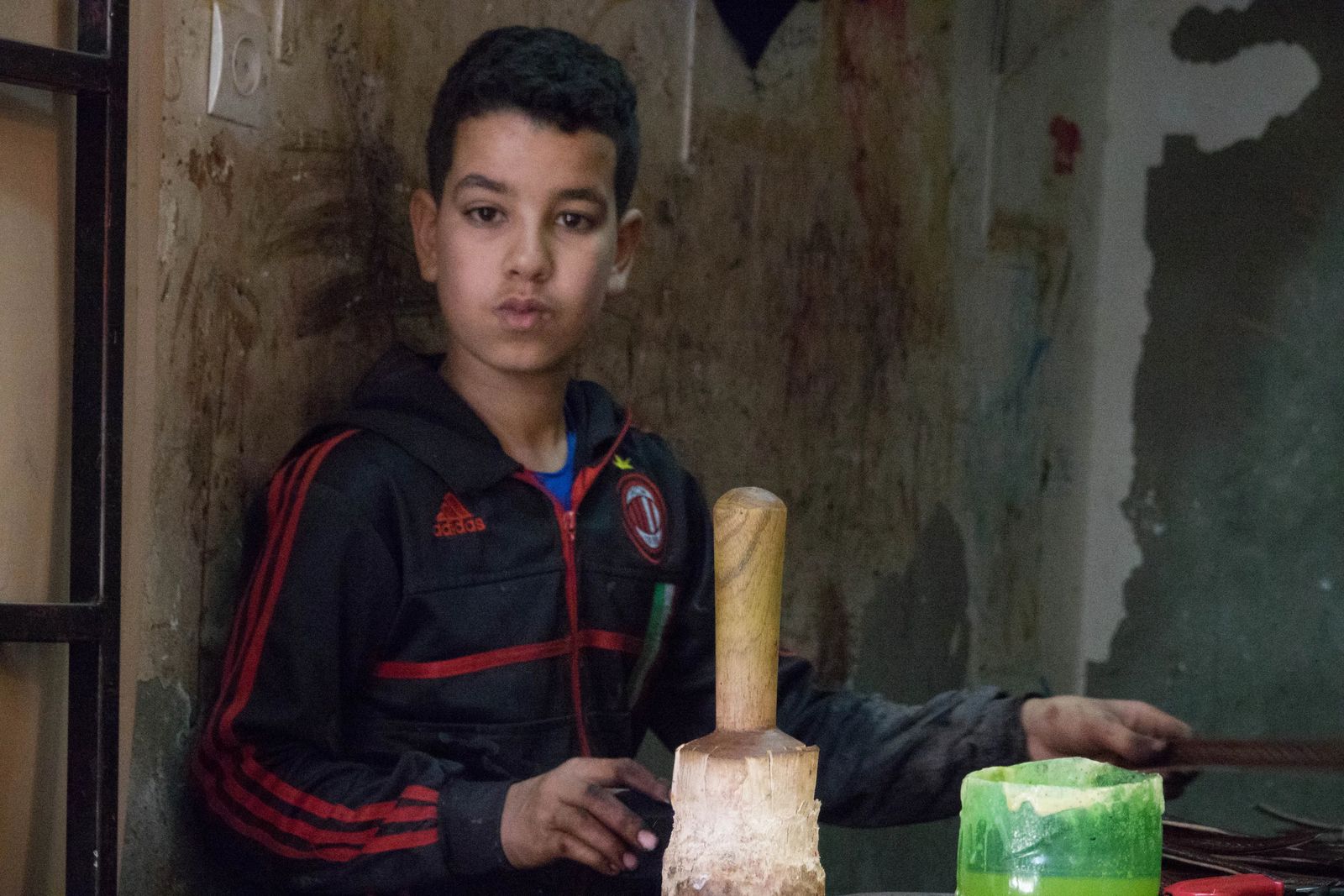 Where do you find the craftsmen? They are usually along the side alleys, that you may have to duck around some of the souvenirs that the shop owners use to hide the view of these side streets. They are so kind, and so helpful and really would do anything to help you out, BUT most of the time they don't speak English, so if you have a guide with you, they can help translate for you, and it makes it totally worth it.
I had some sandals custom made for me for $15 & I loved every second of it. It really made me feel so special that someone would go to that length and take such pride in making me something like that, just because it would feel better to walk in, with my bad feet. I can't tell you how much that touched my heart.
This little guy really touched my heart so much. Just the look on his face, the innocence and being able to catch that unguarded moment, where he just is enjoying being with his brothers. His brothers, who had been doing this for the last 17 years, told me that the shop belonged to their father, and this father before him. And it is a huge traditional thing to actually, as the Moroccan say, "follow in the footsteps of your father", where typically these shops are handed down for generations at a time, or given to close family members to run the business and carry-on.
Overall, I found Marrakesh very fancy, very modern & full of interesting stories and history. Because it is a tourist hub for both the world and Morocco, I was ready to leave after about 3 days; but definitely would love to go back for a visit, if only to participate more in the festivities of Jamaa el-fna; and would likely spend a few days camping up with the Berber people in the High Atlas Mountains as they are able to tell you the stories of their ancestors who have been there since the beginning of time.
Like It? Pin It! Sharing Is Caring ;)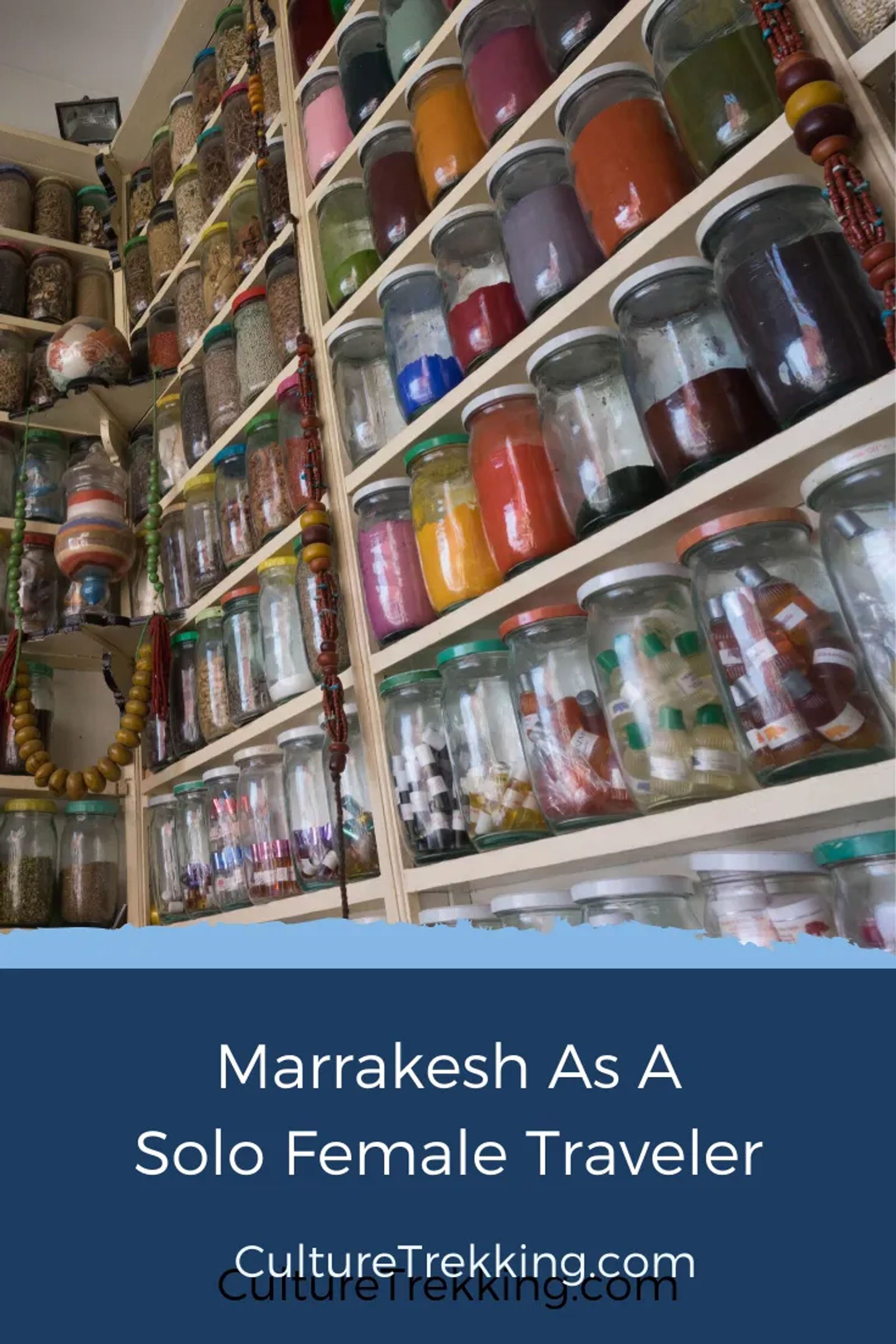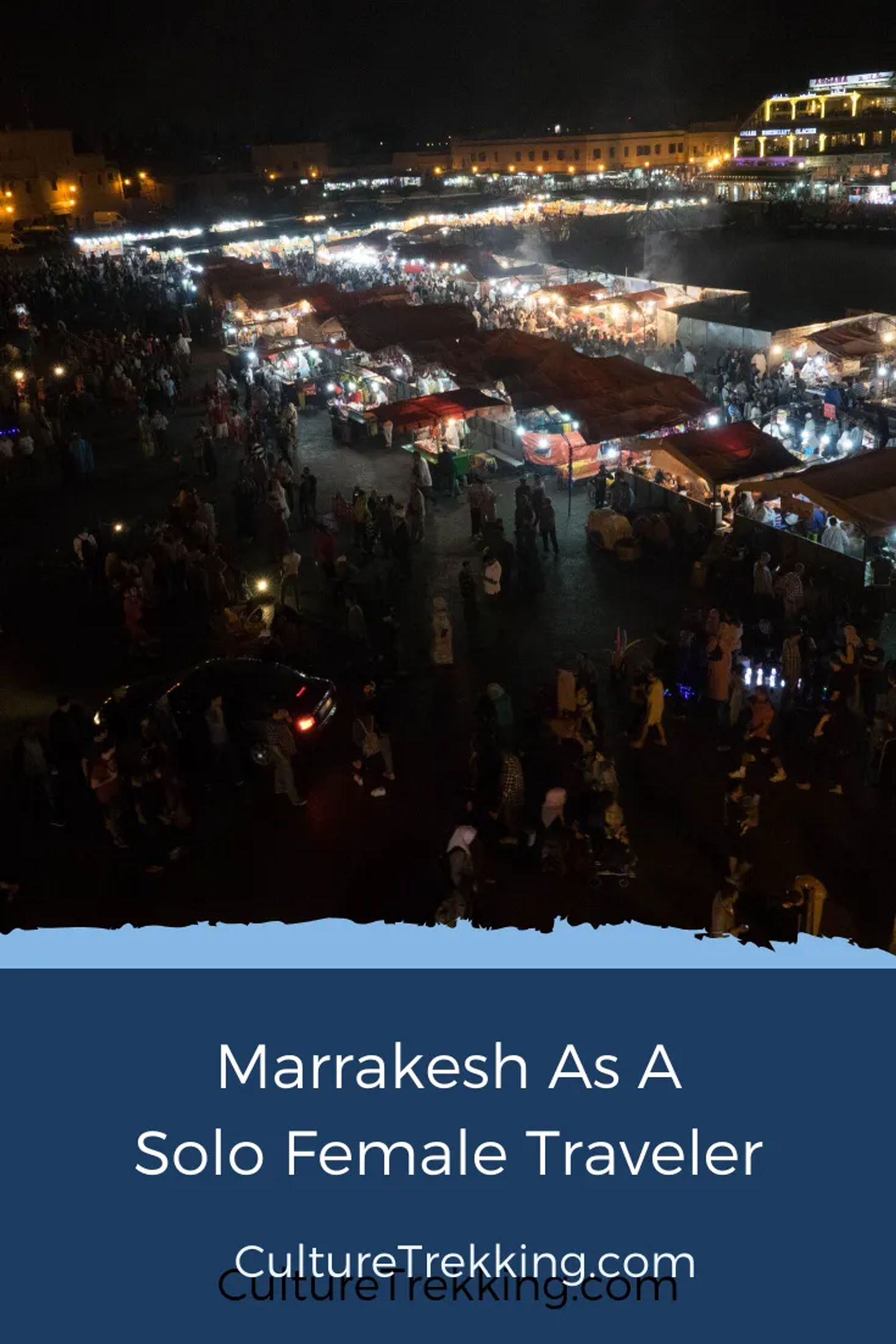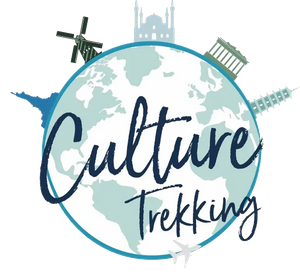 Culture - Connection - Art - Adventure