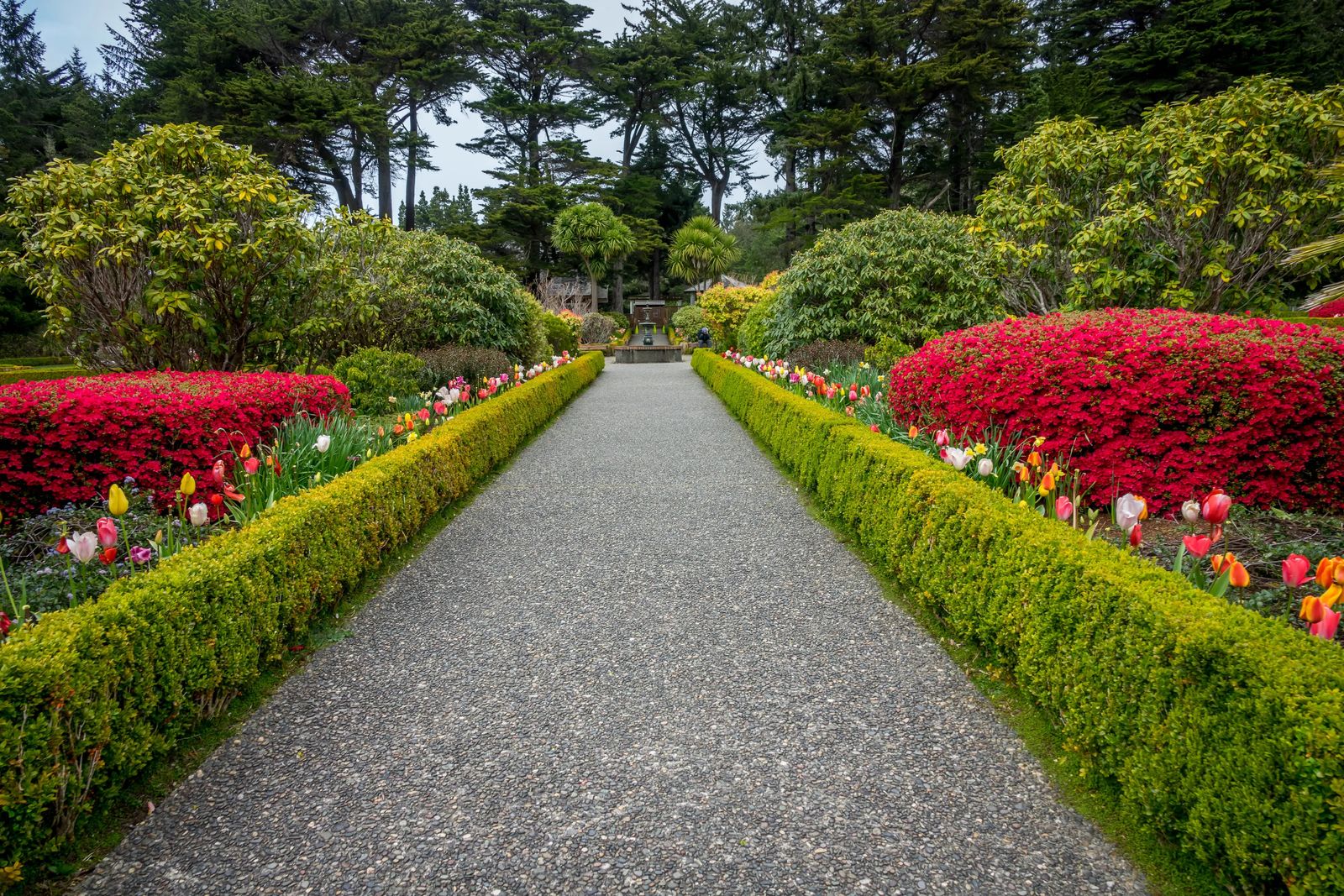 What to do in Bandon Oregon
Bandon Oregon is steeped in native history, teeming with fisherman, and plenty of activities for the whole family. So while you are on your Oregon Coast Roadtrip, Bandon should be on your list. If you happen to visit, here is what to do in Bandon Oregon.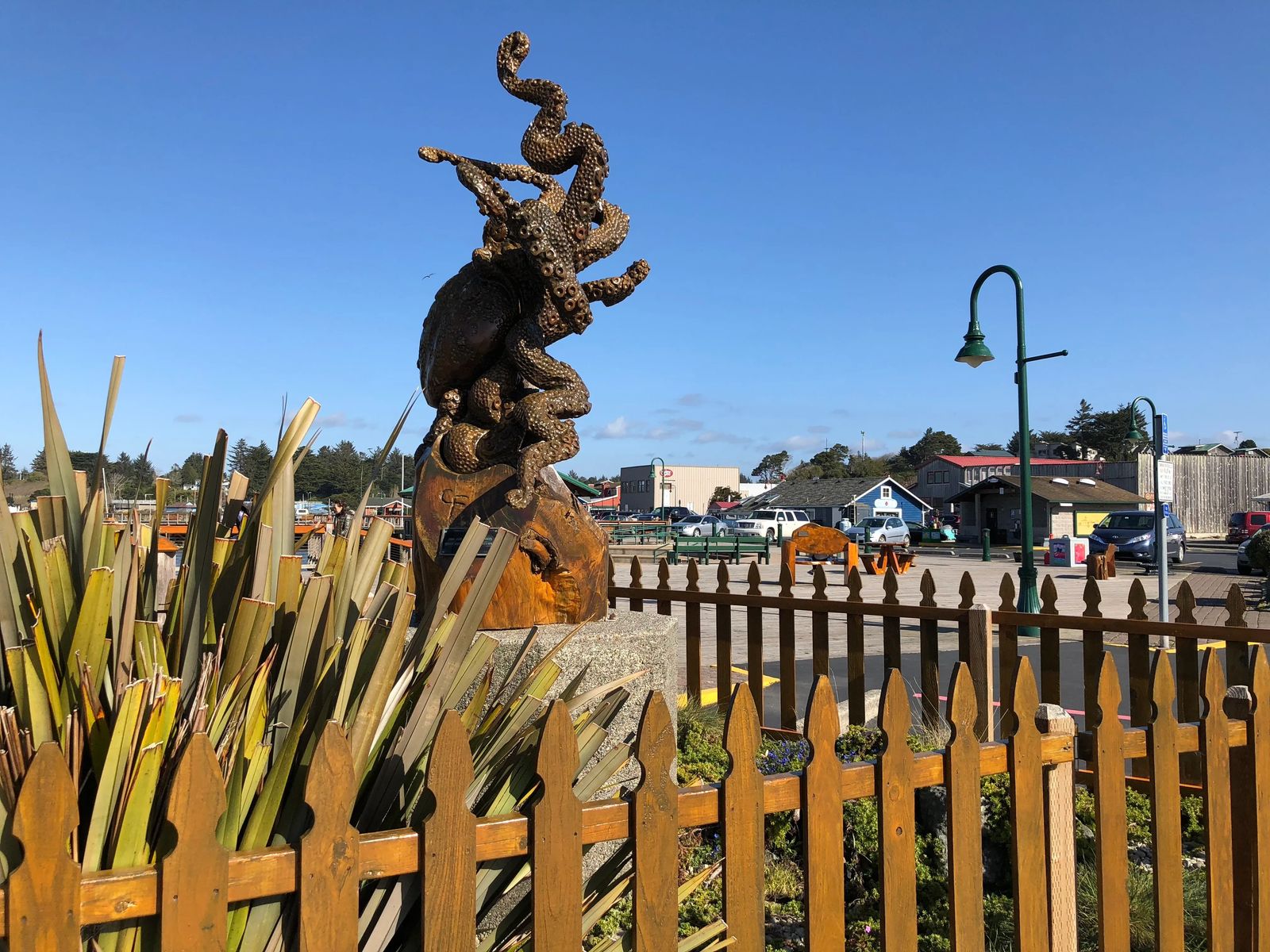 History of Bandon
The tribes were defeated in their resistance and relocated to the Siletz (the collective name of the 20 tribes relocated here) Reservation. This reservation is a 48-hour walk (with current road systems) from Bandon to Siletz Reservation. They were placed in an area that is 5.82 sq miles, and have gone from 10 distinct languages to one.
The Siletz language now has a talking language dictionary due to the help of National Geographic Society and the Living Tongues Institute for Endangered Languages, their language will hopefully continue to be preserved. Time went on and in 1873 George Bennette with his sons Joseph and George, along with Mr. Sealy came from Bandon Ireland to this area.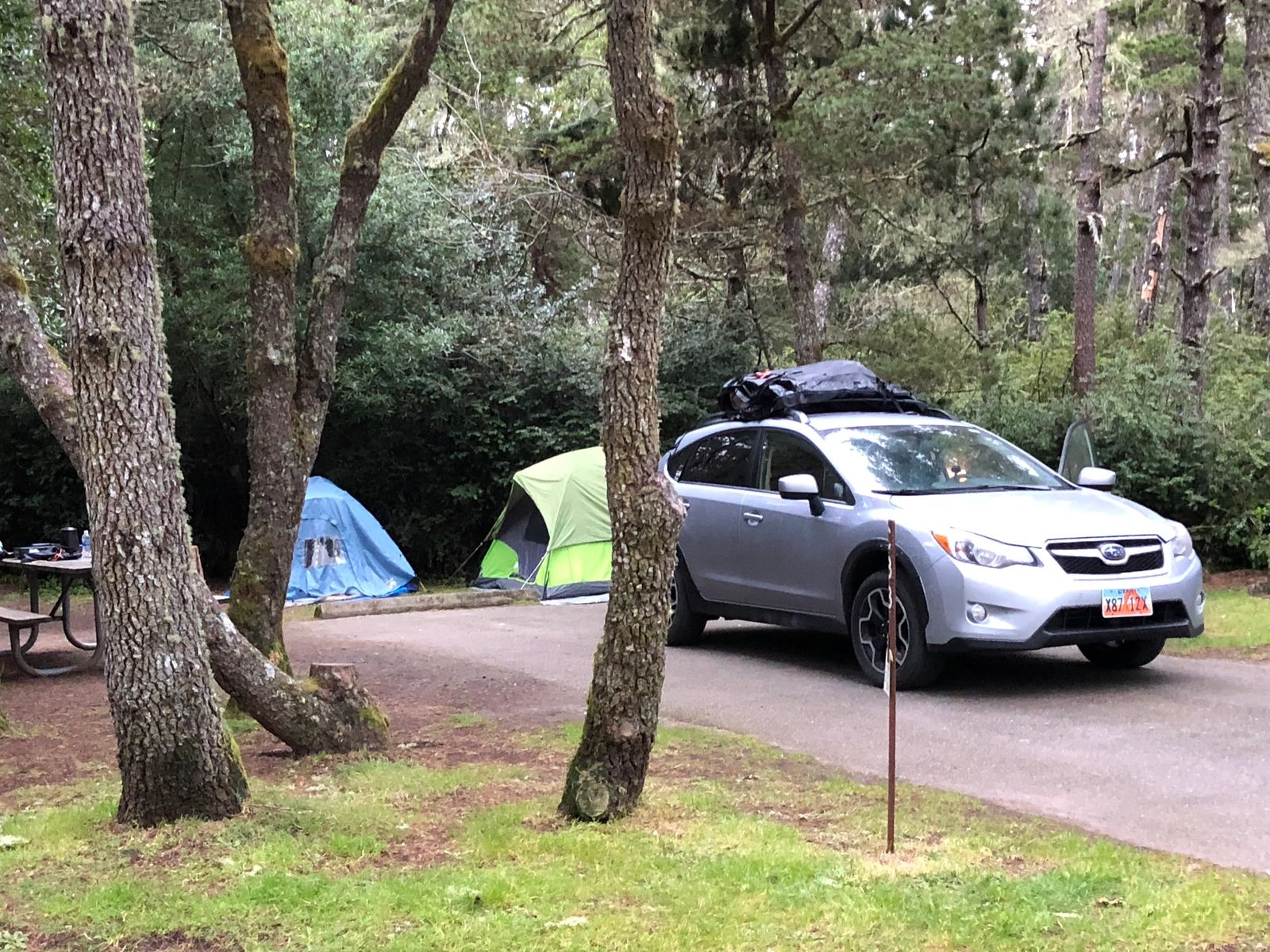 The original name of Averill is changed to Bandon a year later and the town continued to flourish. Mr. Bennette helped to both build and destroy Bandon. He brought his native grouse plant from Ireland, which you will see throughout the town. The grouse is characterized by waxy leaves and small yellow flowers in thick thickets of bushes (especially along the coastline).
The grouse plant is what started the great fire in 1936. The older folks in the town may remember the fire still, it would take years for the town to rebuild itself. Wood production, sawmills, water plants helped the town flourish, even the first Bandon Cranberry Festival took place (1947). You can still visit the Cranberry Sweets factory today and sample some of the treats and other boutique shop items. Have I piqued your interest in Bandon yet? It may look like a small town that is brand new, but this little town packs a big punch in both history and in the outdoor activities you can participate in.
Floras Lake State Park: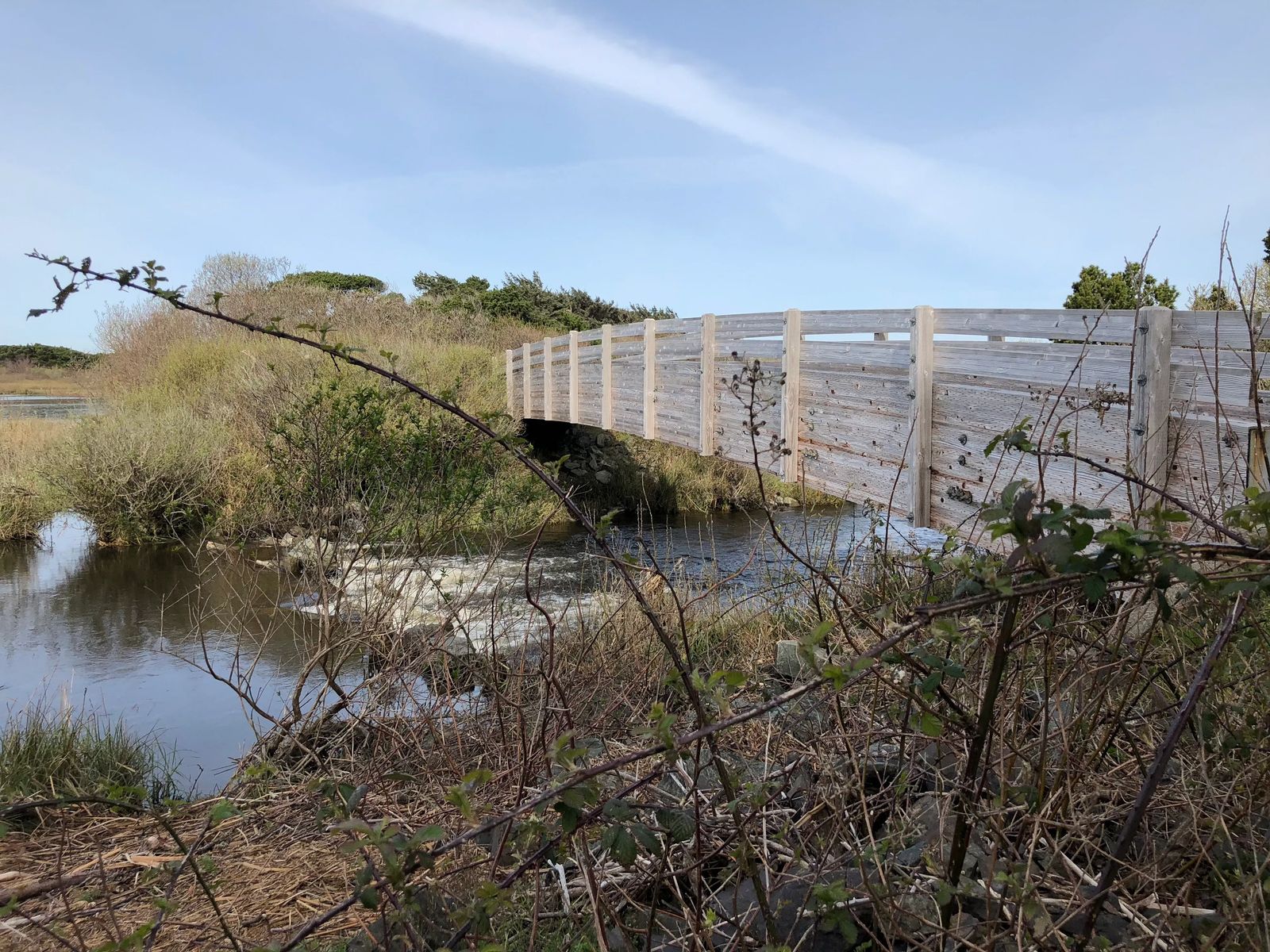 This hike is a lot more strenuous than it appears. You start off walking over a bridge to a beach like area. It is quite unique as there is a lake on one side and over the sandy hill is the ocean. The sand is more like small pebbles that really took a toll on my calves. The lake is a very popular place to come Kitesurfing as the wind is usually perfect for this sport.
As you walk along the edge of the lake to the forested area, I would suggest bringing water shoes so you can walk on the packed down sand near the shoreline. Once you reach the wooded area you feel like skipping down the trail singing, 'Lions and Tigers and Bears oh my!'. Although nothing really jumped out of the woods at us, except for an occasional squirrel it is truly a place where you feel Gnomes and Fairies could live.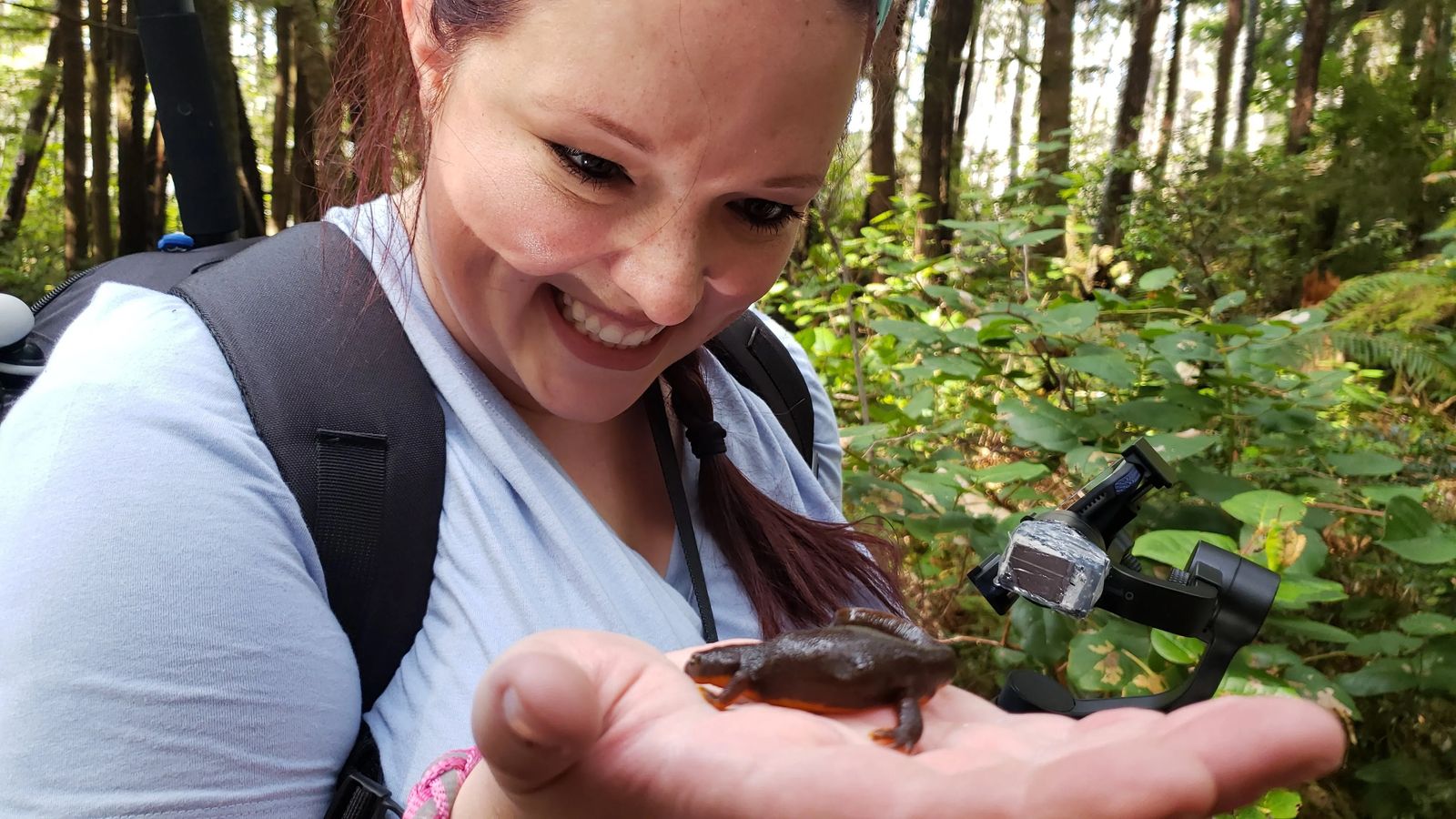 We walked for quite a while, 1 mile before most of the group turned back. My friend Breanna was so excited for this trail as it is supposed to spit you out along the sweeping cliffs complete with gorgeous waterfalls. As she led us along this trail we ran into large puddles of water. With the edges of the trail being thick with sticks, moss, and underbrush we had to wade straight through the ankle-deep mud. I finally looked at my Fitbit watch and informed Bree that we had just hiked 2 miles in (which means we would have 4 miles back). She was sorely disappointed when I told her she could keep going, she caved and turned back with me.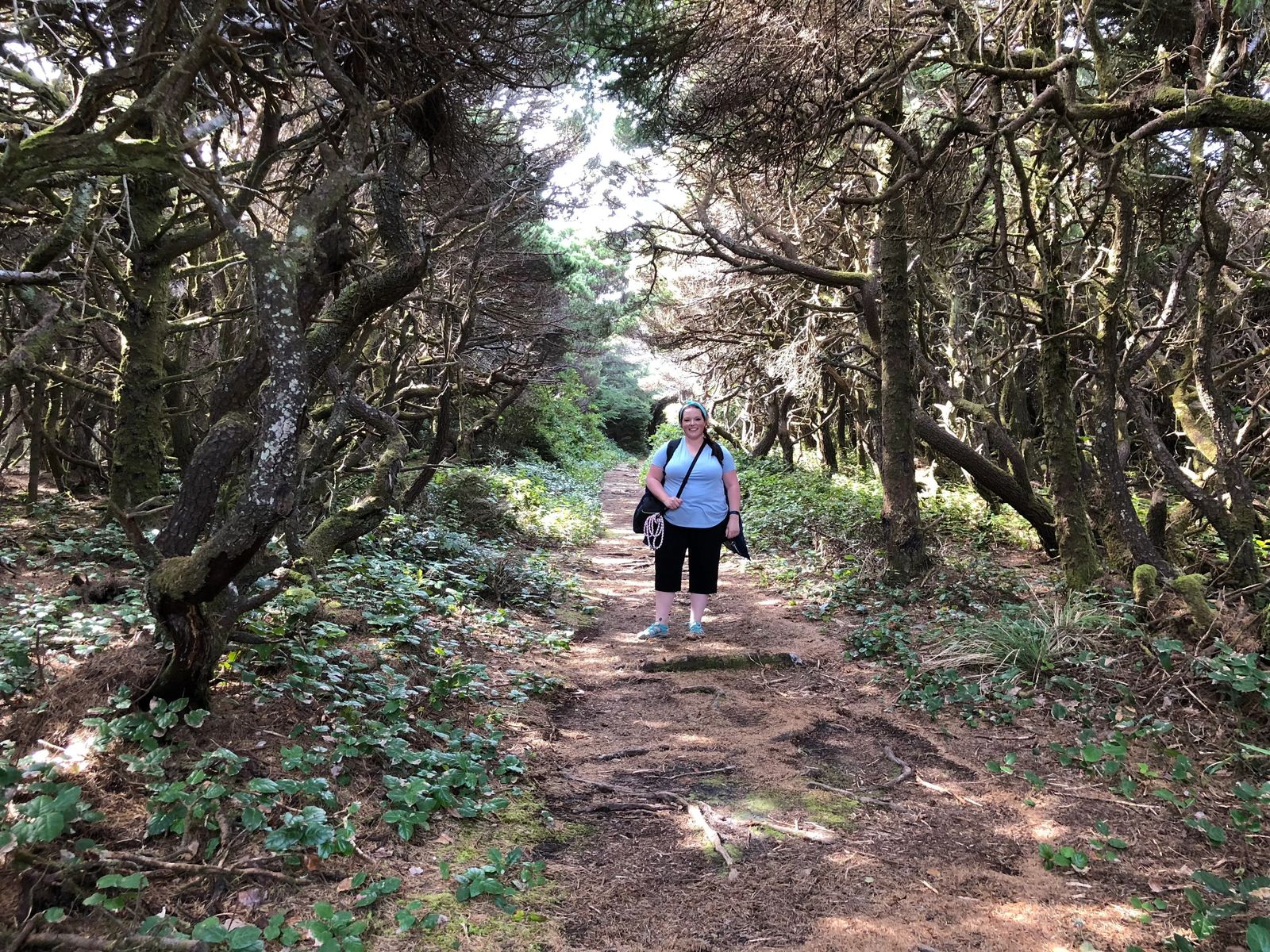 On the way back, about 1/2 mile past where the others had turned back, we noticed a tiny little sign (its brown and has a 1 inch by 2 inch arrow with tiny little black mileage on the sticker)....this was where we were supposed to have turned to head to the end of this hike. In total, we hiked 8 miles this day through pebble beaches, sand, sludge, wooded areas and were completely knackered by the time we reached the rest of the group. So if you decide to hike in Floras Lake State Park, be sure you either have a GPS guide or someone who can tell you where the bloody turn is.
Coquille Lighthouse: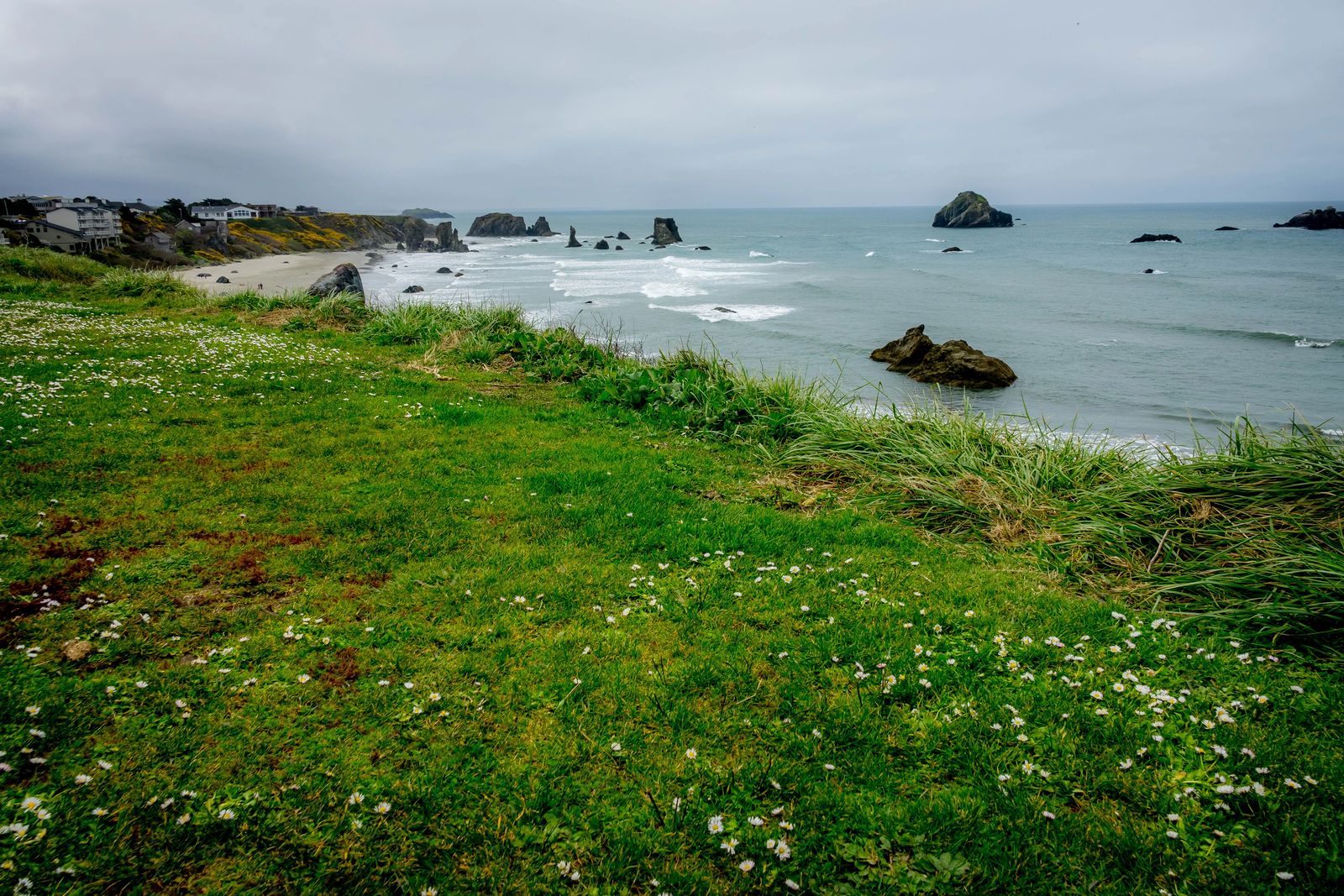 This 40-foot lighthouse was built at the mouth of the Coquille River to help the Mariners get by the dangerous shifting sandbars that dot the river. In 1890 the Bandon Oregon area was known for its fishing and timber industries. Congress approved the $50,000 it would take to build this lighthouse (in 1891) and it was completed by 1895 and was first used February 1896.
The fire in 1936 slowed the ships into the town of Bandon and with the amount of money needed to rebuild the town, the Coast Guard decommissioned the Lighthouse by 1939. Eventually, the lighthouse was restored, and in 1991 was gifted with a new solar-powered light. It is now open from mid-May to September. Address: 56487 Bullards Beach Rd, Bandon, OR 97411
Washed Ashore Gallery in Bandon Oregon: Art to Save the Sea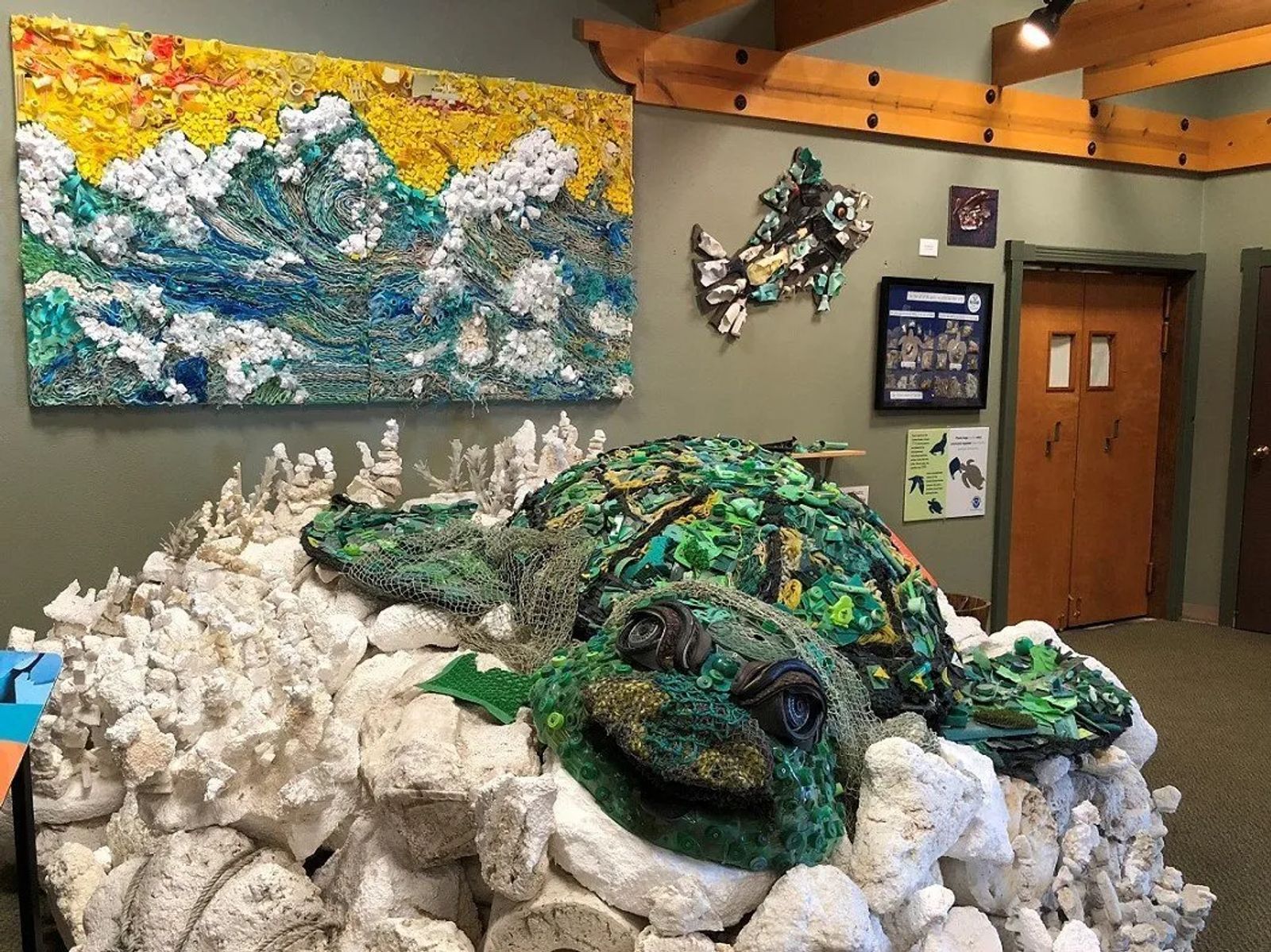 This was by far my favorite place to visit and where I feel my quest of using the least amount of plastic possible began. You wouldn't expect something like this in such a small town, but artist Angela Haseltine Pozzi started this non-profit community art project in 2010 to bring awareness to the plastic problem in our seas.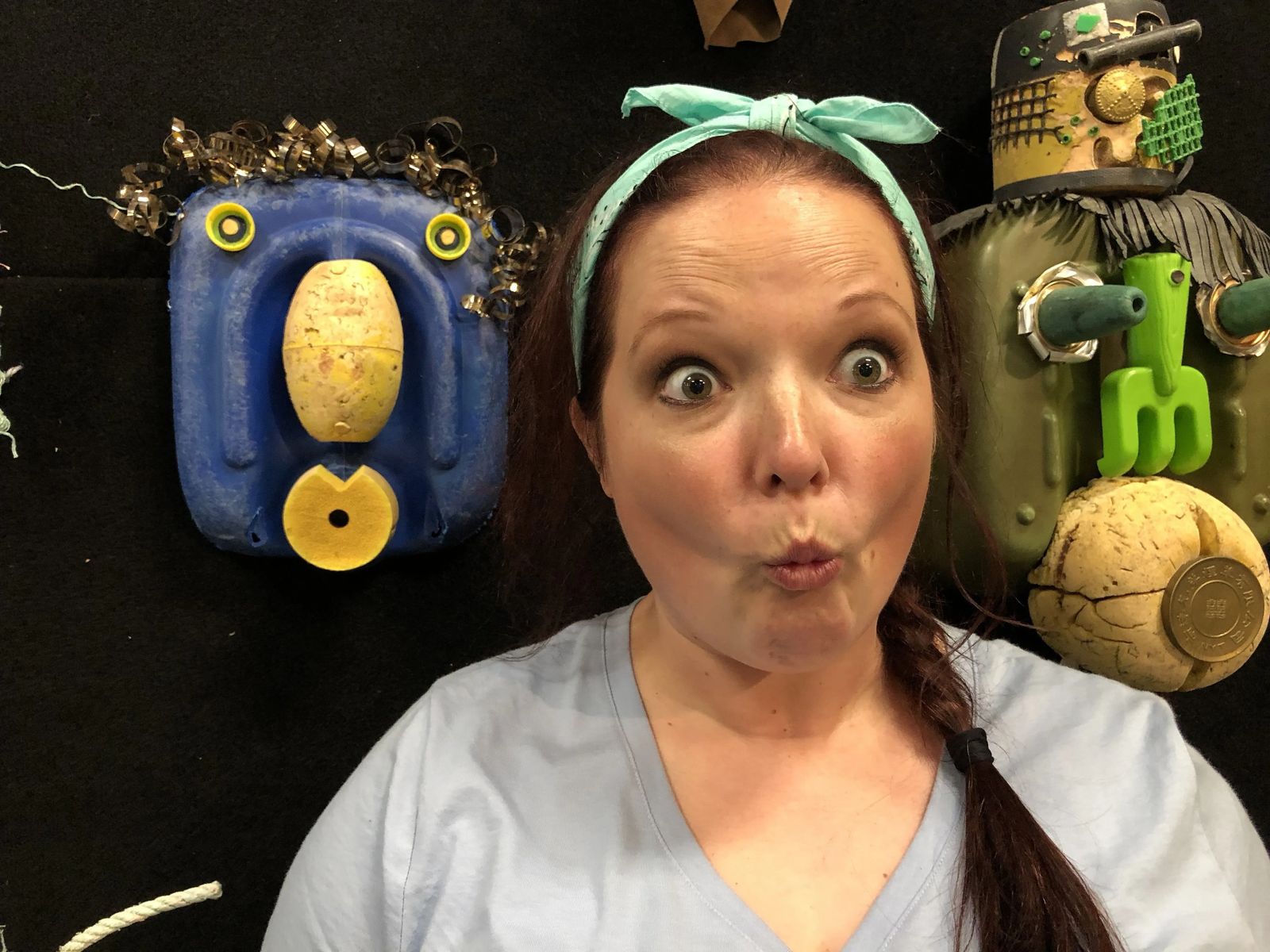 Every single piece of the marine life sculptures in this gallery are made entirely from garbage that is removed from the Ocean. After walking the magnificent beaches of Oregon Angela decided to make a bold statement through Art, by using this garbage to created the animals who were the most affected by the garbage pollution. Be sure to stop by and help create one of these masterpieces, I'm sure you will leave the Washed Ashore Gallery with a greater sense of responsibility to #SavetheSea Address:  325 2nd St SE, Bandon, OR 97411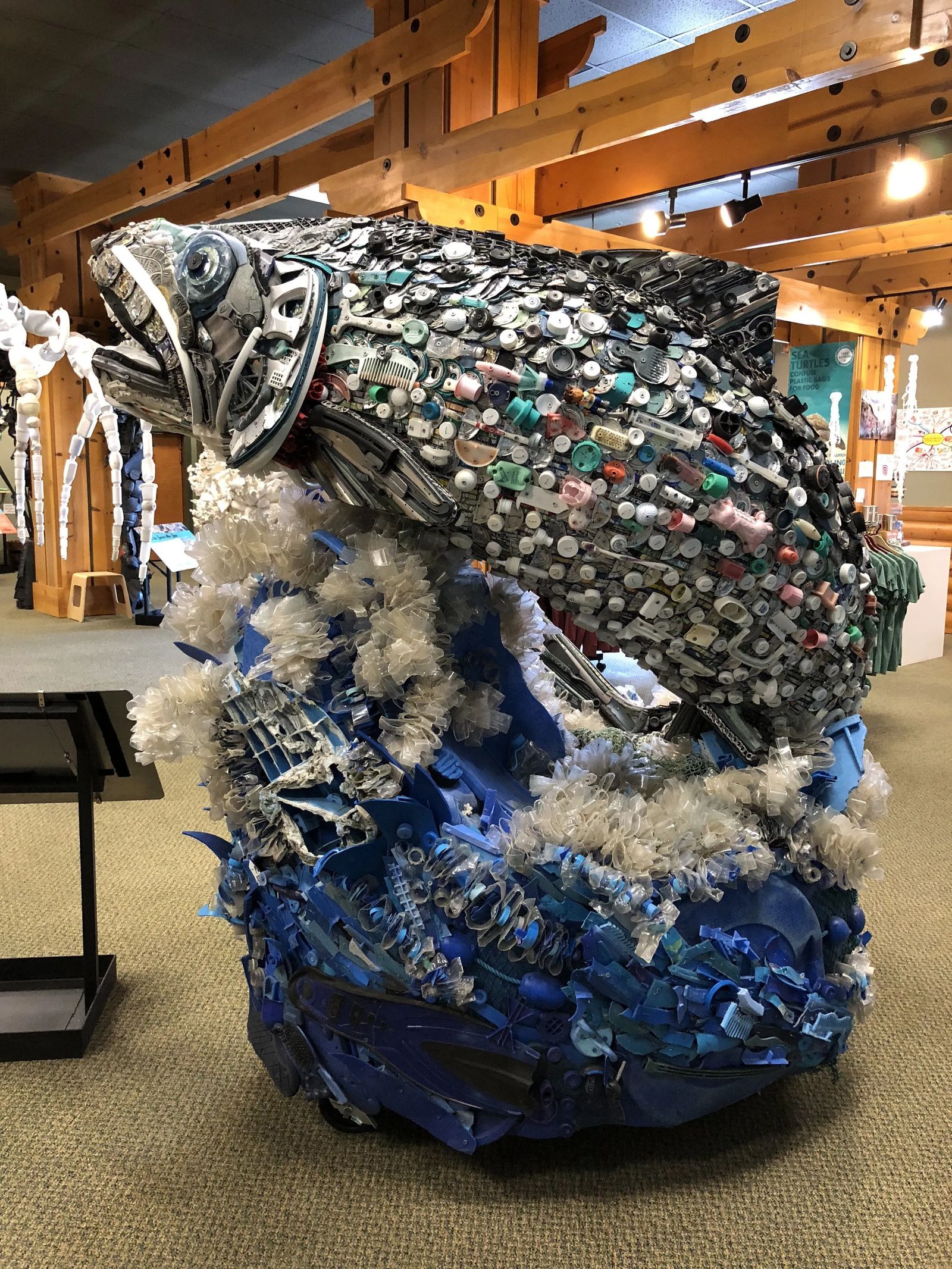 Other exhibitions: St Paul Minnesota at the Como Park Zoo, Chicago, Illinois, S at the Shedd Aquarium, Smithsonian National Museum of Natural History Washington, DC. Donations can be made to WashedAshore.org - a Non-Profit organization
Shores Acre State Park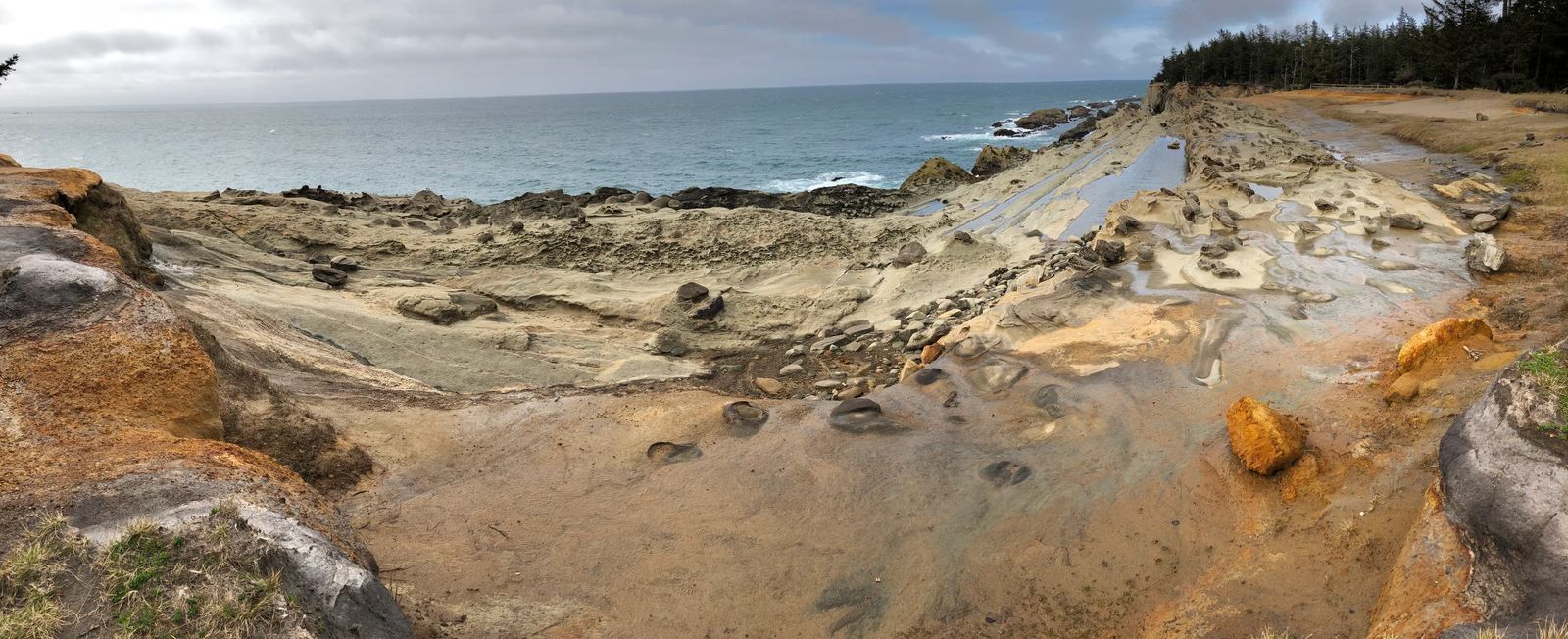 A picture can tell a thousand words, but a video can help you experience all that Shores Acre State Park has to offer. This park was once a magnificent estate of Baron Louis Simpson, a logging tycoon that wanted to create a palace for himself on the Shoreline of Oregon. Stroll along the trail from the parking lot to the Ocean Cove at Simpson Beach.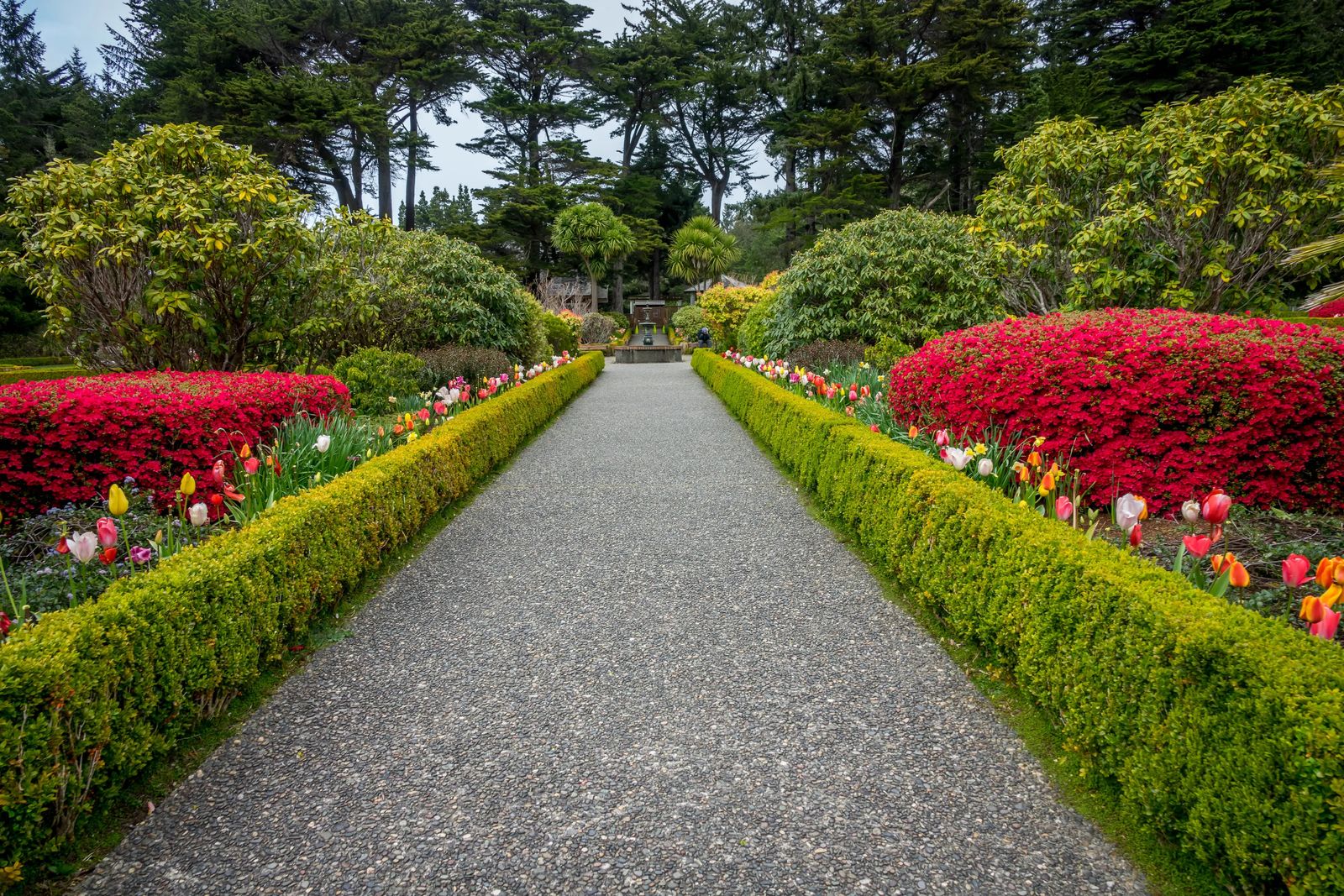 Take a gander inside the viewpoint gazebo during any season and watch the waves at high tide crash against the shoreline. You may even see some migrating whales along the shore during December and March. The Simpson mansion has since disappeared but the formal Shores Acre Gardens are still well maintained and close by. Walking through these gardens is a like a botanical Disneyland.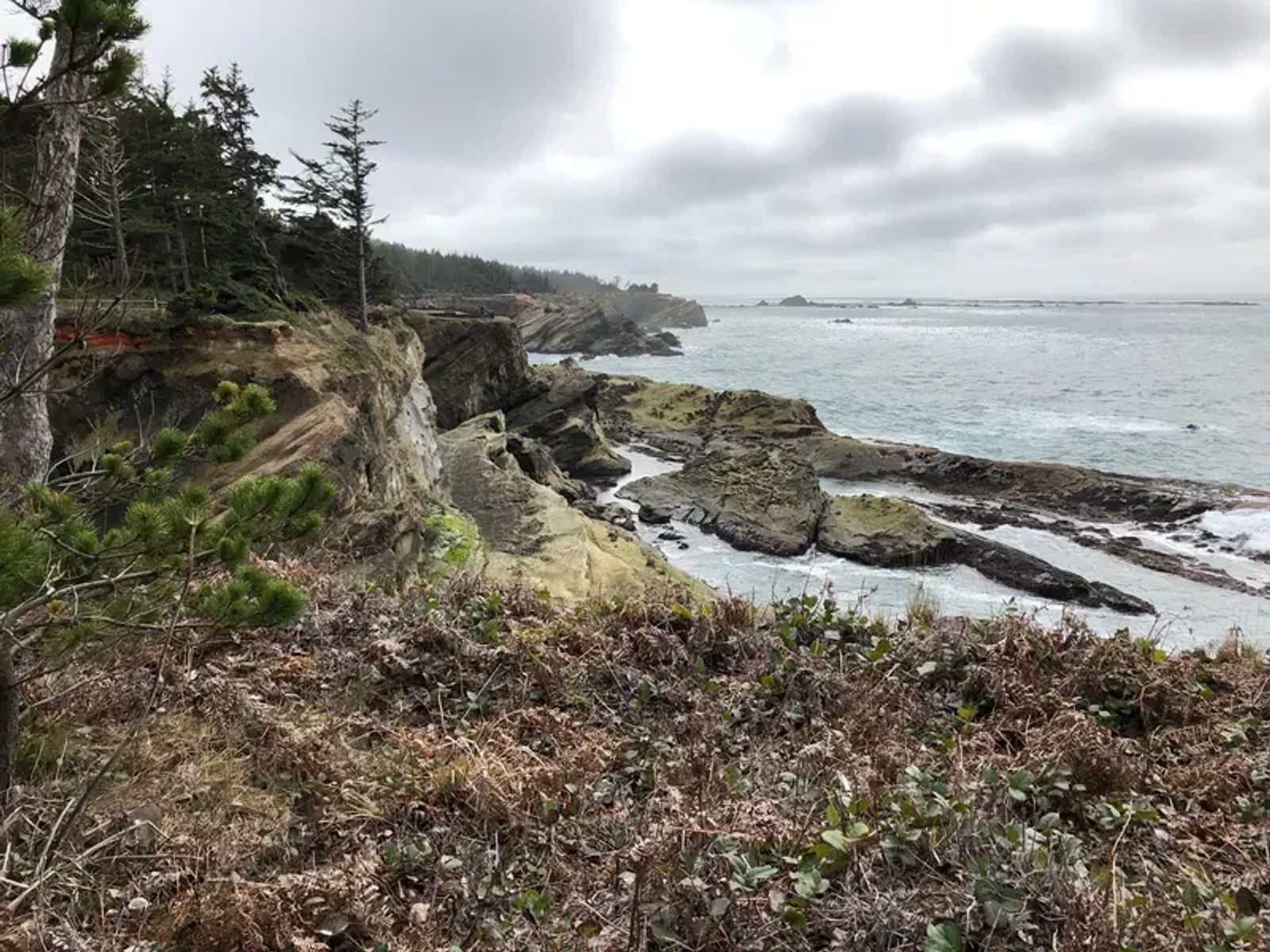 You start your journey through a tulip-lined walkway with fountains and benches. Birds softly chirping around you, and you are sheltered from the Ocean winds. A small house sits on the property with a cottage like feeling that welcomes all who enter. Be sure to take in the Japanese-style garden with a lily pond, and the two rose gardens. If you are there during the Christmas holidays, volunteers will delight you by filling the garden with lights making for a perfectly romantic holiday getaway.
Address: Cape Argo Hwy, Coos Bay, OR 97420 Note: Credit Cards are not accepted for parking pass purchases. Receipt from any other Oregon State Park Campground is accepted as a daily permit, just display it on the driver's side of the dashboard.
Crabbing in Charleston:
Did you know that you can go crabbing in Oregon and California? I thought that crabbing was reserved only for being on the boats in the middle of the Alaskan Bearing Sea. When we went to Oregon, I found out that you can go Crabbing just off the Pier in Charleston (a town right near Bandon). Grab some Crab Pots at Davey Jones Locker, along with some thawed out fish heads and such & catch some fresh Crab for your dinner.
ATV Riding:
Right between Bandon and Charleston are two places where you can ride ATV's. Our itinerary did not allot for the time to do this, but is definitely on the list should we go back.
The trails that you would be looking for are Winchester Trails for ATV riding, and Blue Ridge for ATV, Camping, and Sand Boarding.
Check out Oregon's riding restrictions before you go, so as not to get a ticket.
Circles in the Sand at Facerock Wayside Beach:
We happened upon the Circles in the Sand group when checking out Bandon's City page. This wonderful group goes out to Facerock wayside beach and using rakes to create labyrinths in the sand. Once the labyrinths are completed, the attendees are gathered together - a message of hope and encouragement of a medatative state of mind is encouraged.
As you disconnect from technology, follow the paths along the beach, and truly listen to the waves crashing nearby - a state of calm and peace with descend upon you. Truly one of the most unique experiences while in Oregon. Be sure to connect with them through the Facebook website
Other activities near Bandon:
Beach Cleanup Volunteering is a great way to teach your kids about sustainable travel, or participate in an activity that could save marine life from deadly trash.
Visit Bandon Tourism Board Calendar of Events for the most up to date activities per season.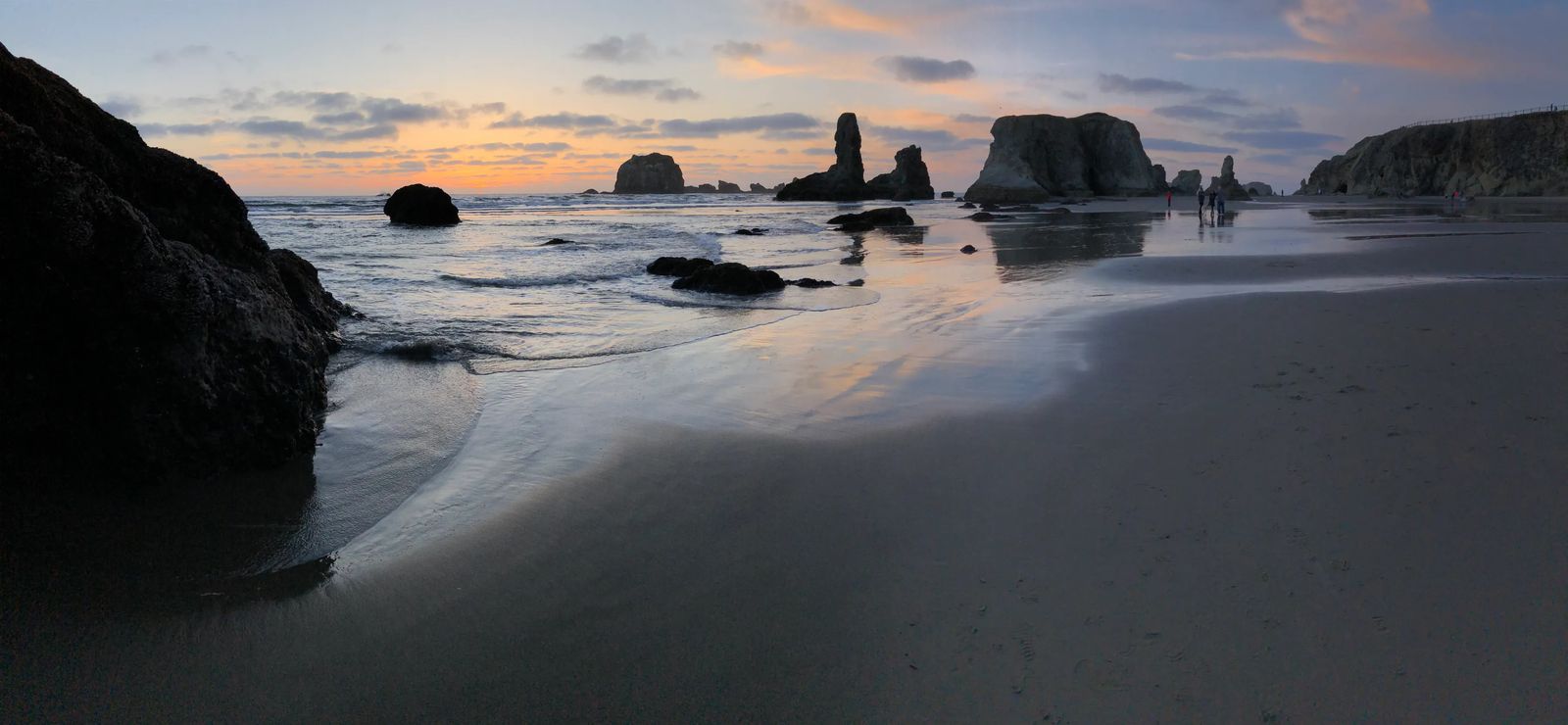 How to get there:
Eugene Airport (EUG) offers flights from multiple destinations and is 2.5-hour drive from Bandon (approx. 150miles). Multiple airlines fly to this airport.
From Eugene, you can take the Amtrak train to Coos Bay ($39 and takes 16 hrs)
From Eugene, you can take the Amtrak train to Coos Bay ($39 and takes 16 hrs)
Southwestern Oregon Regional Airport (OTH) in North Bend is 30 miles North of Bandon.
Bandon State Airport (BDY) only has private and charter planes
You can also take the Coastal Express up and down the Oregon Coast by calling 1-800-921-2871 - please note that this service only runs Monday through Friday.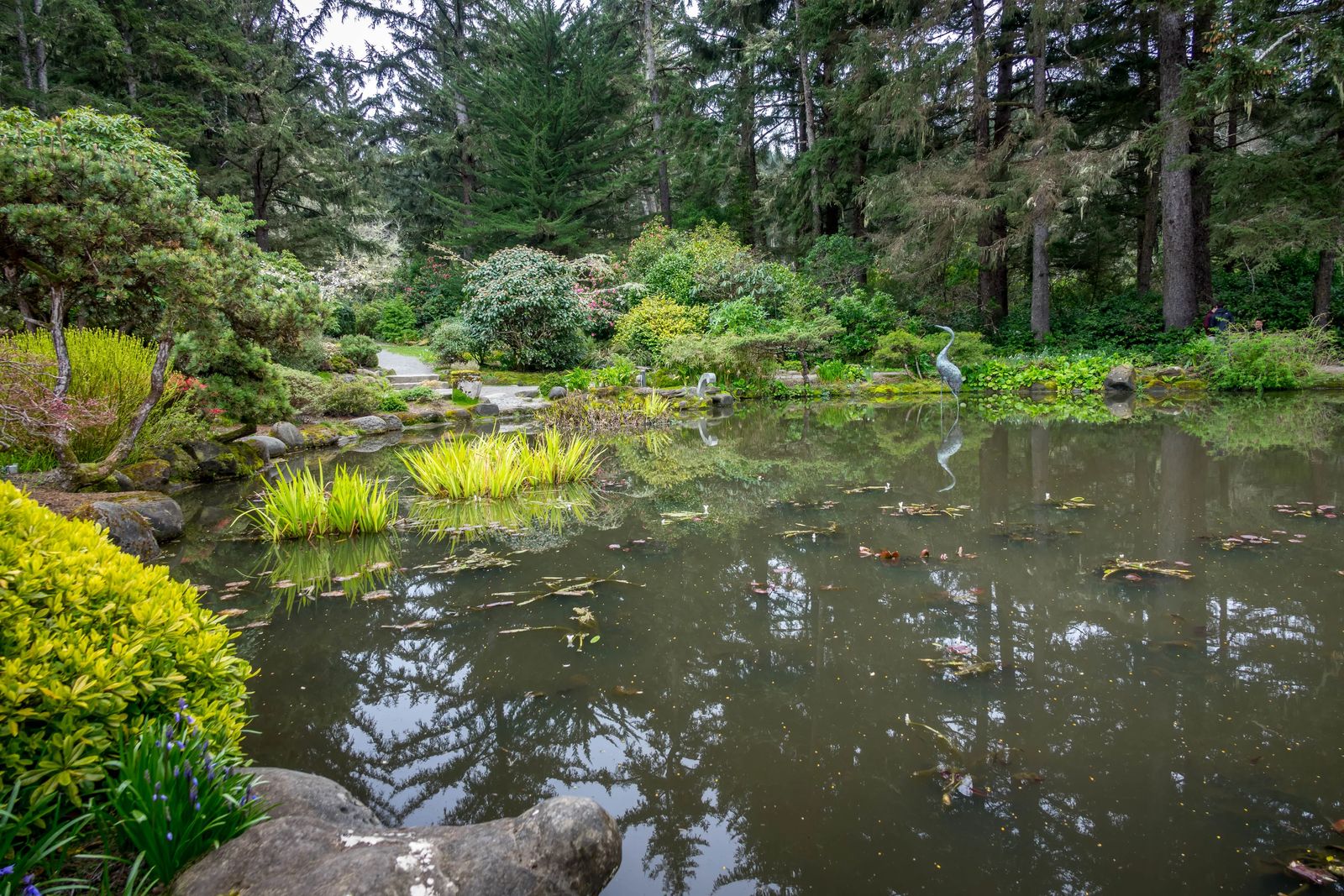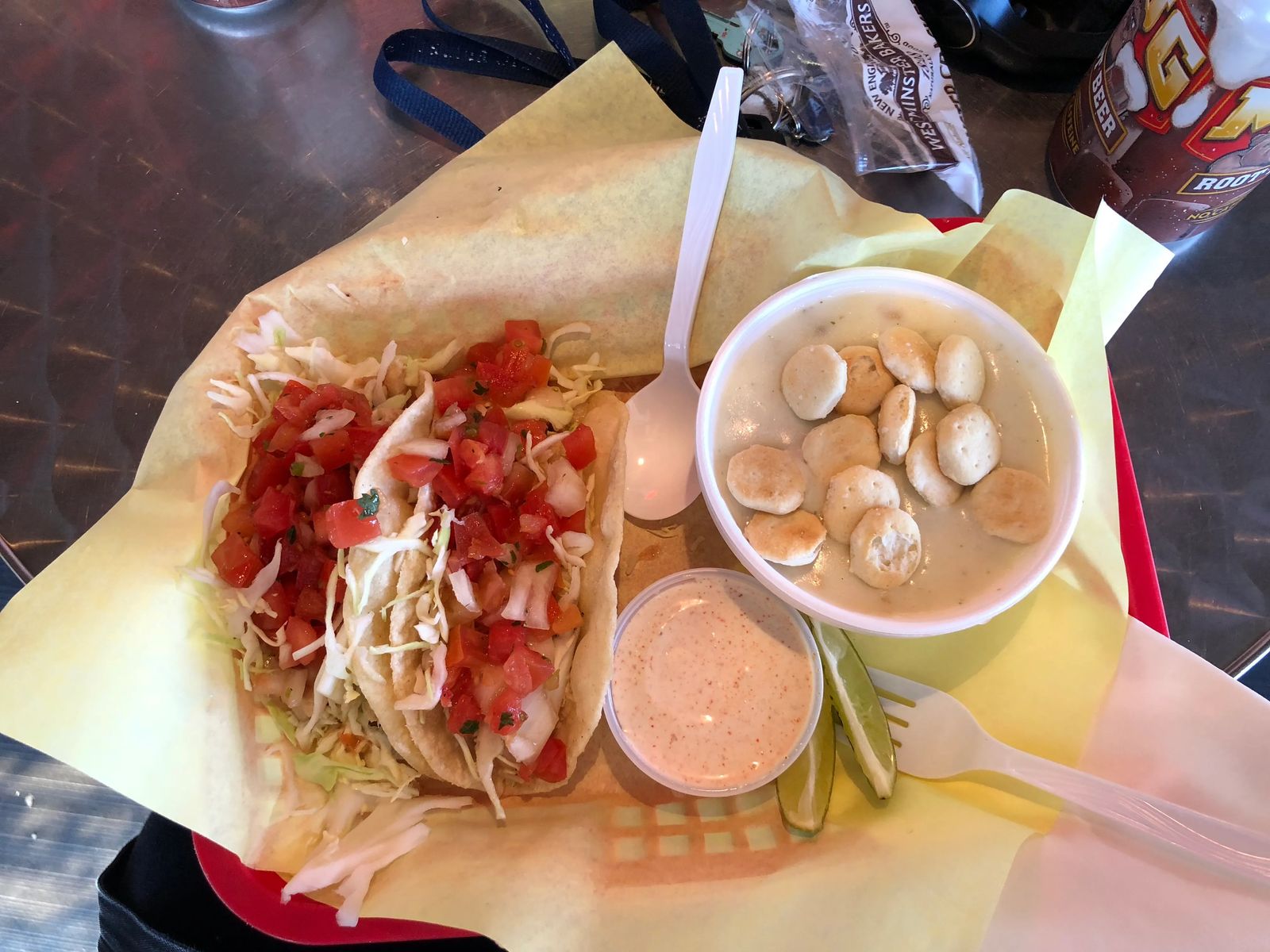 Where to Eat:
Restaurant
Healthy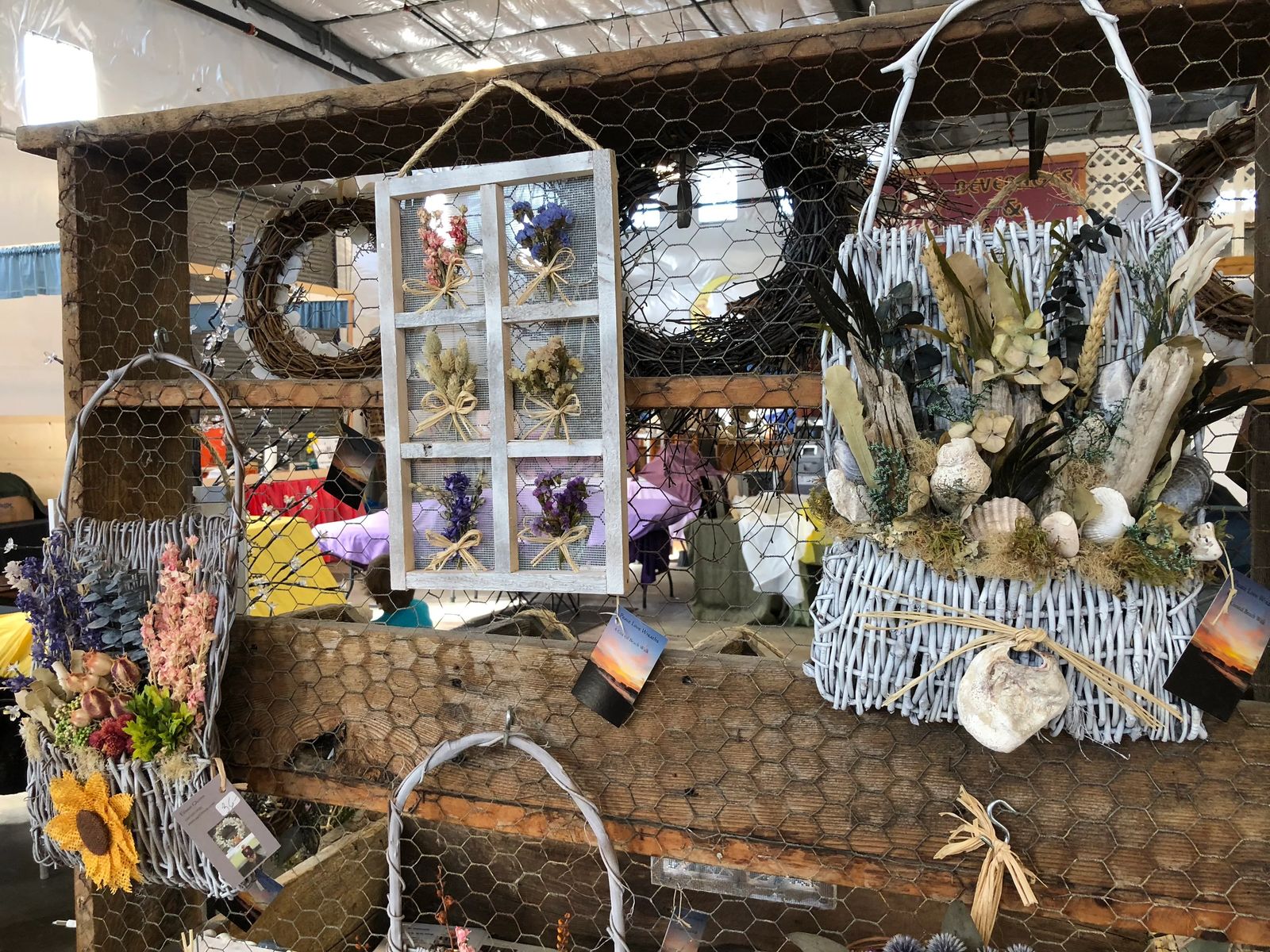 Like it? Pin it! Sharing is Caring ;)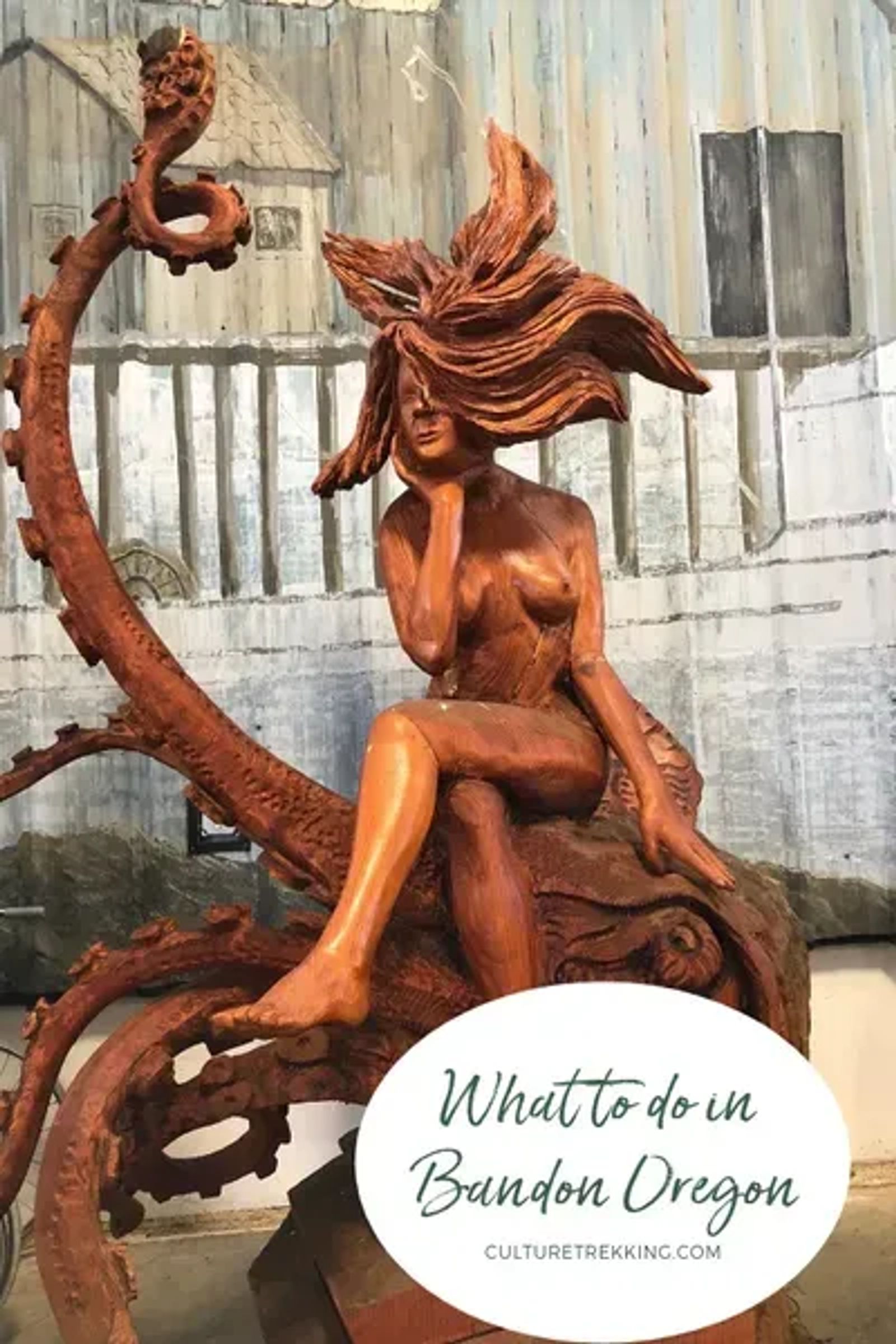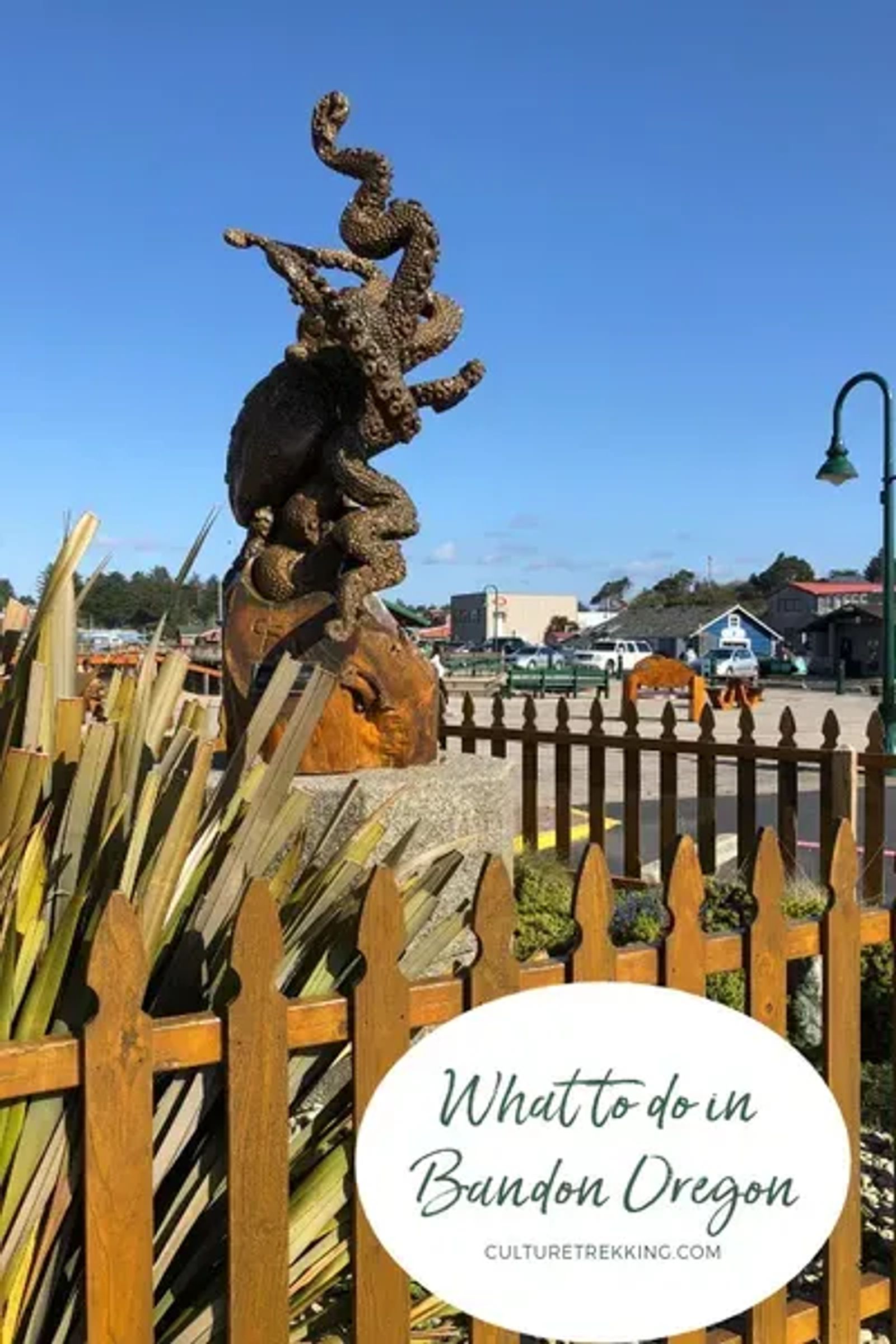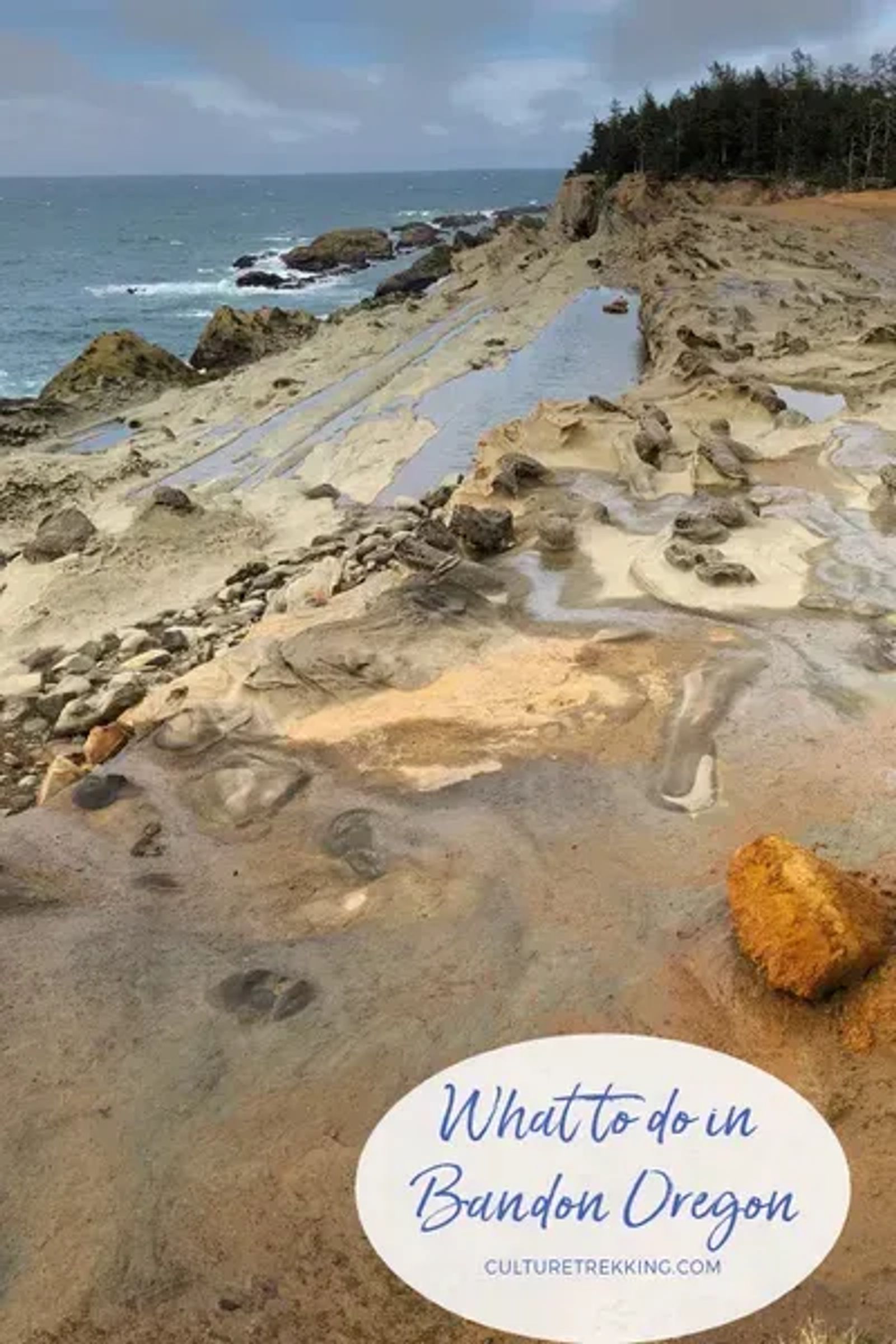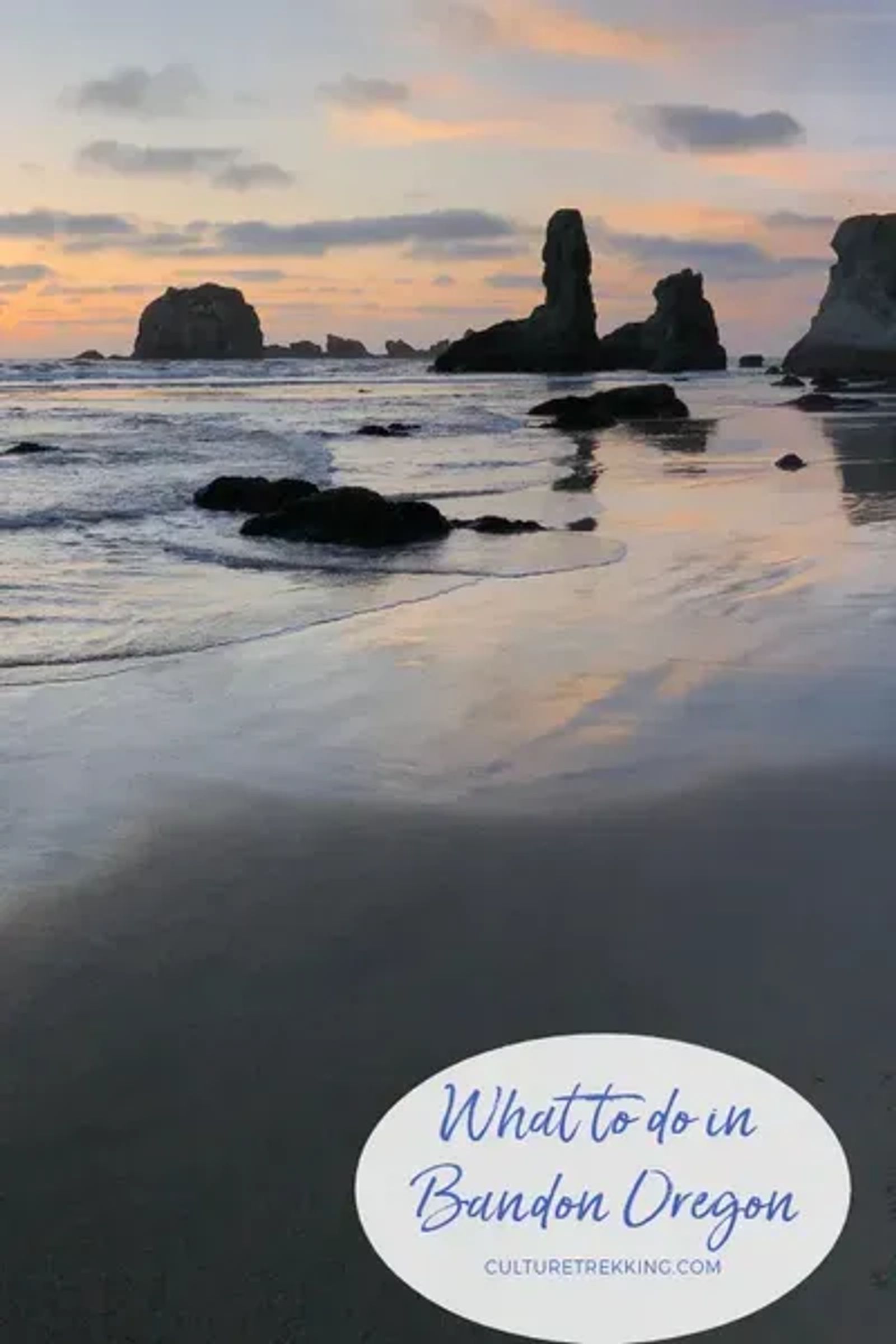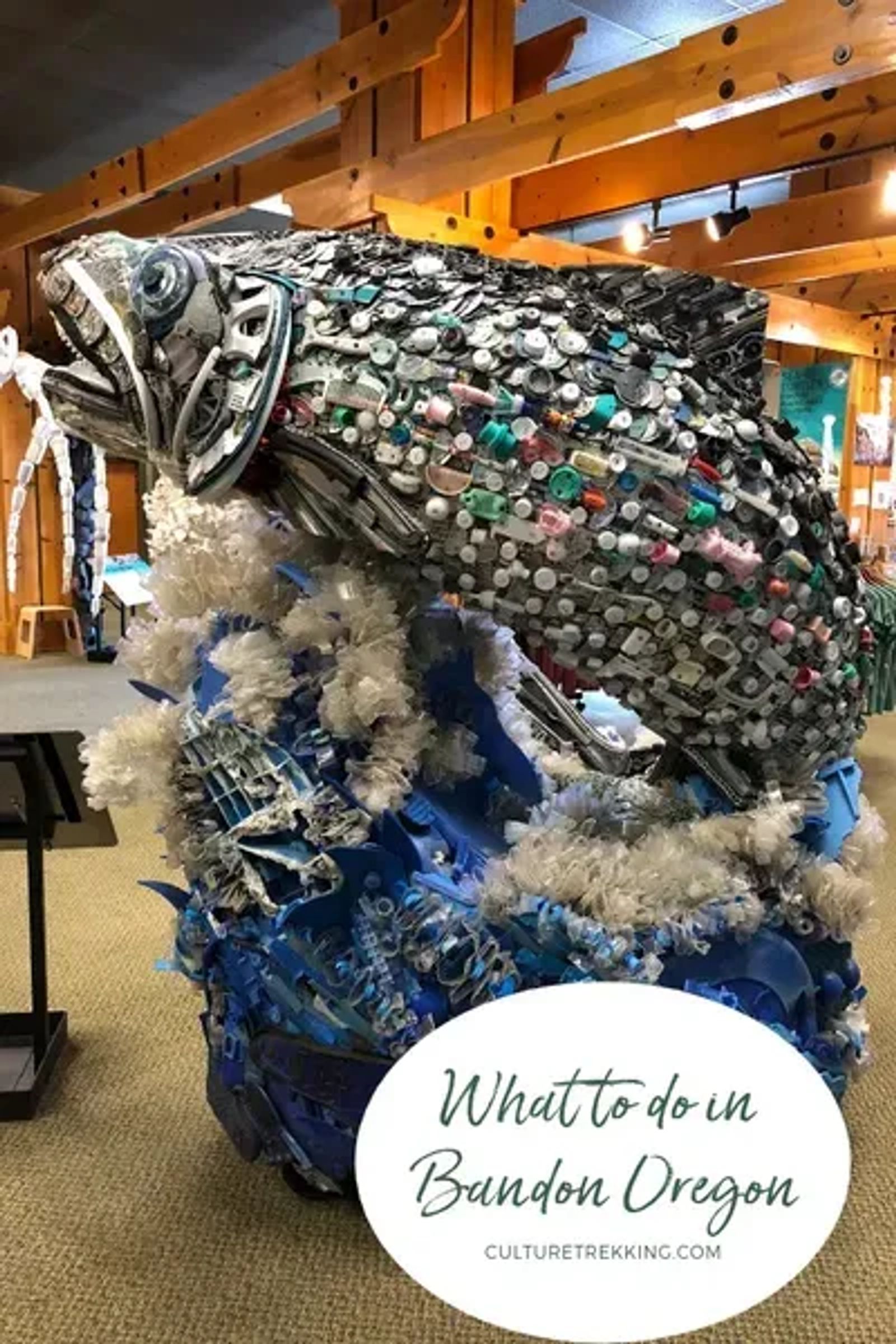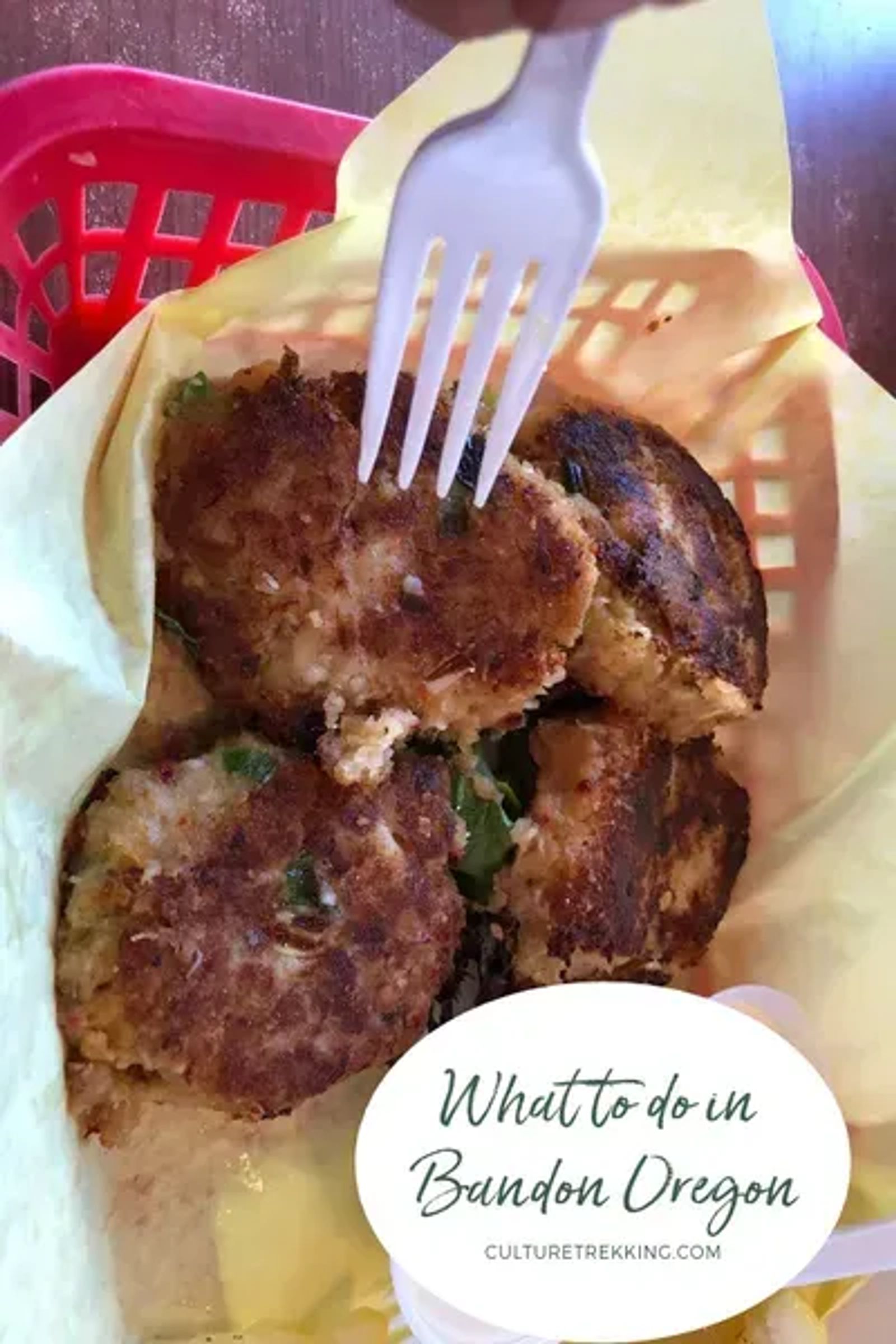 Why You Should Visit Bandon
Although Bandon is not well known for its attractions, it is a truly beautiful place. If you are an outdoor fanatic like me, you will feel so at peace and at home being amongst the moss lined trees. Seeing Bandon on the map is quite a different experience than actually being in this city. The area is suited not just for the outdoor savvy, but those with children, elderly, families small and large, and for those who may have disabilities. Participate in as many hikes, sand labyrinth walks, and art projects as you can while visiting.
If you enjoyed this article you may also enjoy:
The Perfect Oregon Coast Camping Trip
Oregon Wine Country - by Destination Overlooked
Seven Hidden Gems of Washington State
Hiking Mount Whitney in Winter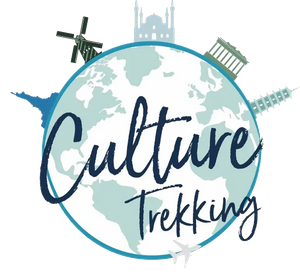 Culture - Connection - Art - Adventure