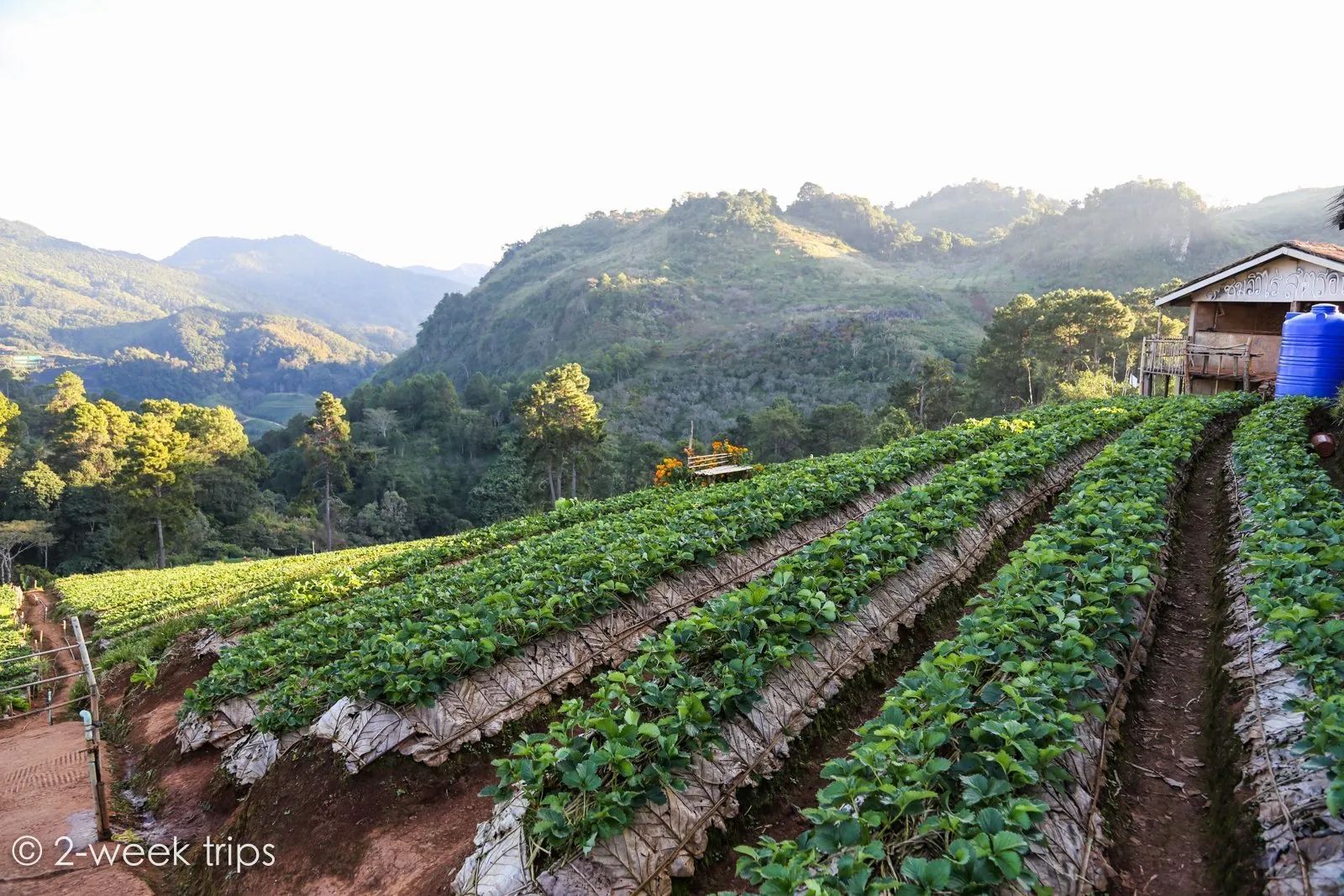 Camping with the locals in Doi AngKhang, Thailand
Deep in the remote mountains of northern Thailand, the peaceful retreat camping in Doi Angkhang, a world away from the bustling streets of Chiang Mai. The main attractions around this small town are the projects run by the Royal Agricultural Research Centre. Within the compound, colorful flower gardens showcase the technical expertise of scientists and gardeners. Further on, picturesque tea plantations and fruit farms welcome visitors to explore and buy the local produce.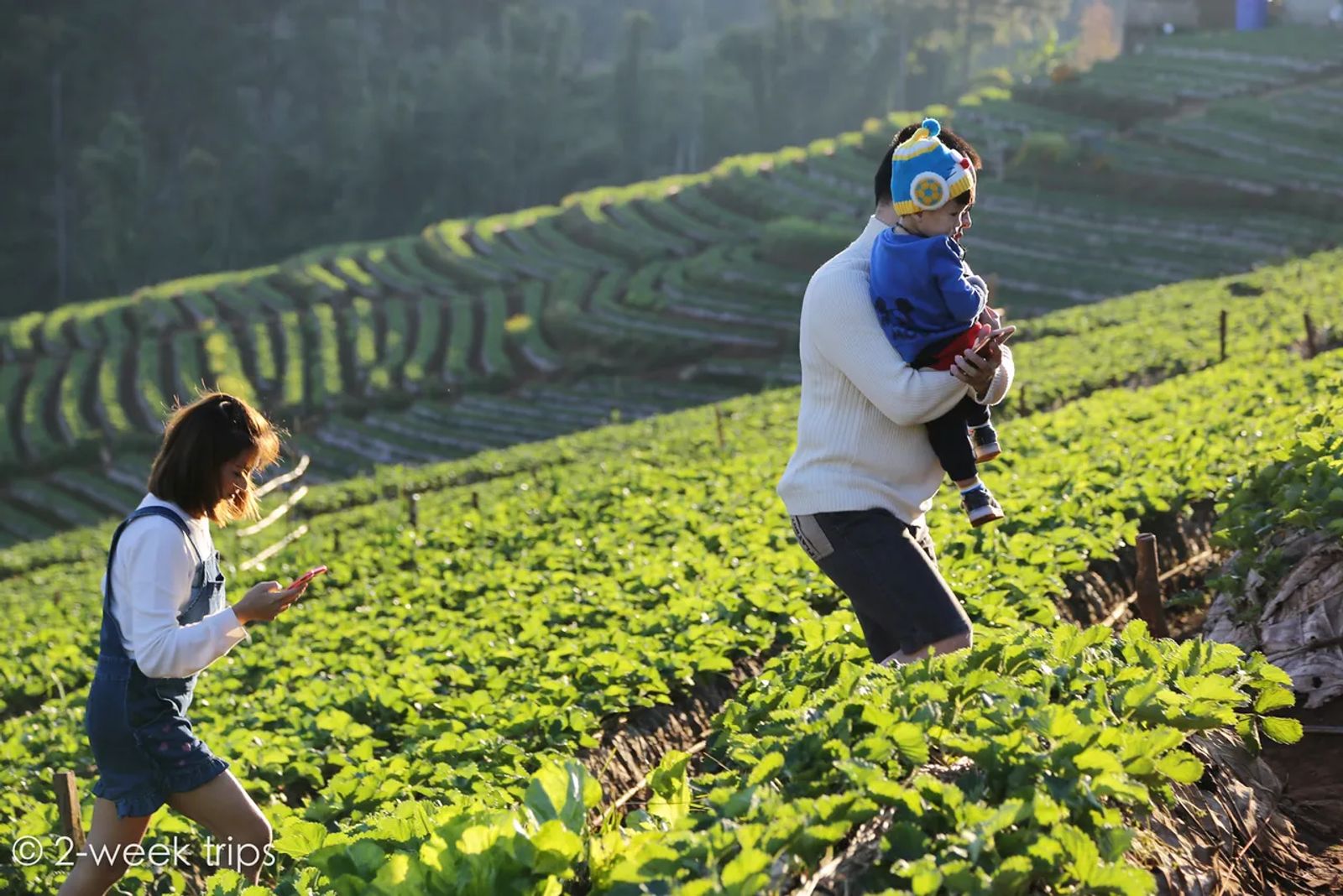 Just a few decades ago, this region bordering Myanmar was lawless and inaccessible. Poppy plantations and opium factories dotted the landscape, as drug smugglers ran their business with impunity. In recent times, however, a determined drive by the Thai government to introduce agriculture reforms and improve infrastructure has driven the drug trade out of the area. Today, Doi Angkhang is popular with locals seeking refuge from the tropical humidity. With a temperate climate averaging between 20°c to 25°c, most visitors come here to hike, camp or just spend a night in the only resort for a short getaway.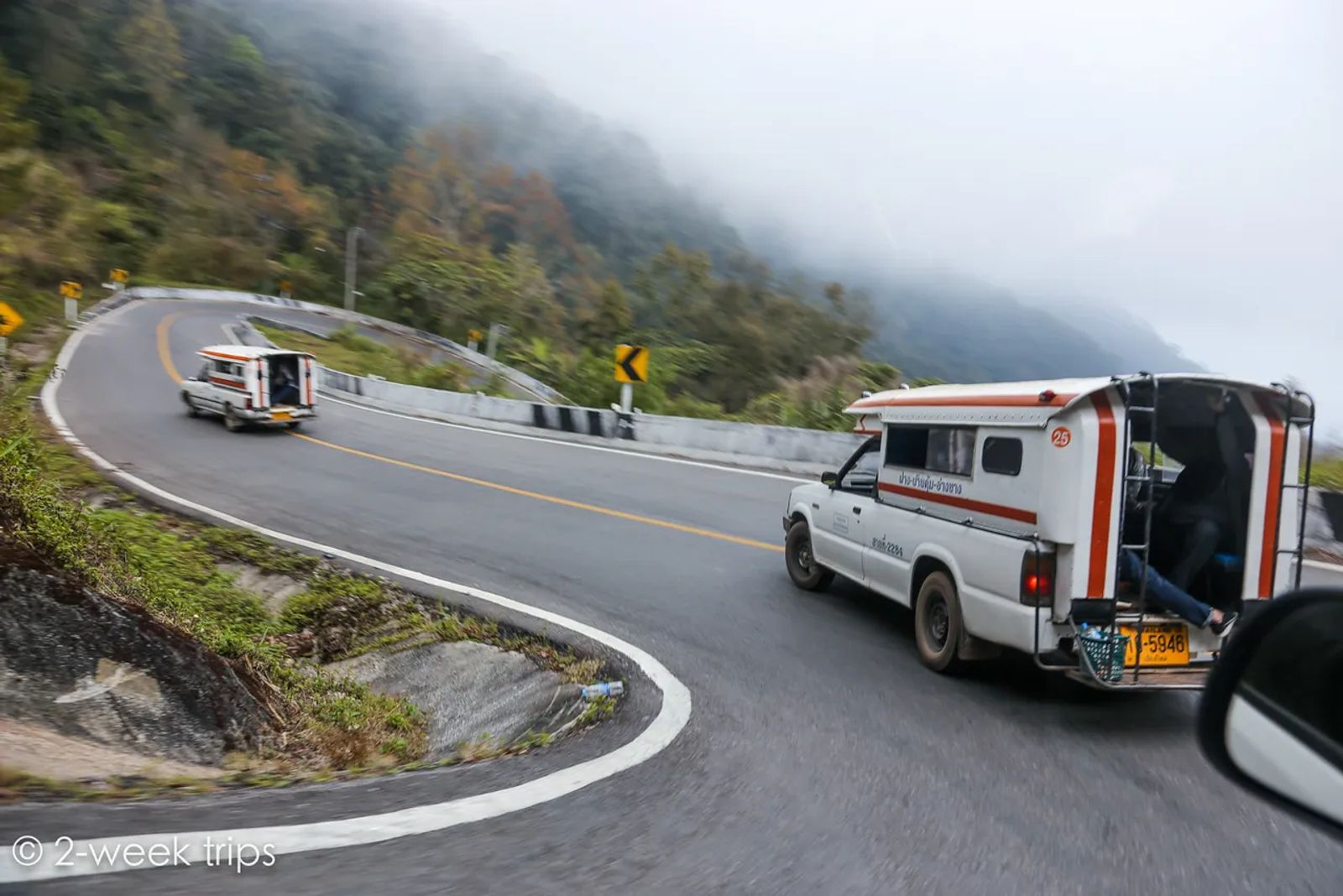 Getting to Doi Angkhang
It takes 3.5 hours to get here by car from Chiang Mai, with the last hour crawling up steep uphill slopes and navigating relentless hairpin turns. There is no public transport going up to Doi Angkhang, so you'll need a private vehicle to make the trip up.
If you can find a group of travel companions, you can hire a private minivan or Songthaew for 2 days and share the cost. You can find plenty of tour operators in Chiang Mai, or take a bus to Fang and find a driver there for slightly less.
The Camping Experience
Accommodation in Doi Angkhang is very limited, with a single resort and several guesthouses in town. But the best way to spend the night here is in a tent, camping alongside locals in a forest clearing overlooking the valley below.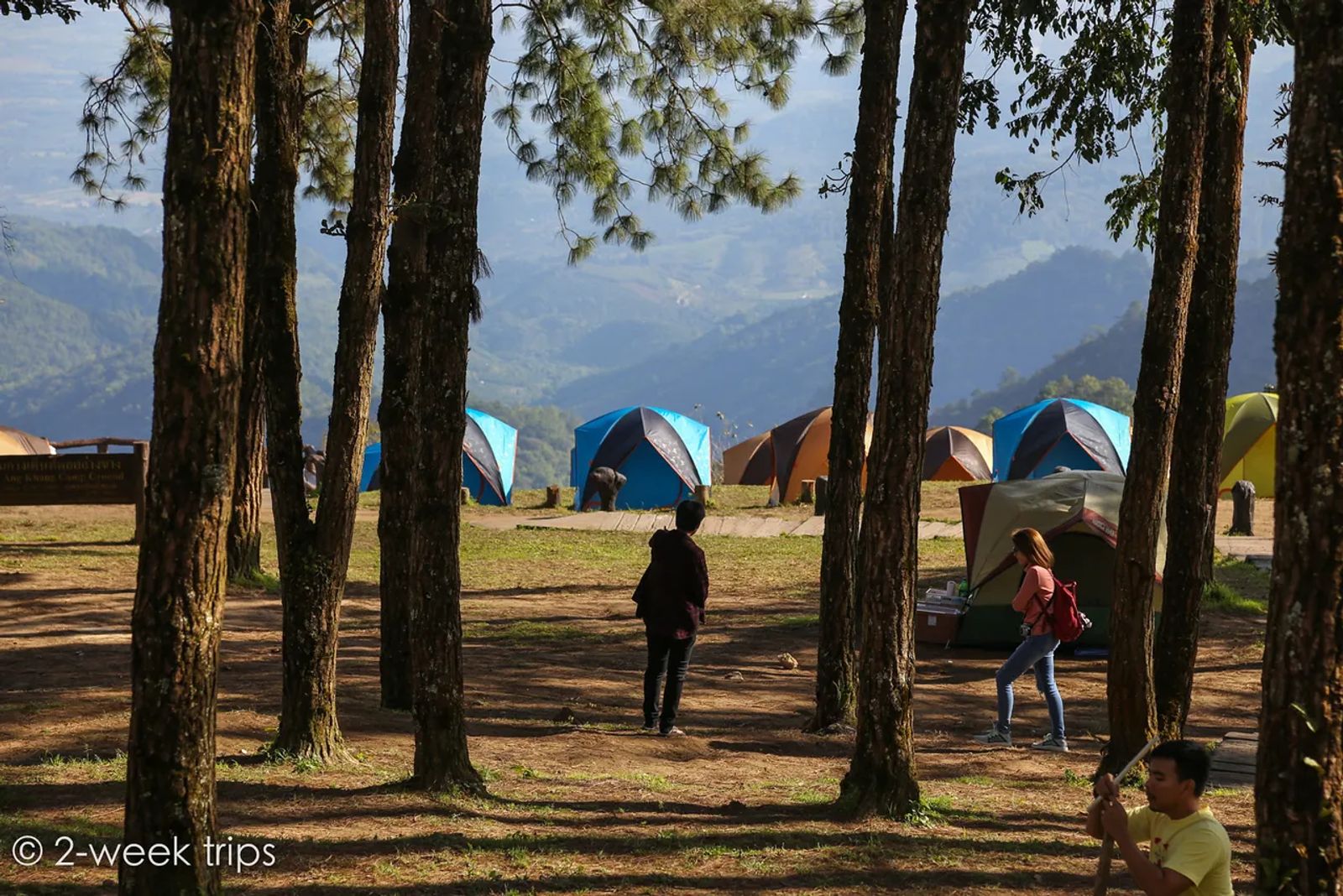 The Campsites in Doi Angkhang
While there are several campsites in the area, each with its own unique viewpoint. Occupying several strips of terraces directly facing east, the campsite managed by the National Parks is the prime spot for catching the sunrise. A tent here costs 200 Baht per night, which is affordable even for locals. In front of the rows of tents, the valley extends far into the distant mountain range.
On weekends and national holidays, there may be a lot more visitors to the campsite (I DID say that this was popular with locals!). Fret not, for just further down the road, to the left of the National Parks campsite, is another site run by the Thai army. A small army camp marks the entrance, and you can rent a tent and pay the pitching fees at a small booth nearby. Local families also rent out small plots of land around the area for overnight camping.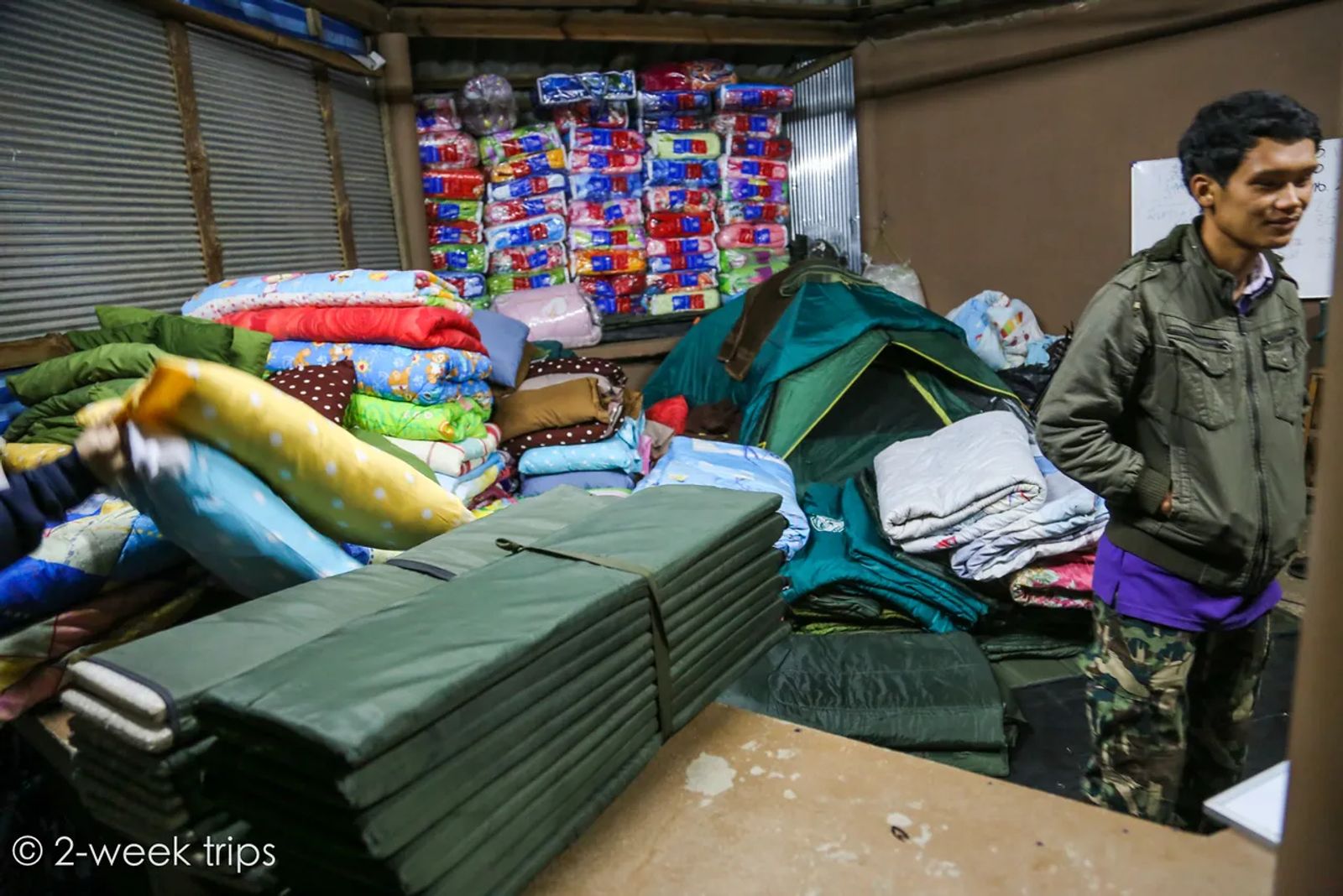 Equipment for Camping With Locals in Thailand
You don't need to bring your own tent to pitch here. Everything can be rented at an affordable rate, and it's all set up for you to crawl into. For security, you'll just need a padlock to secure the tent while you're out. If you're renting from the National Park office, you may choose to rent a sleeping bag or a set consisting of a sleeping mat and a blanket.
Temperatures may drop to single digits on the Celsius scale at night, so be prepared to tuck in for warmth. A row of shops across the road from the campsite sells other common camping equipment like gas stoves, bottled water, and toiletries. They stock pretty much everything you need for a comfortable outdoor camping experience, so you really need to lug them up the mountains.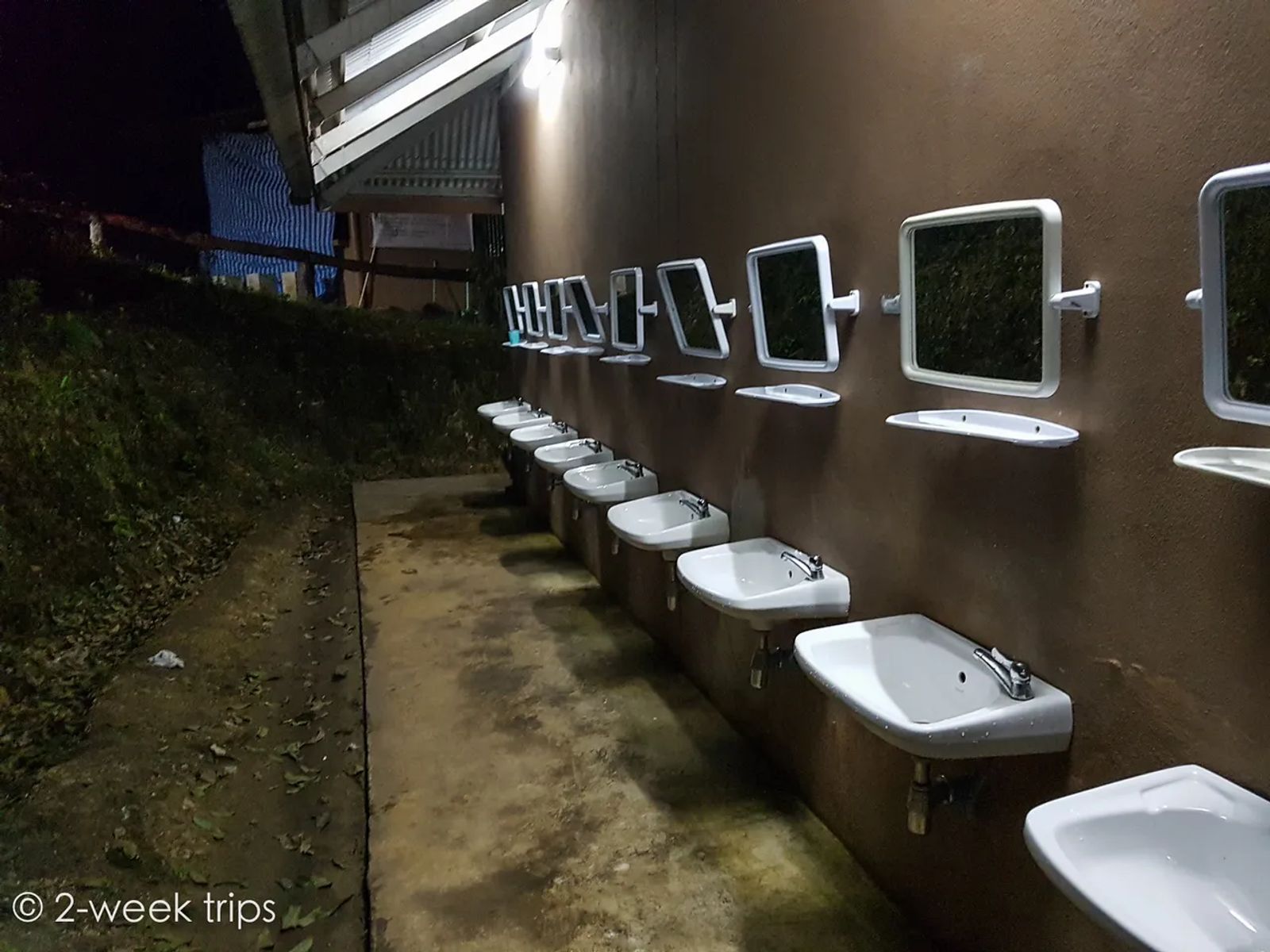 Bathroom Facilities Available in Doi Angkhang
A short distance from the tents, shared bathrooms are available for all campers to use for free. Housed in two separate blocks for each gender, the bathrooms are relatively basic with no heated water and limited toilet paper. It's cleaned daily before the bulk of campers congregate in the afternoon, but expect it to get progressively dirtier as night comes.
You can get hot water showers at the shops across the road for around 100 Baht each time. With the nice cool temperature though, most campers will just skip the shower for the night - it's part of the outdoor experience after all!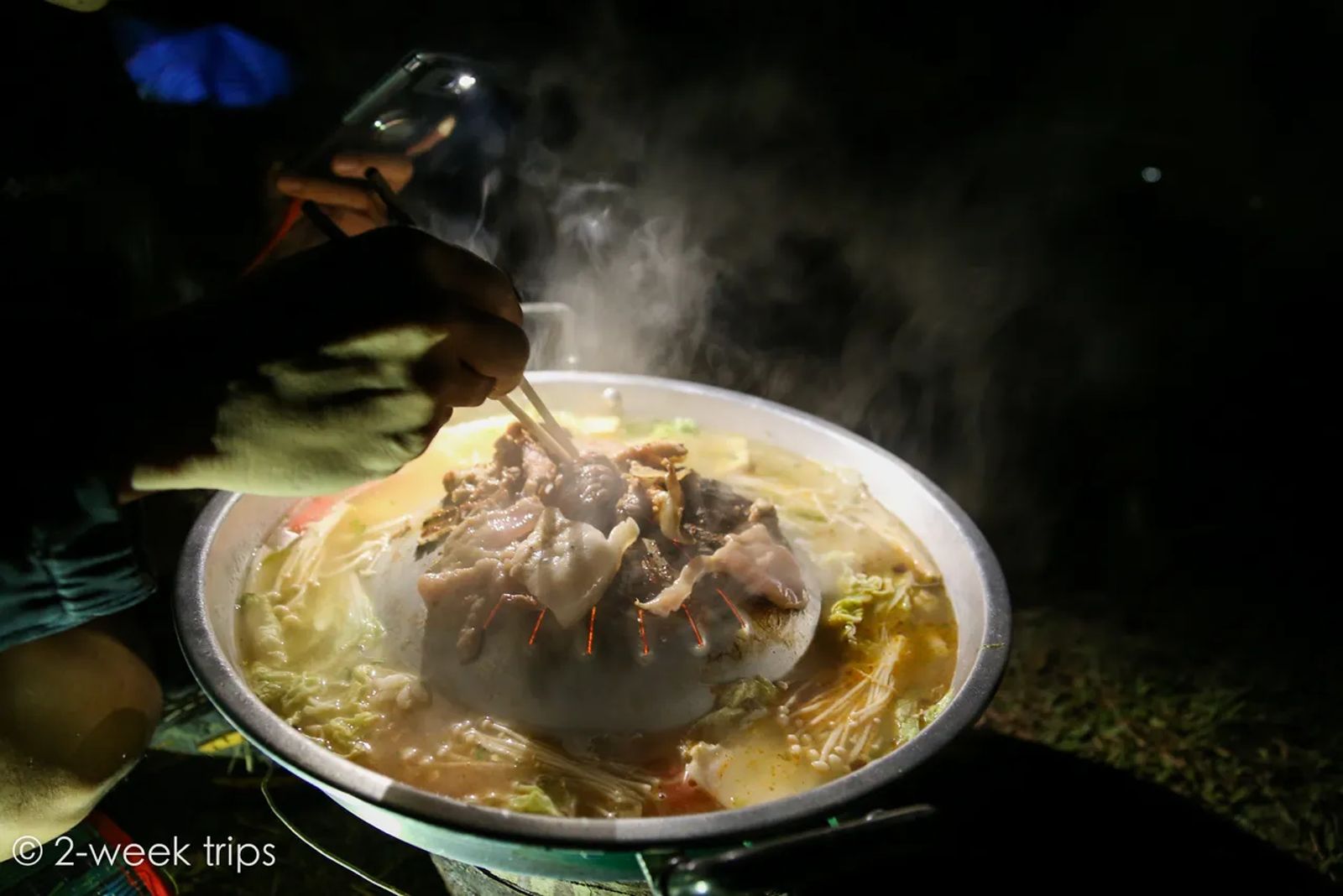 Dining Available in Doi Angkhang
No camping trip is complete without cooking a meal over a campfire. In Doi Angkhang, locals do it with a twist, as the shops prepare a mookata feast to be delivered and cooked right in front of your tent. Mookata is a social dining experience, where food is either grilled on a metal plate or cooked in a broth that is collected in a shallow trough running along the side. In Doi Angkhang, 400 Baht will get you an earthen stove, the mookata hotplate, charcoal to last for 2 hours, and enough ingredients to make a meal for 2 people.
Choose a shop to purchase the set, and a shop assistant will carry everything down to your tent and prepare the fire. As the campsite gets dark at night, it's best to prepare a headlamp to free your hands while cooking AND eating (remember to use separate pairs of chopsticks for handling raw and cooked food!). If all these sound too troublesome, the shops also sell cooked food at affordable prices. As these family-run establishments double up as their homes, you might even be invited to join them for a meal if you're lucky!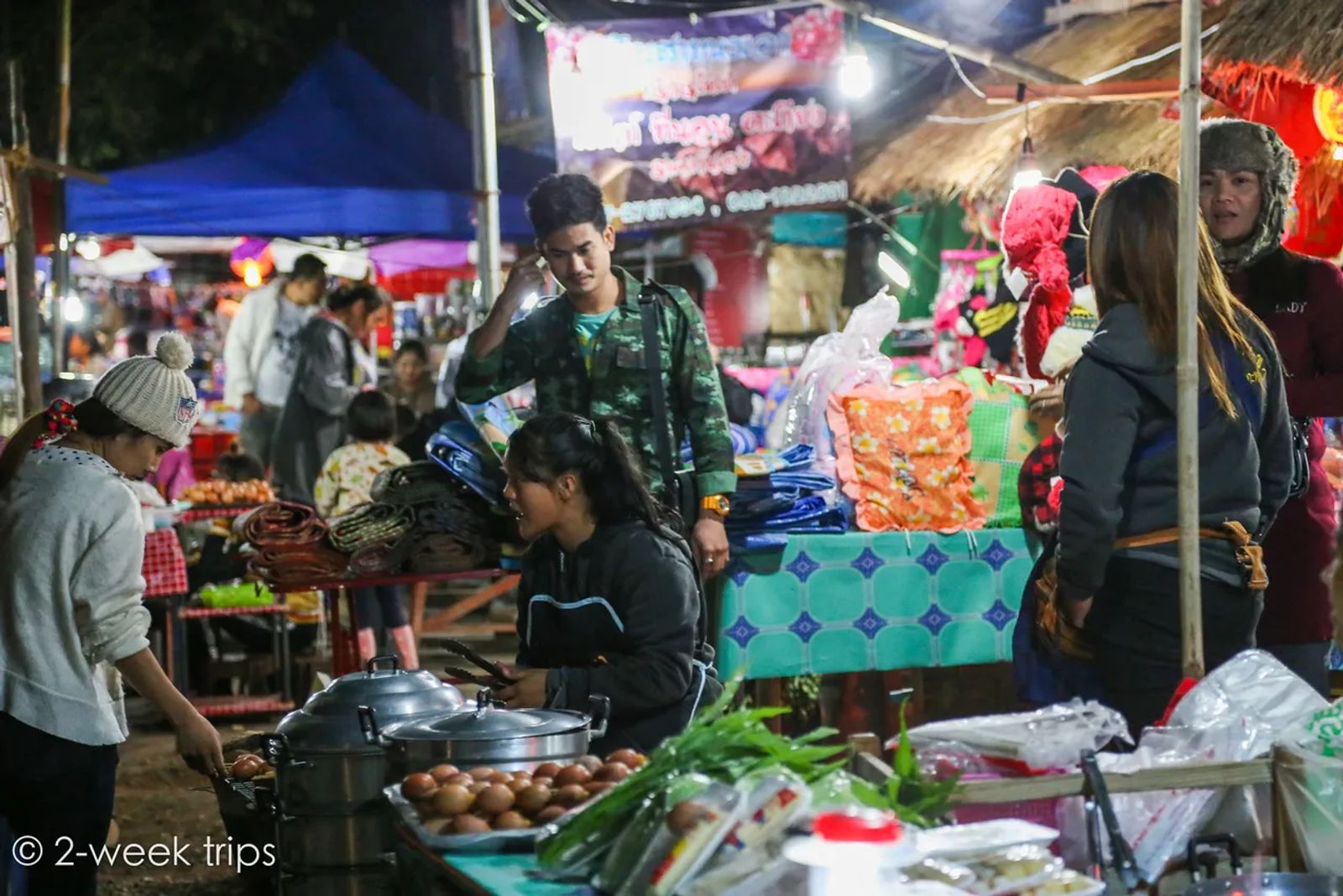 Catching the Sunrise
One of the highlights of camping in Doi Angkhang is catching the sunrise from the front of your tent. All tents are pitched on a terrace with an unblocked view, so there's really no excuse to miss it. At 6am, wake up and partially wiggle out of your sleeping bag to unzip the flap of the tent entrance.
From the comfortable confines of your tent, you can watch a magnificent sunrise without taking a single step out. If you're feeling active or need a boost of energy to start the day, the cool air of Doi Angkhang is ideal for a morning jog or a short hike into the woods. Otherwise, roll back into your tent to catch a few more hours of sleep.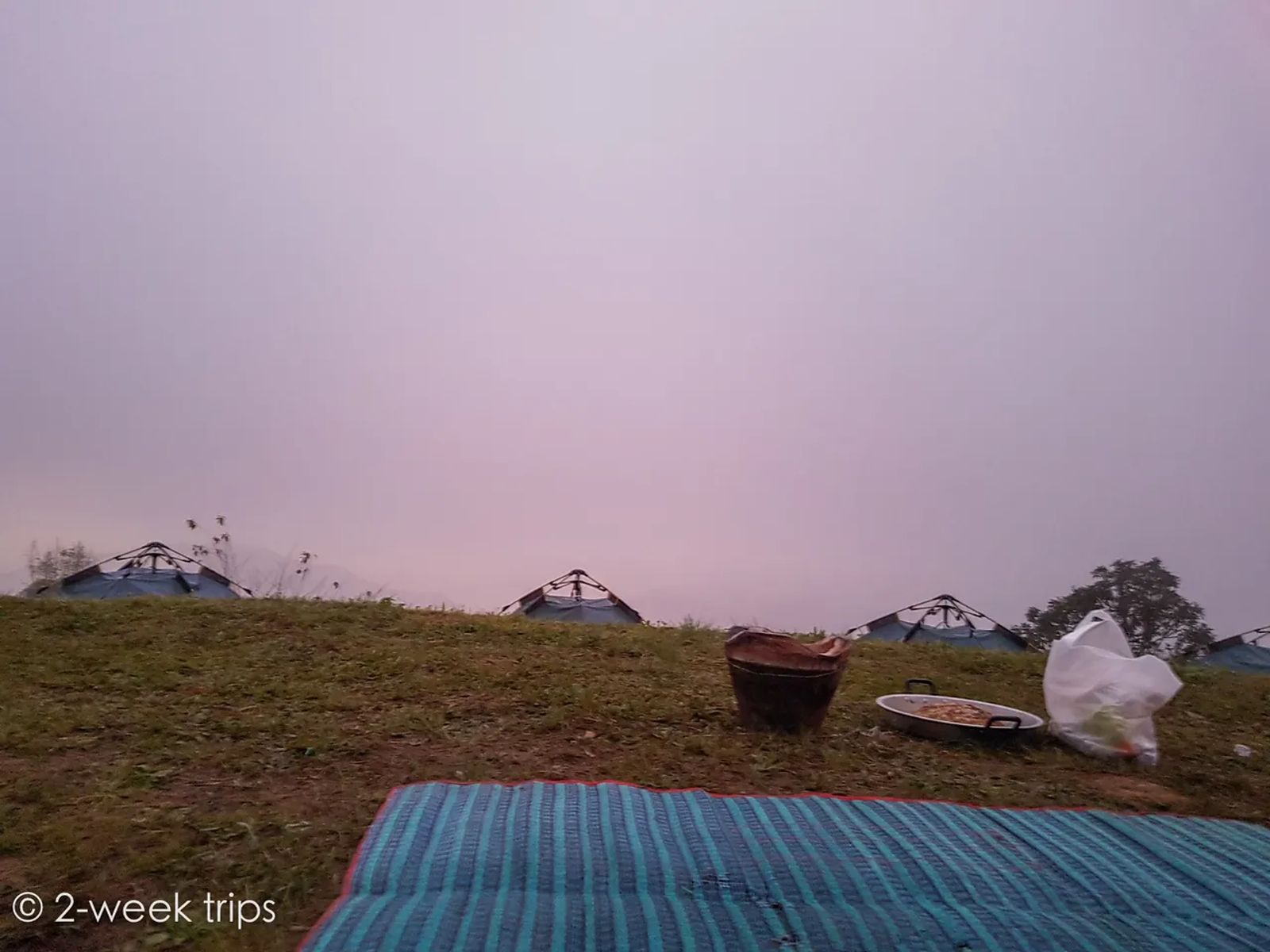 Packing and Moving On
Most campers pack up and head back down by 10am. Checking out is straightforward, as you return all your sleeping bags or mat to the office, and then collect your driver's license or identity card from the park ranger. From the campsite, you can head towards the Royal Agricultural Research Centre to visit the gardens and plantations, and then further on to the army base at the Thai-Myanmar border.
Alternatively, head back down the mountain towards Fang, and return to Chiang Mai (3.5 hours) or Chiang Rai (2.5 hours). If you have an extra day to spare, do check out the Chinese village of Mae Salong (3 hours), which has picturesque tea plantations to visit and an interesting background story worthy of a Hollywood movie!
Like it? Pin it! Sharing is Caring ;)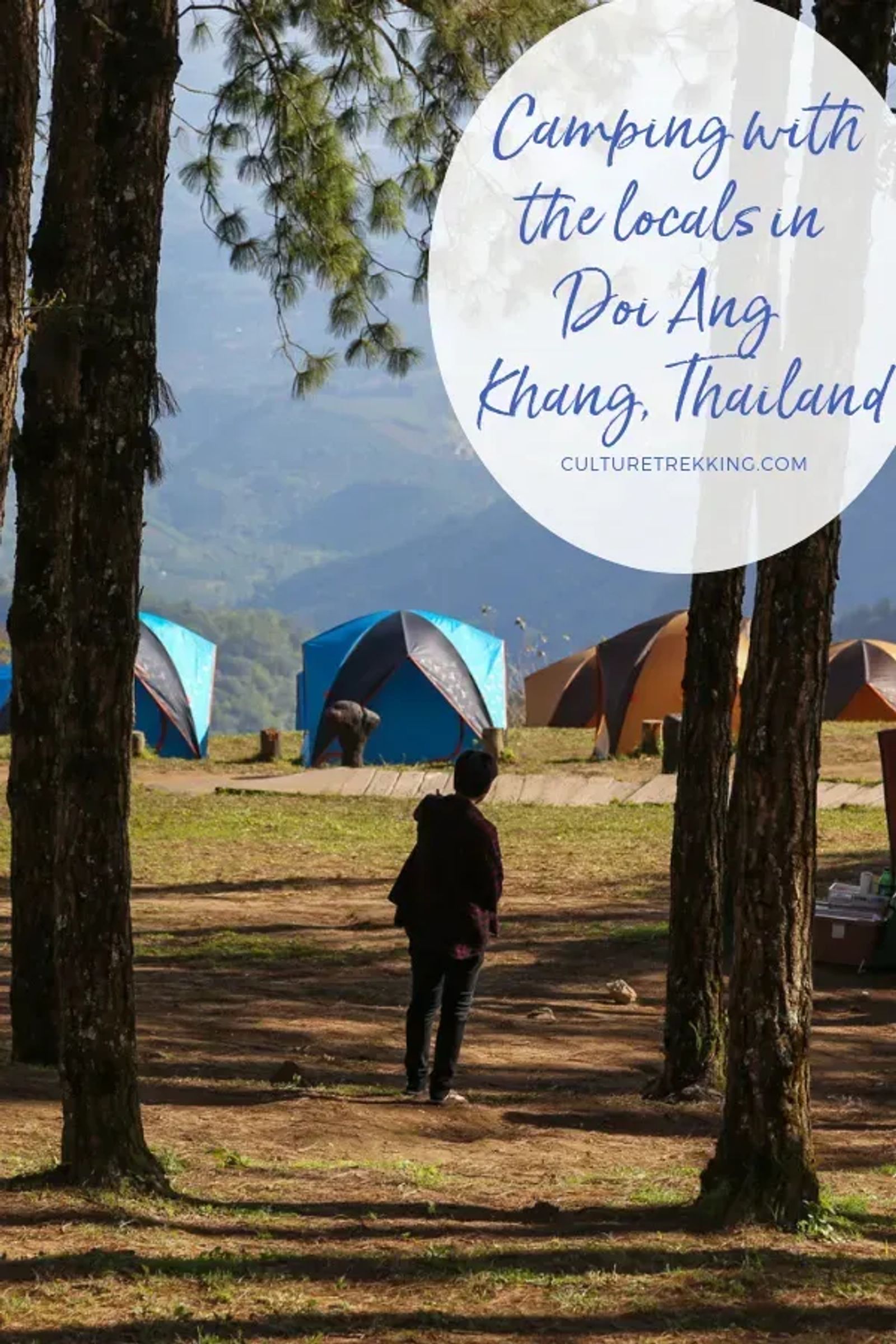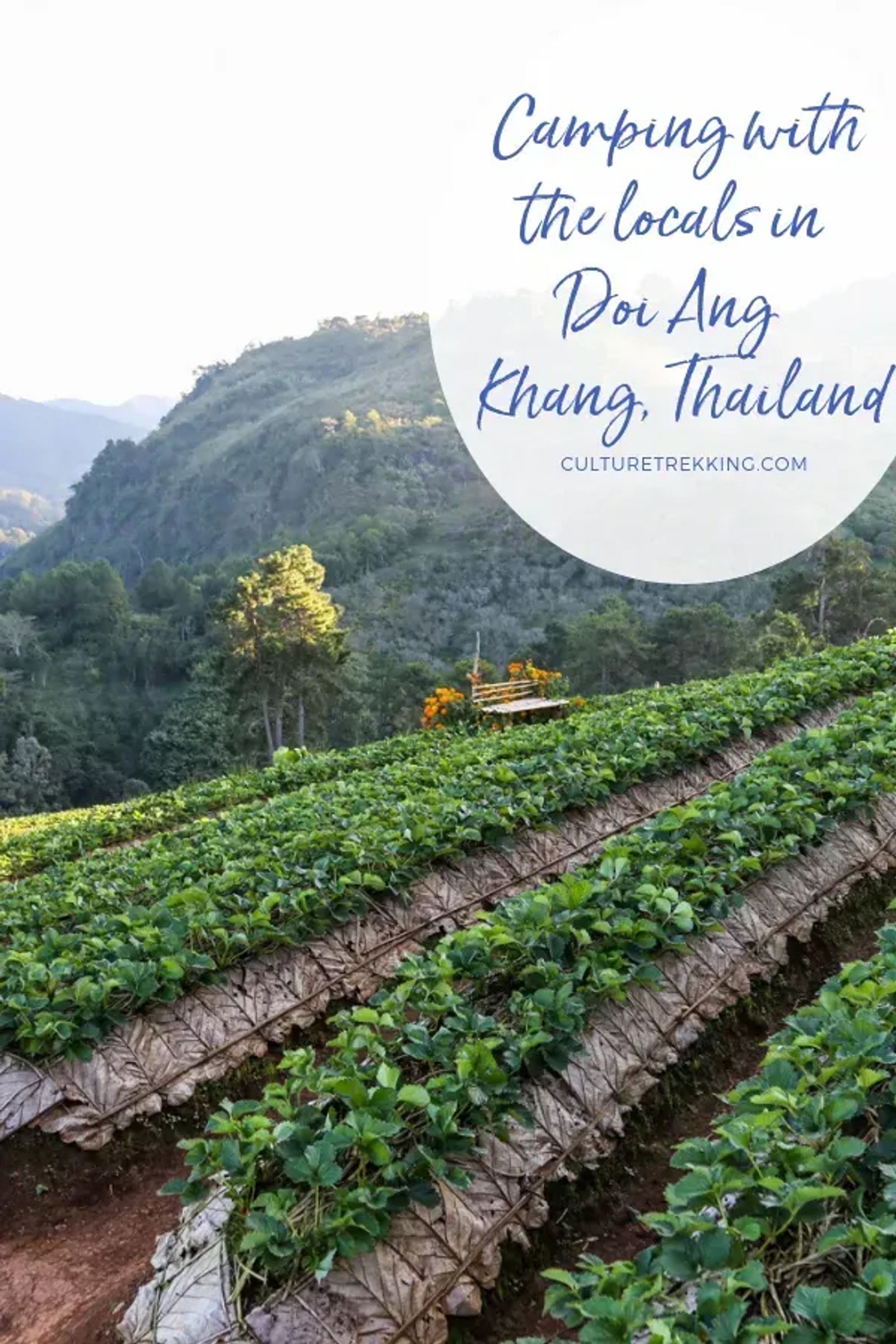 Where to Stay Near Doi Ang Khang Thailand