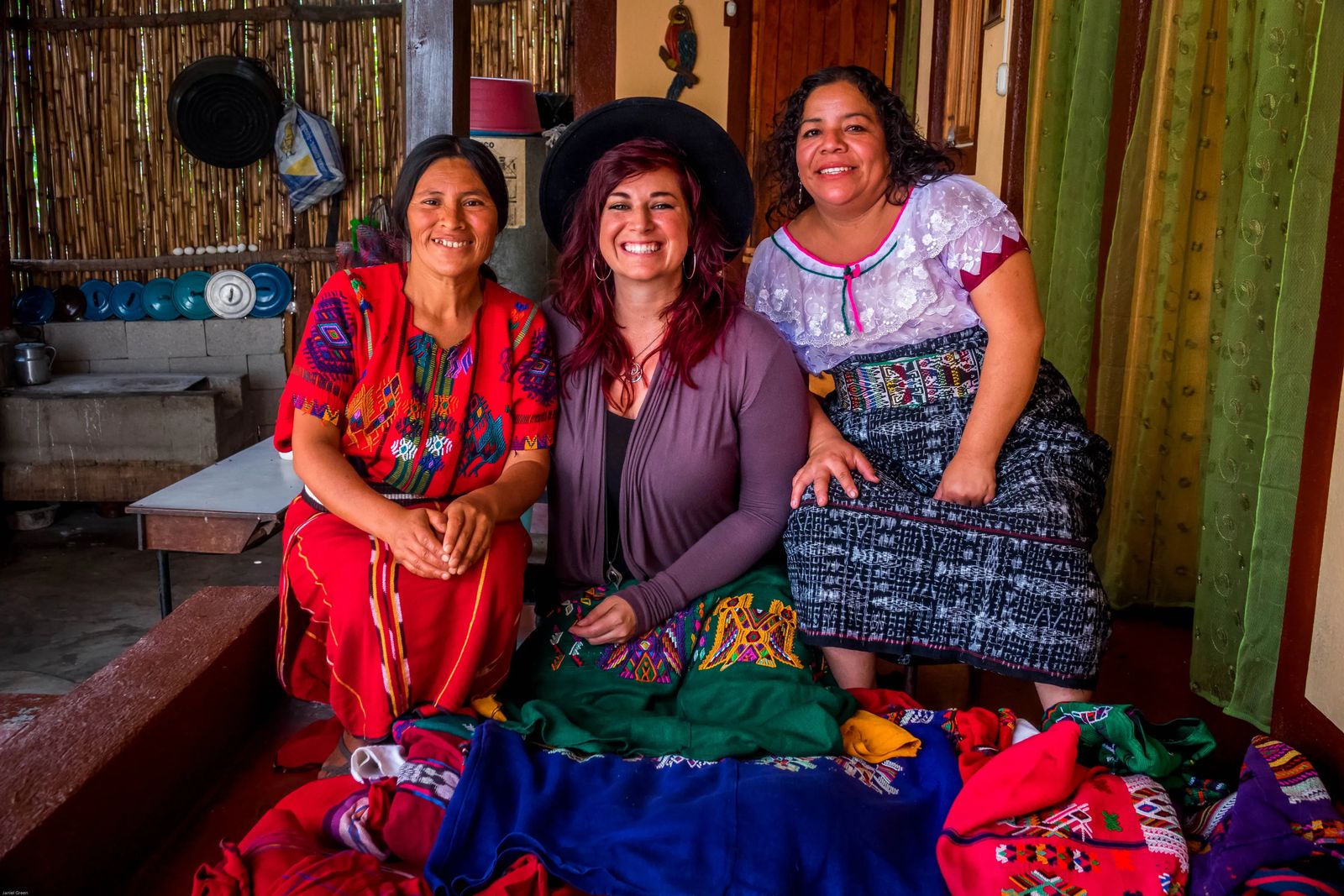 The Women of San Pedro La Laguna in Guatemala
"You have to howl!" Sheri screamed up at me as I summited my first climbing route in Joshua Tree National Park. This would make a lasting impression on me for the rest of my life, to throw caution to the wind and celebrate the accomplishments we have in life, out loud and proud. I could write a book about Sheri, following her adventures of van life from San Diego to San Pedro, and making her home in Lake Atitlan. The story I want to tell you about though is one of true compassion, connecting cultures, and empowering the women in San Pedro La Laguna with Sheri's Company - She Rides Dragons.
Sheri Keller and She Rides Dragons
Sheri is a wanderer at heart, but somehow San Pedro and the people in this town stole her heart and she chose to stay. Once there, it wasn't long before she started making friends. One of her closest friends is Dora, a Spanish teacher, and seamstress who has a smile that will light up the whole room when she allows you to see it.
After several months exploring San Pedro and the other small villages in Lake Atitlan, Sheri discovered the Mayan textiles and an idea began to form. After a lot of trial and error, and drawing on her resources in San Diego, she was able to set up a clothing company called She Rides Dragons. I will explain that name a little later.
Sheri is a Yoga teacher, juggler and all-out fabulous performer that brings magic with her wherever she goes, which fits in perfectly with the backpacking town of San Pedro. So naturally making yoga bags, and other clothing items with Mayan adorned symbols was the next step along her incredible journey.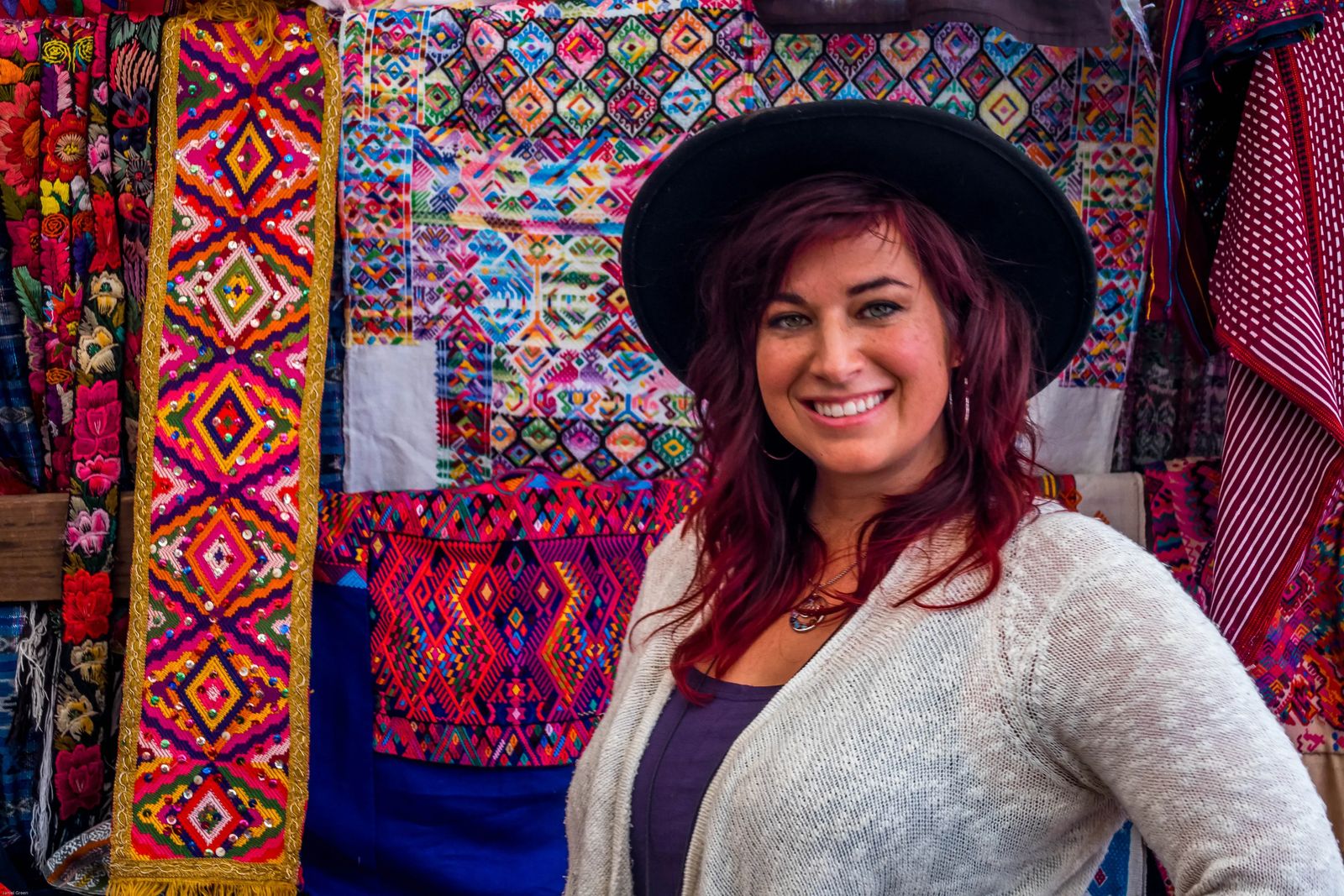 Collaborating For A Cause
Little did I know, that after following Sheri's journey of fulfilling her dreams - she had started to follow me as I pursued my dreams of being a travel writer, photographer, and videographer – She would ask me to be a brand ambassador for her company, She Rides Dragons.
I was just starting out but flabbergasted that this woman that I had held in my mind as a goddess of adventure was asking me to collaborate with her for a cause. I, of course, agreed, right after I pulled my jaw back up off the floor and re-attached it to my face.
I received one of her clothing items, a full-length ritual robe, exquisitely hand-crafted and designed with more attention to detail than some of the best brands I have seen. Colors are perfectly matched, the fabric is thick, heavy, and you can almost feel the magic of Lake Atitlan flowing out it.
I immediately messaged her when I received it and thanked her profusely. "Sheri I cannot believe how well made this is!" I was nearly bubbling over with excitement, she replied in her usual cool-as-a-cat way "I know, the women here do such a great job. I hope we can continue to make these because the money is so vital for these families". This piqued my interest, as my first love has always been humanitarian work and travel for a cause.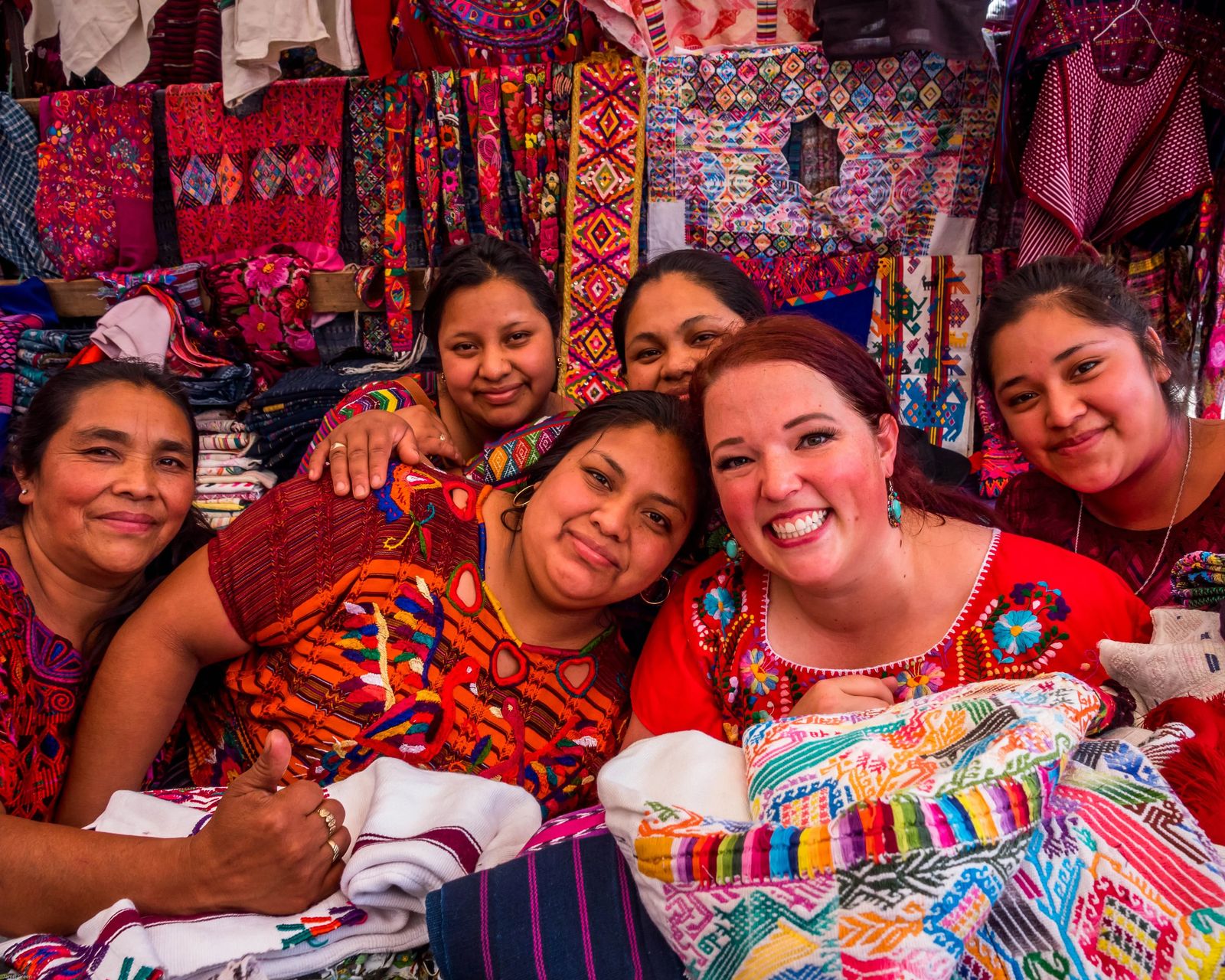 Sheri explained that the culture in Lake Atitlan is one of strong patriarchal power. The men often drink, and work is often hard to find, with very little pay. For this reason, she specifically buys the fabric for her company from local women and hires local women as seamstresses to make the clothing and bags, weave the 'tehido' that become the tassels on those bags, and as translators to assist with different Mayan languages, of which there are many. Some of the Mayan women Sheri works with speak little or no Spanish and having a translator has been crucial in learning about the different textiles, peoples, and towns around Guatemala. The money that the women make goes straight into their pockets, not their husbands, and they decide how it gets spent.
The women put a lot of their income toward their children and putting food on the table. Many of the women have to weave and sew by the light of the fires they burn near their homes as they cannot afford electricity. If a guest comes, they will feed the guest before they feed the children. The families in Lake Atitlan are not beggars, they work for what they have…sometimes to their own detriment.
Sheri has a gift for observational power and has often found families in need of help. With connections all around the lake, she is constantly on the phone, in her 'magic makers' circle – trying to help the families and animals that need it the most. I think she tries to fix the major issues in San Pedro and Lake Atitlan because of how much love she has for this place. Her home has been a haven, an animal rescue, a place of creativity and love – and the people in the city all know her as a giving wonderful human being with boundless love and charity. It is hard for her to walk down the streets without people coming and thanking her for one thing or another.
Yet if you point these things out to her, she will often dismiss it as 'oh its nothing', or 'it isn't as much as I want to do here'.
Meet Dora - A Seamstress and Spanish Teacher extraordinaire
Dora was born and raised in San Pedro La Laguna. She is Sheri's friend, a seamstress for She Rides Dragons and so much more. Sheri and Dora met at a Spanish school in San Pedro where Dora taught Spanish. It wasn't until months later that Sheri discovered Dora was also a seamstress and the two of them began working together on She Rides Dragons.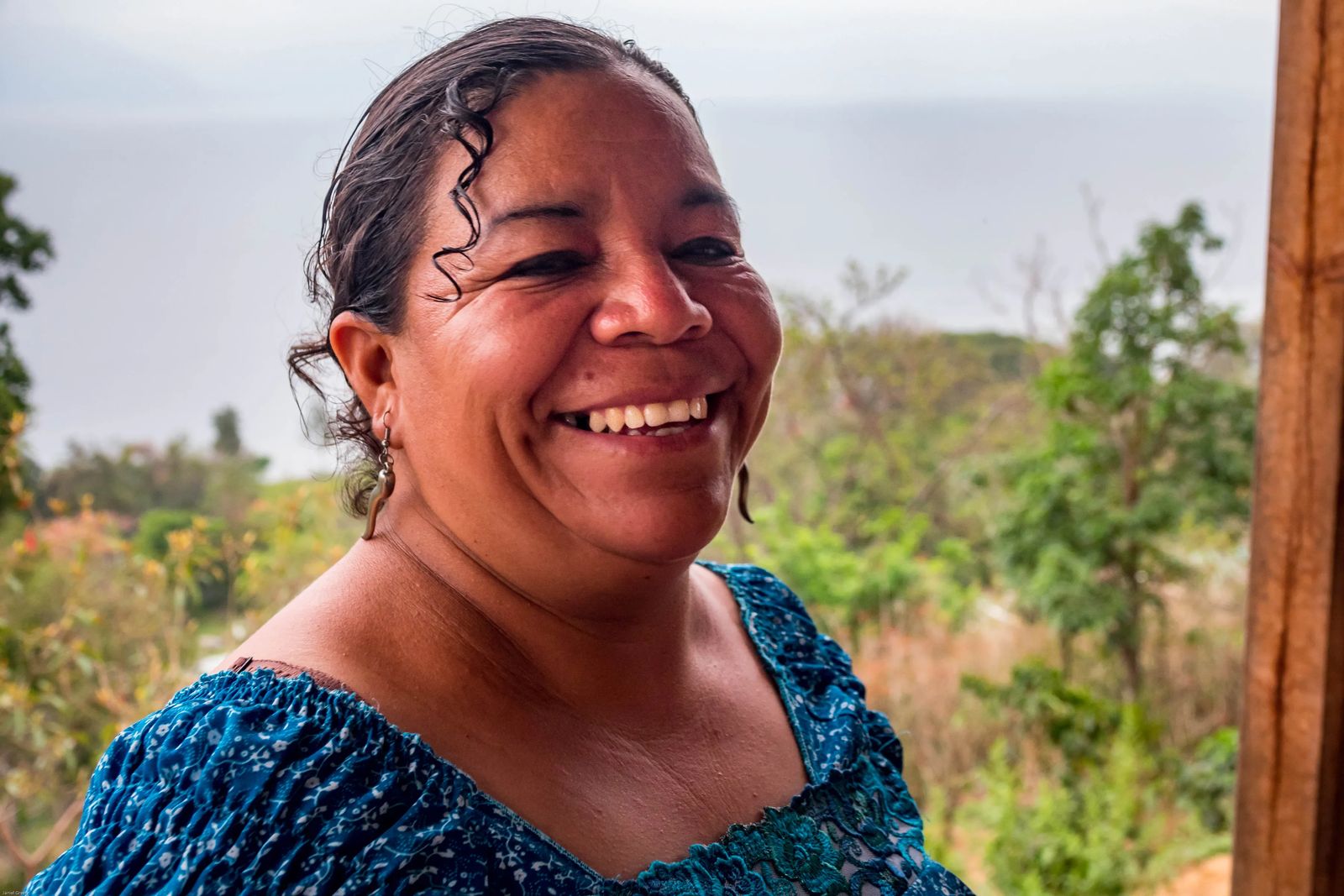 Dora is so proud that she is able to provide food for her family, can afford electricity, has her own stove, and lives in a very good part of San Pedro. She is able to do much of this because of her work with She Rides Dragons, where she receives pay directly for her work.
Her greatest pride and joy though, is being able to provide a good education for her boys so they can have the best life possible. The best way to ensure survival in Lake Atitlan for the children is to provide education, otherwise, they will be forced to work in the cornfields and coffee farms on the steep slopes of the mountains and volcanoes that surround Lake Atitlan.
Dora is now trying to pass on the love, by getting her Aunt involved. Her sweet Aunt Maria only speaks Mayan and lives high up on the mountain. The home she lived in before her current one was no better than a shanty house with a roof. While she still cannot afford electricity at this time, she was able to afford cinder block floors, walls and a decent roof over her head with a real door. There is a small wood-burning stove on the balcony that she makes tortillas from every morning at 3 am to sell to the local shops so that her daughter can go to school.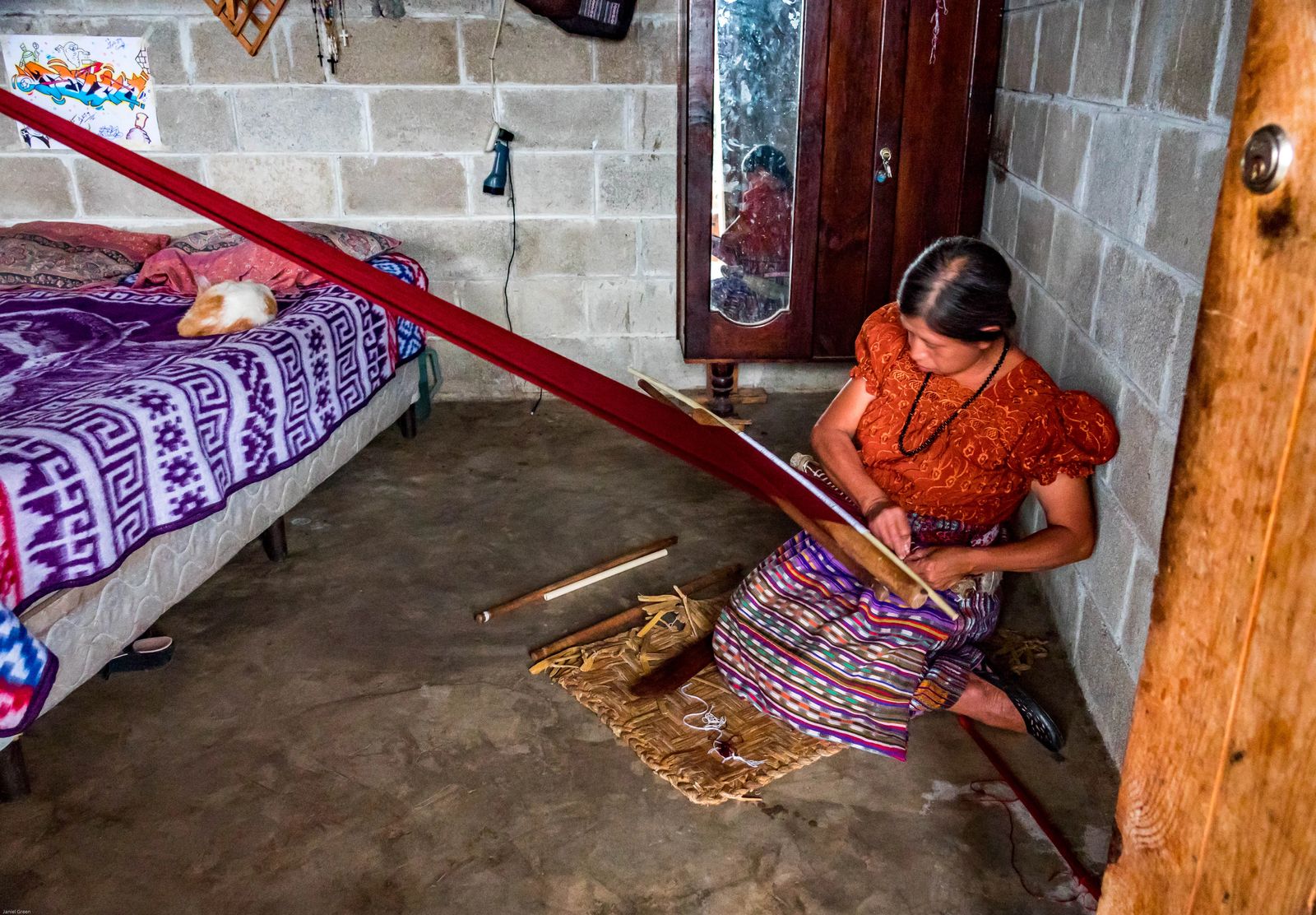 There are 36 different dialects of the Mayan language that have survived in this area, and luckily Dora was able to translate from Mayan into Spanish and Sheri then translated into English for me. So trying to communicate in 3 different languages, and get the meaning across was quite comical but we made it work.
Maria, weaves all the tassels for the yoga bags by hand for Sheri. There are many different types of loom weaving that happen and the tradition is passed down over many generations. There are some loom weaving classes in the San Pedro area for tourists, but these women are the real heroes of this story.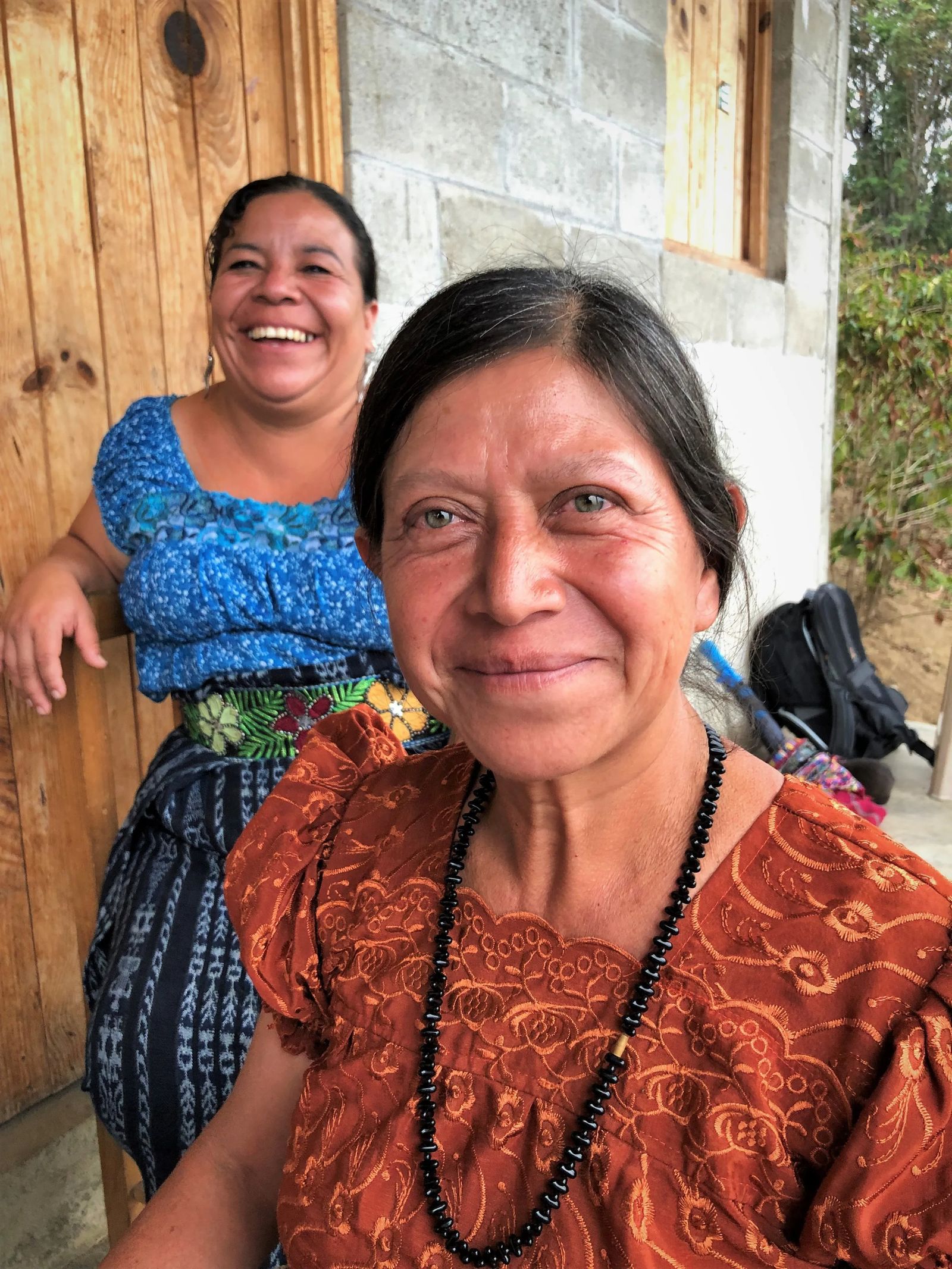 Where Does the Fabric Come From?
The fabric for She Rides Dragons comes from all over Guatemala. Fortunately for Sheri, there are fabric markets that offer up incredible inventories so that she doesn't have to travel to each town when she wants that town's specific style of weaving or embroidery. There are also traveling saleswomen who visit San Pedro La Laguna. These women make their living by selling second-hand fabrics that their hometowns. The fabric markets, as well, mostly offer second-hand fabrics with a much smaller inventory of new fabrics. When the Mayan fabrics and clothing, huipils (blouses) and Cortes (dresses), are new they are so colorful and bright that you have shield your eyes from their glare when the sunlight touches them.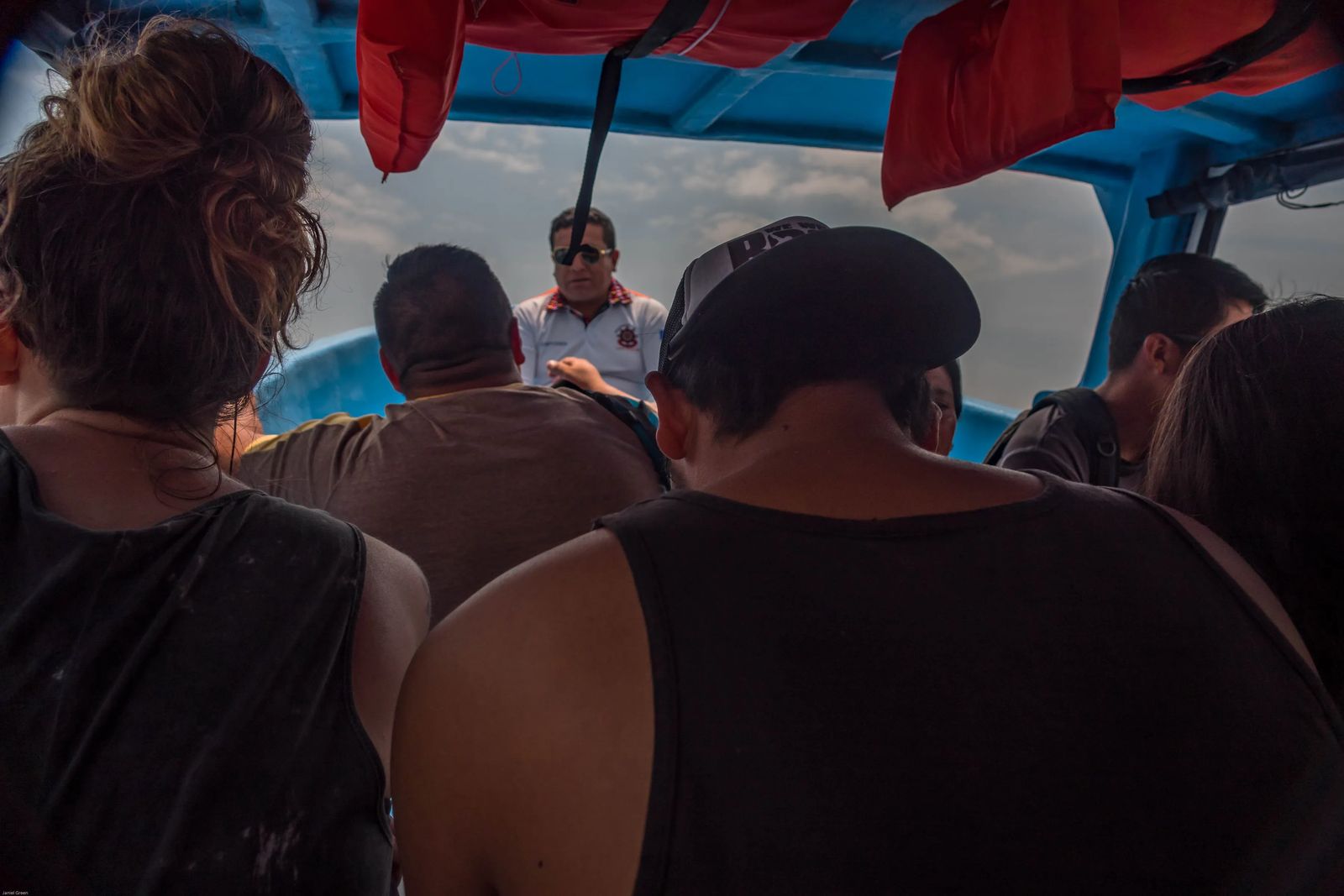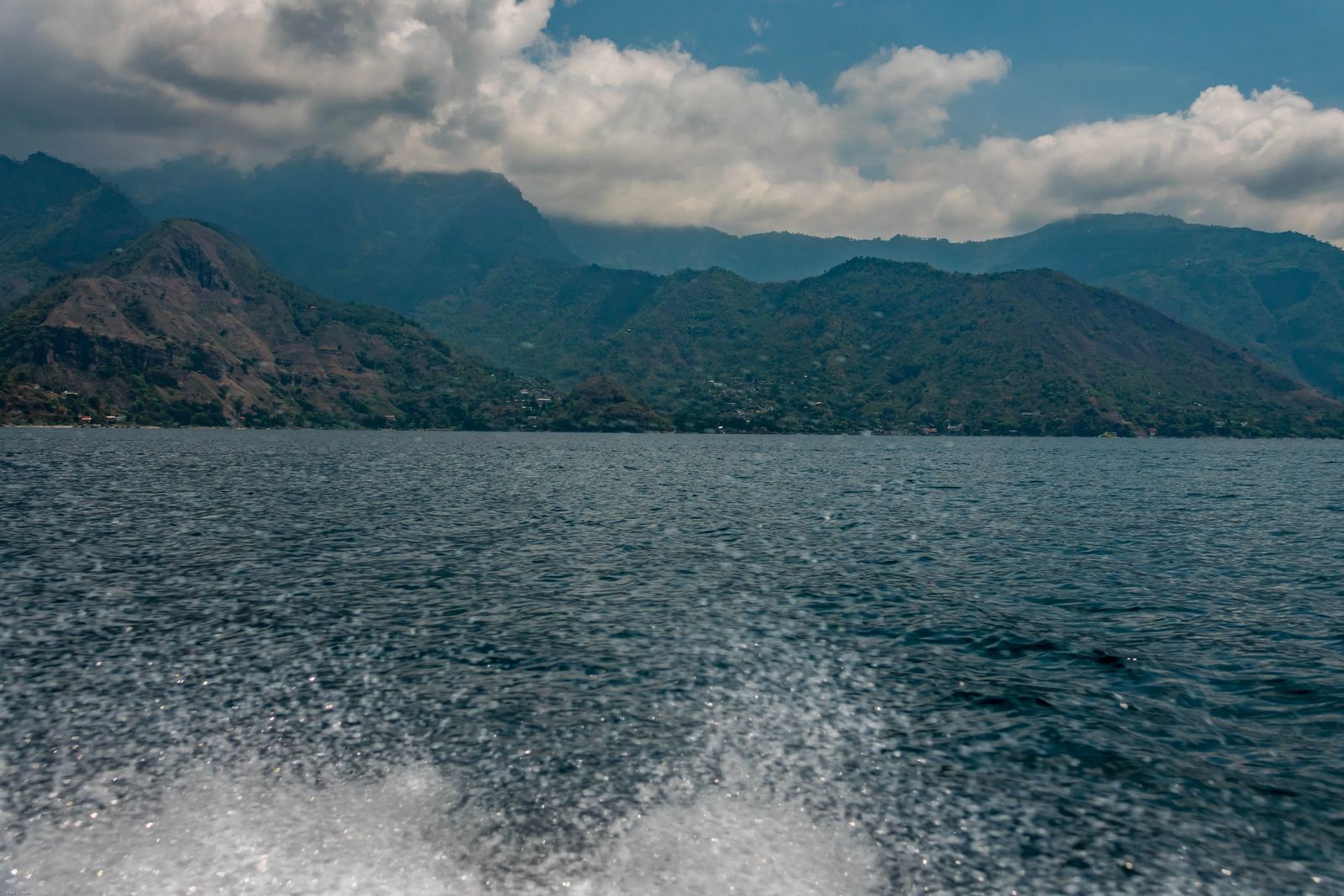 In order to get the best quality fabric, Sheri takes a 30-minute boat ride across Lake Atitlan – sometimes with waves so bad that people drop on their knees and start to pray (not joking) – to another town called Panajachel (Pa-na-ha-chel). Then it is a long hike up a hill to the fabric market. The market takes place twice a week at the fire station. Sheri has been coming here for four years and has developed a familiar relationship with one of the families that sell fabrics such that when she arrives they know exactly how much fabric Sheri needs, the kind she likes, and it is already, awaiting her inspection.
Sheri sifts through the fabric, sorting, swapping, matching, inspecting for frayed ends or imperfect patterns. After about an hour or so of choosing fabric, then it is a call to her partner, John to check on fabric funds. It is difficult to get cash in San Pedro, they do have an ATM, but can be spotty at best on if it is broken or not.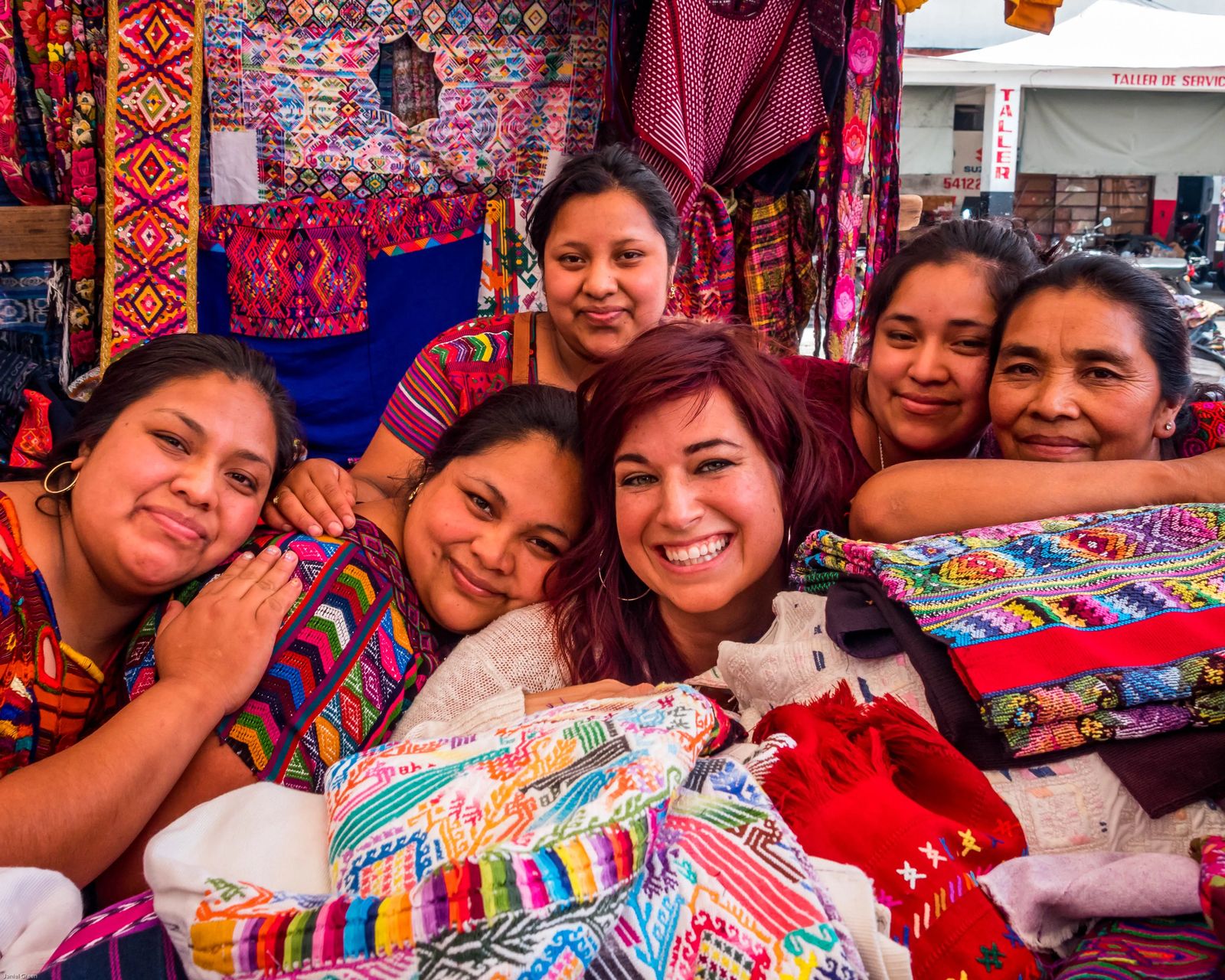 After some negotiating with the women for the amount of fabric she buys, the fabric is then loaded into large bags for transport back across the lake. I bought a few pieces myself while there because how can you resist the Mayan symbols of Dogs and Dragons!
Grabbing a Tuk-Tuk, we headed back to the dock to take a launcha (boat) back across the lake to San Pedro.
Sewing the Clothing
We hauled the bags back up the hill in San Pedro, grabbed another Tuk-Tuk, and went to Dora's house to deliver the fabric. Sheri instructs Dora in Spanish once we arrive on the ideas she has for each set of fabric pieces she picked out. Dora makes notes, and patterns are pulled out and set near each pile of fabric.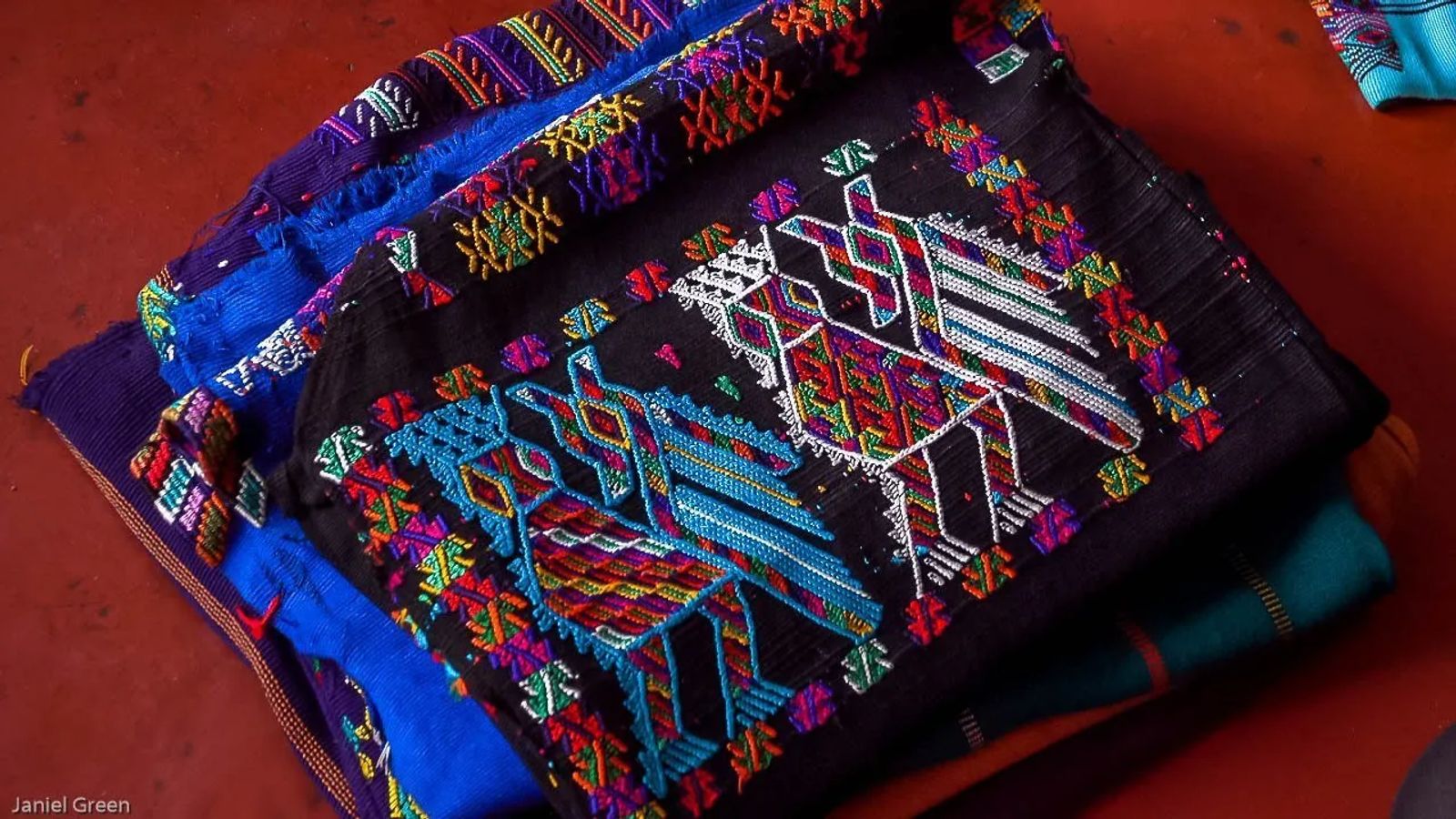 After a long day, and the afternoon rains coming in we finally get to rest and eat some food. We head back to Sheri's House. Yet the day doesn't end there for Sheri, she isn't one that can sit still for long – despite sometimes needing to. So she gets on the phone with Dora again, to see if she can arrange for another woman who sells huipils – the traditional blouses worn by the Mayan women in Guatemala – to meet with us the next day.
A Long Journey
The next day we head back to Dora's House to meet with another inspirational woman, Rosa. It is a long journey for Rosa to meet with Sheri. She comes from a small town called Chajul (Cha-hool) that is about twelves hours away by bus. This is how Rosa makes her living, traveling around Guatemala and selling fabrics from her hometown of Chajul. The fabrics are gorgeous and coveted by many women all over Guatemala for their soft feel and durability. Sheri met Rosa 3 years ago when Rosa was traveling though San Pedro and selling fabrics at the Sunday market in San Pedro. Since that time they have developed a beautiful working relationship and Sheri is one of Rosa's best customers, which is why she is willing to travel all the way from her home to see us.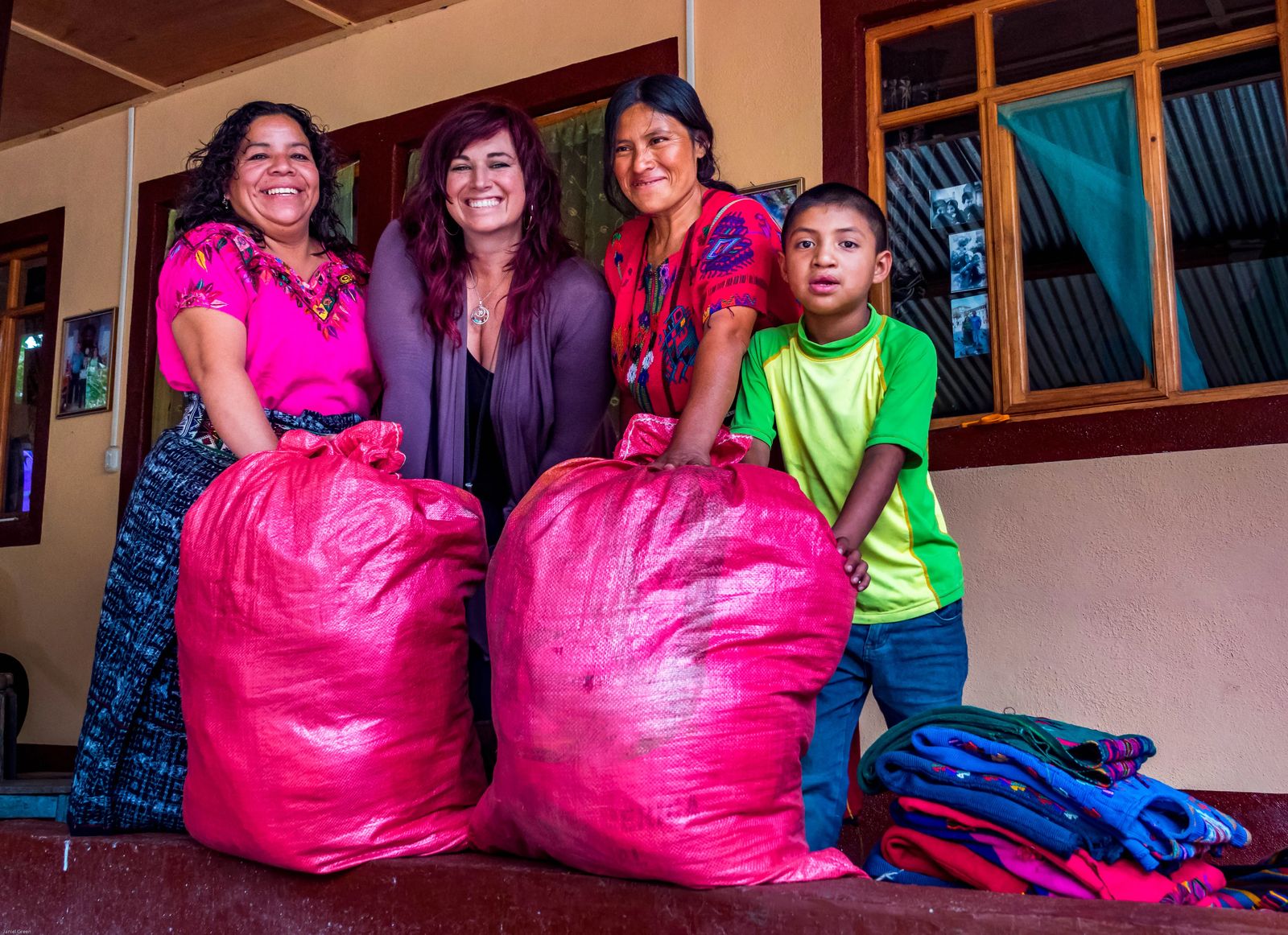 Rosa arrives at Dora's house with two large bags full of fabric, Cortes, and huipils. After greetings, how-are-yous, and some water to drink, Sheri, Dora, and Rosa begin looking through the bags. Sheri picks out the fabrics she thinks would be a perfect match for the Yoga bags. Carefully choosing symbols that she thinks would resonate with her ideal customers. After paying her for the items, Rosa takes the remaining fabrics and clothing to Panajachel to sell what she can at the fabric market. Then it is another long journey home, all to help feed her children and keep them from having to work on the farms.
Creating The Clothing Infused With Magic
There are many reports from those who visit Lake Atitlan that there is some kind of magical pull there. They have 'odd' dreams, and tend to live more on the wild side of life – yet the local community is very conservative and Catholic.
It sounds a little odd, and I didn't believe it at first – but waking up the morning after I arrived and seeing the incredible Lake, it made me wonder if it was true. Lake Atitlan was made after a Super Volcano erupted, then imploded creating a caldera for the lake to be born. The lake itself is 1115 feet (389 meters) deep, and 11.2 mi × 5.0 mi (18 km × 8 km) surface.
The Sierra de Los Cuchumatanes mountain range surrounds this lake with the highest mountain, Atitlan Volcano, reaching an elevation of 12,588 feet (3,837 m).  The name Atitlan is a Mayan word that means "the place where the rainbow gets its colors." There are two other volcanoes that are also part of this range, Toliman volcano, and San Pedro Volcano.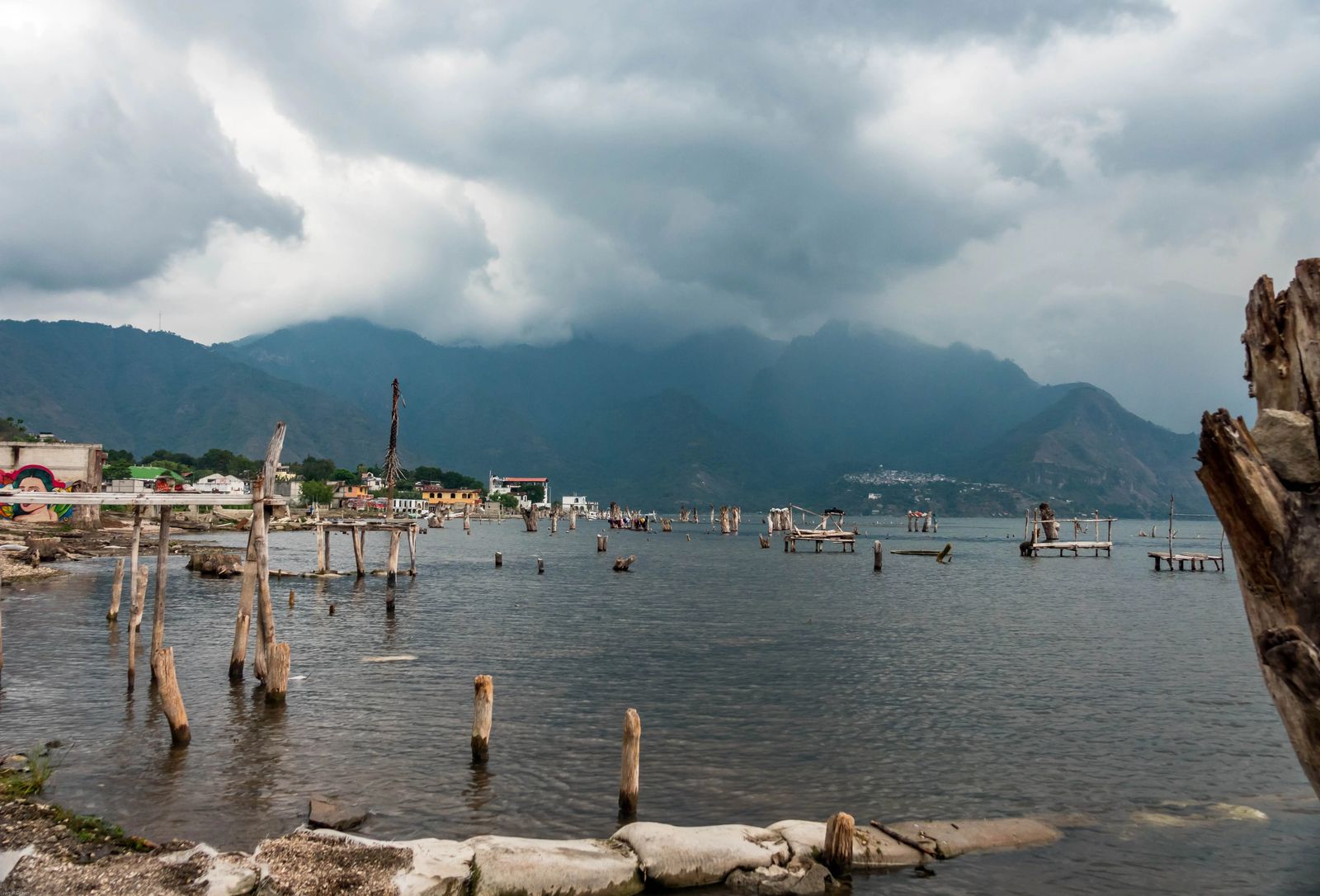 There is so much Mayan folklore and stories that the local Mayans still believe about this place it is hard not to believe it yourself when you are there. The local mythology considers Lake Atitlan to be the birthplace of all creation.
So not only is the clothing and yoga bags that Sheri makes selectively handcrafted, it is done so in a place and by the people that have lived in this area since 300 BC. I really hate describing a place as 'magical' because I feel it is often overused – but there are two places I have been so far that I can truly use this with – one is Scotland, and the other is now Lake Atitlan.
A Force For Change
There aren't many people I have met in my life that have inspired me as much as Sheri and the women of Lake Atitlan who help her. They have a hard life, compared to the rest of the world.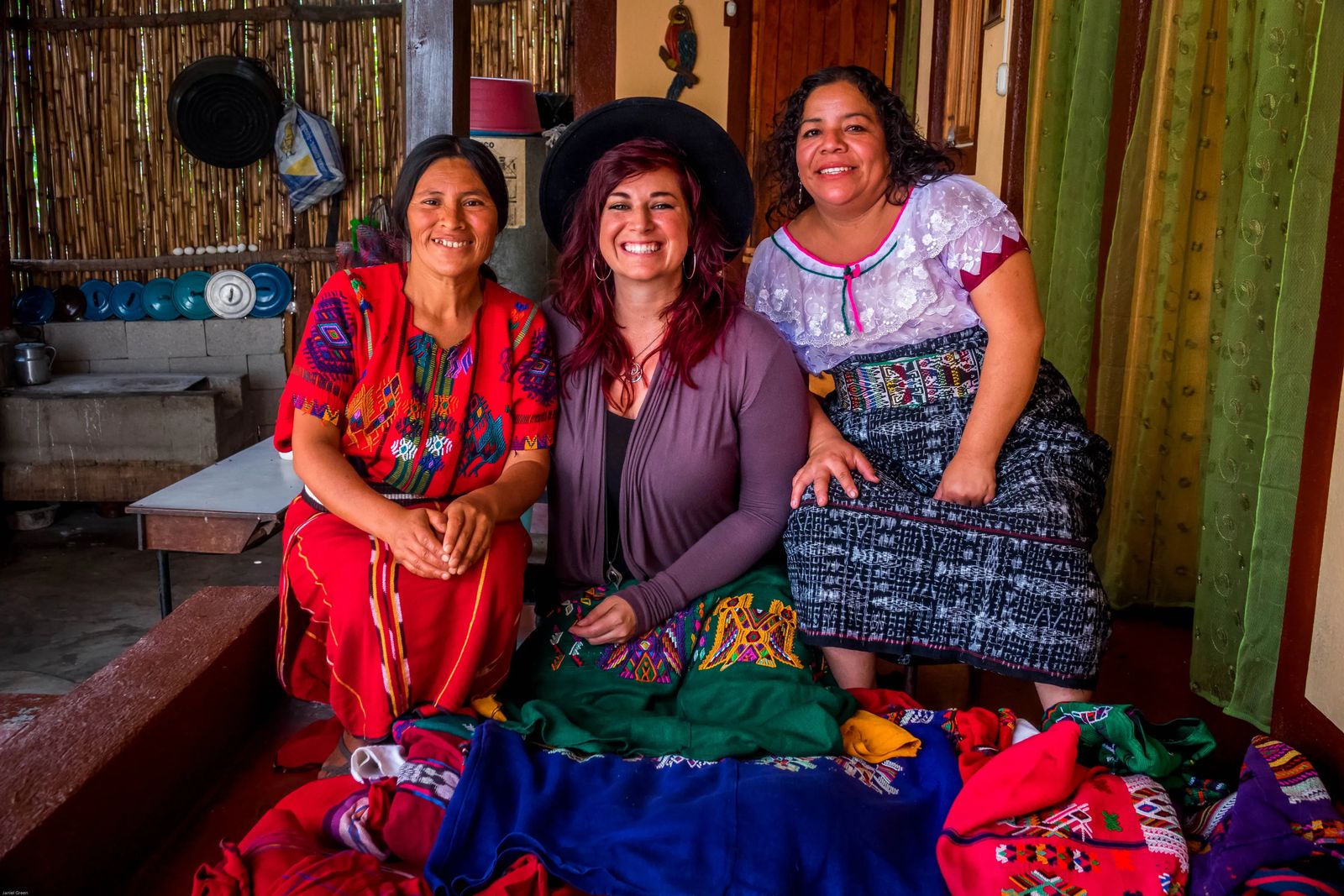 I asked Sheri why she named her company 'She Rides Dragons' and she explained the strength of Dragons and their ties to Magic. I think it is more than that though, she is a strong, beautiful woman who is tackling the problems in San Pedro that are much bigger than what one person should handle on their own. She is helping to empower Mayan women to create change in their hearts, their homes, and provides food for the table their children eat at. The children also get to have an education, giving them a chance at a better future than poverty and starvation. If this wasn't enough, she also rescues dogs and cats in the area – pooling resources to help treat for worms, feeds them, bathes then and raises money to help neuter them. She is known for her healing abilities, yet has seen many animals not make it because of lack of education in the community.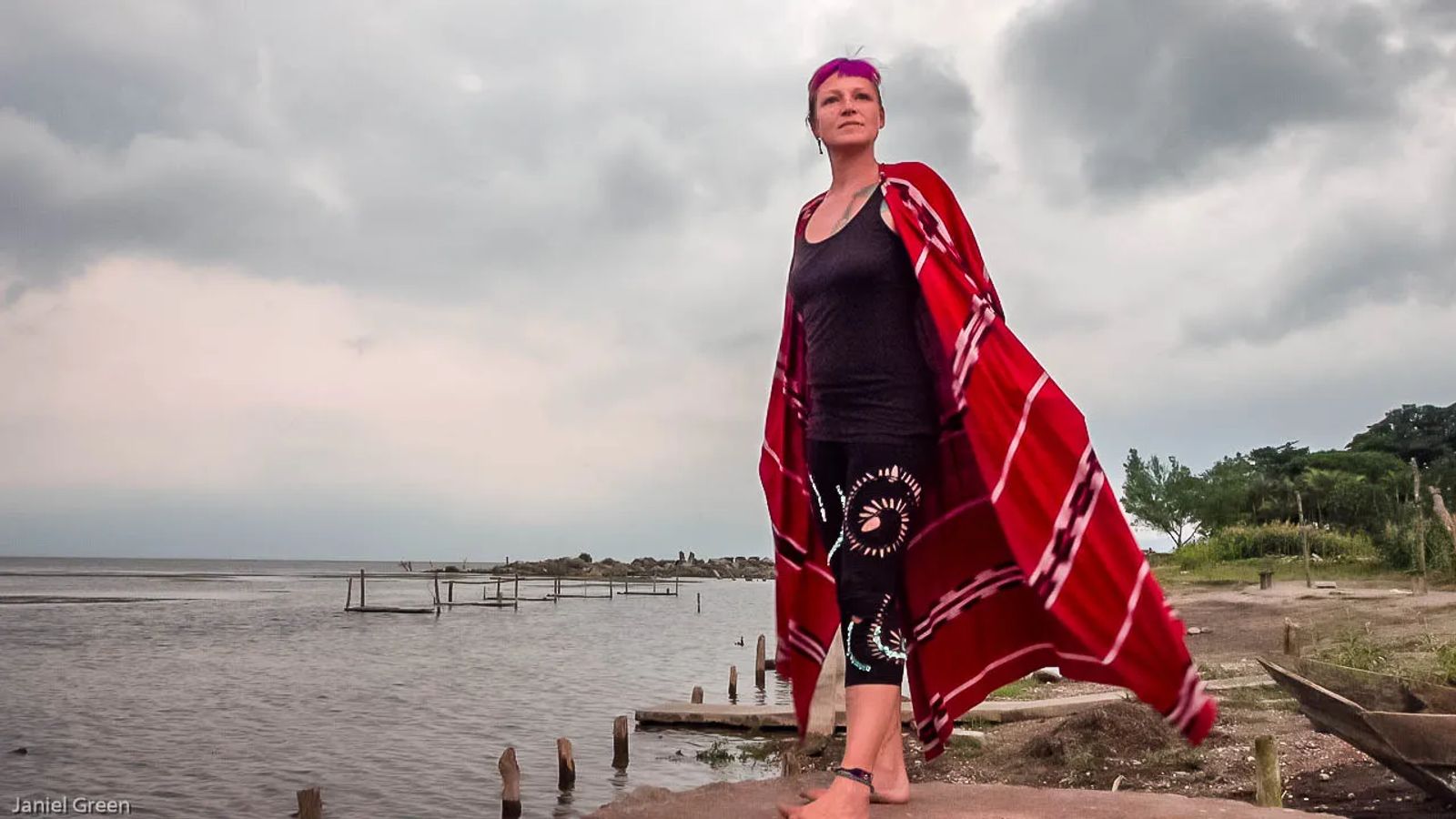 This isn't about a clothing company, it is about women in Lake Atitlan trying to ride these giant problems – dragon-sized problems. These problems are unruly, difficult beasts that tend to bury most people in depression and anxiety of the acutest kind. Yet Sheri has collected a group of people, women, and literally a whole community to help fight them and she is succeeding at it – even if she doesn't always give herself credit for doing so.
How Can You Contribute?
Take a look at She Rides Dragons, buy some of the clothing she offers. Now that you know the attention to detail, the love poured into the clothing, and the magical place these items come from – it will be an item that will hold more meaning for you than any other piece in your closet.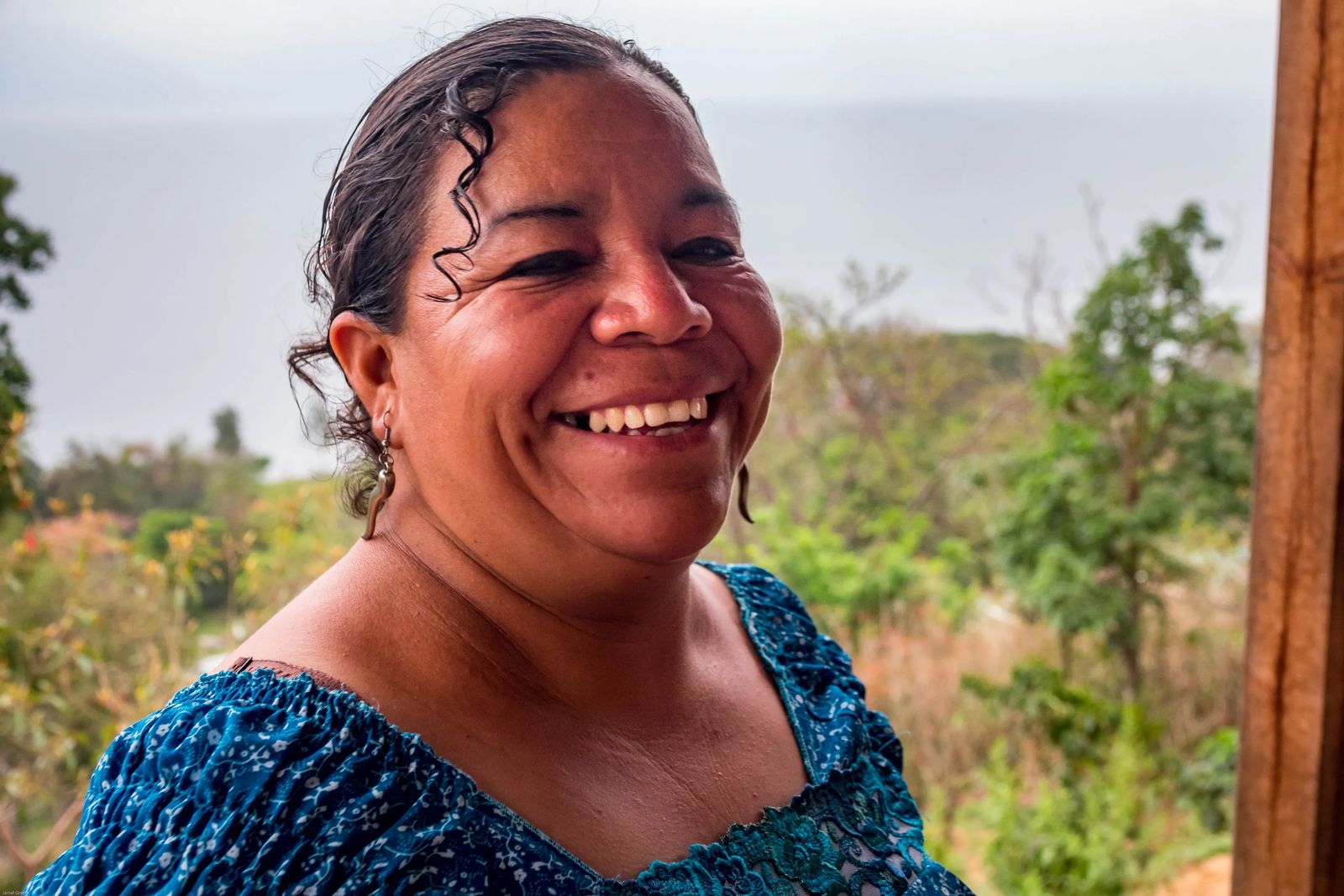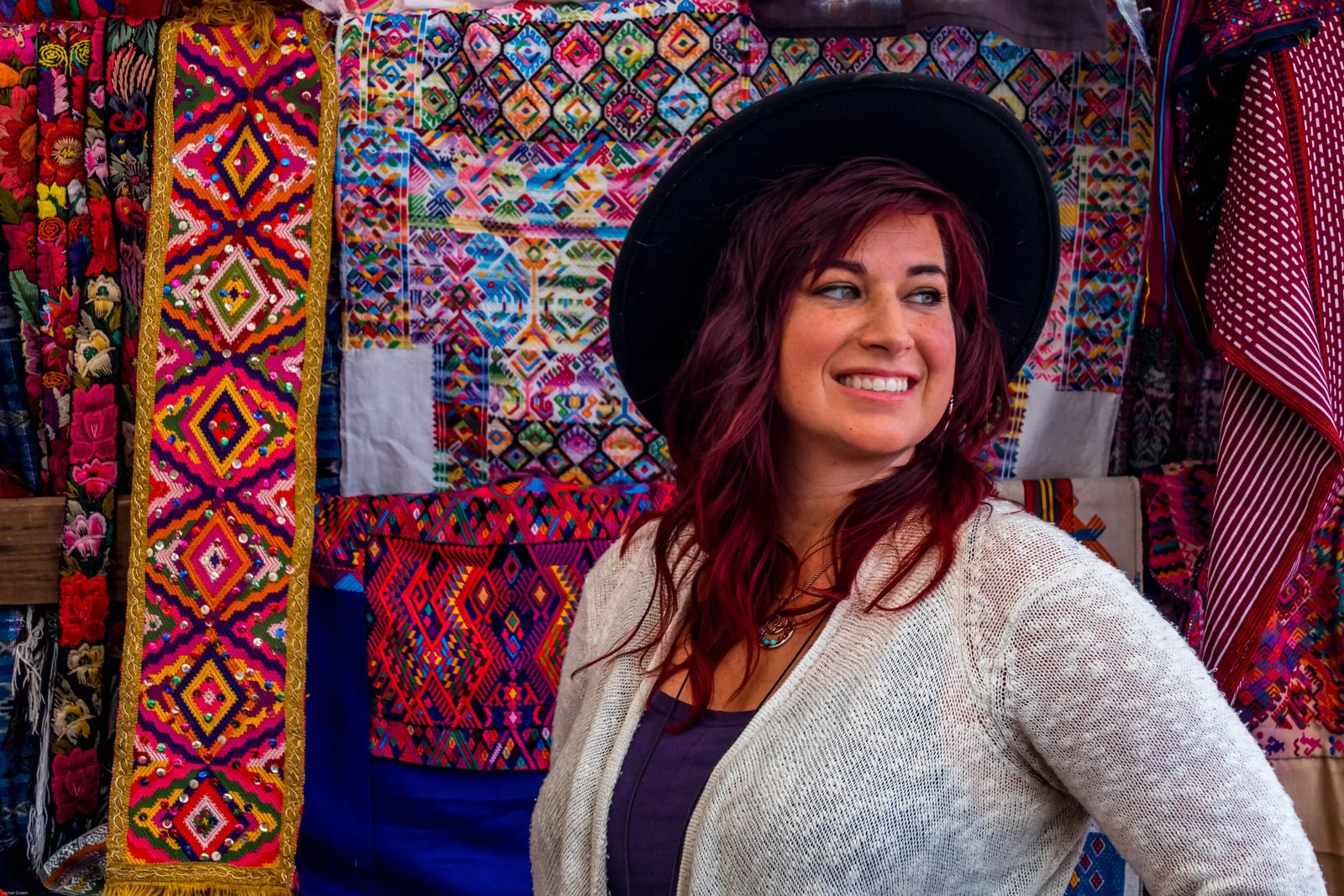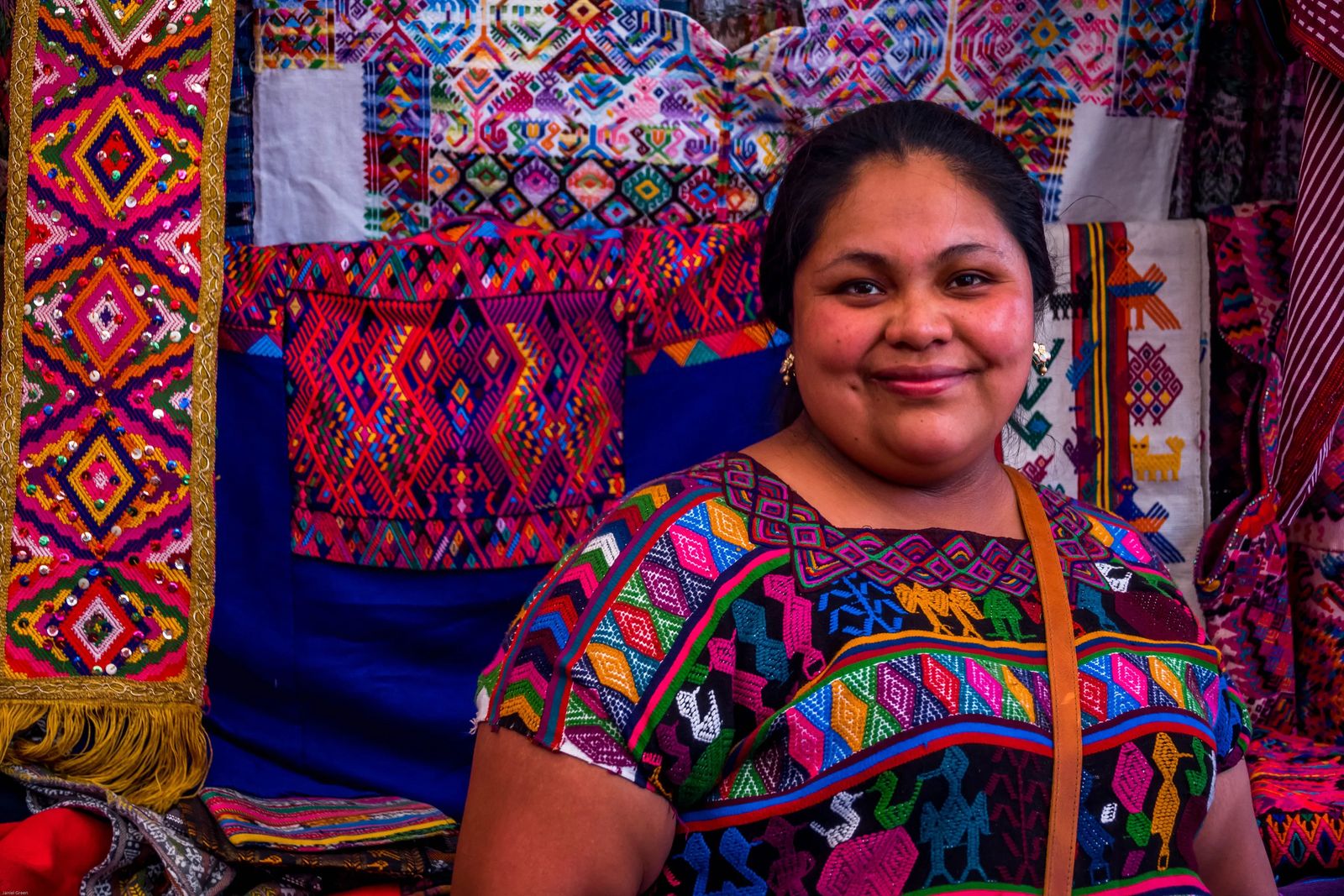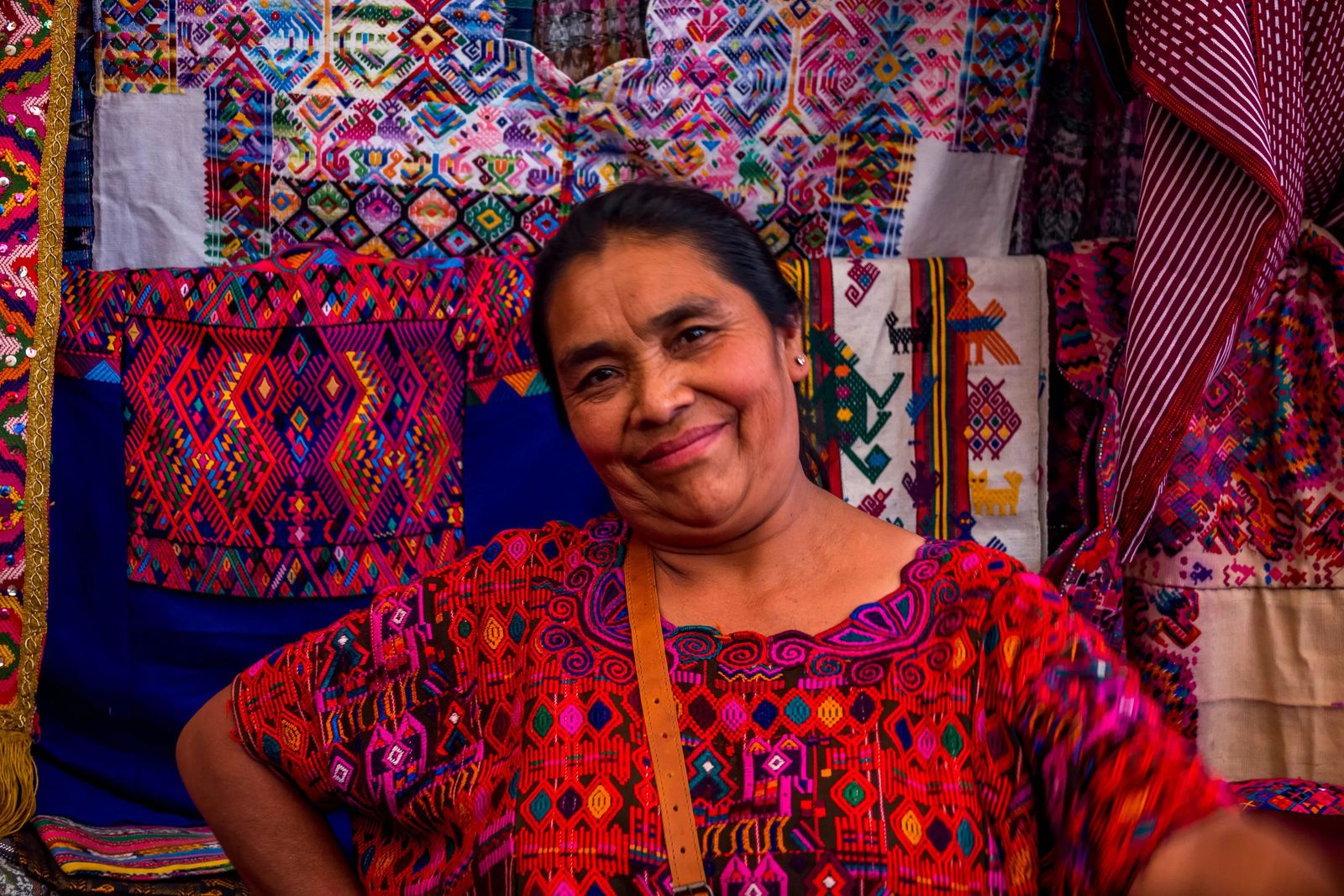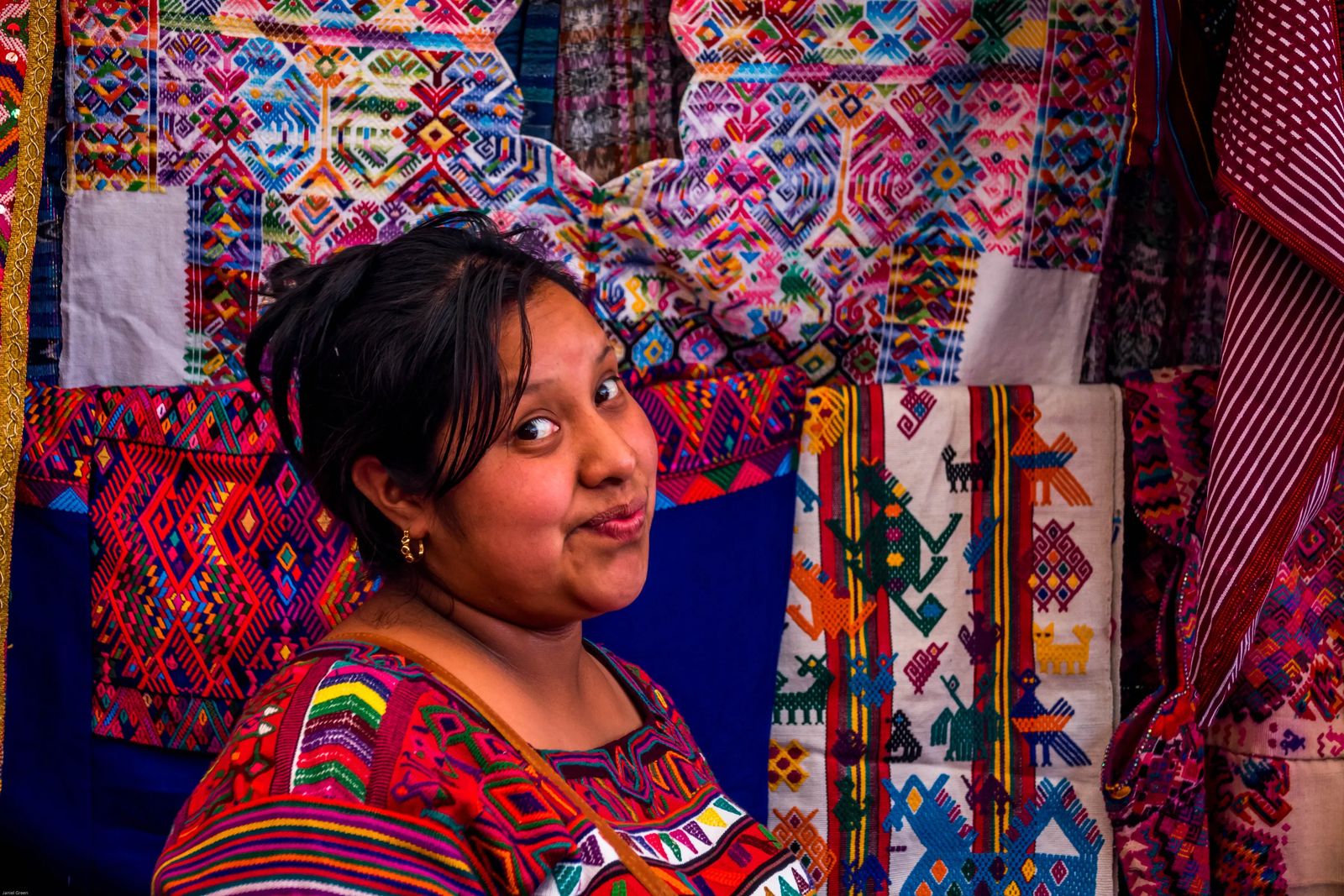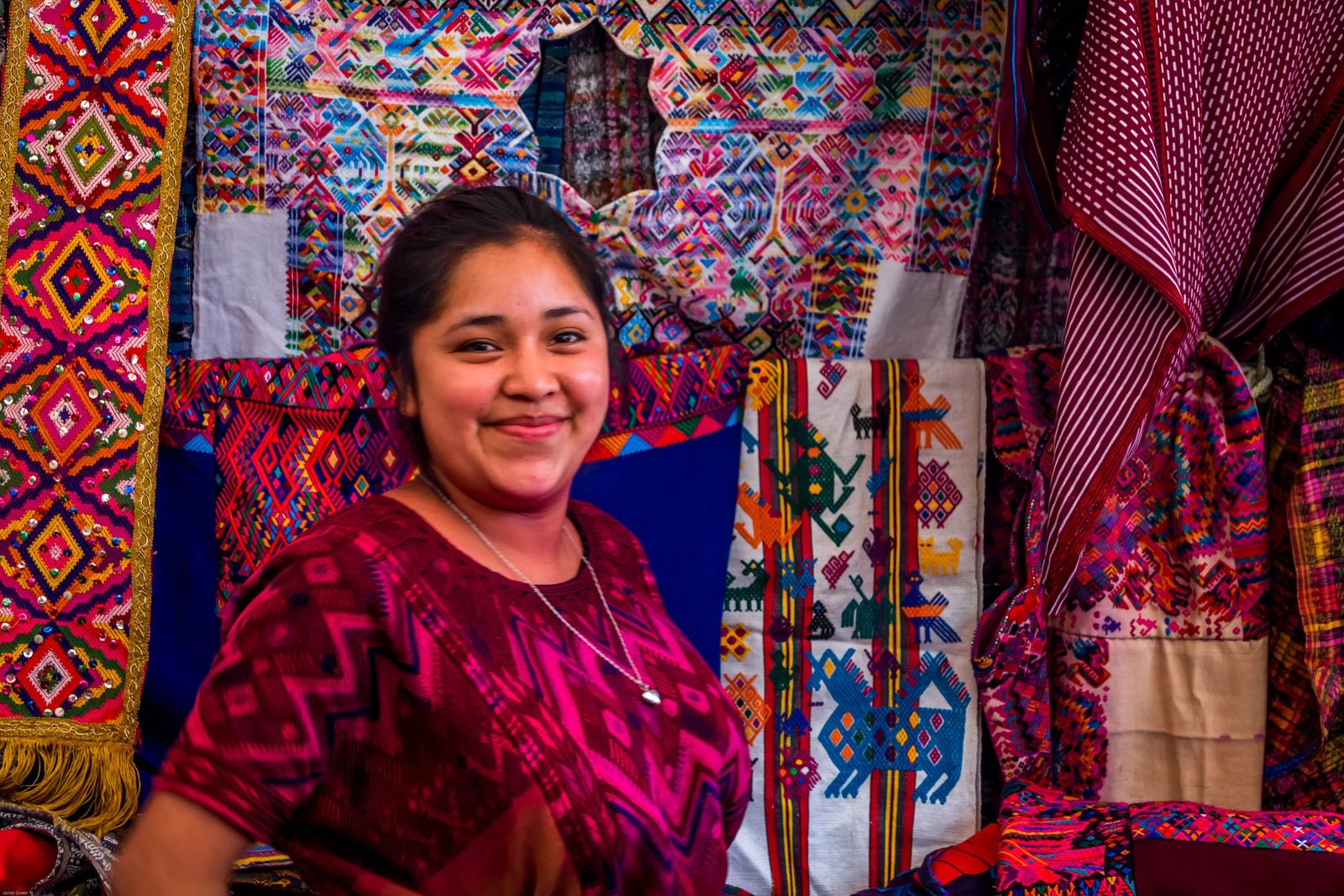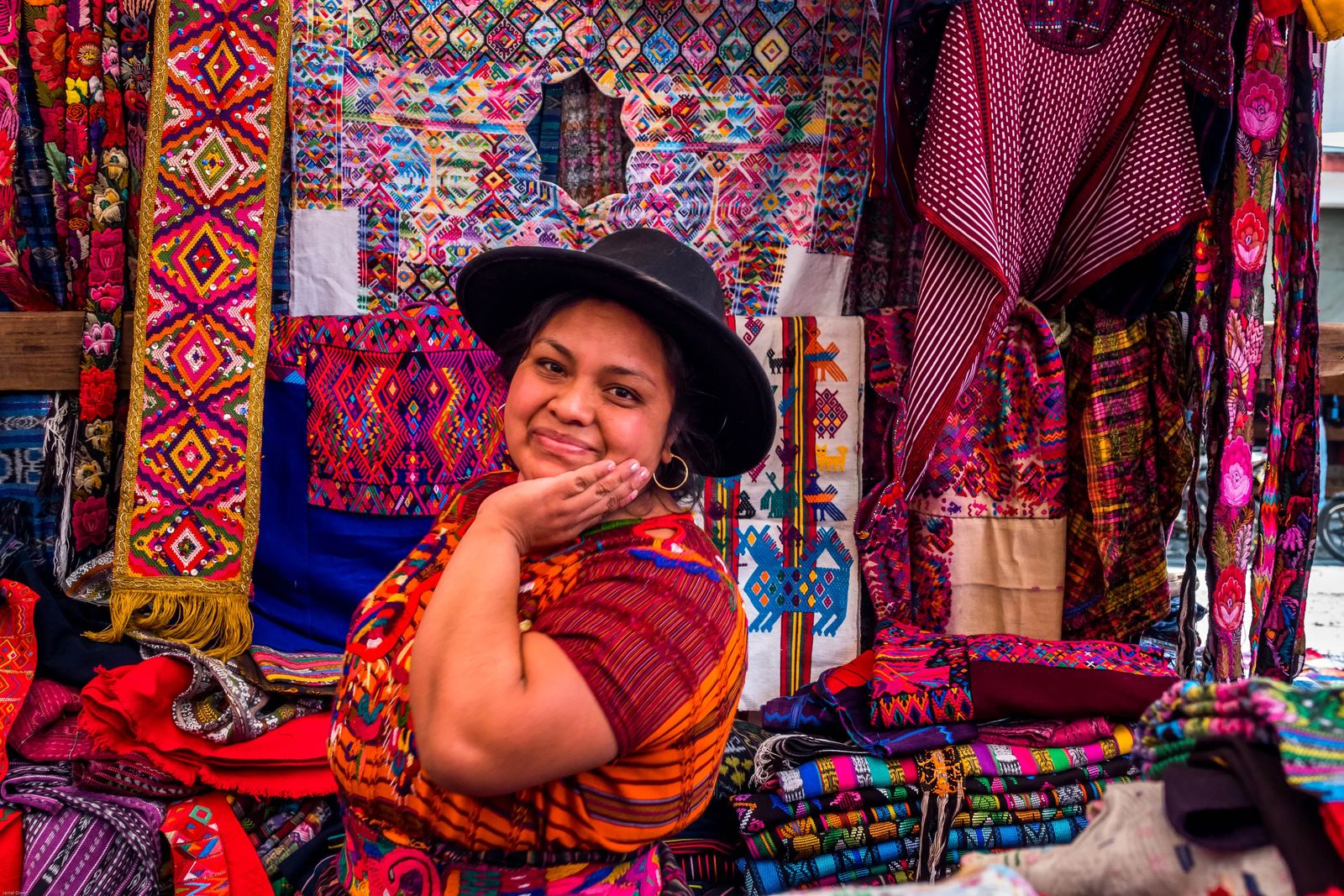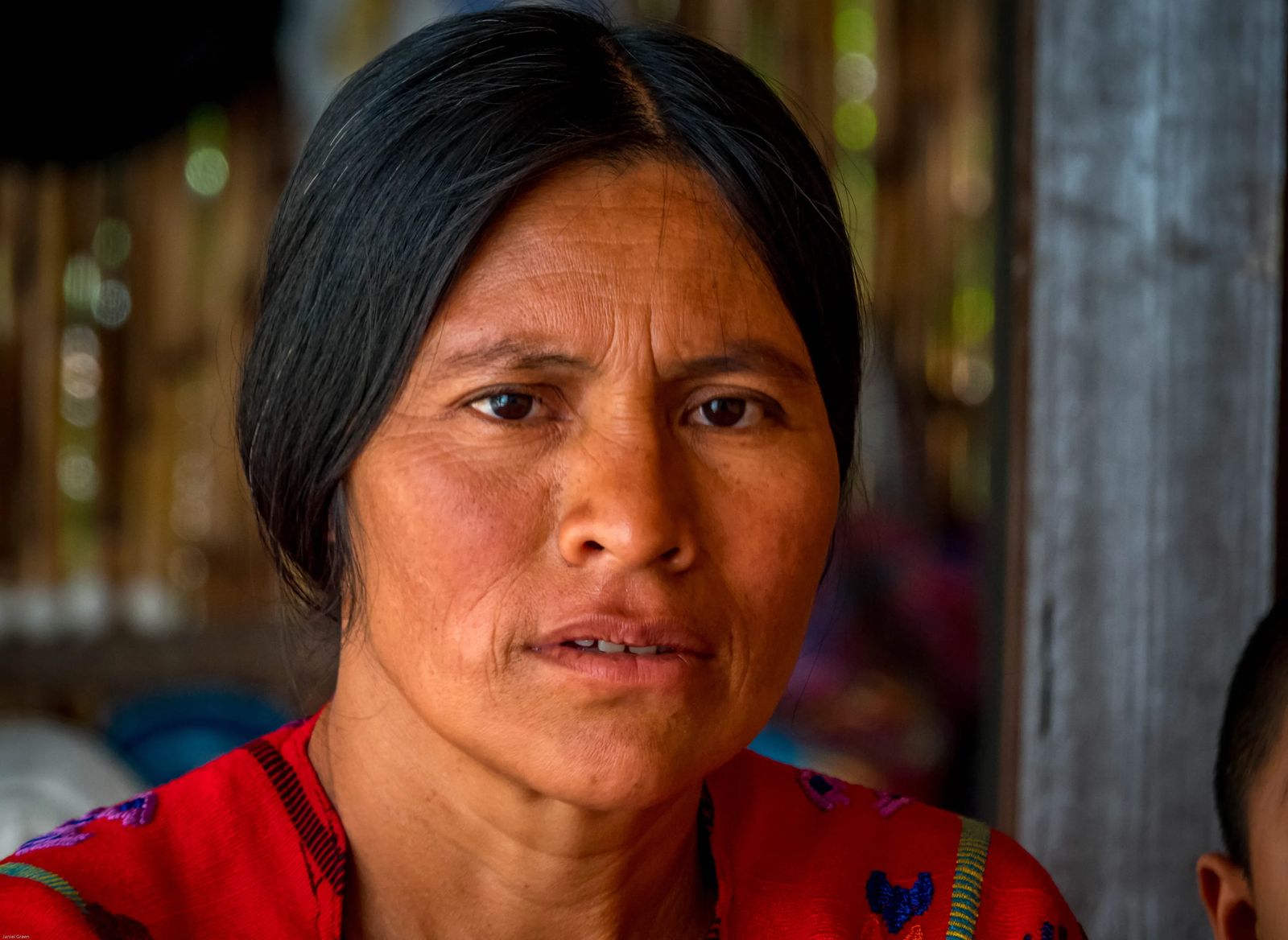 If there isn't anything, in particular, you would like to buy you can also donate to her cause. Her dream is to be able to hire 8 women, to change their lives, and so their children's lives can change and it will balloon from there. If you would like to donate for Maria the weaver to get electricity, send the donation via PayPal to SheRidesDragons@gmail.com – and make a note for something, in particular, you would like to donate to.
If you would like to help with funding or volunteering at an animal hospital or donate to help with education on how to care for animals and recognize diseases – email SheRidesDragons@gmail.com and she can get you in touch with the right people there.
Also, if you are interested in learning Spanish, Dora is an excellent Spanish teacher and does online classes starting at $10 an hour. Please contact send me an email (culturetrekking196@gmail.com) and I will connect you to her. I started taking lessons from her and think she is an absolutely incredible Spanish teacher. It is difficult but immersive and I'm learning quickly.
Like it? Pin it! Sharing is Caring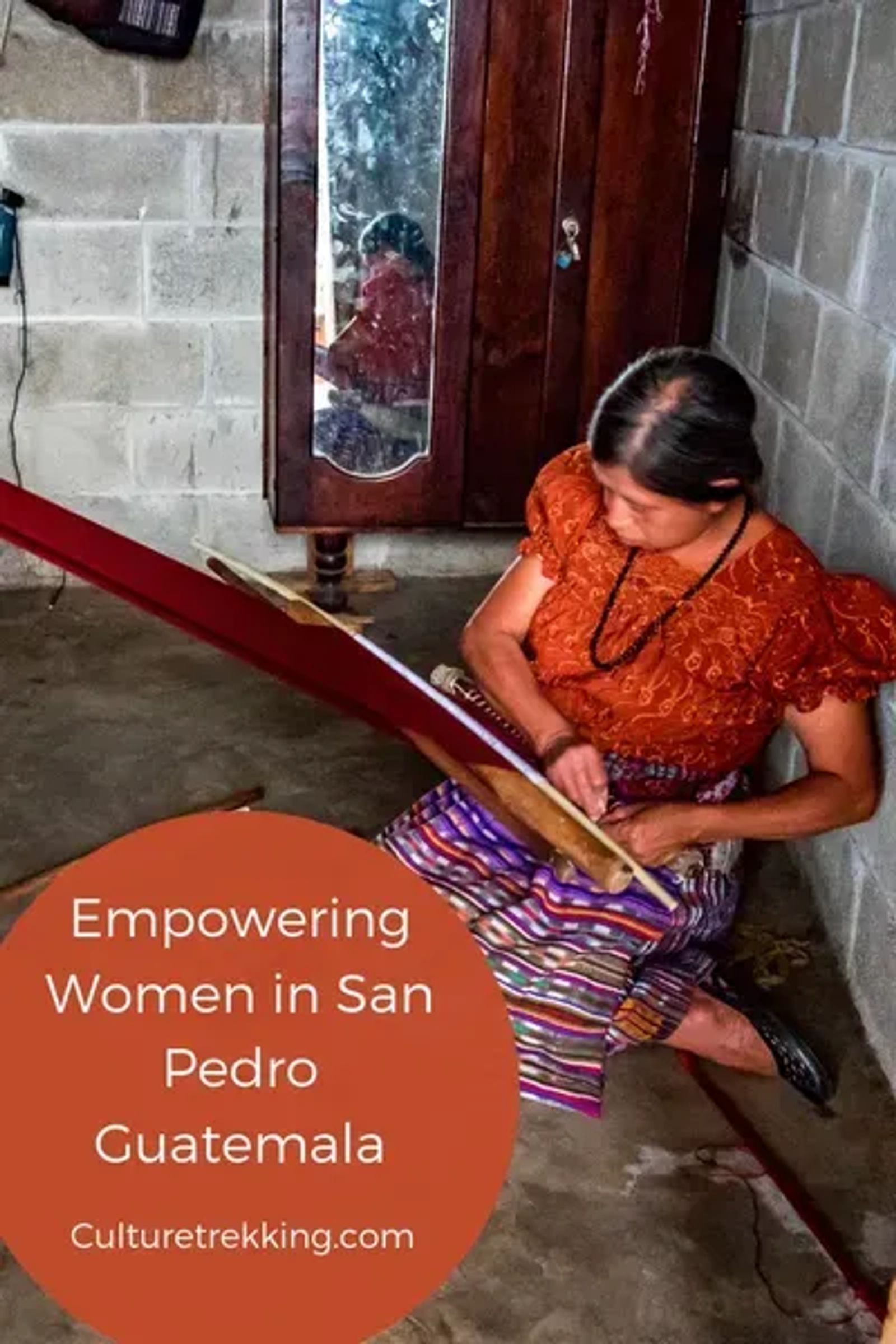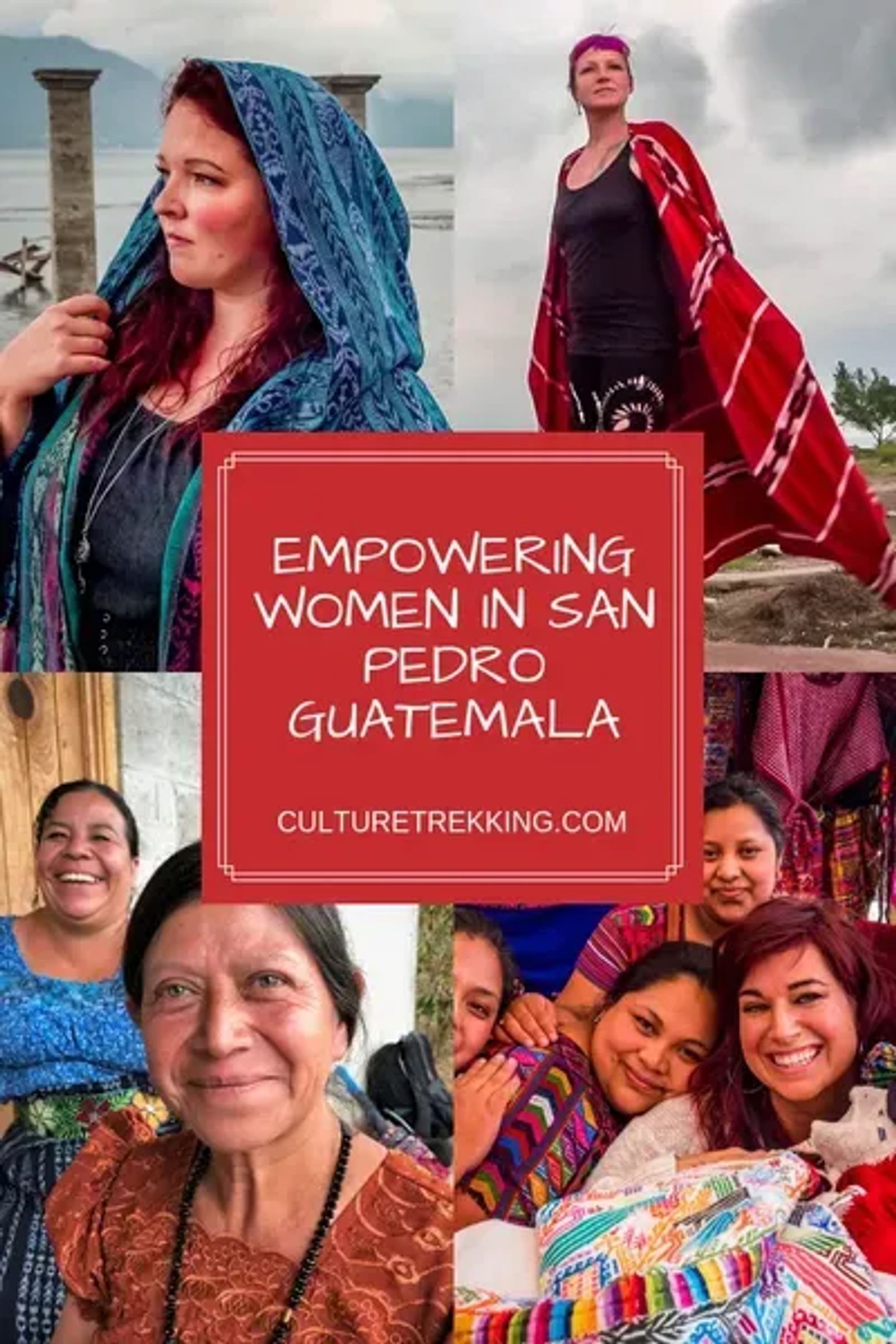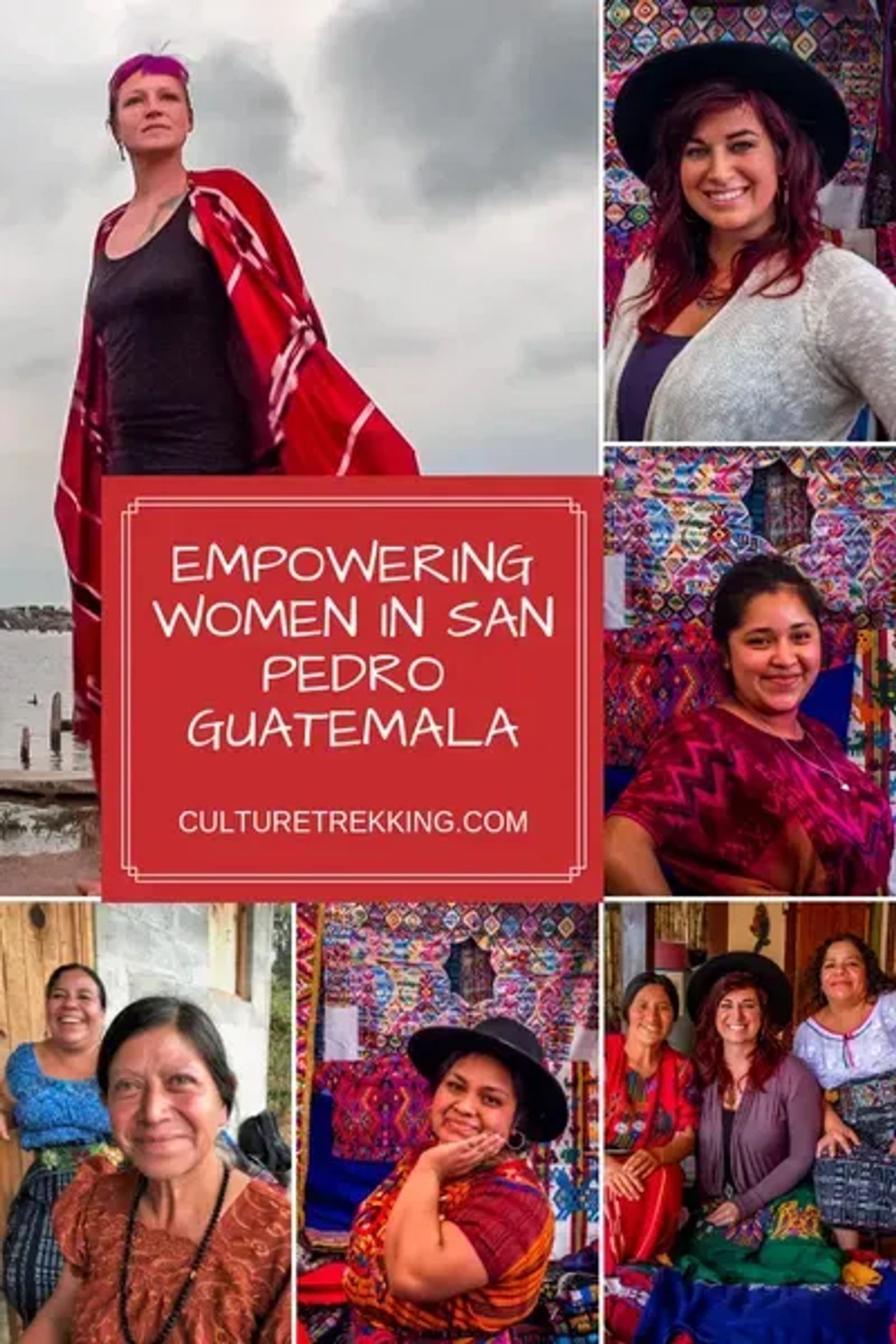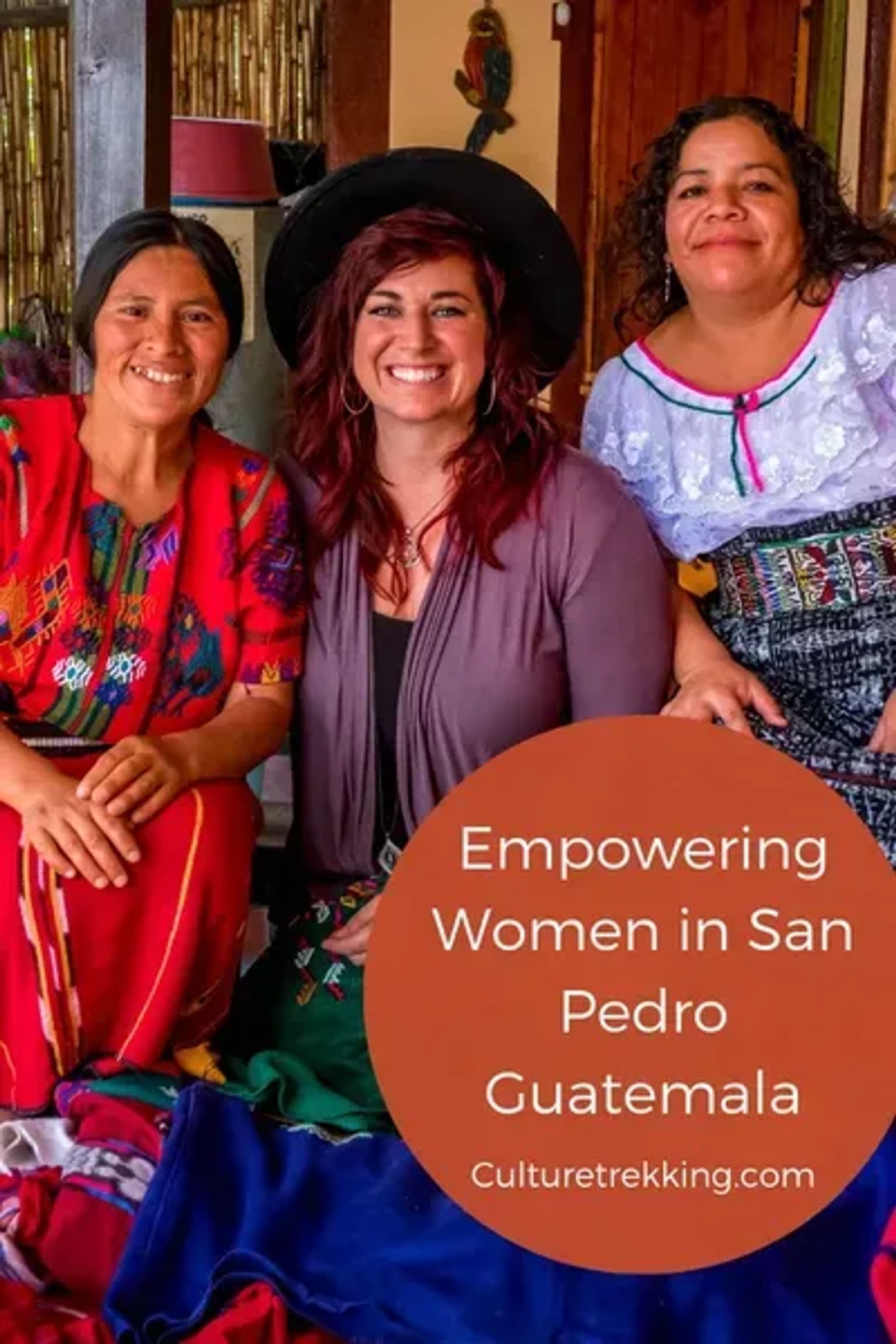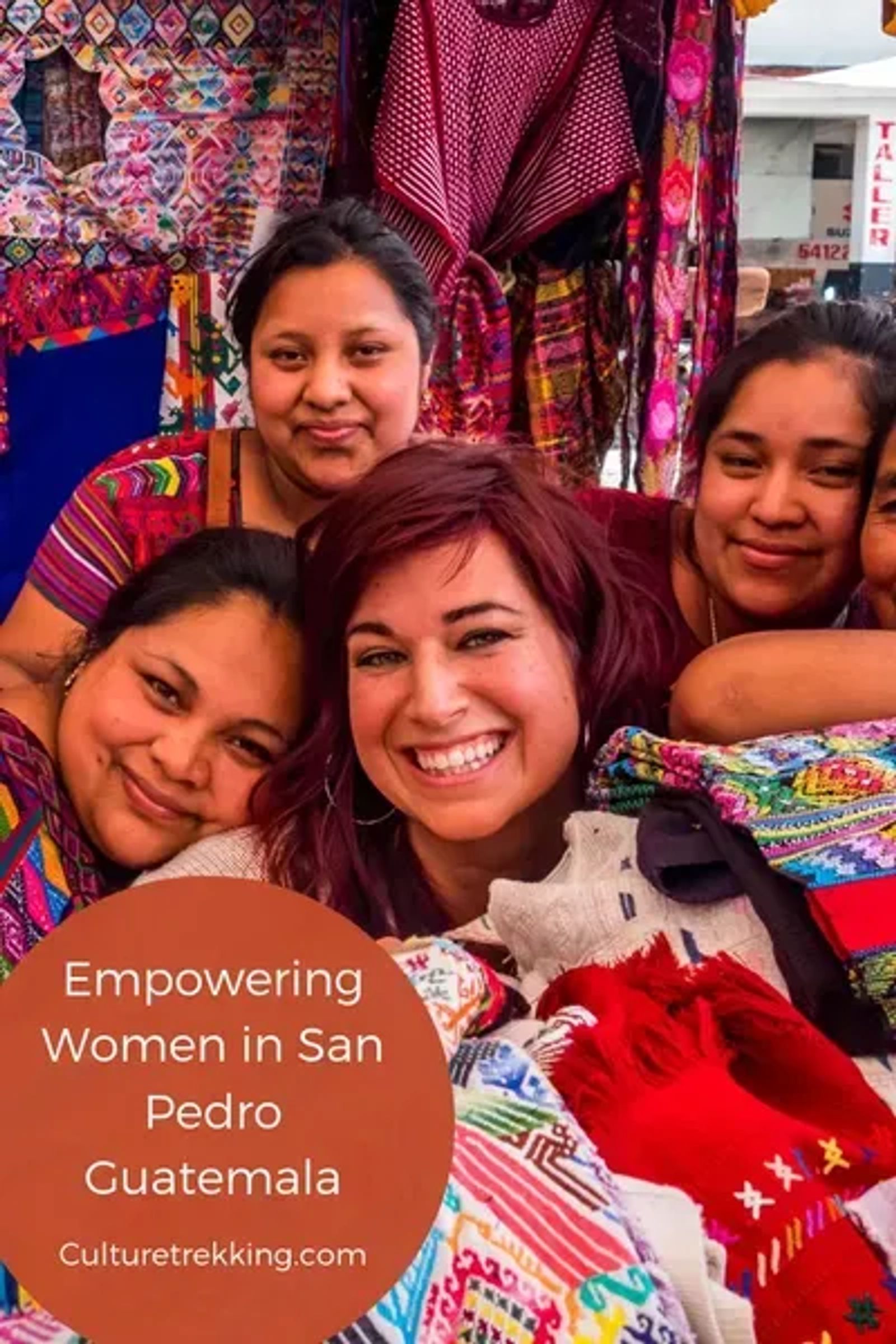 Where To Stay in San Pedro