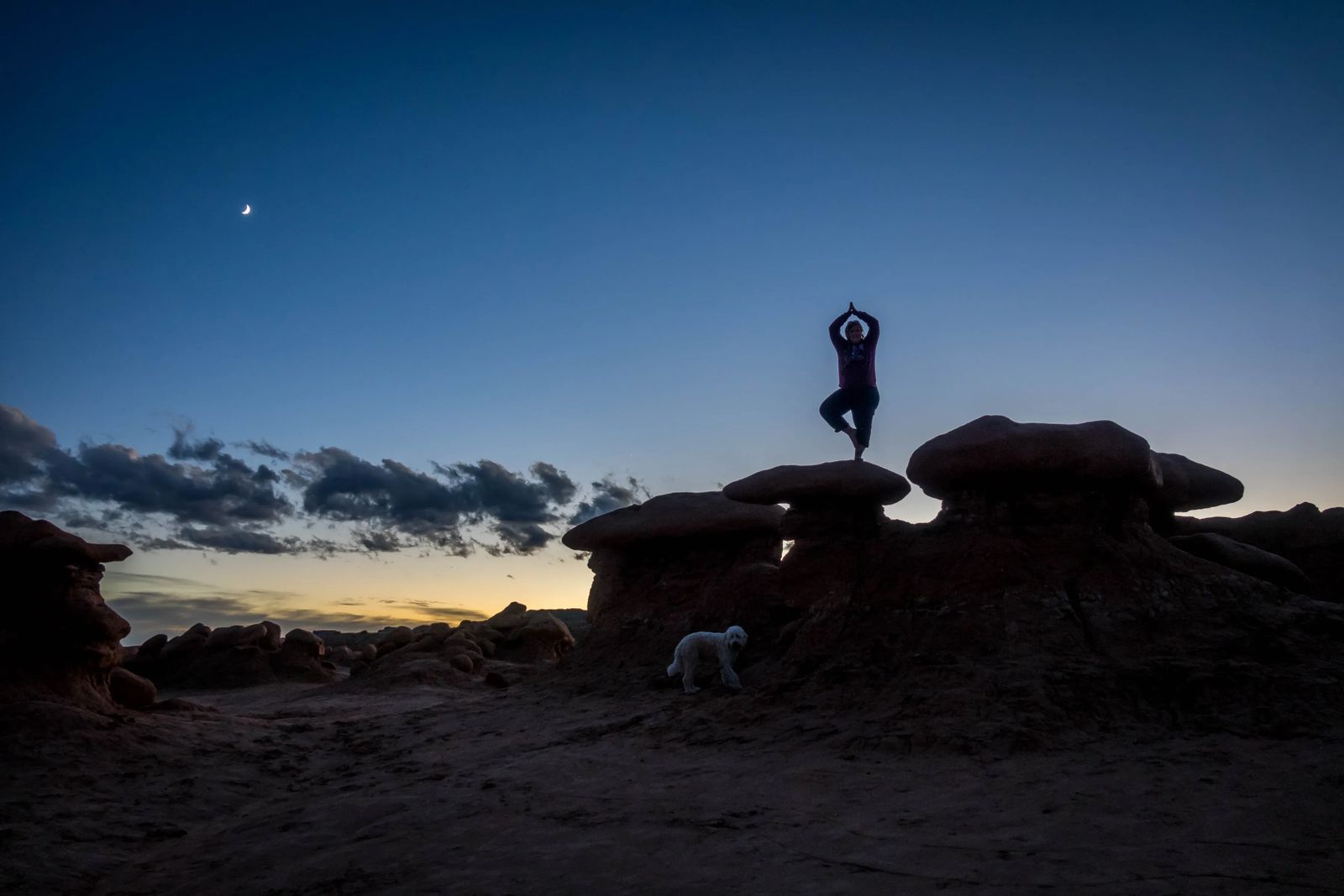 Hiking in Goblin Valley State Park
If you have ever seen The Labryinth, you know what fantastical worlds can be made up by the human mind - Goblin Valley State Park looks like it should have been part of that movie. The unique sandstone formations within the depressed valley in southern Utah are a perfect playground for young, old, and the whole family.
There are so many hoodoo's, or mushroom shaped formations, it is hard not to feel like a child again exploring all the twists and turns. The best part is, you can take your pups with you to run a muck and get all the energy out.
Getting to Goblin Valley
There are a couple of options to get there. You can fly into Salt Lake City International Airport, explore Salt Lake City the first few nights, then take a three and half hour ride down to Southern Utah to explore Goblin Valley, Kodachrome Basin, and Moab. If you live in the States you can also fly into Grand Junction Colorado, explore that cute rural town, then Moab, and on to Goblin Valley. No matter which way you care to venture, it is going to be a gorgeous ride with open fields full of purple wild flowers in April, or Sunflowers in the Fall. You really can't go wrong with a road trip in Utah.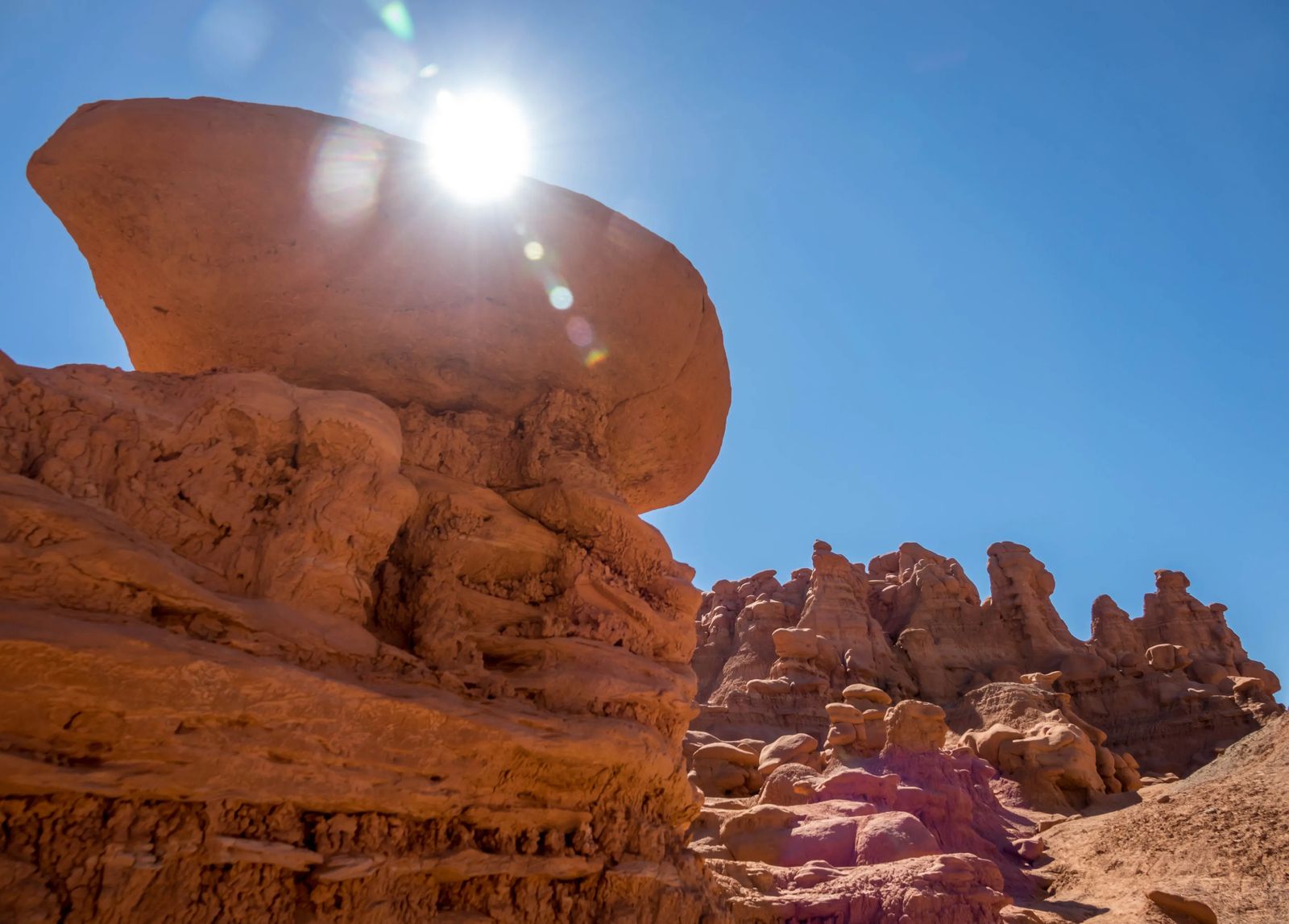 Explore the Hoodoo's
There are so many shapes within the Hoodoo/Goblin Valley that it is hard to not have your imagination run wild. It can also be a little spooky, because of how well the rocks block sound, you can turn a corner and run into someone.
The shapes, curves, corners spur different stories in my head when I'm there. My Dad and I used to lay on the trampoline on the weekends together, looking at the different shapes of clouds, assigning an animal or a person and making up different stories to accompany those mental images. Letting those stories of goblins, ghouls and miscreants creep along the lining of your conscious curiosity makes you feel like you are a child again.
Be Careful When You Explore
Respect the Rocks in Goblin Valley
Living in Utah, with five National Parks, and a plethora of State Parks is such an incredible blessing. Growing up here though, visiting Goblin Valley State Park is a bit of a right of passage. The love the locals have for the rocks, parks, and natural space is a bit like caring for a family member in a way. So if you visit Goblin Valley, please do not deface our beautiful area that bring so much joy and families closer together.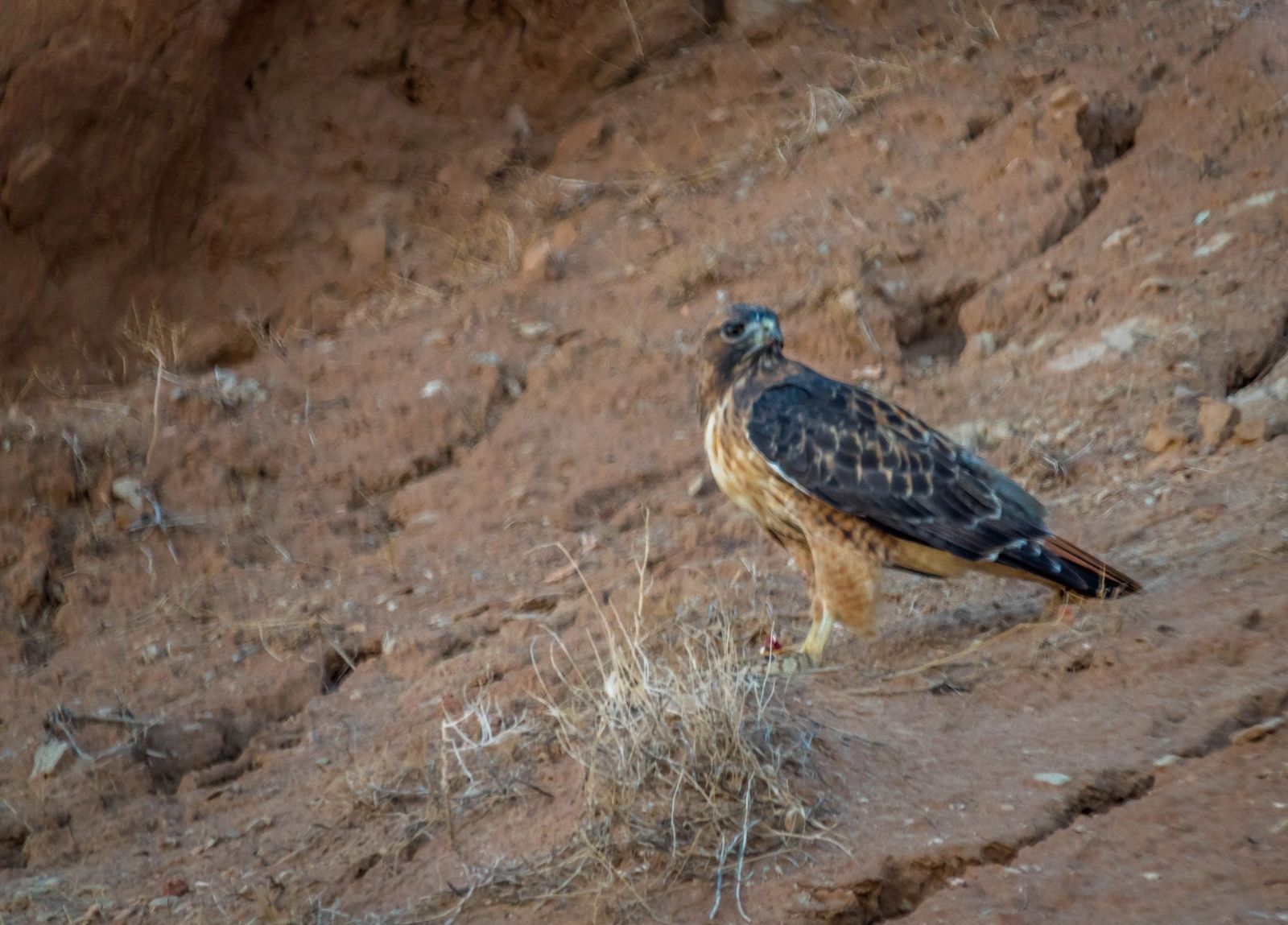 The reason I mention this, is due to a fairly destruction of one of the Hoodoo's that had been there for thousands of years, and was an iconic part of the park. A Scout leader, who has now been charged criminally for destruction of State land, and removed from the National Scouting league; decided to climb atop the teetering rock and video tape it. The rock toppled off it's precarious perch, and made the national news because of how iconic it was.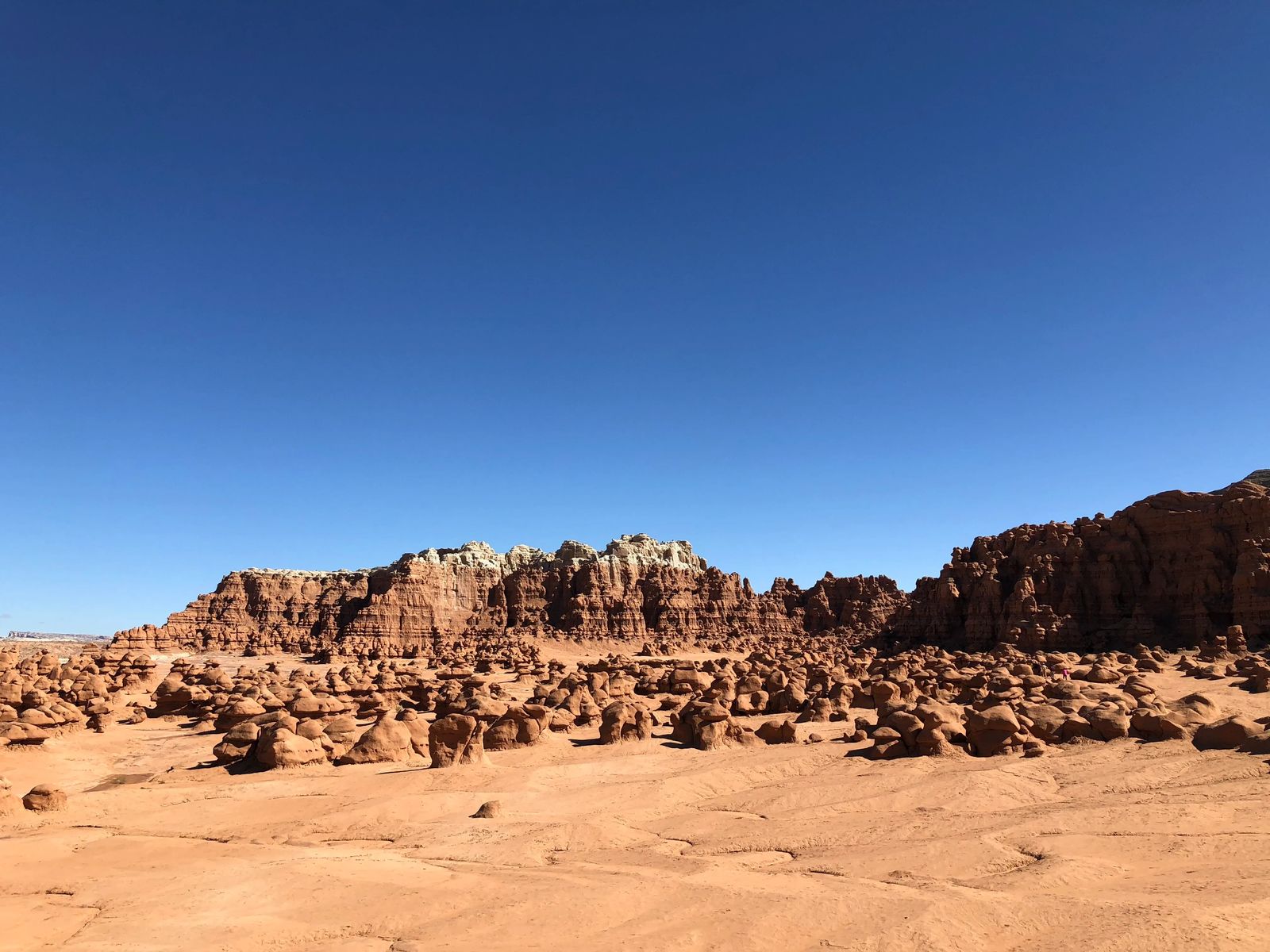 Heat of the Day
Another thing I would like to warn you about in this valley is the heat. What many visitors don't realize is Red Rock of Southern Utah absorbs heat and reflects it. So although Goblin Valley State Park may appear a balmy 90F (32.2C), when you get into the Valley or your on your hike exposed to the sun it can feel like your standing in a dry sauna with temperatures sometimes reaching up to 109F (42.8C).
It is also unique in that you typically need to pack in your own water. There are a few watering stations available at nearby camping areas, but they are a little cumbersome to get to once your in the park itself.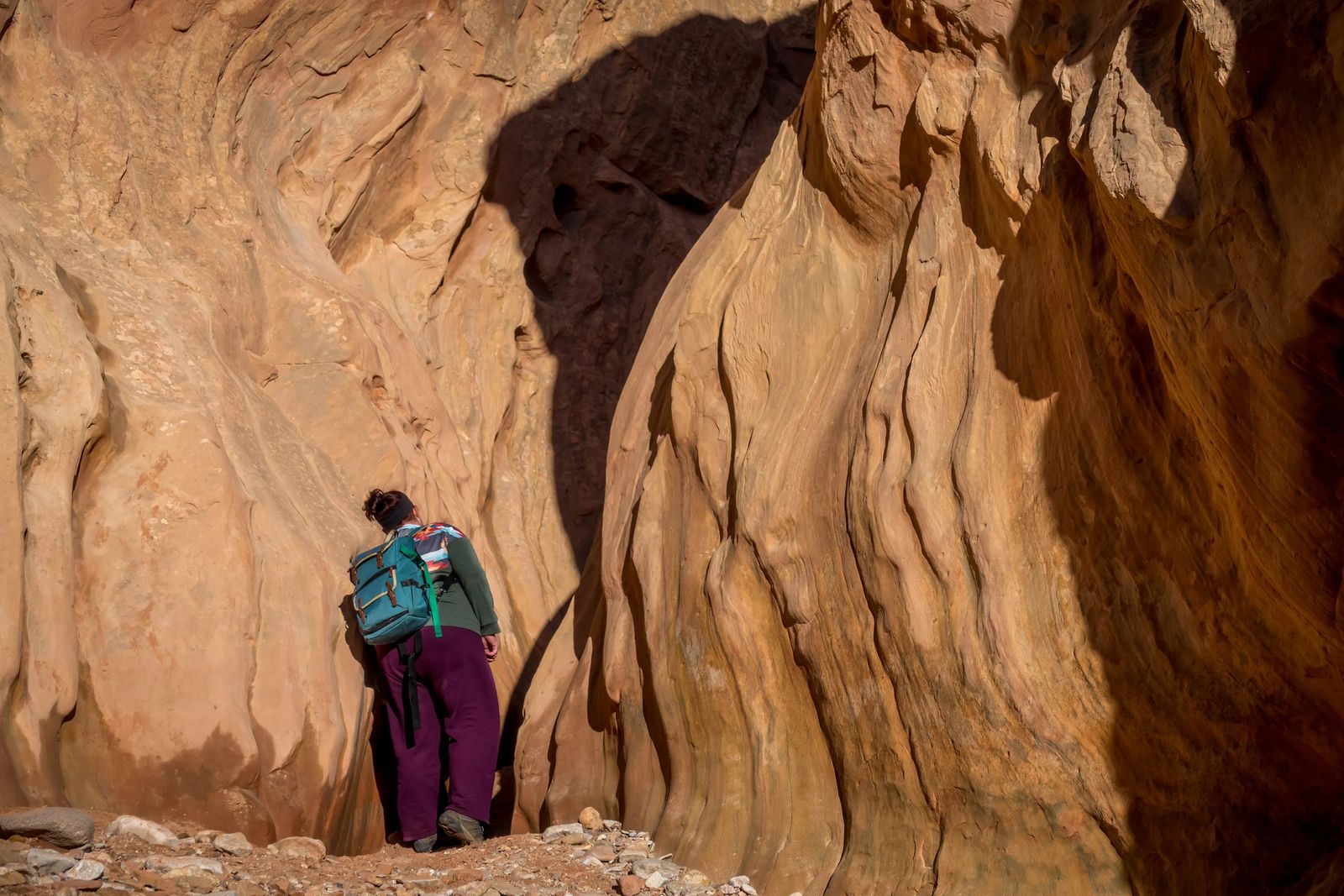 Little Wild Horse Canyon Hike
While not directly in Goblin Valley, this is still part of the San Rafael Swell. With some of the narrowest slot canyons in Utah, it is a great place for scrambling, and perfect introduction route for learning how to do canyoneering.
The hike begins in a parking lot, winds your way through paths toward the canyon; but spits you out into the dry river wash that you follow towards the canyon.
While we didn't do any canyoneering due to our dogs coming along with us; it was quite comical to see them try to navigate and get past each other at different junctures.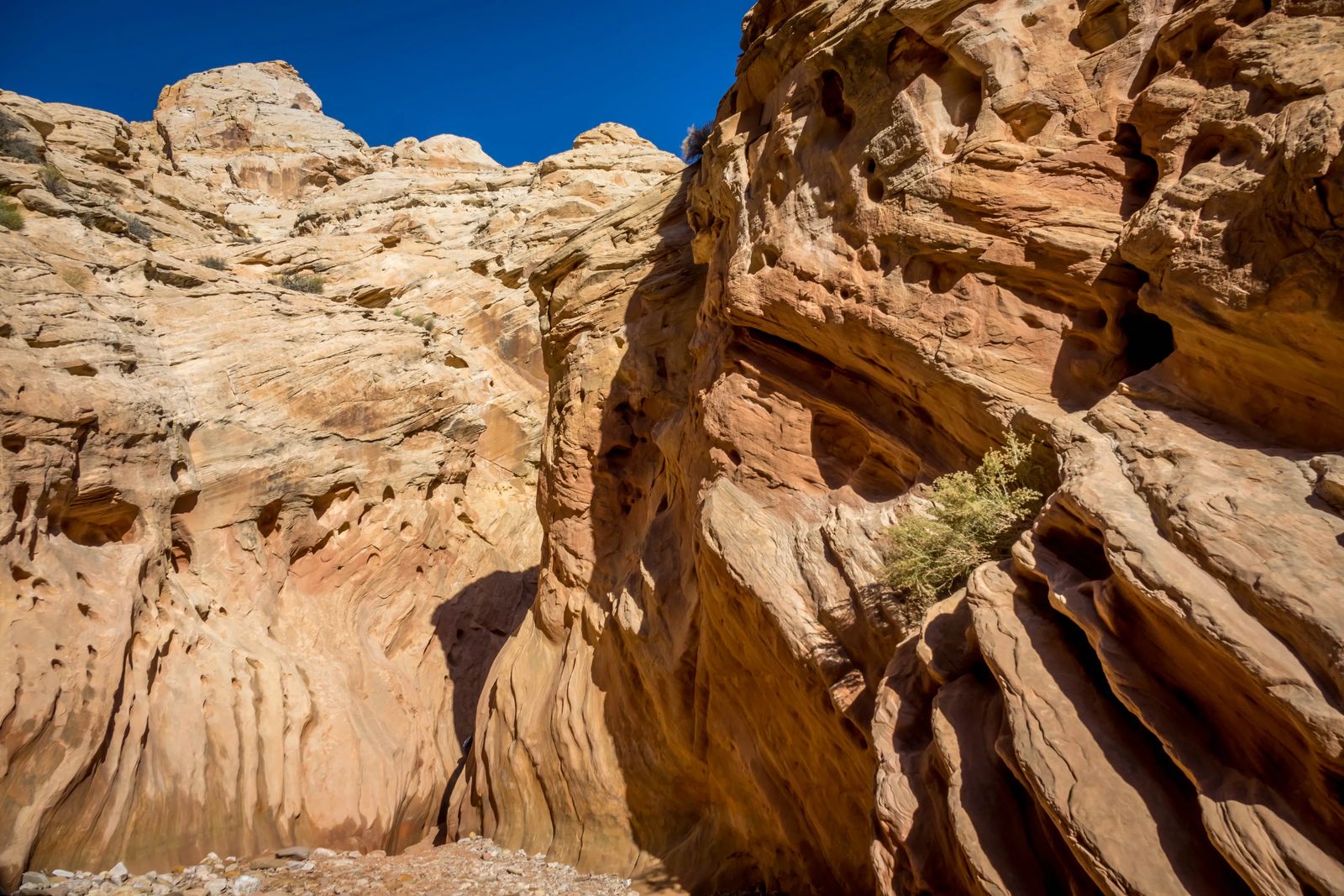 You feel like a real explorer when walking down these canyons, and the walls are so perfectly sculpted with varying shades of red, orange and white rock it almost looks as if a butter knife had carved out the canyon. In the early spring and fall there can be standing water and small pools of water, but they are typically only ankle deep.
There are a couple of ways to do this hike, one where you just hike in to as far as you feel comfortable, and then back out. Option two is to do the full 8 mile loop with some canyoneering down bells canyon.
Please be careful during rainstorms as some of the areas along this hiking route are prone to flash flooding and people have been known to get trapped.
Goblin's Lair
People have compared this lair to that of the Labyrinth as well. Where ghouls, trolls and other creatures of the dark gather at night to wreck havoc on the campers in the area. If they are caught outside the lair, this is when they turn into the knobby rocks and how Goblin Valley was made.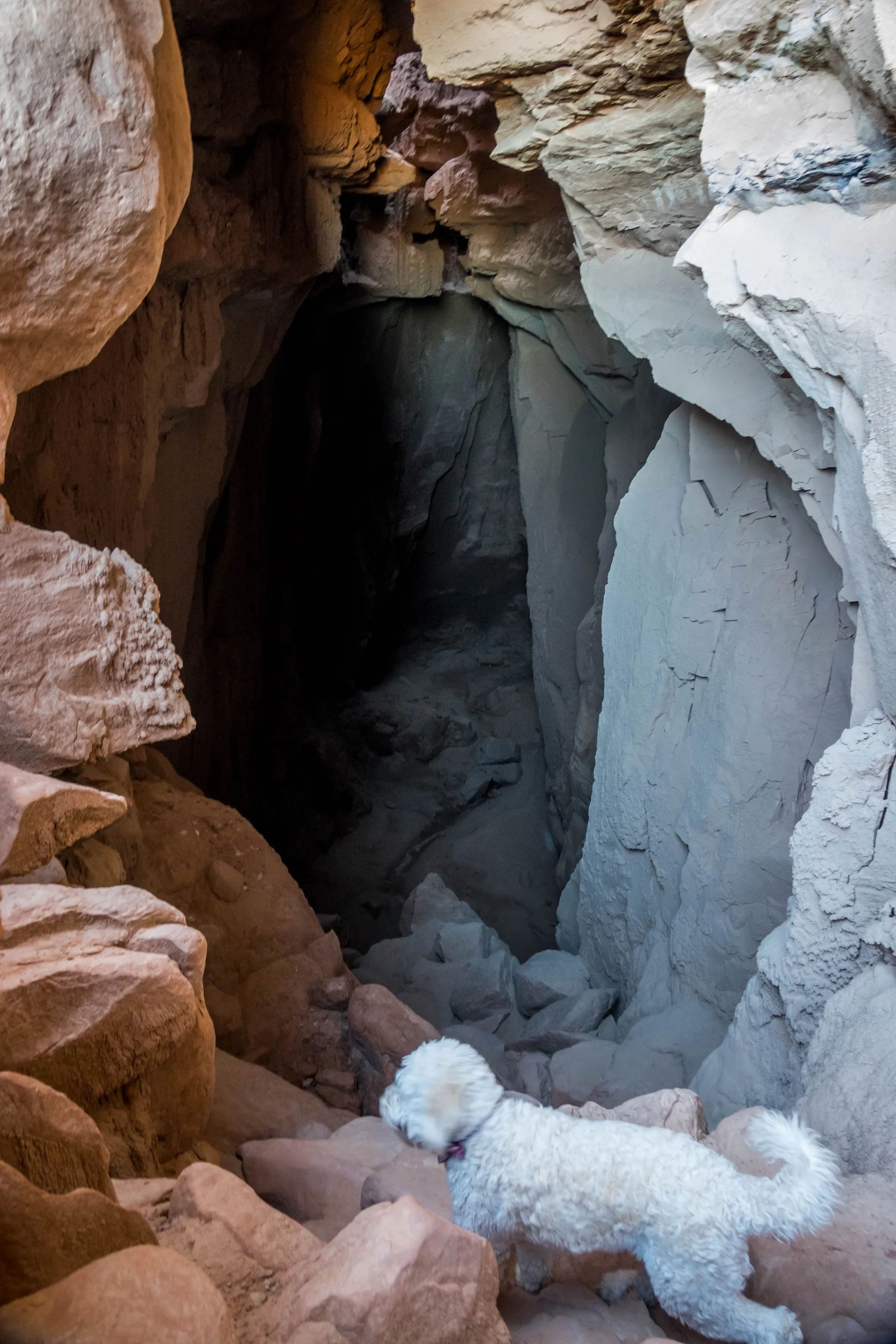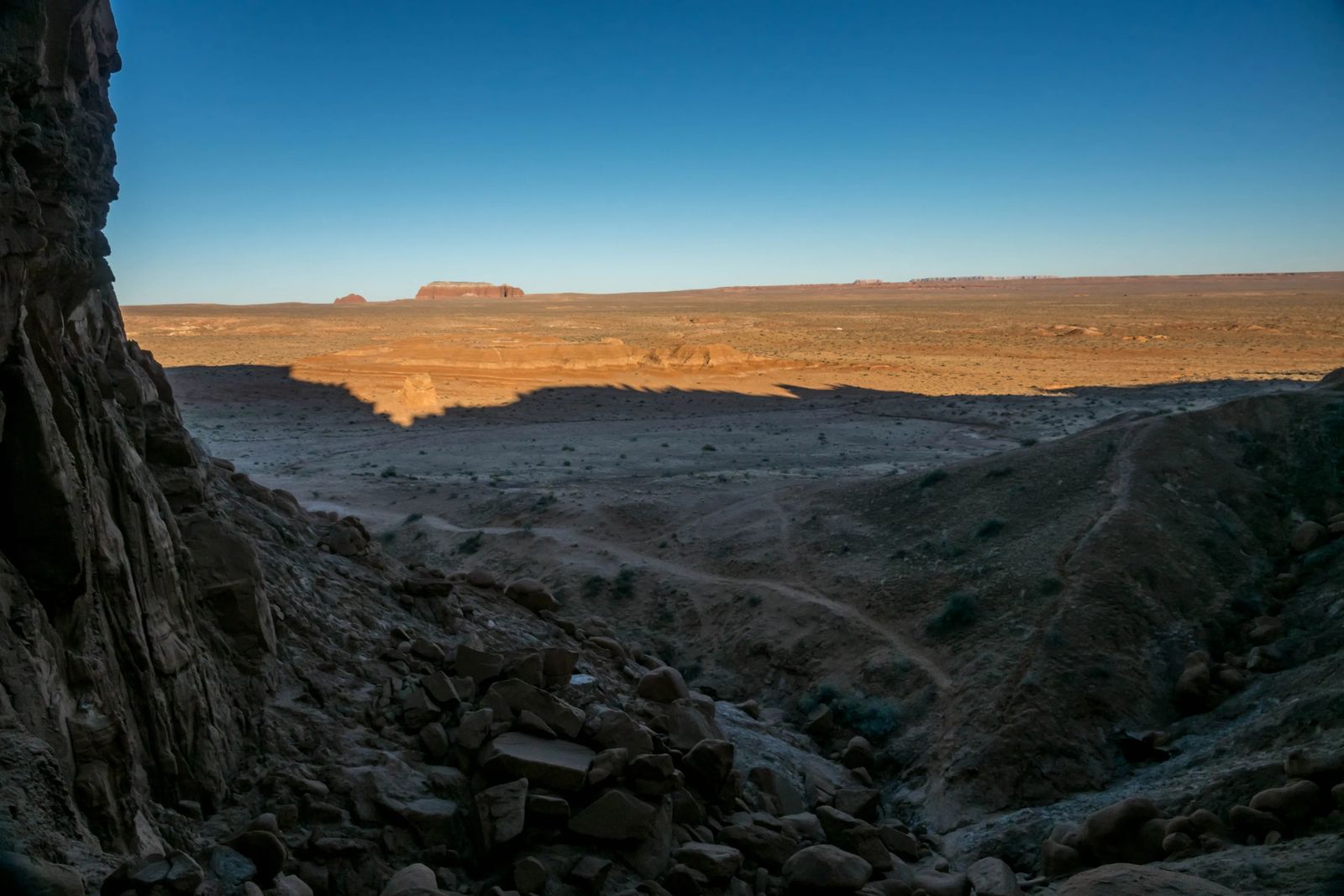 The hike is moderately strenuous, you do have to scramble at some points, and getting down into the lair is quite precarious. The views from the lair are quite beautiful though, with unobstructed views of the desert landscape - serene and quite with only the crows cawing. The afternoon is the best time to go so you aren't in full sunlight on the way up.
Dark Sky Park Experience At Goblin Valley
Not only is this a great place to explore in the spring and fall, it is also considered one of the remaining dark sky parks in the world. Being from Utah, I forget how fortunate I am to experience things like this. There isn't a night where you wouldn't at be able to see a plethora of stars visually dancing above you. Shooting stars to make your wish, and dreams come true are quite common as well.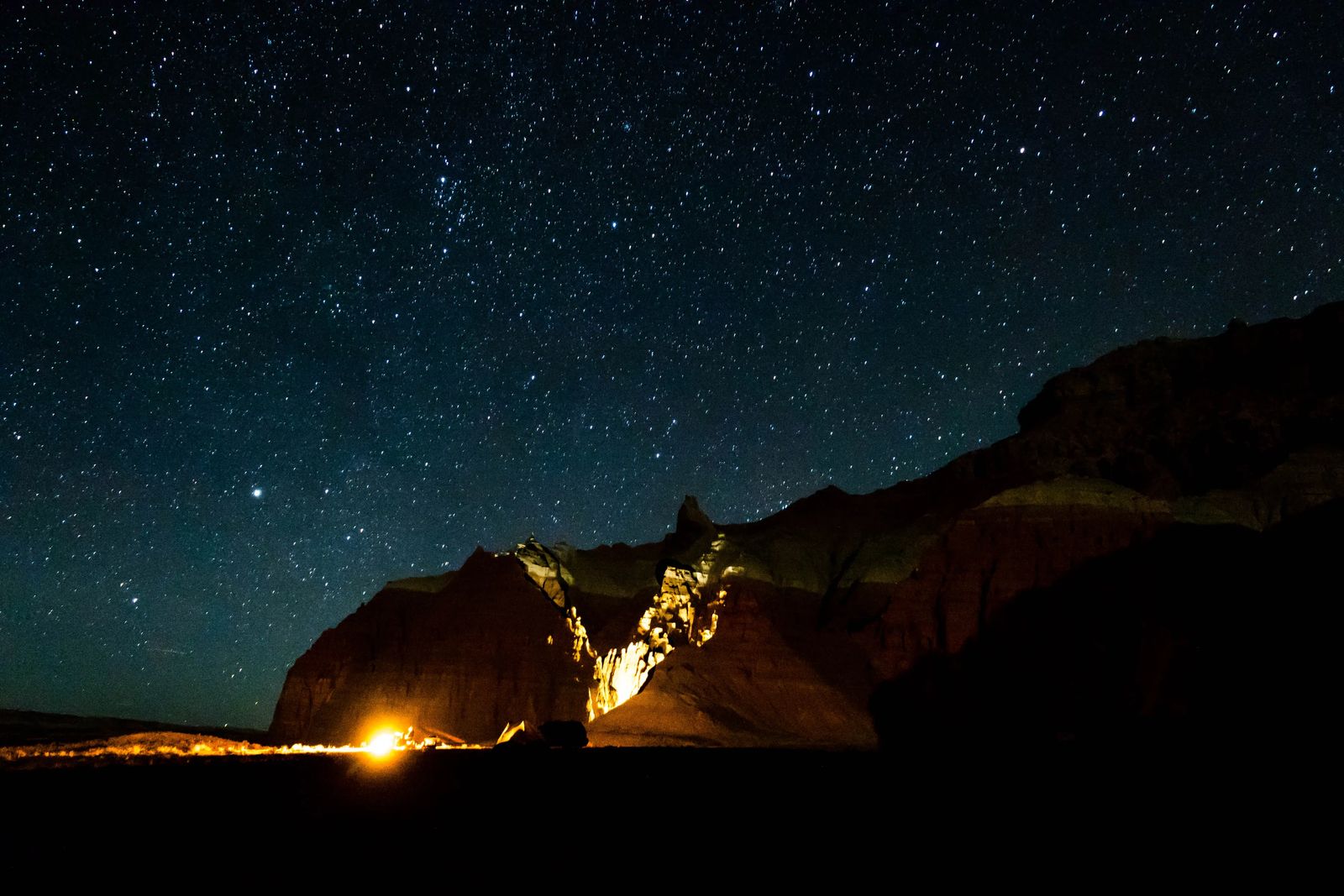 The sunsets are almost as pretty as when the galaxy rises, with your eyes feasting on a spectrum of colors from dusk until dawn. I suggest planning your trip to when the moon will be either a sliver, or absent as this is when you can truly see the universe in all it's grandeur.
My favorite thing was to sit on the floor of the Goblin Valley, snuggling with my dogs, taking photos of the sunset with the hoodoos giving a perfect silhouette. Then as the sun was tucked behind the mountains for the night, the start slowly emerged....we stayed there until we all started shivering and then headed back to camp - where there were even more wonderful photo opportunities with nearby crackling fires.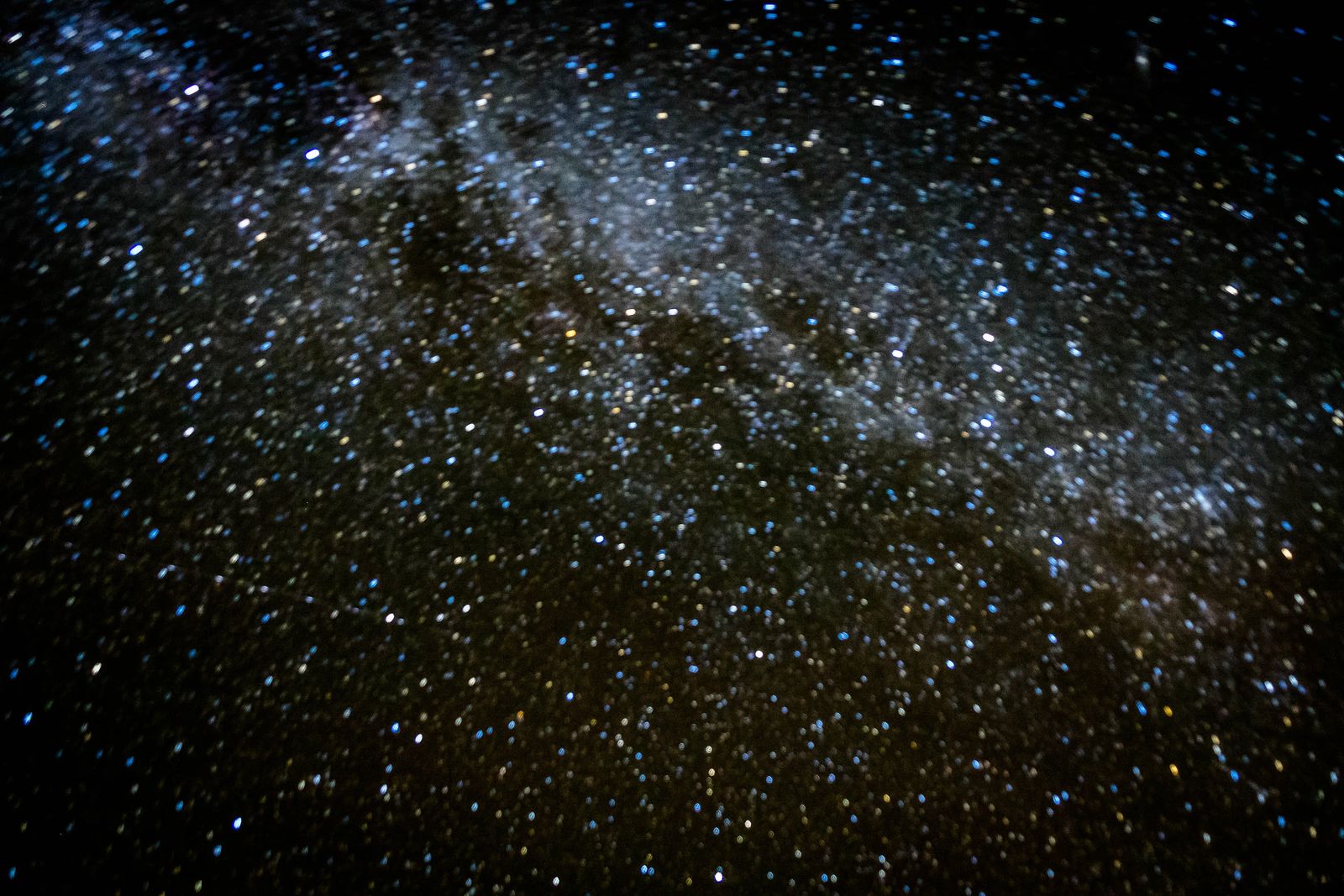 It truly was a perfect way to end the night, feeling small but happy enveloped into a perfect slumber knowing that we just witnessed something not many people in this age of technology truly get to appreciate anymore.
Like it? Pin it! Sharing is Caring!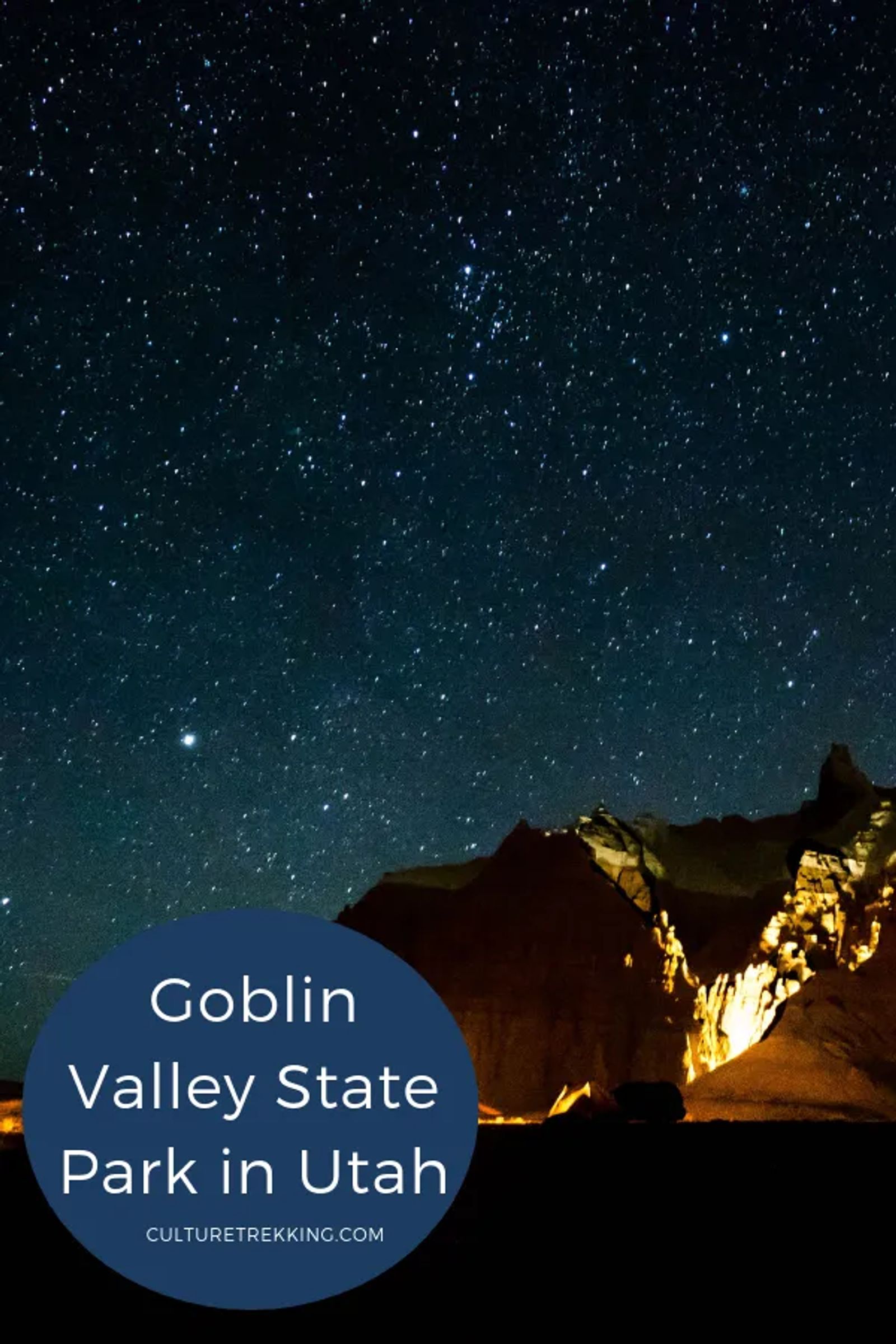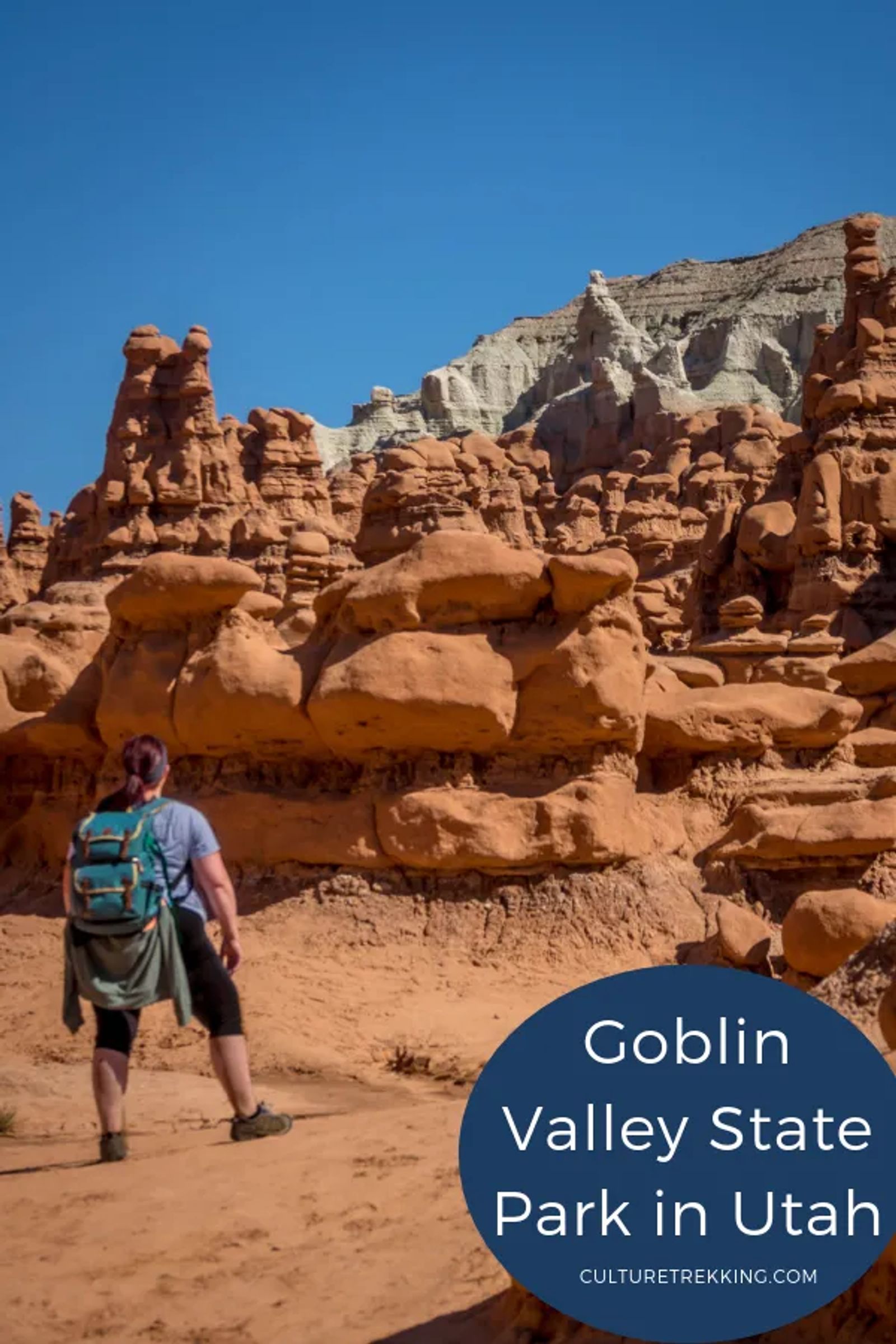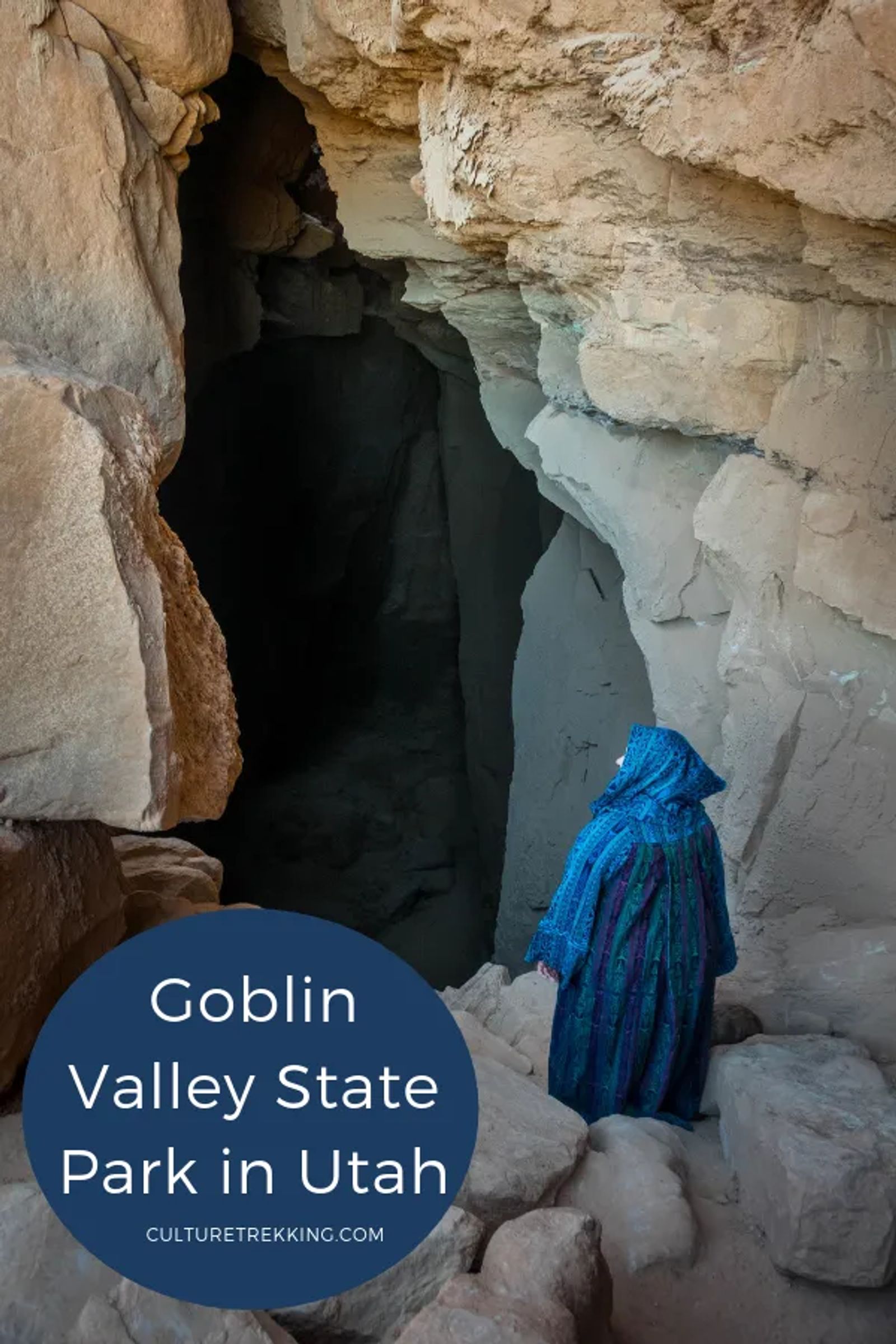 Where to Stay Near Goblin Valley State Park
There is plenty of BLM Land near Goblin Valley that you can set up a remote camp site. I would definitely recommend four wheel drive, as well as some sturdy tent stakes. The wind in the area can get quite strong, and I've had the lovely experience of chasing a tent across the desert landscape in the past.