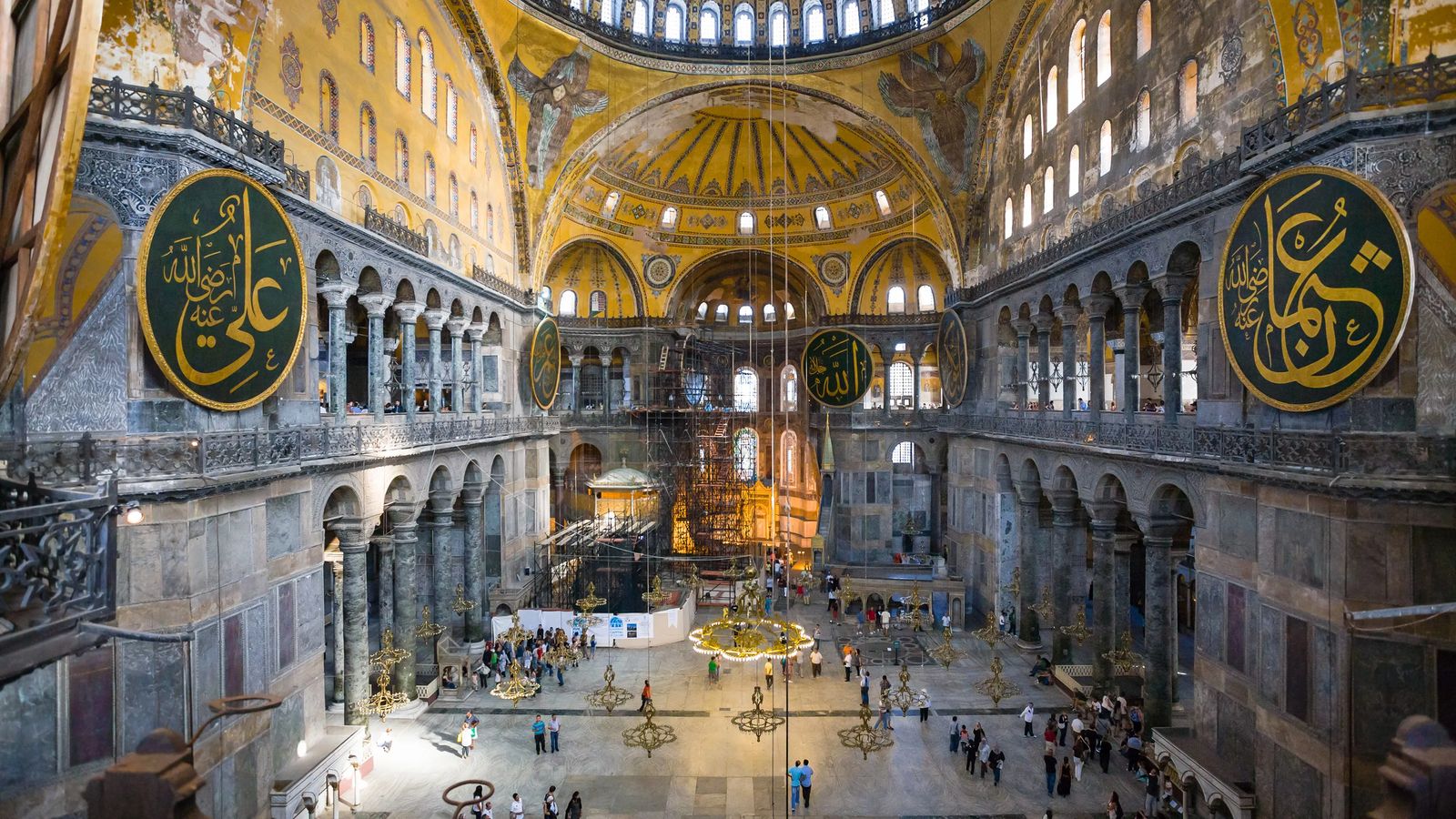 Hagia Sophia Tour: From Past To Present
Now a museum, but a building that stands as a religious journal to centuries of time and a witness to many wars. This impressive building is so large that the Empire State Building could actually fit underneath its massive dome. Once a church, later a mosque, and now a museum in Turkey. Over the Centuries it has been influenced mostly by both Ottoman and Byzantine influences and perfectly projects this onto those who enter its walls. Let me take you on a virtual Hagia Sophia Tour, and give you a brief summary of the old Hagia Sophia to the Hagia Sophia today.
A Structure of Contrasting Religions
With both gold Christian Mosaics that have been uncovered, and central Islamic spiritual messages that adorn the walls; it made me sad in a way, that this building could be given the title of being a 'museum', and yet Christians and extremists cannot seem to find any common ground. Our time is likely not unlike the wars that this building has seen in its time. Maybe one day, our time can be looked at with both sadness and enlightenment on the human condition of this war on extremism, we can only hope.
One of the reasons I loved this building, is because of the contrasts of having both Christian and Islamic emblems within the same walls. I appreciate the Turkish government for allowing such a museum to exist and maintaining the property; especially since it is directly across from a operating mosque, the Blue Mosque, with its gorgeous and intricate interior.
The Old Hagia Sophia
The Hagia Sophia built by brick and mortar, is 31, 24 mt (102 ft 6 in) diameters and is 55, 6 mt (182 ft 5 in) high. Originally it was a wooden structure used for Pagen rituals, then that was torn down, and a Byzantine church built by Constantine in 360 AD. It underwent fires, earthquakes and collapse in total 5 different times. It was in 1931 that Christian Mosaics, previously plastered over for Islamic religious preparations, were beginning to be uncovered. Then in 1934 was transformed into a museum.
Significant church leaders from many denominations, emperors, sultans and princes have all walked these halls. It was a little humbling to think that I was walking in the steps of men and women who made the history books. I like to imagine what the walls of the buildings had been witness to. I think the more history a certain historical building holds, the more magic it has because of that history, and the bigger impact it has on my heart.
Getting To Hagia Sophia
My family & I visited this building on an excursion from our Cruise, it was an easy train ride to the center of town. You will need to buy a train ticket, with cash, at the machines located next to the tracks. There is an option for English on the ticket machines.
When you get on the train men are expected to give up their seat for women, especially women with children; I really appreciated this as my sister was given a seat while she was holding her 9 month old sleeping daughter. The train is typically quite, out of respect for other passengers. The train ride into town took only about 20 minutes, and most of the major tourist attractions are within walking distance.
I suggest visiting the Blue Mosque early in the morning as it can get crowded on Fridays and around the time for calls to prayer, it opens before Hagia Sophia.
Entrance to Hagia Sophia
You will need to get in line for Hagia Sophia quite early, as it gets quite crowded later in the day. A donation as you leave any mosque or museum is appreciated, as these places need to be maintained and can be quite costly. Be sure to explore every corner of the Hagia Sophia, and if you are able to arrange for a guide, you could spend the whole day learning about the history of this place and all the layers of this building and when things were added & by what religious or cultural sect.
Hagia Sophia Today
Hagia Sophia, Turkish Ayasofya, Latin Sancta Sophia, Church of the Holy Wisdom, Church of the Divine Wisdom, no matter what you call it the transformations make this an incredible place of historical worship.
The most impressive parts about this building, is that despite being in a predominately Muslim country they still show the Christian heritage it holds. In a way it made me hopeful that an understanding could blossom between Christians and the Muslim community. That a mutual understanding and respect is still possible. Allowing things like this to be available to tourists, locals etc... and bridging that gap of cultural misunderstanding is the first step.
So take a visit to Turkey and see this amazing building, and experience their wonderful culture, and intricate history... you won't regret it. I still consider Istanbul to be one of the top 5 places I have ever visited.