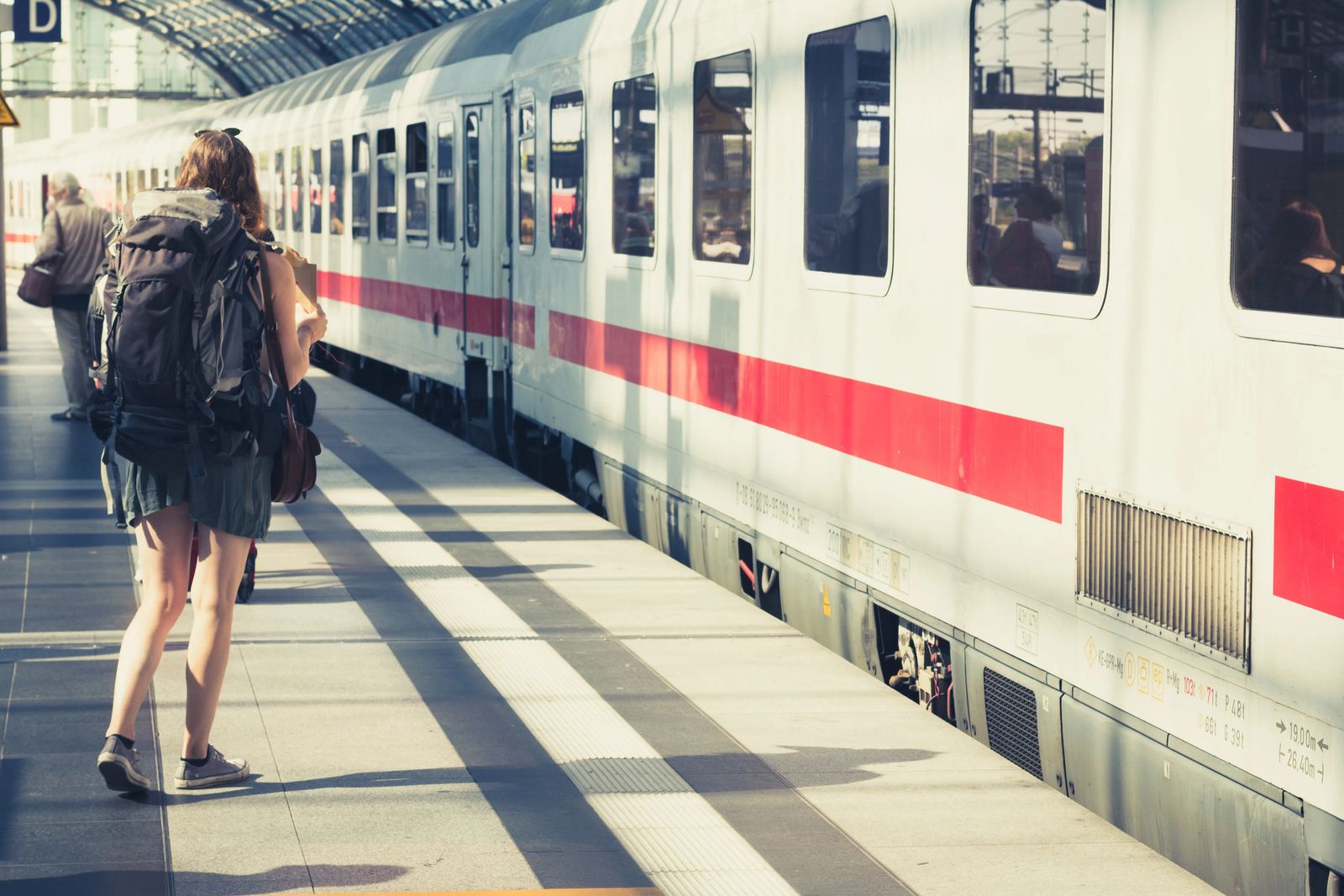 Backpacking Eastern Europe
My Dad instilled the travel bug in me long before traveling was popular in the bloggo-sphere. So when I heard that Backpacking through Europe was a 'thing' on Rick Steves shows, I ended up making it a top bucket list Item. Deciding on which countries I wanted to visit and their proximity was the first step, then if it was feasible to visit them in the week and a half that I was given to do this. Choosing Eastern Europe backpacking trip was the best choice not just for me, but also for my budget. I'm not the type that tends to love to just jump on the over touring bandwagon. Wherever there is alot of hype regarding travel, I tend to look at countries to the right or left of that - as they have more nooks and crannies to discover that aren't ridiculously crowded.
Arriving in Prague
You don't really have time to just sit around and stare at the walls, or spend hours in a restaurant waiting for your food when you are backpacking through Europe. When you have only two or three days in each country you have to get to the point, know where you are going and be as efficient with your time as possible.
Trekker Tip: Don't worry about gaining weight on your backpacking trip, you will literally be running and walking 9-11 miles a day between touring and catching trains.
They have Uber at the airport (good thing to check if you are going to a different country), and after a red eye flight jet lag will hit you hard core. Take the Uber, get to your hotel/hostel and then decide the next game plan.
Trekker Tip: Your going to be Jet lagged, so don't make the cardinal sin of laying on the bed or sitting down for more than 30 seconds. Hydrate well and get yourself moving.
After setting a game plan I decided to take a river cruise on the Vltava where dinner was included. So I set off to the center of the city to walk around and just lazily explore and taste the street food. I always crave veggies and fruit on trips for some reason, so I was very grateful to see their massive fruit cups.
Taking Tours and Visiting Tourist Traps
It is ok to take tours when your backpacking through Europe. The whole point is to see the iconic landmarks, take those photos, and learn as much as possible about the countries you are visiting.
I personally stay in hostels so I can hire a historian to give me the detailed history of the buildings, the landmarks - they are able to tell me things that will help shape my character and change me as a person. How do I afford hiring a guide? Well I trade my comfort level in the accommodation section for the betterment of my overall experience.
Choosing Accommodation
To be honest, I stayed in a run down hostel in Prague in the center of the city with a four star rating on booking.com. I ended up getting bed bug bites all over me, and didn't realize it until I was headed over to my next location. I also happened to be highly allergic to them and looked like I had lice the rest of the trip. There are drawbacks to staying in hostels, especially in countries and places that are more warm and humid.
Because I caught them early, and made sure to go to a park and roughly shake out all of my luggage, backpack, and clothing (probably looked like a homeless person). I didn't have any additional bites the rest of the trip, and also likely helped avoid the spread of them to the next accommodation. For good measure, I also put my backpack in the shower for the first day or so and then when I got home put it in the tub and washed all my clothing I had taken with me in really hot water.
While this is a few and far between experience for me in my decades of travel, it is good to know you will survive and how to take care of bed bugs on the road.
When you choose your accommodation, something you can do is to leave your backpack outside of the room and check the bed (especially underneath it) to make sure there aren't rust spots etc... This can indicate bed bugs, which you can request another room or find other accommodation.
When choosing a hostel, make sure you look on several different sites at their ratings and you can even email them with your preferences & concerns. They are really good about answering back, and giving you the best option possible.
Contrary to popular belief, there are plenty of the older generations that do stay in hostels. I like to pick the ones that have the breakfast included and are close to the center of town. If I don't find one that I feel comfortable about staying in, I check Airbnb, then I check for B&B's then my last resort is usually finding a boutique hotel or a hotel that I want to splurge on in the center of town.
Another thing to note is how late you plan on getting into each location and if the hotel is available to let you in. If you have issues with your train, miss the train and have to show up the next day is their front desk available 24 hours to check you in, or is there a way to enter the building without needing to be allowed in?
Most hostels and Airbnb's have full kitchens available. So this is another way you can save on the budget when you are backpacking Eastern Europe.
Train Stations
I prefer an EURail pass if I am going to multiple countries because it is much easier to jump on a train in a rush if you do so. I would DEFINITELY reserve a seat if you have the time. Some countries require it even with the EURail pass, and some of them don't. The ones that do, you can end up with a $75 fine that you have to pay with a credit card, and then get kicked off at the next stop to wait for hours for the next train.
There is no way to getaway from the ticket takers, even hiding in the bathroom doesn't work. Plus the bathrooms are absolutely disgusting.
If you haven't utilized the trains in Europe, be sure to watch this video for the full experience and learn how to read a standardized train ticket. If you don't know how, you can end up on the wrong train, wrong car and end up getting detached at a location without even knowing it is happening and ending up in a town 2 hours away from your intended destination (or further).
Prague Train Station
Prague train station looks like an airport terminal. Their platforms are not connected and escalators don't turn on until 6 am and they only help people get down the stairs not up them. Why is this important? Because if you over pack your bag, or have to run up and down stairs (roughly two flights per train change) then it makes it impossible to have enough energy to tour the city you arrive in.
I wouldn't over pack your backpack either because you will be lifting it over your head several times a day.
Double check the type of train, the car you are in, if you are in first class or second class, and confirm your name is above the seat you reserved so you don't get kicked out. This will change with each stop of the train if you don't reserve your seat for the whole trip.
Here is an example of my train from Berlin to Switzerland and the type of transfers I had to make. EN trains are the overnight trains, and paying the extra money for a two person sleeper in first class is WELL WORTH THE MONEY. If you are in a certain age group they may or may not allow you to reserve the first class section. Make sure you bring flip flops to go to the bathroom in the middle of the night, because with the moving bumping train, men have a hard time aiming. So consider yourself warned of how gross the floors get.
Head to Train Station at 10pm in Berlin
Take Train EN 471 at 2307 to Berlin Suedkreuz (Germany) overnight to Basel SBB Switzerland arriving at 0720am
Transfer to Train IC 1063 at 0831am from Basel SBB Switzerland to VISP Switzerland & arrive at 1030am
Take Train RE 327 at 10:41am from VISP (Switzerland) to ZERMATT (Switzerland)
18 hours in Berlin
When you get off the train, and only are stopping in a city for the day, I would reserve your ticket asap for your departure train. If you don't reserve it first thing in the morning, the seats are often taken and they will not allow you onto the train.
There are luggage lockers in the Berlin Train Station, but again, small luggage is better because the bigger luggage lockers are often full. Small collapsible luggage or backpacks are easier to empty out and shove into the small lockers (which are a lot more plentiful). Make sure you always have Euro coins to put into the lockers in order to lock it.
Check out my 18 hours in Berlin and my incredible guide who showed me the best of the historical sites related to WWII within walking distance of the train station. Cannot recommend Berlin Historical Walks with Sean enough.
Arriving in Zermatt Switzerland
It is good to take note of what times things open and close, if a reservation is required, and what trains take you where. There are separate train tickets required for Switzerland's trains vs Euro-trains because they are often scenic trains that tourists take through the Alps.
I would book any Swiss Trains way ahead of time, certain routes and specialty trains will book out months in advance.
Here is a sample of what I take note of when I'm planning out my trip. It is easier for me to follow headings and bullet points. Any more than this, and I get overwhelmed and confused. It also helps me rearrange my schedule if things don't go according to plan.
Sample Itinerary Notes
Stop at Fuchs Bistro and Bakery (hot coco and pastries- what they are famous for)
Go on the Gornergrat Bahn (see 29 peaks including matterhorn) - $40 one way $90 both ways
Go to the Glacier Palace Paradise, open 8-430pm - $100 CHF or $100 USD
Back down from the peak of the Gomergrat, take two stops and go to the Riffelhaus 1853 which has the best Fondue around. Good pit stop. You must call to make reservation: +41 27 966 65 00
If you ski back down, it has some of the best skiing around – go ahead and ski on the matterhorn/glacier – get ski rental and drop off online – make sure to shop around for the best price and for the ones that wont sell out.
Skiset was just about the cheapest we could find. You can book online in advance. They have a few partner shops around town ("Matterhorn Sport"), so you may be able to choose one near your accommodation. You can get further discounts off their prices using a referral, like J2Ski; http://www.skiset.co.uk/j2ski/
Flexrent, who have a website, and you can email in advance to reserve, although I don't think you really need to. They are located opposite the Sunnega funicular entrance and have a depot downstairs so you can walk in your shoes, and leave them there during the day so no need to walk around town in ski boots or to carry ski gear which stays at the shop
Ask the Hotel if they have any discounts with any of the ski shops in town, they may have an "in" with them. Also Julen Sport across from the Hockey Rink is where we get ours.
Ask the Hotel if they have any discounts with any of the ski shops in town, they may have an "in" with them. Also Julen Sport across from the Hockey Rink is where we get ours.
Stop at the Matterhorn Museum (see how the place converted to a tourist town)
$10 entry; open 3p-7pm
Have dinner at Du Pont (fondue and rosti potatoes) Menu price $7-$24
Go to the Loft Lounge Club, specifically for those over 28 y/o ; or Jazz at the Pink Live Music Barà these are all over by the Unique Hotel Post
Or just go and enjoy the swimming pool and steam room
Go to the Loft Lounge Club, specifically for those over 28 y/o ; or Jazz at the Pink Live Music Barà these are all over by the Unique Hotel Post
Or just go and enjoy the swimming pool and steam room
Check out of Christiania Mountain Spa 11am (store bags)
See if have time for Glacier Palace – or shopping
Make way to train (possible reschedule???) = painful train transfers.......
1813pm from Zermatt on train RE 264 to VISP Switzerland and arrive at 1912pm
At 1928pm from VISP (Switzerland) take train IC 1084 to BERN (Switzerland ) and arrive at 20:23pm
At 20:32pm from BERN (Switzerland) on train IC 733 to Zuerich HB (Switzerland) arriving at 21:28
At 21:40pm from Zuerich HB on train EN 467 to Salzburg HBF (Austria) arriving Sept 28th at 0328am (sooo early, but if you look at the train from Zuerich to Salzburg you get a good amount of sleep continually)
Arriving in Vienna Austria
There are so many museums in Austria, and it really is one of the best backpacking towns around. There are plenty of Ubers and buses. The museums themselves will take you 3-4 days, but just do some research into which ones you are interested and just visit those.
There are plenty of places to go in the city, many of the popular sites are easy to walk to, except the palaces that are truly worth seeing. I would also definitely do a dinner and symphony or opera concert. Those are staples in the city where Mozart created many of his masterpieces.
I stayed in Wombats hostel right across from next to Hofer supermarket and a busy street so I could do Uber Carpool. There Wifi was incredibly fast, they had a lounge where people from their teens to mid 40's were hanging out and appeared to be working. The staff are accomodating and very helpful, the rooms were impeccably clean and quiet.
Sample Itinerary Notes for Vienna
Here I include the average time expected to tour the area.
Schoenbrann Palace & Gardens – opens at 830am-530pm (about 3 hours) – Grand tour @ $18.77
Kunsthistorisches Museum/imperial treasury (Audio Guide is typically cheaper and has a lot more info, this way you can skip to the next item, or only hear about the ones that are interesting to you in particular) (about 3 hours)- open 10am-6pm; Combined ticket with guide $21.45 – buy ticket online before you go.
Located @ Franz-Josefs-Kai 45 1010 Vienna – departure point is at the Vienna Explorer tour office.
Tube to Schottenring (U2/U4) or Schwedenplatz (U1/U4)
Imperial Palace (Hofburg)** get Sisi ticket to Hofburg $30.89, will give you fast track ticket.
https://www.imperial-austria.at/hofburg-vienna.html
St Peter's church – 7am-8pm
Stadtpark – has a memorial to Mozart & beautiful area….maybe do a very early morning stroll, no fee, no particular hours noted either.
Kursalon Vienna: Johann Strauss and Mozart Concert including 4-course dinner
Don't forget your voucher (booked through TripAdvisor, who uses Viator)
Program starts at 6pm , located @ Johannesgasse 33 1010 Vienna (closest underground station is Stadtpark) -program is done at 10pm
Heading Back to the USA
I ended up getting quite sick from my visit to the Little Matterhorn in Zermatt. Mostly because I have Asthma and the change in altitude severely affects me. I took another overnight train back to Prague where my flight was leaving from, but to be honest it likely would have been cheaper to purchase a multi-city flight because of how much train tickets cost, travel time, location etc...
With all the travel time, and being in public spaces for a week and a half - pushing my body and not listening to it when I was tired - I nearly ended up in the Emergency Room when I got home. I couldn't keep my eyes open for more than five minutes, my roommate threatened to all the ambulance if I didn't go to the doctor. She ended up driving me there where I discovered my oxygen was at 86%, I had pneumonia, and ear infections in both ears.
So my last piece of advice to you is this: LISTEN TO YOUR BODY! Don't try to push yourself so much that you end up sick by the time you get home. Bring hand sanitizer, your own snacks, wipe everything down that you eat food on, and don't try to play the hero.
Have you ever been on a backpacking trip in Europe or another country? What other tips and suggestions do you have for Culture Trekkers? Drop them in the comments below :)