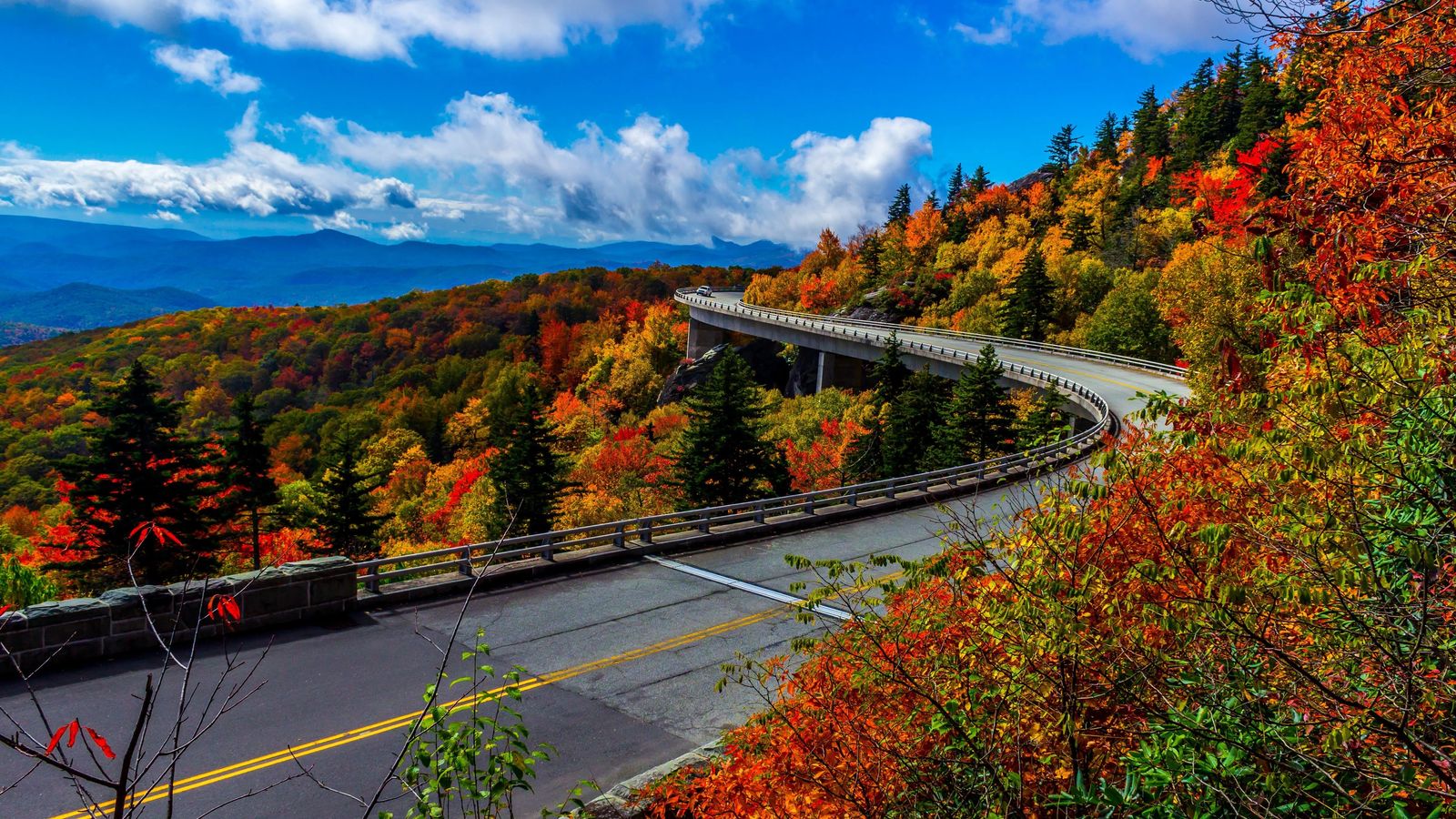 Where To Take A Scenic Road Trip For Fall Colors In The USA
Fall is one of my favorite times of year, a season of warm blankets, hot chocolate, Halloween and beautiful color. It might be hard to pick where to take a scenic road trip for fall colors in the USA. I have put together the top 15 places to see fall colors in the United States for you to make it easy and a dreamy vacation. So grab your cup of hot cocoa, light the fire, and let us explore where your next adventure will be.
Utah Road Trips for Fall Colors
American Fork Canyon, Logan Canyon, Park City Utah, Sundance Utah these are all the places I can unequivocally recommend for seeing Fall colors for the entire family.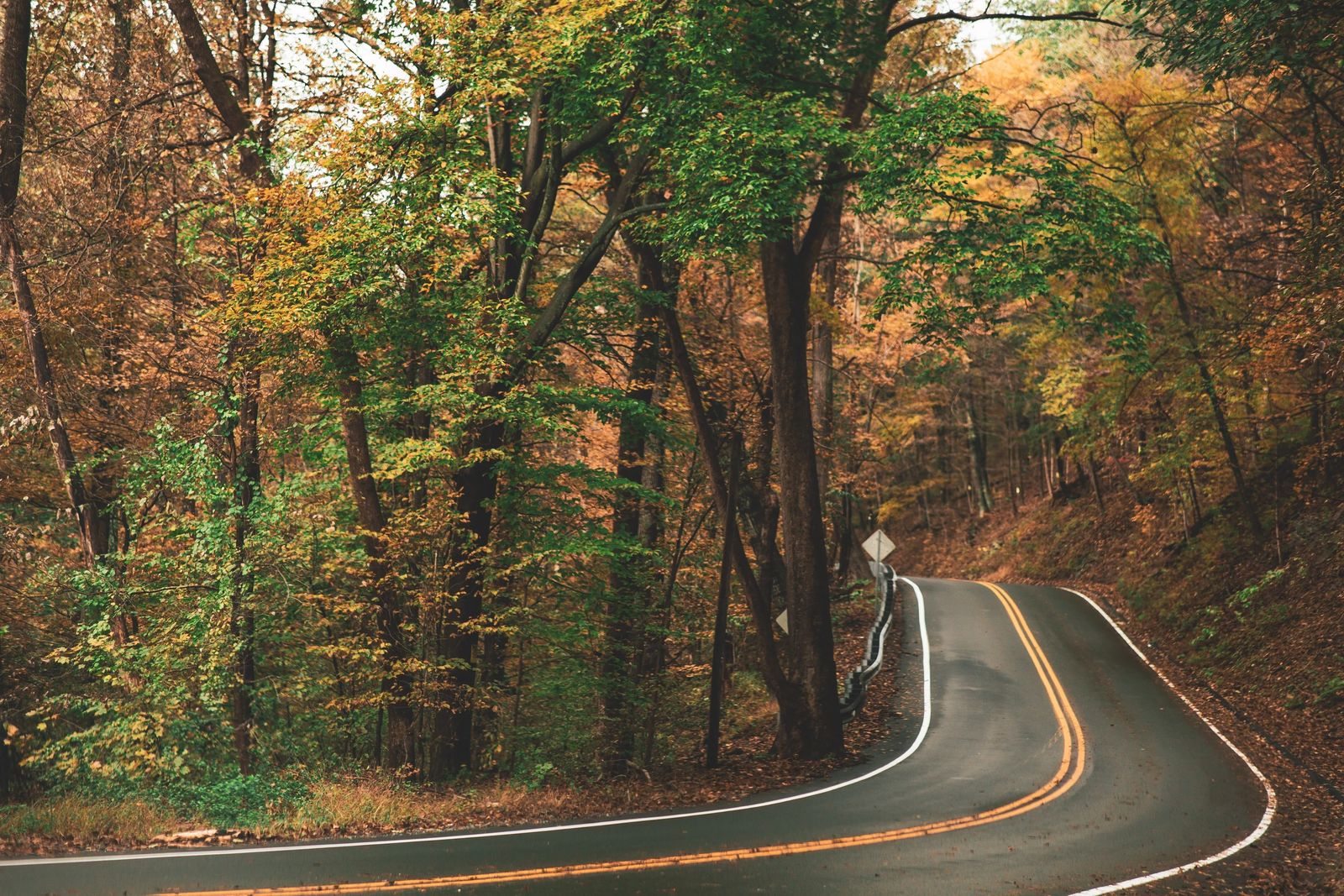 American Fork Canyon
This can just be a drive through the Alpine loop where Aspens grace the steep slopes. Pull off on the side of the road under the fall foliage to have some 'hobo dinners' complete with meat, carrots, potatoes and your favorite seasonings over a fire. Finish off with a hike and sm'ores over the embers.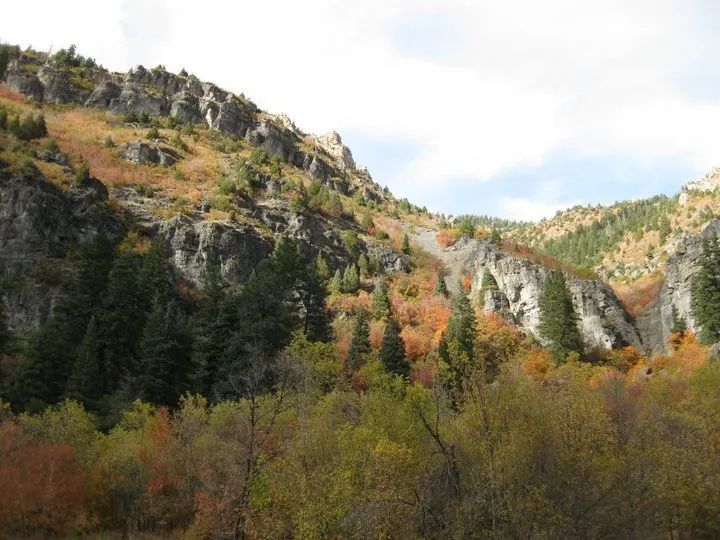 Logan Canyon
This is also a great drive through, a lot more of an open space where you can see fields of oranges, fiery reds. Hike up to the wind caves, visit the nature center, hike along the limber pine trail with an overlook of Bear Lake - one of the clearest lakes in Utah. Rent a cabin and make a weekend of it on your fall color road trip!
Park City and Sundance Utah
Take an easy walk up to the ski lifts, where you can enjoy a 30 minute ski lift ride right over the fields of wild flowers in the summer, or fall colors. The crisp mountain air, places to shop and dine along with the last remnants of the summer farmers markets will make for a perfect Fall getaway before the winds of winter arrive.
Colombia River Gorge, Oregon
This Gorge is about 2,100 feet deep with waterfalls, and fall foliage galore! Hike the challenging Hamilton Mountain, about 9.4 miles in passing 2 waterfalls ( Rodney and Hardy Falls ) along the way.
Participate in part of the PCT along the 5 mile out and back Dry creek falls. Despite being called a 'creek' this 75-foot waterfall will impress even the most negative hikers.
Lastly, end your day with a picnic at Pioneer Point on the 1.3 mile Cape Horn Loop. Where you will bask in the beauty of the Colombia River adorned with a spectacular spectacle of fall colors. Bring your thermos full of hot cocoa, you will want to stay here and drink in the view for awhile.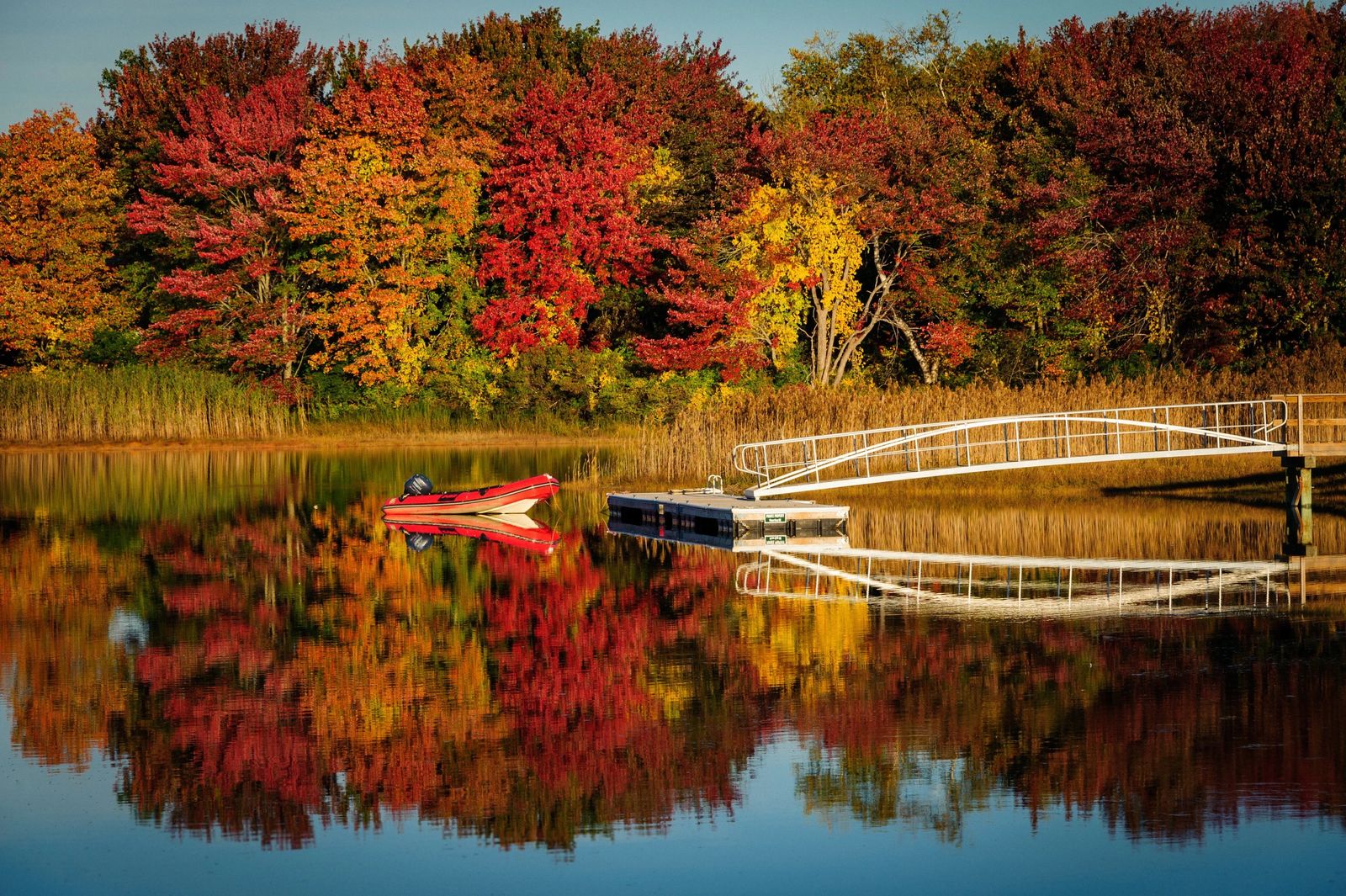 Kennebunkport, Maine
Maine is known as the 'vacation state' to many East Coasters. Vast landscapes packed with adventures for all. Yet, Kennebunkport Main stole my heart when searching for the perfect fall getaway. I would suggest visiting in September specifically as many of the local shops begin to close around the first week of October.
This quaint fishing village was known for its shipping, and packs a punch when it comes to historical value - including being the home town of one of one of the former President's of the United States.
Be sure to wander the city on foot, take a whale watching boat ride, jump on a lobster boat and catch your meal for the day, and finish up with some blue berry ice cream, or a cuppa tea.
Ozark National Forest, Arkansas
I mistakenly thought that Arkansas didn't have much to offer in the way of beauty. Yet it is like finding Where's Waldo when going hiking. The trees cover all the hidden gems like hidden waterfalls, caves used by slaves to hide while getting to freedom, a Popeye Statue in the middle of a small town city and all sorts of down to earth people to talk to. The best part is that this great state is filled with trees that turn into beautiful fall colors - not to miss when fulfilling your fall colors bucketlist.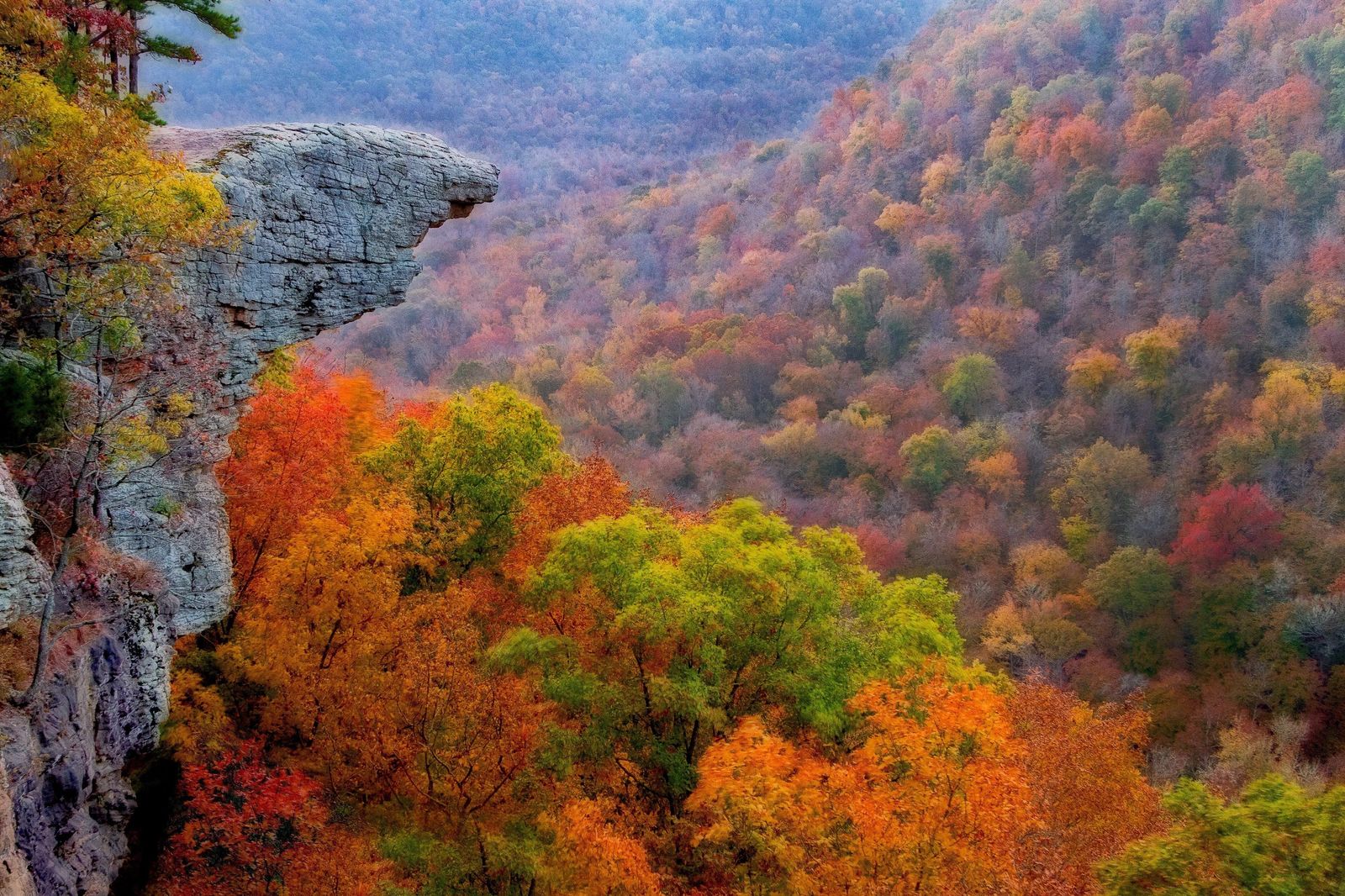 The iconic Whitaker Point hike with trees in reds, yellows, and oranges as far as the eye can see. A perfect time to hike in the Southern United States, because the humidity will be a lot less potent than in the throws of summer in this area.
There are plenty of hikes to enjoy here like Compton's Double Falls, Sam's Throne, and the Narrows with a fabulous display of nature's beauty.
Catskill Mountains, New York
One word will convince you to visit the Castskill Mountains in Fall....Octoberfest. Beginning the end of September there are 4 weeks of Bavarian festivities held at Hunter Mountain. What is unique to this area is that it grows crisp, juicy, flavorful apples for a perfect hard apple cider. If festivals aren't your thing, then stop by Delhi's picturesque Wayside Cider for a more refined sip of these suds.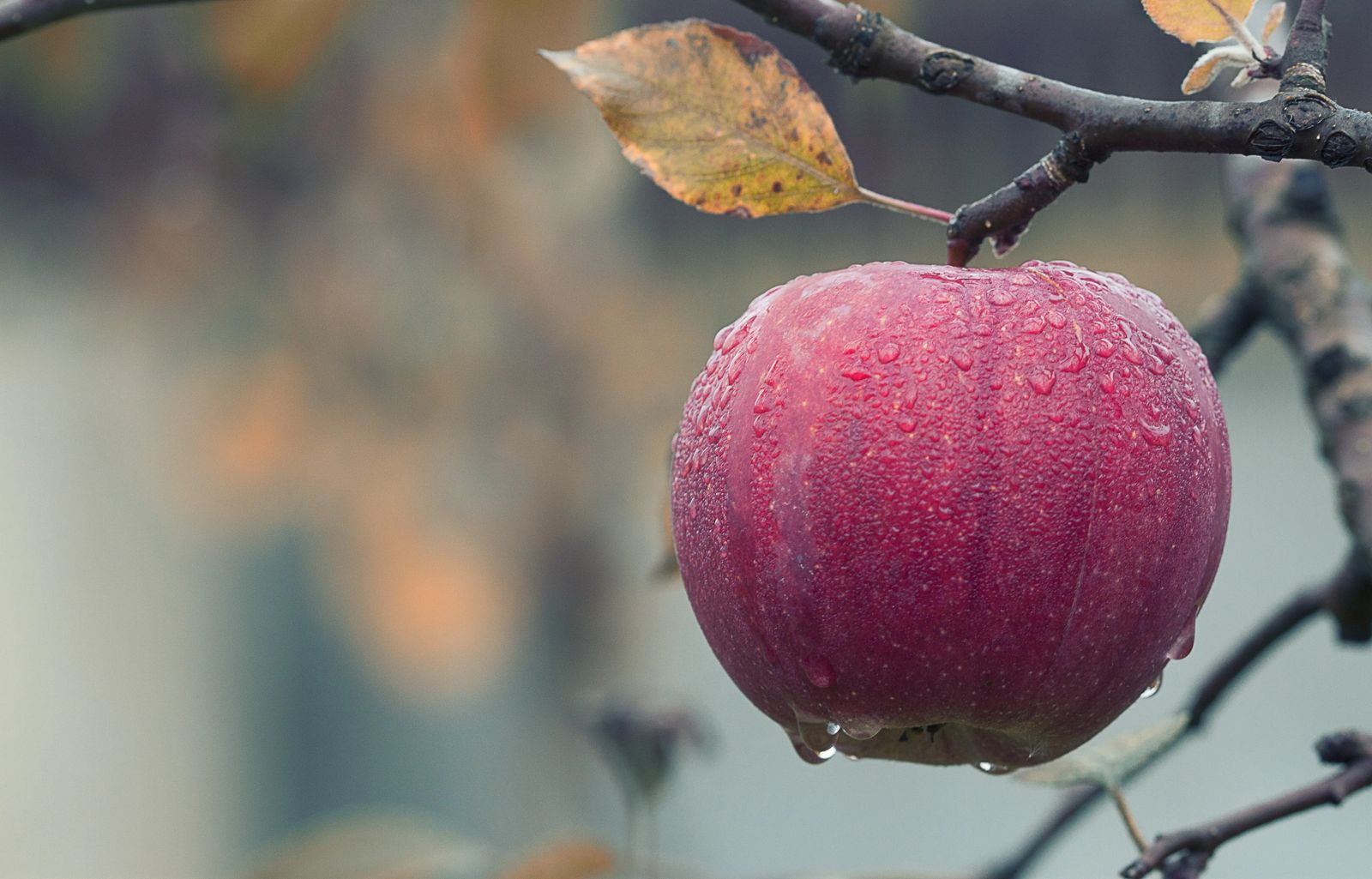 You can also drive the scenic route of the Catskill Mountains, hitting a round of golf, or spending the night camping in the cool autumn air. If you take a look at all the festivals held in the Catskill Mountains, you are sure to find something for everyone. My favorite is their lumberjack festival, I never realized just how intense the competition was until I saw one of these.
Enchanted Circle of New Mexico
Many people think of the East Coast as the only place with beautiful fall colors. Suprisingly New Mexico's Enchanted Circle will give you a whole new perspective on Fall in the desert.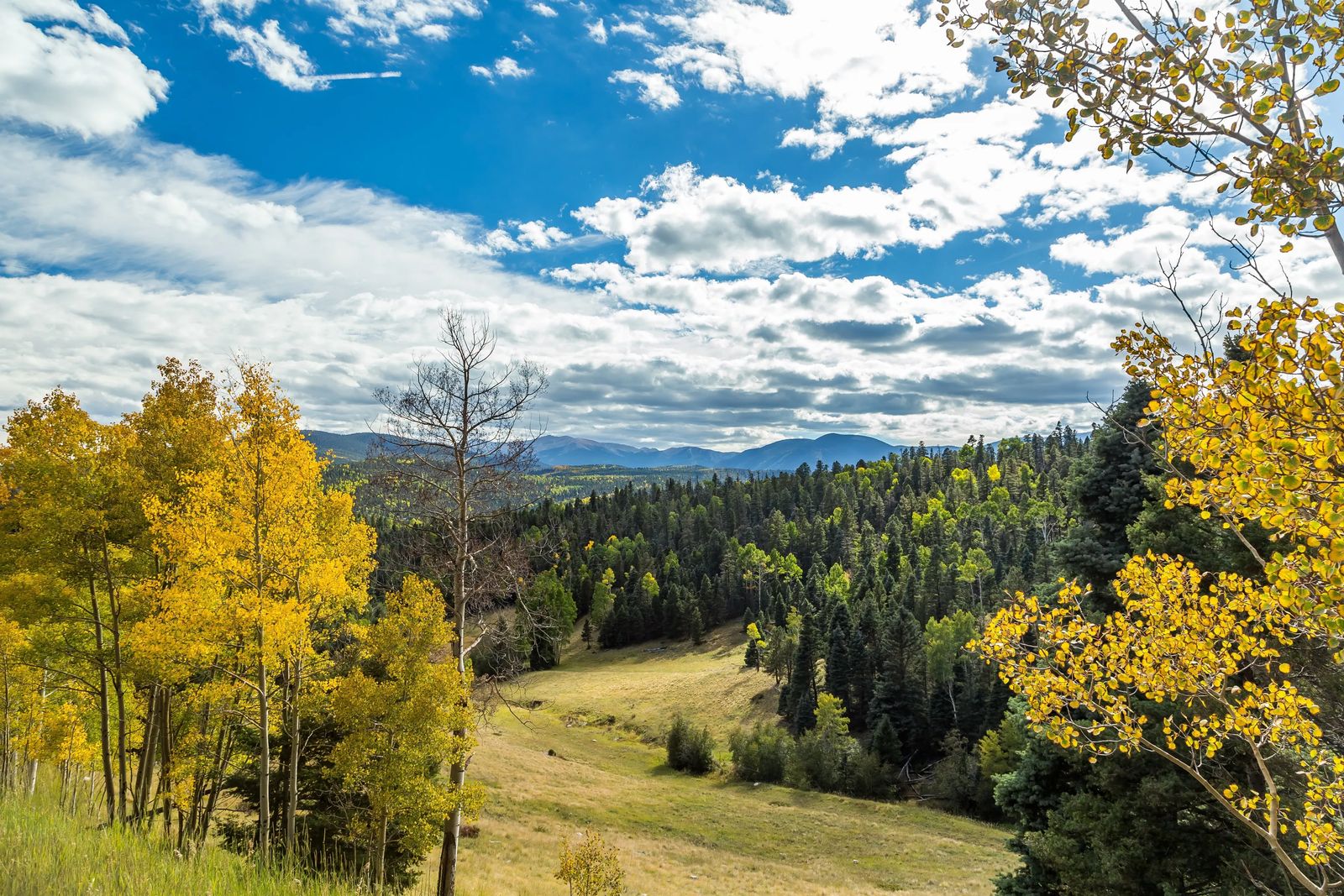 This is a circle you will need your RV for, or at the very least a tent as it is 84 miles of exploration. The circular route takes you around Wheeler Mountain ( 13,161 feet - 4.011 meters), and through the lush Hondo Valley blazing with colors of fall.
Stop at the Red River Fish Hatchery and take a self-guided tour. Enchant your children with the large rainbow trout pond. Maybe even travel down stream and try to catch a fish or two.
Carry on around to Questa, to visit Artesanos de Questa, where woodworkers, tinsmiths, painters, stained glass workers and sculptors show their work at this cooperative.
You will get an array of fall festivities, art shows, animal encounters and gorgeous scenery as you take a very memorable and enchanting drive around this circle.
Stowe Vermont Road Trip For Fall Colors
Known as the Fall Color Capital, is a time of vibrant colors that your eyes drink in calming the soul. There are many ways to see the breathtaking fall foliage here through the extensive network of hiking trails, kayaking down the reservoir, or just taking a leisurely scenic drive.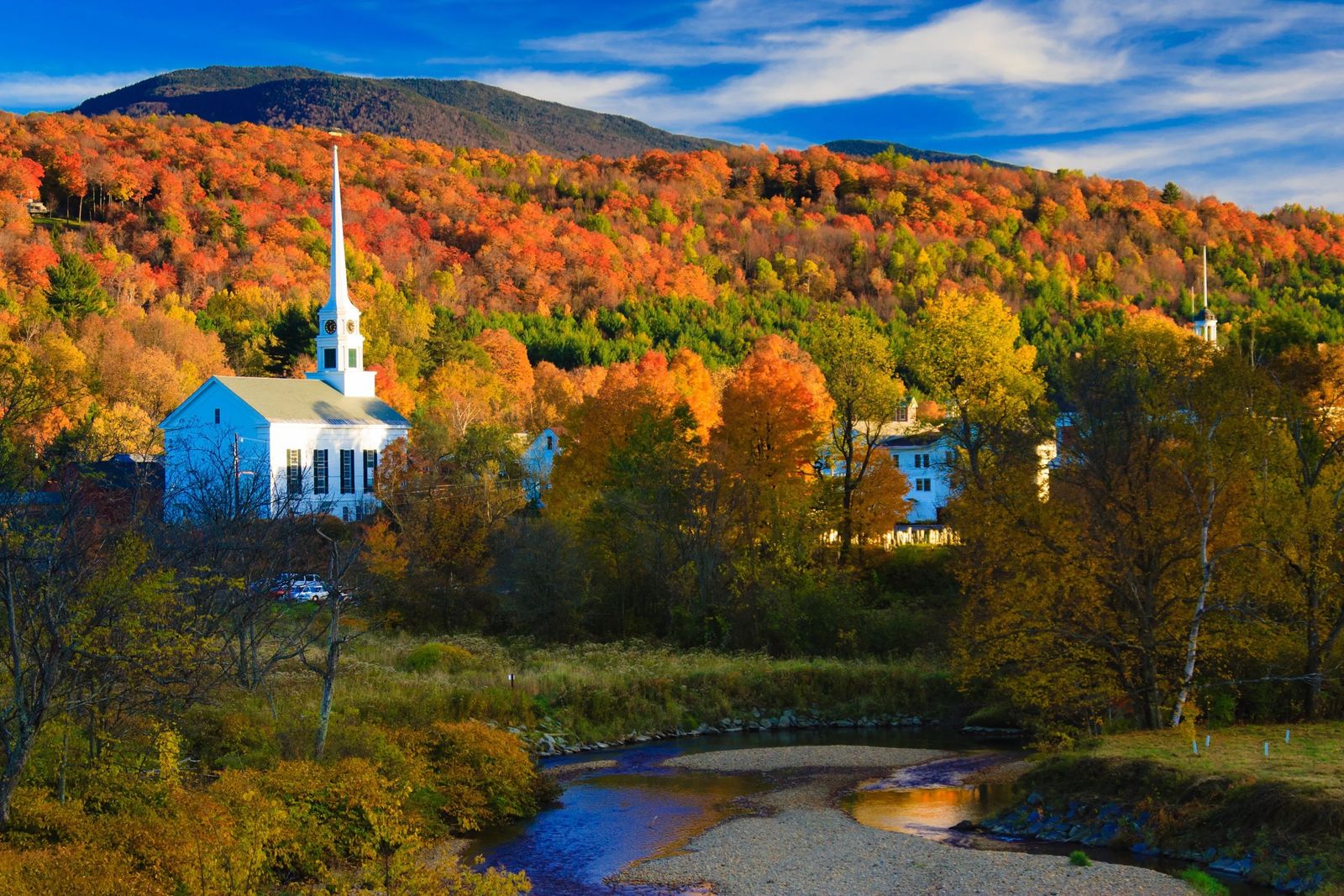 Despite the plethora of mountain biking paths, I recommend the leisurely 'Rec Path' for your fall foliage leaf peeping. This path is one the whole family or group of friends can enjoy no matter what their physical skill level is. For the more adventurous, I would take a zip line through the fall foliage, a guided tour, or a Stowe, at Night, Lantern Tour where you are regaled with tales of ghost stories.
Festivals such as the Stowe Tango Music Festival, Stowe Jazz Festival, Stowe Foliage Arts Festival, Stowe Arts Week, Art on Park and the outdoor art exhibit, 'Exposed' are just a few events that grace the artistic stages in this small town.
North Conway, New Hampshire
This is one of the more unique and off the beaten path places to visit for fall foliage. North Conway in New Hampshire may not be the first destination you would choose, but for train lovers it should be. There is a historic Victorian Station built in 1974 and on the National Register of Historic Places in the United States.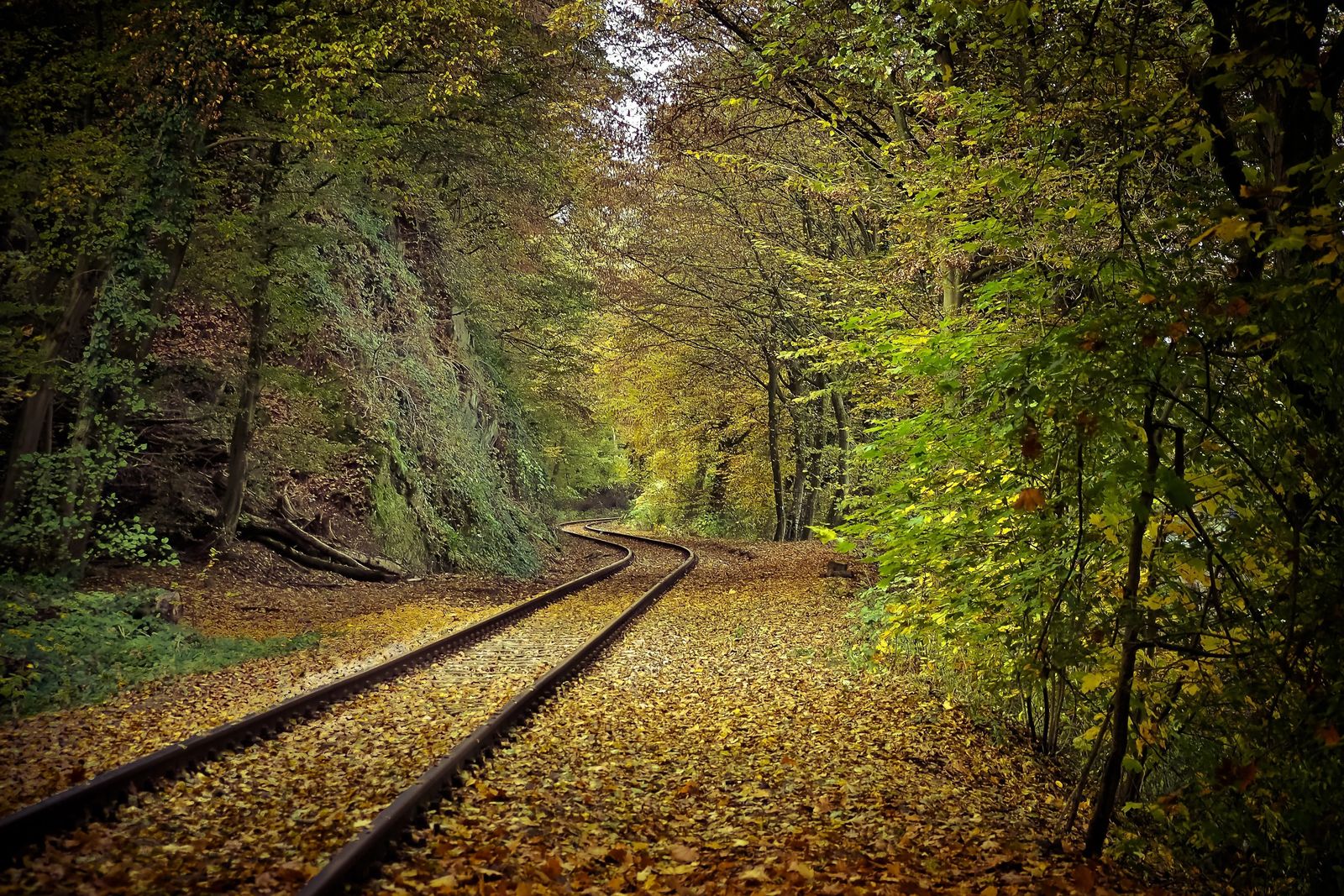 When you jump on the this train there are different lengths of time you can enjoy the fall foliage in comfort and class. If you like the spooky and scary, like me - try the Murder Mystery Dinner Train in October. Be sure to plan ahead as it only runs on certain weekends in october, and only in certain cars on the train so space is limited.
Massachusetts
You cannot mention fall to me without immediately thinking about Halloween. There is no other town more fit to celebrate all Hallo's Eve than Salem. Discover what it was like to live in New England during the time of the Salem witch trials. Take a ghost tour, explore the museums, meet real practicing witches, attend a play about witches - there are so many ghoulishly great activities you may forget you traveled there to see fall foliage as well.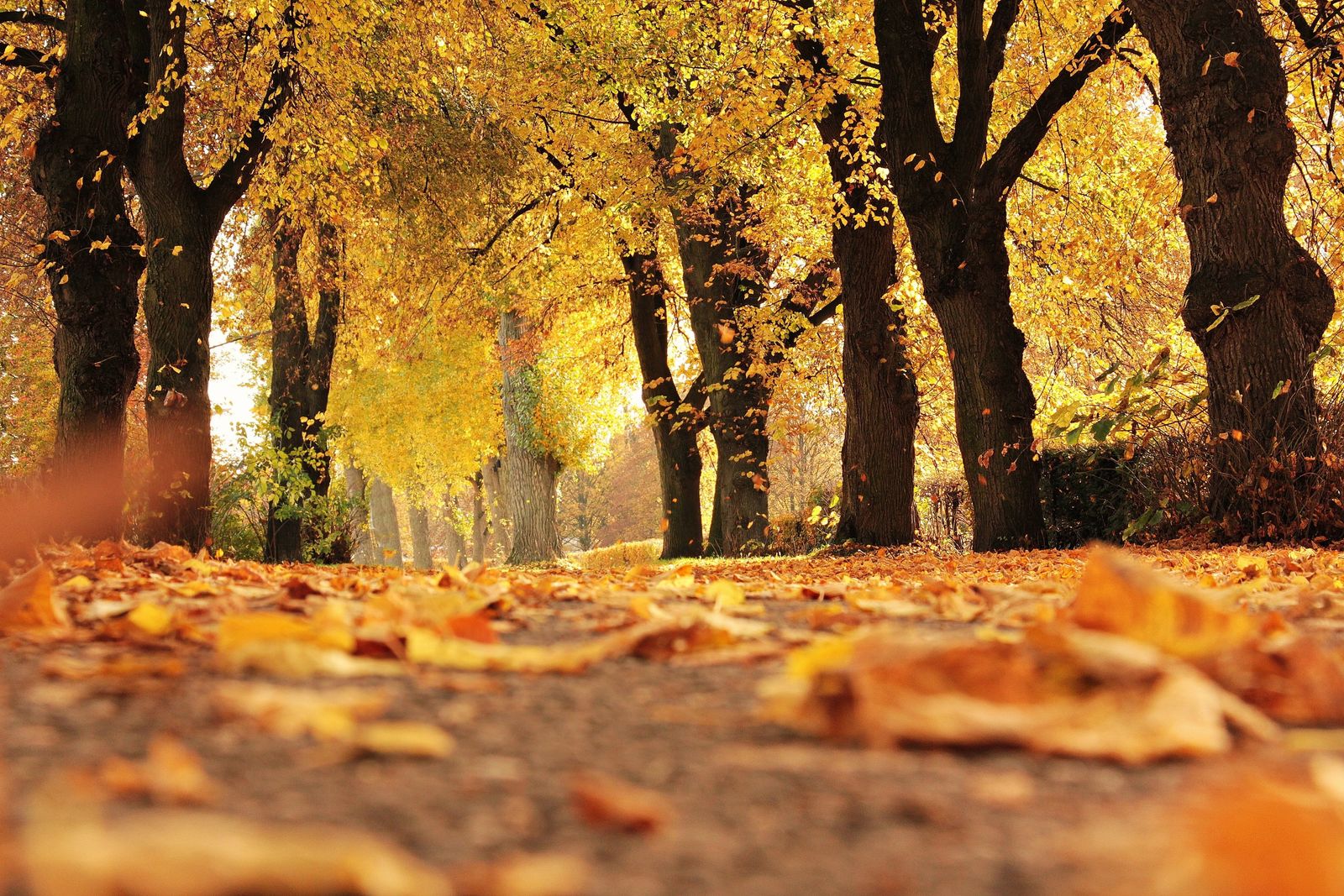 The color palette along the New England Coastline is one you will never forget. An array of colors even the witches of Salem would have in their cauldrons. No matter where you go in this town, you will be surrounded by brilliant fall colors. Take a ferry down to Boston from Salem (30 min and $25 for one way) to avoid the incredible parking fees. Stroll along Beacon Hill, or Boston Commons two iconic places both photographically and historically. This where the warmth of the color of the trees matches the picturesque buildings of the 1700's full of history and divine food - it is a perfect way to end your fall foliage frolicking.
Yellowstone National Park Road Trip for Fall Colors
Many people visit Yellowstone National Park in the Summer to see the buffalo, bears, and new babies emerging to find food after the long winter. Yet they often forget just how incredible the colors in the fall can be. It can get a bit chilly in the fall, and even snow if there is an early winter.
Seeing Old Faithful when the crowds are not as oppressive amid the backdrop of beautiful fall colors - should be on everyone's bucketlist. This is one place that fall hits a bit earlier than the rest of the country, being early August/late August. Be sure that you check on hotels/camping sites you plan to stay at as there are many staggered closings up until Oct 20th.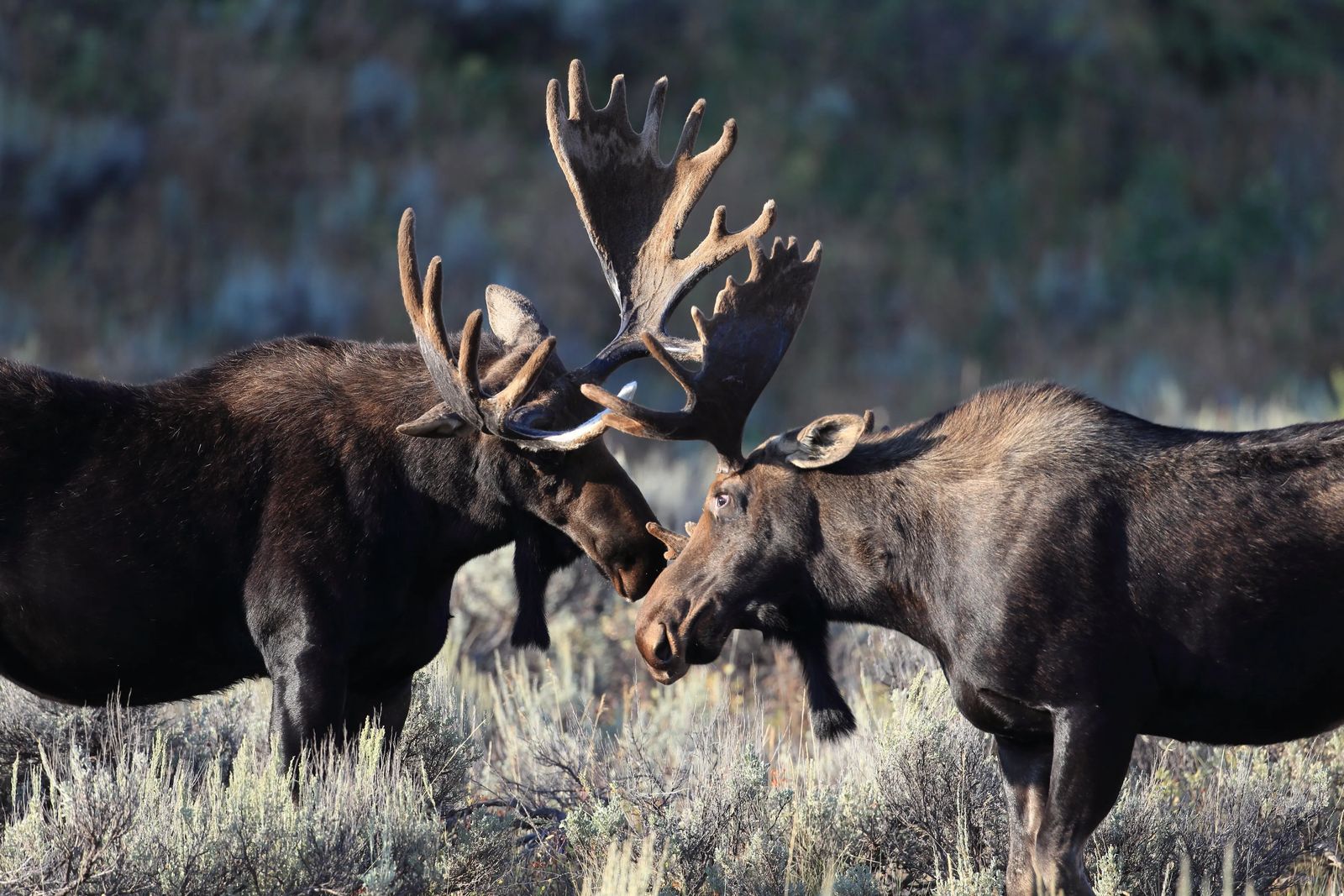 The reason this is such a wonderful time to see the rutting season. The bison rutting season starts in August, and the Elk rutting season is in September. The park rangers admit, that it is not unusual to see the massive elk sparring and fighting throughout the season. I recommend visiting Mammoth Hot Springs for the best Elk Rutting shows, as this tends to be a place the congregate.
If watching the rutting season isn't your thing, then maybe catching a fish is! Fishermen from around the world are drawn here for the Brown Trout spawning season. You are guaranteed to have a fish dinner every night that your heart desires. I would recommend Madison and Gardner rivers for the best trout fishing for the fall season.
Jackson Hole National Park
The swarms of summer visitors are gone, and a cornucopia of fall festivities is now in full swing. I would plan a visit in September for the best chance to see the full variety of fall foliage, as the parks will still be open and so will many of the best hikes. Take a ride through Grand Teton National Park full of aspens suffused with brilliant yellows of fall. Go on a wildlife viewing tour (which happen all year round) where the dark colors of elk, deer, and even bears pop out in your photos against the backdrop of fall colors.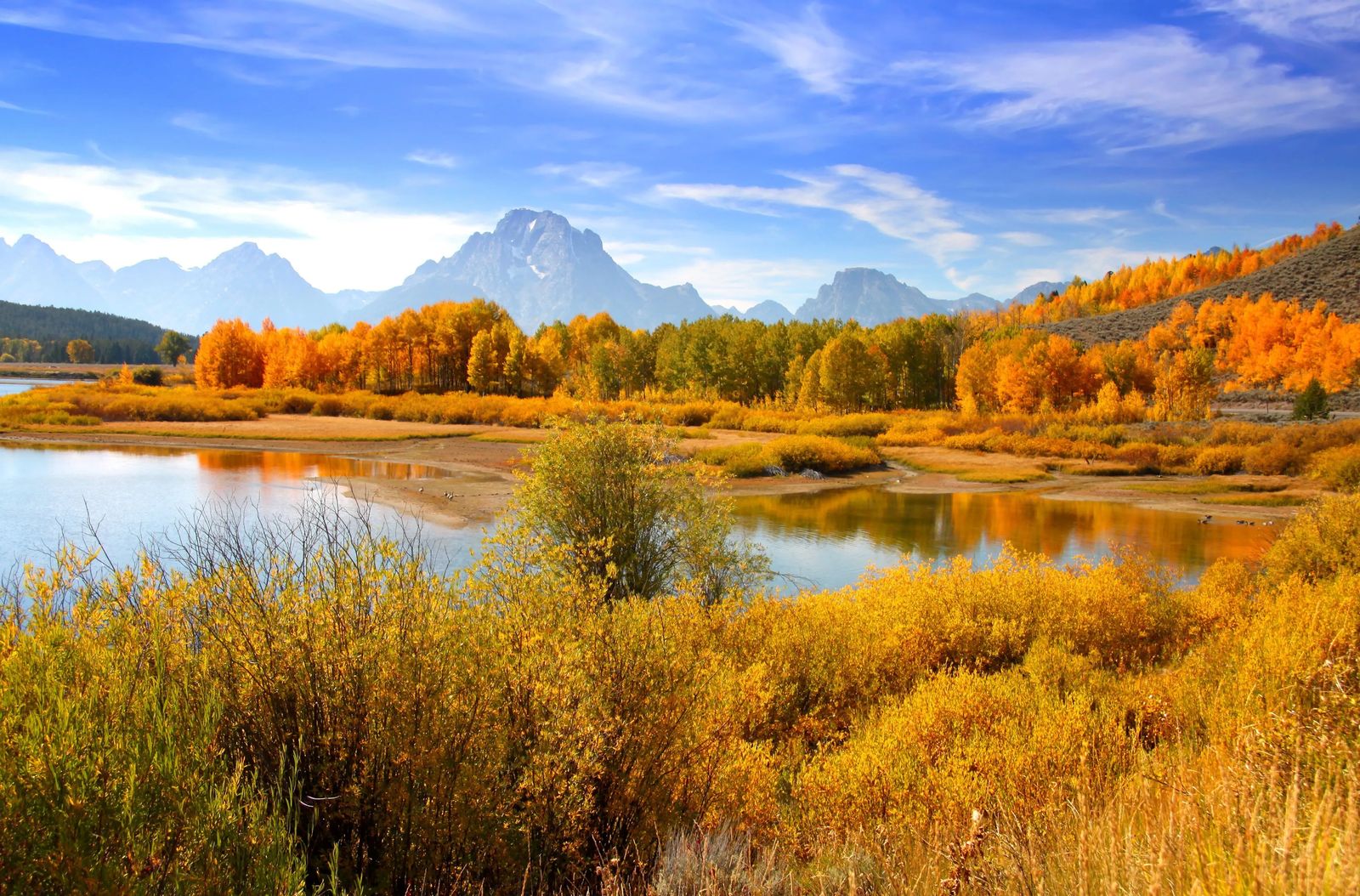 Bundle up and catch one of the tram rides up Rendezvous Mountain at the Jackson Hole Mountain Resort in Teton Village. Grab a cup of hot chocolate, and drink in the fresh crisp fall air. Make your way back down to Jackson Hole and reserve a uniquely western experience for dinner, with a Chuck Wagon Supper.
Fall in Jackson Hole is any photographer enthusiasts dream, with wild colors amid wildlife at their peak for mating season - there is no other time I would rather go.
Colorado
Colorado is often known for the skiing in the fall, but it is one of my favorite places to see Fall Foliage. The people are very down to earth, you can take a horse back ride through Aspen Falls and Estes Park to see the best of the fall foliage without even breaking a sweat. Home to Rocky Mountain National Park and Roosevelt National Forest, with a massive network of mountain biking, and heart warming food - it truly is a fall foliage paradise.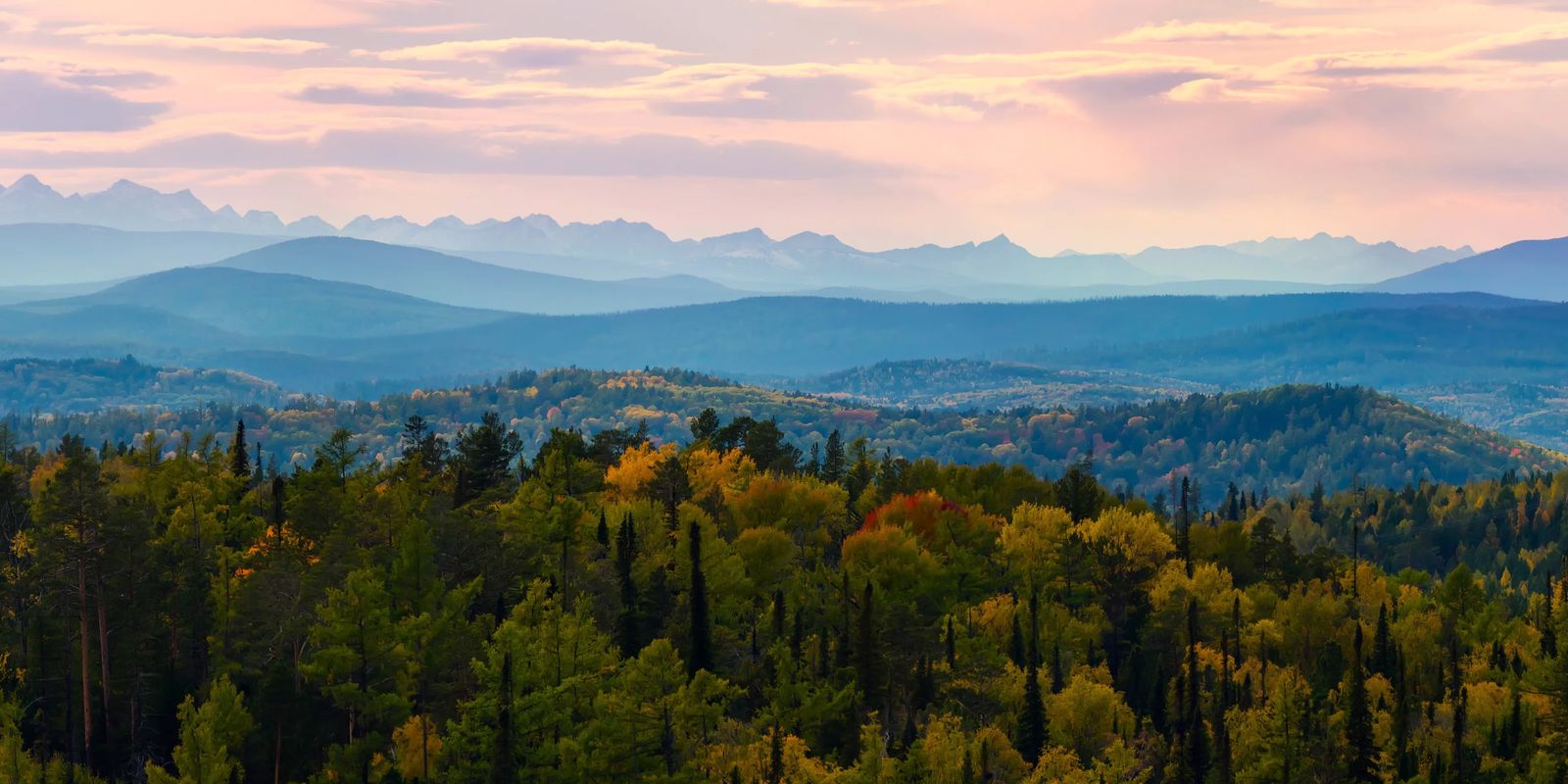 Estes Park is a more luxurious and relaxing way to spend your time seeing fall foliage in Colorado. It is a Swiss inspired town, with songs, shows, and plenty of activities when the sun sets. It is also home to thousands of Elk that will be in the rutting season just like Yellowstone, and Jackson Hole - yet with more of the luxury comfort.
Washington State Road Trip for Fall Colors
I cannot say it enough, I love Washington! The first (of many times) I visited was when I went on my first sailing trip in Seattle. I was hooked and am already planning a trip back to experience fall foliage in Leavenworth. This small town has its own Autumn Leaf Festival. Where a parade full of fall colors and even Lady Fall Royalty is crowned in this small town.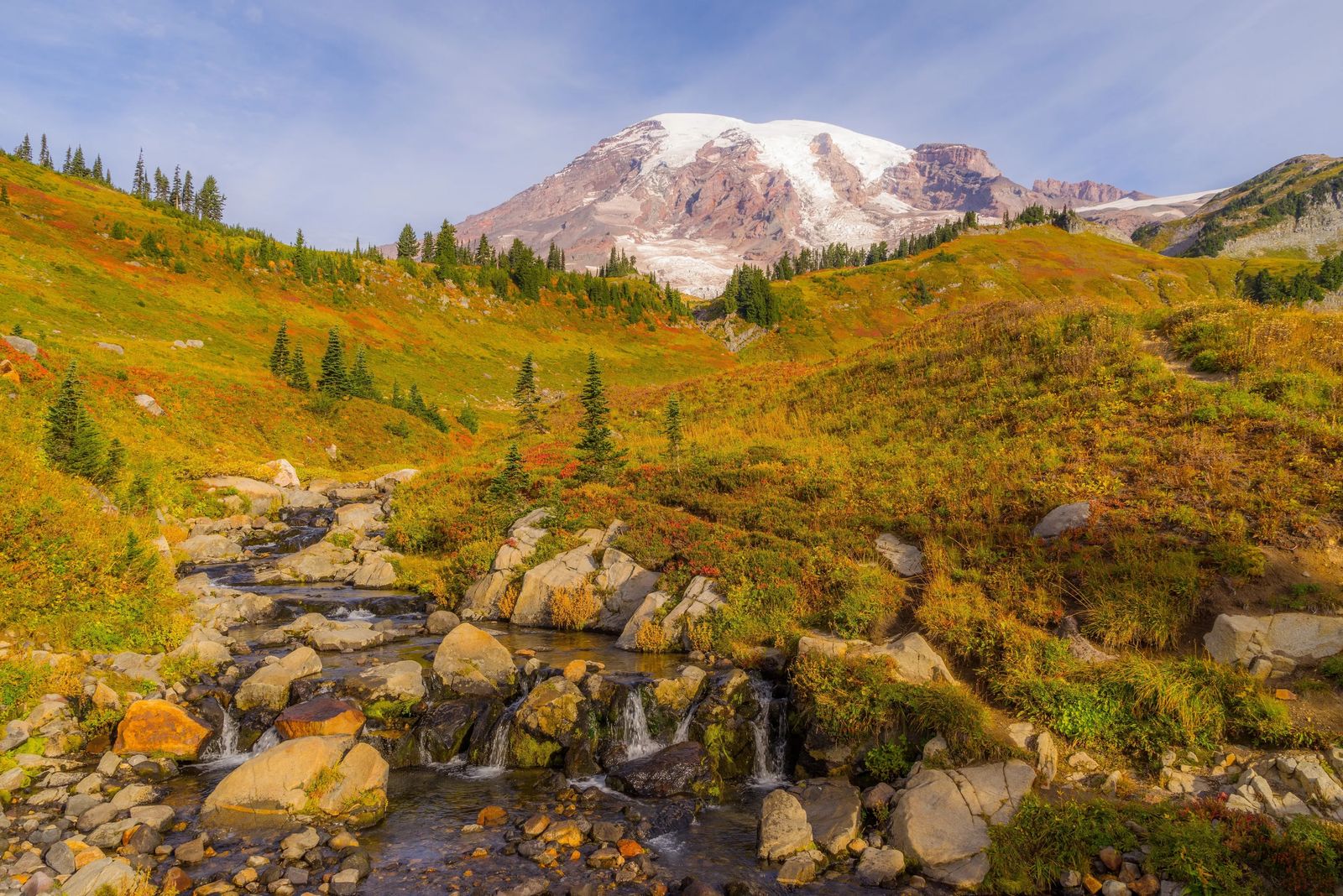 Take a scenic road trip for fall colors through Mt Rainer National Park and see just how incredible the colors light up the land. While it is a very touristic area in the summer, many children are back in school. So it is a great camping getaway for both single and couples alike. Nothing is better than cuddling up in a blanket or next to your loved one than during fall.
The best places to take your epic fall foliage road trip in Washington are Paradise, Reflection Lakes, Bench and Snow Lakes for fabulous fall reflections. Get spiritual at the Grove of the Patriarchs, where you can worship giant Redwood trees. Drive along Chinook Pass on State Route 410 or the White Pass Scenic Byway on U.S. Highway 12 for vast landscape views unlike anything you have ever experienced.
Blue Ridge Parkway, Virginia
This is where you will find the iconic old, dark colored mills against the flaming red colors of aspens. Because of the iconic nature along this drive, I highly recommend making reservations months in advance (especially for October). The best time to see the fall colors here is in mid to late October when the colors are at their peak.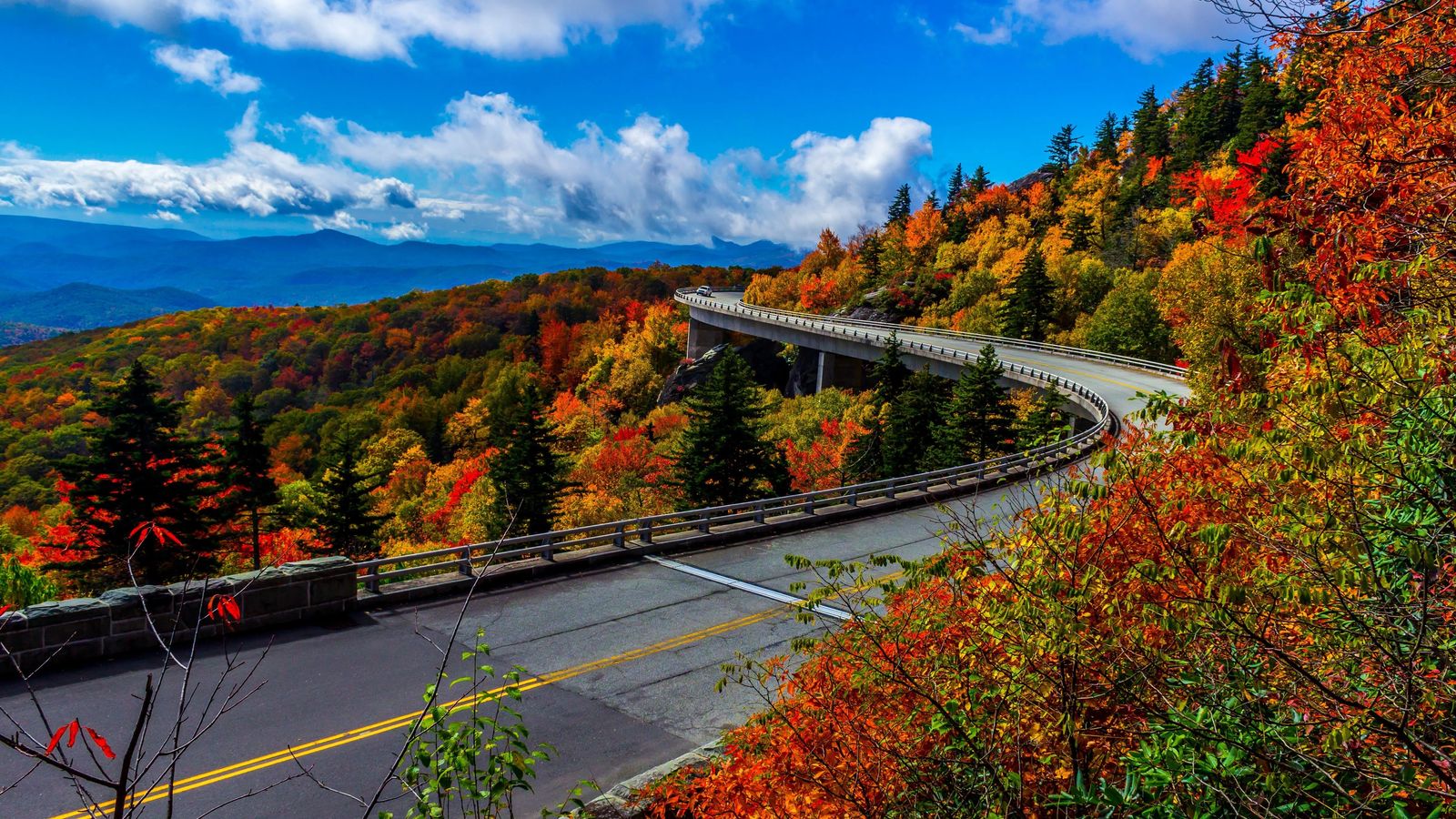 When driving this parkway, you will be surrounded by foliage on east and west facing slopes. A perfect drive for the morning, or during golden hour especially along James River. As you travel south you will gain about 6,000 feet of elevation (1828 meteres) up to Mt. Pisgah into North Carolina.
This is one destination that you will need to plan on a journey to see the fall foliage at its best. Due to the varying elevations along this parkway, the peak fall foliage is going to be dependent upon the elevation.
Harpers Ferry National Historical Park, West Virginia
Located along the Potomac and Shenandoah rivers, this is a fabulous place for fall photography. It is four parks from four different States in one, with massive historical ties to the Civil War. Due to this, the parking can be limited with narrow stalls. So I wouldn't suggest bringing your RV on this one, unless you have a boat load of patience. Alternatively, I would bring/rent a small car and use the shuttle while here.
Be sure to jump off at the footbridge to the C&O Canal stop, as this is where the rivers meet, and give a view like none other. The two rivers collide here, with an island like center, full of fall foliage and color to satisfy any leaf peeper. I highly recommend going to Maryland Heights viewpoint as this is going to be the most iconic and stunning view of the park during fall.
Even though I don't have children of my own, I really appreciate it when parks provide things like passport stamps to kids, and junior ranger badges, historical tours that the whole family can enjoy. I think it is important to teach the younger generations the beauty that can come from traveling, and especially from traveling responsibly. Showing them and even our own friends just how beautiful nature can be when we take care of it. Harpers Ferry National Historic Park offers all of these things - which is why I highly recommend this place. You are going to need at least 4-5 days to properly explore the fall foliage, hiking, and historic parts of this town.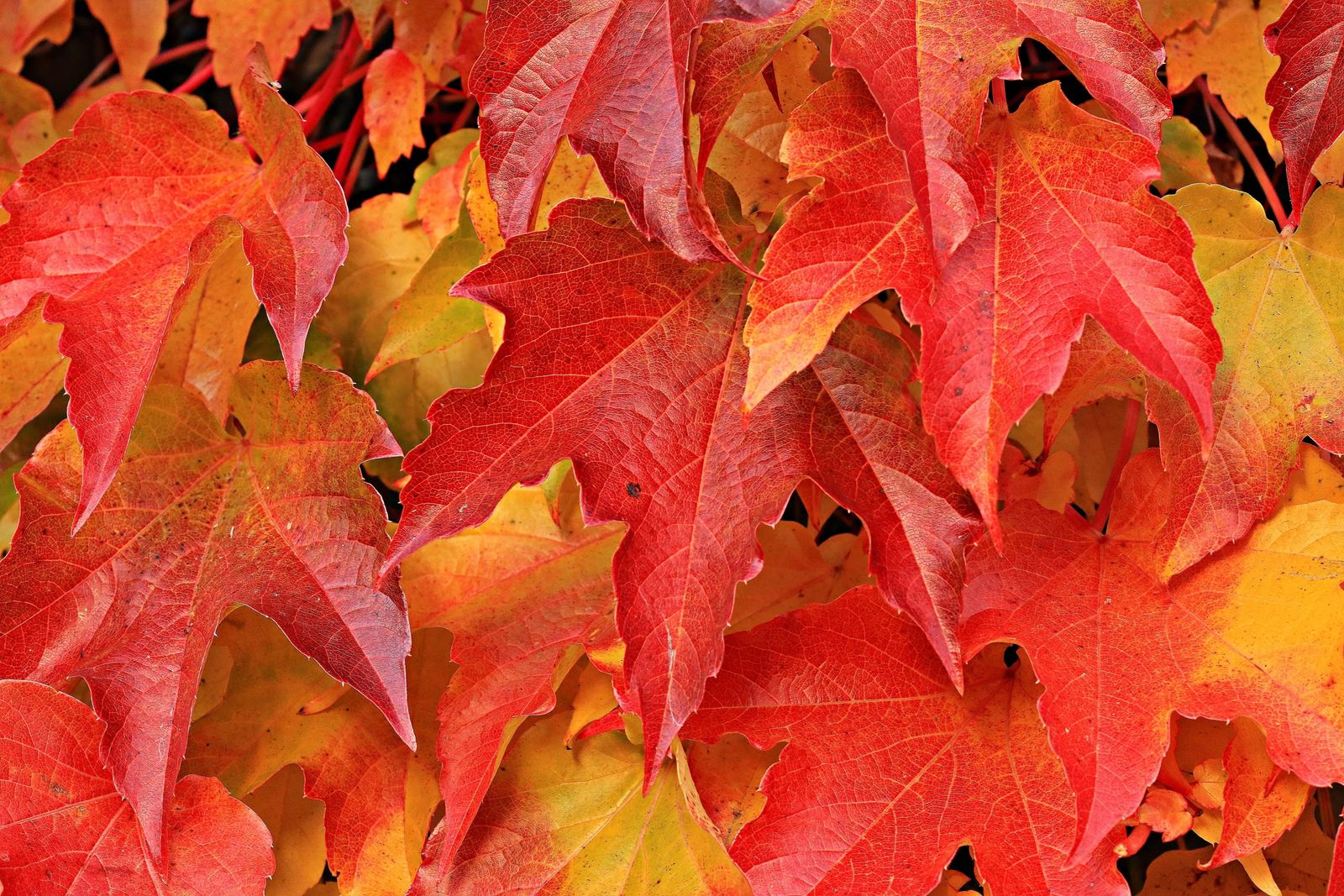 Gathering Up the Best Fall Leaves
Fall is my favorite time of year. There is not other time that you are still relaxed before Thanksgiving, or Christmas, and can celebrate creativity during Halloween. The crisp air and crisp apples contrast with the warmth of fires, warm drinks and warm fall colors.
No matter where you live, or where you visit in the United States - I hope you are able to visit one of these places during your search for the best places to see fall foliage. From the East Coast to the West Coast, from North to South, from High to Low- there are plenty of scenic road trips for fall colors in the USA for everyone.
Like it? Pin it! Sharing is Caring ;)