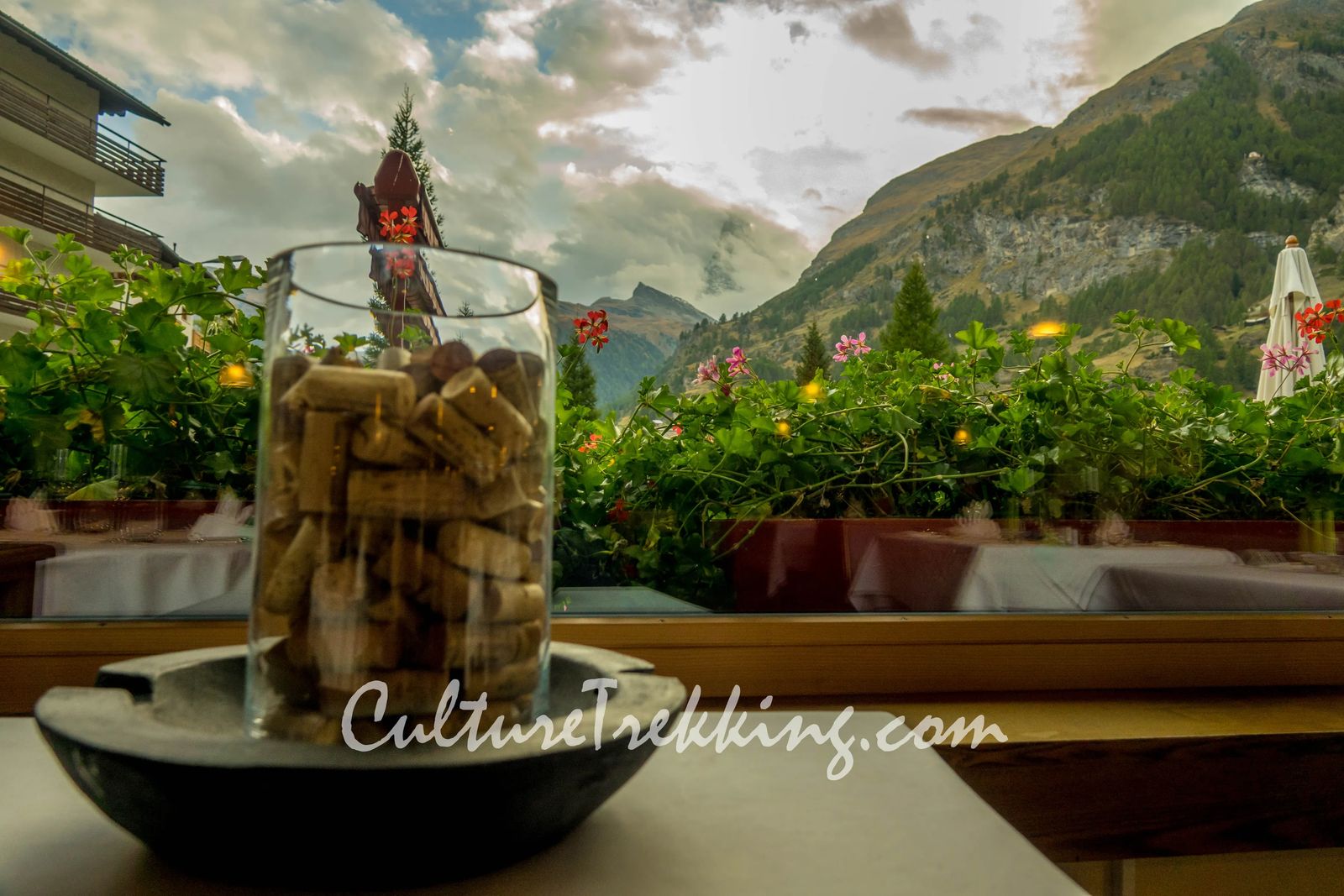 Where to Eat in Zermatt: The Savory Jorg Restaurant
It is always difficult to decide what restaurant to visit when you are on vacation. Everything is new, exciting, and tingles the taste buds. While visiting Christiana Mountain Spa & Resort, in Zermatt Switzerland I was able to have an incredible meal at the Savory Swiss Jorg Restaurant. I highly suggest you make a special trip to eat here, you will not regret it.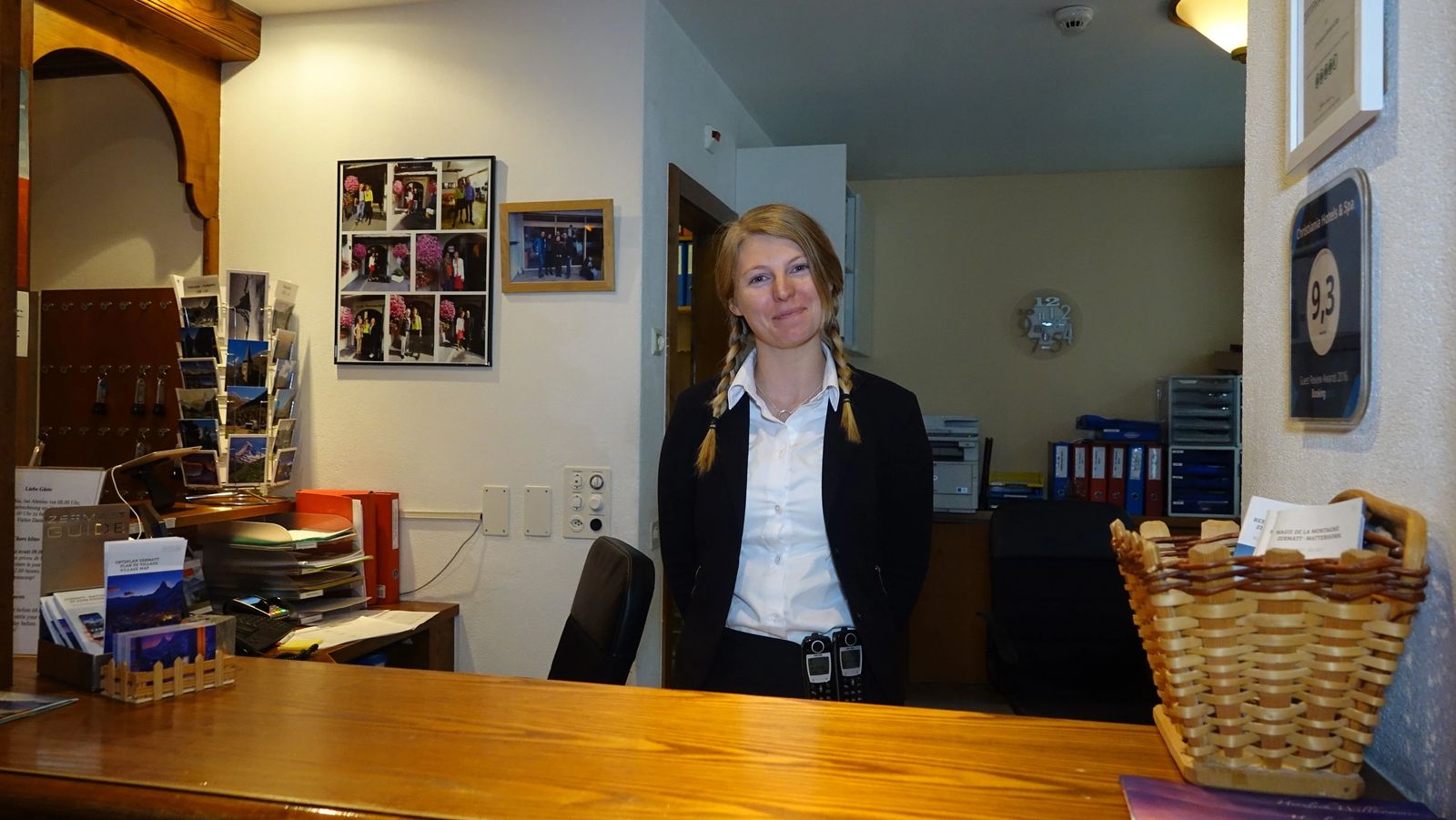 Reservations at Christiania Mountain Spa Restaurant
Reservations are required and can be made through the front desk of Christiana Mountain Spa & Resort. The dinner times are from 5 pm to 9 pm but I would suggest going either around 5 pm or at 8 pm. Try and request a table by the window as you will be able to have a perfectly romantic Swiss meal with the imposing Matterhorn lit by the moonlight.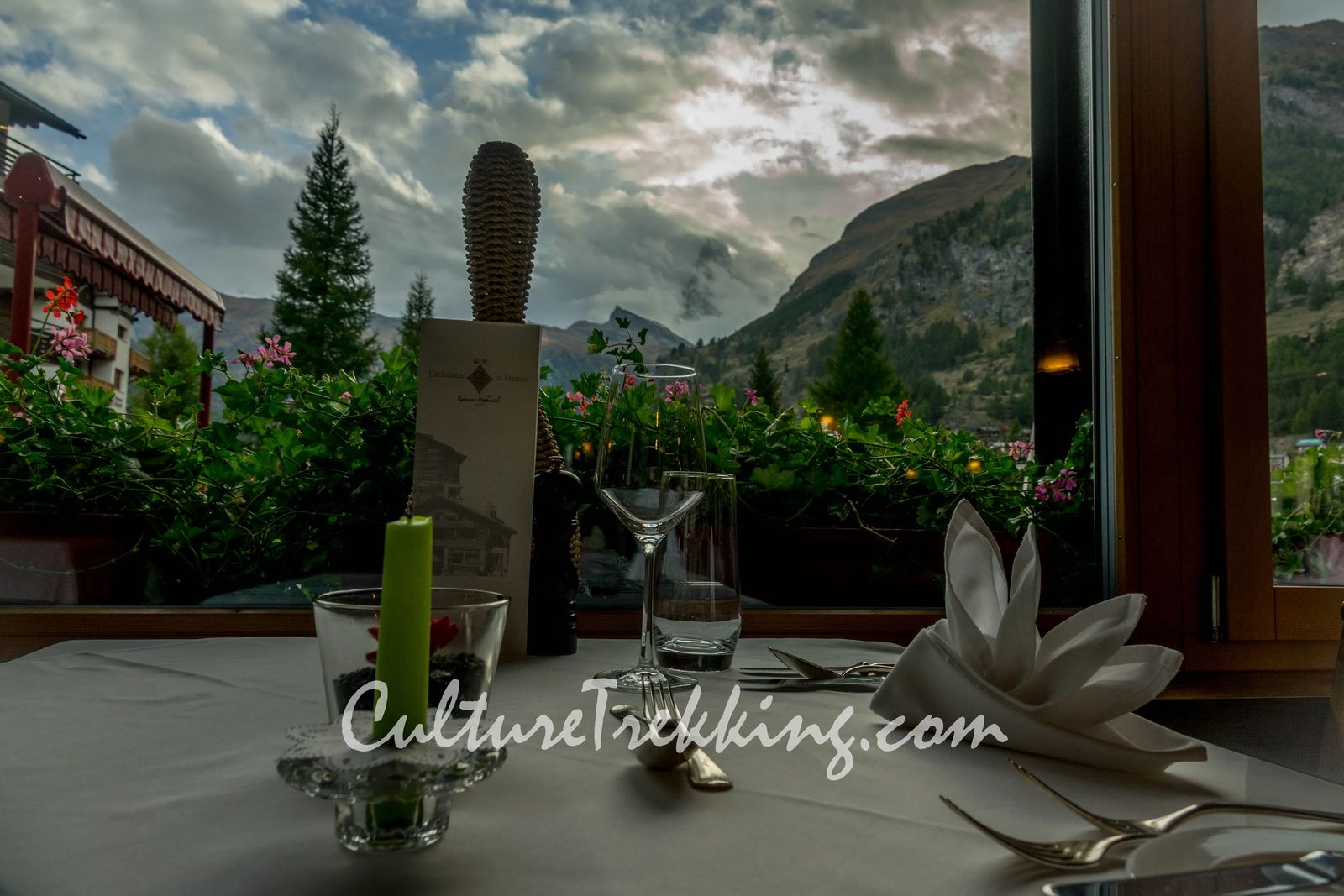 First Impression of this Swiss Restaurant:
The Swiss experience at Jorg Restaurant boasts both Traditional and International options of cuisine with an extensive array of drinks available in the bar. Swiss, European, Central European wines are all available for your tasting pleasure, and professionally displayed in a case as soon as you walk in so you can easily choose your favorite while waiting to be seated. The Restaurant is tastefully decorated, with some artistic accents added at strategic locations throughout the dining area. These pieces give the opportunity for excellent conversation starters. Chairs, tables, and booths are well kept with no tears or rips in the seams. There were no leftovers to be seen on either the chairs nor on the tables which were adorned with crisp white tablecloths. You are promptly greeted, asked how many in your party, accommodations are deftly checked and you are swiftly shown to a table that will suit your particular needs and party size.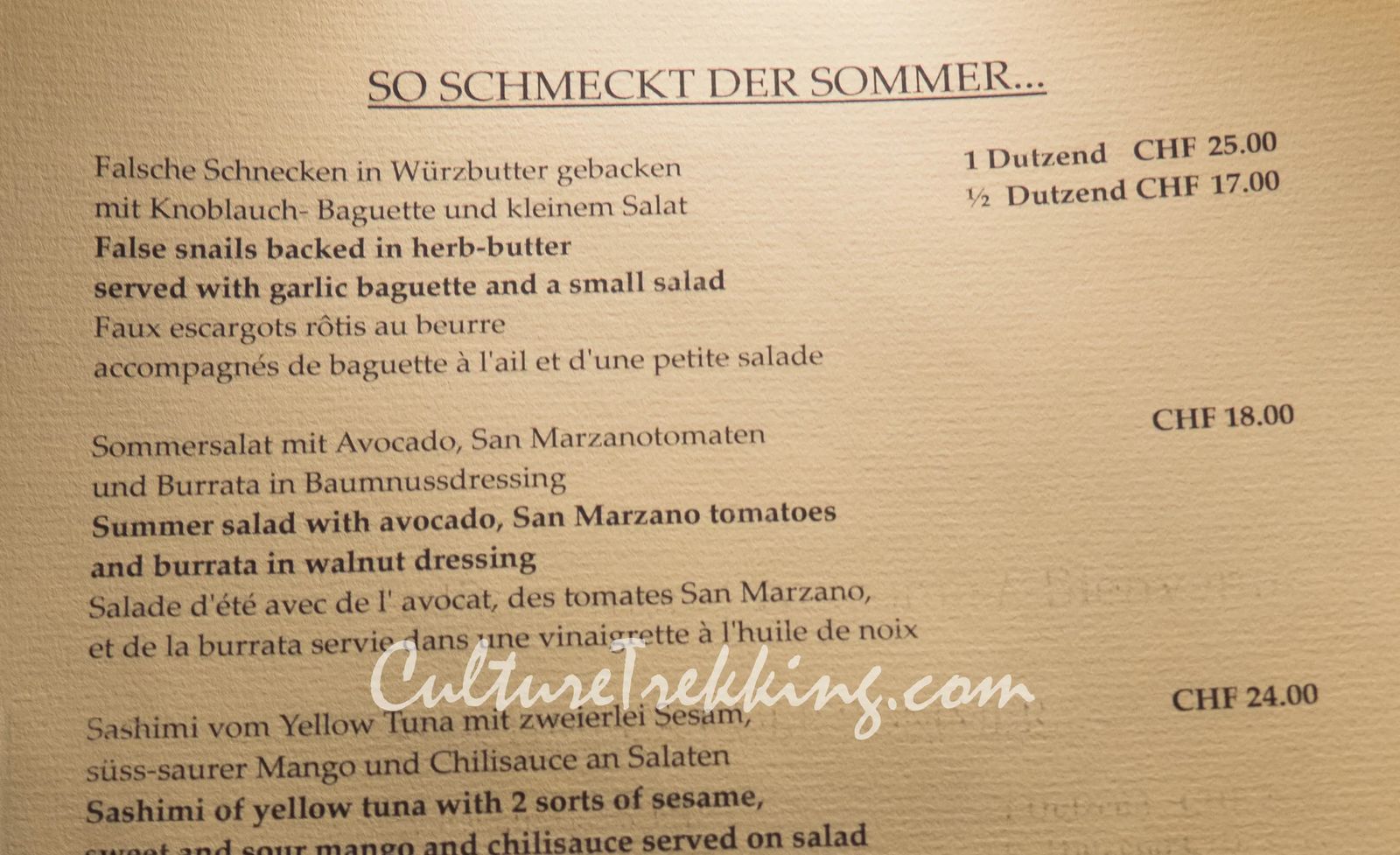 The Menu:
A menu is handed to you, encased in a leather binding that is clean without blemish from prior use. Wine specials, and suggestions on how to best enjoy all that the menu has to offer are presented. You are then left to carefully choose that which your taste buds are craving for the evening. I personally chose the 4-course meal with each course, there are 2 options available. I really appreciated this, because there were certain additives I needed to avoid due to my particular food allergies & this made it very easy to choose my perfect combinations I wished for my dining pleasure. I chose my selections, my waitress smiled politely and said that she agreed that those were excellent choices. The only thing I would have changed in my selection was something a little less salty in the initial 3 courses, as my tongue felt a little pickled by the end of the main course.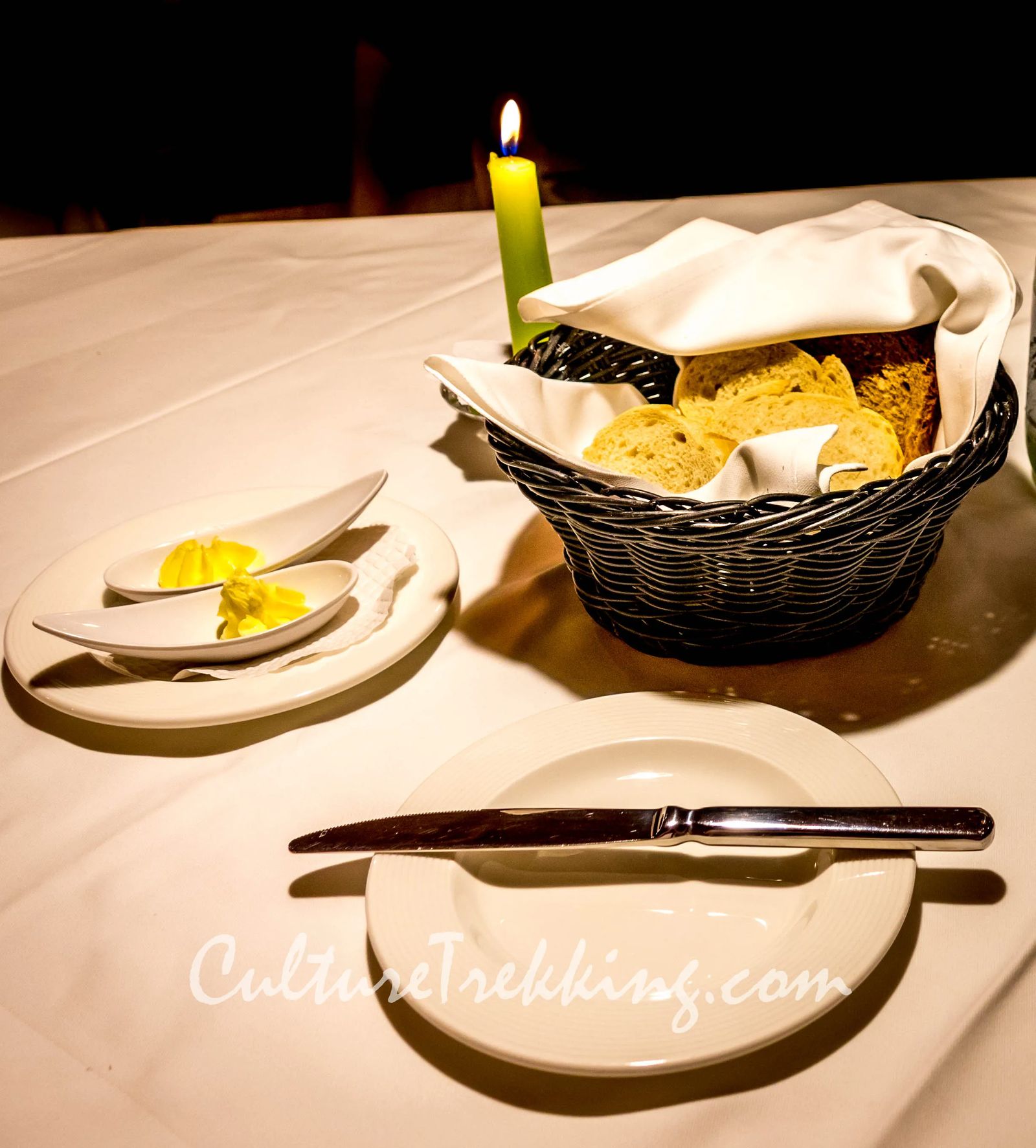 Complimentary Items
After choosing the courses you so desire, the staff will bring you soft bread that makes you want to stuff a few slices in your purse for later. Truly, I fancy myself a bread connoisseur and this particular item made me think of the bread that my mother use to make when I was younger. It does not taste as though it was sitting out the entire day nor has been in the bread warmer for far too long. It was simply delicious when paired with the butter provided and melted perfectly into the vacant spaces.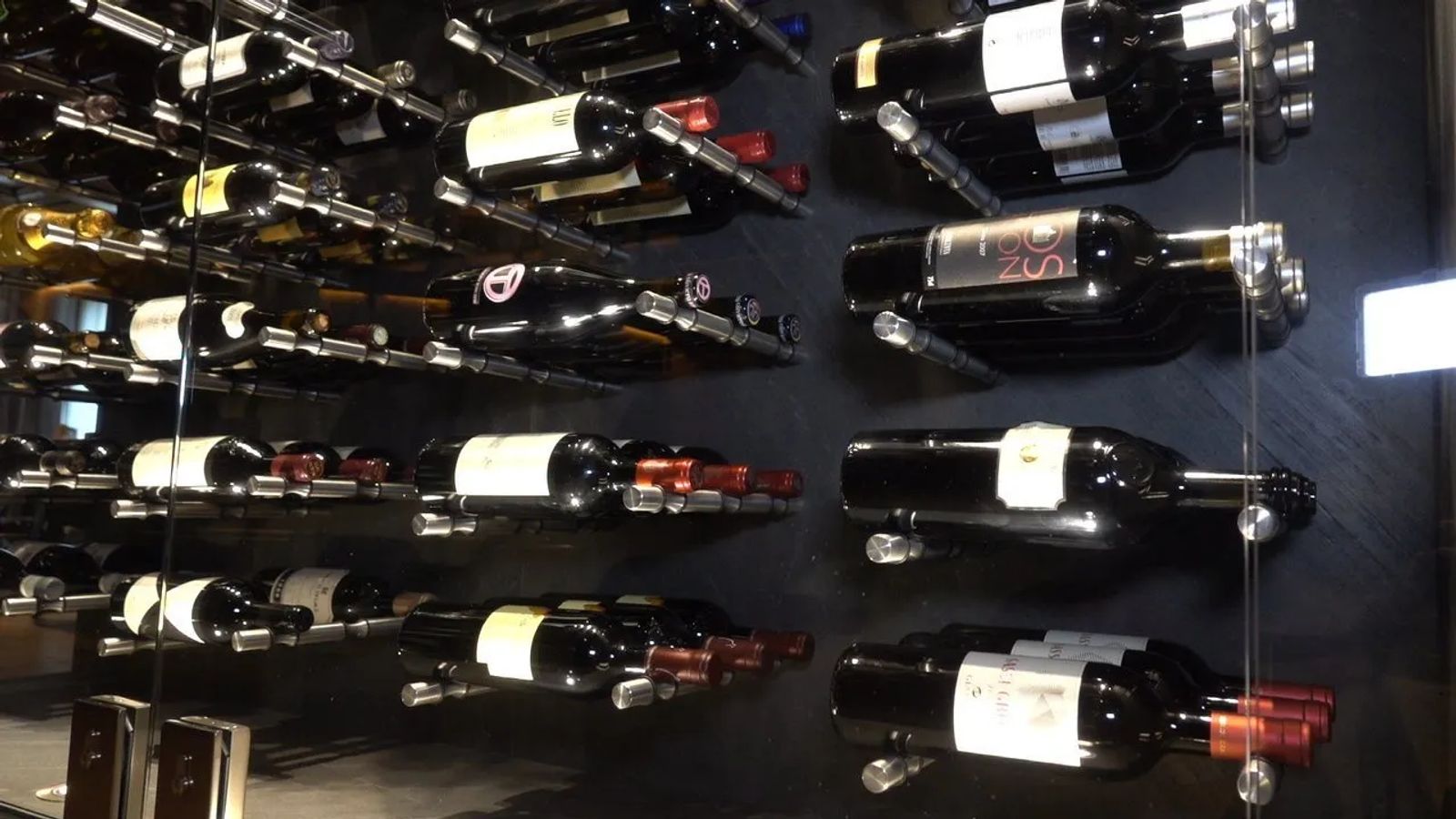 The Drink
As I mentioned previously, there is an extensive and impressive wine list, complete with local flavors and choices. The Wine I chose was impeccable, not too strong nor sweet - a Pinot Noir that is very famous for the area and suggested to me by the staff. There were hints of black cherries and blackberries. It is soft on the palate when first tasting, and only gets better with each gulp. In the end, it made me feel poetic about the food I was about to indulge in.
I would highly suggest taking advantage of tasting the Swiss Wine options due to the fact that only 1% of the Swiss Wine actually makes it to the European Market. This is mostly due to the producers of this wine wanting to sell to private clients and local restaurants almost exclusively. The Jorg Restaurant has an exceptional array of Wine choices (at least 2 pages worth) which can be bought by the bottle or by the glass. There are a few options for Beer and spirits with one Beer on tap. With the hospitality driven attitude, Jorg Restaurant offers I would think that they could make any drink your heart so desired.
The First Course, Salad
Beef carpaccio with marinated rocket and grana padano in Balsamic
The presentation of this dish was tasteful and precise. Drizzled with a Pumpkin Seed dressing that had hints of Balsamic Vinegar as its base. The bitterness of the vinegar was softened by the Parmesan Cheese flakes adorning the top, and the Pumpkin Puree encircling the salad made me hum with palate pleasure. Thin slices of Beef carpaccio marinated to perfection were hidden within and elegantly topped with the delicate arugula and a thin breadstick.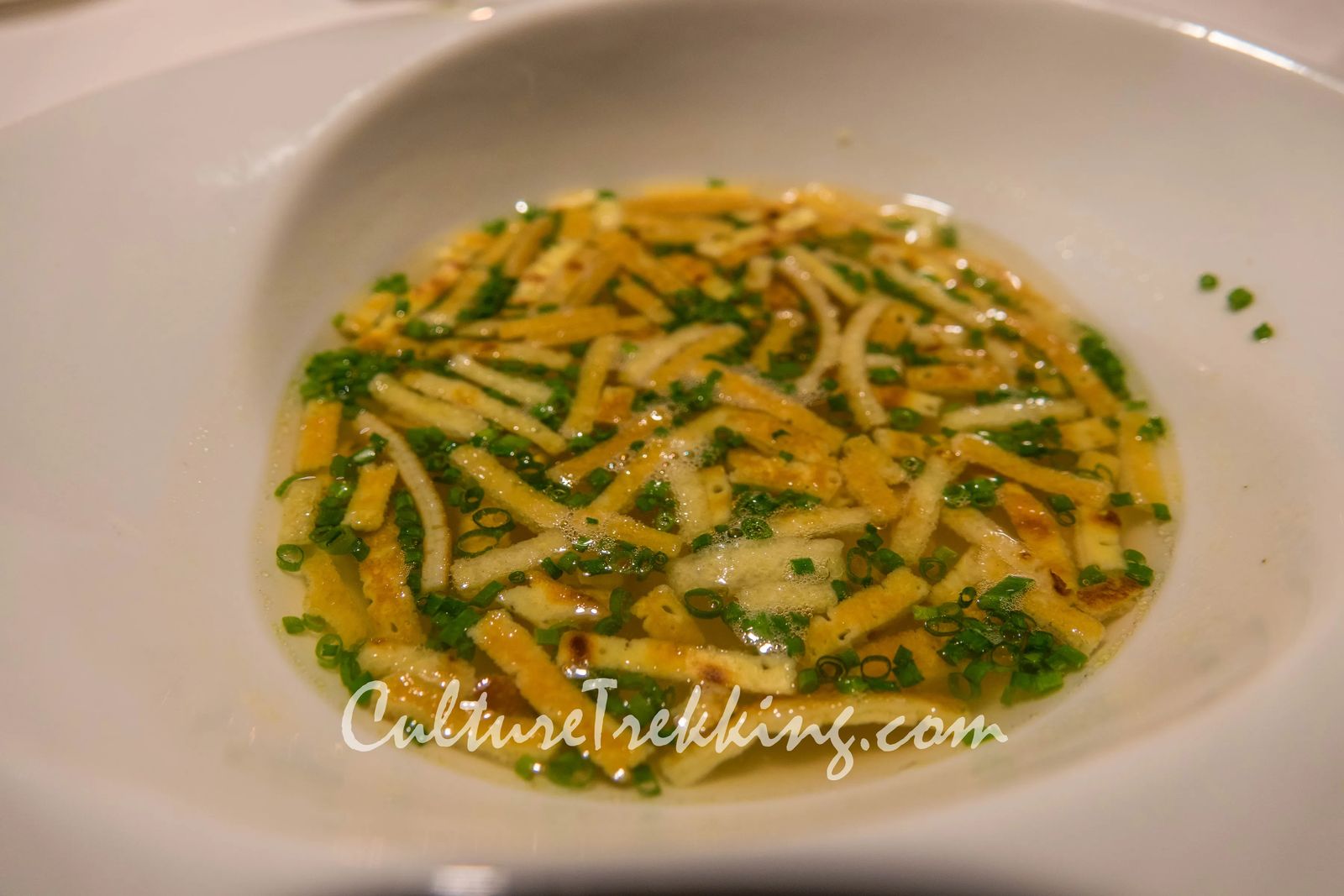 The Second Course, Soup
Vegetable soup with gnocchi and crepe strips
A salty vegetable broth base with crispy crepes and gnocchi placed within the soup that truly added a nice texture. Each bite is completed with touches of green onion that really rounds out the warmth and feeling of home while eating this dish. Soup in the Fall is perfection isn't it? The soup sinks into your bones and slays the chill of the outdoors, helping to relax you for the rest of the meal.
The Third course, Savory Risotto
Champagne risotto with giant prawns, tomatoes, and chanterelles
I was very excited to see Risotto on the menu, as this is a difficult dish for even the best Chef's to do correctly. I must say my Risotto was pure perfection- not too salty, rich and savory flavors, without any bitterness. Cooking execution of the Risotto made for an excellent velvety texture that literally melts in your mouth. The Champagne Risotto was perfectly paired with the King Prawns, cooked to perfection. Traces of subtle mouthwatering earthy flavors brought everything together for a perfectly orchestrated piece of culinary art.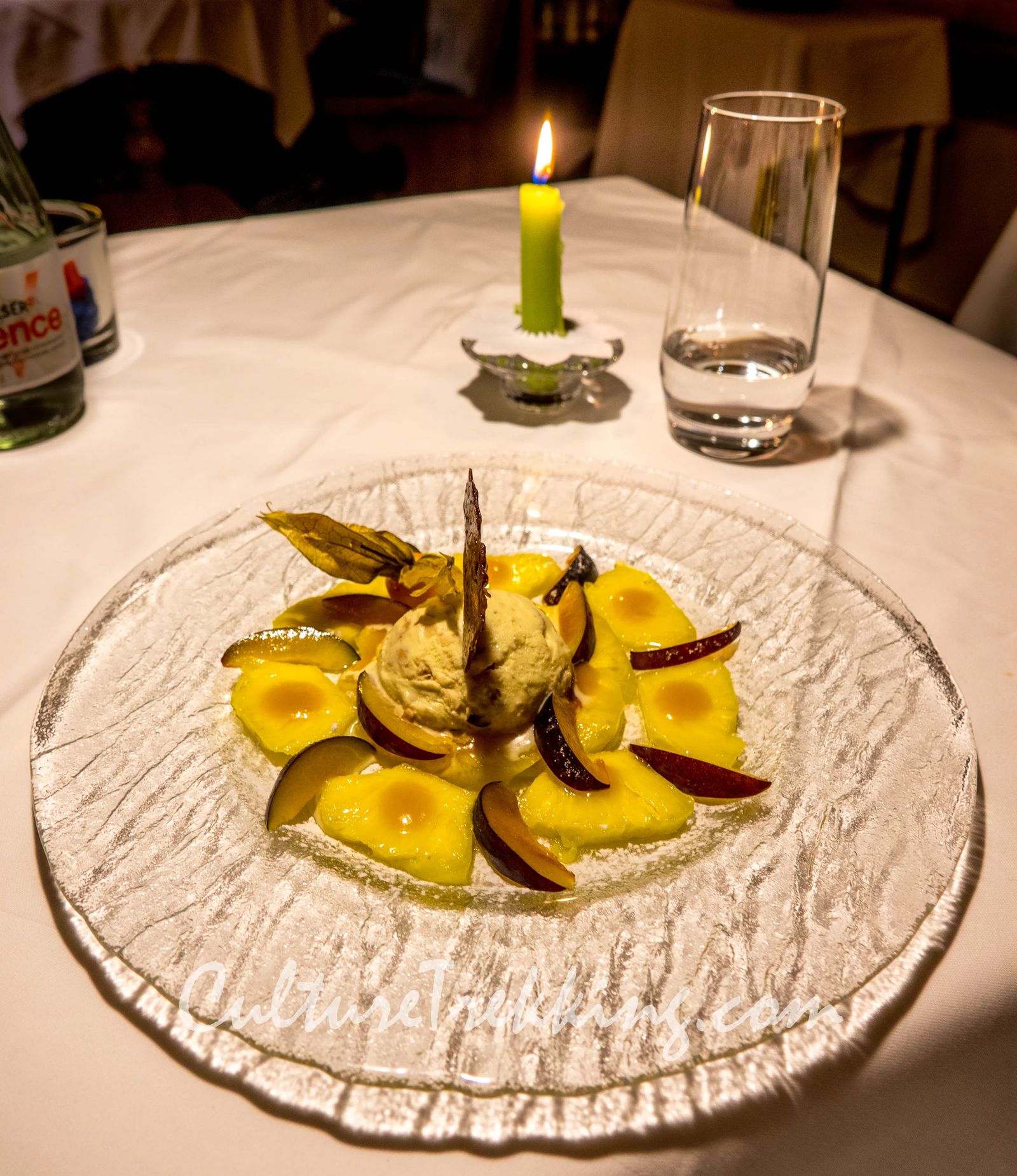 The Fourth Course, Dessert
Pineapple Plum salad with almond ice cream and cocoa chips
A confectionery delight that was revealing itself to me as a masterful flower of temptation. I was so enthralled by how this particular dish was plated, I was almost afraid to take the first bite if it wasn't for the melting ice cream in the center. The House Made Vanilla Bean Ice Cream combined with the sweet & sour of the plums & pineapple was a unique pairing that in the end I thoroughly enjoyed.
Head Chef Jorg Elsen
Chef Elsen went to Regionale Schule mit Grundschule Schonberg for his education. The Chef used to work at Hotel National Zermatt, another luxury dining experience, with this particular hotel also having excellent reviews on all Travel related websites. Now his talents are utilized expertly at the Christiania Mountain Spa and Resort where he heads the Savory Swiss Jorg Restaurant. The Chef's signature dish is non-other than the Chateau Briand. A classically French dish of a center cut of beef tenderloin, gracefully cooked in a wine sauce that I am sure he has put his own unique touches to.
Be sure to try this dish and let me know your thoughts as I was unable to do so during my short stay at Christiania Mountain Spa and Resort. Peeking into the kitchen area, the chef was smartly dressed in a striped apron with the double-breasted White Chef's Jacket lined with black silk piping on the edges. I had the opportunity to meet him and he was kind enough to bring some delicate treats to the table as a way of saying thank you for the Review of the Restaurant. I found him to be clean and polished with a very professional air about him. As a traveler, I think the cleanliness of the Kitchen facilities is imperative as a traveler's tummy is very fickle and easily upset.
The Jorg Restaurant Staff
The restaurant staff is composed of polite, smiling and extremely helpful individuals. I really appreciated their attentiveness and disguised anticipatory monitoring of my needs while eating. I did not feel that they were overbearing during my meal whatsoever. Gentle suggestions from the staff were made that truly helped my dining experience, I intensely appreciated the creativity of their suggestions and effort to make my experience exceptional.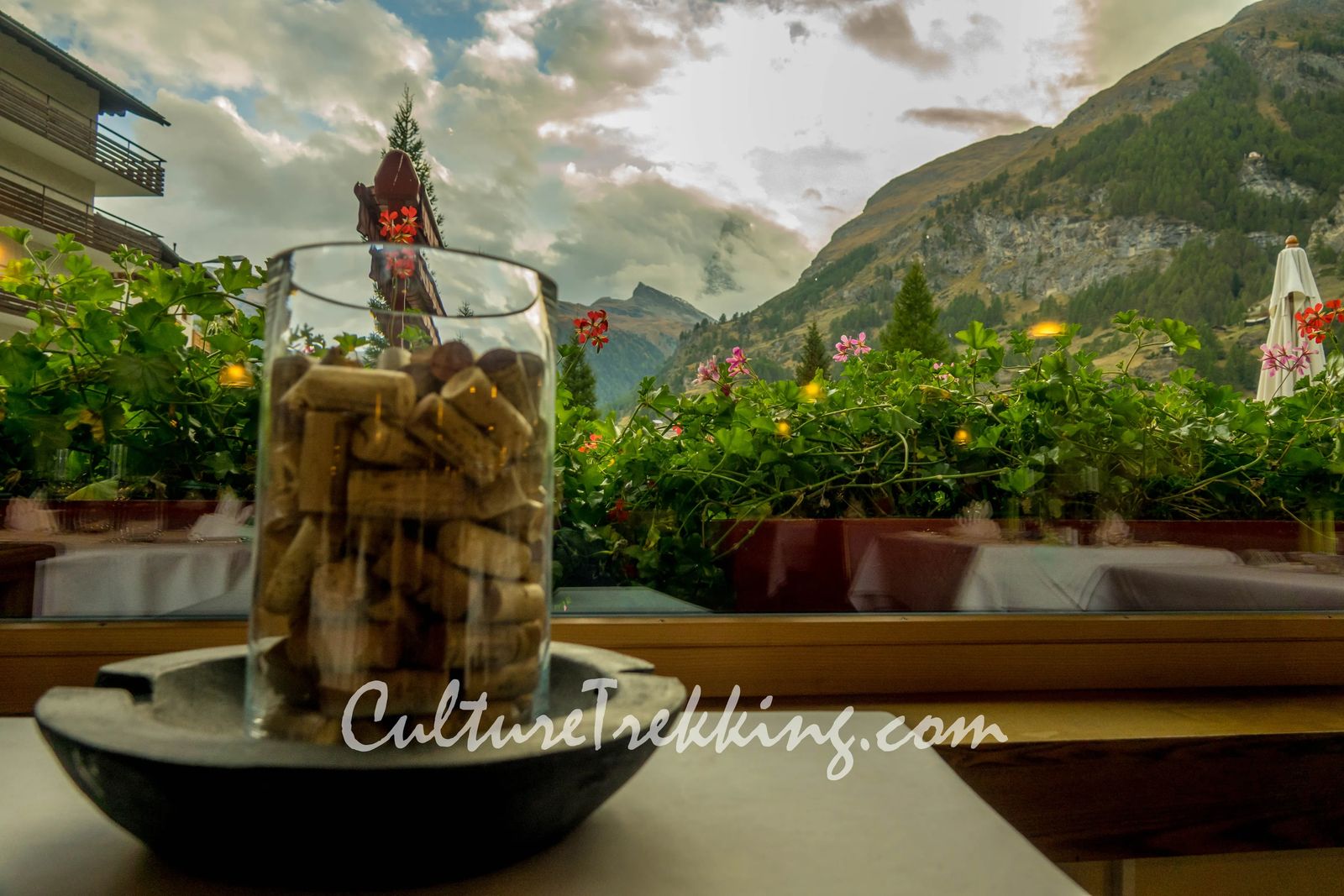 The Cost:
Main entrees cost around $20-$208 USD. The comprehensive menu sampler of 4 different entrees of $57-$65 which I found to be especially delectable.
My Final Thoughts on the Swiss Jorg Restaurant:
The Savory Swiss Jorg Restaurant surely will not disappoint you. A romantic setting, exceptional service, relaxing environment, exceptional food and delectable dessert are sure to fill not only your belly but your soul with vacation goodness we all crave. So book a stay at Christiania Mountain Spa & Resort and be sure to make reservations for a dinner you are sure to never forget.
Where to Stay in Zermatt
Like it? Pin it! Sharing is Caring ;)