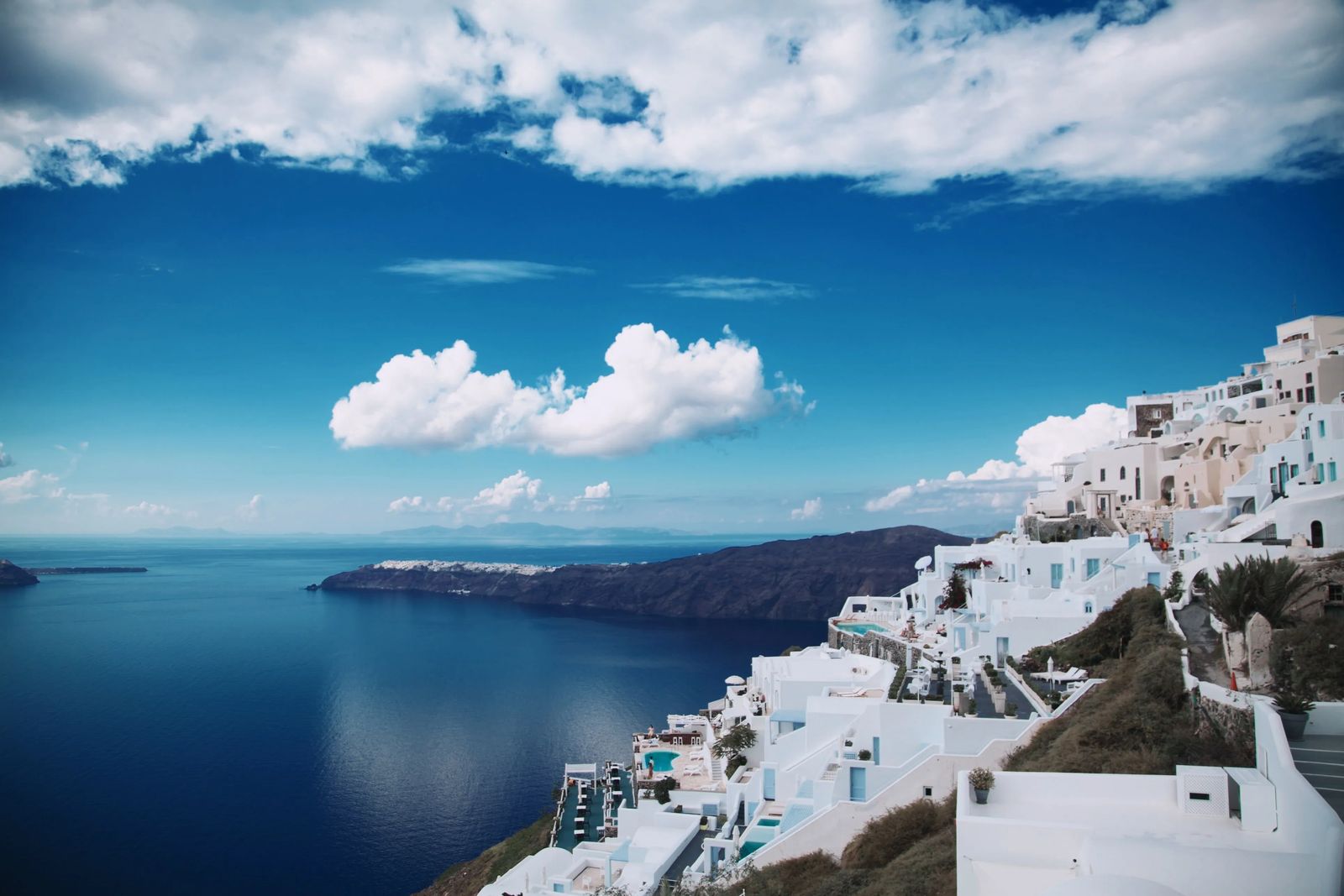 Things To Do In Santorini Greece
Santorini has been a bucket list destination for years by travelers around the world. The sweeping cliffs, blue and white colored buildings and relaxed environment make is a perfect retreat from the rat race of life. Here are a few things to do in Santorini to pass the time on this blissful island.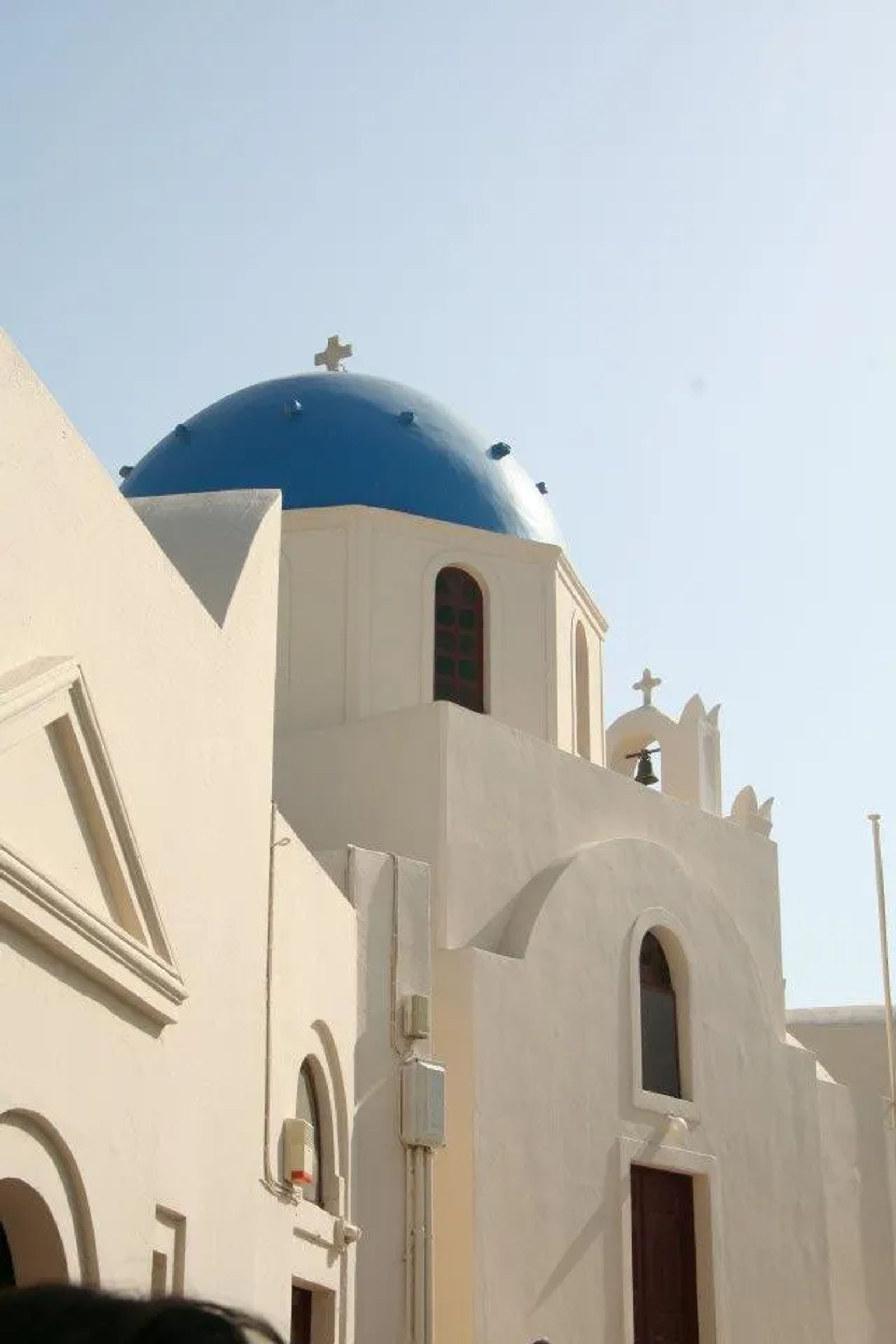 After my Photography Tour in Seattle, I am a huge fan of Photography Tours from Locals. The particular tours I found for Santorini may be a bit more expensive, but to have someone there who can show you exactly the settings, directions, transportation etc.... to get to the best spots in Santorini might be worth it.
Wouldn't it be nice to have the photo you took on your living room wall of the sweeping cliffs of Santorini? How about you solo travelers who are always trying to figure out how to get that perfect shot. Santorini is one of those iconic photography places that I personally would invest in a photography tour for.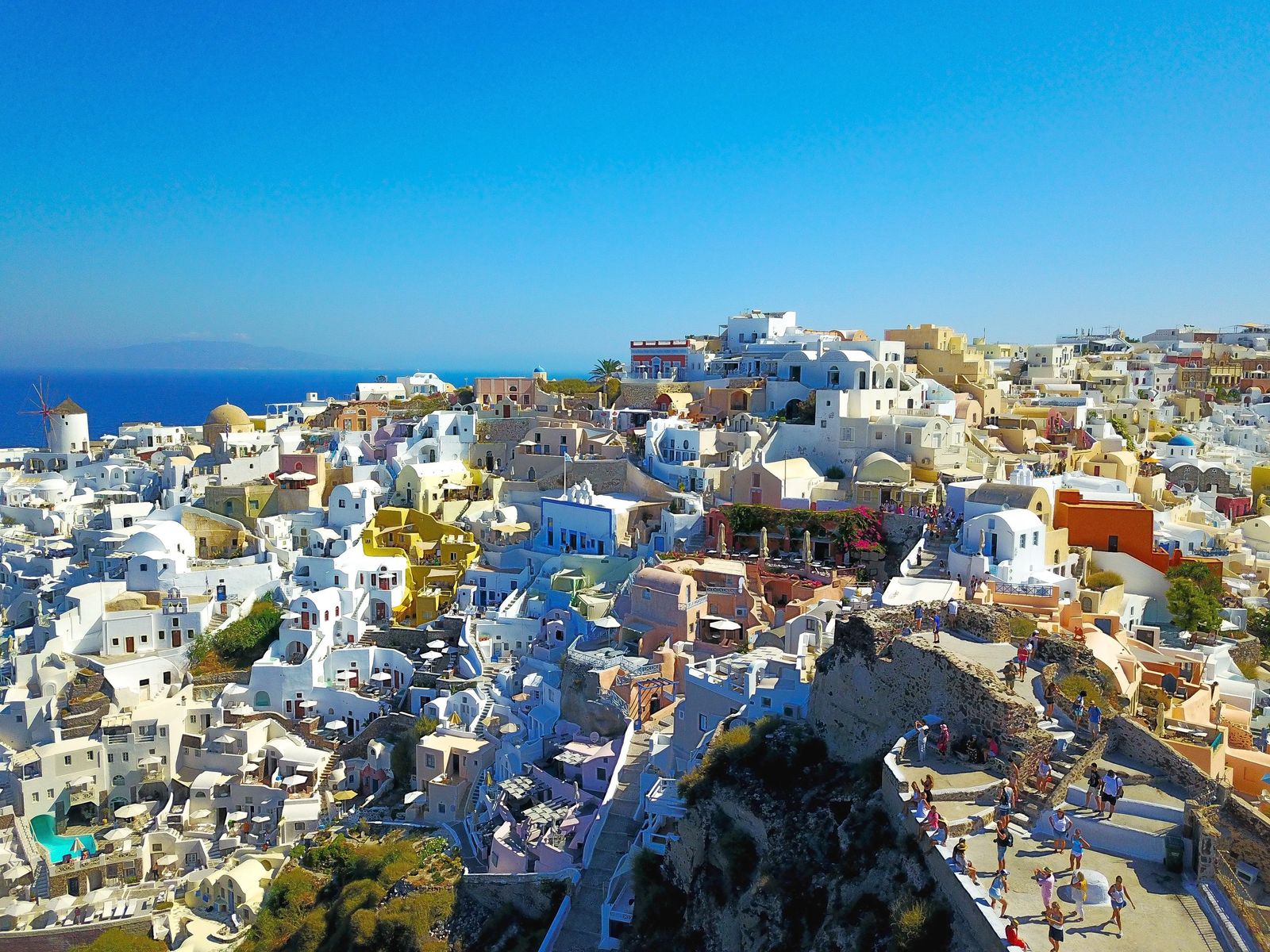 The roads, paths, nooks and crannies are at times very hard to navigate. So to have a local who could let you into a backyard at the edge of a cliff face to take photos, snack on some cheese and introduce you to locals.....well.....that would be worth it to me. I certainly wish I would have done this when I was there, it gets a bit chaotic on the public transportation systems.
These huge buses take turns around cliff edges so rapidly, I found myself squeezing my butt cheeks as hard as I was holding my breath while praying I didn't die in a bus on a Greek island. Not a bad way to go, but repatriation is a nightmare, dying on vacation is bad form anyway.
Cable Car From the Old Port to Fira
If you are coming from the cruise ship, it is a bit difficult to NOT take the cable car. You must pay to ride it, the cost to ride is 5€ for an adult one-way ticket, 2.5€ for children under 5 years old and 2.5€ for large luggage. Make sure to bring cash, when I was there, credit cards were not widely accepted.
You can also lug your body weight, and luggage up the steps to Santorini.....but if you are there in the summer I highly discourage this. The sun hits the cliffs, the stones reflect the heat and there is usually donkey dung dotting the pathway all the way up. So you may as well go lock yourself in a barn that hasn't been cleaned in 6 months and run 5 miles on a treadmill in July in Texas.....at least you will have access to water in the barn.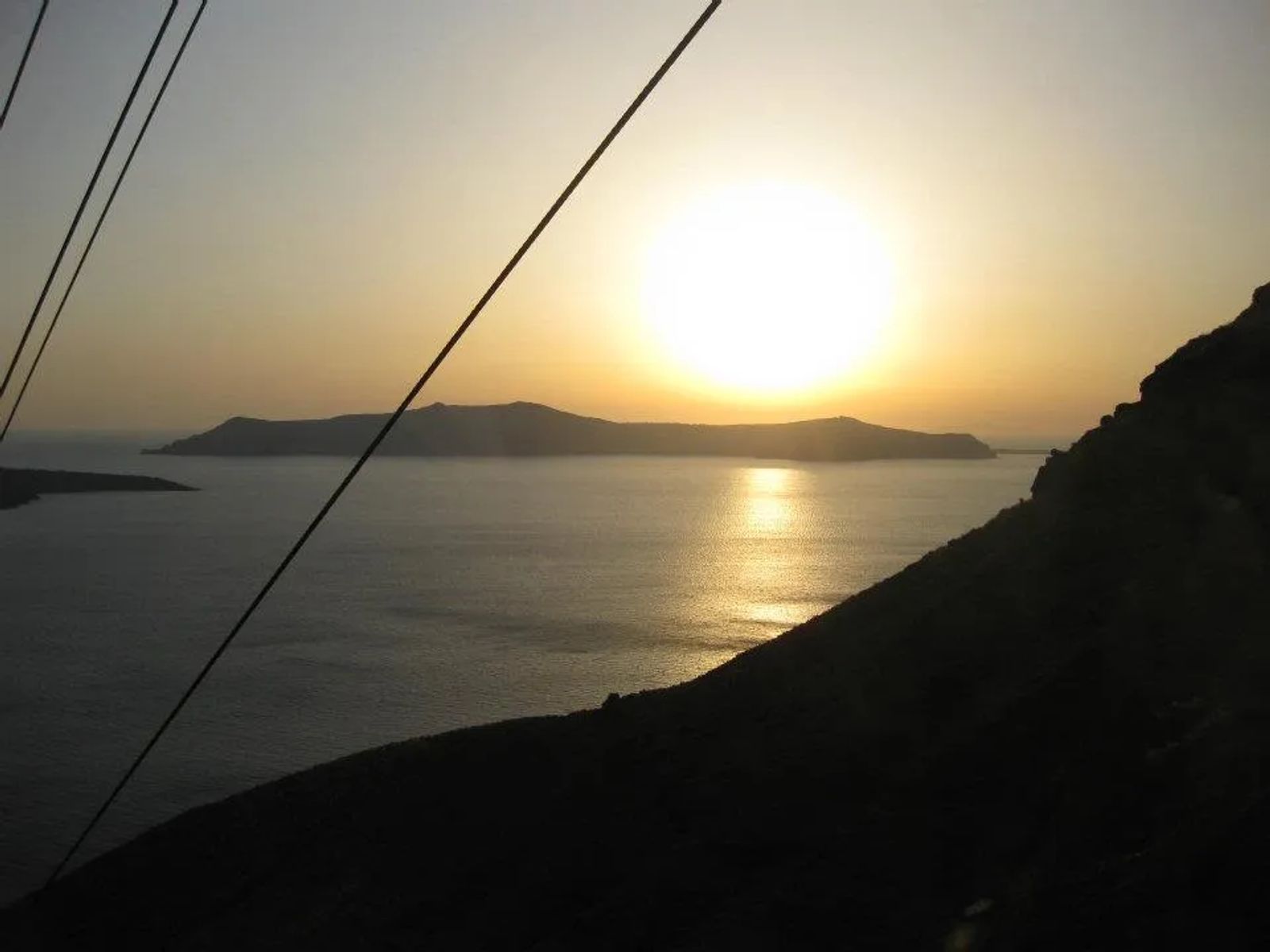 The views from the cable car are quite stunning, and especially at sunset.....this is the time to do it. Combining your cable car ride with your evening boat tour would be a perfect ending to your day while there.
Swimming at Oia south of Ammoudi Port
It is the Mediterranean. It is an isolated island. You have to jump into these crystal clear blue waters! It is a right of passage for me to jump into whatever ocean I am visiting, just to say you did it.
I would suggest going with a guide or a local, as they will know the best places for swimming without currents, clear areas for cliff jumping, the best area for seeing fish and which areas are clear of coral or other dangerous obstacles.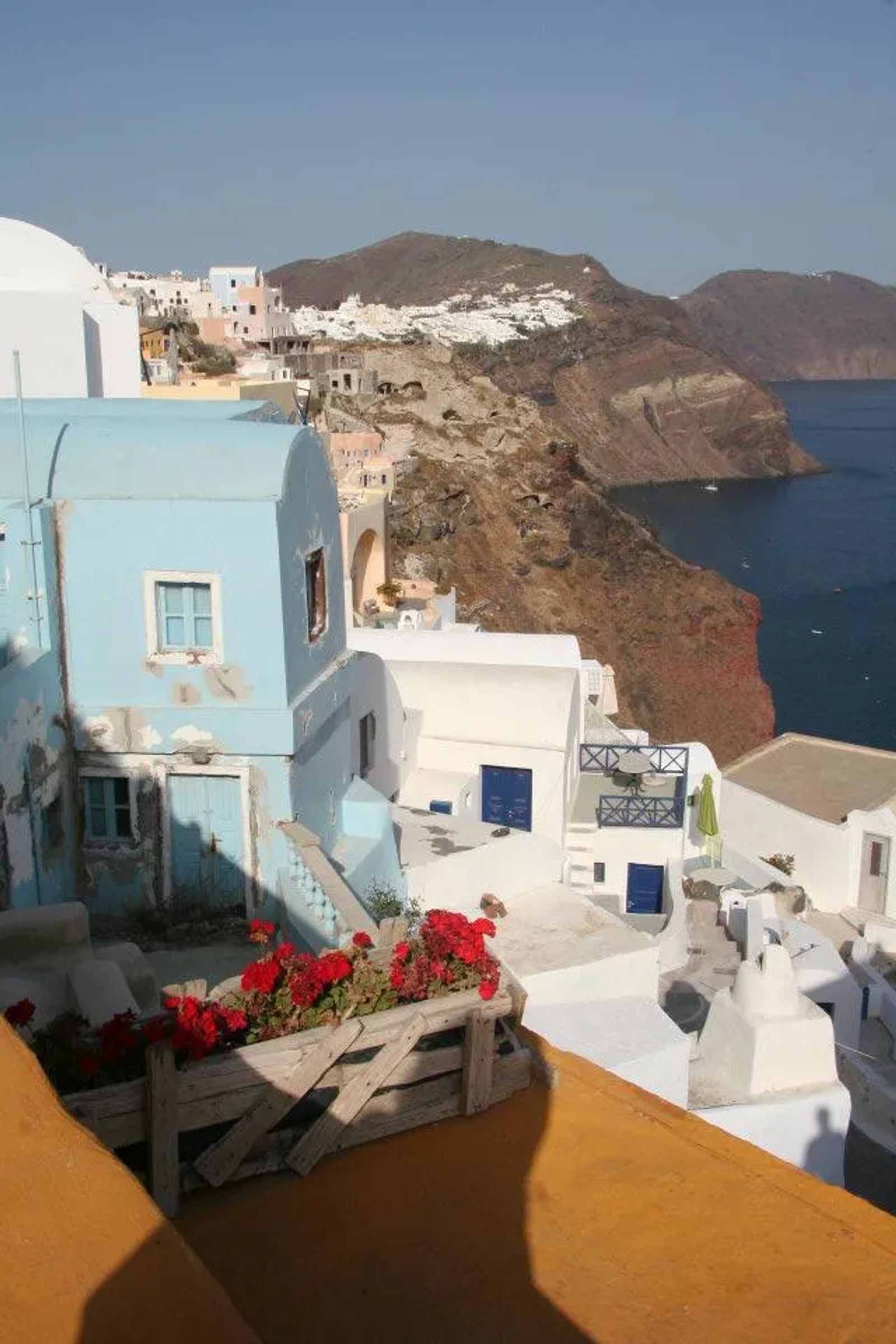 Fresh fish, clear waters, cool breezes, good company.....this should be your siesta. Jump on a boat and try your hand at fishing some of the exotic fish in the area. I'm not really into fishing, but I wanted to include this for all my ladies who want to shove their husbands on a boat for that coveted 'man time' they all talk about. Tell them it's a 'gift' for them, even though the alone time is going to be a gift for you, because of the next suggestion I have.
THIS is where it's at ladies! These areas contain the best shopping, views, photographic spots around. Firostefani and Imerovigli is where the classic white buildings with blue-topped domes are hugging the cliffs. I also found most of the unique clothing, trinkets, Ray Ban knockoffs etc..in these areas.
The pricing is a little on the steep side when you factor in currency conversion, but keep in mind that the items are genuine and handmade. Too often I am visiting countries where the 'cheaper' option is made in China, not very well made, and doesn't last long.
The tourists support these items to save money, but often it takes away from the local economy and puts families out of business. So whenever possible, try and buy from shops that are family run, and locally made -- it will help sustain the culture, local economy, and make the tourism in the area you are visiting a little more sustainable.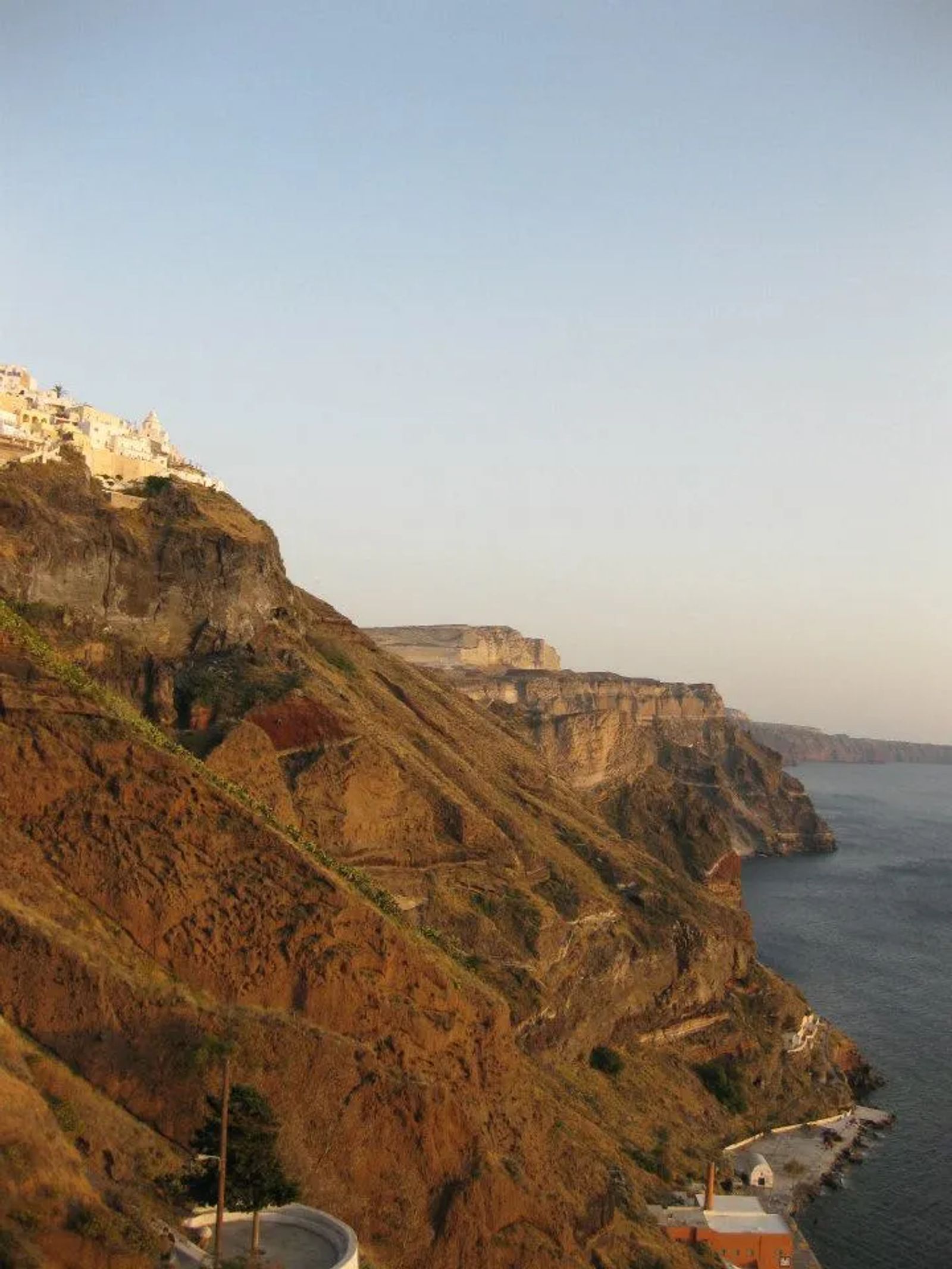 Walk to Skaros Rock
After eating all the fish your husband/boyfriend/local café caught that afternoon, you will want to take a hike. I suggest walking to Skaros Rock. This is a medieval fortress that was built in the 15th century to help defend the island from pirates and raiders.
I can't imagine the raids worked all that well, given the steep cliffs. You didn't think I would let you leave my website without including a little tidbit of history, did you? There are some fascinating drawings of what Skaros Rock would have looked like in the 15th Century, and also depicts just how flourishing this tiny outcropping really was.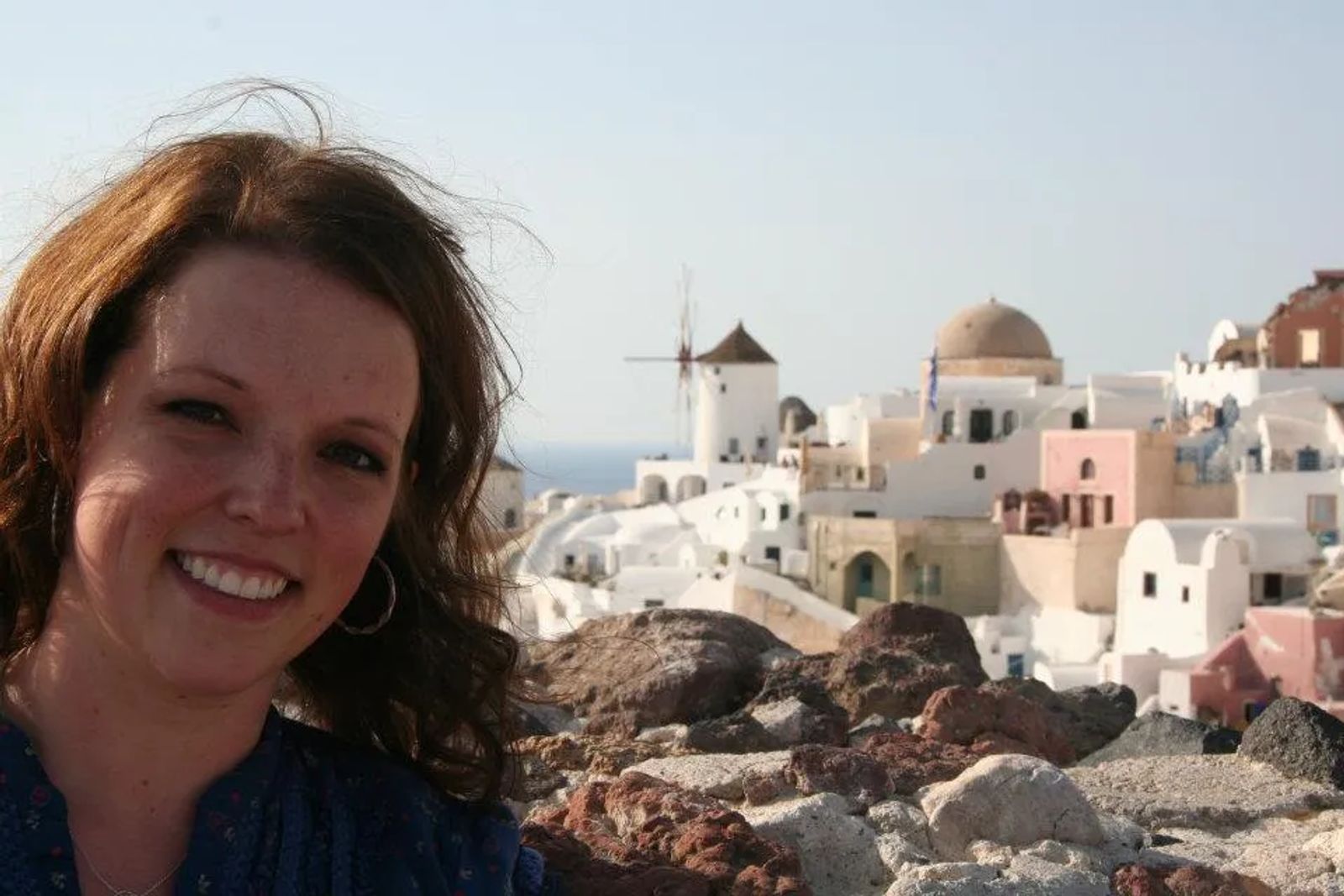 Loads of shopping is also available here, just watch out for the occasional sweating donkey carrying items for the various shops that line these alleyways. The donkey's cause quite the traffic jam, but they are really necessary as there isn't a way to get supplies into the center of town without them. The ones used near the center of town (in my opinion) are a little better treated than the ones used to haul tourists up the long path from the Old Fira Port. A tour of Oia's alleyways is the best way to do this, but make sure to stay for the sunset --- you won't regret it.
Don't ride the Donkeys at Fira Port
I know they say it is the classic Greek thing to do, I was sucked in and did it and felt like crying afterward. The donkeys looked drugged, miserable, and was sweating like crazy. They get whipped to bring you up the pathway in Oia from the cruise port and it is so so sad. I even poured water on the donkey's back as it brought me up the steep and long pathway. I will never ever do this again unless I see loads of water available and know for certain the animals are regularly switched out. It is the one thing I have done while traveling that I am still ashamed of honestly.
It may provide money to the locals utilizing these animals to haul you up, but the more ethical way of doing this would be to take the cable car. The donkey has been scorned and punished for centuries, let's give it a break when we can.
Rent a Scooter and explore the Santorini countryside
This is the best way to get around on Santorini if you choose not to get a guide. The maneuverability of the scooter on small roads, pathways and winding roads is very useful. You can also visit a lot more having your own transportation that is fairly reasonably priced if you choose to stay for a few days.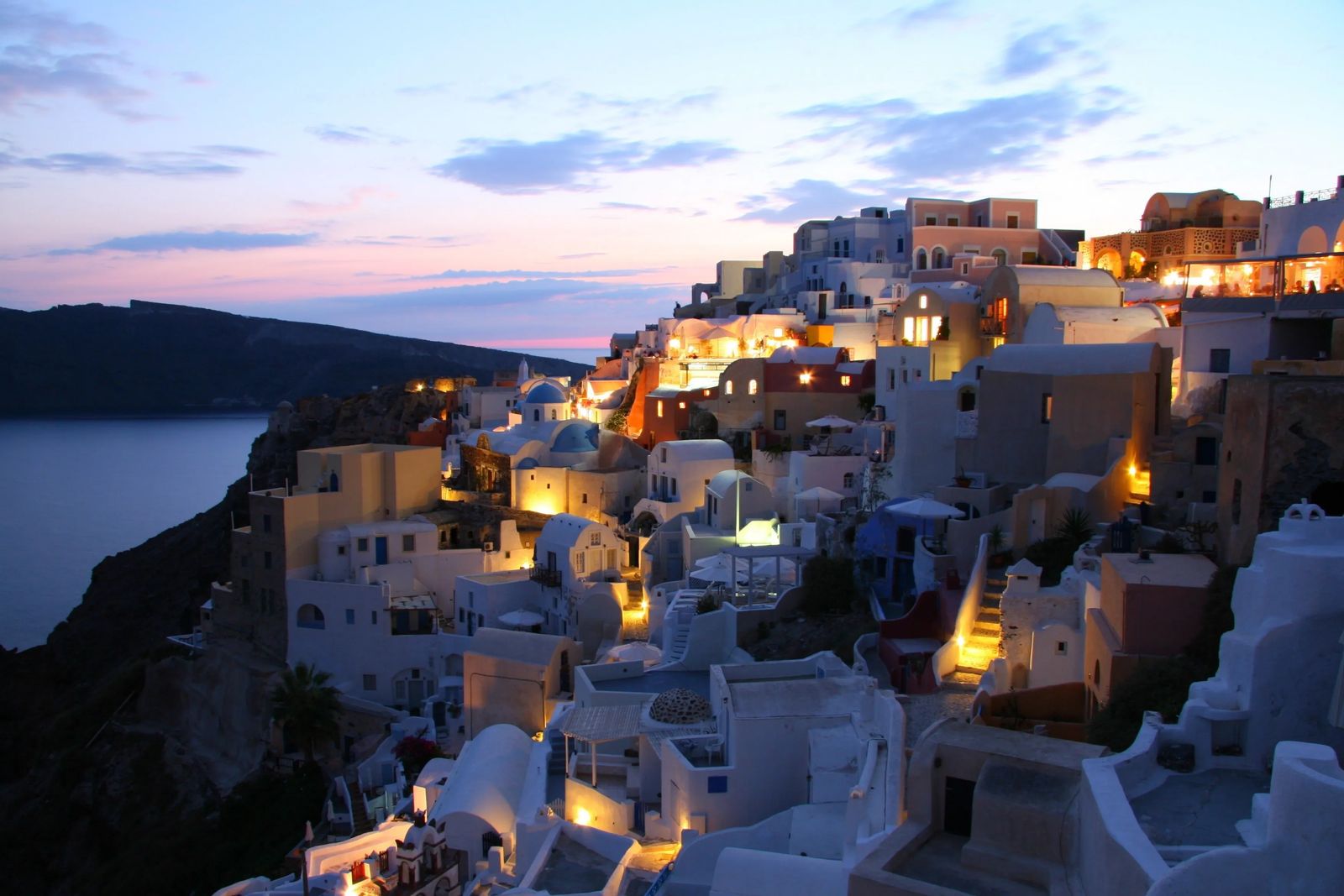 The only downside to this is that near the cliffs, where many tourists want to stay, there is nowhere to park and you really have to hike down or up into your accommodation. So I would suggest doing day rentals from a company that has shops throughout the island.
You can also hire a private driver for about $58 for a day. A local can take you around the island, see the highlights, and then you can spend the rest of your vacation relaxing, eating delicious food and enjoying the sunsets of Santorini.
Eat in the local Café with the REAL Mediterranean food
Fresh food, sea breezes, Greek hospitality, and warmth.....you would be a fool not to partake in the cafes of Santorini. This is where the local culture spends their evenings. They talk about life, love, children, work and being Greek. Their laid-back demeanor is sure to make you want to linger longer and ask to be adopted by the end of your meal.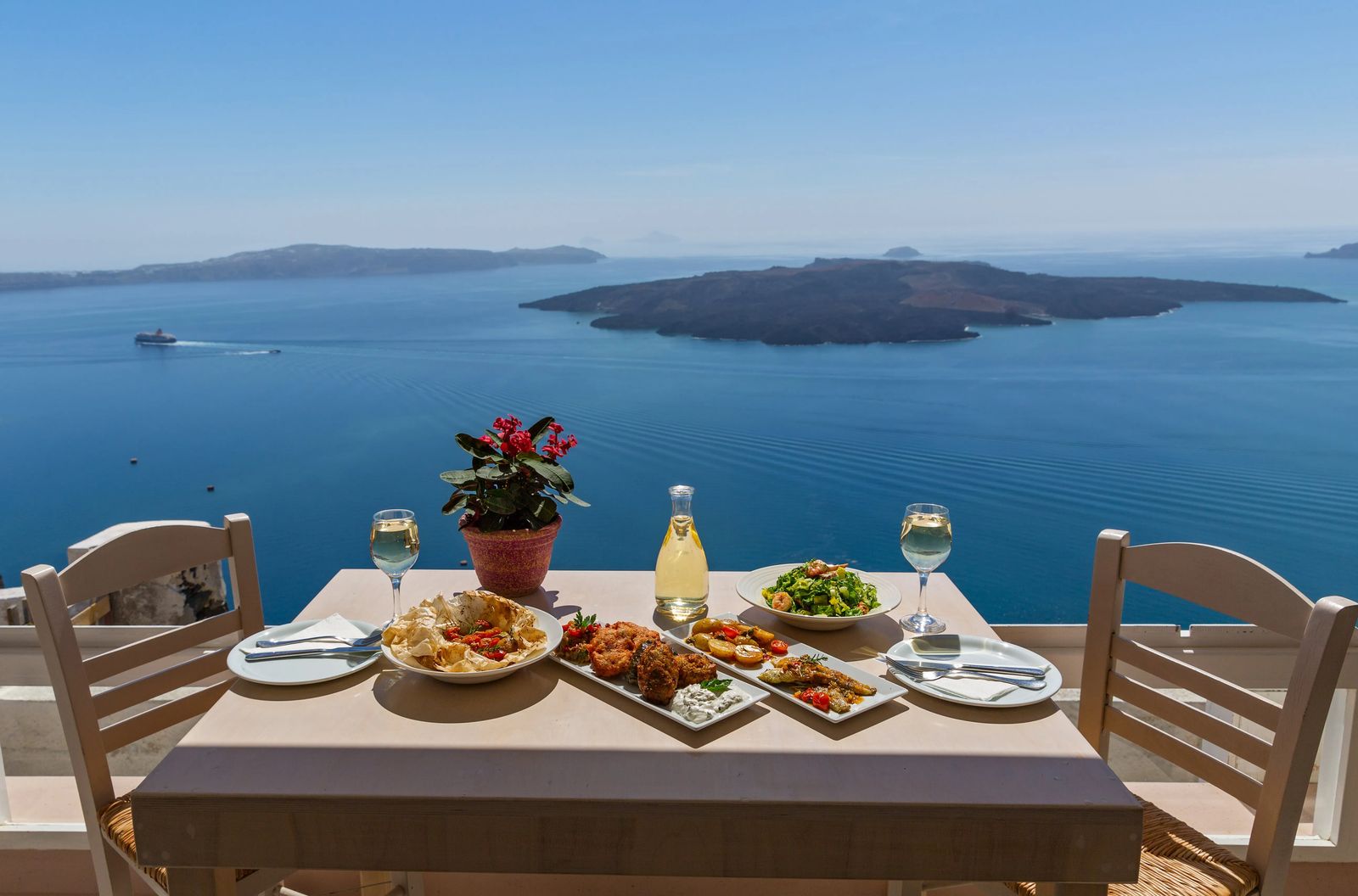 If partaking in local food traditions, and want to taste the best of the best of Santorini's Cuisine - I would suggest taking a Local Food Tour. Food Tours are not my cup of tea, I'm more of a historical and natural surroundings type of gal, but for those of you who really want to experience the culture of Santorini - then food is the way to do it.
Stay for the Sunsets in Oia
Sunsets in Oia are what many tourists flock to see. Orange hues reflect off the whitewashed walls of the buildings, with the blue tops creating a perfect complement of colors. Settle down in a café in Oia, unplug from technology and let the gentle waves of the ocean below lull you into a sense of pure vacation bliss.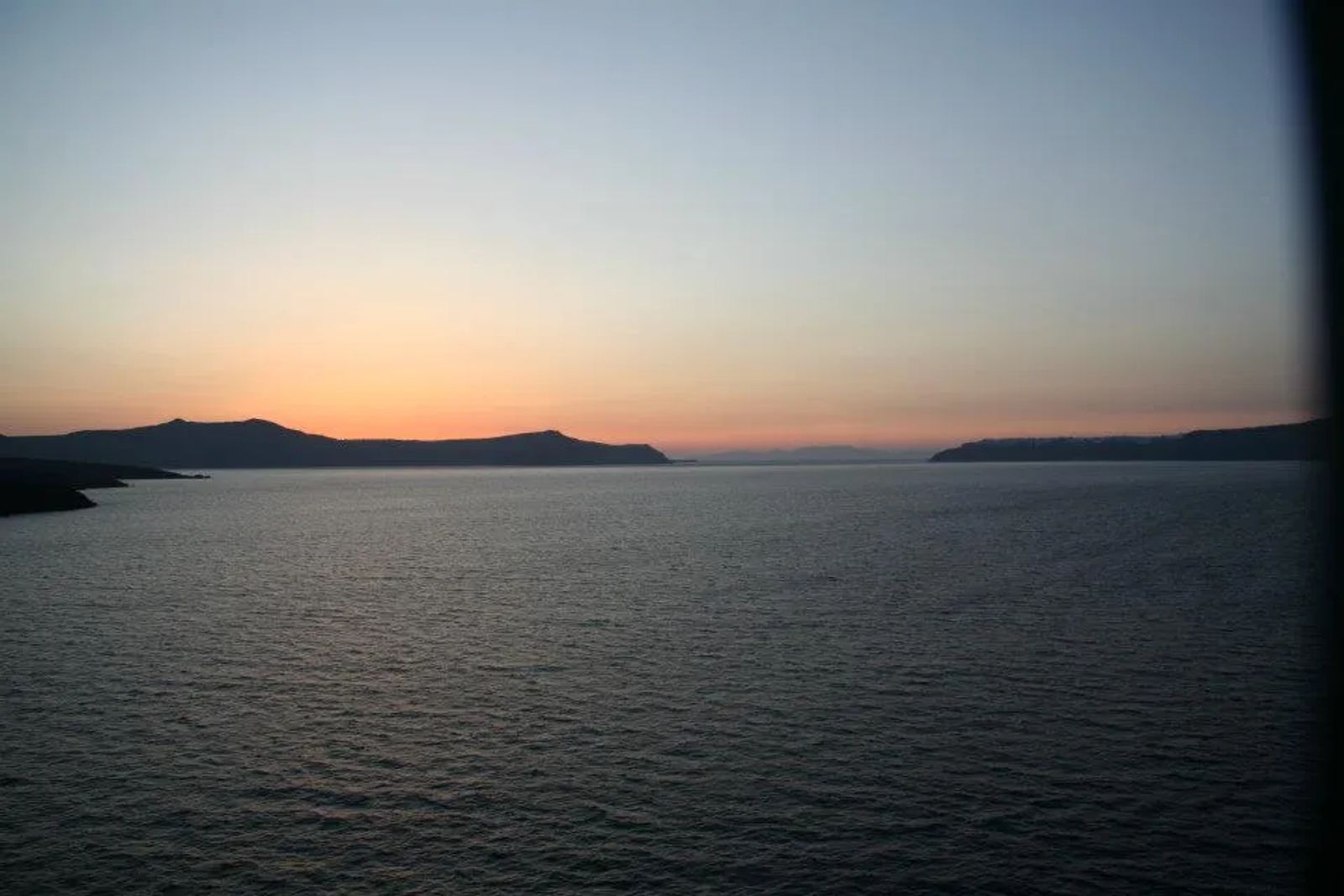 Take An Evening Boat Tour
When the lights turned on at the old Fira Port, the sun settling down behind the mountains....this view took my breath away. My camera was hot in my hands from taking so many photos. It will be difficult to get a good evening shot of this view when you are on a boat, but don't give up.....it will be your favorite photo.
Seeing lights dot the sides of the cliffs like fireflies flickering, seeming to want to compete with the bright stars above. I wanted to make a bed on my boat, open the windows to the sea breezes and fall asleep whilst watching Santorini settle in for the night.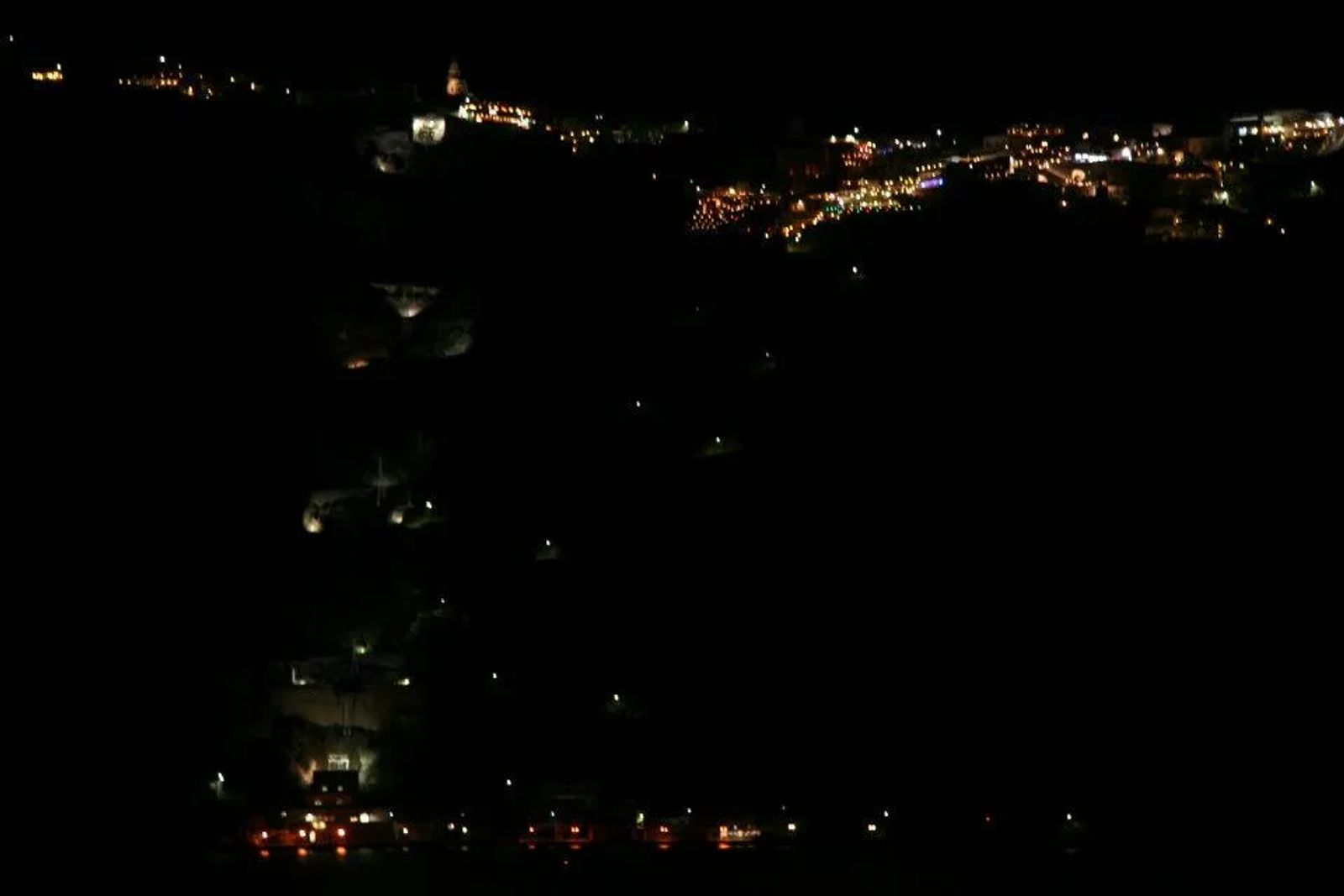 The structure of the city, colors, people, food, and contrasting barren landscape to the deep blue of the ocean and buildings is a visual feast for the eyes.
If you would like to do a full day boat tour around Santorini including snorkeling, seeing the volcano, eat lunch on the boat, and then stay for the sunset then I would recommend the Caldera Oia Perl Boat tour. This is a really good price for this considering the currency exchange and everything that is included for this type of trip.
Rest your head after your fun-filled day in a Windmill in Oia
You can stay in this windmill! The Dutch woman in me went a little bonkers when I found out you can stay in this Windmill! It's the Windmills Suite at Golden Sunset Villas in Oia it can easily fit 20 people. There are a kitchen, full bathroom, 2 "bedrooms". The stairs are steep, narrow, a little difficult to maneuver in with your luggage (so pack light). There is only one windmill suite in Santorini, so be sure you book as early as possible. They do include breakfast as well should you choose to book with them.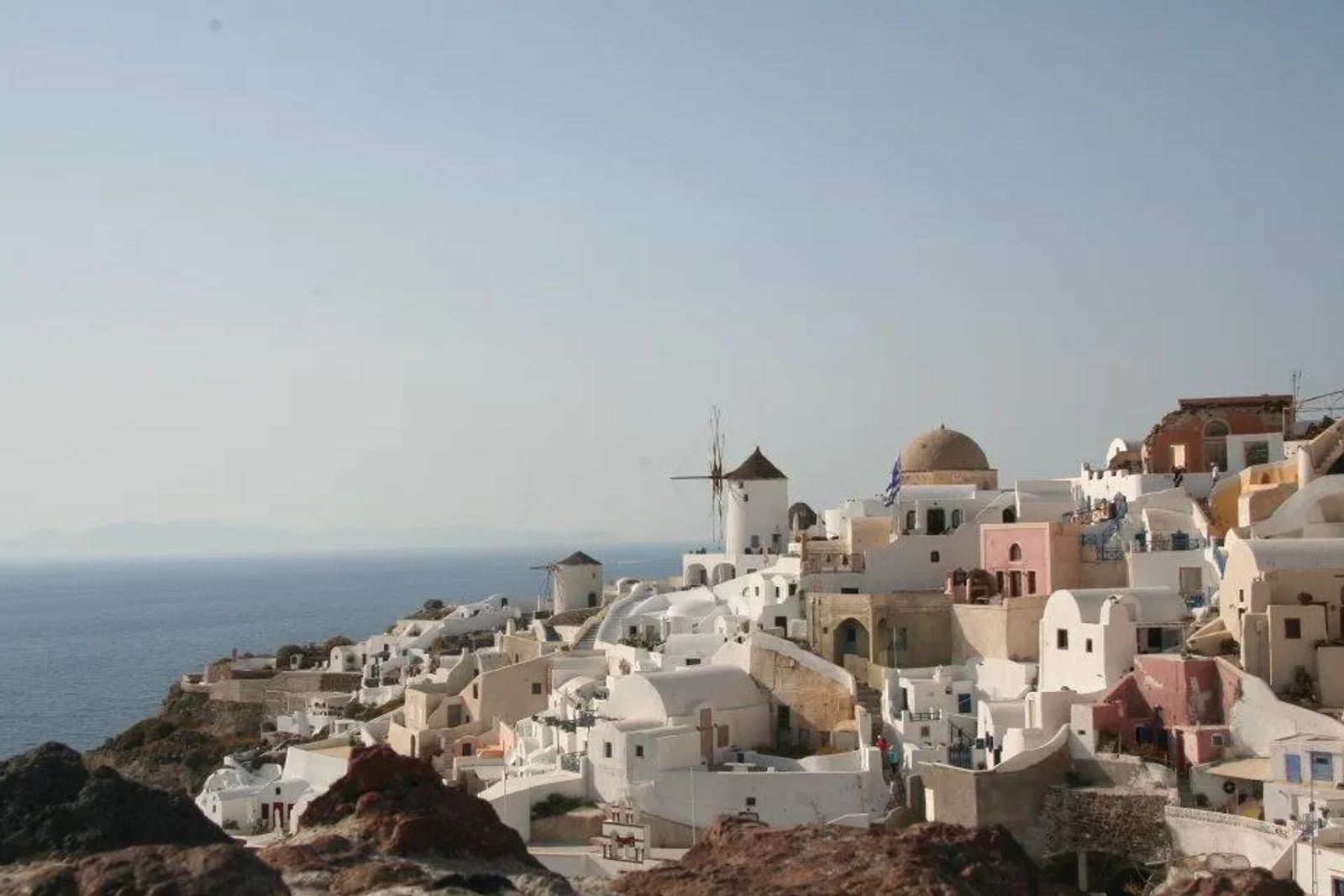 Santorini is a glorious experience that I hope to repeat one day very soon (I really want to stay in the Windmill). The isolation of the island has kept much of the shifting of the Greek culture from being westernized. While I anticipate that this will change soon, I will always hold a place in my traveling heart for this unique and beautiful city.
Where to Stay in Santorini