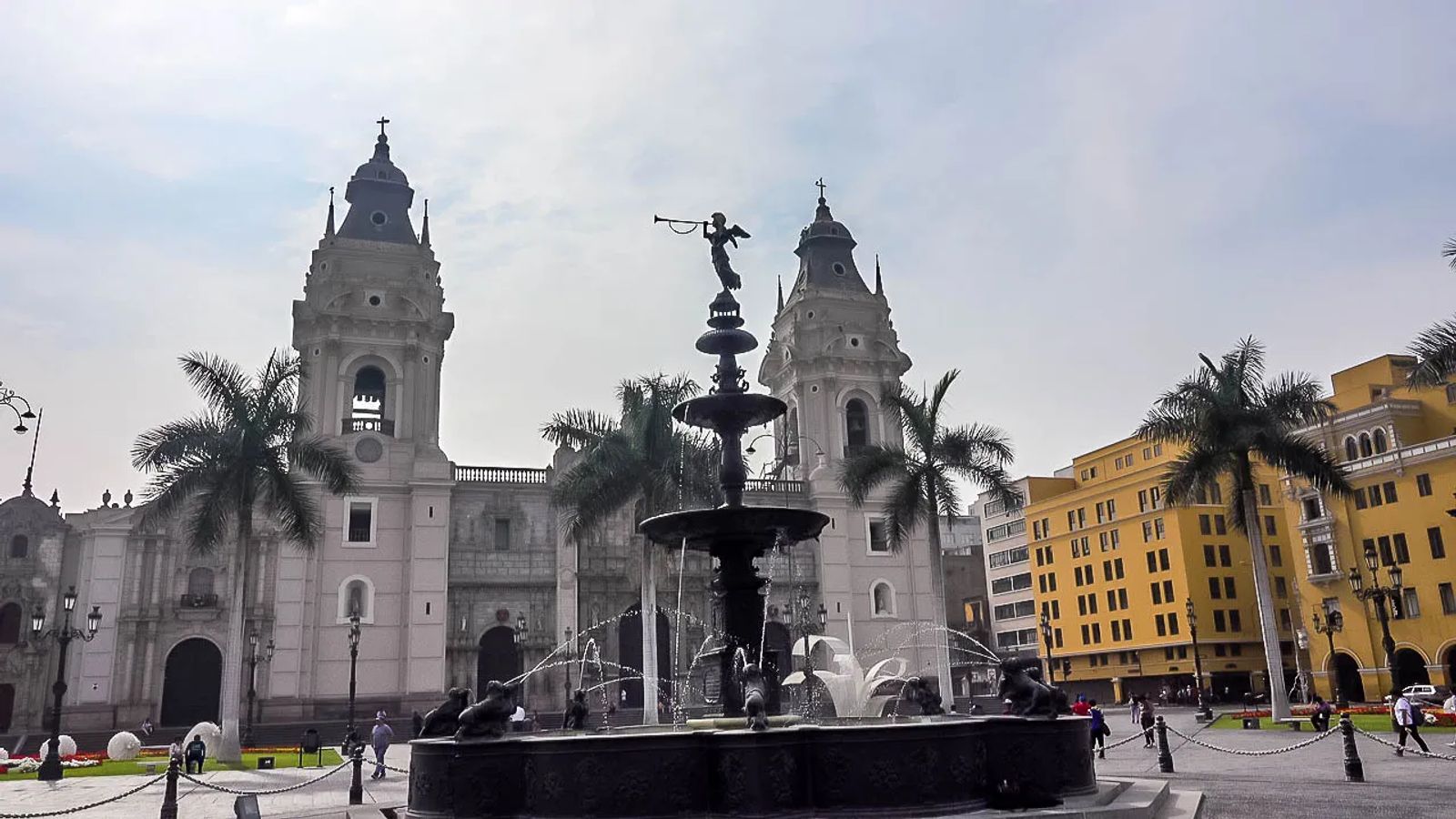 Things To See In Lima Peru, A Love Hate Relationship
Lima Peru is a city that you either love it or you hate it. It was hard for me to write about this city objectively because I had two terrible experiences while there and it gave me an unsavory opinion of the city.
That being said, I only spent 36 hours in the city which isn't truly enough time to properly explore. While This is a place that would be a foodie lovers dream. There is a mix of Oriental, Spanish, and Italian there that makes for some of the best restaurants in the world. If you really want to settle into the culture and have a tour of the foodie capital of South America; then you need more than 36 hours in this city to experience that. For those who may be limited time or are just passing through her are a few Things to See in Lima Peru.
Plaza Mayor and Presidential Palace
This Plaza is centrally located, like many other cities in South America, it was created as a place of gathering to protect citizens against threats or raids. The Central Plaza was a place where the armory was, allowing for maximum protection, and also why it is called Plaza de Armas. This is where you will find a 16th-century fountain that on special occasions is used as a Pisco Sour fountain that celebratory masses can come and take shots from.
There are colorful yellow and white buildings surrounding the Plaza, including the presedential palace, the archbishops palace of Lima, Cathedral de Lima, casa de oidor, municipal palace of Lima Peru, and several others that are basically governmental buildings now.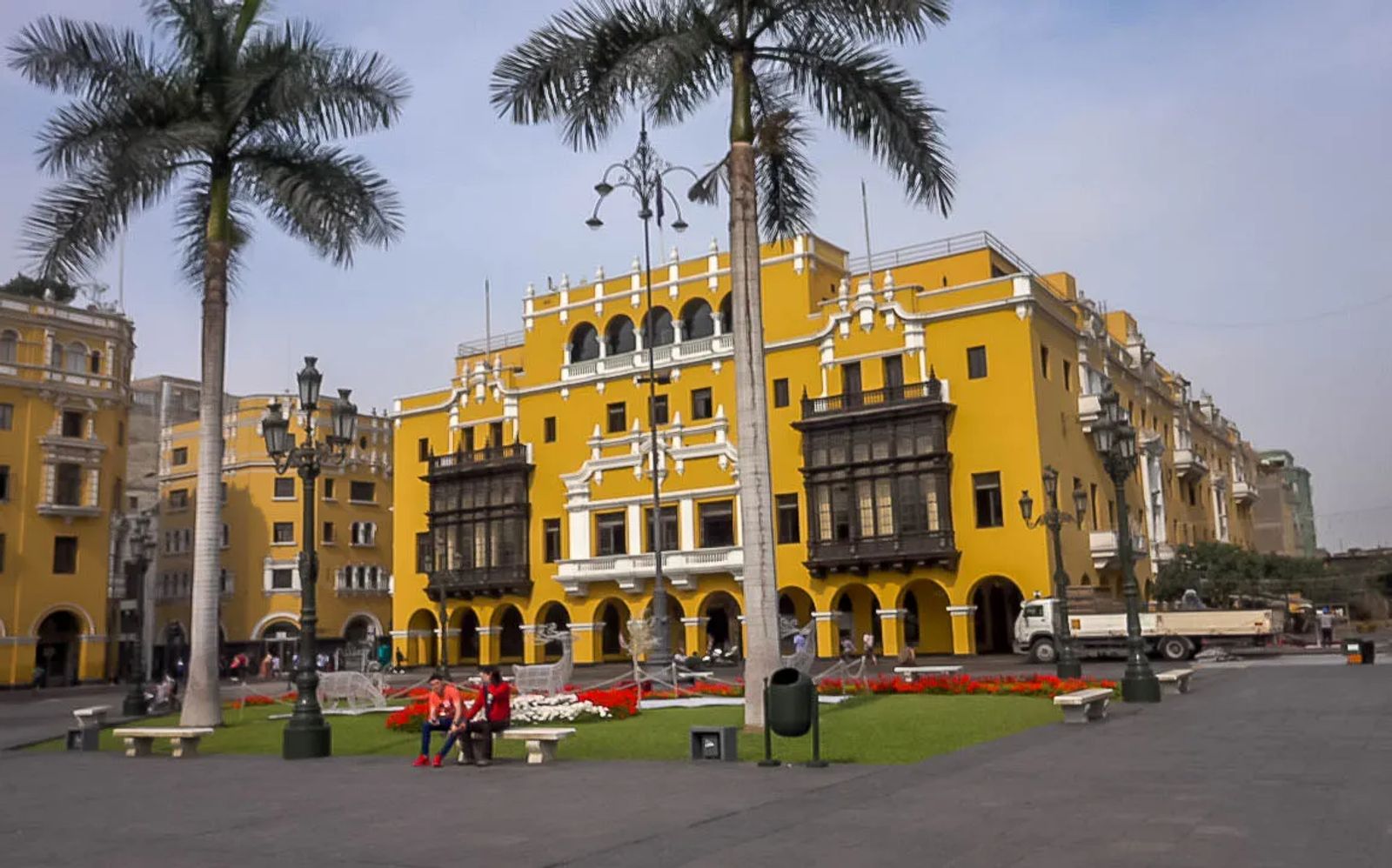 You are allowed into the presidential palace as a foreign visitor, but you have to make a reservation in advance. Those who are Peruvian citizens are not allowed to enter the building, for security reasons. So if you hire a local guide, they will not be able to come inside this building.
Be sure to be outside around noon for the changing of the guard in front of the Presedential Palace. It is a bit of a tourist trap, so be prepared to be crowded out in an effort to see behind the gate.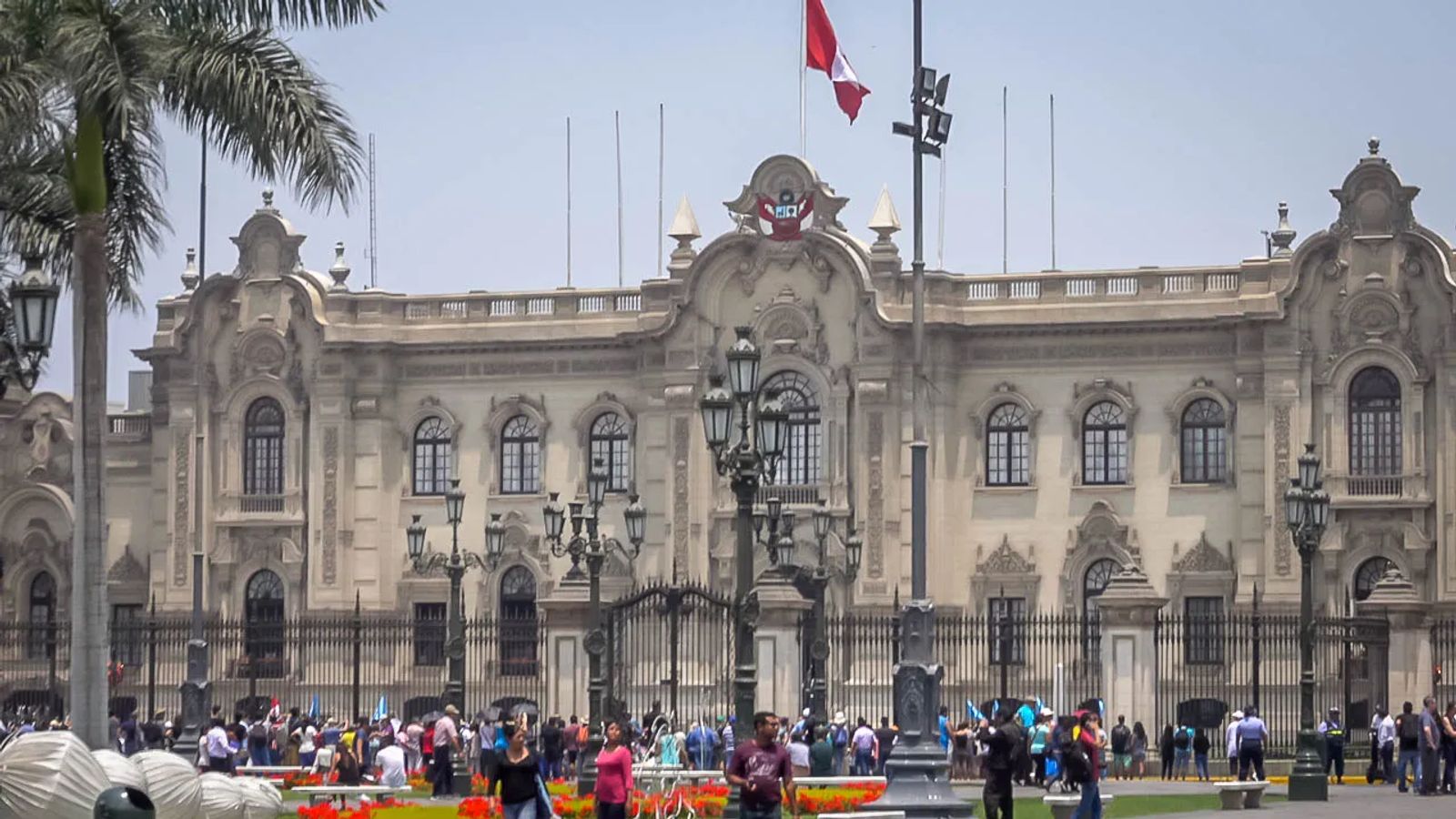 Cathedral de Lima Peru
This Cathedral has undergone many reconstructions, but dates back to the 15th-century when much of Lima was conquered. The man who conquered the Inca empire was Fransisco Pizarro and his tomb is located in this building.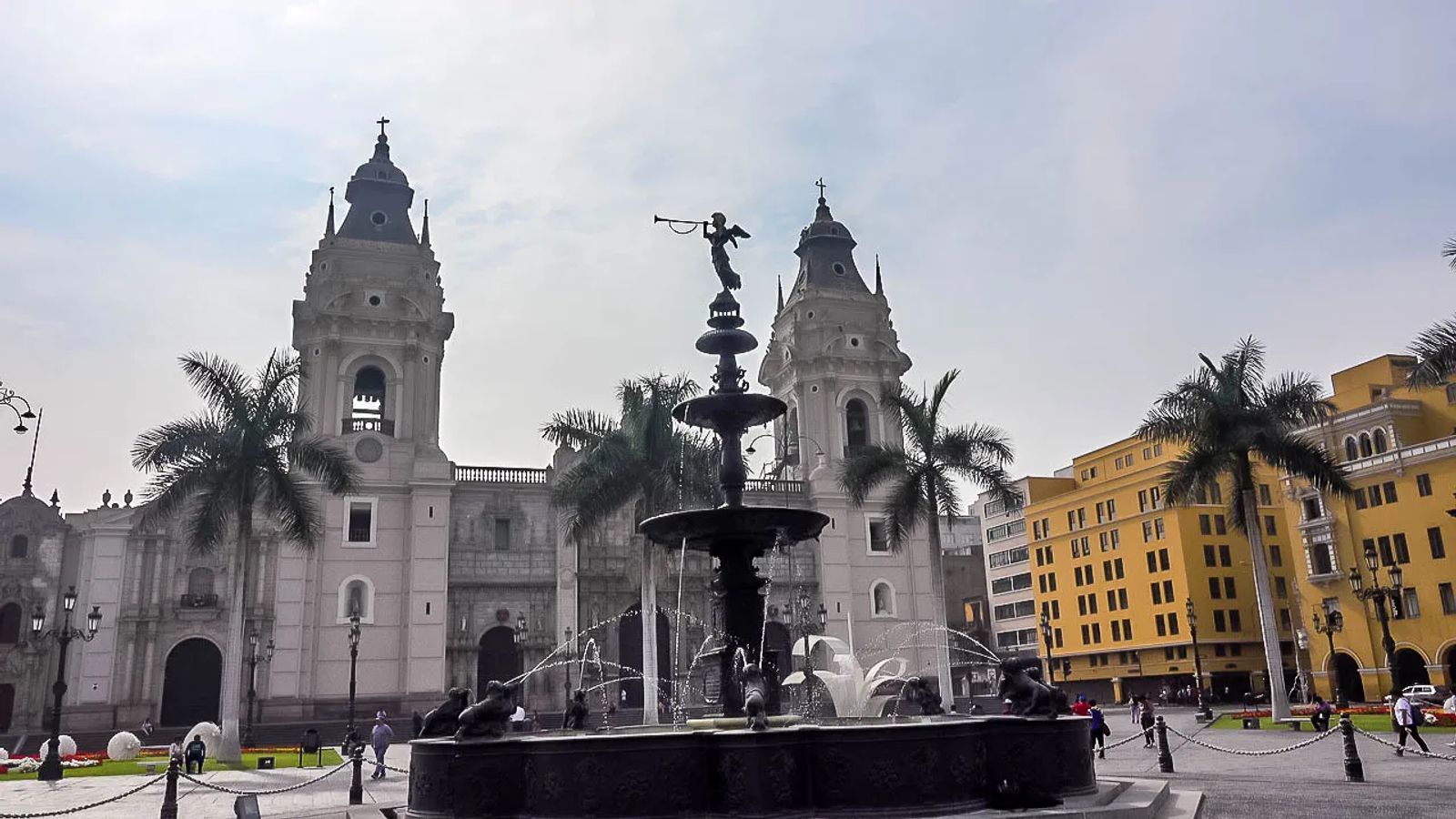 There are several different chapels, aisles, and nooks that I encourage you to explore while there. We didn't get to go into this cathedral because it was closed for the Christmas holiday festivities. So if you go to Lima, try to avoid going in December as many sites are closed (this is a theme throughout South America due to their religious devotion).
Panchacama Ruins
The Panchacama Ruins are some of the best preserved Inca ruins because of minimal rainfall in Lima Peru. Lima itself only gets about three inches of rainfall per year. Many of the buildings being excavated here still have the plaster on them, some have needed to be reconstructed because of housing that was built on top of them illegally. As more tourists visit, more funding is allowed for these ruins to be excavated and restored for more touring. There are also many artifacts that were found in this area that are now in the Lima Archeological museum.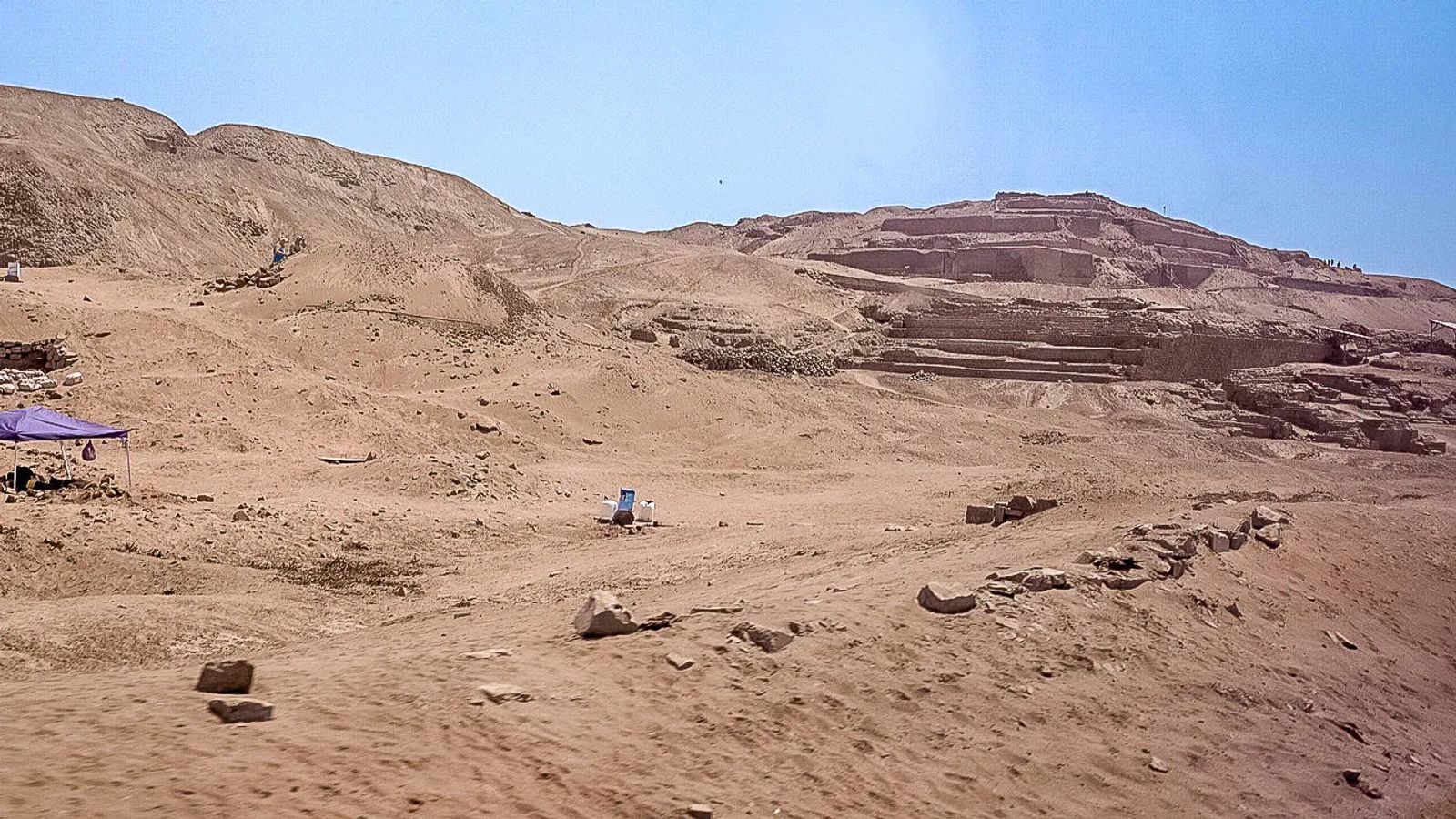 The best preserved ruins are those of the Sun Temple and the Moon Temple. I enjoyed seeing the Moon temple the most as this is where you could really see the trapezoidal shapes of the windows which are classic Inca shapes. The temples of the Inca's were always themed around nature, the sun and the moon being of the highest importance, and then the mountains, rivers, and ocean.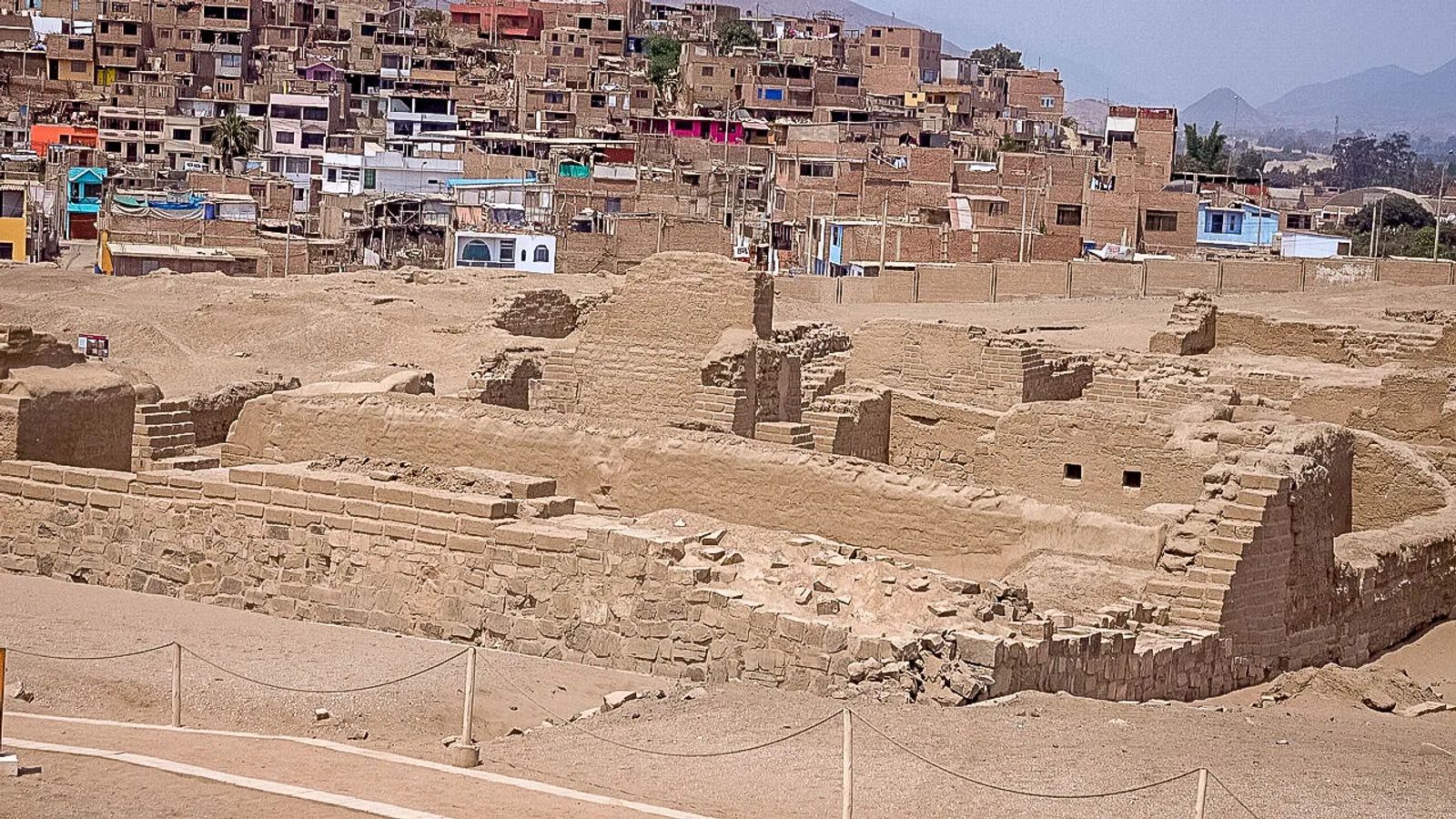 To get here you need to hire a taxi driver, but make sure they are a legitimate taxi driver. Their car should be in fairly good condition (no ripped seats), there should be a sticker on the right hand side of the front window with a seal. The cost of the trip should be printed on a card for you to look at. You can typically negotiate with them to get a discounted price, but anywhere from $35-$45 for about 4 hours at Panchacama or city tour should be a fair deal for both you and them. Cost of living is just as expensive in Lima (believe it or not) as it is in the United States, they just get paid much much less.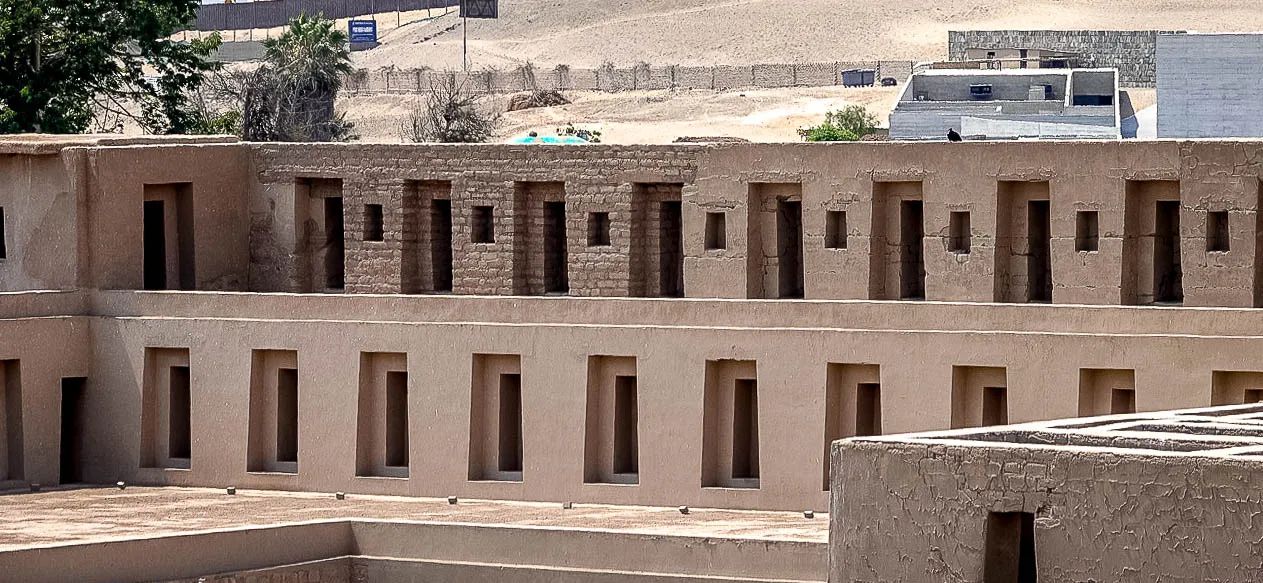 There were two contacts in the Lima Peru and Pisco Peru area that I would recommend as I felt they were honest, and accomodating and spoke enough broken English to get to where I needed to go. If they are unable to take care of you, then they will arrange something for you.
Juan Carlos Verde Vargas (CoCo)
Telephone: (01)3892687
email: coco_prince18@hotmail.com
on Facebook as Juan Carlos Verde Vargas
Tours available via Taxi (three people max): Lima City Center, Museums, Panachacama and Caral Ruins, Airport Transportation services, Water Park (famous night time water fountain), and Pisco/Paracas Preserve
Carlos Gallegos Guillen
Telephone: WhatsApp & Telephone (+51)975 011 830
Personal email: carlosturismo14@gmail.com
Work email: transporteejecutivo14@gmail.com
Tours available via car, van, mini bus: Caral and Panchacama Ruins, Nazaca Lines, City Tours, 24/7 service, Huacachina, Water Park, airport and ground transportation
Basilica y Convento de San Francisco or Saint Francis Monastary
This church and convent were added to the UNESCO World Heritage list in 1991 and was my favorite part of Lima Peru. At first glance, it looks like a small unassuming church, but after spending nearly an hour in this church and convent I realized how large it was. If you want to see the crypts, be sure to reserve your ticket in advance and be aware that you have to have special permission to take photos within the crypts.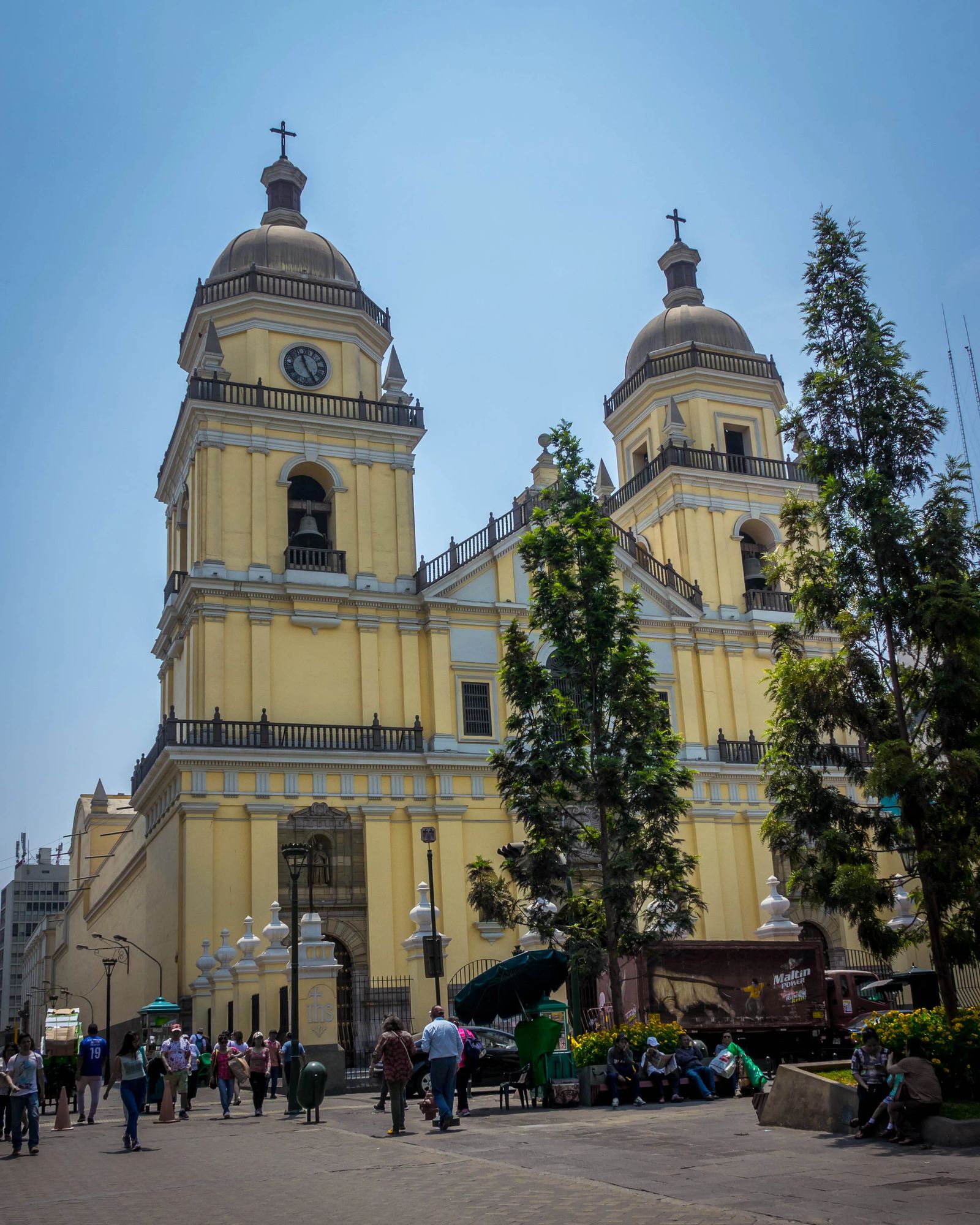 As you head down the isles of this church you will be surrounded by intricate gold arches and checkered flooring. It instantly made me immediately compare it to the Hall of Versailles. There were so many tidbits that are precious to the Peruvian people here. Being just before Christmas, the confessions lines were quite long, with red lights indicating when a priest was busy consoling or taking confessions. It helped me see how dedicated and devoted the people are to their religion here, and left a positive impression because of the devotees.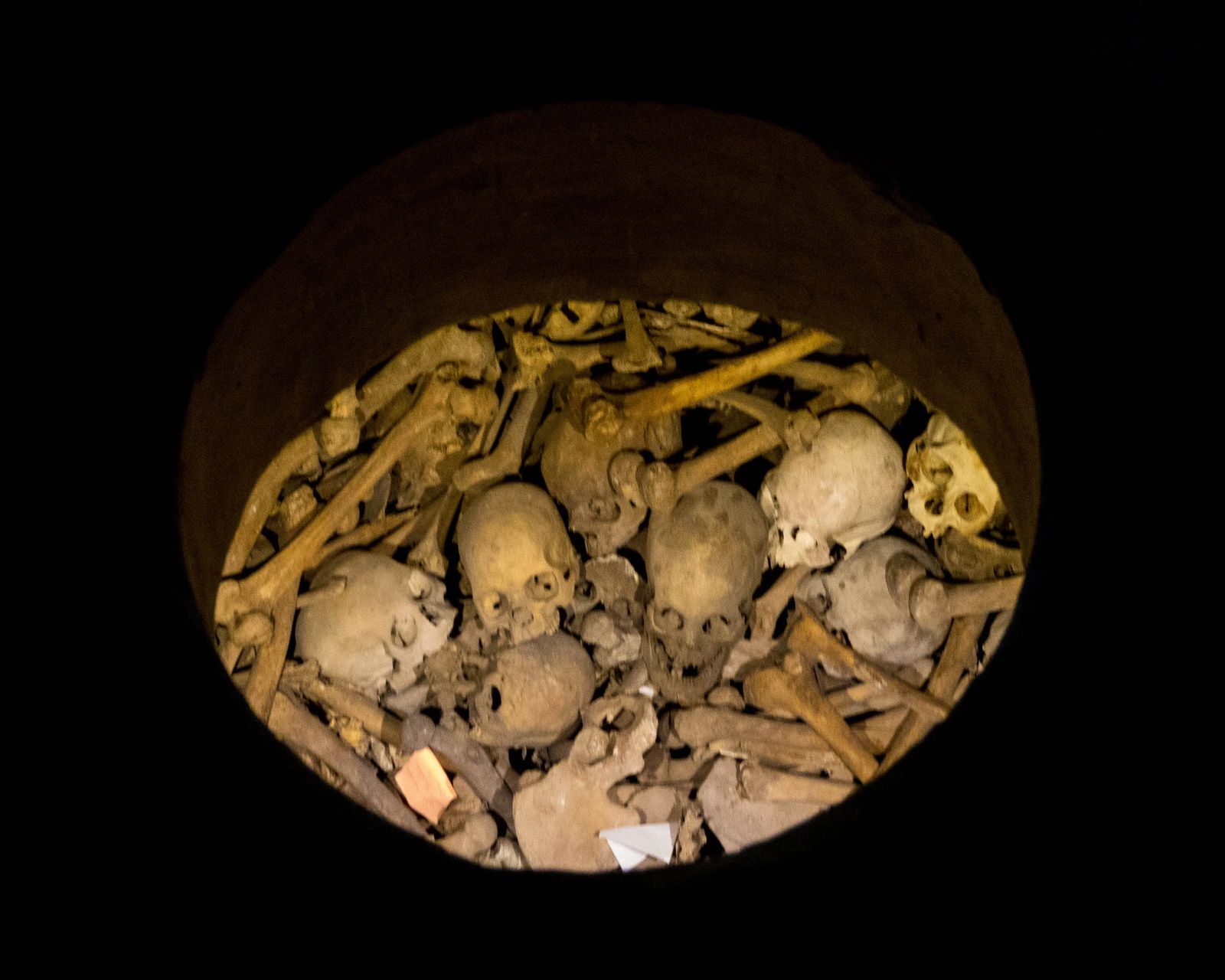 Winding around the building admiring the large tombs, with relics at each juncture that were brought over by the Spanish. It was hard to imagine how a church like this was built and how much money went into making this.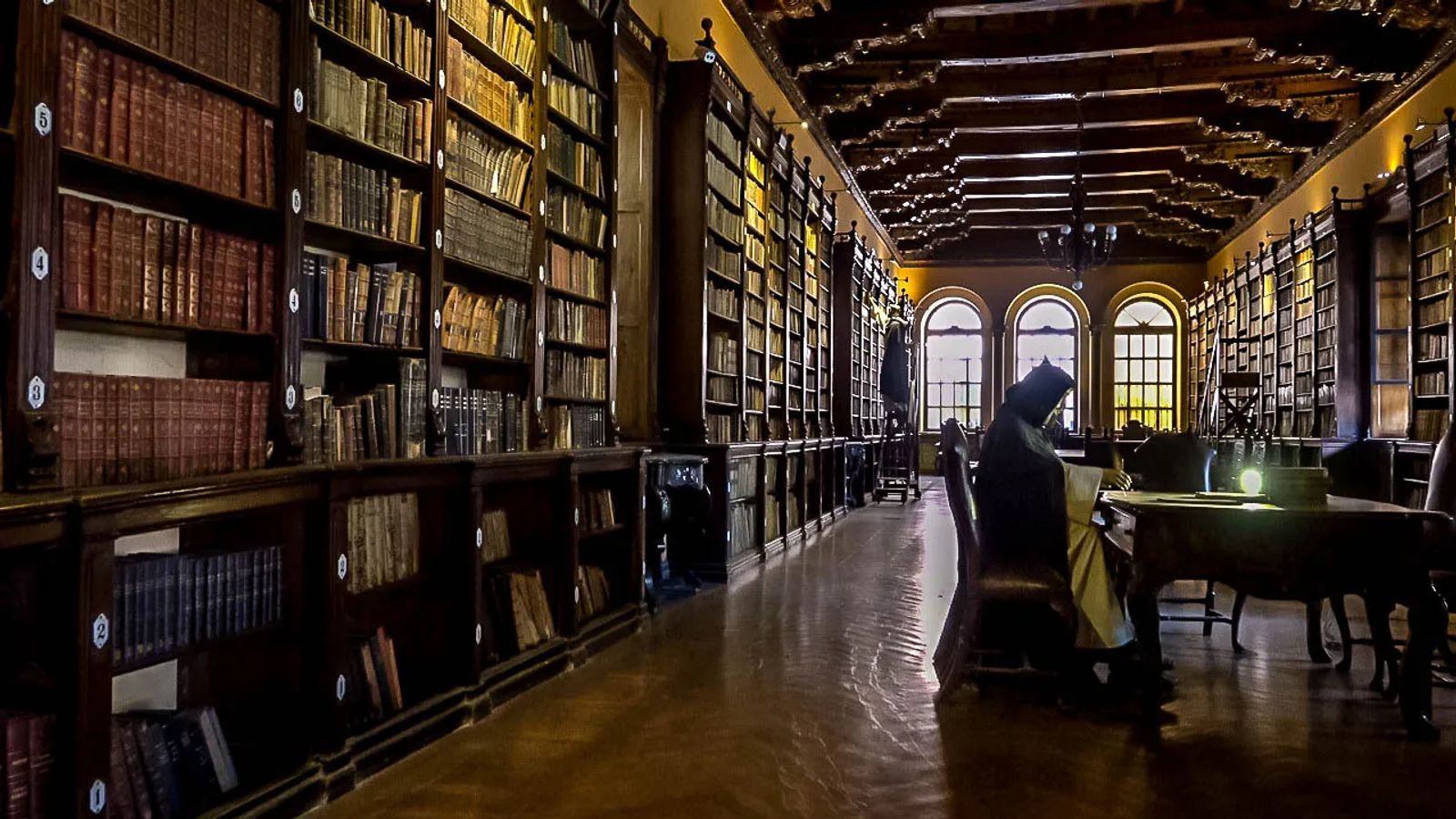 The Library here holds over 25,000 books printed overseas and brought here rest on the shelves that line a soccer field sized room full of shelves. The security here is minimal, but a sign near the exit deters anyone from trying anything in this room; the sign reads, 'If a book is taken from this room, you will be immediately excommunicated from the church'. The literary antiques are well preserved and cared for by all of its citizens, and can only be seen if accompanied by a guide.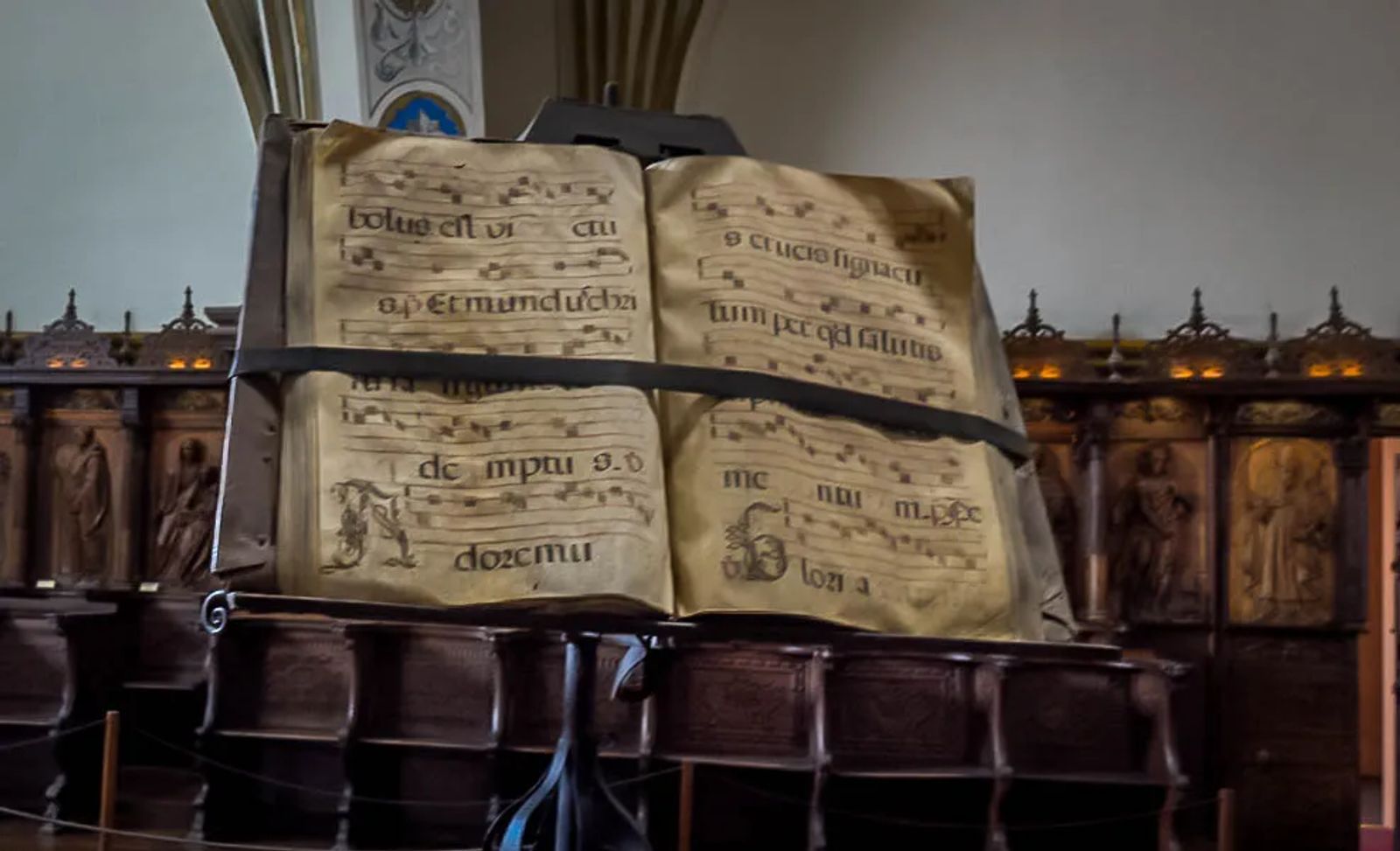 Balcones de Lima
The balconies are a major symbolic heritage for the city from the Spanish colonial era. I didn't really understand why they were so important until I saw them in person. The balconies are a lot more ornate than you can see in any photograph. They are still made from the original wood from the 15th and 17th centuries. I was stunned at this historical tidbit, and had to ask our guide twice on if there was any restoration at all that had been done. He smiled and denied any restoration having altered the original wood, 'It is incredible how well preserved they are, isn't it. You can't even tell they are old', I had to agree with him. On the whole I think this is true of Lima, it is hard to tell that it is an old and ancient city because you cannot see the wear and tear of time on the structures.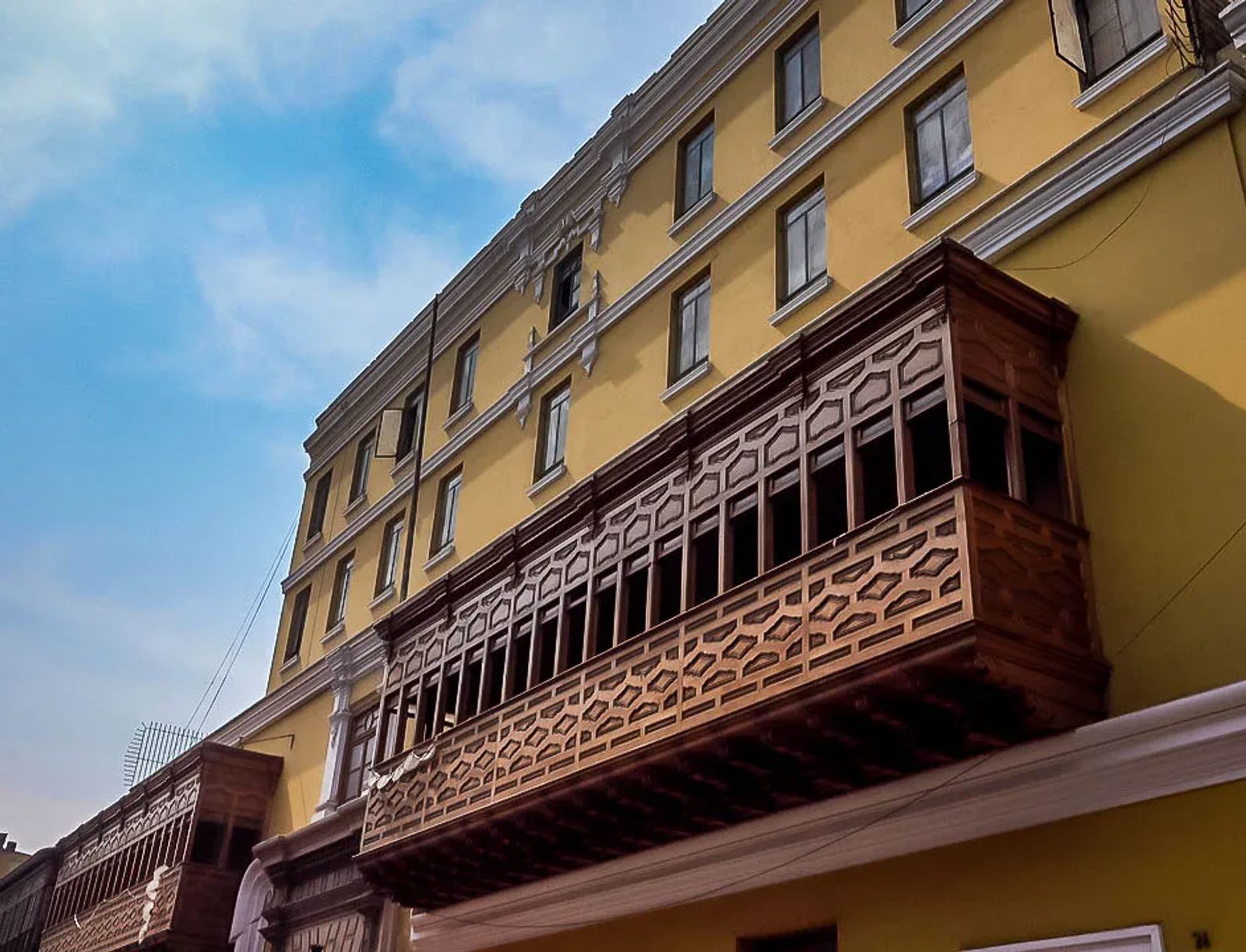 Against the backdrop of blue, pink, and yellow buildings the dark balconies make for beautiful streets in the center of Lima (and perfect photo opportunities). These were another integral part into why the city center was named a UNESCO heritage site.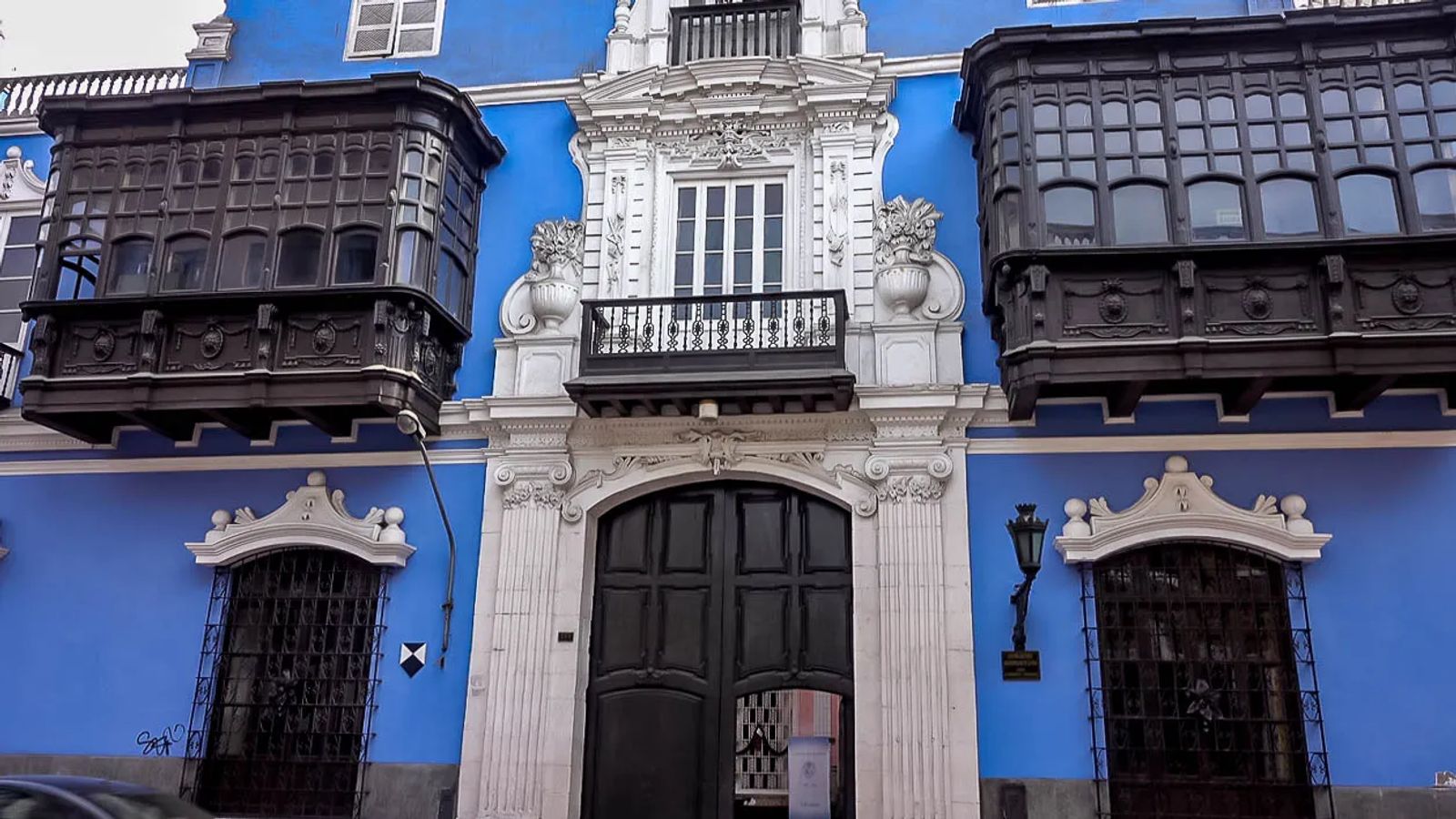 National Museum of Archaeology Anthropology and History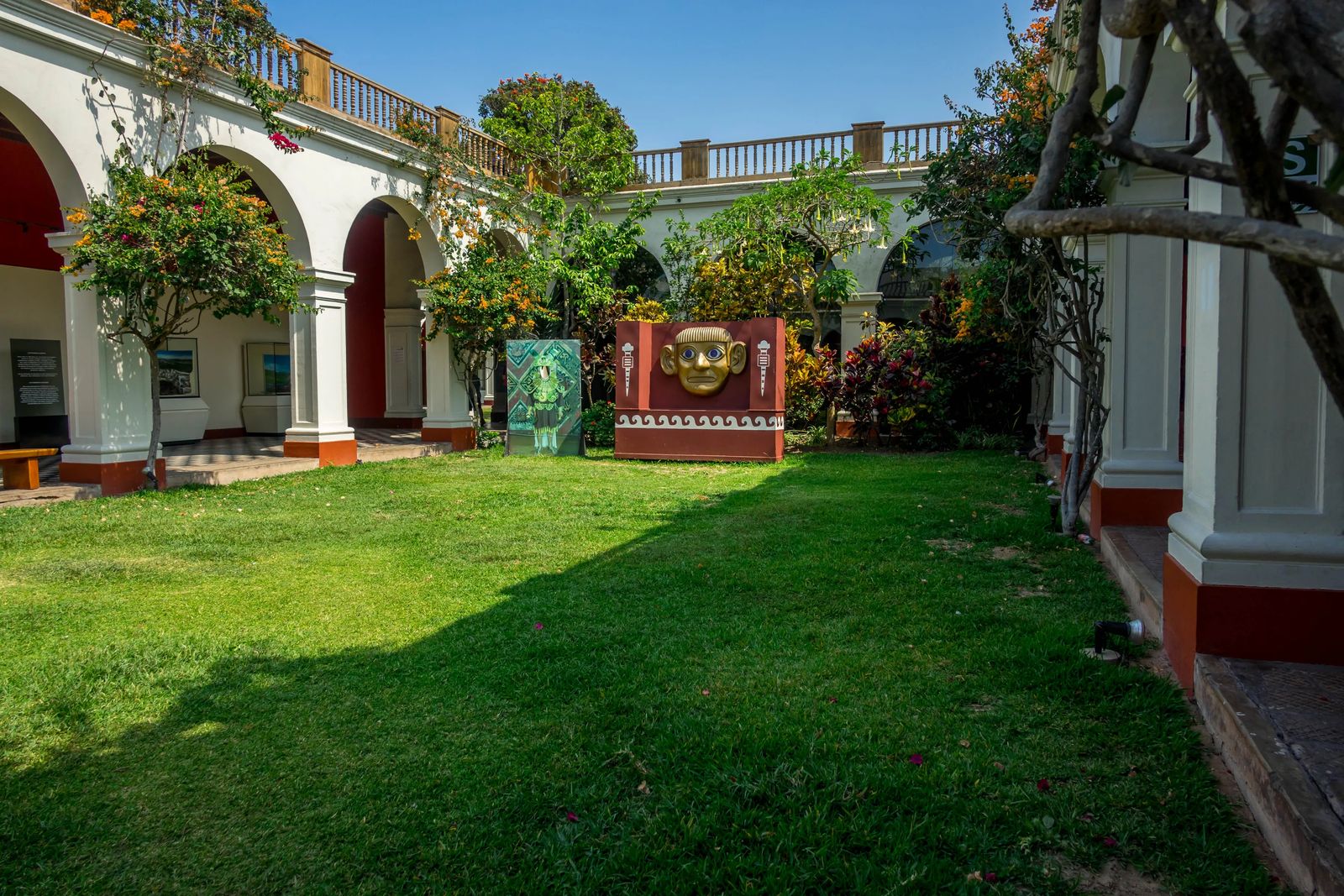 There is so much in this building that helped me understand the rich cultural heritage that Peru has. The history goes beyond just the famous Inca Ruins in Macchu Picchu. This will show you how they kept records of shipments, what accounts were owed, how different hats represented different social statuses, what other tribes lived in the area and how they contributed to such a stable empire.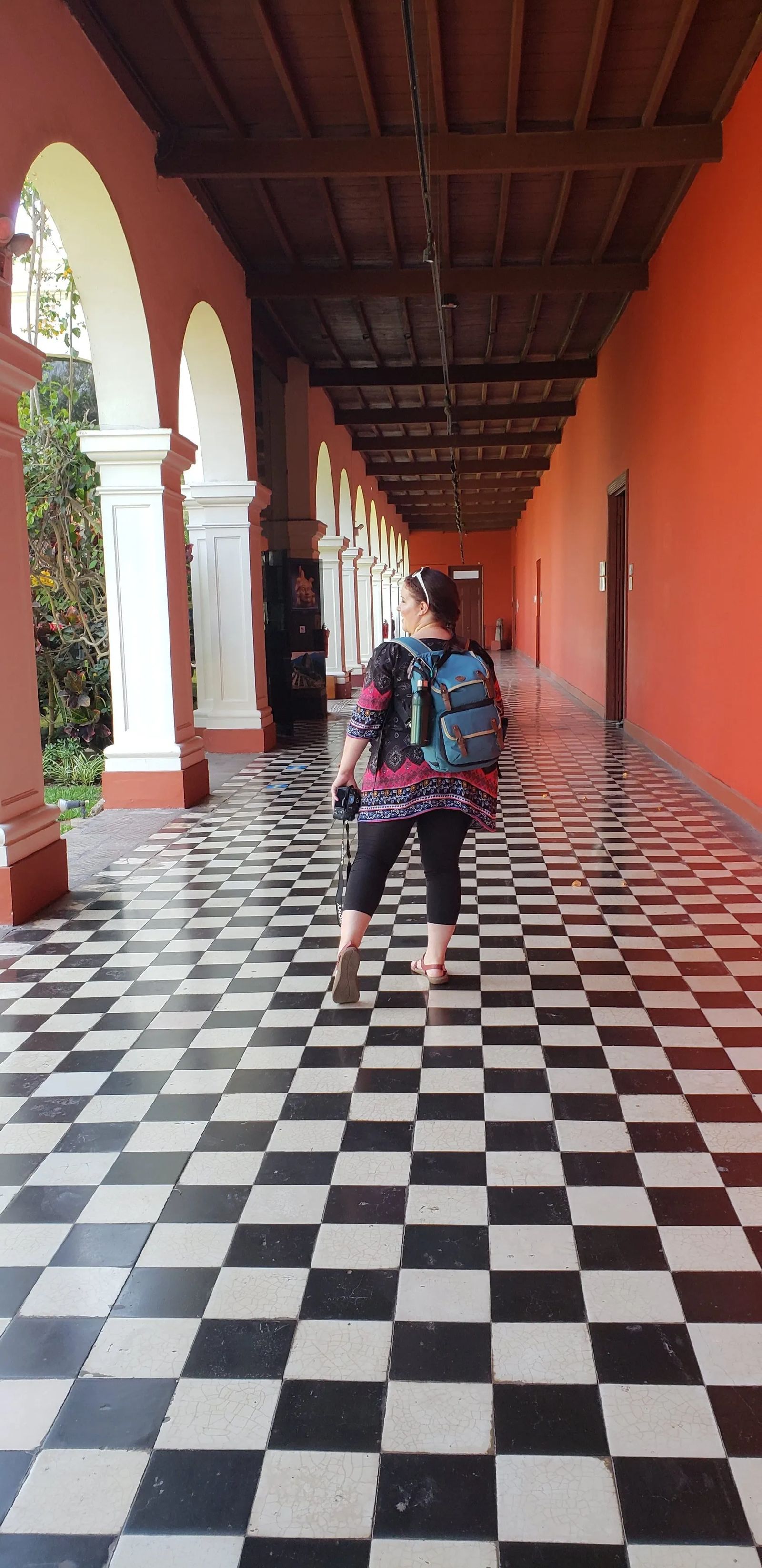 I was thoroughly impressed with this museum, but felt sad that a whole wing was destroyed in 2008 from an earthquake that they are still rebuilding from. The museum itself is free, but I would recommend making a donation of some type to help them rebuild if you feel so inclined.
Monastery of Santo Domingo in Lima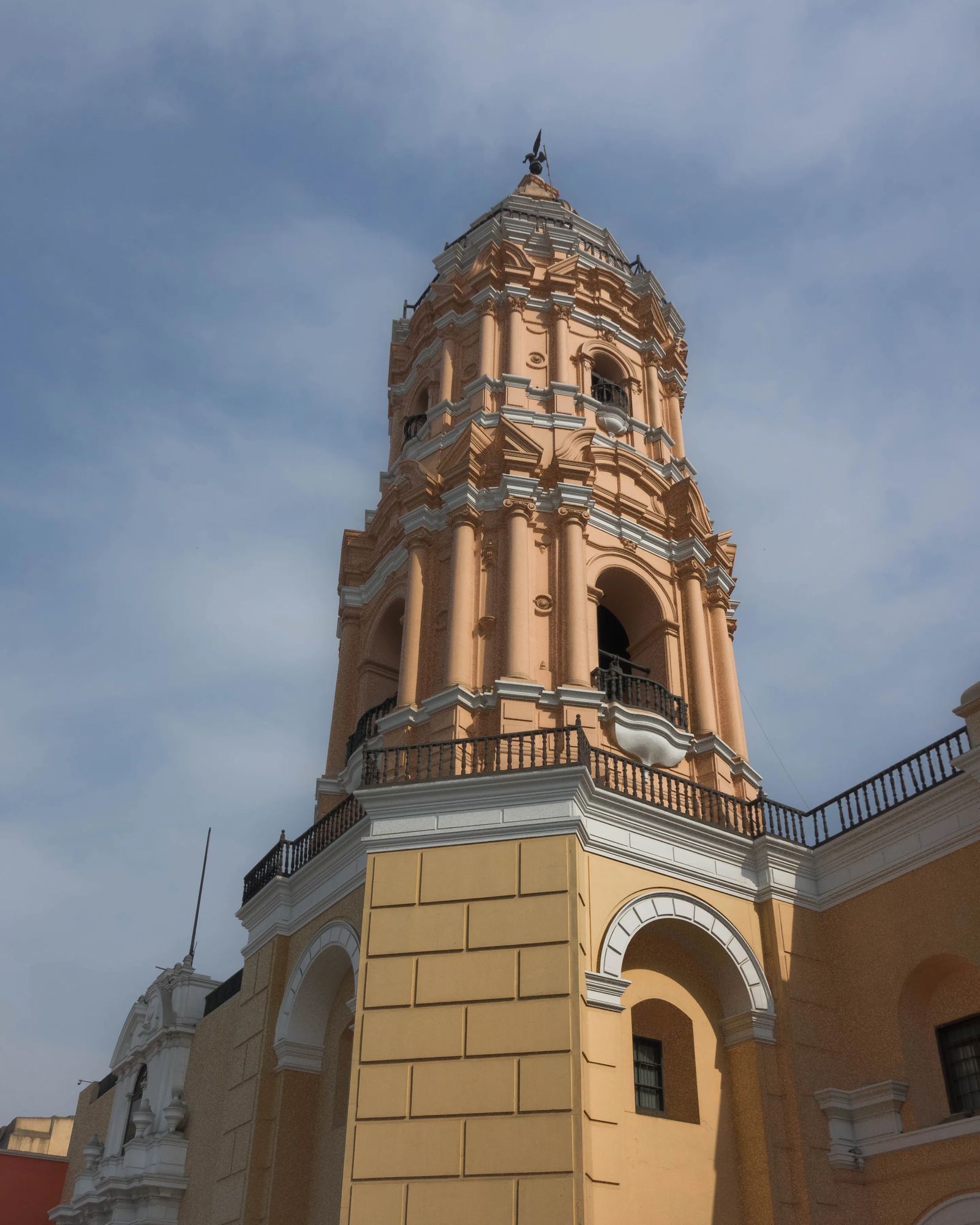 It is worth it to hire a guide as they will take you up into the Bell Tower with a fabulous overview of the city. In the Bell Tower, you are able to see the Red stadium where bullfighting once took place, a map of the old city on the way up to the Bell Tower, and about 500 steep steps to the top (to work up an appetite for ceviche for later).
Finish off the tour at the central garden where there is plenty of opportunities for photos. In the center of it is a fountain and a rose garden with a perfect view of the Bell Tower from below.
Church and Sanctuary of Saint Rose of Lima
Iglesia y Santuario de Santa Rosa de Lima or the Sanctuary of Saint Rose of Lima is an important church for the people of Peru. She is the Patron Saint of both Peru and the Philippines. This incredibly dedicated sister set up, a hospital within her parents home to help care for the poor and needy.
With so many souls migrating from Venezuela and other neighboring countries this church is frequently visited for supplication to God through this Saint. Santa Rosa de Lima was the first person in the South Americas that was cannonized as a saint.
As a young girl, she worshiped Saint Catherine of Siena, fasted three times per week and would administer severe penances upon herself in secret. It is said that a servant saw her playing in the garden one day and swore that she saw her transform into a rose. With these two stories in mind, this is why you often see this Saint with a crown of thorned roses on her head, with drops of blood dripping down her forehead.
Iglesia y Convento La Merced
This is the Church and Convent of Mercy, mainly due to the Blessed Virgin Mary of Mercy, the patroness for the Peruvian armed forces is venerated in the Basilica.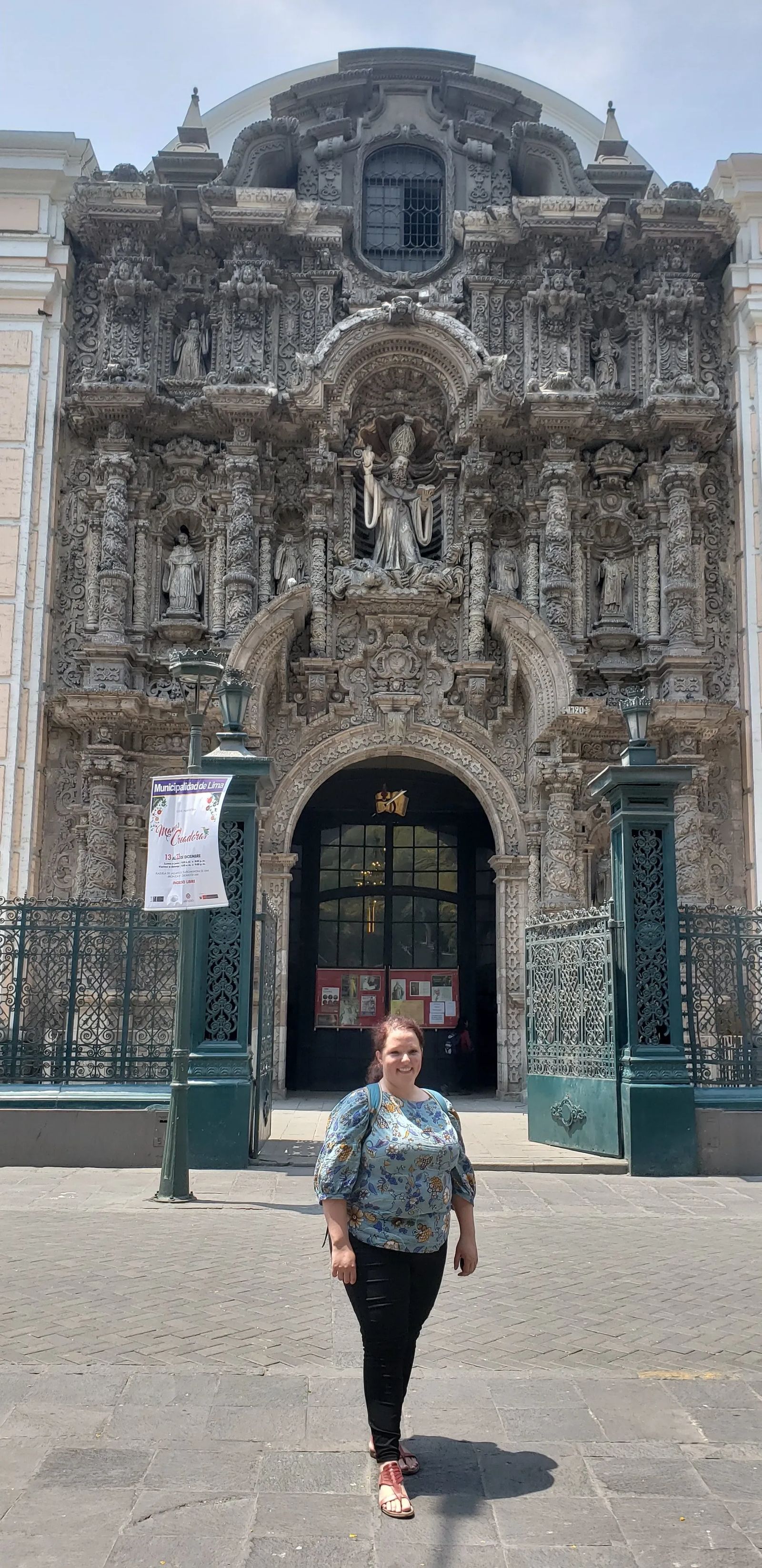 This church is located along a busy shopping area between Plaza Mayor and Plaza Martin. It can be a quick stop to enjoy some time out of the heat; or it can be a nice spot to enjoy a bit of quiet time from the busy shopping streets.
Indian market for the Souvenirs
There are many markets in Lima, even a giant mall with all of the usual high end and brand name clothing and purse companies. The Indian market is where I would suggest going for a more culturally authentic experience.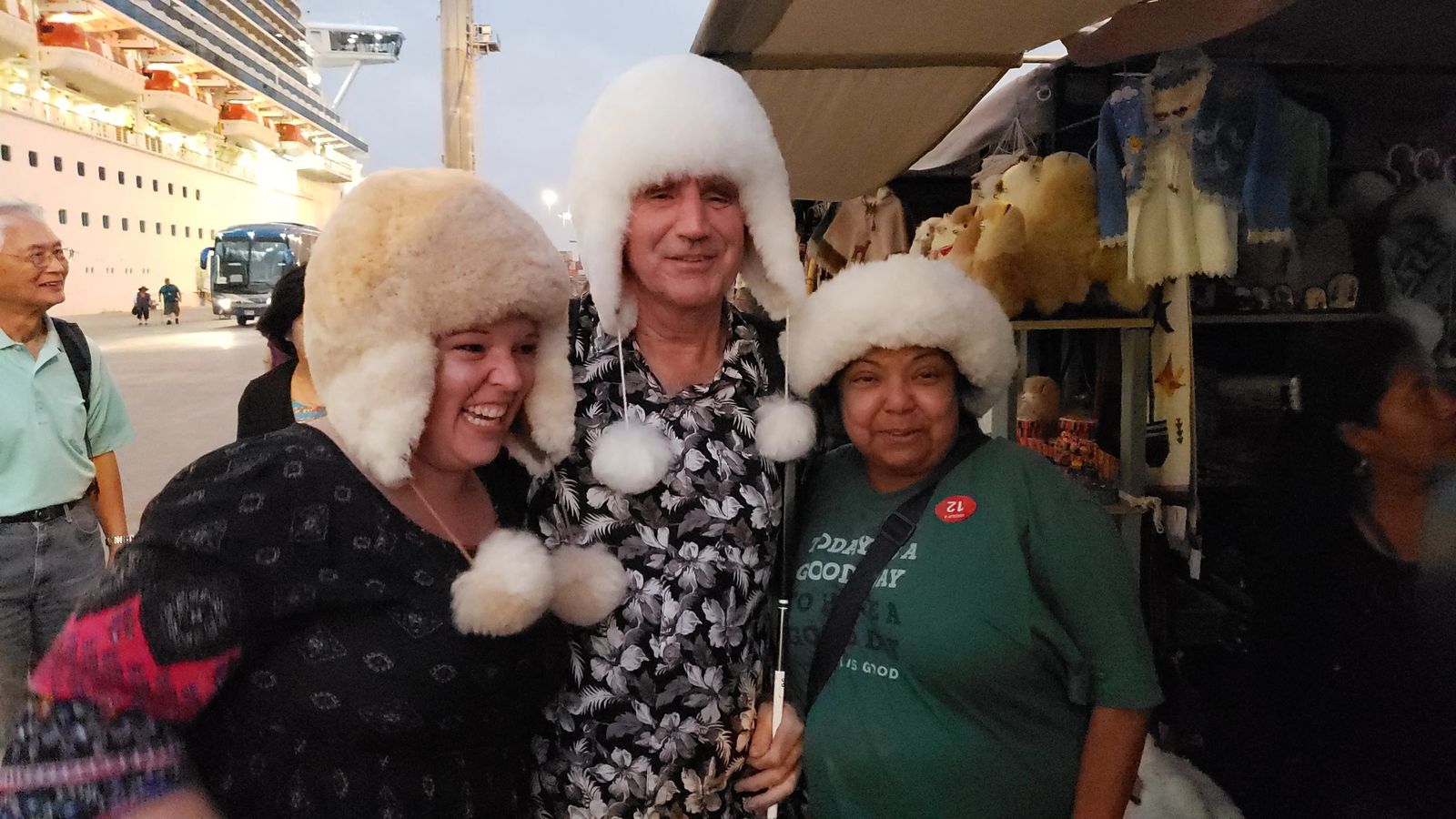 Here is where you will find all the alpaca fur you could want for those cold winter days. The better quality fur that is not as easily damaged, stained or matted is the baby alpaca; which is more expensive - but you can feel the difference in the fur. I like to pretend that they just shave the animal's furs and don't use their hides to make the hats - but I will leave it up to you if you would like to buy them or not. Sometimes buying these things is the only way that the locals can feed their families or keep a roof over their head. So before you give them (or me) a lecture, just try to think about that.
They only accept cash in these markets, and some cards if you are lucky. If you need an ATM, there is a hotel a short walk down the street (a two story black building) that has an ATM in the lobby where you can withdraw local currency from it.
Palacio de Torre Tagle
This is a Spanish Baroque Palace it is a couple of blocks east of the Plaza de Armas. The palace currently is home to the Peruvian Ministry of Foreign Affairs and hosts more of the famous wooden balconies.
Don Jose Bernardo de Tagle y Bracho is the one who commissioned this palace in 1715 for his own personal use. I guess being the treasurer of the Royal Spanish Fleet would have allowed him to build himself a private palace.
If you are with a guide in Lima Peru, the policemen will let you come inside for a quick look. It is a two story building with an open center plan, and Moorish stylized wood cut into the 2nd floor balconies. Although the outside is pink, the interior is a rich yellow. As you leave the interior there will be a small alcove on the side where the original carriage Don Jose Bernardo used in the 17th century behind glass.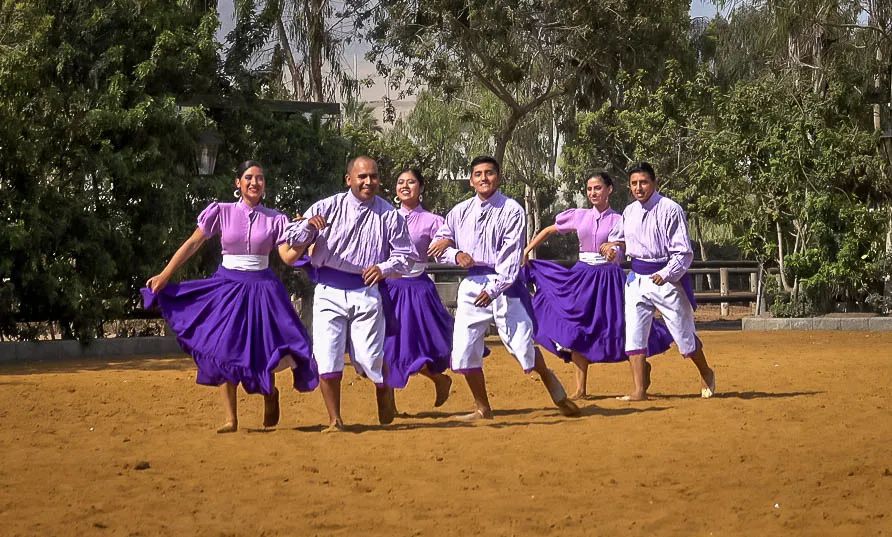 Peruvian Prancing Horses & Dancers
Right next to Panchacama ruins at Hacienda Mamacona which is a bar, restaurant, horse arena and dance exhibition. This is where the Peruvian Prancing Horses and traditional dancers will enthrall you with food, drink and a show. The dancers were my favorite part, showing us the marriage dances, the dance of the devil (diablo) and several other traditional dances of the Peruvian people.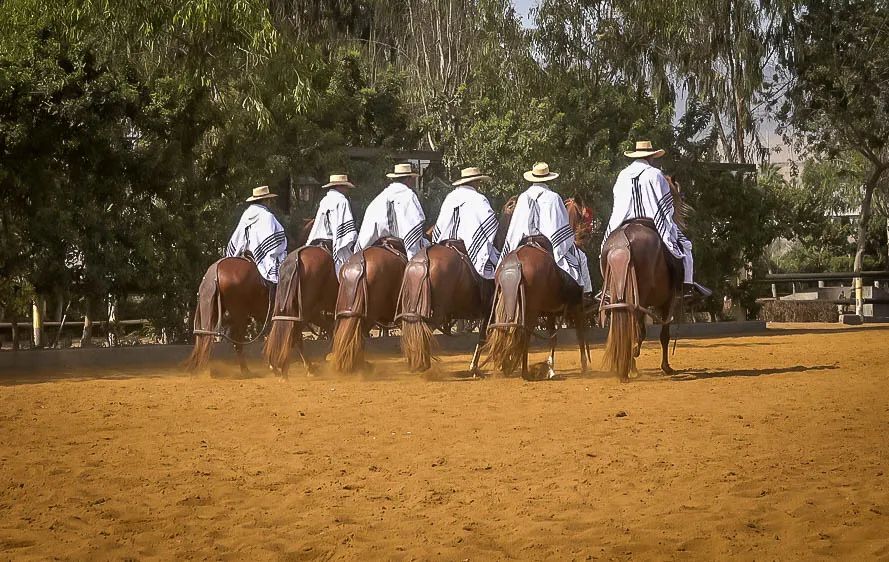 The Peruvian Horses put on a grand show for us. They have a unique gait where each foot is placed at different times on the ground; this allows the rider to barely feel any jolting and can ride evenly, even at a canter.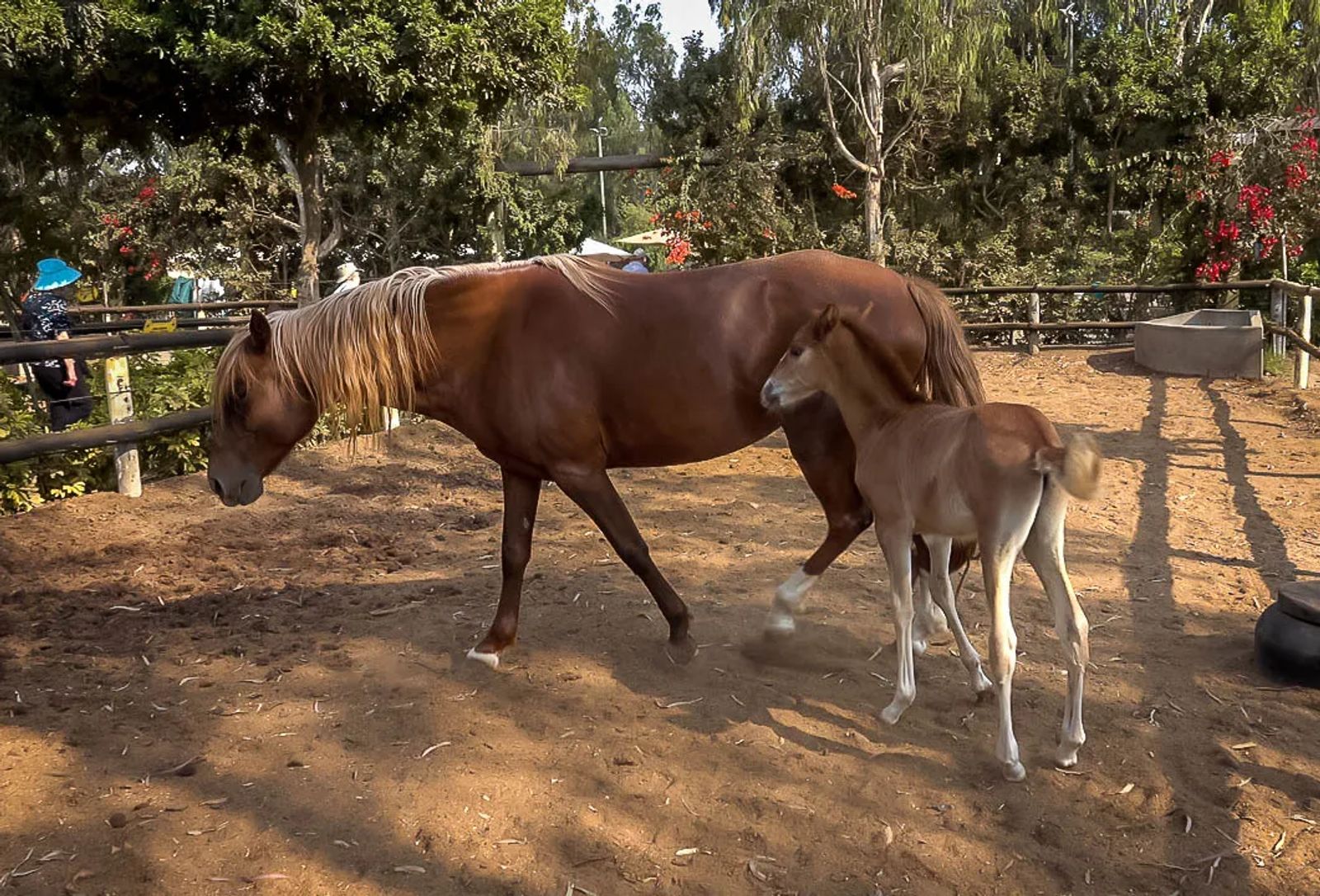 You are able to ride one of the horses if you wish (at an extra cost), but due to time constraints, we were unable to do so. The Lunch Buffet was good, and very filling and can also be provided along with a Pisco Sour. Please be advised that the Pisco Sour drink is VERY strong, so if you drink more than two you will feel tipsy. There is a saying in Peru: One Pisco is relaxing, Two is a good time, Three you're on the floor, Four you don't remember anymore.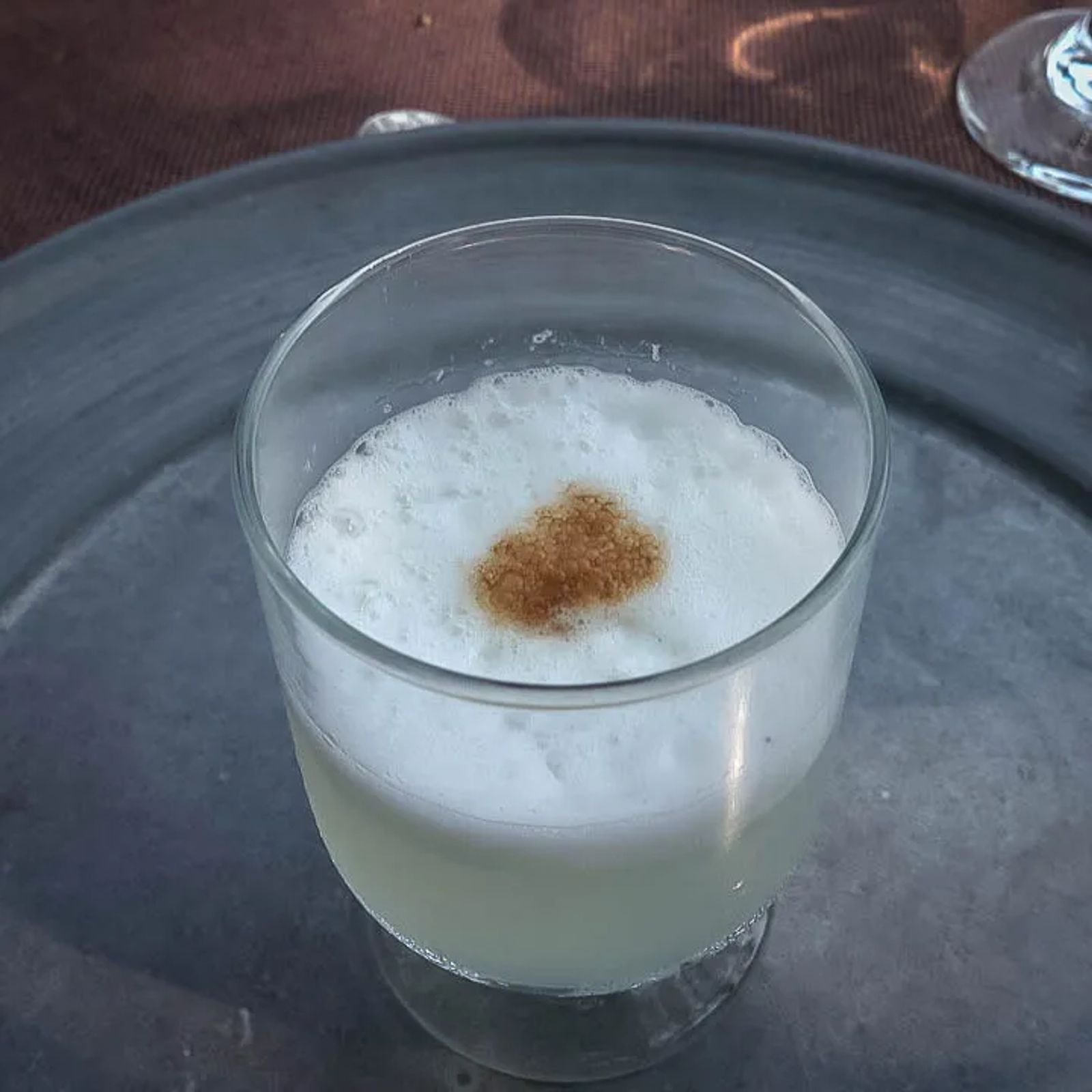 Miraflores and the Costa Verde
This is the posh side of Peru, and where you will have the best views of the Green Coast. Walls are lined with vines placed there by the city to help with erosion that sprout purple flowers in the spring and summer. You can go to the Parque de Amore, to see some local PDA and get some fabulous photos of the art installments there.
Traveling Solo? Try your hand at paragliding along the coast, or suit up for some of the best surfing in South America. There are international surfing competitions that are held here every year.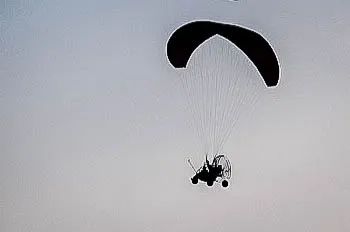 This area seems to be the Hollywood Blvd of Peru, and the cost of the apartments here are astronomical to the Peruvian budget at least. Apartments here can cost anywhere from $1800 to $2700 a month. Given that the prices of apartments are so high, this is generally a very safe area to relax and explore.
Final Verdict on Lima Peru
Lima is not the city for me personally, I didn't like how terrible the traffic was (20 minutes per one mile - and I'm not exaggerating). In addition to the traffic, I had two different people try to scam me which made me feel unsafe, and it really ruined my trip. On the other hand, I only had 36 hours in Lima, I didn't go to any of the top restaurants, and wasn't able to see Reserva Paisajistica Nor Yauyos-Cochas like I wanted to.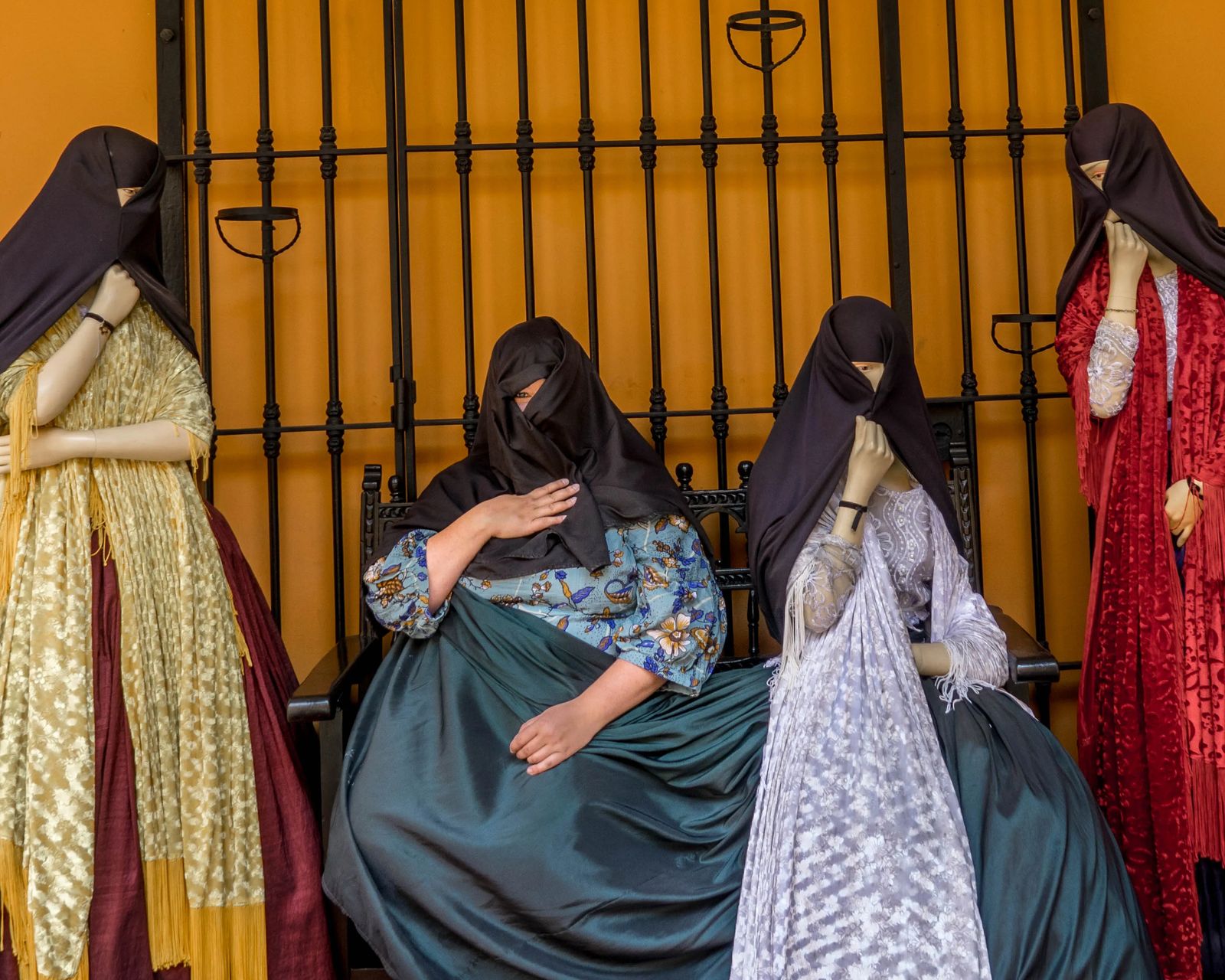 The part that really made me have a sour mentality towards Lima was while at Hacienda Mamacona for the Peruvian Prancing Horses. A woman blocked a blind man and woman (my friends) I was traveling with from going into the bathroom. There is nothing that makes me more upset in this world that people being downright rude to those who are disabled.
I asked her in Spanish why she would not let my friends enter the restroom and she told me that our tour group was disturbing her party. After this explanation from her, I helped my friends shove past her and ignored her protests. While I know this was just one individual, and I shouldn't judge the city as a whole based on her actions. It is very hard for me not to when someone is so unkind and rude for no reason to me and my disabled friends. The mother bear in me seems to come out when my friends are mistreated. I have patient's who are disabled and I KNOW how much courage it takes to not just get out of the house - but to travel on their own.
I don't think I will ever return to Lima Peru because my first impression was downright frustrating, to be honest. For those of you who may be visiting or passing through Lima, I think 24-48 hours is the maximum amount of time I would recommend and would HIGHLY suggest hiring a legitimate tour company so that you won't get scammed by tour guides or taxies.
I tried VERY hard to like this city, so I hope you will be able to have a wonderful time there given the suggestions I have outlined here. Be sure to find a Hibachi grill, ceviche and of course a Pisco Sour. After touring Lima I would suggest heading on to Cusco or Pisco for a more authentic and culturally rich place to tour.
Where To Stay In Lima Peru