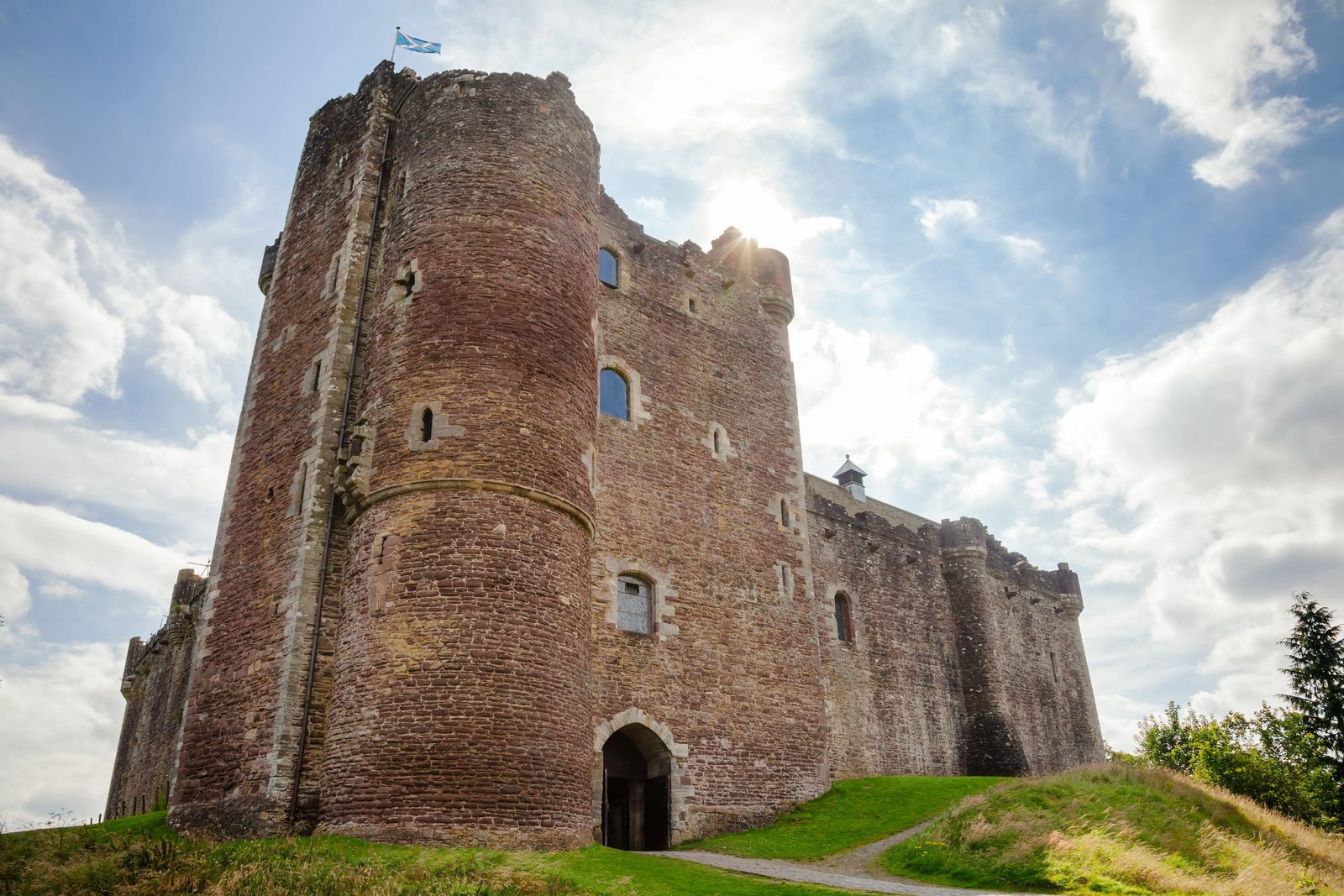 Exploring Doune Castle A Popular Filming Location in Scotland
Sweeping landscapes of softly rustling green grass swaying in the wind with a red toned medieval castle jutting up from the small hill greets you, welcome to Doune Castle. If you have ever seen Monty Python, or Outlander - then you might recognize Doune Castle. This is one of the most well preserved castle museums in Scotland. While there isn't much inside with replicated furniture to give you a better feeling of what it was like back in the day, it isn't hard to imagine it, especially with the audioguide they provide. The audioguide is completely worth it, and comes with James Frasers sultry voice, and sounds of the castle as you walk through. To learn more about this castle, its real history and what movies it has been used for as a filming location keep on reading.
I have been to Scotland twice now, totaling over a month of exploration in the Scottish Highlands where my Great Grandmother, a McFarlene is from. I hope to help you fall in love with all the nooks and crannies that is Scotland just as I have.
The History of Doune Castle
A 13th century castle beautifully restored in the 14th century, with open rooms to explore and let your imagination run wild.
This was my second time visiting Doune Castle. The first time I took a day trip from Edinburgh to this beautiful location- I hadn't given myself quite enough time to really learn the history. What I hadn't realized was that this castle is mostly all the original stonework from the 14th century with minor repairs. The Wood flooring and roof, however, is mainly from the 1800's.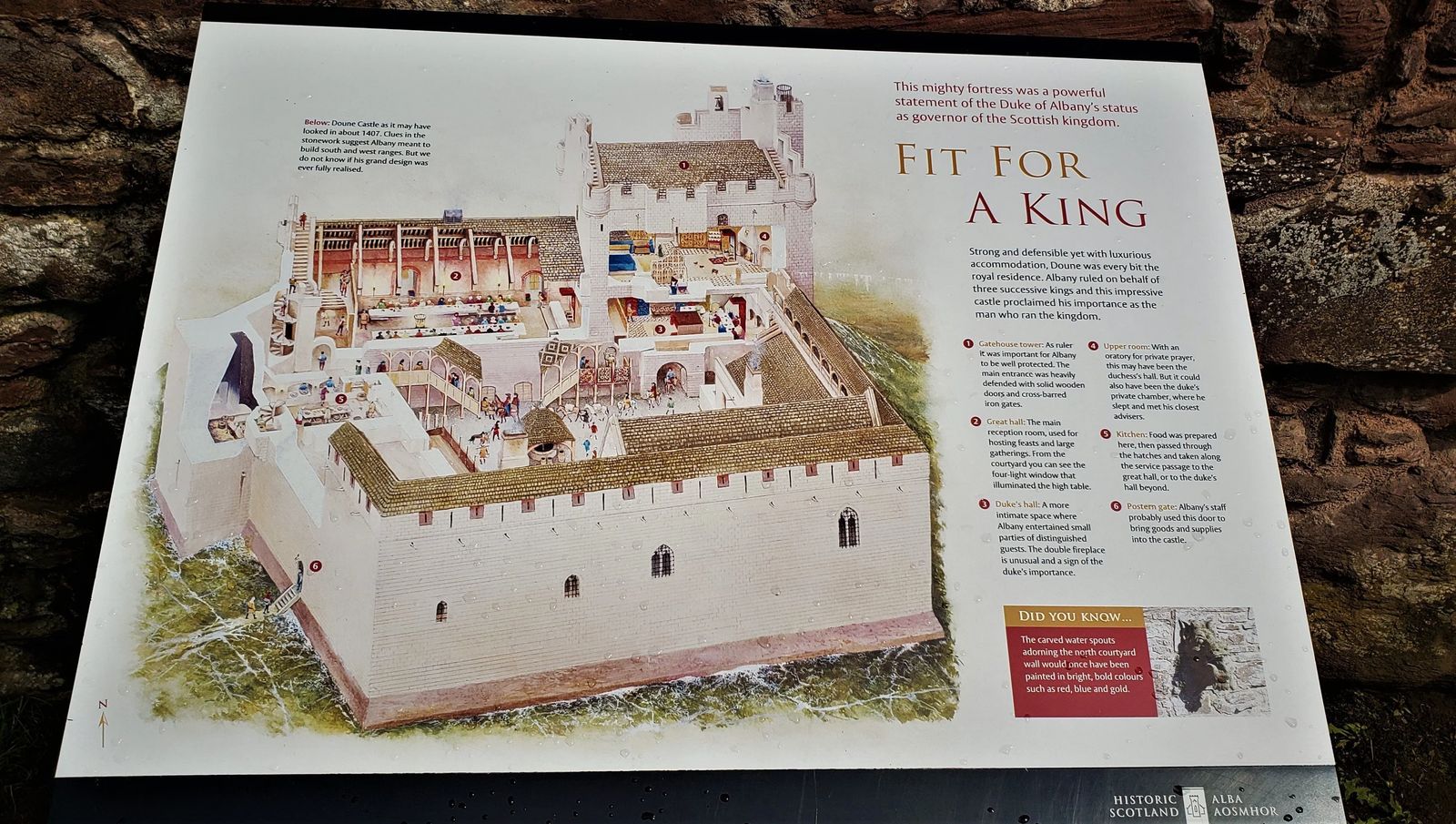 Not only is Doune Castle a popular filming location, it was also favored by Royal Monarchs as a hunting retreat, including Mary Queen of Scots at one point.
It was also occupied by Bonnie Prince Charlie during the Jacobite rising of 1745. When he was attempting to take English throne on the basis that he felt he was the rightful heir.
It is now maintained by the Historic environment of Scotland who have kept it in beautiful shape!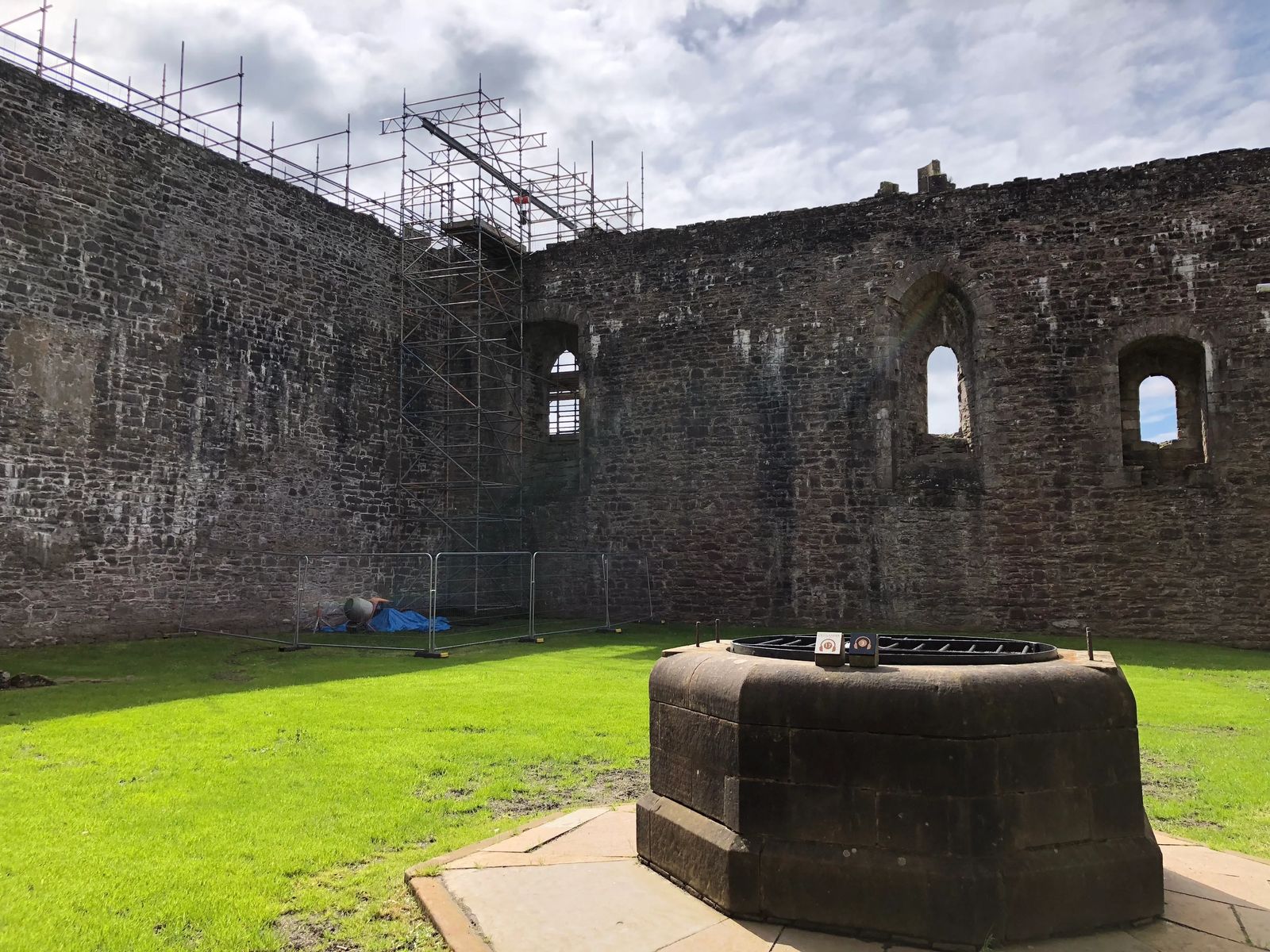 Castle Leoch from Outlander
Outlander Tours often come to this location, as it was used as the set for Castle Leoch. This series depicts what it was like during the Scottish Rebellion that led up to the Battle at Culloden.
The series used cranes to hoist the set into the main courtyard of the castle. Then piles of mud, hay and other items to truly recreate a scene akin to that of 18th century Scottish Clan life.
The series follows a woman, Claire Randall back in time, during the Scottish Rebellion - where she meets heart throb James Frasier. Their harrowing adventures, her constant efforts to get back to her own time period - sets an incredibly accurate depiction of life in the Highlands. So if you get a chance to watch Outlander, I highly suggest it - especially if you have Scottish ancestors like me.

Monty Python Filming Location
If you watched Monty Python and the Holy Grail, then you will remember a few scenes from this castle.
The first, and a personal favorite, was when King Arthur rode up to the castle with his imaginary horse and coconut clapper. The French poked their head over the top and an exchange of ridiculous insults ensued - at the end of which there was a cow launched over the walls.
The second scene, was when the knights of the round table met and broke into boisterous song. Using the different outlets in the Great Hall as platforms for song and dance after the wedding.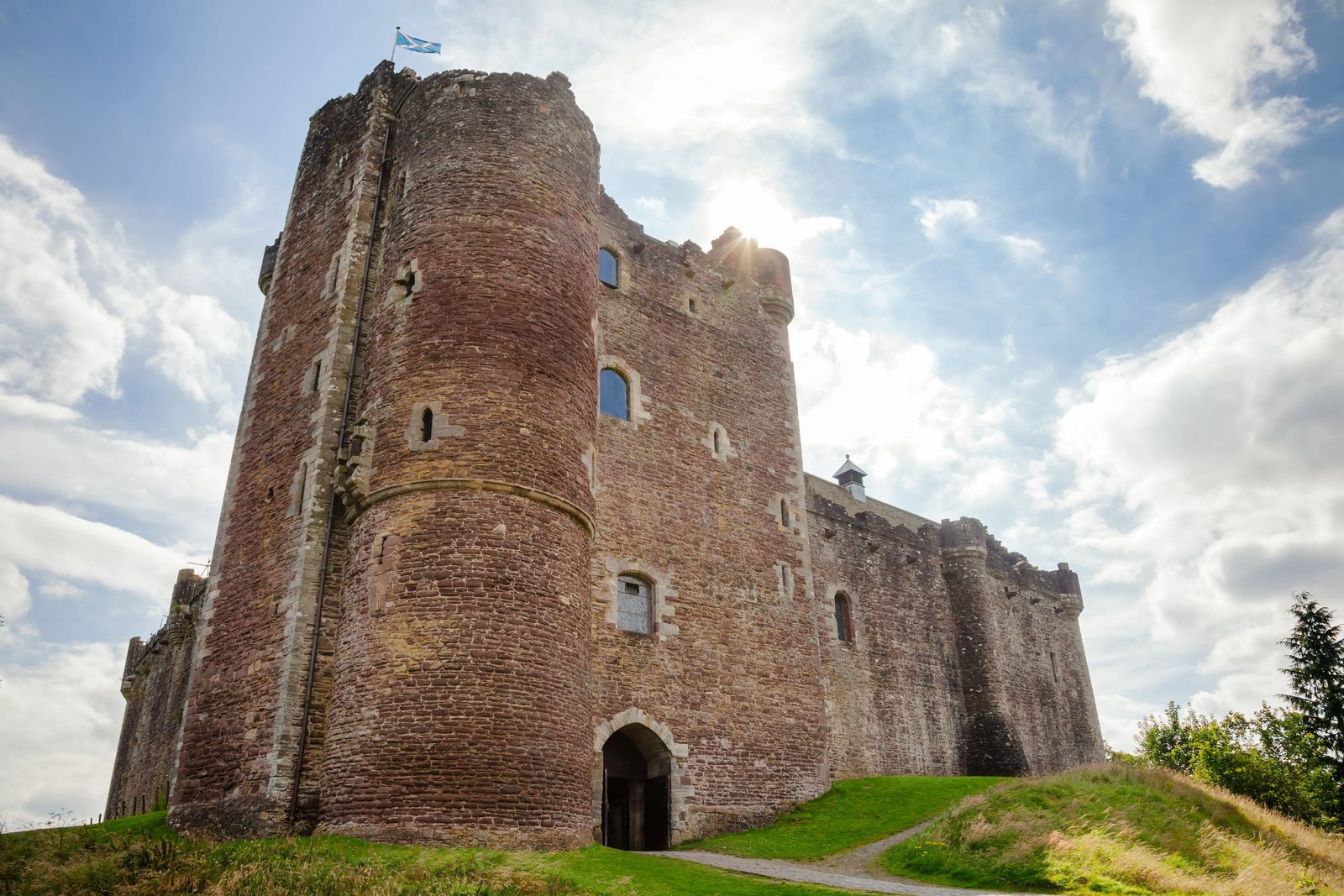 The third scene was in the massive kitchen where they used this area to film Sir Galahad being chased by the seductive girls out of the castle.
While there are several other scenes filmed here during this movie, these are the most famous.
Game of Thrones Winterfell Castle
Here is a bit of film history some may not know, that Game of Thrones used this castle as a basis for Winterfell. Winterfell is the home of many of the main characters and heroes of this international hit TV series.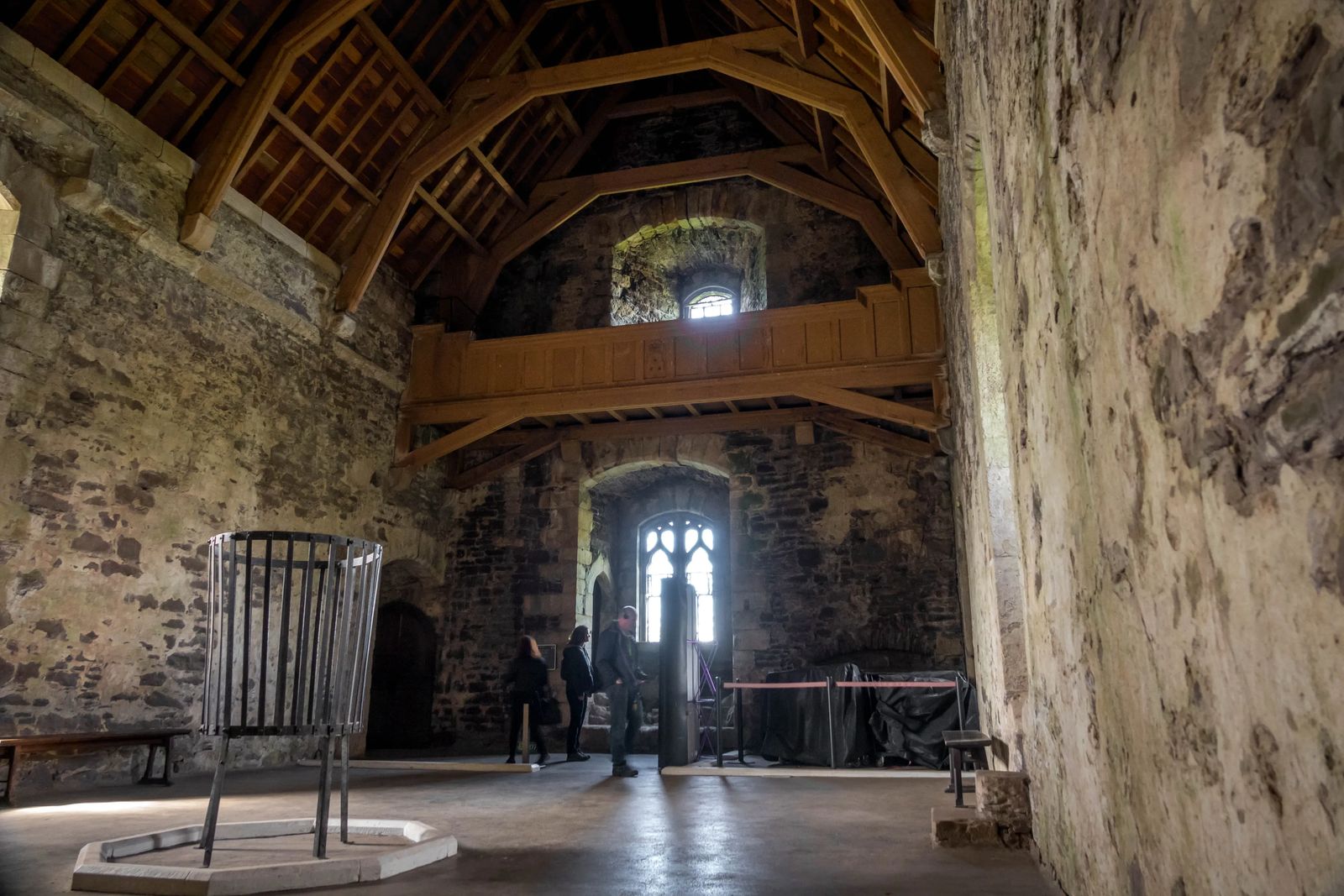 Taking the Tour
I would highly recommend getting the audio tour when you explore Doune Castle. There is a small shop right inside the courtyard area where you can pick up your headset.
The headset plays songs sung here during Monty Python, has Jamie Frasier (Sam Heughan) giving you a large part of the tour through the castle. Let me tell you ladies and gents, his voice is like chocolate to the ears. He is also Scottish, and I find it very fitting that his voice is used to give you a large part of the tour.
If you get to the castle early (or early-ish), then it isn't too crowded, and you can wander about and let the headset help you recreate the fond memories of the movies in your mind. It is hard to not have a smile on your face when you wander through this incredibly well preserved castle.
It isn't all about the filming locations though, they also give you a good bit of history about the castle - and guide to to very specific locations within the castle.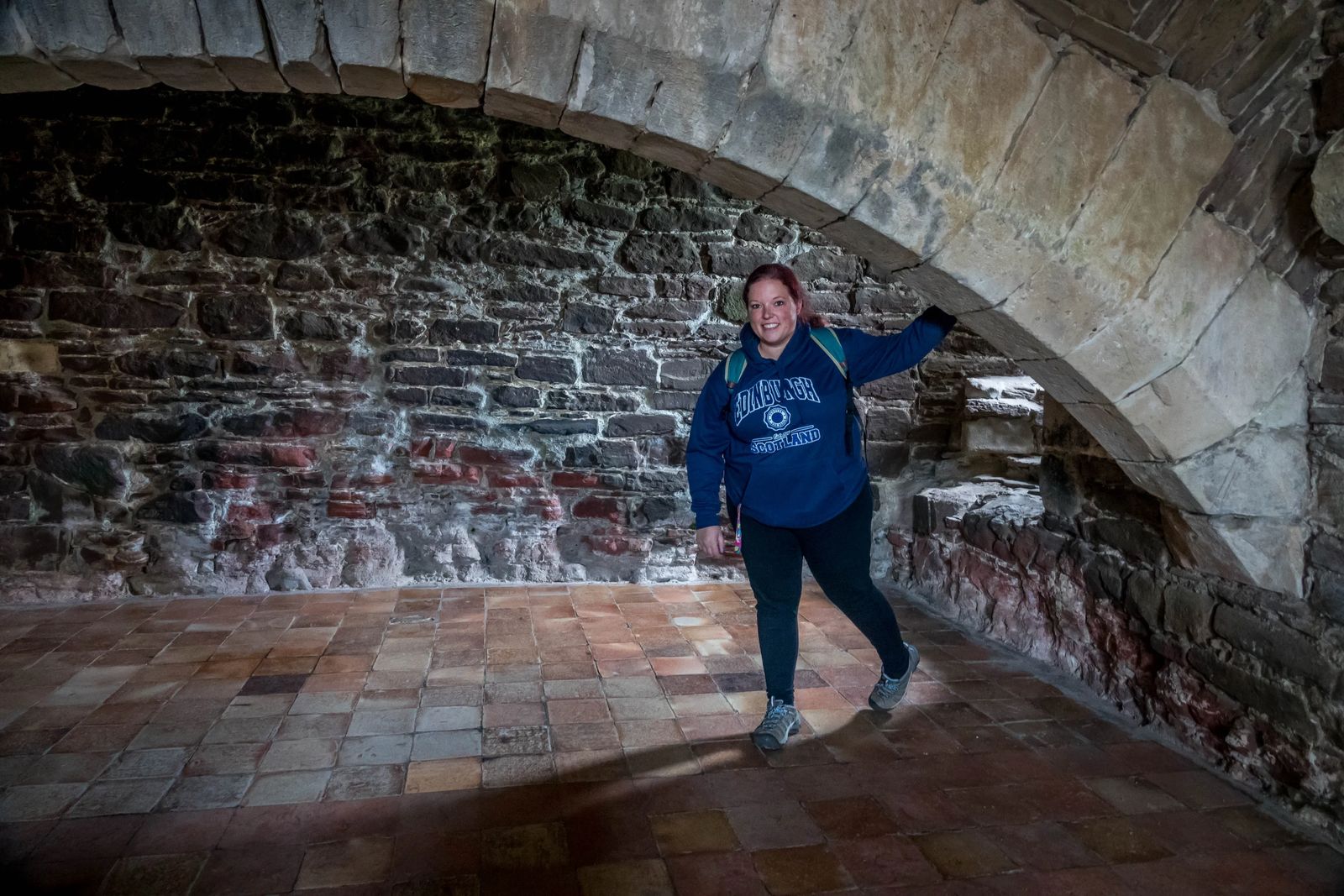 The Kitchen
The Kitchen is always a favorite place for me, especially at home . To see how they produced food in this place - made me grateful for my modern conveniences.
What surprised me the most was the MASSIVE fireplace that is 18 feet (5.5m) long. There would be several fires all going at once in this area. A kitchen boy would have to sit in this area - with only a window cracked to help air to the fire, make sure they didn't die, and turn the spits when ordered to. In the winters I can imagine how this might be a coveted spot, but to think about how much smoke he would have to inhale.....induced some coughing.
The Great Tower
This is the main building that you see when you first round the corner from the parking lot. A massive 59 feet x 49 foot (17m x 15m) tall tower is quite impressive height for a 13-14th century building of that time.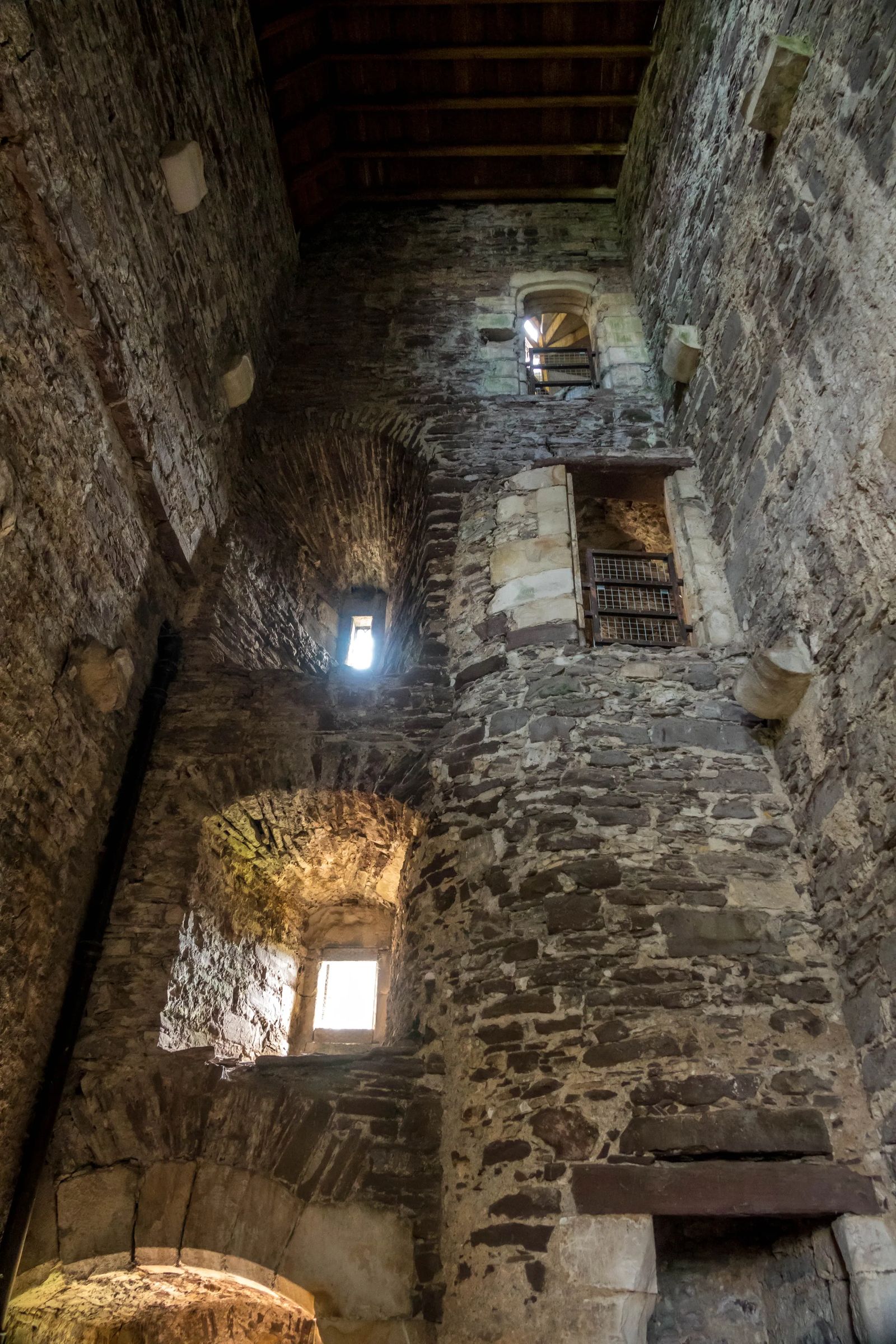 The rooms of the Clan leader, or high ranking guest rooms were kept over the kitchen. A clever way for the most important people to stay warm during the cold winter months.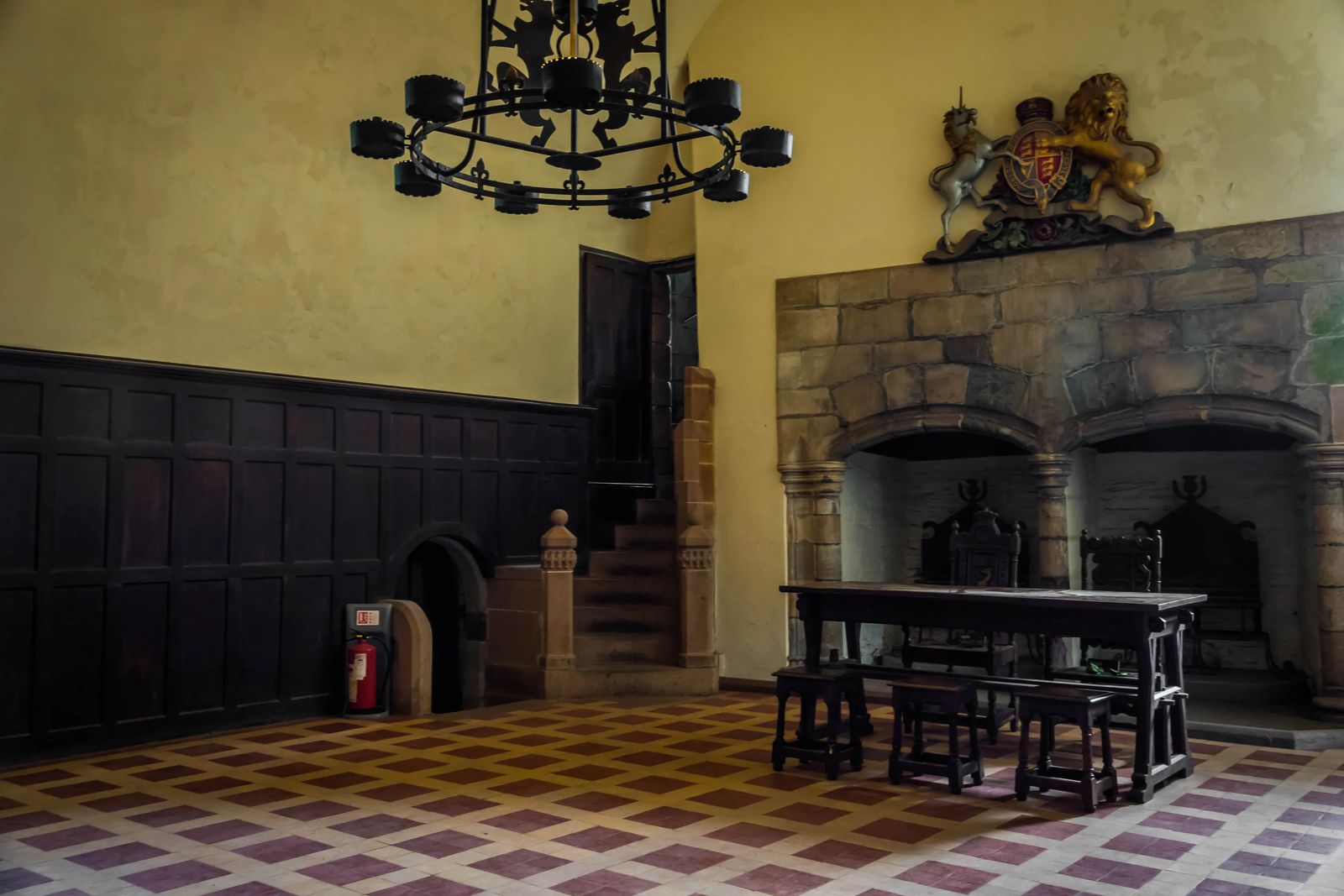 The tower is accessed by a stairwell in the main courtyard. The rooms are empty, but you will notice, this particular tower was quite lavish - as it has a double fireplace.
Exploring Doune Castle - A Scotland Favorite
Exploring Doune Castle is something I could do again and again, and still enjoy the time there because of how well preserved it is. It is also incredibly easy to imagine men in kilts, ladies dresses swishing around the great hall and Christmas feasts in the well heated rooms of the great tower. I spent two and a half hours in this place, and could have stayed for a long picnic if I would have had the time.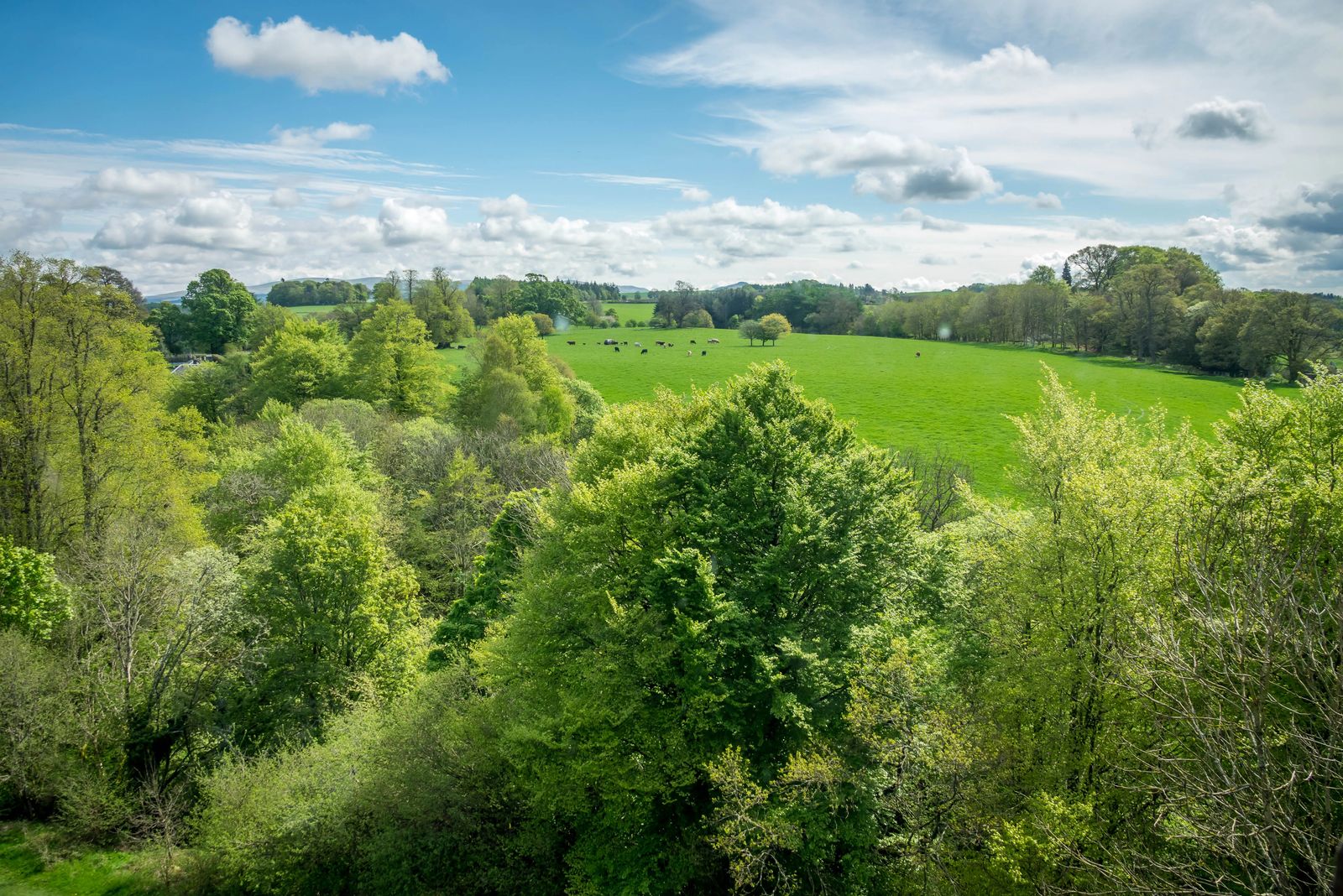 While Dunrobin Castle, and Cawdor Castle are some of the more modern versions of these ancient castles. There is something quite special about seeing an empty well preserved castle like this. It makes me think of how I would decorate it, or where I would put the horses and refrigerator. So that being said, Doune Castle is one of my favorite ancient castles in Scotland for the history, the film locations, and gorgeous surrounding countryside.
Like it? Pin it! Sharing is Caring ;)