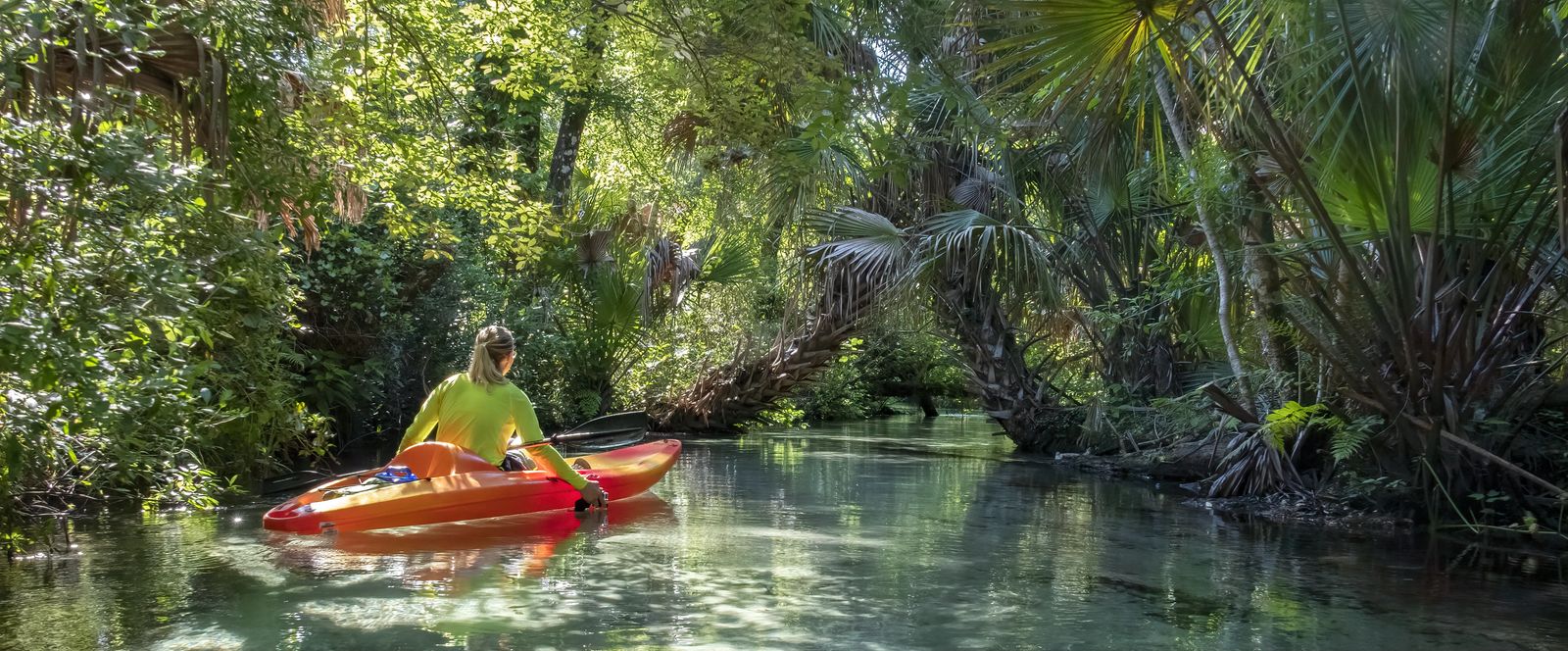 The 22 Best Day Trips From Orlando Florida
Florida has a plethora of amusement parks, beaches, everglades, diving, animals, and all around fun - but when you have a short weekend, how do you choose? For those who like the more authentic experience, and doing what the locals do - here are my suggestions for the best day trips from Orlando Florida. These will include Scuba Diving at Devil's Den, Wildlife Parks, Swimming with Mantees in Crystal Rivers, National Forests, State Parks, my favorite beach in Florida St Petersburg Beach and more.
I have been to Florida about ten different times over the last 20 years and just can't seem to get enough. There are a few things you need to know before visiting any of these locations, including safety (especially from wildlife) so keep on reading to get all the details to make this an epic trip for you!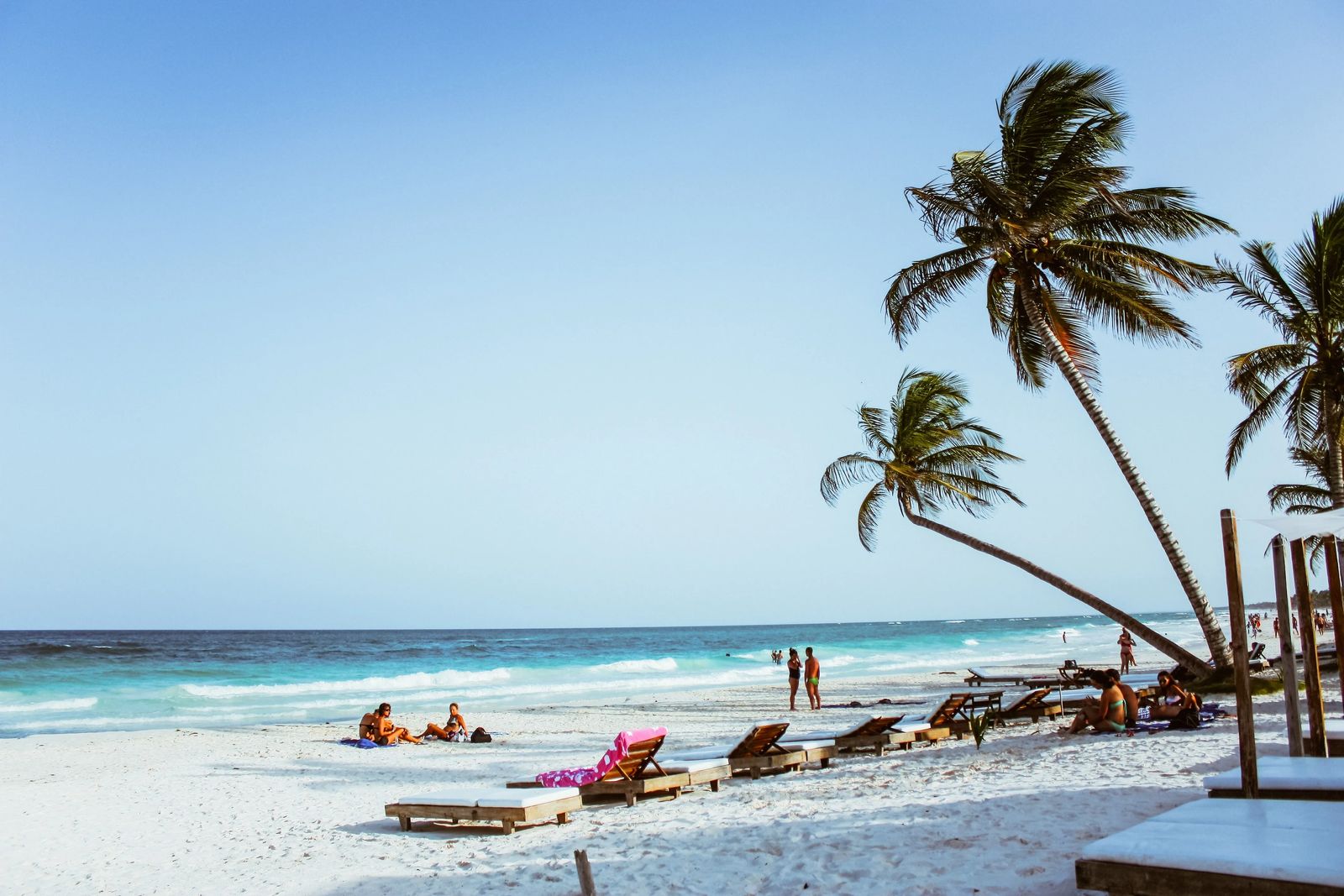 Arriving in Florida
Once arriving in Florida, I met up with some friends, and locals, Jen and Ed. We quickly grabbed our Latte's and headed out the door towards the Devil's Den. It is an hour and a half drive North from Orlando. You can drive straight through, or take the scenic route through Ocala National Forest (which adds an extra hour).
There are plenty of rest stops along the way, with cute parks for picnics or for the dogs to stretch their legs. Road trips seemed quite common due to all of the RV's I saw on the road.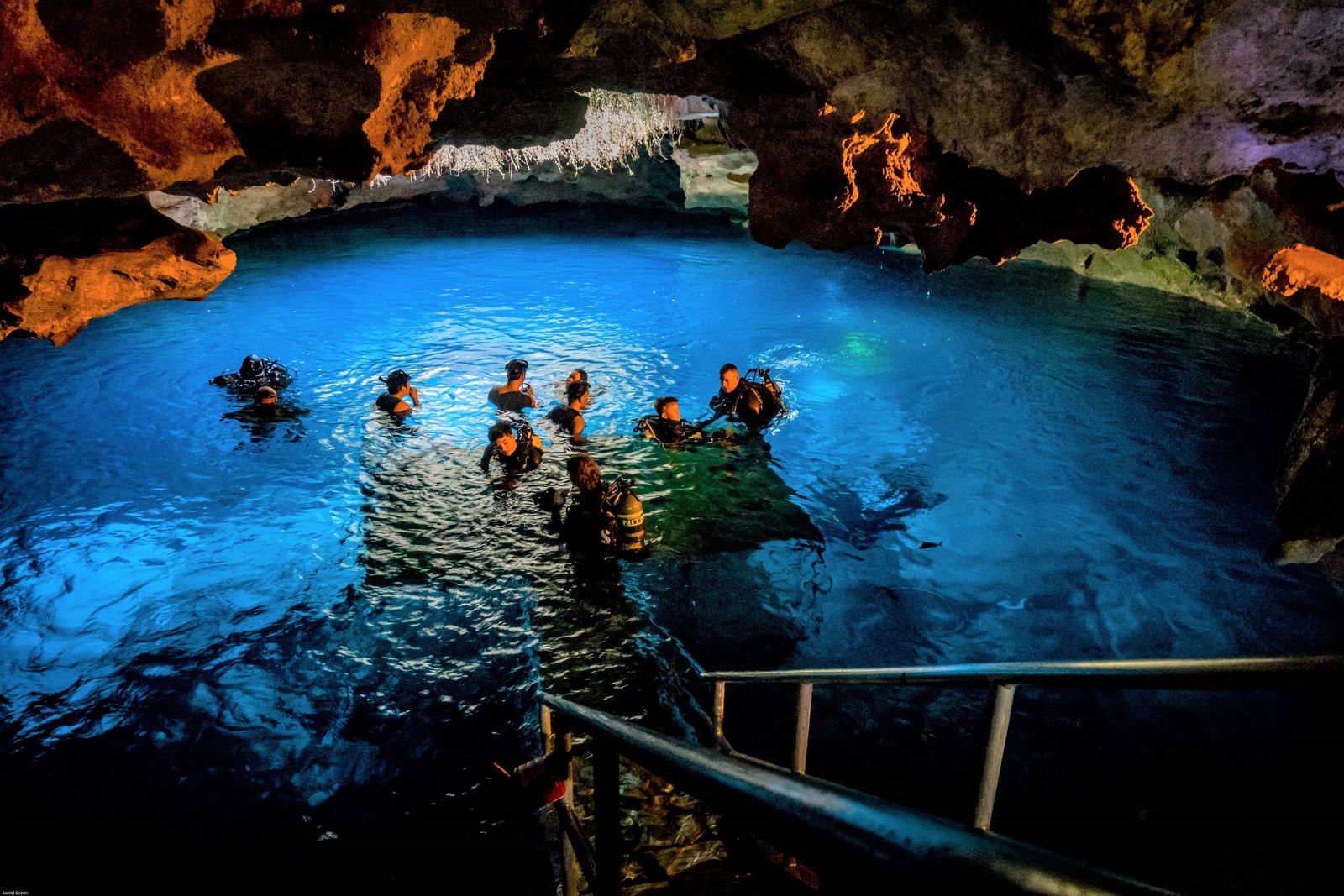 The Devil's Den
This dive is one of the more unique dive's I have come across. We quickly paid, took some photos, checked all of our diving gear and made our way into the Devil's Den. If this was truly the Devil's Den, then hell has frozen over. Once you descend into this cavern the air and water get quite cold.
This underground river is a consistent 72 degrees F (22 degrees C), while it doesn't seem too cold, keep in mind you are essentially in a cave with very little light warming you or the water.
The true reason it was called Devil's Den, is because on cold mornings (well, as cold as Florida can get); you see smoke rising in visible plumes from the chimney opening.
Devil's Den is a perfect dive for new diver's as the depth only reaches 54 feet (16.45m). It is a classic destination for those who wish to experience its crystal clear waters and unique inverted mushroom formation.
Fun Fact: There have been several animal fossils that have been found in these waters, dating all the way back to the Pleistocene age (displayed in the University of Florida's Museum).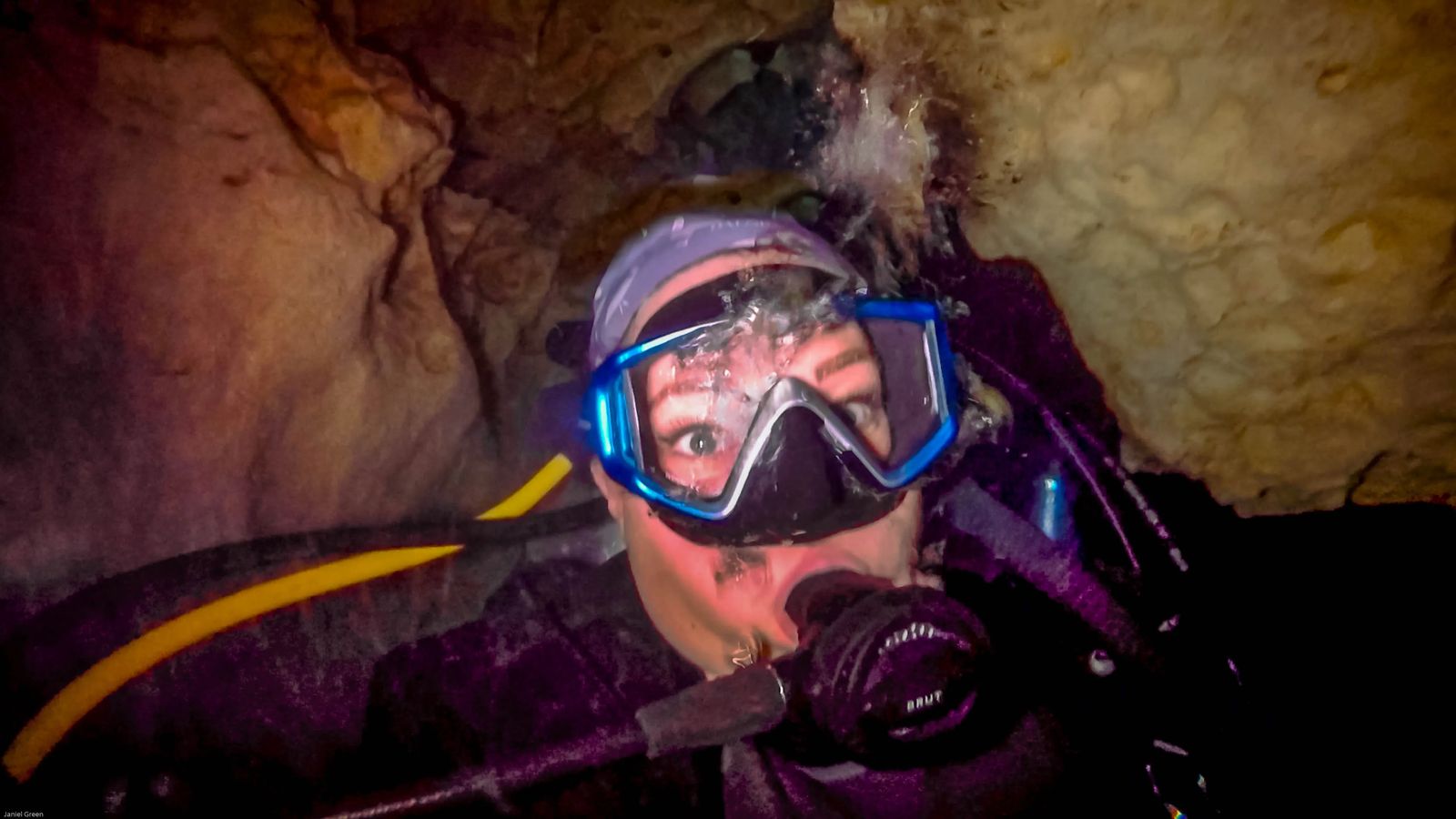 Be sure to bring your Wetsuit! I live in a colder, and much drier climate. I was able to handle diving in this Cave with a shorty wetsuit; but I would not have been able to do another dive as I started to get cold at the end of this dive.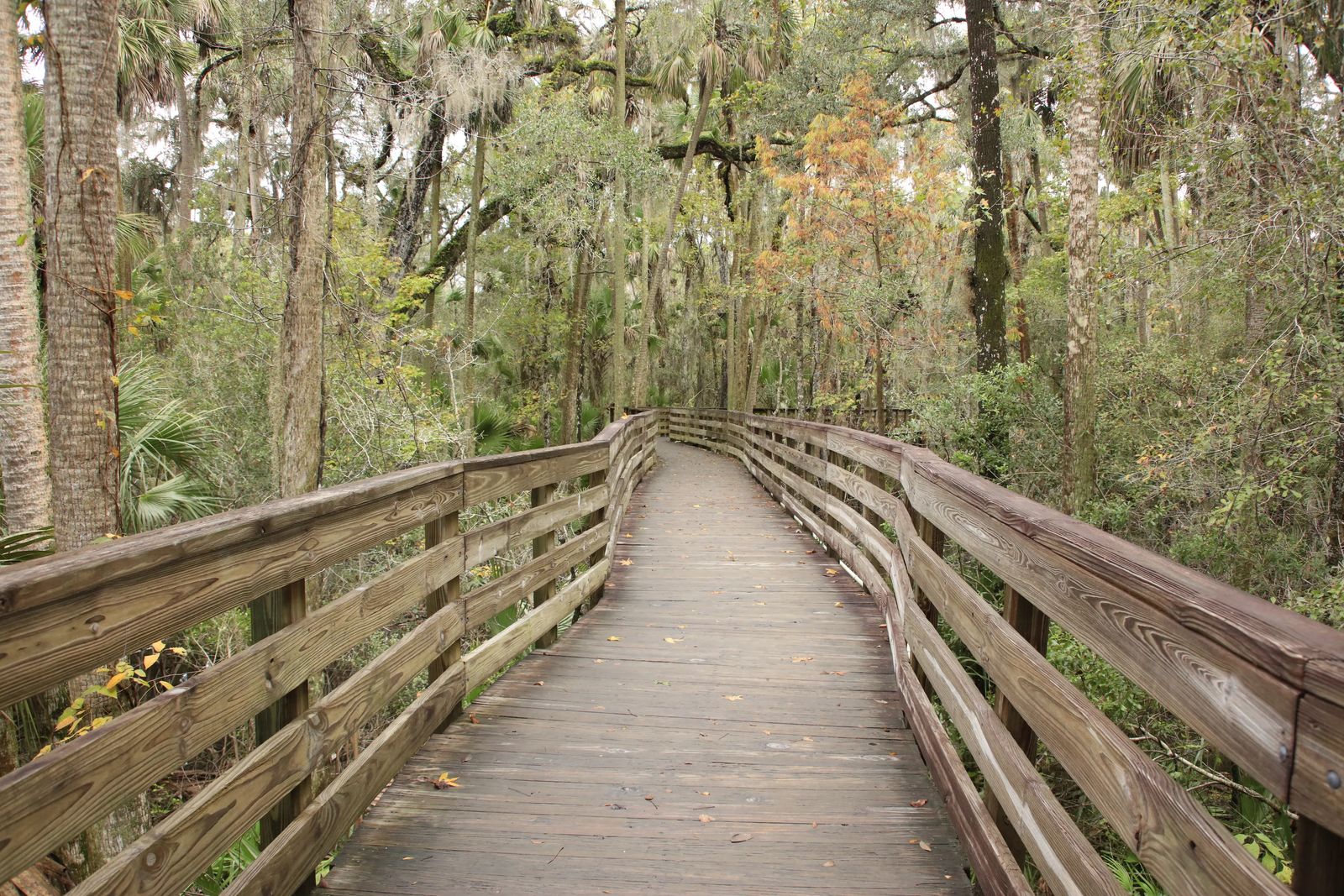 Blue Spring State Park
Blue Spring State Park day trip from Orlando is only a 50 minute drive north. It is $4-$6 per vehicle to enter the park, but it is well worth it because the waters are 72 degrees year round.
The incredible conservation efforts here allowed 14 manatees to have a safe refuge here in 1970; and now there are over 485 of these gentle sea cows that call is home. I highly suggest taking a guided tour, so you are fully aware of the manatee manners when swimming in their safe havens.
You can hike along the spring run or on take a 7.3 mile round trip hike on the pine island trail. This trail takes you along a massive lagoon near St John's River with ancient scrub oak, seeing the scrub jays fly through the dense Florida forest. You also have the gorgeous southern magnolia trees, rusty lyonia, and pines. If you look closely you can also spot gopher tortoise tracks.
Make sure to bring some mosquito spray as they can be pretty thick on the trail. The trail is full exposure to the sun so try and go in the early morning or late evening in the summers. You can bring your dogs, but make sure they are leashed.
Take a tour of the Thursby House, a three story monument to Central Florida's wild frontier days where railroad ran the country and the wild swamplands were just beginning to be inhabited by humans.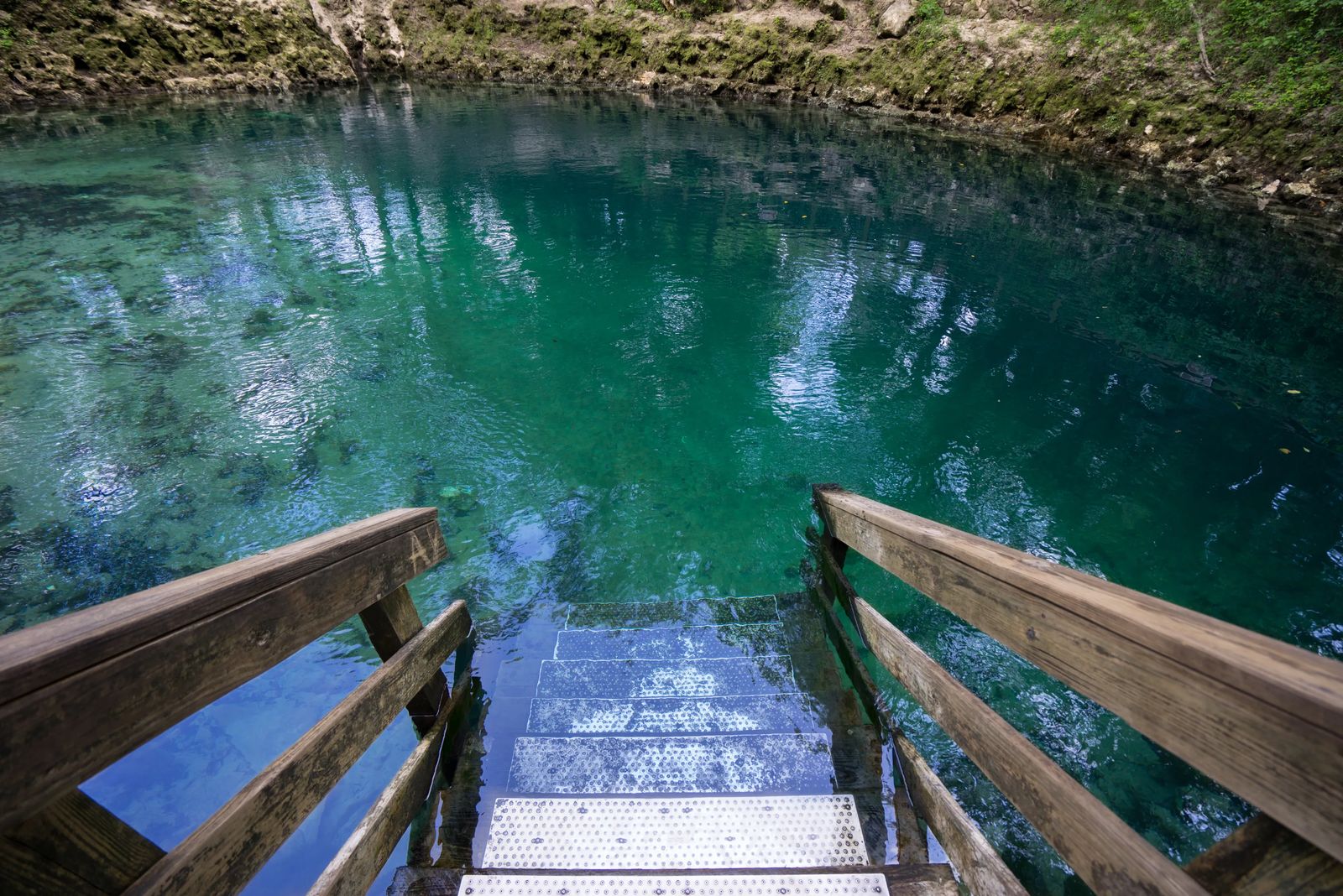 You can also go Scuba Diving here! Blue Springs State Park at Madison Blue. It is an internationally known limestone cave system that offers crystal clear scuba diving! There are a few species of cave-dwelling invertebrates like the pallid cave crayfish. They do require a cave diving certification in order to dive here.
The maximum depth is around 111-120 feet (34-37mm). It is only $5 to dive, and $5 per car to park, it is considered a shore dive as it does require a 5 minute walk along a hammock plank trail. If you don't have a cave certification, they do allow you to dive in the cavern area that goes to 60 feet.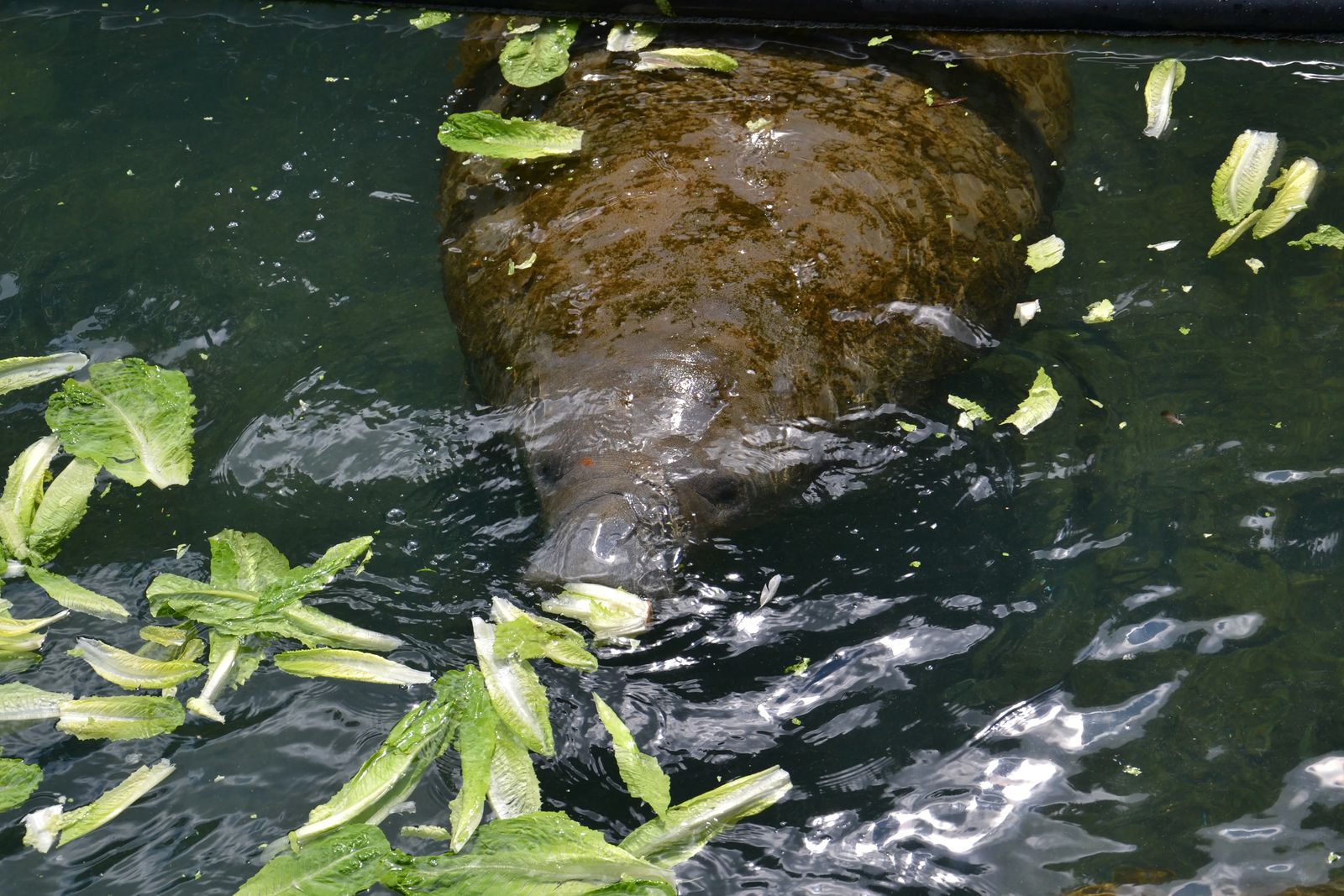 Ellie Schiller Homosassa Springs Wildlife State Park
The Ellie Schiller Homosassa Springs Wildlife State Park is a 210 acre refuge for injured or orphaned West Indian Manatees. After they recover they are then released back into the wild . You can observe these conservation efforts here at the visitors center along the boardwalks. They also have panthers, cougar, red wolves, bobcats, key deer, alligators, gray fox, and otters.
Most of the animals that reside here now are not able to survive in the wild on their own without help. It is the only place in the world that you can observe Manatees 365 days a year. They also have a very unique underwater observatory where you can see thousands of fish and Manatees lazily sleeping and snacking on the water grasses, weeds, and algae.
There is a fee to enter the park, and the last entry is allowed at 4pm so make sure you time your visit accordingly. It can get quite warm so be sure to bring plenty of your own water as they generally discourage single use plastic bottles or garbage be brought into the park. The park itself is only about 75 miles from Orlando, and there is plenty of parking available when you arrive. I would plan on about 2-3 hours to properly see, learn and observe all the creatures here.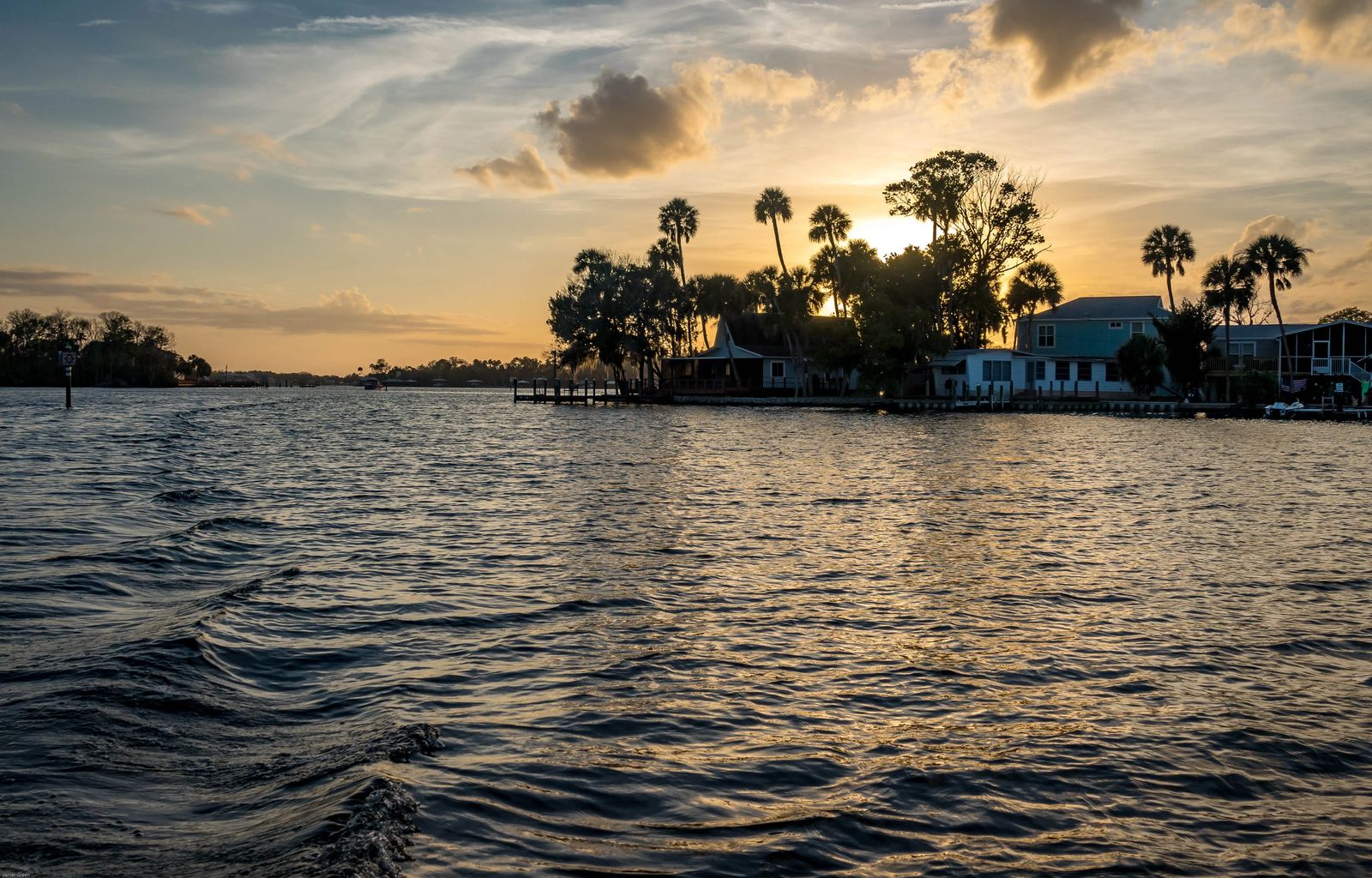 Pontoon Ride on the Homosassa River
We started off just doing a leisurely boat ride down the river, and then Katie (from The Traveling Spud) became so excited when we discovered that you can pull into pubs with your boat, buy a beer and then continue on down the river.
Piper (the dog above) was so fluffy, and was wagging her tail like she was whacking weeds - I have never seen a dog get so excited about being on a boat. We passed by Crumps, a Tiki themed bar that is complete with huts, food trucks, white sandy beaches, night time shows and even a playground for the kids in the shape of a ship.
Our host, Mike with his parent and friend Shelly , told us we were going to come back to this bar later as that is really when the party started. We continued to putter along the river, while Piper showed us all her fancy tricks. As the wide Homosassa River narrowed, we were told to keep an eye out for Manatees (which we were going to be swimming with the following day). In fact, we were told we were headed to the Manatee Pub....who knew these places actually existed.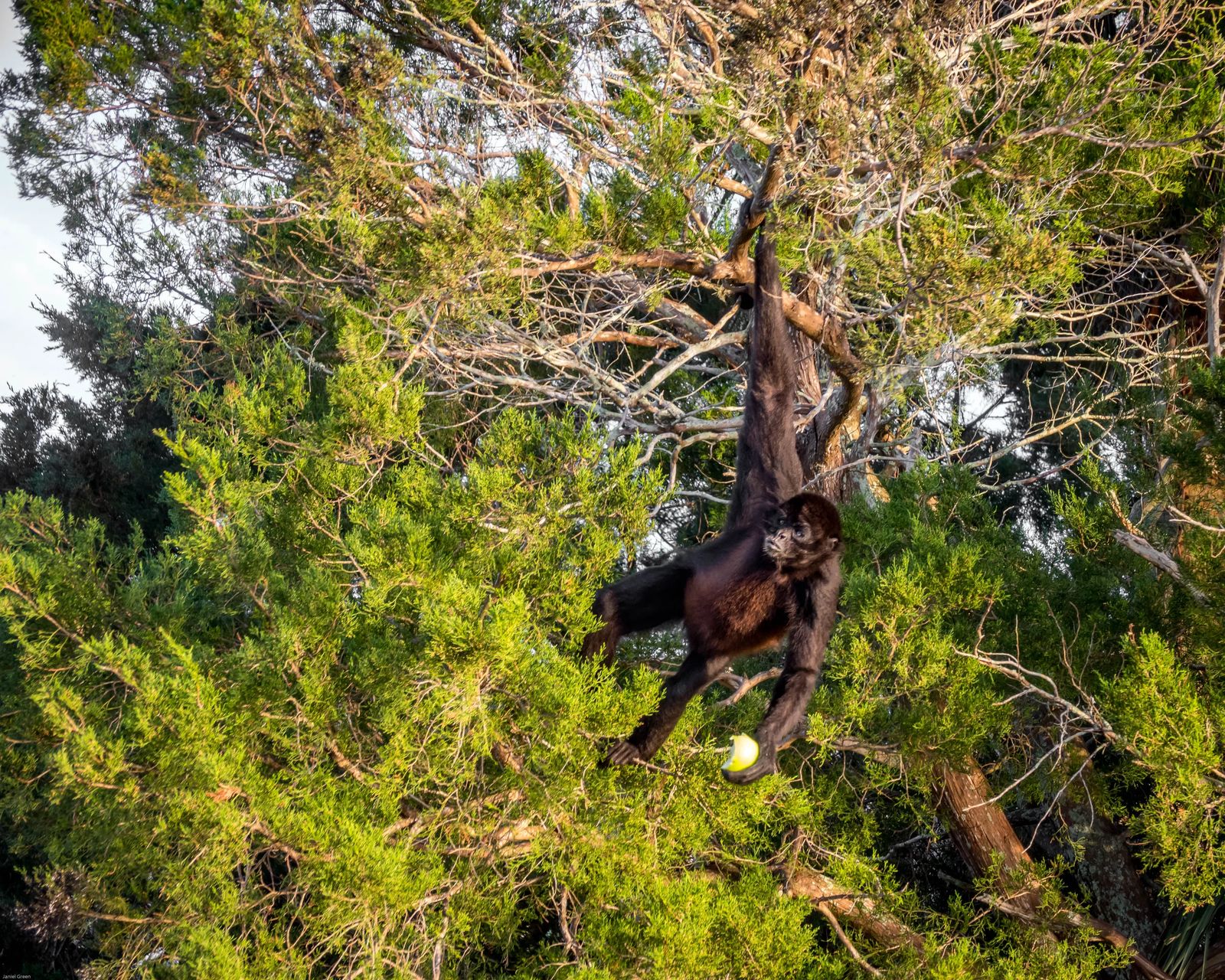 Mike's Dad, Dick, told us that when we get to the Manatee Pub to make sure to hang onto our drinks because the Pub was damaged with the last hurricaine and the whole Pub is on a tilt. So if you don't hang onto your drink, well, it may just slide right off the table into the water.
Dick told us stories about what it is like to sit out a hurricaine, how the area changes after each one that comes through and many more stories for Clam hunting, diving, and so much more. (Watch the full experience on the Culture Trekking Channel).
One such tale was of the Monkey bar, where this tiny island was built for a bar and a few monkeys were placed on it for the touristic draw. Well the pub went belly up, but the locals still take care of the monkeys, and have lovingly called this tiny island in the middle of the river - Monkey Island. The monkeys will give you quite the show in the mornings or evening when they are fed.
We sat for a spell at the Manatee bar (on the right) while Mike, Shelly, Jan, and Dick told us more stories about the area - their son that did shipping, and the old lady who buys shrimp and ice cream for the fishermen that come into port and makes a mighty fine living doing it.
We ended our night at Crump's as promised listening to renditions of songs from the 80's through the 2000's.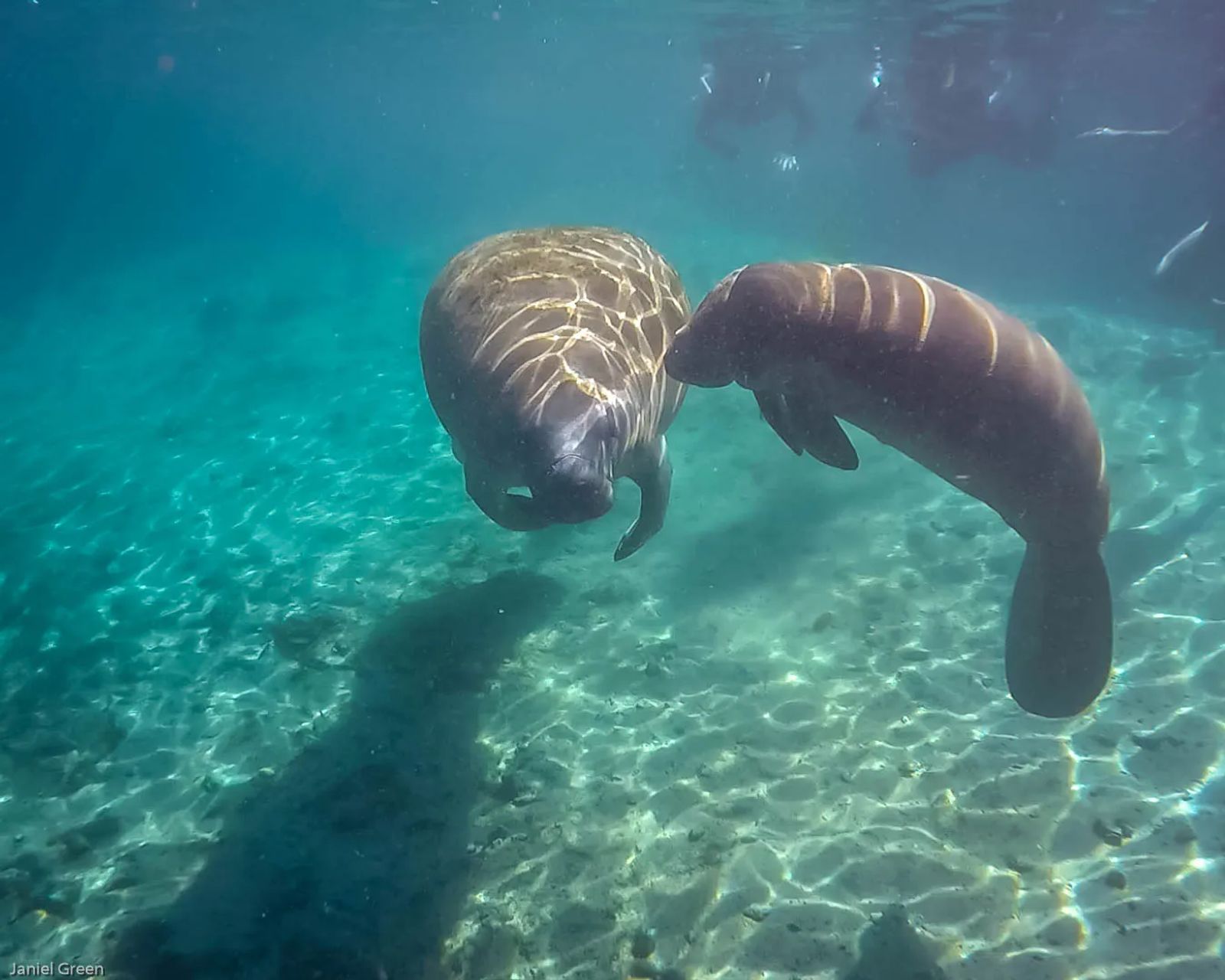 Crystal Rivers Wildlife Refuge
The next morning we got up early to go and take a dip in Crystal River at Hunters Bay. This is where the Manatees swim, breed, and take refuge. We were taking a tour with Bird's Underwater later that day and wanted to see if we could spot some manatees before all the crowds came.
Hunters Bay can get quite crowded so be sure to get there early to get a good parking spot (there is a fee for parking - so make sure to bring some cash).
We didn't spot any manatees in Hunters Bay, but Birds Underwater took us up to the Three Sisters, and Jurassic Spring and we were able to see Mama's with their babies. Swimming with Manatees in Crystal Rivers is definitely something I will never forget.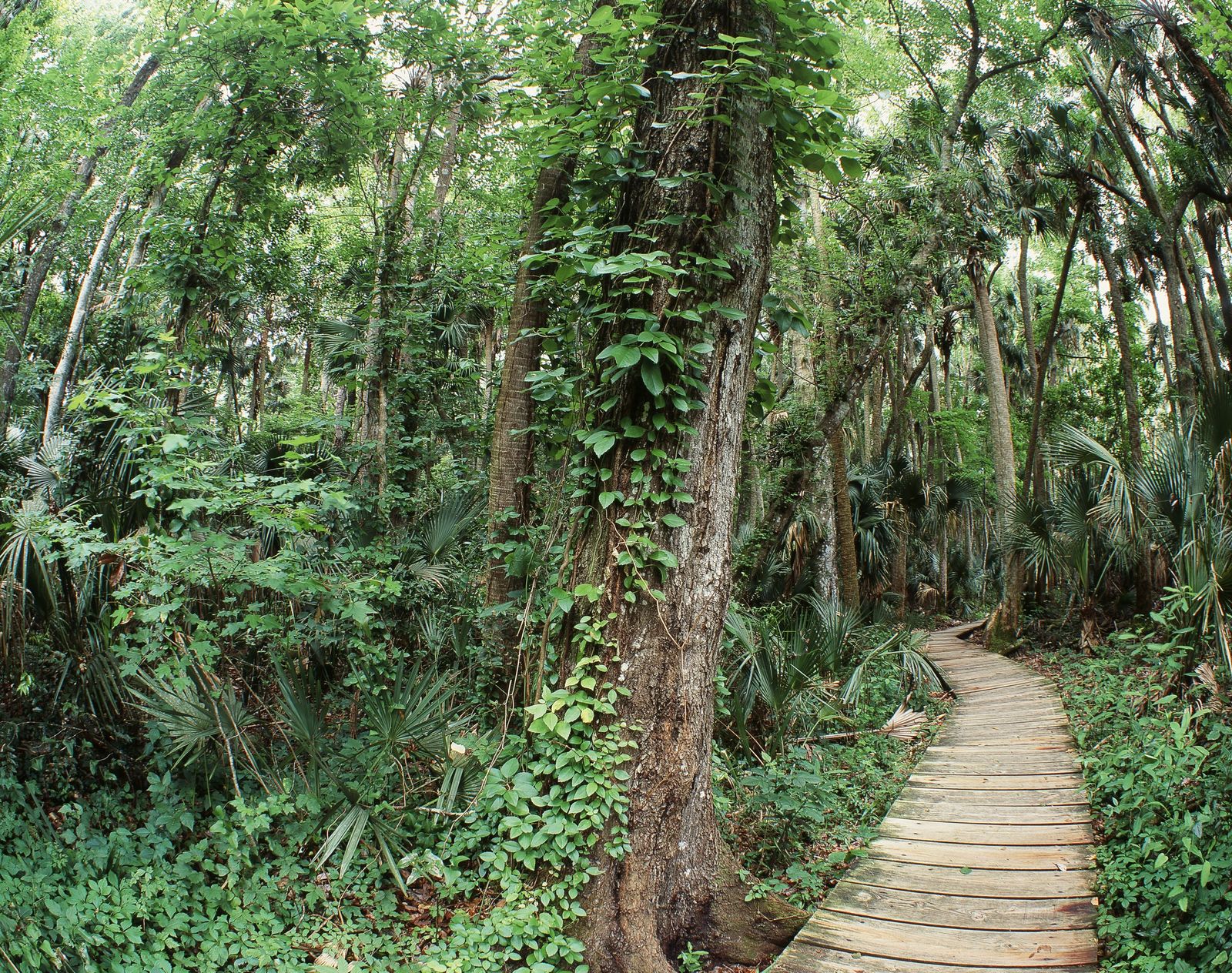 Ocala national Forest
Ocala National Forest is located two hours north of Orlando, and an hour west of Daytona Beach. It has over 607 square miles (383,000 acres), 600 lakes, campgrounds, hiking, and atv trails.
It is a perfect place to have a beautiful scenic drive with over 100 miles of paved roads the weave and wind through the dense florida forests of big scrub.
The best springs to swim in here is the Alexander Springs, which you can also go Scuba Diving in! It is only about 30 foot depth to dive, but does have some small caverns to explore at the bottom. There are plenty of fish to observe, and yes, they do occasionally have an alligator that visits.
If you go on a hike here you can see black bears, deer, boar, otters, and raccoons. There is plenty of hiking available, but the top rated hikes here are:
If you would rather stay on top of the water they have plenty of space to go have a canoe trip with a picnic. You can also try your hand at the Juniper Run, which was named one of the top 25 canoe runs in America. It is a narrow 7 mile winding run under the dense growth of scrub oak and empties into the St Johns River and Lake George.
The Juniper Run is considered an intermediate kayak run that can run you about 4-5 hours to get down the run. You have to bring your own gear, and there are park rangers who are strictly enforcing a non-disposable policy there. What does this mean? Anything with a wrapper, single use plastic, bags of chips where they will ask you to throw these away unless it is in an aluminum container or tupperware.
Once in the water, get ready to be pulled along by a swift current, use your paddle as a rudder to navigate the 45-degree turns and not have a whole lot of turn-outs to relieve yourself.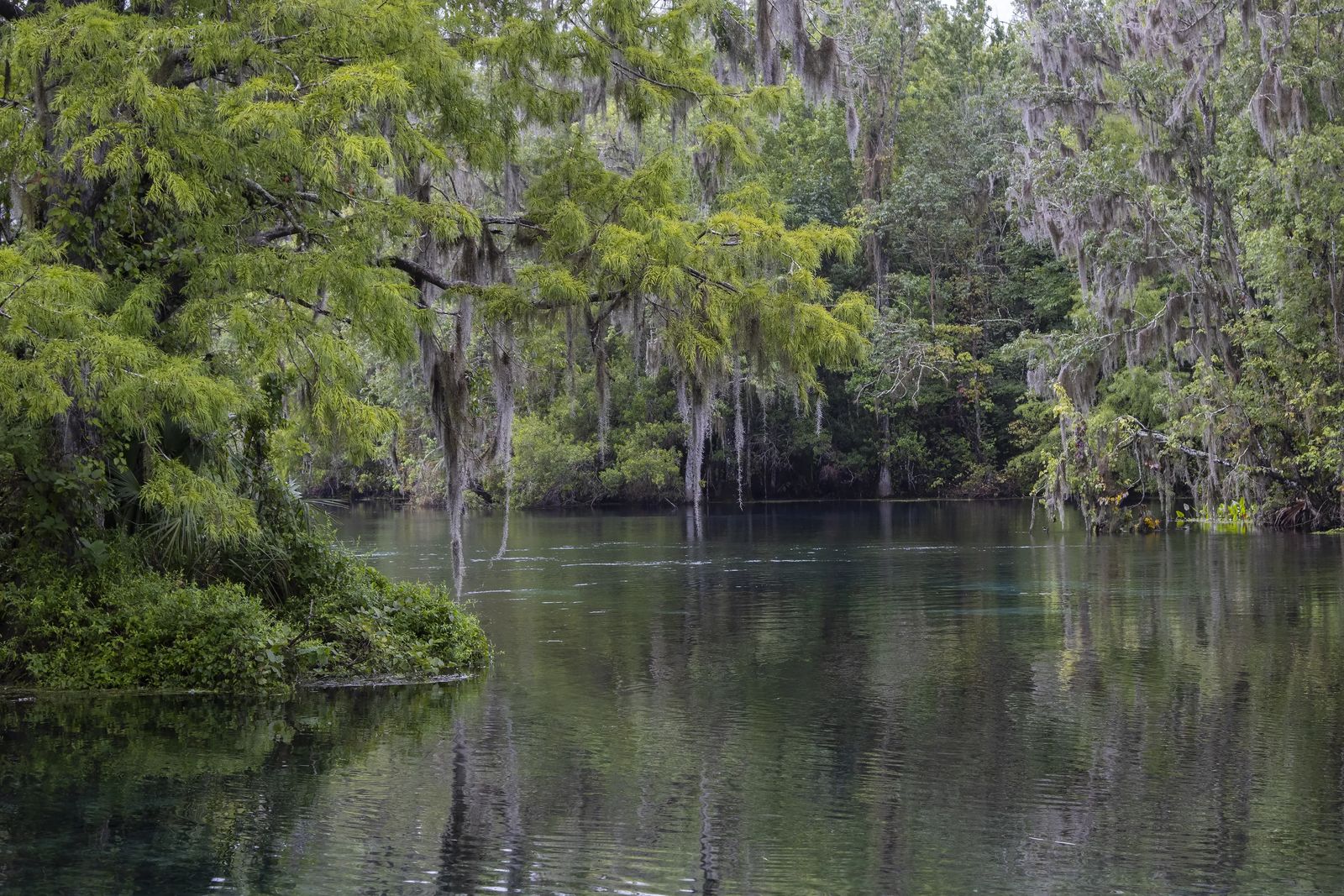 Silver Springs State Park
Silver Springs State Park is located a mere 1 hr and 30 minutes North of Orlando, right near the Ocala National Forest. This park is a 4,000-acre park and includes the 5-mile Silver River and sandhill forest. There are two restaurants here, and a gift shop as well as a museum! It is one of the largest artesian springs in the world and was declared a National Natural Landmark in 1972.
The museum here features an environmental education center about how the Floridian waterways were restored to their natural beauty. There are also preserved settlements you can explore from the 1800s pioneer cracker settlement, segregation-era Black american one-room schoolhouse and several wood cabins.
After learning about the natural history of the area, take a glass bottomed kayak, boat, or canoe trip along Silver Springs. The clear bubbling water allows for a clear view of plants that the State are trying to preserve. It is a place where the Florida pinkroot (an endangered plant is being preserved). With over 10 different soil types here, you can imagine how important preserving areas like this are for the plant biodiversity needed to combat pollution.
This park is one of the few remaining undeveloped rivers in Florida, and is considered one of Florida's oldest tourist destinations.
Explore some of the trails and loops here with the Spring Trail, a 2.3 mile one-way trek through the open pine and oak hammock forest. You might see some armadillo, deer, turkey, foxes, and Sherman fox squirrel as well as gopher tortoises. This space is critical for these imperiled animals namely the gopher, the black bear, the Silver buckthorn and the Godfrey's swamp privet.
Another trail I recommend is the Sinkhole trail, you have to go in the rainy season (May through October, September being the rainiest month) so you can see a large gathering of frogs that take shelter here.
As you wind through the boardwalk like paths, you can also meander to the several garden preservation areas and artistic garden collections created here. They have the rock garden, Camellia garden, Osceola garde, the reflection garden and the wildflower garden.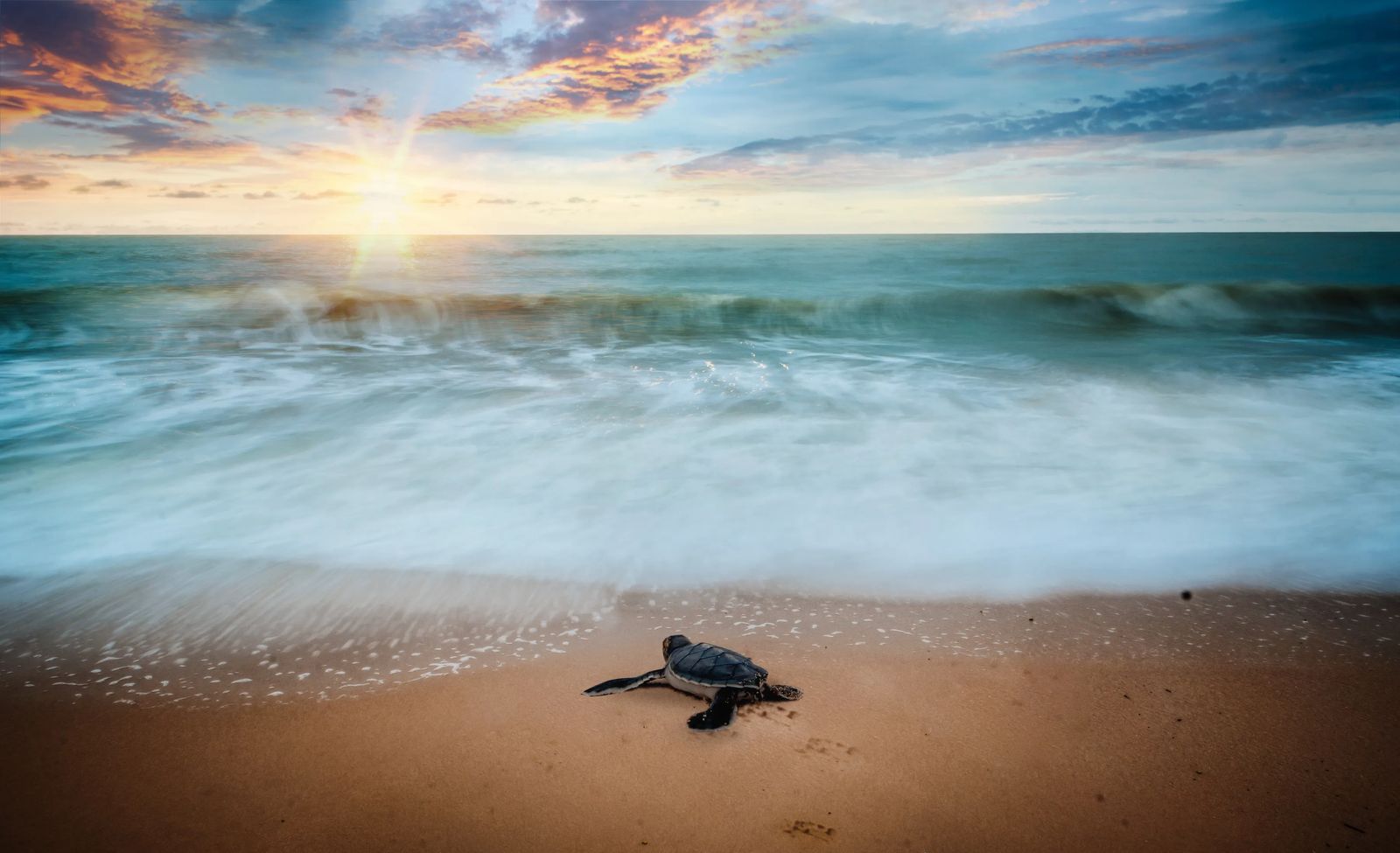 Fort Lauderdale to Save Sea Turtles
If you want to be a part of history saving sea turtles, and helping preserve a species that has survived since the time of the dinosaurs then I suggest doing a Sea Turtle Trek in Fort Lauderdale. It does require you sign up ahead of time during the Sea Turtle nesting season (June-September). It costs around $25 to do a Turtle Trek, where you can legally go and help save baby sea turtles from getting confused and crushed by cars. The baby sea turtles typically hatch at night and are biologically drawn to the brightest light (usually the moon) to get back to the ocean and start their long journey.
I personally went with STOP, a non-profit group started by Richard Whitecloud, that work closely with marine biologists to save the sea turtles. Because of the road being so close to the beaches in Florida, when the turtles emerge from their nests, they get confused by the bright lights of the hotels and cars and go the wrong way. They get stuck in the beach benches, sand castles, walkways, and even fall into sewage drains.
What these volunteers do, is they have been trained for the baby sea turtles to attempt their way to the ocean and if they don't go the right way, they are gathered into buckets and gently returned to the sea. Read my full experience and how to sign up.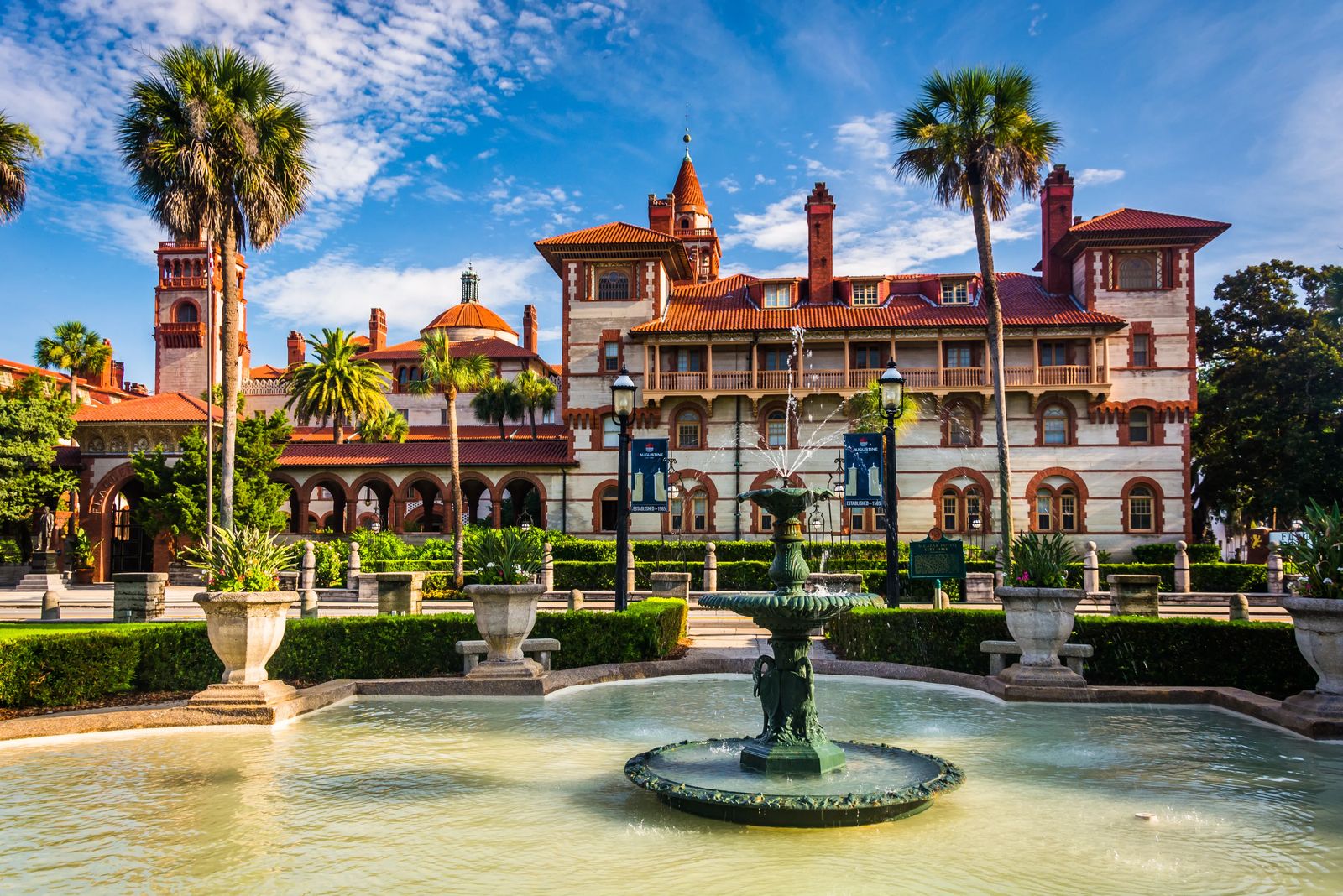 St Augustine
Oldest European-settled town in the US founded in 1565, otherwise known as Castillo de San Marcos, Saint Augustine is a day trip from Orlando not to be missed. Start at Fort Matanzas where it all started in 1565 when the Spanish took control of Florida by killing 245 French soldiers here. Matanzas in Spanish stands for slaughter.
Then head over to the Mission de Nombre de Dios, a giant cross chapel near Menendez's landing. This is where the ship's chaplain, Father Lopez, administered mass. The chapel is small but beautifully decorated in Ivy that covers the whole building except for the entryway, the windows and where a small white statue is housed in I recess. It almost appears as if nature built the building itself.
The Castillo de San Marcos is considered a National Historic Landmark District. This historic fort is was one of a kind for its time. The Spanish quickly realized the wooden forts were no match for the pirates who would often attack this city. So they built the fort out of coquina, a shell-stone that was taken from anastasia Island and instead of crumbling under cannon fire, it would absorb the blasts.
As you can see the historical significance here is quite unique from the traditional American history we are taught. There are plenty of other teaching opportunities for you and your families in this area, as well as unique shopping, boutique eateries, and 42 miles of beautiful white sand beaches to enjoy while you are here.
Pssst! Be sure to stop by the The Lightner Museum, St. Augustine Lighthouse and Maritime Museum before you leave - knowing the history of a location gives it a lot more depth and meaning than it otherwise would have by just stopping by.
St Augustine is located 1 hr and 45 minutes north of Orlando, and you pass our next day trip from Orlando destination along the way.....Daytona Beach.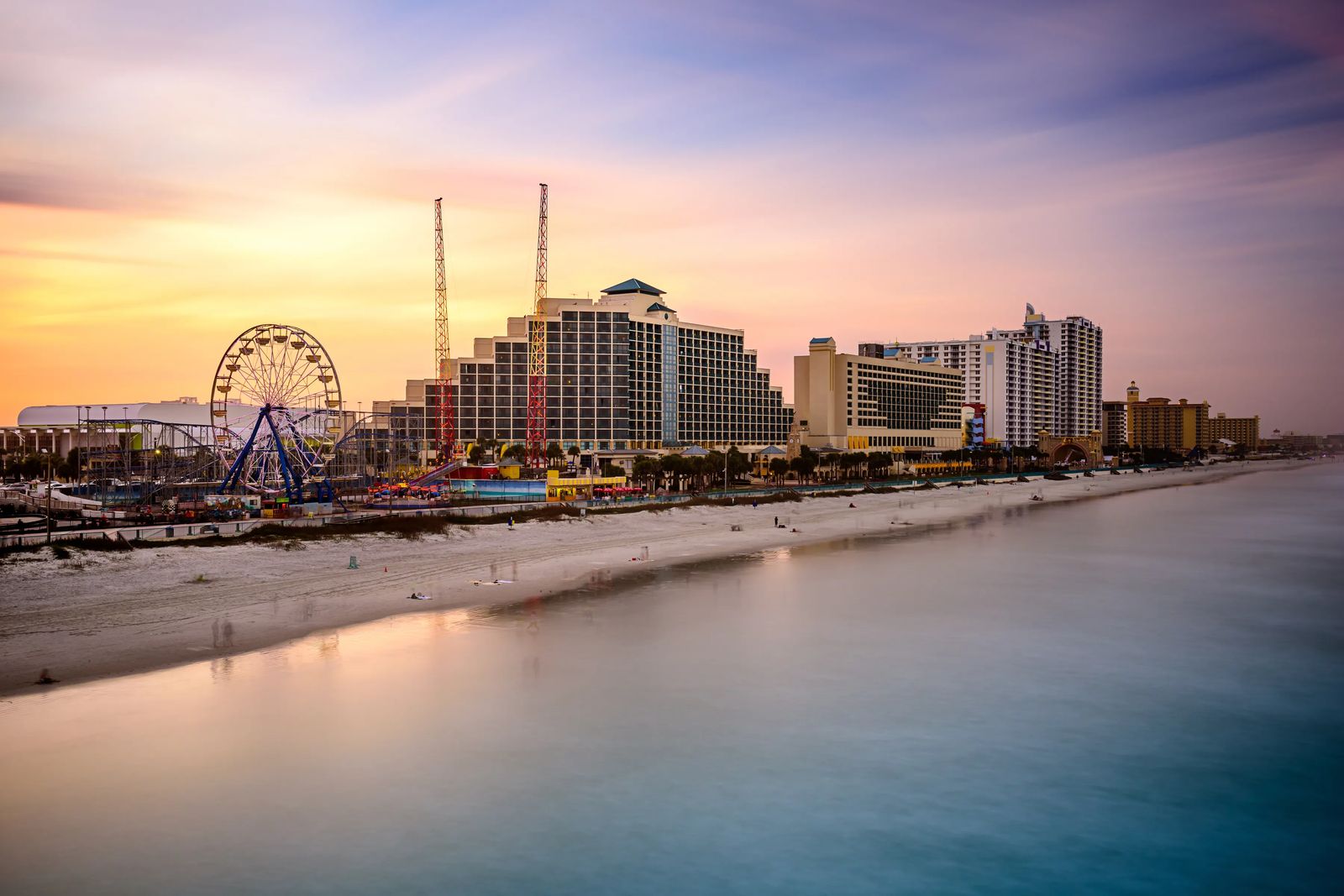 Daytona Beach
Merely 58 minute drive from Orlando, Daytona Beach is home to the Daytona International Speedway, and Nascar Racing. This 500-acre raceway is known as the World Center of Racing.
To be fair, this area has been known to have a high crime rate, and I would not suggest visiting at night unless you had a hotel nearby with security cameras. For Nascar enthusiasts though, this is a carnival like mecca that they flock to year after year.
There are over 23 miles of beaches, hotels and the Daytona Lagoon water park with a historic Daytona Beach Pier and Daytona Beach Boardwalk. This is one of the few places in Florida that you can actually drive your car right onto the beach!
If cars and racing aren't for you, well then jump into a surfing class, go parasailing, kayaking, paddle boarding, fishing or take an eco-boat tour to see some of the abundant wildlife that surrounds the Florida Shorelines.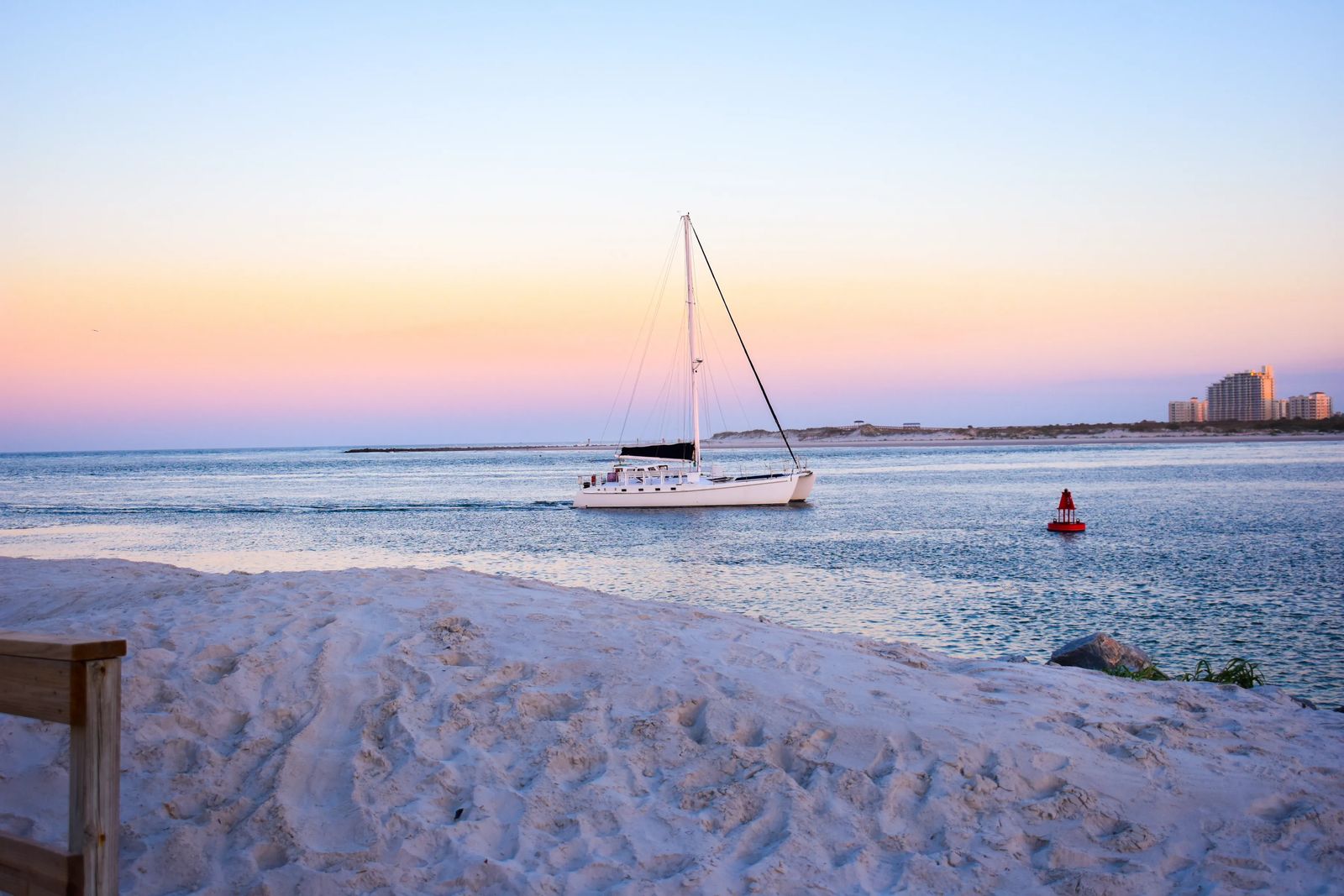 New Smyrna Beach
Just a one hour drive from Orlando you will find a beautiful and quite serene New Smyrna Beach. A place you can rent out tiny beach cottages and drink in the sights, sounds and smells of the Atlantic Ocean Coast.
New Smyrna Beach is one of the first sustainable cities in Florida to receive the One Planet Living Destination seal of approval. There are pathways through the New Smyrna Beach Dunes that lead to an observation deck, a perfect place to take in the natural landscape.
Be sure to visit the 19th century ruins of a Sugar Mill (a perfect place for those Instagram shots framed by the domed arches). During the Civil War the Natives came through and destroyed the entire plantation. The second set of ruins are the Old Fort Park (40'x80'), while there isn't much hard evidence to say what this structure was once used for, many believe it to be built by the first colonizers, Andrew Turnbull, to the area in the 1760's.
Speaking of a blast from the past, every second Saturday there is a local drive in. Where vintage cars, trucks, and motorcycles flood the canal street.
Canaveral National Seashore is south of the city on A1A with 57,000 acres of pristine coastline. This is a natural barrier for both people and wildlife when storms and hurricanes pummel the shores. What really makes this shoreline unique is that is unspoiled by hotels, condos, and shops. Because of this, it has become a natural safe haven for sea turtles to come lay their eggs.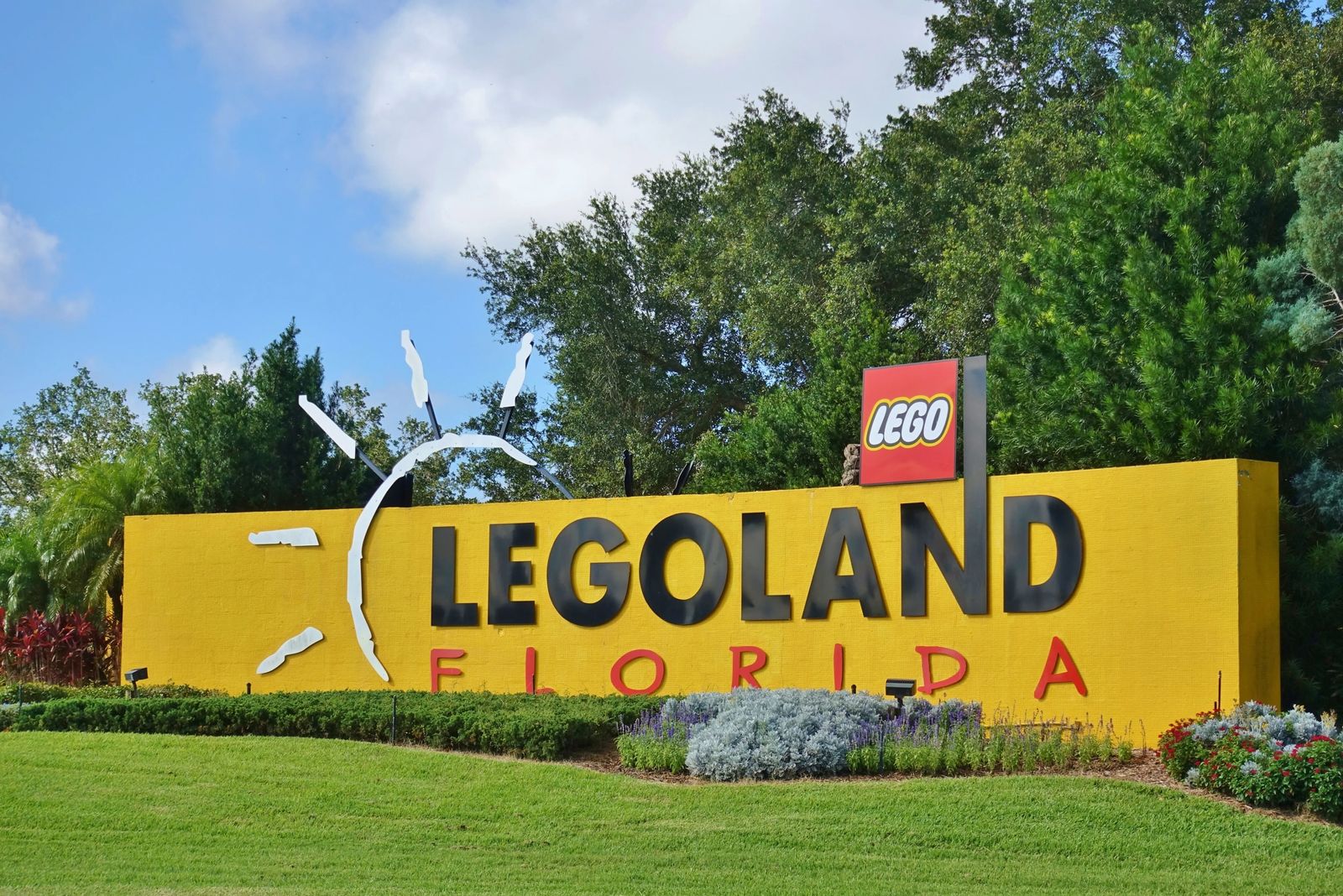 Legoland
Driving down Orlando's main boulevard, it is hard to separate which theme park is which. Nowadays, it looks like the city has turned into one giant theme park. I suggest getting nerdy and heading to Legoland! This 150-acre park located in winter haven was built on the former grounds of the Cypress Gardens.
While I'm not a huge fan of trading concrete and steel for Gardens; I do think these types of places give a chance for families with children to bond and create incredible memories. There are a few rides that can be enjoyable for adults, but this day trip from Orlando is best suited for kids accompanied by an adult ;) that allows you to enjoy a theme park without having to fight the horrendous lines.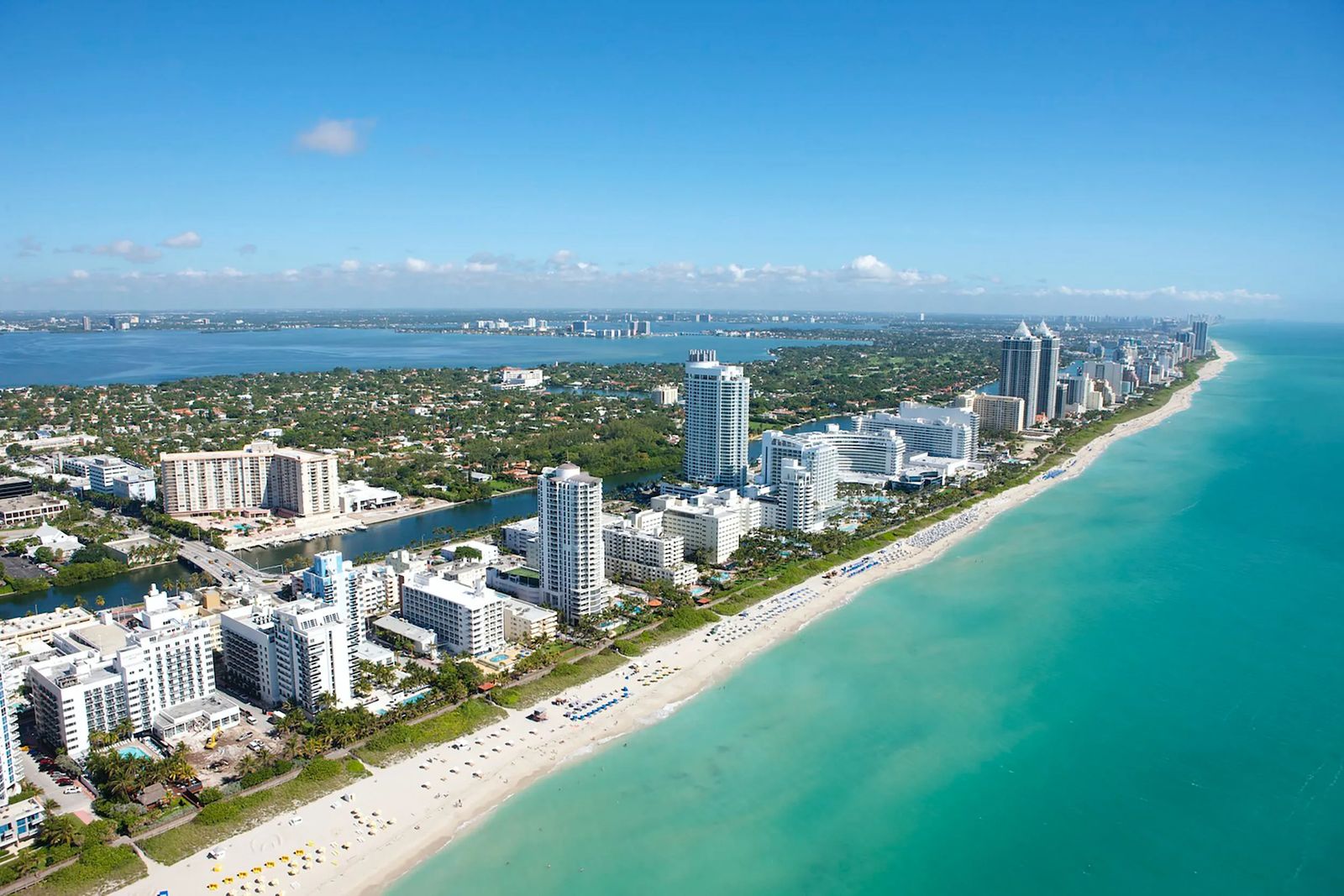 Miami
It doesn't take a rocket scientist to understand Miami is a hot tourist spot in Florida. The city has been worshipped in many a pop, rap and rock songs through the ages. So instead of flocking to the tourist traps I suggest you take a tour through the Art Deco Historic District. The colorful buildings and intricate details on the century-old bygone era of the 1920's are perfect for those classic Instagram photos. There are over 800+ buildings here that were built between 1923 and 1943. So if you want to feel like your Marty Mcfly from Back to the Future, get in your time machine and drive to this district.
South Beach is where you will find all of the glittering nightlife high rise buildings, luxury oceanfront properties, and the famously classic Miami beach scenes. While crowds aren't my thing personally, I couldn't not include a classic for those that love the nightlife scenes of big cities.
For those of us who like a different kind of wild side, I would personally go to the Miami Zoo to support their conservation and research programs there. Then take your wild side, into the wild waters just off the shores to get some Scuba Diving in. The diving profiles range from natural coral reefs, artificial reefs via shipwrecks, and are great for those novice divers all the way up to Advanced Open Water Divers.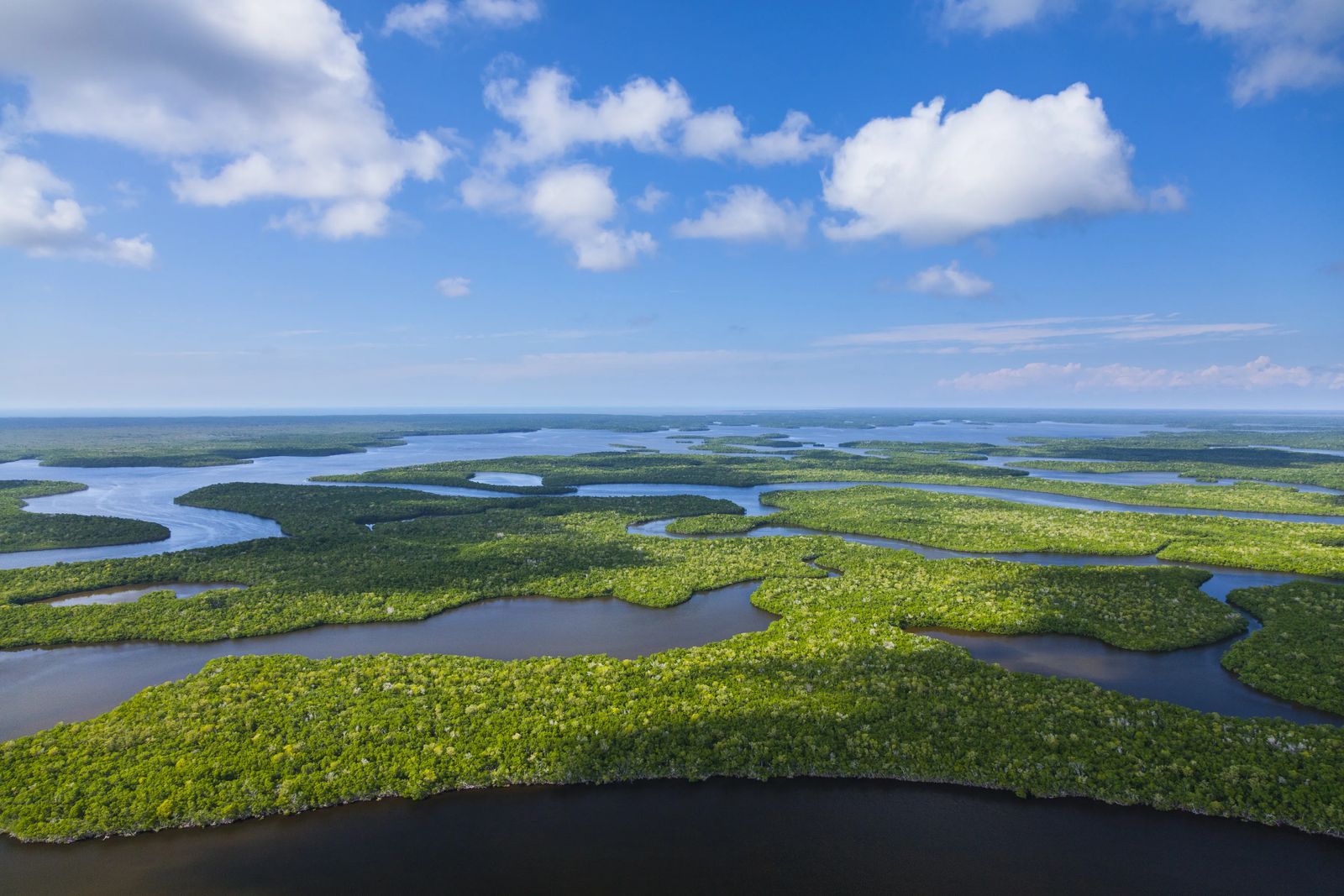 Florida Everglades
This is the largest subtropical wilderness in the United States and home to several endangered and rare species such as the manatee, American crocodile, and the Florida panther. It is considered a World Heritage Site, an International Biosphere Reserve, and a Wetland that holds International importance with significant protections in place.
There are over 1.5 million acres of the everglades you can explore, but all of the exploration must be done through tours and tour guides with permits to do said tours.
The most notable tour through these waters are the airboat tours that allow you to see the everglades in the fraction of the time it would take via a kayak. That being said there are also guided tours for Canoes, Fishing guides, photography tours, Ranger Tours and Eco-tours available. Here is an official tour company list for the Florida Everglades.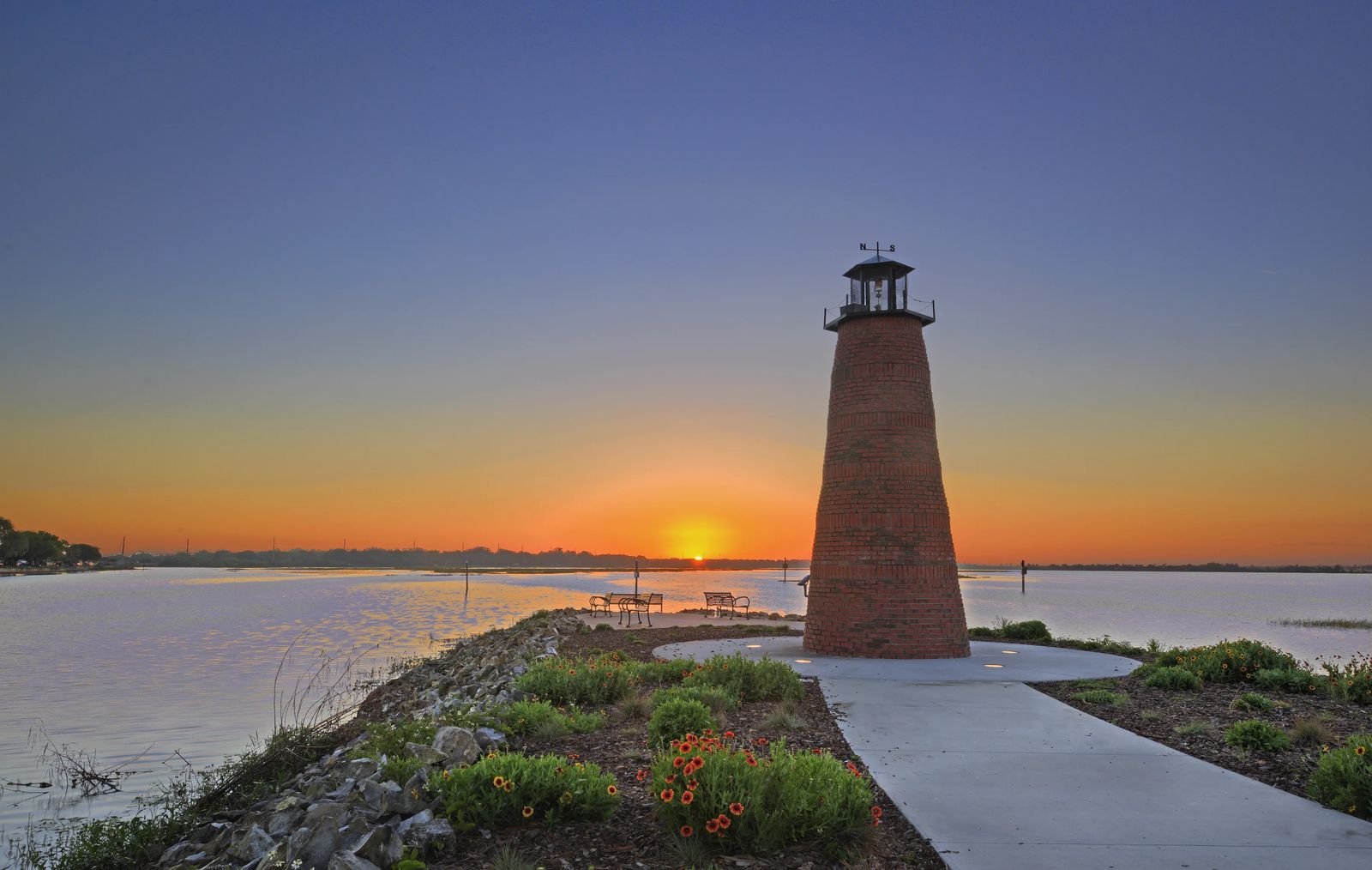 Lake Toho
This 22,700 acre lake, is by far the most famous Bass fishing lakes in the entire country, Lake Tohopekaliga, otherwise known as Lake Toho. It is only minutes away from Orlando, and holds significant history for those Seminole Indians who once lived near this area as Tohopekaliga means "we will gather together here". The area is artificially maintained so that it can continue to be a prime area for Bass fishing.
There have been several Bass caught here that have made the B.A.S.S. History list including the 45 lb 2 oz Bass fish caught by Dean Rojas in 2004. For more tips and tricks on fishing here, check out this guide.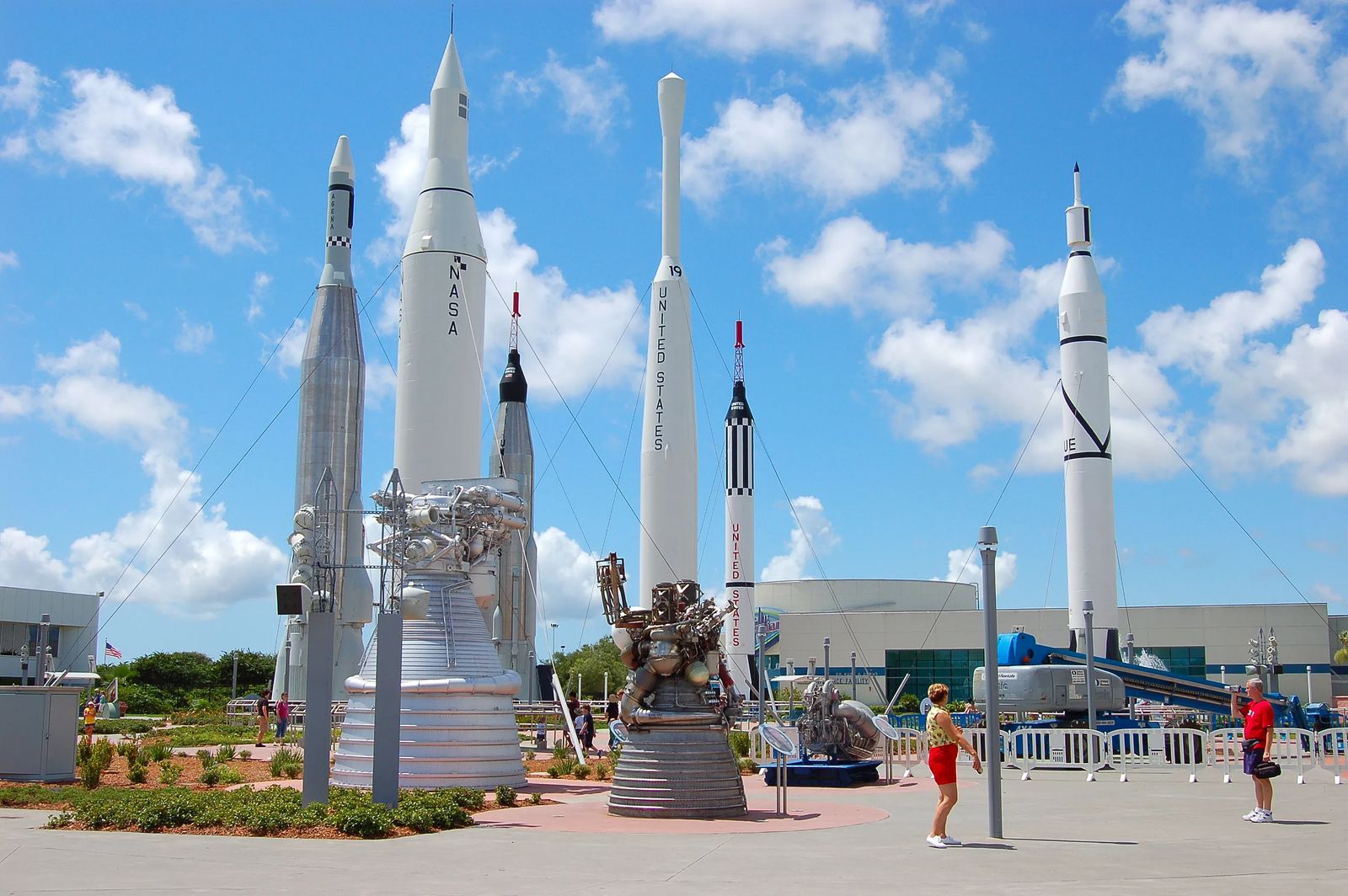 Kennedy Space Center
Located on Merritt Island, an hour drive from Orlando. This is a place for all your inner nerd to come out and sing your personalized Star Wars songs of imagination.
Wander through the Astronaut Hall of Fame, walk among the rocket garden, jump into an astronaut training simulator, learn how the hubble space telescope came from imagination to real life. Ride the Shuttle Launch experience and see what it would feel like to blast off into space.
Then explore an actual space shuttle - the Space Shuttle Atlantis with more than 60 interactive exhibits. Lastly explore the new innovative ways NASA is looking to help with renewable energy and the future of commercial flights to space.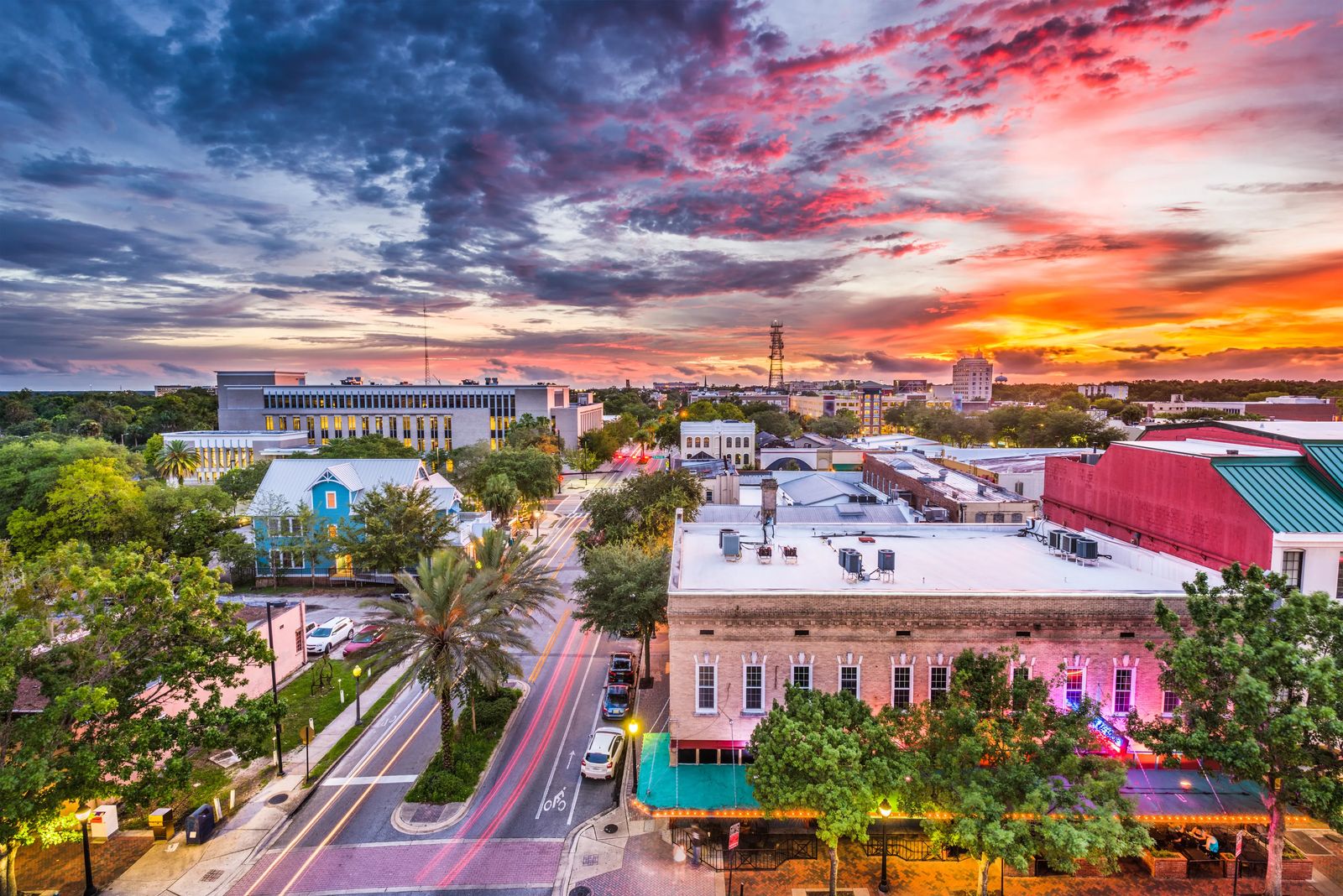 Gainesville Florida
Gainesville Florida is a 1 hour 49 minute hop, skip and a jump away from Orlando Florida. Because of the architectural jungle and historical preservation here - it is often considered one of the more attractive cities in Florida.
The University of Florida is also located here, along with eight museums, a Butterfly rainforest, three art museums and even a vintage postcard collection. There are over 30+ miles of biking and hiking trails where you may just spot birds, bison, wild horses and alligators. Locals describe the area as a place where 'nature meets culture'.
Take a dip on the Ichetucknee Springs State Park, and then grab a beer from four local breweries in this rich melting pot of natural splendor.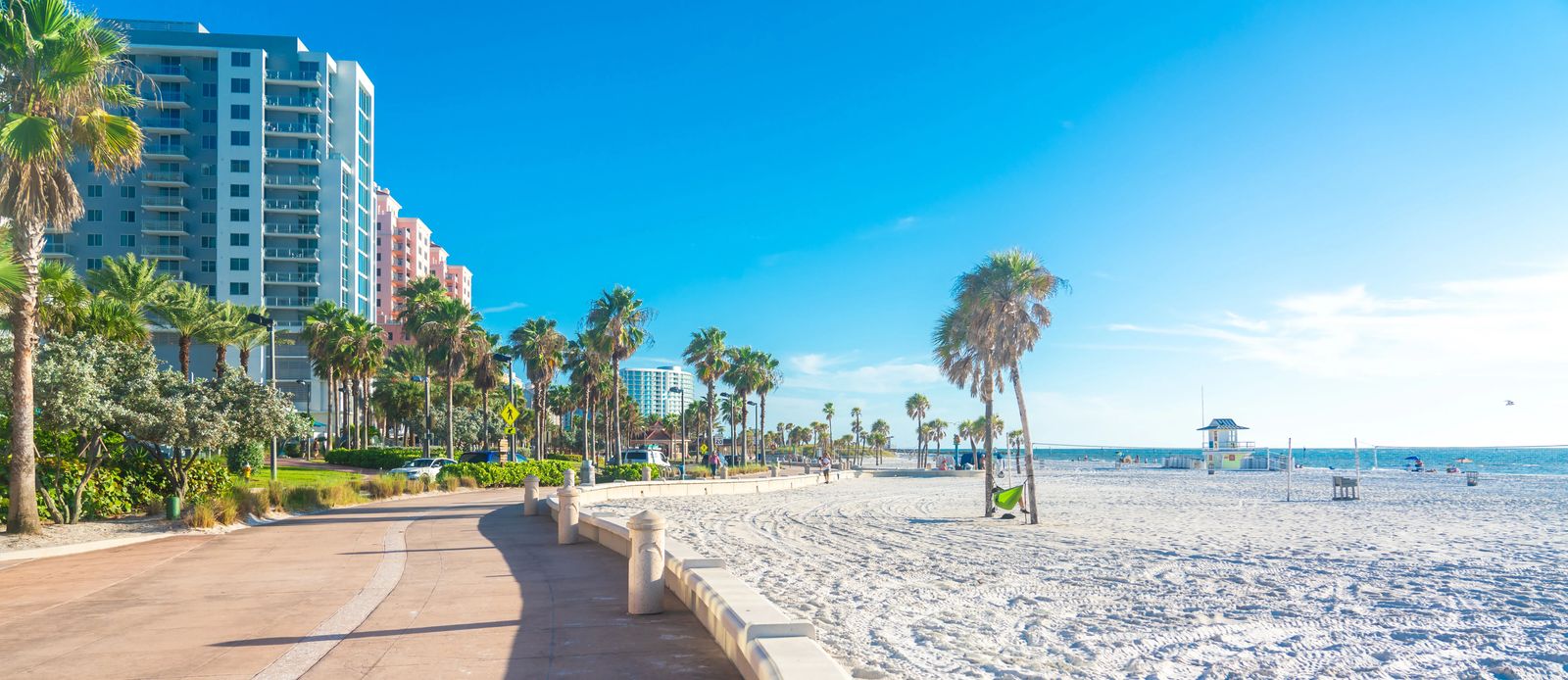 Clearwater Beach
Often voted as one of the best beaches in Florida, it often becomes a local congregation point during Spring Break and other school holidays. If you don't want to go to the crowded beaches, drop into Clearwater Marine Aquarium to see rehabilitated marine animals like Winter the Dolphin with the prosthetic tail. She was actually the star of 'Dolphin Tale' movies.
After the Aquarium head over to Pier 60, this 1,080 foot pier extends out from Highway 60 into the Gulf of Mexico. It is a place that has nightly sunset celebrations for locals and tourists alike. Every evening from 6pm-9pm vendors, artisans, performers take to the pier to entertain and see one of the best sunsets. This evening sunset celebration has been going on for the last 20 years. Always make sure to check out their other seasonal celebrations (including their summer inflatable slides).
If the current is too strong for the day, just drive 31 miles east (approximately 46 minutes) you will run right into the Tampa Bay Busch Gardens. If you don't know what Busch Gardens is, you have been focusing too much on Disney World, and I don't blame you for not knowing.
Yet Busch Gardens in Tampa has a plethora of seasonal festivals like the Bier Fest in Sept-Nov, and transform into a winter wonderland Nov-Jan, to name a few. This is only one of fewer than two dozen institutions in the United States in earning the certification of the Humane Certified Seal through the American Humane Conservation Program. This certification indicates that the park has passed a rigorous and lengthy, expert third-party audits of the park.
Sand Key Park is a 7 minute drive over the Gulf Blvd and has two distinct areas, the beach and the park with picnics, grills, playgrounds, restrooms and even a DOG PARK! There is a salt marsh where you can do some bird watching for heron, roseate, spoonbill, great horned owl, anhinga, and common moorhen nests.
This is the also the central operations base for the artificial reef program! They also protect the beaches here during nesting season for the Sea Turtles, which the Clearwater Aquarium also helps to save those turtles and keeps statistics on all their eggs.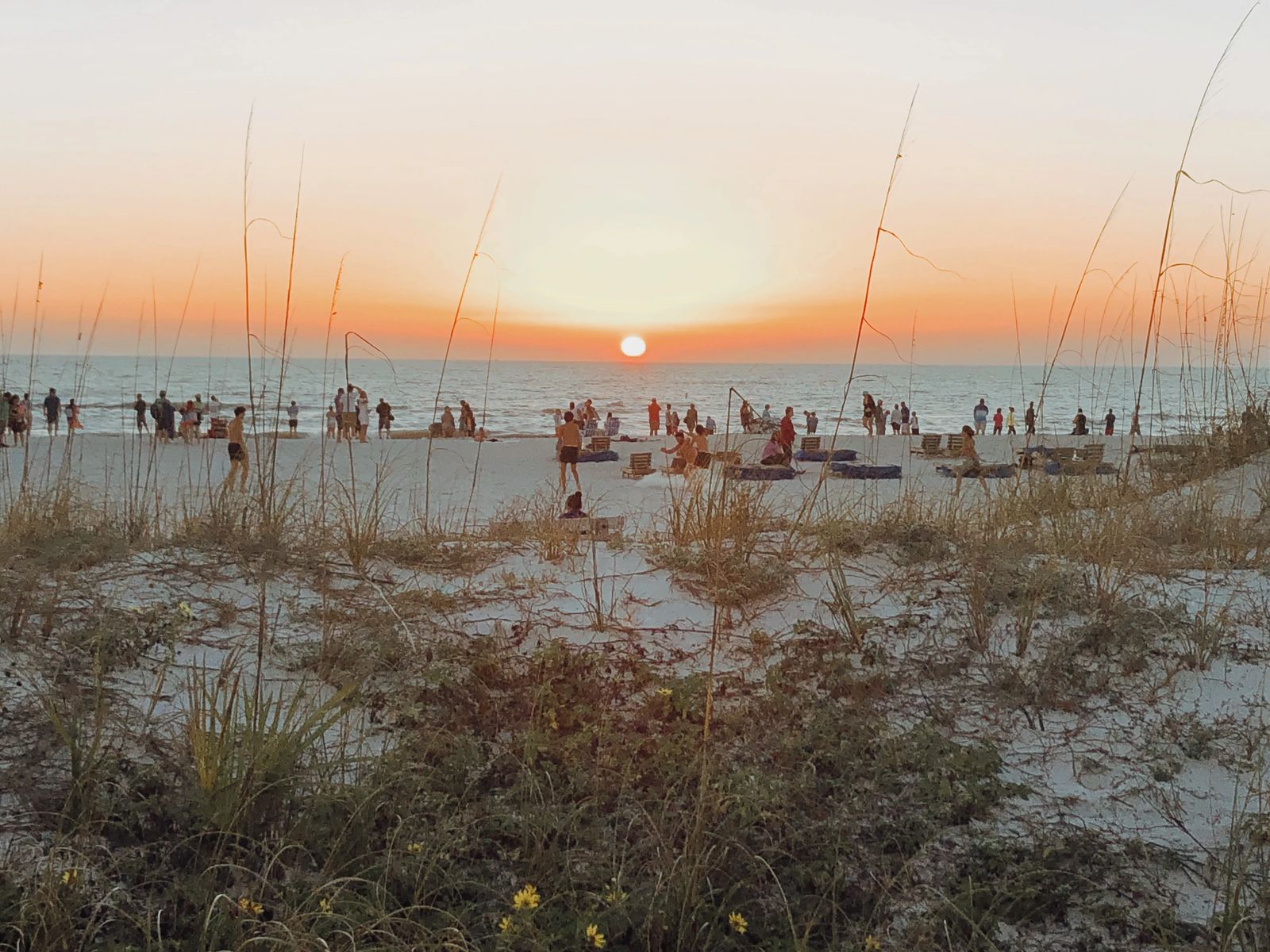 St Petersburg Florida
If you drive from Clearwater Beach (on the west side), to the south you will run right into St Petersburg Florida. This charming town sees more than 768 consecutive days of sunshine, so it is a place filled with shopping, outdoor dining, bars and plenty of attractions. While some argue that Clearwater beaches are better, I felt that the St Petersburg beaches were a lot less crowded, and still had some incredible sunsets.
This is also the place to see the incredible works of Salvador Dali by day, the Chihuly Collection (masterful glasswork), and brightly colored murals throughout the city.
If you dine at one of the waterfront hotels here, you can usually find outdoor patio seating as you watch the sunset and are serenaded by live music.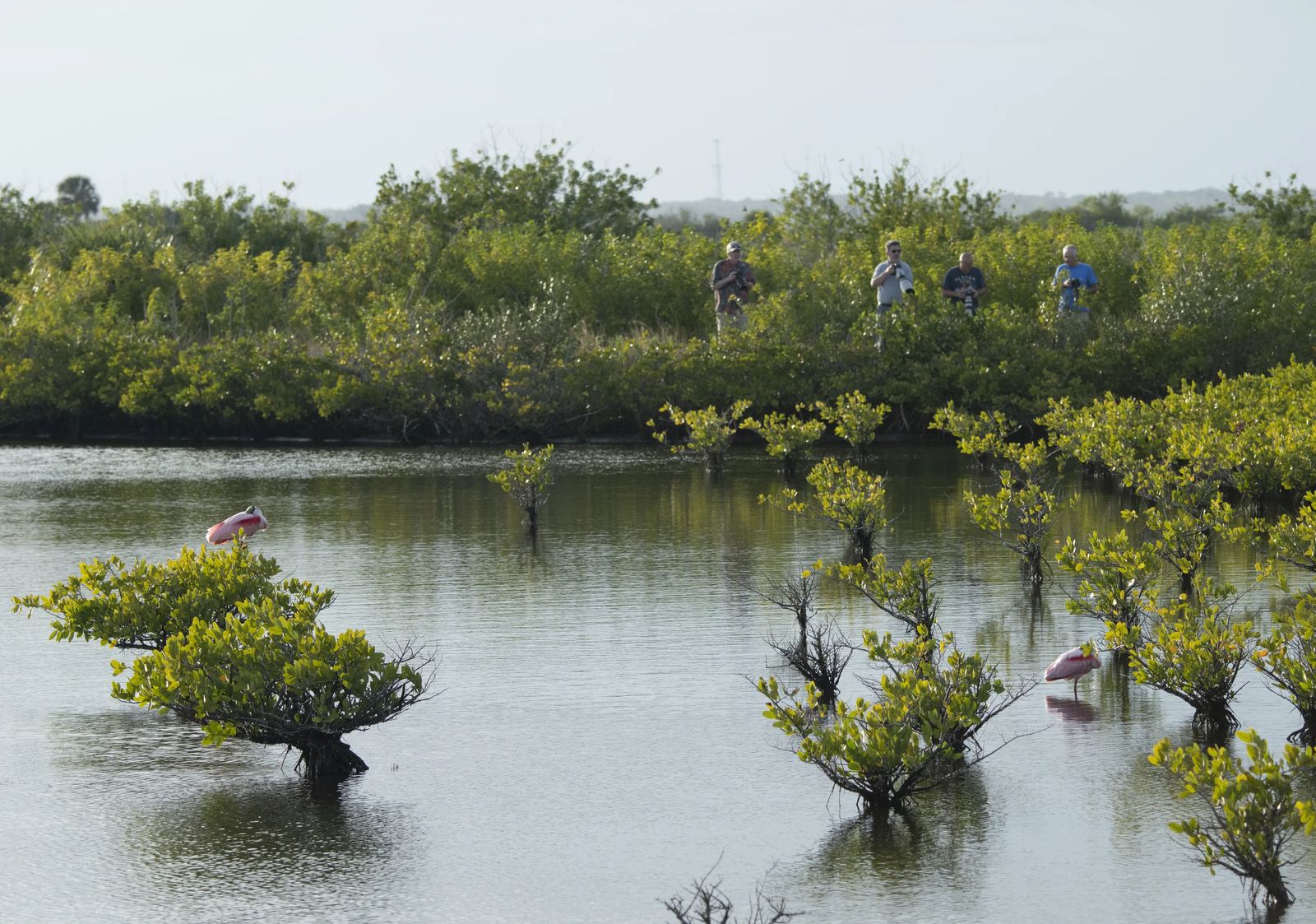 Merrit Island national Wildlife Refuge
Right near the Kennedy Space Center you will find a 140,000 acre wildlife refuge on Merritt Island. THIS is how Florida would have looked before the billboards, high rise hotels, and even electricity.
This refuge has over 1,000 species of plants, 117 fish species and 50 different species of waterfowl, shorebirds and songbirds. There are 21 of the 31 mammal species in this Wildlife Refuge are considered endangered species.
There is a seven-mile Black Point Loop that you can drive along dirt roads that takes your through a variety of ecosystems. You can launch certain boats for observing wildlife, and you can access Playalinda Beach on the outer barrier island.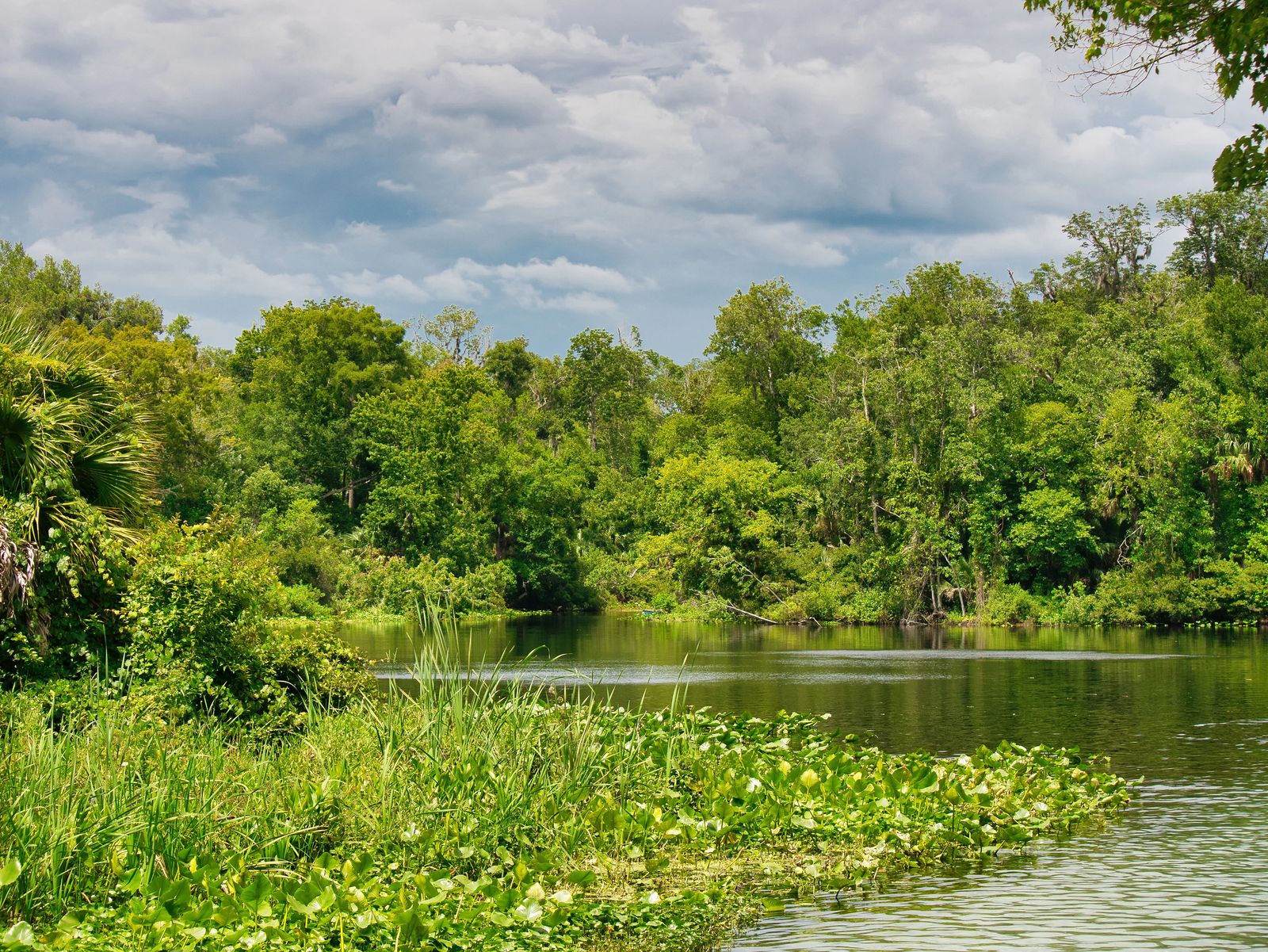 Wekiwa Springs State Park
From Orlando you drive 24 minutes north to Wekiwa Springs State Park. The Springs are a refreshing 72 degrees year-round. You can go swimming in the designated area where water tubes, snorkel gear and a concession stand that sells all these are available.
You can drop a Kayak at Katie's Landing into the Wekiva River. You will see what a wild river looks like with wildlife sightings of alligators, herons, egrets, woodpeckers, Swallow-tailed Kites, bears, deer, otters, foxes, wild turkeys, and numerous subtropical birds. There are several kayak and canoe runs in Wekiwa, which you can rent a watercraft at the concession stand if you can't bring your own.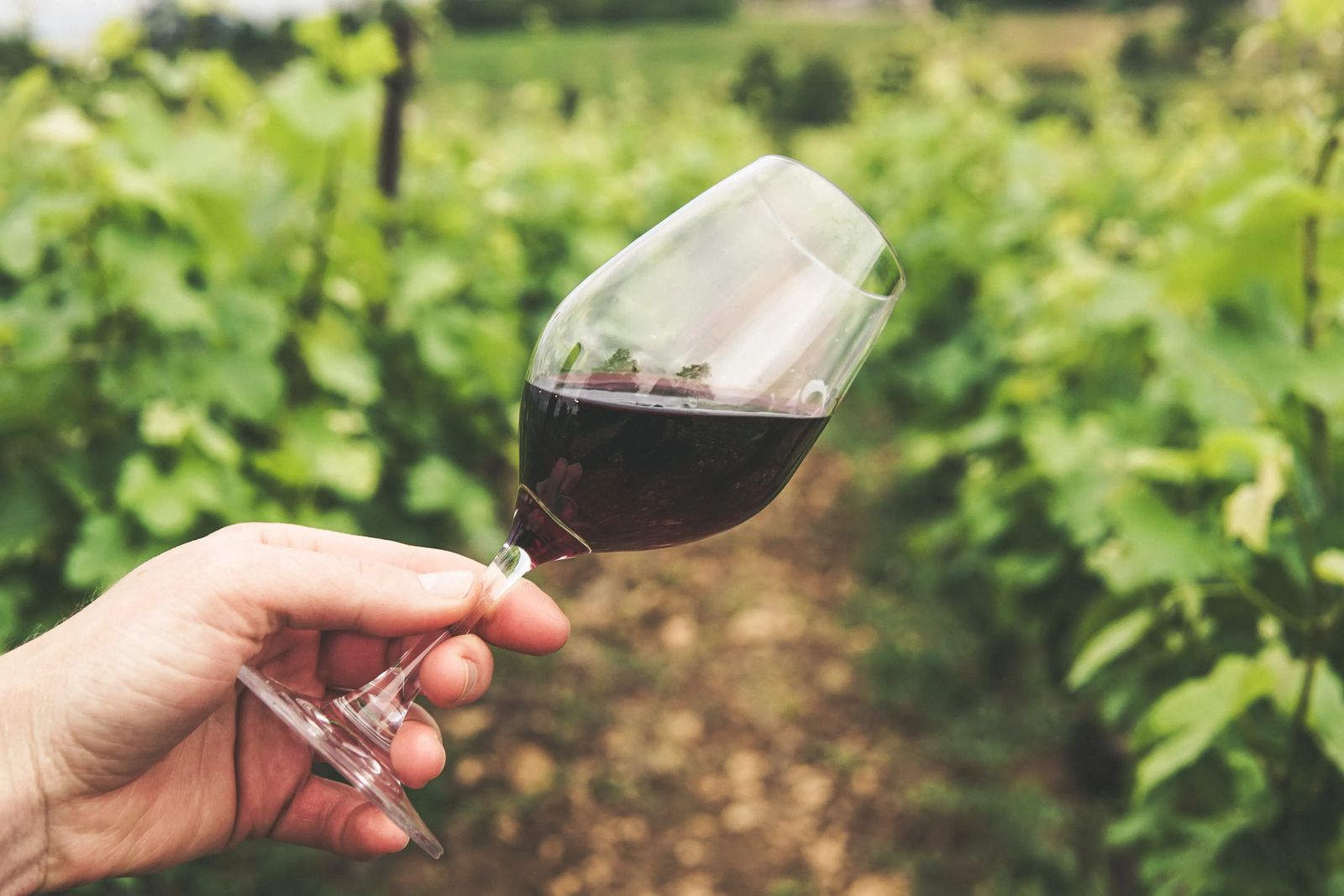 Wineries Near Orlando
Lakeridge Winery
This vineyard has been in operation since February of 1989 in Clermont. It is a mere 34 minute drive (28.2 mile) from Orlando (to the West). There are over 127-acre development with the Muscadine grape varieties of Noble, carlos, and Welder. They also have the Vinifera varieties for Chardonnay, Pinot Grigio, Petite Sirah and Cabernet Sauvignon.
There is tasting room, food trucks, festivals and gift shops here where you can get your vineyard swag.
Flagler Beachfront Winery
This award winning winery has a wide variety of wines like Allure Corduroy, Tortuga, Red Zin, Stainless Steel Chardonnay, Oaked Chardonnay, Gerwurztraminer, Sauvignon Blanc, Pinot Gris, Riesling, Elation (White blend), Riptide, Shades, and Sangria on tap.
Ken Tarsitano, the winemaker himself has two different wineries in Florida and has been in the business for the last 20 years. His Grandfather gave him a love for wine making in his basement, and after saving every last penny he was able to buy his grandfather's farm and converted it into a winery.
Like it? Pin it! Sharing is Caring ;)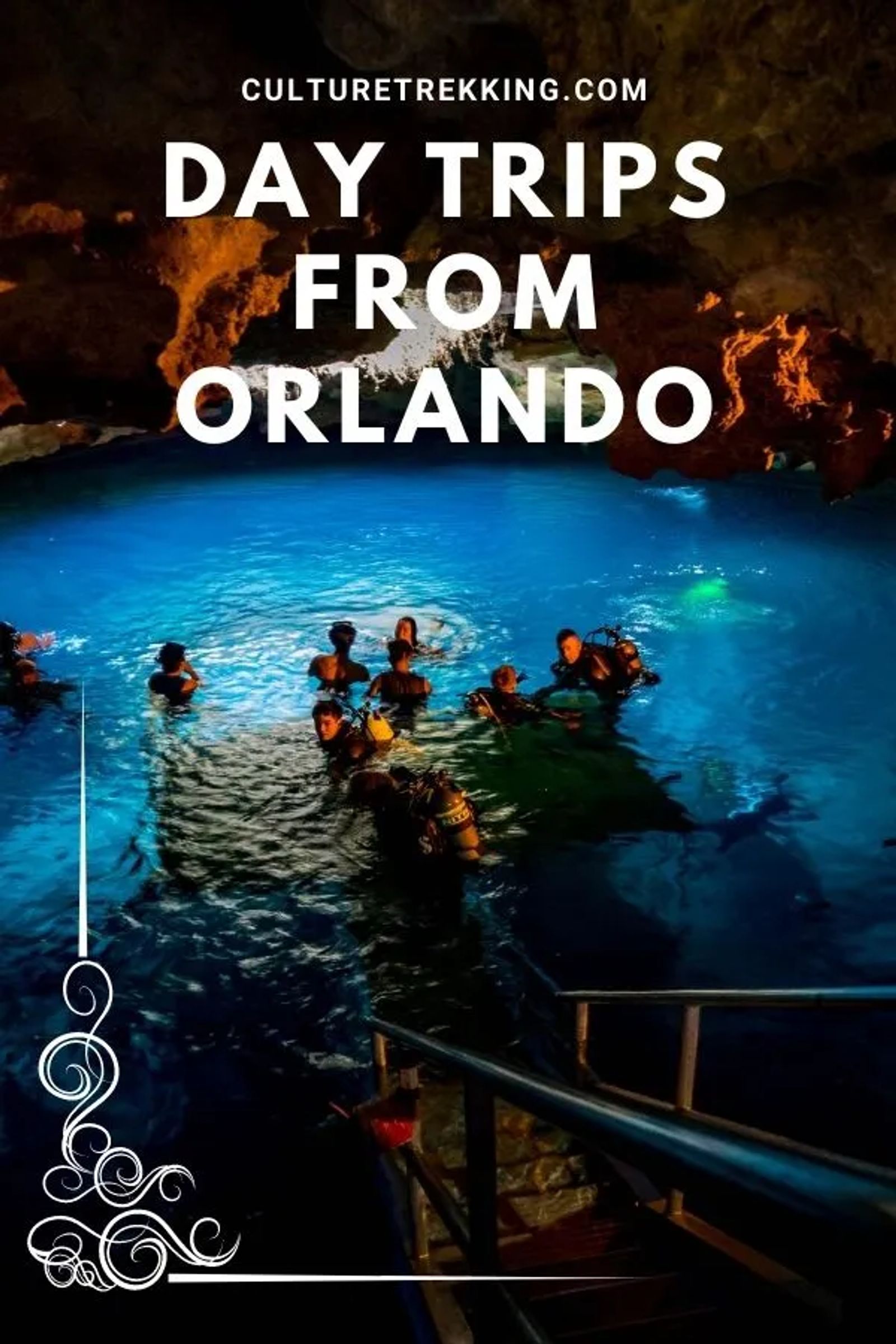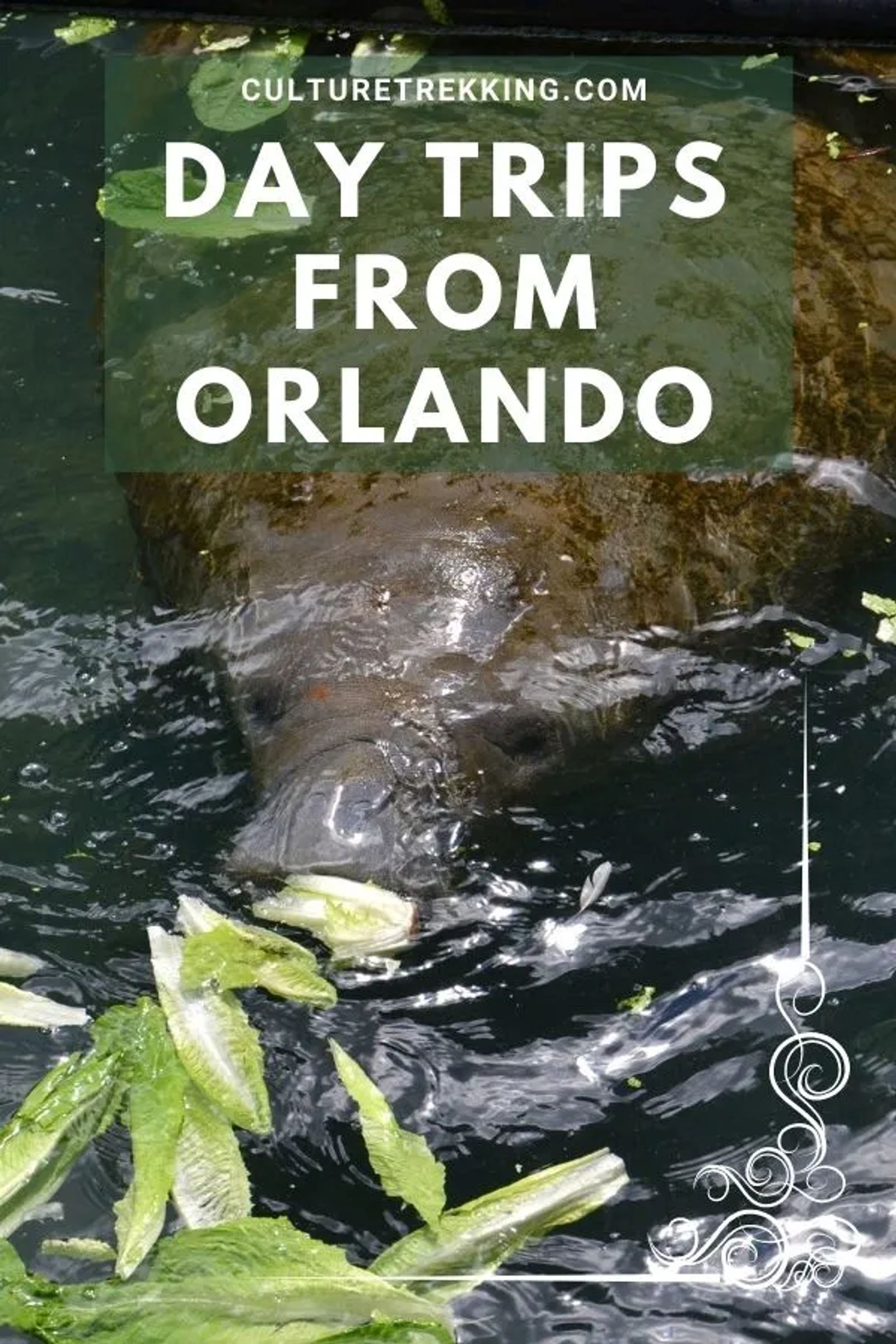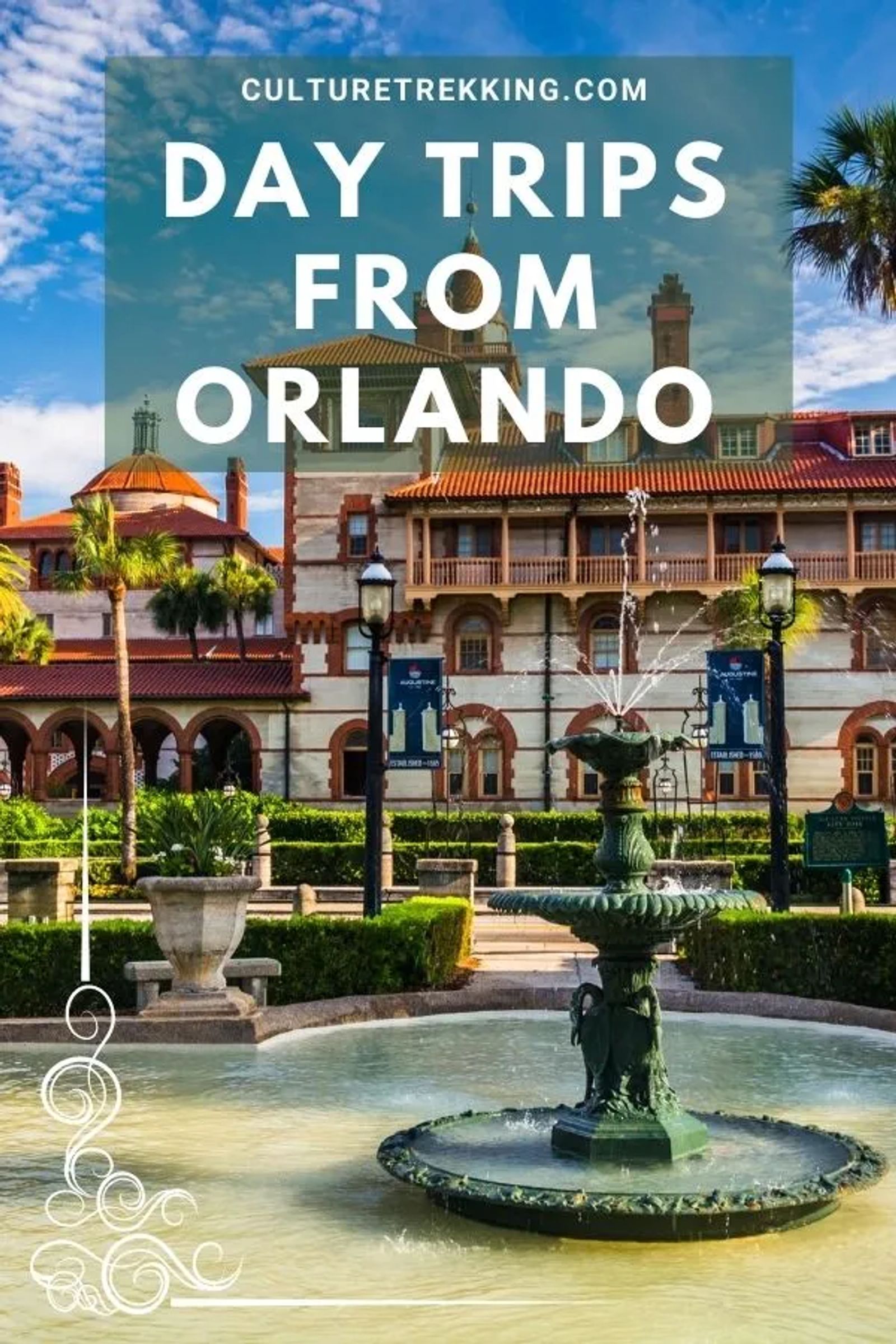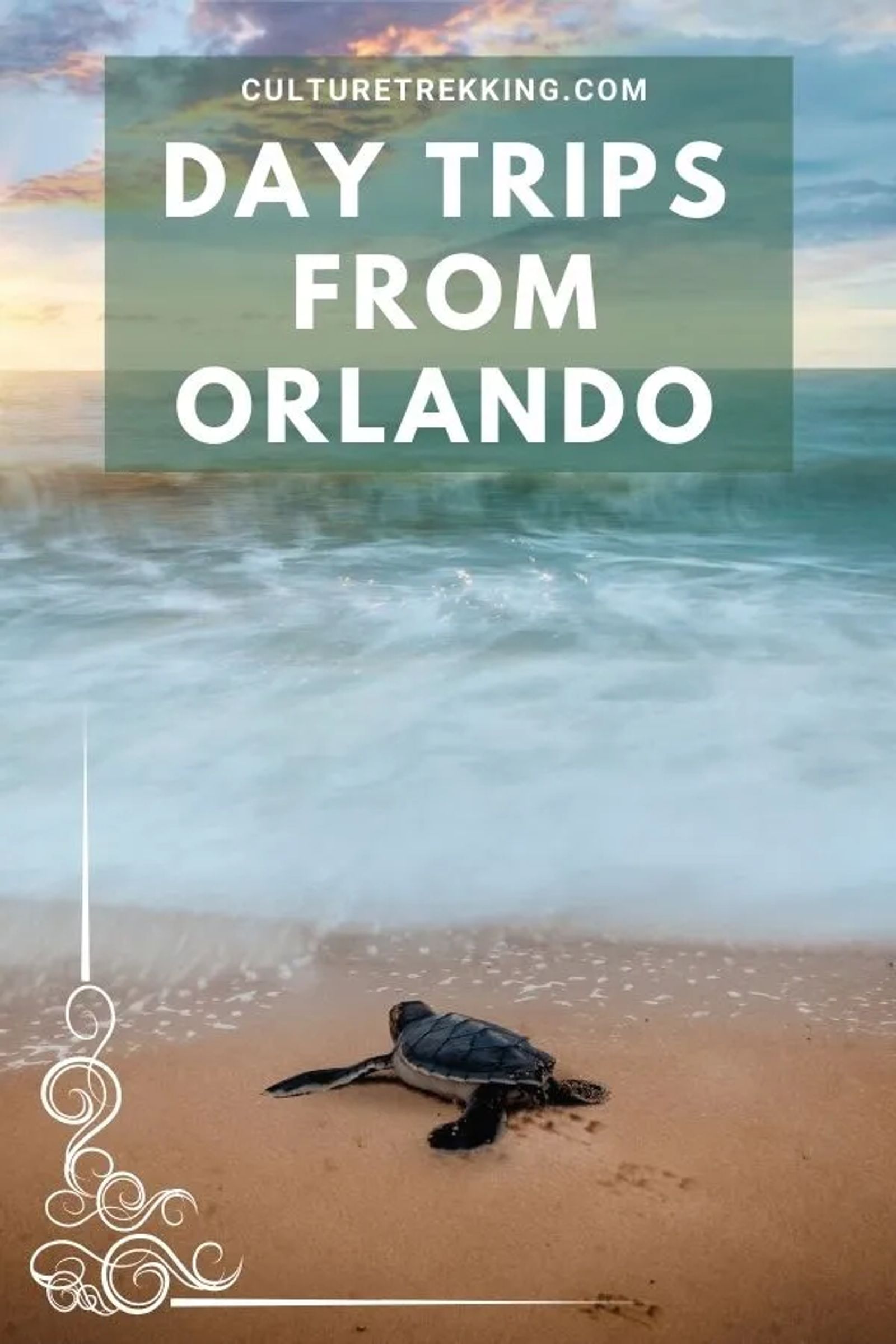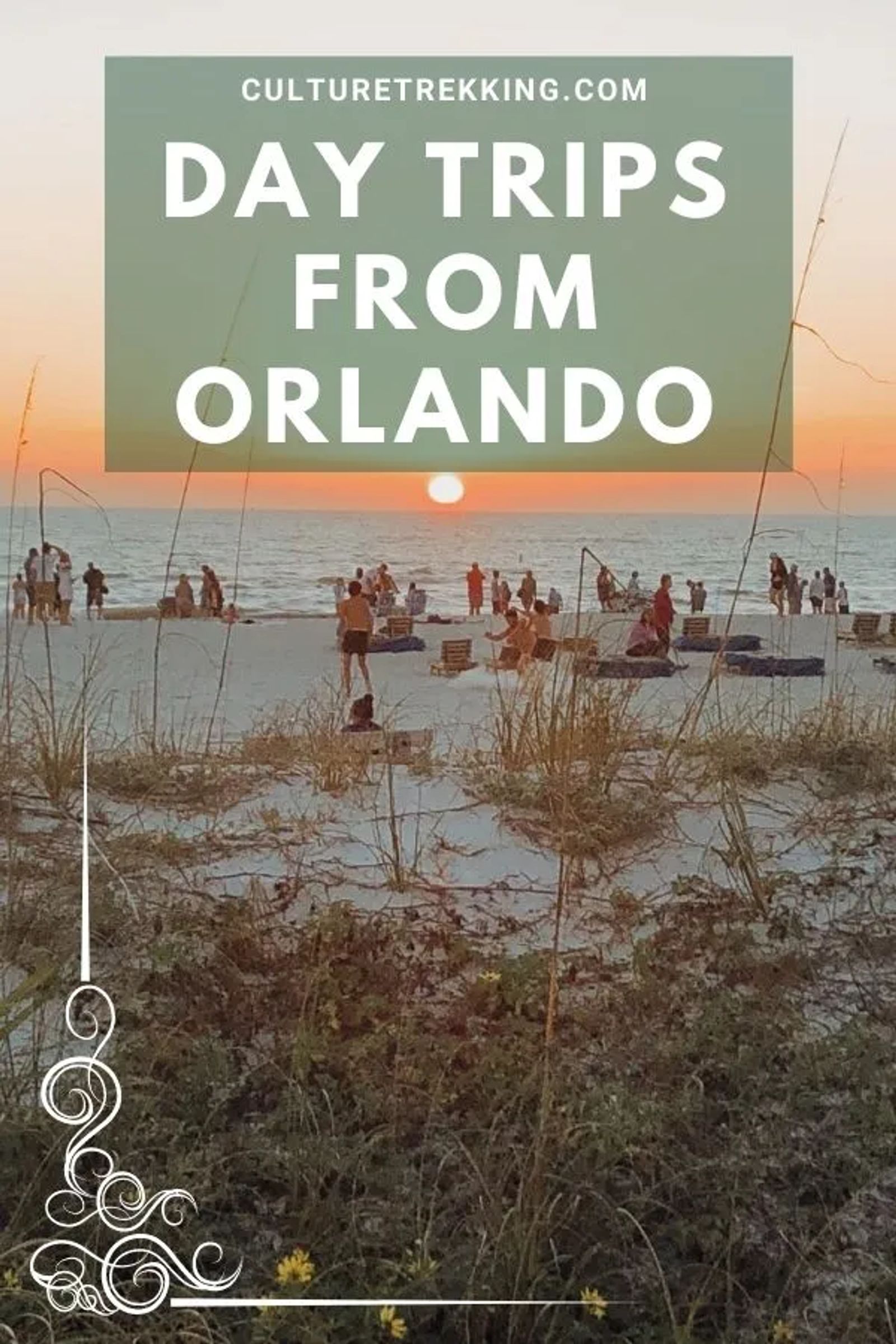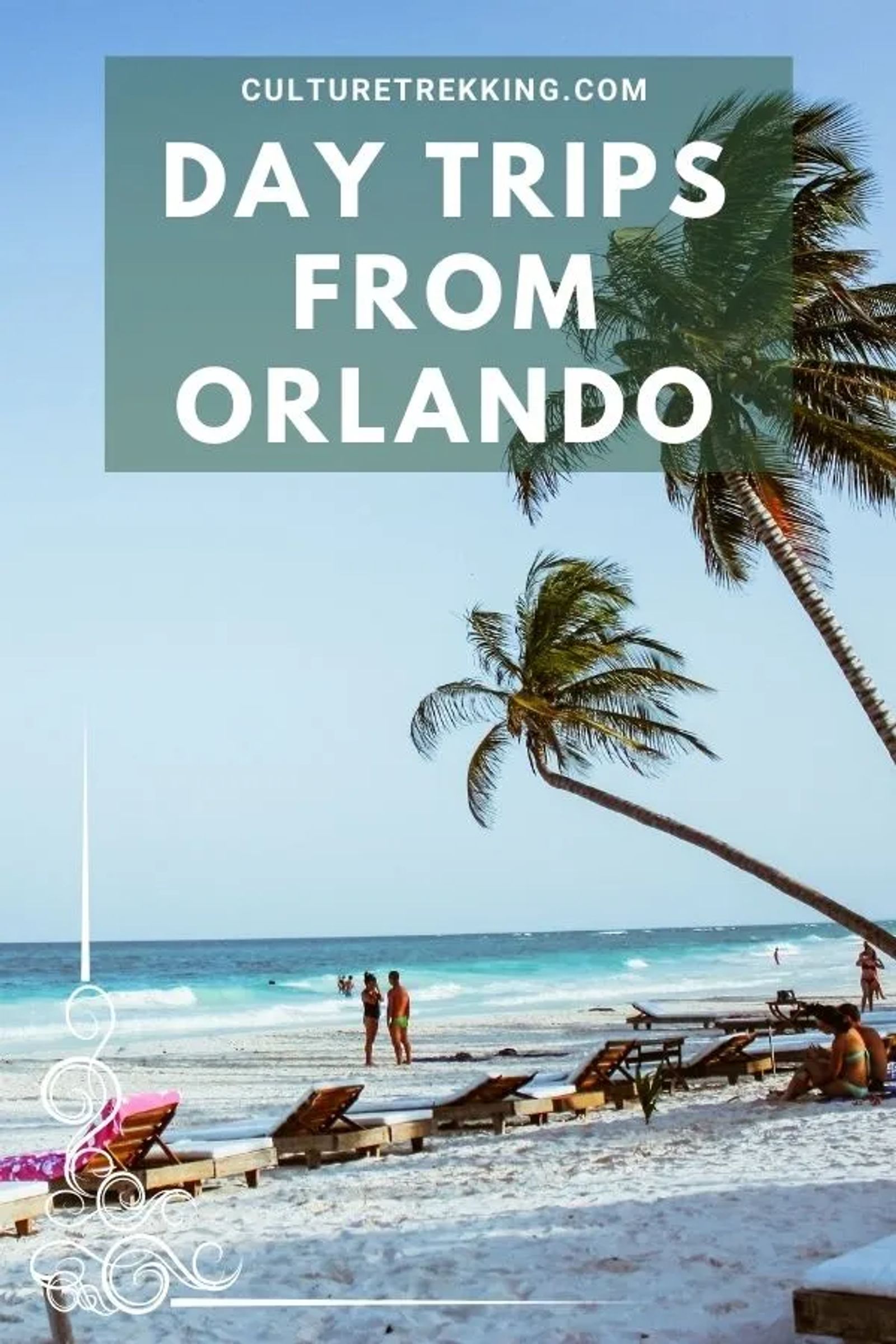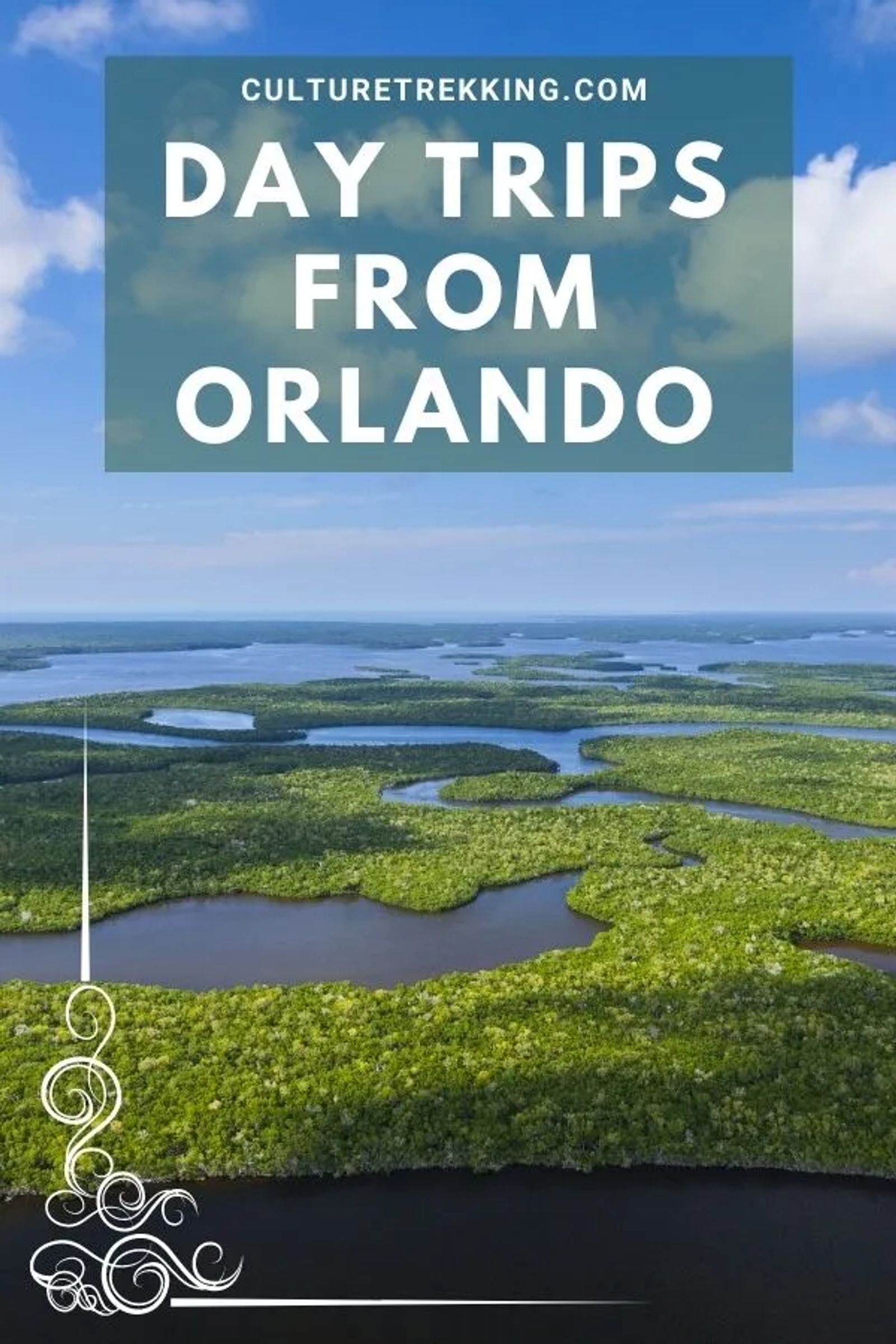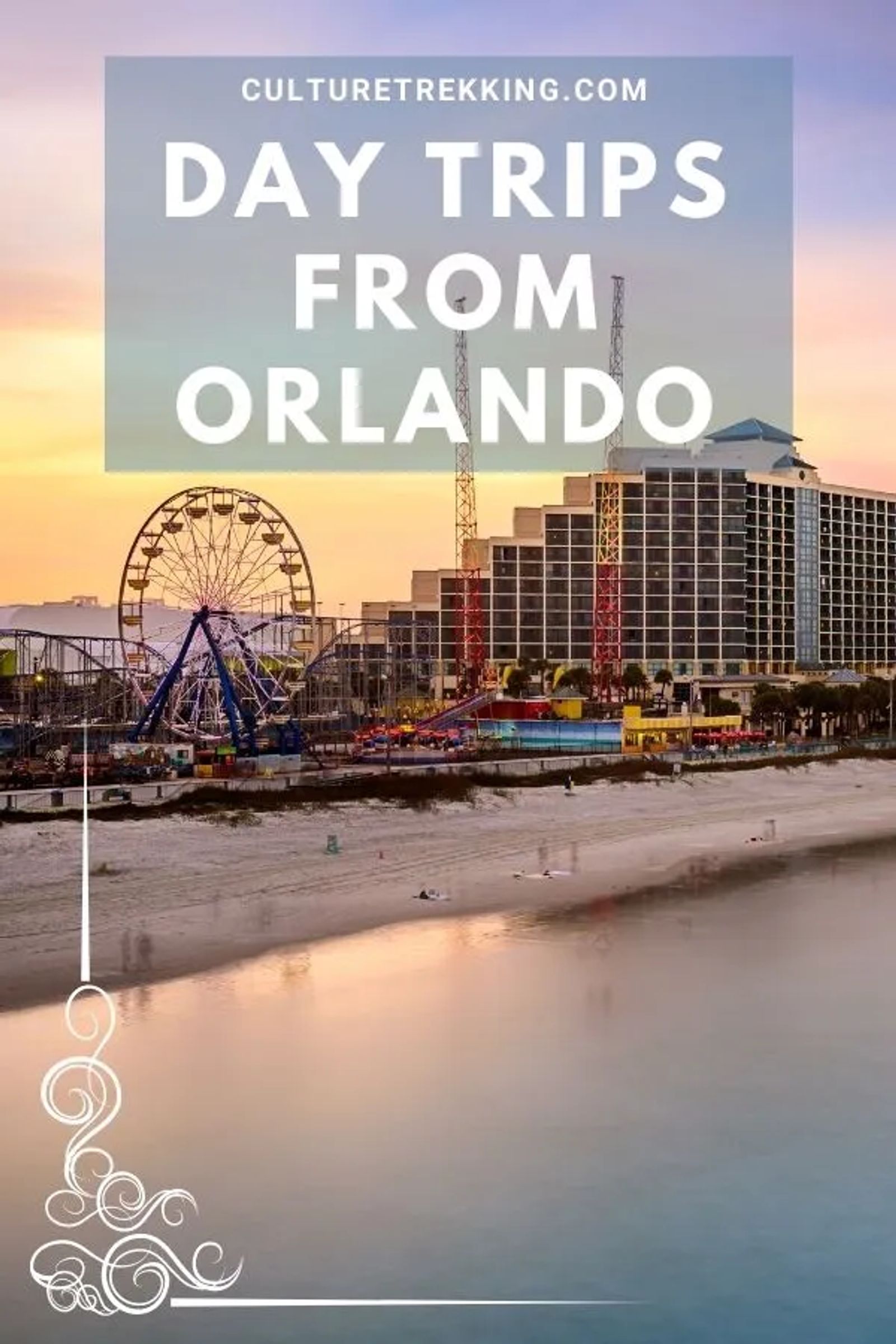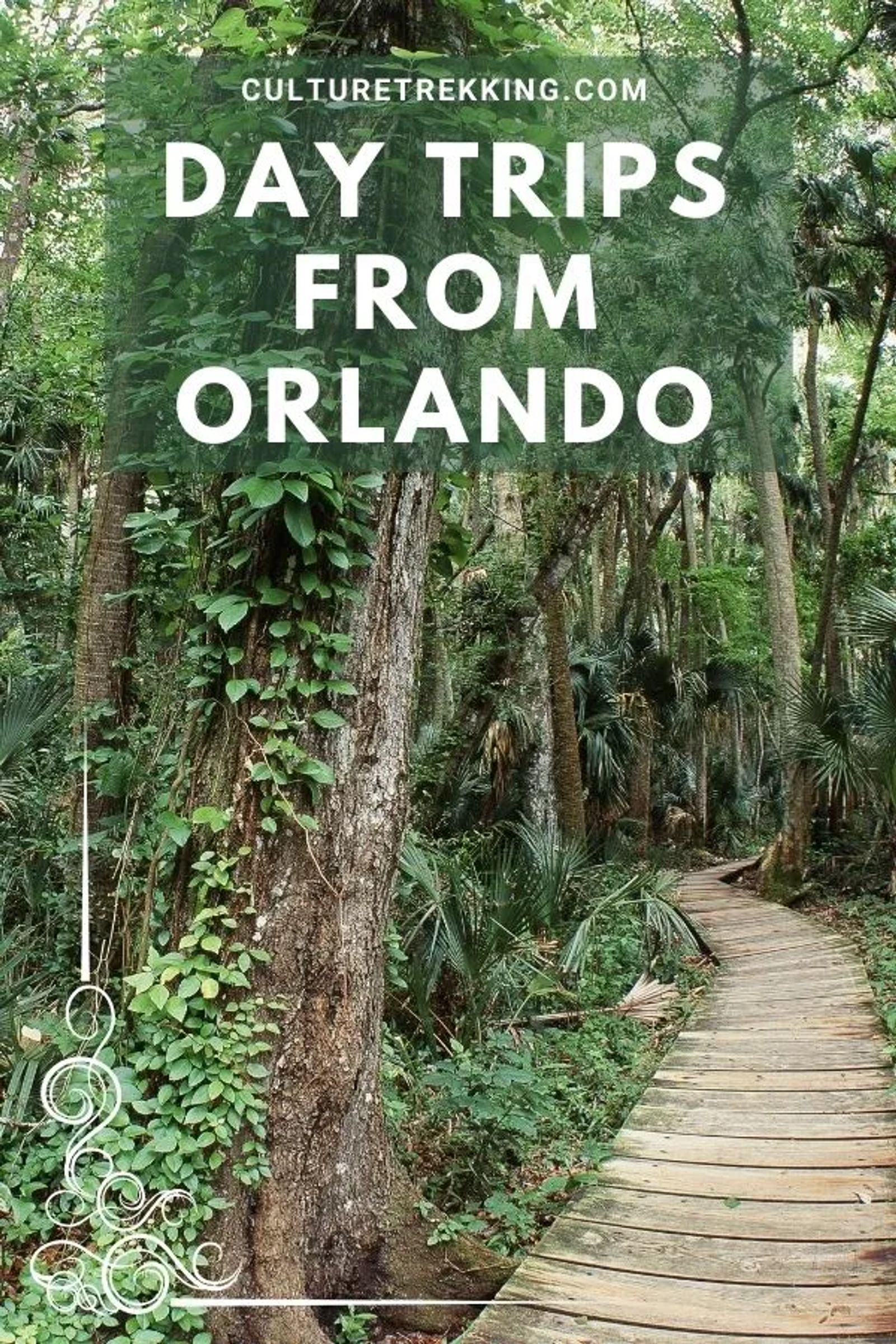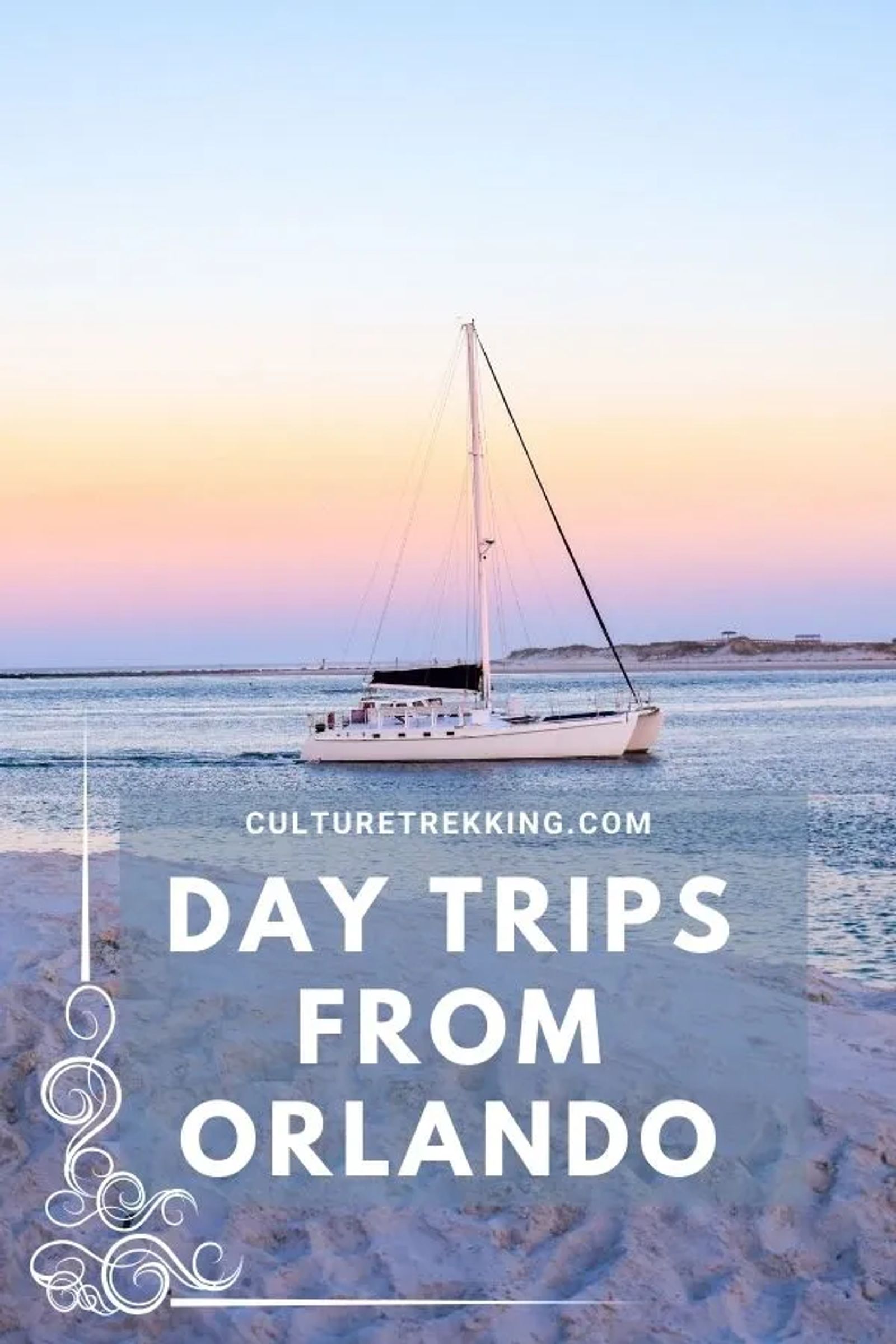 Where To Stay In Fort Lauderdale
Google Map of Orlando Day Trips