Seattle Sightseeing Photography Tour
Seattle Sightseeing Photography Tour with Tim Menzen. What a great opportunity for me to see the hot spots of Seattle, not get lost, and maybe get some good ideas on how to be a better photographer. I booked the experience (which was ~$50 at the time), and a Sailing in Seattle Experience (article on this to be posted next week). I was finally set for my three day weekend in Seattle.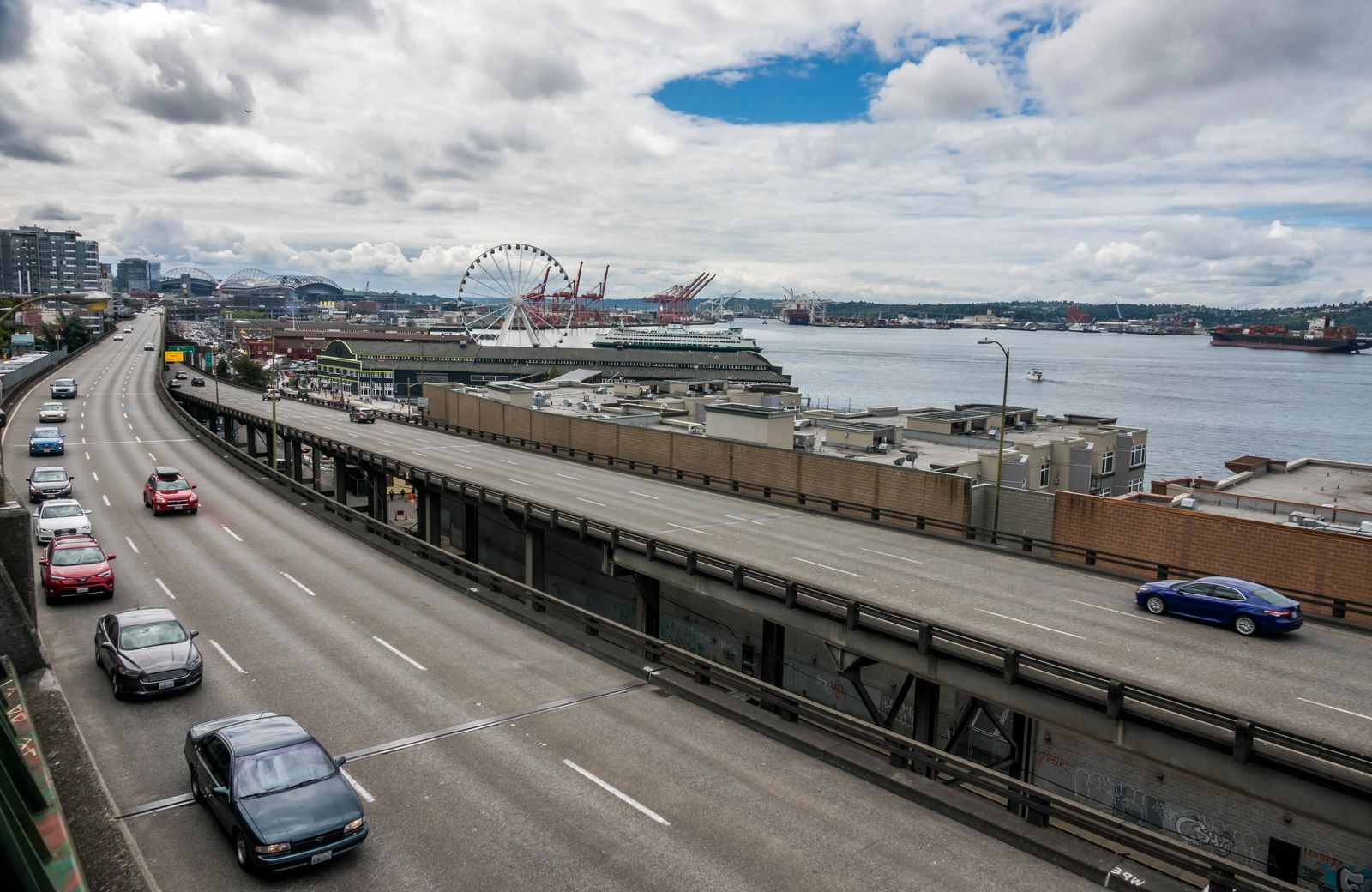 Traveler Tip: Don't have an Airbnb account yet, here is $55 off your first Airbnb stay.
Meeting Tim Menzen, My Tour Guide:
Tim Menzen is a Photographing Camera genius, well at least to me. He often is recruited to do videography for local news stations, shoots for sports teams, car racing, rallies, and so much more. The man is legit and knows his stuff. Take a look at his Facebook and Instagram posts to get a better idea.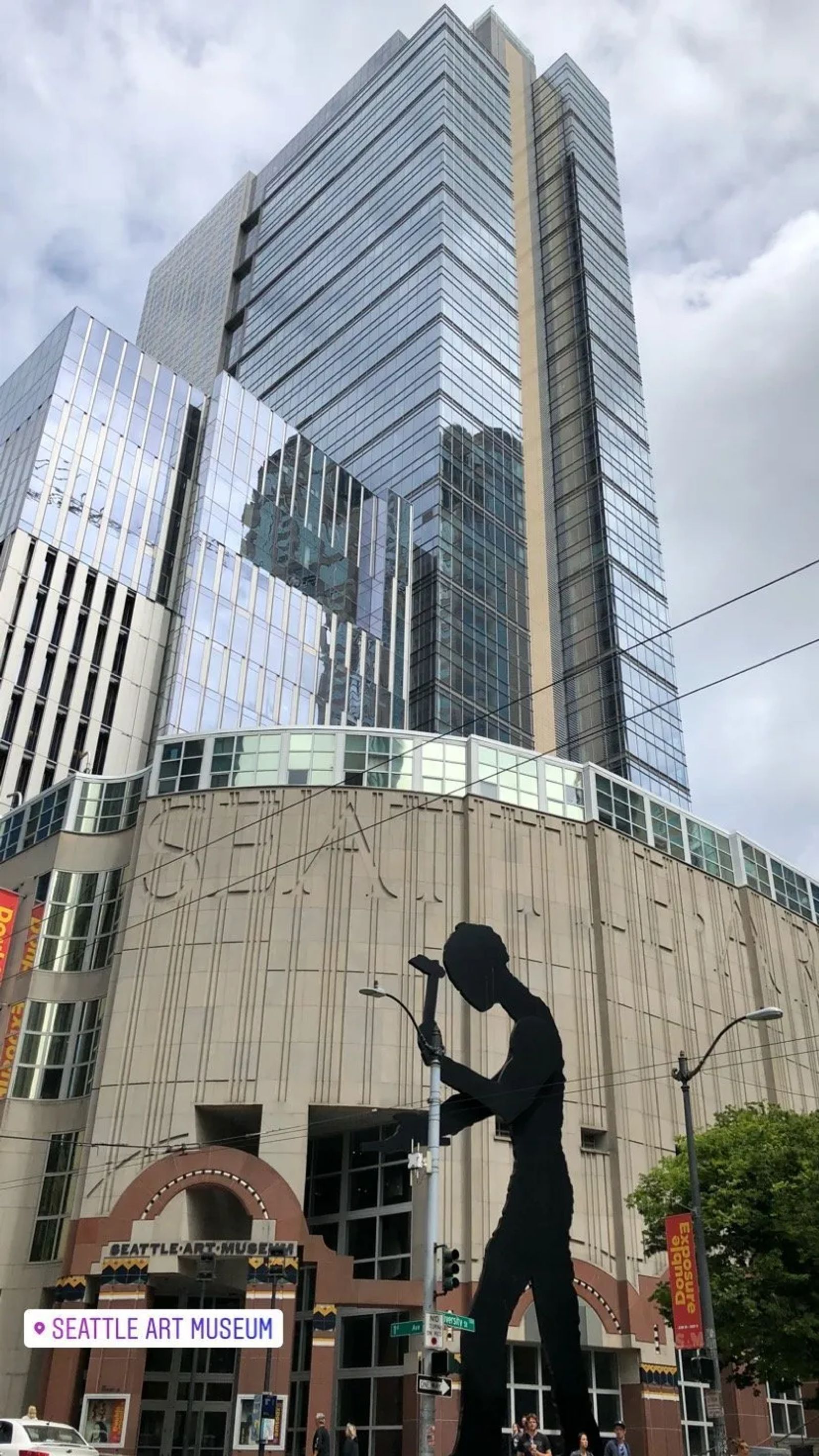 I met Tim at the Art Museum in Downtown Seattle (appropriate for the type of tour we were doing). He was very communicative, told me what he would be wearing, what to expect, and was flexible when my Uber was late.
He shoots with a Cannon 1DX (the beast of all beasts of a camera), and was really jealous about that honestly. I shoot with a Sony DSC M3 (which has an incredibly steep learning curve with the technology), yet he really helped me discover how much more technical I can get with my camera.
The Seattle Sightseeing Photography Tour isn't just about going to the hot spots, tourist traps, or getting those Instagram worthy photos. He teaches you to utilize your camera and finally get out of the Auto mode - resulting in less grainy photos with darker pictures, the play of light to your advantage, helping you be more aware of your surroundings fostering the creative edge, and takes you around the more unique areas of downtown Seattle.
Walking the Seattle Sightseeing Photography Tour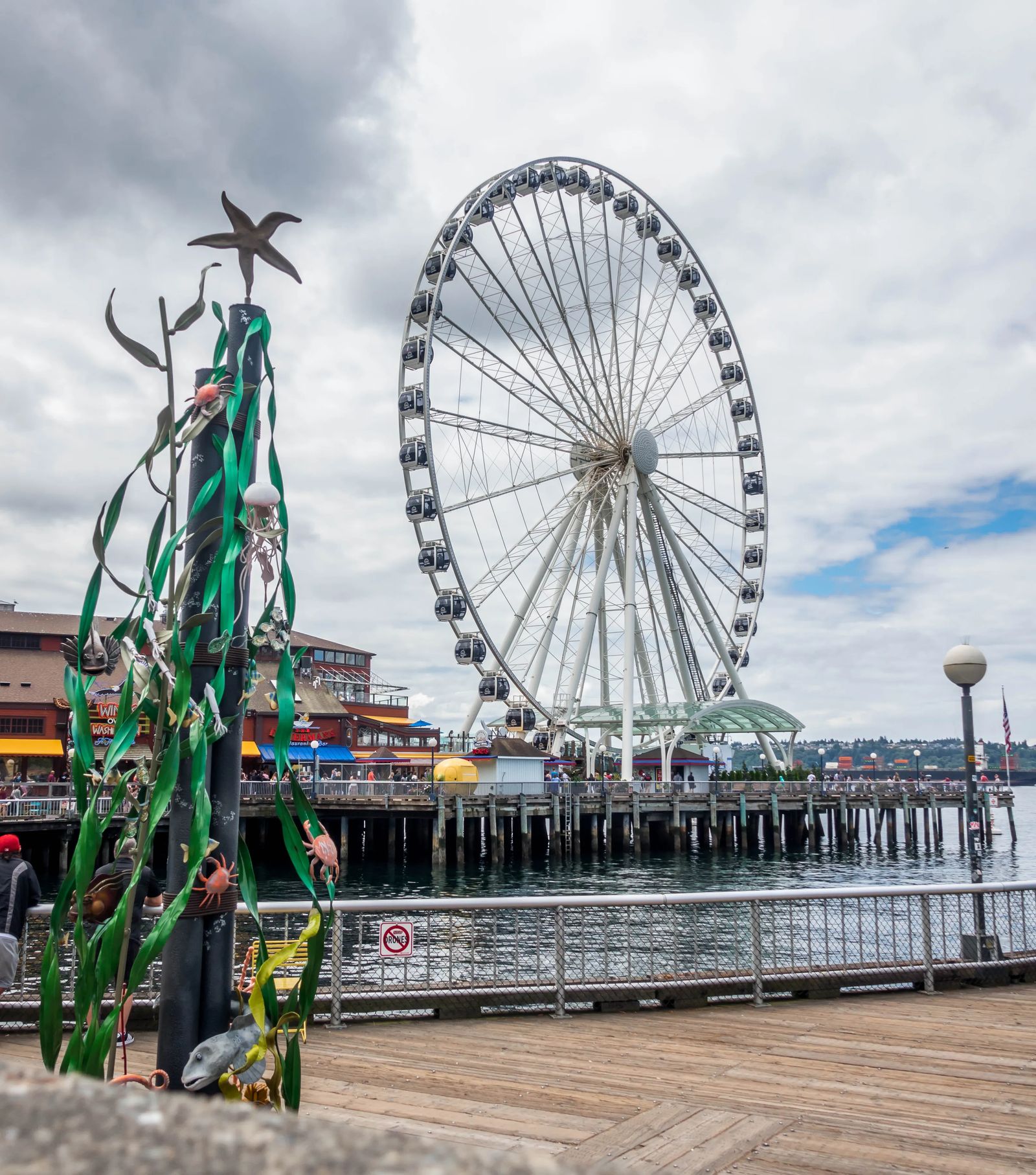 I was a little nervous about how much walking we would have to do, not because I can't physically do it, only because I was afraid of getting hopelessly lost in the end. Just to calm those fears, please know that he takes you right back to the Art Museum so you can get your bearings again.
The walking itself was not that strenuous, you do have to go up and down several flights of stairs, so those with bad knees beware.
It was a Saturday that I chose to do my tour, and unfortunately, there were 2 cruise ships in port, and loads of tourists. As we walked into the hoard I turned to Tim and said, "I hate crowds, it makes me nervous - so if we can avoid them a little for this particular tour and see the more unique things about Seattle that revolve around the culture in Seattle - I'm happy to do that". He happily agreed to get out of the crowds and showed me the more artistic side of Seattle.
Winding through alleyways and backstreets, I was able to see the best and the worst of what is.....Seattle.
Getting To Know My Camera
The first couple of stops I had my camera on Auto mode, I had told Tim about my background as a travel writer and photographer. A part of me was a little nervous to look stupid in front of this professional, but we all have to start somewhere right? I told him that I felt like my composition in my photos was horrible, I try to be a cutesy fartsy Instagram babe and usually fail miserably at it, and then told him that I really didn't understand how to control the lighting with my camera other than the dial on top. I'm pretty sure this rough introduction helped break the ice, and he took it all in stride and we got to work.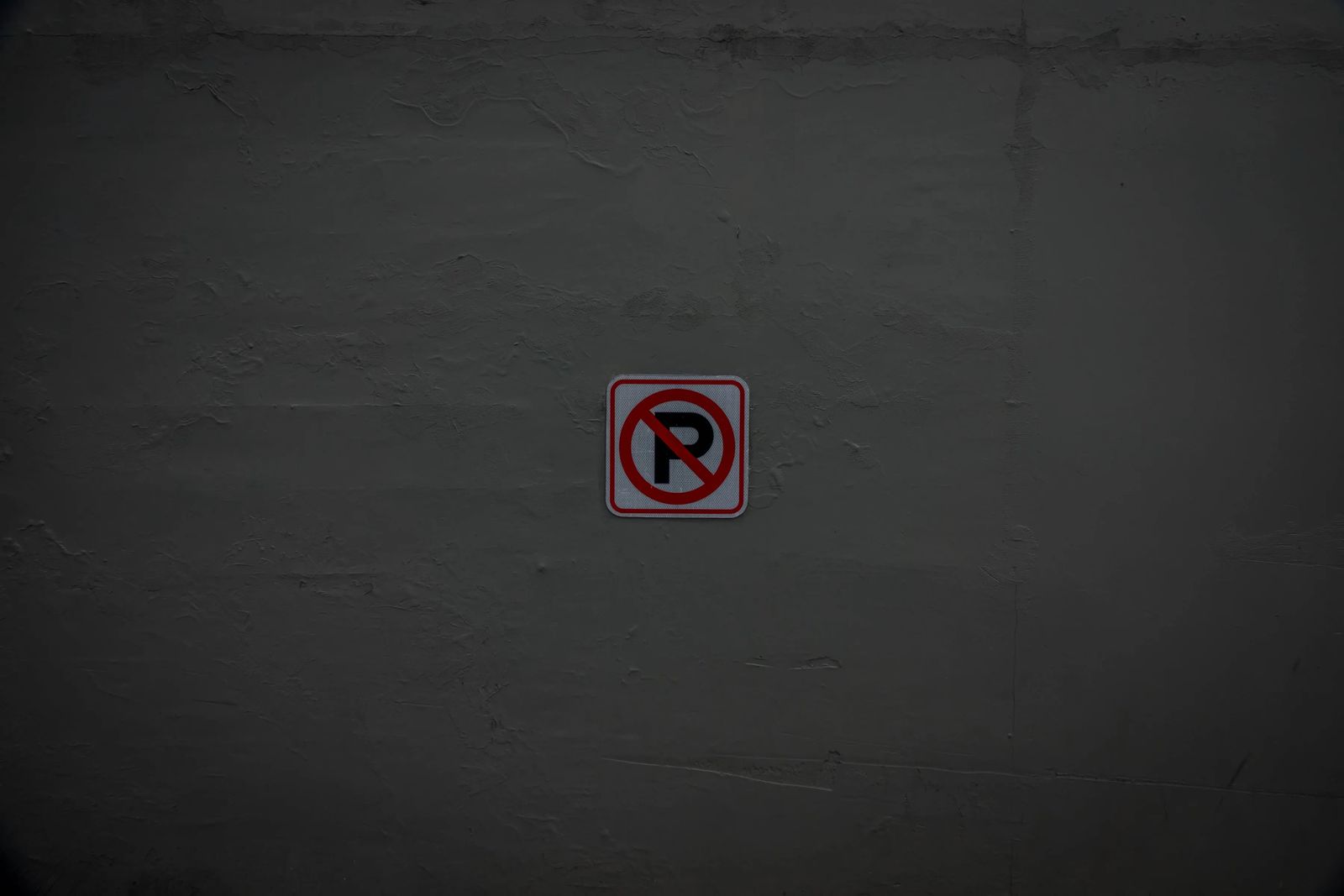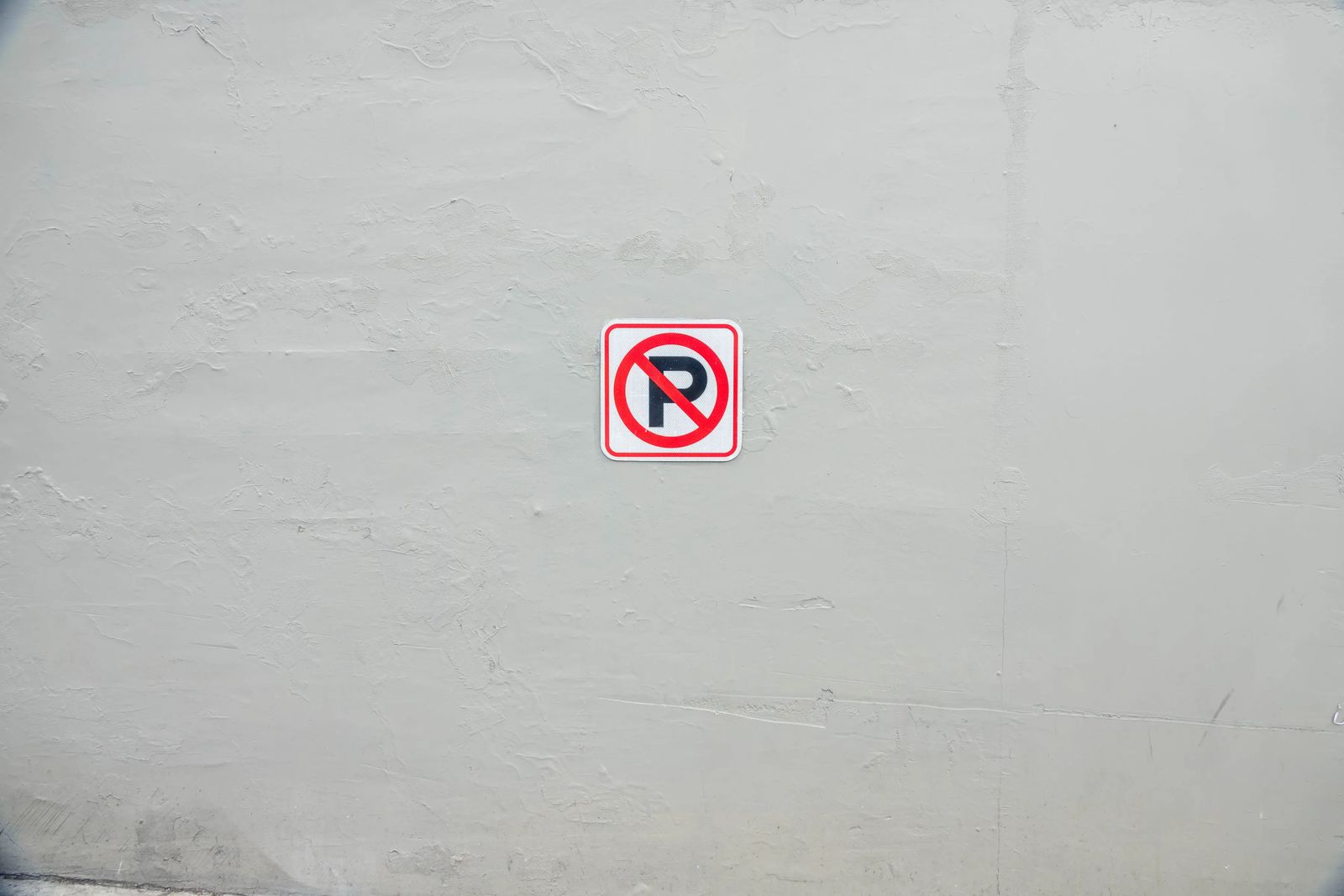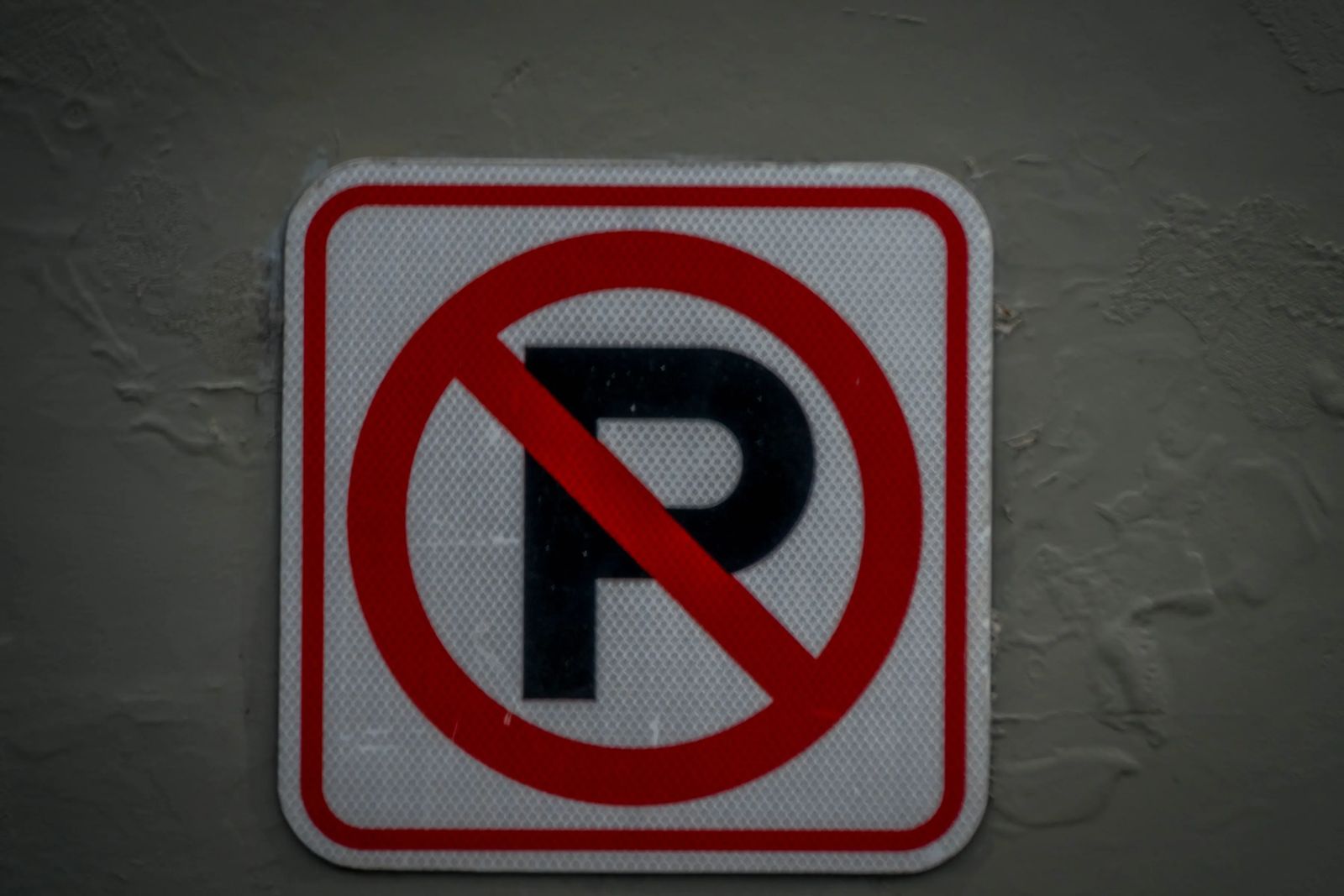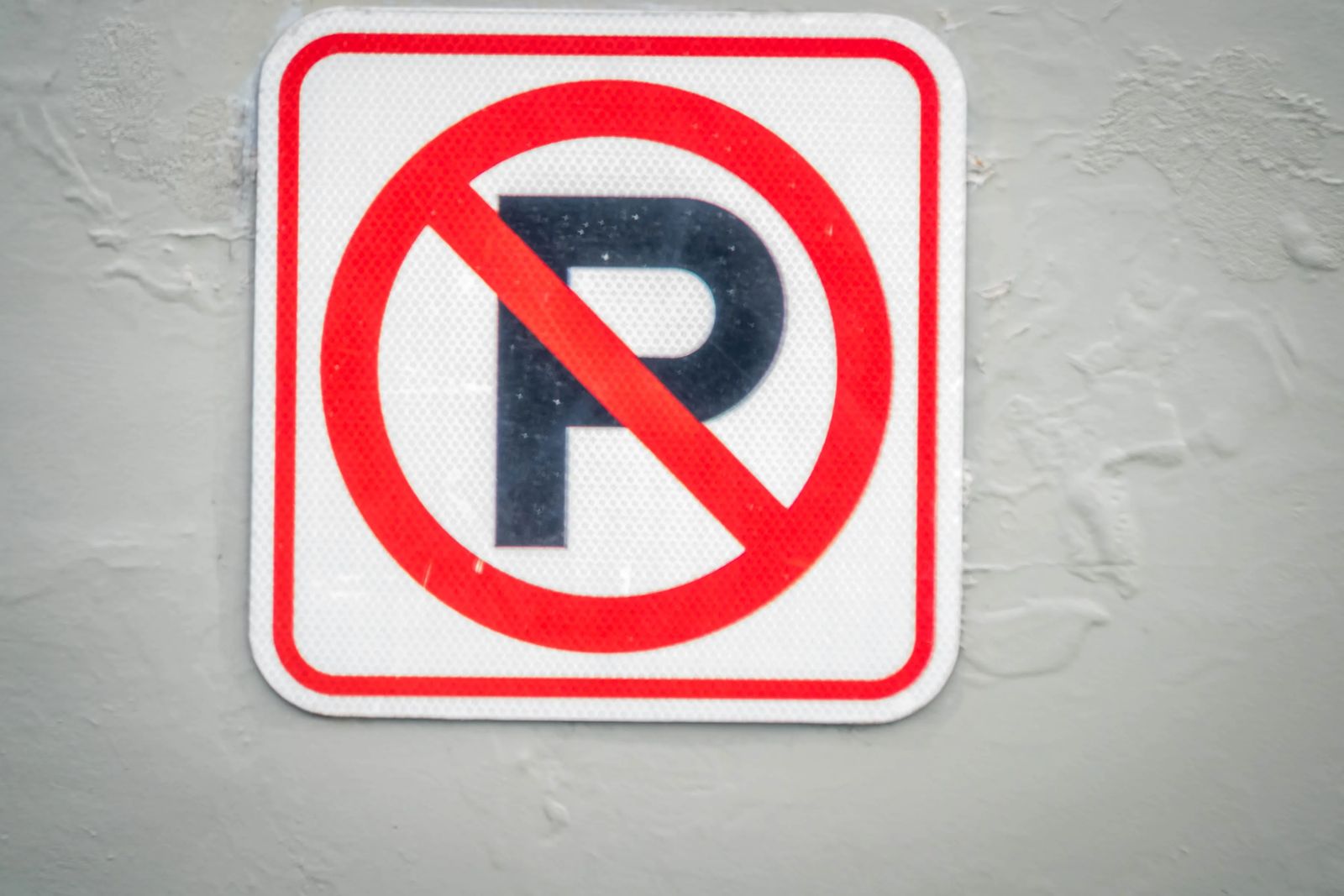 He had me stand in one spot, showed me how his Cannon worked, stood behind me as I tried to find the same settings. Refreshed me the in's and out's of Time value and aperture & how the photography world trends have changed since I took my photography course in college (where we were still shooting on film--- yes, I realize this makes me sound ancient).
Shooting the Parking sign, again and again, changing different settings, zooming in and seeing the grain that resulted from those changes was very beneficial to me personally.
It's hard to start exploring the settings in the camera, not because it is hard intellectually. I am so afraid of screwing up my camera (when I use it so often) and not being able to get it back to where I need it to be for other shoots. Having someone guide you through it, tell you its ok when you (insert preferred cuss word), and then help you fix it - really helps with the nerves.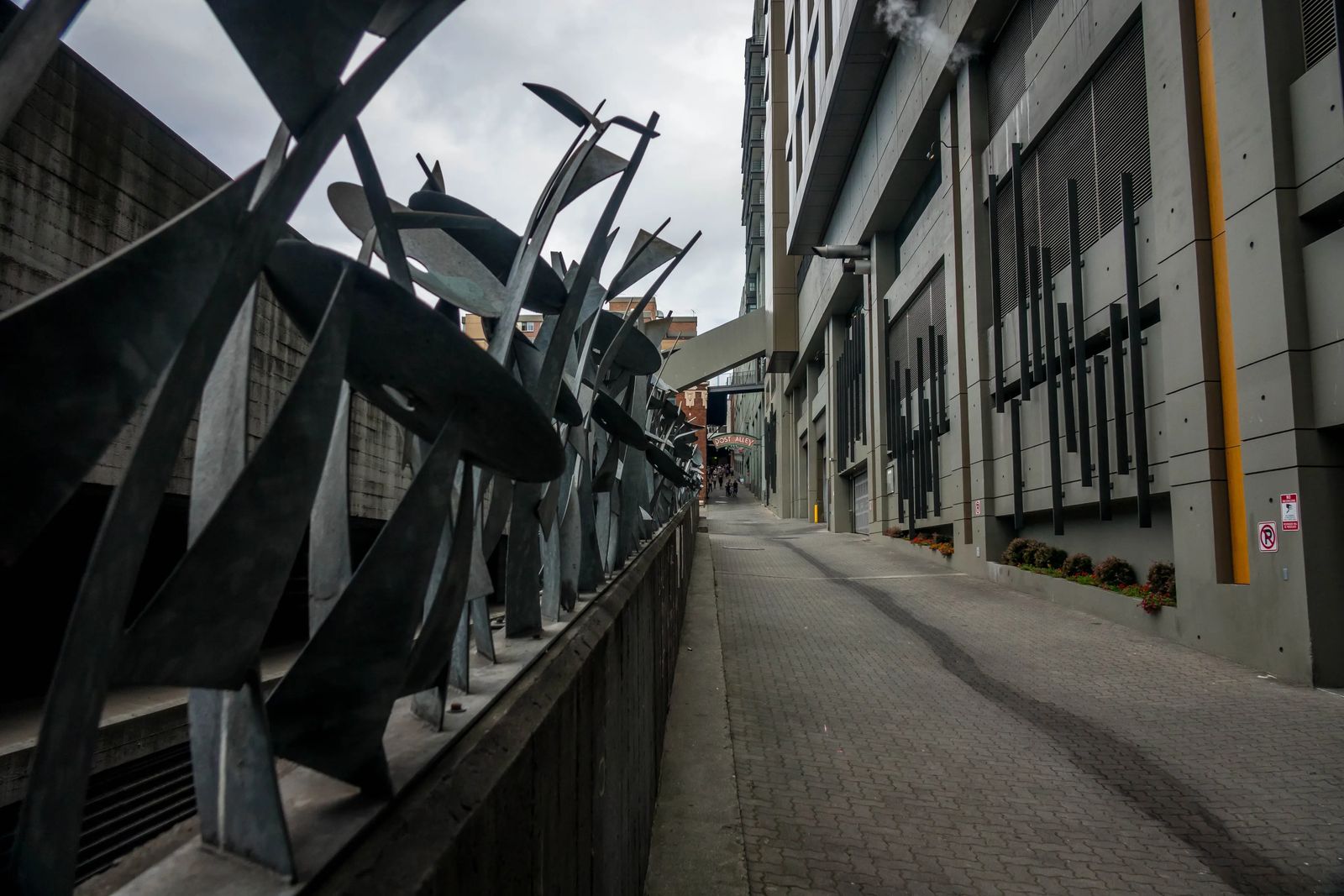 Not only did he help with the technical aspect, but he also validated me as a photographer. I showed him my own Culture Trekking Instagram, and he said, "I think your composition looks great" -- now I just need to work on telling a story with my photos instead of just shooting fun ads for those destinations.
Here's the thing, anyone can be a photographer....you take out your phone, take a photo of your pet, apply a filter and there you go...your a photographer. Most people can become professional photographers without much training, or rather get that training via Udemy or YouTube.
However, a real artist or artistic photographer....will incorporate all of these things and capture the viewer with a suggested story with one click of the shutter button. Having an ability, eye, and sense of the story within a setting is the way to really make a name for who you are and the message you want to create.
Do you want the story to be of the game, or do you want to show the more human side of the teammates hugging after a goal, a player running to his partner/child after they cross the finish line? Human moments are the best sort of moments for me, but telling the story is what makes it true Art.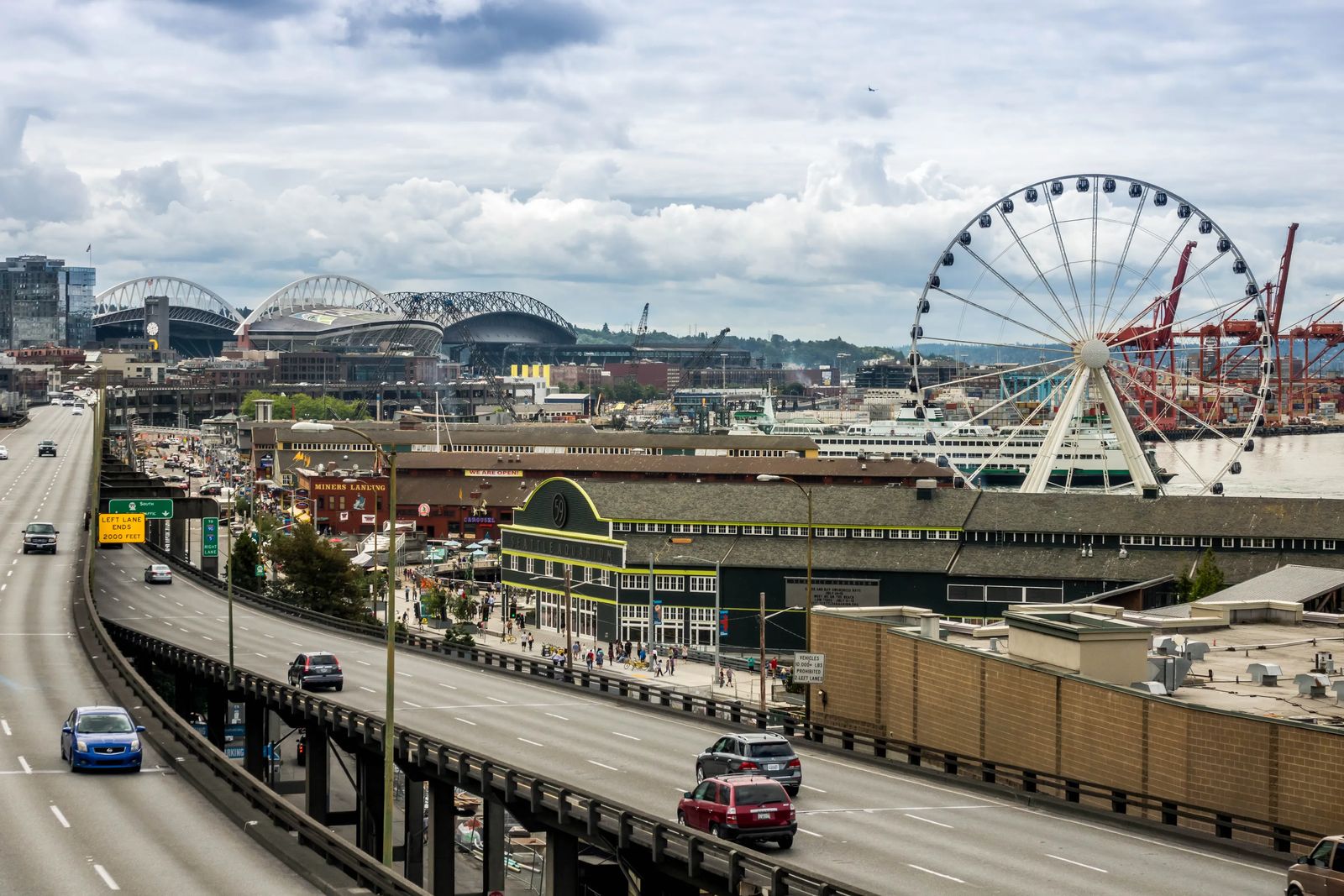 For this tour though, I tried to focus on implementing the techniques he showed me while touring downtown Seattle. So here are a few of the places we visited, and some of the good photos as well as some of the.....well....not so good photos. Just to help you see that out of 500 photos there are only a few that are worthwhile sharing due to composition, storyline, lack of graininess, and my own personal preference to what I deem to be an 'ok photo'.
The Gum Wall
Taking the back road from the Art Museum, you find some classic Seattle Liberal stickers and signs (which I thought were quite comical). Everything was relatively clean and orderly, then you start to see it....The Gum Wall. This iconic spot started in the mid-1990's outside the Theatre, Unexpected Productions. The Theatre didn't allow gum inside, the most logical solution was to stick it on the wall outside as you entered and put a quarter on it to thank whoever had to clean it up.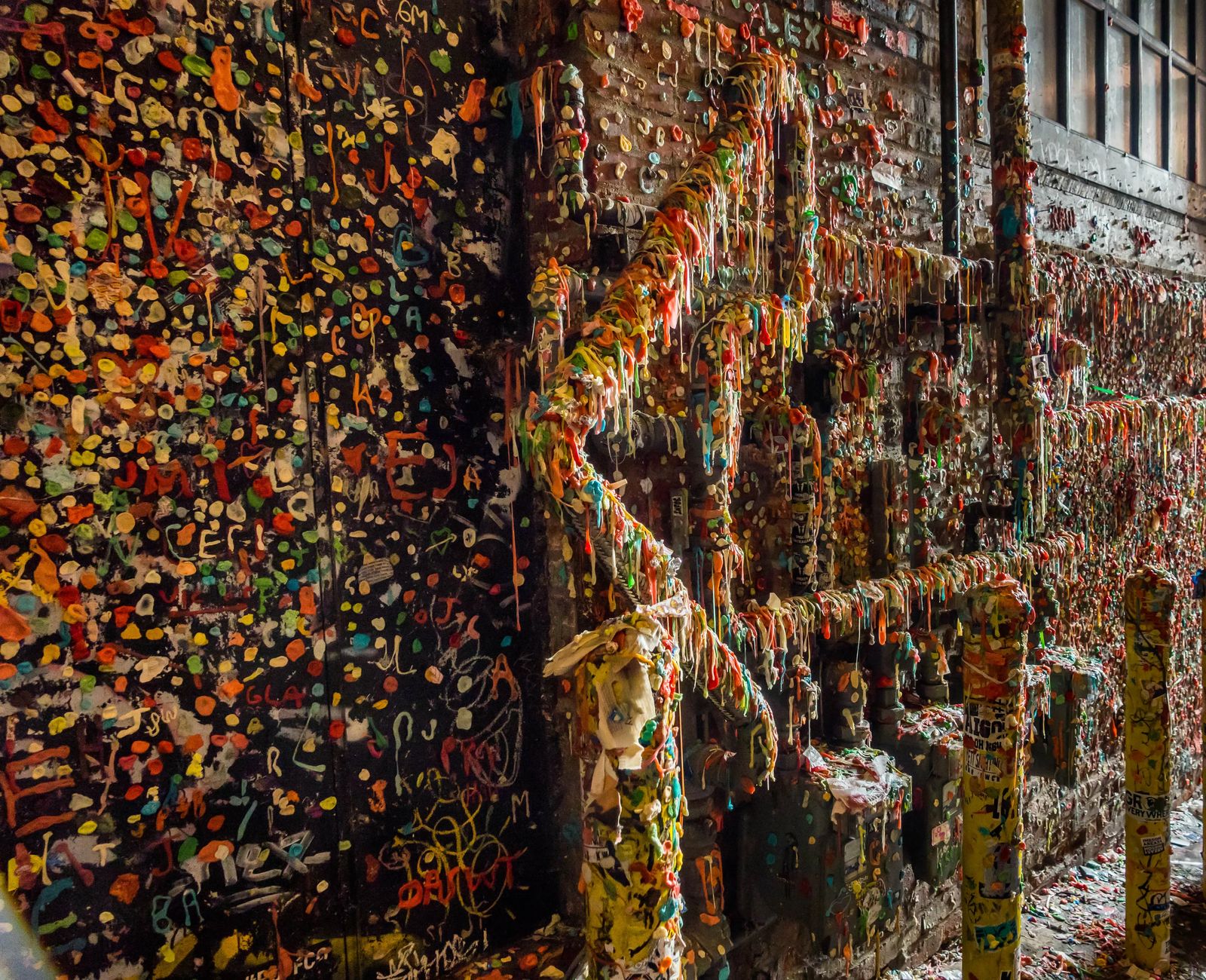 The gum literally stuck....with now 50 feet of wall on either side of this theatre covered in second hand chewed gum. There are surrounding businesses selling the gum to help the disgusting artistic expression of defiance, and now it is now an iconic part of the city.
The quarters have disappeared, and historically appears it has only been cleaned once in November of 2015. When the cleaning began, I don't think they realized what they were getting into. There were several inches of gum stuck to the wall with the deterioration of the brick happening underneath. They scraped and steam cleaned the walls for weeks, it took 130 hours to clean the wall. The next month, you could hardly tell that it had been cleaned as loads of tourists came to take part in the mastication party.
Selfies abound and I just couldn't bring myself to participate in this right of passage. My medical background and the roiling stomach and heebie-jeebies I was experiencing from this disgusting attraction made taking photos of the pretty girls taking selfies totally adequate. Needless to say, I took the obligatory photos at the wall and then told Tim I was ready to move on. (Still get a lump in my throat thinking about this).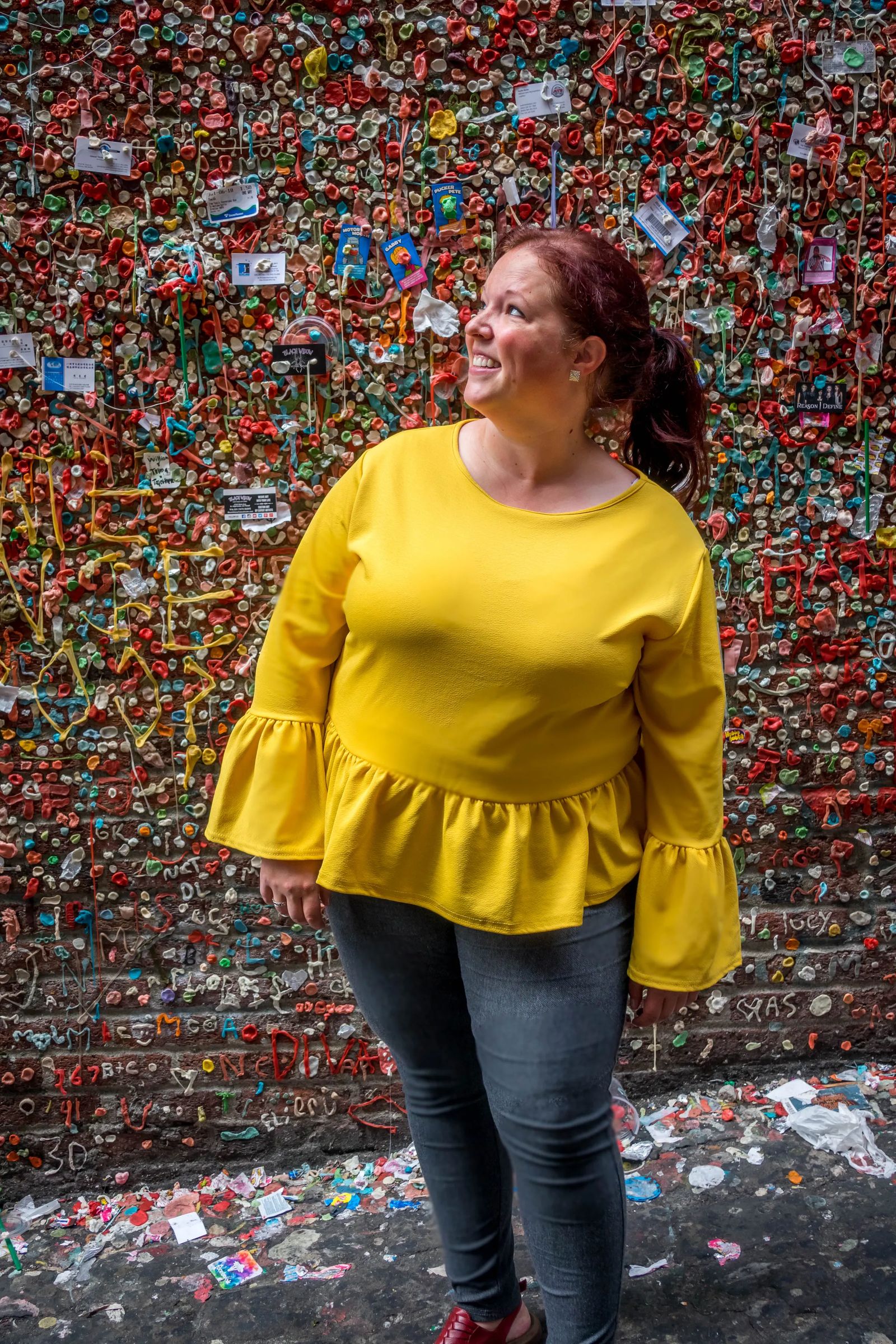 As you make your way up the slope and take a right up towards Pike Avenue, you will see artistic 'posts' of different artistic events located in town. SO MANY COLORS! I WAS DYING! Turn around and appreciate Ghost Alley Espresso, this lovely coffee shop was formerly the first Public Male Restroom (for my UK readers... the Loo). Yep, go in and help yourself to a brown cuppa coffee and think of how many.......never mind....just enjoy your coffee.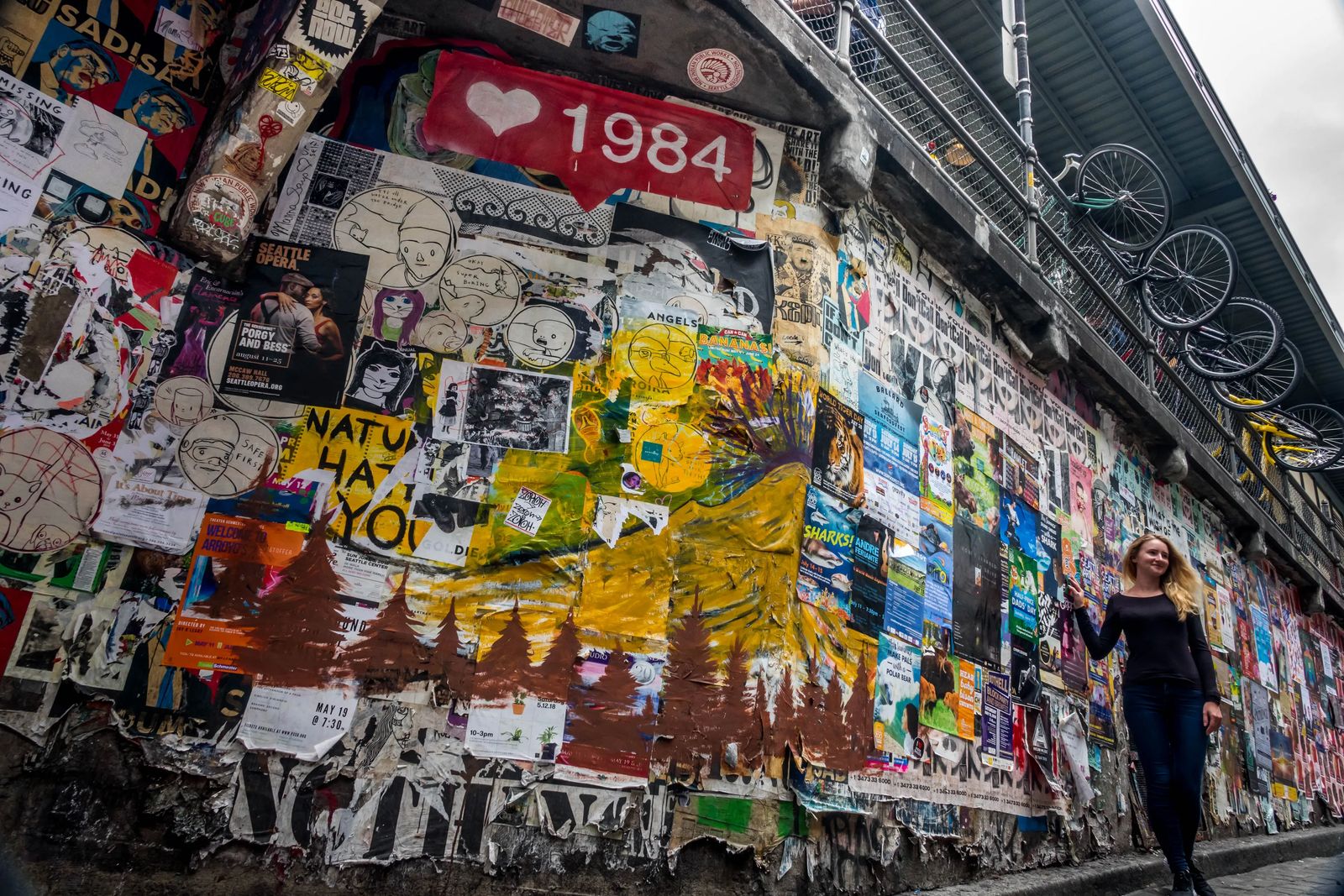 As you walk up the slope of Pike Ave, you will start to hear the hustle and bustle of Pike Place Market. Fun Fact: the slope you are walking on was formerly where they would hold the soap car races (back in the day). Once you reach the top of the slope, STOP, turn around.....this is the best place to take a photo that doesn't require you to have 500 other people in the photo with you in front of the Pike Place Sign. There are plenty of fresh flowers for you to buy and hold in the surrounding shops. I personally didn't feel the need to do this, but apparently its a 'thing' to do this.
Walking Pike's Place Market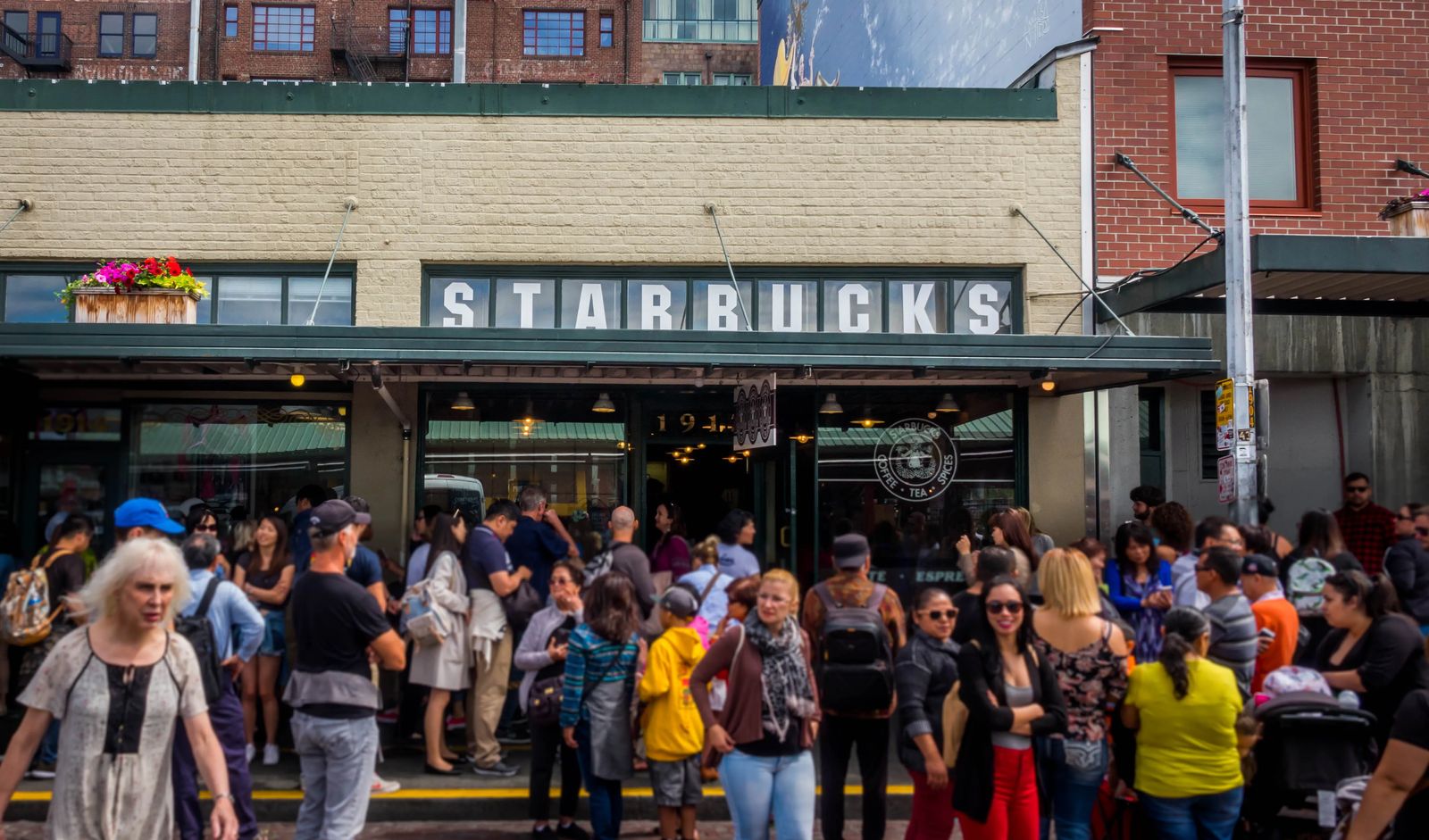 There are a few places you should visit, or at least see if you like the tourist traps and tasting original or local cuisine. See the Pike's Place Market directory to plan your visit and hit the best of the best.
The Original Starbucks Coffee
I personally didn't feel the need to indulge, especially with how long that line was. This is where the original Starbucks Coffee store originated before becoming a global phenomenon. I would suggest going to the Starbucks Reserve instead at a location within walking distance of Pike's Place, where you can sit down and be educated and taste different coffee beans and roasts from around the world.
These highly specialized roasts are variable depending on the week & what their researchers send in. There is no menu or cash register (you pay a flat fee), you sit down/explore the store and just indulge in the Starbucks Brand like never before.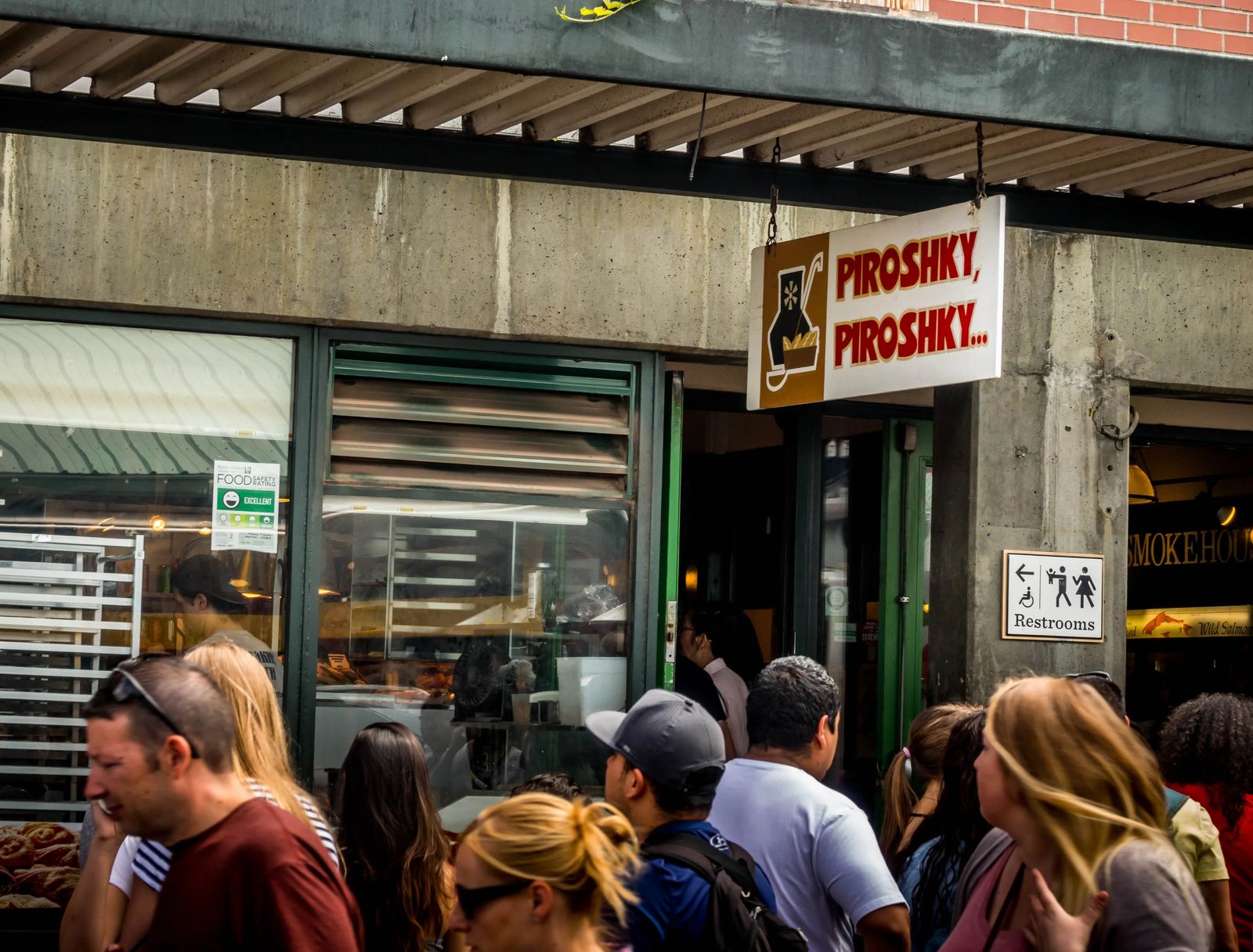 Piroshki Piroshki's
A Russian classic passed down from Babushka to her Grandchildren. This particular pastry shop will delight you with the authenticity and handmade Russian pastries. The line for this shop was also quite long, so I again passed it up given I only had two hours with Tim. Check out the Piroshki Piroshki's Menu for all the delicate delights they have to offer.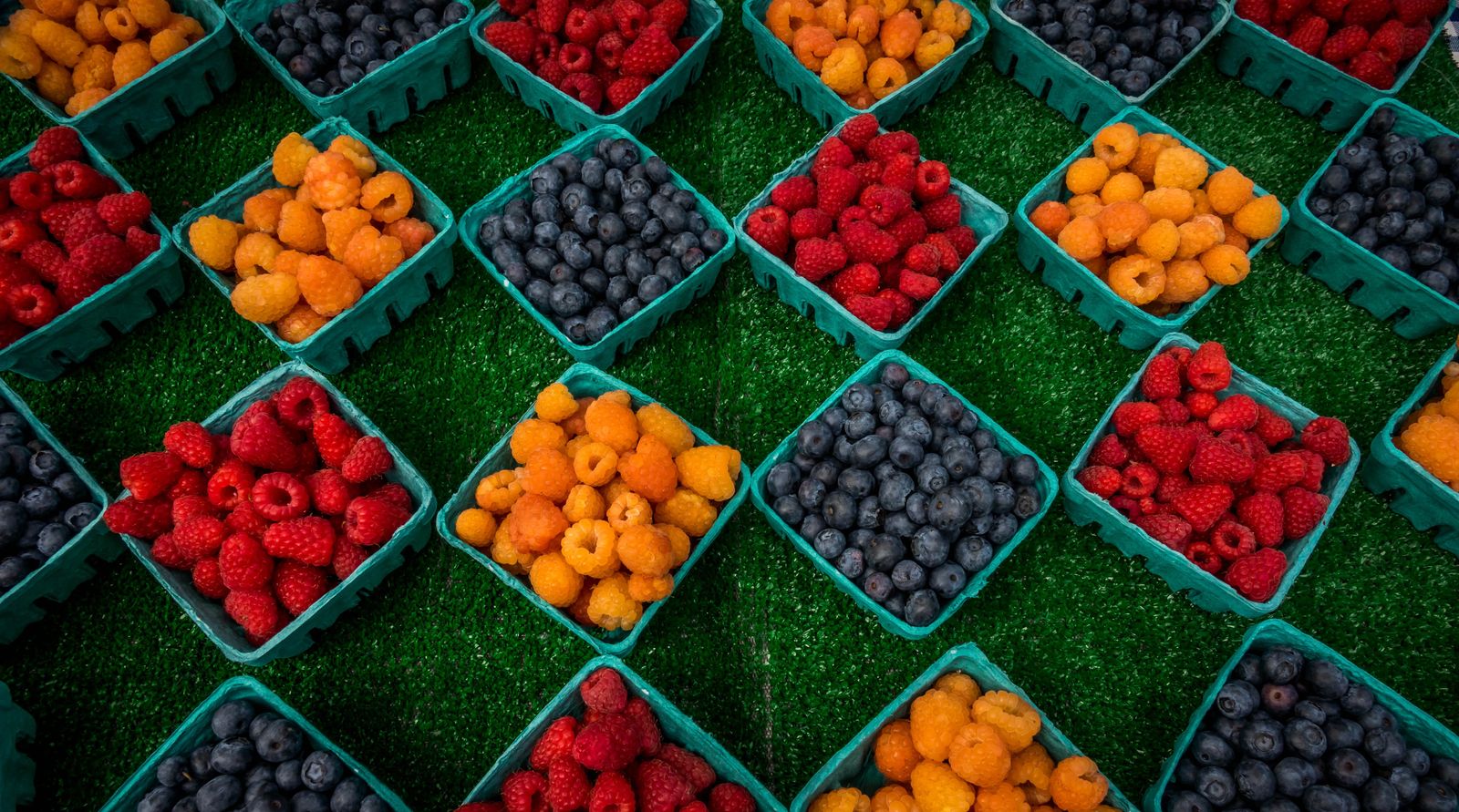 Pike Place Fish Market
I personally call this place the Fisherman's Bar because you step right up, order your fish and a show ensues. The show of throwing the slippery slimy fishy's across the bar to each other, while yelling what the fish is, who ordered it and how many. It is hard to miss should you find yourself in Pike's Place. If you have an Airbnb, typically you can have the Fish cleaned and skinned for you, then take it back to your rental and cook up a great meal.
There are plenty of fresh vegetables, fruits, and herbs in the market to really cook up something good. I would suggest taking a look at the Fish Market Menu before approaching the bar, as they move very quick, and you don't want to accidentally get hit with a fish while trying to decide what to order.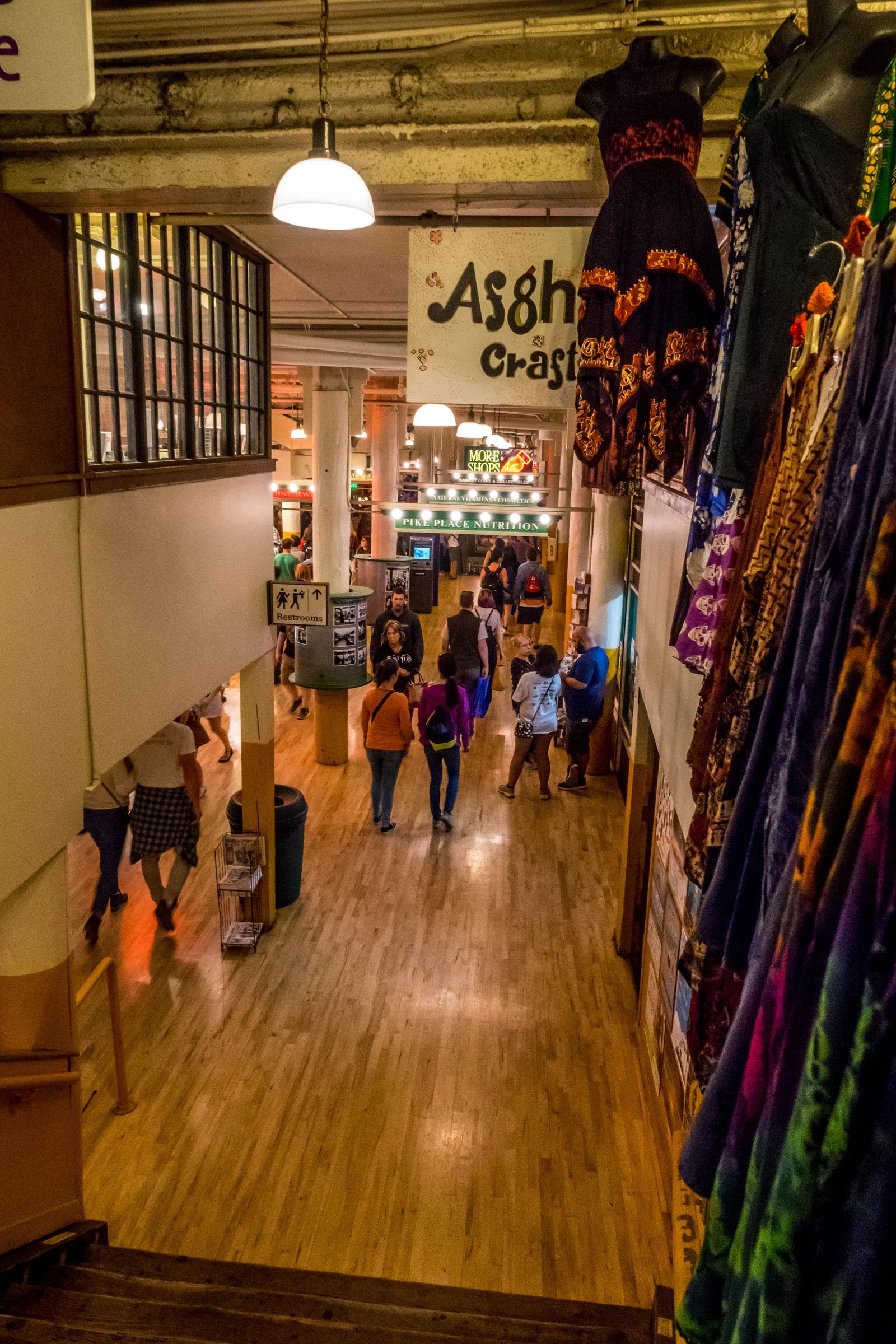 Artisan Crafts and more
Tim and I made our way into the market itself, right under the Restroom sign there are some stairs that lead you down underneath the busiest part of Pike's Place Market. Here you will find all those items you could wish for as souvenirs at a much more reasonable price than those shops above. You also get an added bonus of seeing the photos of what the market looked like back in the day, before it became Instagram famous.
For more information on Unique Photo Stops near Pike's Place, Check out The View From Right Here - where a local lays out her glimpses of the beautiful Seattle Region.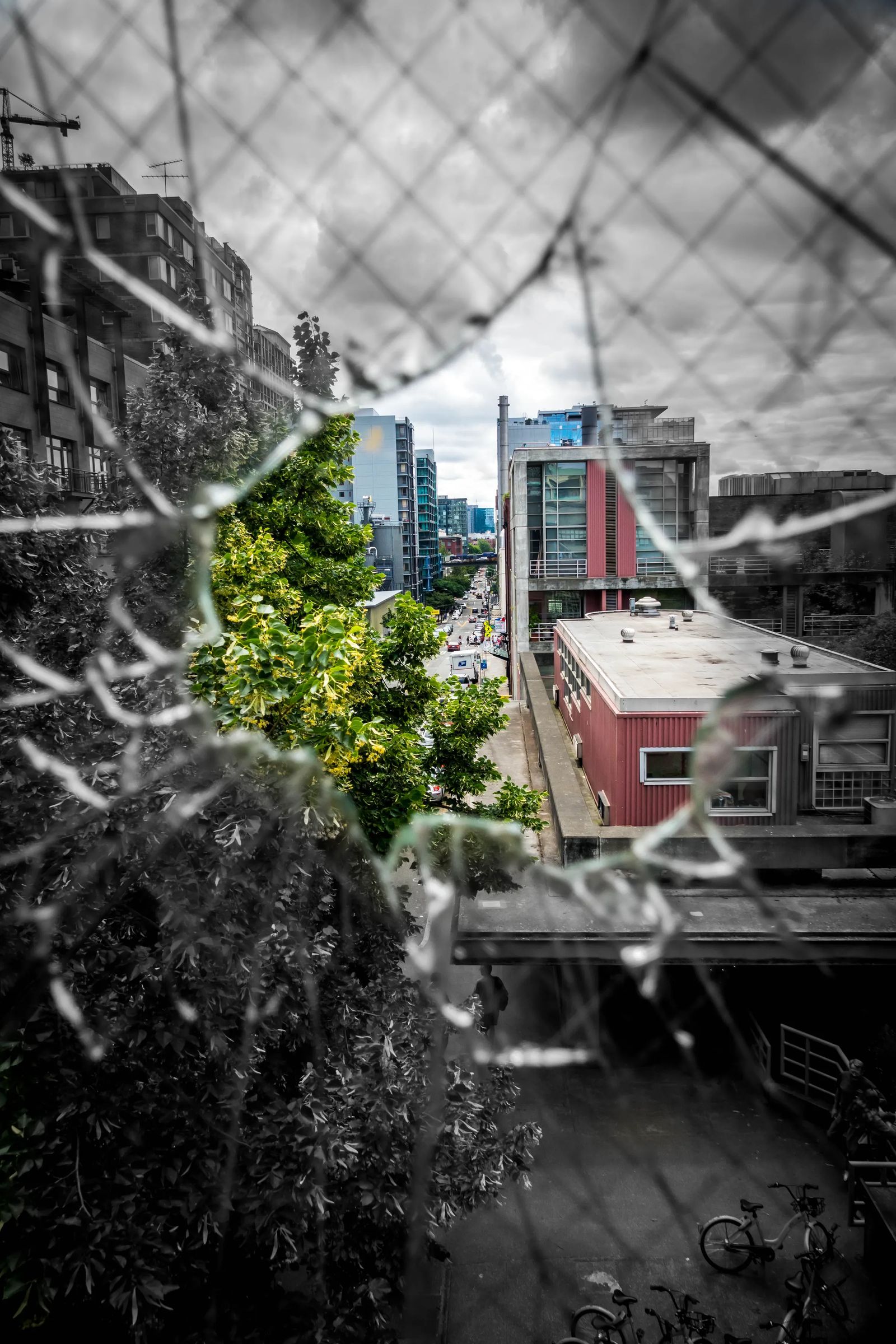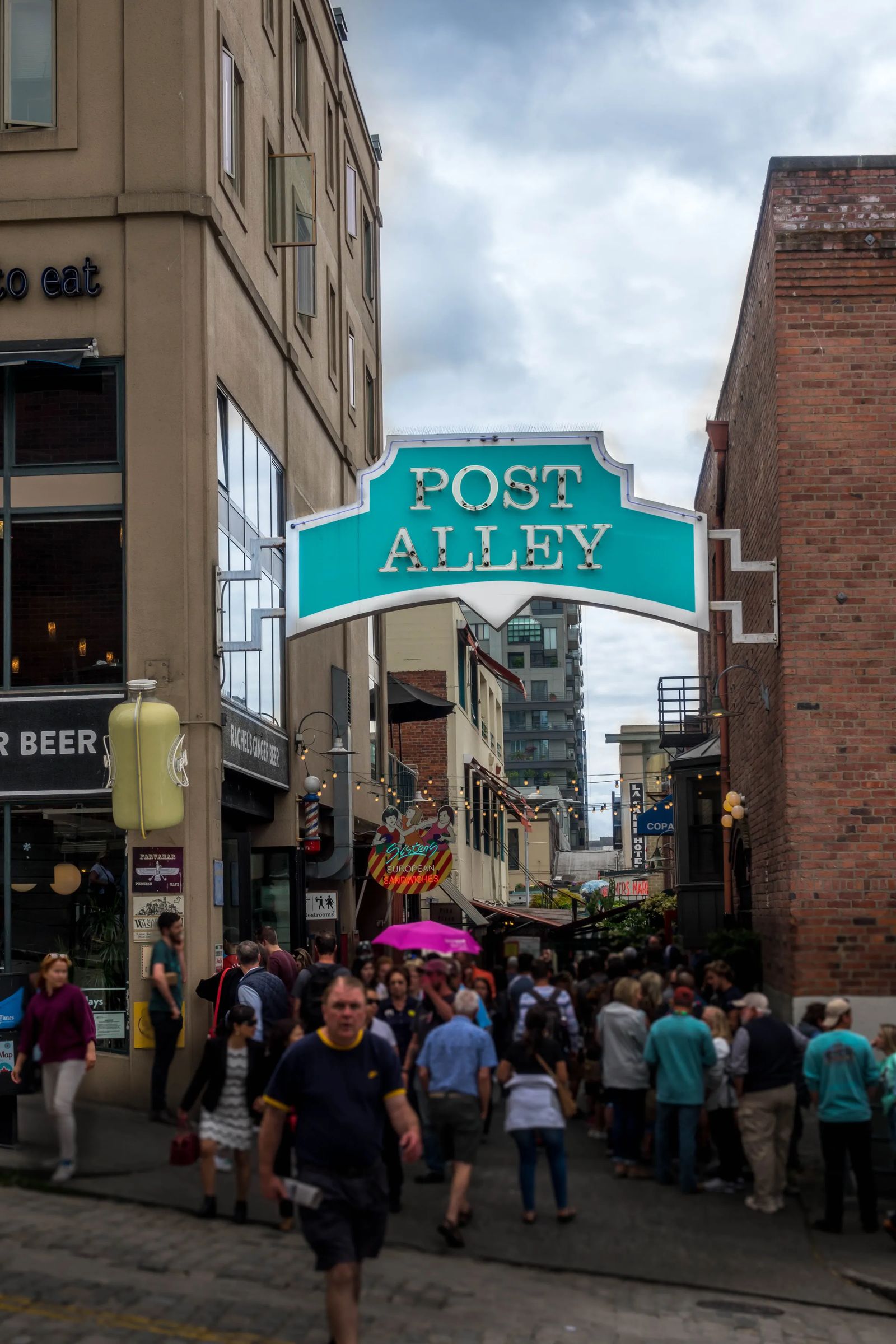 There are not very many Alley's that are named in Seattle, this particular alley was named due to the Post that was produced and sold along this alley. The alley begins at the North End of Virginia Street, between first and western avenues running all the way to main street at the South end. The alley is not continuous as it has had apartments built, sectioning it off.
We walked all along Post Alley, and it was the perfect way to avoid the worst of the crowds in downtown Seattle. It also has some of the cutest boutique shops, photo ops, unique structures and a fabulous Irish Pub and Wine Bar in Seattle. I would suggest coming here instead of in the heart of Pike's Place Market. If you notice a super long line of patrons waiting at the North End, that particular line is apparently for some Clam Chowder.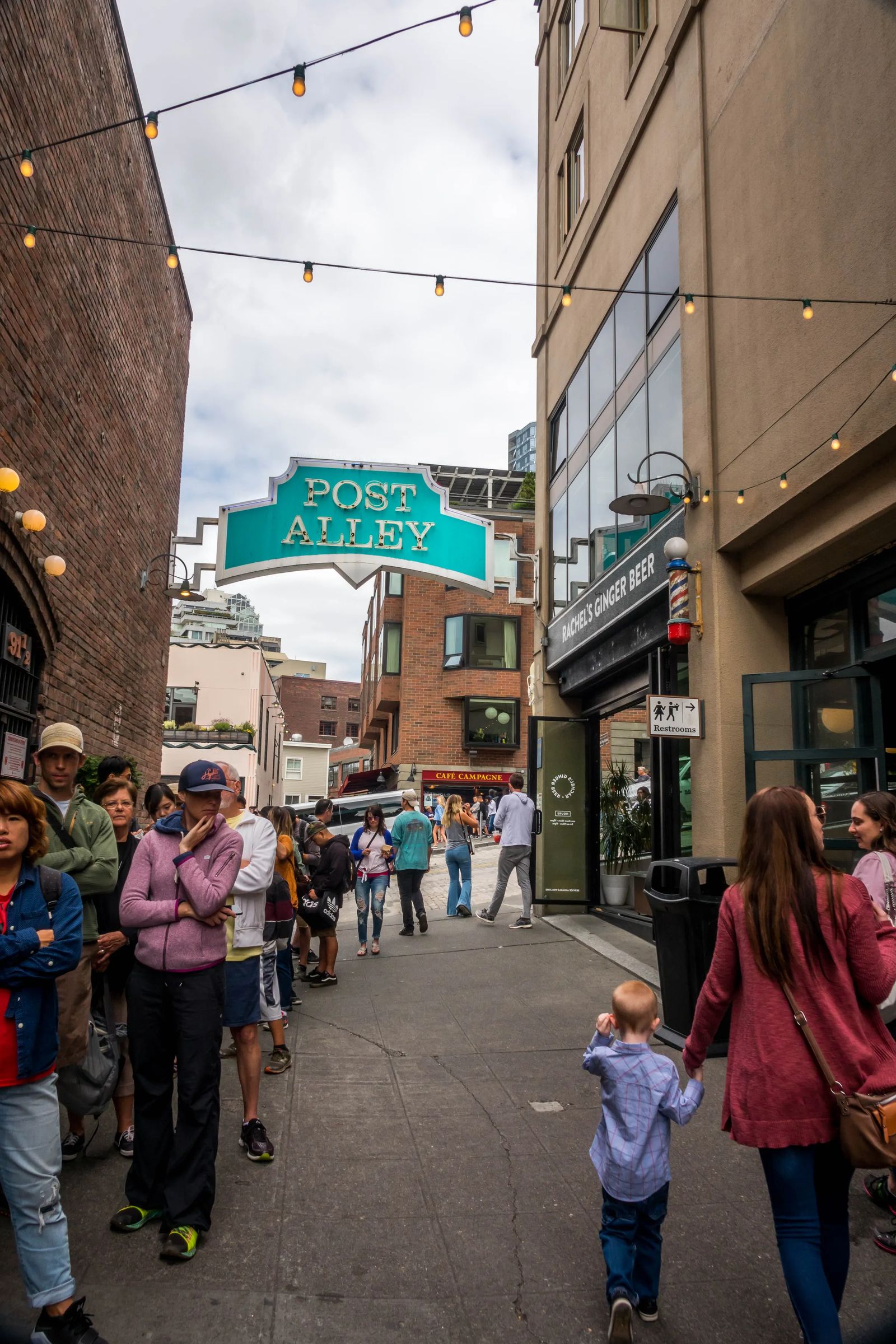 I'm not a foodie per se, so I get a bit snarky when it comes to waiting in lines to taste food. Personally, I feel you waste your time for something that will just end up in the toilet in the end. I know I know, gross Janiel (insert laughing)- I'm a medical person.... we talk about shit all day.
The Pier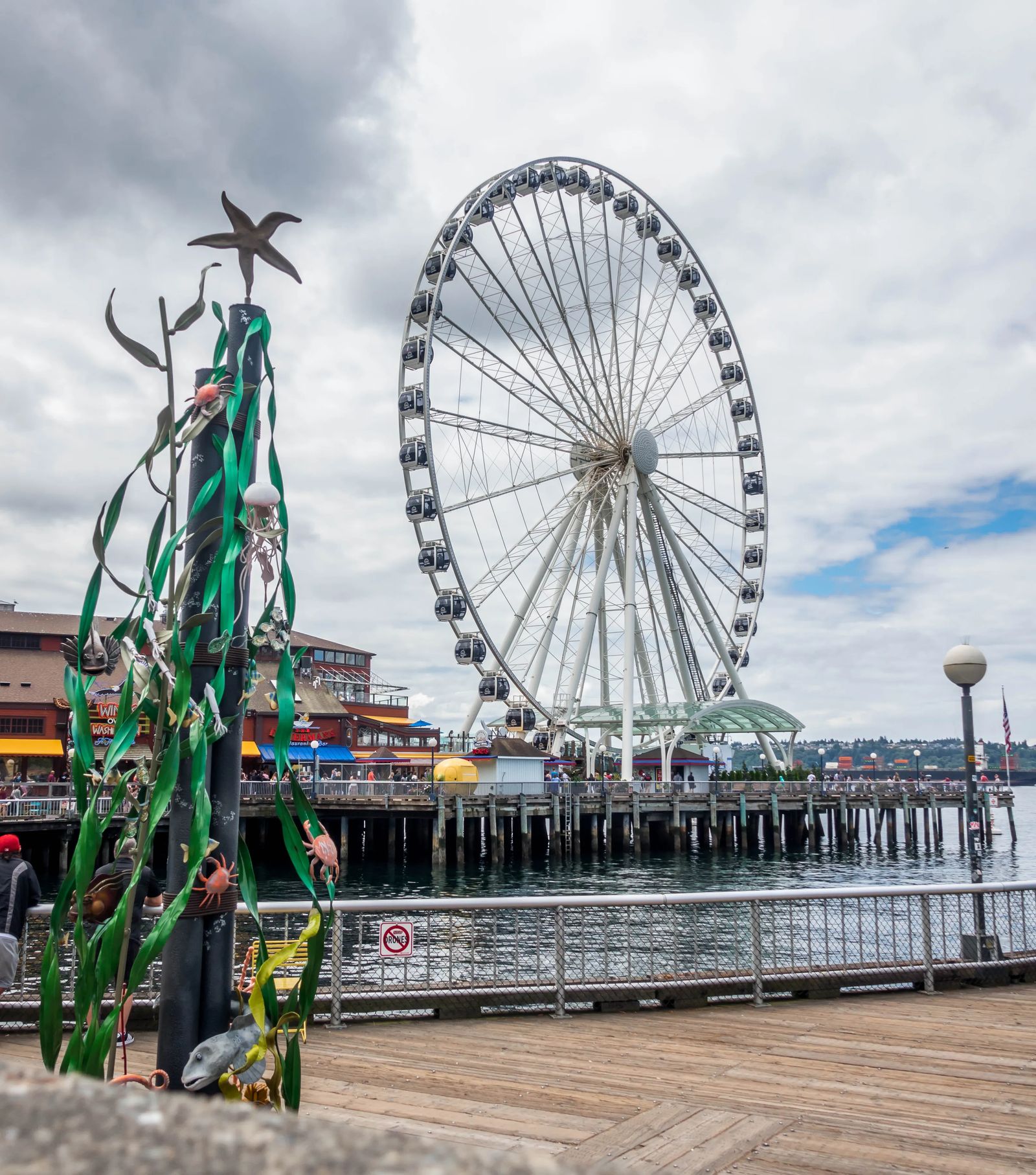 We made our way down to the Pier where we got some fabulous views of the Puget Sound. He gave me some tips on how to shoot on cloudy days and the layout of the surrounding mountains.
Pre-Photo Tour tidbit: When driving into town via Uber, my driver said that the Ferris Wheel on the Pier isn't really worth it. The part that he said was MUCH better and more affordable was Wings Over Washington, this was built like the ride in Disneyland Soarin' Around the World - and he said that this will give you all sorts of visions of how beautiful Washington can be, is indoors, and perfect for those rainy days.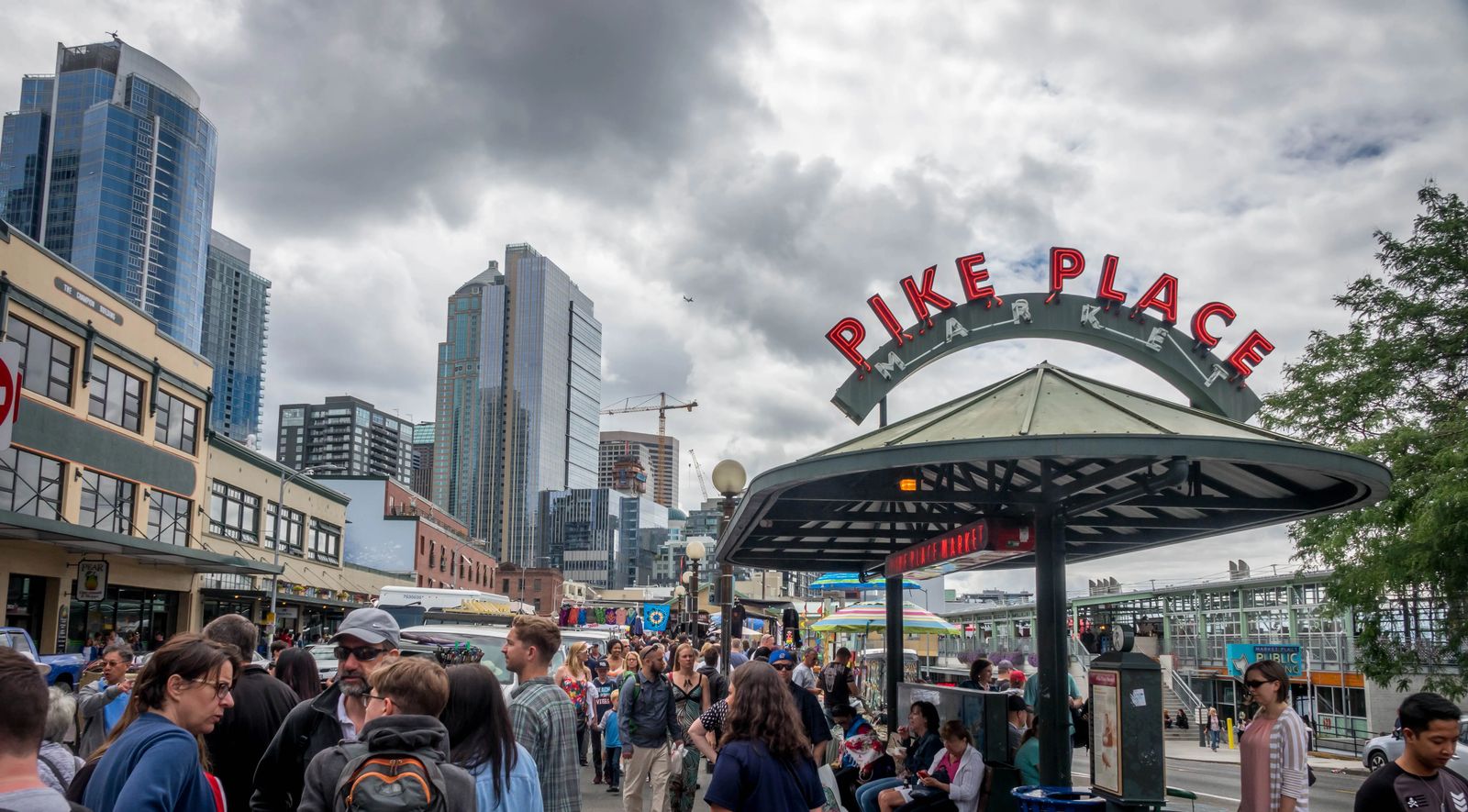 Other activities on the Pier include Washington State Ferry Ride across the Puget Sound (sit on the back and avoid the wind while taking a photo), Seattle Aquarium, Olympic Sculpture Park, Bike around Myrtle Edwards Park.
Traveler Tip: Check out Seven Hidden Gems in Washington State, from a Local
The Art, Murals, and Courtyards
The biggest charm factor for me during this tour was the plethora of courtyards with lush foliage, cute cafes, murals and a general 'live your life well' relaxing feeling. While you will have to take the Tour with Tim (that has a nice ring to it doesn't it), to find all these courtyards - you can really find murals and fantastic places to exercise those photography skills by just wandering downtown Seattle.
I did find a fantastic map of different murals throughout the city at The Evergrey with the histories behind each mural (if you love street art like I do).  There is also the article from the Seattle Met on 'The City Is a Canvas' which has some great advice on where to find the best murals.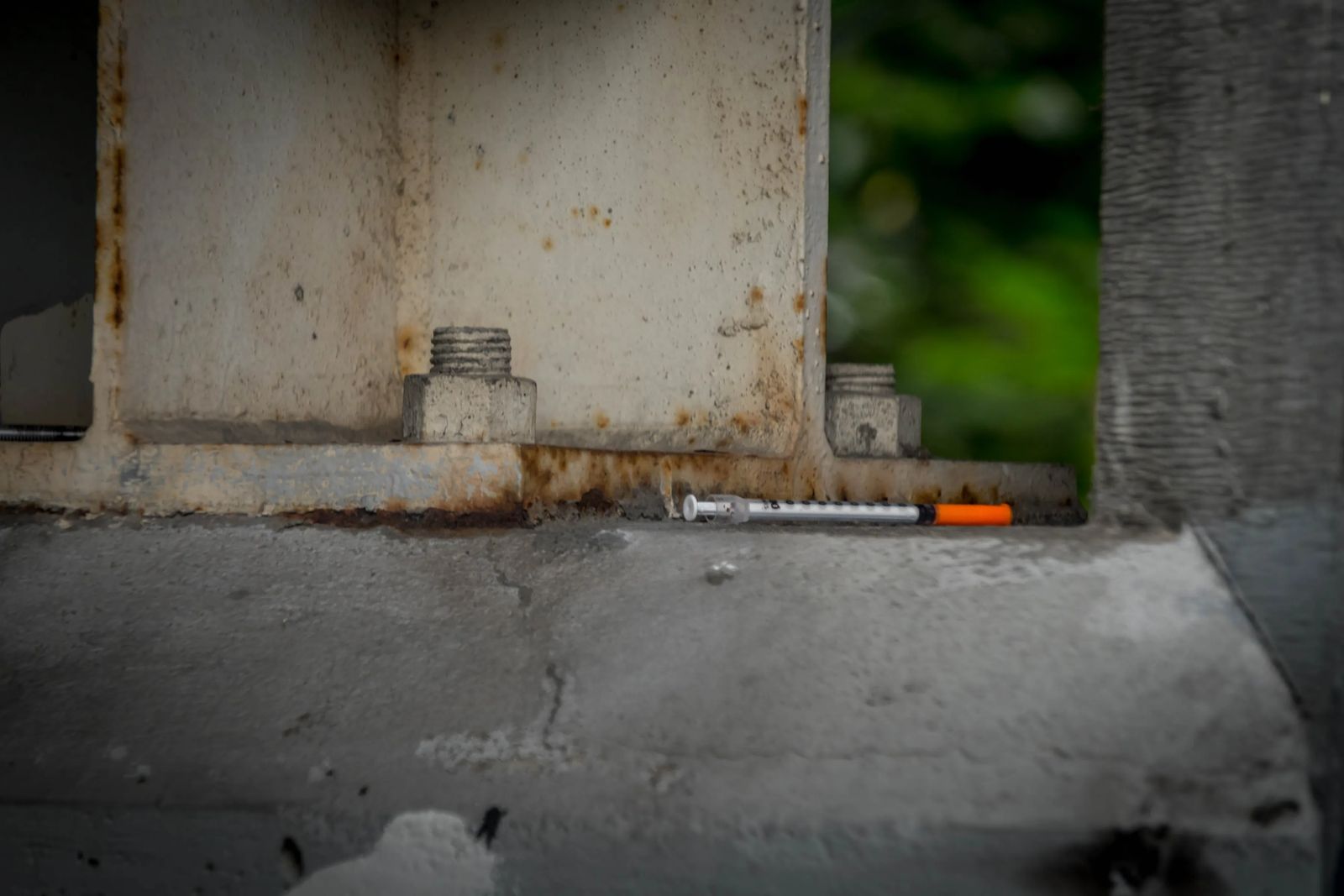 Not all of Seattle is safe, so as a general rule daytime is safe, nighttime is not. If you like the Party scene go up to Capitol Hill where most of the college crowd hangs out and there are a lot of the LGBTQ bars and such are as well.
If you find one of these, just leave it, if you find a man/woman passed out with one of these near them....just make sure they are breathing - drop a Tylenol and a bottle of water and then keep walking.
Ending the Tour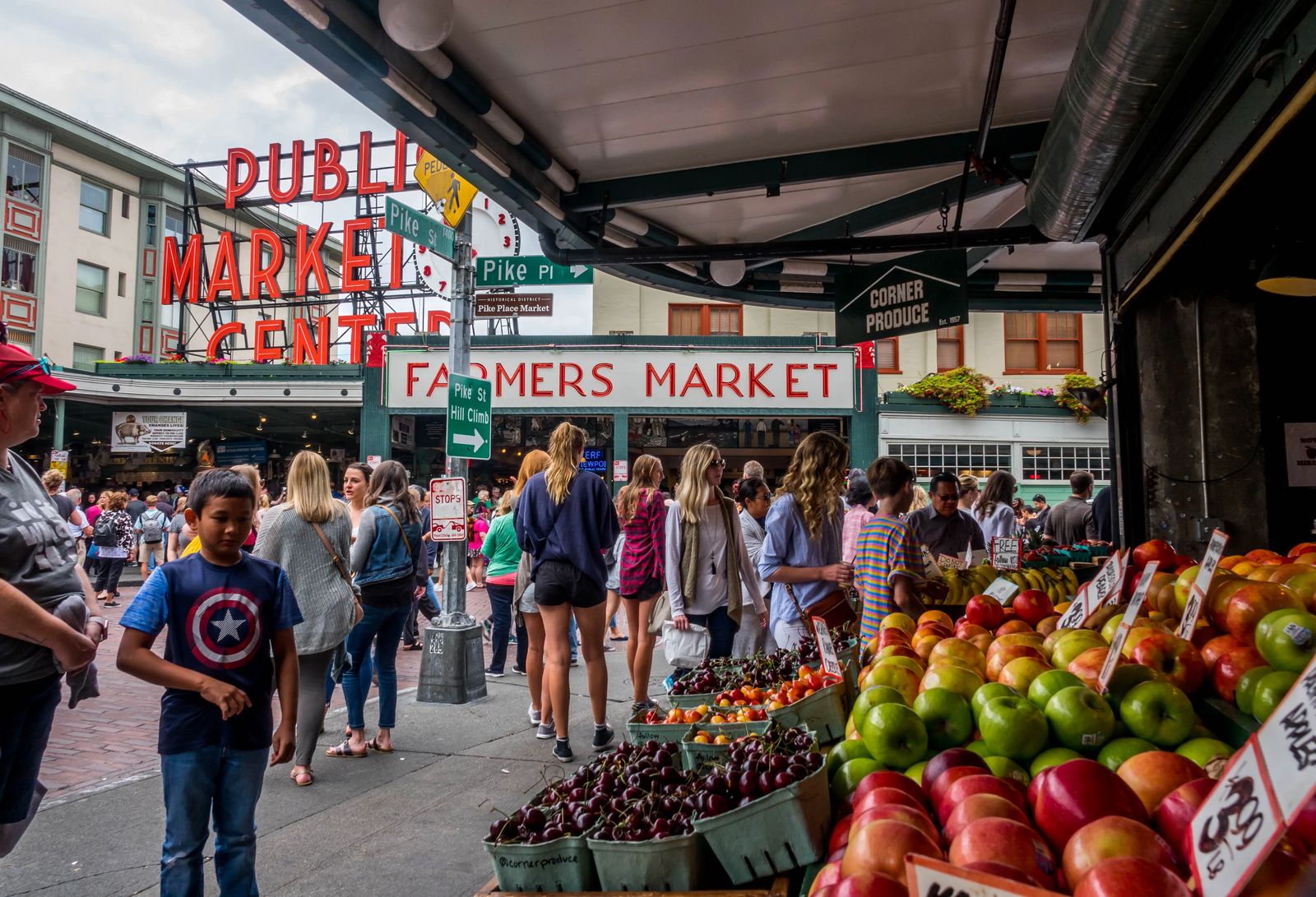 Seattle stole my heart because of this tour. I was able to see the best of the best, and even the underbelly that is also iconically part of what Seattle is.
There is a plethora of conflicting representations here with a general feeling of embracing not only the fickle weather patterns but also Art, Technology, History and the Present - all which make a great big interactive platform to discovering the best of what Seattle has to offer.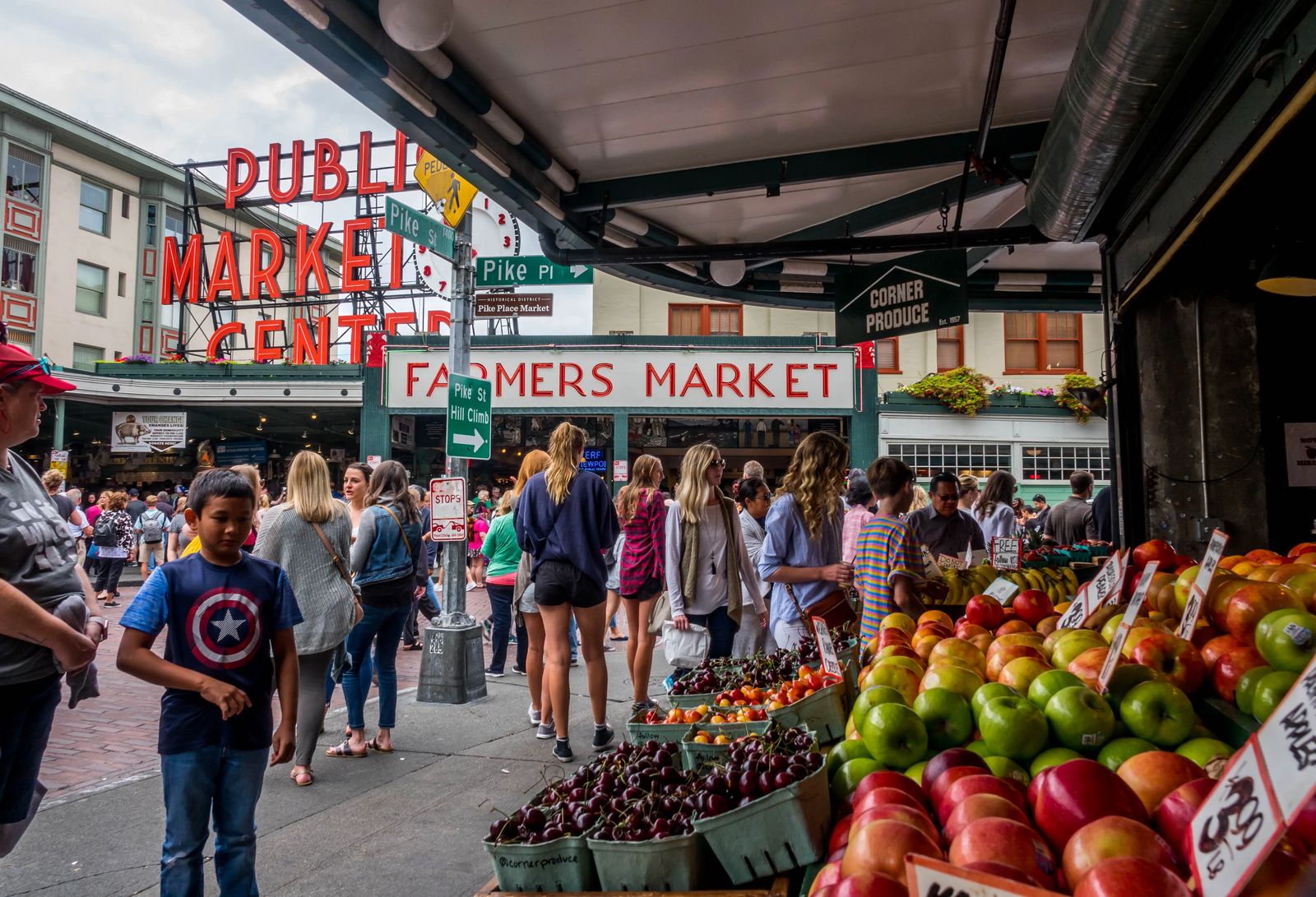 I did not get paid to tell you to book a tour with Tim but appreciated his validation of my work, the tools that he taught me and the patience he had while I took my sweet time with getting it right. I will definitely be back to Seattle, I hope very soon.
Have you been to Seattle? What was your favorite part? Have you tried an Airbnb Experience before?
To Book a Tour with Tim Menzen visit Airbnb Experience Photography Tour with a Pro. New to Airbnb? Sign up with this link and get $40 towards your next Airbnb experience. Stay tuned for my Sailing in Seattle Airbnb experience & don't forget to PIN this article below.
As Always......Happy Travels, Happy Tales, and See You on the Flip Side.
Where to Stay In Seattle