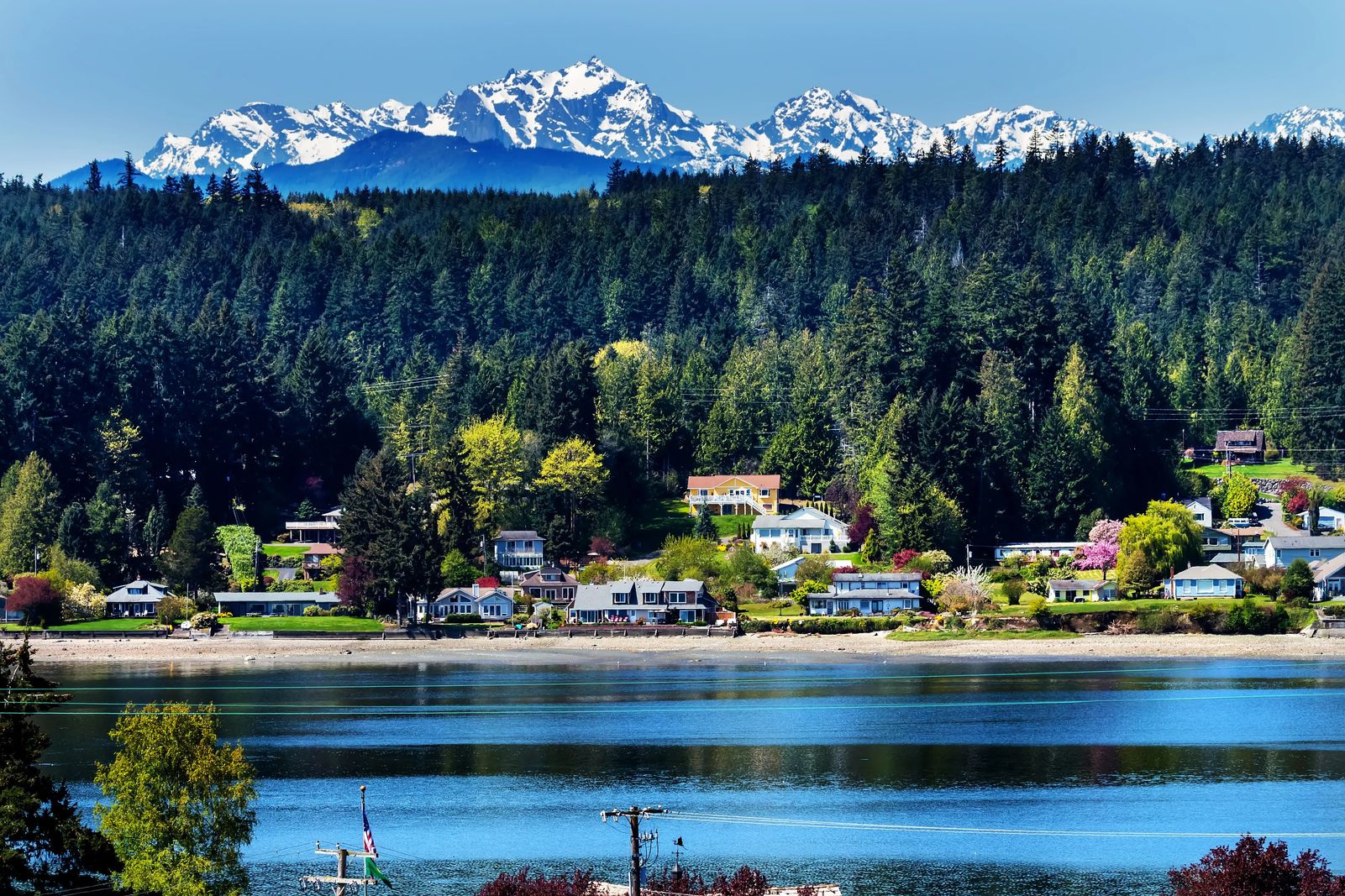 Things To Do On Bainbridge Island Washington
There are so many things to do in Seattle, it is hard to narrow it down to just a few. I only had a free weekend there because I had a flight delayed and needed to use my ticket. I don't typically like to go to crowded, and overpopulated cities. I now understand why this is such a tourist hot spot (besides the hoards of cruisers that tend to congregate here). I hired a few locals to take me around to the best spots in Seattle, both the off the beaten path areas, photography areas, and got tips from friends who have lived there for years . So this is the best things to see on a short trip to Seattle, along with a smattering of day trips you can take.
Bainbridge Island
The best part about this area is that it is far removed from the crowds, smog and other shenanigans that the city typically holds. You have to take the ferry over to Bainbridge Island, and you can either drive you car (which I find pointless to do if you are just going for the day), or you can just walk right on. To catch the ferry you have to go to Colman Dock, Pier 52, Seattle (here is the address: 801 Alaskan Way, Seattle, WA). There is a fee to get over there, which is about $8.25 for adults and 1/2 price for kids; the return trip to Seattle is free. The boat ride takes about 30-35 minutes and there are areas to sit with your whole family, grab some lunch, and restrooms are available.
Once you get to Bainbridge, it is a short walk up to the center of town on a slightly inclined hill. If you are going in the heat of summer, be sure to take an umbrella or wear a hat. Also bring a refillable water bottle as many Seattlites (what locals call themselves) are very sustainably minded. You can rent bikes once you get into town, and tour the many wineries on the island with gorgeous views, or just tour the town. There are a few taxis in town if you are fatigued, but I would suggest just taking a leisurely stroll through the town, enjoy the view of the city from the other side of the water.
Mora Ice Cream
This little Ice Cream shop on Bainbridge Island is quite delicious. It is definitely worth a stop, but I wouldn't travel to Bainbridge Island - JUST for getting a taste of this Ice Cream. They do have unique flavors to try that aren't too sweet, and Stracciatella and Pistachio, or my personal favorite, or Coconut.
The Best Lobster Macaroni and Cheese in Seattle
Doc's Marina Grill on Bainbridge Island is also worth the trip as well. It is the most incredible, sophisticated version of a traditional kids meal! I personally love comfort food while traveling, the rest of the year I'm stressing myself out over my Keto diet, and just like to let loose in my restrictions and belt notches when I'm traveling. While it is important to stay healthy, I feel that when your are traveling indulging on a few meals is A-OKAY :)
Hiking Trails and Canopy Tree Climbing
Obviously because you are on this website, you love sustainable adventure. Bainbridge Island also has a slew of hiking trails, lush forests and plenty of historical tidbits to fit your fancy. You're bound to see raccoons, squirrels, deer, foxes, and maybe an owl or two.
There are a few hikes I would recommend while here: Discovery Park and Lighthouse (4 miles, 406 ft elevation gain), Battle Point Park Trail (1.6 miles, 29 ft elevation gain), Grand Forest East Main Loop (1.5 miles, 74 ft elevation gain). These hikes have the highest ratings across multiple platforms, are very serene and will give you those gorgeous moss covered tree views. If you go in the morning or at night you might even catch some rays of light peeking between the trunks of the trees.
I didn't have time to do the canopy tree climbing, but I DEFINITELY wouldn't miss this if you are in Seattle or on Bainbridge Island. What the company I recommend, because they are the company I was going to use when I was there, is Adventure Terra. They take you up old trees in a very sustainable way and are so popular they have expanded their services into Oregon as well. I can't wait to get back up there to try this out.
Paddle Boarding and Kayaks
My friend Dani Meeks, who lived in Seattle for about 4 years gave me this suggestion for an off the beaten path Kayaking experience:
Go to Poulsbo (a 36 minute drive North from Bainbridge Island) is located on the gorgeous Liberty Bay. Calm waters makes it perfect for paddle boarding and kayaking. You know what else the bay is perfect for? Seal hide outs!
The cove is just full of cute seals that spend their days relaxing in the sun or playing games of "peek a boo" in the water. Watch for them to poke their heads out of the water! Not to mention the panoramic views of the Olympic Mountains!
The Loft
The Loft has fresh, delicious menu and waterfront tables for the whole family. This is a bar and grill that is right on the water and they even have a wall that can lift up and open the entire restaurant to the gorgeous vies of the Puget Sound.
They have an in-house chef, Michael, who takes pride in making sure their ingredients are fresh, organic, and sustainable utilized. They use fresh, locally caught salmon and halibut, cage-free organic eggs, the dressings, sauces and seasoning are all from scratch. Each dish changes with the season to allow for the freshest, healthiest way to eat possible.
JJ's Fish House
JJ's Fish House is the place to go in Poulsbo for the best Clam Chowder on the Islands in Washington. Stop here for a wonderful italian/sea food mix, with fresh locally caught fish. Don't tell all the Ivar's Restaurant lovers, as it might start a war - or do - maybe they will have a Clam Chowder cook-off war. Hmmmmm, that would be a great idea, lol. -- If you know of any Clam Chowder cook-off in Seattle, drop it in the comments below, because I would love to attend, lol.
Viking Fest!
Every year in May, Poulsbo honors it's roots by throwing a huge Viking Festival! Locals dress up in Cosplay type outfits, locals gather to take a zillion photos and delicious viking inspired food is fed to all (at a cost of course). Wander around the Viking Village that is set-up each year, buy your own Viking hat at join in on the local fun.
J'aime Les Crepes
If you want to be transported to Paris in the morning like an I Dream of Genie wiggle of your nose, the stop by J'aime Les Crepes. This is a LEGIT crepery with the old school French recipes and equipment. These crepes are EVERYTHING and I could eat about a 80 of them in one sitting. The one I went to was J'aime Les Crepes on Bainbridge Island.
Ferry to San Juan Islands
There are so many Islands to visit, but this is definitely one I wouldn't miss. Why? It has world class whale watching, unbeatable Kayaking adventures, hiking, fishing, sailing and so much more.
There are over 170 islands and reefs located in the San Juan Island area, including some bonus islands. You of course of the San Juan Island , Orcas Island, and Lopez Island. Orcas Island is called the Emerald Island because of the wonderful views you can get from the many hikes available there. Lopez Island has nearly 2,500 miles of coastline with tiny little wood farms and sheep that frolic about like you are in a Northern Swedish village.
They even have a bio-luminescent bay here that is a closely held secret of the locals. I didn't end up getting out to this island, but will definitely be making a trip back in the near future to see this.
If anyone knows of a good Scuba Diving company in Seattle, drop the info in the comments below. I would love to dive and see what the reefs are like out here (I heard they are pretty incredible) but don't know what the currents are like (which I know are strong in this particular area). You would also definitely need to use a dry suit, even in the summer jumping into the water isn't recommended because of how cold it is. You can literally get hypothermia within 2-3 minutes of being in the water, and certain times of year the waters are chocked full of jelly-fish. So I don't know how truly feasible Scuba Diving is here, but surely there is some way to blow some bubbles.
Whale Watching
The location is perfect for viewing killer whales! There are a lot of seals in the area because it is a protected space, with lots of things for them to eat. I used San Juan Safaris for the nicer boats and smaller crowds. They also have a naturalist on the boat to help point out and identify many other animals that you might not have even noticed!
It is about a three hour long tour and so much fun! They provide exposure suits for you, and the boat goes at high speeds to to catch up to the beautiful whales. It provides an up close (sustainably close) experience. The boat is open to the elements besides your suit they provide, don't forget to bring your sunscreen, sunglasses and a hat.
Camping
The last thing I was super bummed to not be able to do while I was in Seattle was to go camping. I did ask my friend Dani Meeks where she suggested to go camping, and this is what she said:
The San Juan Islands are packed with camping grounds! There are so many great, private locations with beautiful scenery. We even saw a family of otters playing in the water!
Have a Uniquely Adventurous time on Washington States Best Islands
I really cannot wait to go back to Washington, and visit some of these incredible islands. I feel like I needed at least a month to explore everything I wanted to see and do while I was there. Four days in Seattle was DEFINITELY NOT enough time to see everything.
If you have any other hidden gems on the Islands of Washington you would suggest doing or seeing, be sure to drop them in the comments below so the whole Culture Trekking Community can benefit.
Happy travels, happy tales, and see you next time ;0)