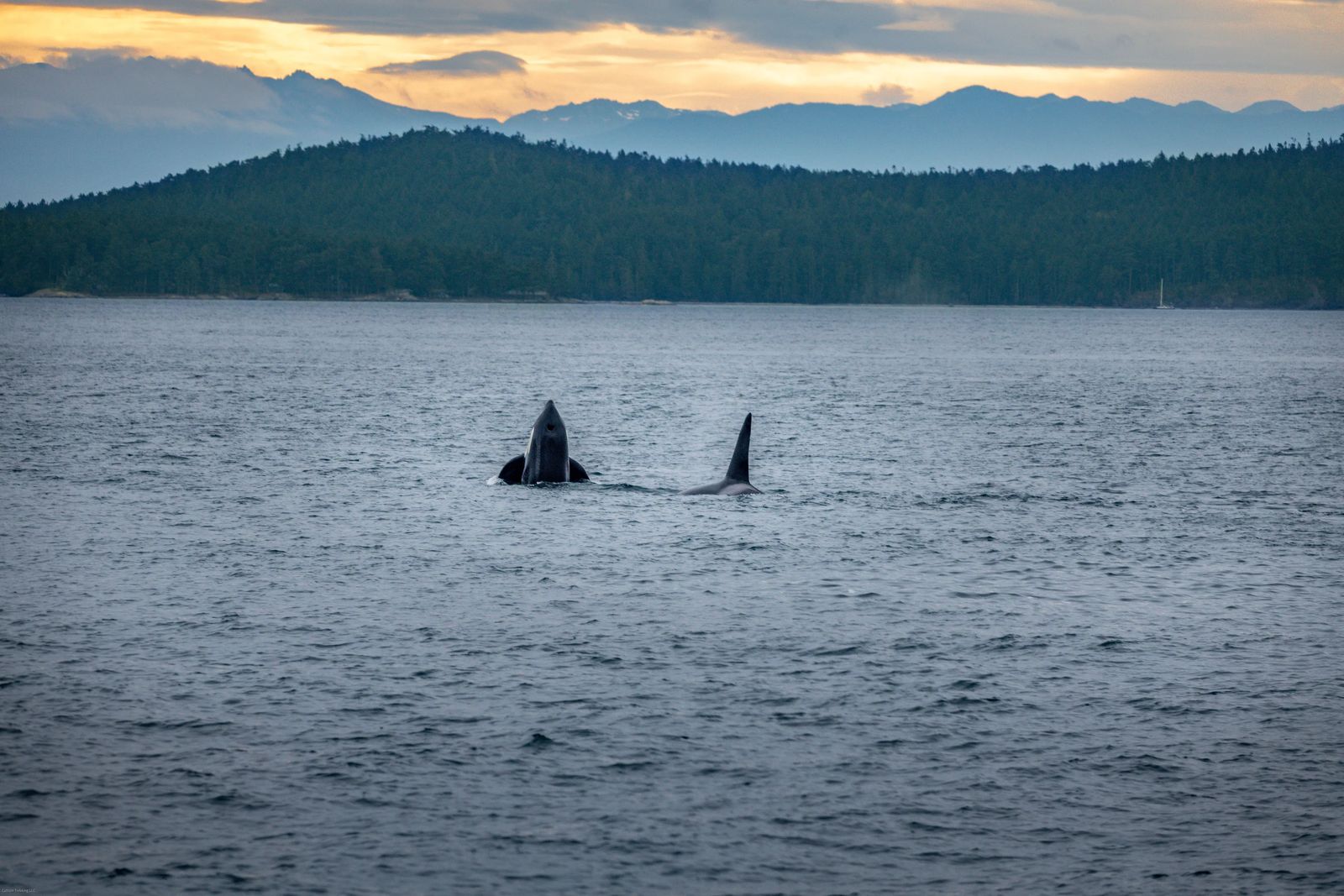 Whale Watching San Juan Islands Washington
Looking at the horizon, a puff of miss spouts into the air and I knew they were close. The pod of Orcas we had been looking for the last 2 hours on the FRS Clipper. Seeing these magnificent creatures in the wild instead of a small pool doing tricks is something I will never forget.
Did you know you don't have to get on a fancy cruise ship or spend hundreds of dollars to see Orcas? You can go Whale watching at the San Juan Islands in Washington from Seattle harbor at Pier 69. I visited in October of 2021 at the tail end of the whale watching season and was able to see a whole pod of Orcas.
There aren't many boats that sail all the way to the San Juan Islands, but for $125 you can jump on the FRS clipper and make it a day trip from Seattle. Make sure to bring a camera with a good zoom, there are food and restrooms on board, and a naturalist to answer all your questions. If you want all the details about the voyage, what to wear, camera gear I suggest bringing, and tips on combating motion sickness keep on reading.
Quick itinerary/Key Takeaways
Arrive in Seattle downtown and park at Olympus Apartments for $25 for a whole day. Make way to Pier 69 to depart on FRS Clipper in Seattle.
Get on the boat, restrooms, drinks, food are available on board. Seats are reserved inside the boat, makes sure to reserve one if the weather is bad.
Arrive in Friday Harbor around noon, drop some passengers off, the rest stay on the boat to go Whale Watching. Whale Watching is around 2 hours, then return to Friday Harbor for about 2 hours to explore the city.
Review things to do in Friday Harbor like museums, where to eat in Friday Harbor etc.. Then return to Seattle and will review ways to avoid motion sickness in case you run into a storm.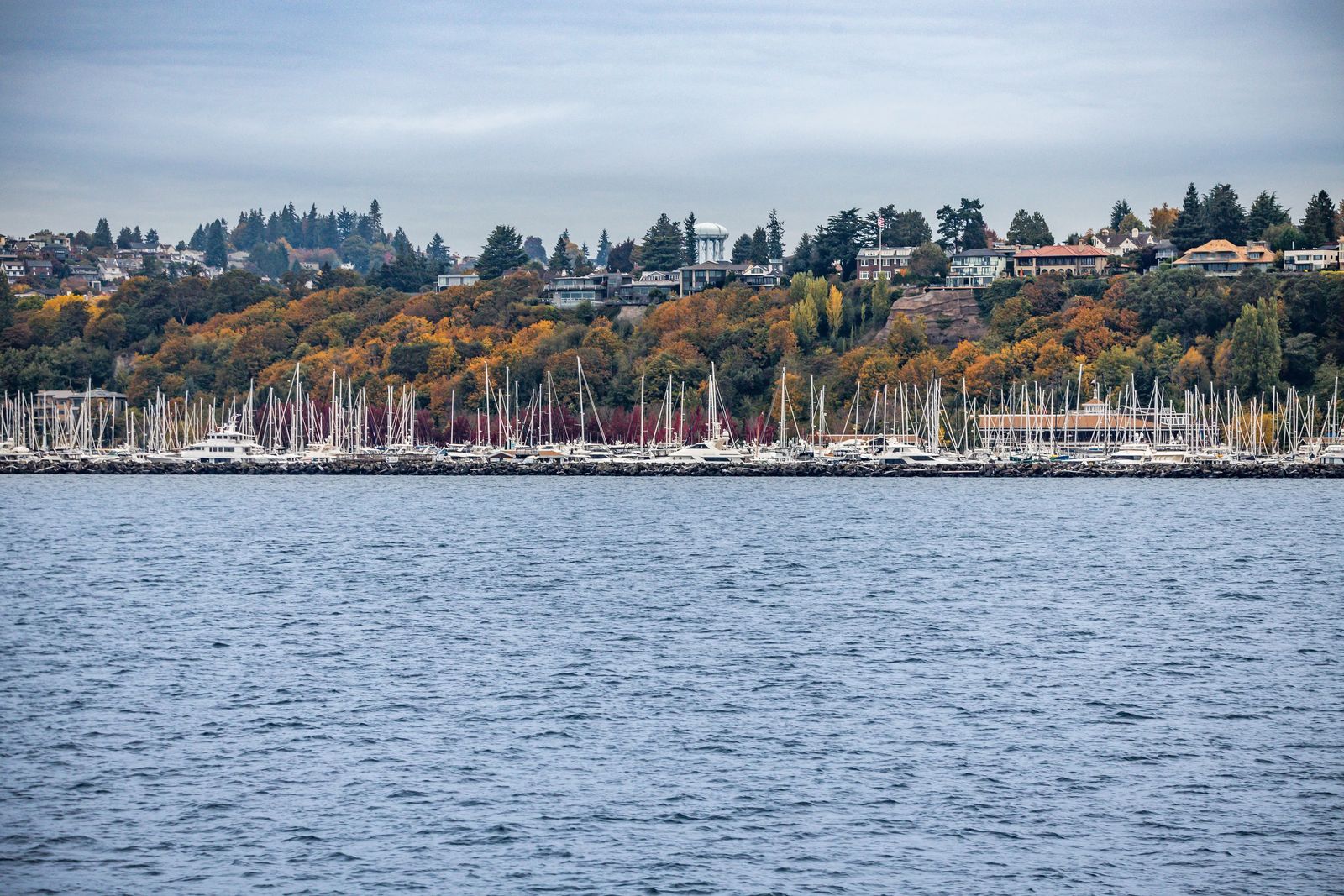 When Is The Best Time To See The Whales
The best time to see the Whales are in mid-June to early September, outside of that time it can be rather unpredictable on what you will see. I went in early October and saw a family or Orcas.
They say that the San Juan Islands you can also see humpbacks, greys and/or minkes on over 90% of the whale watching tours.
I personally went on the FRS Clipper that travels all the way up to the San Juan islands. There is a more sustainable option with sailing, email him here davidhowitt@mac.com, who was recommended by the tourism board.
The larger ships have restrictions on how close they can get, the smaller ships have less of a distance restriction so it is easier to use your phone to take photos. The larger ships I would go with a 200-600 lens in order to get close up photos, 300 might do as well though. Just be aware that even with a stomach of steel like mine, peering through a view finder to spot them and get the video and photos made even me a bit queasy.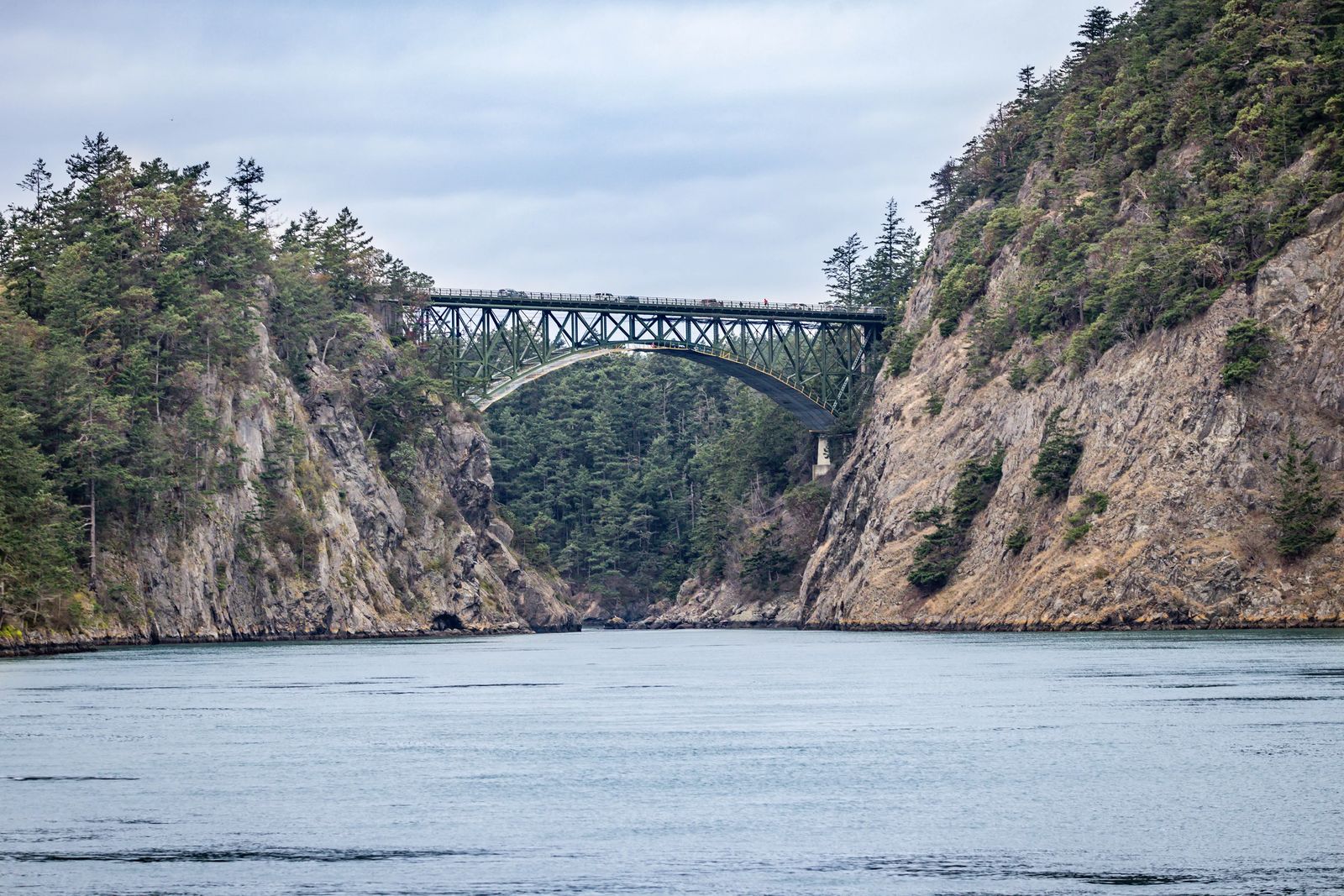 What To Wear Whale Watching
Note to self, never again think that a sweater on a boat in Seattle in October will be sufficient for your Whale Watching trip. I personally have thyroid issues that makes my core temperature a bit warmer than most people, however, I was COLD on this trip.
I suggest wearing layers, especially on a stormy day as the inside of the boat has breezes from people going in and out of the inside of the boat to the outside. If you see Orcas, the windows have some warps on them, as well as LOTS of water spots and you won't get a good photo unless you go outside.
What you will need is a hat and sunglasses if it is sunny. If it is stormy weather, make sure you have a sweater, a wind proof jacket, a hat and some fingerless gloves (the ones that have the tips cut off). The fingerless gloves will allow you to work your camera easier, and you can slip hand warmers in the palms of the gloves if it gets cold.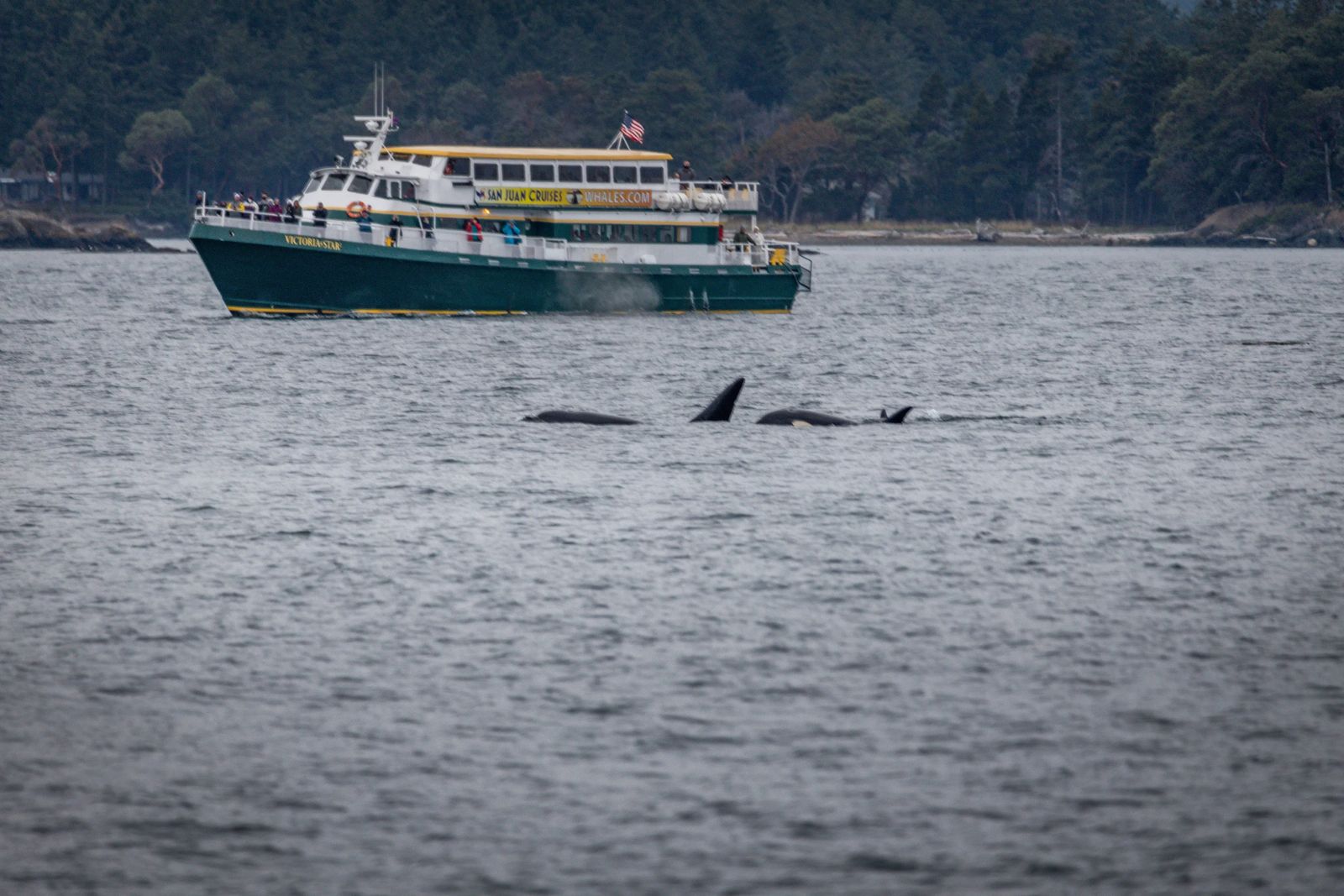 Gear To Bring For Whale Watching In San Juan Islands
For these photos I had my Canon EOS and shot in manual mode with my 150-600 Sigma lens. I find Sigma lenses to be more affordable, but once you Zoom all the way to the 500-600 range you start to get pixelation and noise in your photos. If I wouldn't have brought it though, the boat would have been too far away for my Iphone to pick up the whales as more than just a black shape.
While you can capture some photos with your phone, I suggest bringing something with a little better zoom on it.
To help with quick movement, mitigate people tripping over my gear, I just brought my monopod and attached it to my lens. While it didn't provide perfect stabilization even with the 60fps shooting mode, I feel it was PERFECT for providing a steady point for taking the photos I wanted.
If you are just on the trip to see the whales, and not take photos, then be sure to bring some binoculars. There are a lot of birds, sealife, and small animals that the naturalist on board will point out that are hard to see without binoculars.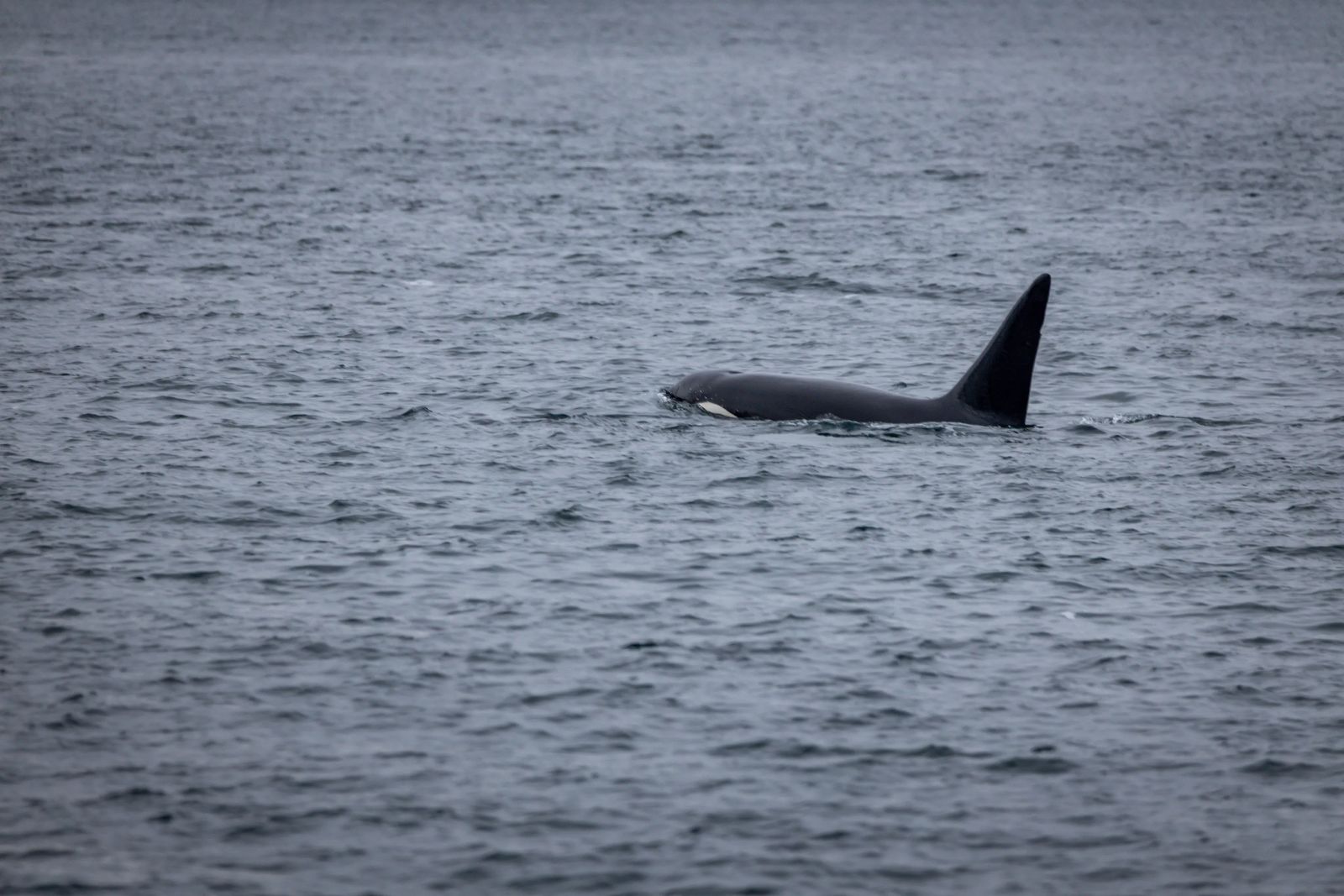 How To Spot Whales
My first piece of advice, TAKE BREAKS, it can be really easy to get seasick if you are constantly staring through a viewfinder on your camera or your binoculars. Just listen for announcements over the speaker, and watch for boats clustered in one area.
The whales typically stick to the surface, especially with smaller baby orcas who need to breathe more often. The whales will dive anywhere from one to three minutes at a time while resting. If they are on the hunt they swim quite fast (30mph) and many of the boats don't like to interfere due to the dwindling population and scarcity of food in the area.
Keep your eye to the horizon (which also helps with sea sickness) and look for short spouts of water. This is the best way to spot the Orca Whales. Be ready to move quickly around the boat, and be mindful of other passengers when trying to get your photo - they want the same one and there is room for all.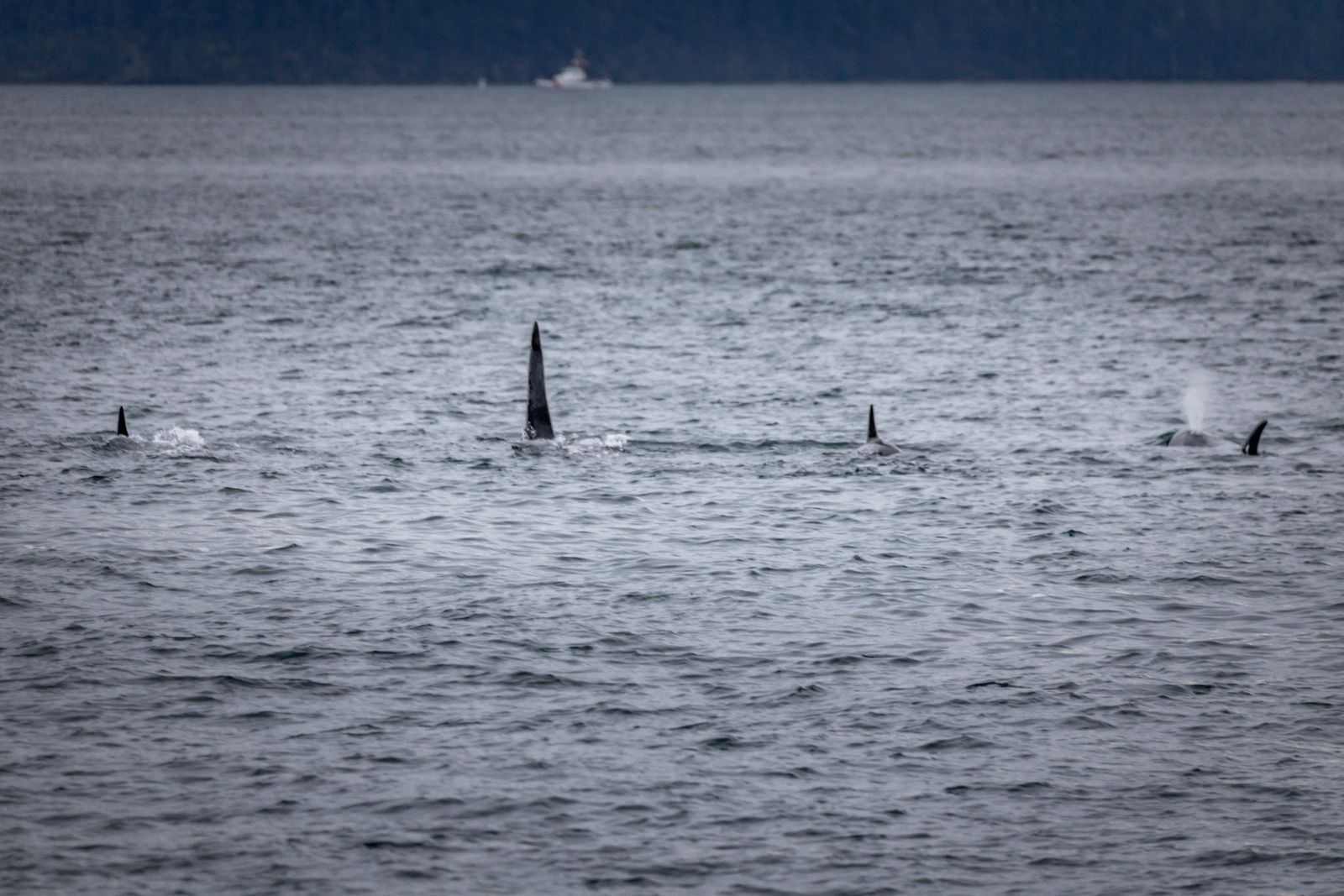 Fun Facts About Orca Whales
These Cataceans (dolphin family species like whales, dolphins and porpoises) can reach up to 32 feet in length when fully grown. Unlike other whales, they mate and hunt year round and don't typically follow a pattern when doing so.
The Orcas are either off-shore dwelling families (or pods) OR they are transient Orcas that seem to migrate and travel where their food does. The off-shore pods can reach up to 25-75 members in the pod, while transient Orcas typically only have 2-6.
The diets consist of Chinook Salmon in the Seattle area, as well as seals and occasionally dolphins. However the Chinook Salmon are being over farmed and because of that and scarcity of food one pod in the Seattle area lost 7 members of its family. Females within these pods aren't being born as much, nor do they survive as long, further dwindling the species.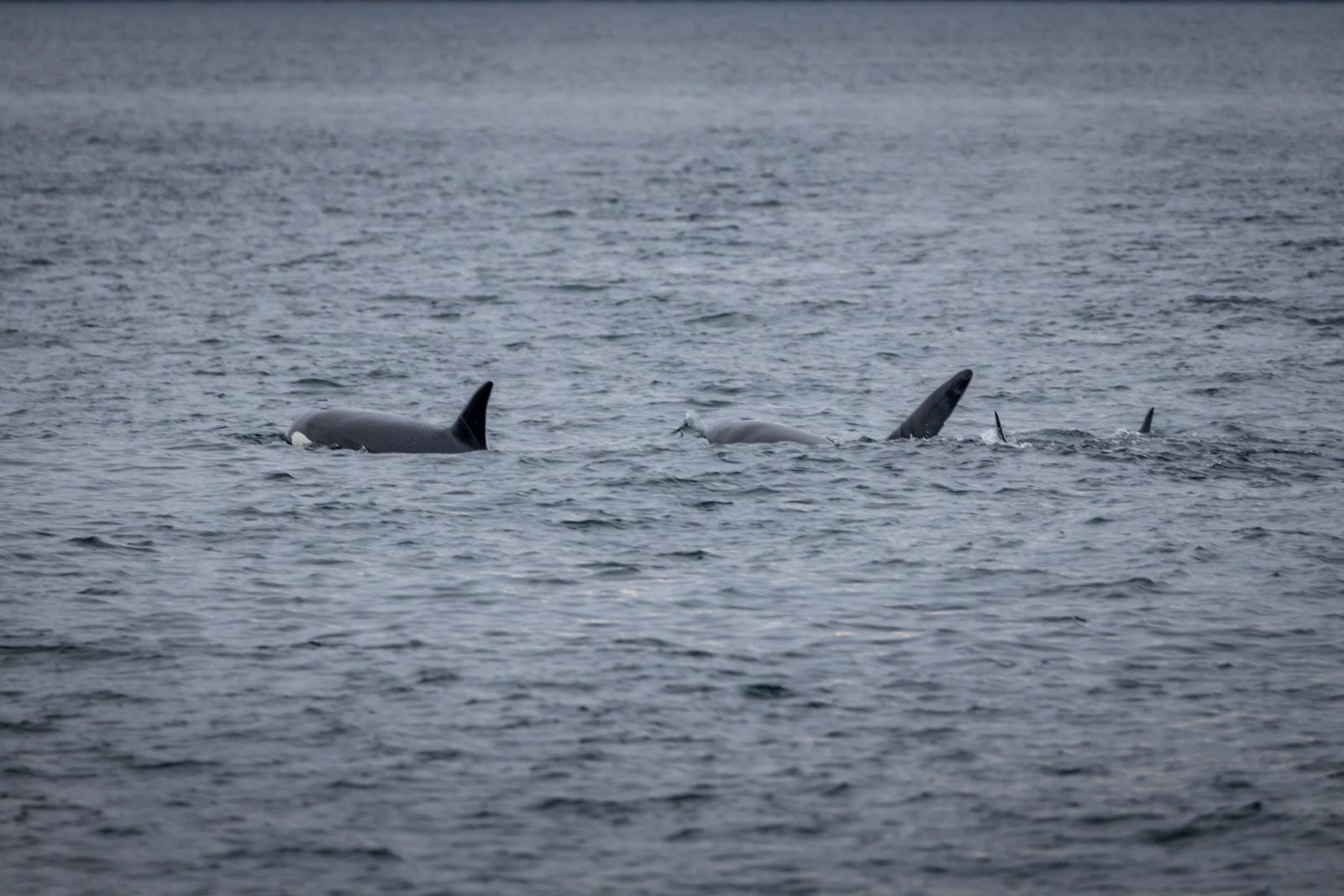 How To Protect Orca Whales - What Can You Do?
Make sure that the boats that you board follow a clean green boating regulation to help prevent spills, that they have safe sewage disposal, and use proper guidance systems to avoid hitting whales and don't chase the Orcas or get too close.
Vote for people who support programs that protect endangered species, and marine life and are committed to fighting climate change.
If you are in the Seattle area, make sure to ask where the Salmon came from, if it is from the British Colombia area then it typically is infringing on the food source of the Orcas. Ask for Organic Salmon and food, use biodegradable cleaning supplies that won't pollute our oceans, reduce the use of chemicals in your home.
Try and shop locally whenever you can to reduce the need for trucks and ships to import your food and supplies.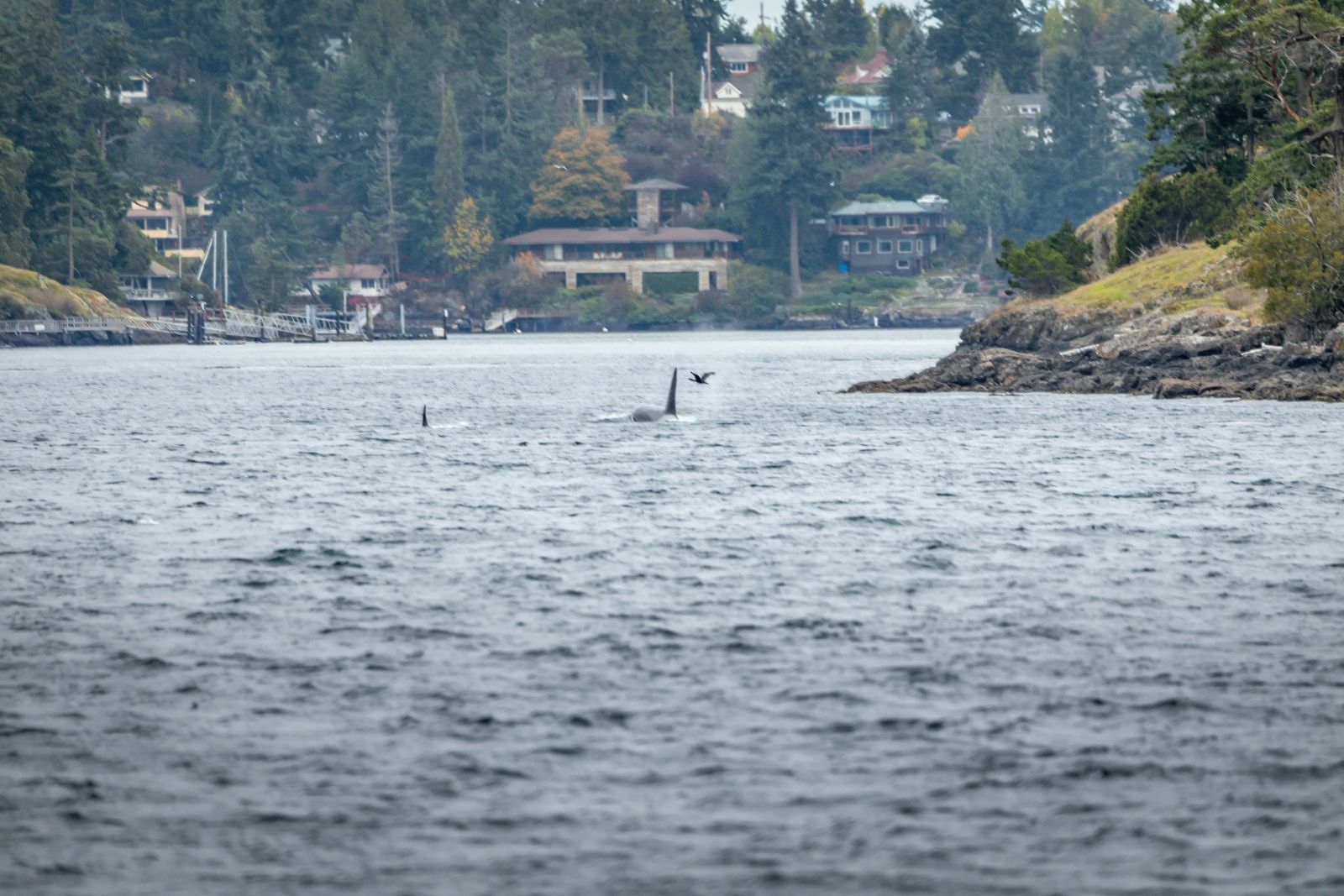 Things To Do In Friday Harbor
Visit the Whale Museum, one of the first museums in the world to be dedicated to a marine wild species. It will allow you to learn more about the life of the whales, the different pods, the names of the Orcas, and how you can donate and help save them.
Stroll the quaint streets and buy some local products to support locals. I got a whale mug and a t-shirt myself :)
The SJIMA is an visual art exhibit with rotating visual arts from around the world. In the summer there are live musicians that play for visitors, and a whole calendar of events to participate in.
If it is a bit rainy, head over to the Spring St. Landing 400-gallon mini aquarium showcasing the local flora and fauna.
If it is sunny I highly suggest taking a kayaking tour and staying overnight at Friday Harbor, catch another boat back the next day.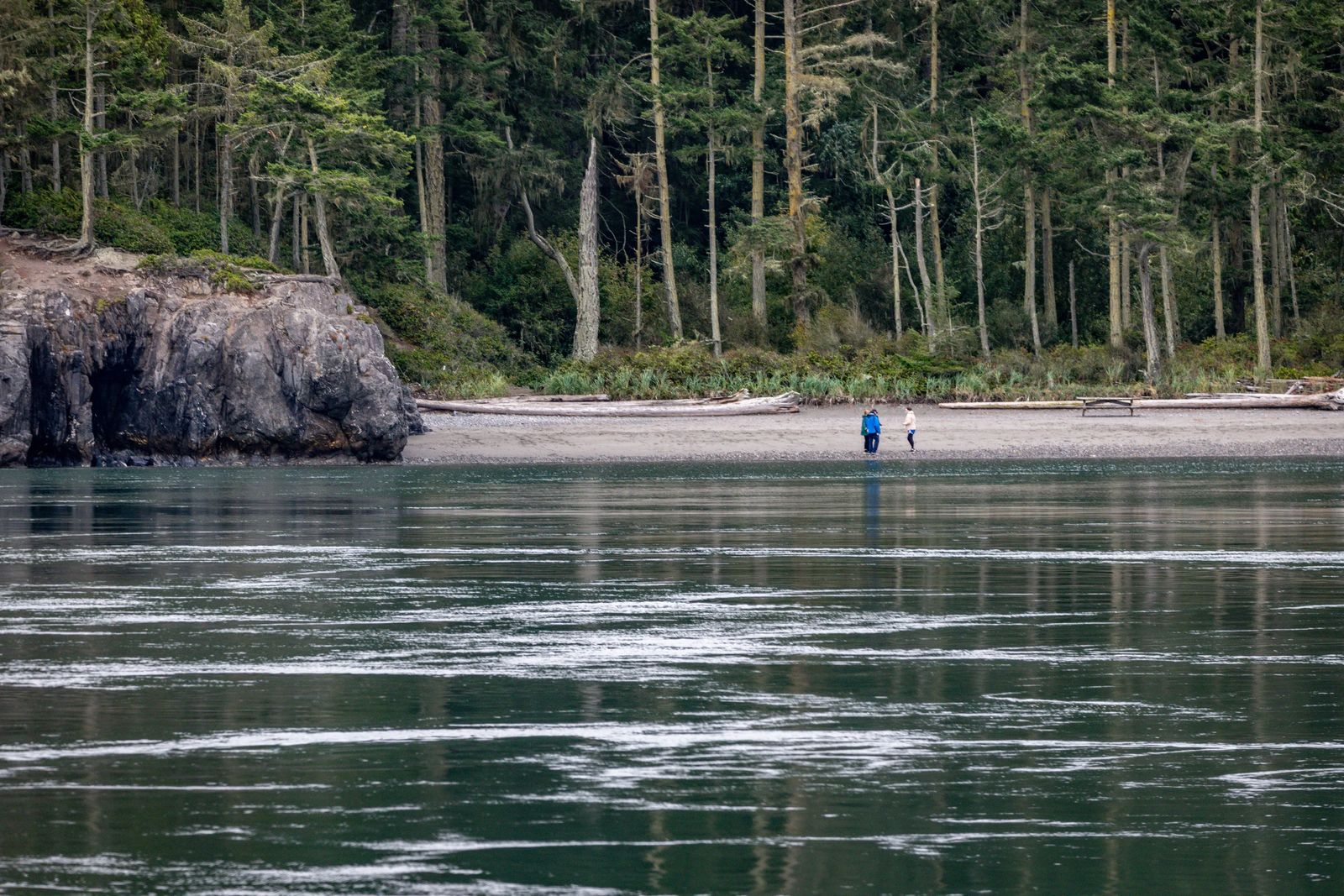 Combating Motion Sickness
I have an entire article on how to combat motion sickness while traveling. My biggest tips would be to minimize looking through a viewfinder, and take some dramamine before getting on board.
I also swear by ginger candies, and smelling small alcohol wipe pads to help with the gag-reflex. If all else fails then bring your own puke bag so you don't have to wait for a staff member to get one for you and potentially puke all over the boat.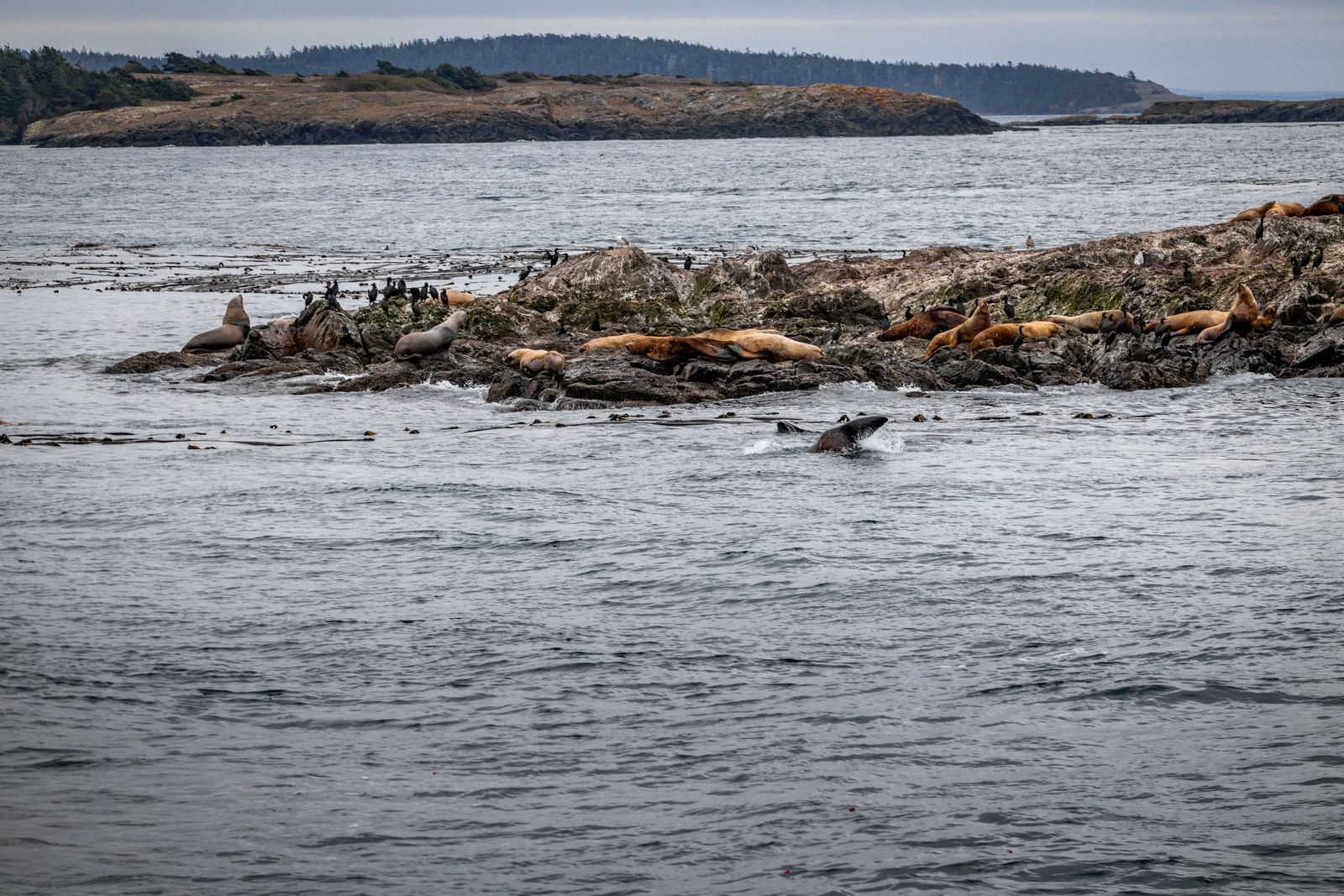 My Takeaway of Whale Watching Near The San Juan Islands
Overall paying $125 for the whale watching tour was well worth it. The naturalist on board was fantastic and was more than happy to answer the deeper questions of sustainability that the Seattle area still struggles with.
Being able to see these magnificent creatures in the wild, and not in a small pool is something I will NEVER forget. I appreciate the efforts the whale museum and other conservation groups are making to restore and protect these creatures so we don't lose this gift of seeing whales in the USA.
Guided Tours of Friday Harbor
Like it? Pin it for later! Sharing is caring ;)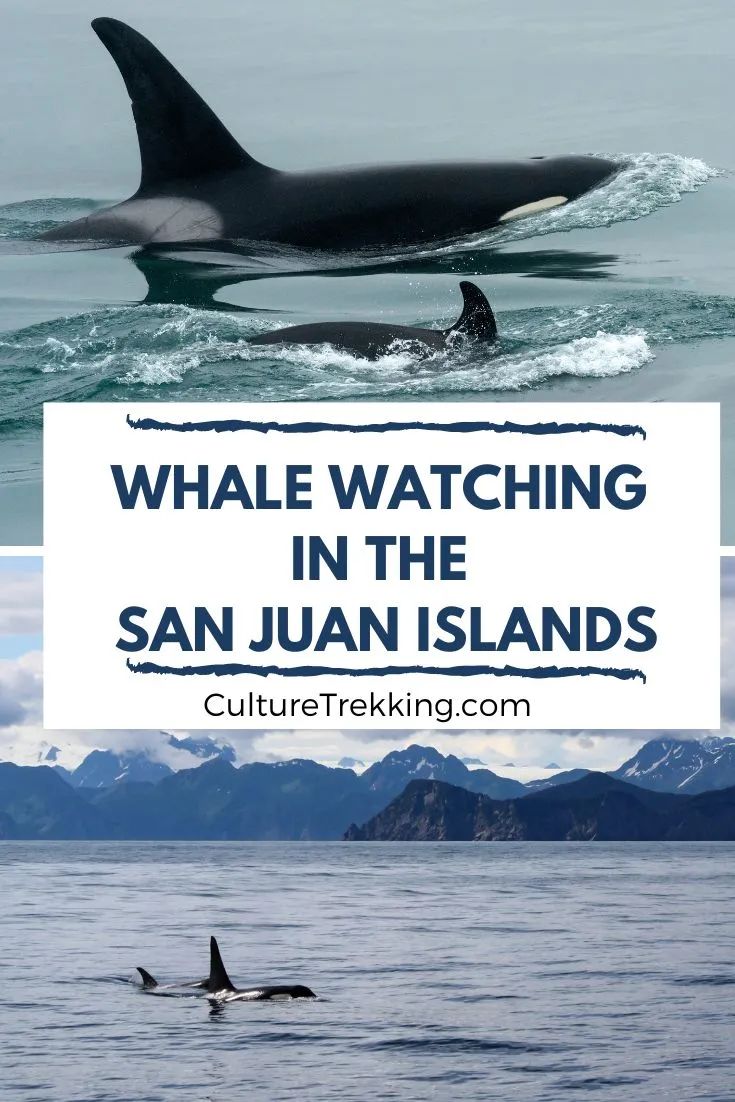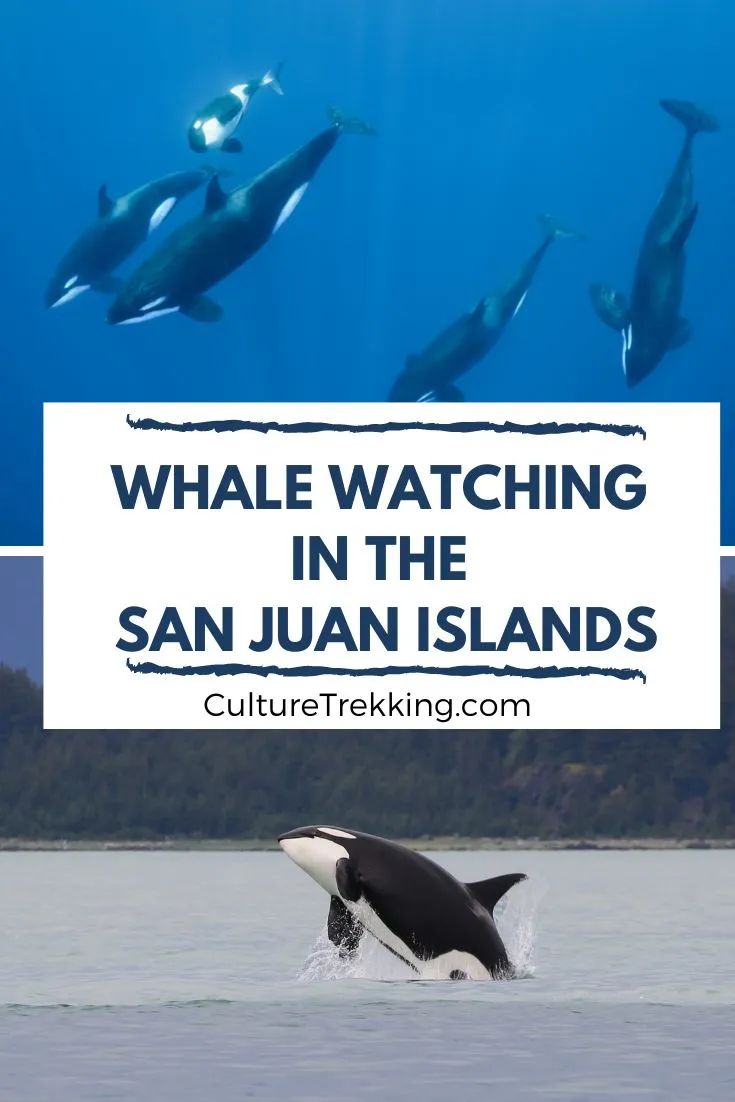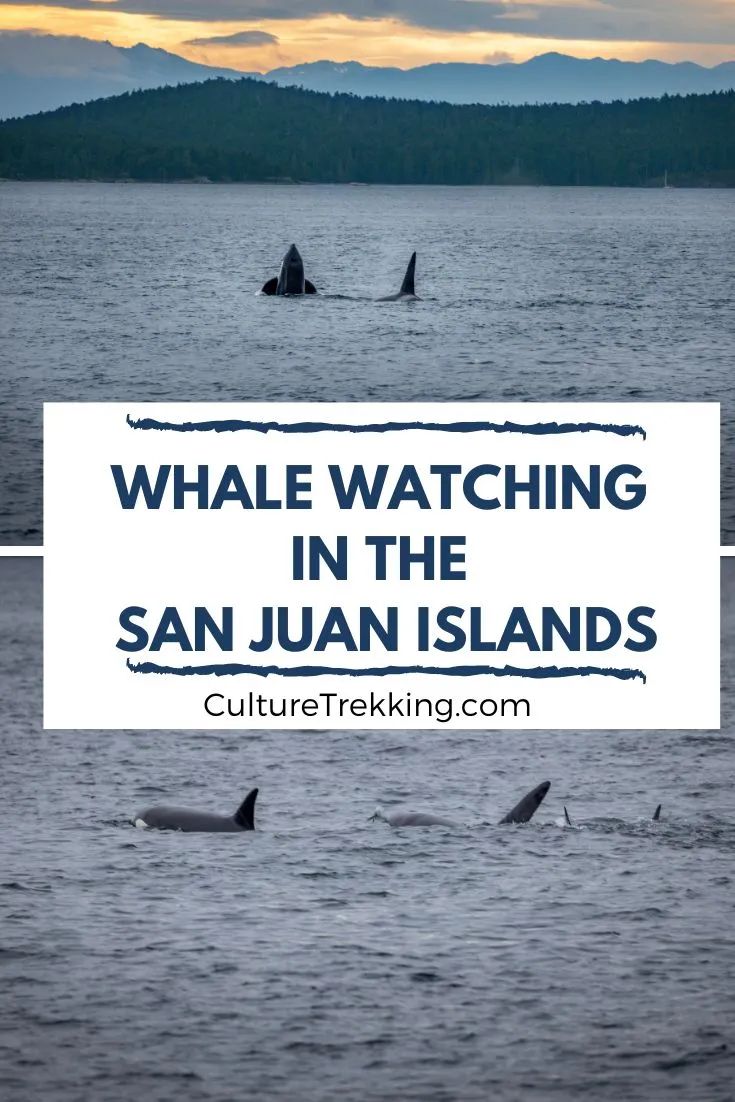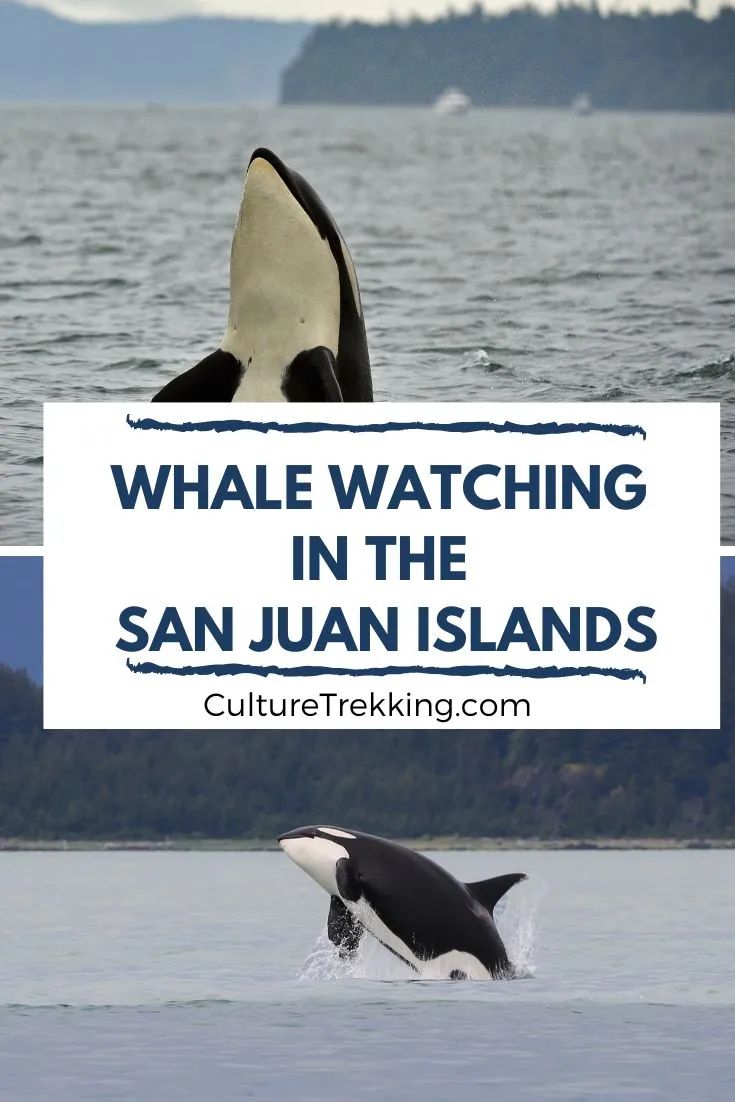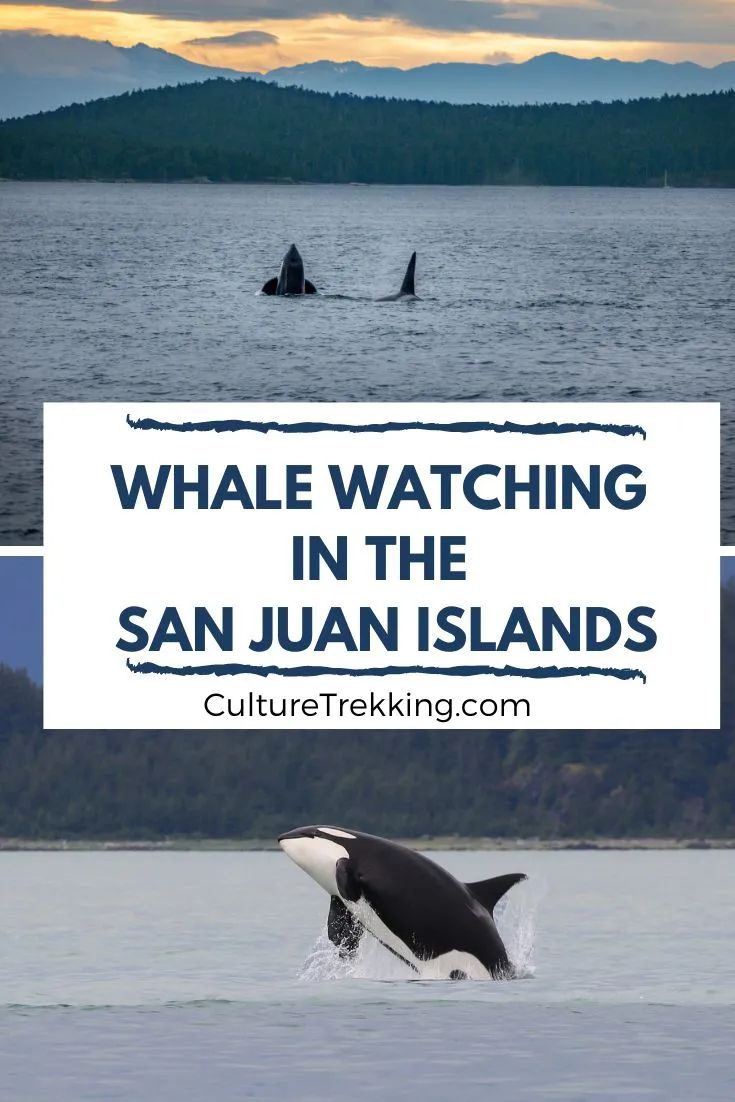 Latest Articles On Culture Trekking