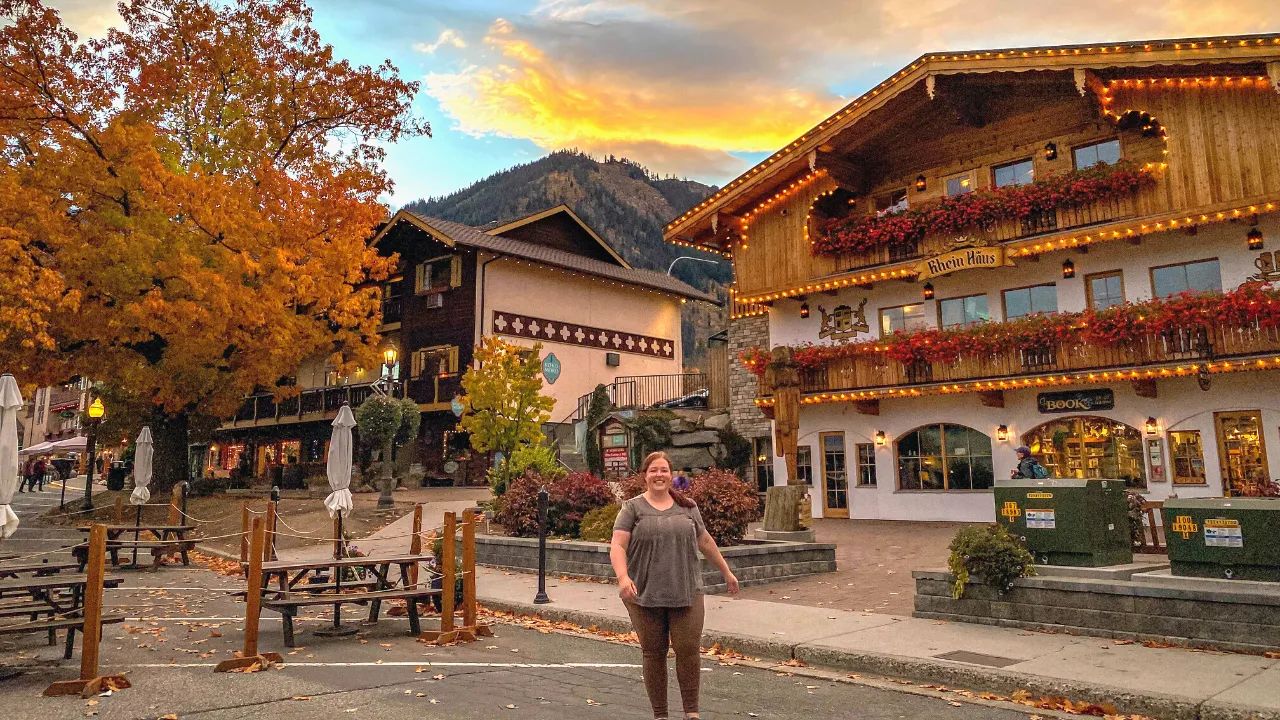 13 Things To Do In Leavenworth Washington
Wooden homes expertly lined with flowers, and Christmas lights and surrounded by the imposing cascade mountains feel like a European Grandma's hug when you walk into Leavenworth. Leavenworth is a Bavarian-themed village filled to the brim with adventures, cultural quirks, and a Christmas like you see in movies. There are plenty of things to do in Leavenworth Washington all year round.
I visited Leavenworth in October of 2021 and have updated this post as of November 2022 to include the most up to date information.
Leavenworth is very busy with visitors in the summer months with weddings, hiking, rock climbing, breweries and wineries. In the Fall you have Oktoberfest with imported beers from Germany, and Christmastime you see the entire town lit up, Santa comes to town, and every kind of Christmas décor is available. If you want all the details to this cozy European town nestled in the upper left corner of the USA keep on reading.
Quick itinerary/Key Takeaways
Leavenworth is a Bavarian themed town 117 miles (2 hr 20 min) drive over the Cascade mountains from Seattle. It is best known for its Christmas lighting and Christmas themed stores. Skiing here is affordable and available to every skiing level, one day at Steven's Pass is only $95 for early ticket pricing online.
It has some excellent fall hiking, and because of the Bavarian theme, Oktoberfest is also quite the party in Leavenworth.
During Spring is the peak season for Leavenworth with many weddings, the Ale Festival with many local breweries, and the Mountain Film Festival. The Spring Sensations festival celebrates their leading produce export, Pears.
Leavenworth has some of the top rated rock climbing experiences in the state nearby. There is plenty of hiking, camping, white water rafting, mountain biking, paragliding and ziplines.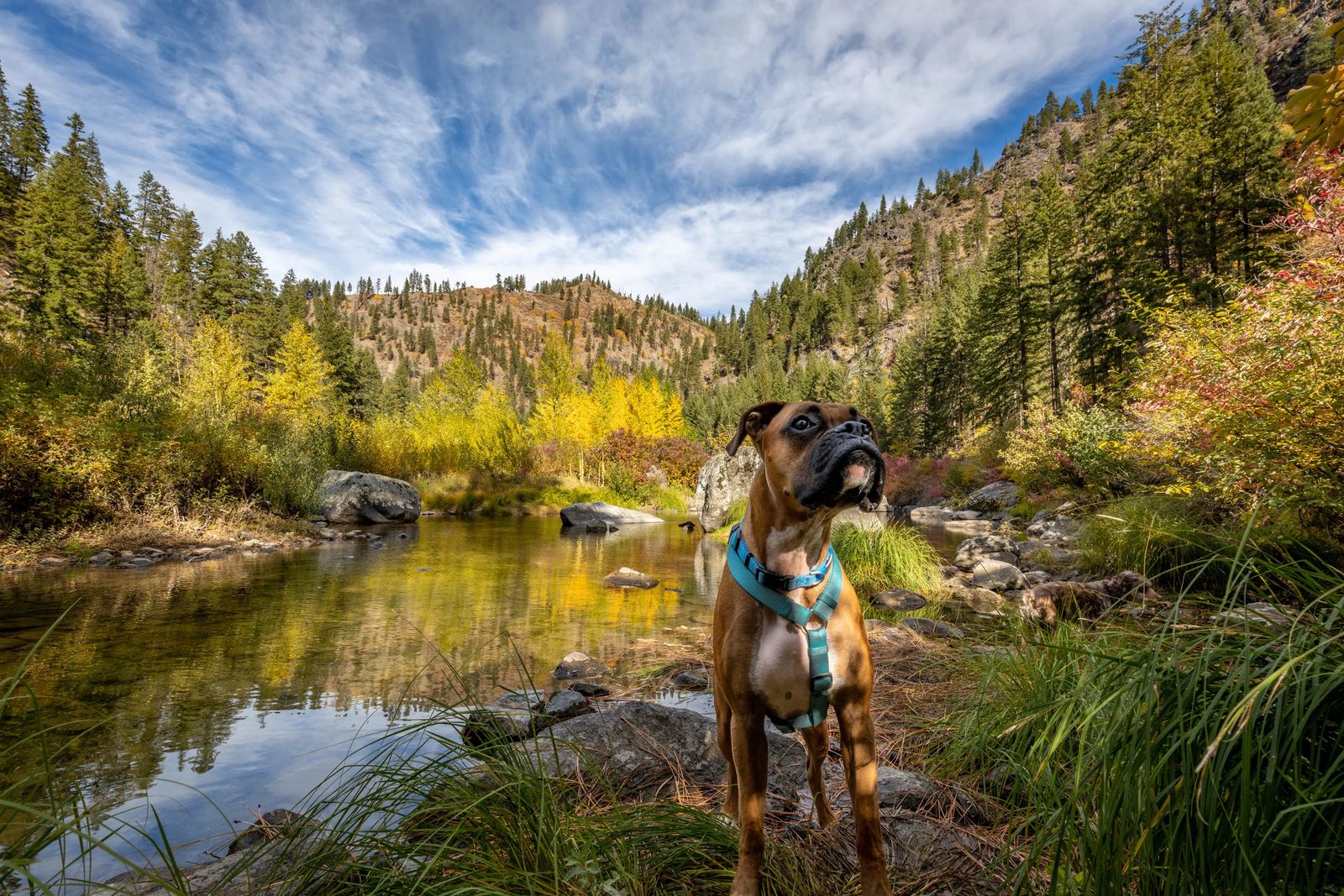 Is Leavenworth Worth Visiting?
There is something here for everyone, no matter what time of year you decide to visit. It isn't just for adults either, there are plenty of parks, kid friendly spaces, even during in Oktoberfest you can find specially placed children's play area and a Ferris wheel to ride with them. Not to mention the Waterfront Park and Waterfront Trail.
BRING THE FUR BABIES! I was so pleased to see how pet friendly the place was, from the hotels to walking the main drag of Leavenworth. While my dogs couldn't go into the stores, there was plenty of parks and grassy areas they could play at and we could all enjoy the sunshine. There were also SEVERAL boutique dog shops with outfits, artisan treats, and custom made toys available.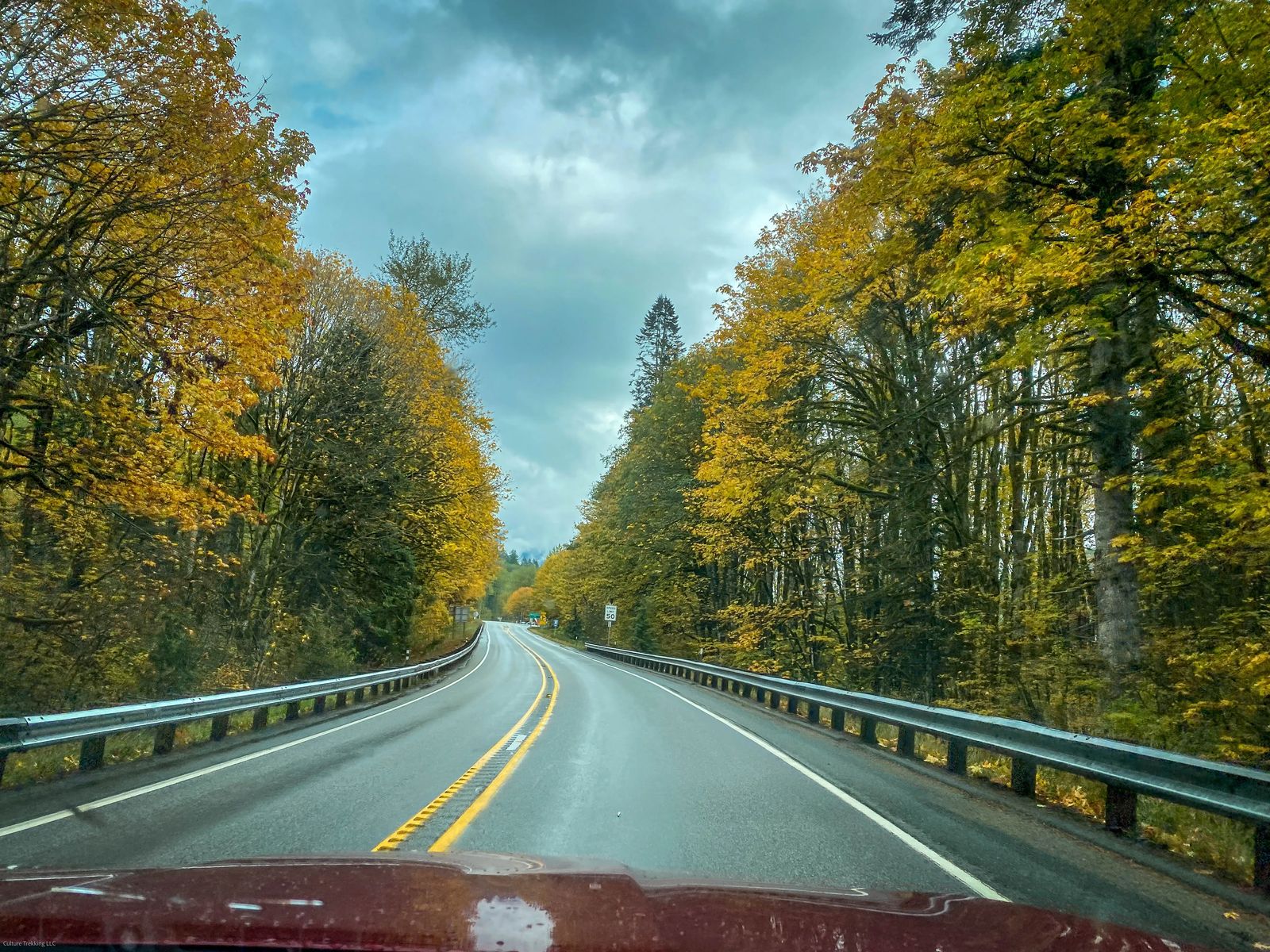 What To See On Your Way To Leavenworth
The best way to get to Leavenworth from Seattle is driving, just make sure you watch the weather in winter or during storms. Crossing over the top of the Cascade Mountains during storms isn't fun because not only do you have the rain/snow but you also get the clouds descending - further reducing visibility.
There is plenty to see on your way to Leavenworth though, beyond the incredible views.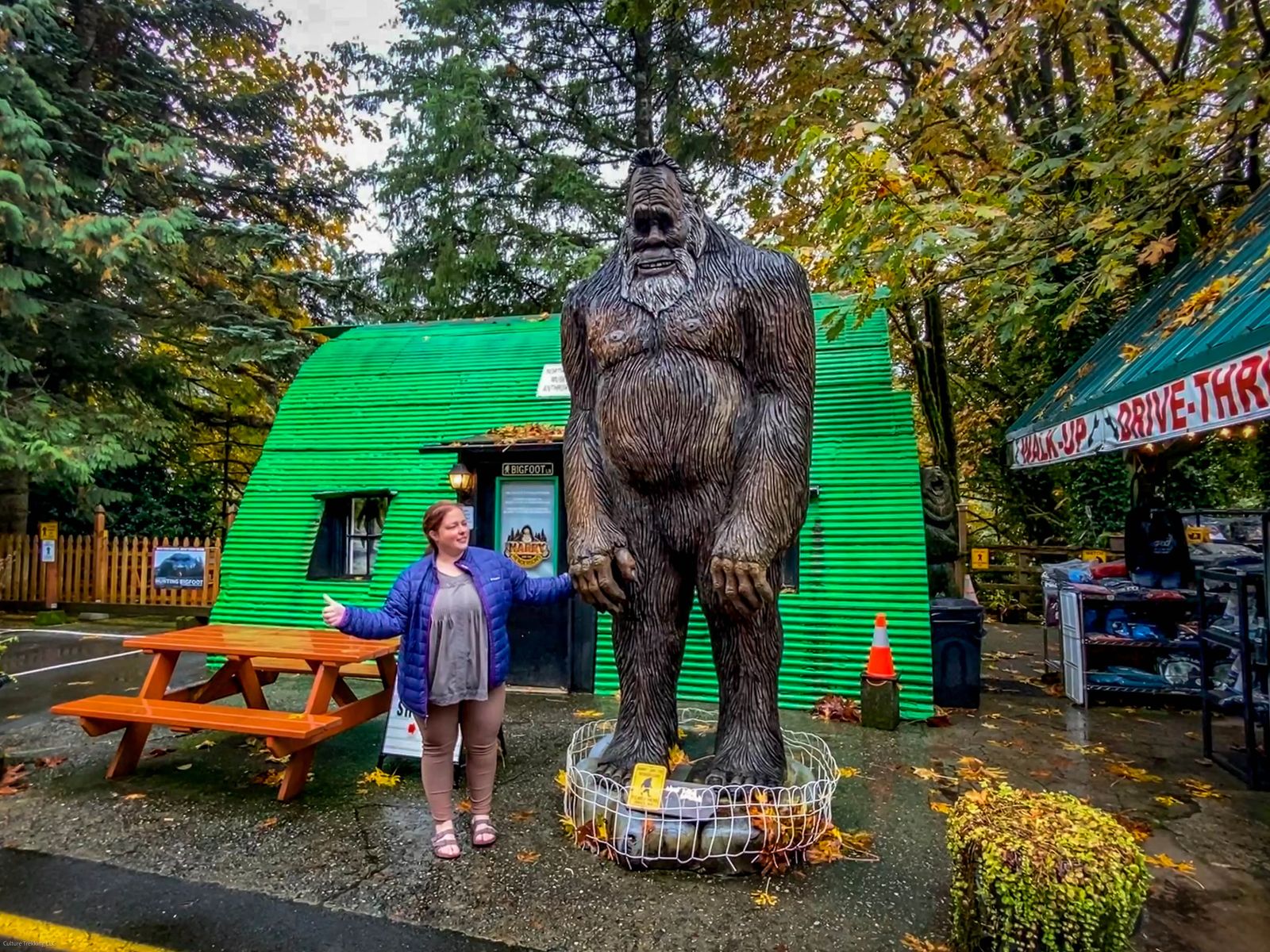 Harry The Big Foot & Coffee
Now this might be dating myself, but Harry and the Henderson's was one of my favorite movies as a kid. For those who haven't seen the movie, it was a movie about a family that went camping and ended up having an encounter with Bigfoot, who they call Harry, and adopted him into their family.
At the Espresso Chalet there is a large wooden statue of Harry, with memorabilia, big foot signs, a pet rest stop, lots of artisan treats and unique seasonal flavors of Coffee.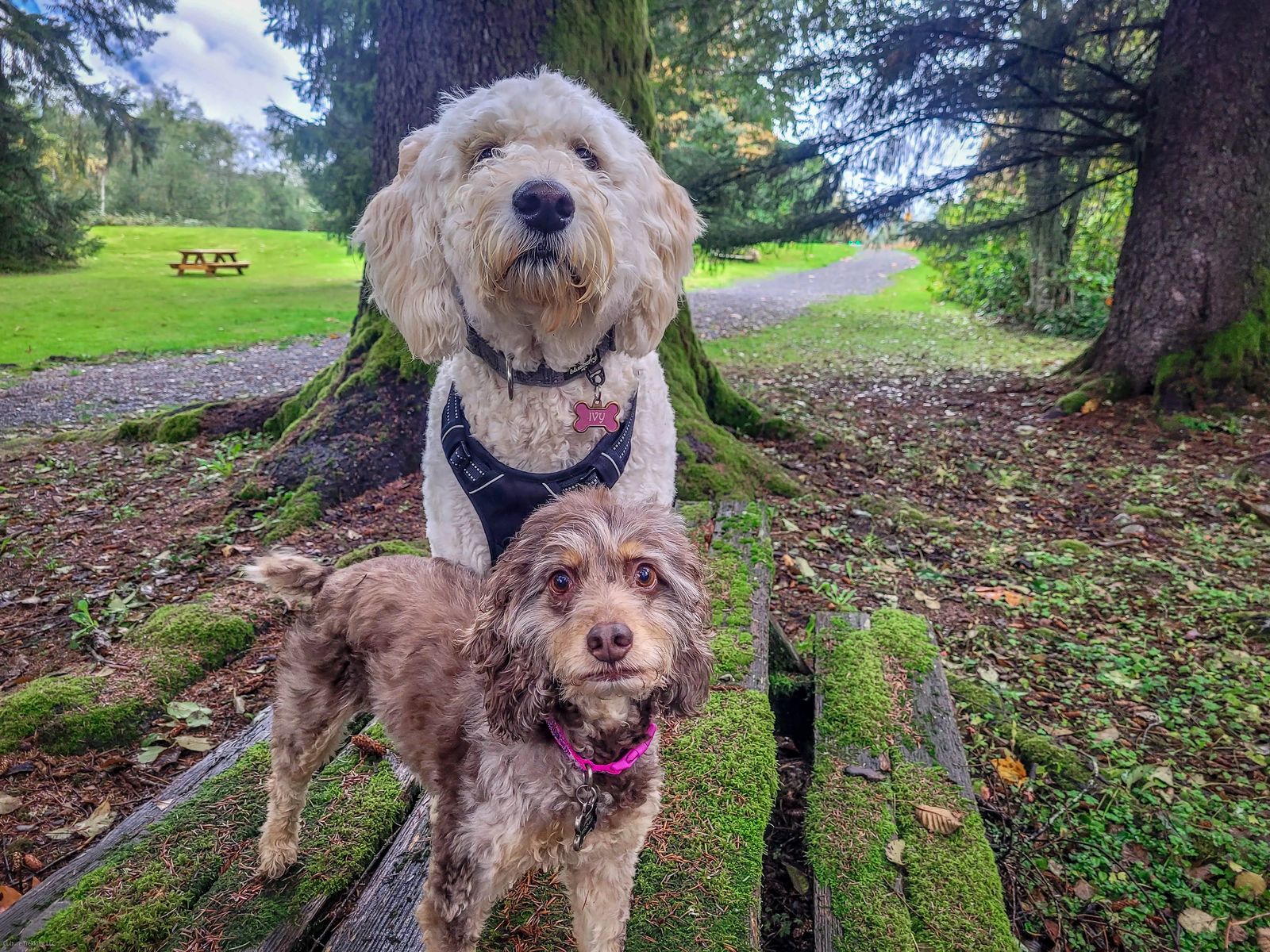 We had our dogs with us, and the pet area has a bunch of bushes to help corral the fur babies and also let them run and play and stretch their legs. This was one of my favorite memories of the trip, just having a quiet area to create memories and take a lot of pictures.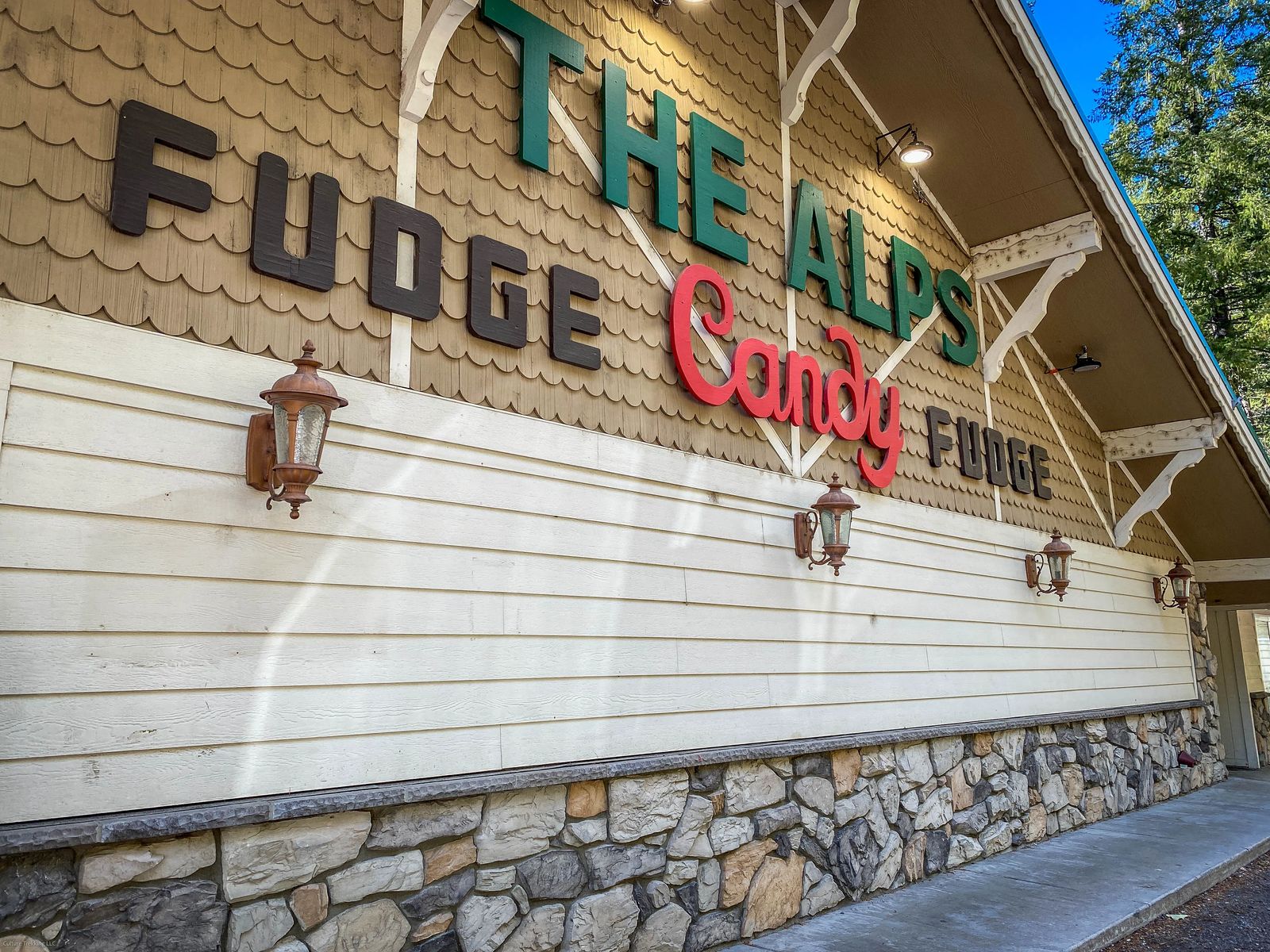 The Alps Candy Store
This little shop is just outside of Leavenworth along the canyon road and right by a gorgeous river. We weren't able to go inside as it was closed, but inside you will find unique flavors of soda (like popcorn) or a variety of unique candies. It is a quick stop for road trip snacks that is both delicious and comical. Just be careful of what unique flavors you choose.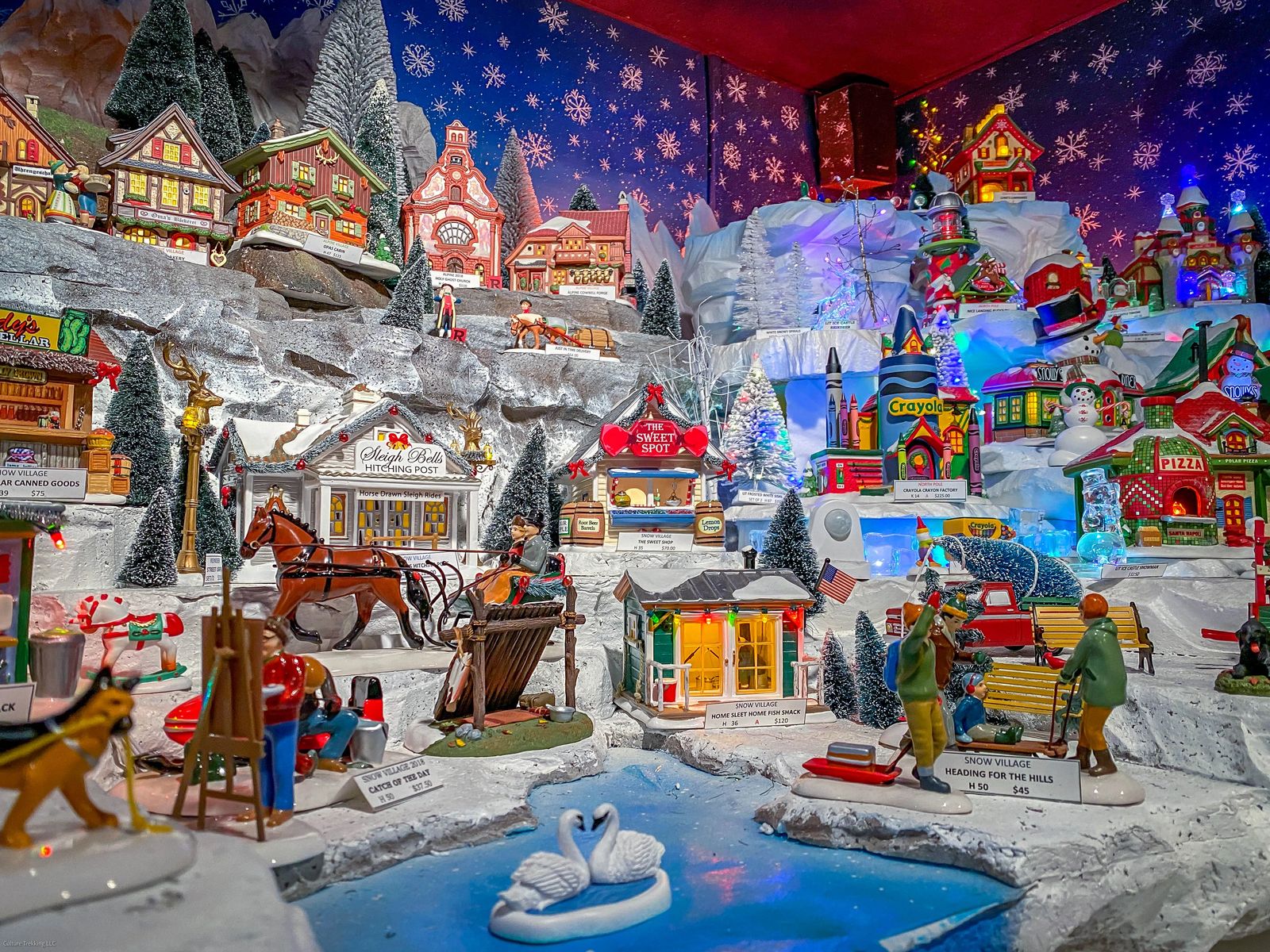 Christmas In Leavenworth
Christmas in Leavenworth is the major reason this town was put on the map as a tourist destination for those visiting Washington. This German themed town comes alive and lights up during Christmas like no where else in the USA.
There is live entertainment with local choirs, bands, carolers, and children's groups. You also have gingerbread house making, photos with Santa, crafts for kids, and a half million Christmas lights!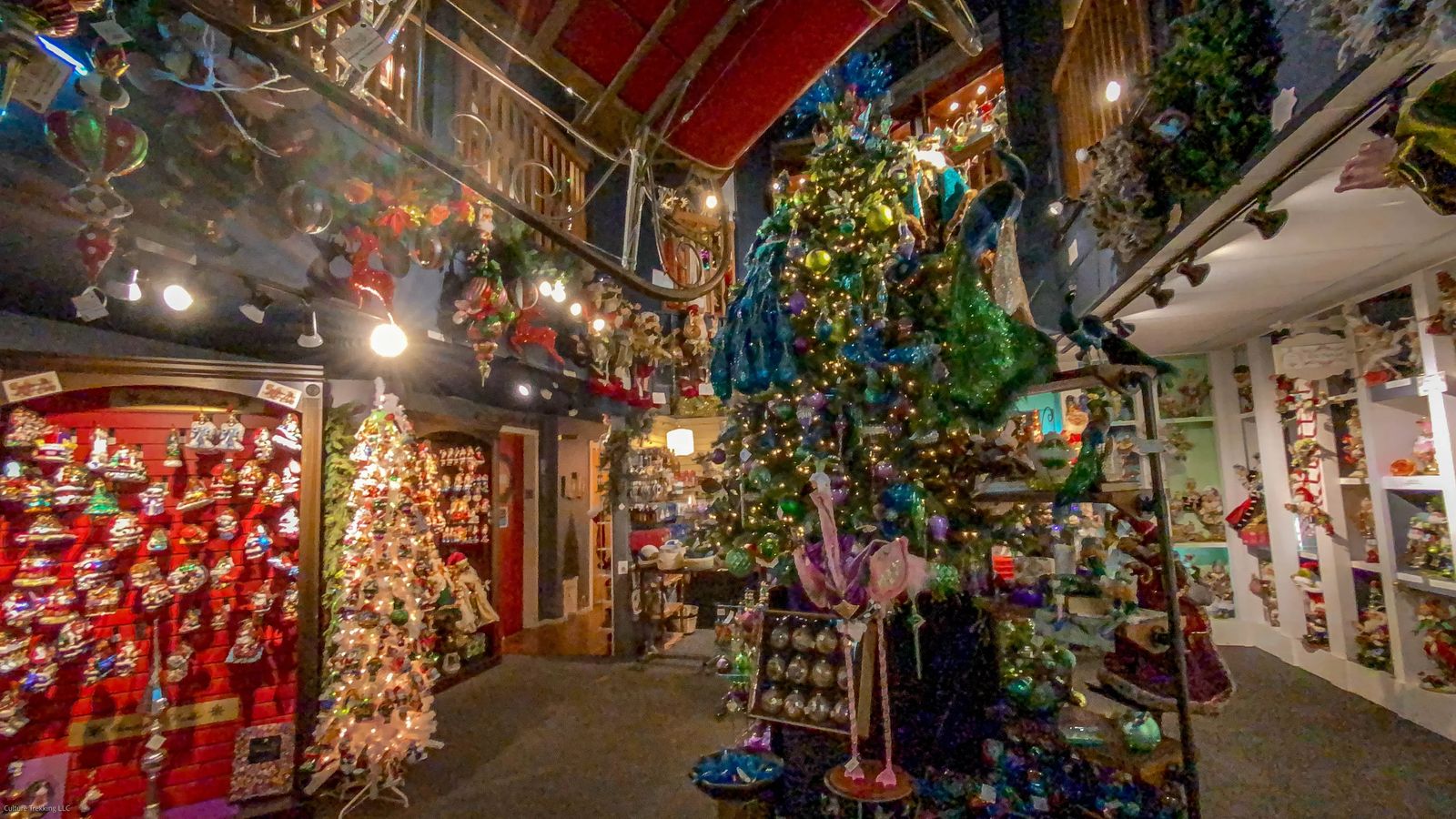 Kris Kringle Christmas Store
No matter what time of year you visit Leavenworth, and you are a Christmas fan, stopping at Kris Kringle is a MUST. They have everything from Halloween, Easter, and mostly Christmas decorations. It is hard to enter the store and not buy something.
They have nativity scenes with dogs, cats, geese, all shapes, colors, sizes and humor levels. There is also the Italian Fontanini Village items, Christopher Radko Ornaments, German cuckoo clocks, and plenty of Nutcrackers and sweet treats.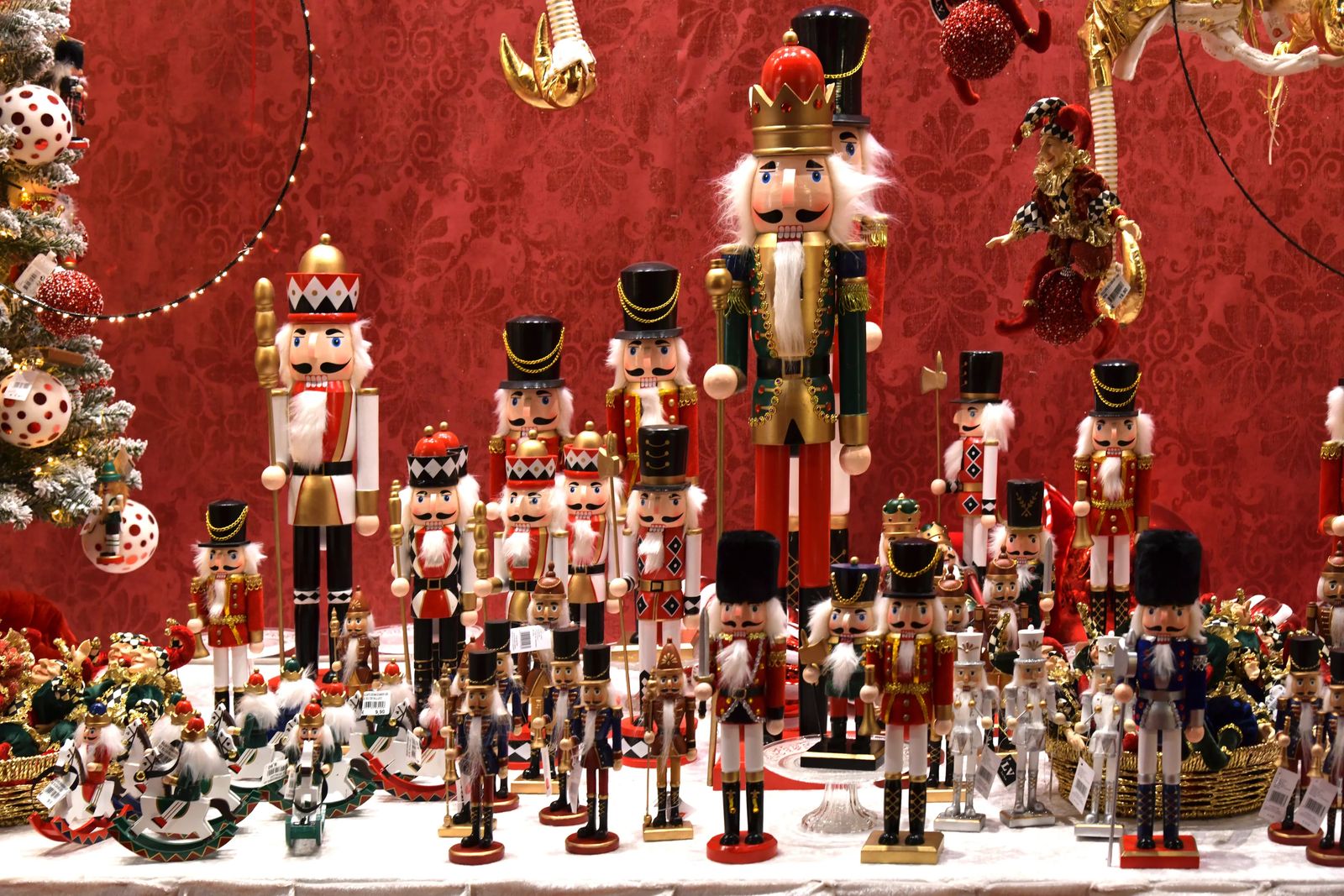 Nutcracker Museum
I was very excited to see this museum, but when I entered, there were no filming or pictures allowed and the entire place was DEAD QUIET. You need to pay to enter, and there are at least 1,000 Nutcracker bearded men with wide eyes, big teeth that are ready to crack your nuts for you. Needless to say....I ended up being really creeped out in this store and didn't stay long.
They have over 9,000 nutcrackers from over 50 countries here. They are made of iron, silver, gold, bone, horn, ivory, and even porcelain. To enter the museum it will cost $5.00 for adults with discounts for kids and seniors. The store is open from 11am-5pm so make sure to plan your visit carefully as the last admission is at 4:30pm.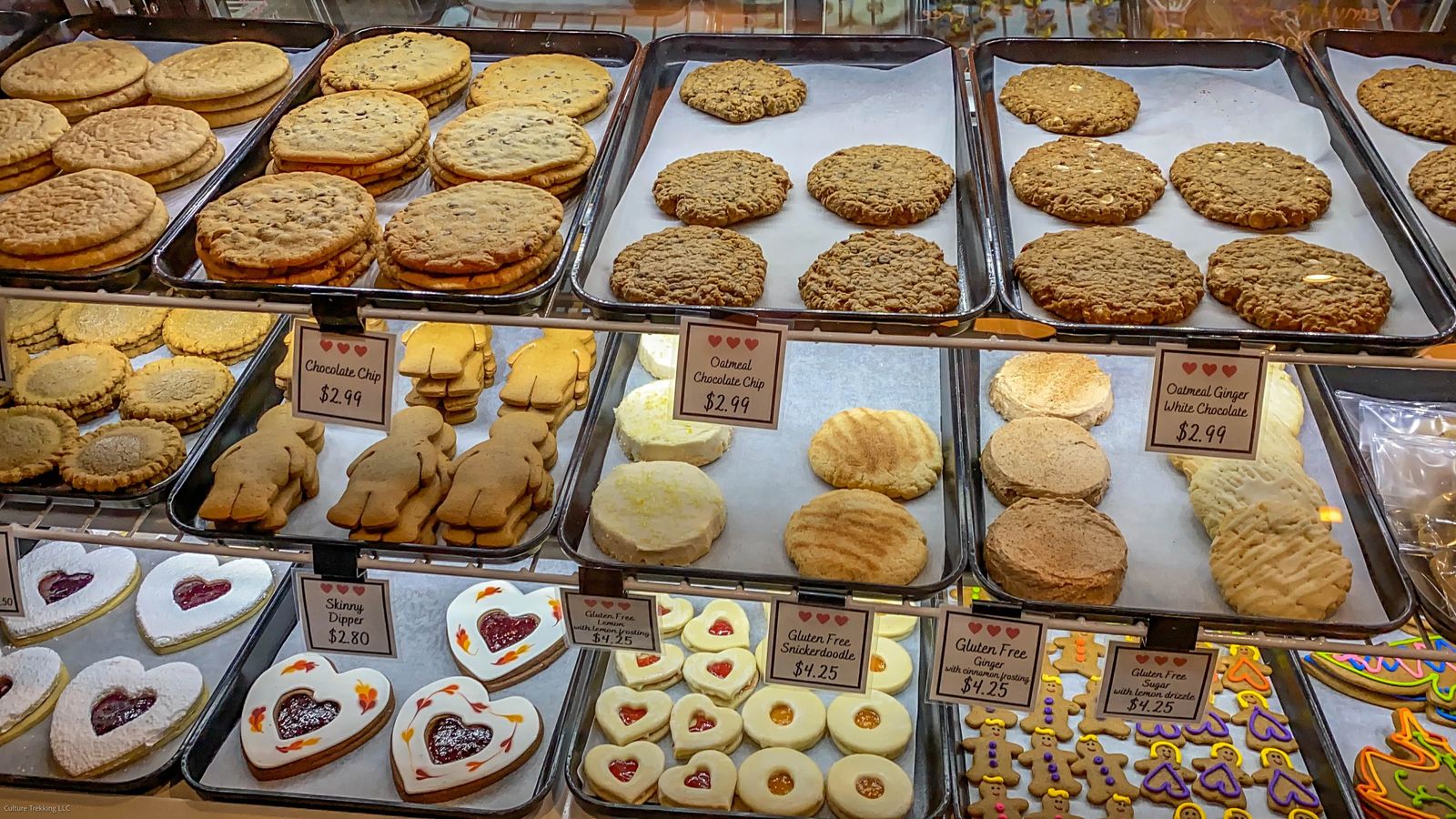 Gingerbread Factory
I thought this was a place you could go and decorate your won cookies, and see gingerbread being made (given that it says 'Factory'). In truth, this is a shop that provides the ready made gingerbread cookies and artisanal cakes and coffee to its patrons.
During Christmas time they do put a bunch of gingerbread houses on display (maybe to inspire you to go home and build your own). There are several spots to take some cute Instagram Christmas photos with your cookies though.
If you are visiting in the summer, they also have ice cream available for this hot days.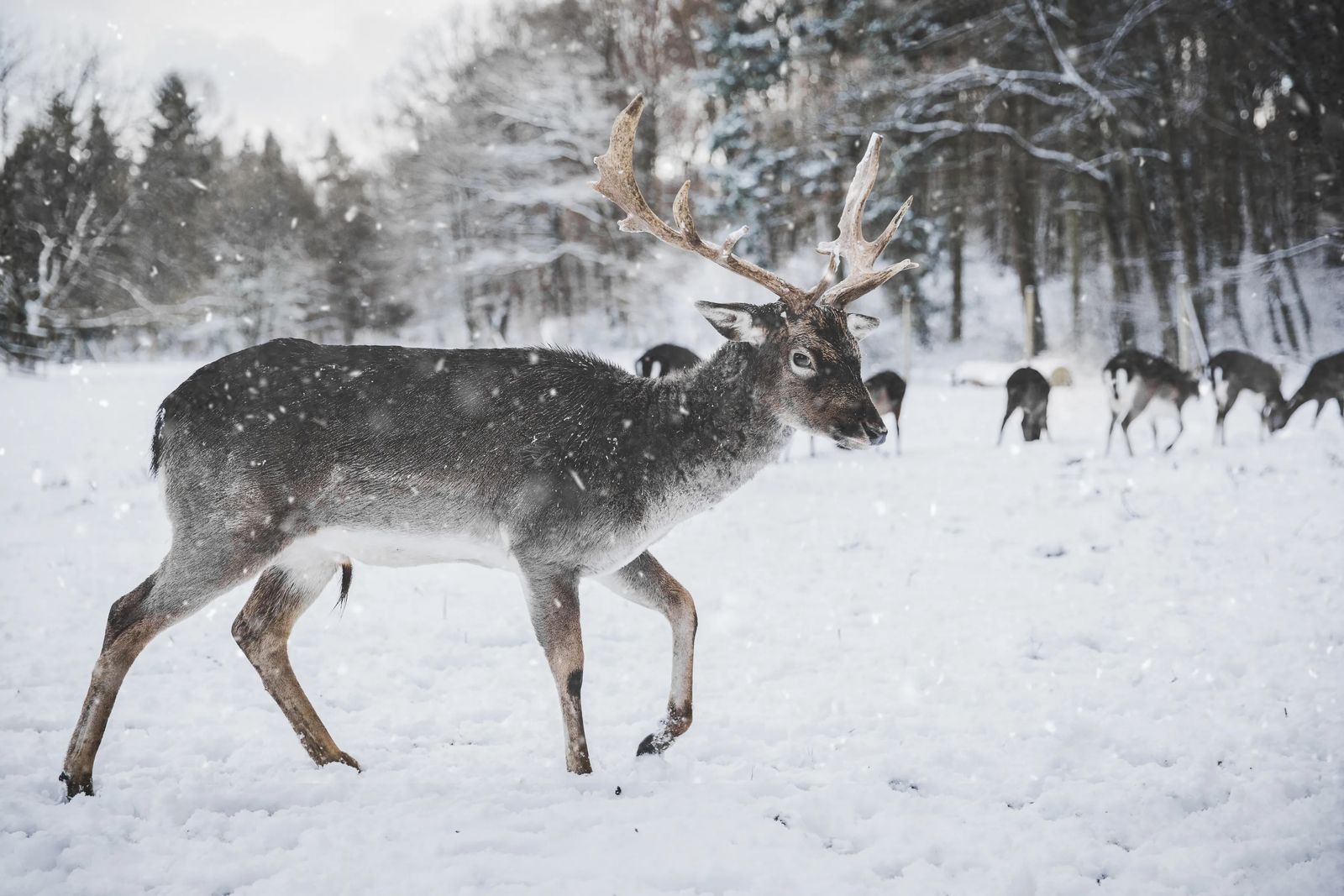 Leavenworth Reindeer Farm
Operated and owned by the same family for the last three generations, expect a very intimate experience with some WELL CARED FOR Reindeers. This place is quite popular and books up quick (especially in winter) so make sure you book early.
The Reindeer (Caribou) here are part of the Caribou Conservation Alliance. The staff tell you about the history of how reindeer were used in World War II, mail routes in Alaska, and how the native Sami tribes in Norway, Sweden and Finland depend on them. These adorable animals are some of the cutest I've seen and highly recommend going no matter if you are alone or with 10 children.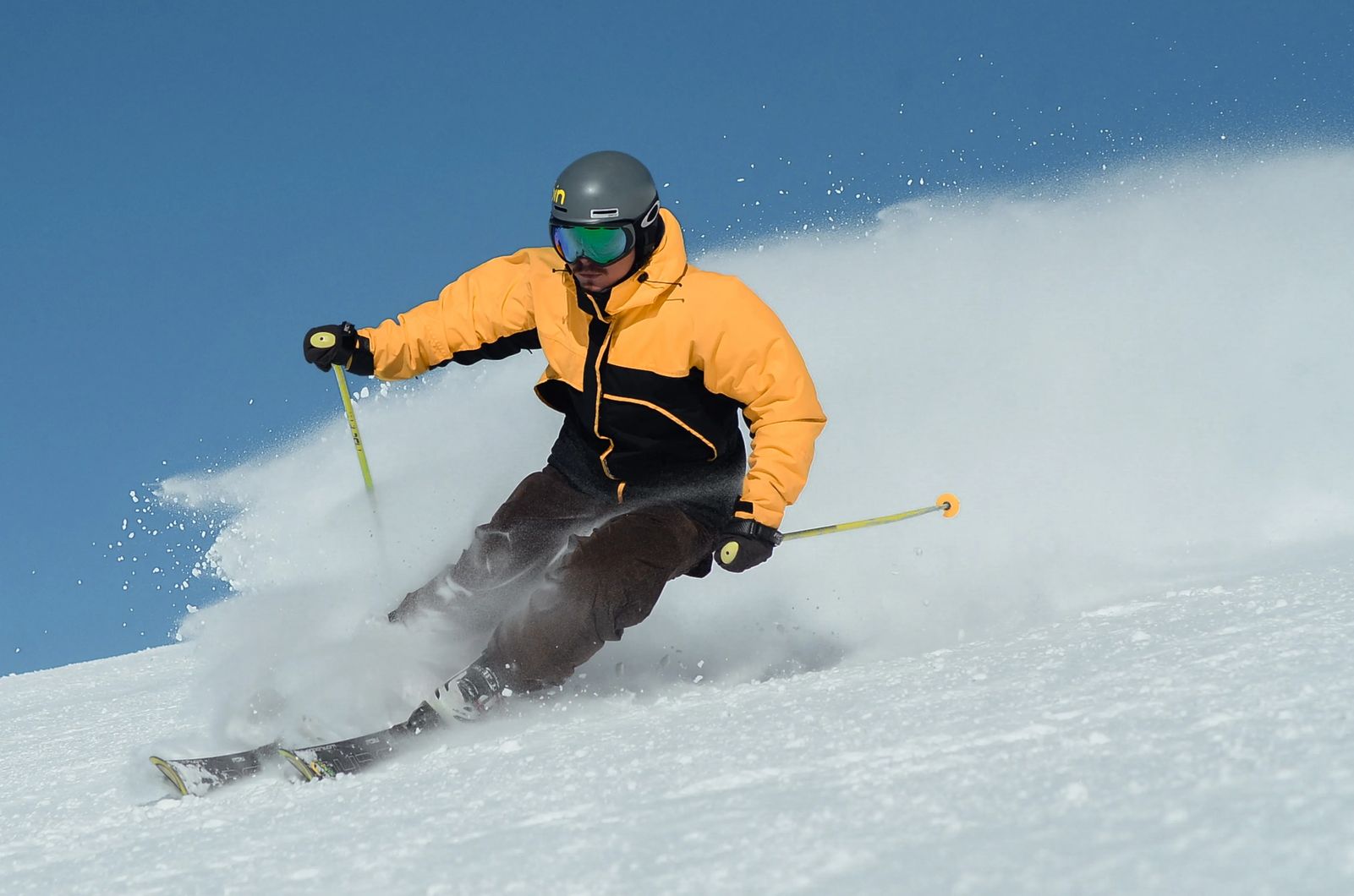 Skiing In Leavenworth
Want to make it an active white Christmas? Head to the ski slopes via the daily shuttle to Stevens Pass (32 miles away) with 1,125 acres of terrain to ride. Located on Cowboy and Chief Mountains this affordable resort has runs and lifts for every level of experience.
A ticket for one day costs about $95 (as of 2022) and two days here cost about $182 (one day at Snowbird in Utah is $167 just to show you the comparison and savings you get here). They also accept the Epic Pass for those who have that pass.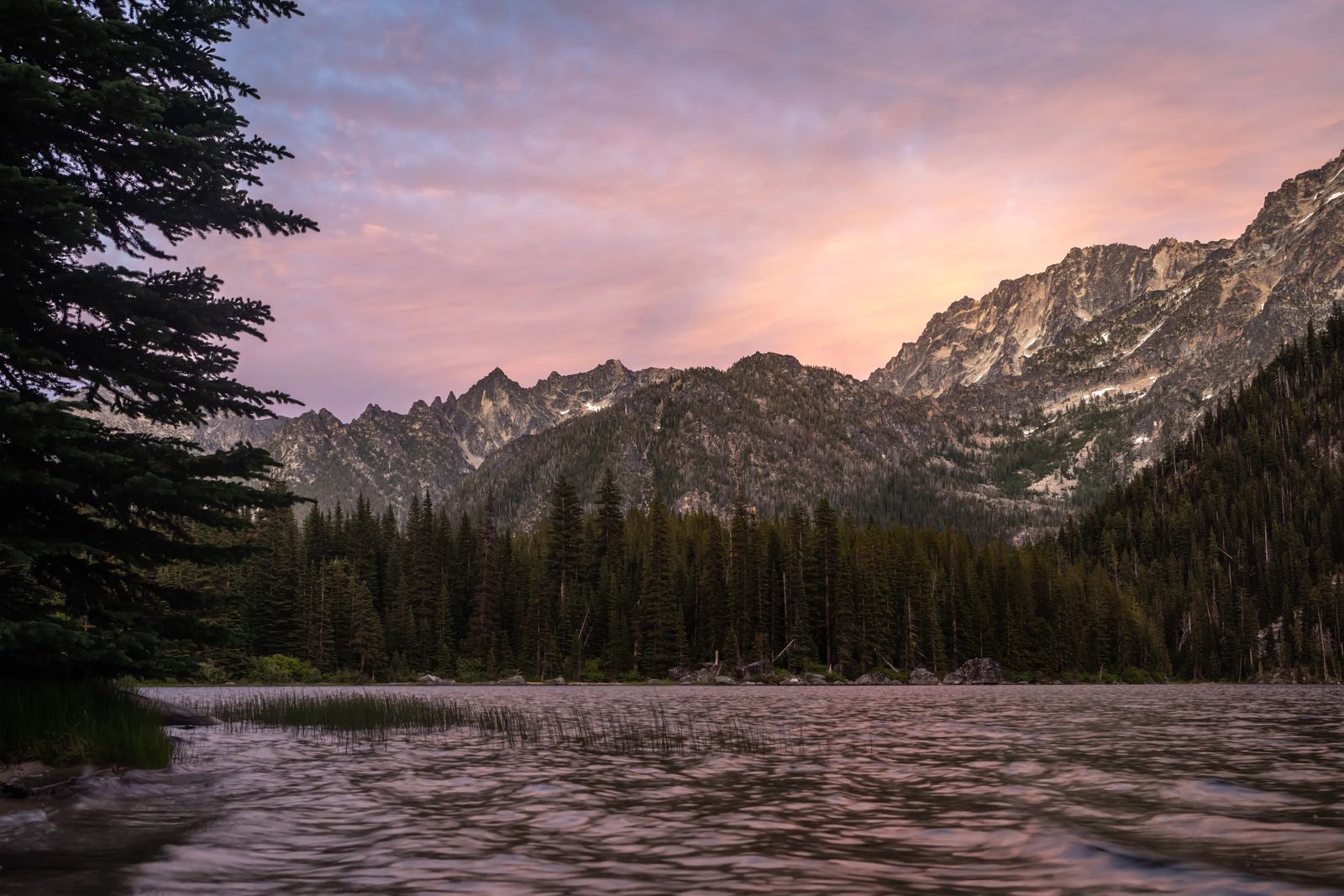 Enchantment Park In The Fall
This is a great play area for kids, there is a skate park, playground, and two softball fields. If you are up here for Thanksgiving it is the BEST spot for some family friendly flag football.
There are also some leisurely hiking trails like the Enchantment Trail, Rafters Trail, Bear Trail and the Deer Trail.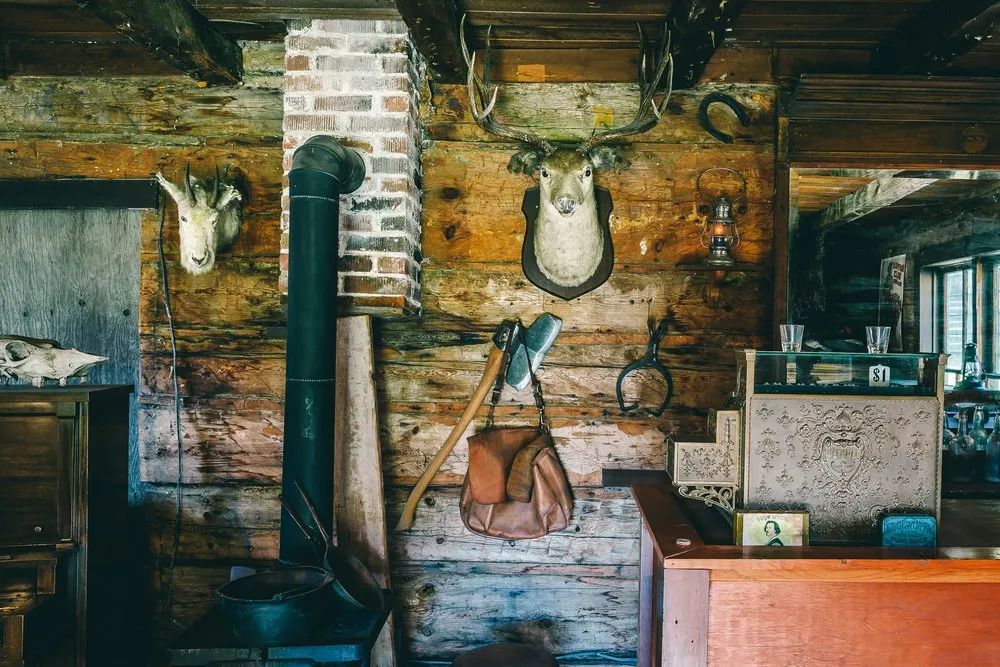 Cashmere Museum & Pioneer Museum
Open from April to October, the Cashmere Museum & Pioneer Village has over 13,000 sq ft featuring Native American & Pioneer artifacts, geological and local fauna and flora. The cabins on the site are also furnished with 19th & 20th century furniture.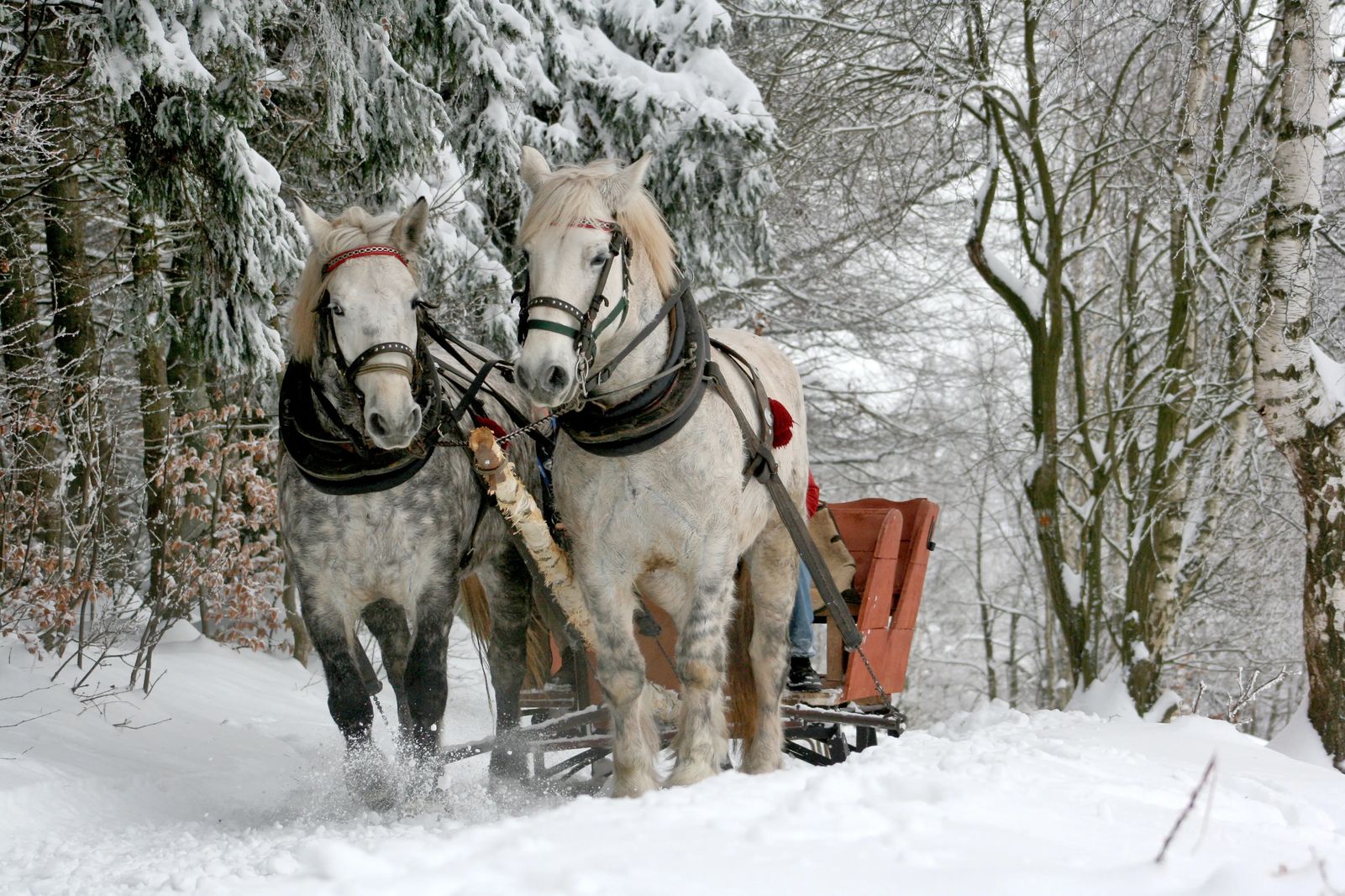 Sleigh Rides & Snowmobiling
There are LOTS of options for Sleigh Riding in winter in Leavenworth. You can take a short hour long ride, an overnight ride, hunting trip sleigh rides, a romantic secluded sleigh ride.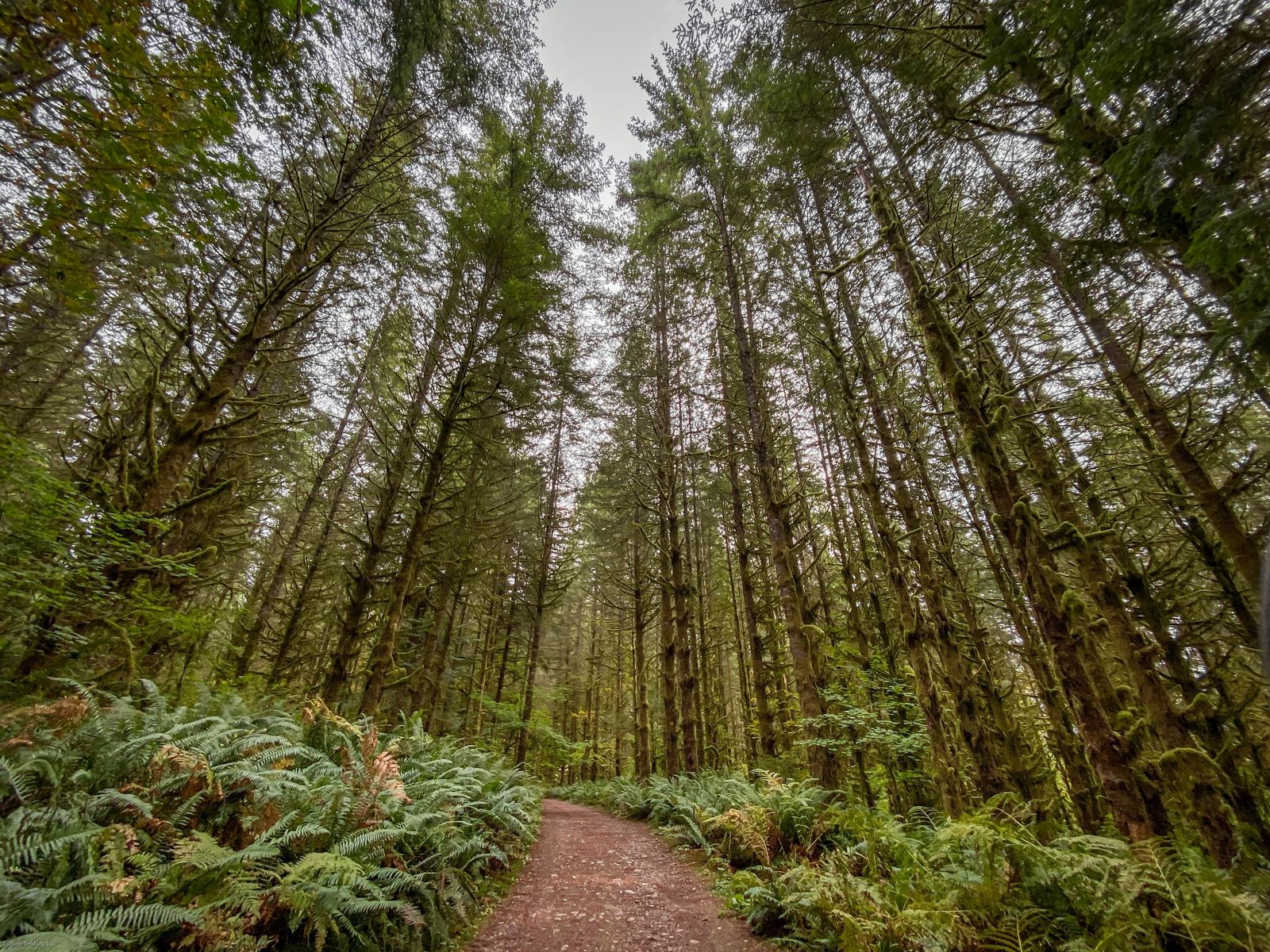 Hiking Near Leavenworth in Summer
There are a variety of trails and difficulty near Leavenworth with incredible views. The easiest and highest rated trails are Icicle Gorge Trail (1hr 41m, 4.5 mi), Old Pipeline Bed Trail (2.4mi, 46 min).
For more moderate trails check out Icicle Ridge Trail (5.1 mi, 3 hr 19 min), Lake Valhalla Trail (6.1 mi, 3 hr 10 min), Eightmile Lake Trail (7.2 mi, 3 hr 33 min).
Make sure you check the weather and trail conditions before going on the trails. I typically will use the AllTrails App, the Pro version will also give you notifications when you go off trail. Safety first peeps.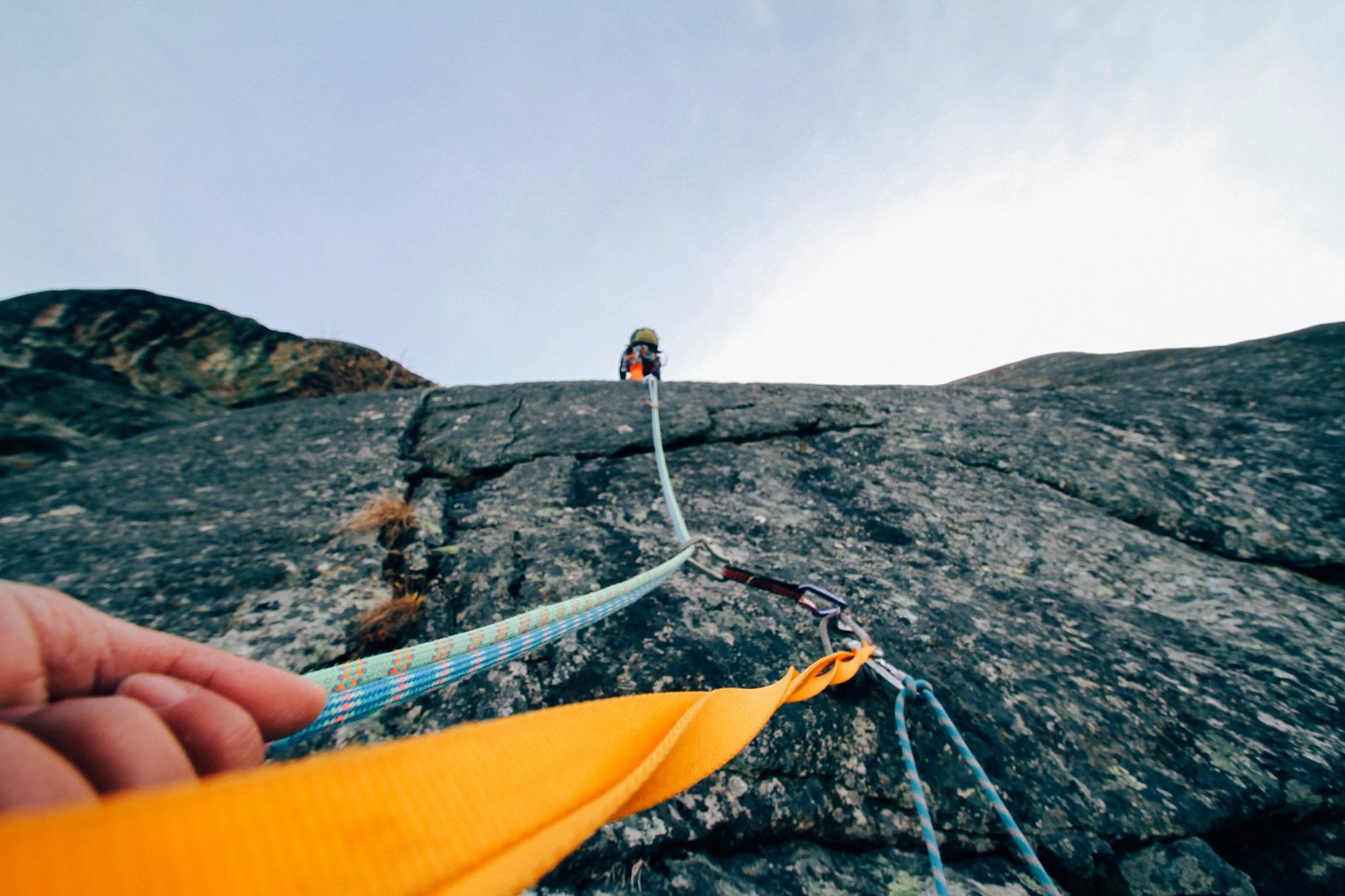 Rock Climbing Near Leavenworth
Icicle and Tumwater Canyons are where the best climbing routes are. They have sport and classic climbs with lots of bouldering options. If you are new to Rock climbing then they do have guided tours available through the Northwest Mountain School, just call them to set up your tour.
The rock is a solid granite and there are about 50 crags available. Some of the toughest routes are Iconoclast (5.10c), Outer Space (5.9), and Orbit (5.9) which are multi-pitch routes that travelers come to challenge themselves on from around the world.
For the best climbs for all levels of experience, try Midnight Rock, castle Rock down Tumwater Canyon. You can also find Careno Crag and Givler's Dome down Icicle Canyon as well.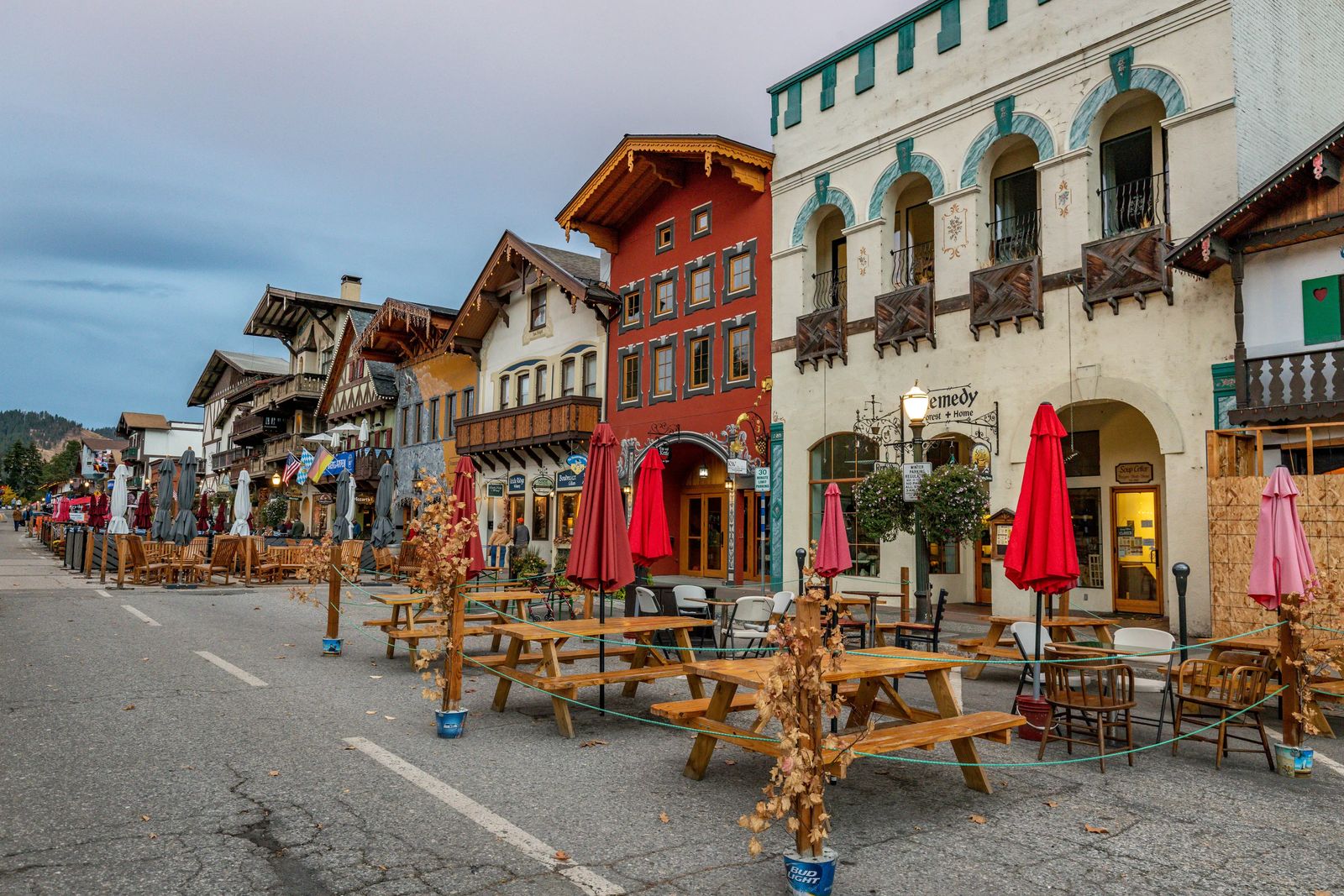 Oktoberfest in Leavenworth
If you visit in the fall, then going to Oktoberfest is a MUST while in Leavenworth. Not only do they import German Beer, but they also break out their own local beer! There are several local breweries that take part in the festivities like Icicle Brewing Co, Doghaus Brewery, and Blewett Brewing.
Make sure to get a Trachten (traditional Bavarian clothes), you would be surprised about how many people dress up for this event. Rent a hotel and stay the night - just make sure to plan ahead as the best hotels book out quite quickly.
They typically put tables on the street for you to sip your beverage. Grab your own Stein (be careful they are expensive) and enjoy your beer in style. If you have kids, ride the ferris wheel, let them play on the playground and really make some good memories.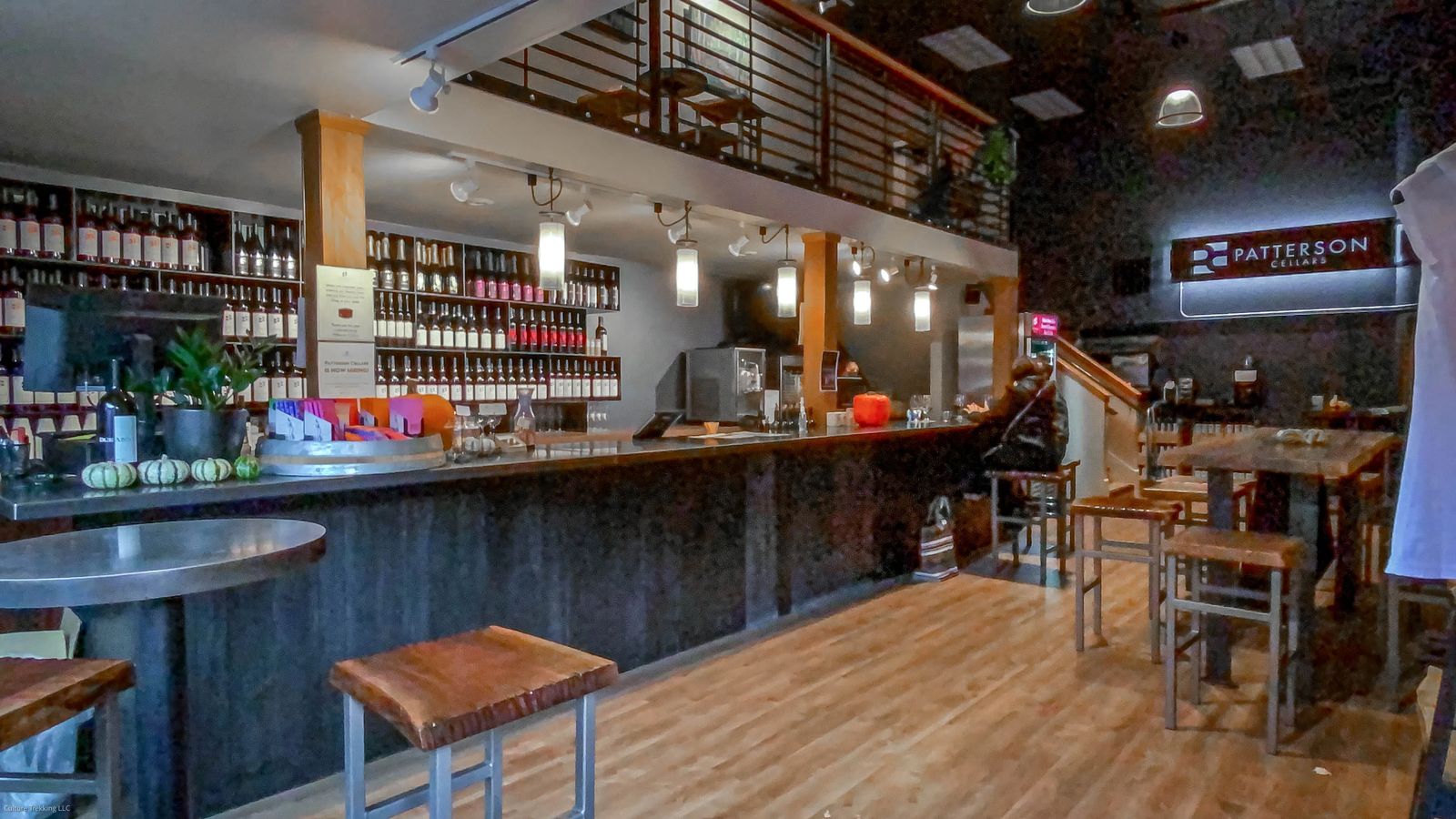 Wineries and Breweries Near Leavenworth
As mentioned above there are several local breweries near Leavenworth like Icicle Brewing Co, Doghaus Brewery, and Blewett Brewing.
There are also several wineries to choose from as well. Eagle Creek Winery is the oldest winery in Leavenworth, with a tasting room located right in downtown Leavenworth. If you are looking for unique flavors of wine, try the Icicle Ridge Winery right inside a log cabin. You can get flavors like chocolate cherry and raspberry riesling. For a more intimate setting, try the family owned Wedge Mountain Winery. They have unique tasting rooms like an underground cave, straw bale building, and an orchard garden. There is also the Patterson Wineries which have a tasting room right in downtown Leavenworth as well.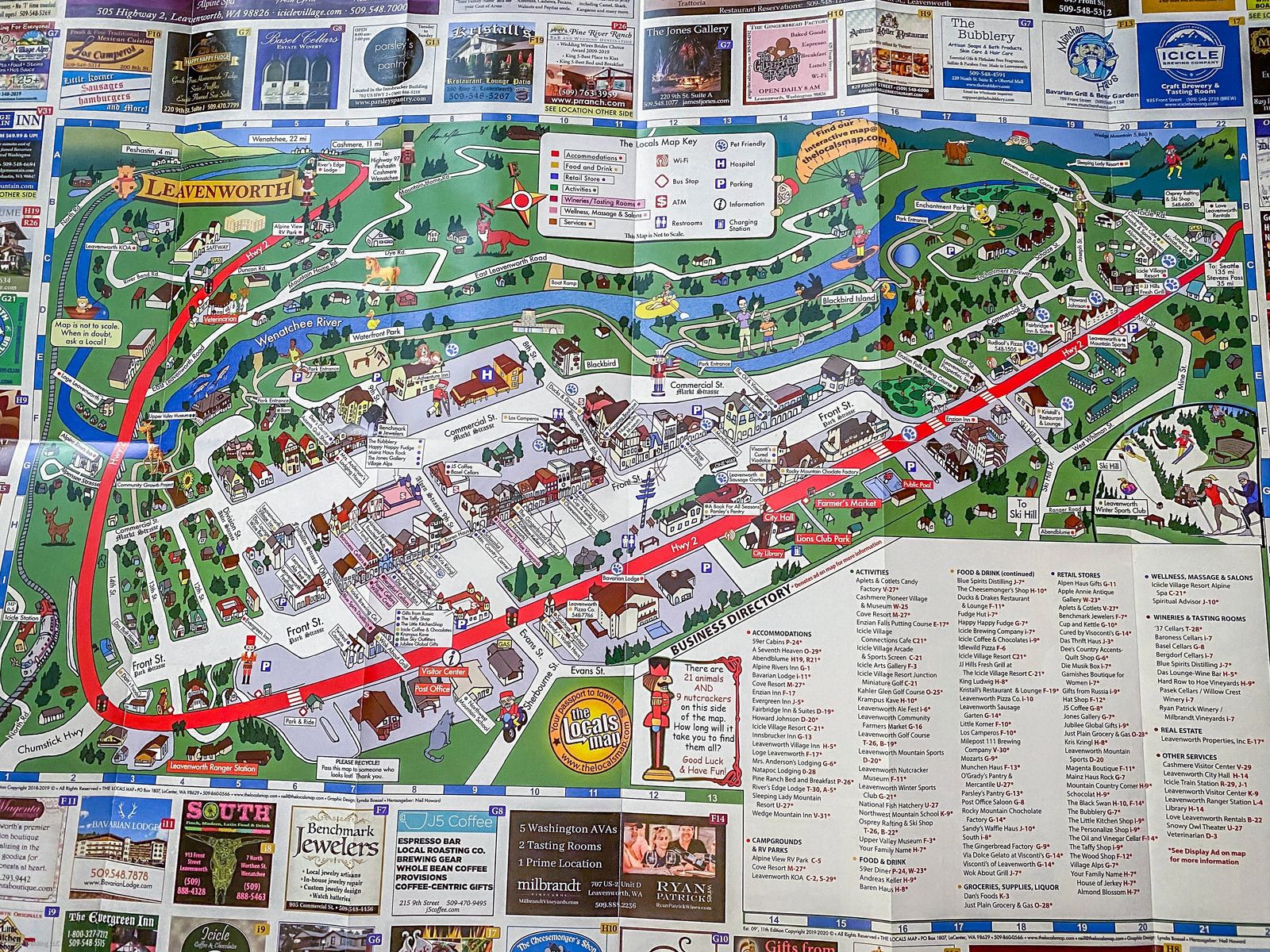 My Takeaway Of Things To Do In Leavenworth
It depends on the time of year, and if there are festivals happening in town on how many people will be in Leavenworth. We went just after Oktoberfest finished and the town was not crowded at all. No matter what time of year you decide to visit Leavenworth there is always something to do.
I would plan on spending at least two or three days there to really be able to travel slowly, see it all and really enjoy your time.
Guided Tours of Leavenworth
Like it? Pin it for later! Sharing is caring ;)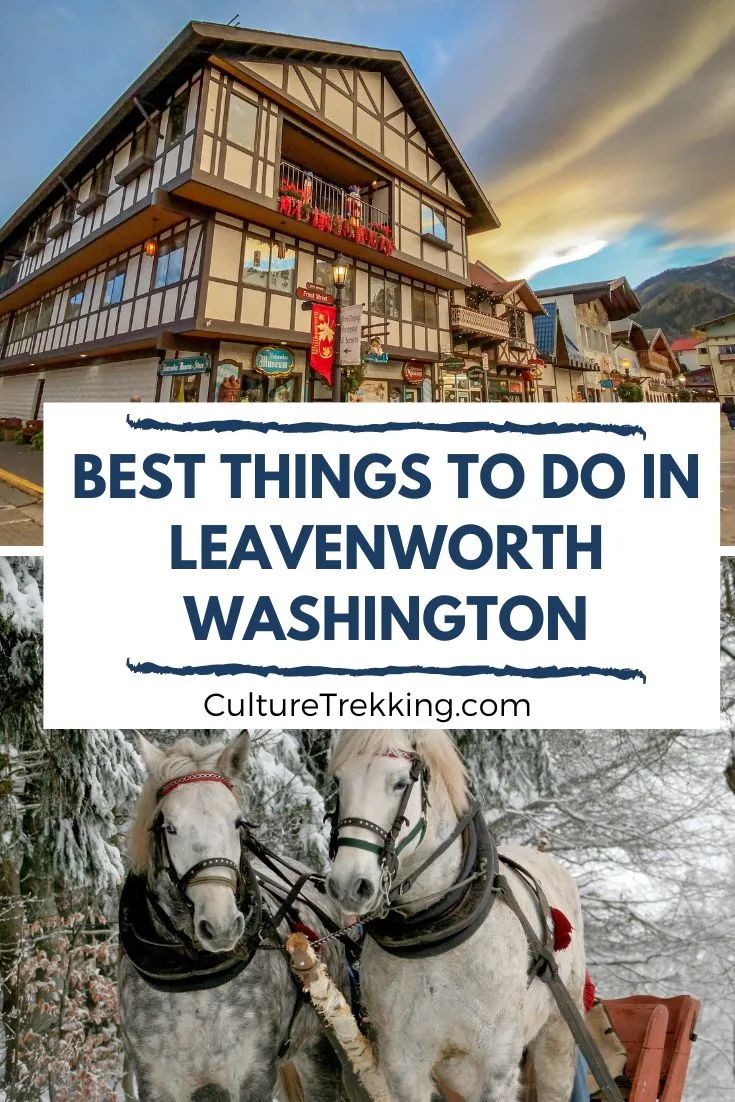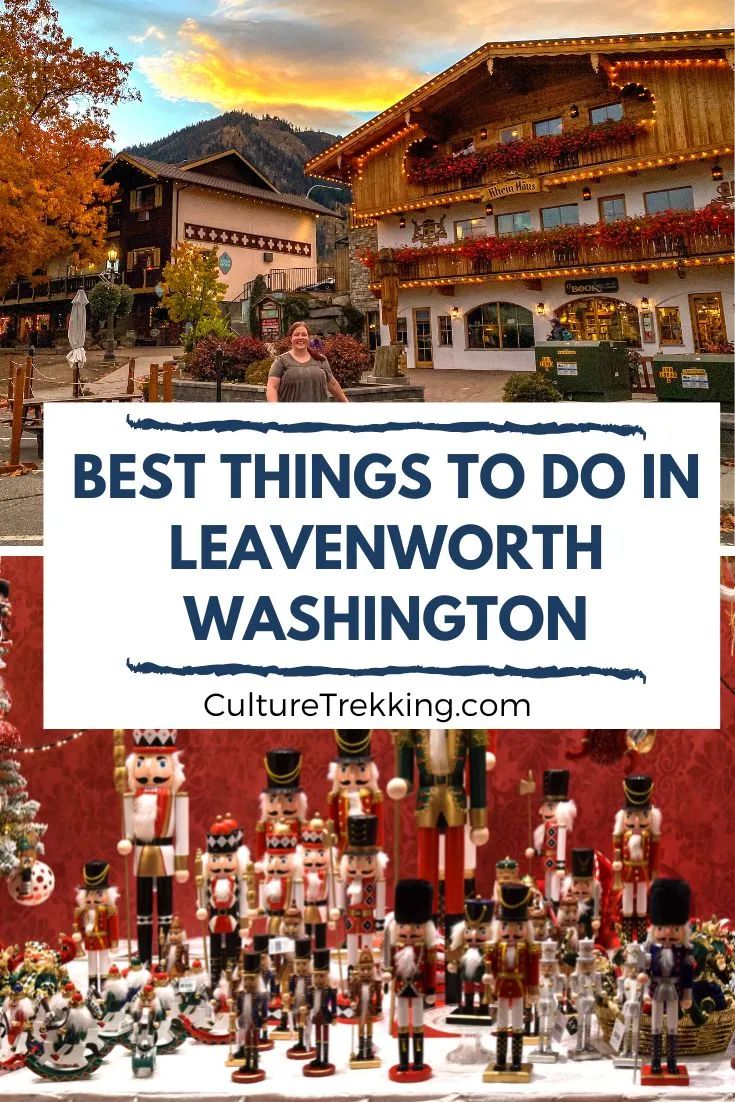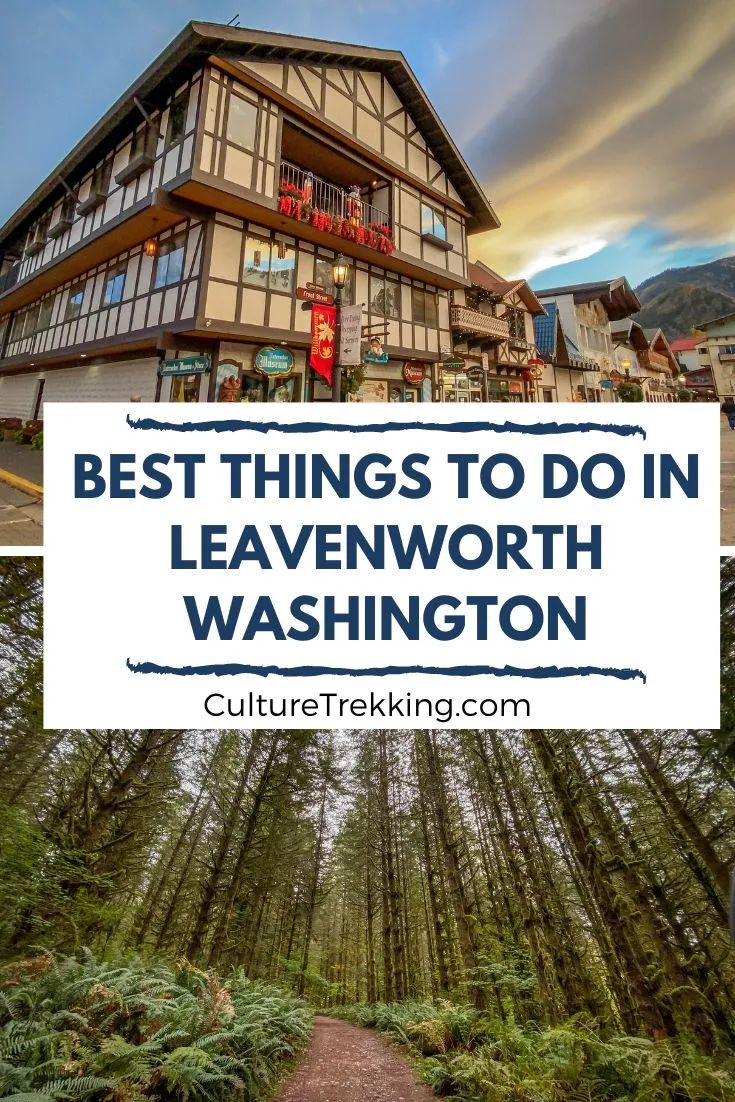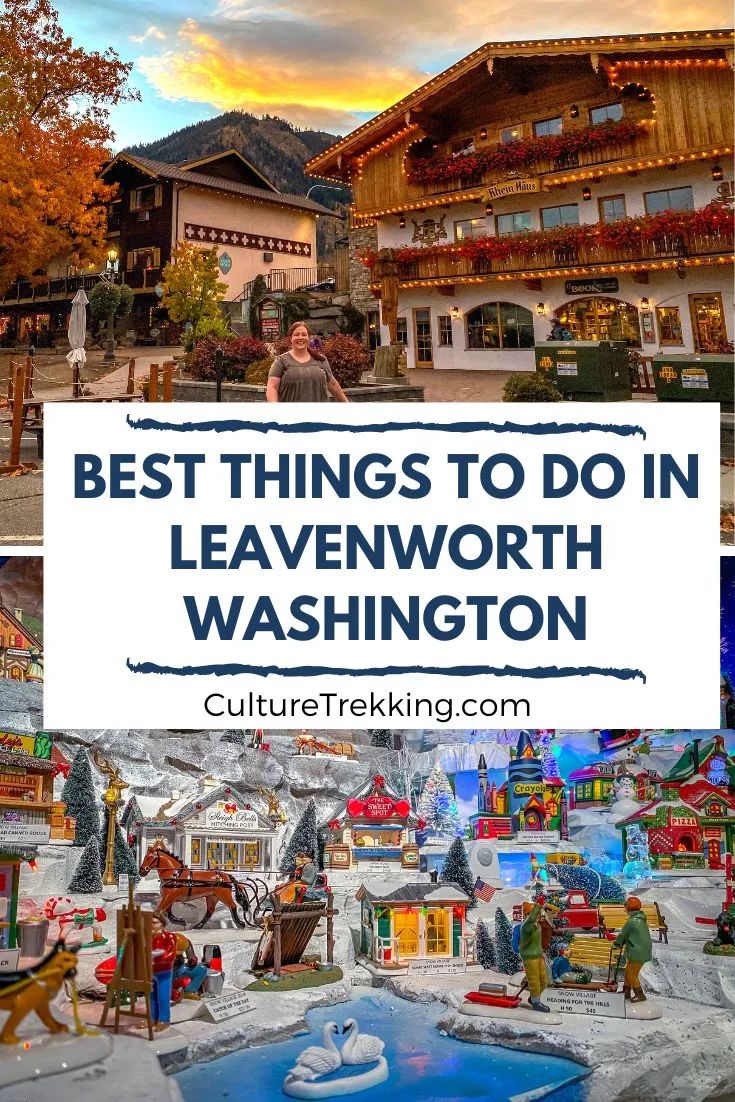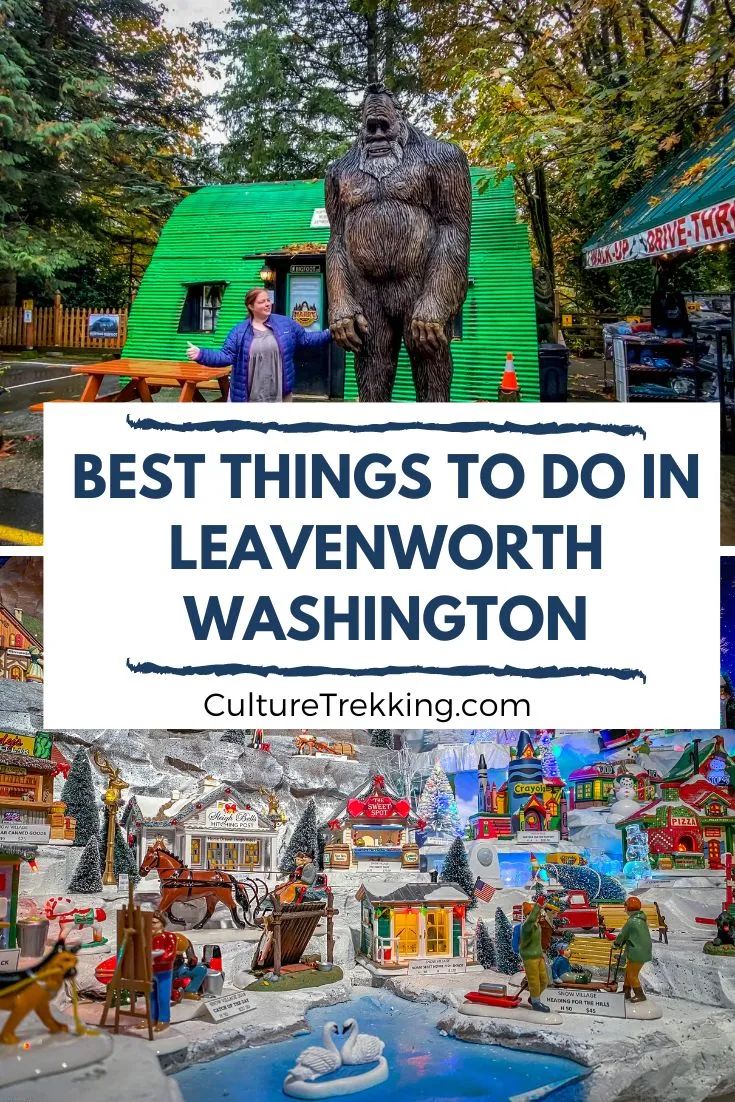 Where to stay in Leavenworth
Latest Articles On Culture Trekking