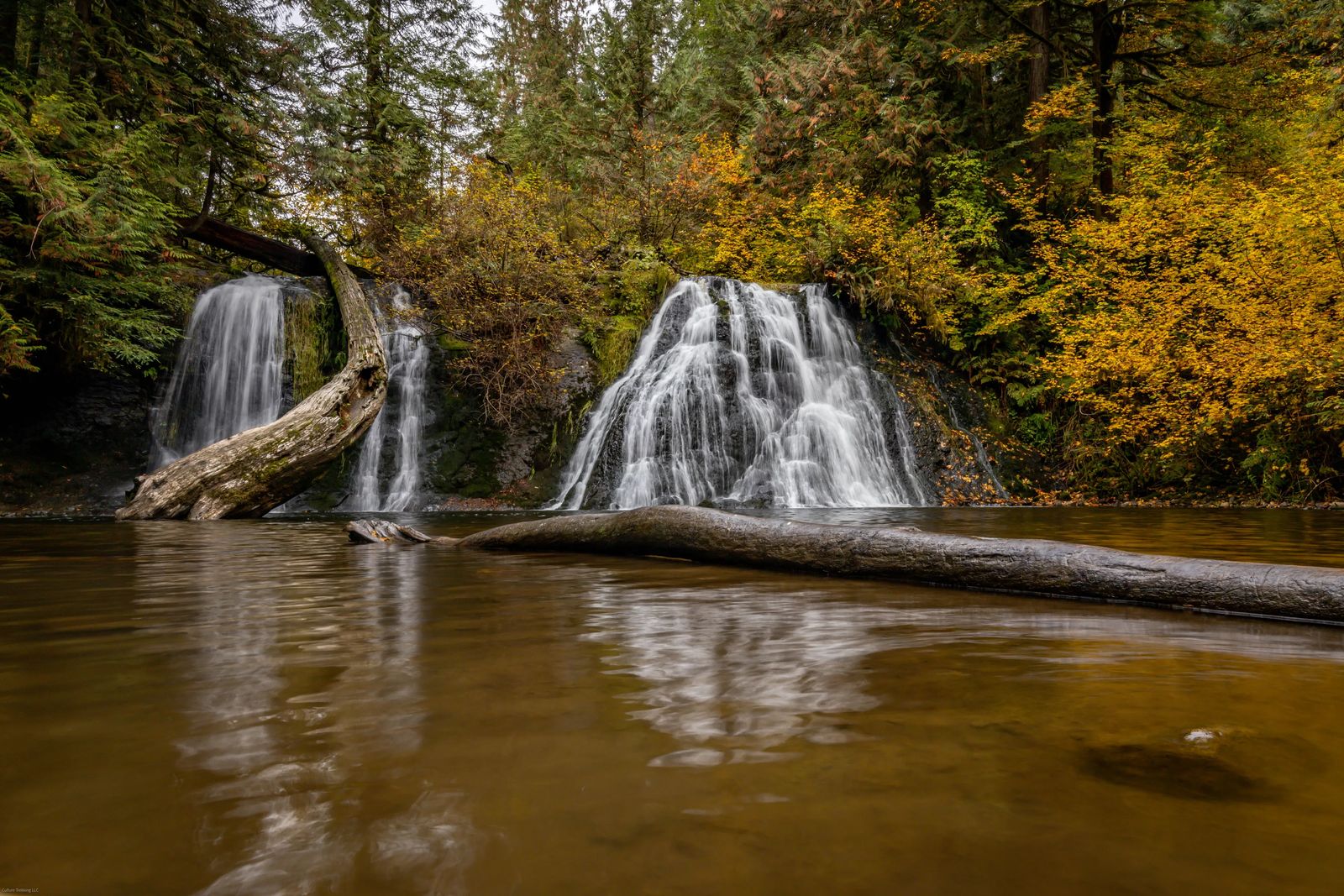 Hiking Cherry Creek Falls in Washington
Nestled against the Cascade Mountains, we passed underneath massive Conifer trees, and leaves of gold from the Larch trees. Turning the corner I could hear the rushing and roaring of a waterfall, and there it was, Cherry Creek Falls laid out before me with a contrasting peaceful collection pool in front of it. Hiking Cherry Creek Falls in Washington is well worth the 5.1 mile trek to see these 25-foot storybook falls.
It can be a little tricky finding your way to the falls, parking, limited facilities near the trail - so make sure to keep reading to ensure you are fully prepared to take on this trail. I hiked this trail with my dogs in October 2021 and have recently updated this post (Nov 2022) to ensure the most accurate information is included.
Quick itinerary/Key Takeaways
Cherry Creek Falls Trailhead is 40 miles from Seattle. There is roadside parking they are strict about, so park right or be towed. It is a dog friendly trail, but dogs must be on a leash.
The Trail is a 5.1 mile out and back trail that is rated easy and only gains about 500 feet of elevation along the trail. Wear good shoes that are waterproof as the trail can be slick with leaves in fall, and quite muddy in the spring.
Make sure to use your AllTrails Pro app to stay on the trail.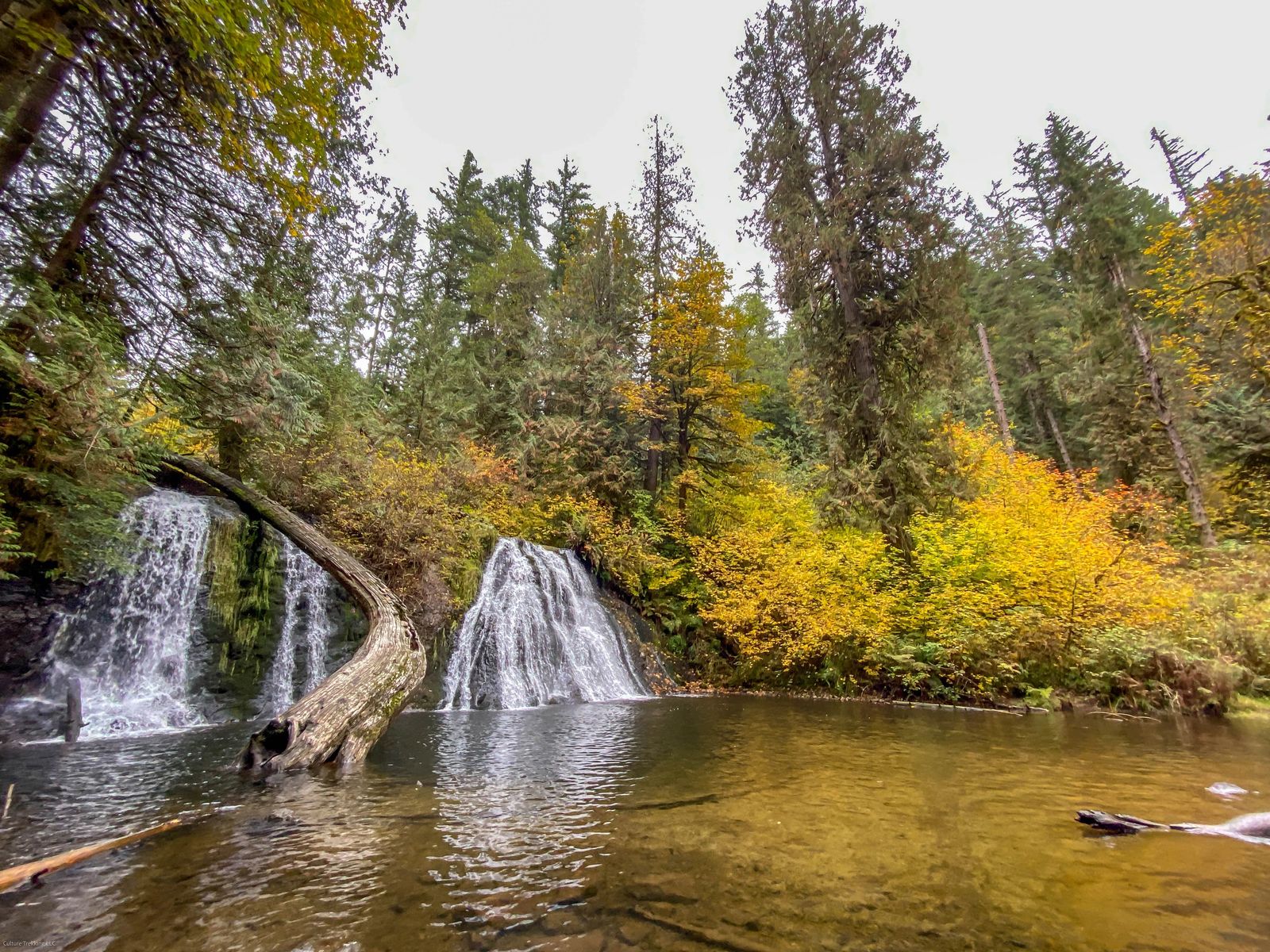 How To Get To Cherry Creek Falls
Cherry Creek Falls is about 1 hour and 20 minute drive East of Seattle in Duvall Washington. The area itself is privately owned so please follow the path, and the rules so we don't lose the opportunity to hike here.
When you get to SR 203 in Duvall head North on that road and turn right on NE Cherry Valley Road. Follow this 4.3 miles then turn left onto Mountain View Road and find parking along this road.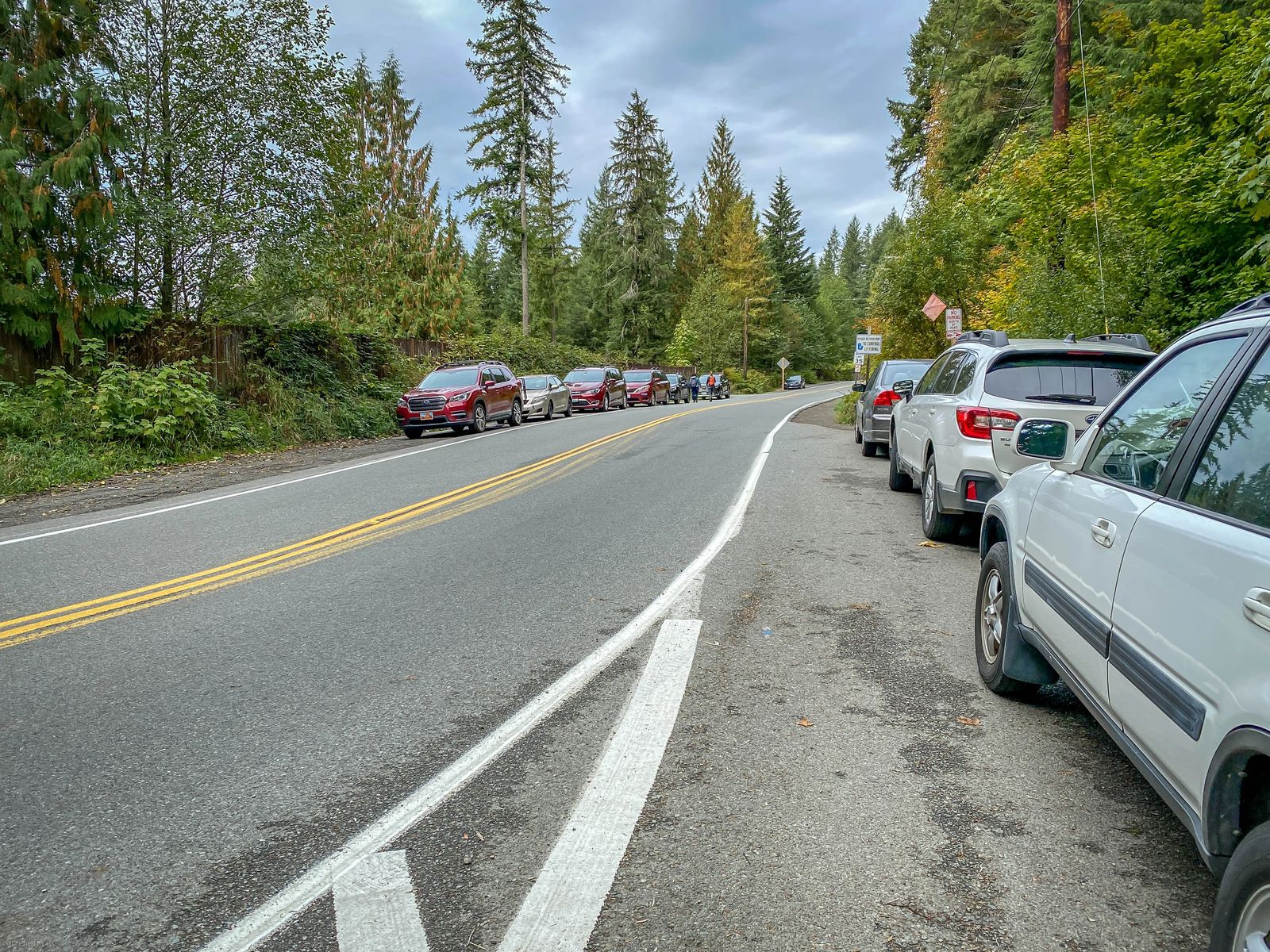 Parking At Cherry Creek Falls
The parking at the trailhead is roadside parking and is pretty limited to about 20 cars from what I could see. If you don't park your car completely inside the white line, then there are lots of signs saying you will be ticketed then towed.
Parking is limited to ONLY the shoulder of Mountain view road so make sure to park on the correct road.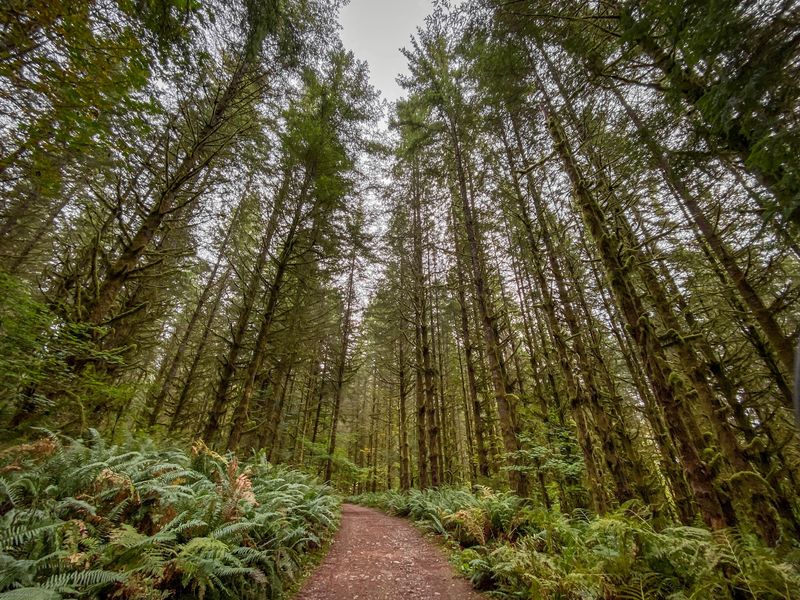 Facilities At Cherry Creek Falls
There aren't any toilets' near the falls, and because it is private land they ask that you pack it in and pack it out. Meaning, if you need to poop or pee, make sure you bring a bag to pack it out along with your toilet paper.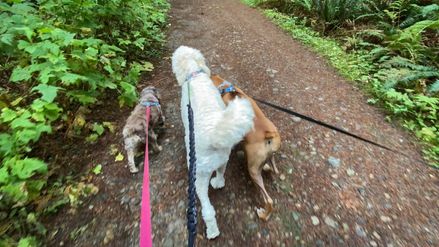 Cherry Creek Falls Trail
Cherry Creek Falls was originally a logging camp in the 20th century, and a great place for them to go swimming on the hot summer days.
The trailhead is marked by a blue pole, along with some giant rocks, right at the juncture of Cherry Road and Mountain View Road. From here, I would HIGHLY suggest using a GPS or AllTrails Pro App because it can be really easy to veer off the correct trail, especially where it meets other roads and junctions and trails. If you are hiking here in the fall the leaves can also obscure the trail as well.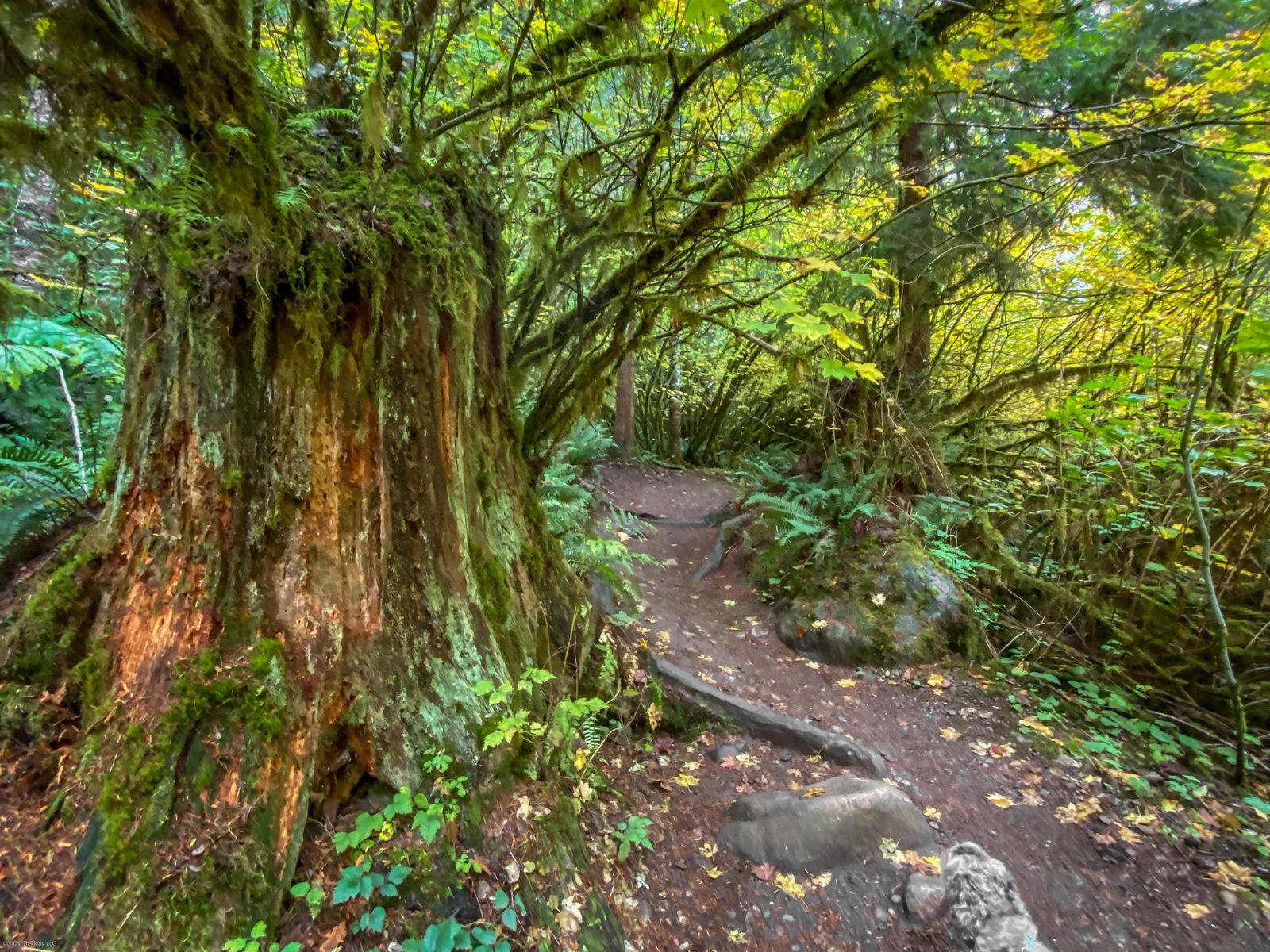 The best time to hike the trail is typically in Spring or Autumn. I personally loved hiking it in Fall because the area lights up in brilliant orange colors. Of the three falls that are typically running, the left side of the falls tends to be a bit smaller in the fall though.
The trail is quite flat in the beginning with minimal incline, until you get to Margaret Creek bridge (about the 3/4 mile mark) - from there the forest gets quite a bit denser and land slightly more varied. You might see a little path off to the left that leads to the first crashed car, it isn't much to look at but it is there.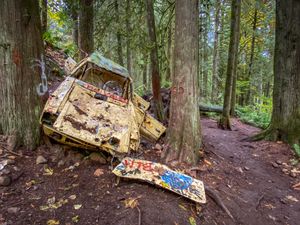 As you climb the hill, stay to the right and at mile 1.5 take a right and this is where the trail can be quite muddy at times. Stay left at the next junction and then you come to an overgrown road where you take a left and will run into an abandoned car that crashed in the trees. This car is yellow and quite puzzling on how it actually got there to be honest.
From the first crashed car you go another mile, crossing a few small natural runoff streams, and then get to Hannan Creek washout area. The crossing here can land you in knee-deep water, so just be aware and prepared.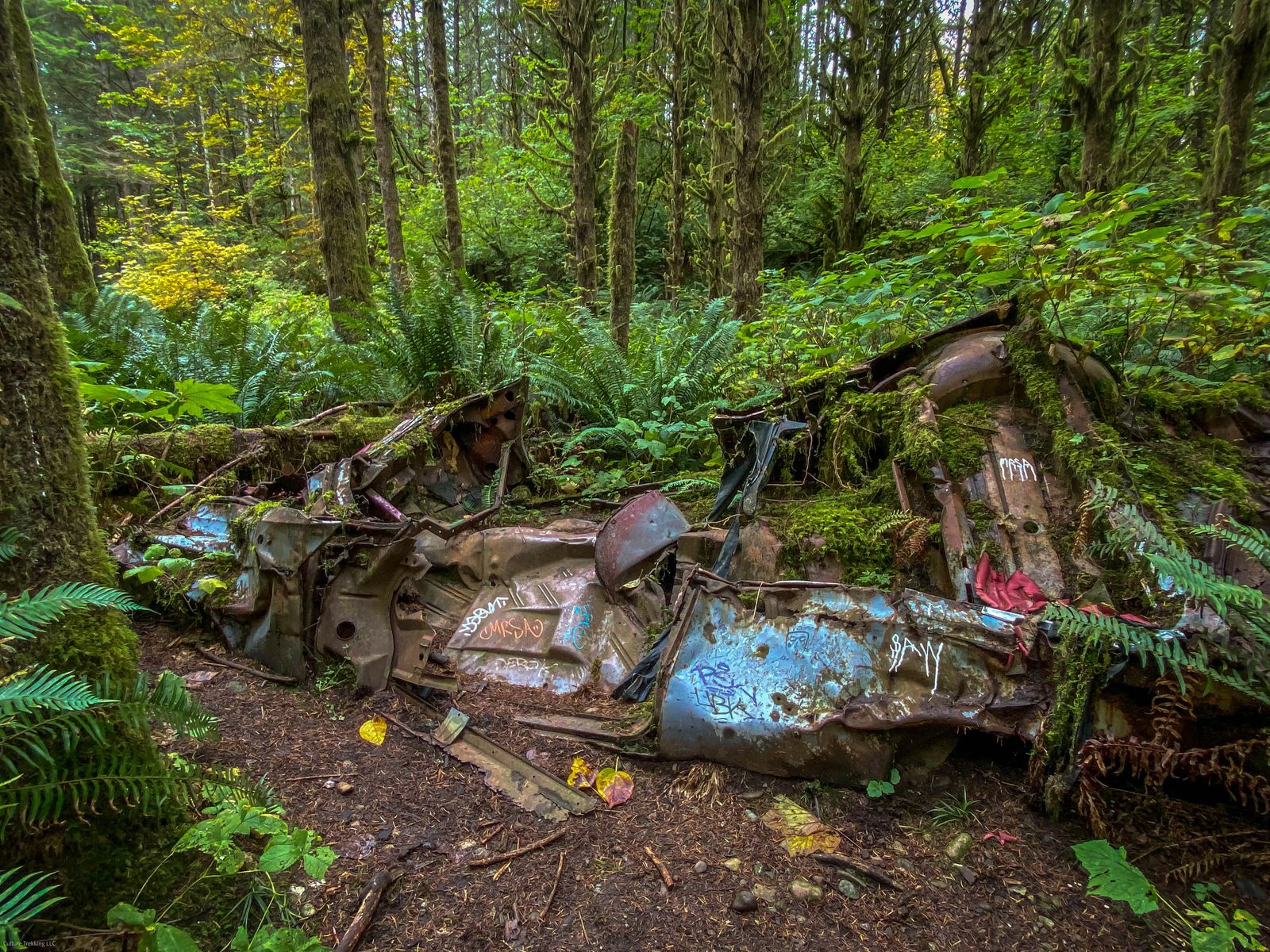 Things To See Near Cherry Creek Falls
If you have time, pop over to Tuck Creek Trail, Raven's Watch Trail, Collin Creek Trail or the Snoqualmie Wildlife area. It isn't just Cherry Creek Falls Trail that is in this rea, and with it gaining popularity, there are more people coming into the Redmond City area.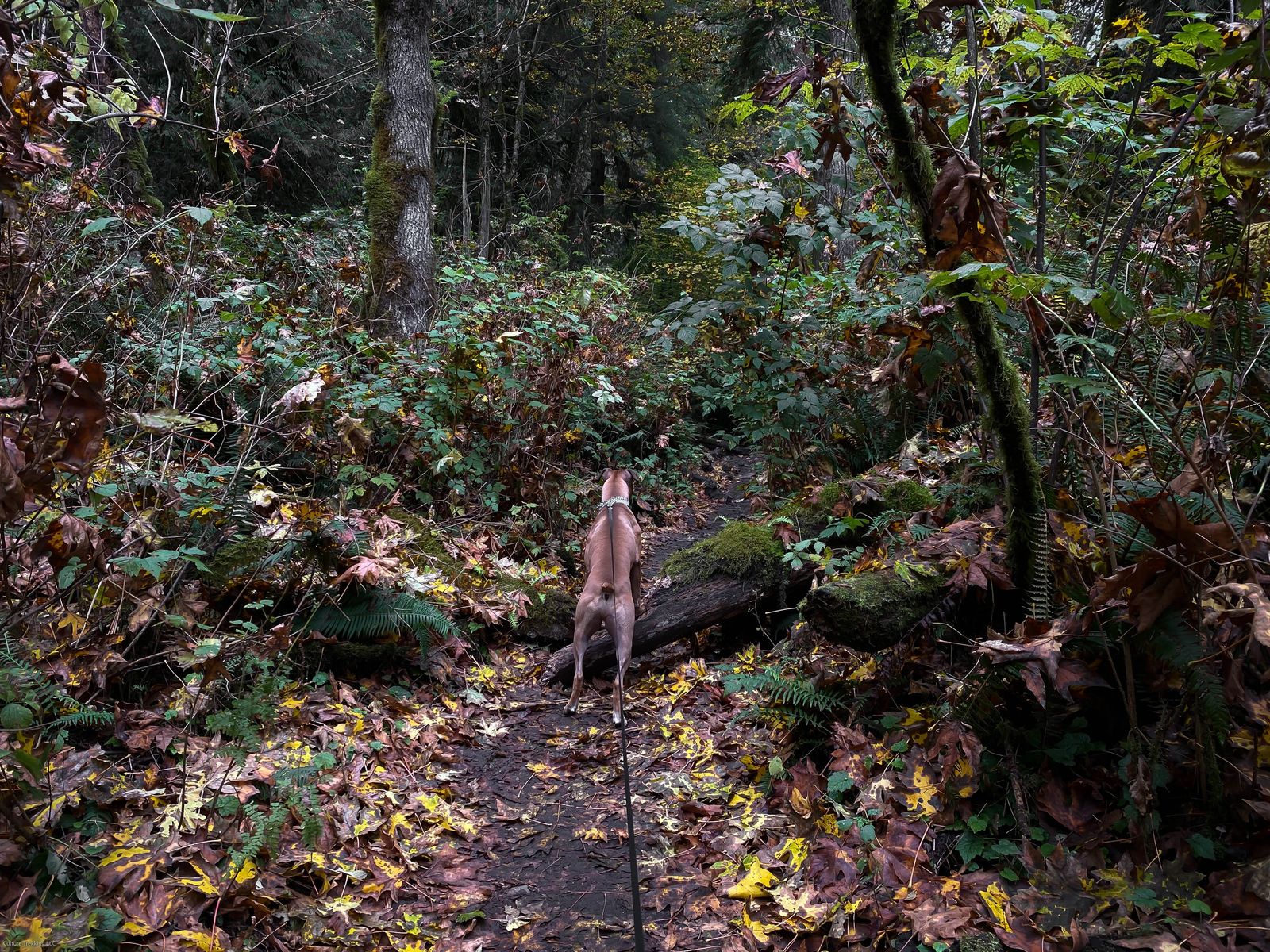 Animals In The Cascade Mountain Area
The trail is nestled right up next to the Cascade Mountains with the Conifer trees that dominate this landscape. You also have Larch trees that turn the beautiful shade of gold in the fall. You also have maple, poplar, alder and other broad leafed trees.
In the Cascades you might catch some Eagles, Osprey, Peregrine Falcons, black bears, wolverines, river otter, cougars, lynx and bobcats. There are over 75 mammal species, 28 species of fish, and over 500 types of insects and 250 aquatic invertebrate species.
Personally, we didn't see a single animal on the trail other than our dogs. We were quite loud as well, shouting back and forth and laughing - so that may have deterred them as well (oops).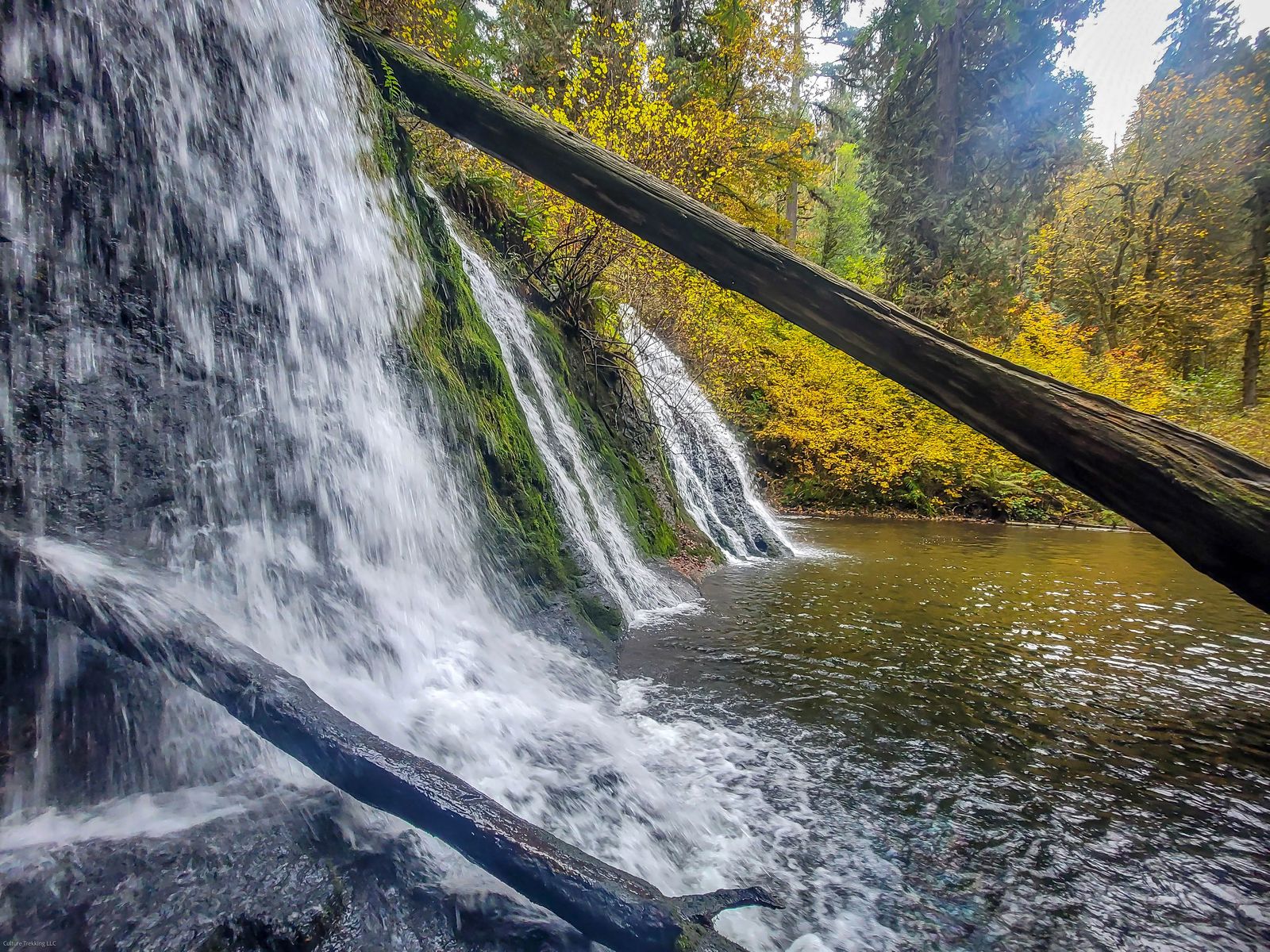 Gear To Bring For Cherry Creek Falls
A GPS is a must on the trail, I like using the AllTrails Pro App because it gives you notifications when you go off the trail. For someone who is often preoccupied with photos and video, this was a huge plus for me. Because of reasons stated before, the trail can be quite confusing, so having this guide will help you.
If you are hiking in the spring or fall, I would suggest bringing some hiking poles - I like Black Diamond hiking poles for their durability and shock absorption. The poles are lightweight and will help you with keeping your balance as the trail can get quite slippery. They will also help you with crossing the washout and keeping your balance through the sometimes knee deep water.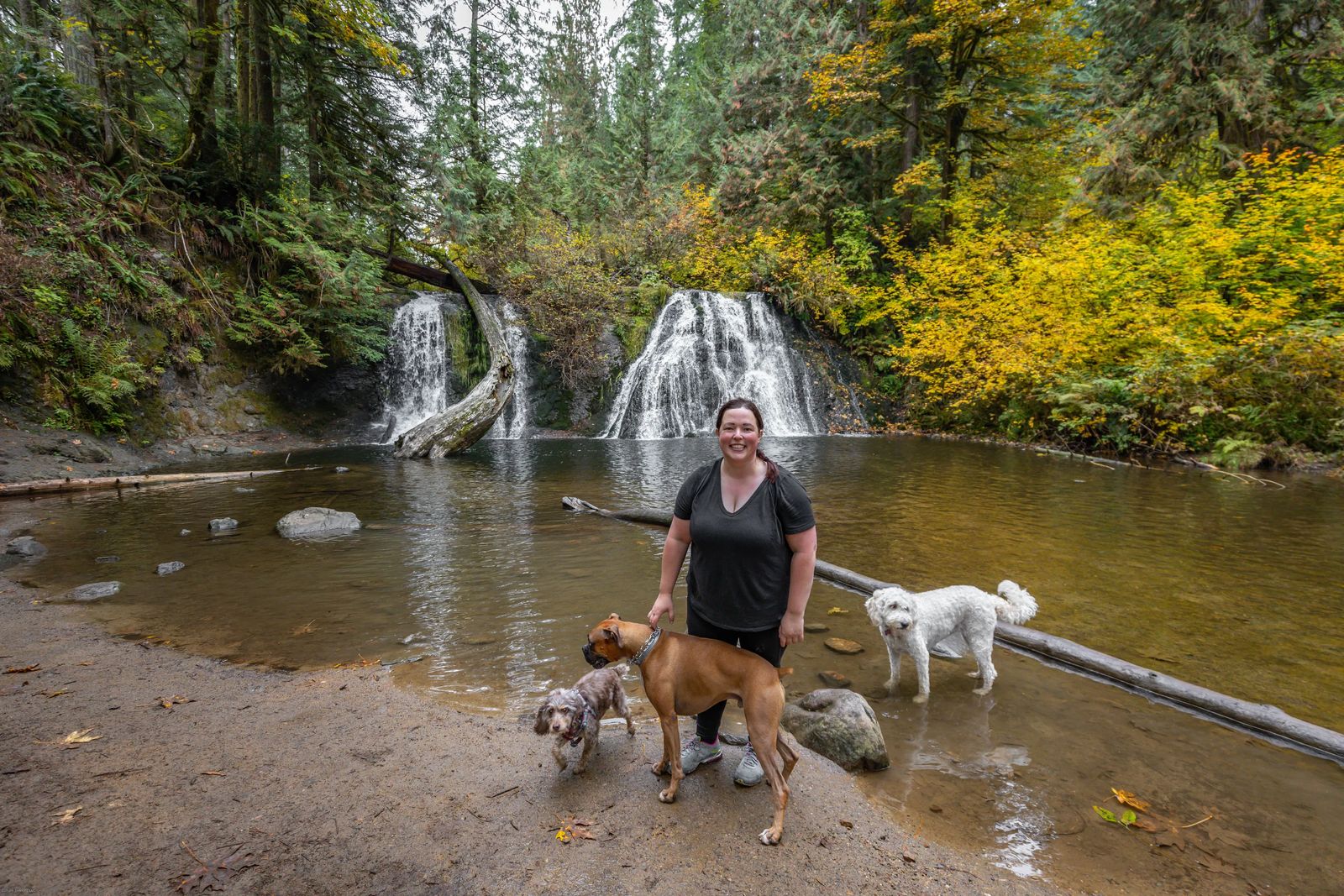 Waterproof shoes with good traction are going to be incredibly helpful to keep your feet warm and dry. I personally like Merrels or Keens that are high-top because they help stabilize your ankle as well on the longer hikes.
A rain jacket is a MUST when you are hiking anywhere in the Pacific Northwest. Staying warm and dry is essential tip for staying safe on the trail.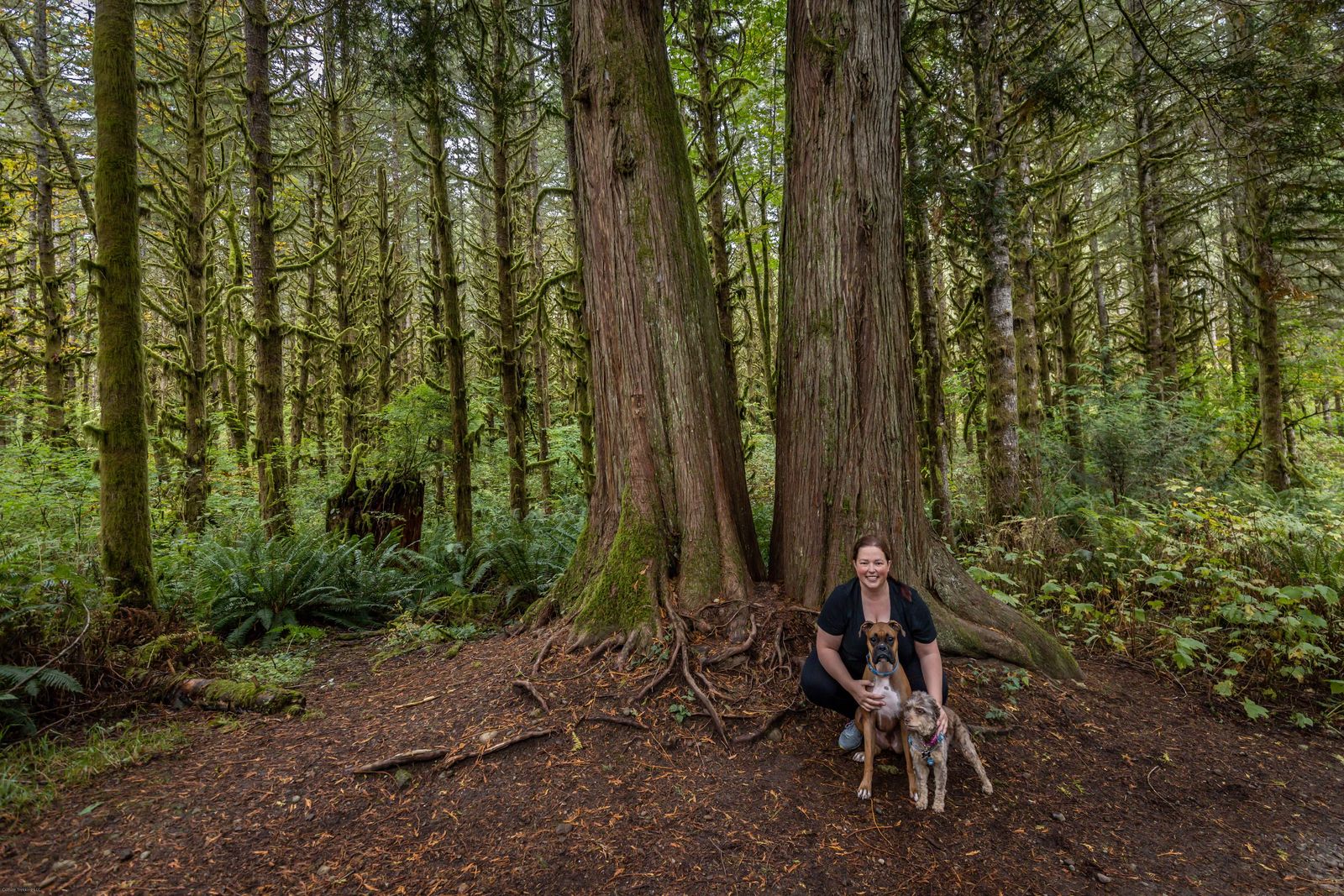 My Takeaway From Hiking Cherry Creek Falls
This was an easy trail and my dogs absolutely loved it. You have an excellent payoff at Cherry Creek Falls that I would love to go back in summer and take a swim at. When we hiked, it was supposed to rain that day, but we went anyway and didn't fun into any trouble. We genuinely only saw two other people on the trail the entire time we were there.
Hiking in Washington never disappoints as long as you are prepared, have a gps for the trail, and respect the land by leaving no trace.
Like it? Pin it for later! Sharing is caring ;)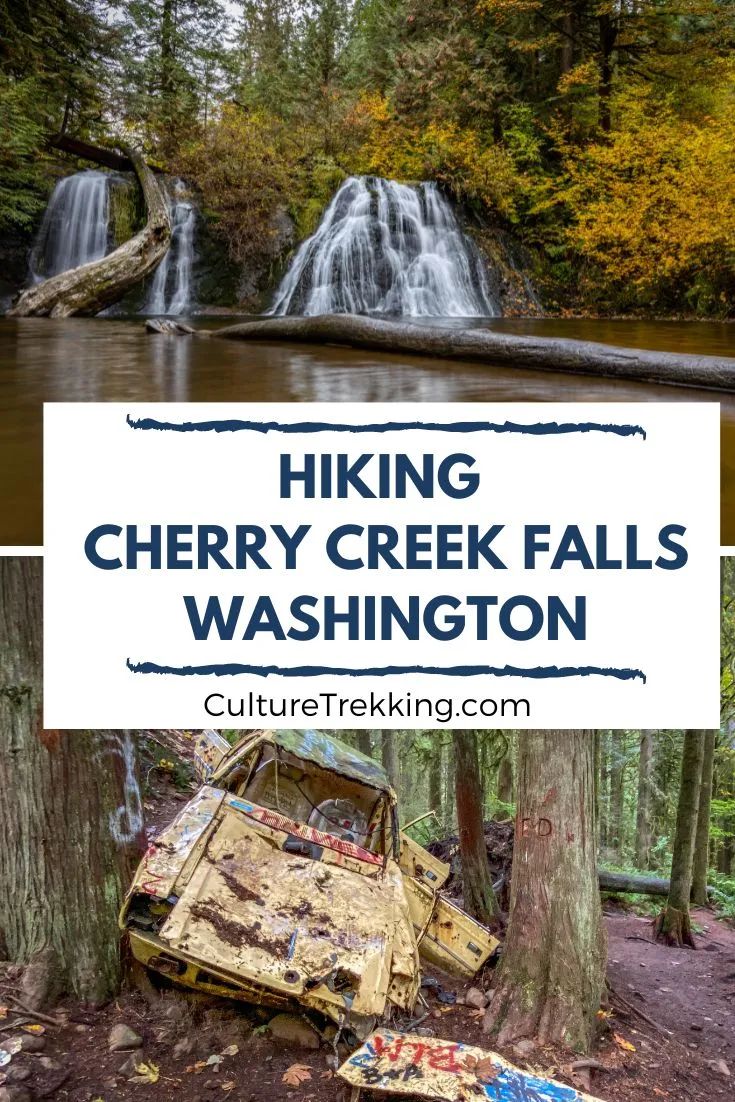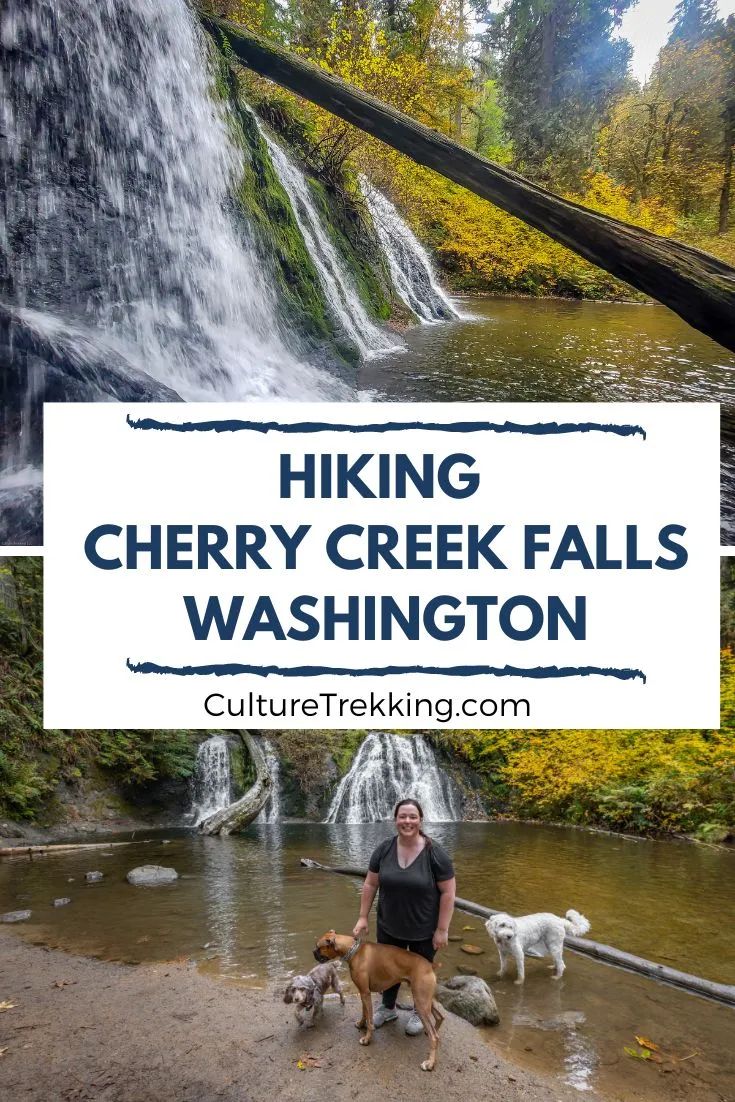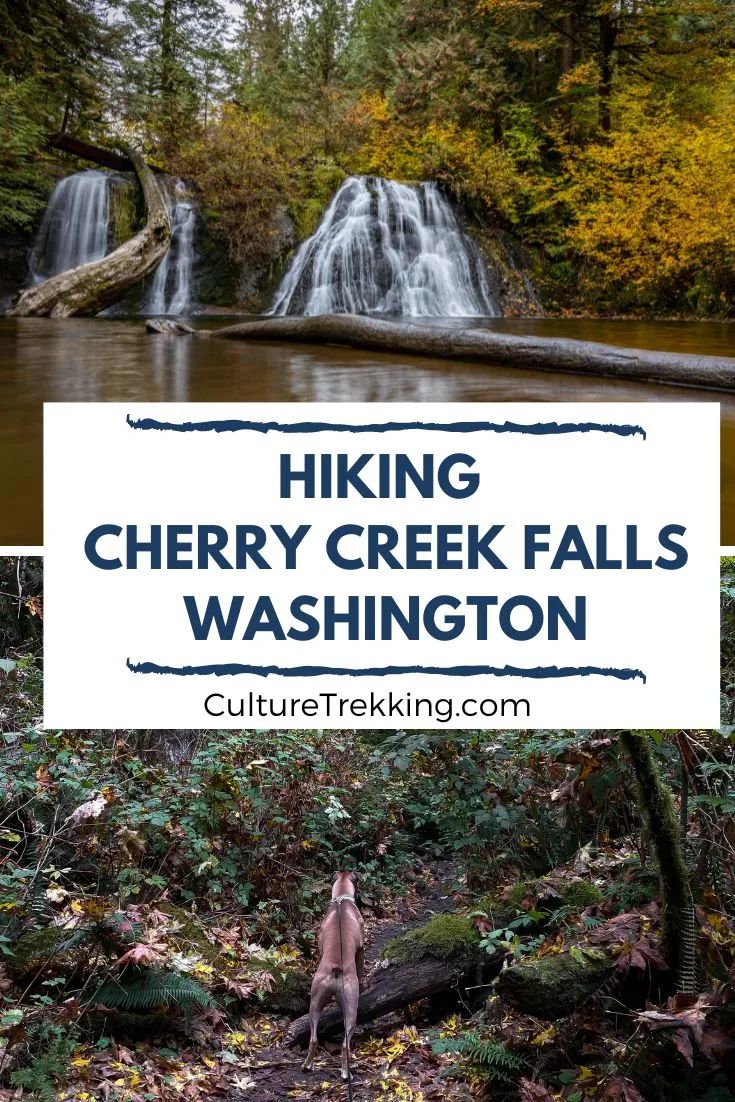 Latest Articles On Culture Trekking