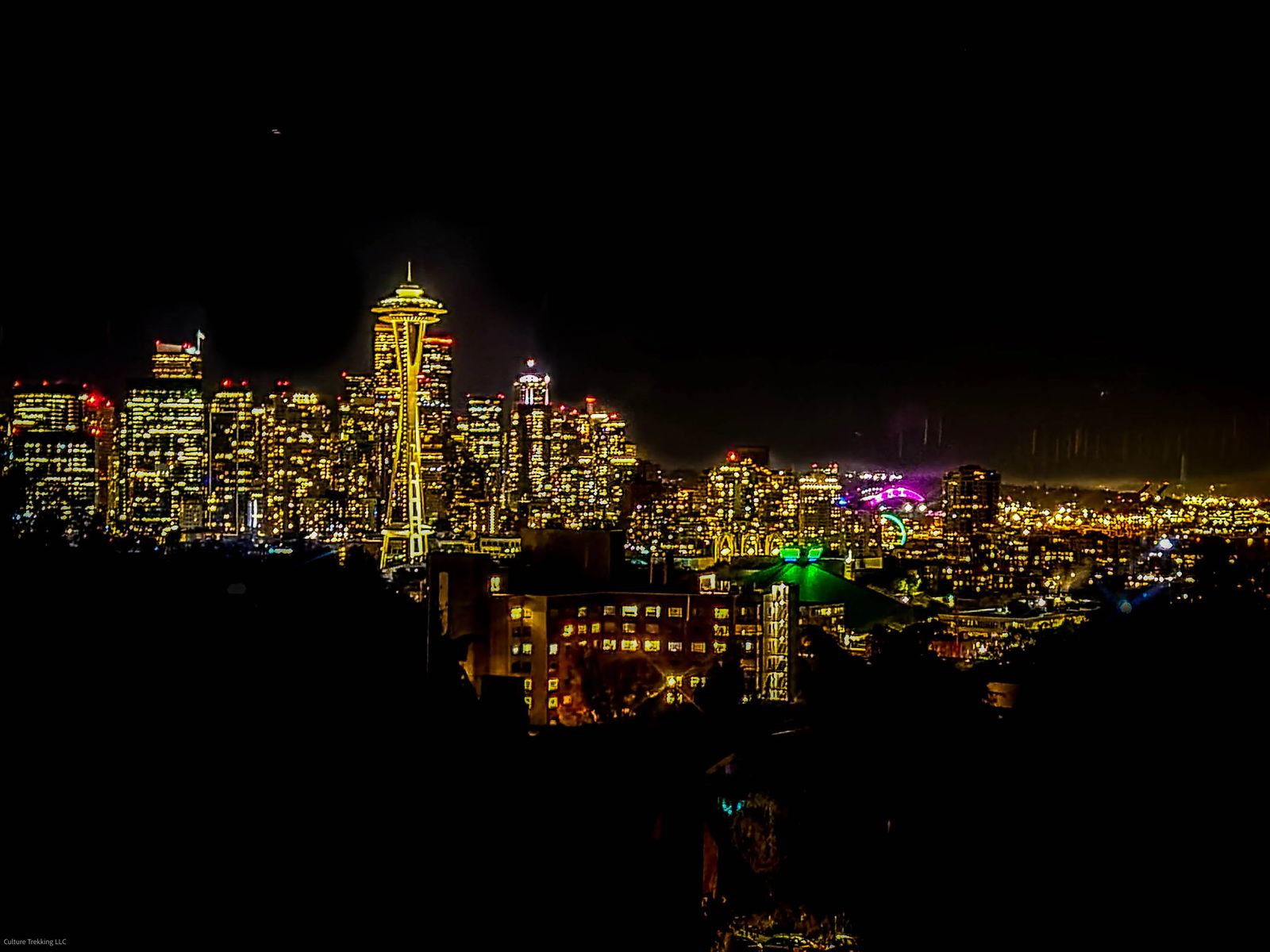 The Ultimate Guide to One Day In Seattle
A bustling city center with fisherman throwing fish at each other, fresh fruit stalls, ghost stories, Native American Art, Orca Whales, delicious food, a structure that looks like a sewing needle, and an entire building dedicated to blown glass - Seattle could not be more diverse and varied. It is, however, quite expensive if you stay to long, so here is the ultimate guide to one day in Seattle.
I have visited Seattle three different times now, staying for at least a week each time to visit friends that live there. My last visit was in October of 2021, and have since updated this article (11/2022) to reflect the most current times, costs, and openings.
This guide is broken down into both a traditional one day guide to Seattle with minimal to no need for transportation (also budget friendly), as well as a unique one day guide to Seattle that will require a bit more traveling but is also very budget friendly.
Quick itinerary and Key Takeaways
Traditional One Day Tour of Seattle: This one day guide to Seattle will just require you to get into downtown Seattle, and then a Lyft or Uber ride to the docks where the Sailing tour takes off from.
Photography Tour in early Morning
Wander Pikes Place Market
See Space Needle
Wander through Chihuly Gardens
Sunset Sailing Tour
Unique One Day Tour of Seattle: This Unique one day guide to Seattle does require a bit more transportation costs, or is really easy to navigate in your own car with minimal parking fees.
Early Morning Pikes Place Market
Walk by First Starbucks, Piroshky, and Check out the Native American Art
Eat Breakfast at Mochi Donut
Head to Gasworks Park with locally brewed Beer (mind the Goose Poop)
Check out Fremont Troll
REI Flagship Store for some shopping
Hot Tub Boat Cruise
Ghost Tour of Seattle Downtown (Park somewhere safe, travel in a group)
Picture of Seattle at night up at Kerry Park on Queen Anne Hill (Parking fills up fast on galaxy viewing party nights).
Keep reading to mix and match these itineraries and to get details on each place, what I suggest skipping, and what I suggest to see that is often missed. This guide also provides a few extra tours and tidbits I recommend if you find yourself longing for a bit more time in Seattle (trust me, it is highly addictive).
Pikes Place market
Opened in 1907 this is the oldest and largest continuously operating public market in the United States. It sources its products from local farmers, crafters, artisans who call Seattle home. While it is a bit of a tourist trap, you cannot visit Seattle without experiencing and trying some of Pikes Place Market delicacies. Just make sure you bring your own bag if you plan on buying anything as there is a limited use law on plastic bags (BRAVO SEATTLE).
Here you will also find the first Starbucks opened, some of the best Mac and Cheese around at Beechers, dive into a Bar at Pikes Pub, and witness the famous fish market where the staff throw the slippery suckers at each other while boisterously repeating your order.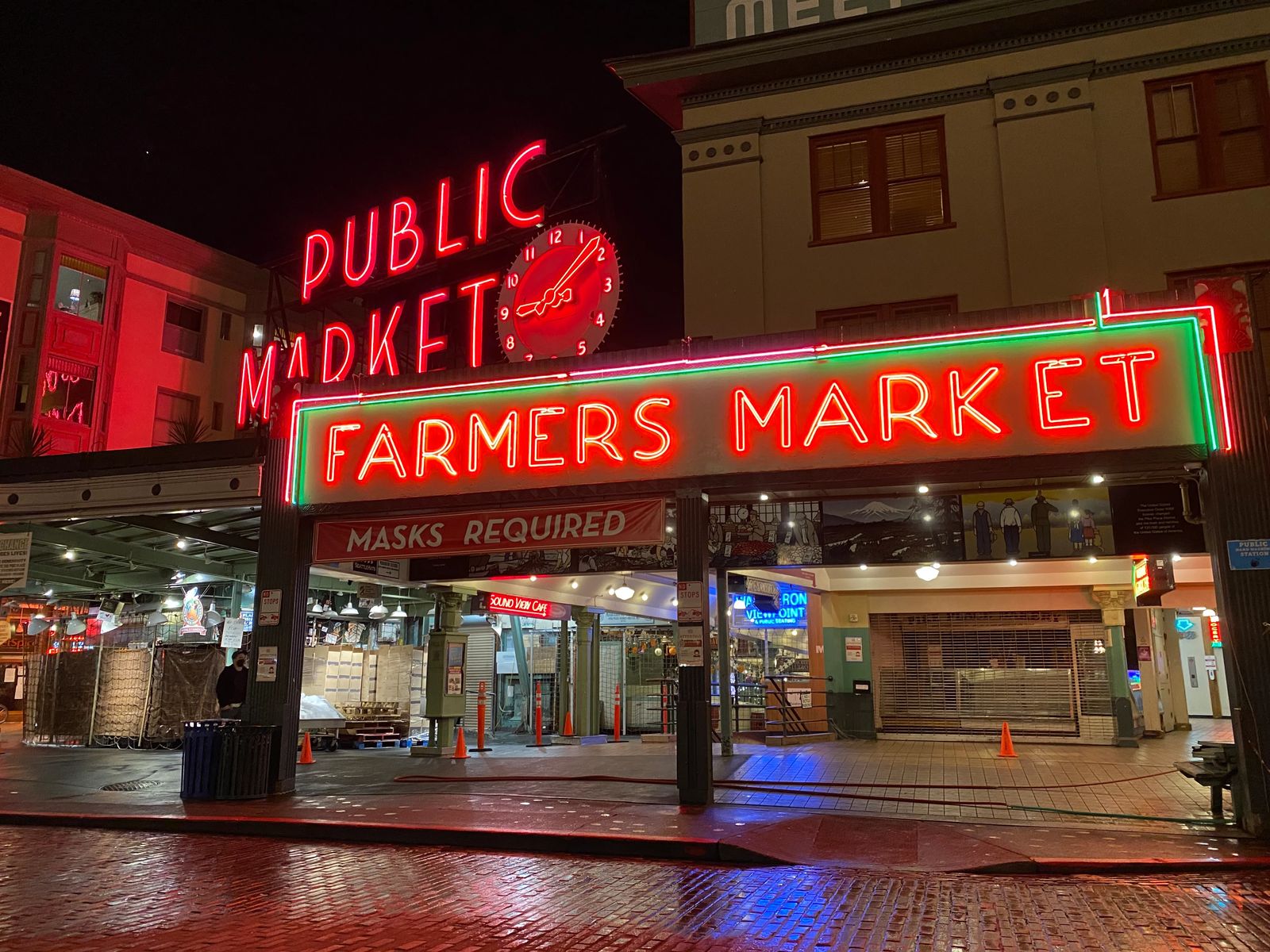 With all of my visits to Seattle, and many hours I have spent there exploring every nook and cranny - I always seem to find something different that moves the soul and delights my artistic brain. For the best photos here (and parking) I suggest getting here as early as possible, even before the market officially opens. This will provide an open area for taking your photos without being photobombed.
Make sure to check out the Pikes Place Market website to see if you can play your visit around one of their many special events. There is also a map where you can play your trip there, visiting both the mainstream shops and the 'underground' shops that are below the market that visitors often miss.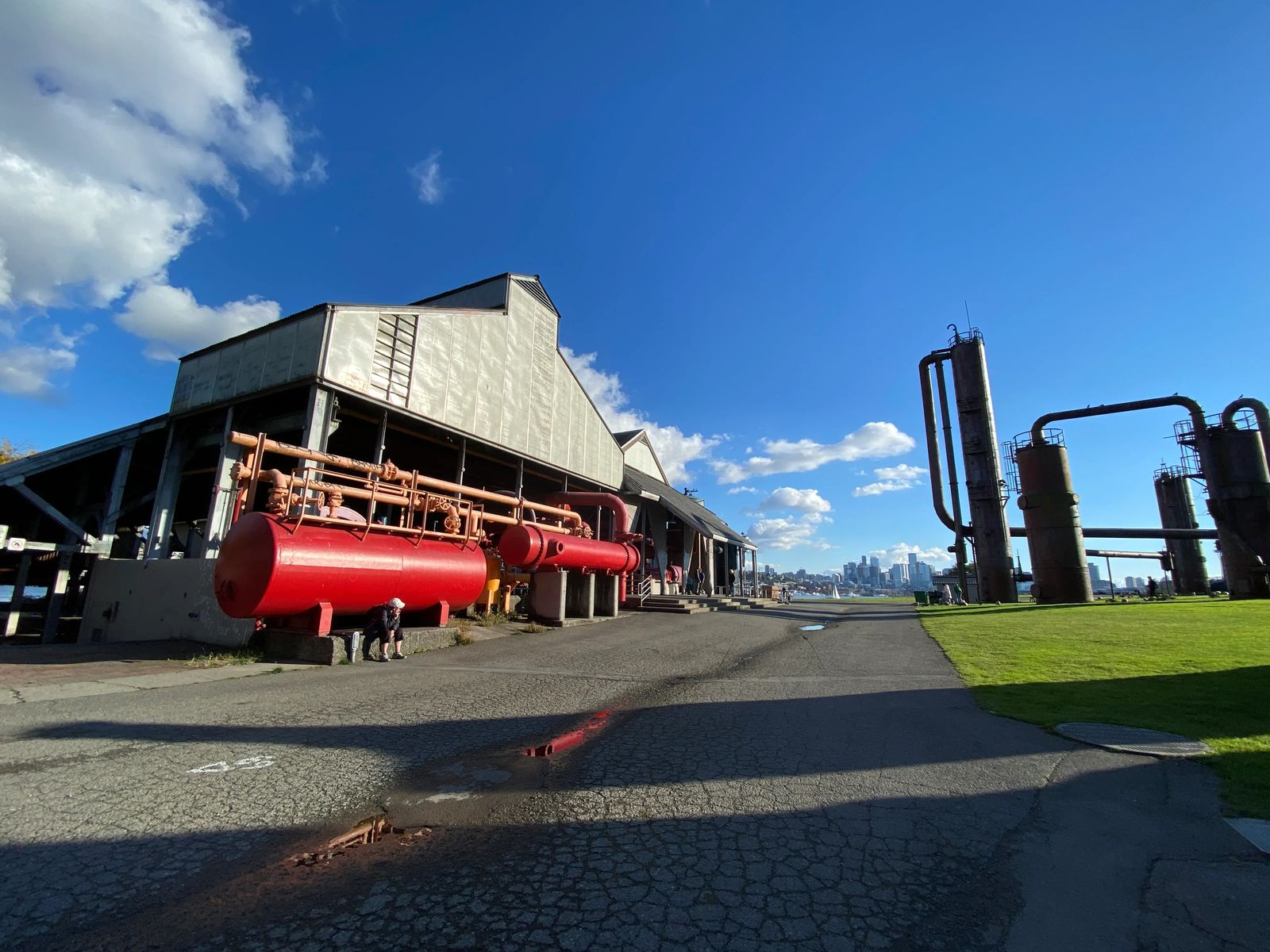 Gasworks Park
Formerly a coal gasification plant turned fabulous city park that is now on the National Register of Historic Places as of January 2, 2013 - it is a must see when you are in Seattle. There are so many places to take epic photos here it is often voted as a 'Top 10 Places To Take Photos in Seattle' spot.
The colorful pipes, sweeping views of the Seattle Skyline are incredible, a large play barn for kids, a hill to fly kites, and rustic feel of the area makes for a great day with family or friends. If you want to have a picnic here, I suggest reserving a picnic table because of the amount of geese that also love the area - their poop isn't fun, nor smells fun to step or sit in.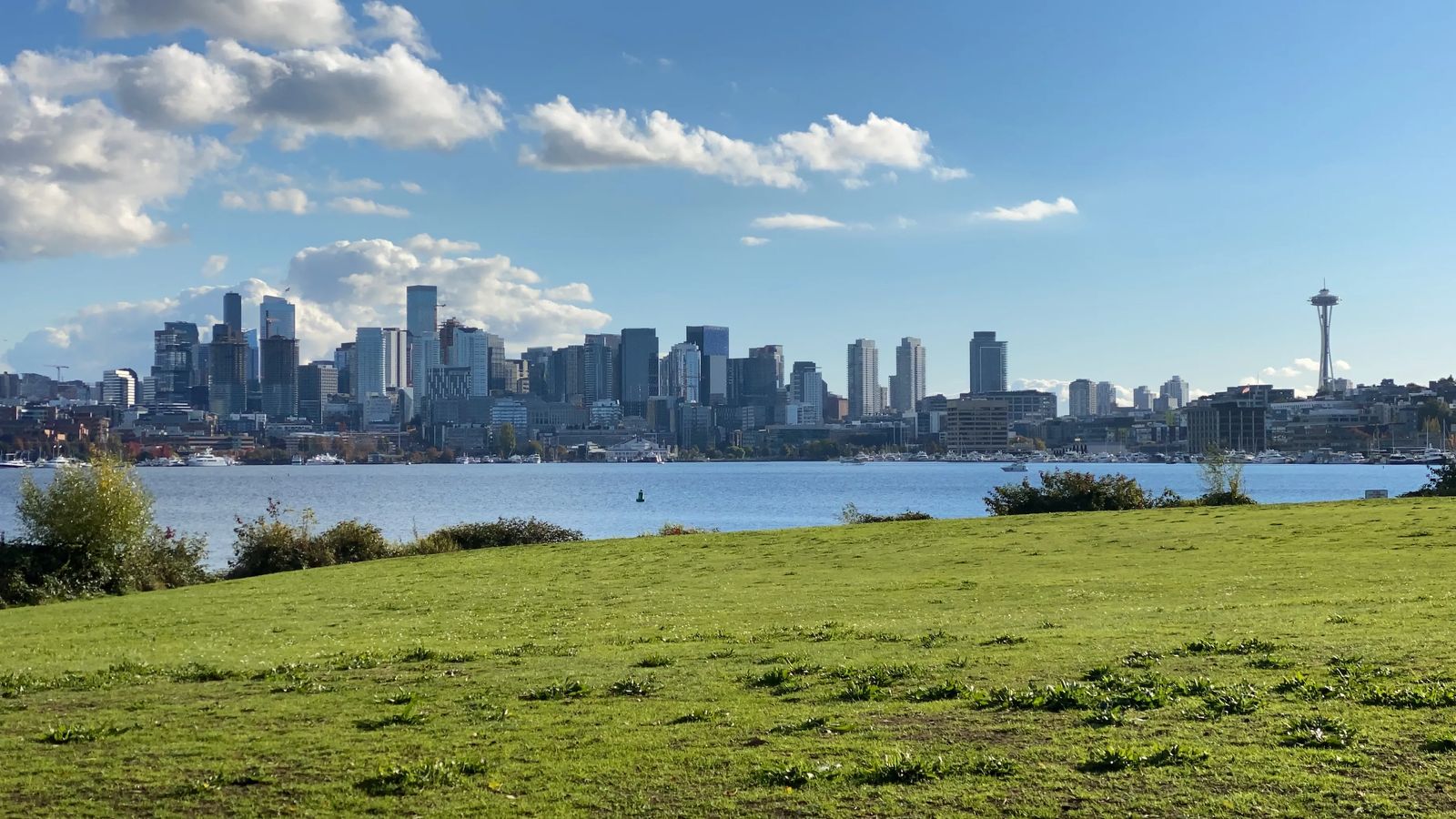 They do have restrooms (that smell pretty bad), drinking fountains, children's play areas, and barbeques here as well as cultural events. Make sure to check out the gas works website to see if you can play your visit around any special events.
Please note that you cannot swim or wade in the waters off the shore here because of contamination they are still trying to clean up from when the plant was in operation.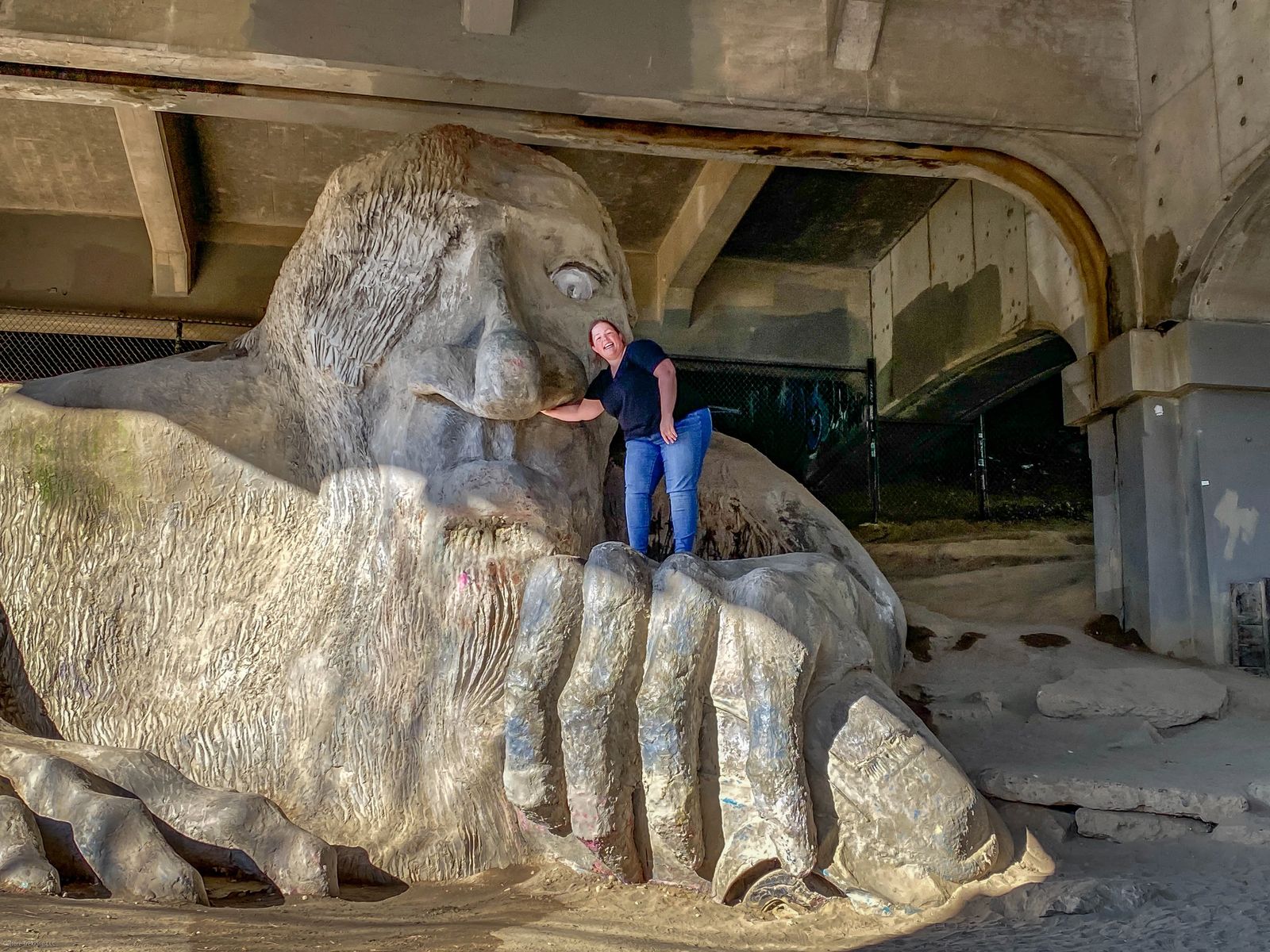 The Fremont Troll
The Fremont Troll is a bit of a local celebrity appearing in many movies like '10 Things I Hate About You', 'The Twilight Saga', 'Sleepless in Seattle', and 'Death Note'. The Artist Steve Badanes created this Public sculpture to deter the homeless and drug overdoses that would often happen here with the support of the Fremont Arts Council.
If you look under the Trolls Left hand you will see a Volkswagen Beetle that he just swiped from the road. You can see from his shiny left metal eye, that he really loves shiny things. It used to hold a time capsule of Elvis Presley memorabilia until it was vandalized and stolen.
The Troll is about 18 feet high, and is made of rebar wire and concrete. Seeing the Troll in person though makes it seem even larger. Call me a child, but I couldn't help but help him clear his nose of dust and see if I could find any shiny gems up there, lol.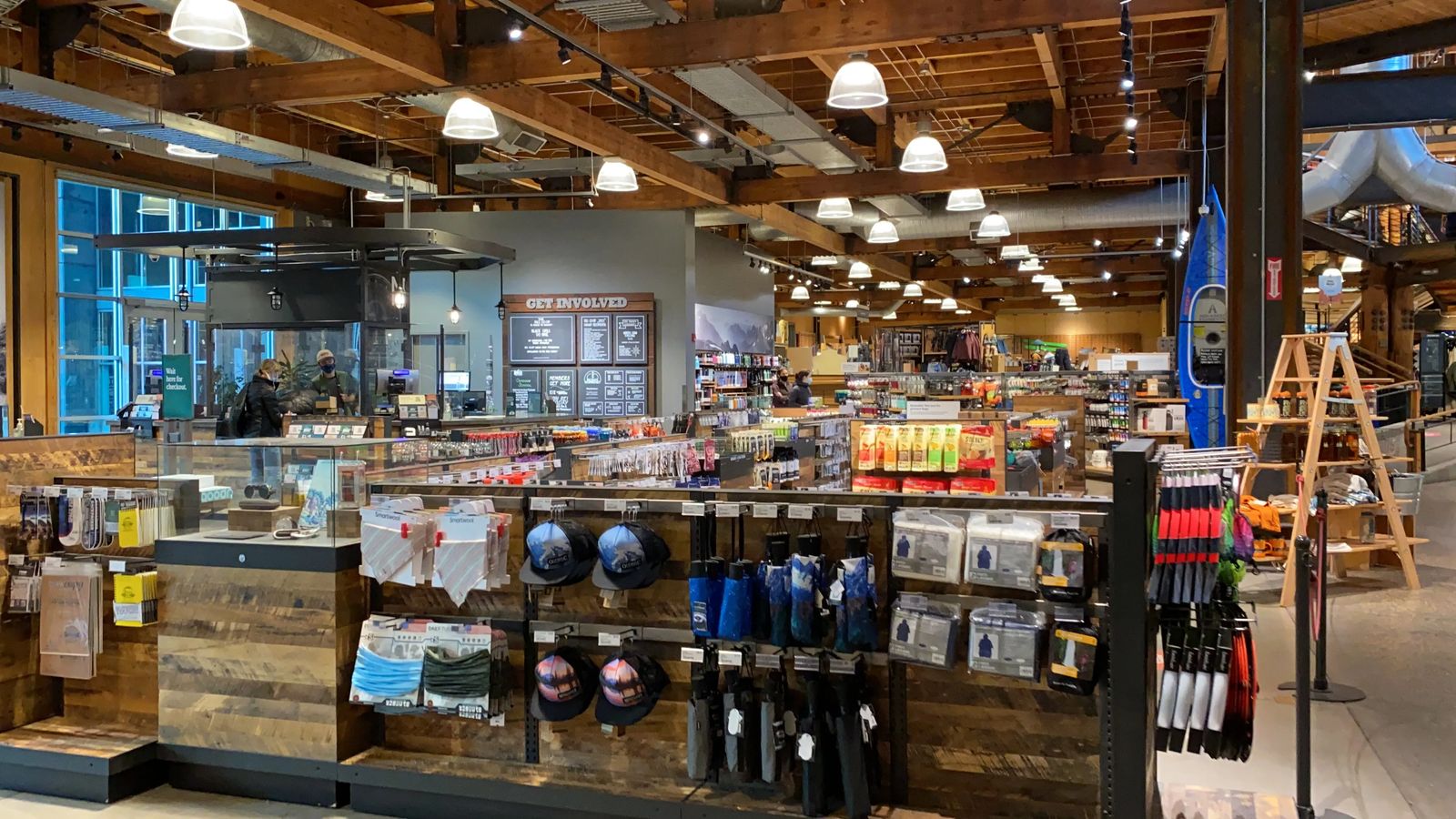 REI Flagship Store - City Mountain Biking
Visit one of the first REI flagship stores! If you love the outdoors then this is a MUST stop, not just to shop, but they also have mountain biking trails you can test the bikes out on, there is a climbing wall inside you can use if it is rainy, with a MASSIVE store floor you can buy gear for any weather, any season, or any climate you are planning on going to.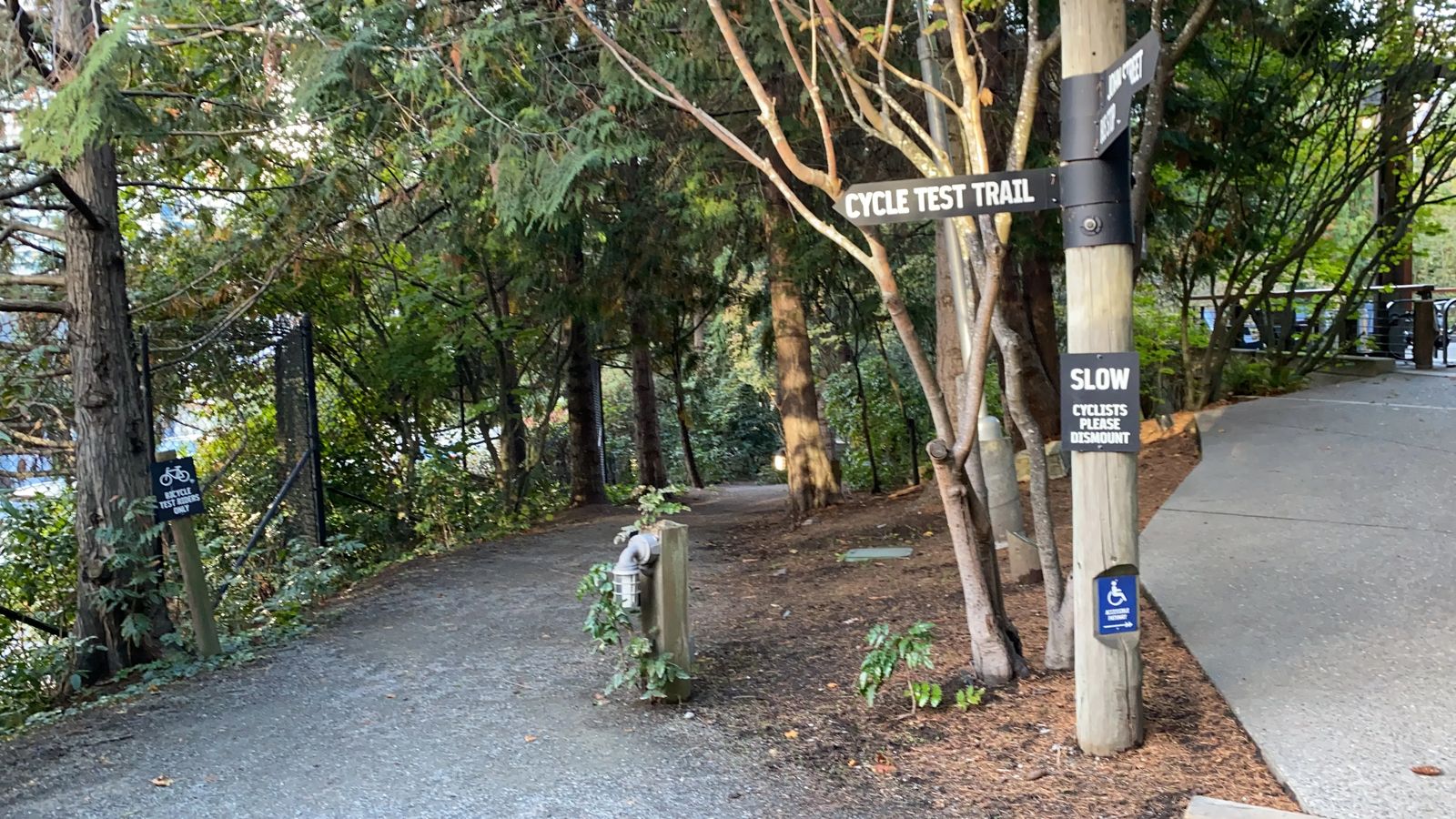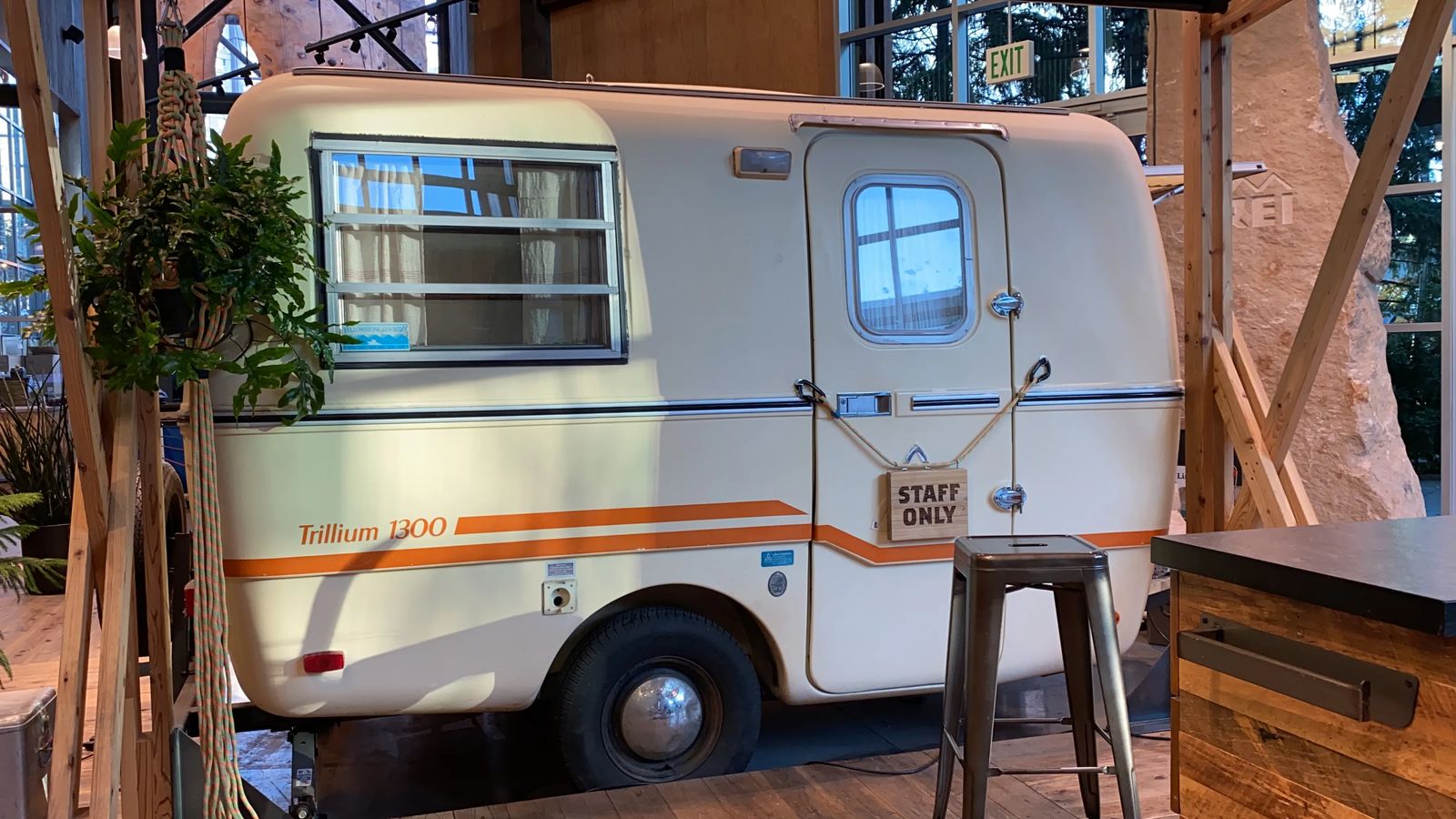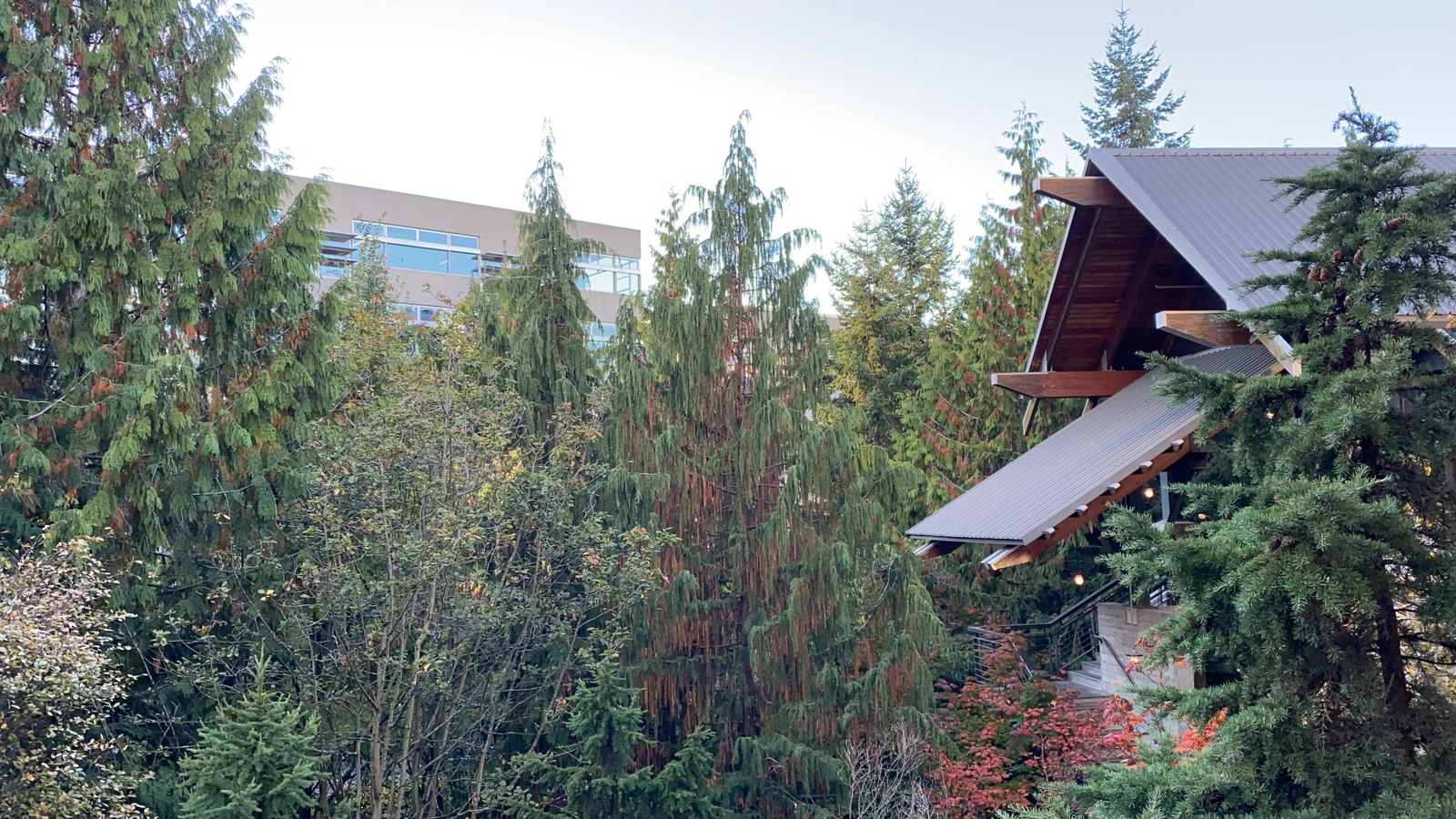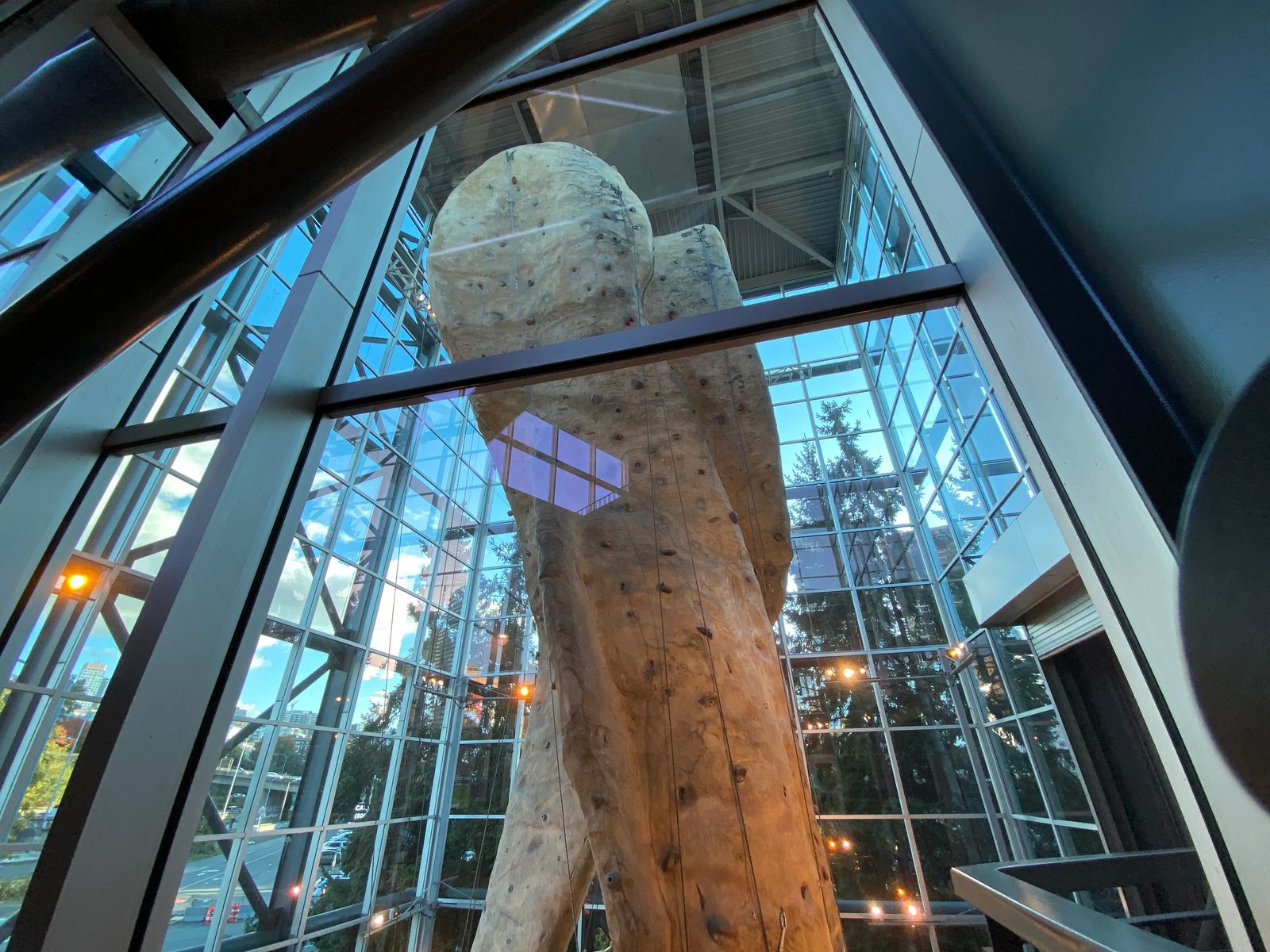 The 100,000 square foot space isn't just about selling you things, in fact only 40% of that space is to selling products. The rest is to selling a sense of adventure, providing classes, on site courses, and exhibits that are meant to help you feel more comfortable getting outside on your own.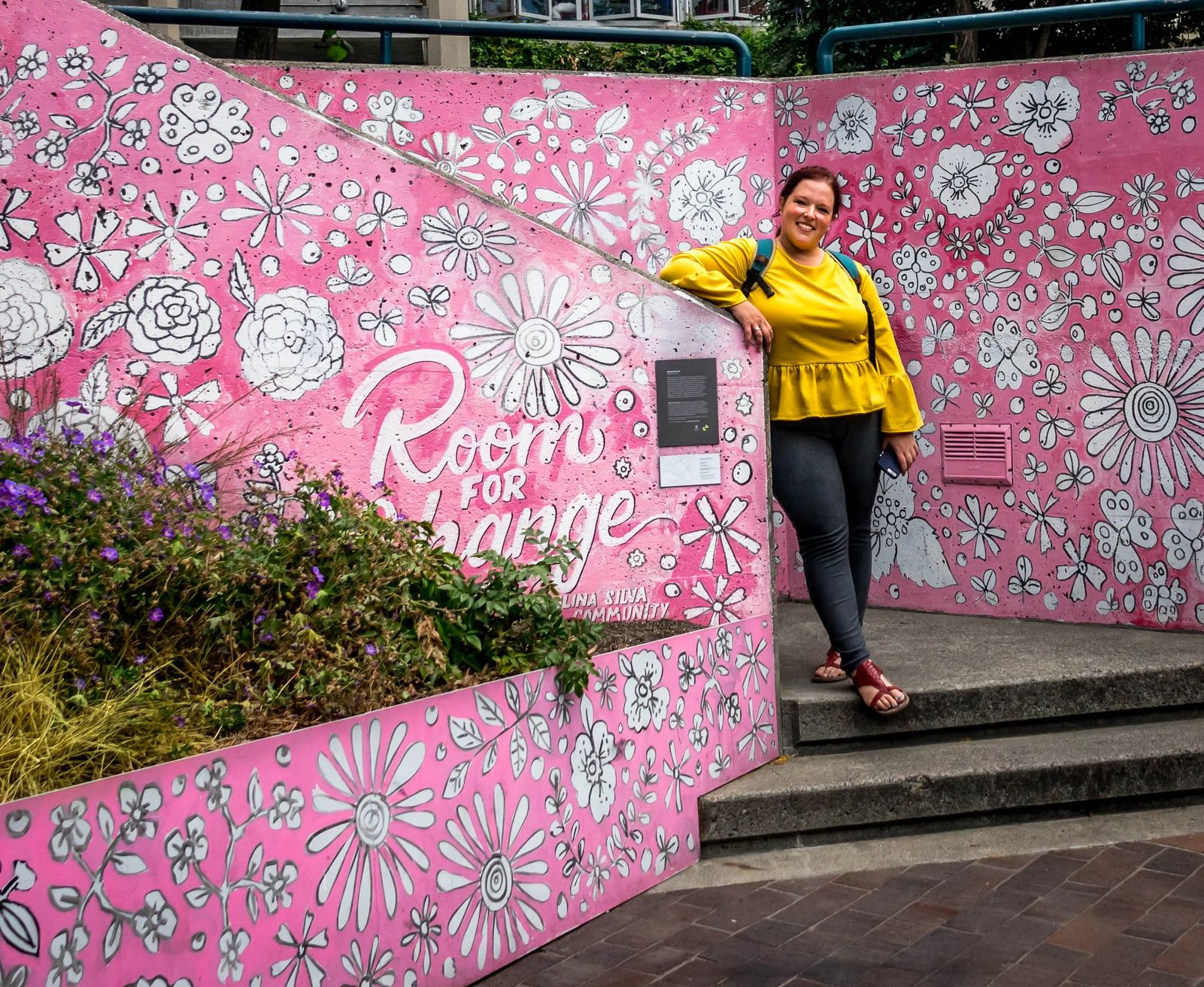 Photography Tour
I cannot recommend taking a photography tour in Seattle enough. I personally found my tour on Airbnb Experiences and met up with a local professional photographer who took me around and showed me the city.
His name was Tim Menzen, and we walked the back streets and alleyways that are often missed but have stellar street art for that perfect photo. He taught me how to shoot better photos in manual mode (always a struggle no matter how long I do it) and capture unique reflective angles and better composition but just pausing to observe.
We saw Pikes Place Market, the Gum Wall, the first Starbucks, we walked under Pikes Place to back streets where the composition of a photo lesson took place.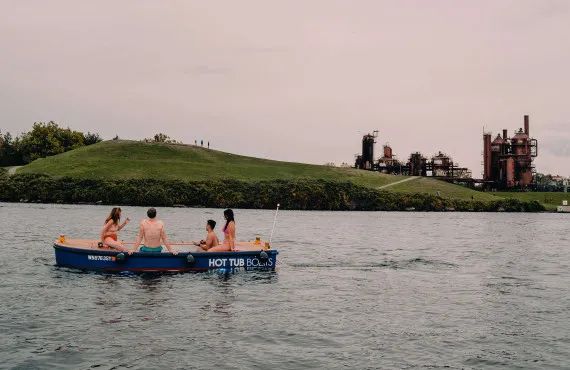 Rent a Hot Tub Boat
On my last trip to Seattle my friend there told me about a unique way to see the city skyline, in a HOT TUB BOAT! Talk about a bougie way to see the city! For those NOT driving the boat, grab a few drinks from Whole Foods, and hop on the Hot Tub Boat on a cold Fall, Spring, or Winter day and "soak in" the city skyline in style! I personally wasn't able to do it, but I couldn't NOT mention this (also noting it for later visits for myself).
Make sure to book in advance as they rent out quite quickly. There are only four boats, and it is about $400 for two hours, so get 4-6 people to pitch in and you are SET!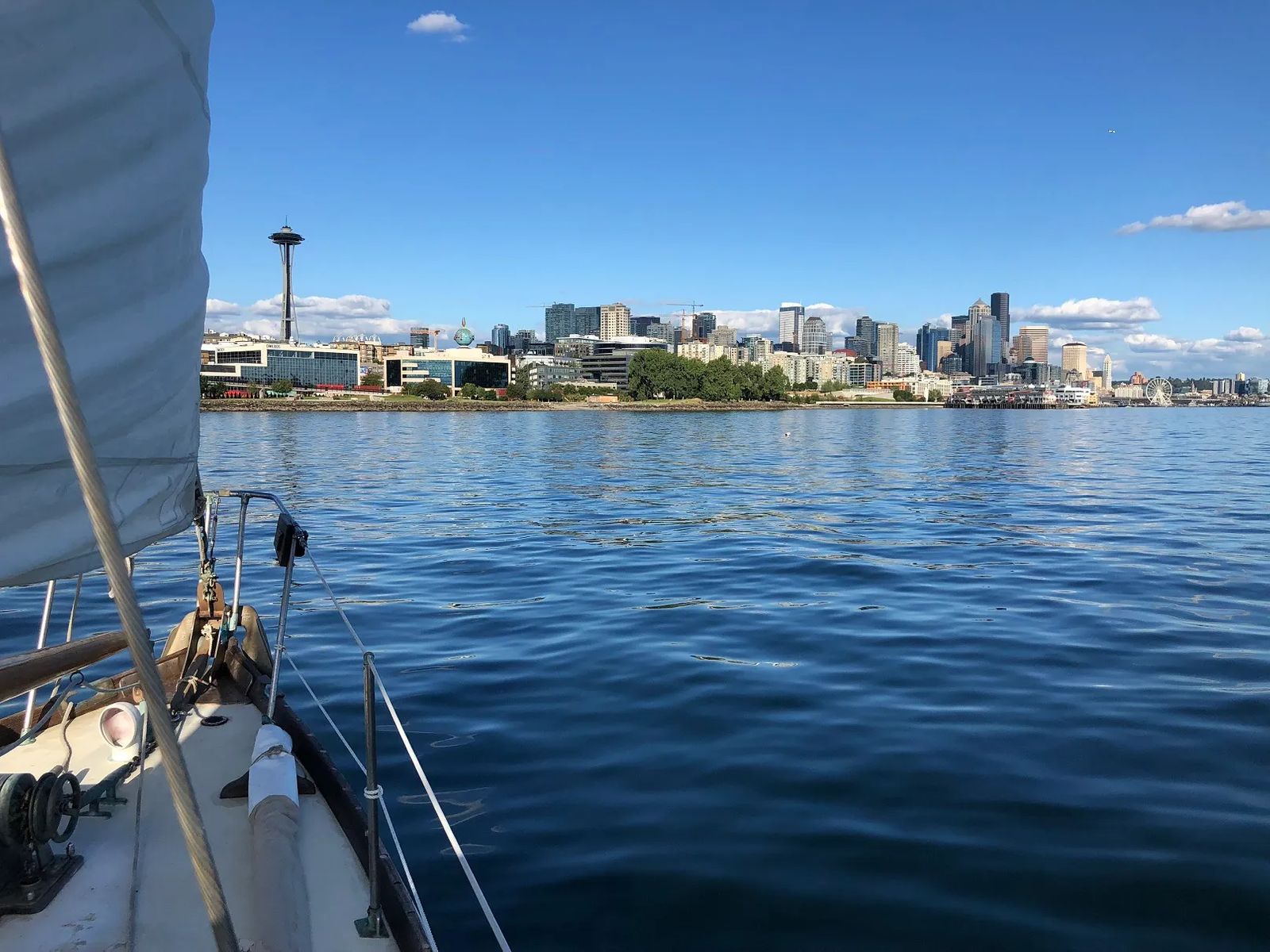 Sailing at Sunset
On every visit I have made to Seattle I have always ended up getting on a boat at some point. My favorite boat to get on though, is a sail boat. Not only is it sustainable, but SO MUCH FUN! I took my tour with Emerald City Sailing, but there are loads of other tours I found on Airbnb experiences you can look into. This tour was about $100 and I joined 6 other people onboard (including one on crutches, lol) who became fast friends.
Because the waters of Seattle are so cold, don't plan on jumping in and swimming. It isn't just the cold, there are also lots of jelly fish in the area at certain times of the year. There area few tips and tricks for first time sailing I recommend going over as well before booking to make sure you can handle it.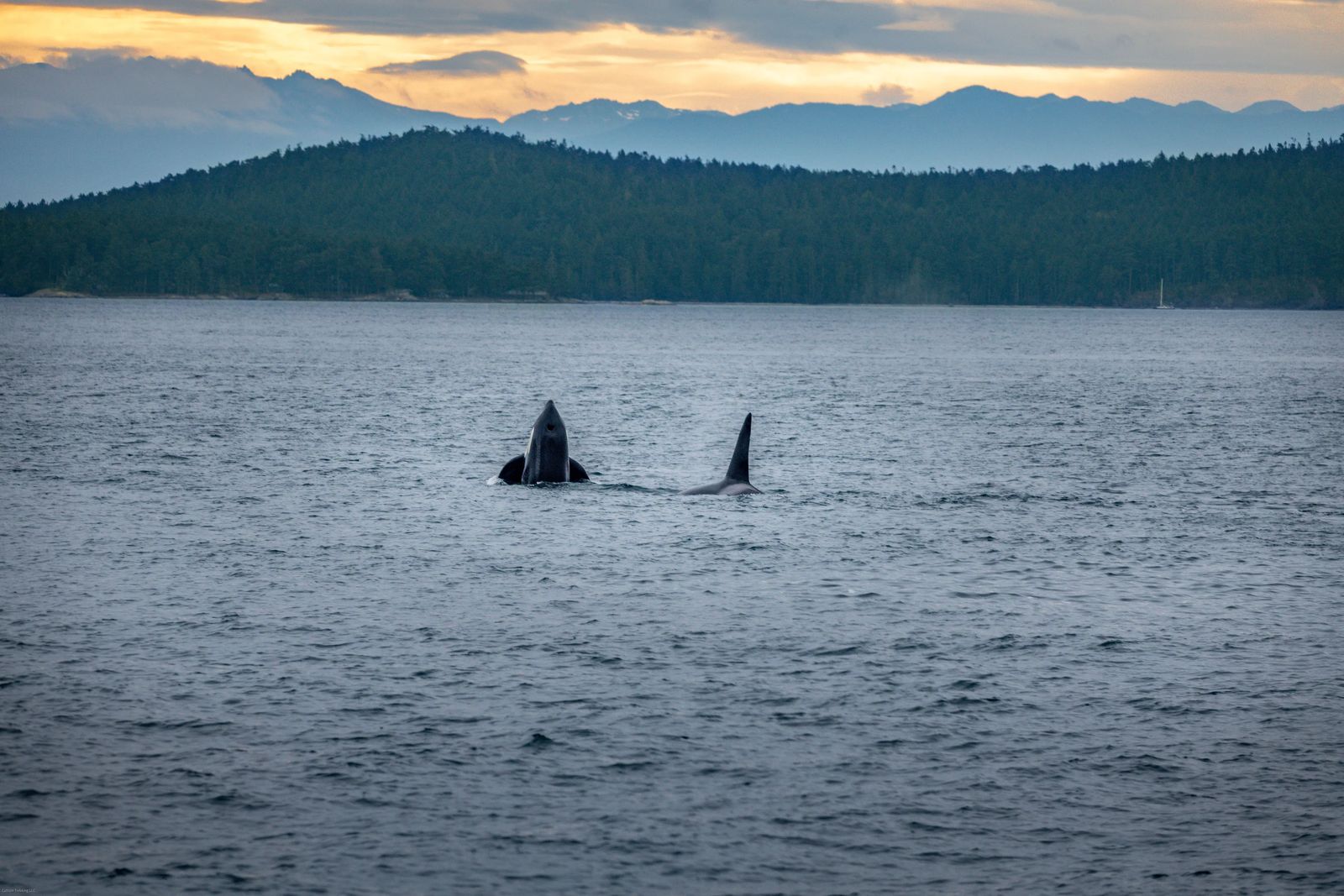 Whale Watching Tour
Never have I ever been so moved by seeing an Orca in the wild! These incredible creatures are under threat in the area, but conservationists are doing their best to save this special experience by creating awareness. This tour takes ALLLLLL DAAAY I'm talking from 8 am-10 pm, so if you only have one day, then this will be the only thing you get to see.
I recommend doing this tour if you have an extra day or two in Seattle. The tour has indoor and outdoor seating, it is a larger ship (on the FRS Clipper) and there are restrooms, snacks and drinks on board. The best place for whale watching is at the San Juan Islands, where you can make a quick stop into Friday Harbor as well to see the Whale Museum and grab some delicious fish and chips.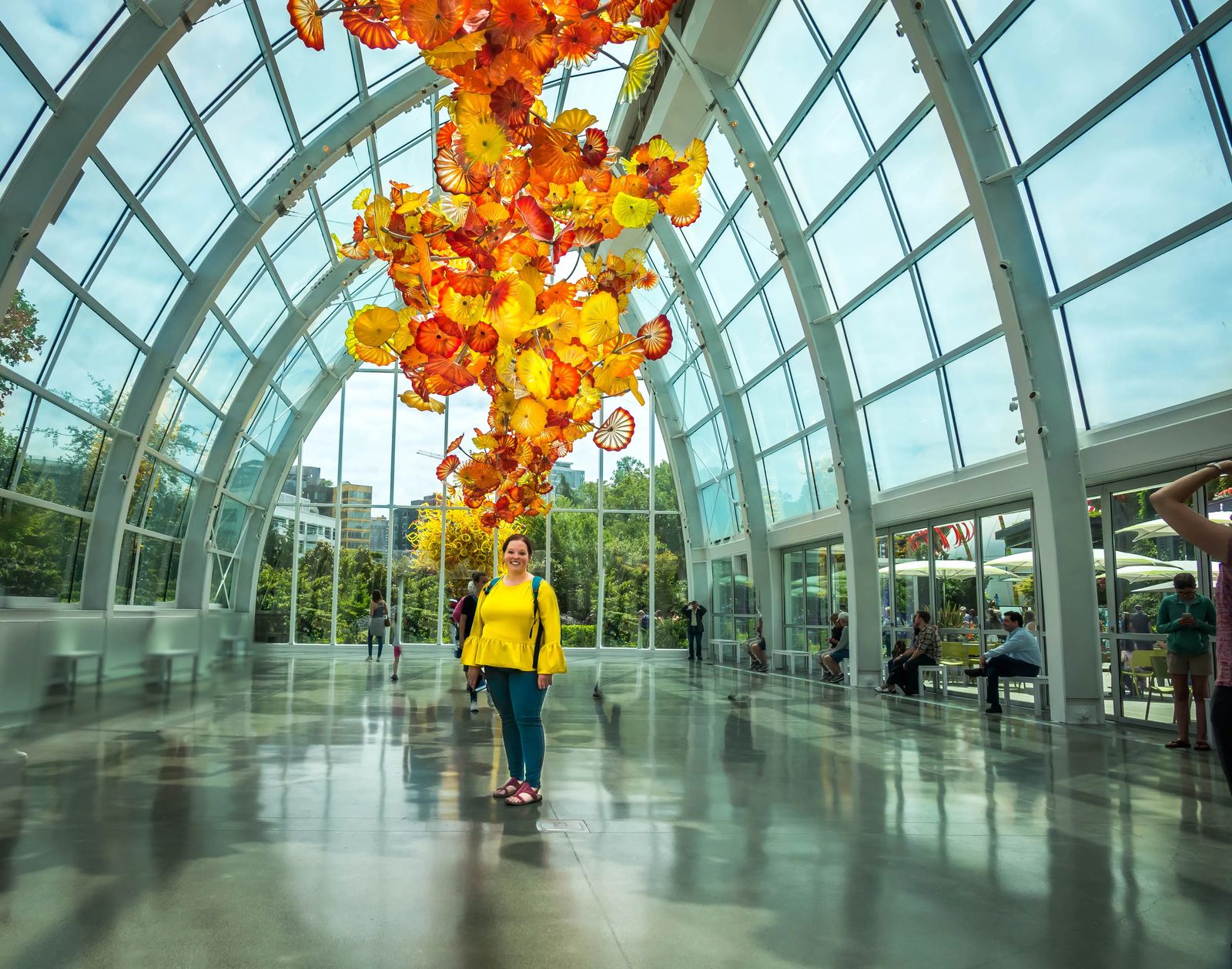 Chihuly Gardens
Blowing glass isn't just an artform, it requires an apprenticeship with lots of failures, knowing how chemicals react to extreme heat, and being able to work quickly and fluidly. If you enjoy unique artistry like this, then the Chihuly Gardens are for you.
I didn't know what to expect walking into this place, but was certainly 'blown away' by the way they presented the art pieces and the vibrant colors. The reflections, lighting, glass housing with natural light, and even the art pieces in the perfectly manicured gardens are well worth the cost to get in.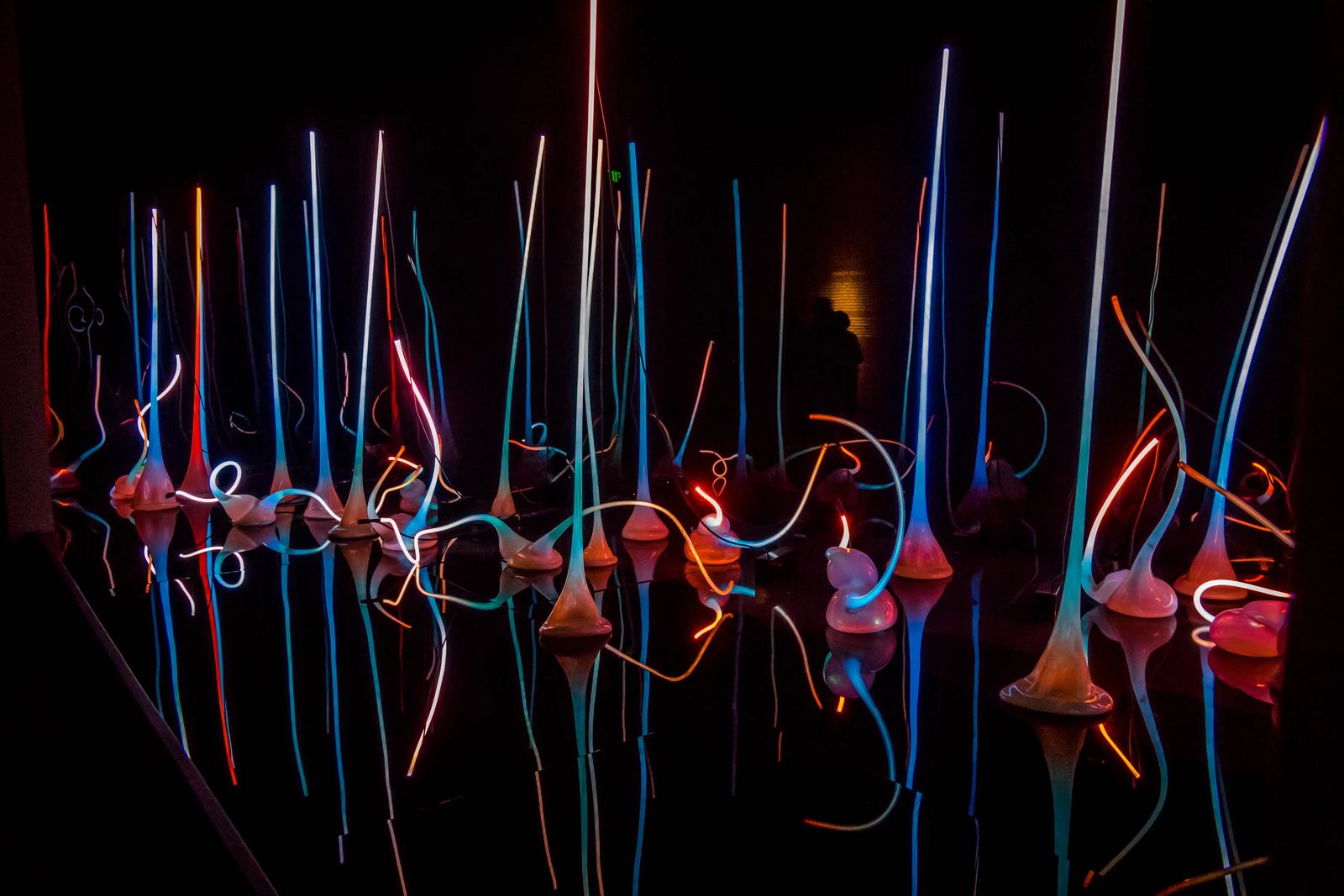 For just the gardens it is $32 for adults, for the gardens combined with the space needle it is $57 and saves you $9 if you were to buy them separately.
The Chihuly Garden takes about 1.5-2 hours to get all the way through and really appreciate each piece. There are souvenir shops at the end, and the garden area also provides music from nearby street performers that play rock violin to popular trendy music.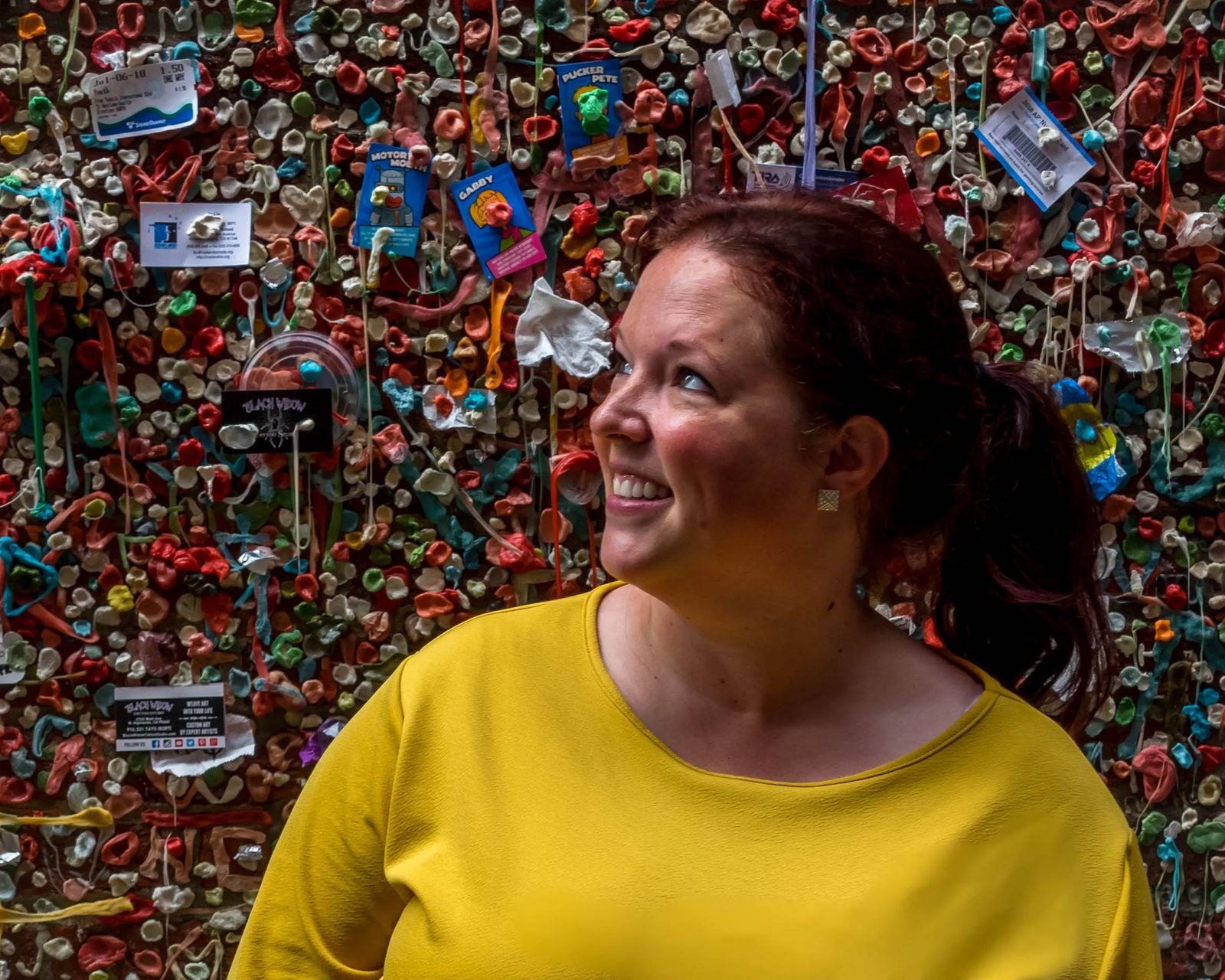 Gum Wall vs Skipping It
The whole tourist trap Gum wall is just that, a disgusting tourist trap....there I said it. While it seems like it would be a good place to take cutesy photos, it really is so gross y'all. The gum sticks to your feet, business cards plastered on the wall, gum wrappers thrown everywhere.
You don't know who has what disease and you are sticking your gum on theirs, with no sinks around to decontaminate. The gum falls off on hot muggy days and if you don't step carefully gets all over the bottom of your shoes. There is so much of the gum for a good 3 minute walk down the gum wall that it really smells on the warm days.
The gum wall started as a protest of sorts outside the movie theatre (now drama theatre) that wouldn't allow chewing gum inside. While it is a bit of right of passage for those visiting Seattle, I would honestly suggest skipping it.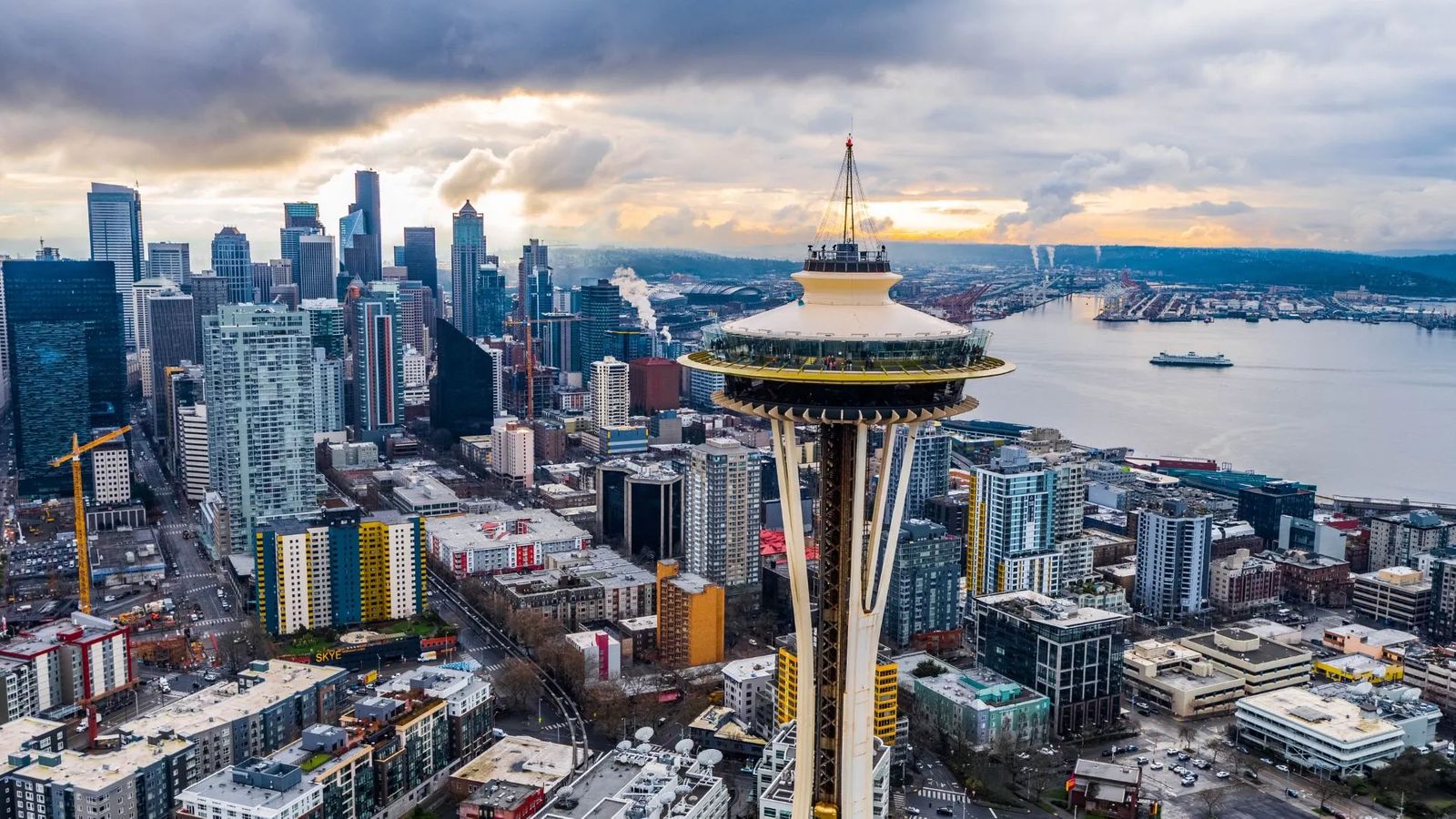 Seattle Needle vs Skipping It
Going up to the top of the 605 ft space needle to get the 360-views of the city is a great, however, this will cost you 2-3 hours of your time.
In all the times I have visited Seattle, I haven't ONCE been to the top of the Space Needle. I think after spending so much time in Vegas (with a replica) it just kinda lost its luster and mysterious draw for me personally.
If you want to go to say you did, then do it, I'm sure it will be a great trip up - but will also take away time from seeing some other really fun parts of the city as well.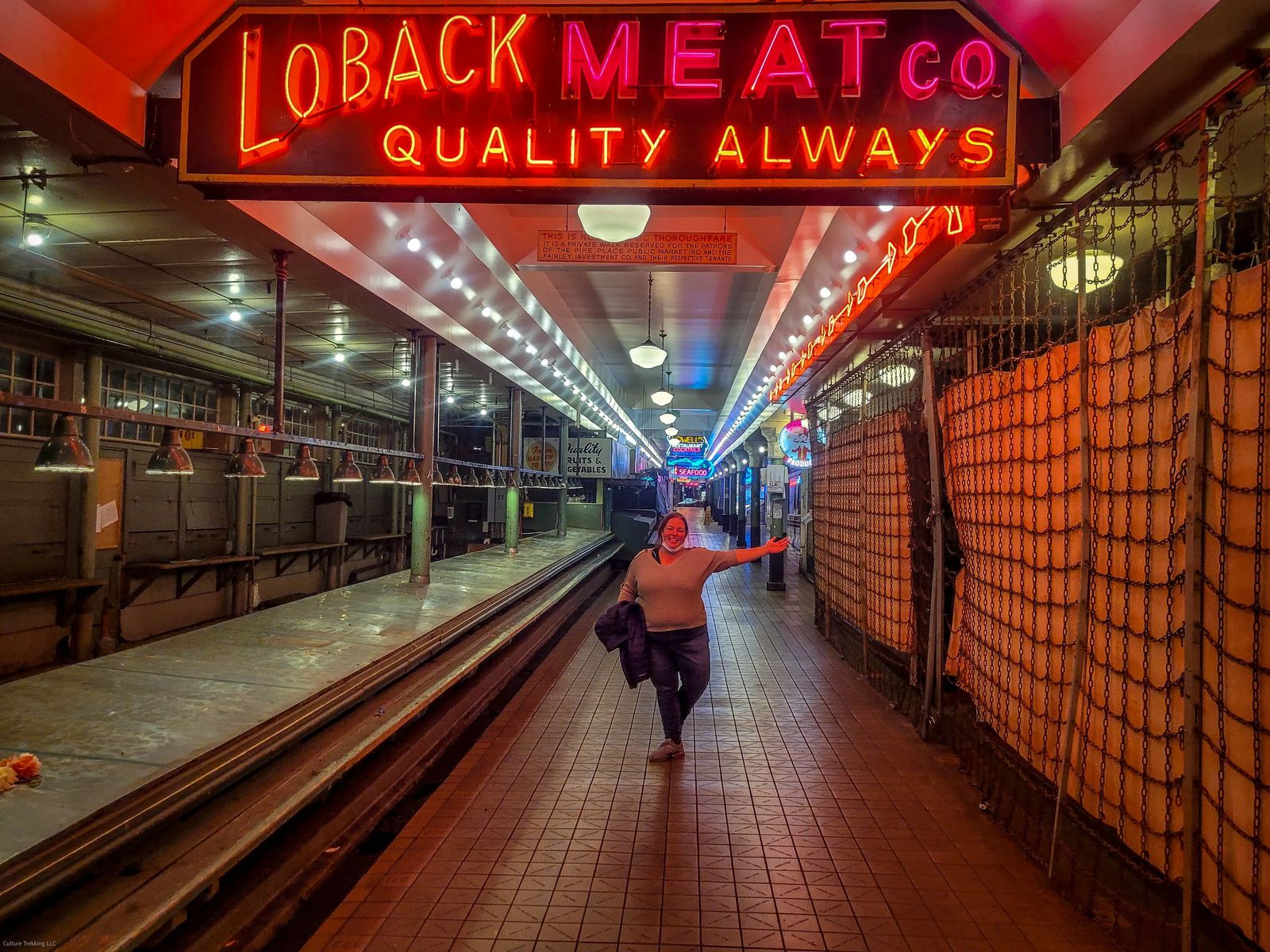 Ghost Tour
Ghost tours are one of my favorite things to do at night in a city, especially for Halloween. While the tour I was on, isn't necessarily one I would recommend to you - there are several tour operators you can find that do Ghost Tours. We booked our Ghost tour at the last minute, and so I don't know that it was the best option to be honest.
The ghost stories provided were FANTASTIC though, and I definitely got creeped out. Our guide regailed us with tales of Dr Linda Hazard and her cult that ended up killing 40 people. There was Daronda Williamson, the stories at Unexpected Productions that require 3 seats always be left empty, the first Mortuary west of the Mississippi in Seattle and ghost stories from that.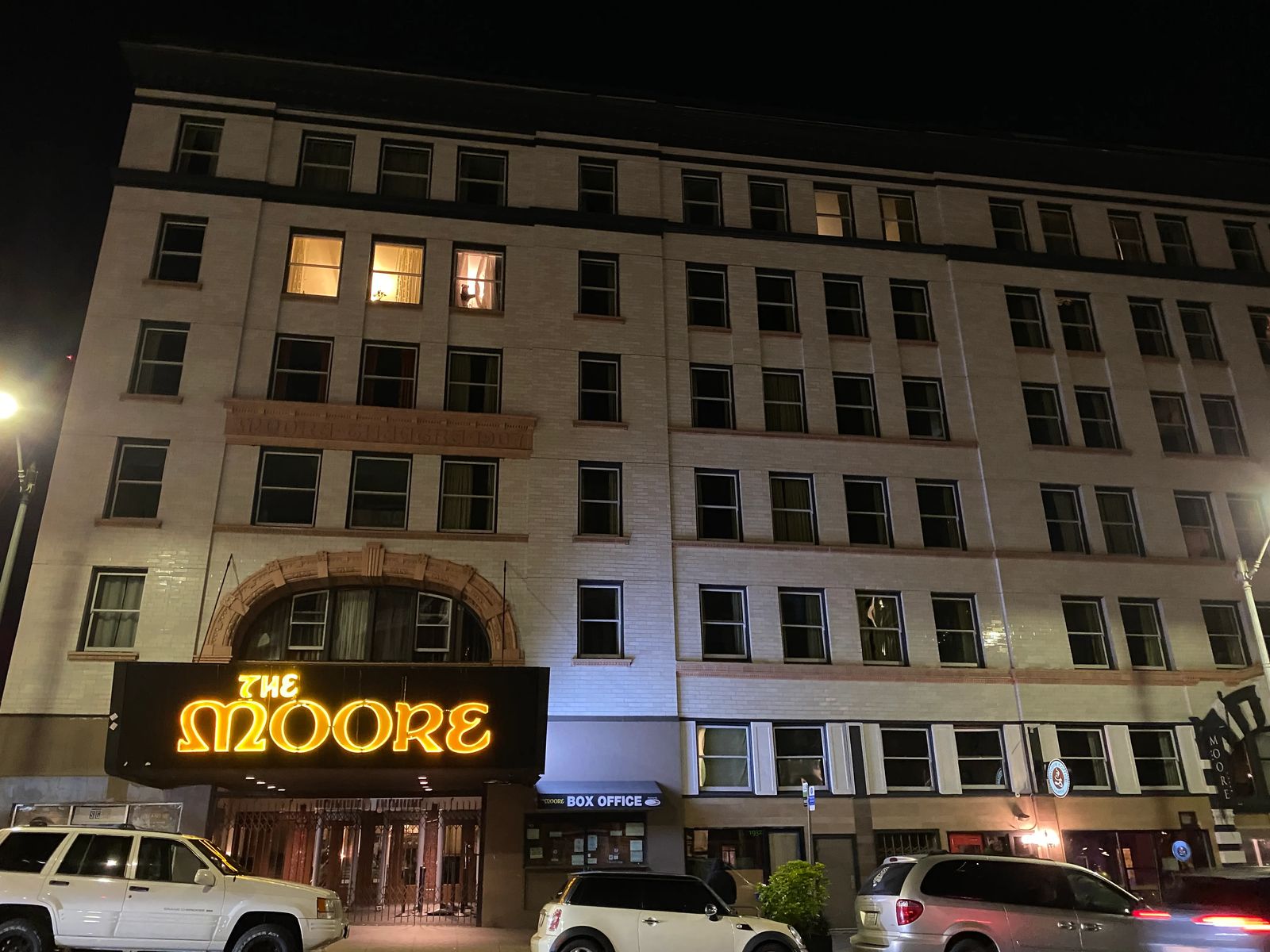 There is the Moore Hotel, with James Moore that haunts the upper left room and can sometimes be seen in a top hat smoking a cigar in the window. The Native American Dewamish Princess that was buried here and still haunts Pikes Place Market.
So many ghost stories for such an old city, and is well worth the time to visit as you get to see Pike's Place Market after dark which is spooky enough itself.
When you go for your ghost tour, make sure you park in a safe parking area with security and cameras. Walking to meet our tour guide felt quite sketchy with just me and my friend. There are a lot of homeless people who come into the warmer parts of the city at night and can be a bit on the aggressive side. My biggest tip, DON'T STOP, don't make eye contact and just keep moving. I kept my answers short, kind, and just kept moving as if I was late to the most important meeting of my life.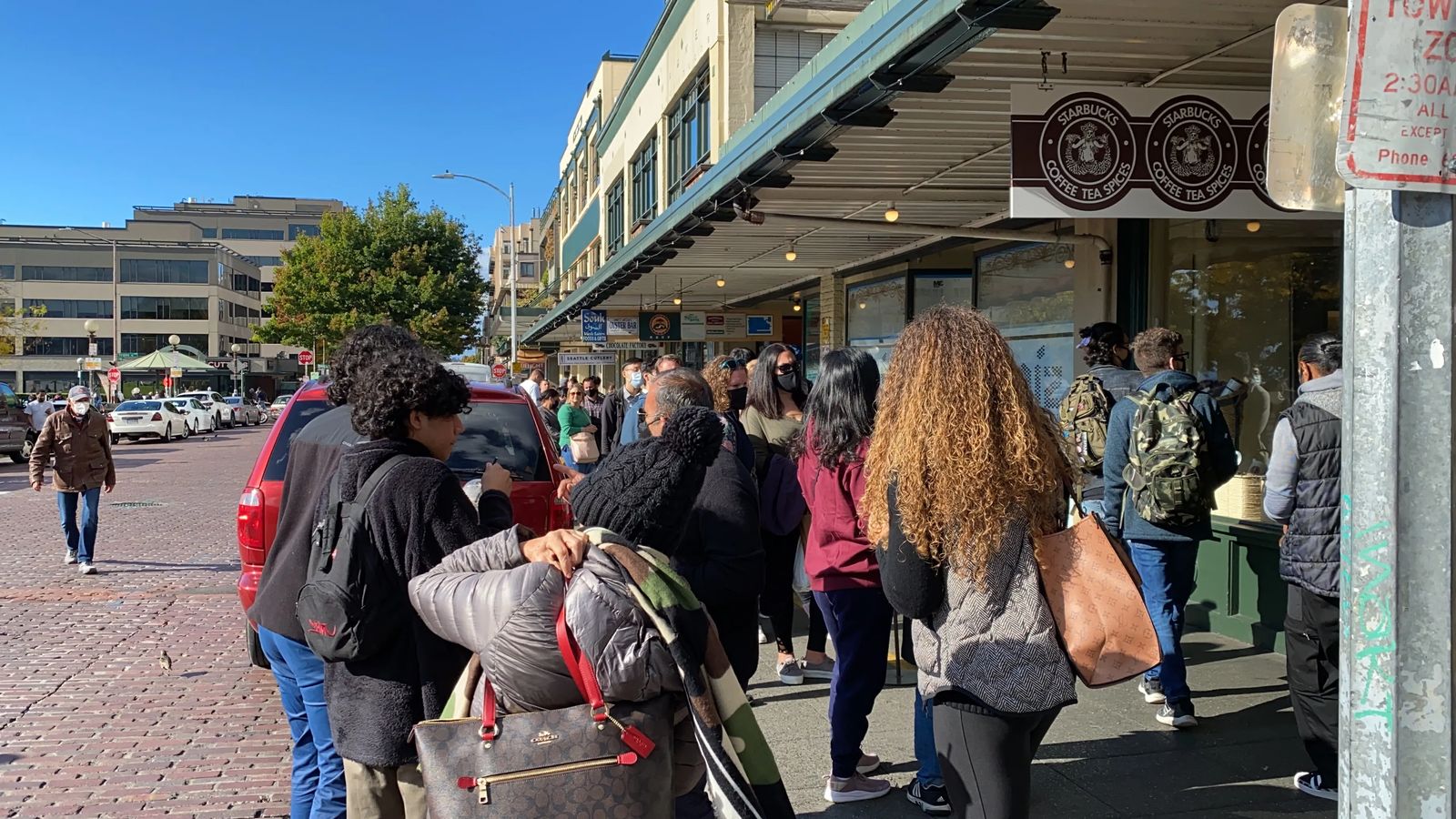 The First Starbucks vs Starbucks Reserve
According to my local friends, you stand in line to see the inside of a Starbucks store that looks like every other Starbucks in the country - just to say you did. If you are into that, then go for it. The menu here is the same as every other Starbucks.
If you want to visit a truly unique Starbucks experience, then I suggest going to the Starbucks Reserve in Seattle. Here you can see them roasting coffee, try never before released blends, try coffee beans and brews from around the world. Head over to their (overpriced) bar and try a coffee cocktail of every variety. If you make an appointment, you can even be guided through a Starbucks Reserve Experience and get all your coffee culture questions answered.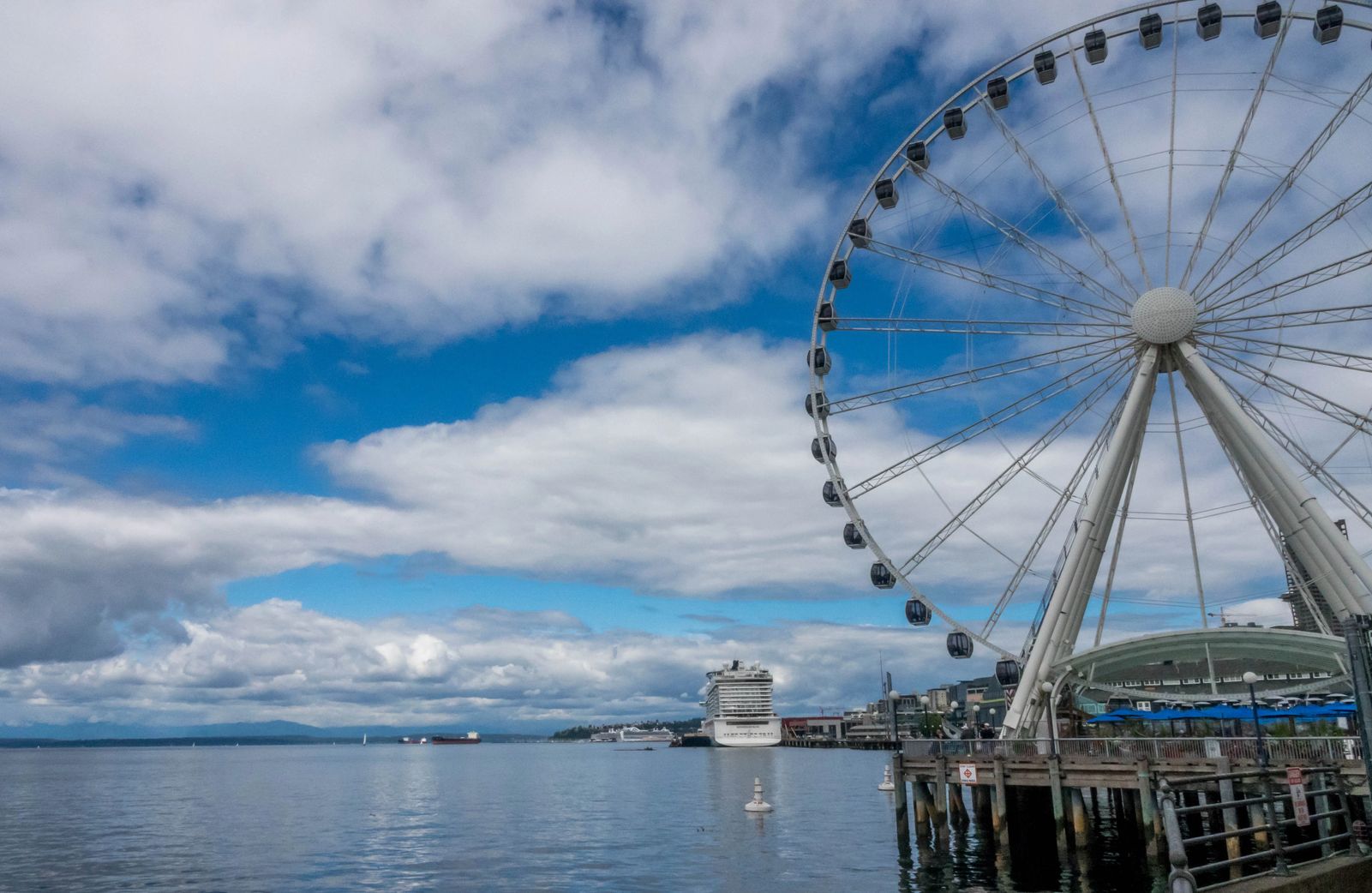 Ride the Seattle Great Wheel at Pier 57
You can ride Seattle Great Wheel right near the bay as a break from the bustling life of downtown Seattle. I would suggest waiting until the sunsets to enjoy the 500,000 LED light display that creates a super romantic flair to the experience as well. The light display only happens Friday through Sunday though until 10pm.
There is also a cheaper option called Wings Over Washington that is right near the wheel as well. This takes you inside a theater, straps you into a seat and takes you 'flying' over the different areas of Seattle with 5k cameras. It isn't just the virtual sights you see, but also the smells of the forest, the Salt of the Sea, the apple orchards and more you get to smell.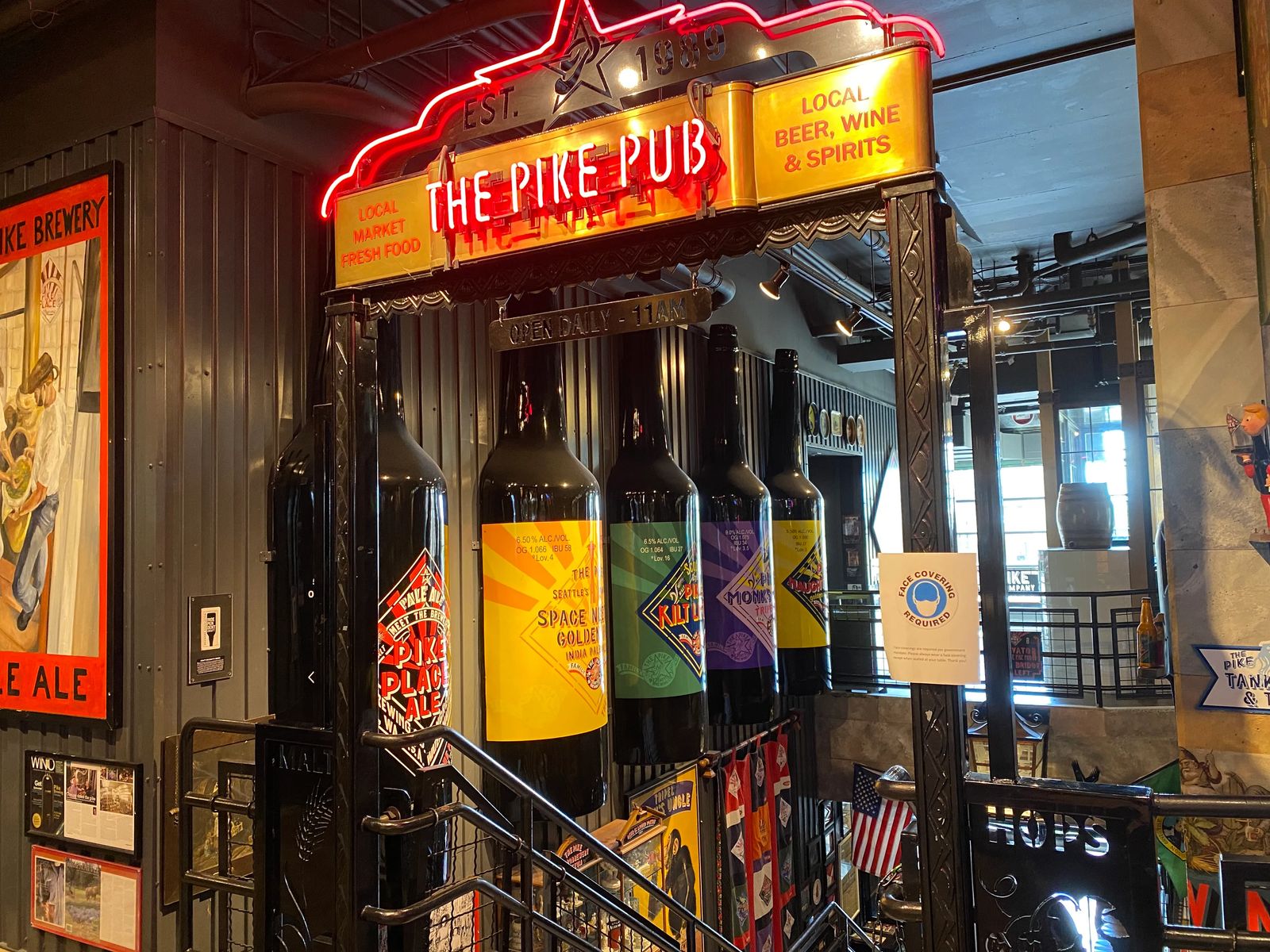 What To Eat While In Seattle
Seattle is definitely a 'foodie' town, but restaurants in the city aren't always friendly to the budget. I will focus on some quick bites you can grab in downtown Seattle that will be both kind to the pocketbook and delicious.
When I travel I tend to snack and get small bites throughout the day and then for dinner I will splurge on a nice restaurant to even things out a bit.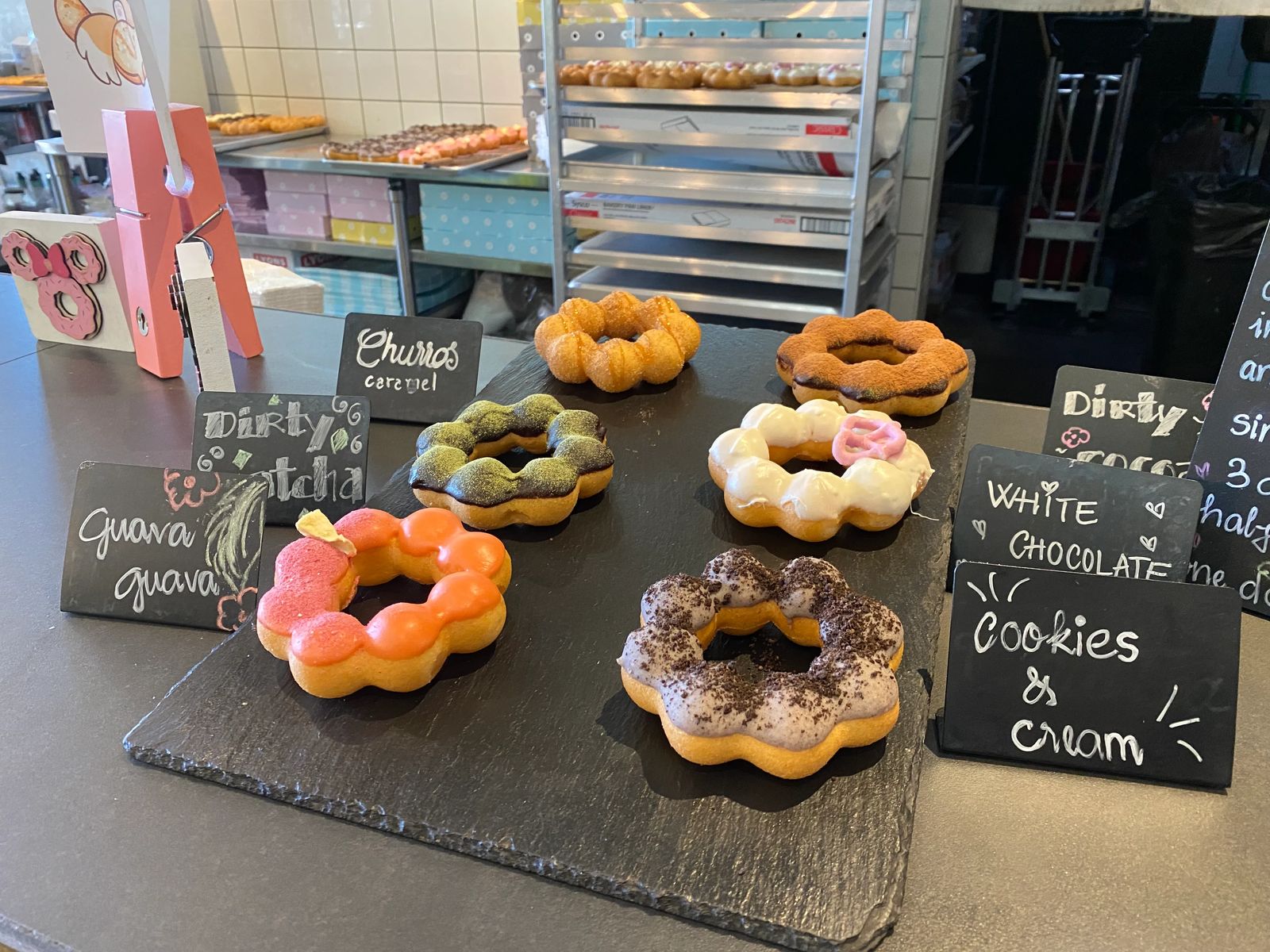 Mochi donuts
My friend that lives in Seattle didn't know about these magic, I mean Mochi donuts. We sat outside the shop and savored these delicious morsels for about twenty minutes. They look like donut holes connected into a modern Japanese-American donut.
There are rotating flavors they use for the donuts like dirty matcha, churro, cookies and cream, or Guava to name a few. You will be delighted by the lack of grease flavor typically found in donuts and be left with a feeling of eating fresh flavors and a texture of donut combined with a funnel cake.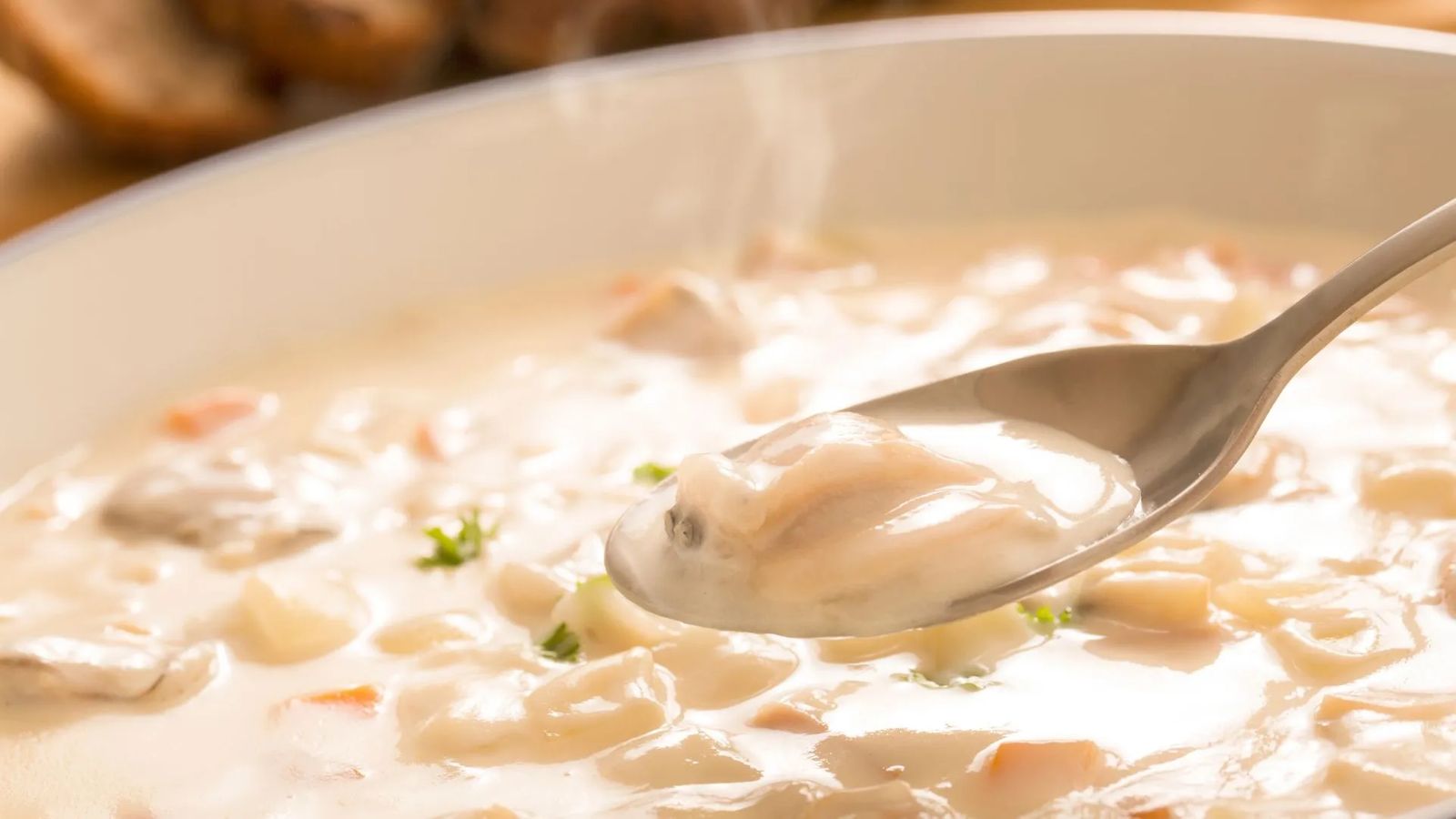 Ivar's Chowder
If you want the BEST clam chowder (or corn chowder for vegetarians) then head to Ivar's. This unassuming shop is a favorite for Seattlites and tourists like. You can find their delicious chowders in stores, on the whale watching tour ship, and in downtown Seattle. I suggest getting there for an early lunch to avoid lines and the possibility of the Clam Chowder selling out.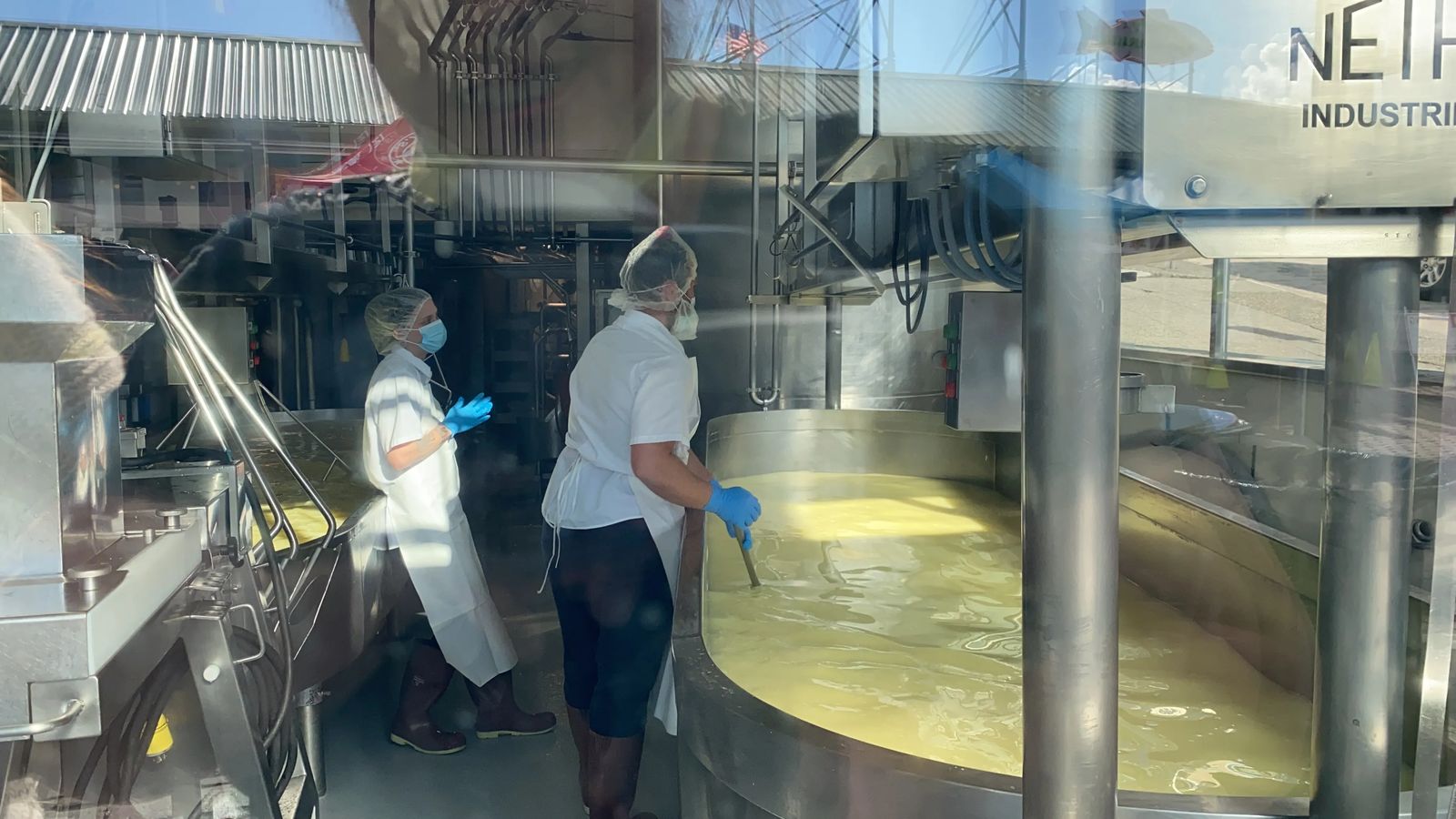 Beecher's Mac & Cheese
Watch this fresh cheese get made right in front of you in these massive Vats. It then it mixed in with al dente penne pasta to create the perfect white cheesy, creamy, flavor filled mac and cheese in the heart of Seattle. This place is quite popular, so again, arrive early to avoid the lines and then grab a seat in the hallways of Pikes Place Market where there are some quaint tables to indulge in this guilty comfort food.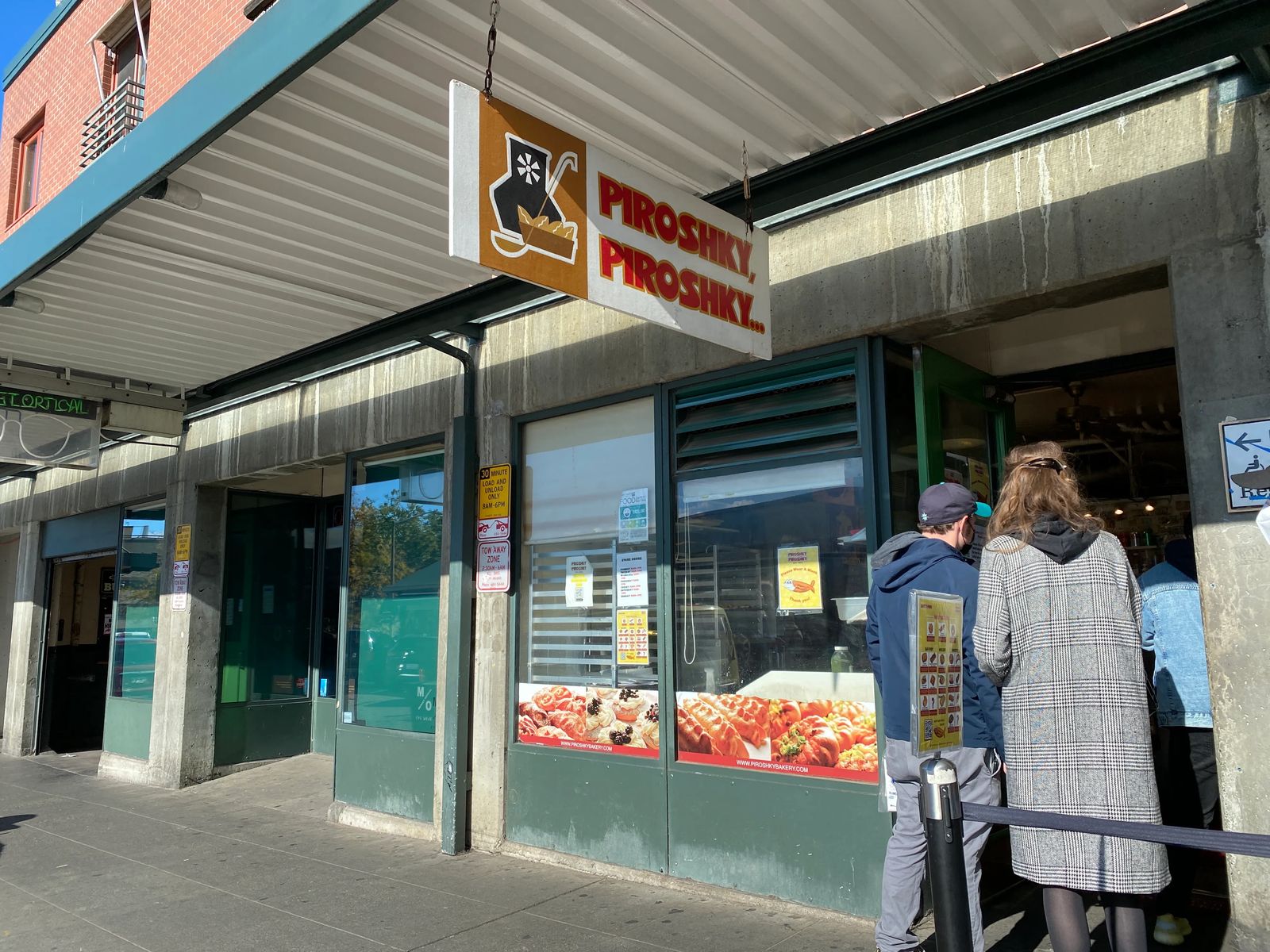 Piroshky Piroshky
A Russian classic passed down from Babushka to her Grandchildren. This particular pastry shop will delight you with the authenticity and handmade Russian pastries.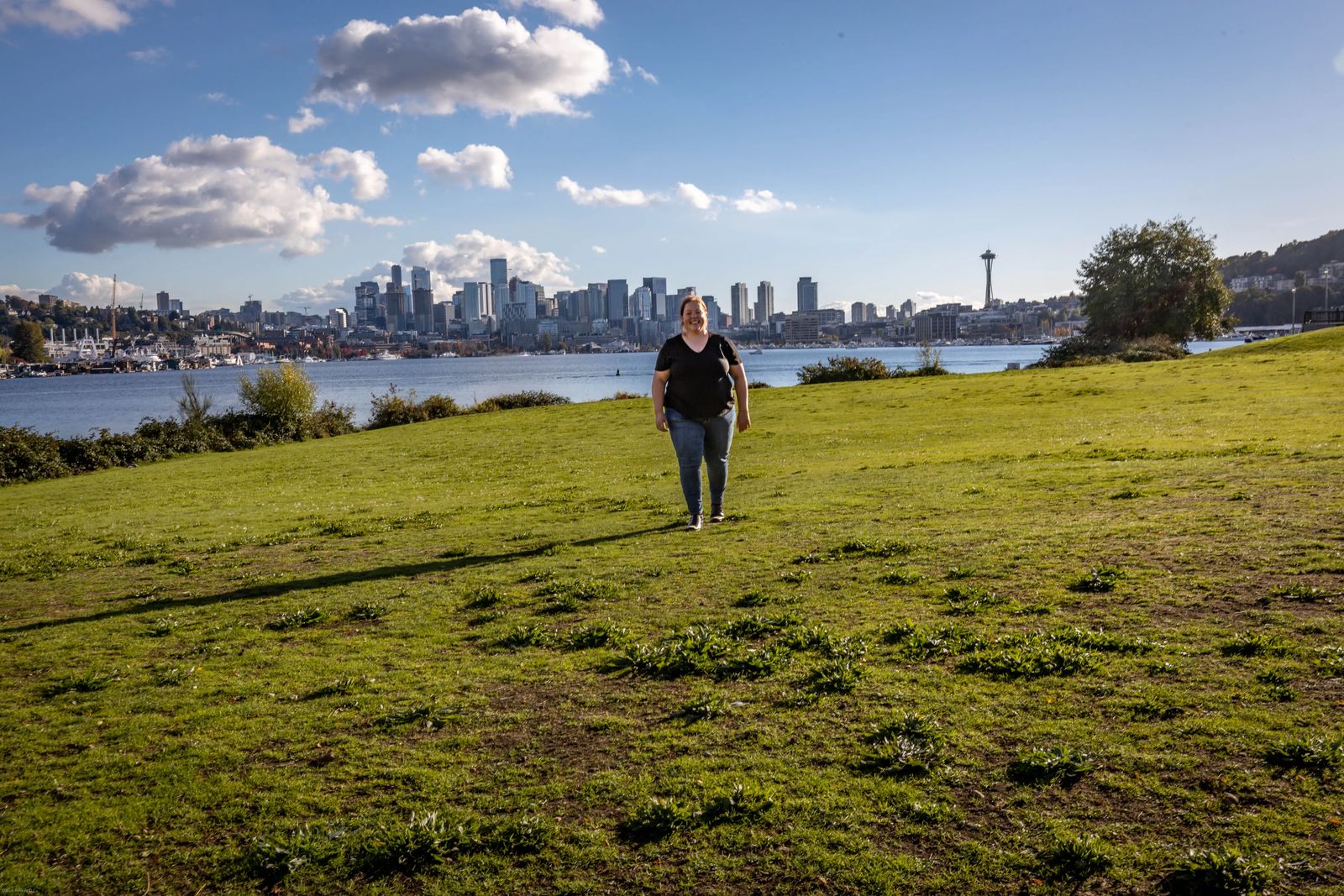 My Tips On How To Spend One Day In Seattle
Mix and match the itineraries however you like, set a budget for yourself and stick to it. It is easy to get lost in this city, and maybe that is what you ultimately need - to just get lost and see what comes across your path. Keep in mind that because of how popular this city is, combined with cruise ships returning and taking off to Alaska from this city - it gets rather crowded.....VERY quickly. If you don't plan your trip well in advance (think a month in advance, not a week) then you might find things booked up.
However you decide to spend your one day in Seattle, I hope this guide on things to do in Seattle has given you some ideas on what to see, unique things to do, and sustainable tours to consider. Let me know in the comments below what you plan on visiting, or if you would add anything to this list.
Google Map of Locations Mentioned
Like it? Pin it for later! Sharing is caring ;)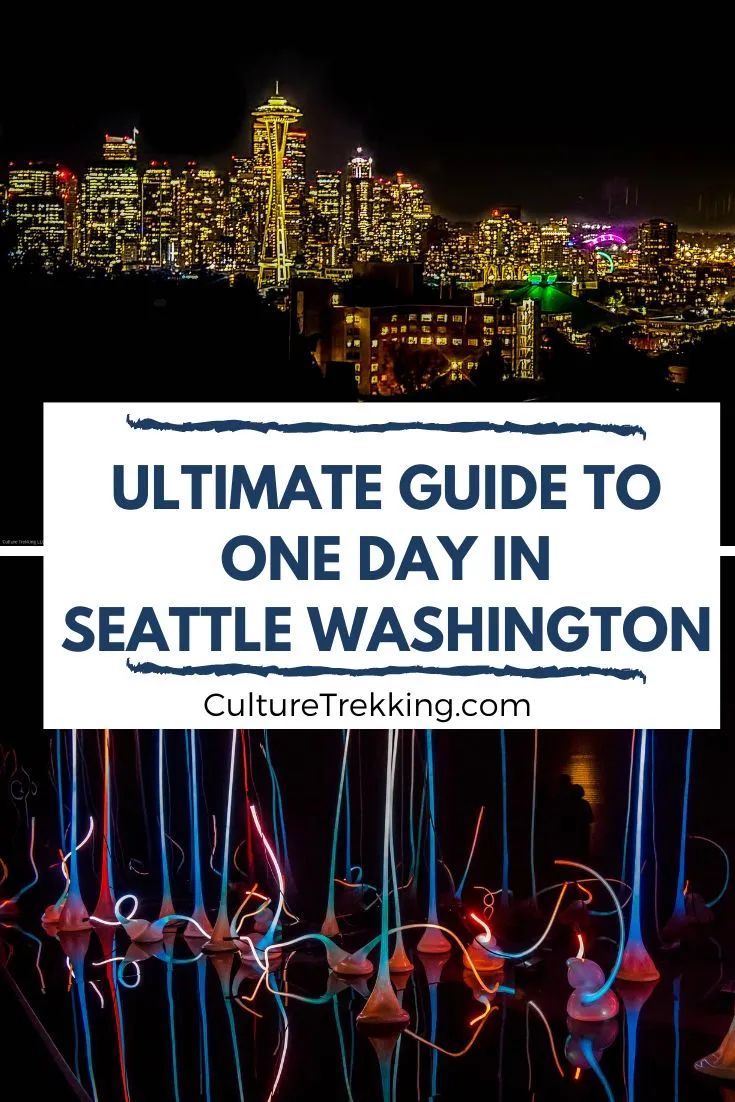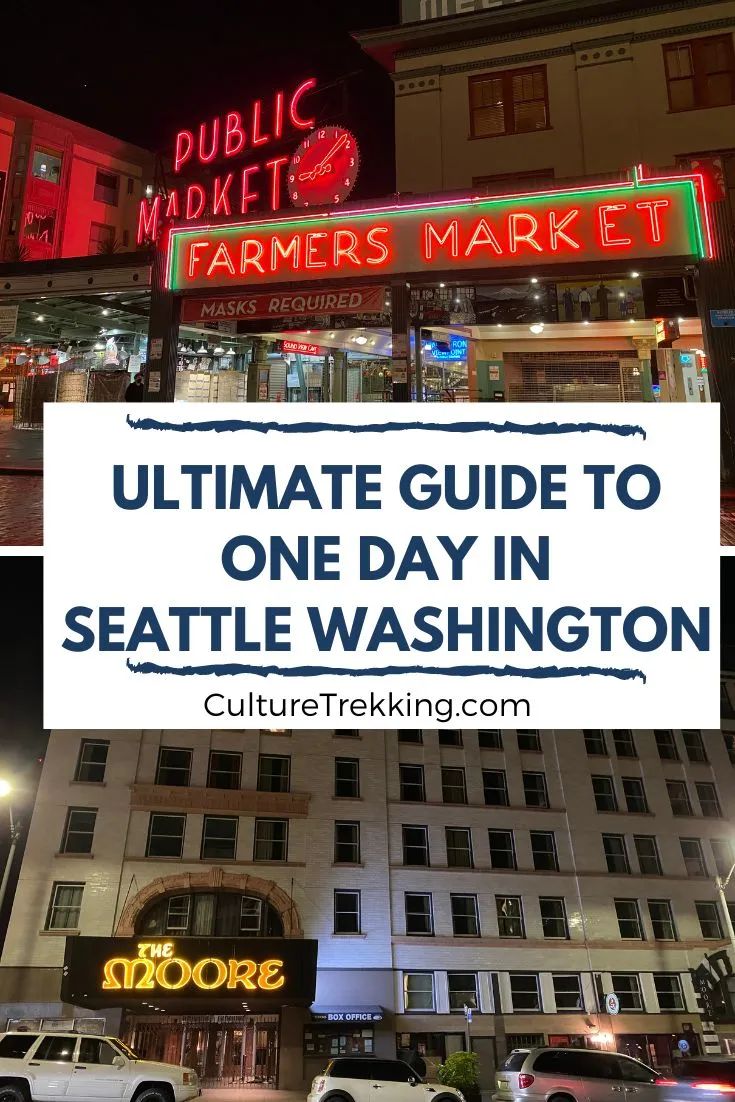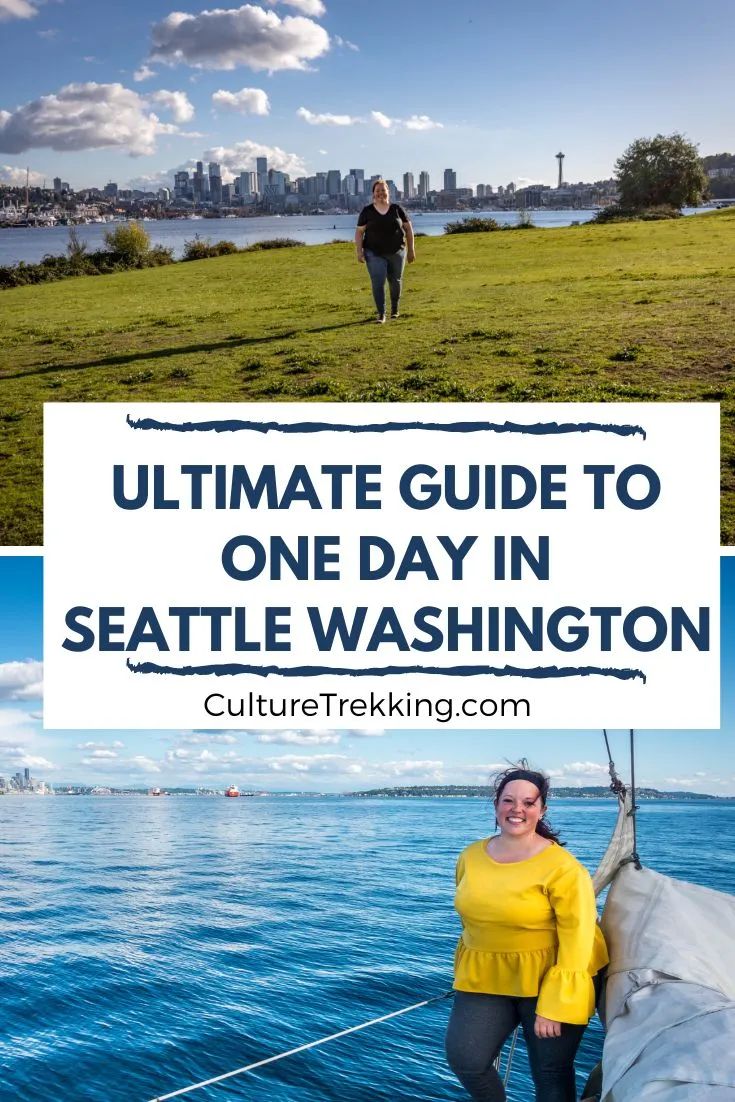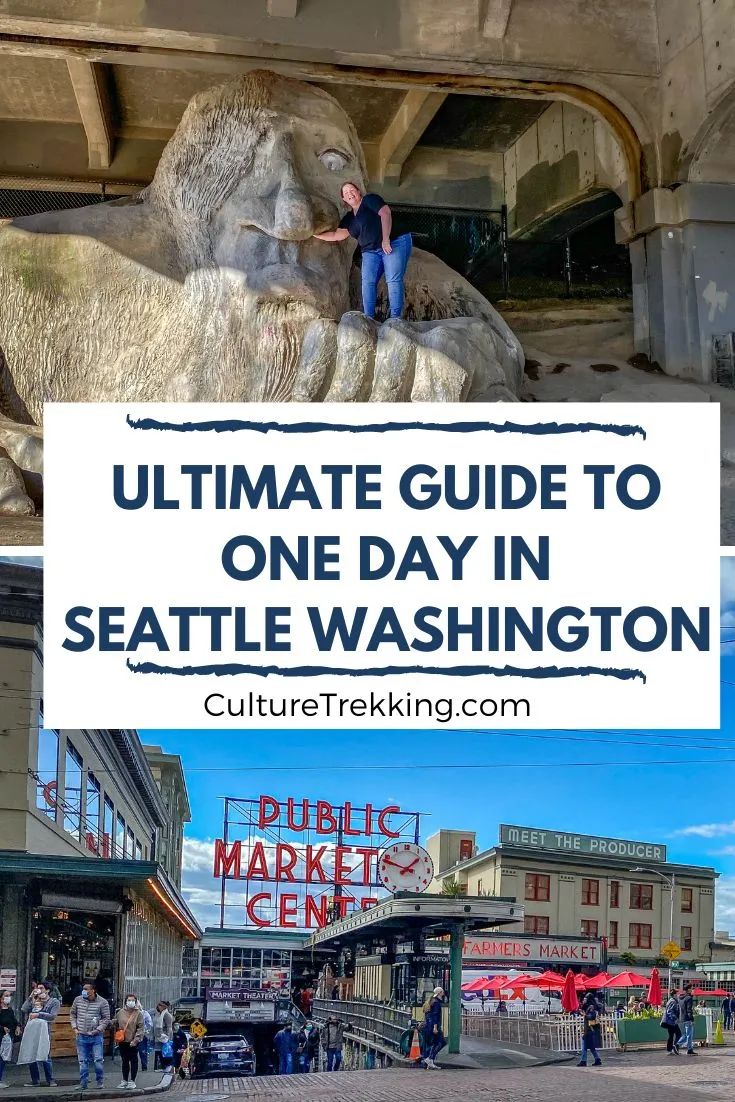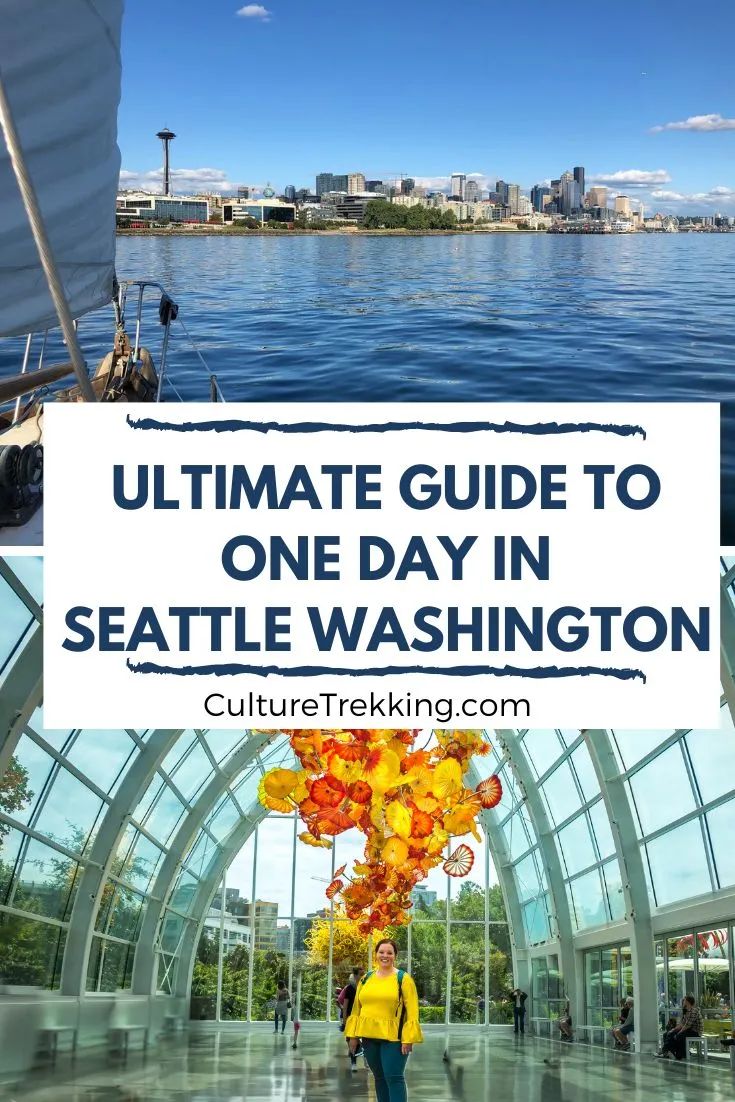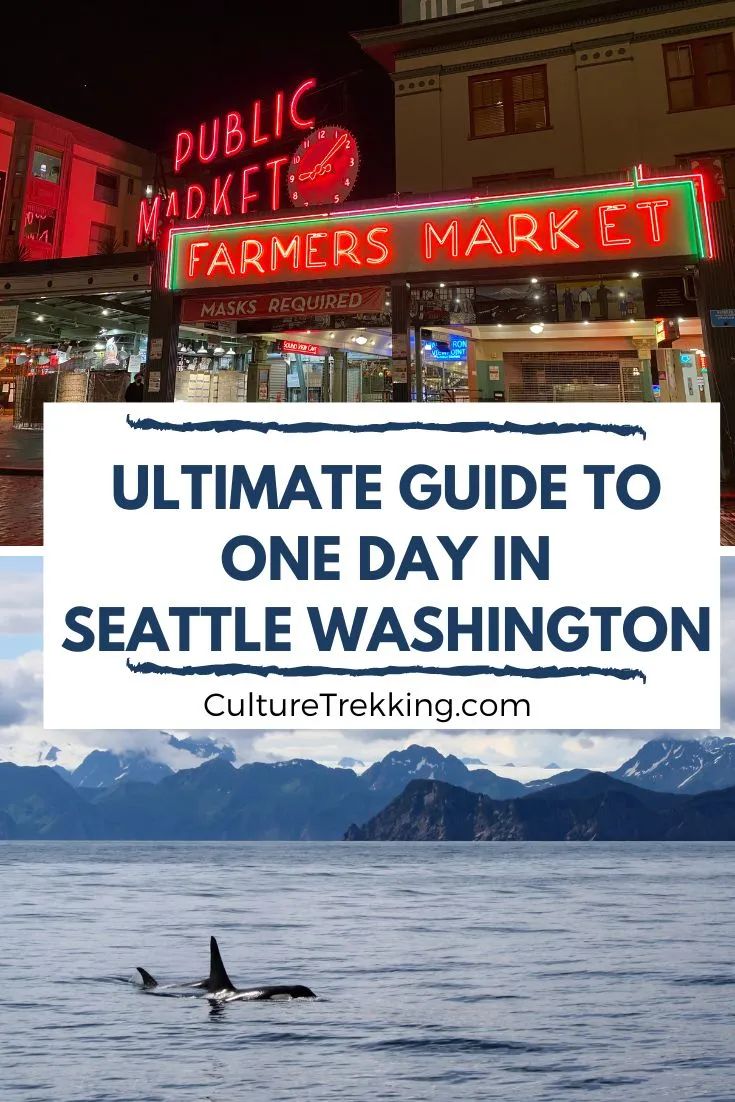 Latest Articles On Culture Trekking