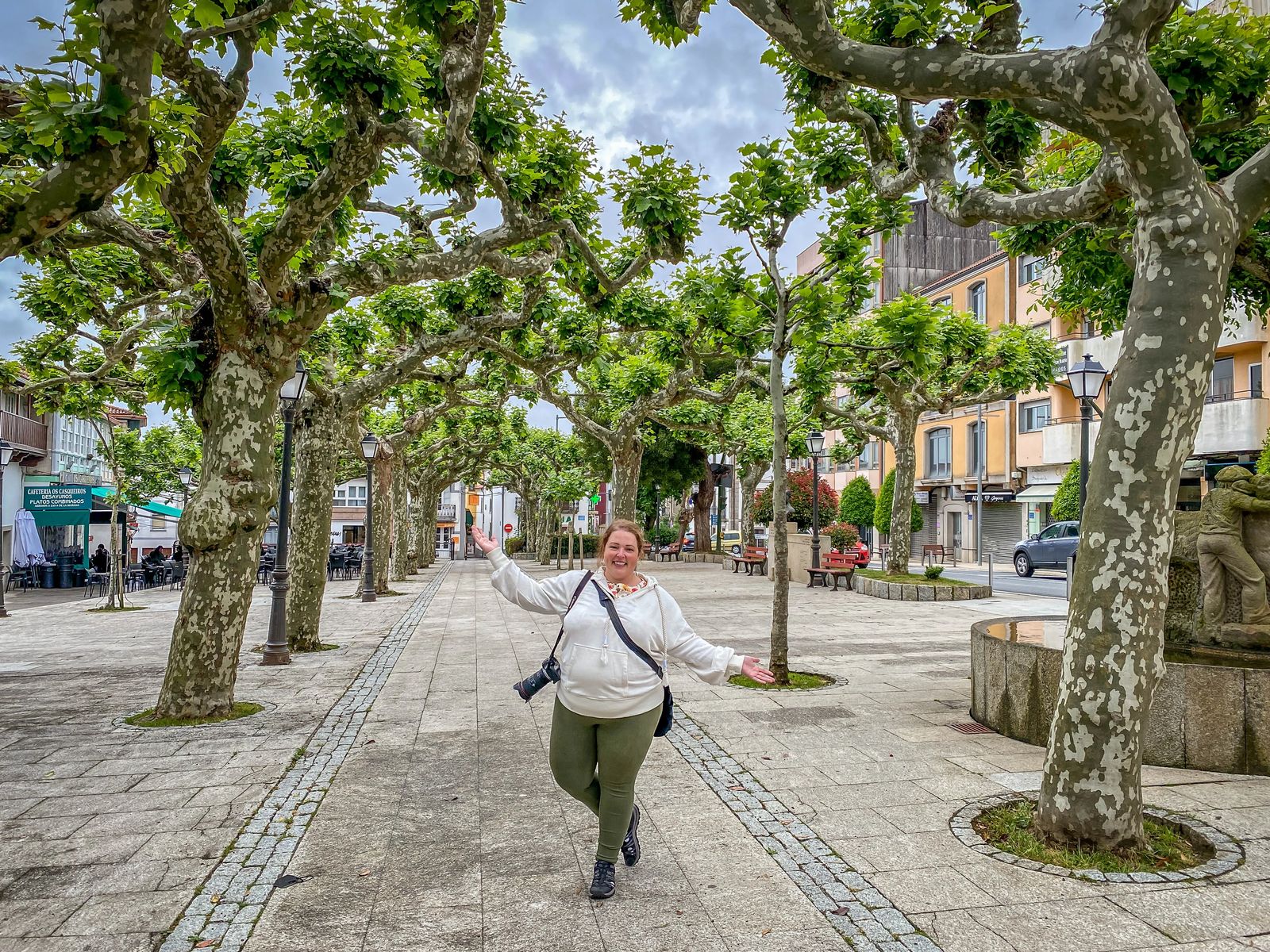 Things to do Arzúa Spain
Many pilgrims pass through Arzúa on the Camino de Santiago on their way to the fabled Cathedral de Compostela. Many of those pilgrims miss the incredible things to see in and near Arzúa.
Located along the Camino de Santiago in the heart of Spain's Galicia region, the small town of Arúza is usually a rest stop for pilgrims – if they stop at all. So is it worth it to stop in Arúza, when so many pass through? Like many smaller town in Europe, there are delightful things to do in Arúza, if you're wise enough to take the time to stop, rest, and explore here.
In Arzúa, you can drink at Casa Frade, home-made Galician wine in china saucers. The 13th century chapel of Magdalena adorns the town with quiet corner of peace. And if you find yourself making a pilgrimage through - or to - Arzúa in March you can attend the Cheese festival this town in known.
Outside of town you can see the tallest waterfall in Galicia, traipse along old trails leading to old mills and beautiful fields of flowers, take a two car ferry across the Portodemouros Reservoir and travel to Betanzos for more small town Spanish treasures.
I visited Arzúa and was able to tour the beautiful Galician countryside with my local friends in 2022. After spending a week and a half exploring Galicia, Arzúa certainly has a special place in my heart for its charm and warm and welcoming people.
If you've been searching about things to do in Arzua and are unable to find much online, you've come to the right place. In this guide, you have everything you need in order to really see Arzúa and all that it offers.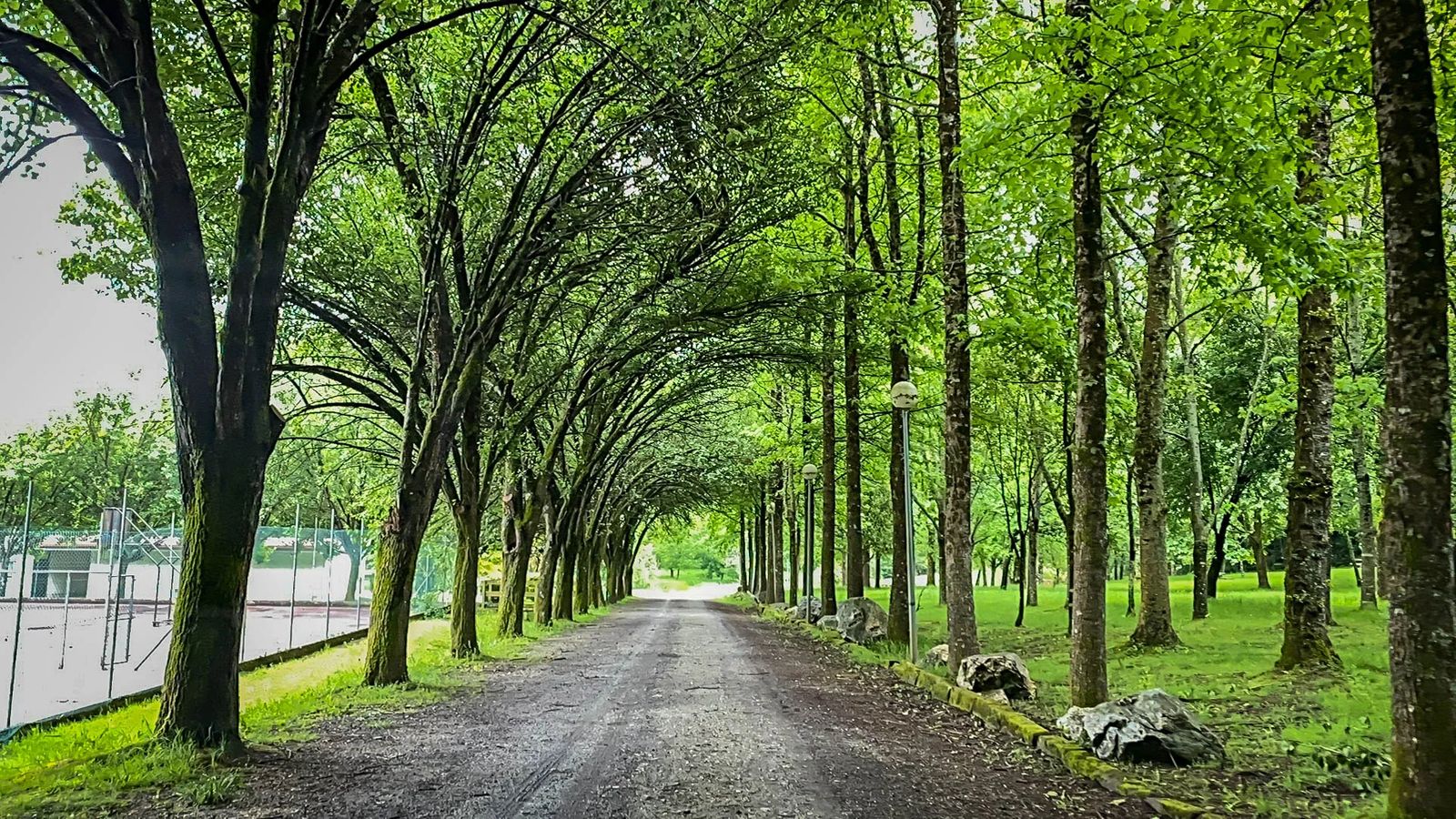 Legends of Arzúa and Camino De Santiago
The legends of Arzúa vary, in a time when 100's of pilgrims passed through Arzúa a pilgrim stopped by an oven where bread was being prepared. The man asked the lady for some bread, saying he would pay them in front of the Apostle's tomb. The woman refused, not wanting to give her food out for free, and he left.
There was another baker down the road, and the pilgrim asked again for bread. This woman invited him in the house to rest offered bread before going back on the Camino. The pilgrim refused to rest insisting he had to keep moving, so the woman ran to the oven to grab the fresh bread, but it wasn't quite done.
She took the best that she had and came back to the front of the shop and the pilgrim was gone. Saddened, the woman waited for the rest of the batch of bread to be done. As she pulled open the oven door, she staggered back in awe, all the rest of the loaves of bread had been turned to GOLD!
The woman who had refused him bread, opened her oven and it was full of stones. Some believe it was the Apostle Saint James himself visiting this town. The moral of the story was clear, whoever helps selflessly is blessed, while greed will only weigh you down and produce nothing fruitful.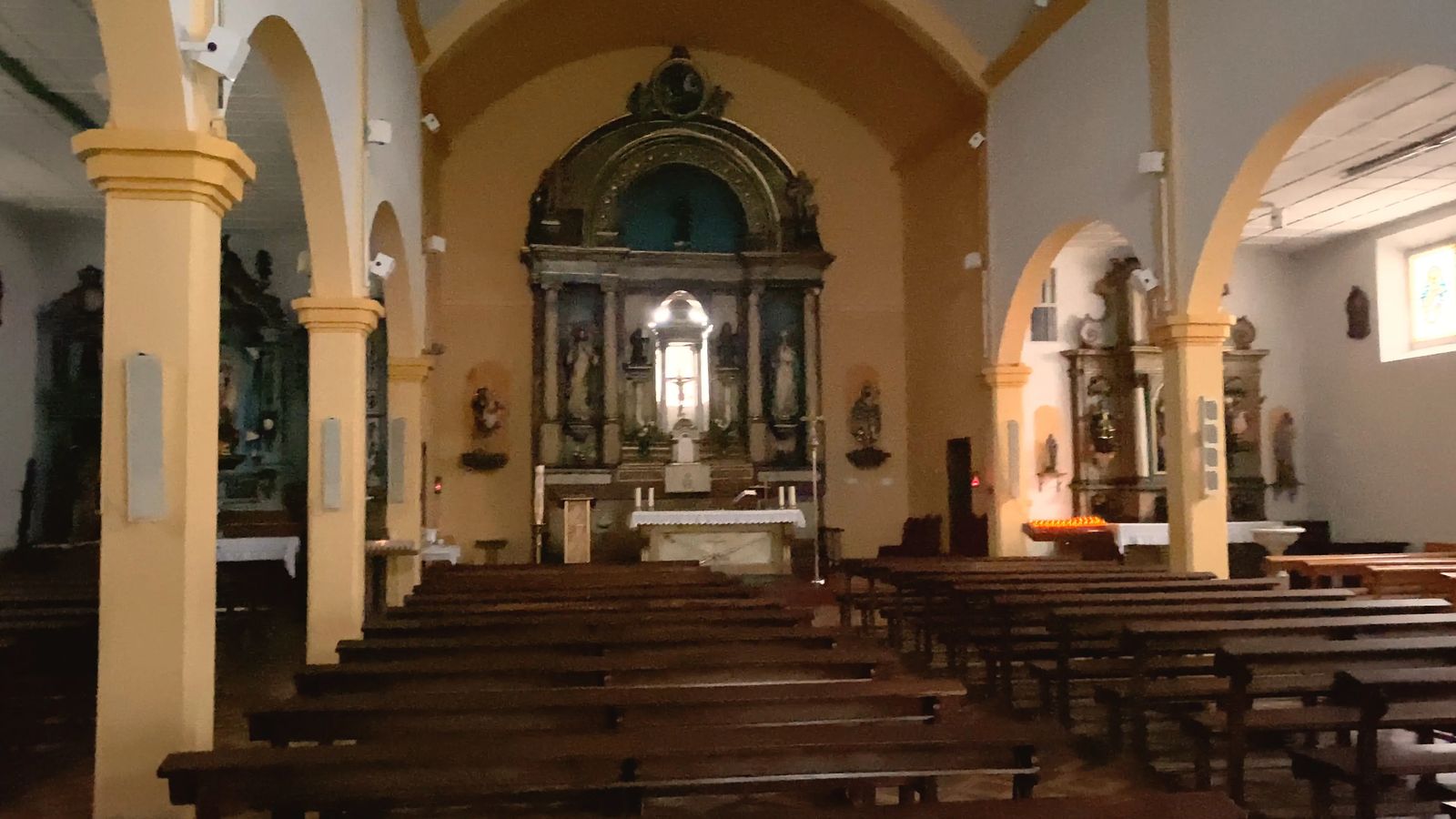 The Church of Santiago
This church is part of the Camino Frances and is right next to the main square. It was built in the 20th century and gives a vibe of a cute quaint small town Spanish church. Above the altar you can see the depiction of St. James as Matamoras.
The opening hours can be a bit hit or miss, but generally between 1pm and 6pm it is open. At 7pm the church holds mass for the pilgrims who are walking along the Camino. As with most things in Spain it is like playing Russian Roulette if things are open or not, and then trying to beat the siesta timings for eating as well.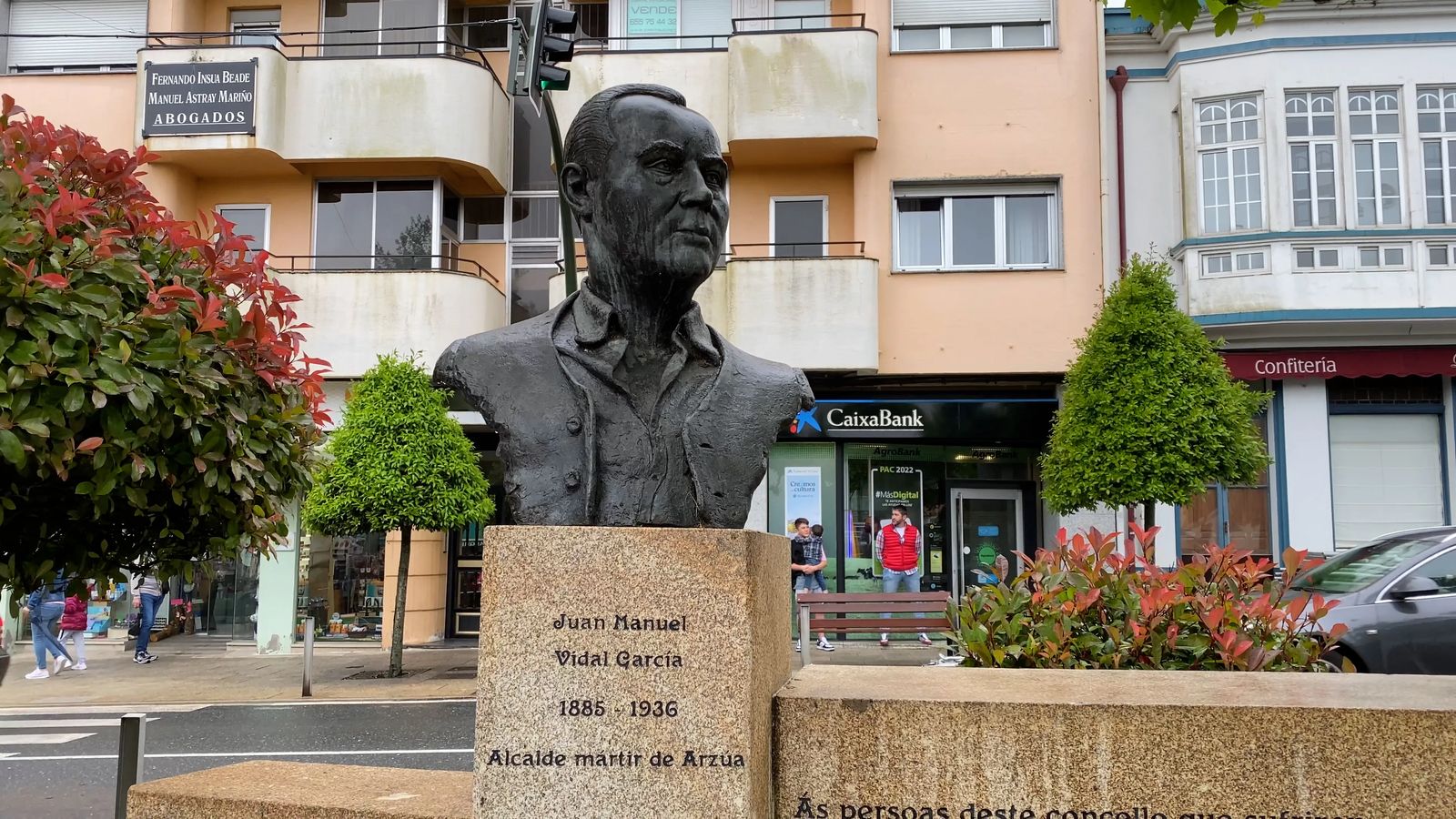 Statue of Juan Manuel Vidal Garcia (Town Square)
Juan Manuel Vidal Garcia emigrated to Argentina, from where he sent money for the construction of schools in various parishes in Arzúa. After returning to Arzúa, he established an import business for Argentine farm products into Spain.
In the Republic, he was elected mayor of Arzúa in 1932, remaining in office until 1936. With the uprising of July 18, 1936, he was in hiding and was tried in Santiago de Compostela. He was arrested and shot in Compostela at the beginning of September 1936.
While is death was one of abruptness, he did contribute to schooling and advancement of the community of Arzúa and is honored in its main square today with this statue.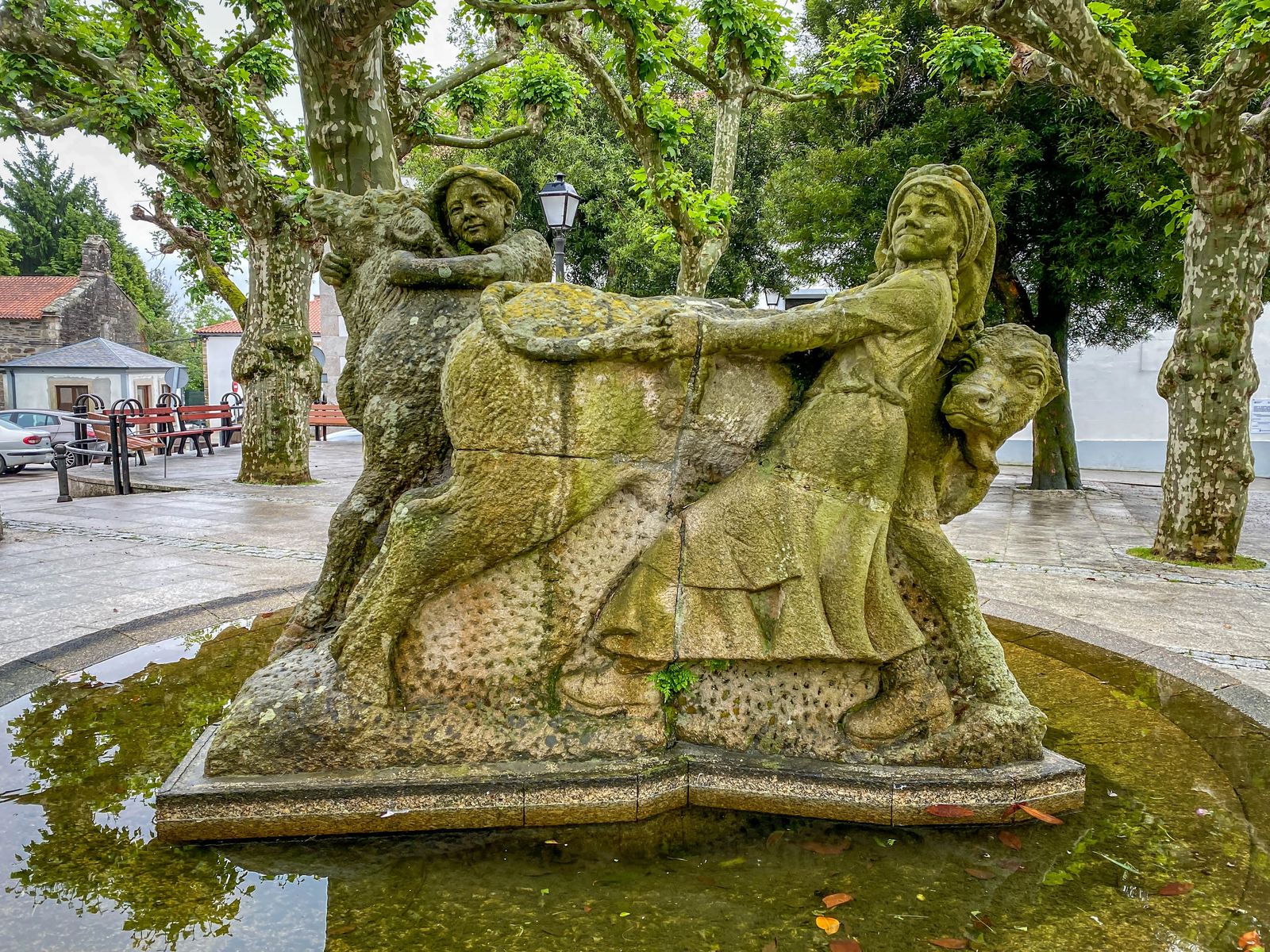 Fountain of the Dairy Farmers (Town Square)
If you happen to be in these lands in March you can't miss the cheese festival. Arzúa is known as "the land of cheese", with the Denomination of Origin Arzúa-Ulloa. In the cheese festival held on the first Sunday in March, you can taste a wide variety of cheeses and enjoy a lively party.
While driving through the country, you see many of the dairy cows grazing on the lush hills of the Spanish countryside. The hard working dairy farmers are honored in Arzúa square today along with Juan Manuel.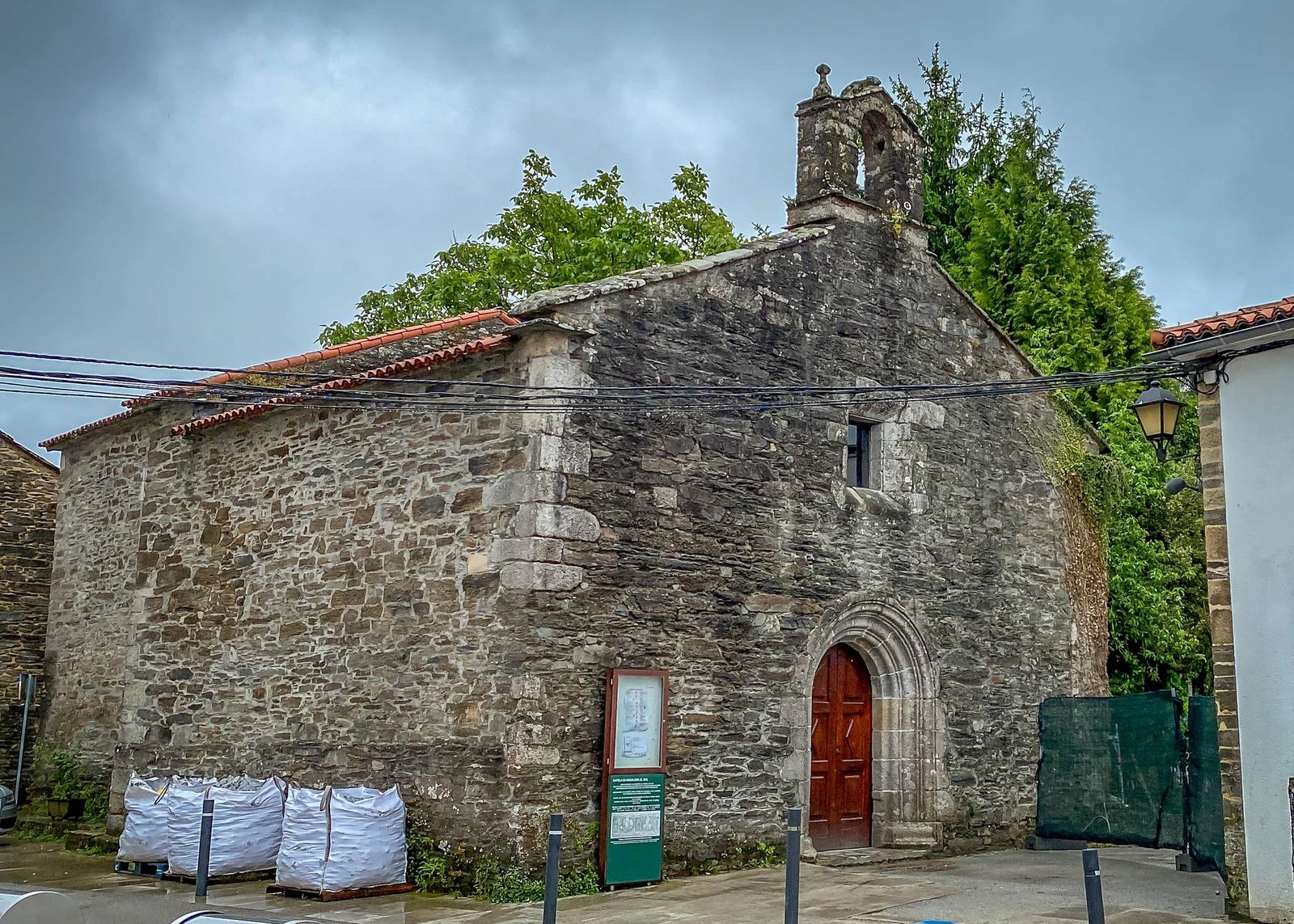 Magdalena Church (Capela Magdalena)
The Magdalena Chapel is part of an ancient convent of Augustinian monks. Its construction dates back to the middle of the 14th century. It is currently under renovation (as of 2022) with the gardens and hostel associated with it.
While I didn't get to go inside, I did get a sneak peek of the gardens by a local giving me a tour. They are creating a very meditative place for pilgrims to contemplate their journey. I can't wait to go back to have a little quiet time to contemplate life, religion and many other things. I feel it is in these quiet churches, left to our own thoughts with the peaceful surroundings that you are allowed the time and space free from distraction to delve into the deeper thoughts about life.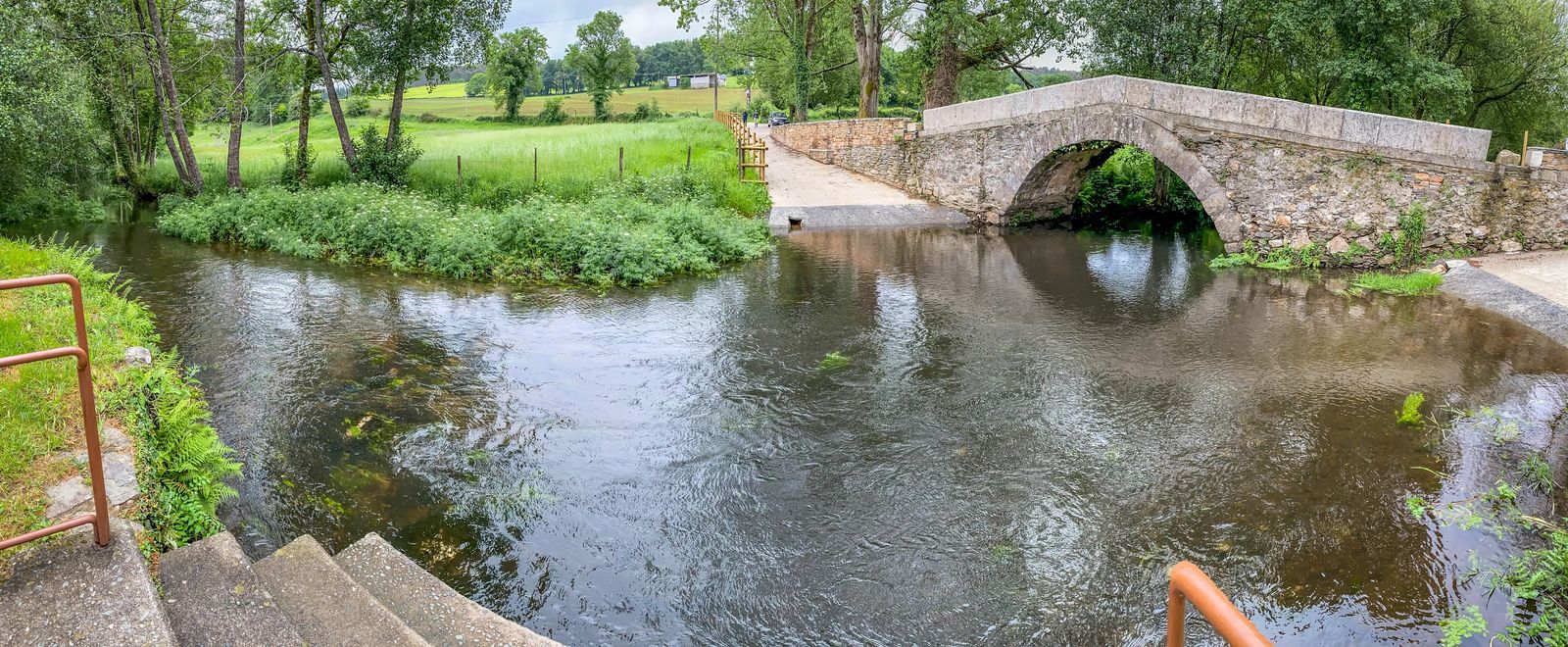 Ribadiso bridge (Medieval Bridge)
The bridge, built in the late Gothic style, is the oldest in the Arzúa province dating from the 12th century. Its surface, originally made of slate has been reconstructed with granite. It leads us into the village of Ribadiso, near the end of the stage of the Camino de Santiago.
This bridge is a classic spot for pilgrims to take photos and rest their weary feet in the cool waters of the stream. It is one of the last major towns before the end of their journey.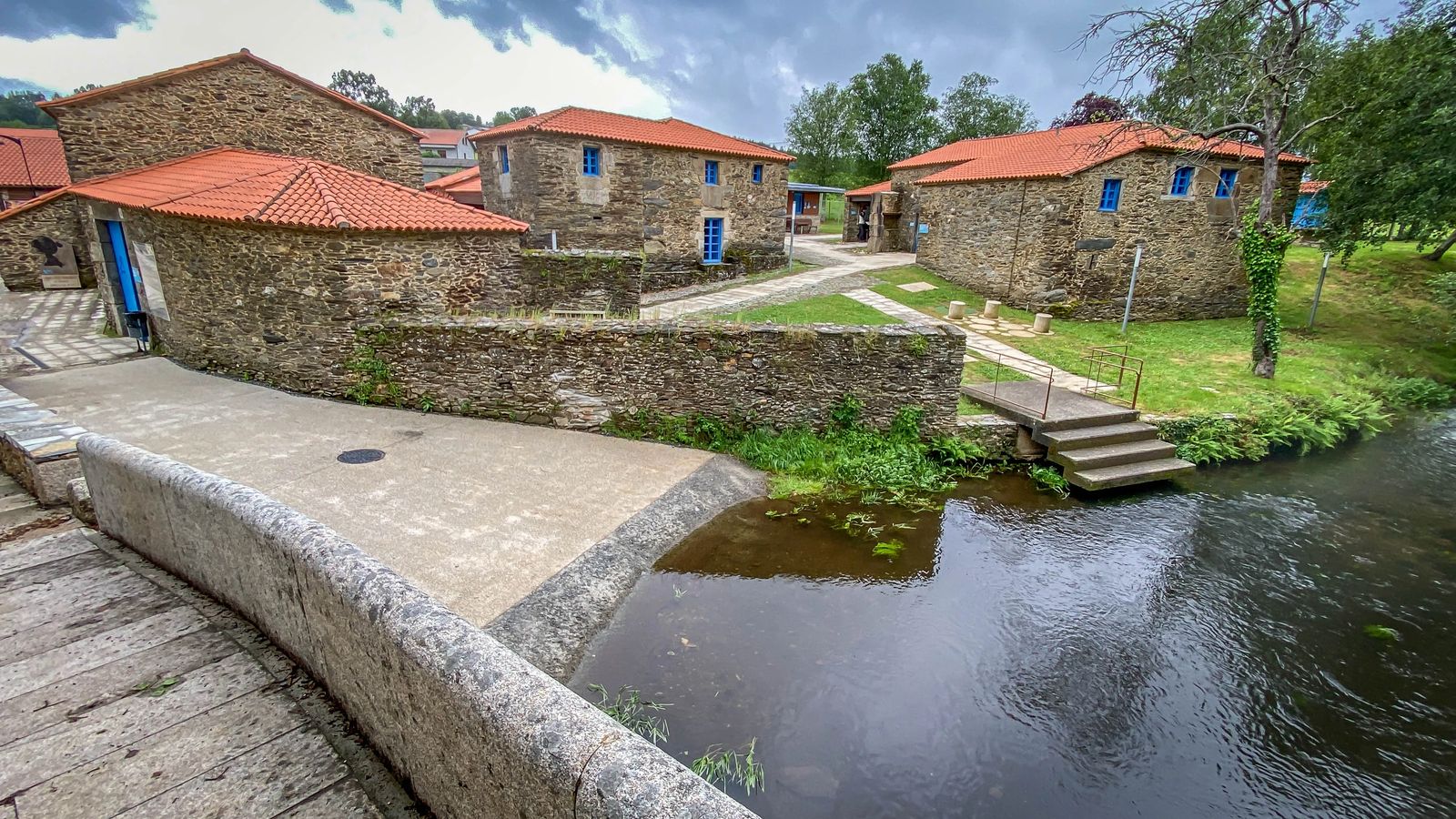 Albergue de Peregrinos—Ribadiso
If you are walking along the Camino de Santiago and looking for a tranquil place with all the amenities to recover from your journey then then Albergue in Ribadiso is the PERFECT stop.
It isn't just the plentiful amenities (showers, laundry facilities, comfy dorm beds, and places to reflect on your spiritual journey) - it is also historical resting place. Albergue de peregrinos in Ribadiso has been serving pilgrims since 1523.
Stand on the medieval bridge, dip your toes into the waters for some self care and cool crisp waters.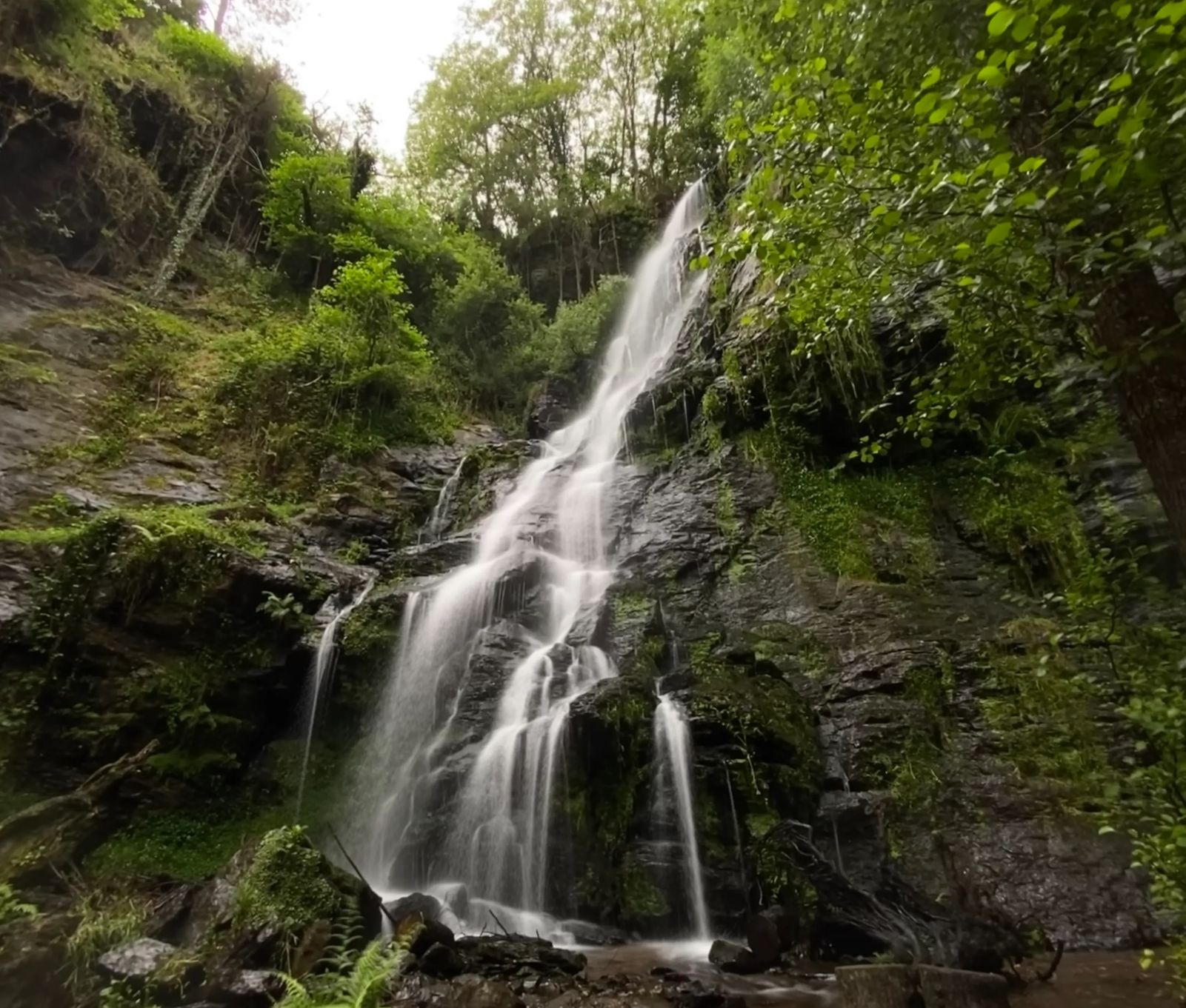 Fervenza das Hortas (Tallest Waterfall In Galicia)
Just outside of Arzúa is the Fervenza das Hortas, the tallest waterfall in Galicia at 82 feet high (25 m). The dark rock of gneiss and quartzite are adorned with ferns, moss and other natural vegetation giving the place an other worldly feel.
There is a parking lot at the top to park, an informational sign in Spanish. The hike itself has a good trail, be aware that it is 1312 feet into the canyon and the you will need to hike back out.
The waterfall is also known by the name Fervenza de Santa Marta. There is a dark legend associated with this place, that ended with a miracle.
A girl fell in love, and became pregnant, when her lover found out he rejected her and became angry. It is said that on a muíñada night (festival night) he lured her to the top of the falls, and tried to push her off the falls. As she fell she exclaimed "Santa Marta was leaving me", an Oak tree miraculously fell, stopped her fall saving her life.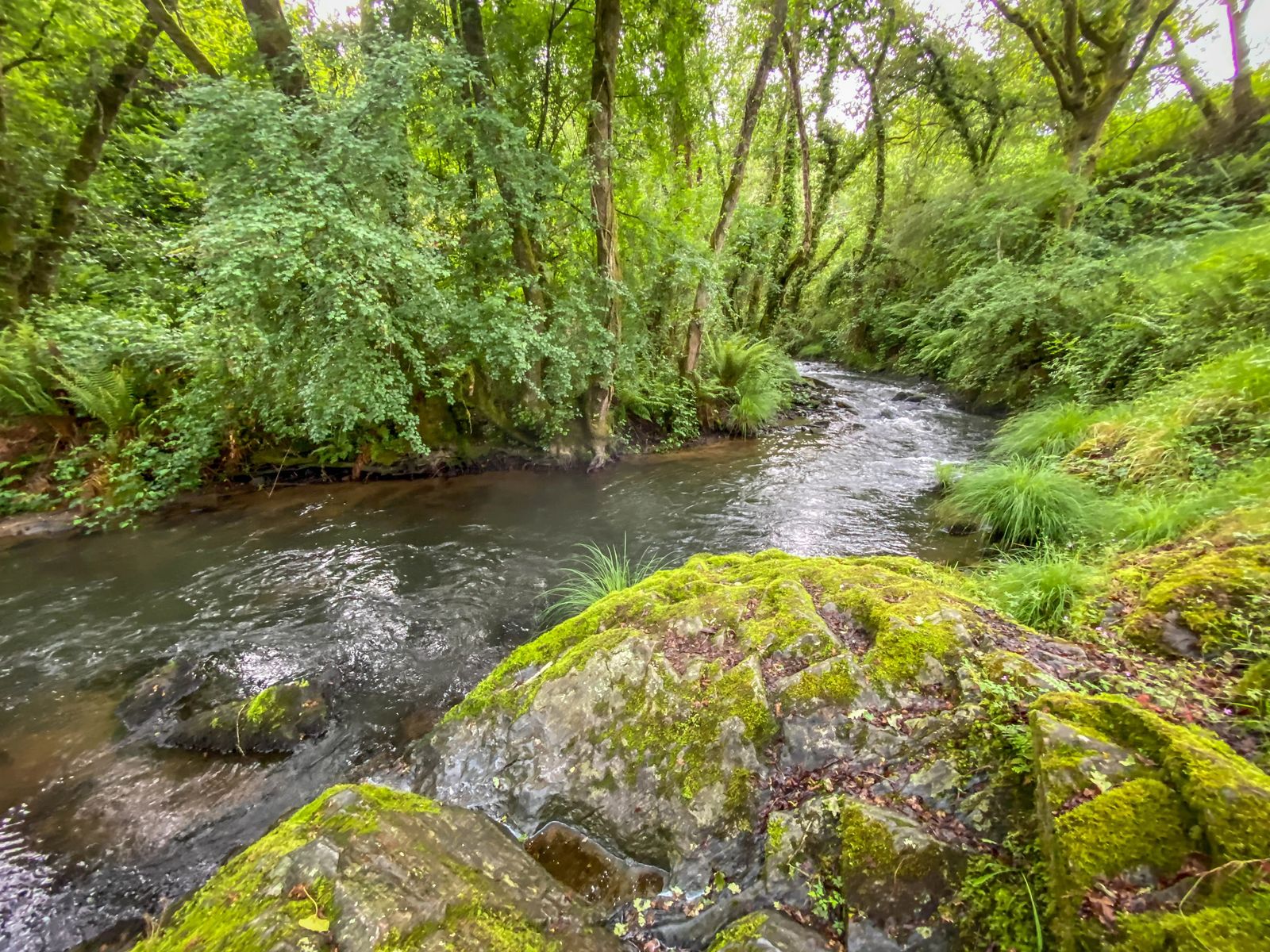 Fonta Santa (Holy Fountain)
There are several locations hinted at what the actual Holy Fountain looks like and where it is located, but this one had a sign and I was led here by a local. That is the trouble with legends, they are always shrouded in mystery.
This fountain is believed to be right by the river, with a chapel and a mill on the way down to the place where this holy fountain lies.
You have to march through nettle like plants, so make sure to bring long thick pants and water shoes and poles to check for pitfalls and shrouded planks with deep drop offs. All spiritual journeys are laid waste with danger though, so this is no different.
The path leads you to a small rock with a pocket of water that appears to have a intermittent trickle of water. The water leaves a white residue behind it making those who see it believe that it is holy. There are different legends of healing (both Pagan and Christian) and rituals are still practiced near here.
The fountain also seems to have a mind of its own, for those who wanted to profit from the fountain - a charge was imposed and the fountain would dry up completely. Once the business men left, the fountain reappeared for those worshippers to take advantage of its miracles once again.
Recreativa de Ribadiso (Large Beautiful Park)
This is a quaint park with picnic areas, BBQs, sports facilities, a bar and a children's playground. There are several different kinds of bridges from metal to stone that create a photographers paradise here.
If here during the summer is is a perfect spot for a swim stop along your road trip journey.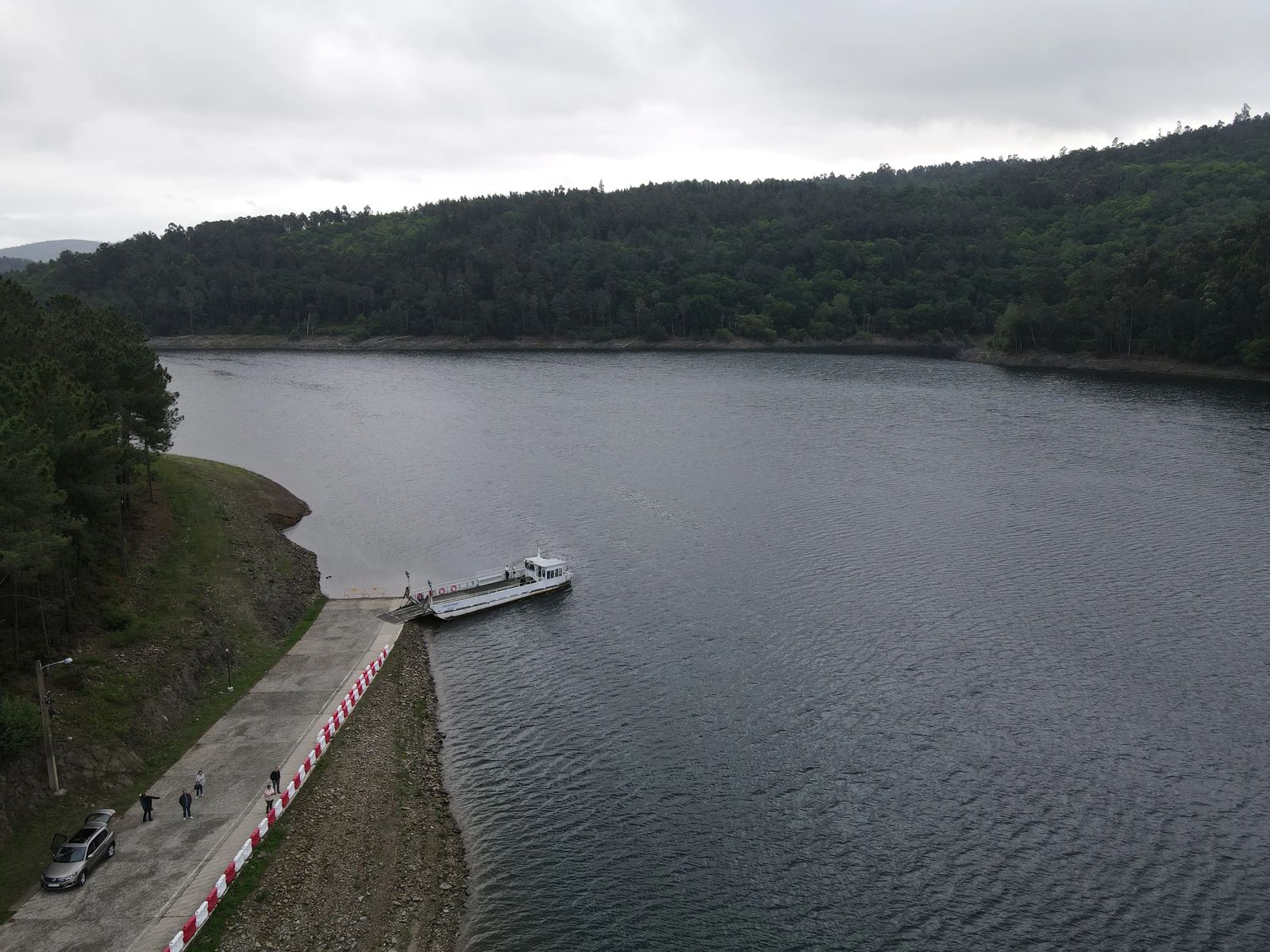 Portodemouros Reservoir
The town Villa de Cruces was going to be cut off by the reservoir & people would have to drive miles out of their way to get around. So they asked for a bridge to be built, instead of a bridge - the free ferry was provided.
Getting onto the ferry in the car for the first time was quite the experience for me. When we got the car on and felt the boat ramp lift, the whole boat sunk a little and my first instinct was to get out of the boat and start running. Obviously I'm still alive to tell the tale, so just consider yourself warned that it is a trippy feeling if you have never experienced something like it before.
The dam provides 76MW hydro power project, it is located between Arzúa, La Coruña, and Villa de Cruces.
If you hire a boat you can fish here with several different species of fish available like Cyprinids, Black Perch, Trout, Lamprey. It is suggested to use bait like feed or vegetables.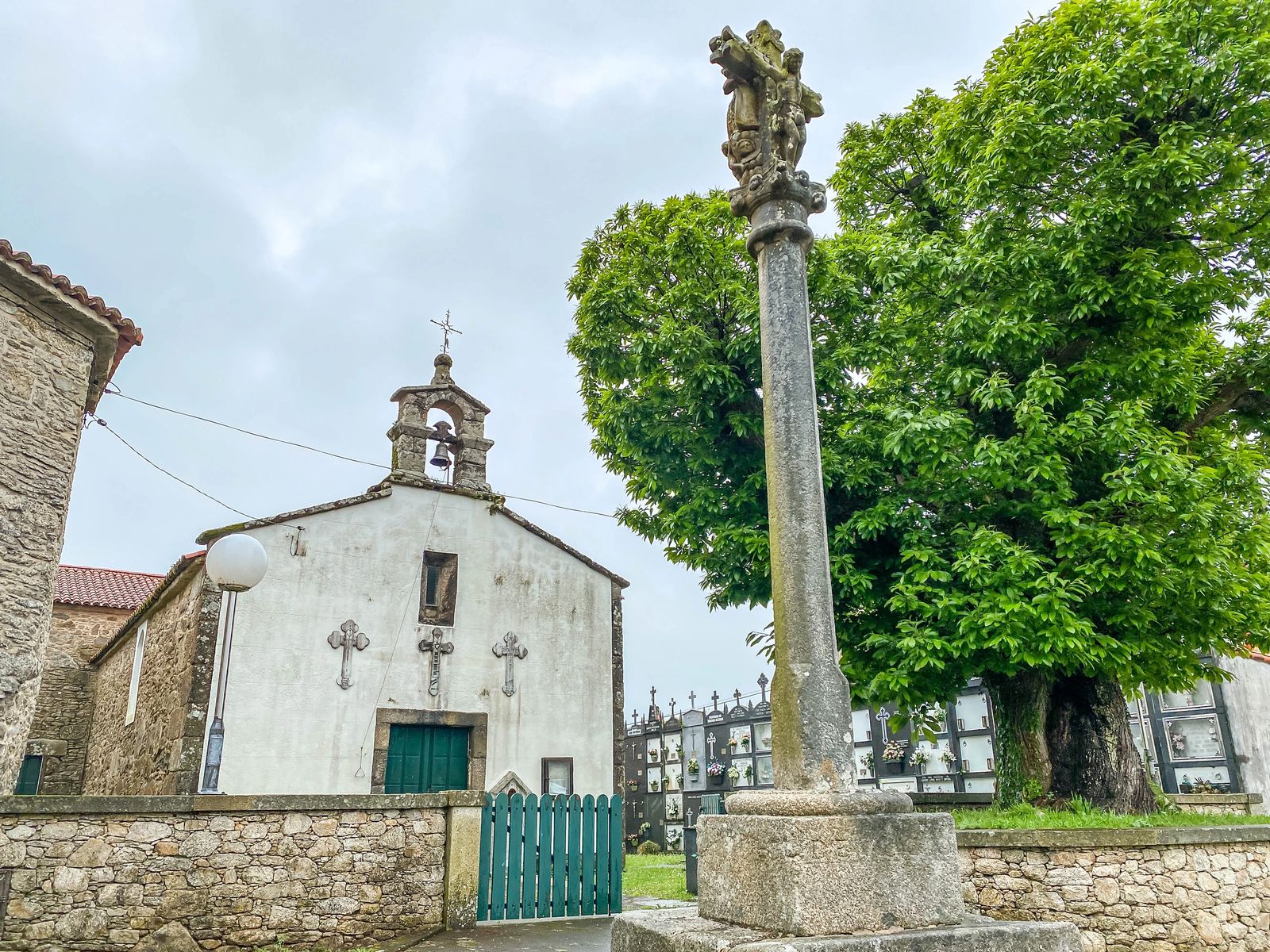 Iglesia de San Nicolas de Cines
We stopped by this church and monastery along the way to Arzua, and it was such a peaceful and quiet place off-the-beaten-path in Galicia. Founded in 909 AD by Count Don Alvito and his family the Sobrado Monastery was formed.
The Alvito family was quite powerful , and so had both monks and nuns run the monastery until it was switched to the owner Count of Traba, Don Pedro Froilaz. The nuns never returned to the monastery, and eventually the monastery fell into a ruined state. The church was saved, but the monastery had to be almost completely restored and updated.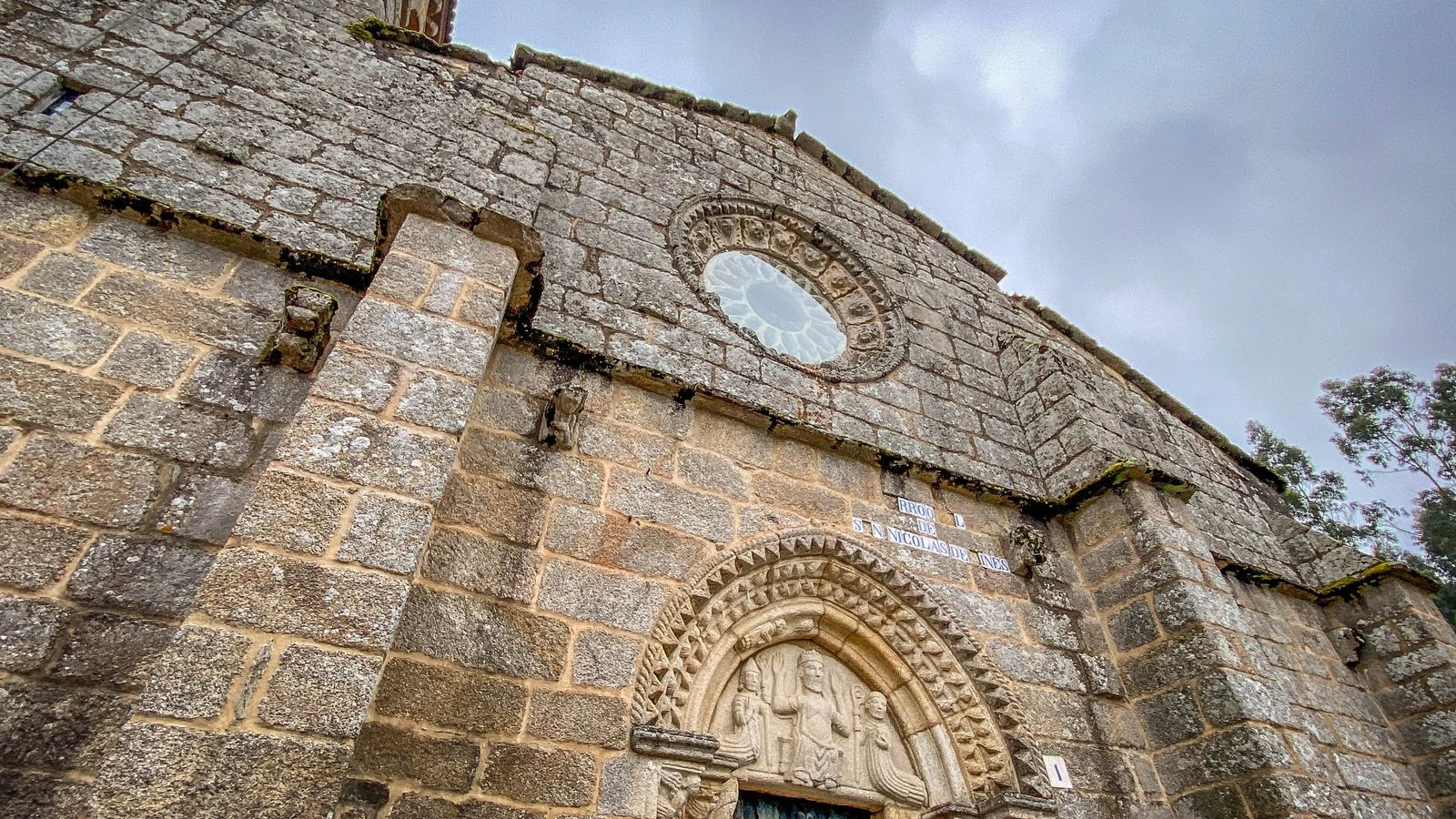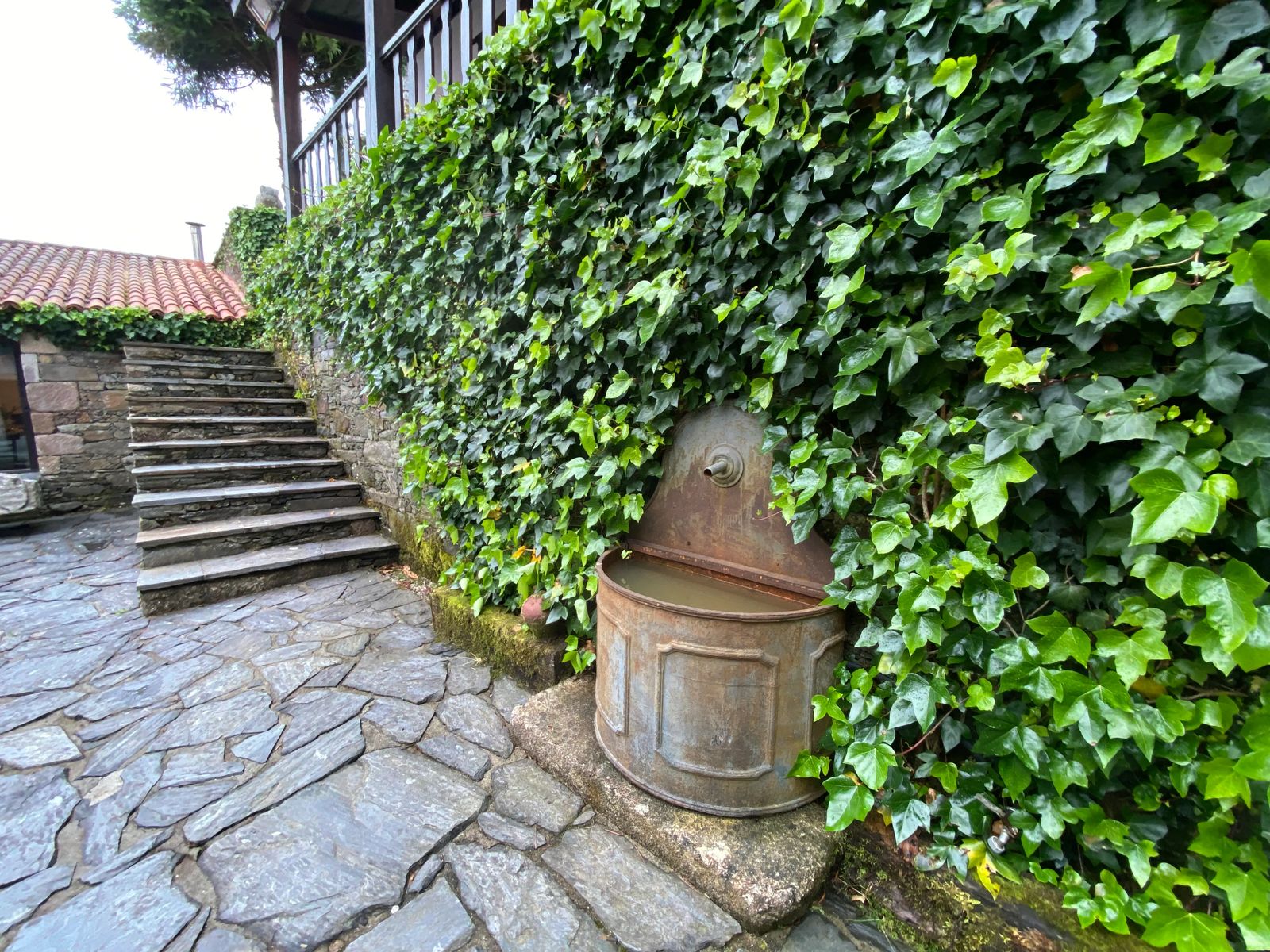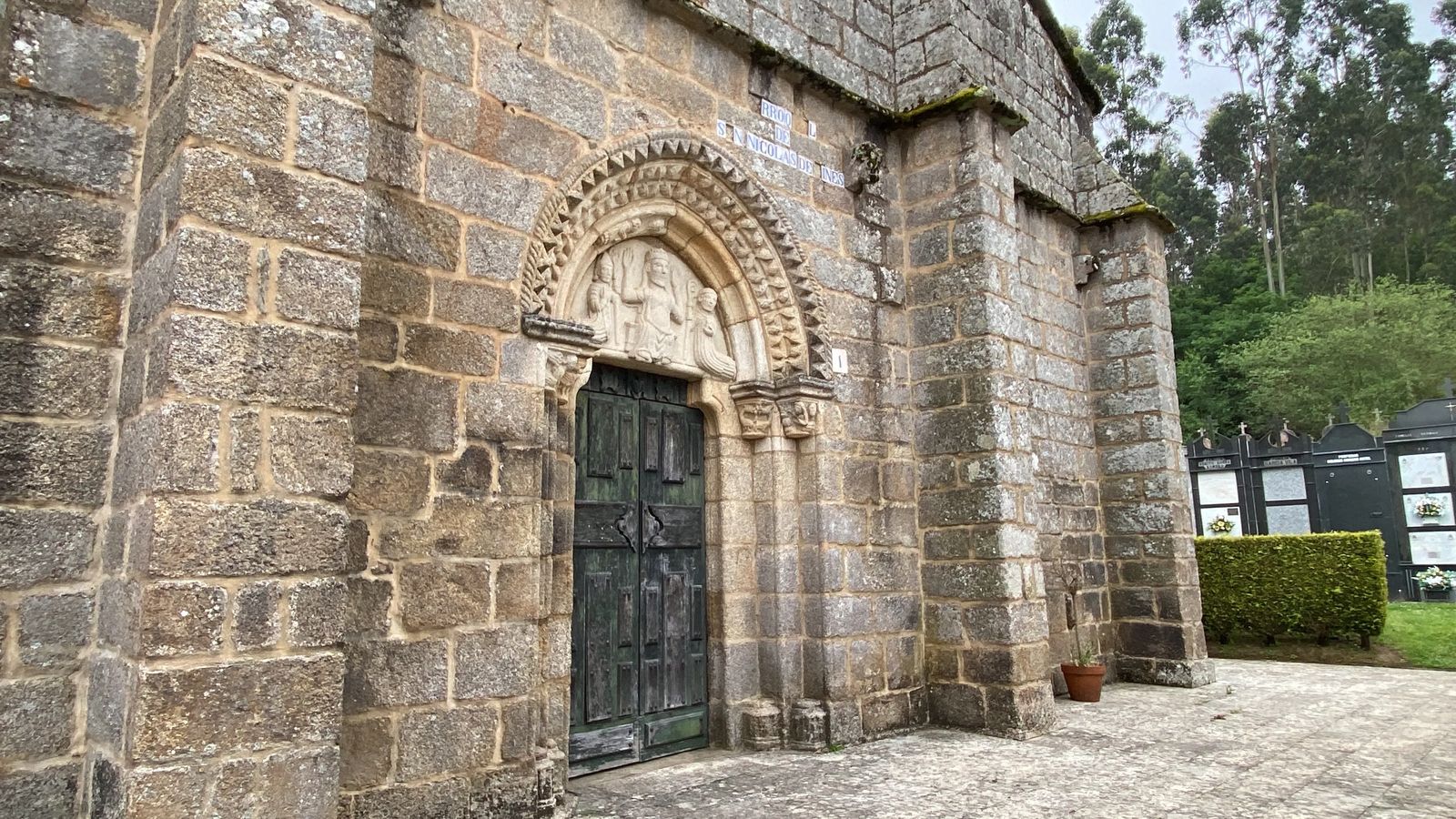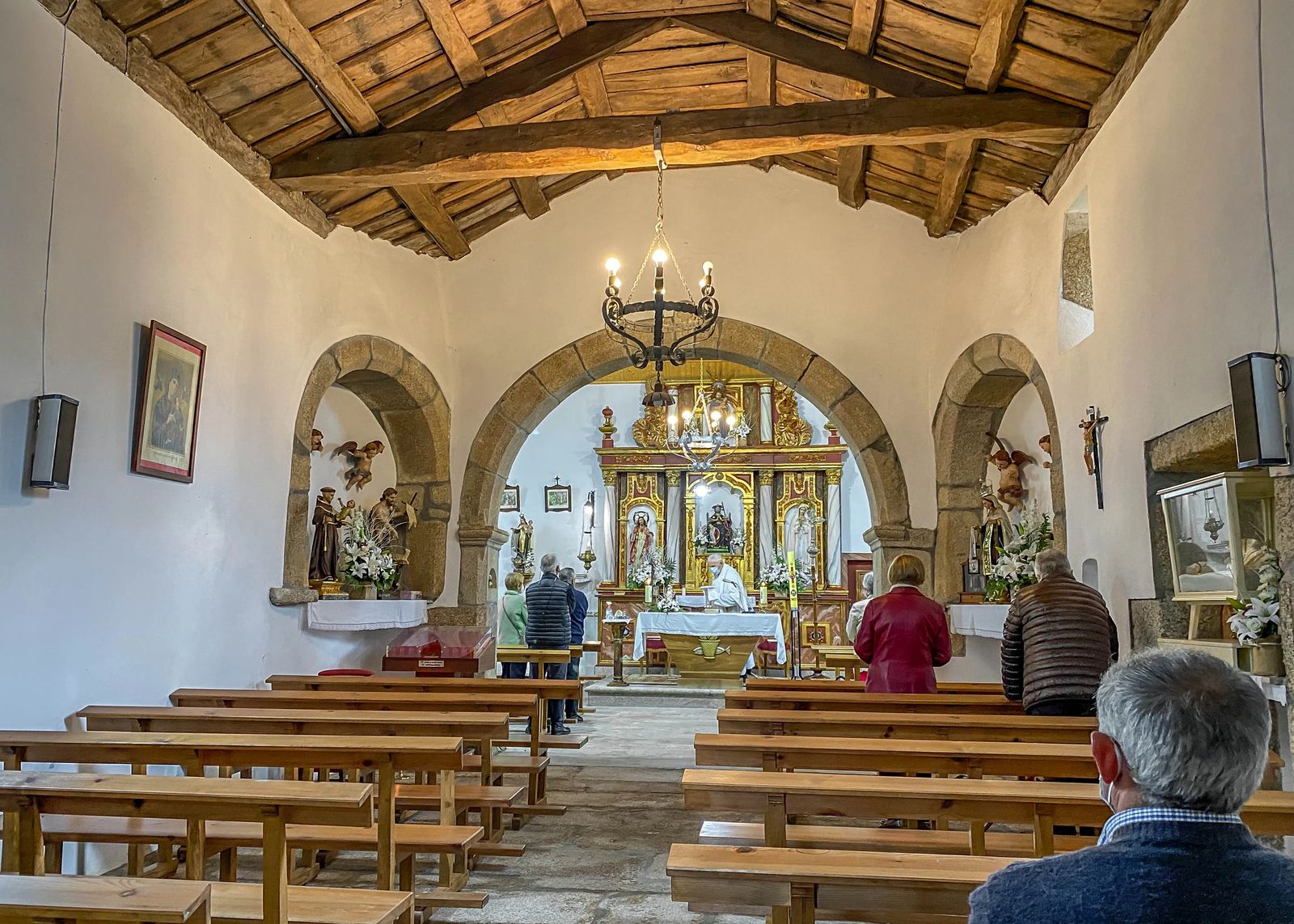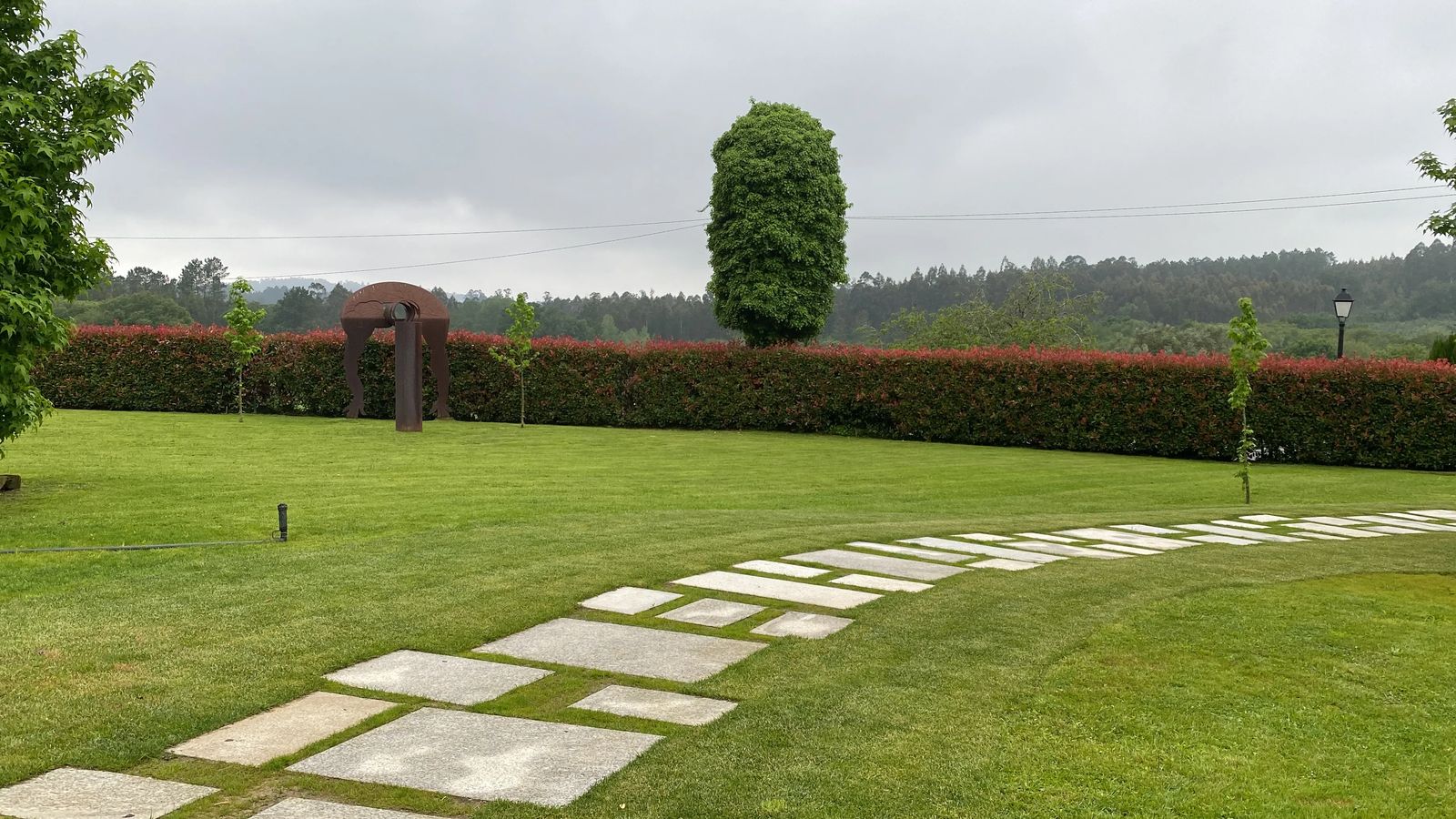 You can stay at the restored Monastery and tour the gorgeous gardens, contemplate your spiritual journey, or the beautiful area of Galicia you will see on the way there.
When you enter the church you see the capital on the Gospel side of the triumphal arch with an inner battle of the soul, it is the ONLY known example of Galician medieval art. Take note of the rosette windows featuring the tympanum San Salvador with San Benito and San Nicolás.
Look for the Wild boar on the facade, where normally a lamb would be traditionally featured, here you see a wild boar. This is considered to be a personal mark of Fernán Pérez de Andrade "O Boo" who helped promote this church.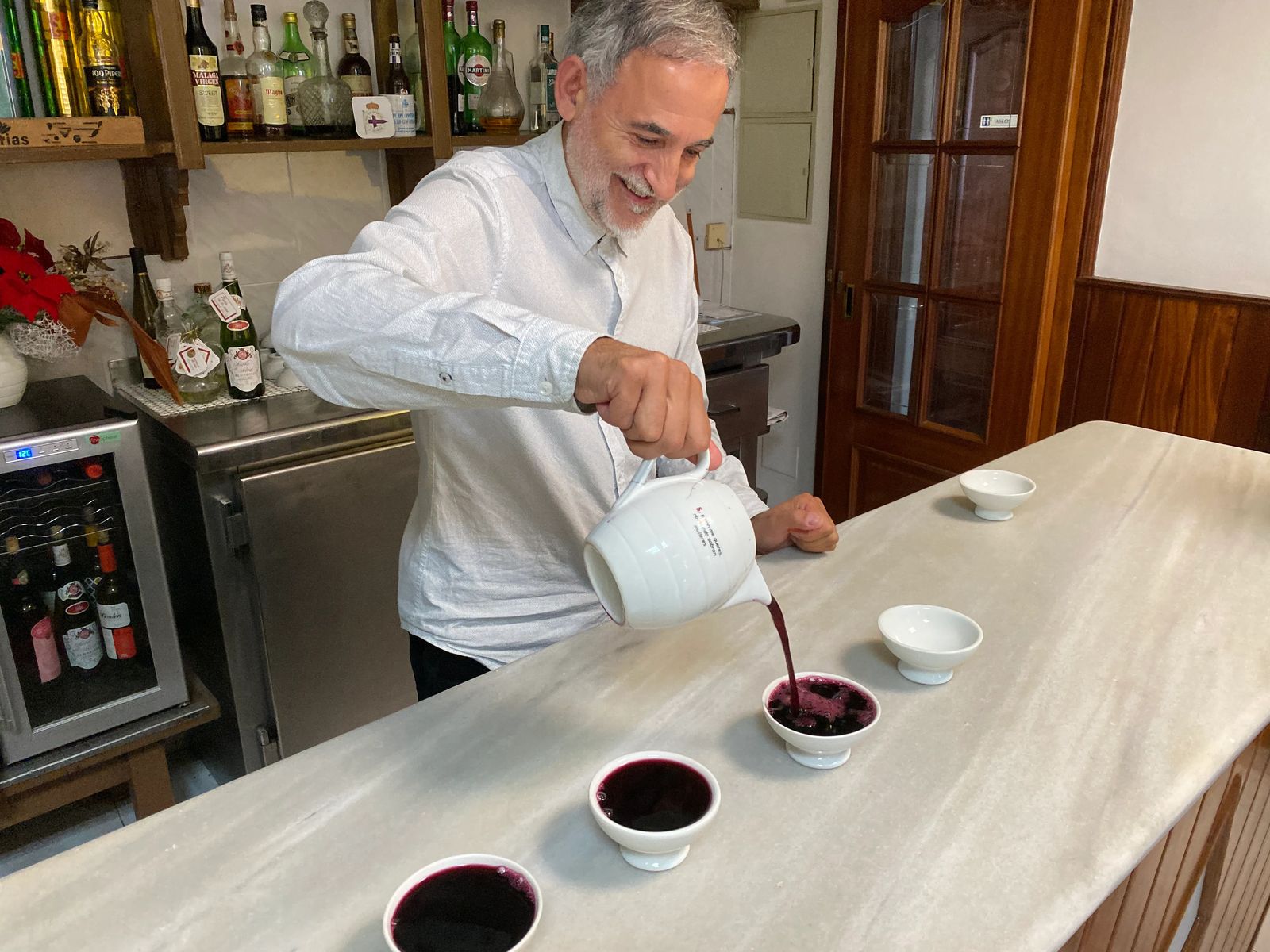 Casa Frade
This unassuming hostel or to the pilgrims better known as an albergue is a must stop along your journey through Arzua. The owners have infectious smiles, insist that you rest and freshen up prior to paying for your stay and offer a free drink and hot shower.
They have hot meals, delicious soup available and is close to town with easy access to most things in the center of Arzua.
As soon as I entered, these traditional china saucers were laid out on the counter for us and the home made wine was offered for free. There is Vino roja (red wine) and Vino blanco (white wine) that you can choose from. It is considered bad luck to spill wine, so bring the saucer to the edge, sip a little and then pick it up.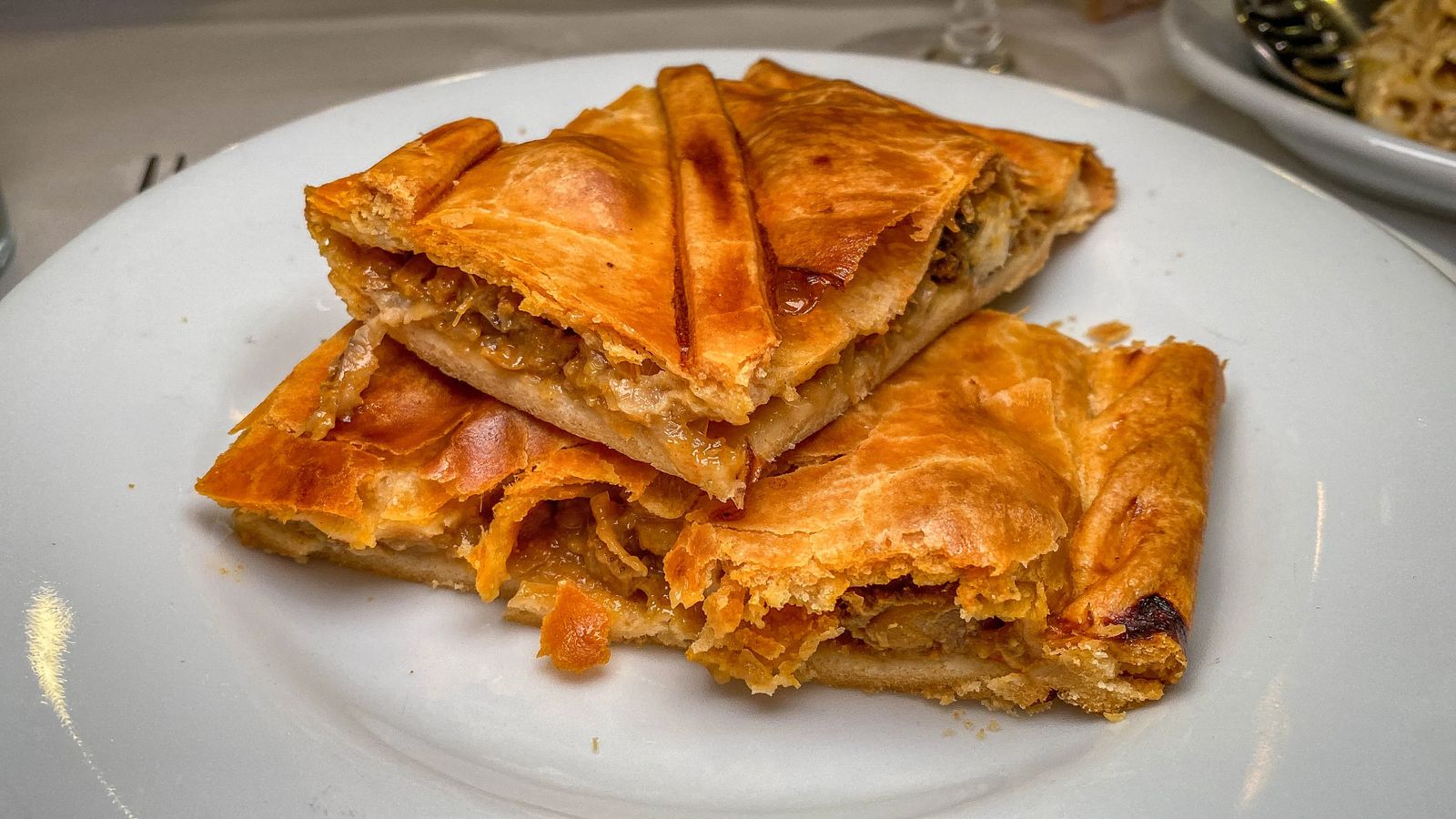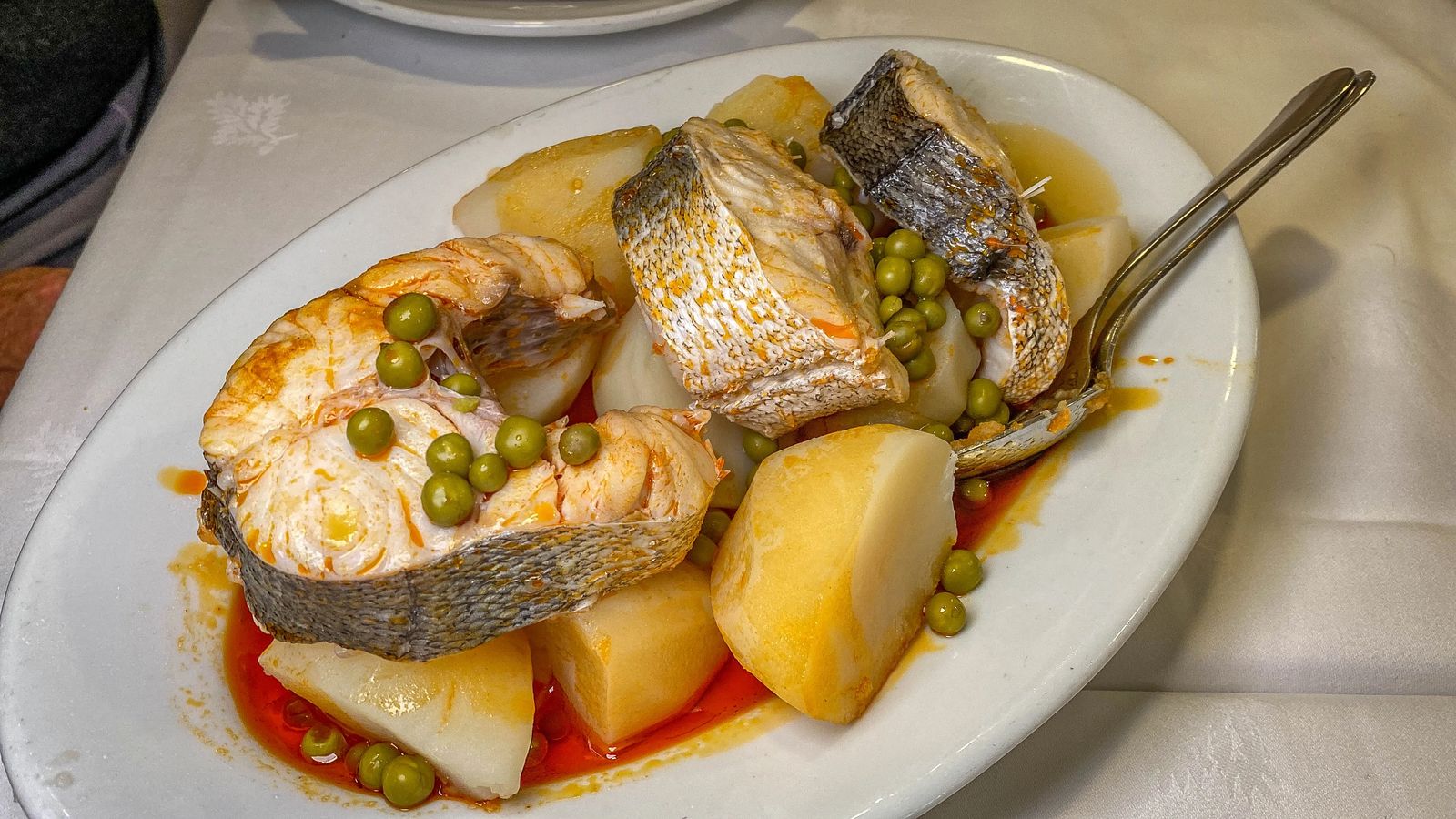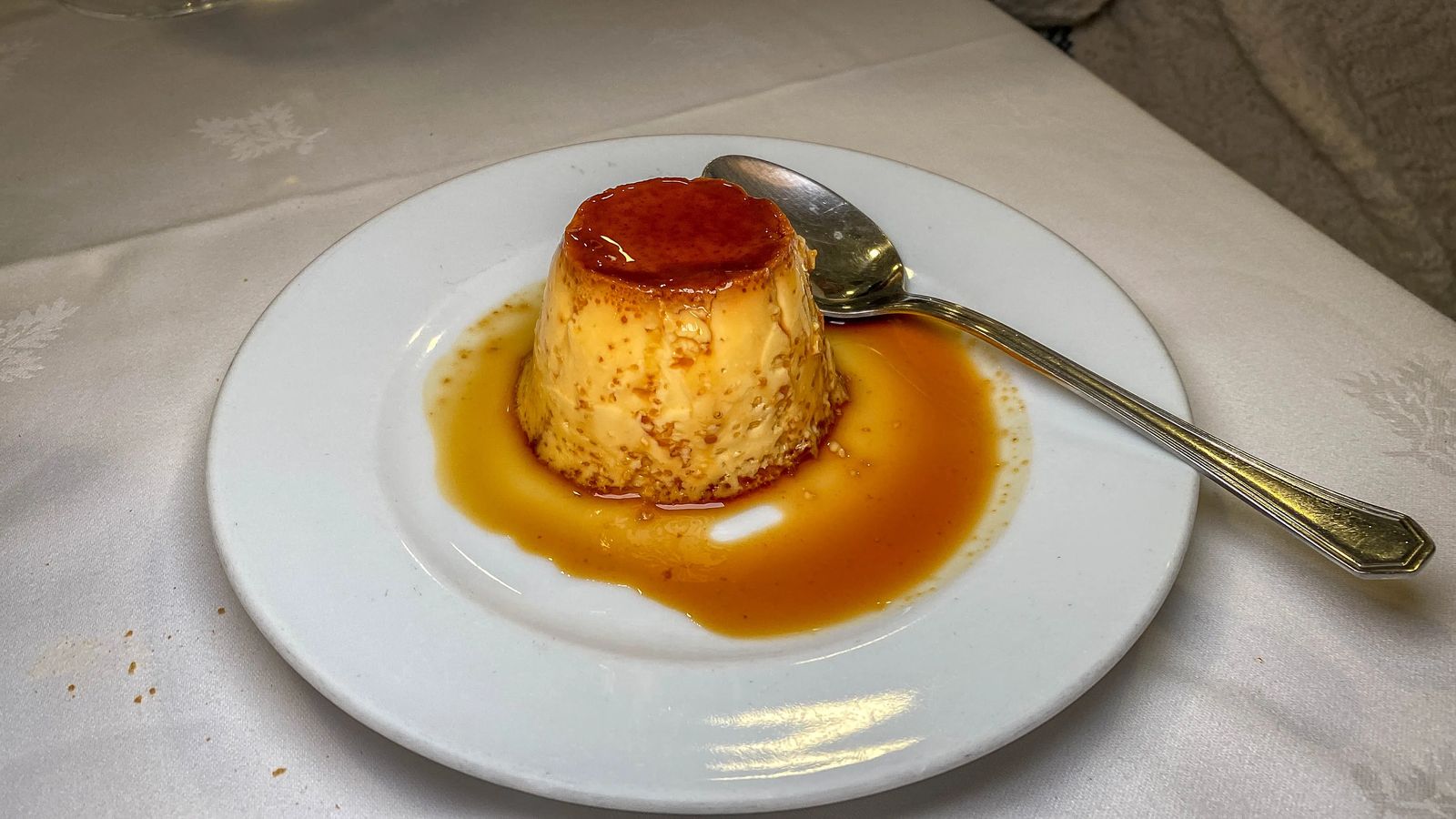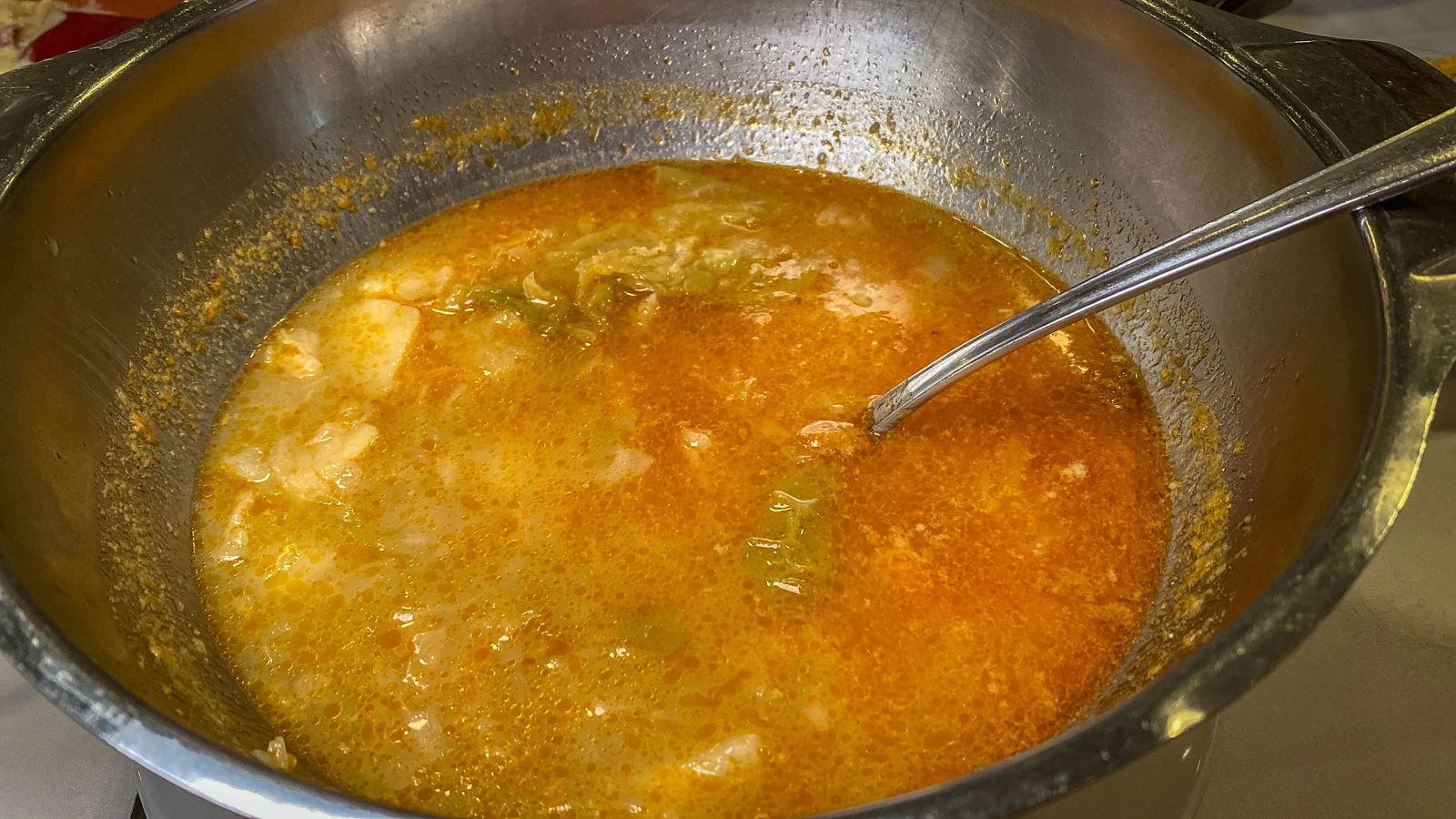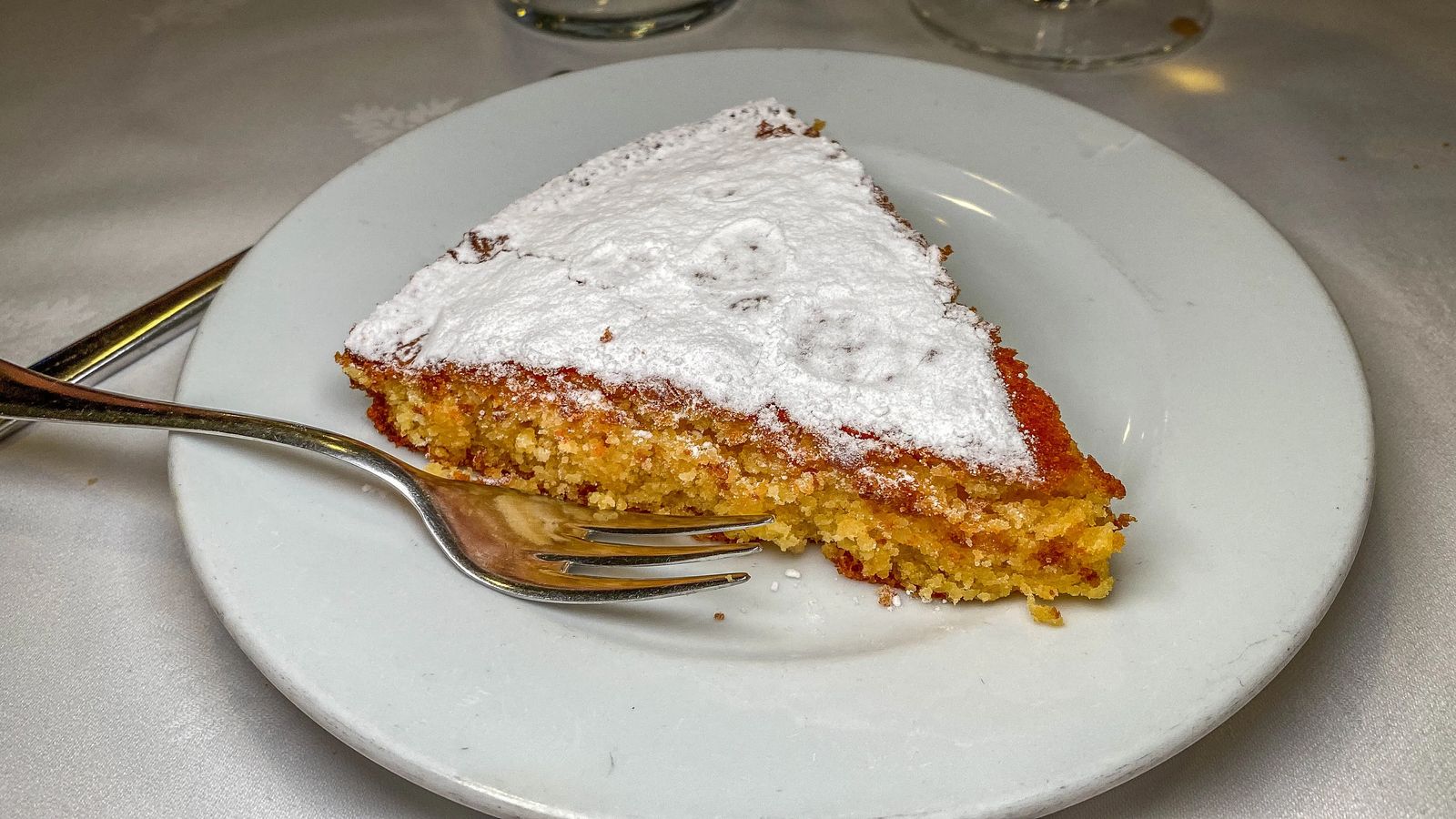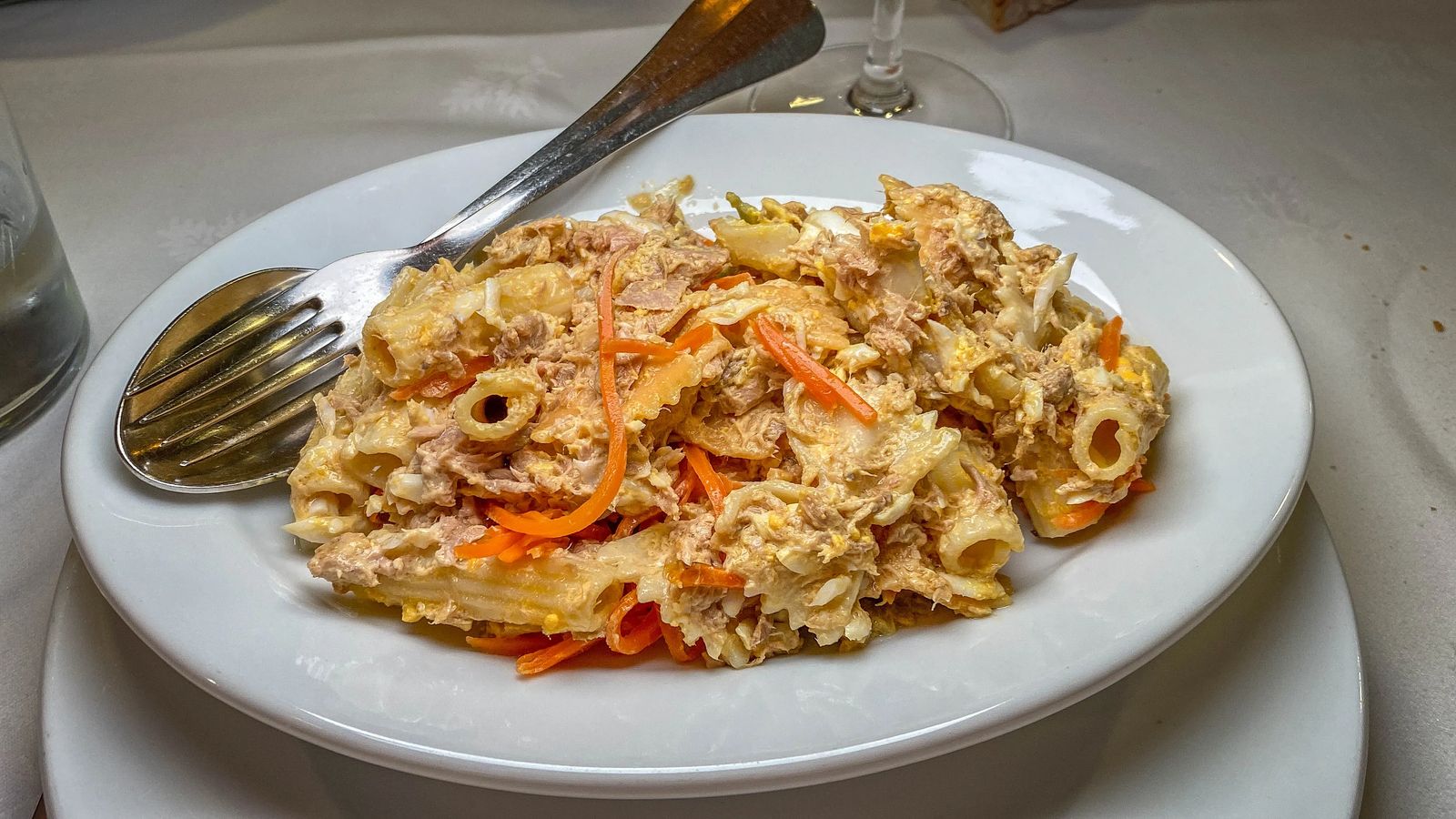 Casa Teodora
Founded nearly a century ago, this B&B and restaurant is a stop along the Camino de Santiago that is an official stop to get a stamp in your Camino passport. They have 29 rooms with TV, showers, wifi and great hospitality.
The restaurant is the part that we visited, and the numerous backpacks of pilgrims filled the front area. The wearied travelers sat in the comforts of the restaurant filling their bellies with warm soups, fish, steak and potatoes, and traditional empanadas.
It is well worth a stop for lunch or to stay as you are visiting Arzua.
Things to eat
If you find yourself in Arzua, you should try the Arzúa-Ulloa cheese is known throughout Galicia. The cheese has a creamy flavor and is often paired with meats and the famous honey.
These delectable treats are so famous in fact, that there is a living museum of honey and cheese. Every year there is also a cheese festival, as mentioned before, that happens in March.
Its honey is also prestigious, as the flora surrounding the municipality and the climatic conditions of this region are very favourable for its production.
Living Museum of Honey and The Cheese and the Honey Information Centre. There is a large collection of photographs of bees, botanical gardens, a birdcage, anthill and more. In addition, Arzúa also has the Cheese Festival.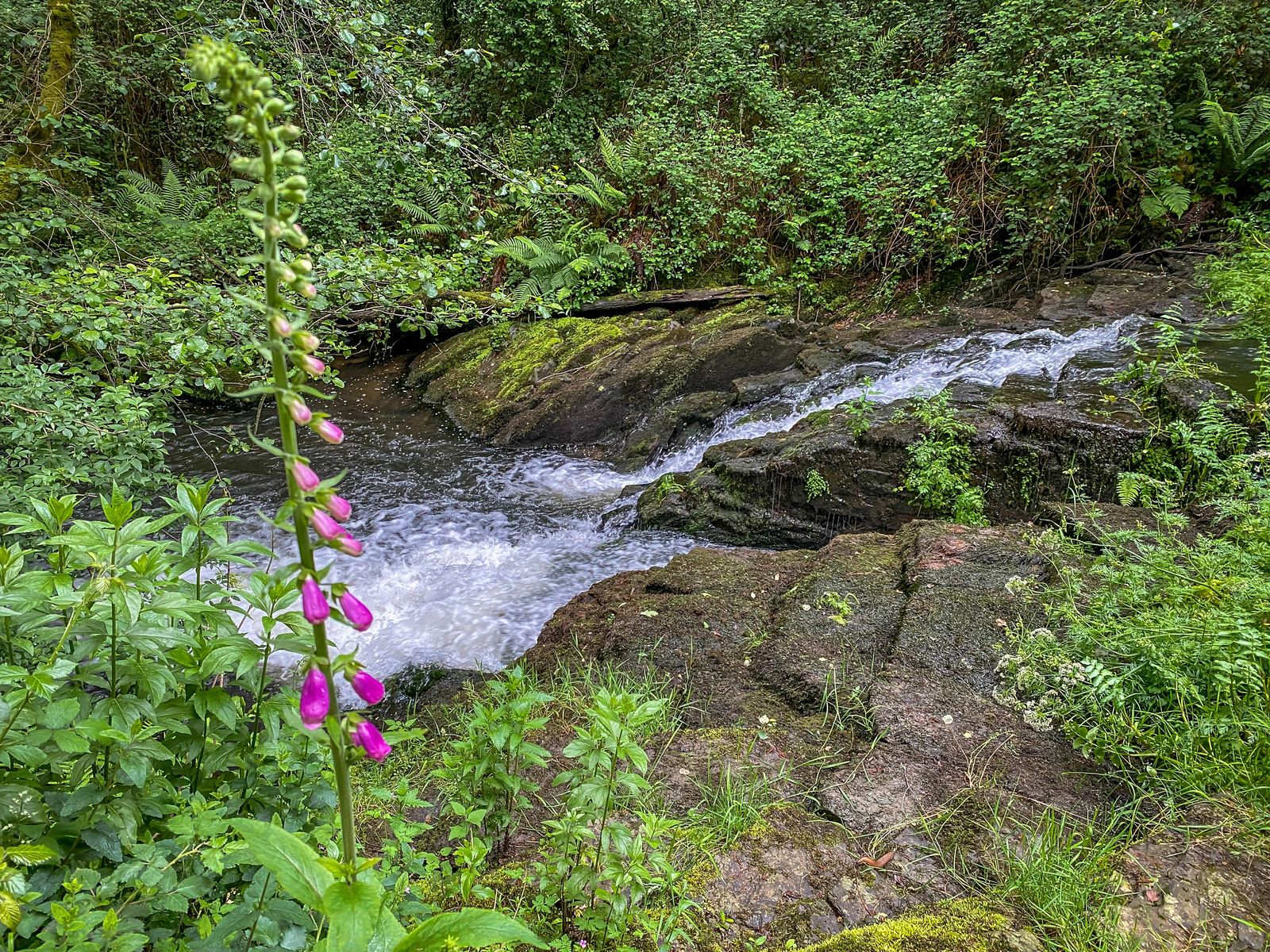 My Takeaway from Visiting Arzua?
If you are looking for beautiful natural surroundings, quiet streets, hospitable people, and delicious food - then Arzua is the place to go. You could be a pilgrim or a road tripper all passing through, but I highly suggest that you allow yourself a few days to just relax, hike, swim and enjoy nature here.
It is difficult to find beautiful places that aren't overrun with tourists nowadays - but this Is one of those places.
There is a certain peace I personally felt here but the quiet, laid back, and slow nature of Arzua. It is one of those towns that you go to visit, and end up moving to because it feels like coming home.
Google Map of Locations Mentioned
Like it? Pin it for later! Sharing is caring ;)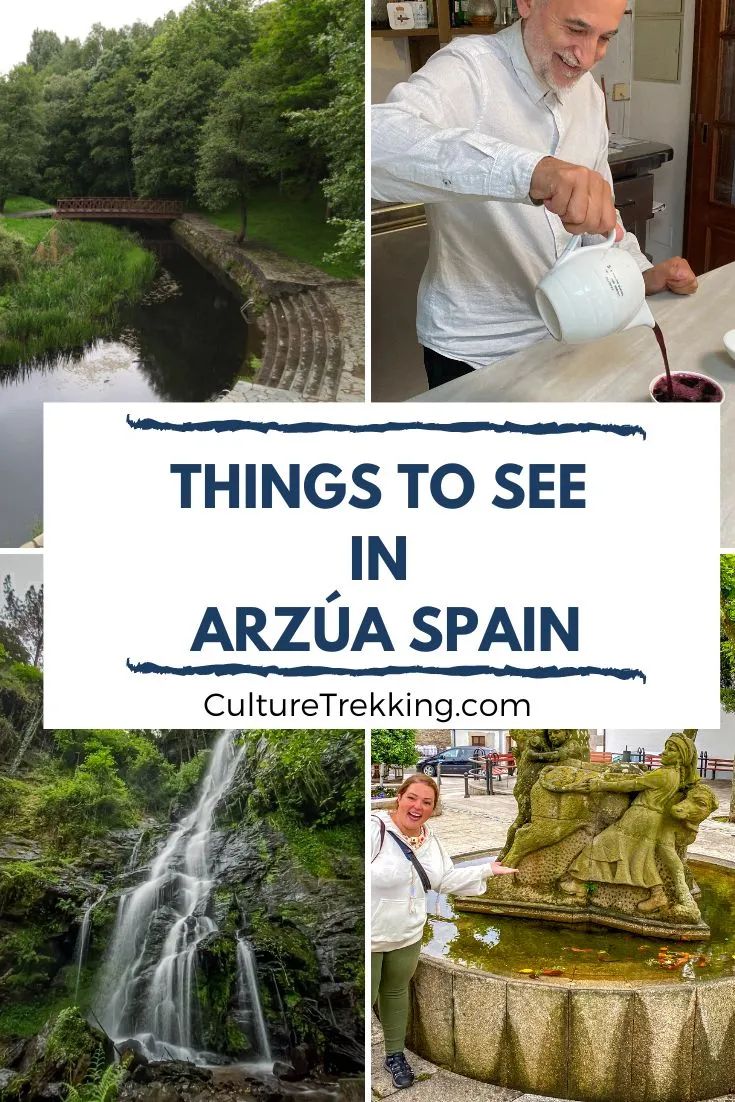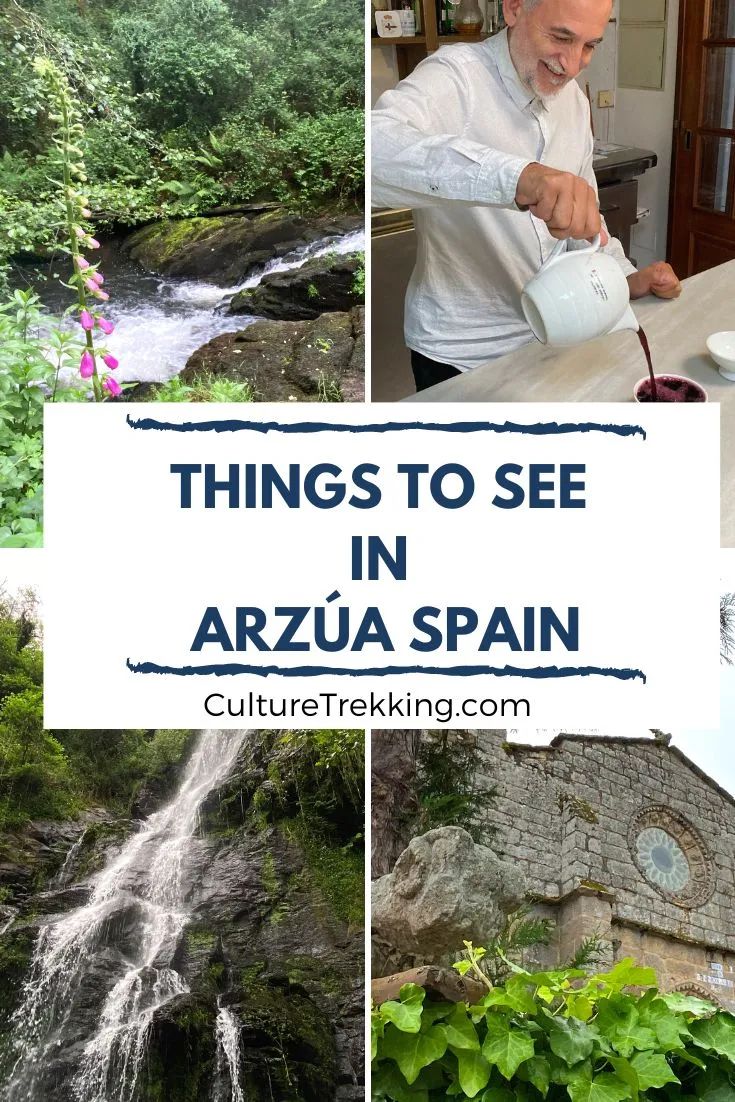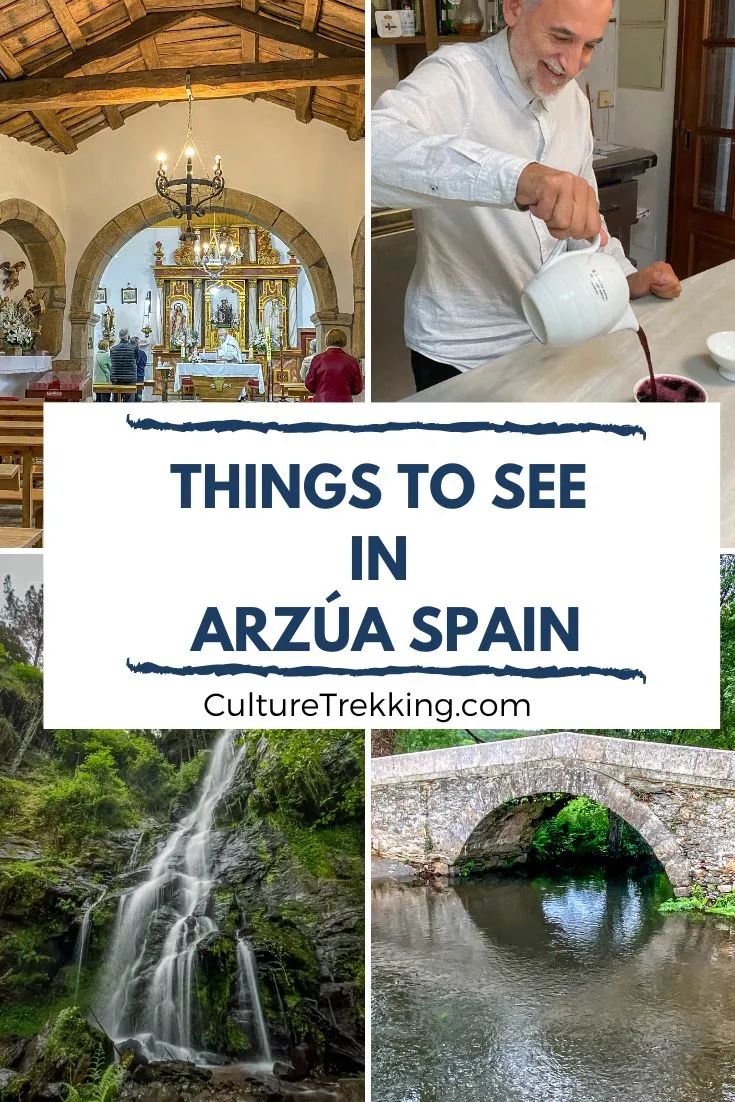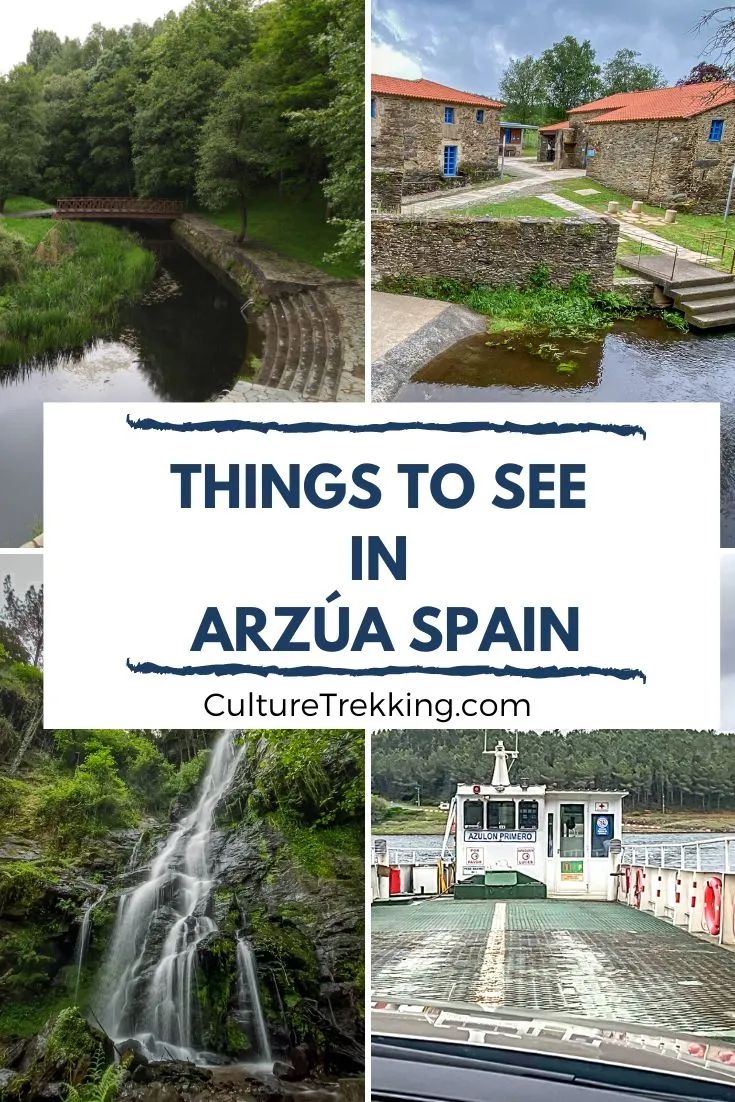 Where to stay in Arzua Spain
Latest Articles On Culture Trekking