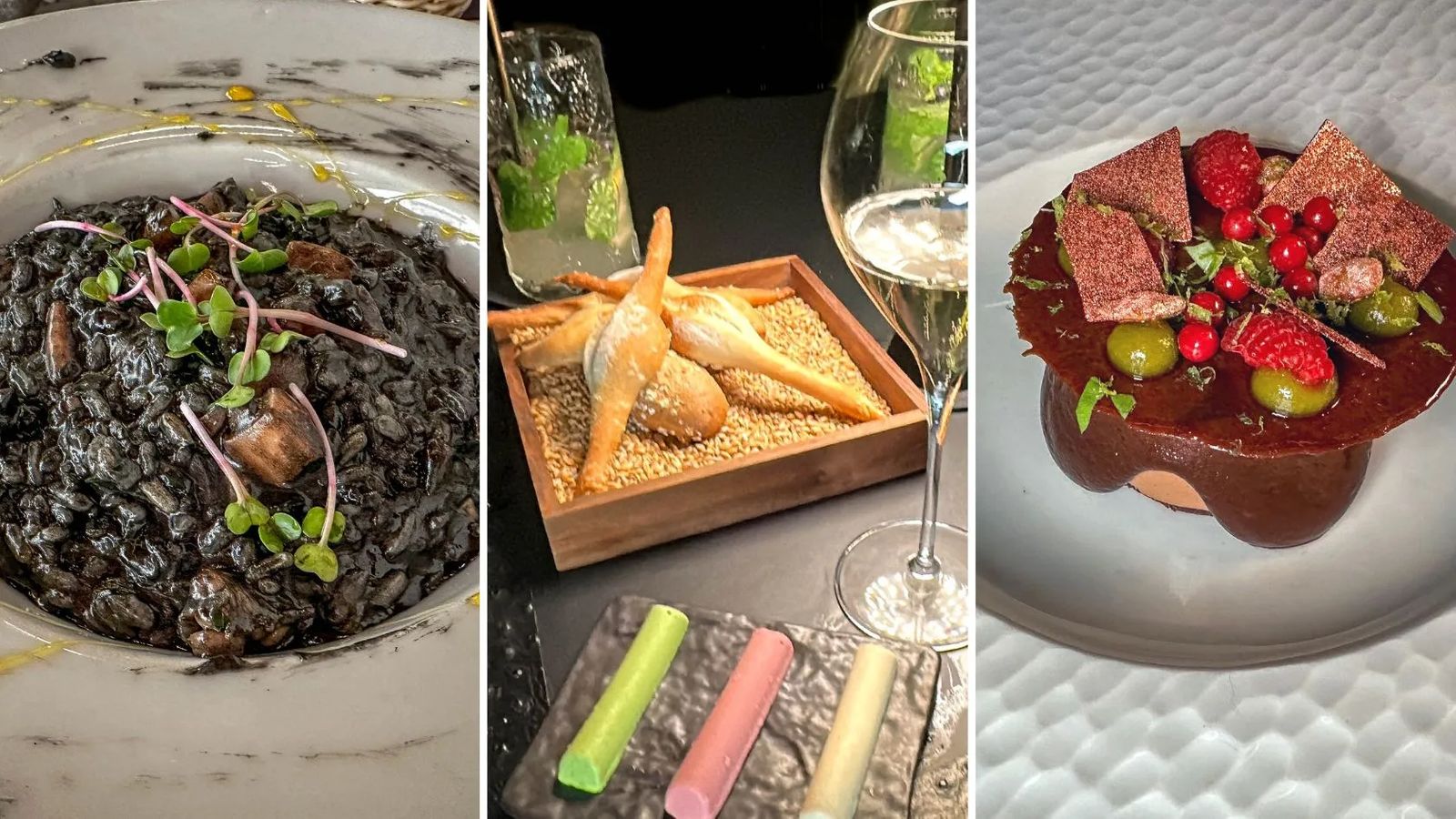 7 Best Places To Eat In Dubrovnik Old Town
Imagine dancing in a forest by the seaside in your finest dress while birds swirl about and the golden sunset stretches across the land making everything glitter in a golden hue. Got a good picture in your head? Well now imagine that image captured and translated into food that lands on your plate, the flavors that dance across your tongue as you wash it down with some divine wine locally sourced from Croatia. This is what you have in store when you visit Dubrovnik. From bougie to budget I'm going to show you the 7 best places to eat in Dubrovnik Old Town.
I visited Dubrovnik in October 2022 and have updated this post in 2023 to provide you with the best information possible to plan you ultimate foodie adventure.
Just be warned that Dubrovnik menu prices are like what you would see in New York City or Las Vegas, so I'll also give some suggestions on how to save money but still travel bougie.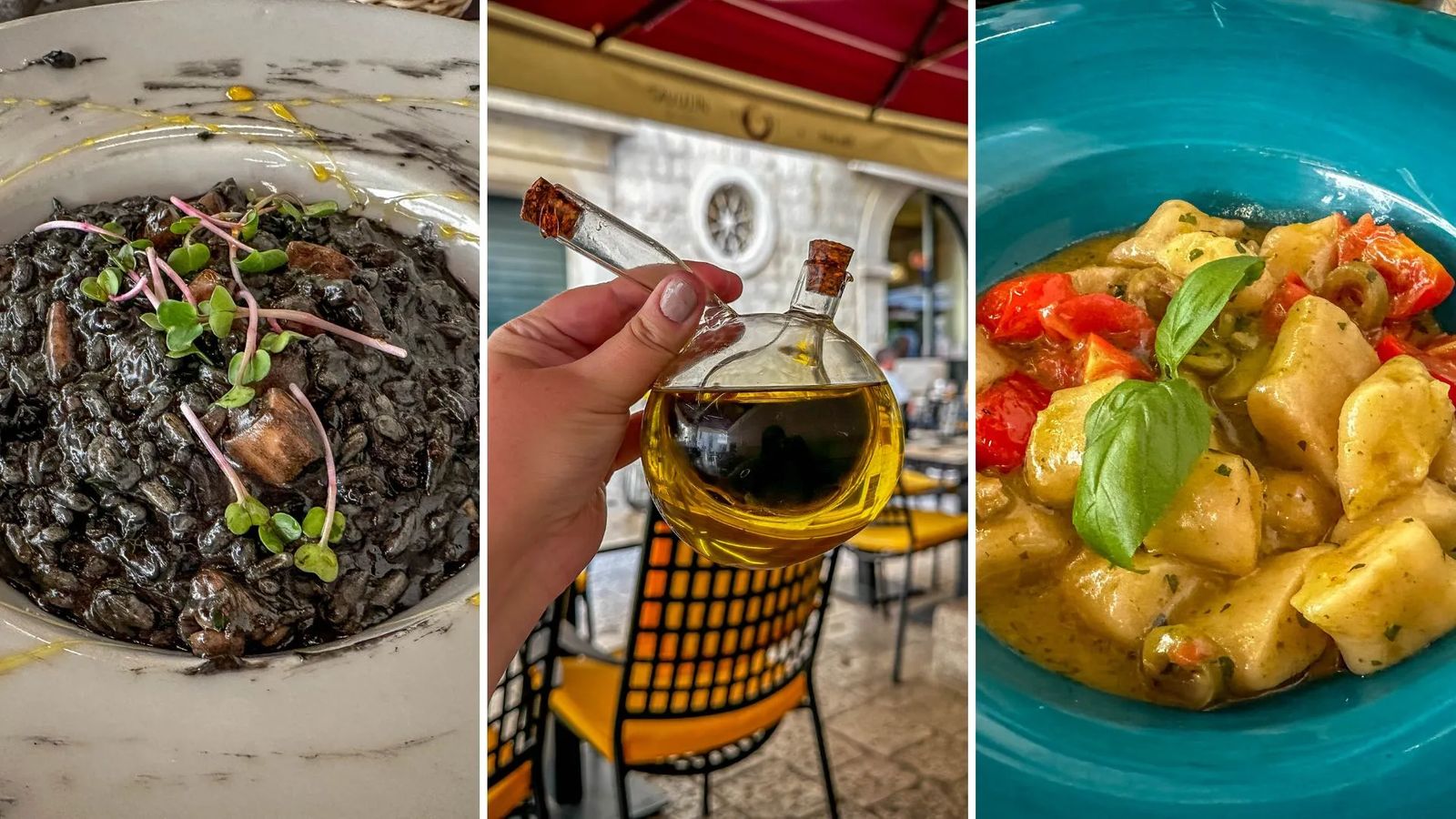 Tavulin Restaurant On the Stradun
This eatery is right off the Stradun and after looking at 8 different restaurants this was the best prices, with both traditional dishes and a decent vegetarian option that wasn't just french fries. Tavulin has one dish in particular I suggest that you try, the Black Risotto, made with squid ink that gives it the characteristic flavor - I'm telling you it is a must try when in Dubrovnik Old Town.
My friend had the vegetarian gnocchi and gave it an 'edible' but not fabulous rating. To be fair though, there weren't a TON of other options at the other restaurants along the stradun. My Risotto cost about $14 and the do offer bread with the olive oil and balsamic vinegar in these unique bottles that I ended up buying as a souvenir.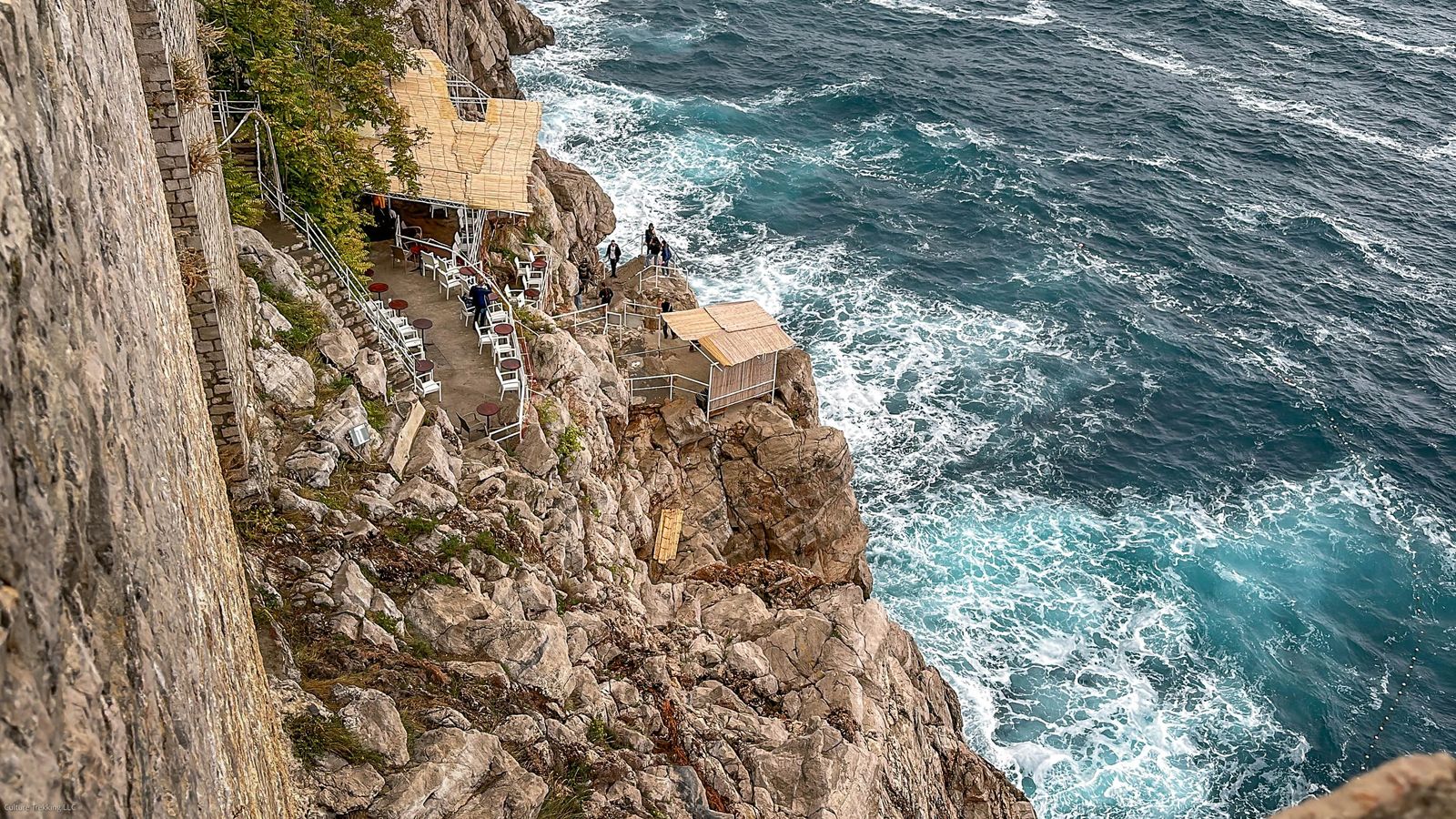 Buza Bar Cafe On The City Walls
Inevitably you will want to tour the city walls, make sure to check out my guide on that complete with a hand drawn map :) There are two Buza Cafes along the wall, Buza one is mainly ice cream and drinks. If you go to the second Buza Bar Cafe you can jump off the rocks right into the ocean and go snorkeling at sunset.
Just keep in mind that you can only enter the walls once per ticket, the walkway is only one way, and you cannot walk around the city in just swimwear unless you want a $150 fine. What I would suggest is to pack your swimming suit, a towel, and your snorkel gear with you and then change in the restaurant bathroom when you get there. The bathroom is quite small though (standing room only) so if you are plus size traveler I would wear your gym clothes while on the wall, and then bathing suit underneath.
Buza cafe is also only about 1/2 way through the city walls, and you will need to walk the rest of the walls, or you can exit the walls at about the 3/4 mark near the Dubrovnik port.
If you can go at sunset, that would be the best time because they aren't open in the early morning hours. If it is bad weather, they will also close all outdoor seating areas as well. The cost of one 10 oz fresh squeezed orange juice alone was $7. The prices aren't cheap, the food isn't something to shout home about, but the setting and ability to snorkel off the cliffs of a medieval city wall in a UNESCO city is pretty unbeatable in my opinion - major bragging rights here.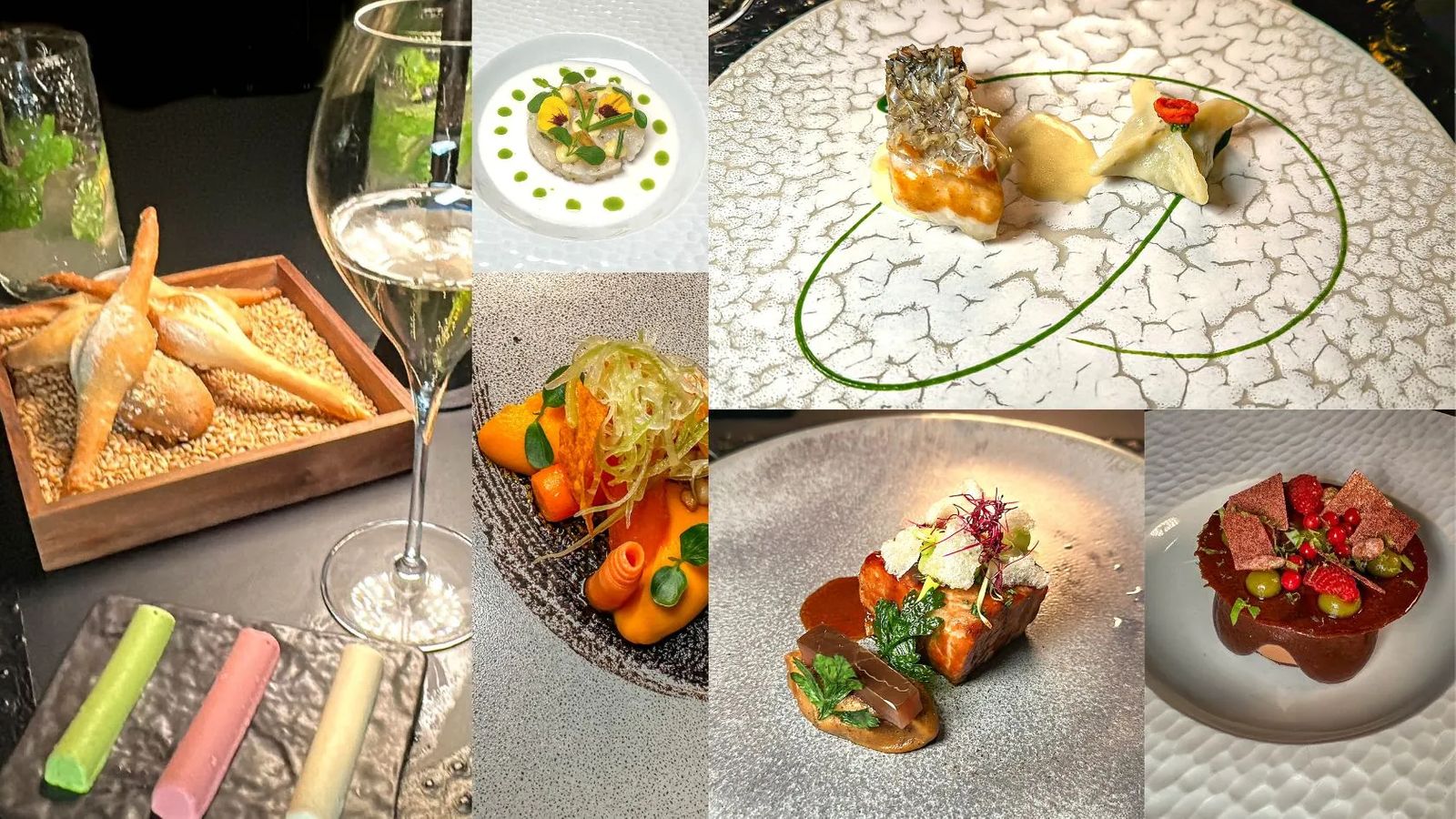 360 Restaurant - Michelin Star Experience
This restaurant is a MUST when thinking about the BEST places to eat in Dubrovnik Old Town - it even won a Michelin STAR in 2022. Remember the catchy intro paragraph? Yep, that paragraph was specifically thinking of this restaurant. It is located in the city walls, overlooking Dubrovnik Old Pier with a terraced space for couples, and larger indoor space for bigger parties.
Chef Marijo Curic presents a beautiful tasting menu that represents the BEST of Croatia from the seafood, to hits of the forest (via Tarragon oil). While the menu does change every year, I highly suggest trying the tasting menu and seeing the range of techniques, letting the flavors of Croatia dance across your tongue for a truly memorable night.
They also have a particularly delicious wine menu as well with a Sommelier who expertly guides your tastebuds through each meal with locally sourced wines. They also have a juice menu for the non-alcoholic variety, and each selection also pairs deliciously with the different courses.
They do have vegetarian and non-vegetarian options and can accommodate allergies. I would highly recommend making your reservations at least 3 months in advance. A tasting menu with 2 alcoholic beverages and tip cost about $230, but it will be a night and bucketlist memory I will NEVER forget.
Pemo Market Off The Stradun
If you are looking to save on breakfast and lunch, or just are on a tight budget then I suggest visiting Pemo Market. This is a very small grocery store with fresh fruit, meats, cheeses, fruit smoothies, chips, pasta etc... It is a great place to pick up water, and drinks including alcoholic beverages and coffee to help you save on the daily meal.
Just make sure you weigh your fruit on the scale prior to going up to the counter (as is the case with most Balkan grocery stores). There are a bunch of reviews about how 'rude' the staff is, but honestly I didn't get that vibe at all. When you come to the Balkan countries, they save their energy for their personal lives, they don't waste it at work - so just kinda keep that in mind.
I justify visits to Michelin star restaurants by saving money by cooking at my accommodation or having two meals a day.
Gunduliceva Poljana Farmer's Market
The farmer's market is only open on days when the weather is good. It is a great place to grab fresh fruit for snacks for the road, breakfast, and other specialty items Croatia is known for. Here you will find Arancini or candied orange peels that make a great stocking stuffer. You will also see lots of nuts, lavender, wooden toys, and great souvenirs to take home.
This market is typically located down Gunduliceva poljana street, near Ivan Gundulic Statue. You can also find it by taking a right off the Stradun (when heading towards the clocktower) onto Luza ul, follow this street for two intersections then take a left onto Ul. old Puca, then a right onto Gunduliceva poljana street.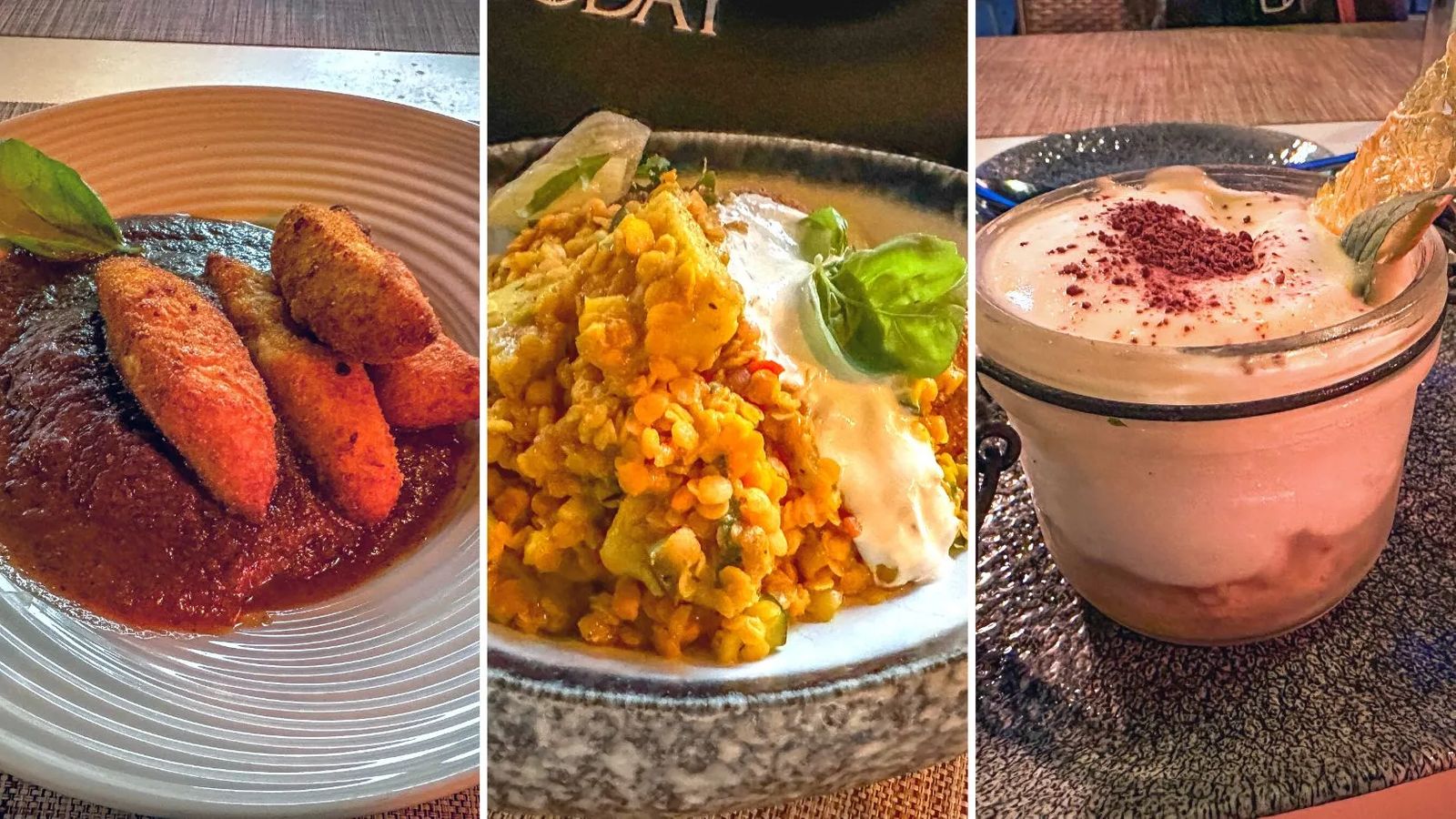 Kapun Restaurant - Up The Jesuit Stairs
This restaurant was named as a Michelin Plate with reasonable prices and located just up the Jesuit Stairs. Here they take centuries old Croatian recipes and serve it with a modern twist. You can find things like Pasticada, Risotto, Seafood, and more.
Pasticada has to be near the top of the list of Croatian food you should definitely try if you get the chance. It's a marinated beef stew that comes from Dalmatia, often made with prunes or figs, bacon, nutmeg, and red wine, and usually served with gnocchi, but mine was served with a pag cheese stuffed fried pasta. Pag is a cheese produced by sheep on the island of pag in the adriatic sea. The sheep feed on plants that are infused with salt that blows up onto the sea, and only feed on the aromatic shrubs and vegetation that they find.
Truly a restaurant not to be missed, consider this restaurant your 'bougie on a budget' option for sure!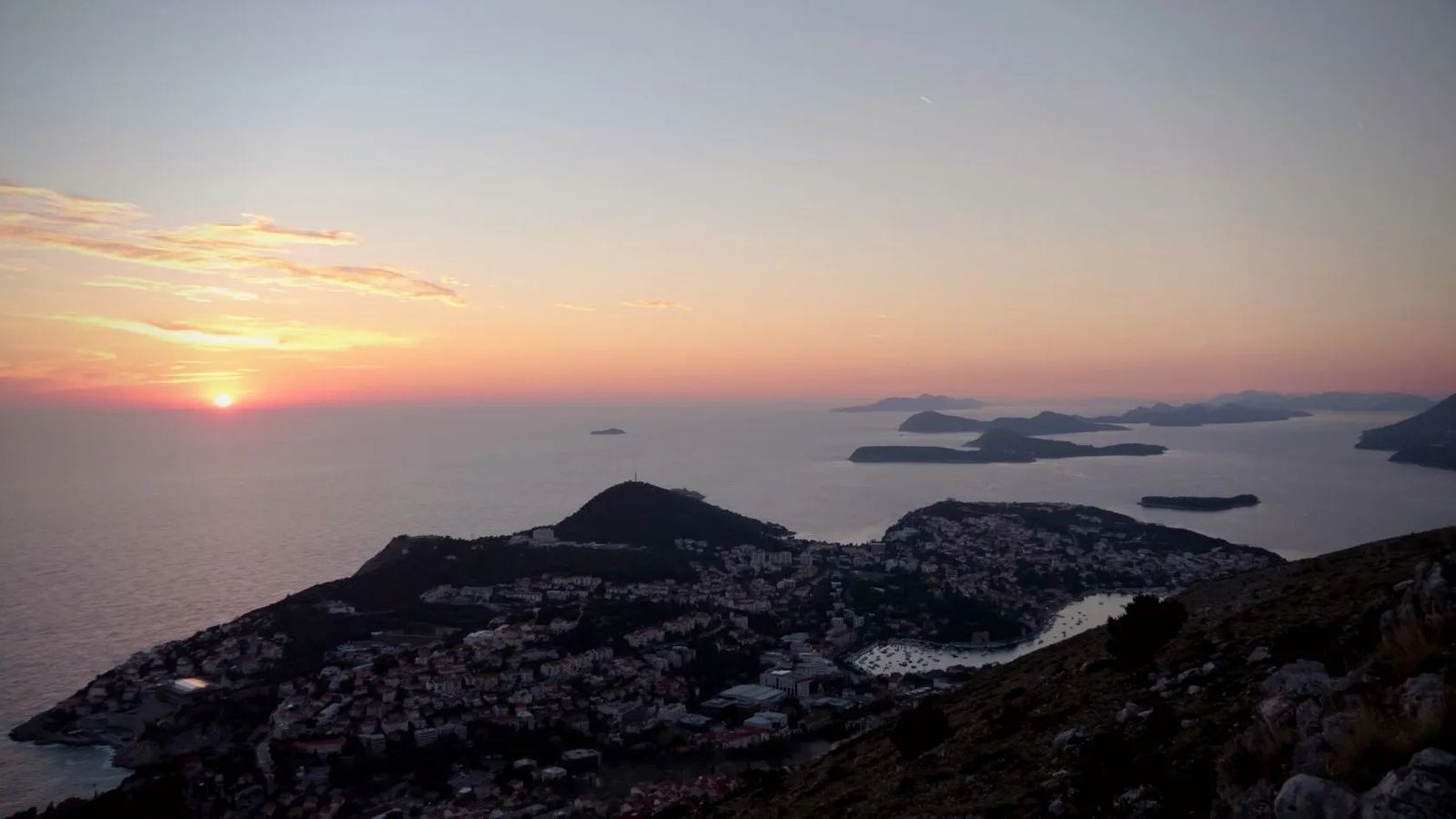 Restaurant Panorama
This whimsical restaurant sits a top the beautiful Mount Srd overlooking the ever enchanting old town. They have outdoor seating that can get a bit cold once the sun goes down, but being at the top during sunset is unreal. I would highly recommend asking for a reservation early and ask to be seated at the railing near the ocean. The setting inspires the dishes here with new takes on seafood, cocktails, wines, and desserts.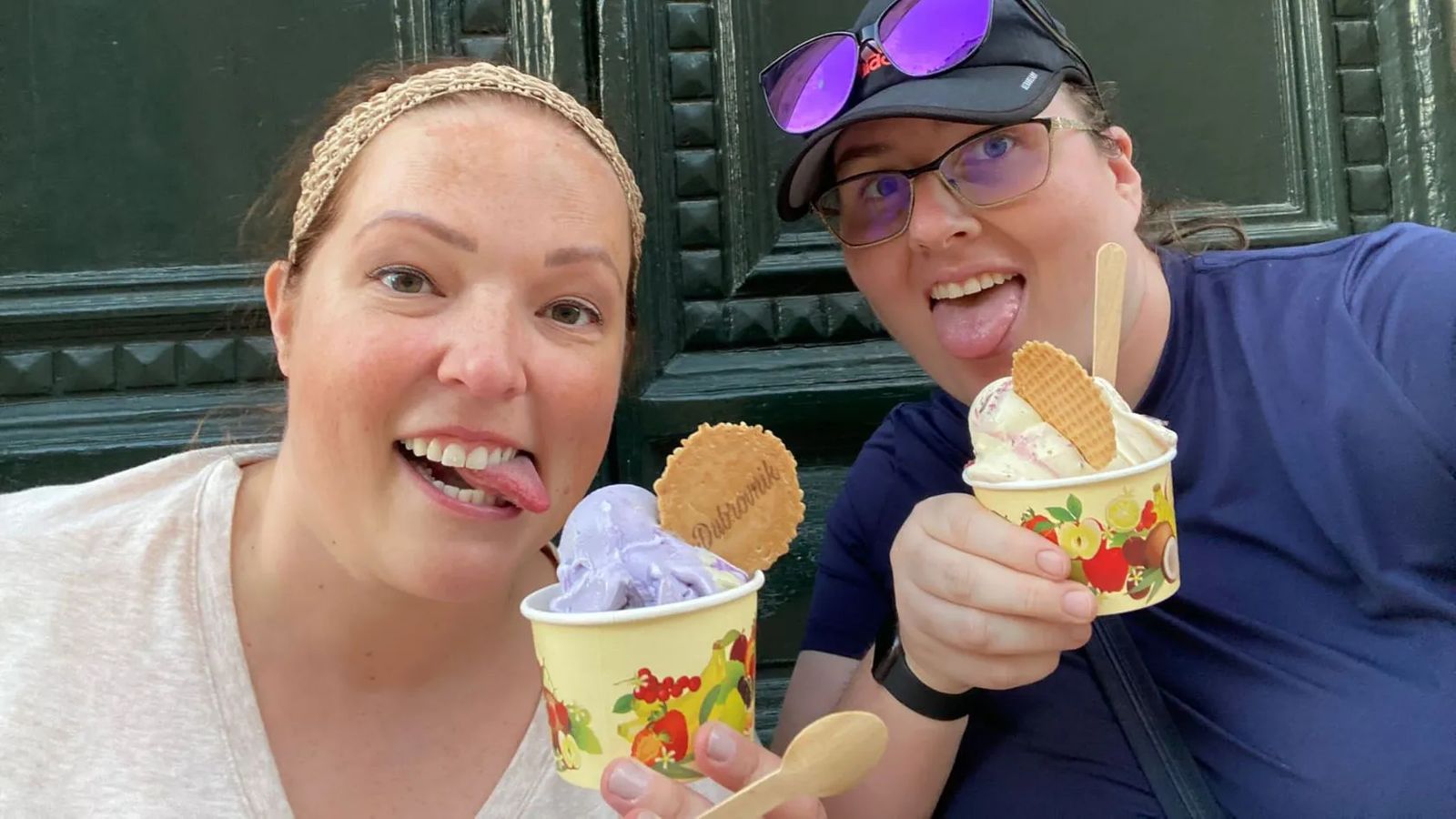 Best Ice Cream In Dubrovnik
The BEST street gelato in Dubrovnik old town right on the Stradun near the Francisican monastery is Sladoledarna Dubrovnik (Gelateria Dubrovnik). They have my favorite flavors of Lavender and Pistachio, along with traditional flavors that don't taste artificial at all. Trust me we tried several Gelato places while we were there, and nothing beats the flavors at this one, along with the finishing touch of the cookie with Dubrovnik burned in it. Makes for great pictures don't ya think ;)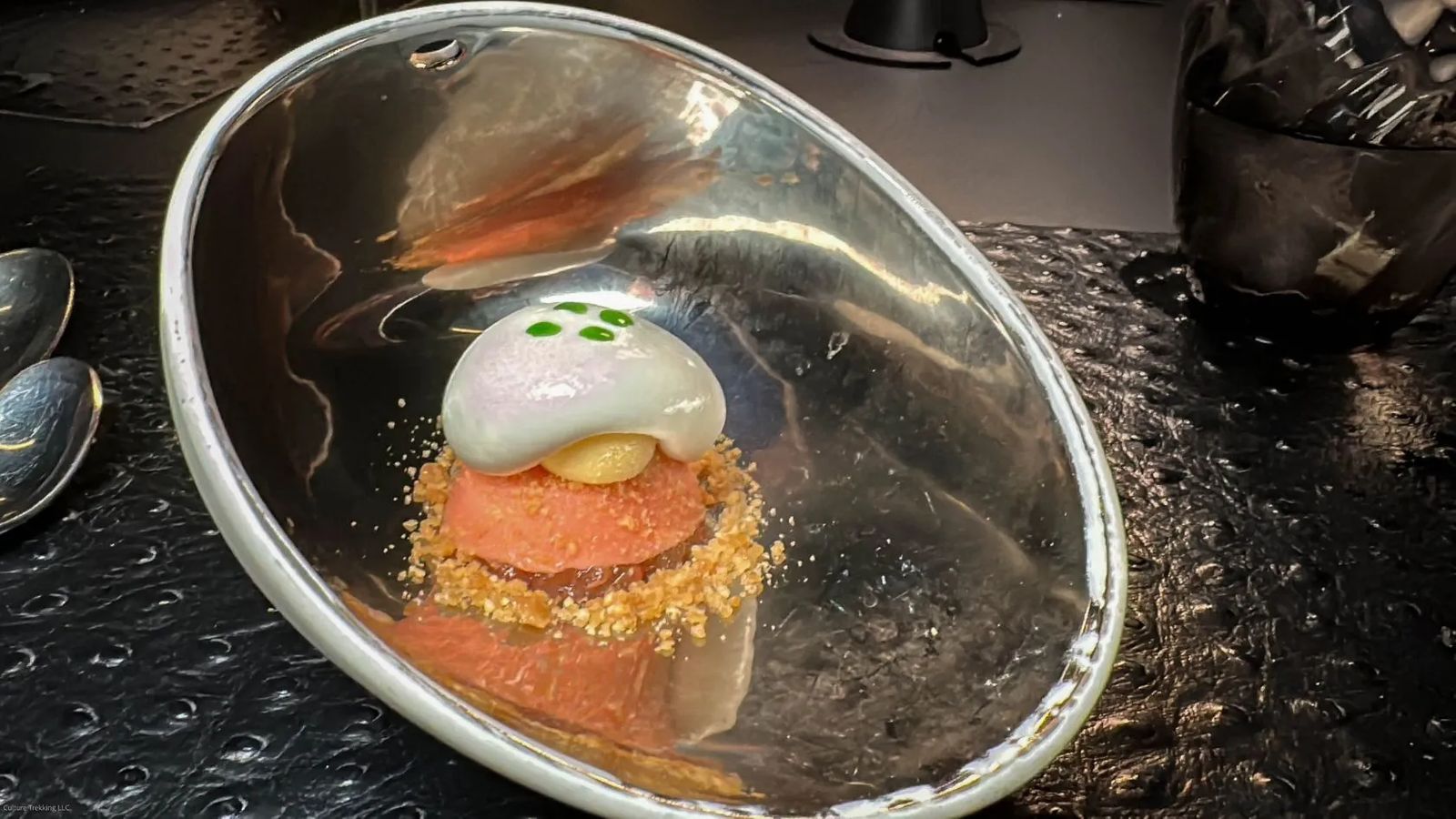 My Takeaway of Best Places To Eat In Dubrovnik
While there are some stellar restaurants to visit and dine at in Old Town Dubrovnik, I wouldn't say all of them are stellar. I did loads of research on traditional foods, best places to eat, noting budget, location, and how to have a Croatian foodie experience without breaking the bank but still having a good time.
I would go back to Restaurant 360 every time I visited, and the ice cream shop, the fruit at the farmers market was my personal favorite and snorkeling off a UNESCO medieval city wall is just crazy to me.
I hope you enjoyed this article and is was helpful in planning your vacation. Let me know in the comments below if you would add any restaurants in Old Town, or if you found this helpful. Have an amazing adventure in Dubrovnik and I'll see you in the next one.
Guided Tours of Dubrovnik
Where To Stay In Dubrovnik
Latest Articles On Culture Trekking