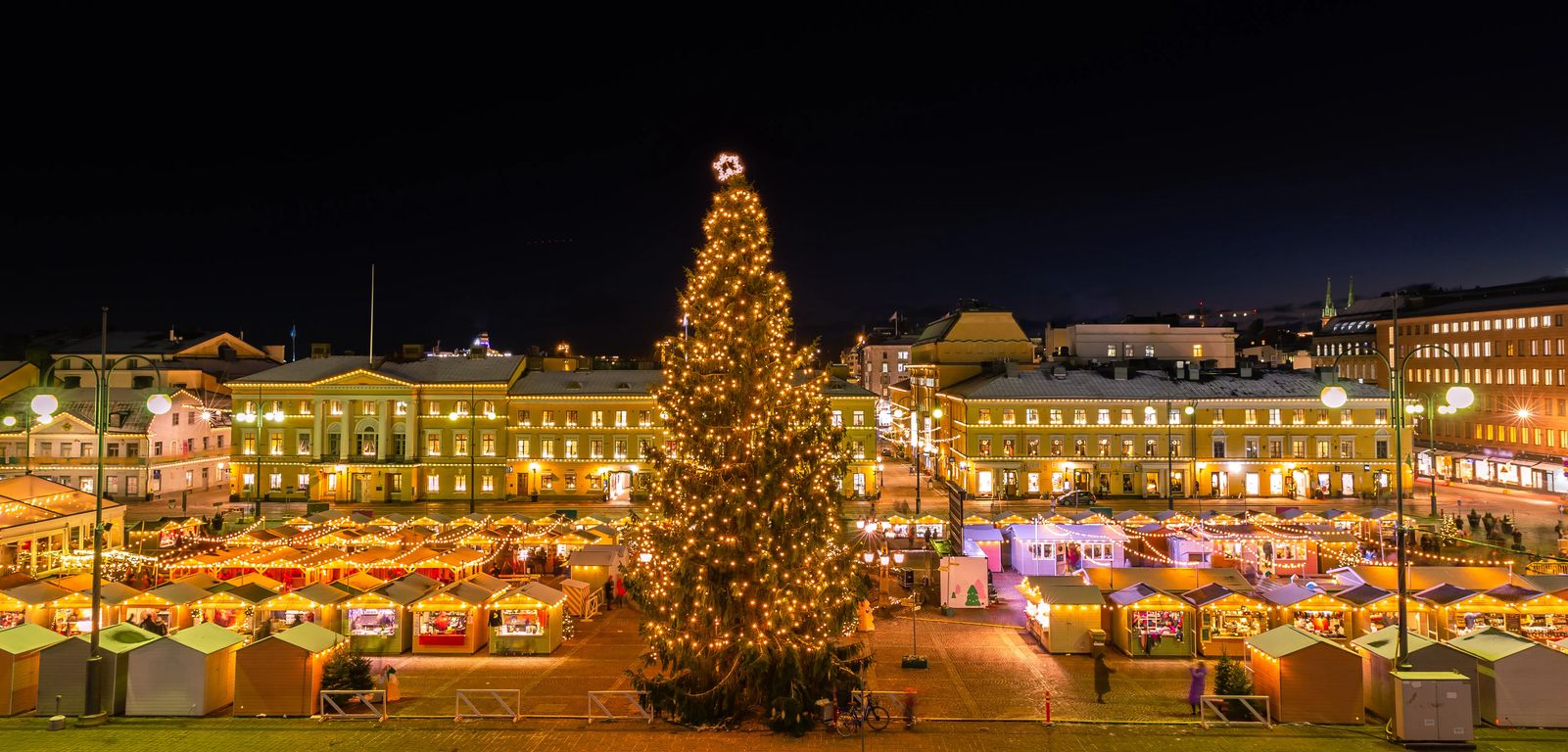 Helsinki Christmas Market in Finland
Brightly painted wooden stalls, Nomes in pointed hats with bubble noses and long beards, with wool, furs and live Nordic music playing with a hot Glögi in hand. This isn't just a story, but a reality of the Helsinki Christmas Market in Finland and the magic of Christmas that is in store.
Finnish people love natural light, play of light, and especially the twinkling lights of Christmas - it helps ward off the cold dark lonely nights that come with their Polar months. While the dark sky's are perfect for stargazing and Northern lights, with a side trip to Rovaniemi to see Santa in his shop. The Christmas market is where you can connect with locals under adult beverage sipping huts, see artists create their bounty in front of you, buy reindeer pelts and soups, and sip on Glogg of all flavors and sorts.
I visited the Helsinki Christmas Market in 2021 but have updated it in 2022 to include the most accurate information to help you make an epic trip. Keep reading to get the details about the market, what products to buy, food to savor, Christmas traditions in Finland, sights to see beyond the Christmas Market, and how to visit Helsinki at Christmas on a budget.
Quick itinerary/Key Takeaways
If staying in Tallinn Estonia, take the Tallink Ferry with a to and from ticket for around 54 Euros. Make sure you are departing from the correct pier as there are several. Once in Helsinki it is an 8 minute ride into town, they don't have bolt here but there are taxis available once you get past border control.
There aren't places to 'hang out' that are incredibly warm, so make sure you dress in wind proof and layered clothes if you plan to just be here for the day. The restaurants make a nice stop to warm up between the different sites, as well as Saunas.
The Christmas Market in Helsinki should only take you about four hours to make your way through. Give yourself another hour to stop by the different statues, and Helsinki Cathedral. If you plan to do a museum, or shopping, go early because things close around 7pm in the winter.
Be prepared for steeper prices (most Finnish go to Estonia to do shopping actually because it is so much cheaper). Don't consume any alcoholic beverages in public unless there is a dedicated space. I wouldn't stay in Helsinki past 9 pm, so plan your trip back to Tallinn accordingly, or rent a hotel room for a night or two. Airbnb's here are pretty fantastic as well, and close to the city center.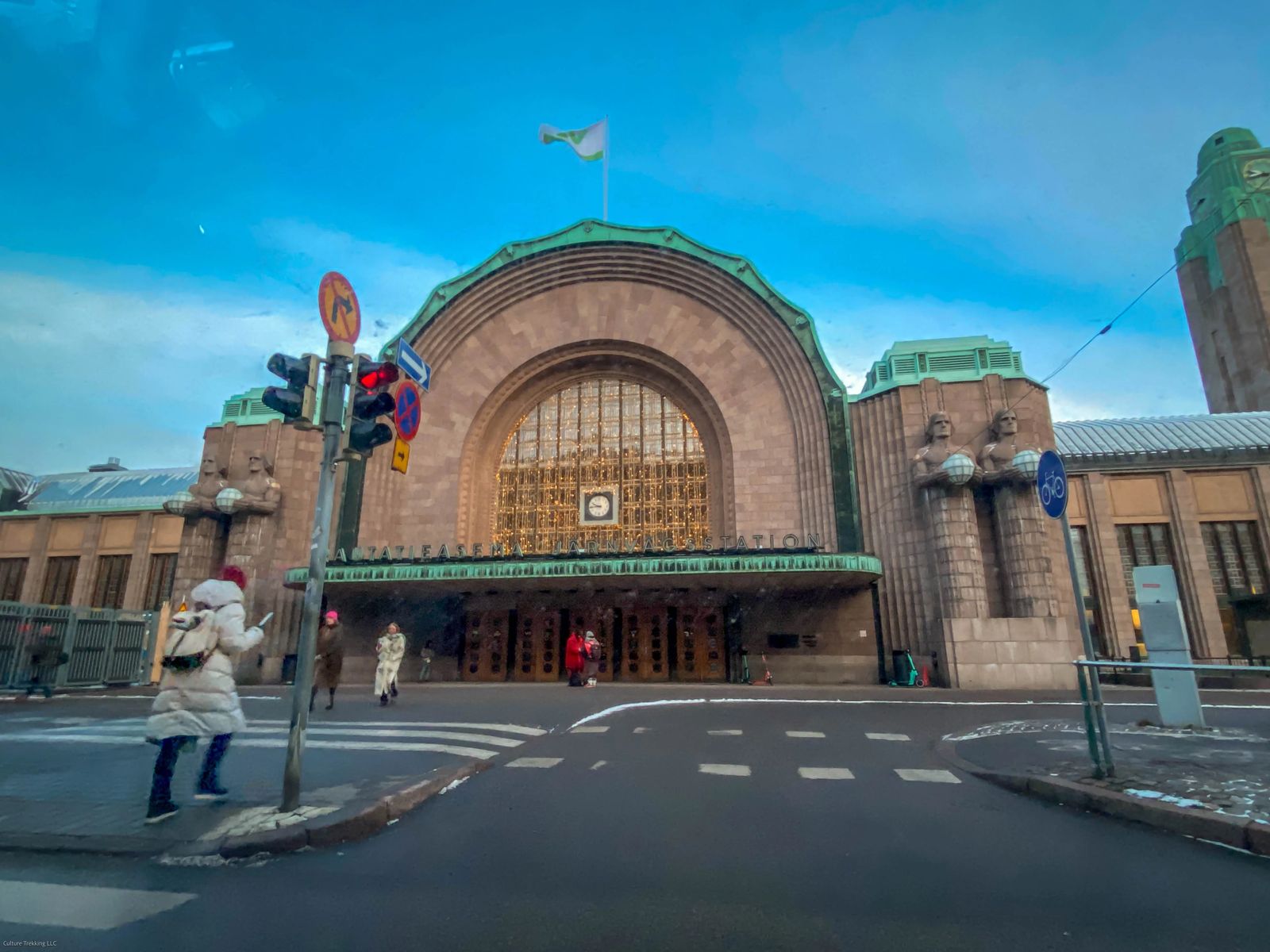 Getting To Helsinki
Tallink is one of the better options for a day trip from any of the neighboring Baltic countries. The Scandinavian railway system is also pretty clean and stellar when it comes to traveling from one of the neighboring countries as well.
If you are flying in, Air Baltic seems reasonable once you get into Europe. I found that United Airlines, Delta and a few American Airlines flights (with horrible layovers) were the best options getting into Europe from the USA.
Just be careful if you are taking a quick flight in and out, the flights tend to be delayed more than the giant cruise ship like ferries that cross the Baltic Sea. Getting stuck in Amsterdam for 36 hours was not fun and all the hotels were booked out.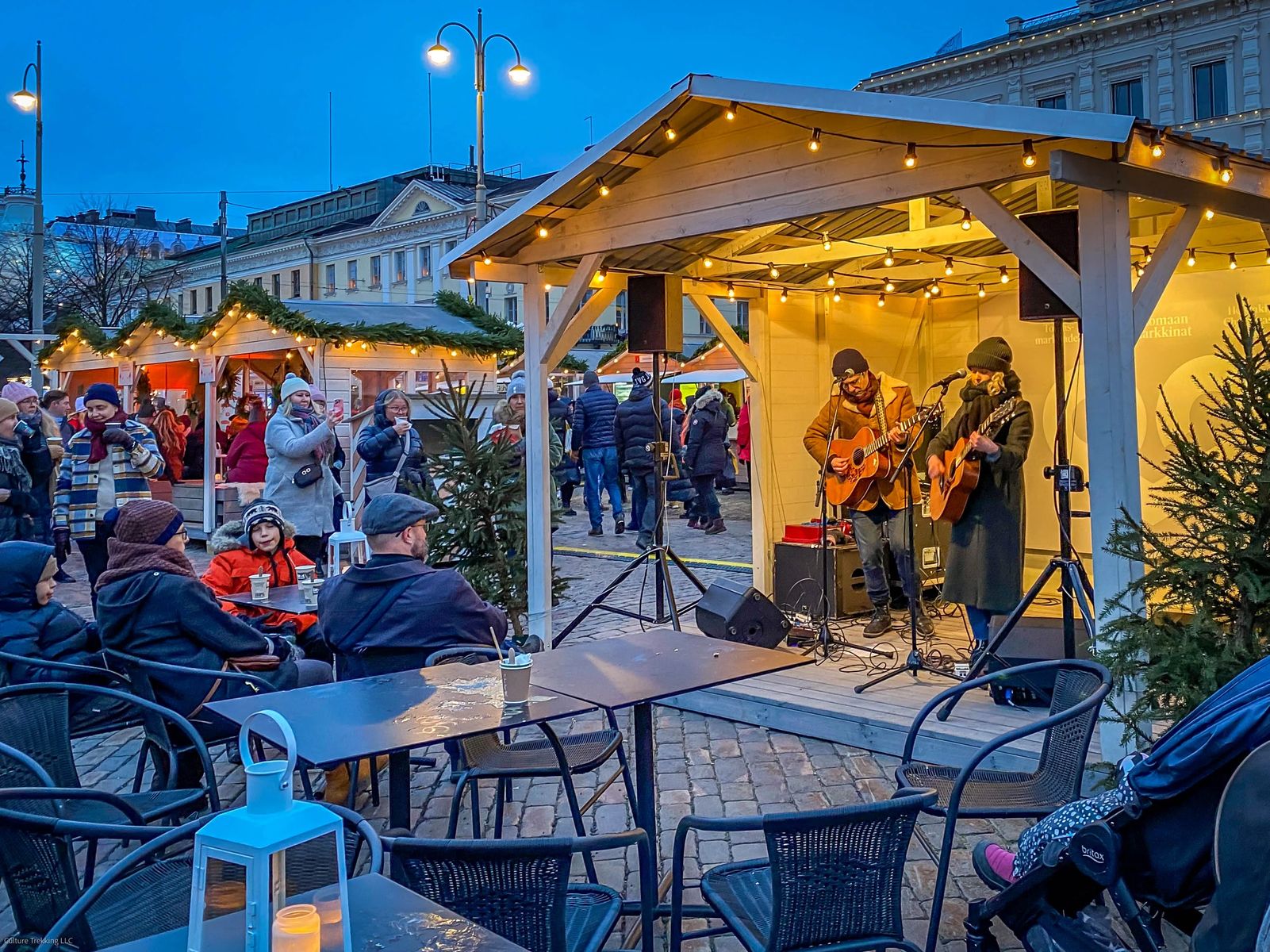 Helsinki Christmas Traditions
A traditional Finnish Christmas typically involves a sauna, a huge meal, lots of indoor games and music and maybe a polar plunge for the brave. The evening of Dec 24th involves visiting church services and visiting cemeteries of loved ones lost. Then you have Christmas Day with the typical Santa Claus and gift sharing. Because of Swedish rule for so long in Finland you will find many of the traditions are similar to what you would find in Sweden with small differences.
Lucia Day Parade is on December 13th, and this is where you will get to see the traditional white dresses and lighted candle headdress. The parade starts at the Helsinki Cathedral and ends at the market square - just make sure you dress accordingly. Celebrating St Lucia Day happens through most of the Nordic countries, as well as along the coastal towns in Estonia. She was a 4th-century Christian martyr that would bring food and gifts to people in need, and is honored on this day.
Typically the oldest daughter dresses up as St Lucia in the white dress, with lighted candle crown. The boys dress up as star boys with white shirts and white pointy hats. They serve sweet buns called St Lucia buns.
There is a typical Christmas decoration that is a bit different then what you find in the USA, it is called a Himmeli, a Christmas decoration that involves geometry and architecture. It helps the play of light the Finns love, and creates patterns of light on the walls.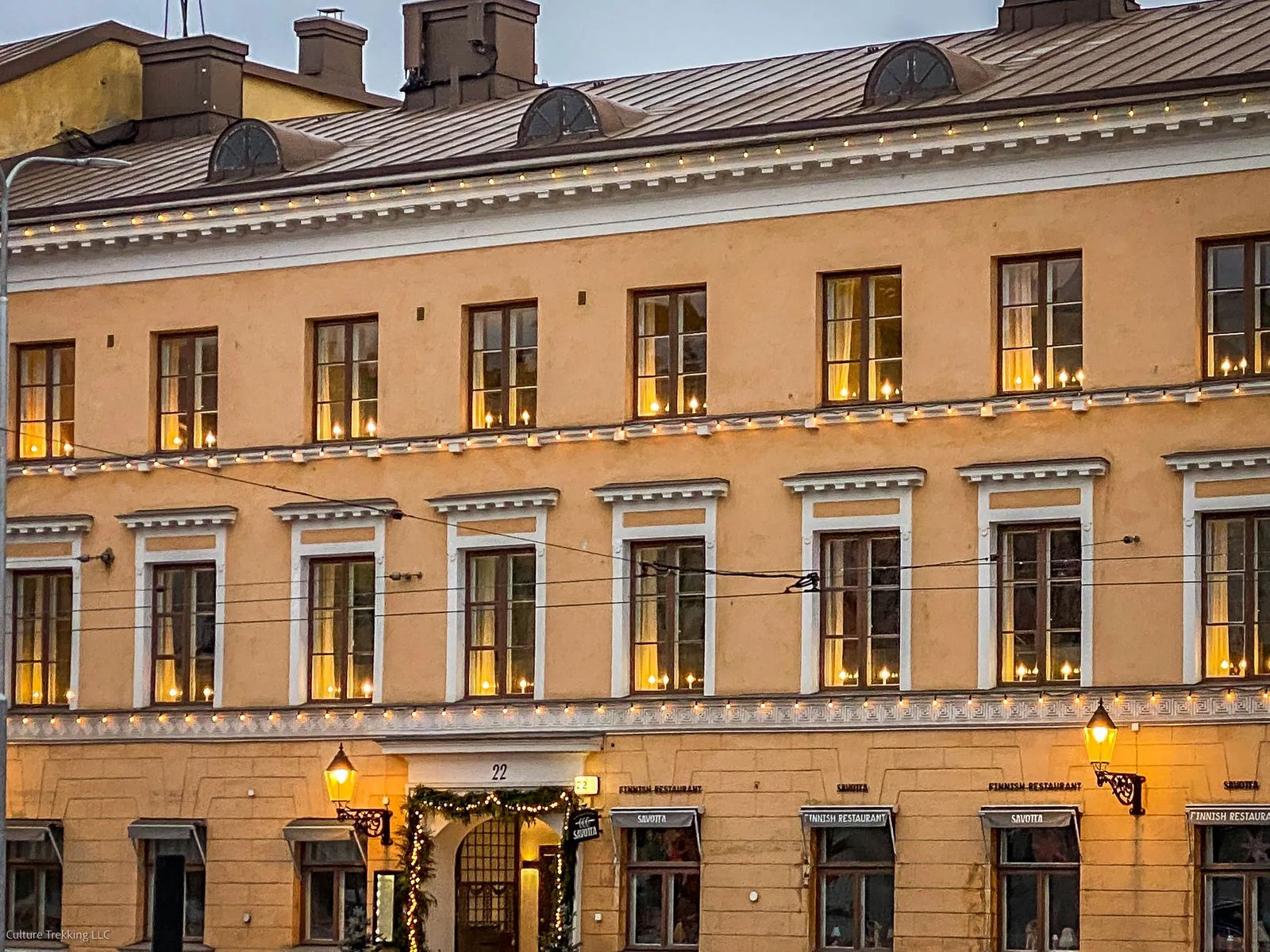 Almost every window you find in Finland also light up with electric candles, or lighted candles. Each Sunday a candle is lighted leading up to Christmas for those that participate in an advent candle lighting.
Children will leave letters to Santa in the mailbox, or a glass jar outside for Santa's Elves to collect. The adults head out to Pikkujoulut, an adult tradition of a big night out drinking with plenty of 'Pikkujoulut Gone Wrong' stories.
Typical Finnish Christmas treats include fudge, gingerbread, Joulutorttu (a puff pastry with jam), Glögi (mulled wine), rice porridge with almonds hidden in it, Christmas tarts, and Joulukinnkku (baked Ham) with mustard and breadcrumbs, potatoes, beetroot salad, rutabaga casseroles, and of course pickled herring.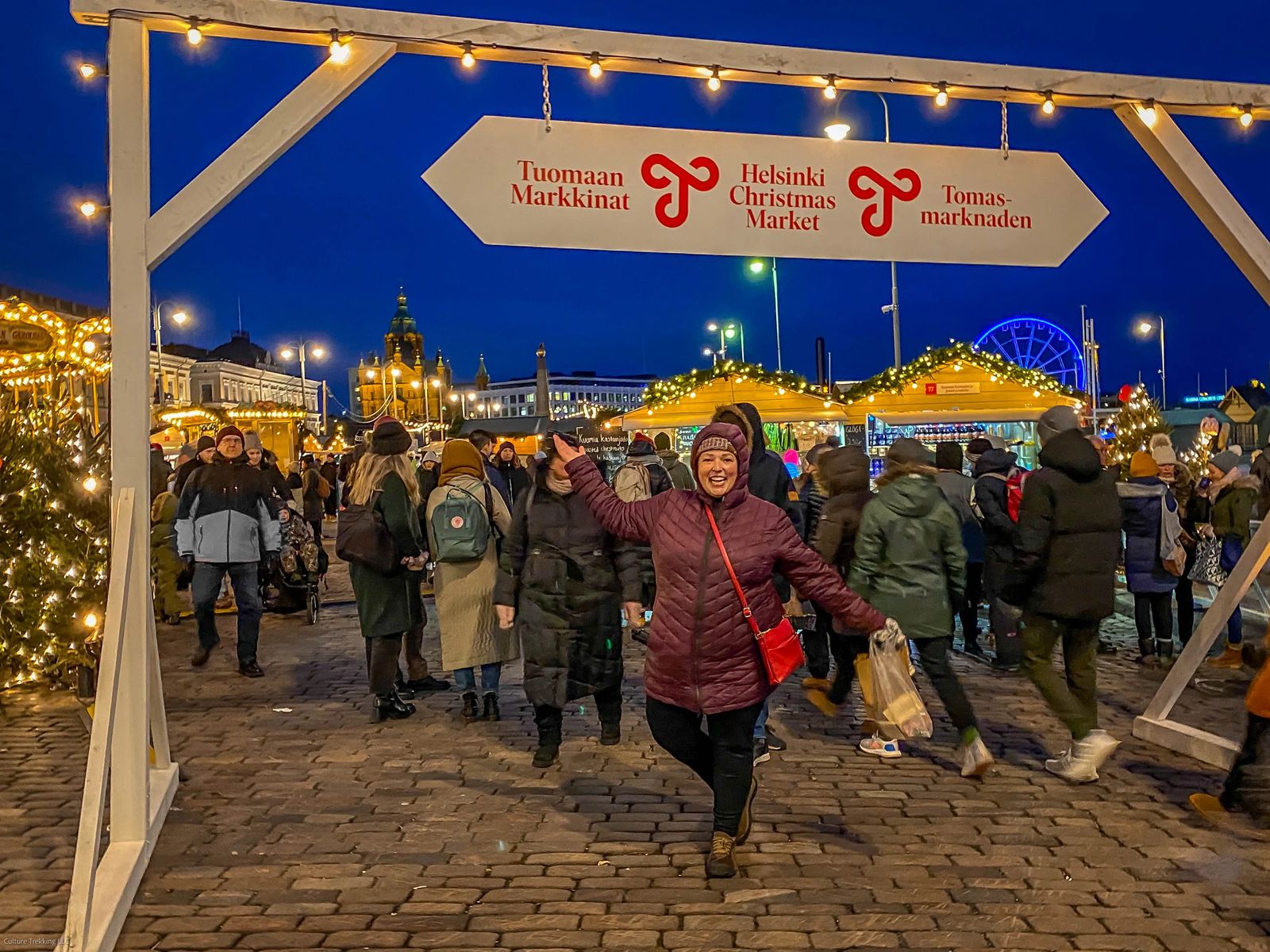 Helsinki Christmas Market Tuomaan Markkinat
After taking the Ferry from Tallinn Estonia to Helsinki to visit the Christmas Market, I didn't know what to expect honestly. I was surprised at just how different the Helsinki Market was to the Tallinn Market, but I don't think you can compare when the history of each country is so different. It didn't disappoint, the only thing that would have made this visit perfect was to wear some windproof warm snow pants. I VASTLY underestimated how cold Helsinki would be in December.
The Tuomaan Markkinat is the oldest outdoor Christmas Market in Finland, and visited by 300,000 people per year. In 2021 the market was held closer to the bay because of construction, but is typically held at the Helsinki Cathedral in nice neat rows of Christmas goodies.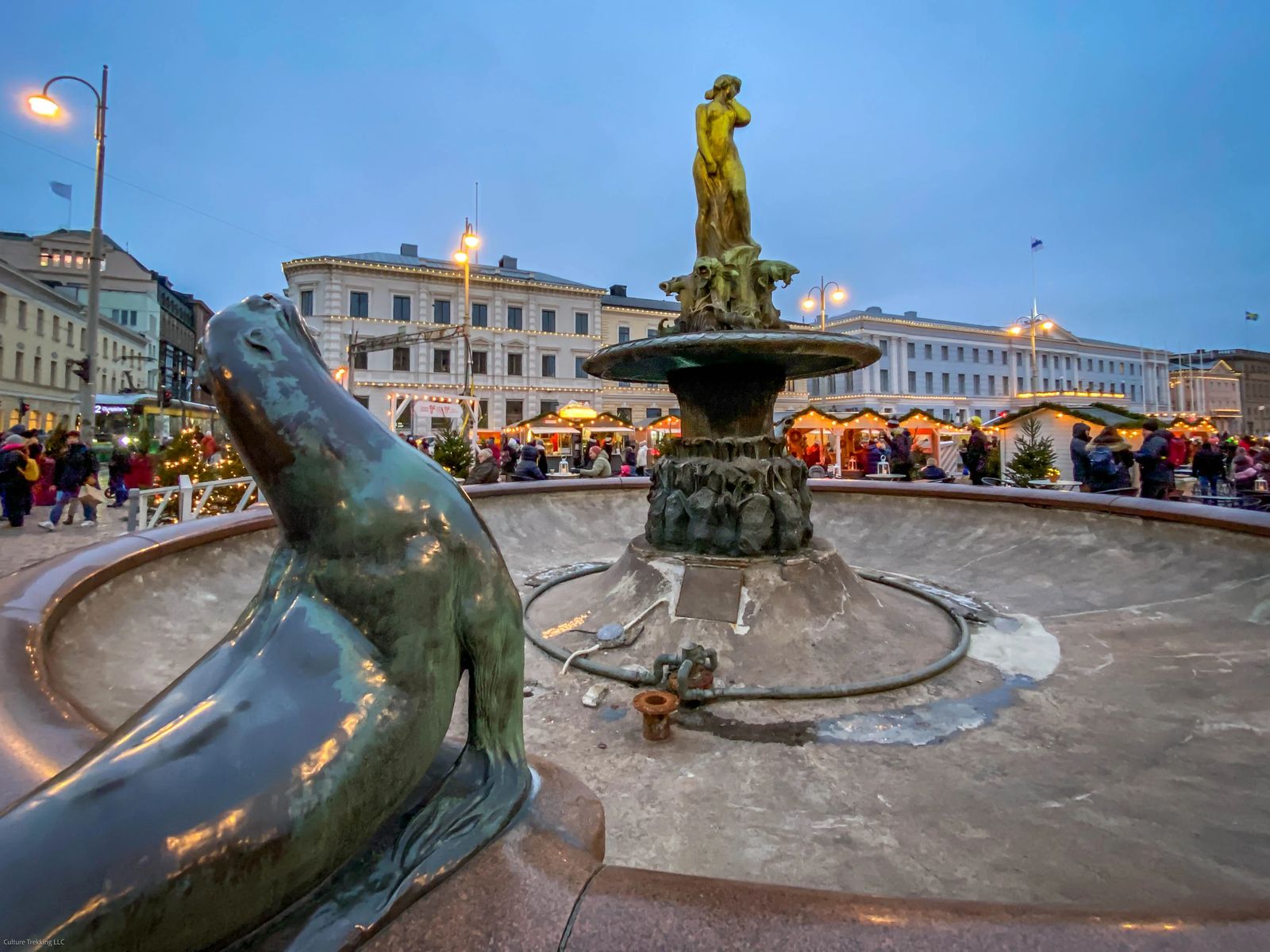 Finland doesn't traditionally have long celebrations of Christmas, so expect the market to be short and typically open from December 1 to December 22. Unlike its what you will find in the Tallinn Christmas Market, here you will find Glögi, the Nordic version of mulled wine that is a bit stronger. They also have non-alcoholic versions, but with how bitterly cold it gets here - definitely get the adult version to help warm you up a bit.
There are different areas for children for carousel rides, and for the more adult crowds areas to warm yourself, drink you Glögi and listen to live music.
You can also do some shopping down the main city street near Stockmann, this is where you can find the best Nordic shopping and clothing stores. It is the Aleksanterinakatu street.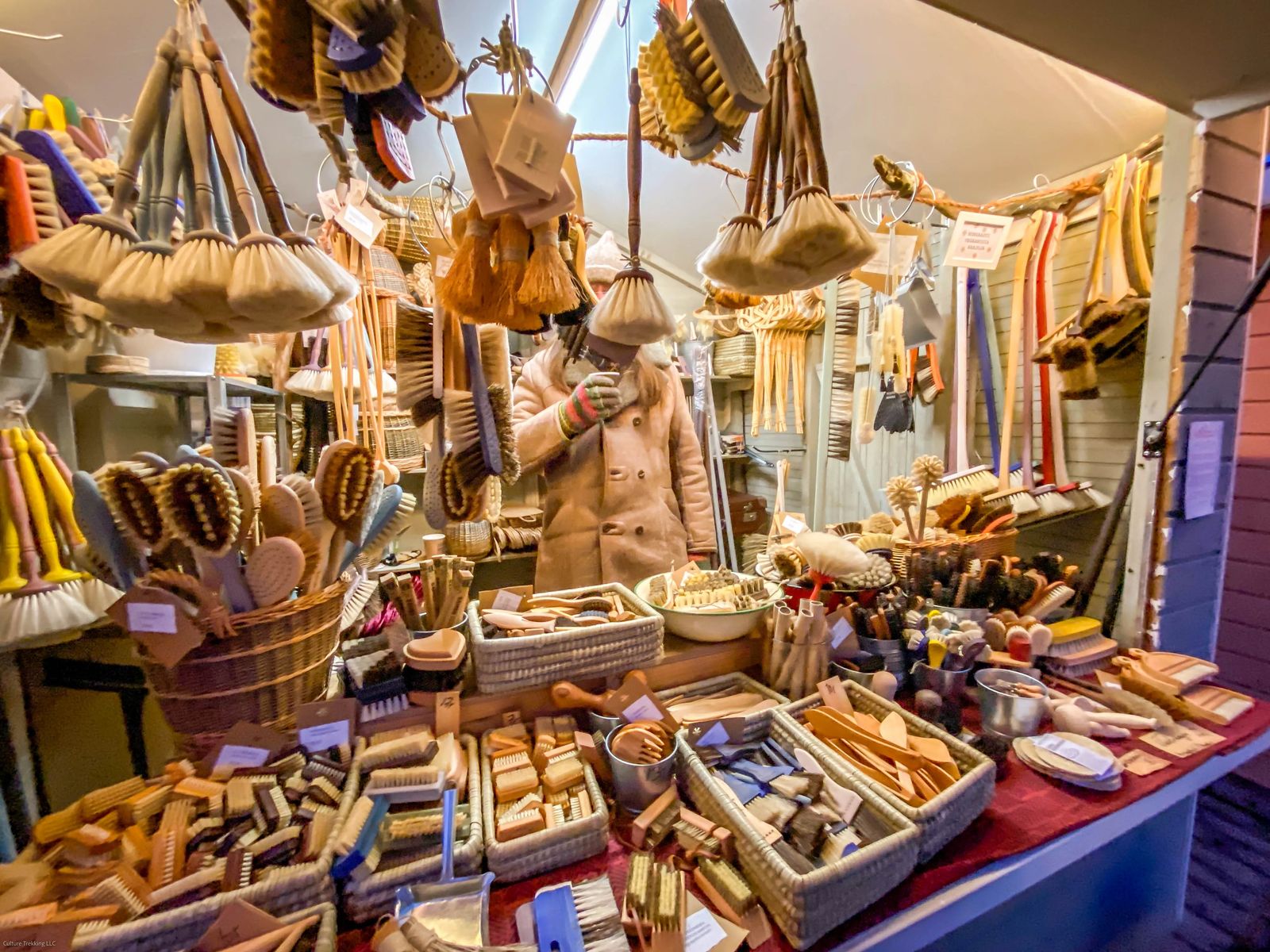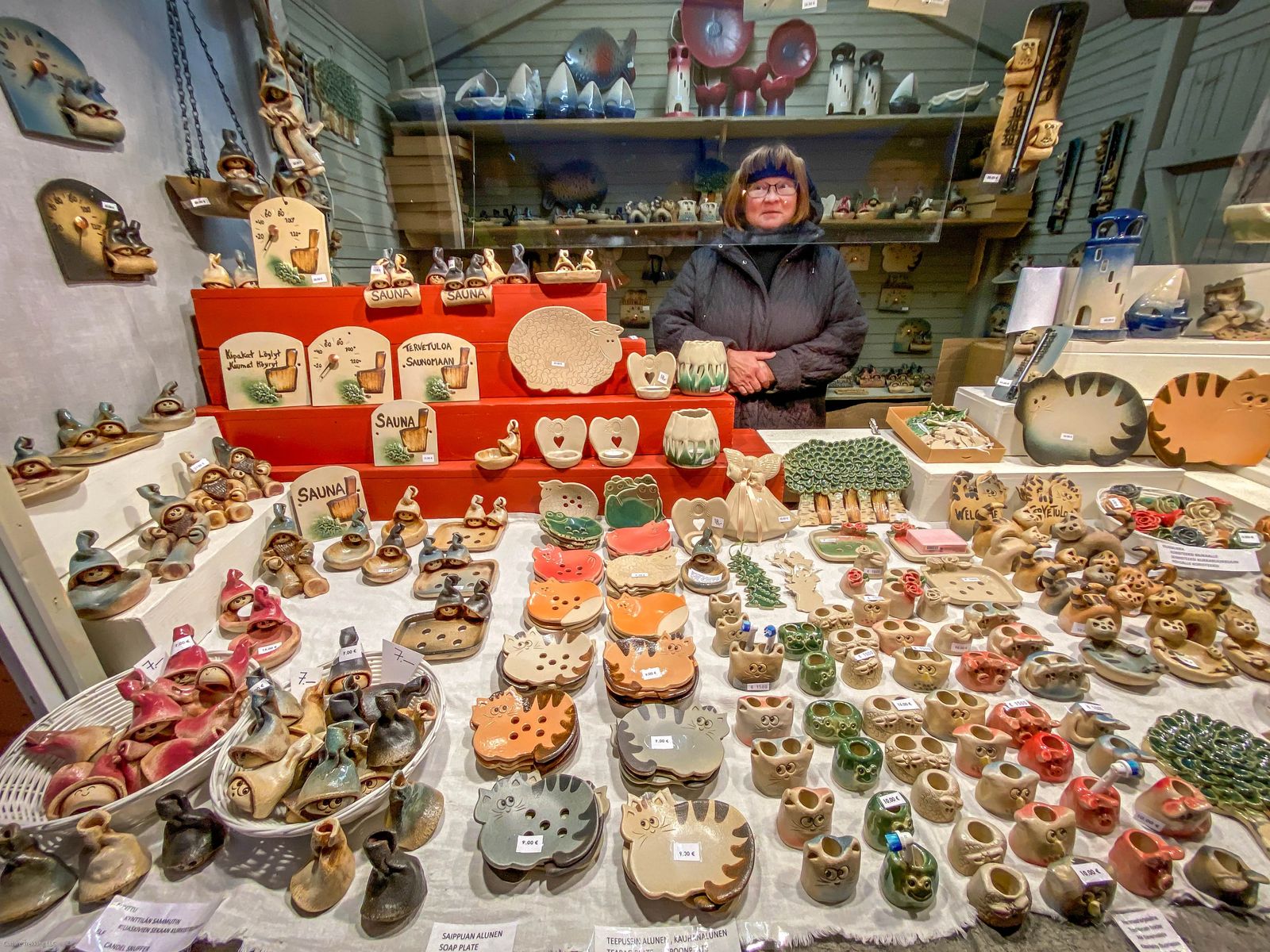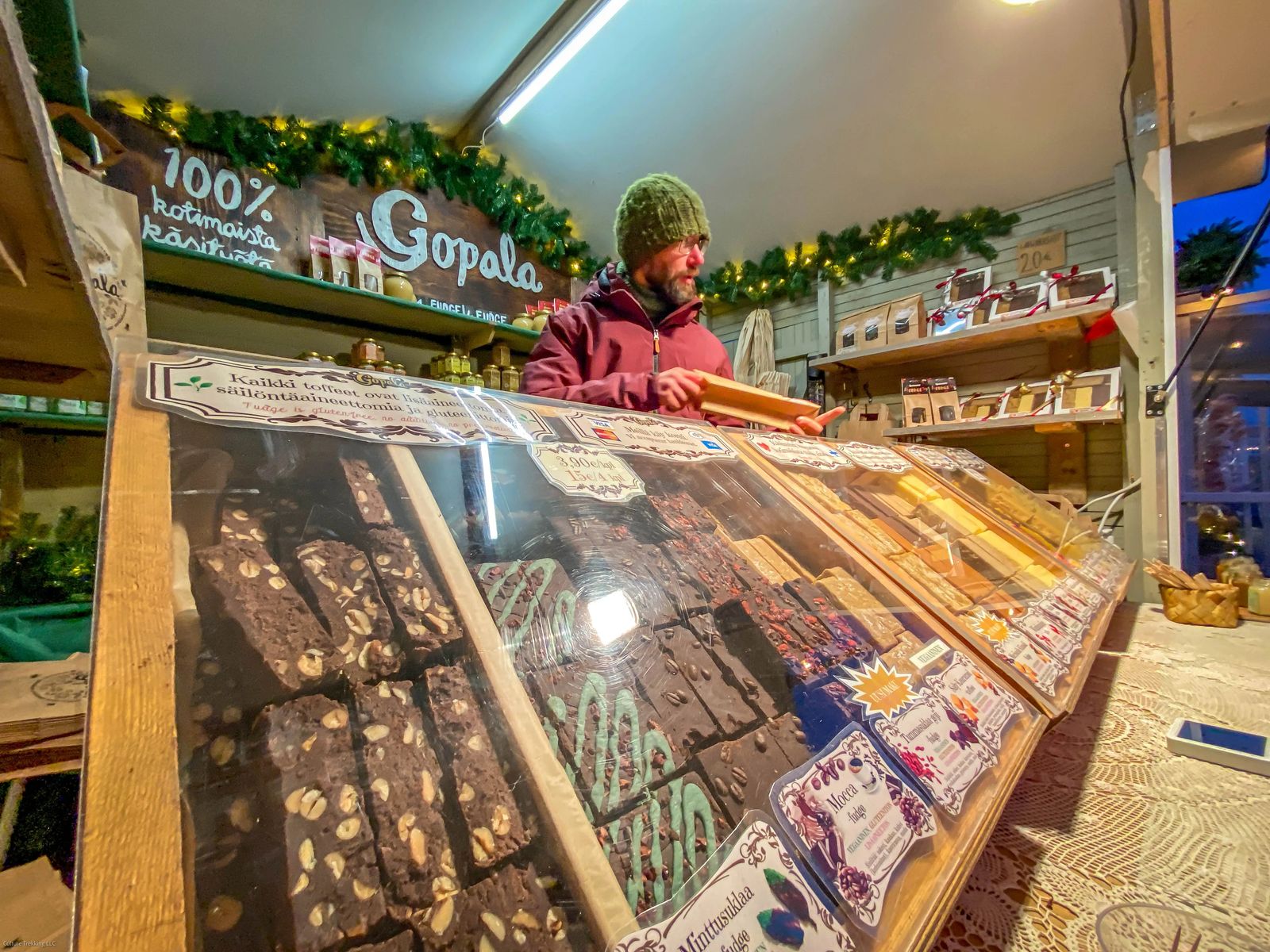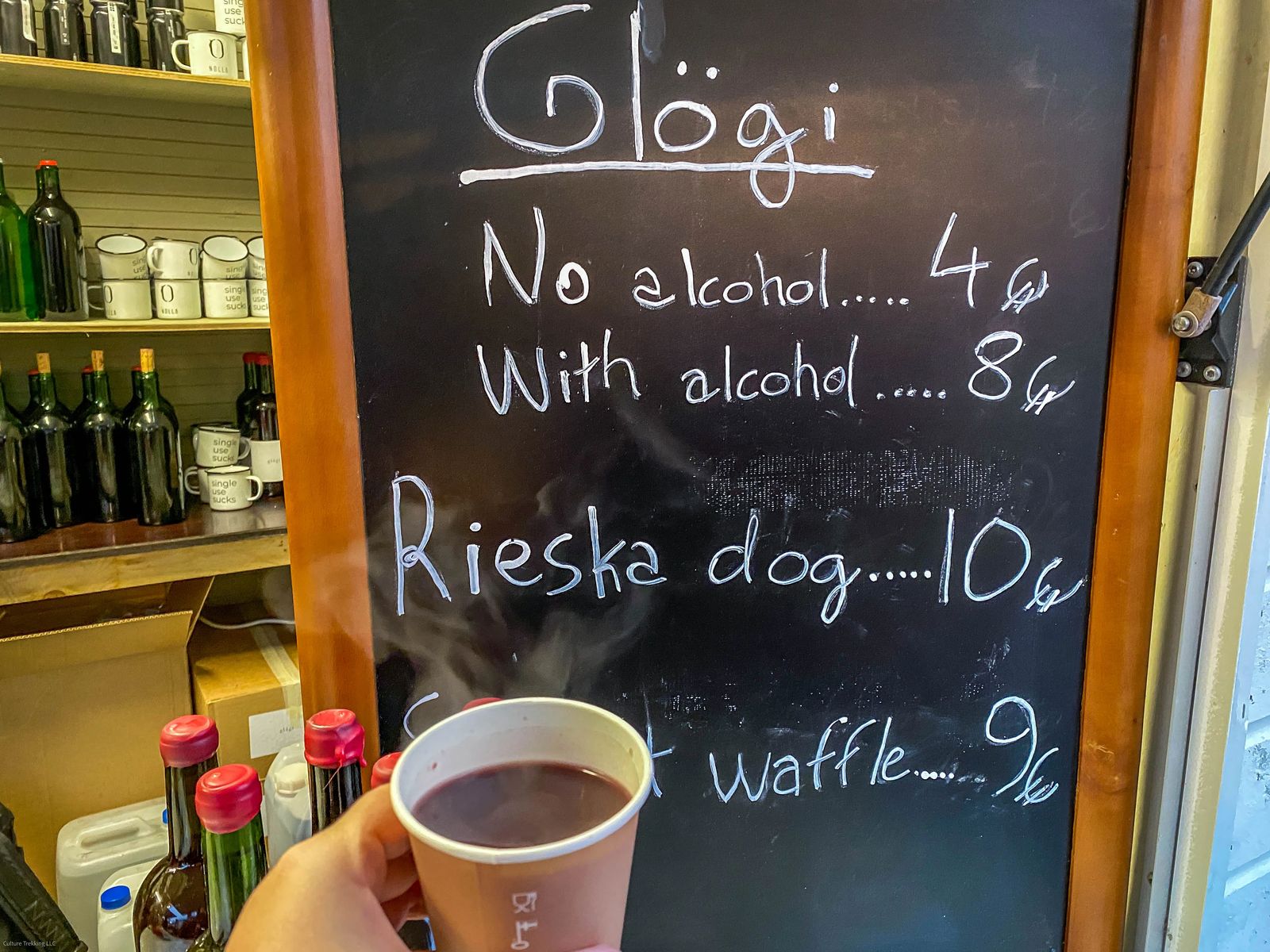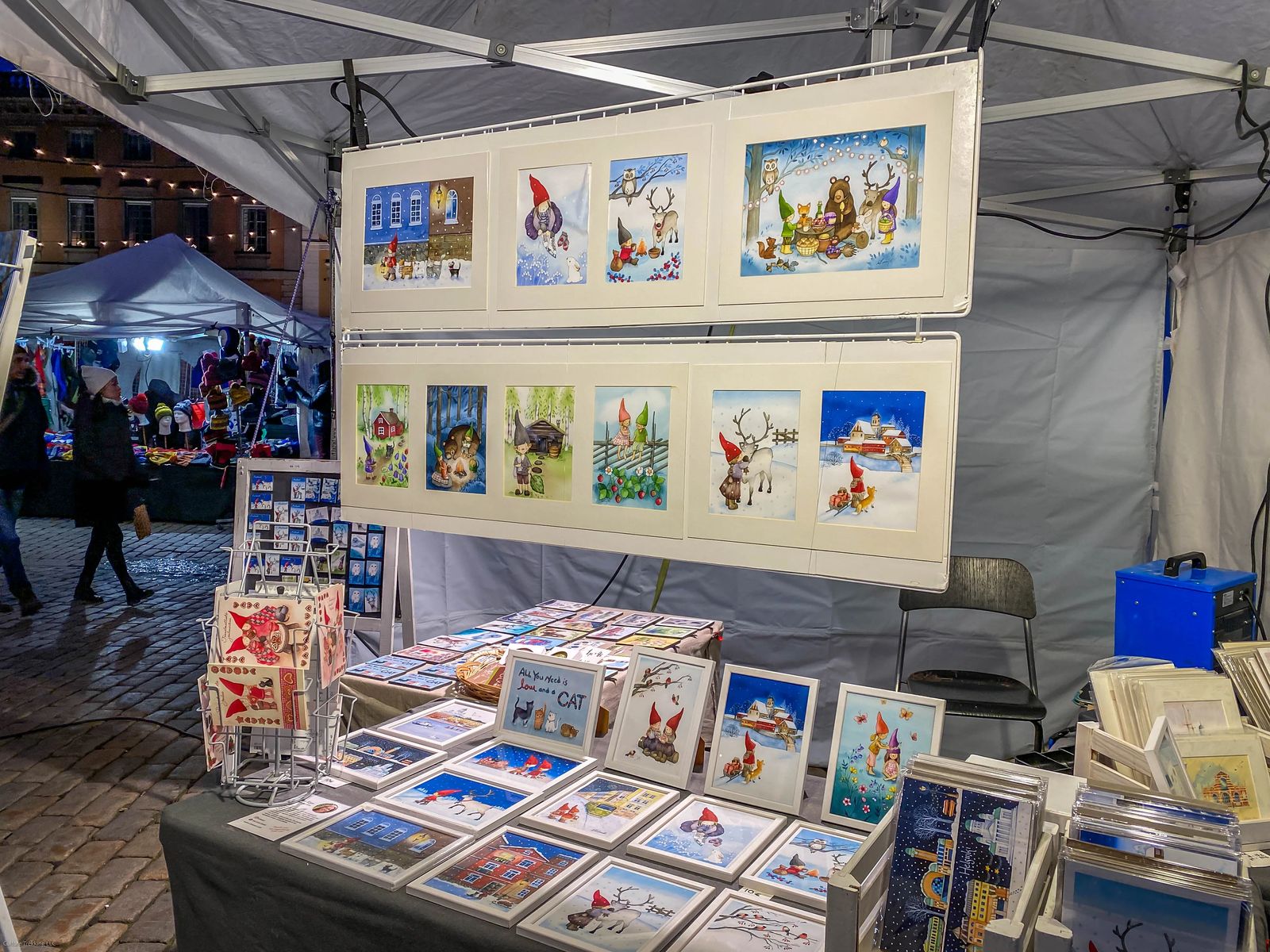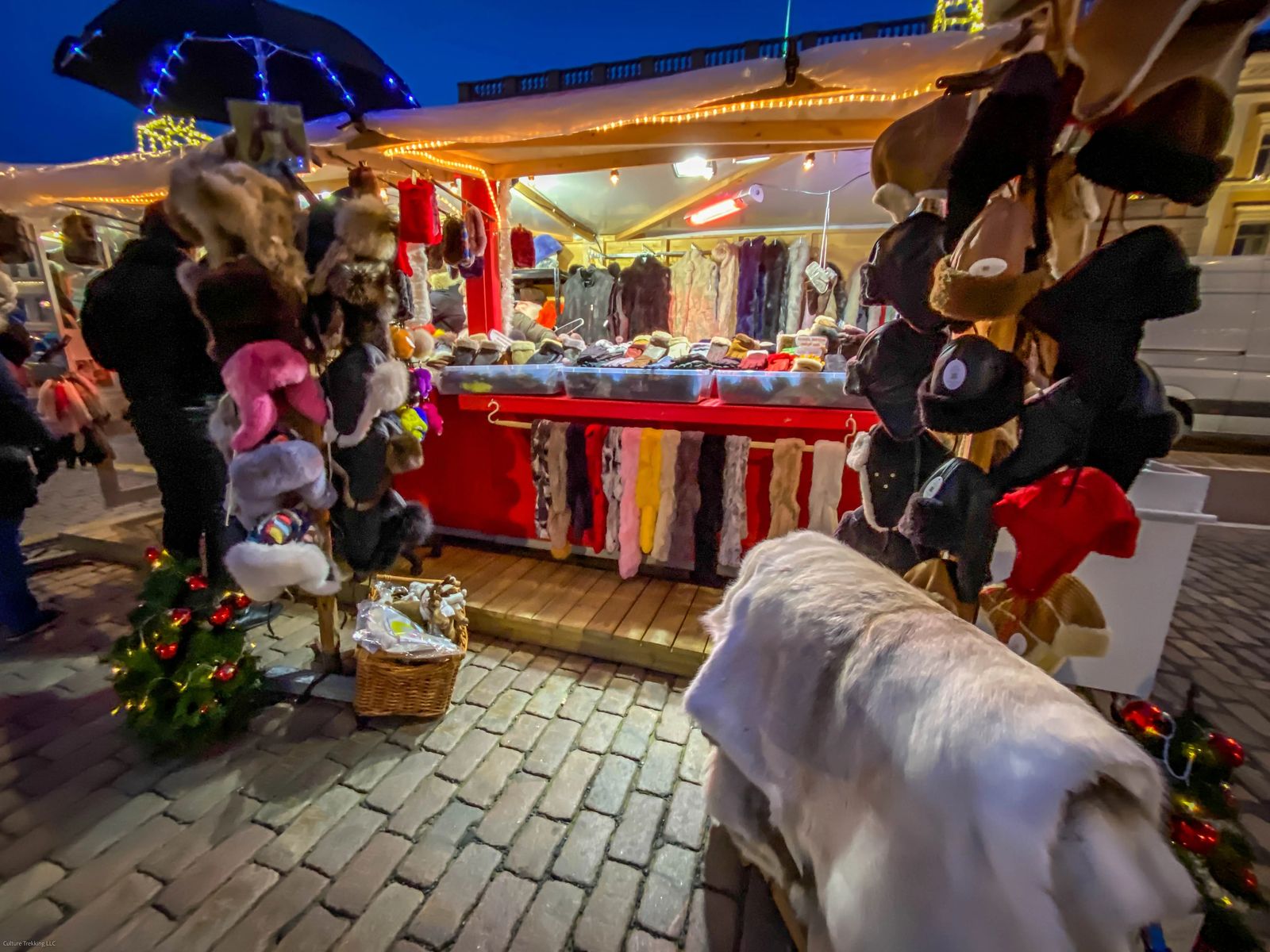 Things To Buy At The Helsinki Christmas Market
Nome elves, Finnish coffee mugs, artisanal fudge and chocolate, lots of Glogi, wool ANYTHING to keep warm, and plenty of meat and cheese. There are plenty of fur hats, coats, reindeer rugs and fox and rabbit fur to go around.
The Nordic Sami tribes live off of Reindeer and has helped their ethnic tribes survive for centuries - so for my more animal sensitive folks just keep that in mind. The amount of artists that were on site, showcasing their crafts to the Christmas Market patrons was much greater than that in Tallinns' Christmas market.
It somehow made it seem more personal and authentic, and thus sucked me and my pocketbook in to purchase a few things. I got a little teary eyed, when I saw the little Grandmother in her red Finnish Cap and garb knitting away with her tiny little elvish glasses. I was very close to my Grandmother, so I had to get it, and a little kid version of me. They now sit on my fireplace and feel like it pays homage to her every time I see it.
When it comes to getting gifts for Christmas, or keepsakes from European Christmas Markets - I always go by the rule of 'does it speak to you?' - if it does - then get it. Granted there are limits to how big your suitcase is, if the shop provides shipping or not (spoiler - Nordic countries shipping is atrociously expensive), and if it will add too much weight to your bag.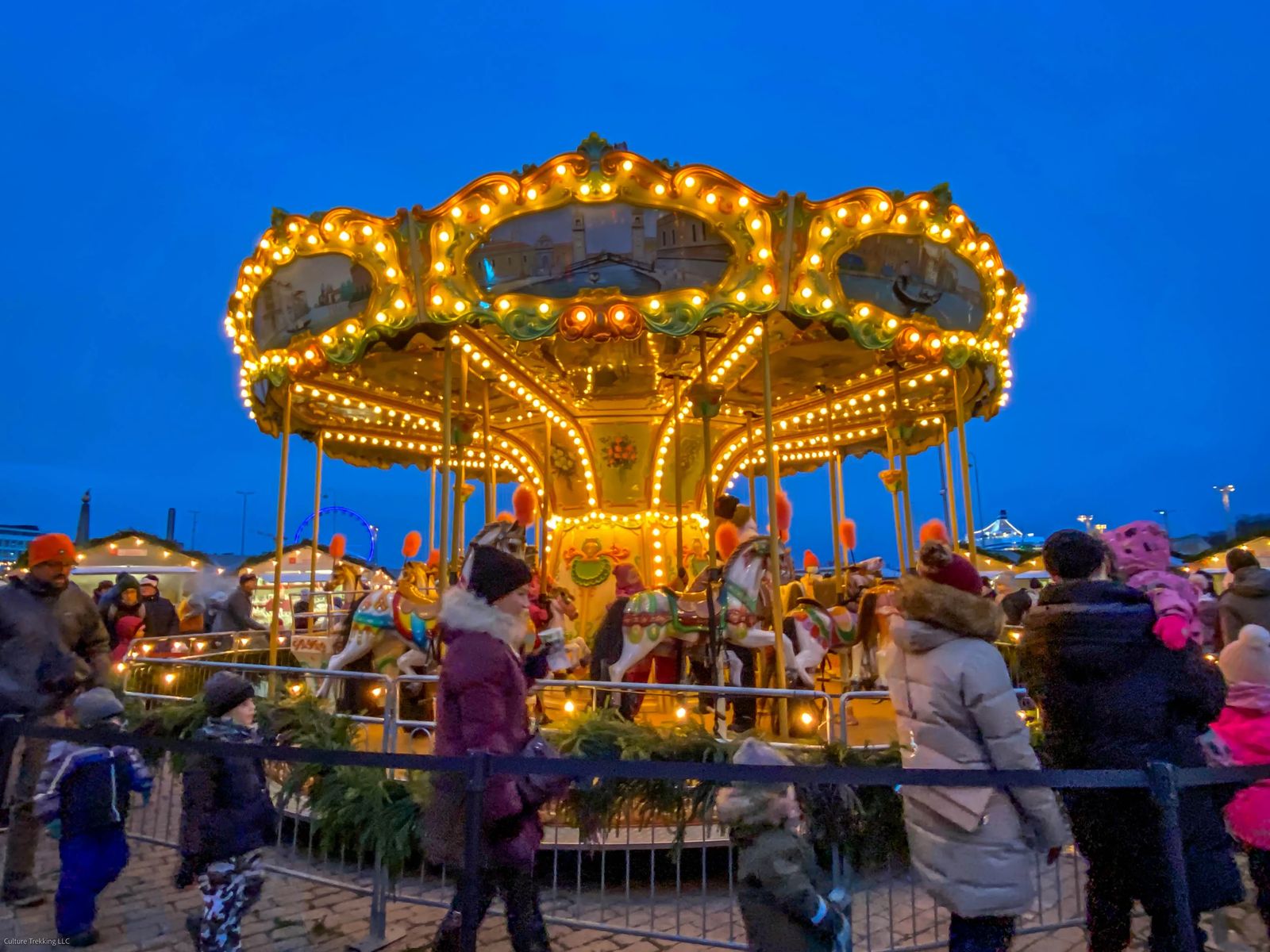 Indoor Vahan Joulutori Christmas Market
For an inside and much warmer Christmas Market - head to Vahan Joulutori, located in an old student housing unit. This is the shortest Christmas Market in Helsinki, only running from December 15th to December 22nd, but you will find two floors of the best local handicrafts.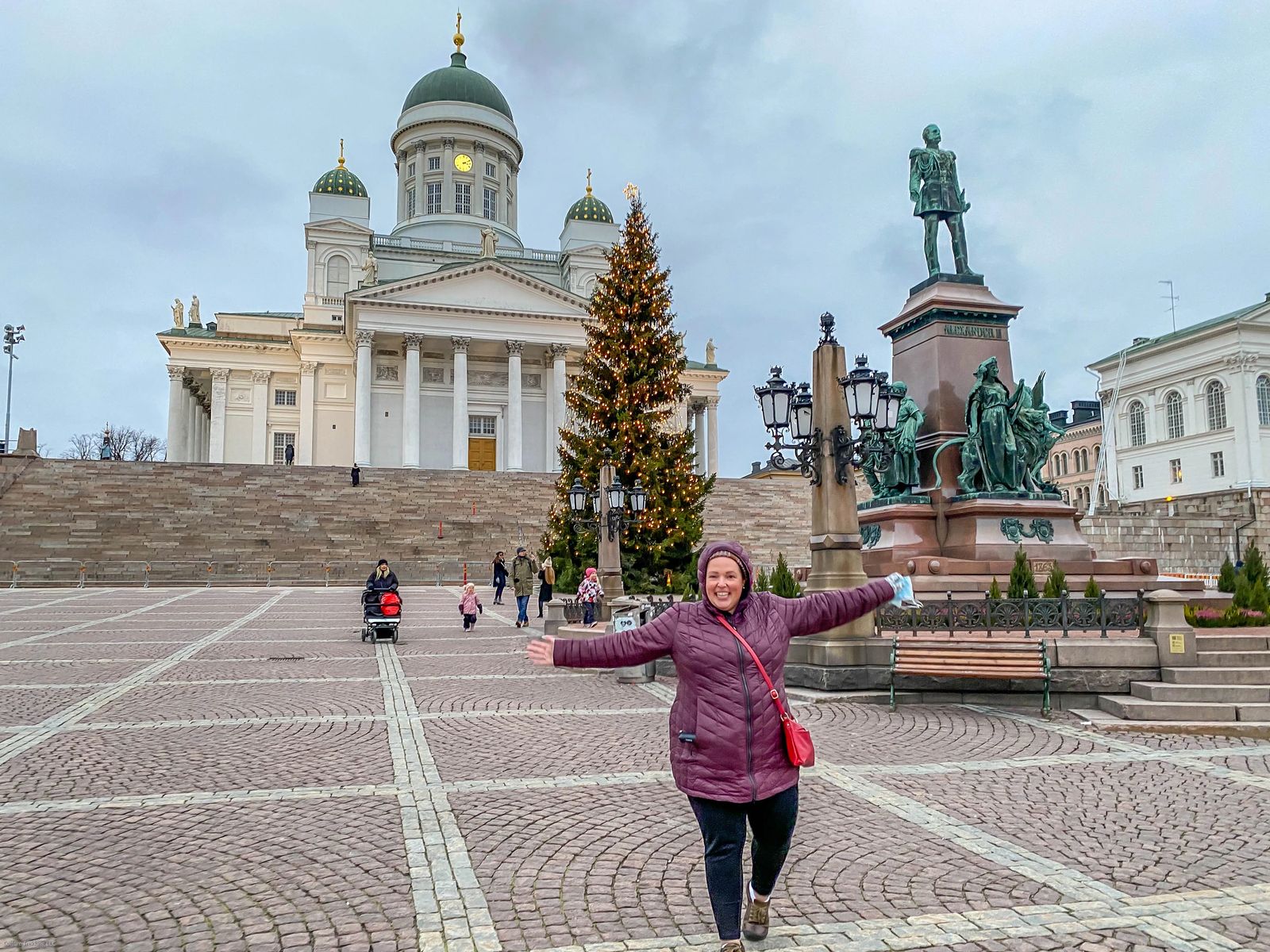 Things To See In Helsinki in Winter
Did you know that Helsinki is the only European capital that isn't considered a medieval city! Much of its time existing was under Swedish rule and was mostly used as a port city and trade hub. This is largely why you see such a high concentration of Neoclassical buildings. There are still several things I suggesting see in while in Helsinki in Winter though.
Helsinki Cathedral
This is an evangelical Lutheran cathedral also known as St Nicholas's Church. It is one of the most photographed and famous structure in Finland. The cathedral was finished in 1852 for the Grand Duke of Finland, and Tsar Nicholas I.
Built in the Neoclassical style by Carl Ludvig Engel, it makes for a great photo backdrop with the Senate square in the foreground. Photo tip, if you are an iPhone user, put your photo on live mode, then hold very still when taking the photo. Change the photo type to long-exposure and you can get rid of the other tourists in the area and have a stellar photo nearly to yourself.
There is a small charge to go into the church so make sure you have a few Euros on hand.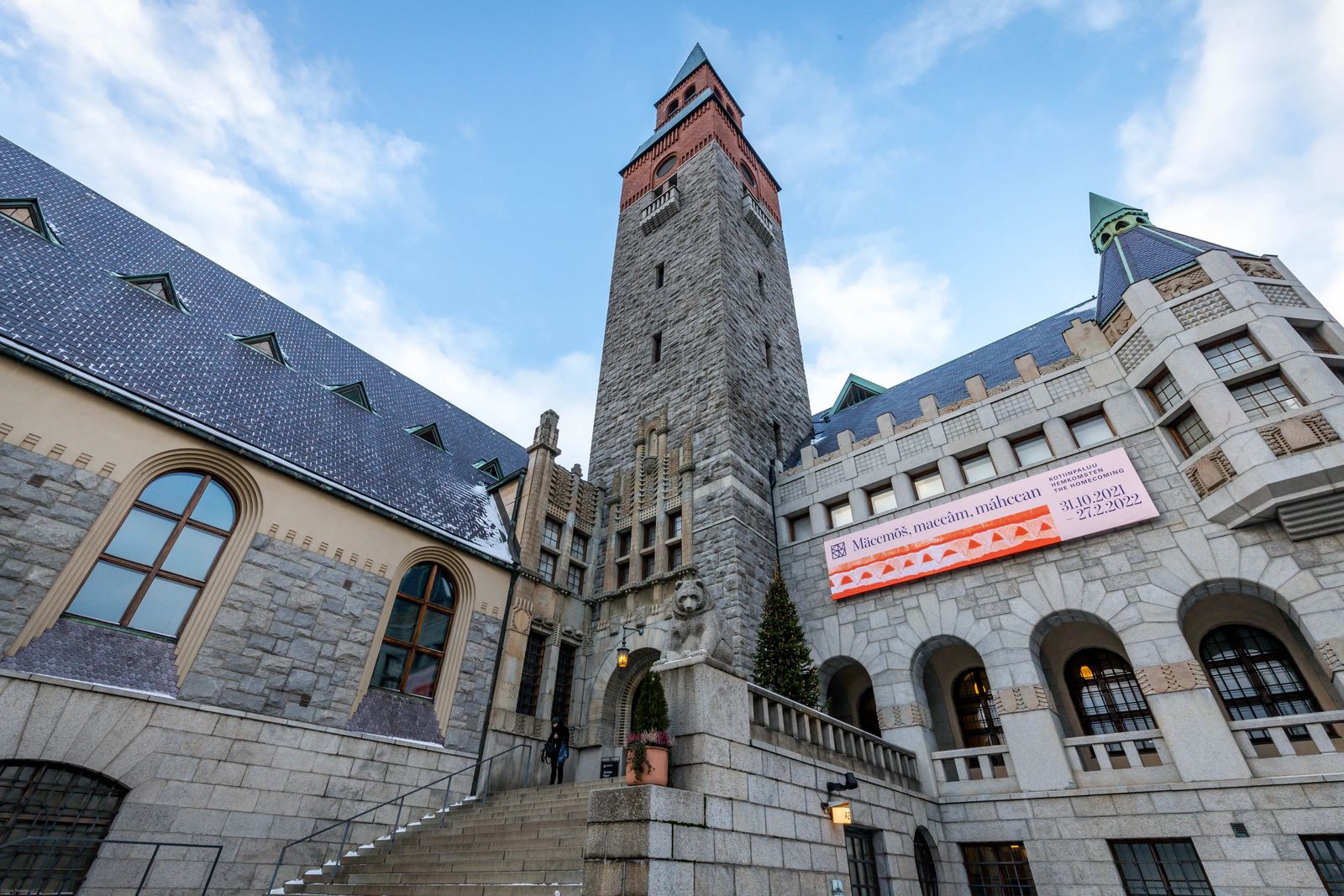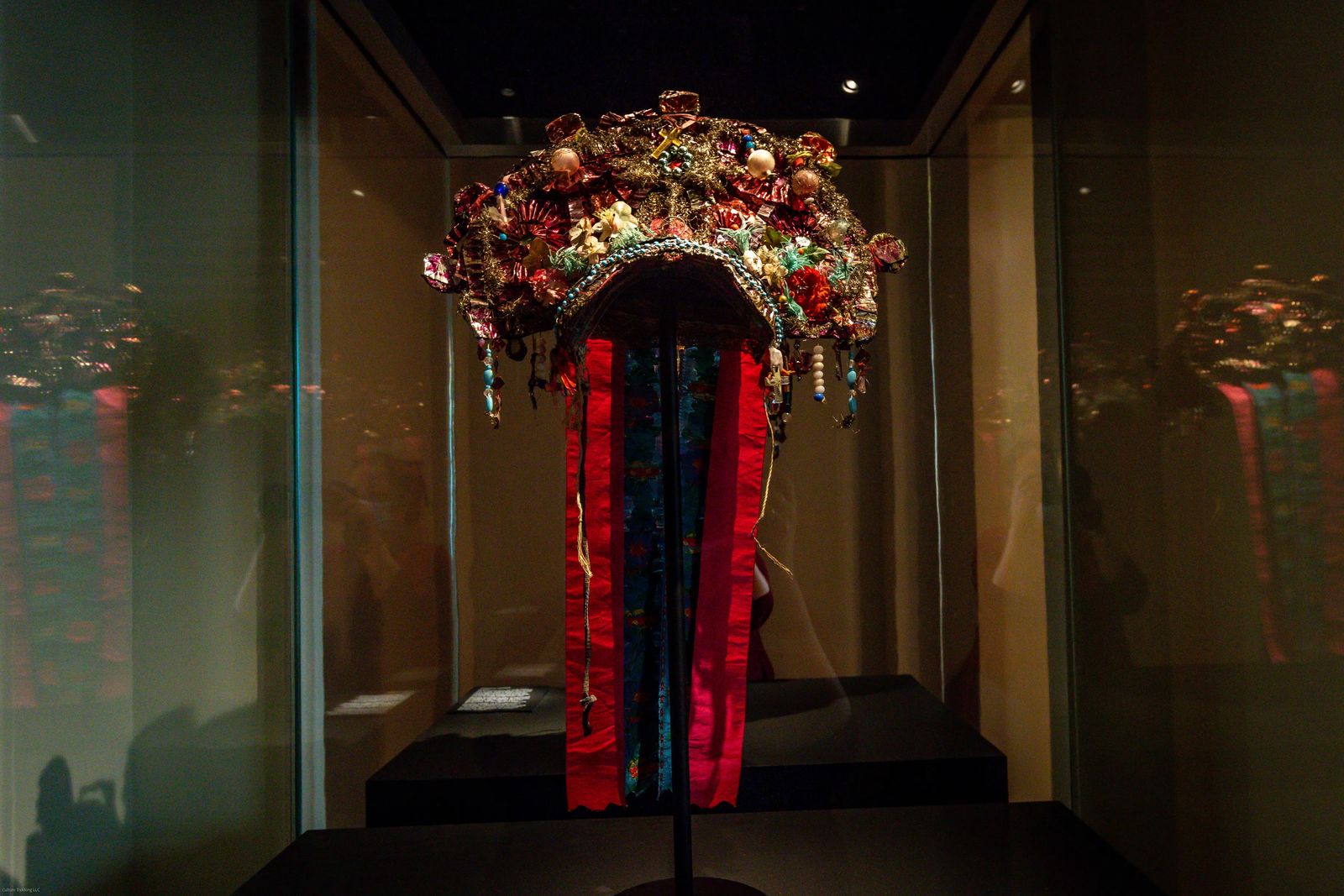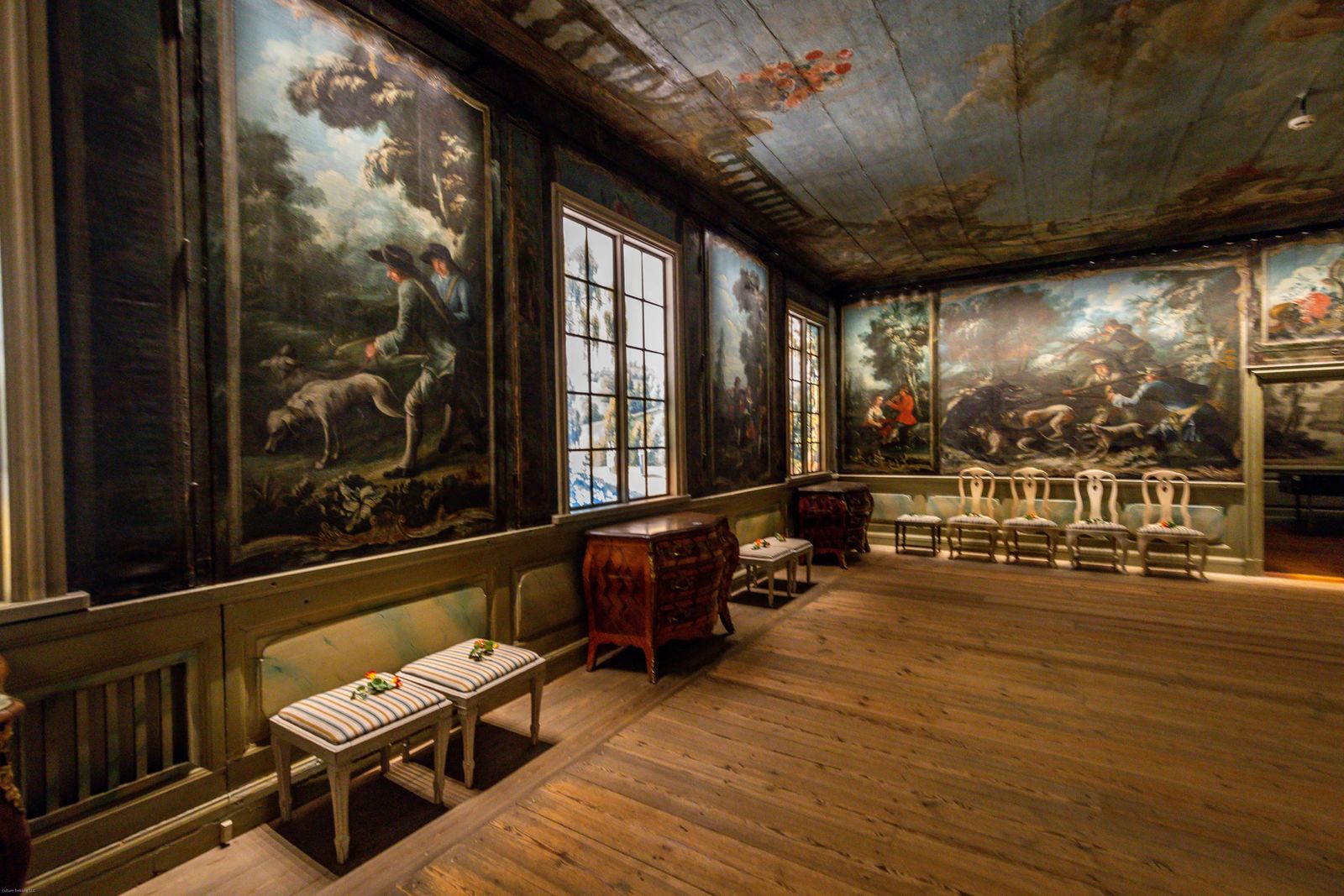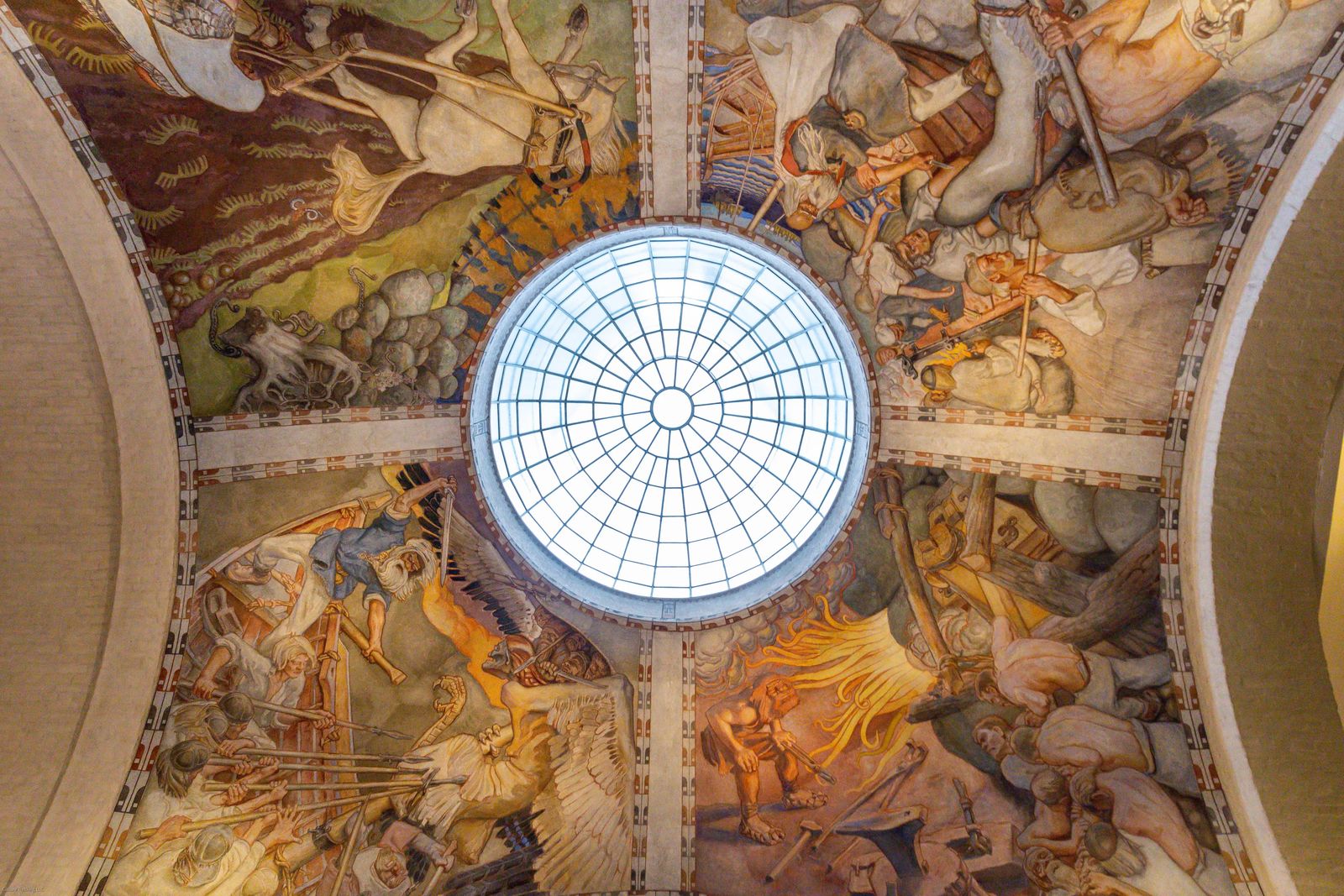 National Museum of Finland
Here you will find the story of Finland and its cultural heritage. The museum greets you with the lavishly decorated ceilings with intricate Kalevala-themed frescoes painted by Akseli Gallén-Kallela. Then you are taken through room after room of over a half a million artifacts that represent Finland from the budding Stone Age to the modern age.
There are lots of school children that come through these halls to interact with many of the collections. Stroll through 18th century recreated rooms, see the traditional dress of their people, and discover folklore and history of the Finno-Ugric people.
There are 80 different museums in Helsinki from the quirky Amos Rex Museum, to the Ateneum Art Museum, the treasured architecture museum - there are loads of indoor places to explore and learn about just how ingenious the people here have become to adapting to the cold. Make sure to grab a Helsinki Card if you plan to visit more than one or two because it saves you a lot of money, and also provides free public transport.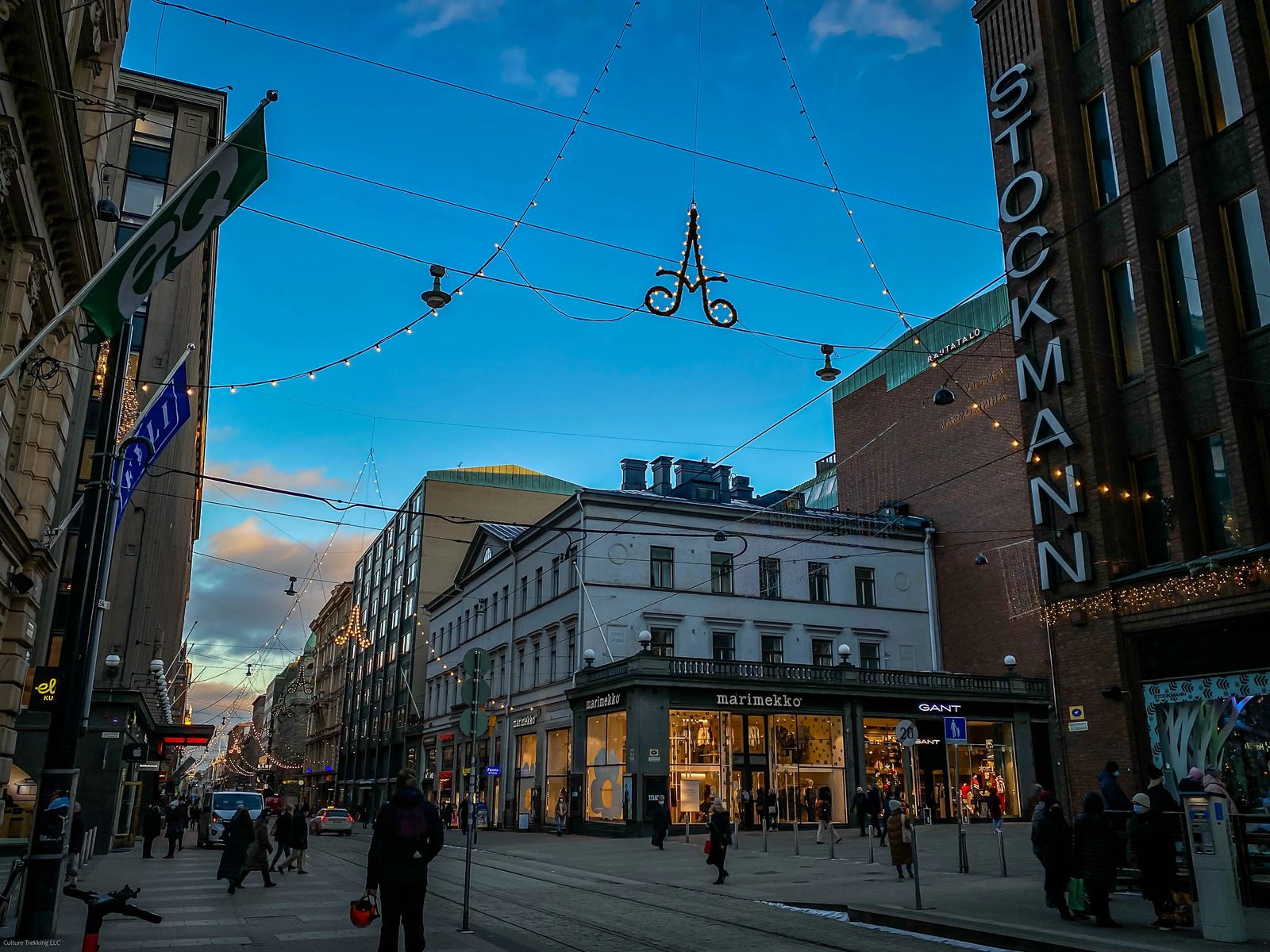 Go Shopping Along Aleksanterinkatu Street
Right next to the Tokmanni Helsinki City Center, and the Kluuvi Shopping Centre is the Stockmann Shopping Mall. This was right near my Helsinki Hostel, and one of those things you stumble upon and fall in love with. This area is lit up at Christmas time, has so many locals milling about, there is an international dining options available at Kluuvi center, and then the Stockmann Mall is a 164,000 sq ft mall that has been open since the 1930's. You can truly find a gift for ANYONE here, and supplement any wardrobe items you didn't bring to keep warm in the polar nights here.
There are so many different shops I had never even heard of before, and you could genuinely spend an entire day just milling about, exploring and window shopping. If you wander over to the Smith's statue, you can also find some more affordable versions of items commonly sold at the Helsinki Christmas Market.
Old Market Hall
This is the oldest Indoor market in Helsinki, we poorly timed visiting after spending a few hours at the Christmas Market. Inside you will find the best local vendors and pop up shops of all sorts. The hall has about 120 stalls, and 6 shops. It is a great place to warm up on the cold wintery days in between your walks or visits to the other places in Helsinki and browse local products and produce.
Be prepared to see reindeer and bear products of all sorts as well, it is a part of their culture to eat reindeer, but can feel a bit contradictory feeling like you are eating Rudolph just before Christmas time. 'Twas a bit of a conundrum for me to delve into this side of the local products, but I did try some reindeer steak and it was actually quite good and hearty.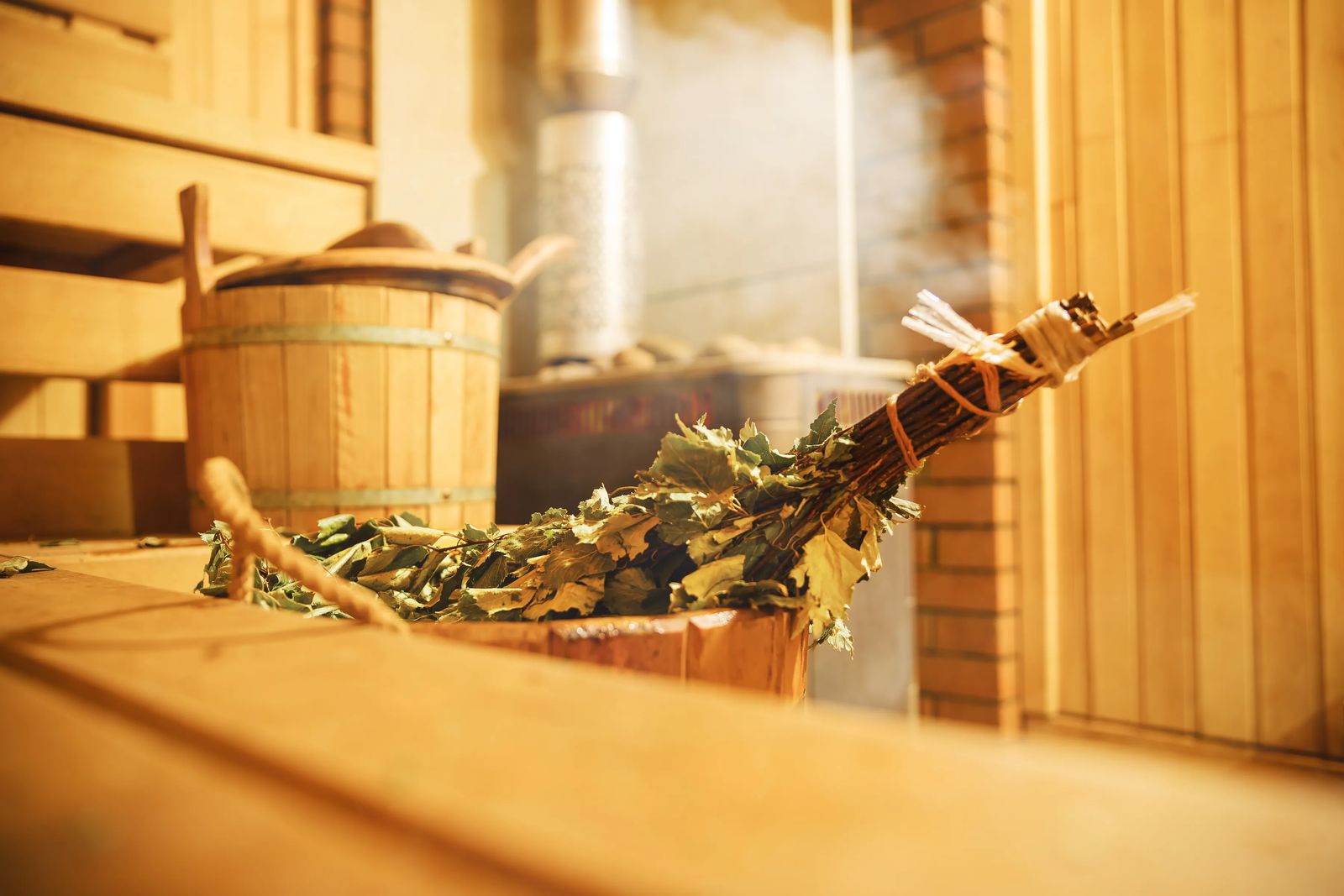 Finnish Saunas and Spas
The top Saunas in the Helsinki downtown area are Löyly, the Allas Sea Pool, Uusi Sauna, and Kotiharjun Sauna. The oldest Sauna in Helsinki is in Tampere and called Rajaportti, which is a traditional wood-fired sauna offering an old-time atmosphere in an very unassuming building and has a BYOB policy.
Some of the oldest saunas here are over 100 years old, the traditional ones are made of ice and wood. Because of the freezing temperatures here, the saunas were largely the only way to bathe here in the winter and is very much a deeply rooted part of the culture.
It is difficult to find a Finnish home now that doesn't have its own personal sauna now. With five million people that live in Finland, there are over three million saunas in use.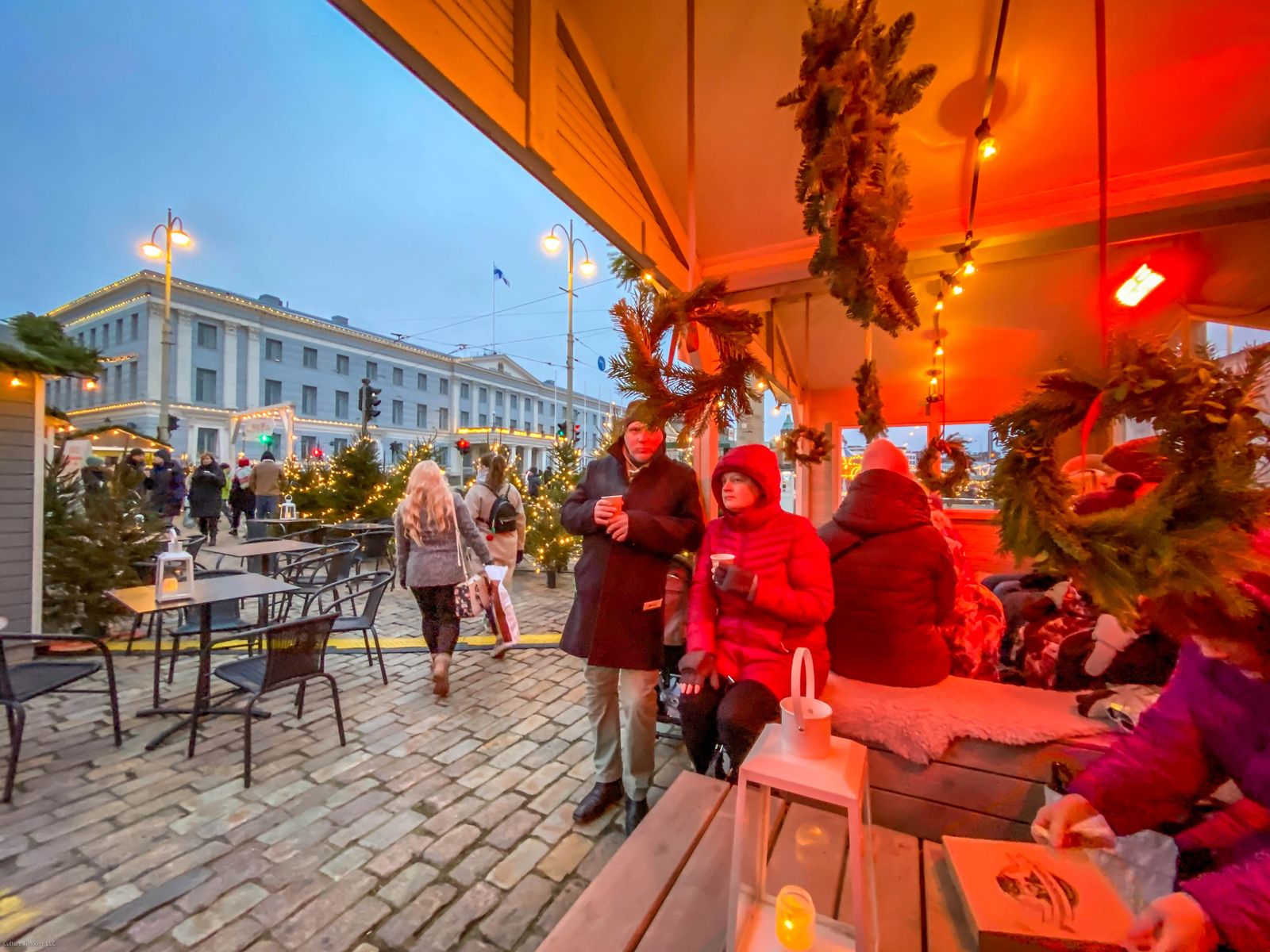 Traveler Warnings And KNOW BEFORE YOU GO!
It is COLD - skin frosting cold - all the locals looked like they were dressed to go to a ski resort. They had full on snow boots, ski poles to walk the streets, wind proof gaiters, coats, and snow pants. What did I wear you ask? A light down jacket with a lace sweater under it, a beanie, some gloves, and jeggings....yep....velvet jeggings with a leopard pattern to be cute. I have never had my skin hurt so bad, and had just the first touches of frostbite on my thighs and calves the next day that took two weeks to heal. DRESS WARM forget being cute unless you want frostbite scars - you will thank me later.
The alcoholic laws in Helsinki are really strict, you need to make sure you are drinking your beverages in designated areas.
Finnish prices of things are a lot more expensive than in the mainland European countries. Hotels, food, adult beverages, taxi tickets and all are going to be about 30-40% more expensive than what you will find in Tallinn - which is why a quick ferry day trip over to Helsinki is what most travelers do.
The days are VERY short in Finland in the winter, good for Northern Light viewing, bad for maximizing your touring time. My friends and I found ourselves scrambling to get a cab, find a place to eat dinner, or even for getting breakfast. The sun 'rises' or tries to rather around 9 am, and sets completely by 3 pm. Most of the stores and shops close around 7 pm, and there is NO WHERE to hang out after that as it just gets too cold.
We were catching a late train to Rovaniemi and only planned on staying for a few hours in Helsinki when we first arrived (I would come back later alone to tour on my own). The problem was that everything closes at 7 pm, our train didn't leave until 11 pm. We tried to go to the train station, and there is NO where to sit, the lockers there looked like a few had been broken into and wouldn't fit our luggage (backpack size only).
LUCKILY our friend had rented a hotel room for the night at the nearby Marriott on his points, so all 5 of us and our luggage piled into his hotel room to escape the cold. It would have been an absolute miserable night if he hadn't let us stay there....thanks David.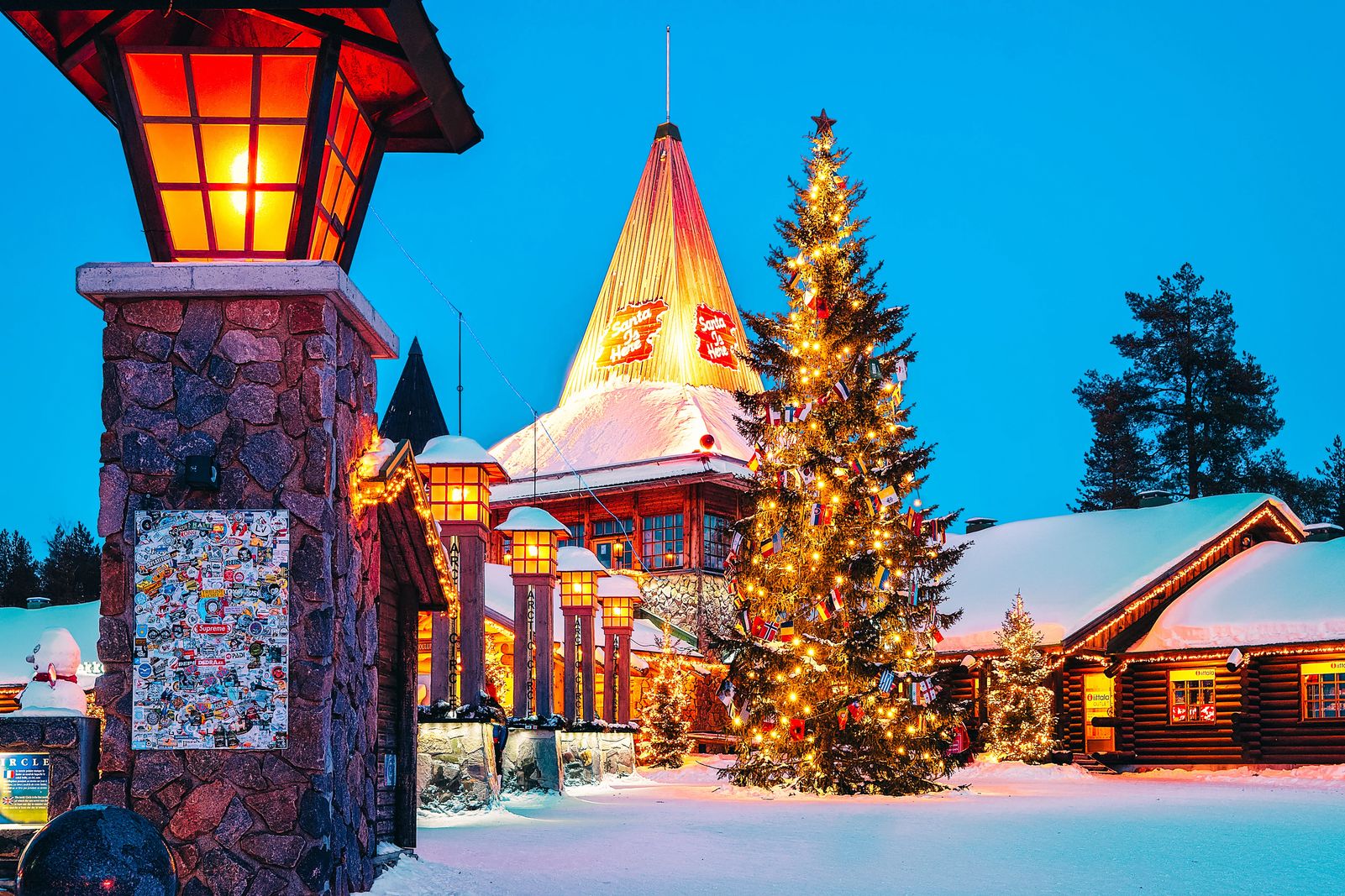 Visit Lapland and Rovaniemi Where SANTA LIVES
You can find the jolly old man himself with his ever so helpful elves and reindeer in Rovaniemi the capital of Lapland 365 days a year. Santa Claus (in Finnish Joulupukki) lives in an underground bunker just 10 kilometers south of the Arctic Circle.
There are two places that Santa Claus lives (baller!) one is in the underground bunker, and the other is in the Santa Claus Village. When my friends and I arrived, we were a little confused about which one to visit.
The Santa Claus Village looks like it caters to the perfect photo backdrop hunter, and those with families that want to participate in sleigh rides and excursions with the elves. The Santa's workshop or underground bunker takes you down a bit of a spooky tunnel where you can ride some short Christmas rides, go to Elf school, see Santa Claus and get a commemorative photo, decorate your own gingerbread cookie, make an ornament and eat lunch while enjoying an acrobatic show. The bunker also has an ice sculpture room and robes to adorn to feel like Elsa herself (a princess from the Disney film 'Frozen').
I'll compare and contrast the two Santa Compounds in Rovaniemi another article to help you better sort which one is best for you and your party, and about the time I saw the Northern Lights for my Birthday the same day.
Getting Around Helsinki
Use the Taksi Helsinki App to call a taxi, this is their version of Uber (USA) or Bolt (in the Baltics). You can also call the taxi service calling 0100 0700, most Finnish people speak English so it isn't too hard to tell them where you need to go and get to the correct place. They do also have Uber in Helsinki as well, but it can take awhile for someone to pick you up (15-30 minutes) and found that in winter the rides frequently get cancelled.
There is a great bus system available, the trains are reliable and easy to book (especially for going up to Rovaniemi), walking is also an option, but when it gets cold - you won't want to walk outside for very long. They also had a bunch of the electric scooters called Tier that are often outside hotels, restaurants etc....
The Ferries from Tallinn, Stockholm, St Petersburg and other Nordic countries are reliable, quick, offer overnight sleeping arrangements where needed, and aren't terribly expensive. I found the ferries to stable and as big as a cruise ship with a lot of commuting middle age folks and younger families utilizing this method of transportation. I personally used Tallink which was great, it was around 54 Euros, but my friends found another comparable ferry with live music for around 20 Euros but less stores and amenities and high quality restaurants and play areas on board.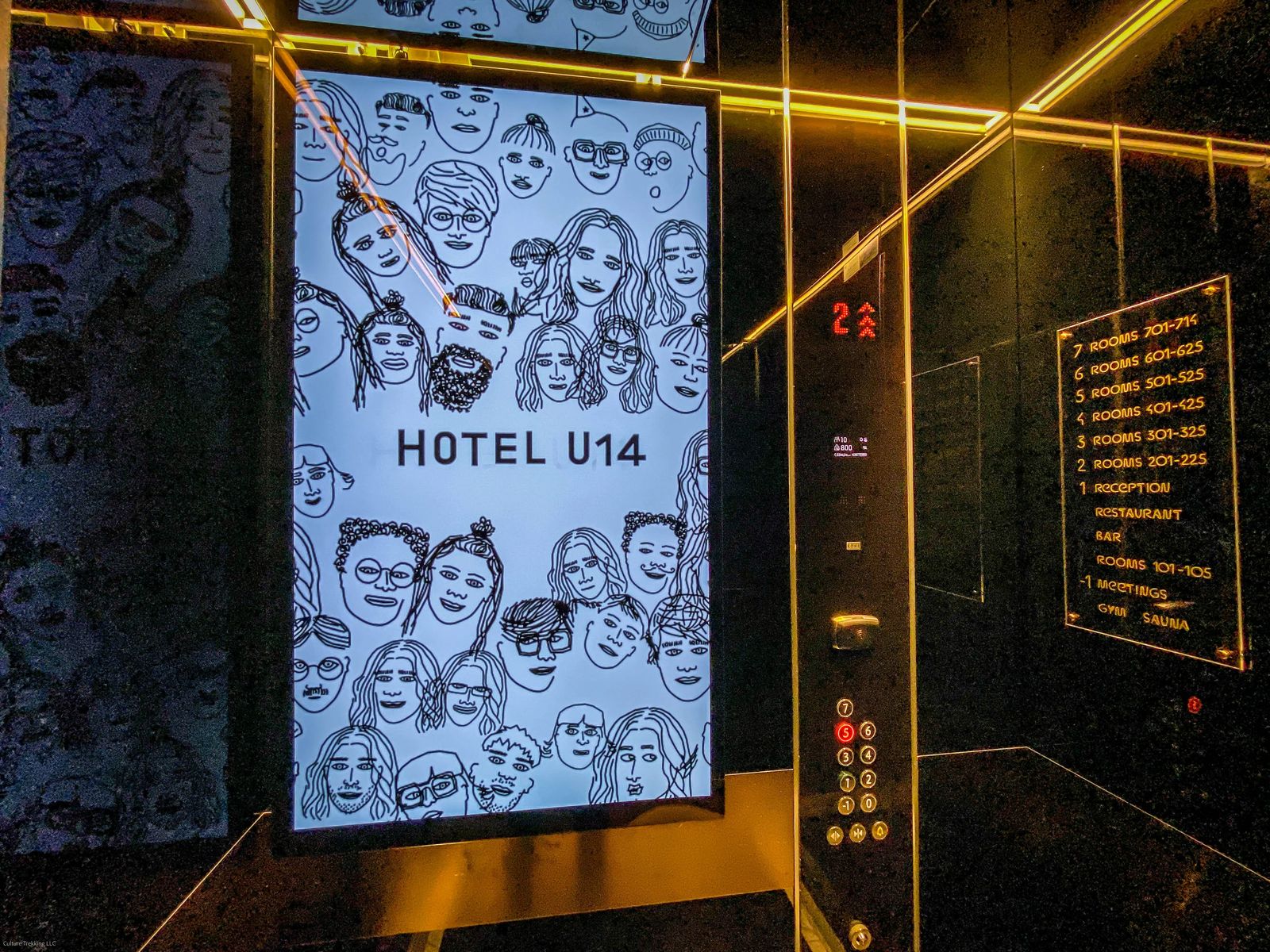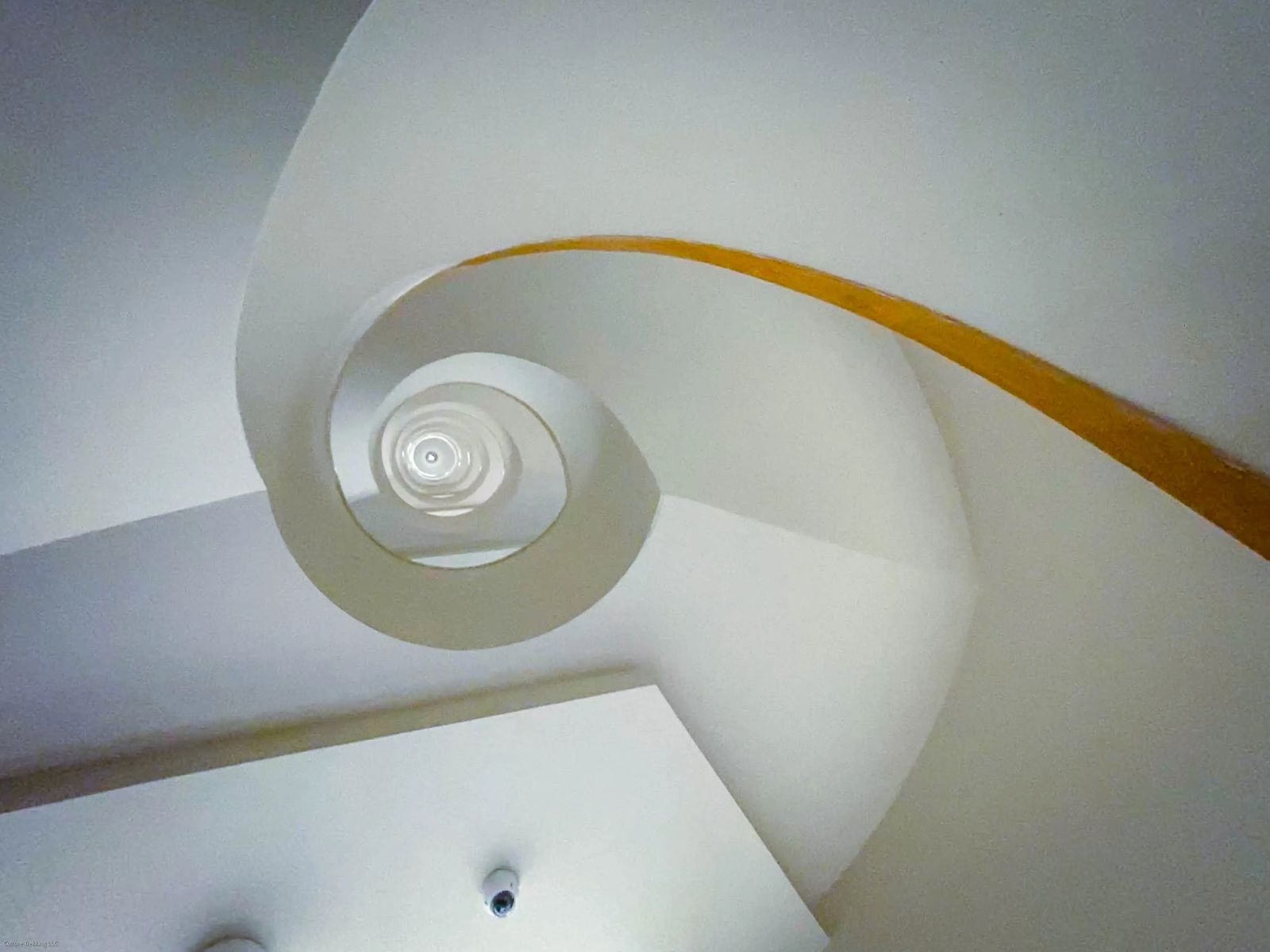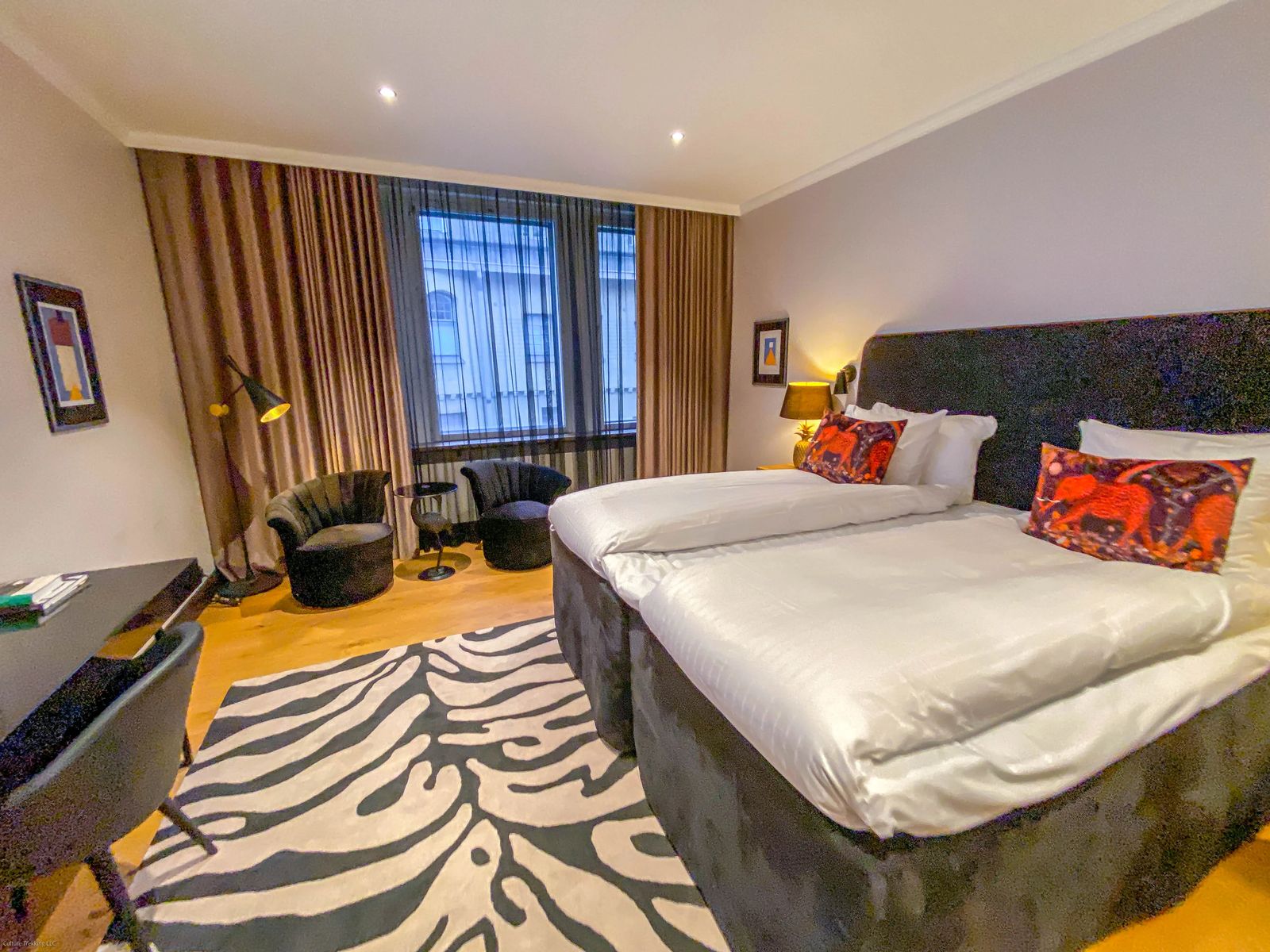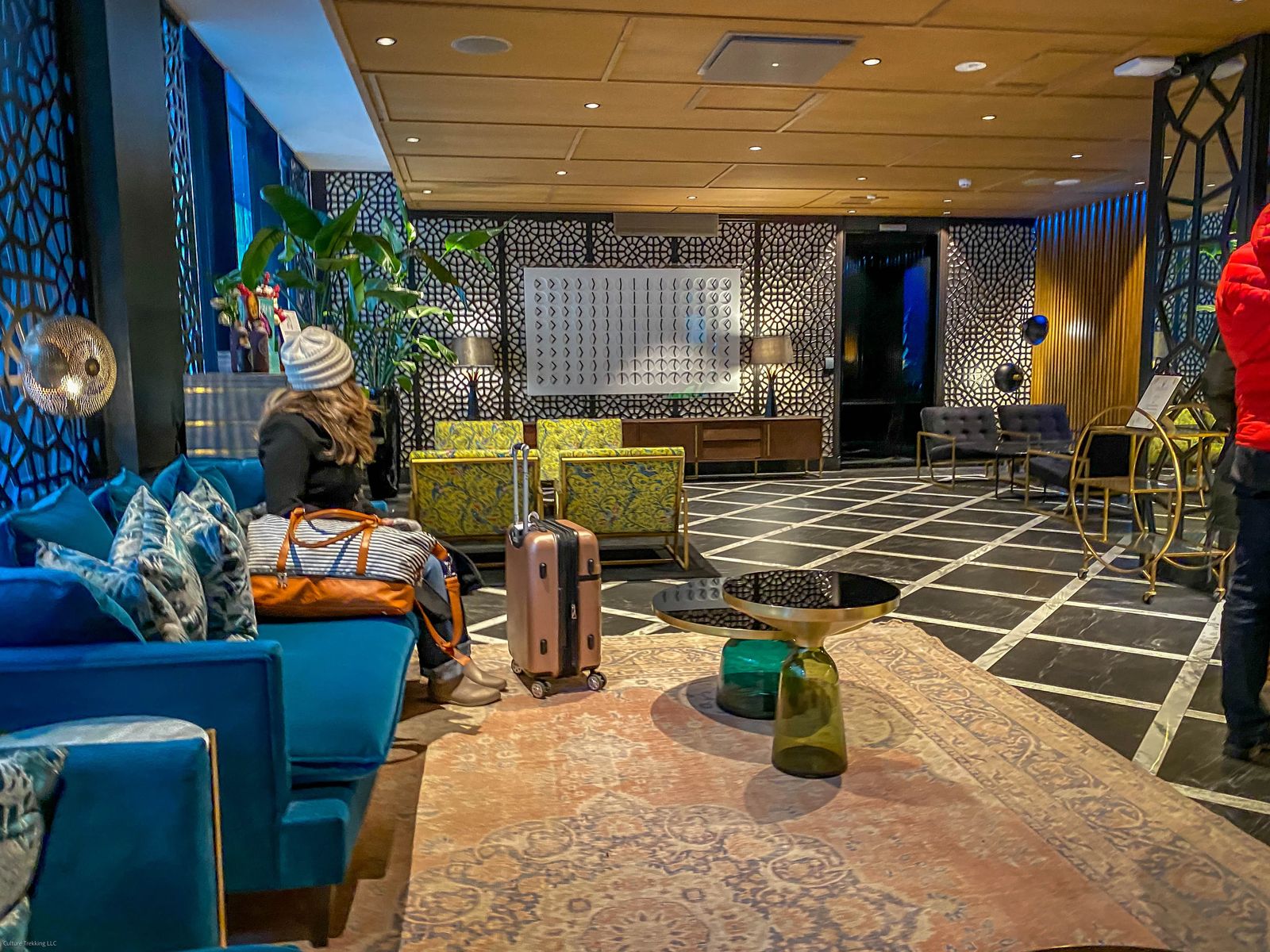 Where To Stay In Helsinki
It is going to be very expensive staying in Helsinki (thus the day trip from Tallinn Estonia). Hostels with private rooms I found to be the most affordable at $89 per night. Upper end hotels I would utilize hotel partner points to get discounts, like my friend who booked this $300 hotel room for $85 for two nights.
The U14 Hotel is part of the Marriott Bonvoy Points program, that I am a part of and the Chase Sapphire Rewards easily transfers points to this program. The hotel had beautiful architecture, cozy restaurants, spa, pool, and breakfast with a great location really close to the port and the center of Helsinki so it was a quick walk from the Christmas Market.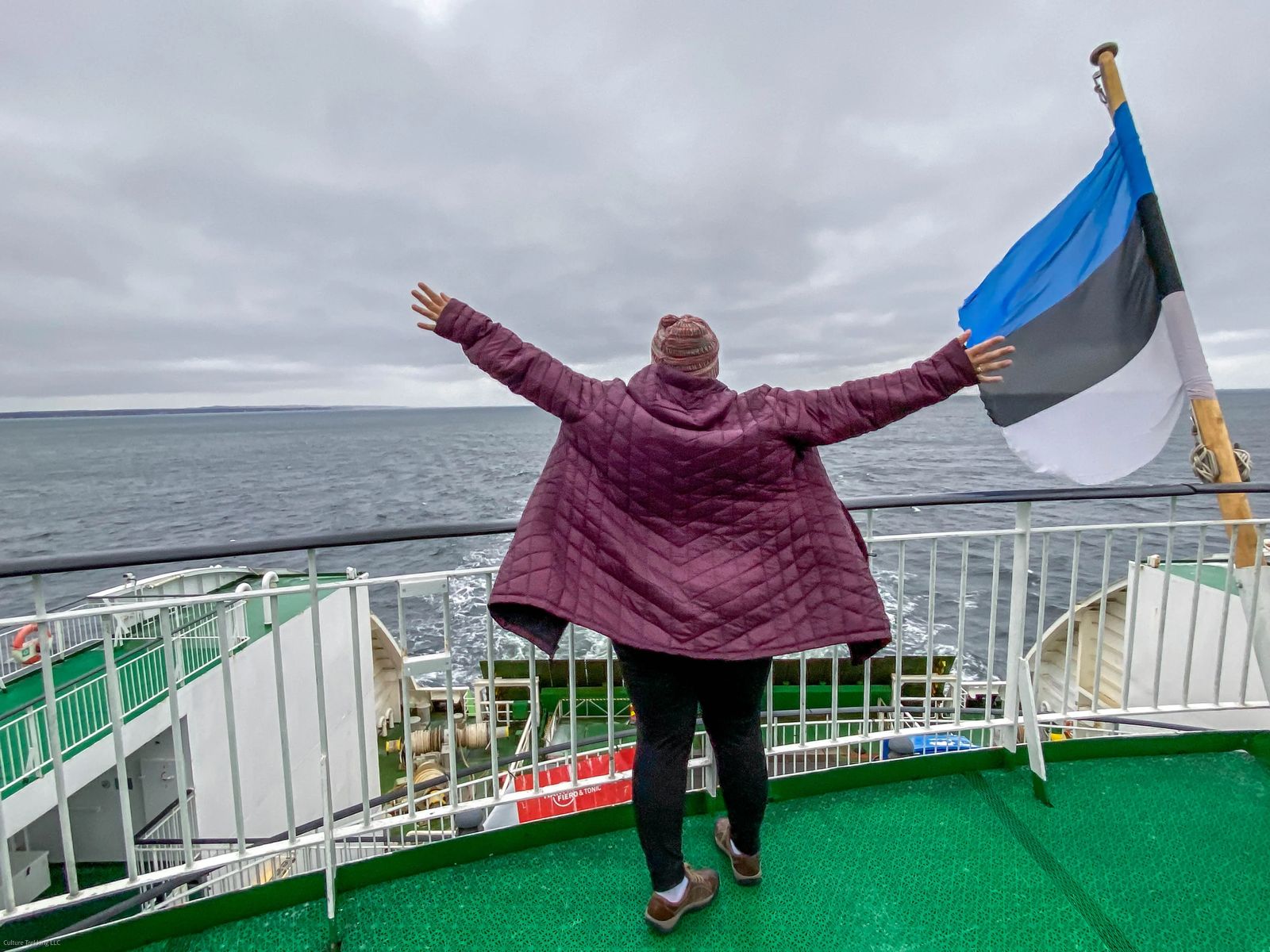 What To Pack For Helsinki In Winter
Wool is itchy to me, but I cannot recommend bringing wool enough when visiting the Finland in Winter. It is a humid kind of cold here that seeps into your bones and makes you shiver at night under layers of blankets. I opted for a down jacket with heat reflective technology and a fleece sweater underneath - the wind still got through those layers. Wear ski pants and ski parka for SURE if you decide to spend a few days in Helsinki.
I typically run a warmer internal temperature because of my Thyroid issues, but even I got quite chilly. So I suggest the down jacket, but if you have space for one of their wool parkas they sell at the Christmas Market I would splurge the $50-$90 for one of those (and an extra 3 lbs in your bag) to stay warm.
Some of my friends also swear by Unbound Merino wool that isn't quite as itchy, and is just as breathable. Just make sure whatever you bring doesn't put your over your luggage weight, and you can also dress in layers to adjust to the starkly contrasting temperatures from indoors to outdoor events here.
I WOULD ABSOLUTELY bring a hat, and maybe even an umbrella to keep any heavy rain or snow you may encounter off of you. You can't get warm if you are wet, and in humid and cold environments it takes a bit longer for things to dry out.
As far as shoes, I swear by my Keen or Merrell shoes that have protective soles that are on the thicker side so the cold doesn't seep through the soles of your shoes and freeze your toes off. The snowy streets can also get quite slick (even locals slip and slid all over) so if you have issues with stability, bring a hiking pole or a walking stick.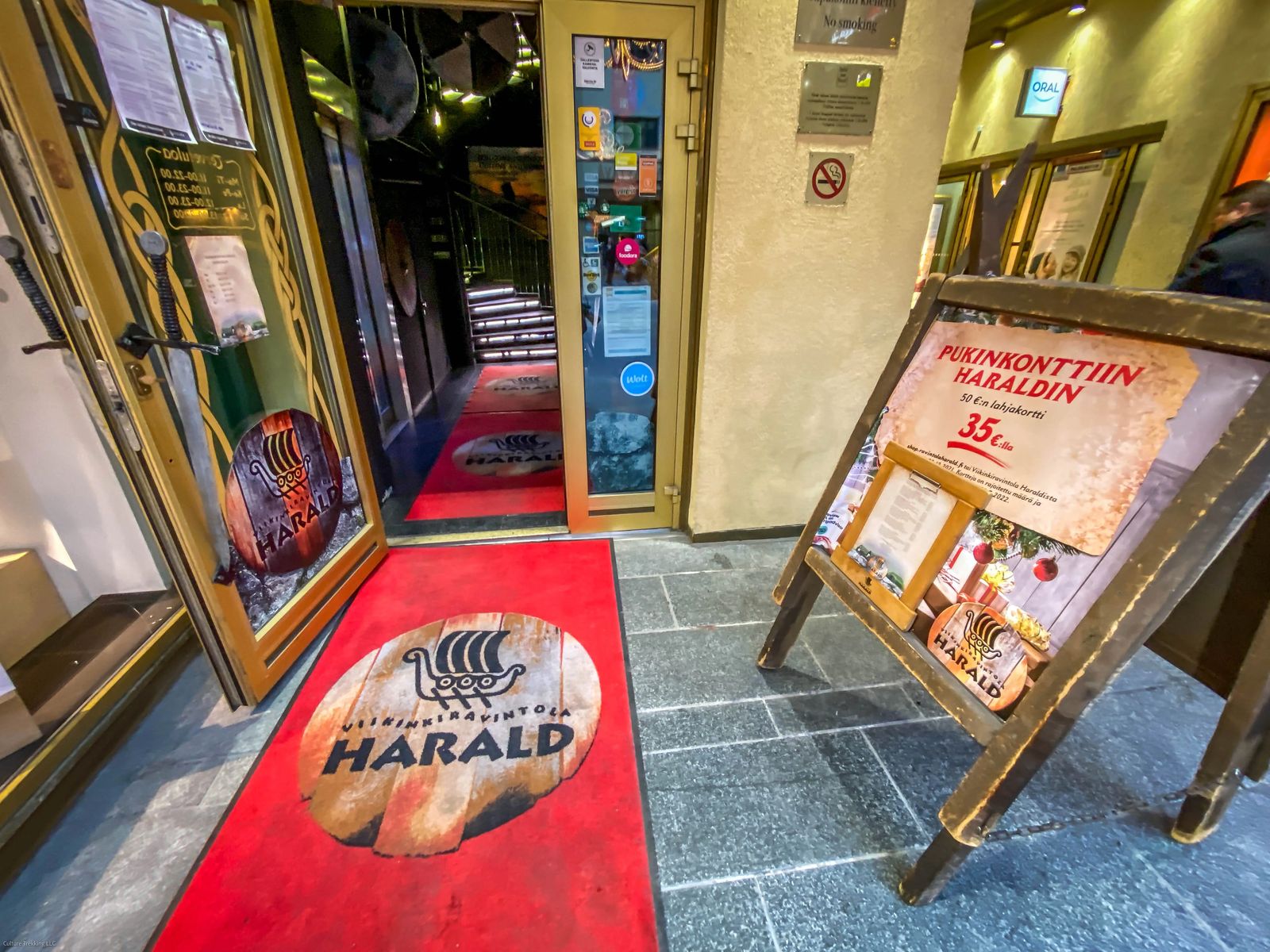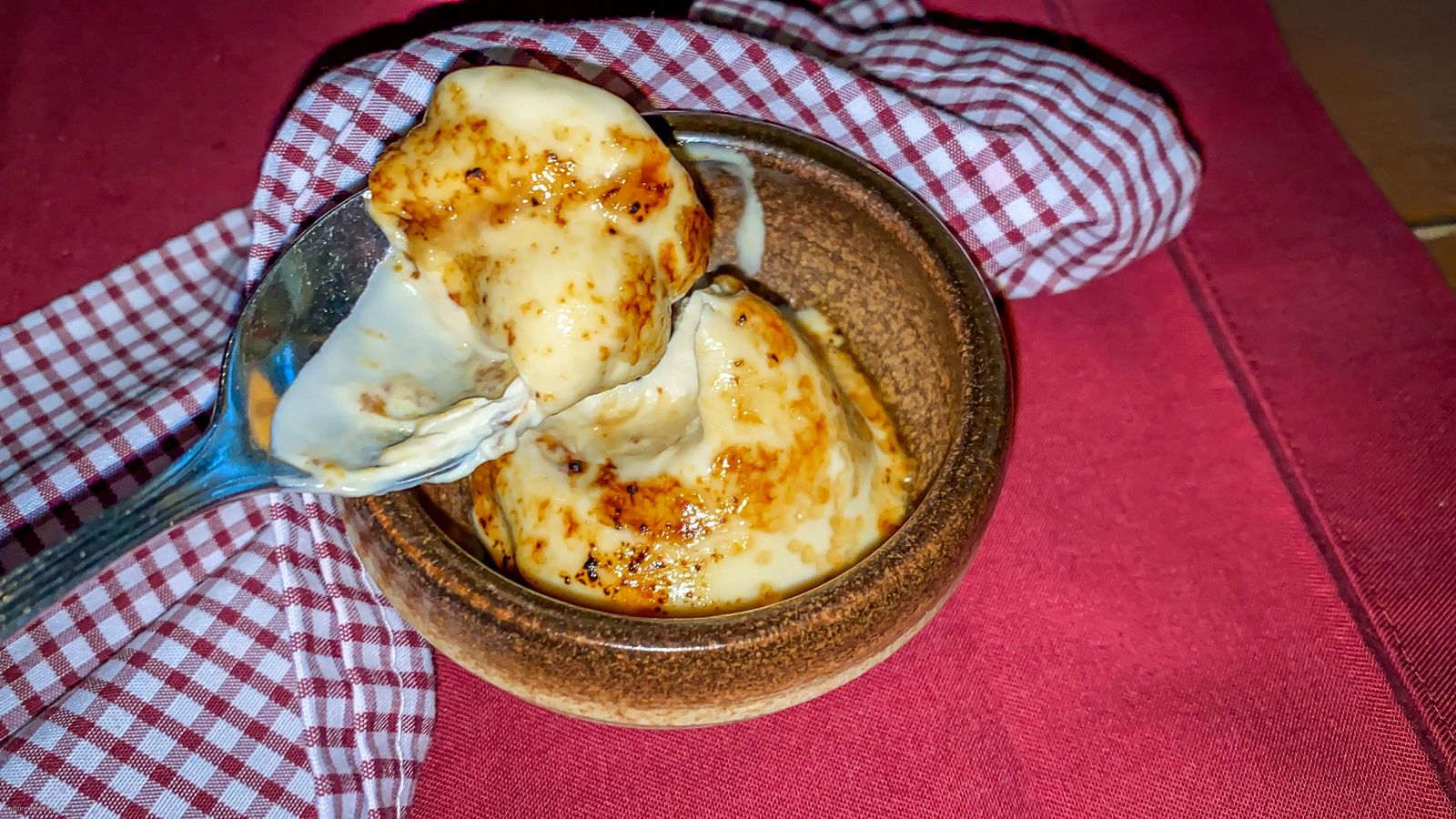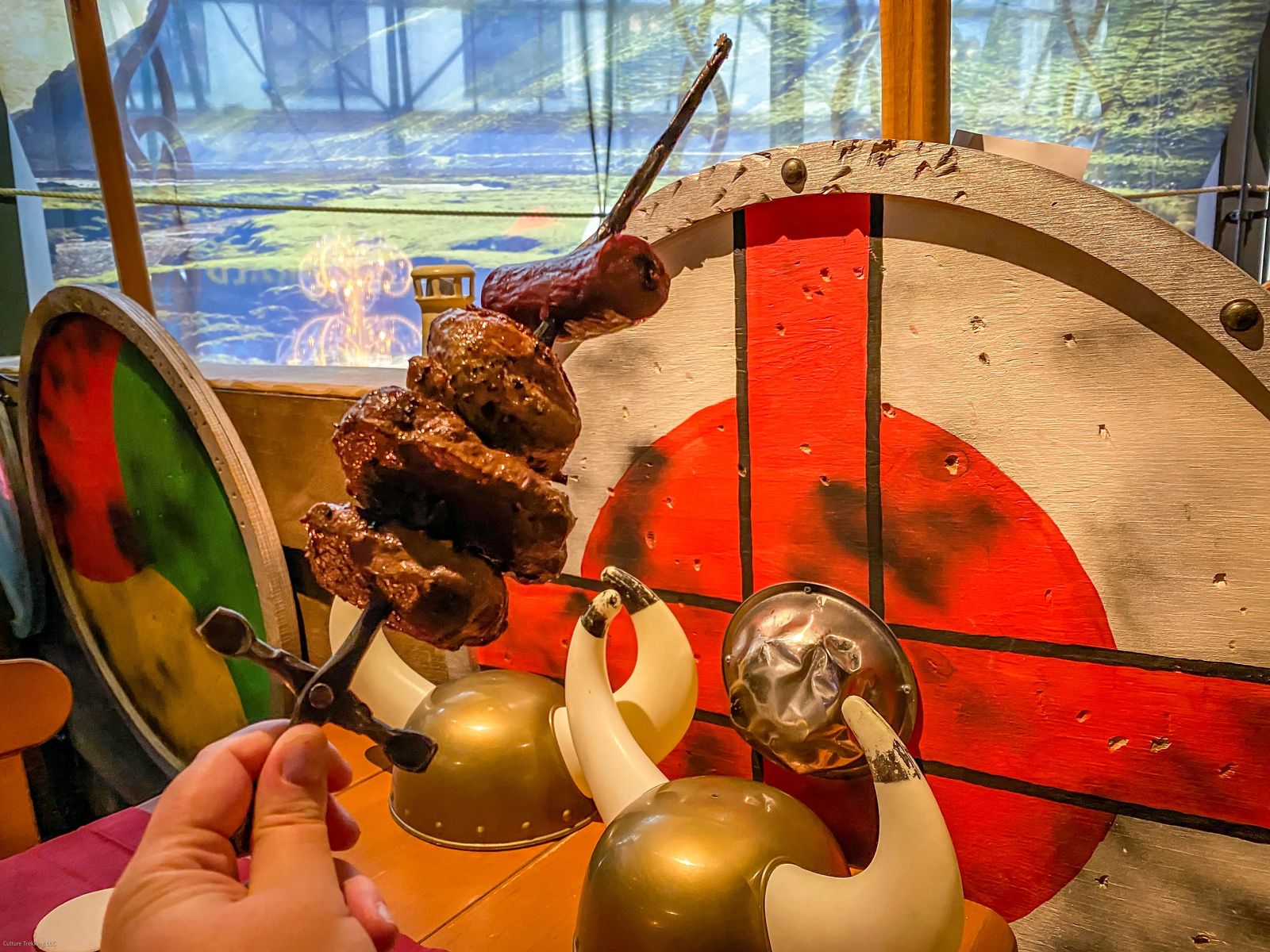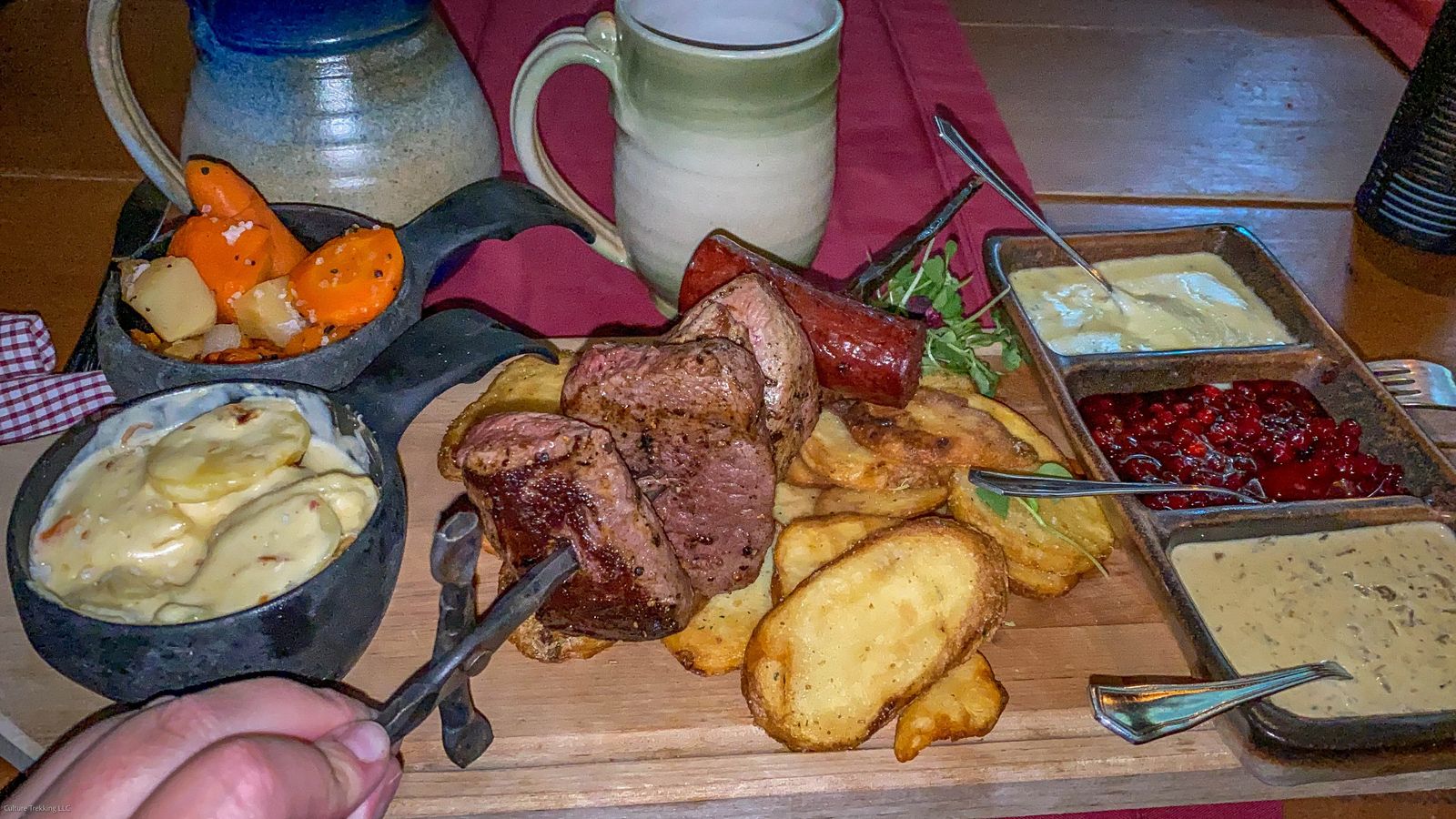 Food To Try In Helsinki
A budget friendly option to try local Finnish food is to head over to the Viking Herald Restaurant. It is obviously a bit of a tourist draw, but for about $35 you can get an entire platter of meats, salad bar, desert and drink. If you stay in a hotel or hostel, take 1/2 of it back and heat it up in the microwave. Eating out isn't cheap here though, because of how Finland has to import so much of the produce.
Some of the classic dishes you should try while in Helsinki are pickled herring with rye bread, anything with reindeer in it, Salmiakki (sweet treats). Lohikeitto (Salmon Soup), Kalakukko (Fish pie), Korvapuusti (cinnamon buns), Lihapullat (finnish meatballs), and Mustikkapiirakka (blueberry pie).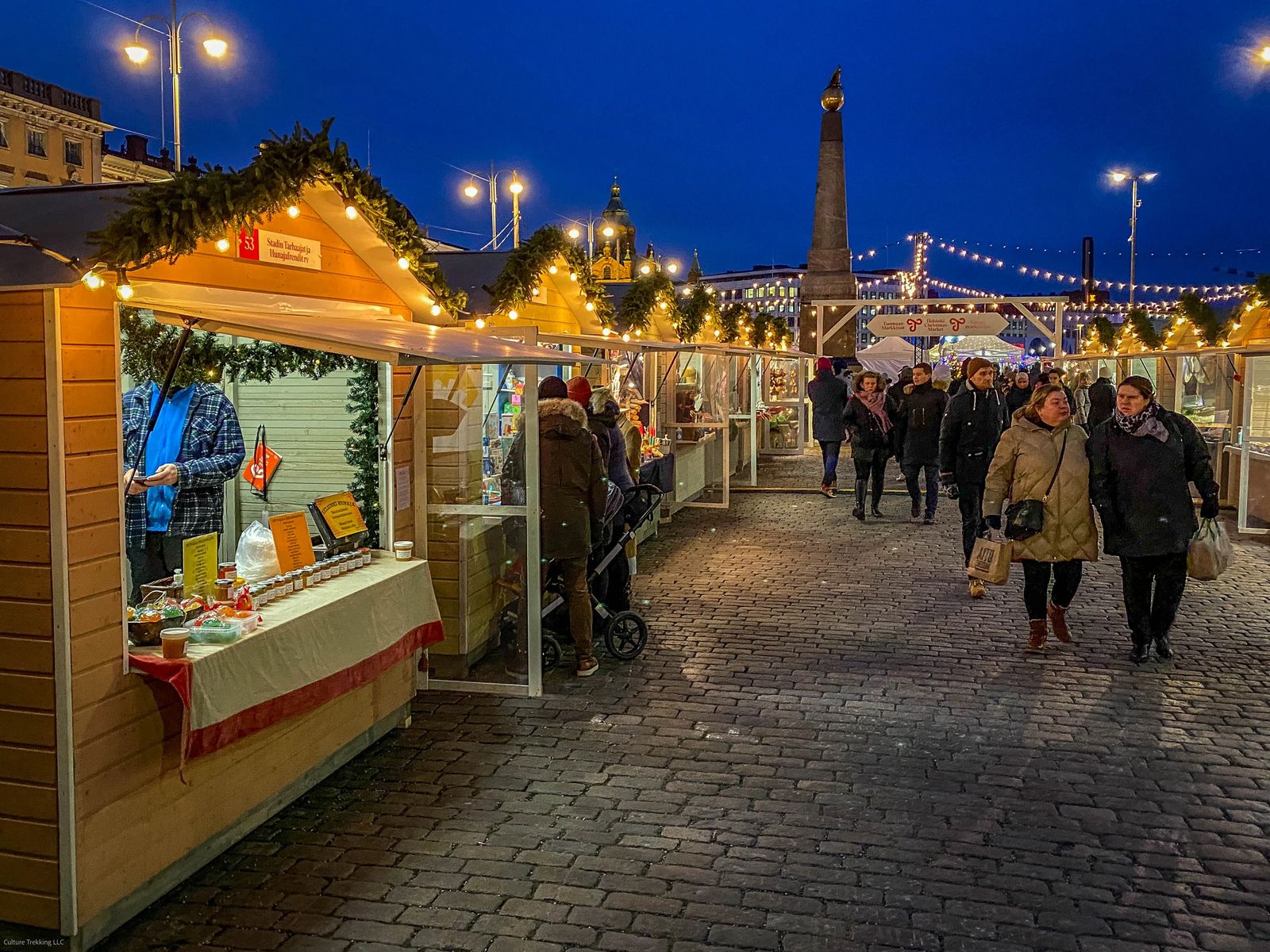 My Takeaway of The Helsinki Christmas Market
Helsinki is quirky, classical designed, and fascinating to experience at Christmas to see just how stalwart and resilient the people here are to create a beautiful holiday experience for visitors. The shopping, saunas, intimate experience at the Helsinki Christmas Market is well worth the effort.
The most budge friendly option for visiting is to take a day trip from Tallinn. If you want to linger a little longer, then book a hotel for 2-3 days so you can properly tour the town, experience a sauna, and get cozy in the restaurants at night.
This is one of the more unique cities in Europe I have visited, because of the modernity vs medieval that you often find in other cities through Europe. It is a city that requires time to explore, the exterior can seem a bit bland, but once you get indoors THAT is where you see the true magic of the architecture creativity of the Finnish people expand. No matter if you decide to visit in summer or of the Christmas season, Helsinki is well worth visiting.
Like it? Pin it for later! Sharing is caring ;)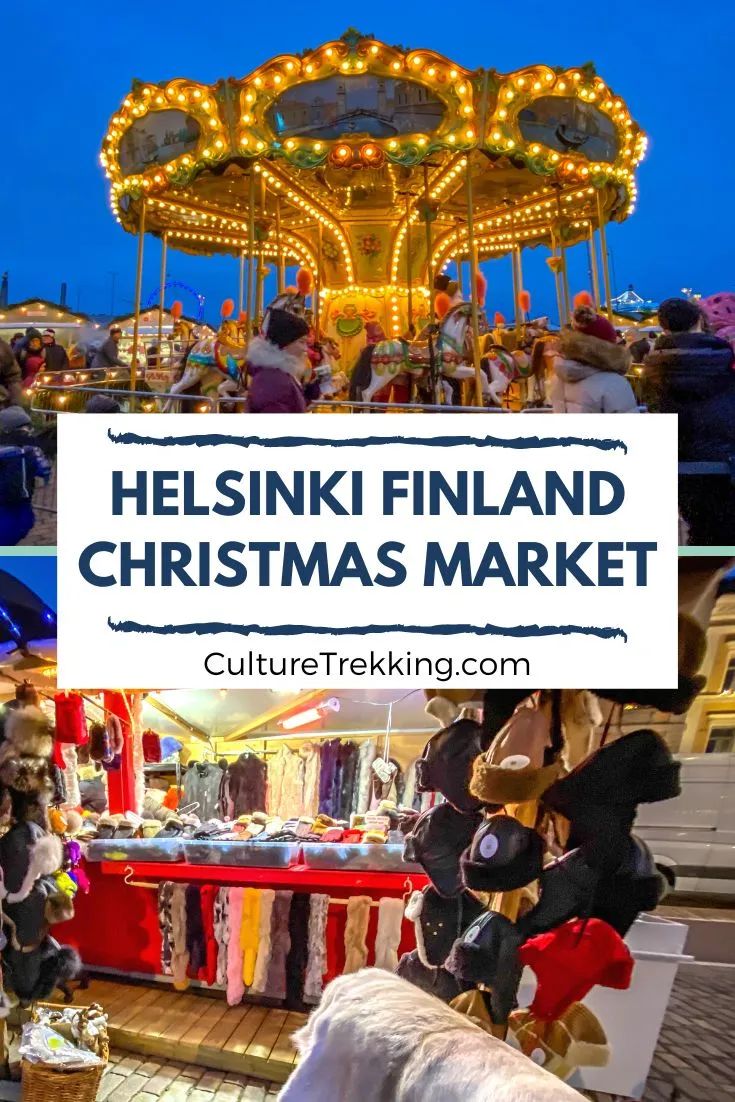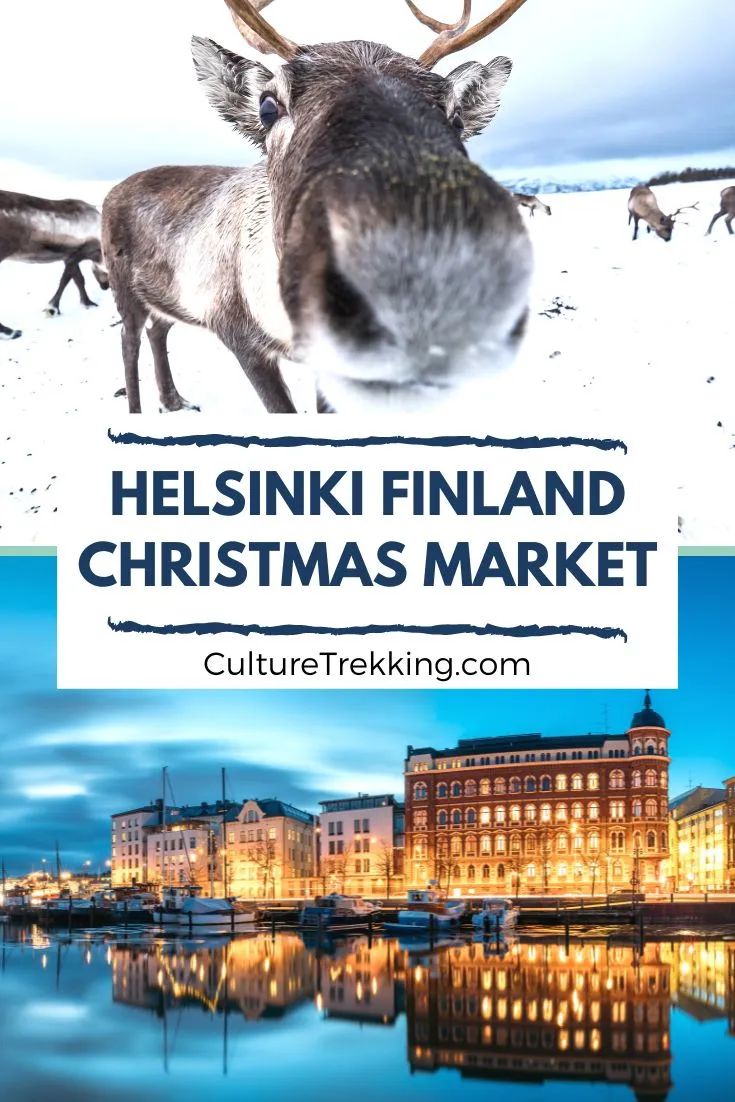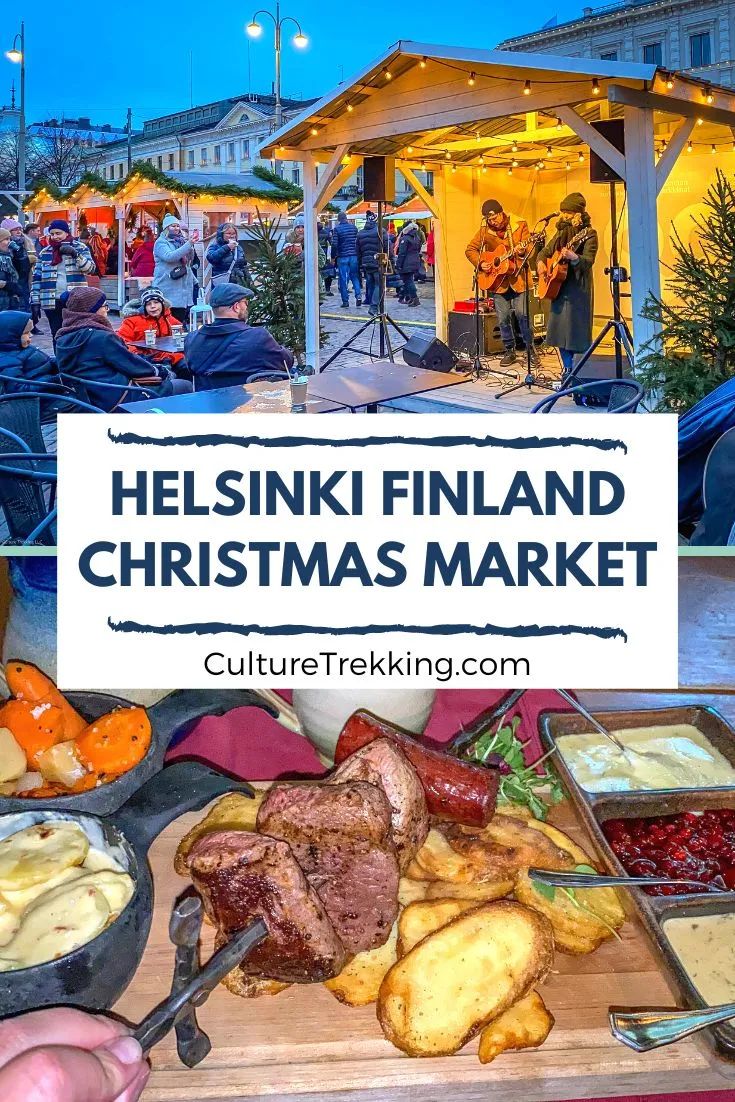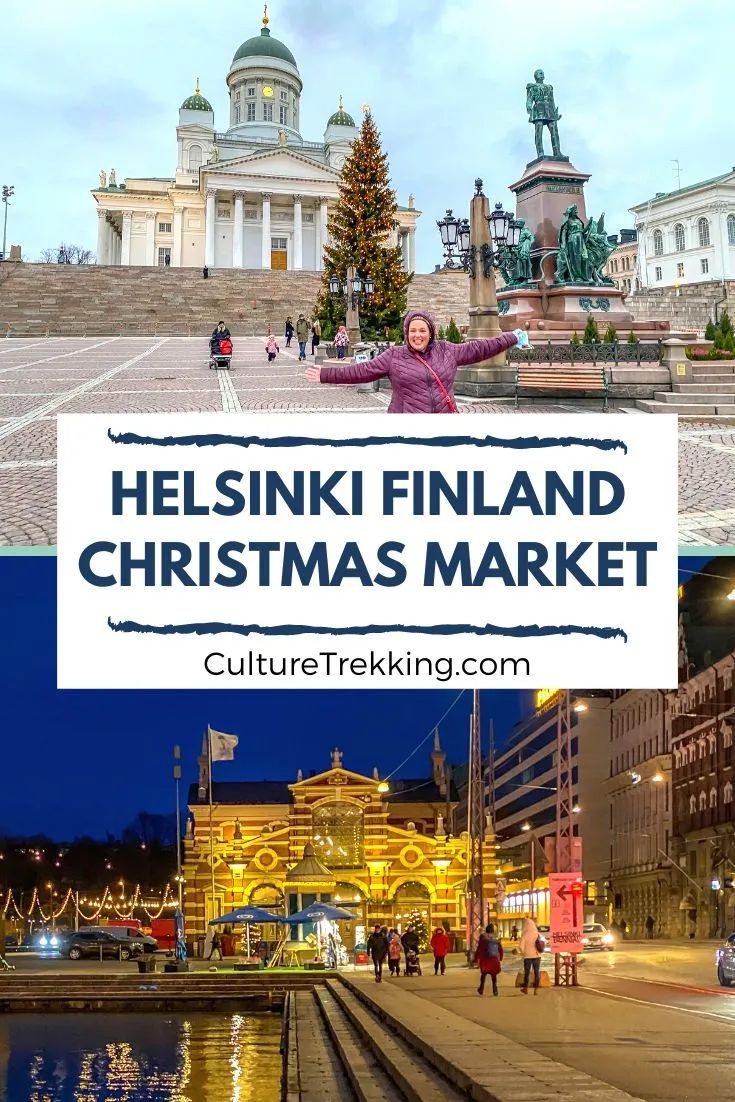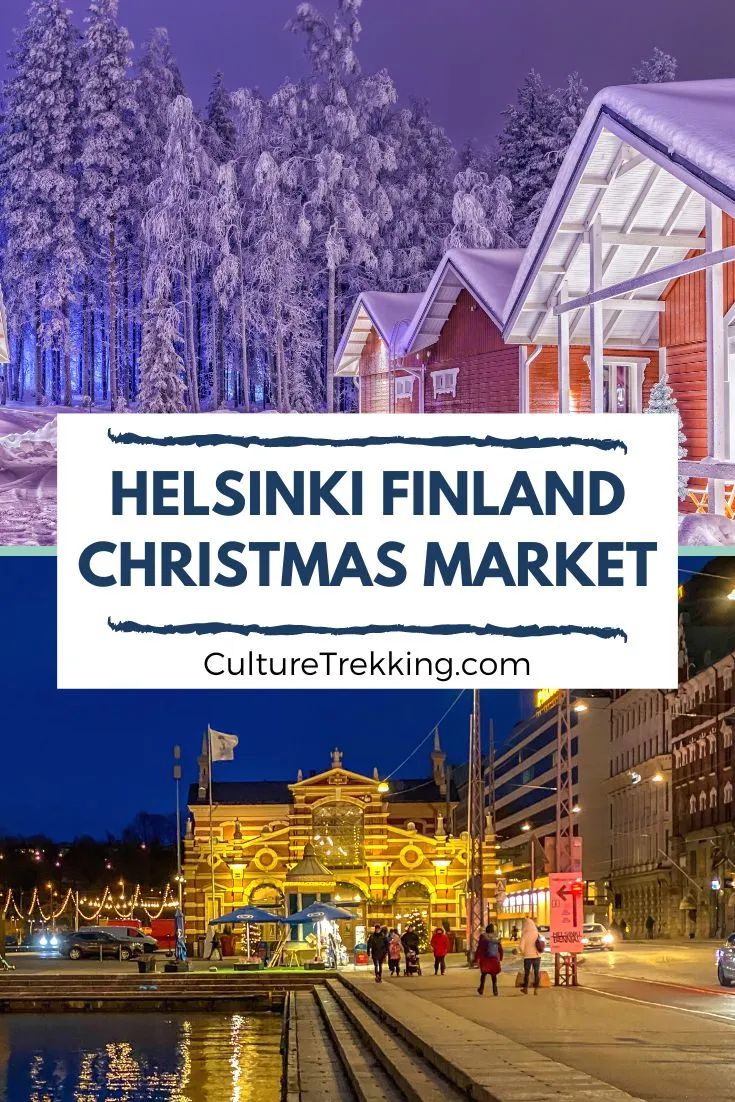 Latest Articles On Culture Trekking