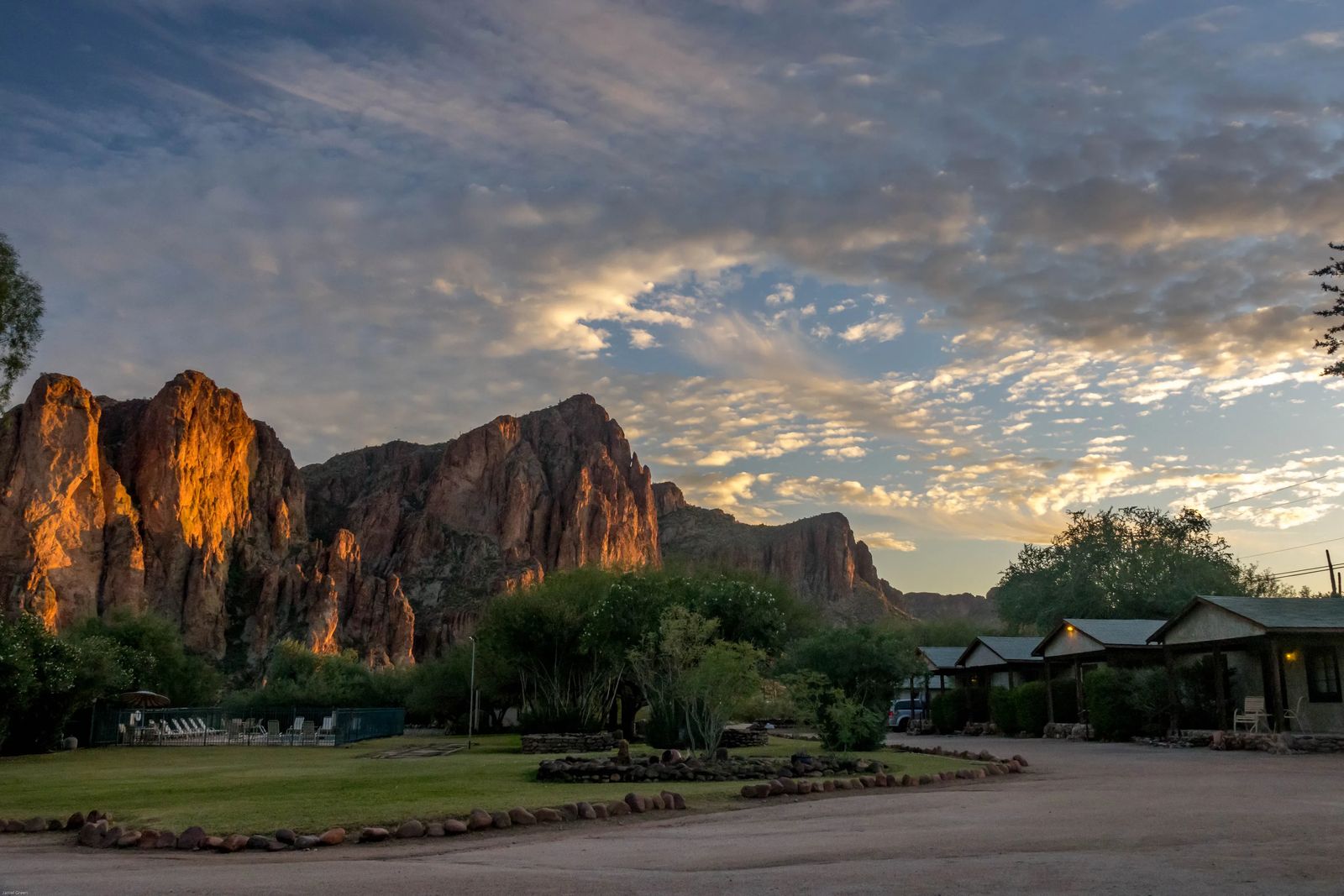 Saguaro Lake Ranch in Mesa Arizona
Breaking away from technology is not hard to do in a place like this. Saguaro Lake Ranch in Mesa Arizona is a desert Oasis and the ultimate romantic getaway for the outdoor adventurists. You can easily miss the entrance to the property because you are entranced by the nearby Salt River beauty, and the Bulldog cliffs adds to the cozy feeling of being tucked right up to the Roosevelt Dam.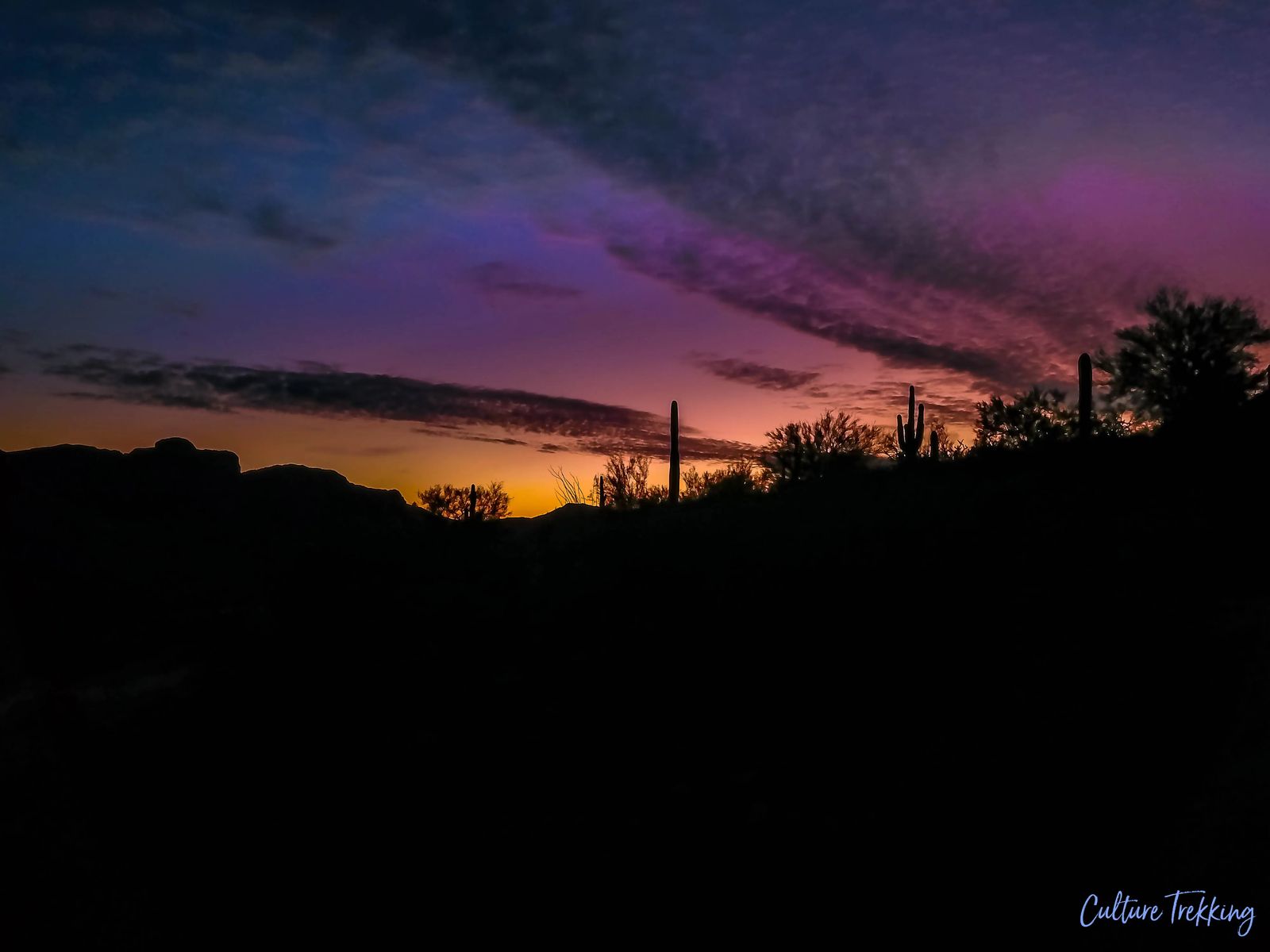 History of Saguaro Lake Ranch
If you know me at all, I like the places I visit to have some kind of historical meaning - and this place has loads of it. Not only is it along the Apache Trail (which is an epic road trip in winter), but these humble dwellings that make up Saguaro Lake Ranch were used by the men that built the Roosevelt Dam!
After the Dam was built, it transformed to a fishing retreat (which it still has epic fishing btw, for all my male Culture Trekkers out there). The fishing village was bought by Phil and Marie Lewis in the 1930's. They transformed the Ranch into an outdoor paradise with more than 20 horse trails that wind through the Tonto National forest, Bulldog cliffs, and Goldfield mountains.
After 18 years of development, they sold the Ranch to the Durand family in 1948; who have continued to manage and transform this quaint corner into the desert paradise it is today. I was truly mesmerized by the beauty of this place.
While I was hosted by Visit Mesa for this trip, I was in no way required to write an article strictly on this property - but when I am inspired and entranced by a location as I was this - I can't NOT share it with my Culture Trekkers.
Disconnect from Technology
The rat race of life is getting to me as I'm sure you all have felt at some point in your life. In fact, there are multiple ongoing studies about technology and phones and how it affects the brain. The insular cortex in fact is the area of the brain that is most affected by cellphone use. What does mean? Well this area of the brain is currently being studied with a poignant intensity as it is the core region affected across many psychiatric and neurological disorders.
If we are constantly checking our phones, and changing core motor tasks from one thing to another - this also releases cortisol. Cortisol is a stress hormone responsible for your fight or flight response in cases of danger. According to a recent article in Business Insider, Endocrinologist Robert Lustig told them, "notifications from our phones are training our brains to be in a near constant state of stress and fear by establishing a stress-fear memory pathway. And such a state means that the prefrontal cortex, the part of our brains that normally deals with some of our highest-order cognitive functioning, goes completely haywire, and basically shuts down".
Going to a place like Saguaro Lake Ranch, where WiFi is sparse, cell reception isn't that great, and even the ability to charge your devices is slow is just what the doctor - well, Physician Assistant, ordered. It slows your constant need for task oriented behavior and forces you to enjoy the moment.
For someone like me this can be EXTREMELY uncomfortable, but in the end, it truly is a much needed break from the constant demands of attention and time. Has anyone else just sat there and cried at the end of a relaxing, soul fulfilling vacation and just been truly grateful that you finally got a break? This is how I felt....sorry, not sorry to admit - I indeed did cry when I left because I was dreading going back to reality.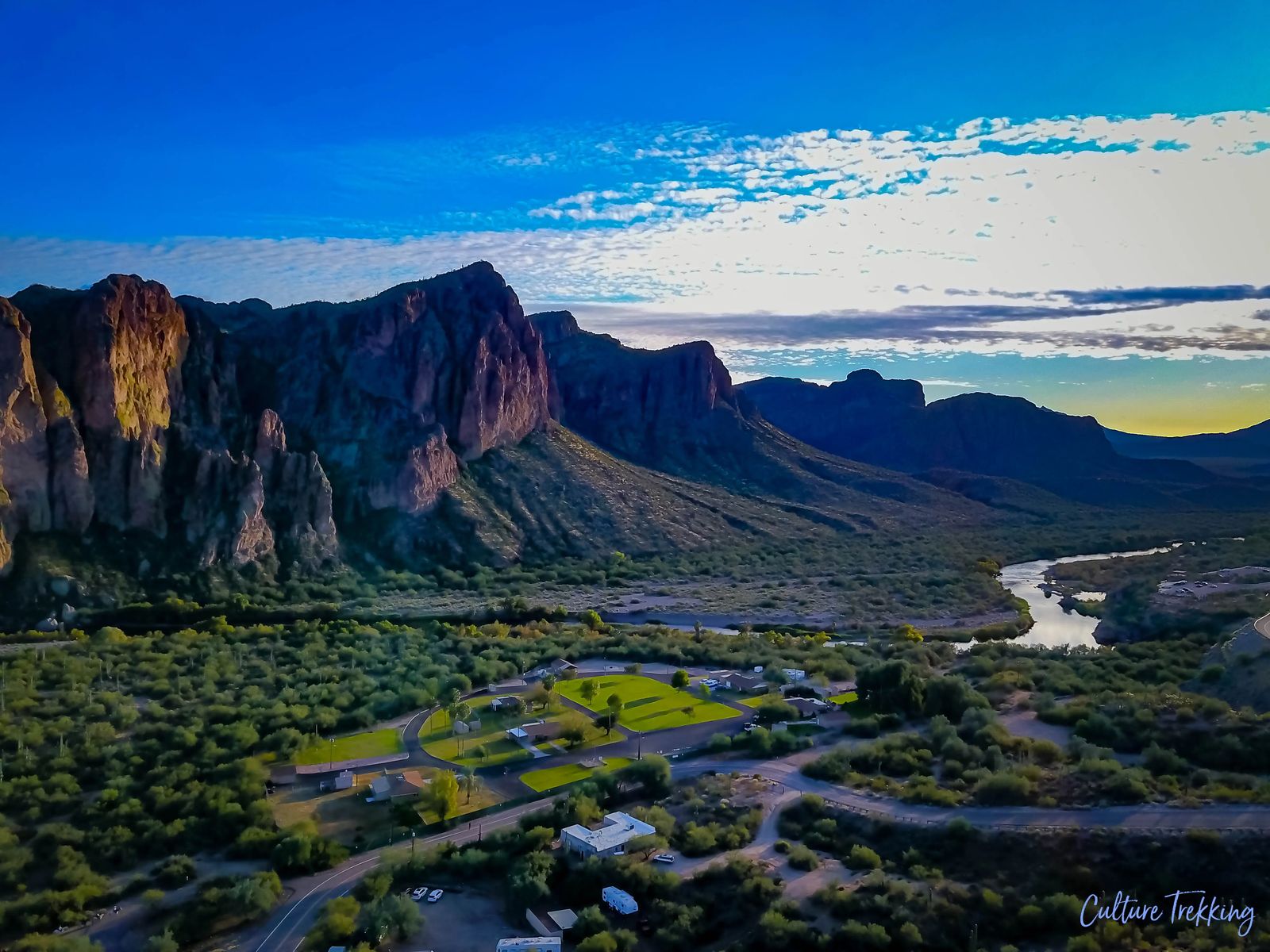 Outdoor Activities
Despite having a bit of cry before leaving, I got ahead of myself and didn't even tell you about all the things to do there! Well of course there is horseback riding on the old western trails at sunset. There is tubing down the Salt River and seeing the beautiful cranes and wildlife (including an occasional spotting of wild horses). If you want to go kayaking on the lake, or do a bit of fishing they have that too. They even have a trail right off the property that is fairly easy, that takes you right over to some petroglyphs.
I very much appreciated how prepared the staff were for every eventuality. I completely forgot my mosquito repellent and sunscreen and was getting eaten alive by mosquitoes. I asked the staff if they had any repellent, and they went over to the drawers all neatly labeled, pulled out about 6 different kinds of mosquito repellent.
I got curious and walked over to the drawer with them, relishing in the different labeled drawers for splinting, first aid, kids drawers and so many others (probably about 15-20) just full of things to do and emergency preparedness items.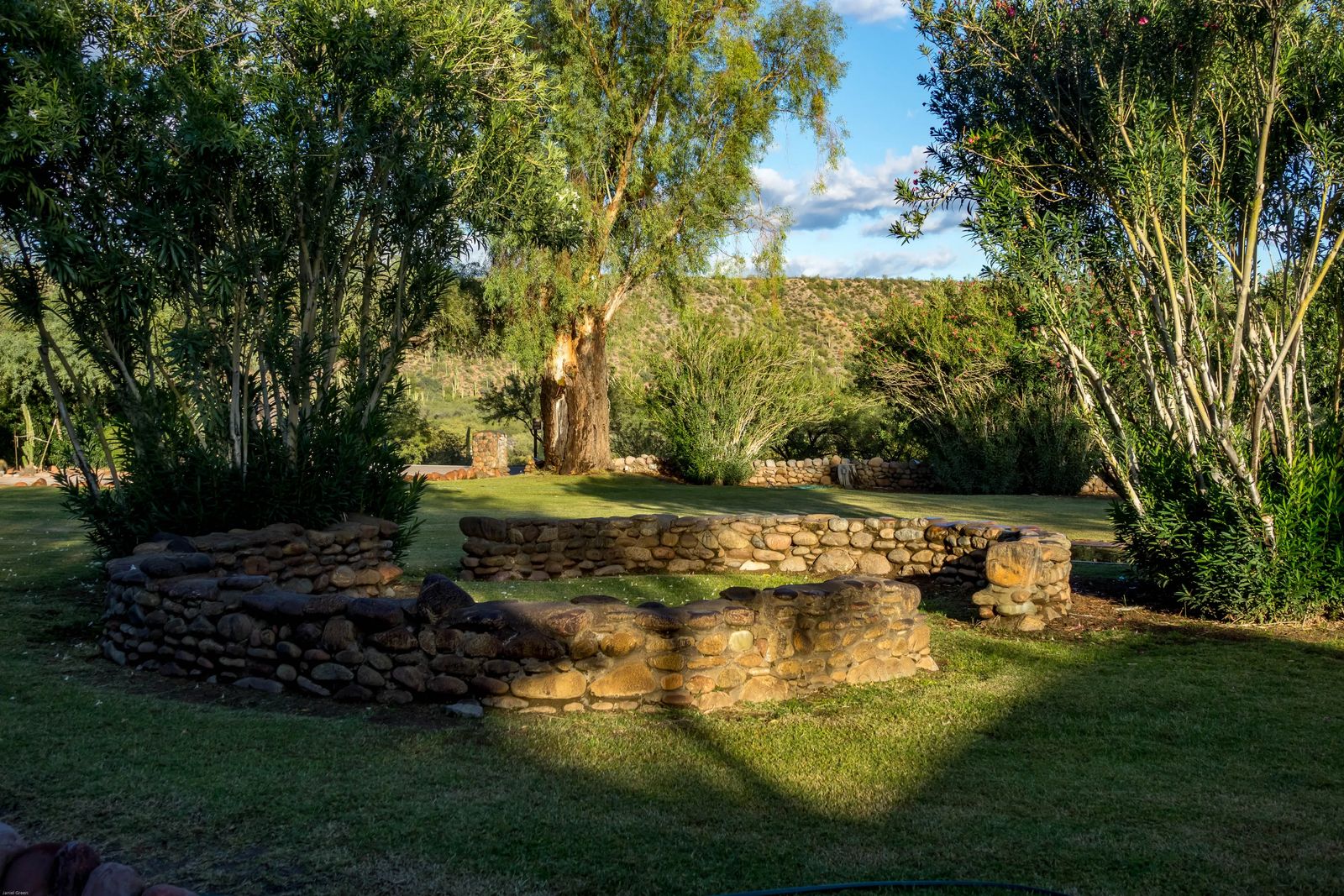 There is a large pool on property with sun bathing chairs that is partially shaded by trees. They also have a gathering area where I could easily see a religious or yoga retreat being held outdoors.
They also have horseback riding with on site stables where the horses are well cared for and very easy to ride through the surrounding desert backdrop.
If you are coming as a romantic outdoor adventure getaway, or as a yearly family vacation - the staff will bend over backwards to make sure you have a good time.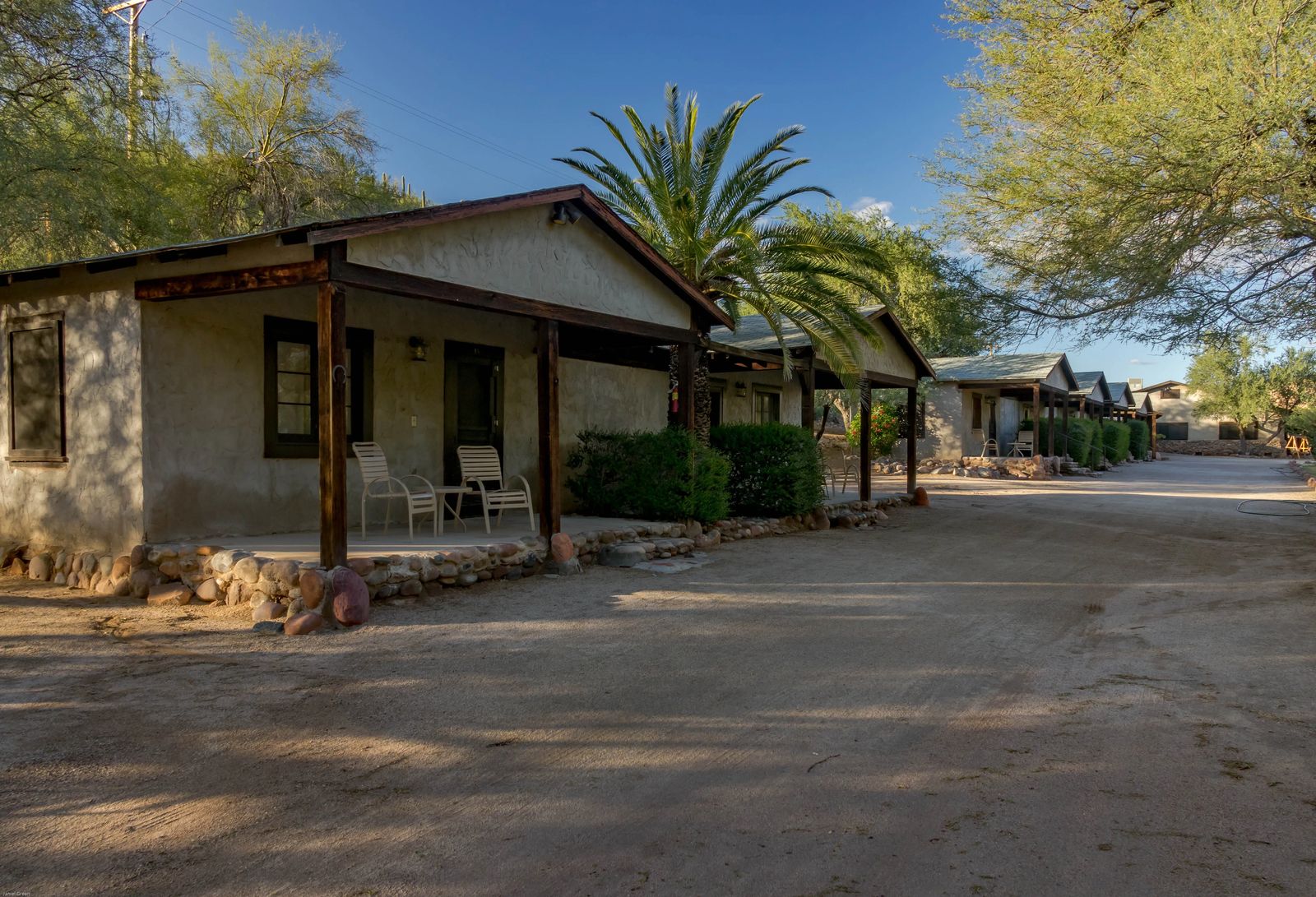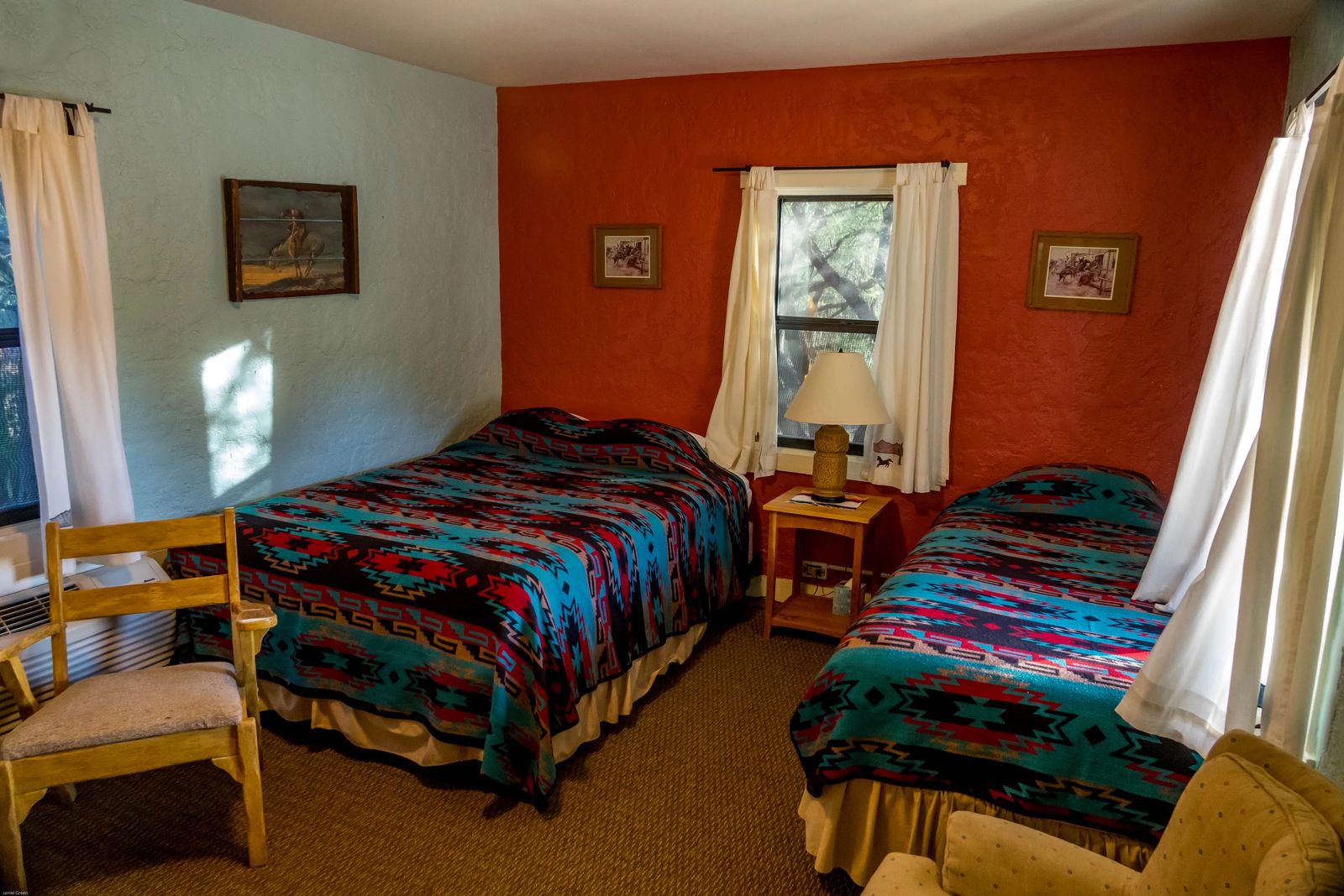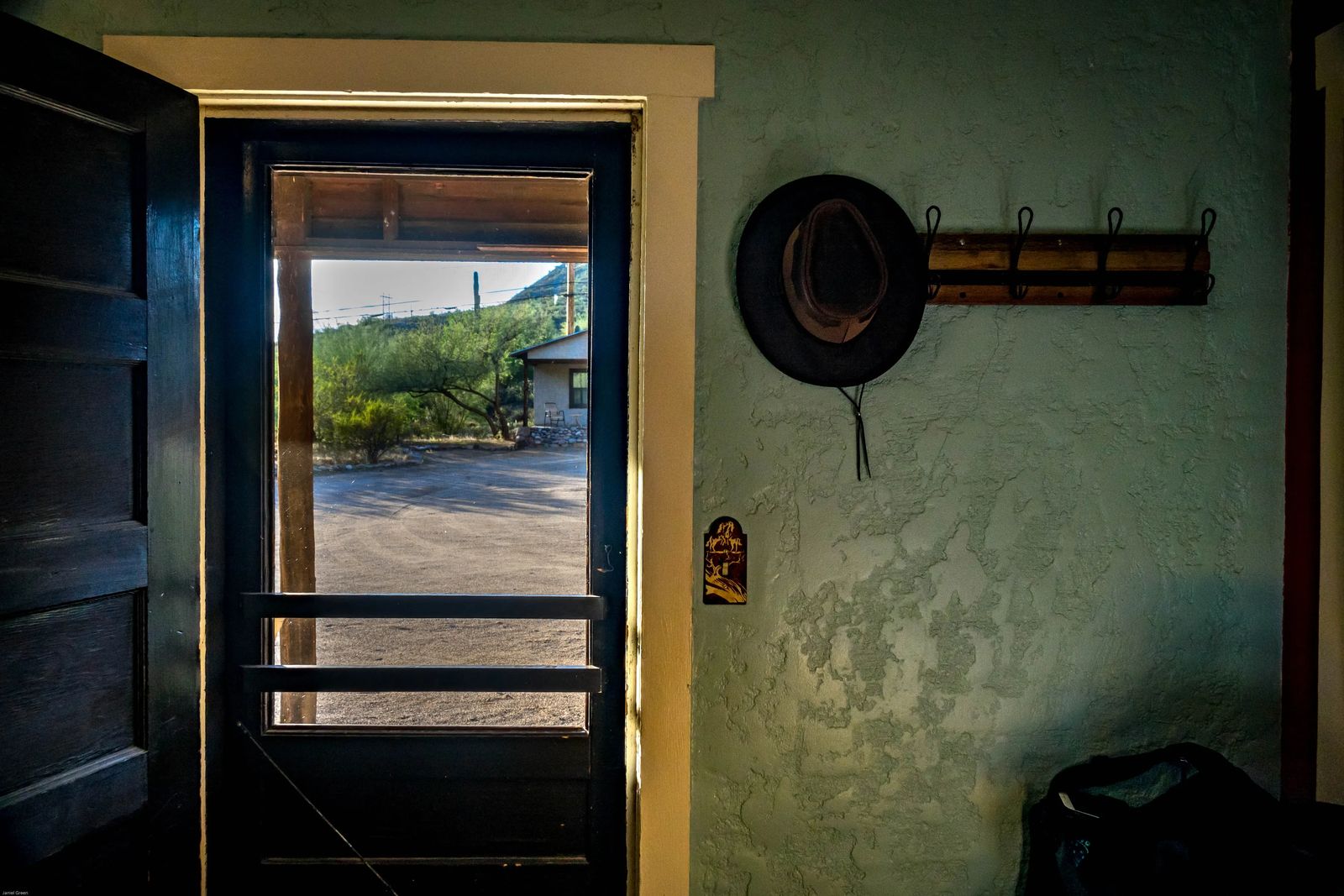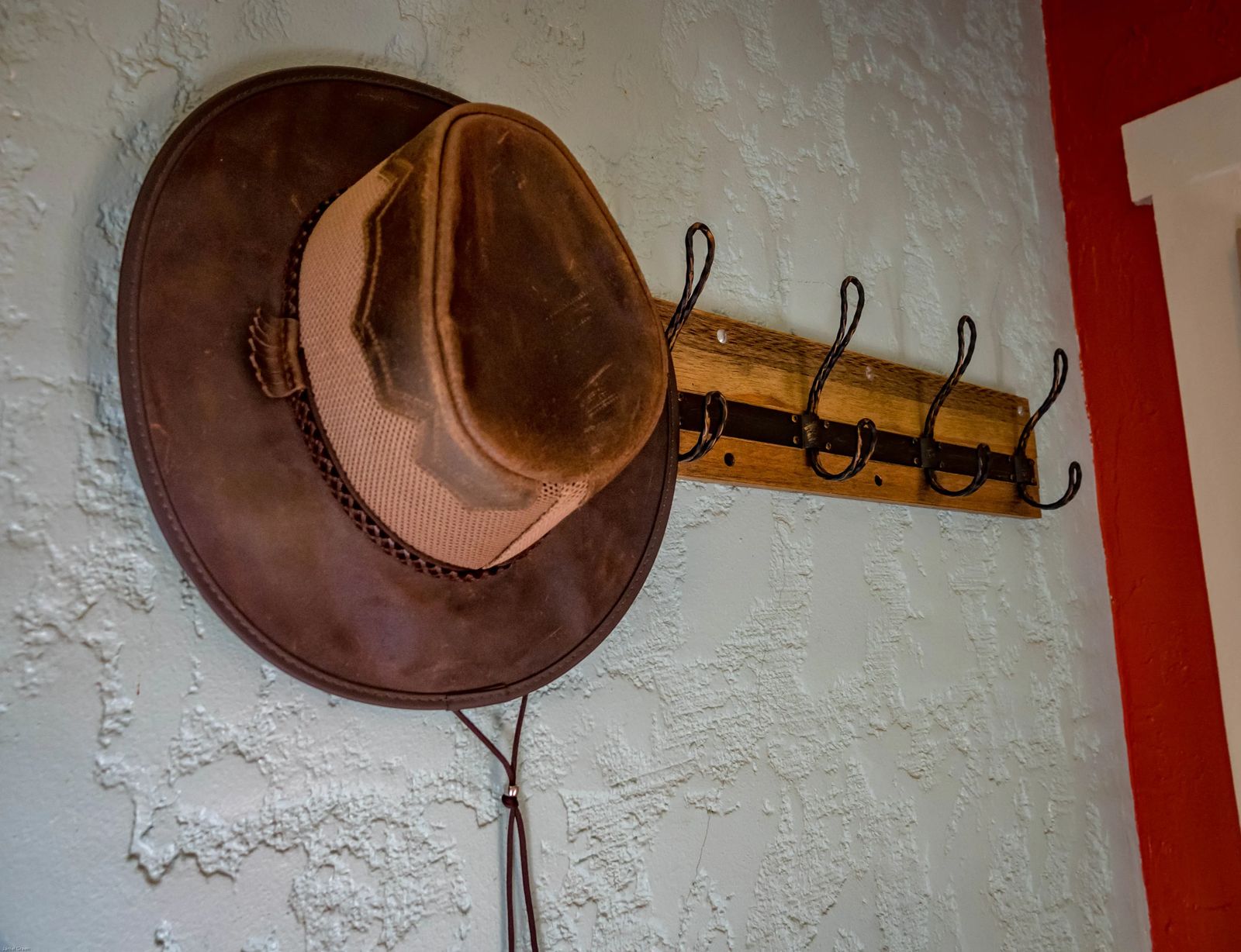 Period Cabins and Comfortable Rooms
Each cabin comes with a few chairs and small table on the porch, the keys for each door are old western style and come with a country style opening to the main thoroughfare. You can drop your bags from your vehicle via driving up, but the parking is offset from where the cabins are so as to keep the ambiance of the old west, further removing any reminders of the modern world.
There is A/C and heat in each cabin with a thermostat for your comfort. There are 3-4 two prong plugs in each room, with no refrigerator, but an ice bucket and closet with a safe. The are plenty of windows with screens to allow for a cross breeze if the windows are opened.
The shower is a bit on the small side, but sufficient to wash off the day of adventures with plenty of warm water for all.
The cabins come in various sizes, and can accommodate a solo traveler up to a family of 6 in one cabin. Dogs are ok on the property, but must be on a leash as the nearby national forests do not allow animals and to be honest with all of the cactus facts I learned you wouldn't want your fur baby wandering around.
If you want to bring an RV, please contact the property to see if they can accommodate the large vehicle.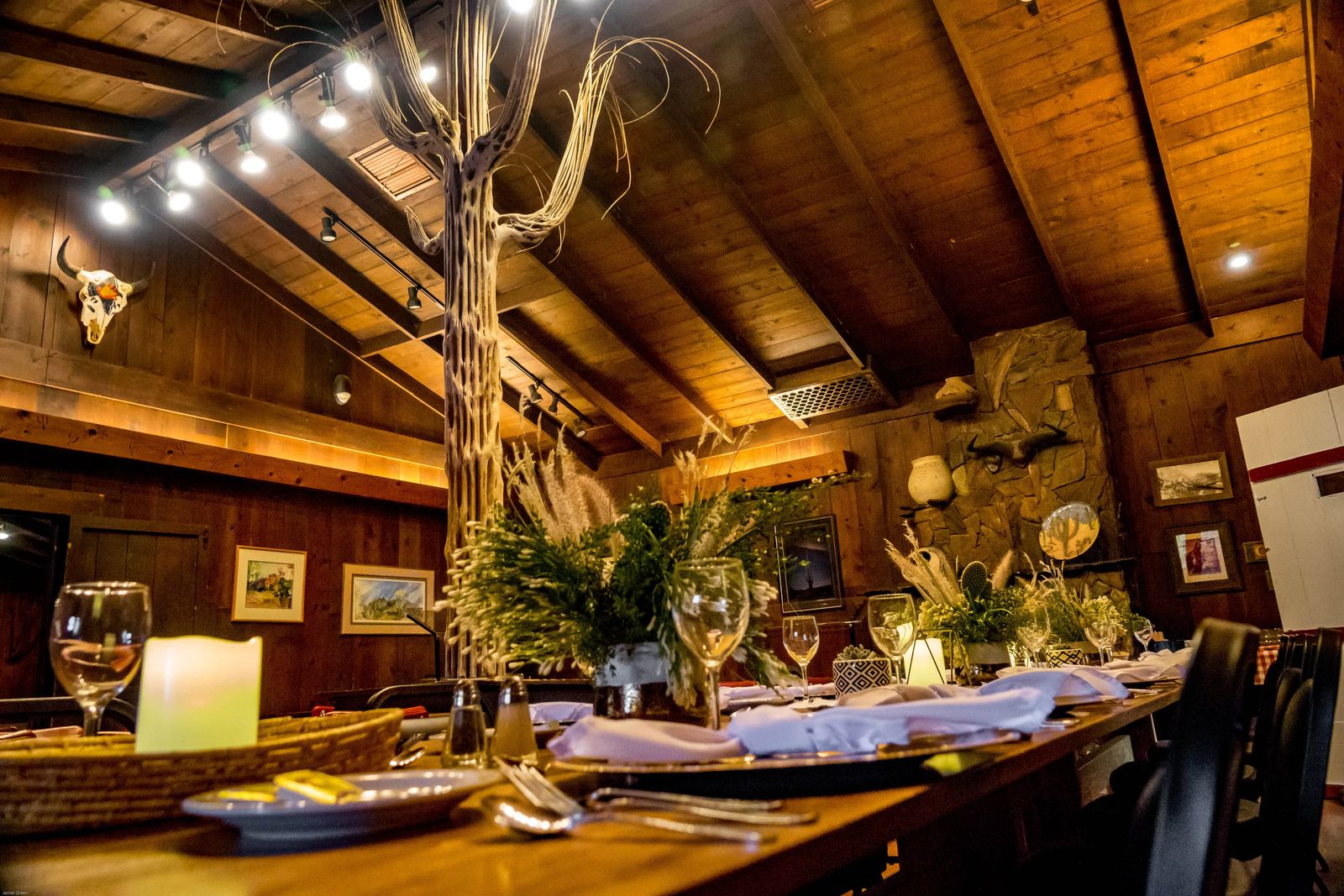 Unique Features Of the Property
All the furniture in the cabins are hand painted, and period pieces which I thought was a fantastic touch and further solidifies the ranch vibe guests seek when visiting Saguaro Lake Ranch.
If you go into the dining hall in the main cabin, you will see a giant petrified cactus skeleton with a unique story. There have only been a few times that the dam has been drained completely for repairs and such. During the last draining, this massive Saguaro skeleton was found and in a perfect petrified condition. The dam workers asked the owners if they would like the skeleton, and now it is the unique decoration that adorns the dining hall and after which the ranch was lovingly named.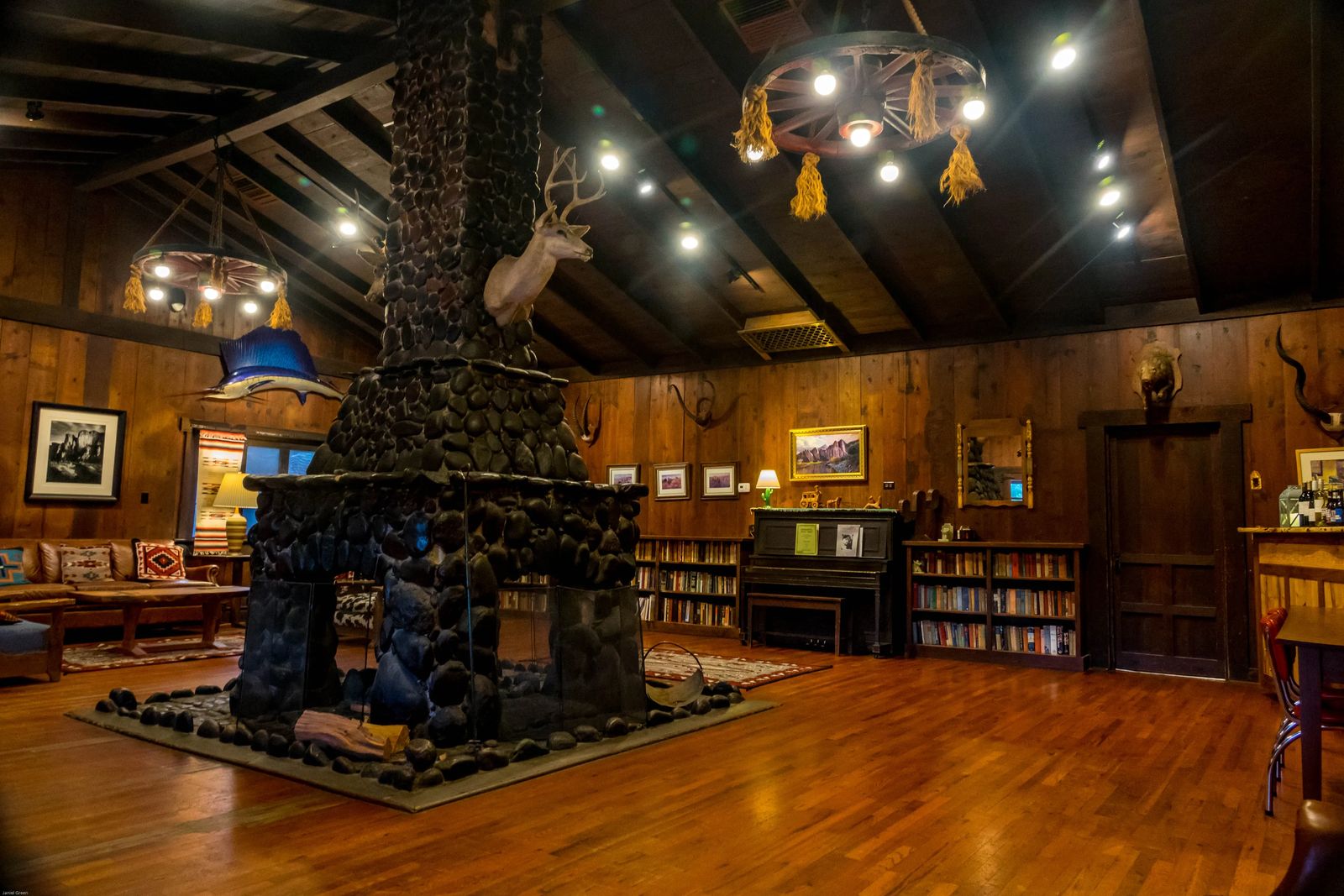 If you head past the dining hall into the lounge area, you will find a massive stone fireplace with reading chairs. This area is perfect for receptions for weddings (of which they hold many of them), a cozy place to read a book, and provides a reprieve from the hot summer days. There are board games, books, and a mini bar that the front desk is happy to provide a alcoholic beverage to help you really relax into your vacation.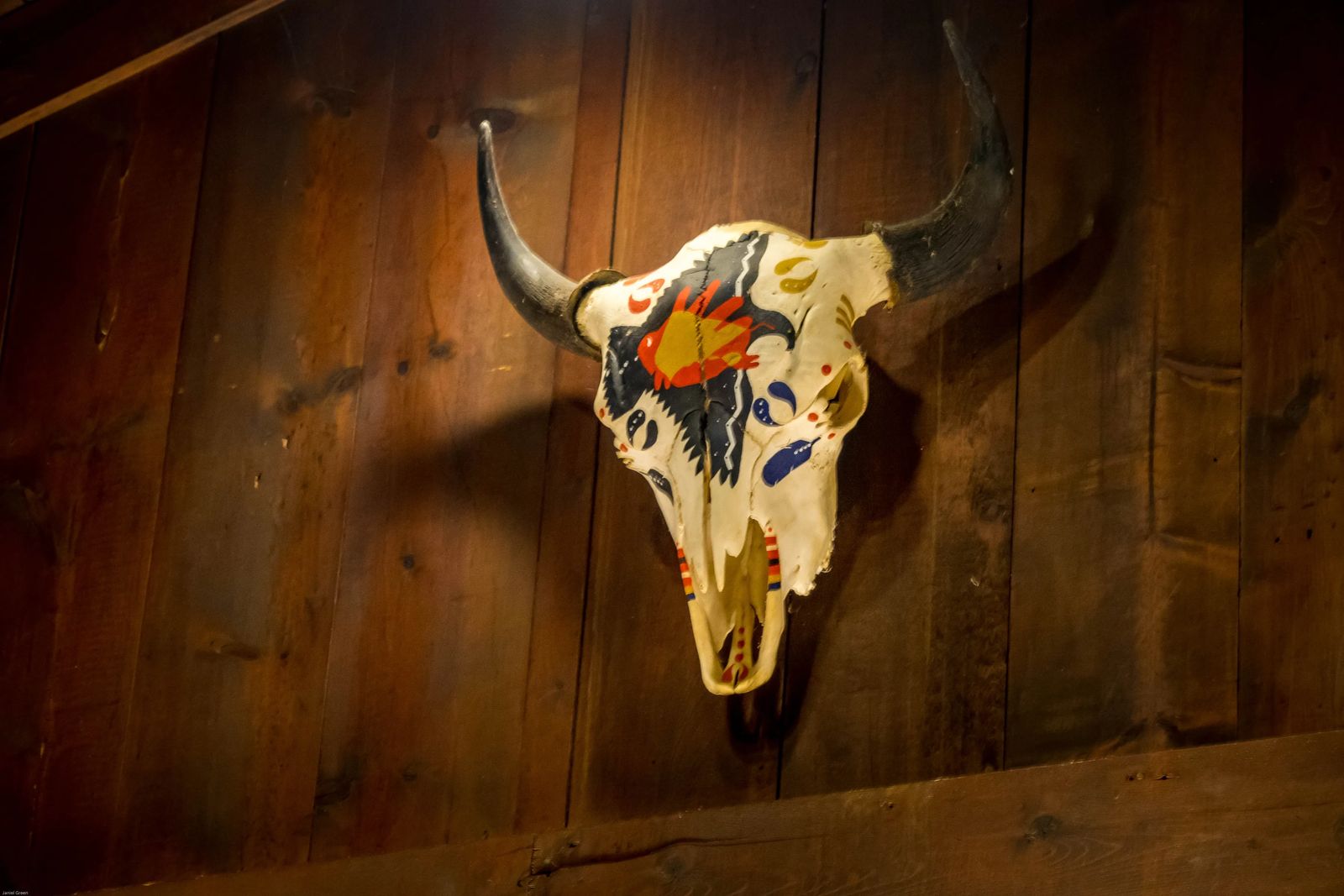 Native American art adorns the walls of the main cabin, and hints of it are in many of the cabin rooms. It it is a homage to the Apache Indians who roamed this area, and helped map out the way for settlers to work on the Dam.
Having these unique artistic elements really helps you connect and appreciate the small, simple details of a culture that respected the land. Just sitting and enjoying the ambiance of this place I noticed that it invites each visitor to really reconnect with and respect the beautiful desert surroundings.
That is just what I did on our second night at Saguaro Lake Ranch, was I went out to one of the darkest areas on the property (over behind the stables) to get some night sky shots in. While it isn't truly considered a dark sky area with the light pollution from Phoenix - the bulldog cliffs provided the perfect amount of protection to get a perfect shot of Orion's belt hugging the massive Saguaro cactus.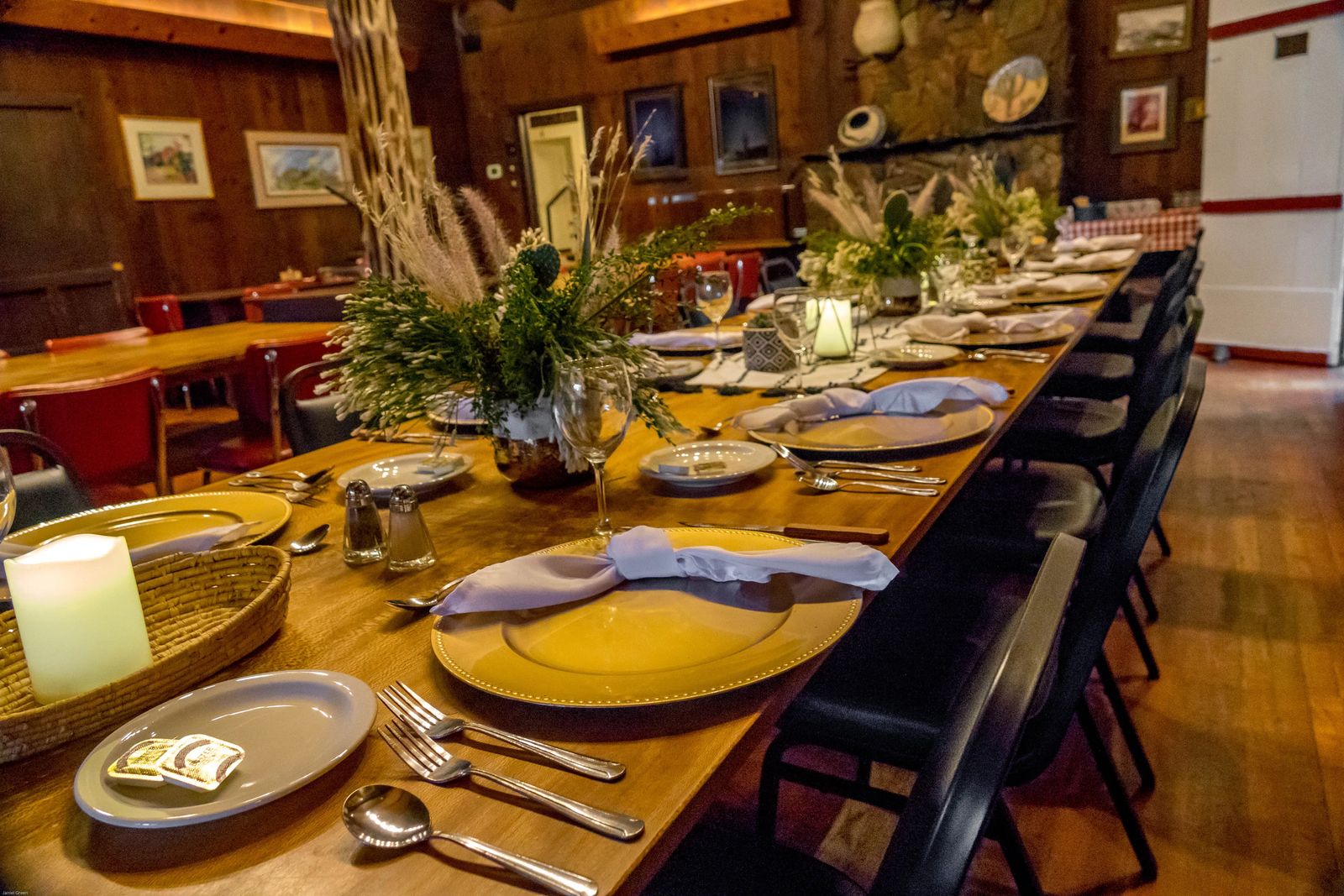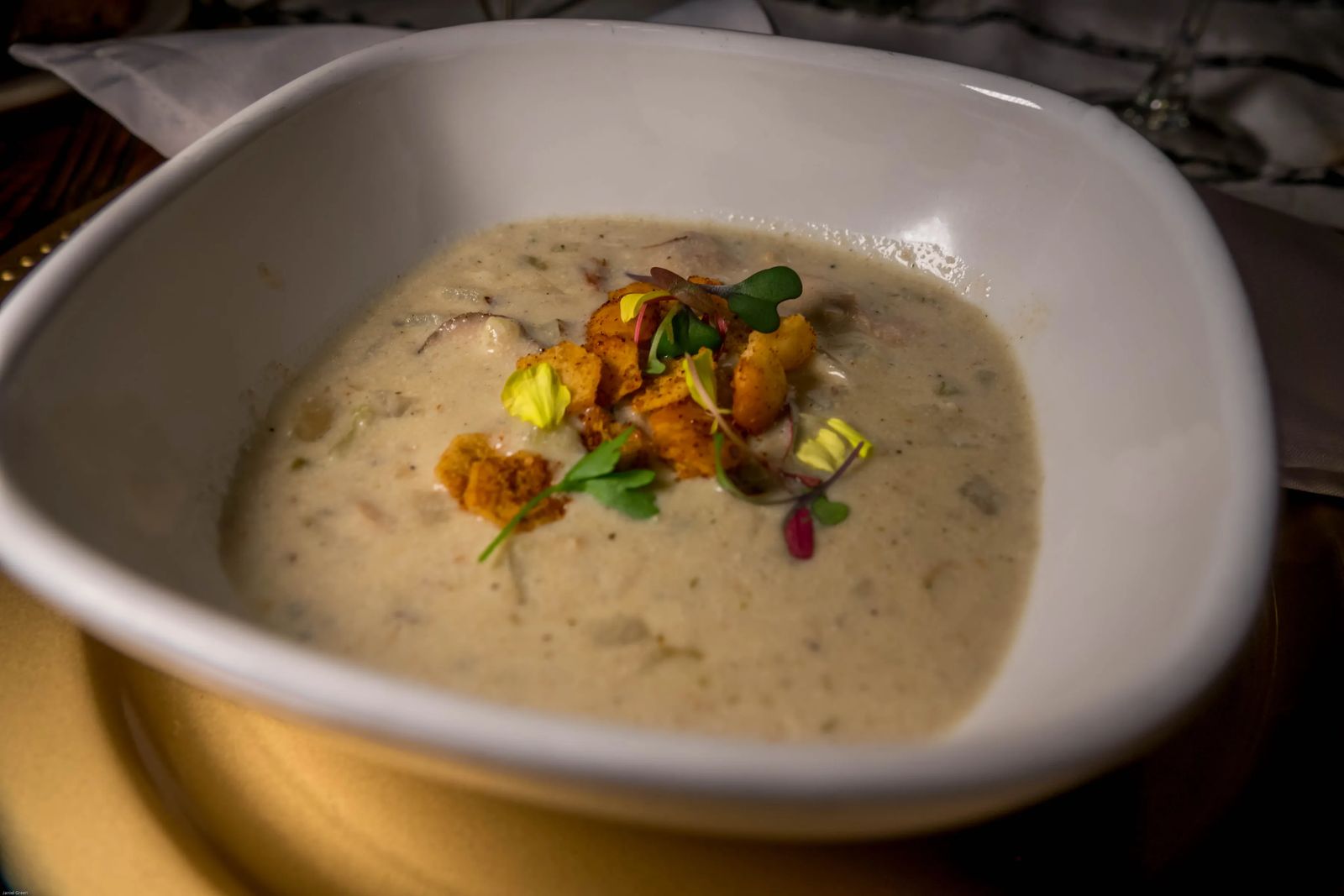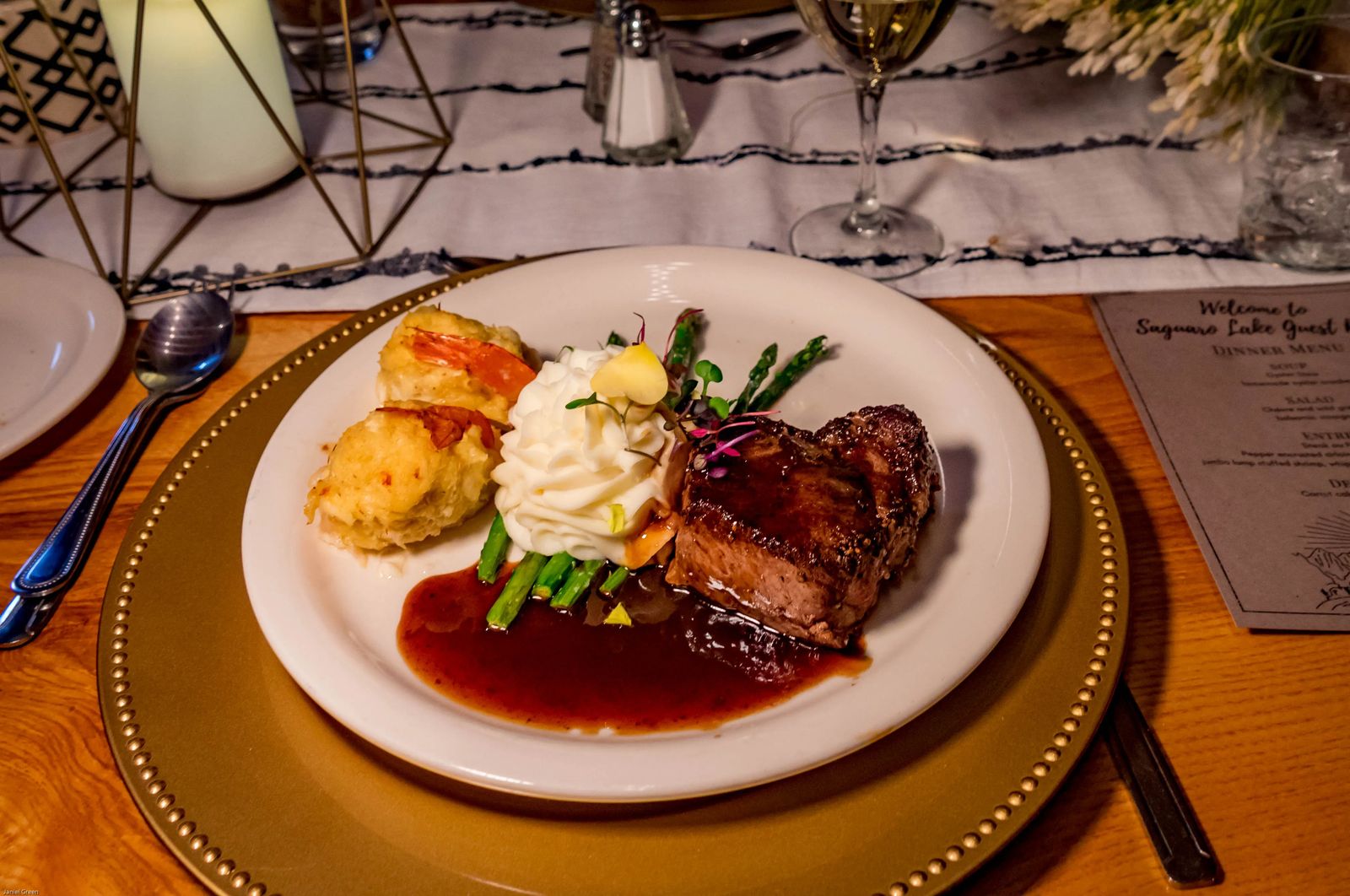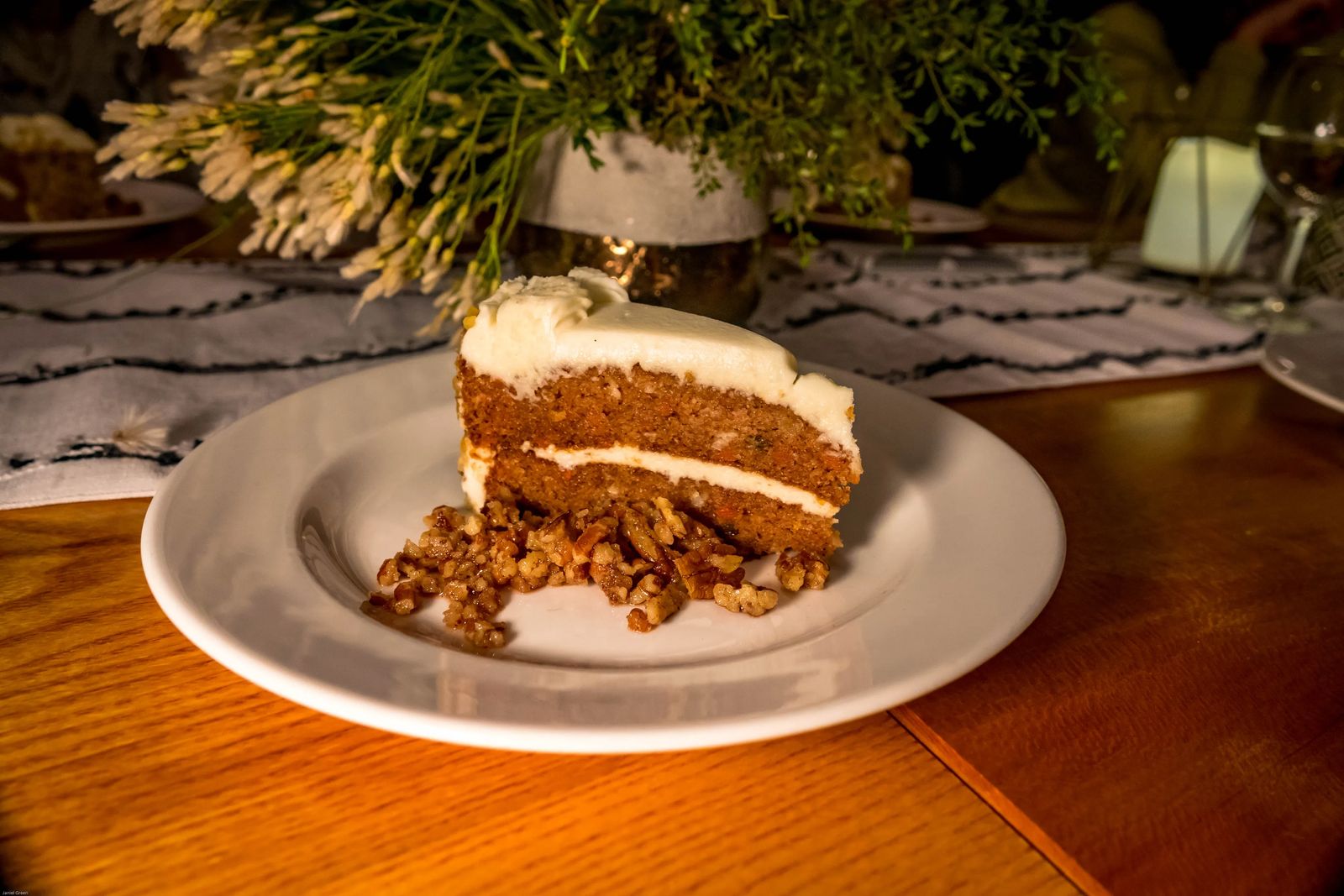 Delicious Food at Saguaro Lake RAnch
Their food isn't just a run of the mill kitchen, their chef is highly accommodating to each and every person - including those with allergies. I have a really weird allergy to Red and Green Bell Peppers, like sweating stomach cramping miserable within 15 minutes.
He made sure to come and introduce himself to me, let me know that he was aware of my food allergy and made dishes just for me that didn't have that included. You don't get that kind of service at most hotels people..... If this wasn't enough, I also found out later that their chef comes to Mesa from a four star restaurant in Alaska.
I didn't think that seafood in Arizona could taste so delicious, but even thinking about the meals that he prepared I'm drooling down the front of my shirt.
I spoke with the manager and for those of you who are vegetarian/vegan, they do have plenty of options for you as well.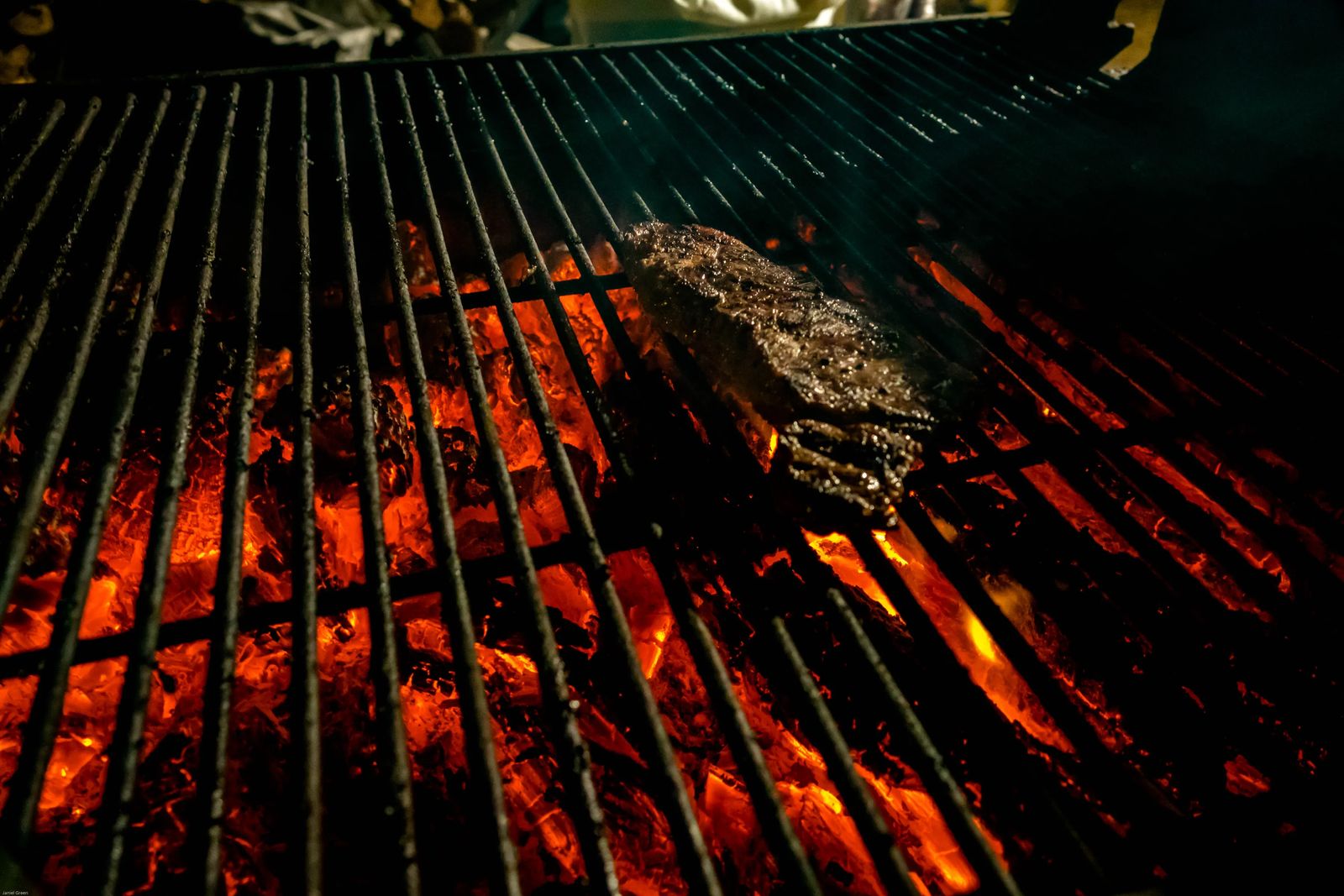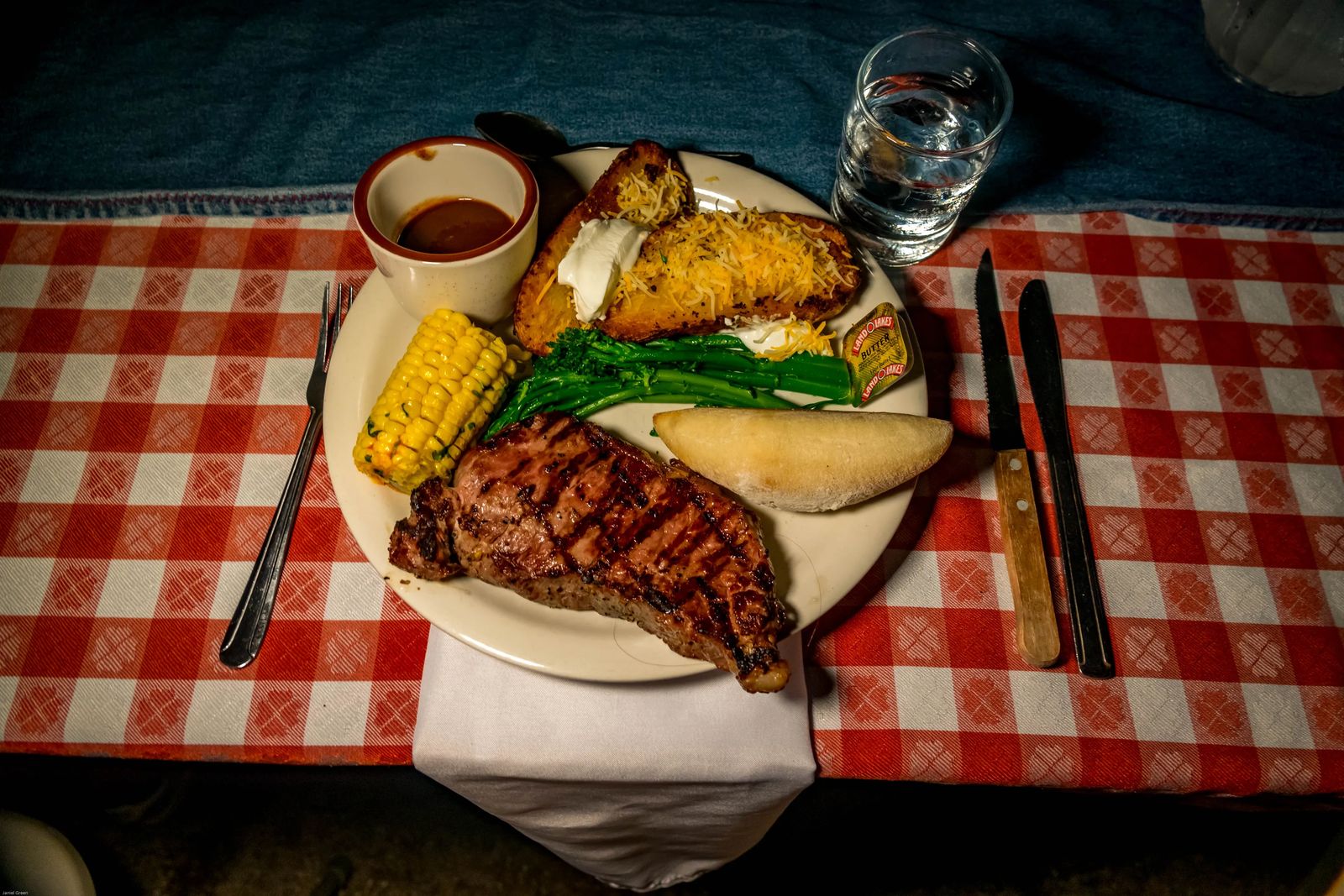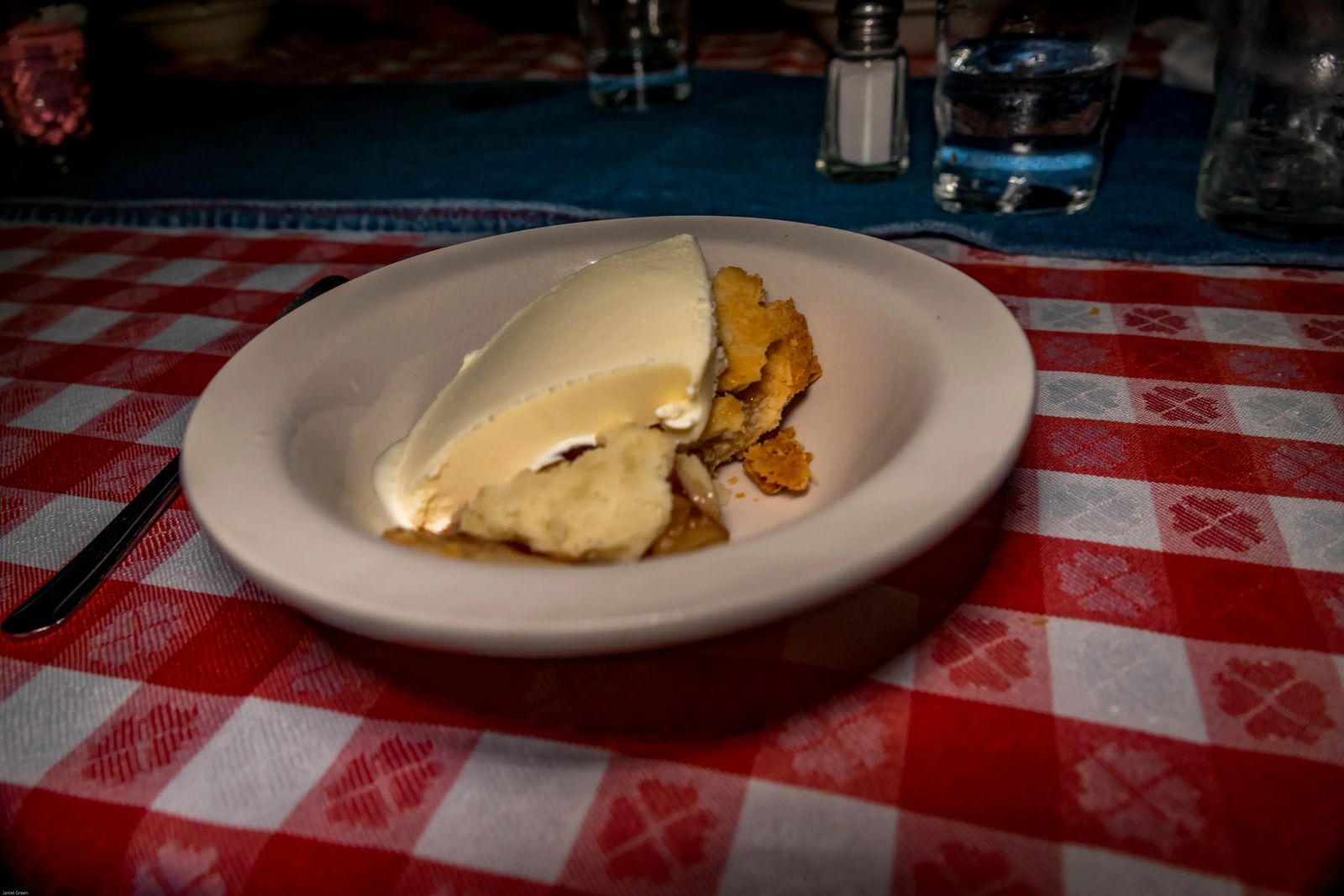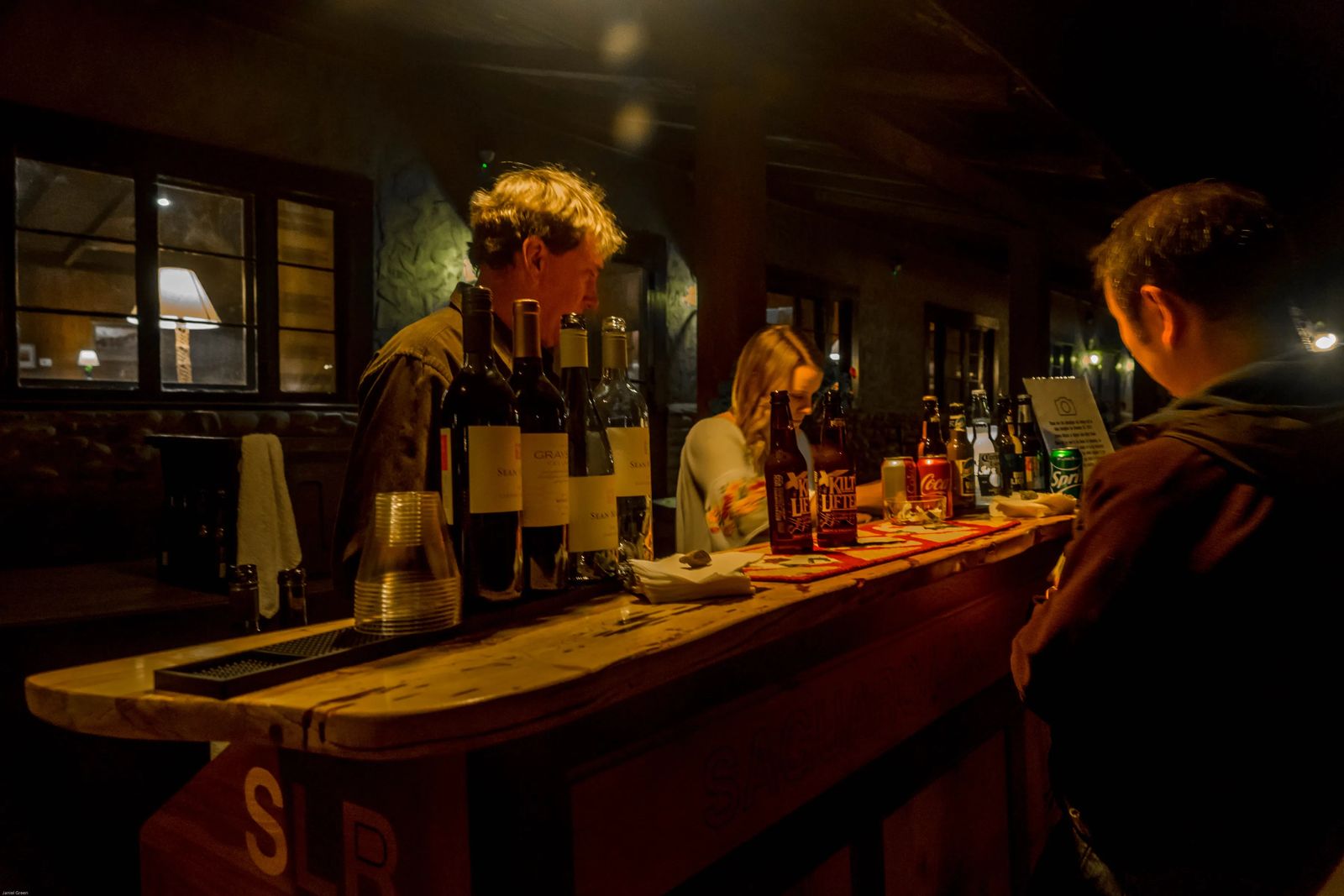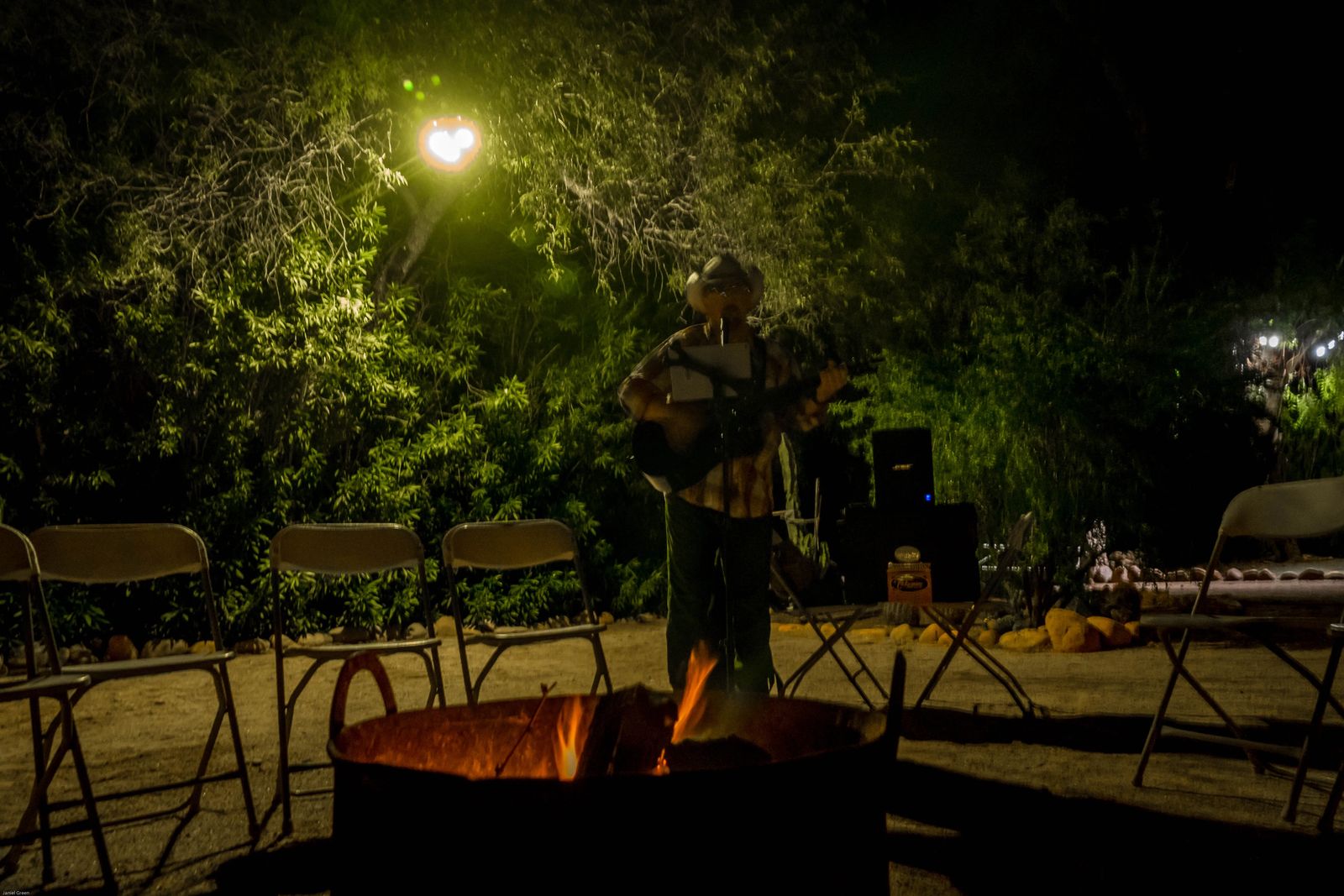 Cowboy Cookout
This is a separate charge, but completely worth it because of the atmosphere it creates, the instgram worthy photos you will get, and the relaxing ambiance right before you go to bed. Locals actually come to attend this as a date night.
There are massive grills brought out, salmon, chicken, steak, and grilled veggies. Surprisingly, the baked potato actually is the thing that won me over more than anything else on my plate. Maybe because I had been hiking, mountain biking, hot air ballooning since 4am and desperately needed carbs; but omg, I could have eaten 5 of them if my stomach would have let me.
Like it? Pin it! Sharing is Caring!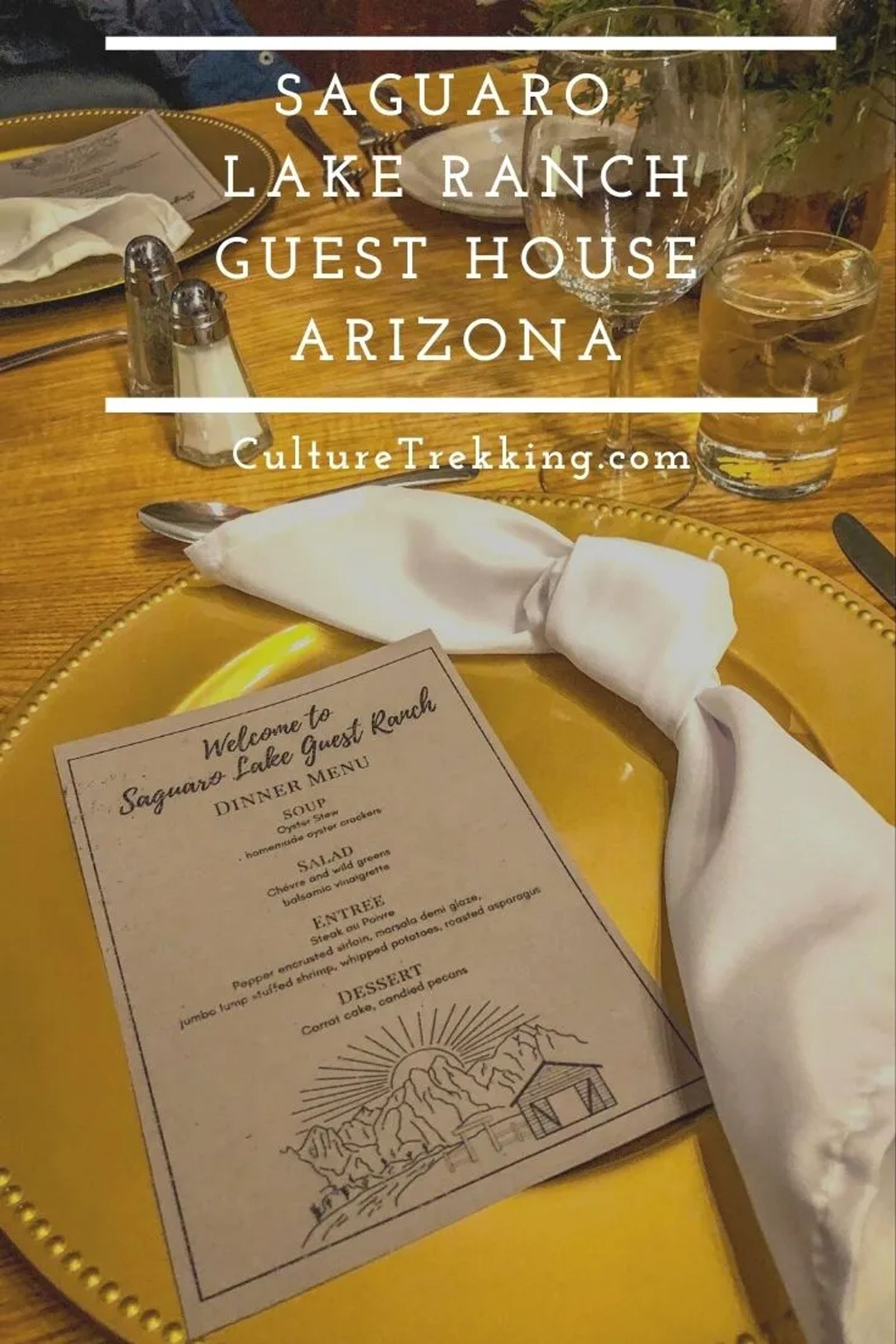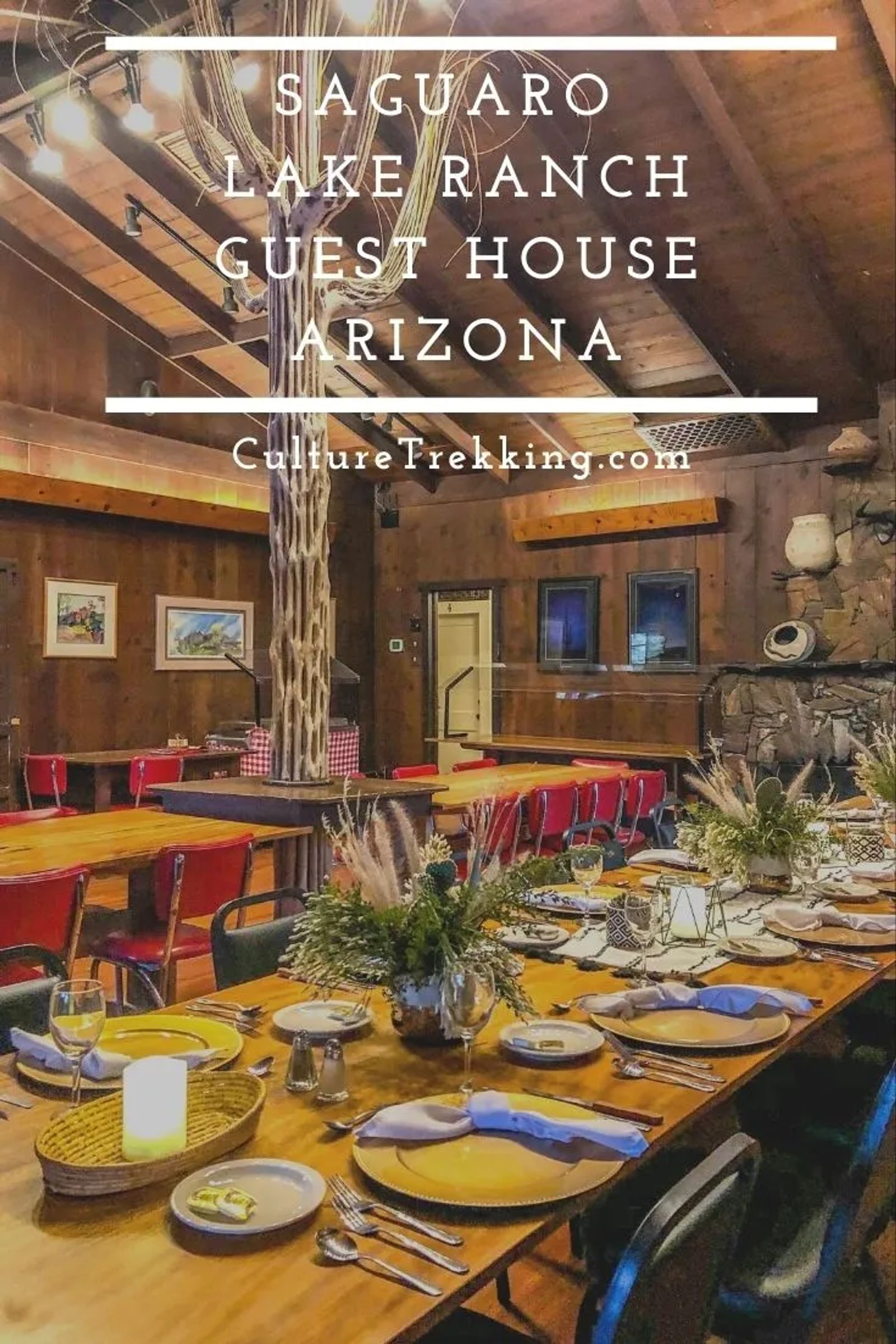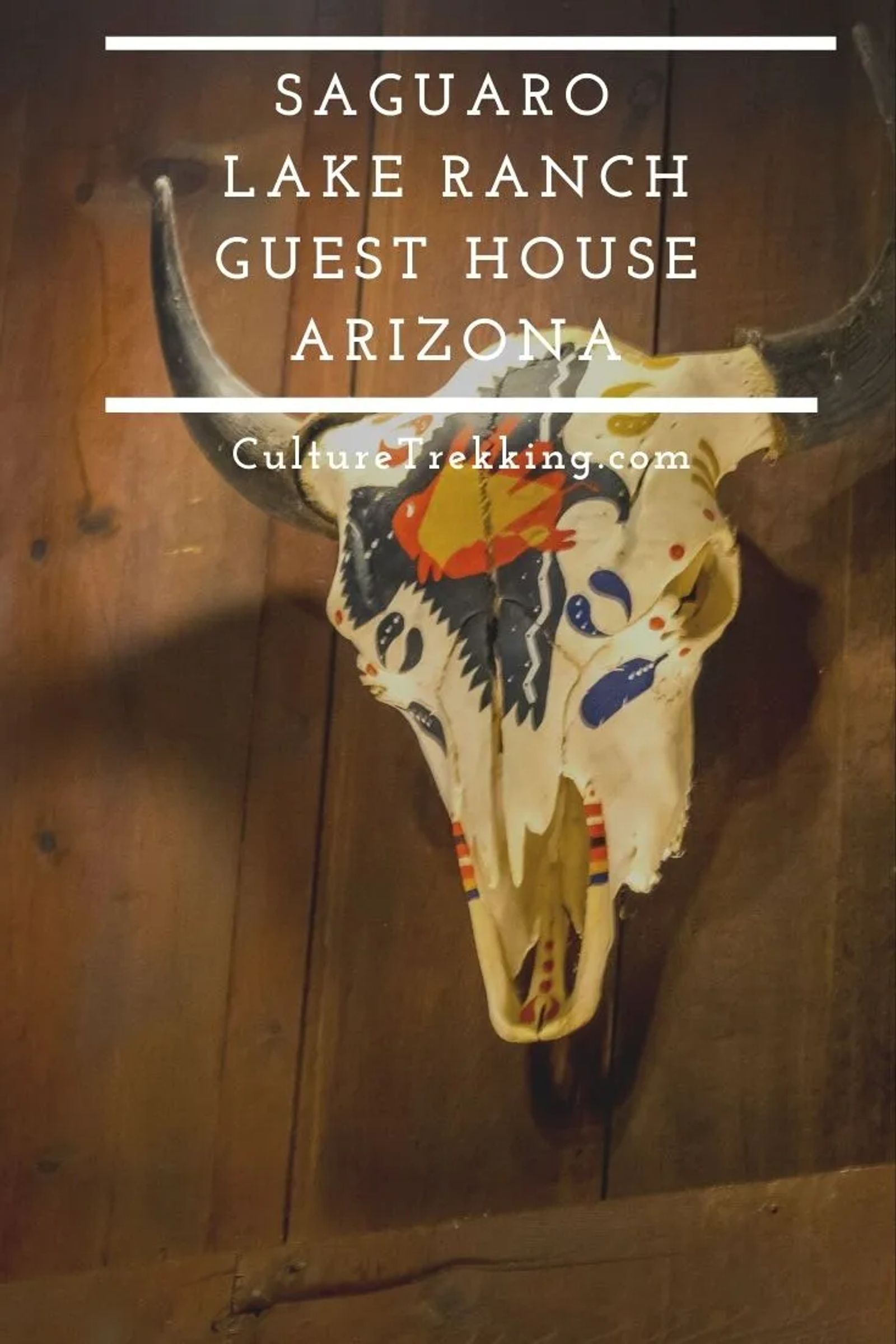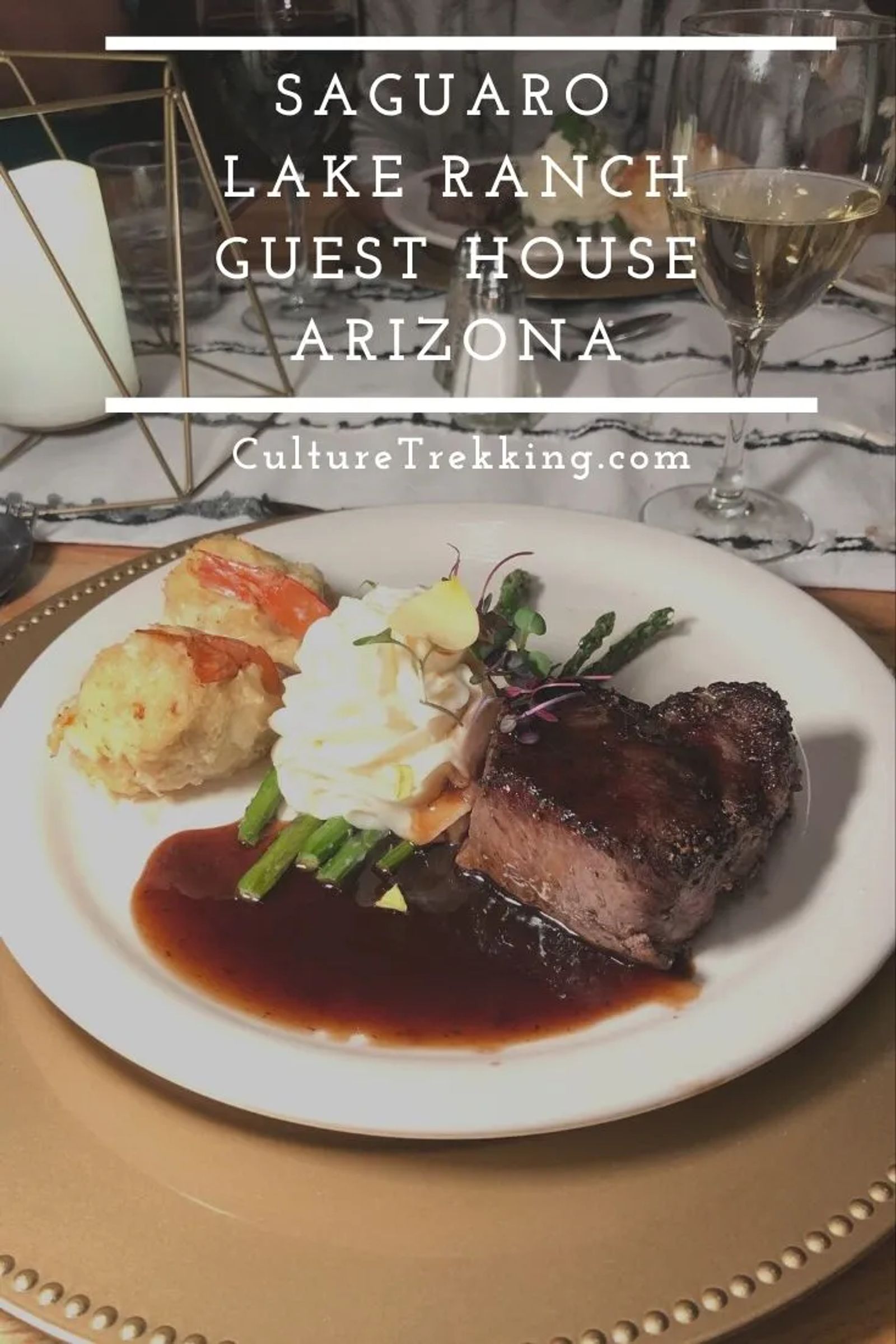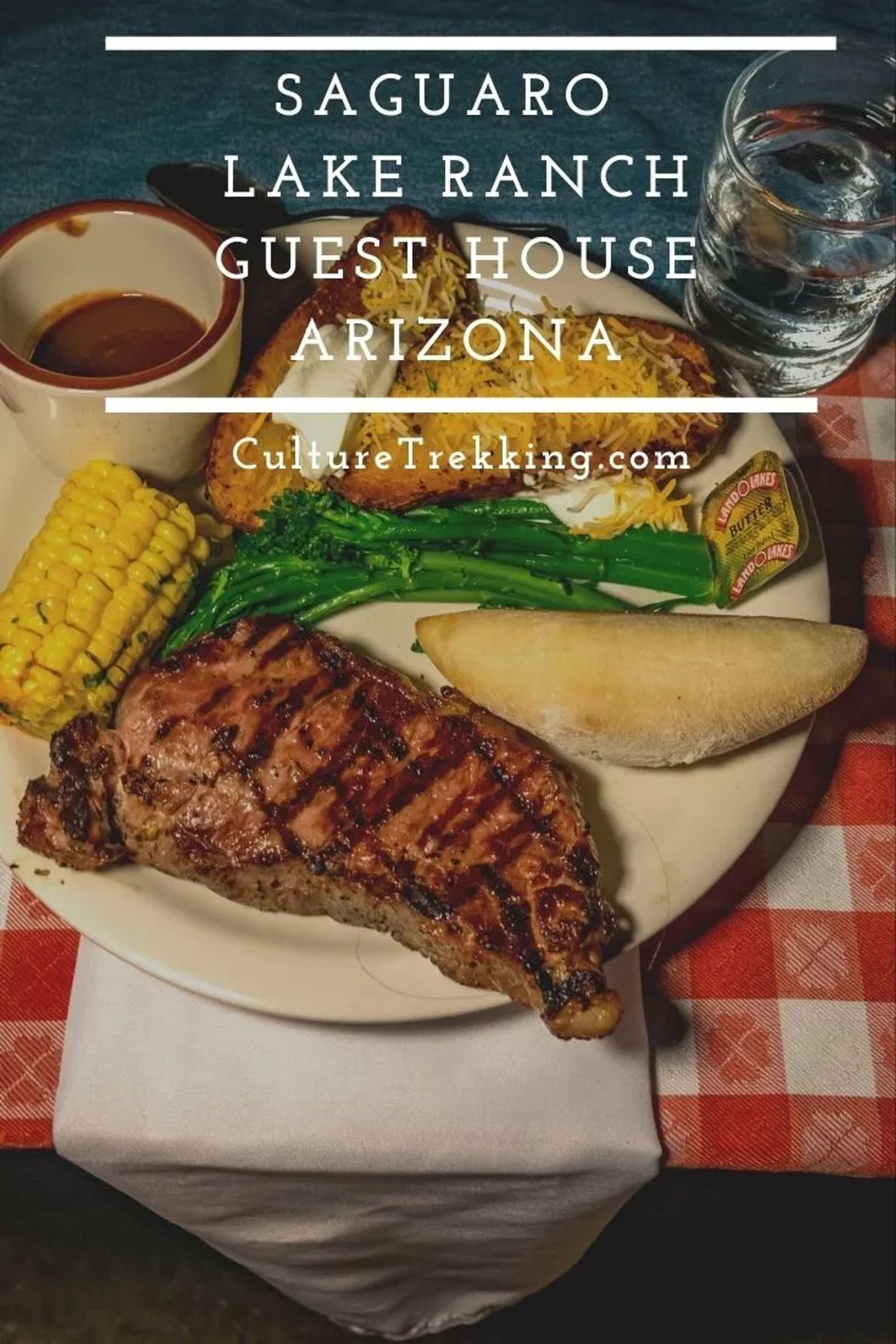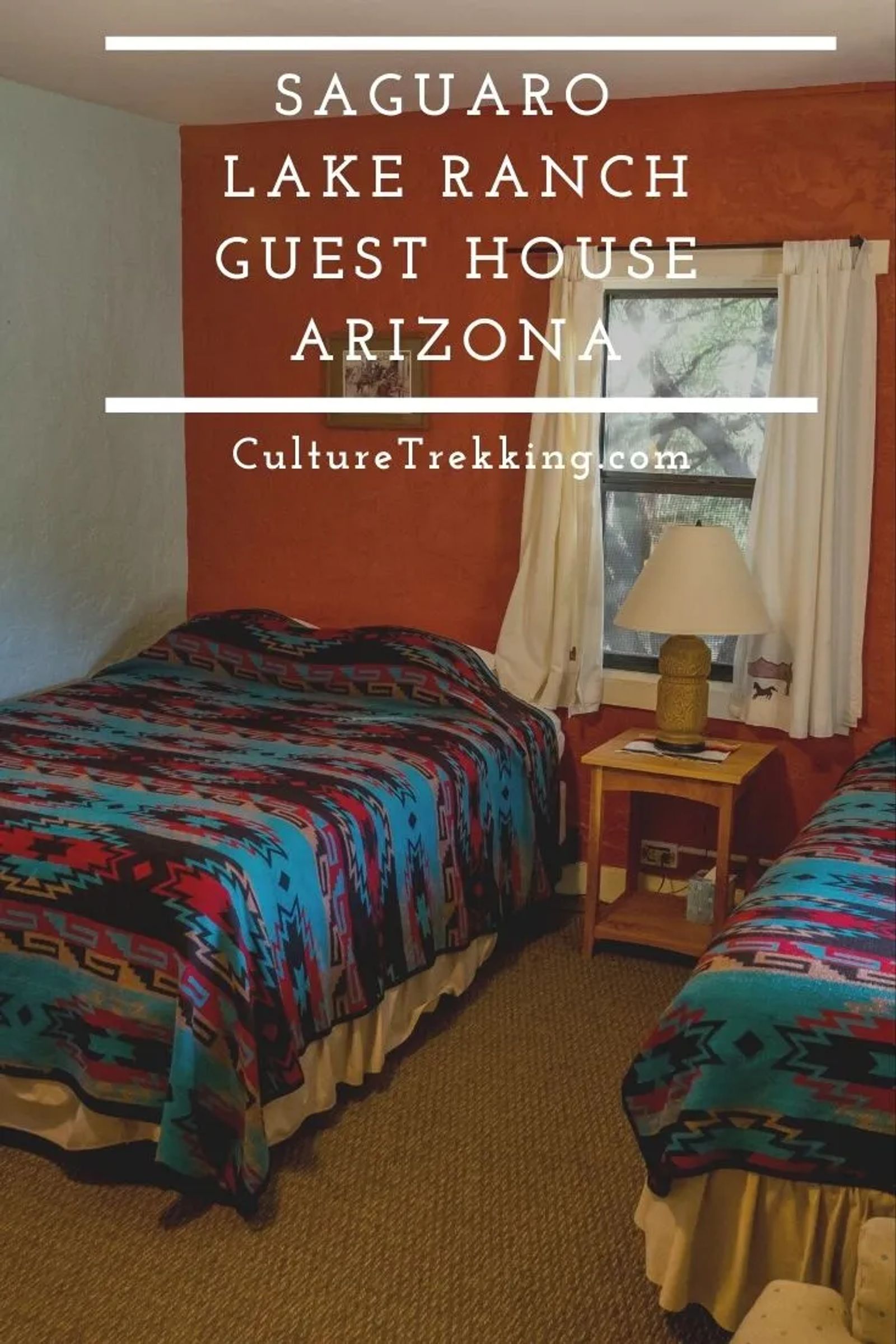 Other Adventures in Arizona