A Winter Getaway to Mesa Arizona for Outdoor Adventures Galore!
Have you ever unexpectedly fallen in love with a destination that you didn't expect to? Mesa Arizona was one of those places for me, I must admit I fell completely and madly head over heels for this city for so many different reasons. I realized after the first day that four days there was just never going to be long enough. The amount of outdoor activities and adventures in Mesa were so plentiful and varied it was really hard to choose what to see in Mesa.
While Mesa isn't traditionally filled with snow, it still packs a punch with outdoor adventures, incredibly accommodating locals, and most importantly blue skies (325 days of them) and clean air. Being a Utah native, we get really bad inversions (warm, less dense air mass moves over a dense, cold air mass. … This cold air then pushes under the warmer air rising from the city trapping smog under it) – which having Asthma in an inversion is no bueno. I couldn't wait escape the dreary winter scenes in my home town, and visit this outdoor paradise and get a hefty dose of Vitamin D.
Medical Nerd Alert: Vitamin D is typically made when the sun reacts with your skin, then your kidneys convert it into a usable Vitamin D3. Vitamin D3 has been shown to help with mood, blood sugars, fighting off colds, and even helps you sleep better. (As if you needed one more reason to seek sunshine in winter).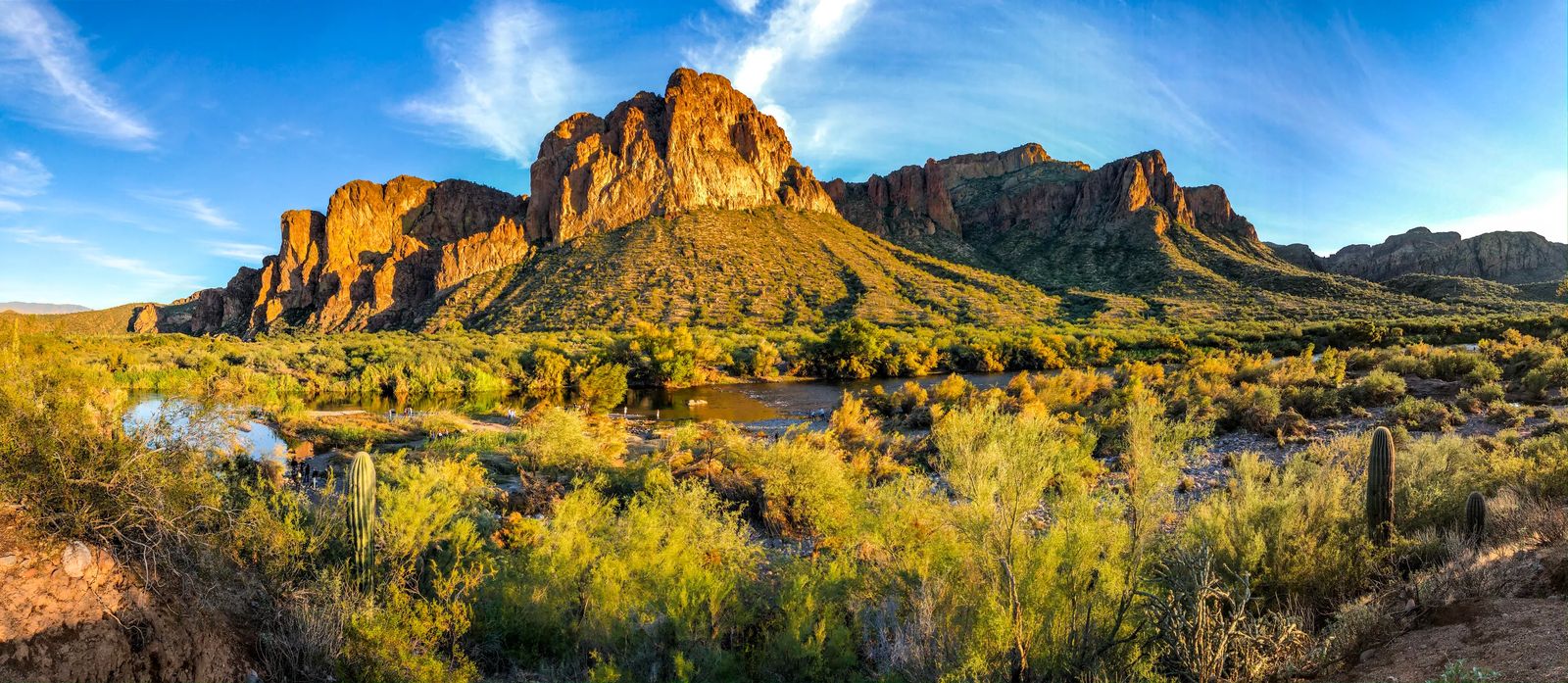 Fun Facts About Mesa
Have you ever looked at a map of Mesa? It is MASSIVE! Actually it is the 3rd largest city in Arizona. There are loads of murals downtown to get those perfect IG worthy photos next to. It is the first Autism Certified City in the USA, which I loved to hear because I have an autistic cousin – and know how hard it is for her family to travel because people don't understand her needs.
For outdoor activities in Mesa there are 600-miles of on street bike lanes, stand up paddle boarding, kayaking & tubing down the salt river, hundreds of mountain biking trails, hiking trails, horse back riding, Hot Air Balloon rides, with plenty of lakes and fishing available. Yes, Mesa has A LOT of water – mostly due to the Roosevelt Dam that was built.
There are five different exports that Mesa is known for: Cotton, Copper, Cattle, Citrus, and Climate. Climate is included because of how much sunshine and tourism for the sunshine there is (my going to Mesa for a winter getaway = case and point).
One of the largest Amythst mines in the country, with highest quality amythsts that are actually also found in some of the crown jewels of Spain.
It is one of the first places to become a fully Autism certified destinations, which means staff at hotels, activities and restaurants are specifically trained to know how to handle and assist those with Autism.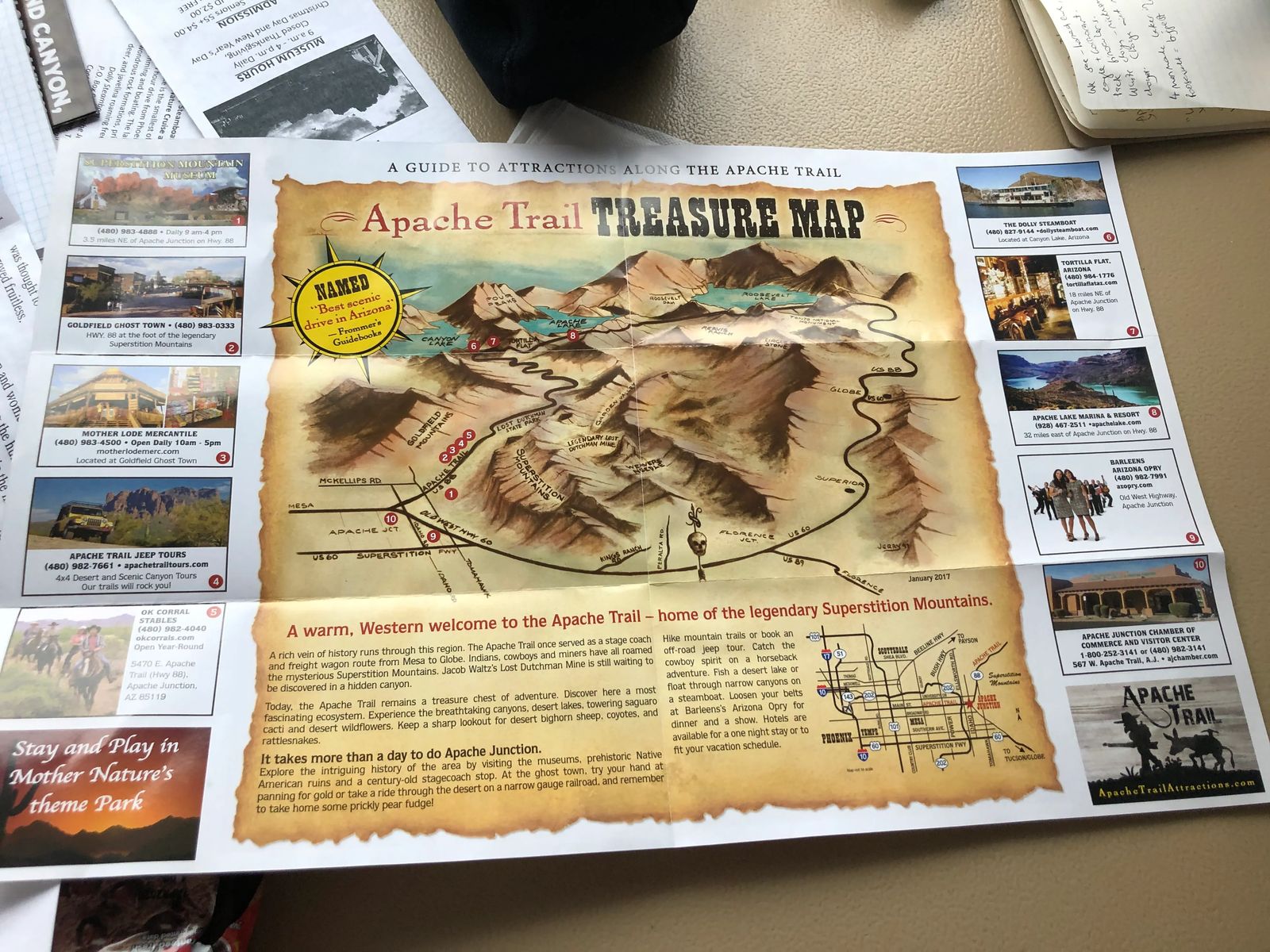 What is the Apache Trail?
This was named the most Scenic byways in the state of Arizona and is a perfect way to start your outdoor adventure. The trail was named after the Apache Indians that used this trail to navigate the Superstition Mountains (a very logical choice for a name). I also LOVE a good road trip (shameless plug for my Moab trip with the dogs) so I couldn't resist going on the Apache Trail Road Trip.
It is 40+ miles of 1/2 paved, 1/2 unpaved road and was used heavily for the construction of the Roosevelt Dam (which happens to be the unofficial end of the Apache Trail). The road is quite windy, so those prone to motion sickness, make sure you read about how to prevent motion sickness while traveling.
The road swings around three lakes along the trail: Canyon Lake, Apache Lake and of course Roosevelt Lake. The trail itself once connected Mesa to Globe Arizona, which are both very important mining towns in Arizona back in the day.
Trekker Tip: Don't try to attempt the unpaved portion in your RV, during the rainy season. I highly recommend a 4×4 vehicle with an additional water reservoir in the back of your car, enough for your entire party to fill their bottles up twice (at minimum).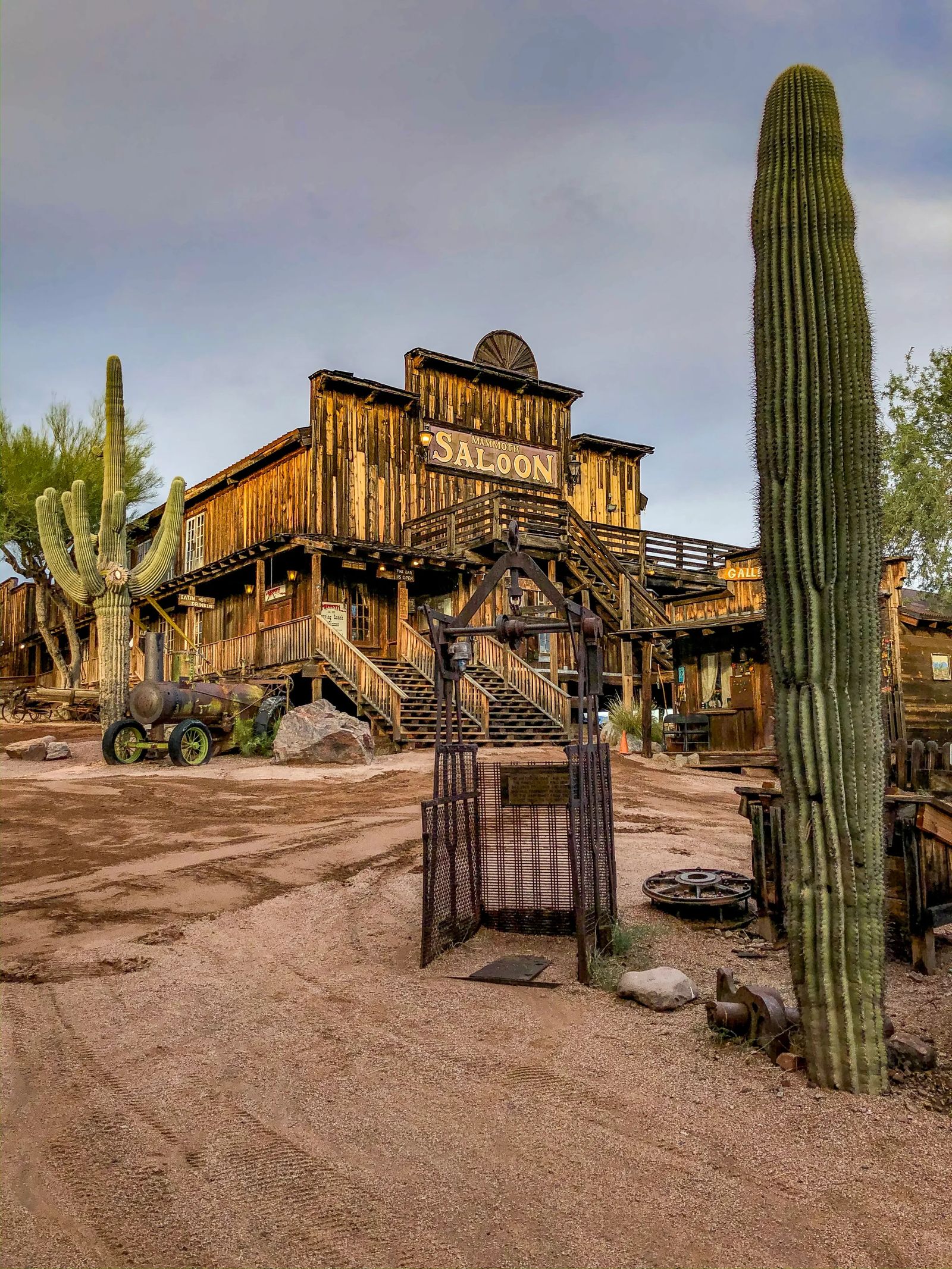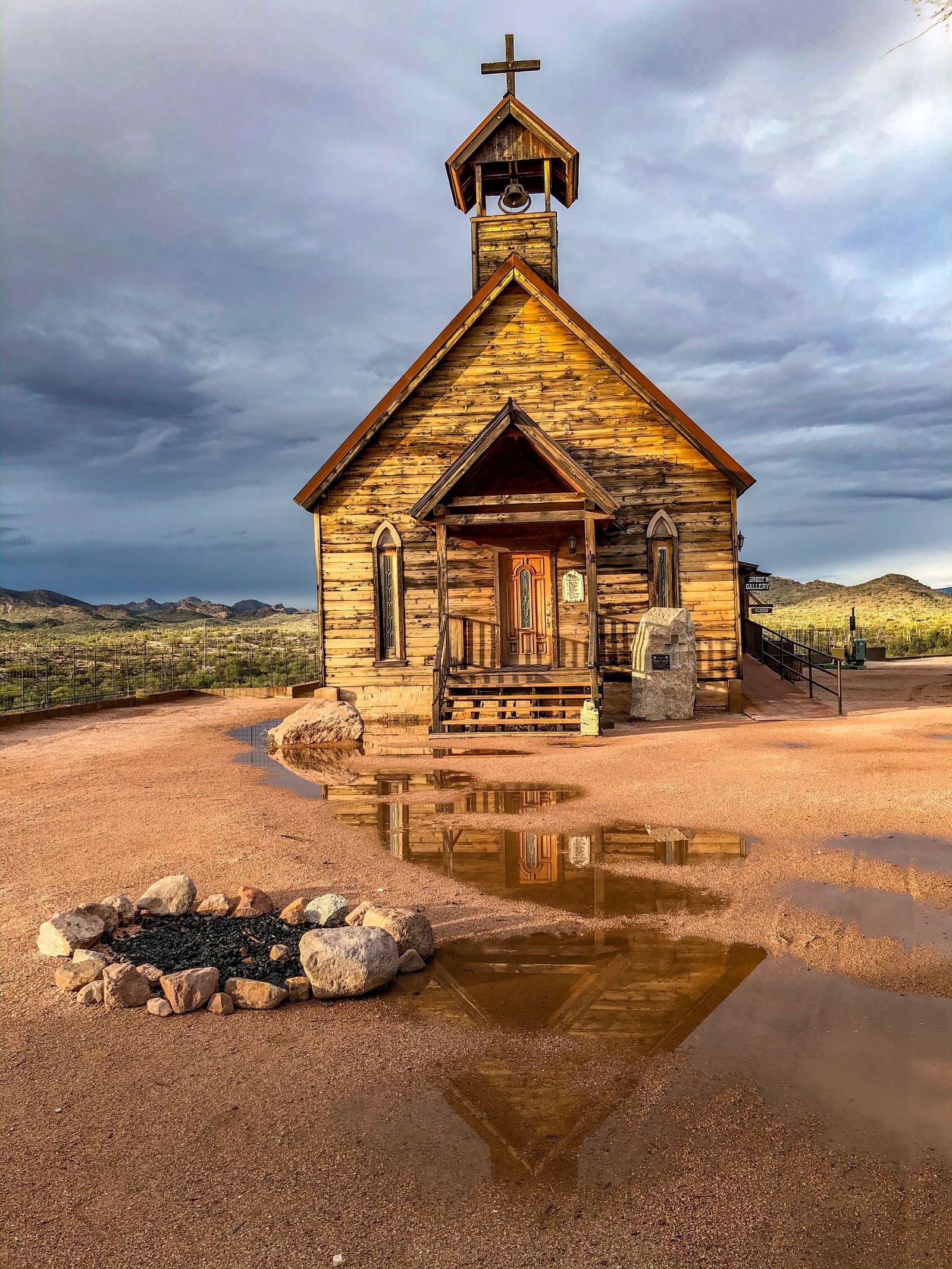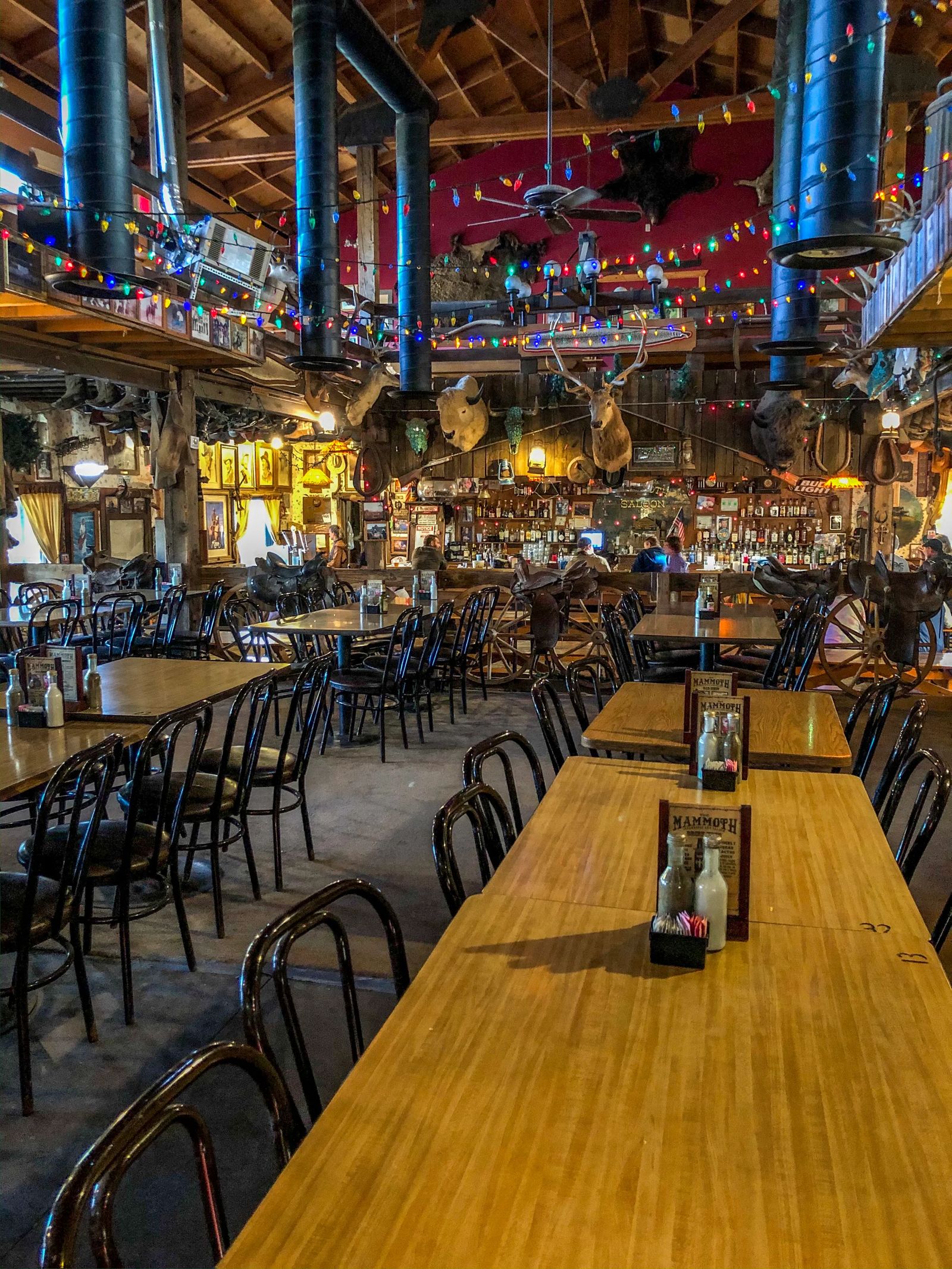 Goldfield Ghost Town On The Apache Trail
This place sets the tone for a wild west adventure in Arizona. When you pull up, it is pristine desert landscape with characteristic wooden slatted buildings (all with A/C available for those with warm bodies like me). This reconstructed 1890's Ghost Town truly looks like something John Wayne would be standing guard as sheriff in.
The paths are all gravel, and at a slight incline, with several stairs up to each of the venues (most buildings appeared to be wheelchair accessible). Unfortunately I visited right after a massive rainstorm, so a lot of the cute shops were closed, but I didn't care because of how cute the place was.
I suggest visiting on the weekend as there are live gun fights at high noon (super sad I missed that). There are also underground gold mine tours, zip lines, a mini gun range, cowboy church (yes you can attend), a reptile exhibit and a narrow-gauge train. If you wander around town it is free, but some of these do require a fee (no reservations, must arrange as a walk-up customer).
The crowning moments for me when visiting Goldfield were the Mammoth Saloon, exploring all the nooks and crannies and the incredible rain and lightning storm we got caught in.
You MUST NOT leave this place without going into Mammoth saloon for a drink and saying hello to the bartender from Turkey named Cowboy Dan. He is witty, hospitable, and knows how to make everyone feel welcome. If it isn't too busy (hint: go when it is raining) I highly suggest sitting down for a drink and asking him about all of his incredible adventures he has had. I mean, how more random can you get! #smallworldgettingsmaller — There is nothing more comforting than a good drink, interesting company, and people who know how to be authentic. Their motto plastered right above their bar: "This saloon is not, and never will be, politically correct! If you're an idiot we will tell you". These are my kind of people! (Sigh, I already want to go back).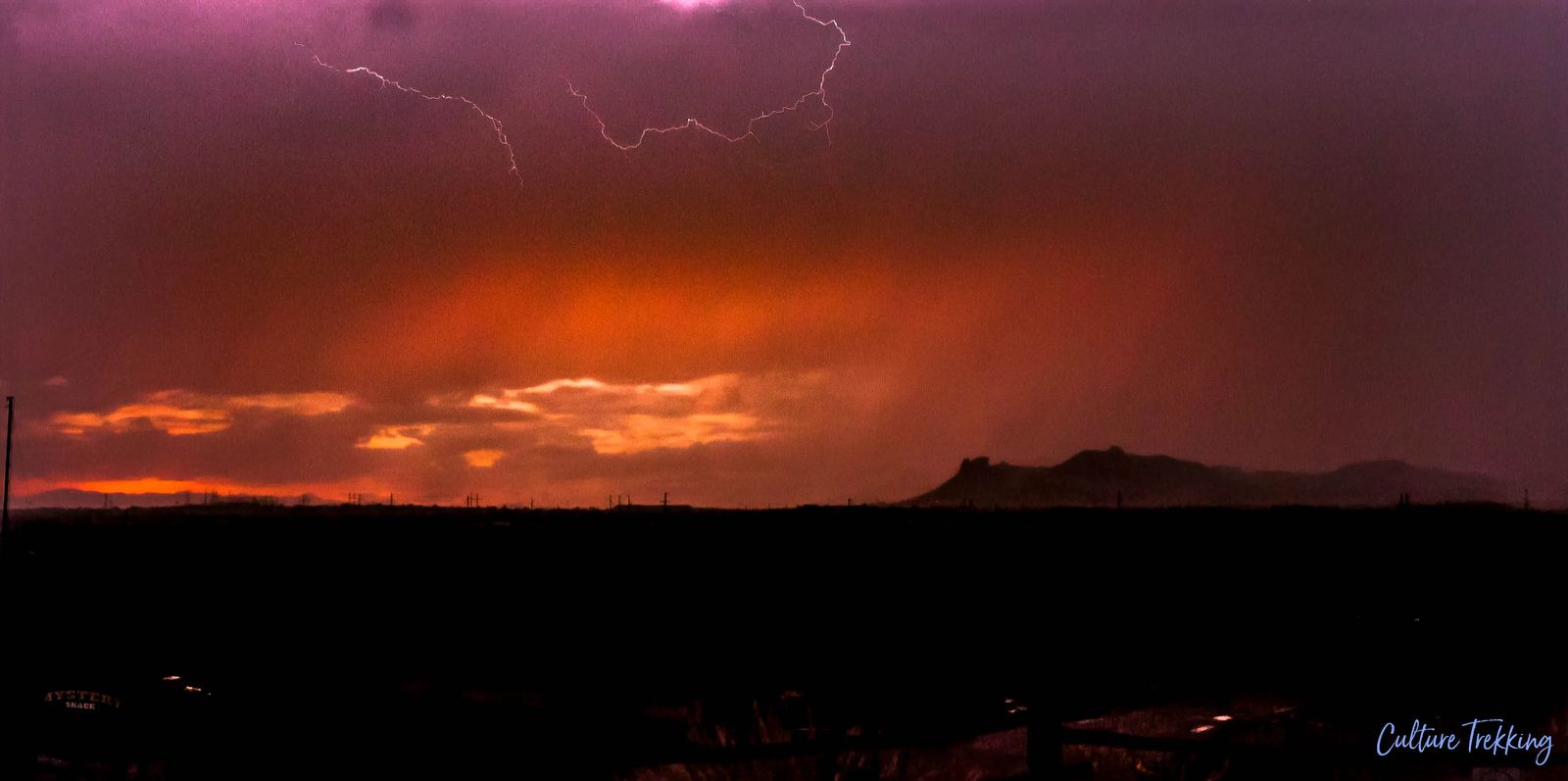 Stopping at Goldfield isn't just another stop on a road trip, it is truly like walking into a (functioning) movie set of an old western. The views are incredible, and if you get a chance to hit this place on the way back from the Roosevelt Dam stop here again at sunset, they are phenomenal and soulful.
While not everyone can experience a massive downpour like we experienced, along with a lightning storm spectacle – please allow me to share this piece of the story. We had just finished up at Mammoth Saloon and were leisurely making our way back to the car – when we noticed the brilliant peaches, purples, reds, and pinks in the sky behind one of the buildings. Being that Goldfield sits on a small hill we weaved our way past the building and were floored by the magnificent sight.
Thunder rumbled so loud it reverberated in my chest, the smell of desert rain washed over me in sweet refreshing waves. Just like the rain pummeling the horizon before us, so heavily, that you could see it coming down in sheets. If this wasn't enough of a natural spectacle, the sky crackled in a brilliant lightning show. It was hard to rip ourselves away from the magic of nature displayed in such glory. Yet as the storm quickly moved over the desert landscape, I realized those dense sheets of rain were quickly moving towards me. No coat + no umbrella + very expensive camera + desert down pour = panic. I did what any other girl would do, I stuffed the camera down the front of my shirt, and sprinted to the car like I was running from a zombie apocalypse.
Pro tip: Be aware of what you are standing under for cover. Standing under a metal sheeted roof on a hill may not be the best idea……
I wasn't too soaked, the camera was safe, and I am ecstatic that I caught my first photo of a lightning strike! (insert bow and standing ovation) National Geographic, I'm ready for my interview
What to Eat: Goldfield Gold Nugget Fudge, Prickly Pear Fudge, Russel's Roost to eat, Mammoth Saloon for a nice drink and meal.
Parking: Ok for small cars, RV's and maybe 1-2 buses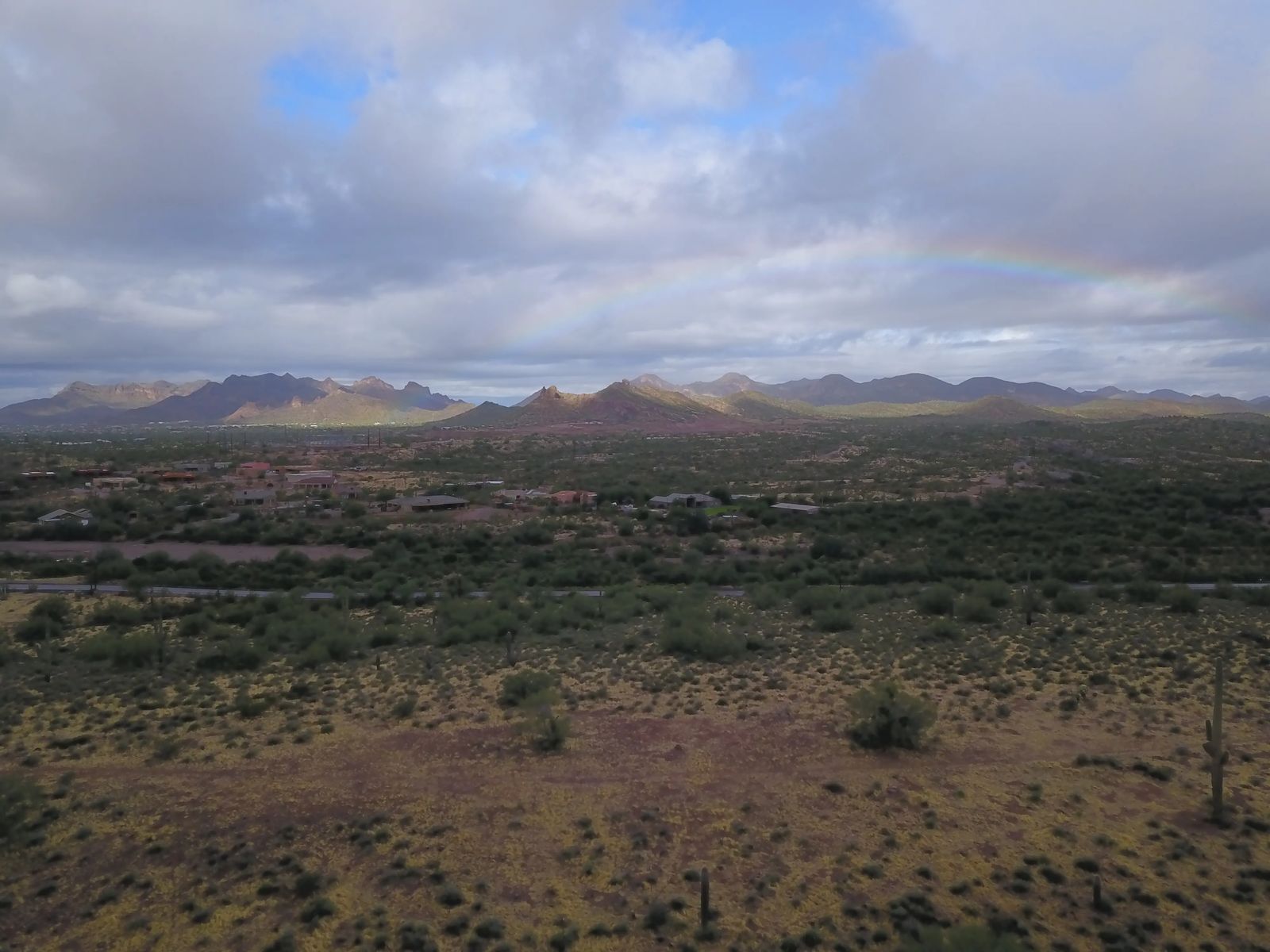 Superstition Mountain Museum on the Apache Trail
This 15 acre museum is free and right next to the 320-acre lost Dutchman State Park. You could spend about three days here just exploring the museum, hiking, and searching for the lost Gold Mine. I highly recommend taking a guided tour as you will be able to learn loads of cactus facts, how people survived in the desert, how to stay safe when hiking in the desert and loads and loads of stories from the volunteers that have been there for years and years.
This place is so picturesque it has been utilized in 17 television series, 29 full length feature films and hundreds of commercials all with a western theme. If you pop into the Apacheland Barn then you will be able to see many of the horse drawn buggies that were used in those movies and other commercials.
Tonto National Forest Wilderness Area, which includes the Superstition Mountians was established as a national forest in 1939, with approximately 160,200 acres. The Native Americans occupied this land for thousands of years and included the Navajo, Hopi, Pima, and Tohono O'odham.
Arizona has the second largest Native American population of any state it is hard to keep the areas separated on where each of the tribes lived. Popping into the Superstition Mountain Museum can help you sort it out. It is located behind the gift shop in the main building, it does cost about $5 to enter but I personally found it fascinating.
To give you an abbreviated version of what you learn in there, the Apache primarily lived in the mountains and Hohokum lived mainly in the Mesa area. You can still see ruins of Hohokum homes in the Mesa area today as well. There are 3 Apache reservations, 21 Native American Tribes, and 1000 members in the pima-maricopa tribe which are the closest Tribe to Mesa. The Native American inter-tribal pow-wow is in November and I cannot encourage you to go support them enough. I feel it is important to help support and preserve their cultures for all generations. Take a closer look at the tribal lands to see just how diverse the Native American tribes are in and around Mesa.
Geronimo was also born in this area, near Gila River Indian name was Gkhlayeh or "one who yawns". There are photos of him and his band before he surrendered to General Cook on March 27, 1886 after which he escaped.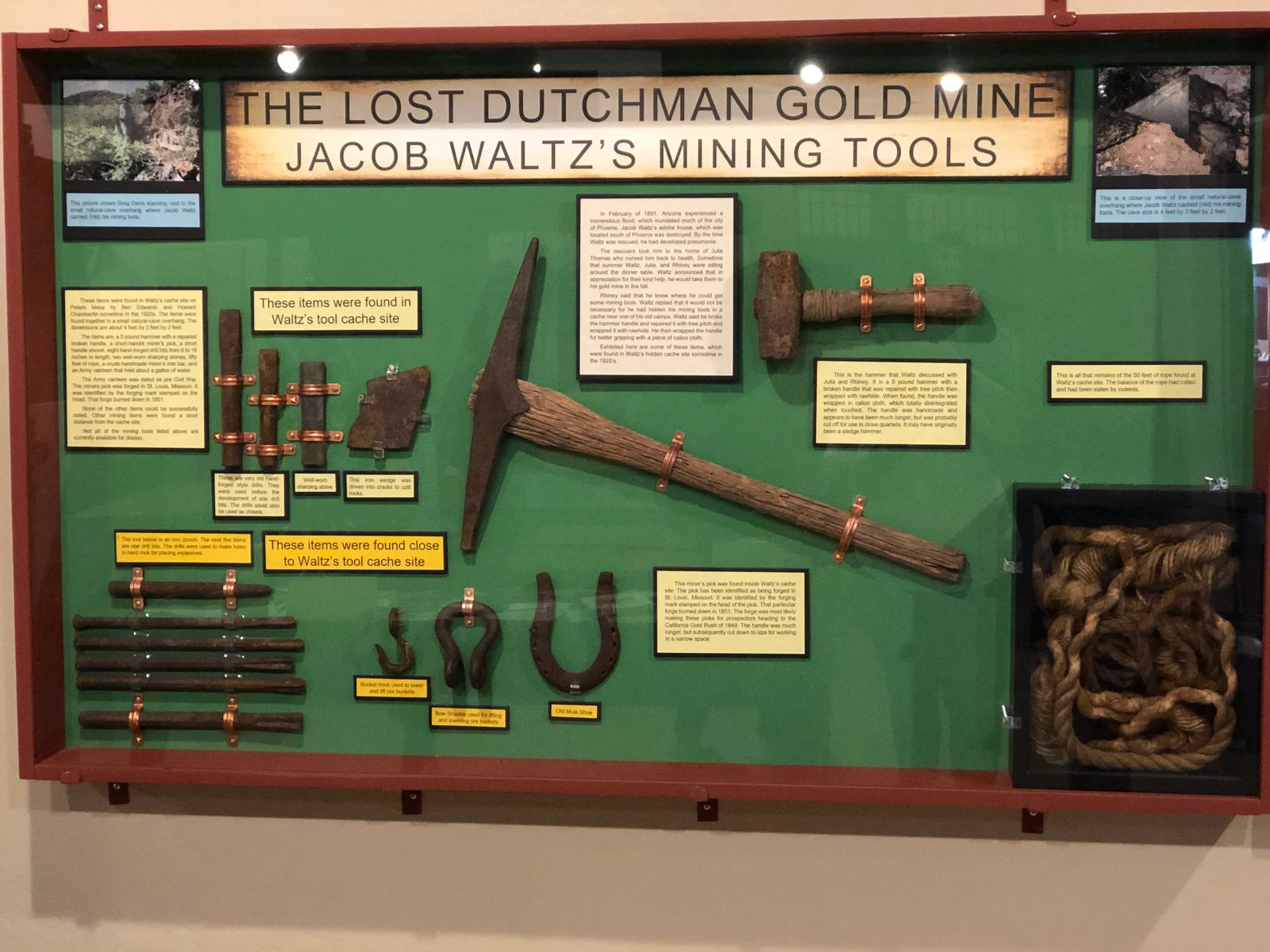 The Lost Dutchman
The are a lot of superstitions around the Lost Dutcheman, which is partly why the mountains were named Superstition Mountains. While the name 'Lost Dutchman' might make you think it is because a Dutch man died in the mountains, that couldn't be further from the truth. What the name refers to, is Jacob Waltz, 'The Lost Dutchman' was actually a German immigrant who came to the area in the midst of the Arizona Gold Rush.
The Gold Rush in Arizona happened before the California Gold rush. Gold in Arizona was first discovered near Yuma in 1858, and La Paz in 1862. It was a major boost to the economy in the area, especially with the railroad being able to transport it safely across the country.
Mr Waltz claimed that he found the holy of holies of all Gold Mines and would not tell anyone where it was. In fact, he gave hints upon his death bed but never actually revealed the location of the Gold Mine. There are stones, the Peralta Stones, that he claimed would lead people to the mine, and said that his tools were buried near the mine as well. To this day the mine has not been found, but you can see in the museum the tools that were found that Jacob Waltz allegedly used in this mysterious Gold mine. There are still 8,000 people who come every year to search for the Lost Dutchman Gold Mine.
Most of the gold and silver produced today is a by-product of the copper mining still happening in Arizona today. Copper is the number one industry in Arizona and produces nearly 64% of all the copper in the United States.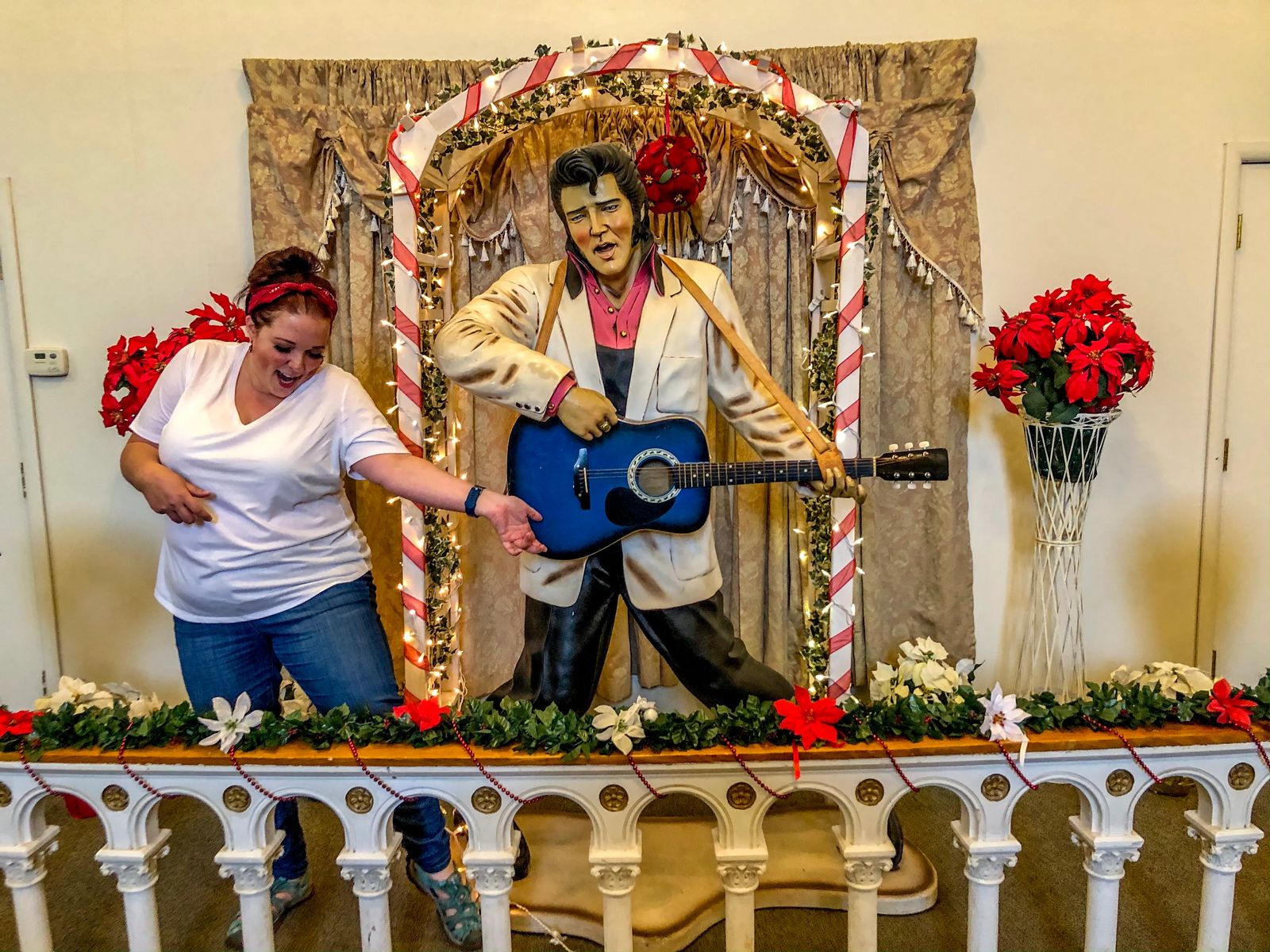 Elvis Memorial Chapel
This Elvis Memorial Chapel is a walk down memory lane, and down the marriage lane for many. This is where the King himself filmed Charro! While the movie itself didn't do that well, because of the ties to Elvis Presley, many die hard Presley fans still flock to visit. The real steeple was removed during the filming so a fake one could be blown up.
When you walk in, the walls are lined with movie posters of former films that include the chapel. Charro is playing on the television at the front, along with a statue Elvis Presley playing at the pulpit.
Living in Las Vegas for 7 years, Elvis Presley still holds a special place in my heart, and this little chapel was so charming it brought back a lot of nostalgic moments for me personally. If you fall in love with the chapel, you can actually get married there as well! This is a hot spot for people to get married because of the ideal location, and picture perfect background to the chapel.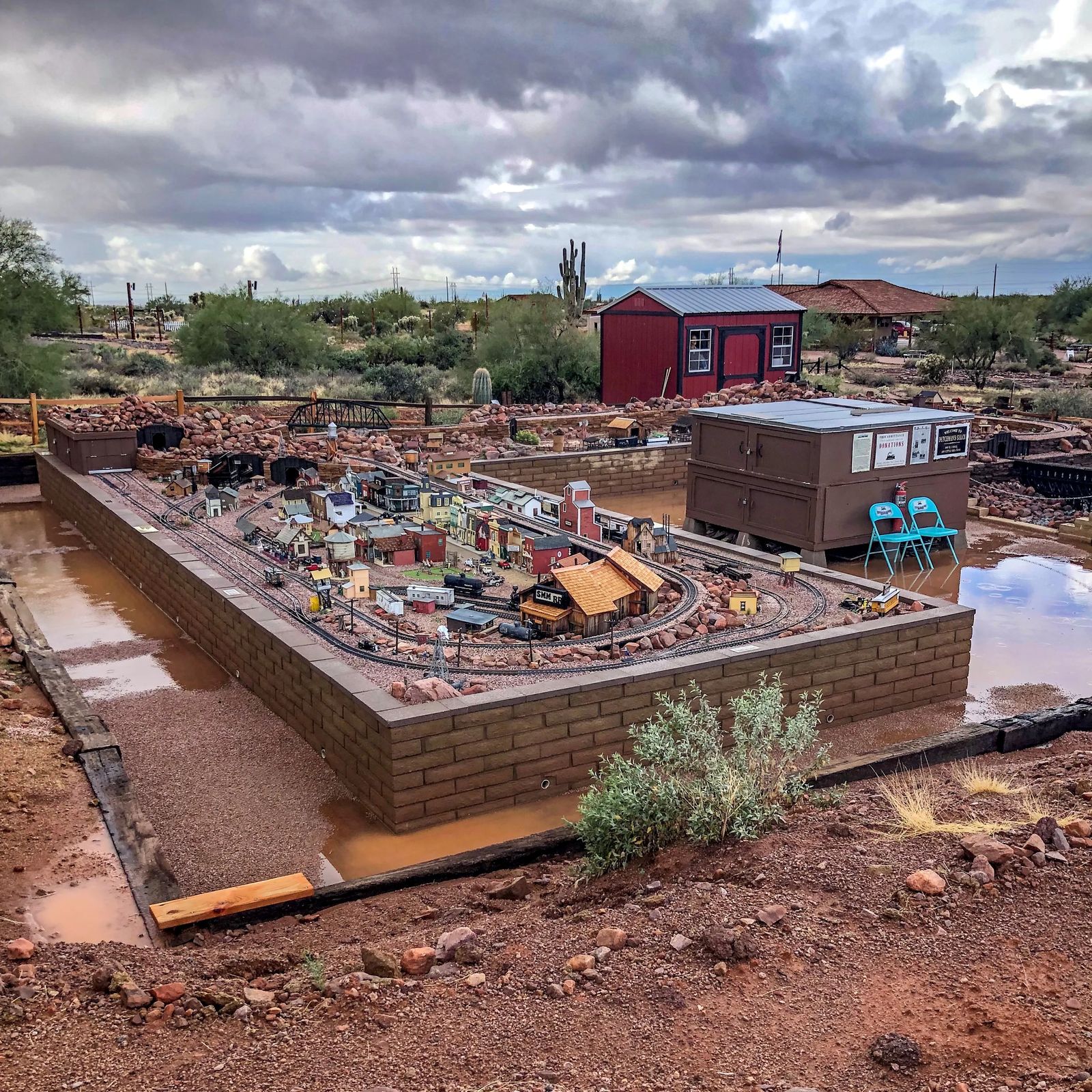 SMMRR G-Scale Model Railroad Exhibit
This massive model train exhibit was constructed by a group of railroad enthusiasts over a 3-year period of time. My Great-Grandfather was an immigrant from Appledorn in the Netherlands and worked for the railroad in Utah for years, so trains have always fascinated me.
This particular exhibit features several steam engines that pull more than 40 cars along 1500 ft of 45mm gauge track. The railroad played a major role in building the foundation of Arizona's Economy with the 5 C's: Copper, Cotton, Cattle, Citrus, and Climate.
This exhibit is seasonal, so be sure to visit in the fall, winter, or spring. A smaller exhibit next to the Apachebarn operates year-round. It is based on the time period of the 1800's-1930's.
Cossak 20-stamp Ore Mill
If you plan your visit carefully you can see this massive Ore Mill in action, one of the original 70 ton monstrosities built in 1914 and used in Bland New Mexico. It was laboriously relocated to the Apache Junction, 500miles away, in 1989. that shakes the ground during demonstrations for visitors of crushing gold-bearing rocks. The first mill was built in North Carolina in 1829, but with the Gold Rush became very important to Arizona.
These were typically powered by water, and later by steam engines. Stamps were usually built in a bank of five, made from cast-iron weighing in at 1000 pounds, and are dropped about 100 times a minute – enough to break the rock and reduce it down to fine sand. Once the sand was created it was amalgamated with mercury or cyanide (contained in a closed tank) to allow for the extraction of the gold. Typically sodium cyanide, calcium cyanide allows for 96% pure gold extraction.
The Ore Mill at the Superstition Mountain Museum does actually still work, and if you call ahead of time might be able to catch a bone shaking, spine reverberating demonstration of this Mill in action.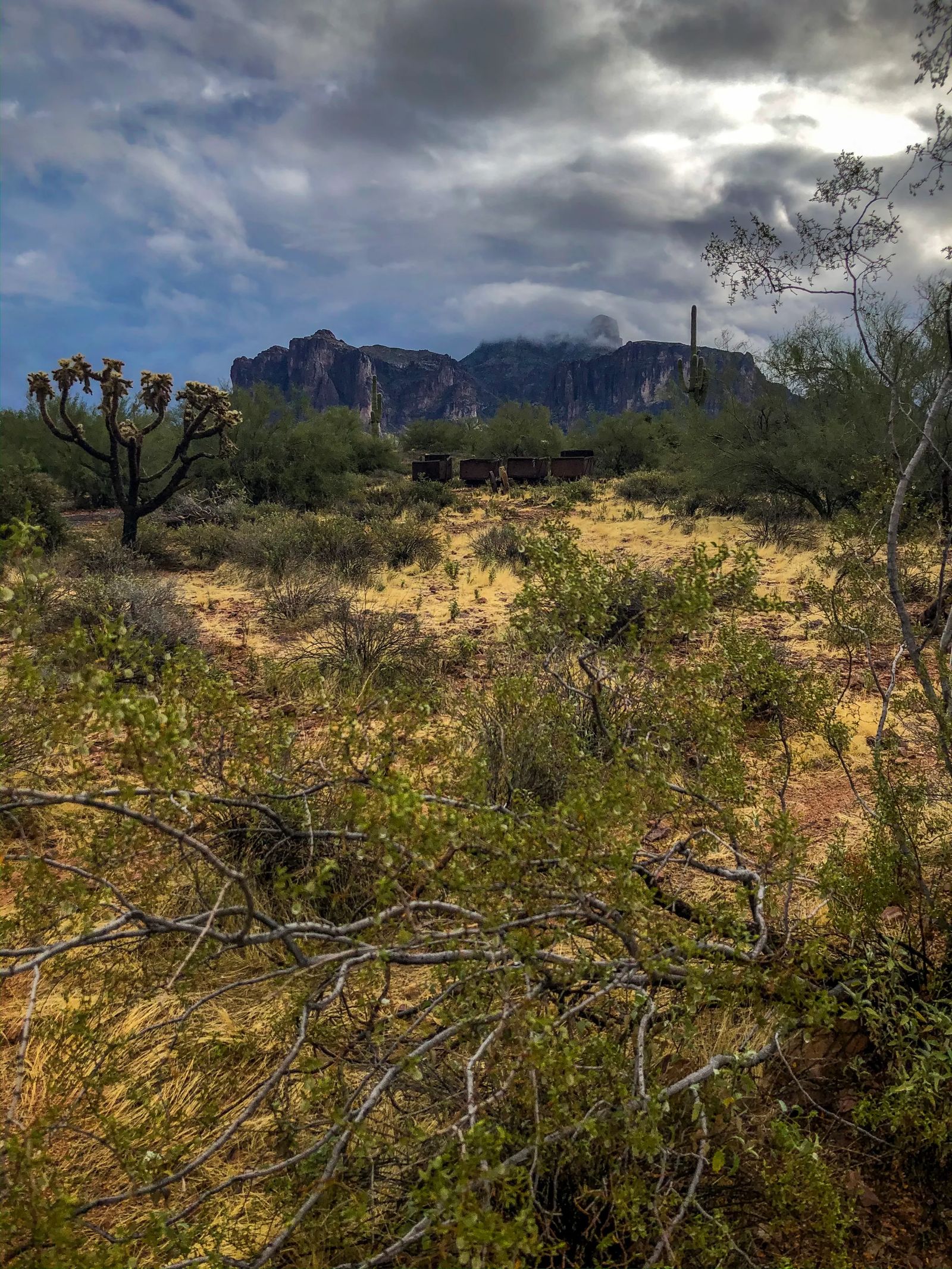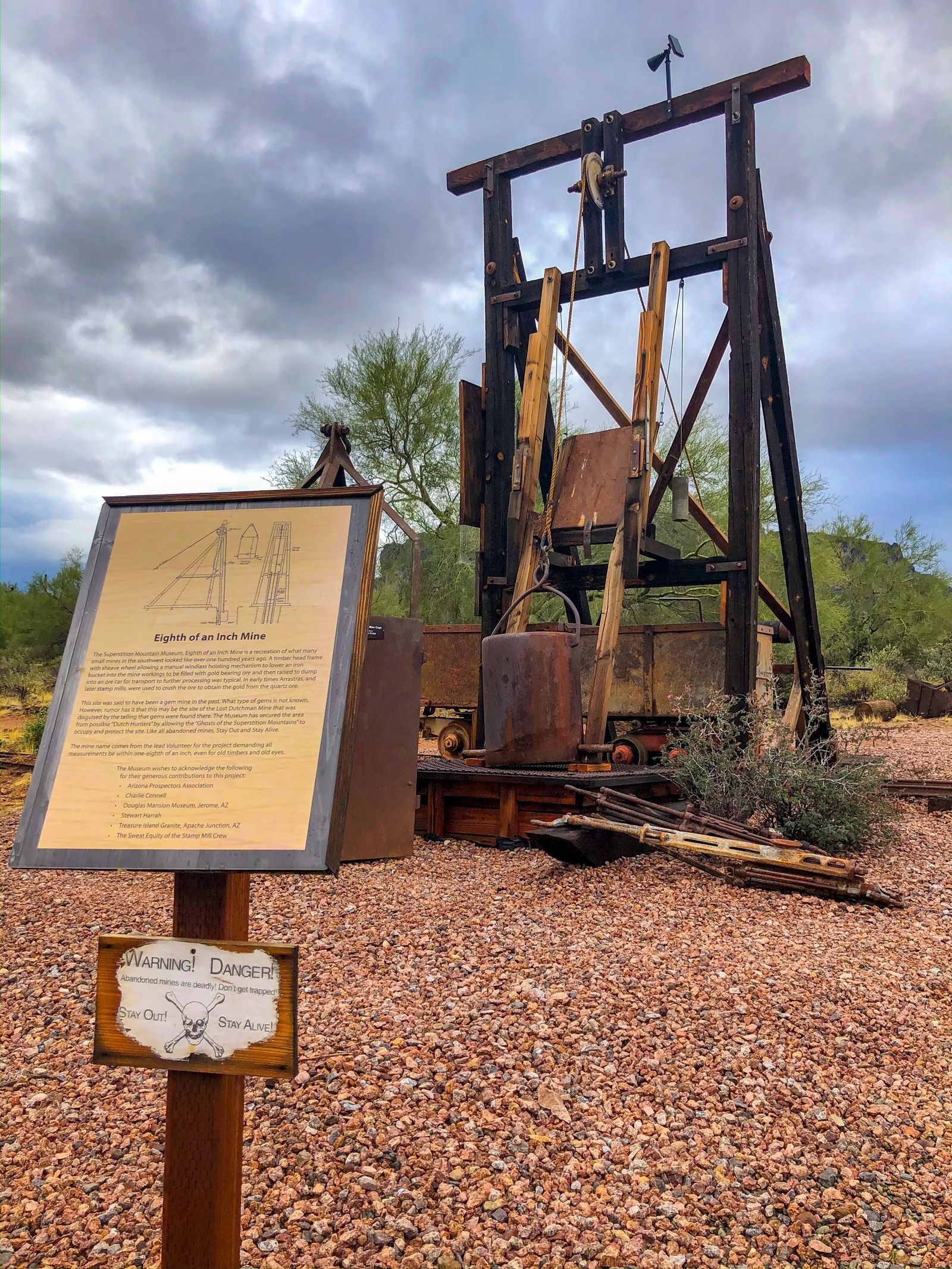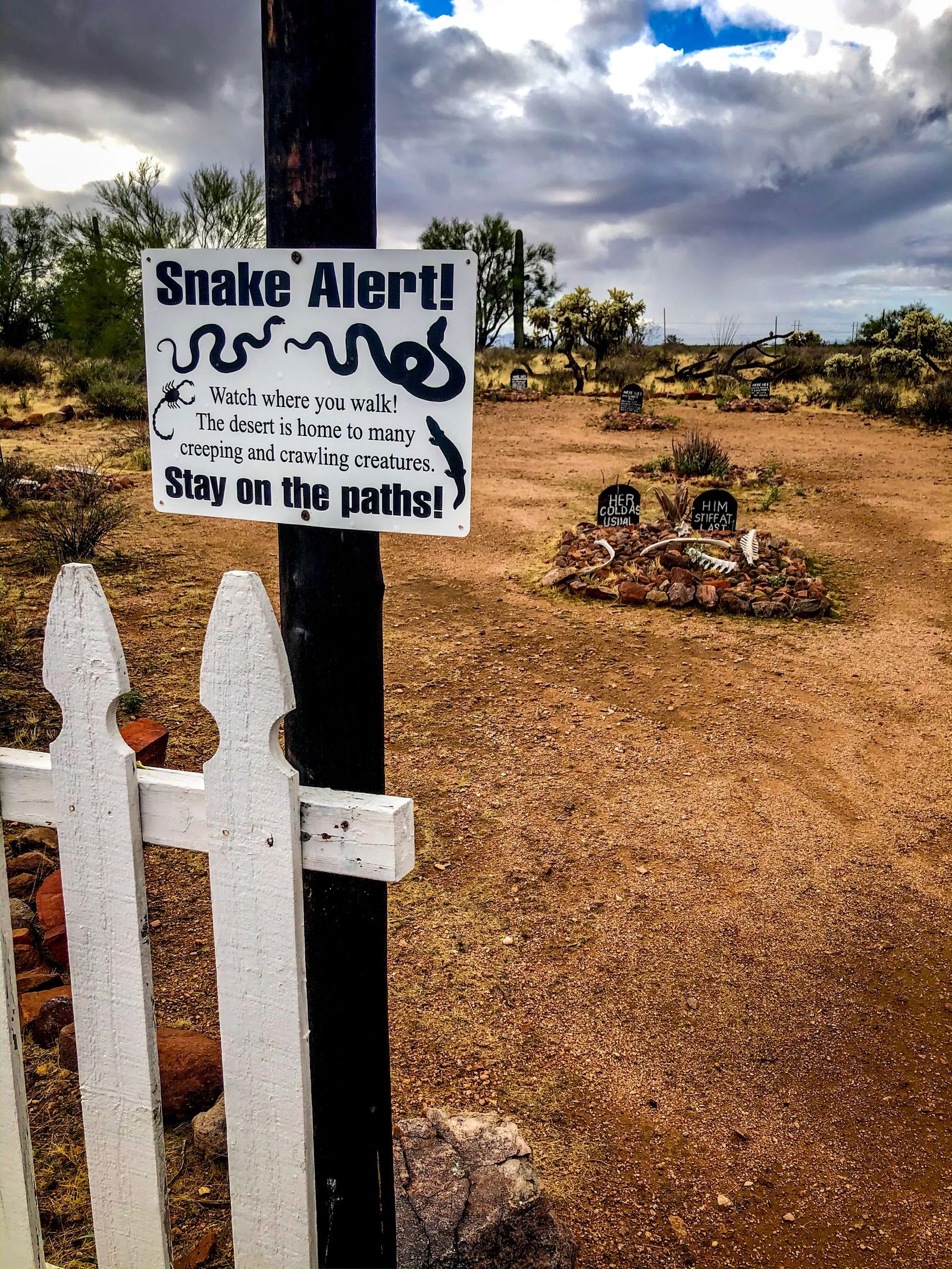 Stretch Your Legs on the Nature Trail at Superstition Mountain Museum
Total walking distance is 1/3 mile and could be done by the whole family as the incline is quite mild and gives you gorgeous views up by the memorial bench. The bench was put there to remember all those who have died attempting to summit the Superstition Mountain, via the Flatiron Hike. Our guide told us so many stories of the people who have had to be rescued, and at least 4 people die every year trying to summit because of the intense conditions of the desert and just not being properly prepared nor informed on how to do it safely.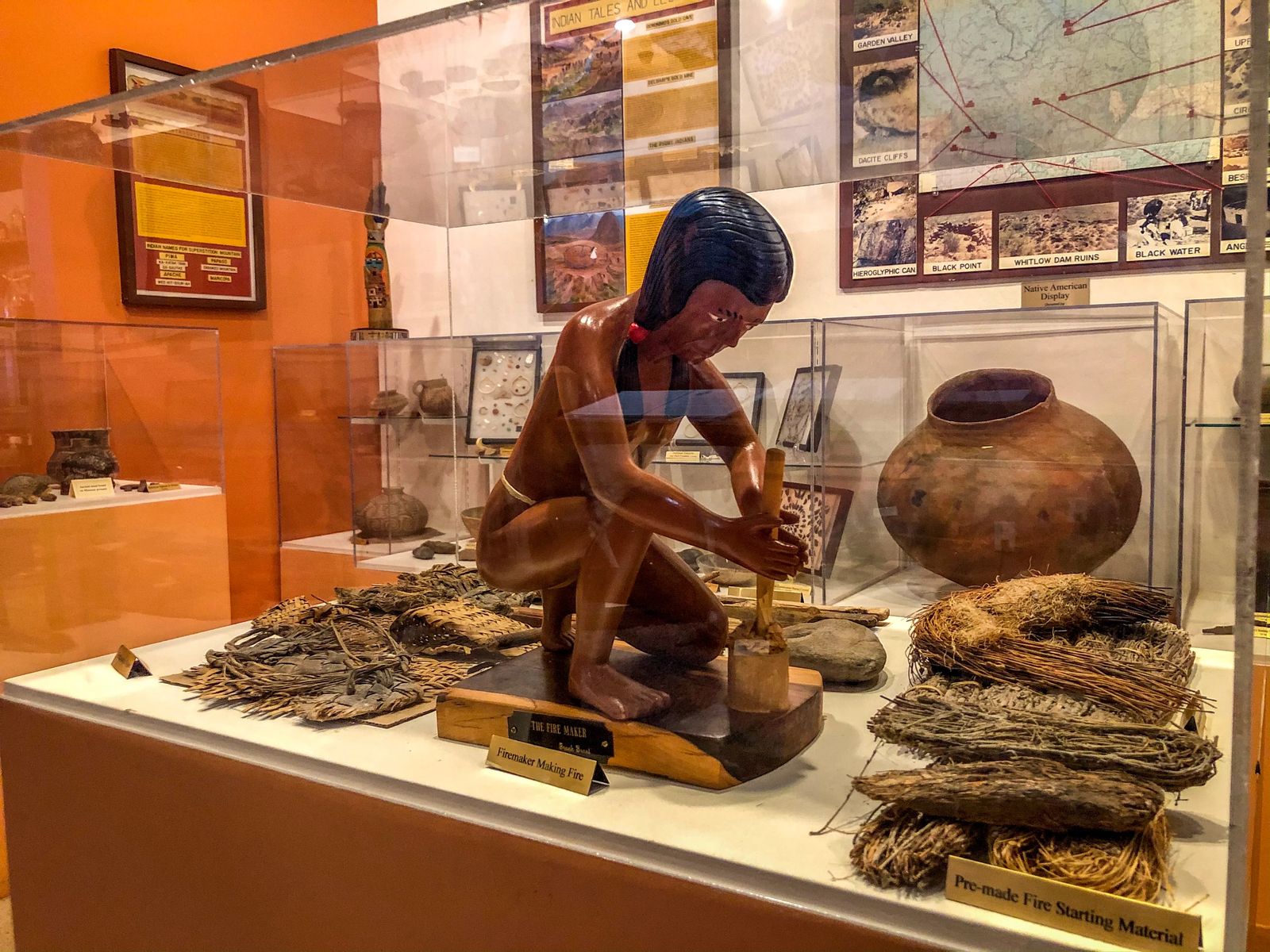 Other Tidbits about the Superstition Mountain Museum
Free Lectures: Every Thursday at 2pm in the amphitheater during winter/spring season. Bring your lawn chair, sunscreen, don't leave the dogs behind, food available for purchase.
Classes: things like a plant walk, desert safety and survival, Navajo weaving class, Dutch Oven Cooking, and Herbalist Classes
Festivals: Weddings are commonly held at the Elvis chapel, Fall Family Fun Fest, Supersition Holidays at the Museum, Apacheland & Heritage Days, Native American Arts Festival, Wine Tasting, and the Magic of Mexican Artistry
Movies Filmed here: Death Valley Days, Zane Grey Theater, Wanted: Dead or Alive, Have Gun, Will Travel, Death Valley Days, Wagon Train, The Westerner, The Gambler II, Purple Hills, Broken Land, Blood on the Arrow, Arizona Raiders, Charro!, Ballad of Cable Hogue, A Time for Dying, The Haunted, Blind Justice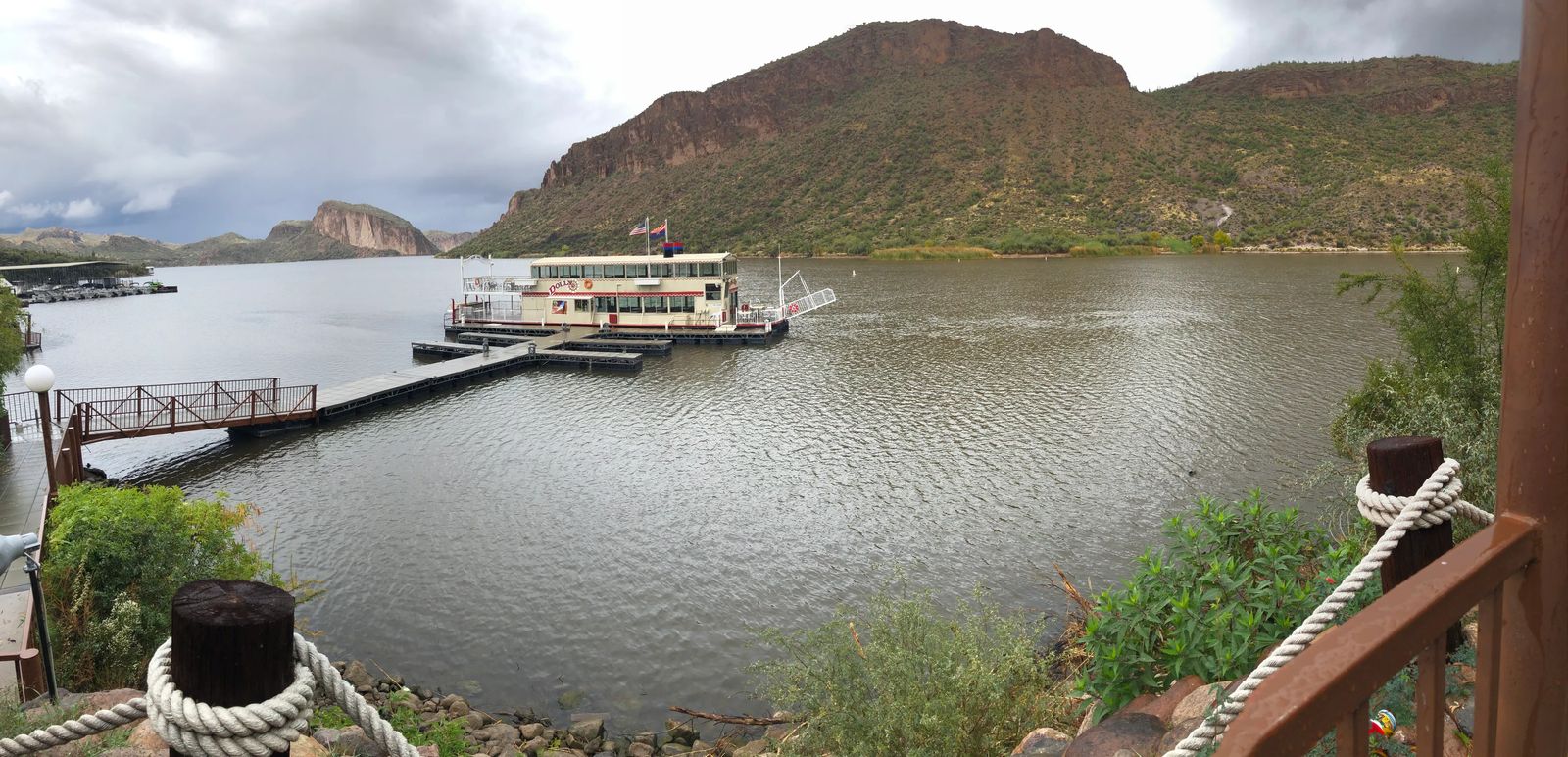 Dolly Steamboat at canyon Lake on the Apache Trail
Steamboats automatically remind me of Mark Twain Novels for some reason, and they are such a unique way to tour and view nature from a safe and sustainable distance. I am a Scuba Diver, so I love water anyway, and didn't realize Mesa had so much of it!
In fact there are four lakes along the Apache Trail, the Canyon Lake, Apache Lake, Saguaro Lake and Roosevelt Lake. Canyon Lake in particular is quite unique because of the flora, fauna and geology surrounding it. The Dolly Steam boat is available for both day cruises, twilight dinner cruises, and private parties.
As we were hustling along the Apache Trail in order to see everything, we decided on a day cruise around the lake. A ticket costs around $25, and they do have snacks on board but only accept cash. There is a restaurant across from where you buy tickets that has an ATM available if you need to grab some cash.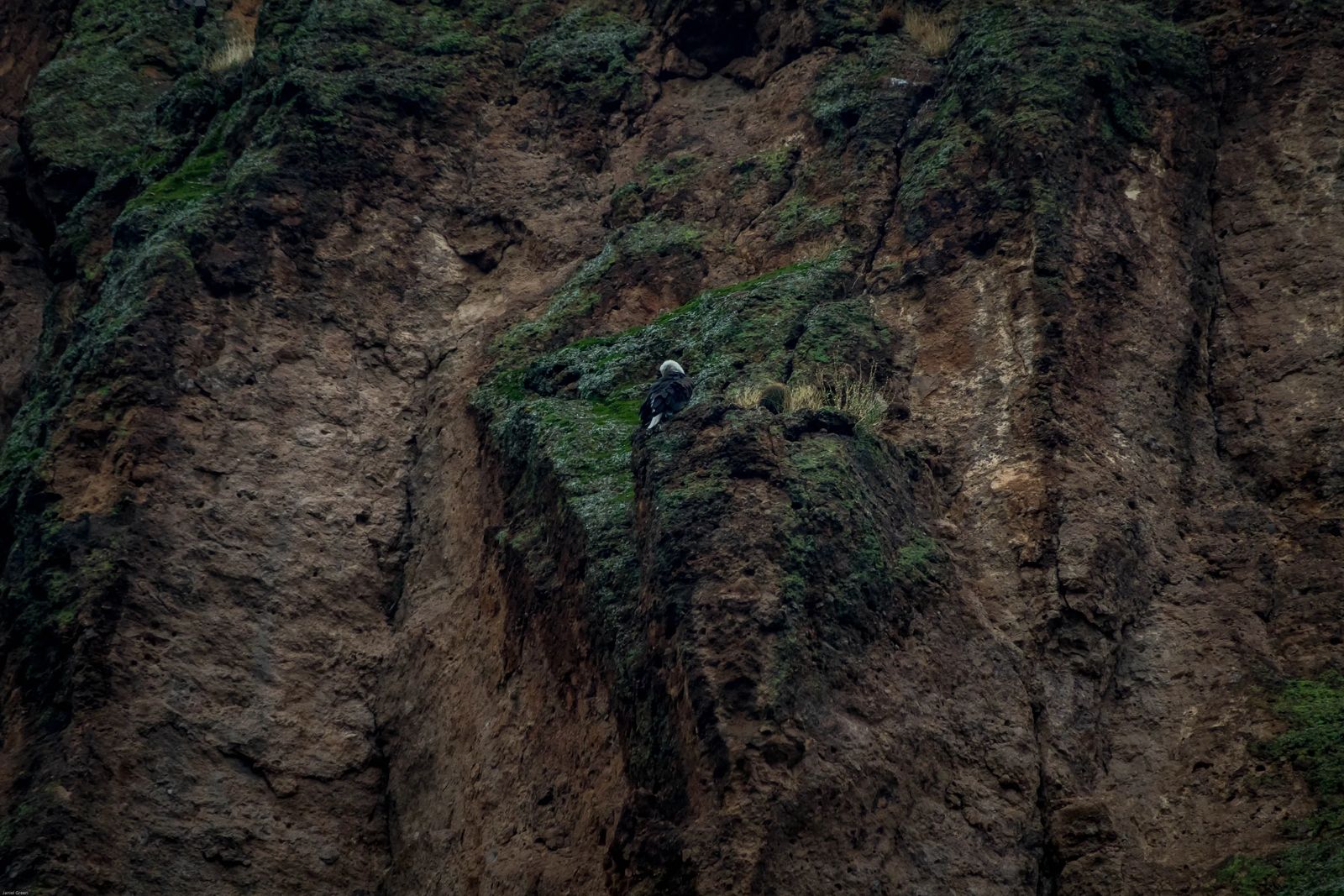 The boat ride itself is around an hour long, and we were guided by our captain on where to look to see layers of volcanic rock infused with iron and magnesium that over time has created a natural palette of varying colors, truly nature's masterpiece on these rocks. We were also able to see two Bald Eagles preening their feathers and keeping their eggs warm in the small rainstorm our boat was caught in. I have never seen a Bald Eagle before, so this was such a special treat for me! There was also a big horn sheep way up on top of the rocks with its yew.
I just sat back in the chairs on the upper deck, with the windows open staring out at the surrounding scenes lazily passing by, sipping my hot chocolate and truly could not have asked for a better place to be.
Other tidbits on Canyon Lake:
It is ok to go swimming and kayaking here, but the approach to do so is a little hard and requires a 4x4 vehicle. The precision marina has kayaks, paddle boards and jet skis available for use. The twighlight dinner cruise occasionally will have an astronomer come out and guide people into viewing the stars as well.
Dollysteamboat.com 480-827-9144
Precision Marina: 480-671-5669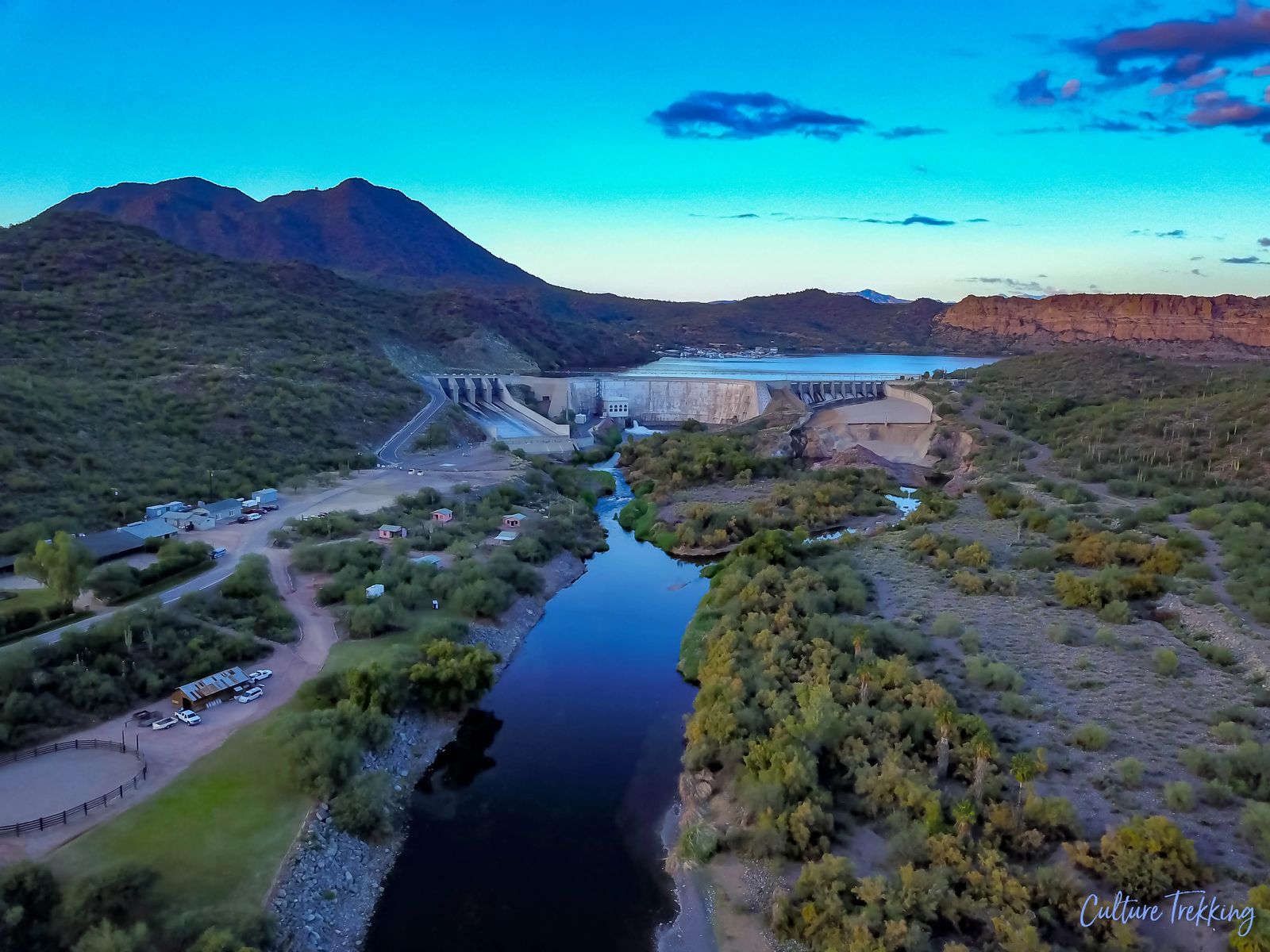 Roosevelt Dam
Built between 1905-1911 was the first dam on the Salt River to help control its flow and is the official end of the Apache trail. This massive 357 feet high cement structure holds back more than 500 billion gallons of water that forms Roosevelt Lake. You can spend your day boating, fishing, or just enjoying the unique desert landscape and then turn back around to your hotel - or you can continue on the unpaved portion (Arizona State Route 188) towards Globe.
Other Tidbits on water activities along the apache trail
Of the two lakes, Apache Lake is the least crowded of the four lakes because of the remote and difficult approach to it. It does have camping, fishing, and star gazing available there as well.
Fish: Bluegill, Largemouth Bass, Yellow Bass, Smallmouth Bass, Crappie, Rainbow Trout, Channel Catfish, Walleye
Boats are available for rent (hourly and daily): Runabouts, Pontoon (24'/20'), Fishing Boat, Kayak, Canoe. Limited hours during winter.
It is a summer pastime for locals to go tubing down the Salt River with a cooler in the summer time. Just be sure to leave no trace of garbage if you decide to bring drinks.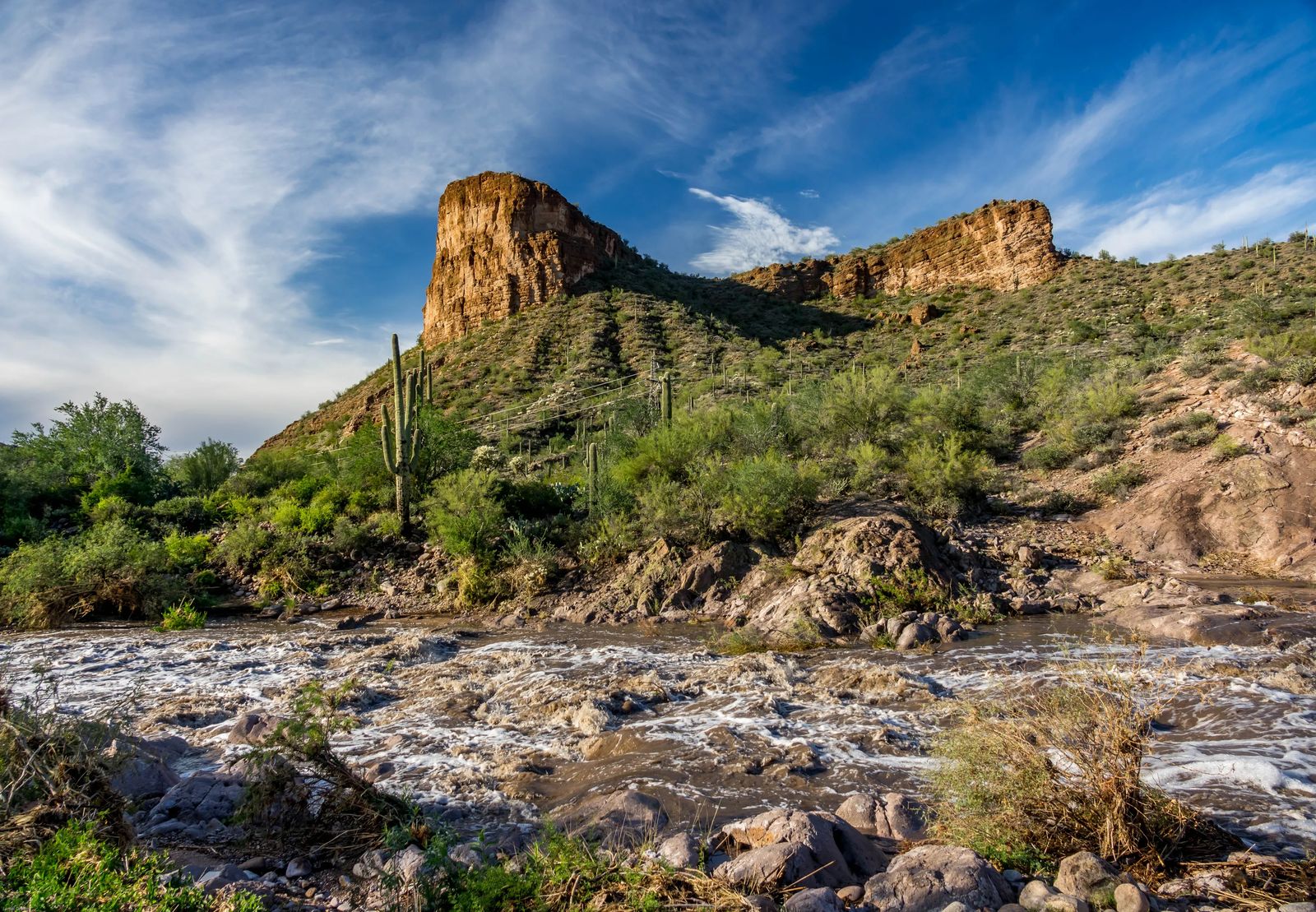 Tortilla Flats
Nestled deep within the Tonto National Forest, this was one of my favorite stops along the Apache Trail. This was an old stage coach stop, established in 1904 and despite fires and flash floods still stands strong today.
We happened to get there just as another brief but vicious rainstorm blew in. A flash flood started just a few hundred yards away from the Tortilla Flats Saloon, with the new river raging, I wondered if it was going to wash us all away! I was told that witnessing a flash flood in Arizona is very rare, so you bet I was out there (albeit a safe distance away) filming and photo snapping away in the rain. Like I said, I have a very unhealthy obsession with water as a Scuba Diver and even had very unsafe mental images of olympic kayakers trying their hand at flash flood rapids.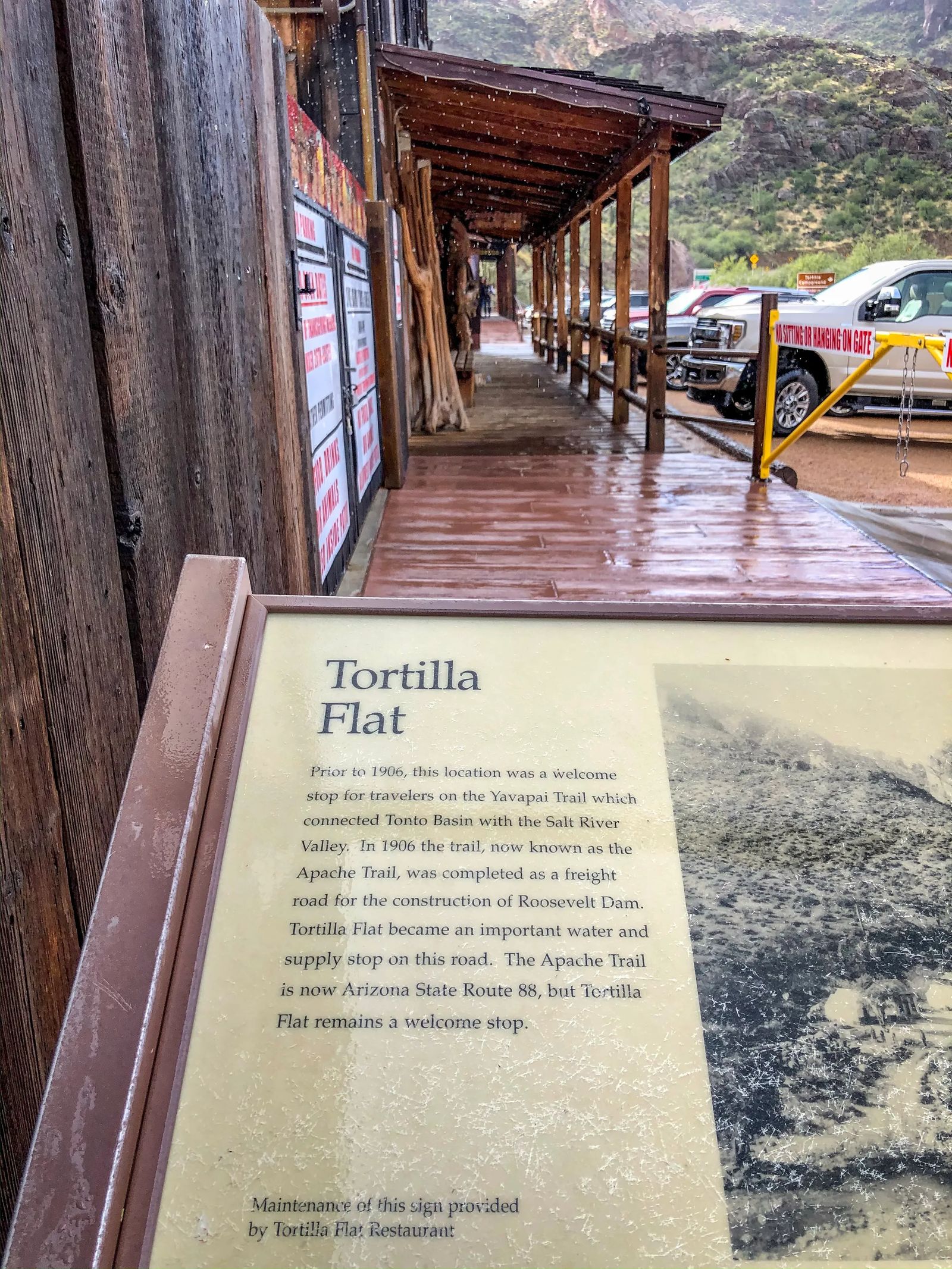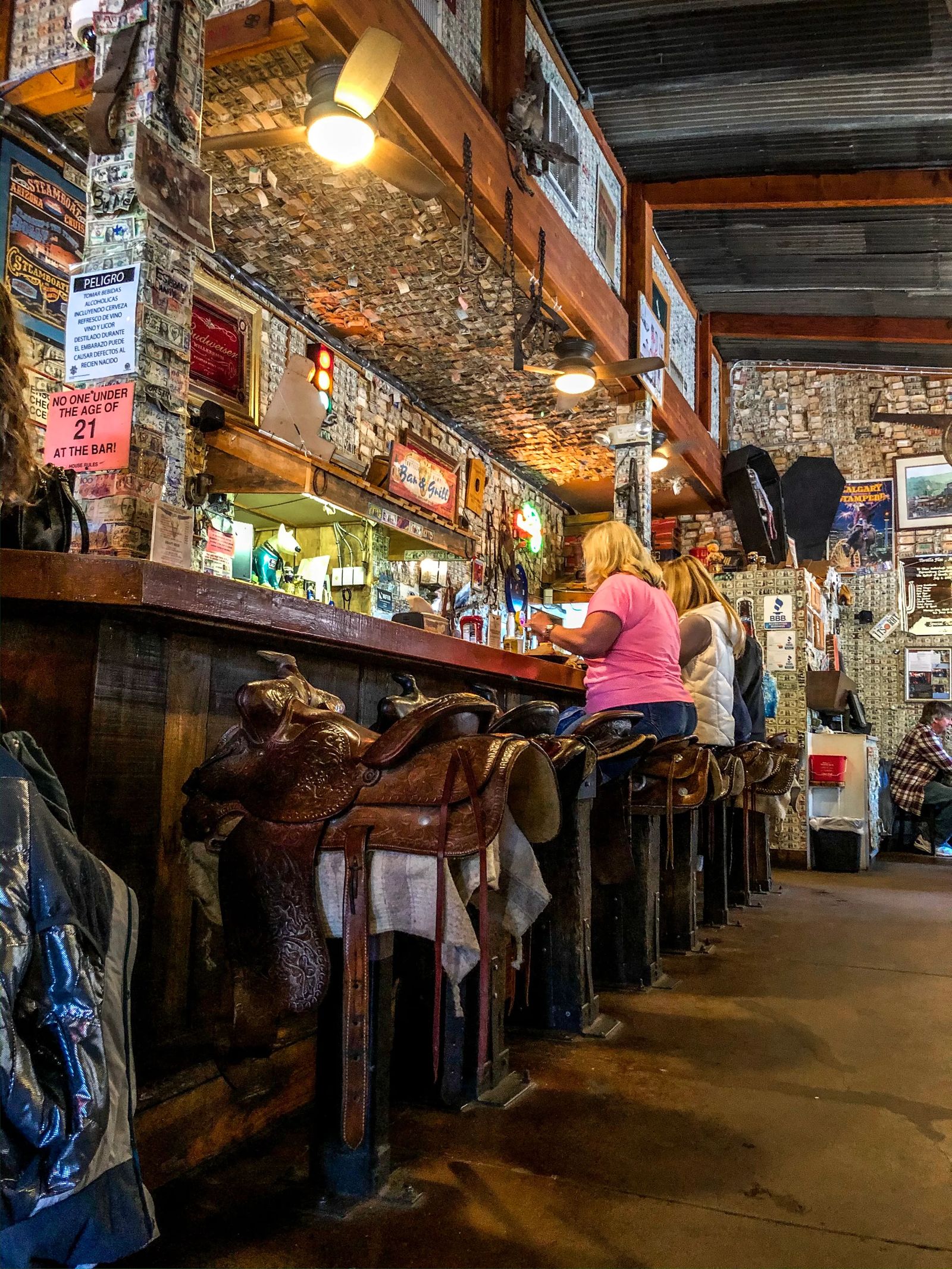 Trekker Travel Tip: Please do not attempt to swim, kayak or get near a flash flood. That would be the WORST vacation story ever for you and your family. Safety first peeps, safety first....
Stage coaches in the 1800's were used to deliver mail primarily, but would take paying travelers as an afterthought. This place caters to the travelers now though, at the Tortilla Saloon where I basically (and embarassingly) inhaled my BBQ Brisket sandwich gulping down the prickly pear lemonade like I was taking a shot of 16 oz whiskey---- sooooo yummy my friends, so delectably delicious indeed.
Before you leave you must get an obligatory photo on the saddle seats at the bar! Ladies, you might also want to head into the bathrooms as a group and take a few VERY unique photos there as well. There is so much character to this place, it is hard to stop taking photos.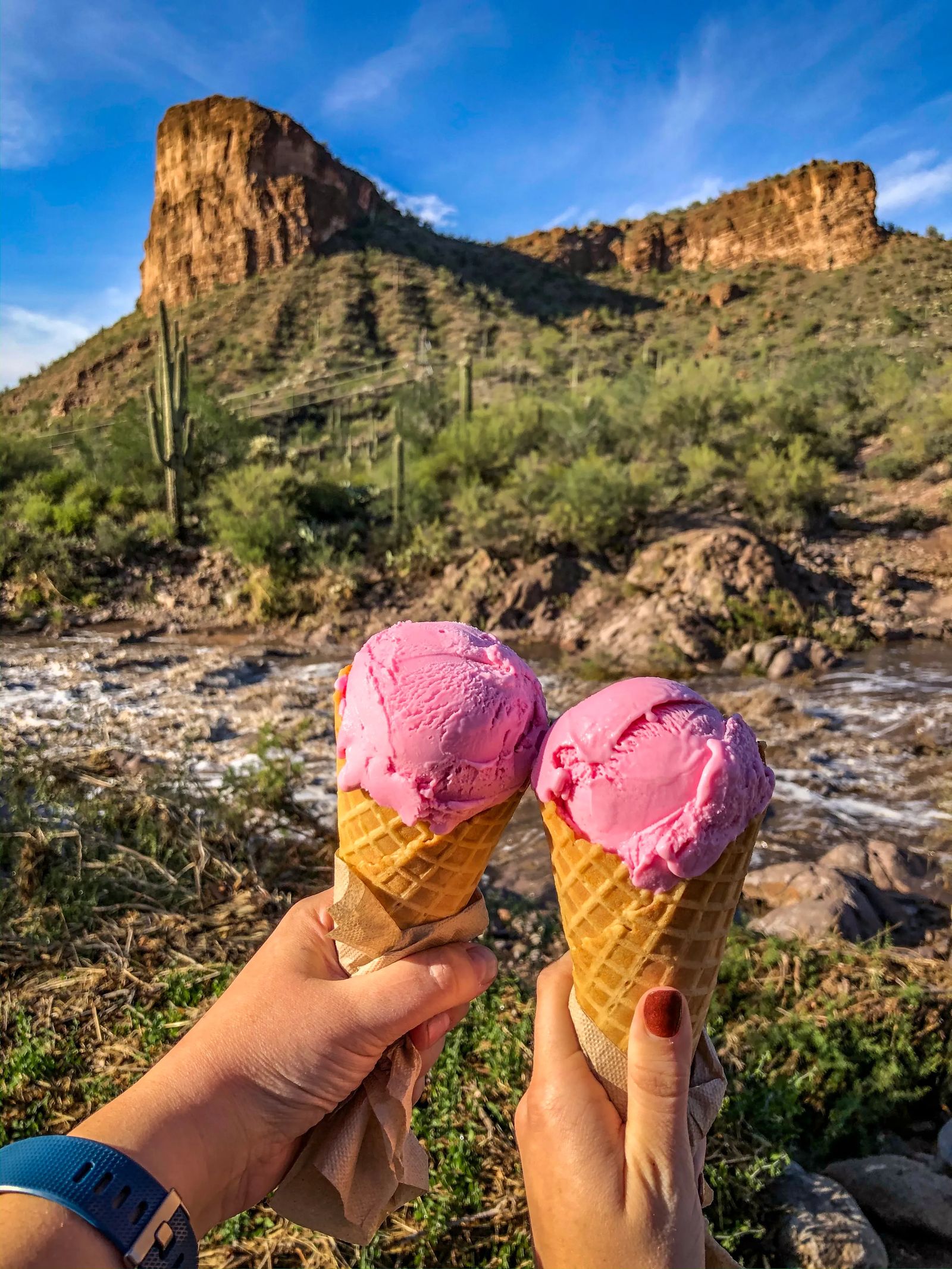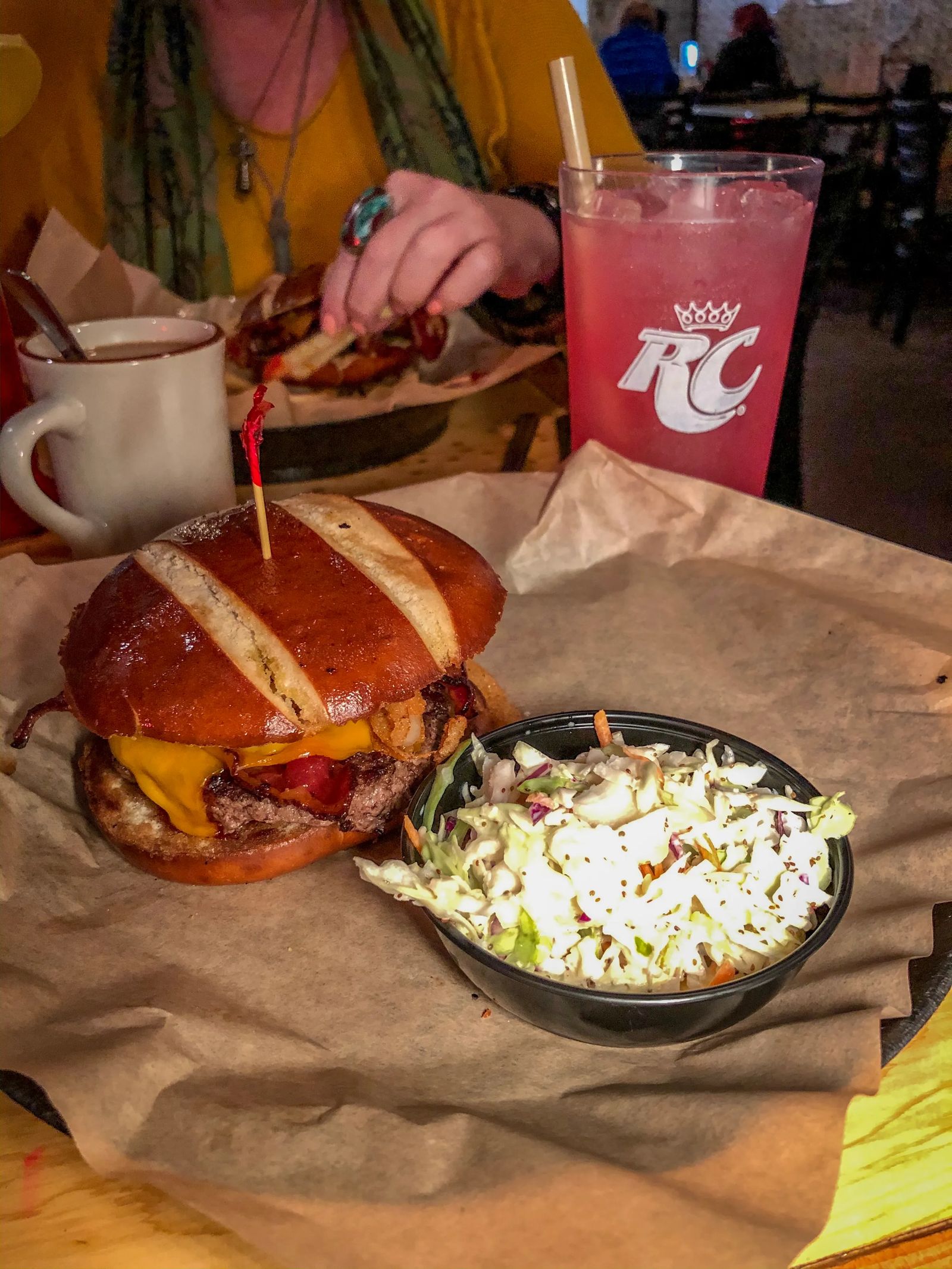 Prickly Pear Ice Cream
If you want to top your stomach off with the best tasting Ice Cream this side of the Mississippi, then head over to the Tortilla Flats general store. This is what Tortilla Flats is known for.....the berry flavored creamy cream cheese like ice cream that melts in your mouth, tickles the taste buds and lands in your stomach lighter than a feather. You have not lived until you tried this ice cream. Even though I'm lactose intolerant - sacrifices must be made at times for the full experience, lol.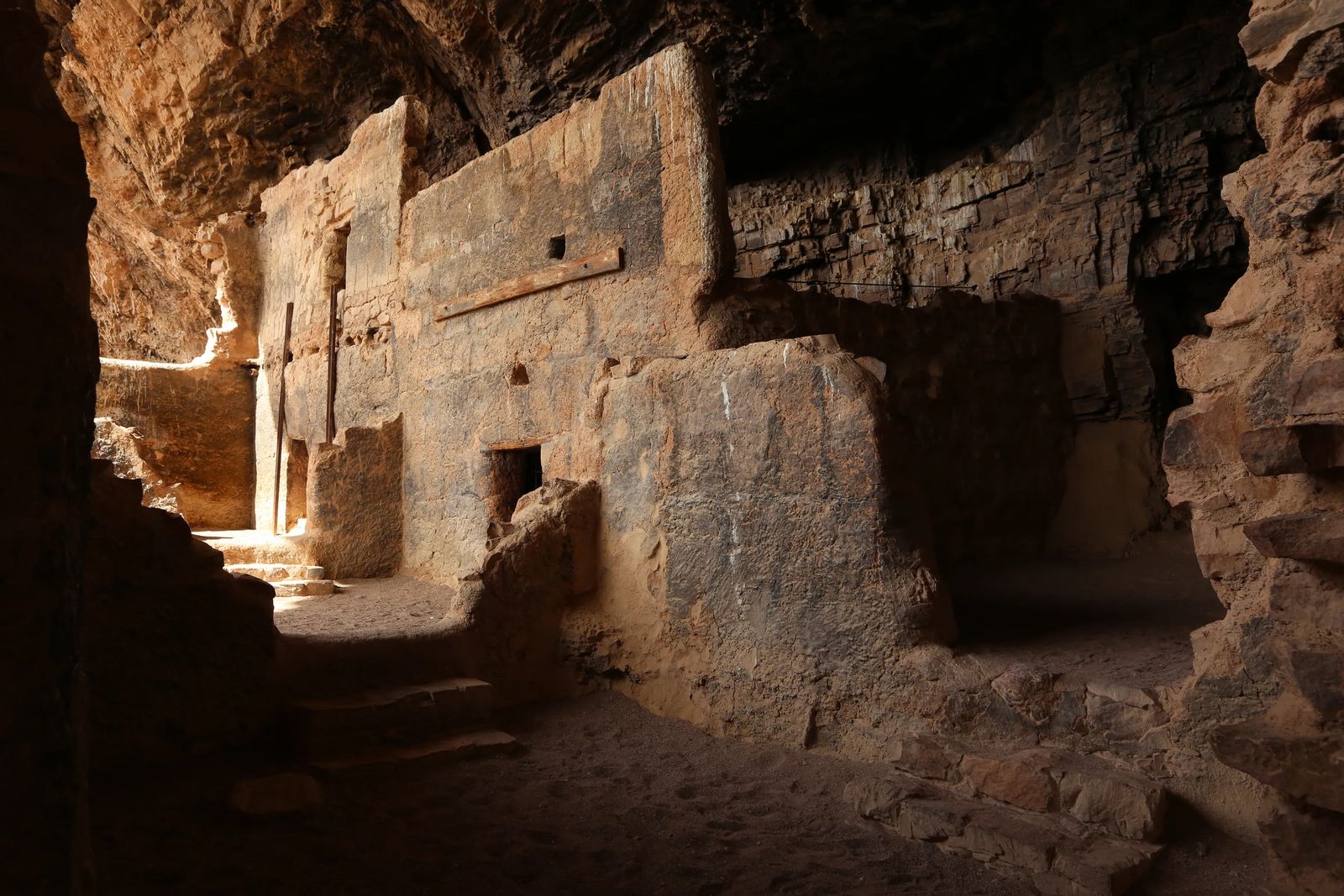 Tonto National Monument
You cannot go along the Apache Trail and not see the Tonto National Monument. The Salado-style cliff dwellings at Tonto National Monument. Stop in and see the colorful pottery, woven cotton cloth, and other artifacts that tell the story of people living and using resources from the northern Sonoran Desert from 1250 to 1450 CE.
Be sure to call ahead and take the upper cliff dwellings tour to get an up close and personal view of the history of a people that helped make Arizona what it is today.
Trekker Tip: The Upper Cliff Dwellings are only open seasonally so be sure to check their website prior to your visit.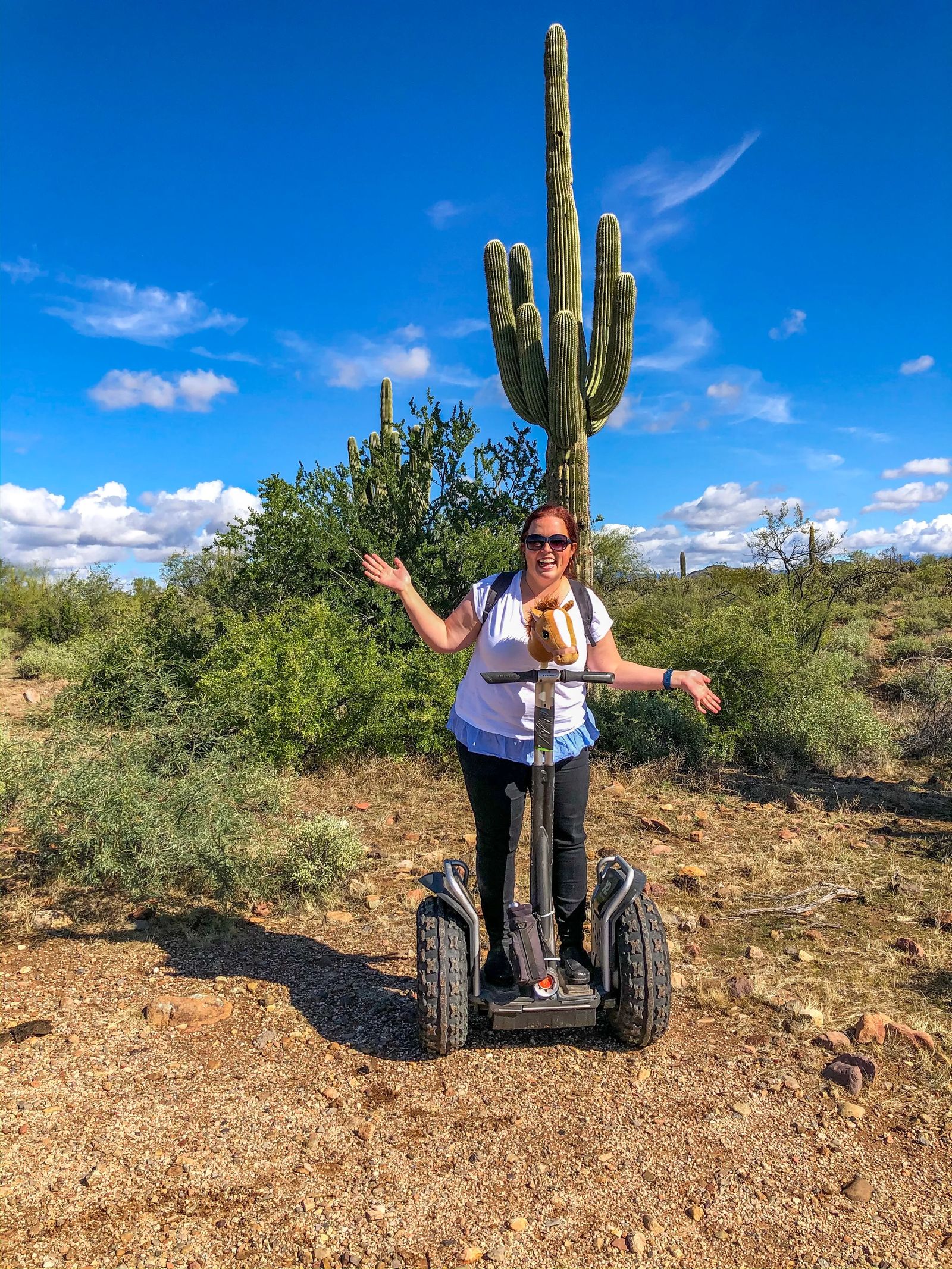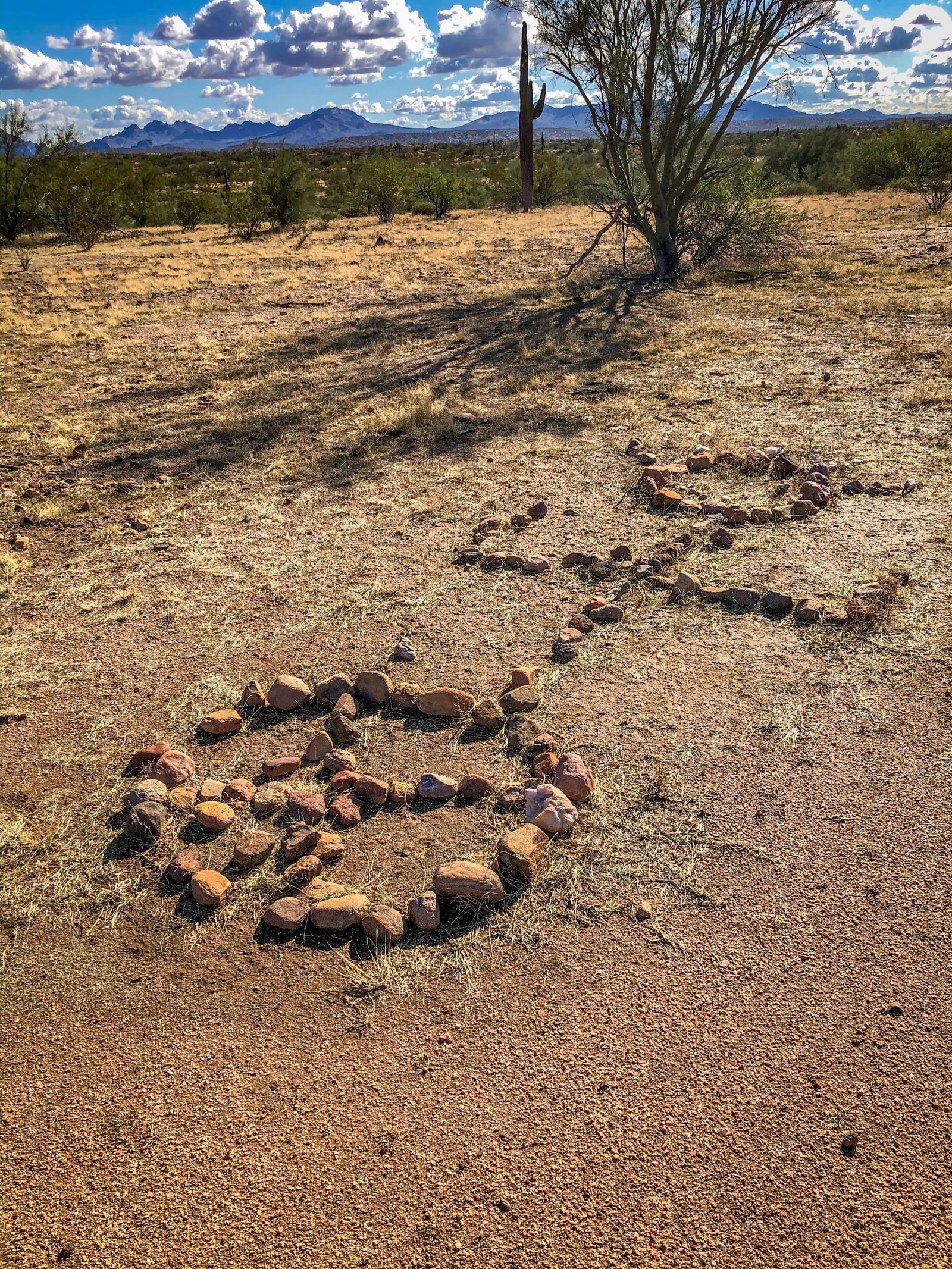 Segway Tour
Okay, okay I know...I thought the same thing.....Segway tour? I always thought Segway tours were for old people or lazy people that couldn't walk - but this truly was the best (and most unique way) to explore the desert. The amount of ground you get to cover while on a Segway is A LOT MORE. Those with joint issues, heart issues, or breathing problems who still want to enjoy the outdoors - this is a great option.
Fort McDowell Adventures is the only Segway tour that is allowed to tour the Yavapai reservation because of how respectful they are to the Yavapai nation. The Segways go about 10 miles per hour, and when the sun is out, it is nice to have that little bit of a breeze in your face. If you happen to go over 10 mph, then the Segway makes a sound like a fart and then shuts off. So moral of the story....no trying to make your Segway fart itself to death.
Riding the Segway is a lot easier to balance on than you would think, and is a little like using a joystick but with two hands on a steering wheel. You wind through the specifically built trail and see a few 'Seg-a-jawee-a' petroglyphs and rock formations along the way. The guide has a great sense of humor, and there is a picnic table set up about 1/2 way through the Segway tour to give your feet a rest.
When you stop at the picnic table, they teach you about how the Calvary were taught to survive by burning the cholla cactus arms in the fire to remove the needles. Then you slice it open and are greeted by a light cucumber and avocado tasting pulp that has the texture of an avocado as well. The pulp of the the cholla cacti are full of Vitamin C, which when the Calvary were in town they were surviving on meat,, beans and rice - so the Vitamin C prevented Scurvy from setting in.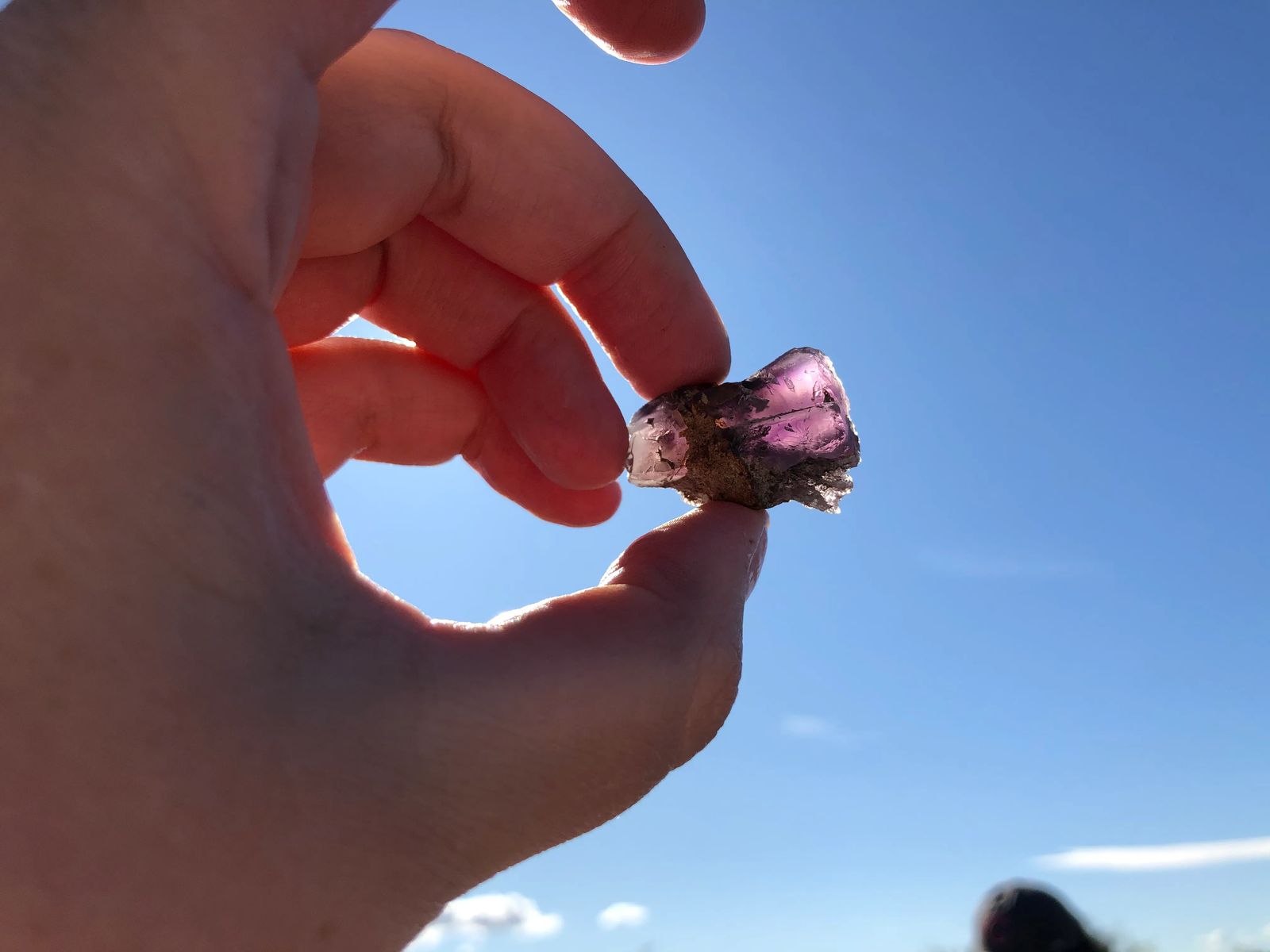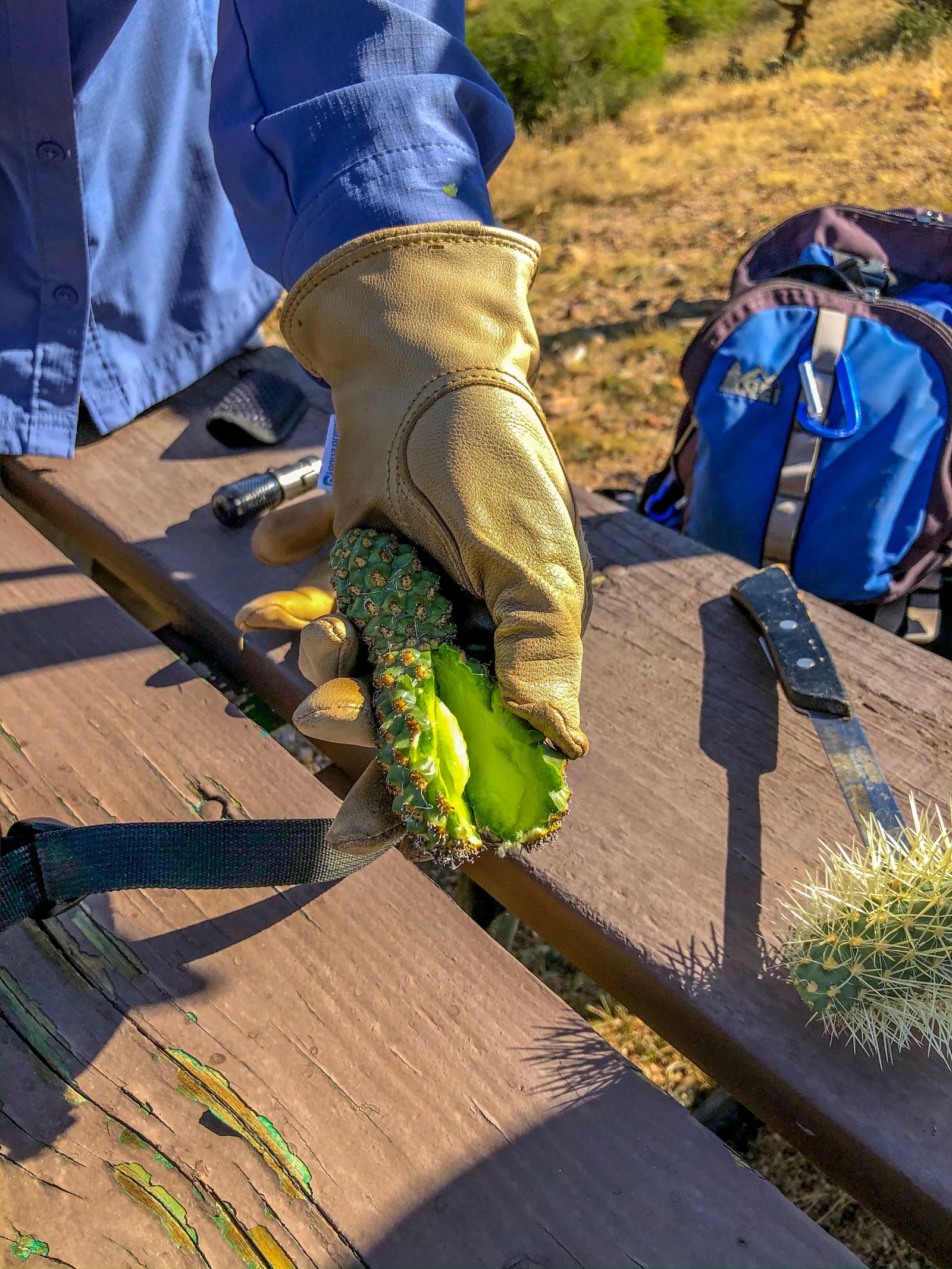 The mesquite tree produces a bean, that when ground down actually has a high source of low carbohydrate high protein ratio. This is the ultimate protein powder my friends, no milk needed - just lick the mesquite flavored powder from your hand and I'm telling you its scrum-didili-umpcious!
Our guides also told us about how the Four Sisters Amethyst Mine is one of only two places in the world that produces the most beautiful, dark purple, high-quality amethyst. This particular mine (named after the four mountain peaks for easy navigation to it), has ties to European Royalty. The gems from this mine are actually found in some of the crown jewels of Spain.
After getting back on our trusty $8,000 'steeds' we hustled back to base camp to rendezvous for our next adventure on the Wind Cave Trail and mountain biking on the Mericopa Trail at the Usery Mountain National Park.
Truly, if you get a chance to do the segway tour, it really is a hoot, to scoot through the desert this way.
Other Tidbits on the Segway Tour:
When you first step on the Segway, hold the middle post and not the handles so you don't immediately go into a tail spin like yours truly.
Your going to be nervous, so make sure to slightly bend your knees (makes it soooo much easier to steer if you do).
There is a 250 lbs weight limit, so to all my plus size Trekkers just be aware of this. They also have an age limit of 12 years old.
To book your tour contact Fort McDowell Adventures.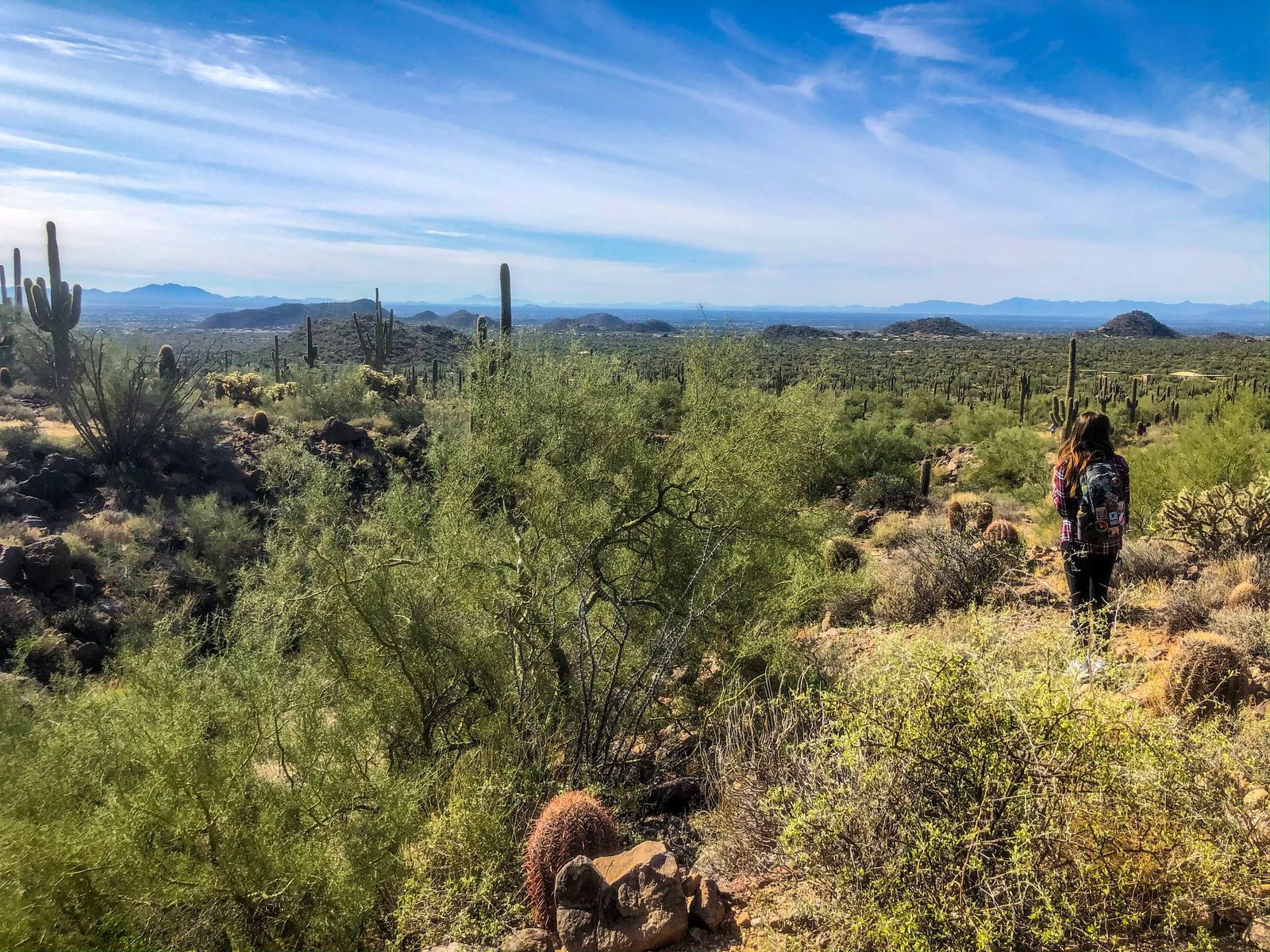 Usery Mountain Regional Park
This park has the best sweeping views of the entire valley, from Mesa clear over to Phoenix (on a clear day). Usery Mountain Regional Park is host to so many family friendly hiking trails, mountain biking, competative biking trails, camping, nature trail tours, horse back riding, archery, or just some good ole' bonding over a picnic while feasting your eyes on a unique desert landscape.
Wind Cave Trail
The parking at the trail head can be quite crowded on a perfect 70 degree winter day. I would suggest arriving early or parking at the visitors center and biking over to the trail head. I was really nervous to do this hike because I had been inside all winter in Utah due to my Asthma and the inversion. AllTrails rated Wind Cave Trail as a moderate hike that gains 880 feet of elevation in about 1/4 mile. The hike is about 3.2 miles in total, and is an out and back trail.
The trail is good for old to young, but if you are worried about your fitness level then I would just hike to the stone steps and then turn around. If you hate feeling like the weak link and want to forge forward, then definitely bring some hiking poles to aid you. When you get tired you tend not to pick up your feet as much, and lose the ability to correct your footing on uneven surfaces. This is not a place you want to fall into a cactus, lol - that would be a bad day indeed.
I just paced myself, and made it all the way to to the top in about an hour and a half as we were on a guided tour of the hike with Arizona Outdoor Adventures. Our guide was an older gentleman, but I wouldn't want to get into a fight with him - he was one tough old bird indeed. He taught us about the Jojoba plant, anatomy of the Saguaro cacti and how if you buy one from a store you have to plant it the same way it was facing the sun in the store otherwise it will die.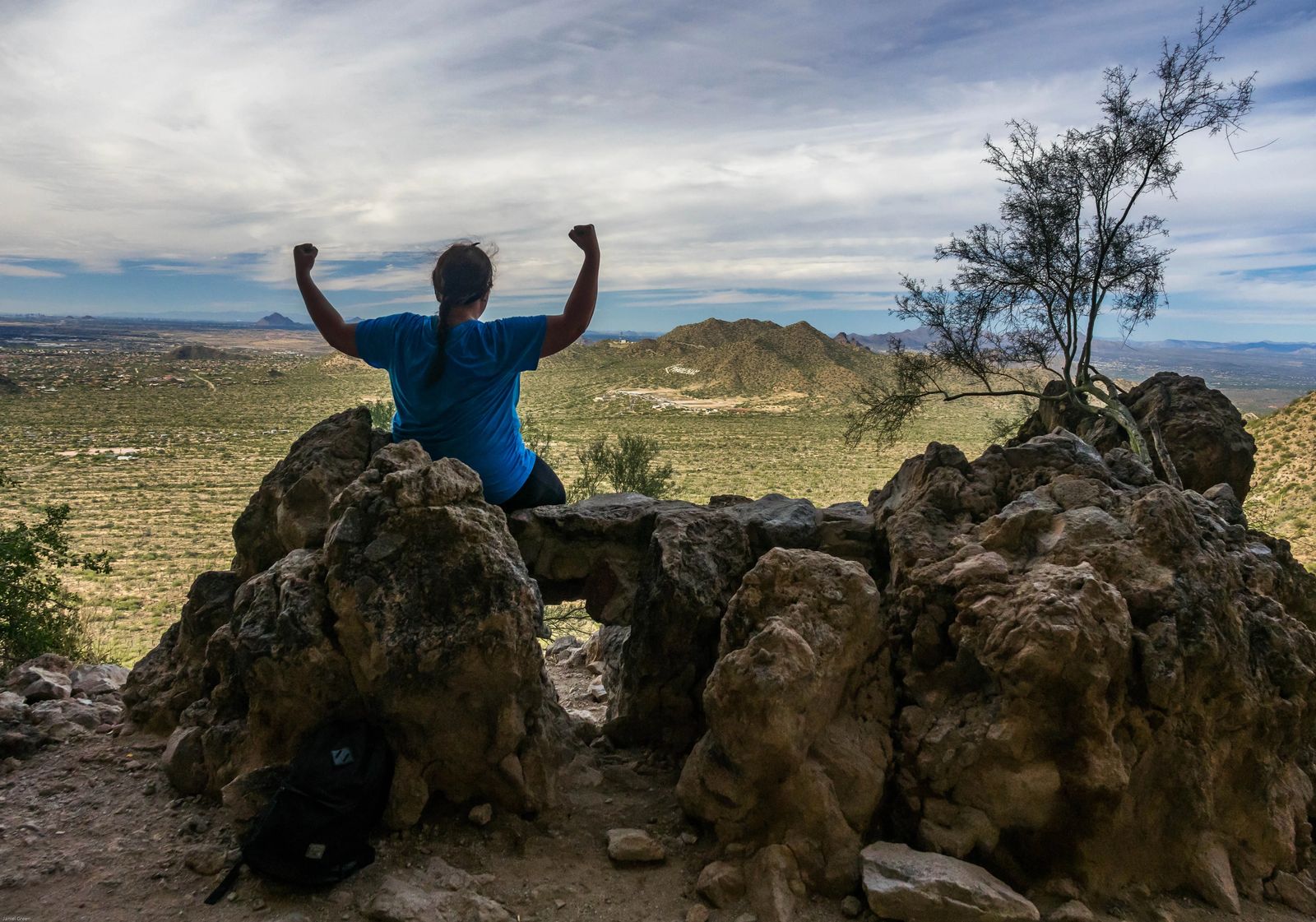 He also caught a wild tarantula and introduced us to a bit of wilderness medicine. While I don't regularly do guided hikes, I'm so glad I chose to do this because of how much information I learned about the Sonoran Desert!
I was pretty dang proud of myself when I reached the top of Wind Cave Trail, at a 2,840 foot elevation. It just shows that despite being a plus sized, when you set your mind to something - anything is possible. It doesn't matter if you are big or small, we all have different ways of enjoying nature - some may be fast or slow. The thing is, life isn't a race, so be proud of yourself for doing what you can in the time you can. The fact is, you are doing better than 90% of the population - because you are out doing it and trying it. Never let you mind hold you back from doing something you love.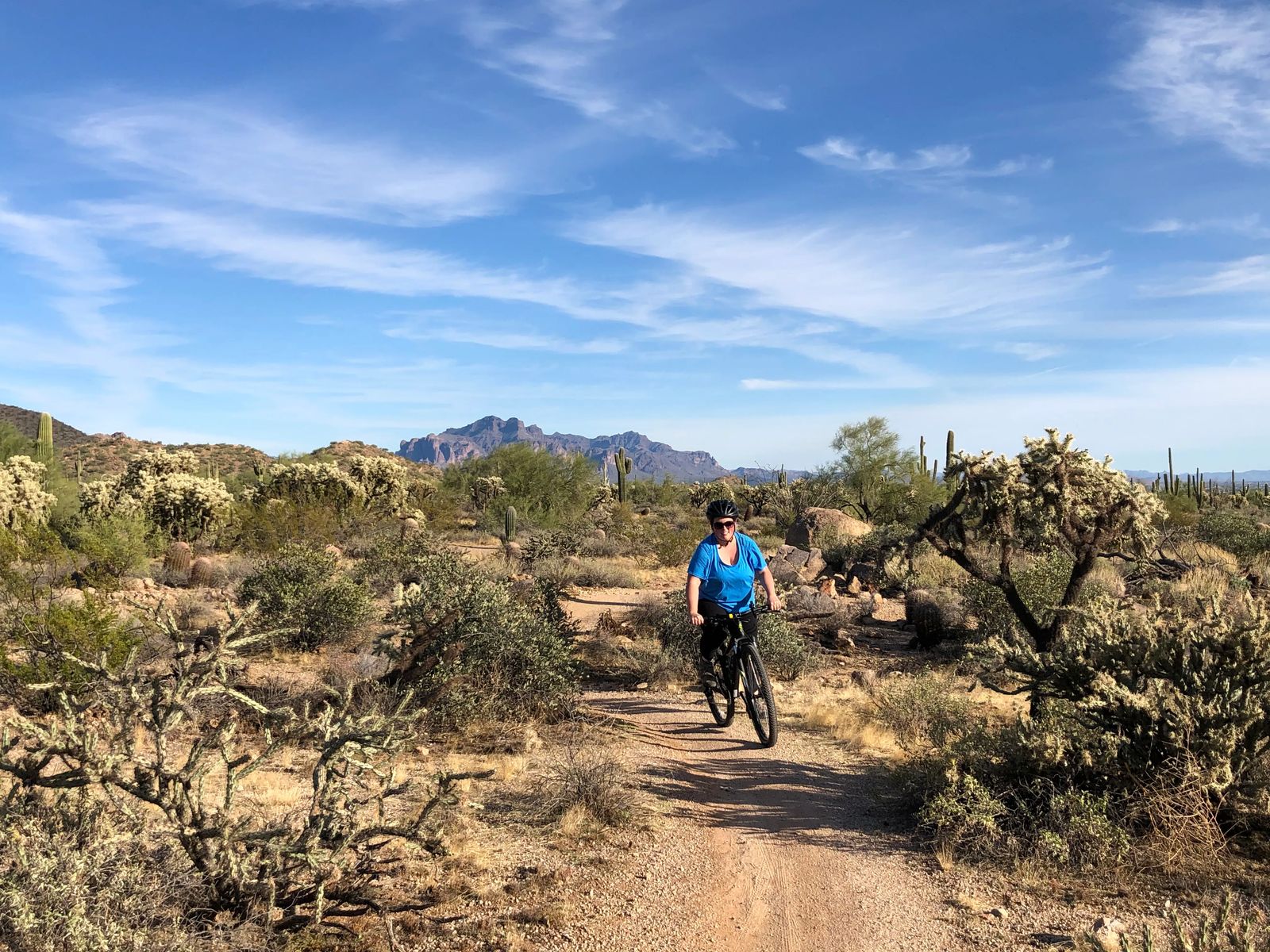 Mountain Biking the Mericopa Trail
This is a 9.4 mile trail mostly graded for mountain biking, but would make for a good trail run too. Please be advised this is a full exposure bike ride with no access to water or bathrooms along the trail once you get started. For the the male trekkers here, you have it easy - for all my ladies out there I use the female urinal (put in plastic bag with a little TP - works like a gem with no mess) to help keep my privacy on an otherwise open trail.
The trail is mostly downhill if you want to do the whole trail, we were a tad short on time as the sun was setting so we had to turn back. It is a bit grueling to do a hike and then uphill mountain biking on soft sand and gravel (had just had a massive rain and flash flood). The portion that connects Usery Regional Park to the Mericopa Trail is a bit new, so it wasn't as packed down as other trails I have been on.
Traffic for the trail tends to go from west to east and the signage for the trail is sparse, but does exist at the major junctions.
I really loved this trail as the cacti are a lot more dense, the sand washes and small hills really makes for an exciting and beautiful ride. It is not really a trail that you can chat with your friends on though as it is highly trafficked. If you stop on your bike for a break make sure there is enough room on either side of the trail to move over for the 'serious mountain bikers'. We got yelled at by a guy who wanted to keep riding but we had a minor bike issue that needed fixing before we could safely continue.
I wish I had more time there to explore the whole trail as this truly has some incredible views. I also hear rumors about this trail that there are wild horses often seen in this area as well.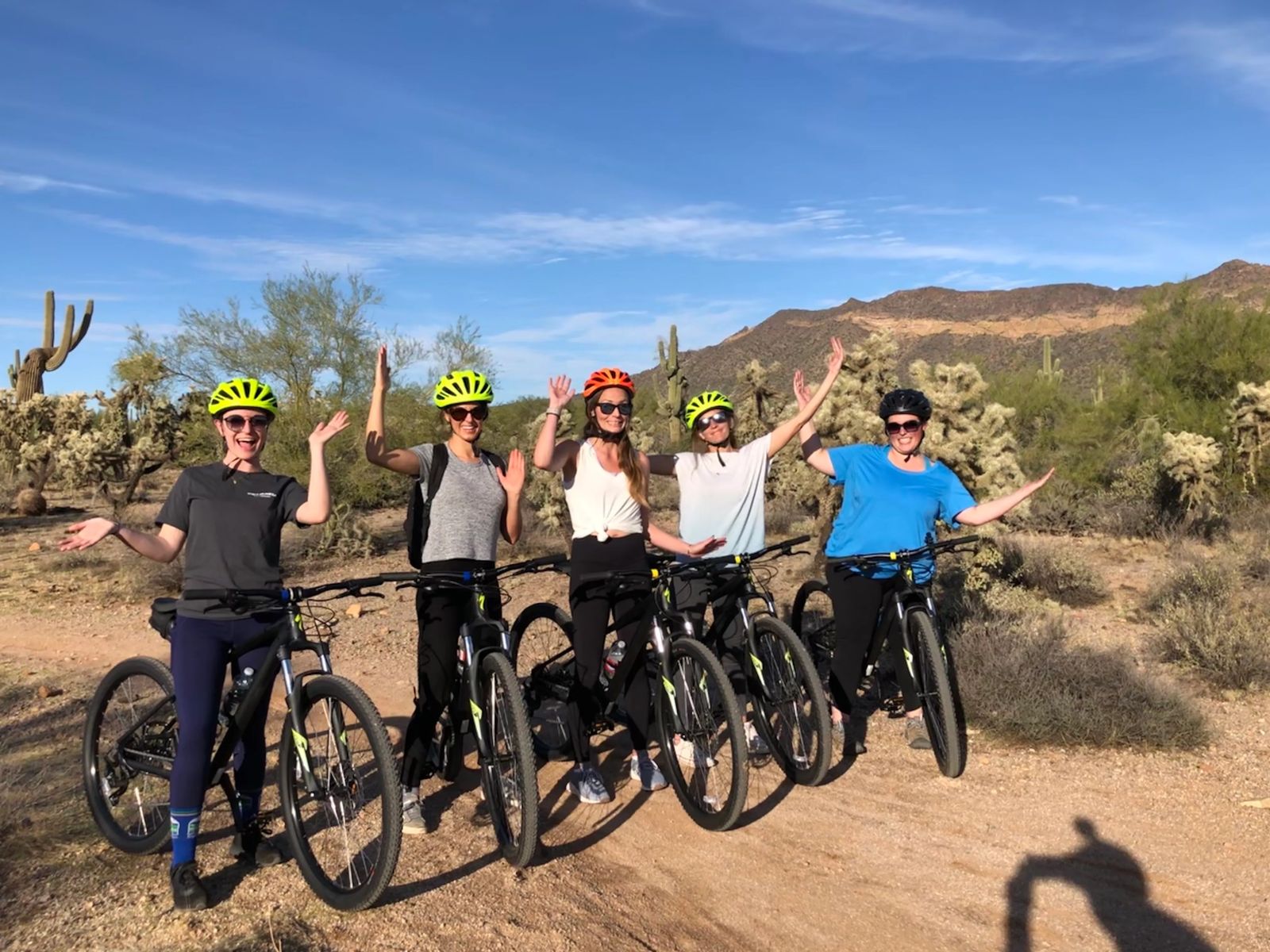 Other Family friendly Hikes
Merkle Trail: 1 mile barrier free loop, kids can observe the desert flora, is also wheelchair and stroller accessible.
Cat Peaks Trail: 2.7 mile loop with a panorama to die for atop the Usery mountain peaks.
Moderate Hikes
Wind Cave Trail: water seeps from roof, supports gardens of rock daisies. Also attracts the African Bees so be careful - if you see any make sure you notify a ranger as they take care of them for public safety. You can see volcanic tuff sandwiched between granite. The views are pretty epic from the 2,840 foot elevation.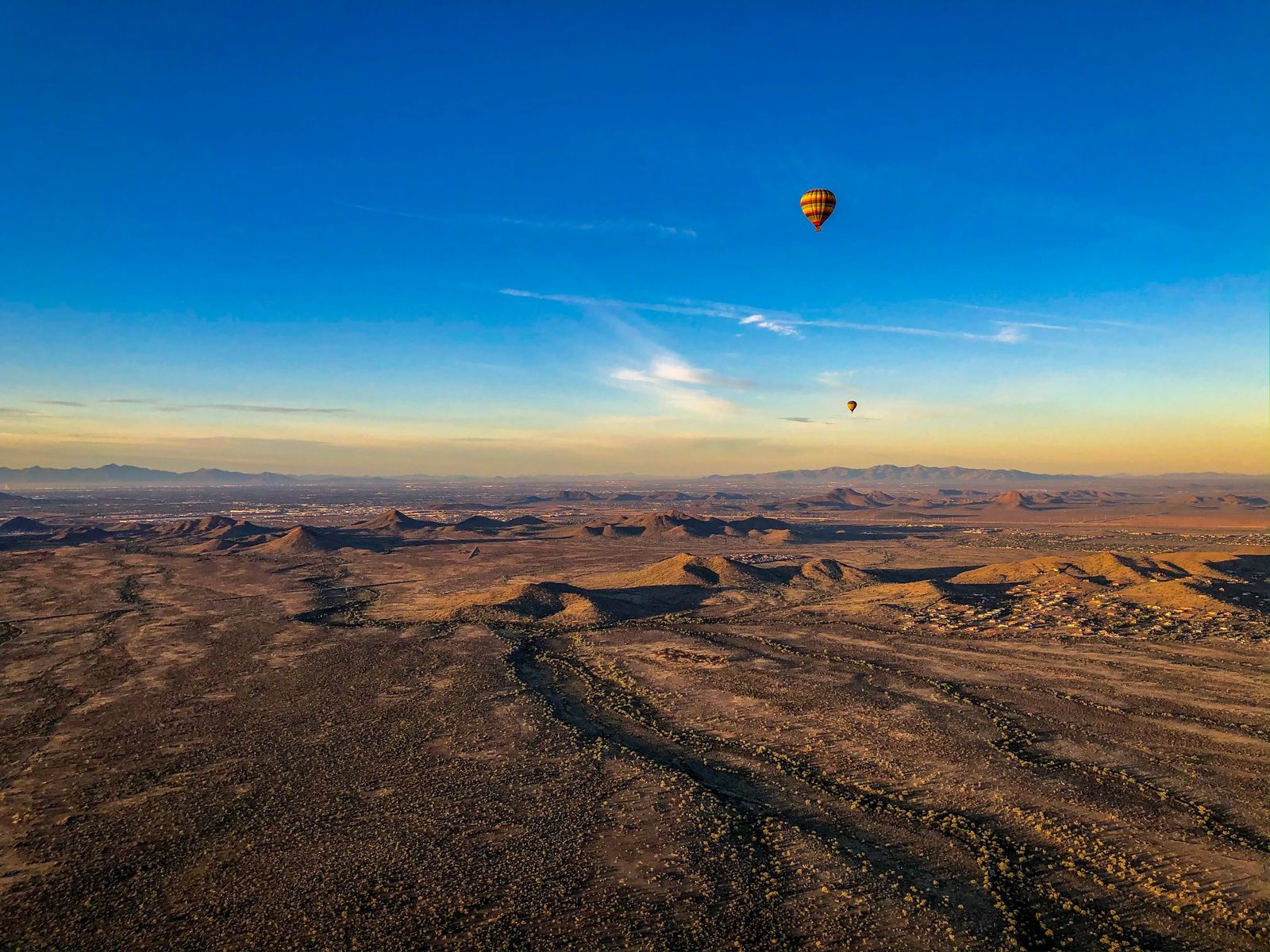 Check-off Your Hot Air Balloon Bucket List Item
Despite getting up before any rooster even thought about crowing, 430am....I'm glad I actually dragged myself out of bed for this one. I have wanted to go on a Hot Air Balloon Ride for ages and ages. Riding in a hot air balloon has been a major bucket list item for me, needless to say I was ecstatic to go.
We were riding with Rainbow Ryders over the Sonoran Desert at dawn. Apparently getting up that early is the best chance of your ride not being cancelled because that is when the wind is the calmest. Hot Air balloons don't have a way to steer themselves, so the pilots rely on the wind- and where it blows them. Not a super comforting thought, which is why I was grateful captain Andy had been flying the balloon I was able to ride in for the last 34 years.
Our team performed the tasks to get the balloon ready to hold 12 passengers with military precision. It all went so fast it was hard to think too hard about it, and get scared. I have previously had a fear of heights, but after rock climbing for so many years don't fear heights as much as I used to.
It was such an odd sensation, to lift off the ground with no thrust and gently float in the air miles above the ground. It was almost a religious experience seeing we were miles above the ground in a 1000 lb basket with 12 people and only about 900 lbs of fabric and hot air keeping us safe. Seeing the sun rise over the horizon, lighting the Sonoran desert in a warm glow was an incredibly powerful experience for me. I think this has to be one of the greatest experiences I have had in my travels to date.
Volunteering in the desert
If you like to make your travels meaningful, like me, then you can volunteer with Plocka Upp. This non-profit group does a group jog of the desert & picks up trash along the way. It is a way to keep the Salt River and surrounding areas beautiful and to keep it looking wild for all vistors.
There are other more intensive volunteer programs as well, like removing graffiti on rocks, and areas surrounding the nature trails.
Saguaro Lake Ranch
If you want to have a truly Wild West experience than I cannot recommend Saguaro Lake Ranch Guest House enough! They have horse back riding, kayaking, a hike right off the property that leads to some petroglyphs, and is also host to the iconic picture used in most of the visitor guides to Arizona. This also has a long history tied very closely to the Apache trail. This was formerly the village set up for the workers who were building the Roosevelt Dam, it then turned into a small fishing retreat in the 1940's and is now a retreat from technology to reconnect with nature. There is limited Wifi to force the kids to interact with their parents, loads of activities to keep everyone entertained and a restaurant and wine selection to satisfy every craving.
I was able to speak to the manager and learned that they also frequently have cowboy cookouts where you can be serenaded to sleep by a local country artist, cook smores by the fire, eat fresh grilled steaks and potatoes to end each night just as splendidly as you spend your day along the Apache Trail.
It was truly hard to NOT relax while there, and the staff are so attentive, you feel as if you are visiting a family members cabin rather than staying in a hotel.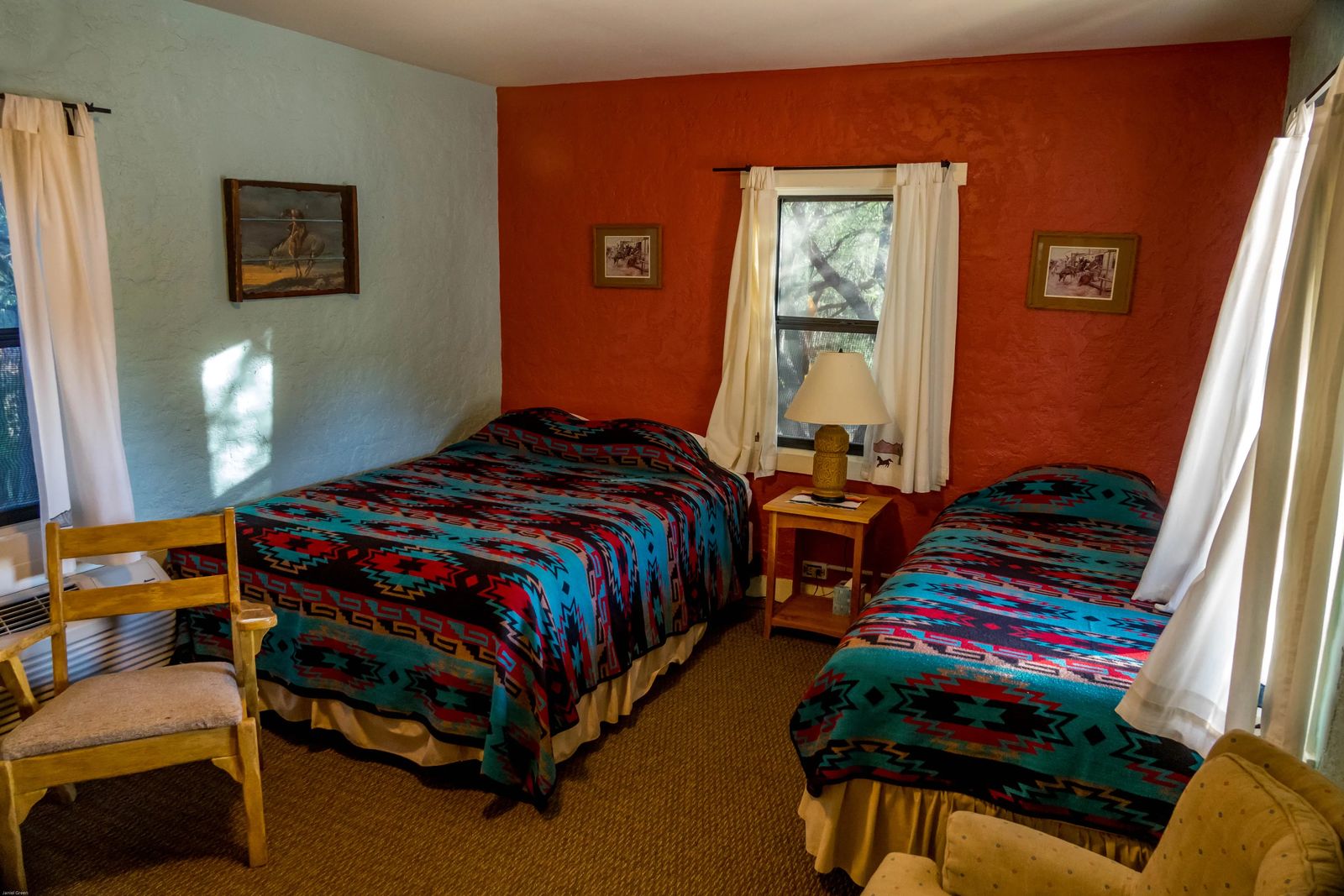 Other tidbits about Saguaro Lake Ranch
Breakfast is included, they do have Vegan options & Gluten free options, A/C in each cabin along with heating, they get power from dam, and are checking into solar power options to become a more sustainable minded accommodation but don't want to ruin the ambiance of the old west and destroy the historic buildings on site.
Cabins 6, 7, 8 are wheelchair and cane accessible - while cabin 6 is the only one with a wheelchair accessible shower.
Like it? Pin it! Sharing is Caring ;)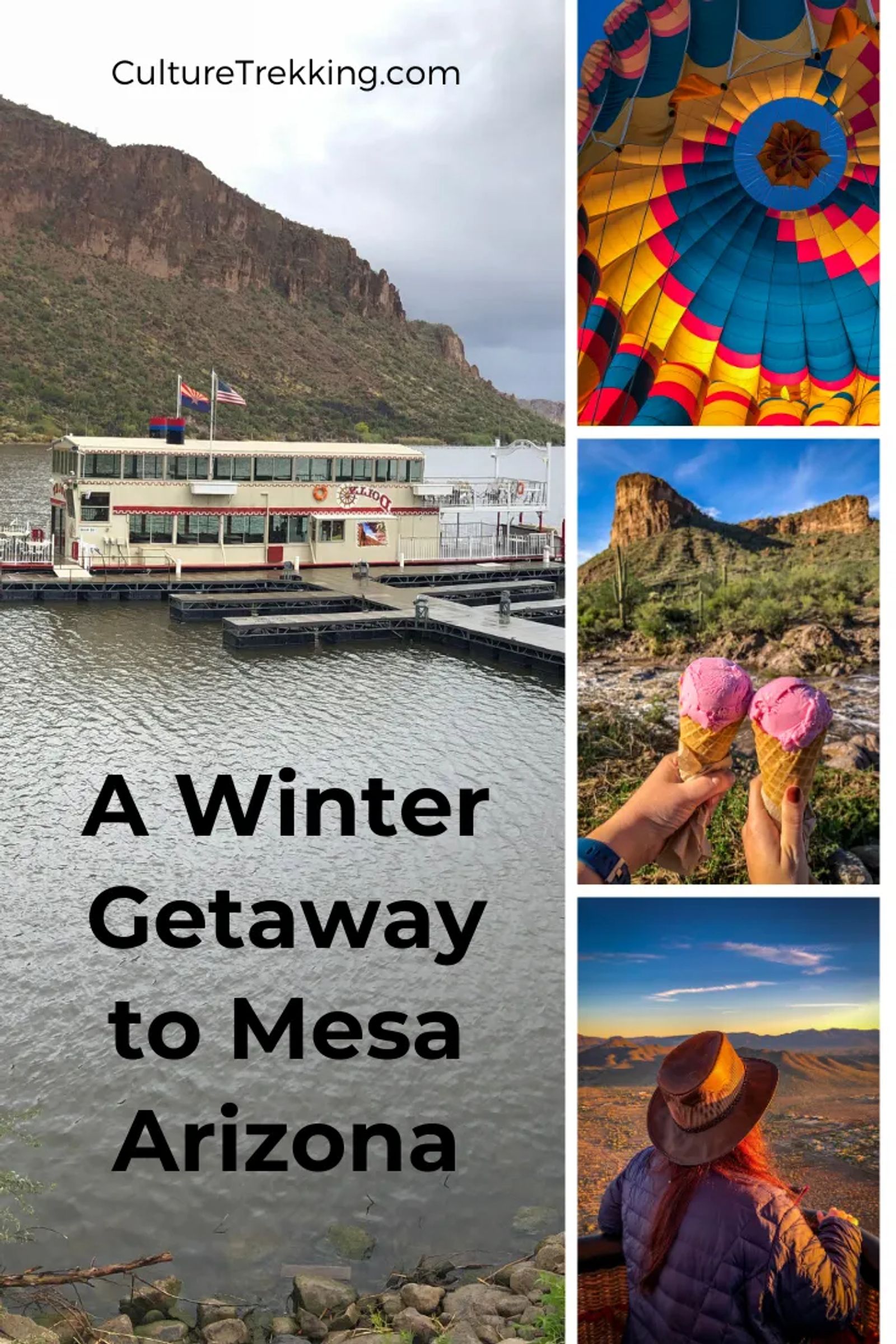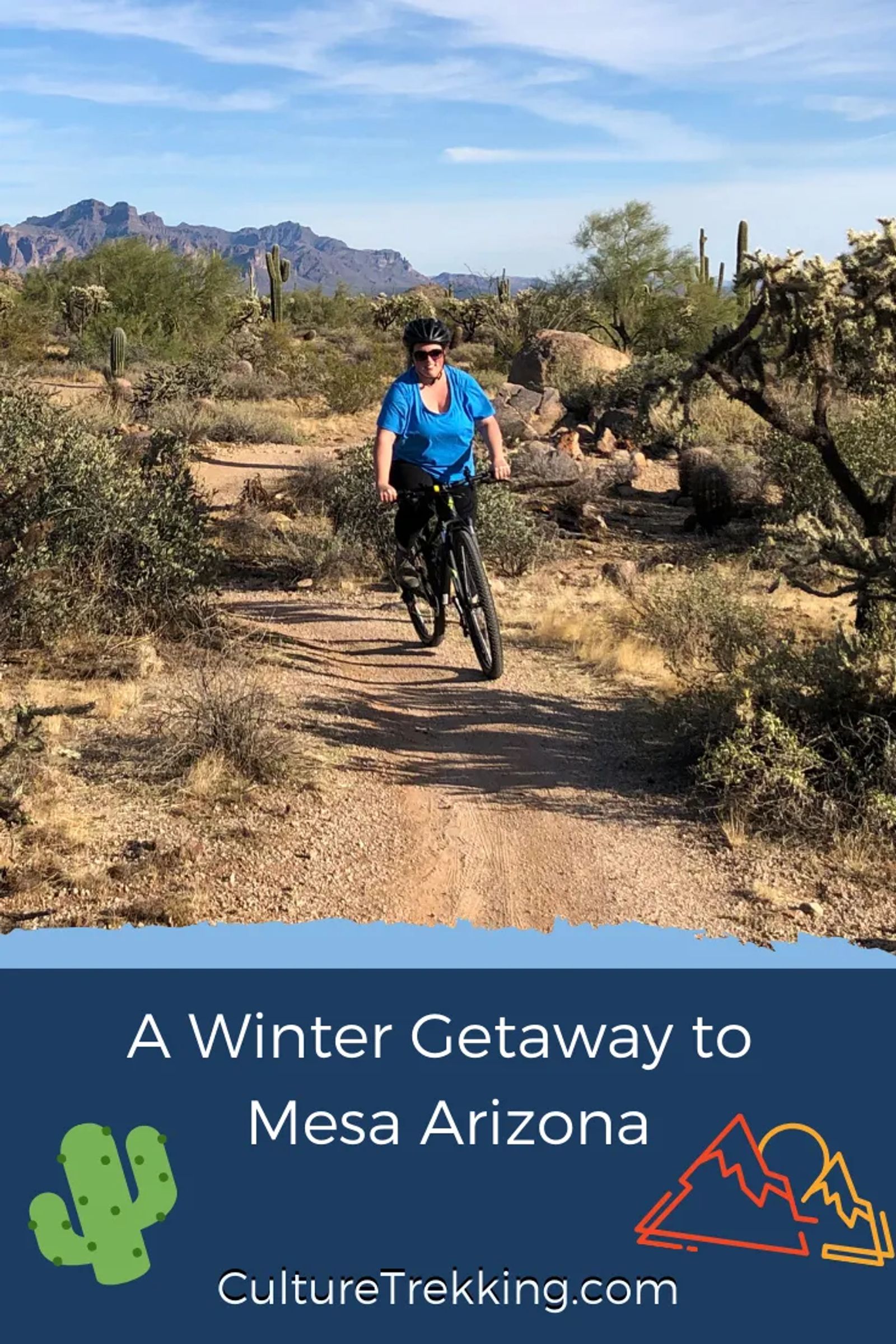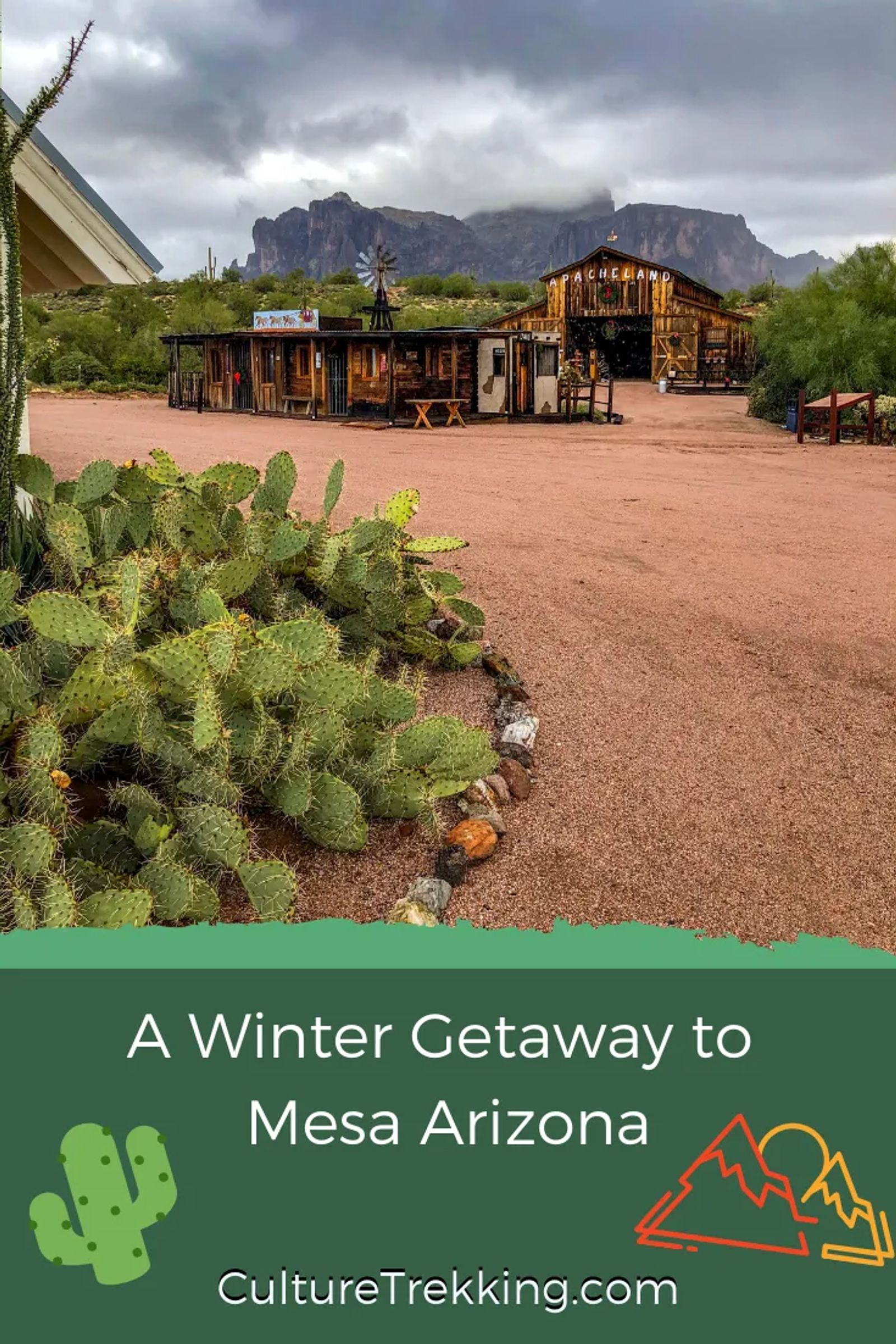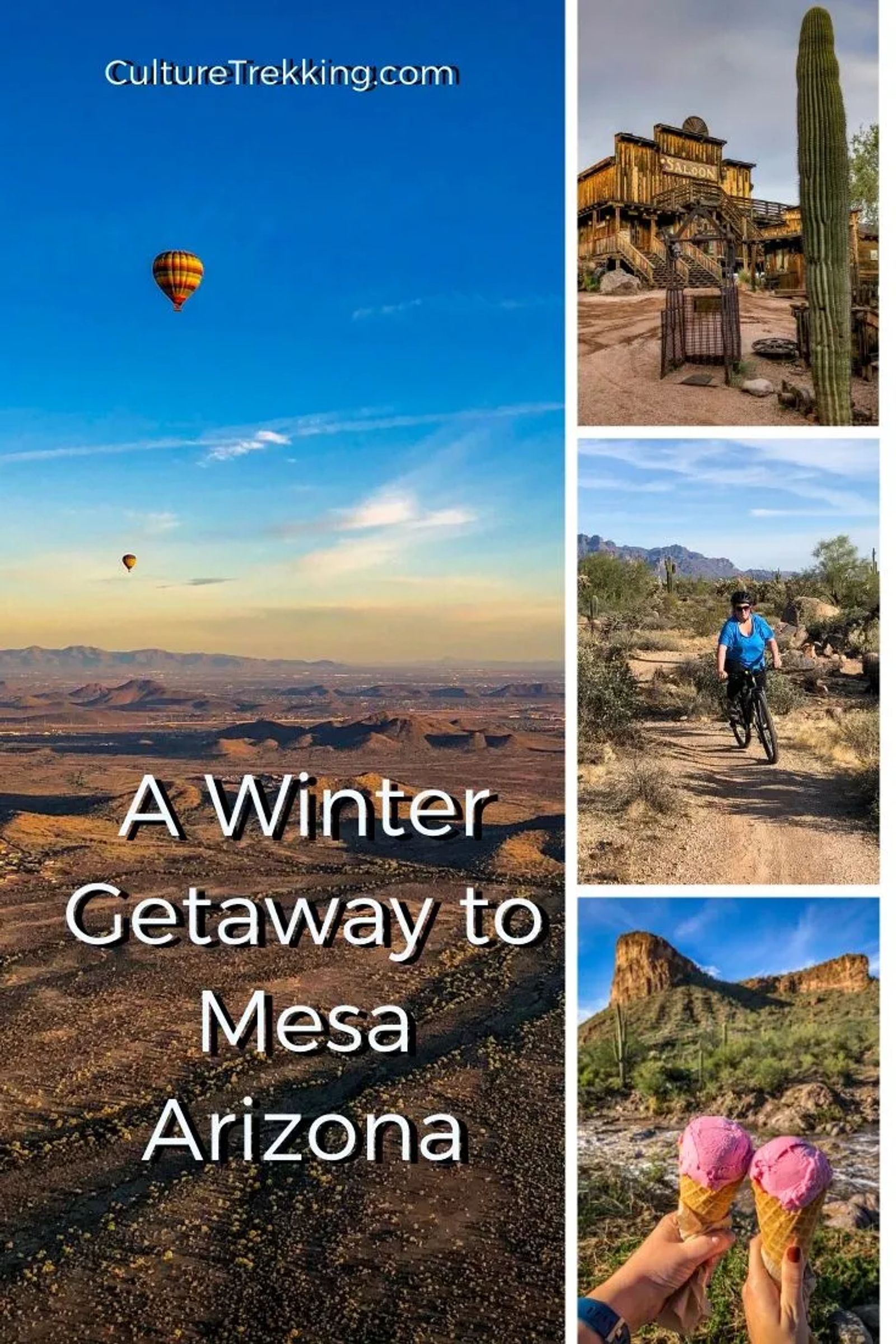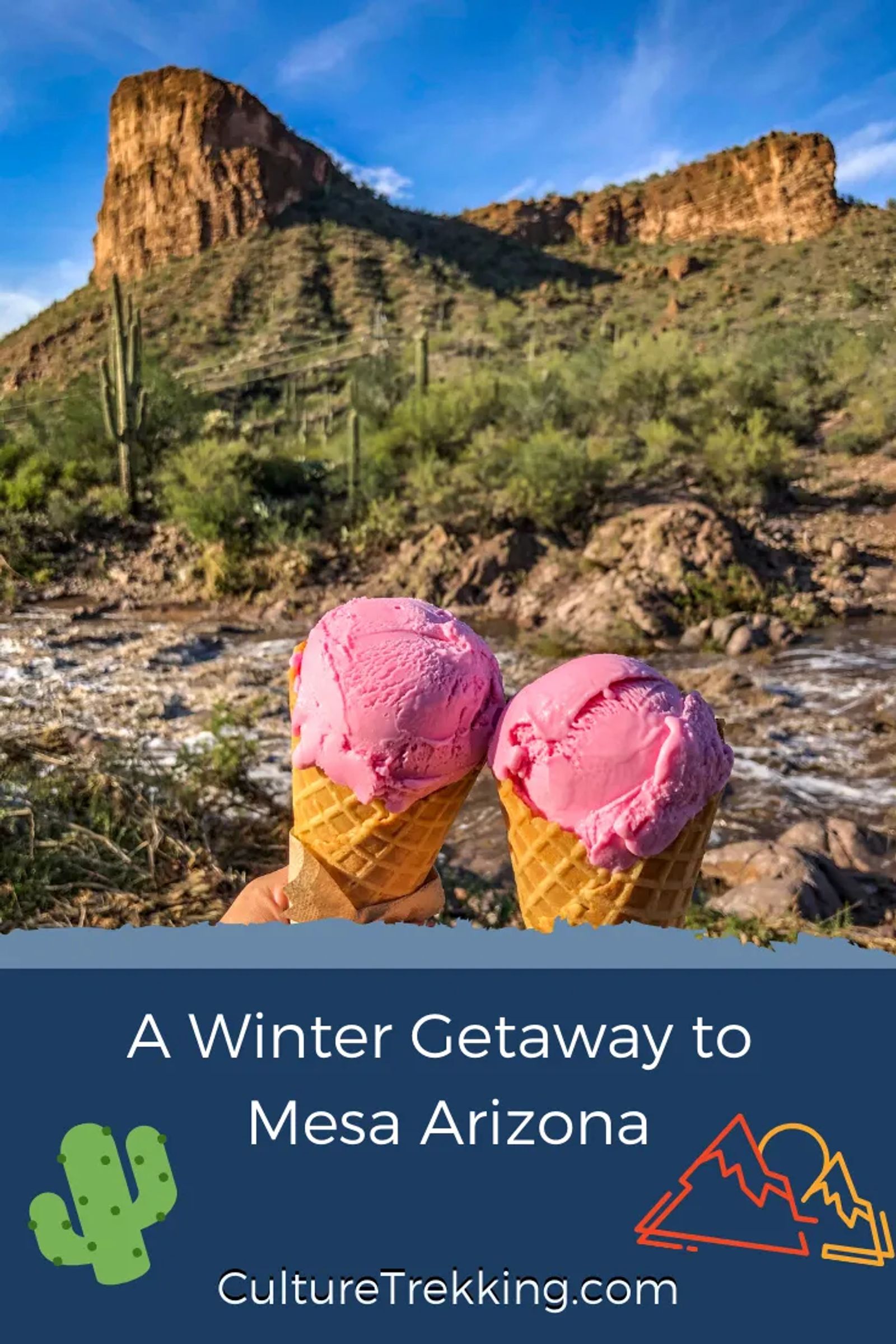 Where to Stay:
If you want to have a truly Wild West experience than I cannot recommend Saguaro Lake Ranch Guest House enough! They have horse back riding, kayaking, a hike right off the property that leads to some petroglyphs, and is also host to the iconic picture used in most of the visitor guides to Arizona. This also has a long history tied very closely to the Apache trail. This was formerly the village set up for the workers who were building the Roosevelt Dam, it then turned into a small fishing retreat in the 1940's and is now a retreat from technology to reconnect with nature. There is limited Wifi to force the kids to interact with their parents, loads of activities to keep everyone entertained and a restaurant and wine selection to satisfy every craving.
I was able to speak to the manager and learned that they also frequently have cowboy cookouts where you can be serenaded to sleep by a local country artist, cook smores by the fire, eat fresh grilled steaks and potatoes to end each night just as splendidly as you spend your day along the Apache Trail.
It was truly hard to NOT relax while there, and the staff are so attentive, you feel as if you are visiting a family members cabin rather than staying in a hotel.
Other tidbits about Saguaro Lake Ranch
Breakfast is included, they do have Vegan options & Gluten free options, A/C in each cabin along with heating, they get power from dam, and are checking into solar power options to become a more sustainable minded accommodation but don't want to ruin the ambiance of the old west and destroy the historic buildings on site.
Cabins 6, 7, 8 are wheelchair and cane accessible - while cabin 6 is the only one with a wheelchair accessible shower.
Other Accommodation Options in Mesa
What to Pack for your Mesa Outdoor Adventures
For all my camping gear, hiking gear, camera equipment, Segway essentials visit the Culture Trekking Store.