The Perfect Guide to Wieliczka Salt Mine
I don't like tight spaces, I don't like feeling trapped, but everyone said this was a 'must see sight when in Krakow'. How would I find my way through a mine? Would my plantar fasciitis act up from the walking? How many stairs are there up and down because I'm in terrible shape? These are all questions I was asking myself as I considered weather to visit the Wieliczka Salt Mine. I will break it all down for you here in this
Quick Facts About Wieliczka Salt Mine
Wieliczka Salt Mine was one of the first of 12 places to be designated a UNESCO World Heritage Site.
How To Get To Wieliczka Salt Mine: Wieliczka is 20 minutes away from Krakow by bus, shared van or the train. On the train you will travel from Krakow Glowny to Wieliczka Rynek-Kopalnia station. Train tickets one way cost around 4 PL or around $1.50. I would just get a day pass, then you can visit Auschwitz as well on the same ticket. Make sure the ticket will cover the operating hours you need it to, after a certain hour some trains require a 'night pass' or ticket.
If you take the bus, during the day, take 304 bus will drop you off at the gate of the salt mine, the stop is Wieliczka Kopalnia Soli.
When To Visit: The best time to visit Wieliczka Salt Mine is in the Summer, because of the temperature of the mine itself, it would be even colder in Winter.
Warnings When Visiting Wieliczka Salt Mine: Do not visit this place if you have extreme claustrophobia even in large spaces. My fear of tight spaces is only bad when I'm shoved in a coat closet with my two other siblings and our older sister won't let us out, sort of fear. Lest I digress, the mine itself is pretty open. The worst parts are when you are walking down the corridors when the safety doors have to be shut every 300-400 feet. You move quickly through these corridors, and always spend the most time in large, open spaces with small groups.
Do not bring large backpacks or luggage, a small purse and camera is fine, but other than that - they will ask you to just leave it in their luggage storage area.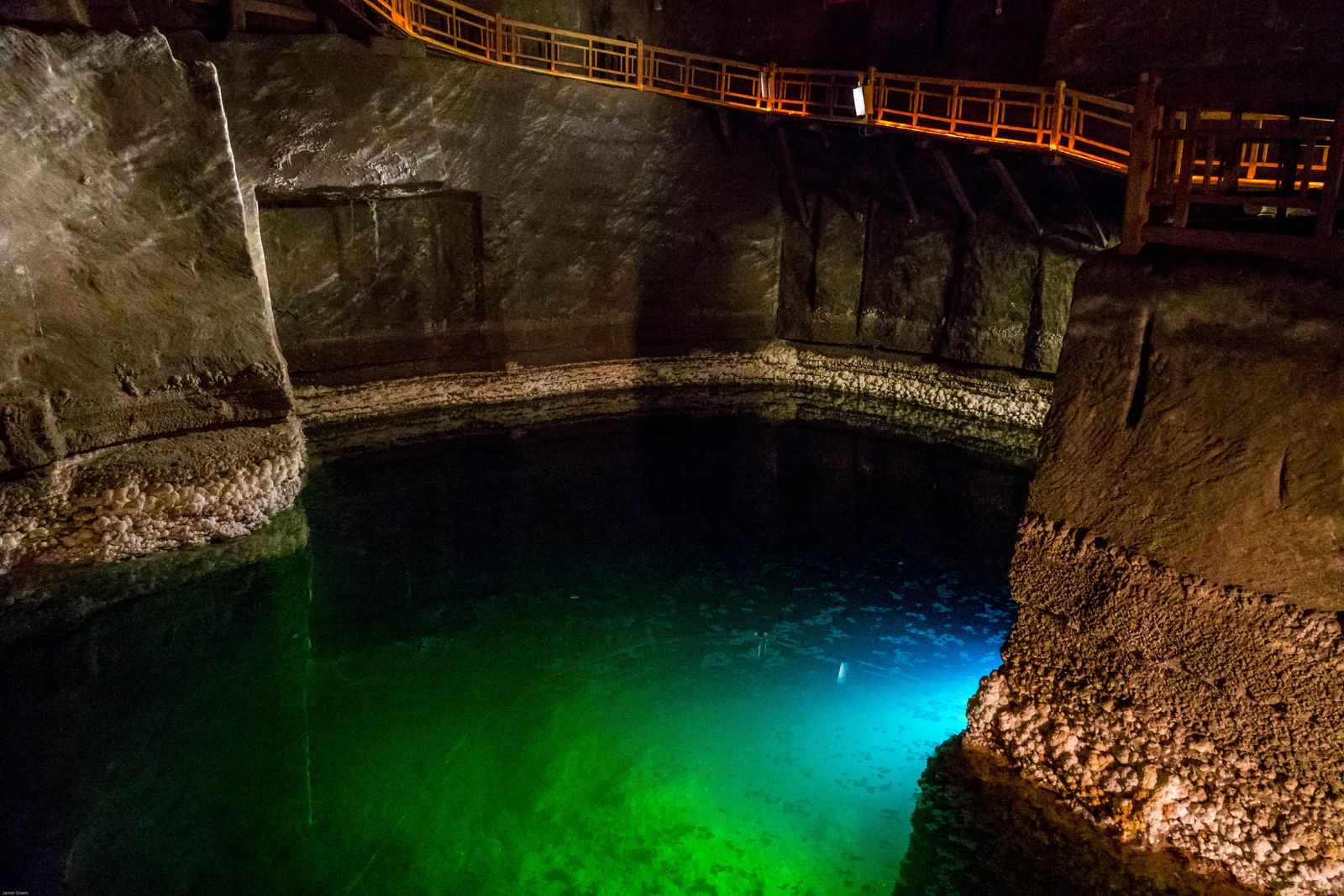 How Long Does A Tour Take At Wieliczka Salt Mine? I would give yourself at least 3 hours for the tour itself, which will show you only about 1% of the total size of the mine. Then 2-3 hours to tour the adorable town of Wieliczka. It has a lot of charm to it, and buildings and shops that are intricately tied to the history of the mine. Between getting to the mine, taking the tour, and then grabbing lunch there, it is at least a 1/2 day tour.
In total you will be walking about 2.18 miles (3.5km) on your tour of the mine. There are toliets available here at certain points on the tour, and you can leave the tour at those points as well if it becomes too much.
Temperature of Wieliczka Salt Mine: The mine is 443 feet (125m) underground so the temperature is actually warmer than you would think, a balmy 57 F (14C). I wore a light jacket and was just fine, I even took it off at a few points because of the humidity from the moisture in the mine.
Number of Steps In the Wieliczka Salt Mine: There are over 800 steps in the Salt Mine, but when you go on a guided tour, you get to use the lift. Let me explain, all the steps you will encounter in the Wieliczka Salt Mine are only ones you have to descend. This place is visited by over 1 million visitors per year, and they have made it pretty accessible to even the most arthritic knees.
I don't know precisely about wheelchair or walker access, but for about 60% of the mine, I wouldn't see that being a huge issue. They allow service animals, and ask that you contact them before bringing your animal at rezerwacja@kopalnia.pl .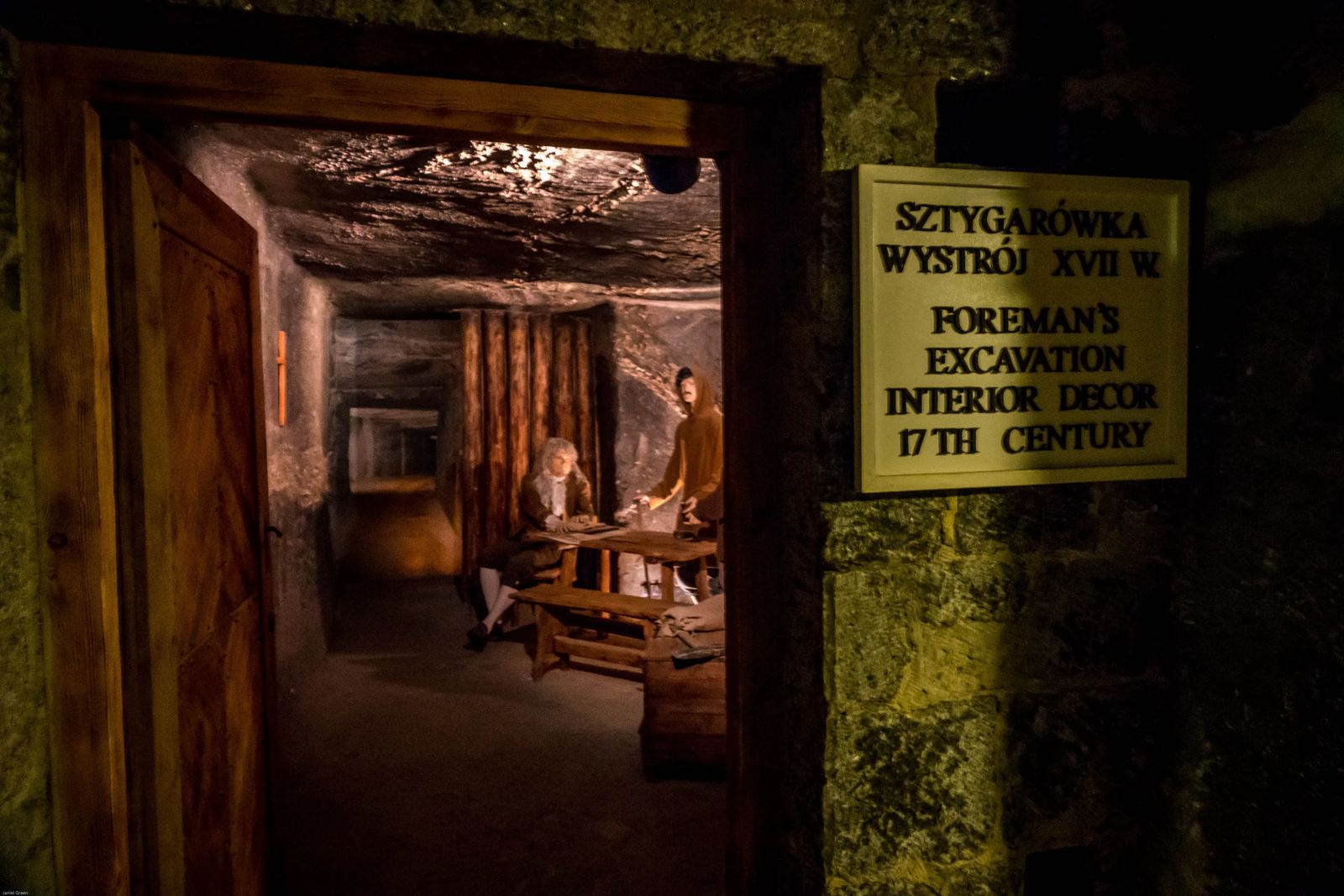 Quick Historical Fact About Wieliczka Salt Mine
This mine was in operation from the 13th Century, up until 1996. It is full of ramparts, sculptures, art, cafe, cathedrals, multiple chapels, a Museum and even a lake! It almost felt like I was walking into a scene from Lord of the Rings. I was anticipating a dwarf or Smeagle to jump out of the corners or tunnels.
In the 13th century, Salt was better than a Gold Mine. Salt is the flavor of life and everyone needed some of it for treating fish so they would keep, flavoring foods, and so many other uses. Naturally these mines were run by nobles, so be sure to stop by the Wieliczka Castle nearby on your way out.
Because it has been mined, it was mined for so many centuries, there are a lot of residual tunnels. These residual tunnels are what the tourists get to walk through and what make up the cathedrals, statues and so forth.
I personally love to hear when things are repurposed for education and enjoyment of all.
It isn't just the age of the mine that is historically fascinating, but the evolution of how mining began to where it is now. It takes you through the utterly dangerous conditions the men and animals would work in here. Some animals would spend their whole lives in the mine as well as some workers. There are chapels that they would worship in, Salt Carvings from spending Christmas in the mines, and even lakes where the animals and workers were able to get water from.
Health Benefits of Visiting The Wieliczka Salt Mine
The therapeutic microclimate has been said to help from respiratory ailments like asthma, allergies, bronchitis, and COPD. I personally suffer from allergies and asthma, I'm a Physician Assistant, that takes these claims with a 'grain of salt', lol. Sorry, Dad joke I know.
I have to admit, I honestly felt like I had taken my Advair (which I hadn't), and a healthy dose of Xopenex. For those who don't know, these are two staples in medicine for treating people with Asthma.
The air was easy to breathe, I felt like, my joints didn't hurt as much as they did above the mine, and I honestly felt really really good.
I looked into this in various studies, and found an interesting study from May 2017. The Pediatric Pulmonology Journal, showed that children with mild asthma that went to salt mines for therapeutic reasons (called halo therpay); for seven weeks had improved hyper-reactivity of their symptoms!
If you want to learn more about the health benefits of visiting a Salt Mine, read this article.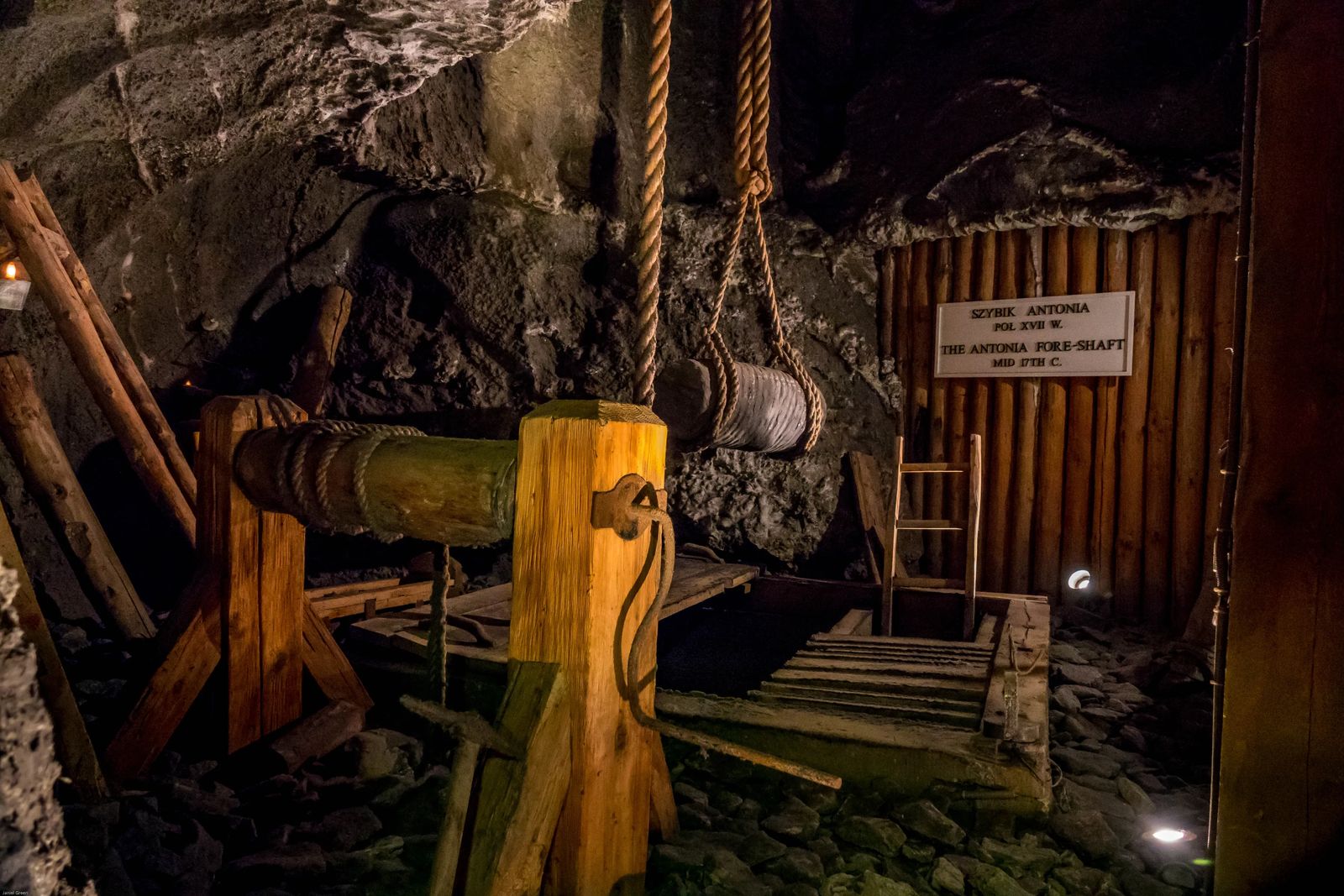 Wieliczka Salt Mine Tour and tickets
All touring of the mines are mandatory guided, because of how massive Wieliczka Salt Mine is - and safety precautions that MUST be followed they don't allow you to wander on your own.
They have tours offered in seven different languages including Polish, English, German, French, Italian, Russian and Spanish. Each specific language has a designated tour time and hour, so be sure to check the times as they are subject to change depending on demand.
I personally did a combined Full day tour of Wieliczka Salt Mine and Auschwitz where it was split into two and included lunch. I was on a tight schedule and get major anxiety trying to figure out the train system (although those who are used to it, tell me it is quite easy).
If you have more time in your itinerary, I would have personally given Auschwitz an entire day to visit. Hire a private guide that can tell you more stories, answer all your questions and give you time to really wander that haunted place. I don't think people understand how big Auschwitz is, it is over 5,000 football field. Sooooo if you want to feel rushed and just hit the highlights then a combined tour is fine. If you want to really let the historical value of Auschwitz sink in, then do the private tour.
When you have a pre-paid tour, you skip the lines and avoid the issue of having to wait all day for a chance to get in.
The cost to get in is around $23 or 84 Polish Zloty per person which is a lot of money, but this is also a UNESCO heritage site. It costs a lot to keep the safety and upkeep of the mine intact.
There is a separate fee you must pay if you want to take photos or video. If you have a student ID I would bring it because it can save you a little on the cost of ticket to get into the mine.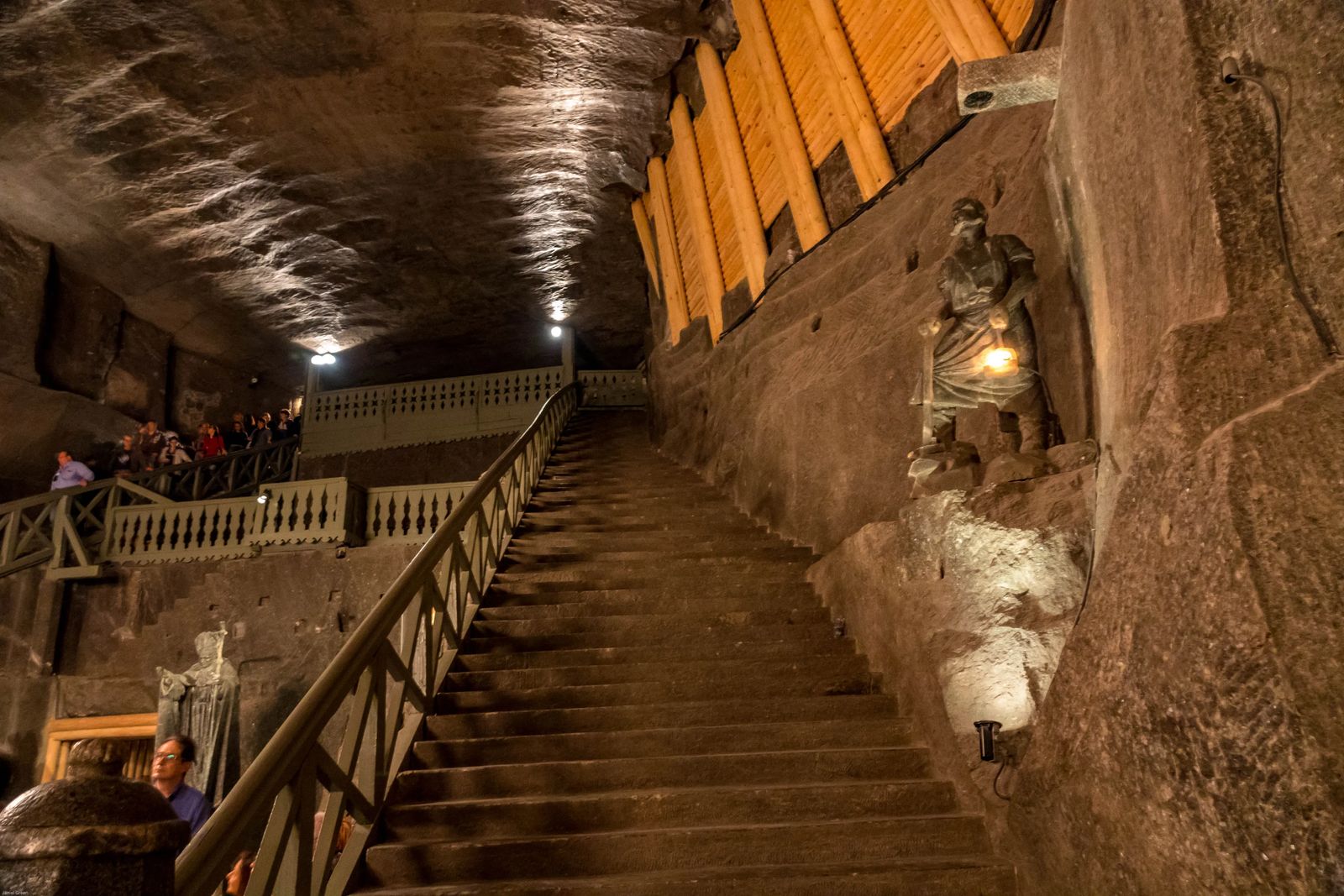 Entering the Wieliczka Salt Mine (It is Easier Than You Think)
When you enter the mine, it can be a little daunting not knowing where to go. Having all the horror stories of mines collapsing and people getting lost like I did. Wondering if I was going to have to leave because of my fear of tight spaces.
The tour they provide is ingeniously designed. You meet in the gift shop to go to the entrance of the Daniłowicz Shaft. I got really anxious when I walked into this incredibly dark room, but when my eyes adjusted it honestly looked like a poorly lit cabin inside. Luckily these homie wood tones are scattered throughout the mine.
They let you sit there for awhile, and just get used to being in the dark and the cold. A guide comes in and explains where the tour will go, how it will go, what you will do, the steps you will take, and how you will get out. They also provide the option to leave, and let you know exactly where and when you will be able to do so.
This, more than anything else on the tour put my mind at ease. When your mind, in its naturally protective state, is able to have some sort of control of the situation. This control is knowledge, knowing that there is away out. You aren't trapped, it isn't a prison, millions of people visit each year. The solid wood logs, wooden supports, nothing rickety or wobbling along the way - it really provided a huge sense of security for me.
The steps down the shaft can get a little dizzying, but you are allowed to pause and look down the shaft to right yourself. What I did was actually turn the opposite way on a landing every now and then to help right myself and not feel so dizzy.
When you get to the bottom, the guide asks if everyone is ok & offers a chance to leave if you are not. They do have lifts available in certain areas if you feel you need to leave at any point.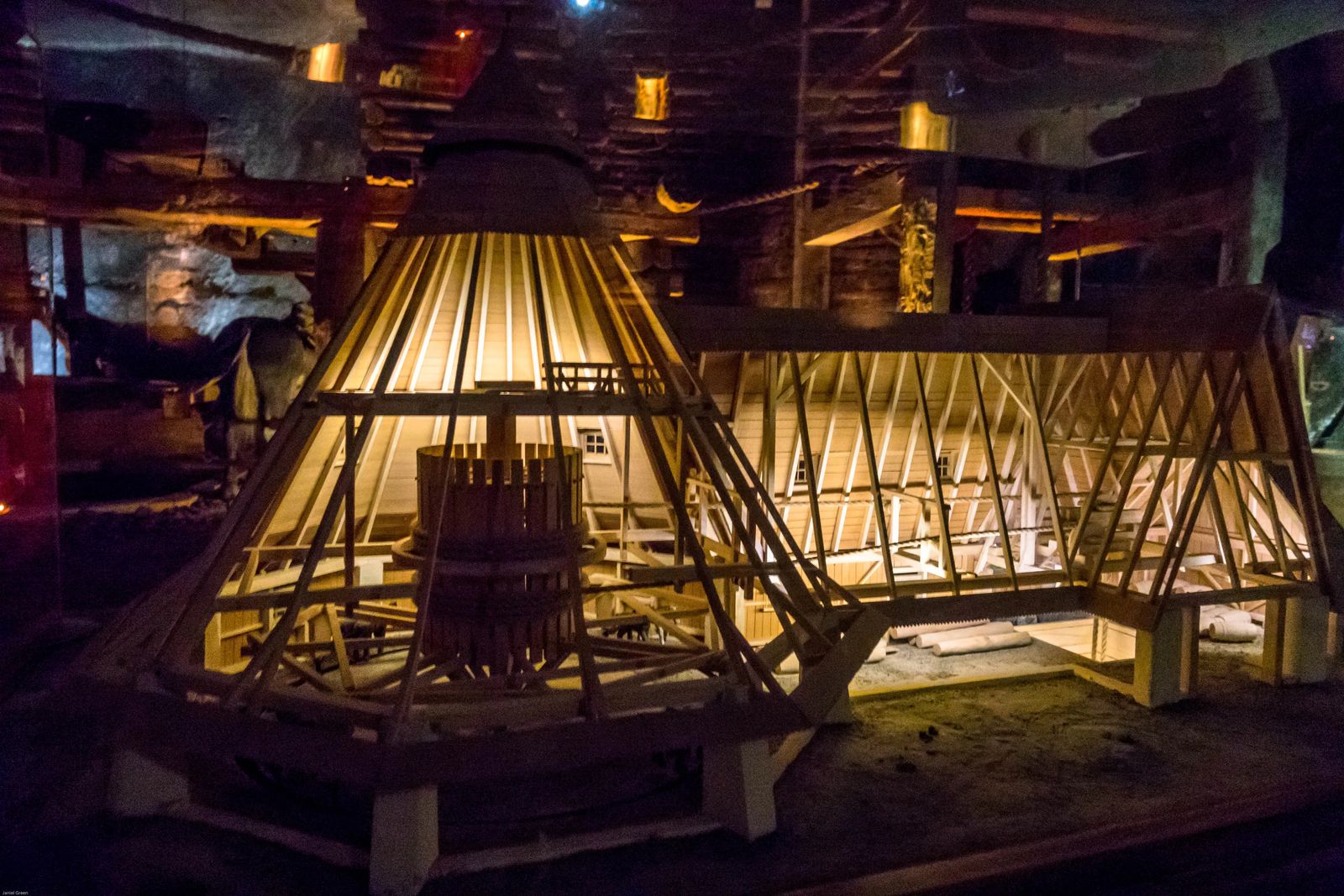 Wieliczka Salt Mine Museum
The museum is well worth a visit, as it utilizes multi-media to instruct and enthrall its visitors. In fact, it has the only underground 5D Cinema where you can see how mines are created.
The museum takes you through the different ages, tools, and techniques used to create the mine. They help you recognize different elements that are within a mine like salt hair, salt trees, stalactites, stalagmites and salt columns. If you have kids, they allow then to virtually mine themselves.
You also learn about salt extraction methods, see original tools and artifacts made here. There are massive horse drawn treadmills, wheels, crosses, and winches. You learn how fires were extinguished, and what dangers a mine holds (including setting off gas bombs as a safety precaution).
My favorite item was actually the Renaissance Horn of the Diggers' Brotherhood from 1534. It was like a hazing for the middle ages, where you had to drink from the horn in order to be sworn into the Brotherhood.
The museum ends at the Aleksandrowice II Chamber—the newest chapel in the mine. It is devoted to St. John Paul II, who I didn't know, was a Polish pope who came from a town near Kraków. He would frequently visit the mine, and there are statues of him throughout Poland.
If you see signs for the glow in the dark minerals, skip it, unless your a geologist - it isn't worth the extra cost. Its just a way to make more money.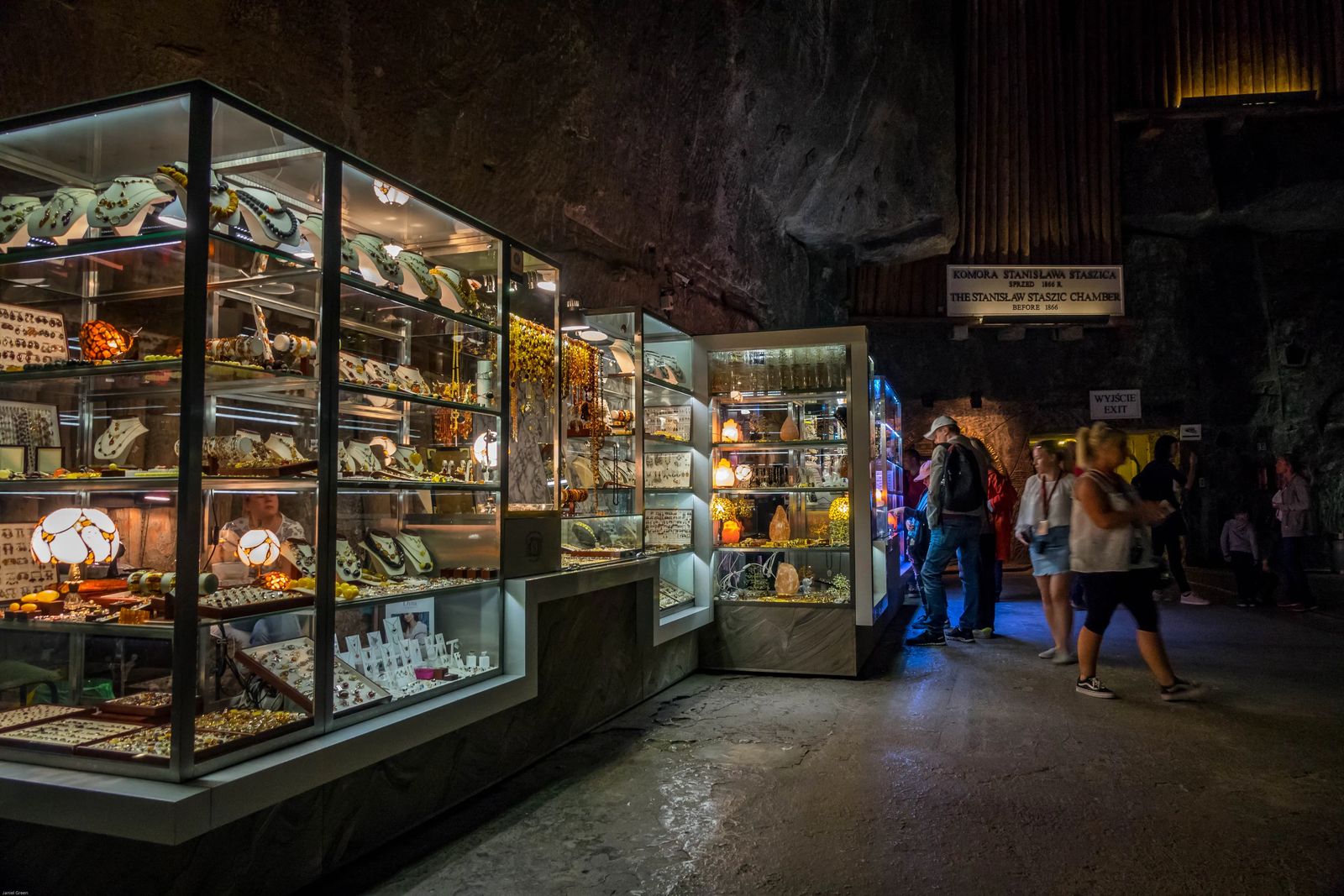 Art In the Wieliczka Salt Mine
Some people call the different areas of the mine here gimmicky, or 'not worth the visit'. I personally found it fascinating that they could carve sculptures out of salt. The intricate details without the pieces just crumbling was really fascinating to me.
I loved the folklore of the mines, with dwarves and all. I truly appreciated how humans can make something so dark, lonesome and deep in the earth a homey feeling place that still has beauty.
If you scroll to the right, you can see some of my favorite statues in the mine here. Each room or cavern you enter has a new story, a new fable to tell, and religious connotation told in the statues, reliefs, and monuments.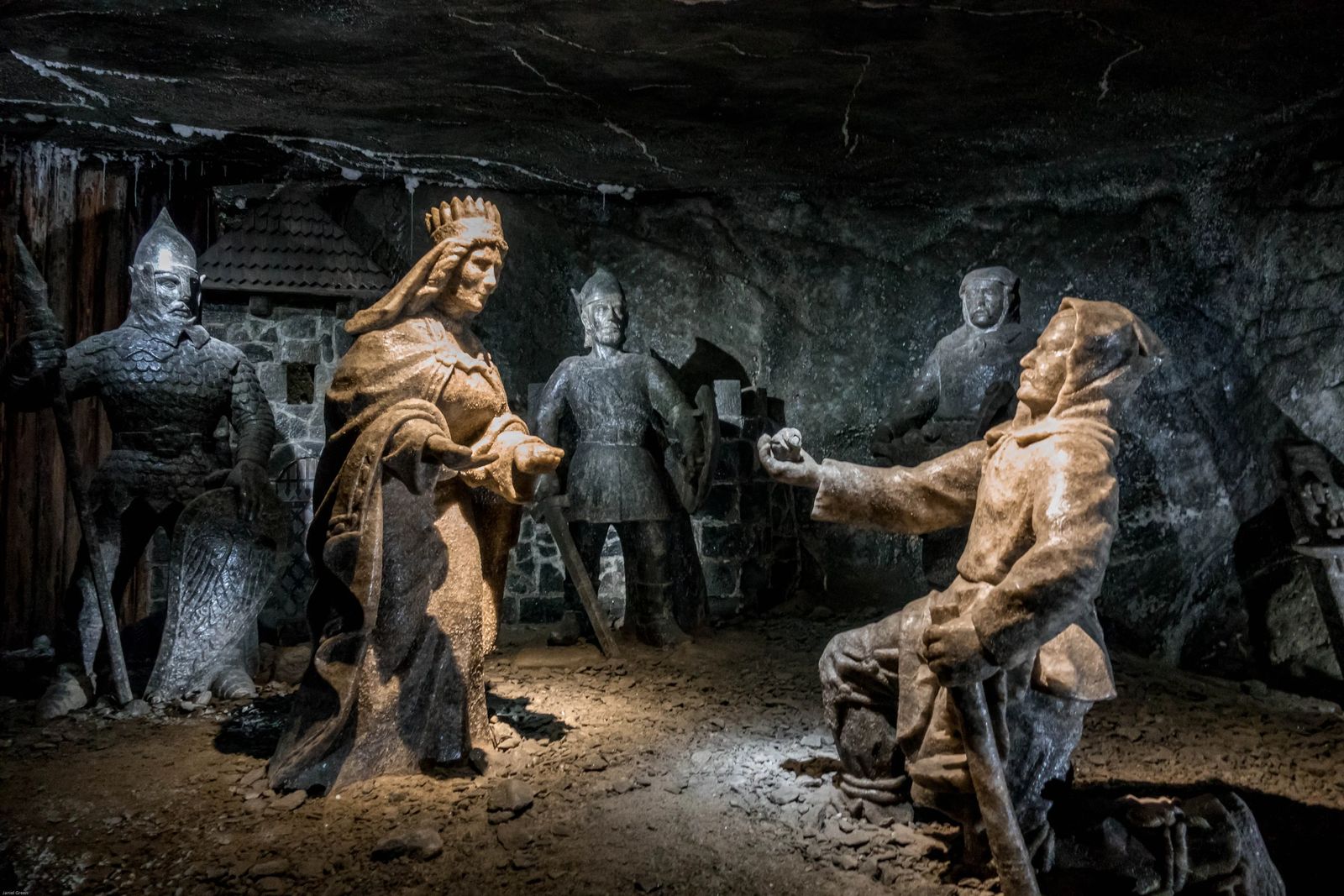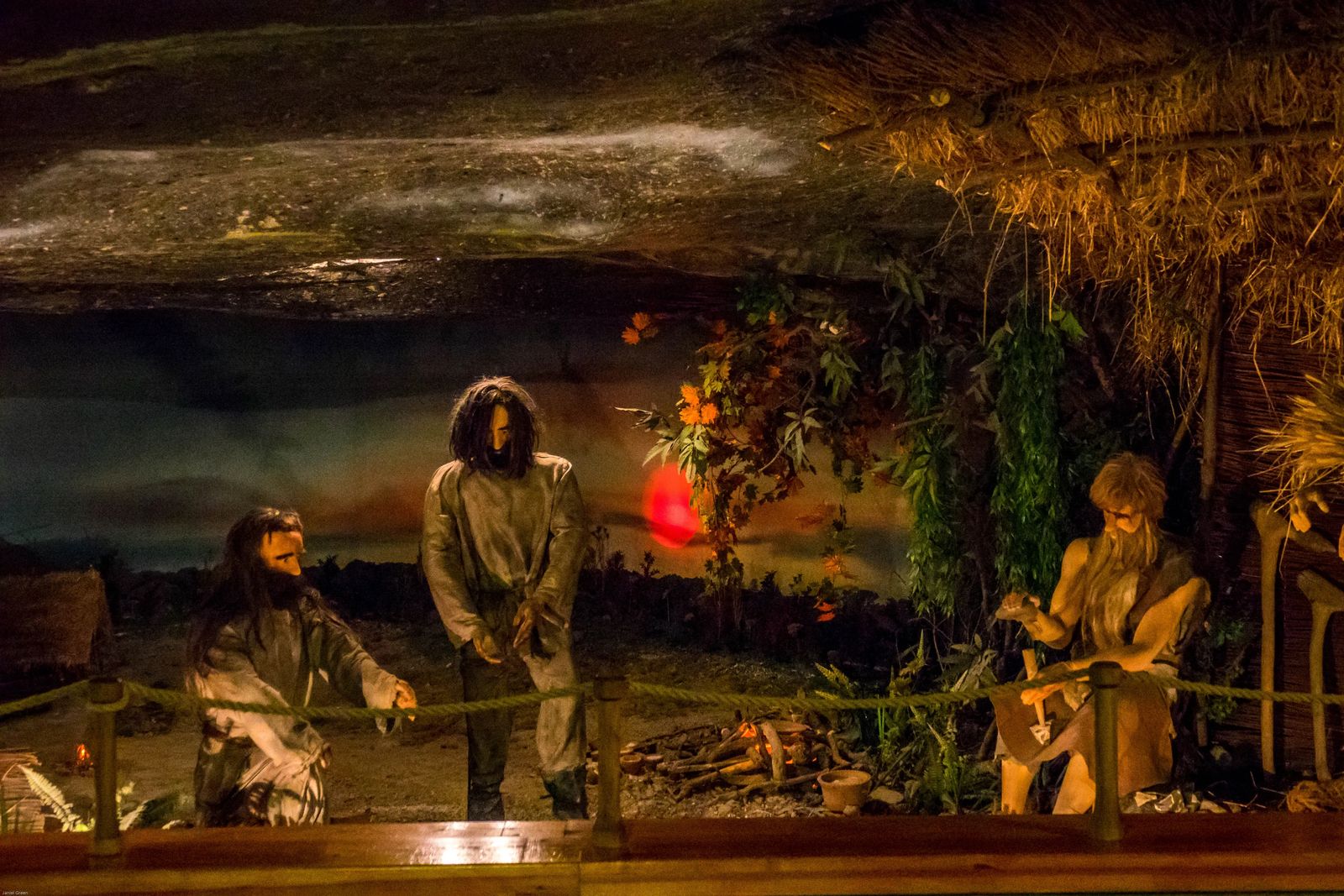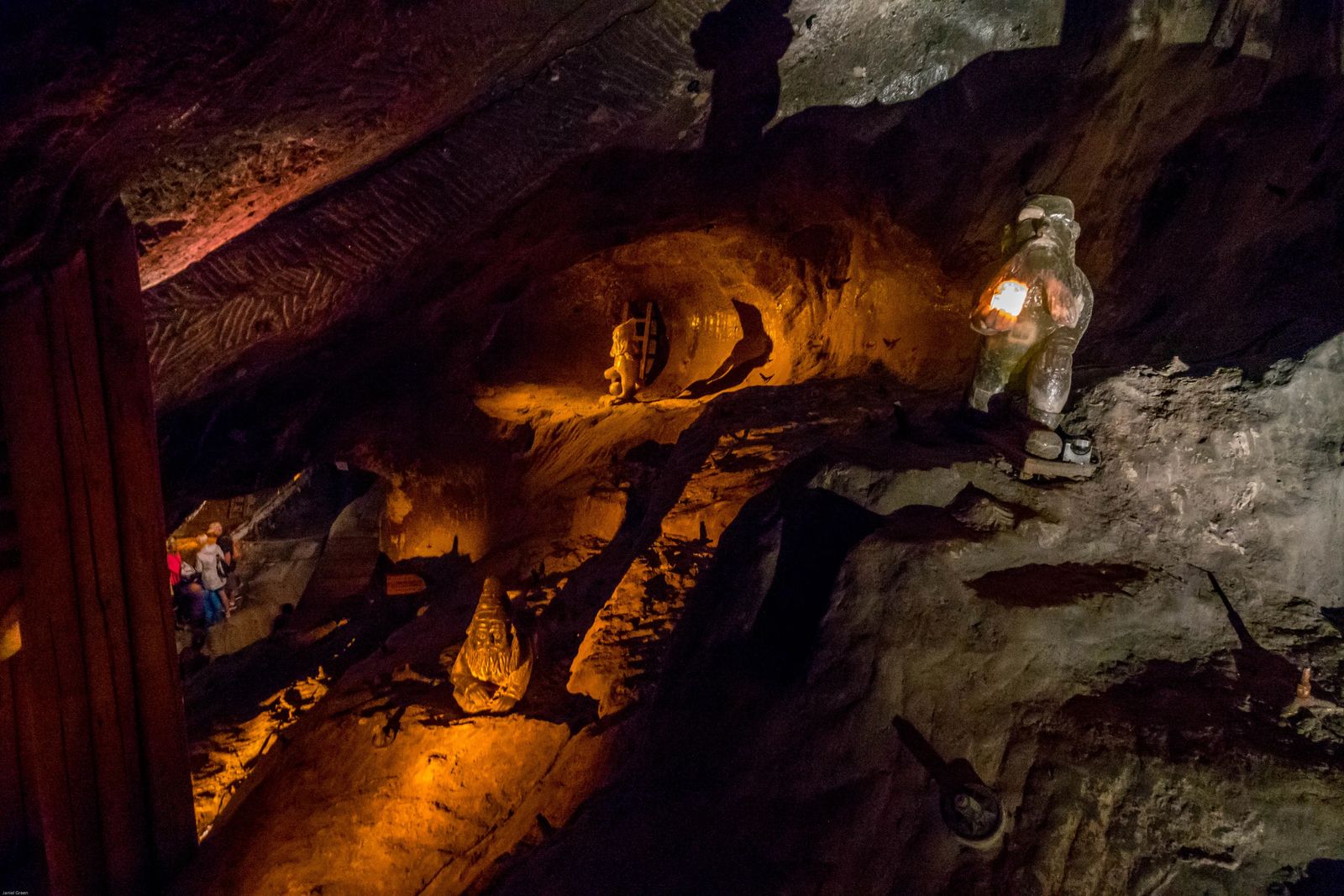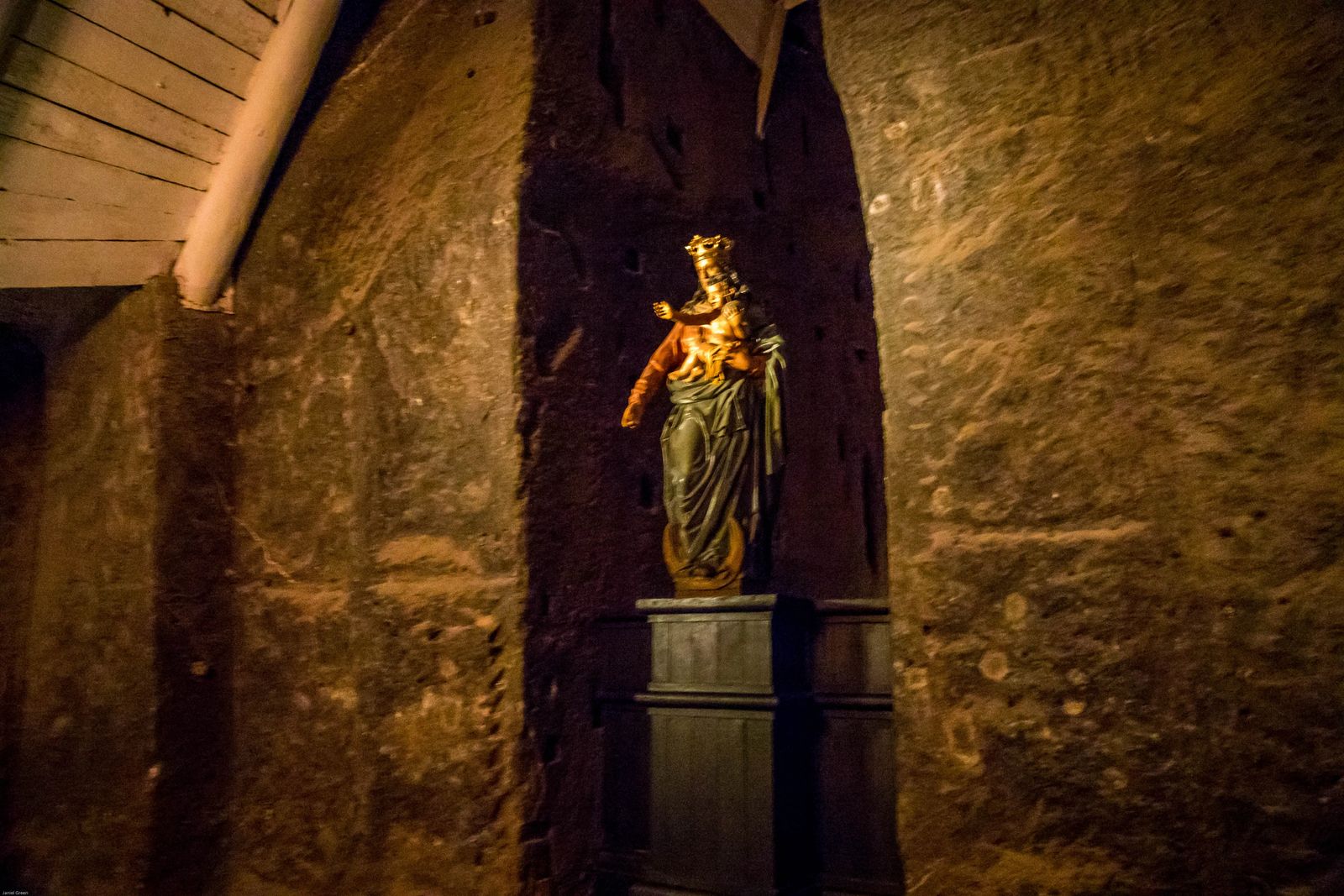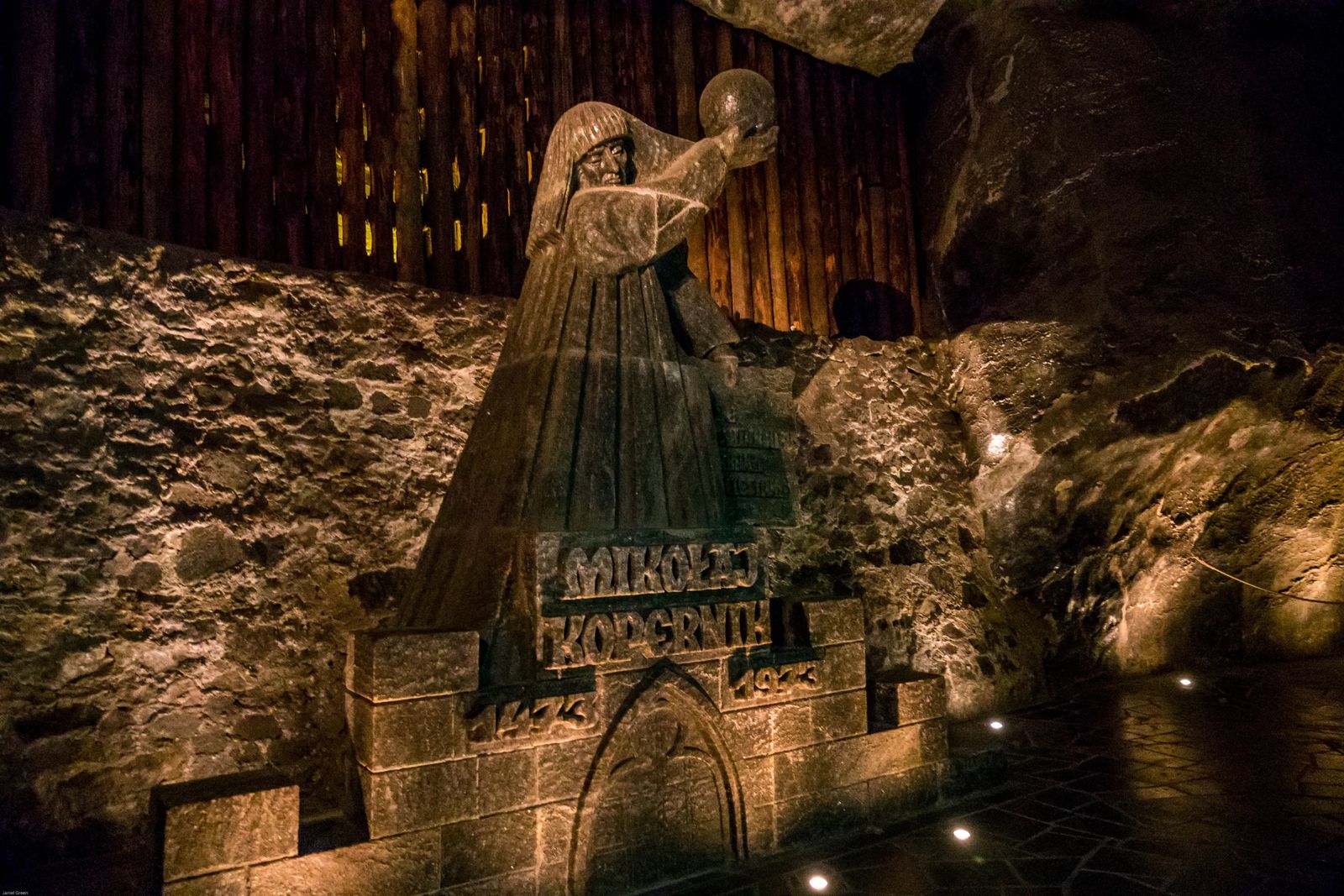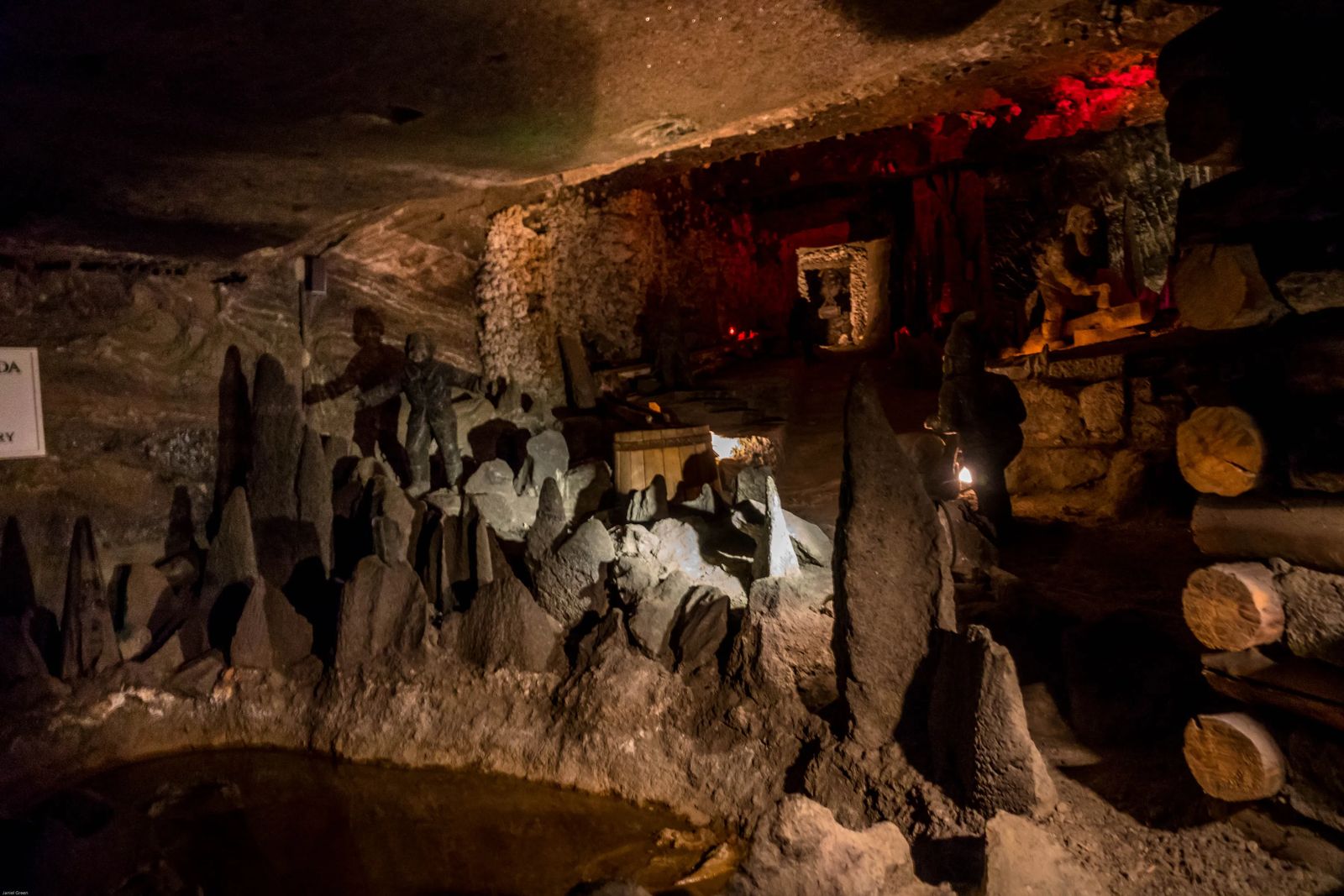 Wieliczka Salt Mine Cathedral
The highlight of the whole tour, at least for me, was walking through the entrance into the Chapel of St. Kinga. There are about 3 flights of stairs you have to descend to get to the floor, but it is well worth it. The cathedral is about as big as Notre Dame's interior.
There are bas-reliefs of different scenes from the Bible (as paint does not stick to the salt and retain its color). There are religious, historical, mythical statues and reliefs throughout the cathedral. Most of the statues here were carved around the turn of the century (19th-20th). The statue of Pope John Paul the II is always a favorite of tour guides as he was the first Polish Pope called to that office. Be sure to find the bas relief of the Last Supper in St Kinga's Chapel.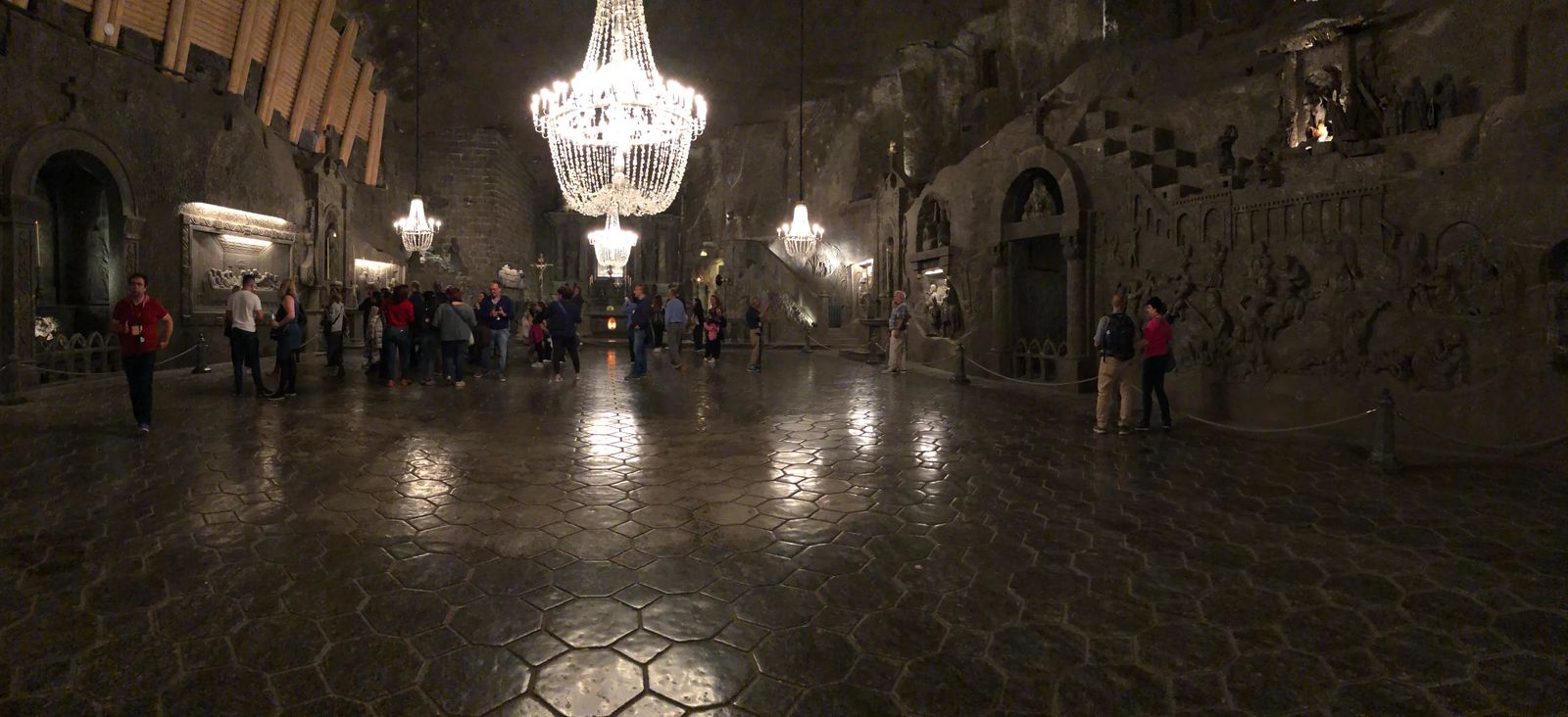 The Chandeliers were a particularly fascinating feature for me, as they are completely made of salt. Well, minus the actual lights that are now electric and not from candles. The flooring looks like it is a dark marble, but it also is made of salt, and highly polished.
There isn't just this cathedral to marvel at though. You can see the smaller chapels that contain statues carved by miners who worshipped here over the last 300 years. These include the St. Anthony, Janowice, Holy Cross chapels, with the Urszula, Spalone, Sielec chambers. The chambers now hold the various digging tools and devices used by miners.
Life In The Wieliczka Salt Mine
Many of the miners lived in the village, and would go down into the mine every day for work. They would pack their lunch, and head to work.
They would be required to change their clothes, be provided equipment for working and then go about their daily tasks. The miners treat each other like brothers, including drinking from the horn I mentioned above as a sort of hazing in. They had to look out for each other, work together so everyone got out safe and there weren't any accidents.
It isn't just physically grueling work, it is psychologically taxing as well. Working in a dark place, and with all the things that could go wrong with one mistake, they had to be extremely focused on the task at hand.
They also had horses in the mine that would help cart the salt rocks out. Over 100 horses were utilized during mining before WWII. Many of these horses spend their entire lives in the mine. The guide reported that they were treated like royalty, and even had specific workers dedicated to their health and well being. If a horse was injured or mis-handled there were serious repercussions for its handler. The last horse in the mine used was in 2002.
There were a few miners that had to stay in the mines overnight. These bombers were in charge of strategically setting off the gas bombs from the methane gas. Yes you heard that right, the toxic gas that was produced in the ground often had to be purposefully ignited to keep the workers and animals safe. Otherwise, if you have a tiny spark from metal hitting metal or rock, it could cause a massive explosion. These explosions would have set the wood support beams on fire, and collapsed the mine tunnels.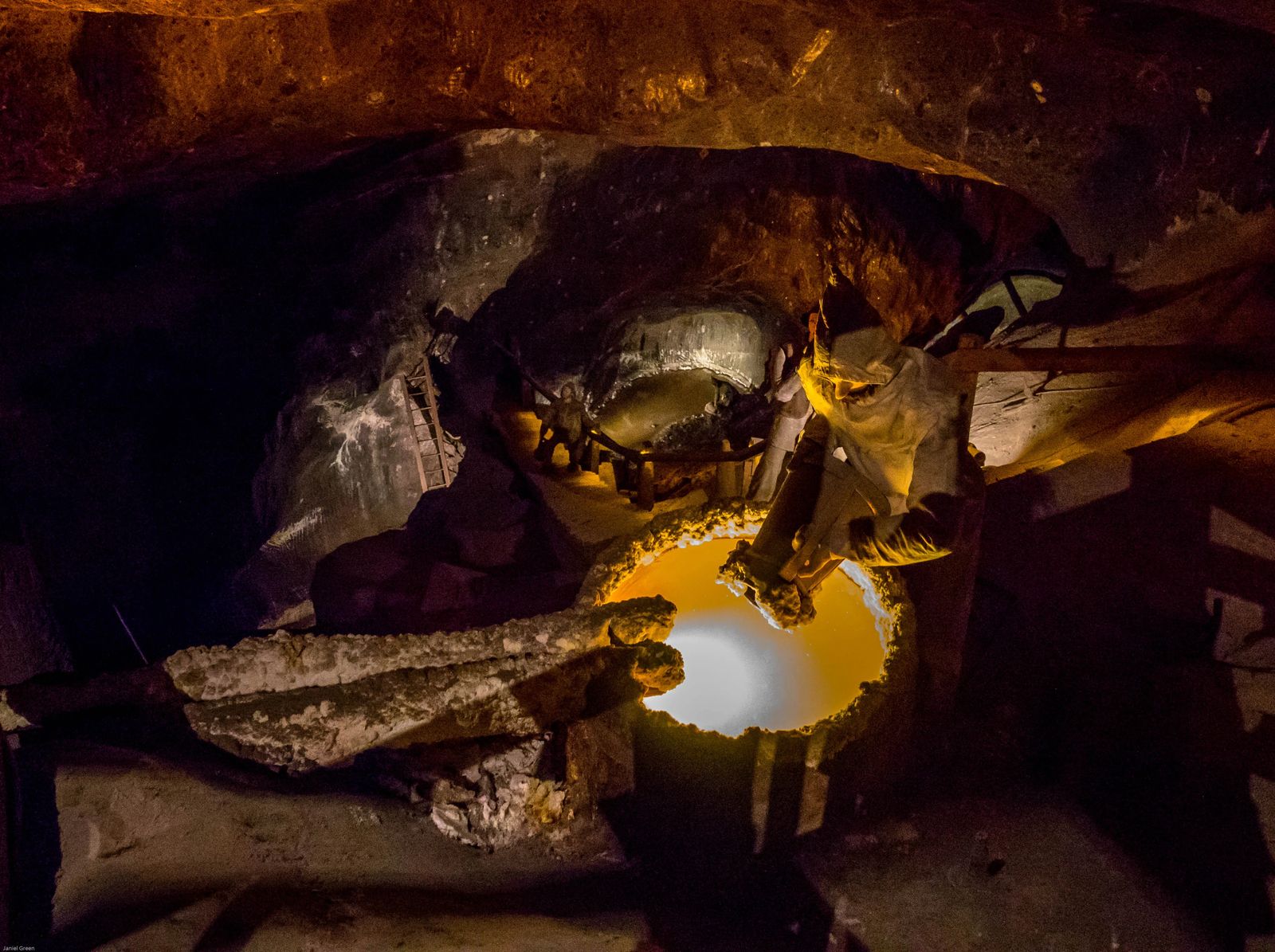 Ending the Tour
To get out of the mine it takes about 30-45 minutes depending on how busy they are. You have to wait in your designated tour groups, right near the Karczma Gornicza restaurant. Then you wait for each group to make it up to the top until your turn is up.
You are then loaded onto an elevator, and slowly make your way up to the top. It is about 442 feet to the top of the mine, or about as long as it would take to climb 41 stories in an elevator. To give you a frame of reference, the empire state building has 102 stories.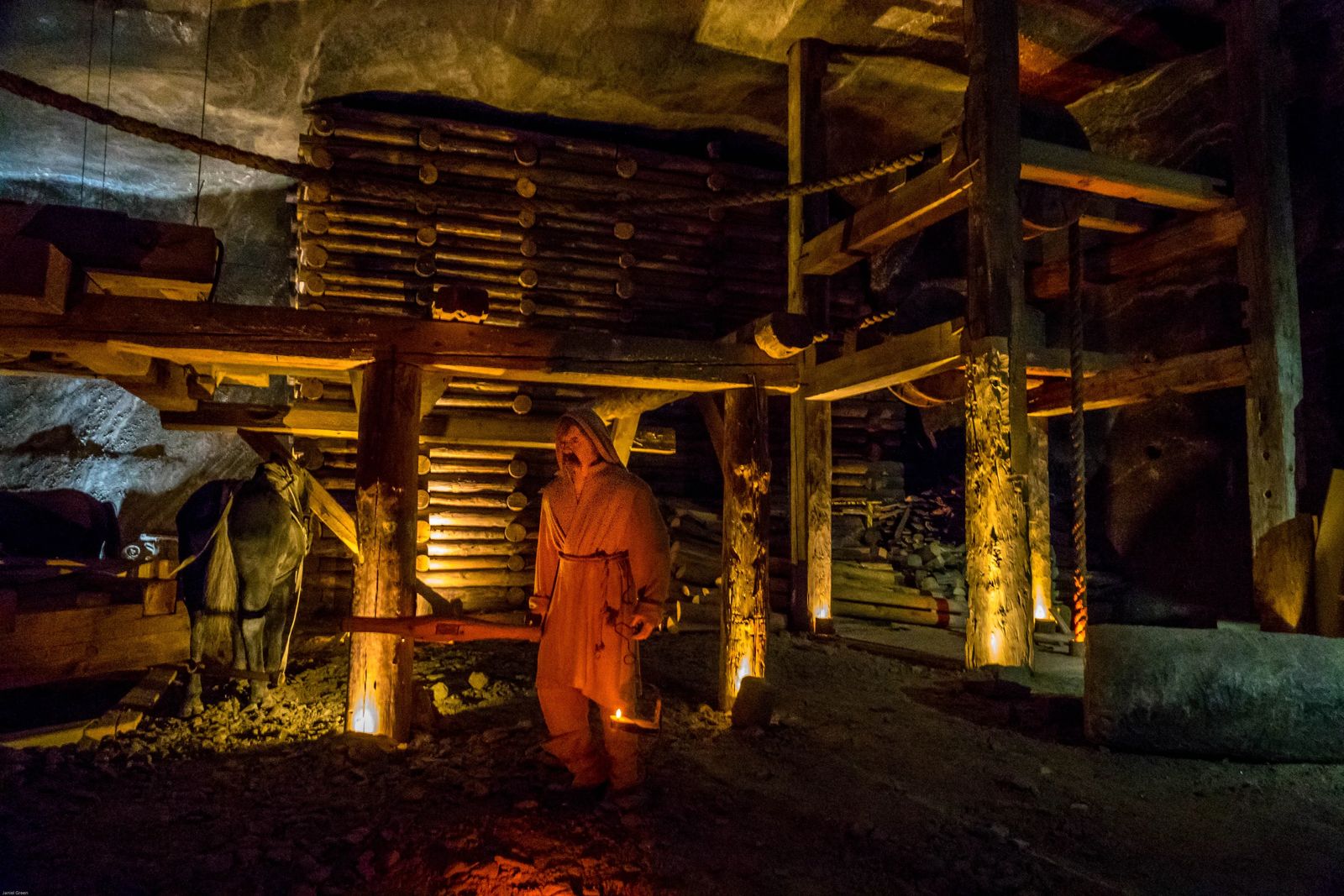 Is The Salt Mine Worth Visiting?
I think if you know the type of traveler you are, then I can tell you if I think it is worth visiting.
I am personally an intellectual, I have a Bachelors in Biology, I am an artist, and love the obscure historical tidbits that a lot of people find boring. ie/ What kind of sheets does Queen Victoria prefer?
So if you are a historical, off-the-beaten-path kind of traveler, then you will loooove the Salt Mine.
If you are in it for loads of amazing pictures, and Instagram drool worthy photos - theeeen this is probably not for you.
I personally found the mine to be fascinating. It was a little boring in some parts when they stopped at the Amber shop and Salt Shop & wanted you to buy a bunch of stuff. Other than that, I think it is worth a trip once, just to see what it's like.
If you are on a compressed itinerary, and are only in Poland for a few days - then I would suggest skipping it and spending more time at Auschwitz.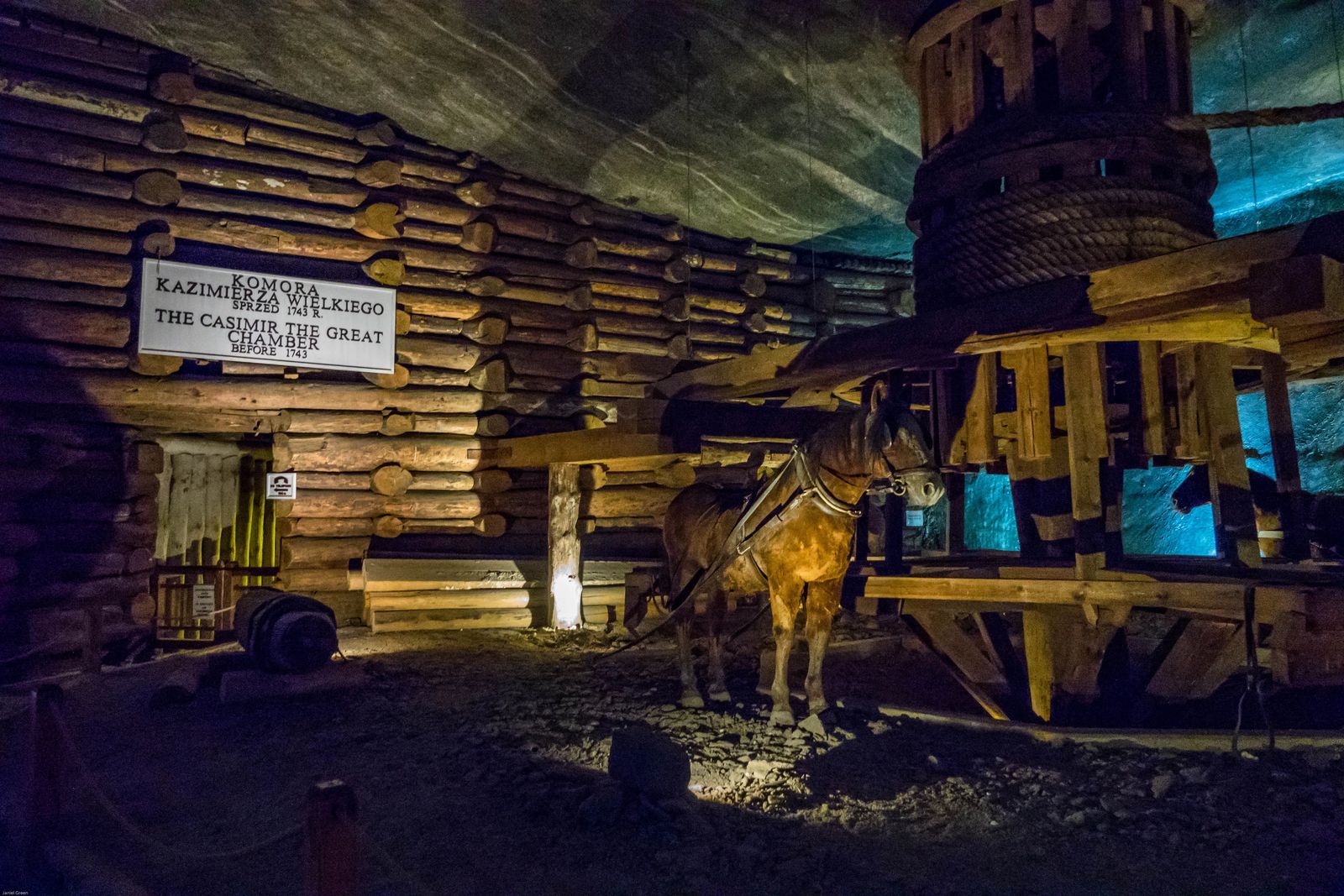 Stay in the Salt Mine Overnight?
You can actually stay in the Salt Mine if you are feeling especially adventurous! I personally didn't have time to do this, and from what I saw it appears you stay in a hostel like space just like the miners did back in the day.
Like it? Pin it! Sharing is Caring!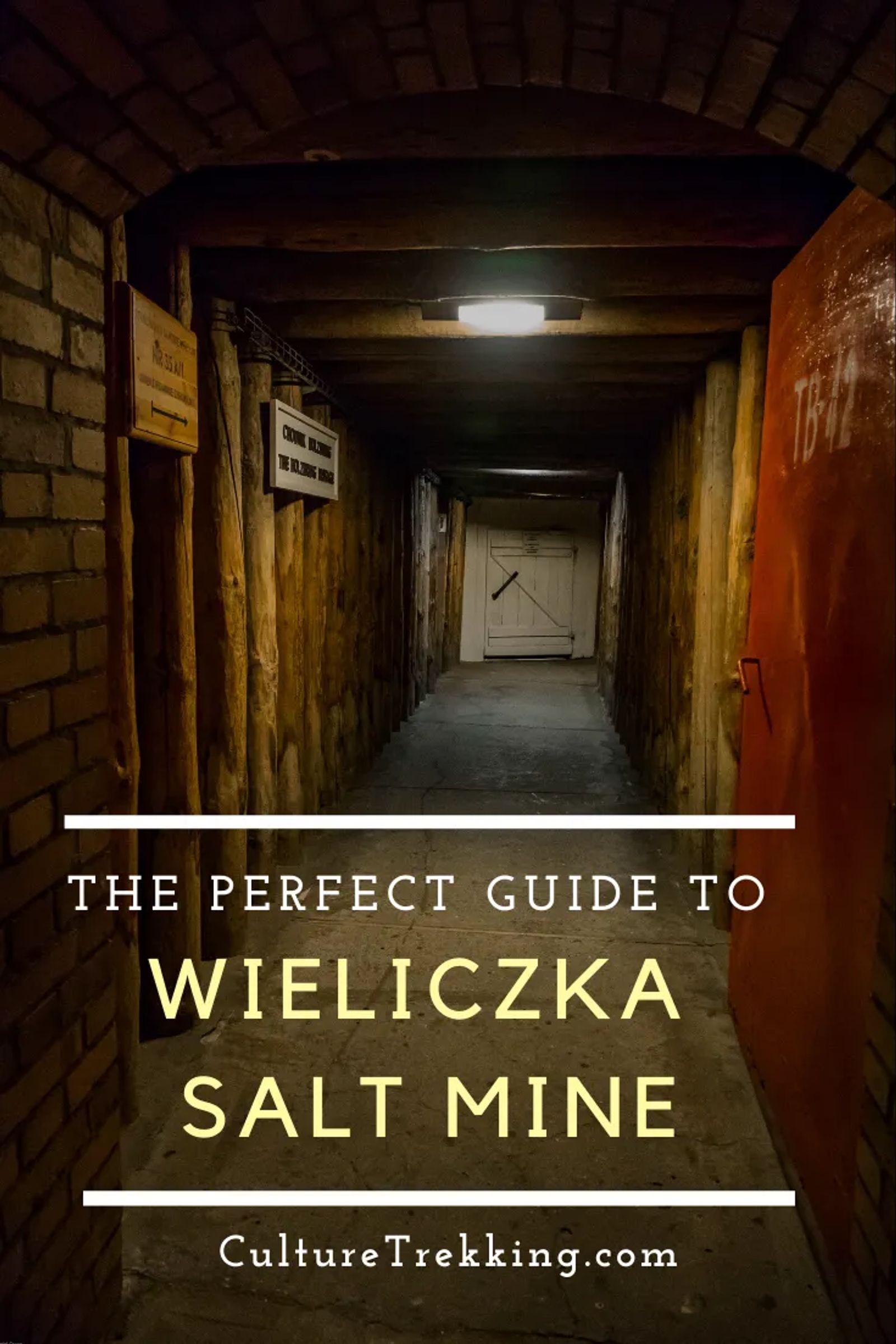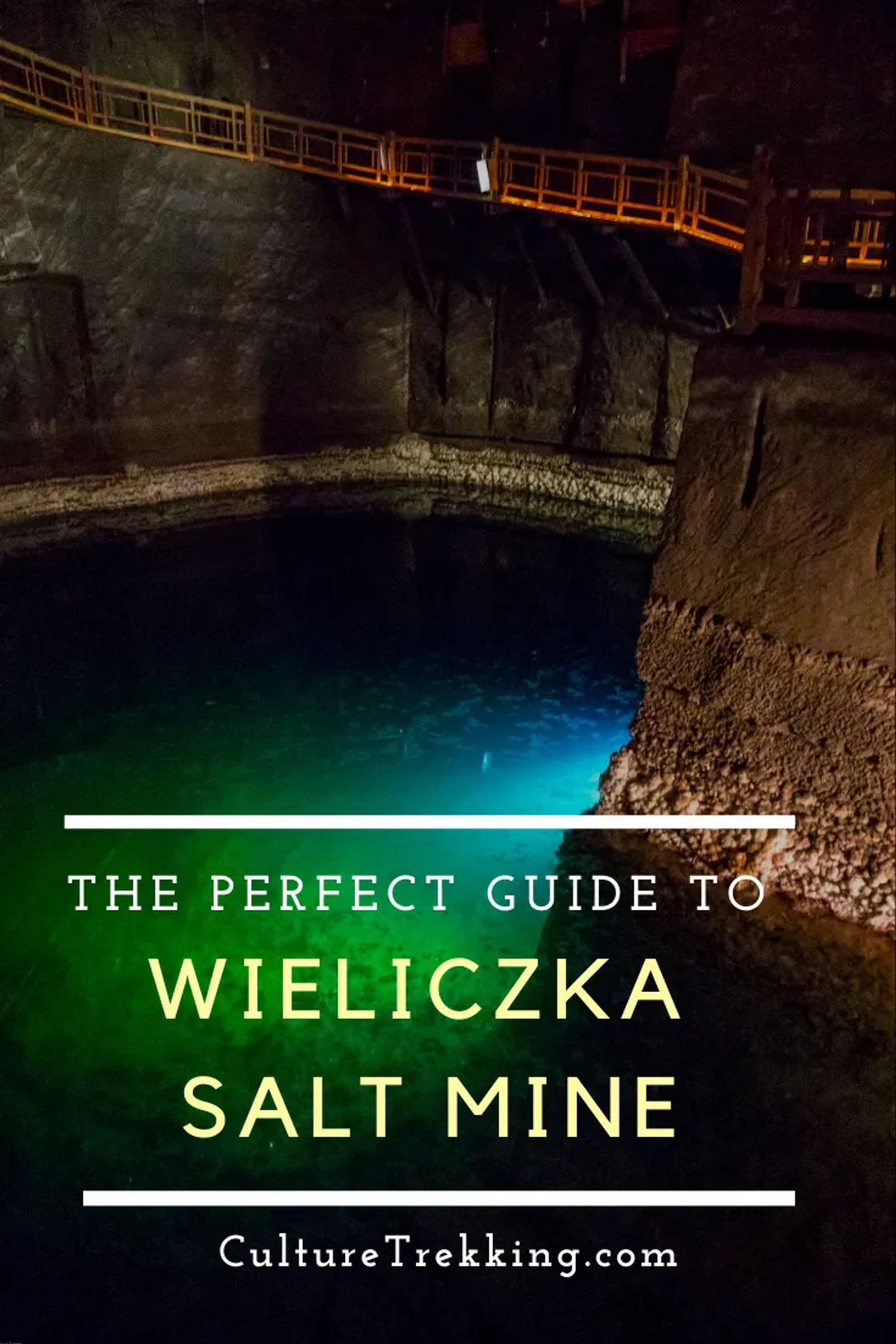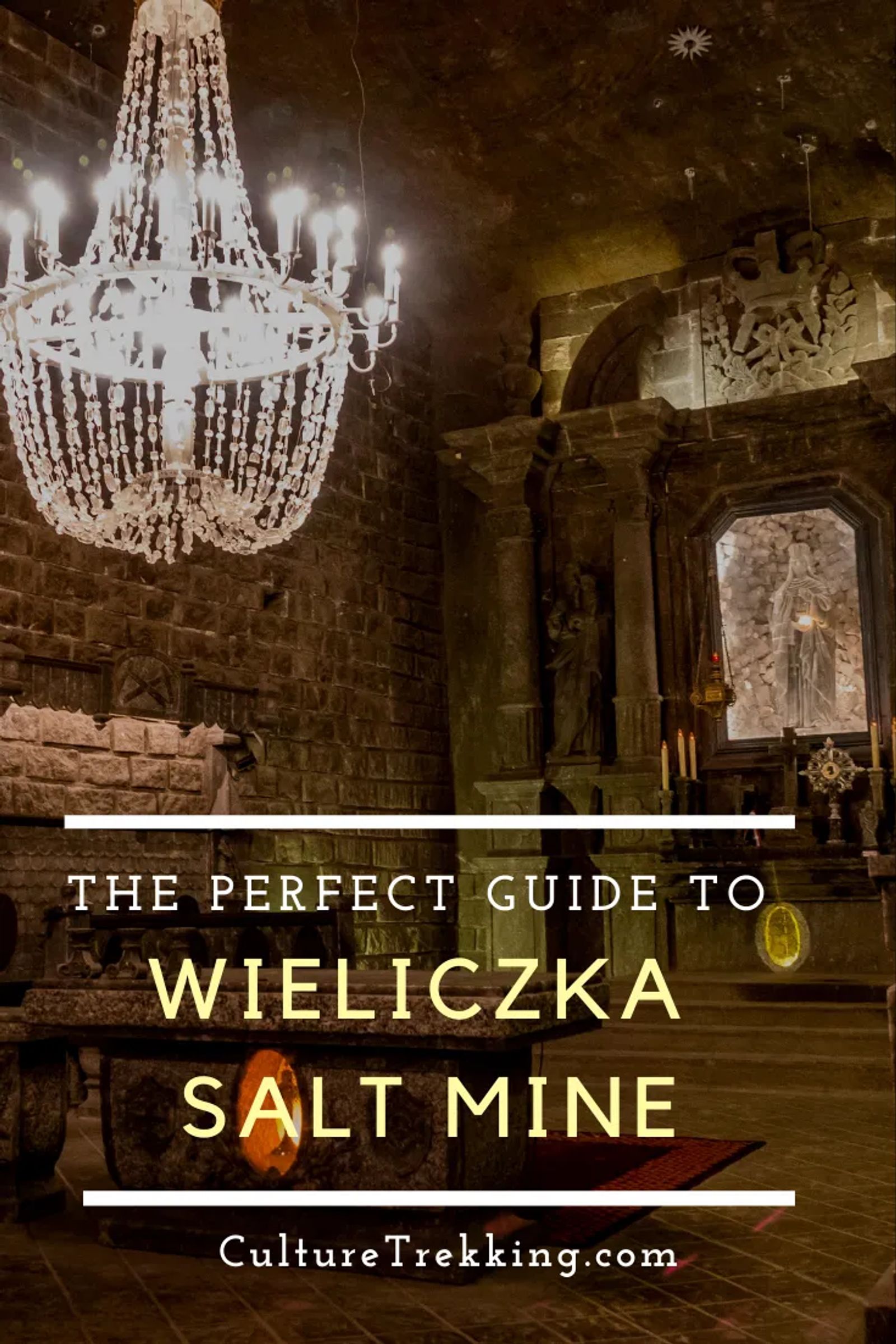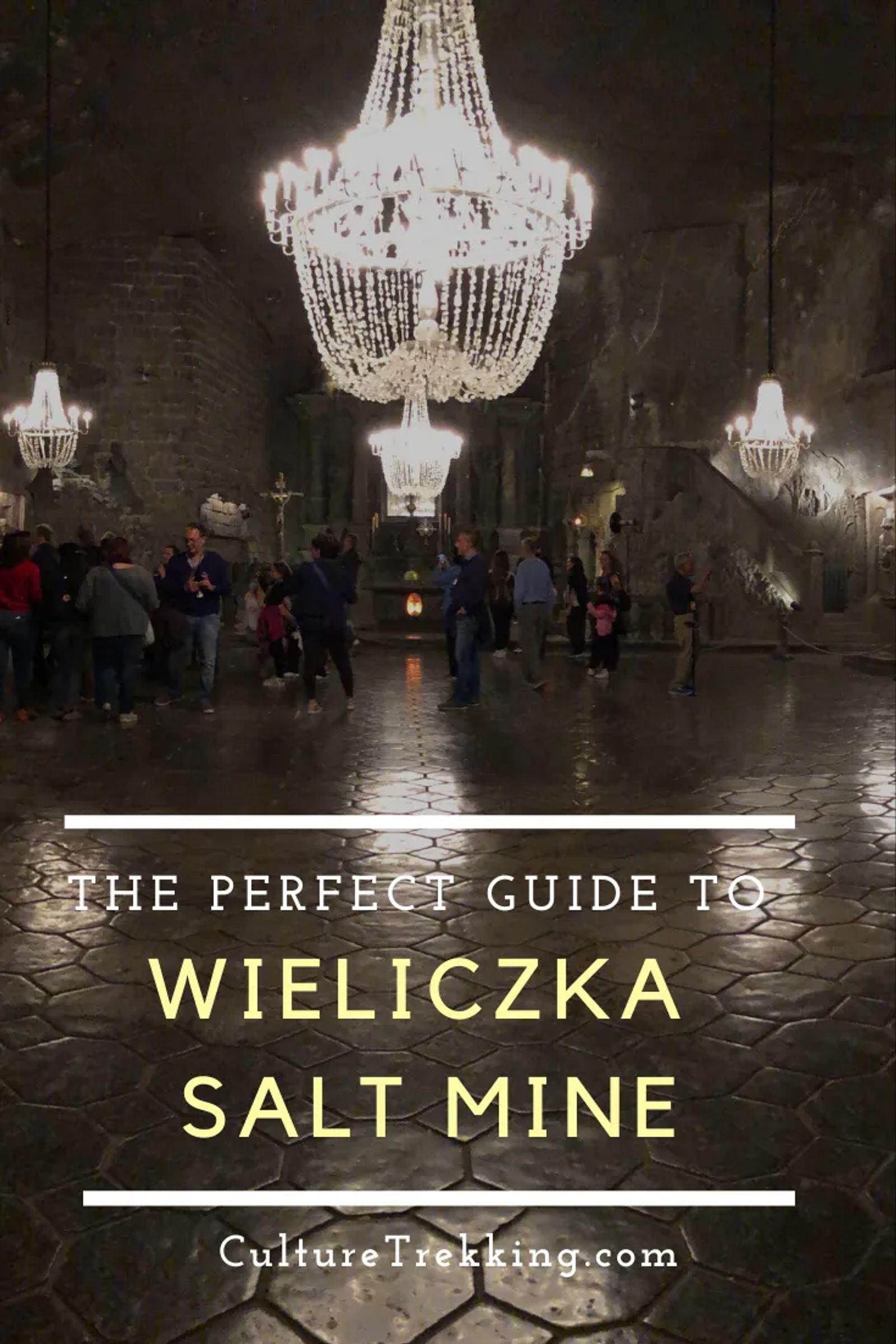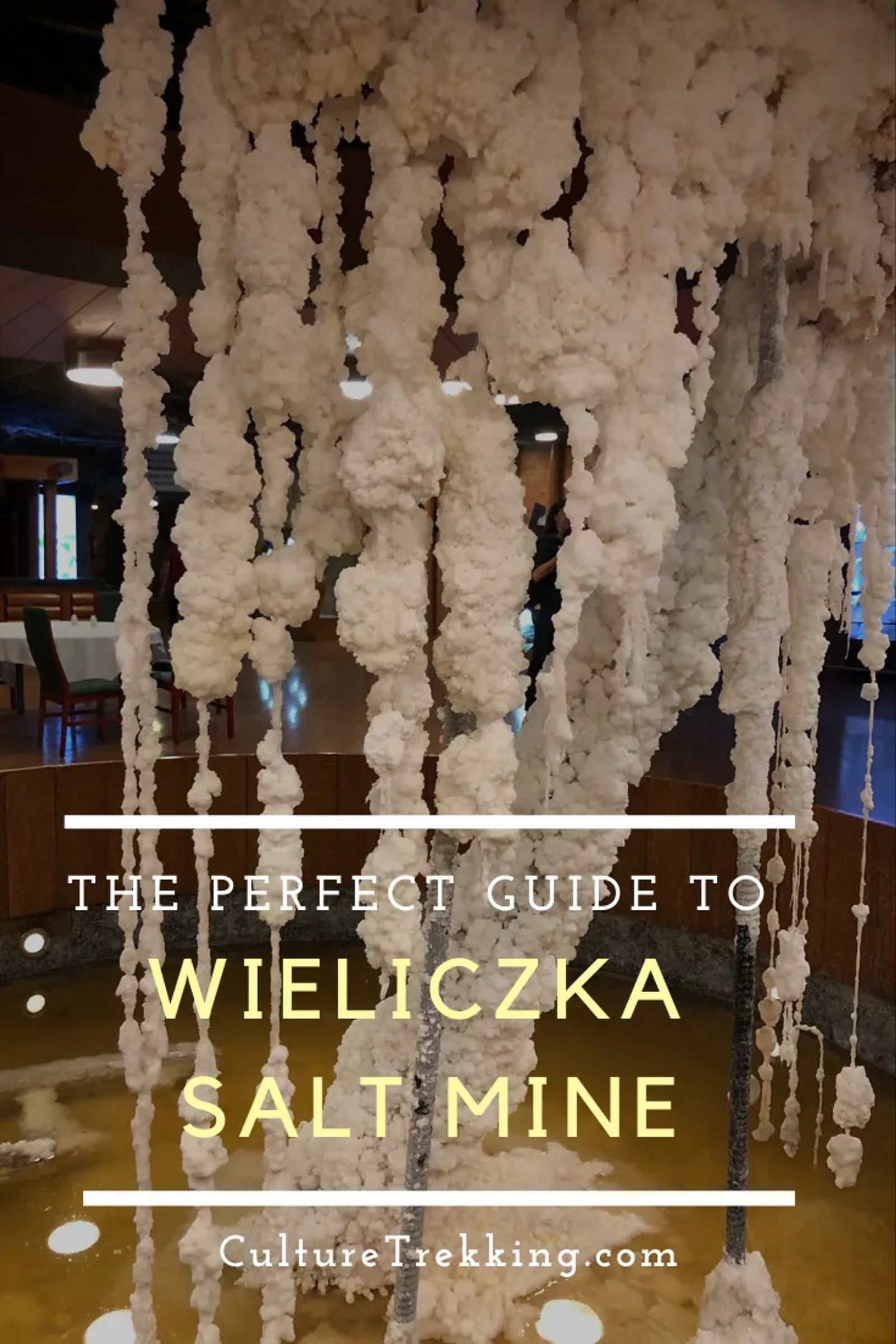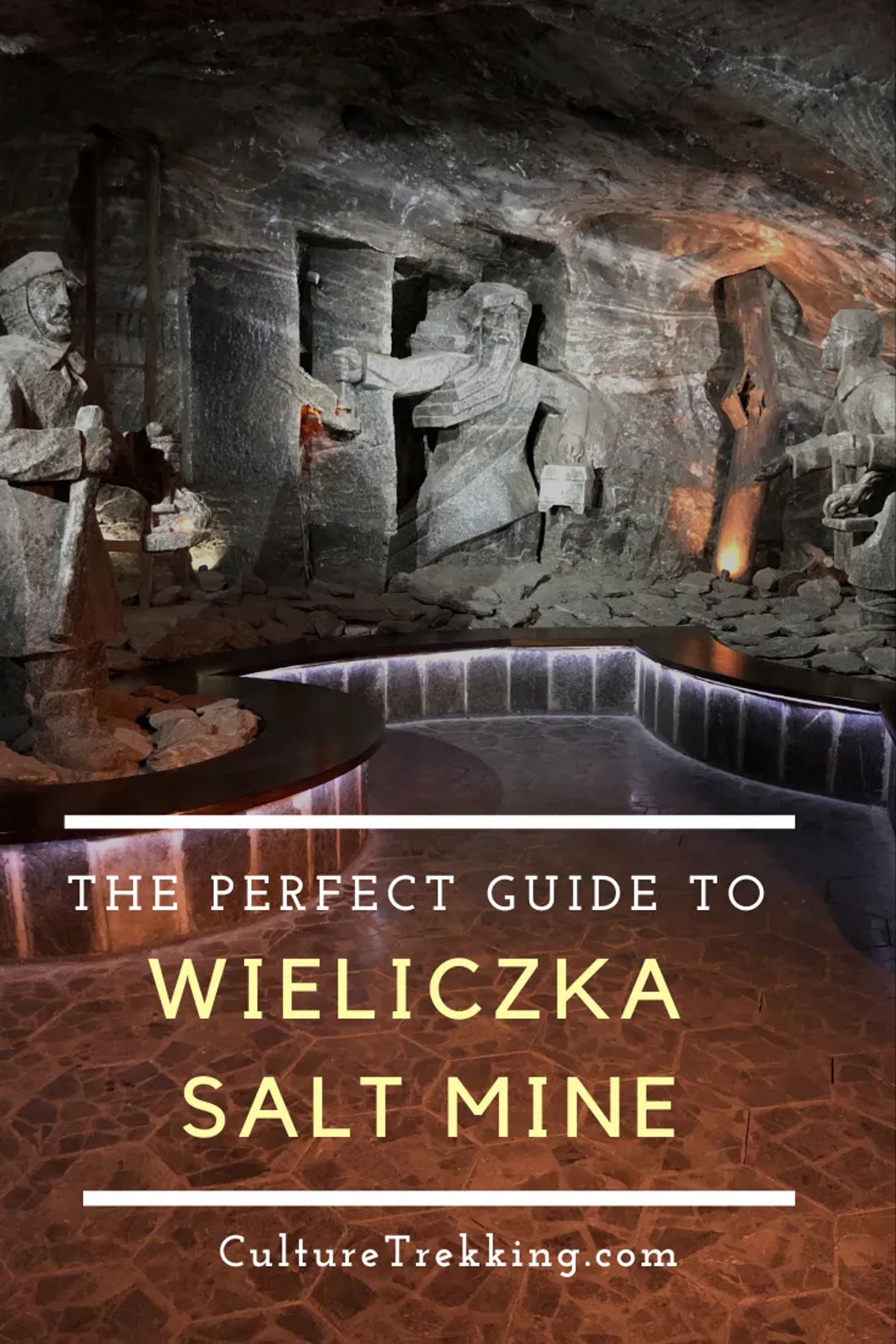 Where to Stay in Wieliczka
Latest Articles On Culture Trekking