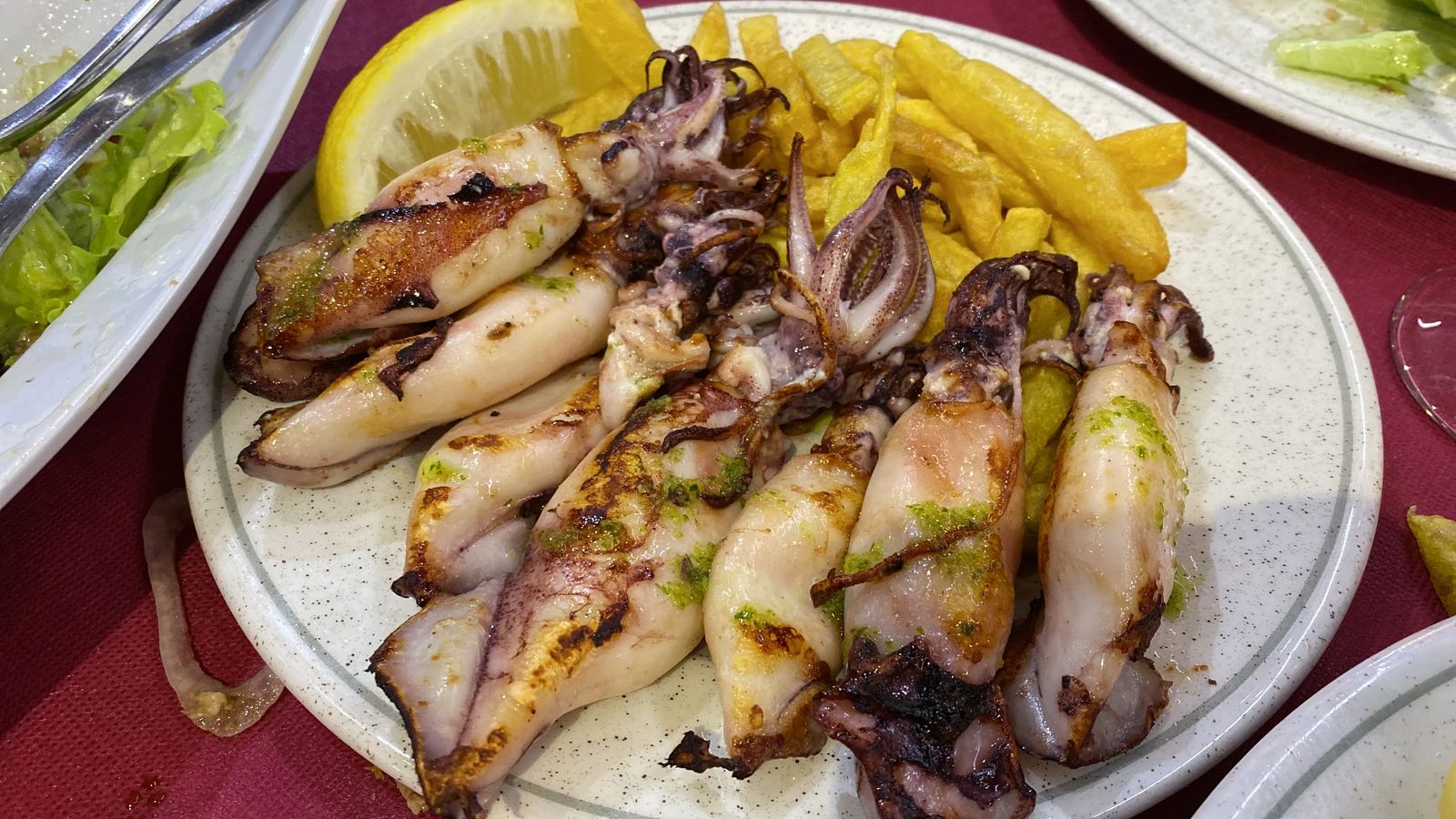 15 Traditional Food In Galicia You MUST Try
The food culture in the USA I have long thought gets it all wrong. With our time constraints, fast pace life, big homes, and ease of access to food - it prevents us from slowing down and savoring flavors and each others company. This is where Spain (and Europe in general) gets it right in my book. Spain is known for its culture around Tapas (or small dishes) and sharing this with friends along with a few beverages in the late hours of the evening. The chats are long and the service slows down.
While most Americans miss the point of the slower service, it is forces you to make conversation with the person across from you instead of being buried in your phone. The food and drink provides a common ground to talk about something superb even if you have differing views on everything else in life. At least this is what I experienced when visiting my friends who live in Galicia.
They helped me narrow down what the traditional foods in Galicia were, experiences with food I should suggest to you, and a little history behind each dish and the importance of it to the Galician people.
Be sure to check out my other articles on Spain about best things to do in Coruna, things to do in Arzua, and visiting Santiago Spain.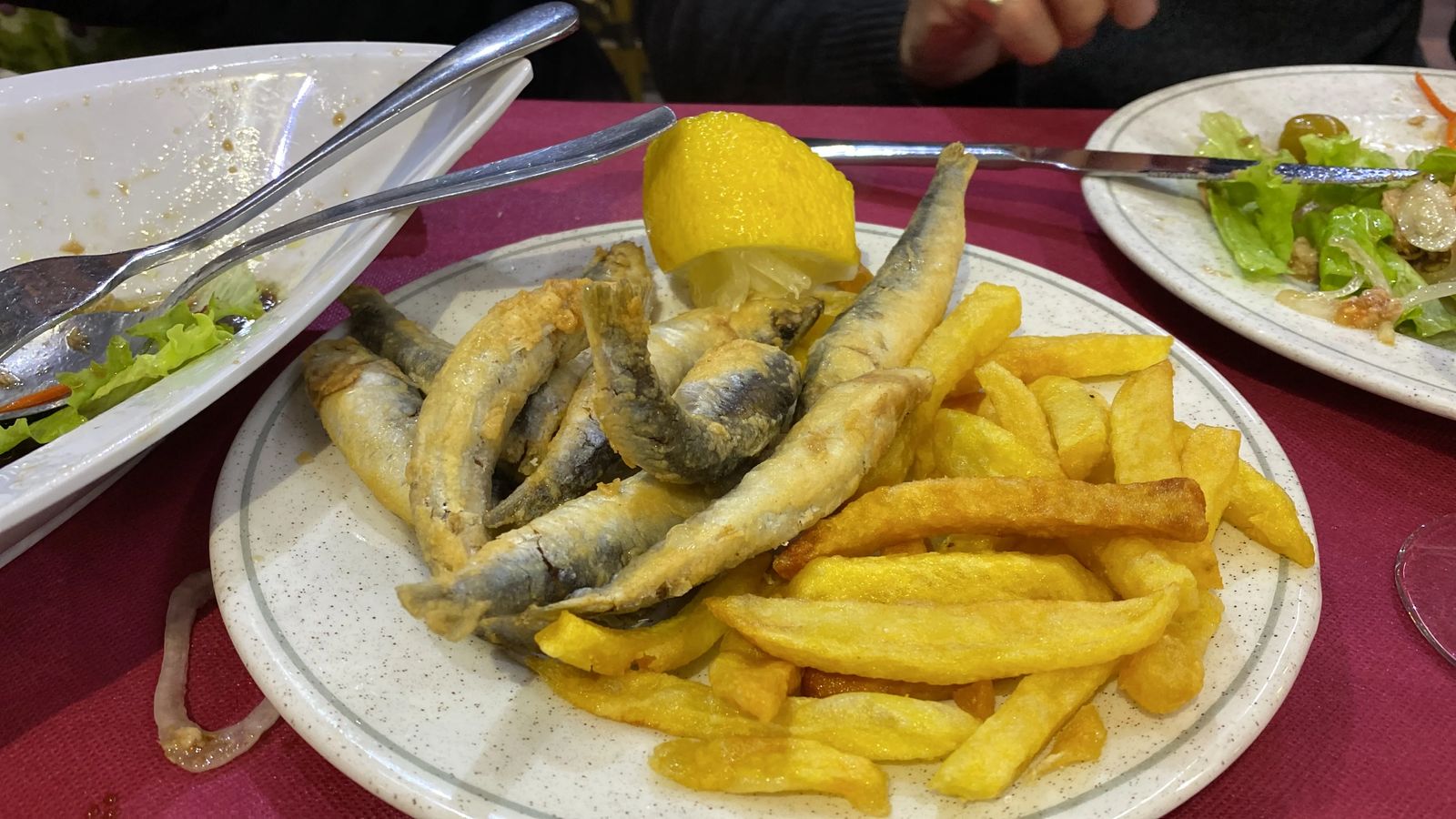 1 - Parrochas
These baby fish are basically sardines, they have a low concern in regards to conservation so I feel a bit less eating 100's of these. They can be raw, or cooked, but if you want them cooked in Spain they are called Parrochas. This fish is typically found in the Atlantic Ocean and swim in schools. With the Atlantic ocean supplying many of the towns in Galicia with the money needed from the fishing that happened along the coastlines.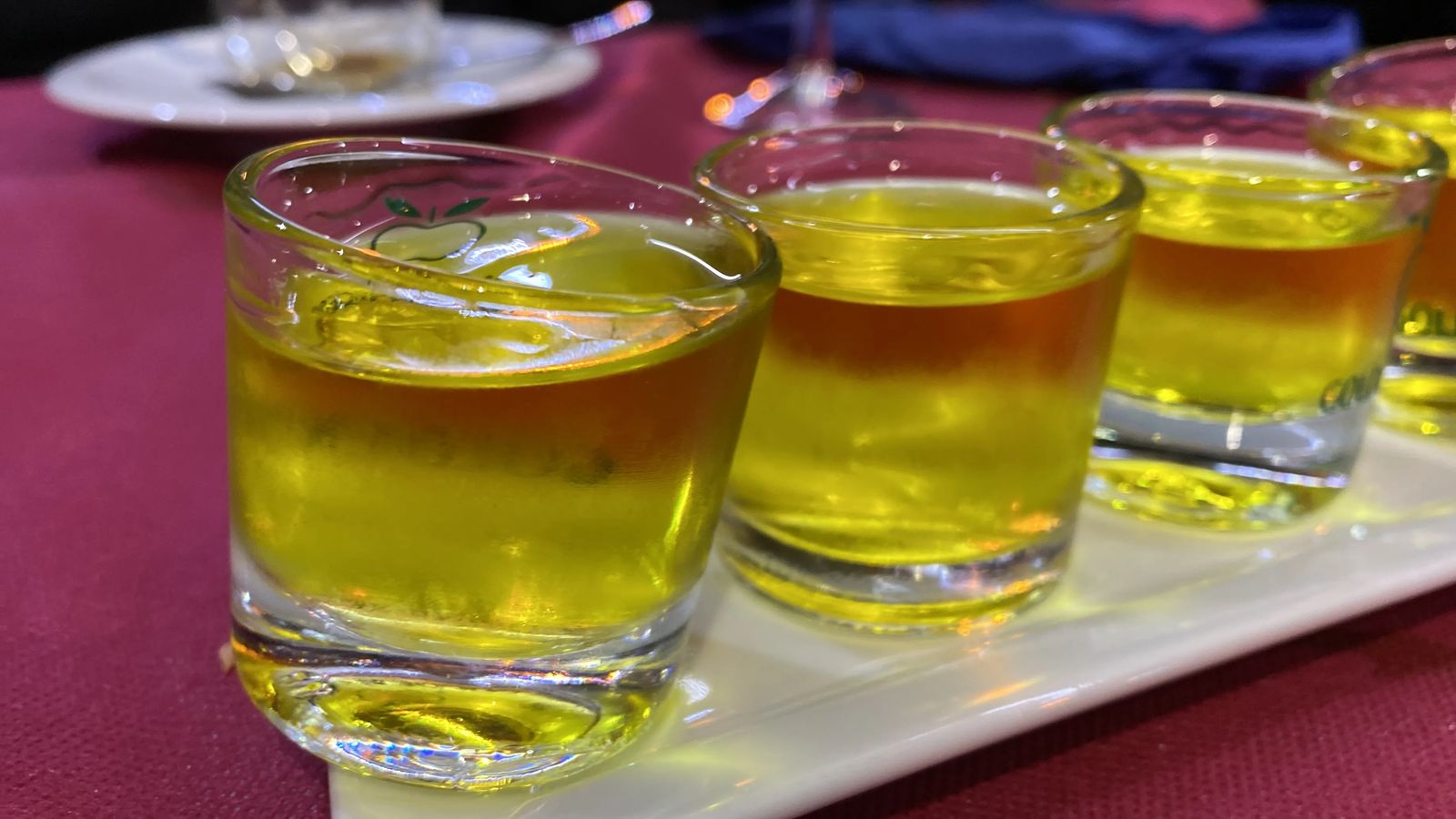 2 - Adult Beverages & Tapas
Herbias (featured above) is a local anise-based liquor that is infused with herbs and spices unique to each area you visit in Spain. It is typically consumed after a good meal, is slightly sweet, but doesn't burn going down so it is quite dangerous.
Orujo is a pomace brandy, made with what's left of the grapes following the pressing process for wine, and often also distilled with herbs or nuts and dried fruits.
Albariño is a Galician white wine with slight acidity (the grapes don't ripen easily in the cool climate here) the acidity.
Trying a Tapas tour is the way I would suggest to experience the quintessential Spanish foodie experience. You go from one restaurant to another, first starting with an Estrella cana (local beer on draft) at one spot, then a glass of wine or brandy at the next with some of the delicious Olives I still salivate over even thinking about. Then move onto the next area, each location will have a different drink specialty and most (but not all) will serve a Tapa with your beverage of choice.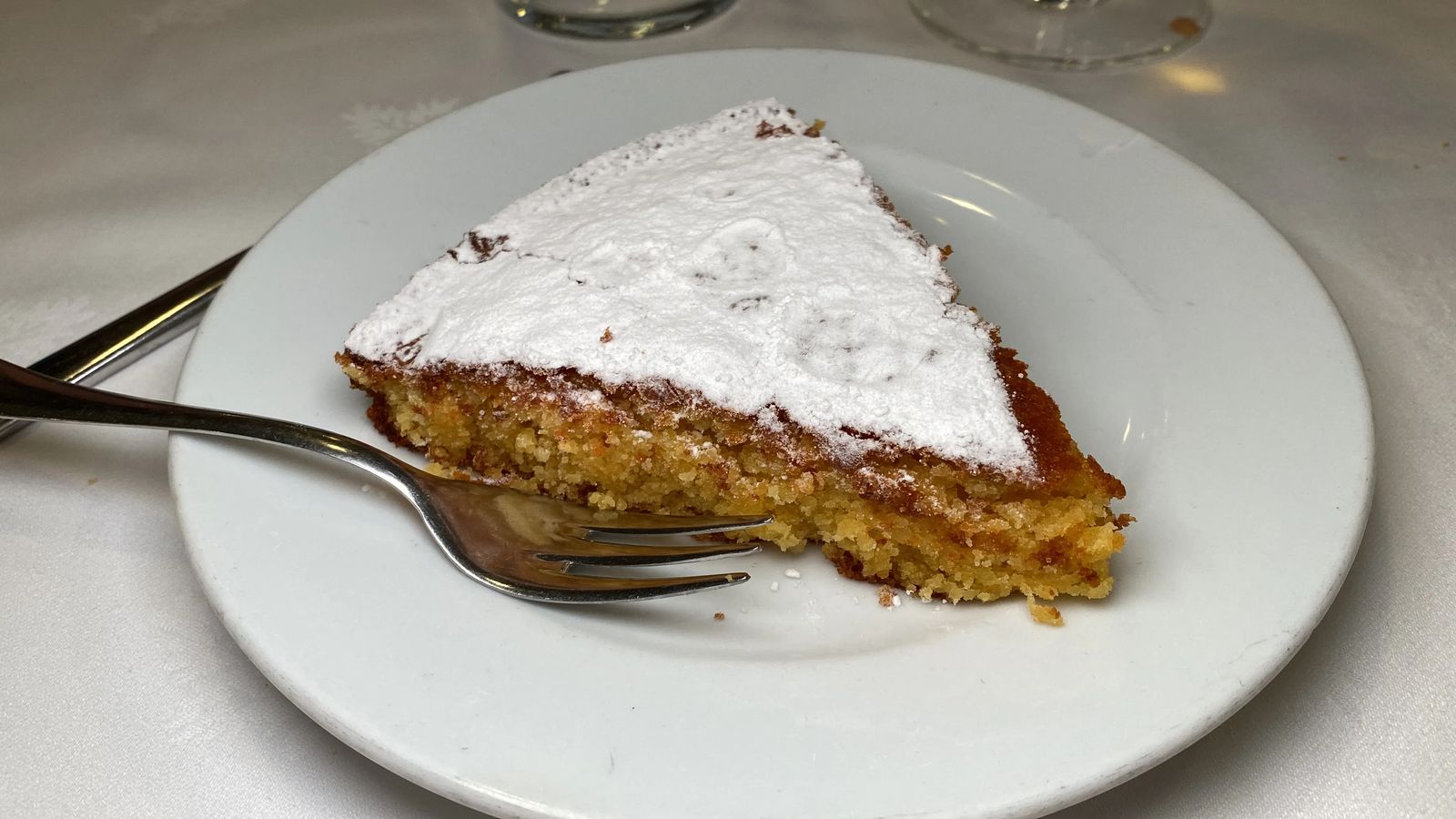 3 - Tarta de Santiago or Cake of St.James
This cake of St. James is a must have dessert that you must try when in Galicia Spain. It is an almond cake with a hint of lemon, Brandy and a characteristic powdered sugar topping with the cross of St. James on top. While the one I had (featured above) did not, it is a staple foodie gift found throughout Galacia and along the Camino de Santiago.
This cake dates all the way back to the Middle Ages, and was often consumed by pilgrims making their way to the resting place of St James in Santiago Spain. The cake is so distinctive for this area that it was given the Protected Geographical Indication status.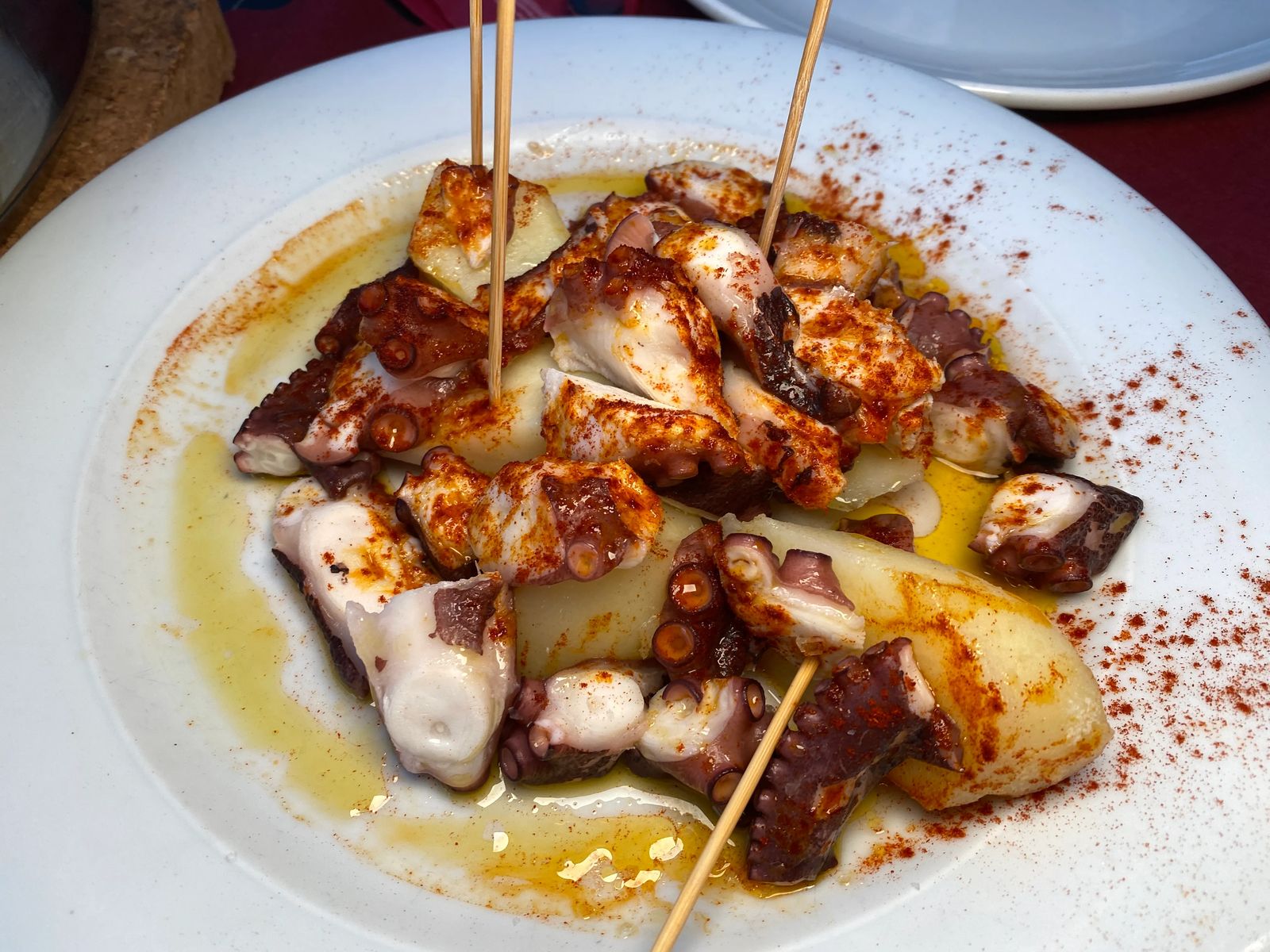 4 - Pulpo A Feira (Market Octopus)
Authentic Galician dish, when cooked correctly it melts in your mouth drizzled with olive oil and smoked paprika (Pimenton) placed on top of potatoes. Octopus are common catches of fishermen along the Atlantic coast of Galicia. Octopus is an excellent source of vitamin B12 and selenium, and a good source of iron, copper, and vitamin B6.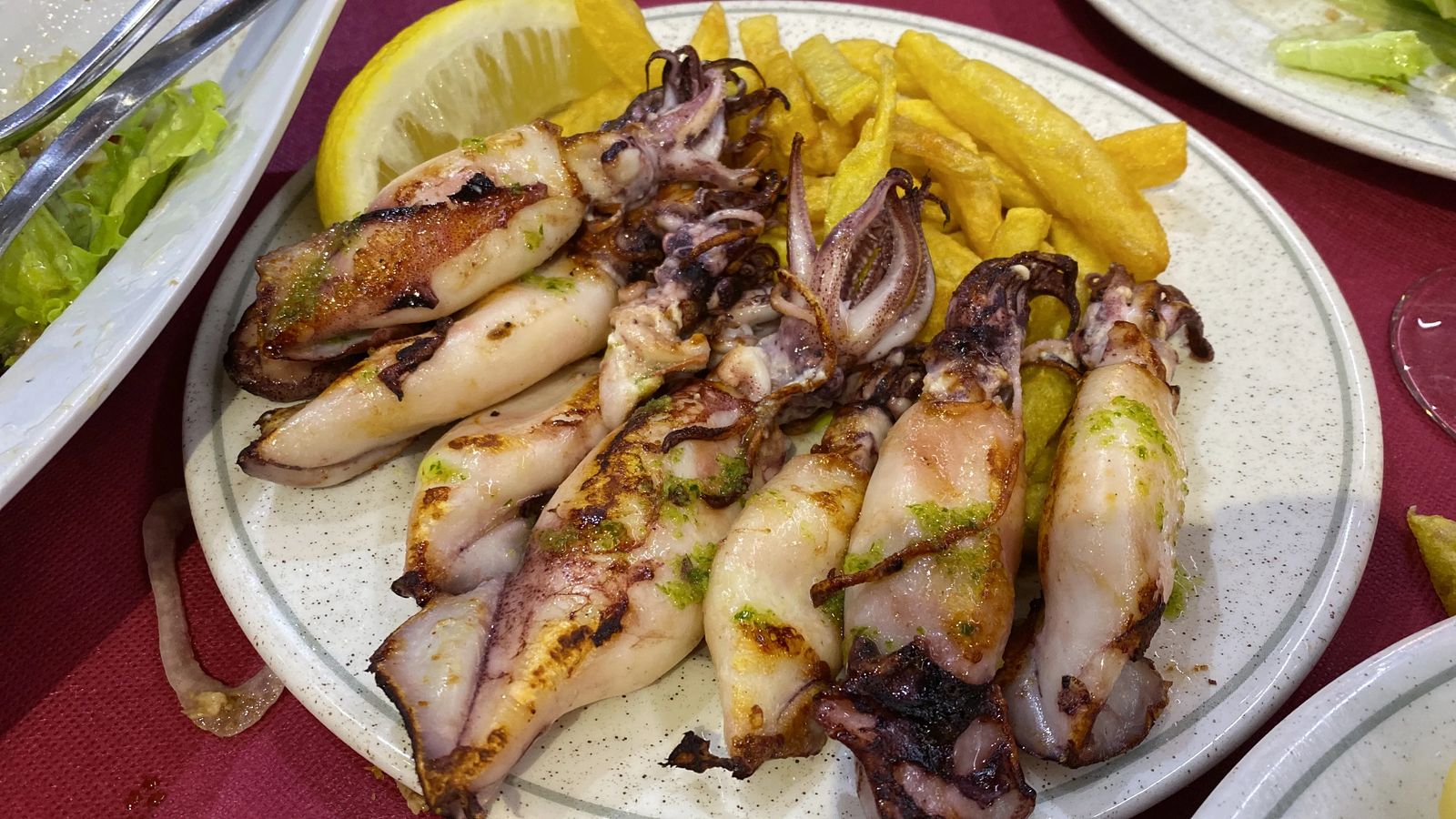 5 - Chipirones
You often see Calamari on USA menus, but in spain, they are slightly battered and then served with a tiny bit of olive oil and maybe a touch of pesto oil. I was really surprised at how much I actually loved this dish, historically I haven't loved Calamari, but this was so delicious. The texture was smooth, not rubbery and had a mild flavor to it. Chipirones are quite filling especially when served with potatoes.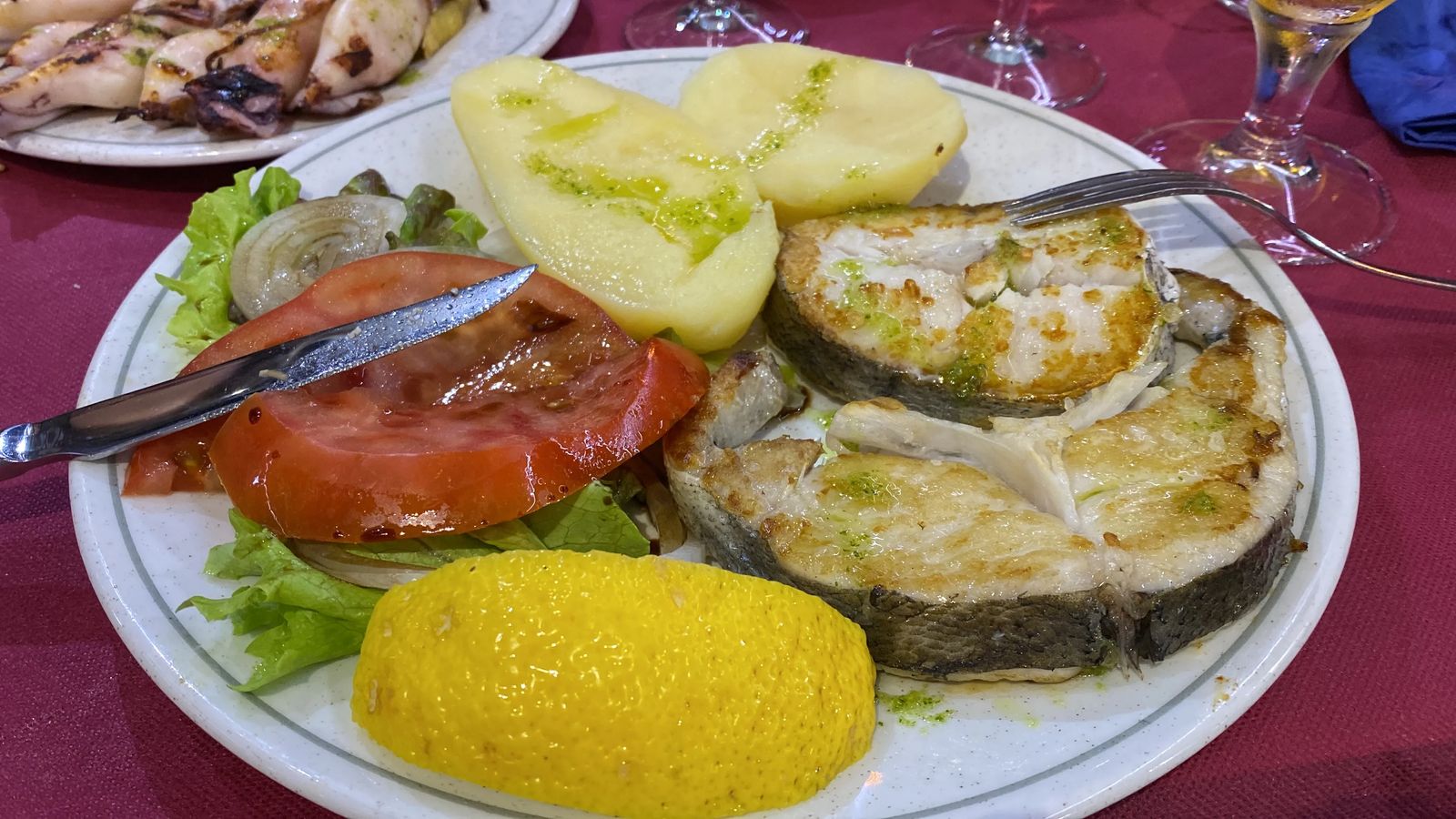 6 - Pescado
Seafood in general is the way to go when ordering at any restaurant in Galicia. Much of the trade in Galicia Basque fish with herbs, garlic, veggies, potatoes. Cod and Hake are the most common fishes found on the menus in Galicia, both white fish with mild tastes and flaky textures. Most of the seafood coming from the Atlantic coast is so flavorful that all the seasoning that is truly needed is lemon, garlic, pesto, and olive oil.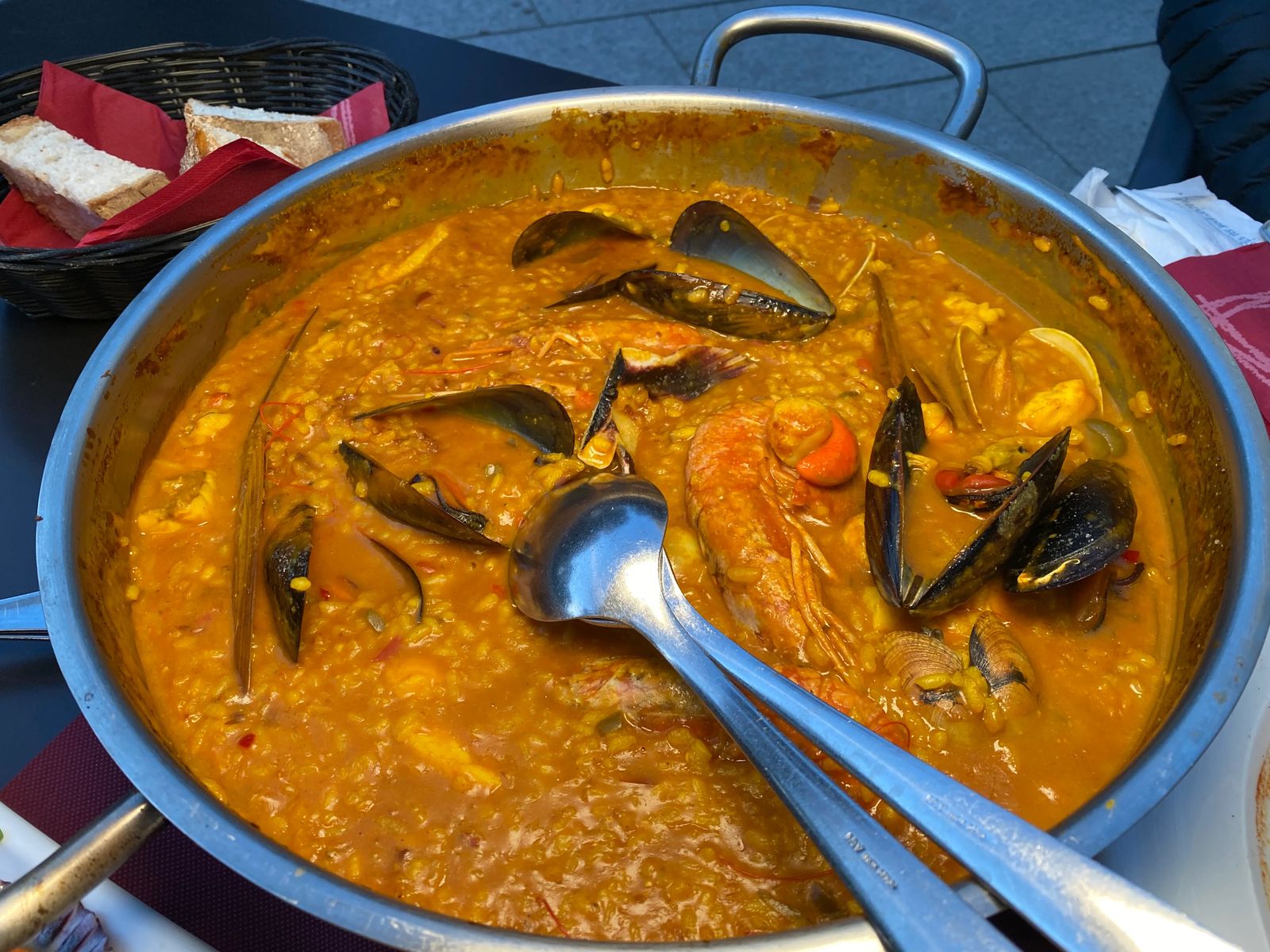 7 - Arroz Con Mariscos
Similar to the Paella (a drier version of this rice dish), Arroz Con Mariscos is a tomato based dish with seafood often included. Mussels were included in this particular dish that we had, along with Langoustines (Giant Prawns). It is often seasoned with white wine, herbs, and includes various vegetables like peas and bell peppers.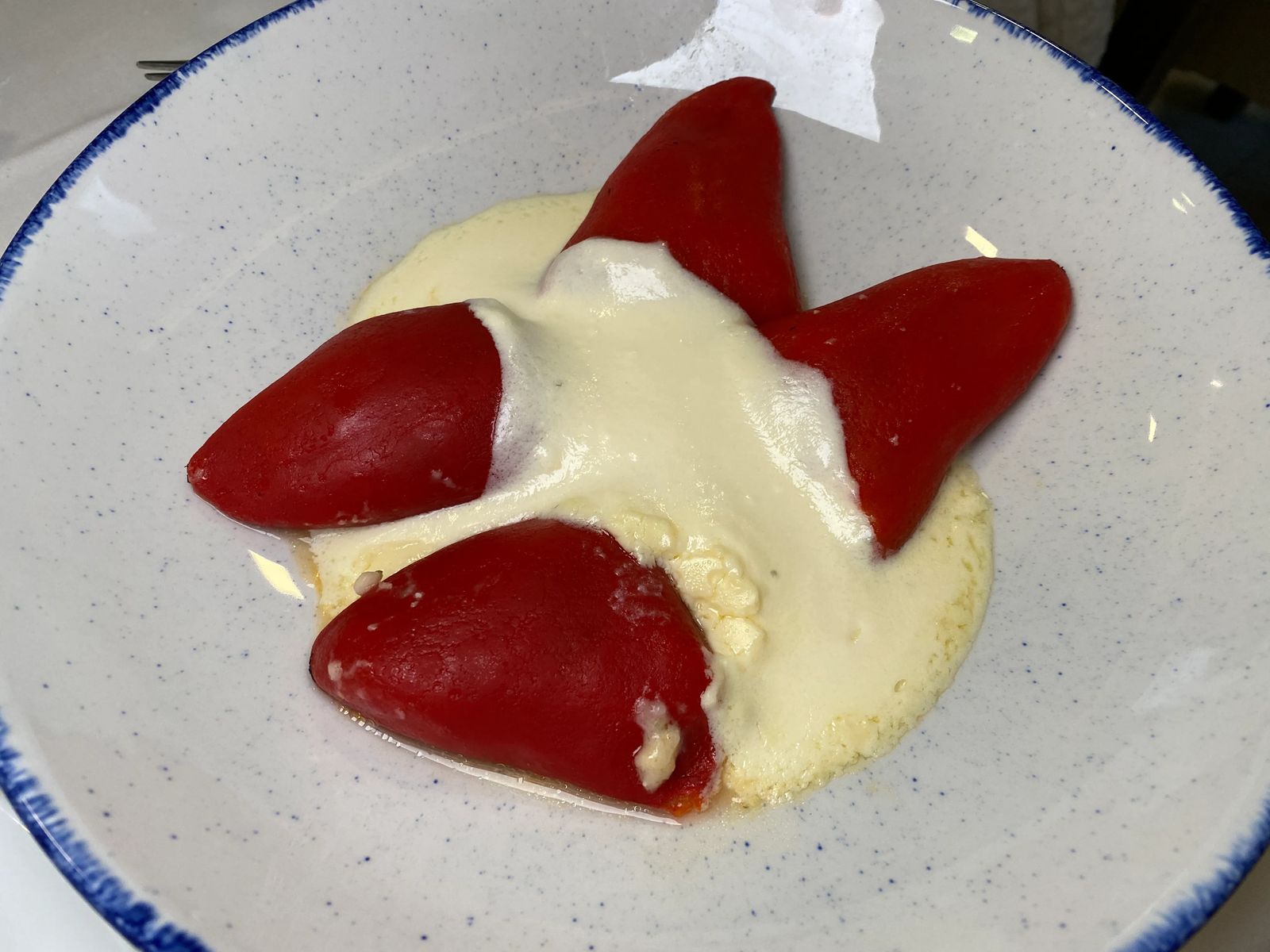 8 - Festival around Pimientos de Padrón
Festivals of the Padron Pepper happen all over Galicia some happen the first week in May. It is a celebration of the Franciscan Monks bringing the seeds back from Mexico. This allowed for a major economic change in the spice added to the food in Galicia.
Unfortunately I have a legitimate, and severe allergy to Bell Peppers (think passing out from severe abdominal cramping) so I won't personally be eating these crunchy veggies anytime soon. The unique thing about the Padron Peppers is that they are often a bit of a Russian Roulette in terms of spice intensity (from what I hear anyway). Some Peppers can be quite mild, others can really knock your socks off. I feel like this just adds to the adventure of the taste testing at the various booths at eateries at the festival though.
It isn't just food, but floats, children's activities, and a stage with life music. If there is one thing I learned while visiting Spain it is that they certainly value connecting with people in the community, and know how to foster a sense of pride in their culture.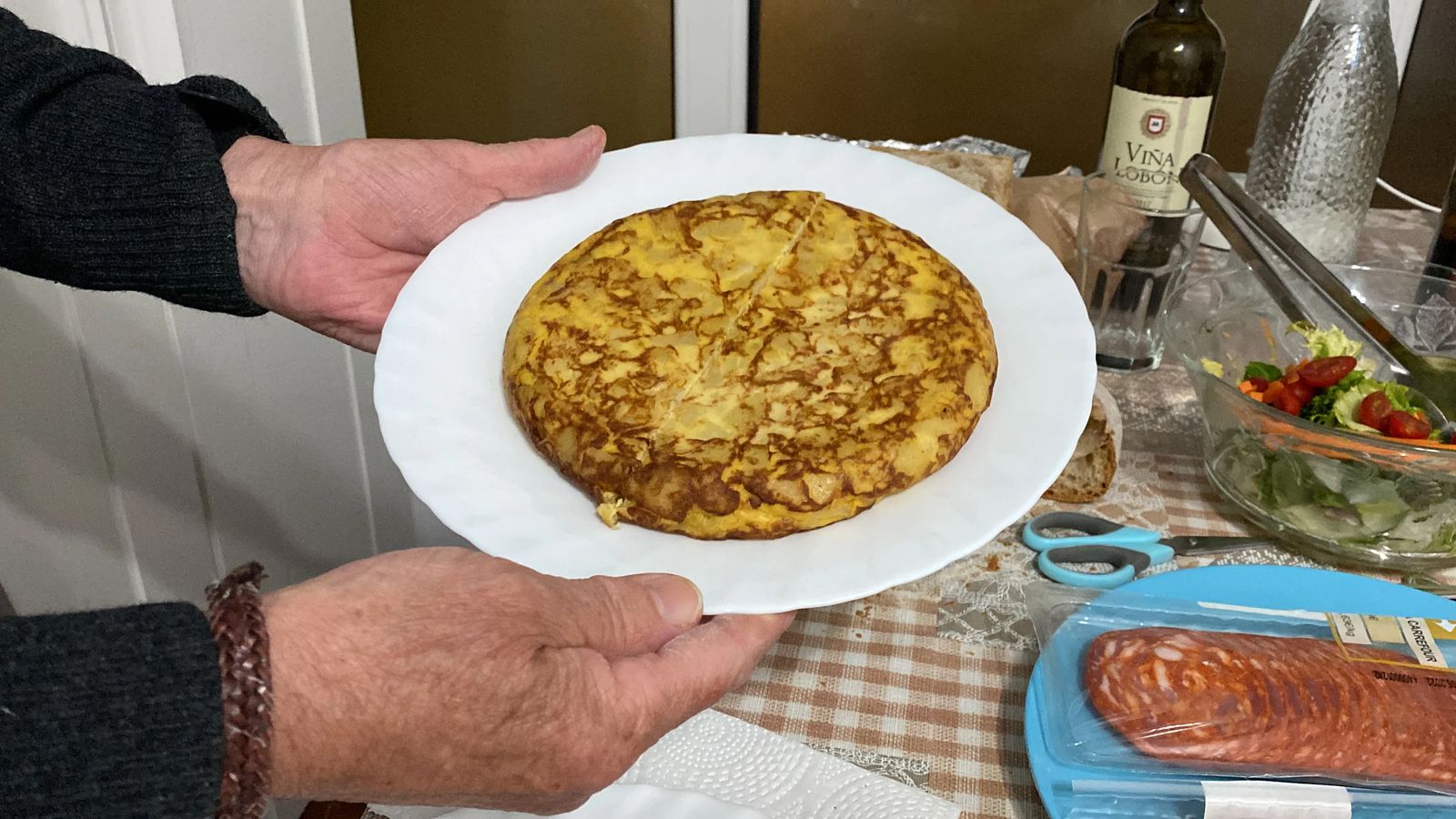 9 - Spanish Tortilla
This potato and egg pancake type dish is often found in supermarkets around Spain and local 'fast food' spots around town. It is commonly eaten from breakfast, but really can be eaten at any time of day. While it sounds like a simple dish, if you are from the USA, the quality of the food in Europe just tastes so much better. I know people say that again and again in every blog and vlog you may see, but until you experience the difference in flavor and the after effects the food DOES NOT have on your gut (like most American food does) you will understand.
Instead of the potatoes having a bit of a bland or flat flavor, the potatoes often served in nearly every dish in Spain has an earthy richness that the moment it touches your tongue you instantly know it is different. Even the texture of the potatoes here are different.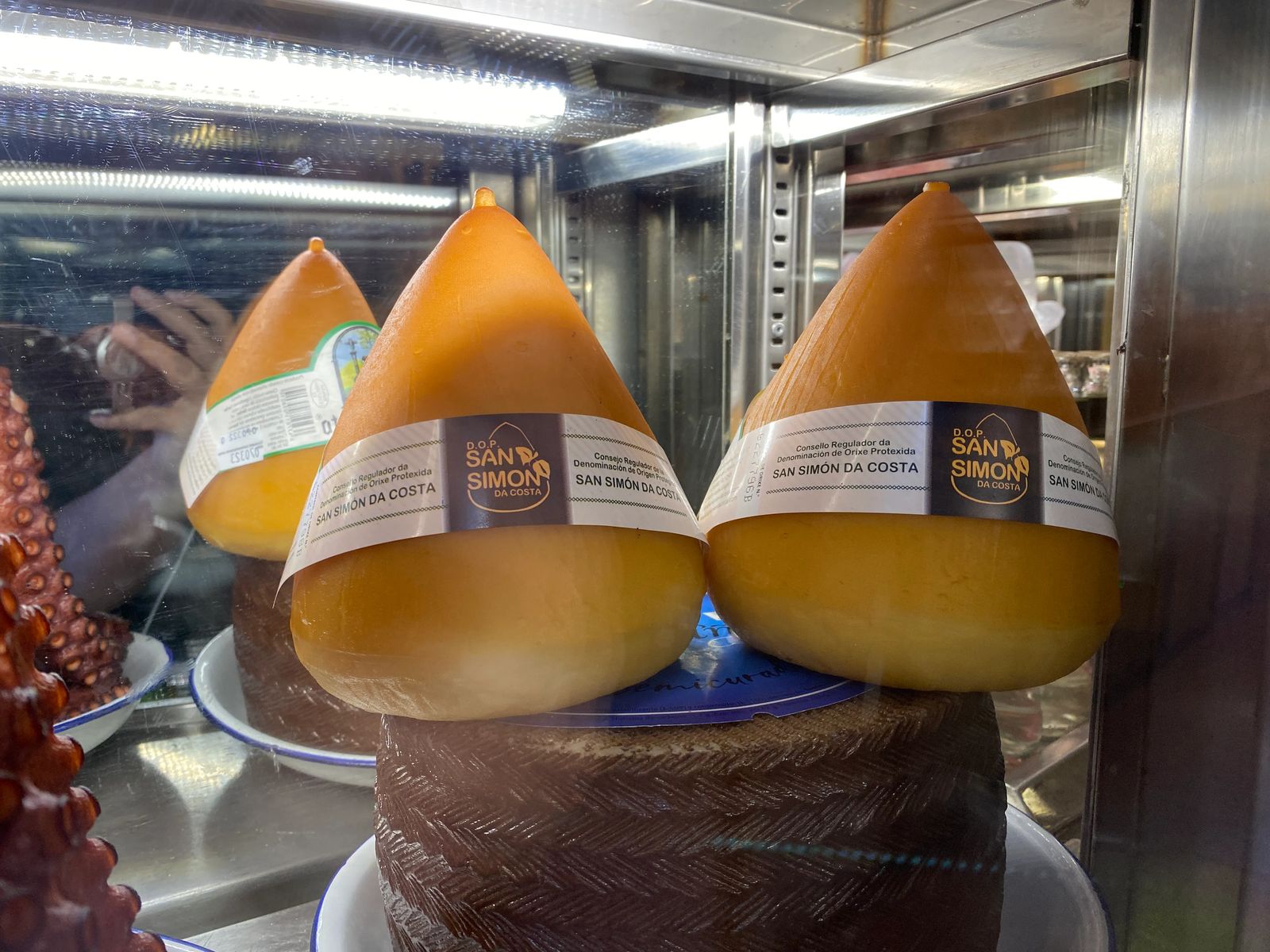 10 - Queixo De Tetilla (Tetilla Cheese)
This dome shaped cheese gets its name because it looks like small boobs. Typically paired with ham, wine, and olives and found commonly at the market near Santiago de Compostela it is worth a taste of you get the chance. While I would suggest taking one home, these pyramids of cheese are quite large (think DD or F sized boobs). They are quite heavy as well, so if you are an avid cheese lover, make sure to make room in your suitcase for it and bring a suitcase scale to ensure you aren't over the alloted weight limit.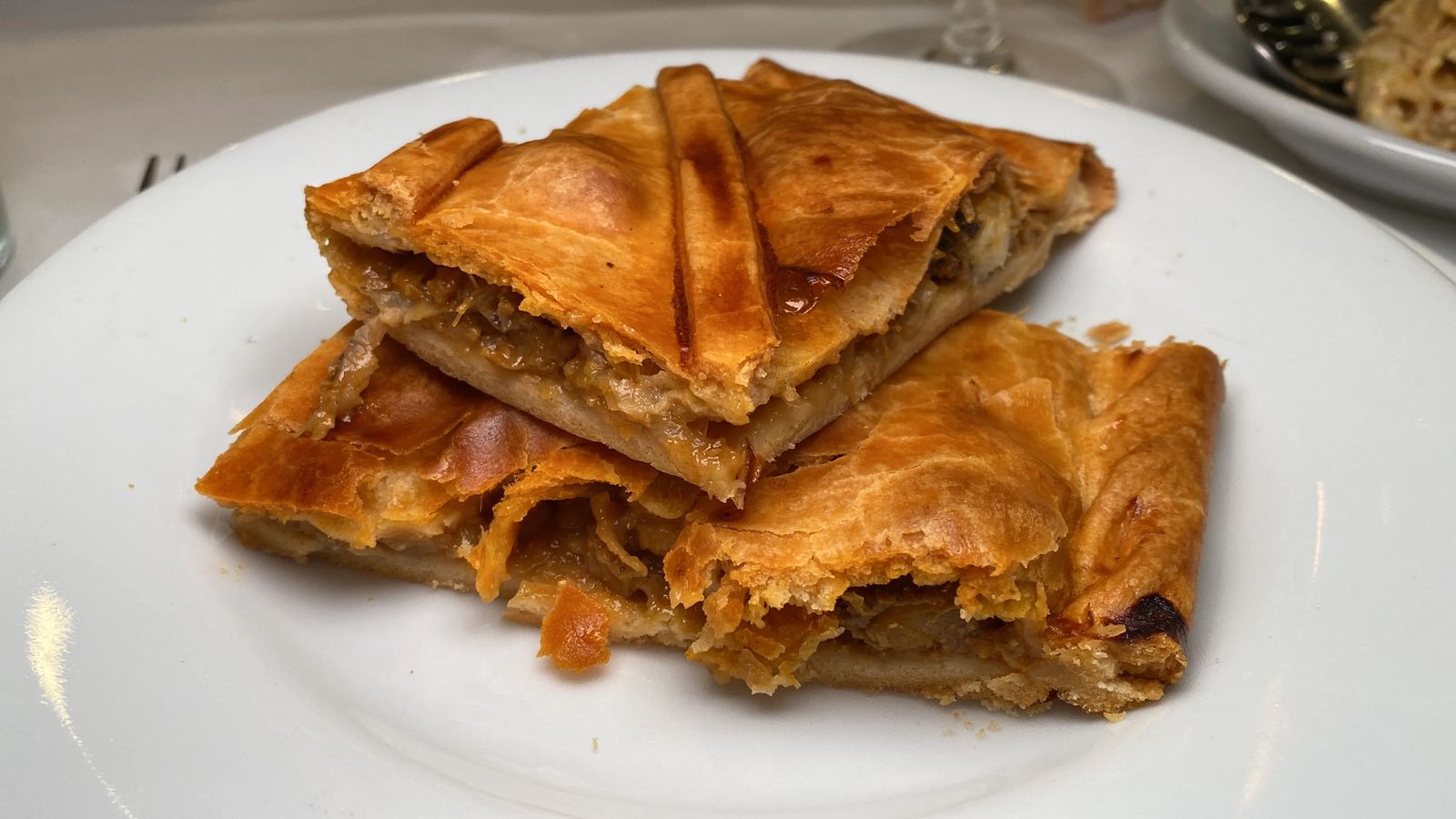 11 - Empanada Gallega (Galician-Style Empanada)
Bread and cheese are my love language when it comes to food, so to have a pastry filled with the tantalizing aromas of the Spanish meats is really a match made in heaven. Empanadas aren't just pastries though, they date back to Medieval Iberia during the time of Moorish invasions. In fact there is evidence in a Catalan cookbook from 1520 that mentions them filled with seafood.
If you are on the run, off to war, or need something to fill the belly after working in the fields all day then I can imagine this would be the perfect dish to pack as a lunch. It is typically filled with onion, garlic, seafood like octopus, tuna, cockles, small scallops, salted cod, or chorizo.
This empanada (seen above) is actually from a restaurant along the Camino de Santiago in Arzúa. I can imagine bread and empanadas were also used by pilgrims to satiate them along their pilgrimage to the resting place of St James as well. The sizes range from ones as big as your head, to some that can fit in the palm of your hand.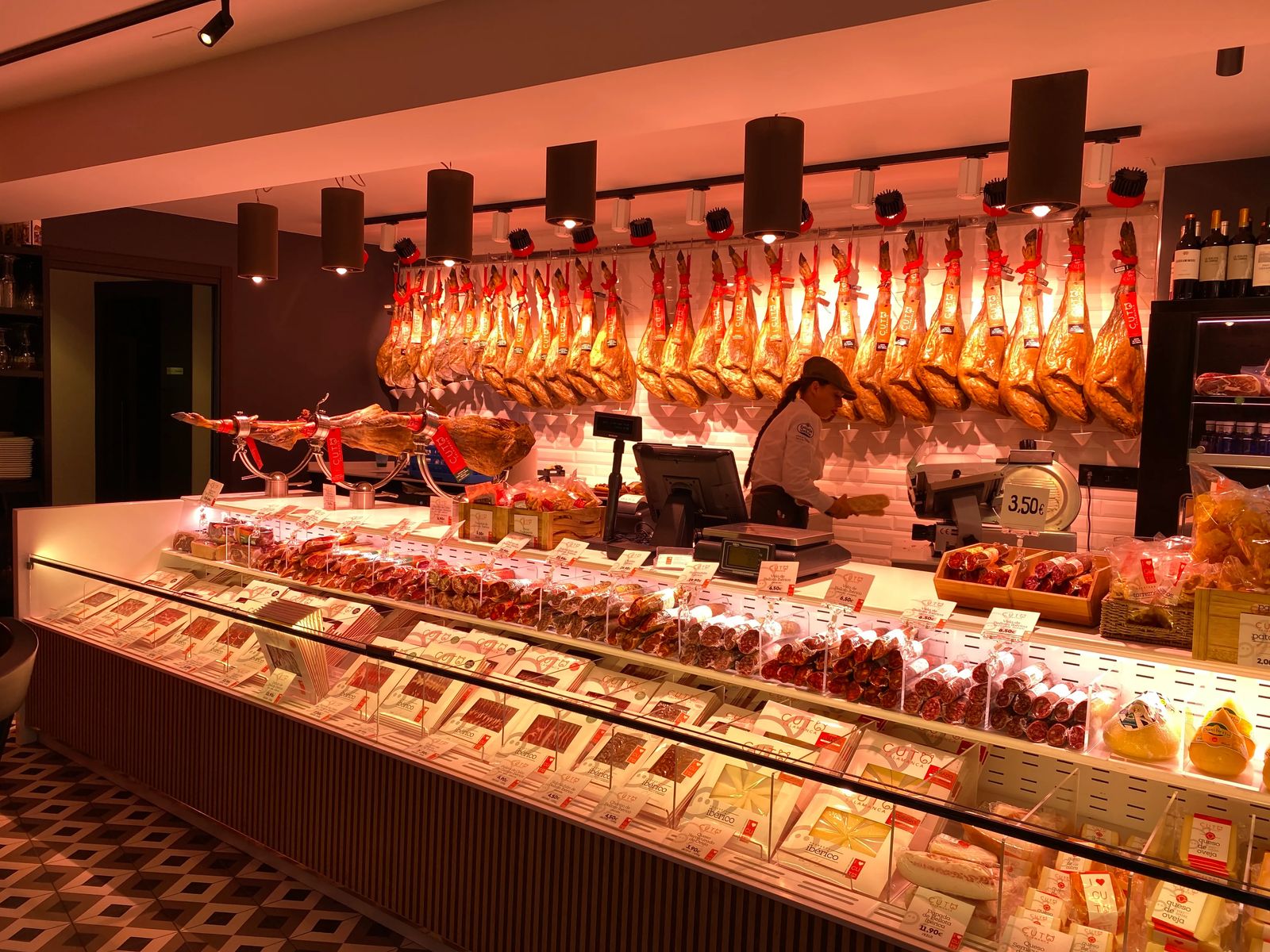 12 - Galician Beef & Meat Shops
Beef in Galicia is said to be the best in the world as they use a special breed of cows 'rubia gallega' to produce much of their beef cuts and chorizo. These cows are OLD, think 80 years old and typically graze in the Galician region (Northern Spain). I guess the wisdom of their old age can be tasted in the meat they provide.
All jokes aside, it is due to the cows living peacefully 15 years longer than those raised specifically for the butchers block. As is the case in humans, the older we get the fatter we get, as do the cows. The fatter the cow gets, the more fat that penetrates the large areas of meat allowing for what is called marbling. Marbling provides the rich moist flavors found in the best steaks and is rich with fat soluble vitamins as well giving the beef a depth of flavor unrivaled around the world.
If eating out at a fancy restaurant isn't in the budget, then experience a meat shop in Galicia instead. Grave a handful of different types of meats, cheese, and often the shops serve wine and champagne as well. Throw it all in a basket and have a picnic at one of the many churches, parks, or along the coast while watching the sun set over the Atlantic.
13 - Zamburiñas vs Scallops
Scallops in Galicia are such a symbol and characteristic dish of the cities in the area. The shell itself can reach up to 3-5 inches in diameter, and once cleaned are often used along the Camino de Santiago pilgrimage. The shells are tied to the back of a pilgrims backpack with symbol of St. James Cross on it to signify they are a pilgrim. The shells can then be used to drink water from fountains along the way, or even from free wine at certain restaurants along the trails.
Don't worry though, the scallops inside don't go to waste though, from big to small scallops are a staple seafood item in Galicia. Zamburiñas are the smaller version of Scallops with a slightly different texture to them. Zamburiñas are often more tender and sweet tasting, paired with a bit of garlic butter and a bit of Jamón ibérico (basically a delicious crispy bacon bit on top). While not every restaurant puts the bacon bits on top - I'm telling you it is worth asking for - I'm salivating just thinking about the ones I ate in Coruña at La Sarten de Coruña restaurant.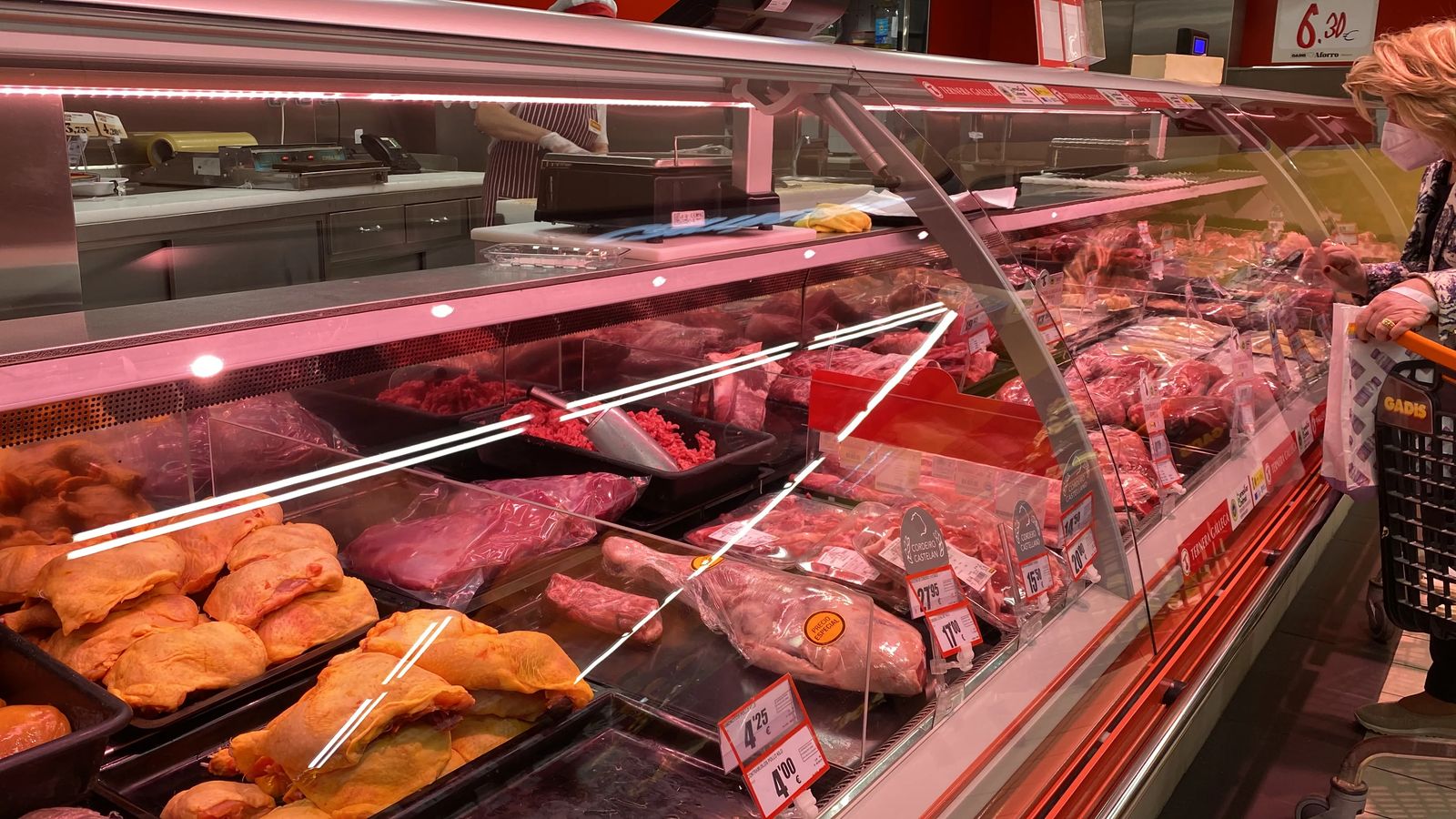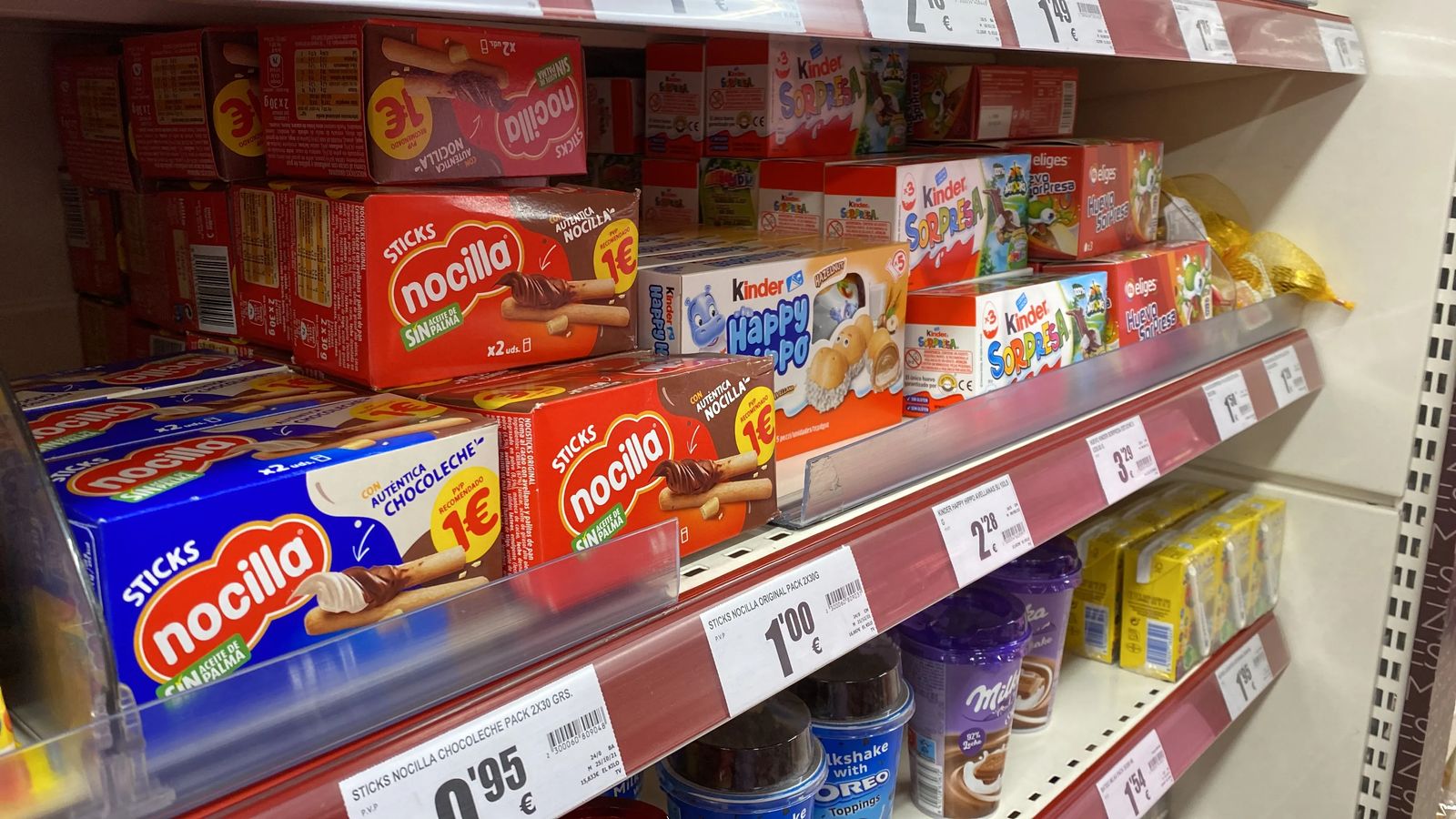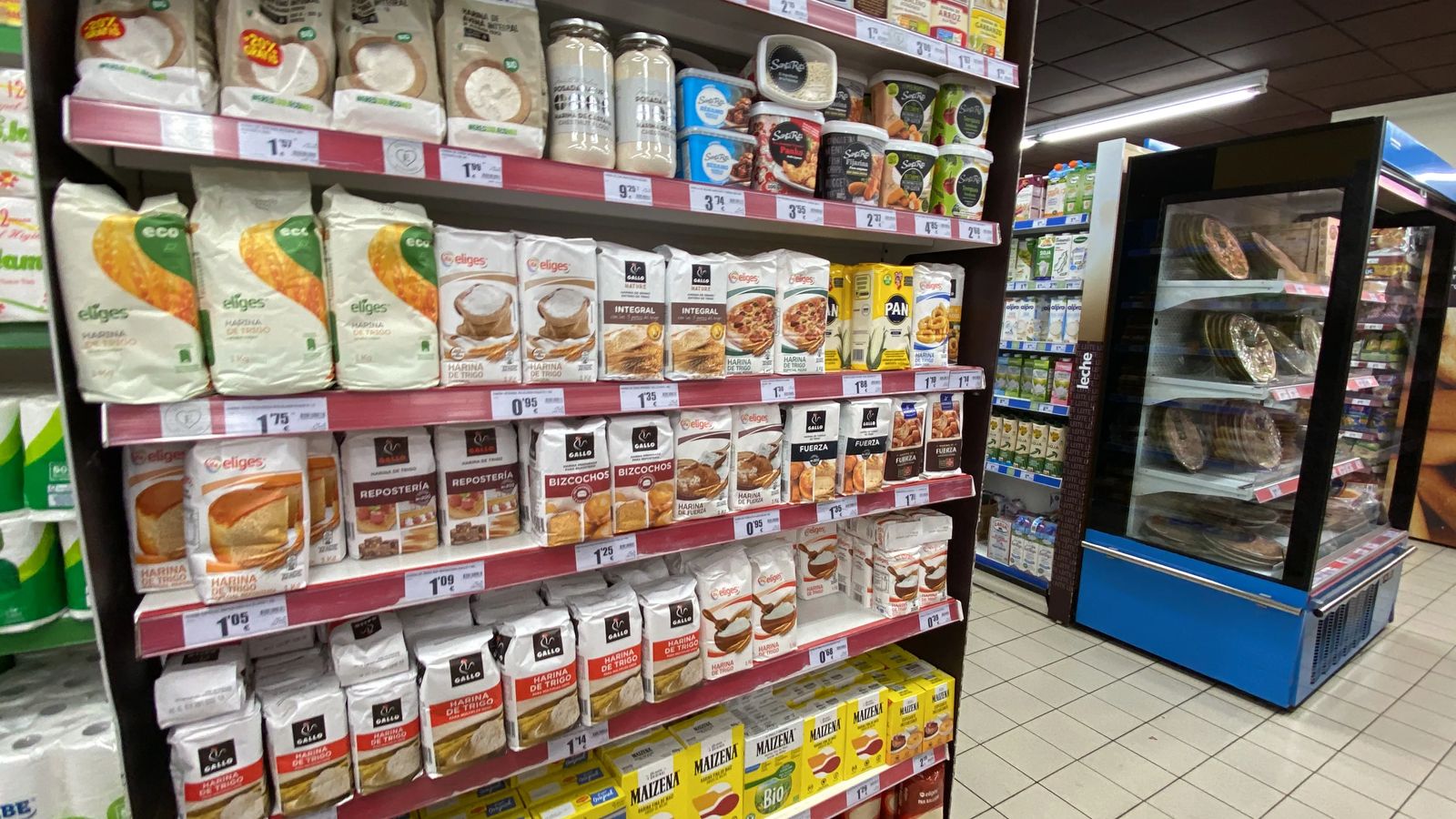 14 - Experience a Grocery Store
It isn't just the food in restaurants you should try! One of my favorite things to do is visit grocery stores in other countries than my own. It gives you a sense of the humanity we share I think, despite the language barriers and different taste buds it often makes me have an overwhelming sense of shared humanity. They still have meat, pasta, yogurt, milk, even Starbucks.
I like to take one night and go through the isles and try to come up with a meal or little bits of the 'strangest' things I can find or things that I have never tried before. You bring it back to the hotel or your accommodation and just try each of them either with a group of friends or if your traveling solo, call someone at home and have a dinner catch up with them.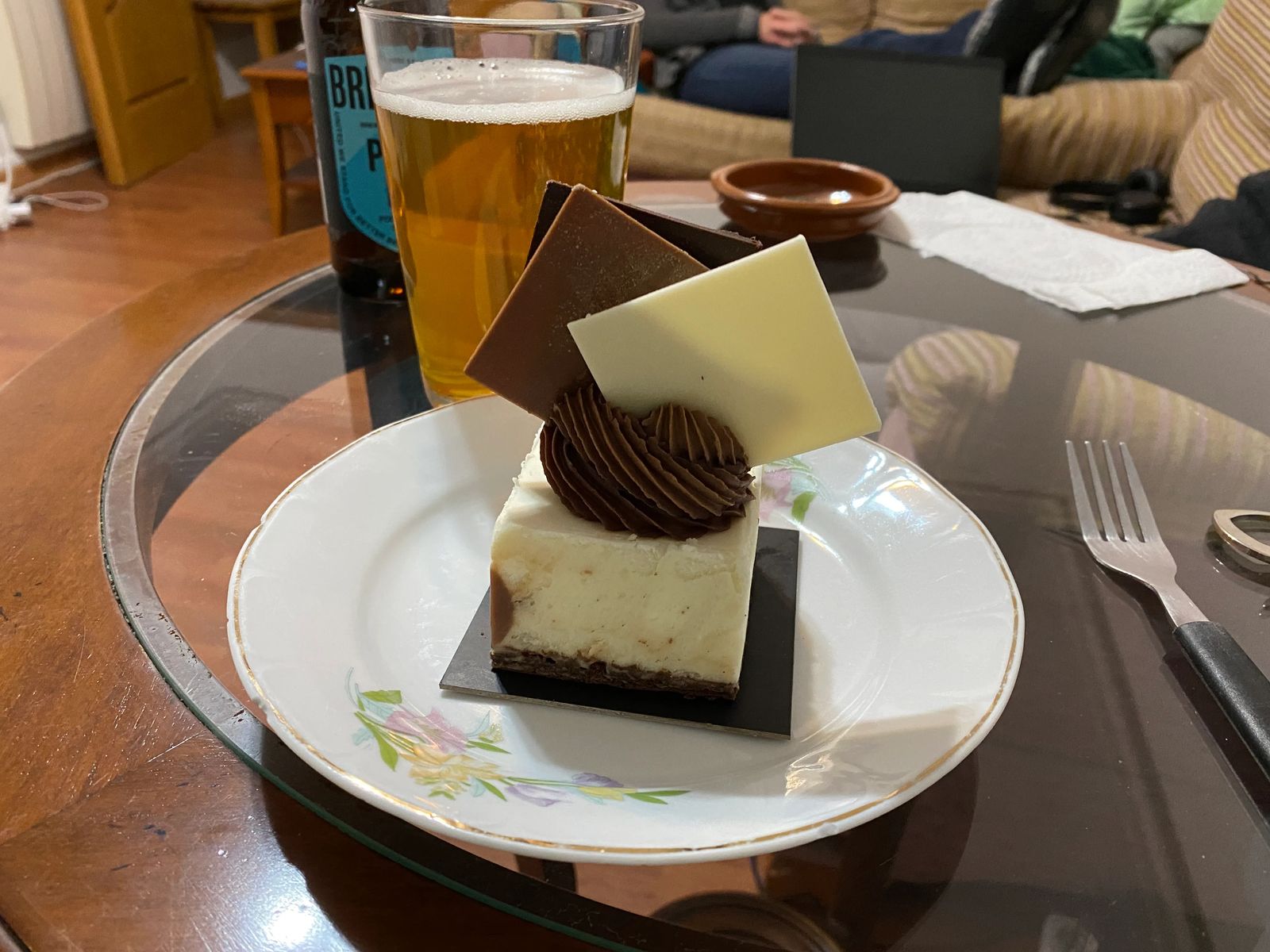 15 - Patisserie Shops
The desert delicacies you can find in Spain are incredible! It isn't just the food item itself, but the tiny little shops treat these little chocolate creations with the utmost respect and like it is a diamond jewel they are giving you. They are displayed in the glass windows like the precious jewels on display. Once you have selected your mouthwatering morsel, you ask for it, they gently take it out of the case with both hands. Then we slowly walk to the counter together, where you pay for it, and the real ceremony begins.
A colorfully decorated box is selected, then lined with parchment paper. The server then gives you a little smile, knowing you're going to enjoy this and further increasing the anticipation. The desert is lowered into the box, and carefully latched together, sealing this treat inside. You then carefully walk home with your prize, or sit in a park surrounded by jealous birds tweeting their envy of your treat. You sink your fork into the treat and admire the flecks of chocolate then place it in your mouth and taste the flavor of the chocolate.....mmmmmmm.
I'm telling you, the way they handle their deserts here is like a religious right of passage you need to experience for yourself. The whole ceremony made me want to come home and treat every experience with my food this way....lol.....it kind of makes you feel like royalty in a way.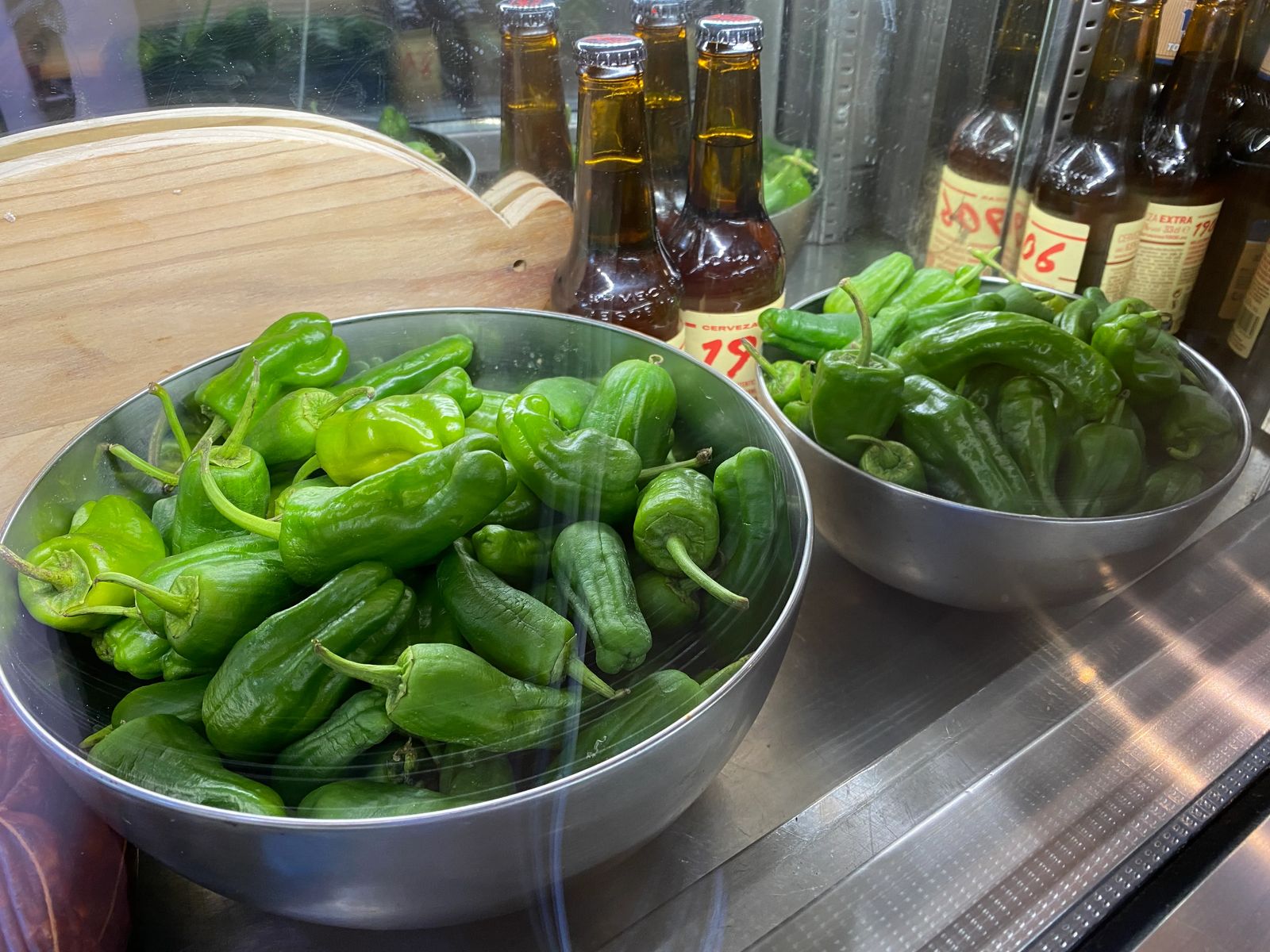 My takeaway of Food in Galicia?
So what was my final verdict of the food in Galicia? Each meal was a ceremony of laughter, companionship, and experience that should never be taken for granted. I don't think there was one dish that I thought 'wow, this is totally not worth the calories'. The trick is, to find the good restaurants, and not just the cheap ones for the quick meals.
I think the culture around food in the USA is what makes us fat, the quick and easy, in and out, lack of regulations around how things are grown are what deprive us not just of nutrients but of experiences that can really bring us together.
What dish would you like to try when you are in Galicia? Leave it in the comments below :)
Like it? Pin it for later! Sharing is caring ;)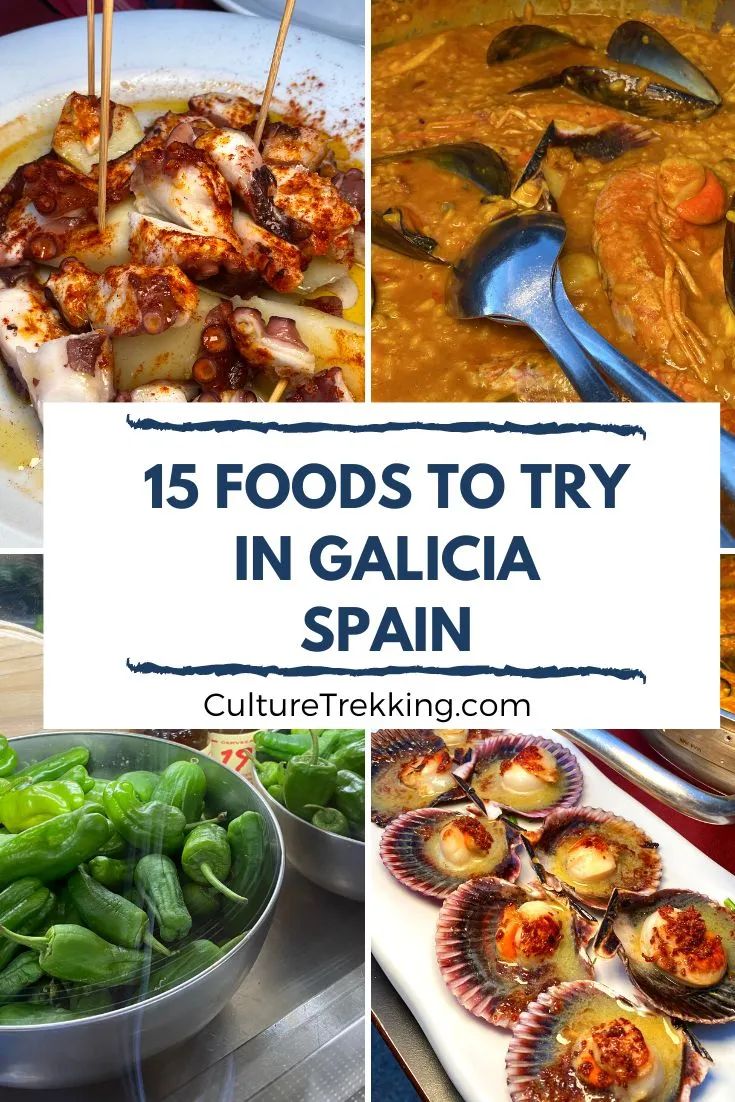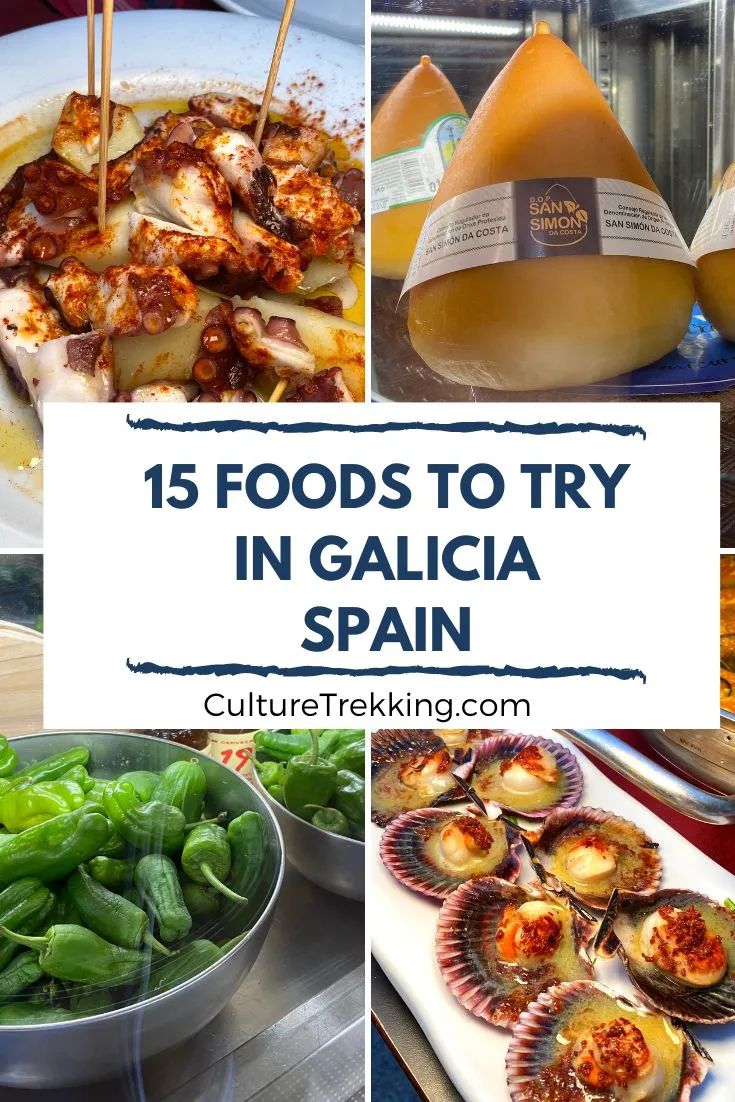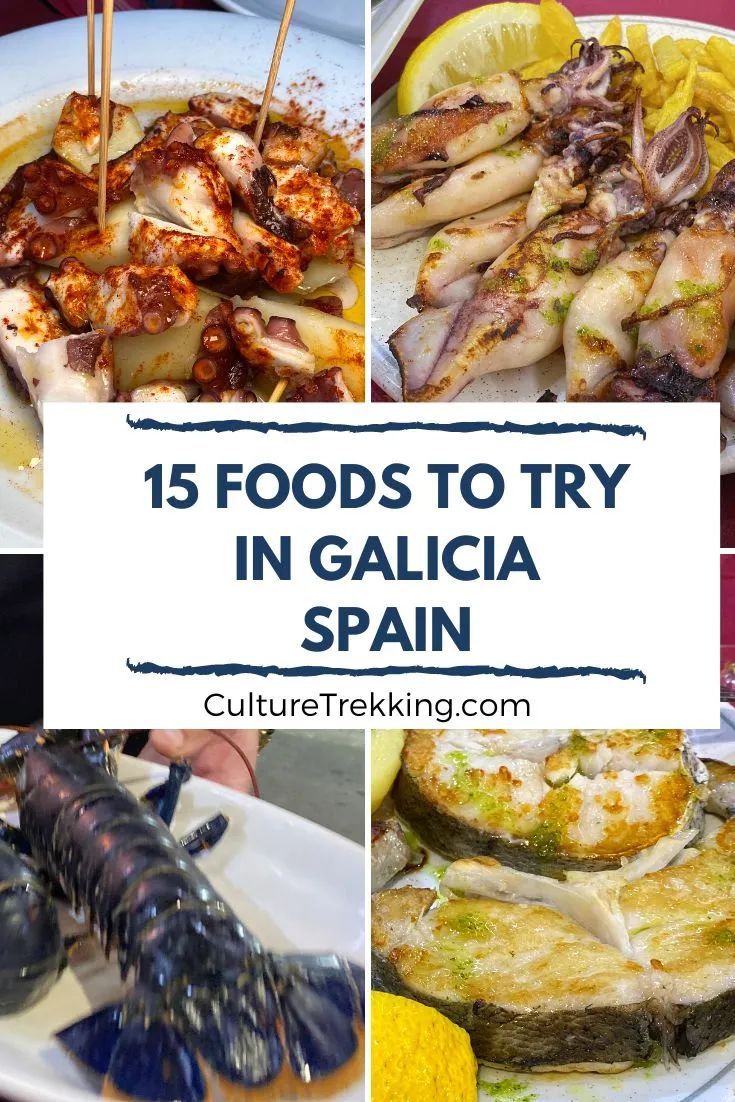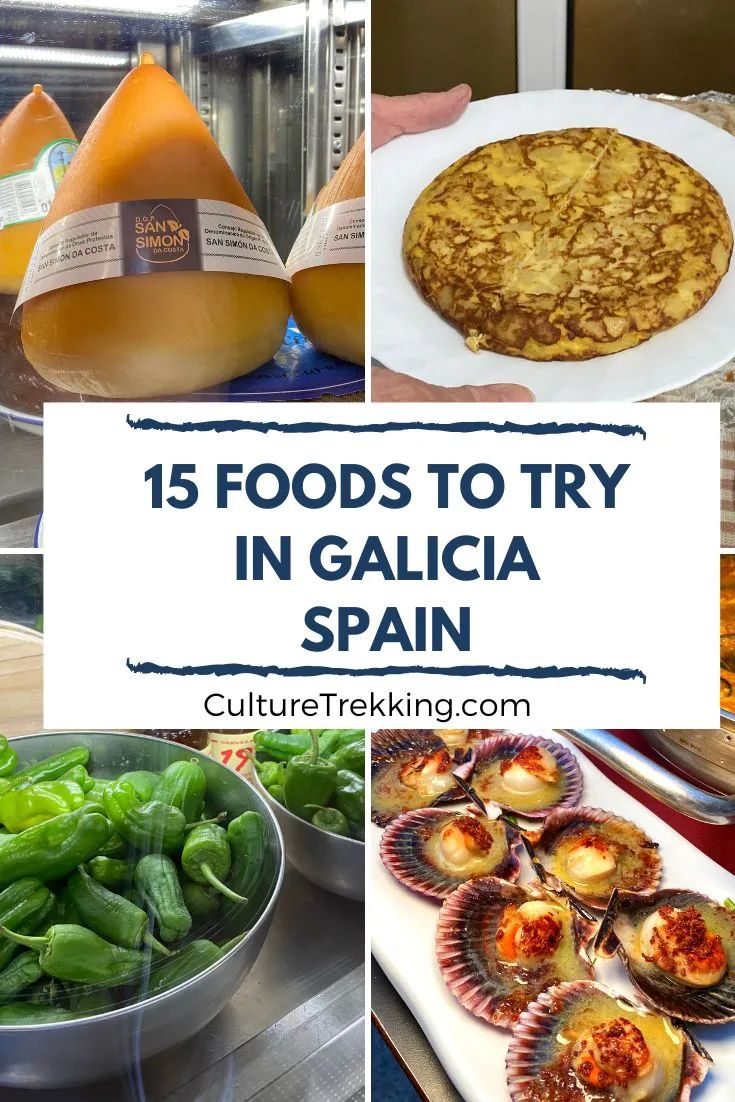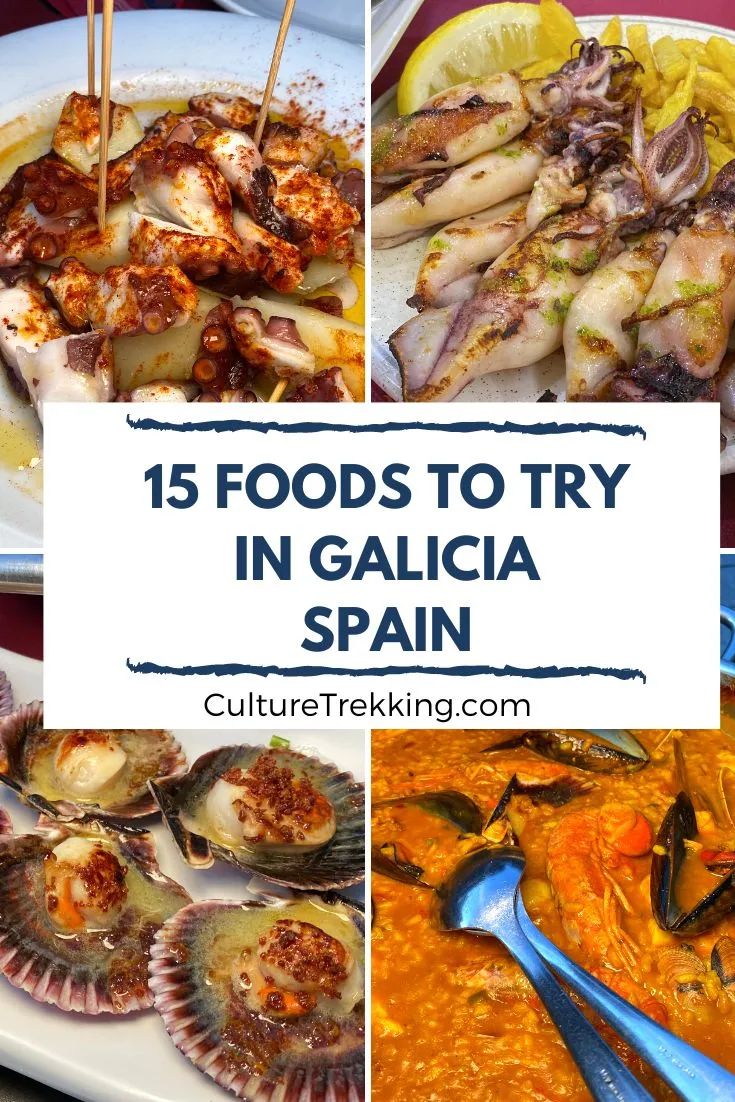 Latest Articles On Culture Trekking