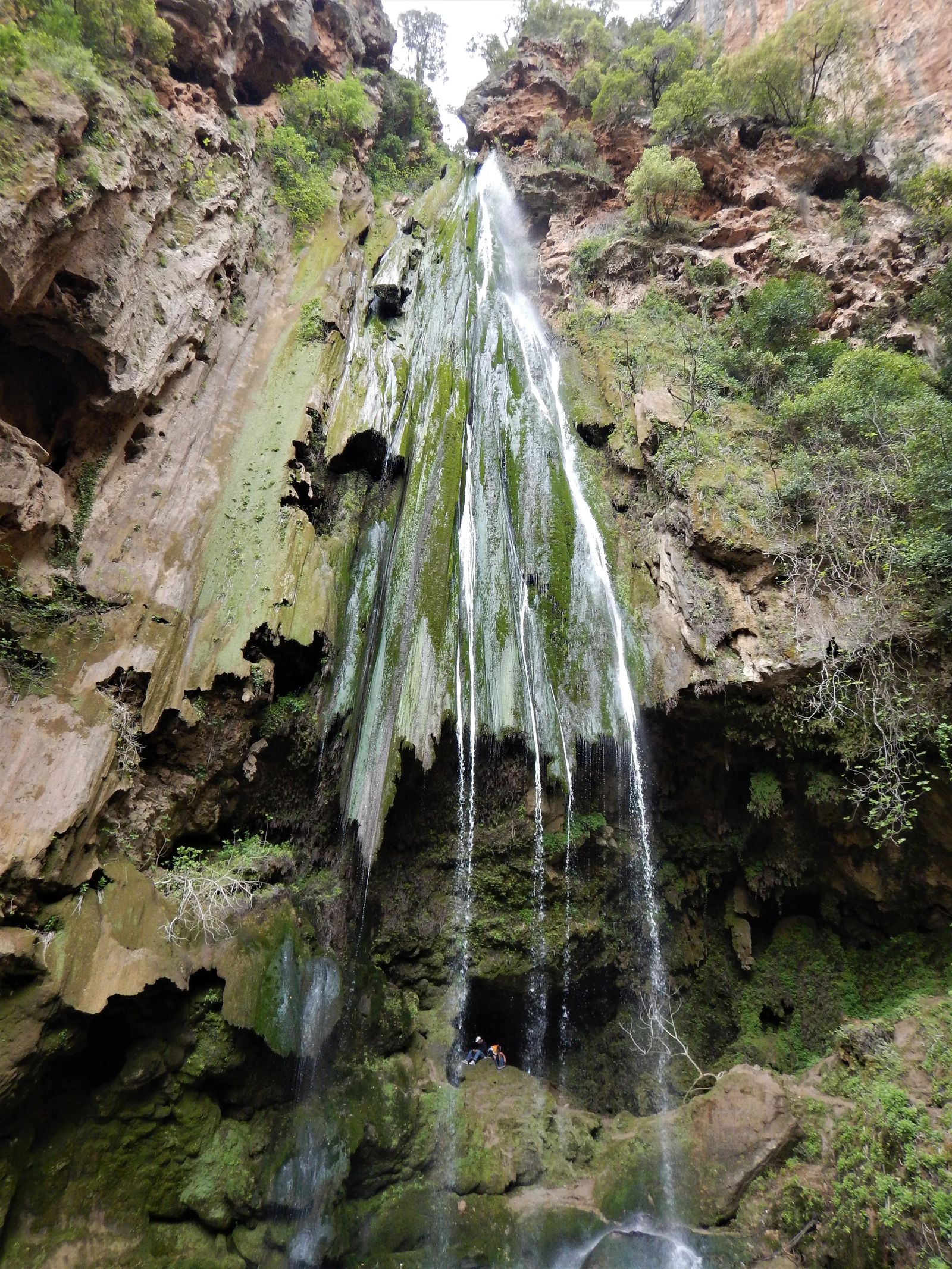 BEFORE You Hike to Akchour Waterfalls in Morocco, You Need To Know This....
Before we began our hike to Akchour, I didn't really know what I was getting myself into. I had just arrived in Chefchaouen the night before with my friend Omar and his friend Medi, after a nearly 2-hour drive from Rabat. I had been traveling through Morocco for 2 weeks with very little sleep and was completely exhausted when I started this hike. So my first tip is to do this hike when you are well rested and hydrated. If I had done this any other day, not while I was feeling ill, dehydrated and exhausted - it would have been a Moderate hike with beautiful surroundings. That being said, here is my personal experience when hiking to Akchour and some of the tips and mistakes I made when doing it.
It was cooler in the mountains than I expected, so make sure to bring a jacket (especially if you were sunburned from Marrakech like I was). There were a few clouds resting on the mountain side which gave this place even more of a mysterious and magical feeling than before. When you come to Chefchaouen, you feel as if it is the calmest place on the planet. The locals are very welcoming to tourists and incredibly helpful. The locals don't get irritated with travelers like other popular destinations I have seen or lived in.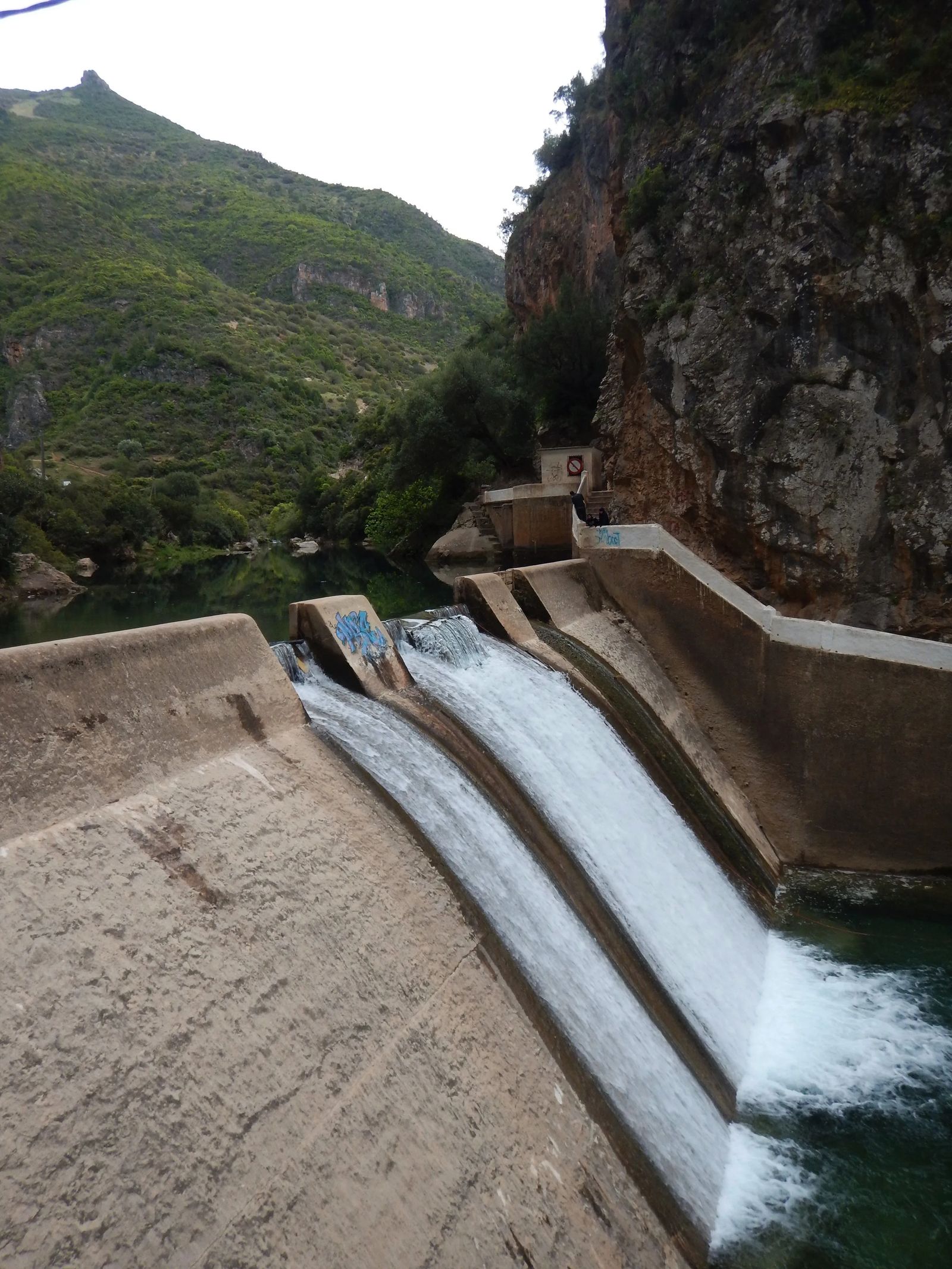 We went to grab dinner at the old Medina, hiking up the narrow passageways to the center of town. Omar picked a café that had quite a few locals in it and we sat down to order our Tagines. I ordered a Vegetable Tagine that really hit the spot.
This was my first mistake: I didn't eat any protein the night before the hike to Akchour waterfalls.
We left the Medina and headed back to our guest house to get some much-needed sleep so we could wake early the next morning and start our hike to Cascades D'Akchour.
Omar kept telling me, "the hike to Akchour waterfalls is hard Janiel, its 1 hour and 30 minutes hike" -- well he looked about the same physical shape I was in, and I had been working with a trainer, so I thought, "Oh, I'll be fine, he doesn't know what he is talking about." That was my second mistake.....
We left for Akchour and had a little trouble finding the way, but after asking several locals the correct roads to take, we were able to arrive in time to start (and finish) the hike.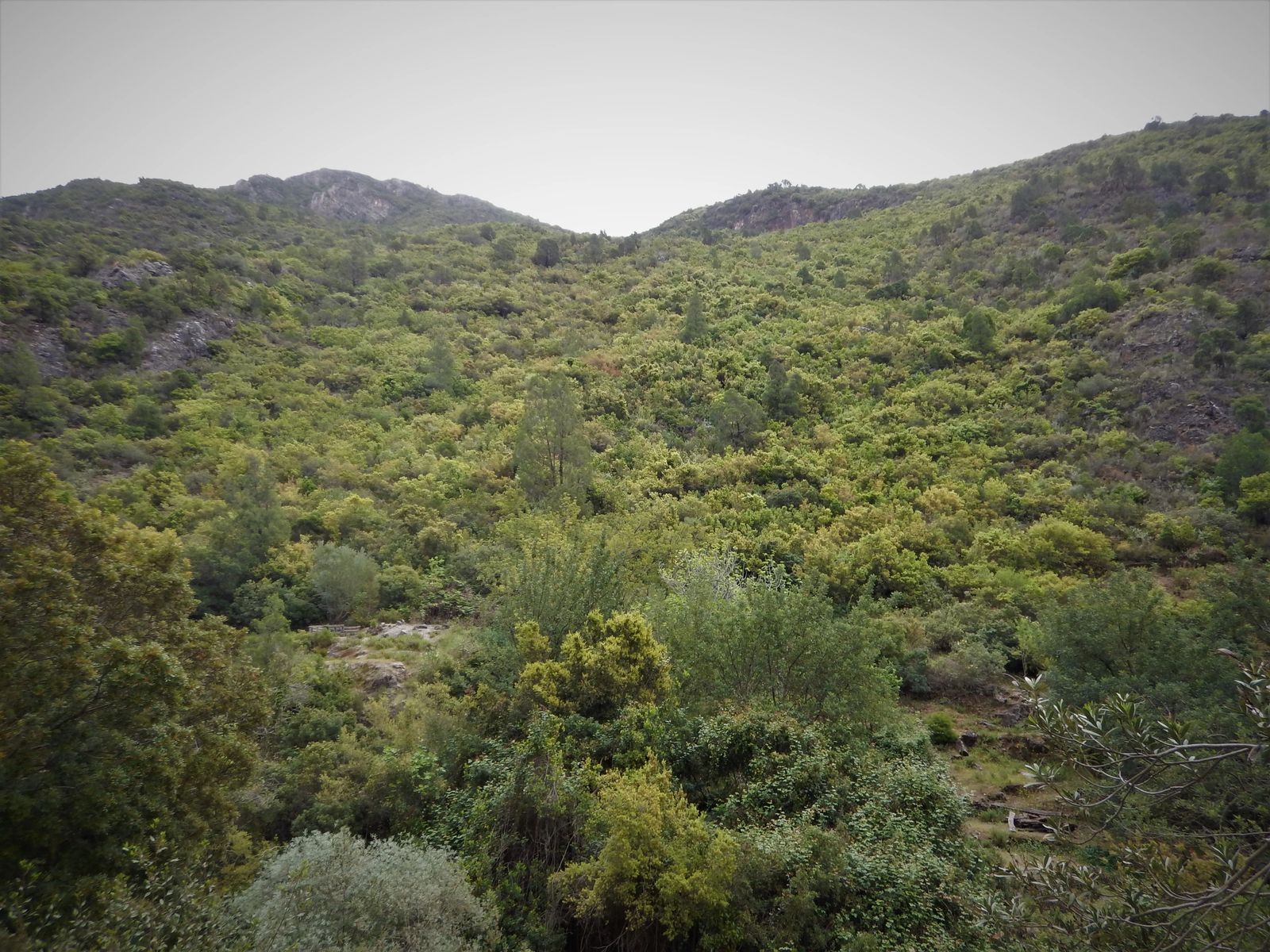 Traveler tip: You can catch a Grand Taxi in the center of town but try and get a local or the hotel/hostel/guest house personnel to negotiate a good price for you. A fair price would be around 250 Dirham (with tip included), which is around $25. Just make sure they are willing to take you back into town as well. Bring extra cash with you for the return trip to Chefchaouen and for some important items I will explain later, as well as your own towel, a jacket or sweater, and a water bottle.
The road to Akchour passes through some of the most beautiful country I have ever seen in all of my travels. I literally filled my 64 GB memory card with hundreds of images of this breathtaking scenery.
Once we got to Akchour, it was fairly easy to find the trail. There are plenty of locals there to point you in the right direction (but don't expect many of them to know English). We started hiking up the canyon (where the sign points to Akchour), and the first thing that immediately impressed me was the endless swaths of green and the waterfalls that seemed to appear around every corner.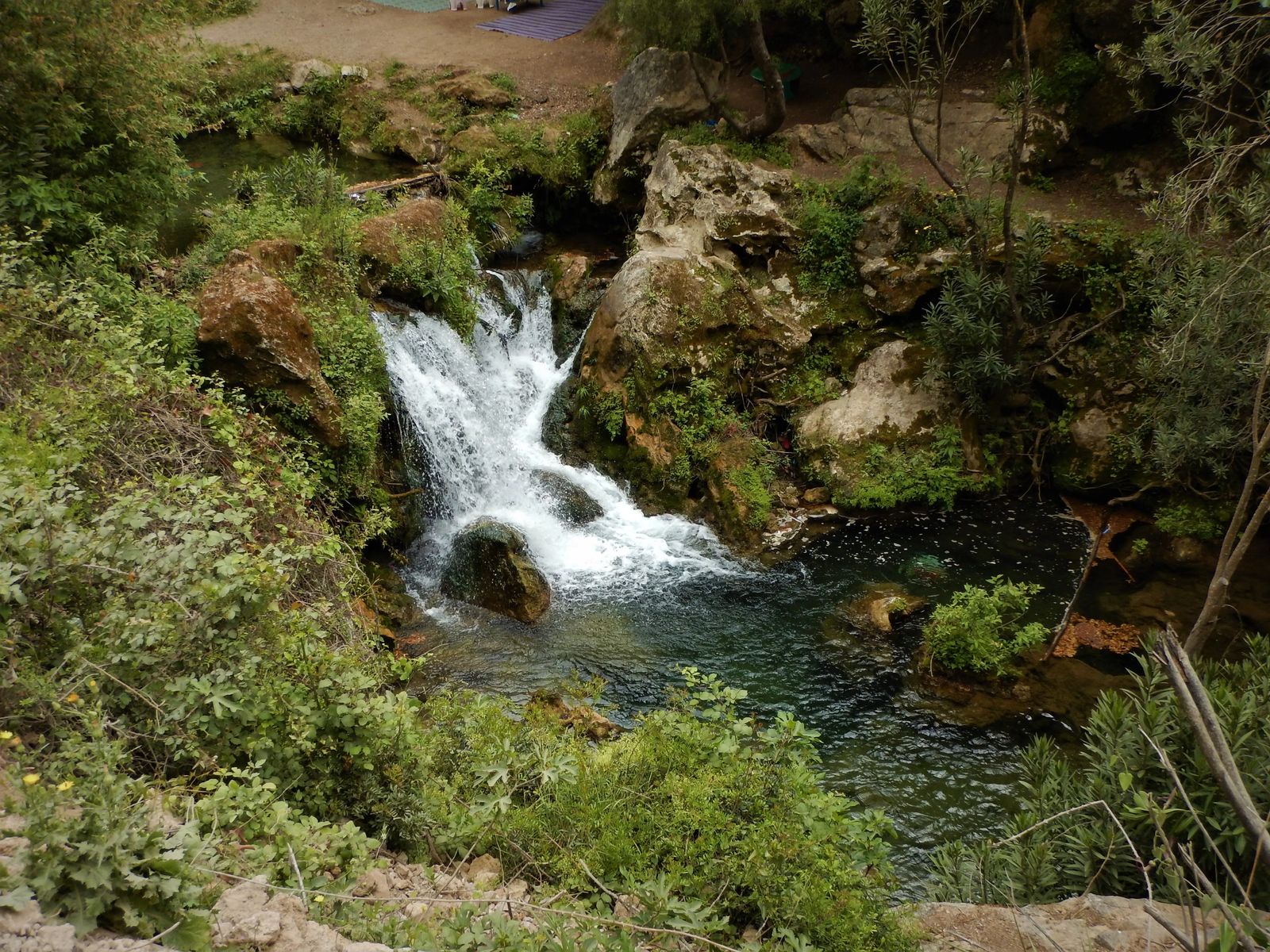 I know you may think that I keep showing you the same waterfall over and over, but each one of these waterfalls is uniquely different and special in their own way. Each waterfall had a swimming hole, that is quite deep, and on a hot summer day is great to pause you hike and take a quick dip to cool off.
Traveler tip: The hike to Akchour waterfalls itself is said to take around 2-3 hours. That is, if you are use to the high altitude of the Atlas Mountains and can tackle the steep elevations of the trail. Yes there are steps you can use, the trail is well maintained; but the steps are made for tall people.....not short people. So be prepared, its like when my trainer has me doing box steps onto the 24" box step, for 2 hours.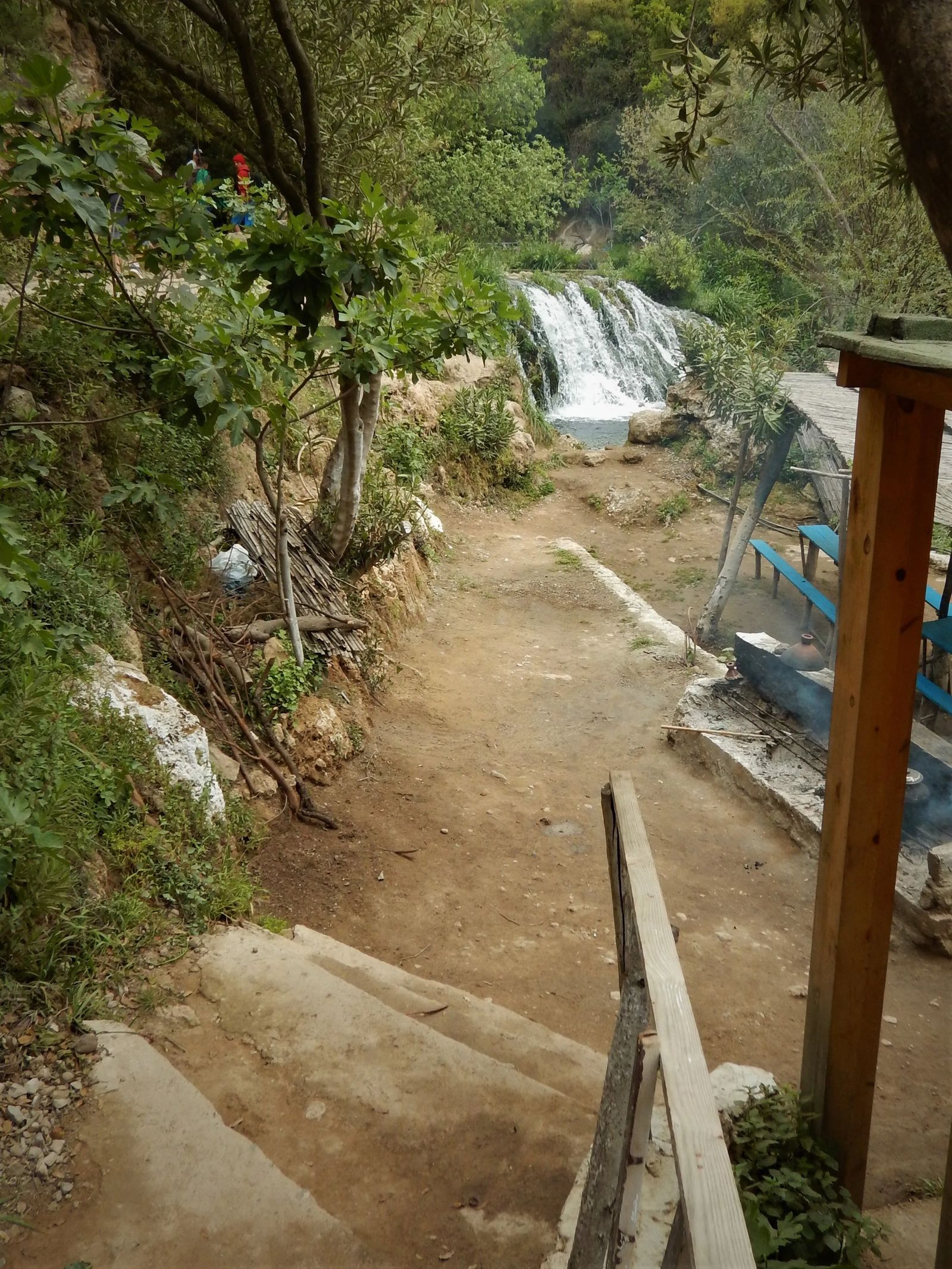 At the first hour of the hike to Akchour waterfalls, I felt like I was getting a good workout. Then we started to get to the steeper portions, and I started to lag behind my giraffe-like friends, who at one point I was cursing in my head for their ridiculous height.
TALL PEOPLE JUST DON'T UNDERSTAND HOW MUCH HARDER IT IS TO GO UP THE GIANT 24" -32" STEPS! It takes us a lot more effort and energy! (ok, rant over) -- I know I'm not in the best shape, but I had been working out really hard and felt like I could tackle this. They were going really fast up the hill for me, so be sure to hike with people who go at your same pace.
Omar tried to be patient, but Medi was not as patient, and I felt like the weak link. So if you go hiking, make sure people know if you like to go fast or slow and split into two groups. In defense of Medi, his English was not that great, and I think was a little shy to talk to a single American woman when he was a married guy.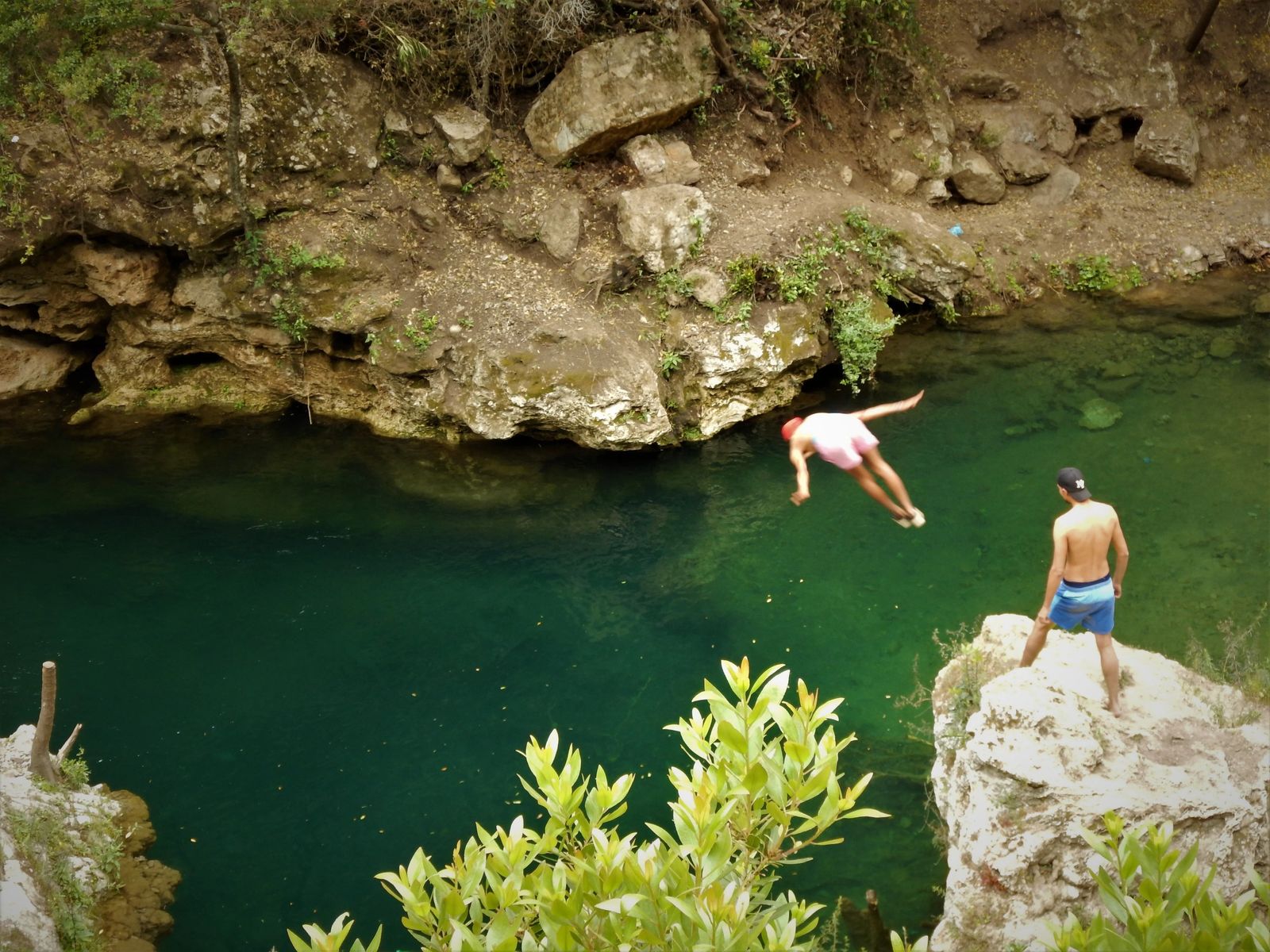 I was positive the whole trip, but the last hour up the canyon I really thought that my legs were going to either give out, or I was going to pass out. I didn't realize how hard it would be, even Omar started to get tired by the end of it. My legs felt like Jello, my mind growled, "I'm going to die in these mountains, just like the Spanish did when they tried to invade. I don't think Morocco has helicopters that can transport me out of here. I really don't know if you are going to be able to stand once you get to the end, and if you are able to, how the hell are you going to make it back without needing to be carried"? While this may be a tad bit on the dramatic side, I think the travel fatigue had set in full force. I had been traveling for two weeks non-stop and had Montezuma's revenge set in the week before.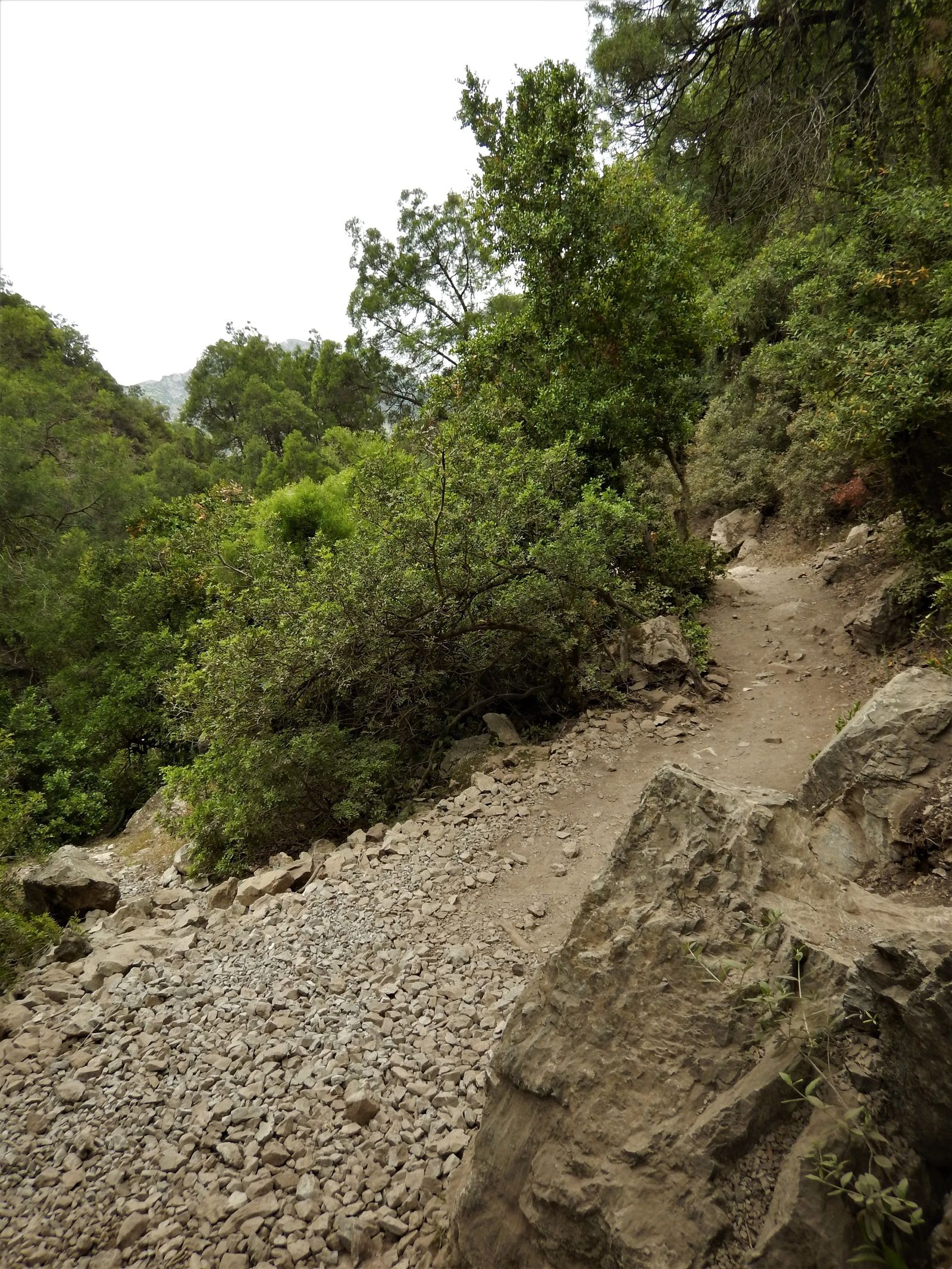 There were some blessed spots along the way that leveled out & I wanted to just linger longer in these areas to soak up the beauty and take more photos. Alas, this was not possible to do, as a storm was coming in and we had to get there and head back to travel to the next destination. Omar tried to make me laugh, and entice me with the food at the end, but I was NOT in the mood & poor guy... I just told him I wasn't able to talk about food right then.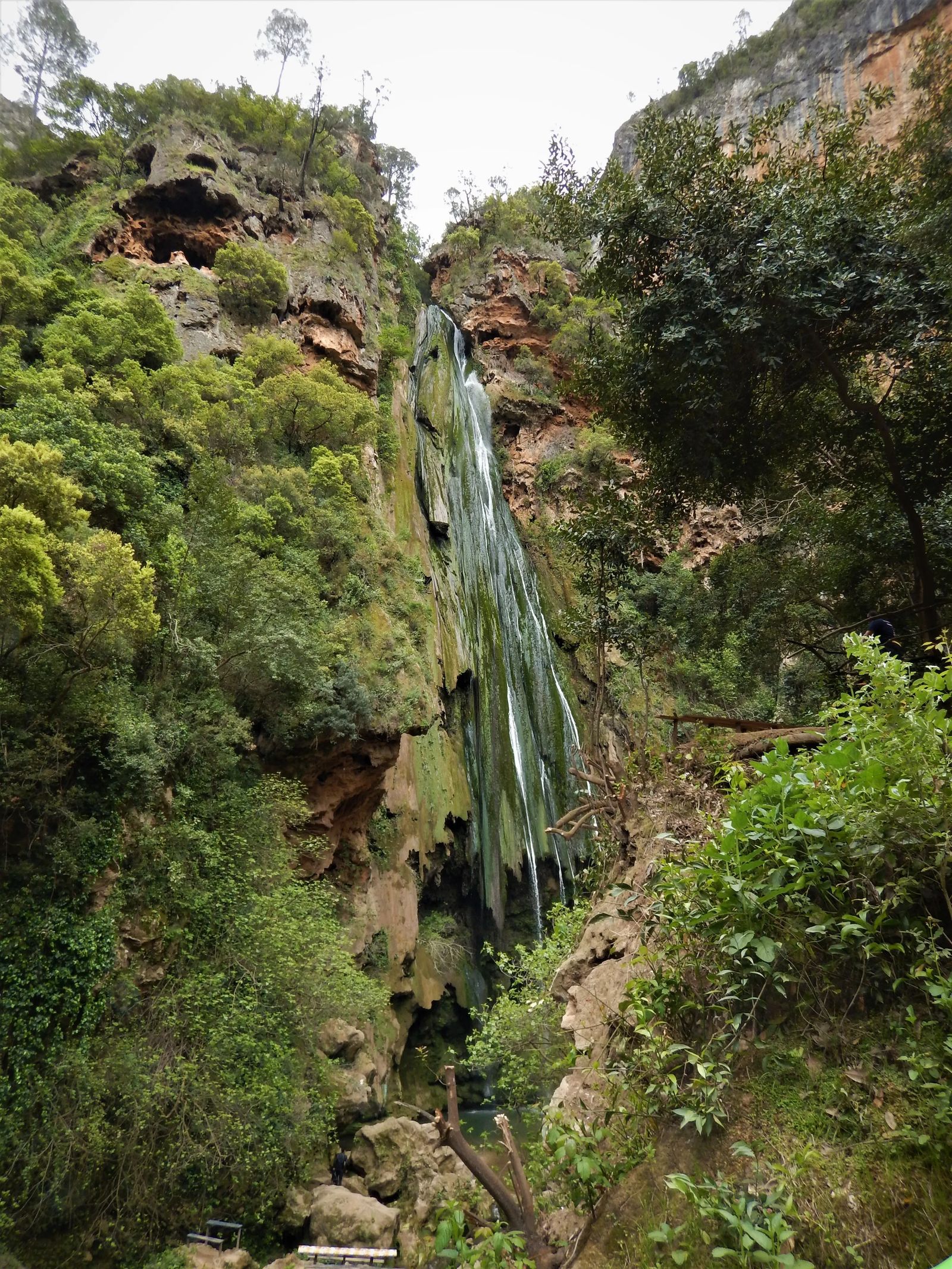 We finally arrived at the Cascades D'Akchour, and it was soooo cold! The storm winds had started to set in, and I was quite sweaty so I got cold very quickly. Omar was so excited to show me the waterfall, it truly was beautiful and I just sat in one of the chairs enjoying the relief of making it to the waterfall.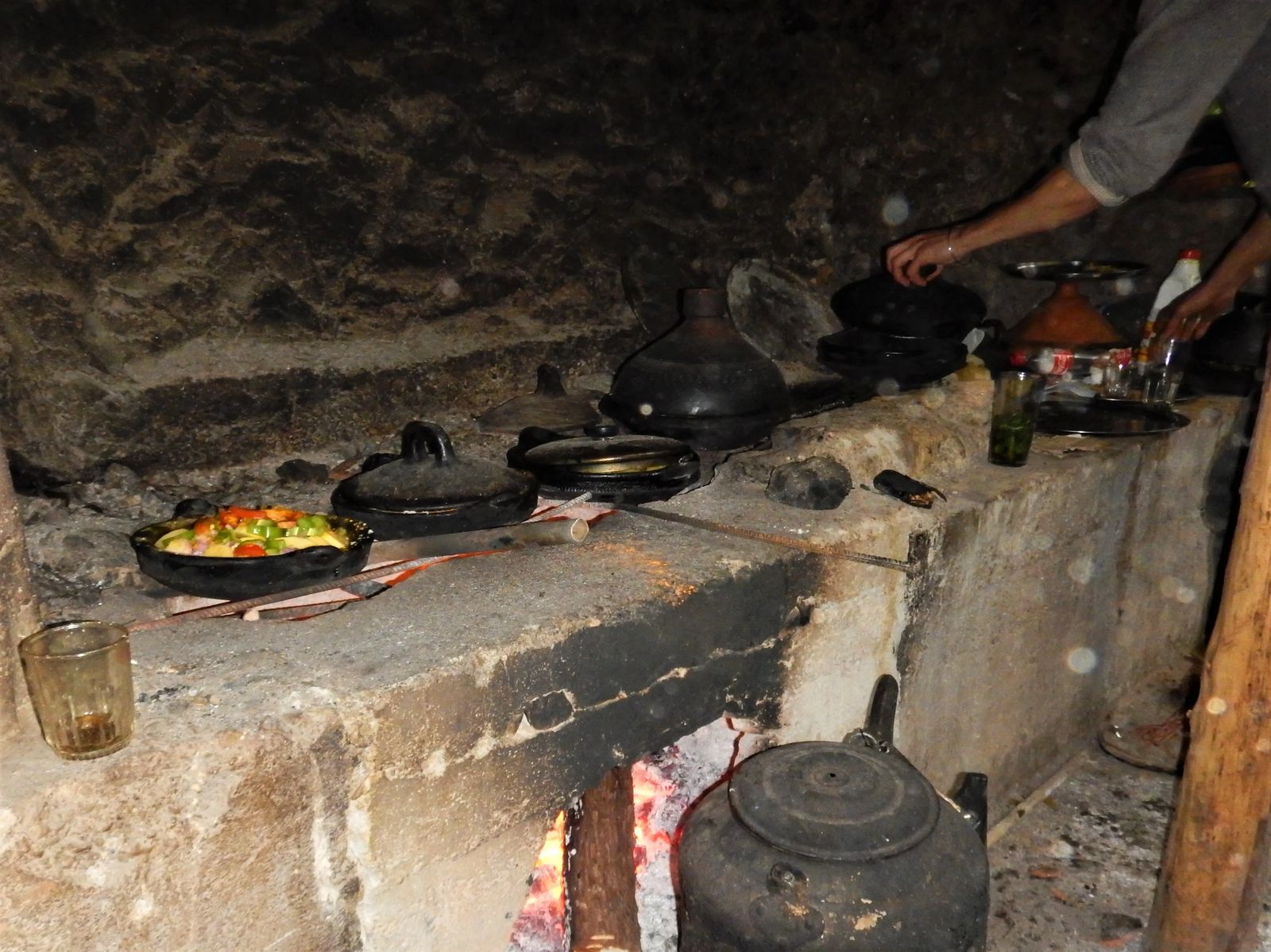 Traveler Tip: Please eat a hearty breakfast & take water with you before you hike to Akchour waterfalls. There are areas along the way that you can buy orange juice and water at the local cafes, but I didn't bring any cash with me thinking, 'oh I will be fine, who needs money when you are in nature'.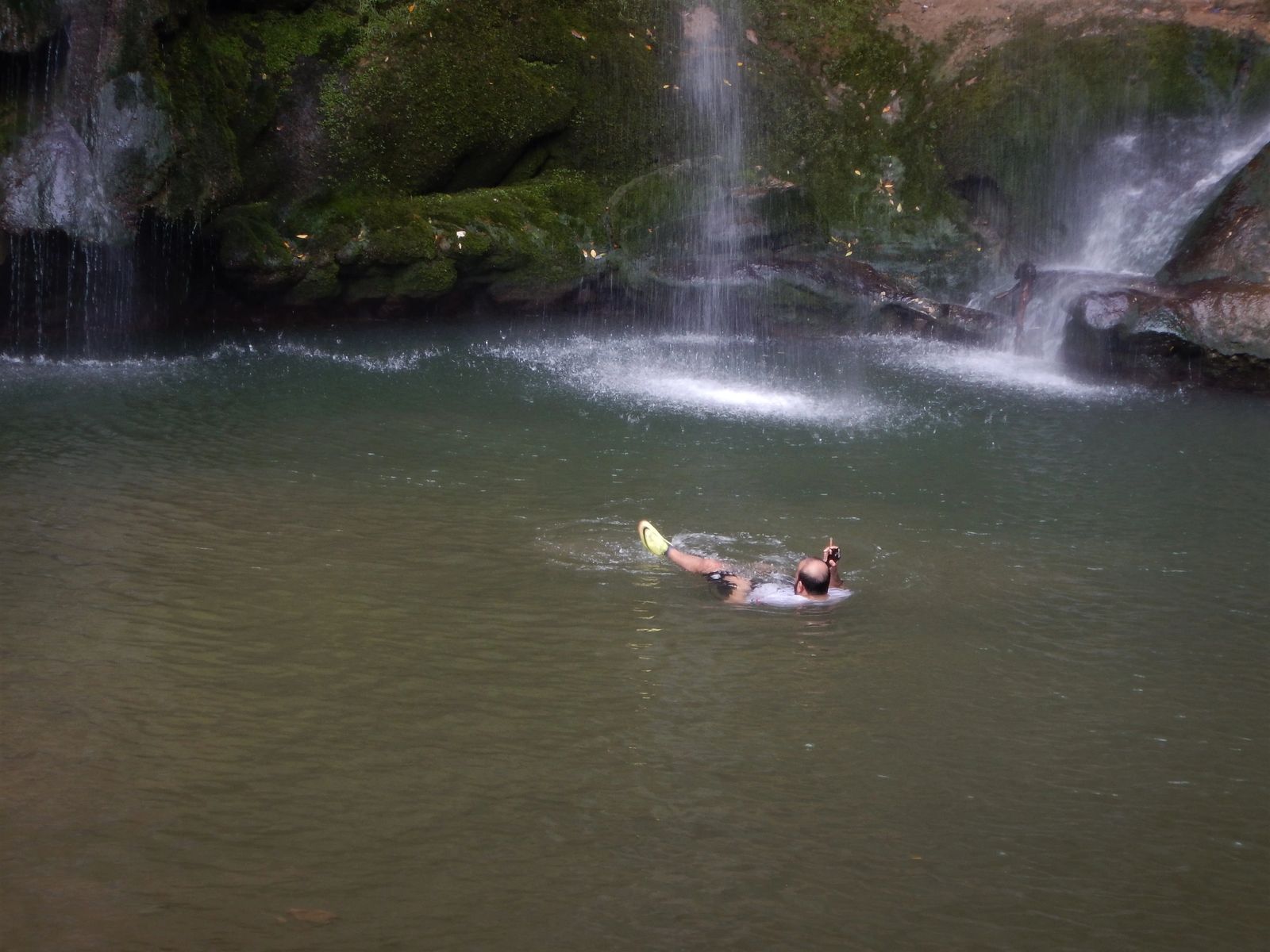 Omar is a hilarious and kind human being, he just laid back in the water taking selfies like he was in a hot tub. He also had a Cigar that was given to him that he had been saving for an entire year, just to come and smoke in these waters and take a selfie, lol. He really lives his life to the fullest and tries to bring everyone around him on his grand adventures.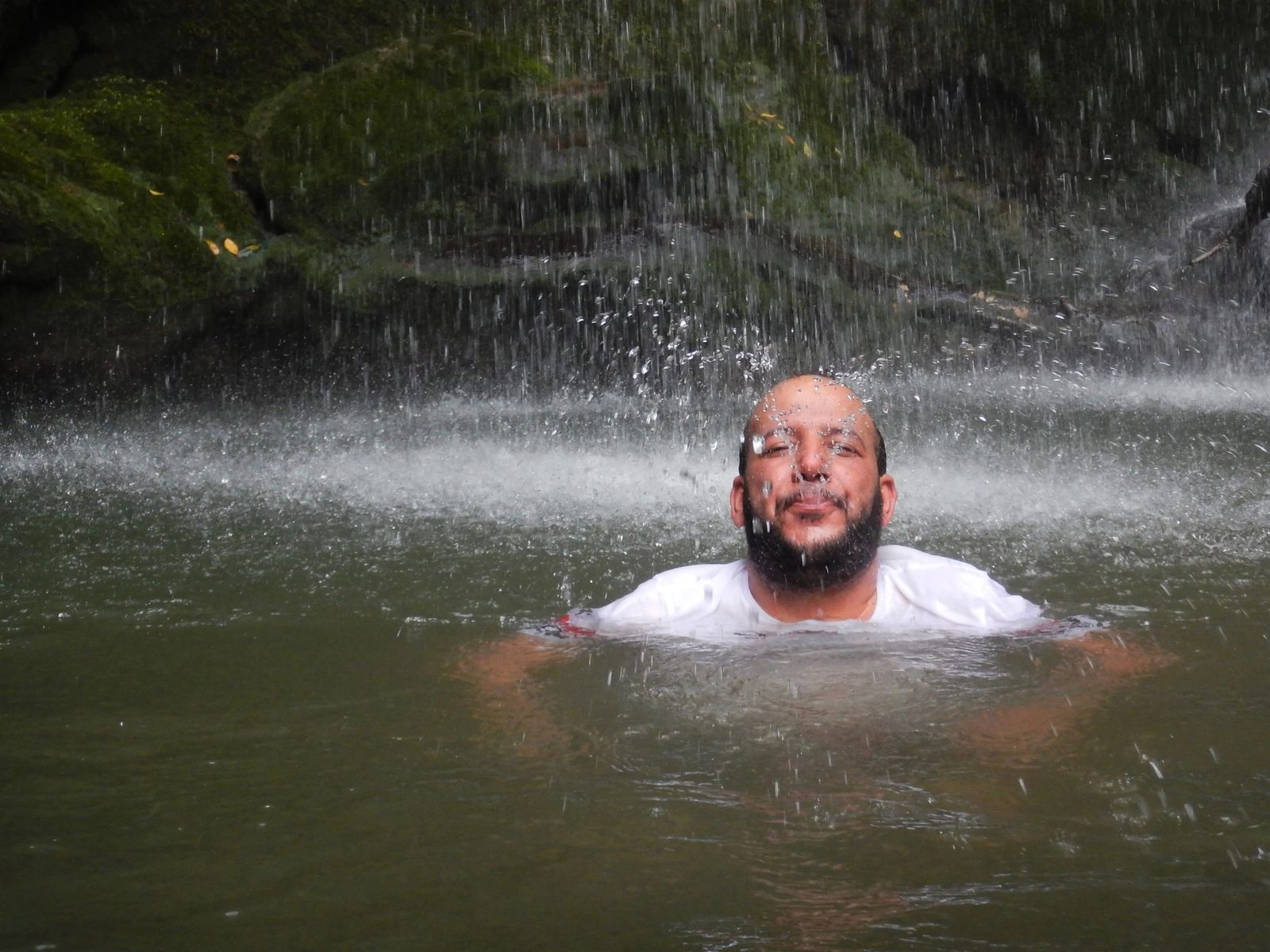 The water had to be around 40 degrees F, very very very cold, especially after a hike. I didn't really want to hike back wet, but Omar convinced me, 'You don't travel to a country like this, do that hike like you did, and not reward yourself with this amazing swim. Don't waste an opportunity like this, this is when you create good memories'. Well, he sold me on the idea, and I went in for a dip. If you decide to swim, I would recommend just wearing wicking material & go in fully clothed, it's nice to have the cool clothing on you when you are hiking back.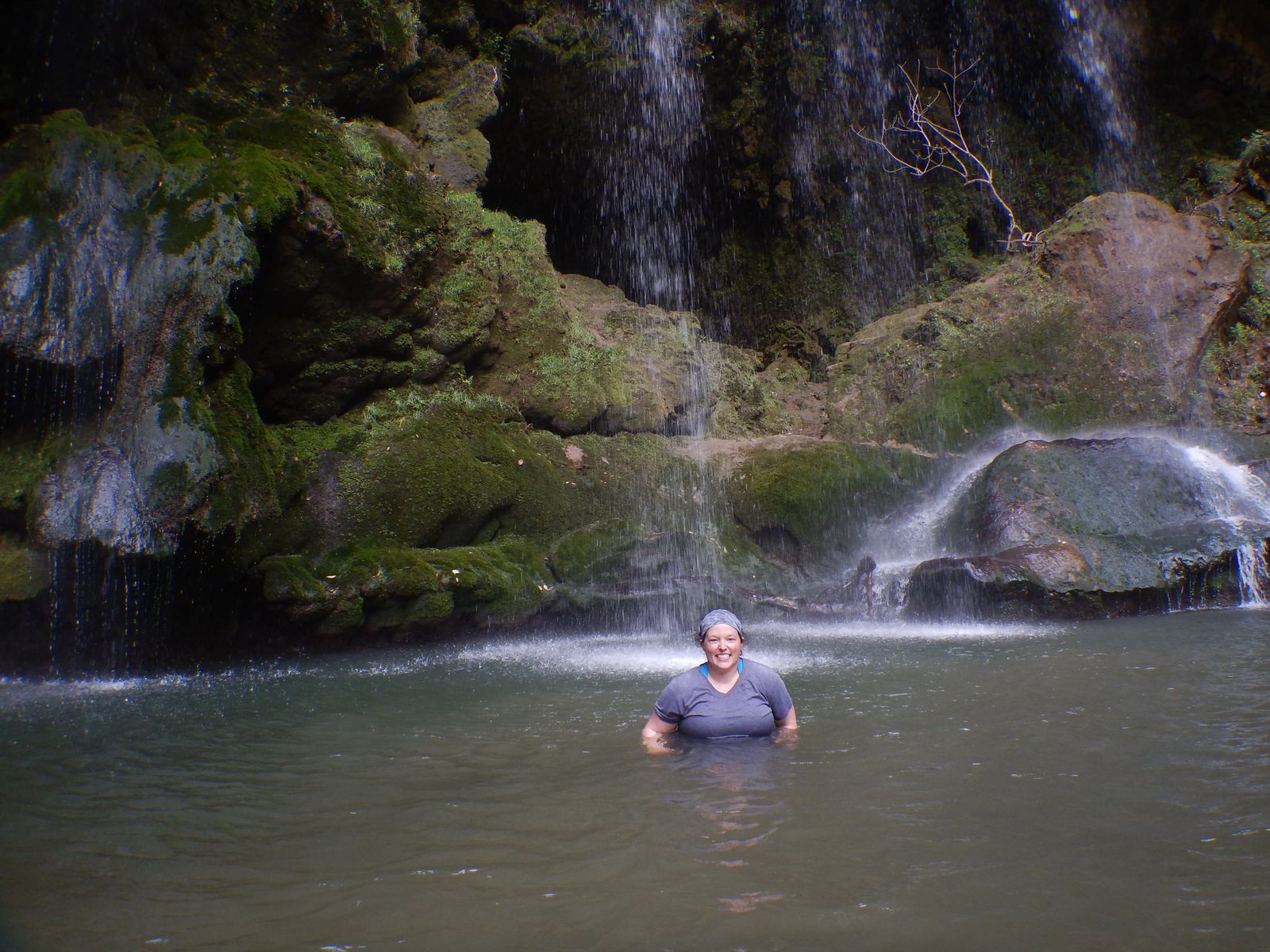 The swim was great, and I stayed in about 15 minutes because it was actually making my legs feel so good. It was like a natural ice bath for my exhausted legs, and I really really appreciated that the next day. (If you think I'm exaggerating about this hike, there were some other Americans there that came up and looked about the same way I probably did - completely knackered. It's not just about your fitness level-- these mountain valleys are the reason the Spanish Armada was defeated here).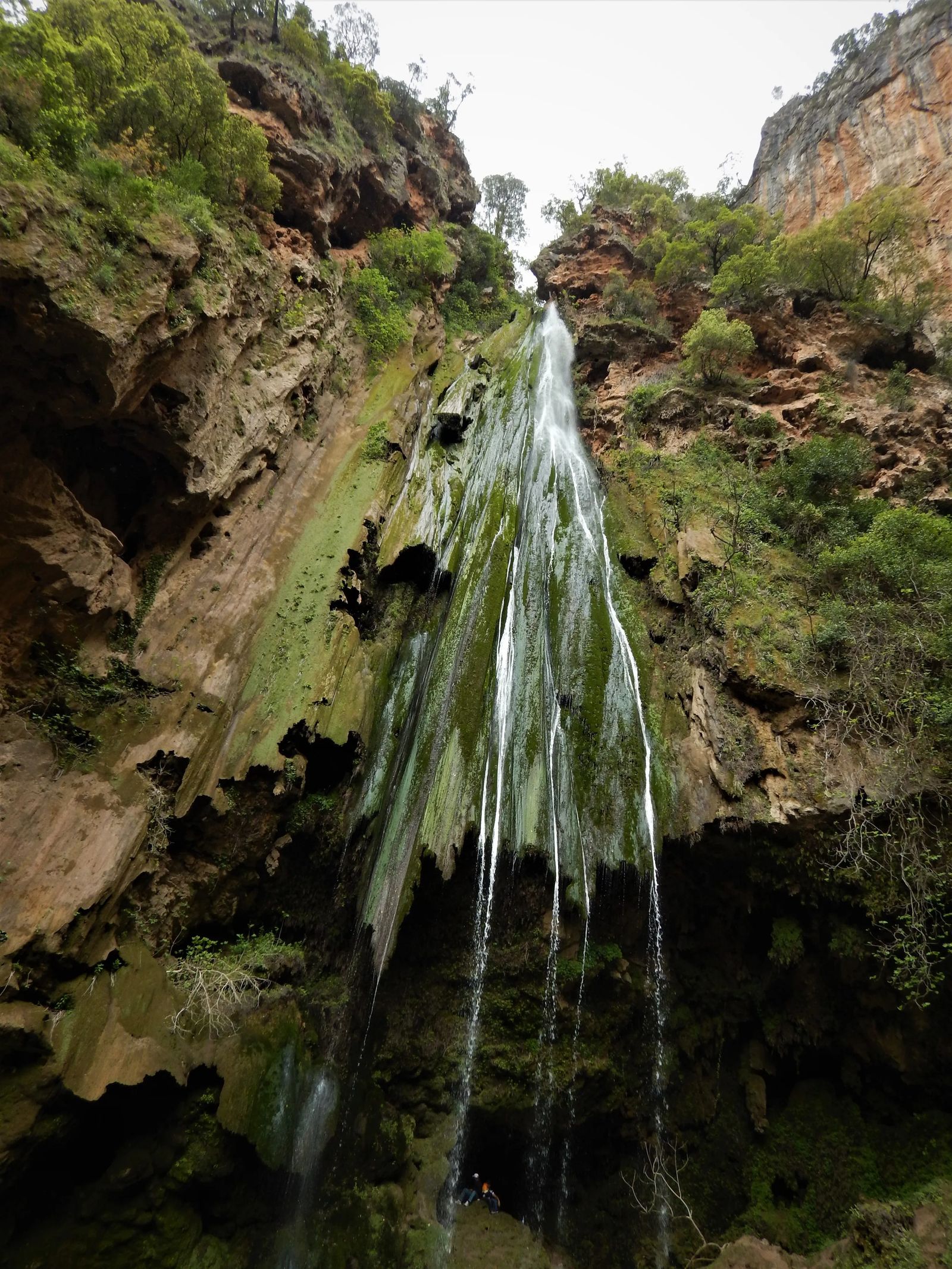 We got done swimming and had this wonderful tagine that was cooked by the locals right there. They were so nice and let us sit by their stoves to keep warm for a bit. We ate our fill, drank the delicious mint tea & decided to head back down the mountain to get back into Chefchaouen before dark.

Once I had a little food in my stomach, and stopped being so 'hangry', I was able to keep up with the guys pretty well. Took plenty of photos on the way back down, and couldn't believe how good I felt after taking the dip in the waters of the Cascades D'Akchour. Still, to this day, I keep telling Omar, how magical and truly healing I feel like those waters were for me.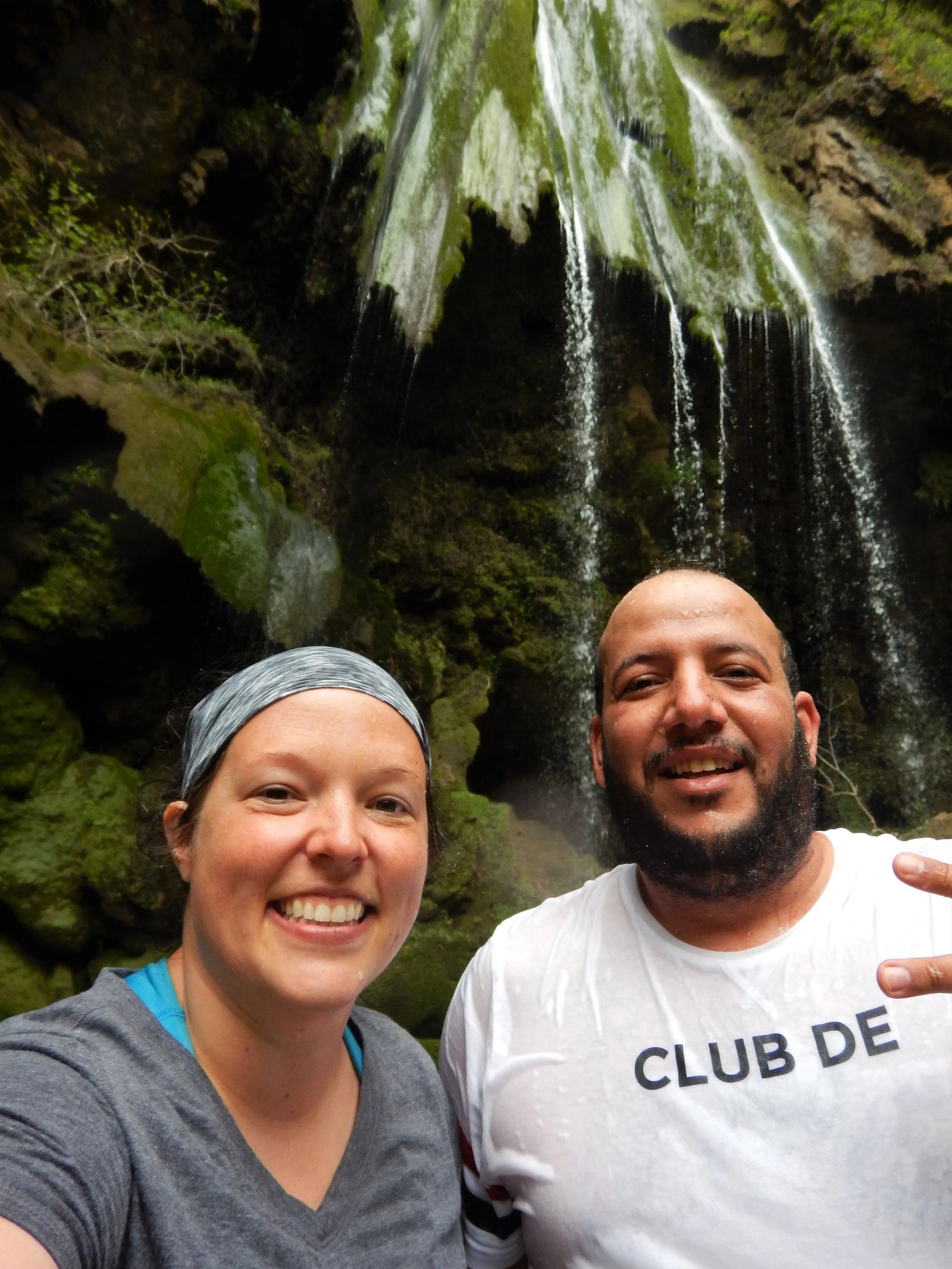 I have never been one to hesitate on things like that until some experiences in Dallas changed me into something I didn't recognize myself as being.
But for some reason, ever since my hike to Akchour waterfalls, the spontaneity came back to me, and it was the first time I felt happy and like giggling (like the old me), in nearly a year. So if you are ever looking for magical waters in Morocco, this is the place to be, in my own way I have now named it the 'Fountain of Youth'. Because when you leave, you really feel like you have become the young, free and spontaneous self again.
Happy Travels my friends, and don't hesitate to go and see this wonderful Fountain of Youth in Akchour. The road is hard on the hike to Akchour, but it is worth it in the end.
Where to Stay near Akchour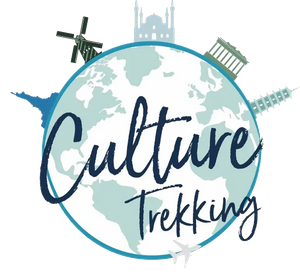 Culture - Connection - Art - Adventure