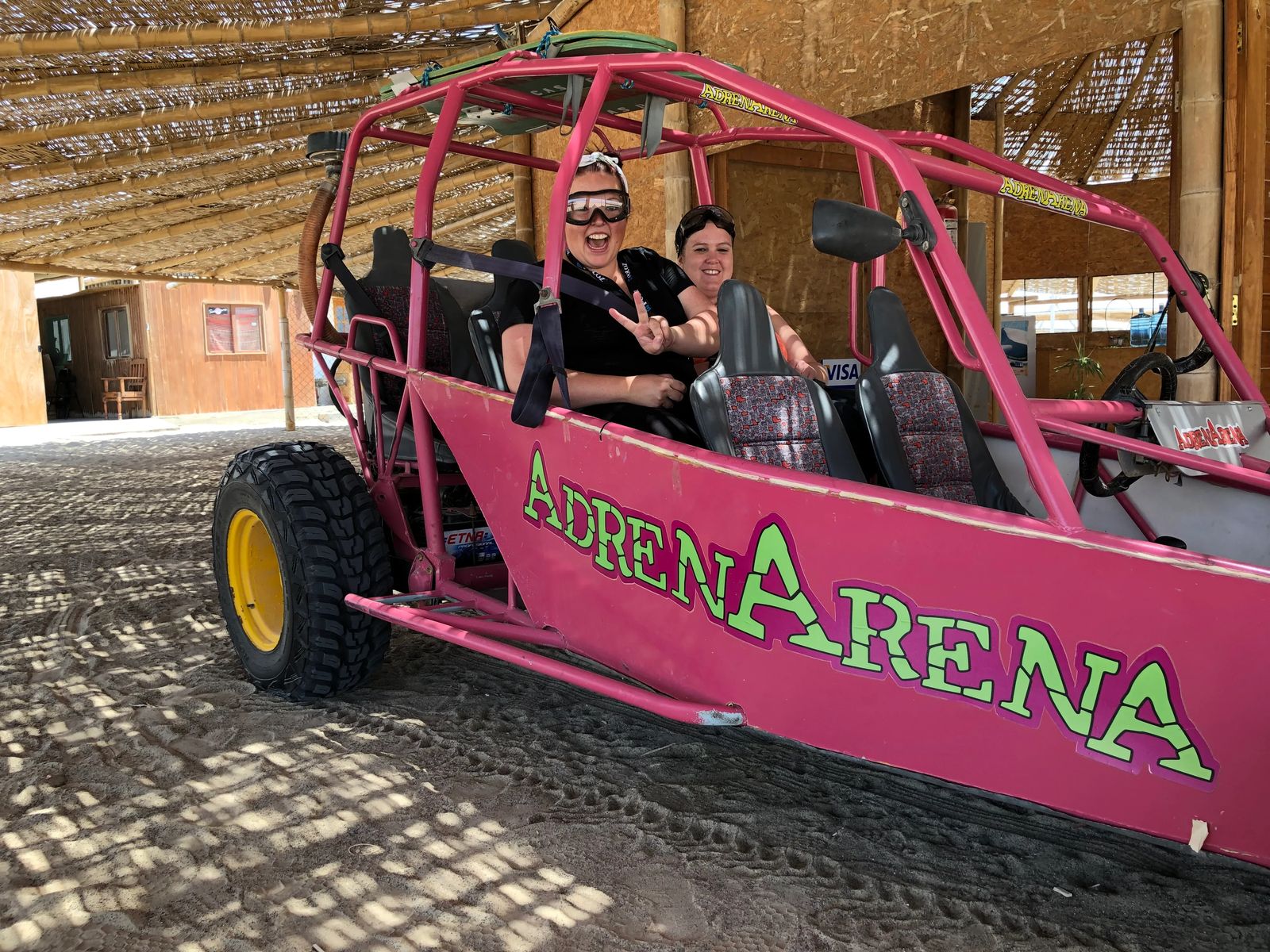 Paracas Desert in Peru a Dune Buggying Adventure
South of Lima, approximately 155 miles (250km) is one of two protected areas where marine life meets desert - the Paracas Desert in Peru. It is a little-known area, growing in popularity for its plethora of activities, genuinely kind people, ancient history carved into the landscape, and a raw yet beautiful landscape.
Departing for Our Shore Excursion in Paracas
Disembarking off the Cruise ship was fairly seamless, and were greeted by dancers on the port. They wore white flowing dresses, gracefully grabbing the hems lifting it into the air like a peacock showing its feathers. Wide grins split their faces as their male counterparts rhythmically clapped their hands and continued to attempt to dance close to them. It was a traditional folk dance that entranced us better than any television.
We were waiting for our group/guide from Emotion Tours Peru to take us on our respective tours. The guide had a clipboard with all of our names on it, one man's name was not on his list, but luckily he had a confirmation email printed to show proof that he had previously paid.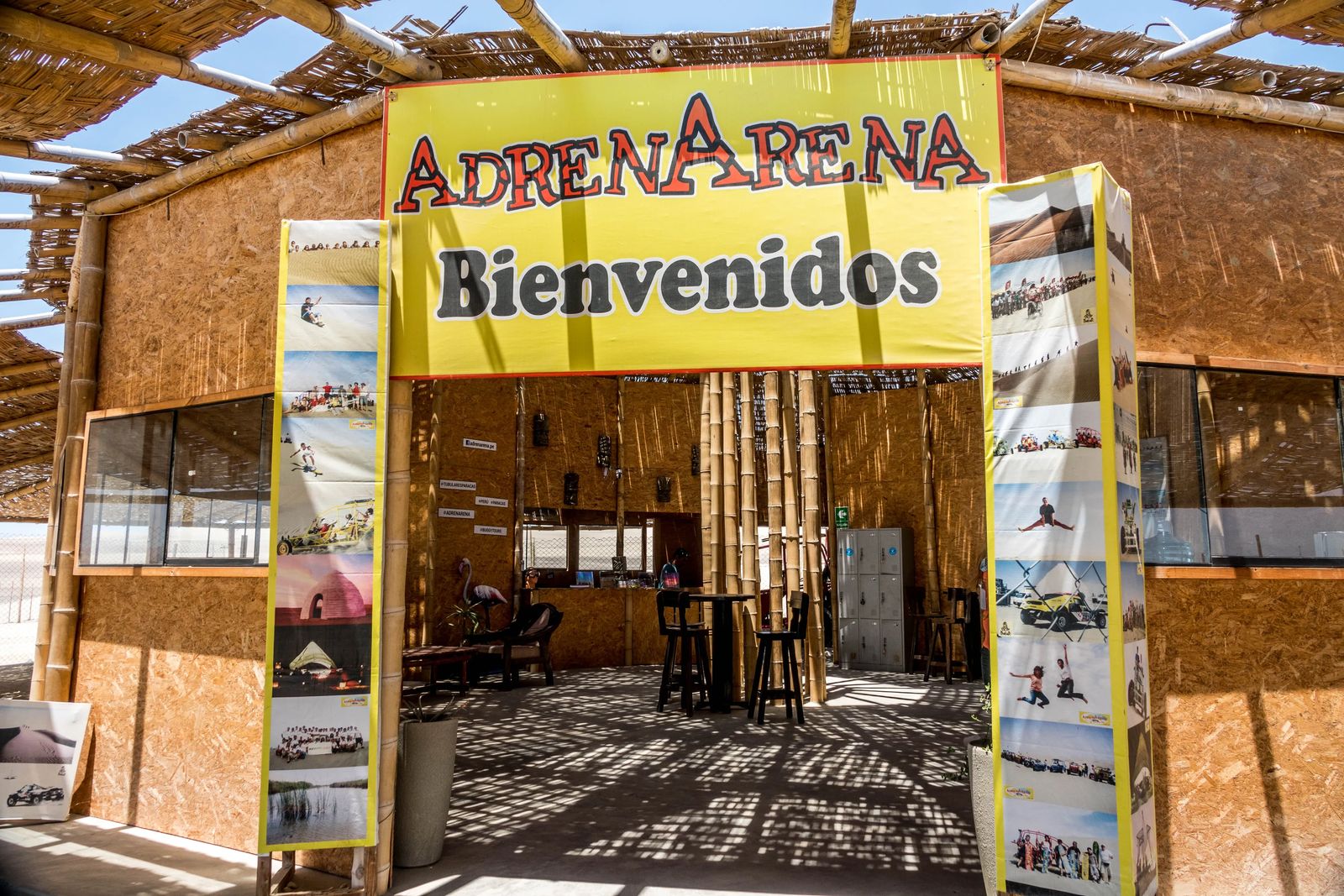 Once all the people on the list were accounted for, we hopped on the bus towards the main city center. The A/C was a bit dodgy at first, but after some broken Spanish communication we all sighed in relief as it blasted back to us inside the van. (For those with big hips, the seats are built for the petite Peruvians - so just be prepared to snuggle.)
The entire ride felt as if we were driving on the surface of Mars. As far as the eye could see there was vast desert landscape. Full of reds, tans, browns in all the various shades with naturally occurring textured hills, odd shaped lone rocks dotting the land. I typically like the green, lush landscapes - but there was something clean, crisp and challenging about this landscape that made me itch to explore it.
Parting Ways
We arrived into town and immediately were whisked away to our respective tours. Our driver for the Dune Buggy Ride in the Desert did not speak very much English.
Fun Fact: Did you know that 65% of the world does not speak English? Feel like I need to learn more basic communication to each place I visit.
Luckily I do speak some Spanish and was able to have a basic, broken conversation with him. It was about a 20 minute ride to the Adrenarena Dune Buggy Adventure. When we arrived it appeared that our driver brought us to the desert to die....the place was deserted. My friend Bree and I got out of the car, and explored the shop, utilized the bathrooms and then a grizzled man painted in grease popped around the corner and told us they were ready for us.
We put our backpacks, wallets and fragile items in the lockers provided with keys and followed him out back.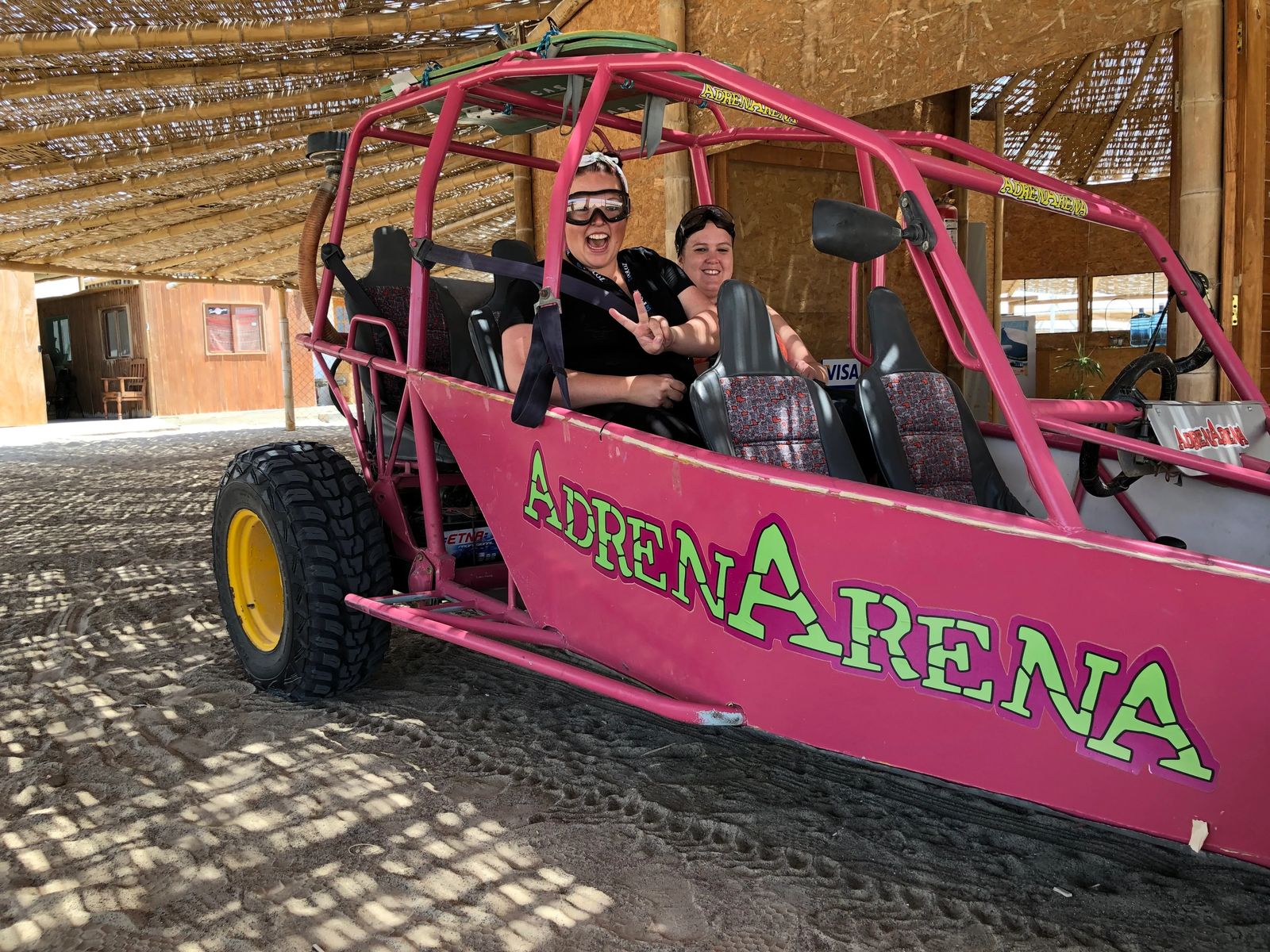 Getting Geared Up
Bree (my friend) and I have never been Dune Buggying. Needless to say, we didn't know what to expect, and didn't have any standard to compare it to.
So when I saw the cart provided, made of what looked like Metal pipes, bolts, I assumed this was par for the course for Dune Buggy Riding. They had seats, and seat belts, even a mount for my GoPro - What else do you need?
The man handed us our goggles, that looked like something you would wear while skiing, and we both awkwardly climbed in. Then they attempted to seatbelt us in and........well......it didn't reach. So while I planned my Operation Anorexia for when I got home, and fanned myself from the embarrassment - he kindly told us that they had the seat belts for kids in the cart. Oh good, but still, extremely embarrassing and I still feel like I need to do a thirty day fast or something.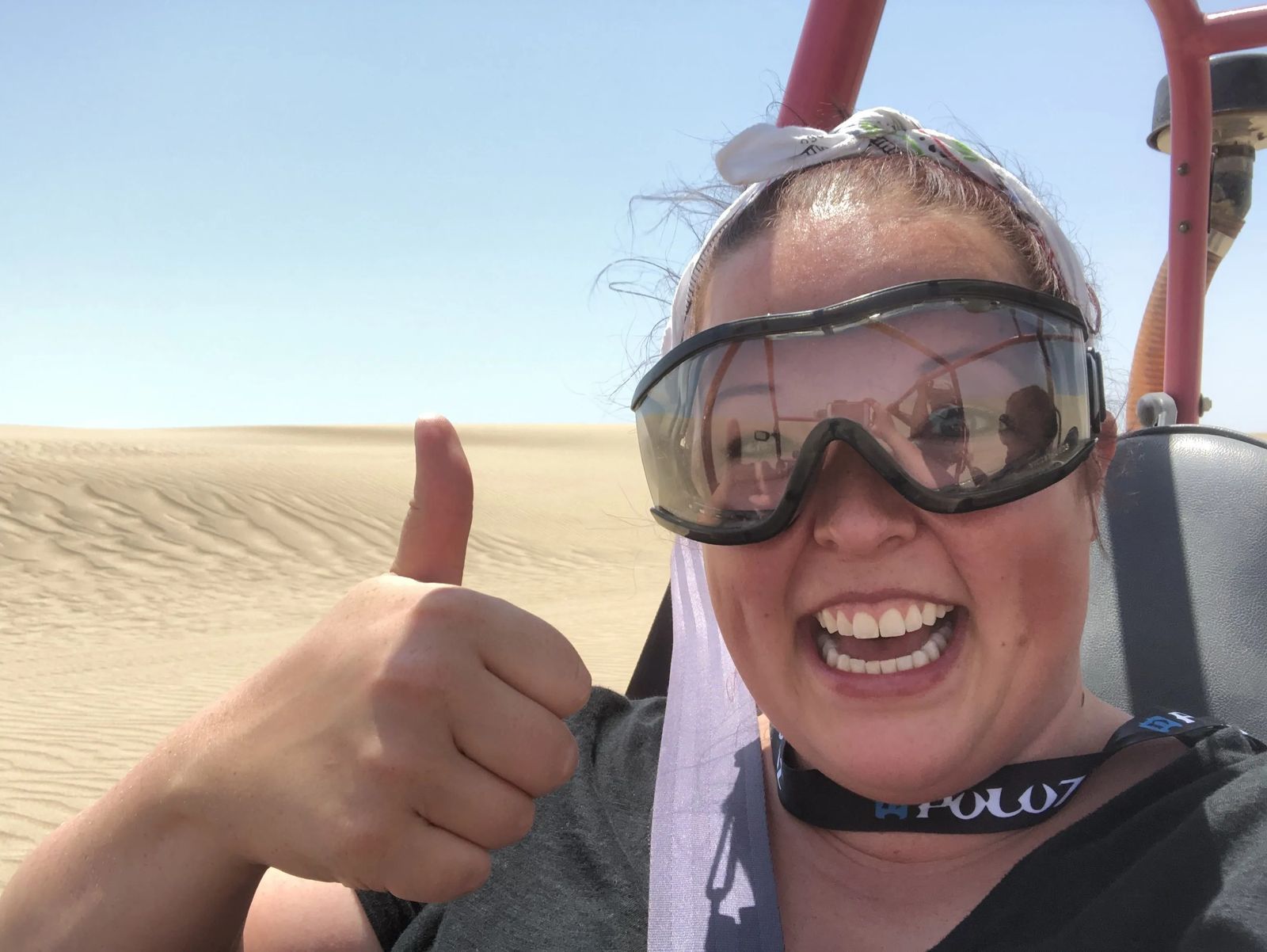 I tried to tell him we didn't need the seat belts and that we would just hang on tightly. A bubbling gut laugh escaped him and he politely said that wasn't an option. Feeling a bit confused as to why they were so persistent, they switched out the seat belts, strapped us in nice and tight and introduced our driver.
Introductions and Beginnings
Our driver, who I can't for the life of me remember his name (sorry), was a kind looking young man. He shook both of our hands and deftly climbed into the front. He put on his goggles, got instruction from the owner on how to use the GoPro properly, and then put the bandana that was resting around his neck over his mouth, "He must be trying to not get sunburned" I naively thought.
The owner shook our hands like he was (disconcertingly) saying goodbye, and grinned at our unknowing excitement for what was to come. Our driver pumped the gas, pushed the break down showing a bit of the sand beneath us, and turned the key. The machine sputtered to life and he revved the engine.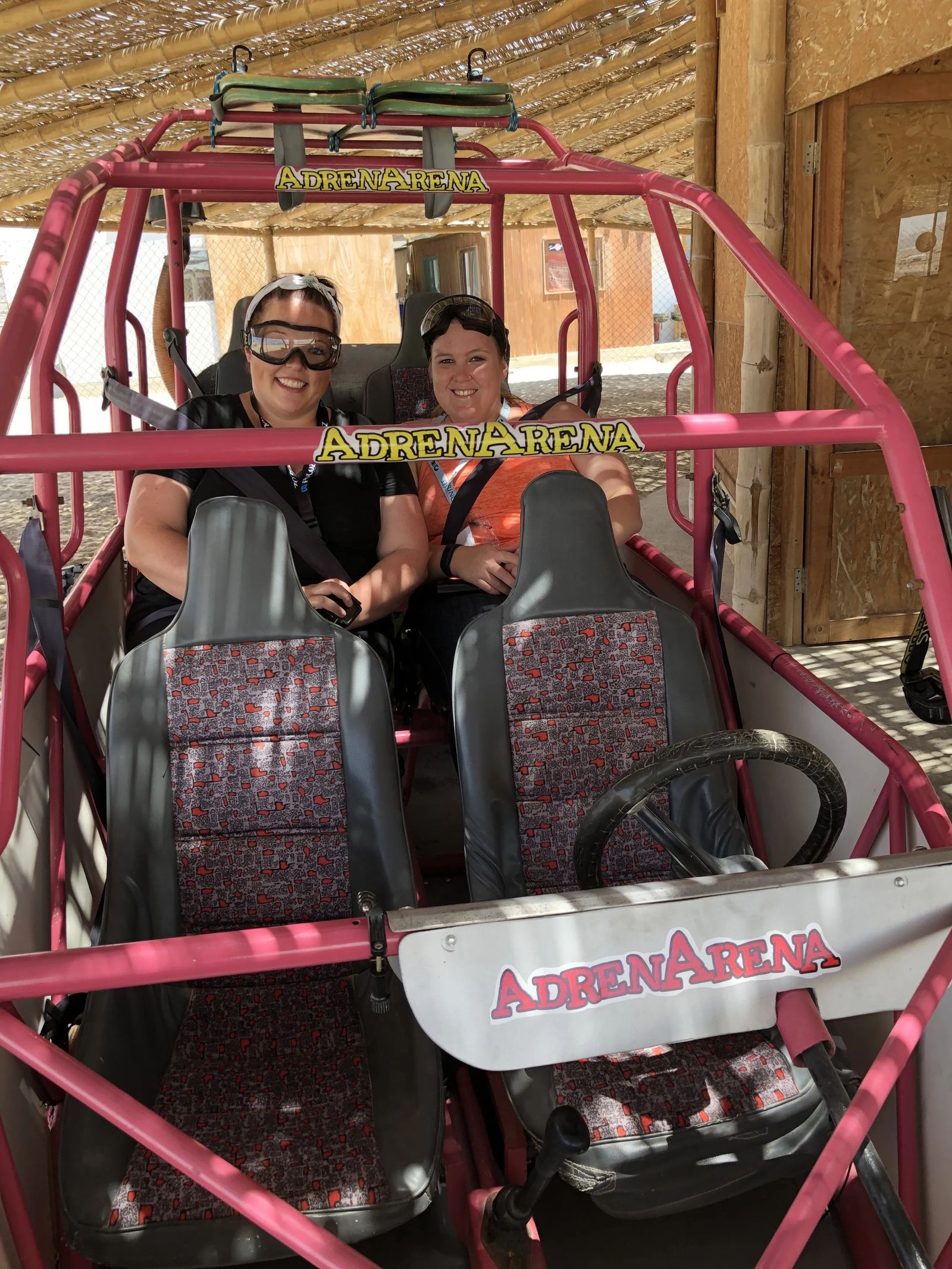 Exploring the Desert
He turned back to us and gave us a thumbs up, which we returned with giggles. Everyone waved goodbye to us, and he gently drove out from under the shade of the complex.
Even just writing this my heart is starting to race, because I look back at this and think, "You stupid, poor, naive little girl....you truly were oblivious to what was about to come".
Lest I digress, our driver took us over some of the gently rolling hills and I marveled at the beauty of the vast expanse of nothingness. Then he started to increase his speed, a slight smell of gas reached my nose - and the speed increased even further. We approached a small shack, which I now call the point of no return...and that's when things started to get crazy.
The Initial Leap
Ascending that first sand peak prepared me for the 'what goes up must come down', but those blind peaks are what the real heart stoppers were. The first hill wasn't too bad, a regular scream of delight came out of my mouth. The next hill soon after that was a blood curdling scream of death and all those trauma patients I had treated in the past went flashing through my mind.
Each hill he took us over, and then he turned sharply to the left just as we crested brought a fresh wave of panic. My throat started to hurt ten minutes into it. We were filming though, sooooo, I felt like I couldn't chicken out at that point. Our driver kept turning around giving us a thumbs up and I quickly gave him a thumbs up so that he would keep watching the shifting sands under us.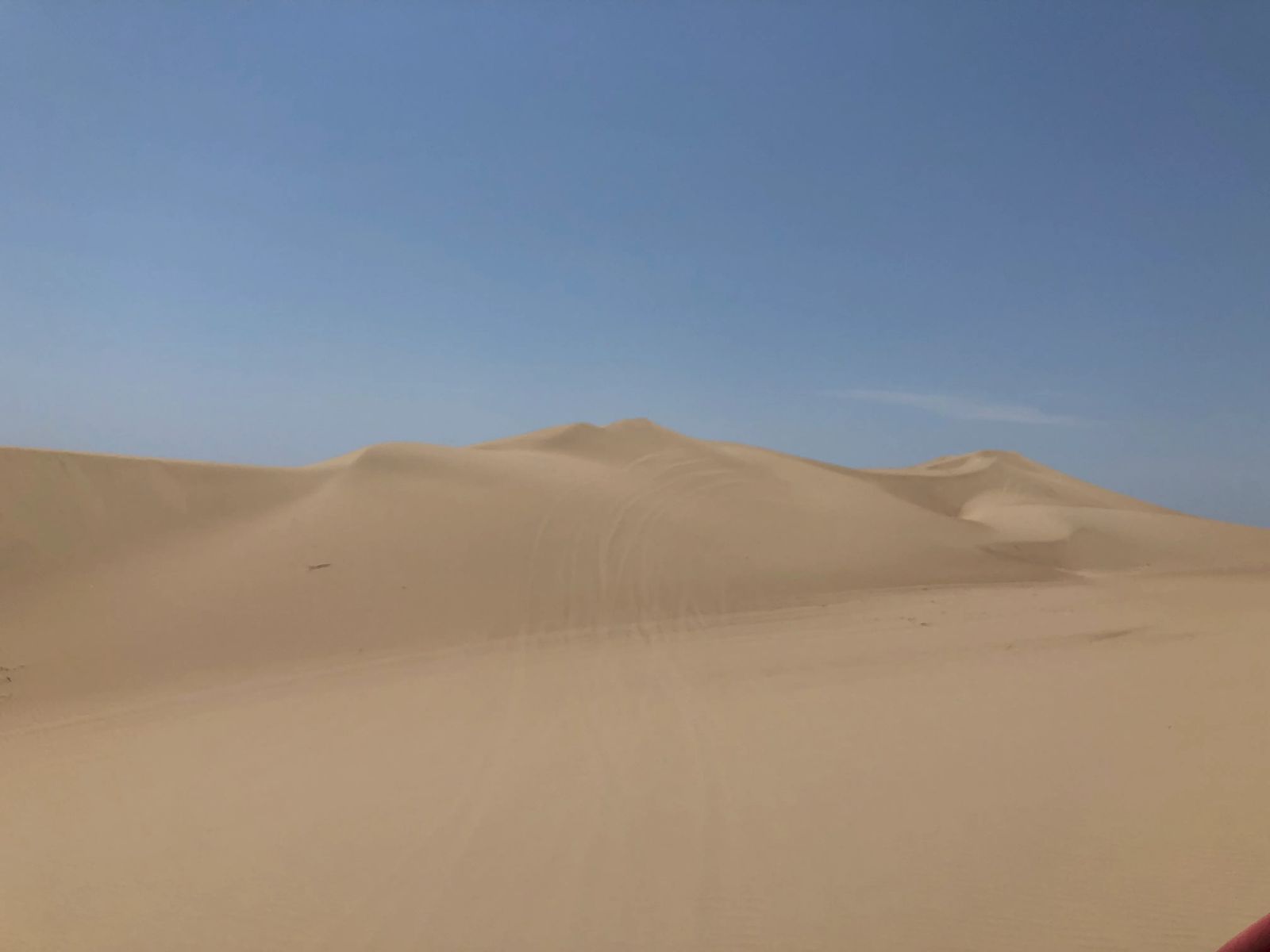 The longer the ride went on the more of those broken femurs sticking out of the thigh, crushed arms, amputating arms, hammering, cutting, slicing, blood, blood, blood went zipping through my brain just as fast as he went over the hills.
This was it, I somehow had the words from Gladiator going through my brain, 'For those of us who are about to die, we salute you'. I have to preface this with a story about when I was 18 and invincible. I was dared in front a group of six burly cow farming men to go off of a dirt jump on a 250 Yamaha dirt bike. At the time I weighed around 125 pounds and thought I was tough as nails. I mean, just weeks before I was hanging out of a car door pretending to skate on the pavement while my guy friends went 45 miles an hour down the road. I always had a tendency to want to appear tough, and then ended up getting on said dirt bike, jumping the jump, going over the handle bars, landing on my head, having a seizure and waking up to the life flight helicopter.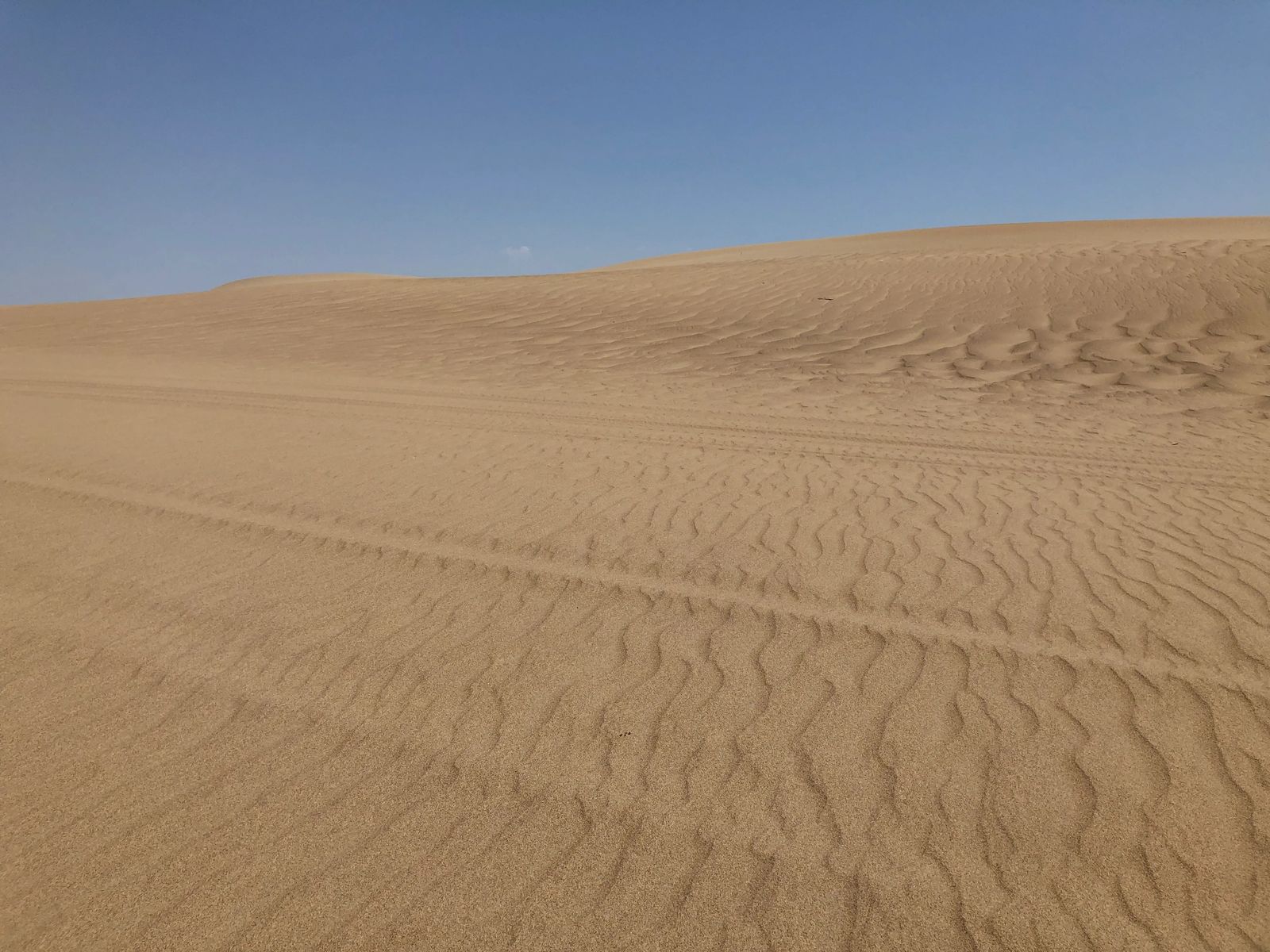 What gave me some consolation during this harrowing, exhilarating, heart-stopping, A-fib inducing event was that my Grandma had just passed away two weeks before and so if I died, she would be there to greet me. Another thing that was consoling to me, was that my friend was screaming like I have never heard her scream before. Bless her heart, I play jokes on her all the time, and this was her Christmas present from me. To be hauled out into the desert and have a heart attack of a time.
There were a few moments where the bandanna around his face made a lot more sense as to the reason why he was wearing it. It wasn't just to keep the sun off his face, it was to keep the sand out of his mouth. While I do like a good facial exfoliation, having the inside of your mouth exfoliated with warm sand isn't the most pleasant thing to be chewing on the rest of the day.
Our driver stopped, took some very good obligatory photos, and then started unstrapping the Sand Boards from the top of the vehicle.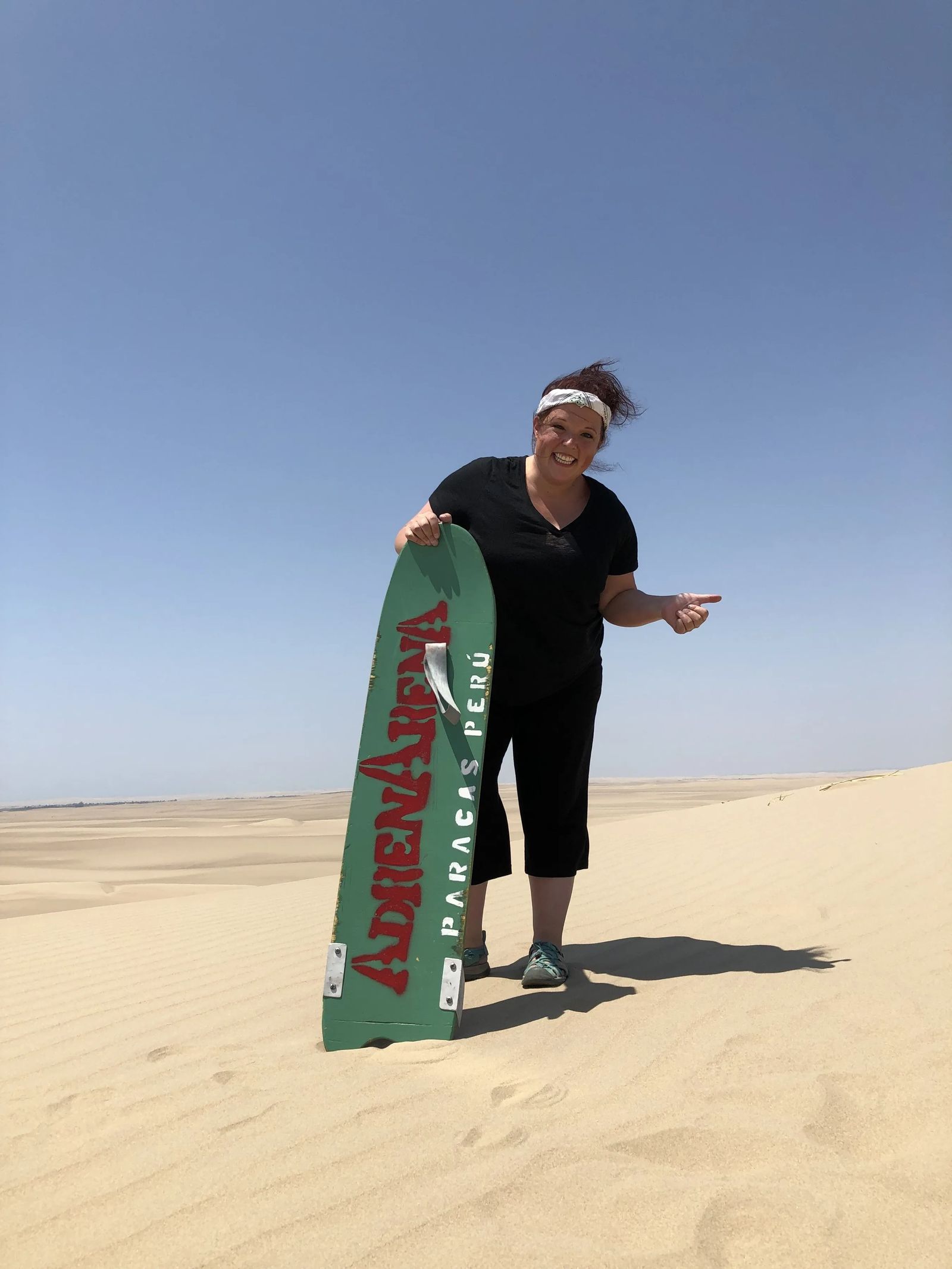 Sand Boarding in the Desert
I didn't know that we were going sand boarding before we started this trip. There were a few advertisements for it when we had walked into the shop, but I had only really paid for the Dune Buggy Riding.
Up for any adventure, I received instruction on how to know break my back or leg and sat on the board. I know there are some folks who like to stand up on these things, but as I didn't have any Travel Insurance; I don't really relish the thought of being in a country where I don't know the health care system.
Our driver gave me a good push and in a quick rush, was down the sand dune. While it wasn't like sand boarding down the slopes of the Sand Dunes in Utah, or Lake Powell - at least I could say I tried it.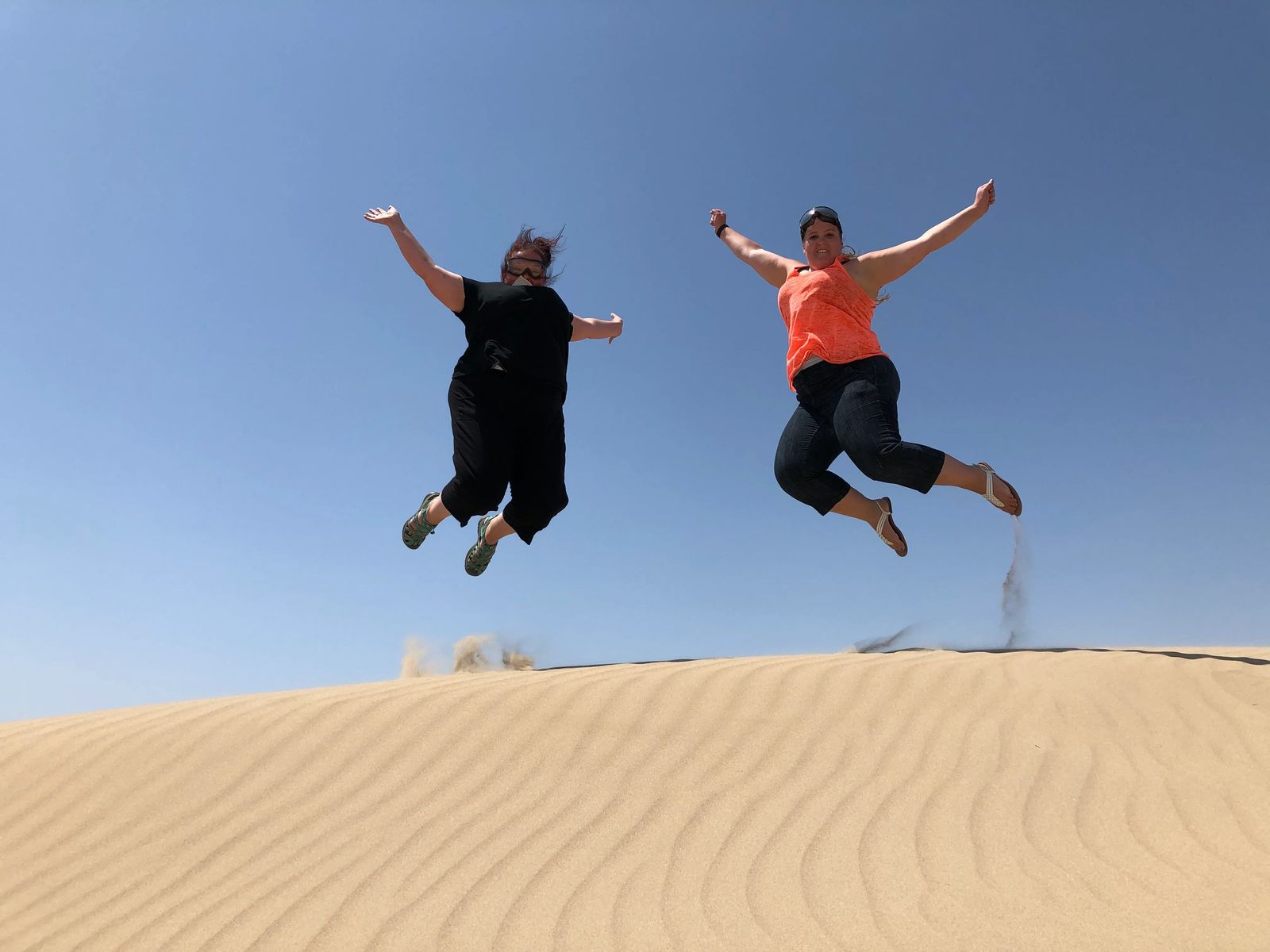 The reason I'm sharing this with you, despite it feeling a little less thrilling than the recent feelings of near death in a dune buggy; is because I think we would have had loads more fun doing this if we would have brought proper shoes. Both of us wore shoes that did not keep the scorching sand out of our shoes and had to drop to all four limbs a couple of times to give the burning of our feet a break. Plus, running up a sand hill after the Adrenalin rush of the dune buggy ride wears off is really a lot more difficult than it looks.
So my traveler tip to you, is that if you ever decide to go sand boarding in the desert in the middle of the day. Make sure you are wearing tennis shoes, had a bandanna to tie in front of your face, bring reflective goggles, wear sunscreen, and bring plenty of water.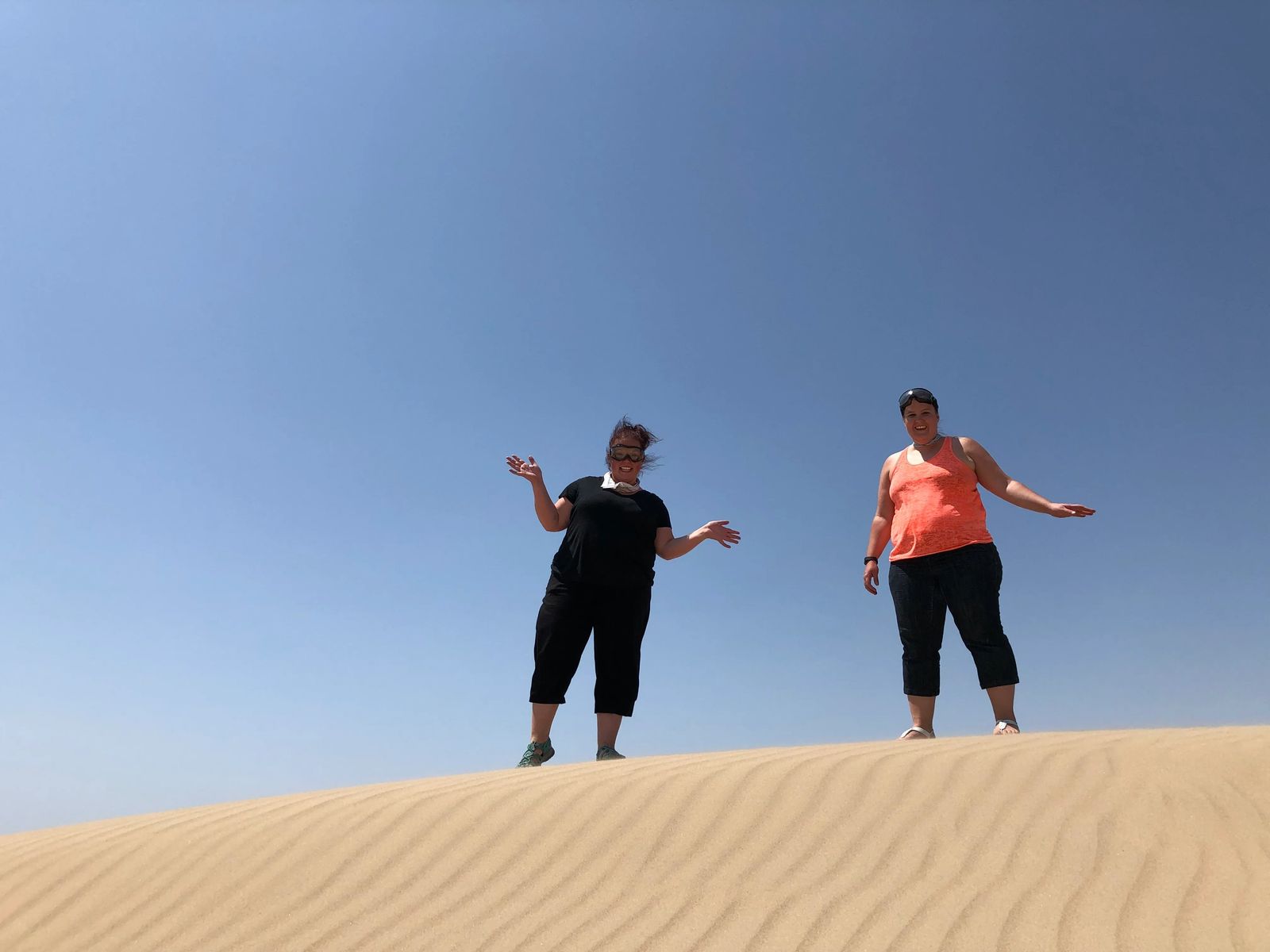 Final Verdict on this Experience
This was by far one of my favorite things I have done while abroad, also the most dangerous. I could have taken about four days to explore Pisco and the Paracas desert. The Dune Buggy Riding alone would have been worth it to spend a whole week in the desert. The adrenaline rush is something like I have never experienced, but like a true adrenaline junkie, I can't wait to have the high associated with that near death experience again in the serene Paracas desert.
If you find yourself in Pisco or Paracas, I highly recommend Adrenarena (not sponsored). They are kind, accommodating, genuine, and so laid back that despite the fear inducing activities- it kind of feels like you are hanging out with family members.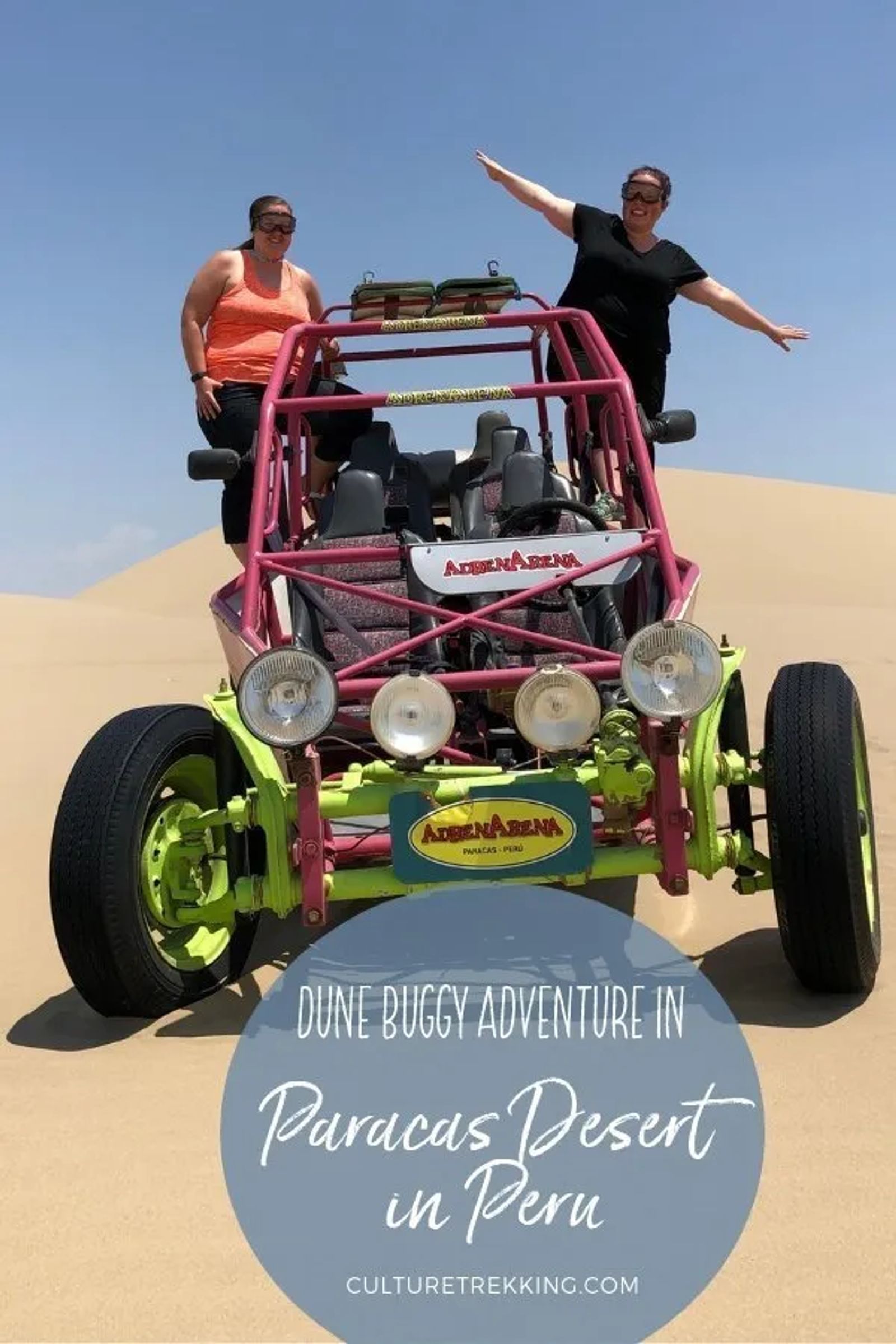 Other Activities Offered at Paracas and Adrenarena
Fauna observation, bird watching, fishing, diving, kayaking, hiking, night-time camping/dinners, glamping.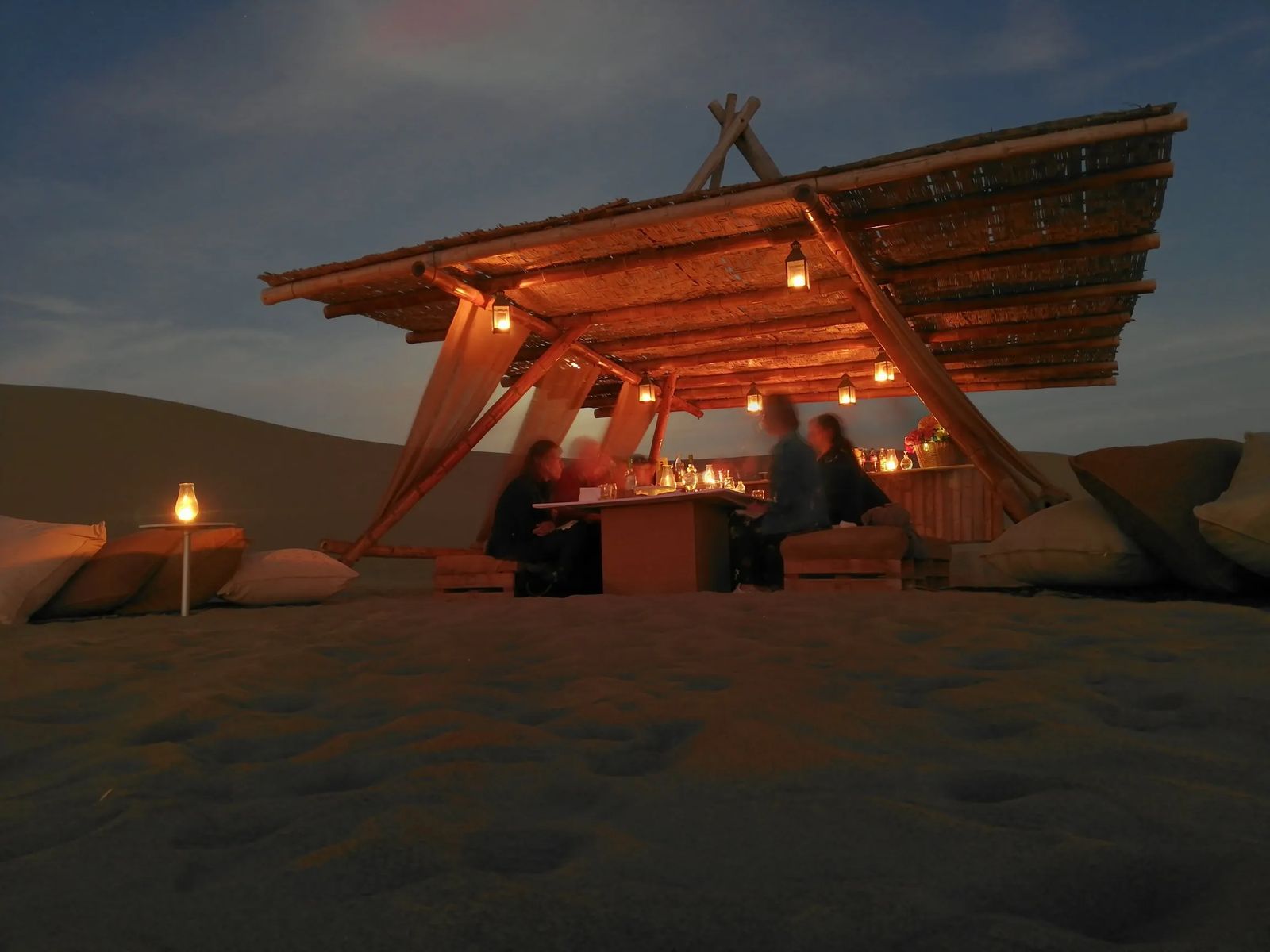 Where To Stay Near Paracas Peru