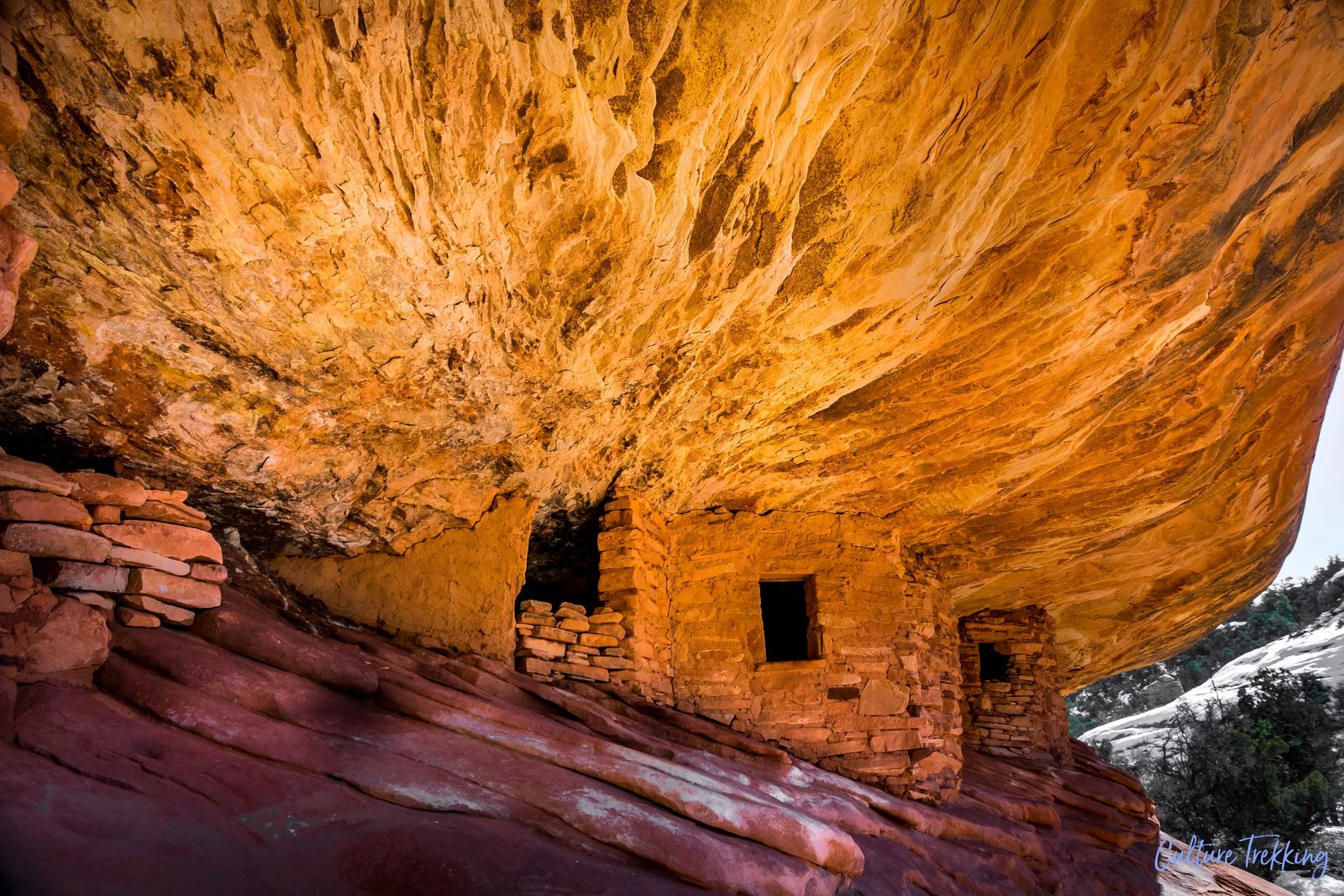 Top Things To Do In Blanding Utah (Local's Guide)
Blanding sounds like boring doesn't it? Well it is FAR from boring! It has some of the best attractions and parks centered around Native American Culture in the Utah. There are so many Anasazi Ruins, and Archaeological sites here that it is actually very difficult to get any article approved because of antiquity looting in the area. What makes this place even better? Well let me tell you! You can take your dog with you pretty much anywhere you go. So for those like me that love epic road trips, especially road trips with my sweet dogs, Zoey and Finn- this is a place you should definitely visit.
After making four trips down there (so far), here are my suggestions on the top things to do near Blanding Utah. I have updated this post in 2022 to include the best information possible to ensure you have an epic trip.
How To Get To Blanding Utah
First off, you will need a car, RV or some mode of transportation to get there. I highly suggest bringing a 4-wheel drive vehicle as many of the roads I suggest driving on require a bit of navigation on the dirt roads. I personally drive a Subaru Forester, and feel like the clearance and engine is adequate to navigate the roads in any season.
There is no major airport near Blanding, the closest airports are Salt Lake City International airport, St George Regional Airport, Grand Junction Regional Airport, and Las Vegas International Airport. No matter what airport you happen to fly into, it is going to require you to drive at least 2 hours to get to Blanding.
From Salt Lake City Utah, with no pit stops it will take you 5 hours, but with our dogs and a few pit stops it is more like 6 hrs 30 min.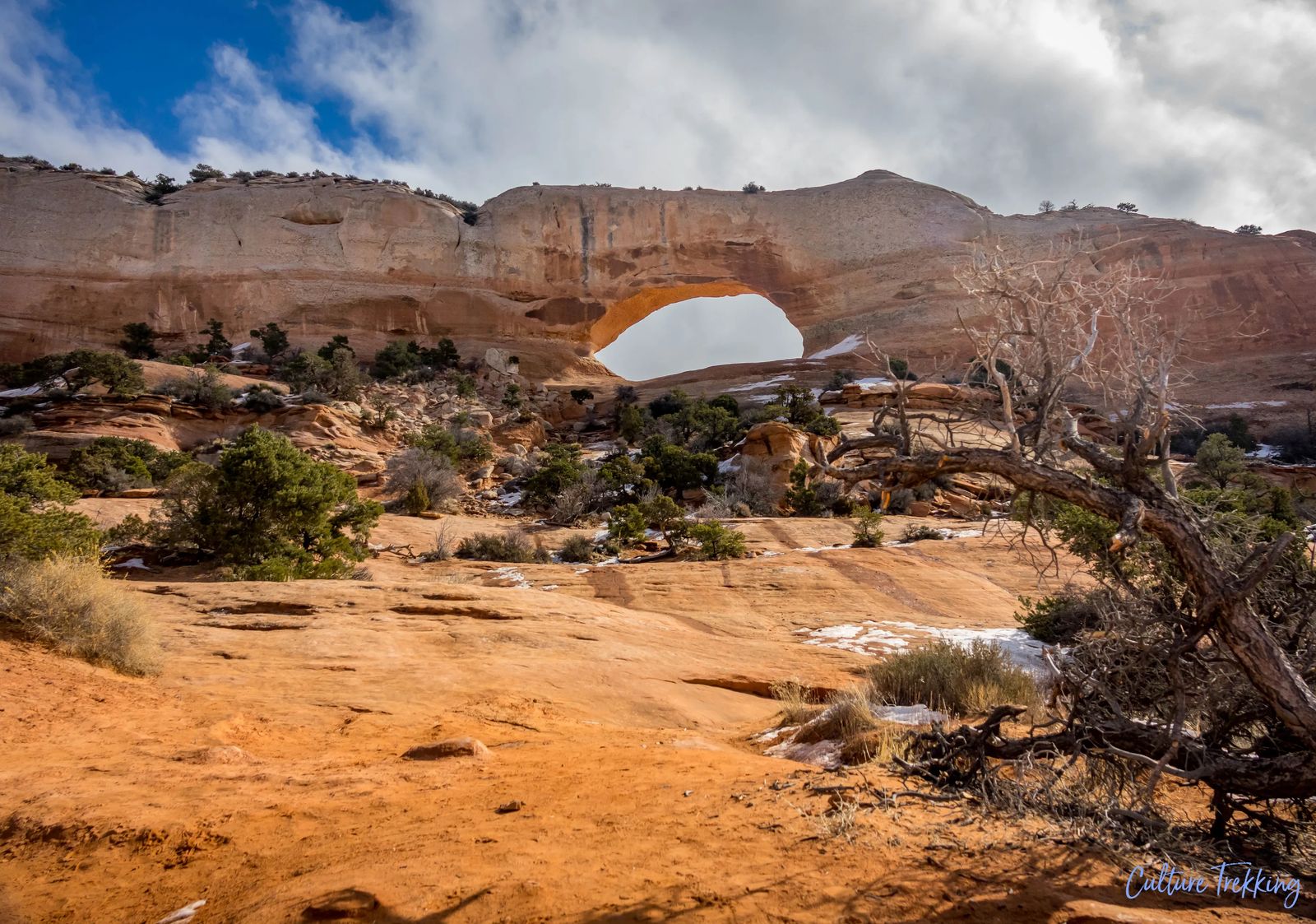 What To See on The Way To Blanding Utah
If you are coming from Salt Lake City, there are a few gas stations that are my 'go to' gas stations on the way, one is in Beaver Utah, and the other is in Fillmore. They have some unique souvenirs and really clean bathrooms.
From Fillmore the next stop is typically in Moab, with a brief stop at Moab Brewery for their Moab Burger (so delicious). Moab in and of itself is a whole week of adventure, if you are bringing your dogs with you, be sure to check out my Dog Friendly Guide to Moab.
Near Moab, you can stop at Dead Horse Point State Park for a quick picture and beautiful view (there is a cash fee to see this, paid per car). From Dead Horse Point State Park, I would take start heading to Blanding or Wilson's Arch just outside of Moab.
Wilson's Arch
This arch is easily seen from the road, and was named after a local pioneer. The arch is an easy hike to the opening with rewarding views of the surrounding hills and vistas. If you are in for a bit more adventure, you can also climb to the top of the arch. It is a 5.3 climb, but very exposed. Once you get to the top you can do a simul-rappel and there are rappel anchors at the top as well.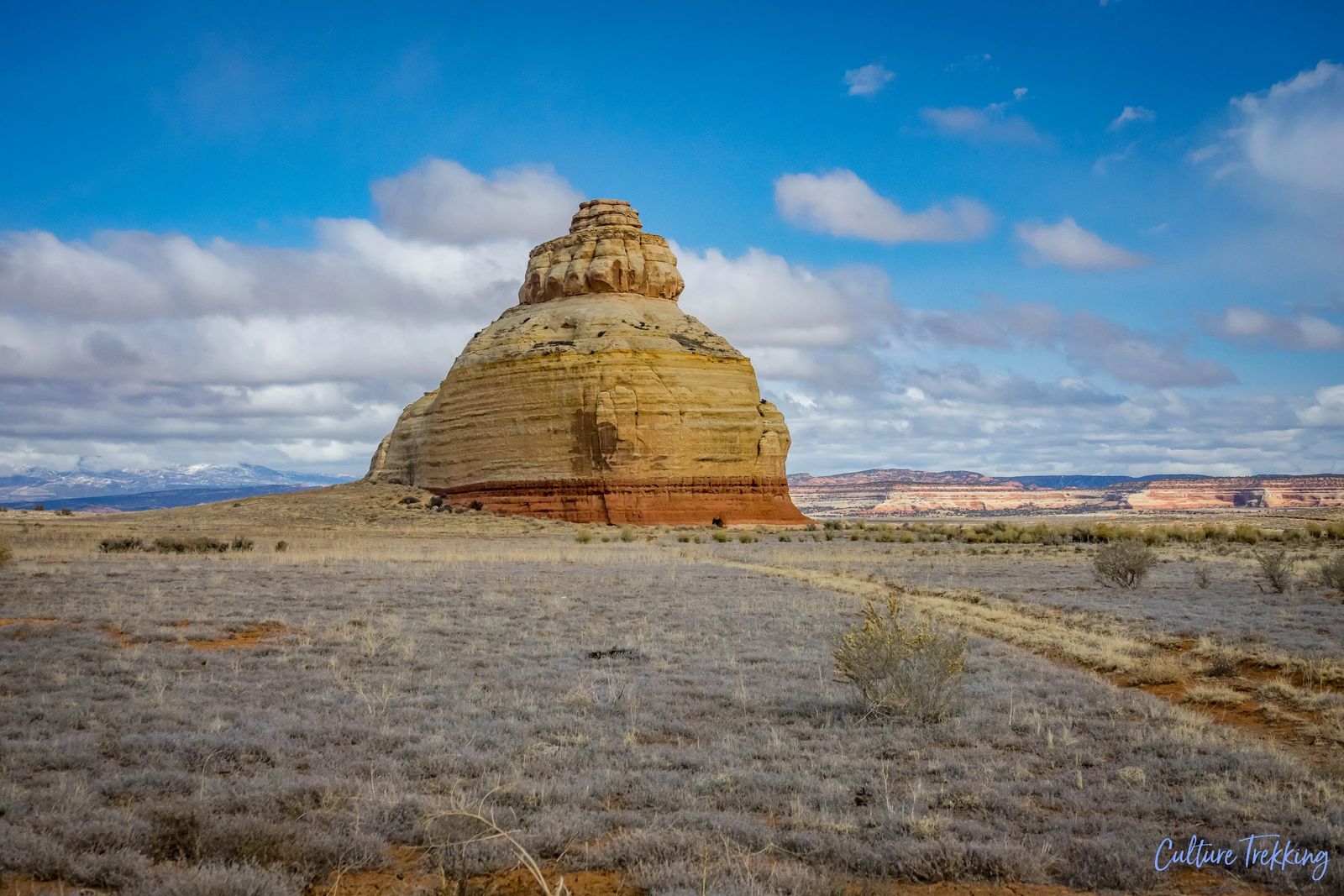 Church Rock
This rock is often mis-associated with a nearby utopian society that once resided here. Marie Ogden founded the 'Home of Truth' community. She believed and grew a community that believed that residing in this area was the only way to survive the end of the world on a certain date. The date came and went, and the world is still here, so the community dispersed.
If you take a tour around the rock, there is a hollowed out area at the base of the rock that makes it appear as if it was being made into a church. In fact the hollowed out area was made from dynamite to store salt licks and feed for cattle in the 1940's.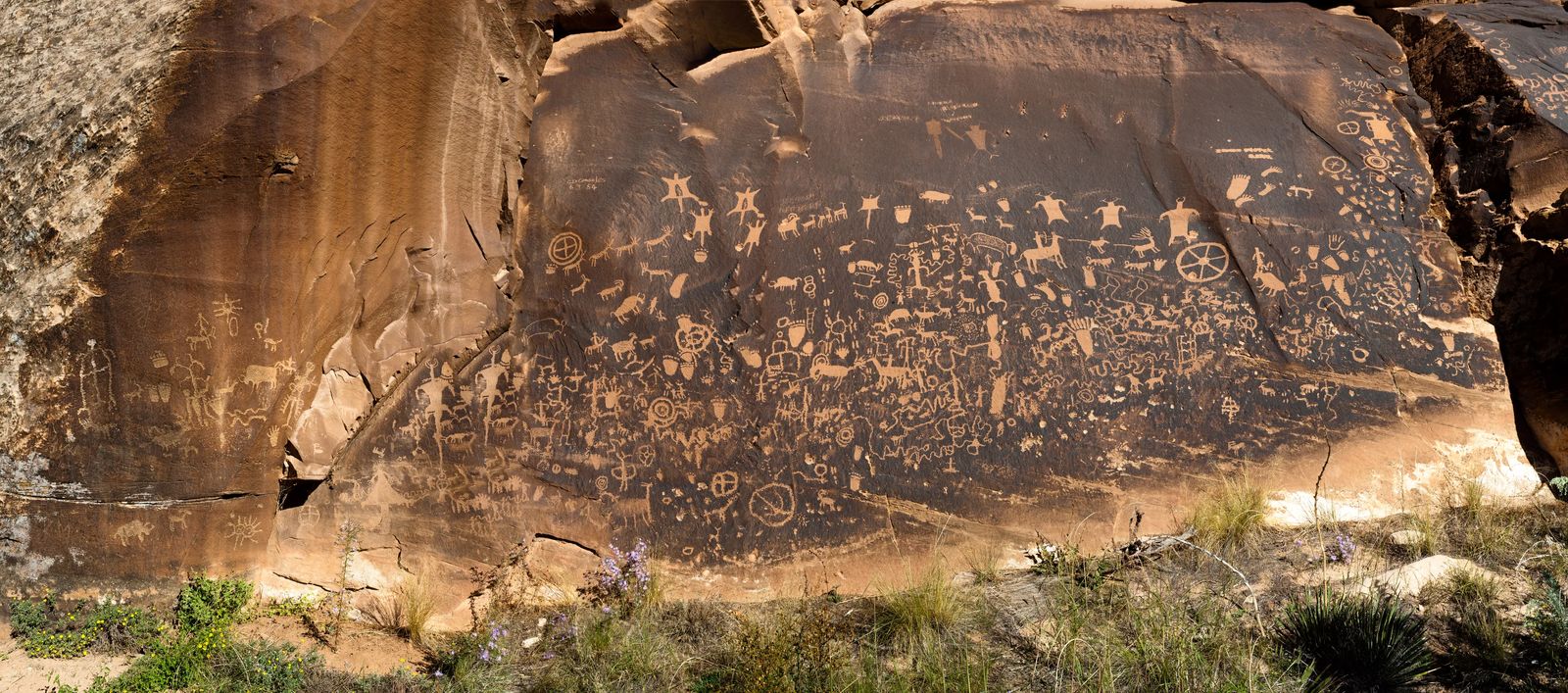 Newspaper Rock
Newspaper rock is along highway 211 near Monticello and Indian Creek Corridor (also with a lot of pictographs and petroglyphs and rock climbing routes). It is also very close to Church Rock. Native American Indians have been drawing on Newspaper Rock for the last 2,000 years.
In Navajo the rock is called Tse' Hane in Navajo, or "rock that tells a story". The archeological rock is 200-sq-feet and has over 650 figures, animals and other religious associated symbols carved into the surface.
Blanding Visitors Center
The Blanding visitors center is a worthwhile stop, as it has different artifacts and a small museum of the early days of Blanding. There is a recreated cowboy camp that shows how the pioneers survived when first establishing the area. The volunteers are very helpful, and have plenty of brochures and maps to show you exactly where you need to go.
For those with kids I have heard that the dinosaur museum in Blanding is a great place to see, especially during cold weather, and/or the heat of the day when full exposure hikes wouldn't be good for the kids.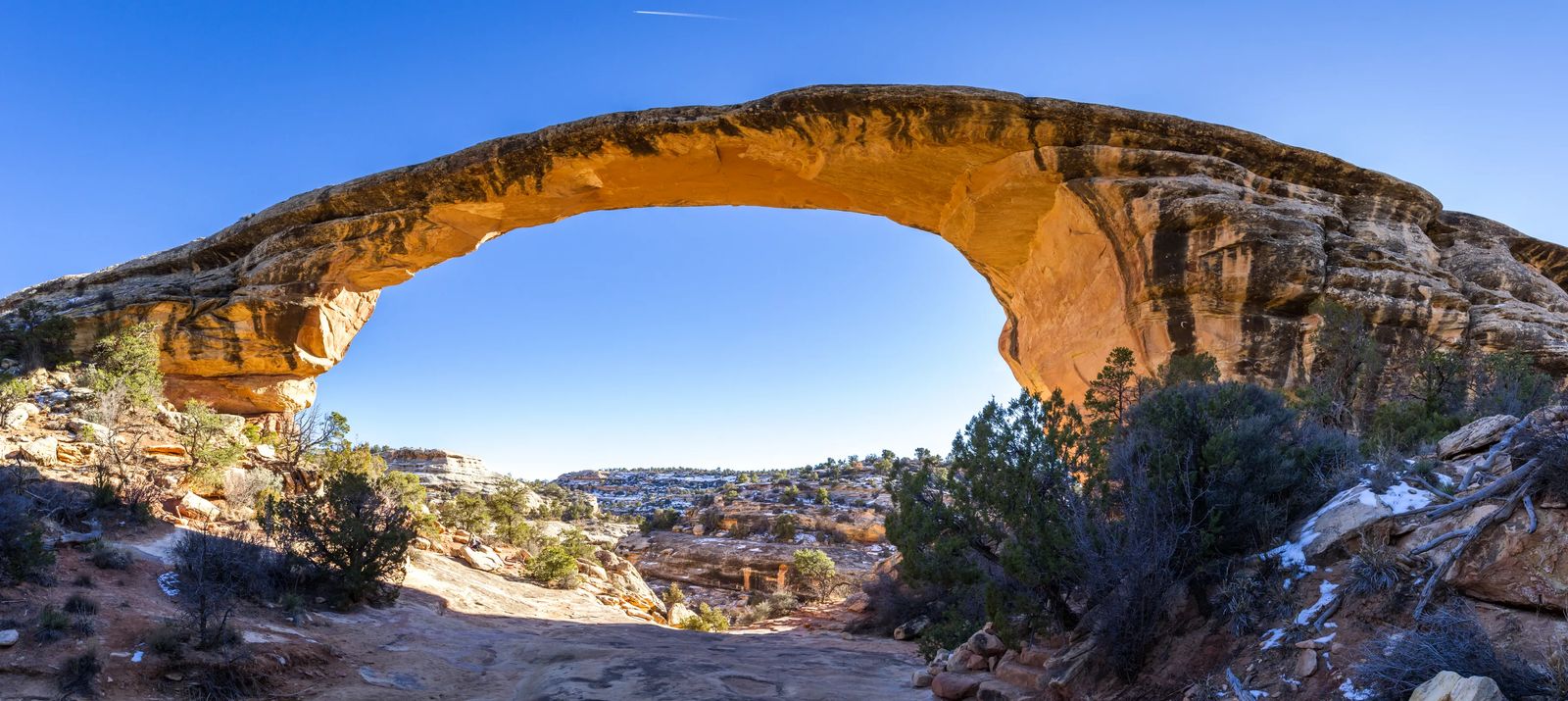 Natural Bridges National Monument
This was declared a National Monument in 1908, there are 3 of these natural bridges in the area called "Kachina," "Owachomo" and "Sipapu". The bridges were named after the Puebloans that once lived in this area. There is archaeological evidence that the Hopi people (or ancient Puebloans) lived here somewhere between 7000 BCE to 500 CE.
These are some of the most photographed natural bridges in the world. They are often photographed at night as the area was the first named dark sky park in the country.
There are a few campgrounds here and plenty of hiking to get up close and personal to each of the bridges.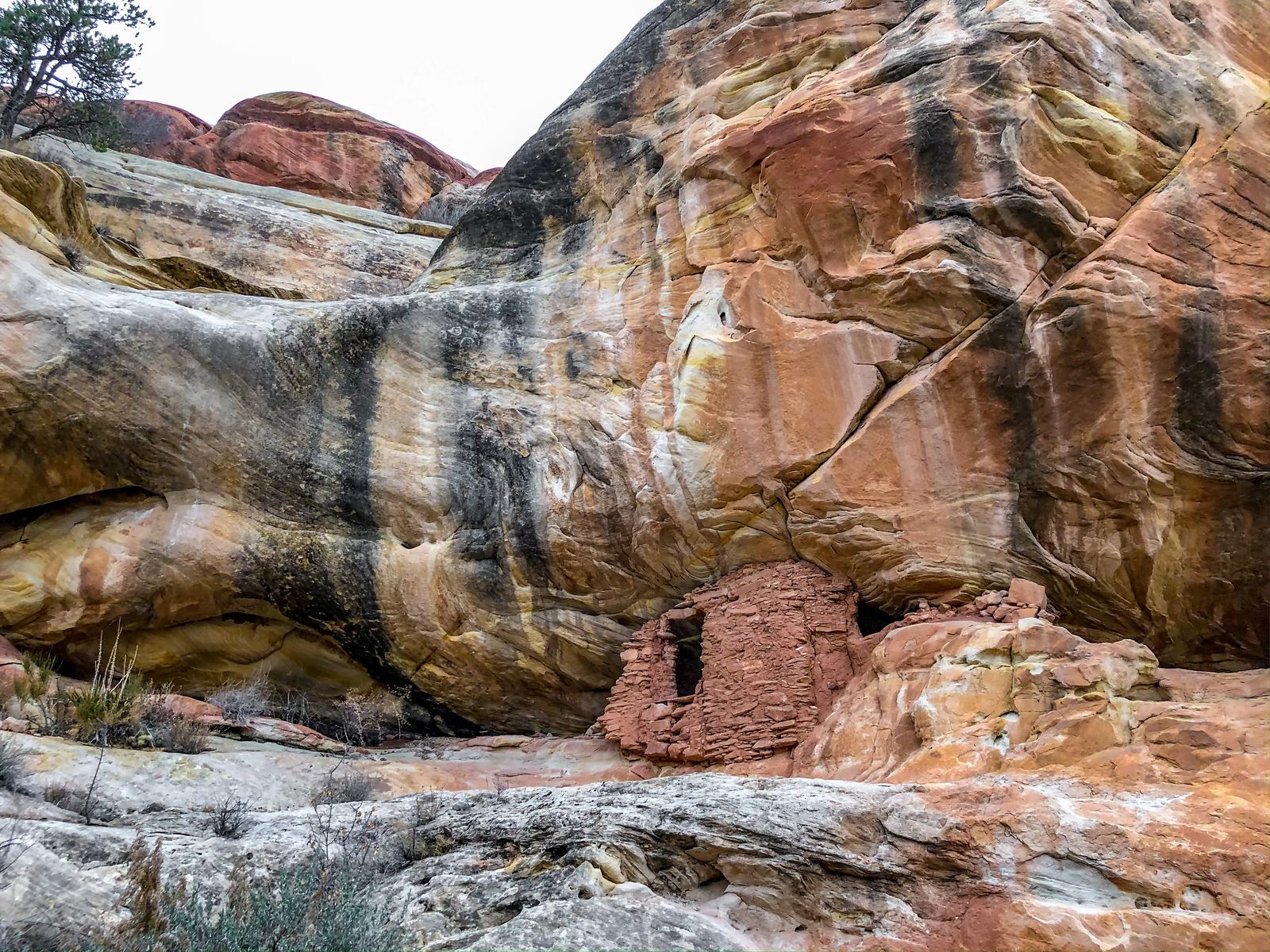 Lower Mule Canyon
The trail to lower mule canyon isn't super clear so I suggest using a GPS guide. There are lots of stickers and Cacti along the way as well, so if you are bringing your dogs make sure you make protective shoes on them because the stickers work their way under the skin.
On the way back, you can follow the road where the cars would drive, and it seemed to be a much easier way to get there. There are ruins that go all the way back, but the best ones are right at the beginning within 20 minutes of starting the hike. It goes without saying, but PLEASE DO NOT TOUCH OR CLIMB IN THESE ANCIENT DWELLINGS! Preserve the area for future generations! The oils from your skin break down the clay, the clay is very fragile so although it looks like you can climb in, please don't.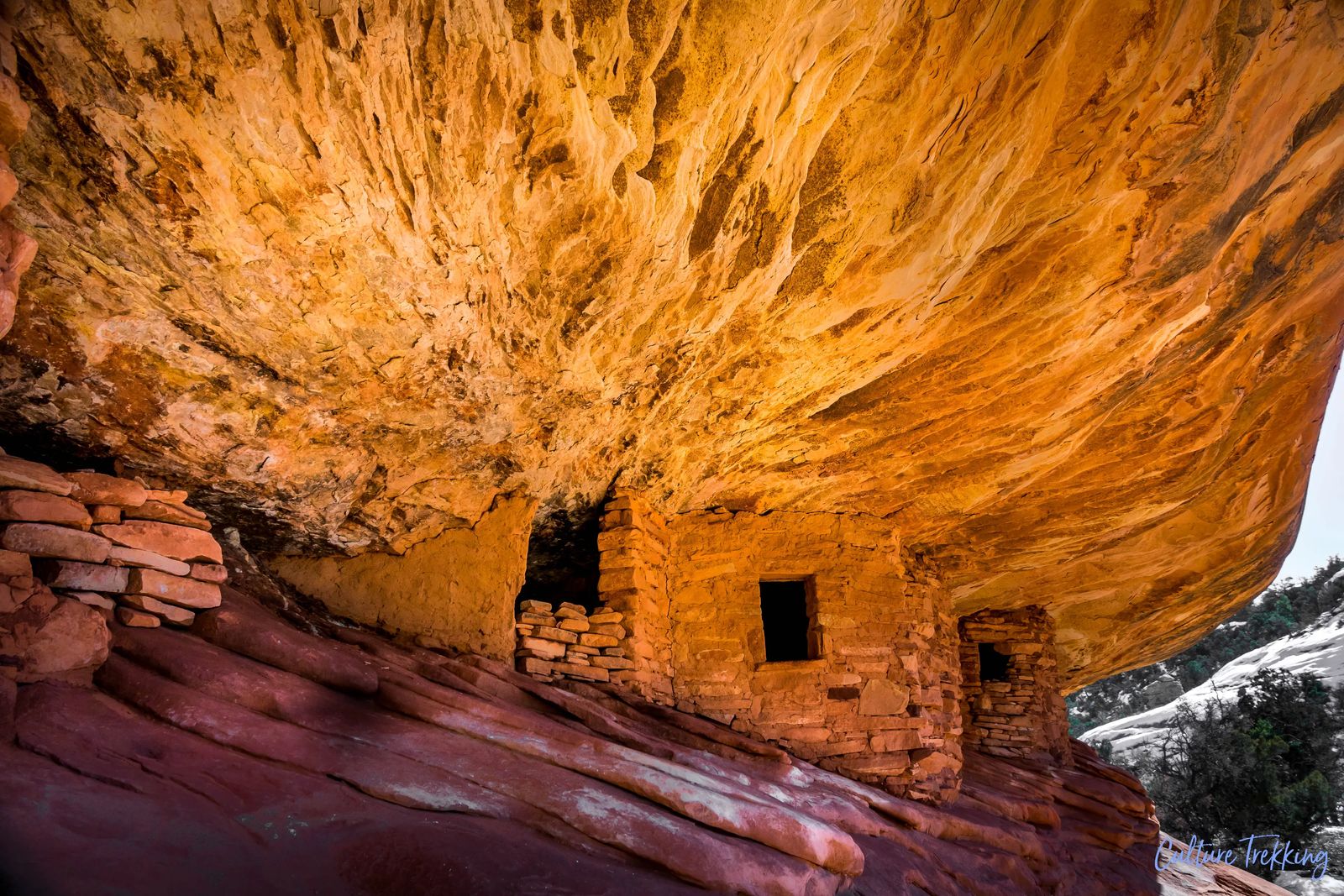 Upper Mule Canyon
This is where you will find the popular hike to the House on Fire. There is a $5 fee to see it so bring cash to put in the drop box near the start of the hike. Parking is on the side of the road and is quite narrow so I wouldn't suggest brining a wide vehicle or RV down here.
If it has rained or snowed, the hike can get swampy and very slick in winter (even for the pups) so waterproof shoes in summer, and crampons in winter. Definitely bring your hiking poles, and booties for your dogs to wear. Boots on the dogs will also protect the fragile sand stone from being worn down, and I did see cacti and stickers on the trail.
House on Fire Ruins
The House on Fire ruins are best seen in the spring or fall around 9-10am in the morning. This allows the sun to reflect off the surface underneath the rocks and reflect up onto the rocks above. This gives the illusion of the house being on fire. Make sure you bring a wide angle camera to capture both the 'flame' portion of the rocks above the ruins and the darker portion that looks like smoke.
It is a short scramble to the top, and there are plenty of trees for shade making it a perfect place for a picnic. We went in January, and despite the trail being quite icy, we did not see a single person along the trail and had the whole place to ourselves. So it really depends on when visit and if you mind other people being in your shot.
Traditionally this trail is quite crowded and popular in the summer. There are places for your dogs to drink some water, and about 60% of the trail is shaded. The trail is fairly level the whole way, and is a 4.3 mile trail out and back.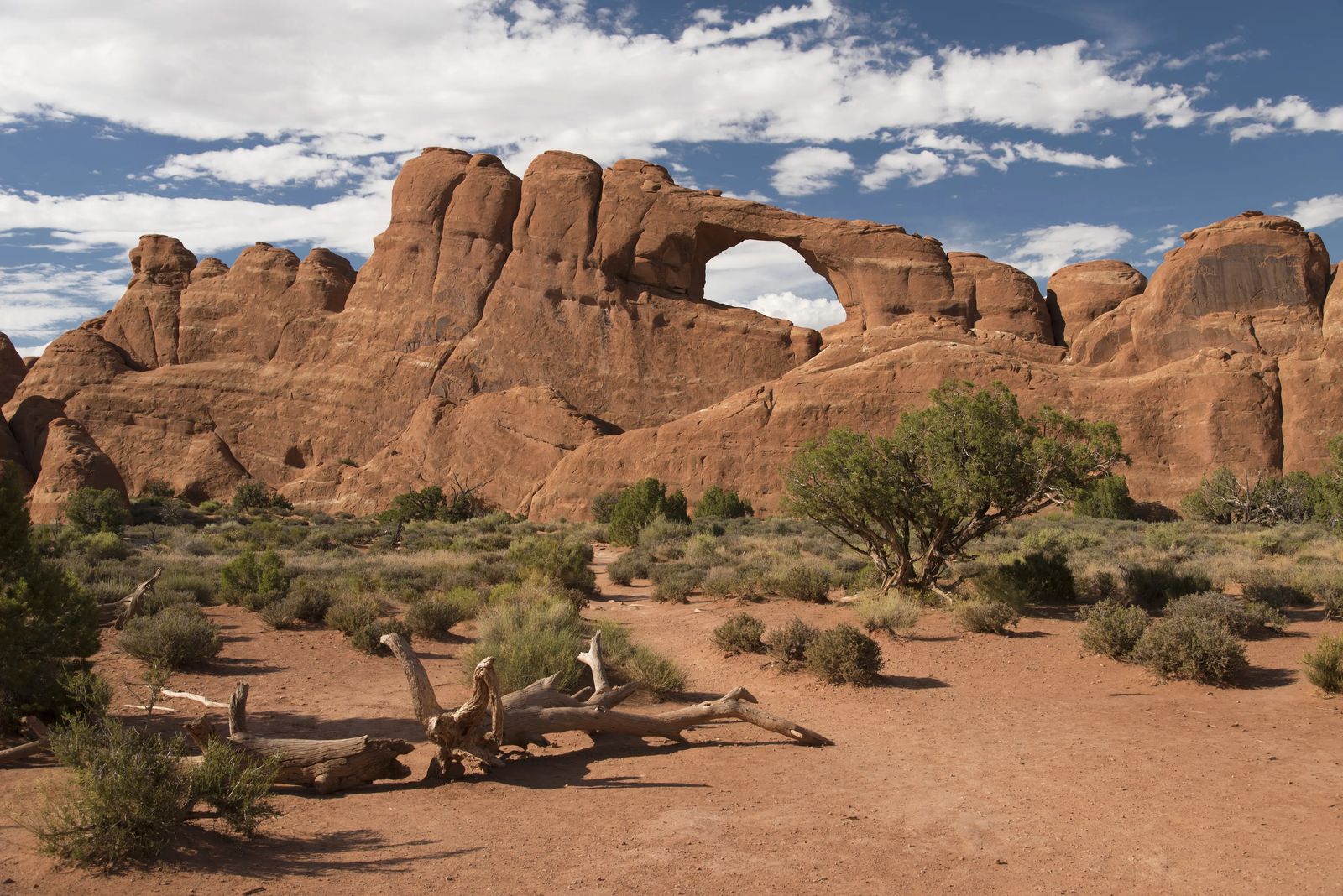 Arch Canyon
This is a 12 mile box canyon trail, with Anasazi cliff dwelling ruins and 3 natural arches along the trail. The trail itself opens up to Comb Wash and is right near the Cedar Mesa Area.
To get there, you drive along highway 95 from Blanding, turn north on the Comb Wash road. The mouth of Arch canyon is 2.5 miles up that road according to the BLM. It feels like 8 miles because of the dirt road requiring high clearance vehicles and 10-15 mph speed to not takeout your car undercarriage.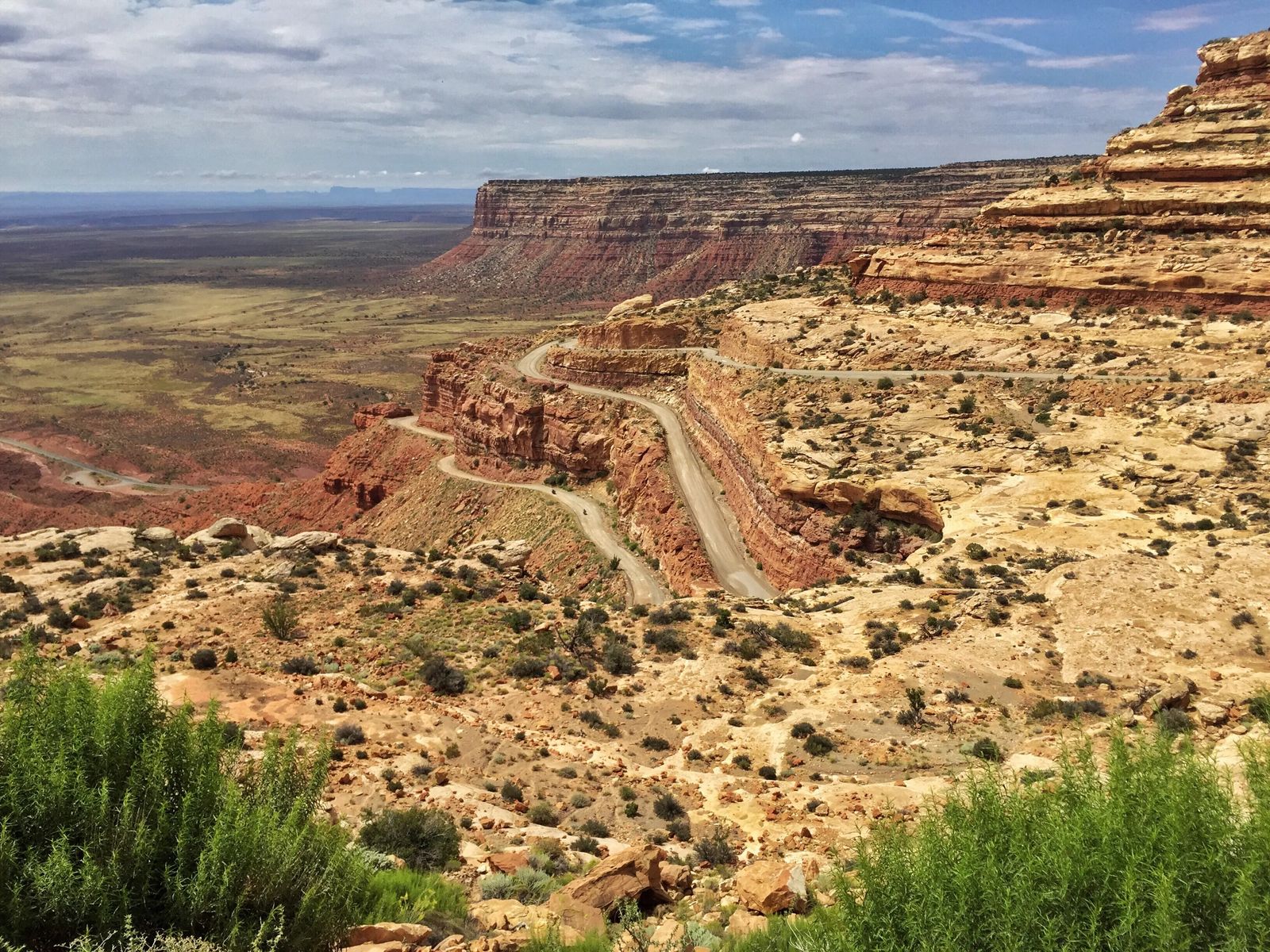 Muley Point
This is located on UT-261 just south of Valley of the Gods. Mulley Point and the Moki Dugaway are must see attractions if find yourself in the area. Moki is a word derived from the Spanish word Moqui which was used to describe the ancient Hopi. These roadway switchbacks are 3 miles long, and help you descend 1200 feet from the top of Cedar Mesa to the floor of the Valley of the Gods.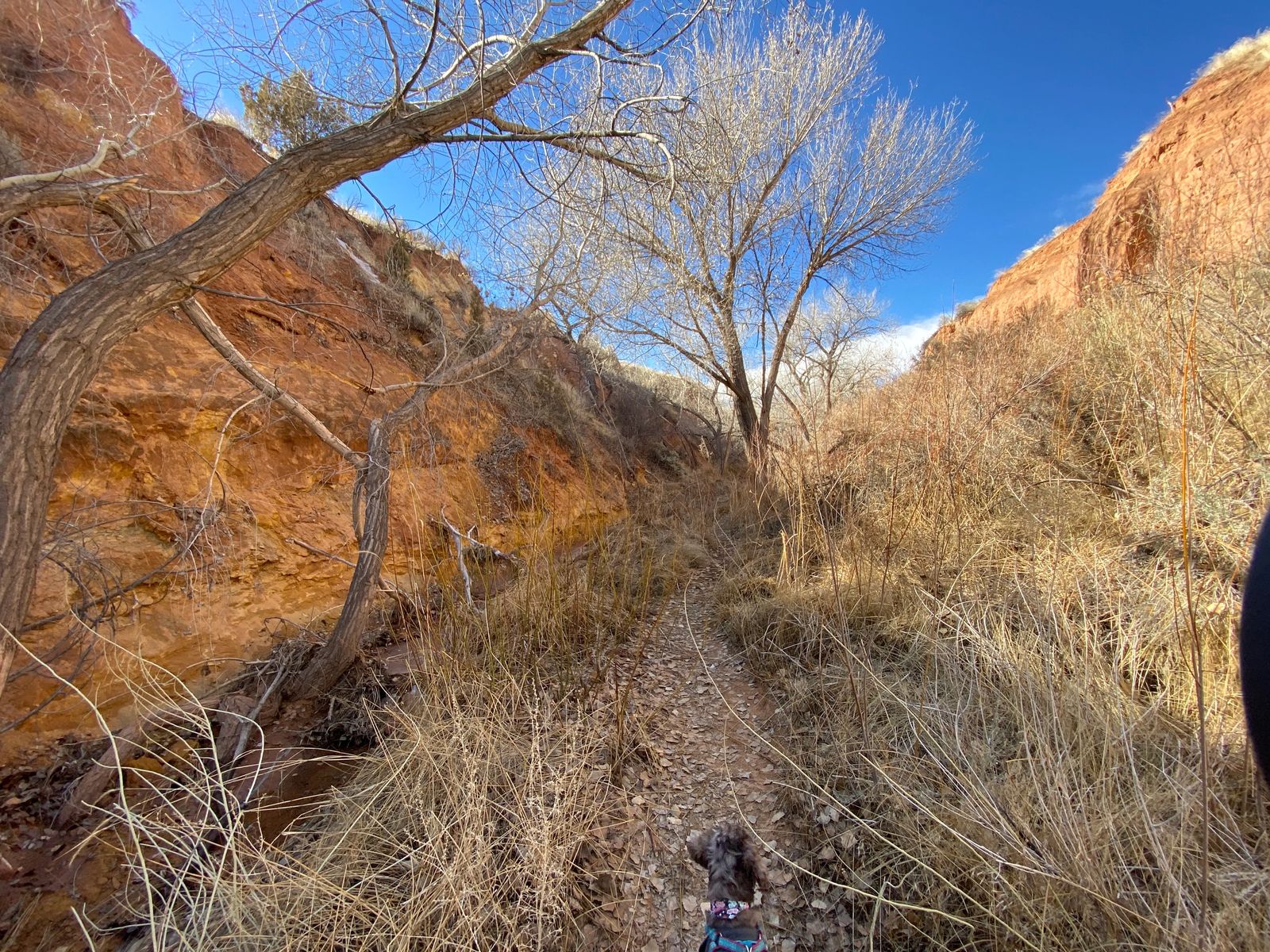 Anasazi Ruins Near Blanding Utah
The Blanding area is full of Anazasi ruins and Native American History. I highly recommend giving yourself at least a week to properly explore all the nooks and crannies. I hesitate to publish the next Anasazi ruins due to the problem of Archaeological looting. If you go to these areas, please passively observe only. Do not climb inside any ruins, take any pottery or arrowheads so that everyone can enjoy exploring and discovering the history here.
Ballroom Ruin
We never actually found this ruin because we ran out of daylight. The BLM office is quite cryptic about where the ruins down this canyon actually are because they are still excavating and recovering artifacts. They have so many issues with artifact theft in this area, they specifically asked to not pin point where ruins actually are that are still undergoing archaeological digs.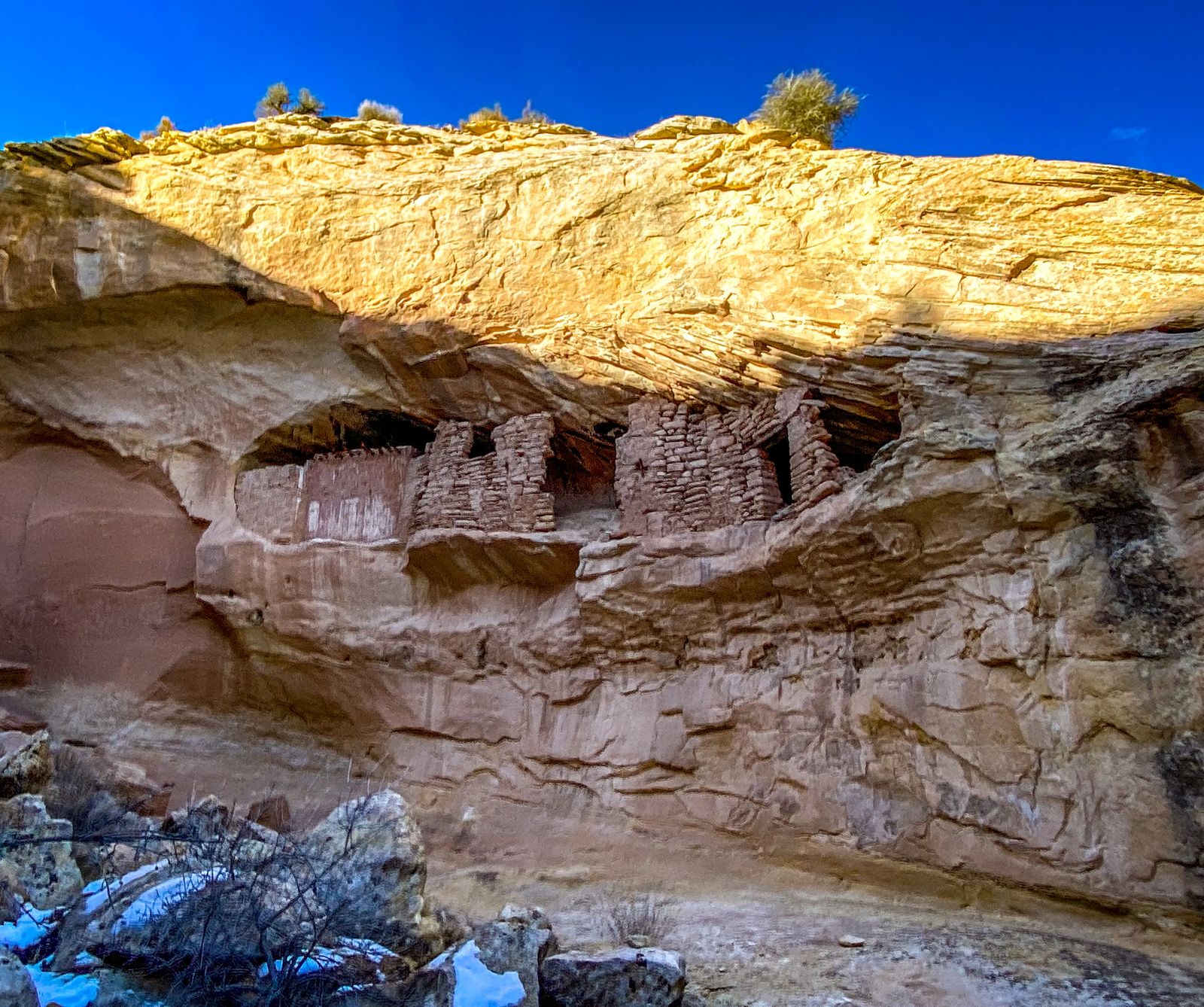 Target Ruin
This ruin is confusing to get to, but I will link the video I'm making to the proper approach that will be safe for you and your dogs to get to this one as soon as I can. It is well worth the effort to get here though, and during the spring and fall the trail to get here will be absolutely gorgeous for you.
The entrance for the road to get to the ruins is actually about 100 feet from the entrance to Butler wash ruins. This is another canyon of ruins that the BLM asked to not pinpoint or geo-cache because of archaeological looting. Basically you follow the road til you see other cars parked, get out, follow the wash down the canyon and explore every off-shoot canyon and will find different ruins up and down this canyon.
Target ruin is one of the first canyons you come upon, and I suggest going to the back side of the mountain. Many people try to scramble up the rocks, but it is quite slick and my dog refused to go up that route. After exploring different sides, if you circle around the back you will find a steep but safer option to get to the top. You hike into the dead-end canyon following the areas where the water naturally runs and at the end, you will find Target ruin.
It is set into the mountainside itself, and I didn't quite understand why it was called target ruin until I got my drone out. At the far end (closest to the end of the canyon) on one of the walls of the ruin, there is a target looking mural. You cannot see it from the ground level, and looks like people have tried to rappel down to the ruins themselves to inappropriately explore. You can see where one of the wooden beams that holds up the roof of the ruins has actually been damaged from someone trying to rappel in.
It is worth the effort to get there, and if I haven't said it enough....DO NOT ENTER THE RUINS! Don't take any artifacts from the area including arrowheads. This is the heritage of Utah we want to preserve, and protect, and let hundreds of other people explore and discover. Be respectful of your surroundings and other hikers.
Moon House Ruin
You have to plan ahead for this ruin, as it requires a permit. You can get the permit from Kane Gulch Visitor Center, and the number of permits is limited to 20 per day. You also cannot bring your fur babies (aka dogs) to this ruin as it is protected.
This is a 4.6 mile loop that is considered intermediate and is full sun exposure down most of the canyon to get there. There are 2 parking areas, 2 wheel drive vehicles can't really make it the whole way, it makes the hike longer for you, but there is a safe area for you to park.
As I suggested before - bring a 4 wheel drive vehicle with high clearance and it can shorten your hike so you can hit some of the other fun things to do in Blanding suggested here. The trail is well marked, and I suggest staying on it due to the unique soil crust around the area that is easily damaged if you stray from the trail. Just follow the trail down the canyon along the wash and you will see the Moon House Ruin.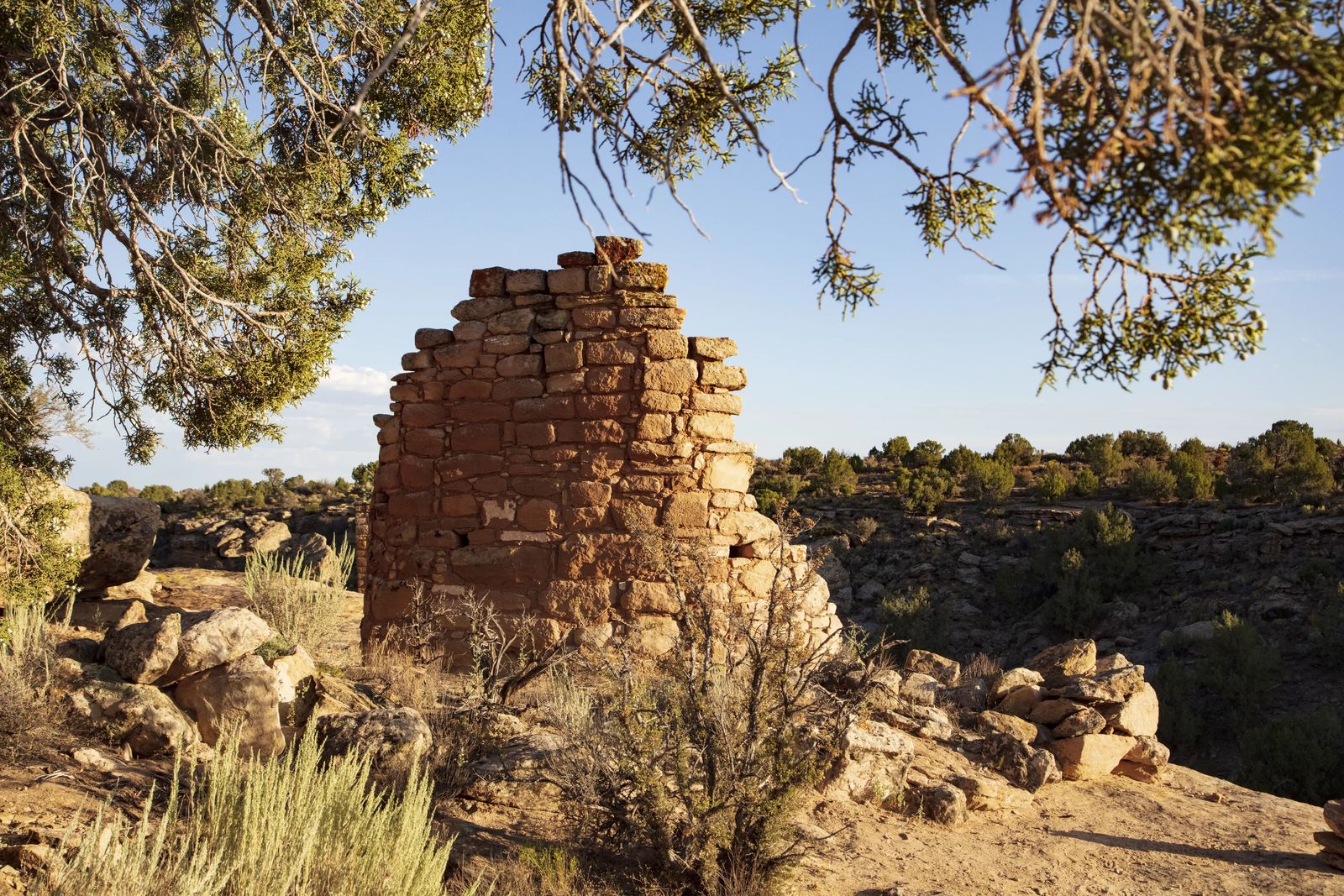 Hovenweep National Monument
This area was home to more than 2,500 around 1200 CE. There is also evidence that ancient Native Americans lived in the Cajon Mesa up to 10,000 years ago. The archaeological and structural similarities of Hovenweep and Mesa Verde are reportedly very similar. However, there is a lot more detail in the structures here compared to Mesa Verde.
It was apparently a prolonged drought in 1300 CE that pushed the locals to move to the Rio Grande area in New Mexico. Hovenweep is Piute for 'Deserted Valley' named by a photographer who discovered the area in 1874.
If you are coming from Blanding I suggest follow these directions from NPS as phone GPS often leads you to the wrong place. Travel south on US 191 approximately 15 miles, turn left off US 191 to UT 262 for 8 miles, turn left off UT 262 to County Road 5099/401 for 16 miles (passing Hatch Trading Post), turn left at Hovenweep sign for 6 miles and turn right to enter the park.
All the signs on the trail lead to the main Square Tower Unit which is based around Little Ruin Canyon. The hike is 1.5 miles loop trail, that leads to the main square tower, and 10 other ruins in the area. The most impressive ruin is the Hovenweep Castle that has several rooms, and sits on the edge of the sandstone overlooking the valley.
Dogs unfortunately are not allowed and the trail down to the ruins is quite steep. There are about 5 other ancient villages in this area, but only one of these is located within the Utah borders. The other villages are hard to find because they are on dirt roads, and there are not signs posted.
Although I didn't visit any of these villages myself, I recommend visiting them while you are in the area. Their names are Canyons of the Ancient National Monument, Cajon site (Utah), Horseshoe and Hackberry, Holly, and Cuthroat Castle group. The Cutthroat Castle group of ruins, contains the largest number of Kevas in the area.
Butler Wash Ruins
These ruins are located just off highway 95 near Blanding Utah, there is a sign posted and parking near the trail head. There are bathrooms near the trail head as well and dogs are allowed on this trail. I wouldn't recommend attempting to get to the actual ruins because of the difficulty of approach. The trail that is well marked, leads you to the overlook of the ruins and are definitely worth a stop as these are right near the House on Fire Ruins.
The trail is very easy, is 1 mile round trip and marked with concrete reinforced cairns to help keep people on the trail. The trail is lined with prickly pear cacti, so make sure you dogs have their puppy shoes on to protect them.
There are three alcoves here, with the largest ruins holding the sleeping rooms. In front of these sleeping rooms are where the Kevas are. Kevas are religious and community meeting places where the ancient Anasazi would hold important gatherings that involved a lot of symbolism and important community decisions.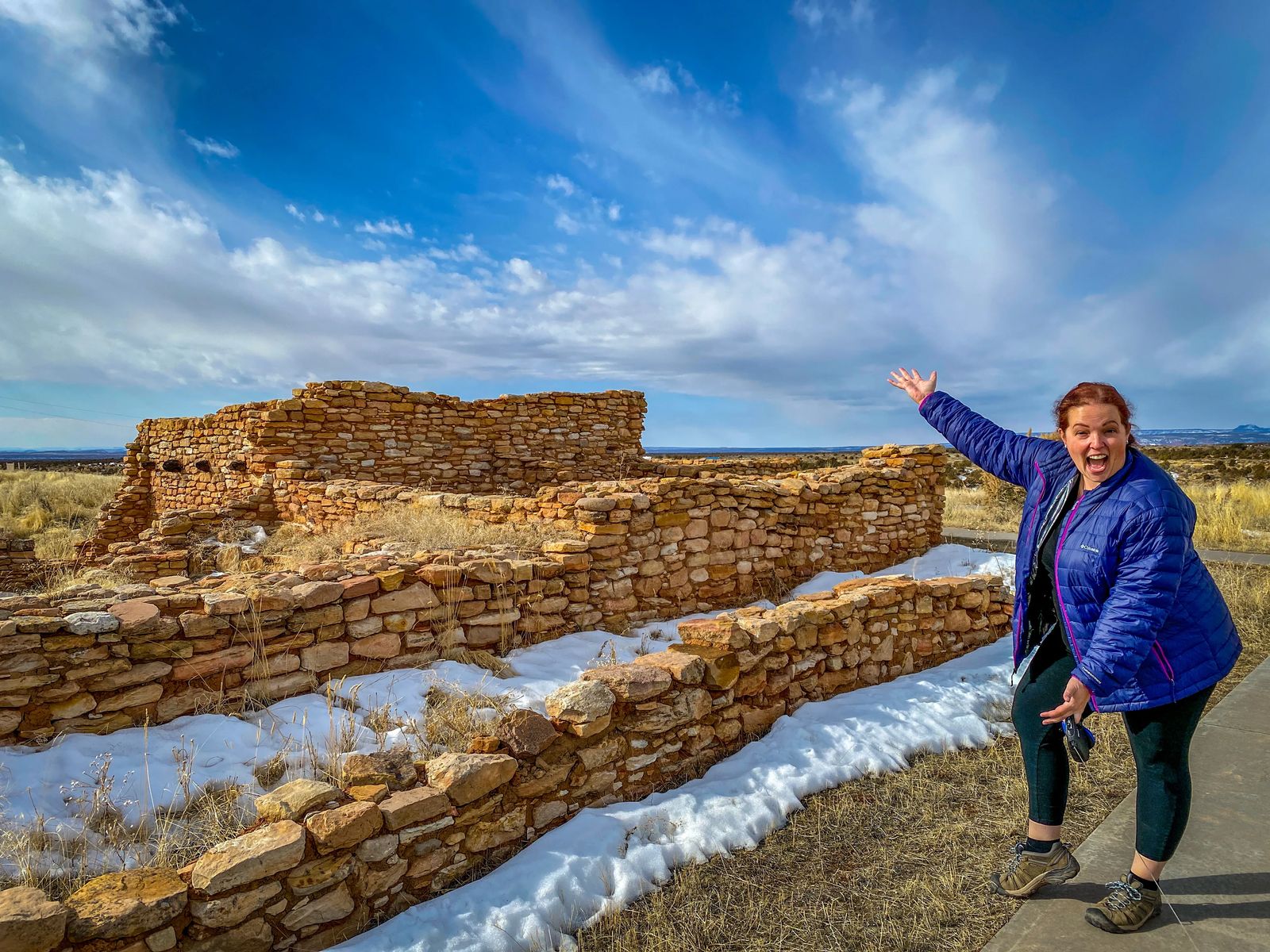 Edge of the Cedars State Park
Edge of the Cedars State Park is a hidden gem in Blanding dedicated to the history of native Americans, Puebloans and Anasazi that occupied the area. There are first hand stories of the people who found many of the artifacts within the museum. They explain the pottery, how to identify what era each pottery comes from and which groups created which styles. The amount of detail within the museum is really quite remarkable, and I was completely fascinated by the daily life of the Anasazi in the area.
Being able to see how resourceful they were with using the natural wood and natural flora, fauna and animals in the area to sustain life in the harsh desert environment is quite fascinating.
Once you are done with the museum, do NOT forget to head out back. There are some very well preserved ruins, and a Keva that was recreated for educational purposes. It brings the life of the Anasazi to life, explains how the Kevas were used and the incredible symbolism contained within a single structure.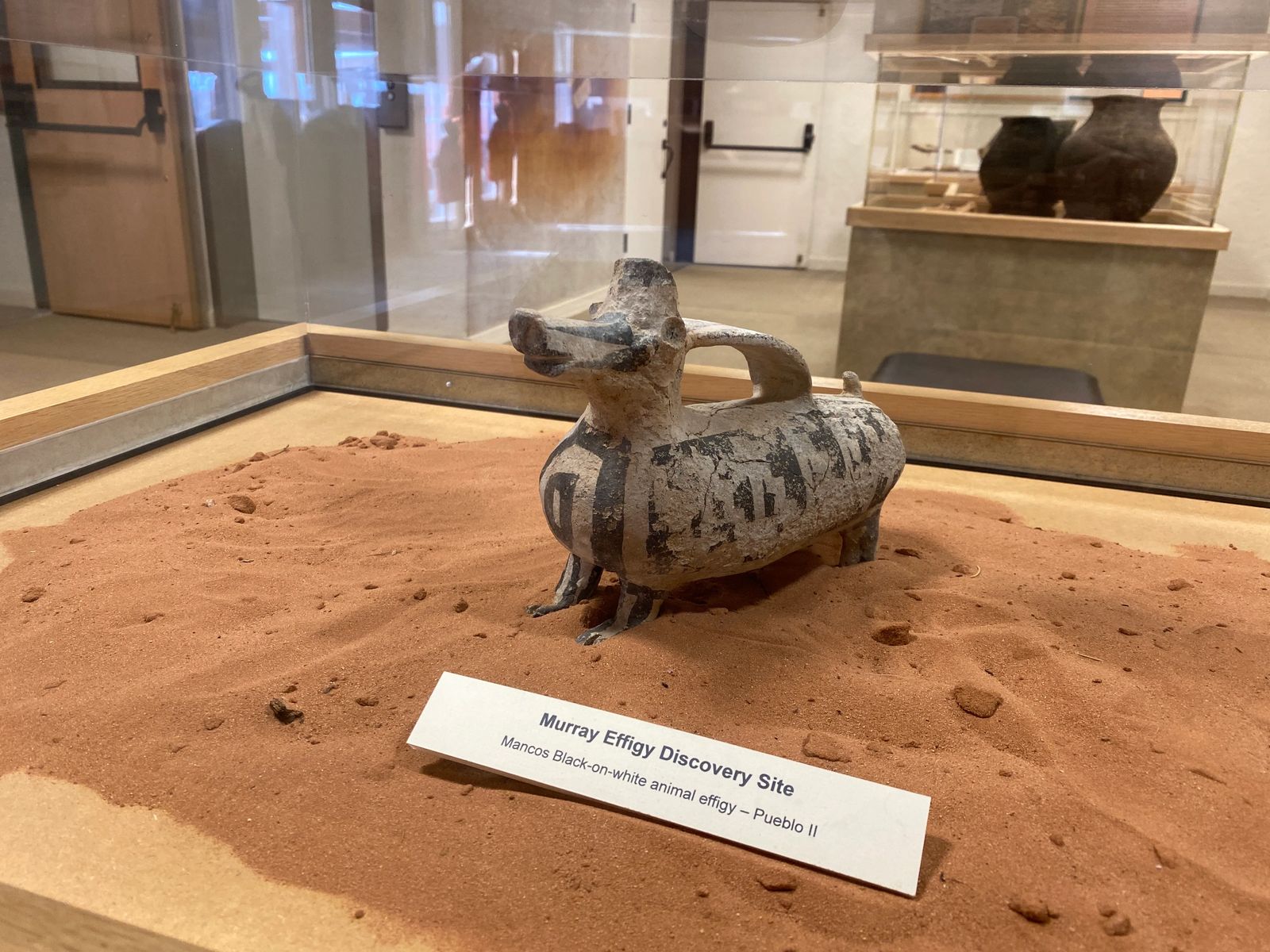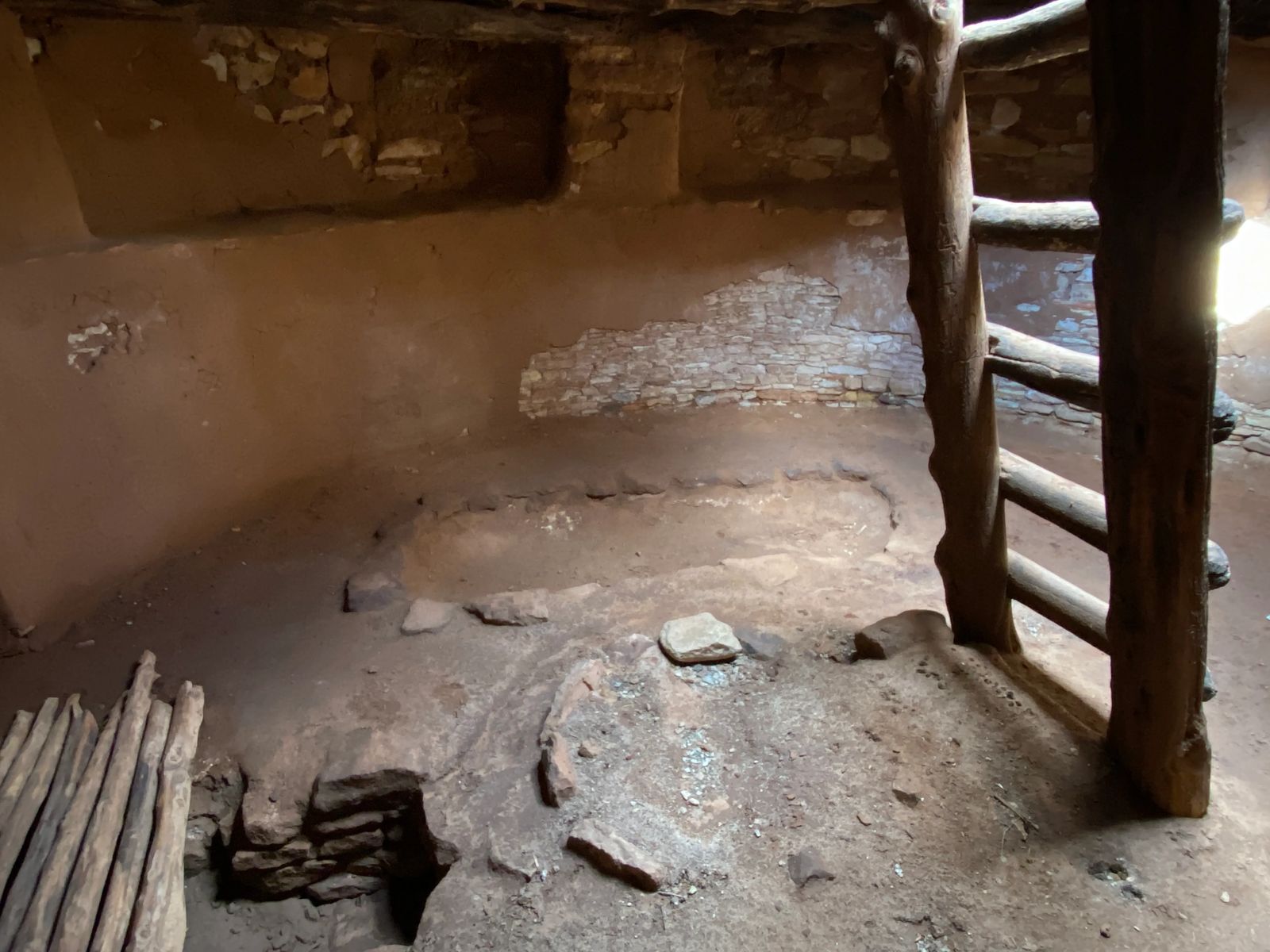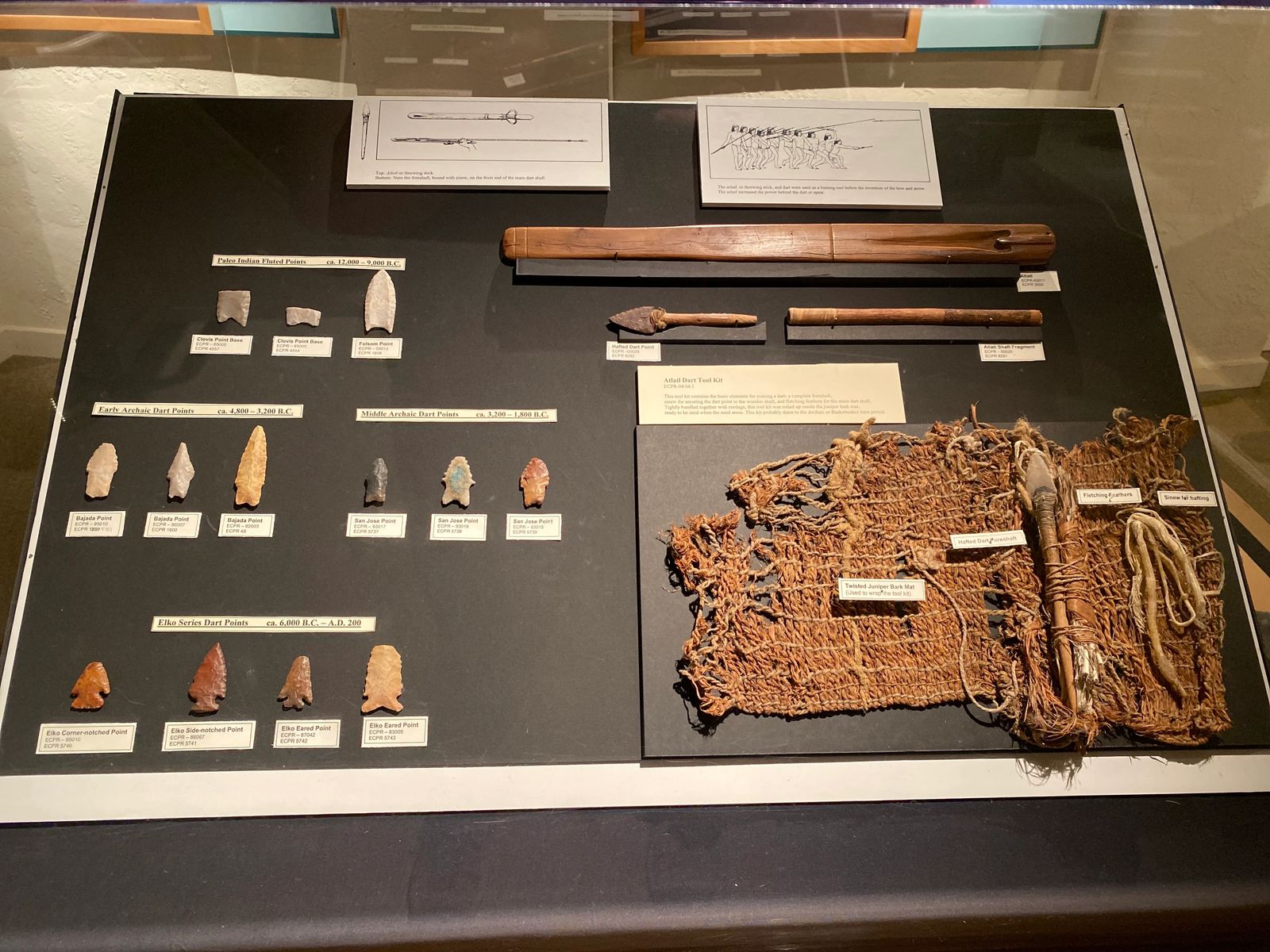 In brief summary of the Keva, pictured above with the wooden ladder. The area is supposed to represent the place where the ancient Puebloens were said to have been born from. So they recreate where their ancestors were born from, so they too can be reborn every time they exit the Keva. They are reborn again from mother earth into the difficult world. When they emerge, it is as if they are seeing the world again from the first time.
You would typically find the ventilation shaft, sacred fire and Sipapu (or the place of rebirth from the earth) are typically lined from North to South. There was an additional pit that would have been covered with wooden planks that they would use as a foot drum. The foot drum was typically used during ceremonies. Most of the original Kevas are now caved in as the roof was made of wood and packed mud in a lattice like or criss-crossed structure.
Be sure to check their website for the hours as they change from season to season. The park fees are typically $5 and have discounts for children and seniors. They accept card and cash, and all exhibits and trails are wheelchair accessible (except for climbing into the Keva of course).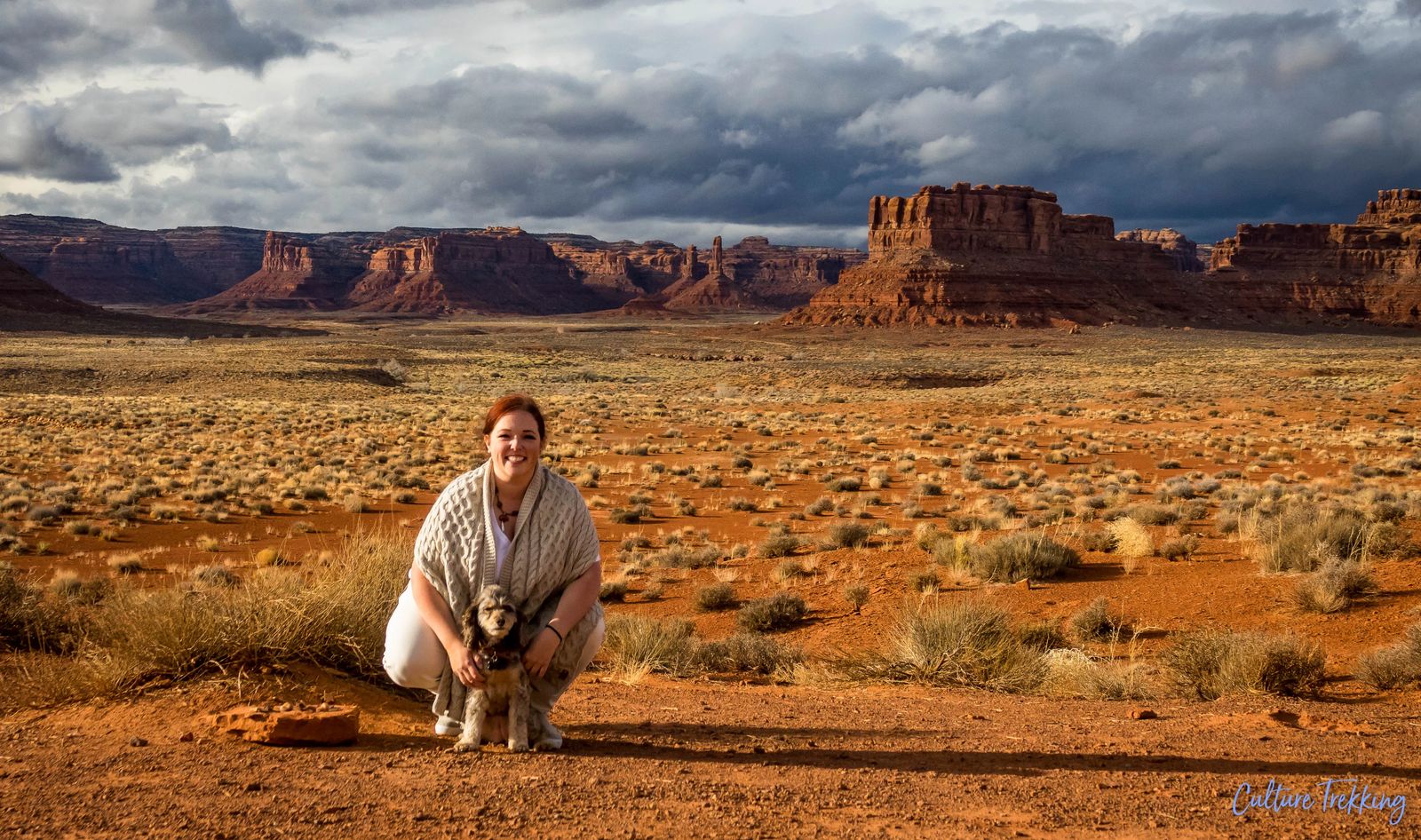 Valley of the Gods
This area is surprisingly more scenic than I thought it would be. It reminded me a lot of Monument Valley and is right near the Mexican Hat Hoodoo. The trails are accessible by car, and take you on a trail around the valley. You drive right underneath these towering vistas and the massive resident crows flitter about on the tops looking for food. It is not hard to imagine that the desert Gods would live on top of the Vistas commanding the weather, winds, and formations of the surrounding area.
The more time I spend in Southern Utah, the more I can see how the Native American people could cherish them as sacred areas.
This area is designated as BLM land, so you can do some remote camping, hiking, and driving without a permit. It is a 17-mile off-the-beaten-path scenic drive through the remote Southwest Utah back country, and about a hour drive south from Blanding.
Things to Do near Blanding Utah
Southwestern Utah has many unique hidden gems, and off the beaten path adventures for everyone. Blanding is a great central point to visit many of the iconic places within an hour or two. If you want to see the true beauty of the desert here, these are a few more things to do near Blanding that I consider to be MUST see sites.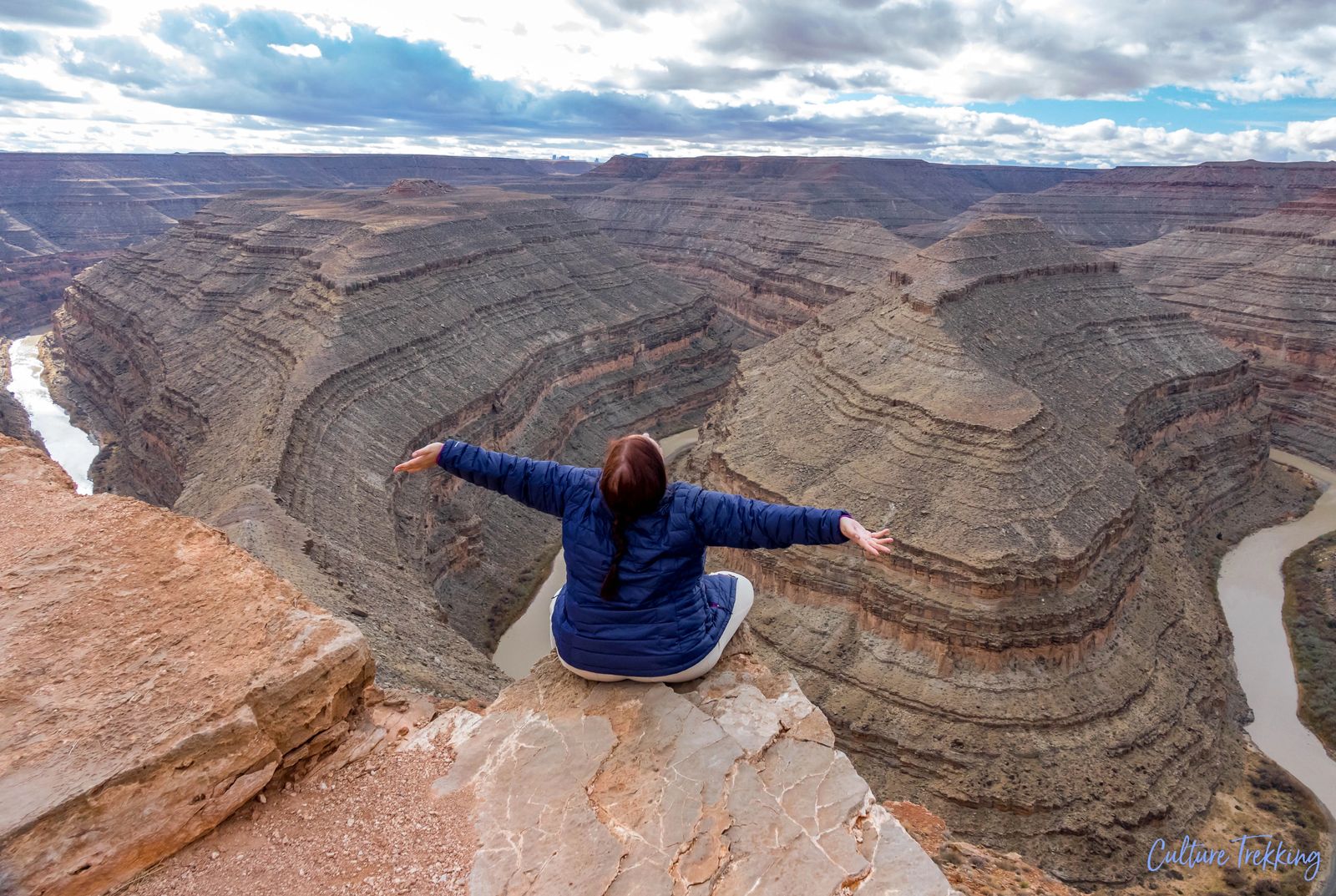 Gooseneck State Park
Many people get this confused with Horseshoe bend, but in fact this is a much less crowded park to visit. Gooseneck State Park has stunning landscapes, and is a fantastic place for a picnic on your way to Monument Valley. The San Juan river carves its way around these vistas, with the cliff edges dropping nearly 1000 feet into the river.
We were able to bring our own lunches and sat on the picnic table near the edge enjoying the views and gentle breeze. I think the only thing that would have made this an even more epic visit was to visit in the morning, during sunrise. Bring your breakfast, and watch as the sun highlights the different colors and striations on the mountain. It will light you perfectly so that you are just as well lit as the stunning landscapes that surround you. If you come in the afternoon or evening you will be backlit by the sun and your face will only show up in shadow.
It is $5 for day use, and $10 per night for camping. They do have restrooms there, as well as a picnic table and fire ring. However there is no water available, so make sure to pack it in and out.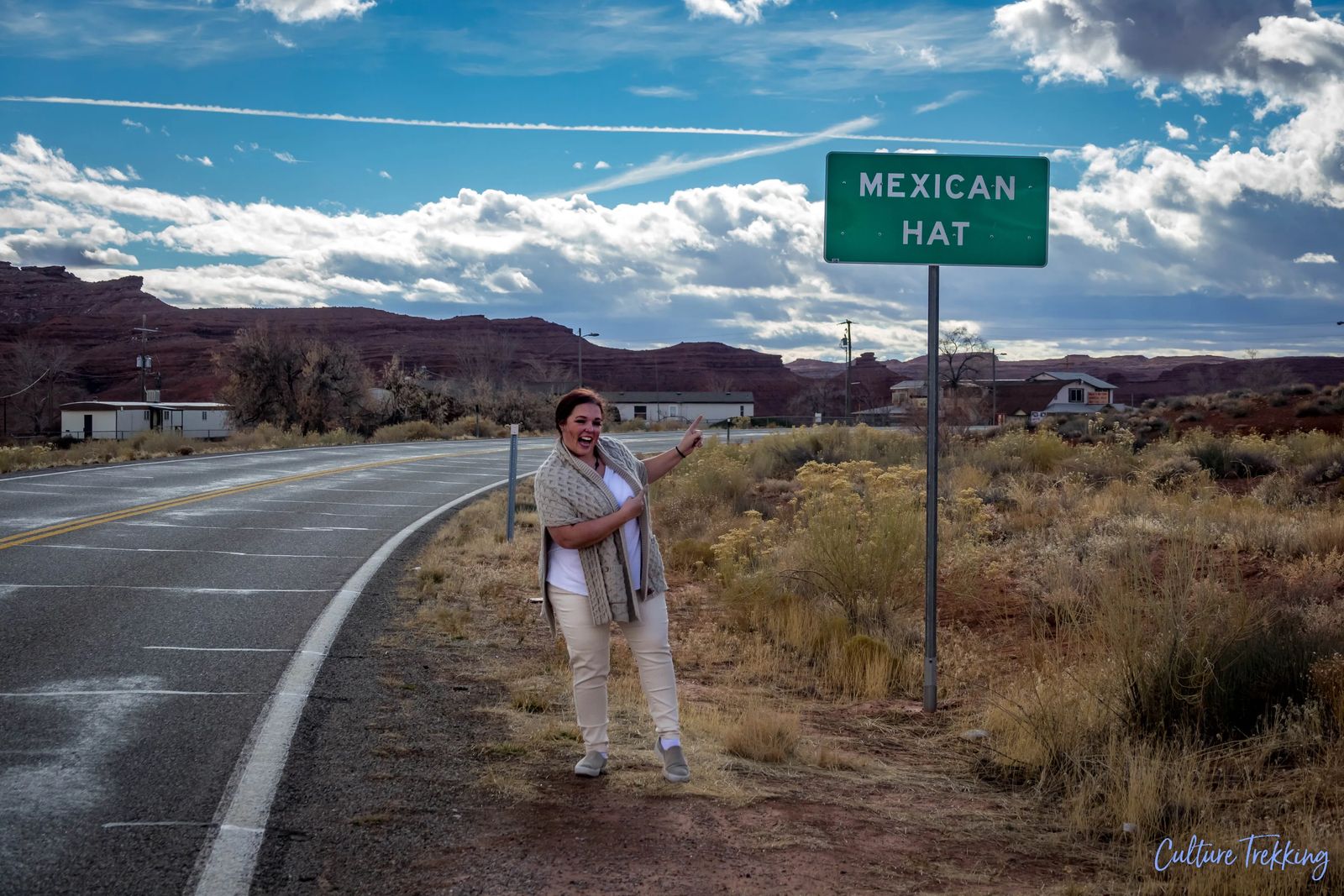 Mexican Hat
It isn't just the name of a town, Mexican Hat is an actual rock formation that looks like a Mexican Hat. It is just along Highway 123, and makes for some fun photos. At first glance you wouldn't think there is anything to see but the Hoodoo, but just behind the rock is the San Jan River. If you make your way up to a higher vantage point you will get incredible views of the San Juan River, Valley of the Gods and the Cedar Mesa in the distance.
Map of Locations
Here is a detailed map of all the things to do in Blanding or off the beaten path things to do near Blanding suggested in this article.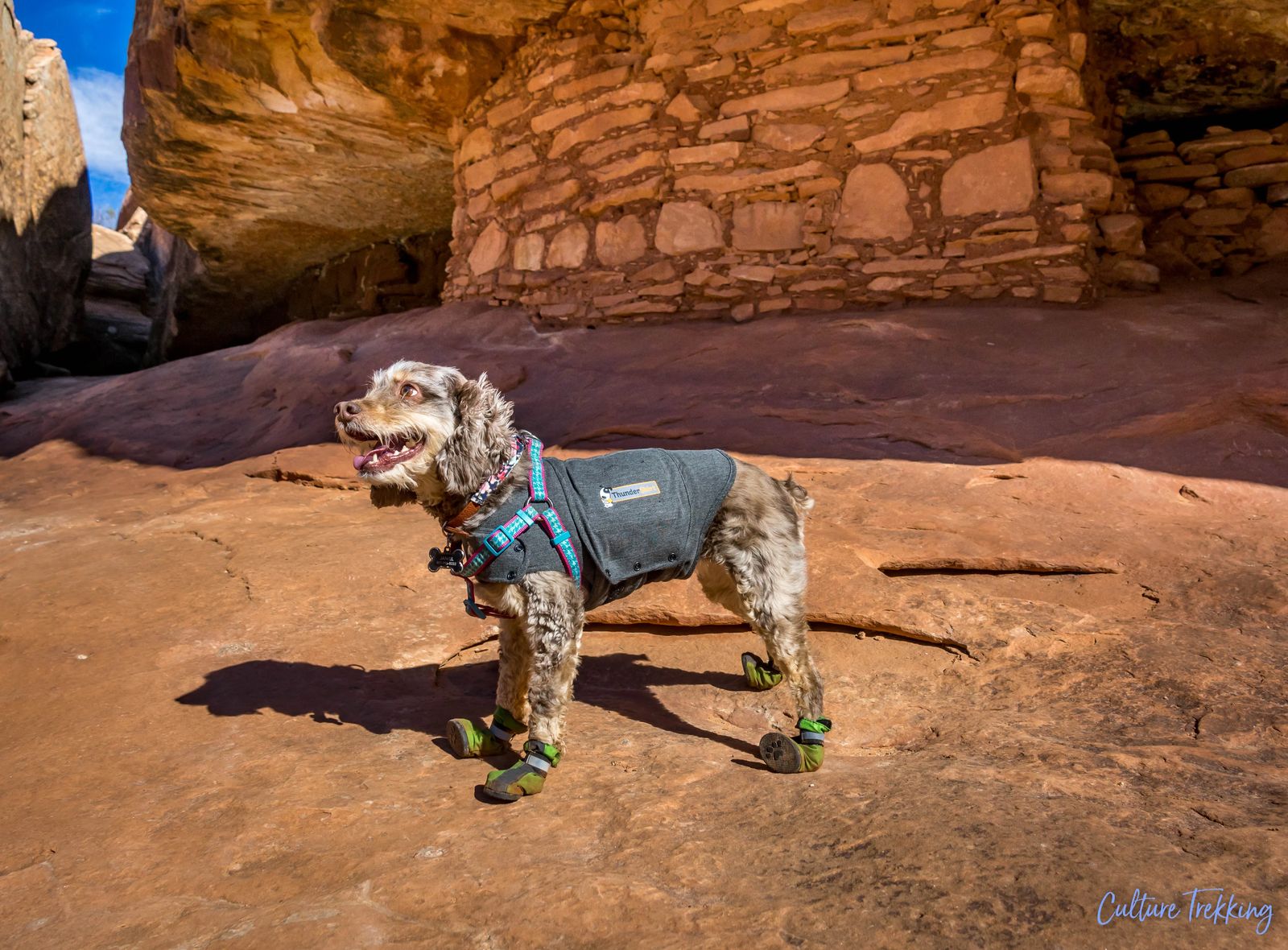 Other Outdoor Activities To Do Near Blanding
Mountain Biking
There are plenty of areas to go mountain biking near Blanding. The more popular mountain biking trails are Arch Canyon Trail, and Comb Wash Ridge Trail.
Backpacking
The Grand Gulch, I have not personally hiked this one, but hear it is a challenging trail with great rewards in ruins and views.
Kayaking
There are two major rivers you can go kayaking on in the area. The Green River and the San Juan River, which wind through some of the most stunning landscape in Southwestern Utah. For a real adventure, take your tent and food with you and camp along some of the shorelines along the way for a multi-day kayaking adventure.
Canyoneering
The two major canyons that I have yet to go canyoneering in are Fry Canyon, and the Black Hole. There are a few other canyons to explore, but these two are the ones that look the funnest and are now on my list of unique things to do in Blanding Utah.
What To Pack When visiting Blanding Utah
Each season is going to pose different challenges, so be sure to pack your own water. A good rule of thumb is to have at least 1 Liter of water per day per person. Have a blanket, a first aid kit, an emergency tire inflator (I use fix a flat). Be sure to check your oil level in the car, and have an extra quart with you in the back. I also personally bring my own food in a cooler for each meal of each day planned out.
Bring a 4x4 vehicle to manage all locations and roads to these places easily, preferably a high clearance vehicle. I also ALWAYS bring a portable solar panel or solar charger as well, just in case I need to call for help should something happen to the car I'm driving.
If you bring your dogs, make sure they have some booties as the desert in these areas is not friendly to their paws. We also bring a harness to help lift our dogs up and down steep areas safely without harming their neck or breathing structures. I also put a lightweight doggie shirt on them to help ward off stickers that tend to get stuck in their fur.
What to Pack When Visiting Blanding in the Winter
For humans, be sure to pack a coat, sweater and sunglasses for the winter. Some of the trails may require waterproof shoes/boots and sometimes crampons depending on the weather. I would also bring hiking poles as they are really great for helping you keep your balance. Even in the winter you are going to need sunscreen, it is still a desert. It won't be as hot hiking, but drinking plenty of water will still be very important. You want pants that can withstand sliding over sandstone should you choose to scramble up some of the hikes. Typical yoga pants, or thin material is going to rip easy when doing some of these hikes.
What to Pack for Visiting Blanding in the Summer
It is going to be hot, and very dry in the summer in this area. If you are coming from a humid environment your nasal passages and throat are going to get incredibly dry. So be sure to bring some sterile nasal saline spray and it will a lot more comfortable for you. Chapstick and extra water, along with a wide brimmed sun hat, breathable sandals, sunglasses, and at least 40 spf sunscreen. I would personally wear Capri's so that you can comfortably scramble on the sandstone. I would wear closed toed hiking shoes because of all the stickers and cacti and be sure they are breathable with good traction.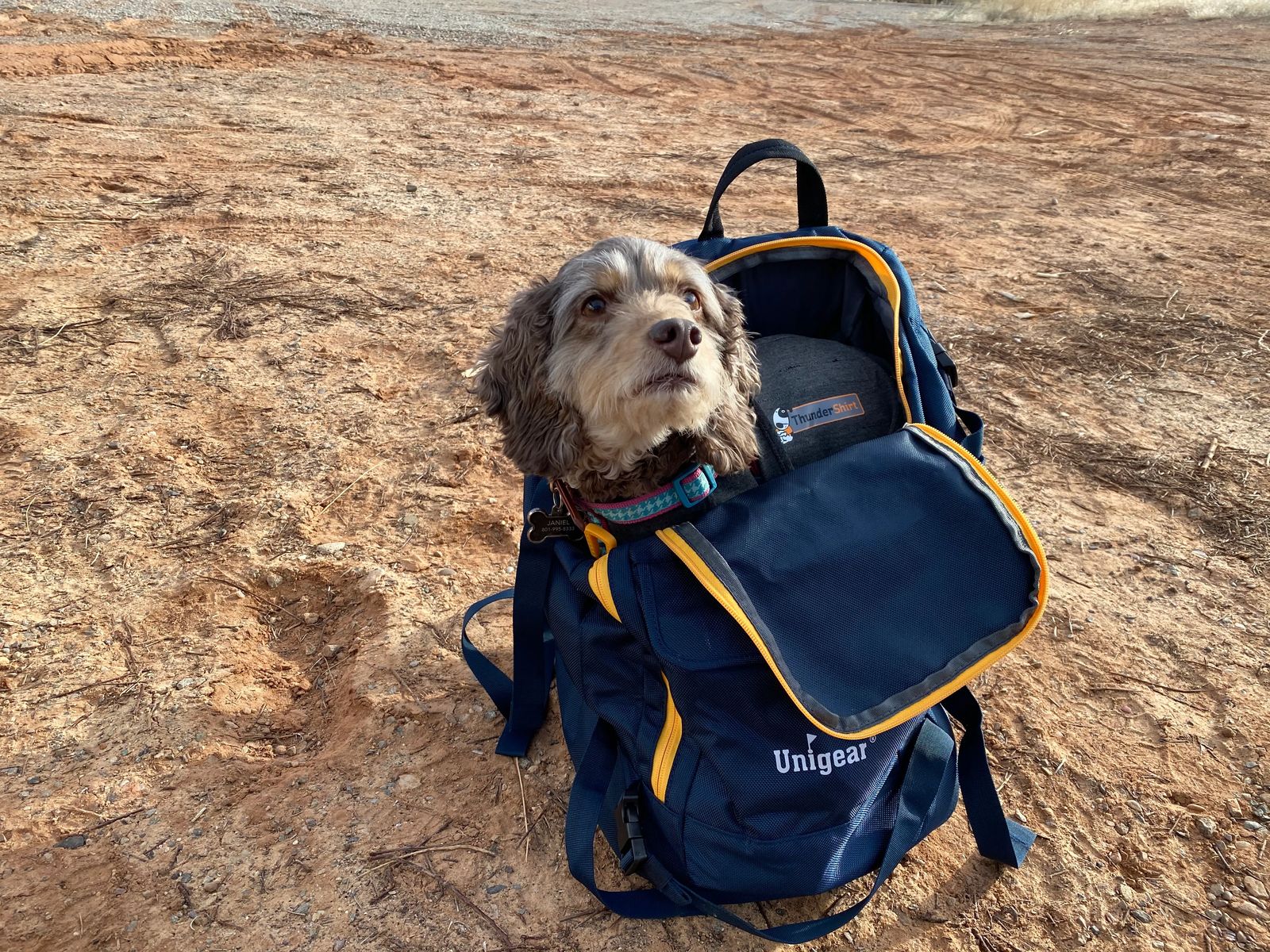 Like it? Pin it! Sharing is Caring!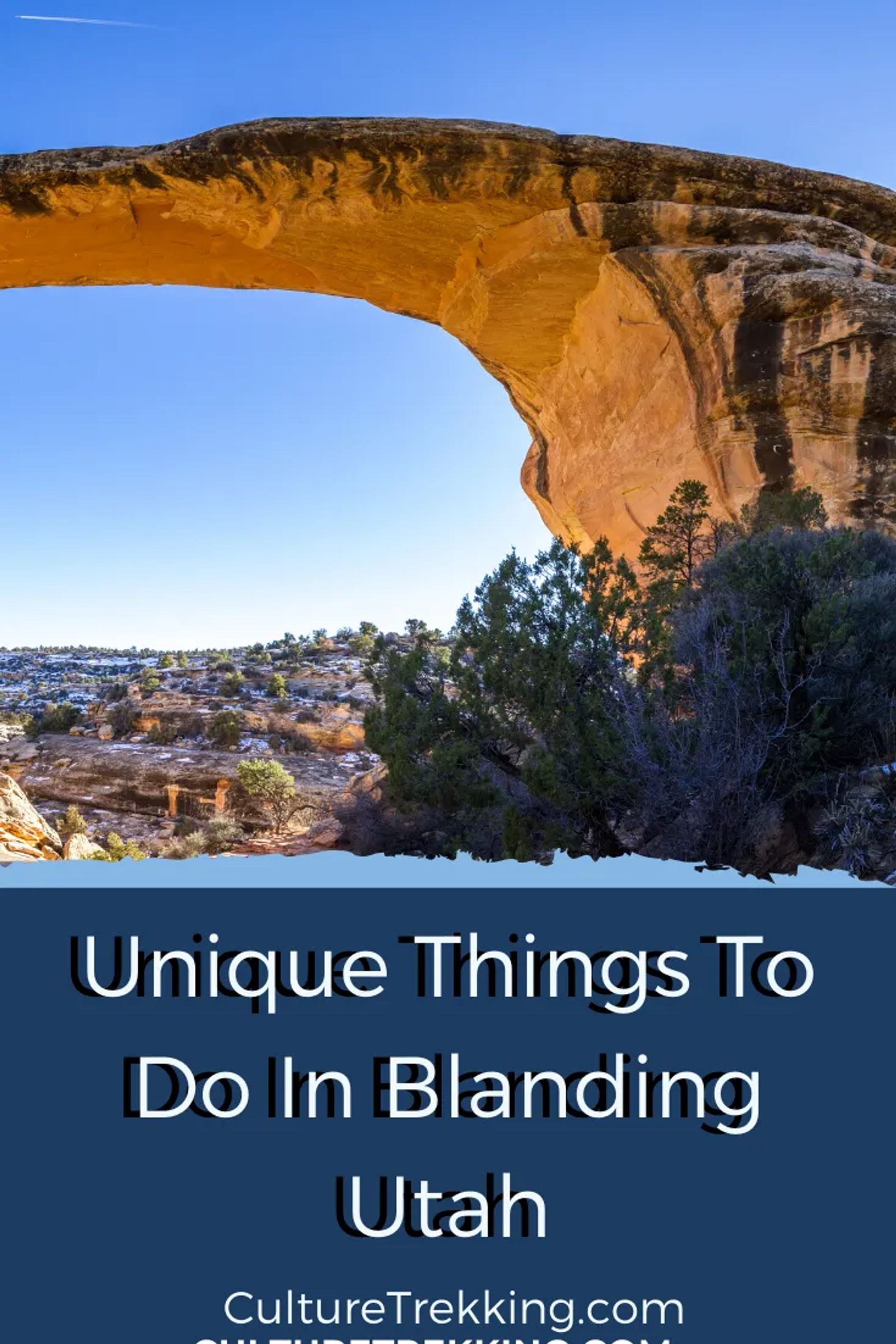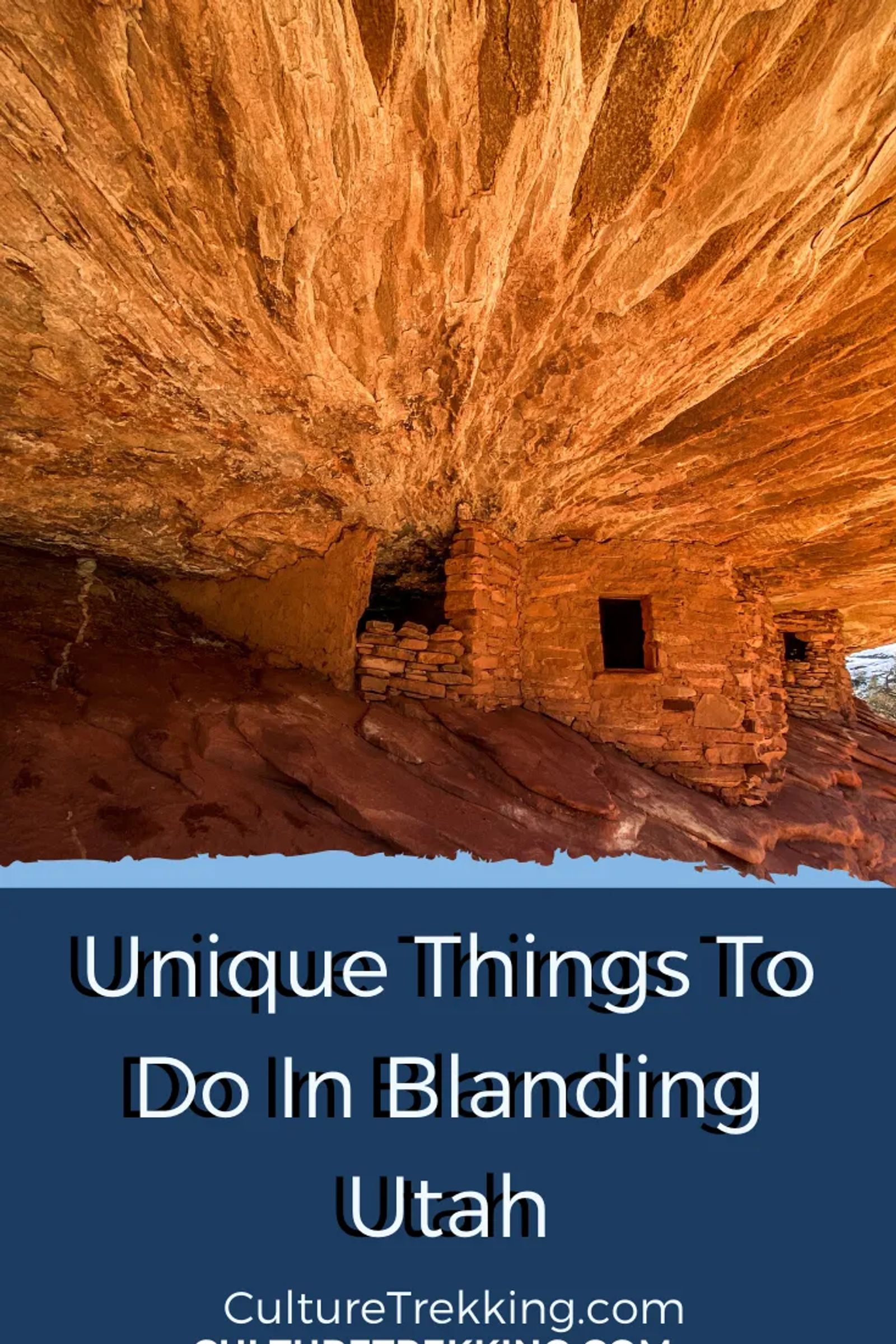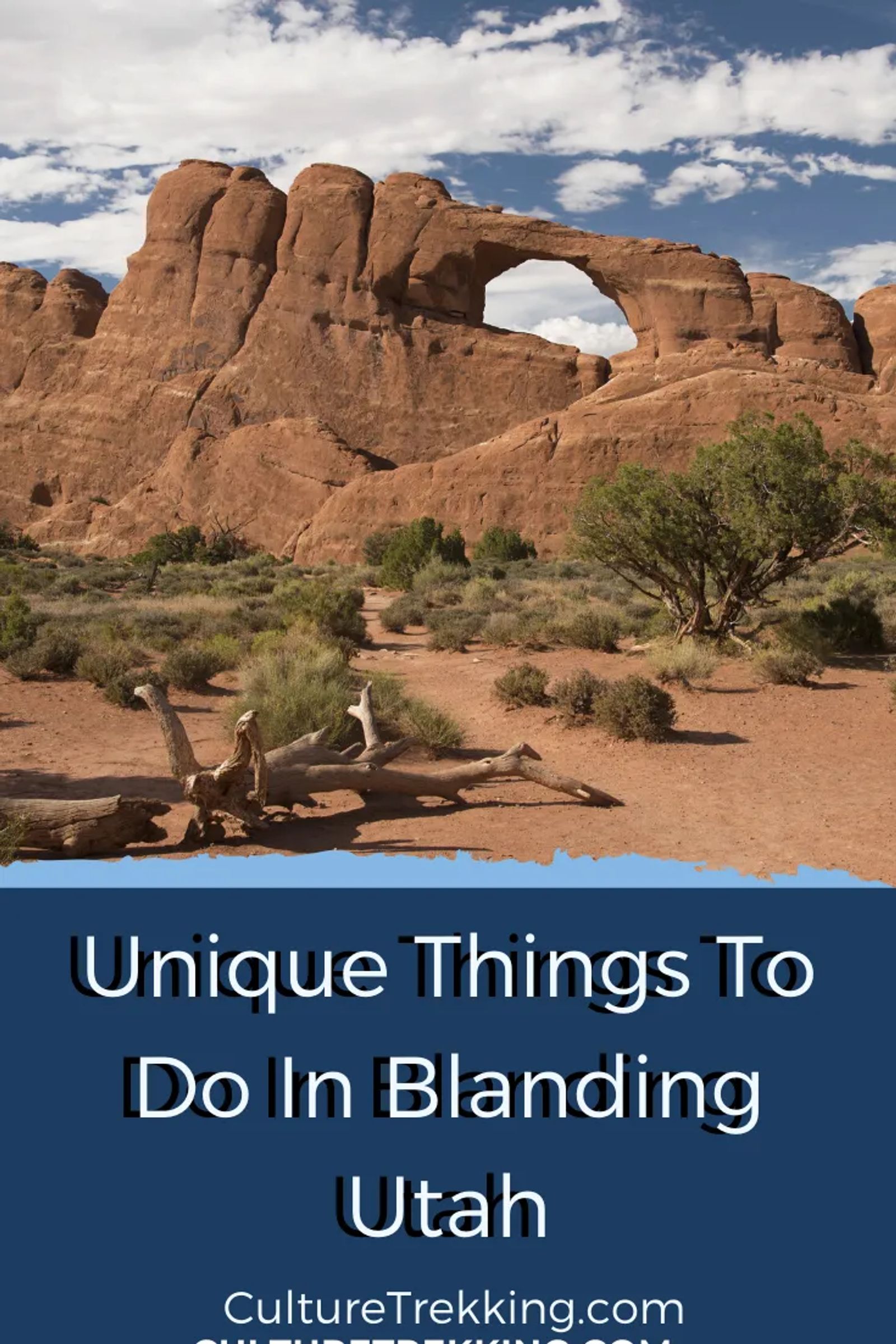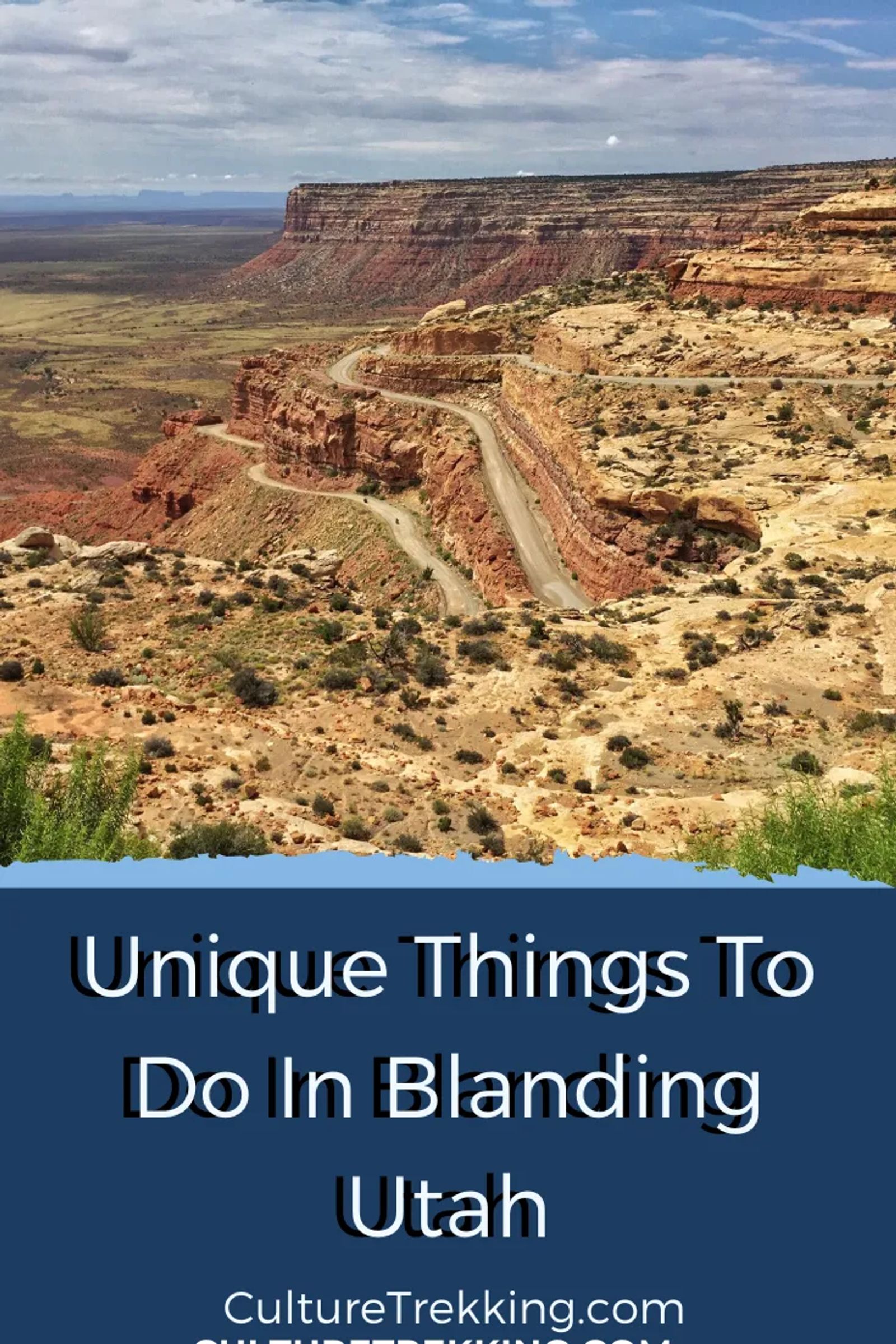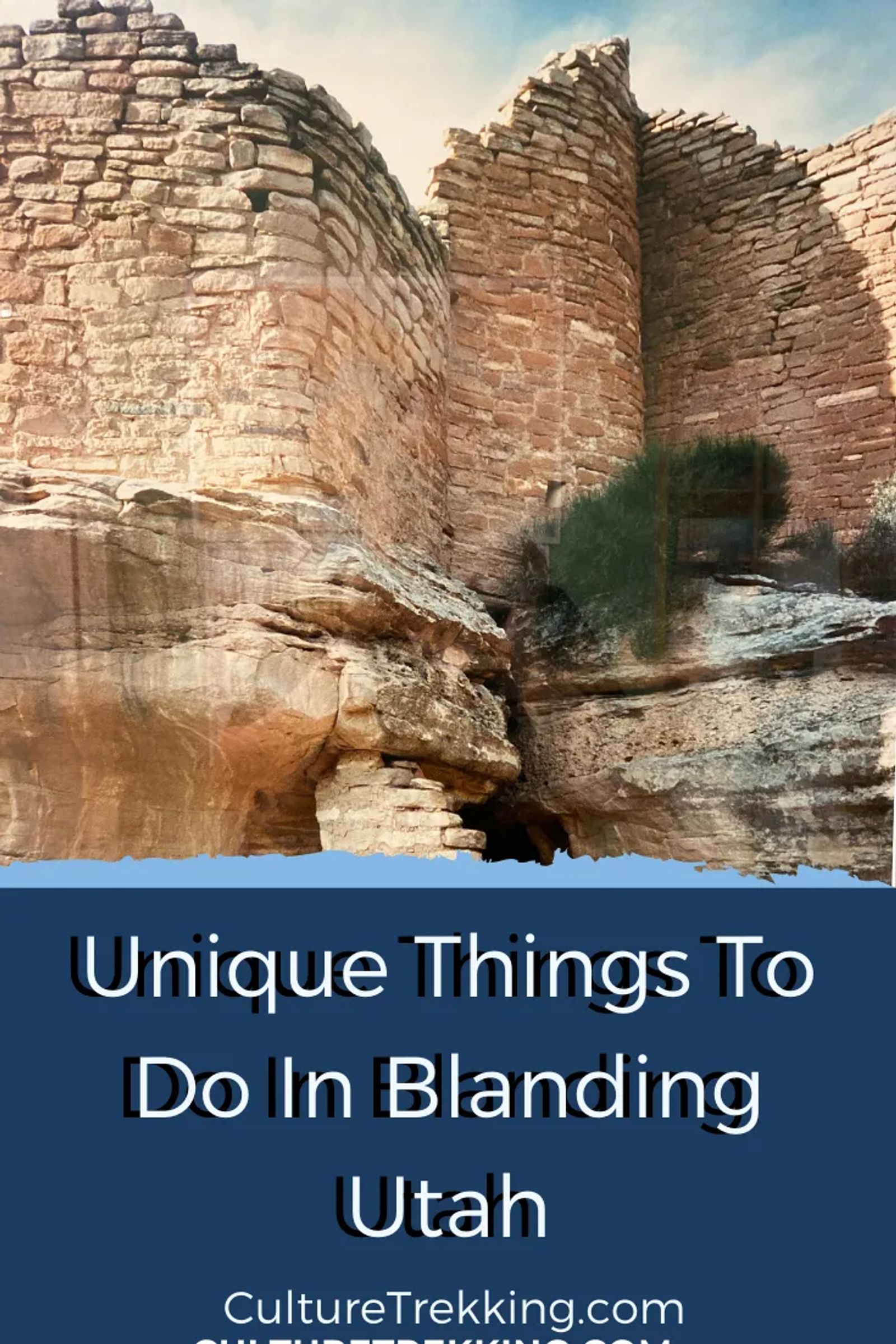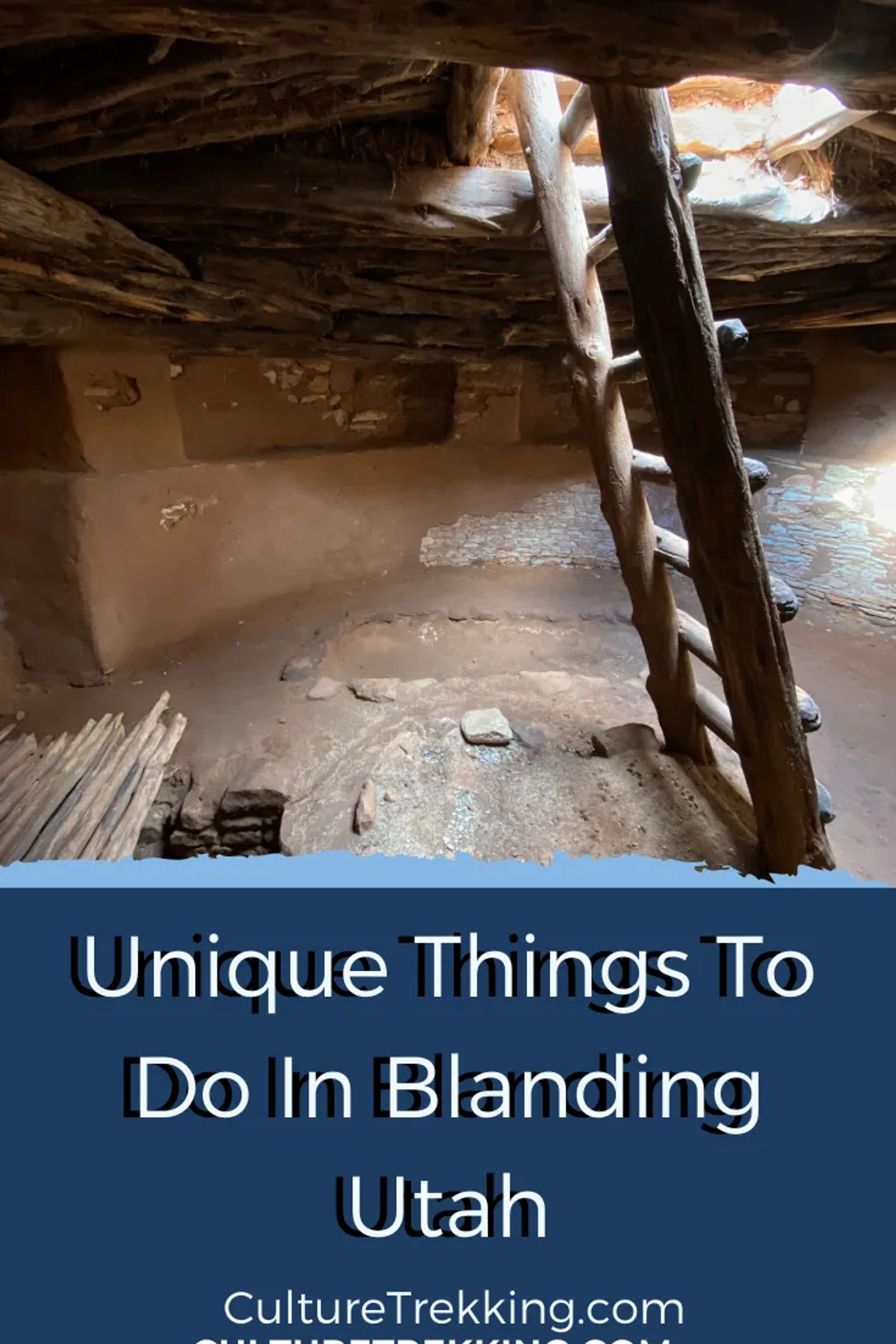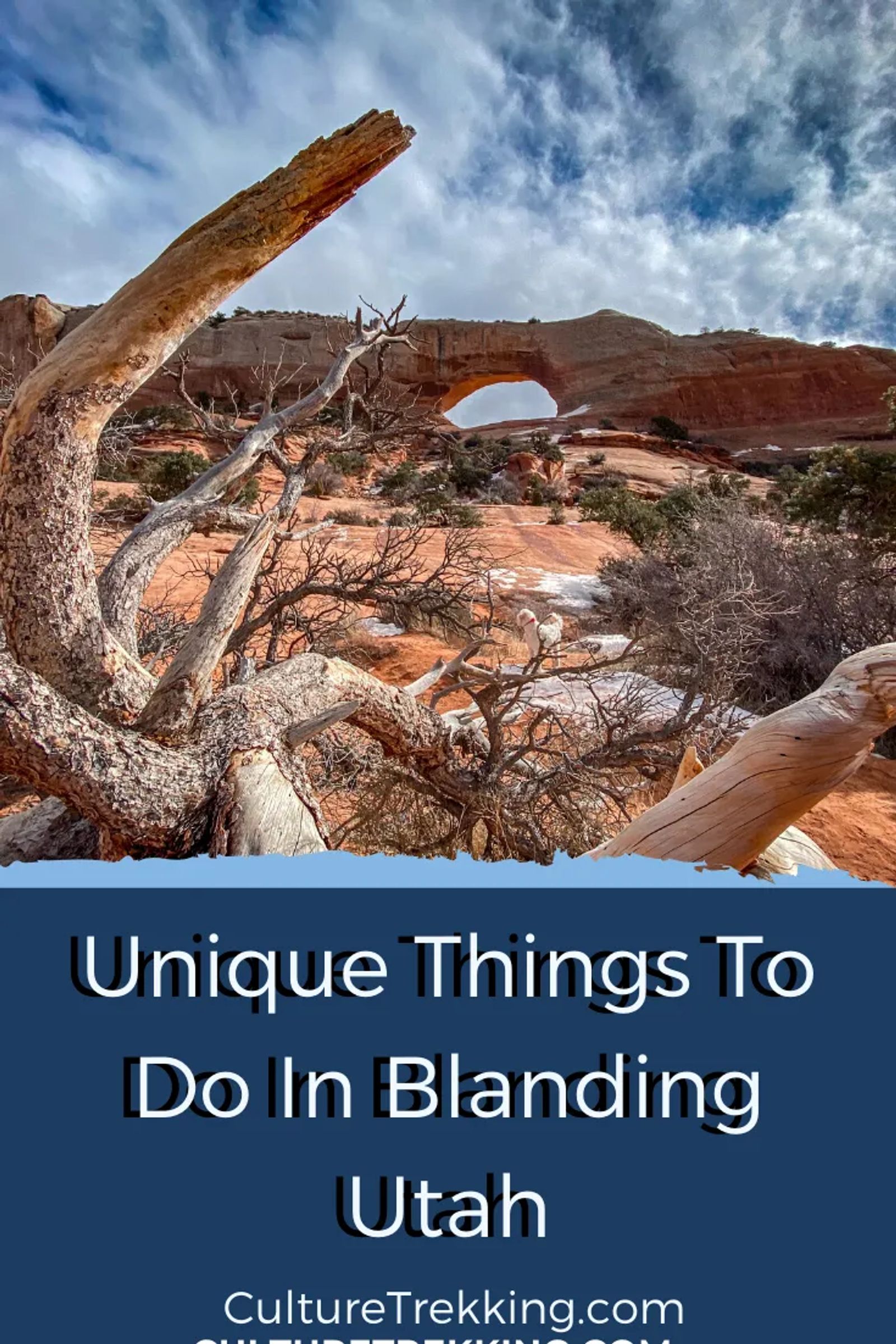 Where to Stay in Blanding Utah