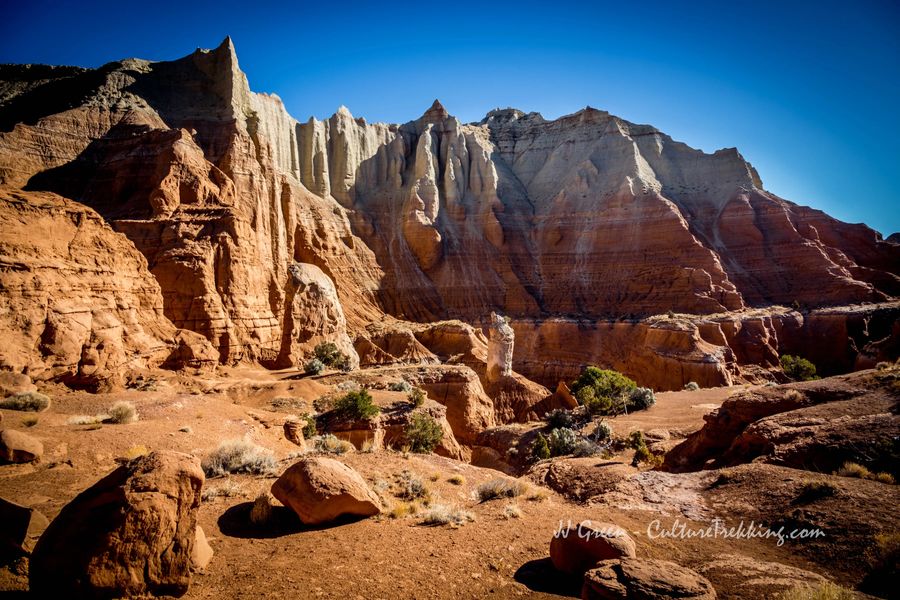 Hiking in Kodachrome Basin State Park Utah
All you have to do is say a park is dog-friendly and I will be going to visit. Kodachrome has much more to offer than just being dog-friendly though. Kodachrome Basin State Park is unique because of the single monolithic spires that dot the park.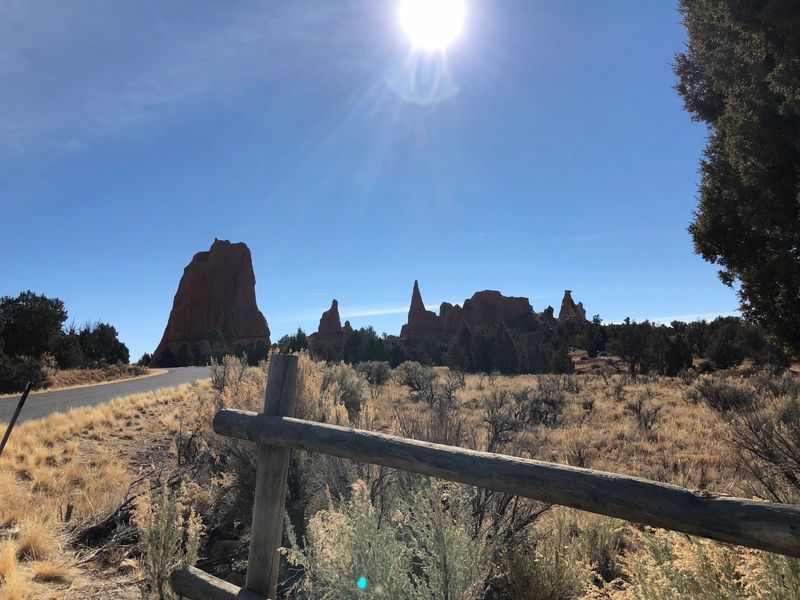 These rock formations seem to shoot up out of the ground into the air with no reasonable explanation as to why. Some of these spires can rise nearly 170 feet into the air, with different colorations striating the spire making for a unique natural structure. There was one spire that I could not figure out for the life of me if it was a petrified tree or just an odd rock. Arches in this park are, uniquely, on the tops of the mountain rather than closer to the ground like in Arches National Park. The Grosvenor Arch is one of these arches that is located about 11 miles from Kodachrome Basin that is the most well-known arch in this area. A white towering arch that is the perfect place for those epic Instagram photos.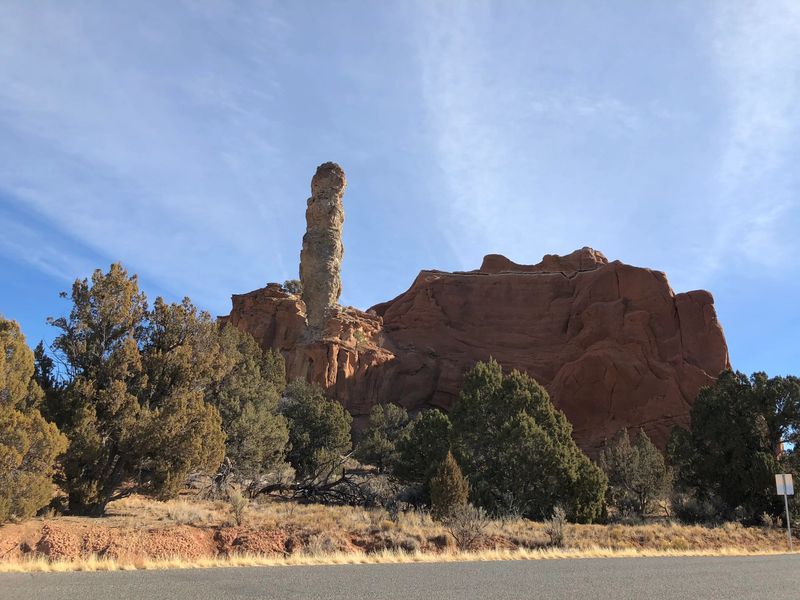 There are 67 different monolithic stone spires identified in Kodachrome Basin State Park. Geologists are still baffled by their formation to this day. Several theories are circulating as to how, when and why these spires were formed. One of these theories is this area used to be covered in water and over time the area wore the stone down and the waters dried up leaving Kodachrome Basin as we know it today.
How to get there: 
Here is a map I made for you on how to get to Kodachrome Basin State Park. There are two options for those flying in, one to the Salt Lake City International Airport and the other to the much smaller St George Airport. You have another option of flying into Las Vegas and driving three and a half hours to Kodachrome Basin State Park as well. The drive to this area is much prettier driving from Salt Lake rather than Vegas.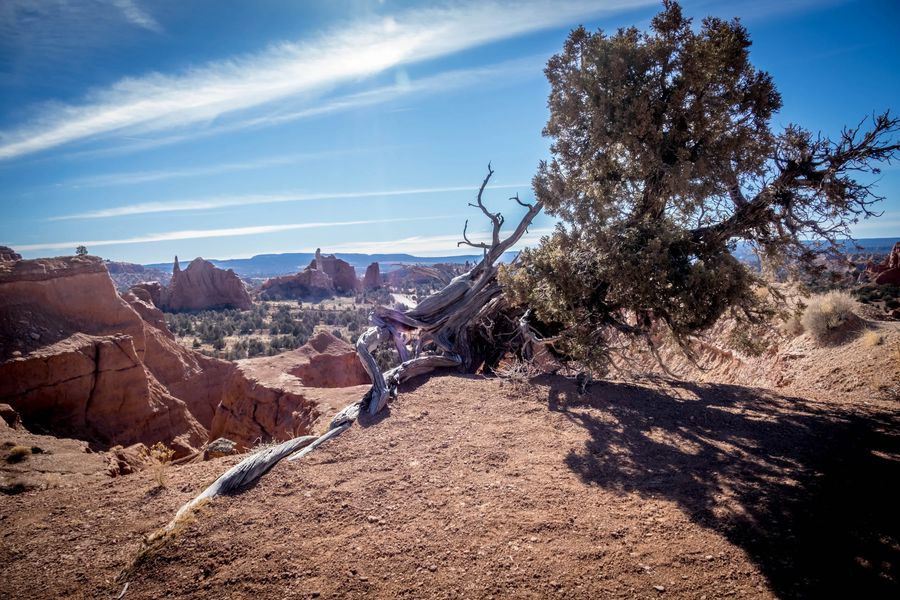 It is an easy drive, but I would not try and drive the route from Salt Lake City if it is snowing. The roads can be very dangerous with multiple slide-offs. If you are coming from Las Vega in the winter, that drive will have clearer roads without snow.
Where to Stay: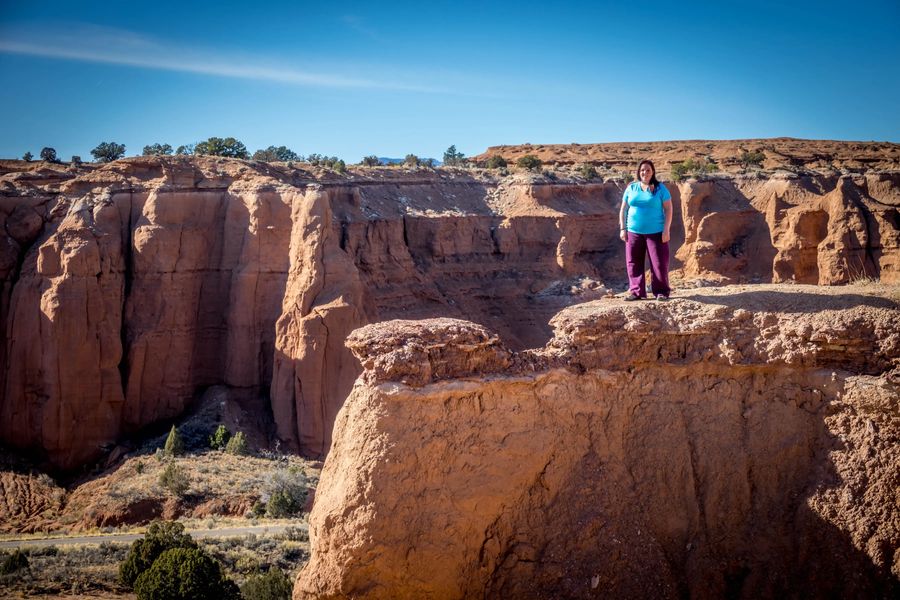 In the Summer
The easiest and cheapest place to stay is typically in the Basic Land Management areas, or the Camping Areas near Kodachrome Basin. Most of these camping areas are very safe to stay in but make sure to keep your dogs on a leash as there are bobcats and coyotes in the area.
Basic Campgrounds can cost you up to $20.00 per night, and you will most likely need cash to pay for these as they are typically envelope drop places. Park rangers come by around 6-7am and check cars for the campsite tickets in the window. The Park Rangers compare it to their list of envelope drops and how much you paid. If they catch you staying without paying, you can get a large fine.
In the Winter:
I would stay in Cannonville at a hotel. Kodachrome Basin State Park can have unpredictable and harsh weather changes at all hours of the day. The temperatures drop dramatically at night and hypothermia can be a problem unless you are properly equipped. Many of the campsites are also closed in the Kodachrome Basin area without restroom facilities.
The hotel that we stayed at was Ruby's Inn in Cannonville Utah. This hotel is just outside Bryce Canyon National Park and allows dogs both inside the hotel rooms and inside the common areas, but not in the grocery store. If the weather is too harsh, they have loads of activities (both in the winter and in the summer). There is an indoor pool, grocery store, convenience store, shows, restrooms, even a fireplace with cozy chairs and couches that you can crack open a book and feel as if you are staying in a grandiose cabin. Their prices are reasonable, especially in the off-season & there are refrigerators, microwave,  and warm showers to chase away the chill in every room.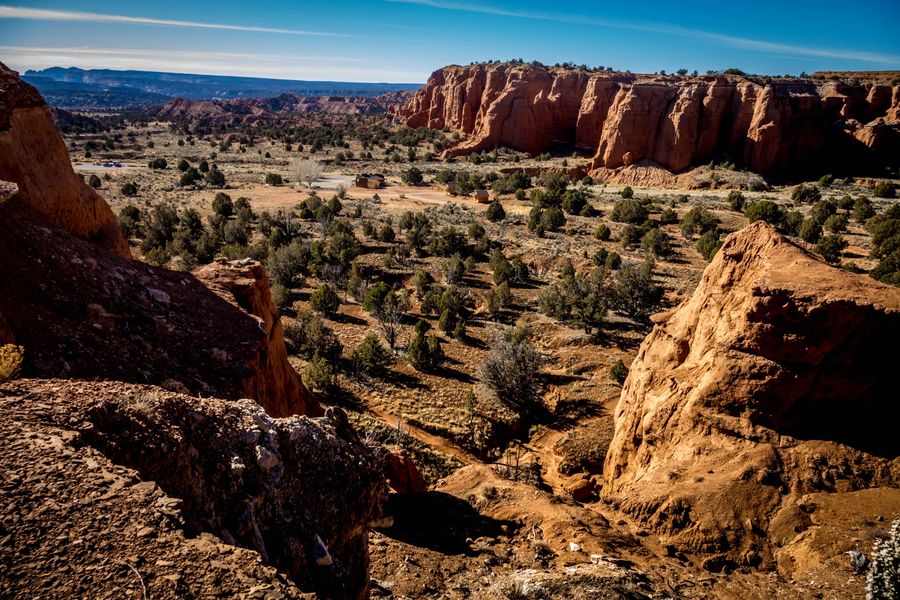 What to do in Kodachrome Basin:
Kodachrome Basin State Park has loads of activities for you to do and experience. With hiking trails, horseback riding trails, mountain biking trails, ATV trails and with all the unique rock formations, is truly a photographers paradise.
Bree (my roommate) and I had so much fun imagining what the rock formations looked like, just as you would imagine shapes in the clouds. There were a few of the rock formations that had us in stitches from laughing.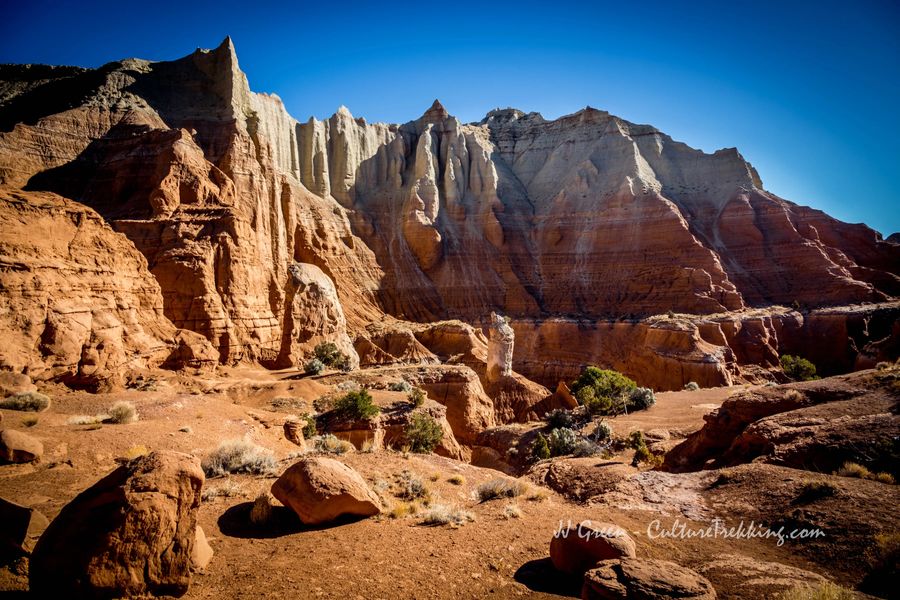 Angel's Palace Trail:
The trailhead is across the street from where you park. In the winter there are no restrooms open, nor are there any garbage cans - so be prepared before you go.
As you start this trail it is deceivingly marked with arrows that point to the right way. Maybe it was because we were hiking this trail in the winter, I don't really know, but about 1/4 of the way into the trail the arrows started to point the wrong way, the posts had blown over, or there were two arrows pointing two different ways on the fork, but then no other signpost.

What you want to do is get over the hill onto the other side. There is a cliff with an unbelievable view of the valley below. Coming around the corner you are struck with a breathtaking view of a mountain face that begins in a reddish orange and bleeds into a white multi-point peak that without evening knowing the name of the trail, I named it, "Heaven's Castle".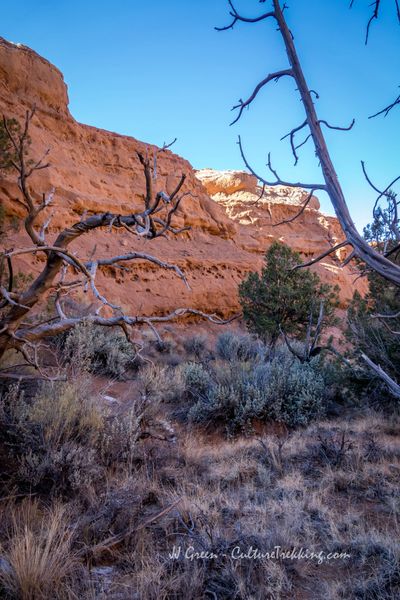 We spent quite a bit of time here, taking pictures, enjoying the view and wishing we could pitch a tent in this spot and forget the world and let nature heal our souls. If you do not have time to do any other trail, this is the trail I would suggest doing. It is 1.6 miles and is fairly easy to hike. It is an exposed trail to the sun, so it is fantastic to hike in winter and will be quite hot in the winter.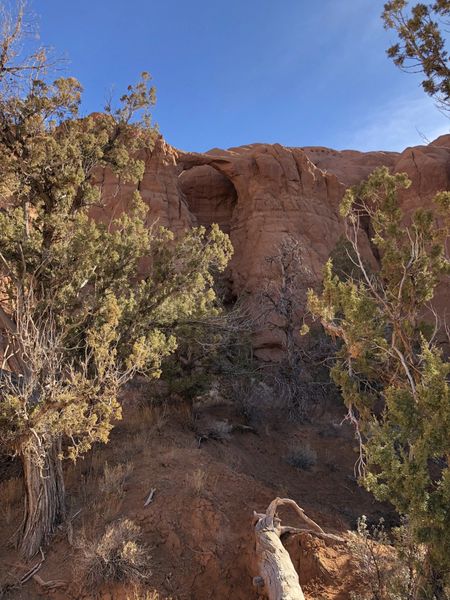 Shakespeare Arch
This was the last trail that we were able to hike before having to head back to our real life and resume our adulting duties.
I think I enjoyed hiking this trail more than actually reaching Shakespeare Arch. The trail had fun little areas that you could explore the riverbed and a beautiful view of a surrounding valley. This trail is not well marked and is a 2.6-mile loop. There is no water here for you or your dogs. Most trails in Kodachrome Basin are exposed to the sun, with very little shade.

When we arrived at the Arch, well.......it was disappointing. I almost said out loud, 'That's it?! Well.......that's.........cute'. Not exactly a reward for the 2.6-mile moderate hike in, but the views along the way, the dogs enjoying the sand and playing in it & the comedy of Bree getting lost on the trail and almost getting stuck on the edge of a cliff is what made this hike fun for me.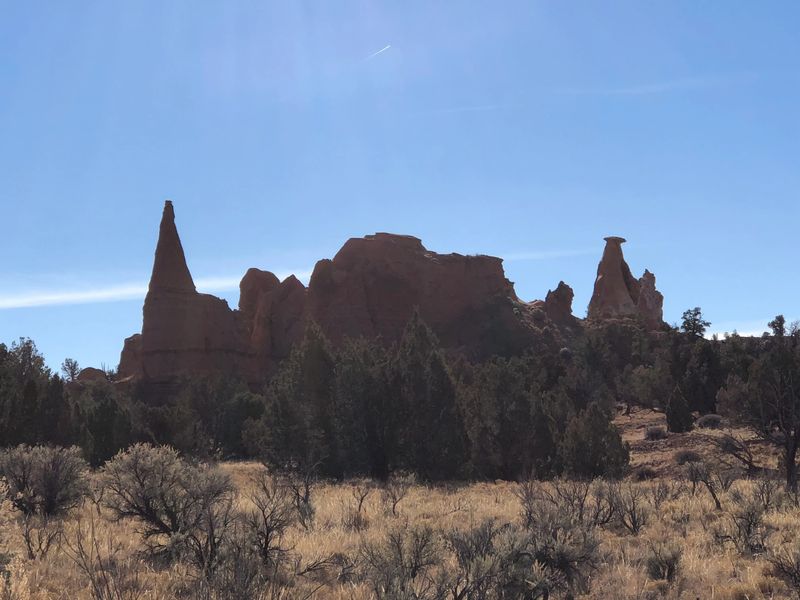 In Summary:
Kodachrome Basin is definitely a place I will return to, it is off the beaten path. It is unique and has locations that have not been over Instagrammed and feel special when you visit. The colors of this area are striking, and around every corner, you will have both shocking and spectacular surprises.
There is so much to explore in this Park. I would give yourself at least three days to explore all the corners of Kodachrome basin adequately. Bryce Canyon National Park, Dead Horse Point, Moab, Zion National Park are just a short ride away as well, although not as dog friendly.
L
Happy Travels, Happy Trails, and see you on the Flip Side
Where to Stay near Kodachrome Basin
For more posts like this, visit: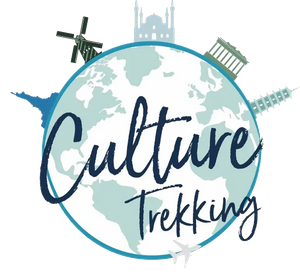 Culture - Connection - Art - Adventure