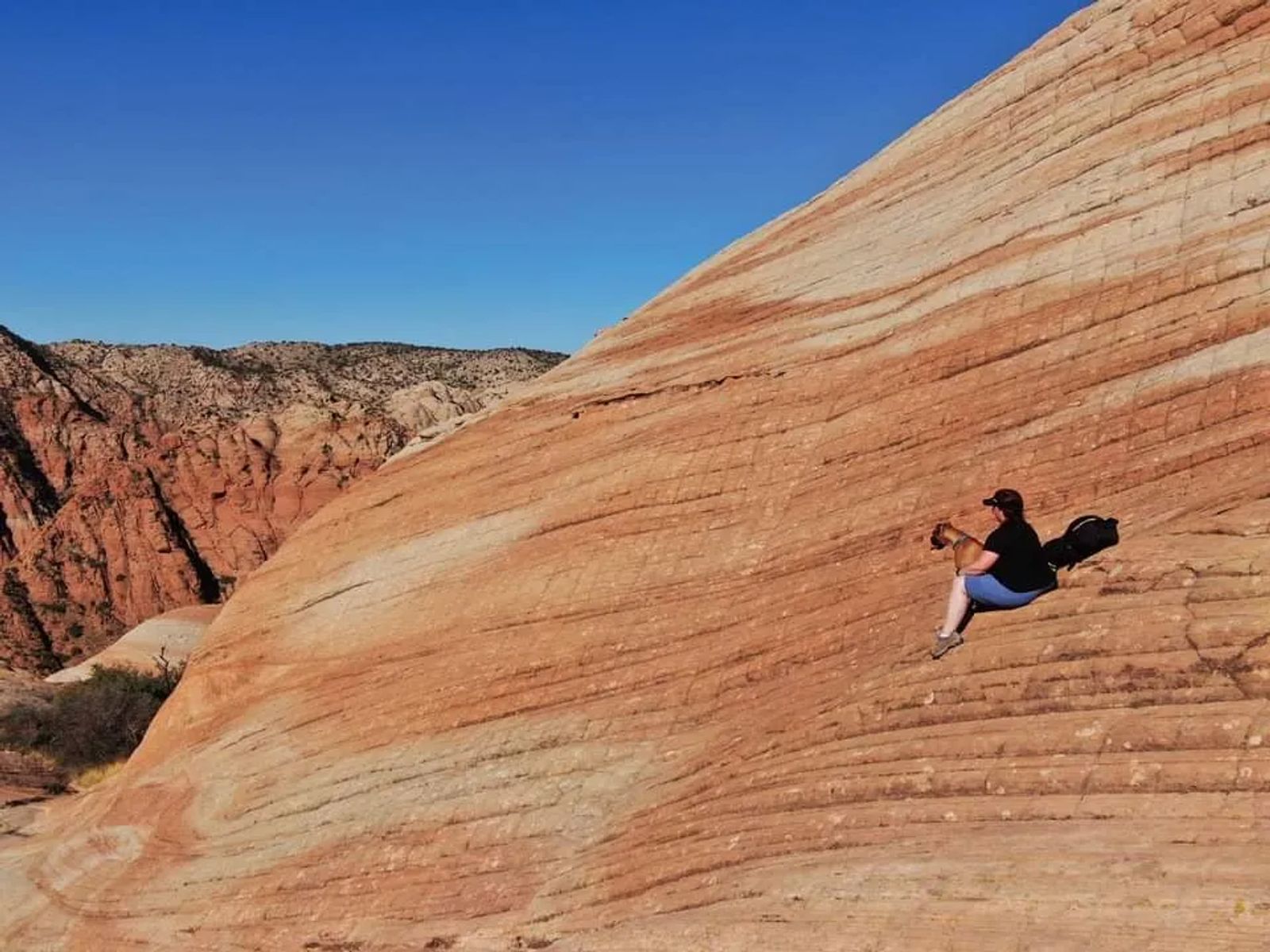 Explore Southern Utah With Dogs
Every year I take a trip to Southern Utah with my friend Bree and our 3 dogs. Despite Utah being a fairly dog-friendly place, they still do not allow dogs on the trails in the Big Five National Parks in Southern Utah. DESPITE Canada allowing dogs on all their trails in the National Parks, the USA still hasn't caught up on the fact that we as dog owners view these creatures as our family and not just animals. Ok, end rant....but really....get with the program Utah.
Anyway, I wanted to share some of my favorite trips to Southern Utah over the years, and show you just how much fun you can have with your dogs in Southern Utah with incredible views without even setting foot in a National Parks here. These are hidden gems full of life, history, remote quiet backcountry areas of Utah that I love. So if you decide to visit some of these off the beaten path places in Southern Utah, please leave no trace, don't carve your names into the rocks, be kind and have fun! (Really though, it is impossible to not have fun when visiting some of these locations.)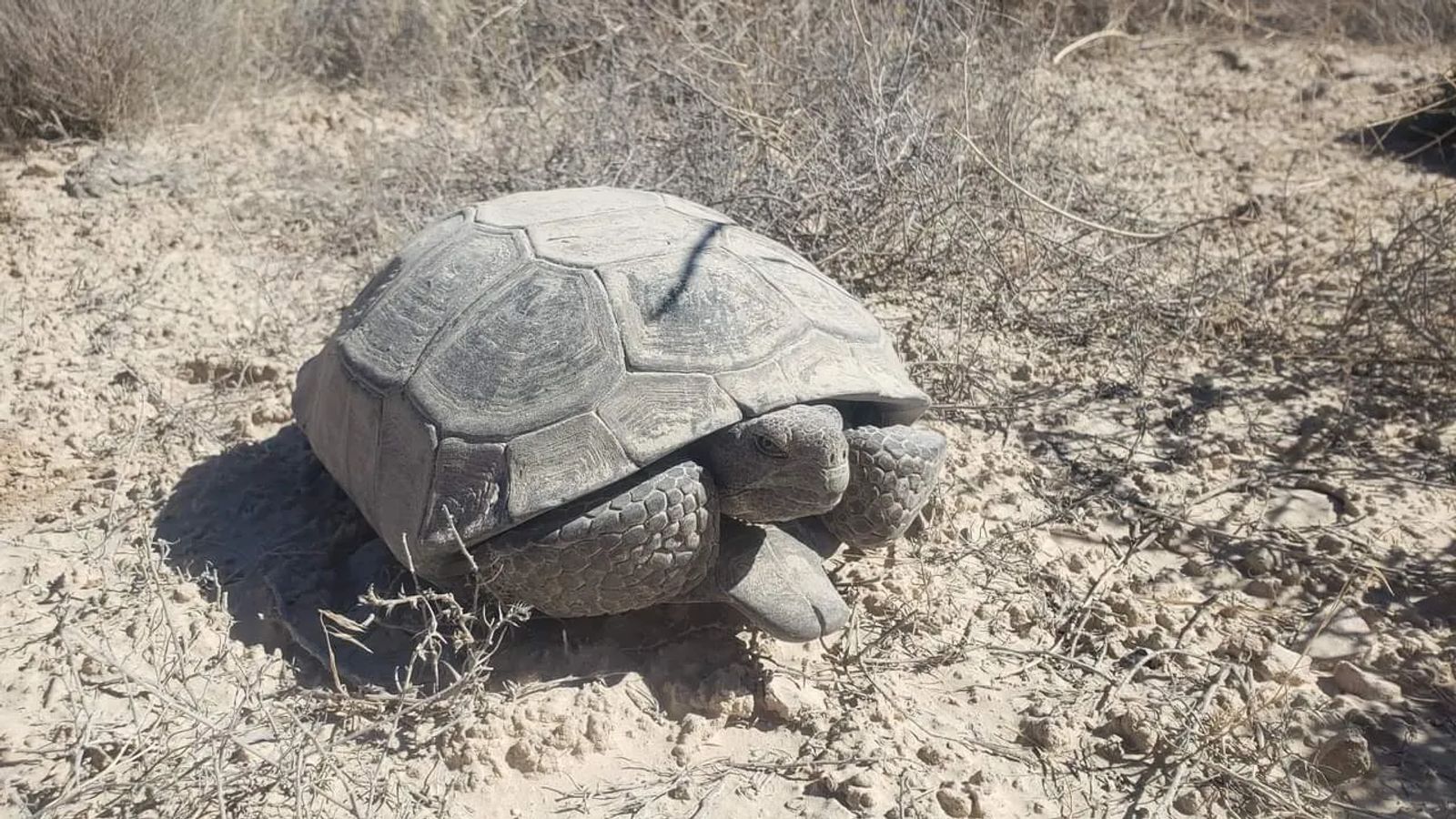 Quick Facts About southern Utah
Transportation: You will need a 4x4 vehicle with good clearance because of the types of bumpy, soft sand dirt roads that you will be traveling on.
When To Visit: The best time to visit Southern Utah is in the Fall, Winter, or Spring. Because red sandstone, it will absorb & reflect the heat from the sun and when you are hiking in 50F weather, it feels more like you are hiking in 70F weather.
Best Things To Do: Of course visiting national parks like Capitol Reef National Park, Zion National Park, Arches National Park, Canyonlands National Park, and Bryce Canyon National Park are a must for any first-time traveler. Unfortunately, your dogs aren't allowed in many of them on the hiking trails. There are a few trails in Moab that are dog friendly though. I will go over the hidden gems in Southern Utah that you CAN visit with your dogs and are really beautiful and worthwhile to see.
Staying Healthy: When you travel with your dogs, make sure you pack water in with you for them as well. There is commonly Giardia Lambia, Cryptosporidiosis, and the new Cyanobacteria that is highly toxic to dogs that is found in the Virgin River and Quail Creek State Park. There have been a few animals that have died from the Cyanobacteria. You also want to make sure you bring 3L of water per person, per day, along with plenty of sunglasses, sunscreen, hats etc.... The elevation at 10,000 feet at some of the parks can be quite brutal. Also, bring some dog booties for your pup, if it is too hot for you to walk on it, then it is going to be too hot for them and burn the pads of their feet. I also bring these dog coats, that I put on my dogs before bed for the higher elevations in the fall/winter months because it can snow and get quite cold.
To Leash Or Not To Leash: There is a lot of chatter in the hiking forums and camping forums in Utah about people not leashing up their dogs. I personally keep my dogs on a leash the majority of the hikes I go on unless I know there is no one on the trail. They are well trained, do not walk off the trail, come when called and I leave no trace when I go hiking with them. In order for us all to keep enjoying hiking with our dogs in Utah without getting fined, I would highly suggest keeping your dogs on a leash when hiking here.
Dixie National Forest
This gorgeous wilderness stretches across two million acres and 170 miles across Southern Utah. It stretches from Cedar City to the Colorado River, and down to St George Utah.
Within the National Forest, you have the Ashdown George Wilderness which shares the border with Cedar breaks national Monument is varied in its geology and twisted forest of bristlecone pine. You might just catch a glimpse of chipmunks, yellow-bellied marmots, golden squirrels, and voles. The temperatures here are going to be much cooler because of the peak of 10,400 feet and often snows in the winter. Hiking includes 10 miles of trails like the Rattlesnake Creek, Potato Hollow Trail, and the Cedar Springs -- it also has the unusually named mountain: Blowhard Mountain.....yup you read that right. Moving on......
Box-Death Hollow Wilderness is largely made of Navajo sandstone and has a legend of livestock plunging to their death thus the name. For those that love fishing, you will find a plethora of brown and rainbow trout for the taking. You have to be careful traveling this country with your dogs though as there are mule deer, some cougars, and elk in the wintertime.
The Cottonwood Forest Wilderness is included in the Dixie National Forest but is also a large part of Zion National Park where dogs are not allowed on the trails there.
The Pine Valley Mountain Wilderness is one of my favorite places to explore with my dogs. It is a mountain island surrounded by a vast desert landscape with gorgeous meadows. The forests are filled with Engelmann spruce on the south end to fir, pine, and aspens that change to a fiery yellow in the fall. The temperatures here are cooler in the summer with an elevation of 10,365 feet (Signal Peak) so if you come here to camp in the winter, be prepared with the appropriate camping gear.
I obviously cannot cover the entire national forest in one short section, but please be sure to sign up for my email list so you don't miss the updates on these areas and how to best explore them with your dogs.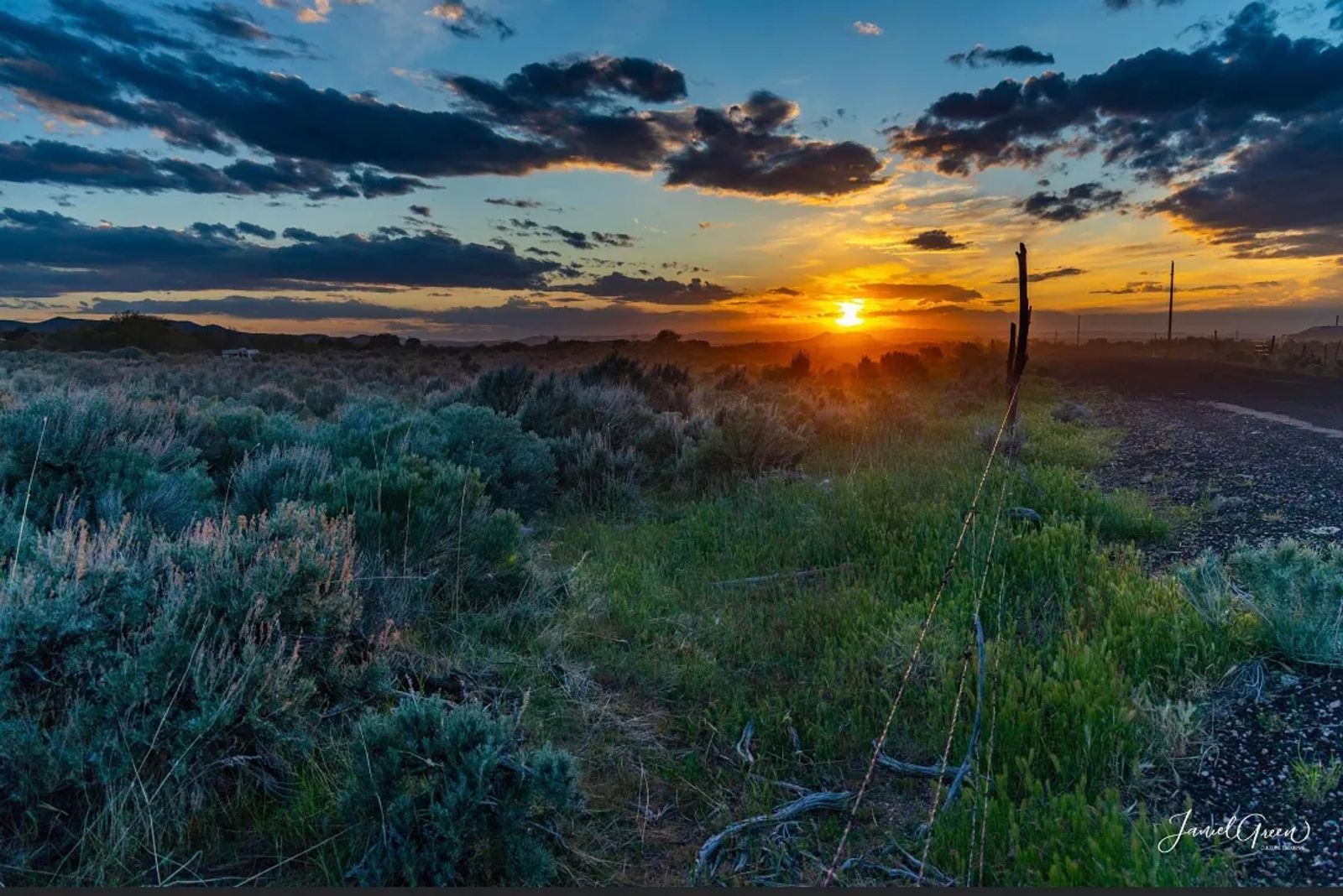 Fishlake National Forest
Fishlake National Forest is a world-famous forest in the middle of Utah, with some of the most unique adventures around. Yet many people have never heard of this little corner of wonders, including locals!
There are 13,700 acres here with 3,000 of those being made of lakes and reservoirs. There are 4 campgrounds, 7 picnic areas, 1 boating site, 3 rustic resorts, and 125 summer homes here. The rustic resorts are open year-round for those who would like to camp, ride and ice fish in the winter here.
If you visit please ensure the vehicle clearance is sufficient. There are some trails that even lifted trucks are unable to travel on due to difficulty so come prepared with the appropriate vehicles and emergency plans.
There are two trails that are considered National Rec Trails: Skyline trail in the Tushar Mountains, and the Lake Shore Trail at Fish Lake. There are also Meadow hot springs, fishing, lava tubes, lakes, wildlife spotting, and a whole lot more that I love. I created an entire article on Fishlake National Forest while I was down there with my dogs so be sure to check it out.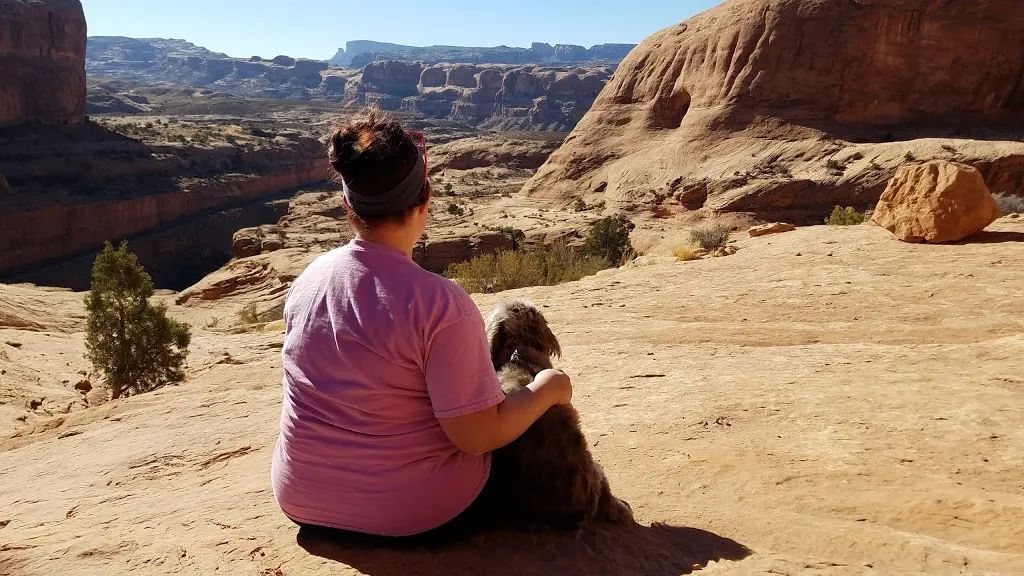 Hiking in Moab with Dogs
We all know Moab is a stellar place to visit even without dogs. It is a Jeep, hiking, exploring paradise that the Native Americans and Dinosaurs once roamed. So can you visit with your fur baby? YES! I did an extensive post on how to explore Moab with dogs, what hikes you can go on while there. I also go into where to bathe your dog, if they just need a relaxing day at the dog park, and the best places to stay with your dog in Moab.
You have Deadhorse Point State Park which is a fantastic place to watch the sunset and hike along the trail to the viewpoint. Corona Arch hike which is my go-to hike every time I go to Moab. I suggest taking a picnic and having lunch under the shade of this giant arch. Make sure to look for the eyes watching you from the mountains. I like to think of some of these arches and arch reliefs as what the Native Americans would think of as Mountain Gods. It isn't hard to imagine the Petroglyph paintings once you view the surrounding nature as to where they derived their deities. You also have the Poison Spider Dinosaur Tracks with a perfect overlook, and Morning Glory Natural Bridge (just mind the Poison Ivy at the bottom). They just updated the Morning Glory Natural Bridge with arrows to point which way to go which is great!
If you click this link it will go into great detail on each hike and if water and shade are available for you and your dog along the trail.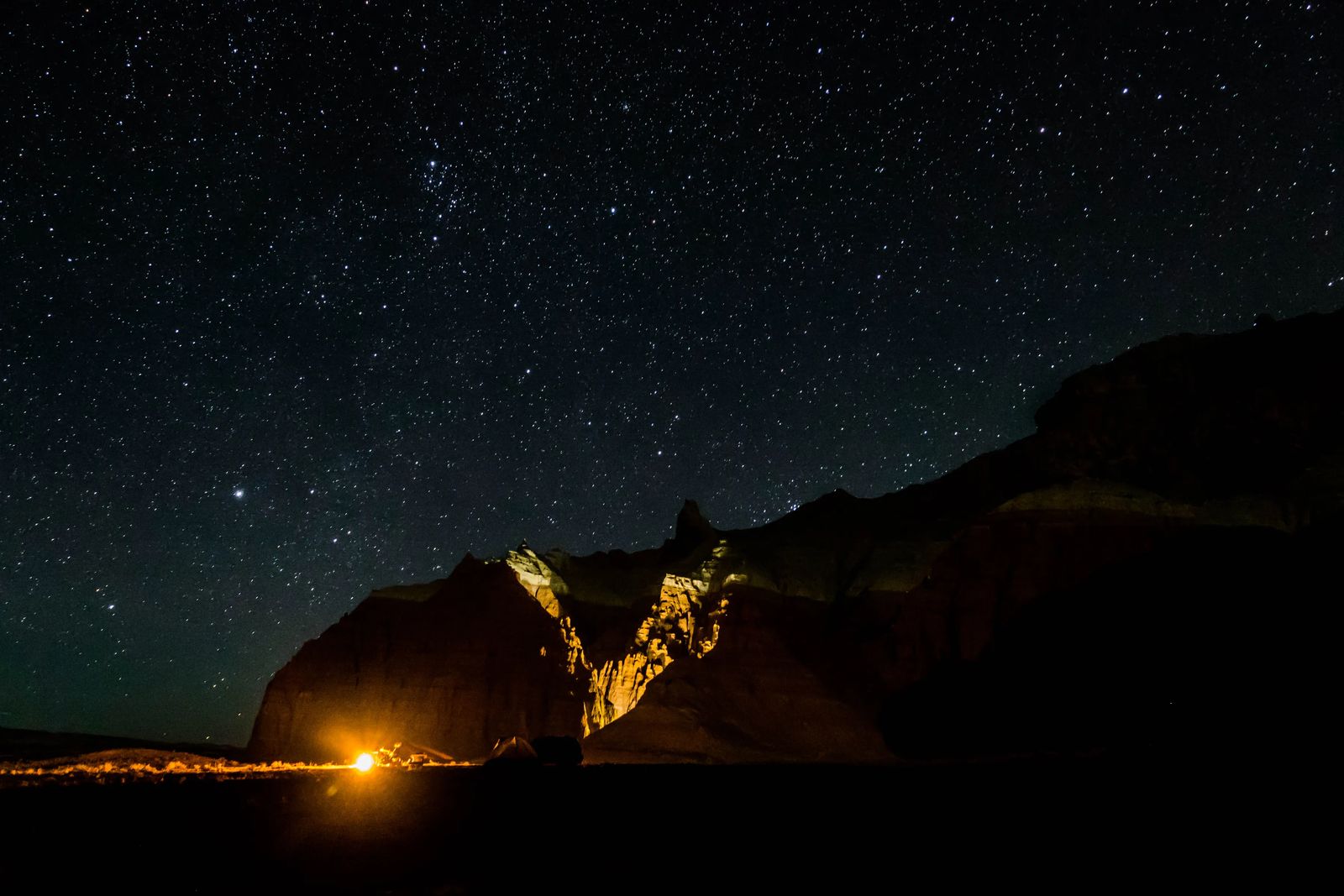 Goblin Valley State Park
This is not just a daytime oasis adult playground, but also one of the few dark sky parks left in the nation. Take a hike through the crazy hoodoos that look like goblins could pop out of every crevice and corner. My favorite hikes are the Little Wild Horse Canyon, Goblins Lair, the Three Sisters, and the Curtis Bench Trail. Be sure to keep your dogs on a leash on the open trails though, there are plenty of snakes in the area.
If you want more details on where to hike, when to hike, safety precautions and places to stay, and primitive camping near Goblin Valley, check out my Hiking in Goblin Valley post.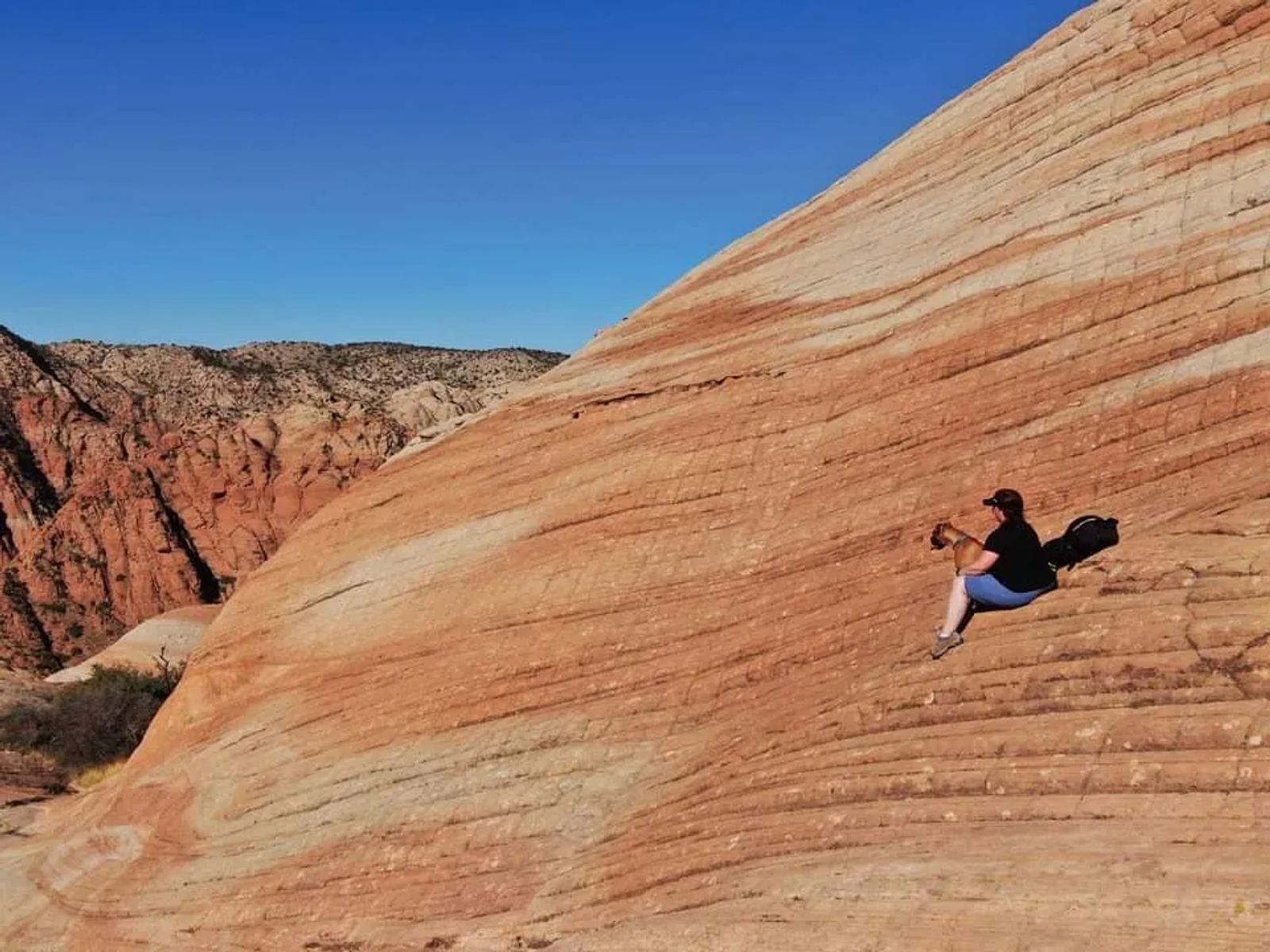 St George Hiking with dogs
Now, this is an area I'm dying to explore more of because of the variety of landscapes and the Anasazi history and Petroglyphs it holds. I think the best time to visit is in the Late Fall through early Spring. It can get up to 115F (46.1C) in the summertime. The red rock and pavement in the area absorbs the heat and then releases it back onto the surface, so at times it feels like it is 10 degrees higher than what the weather reports. Be very careful about venturing out into non-water related activities during the summertime. Also make sure that your dogs have booties to protect their paws from burning, from Cacti (especially the cholla cacti because their spikes have barbs like fish-hooks).
The hikes I would highly recommend going on while here are the Vortex hike, Yant Flats and the Anasazi Valley Trail, and the other Anasazi Trail that starts at a campground. You also have the Red Cliffs desert reserve, with the Babylon Arch, Elephant Arch, and the Chuckwalla Trail. In nearby Leeds, you have the Red Reef Trail (lower canyon), Yant Flats Trail, and the Snow Canyon State Park Petroglyphs. I personally loved the Yant Flats trail because of the similarities it has to the wave. There is another trail I would love to explore down there but wasn't able to because I didn't have the proper vehicle, that is Toquerville Falls.
Apparently, it is a 12-mile road that takes you an hour to drive down because of how rocky it is, even souped-up trucks were bottoming out, and SUV's were having to lower their tire pressure to 25 psi, then refilling their tires on the way out. It wasn't the kind of risk I wanted to take with my Subaru at the time I was there. The best time to visit many of these places is in the spring because that is when water will be gushing down the mountains, the vortex hole will be filled and the desert flowers will start to be blooming.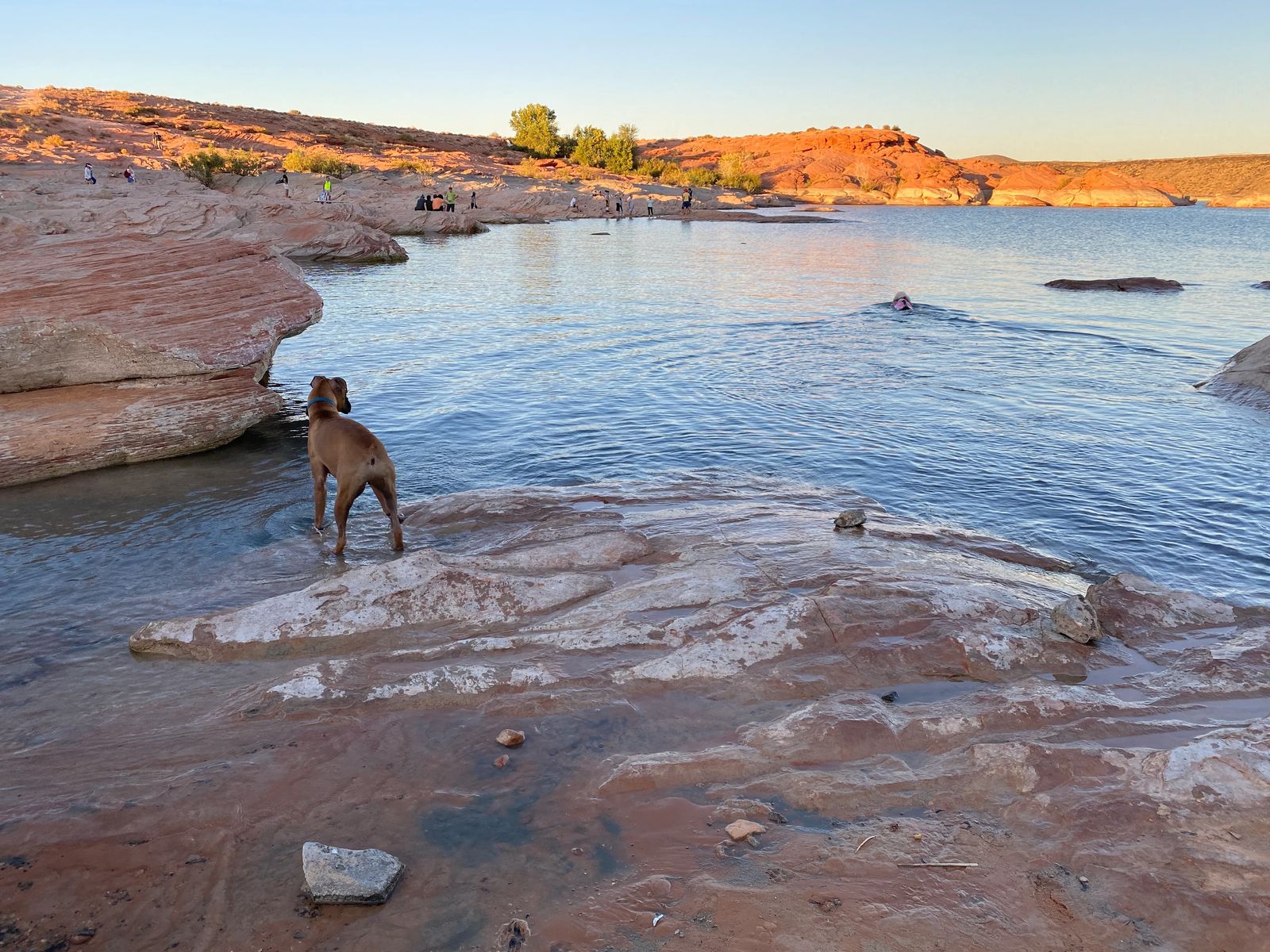 Sand Hollow State Park
Sand Hollow State Park is the PERFECT place to go and hang out with the whole family and your dogs on those hot summer days. Make sure you bring a camping chair you can set in the water to stay cool and see if you can't get there early to reserve a shady spot at their picnic areas. There are some sandy beaches, but it might require a boat to get to them. The beaches you can walk to are quite rocky and not conducive to multiple shade tents being put up.
If you have an ATV it wouldn't be hard to get to your own sandy little haven, they also have the Sand Hollow Sand Dunes nearby. So I suggest renting a boat and an ATV with another friend or family and just trading off. One party can stay on the beach rotating through the boat, the dogs can stay on the beach and play in the water, or be on the boat with you. The other party can take the ATV and get covered in glorious sandstone dust, and come back to the beach to rinse off.
Just make sure you decontaminate your boat if you have been to other nearby waters. The Quail Creek State Park now has the same contamination of cyanobacteria that Zion National Park had where a dog died after hiking in the narrows. They do ask where the last waters your boat has been in was, and will stop you to help contain the spread. Sand Hollow has also experienced some invasive mussels at the reservoir, so they are asking visitors to be extra cautious.
Other than those few cautions, there is plenty of fishing, kayaking, hiking, guides and rentals, spas, horseback riding, and golf here. Really there is an entire resort right by Sand Hollow State Park you can plan an entire girlfriend reunion, family reunion, or puppy playtime around.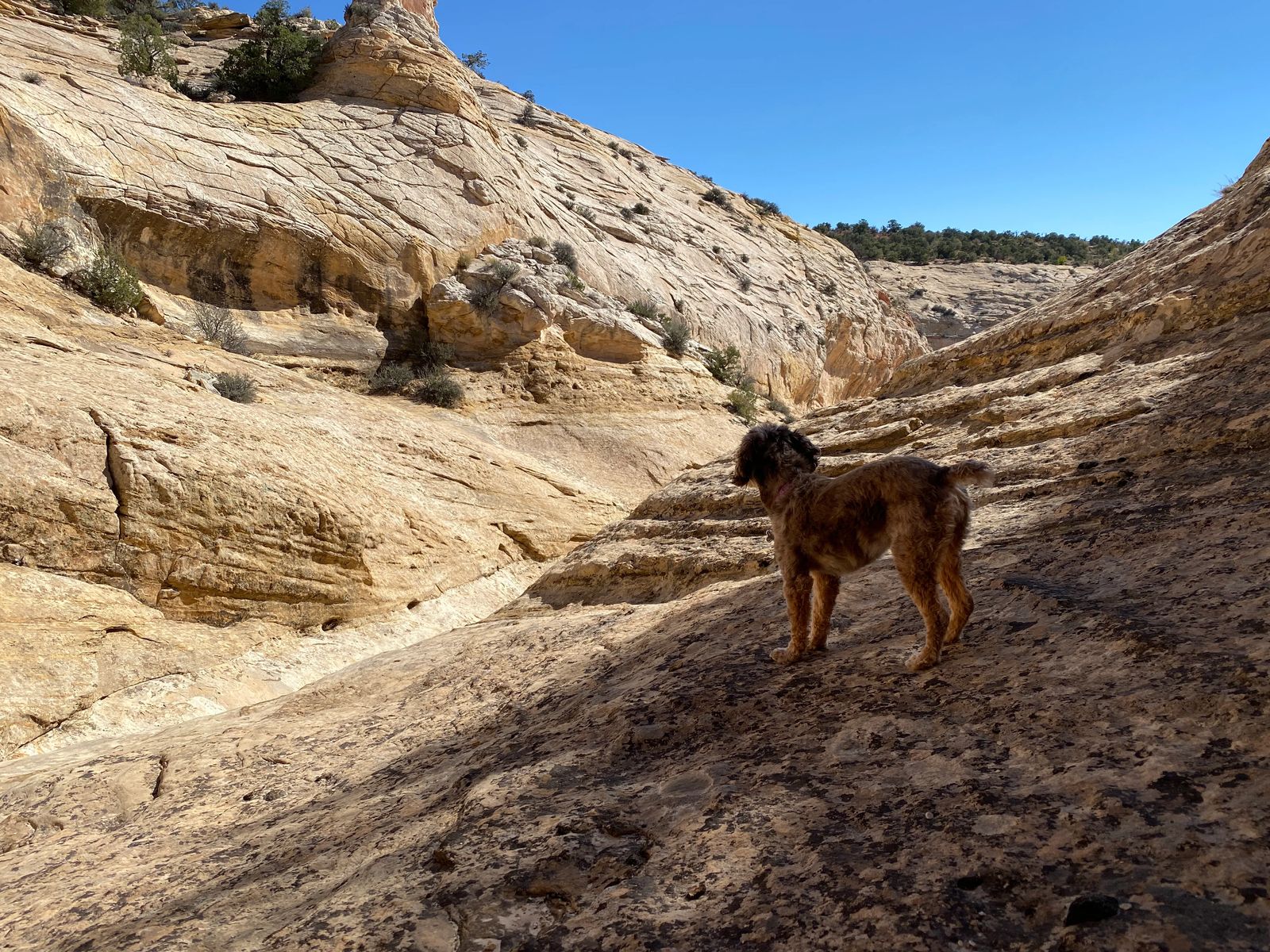 Bears Ears National Monument
Bears Ears National Monument is an area just outside Canyonlands National Park where some of the best rock climbing in the state is....Indian Creek. While technically not a slot canyon, this could nearly be one based on the narrow passage that is typically filled with climbers all year round. You can climb and your dogs can say chill out by you after you have hiked to some of the incredible Anasazi Ruins in the area. You have the target ruin, Kane Gulch to Junction Ruin, and the Tower Ruin. Pretty much any canyon you explore you're going to find some kind of 1000-year-old Anasazi Ruin here. You might even catch a few that still have Hopi steps carved into the rocks, paint still on the homes, and petroglyphs near the home that tell their tribal stories.
You won't find much online about the hundreds of ruins in this area, because there have been too many visitors who have come in and stolen artifacts from the ruins here. It is still protected ground, the tribes should have access to their ancestral rights and if you are caught stealing, moving or digging in the homes you can be charged with a federal crime.
They also have asked you don't leave cairns, touch the petroglyphs or the homes as the oils from your fingers can severely damage artifacts and homes.
Despite all of these sad tales of losing this history, it is incredible to stand in an area, witnessing homes of those who lived thousands of years before us without all the modern conveniences. They were able to survive, thrive, reproduce in an area that very few people could survive in today with all the fanciest camera gear. I doubt even Bear Grylls would find the area very forgiving.
If you love primitive, remote, and wild camping, then this is where you want to plan your next visit.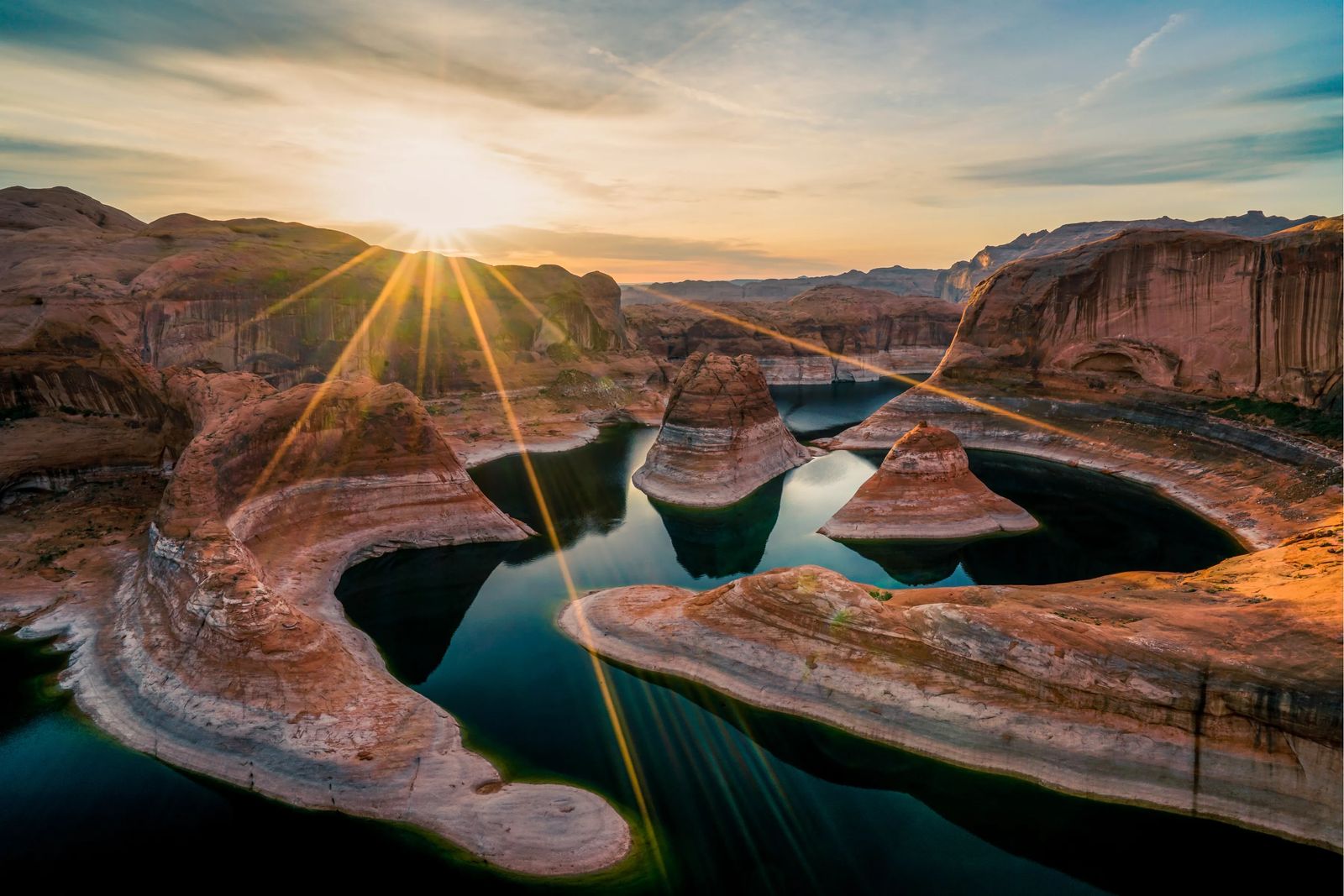 Lake Powell
Lake Powell is so close to the Grand Canyon, but yet many visitors miss this area entirely. I remember coming here as a child. You can cliff jump, run down a mile of pure white sand dunes, kayak into Antelope Canyon, hike to Rainbow Bridge, and surrounding canyons especially Cha Canyon which often has a small stream running through it. The narrow nature of the canyon gives enough shade for plants to flourish and waterfalls to fall amidst Ute Indian Petroglyphs and Pictographs.
It is also considered a major resort area because of how vast and expansive it is. Because of the high concentration of visitors, the police do not mess around in giving citations for not wearing a life jacket. There are people who drown here every year, so make sure you are safe. The desert storms form quite quickly here, so at the first sign of rain clouds, you should be heading to the marina.
Other than those tidbits, it is a great way to explore during the summer months with the cool waters. You can even rent a houseboat and drift to sleep with the rocking of the water on the top of the boat watching the stars surrounded by friends.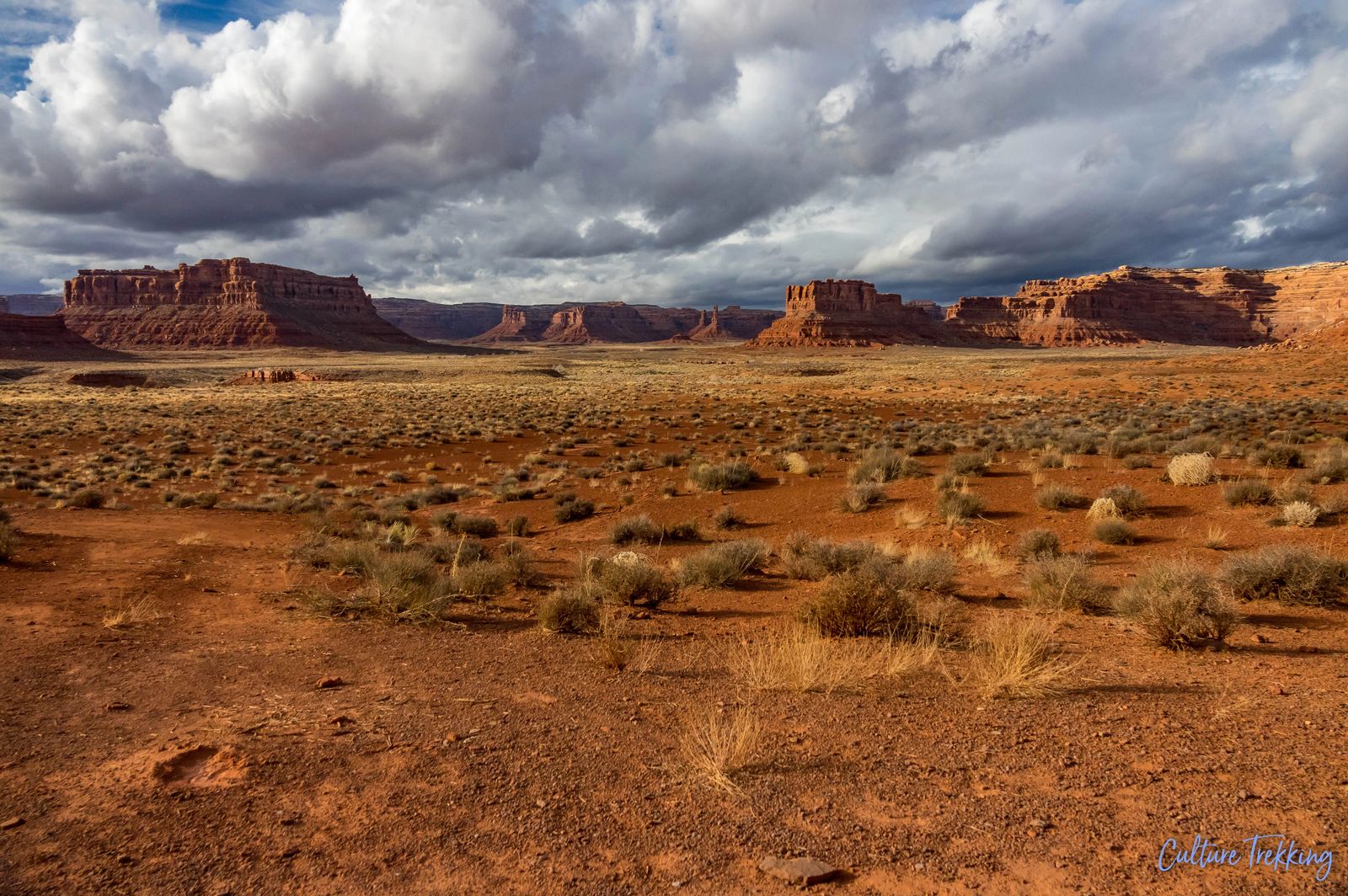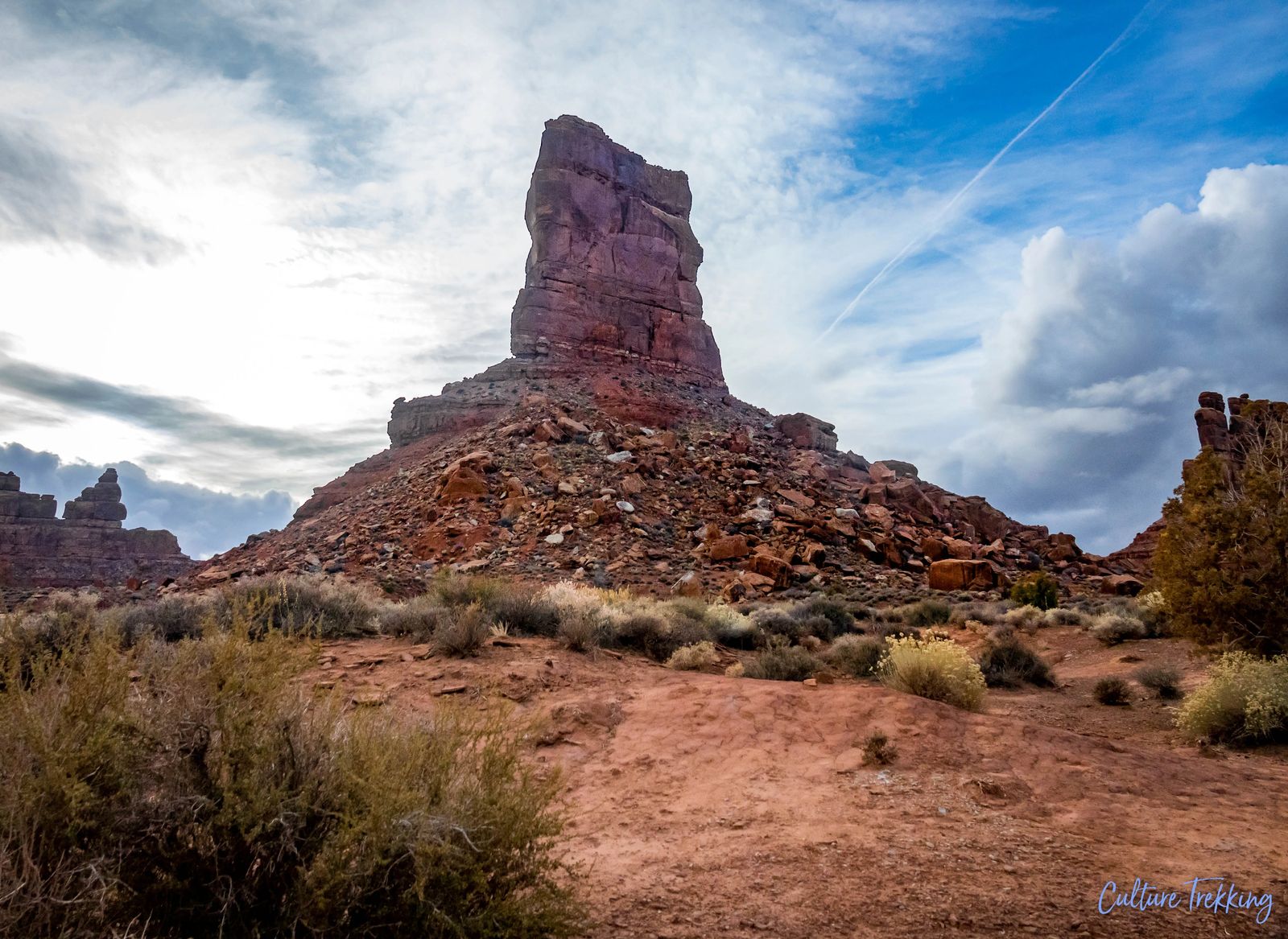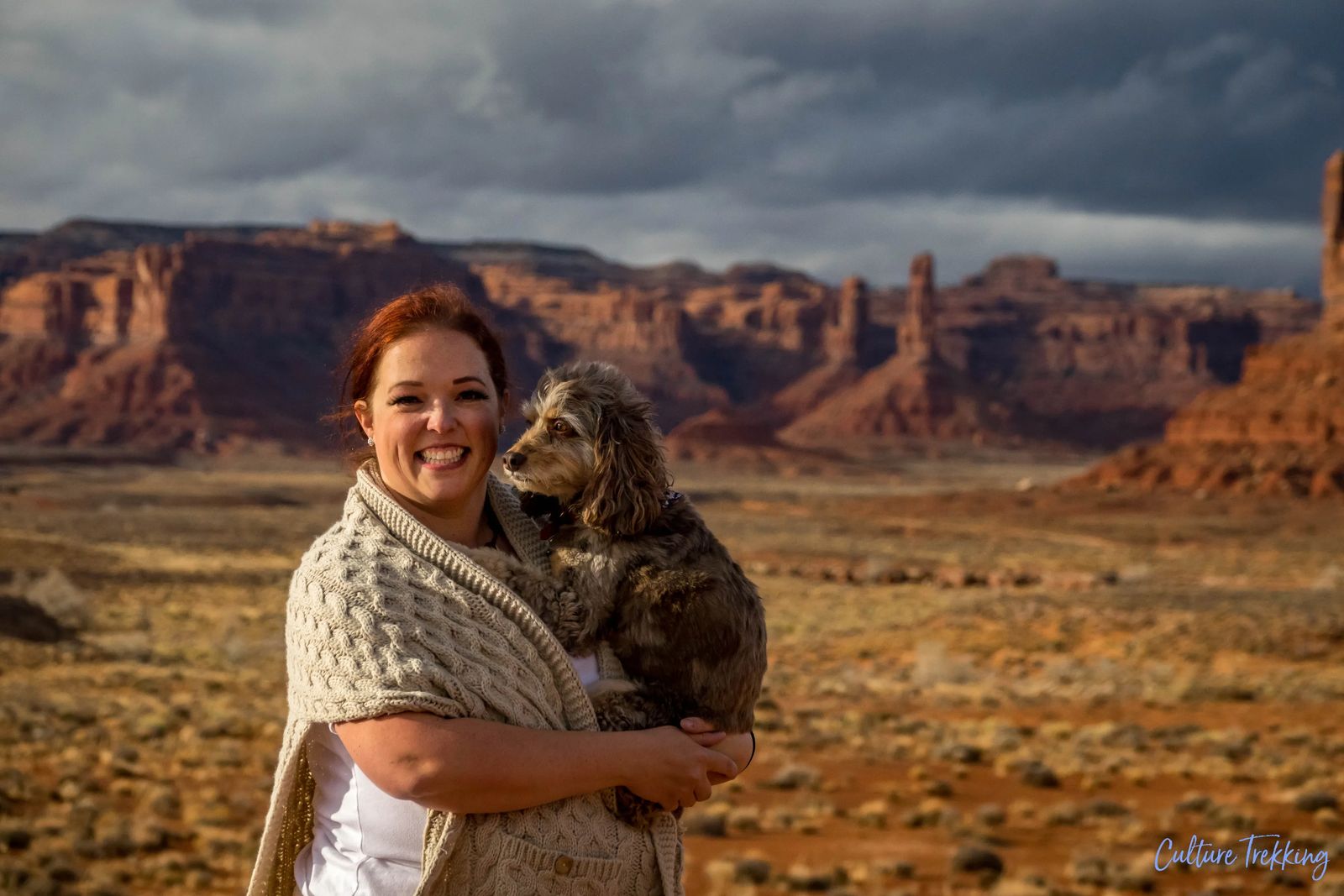 Valley of the Gods
Valley of the Gods is an extremely scenic and remote area near Mexican Hat Utah, it is right near Monument Valley so an easy stop if you are planning to visit that area. While dogs aren't allowed in Monument Valley (there is a stray dog problem there, where the stray dogs can be quite territorial) so you really don't want to get your dogs out of the car in Monument Valley. Instead head to Valley of the Gods, where there are no tribal restrictions and is on BLM land which means you can pretty much camp anywhere you can park. There are spires that life from the ground like an earthen god had thrown his mighty spear.
There really aren't any specific or designated trails here, so it truly is a place you can feel wild, free, and adventure at your own risk. Just make sure you have everything you could need for an emergency, take a look at my car camping kit so you make sure you the emergency essentials should you get yourself into a bind.
You might recognize this area from a few episodes of Dr. Who (a popular BBC show) and the 1984 classic Airwolf.
Gooseneck State Park
While most people head to the overcrowded Horseshoe Bend, I suggest going to Gooseneck State Park. The views are just as good, if not more impressive because there is not just one bend but two! The steep cliffs have been carved out by the rushing San Juan River located far below. I really want to figure out a way to kayak through this area one day - the waters look incredible and the rocky shores look like a good place to put a sit on top kayak where I can throw a sleeping pad and bag on top of it and sleep overnight there. Alas, my adventurous spirit kept us up on top of the canyon at their campsites where there are a few picnic areas, and places to camp nearby as well.
The camp areas are pretty flat, have a fire-ring and picnic table available as well as vault toilets. Just be sure to bring your own water and firewood as you don't want to destroy the sage bushes nearby as this can create barren land that makes dust storms more of a likelihood.
Kodachrome basin State Park
This is an incredible place to go hiking with your dogs. The soft sands are easy on their paws, and the views are incredibly and fantastically strange. The monolithic spires jut up into the air like they were pushed up from underneath the ground with a giant pencil eraser. In fact, the different sediment left from Lake Bonneville that eroded away from the rains and left these spires.
Because the trails are so virtually untouched you can also see the unique cryptobiotic crust (a soil bacteria) that grows here that takes hundreds of years to form. Please don't walk on this crust as it will be destroyed for several centuries.
There are plenty of mountain biking, ATV, and horseback riding trails here along with hiking trails. My favorite trails here are Grosvenor Arch, Angel's Palace, and the Shakespeare Arch. You also have the Zebra Slot Canyon and the Panorama trail
For more in-depth information on this area, the hikes, distance, sun exposure, and directions for each trail check out my article on the Ultimate Guide to Hiking in Kodachrome State Park.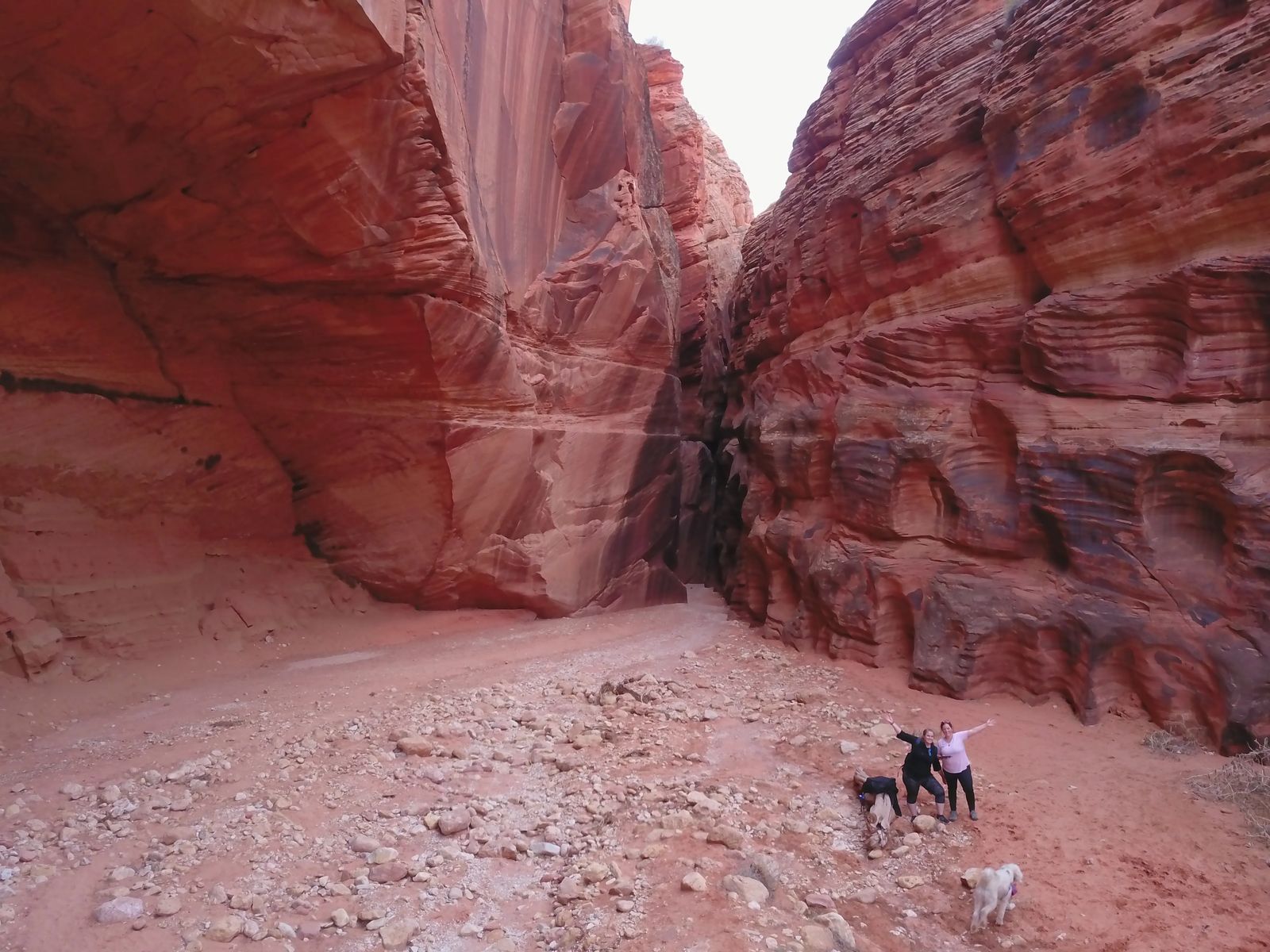 Kanab
This is probably the most dog-friendly town in Utah, or the USA I have ever been to. My friend and I went down to Kanab to see if we could get lottery tickets for the Wave....alas you have to be there at 7 am on a Thursday to get any kind of chance at a ticket. We went to the Hot Air Balloon and Floating Lantern Festival while we were there. They had all sorts of fair foods, crafts being sold, live bands, and even several vendors who were specifically catering to dogs!
We sat down to eat some funnel cakes and I kid you not, every person that passed by (especially the kids) wanted to pet my friend's dog and my own dog. It was like a petting car wash and they absolutely were so enthralled and thrilled to be getting so much attention from so many different strangers.
If the friendly folks here and festivals didn't tickle your fancy, then I would head over to the animal sanctuary where you basically get your own dog to play with or camp with overnight while your here. what a better way to spend a camping trip than giving a dog, who has a life much shorter than ours the time of their lives.
You can take them on some of my favorite hikes here, like the Sand Caves, Slingshot, White Pocket, Buckskin Gulch (longest slot canyon in the world), Wirepass (shortcut to Buckskin Gulch and has petroglyphs at the end), the Toadstools, Paria Mountain (our version of rainbow mountain), the coral pink sand dunes (amazing place for ATV riding), peekaboo slot canyon, and over to the Moqui Cave Ruins.
This is quickly becoming one of my favorite places to travel to in the winter so be sure to check it out if you find yourself being denied tickets to see the Wave.
Blanding
This is where you can see the House on Fire Ruins located in the Upper Mule Canyon! I recommend going sometime in the late winter as many people don't like hiking in the snow, but it lights up the house like it really is on fire when you get there around 11 am. You can also venture over to the Lower Mule Canyon and see some incredibly well-preserved ruins there as well.
You can see the Edge of the Cedars State Park Museum, where you can climb inside a Sacred Keva Recreation and see how the natives of the area would celebrate personal growth and create bonds as a community.
Although I wasn't able to visit the following locations, they are on my list to see when I go back down because some friends highly recommending I do so: Arch Canyon, National Bridges National Monument (although dogs aren't allowed here), Hovenweep National Monument (dogs also not allowed here), and Mulley Point and Moki Dugout.
Blanding is really close to Mexican Hat as well as Gooseneck State Park and the Valley of the Gods, so it is a good base to start off from.
Where To Stay (hotels)
I will cover camping with dogs in Southern Utah in another article because I don't want to make this post longer than it already is. This is an affiliate map with airbnb, I would really appreciate it if you booked through this because it is no extra cost to you and really helps me out continuing to bring great Utah content to you as I do many of my trips on my own (very limited) dime. Thanks Culture Trekkers, you really are the most supportive community ever.
Like it? Pin it! Sharing is Caring ;)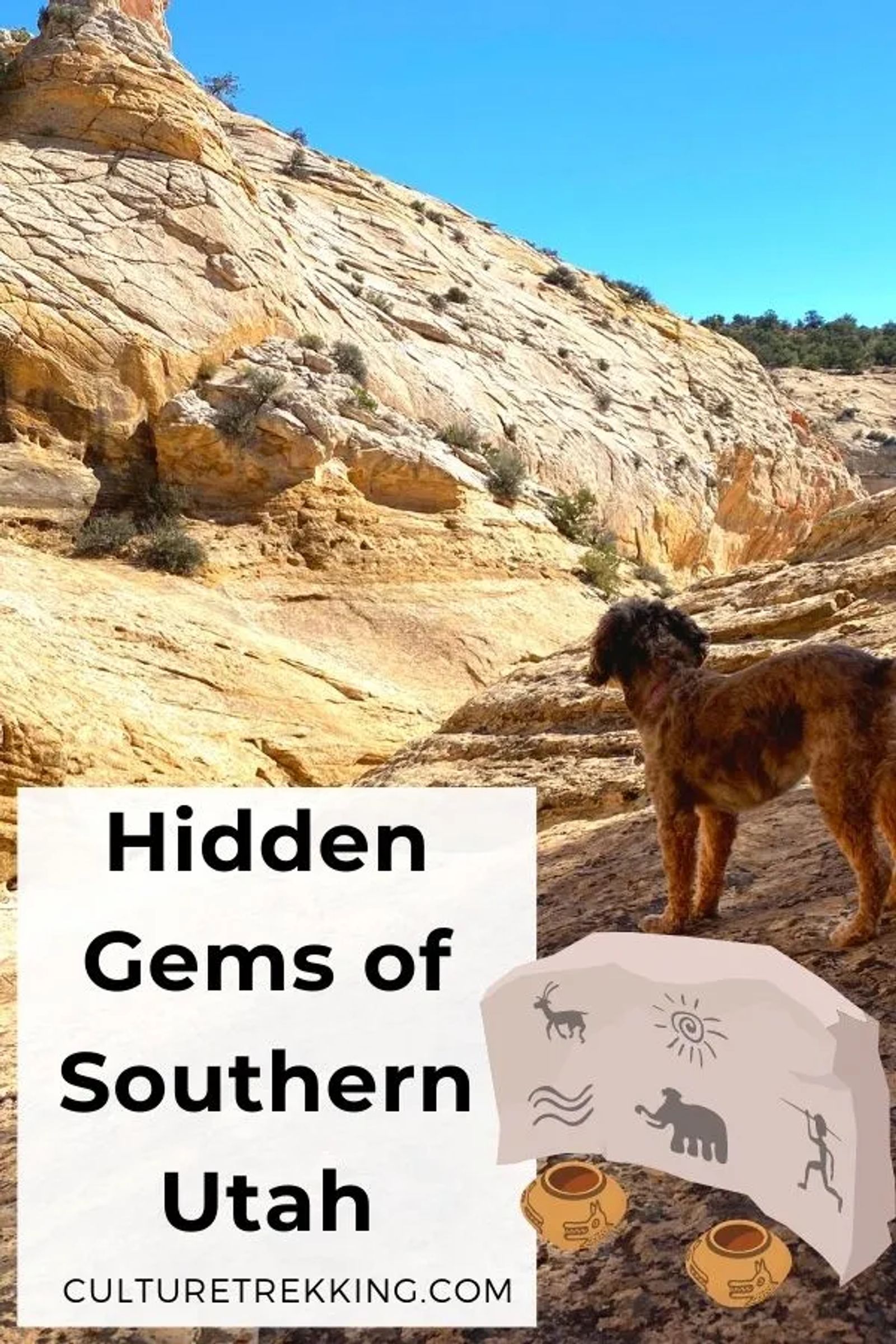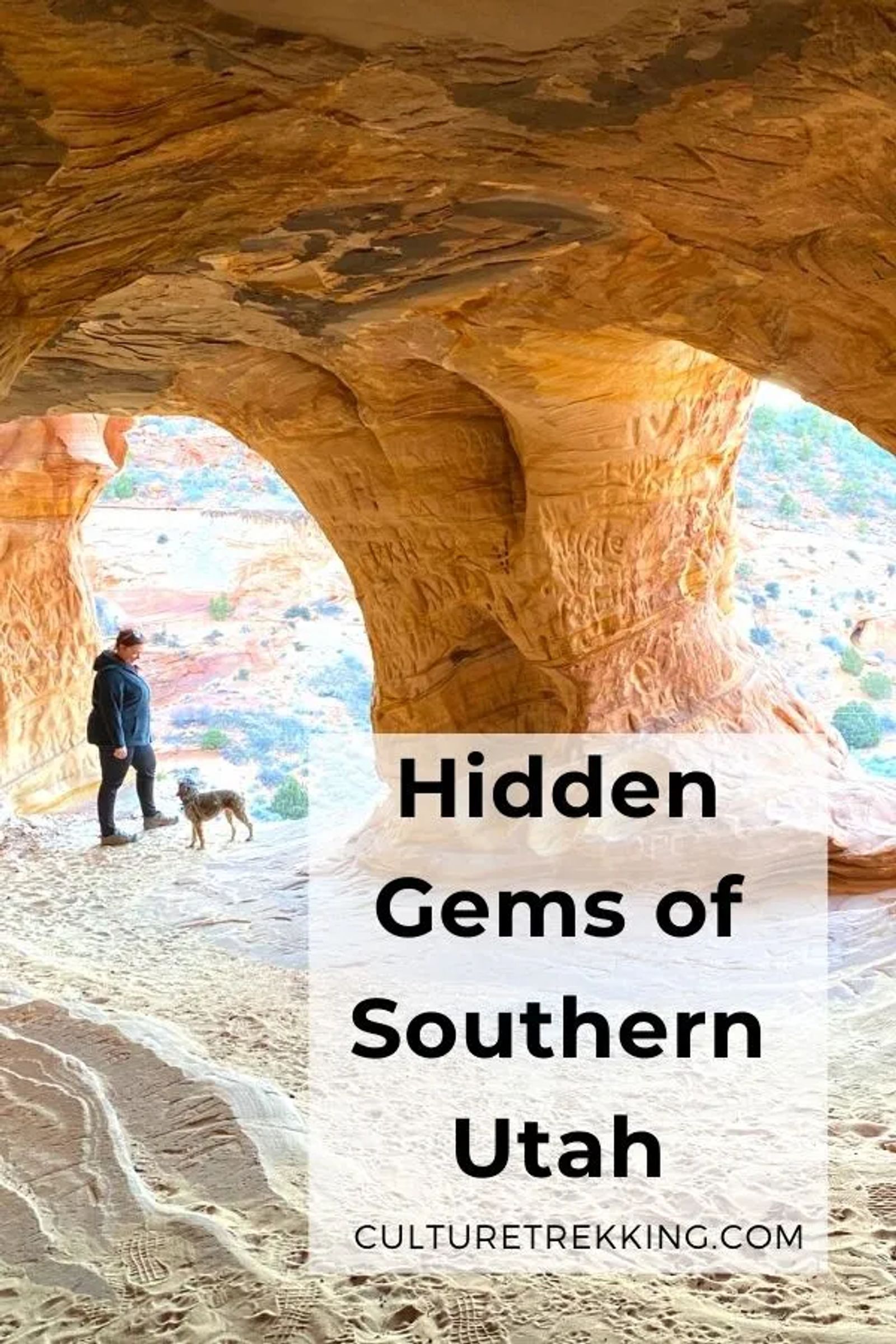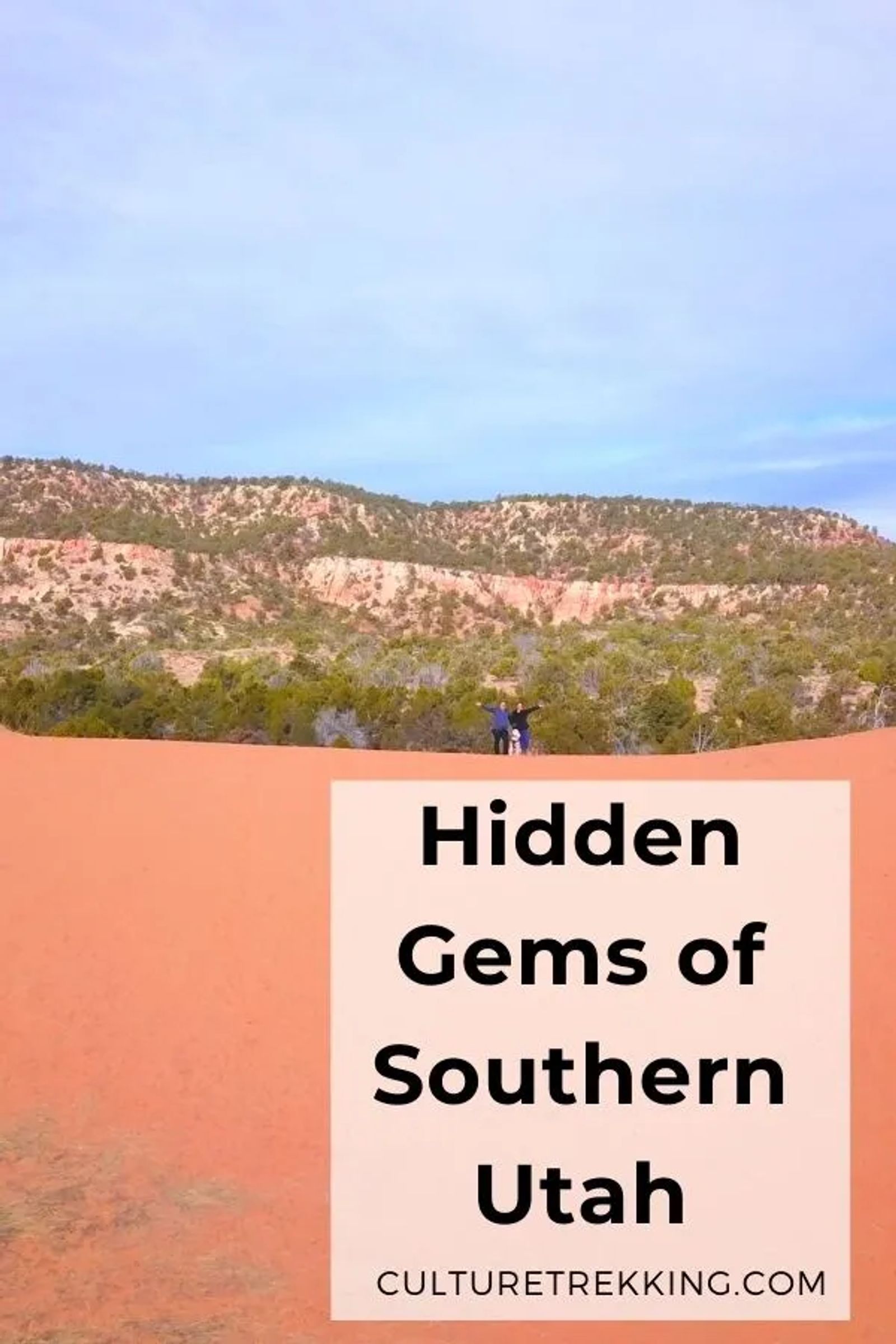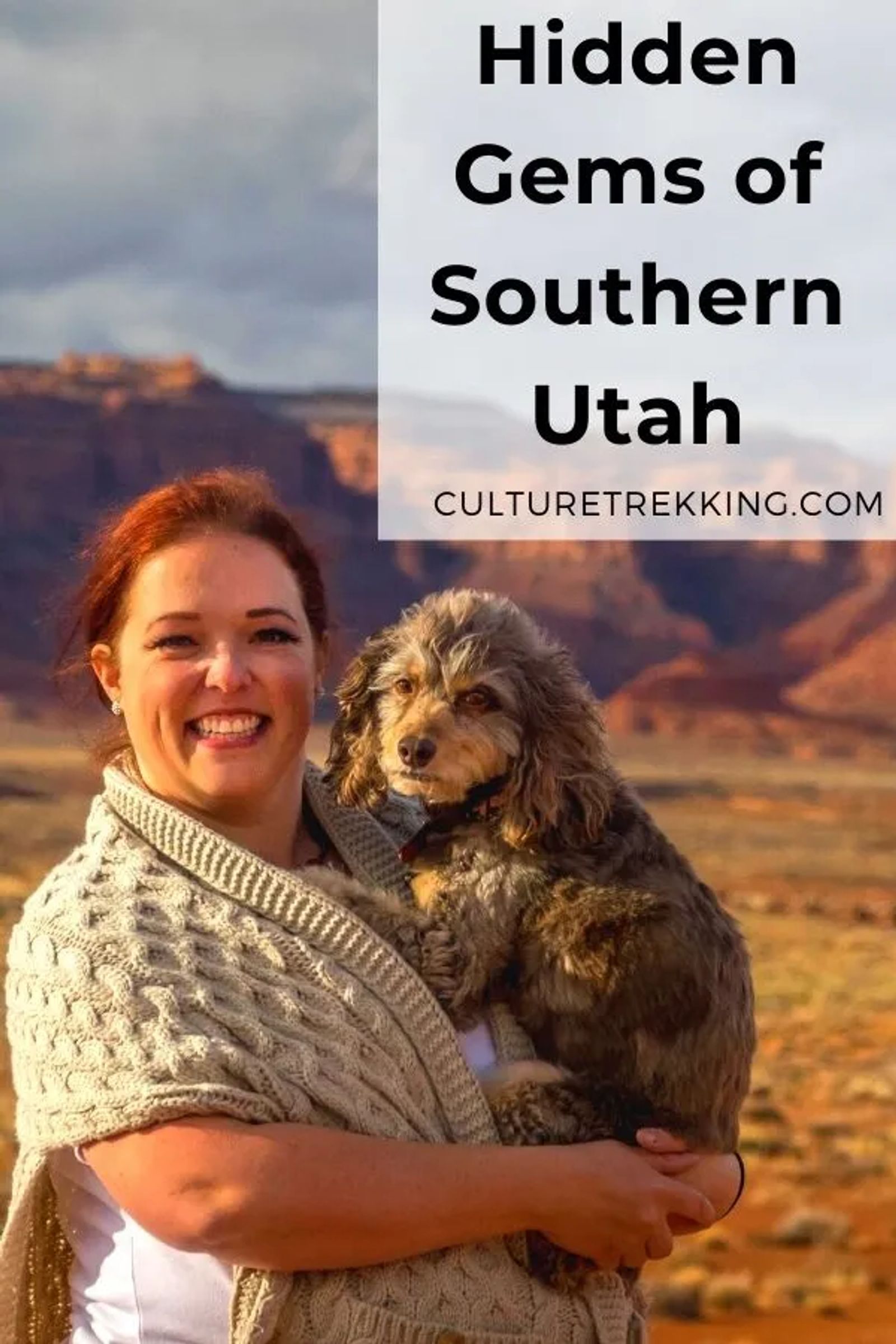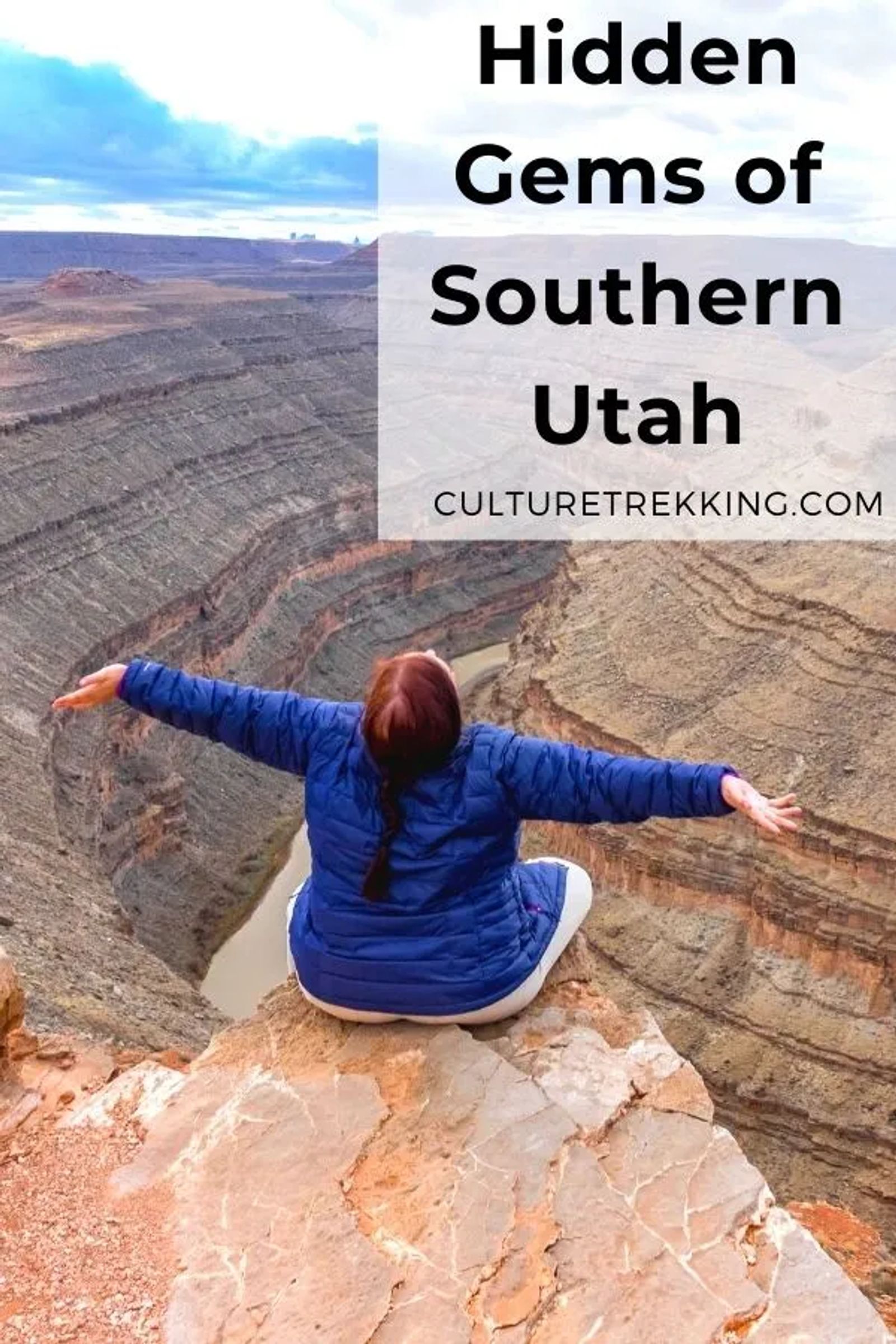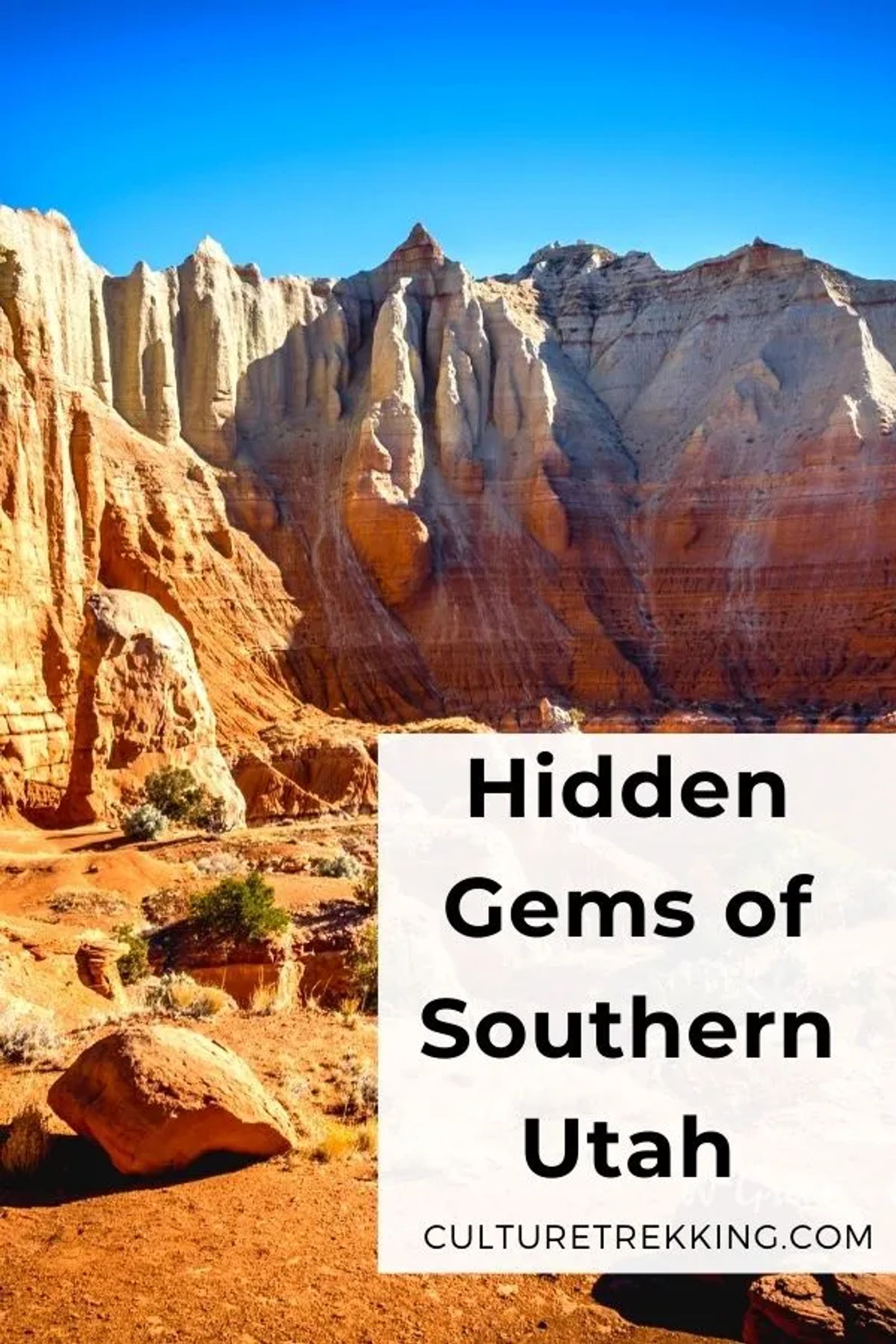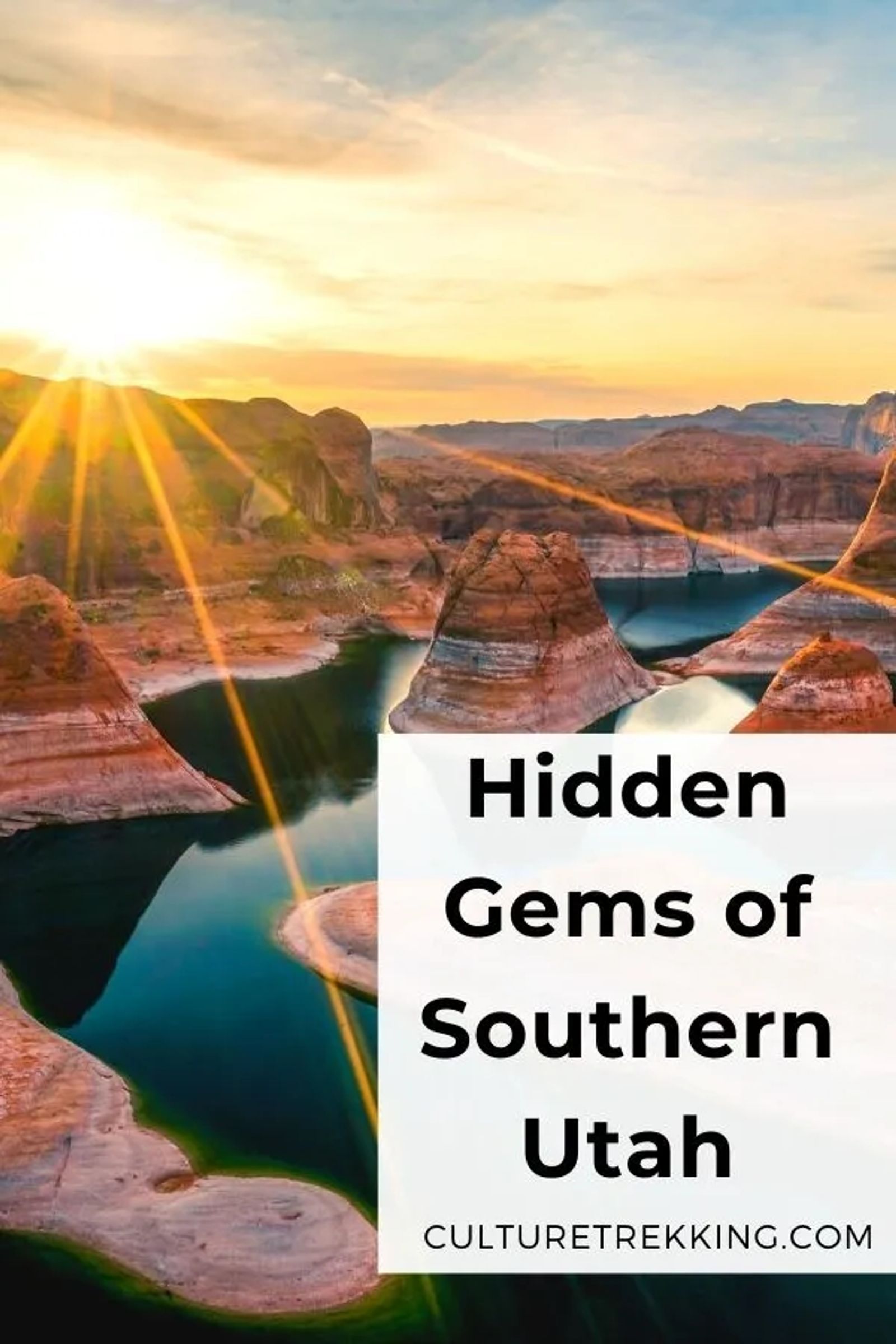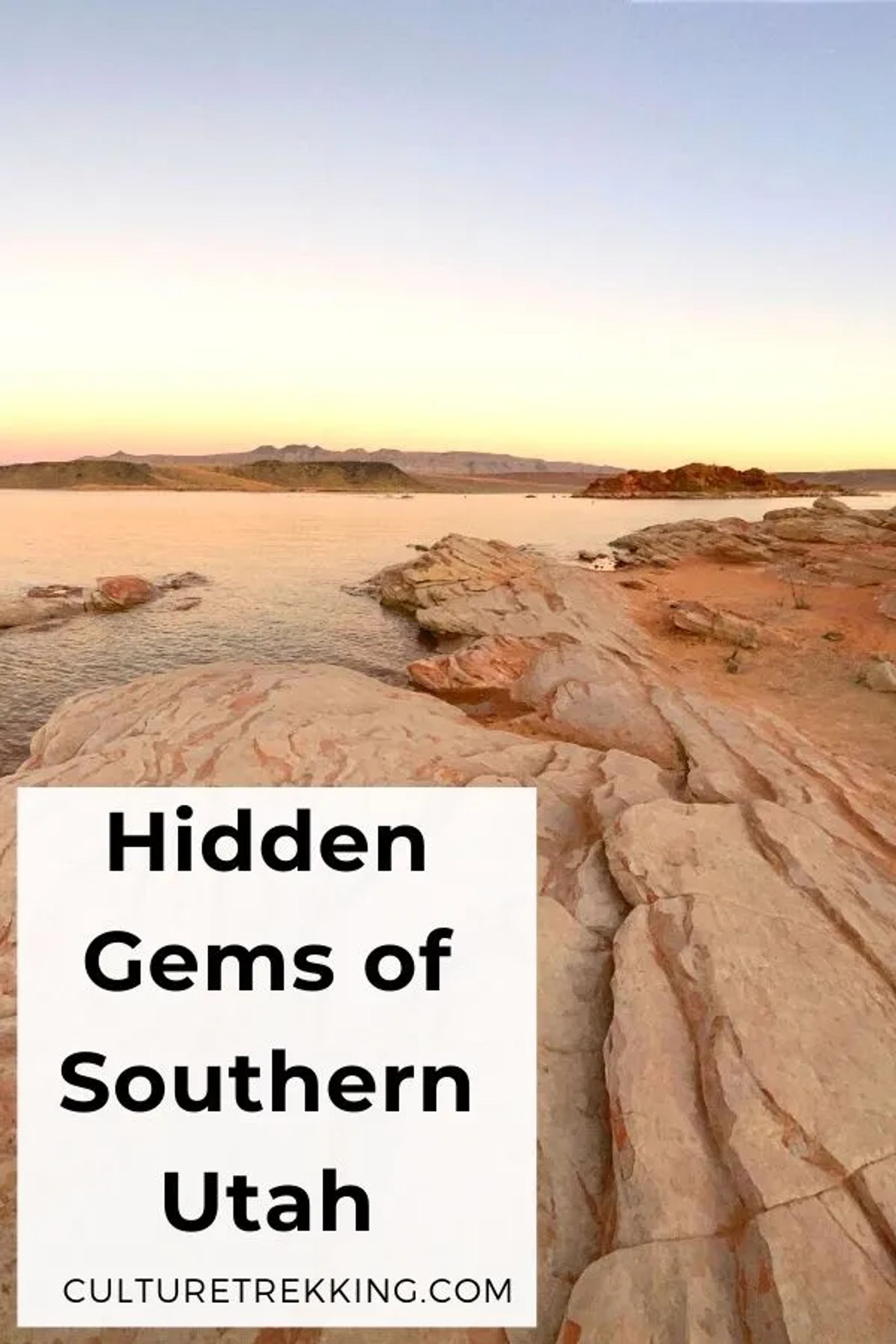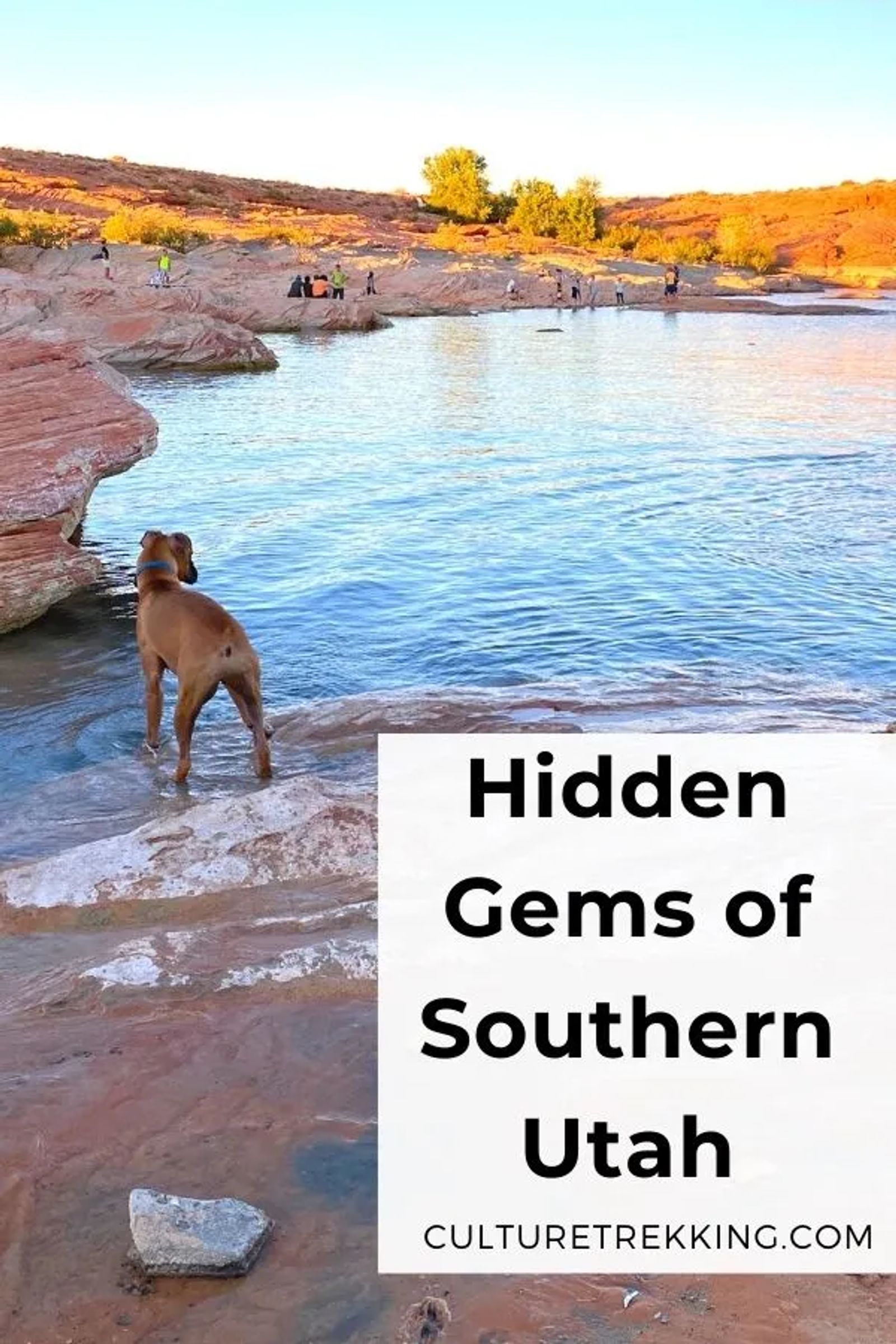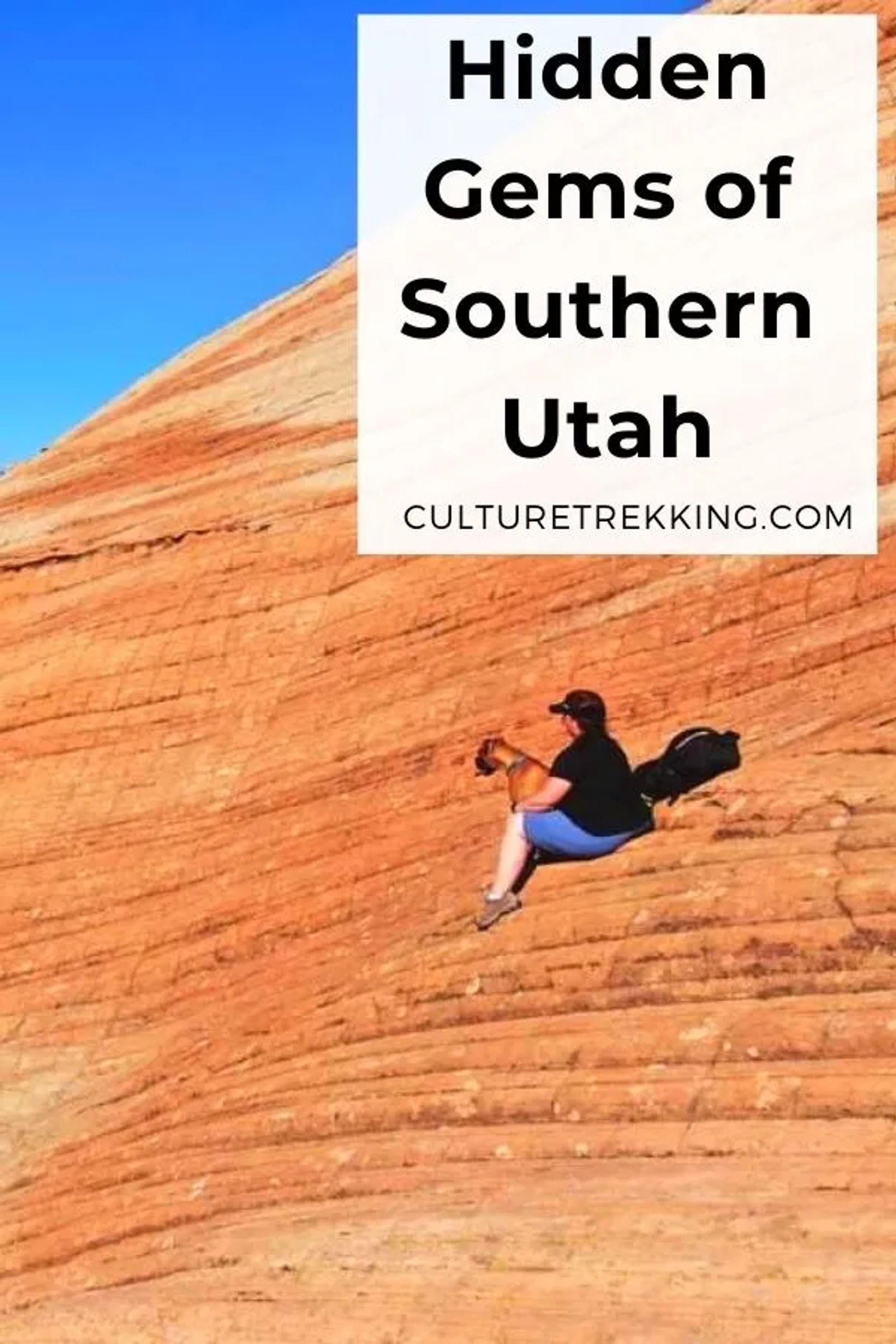 Latest Articles On Culture Trekking