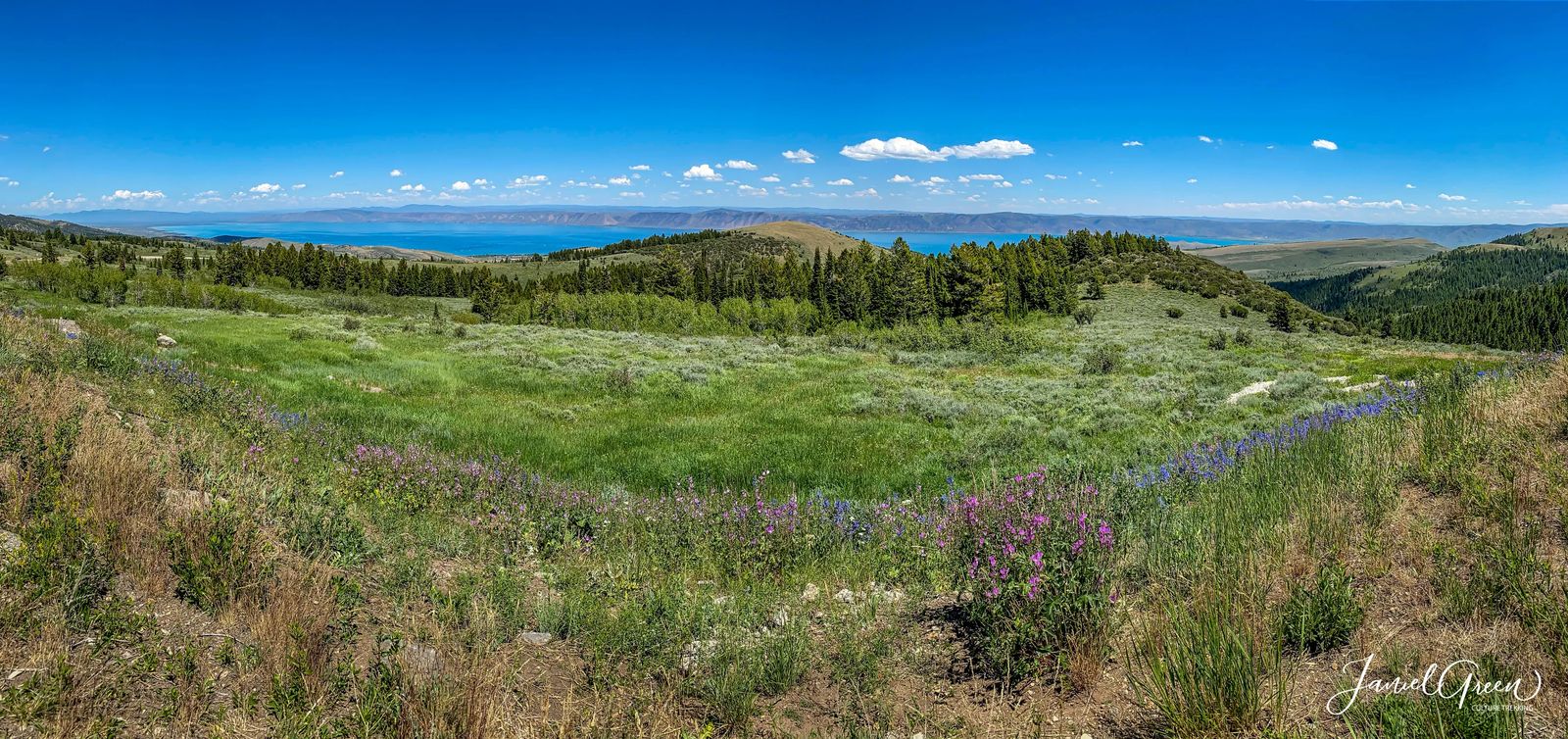 Things To Do In Bear Lake Utah In The Summer | A Locals Guide
The Caribbean of Utah is what locals call it, because of the beautiful blue and turquoise clear water. While the water isn't necessarily warm (69.8 F at the height of summer (July), and will give even the burliest man a few chills - it is definitely a local host spot for summer vacation in Utah. There are plenty of water activities to be experienced here from kayaking, stand up paddle boards, water trampolines, Jet ski's, boats and even Scuba diving. Yet while so many people flock to this Summery Utah Resort area, there are a lot of things that people miss. Here is are my suggestions (as a local) on things to do in Bear Lake Utah in the Summer. (Not to be confused with Big Bear Lake in California.)
Quick Facts About Bear Lake in Utah
Location: Bear Lake in Utah is located about a 2.5 hour drive from Salt Lake City Utah, or a 2 hour drive from Pocatello. The nearest city to Bear Lake is literally right on its shore on the Utah side called Garden City.
How To Get There: I would splurge and get a car rental to get there. I recommend a 4WD vehicle with high clearance, as some of the roads can be a bit rocky with lots of pits. If you don't have a vehicle, and a low budget then I would say utilize Carpool world, it is just like a ride share with people that are planning on traveling anyway and you just help pay for gas basically.
When To Visit: You can visit Bear Lake Year round and there is always something happening here. You have the Bear Lake Rendezvous, Ice Fishing and Snowmobiling in the Winter. All the water activities, hiking, and Raspberry Days in the Summer. Just depends on your activity of preference on when you would like to visit.
Cost: Bear Lake and Garden City as a whole are becoming the Park City of the Summertime for those who love to skiing.....well in this case it would be water skiing ;)
Staying Healthy: There are mosquito's here in droves from late April until the first frost (typically the beginning of October). Make sure to bring mosquito repellent. There are also a lot of snakes in the area so make sure if you bring your dogs, you keep them on a leash.
Animal Sightings: 161 bird species including White-faced ibis, Sandhill cranes, and Grey Horned Owls at the Wildlife refuge. There are occasional sightings of Moose. Lots of muskrats, skunks, and cottontail rabbits (which is also why there are a lot of snakes).
Scams To Avoid: There is a scam on Facebook where someone attempts to rent out a boat or jet ski and charges a $600 deposit or something like that and doesn't give it back. They end up claiming tiny cosmetic scratches less than 2 inches in length are going to cost waaay more than they should and keep your payment and deposit. Please only rent from a reputable company if you want to use a boat or jetski.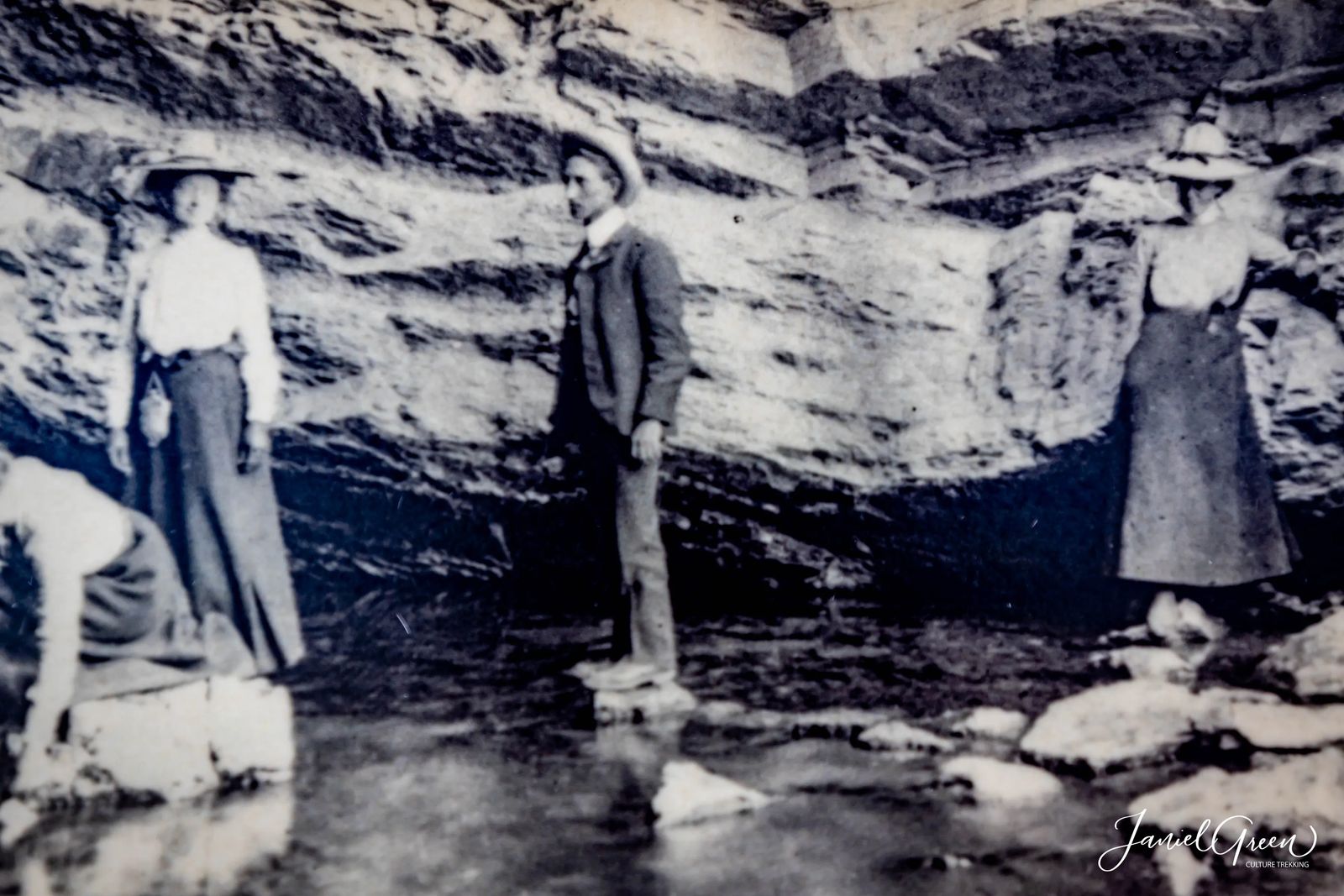 History Of Bear Lake Utah
This natural freshwater lake was formed 250,000 years ago. It was formed by a fault line that continues to settle deeper and deeper into the Earth's surface. The famous turquoise water is from the limestone sediment at the bottom of the lake that gives the lake the gorgeous Caribbean like color.
The lake was originally inhabited by the Shoshone tribes, and then the trappers and Mountain men started to move in. It was 1818 when the first French-Canadian trappers moved into the area. It wasn't until 1819 that Donald McKenzie named the lake Black Bear Lake.
In 1827 a rendezvous was arranged to trade fur and other supplies with local tribes. Today this location is still called Rendezvous Beach.
The 1850's brought about the Oregon Trail and you can still visit the sign of a portion of this trail. By 1863 the Mormon Pioneer settlers started to come in and negotiated with the local tribes that the majority of the lands in the Utah area would be for local tribes. The towns of Garden City, Pickleville, Laketown were established and if you take a 20 minute drive north to the Town of Paris you can see a historic Mormon Tabernacle that was beautifully built by pioneer settlers.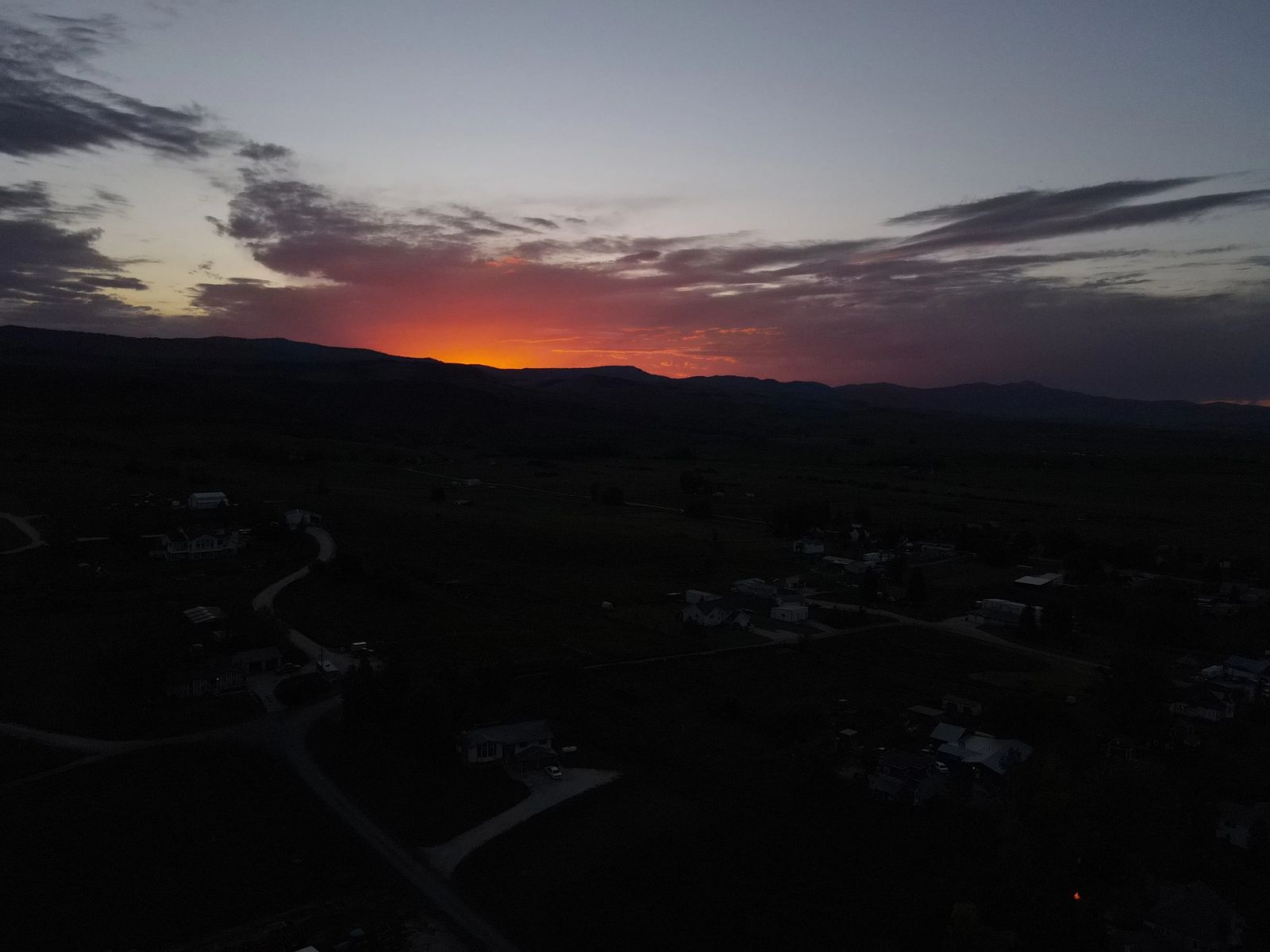 Go To The Beach
There are so many things to do at the Beach that don't require just sitting there and staring at each other with snarfblacks (name that movie in the comments ;) I personally love to Kayak and try to spot birds along the shores. There are also water trampolines available, and Stand Up Paddleboards, or even just blowing up a massive inflatable and telling your kids whoever stays on the longest wins. Whatever you decide to do, it doesn't matter, it is your vacation-allow time to make it fun and relaxing.
Please just make sure that what you pack in, you also pack out. Let's keep Bear Lake clean, turquoise and clear.
Which Beach Is The Best?
Some say North Beach State Park on the Idaho side is the best beach because the sand is finer. It costs about $5 per vehicle, but it quite crowded on most weekends. They are capping the capacity of beachgoers and usually reach capacity on Fridays by 11 am and/or Sat by 10 am. There are campsites available that cost about $20-$127 per night depending on the type of camping you are looking for (tent vs serviced). There are restrooms and trash facilities available. They also have a boat ramp nearby you can use as well.
Which Beach Has A Fee?
As Bear Lake grows in popularity, it is hard to find a beach that doesn't have a fee anymore. Even the East side of Bear Lake, once free, is now asking for fees. There are a few lakeside pockets here and there where if you are brave enough to park next to a very busy road, you can just bring a camping chair and put it directly in the water and laze about. Make sure to bring enough cash for a $5-$10 fee per day per vehicle to use the beach. There are a lot of areas along the beachfront that are being developed into fancy lakeside housing that all have exclusive entry and gates. So the idea of a free beach is quickly being demolished into small areas for the public.
You can check out the list of beaches at Bear Lake here to choose which one is closest to your campsite and fits your budget needs.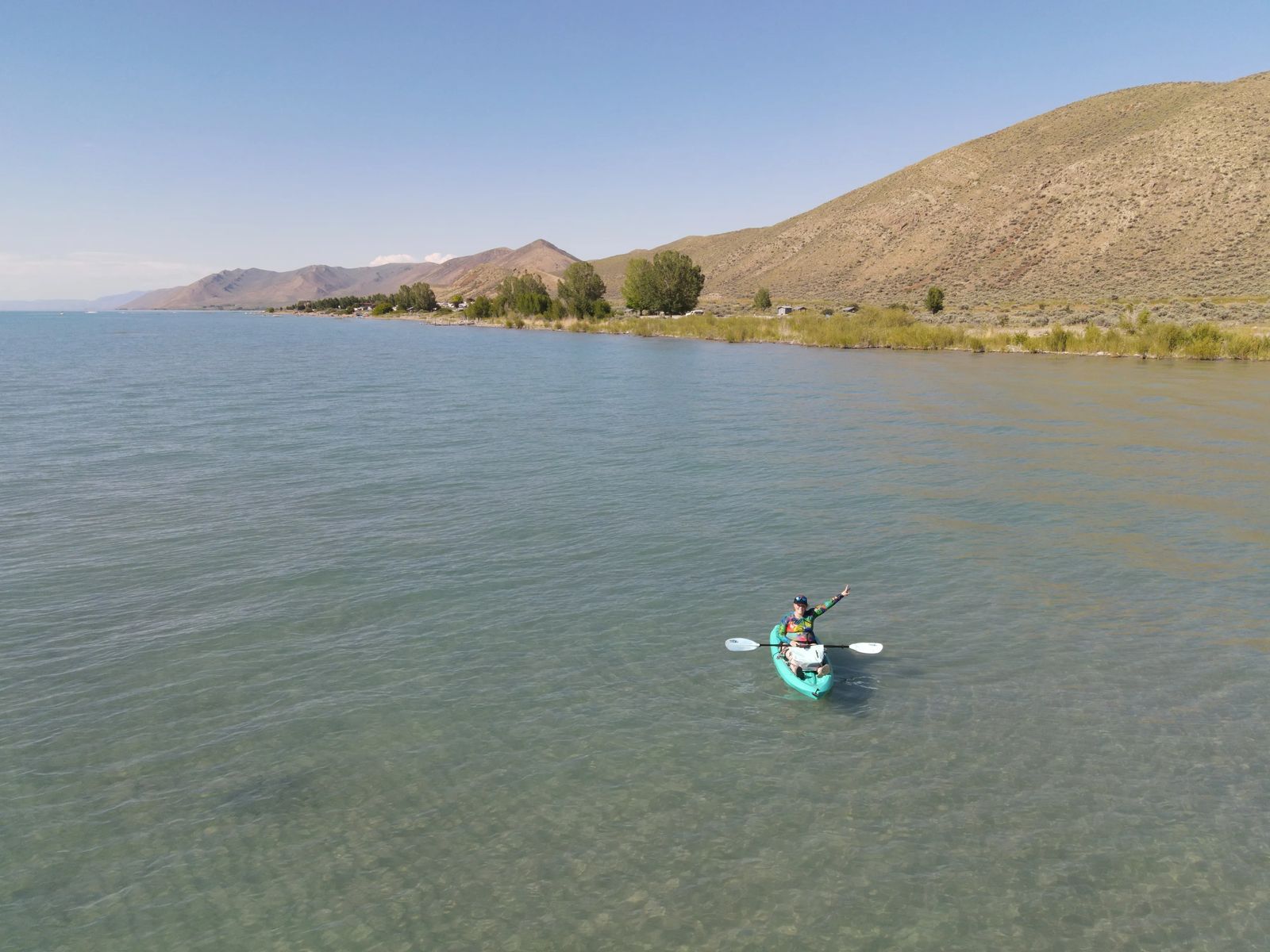 Renting Water Gear and Boats
Just make sure you rent your boats, Ski-doos and other water toys from a reputable company. I know how it is to want to save on your budget, but it will cost you in the long run. There are scams running around in Bear Lake for Jet Ski rentals that charge a massive deposit ($600). There are a lot of rules associated with these rentals, and if you break one, or come back with a cosmetic bump or <2" scratch you end up losing your entire deposit.
So what I suggest is to check out the boat and ski-doo rentals on the Bear Lake Website and then make your decision from there.
Just make sure you watch the weather. DO NOT try to brave a storm on the lake! You are at a higher elevation, the wind whips through here like it is a hurricane. Every few Summers here we hear about how someone drowned, a boat sunk or people go missing during a storm. If you see other people racing to the docks, GET OUT! The storms blow in quickly and can be quite devastating to your vacation if you aren't careful.
Hiking
If you are tired of being on the water, or find someone in your party getting bored, then go to the mountains! If you drive 20 minutes you will be in the Cache-Wasatch National Forest! There are so many great hikes and treasures to be found. I have been visiting Bear Lake since I was a kid, and it blew my mind how beautiful, untouched and wild this forest still is. I will be doing separate articles on some of the hikes I mention here, but just to give you an idea of my favorite hikes in Bear Lake here they are: Dewitt Spring Hike, Wind Cave Hike, Jardine Juniper, Rick Springs, Limber Pine Trail, and Bloomington Lake Trail.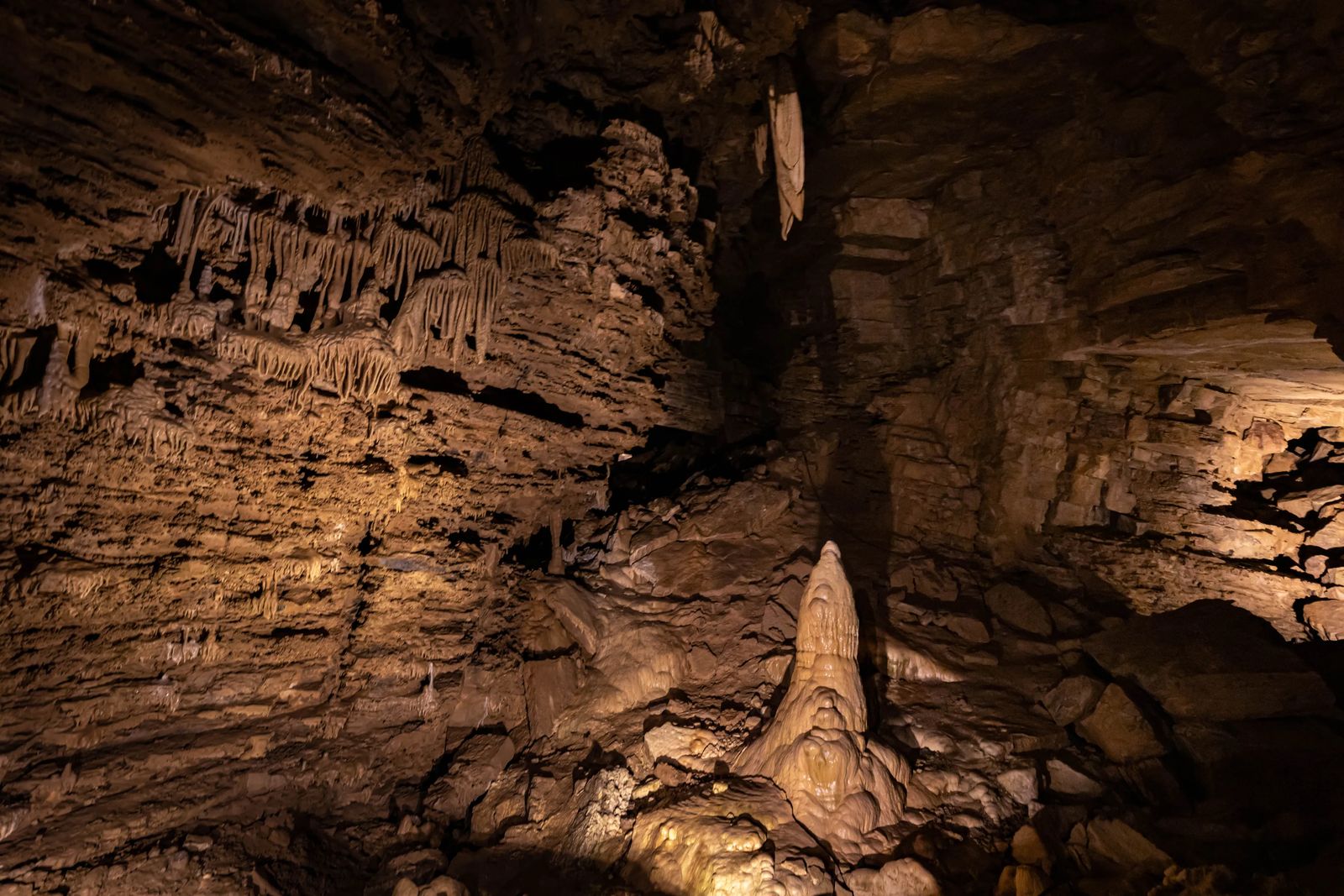 Caving
I just started getting into caving this year. I mean, I did the classic Muddy-Puddy Caves on the other side of Utah Lake (now closed because too many people kept getting lost and dying). I also visited Timpanogus Cave up American Fork Canyon in Utah. I never thought about Caving as a specific activity that people LOVE doing. So I decided to do a few caves on my own, and I can honestly say I'm really loving discovering the unique features each cave has. Bear Lake has two caves I highly suggest you visit. You have the Big Eared Bat that lives in Minnetonka Cave, and being able to play in the snow in the desert in July at the Paris Ice Cave.
The Minnetonka Cave is still a living cave and not just because of the Bat that lives there. It is actually still forming stalactites and stalagmites because of the water dripping down through the cave. I know bats can be seen as creepy little creatures, but the Big Eared Bat is actually a species of cocern due to the white nose syndrome that wakes them up out of hibernation. Once they are awake, they use up their hibernation stores looking for food and end up starving to death.
The Paris Ice Cave, is a very short hike, and also has some pesky flying creatures.....mosquito's. Be sure to douse yourself in mosquito repellent, because there are a lot here ( I went in July). It is a short, and slippery walk down into the cave, it only takes about 15 minutes to explore it. There is a wooden walking platform into the center of the cave, that has ice, steam, and snow year round. The rocks inside are also covered in moss, and almost feels like gnomes or trolls will pop up around the corner at any moment.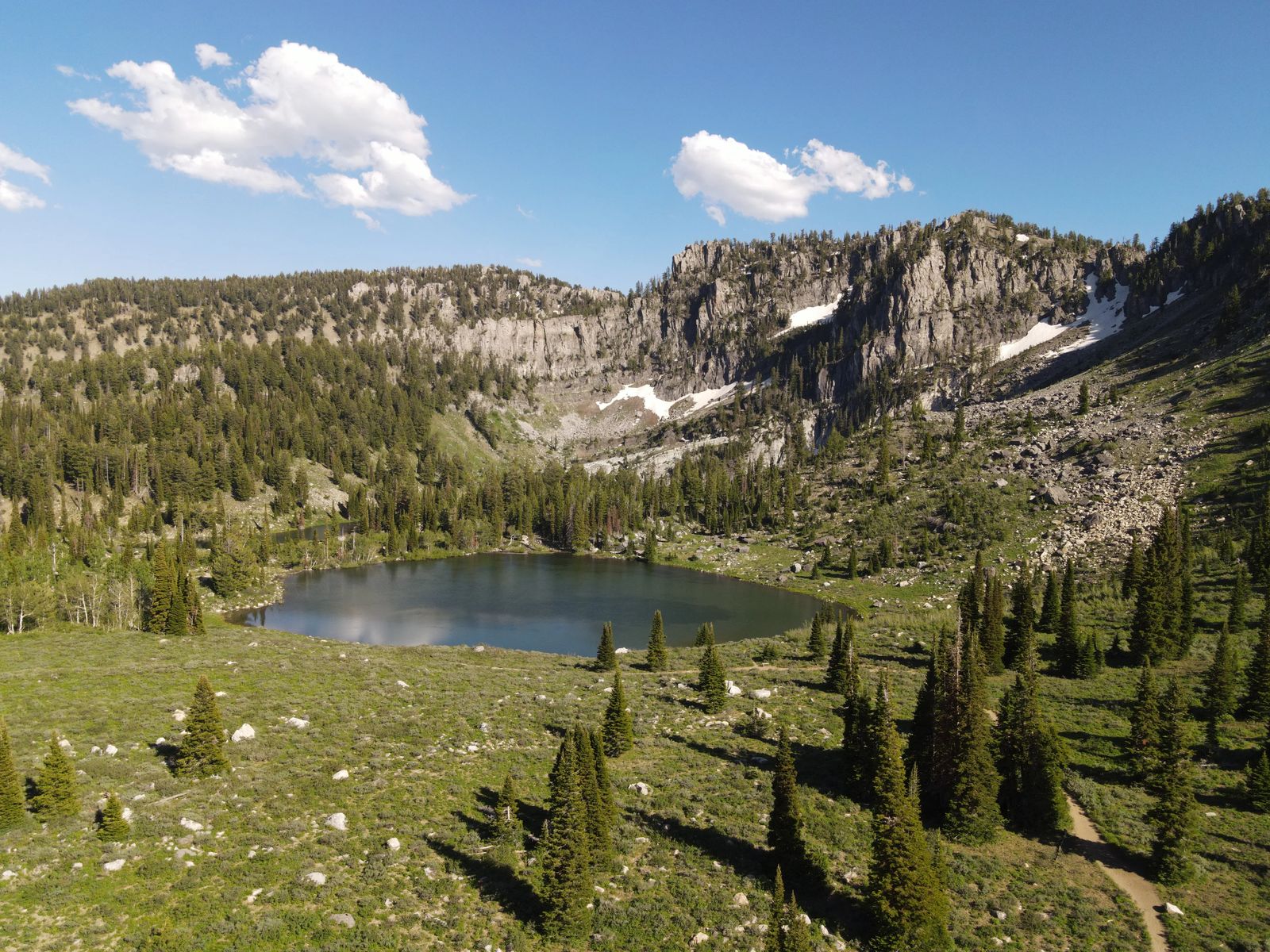 Camping and RV'ing
There is boondocking available but you still have to pay a fee in order to camp there. There are plenty of RV spots (including in town), but because of how popular this area is becoming, you really do need to reserve a spot several months in advance (start looking in March).
You used to be able to camp for free on the East shore, but because of the increasing house developments going in, and the new paved roadway our free camping days are gone.
If you really are strapped for cash, I suggest looking into BLM (Bureau of Land Managment) sites where camping is free-but is a first come first serve. I went camping on BLM land for the first time at bear lake, and it was right near a cow-pie behind a mountain with no view of the lake and was very dusty. It wasn't my favorite thing to do, but honestly, if you are broke a.f. and are desperate for a vacation....well here ya go hunny.
If you want to reserve a campsite, be sure to visit Bear Lake State Park Camping & RV reservation website. Reserve your spot early and don't miss out on the gorgeous sunsets (best seen from the East shore campsites).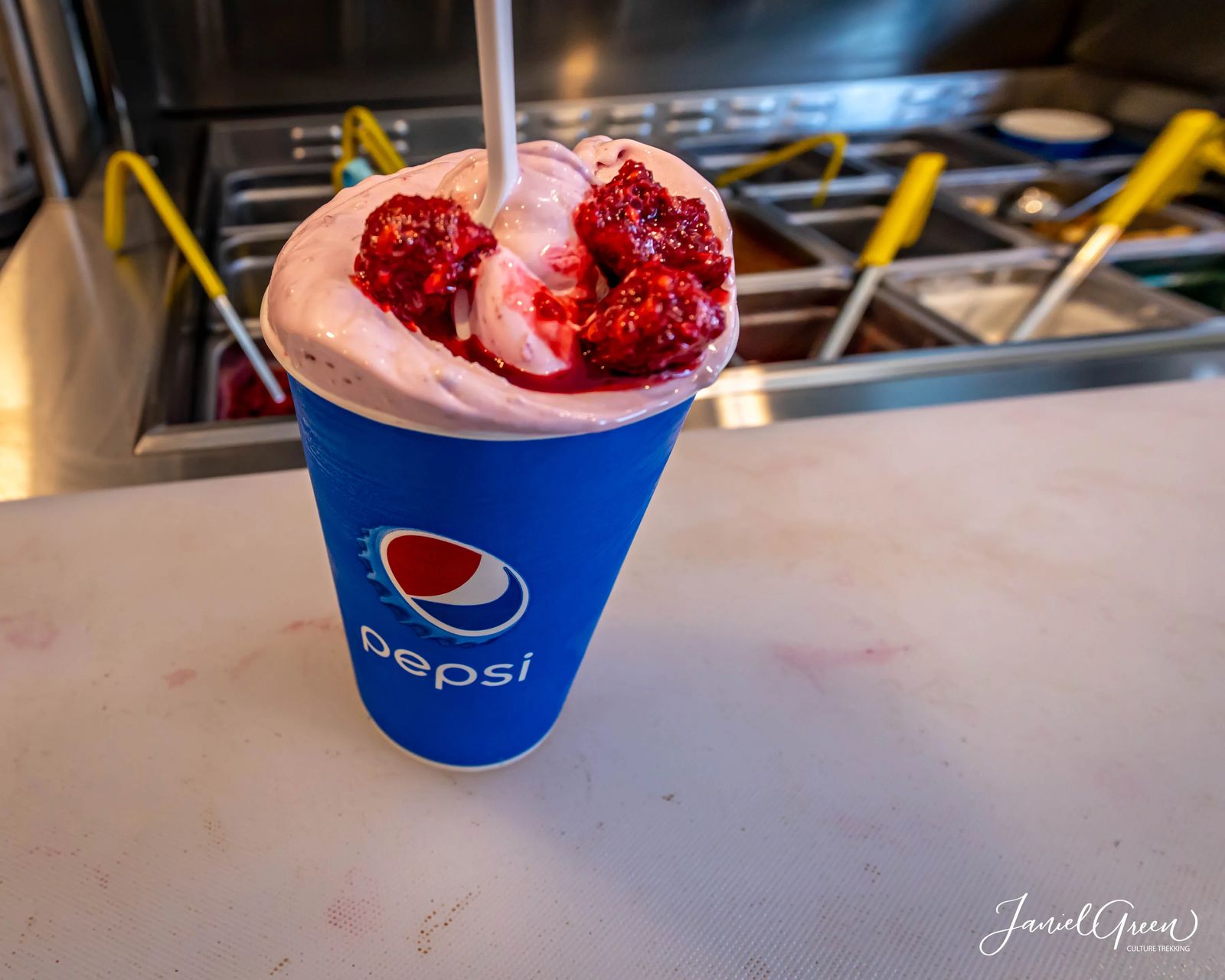 Where to Eat & Get the Best Raspberry Shake
While Utah isn't necessarily known for its foodie scene, I feel like Bear Lake is starting to show some signs of becoming a foodie destination. There are a few places I can recommend eating at while you are there. Keep in mind, they are trying to develop the area into a resort town, so the price of food is going to be about like what you would find in Park City ($2.50 for a mini shake, $14 for medium pizza, $50 for bougie meal for one).
For Breakfast I would recommend going to Crepes and Coffee, get a dirty Chai Latte with a Classic Classico Crepe and Strawberries and Cream Crepe (trust me on this one, and thank me later). Get here early or expect to wait for about 45 minutes. The view of the lake is nice while you wait though. It is also all outdoor seating, so if it rains, just call ahead and put in the order.
Head to Summit Inn Pizza for Lunch, get the popular meat lovers pizza (Vegetarian and Gluten free options available). They have thick and thin crusts available, and being a bread connoisseur, I died over their thick crust. All their ingredients are fresh and locally sourced (well except for olives and pineapple of course). They have both indoor and outdoor seating available.
For dinner head over to the Campfire Grill, and maybe even stay in one of their covered wagon cabins. It is a bougie dinner that will run you about $40-$60 depending on what you choose to get. They also have s'mores for desert, and indoor and outdoor seating. Just a warning though, the presentation of the food isn't that great, but the flavor of the food is absolutely there.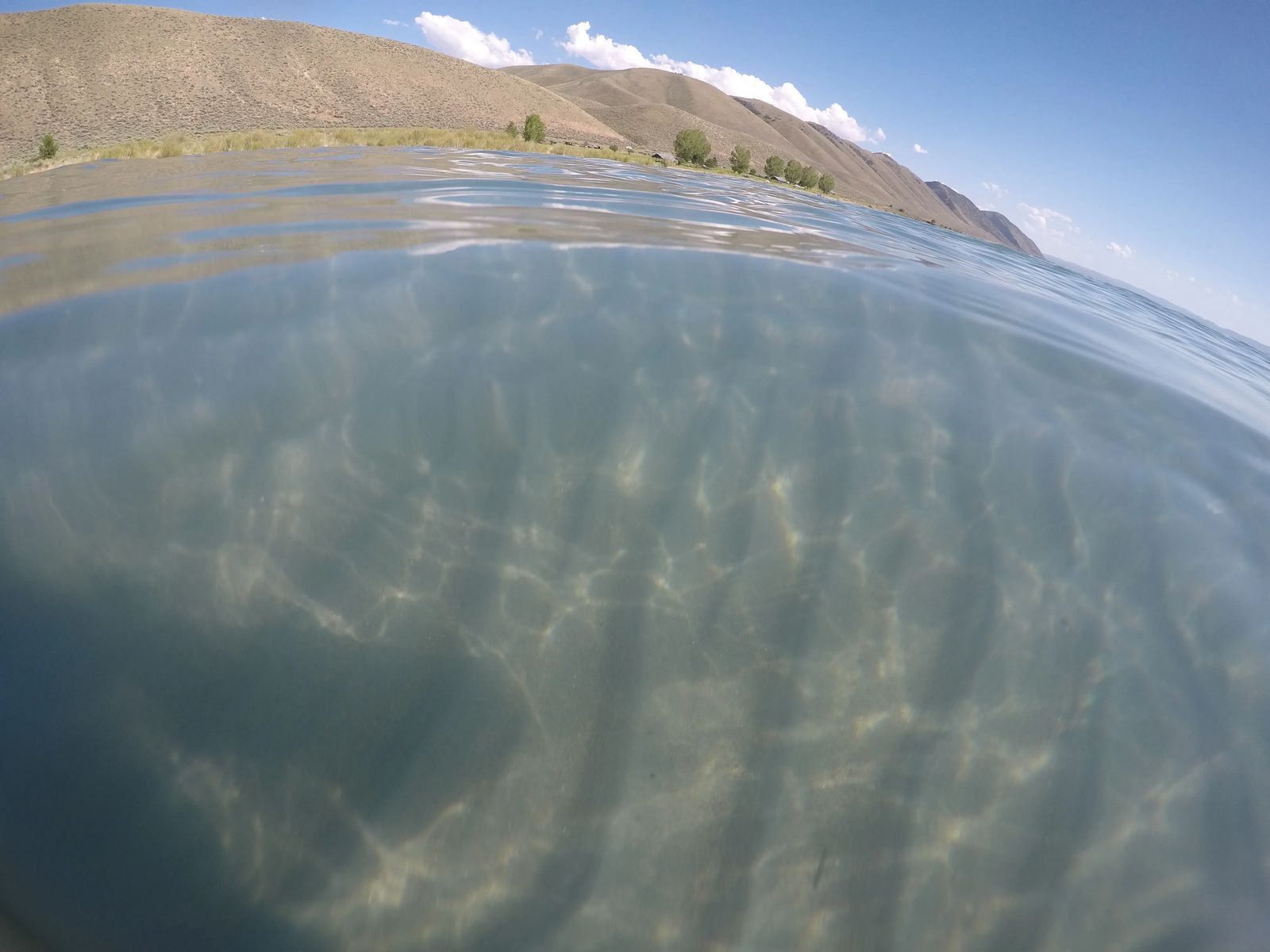 Scuba Diving
Yes you can Scuba Dive in Bear Lake in Utah....but be warned, you will need a dry suit to dive, even in Summer. It will also be a altitude dive for you if you want to cross that off your training list. The Lake elevation sits at 5,924 feet. The lake itself is 208 feet deep at its lowest point. Summer water temperatures on the surface are 55-65F, with visibility at 20-30 feet.
There are several world renowned fish in the lake including the Cutthroat, Lake trout, Bonneville Cisco, Bonneville whitefish, Bear Lake Whitefish and Bear Lake Sculpin. I don't know if spear fishing is allowed, but Dive Shops out of Salt Lake City often take trips up to Bear Lake. My go to Dive Shops are Scuba Utah, and The Dive Shop in Bountiful.
Popular Dive Sites:
Cisco Beach: 41°57'15″N 111°16'37″W
The Wreck: 41°57'10″N 111°16'43″W
The "Car Lot": In 2011, local divers located dozens of vehicles submerged in the 30s to form an 'artificial reef.' See site for details.
ATV Trails and Dirt Bikes
There are hundreds of miles of ATV and Dirt Bike trails at Bear Lake. While I don't own an ATV (or anything like it) myself I was quite envious of the ATV's that were easily able to get up the road to Bloomington Lake Trail. There was actually a regular 2WD 4-door car that wasn't able to get all the way up the hill and started to roll backwards into another vehicle. Luckily it was a souped (is that the term?) truck that was able to push it up the last quarter of the hill.
Lest I digress on a tangent about appropriate cars to bring to Bear Lake, I think next time I go I will rent an ATV for a few hours. It 4 hours will run you about $250 dollars, it isn't cheap, but if you go with another party or family rent the boat and ATV together for all the days you will be there, and just trade off. That way you can enjoy the water, and the National Forest trails as well.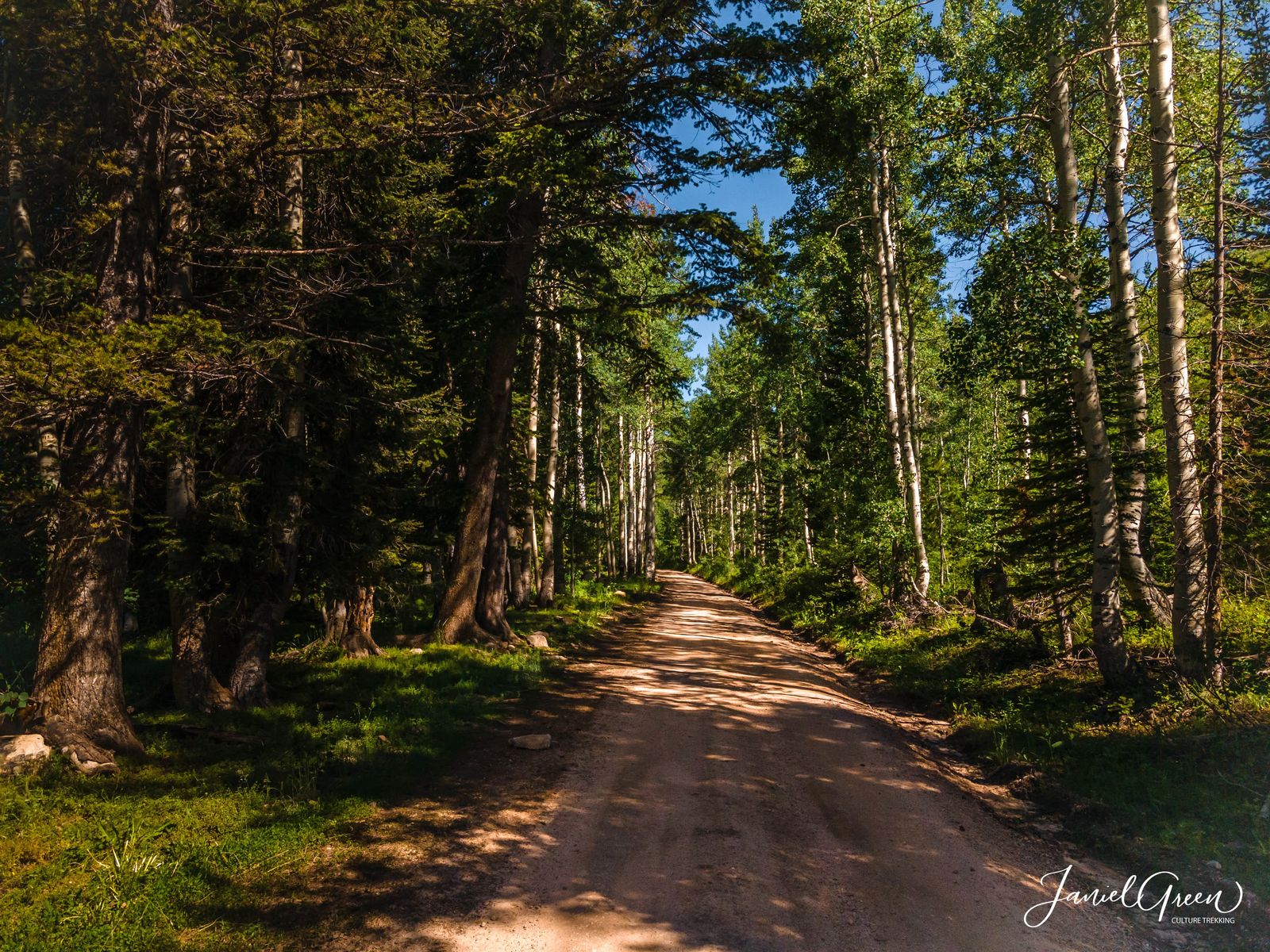 Horseback Riding
There are plenty of horse trails to go horseback riding near Bear Lake. Especially in Cache National Forest. The trail I recommend is Little Creek Reservoir Trail. It is a dusty trail, that is rated easy to moderate, and is about 6200-6500 feet elevation. It is a 2.5 mile out and back trail used by horses, hikers, and bikers. It is located at GPS coordinates of 41.66551154916611, -111.19136476455691.
For my curvy ladies and fellas, you want to make sure and call ahead to any horse riding outfit before you go. They often have a height to weight ratio they have to follow for insurance purposes, and if you don't fit the mold (literally) then it can become dangerous for you and the horse. So make sure to call ahead and see if they have something available.
If you want to take your whole family from young kids to adults, then I suggest H & S Outfitters. They take you up through Cache National Forest, right near Minnetonka Cave. Their prices range from 1-2 hour rides being anywhere from $40-$70 depending on the size of your group (more people = cheaper). This is a nose to tail type experience though, meaning the horses are trained to follow each other in a straight line, no real adventure - but much safer, especially for the little ones. If you are looking for a bit more adventure, they do take people out on deer, and elk hunts as well.
For the more experienced riders, I highly suggest MW Quarter Horses. They do a nose to tail for families, and for more experienced riders you can lope along and back and forth for the group. They are a tad more expensive at 1 hour for $50 per person, and 2 hours at $100 per person. They also have boarding and horse riding lessons available as well.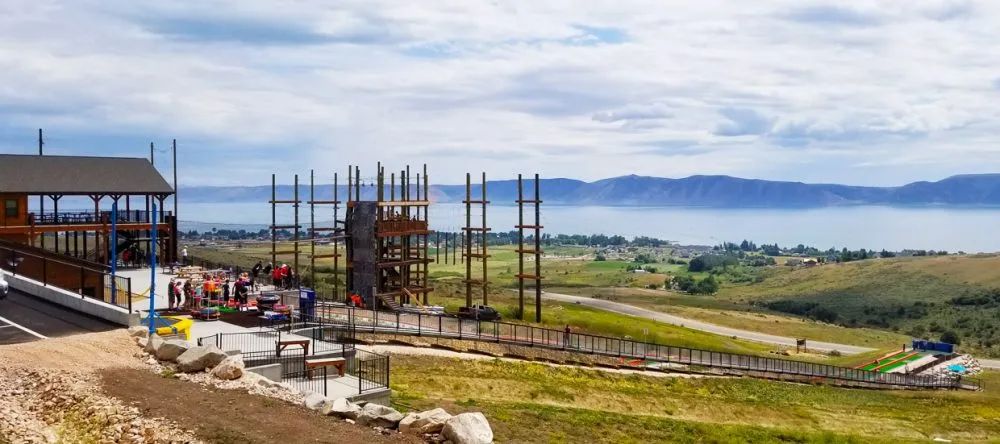 Adventure Parks
There are a few adventure parks, bike rental places, and even car racing in Bear Lake that you can enjoy if you are just wanting a day or two on the water. The newest of these parks in Bridgerland Adventure Park! This park opened June 1, 2020, and offers tubing, disc golf, mini golf, bungee jump, zip line, adventure course and more. Not only that, but it is located on the mountainside that overlooks the gorgeous Bear Lake. I can't wait to get back up there and try this out, as it was not open quite yet when I was there.
If you have some restless boys in the group (old or young) and can't afford to rent an ATV, then go to the raceway! Well it is a bit of a kiddy raceway, but still, motors and boys get a long no matter what right? Visit the Bear Lake Renegade Raceway and get some of those zoomies out of their system. It is a bit expensive, but keep in mind this is also a resort style town, so you are looking at 1 ride of 6-8 minutes costing $7.95, and a 12-15 minute ride costing $15.95. They do have double cars available, so you can save a little on single riders, double up and really have a Mario Kart style race for some good memories.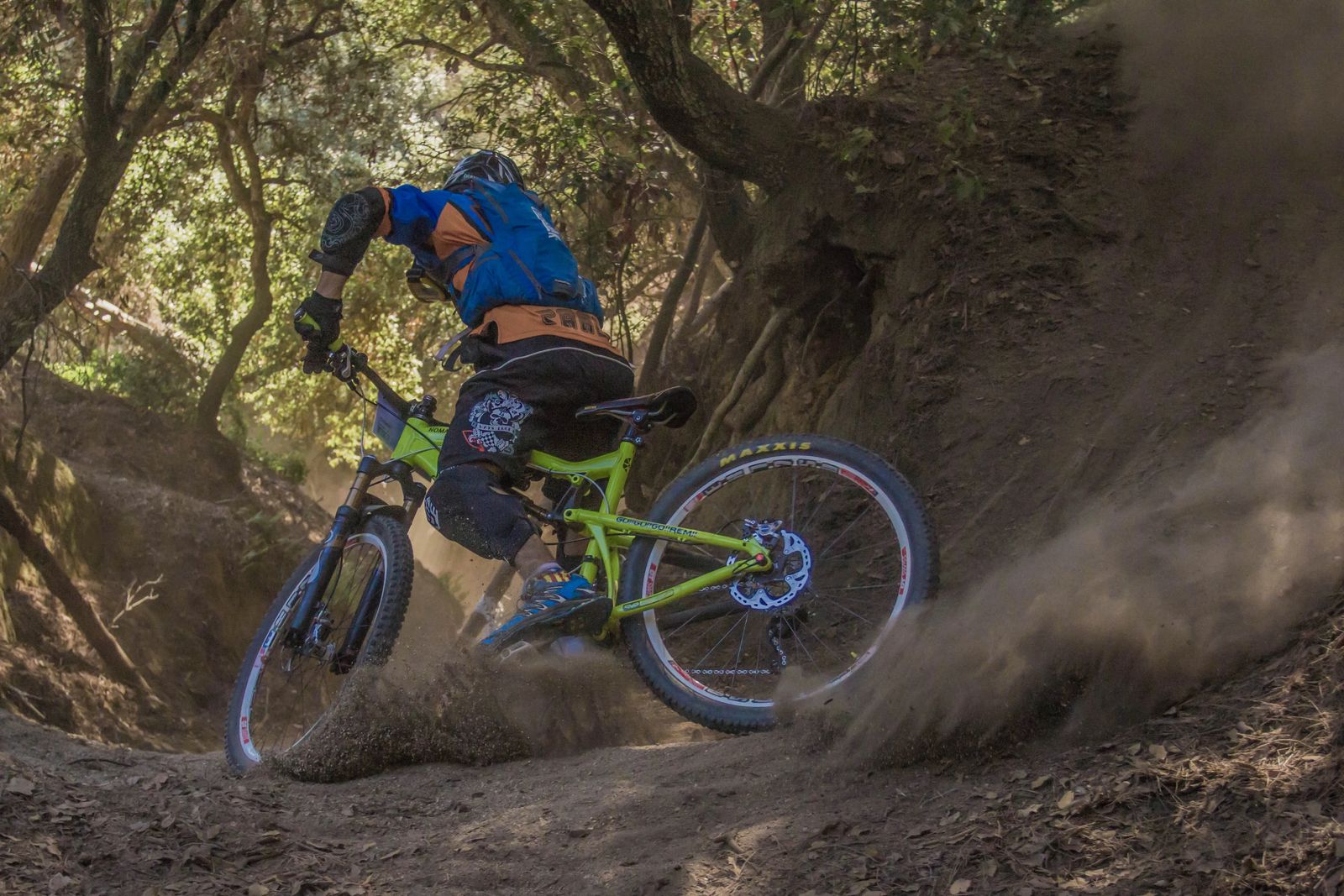 Bike Rides and Mountain Biking
Mountain Biking is plentiful here, but you can also rent a group pedal bike (or a surrey) from the Bike Barn. For a four person surrey for a 1 hour rental it will cost you about $26, and a mountain bike for a 1/2 day will also cost around $26. They have a variety of bikes from large to small that will outfit our whole family. They also offer bike repair if you find yourself needing one after a difficult mountain bike trail.
For family leisurely biking, I would suggest taking the Bear Lake Scenic Biking and Walking Trail. It starts out at the Bear Lake State Park Marina to Ideal Beach with interpretive signs and park benches. It is a 4.2 mile long trail that you can access at any point along the route.
If you are looking for some fun Mountain Biking in Bear Lake, I suggest the moderately rated trail of Stump Hollow, or Bunchgrass. These are the top rated hikes on the Mountain Bike Project and also have other mountain biking trails available for the more experienced riders.
Catch A Play At Pickadilly Playhouse
This is a tongue and cheek type movie and dinner show right off of Bear Lake. While it isn't Broadway, it is nice to see these comical family friendly plays available for all to enjoy. I haven't been able to go myself, but next time I visit Bear Lake I will definitely be catching a show here.
Be sure you book online in advance as it is quite a popular place for locals and visitors alike.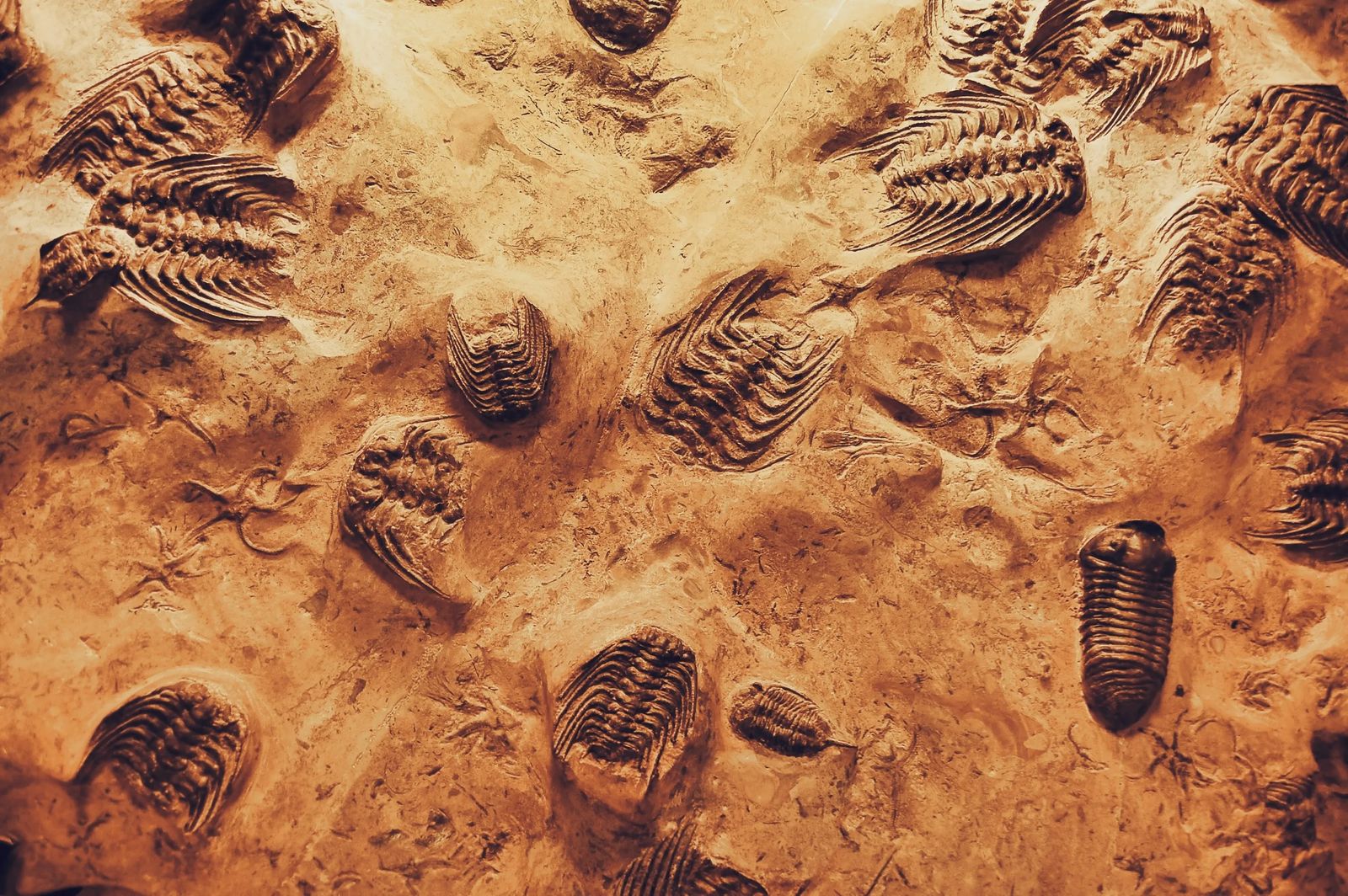 Dig For Fossils
The Fish Dig Quarry, is the only Quarry where you can take your kids to and dig for ancient fish fossils! If they love dinosaurs, and discovery then they will really love. They have been operating for a few decades, but just acquired another Quarry on the Green River and have exciting things planned for visitors. It is about a 45-minute drive from Bear Lake.
It isn't just fish you can find though, they have one of the only two 3-toed complete Horses in the world. You can also discover stingrays, shrimp, gar, paddle fish, amia, pike, dioplomystus, knightia, and even turtles, crocodiles, bats, birds, ancient rhinos and camels, primates, and much more.
How is there so much diversity in this Quarry? Well there were 3 lakes that converged over the now Wyoming, Utah, and Colorado border. The climate was much different back then with palms, figs, lush forests and so forth. So of course the biodiversity here was rich, just as it is in the Amazon. When the animals died, they would be covered by water rich in Calcium Carbonate. Fine layers of grainy sand would cover them, trapping the animal in an air tight seal, preserving their bodies so much so that they did not decompose like normal.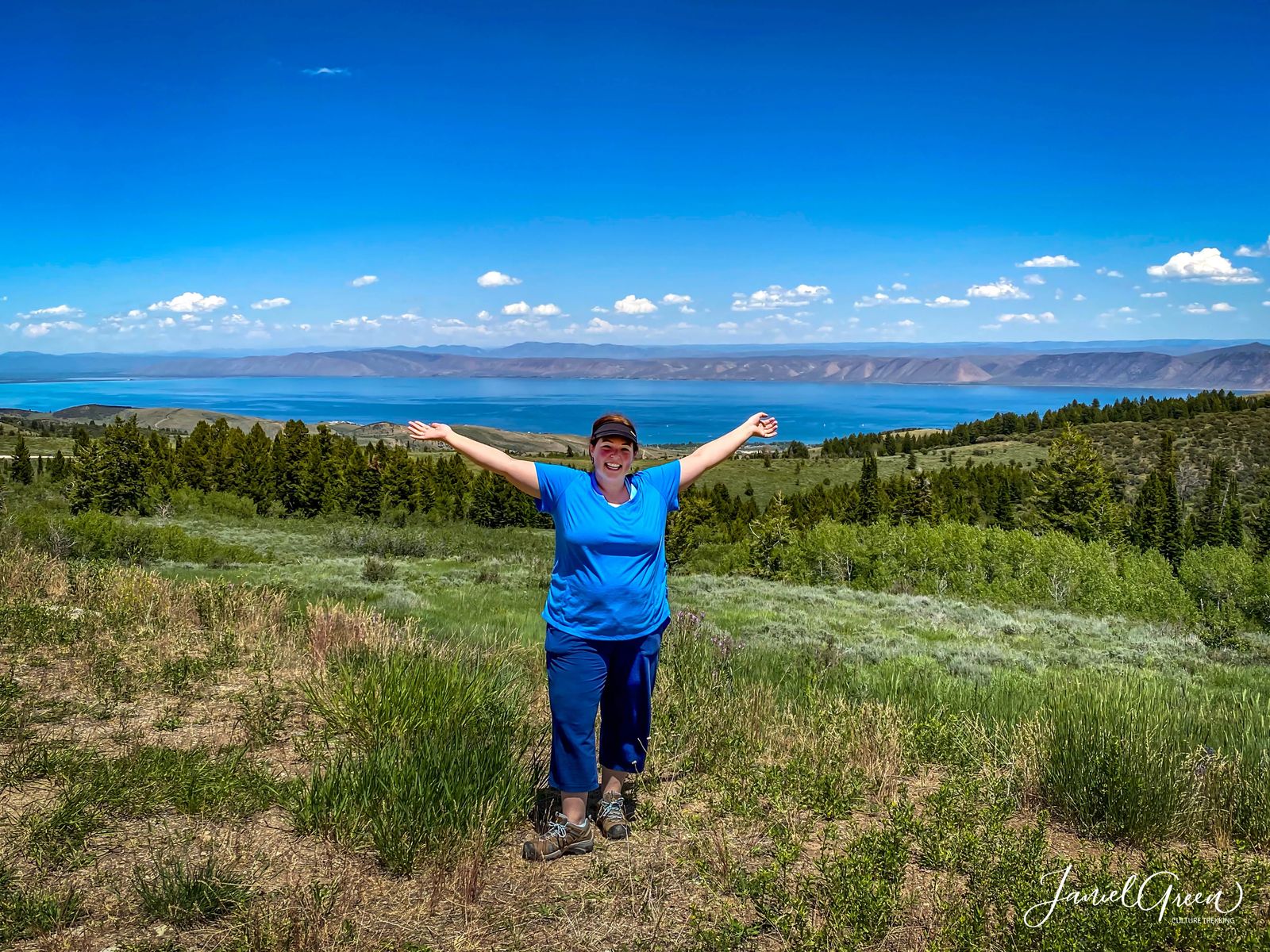 Before Leaving Bear Lake Utah
To get the best viewpoint for an iconic photo of you and your family all together, I suggest going to the Bear Lake Visitors Center. It is difficult to get the gorgeous Caribbean of the Rockies color of the water up close to the lake, but you get a brilliant blue right at the visitors center. There are plenty of wild flowers in the spring, and a lot of fascinating historical information about Bear Lake and the Indigenous Indian populations that once occupied this territory. Grab your camera and capture an iconic photo of this perfect Mountain Lake Getaway.
If you visit Bear Lake, or have any other suggestions on what to do or see while in Bear Lake please leave them in the comments below.
Most of all enjoy your time in Bear Lake. It doesn't matter if you spend the whole day in a boat, on a jet ski, in a Kayak, hiking, biking, swimming or just lazily enjoying the beauty. It is your vacation, make it count so that you make memories and go home feeling rested.
Like it? Pin it! Sharing is Caring ;)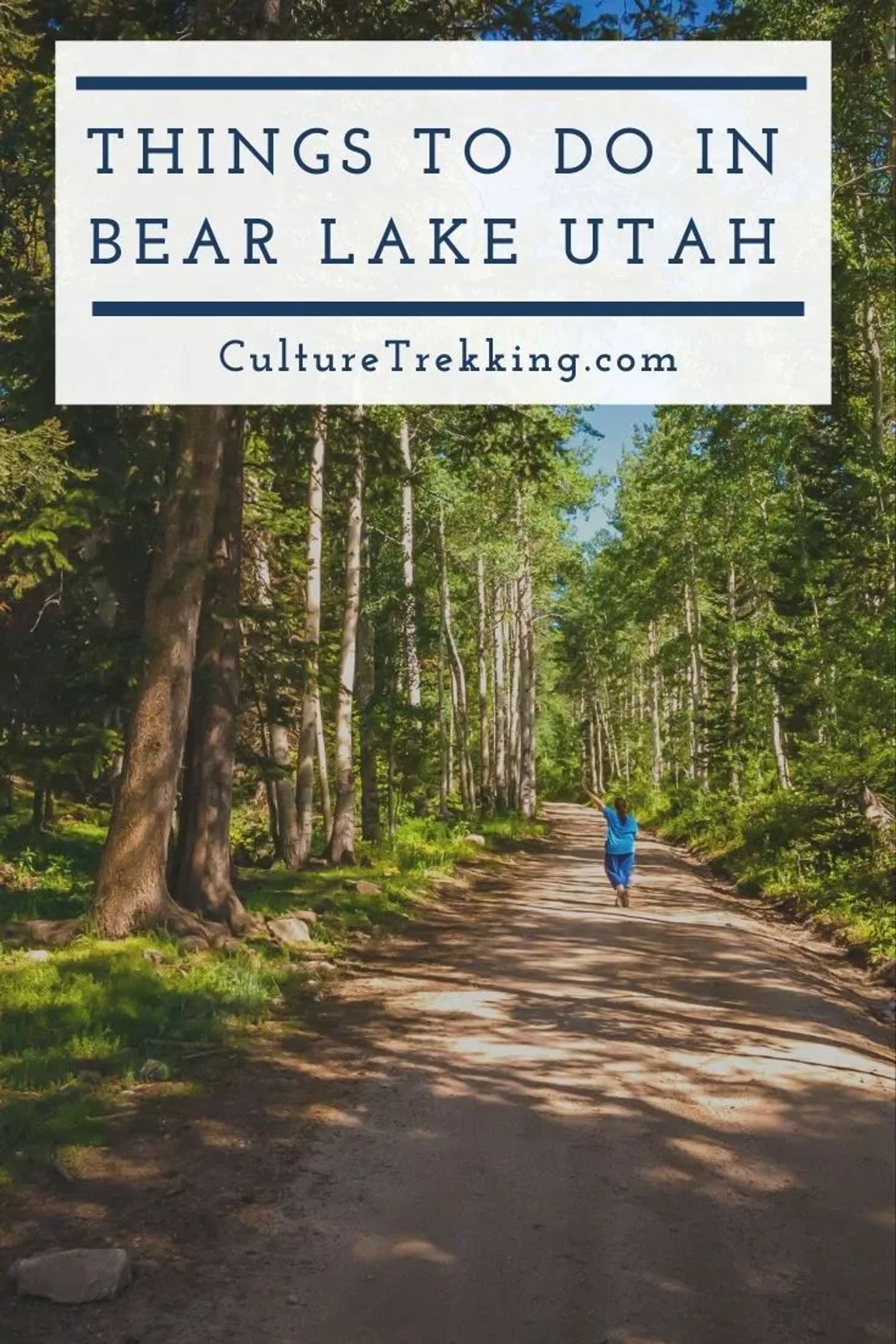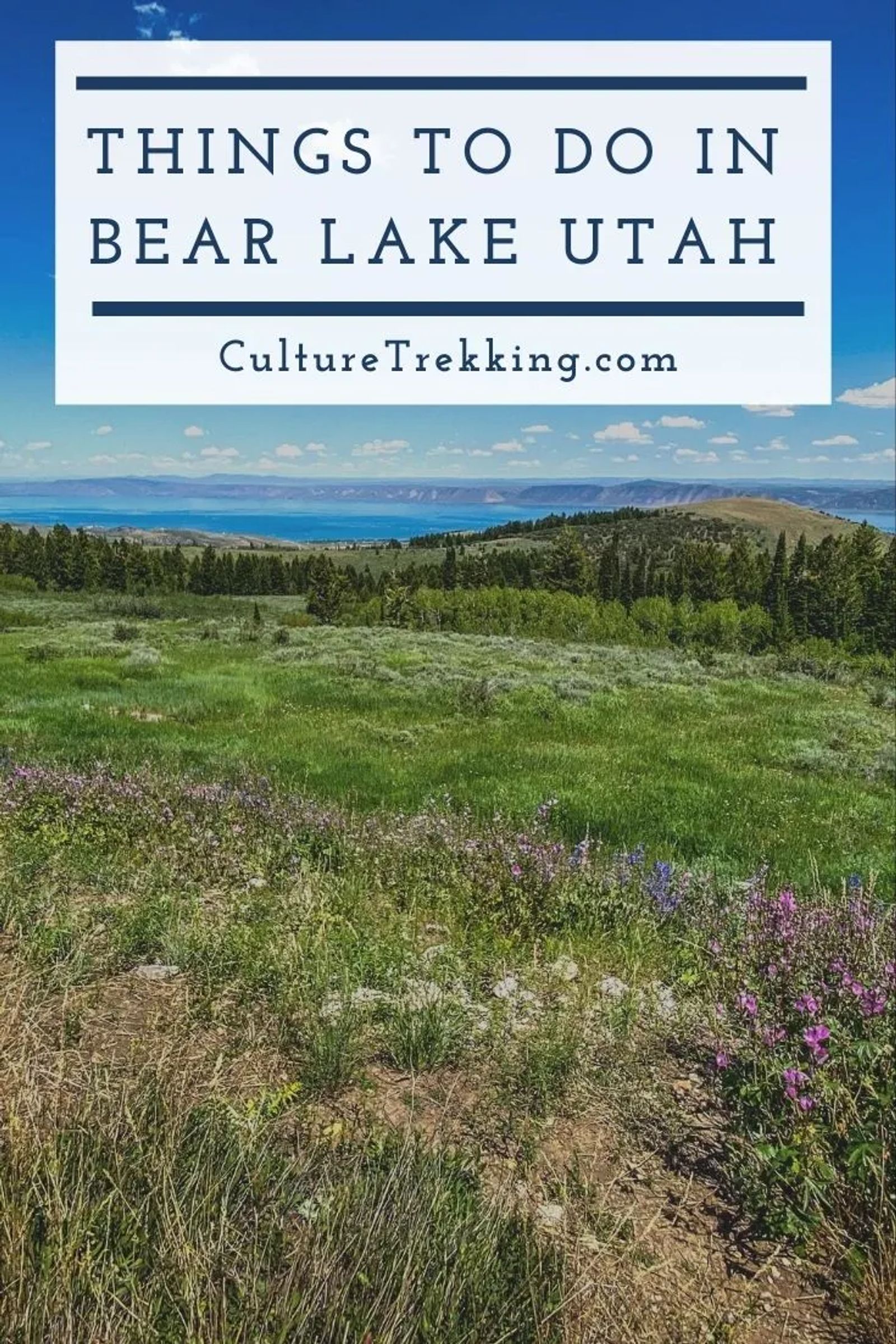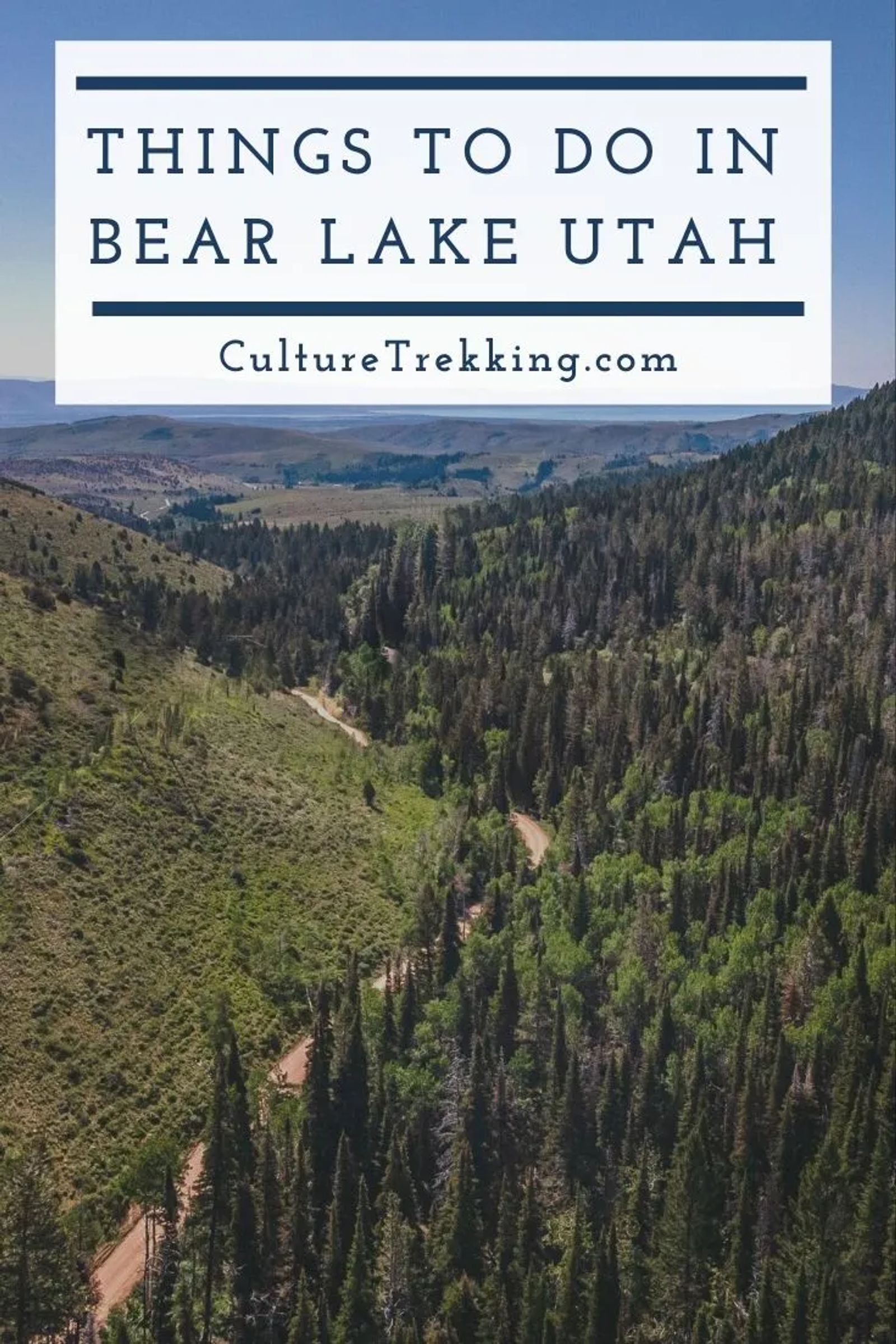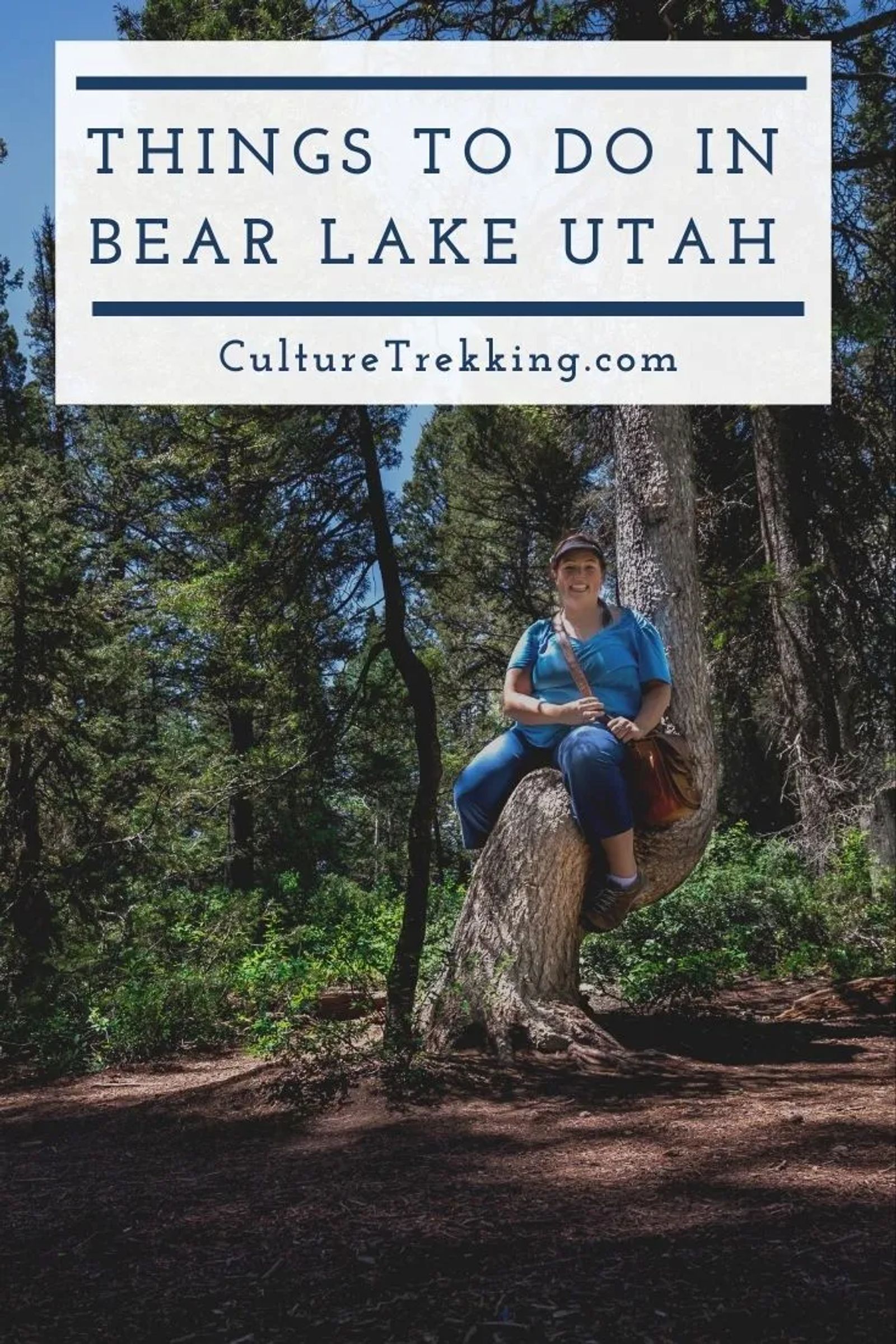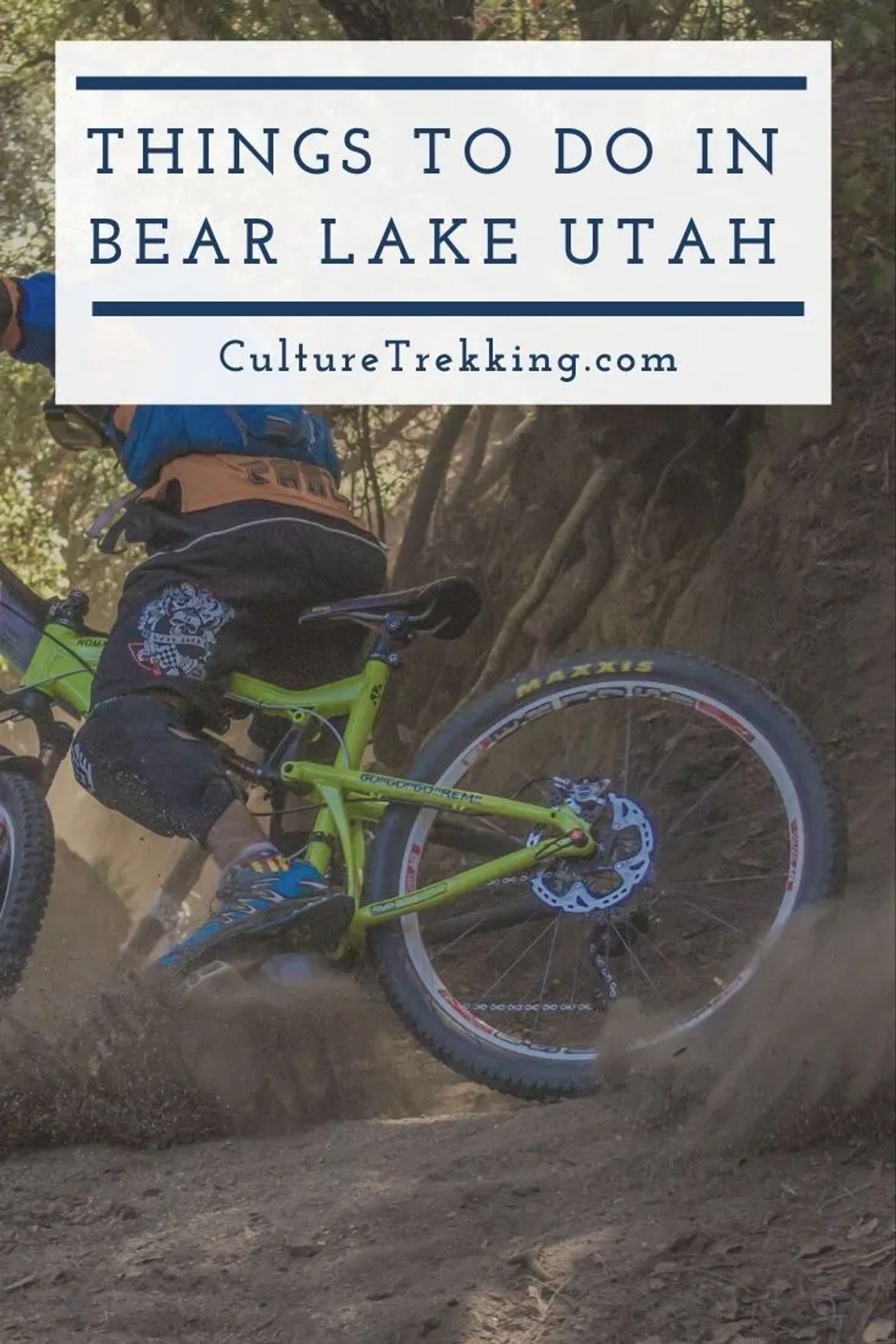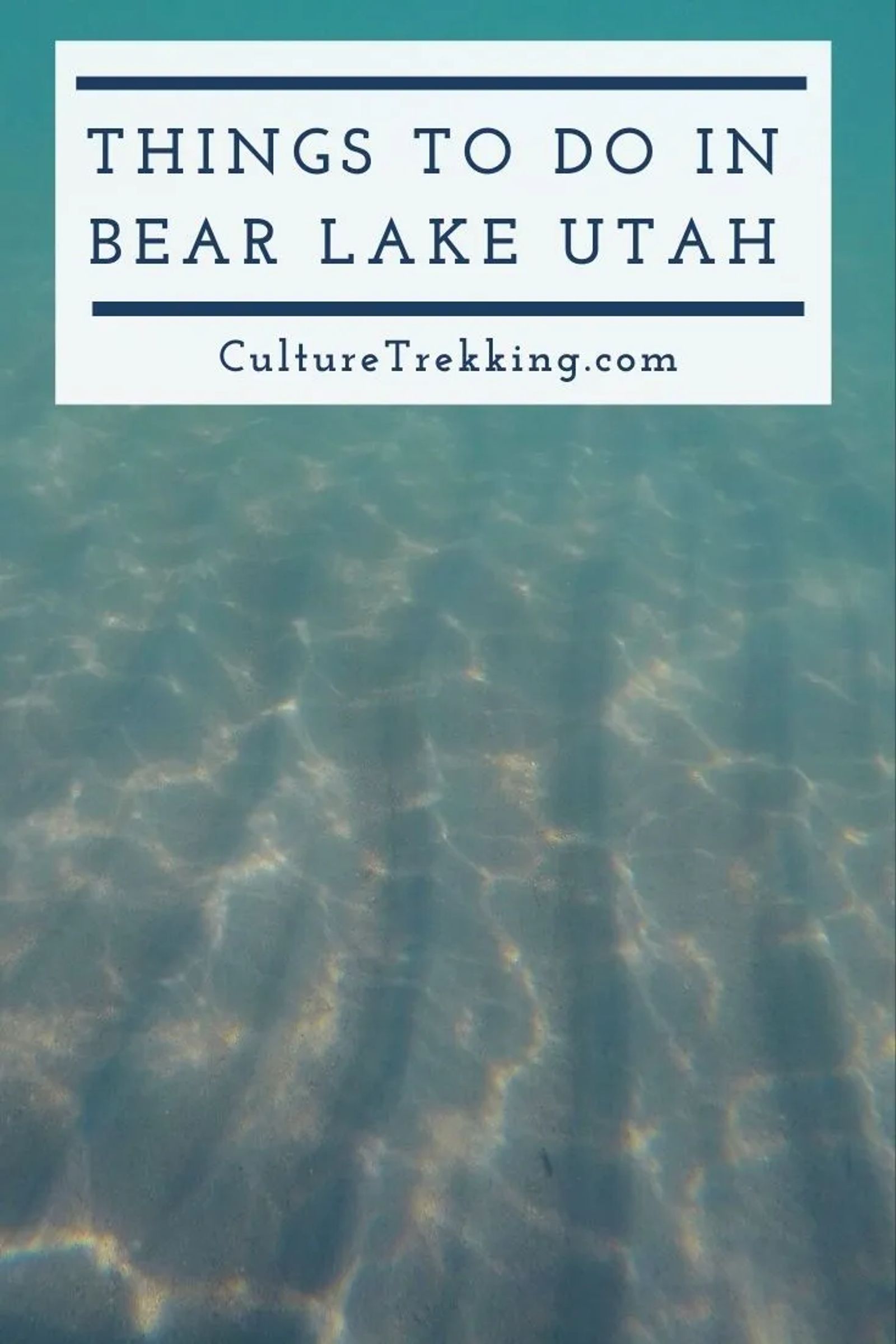 Latest Articles On Culture Trekking