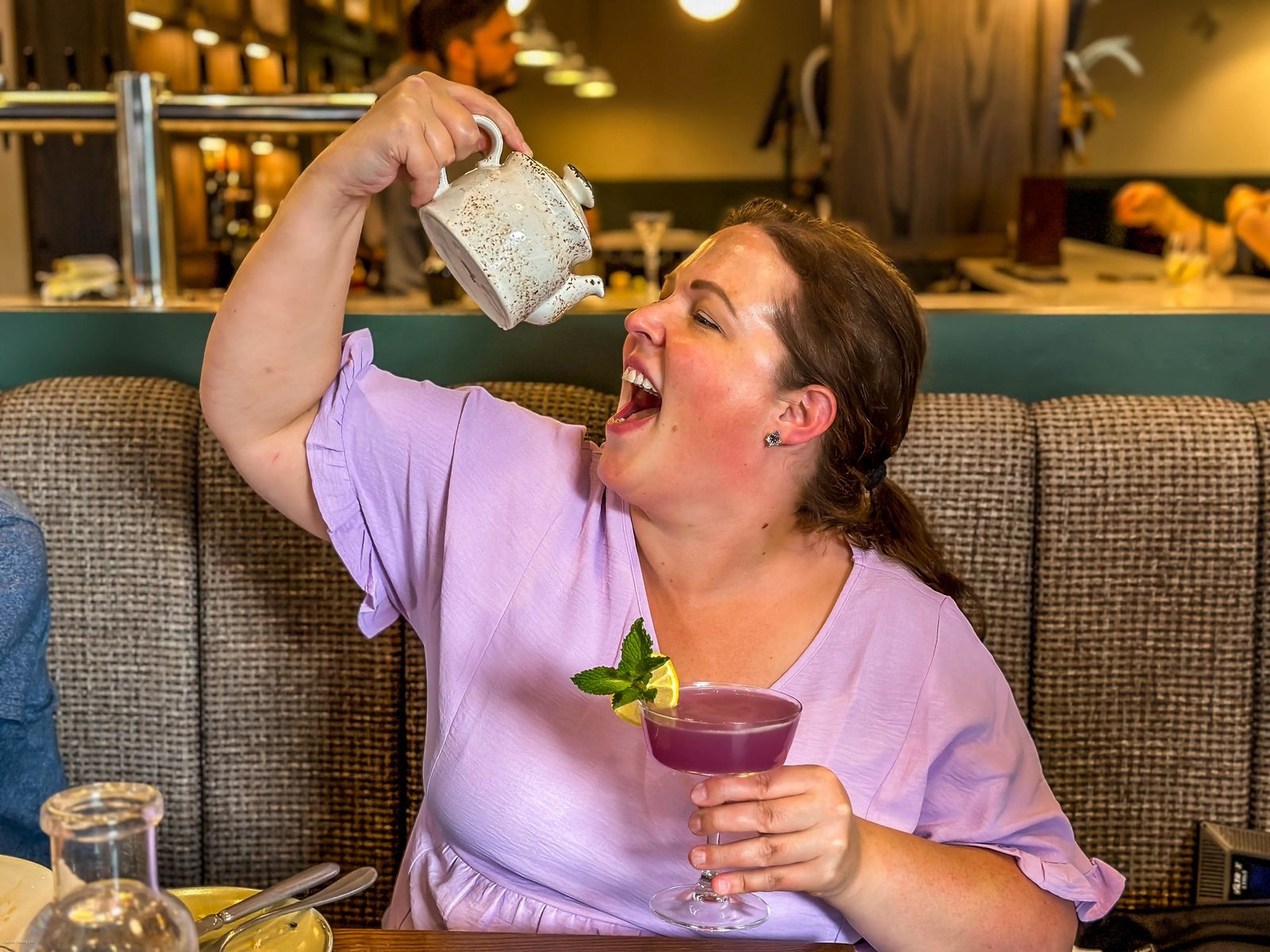 Best Places To Eat In Banff & Jasper
Dining in Banff and Jasper can be a little hard to narrow down because of budget, as well as available parking. It is hard to know what is good and not, food can look good, but then it tastes like shit and you just wasted $15 on a sandwich. So for those who like good food, but want a bit of direction on where to eat I put this guide together of my favorite places (and not so favorite places) to eat while in Banff and Jasper National Park. I visited both parks in 2023 with Pursuit Banff and Jasper Collection who do own a few of the restaurants in this article, but are legitimately some of my favorite and most memorable places I've eaten in the world.
Before you visit, there is one thing I wanted to share with you - the seven staples of the Candian diet is Bison, Beef, Honey, Canola, Red Fife Wheat, Saskatoon Berries, Root Vegetables. So you will see many of the locally sourced dishes with these meats, veggies and berries on the menu.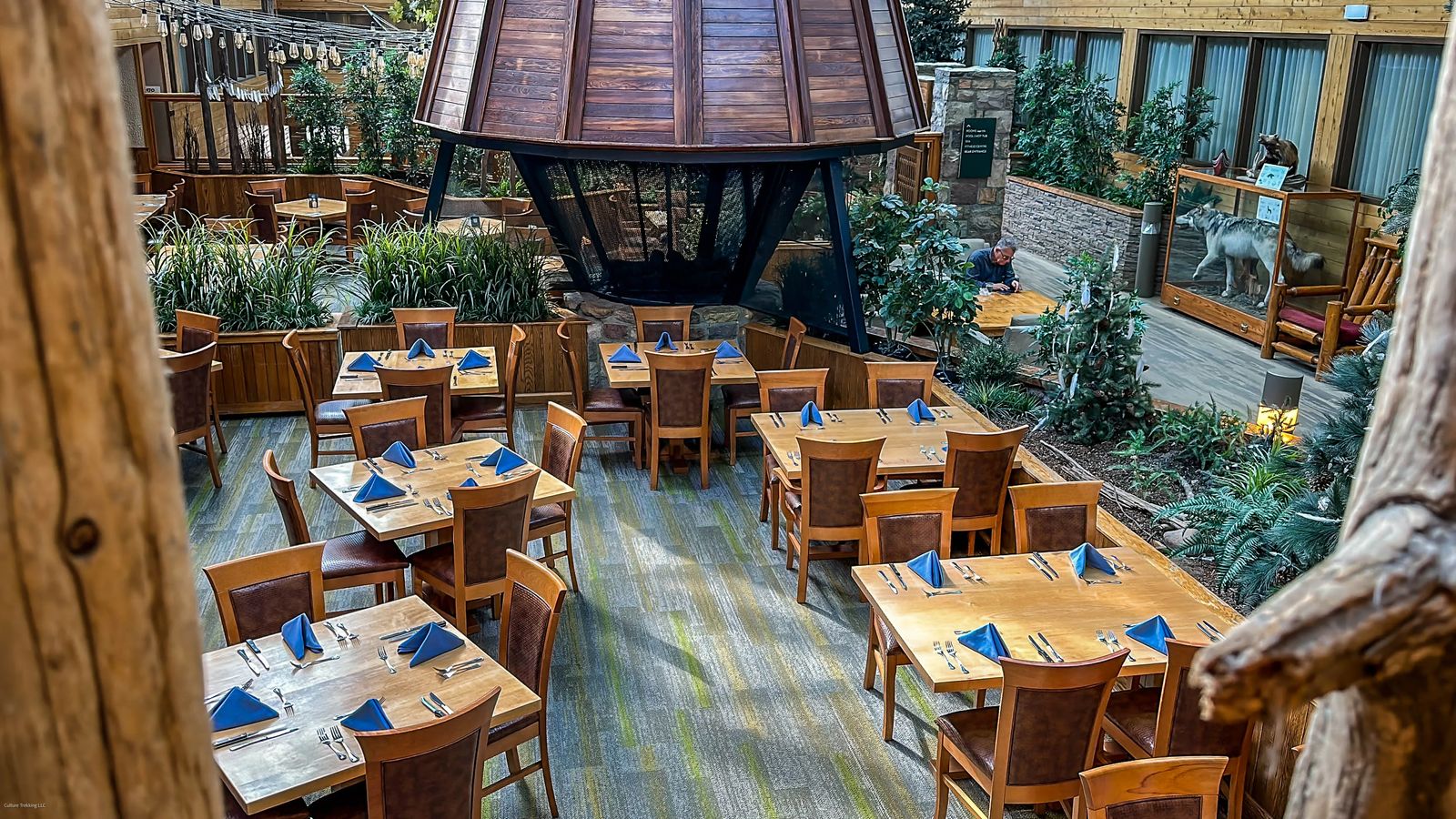 Quick itinerary/Key Takeaways
If you have a short attention span like me, then here is the quick and dirty of how to spend your three days in Banff and Jasper in between filling your belly with delicious food.
Day 1
Arrive in Banff, stay at Mount Royal Hotel right in the heart of Banff
Visit the Buffalo First Nations Museum and Take a look at the Banff Museum to see how this town was established and started without modern technology.
Have dinner at Braazen with Canadian dishes that give a nod to the mountaineers of the past, and try some of their clever cocktails and mocktails.
Day 2
Take an early morning hike to Bow Falls and wander around town pop into shops for Christmas gifts, shop outdoor gear, or get that new pair of hiking boots you've been dying for.
Hop on the Brewster Bus to tour the Icefield Parkway with a quick stop at Comfort Glacier, Herbert Lake, Peyto Lake, Saskatchewan River Crossing, Turner Falls, or the weeping wall. Arrive at the Discovery Icefield Center for a light lunch and a pit stop.
Arrive in Jasper at Forest Park Hotel
Have Dinner at Terra where heart and soul of a chef is put on a plate giving homage to the staple foods of Alberta, where forest foraging meets farm to table experience.
Day 3
Have an early morning walk around Jasper and spot some local wild life like Big Horn Sheep, Elk, and if you are lucky (or unlucky for some) spot a Grizzly Bear!
Head out to Maligne Lake for an early morning tour to get the best lighting for Spirit Island tour. Take some time to do some hikes around Maligne Lake.
After working up an appetite head to Maligne Canyon Wilderness Kitchen for some smoky BBQ and butterfly pea flower mocktail
Head to Athabasca Falls, Miette Hot Springs, or simply lounge in the pool and hot tub at the hotel for some down time.
Head to Pyramid Lake to take a canoe tour before trying Aalto, a Nordic inspired Canadian Restaurant with an elevated dining experience that is bringing back smoking, fermenting and salting to our tables in a sustainable way
After a relaxing dinner, you can either head to bed or get adventurous with the Jasper Planetarium to take a evening galaxy tour! Did you know Jasper is a dark sky park?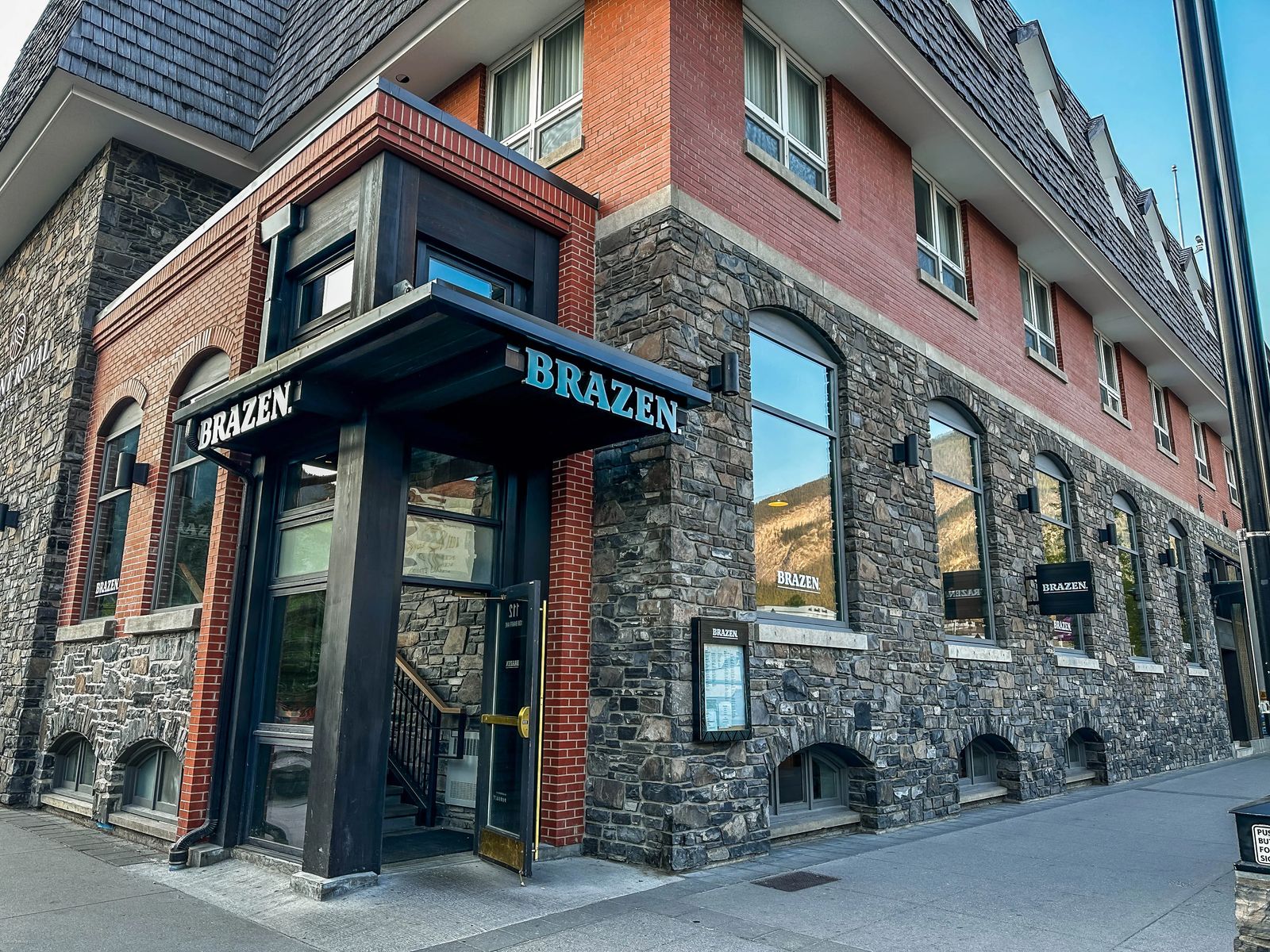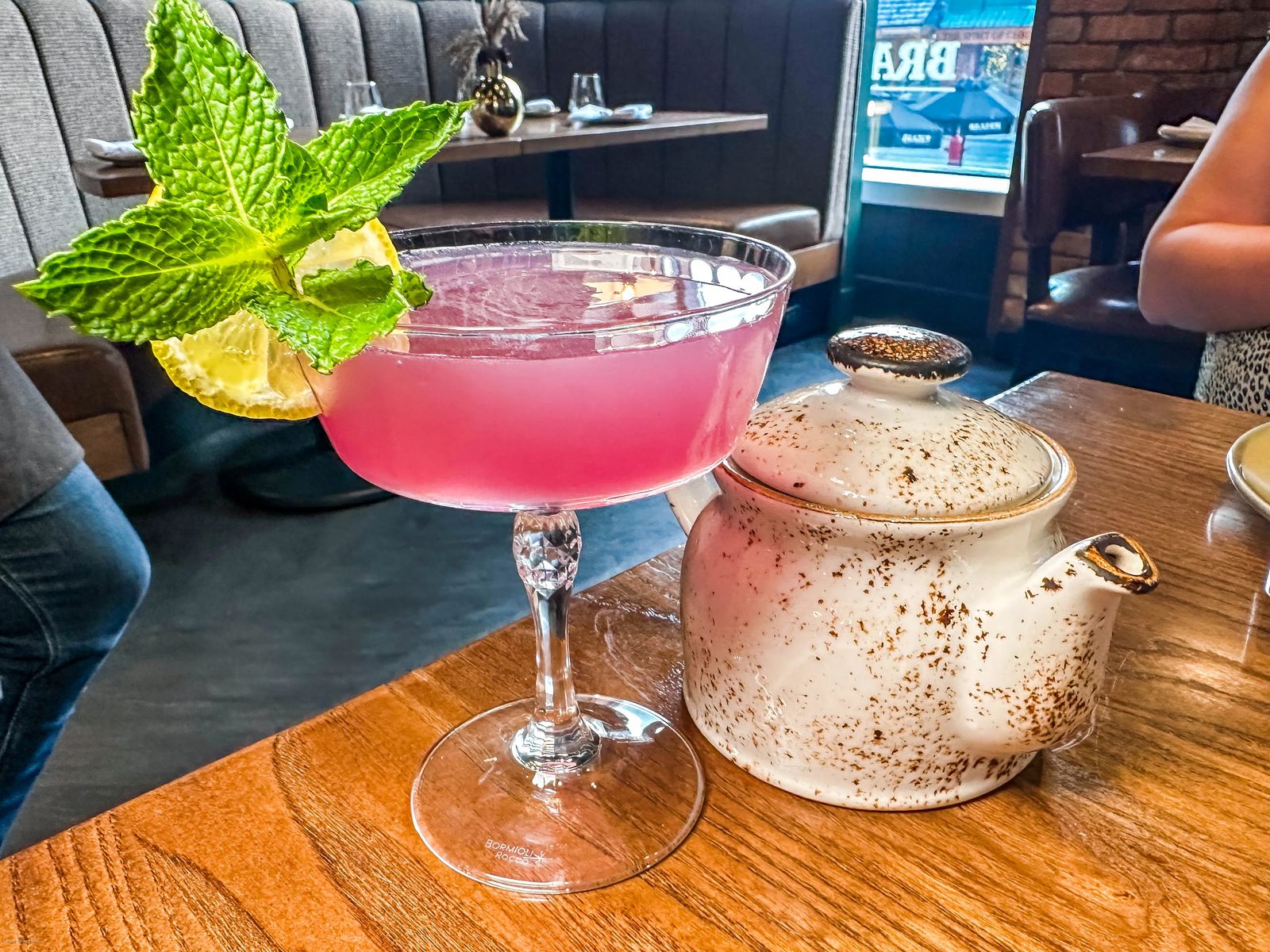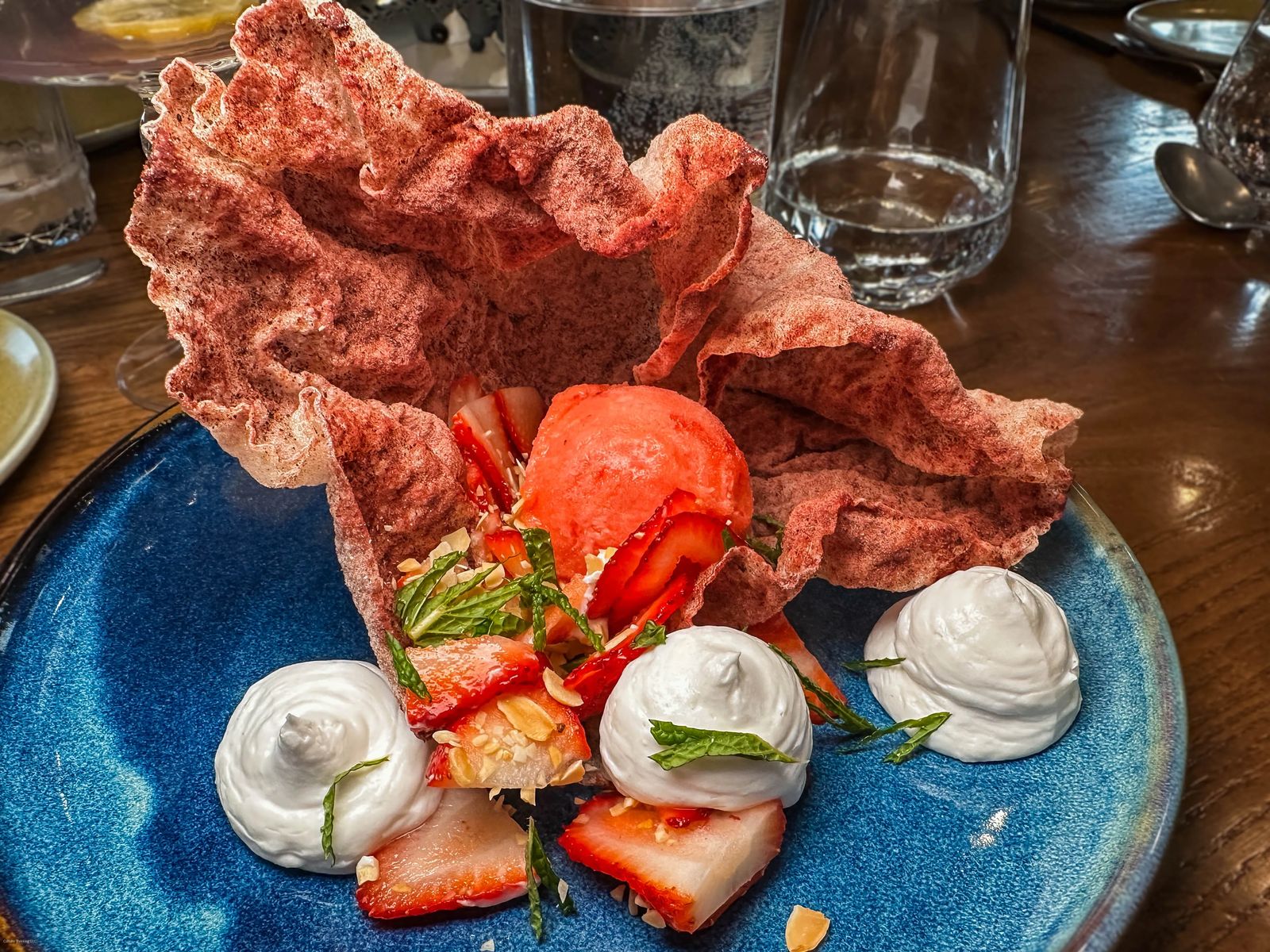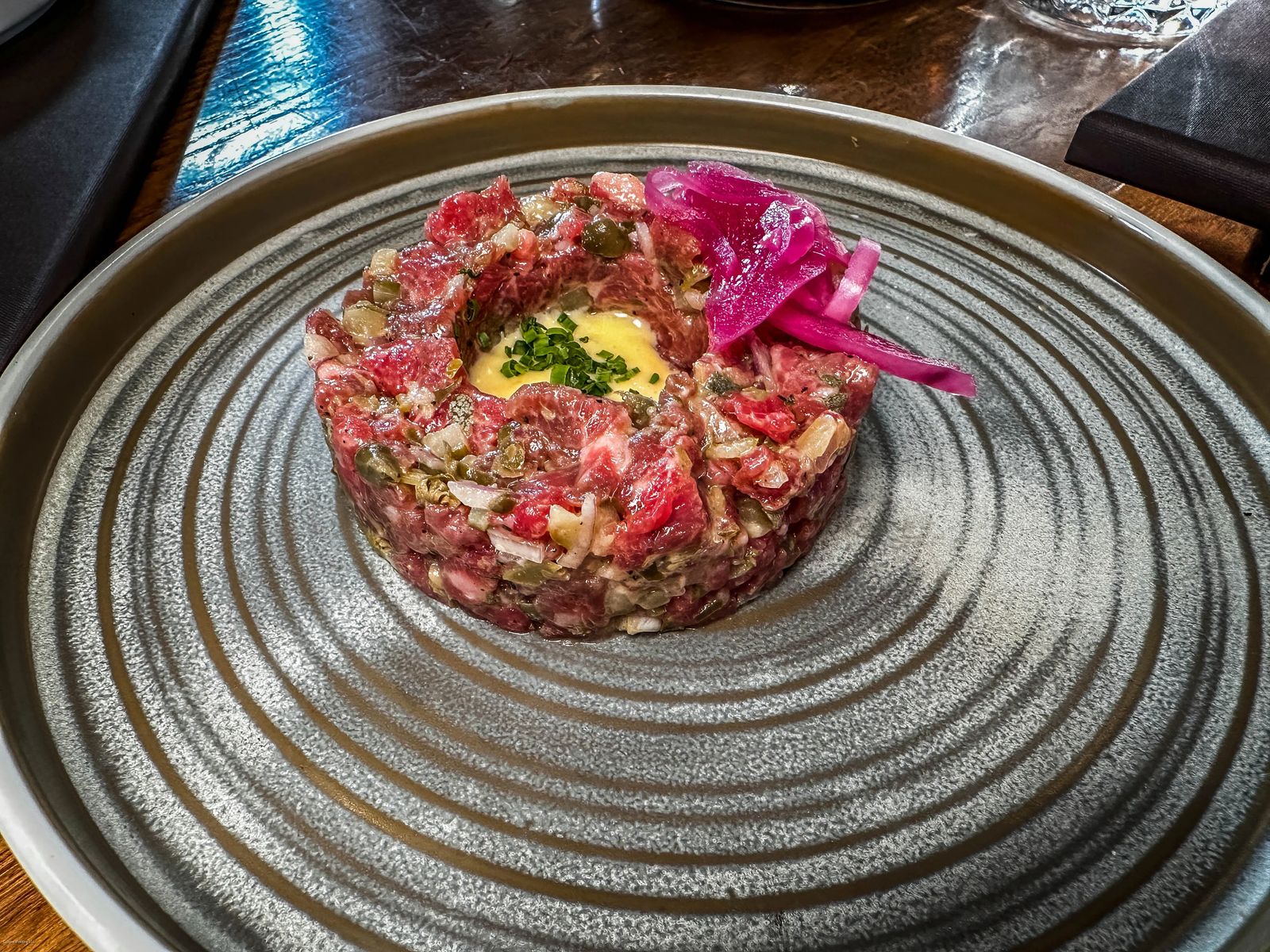 Brazen
Brazen, an ode to the mountaineers and brave explorers of the past that paved the way for us modern bougie folk to sip, savor, and soak in delicious seasonally inspired old-world flavors.
Serving breakfast, and delectable dinner they even have a romantic date night menu. Our dinner consisted of ordering many different plates and trying a little bit of everything. We ordered Ginger Beef, Smoked Beef Tartare, Truffle Parmesan Potatoes, Strawberry fields, Oreo Crème Brulee with cigarette chocolates illusion.
The staff are incredibly friendly and cocktails are very interactive with smoke, changing colors as they mix them in front of you. The flavors are straightforward and quite sweet, but I don't personally like the taste of alcohol so I rather enjoyed them.
Located right in the heart of Banff it is easy to access, and located right inside the Mount Royal Hotel that is part of the Banff and Jasper Pursuit Collection I was working with while in Banff. I really appreciated how it truly feels like they listen to feedback on the hotel, food, and how they can make each and every guest happy and have the itinerary be the trip of dreams.
The Uprising Bake Shop For Breakfast In Banff
For those early risers the Uprising Bakery is located in Banff as well and opens bright and early at 6:30 am and closes around 7 pm. They offer sweet buns, savory wraps and sandwiches, bagels and traditional Czech Bread. They also have vegan options, drip coffee and lattes with a variety of different breads in slices or in loaves.
So for those trying to catch the morning sun or early hike, this is a great option to snag a treat before hitting the trail. The price point is a bit steep though, with sandwiches coming in at $13-$15 so consider yourself warned. Banff seems to have these resort type food prices no matter where you go though, so make sure to budget accordingly or bring your own food from stopping at a grocery store in Canmore.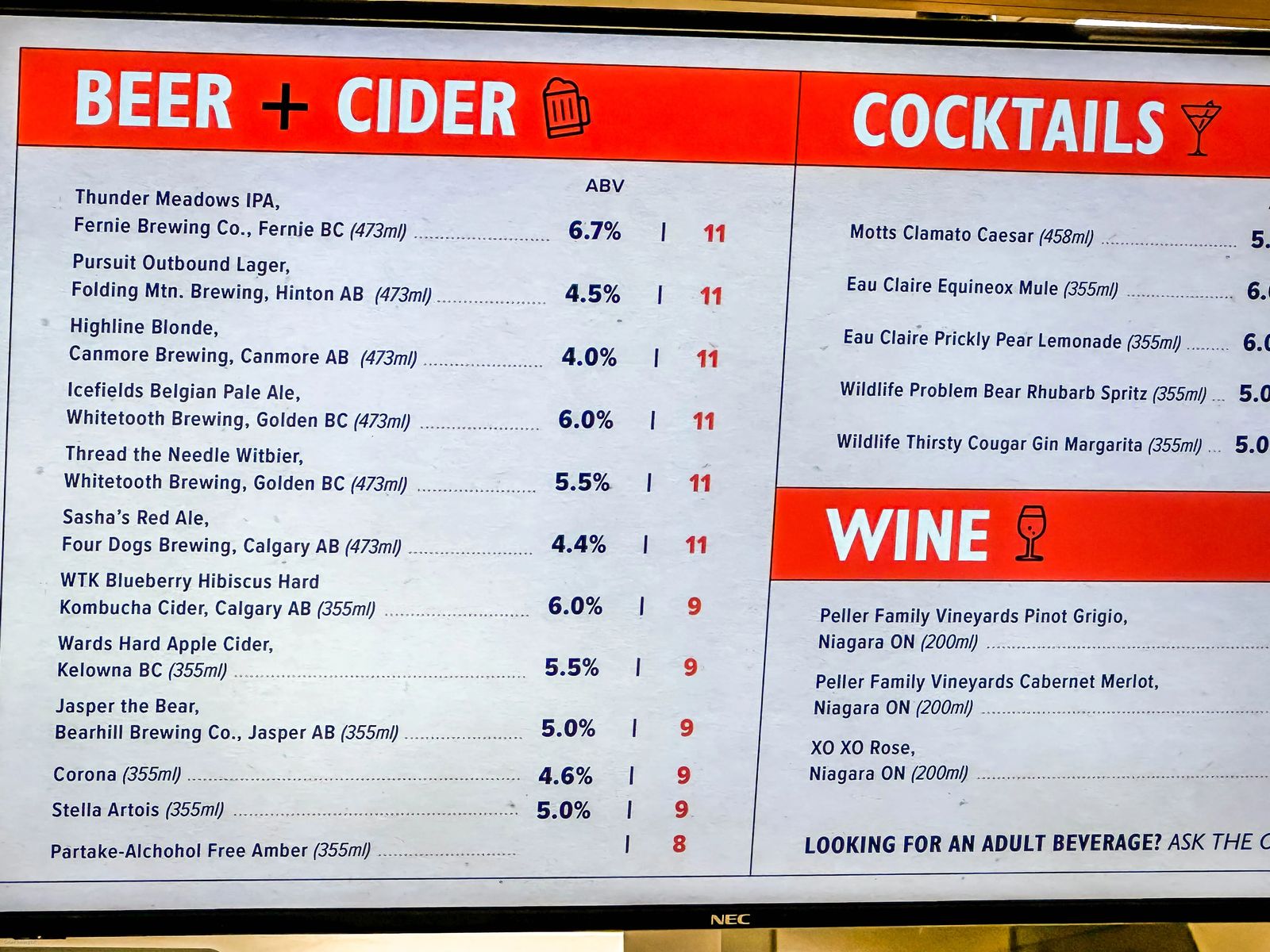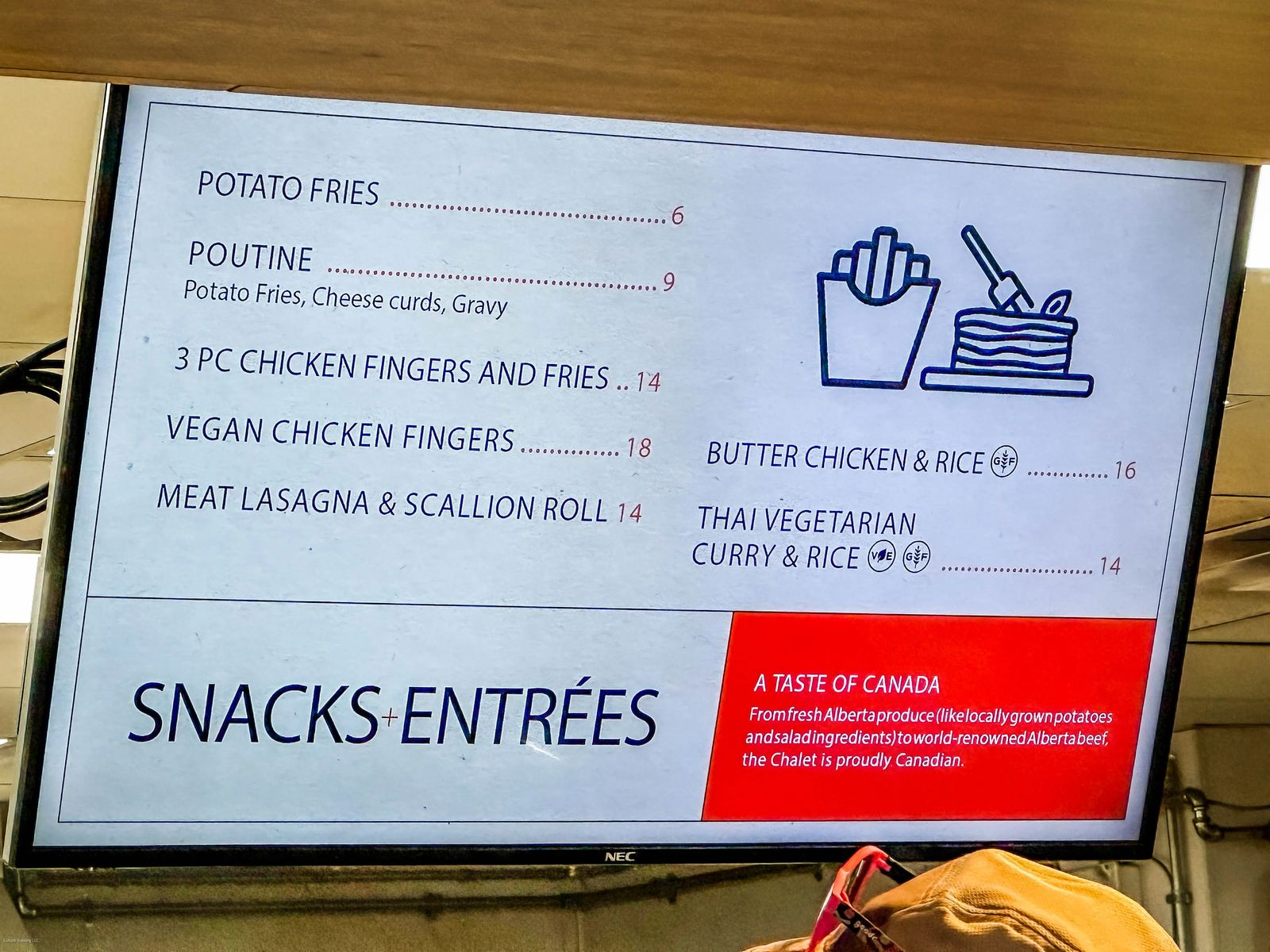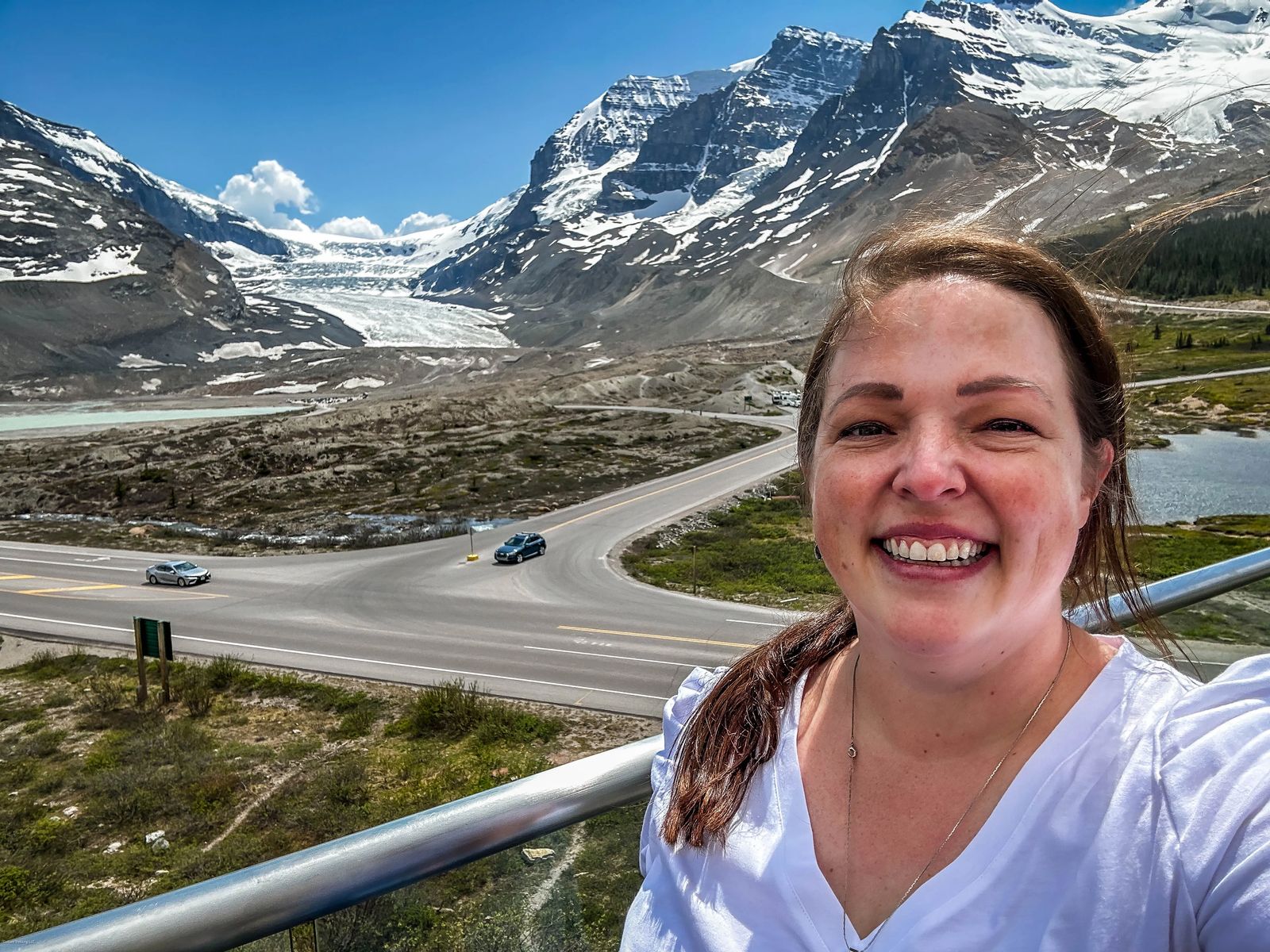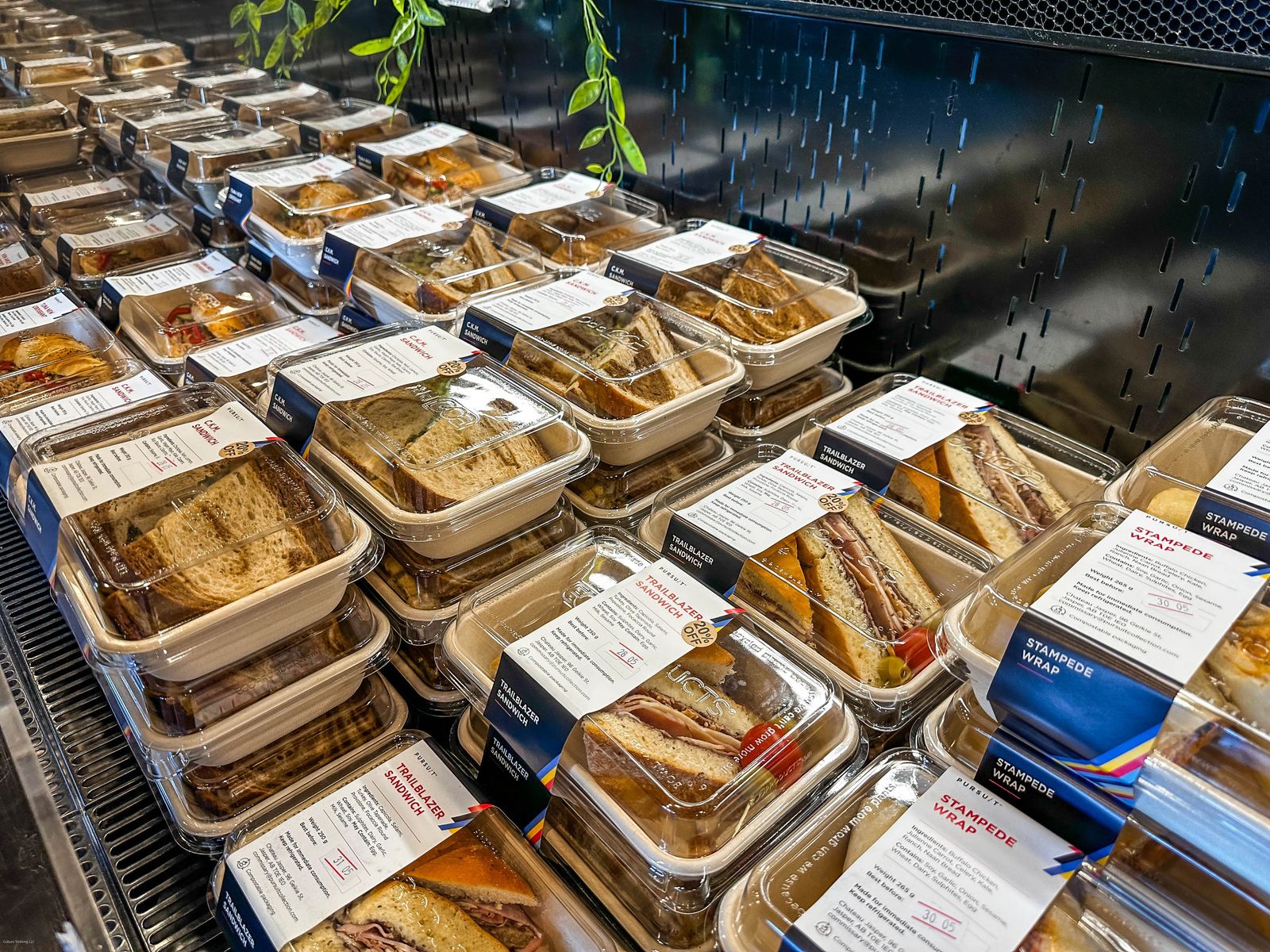 Ice fields Chalet Café
There is lots of seating in here, so if you have a large group this would be ideal for a quick in and out bite to eat. You can also get your tickets to bus to the glacier or step out on the viewing platform called the Skywalk that gives you sweeping views of the Snwapta valley and surrounding glaciers.
The items you can purchase to stay or to go are made daily, there are vegetarian and carnivorous options. The truffle fries were to die for, and there is also a variety of adult and kid friendly beverages. If you have picky eaters this might be the place to stop because of the variety of choices they have and the relaxed seating and ordering arrangements.
It is really one of the only casual stops to eat along the Icefields Parkway.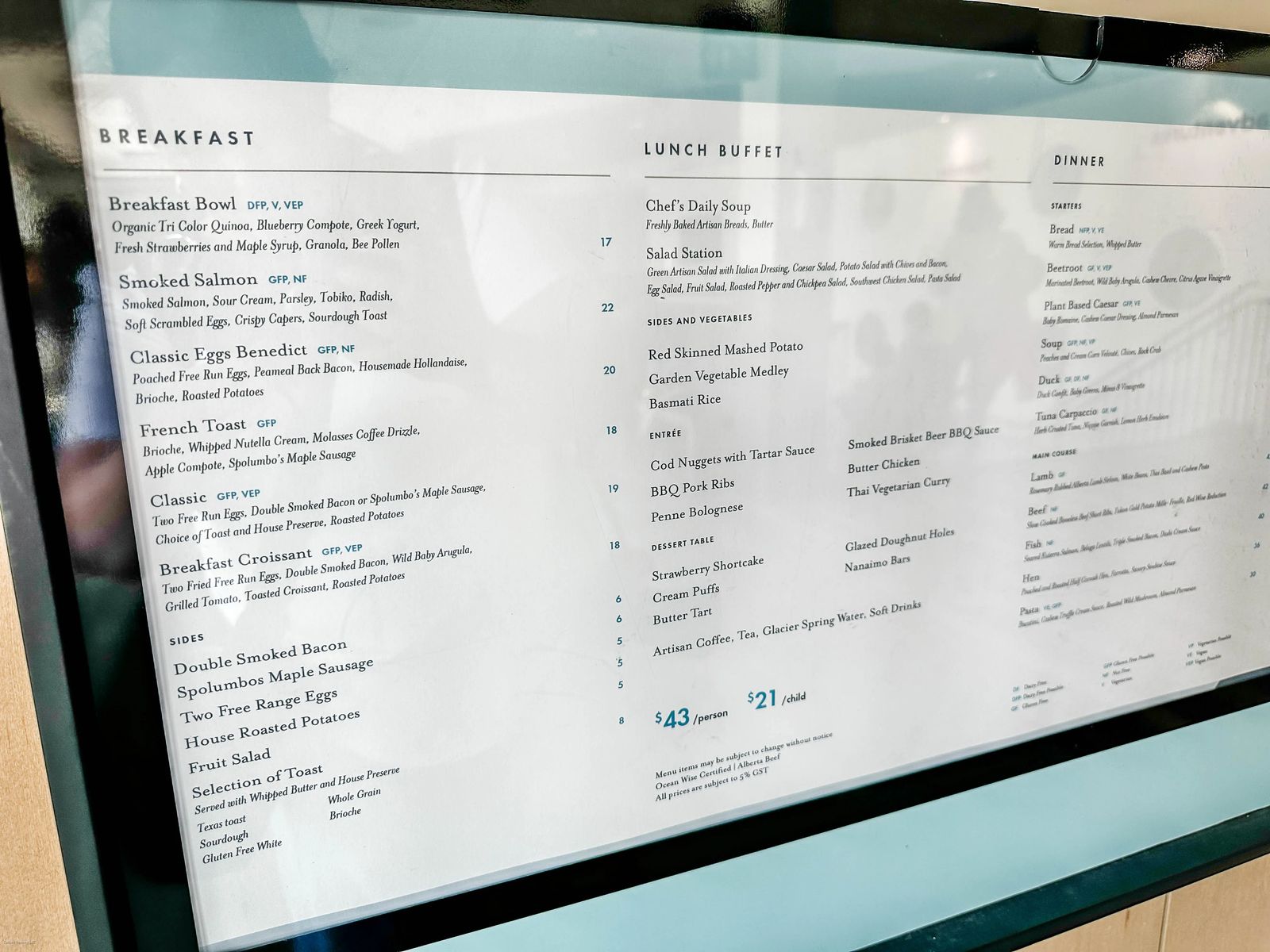 Altitude Restaurant at the Ice fields
This restaurant gives you spectacular views of the glacier, and allows you to relax and grab a cocktail or something from their a la carte menu. They also have a buffet type dining experience, but it can be a bit on the pricey side for 43 CAD for adults and 21 CAD for kids. I will say that the food is good, inspired by Canadian dishes and the ingredients are locally sourced and developed by head Chef Michael O'Neill.
With the hustle and bustle of the tourists in the hall getting their tickets, and waiting for either the bus or their turn on the skywalk - it was nice to enter this quiet space and enjoy the views undisturbed.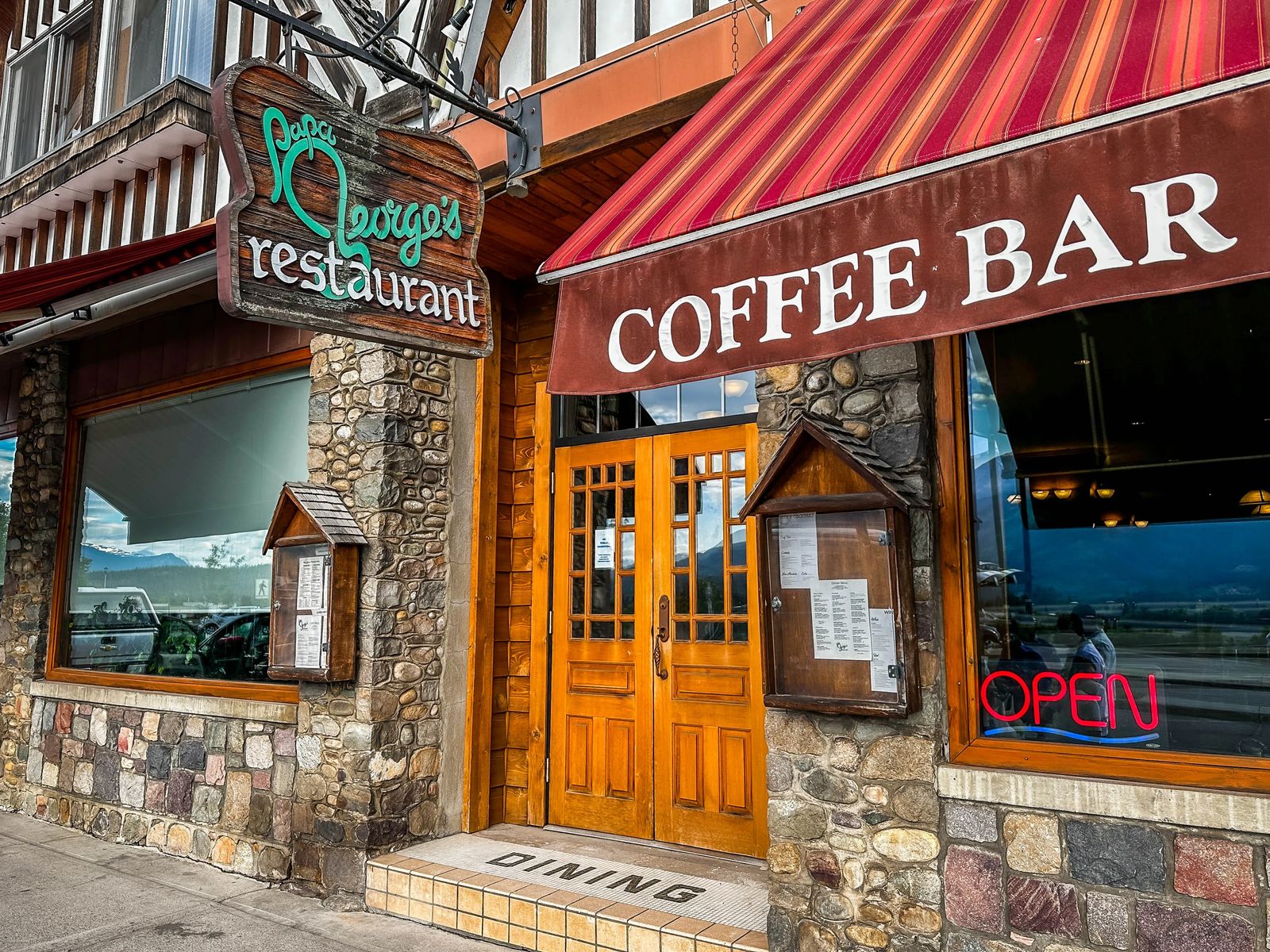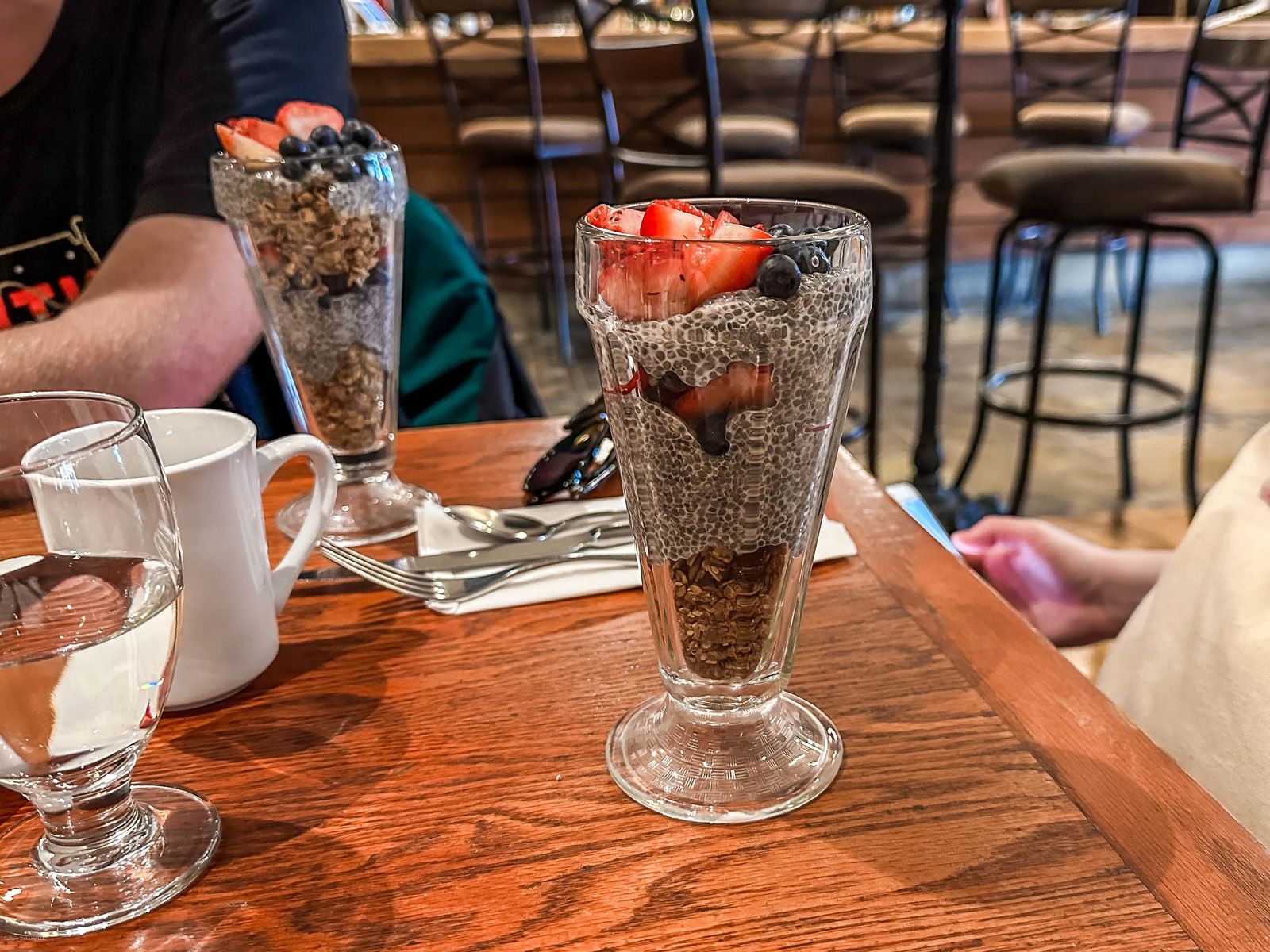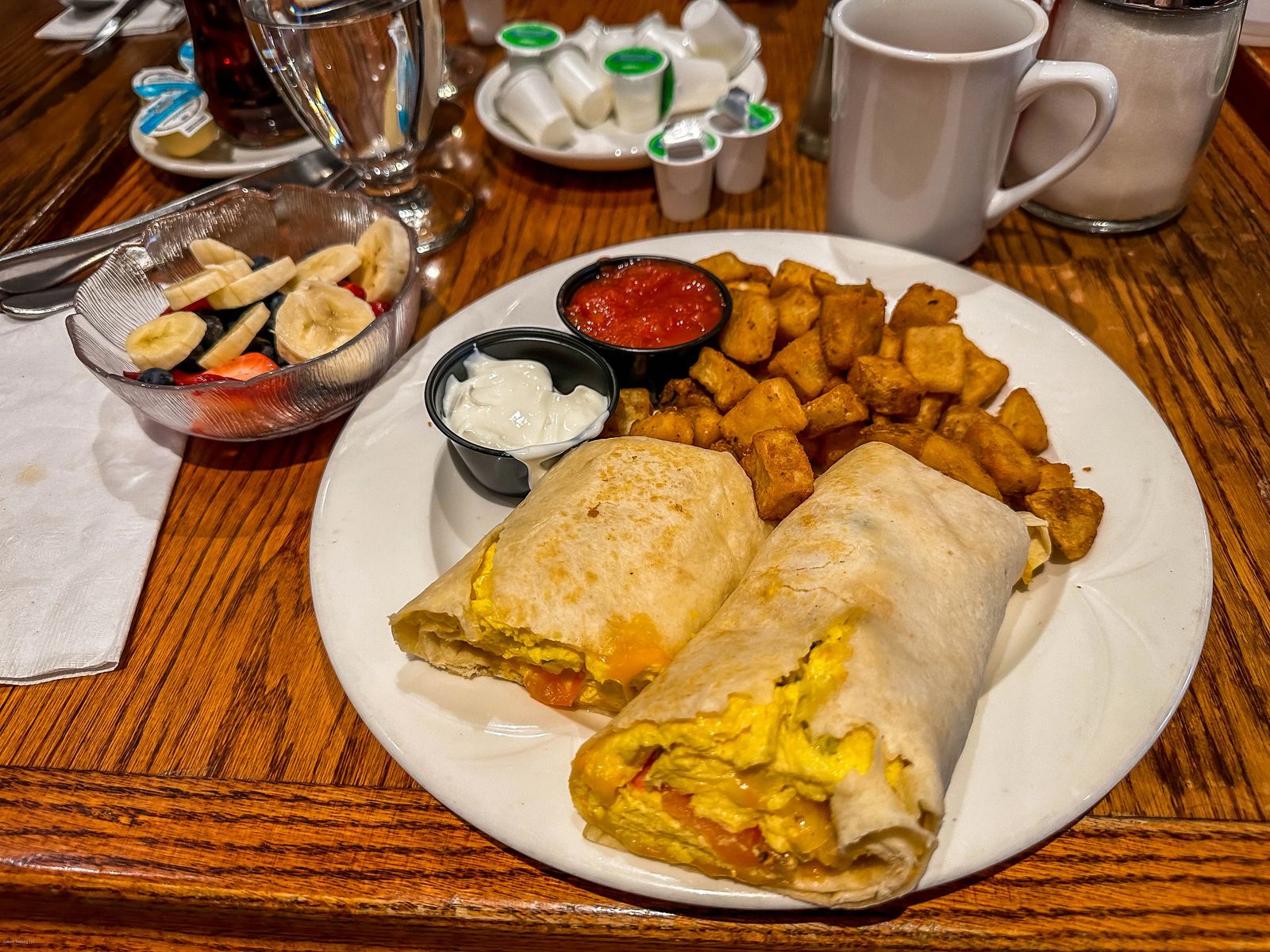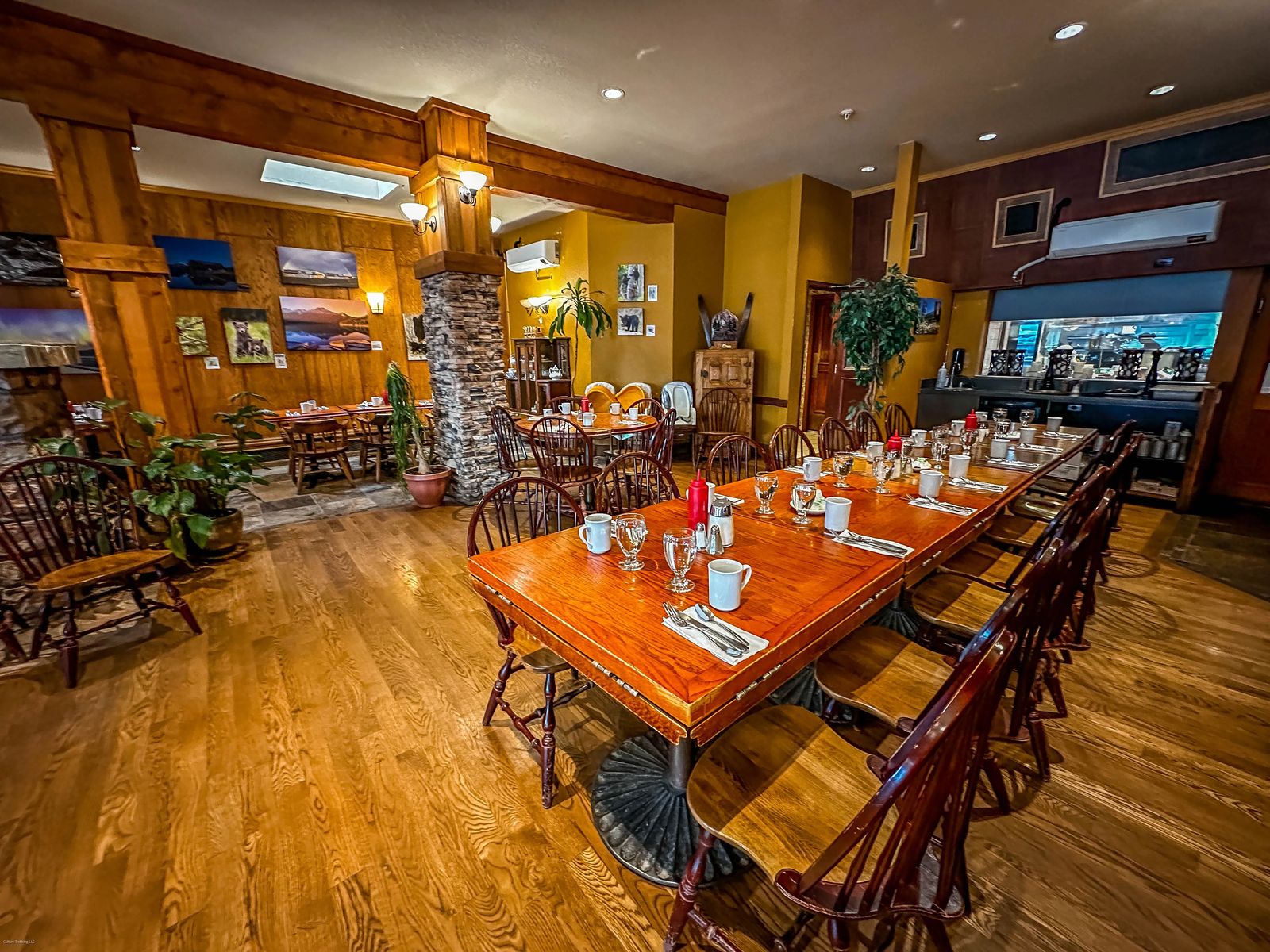 Papa George's For Breakfast in Jasper
Recommended to our group by Jasper Visitors Center, is Papa George's Restaurant. Walking in the room is toasty warm, and the food piping hot. Think of the food as an upscale IHOP (for my American friends) where you can sit down, get hearty servings, and feel like you walked into your Grandma's kitchen.
The food is decent, and definitely fills you up with some good protein but it isn't one I would gush over to friends. They are open early, the service was good, the staff are super friendly and really a place to slowly shake off the morning sleepiness. They have a full bar, and also vegetarian options as well.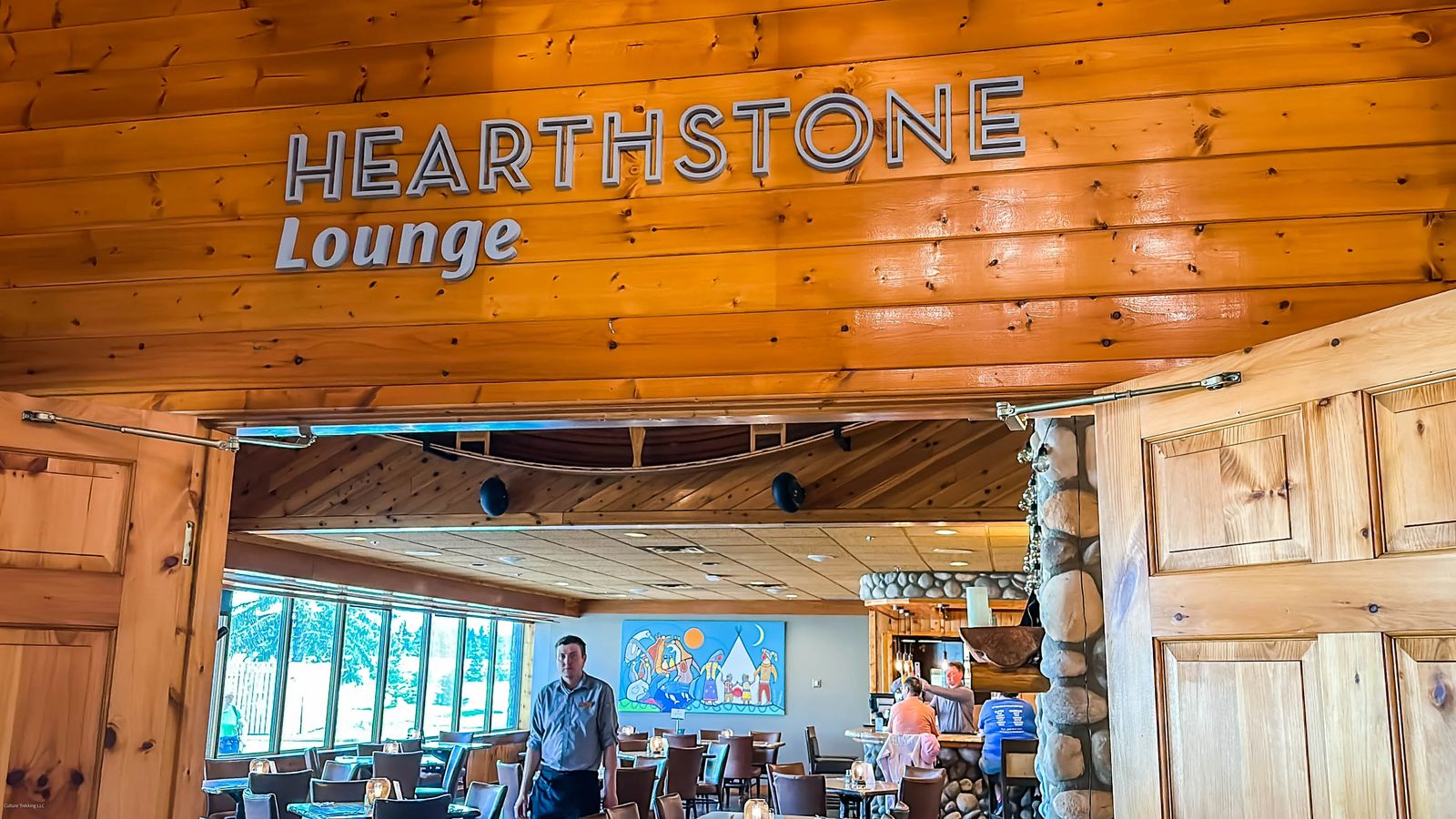 Hearthstone in Forest Park Hotel
I was staying at the Forest Park Hotel and noticed this quaint lounge, It is more of a casual dining experience, something to fill the belly after a long day of exploring. Forest Park Hotel is more like a resort than a normal hotel, there is an indoor pool and hot tub, animals along the corridors that are native to the area in glass boxes with all their scientific information to learn. They have the Hearthstone eating area, then the massive Walters Dining Room where the Buffet style breakfast is served.
Hearthstone has soups, sandwiches, ribs, Salmon, steak, risotto, mac and cheese along with several other selections of burgers. It is the convenient option for sure, as any other eatery is about a 15-20 minute walk into the heart of Jasper where you will also have to fight for parking spots (even early in the morning).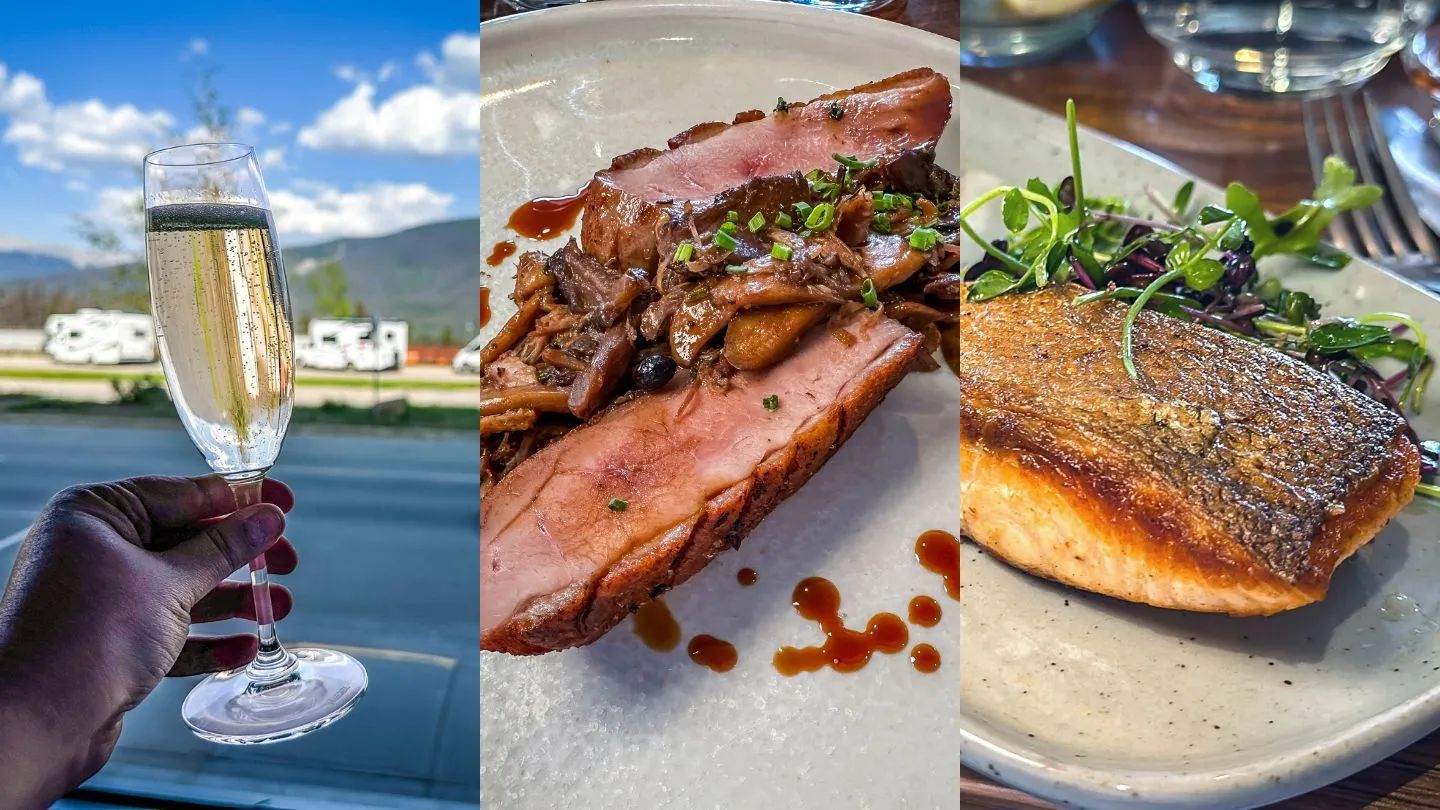 Terra In Jasper (Don't Miss This One)
You will want to eat here before it becomes a Michelin Star Restaurant (I'm not kidding it is an experience to dine here). From the lights that look like eggs inside a birds nest, to the open windows that makes you feel like you are dining in the middle of a field, to the creative chef and bar tender you don't want to miss this place.
I've dined at restaurants around the world, you can tell when a chef puts his heart and soul and story into a dish and that is what Shane does. The food is locally sourced, farmed and foraged - with the menu changing with the seasons and utilizing the surrounding first nations from Canada as a resource for the best ingredients. It is also providing income to them, and is continually refining the process of salting, smoking, farming fermenting to be as sustainable as possible. They purchase the best machines to decrease power, and are continually training, teaching their staff to improve their dishes, knowledge and inspire creativity.
It is a perfect mixture of rugged meats refinement, even with the adult beverages. The head bar tender came by, asked us each what we liked to drink, gave us suggestions and then tweaked it where he could to make it the perfect concoction of delight.
By the end of the meal we all had to let out a belt loop and had to let the beverages work their way through til we were able to walk back to our hotel. I truly cannot wait to see where this restaurant and chef go, I have a really good feeling about this restaurants future so get in while you still can and the prices are still affordable. Dining at Terra right now will feeling you bougie but on a budget.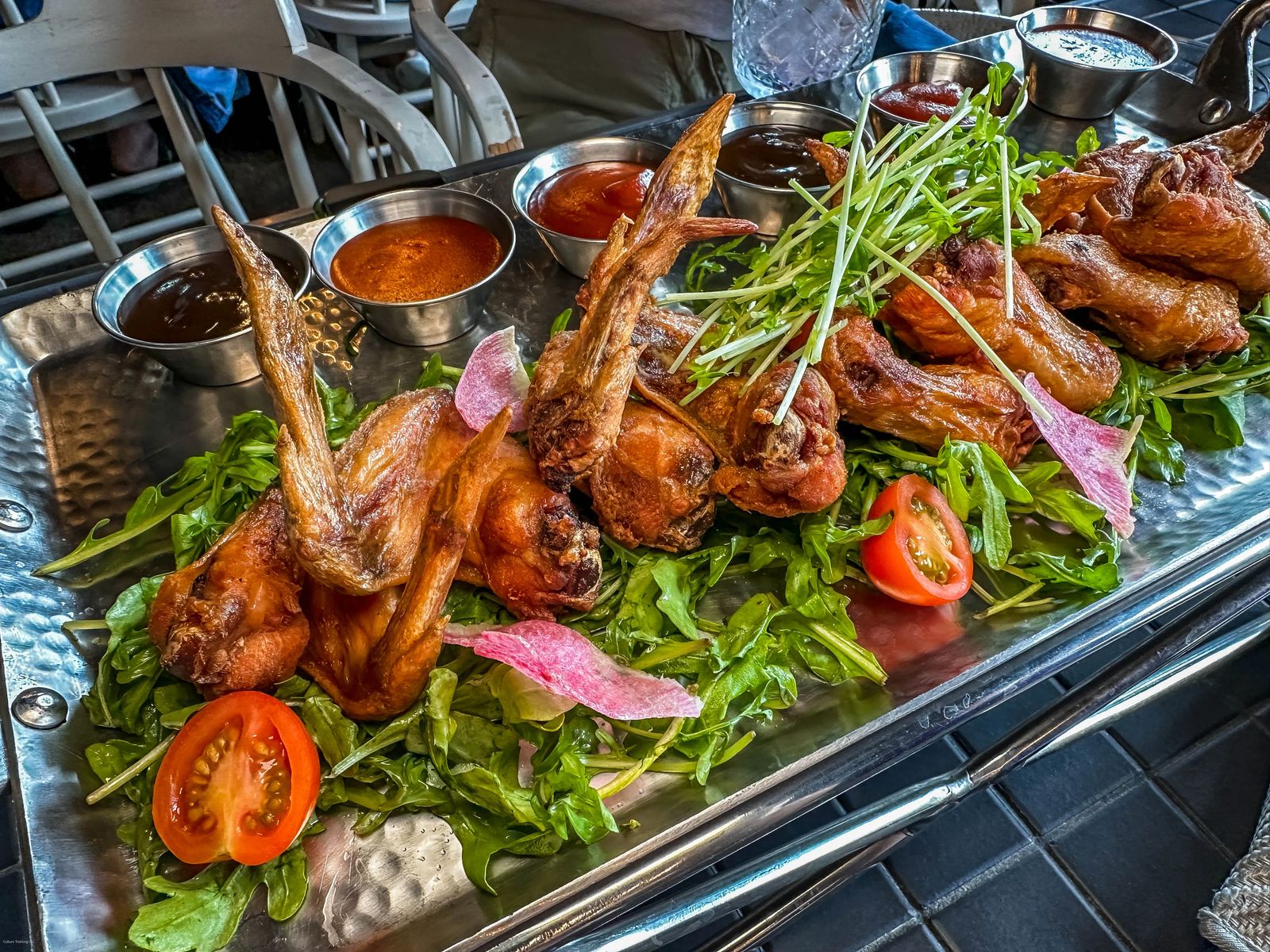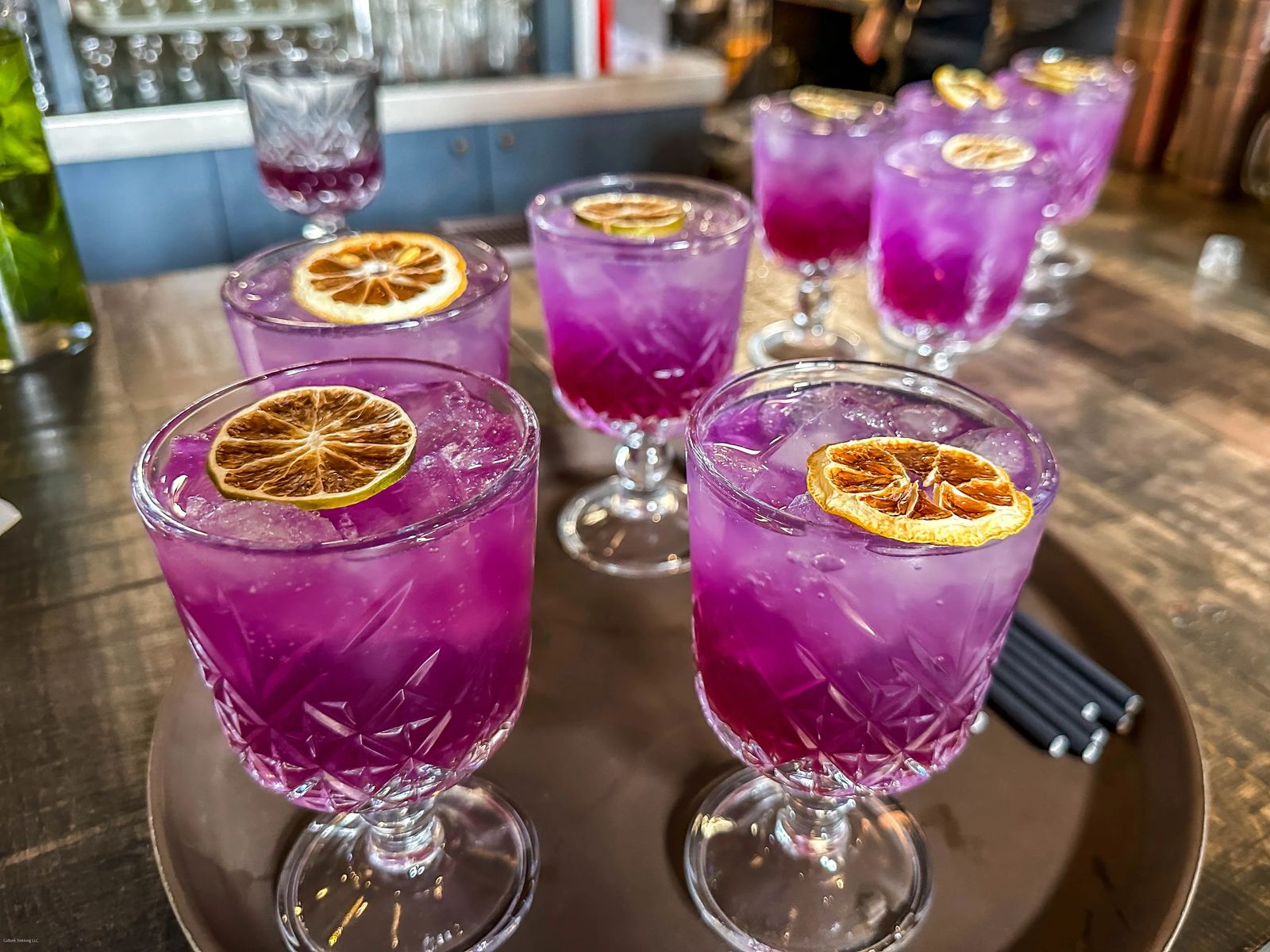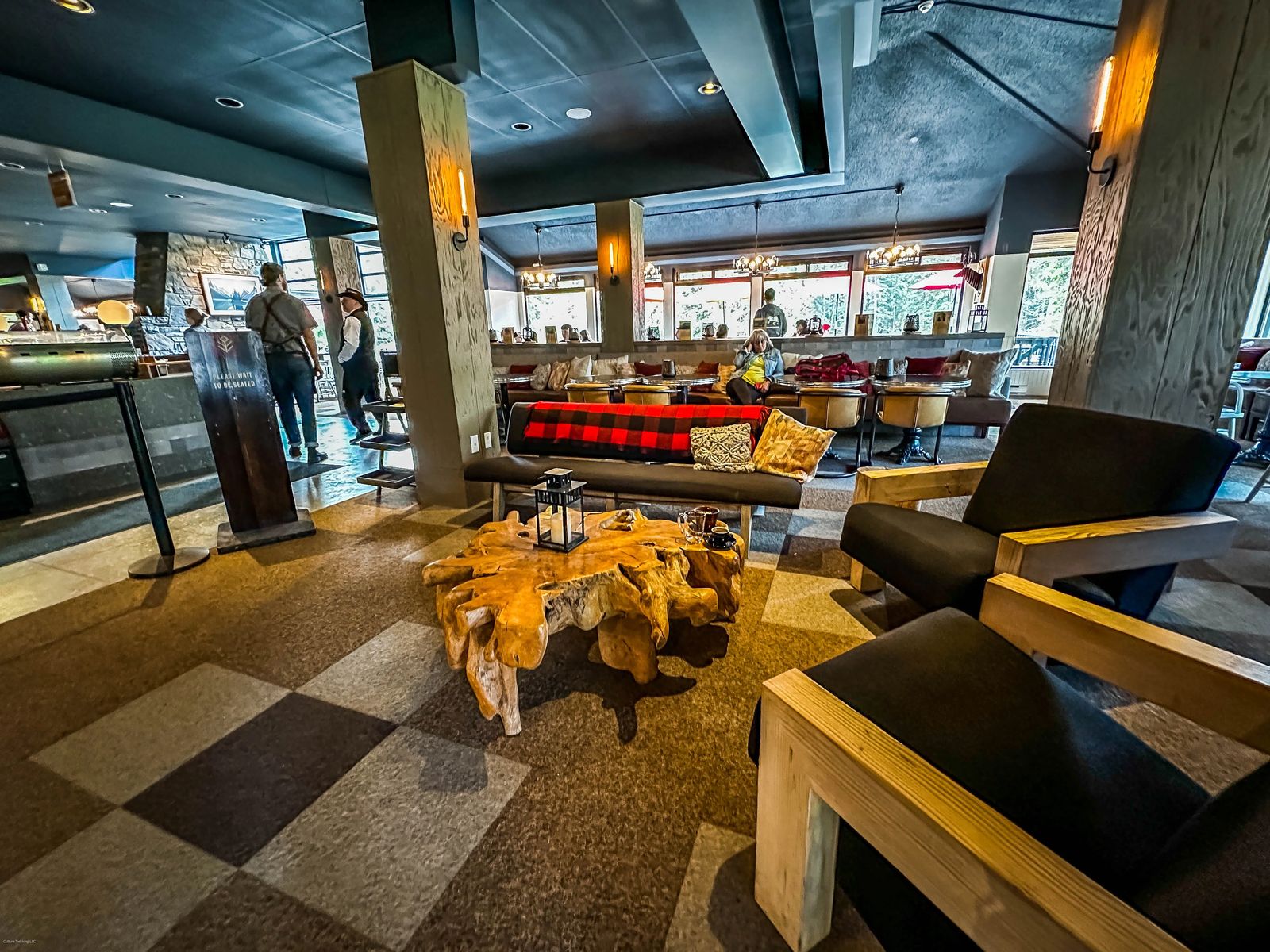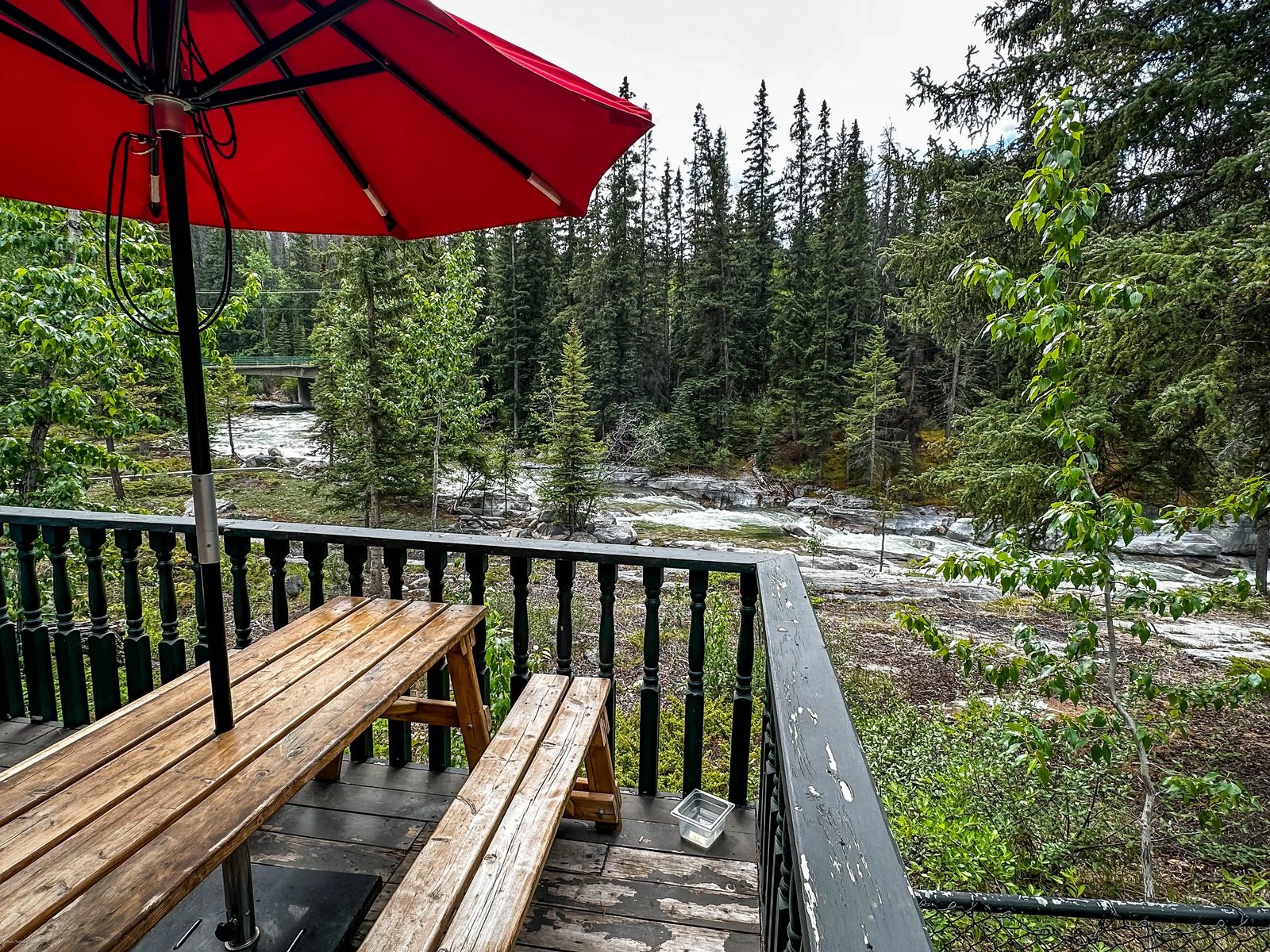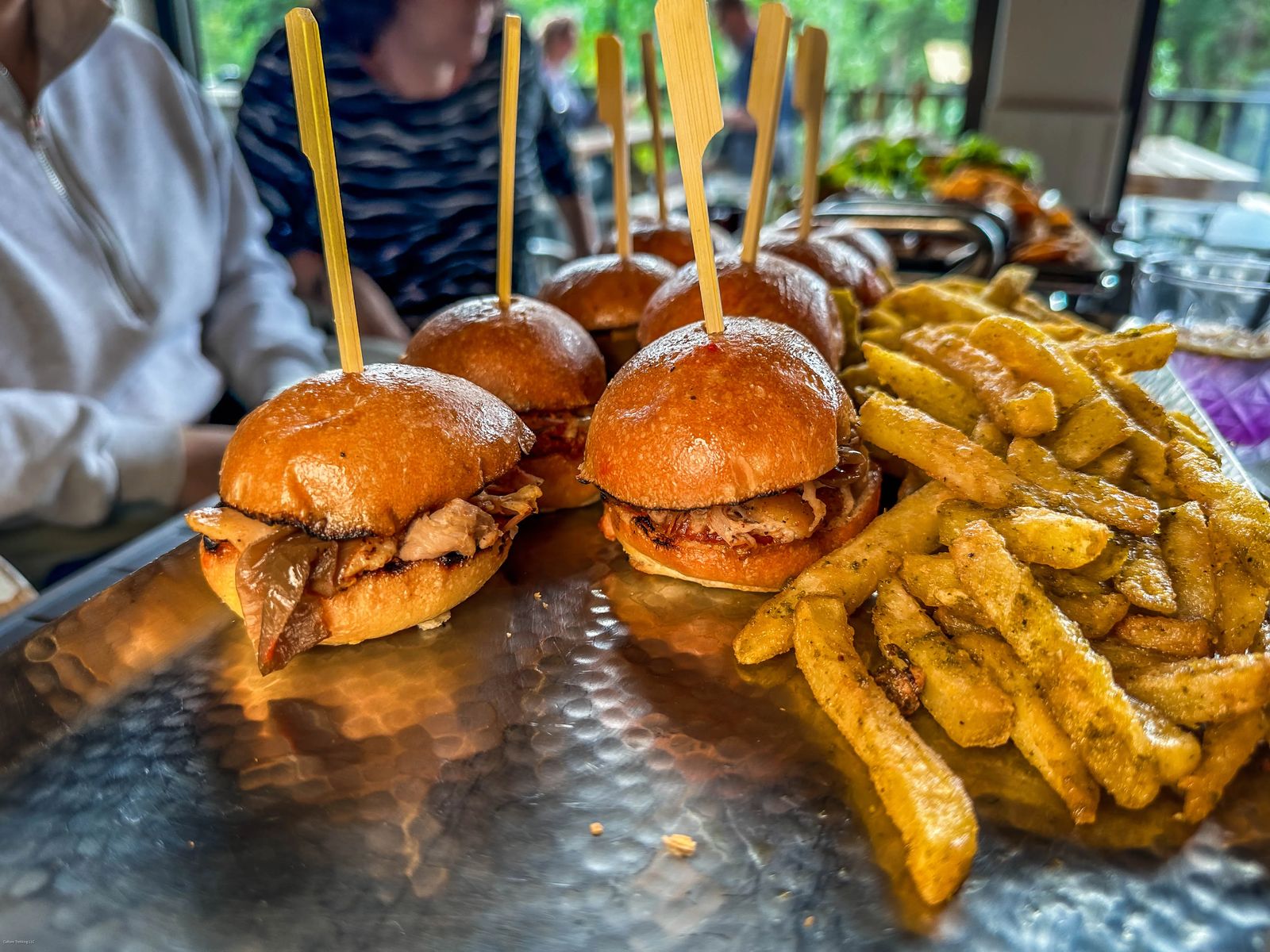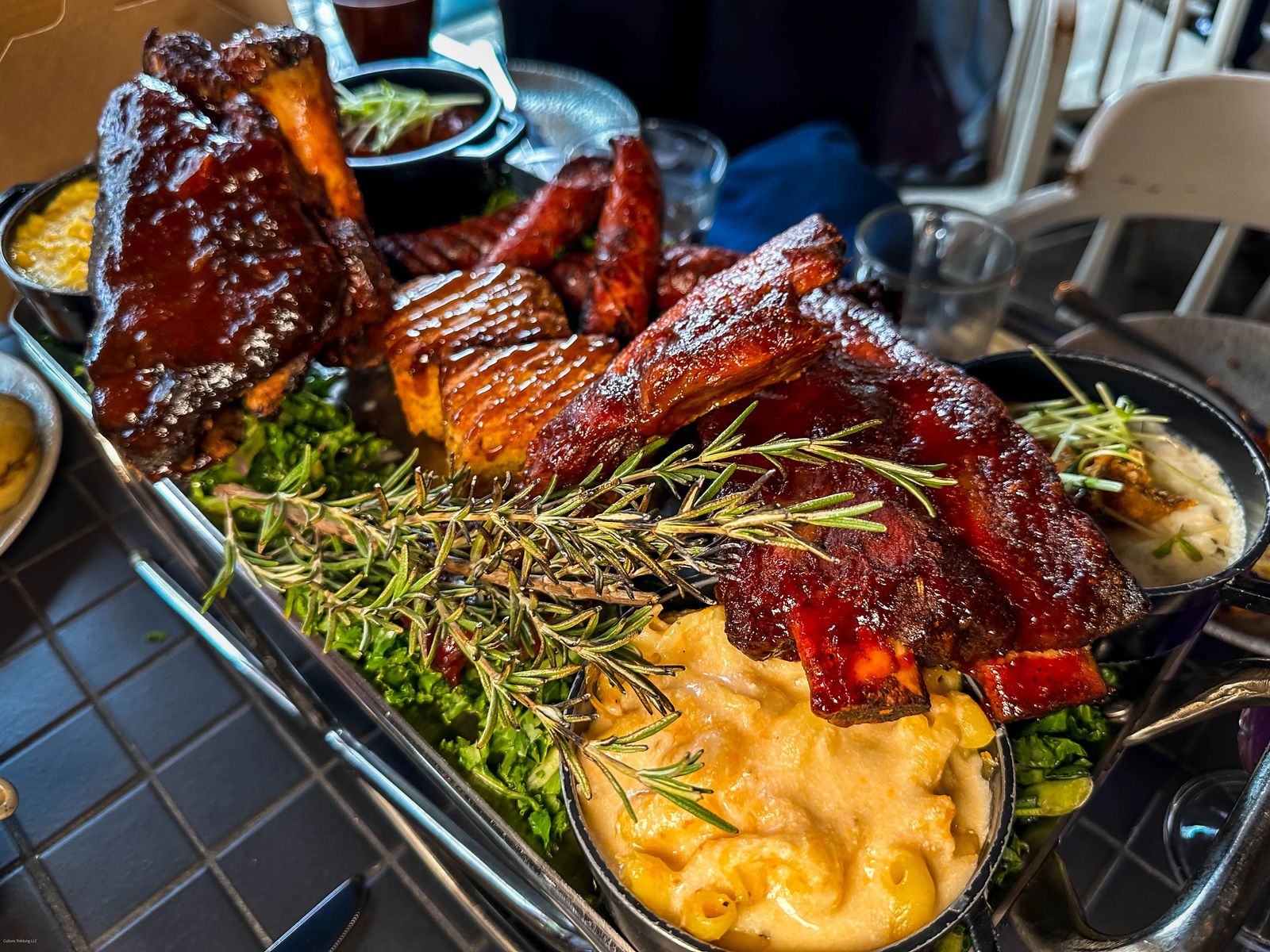 Maligne Canyon Wilderness Kitchen
The BBQ smell wafting up from this place is absolutely DIVINE! Unfortunately, I'm allergic to bell peppers and paprika..... which most BBQ sauces have either one or the other. I wasn't able to each much but what I could eat was so delicious. A perfect combination of sweet and savory, with the smoky flavors infused into the meats that were cooked to perfection and not too dry.
There was a decent selection of both mocktails and cocktails here, with my favorite butterfly pea flower drink that when combined with other magical drinks it changes color from a pink to a beautiful purple color!
What I had was the Valley Lemonade (Butterfly pea flower lemonade mocktail), Chill out (Strawberry, Jasmin and Lemon Mocktail), double smoked chicken wings, smoked and fried Oyster mushrooms, sweet potatoes, onion, hummus and aioli.
There is a really cute souvenir shop attached to this restaurant that had some great books on the pioneers of Canada, First Nation recipes and legends, maps and photo books, sweaters, t-shirts and memorabilia that was a tad expensive but also loads of travel friendly treats you could take back to your family.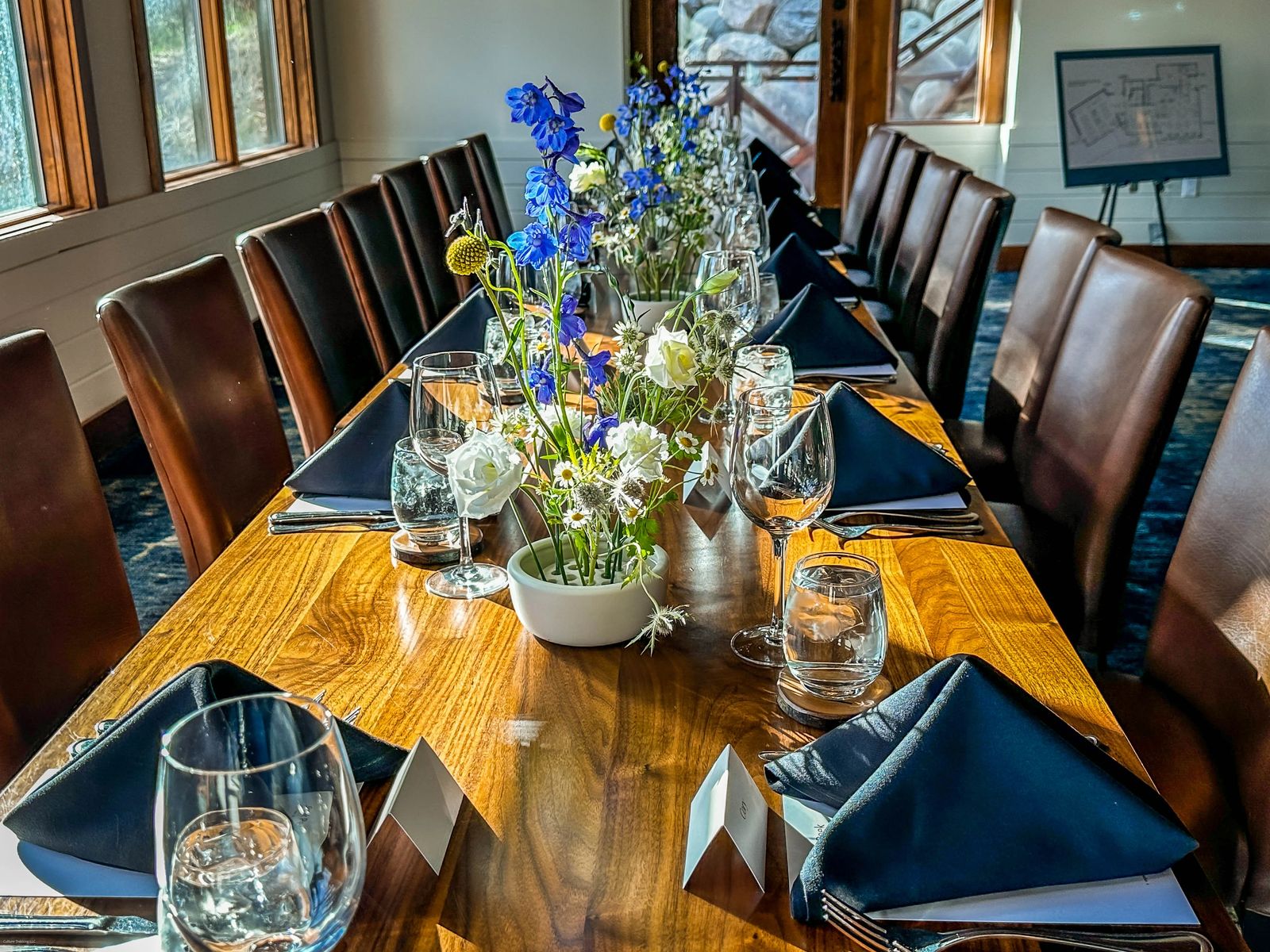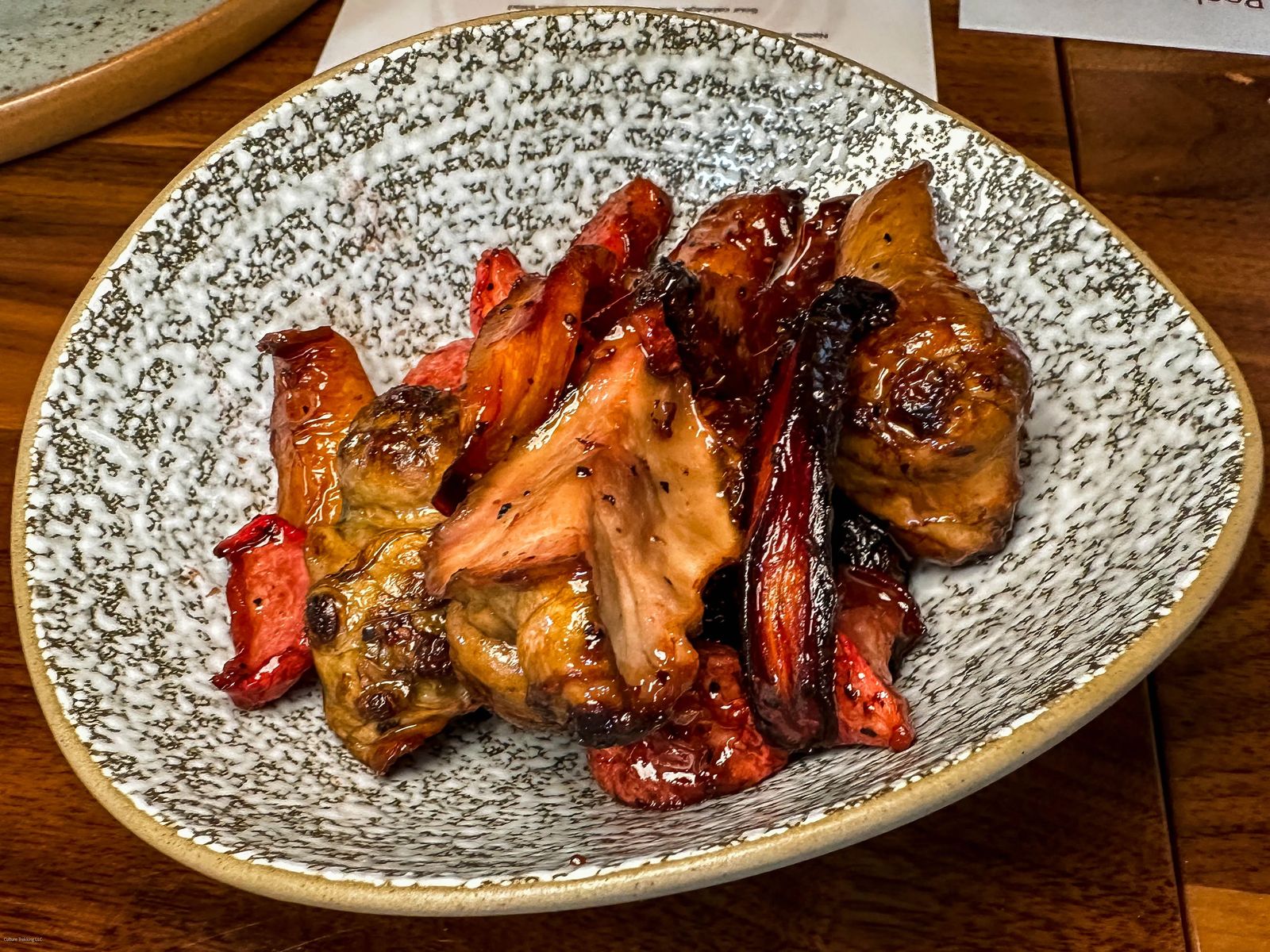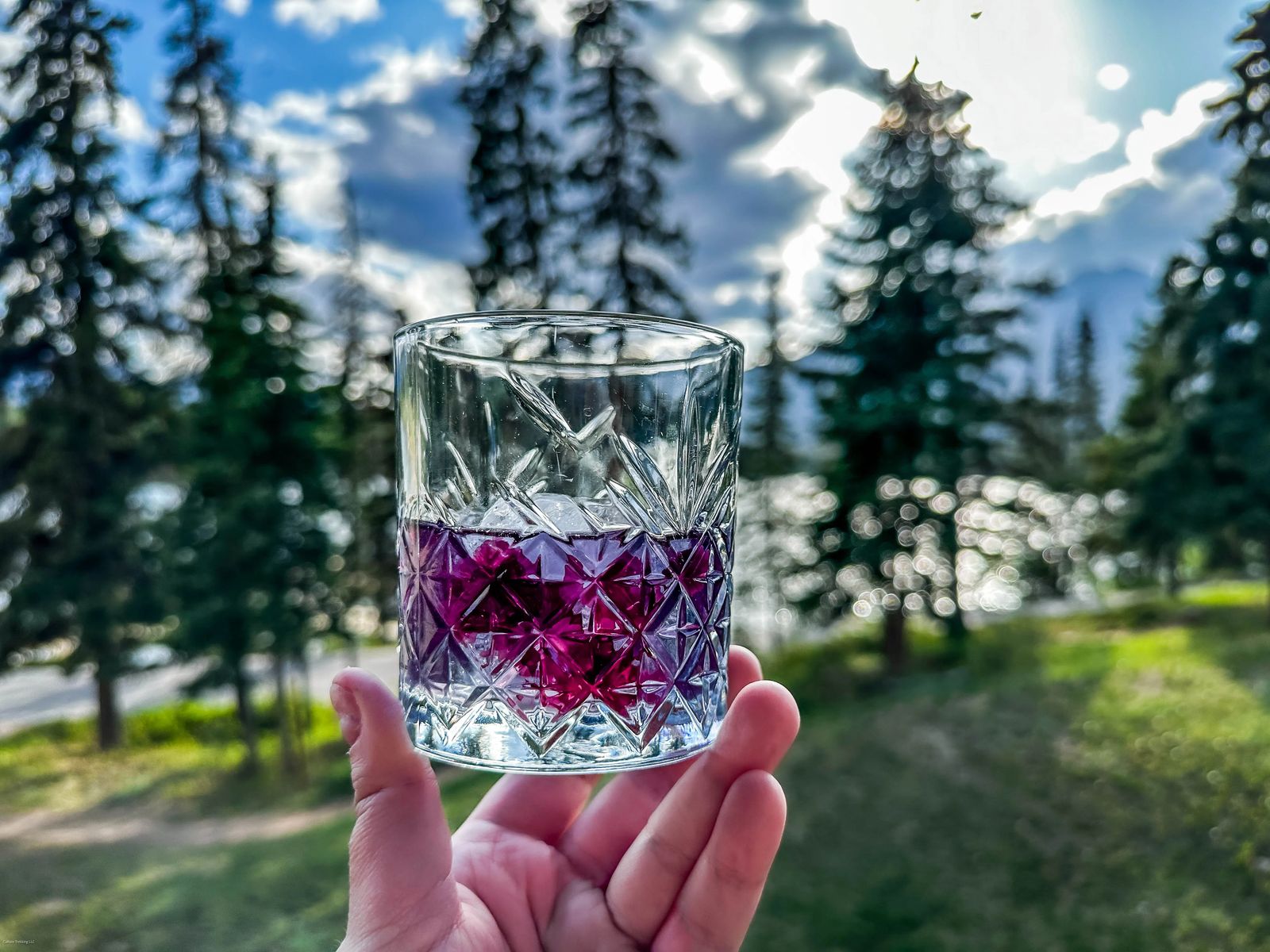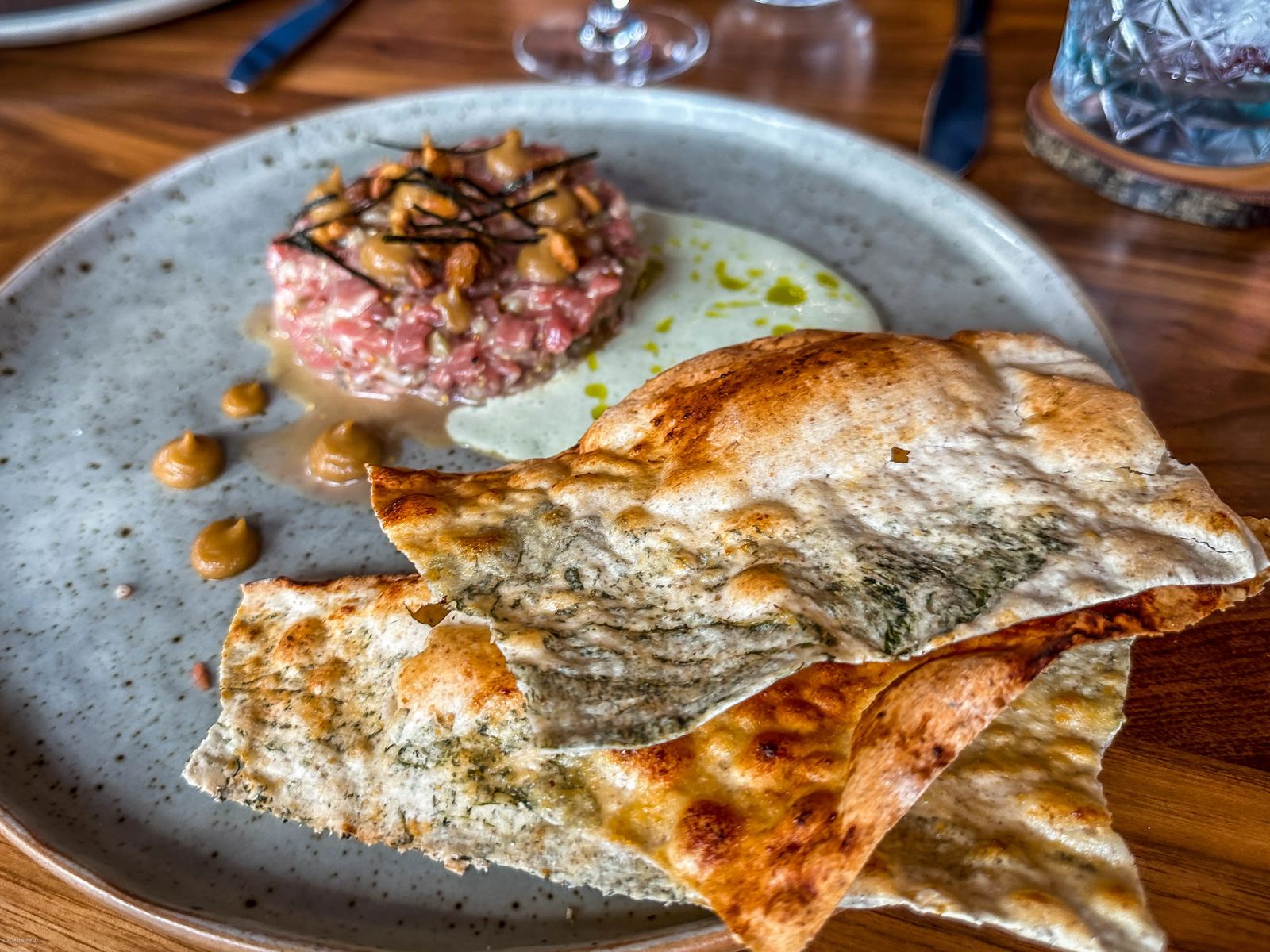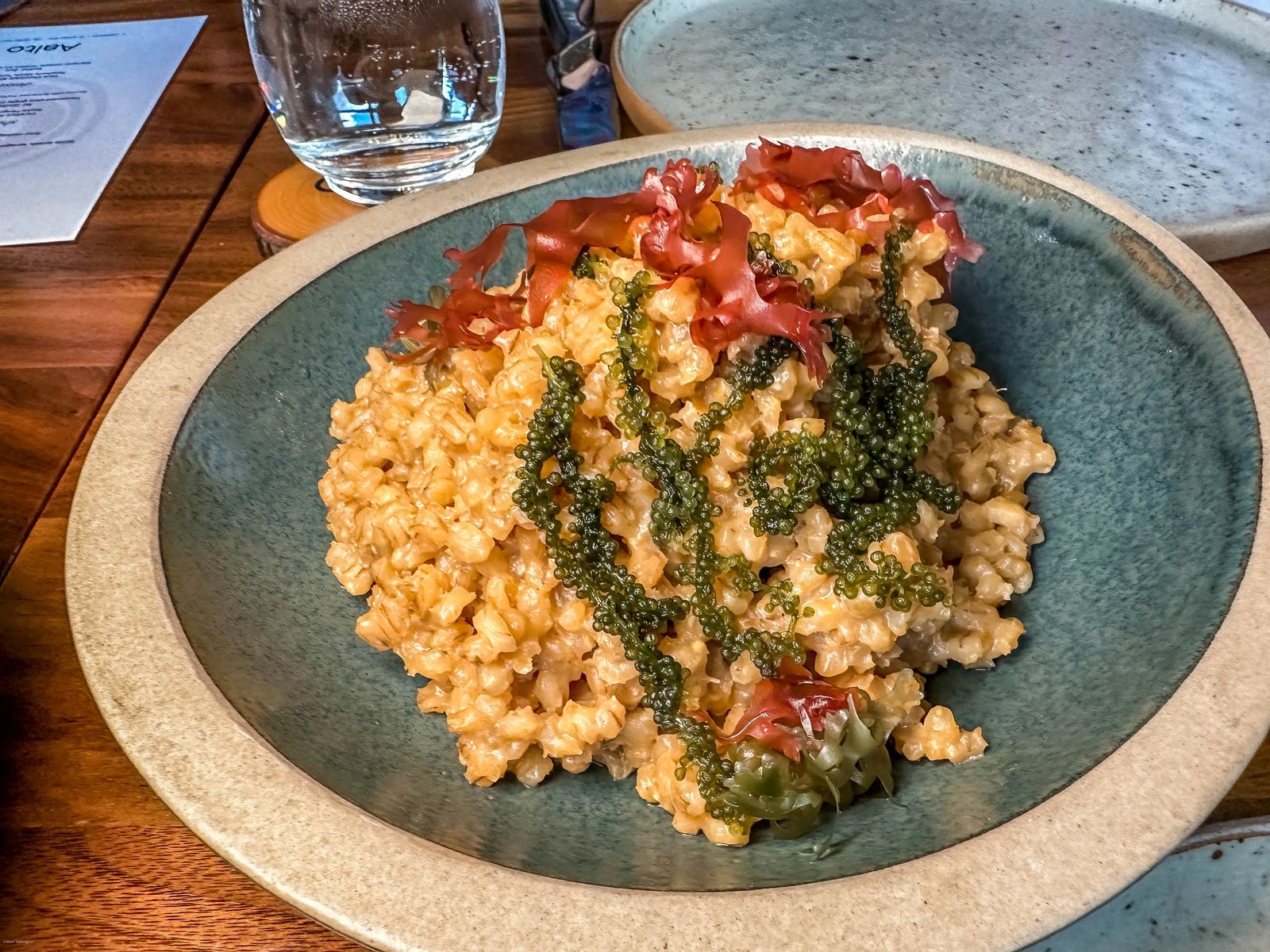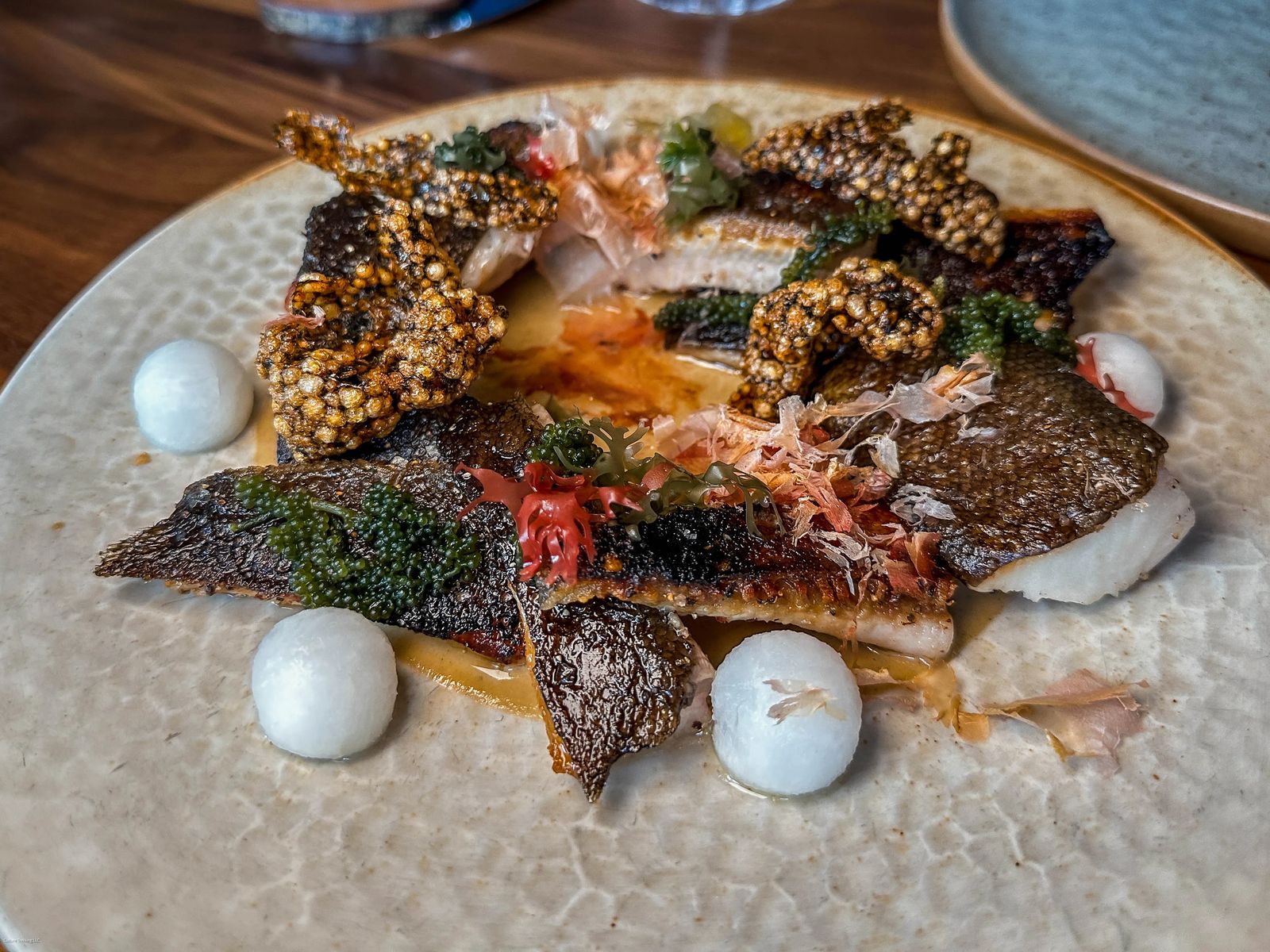 Aalto In Jasper
This newly opened restaurant is located just a 15 minute drive from downtown Jasper on the beautiful Pyramid Lake (see photo below). This is a restaurant where alpine meets shoreline, with locally sourced meats and ingredients that change seasonally. They have a grazing menu for those guest that choose to stay at Pyramid Lake Lodge, with 68 rooms and founders cabins that have private hot tubs attached.
The lake features Kayaks, lounge chairs, shoreline with spectacular reflective photo ops in the evening sunsets. While we were there, a grizzly bear and her two cubs showed up to see what the new smells wafting from the kitchen were all about. Luckily a game warden was there within 15 seconds scaring them off, I know it is disappointing to see them chased off so quickly, but honestly if it prevents an incident with a visitor that would result in the bear having to be put down, I would rather have them chased off.
Just like Terra, Chef Shane Rutledge also helps craft the menu here as well. Both Terra and Aalto are part of the Banff and Jasper Pursuit Collection, with big dreams of making them the best restaurant in Alberta (maybe even Canada) - each of their head bar tenders are on their way to becoming Sommeliers, and everyone is regularly trained for better service and team building experiences.
The kind of dishes you will find here will delight the senses as they are inspired by their Scandinavian friends. You will find the Landon Sea Platter with elk pastrami, house cured Grablax (salmon), nettle and seaweed lavage (cracker), pickled Dicon, smoked oysters, beet chips, dandelion jelly, Northern Divine Sturgeon caviar, wasabi peas, Cantonnier cheese (Gouda from Quebec).
Interestingly Dandelions aren't considered weeds in Canada, and you don't have to pull them out of your yard. They are also a delightful snack for Black Bears and if you keep your eyes peeled you can regularly see them snarfing down dandelions along the edge of the highway as you approach Jasper. Lest I digress on the amazing wildlife here - lets continue to salivate of the food at Aalto.
Our main dishes consisted of Sable fish from the Indigenous farms of British Colombia where the First Nations are in control of the entire process. There is huge portions of Arctic chard, and they use the skin of the fish in their dishes and cook it in such a way that the scales didn't even bother me (and I'm a huge texture person). The Omega oils are in the flesh of the fish anyway, and that helps with maintaining brain health as well.
Aalto is delectably delicious and the rooms to stay at the lodge are absolutely stunning. I cannot wait to return and really dive into the whole experience, and the lake as well ;)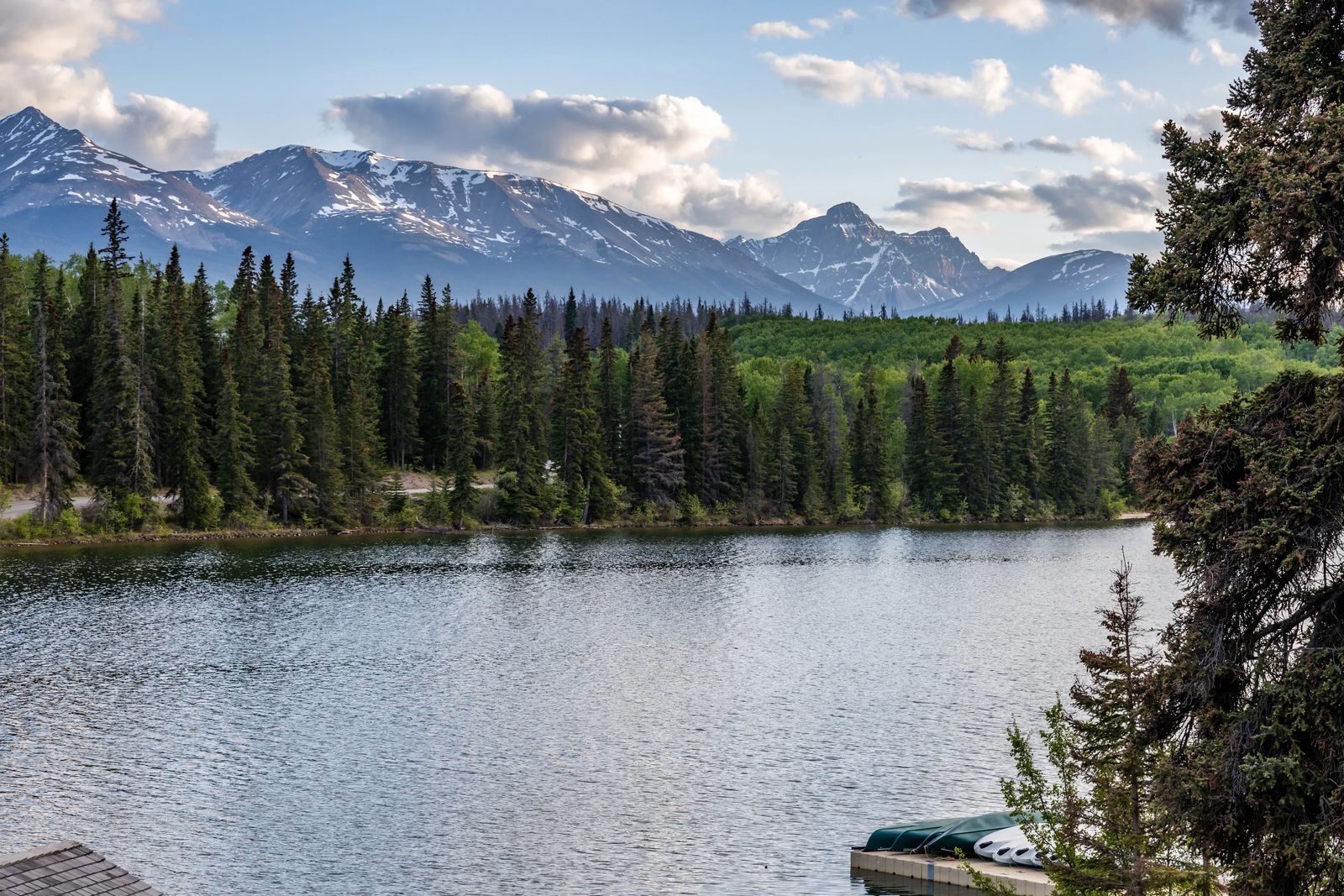 Other Local Recommendations For Banff
Make sure to check out my article on Things To Know Before Visiting Banff, and the detailed Three Day Itinerary For Banff and Jasper. I was able to talk to one of the locals that worked at the Hotel, he seemed seasoned and gave me some great recommendations for where to go in Banff for drinks, hang out some locals etc..
High Rollers has a steak and lobster for $49.99, Maple Leaf has some high end dinner service, Hello Sunshine has private Karaoke with private booths and such but they also have live bands. He mentioned St James Gate that has live bands and also is one of the few places that serves Guinness warm, so those cold spring, fall and winter evenings you can have a beer to warm you up. You can also go to Rosen Crown which also has live music above street level so you have really great views. Blue Bird is one of his favorite restaurants and really has some great seafood pasta.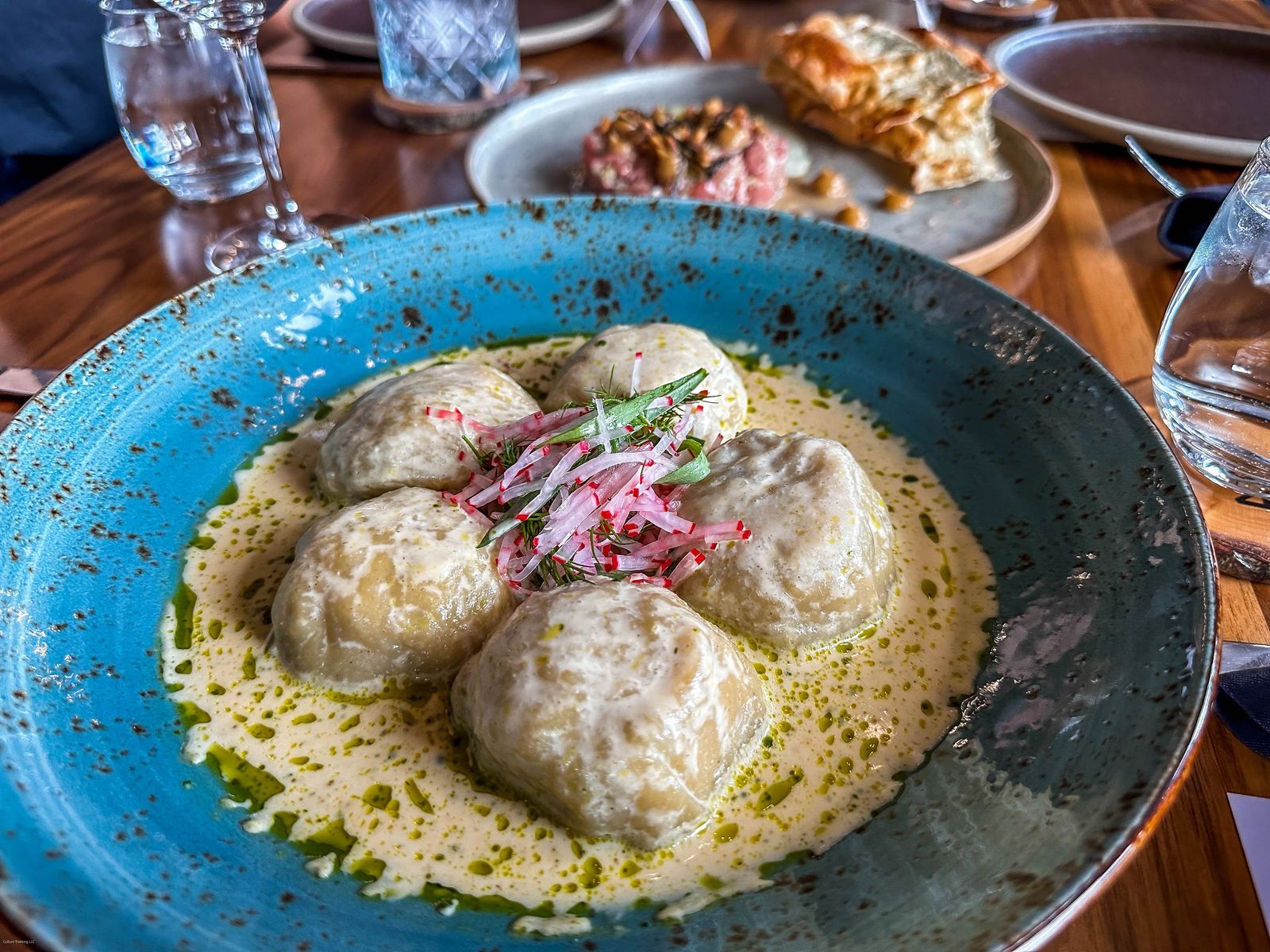 My Takeaway Of The Food In Banff And Jasper
If I'm completely honest, I didn't have high expectations for food in Banff and Jasper but MAN OH MAN did it far exceed my standards for flavor, presentation, creativity, setting and quality of service. I LOVED Terra, Maligne Wilderness Kitchen, and Aalto for dinner, the breakfast at Brazen was hearty and delicious as well.
Let me know in the comments down below which restaurant you are going to, or if you have any questions.
Book A Tour Of Banff And Jasper
Like it? Pin it for later! Sharing is caring ;)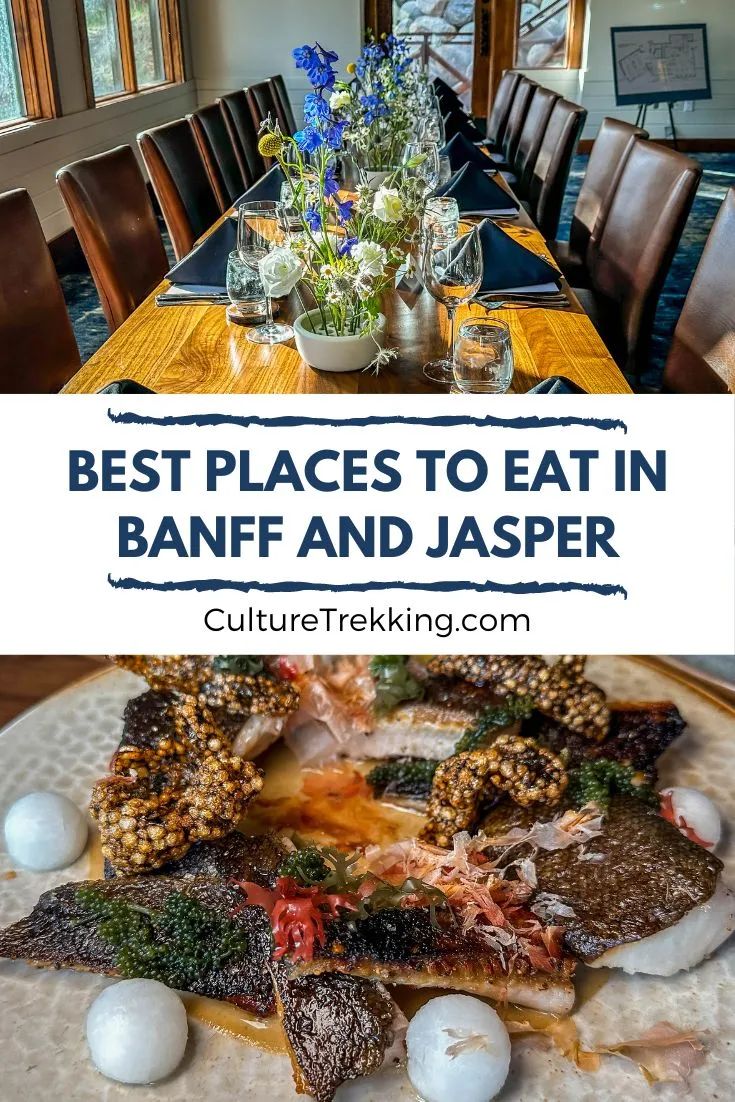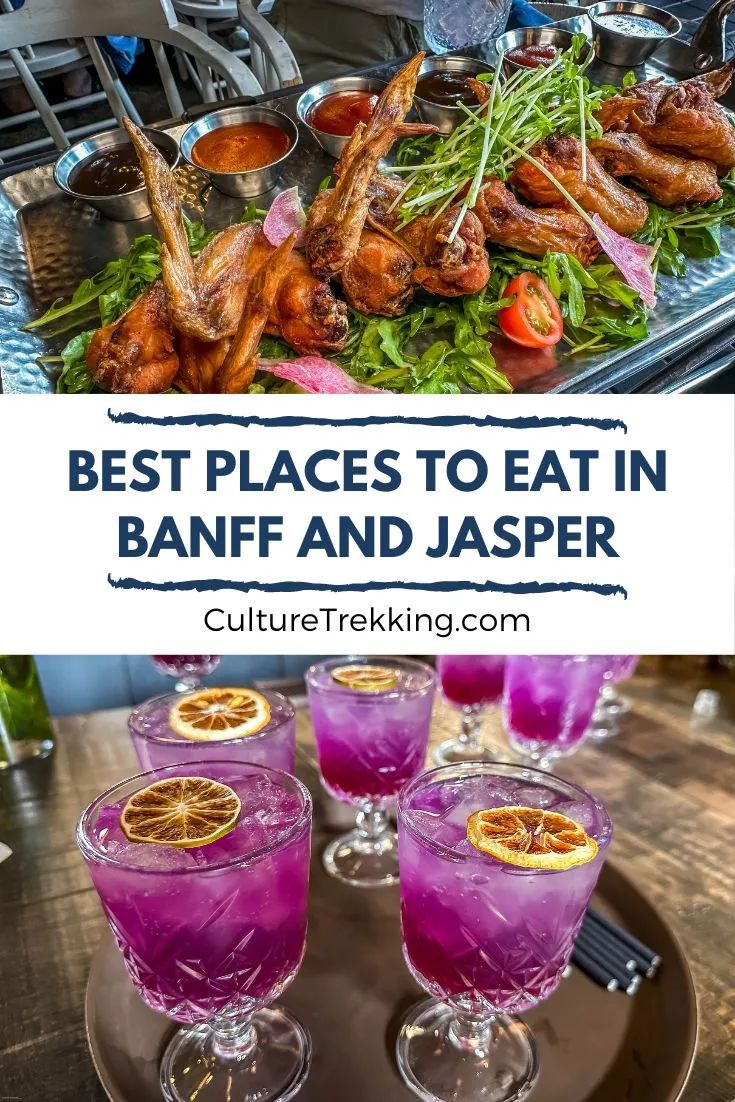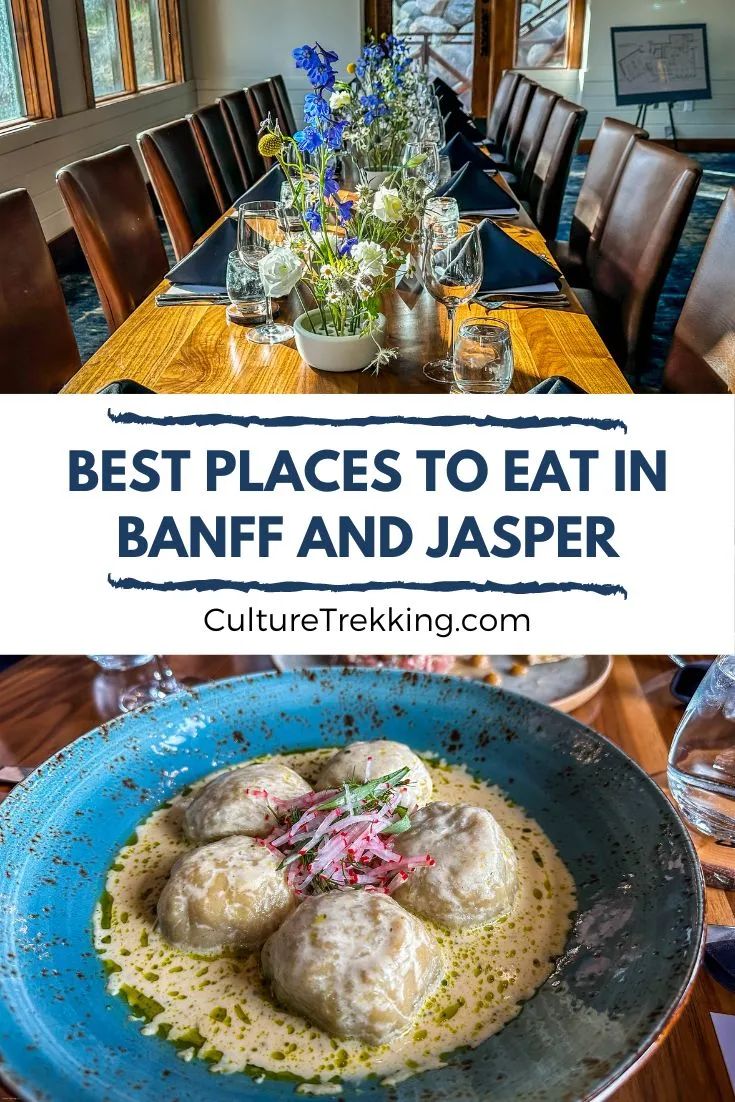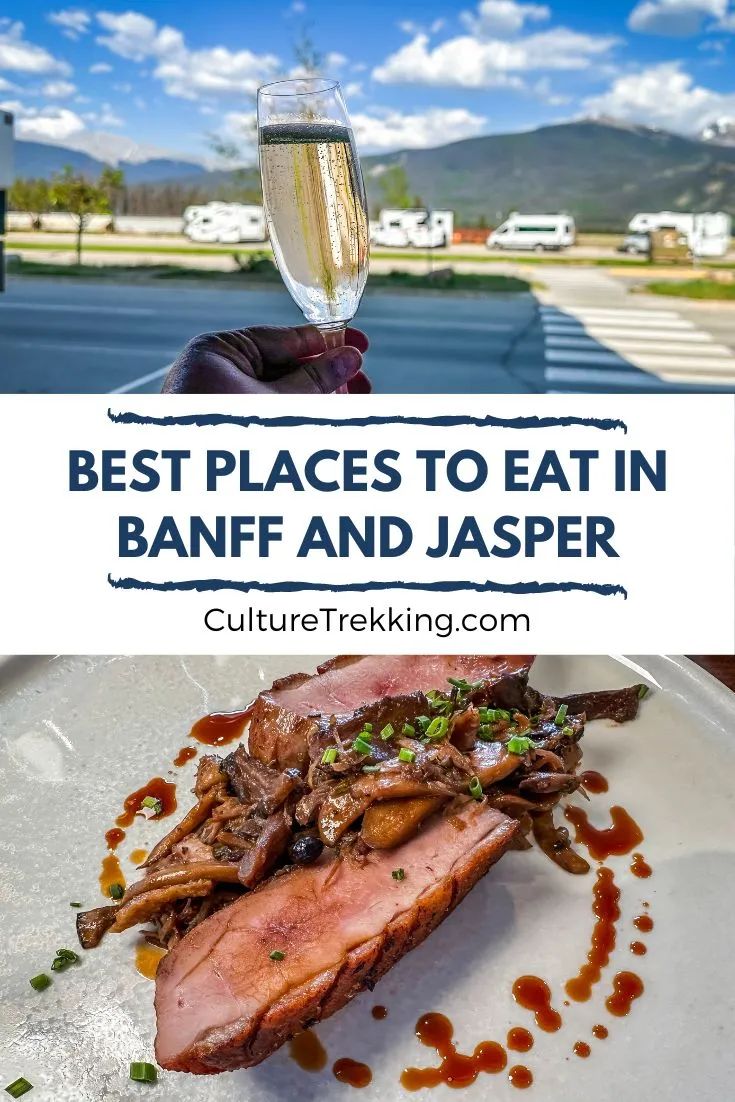 Latest Articles On Culture Trekking