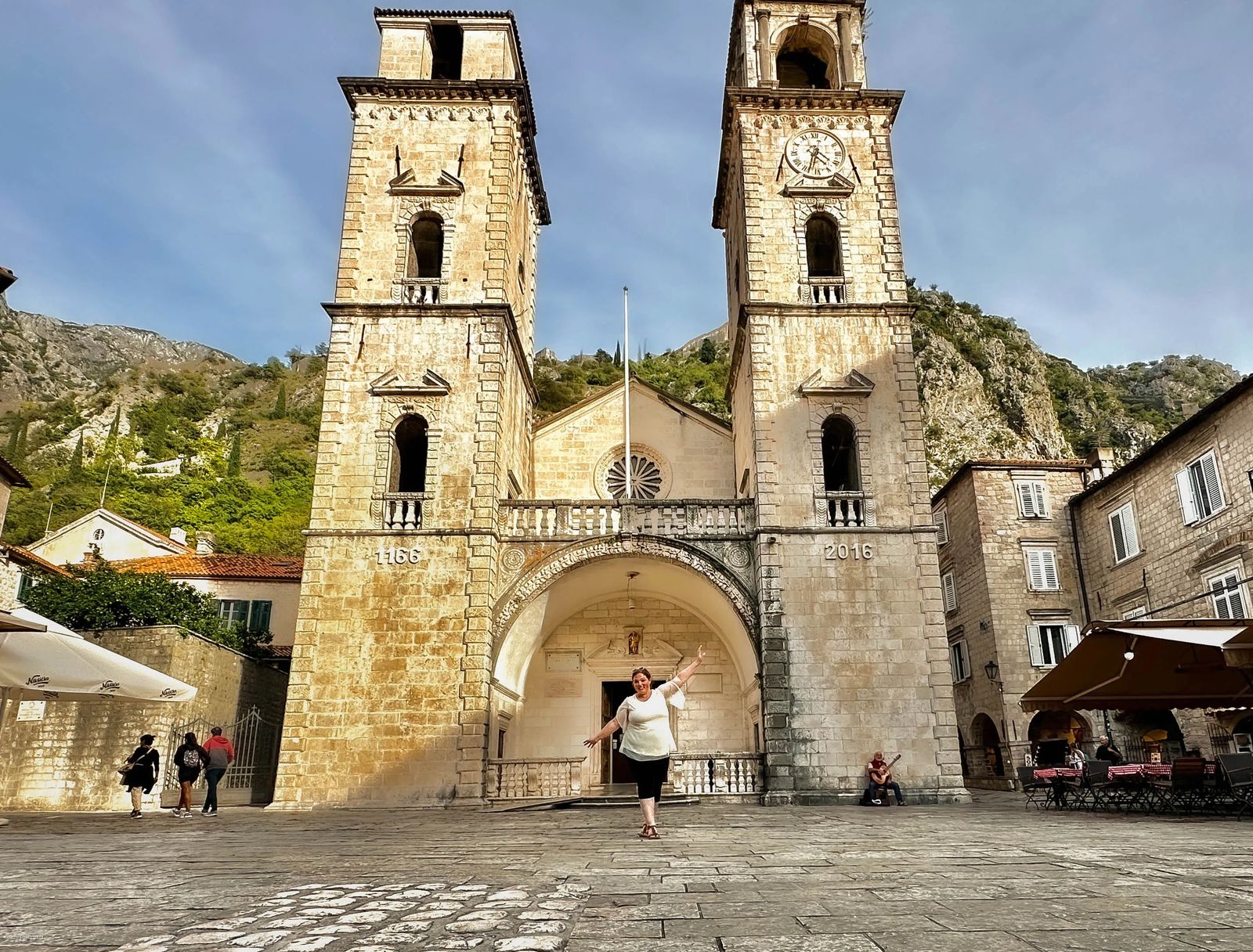 Things To See In Kotor Montenegro
Nestled within a serene inlet of salty waters from the Adriatic, the shores of Kotor beckon. Sheer cliffs adorned with winding stone walls stretch upwards, meeting the tall mountains and igniting the imagination with wonder at their awe-inspiring construction. Time-streaked white stone buildings bear testimony to the ravages of storms, while a rich history beckons you deeper with every step. Meander through narrow alleyways, discovering unique shops and ancient churches at every twist and turn. Welcome to Kotor, the stunning coastal town not far from Dubrovnik. Renowned as a UNESCO heritage site, it's a favorite port of call for numerous cruise ships during summer months. Dive into this article to uncover the top palaces, bastions, trails, churches, unusual museums, and essential things to see in Kotor, Montenegro.
Continue reading for invaluable traveler tips, recommended day trips, lessons from my own journey (including things I'd do differently), and savvy advice on saving money in this picturesque yet pricey town. My friends and I set foot here in October 2022, but we've refreshed this guide to offer you the latest insights, ensuring your Kotor experience is both memorable and hassle-free.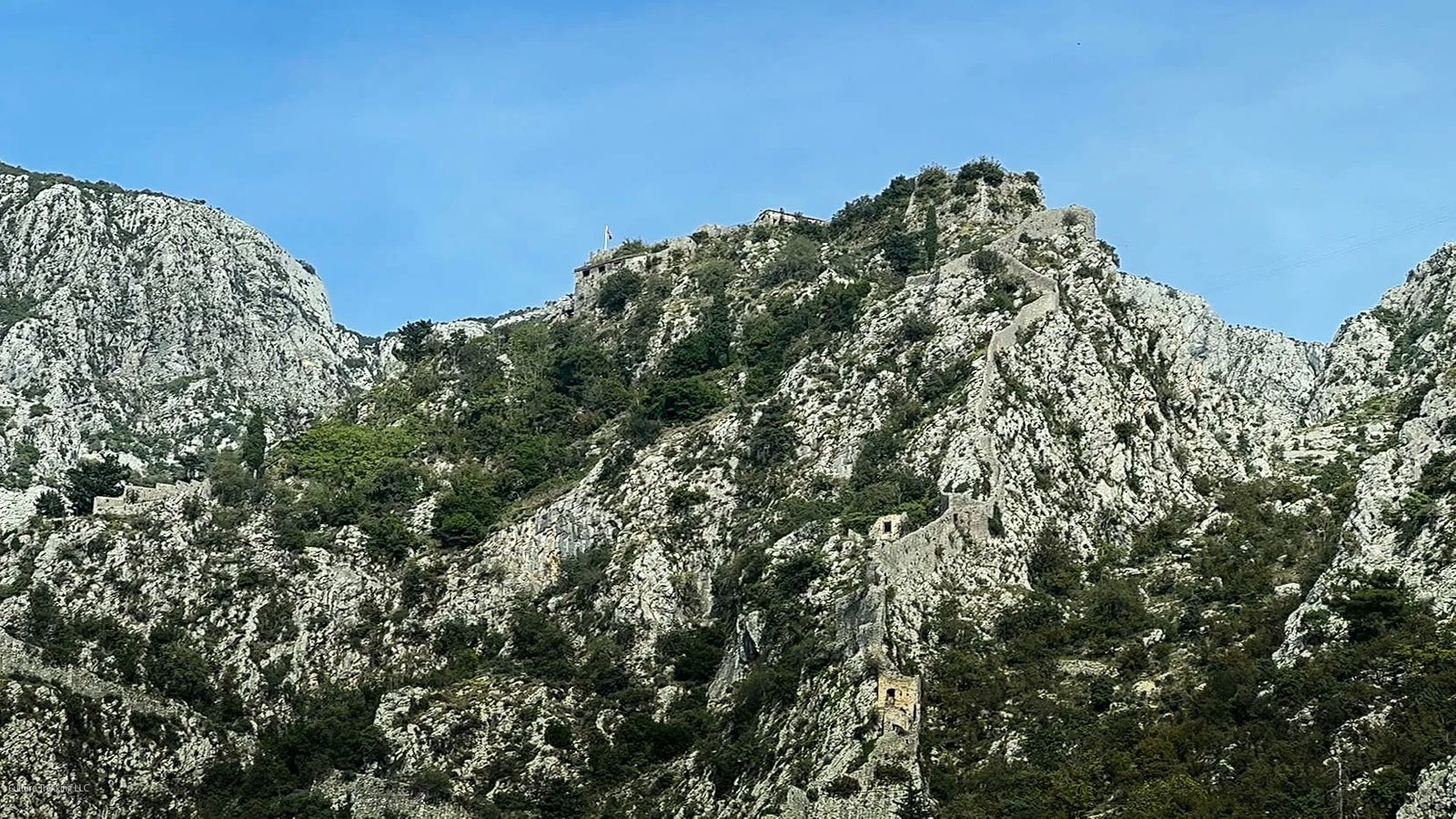 San Giovanni Fortress (St. John's Fortress)
As you approach the city, a stone wall stretching across the towering mountains beside the bay comes into view, evoking memories of the Scottish lochs. Nearing Kotor, the San Giovanni Fortress becomes visible, majestically standing 3,937 ft (1,200 m) above the town on St. John's hill.
Also known as St. John's Castle, this fortress dates back to the 6th Century, constructed under the reign of Emperor Justinian I. Over the years, nature has claimed parts of the castle, but it still showcases ramparts, towers, gates, bastions, forts, cisterns, and various military buildings. In 1979, this historical marvel earned a spot on the UNESCO World Heritage Sites list.
The ascent offers breathtaking views of the town and bay below, though be cautious as some steps might be unstable. With 1,350 stairs leading to the summit and no amenities like water or restrooms en route, it's essential to be prepared. Though Google mentions an 8 am to 8 pm operating time, there have been instances of the castle gates closing earlier. To ensure a full experience in the Balkans, aim to arrive about an hour post opening and at least 2-3 hours before the indicated closing time.
For summer visits, the morning offers the most comfortable climb since the sun remains hidden behind the mountains, providing shade. However, if you choose to visit during spring or winter, aim for the evening. The sunset casts a golden-hour glow, illuminating the town and bay in an ethereal light.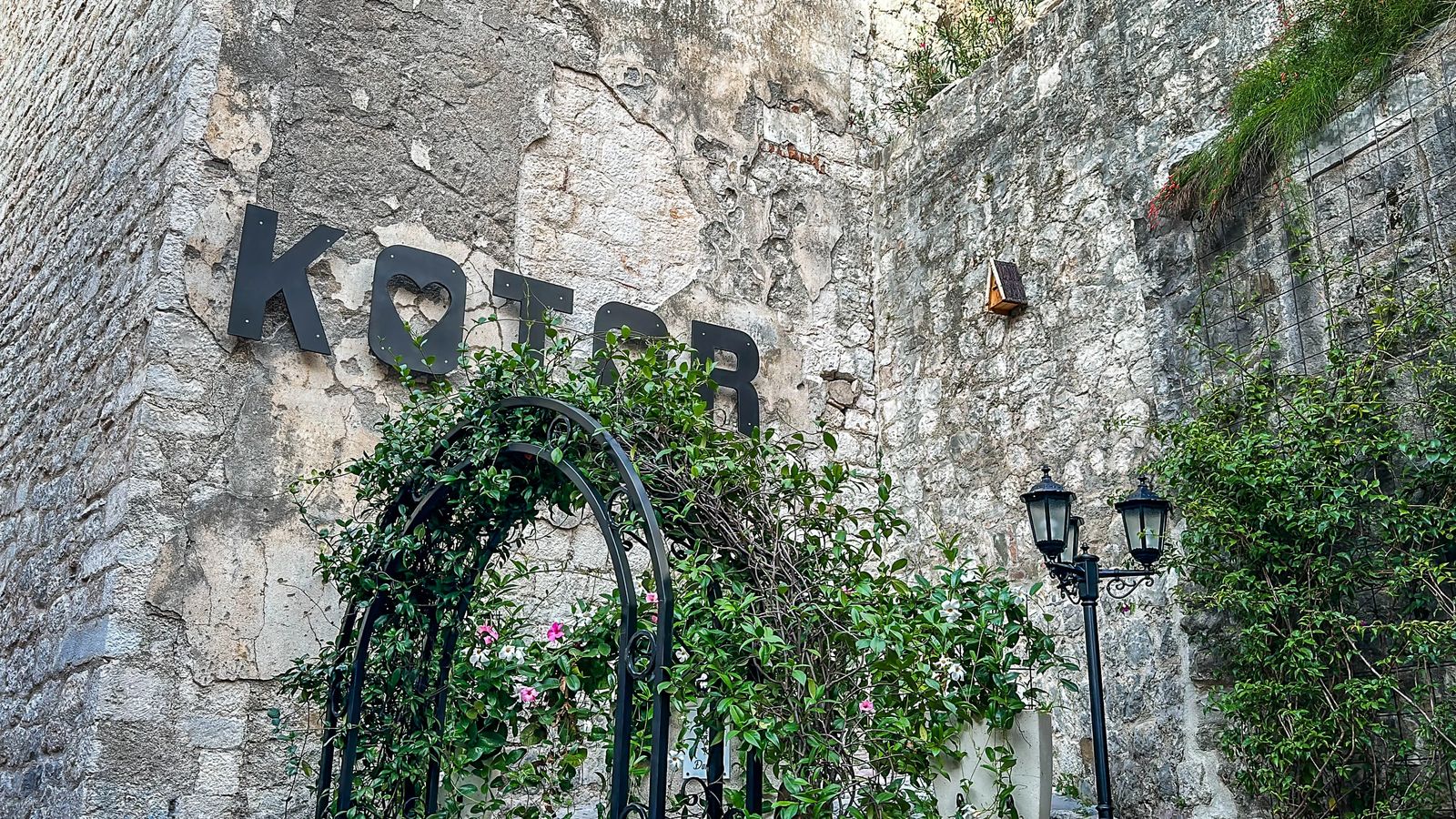 Old Town
The Old Town of Kotor dates back to the 1st century with the Romans and the 5th century when the Illyrians ruled the area. Today, it serves as a popular cruise port and a gateway to both Dubrovnik and many coastal towns along the Adriatic. To merely label the inlet a "bay" doesn't do it justice; while some refer to it as the southernmost fjord in Europe, it's technically a river canyon.
A Brief History of Kotor
During the Middle Ages, Emperor Justinian fortified the city, and it was regarded as one of the most influential towns in Dalmatia. Thanks to its proximity to the splendid Dubrovnik and its close political ties with the city, Kotor managed to retain a significant degree of its independence over the years. Venice dominated the region from the 13th to the 18th century, so a stroll through the town feels very much like stepping into a quaint Italian village.
The 19th century saw shifts in power, with influences from Napoleon, Italy, Britain, and eventually a return to the Habsburg Monarchy. During World War II, Italy annexed Kotor, and a large portion of the local population remains Roman Catholic to this day.
Kotor's rich history, its status as a vital trade city, and the myriad of influences from various powers over the years have earned it a designation as a UNESCO Site.
Things To See In Old Town Kotor
In the Old Town, notable sights include the WWII sign over the entrance that reads "What belongs to others, we don't want; what's ours, we don't give." Key attractions also encompass the Old Clock Tower, St. Tryphon's Cathedral, San Giovanni Fortress, the Municipal Building, the Venetian fortress of Kampana Tower, and the Maritime Museum, which celebrates the occupation that allowed the city to thrive for so many centuries. I'll delve into each of these in greater detail below.
While roaming the town, I found Google Maps to be exceptionally reliable, and I'd strongly suggest utilizing it. When you venture into the fortified section of the city, the lofty apartment structures and towers can make navigation somewhat challenging. However, as the evening draws to a close, it might even be wise to switch off the GPS. We found immense pleasure in meandering through the alleyways, deliberately losing our way. It was delightful to discover boutique shops, cafes, and observe the locals' daily life — essentially, watching them as they amusedly noted the tourists passing by.
If you have the opportunity to spend a night here, you'll be serenaded with live music, enjoy wine bars offering vistas of the bay, and experience a luminous cityscape. Walking through it, I constantly had to remind myself that I wasn't taking a romantic evening stroll through a medieval Italian town.
Festivals in Kotor
In the summer there is the Carnival held every year typically in May. You also can attend the Theatre for Children which is considered one of the most important to the town and to SouthEastern Europe.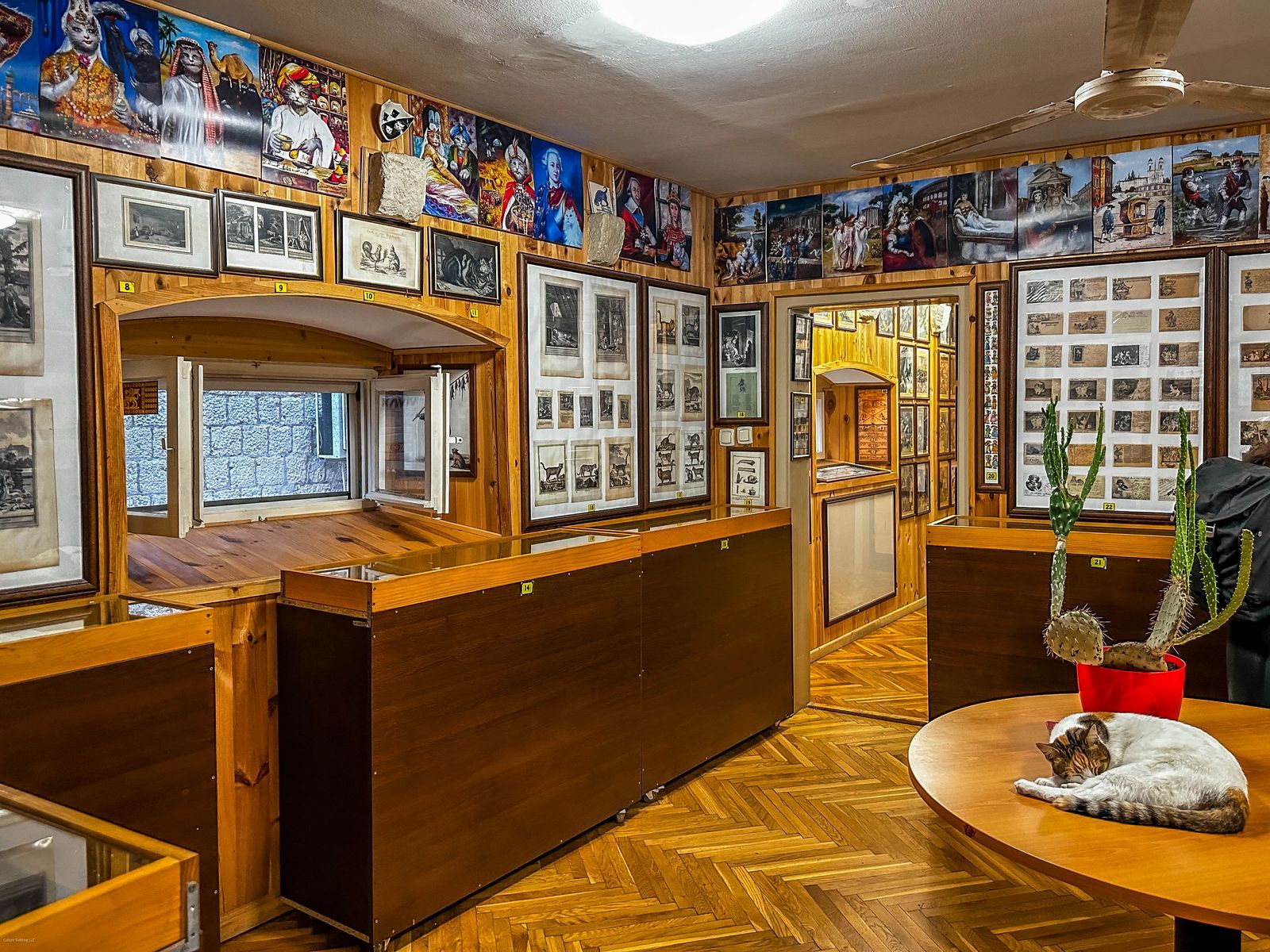 Cat Museum
The first thing you'll notice when strolling around town is the abundance of stray cats, many of which appear well-fed. The city seems to tolerate them as they help control rodent issues — and given the town's history with the Plague, it's a logical choice ;). Kotor's fondness for felines is so profound that there's even a museum dedicated to them!
Much of the museum showcases photos, paintings, and tales of cats from various epochs, all immortalized within its walls. Upon entering, you're greeted by walls festooned with photographs, magnets, and souvenirs featuring cats from every walk of life, class, and hue.
While I'm not much of a cat aficionado (sadly, I'm quite allergic), I found it utterly charming that the town dedicated an entire museum to these creatures. My travel companions constantly murmured things like, 'OMG! Janiel, look how adorable this is!', 'This one reminds me of my kitty back home; I have to get this,' and chuckled at the more whimsical displays. It's definitely worth a visit to appreciate the sheer creativity dedicated to all things feline.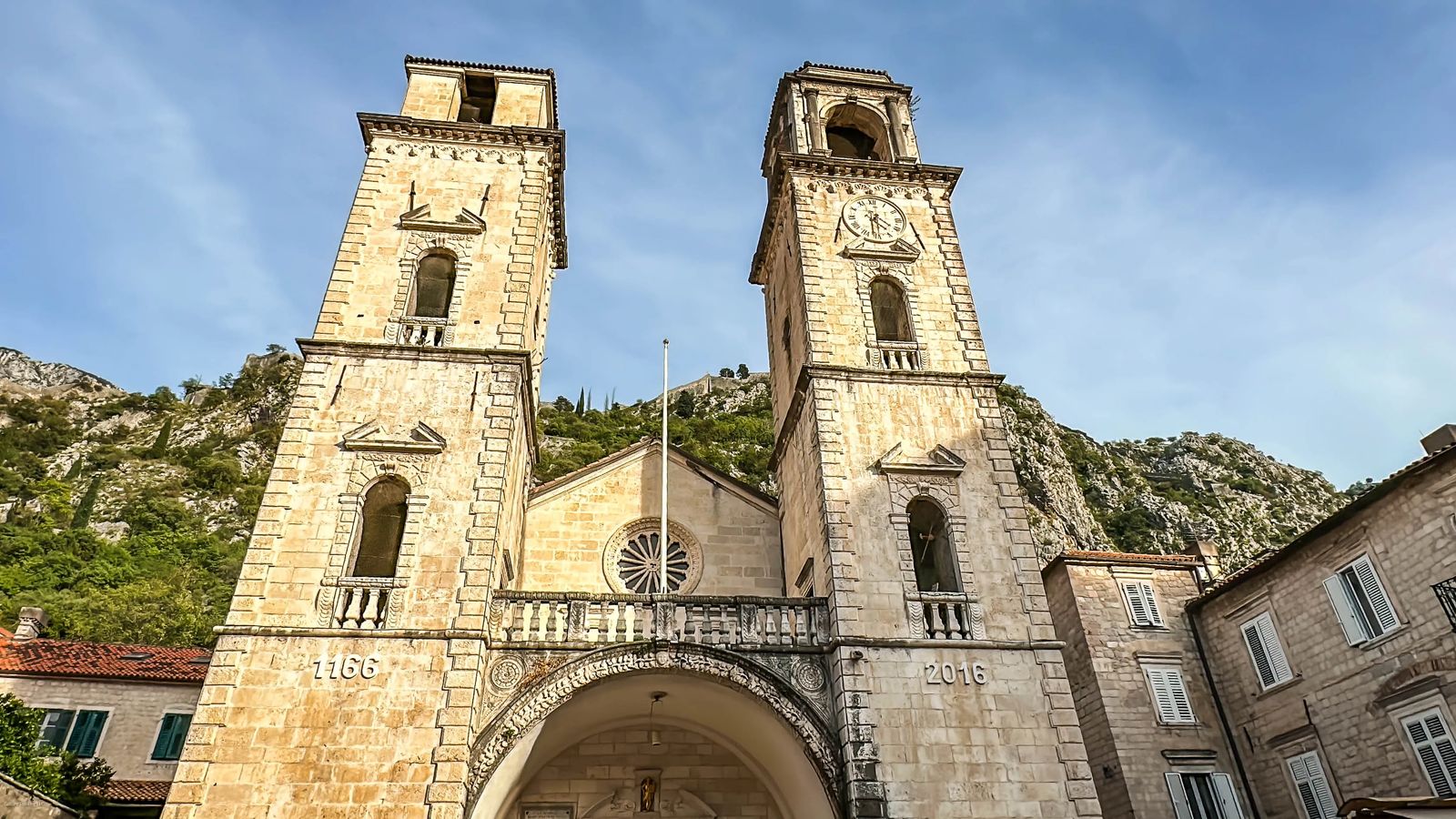 Kotor Cathedral = St. Tryphon's Cathedral
This 12th-century Roman Catholic Church stands at the heart of the town, and it's truly the city's hub – practically all roads and alleyways lead to this cathedral. Regrettably, we didn't manage to enter, as we neared the end of our 7-country, 1,500-mile Balkan road trip and had run out of cash. The attendants at the entrance informed us that the entrance fee for the cathedral was 10 Euros.
This surprised my friends since it was the first church we encountered that mandated an admission fee. So, if you decide to visit, ensure you have cash on hand. I suspect the fee helps fund repairs from the damages incurred during the earthquakes in 1667 and 1979. This might explain why one bell tower stands 6.5 ft shorter than the other; there possibly wasn't enough funding to complete it.
Instead, we settled for snapping photos in the square before it and enjoyed dinner at a nearby hotel café, watching the sun set behind the bell towers. The serene ambiance, with the church in the foreground and lush green mountains as a backdrop, was simply breathtaking.
This church ranks among the best-preserved medieval churches in the Mediterranean. It's dedicated to St. Tryphon, the patron saint and protector of the city. Inside, visitors can find Roman artifacts, a valuable cathedral treasury, and 14th-century frescoes.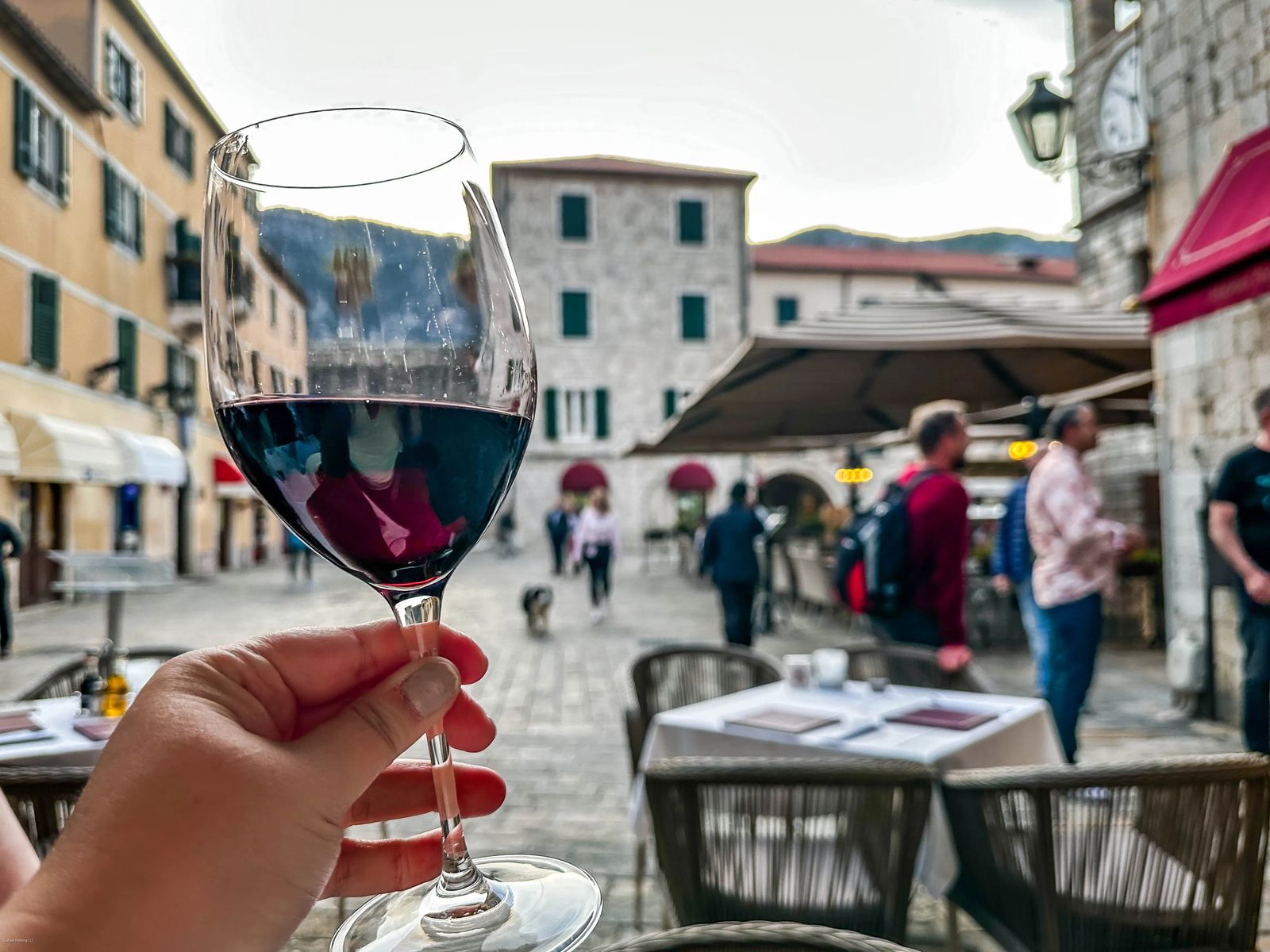 Trg od Oružja - The Arms Square
Located just beyond the Sea Gate (West Gate) lies the Arms Piazza with its medieval clock tower. As the name suggests, this square was where munitions and arms were produced and stored. The square is dominated by the magnificent Baroque Clock Tower, built in the Gothic style in the 17th century. If you observe the base of the clock tower, you'll notice a pillory, where prisoners were tied up and punished for their offenses.
Here, amid a romantic setting reminiscent of Dubrovnik, you'll discover numerous shops, bakeries, and cafes nestled among white stone buildings. The vibrantly hued structures are legacies of the Venetian rule.
The Rector's Palace in Kotor, similar to the one in Dubrovnik, served as both the residence for the town's 'governor' and its prison. Each noble family would assume this governing role in rotation for a month, and the appointed individual couldn't leave without permission until their tenure concluded. This arrangement ensured the jailer's presence when prisoners were held and someone was always available to take charge during sieges or natural disasters.
Do make a stop at Napoleon's Theatre, constructed in the 17th century and transformed into a theatre in 1810. As one of the first theatres in the Balkans, it later served as a town hall and now functions as the reception area for Hotel Cattaro.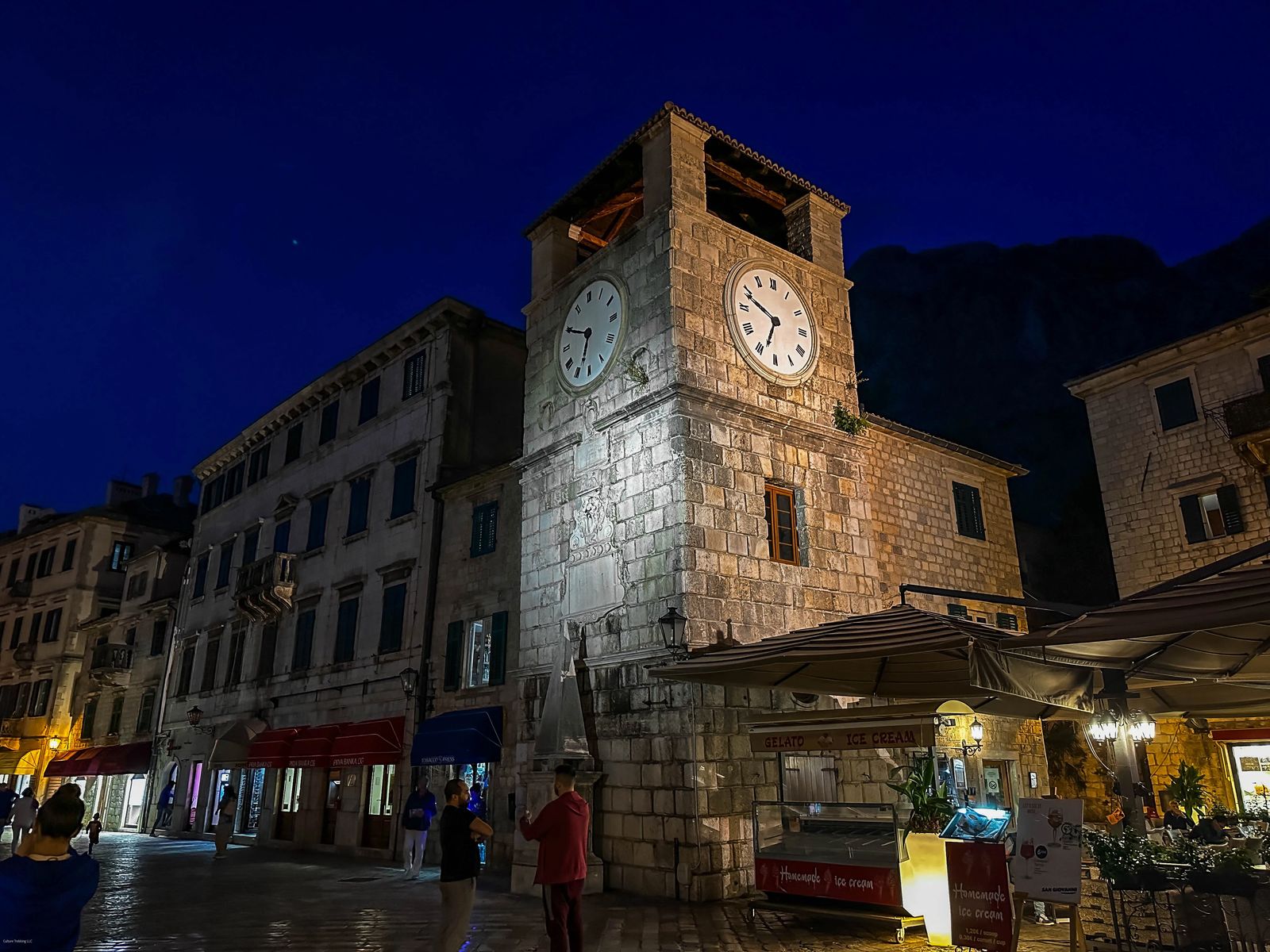 Palaces In Kotor
Close to the Arms Plaza, you'll spot a building adorned with green shutters: the Pima Palace. This Renaissance-style edifice from the 17th century boasts a balcony and its iconic green shutters. Above the main entrance, you can observe the Pima family's coat of arms, flanked by two angels. Today, the building houses a popular bar and the Gallery of Solidarity.
Directly across the street lies Buca Palace. Its exterior may seem plain, and due to weathering and the 1667 earthquake, the residence was devastated. Once the wealthiest and most influential, the Buca family lacked the funds for a full renovation and eventually sold their house to new owners who undertook a complete makeover.
Adjacent to the entrance of St. Ivan Fortress stands the Grgurina Palace. On its façade, you can spot an emblem from the 14th century, representing Kotor's pharmacy.
The elongated two-story building in Arms Square is the Prince's Palace. While it may not appear overly ornate, this is because extensive restoration was necessary following the 1979 earthquake. The ground floor is now occupied by various shops and eateries, which contributed to the building's renovation costs. At the far end of this structure, you'll notice a four-story tower, once utilized as a guard tower.
Located in the main town square, Bizanti Palace once served as the residence for the esteemed Bizanti family, with its most notable member being a city judge in the 11th century. Above the main entrance, you can identify the family's coat of arms. If you seek out the courtyard entrance of this palace, you'll gain a glimpse into typical medieval courtyards in this region, complete with stone staircases, romantic balconies, and a personal water well.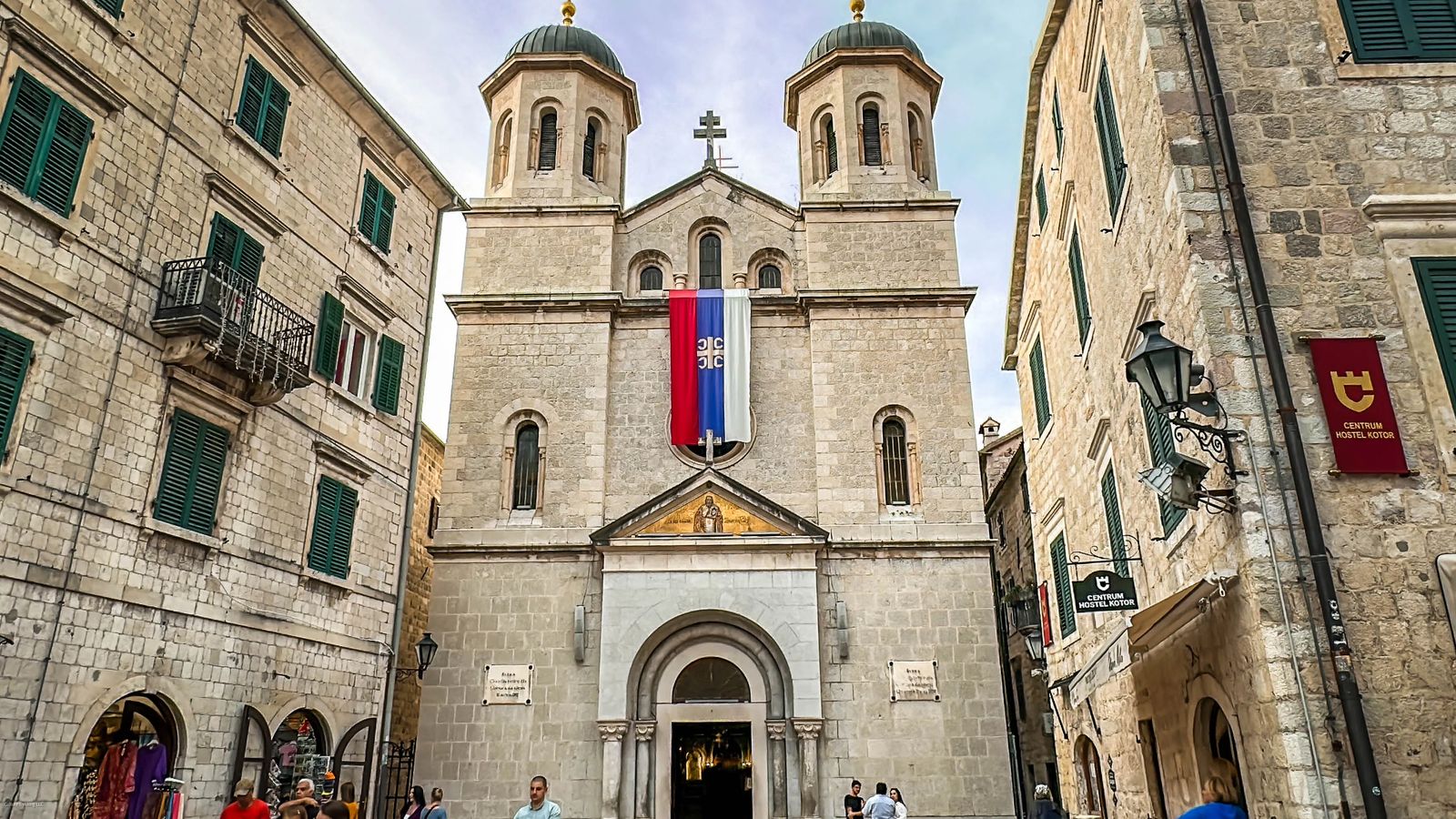 Churches In Kotor
Within the city walls of Kotor, it feels as if every corner hides a church. But which ones are worth exploring? I'll highlight a few of the prominent ones here to help you decide.
Sveti Nikola Church, or the Church of St. Nicholas, is a Serbian Orthodox structure built in the 19th century. Tragically, it burned down on Christmas Eve 1896, likely due to the many candles, and was subsequently rebuilt in the same design. Its interior boasts a vast wall adorned with ornate wood, gold-plated iconographies, and offers a serene ambiance for reflection or prayer. Recognizable by its two black domed bell towers, it's easy to confuse this church with the Cathedral of St. Tryphon. Situated in St. Luke's Square, you'll also find a splendid restaurant and nearby shops.
Sveti Luka, or the Church of St. Luke, dates back to the 12th century. Some of the original frescoes still grace its walls. Its façade, with an inbuilt bell at the top, evokes medieval imagery reminiscent of tales of knights and their round table. This Serbian Orthodox establishment showcases distinct Byzantine and Gothic architectural influences. Remarkably, it withstood the 1979 earthquake without damage and features both Catholic and Orthodox altars, symbolizing community peace.
St. Ana Church, built in the 12th century, is a relatively small, seemingly abandoned structure. Originally constructed as a private family chapel for the Sbutega clan, it nestles amidst overgrown trees on Vrmac hill, along the Prcanj medieval path leading to the old Sbutega Palace. Currently under restoration, it's intermittently accessible and requires caution upon entry.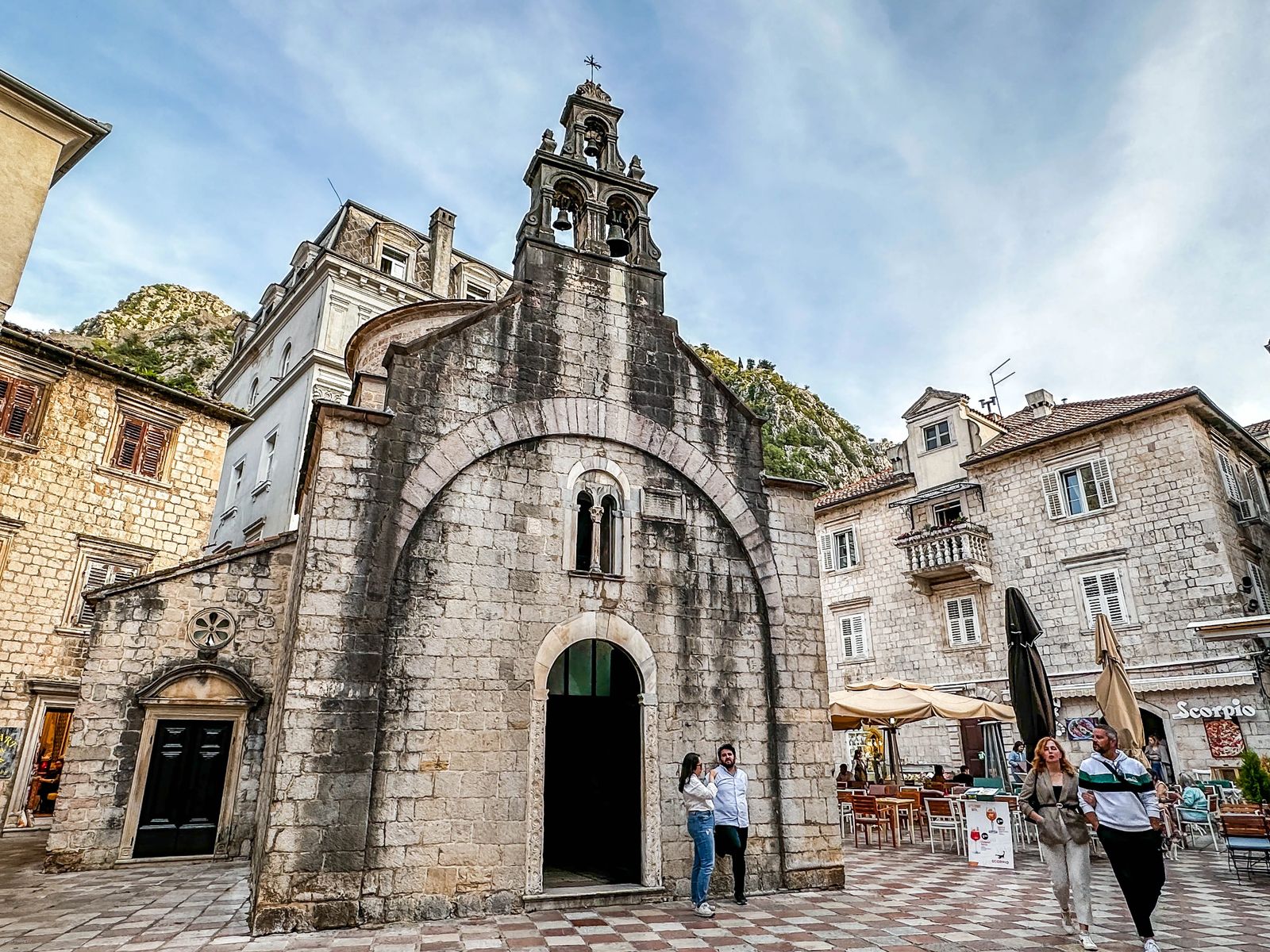 Church of Sveta Marija Koledjate, constructed in the 13th century, resides in Old Town Kotor's Trg od drva square. Its name also translates to 'The Lady of Health,' and it was built atop a 6th-century basilica.
Mihovil Church, from the 15th century, exemplifies the area's Gothic architectural style. Constructed over a 6th-century Benedictine monastery, its interior also houses 15th-century frescoes.
Clara's Church, an 18th-century edifice, showcases four magnificent Baroque altars with a marble piece crafted by Venetian sculptor Francesco Cabianca. Inside, look for the 33 angels surrounding the altar. If you have an opportunity, glimpse inside the library, home to 14th-century books. This church stands atop a 1362 Benedictine monastery.
Other noteworthy 6th-century Christian Basilicas scattered around town include Sveti Josip (St. Joseph), Gospa od Andjela (Lady of Angels), and Sveti Pavale (St. Pavli).
The Old City Walls and Bastions
Kotor's old town is entirely encircled by a city wall. Walking along these city walls is free, though parts of them have been claimed by restaurants. In other sections, deterioration has led to closures.
There are multiple gates within the wall, including the Sea Gate and the South Gate. Four bastions and a tower also accentuate the structure. The Gurdić Bastion, Valier Bastion, and Korner Bastion are located near the South Gate and Sea Gate. On the side, you'll find the Bembo Bastion, which also houses a restaurant and stage.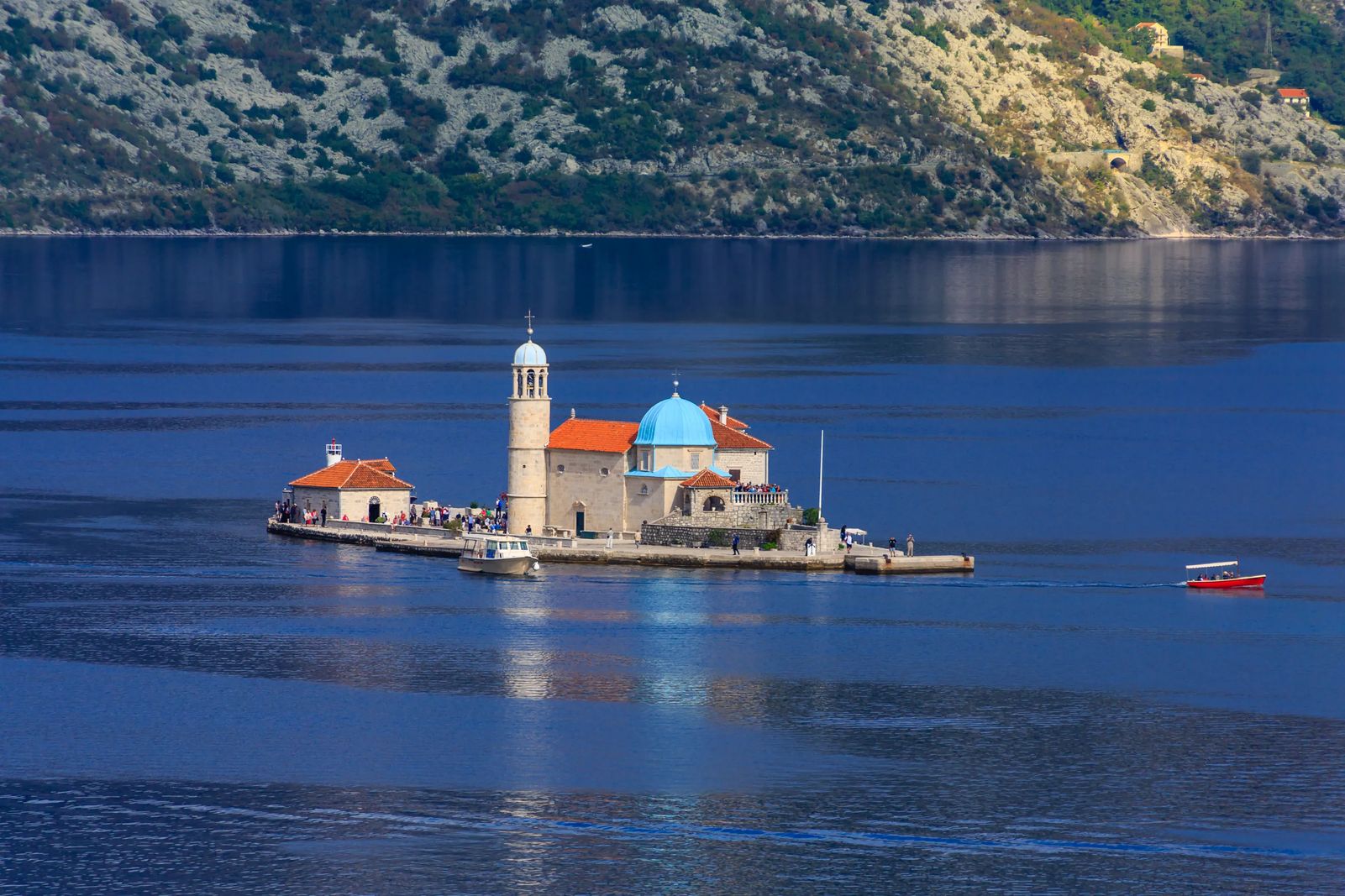 Boat Ride To Our Lady Of The Rocks
Take a 15-minute sunset boat tour to the unique Our Lady Of The Rocks Cathedral. This man-made island was formed by fishermen who consistently dropped rocks into a specific area until the island emerged. But why drop rocks in the middle of the bay? Legend has it that in 1452, local sailors discovered an icon of the Madonna and child on a rock in the sea. To honor her, they vowed to drop a rock in the bay after every successful voyage. This tradition persists today, with rocks being dropped during the Fasinada festival at sunset on July 22nd.
The church, Our Lady Of The Rocks, was subsequently constructed on this island to venerate the Madonna and child, and to provide a place for families to mourn those lost at sea. Inside the church (accessible during its open hours), visitors can admire silver votive tables and a tapestry crafted by a sailor's widow over 25 years. As her eyesight failed, she integrated silver and gold threads, even incorporating strands of her own hair into the weaving.
The most picturesque time to visit is at sunset, granting visitors about 15 minutes on the island to capture panoramic views of the inlet and Kotor. The boat ride's cost varies based on the provider, ranging from 5 to 20 Euros. To embark on this journey, it's best to head to the neighboring town of Perast. Conveniently, Perast offers parking for those with vehicles. Alternatively, a bus from Kotor can transport you there. Departing from Kotor directly to the island typically costs more and takes twice as long.
Adjacent to Our Lady of the Rocks is the Sveti Dorde Island, also known as the Island of St. George. This natural island is graced with the red-hued Saint George Benedictine Monastery from the 12th century. Within the church's graveyard lie the tombs of distinguished nobles from Perast.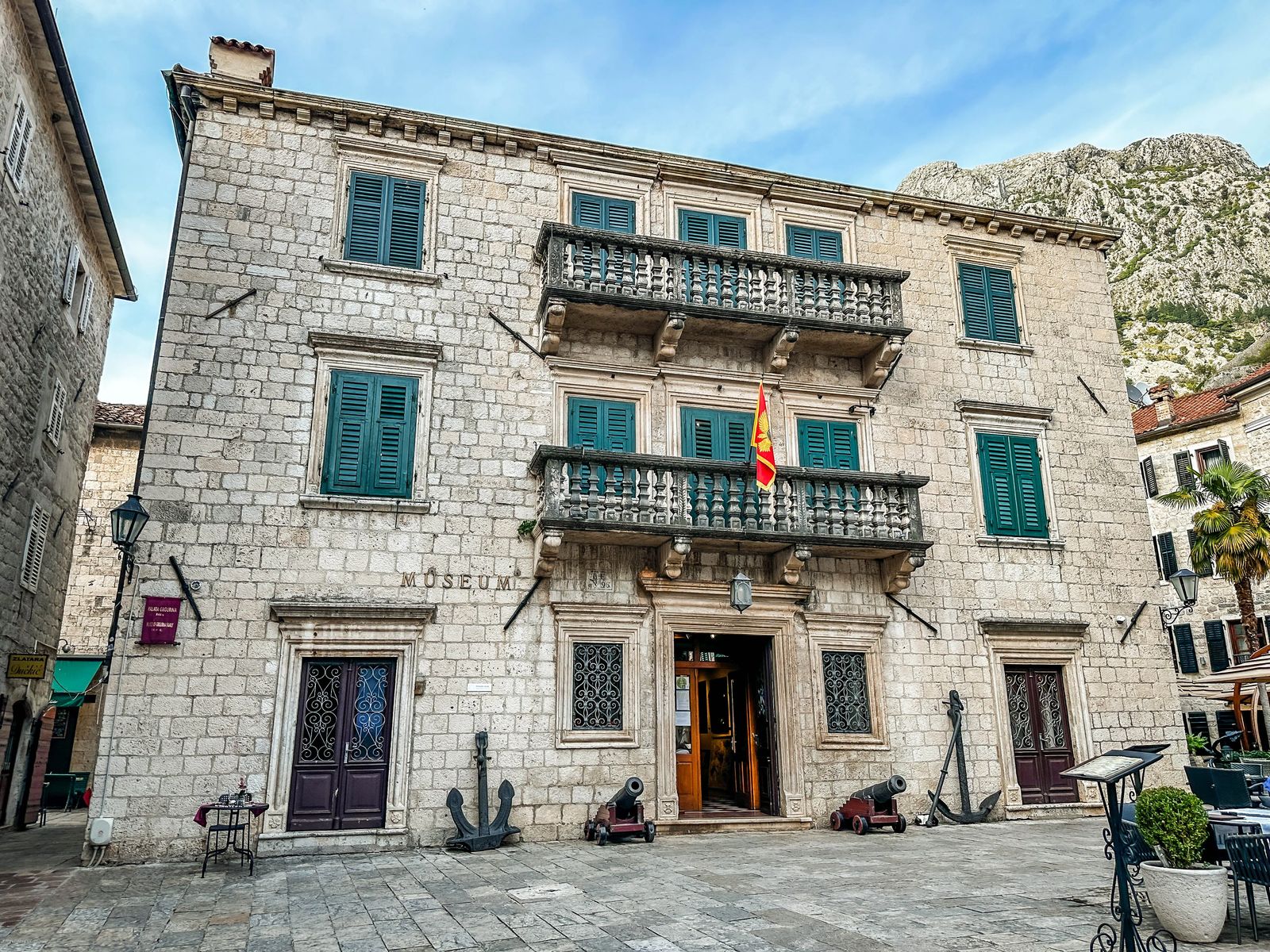 Maritime Museum
In 1880, a fraternity named Boca Maritime was established, and they collected many of the artifacts now displayed in the Maritime Museum. The museum is situated in the Baroque Palace of the erstwhile noble Grgurina family. Located near the Karampana fountain in Old Town Kotor, it spans three floors open for exploration.
On the ground floor, visitors are greeted in the main hall by historical figures who played pivotal roles in shaping Kotor Bay and its maritime traditions. This section also showcases miniature ship replicas from the 16th to 18th centuries, accompanied by the history of maritime trade.
Various rooms in the palace are dedicated to renowned maritime families from Kotor's Medieval and Venetian eras, such as Ivelic and Florio. An exhibit displaying ancient ship weaponry can also be found. The second floor provides narratives from World Wars I and II, delves into the era of steam shipping, and presents informative exhibits.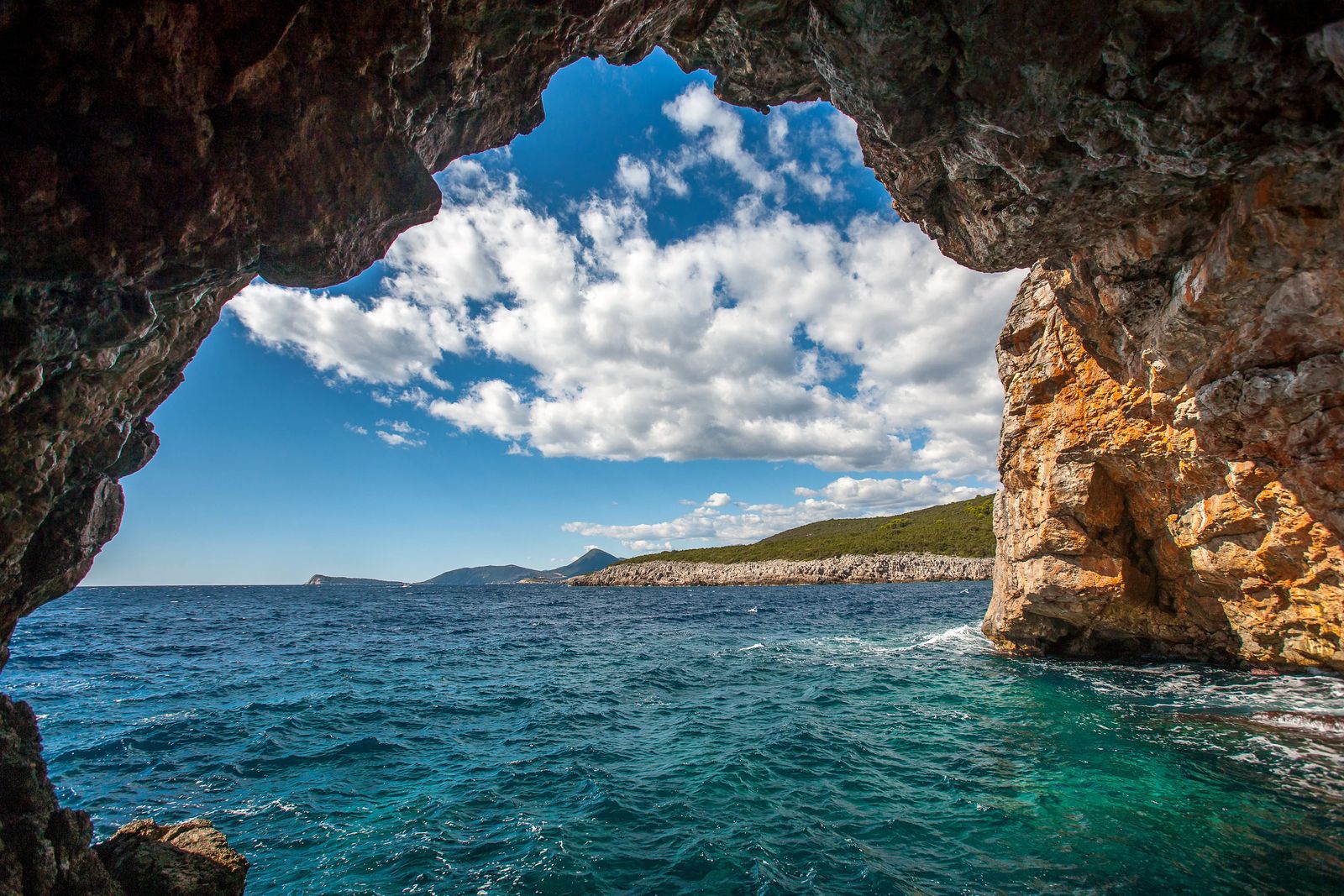 Blue Cave Trip
When I was planning my visit to Kotor, one of the initial questions I pondered was, "Is the Blue Cave worth it?" I ultimately chose not to go, as I couldn't find a satisfactory answer to that question. However, upon returning home, I found myself regretting that decision. That's why I'd recommend you see it for yourself. Yes, it will take up some of your time in Kotor, but when will you be in this region again? If you think you might go home and regret missing out, then prioritize it.
So, what exactly is Kotor's Blue Cave? It's a petite sea cave, sculpted by waves, accessible only during specific times and under favorable weather conditions. Visitors are whisked inside via small speedboats from the Lustica Peninsula. Once your boat navigates the narrow entrance, you're enveloped by the cave's crystal-clear, shimmering blue waters, which seem almost ethereal in their glow. This mesmerizing effect is the result of sunlight reflecting through the water, casting a blue hue throughout the cave. The experience is secluded, captivating, and a visual treat.
There's also a Blue Cave near Dubrovnik. However, given Dubrovnik's popularity, visitors often face longer wait times there, get a shorter stay inside, and I believe swimming isn't typically allowed.
The cost to visit the Blue Cave in Kotor ranges from 10 to 60 Euros, depending on your group size. The price also varies based on where you charter your boat, be it Perast or Kotor.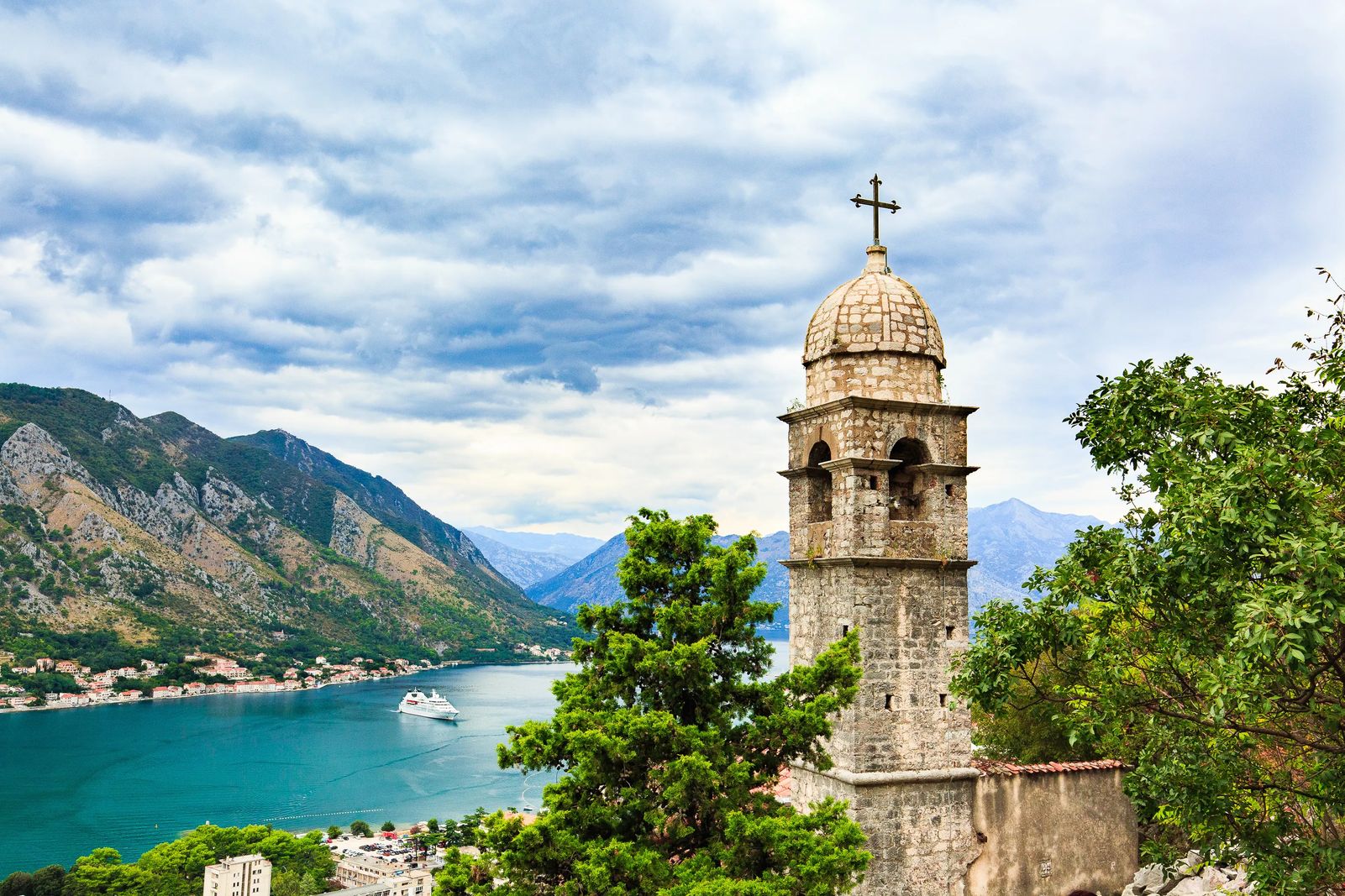 Lady of Remedy
This Roman Catholic Church stands sentinel over the city of Kotor, located along the path leading up to the Fortress. It offers incredibly stunning views, especially in the mornings and evenings. Constructed in 1518, reaching it feels like a pilgrimage in itself, given the challenge of navigating over 650 uneven and unsteady steps. Remarkably, it's the oldest building in Montenegro, with the remnants of an even older church beneath it that dates back to the 6th century.
Your ascent begins under an arch adorned with the emblem of the Venetian Republic, creating the sensation of stepping through a portal in time. Ensure you wear sturdy shoes, as the stone path can be slick, even in dry conditions. Don't forget your camera: the hanging lines adorned with colorful clothes against the backdrop of rustic stone homes offer a captivating visual contrast on your way up.
Upon reaching the church, you'll find its interior quite compact, accommodating only a few visitors at a time. Its simplicity offers a cozy ambiance, fostering an intimate connection with the divine. While the church's interior may lack opulence, the external vistas more than compensate. For optimal views, continue a little further up past the church to capture both the sanctuary and the Bay of Kotor.
If you opt for a morning visit, you'll evade the direct sunlight and midday heat. Evening visits promise mesmerizing sunset hues, but you'll have to contend with the residual warmth of the day. Some locals set up drink stations (cash only) for sunset visitors. If you choose to descend just after sunset, carry a flashlight or headlamp to safely navigate the rugged path back down.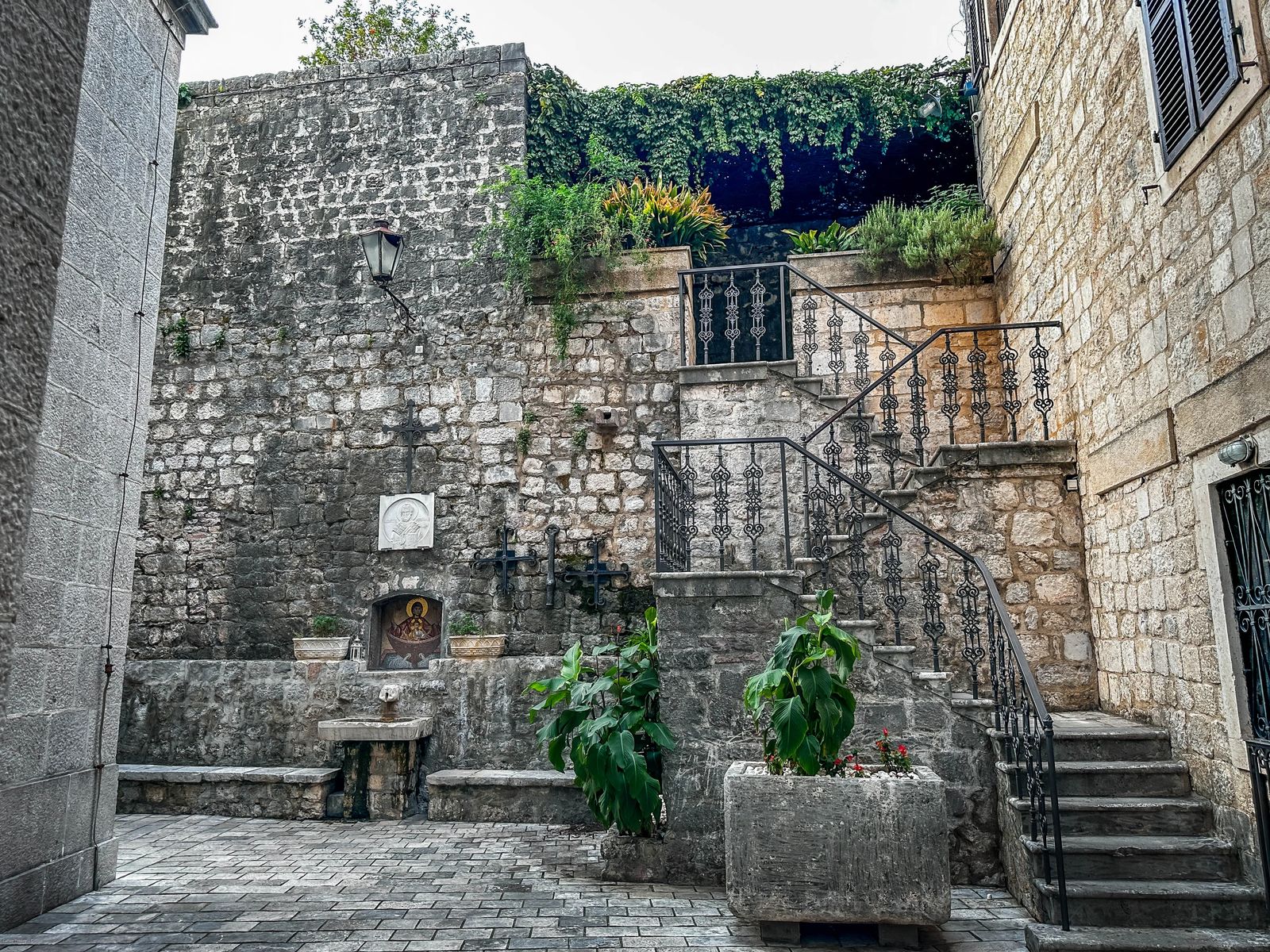 Things To See Near Kotor
Just 3.5 hours north of Kotor by car is Tara Canyon, which offers some truly spectacular white water rafting. Located alongside a teal blue river framed by towering sheer cliffs, it's the deepest canyon in Europe and is definitely worth the journey.
Budva is a renowned beach town in Montenegro, boasting a history that spans over 2,500 years. It's easily accessible by bus from Kotor; however, it's important to be aware of the last bus's departure time back to Kotor to avoid being stranded.
Consider a drive to the Cathedral in the Cliffs, the Ostrog Monastery, which is famed for a grapevine said to miraculously grow straight out of the rocks. Numerous miraculous healings, especially for those with physical ailments, have been reported here over the years. The hike to the monastery is considered a pilgrimage, and the queues can be lengthy. However, during the off-season, we were able to enter immediately upon its opening. The route up has very sharp switchbacks; a smaller car is recommended to navigate the steep and sometimes guardrail-free drop-offs safely. For those with disabilities, there is provision to park closer to the cathedral during peak times.
Dubrovnik is a mere 2-hour drive from Kotor, but it requires a border crossing. Ensure you have the green insurance card from the rental company to avoid complications at the border checkpoint. While I personally advise dedicating at least three days to fully experience Dubrovnik, a rushed itinerary could cover most highlights in a single day. Make sure to check out my guide on visiting Dubrovnik.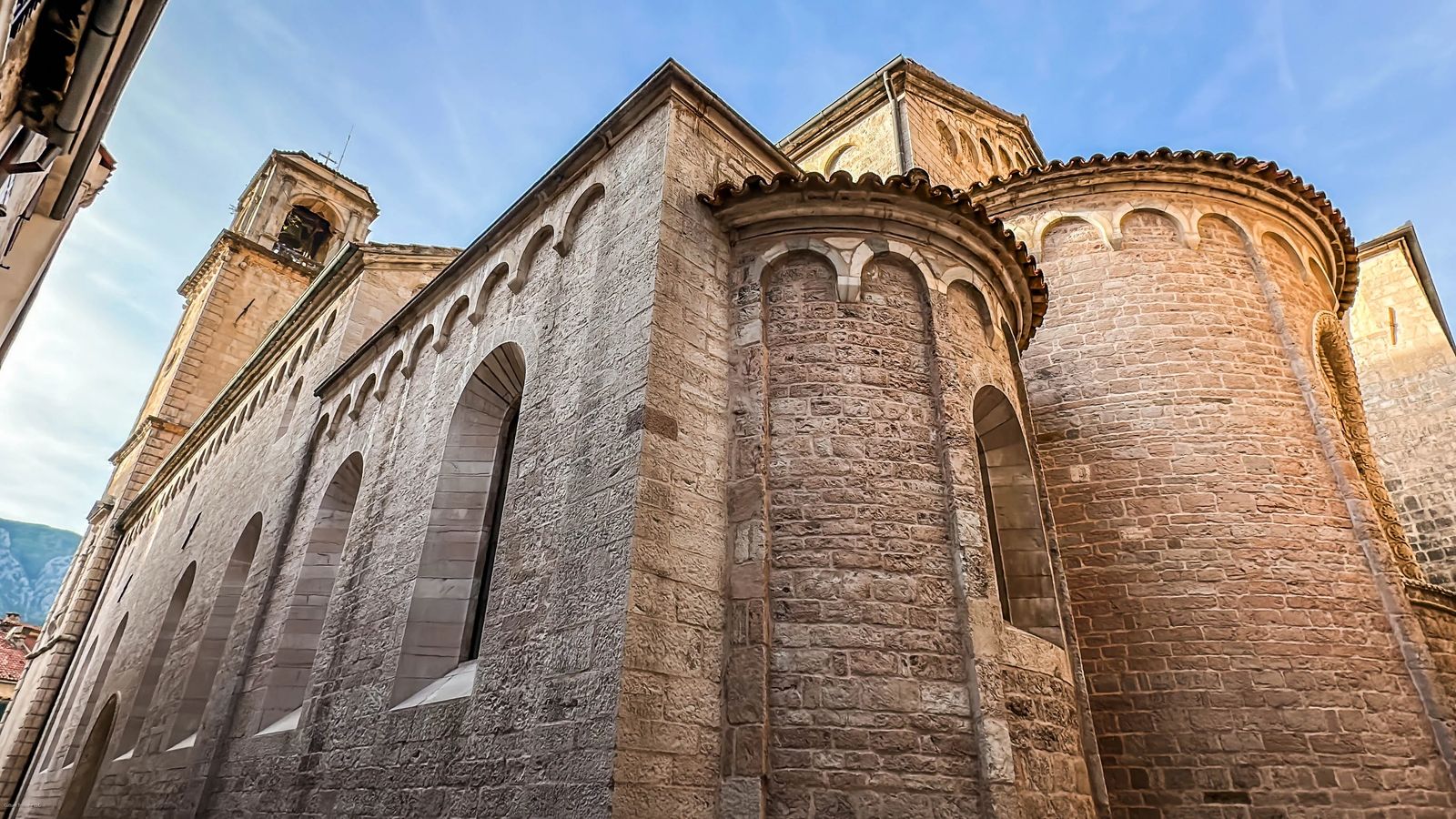 Things To Know Before Visiting Kotor
Parking near Old Town is incredibly expensive and extremely hard to find. I'd suggest either taking a bus or basing yourself in Perast and making daily trips to Kotor. You can attempt to find free parking along Njegoseva Street, but it's quite limited.
For just exploring Kotor and the old town, allocate about two days. If you're keen on day trips or visiting other coastal towns, set aside roughly five days.
The alleyways can be quite narrow, and large tourist groups from cruise ships often crowd the streets. It might be wise to check when cruise ships dock and plan your visit on less busy days for a more relaxed exploration of the city.
Consider kayaking the bay or renting a stand-up paddleboard for a reprieve from the crowds while still enjoying fantastic views.
While the Farmers Market and small roadside shops usually prefer cash in Euros, most restaurants and stores accept cards. There are ample ATMs in the city, though their fees can be relatively high.
Rain is frequent in Kotor, so pack an umbrella and wear sturdy shoes with good grip to navigate the city's slick, polished stones.
Be mindful of the distinction between 'parking available' and 'parking included'. Always communicate with your accommodation provider BEFORE your visit to understand the parking arrangements.
Some establishments might surprise you with additional charges like 'tourist tax' or 'luggage storage' upon arrival and expect cash payment. If I were to revisit Kotor, I'd opt for a well-known hotel chain to ensure transparency. Although we stayed at a top-rated place I found on booking.com, there were unexpected fees. It was located within the city walls but directly above a wine bar. Even with earplugs, the noise was as if we were inside the bar itself. If you're leaning towards budget accommodations, consider family-owned establishments or bed-and-breakfasts. Always ask questions to understand the full offering.
Lastly, many shops in Montenegro remain closed on Sundays. Museums often operate on irregular hours, so check their timings before your visit as they can vary seasonally and annually.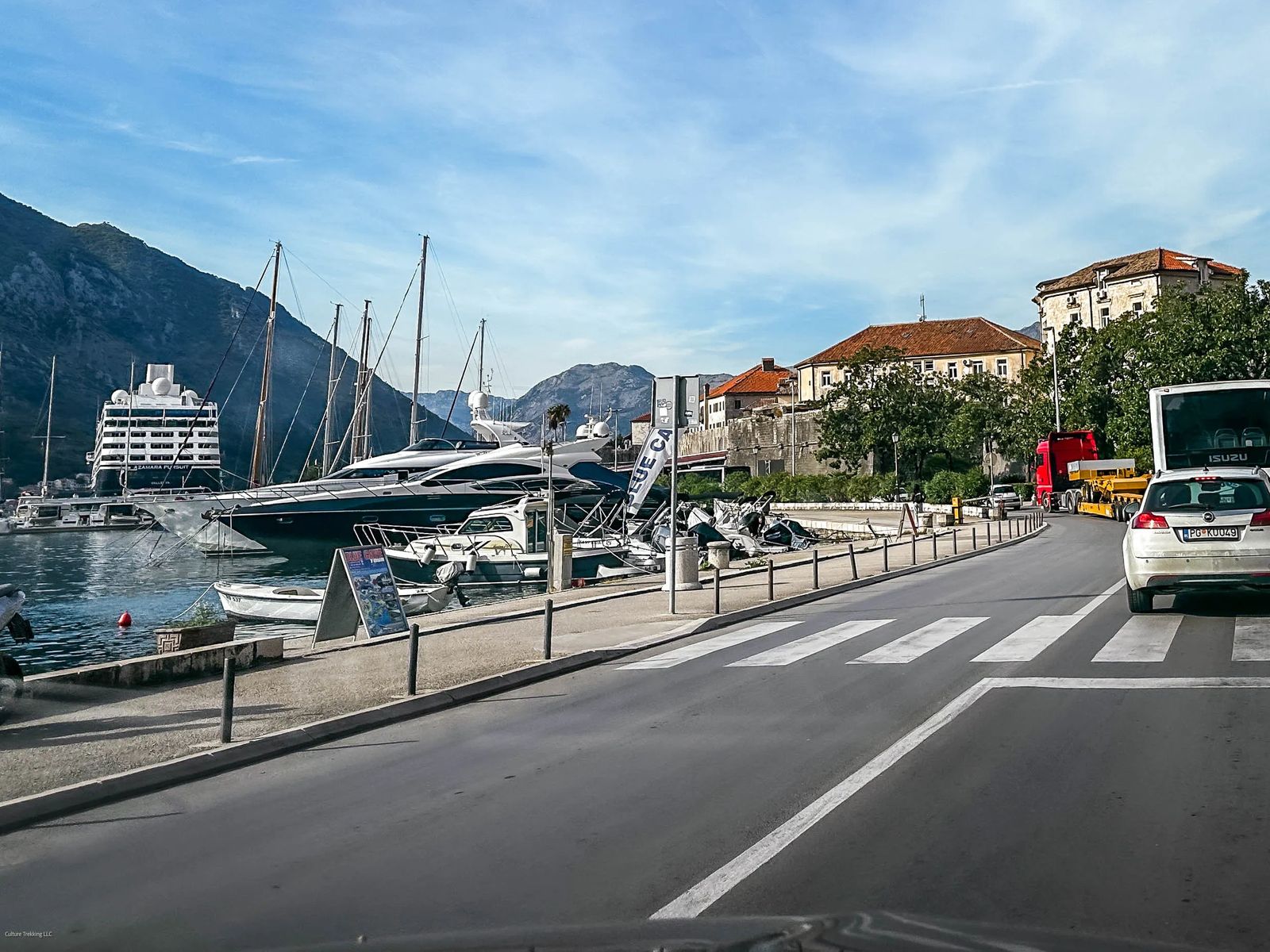 How To Get To Kotor
You can see so much more of Montenegro by renting a car, for our 16 day 7 country road trip to and from Dubrovnik it cost us about $1200 in the off season - and that was with full car insurance and two drivers.
If you are looking for something a bit more budget friendly then there are ferries, buses, and cheap flights throughout Europe. Kotor's airport is TIV and is just a few miles away from Kotor.
To catch the ferry make sure to book in advance and typically runs between Italy and Montenegro and Croatia. You can get a bus from Germany, Austria, Serbia, Slovakia and other cities in Croatia - check the different bus schedules here.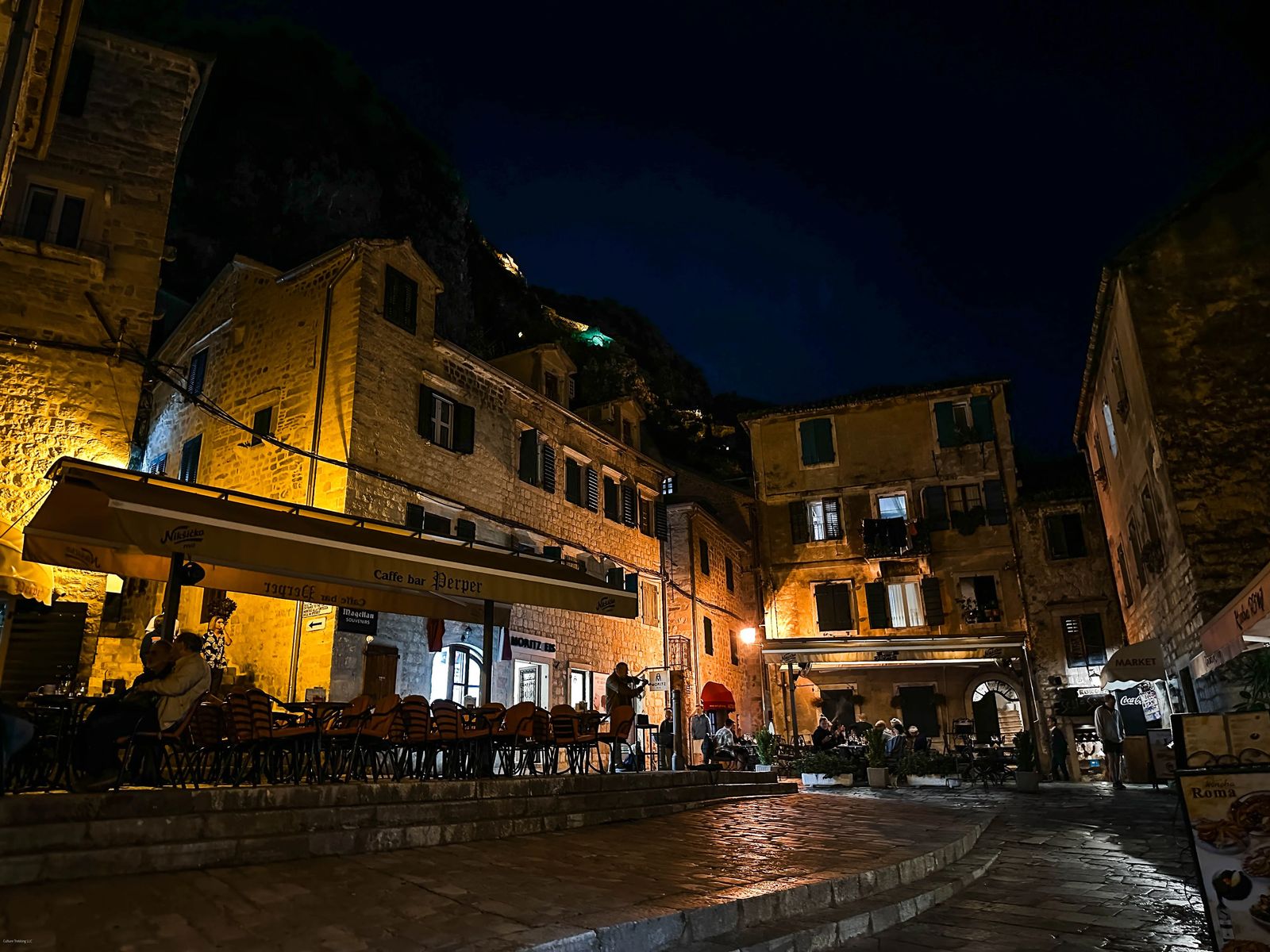 My Takeaway Of Kotor
My friends and I managed to visit Kotor on a day when cruise ships weren't docked. Navigating the city was a bit tricky since cell service was patchy among the stone buildings, but getting lost turned out to be the best way to discover its charm. The city exudes a romantic ambiance, especially at night with live music from passionate violinists.
The photo opportunities here were phenomenal, the views breathtaking, and the overall vibe instilled a sense of calm and relaxation in me. The culinary delights were superb, and the wine was surprisingly delightful. My only regrets are that I missed out on the Blue Cave, didn't allocate enough time for exploration, and unfortunately chose accommodation that wasn't conducive to a restful night.
I would unquestionably return to Kotor and highly recommend it to anyone in the vicinity.
Let me know if you decide to visit in the comment below and what you are most excited about seeing :)
Like it? Pin it for later! Sharing is caring ;)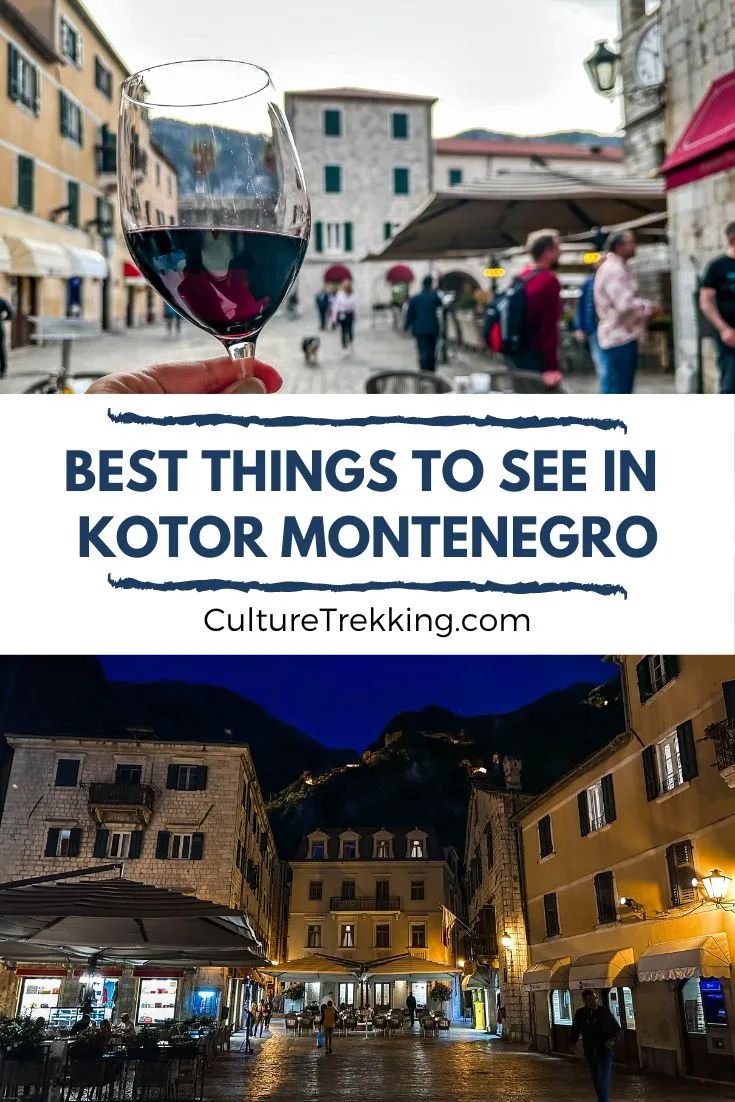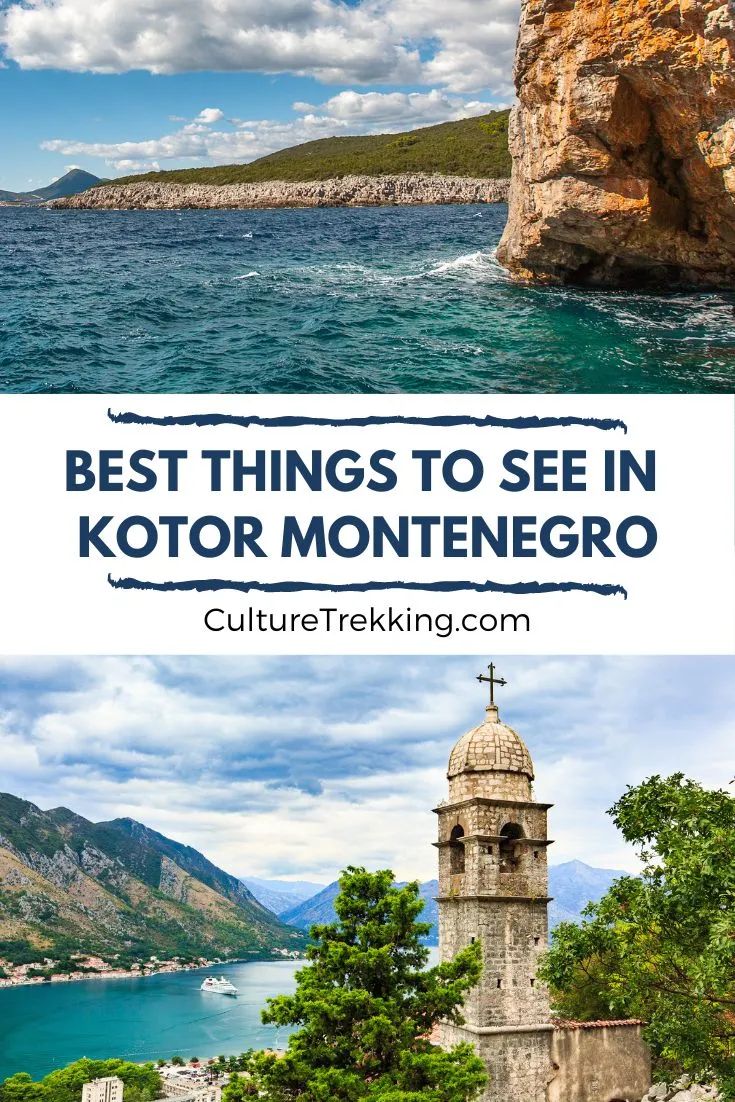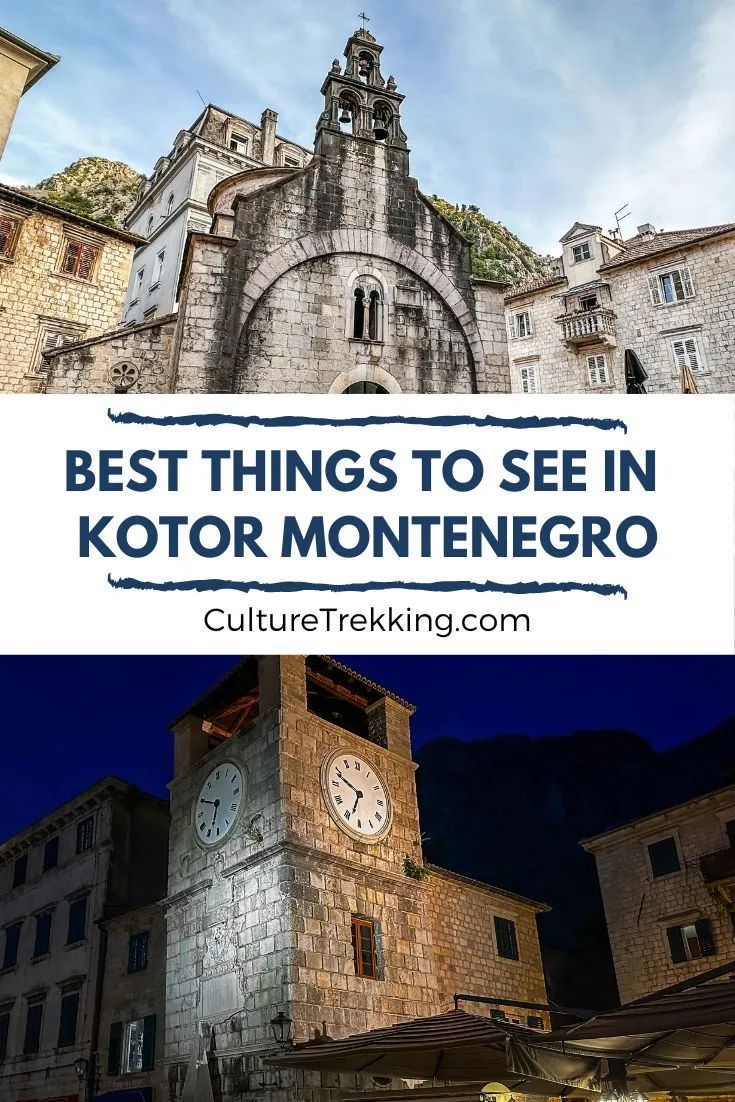 Latest Articles On Culture Trekking