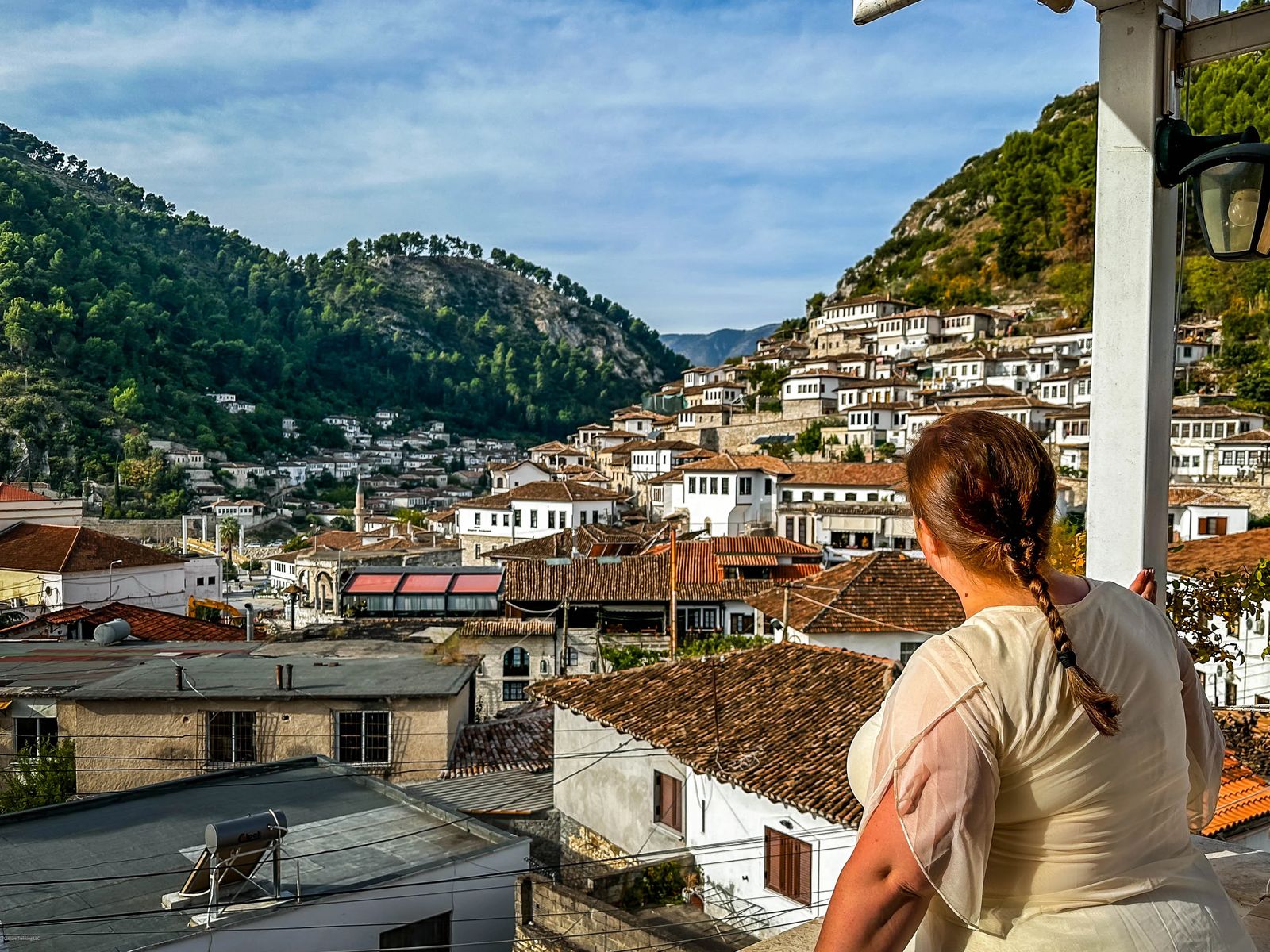 Things To See In Berat Albania In One Day
Berat, Albania, a UNESCO World Heritage site, captivates its visitors with an enticing blend of timeless Ottoman architecture and well-preserved castle grounds. This ancient city is an exemplary model of two religious communities living in harmony throughout centuries. As you ponder on the things to do in Berat, Albania in one day, you'll find a wealth of options right at your fingertips.
Start your day by exploring the stunning Osum River that bisects the city's two quarters, Mangalem and Gorica. The cobbled streets, reminiscent of medieval times, will ignite your imagination. Marvel at the city's unique feature that earned it the nickname, "The City of a Thousand Windows." One glance at the beautiful white houses with dark timber-framed windows clustered against Gorica Hill, and you'll instantly understand its origin.
Berat is more than just a location—it's an immersive experience promoting relaxation, sparking imagination, and nurturing exploration. The locals' unparalleled hospitality makes you feel right at home. Experience the tranquility of the city, a peaceful haven free from the chaotic hustle and bustle of ambulances, utility vehicles, and noisy electronic signages.
Dive into Berat's rich history by visiting the iconic Kala Castle, and absorb local culture at the Ethnographic and Onufri Museums. Marvel at the city's beautifully preserved mosques, and embrace the natural beauty of its enchanting canyons and breathtaking waterfalls. Even in the span of a single day, Berat, Albania offers an array of unforgettable experiences waiting to be discovered.
Quick itinerary/Key Takeaways
If you, like me, have a short attention span, then here are some crucial takeaways you need to know before visiting Berat, along with a suggestion on how to structure and plan your visit.
Berat operates mostly on cash; most areas, including hotels, don't accept cards. While Euros are accepted, Albanian Lek is preferred. Obtaining Lekë in the USA, however, can be challenging. The most convenient way to travel here is by bus, though we opted to rent a car. Just make sure your hotel offers parking.
Consider visiting in May or late September to avoid crowds and secure cheaper accommodation rates. To fully immerse yourself in the serene views and environment, I recommend spending at least two days in Berat. If you plan to visit Osum Canyon or any waterfalls, you might need to allocate 2-3 days.
Start your visit by taking a bus up to Kala Castle. Here, explore the Red Mosque, the cistern, and take time to read the signs at some of the churches. Also, be sure to visit the viewpoint for 360-degree views of the city below. Pay a visit to the Onufri and Ethnographic Museums, then head down to Republika Boulevard for a meal and a refreshing fruity yogurt drink.
Day two choose from the many hiking or rafting options near Berat (see below). Make sure to allow yourself time to soak in the views at Arben Elizi Guesthouse with the delicious breakfast.
Berat Castle (Berat Kalaja)
It's rare to visit a castle where residents still inhabit the complex, but Berat Castle is one such place. This fortress dates back to 200 B.C., a time when the Romans passed through and destroyed the wooden fortification. The castle as we see it today, however, hails from the 13th century, majestically towering above the city and offering incredible views of the surrounding landscape and river below—a strategic location for defense. For a unique lodging experience, you can actually stay INSIDE the castle walls in 13th-century homes! The castle is currently undergoing further restoration, as it has now been recognized as a UNESCO World Heritage site.
Although I found this incredibly appealing, I should mention the considerable effort required if you choose to ascend on foot to any of the homes. The climb could be rated as moderate on Alltrails due to its steepness (a 10% grade) and the slick, uneven cobblestones, which can be treacherous even when not wet.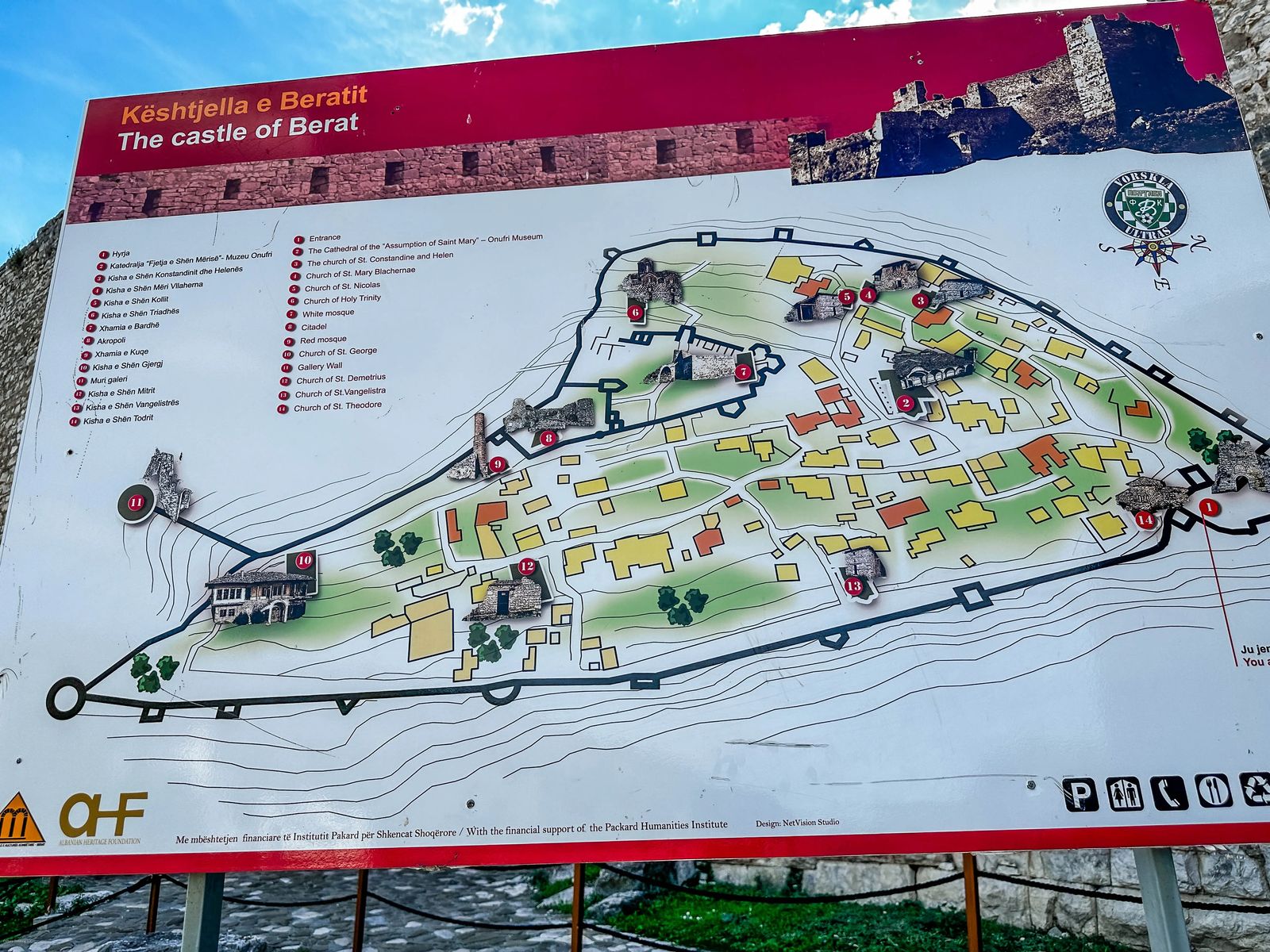 Though the ascent to the top is only about 0.6 miles (1 km), it felt like at least a mile to me. Be sure to bring a hat or umbrella to shield yourself from the sun, which can be quite relentless during the climb. Don't forget to bring your own water.
IF YOU PREFER NOT TO CLIMB the steep roads, there's an afternoon bus departing from the opposite side of the city, heading to the castle's summit. My friends and I discovered parking on the south side, which could be convenient for a quick visit. While I didn't notice any parking permit requirements during our visit, keep in mind we visited in October, a time when tourist traffic was relatively low.
Things To Do In Berat Castle
Upon entering the Outer Gate from the South Side, you can meander through the traditional Ottoman houses. Continue weaving your way through the alleys to the North side of the Castle. Please note that the stairs can be quite steep in certain areas. Although you can walk around the walls, be mindful that there are no safety rails and the footing can be unstable. So, ensure you tread carefully when navigating these areas.
Inside Berat Castle, you'll find an array of shops, homes, souvenirs, captivating views, and friendly locals. Additionally, the Castle houses the Iconography Museum, which I'll delve into more detail about shortly. If you plan to just explore the fortress without entering any shops or museums, allow approximately two hours.
Throughout your exploration, you'll encounter a multitude of handmade carpets, table cloths, lace items, and ever-friendly locals. You can also find spices, small iconographies, dried fruits, and jams along the way.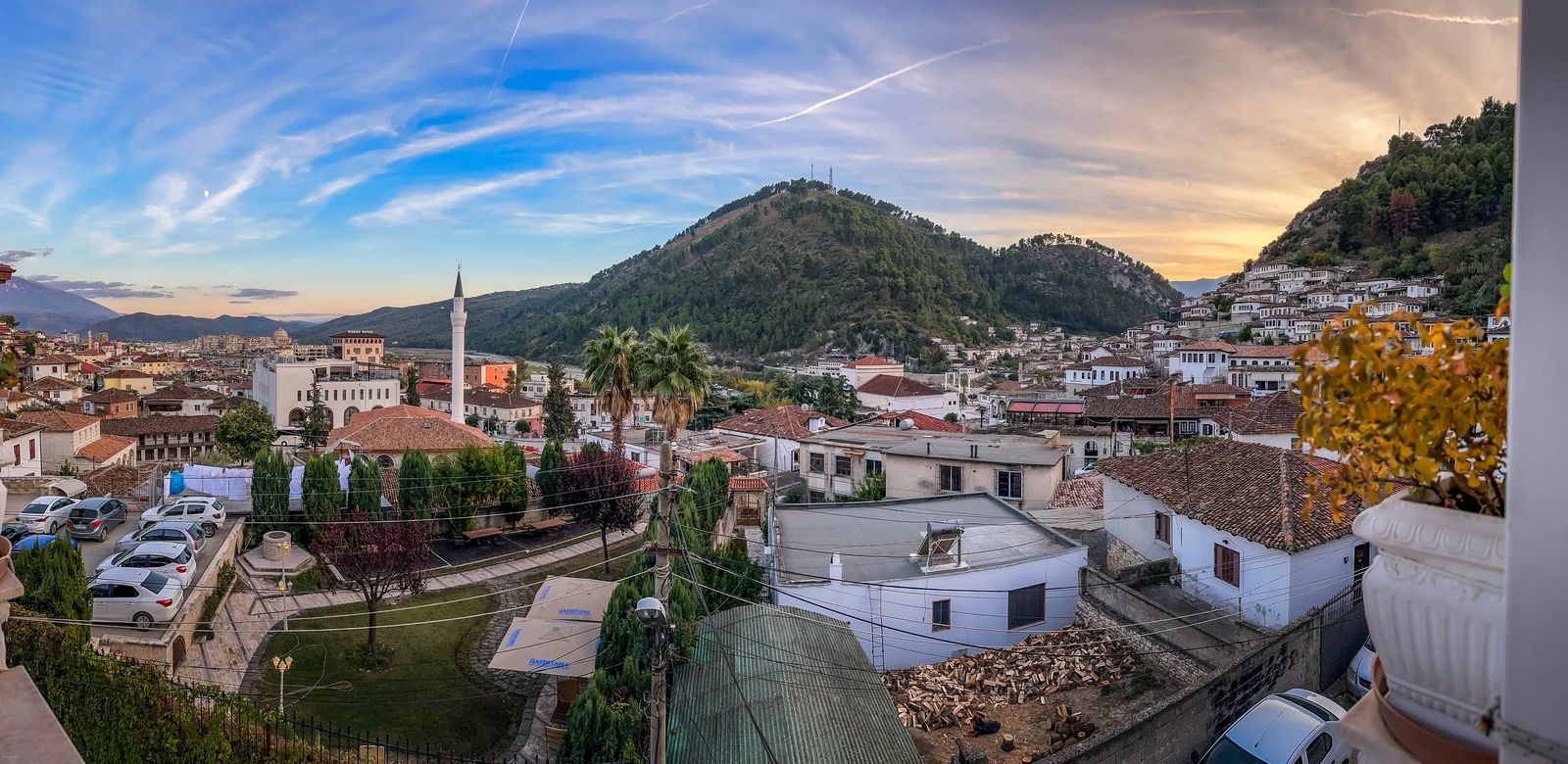 The Red Mosque, located within the fortress, is one of the country's oldest mosques, with only its base minaret remaining. However, there is an internal staircase that allows you to climb to the top for a better view over the houses.
Inside the castle, you'll discover more than 20 distinct Christian churches, including the remarkable 13th-century Holy Trinity Church, the 16th-century Church of St. Nicholas, and the 13th-century St. Mary of Blaherna Church, adorned with beautiful frescoes. The St. Mary Church houses biblical scene frescoes from 1578 and stunning mosaic flooring. It's one of the oldest churches in Berat and definitely worth a visit, although its opening times can be inconsistent.
The best way to navigate the castle area is to acquire a map or print one out before your visit. The area can be a bit tricky to navigate without guidance. There are plenty of guides who can walk you through the castle, a service I highly recommend. Along your journey, you'll find signs painted onto the walls as well as informational placards detailing the various sites.
As you wander through the alleyways, you'll encounter courtyards and a large cistern in the center, which historically served as a water storage facility during sieges.
Entrance Cost & Hours For Berat Castle
The entrance fee to the castle is $2.70 (100 Leke), and it's open from 9 am to 6 pm. Beyond these hours, most of the shops and museums are closed, but you can still enjoy some amazing views. Interestingly, if you have a 10 Leke coin from 1996, 2000, or 2013, you'll find the Berat Castle engraved on the back.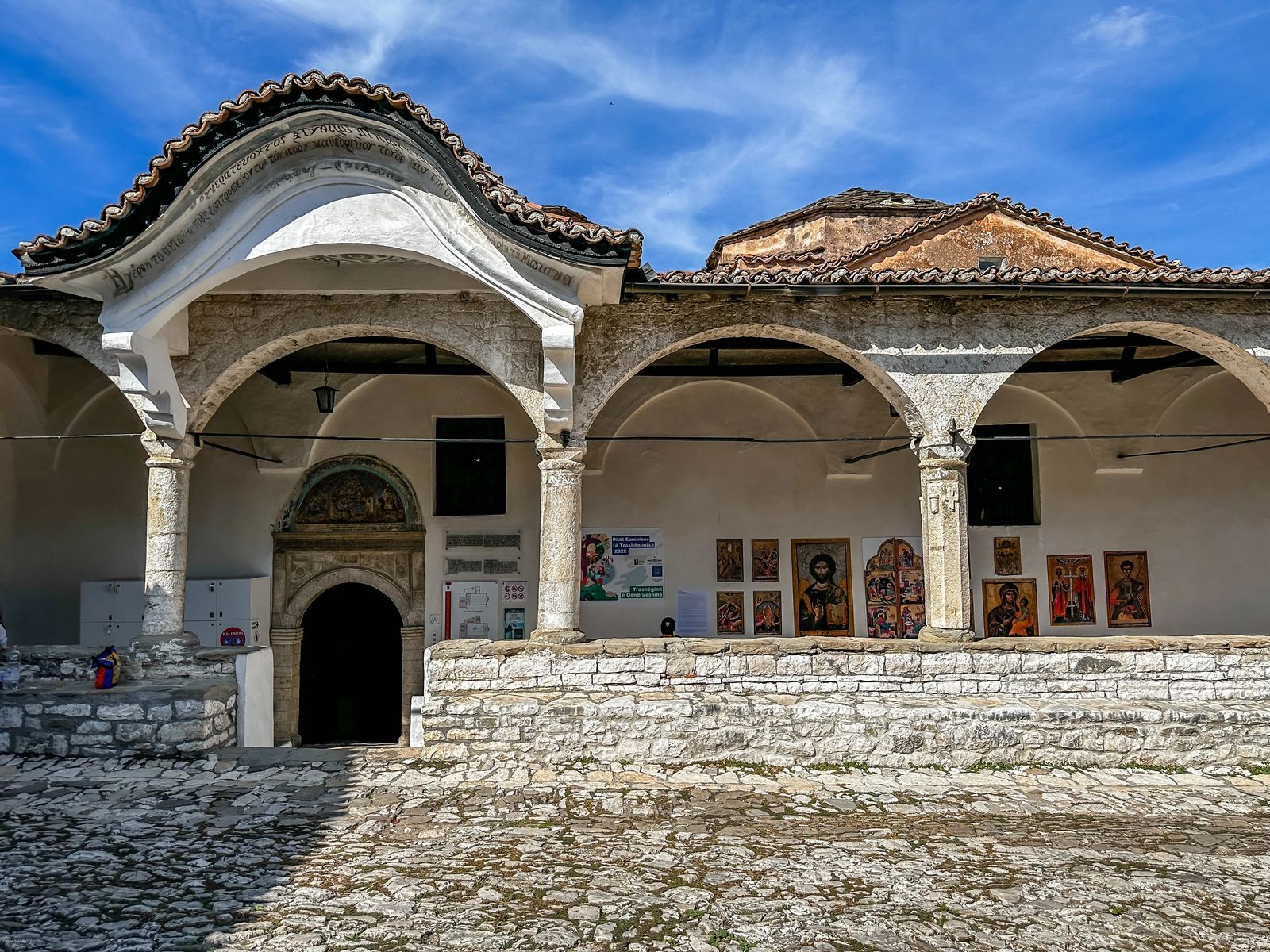 Onufri Museum
15 May - 30 Sept (daily 9 am - 6 pm), 1 Oct - 14 May (Tues-Sat 9 am - 4 pm & Sun 9 am - 2 pm)
Located within Berat Castle is the Onufri Museum, housing artwork that spans from the 14th to the 20th century. The museum's main attraction is the Iconostasis of the Cathedral of Dormation of St. Mary, considered to be the finest example of Albanian wood carving, crafted in 1807.
The Purple Codex of Berat and the Golden Codex of Anthimos, UNESCO-protected works, were once housed here. These documents, often regarded as encyclopedias of Christian thought and perspectives from Eastern Europe, have since been relocated to the Museum of History in Tirana for protection.
My primary motivation for visiting this museum was to see the Purple Codex. After a long and hot hike up to the castle, I was disappointed to discover that the codex had been moved to Tirana during the pandemic—understandably so. Although I felt bad for dragging my friends up here, I was unexpectedly captivated by the two-room-sized wooden carving, or iconostasis. There's a guide available to help understand the different carvings, paintings, and doors. It explains what each of these elements represents, and which areas are used for different sections of worship. Although the various wooden paintings are intriguing, none captivated my attention quite like the iconostasis.
The entrance fee is cash only and amounts to about 4 Euros. The museum does offer small icons, souvenirs, and postcards, but it doesn't accept credit cards.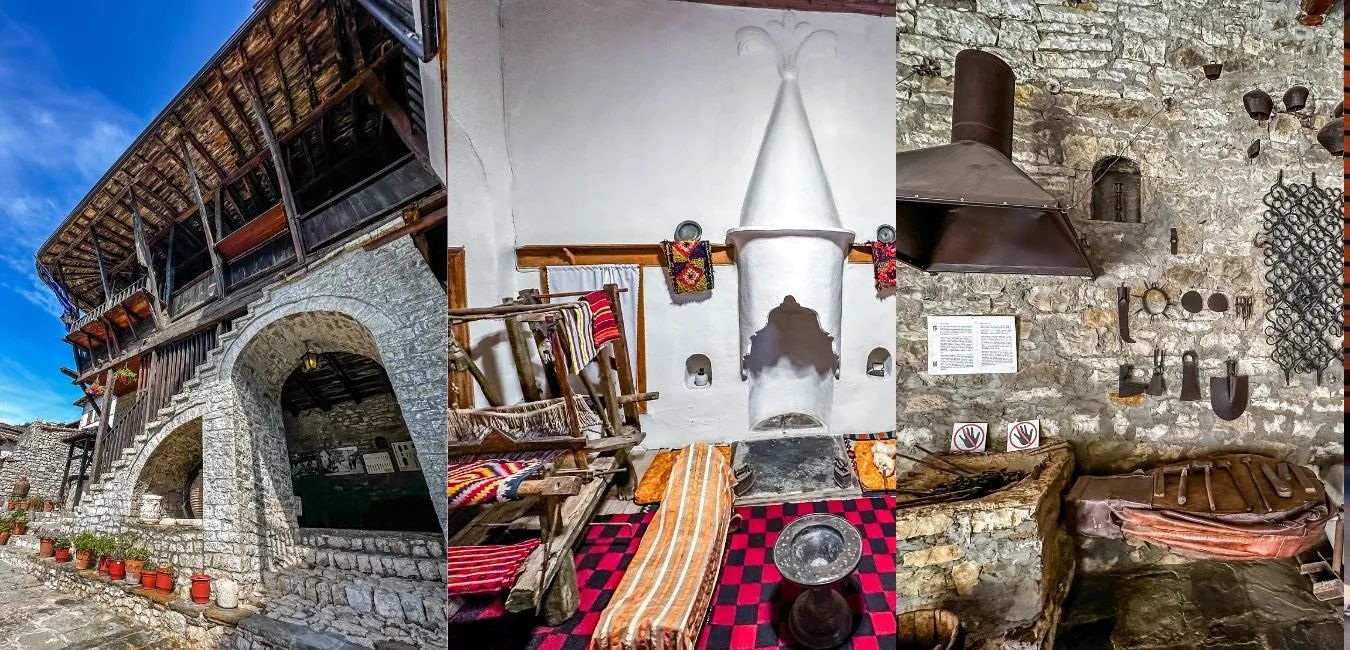 Ethnographic Museum
May 1-Sept 30 (Daily 9 am - 6 pm) Nov 1 - April 30 (Tues-Sat 9 am-4 pm, Sun 10 am-3 pm) - Ticket is 300 Lekë (3 Euros)
The Ethnographic Museum of Berat, located near the castle, is well worth a visit. This museum recreates life as it was in the 17th century. A room, referred to as the Bazaar, replicates clothing shops that sold medieval apparel popular during that period.
Just outside the Bazaar room, you'll find an old millstone, a blacksmith shop, and 17th-century tools and artifacts. As you ascend to the upper floor, you'll reach the Chardak, a gathering area overlooking the square below. This space was traditionally used for craftwork during the winter months, featuring activities like rug weaving, all warmed by a brazier. A brazier is a bronze, intricately decorated heating pot elevated off the floor on legs.
Within the home, you'll find looms that women once used to create dowries. The museum houses over 1,300 objects, and you can also see tools used for embroidery, weaving, and processing wool, cotton, and silk.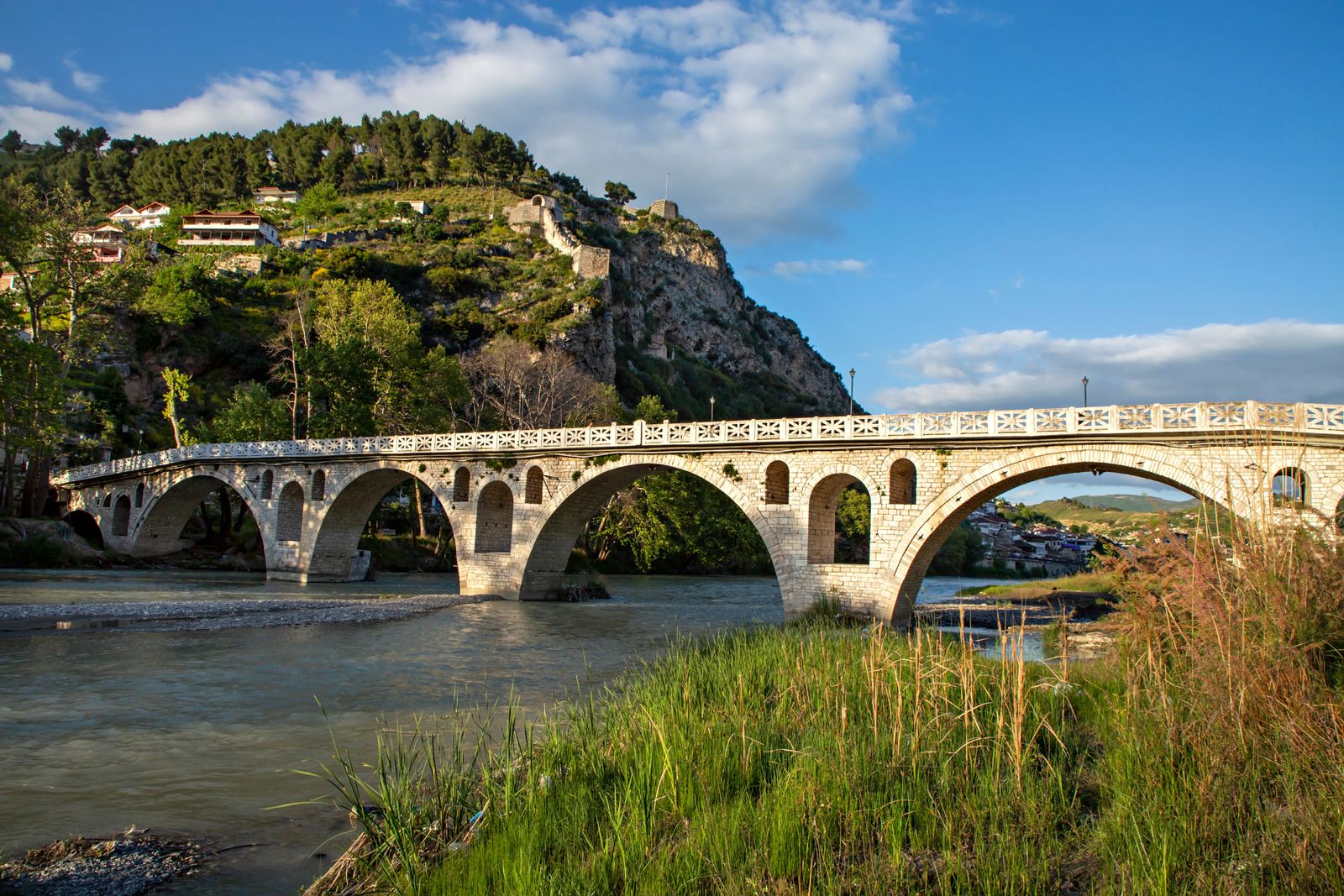 Gorica Bridge
Spanning the Osum River in Berat, this beautiful stone bridge with lace-like fencing is a sight to behold and certainly one of the things to see in Berat in one day. The bridge connects the Mangalem (Ottoman) side to the Gorica (Christian) side of Berat. Initially built from wood in 1780, it was repaired and reconstructed several times in the same material until it was severely damaged in the First World War. Following this, the bridge was rebuilt in stone.
What makes the bridge so significant is its symbolic role as a peace and connection conduit amid the historical conflicts between different religious groups in the area. It serves as both a literal and figurative bridge of peace.
A dark myth also surrounds the bridge, involving a young woman allegedly being buried alive within its structure to ensure everlasting strength in its foundations.
The bridge's seven arches span the river, offering some of the best photo opportunities, particularly in the morning light. The view from the castle provides an excellent panorama of the bridge, Gorica, and the Osum River.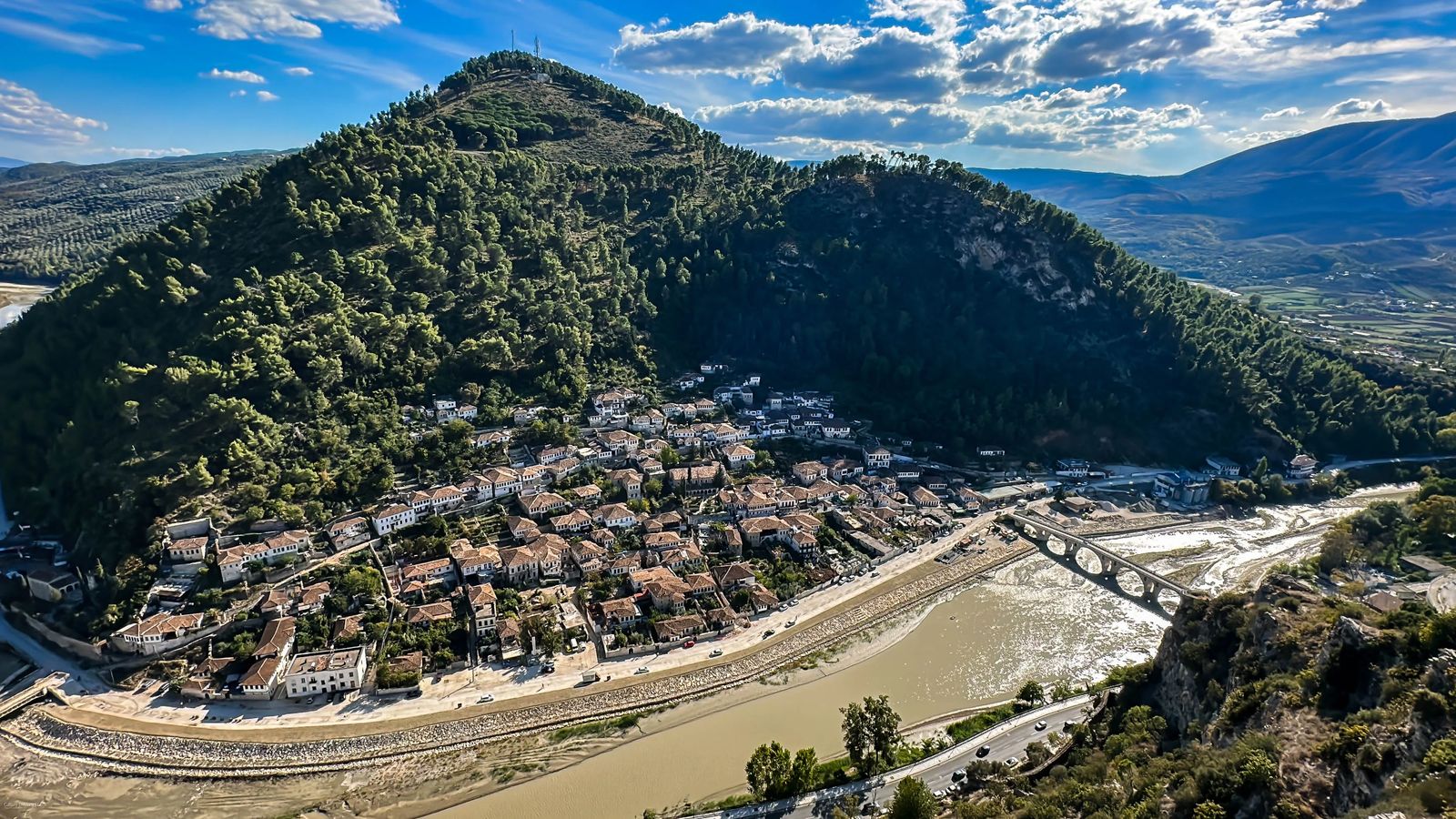 Mangalem And Gorica Quarters
The Osum River bisects the city into the Mangalem and Gorica quarters. As a tourist, you might not immediately notice the difference, except that the Mangalem side has more flat land and houses.
The Mangalem quarter is the Ottoman side, marked by brown-tiled homes with white exteriors and stone bases. This is the area that inspired the town's nickname, 'A City of a Thousand Windows.' Here, you'll find the three main mosques: the Sultan Mosque, the Bachelor Mosque, and the Lead Mosque. The Lead Mosque, named for its lead roof, stands in the main town square. The Bachelor Mosque, located by the Osum River, traditionally catered to the single shop merchants. The Mangalem side also hosts the castle's main shopping boulevard, museums, and more.
Following the Ottoman conquest, the Gorica side became the Christian Orthodox area. This side features cobblestone streets, small Orthodox churches, and an impressive view of the city with its countless windows. If you're on a budget, this side offers more affordable accommodation options. At night, you'll notice a giant cross illuminated atop Gorica Hill, which, to me, seems more like a mountain.
When the sun sets, the vibrant colors of the sunset reflecting off the white houses is a sight to behold. Amid this tranquil ambiance, you might hear the church bells from the Christian side overlapping with the call to prayer, creating a melodic blend. Each sound is beautiful in its own right, but together, they symbolize the ongoing dialogue between the two religions.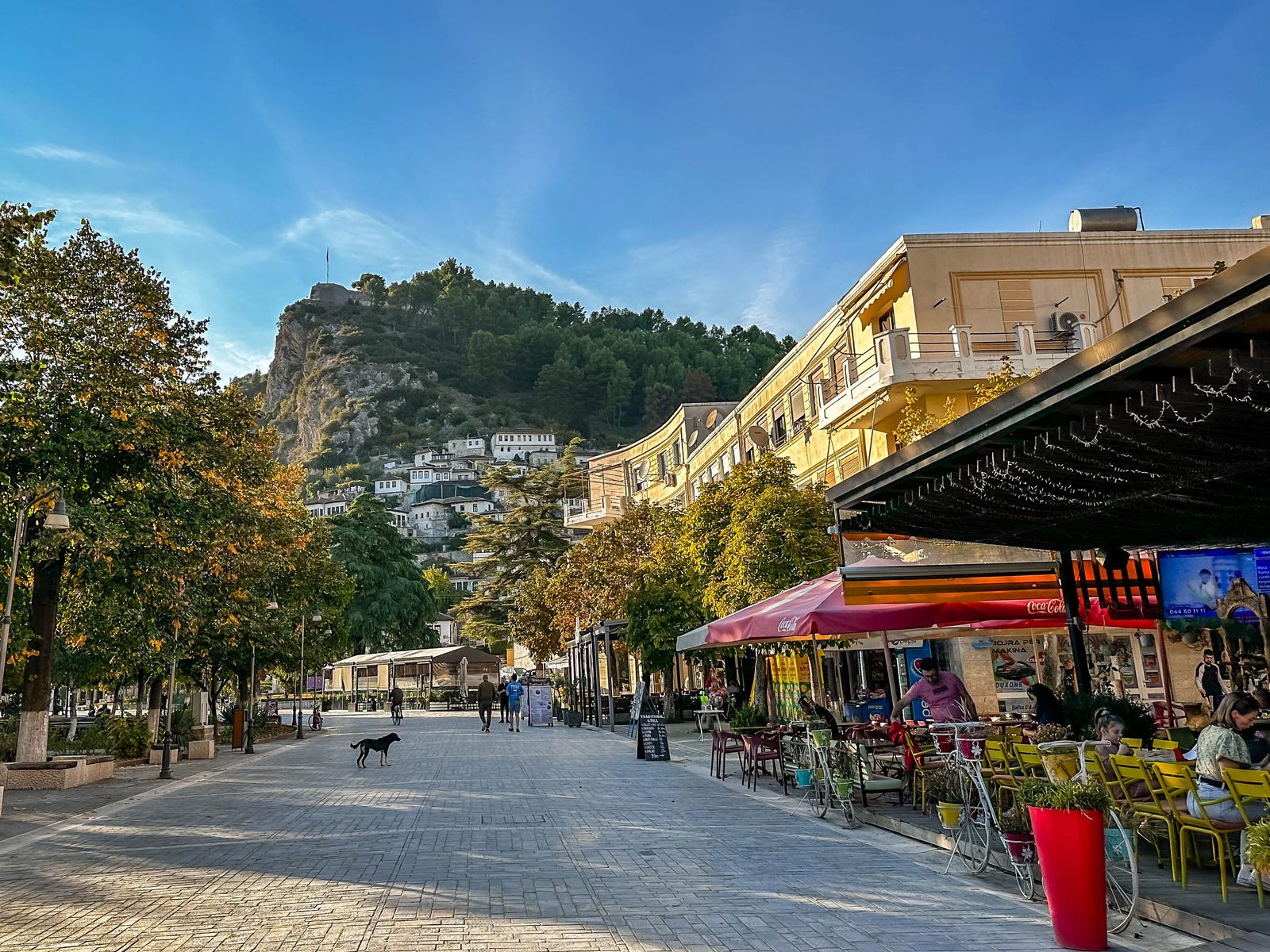 Evening On Republika BOULEVARD
The main promenade in Berat is where you'll find Gorica Bridge, connecting the two city quarters. This lively area bustles with bike riders, popcorn vendors, and souvenir shops offering hand-painted ceramics during the day.
If you need cash, you'll find a few ATMs in this area. I can't provide information on the exchange rate fees for these ATMs, but they seem to be the ones most frequently used. It's worth noting that Berat operates mainly on cash and credit cards are rarely accepted, so make sure to inquire if cards are accepted before settling down for a meal.
The views along the boulevard of the old city are breathtaking, especially at sunset when the castle soaring above is beautifully illuminated. In the evenings, restaurants open their doors and showcase their star dishes on signs outdoors. Typically, a waiter or two will be available on the boulevard, welcoming you in and answering any queries you might have.
Please bear in mind that there are numerous stray dogs in the area, with varying health conditions. While they usually travel in packs and are not aggressive, I'd advise against petting them. They tend to linger near the restaurants, which often provide them with leftover food from customers after closing time.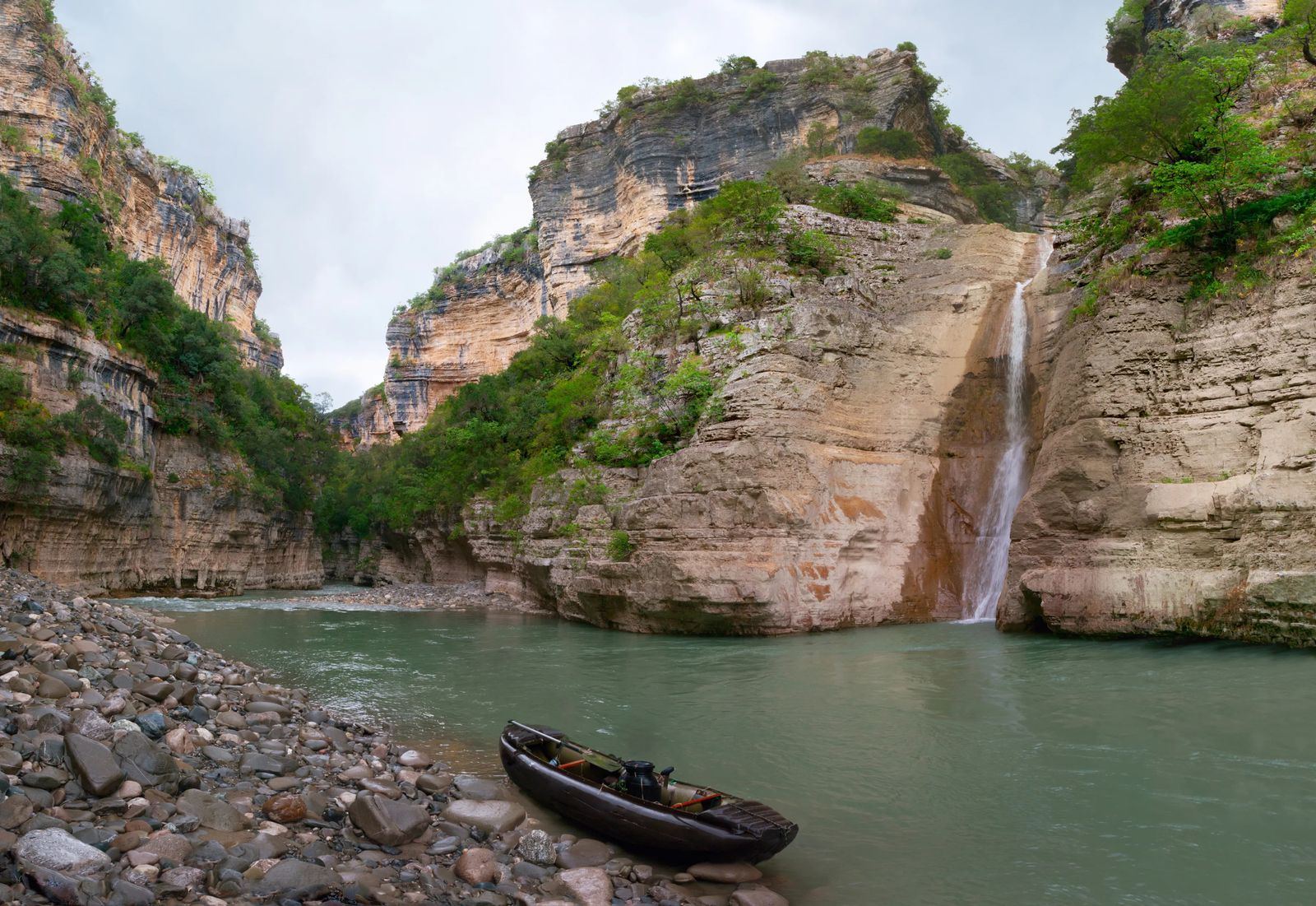 Things To See Near Berat
There's an abundance of activities to enjoy in Albania, and with favorable exchange rates for both the USD and Euro, it's an ideal place to stay and explore. If you're inclined towards natural adventures, I recommend visiting the popular Osum Canyon (pictured above), renowned for its waterfall-lined rafting routes.
Additionally, you might consider embarking on a guided tour. Options include a trip to Sotira Waterfall, wine tasting experiences, a hike to the North Summit of Tomorr Mountain, or a visit to Bogove Waterfall.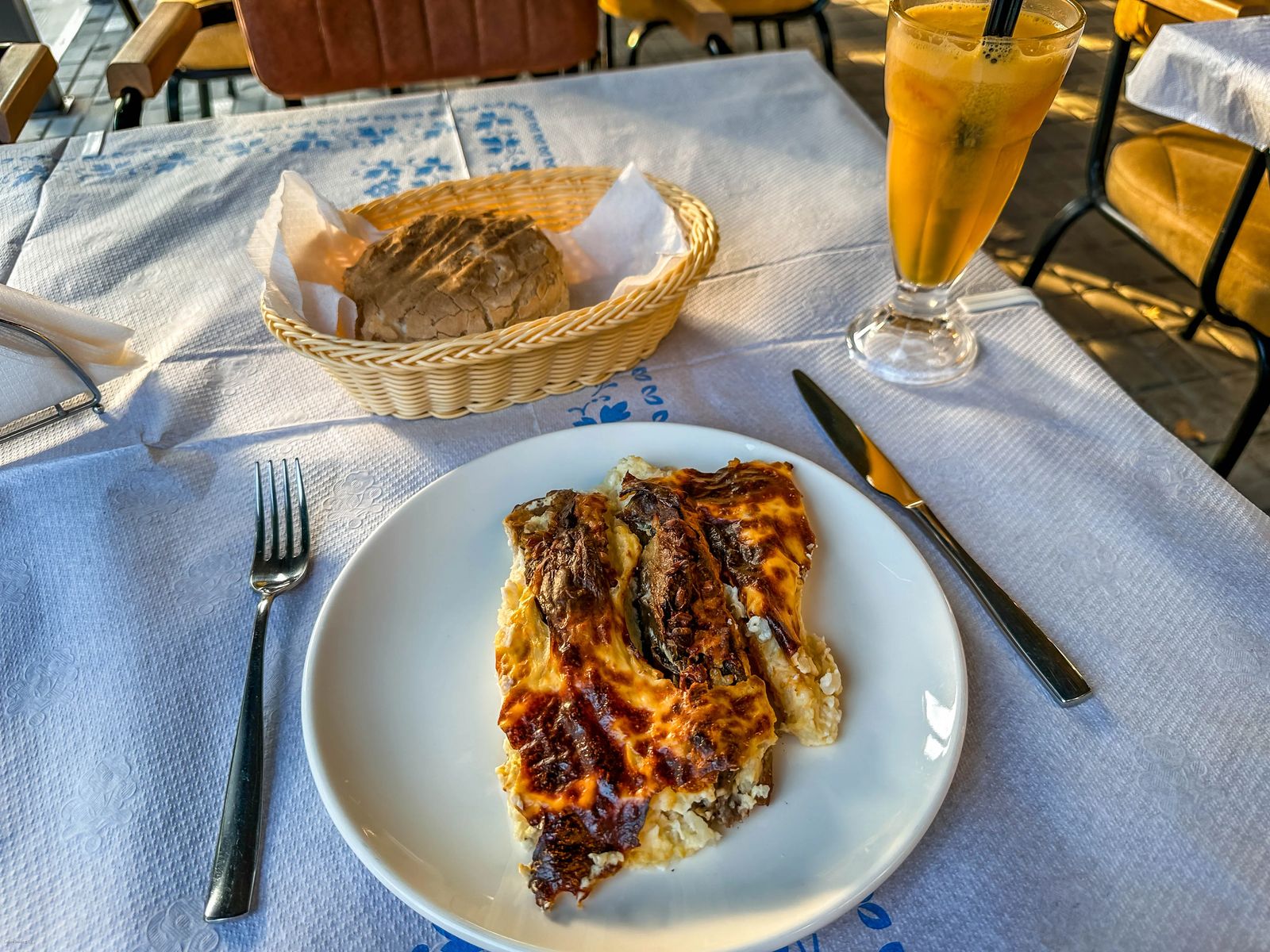 Eat Albanian Foods
There are a few foods you should try when in Berat. Bear in mind that many meat dishes are quite salty, a method traditionally used for food preservation. Burek, a pastry stuffed with meat or cheese, is popular in the Balkans. However, in Berat, they also serve it with pumpkin. Other local specialties include Berati Schnitzel (pork stuffed with hard cheese), Leek Pie, and Pispili (a spinach pie with cornbread). You'll also find fruit-flavored yogurt drinks, wildflower teas, and Rakija.
One of the most traditional dishes you'll encounter is Japrak, made from grape leaves stuffed with meat, rice, and herbs. Many restaurants also serve Fërgesë, a dish made of peppers, ricotta cheese, tomatoes, cabbage, and sometimes liver. For dessert, try Katmarr, essentially a pie filled with local wild jams and fruits.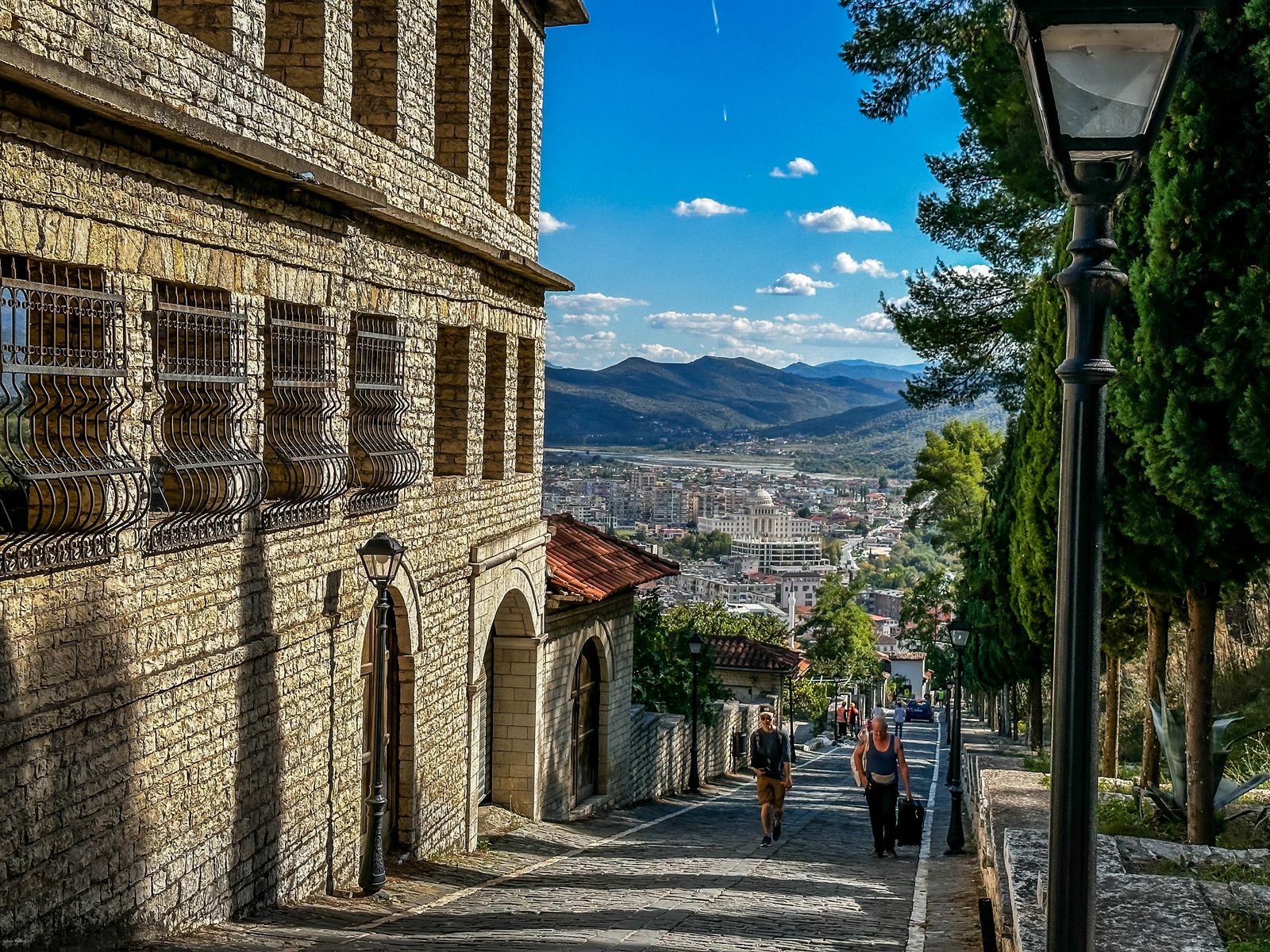 How To Get Around Berat
If you're visiting Berat independently, without a tour, ensure you have a download or screenshot of the streets where your accommodation is located. The streets here aren't labeled and it can be challenging to find your accommodation—even with Google Maps and a local SIM card, as my travel companion and I discovered. We ended up asking a local to call our accommodation and provide directions. Once we arrived, our centrally located stay offered pretty spectacular views (see below).
The city has a bus system servicing major tourist attractions like the castle, Gorica Bridge, and the Mangalem and Gorica quarters. Although the city is very walkable, I strongly recommend taking the bus up to the castle and then walking back down into the city.
If you're renting a car to get here, ensure your hotel offers adequate parking for all its guests. The streets here are narrow and quite bumpy, and makeshift parking isn't an option as every inch is utilized or obstructed by a stone fence.
How Much Does Berat Cost?
Accommodation in Berat can range from $10 to $80 per night, depending on your preferred location and proximity to town. The more affordable options tend to be booked about a month in advance. To ensure safety and amenities like a hot shower, it's advisable to choose accommodations rated three stars or above. Our stay cost around $50 per night for a room offering a city view, a rooftop terrace with a panoramic cityscape, and a full breakfast.
A complete three-course meal with a drink on the boulevard, including a small tip, costs around $15 per meal. If you're craving smaller dishes like Burek, expect to pay about 2 Euros.
Entrance fees to museums can range from $2 to $10. Tour costs vary greatly, ranging from $34 to $135, with the most expensive being a rafting trip down Osum Canyon, which includes transportation, food, and a guide.
So, if you plan to visit Berat, anticipate a stay of at least three to four days. Your budget could fall anywhere between $150 and $1050, depending on your chosen activities, accommodation, and dining preferences.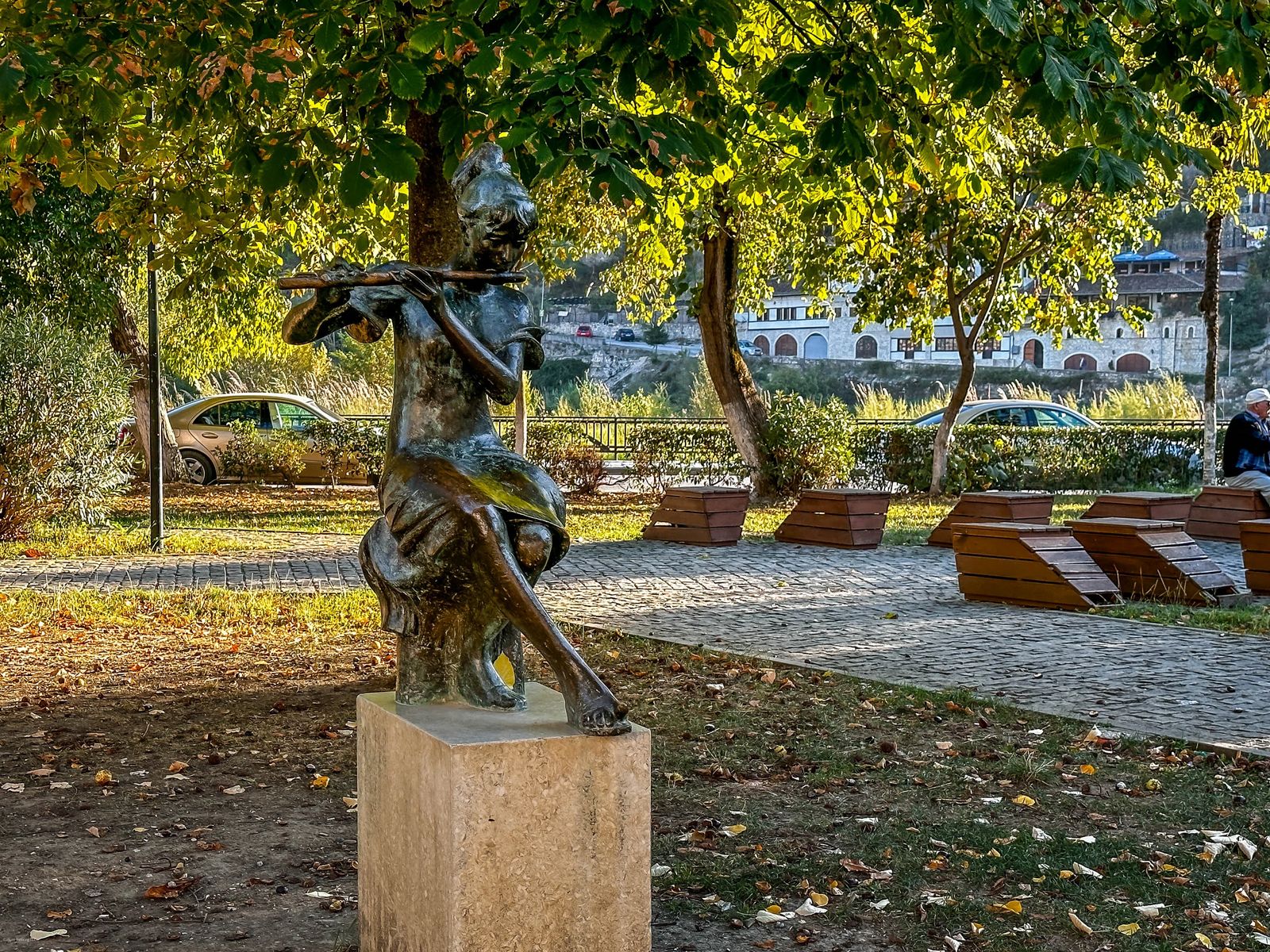 Best Time To Visit Berat
Berat is a beautiful city to explore. However, keep in mind that outside the tourist season, many attractions have shorter visiting hours. The ideal time to visit Berat spans from late April to early October, ensuring you can fully experience the city's offerings. A number of museums in Albania and North Macedonia close on October 1st, so it's advisable to plan your visit before then. Visiting during these months ensures pleasant weather, further enhancing your exploration of this captivating city.
How To Get To Berat
Berat doesn't have an airport, so you'll need to fly into a major airport and then take a bus into Berat. If you fly into Tirana, buses to Berat depart every 30 minutes, but only between 5:30 am and 5:30 pm. The bus journey from Tirana takes about 2 to 2.5 hours and drops you off just outside the city. It would be wise to budget an additional $10-$15 for a taxi into the city, so ensure you have cash on hand.
Car rental prices range from $20 to $35 per day, depending on the vehicle. My friends and I embarked on a 7-country, 1500-mile road trip through the Balkans, so we rented a car in Dubrovnik. For a 2.5-week trip, with two drivers, full insurance, and returning the car in Dubrovnik, the cost totaled $1200.
The only challenge we encountered with our car in Albania was finding parking. You'll need to be comfortable navigating poor infrastructure, narrow streets, and tight parking spaces. If you're comfortable driving in conditions similar to those in Rome, Italy, you should have no trouble navigating the Balkans and Albania.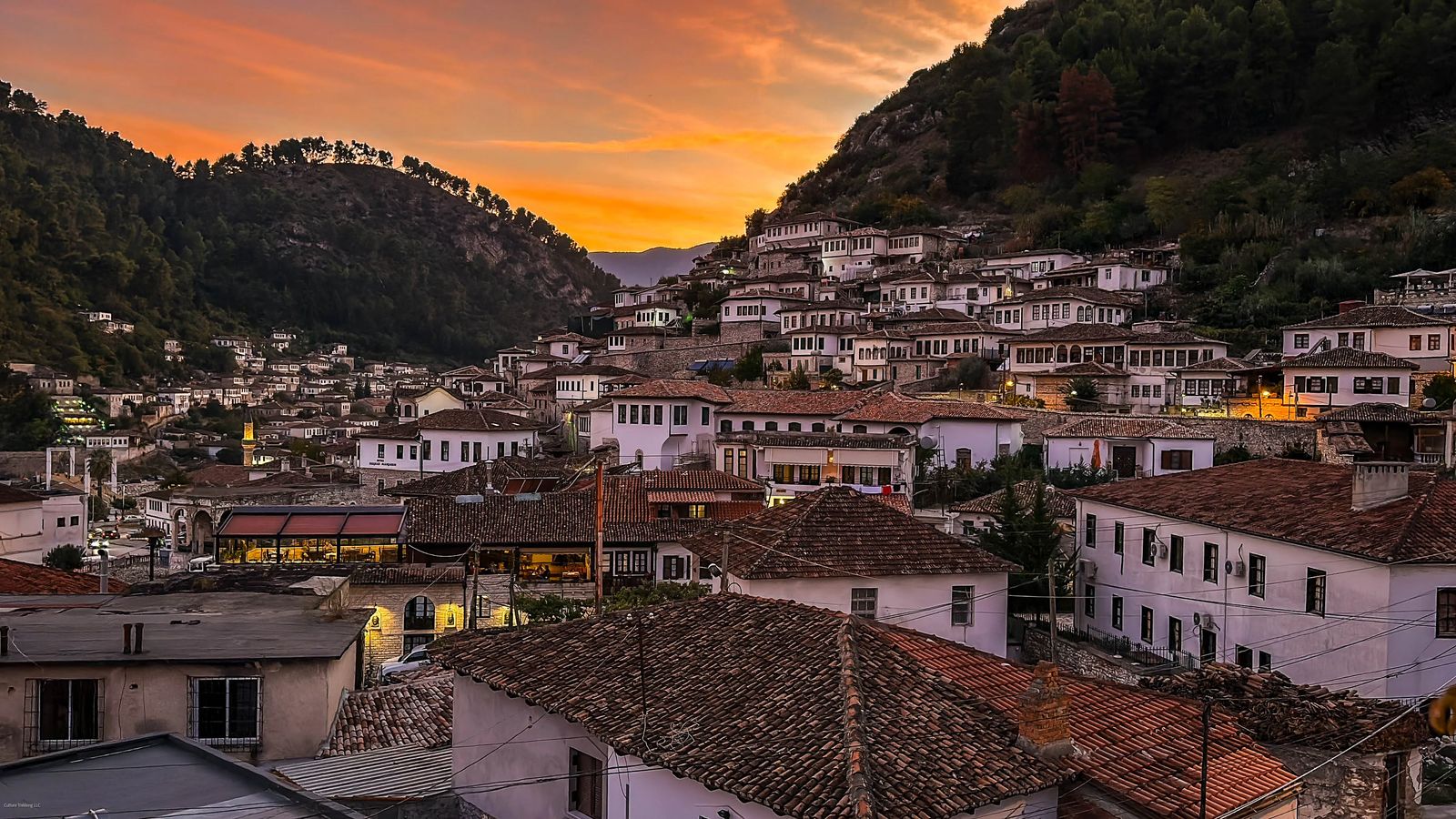 My Takeaway of Berat Albania…Is It Worth It?
My friends and I visited Berat at the end of our Balkan journey and were quite jet-lagged. Despite this, I absolutely loved disappearing into a city surrounded by buildings so unique from where I lived. The local language was completely unfamiliar to me, and without a map, finding the town and major attractions was confusing. The food wasn't particularly spectacular or anything I was used to... HOWEVER... being there gave me the exhilarating feeling of being an old-world explorer!
Feeling completely disconnected from the world, relying on my experiences, and embracing the discomfort of not knowing exactly what the next step was - these made for a profoundly beautiful experience. The city had a safe and welcoming aura; its inhabitants were kind and curious about our presence. Their hospitality was amazing, and their compassion towards the stray dogs truly touched my heart. The waiter told me that when the pandemic struck, many pet owners couldn't afford to feed both their dogs and their families, leading them to release the dogs onto the streets.
What captured my heart about Berat were the people, the untouched charm of a region not completely westernized, the unique cultural touches, handcrafted rugs, painted ceramics, and the absence of sirens. All these elements fostered a peaceful, serene feeling on the terrace of our hotel, a memory I will never forget.
Let me know if you have any questions or if you decide to visit let me know in the comments below.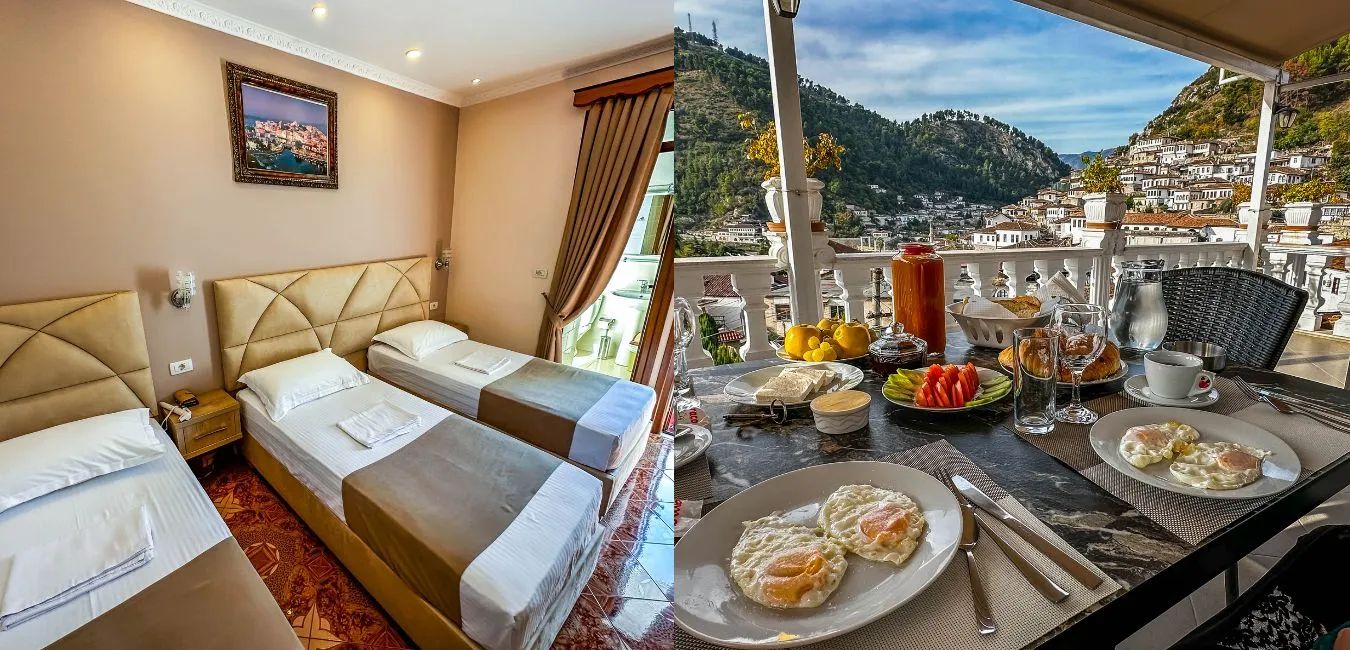 Where To Stay In Berat
My friends and I stayed at Guesthouse Arben Elezi with a view of the city from the bathroom. The accommodations were comfortable and spacious, with clean rooms and common areas, and pillows, linens, and towels provided for use. They have wine available for purchase at the guesthouse for $10-$15, along with other sodas. They accept only cash, which is common throughout the city. Convenient parking is available right outside the accommodation on a narrow street, with security cameras monitoring the cars for safety.
The highlight of this place was the terrace atop the hotel, which boasts spectacular views of the classic homes, mountains, and the entire city, providing a perfect backdrop for sunsets. In the morning, the sun is behind you, offering ideal lighting for photos. The comprehensive breakfast in the morning is worth every penny and ensures you're fueled for the day.
Like it? Pin it for later! Sharing is caring ;)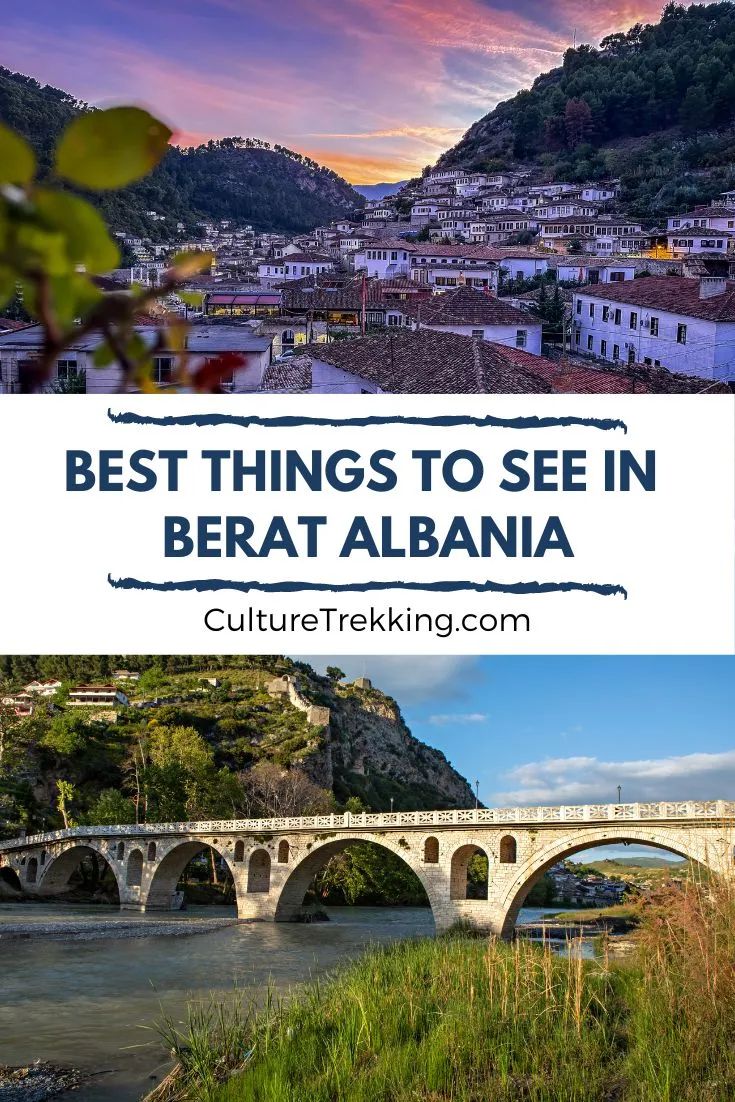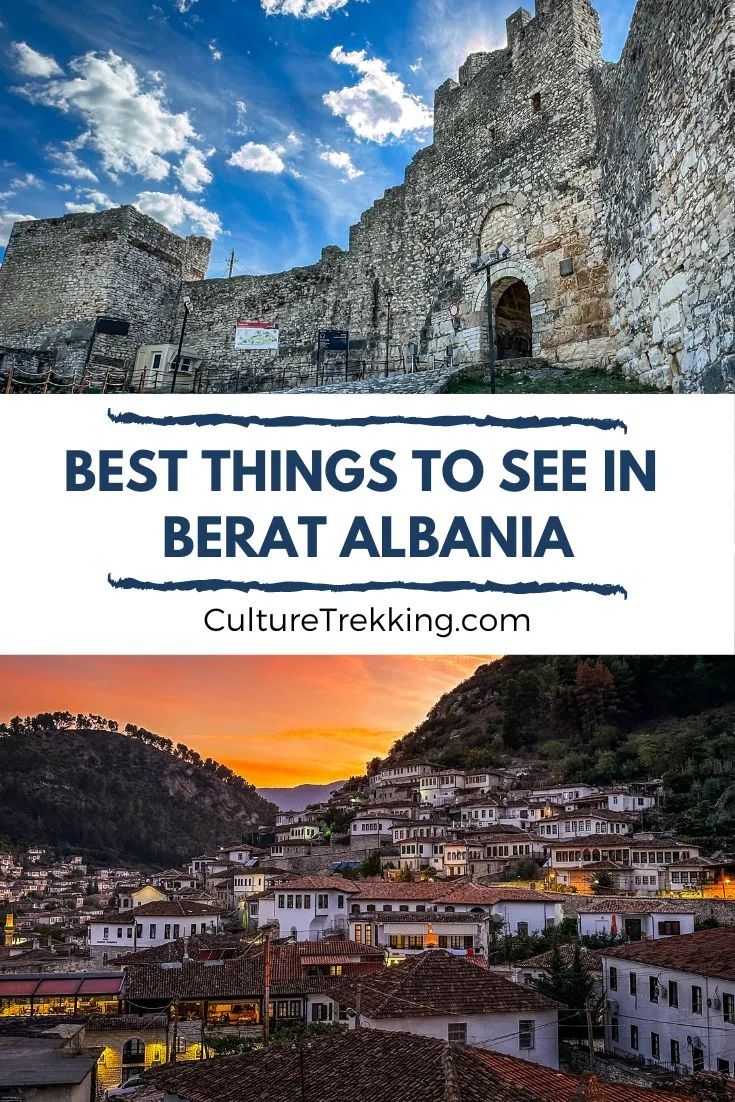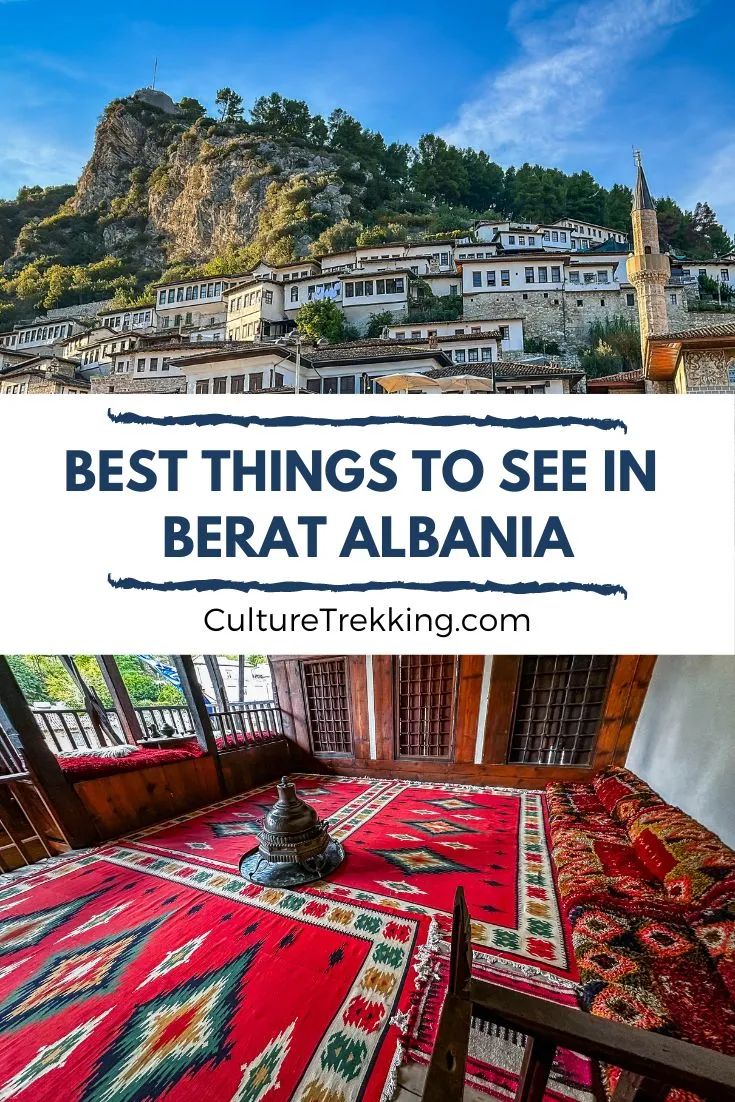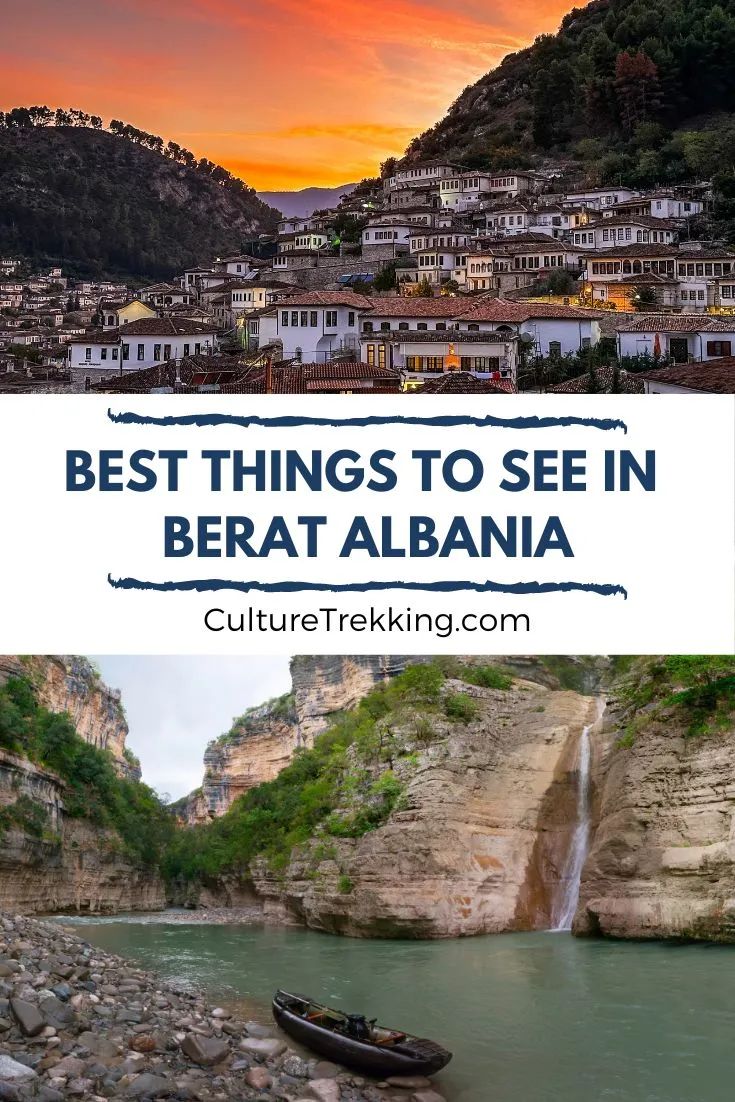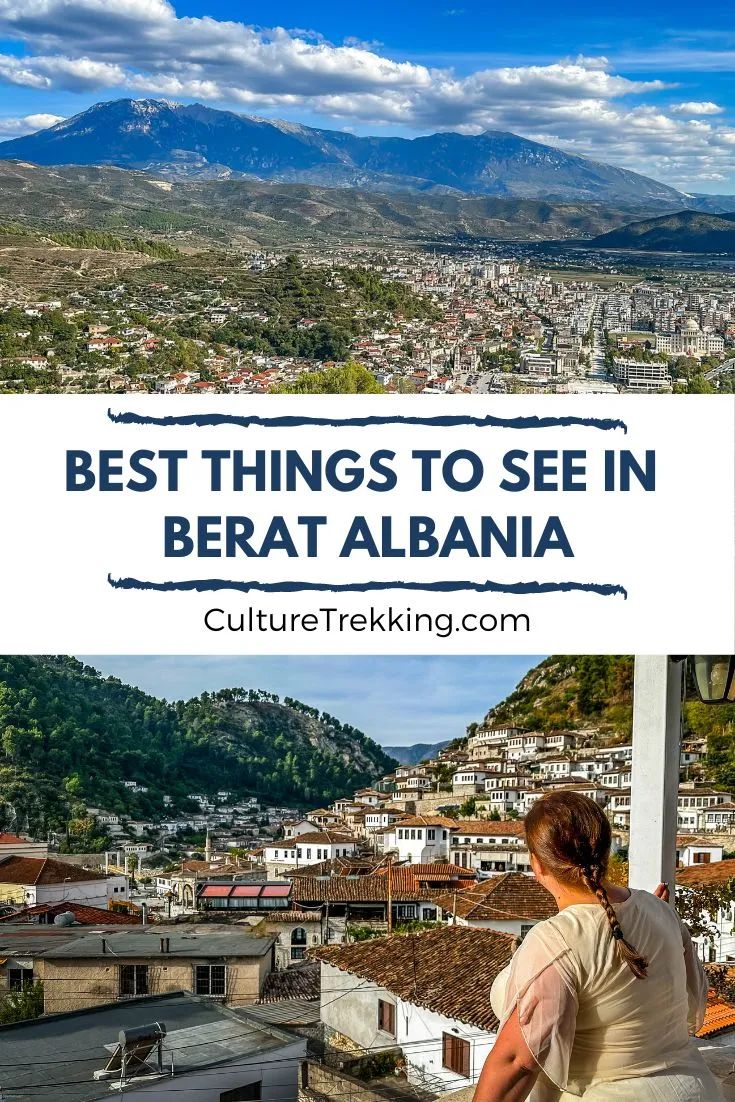 Latest Articles On Culture Trekking