Things To Do Near Plav Lake Montenegro
Traveling from Mostar to Drvengrad to Skopje was a monumental task on our 1500 mile roadtrip through the Balkans. After exploring Google Maps and going down the rabbit hole for explorative travel, I found Grebaje Valley, Ali Pasha Springs, The Blue Eye, and the nearest town being Plav Lake. While it is a small town in Northern Montenegro, there are so many incredible things to do near Plav Lake that make the trip there well worth the effort.
My friends and I visited in October 2022, but have updated this article in 2023 to ensure the most accurate information for your adventure. While the roads are some of the worst I've driven on in a long time, my friend accurately described it not as a road but one big pothole - I would say 75% of the roads getting there were decent. It is just when you go to visit the nearby Durmitor National Park, Ali Pasha Springs and Grebaje Valley that things start to get a bit nerve wracking. I'll give you more tips and tricks (and warnings) on visiting below.
Plav Lake
Plav Lake is located about a four hour drive from both Drevengrad Serbia (where we were coming from) and Skopje Macedonia. We had rented a car and had to plan our trip to visit Serbia first, then Kosovo, as Kosovo is still a disputed country and rental car companies don't allow the car to go in.
Plav Lake is a glacial lake located around 3000 ft (962 m) above sea level with plenty of places to stay from luxury to mountain cabin right near the lake. It is a peaceful place during the day with cool breezes blowing through the valley next to the rugged Accursed Mountains and Dormitor National Park.
The lake stays a chilly 53 F (11 C) year round, is about 30 ft (9 m) deep and is a perfect place for kayaking and bird watching, putting your feet up and just relaxing. While staying there I really feel like it is one of those rare special places in the world that provides those cozy comforts from the modern world, a peaceful retreat, and not over run with tourists yet. If you are looking for a unique cultural experience and outdoor haven where you can feel disconnected to everything, but connected to everything in nature then this is the place to go.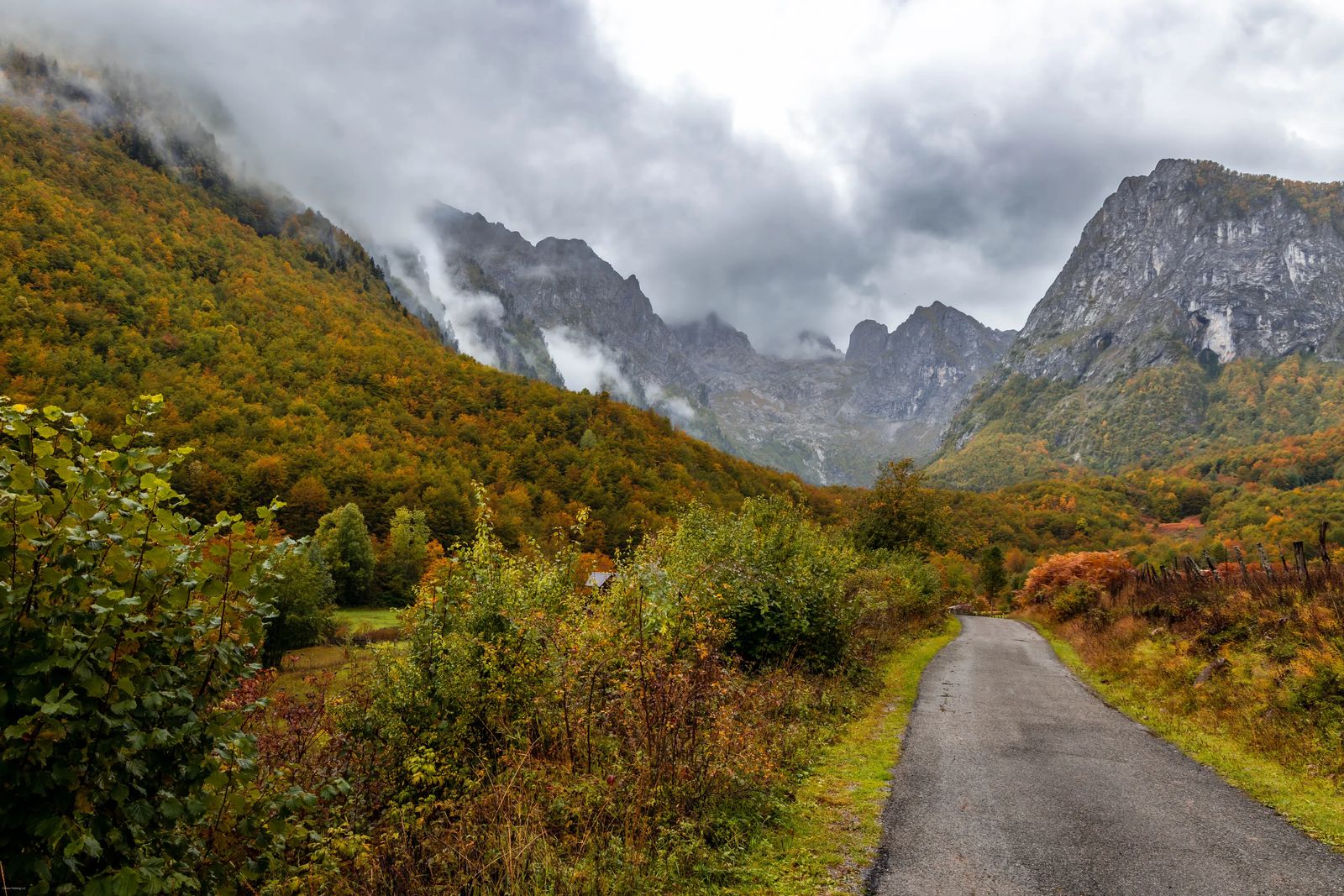 Grebaje Valley
Grebaje Valley is located within the Prokletije National Park with ruggedly cut cliffs that tower of the valley below creating a secluded cove for sheep and cows to roam. It is right near the Peaks of the Balkans trail but isn't technically part of the trail and would require a detour - but it is well worth it. You can also visit via car, although this is where the roads start to get a bit more cramped and dodgy. Head to Gusinje and then some people say there is a 1 Euro fee in order to officially enter, however for us, because of the massive rainstorm we encountered just stopped a ways down the road and took some photos without having to pay the fee.
If you do go down the road there is a six hour hiking loop that takes you through the valley and to the Karanfili peaks. A shorter hiking option is to the kissing cats, an arch in the mountain that looks like two cats kissing.
The valley is U shaped and often has rainstorms that blow through that make the area absolutely transform into a romantic mystical landscape that adds to the allure and opportunity for folk tales of magical creatures and mountain gods.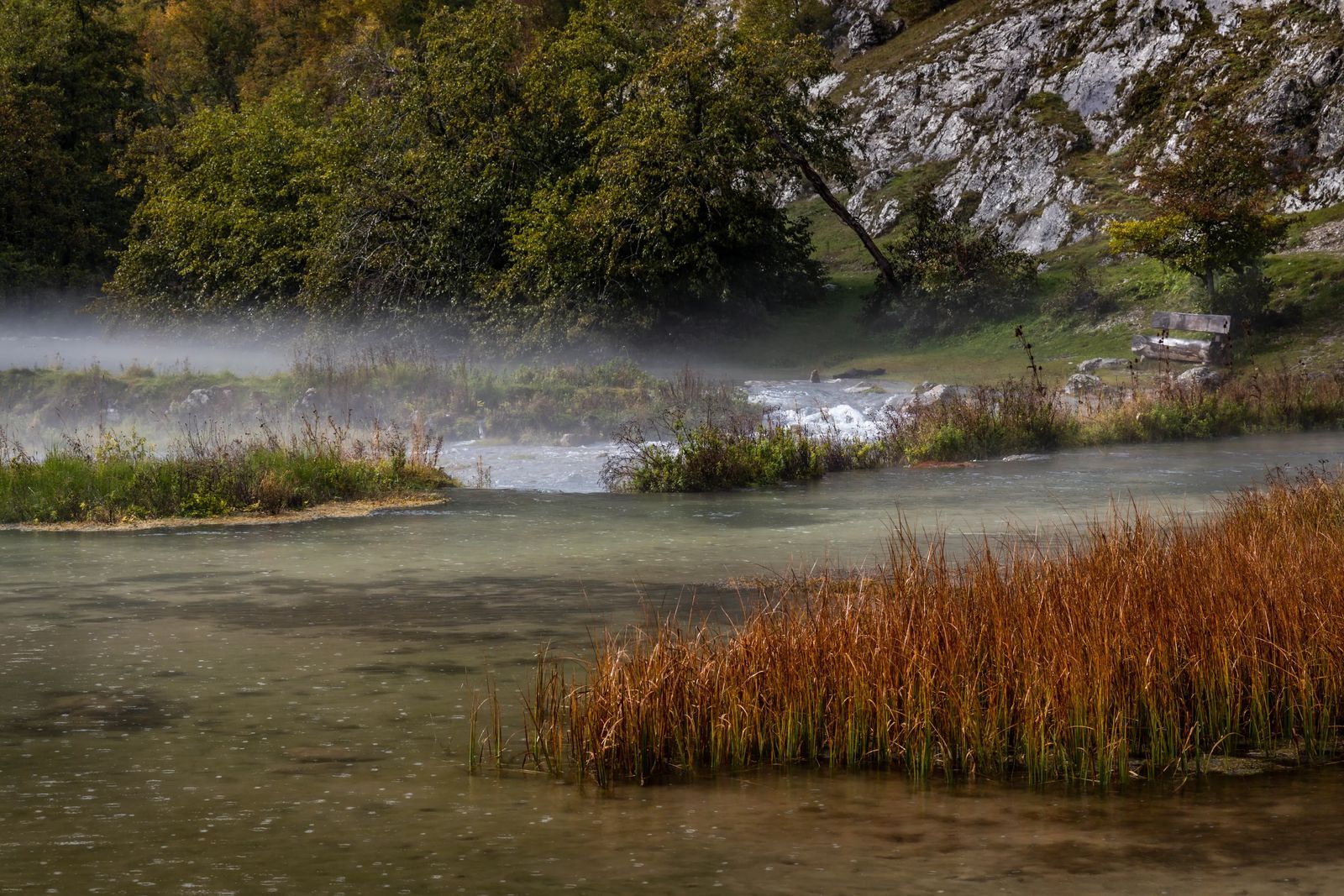 Ali Pasha Springs
Located in the Proketje National Park as well Ali-Pasha's Springs (ali Pasini Izvori) is a river that is a bit of a pilgrimage site for outdoor enthusiasts who like peaceful settings. The water that feeds the river comes from the ground itself, with small karst springs bubbling up out of the ground and coming together feeding the Vruja river that merges with Plav Lake.
The water is often so clean you can drink directly from the springs and locals often say there are incredible benefits and minerals in the water as well that is has healing effects. The springs are located just south of Gusinje, about a 25 minute drive, and very close to Grebje Valley as well.
Ali Pasha was a famous Ottoman Albanian ruler that ruled in the 18th century, called the Lion of Uannina. He served as pasha of the western part of the Ottoman Empire.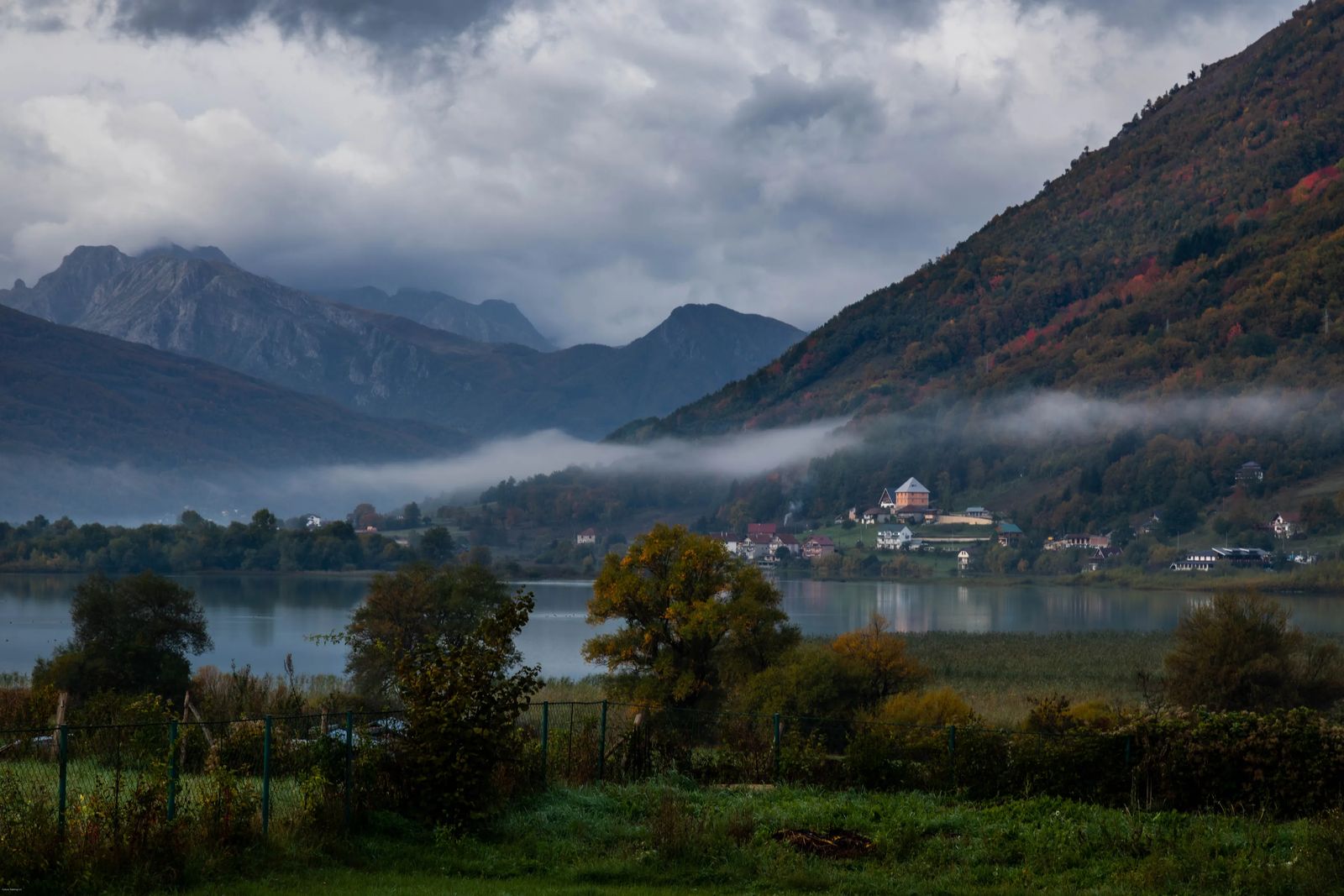 Prokletije National Park
This is the southernmost part of the Dinaric Alps, and is 40 miles from Skadar Lake right near the Montenegro-Albanian border. If you don't want to do the entire Peaks of the Balkans Trail then you can try a few of the trails in this park.
Right next to this park is also Durmitor National Park (which is considered the prettiest). The highest peak in Prokletije is Zla Kolata standing at 8,313 ft (2534 m). You can try the popular hiking trail of v, or the Ropojana-Karaula Zastan-Lake Valley - Cafe Jezerce and back hike as well.
The trails are marked, but because of the mountaineering required it is still recommended to go with a guide. Some trails require moving along cables and such and I would hate for anyone reading this to get hurt, especially if you decide to summit a peak.
Otherwise try to visit one of the five waterfalls along the river Grlja in the Skakavica canyon. Plavsko Lake is the largest lake in this national park, with the Lim river being an offshoot from it that is said to be full of fish. You can fish the Lim river, but you need a license to do so.
There are plenty of mountain lodges available for a night stay with hot showers, food, toilets. It costs about 10 euros to stay at a lodge (varies depending on stay), you can rent hiking poles, tents, tent spaces, and larger camping spaces from 3-8 Euros. If you want to hire a guide it is about 40 Euros for 4 hours. If you are only planning on visiting the valley, then it is about 1 Euro per person to be paid at the toll booths.

Peaks Of The balkans Trail
After loads of research I found the Peaks of the Balkans Trail a wild trail that utilizes shepherds paths that wind through the Western Balkan crossing three countries Albania, Kosovo, and Montenegro. Rising 7500 ft (2300 m) above Sea Level through mountains, fields, waterfalls, rivers, and tiny ethnic mountain villages it is a treasure for outdoor adventurists. It only opened to the public about 20 years ago and so isn't over run with tourists yet which makes it a uniquely peaceful experience.
The 119 mile (192 km) trail has plenty of sign posts, with LOTS of information on the official Peaks of the Balkans site for everything you need to know prior to visiting.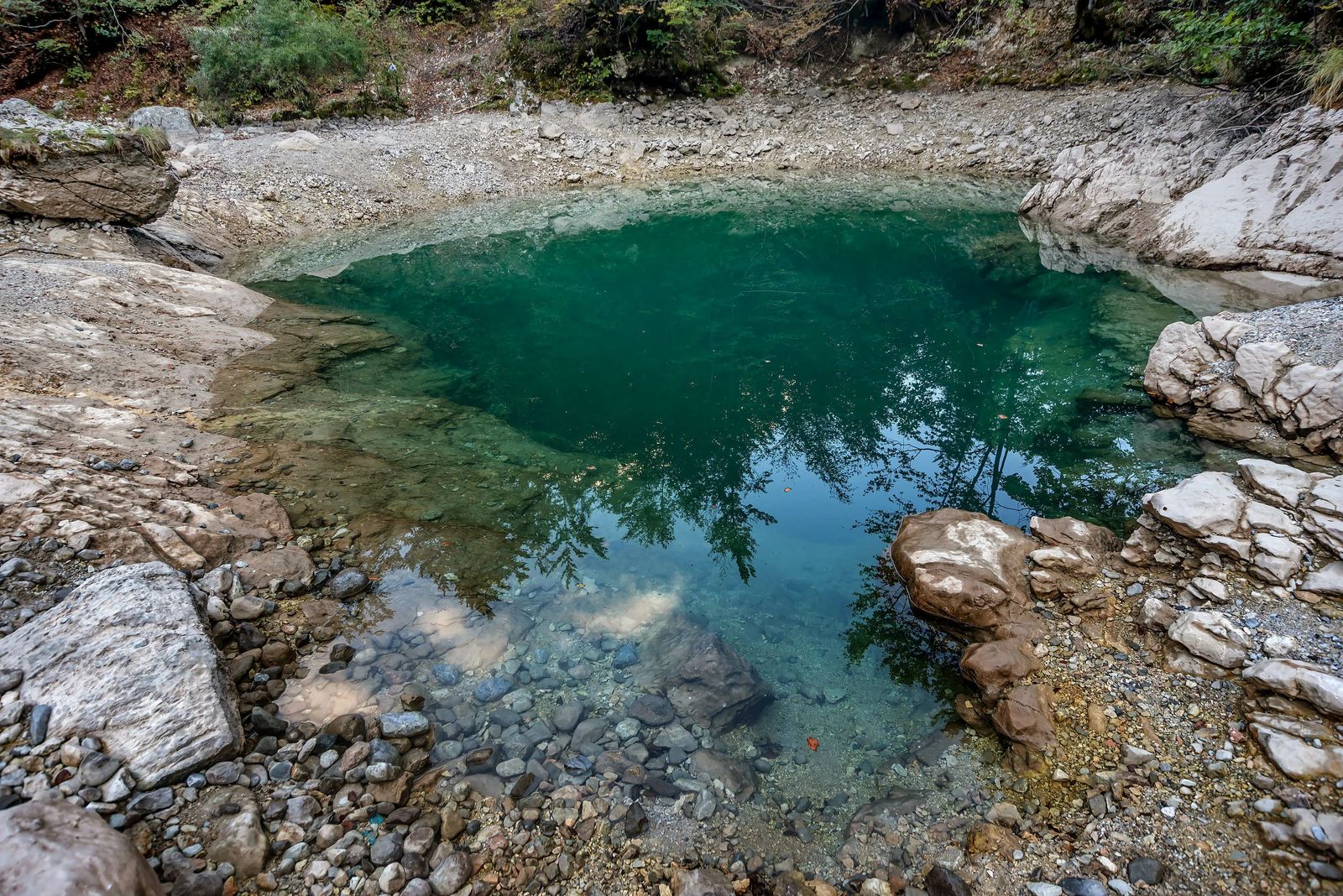 The Blue Eye (Oko Skakavice)
There are two Blue Eyes in Montenegro, The Blue Eye of Saranda in the south and the Blue Eye of Kapreja in the Valley of Theth. The one near lake Plav and the beautiful Valley of Theth begins at the village of Ndërlysa near the ruined school. The trail isn't well marked, and I would highly recommend hiring a local guide. The hike is easy to moderate but does require good balance due to the rocky terrain, and takes about 2.5 hours to hike it at a decent pace.
The Blue Eye is said to have healing properties to it as it is a Karst fed spring. It is best to visit during the summer months as that is when the swimming pool is the fullest and you get the best of the blue color. If you do hike it during the summer, it does get really hot, so start the hike early in the morning.
Redzepagic Tower
Built in 1671 by Hasan-beg Redzapagic, with three floors (two stone, one from wood). There are beautiful wooden balconies jutting out from the top of the tower to make the living space more spacious, the horses were kept on the ground floor. Inside you will find the local ethnographic collection and a guided tour is available with the owner who explains the different uses for each floor and now it was to live in the 17th century here.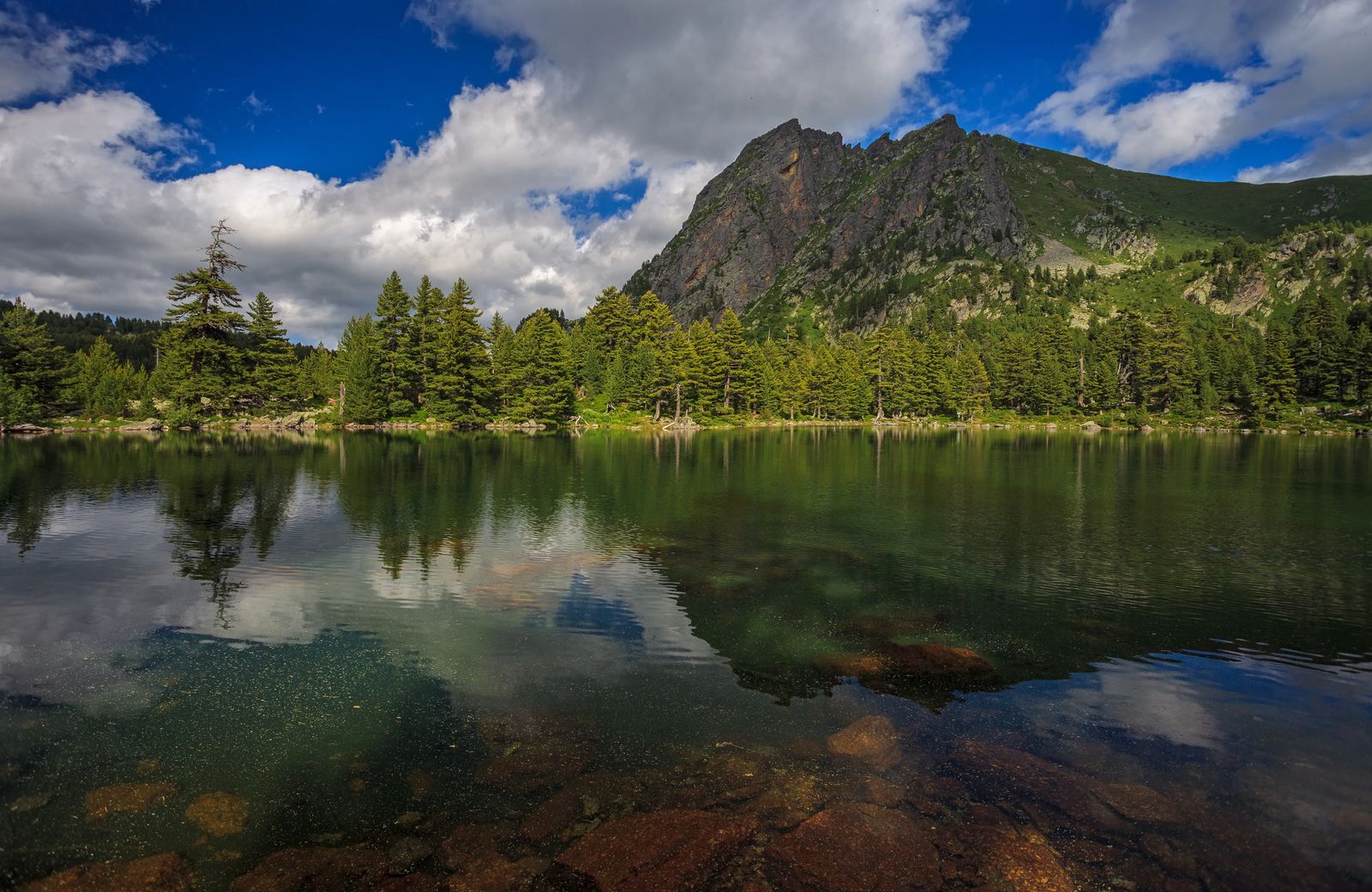 Hrid Lake
The lake reminded me a lot of the lakes in Utah in the High Uinta mountains (my home), but the difference was the springs dotting the path, the wild blueberries, and untouched forest. The path is well marked and is a great place for a swim and a picnic. Hrid means 'craggy rock' but locals call it the 'lake of happiness' & 'Pearl of Prokletije'. There is a legend of forest fairies hiding from humans and bathing in the Lake. If you take a swim it is said the lake brings health and luck in marriage, but a coin, piece of jewelry needs to be offered to be blessed by the fairies.
Nearby you will find the Peaks of the Balkans Trail. The trail to this lake isn't part of that, but if you are spending time in Lake Plav it is definitely worth a stop. Just be aware that summer months the lake does shrink from the 16 foot (5 m) depth, and is frozen in winter so Spring and Fall are the best times to visit (but be prepared for rain). You will also need to be careful on the trail with wild boar, steer well clear during early spring as they are more aggressive (with rutting season) as well as actively looking for food.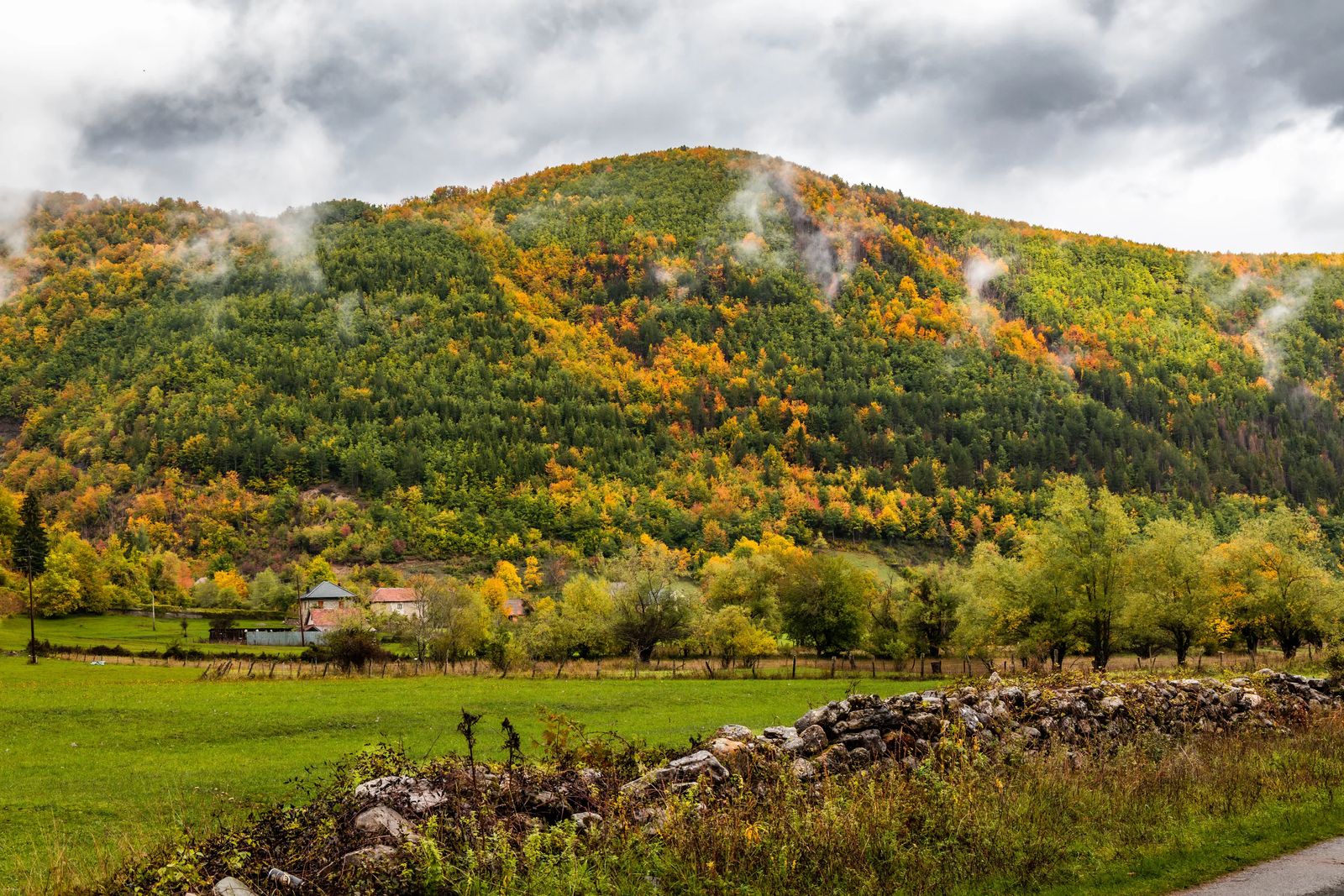 My Takeaway of Visiting Plav Lake
I genuinely loved Lake Plav, and really regret only having one day there - I had counted on being able to get there early, be able to do a few hikes, and there being no rain....in October. Soooo, you can't call me a pessimist when I travel because I was VERY optomistic, lol. If you do decide to visit, make sure you are planning according to the activities you want to do hiking, swimming, relaxing, photography, bird watching. It can get hard to visit in winter with the roads, but it is still possible. I
There are so many things to do near Plav Lake in Montenegro, it was worth the drive to be able to see this hidden gem, Grebaje Valley, Ali Pasha Springs and the hiking trails and towns near the lake. I will definitely be back to hike the area more thoroughly - but if I was to do the trip all over again, I would certainly allow at least four or five days to take in all the Plav Lake has to offer.
Where To Stay In Plav Lake
We stayed at the beautiful and cozy Lake Breeze Bay in Plav Lake, there are 6 beds and a giant couch downstairs, wine, coffee, fire heated home, with a short walk access to the lake. I cannot recommend staying here enough, we were so comfy and cozy, the beds were decent (a little firm for me tbh) but loved staying there. Below is a map of some other great places to stay in the area as well.
Latest Articles On Culture Trekking