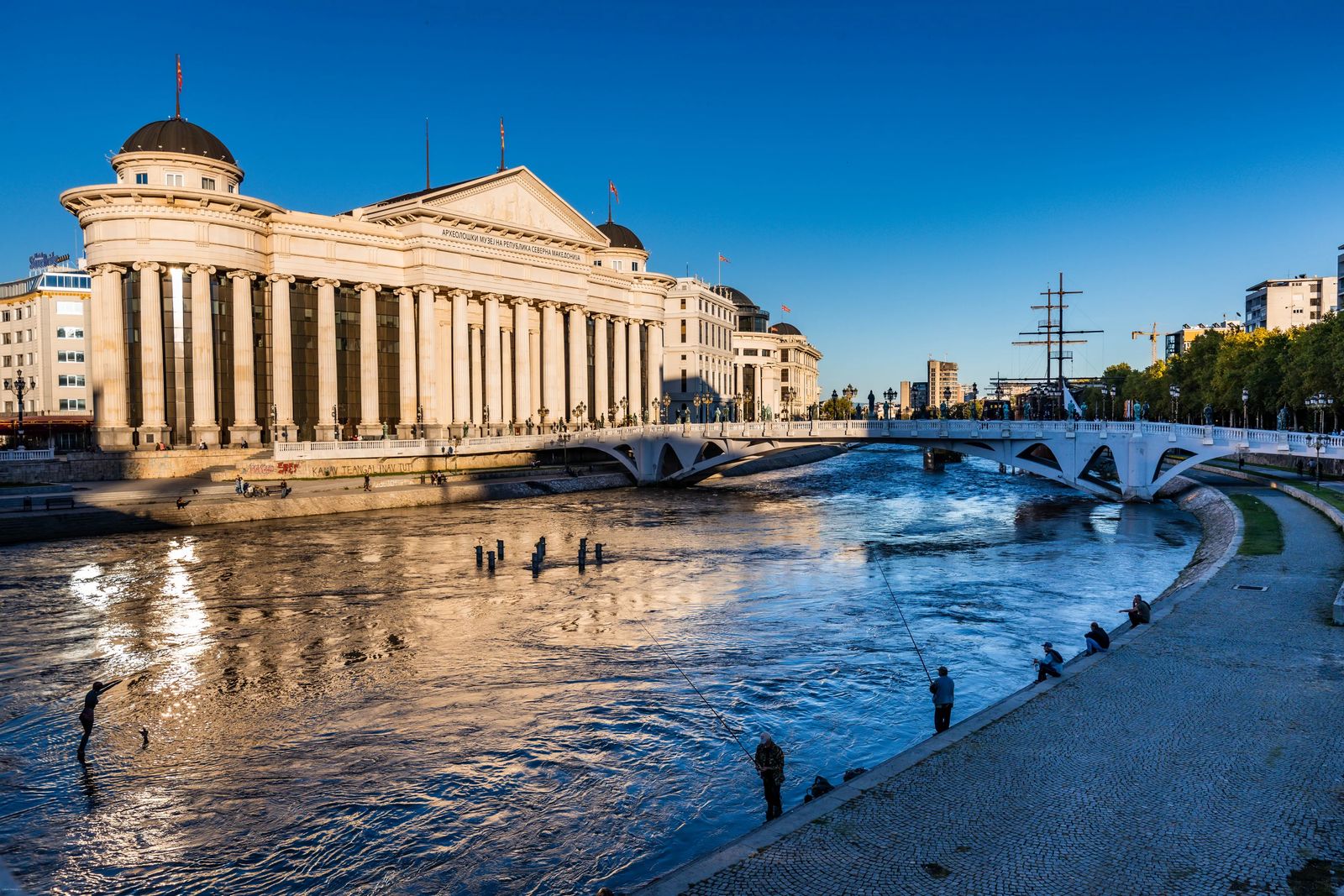 What To Do In Skopje In One Day
Skopje, known as the 'City of Statues', offers a unique and captivating experience that immerses visitors in its rich history and cultural heritage. As I strolled along the streets, I found myself constantly encountering intriguing sculptures that surpassed my initial expectations. Rather than mere decorative pieces, many of these statues possessed profound meaning, enabling me to gain a deeper understanding of Skopje's captivating history and leaving a lasting impact on my soul.
Unveiling Macedonia's illustrious past, Skopje stands as a testament to one of the most significant kingdoms in history. The monumental column of Alexander the Great, situated at the heart of the city, serves as a focal point, narrating the remarkable tale of this legendary commander. Additionally, Skopje proudly claims Mother Teresa as one of its own, providing a connection to the influential figure who grew up in this very city.
With an abundance of historical treasures awaiting exploration, Skopje entices visitors to make the most of their time. To maximize your experience within a day, here are my top recommendations for must-see attractions in Skopje.
My friends and I visited Skopje in October 2022, but I have updated this article in 2023 to include the most accurate information for your adventure in Skopje.
Quick itinerary/Tips For Visiting
If you only have one day in Skopje, you want to stay close to the center of the city surprisingly there is a Holiday Inn in the center of the city as well as the Unique Hotel Senigallia (The Pirate Ship Hotel). We decided to do the unique stay on the Pirate Ship and depending on the side of the ship you stay on, it was a really great stay. Apparently there are quite a few car thefts, so if you have a rental car MAKE SURE you have a parking lot with cameras or security guards. Don't leave ANYTHING in the car. More on that down below.
You will start off by checking in (duh) then heading to Macedonia Square, Macedonia Gate, Memorial House of Mother Teresa, Stone Bridge, the Old Baazaar, Mustafa Pasha's Mosque, then head to the Museum of Macedonian struggle, Archeological Museum and lastly up to Kale Fortress (Skopje Fortress.
We were easily able to navigate the whole city using Google Maps. I just pay for the daily pass on the international pass with At&t, my friend used a SIM card (her service was a bit better). The only part I would say a guide would have been nice is in the old Bazaar. Just as a warning regarding guides, there are some people in Skopje who know who the tourists are - they approach (in an aggressive way), aren't very good at taking a firm NO for an answer. So for my female travelers, the best thing to do, is find a mosque or restaurant, go inside and ask for help getting rid of the whoever it is. Just don't engage, and walk like you know where you are going - if you don't just keep walking and follow the largest crowds til you find someone who can help.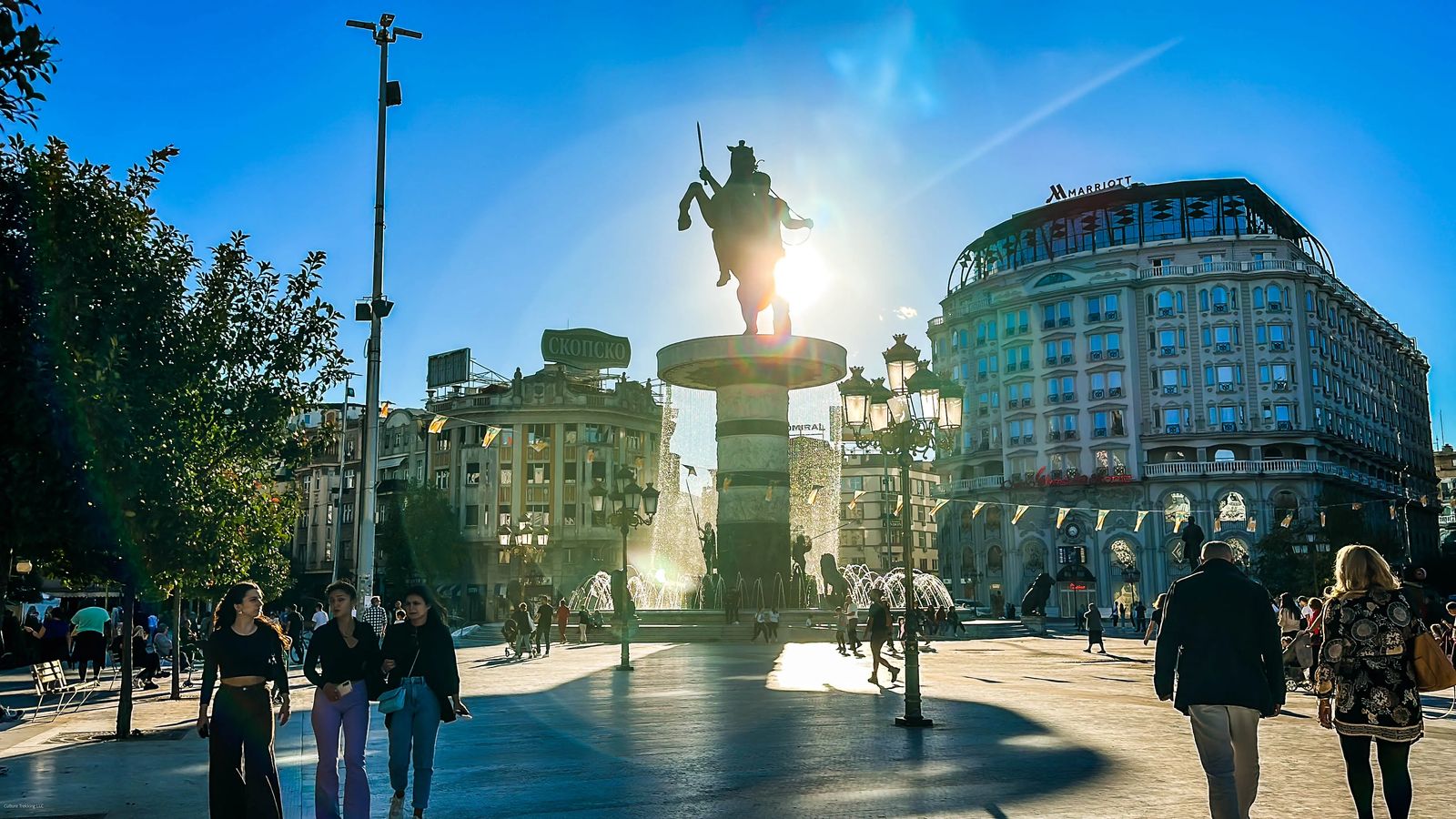 Macedonia Square
Macedonia Square is the center point of the city, filled with a diverse array of statues, sculptures, cafes, shops and is the hub of activity for cultural events. When you walk into the square with the massive Alexander the Great column you can't help be feel the energy and vibrancy of the city. I think experiencing this square is what made me really start to like Skopje. Before coming to Skopje, I wasn't hopeful that I would like it with 'just a bunch of statues and rebuilt city' - I'm happy to say I was COMPLETELY wrong.
The people here are very nice and hospitable, there is an insane nightlife, and the city center is easily walkable. While I'm not a nightlife person myself, I'll tell you the drinks here are strong, and the music across from our hotel was BUMPING til about 4 am. If you are a braver soul than I and try the nightlife out, let me know in the comments below.
You can walk around the corner to Victoria Arch, go back to the different museums right along the Vadar River, or take the tour as I outlined below and you will see the city within three hours (if you don't stop anywhere to linger that is).
Traveler Tip: Don't take the taxis off the street to get here or anywhere, they will overcharge you BIG time. Use your concierge to call a reputable taxi.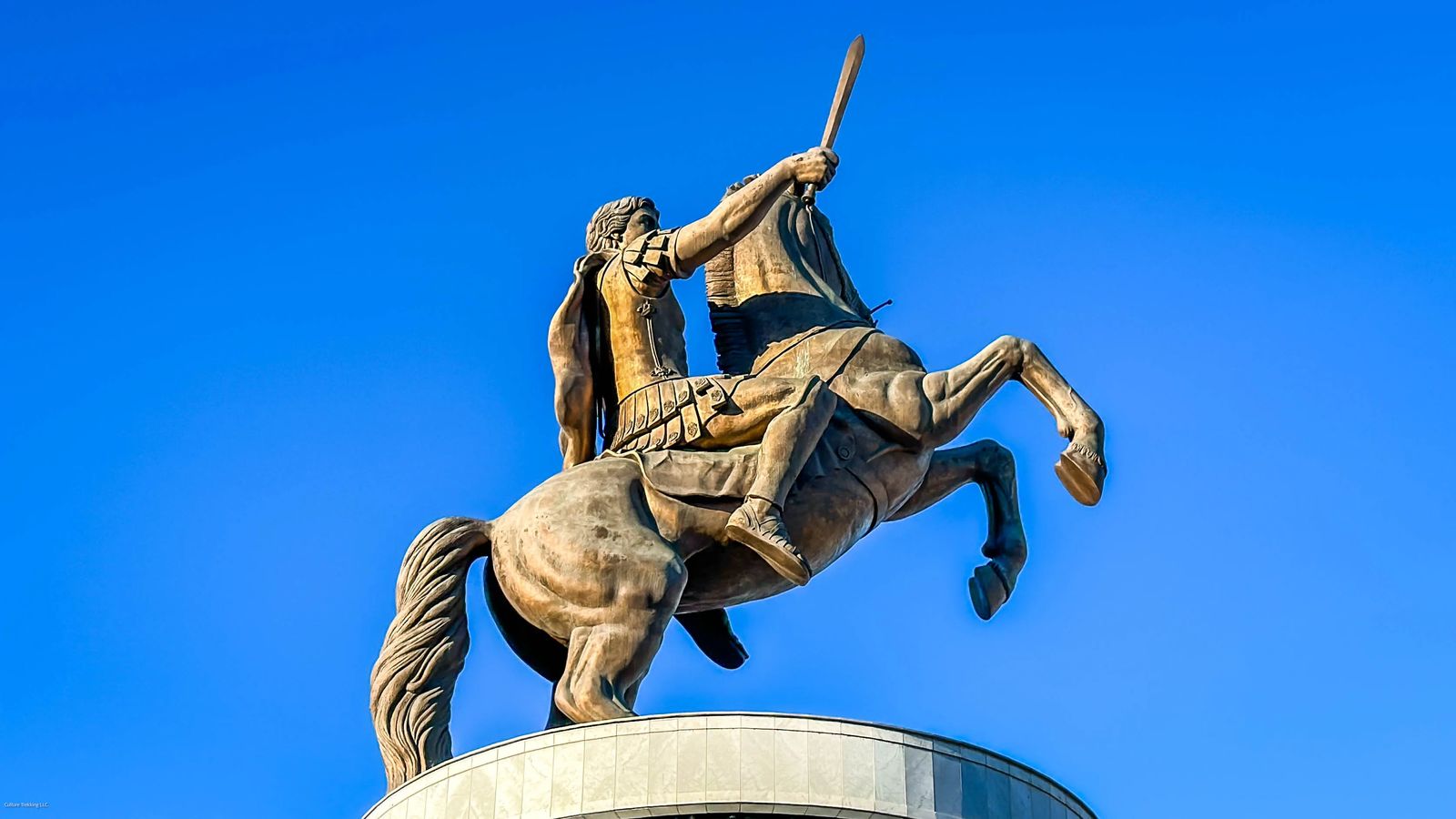 Alexander The Great Statue
This statue has been debated between Greece and now North Macedonia for awhile now as both countries claim the right to call the great king their own (indeed Macedonia spanned both countries). Regardless, the statue is a huge tourist attraction and great meeting place if you are traveling with a group.
At 20 years old he set out on a campaign to create the greatest empire, over the course of the next decade, by the age of 30, the Kingdom of ancient Greece kingdom of Macedon reached from Greece to Egypt to Turkey and Northern India. He was undefeated in battle and considered history's greatest military commander. At a young age Alexander the Great was tutored by Aristotle.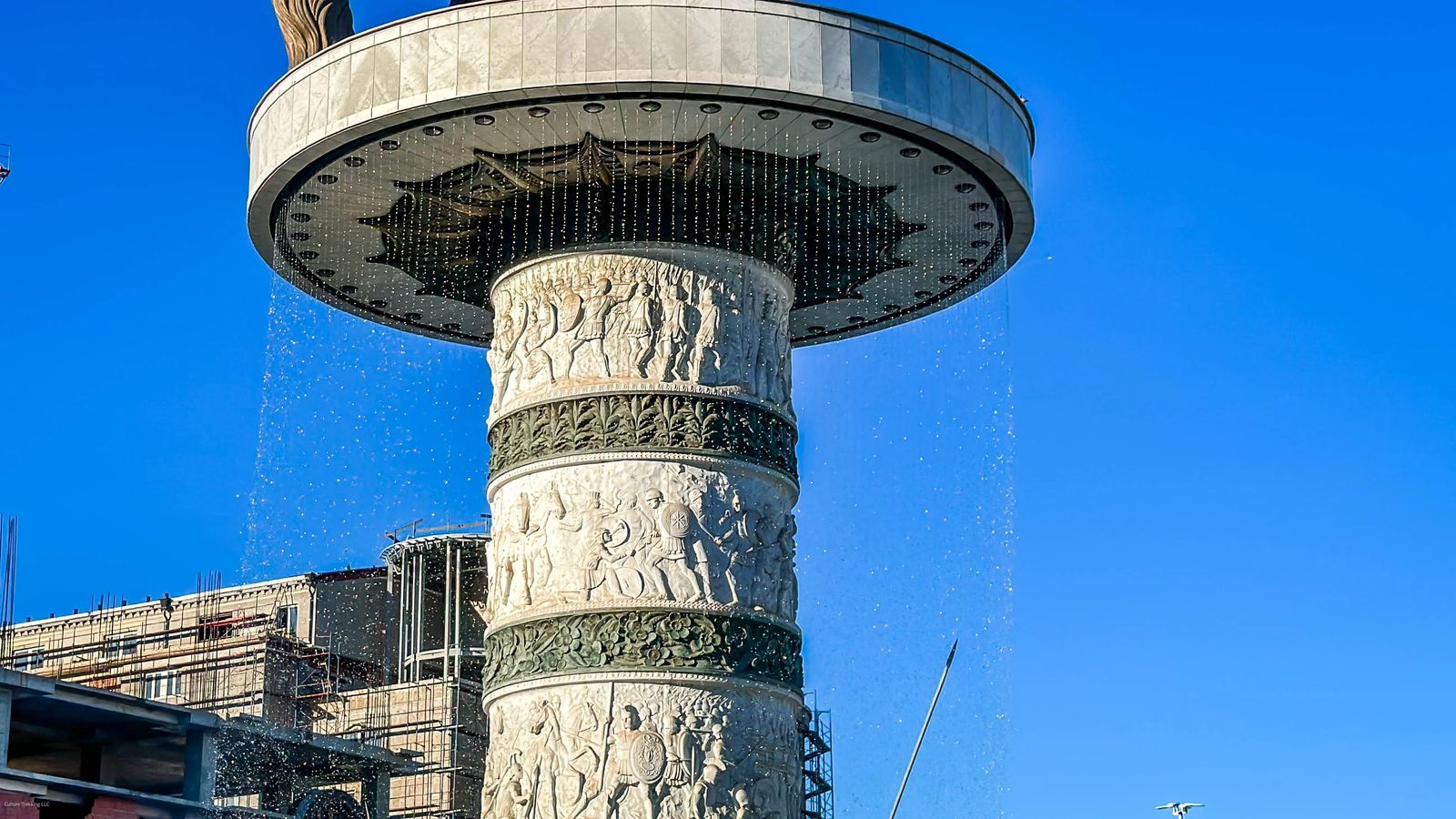 The statue is quite impressive and is good to visit any time of day depending on the mood you are going for. In the morning, you will have the statue to yourself without throngs of people, musicians, and street vendors. During the afternoon you will get all the people and street vendors. The evening is when the musicians move in, along with some stellar evening sun that casts dramatic shadows on the column. In the evening you can see the column light up in many different shades and colors.
The statue of Alexander is 48 ft (14 m) high, and weighs 48 tons weilding a sword while his horse Bucephanus rears back. He faces east towards Asia, with his famous battles against the Greeks and Persians depicted in the column below. There is a cheeky battle depicted (as an 'up yours to Greece') where Alexander's father is depicted at the battle of Chaeronea where the Macedonians defeated Greece. Below the column there are eight macedonian soldiers and eight bronze lions (8.3 ft tall) around the edge of the fountain. At the base of the fountain are large mosaics that represent ancient Macedonian scroll mosaics found in the ancient Macedonian areas of Egypt, Syria, Asia.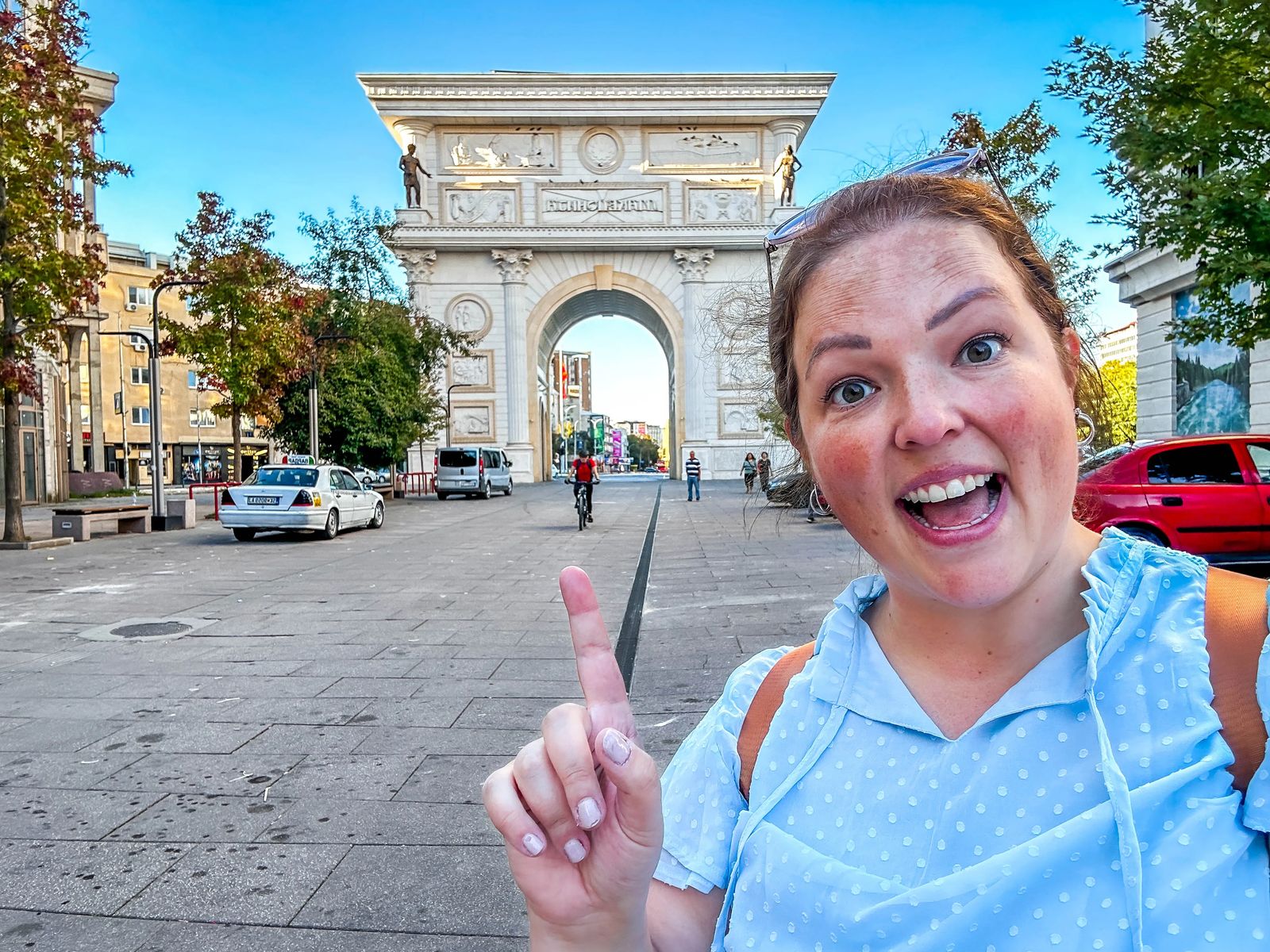 Macedonian Arch or Victoria Arch
The Memorial Arch in Skopje, constructed in 2011, is a remarkable architectural masterpiece standing at a height of 68.9ft (21m). Created by the talented sculptor Balentina Stefanovska, who also crafted the renowned Alexander the Great statue, this awe-inspiring arch serves as a significant tribute. With a price tag of 4.4 million, it symbolizes the commitment and pride of Macedonia, honoring 20 years of its hard-fought independence.
Venturing inside the arch's gate reveals a captivating sight—the inner walls adorned with inspiring quotes from the beloved Mother Teresa. These poignant words serve as a reminder of her remarkable humanitarian contributions and evoke a sense of introspection and admiration. As you explore the arch's inner sanctum, the profound wisdom encapsulated within these quotes resonates deeply, offering a glimpse into the compassionate spirit of Skopje and its revered native.
Because of the Yugoslavian War, much of the city had to be rebuilt - for me, the memorial to those of the past through their quotes, and the detail on the arch was really impressive. Just as a warning (not to get political at all), but to those sensitive, there is a quote on the gate who vehemently shames those who choose to have an abortion. Beyond that, I hope that through time and as more people visit - we will see this arch represent more than just a rebuilding of Skopje. The country and people have strong resilience of people with a history that dates back to prehistoric times here.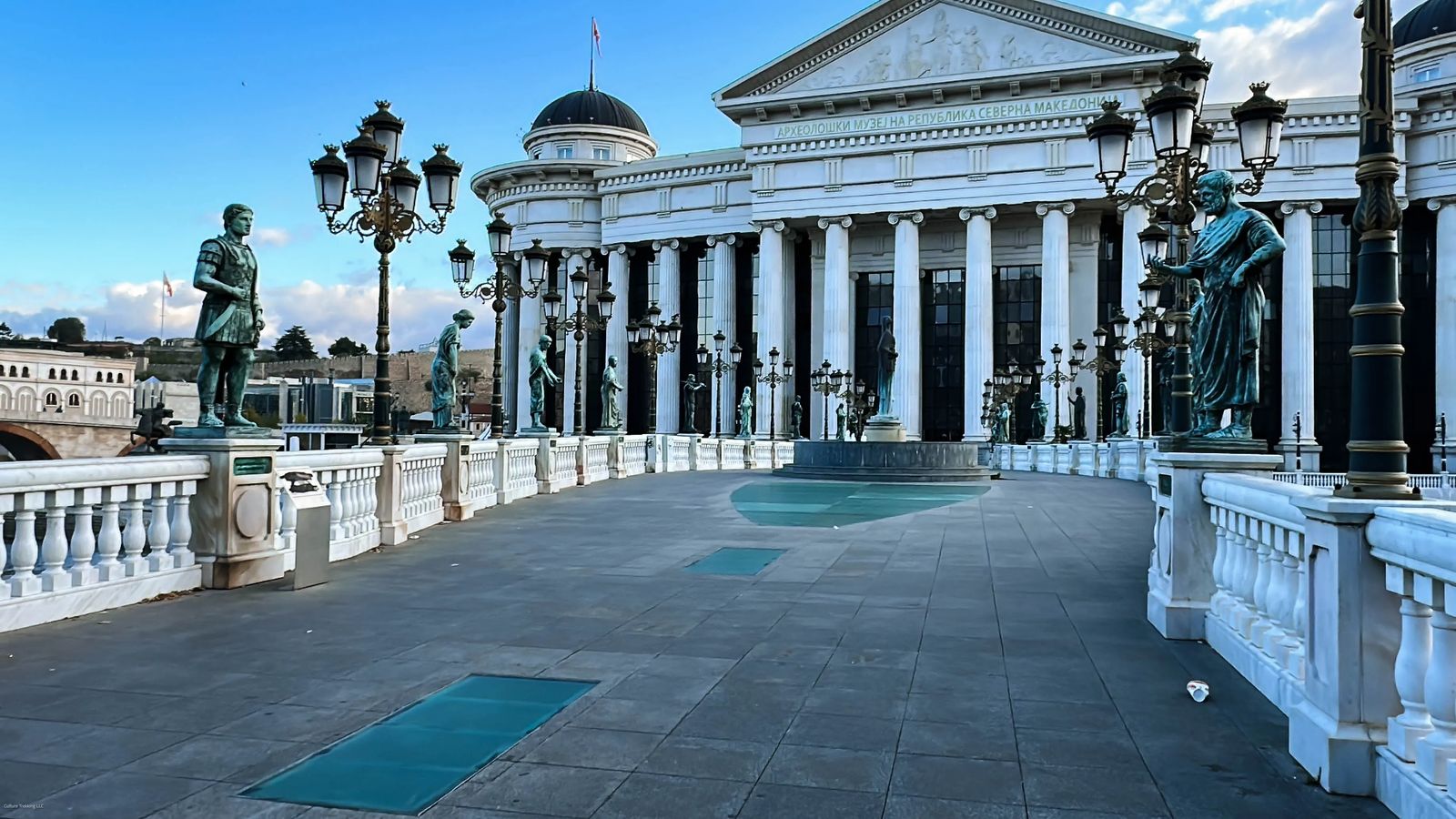 Statue Bridge (The One With A Fountain)
Built in 2014, this is the statue bridge (aka the Art Bridge), and is the only bridge that has a statue in the middle of it. The bridge shows important figures, musicians, artists and people that have provided a significant contributions to North Macedonian history.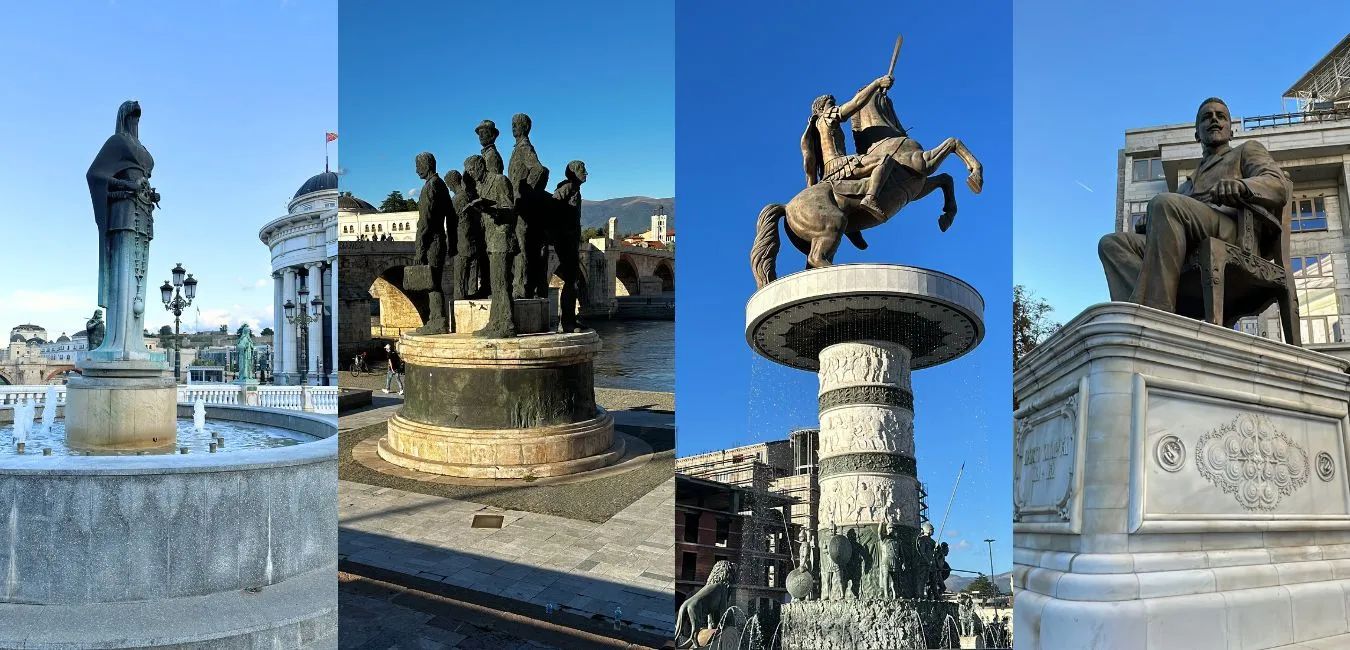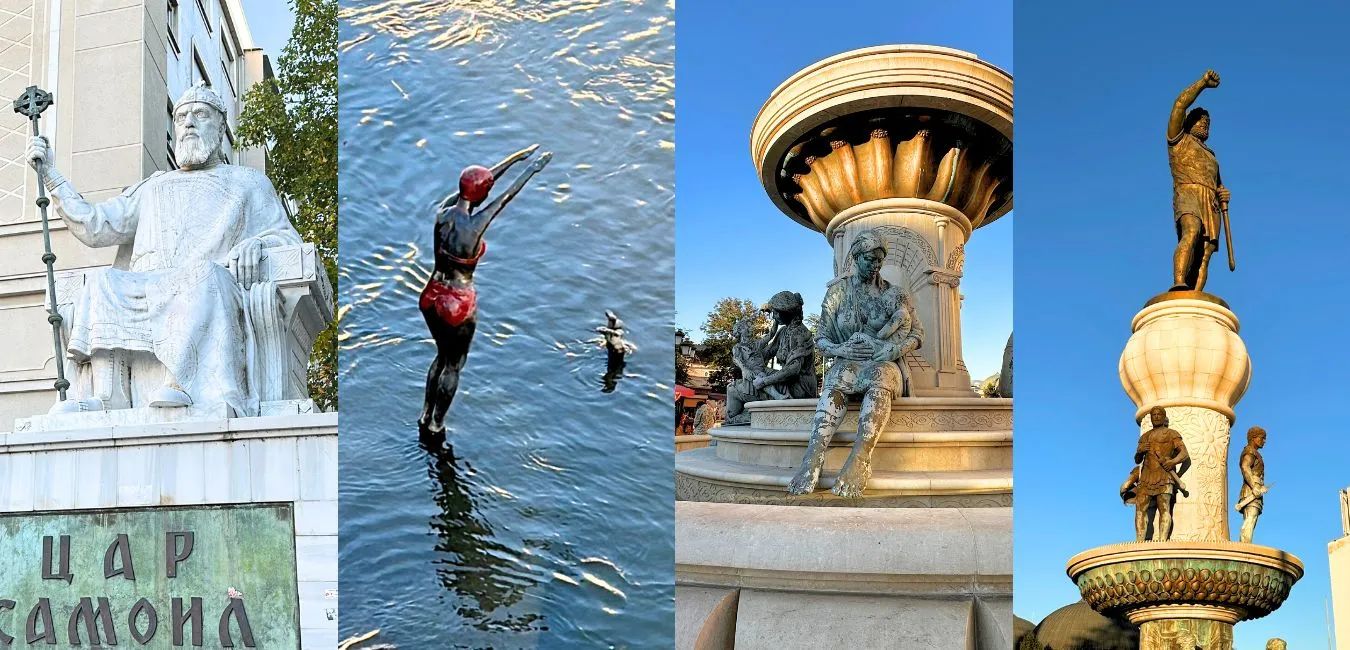 Unique Statues To See In Skopje
There is a lot of debate on how many statues there actually are, some say 284 and some say 100 but all within a 2 sq km space in the center of Skopje. The ones I was able to see that I found incredibly unique are right along the path I outlined for you above.
From left to right you have the priestess at the fountain on statue bridge, the gathering, Alexander the Great, Hristo Tatarcev (doctor and founder of Internal Macedonian Revolutionary Organization), the the Split Mind, Street Band, Mother Teresa, The Beggar, Tsar Samuel, The diving woman and duck, Fountain of the Mothers of Macedonia (Olympia Fountain across from stone bridge), Philip the 2nd of Macedon Father of Aleksander.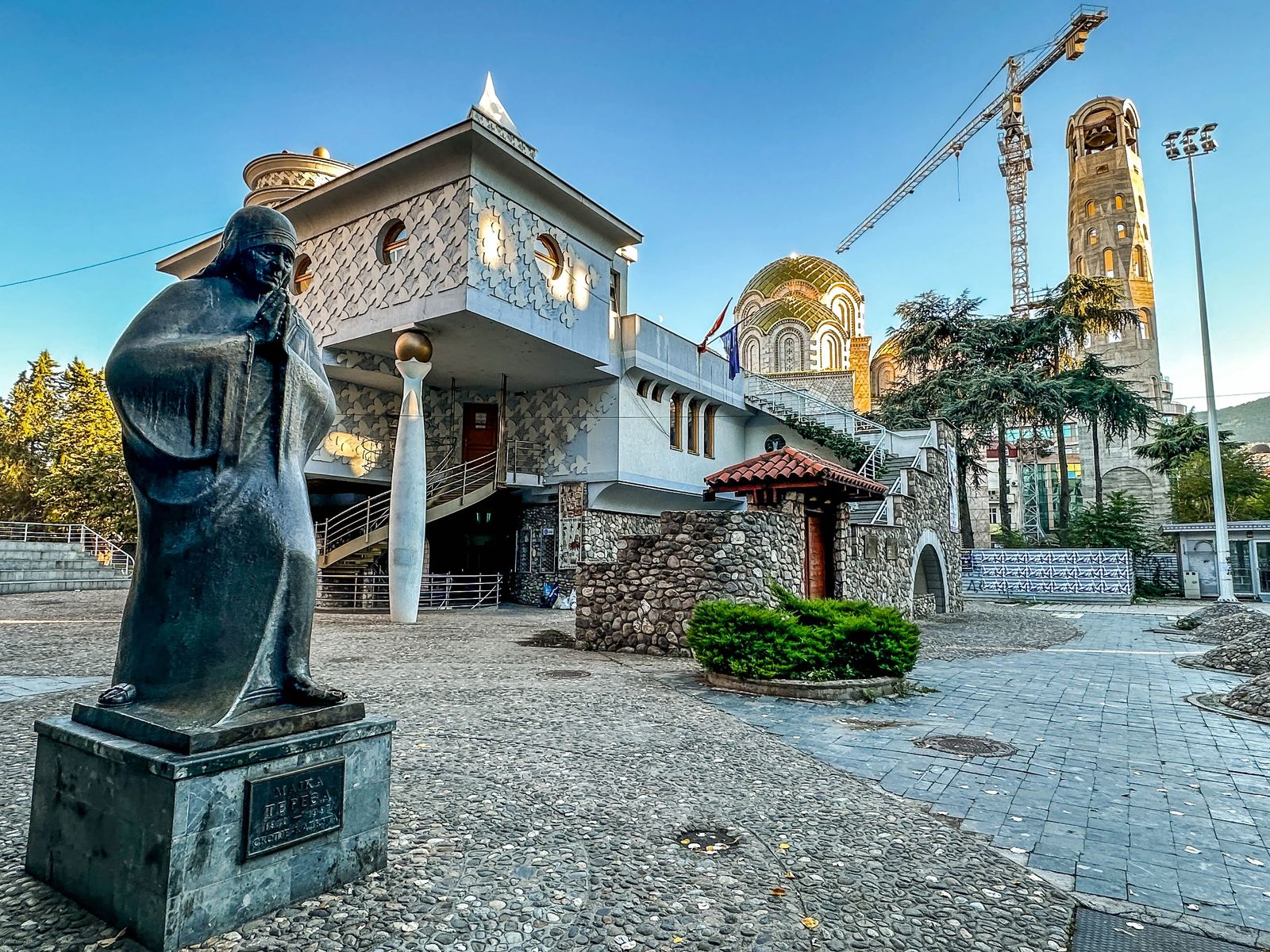 Mother Teresa Memorial House
Mother Teresa was born in Skopje in 1910, while this is her memorial house, the actual house she lived in was an area between Victory Arch and Archeological Museum. If you visit the area, you can still see a tree and a plaque that was built for her.
The area in the picture above is actually a Memorial House that was built over the site of the church that she used to pray at. The original church was destroyed during a massive earthquake. The Memorial House is only open on Sundays from 10 am to 2 pm so plan your route accordingly.
Fountain of Olympia - Mothers of Macedonia
This is a happening place here in Skopje, a lot more of a relaxed feeling here with some locals called the fountain of Mothers. There is music, street vendors and had a really comforting feeling seeing the Mothers holding the children. There are some people that think that the mother represents Olympia, Alexander the Greats Mother, holding little Alexander.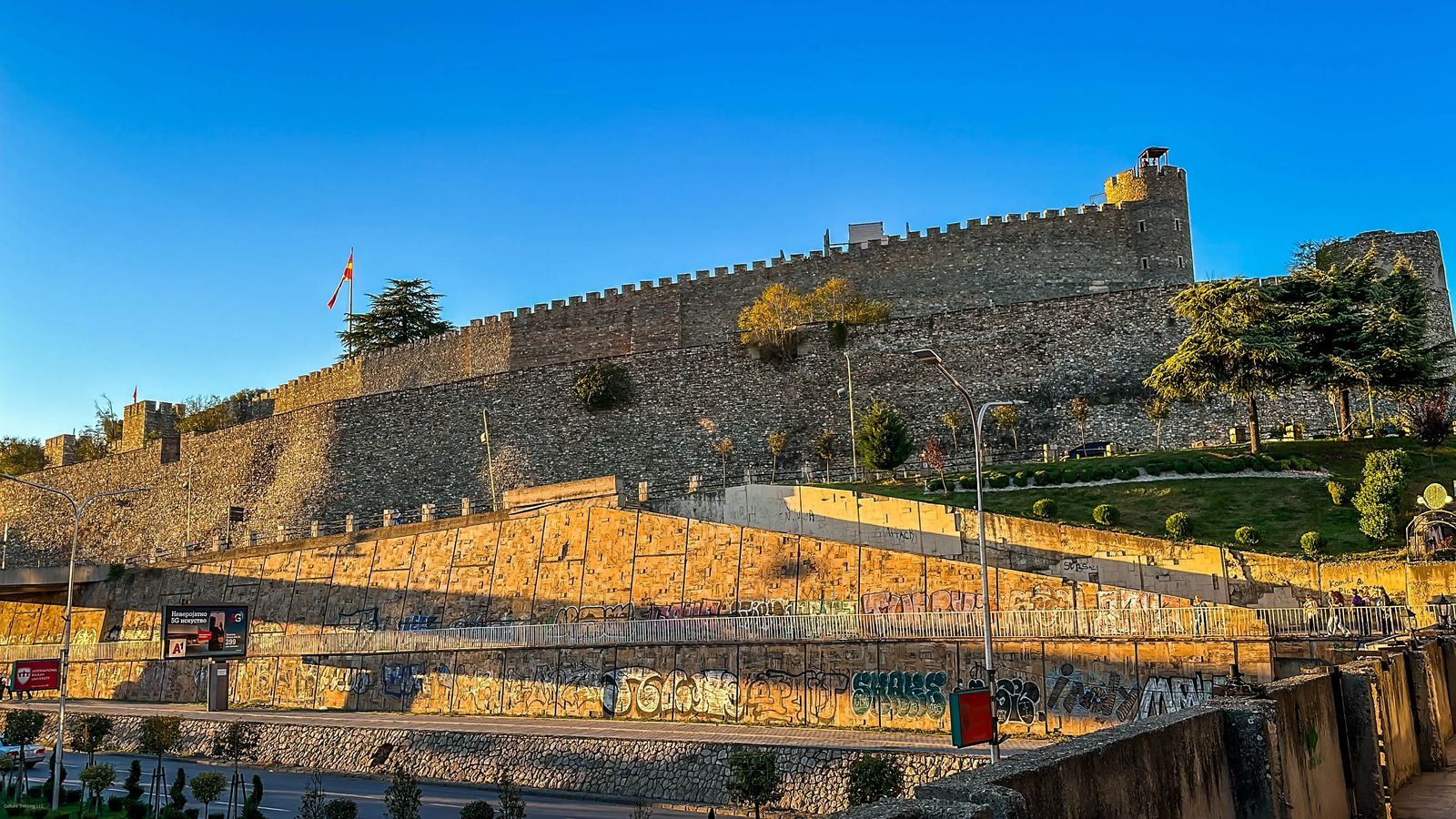 Fortress Kale
Kale Fortress (aka Skopje Fortress) has existed here since prehistoric times, the city settlement was first mentioned (according to some scholars) since the 9th century by the Skopje Army. It was a strategic point for the countries defense. These are the oldest Samoli (Samuel's Kingdom) walls in Macedonia.
The castle is an easy climb to the top, at sunset the photo ops are pretty spectacular - BUT restoration seems to have stopped, garbage dots the area, some house foundations are visible, and towers are locked - but you still get some pretty great views of the city.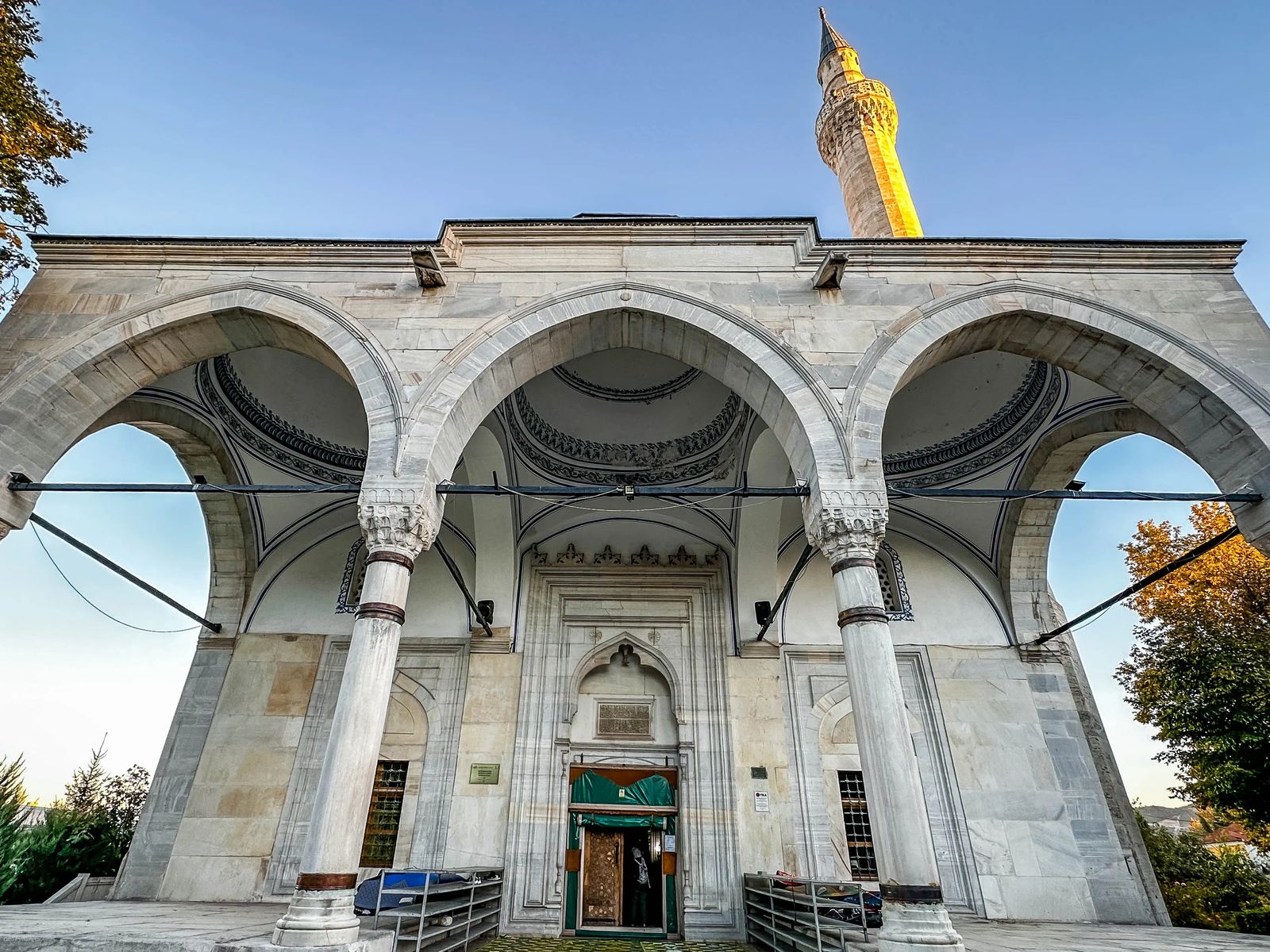 Mustafa Pasha Mosque
Mustafa Pasha's mosque it was built in 1492 and was actually consecrated as a Catholic cathedral in 1328. The cathedral was then converted into a mosque after the Ottoman Empire captured Famagusta in 1571 and it remains a mosque to this day.
In 1954 it was renamed Lala Mustafa Pasha mosque after the commander of the 1570 Ottoman Conquest who was infamous for the gruesome torture of Marco Antonio Bragdon the Venetian commander of the city's Fortress.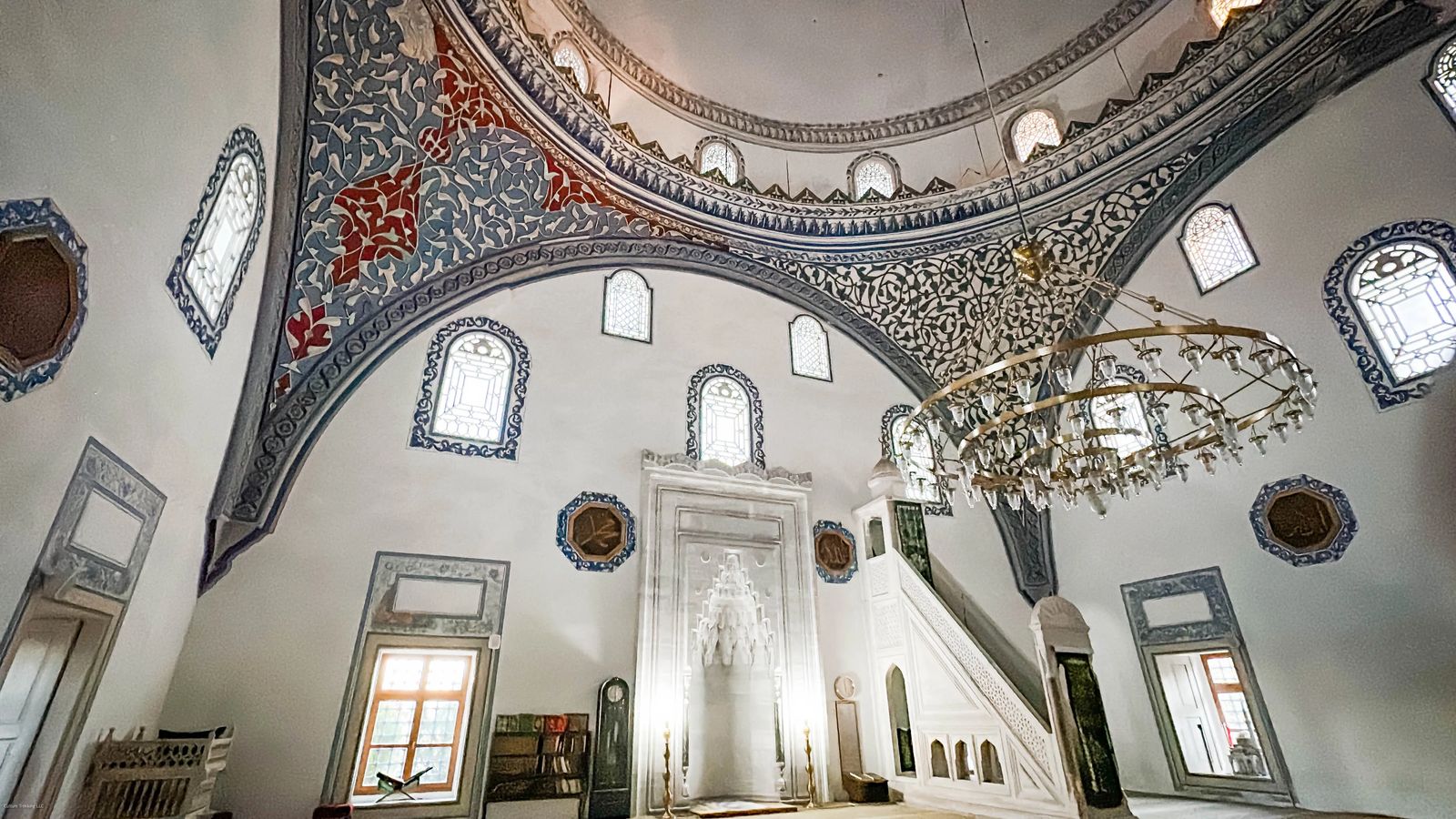 Bragdon had surrendered the city following a brutal 10-month Siege in which six thousand Christian Defenders held off an army of more than a 100,000 Ottoman Turks. On the south side you'll find a 1311 inscription about the progress of construction of Saint Nicholas Cathedral the interior is a gorgeous Gothic arched mosque. Mustafa asked where the Hajj Pilgrims were, and Bragdon claimed he killed them all. This led to Bragdon being flayed alive. Yep....ew...
On the side of the Mosque you will also find the tomb of Mustafa's daughters tomb, along with a beautiful rose garden.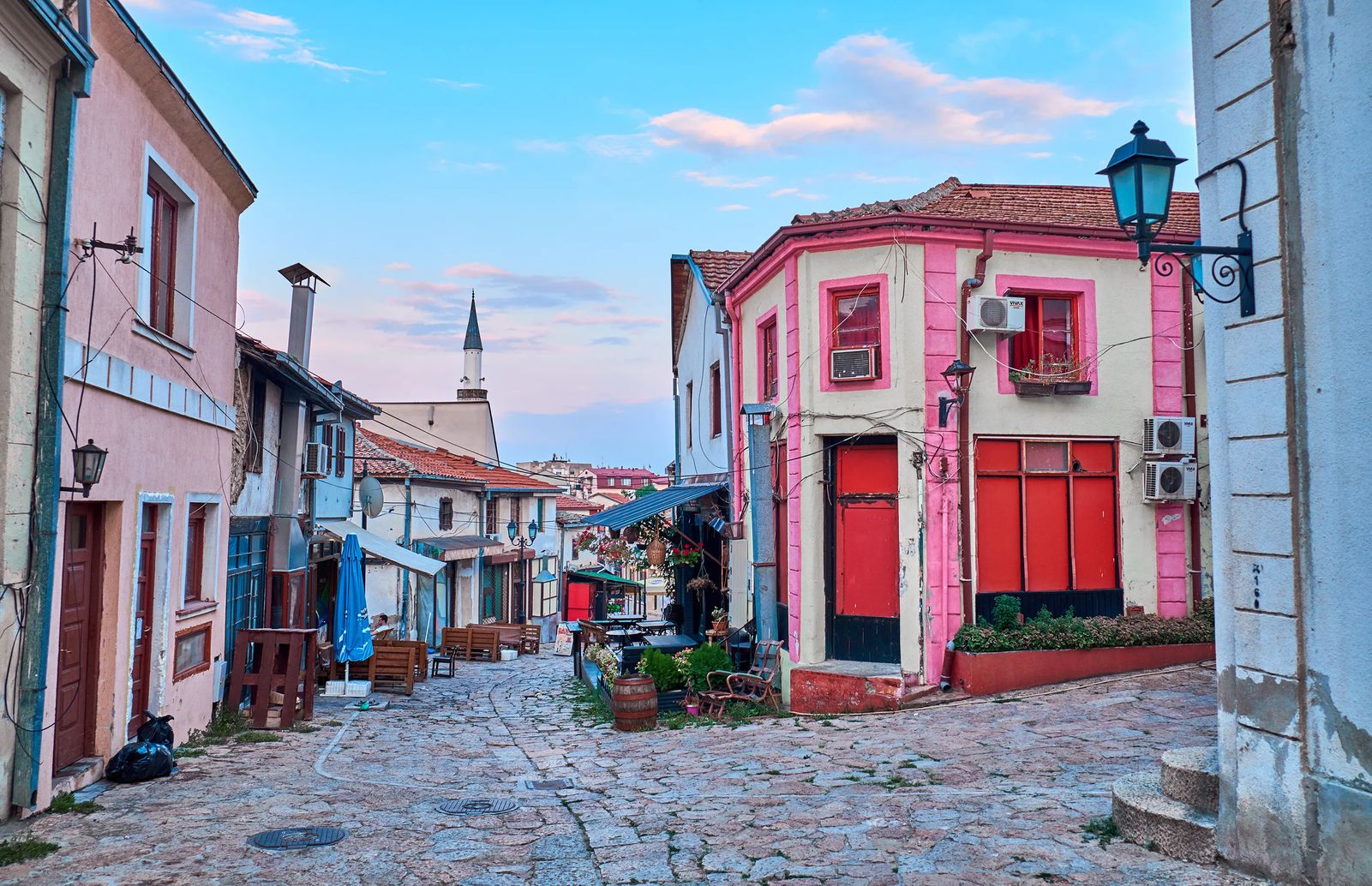 Old Baazar Of Skopje
This is one of the oldest bazaars of the Balkans, and second biggest Bazaar in the wold falling behind the one in Istanbul. It was founded in the 12th century just across from the Stone Bridge. Here you will find filigree crafts, tea, sweet shops, Turkish dishes, souvenirs and all sorts of gems. A few of the buildings you won't want to miss are:
Suli An (Inn) (closed Saturday and Sunday, open 8-2 weekdays)
Church St. Spas (Ascension of Jesus Church): closed Sunday
Bezisten, Kapan An (Inn): old Inn, no hours posted, address: 2C2P+JR Skopje, North Macedonia
Kurshumli An (inn): no posted hours, address: 2C3P+6RC, Атанас Бабата, Скопје 1000
Daut Pasha Amam (hammam looks like the art museum, open 10-6 Sunday, closed Monday)
Cifte Amam (Hammam open 10-6 Sunday, closed Monday)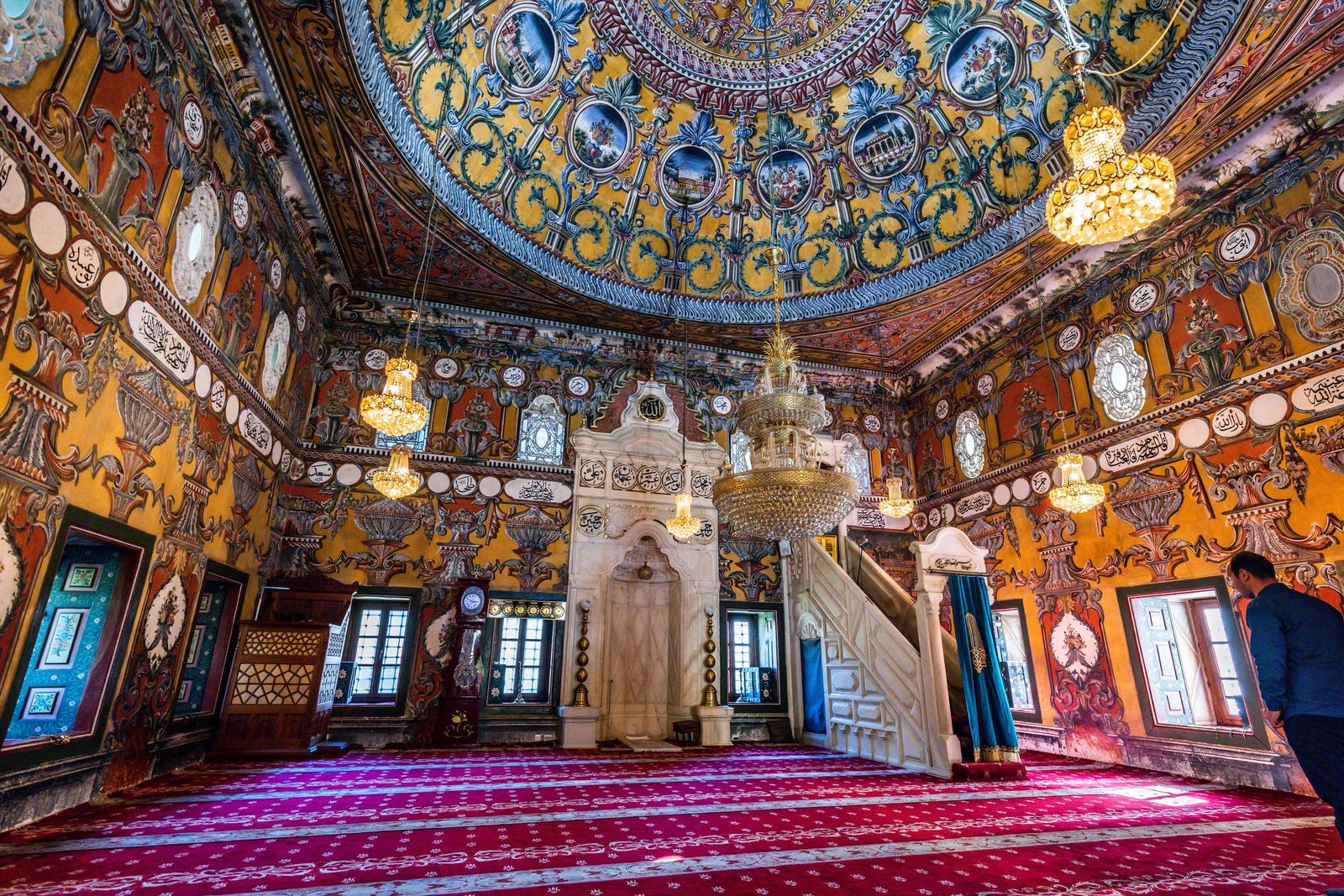 Šarena Džamija or Larme Pasha Mosque
Built in 1485 originally, it was destroyed in 1689 by a fire - Abdurrahman Pasha rebuilt the mosque in an absolutely beautiful way in 1833. Both the outside and inside are painted in beautiful filigree and colors, so the mosque is also known as the 'Painted Mosque'. When you walk inside it is hard to know where to look but it truly took my breath away. Thirty stained glass windows, crystal chandeliers, urban landscapes, flowers, fake windows painted by artists from Debar (Dibra in Albania).
It is free to enter, but I tipped the caretake anyway (motto is to leave people and places better than you find them) and this place is so beautiful....felt like it was right to do it. When you visit, just be respectful and women have your shoulders covered, head covered with scarf, and pants. Take your shoes off at the door, be quiet inside, and try not to photograph people while they are praying.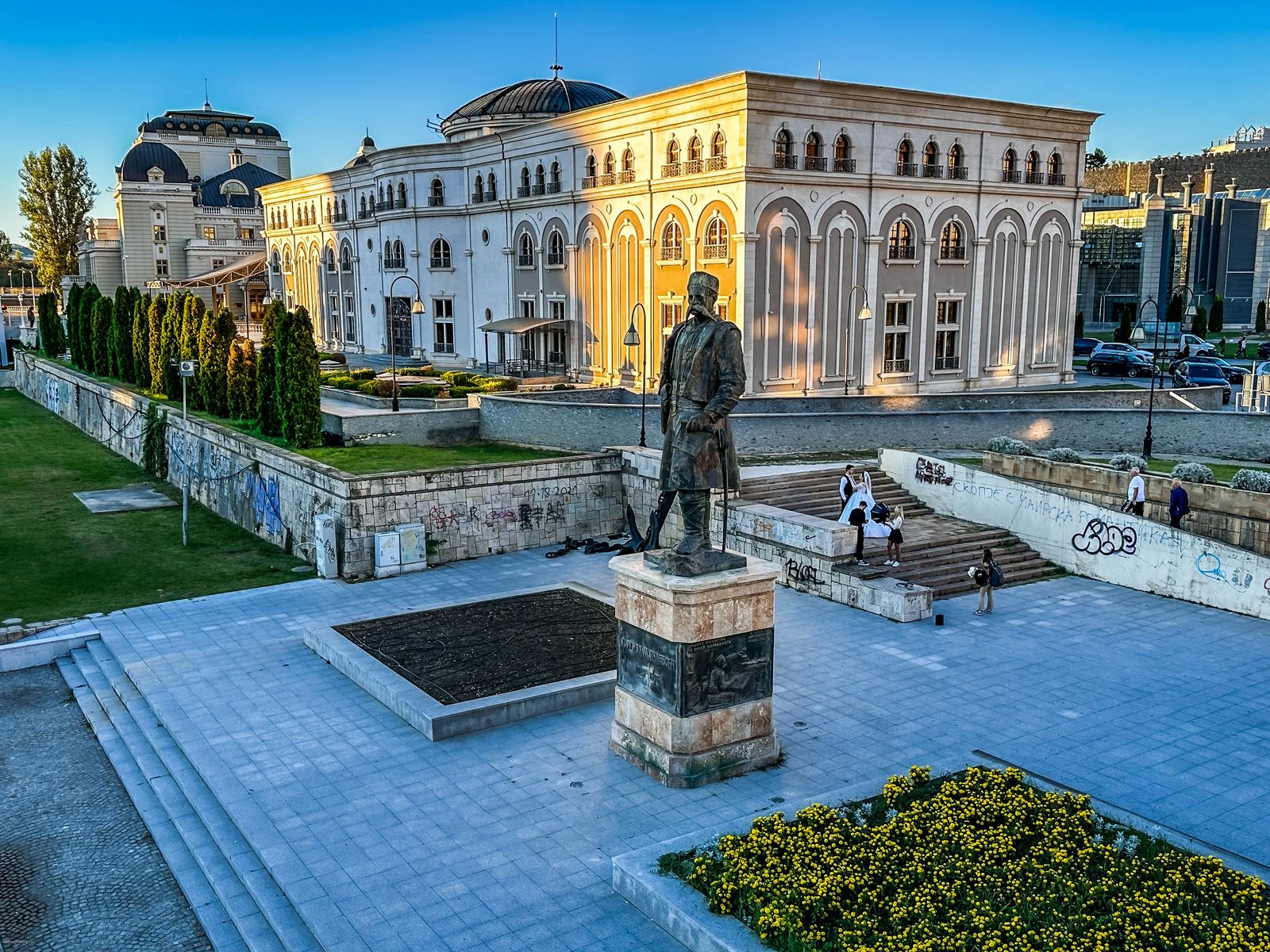 Museum of Macedonia Struggle
I didn't personally visit this museum as I didn't have the time, but here are a few things you should know. It is 300 MKD to enter, get a guided tour, first Sat of every month is free. Sept 8th is free as it is independence day. It shouldn't take more than 60 minutes to tour the whole museum.
If you decide to visit the museum allows you to follow the years of Macedonian history on the road to freedom from beginning to end. There are QR codes in many places so that you can learn the details, but if you are a foreigner and do not have the internet to use in the country, I recommend you to get the internet password at the museum entrance. In addition, if audio descriptions can be made, especially for foreigners and those who do not know key names in Macedonian history, their effect will be much greater.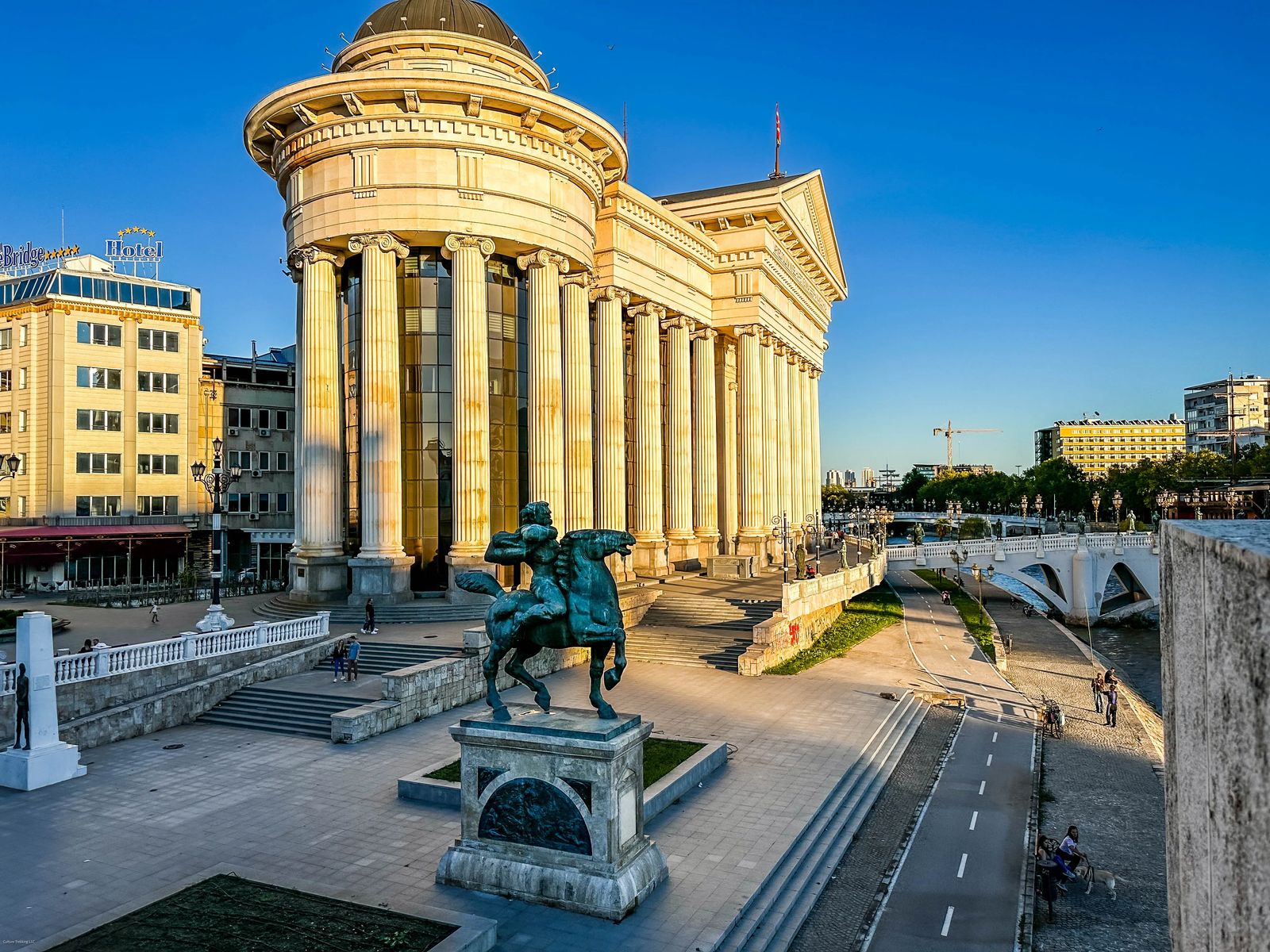 Archeological Museum of the Republic of Macedonia
This museum is the best for understanding the archaeological history of Macedonian. You might get a bit confused as many of the artifacts aren't clear to understand what is what. It does have exhibits on cultures are "Dragi Tozija" the Palace, the library features "Iskra", collections of the palace of culture, and collections from memorial houses in villages of Bituše, Galičnik, and Gorno Vranovci.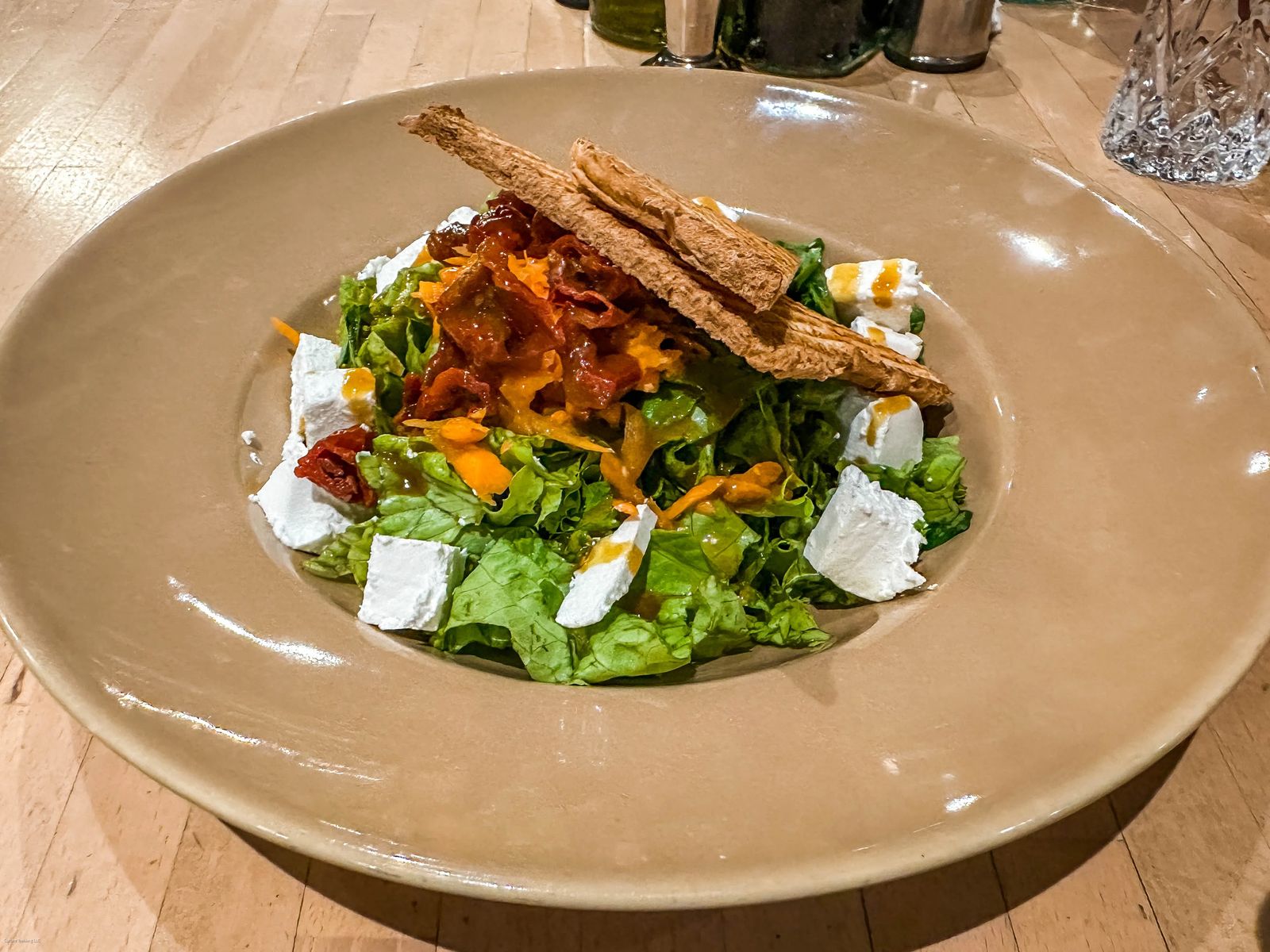 Where To Eat In North Macedonia
Destan: Oldest restaurant in Bazaar (4.1 stars Google), 1913 opened, veggie options. Open 9 AM-11 PM daily.
Idadija M - is the oldest restaurant in Skopje (4.4 /5 stars on Google). Closed Sunday, but open 11AM-midnight on Monday.
Gallery 7: Vegetarian Turkish Pizza in Old Baazar. Closed Sunday open 10 AM-8 PM all other days.
Kaldrma: First Rakija Bar (apricot, honey), Address: Jorgandziska 56, Skopje, Skopski 1000. Open 8 AM - midnight Sunday and Monday.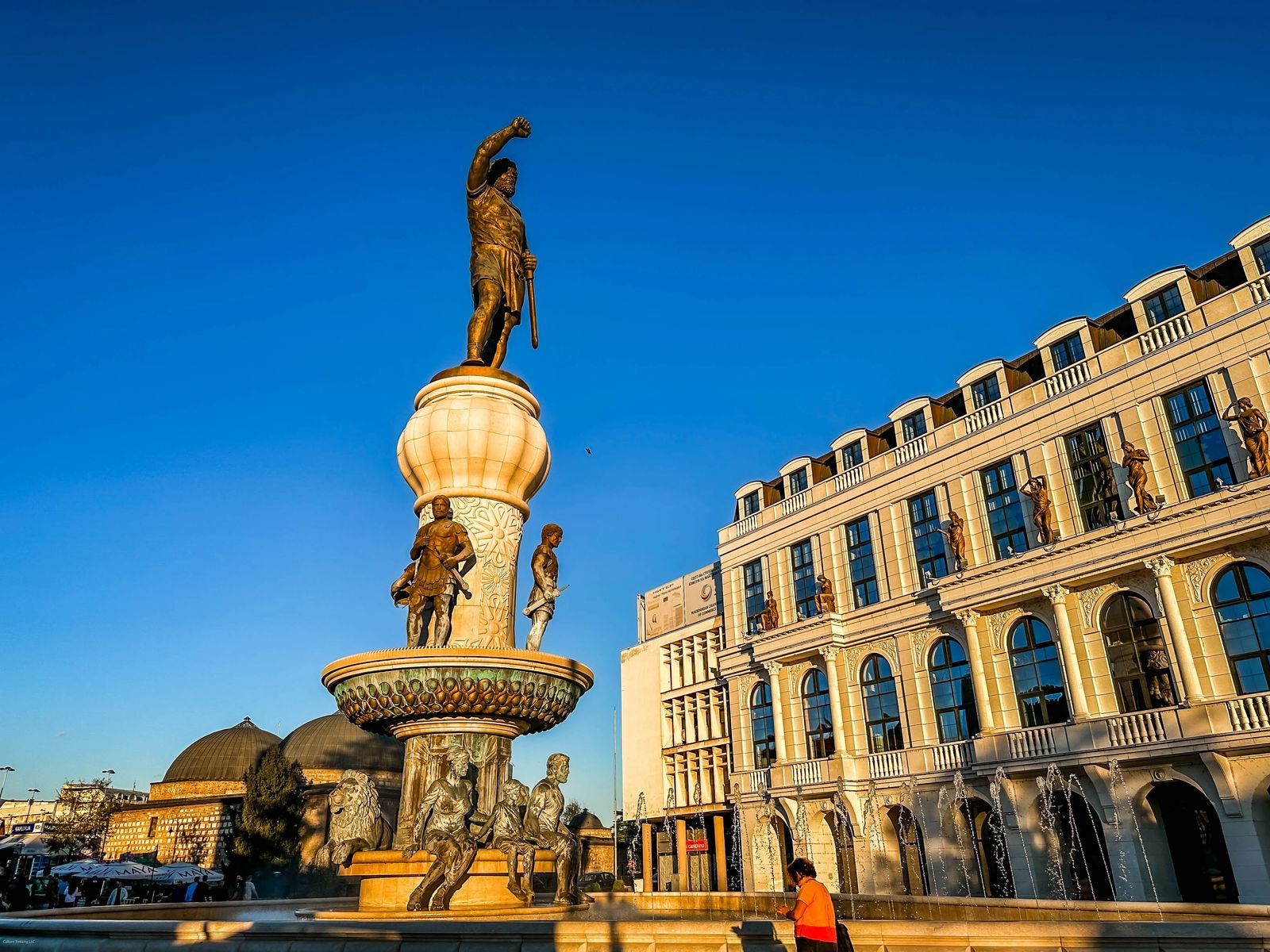 My Takeaway of Spending One Day In Skopje
Having one full day in Skopje is enough to see the center of the city, but to take your time, really linger, be able to see the Old Bazaar throughly. Eat at the restaurants, sit near the fountains-relax and just enjoy the culture of Skopje - I would definitely allow yourself at least two full days just in Skopje.
I went to Skopje, already expecting to not enjoy it honestly - there isn't much online about things to do and the only thing I read about was all the statues. There was a richness to the history, hospitality of the people, and around every corner not just a gimmicky statue - but moving pieces that really had an impact on me. It is definitely worth a quick visit, I enjoyed my time in Skopje but if I was to do it again I would definitely allow more time than one day.
Let me know if this article was helpful in the comments below, or if you have any tips for when visiting Skopje I may have missed.
Like it? PIN IT! Sharing is Caring ;)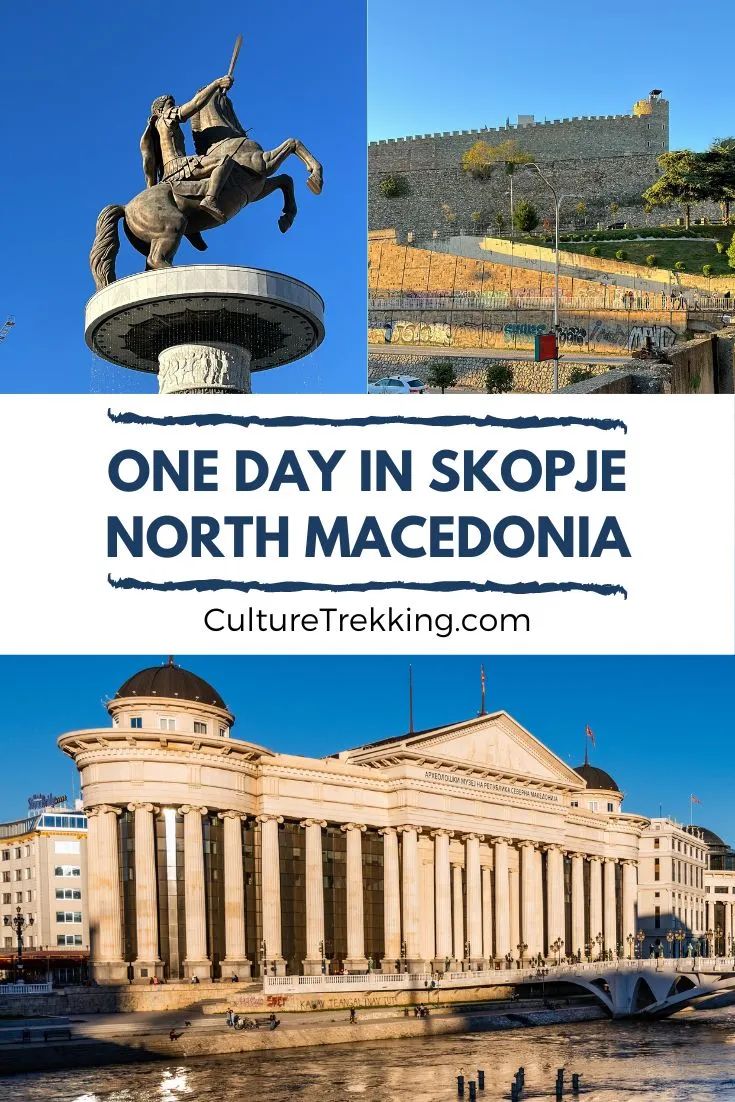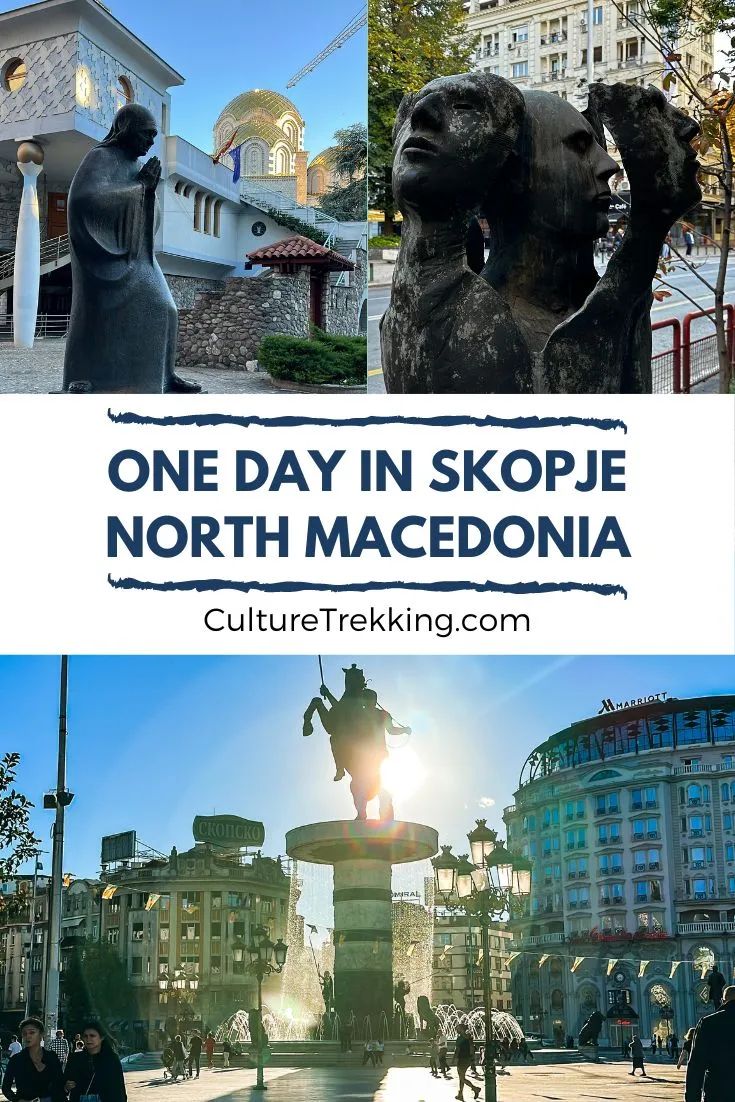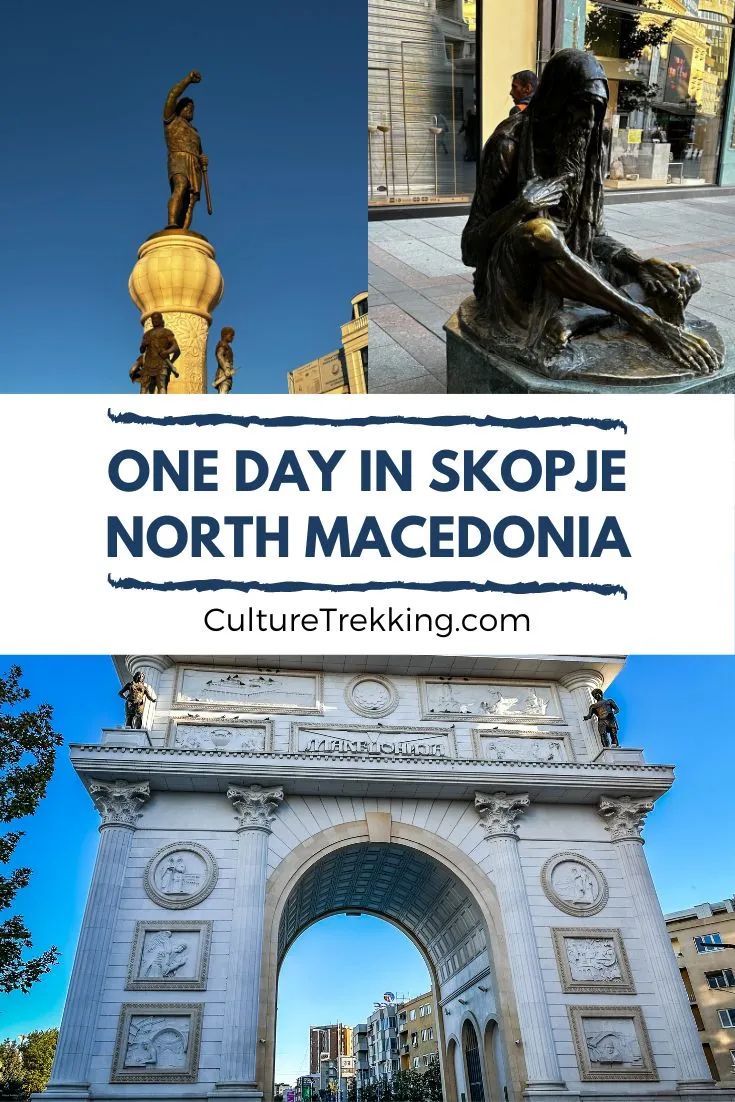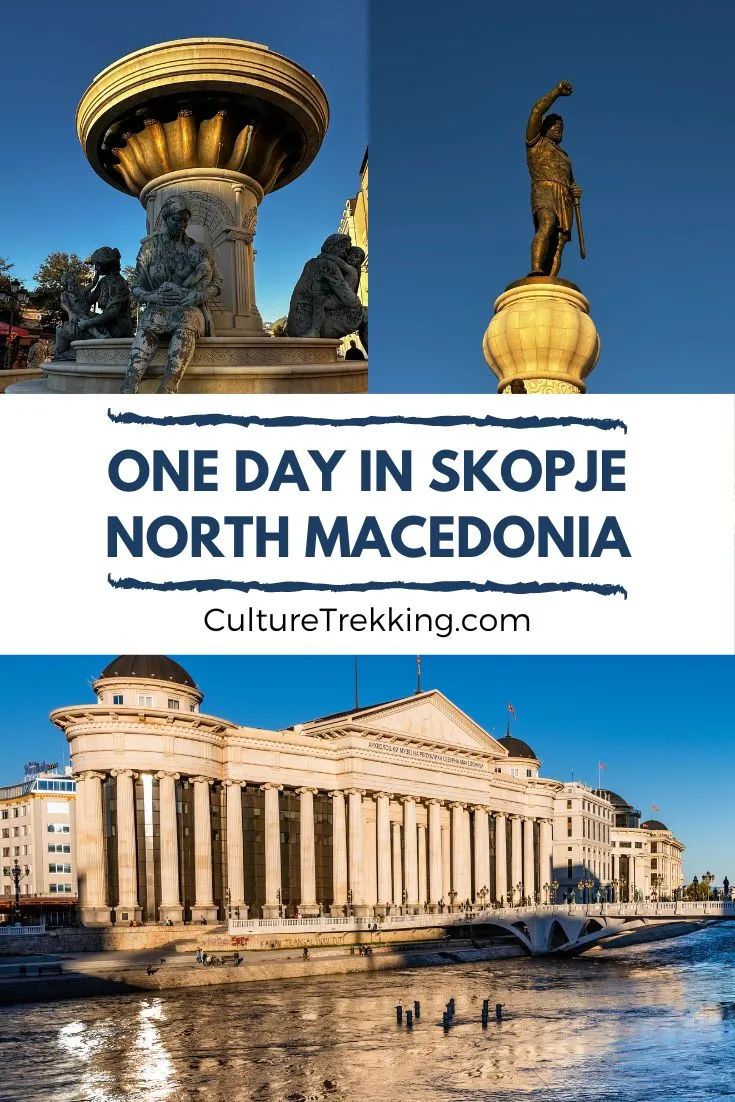 Latest Articles On Culture Trekking