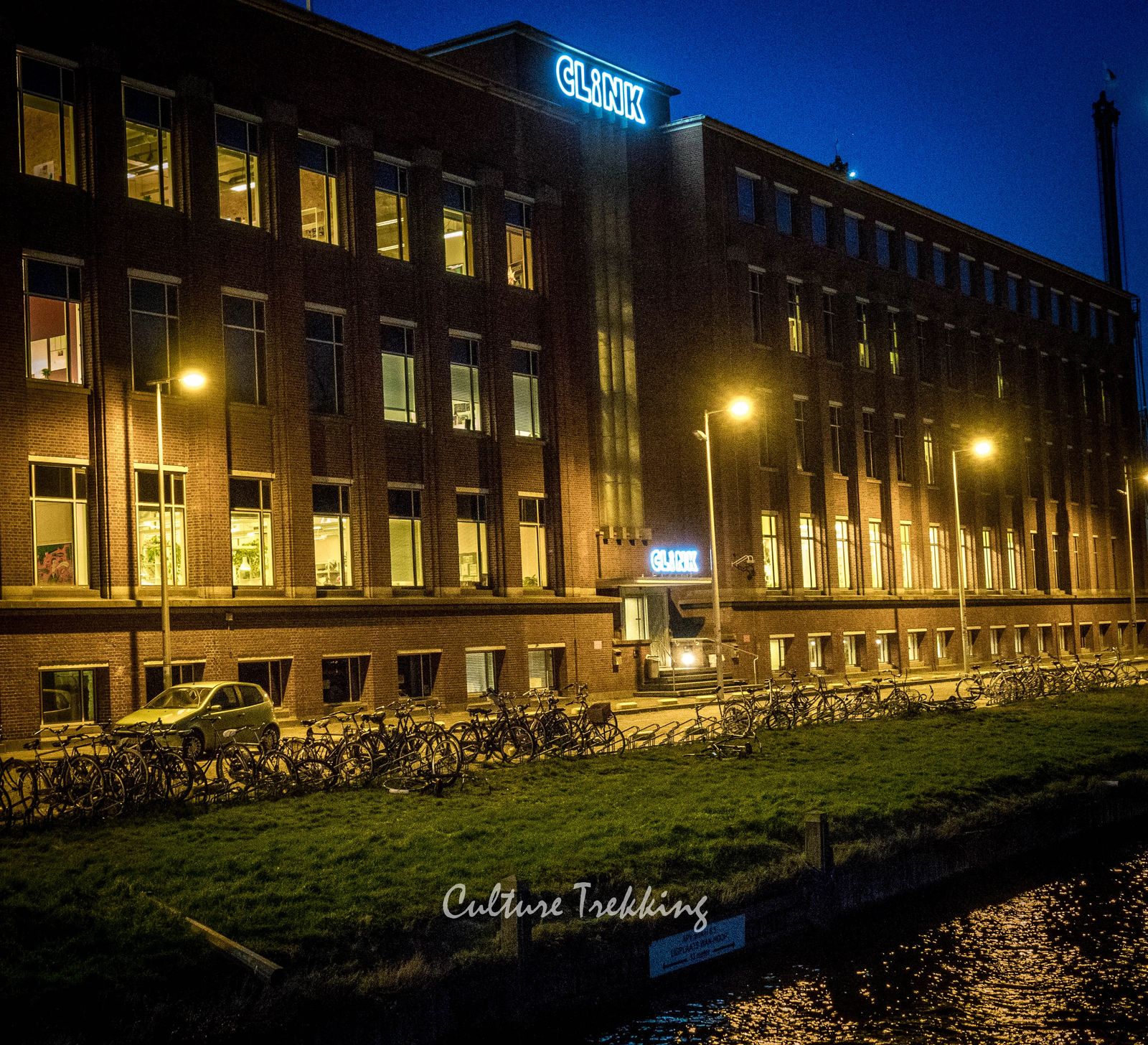 ClinkNoord: A Hostel Run Like a Hotel
When I tell people I'm staying in a Hostel, their first reaction is typically silence - then they say, 'Is that safe? I mean aren't you worried about how clean it is?'. The thing is that hostels of the past are not the hostels of the future. With more people wanting to travel, and more frequently - the mid-range cost of accommodation like hostels are now the preferred choice. You will see hostels are really stepping up their game with options, activities and more. ClinkNoord was no exception to this new wave of mid-range accommodation.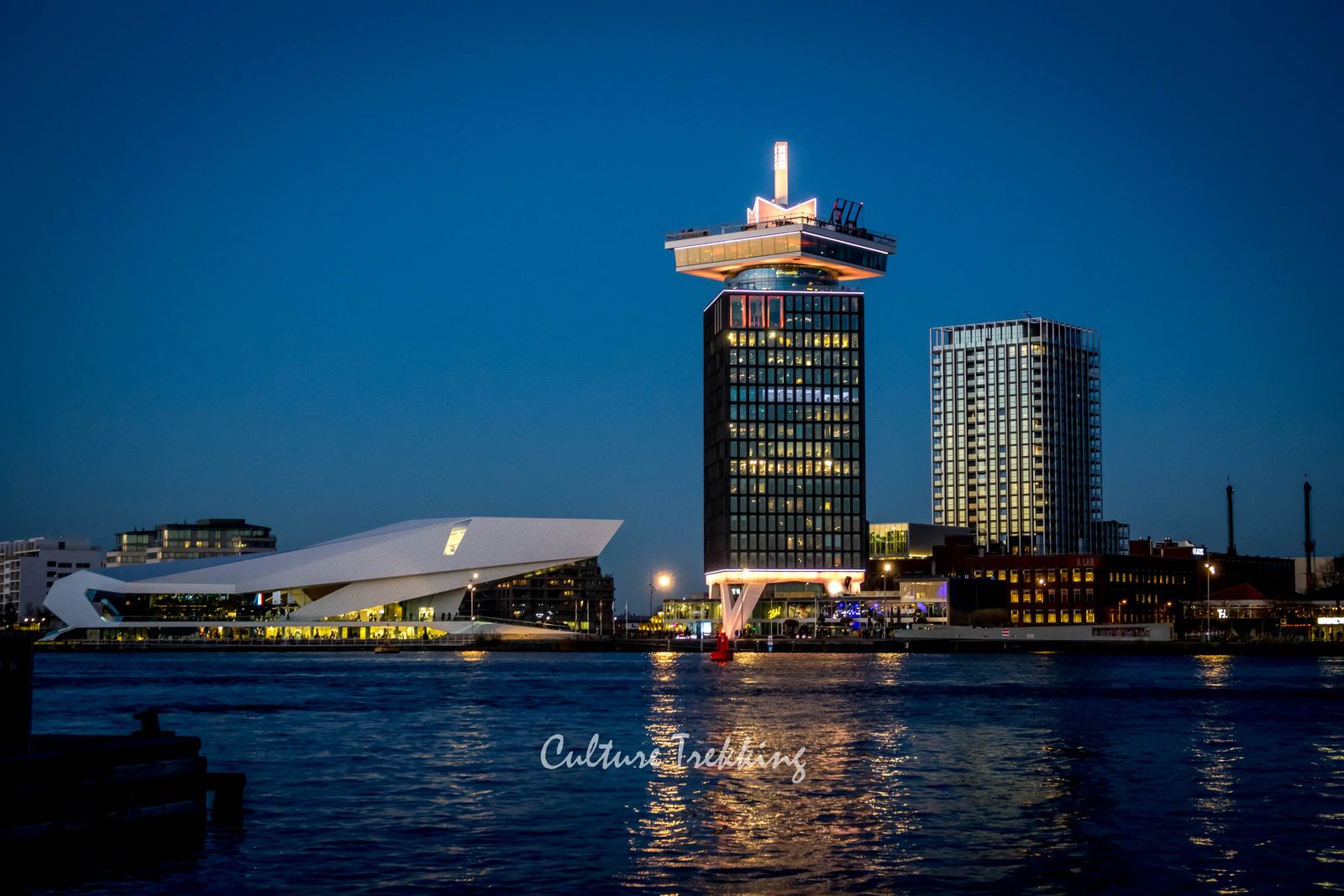 When choosing a Hostel these are the things I look for:
Reviews on 3 different sites: Booking.com, TripAdvisor, Hostel World
Read several reviews on each site (typically 5-6)
Pay particular attention to the cleanliness rating, anything below 2-3 points from the highest score, knocks it off my list as a potential place to stay. I had that one bad experience with bed bugs and still have scars.
Do they have free Wifi and how reliable is it - this is very important for me. Being able to communicate and edit material for my blog while on location. Wi-Fi also allows for last minute trip planning or changes if there is inclement weather or an emergency at home.
Breakfast - European travel can get quite costly in some areas so I love me a good solid breakfast that doesn't cost more than 6-7 Euros
Activities: if there is inclement weather, do they have things to make my stay enjoyable still
ClinkNoord passed this first test with flying colors. So I booked a stay with them in a 4-bed dormitory room with a private shower and bathroom. The 4-bed dormitories are quieter, and the room that I choose to stay in typically. Being that I am a very light sleeper I find the people who stay in said 4-bed dormitories often tend to be so as well. They generally are quieter and more respectful when coming in late at night.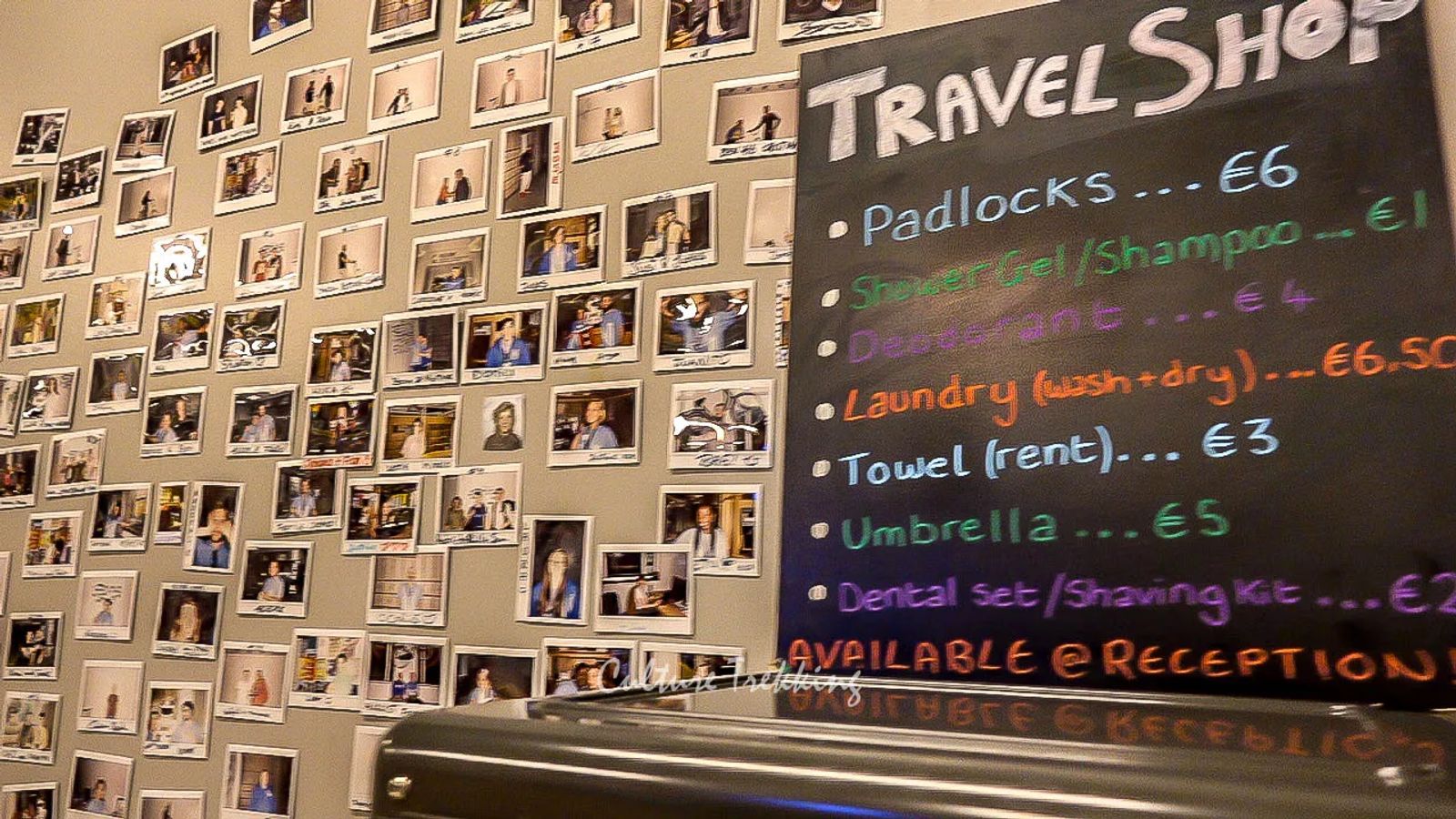 The Greeting
Prior to checking in at ClinkNoord, I had been kept awake by a screaming child the entire flight to Amsterdam (luckily it was a non-stop flight). Arriving at ClinkNoord I was grumpy, tired, and my 2 bags felt like I was carrying 5,000lbs. It was only 9 am and typically you are not allowed to check-in before noon. Feeling hopeless as I entered, I knew I would be turned away and told the room wasn't ready yet.
Approaching the counter with reluctance, I was promptly greeted with a warm contagious smile. The receptionist told me she thought they had a room ready for me right then.....at 9AM.....WHAT!!!! This never happens, even in the biggest Hotel chains! I almost crawled over the desk and hugged her out of relief. Bottom Bunks are a hot commodity in dormitory type settings!
Guess who not only was able to check in early, but also claimed a bottom bunk?!? OMG! I can't tell you what a relief it was to walk right in and get a little bit of shut eye. The Wi-Fi had a good signal so I told my family I arrived safely.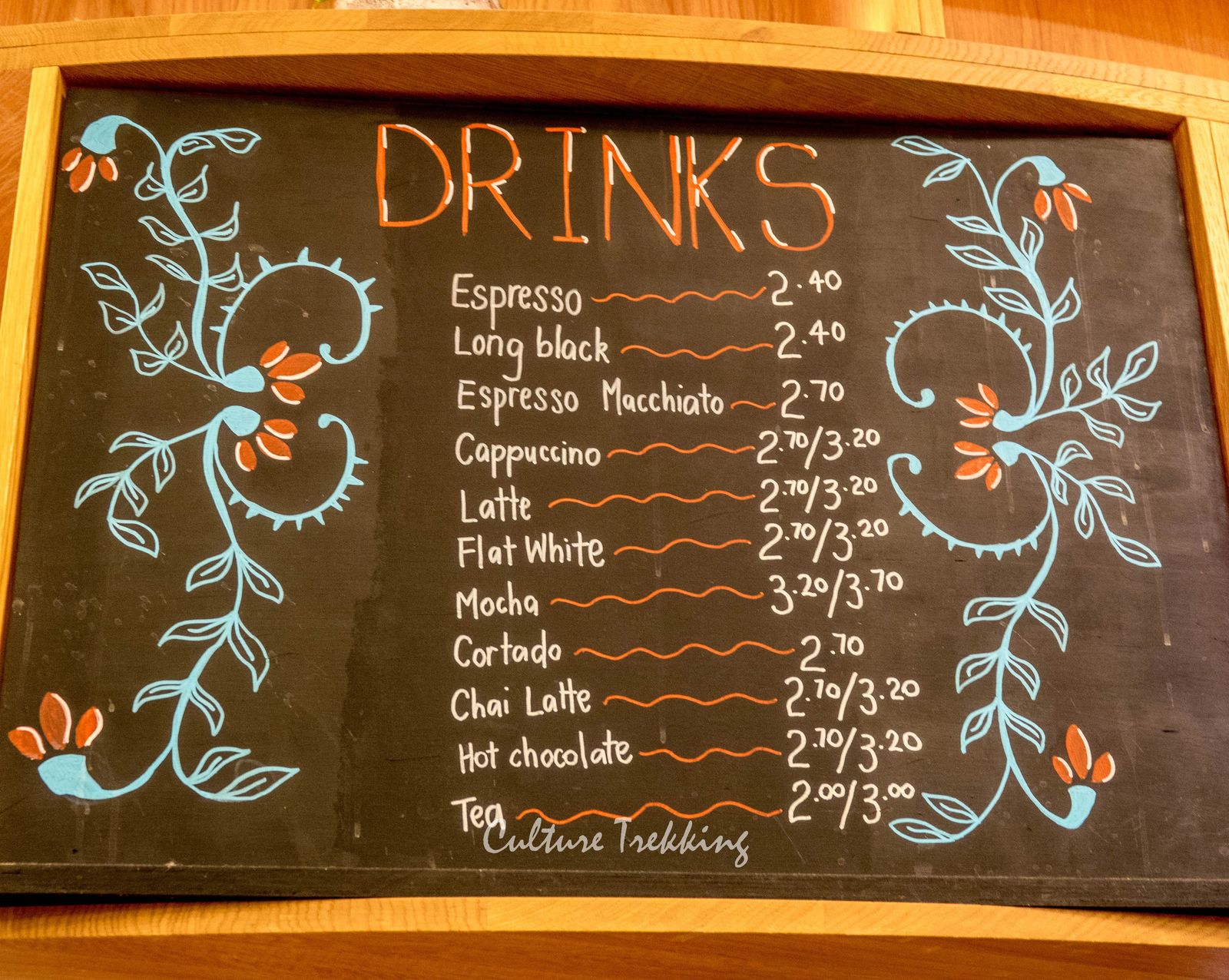 Traveler Tip: Wifi here is free and very reliable, it was very useful during my stay in Amsterdam.
God bless me, I was able to lay down for 2 hours and could not have been more grateful. After I awoke I promptly started exploring the city, the staff were so friendly, and gave me recommendations on where they liked to visit and explore. Their recommendations were different than what a hotel concierge would give, it felt like I was talking to a long time friend that was giving me the inside scoop on the city.
The Room
There is an elevator to all levels of the building so getting to my room with baggage was no trouble. Directions to my room were colorfully displayed on all of the walls, and was easy to find. There are ART PIECES EVERYWHERE in this place! Being an artist myself, this made me smile from ear to ear despite my fatigue. Upon entering the room I noticed how clean it was, the crisp bed sheets were placed on my pillow, the bedspread neatly folded - hooks on the side of the bed for a towel or a coat. It was also very quiet.....HEAVEN!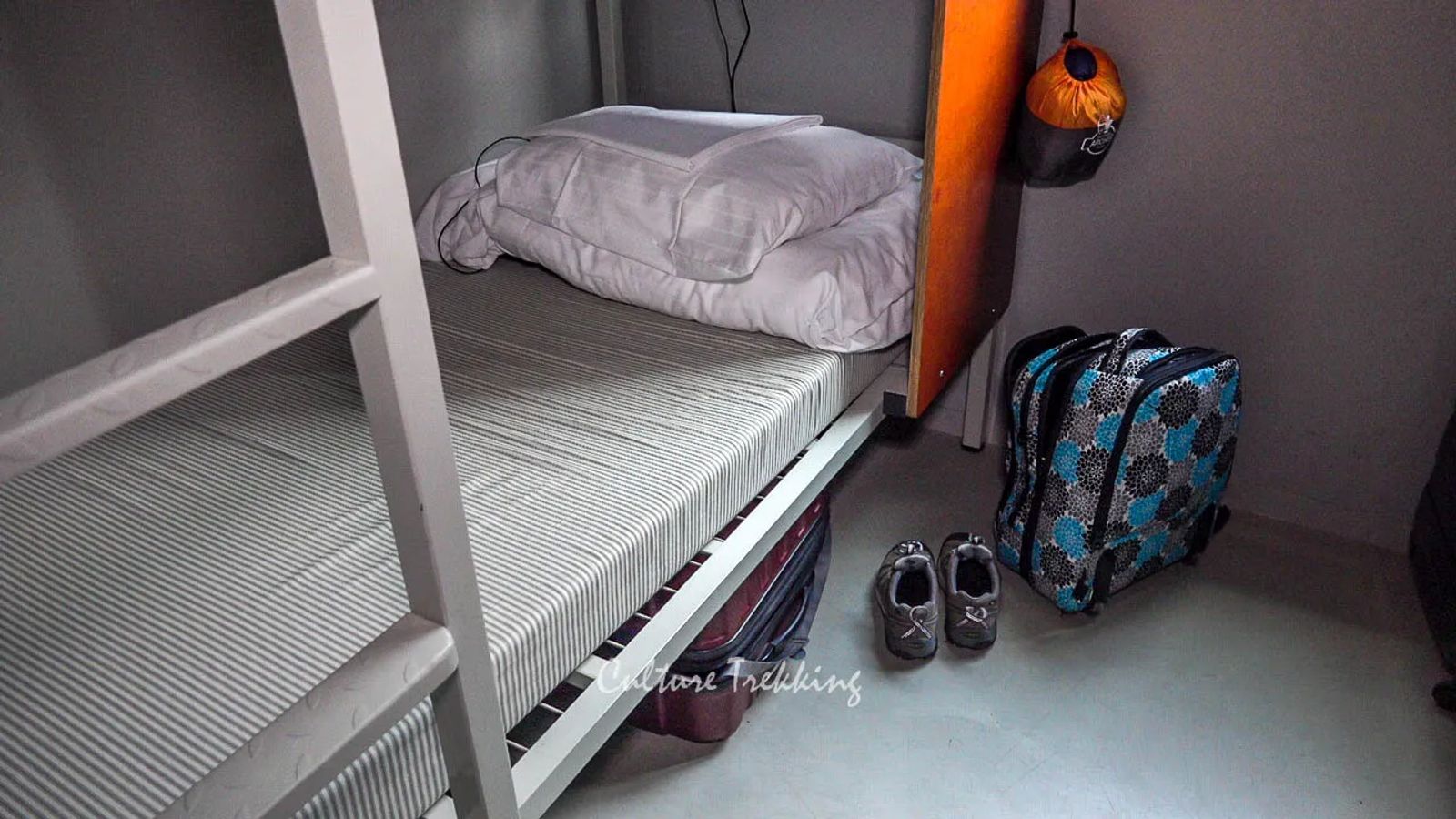 Two other beds were made of the 4 that were in the room, so I knew I would have at least one roommate. There is always a sense of excitement when I come to Hostels because I truly never know who I will meet. I often meet those who are adventurers, like myself & regale me with their travel tales. Inquires on my end are made as to what to see when visiting their home countries (to put in my memory bank). This is one of the main reasons I LOVE to stay in Hostels, to meet people & to have activities to participate in available in order to do so.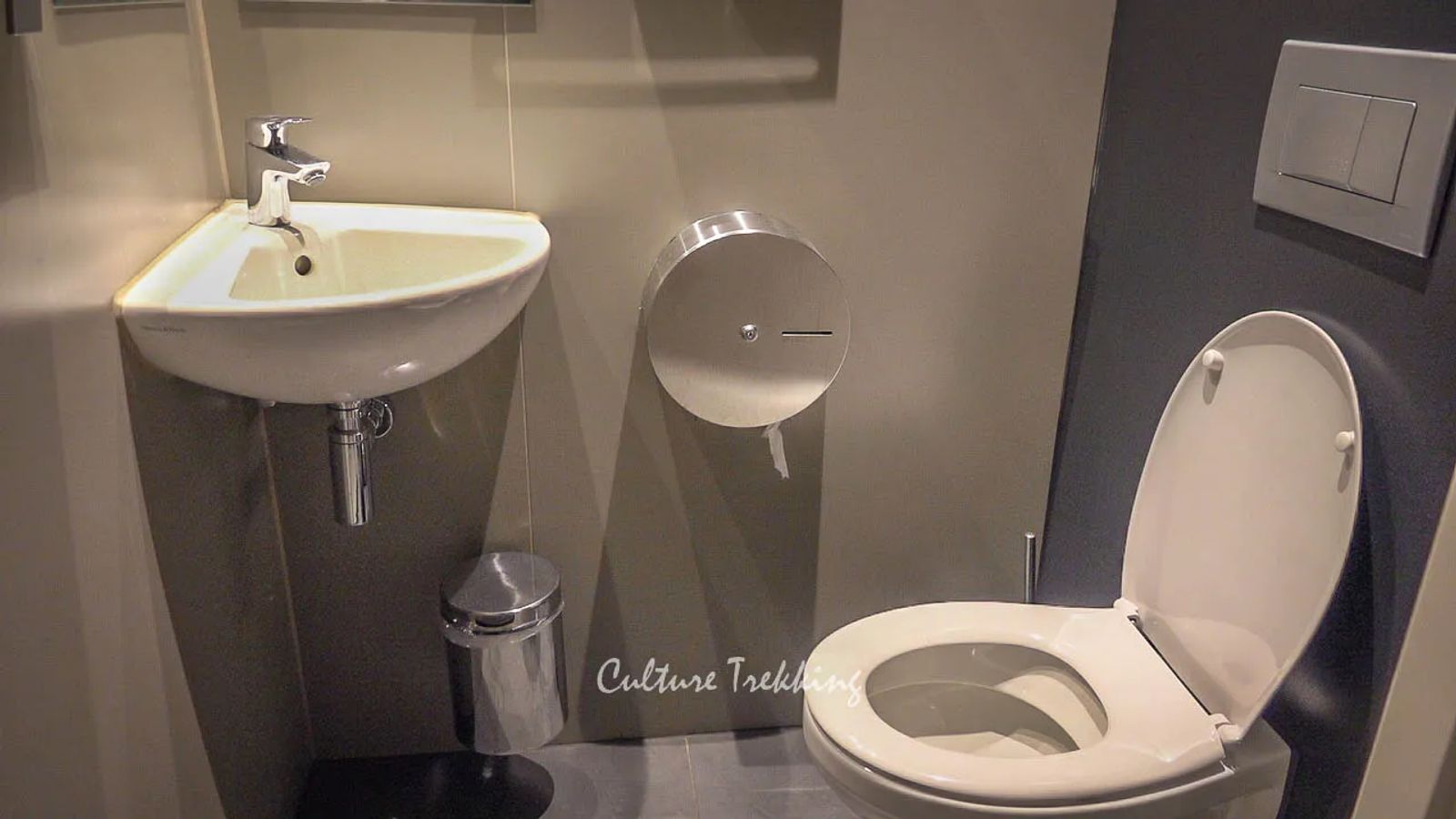 Room Details:
Upon further exploration of my room, I was very pleased to see a mat for the shower, towels for each bed, soap in the bathroom (which was a separate area from the shower). Small bottles of shampoo, conditioner, and lotion were situated on the shelves. In my sleep-deprived state, I actually questioned if I was staying in a Hostel or in a Hotel. I really loved that the bathroom was separate from the shower room. Both rooms had doors that could lock as well as lighting and an exhaust fan.
When you stay in a hostel with 4 other women in the same room things can get a little dicey with getting ready for the day. With my dorm being filled to capacity during my stay, there were no issues with access to the bathroom or shower, nor were we inundated with unsavory smells. I promptly inspected and made up the bed. In doing so I discovered some very nice amenities.
Each bunk bed has a power strip at the head of the bed, with a personal reading light, an electric plug, a shelf above the power strip for glasses/contacts or other paraphernalia you may like to keep within reach at night. If you lay down on the bed, each bed has a decorative piece of wood that shields you a little more from both ambient light and light that may come from the neighboring bunk beds.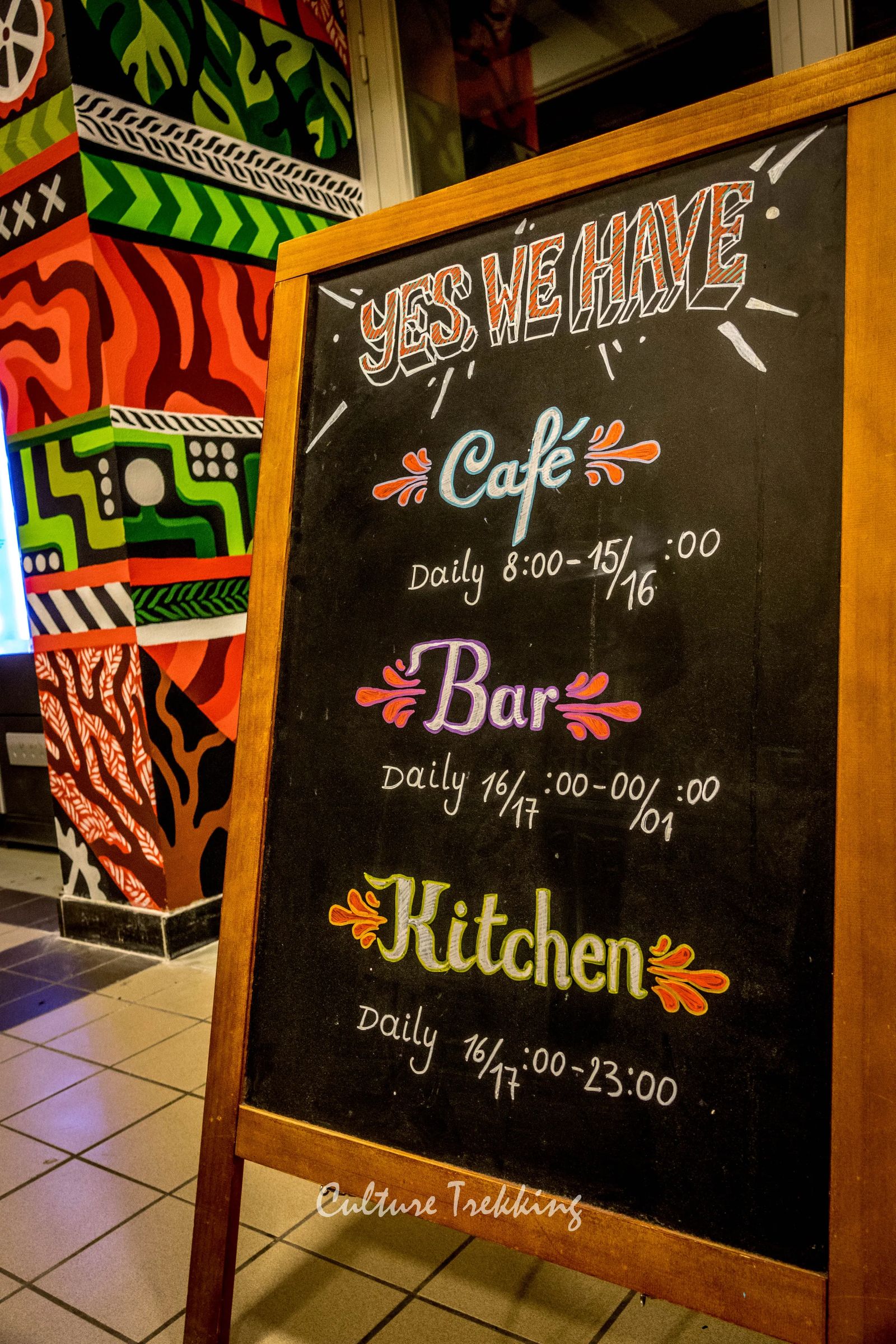 Electricity, A/C and Heat:
To get electricity in the room, you must insert your card into the slot near the door and keep it there. This is not a problem for me, but I also leave quite early every morning to go and explore. When back into the room I noted that in removing the card it also turns off the heat to the room. Each room has it's own thermostat equipped for both heating and Air Conditioning. 
It would take about 20 minutes for the room to warm up, but the heat and humidity produced from my nightly shower helped accelerate this process. ClinkNoord Travel Shop ClinkNoord was actually a former laboratory and was tastefully transformed into a vibrant place for travelers of all ages.
Traveler Tip: Most rooms have their own thermostats because the windows don't open. For those who like to do laundry in the room during your travels, this fact, could create an issue for you. There hooks in the bathroom to hang wet clothing, as well as laundry services available at the front desk for about 6 Euros (self-serve) - they also have the laundry soap available, which is included in that cost.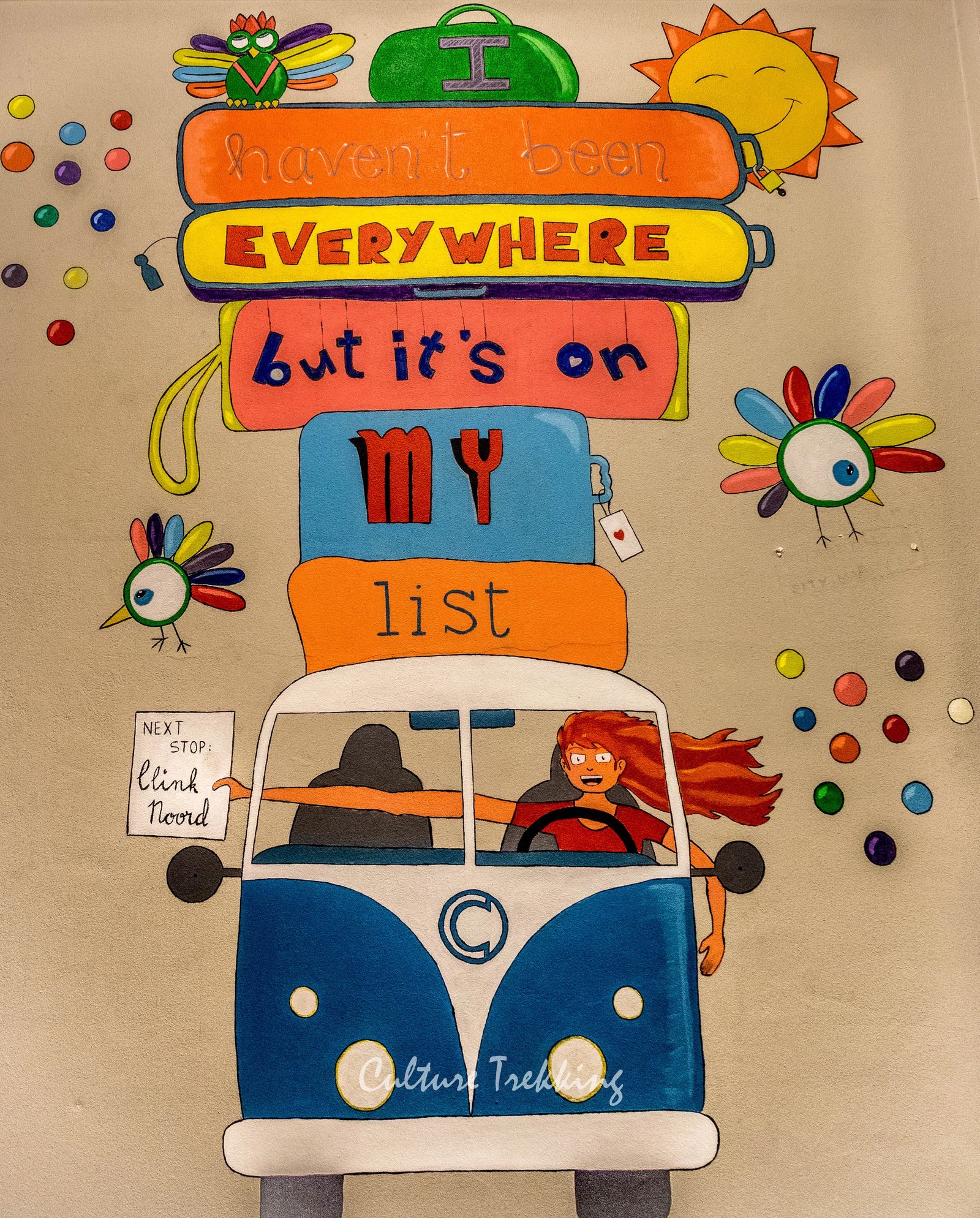 Security:
Each room has an electronic card reader outside the room with correlating cards to allow the guest inside. The facility has a security guard on duty as well as security cameras everywhere! There are lockers in each room to secure any valuables you may want to have protected.
Traveler Tip: Be sure to bring your own padlock to each hostel you stay at. ClinkNoord does have Padlocks available for purchase should you forget your own.
I personally kept all my things unlocked while at ClinkNoord and checked out with every item. It is a rule at Hostels, in general, of "don't mess with my stuff and I won't mess with your stuff".
The facility itself closes its doors around 7 pm every night. You can still access the building with a card scanner on the side with a buzzer for the front desk to be let in. I really appreciated this, as there was a new nightclub literally within a few hundred feet of the Hostel. Being able to 'key in' made me feel incredibly safe once I entered the doors of ClinkNoord. If you arrive early you can utilize their locker system for your luggage which is right at the front desk. They have padlocks for sale or you can use your own.
Traveler tip: When staying in Hostels it is much easier to travel with and store luggage when only traveling with a backpack and a carry-on.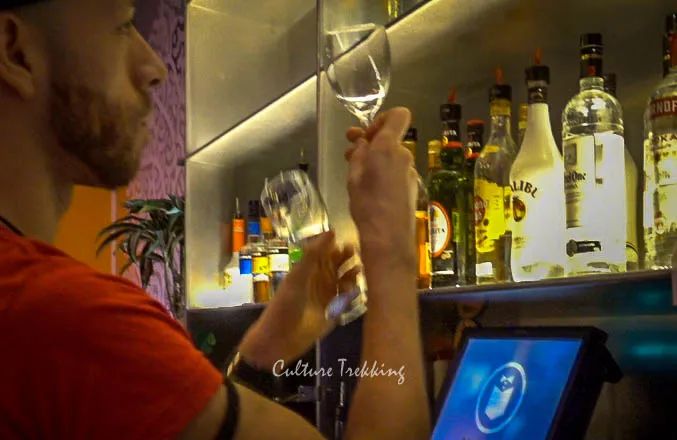 The Food & Bar:
The Zinc Bar at ClinkNoord is a where you order both your food and your beverage of choice. In the off season, it is not hard to order things & the bartenders are very friendly. They have so many options to drink, including rose and red wine that is pretty decent (aka no headaches in the morning). Summertime is the high season for tourism, Zinc Bar is reportedly VERY BUSY.
As I am one who does not like the large crowds, I really enjoyed a little quiet time and some conversation with the bartender. He shared his story (hint: it was the cutest love story - insert BIG aaawwee - to find out more about this story shoot me an email below). The food from the Bar is typical Bar food - potato wedges, burgers etc... Their food is nothing to write home to your mom about. It is cheap and fills the belly after a long day of exploring the city and satisfies the comfort food cravings.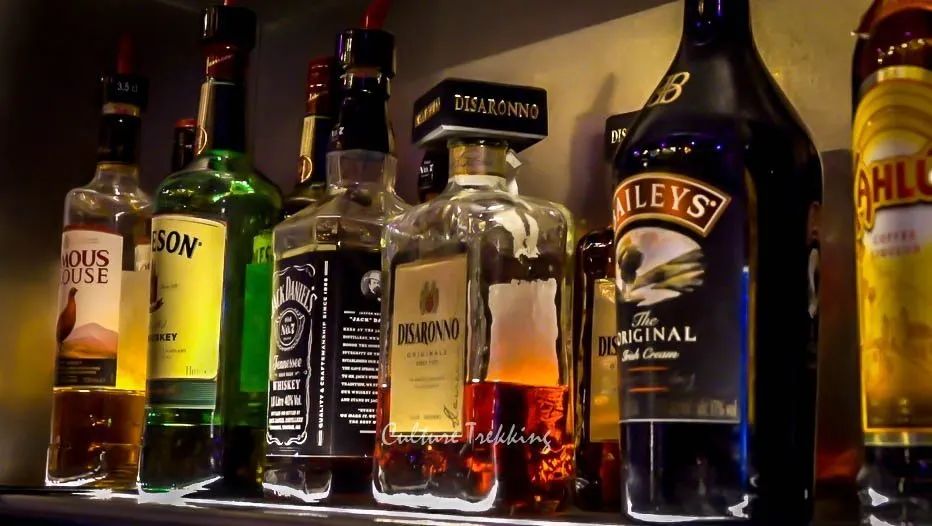 Breakfast in the morning is one to rival any fancy hotel chain. Both carnivorous and vegetarian options available, with plenty of variety for each. They have some of the best orange juice I have had in a very long time. A Hostel breakfast is often so much cheaper than what you would find in a city, so eat heartily and save on your budget. (Sample breakfast plates below).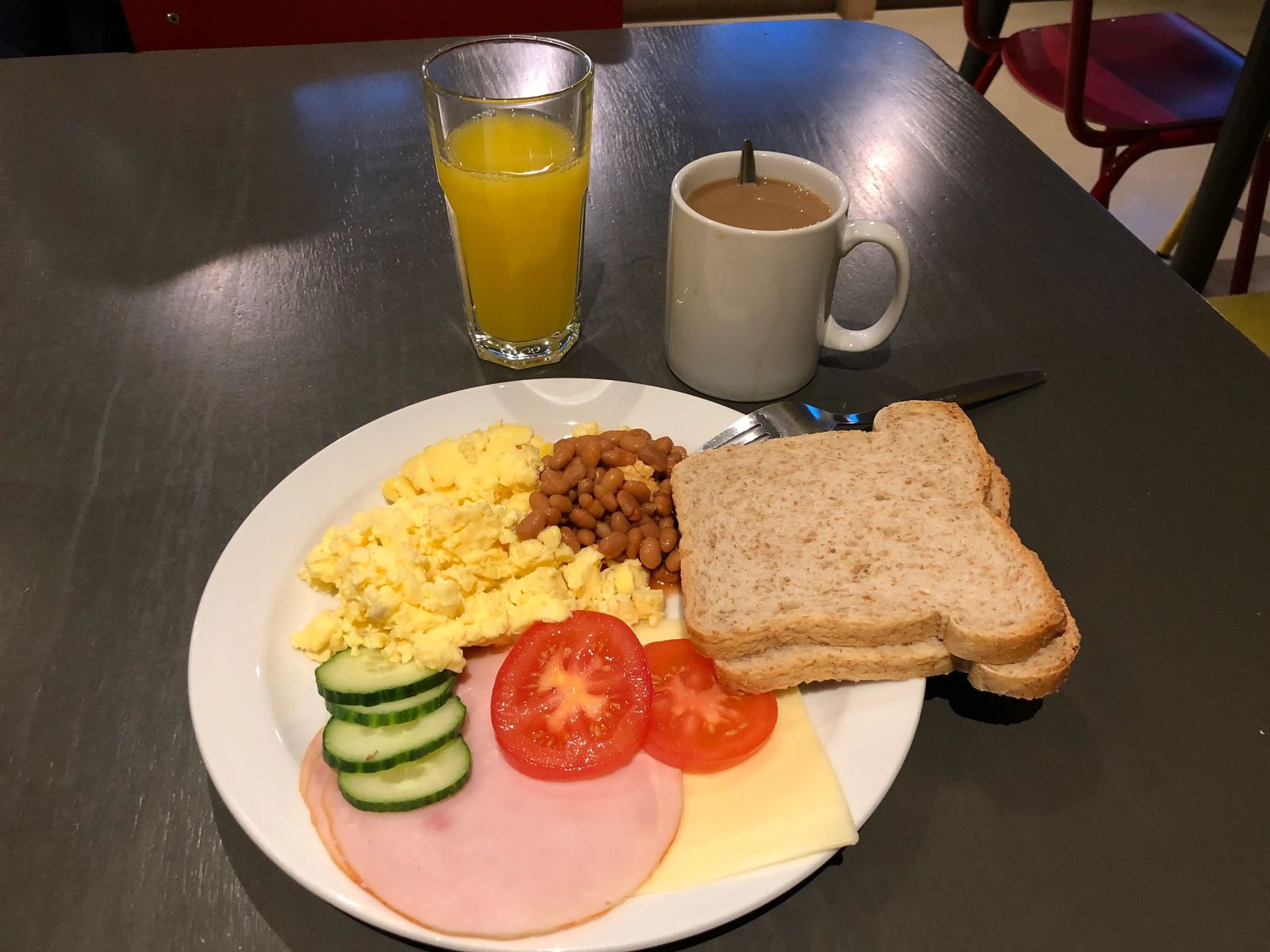 Cleanliness
Beyond the crisp and clean sheets for the bed & blankets have duvets over them. Towels were provided for the 4-bed dormitory, and are available on request for the other dormitories for a small fee. There is no carpet in the dorm rooms, which is great for sanitation. I also saw someone cleaning the hallway floors the next day with one of those big machines you see going around at hospitals.
The staff do not change your sheets daily unless requested, no extra cost incurred. Extra sheets and blankets are also available for those who need it. Bed Bugs are disgusting vermin that can easily follow you home, so I always ask about them when checking in. You will be happy to hear that Housekeeping passionately denied any infestations within the building at any time. So at least at ClinkNoord you can sleep easy, knowing you won't be bringing unwanted guests home with you. (How to Spot Bed Bugs Video coming soon). Extra shampoo and conditioner available at the front desk for those who need it.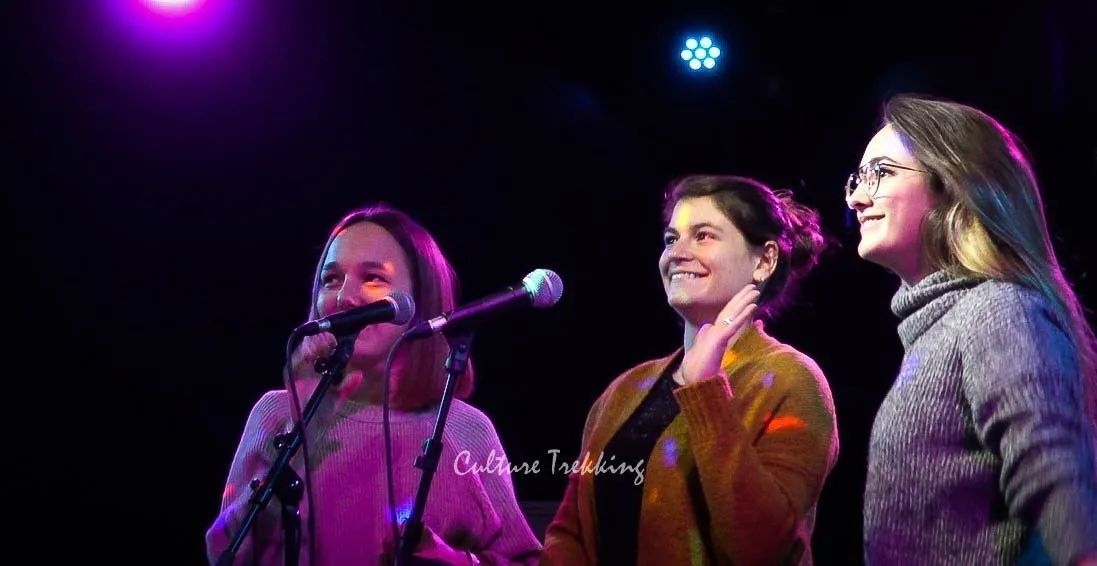 Who Can Stay At A Hostel?
There really is no age limit to most Hostels, unless it says 'Youth Hostel'. ClinkNoord actually had quite a range of people there. Entire families were staying there, older, younger and everything in between. ClinkNoord does have a rule that if you bring children (younger than 16) you have to rent an entire room. If the children are under 18 they have to be accompanied by an adult. Those under 18 years old cannot stay in the 14-bed dormitory unless a parent is with them.
There are too many people (especially in the States) that do not realize that Hostels are for EVERYONE! The atmosphere is soooo fun to be in, the breakfasts are surprisingly delicious, and having in house activities ensure a good time no matter what. The best part is, this is a perfect way to save on your budget. Budgeting allows you to do really incredible activities and visit destinations further away -- because your money is going further. ClinkNoord actually offers musicians a 'stay for play'. If you perform 1-2 nights during your stay, you receive a free room and board (offers may vary).
The Staff
The staff at ClinkNoord are incredibly kind, helpful and love to just chat with you and listen to your story. While interviewing a staff member, I asked how it was working for ClinkNoord. Her response warmed my heart,
"I will never forget when I first started working here, how nervous I was. The manager came up to me and told me that I shouldn't be. The most important thing while working at ClinkNoord for her, was to be myself. When my manager said that, I knew this was going to be a great job".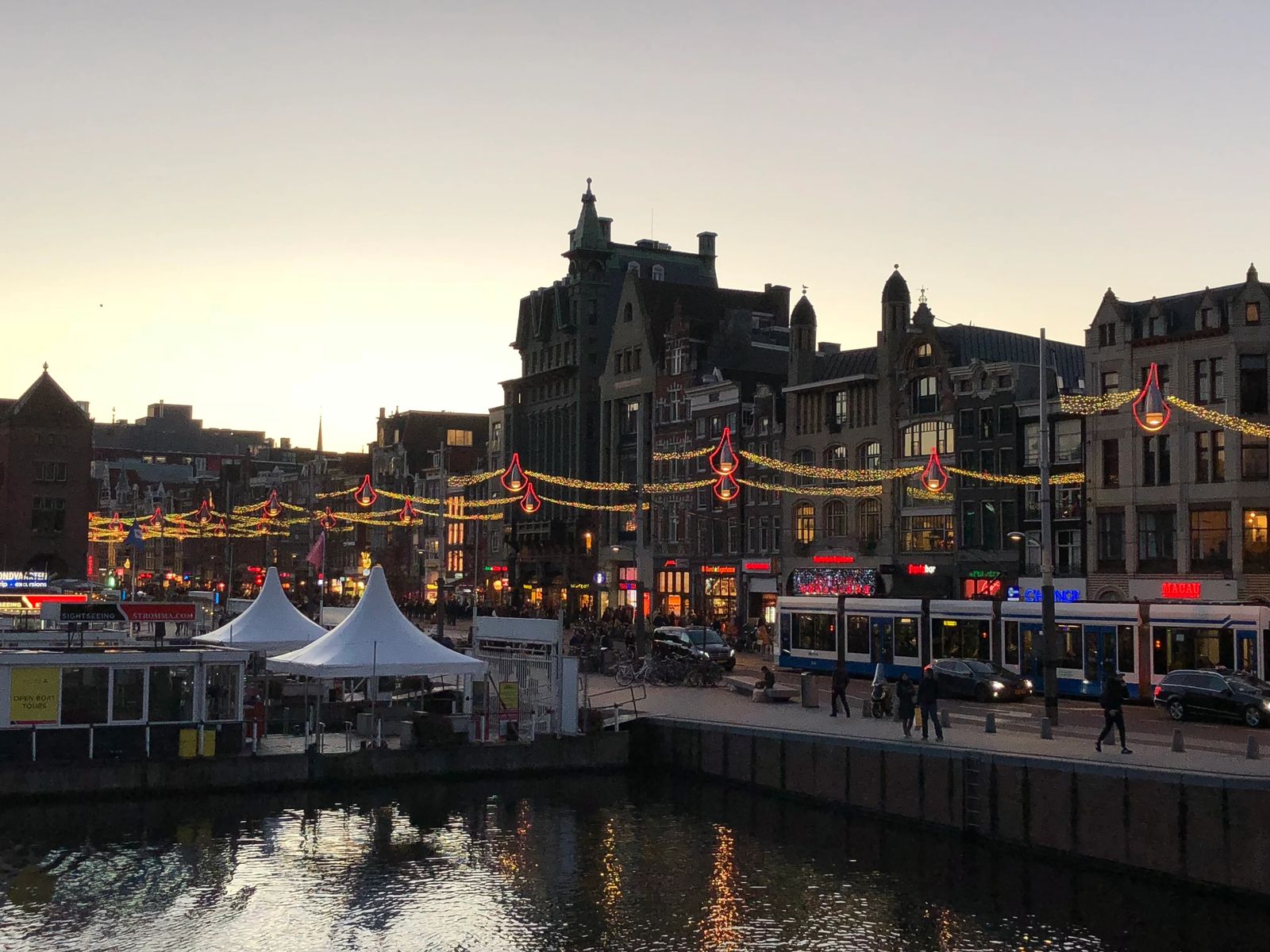 What is the Best Time to Stay in Amsterdam?
Amsterdam is beautiful all year round, with plenty of activities in each season. If you want to be outside, ride your bike through tulip fields and climb 12th-century Cathedrals to see the massive bells -- well Spring & Summer are for you. Cooler weather, less crowded streets, museums & Christmas Lights suit your fancy? Well then Fall and Winter are good for you. ClinkNoord's off season is from November to February. It does get incredibly busy almost every other time of year so be sure to book in advance. I stayed with them at the end of November and still found the area & surround towns beautiful.
Festivals
A good time to plan your trip to Amsterdam is around one of their many Festivals. ClinkNoord staff recommended: Festival of Lights, Amsterdam Music Festival, King's Day, and the Gay Pride festival.
Amsterdam is full of Art, Engineering feats, Culture and much much more. Stay tuned for my full review of Amsterdam, a City Guide. I will also be offering my full itinerary with pricing I encountered at each juncture.
Activities at ClinkNoord:
There are so many activities at ClinkNoord, there is no way I could fit them all into this post. You can choose from: Karaoke, Solo Traveler Meetup, Air Hockey, Foosball and much much more.
The activities change each night and all are listed on their website. For those who enjoy a more relaxed vacation, then head over to their reading nook.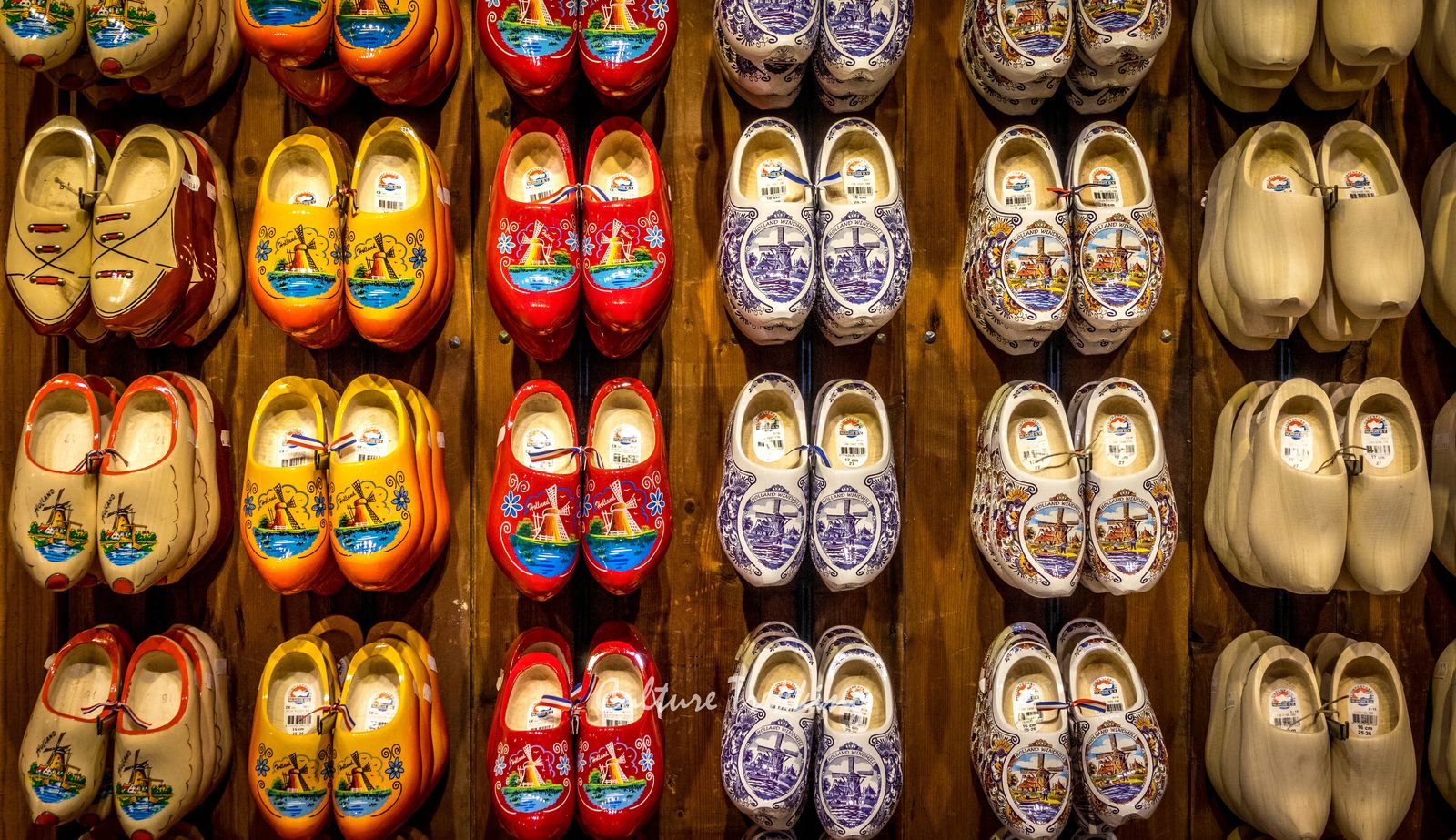 Other Tidbits to Consider
Gender for the rooms is based on self-identity gender. There is access to all parts of the building for wheelchairs. The staff at ClinkNoord do not expect to be tipped for their services. There are no rooms with views of the canal. The staff recycles everything they can & is produced by guests at ClinkNoord. Interestingly, grocery stores will actually offer 25 cent euro for every plastic bottle that you bring back.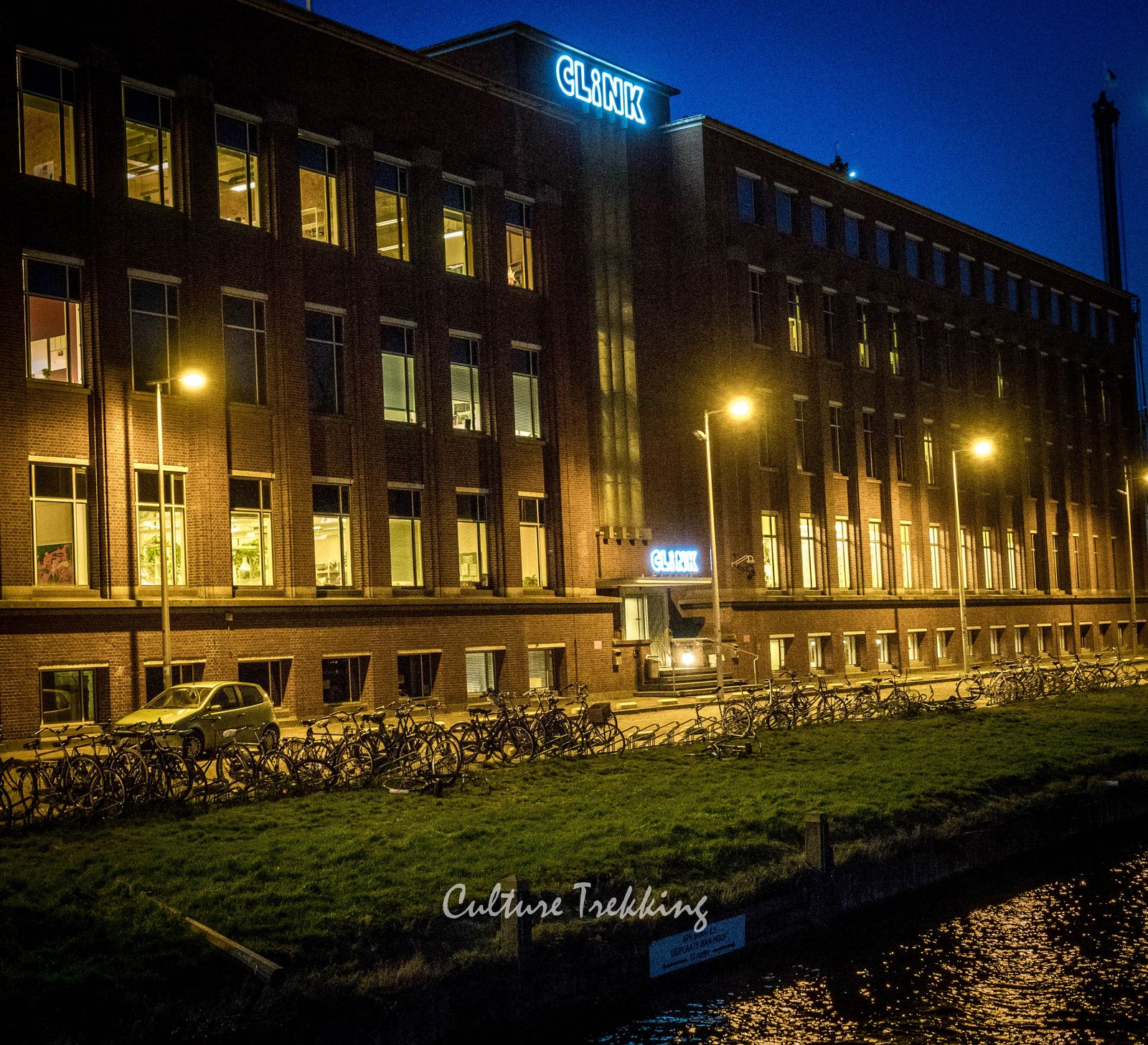 The Takeaway:
If you like to find amazing deals at incredible prices, then ClinkNoord is going to be your best bet. They have it all - a 3-minute ferry ride to the Central Train Station, Concerts, Karaoke, Games, Full Bar, Food, Fun, Bike Rentals, Amenities, Free Walking Tours, friendly staff, sleeping arrangement options, safety. The staff can help you craft an itinerary that ensures you make the most out of your stay & create those memories we all crave. I will personally be back to ClinkNoord as often as I can and was truly sad to leave; mostly because of how kind the staff was in helping me celebrate my Birthday.
This was one of the best Birthday's I have ever had, and I owe that to the staff at ClinkNoord. Thank you for this wonderful opportunity to review your Hostel.