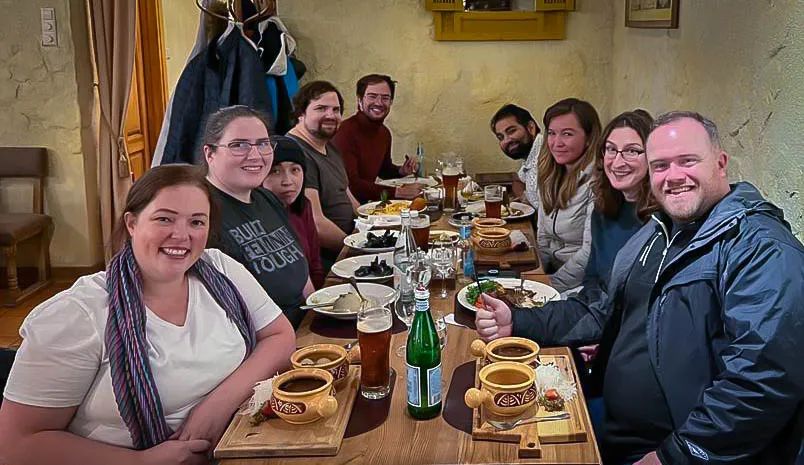 Traditional Food in Lithuania to Try
While potatoes are considered the national dish in Lithuania, there are many other delicious traditional foods to try in Lithuania. Lithuania pulls many of its foodie traditions from Poland, but you will also find influences from Italy, France, Germany, Turkey, and Russia. Don't forget, that before WWII there was also 85% of the population here that was Jewish - while many Jewish people perished you will still find the influences in the food.
As we take a trip down this ancient foodie lane, remember that potatoes have many vitamins that were essential to the survival of the Lithuanian people during the Soviet Occupation. Many people were driven to starvation and desperation, so between the heavy meat, potatoes, and venison - you will realize these are the elements that allowed them to survive.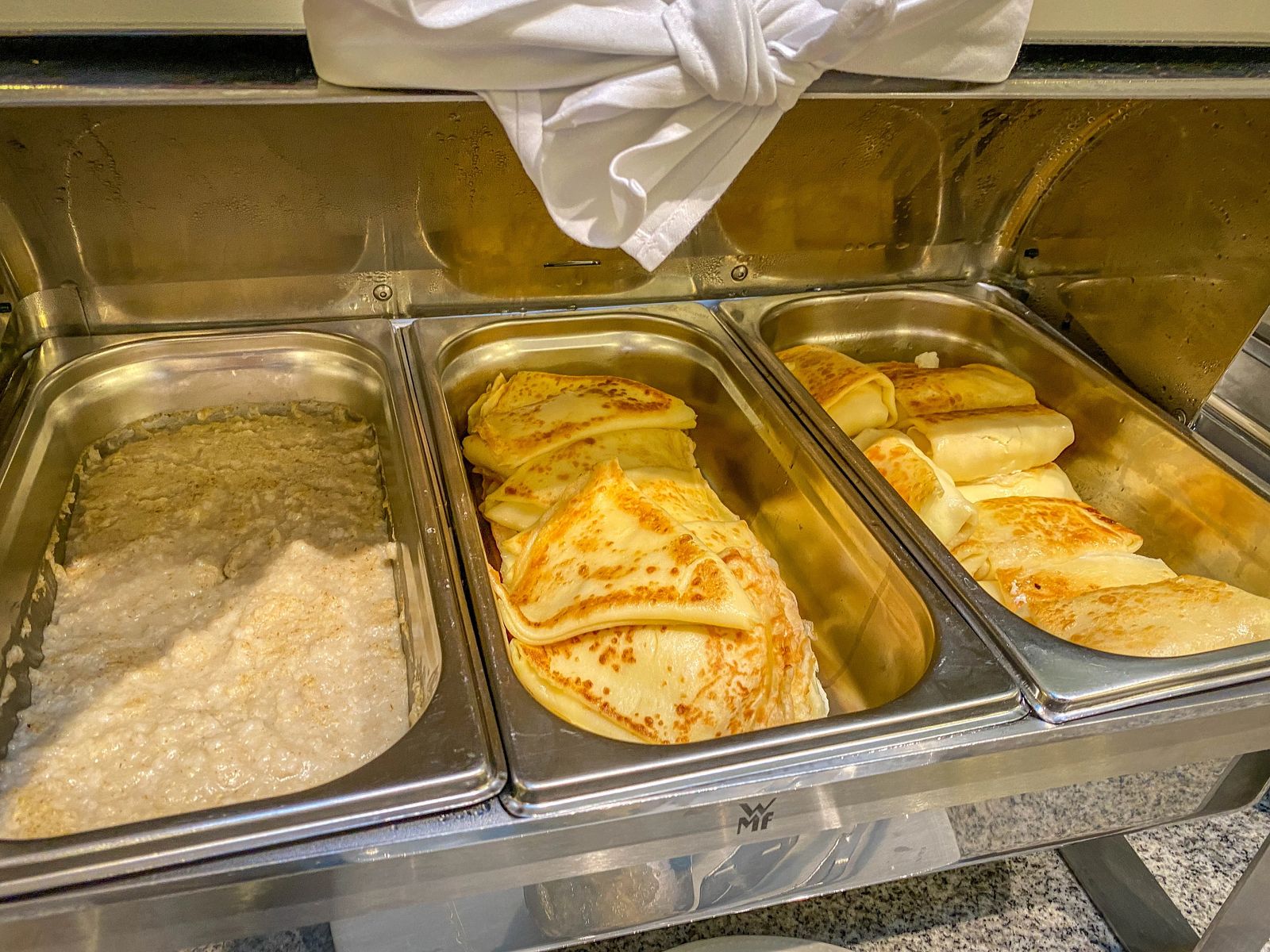 Varškėčiai - Curd Pancakes
These cottage cheese pancakes can often be found not just in Lithuania, but in Belarus, Poland, Ukraine and Latvia. You can often find them in the continental breakfasts at the hotel or on many of the breakfast menus throughout Vilnius. With the delicious berries that grow in the Baltics like bilberries and raspberries that are made into delicious Jams to last through the winter.
These pancakes consist of eggs, dry cottage cheese that is crumbled, sour cream, flour, sugar, salt, and any kind of fruit jam.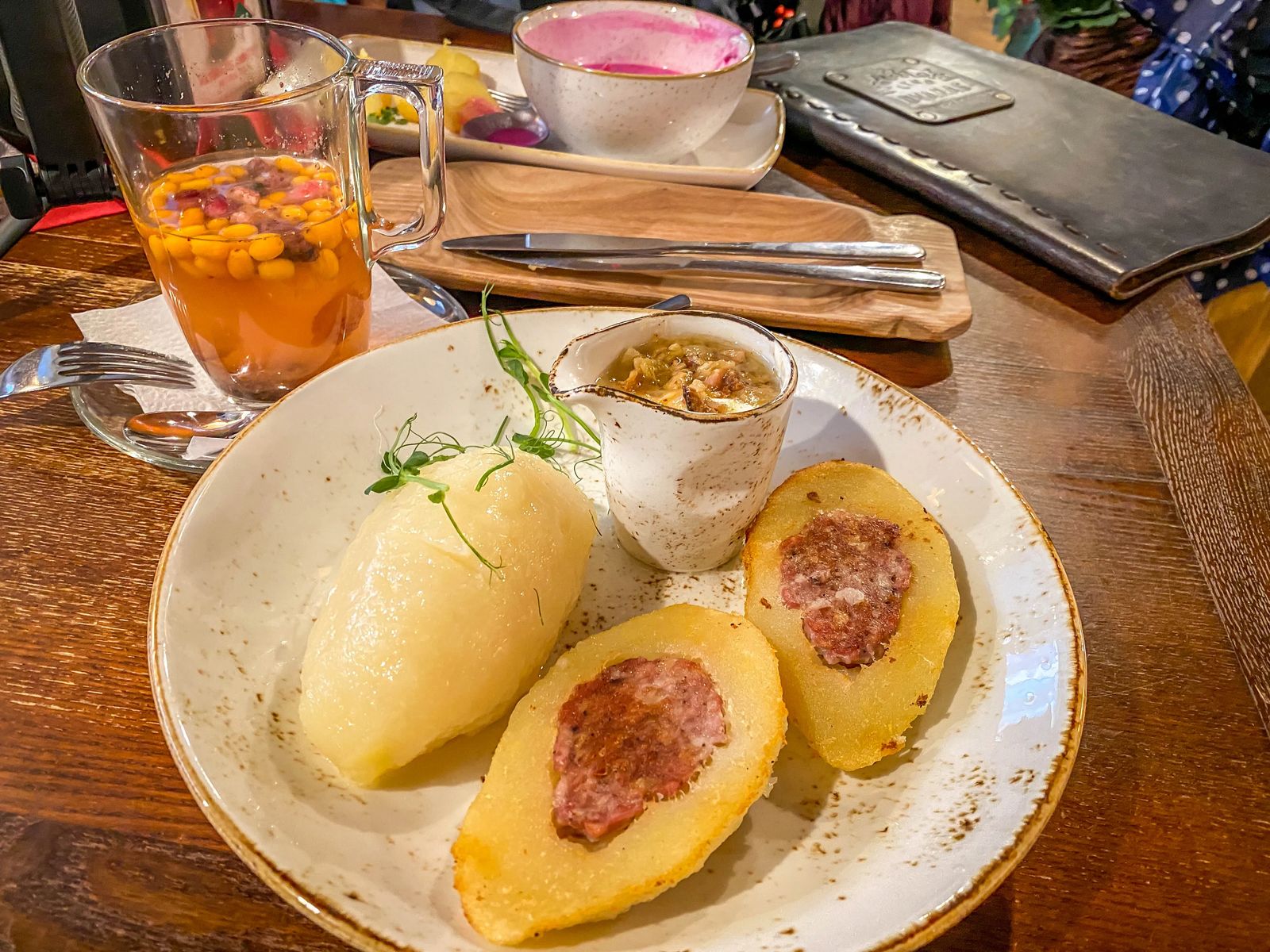 Cepalinai - Potato Dumpling with Pork
This is the National Dish of Lithuania, potatoes, and cooked in a variety of ways. You have a potato dumpling that is stuffed with different types of meats. The most traditional meat is typically pork, and then comes with a side of cracklins. Cracklins is fried bacon mixed with sour cream (in very simplified terms).
The name comes from the similarity of the shape to that of the Zeppelin Airship. If you go to Etno Dvaras near Old Town Vilnius you can get a boiled version as well as a fried version like I did to be able to try both.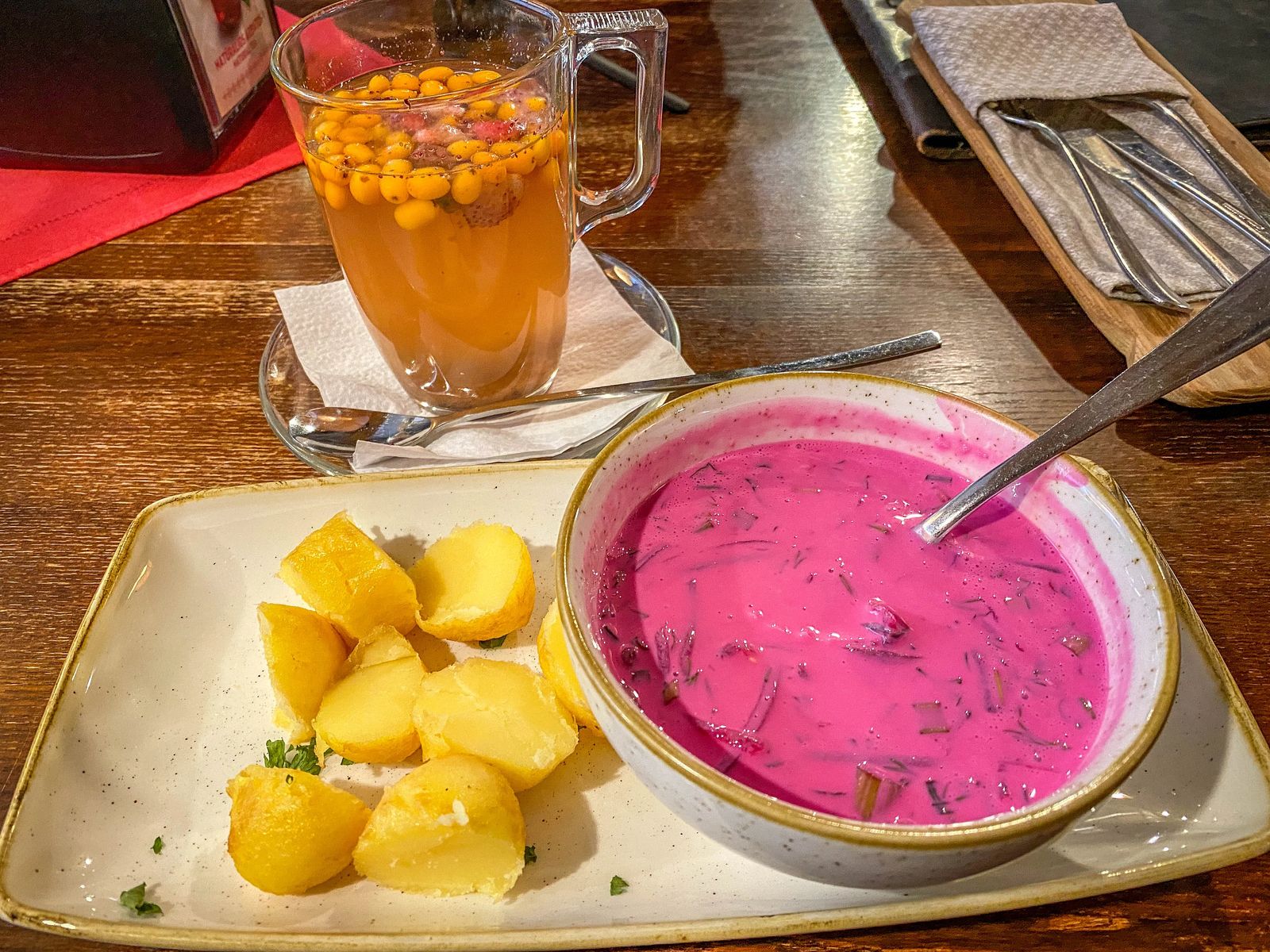 Šaltibarščiai - Cold Beetroot Soup
I'm a HUGE fan of beets, so even though this is traditionally eaten in summer as a refreshing dish - I had to try it when I was there in November. It is similar to the Borscht dish you can find in Poland, and despite its bright pink appearance it is quite delicious.
This dish is made by boiling beets, shredding them, then adding pickled cucumbers. Add some green onion leaves and two chopped hard boiled eggs (it is called Borscht if it has eggs and it a hot beet/egg soup). The key ingredient is the actually kefir (a fermented milk product made from grain). Add a splash of dill and lemon and salt to taste and there you have a traditional lithuanian dish!
Grybų Sriuba (Mushroom Soup)
I'm a little sad to say that I didn't try the mushroom soup while in Vilnius, I am on the struggle bus when it comes to mushrooms if I'm honest. HOWEVER mushrooms are a MAJOR food group for the Baltics, with over 400 varieties in the Lithuanian forests alone.
It is basically like a cream of mushroom soup, but according to my friends and much much much more delicious version of it. At Etno Dvaras in Old Town Vilnius you can get it served in a scrumptious soft rye bread. Rye bread is also another traditional Lithuanian food, but I will get into the reasons why it is later on in the article.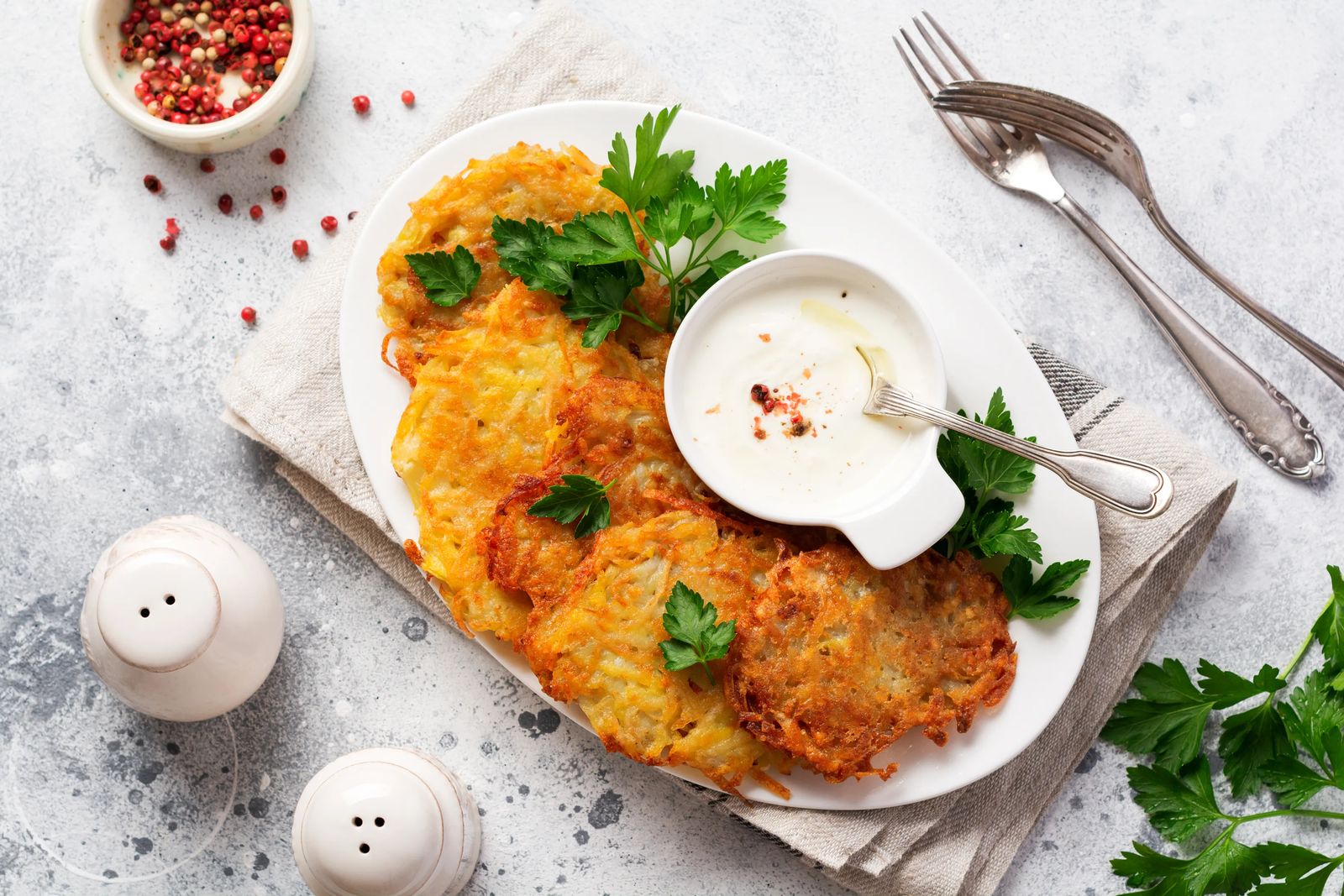 Bulviniai Blynai - Potato Pancakes
While simple in the actual recipe these potato pancakes are a staple for snacks when it come to Lithuanian food. It consists of potatoes that are shredded, one egg, an onion, salt, pepper, lemon juice, some oil, and a touch of dill.
You can find them in pretty much any pub or place that serves beer. They are crunchy, tasty and can come with a side of smoked salmon or mushroom sauce to make them a bit more interesting and protein packed.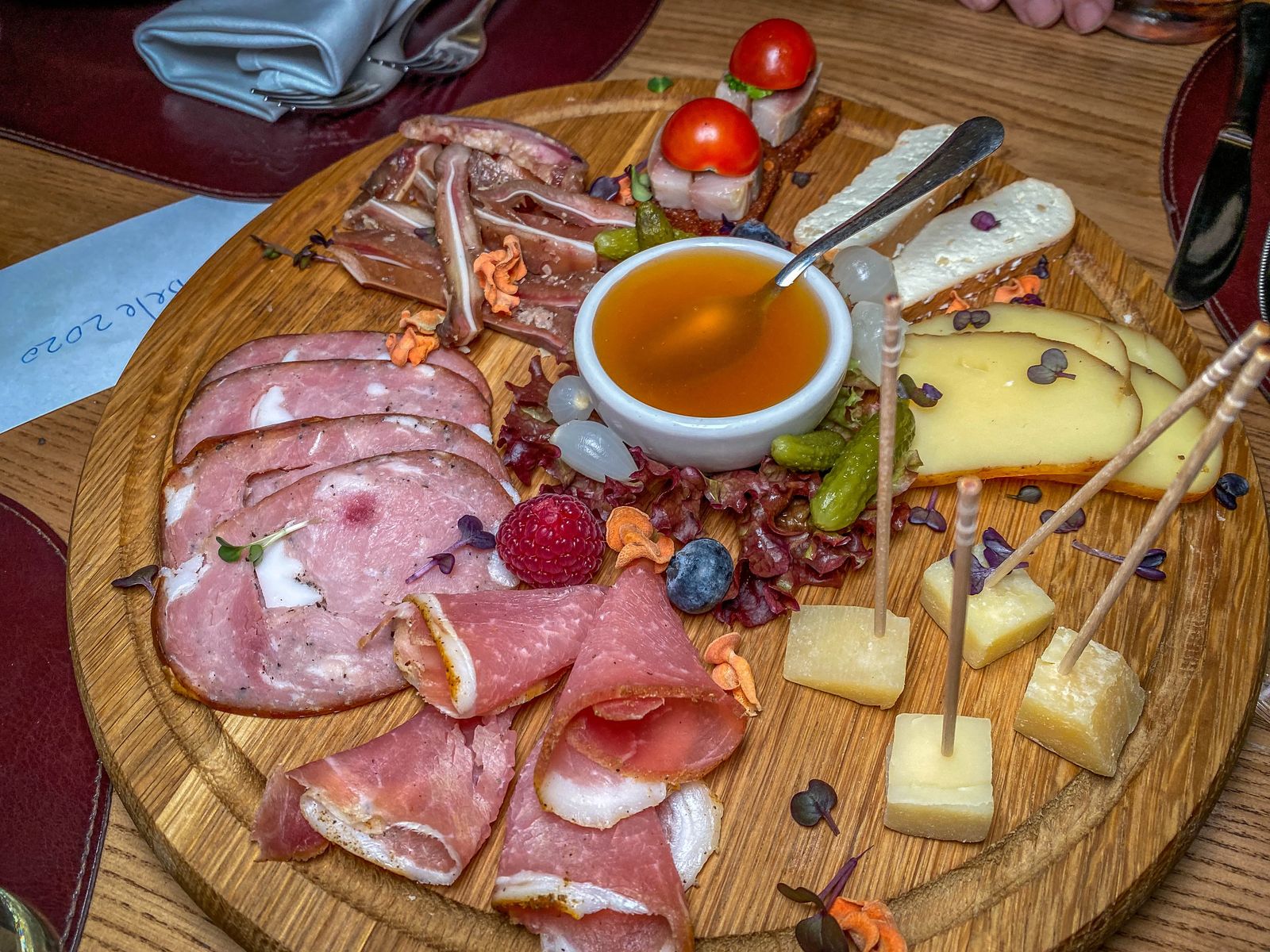 Meat and Cheese Boards with Kiaulės Ausis (Pig Ears)
Meat and cheese boards are the preferred appetizer when it comes to Lithuanian food and restaurants. You can find one of these or a version of it pretty much anywhere you go.
They have a lot of hard cheeses, curd cheeses, in fact the curd cheese has obtained a Protected Geographical Indication (PGI) status. The cheese originates from Telšiai man nicknamed Giant Džiugas. He was famed for defeating the Teutonic Order, and when he married his wife the cheese was made to celebrate their union. It is also rumored that if you eat the cheese, you can develop some of his giant like qualities too.
Cut a slice of cheese, wrap it with some meat or pork lard, then dip it in honey. It is a local delicacy, along with Kiaulės Ausis or (Pig Ears). I like to be a bit on the adventurous side when I travel with what I eat - because you never know until you try. Now I can firmly say, I could not handle the Pig Ears.
You see, I'm a big texture person, and popping in a very big slice of cartilage and tasting the salty vinegar taste of it - imagining all the surgeries I have helped with in the past (because I work in the medical field).....I just .....couldn't.....hack it.
This is just my experience though, so DON'T TAKE MY WORD FOR IT! You need to try it for yourself is what I say. This is truly considered a delicacy to locals, and is often served smoked or boiled and with vegetables. Some locals even have them for their main meal! The ones we had were cut into strips and served as a snack, often with some strong beer.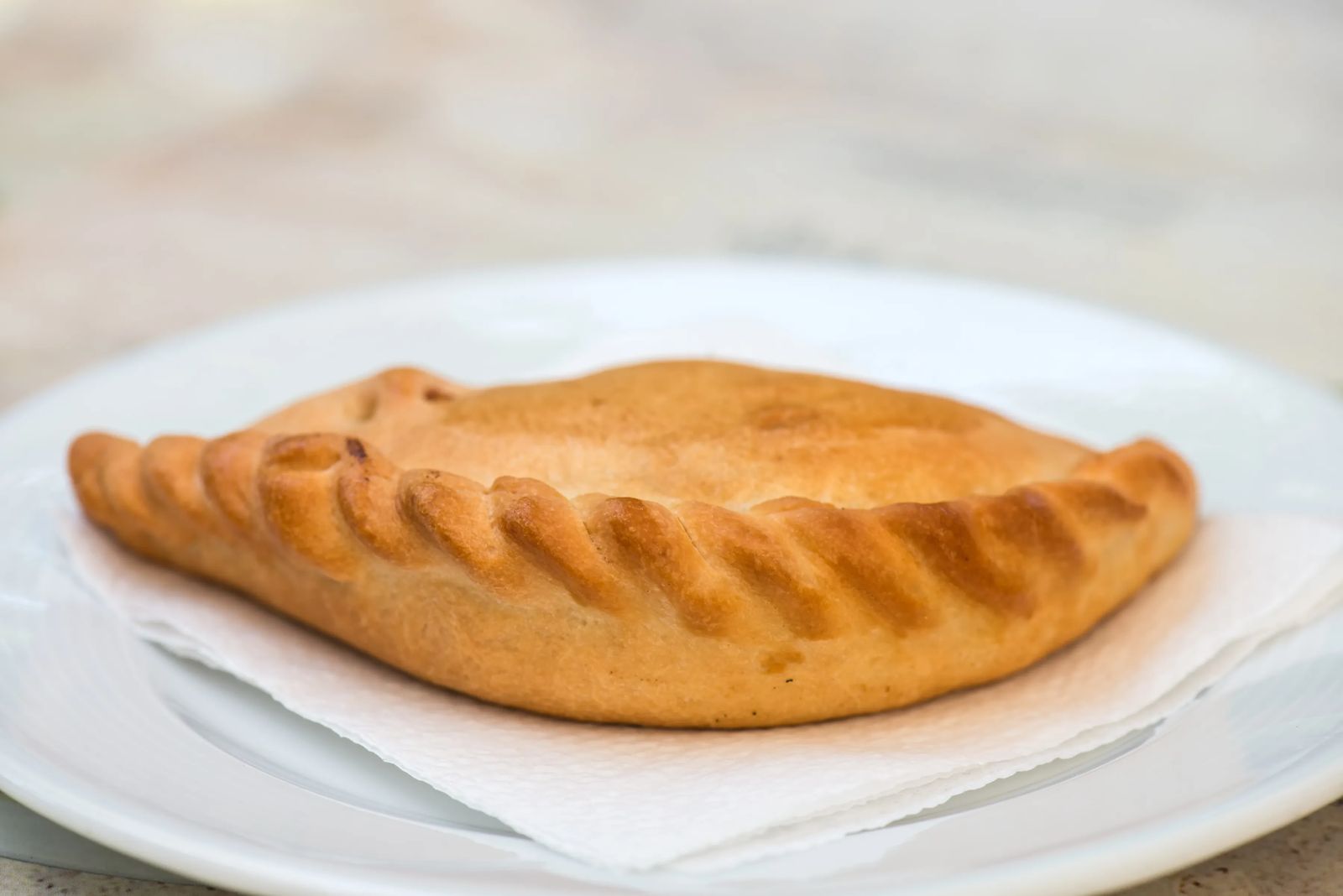 Kibinai - Meat Filled Pastries
You can find pastries filled with meat anywhere in the world, so what makes these unique and special? They were originally introduced by the Jewish Karaite sect (Turkic adherents of Judaism) who immigrated to Lithuania from Crimea area during the middle ages. These savory pastries are filled with lamb, chicken, curd cheese and for a sweeter side - fruit.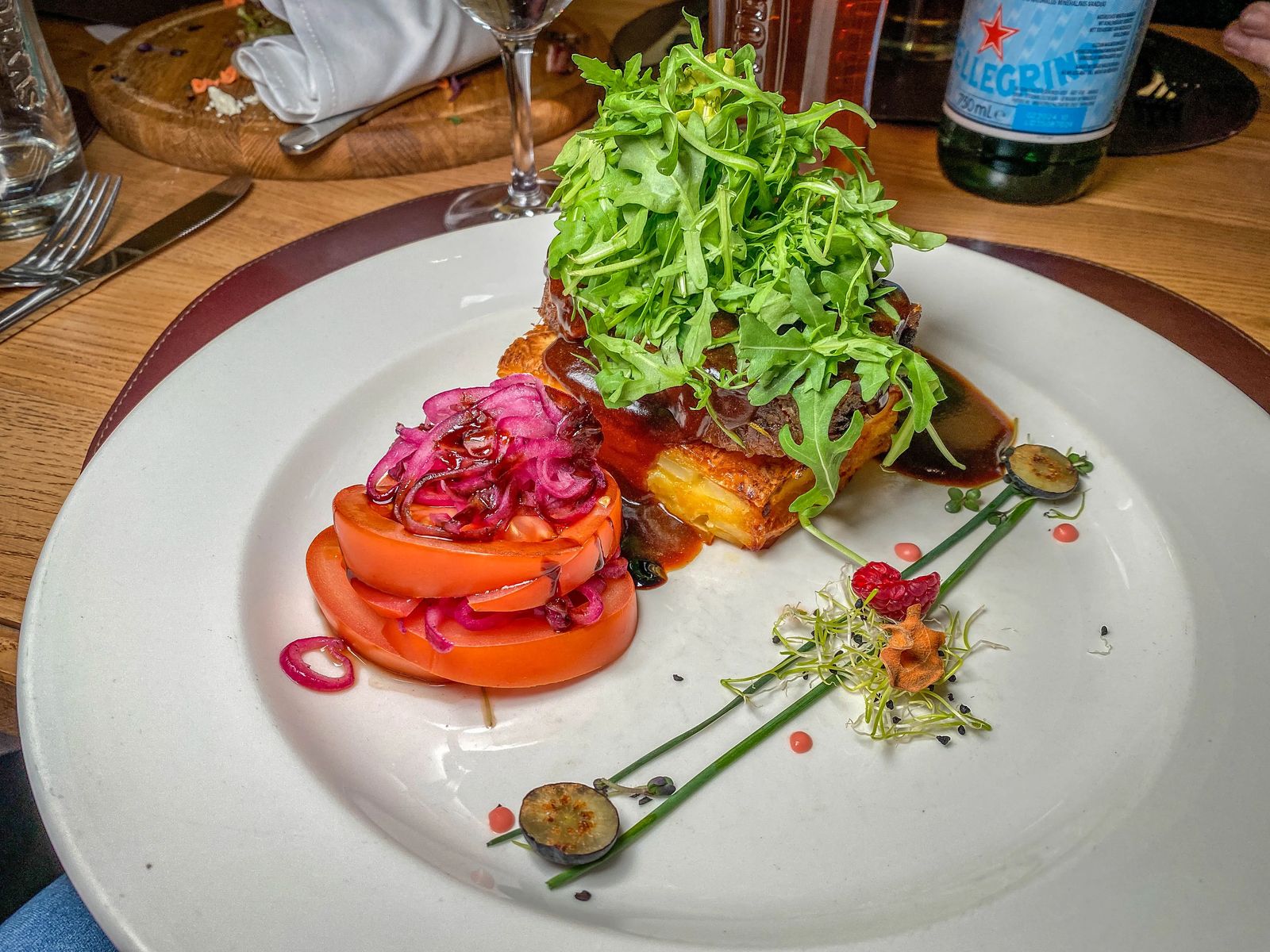 Venison
While boar was the typical hunting privilege of the wealthy nobles in Lithuania, you can still get a taste of a different kind of hunting meat here.....venison. Take a walk to restoranas Lokys, a medieval take on Traditional Lithuanian food. Here you can eat boar 'praised by Grand Duke Gediminas', or feast on Venison steak like this that was 'relished by Grand Duke Sigismund II Augustus'. They also have Beaver meat stew and all sorts of sausage.
This delicious Venison steak was one I devoured at Senoji Trobele, but wanted to include Lokys because the menu descriptions just sound plain entertaining and fun.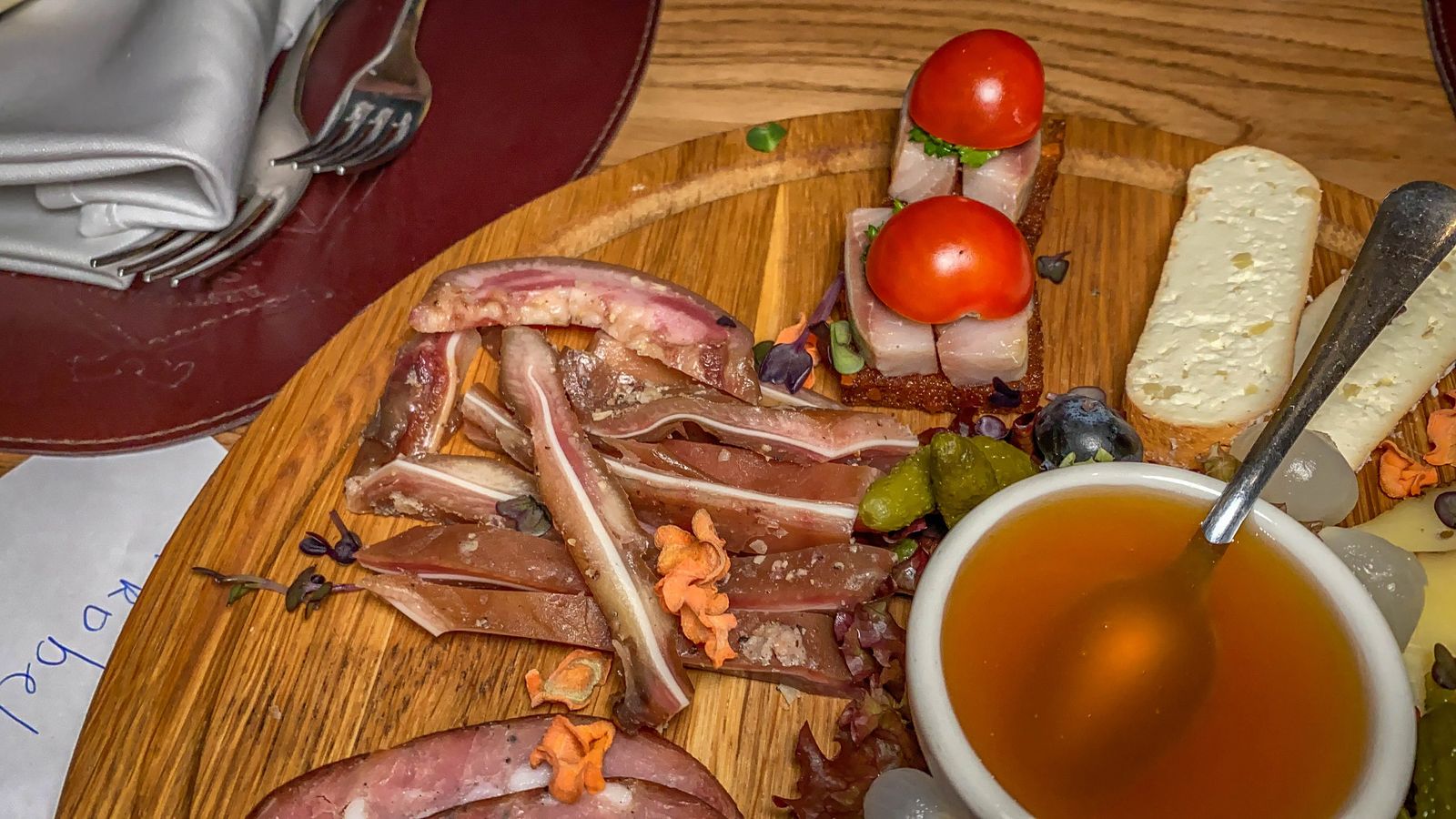 Silkė - Pickled Herring
There is a variety of fish that Lithuanians eat like pike, perch, cod and bream. With the Baltic Sea being so close by, the catch of the day was a major commerce for them. No matter what restaurant or continental breakfast you experience you will find all kinds of varieties of fish but he one that stands out as the most 'unique' is the pickled herring.
Now I wouldn't think of the tanginess of an actual pickle when you hear this, but it does have a more mild pickled flavor to it. Typically served with bread, potatoes, or on dark rye bread as you see here with a tomato topping it. To be honest, it is actually quite delicious, but that could be my Dutch/Scottish heritage tastebuds coming through on that review.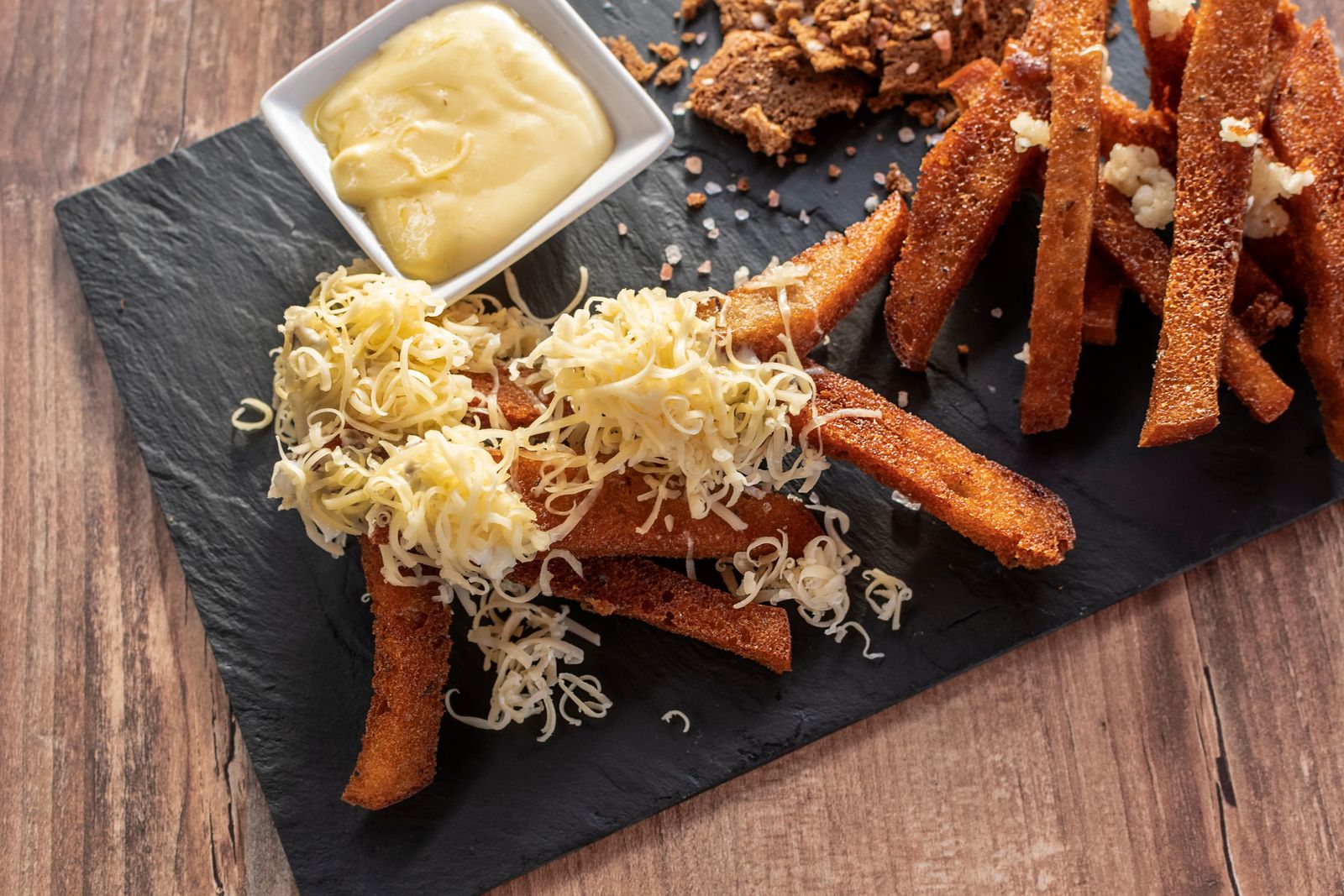 Kepta Duona - Fried Bread With Garlic
This is a delicious and crispy fried bred with hints of garlic often served with craft beer and cheese sauce.
Fried Bread with garlic is also another popular snack to be enjoyed with a craft beer here. Typically, you take the fried bread and rub a clove of garlic onto the bread until you're satisfied
I would take these and put some smoked salmon on it with meals, and I'm telling you..... 🤌 ....it is divine.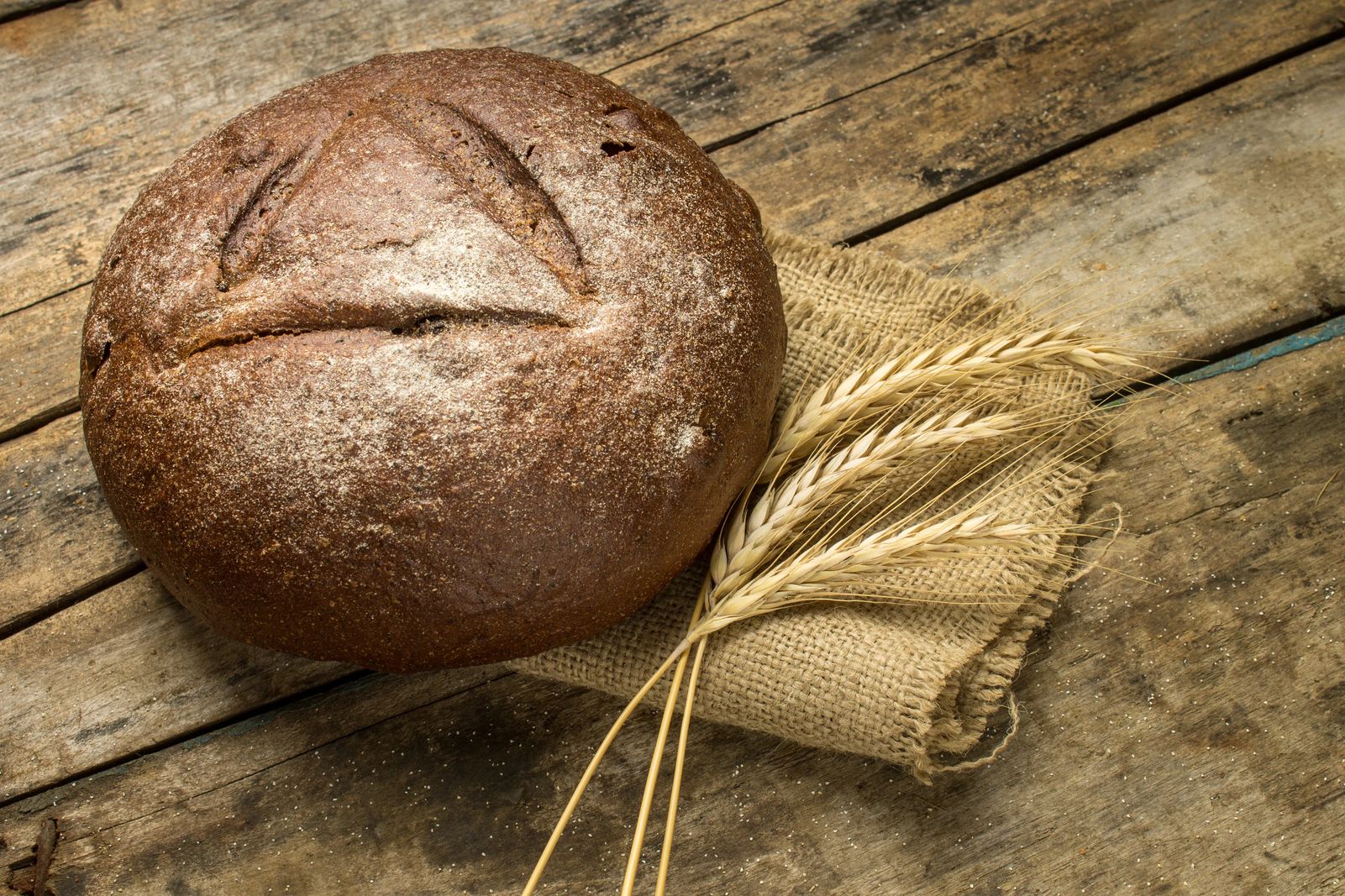 Juoda Duona - Dark Rye Bread
While I am no Paul Hollywood (Great British Bake Off Judge on Netflix) when it comes to evaluating bread, I did once hide the best bread loaves my Mom got under my bed as a child. Soooooooo....yeah.....you can say bread is one of my favorite food groups - both fortunately and unfortunately for my waistline, lol.
Lithuania is KNOWN for the delicious slightly crispy crust of the Rye bread, and the soft dense rich interior of this bread that can be eaten morning, noon, or night and is definitely worthy of hiding under the bed for a midnight snack.
Lest I digress on my bread obsession, Rye bread was considered sacred by the Pagan worshippers that lived here. It was often used in 14th century during rituals, was considered Holy, and treated with GREAT respect. (I feel like I have a country who understands me with my obsession with bread!)
If you attend a wedding in Lithuania today, you can also see this staple gracing the tables as well.
Now that I have gained 5 lbs (2.5kg) just talking about how much I love bread, let us move on to another waist gaining delight - the desserts!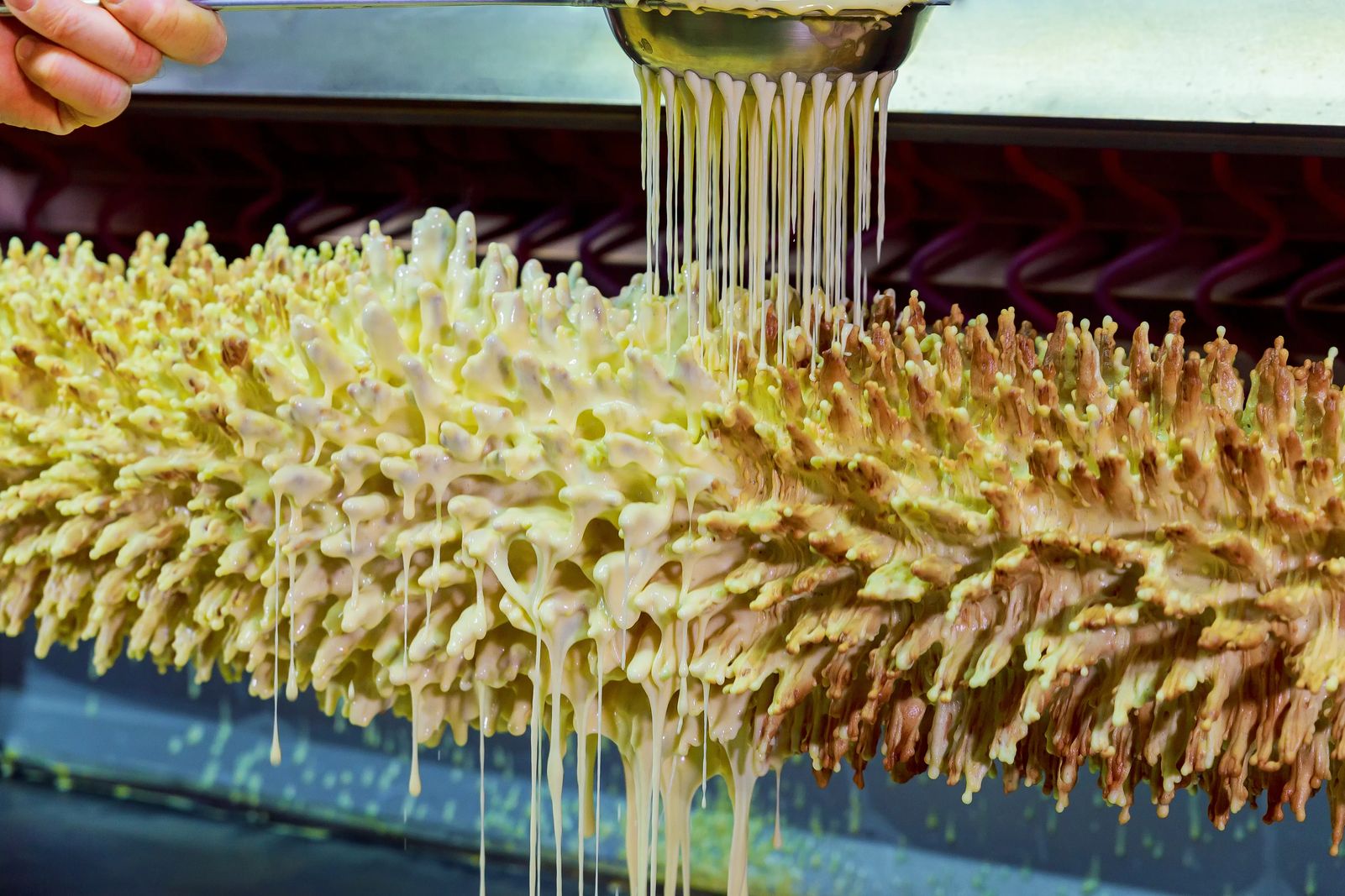 Sakotis - Christmas Tree Cake
In the 15th century, metal was a scarcity, bread tins/molds weren't found in the poorer houses - YET they still found a way to have their cake and eat it too. This is the Sakotis, a very special cake made by pouring cake batter over a spit that sits over an open flame in the fireplace.
It is made by adding one delicious layer at a time with the drops of the sweet liquid falling into a pan waiting below. The drops then form into spikes as they are cooked creating a look of a Christmas Tree when taken off the spit and placed upright on a table. Pour a little jam over the cake and voilà! You have a delicious Christmas Tree treat that everyone can partake of.
I visited Vilnius right before their Christmas market opened up, and asked about this at several restaurants. I was told you can find them in the grocery stores and at the Christmas markets during the holiday season. If you happen to try it, do come back and let me know how delicious (or not) it was in the comments. Let a lass live vicariously through you on this ;)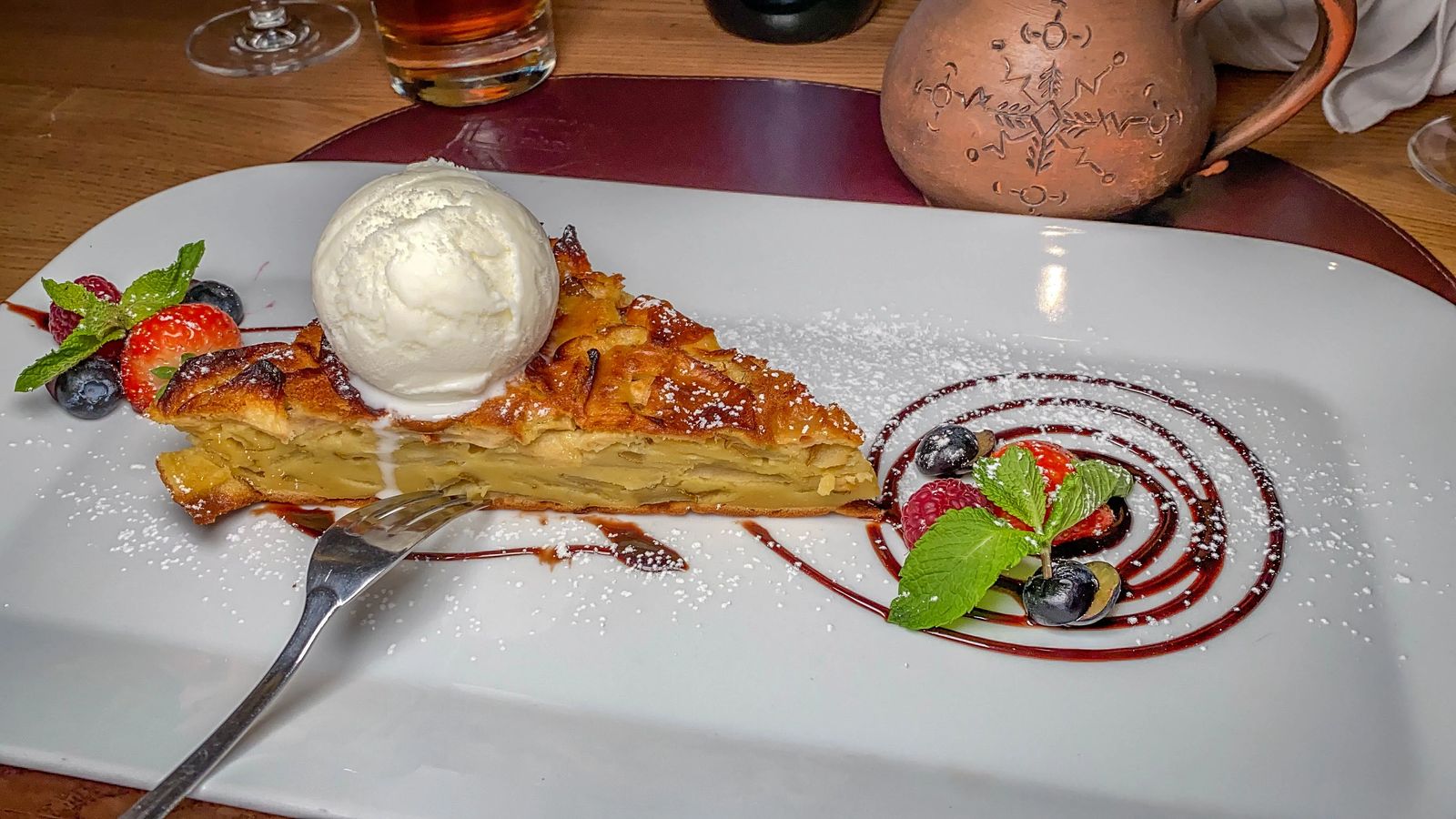 Potato Pancake Apple Pie
While Apple Pie in and of itself isn't necessarily a traditional food item in Lithuania, it does contain potatoes! It is the most unique version of an 'apple pie' I have ever seen so I wanted to include it here. The pie is a bit mushy to use your fork to cut into, but holds its shape. The apples are sooooo thinly sliced you can just taste hints of it, mixed with cinnamon and the slight savory nature of the thin potato pancakes it was absolutely a perfect end to the unique Lithuanian food I was able to experience in Vilnius.
You can find this delightful treat at Senoji Trobele as well.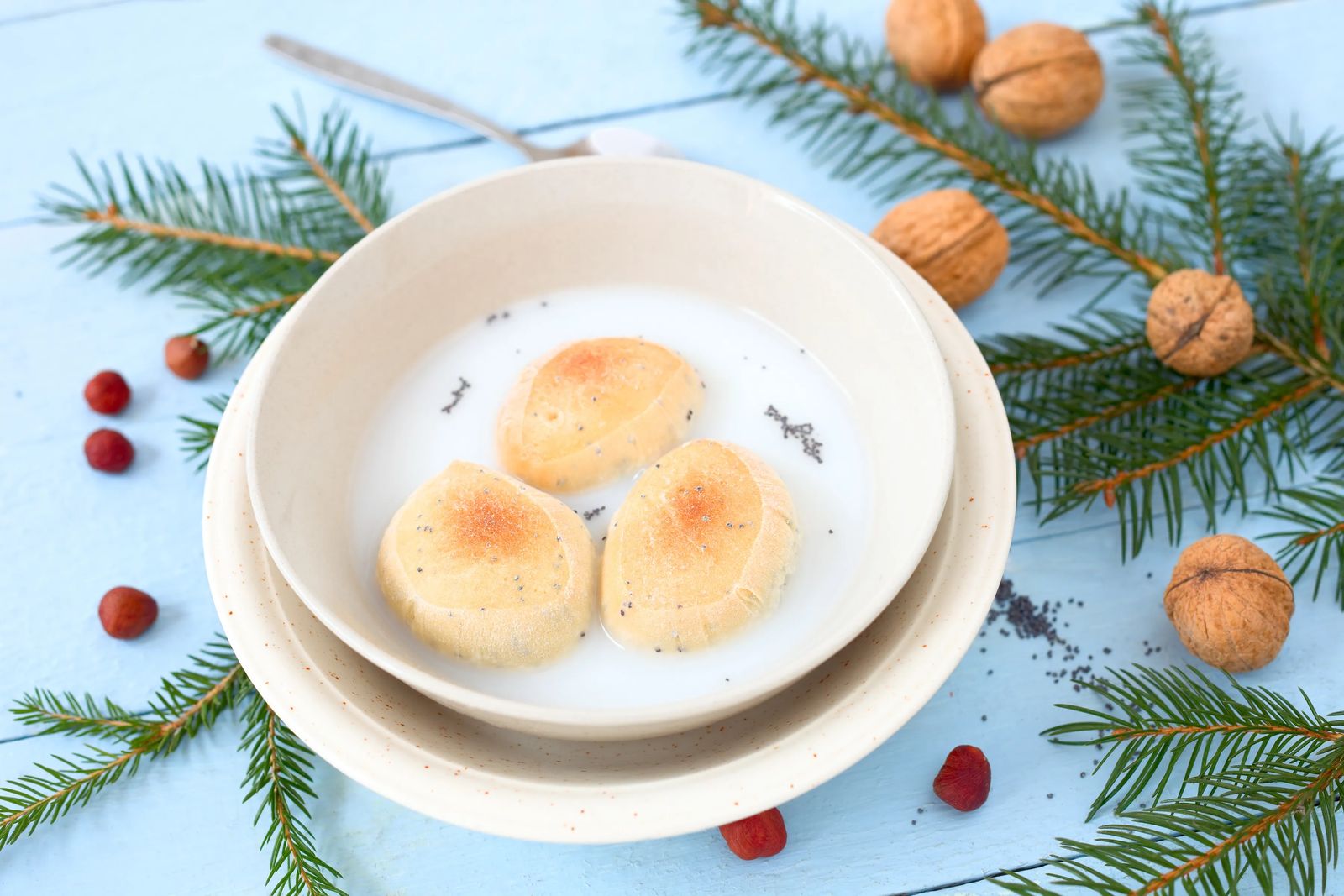 Kūčiukai
Kūčiukai is also a dish you can try only at Christmas time in Lithuania, more specifically Christmas Eve dinner. These are small pastries made from leavened dough and poppy seeds. The more ancient version of this is made from wheat, beans, peas, barley, and poppies and seasoned with honey. It is also served by soaking it in poppy milk, or with cranberry kissel.
The name of this dish comes from celebrating the shortest day of the year, and the longest night. Remember that Christmas was once an important Pagan holiday? Well they used to give this dish to members of the family who had passed on. They would serve the empty plate and leave the first serving for them. It was a night where the spirits of the dead could come back for one evening and sit with their families on Christmas Eve. This is still a beautiful tradition that many people celebrate today.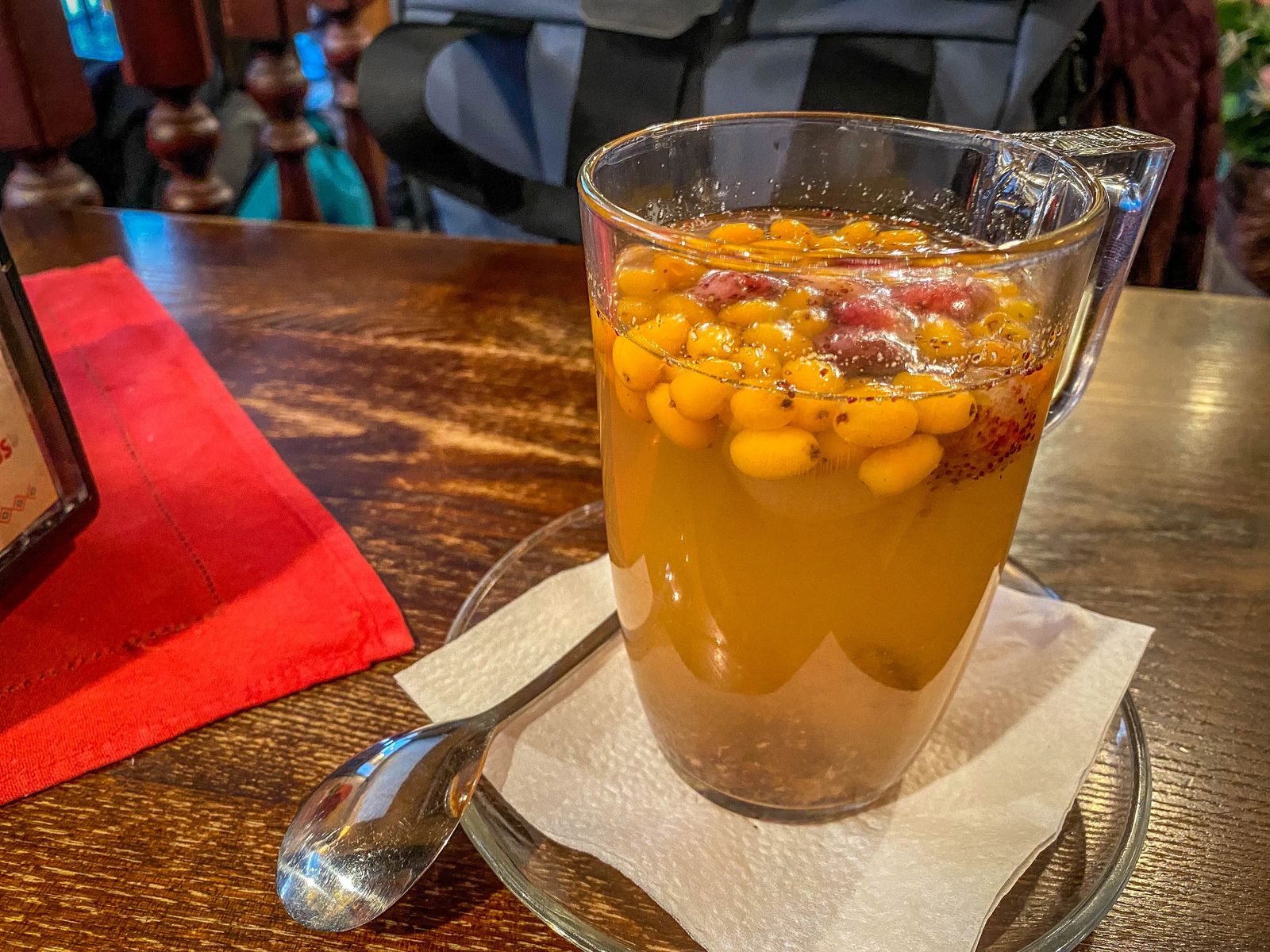 Buckthorn Berry Hot Tea
There are more and more ecological farms that are popping up all over Lithuania that are cultivating Buckthorn berries. Lithuania actually has one of the largest sea buckthorn berry cultivation areas in Eastern Europe. It has been grown in this area sime ancient times in the Klaipeda region. It is rich in probiotics, has a tart taste to it, and besides the color reminds me of a less tart and less sweet version of a pomegranate.
So if you happen to see it on the menu, be sure to try it out in whatever variety or drink combination you can get - it is really quite refreshing and delicious. This hot buckthorn tea was at Etno Dvaras near Old Town Vilnius.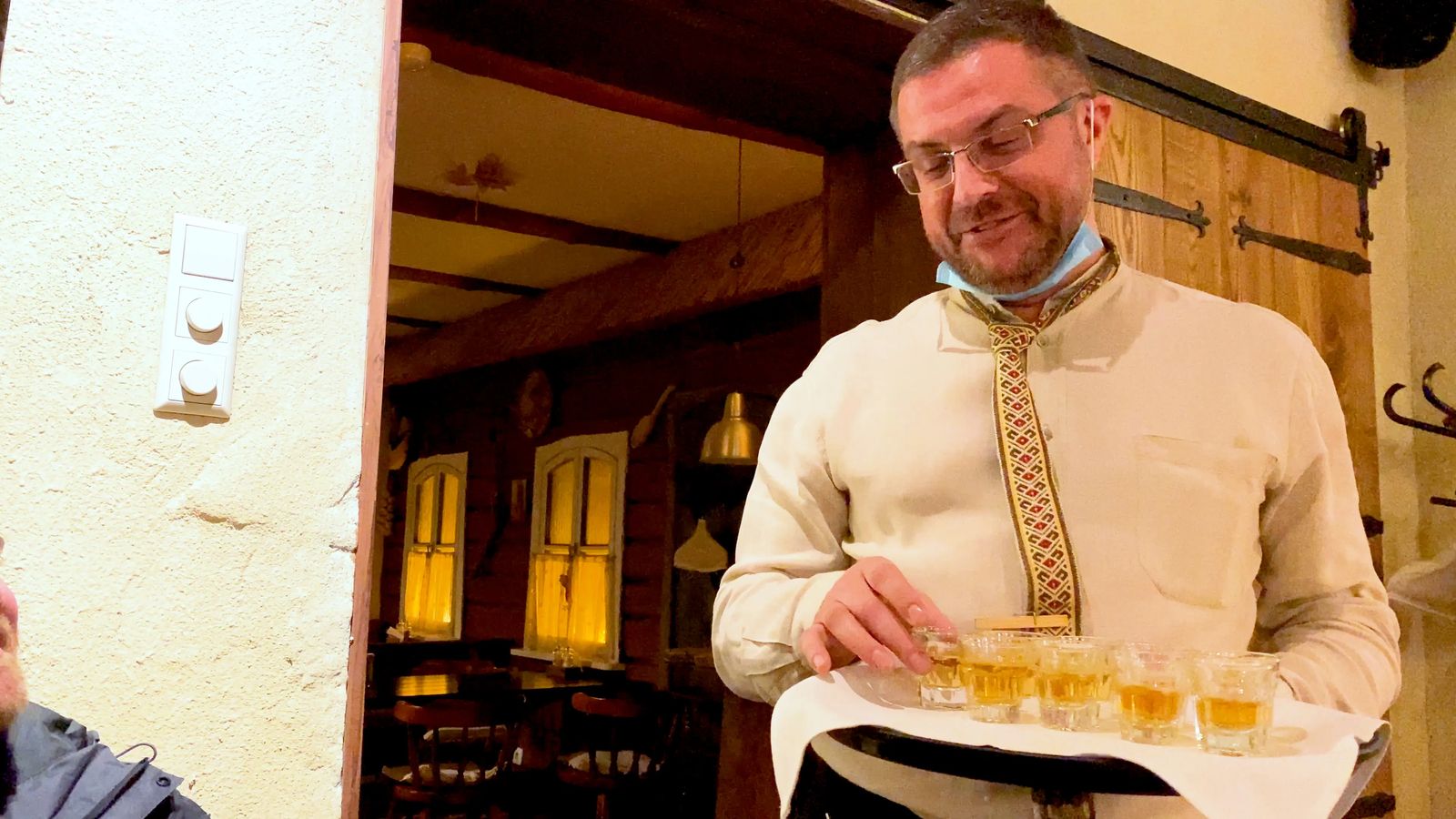 Lietuviškas Midus - Mead
Made from grain, honey, and water this is a speciality of Lithuania. If you know anything about Eastern European countries you KNOW that their liquor is VERY strong. The Mead can range anywhere from 12-75% proof and is incredibly dangerous because it is GOOD. It hits the tongue sweet, and slides down the throat burning, then warms the bones for the walk back to the hotel.
The Lithuanians have been making Mead for thousands of years. It used to be made from a solution of honey, water simmered with various spices like thyme, lemon, cinnamon, cherries, linden blossoms, juniper berries and hops. So if you get a chance, drink LOTS of water, and try a few different varieties.
As our waiter at Senjo Trobele said, "you can find something special for anyone", when talking about the different kinds of Mead. Lithuanians take GREAT pride in this drink.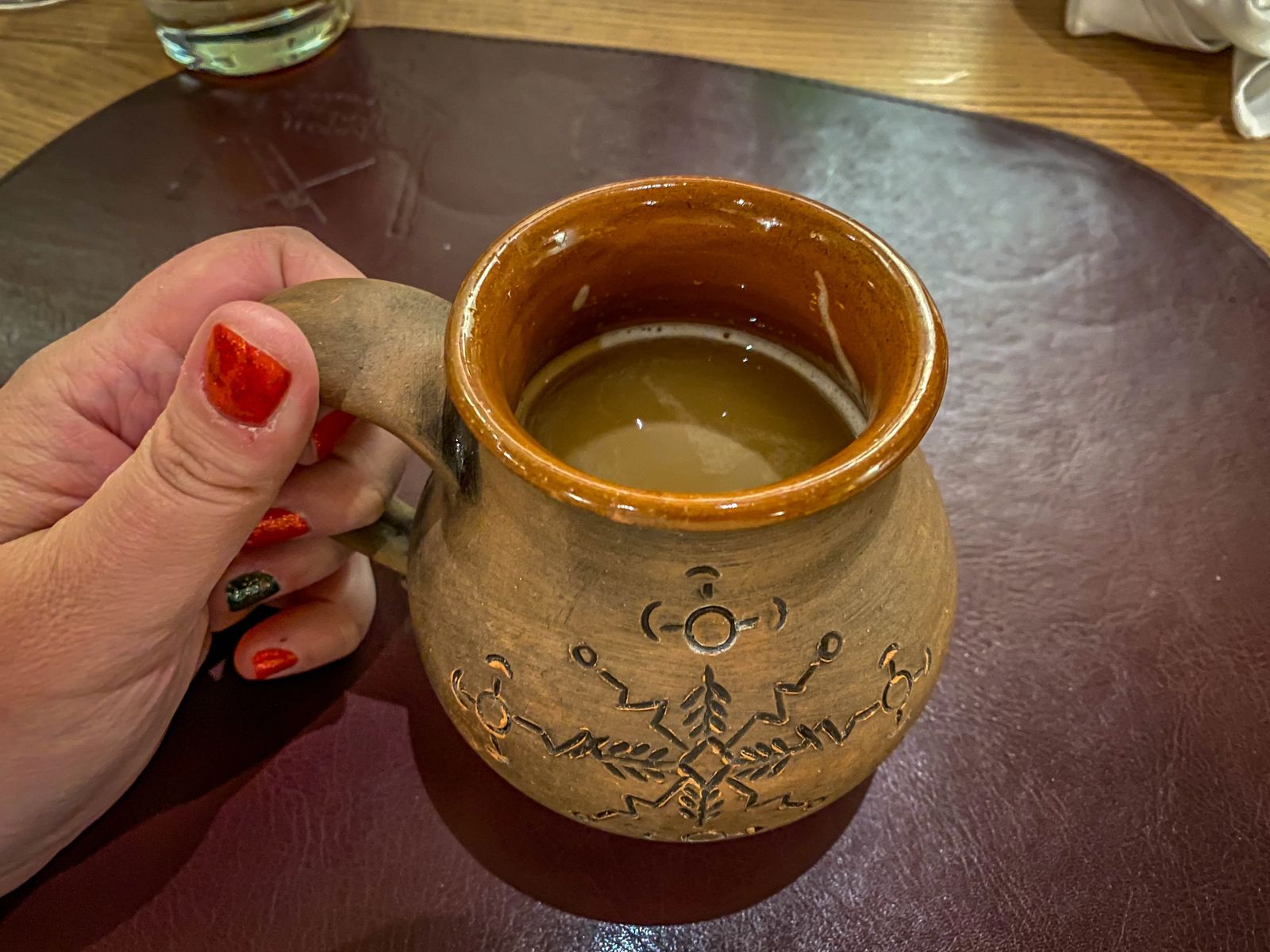 Kvass - Rye Bread Drink
For the less adult beverage savy conissors like me (I'm a lightweight when it comes to drinking y'all, don't judge) Kvass is the drink for you. It is made from fermented Rye bread, is light brown in color with a bit of a cloudy appearance to it. It is only 1-2% proof, but still helps warm up the bones just enough to keep you warm on the walk home in the cold nights and winters of Lithuania.
It is said that Kvass actually helps to improve the intestinal tract health because it is loaded with probiotics. With how much potatoes and meat you will likely eat in Lithuania, it is a great source of digestive easement at the end of a meal. Lithuanians also swear by this drink to help with symptoms of lactose intolerance (which I suffer from) and helps with allergies (which I also have)......plus it is made from bread.....need I say more?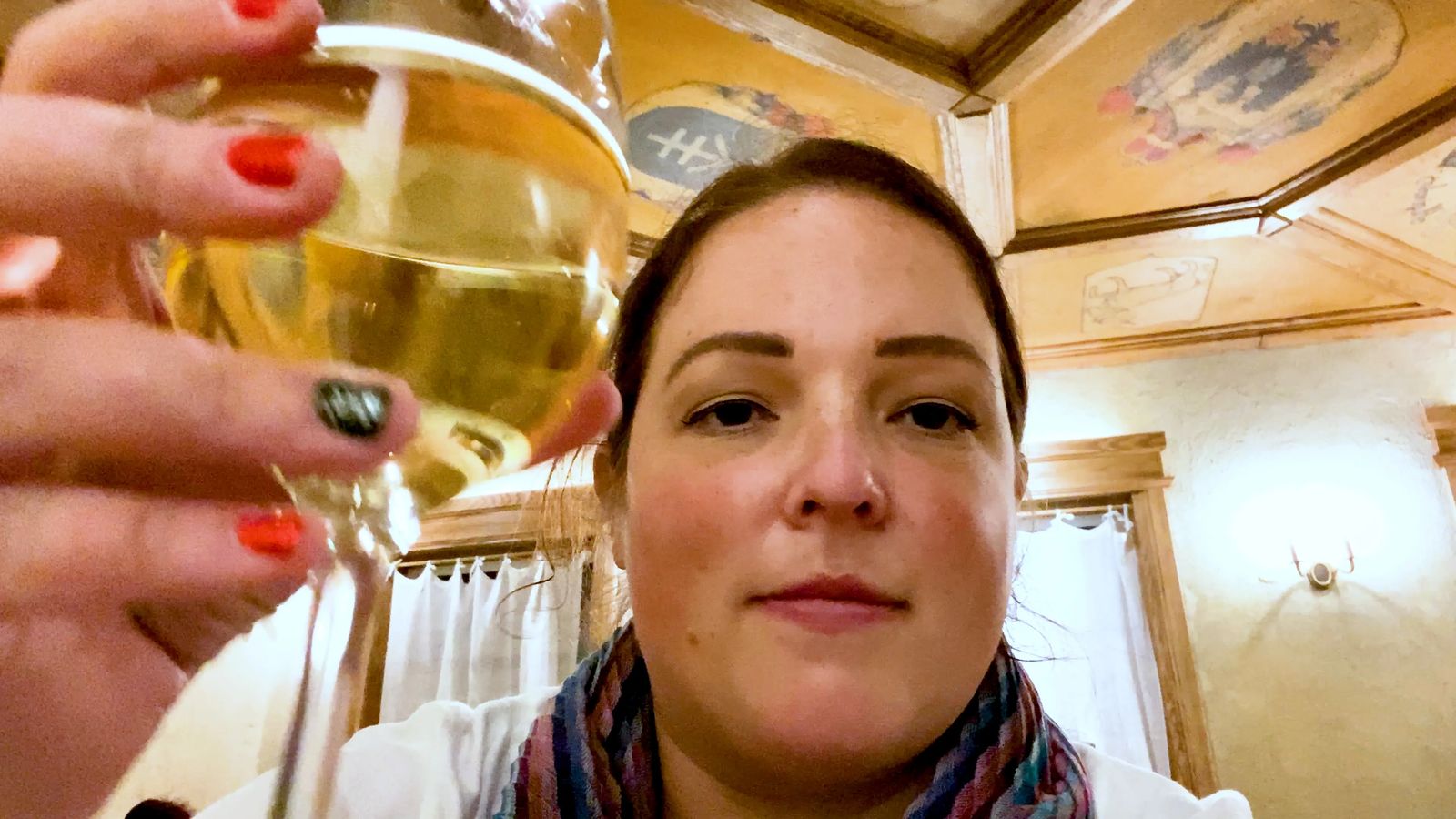 Gooseberry Wine
Lithuanians, Russians and those in the Baltics really really really LOVE to drink y'all. I have never seen hotel mini bars so full with varieties of alcoholic beverages. Lithuanians actually lead in the European Union with an average of 15 liters of alcohol per person, per year! I don't even want to think about what their liver function tests look like, but here we are at another alcoholic beverage.....berry wines.
While I personally tried the subtle but sweet Gooseberry Wine, there are plenty of cooler climate berry wines you can try like apple wine, blueberries, black currants and even some incredible Pear Ciders if you really want variety.
My Takeaway Of Lithuanian Food
In the thick of winter, keeping warm is essential and requires A LOT of internal energy. I visited Lithuania in winter (Nov/Dec) and so many of the dishes were bursting with hearty meats and potatoes. I was slightly worried about gaining a massive amount of weight, or feeling lethargic or full all the time - I didn't experience that at all honestly. I think Lithuania does an fantastic job of including fresh ingredients in their dishes, lots of veggies are offered, or drinks that help with digestion like Kvass.
The flavors were strong, the drinks incredibly potent, and the immersive nature of experiencing dinner enthralling. Don't expect to sit down and slurp up your meal in one or two hours, the waiters and waitress really make the BEST efforts wherever you go to have an incredible EXPERIENCE not just a meal. Make sure to tip them based on your experience, not just the total bill at the end. Be adventurous, have an open mind and I'm sure you will come home craving Lithuanian food just like I did.
Places to Stay in Vilnius Lithuania
Like it? Pin it! Sharing is Caring ;)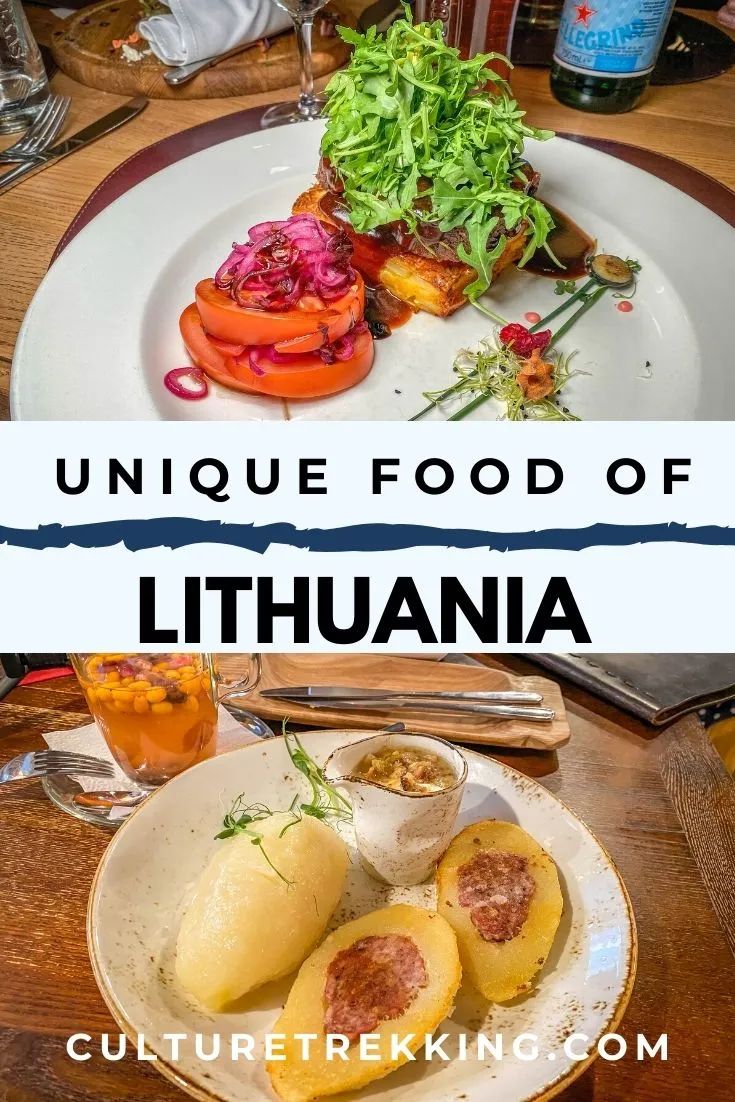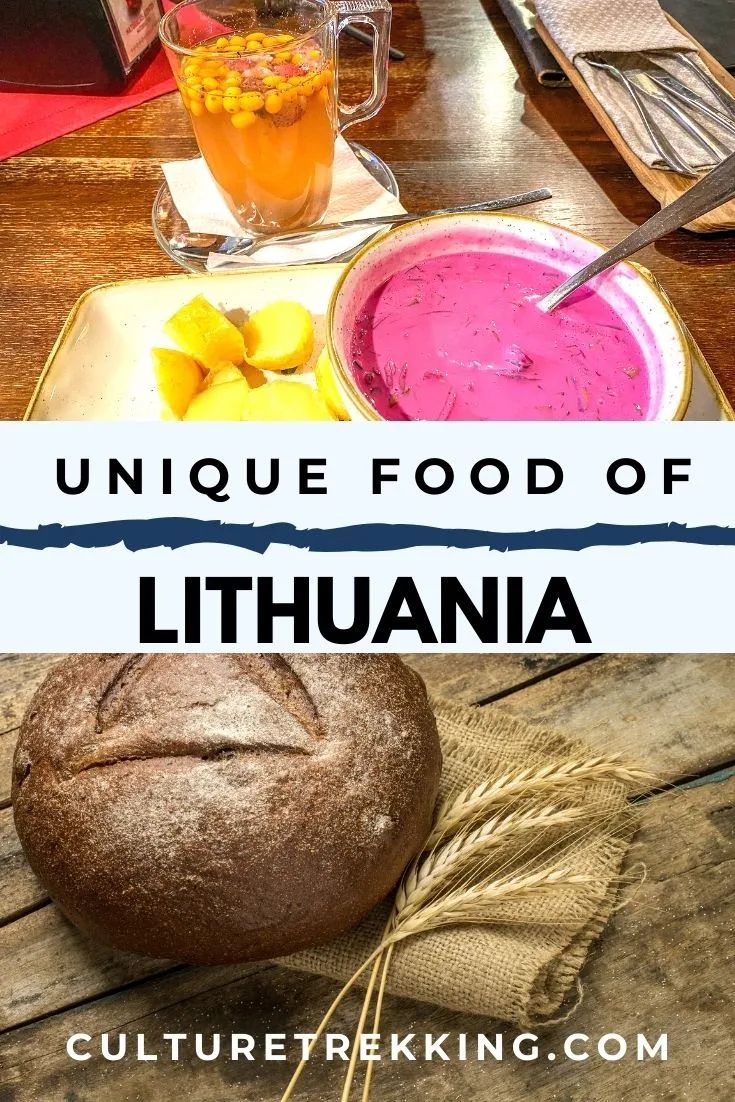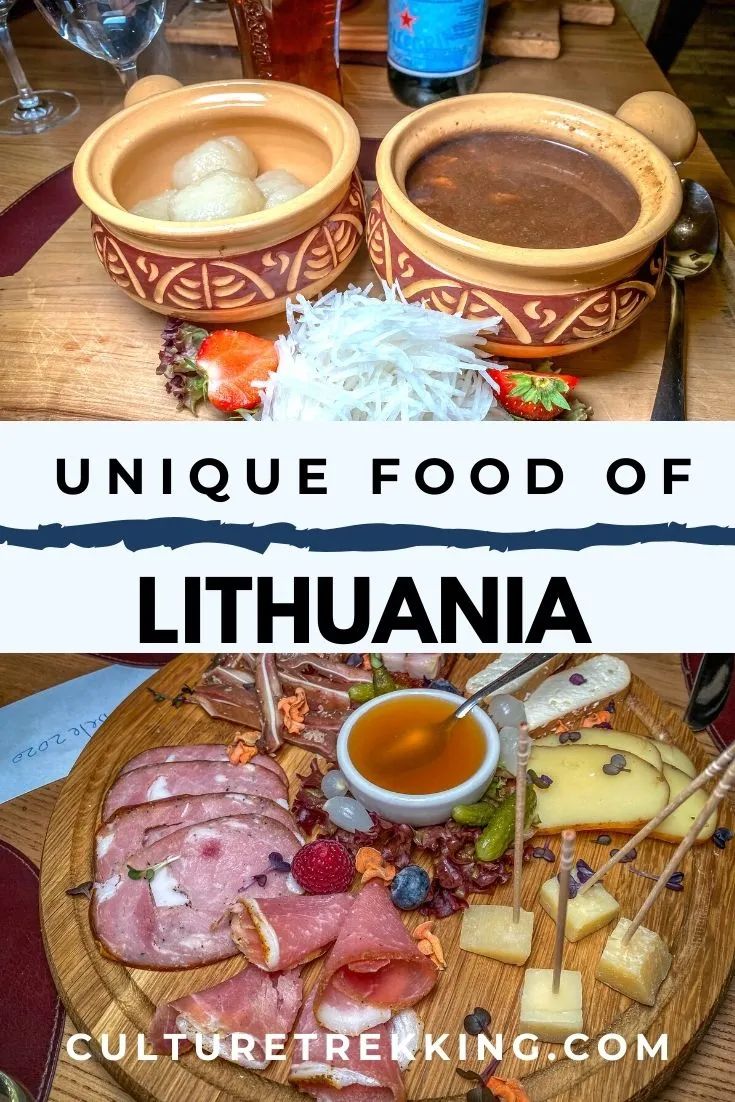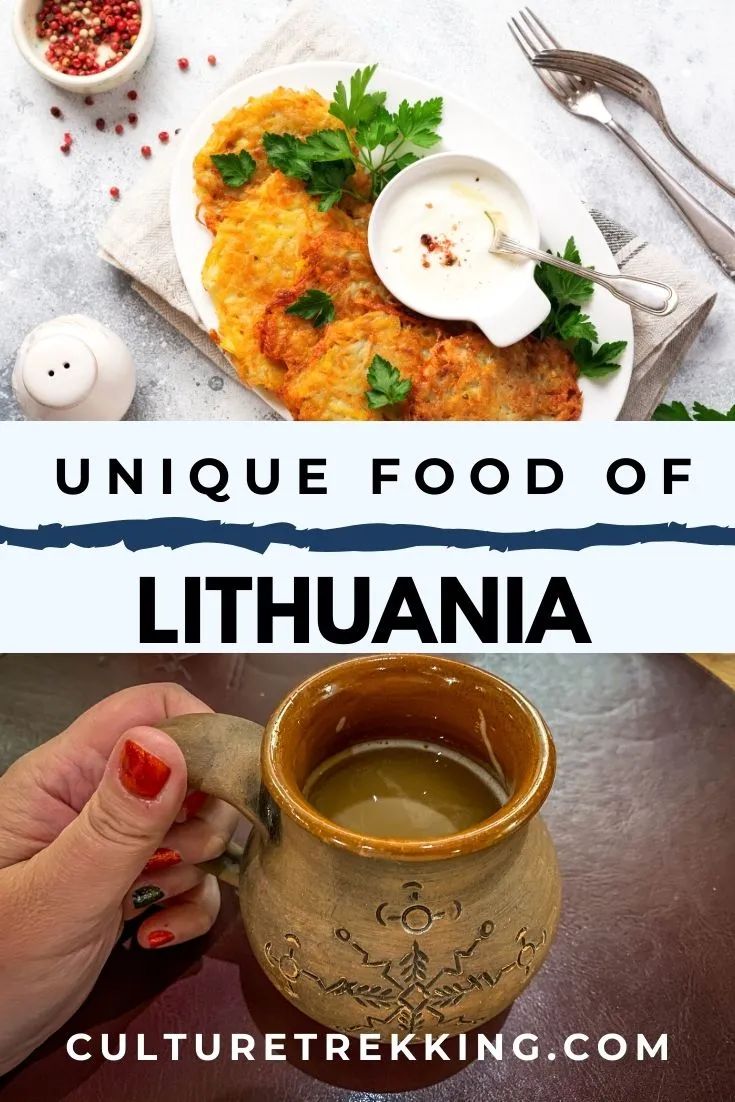 Latest Articles On Culture Trekking