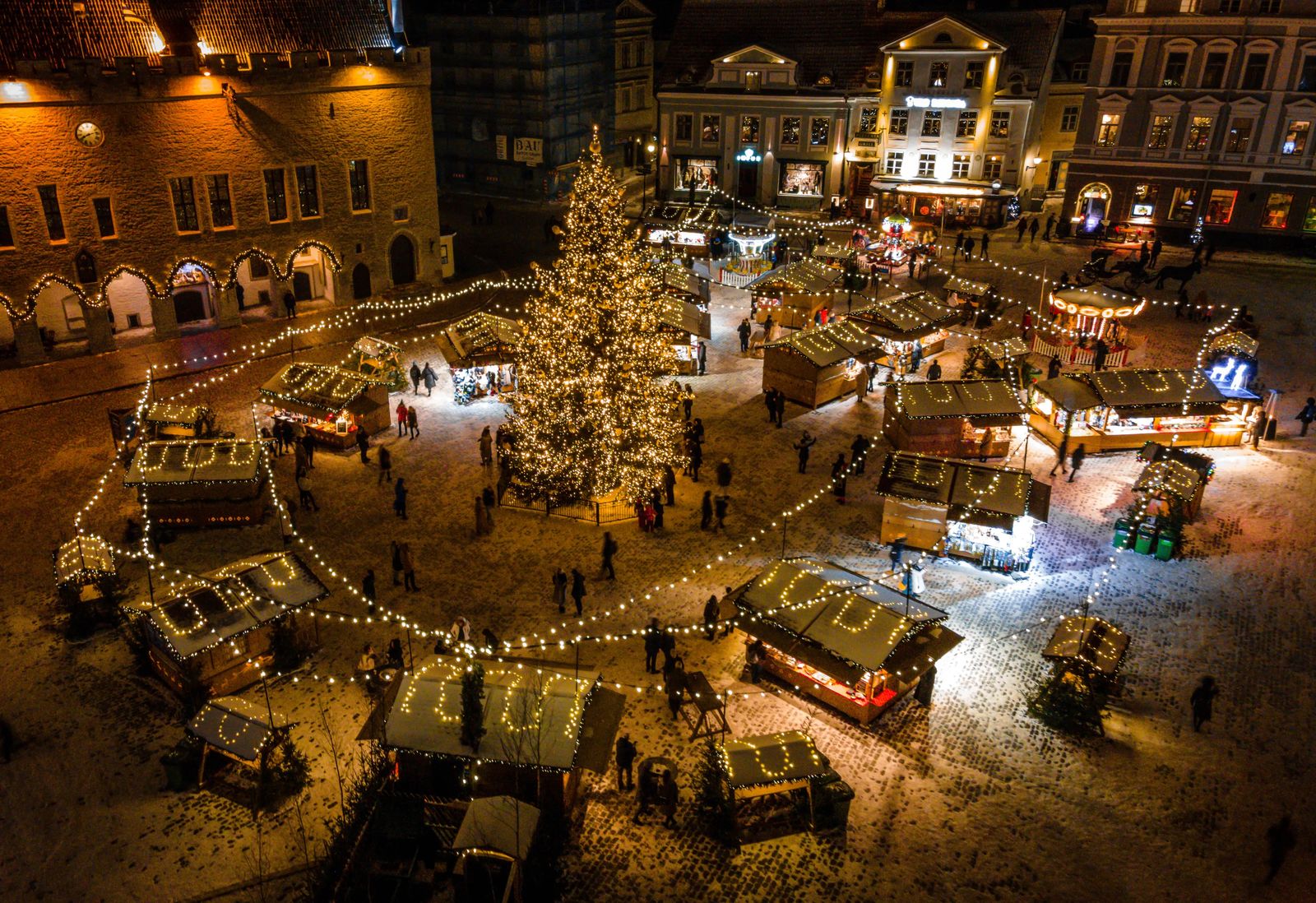 Tallinn Christmas Market In Estonia
Medieval city walls towered above me as I made my way into the center of Tallinn for the Christmas Market. Passing through St. Catherine's passage adorned with pine bows and shops with warm lit windows guiding my path. I could already hear the boisterous sounds of Christmas patrons giddy on Glögg (a spiced mulled wine). As I rounded the corner, the space opened up and the glittering lights of wooden huts bursting at every seam with Christmas delights greeted me. I had finally made it to one of the best Christmas Markets in Europe, the Tallinn Christmas Market in Estonia.
I visited Tallinn Christmas Market in December of 2021, but have updated this post as of 2022 to ensure the most accurate information for you to make this an epic European Christmas Market vacation like no other. On my visit I made sure to coordinate with Visit Estonia Tourism Board, because there are so many Christmas activities going on throughout the city - and not just in Old Town.
While the main Christmas market with picture perfect setup that most people imagine when thinking of an European Christmas Market is indeed in Old Town. There are so many other venues, and spaces throughout the city that make for not just a great Christmas Market experience, but one hell of a Christmas vacation. You have concerts at Town Hall, the theatre is a huge part of the culture in Estonia in Winter, the trendy Noblessner Seafront Quarter with igloos and upscale restaurants, spa experiences that even the Finnish come to visit in Tallinn. Intrigued? Keep on reading and I'll make it worth your while.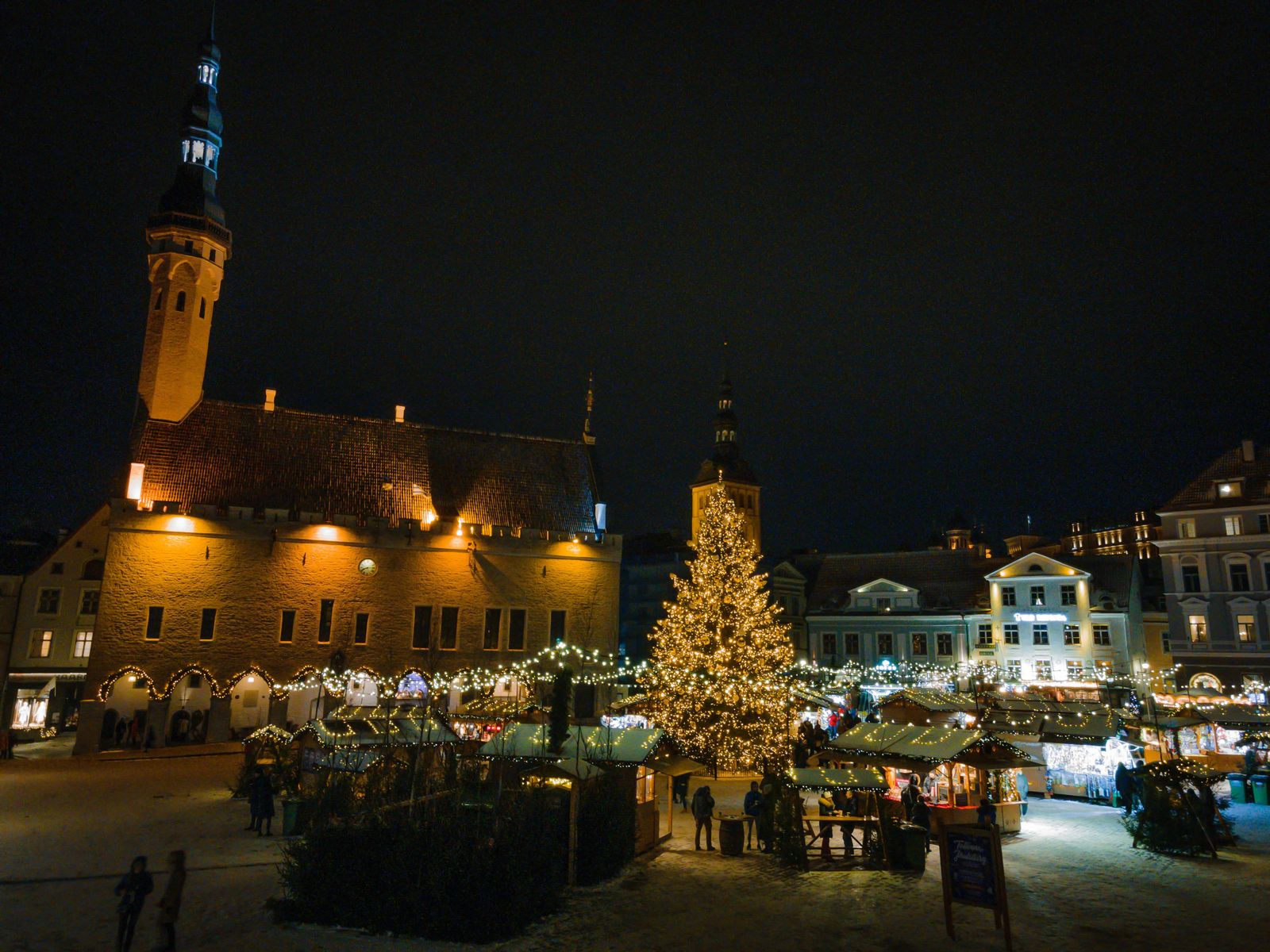 Tallinn Christmas Market in Old Town
The Tallinn Christmas Market was voted the best European Christmas Market in 2019 and it hasn't let off steam on putting its best out on show. The first stop on your Christmas in Tallinn is the Town Hall Square, dating back to the 13th & 14th centuries when the Old Hanseatic League ruled the area.
There are about 30-40 wooden huts set up each year, staffed by young and old alike selling their local goods. You can get anything from 20 flavors of Glögg, a spiced mulled wine typically reserved for Christmas time in Europe - to fur hats that make you look like a real Baltic bunny.
There is also a lighted children's merry go round, sometimes they set up a larger stage for local musicians to play, and a large Christmas Tree right in the center adorned with golden baubles and large white flowers, with warm glittering lights. If you get just the right angle, you can capture yourself, the tree, and the town hall spire in the background.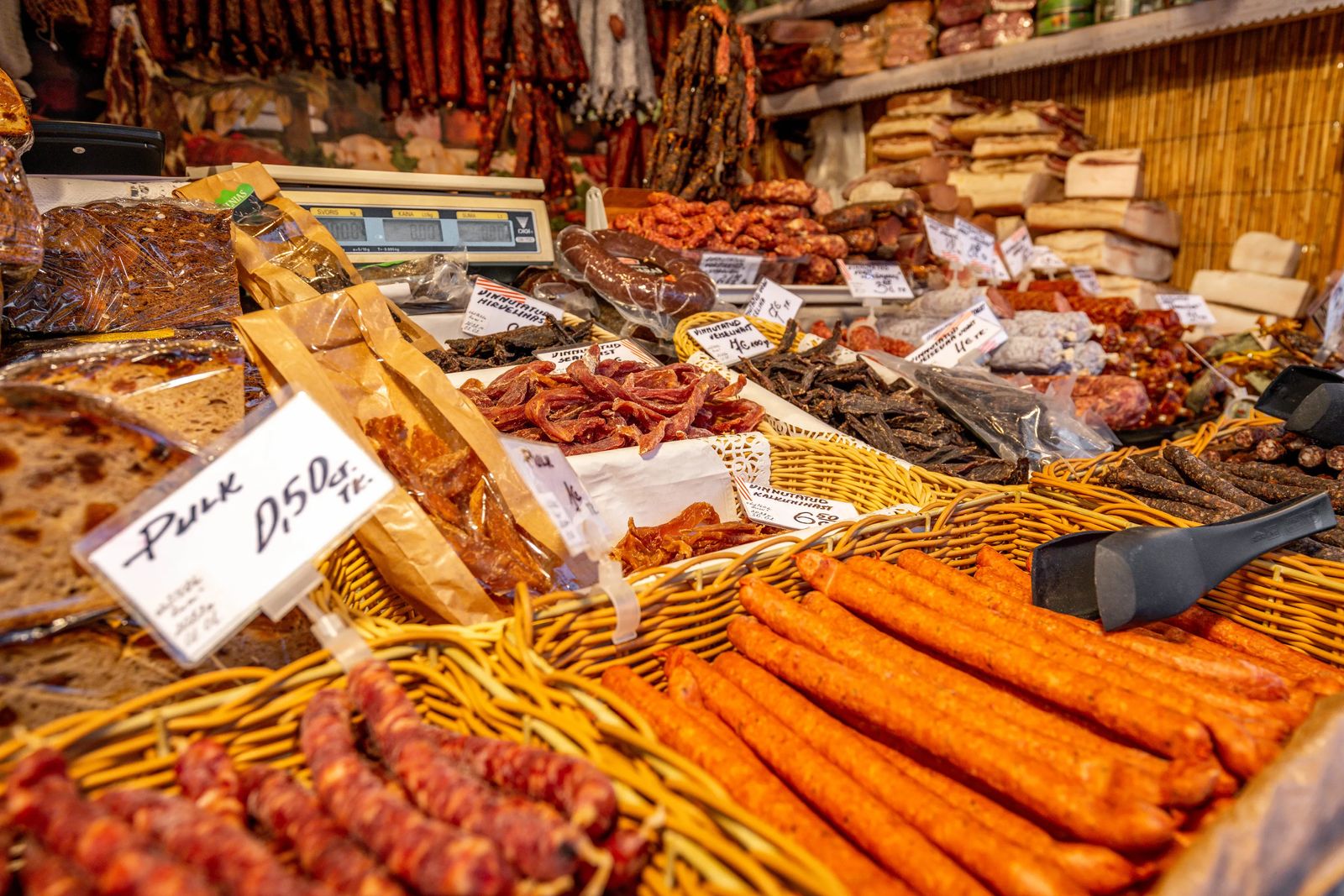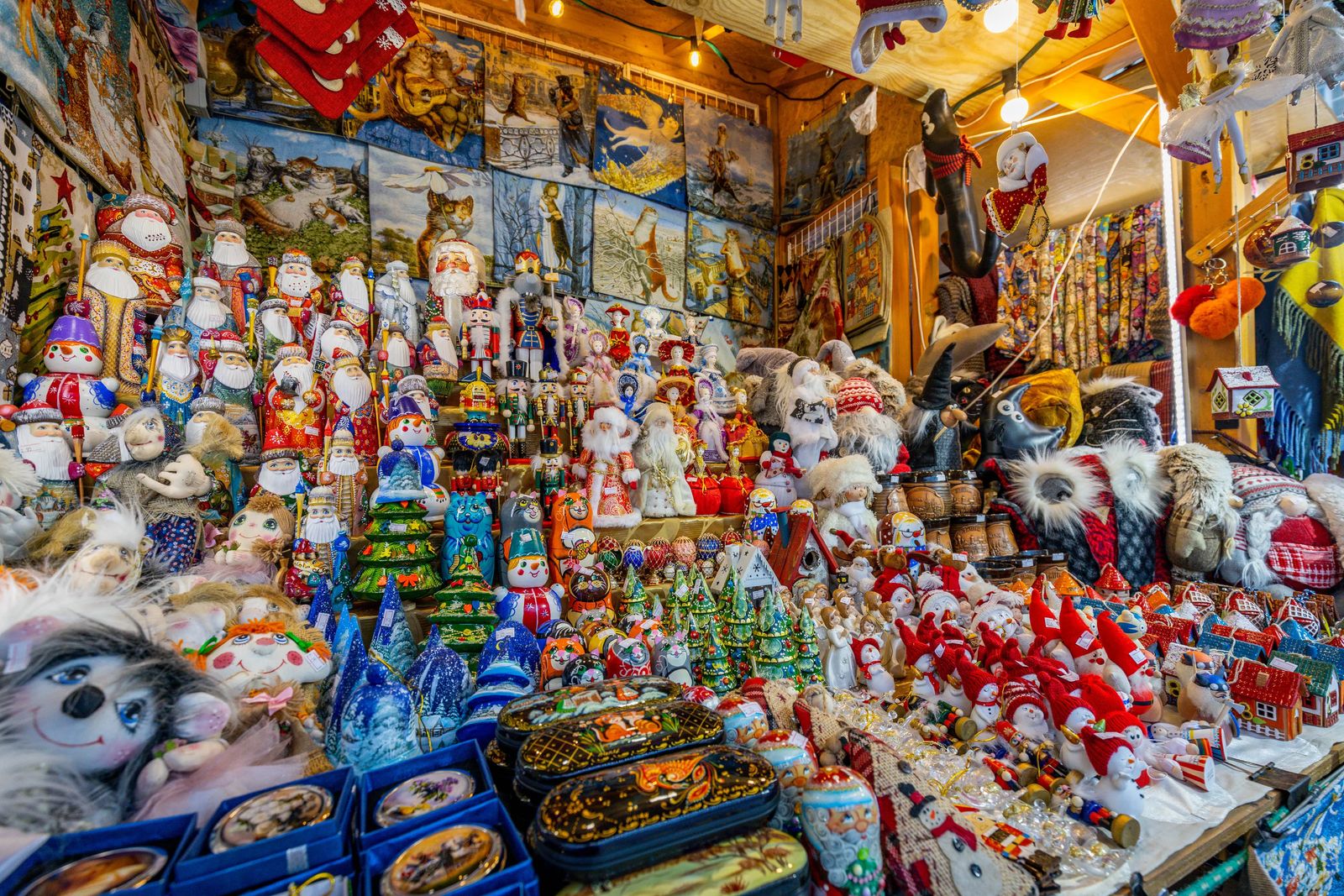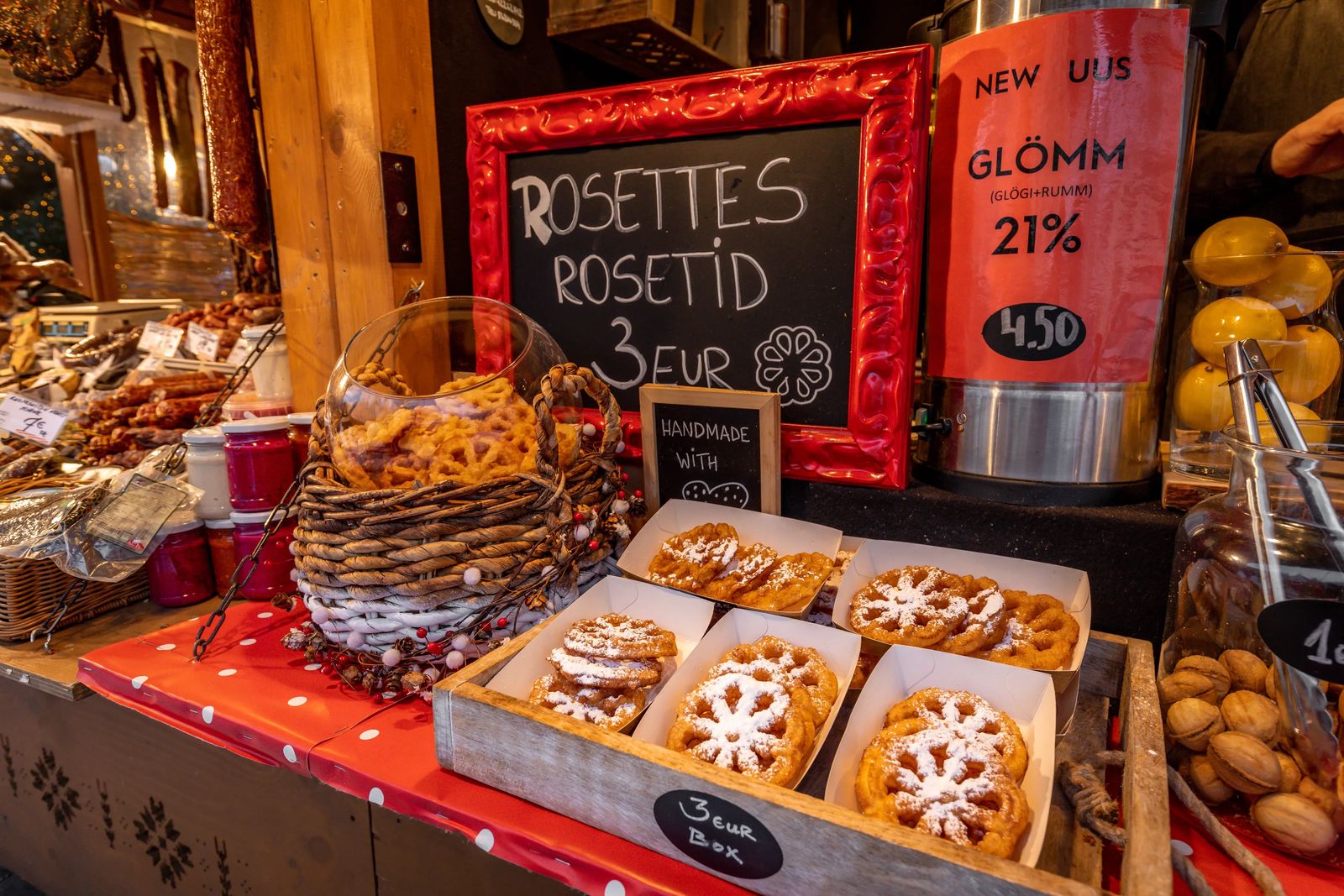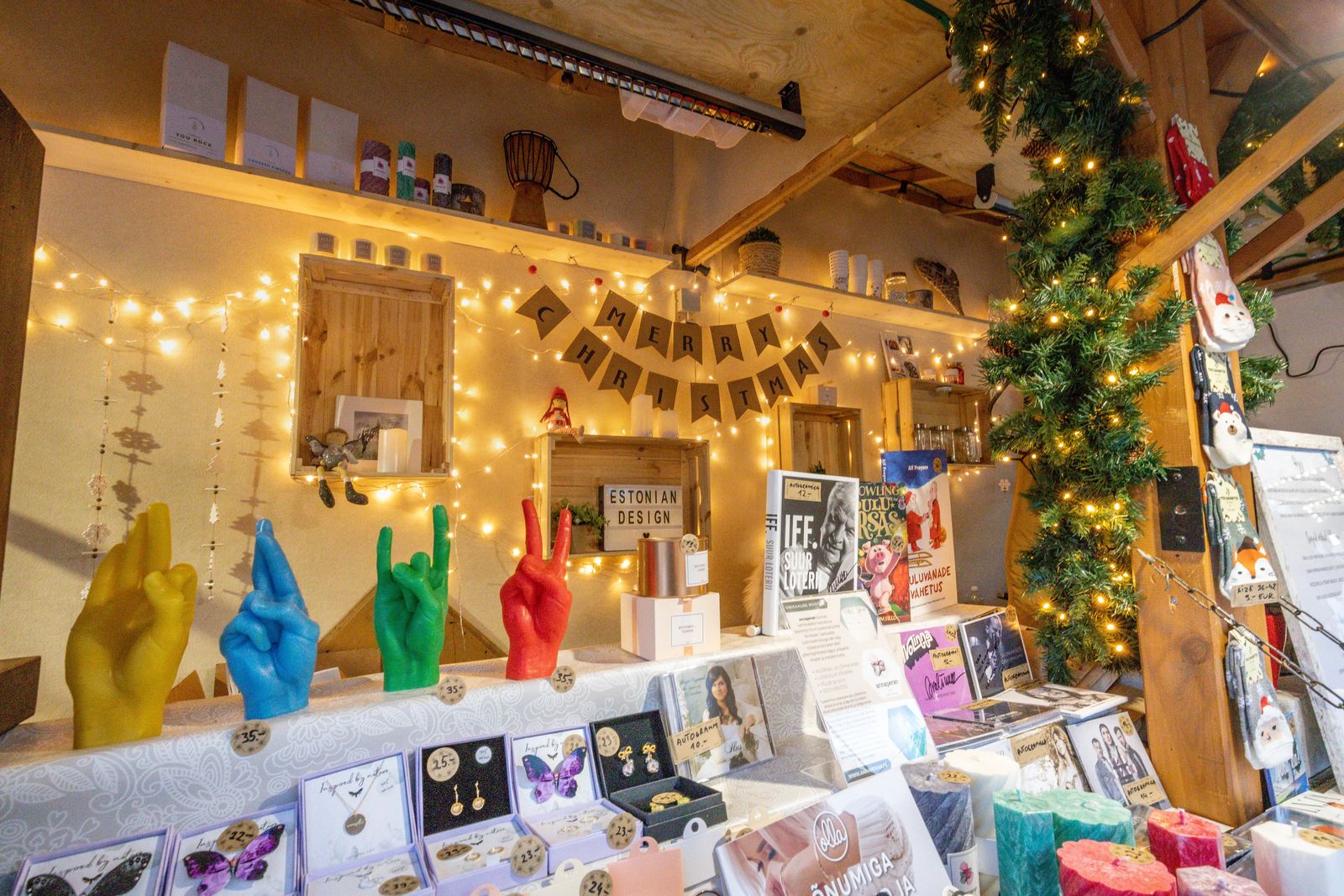 The tradition of Christmas in Tallinn dates back to 1441, when the local bachelor brotherhood called the Order of the Blackheads were said to have erected the first Christmas tree in Tallinn. While some neighboring countries may dispute this being the first Christmas tree, it is a nice to think this may very well have been where all the decorating started.
Some of the main things to buy when you are in Tallinn are Amber jewelry, fur and wool clothing, dried meats and Christmas ornaments to commemorate your time in the Tallinn Christmas Market. You can also grab artisanal candies as unique stocking stuffers, make friends with the local sellers and get their suggestions - or just sip on your beverage and enjoy the atmosphere.
If you time your stay correctly and reserve a seat in advance, there are regular concerts and shows that happen in the historic town hall as well. While it may not be in your local language, the beautiful thing about Christmas stories and songs is they are generally universal in their message, so you shouldn't get lost in the show.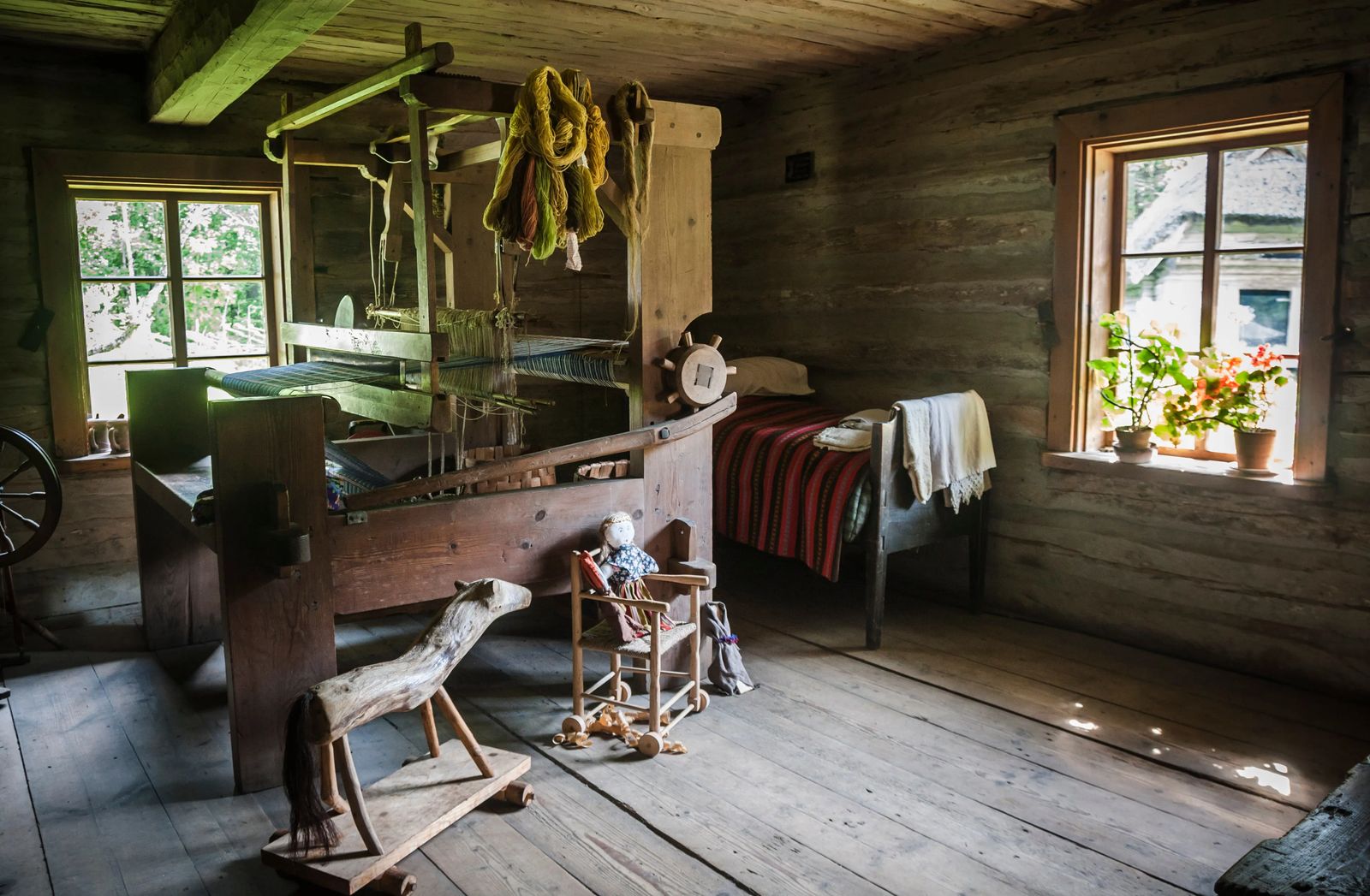 Stop over at the Estonian Open Air Museum and take part in some of the historical Christmas Traditions. They have a fair, workshops, an inn and you may even find Santa Claus himself tucked away in a warm cozy hut.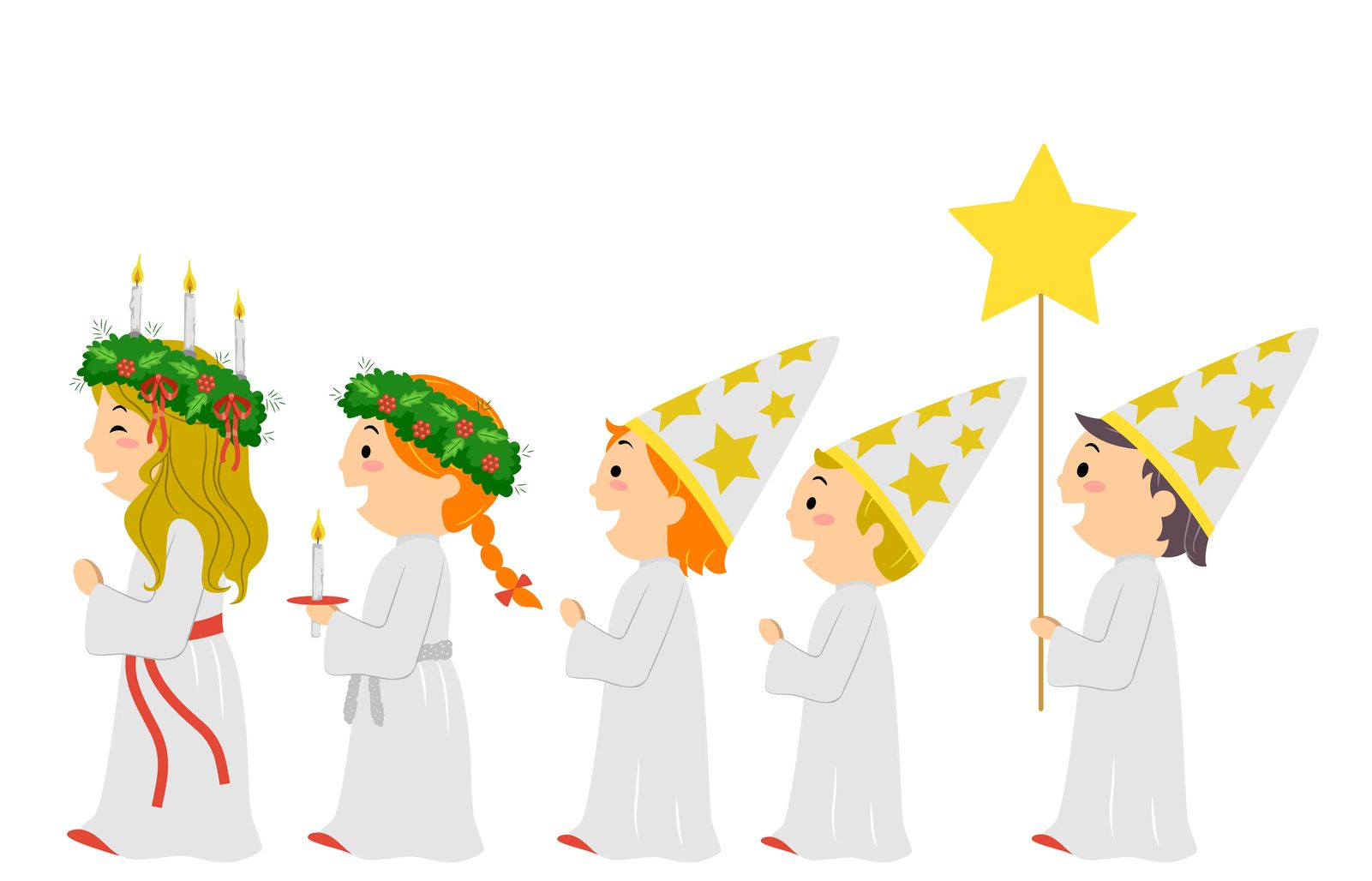 Christmas Traditions In Estonia
While the stories of St. Nicholas and traditions of Christmas are similar around the world, there are a few differences I wanted to point out that Estonia celebrates.
Saint Nicholas' Day is celebrated on Dec 6th, he was an actual saint that brought presents to children and stuffed food into their clean socks. It also is known as the day the weather changes to the snowy white wonderland in Estonia.
December 16th is Saint Lucy's Day, because of the close proximity and trade with Sweden, this day is celebrated by many along the Rannarootsi Swedes of the coast. In this tradition, you had to take an iron object and stick it in the straw on this night. The purpose of this is to prevent Lucy from crawling into the straw and the animals wouldn't eat the straw because of her. The tradition also goes, that you need to sweep out all the old dust from the house, and quietly light the candle at night to ward off any evil.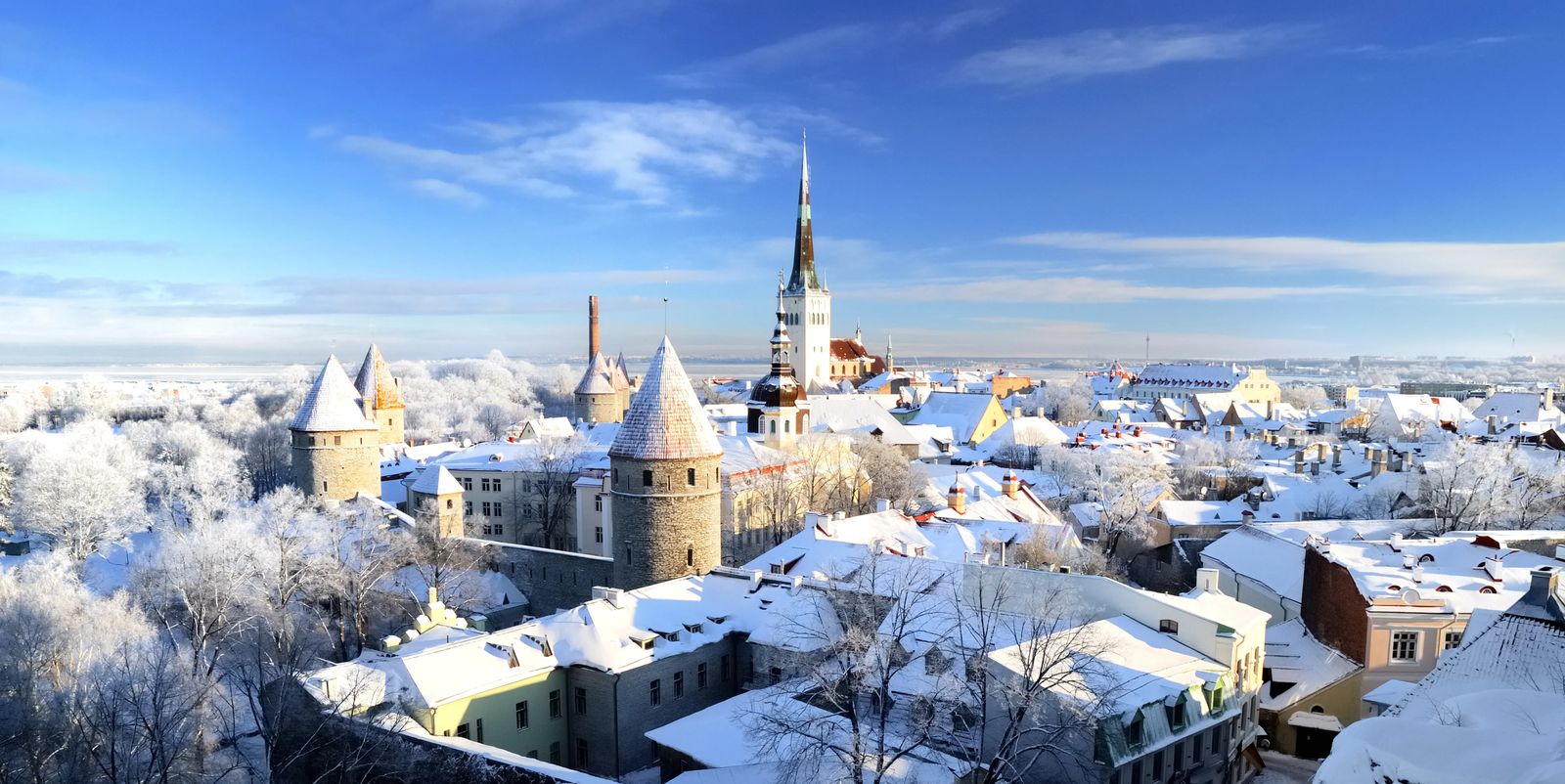 It isn't until December 21st that you really start to see the Christmas festivities come to life in most households. This is the day of St Thomas, the entire house is cleaned, dusted, prepared for the coming year - otherwise the next year your home will be as a sloth rules it. Historically beer was often offered to beggars this day, who then would shout the approaching holidays.
Christmas Eve is indeed still on December 24th for Estonians, and the Christmas celebrations last until January 6th or the day of Epiphany when the three kings visited the Christ child. This is a feasting time of pork, black pudding, sweet pastries, fresh straw given to animals, Church attendance, jangling of bells to ward off evil for the miracle of Christmas Day. Estonians believe that souls of ancestors are expected on Christmas Eve, and so many leave a plate out for those loved ones lost.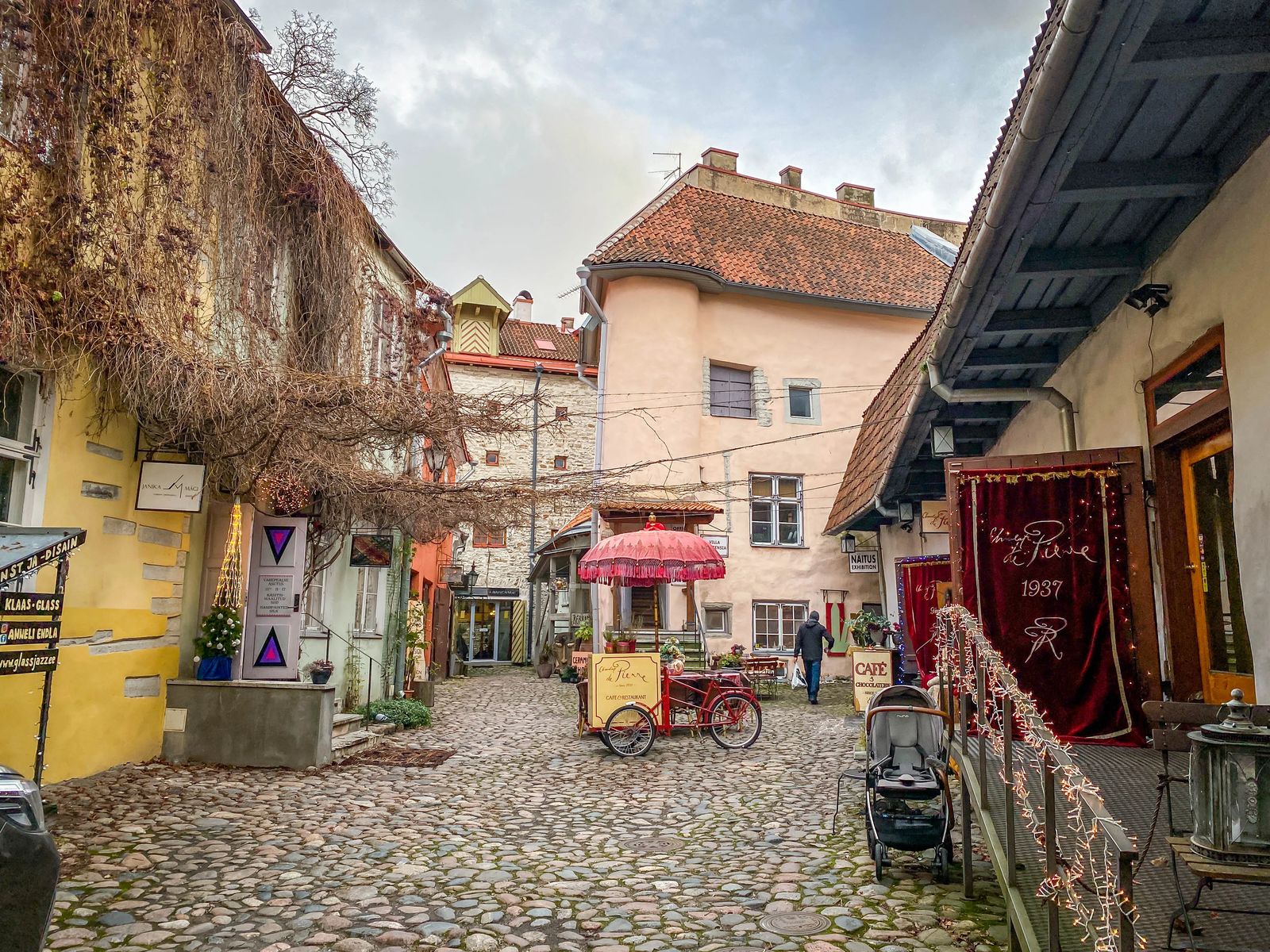 Quaint Coffee Corner
Stop in at the Master's Courtyard, where I half expected a gypsy to walk out and ask if I wanted a Tarot card reading or my Palm read. It isn't just the decor, this is a medieval gathering place where people would come to appreciate the craftsmen work. The courtyard is surrounded by different arts and crafts, there are workshops you could even take a lesson from and try your hand at being like Santa's elves.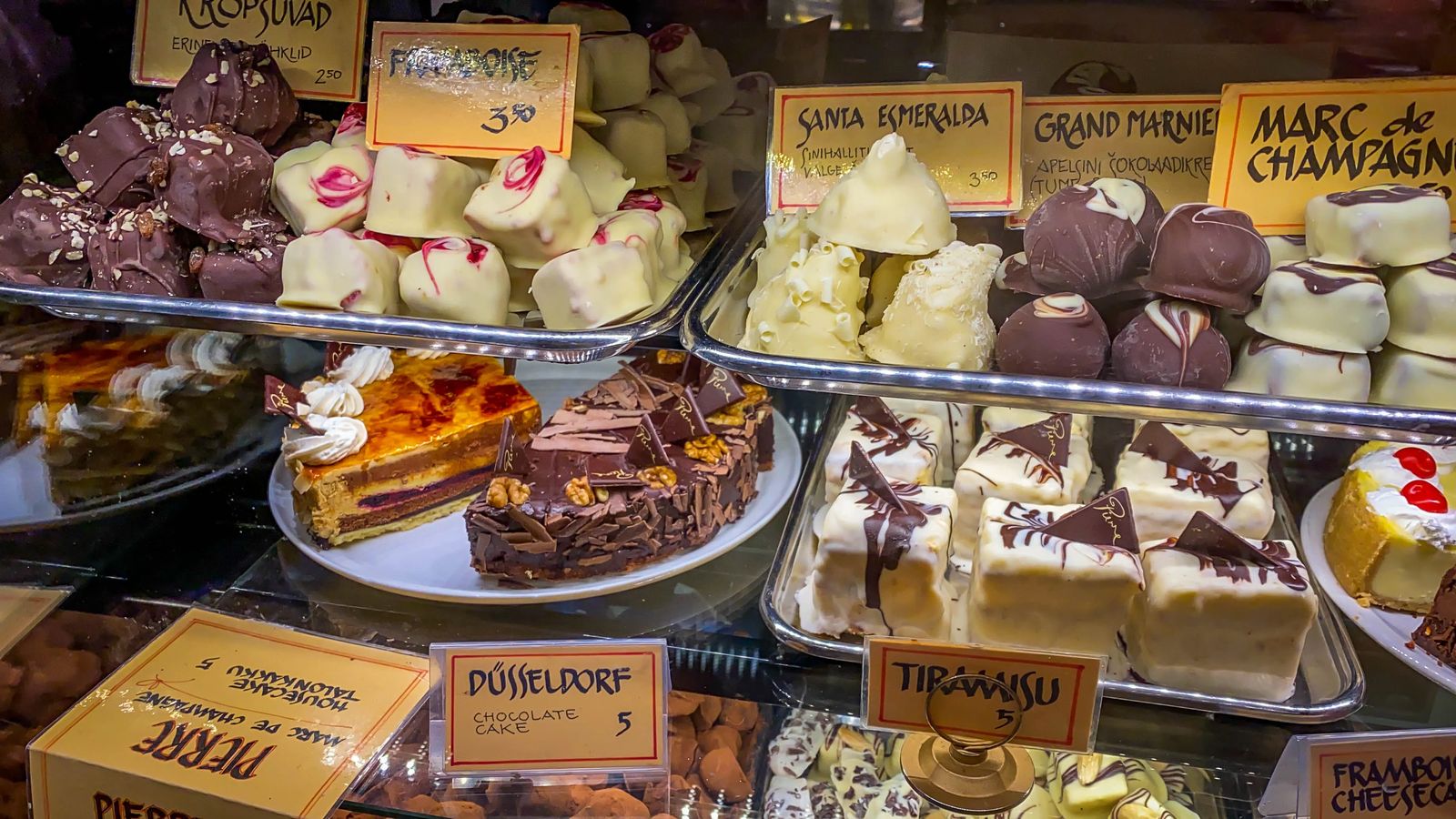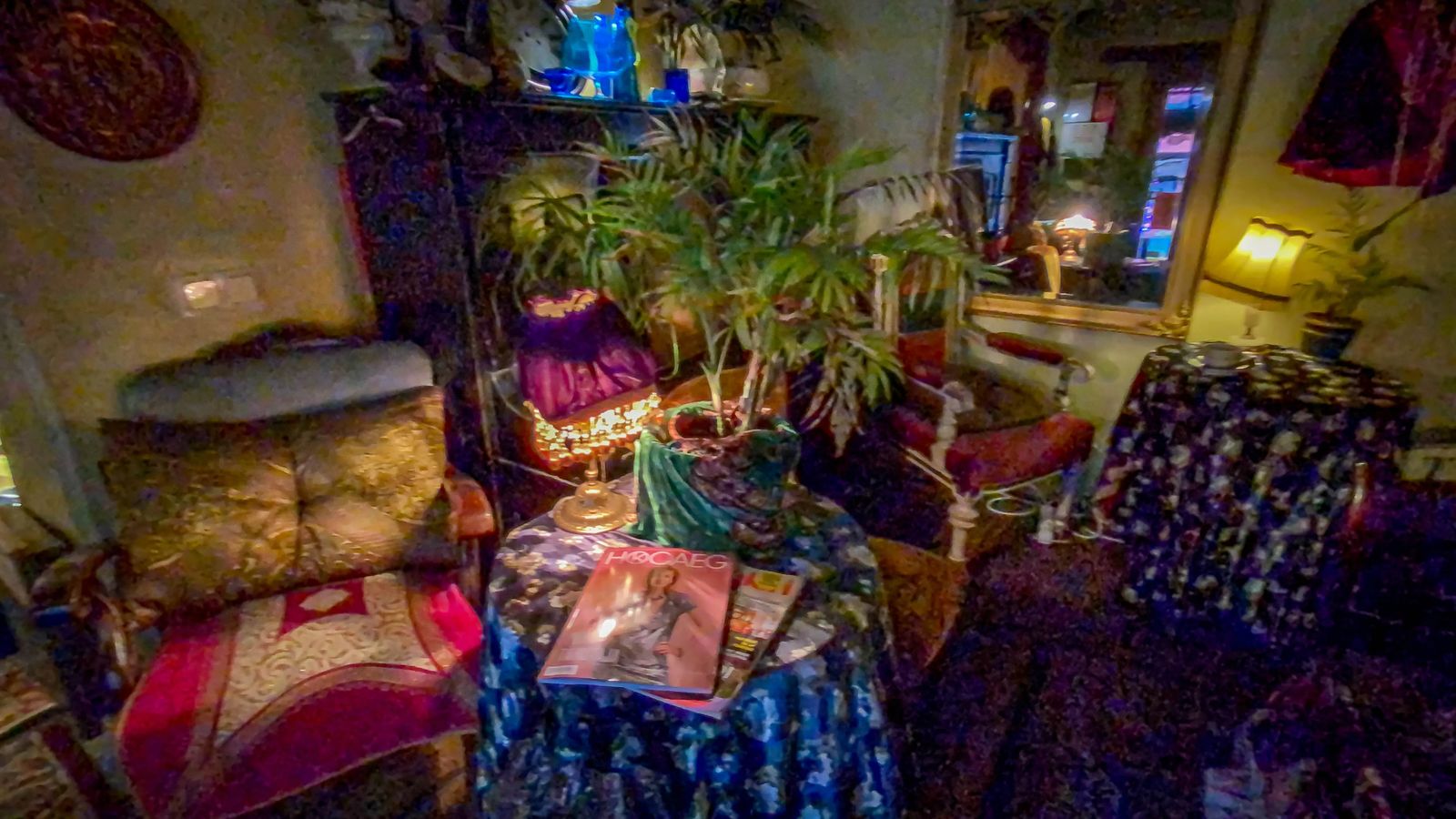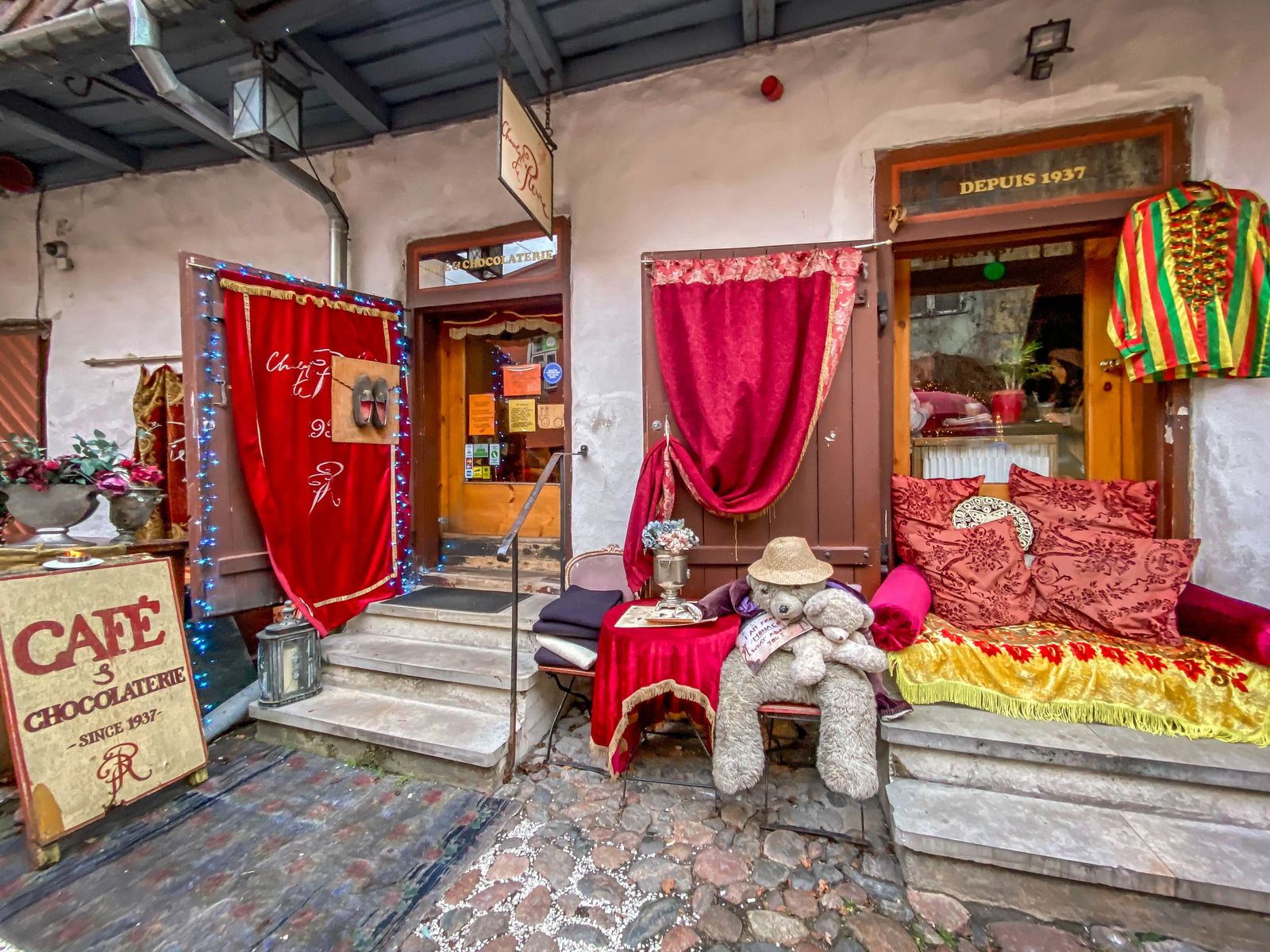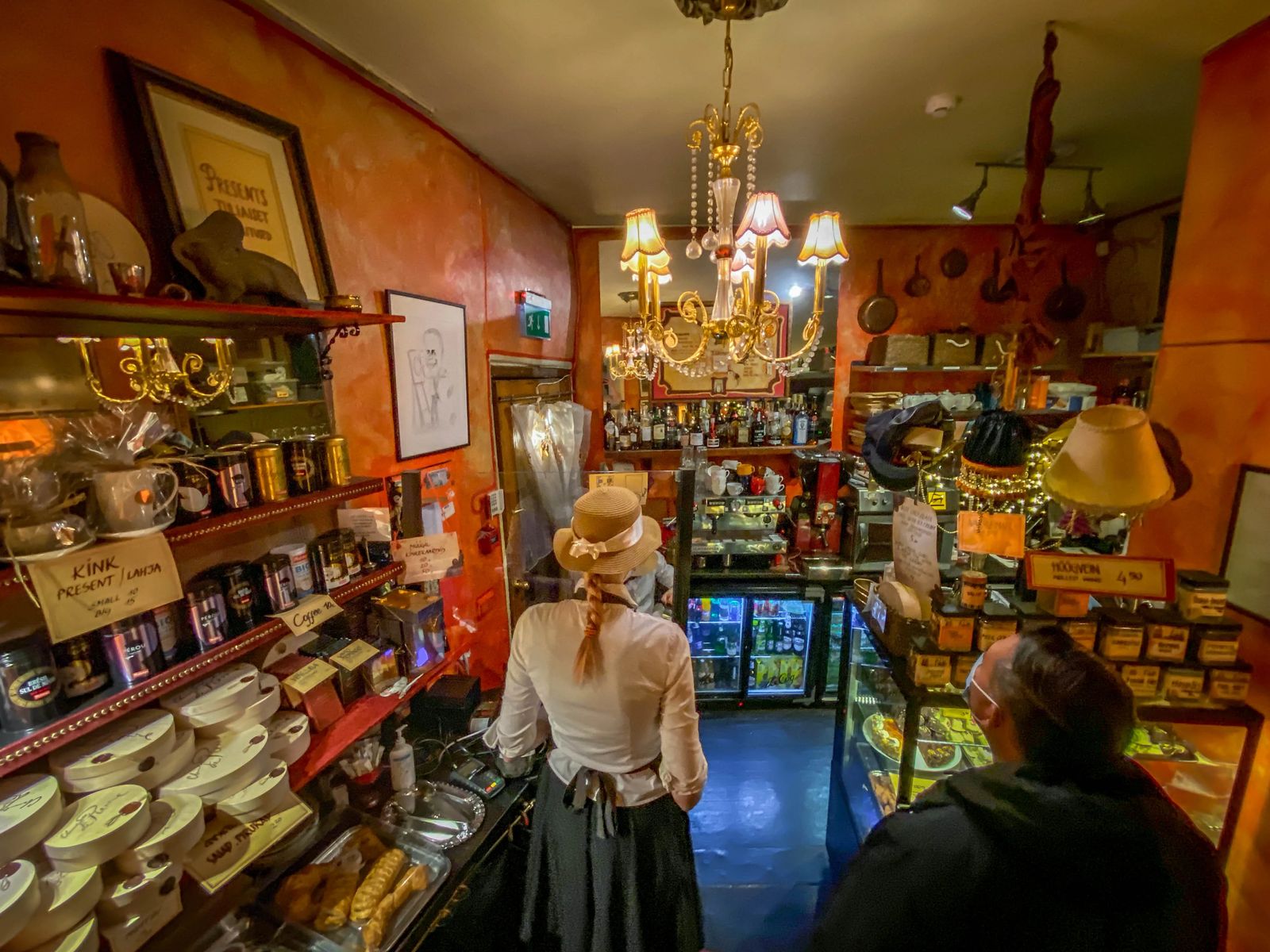 Stop into the Cafe for some delicious artisanal coffee of every kind and a menu that is like a book with creative concoctions. It is open every day from 10 am to 5pm. There is limited seating inside on the cold winter days, but they do have to go containers as well.
While you can get some of the historic Marzipan treats here, I suggest waiting to get some later at the Marzipan Museum and shop.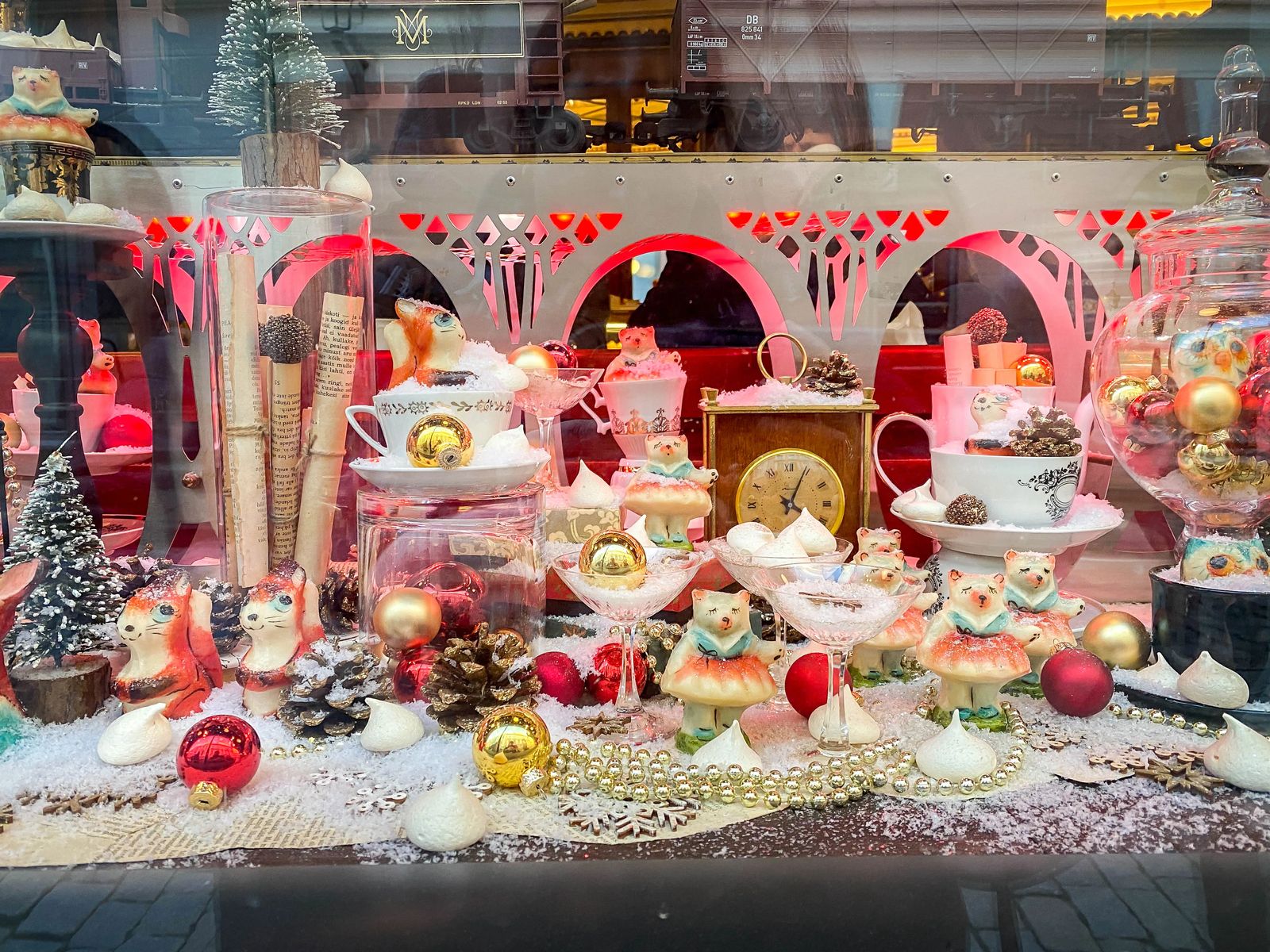 Marzipan Museum
Learn about the history of Marzipan in Tallinn through this cafe and museum experience. There is an audio guide and exhibit that explain how Estonians believe that Marzipan started here during the Stude period.
They tell the story of the oldest cafe in Tallinn (and possibly the world) that has been continuously operating since 1864 and shares these sweet treats with visitors from around the world. Learn how Marzipan isn't just a treat, but an artform that transformed into a sculpting and type of canvas for painting these edible figures and treats.
Grab some of the historic sweets to take home, they make for both a conversation piece and a unique gift as well. The shop is open every day from 10 am to 7 pm.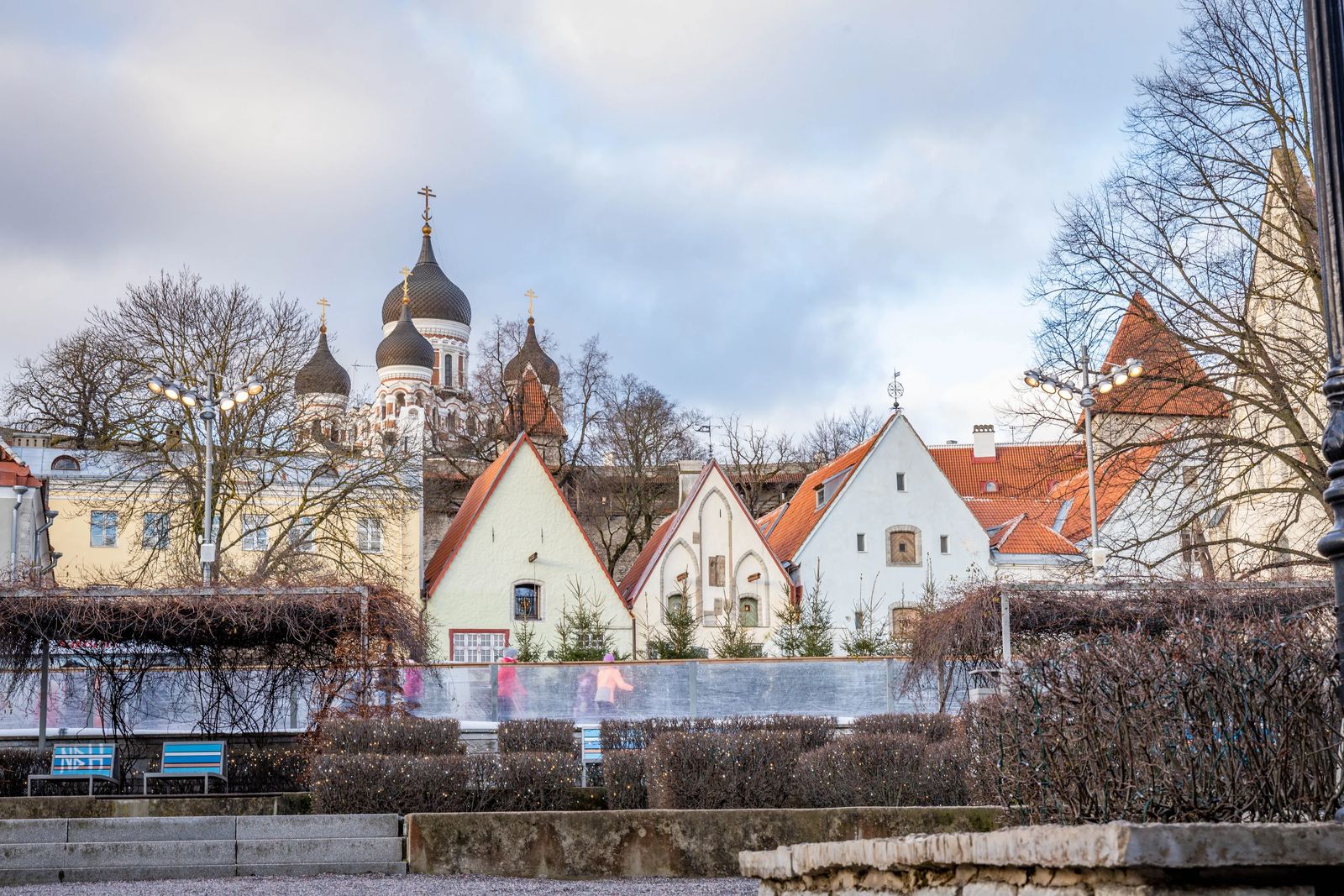 Ice Skating In A Medieval Town
Grab your coat, gloves, scarves and warm pants and head on up to Harju Street where you can ice skate in a medieval city right below the church of St. Nicholas. This ice skating rink is a local tradition and with the cold Estonian winters, it is a much needed outdoor activity to fight the cabin fever and dark nights in the Baltics.
The rink opens the beginning of December and runs through March or when the sun decides to show Its face a bit more in Estonia. You are surrounded by medieval homes, and no matter which way you turn, spin, or skate you have a picture perfect Christmas photo backdrop.
The skating rink is open from 10 am to 10 pm and costs about 9 Euros for Adults, and 7 Euros for children, with about an additional 4 Euro charge for skates if you do not have them.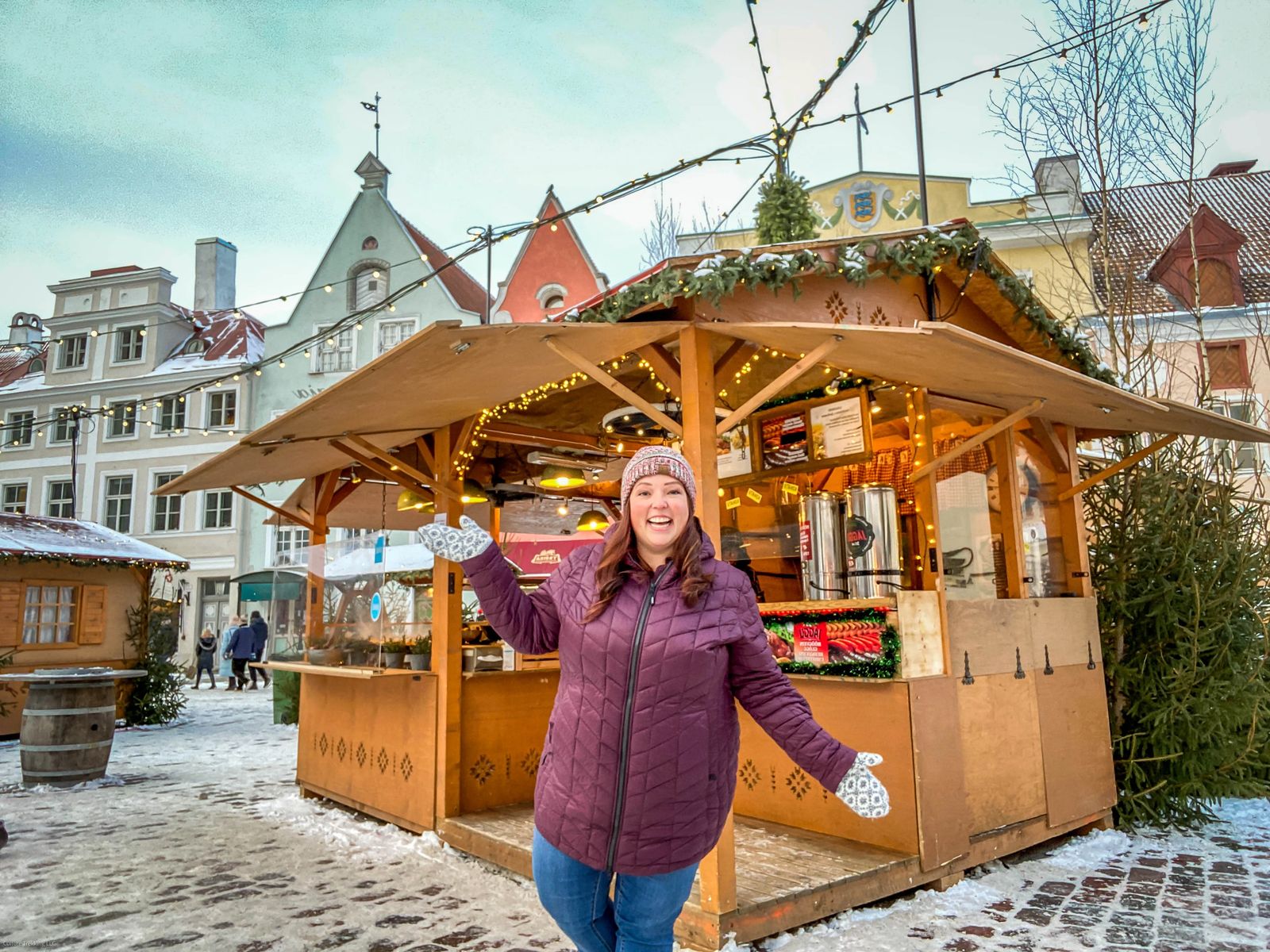 Other Christmas Activities in Tallinn
Make sure to check out the Visit Tallinn Calendar of events that will show you where the local Christmas concerts and shows are happening. Gest specifics on the Christmas Jazz festival, Church concerts, or the Christmas Nightlife scenes.
Take A Christmas themed Hop-on-Hop-off bus tour through the city (Fri-Sun) and see the city centre dressed up for the holidays, the Kalamja and Kadriorg park and palace. It then heads to Pirita and the TV tower, returning to Viru Square. They have the tours available in English audio guide as well as Estonian and Russian. It takes about an hour and a half to complete this bus tour and only costs about 10 euros for adults, and 5 euros for kids. It is a great way to see the city, especially if the weather is a bit nasty.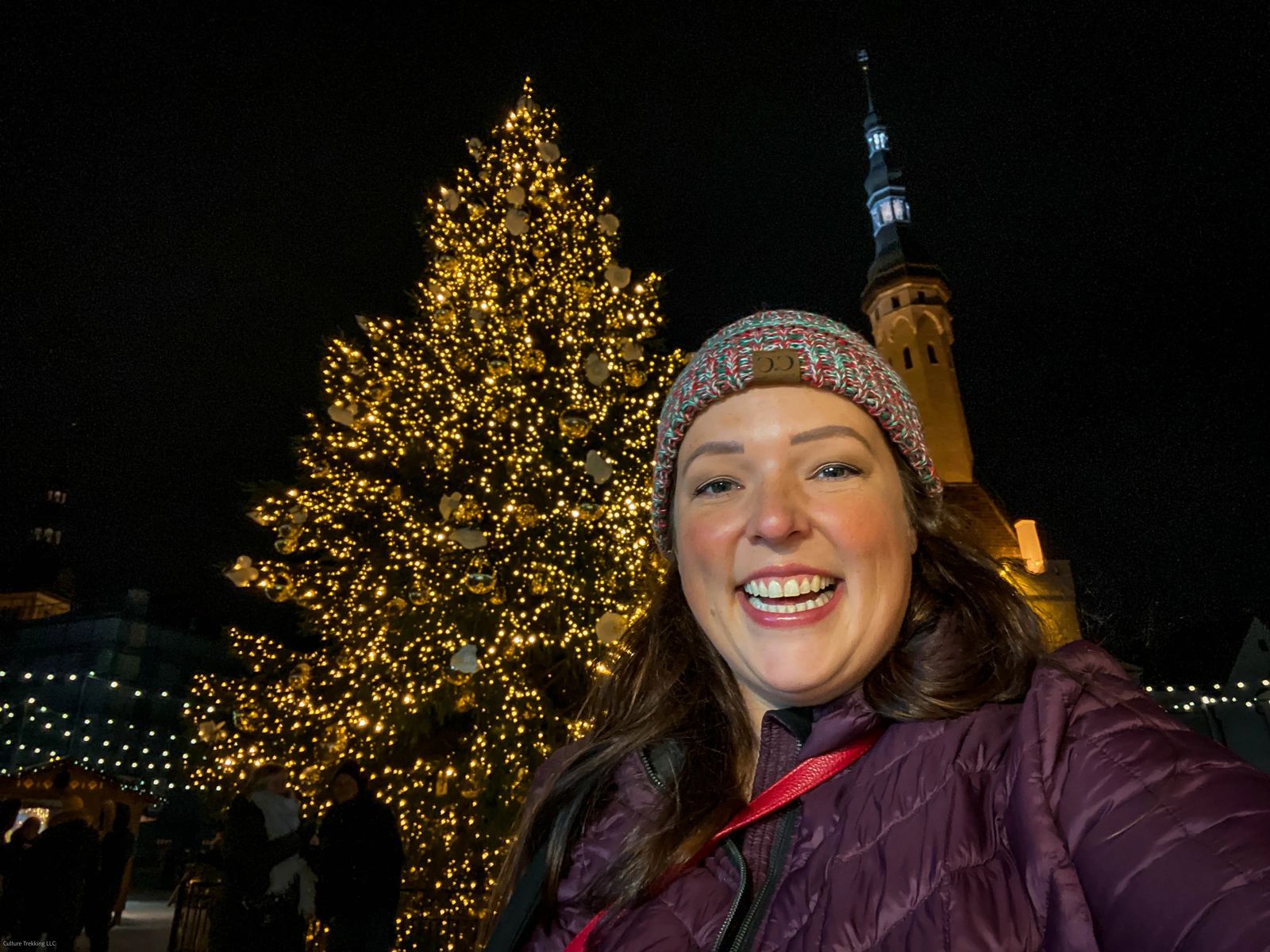 Take a tour of Old Town to hear the Christmas stories. Tallinn takes its tours very seriously, they typically require some education or degree in order to be a recognized guide here so it is worthwhile to pay the small fee to get the accurate history. This particular tour takes you through the history of how the Hanseatic merchants got the spices to make the gingerbread (used as a trade for the wealthy), the story of the first Christmas tree arriving in town hall, and the clever merchants and barons and how they sold their Christmas gifts to townspeople.
You also learn about the medieval history, colorful stories and some tours even end with a fun gingerbread making workshop. To book one of these tours email either 1. info@waypointtallinn.ee -- or -- 2. info@tgy.ee - tickets are around 10 euros for the basic tour and you need to book your tour at least 48 hours in advance.
Head to the gingerbread art exhibit, where gingerbread artists from around Estonia gather to put their best on display. There is music, dancing, and workshops available to the public as well.
If you will be in Tallinn for Christmas Day then attend the midnight mass on December 24th at 11 pm at St. Michael's Church at Rüütli 9, Tallinn.
Eat At Olde Hansa
You cannot truly come to Tallinn and not eat at Olde Hansa, this medieval storage house turned internationally renowned medieval experience is one not to be missed. As soon as you step inside, it is as if you are transported into an old tavern in the heart of Old Town Tallinn. The staff are dressed in traditional garb, the minstrels play on their modest elevated platform. There are frescos on the walls painted with the same techniques and images you would find in the Taverns of old.
Your experience doesn't stop there though, they use the same traditional dishes and methods of cooking right down to the 700-year-old recipes. If you have a cold, NO FEAR, your waitress (or tavern wench :) can cure all your ailments with the 70 proof Pepper Schnapps and teach you the whimsical method of how to drink it properly.
The prices are decent, every last detail is thought of, and you leave feeling stunned, satisfied and wanting to go back again and again. I would DEFINITELY make a reservation as this place fills up quickly. They do take payment with the 'magical card', but don't be surprised if they put the card behind their back while running it to ward off the evil of it stealing their soul.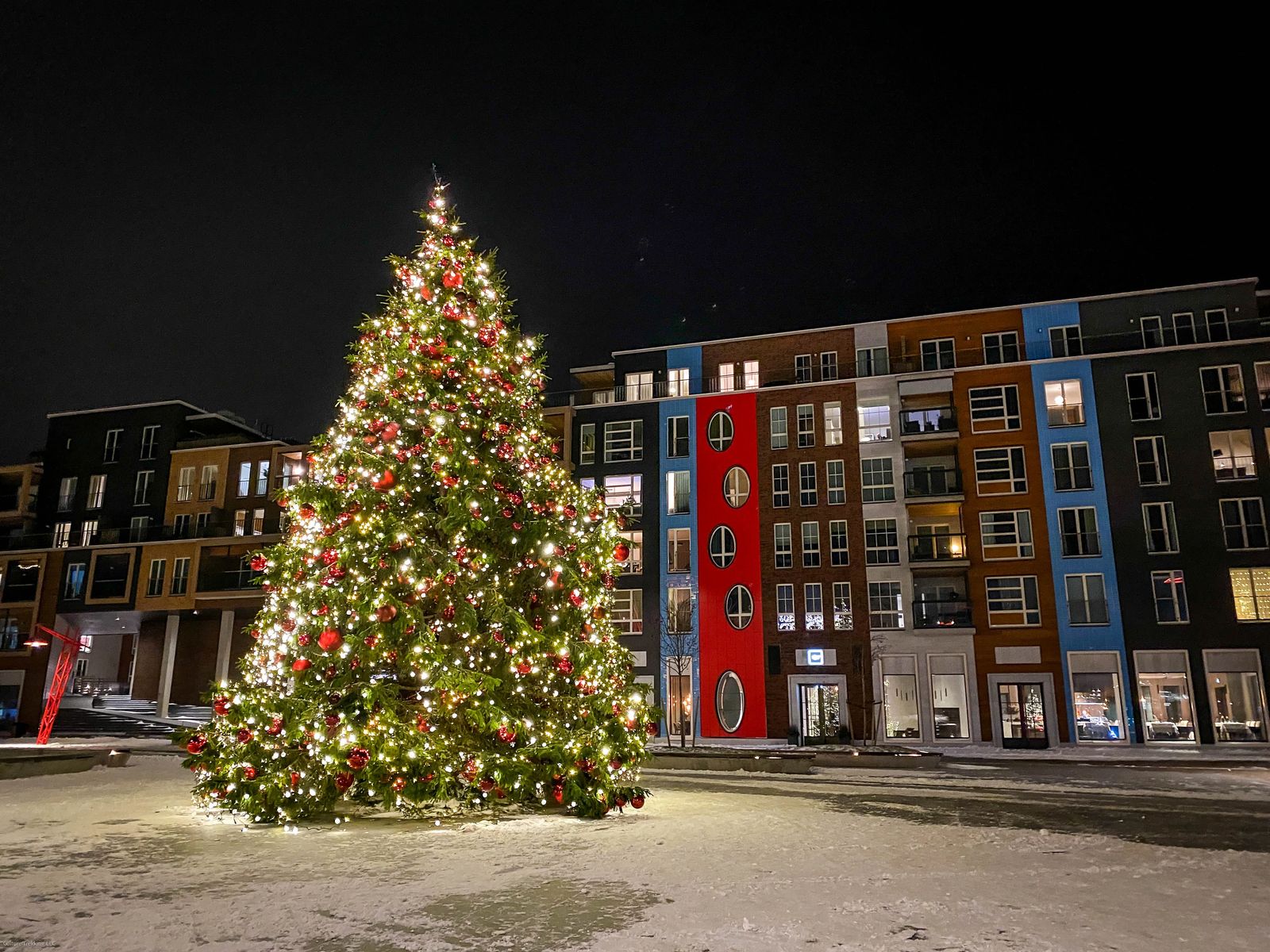 Noblessner Seafront Quarter for Christmas Igloos and Trees
If you are looking for the younger crowds, artistic vibes, and cutting edge cultural experiences in Tallinn then Noblessner Seafront Quarter is where it's at. I really believe this is the next great city/area for digital nomads. The housing here is much cheaper and a lot more trendy, with the latest technologies and home comforts built in.
This is where you have the Kai Art Center, the Proto Invention Factory, the Techno Club Hall, the seafront promenade, the marina where you can go sailing the coastline in the summer, and some of the best artistic galleries and outdoor leisure spaces in Tallinn.
For seasonal events check out the Noblessner website to get dates on the Advent Sunday, Tallinn Maritime Days, Ironman in Tallinn, and other cultural events. During Christmas, the main square has the BEST Christmas tree in Tallinn. David Beckham also bought the same igloo-style sauna you can see at the Proto Patarei Sea Fortress Iglu Park.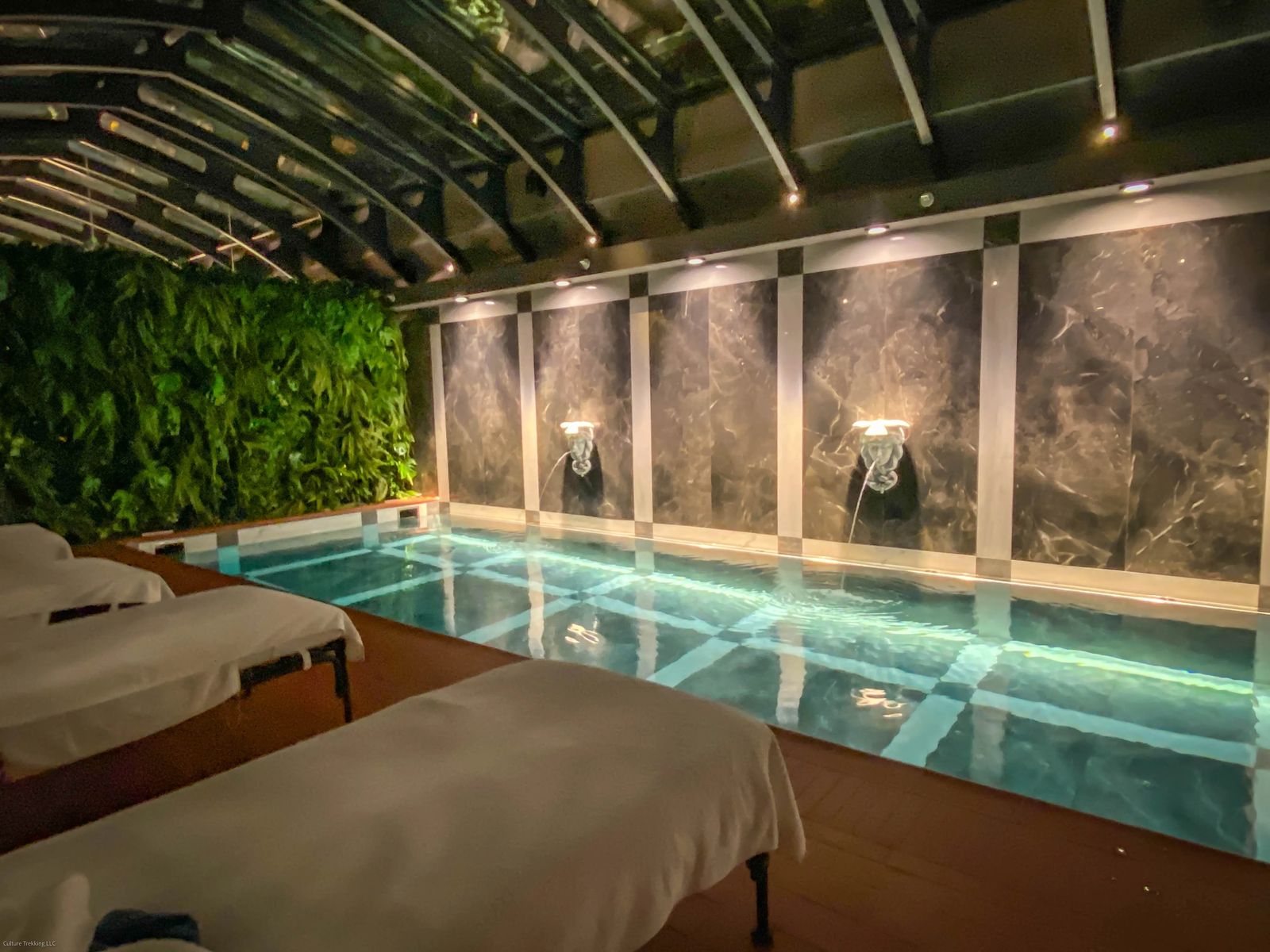 Experience A Luxury Spa Experience
Try a luxury spa experience to easy yourself out of the cold and into a state of transformative bliss. Most of the more upscale hotels like the Telegraf Hotel (Marriott hotel) or the Palace Hotel (Radisson hotel) do have spa experiences for their guests. (Pro Tip: Sign up for their points program and you could stay for free!) - In fact the Finnish come down to Tallinn and the Baltics to experience their spas for a fraction of the cost.
While the hotels typically don't have the naked spa experience, they certainly don't skimp on the luxury of it. From the ambient settings, to the ice bath, hot tub, swimming pool, dry sauna, wet sauna, and ice bucket experiences. Make the rounds a few times and then set up a beer bath, massage, or just sit by the pool drinking your tea and warm up.
The Baltic winters can be bitterly cold when the wind starts up, you come indoors and the cold seems to seep into the bones. I have never had my skin hurt from the cold, but on my day trip to Helsinki and while in Tallinn it did. The saunas help immensely with the cold that seems to build - so this is one thing I would definitely make sure your hotel has available - you will thank me later.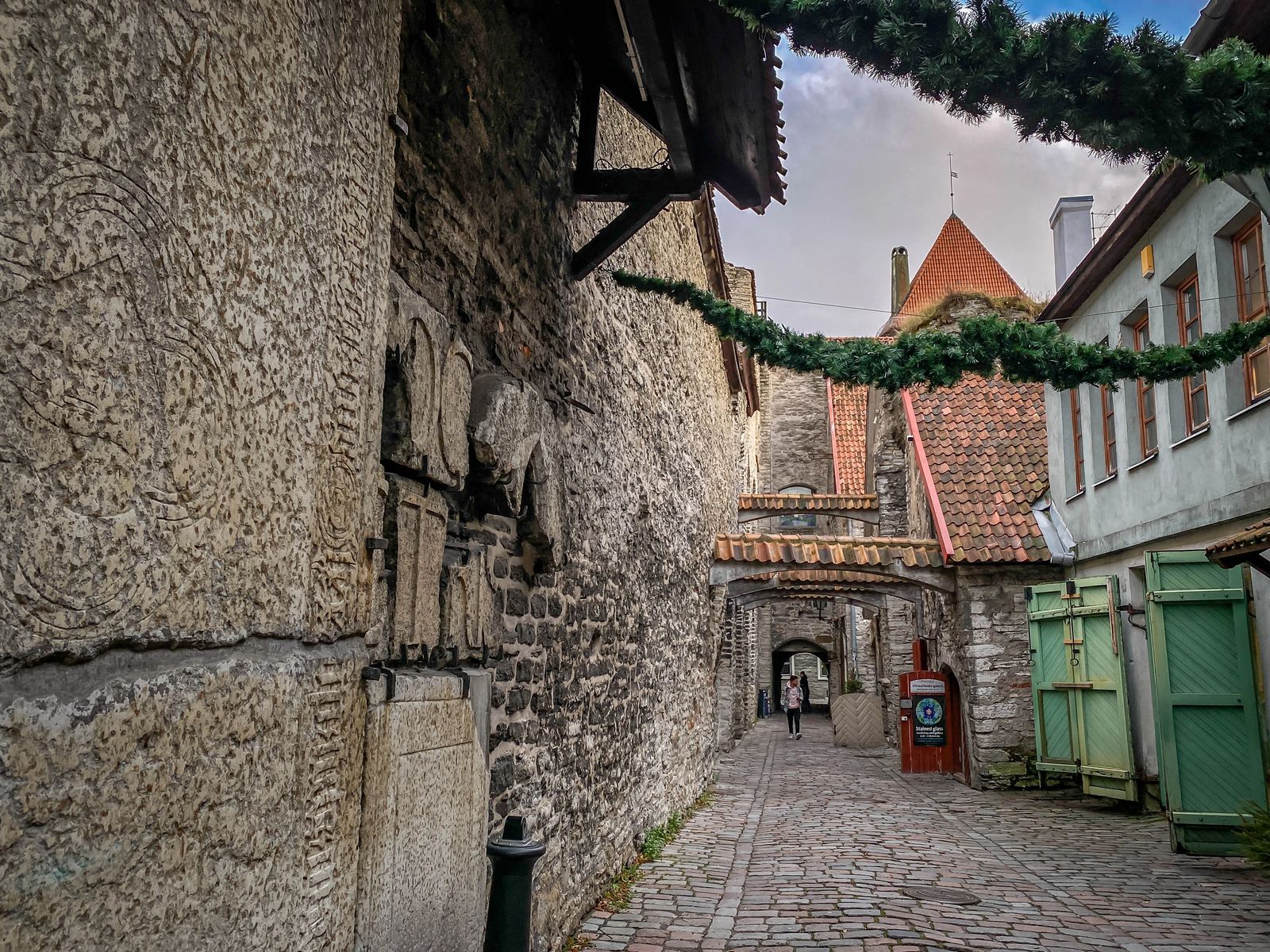 Best Christmas Photo Spots In Tallinn
Voted as one of the best preserved medieval cities in Europe, Tallinn is the perfect backdrop for photos. If you are lucky and it snows, St. Catherine's Passage (featured in the photo above) becomes a photo haven. Put on that flowy red dress, the white furry winter hat, red lipstick and go and shine gurl!
You can also take photos of the city at Toompea Palace (featured below) that has a fantastic overlook and is right near the slightly creepy Danish King's Gardens.
Head over to the Noblessner Seafront quarter to get a photo with their fantastic tree and trendy apartment buildings for a backdrop.
The Christmas Market in Old town is another must, and pop over to the Church of the Holy spirit to catch a photo of the rarely opened (only at Christmas time) wooden altarpiece by Bernt Notke from 1483.
Grab a cup of coffee at the Marzipan shop and pose in delight over your cup of joe as you dainty bite into your Christmas treat.
Ice Skating in Estonian gloves, hat, scarves while trying to not fall and surrounded by medieval houses and St. Nicholas Church is also a must.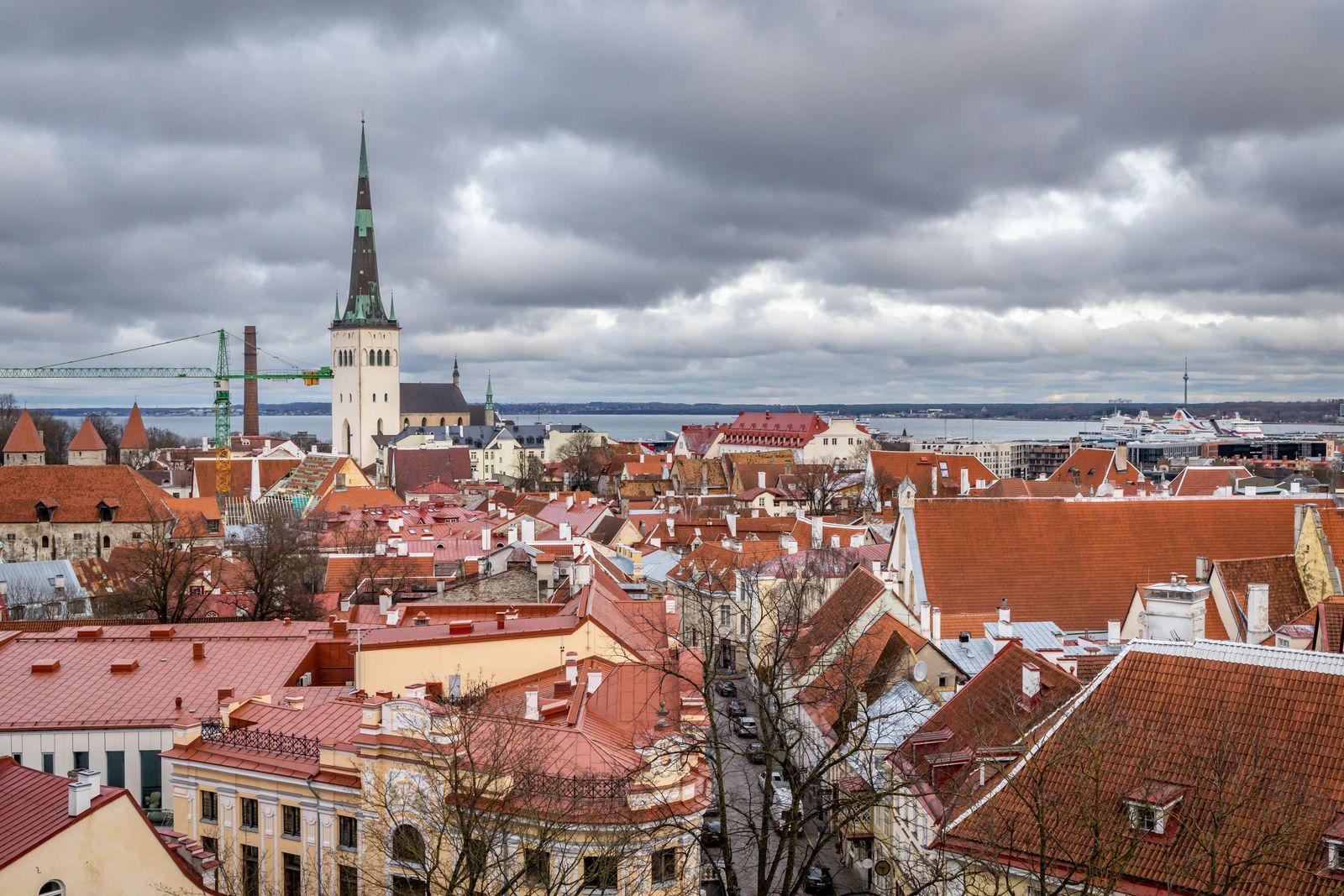 Getting Around Town
If you are staying near Old Town, then the city is entirely walkable and easy to navigate. To give you an idea, I live by my GPS and get lost and turned around embarrassingly easy - even by day three I knew my way around town.
There is plenty of free Wifi available throughout Tallinn and if you stop by the Visitors Center they can provide a map of the hot spots to visit in town. Along with the best wifi in town as well.
To get to the seafront I would definitely take a Bolt or ask the hotel concierge to call a taxi for you, just make sure you call for your Bolt before leaving an area with Wifi because they don't tend to hang out in the Seafront area as much in the winter waiting for riders.
There is a bus system available as well to take you to different areas of town, but really you can get anywhere in town with a short 15 minute walk.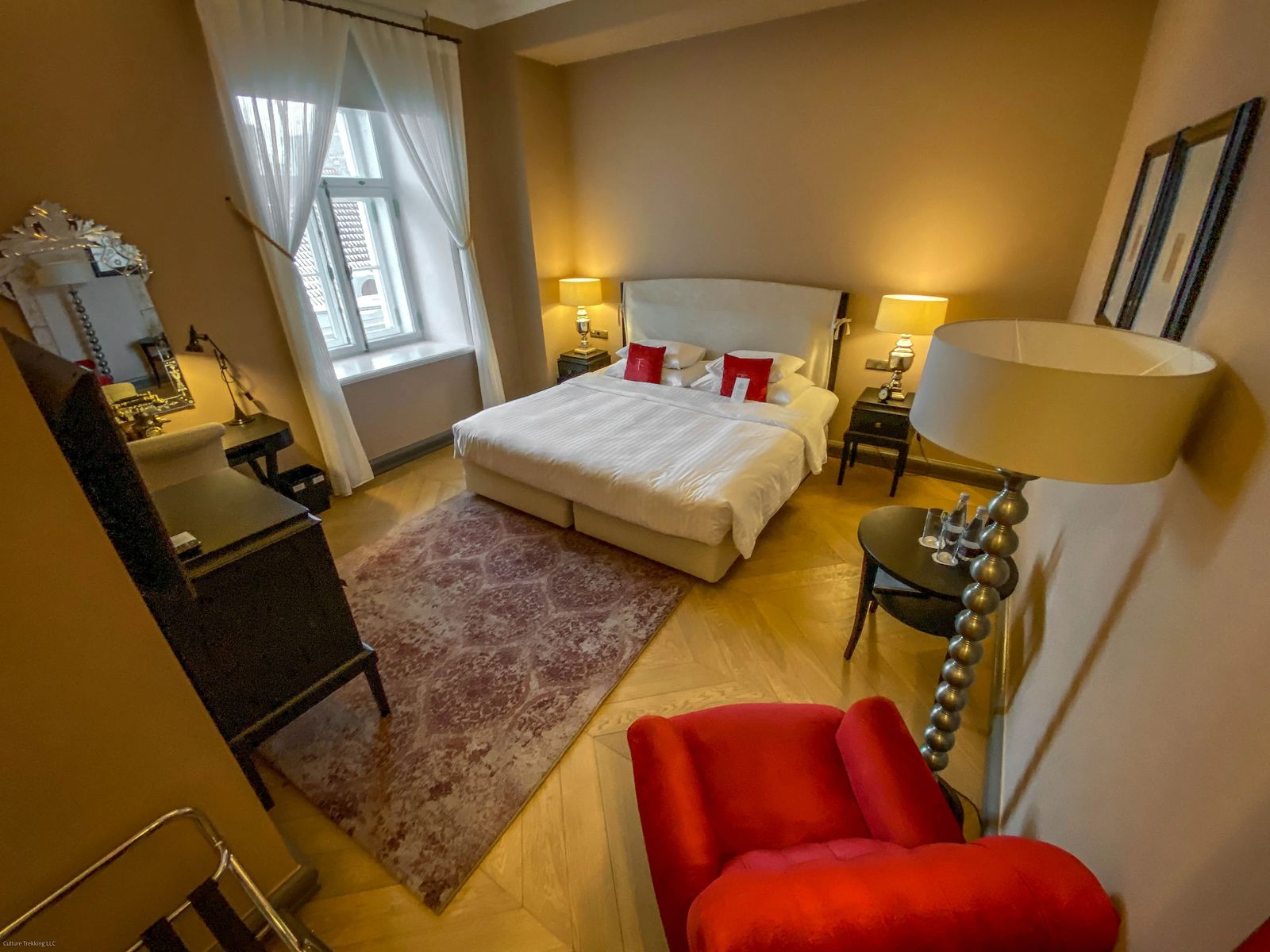 Where To Stay In Tallinn
I was able to stay at the Telegraf Hotel within a 2 minute walk to the Old Town Center. It was a perfect spot, so close to all of the shops, markets, and best things to see in Tallinn. I found the spa experience impeccable and serene, the patrons stayed to themselves, the rooms were stunning and decorated in an elegant modern and 1950's style (perfect for photos as well).
The Tchaikovsky Restaurant served a artisanal breakfast, with reservations available for dinner as well. They had a James Bond like setting for adult beverages in the evening.
Most of all, it is so close to Old Town that if you are trying all 20 flavors of Glögg it is a perfect spot for the frequent bathroom breaks and to warm up throughout the day. I don't usually stay in large chain hotels, because they are often pricey, but this hotel I would most certainly splurge on every time I go.
Plus as I mentioned before you can sign up for the Marriott Bonvoy Points Program or the Chase Sapphire Card and use points to help with the price of the stay as well. Truly, I wouldn't recommend staying here unless I thought it was worth it - and trust me - it is one of the best hotels I've stayed in.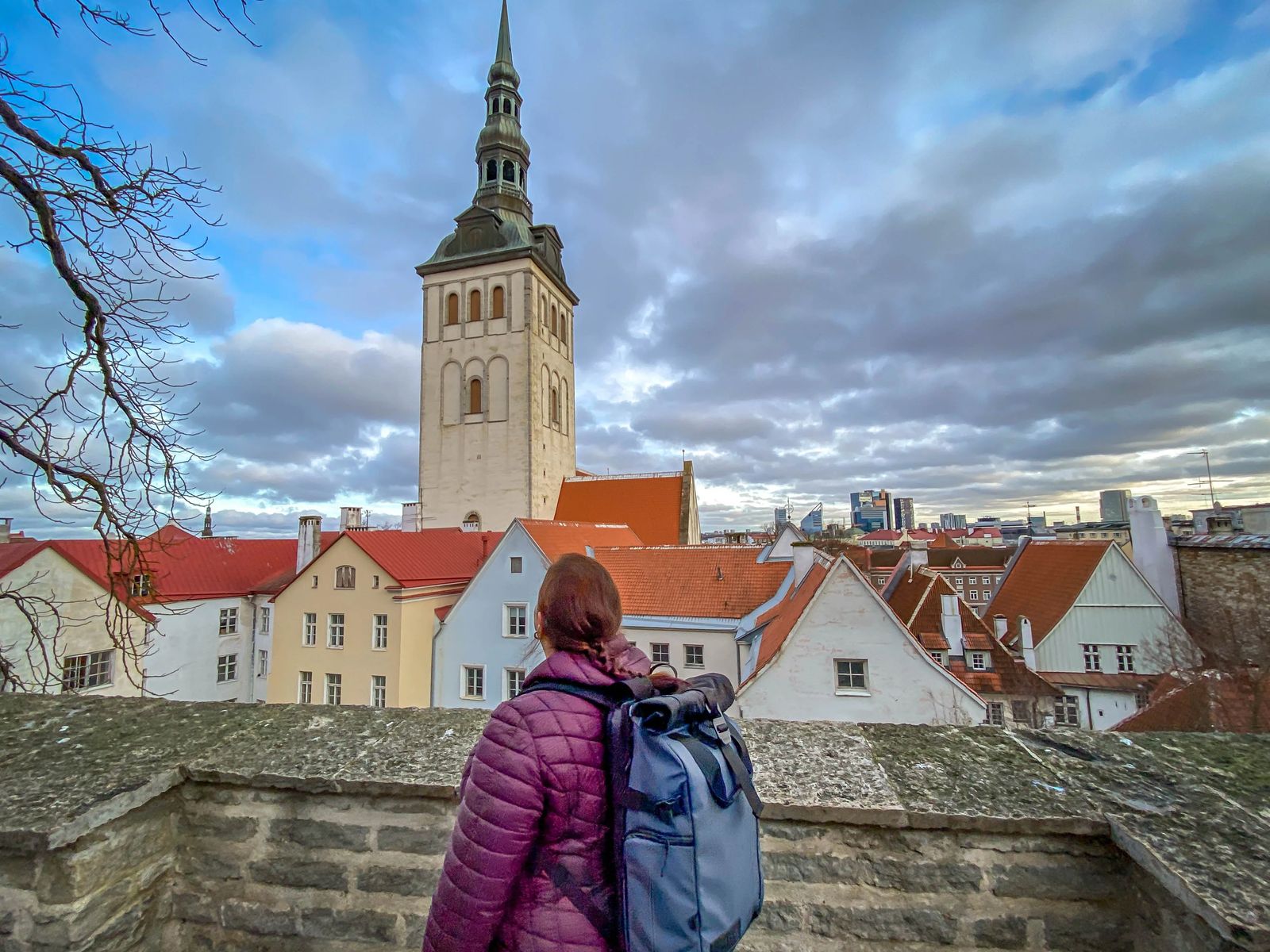 What To Pack For Christmas In Tallinn
Wool is itchy to me, but I cannot recommend bringing wool enough when visiting the Baltics in Winter. It is a humid kind of cold here that seeps into your bones and makes you shiver at night under layers of blankets. I opted for a down jacket with heat reflective technology and a fleece sweater underneath - the wind still got through those layers.
I typically run a warmer internal temperature because of my Thyroid issues, but even I got quite chilly. So I suggest the down jacket, but if you have space for one of their wool parkas they sell at the Christmas Market I would splurge the $50-$90 for one of those (and an extra 3 lbs in your bag) to stay warm.
Some of my friends also swear by Unbound Merino wool that isn't quite as itchy, and is just as breathable. Just make sure whatever you bring doesn't put your over your luggage weight, and you can also dress in layers to adjust to the starkly contrasting temperatures from indoors to outdoor events here.
I WOULD ABSOLUTELY bring a hat, and maybe even an umbrella to keep any heavy rain or snow you may encounter off of you. You can't get warm if you are wet, and in humid and cold environments it takes a bit longer for things to dry out.
As far as shoes, I swear by my Keen or Merrell shoes that have protective soles against the cobblestone streets. The polished stones can also get quite slick (even locals slip and slid all over) so if you have issues with stability, bring a hiking pole or a walking stick.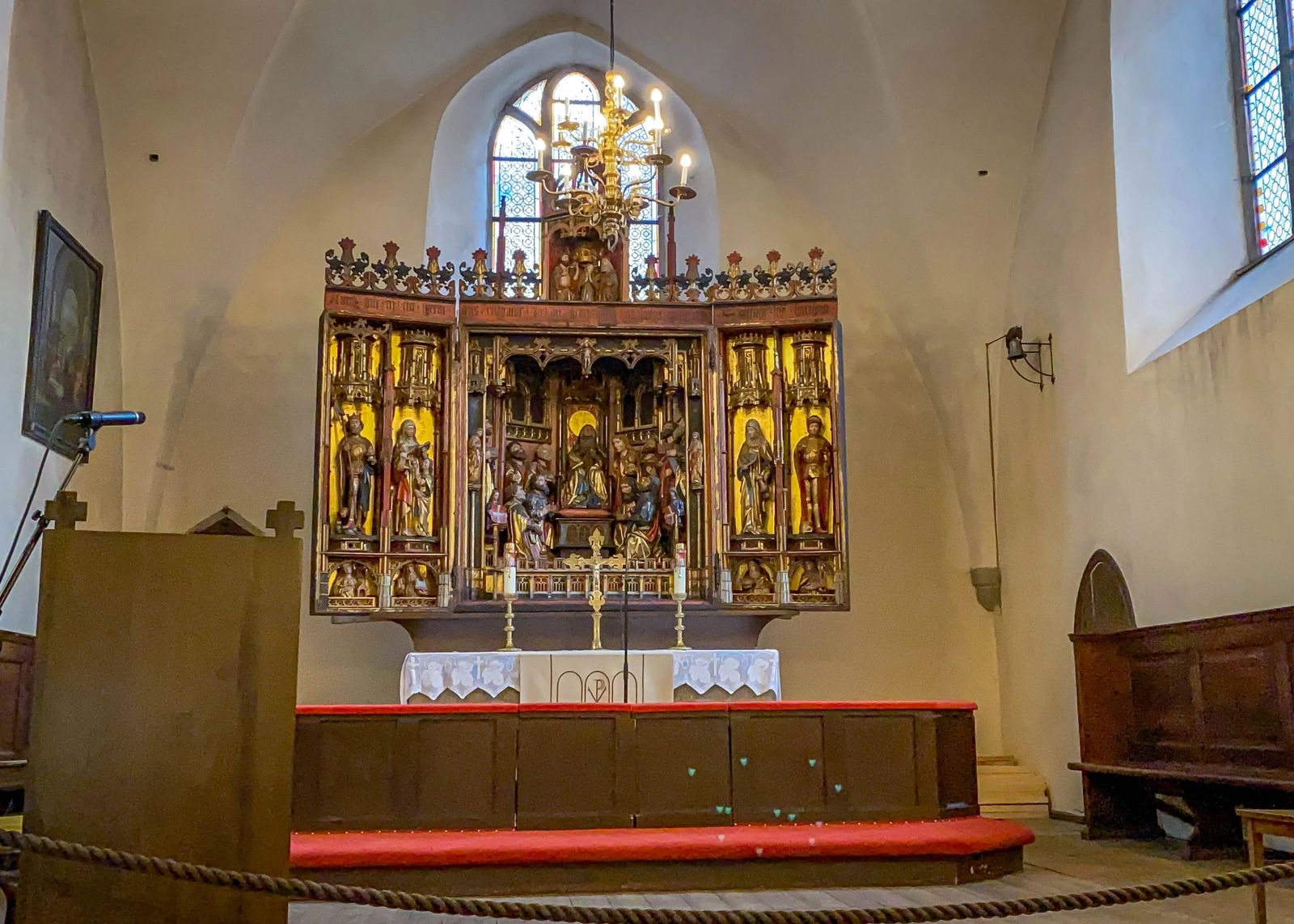 My Takeaway Of Christmas In Tallinn
I have been to about 10 different Christmas markets in Europe now, and several others throughout the world - the Tallinn Christmas Market really is one of the best Christmas Markets I've been to. The different items they had for sale were good quality, the food was traditional and delicious, they had both alcoholic and non-alcoholic Glögg available which I very much appreciated.
It isn't just the Christmas Market here though, there are so many things to see and do in Tallinn in Winter beyond the wooden stalls. The ambience of the medieval city, the absolute dedication to theatre and concerts Estonians love, and the many historical tidbits of how Christmas began really add to this being the ultimate Christmas vacation.
Let me know in the comment below if this article was helpful, or if you decide to visit - would love to get some feedback to really make this the Ultimate Guide to Christmas in Tallinn.
Guided Tours of Tallinn At Christmas
Like it? Pin it for later! Sharing is caring ;)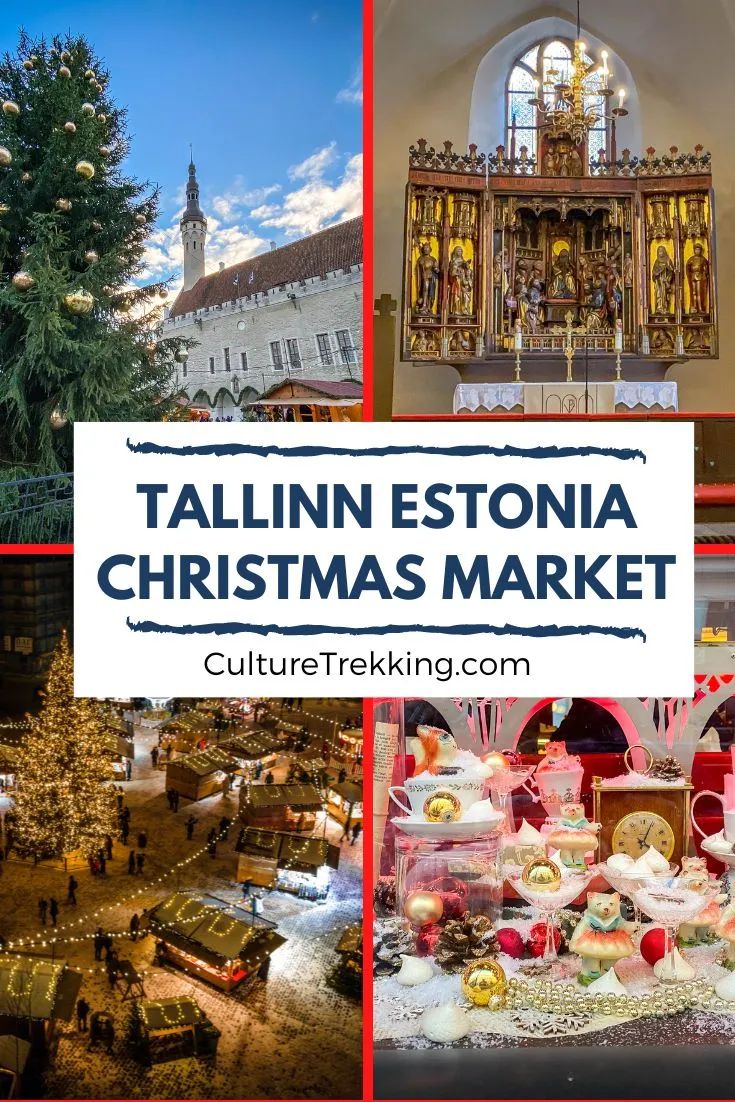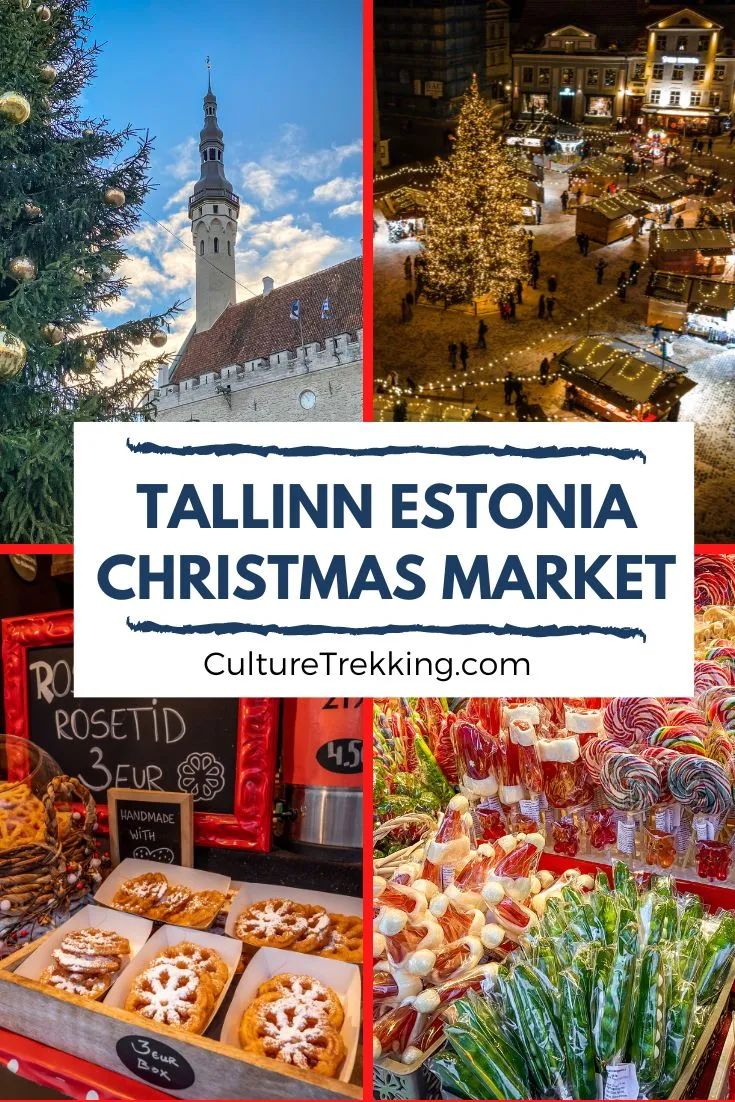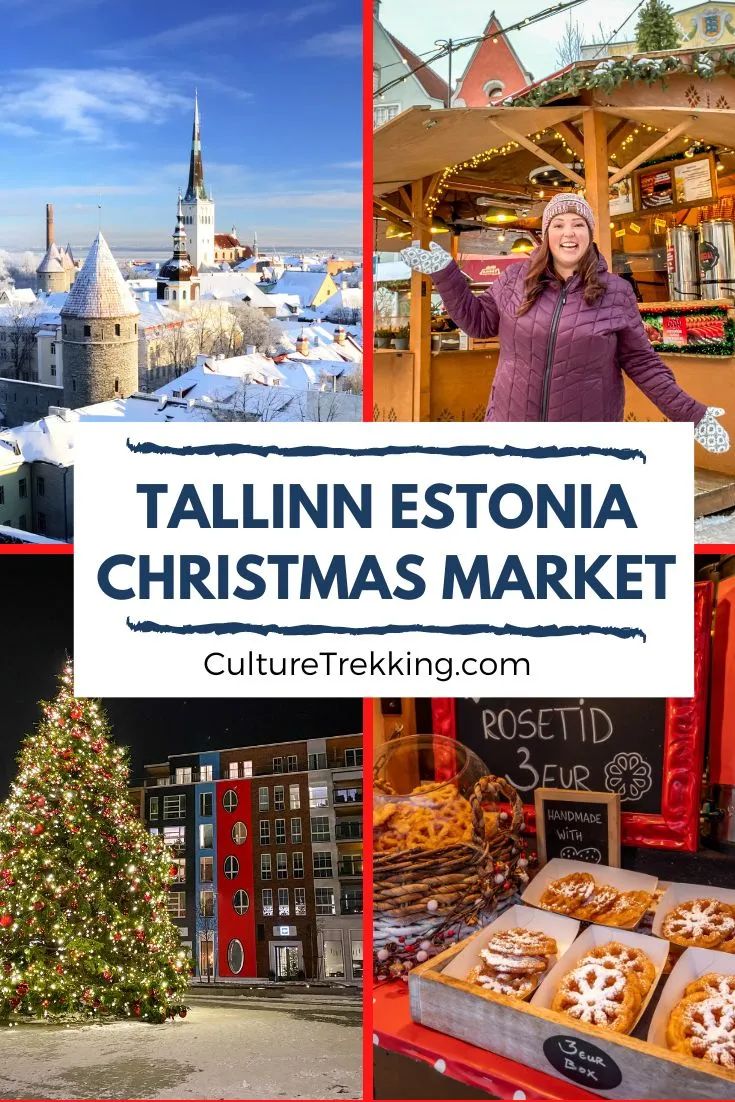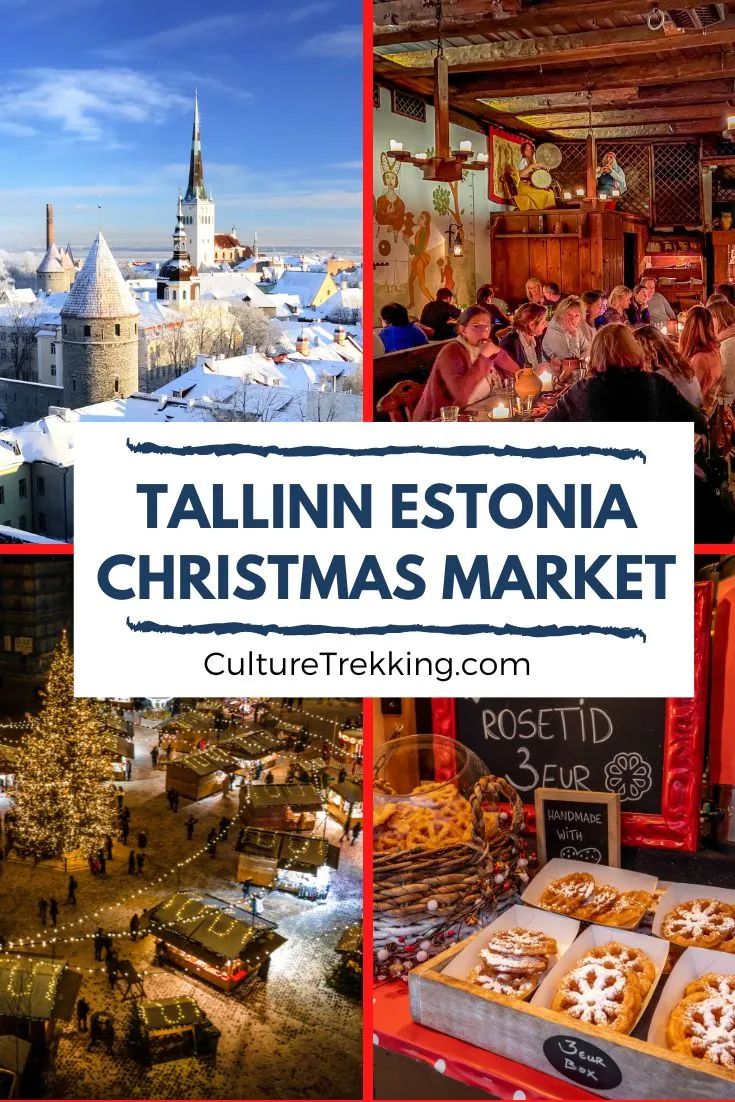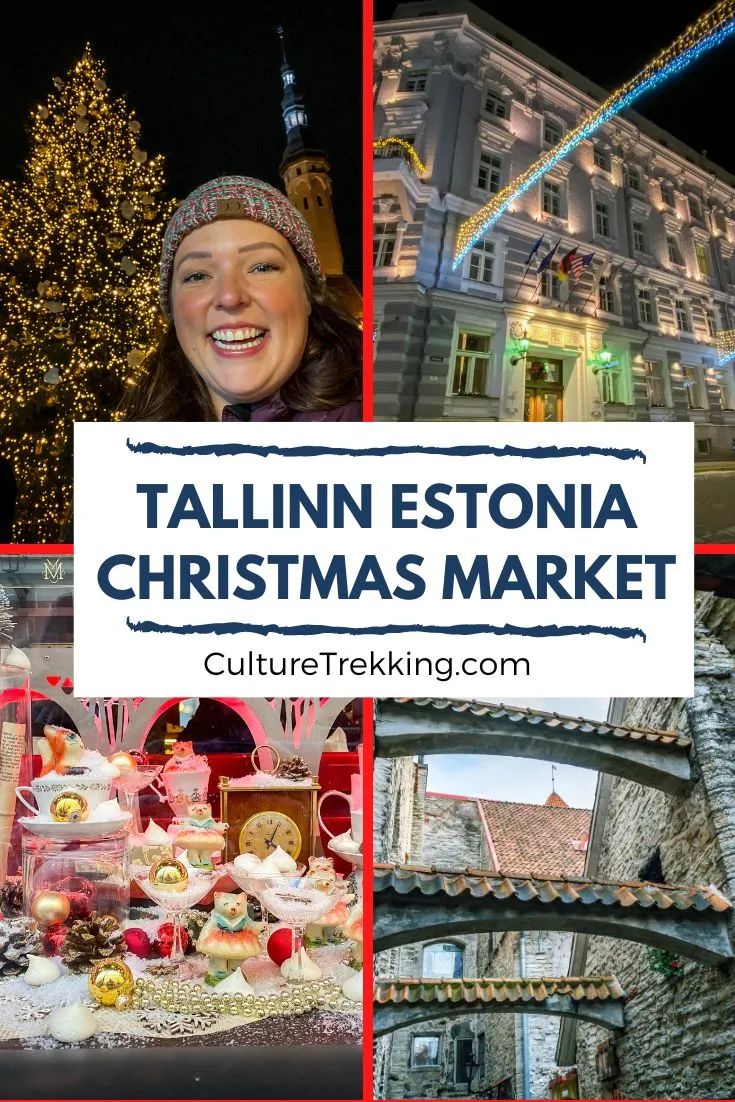 Latest Articles On Culture Trekking