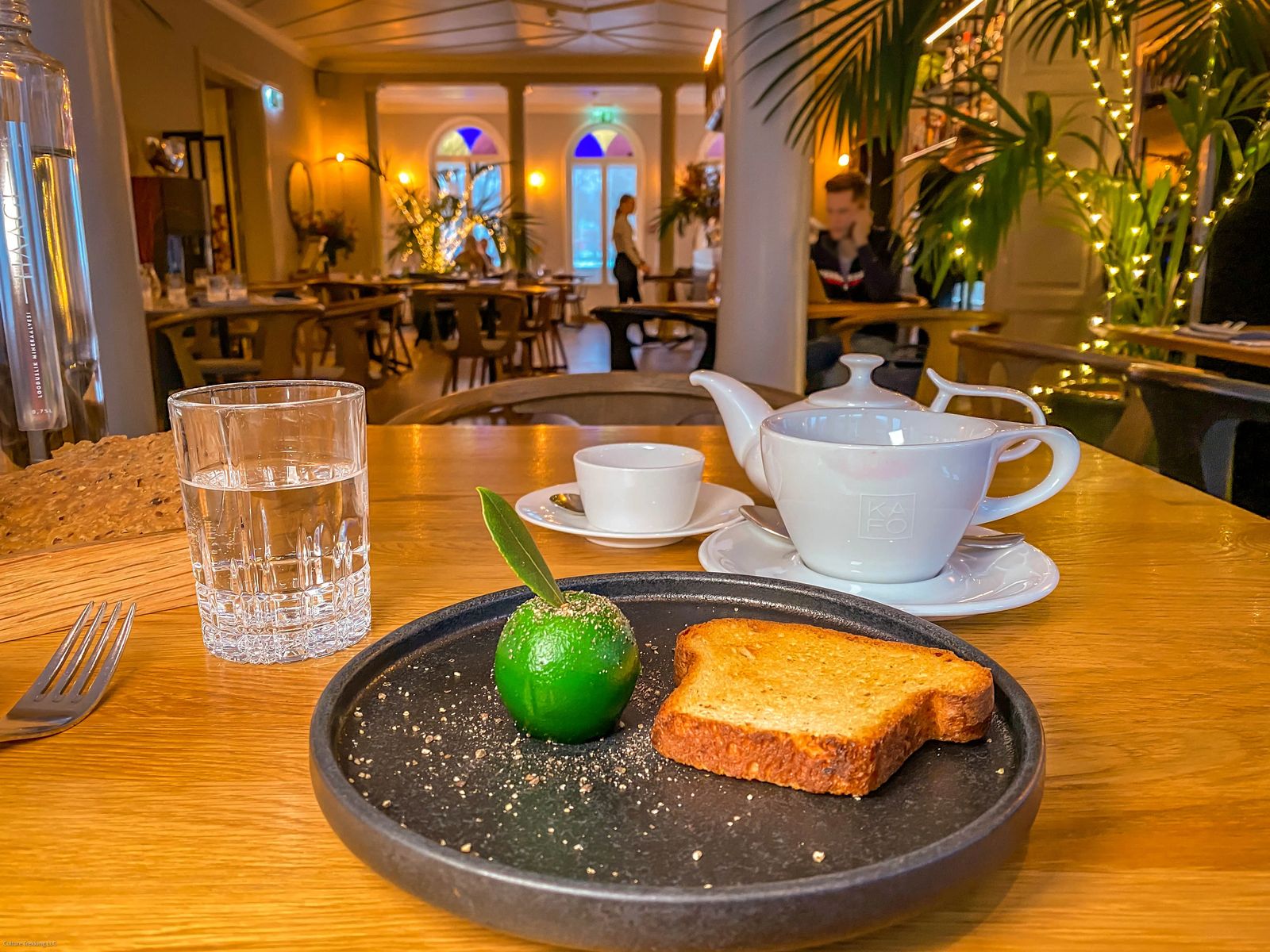 8 Best Places To Eat In Tallinn Estonia
One of the unusual ways we remember things, that is not often paid attention to, is through smell. There is no other way to imprint a travel memory than through the carefully crafted food and experience of a restaurant. Tallinn is quickly becoming a foodie hotspot, along with medieval architecture of the Old City, unique repurposed modern experiences of the Noblessner Seafront. In fact Tallinn now has TWO Michelin Star restaurants. Here are, what I consider to be, the best places to eat in Tallinn Estonia.
No matter what your budget you can find medieval dining with 700-year-old recipes, a Michelin Green Star award restaurant at Fotografskia, food that looks like an illusion, and a restaurant that feels like being invited home through the tastes and atmosphere. Have I piqued your interest? Then keep on reading.
I visited Tallinn in December 2021, but have updated this article in 2022 to include the most up to date information on the restaurants to ensure the highest accuracy of dishes, status and goals of each dining experience.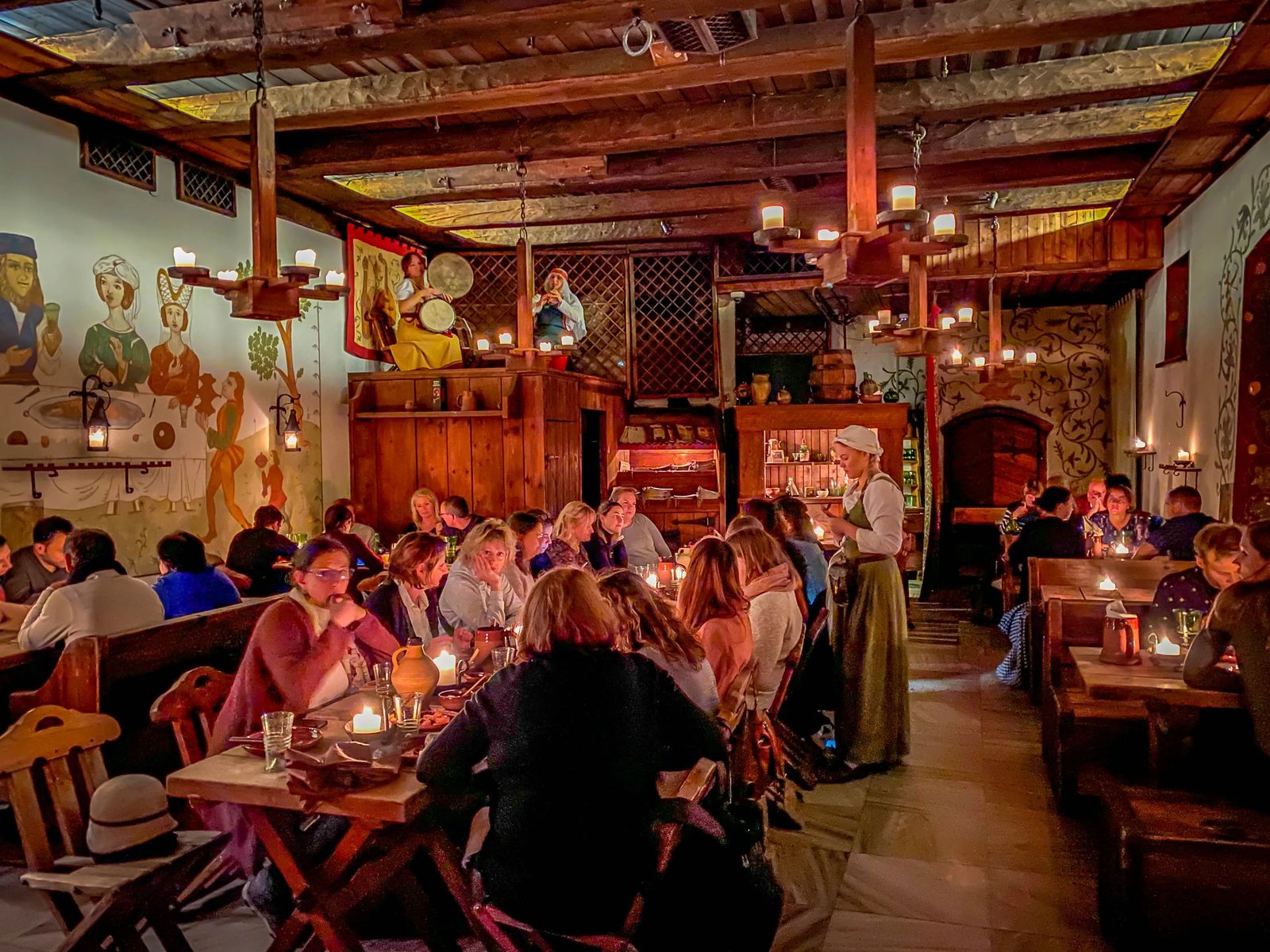 Olde Hansa
From the moment I walked into Olde Hansa with the minstrels playing above the guests with their lute and flute I knew I was in for a treat far beyond what I had anticipated. They led me upstairs, to a room filled with paintings on the walls done in medieval style, wooden chairs, everything candle lit and rustic. A woman dressed in modest peasant garb greeted me, and promptly brought me a water, and warned me of a great plague ravaging the land. She suggested I drink a pepper Schnapps to help burn away the evil and any plague that may have inhabited my being on my travels. I obliged and that is how the culinary adventure started at Olde Hansa.
This is one of my favorite dining experiences because of the setting, the delicious recipes and affordability. The recipes aren't just themed, they are actual recipes from more than 700-years ago! The Grand Chef, Emmanuel Willie, with 35 years of experience, including at a Michelin Star restaurant - the flavors most CERTAINLY come through in these unique dishes.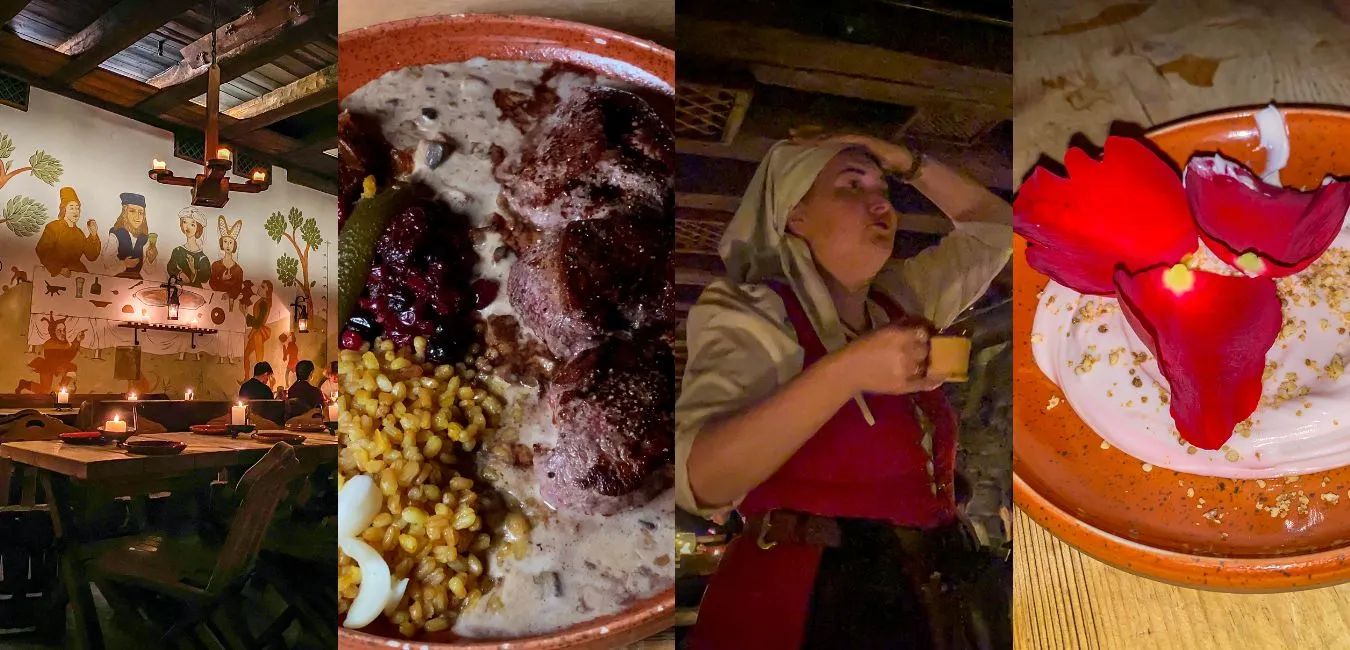 For appetizers there is liver pate, pickled cucumbers, rye bread, oven baked Juniper cheese. The main courses (Master's Feast Menu) you have Game sausages of Elk, Boar, and Bear or you can opt for the trout - all served with sauerkraut, saffron spelt, ginger rootabaker, and lentil sauce. Dessert is my favorite part because it was so unexpected at how good it was, a rose pudding with a bit of crumble on the bottom.....omg....you have to try this...(wipes drool from mouth).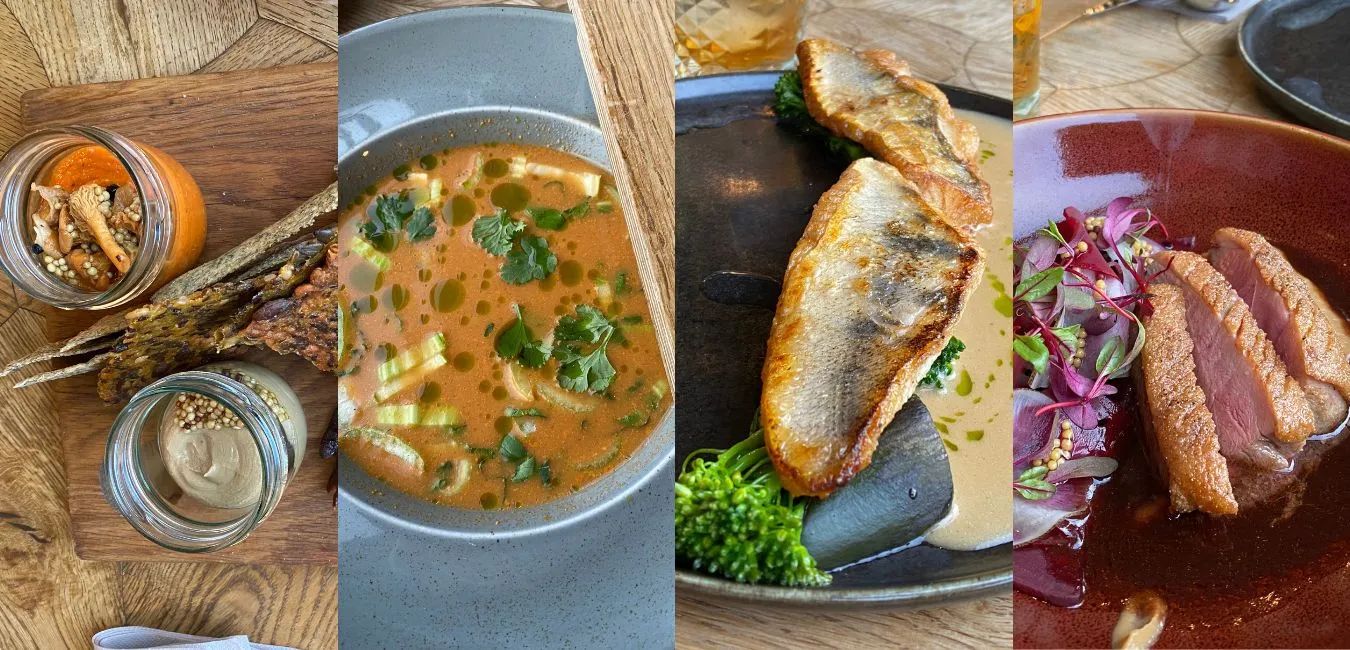 Restaurant Pegasus
Walking into this unassuming restaurant across from St. Nicholas Square, you would think it was a department store if you didn't look twice. Once you cross the threshold though, you can feel the history, and smell the food scents wafting across the cozy brightly lit restaurant.
Everyone spoke English so it made it very easy to order the appetizer of different breads and hummus, a soup of the day, some local Scrod filet and veal for my friend that was with me. The meal came quickly, the local beers were on tap and plenty of cocktails to choose from. The atmosphere was relaxed with beautiful views of the cathedral and watching the ice skating rink set up for Christmas. Don't forget to eat the bread here.......it is highly addictive....consider yourself warned.
The food was savory with different levels of flavor that descended on the palate in a gentle way. You won't walk out the door feeling sick to your stomach because of the heavy creams or fatty dishes, it is a perfectly balanced meal of flavor and satisfaction.
There is a history to this place though, while the restaurant itself opened in 1962, prior to that it was a gathering place for artists and intellectuals. While this seems very innocent, it was actually designed so that the Soviet government could keep an eye on them for any uprisings. Why spy on each individual when you can gather them together and keep watch on all of them at the same time and call it an 'exclusive club'.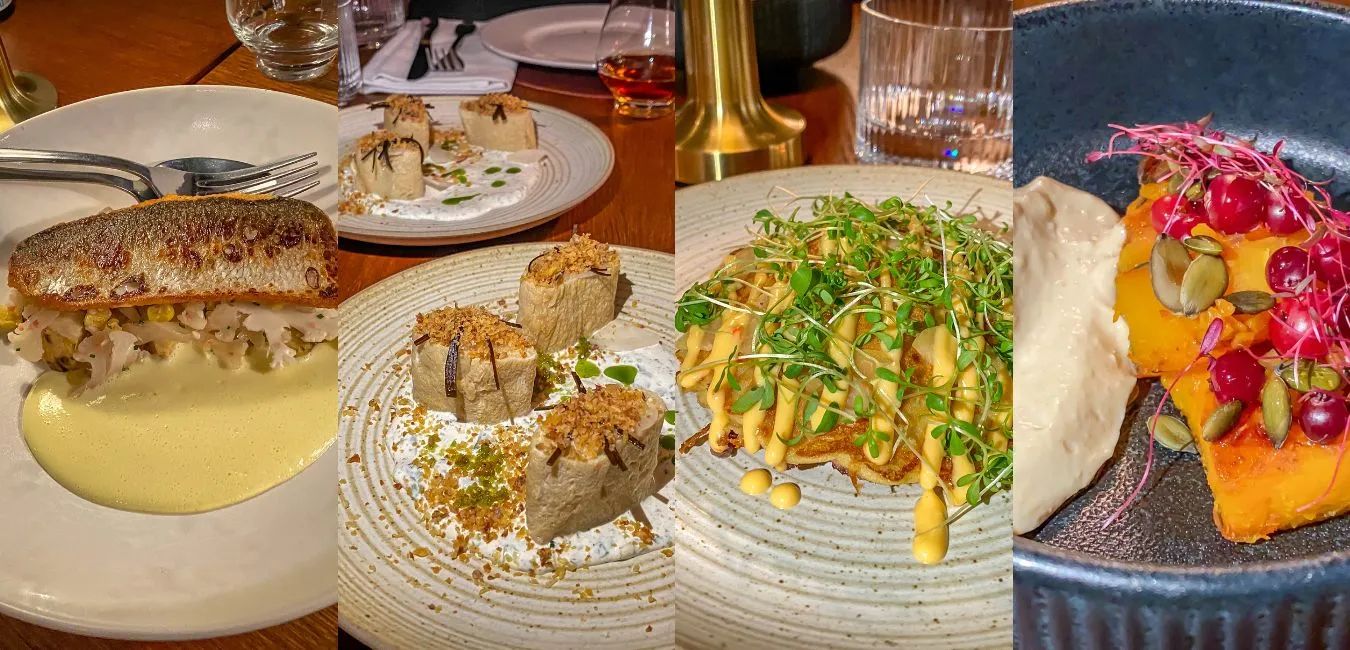 Lee Restoran
Lee is an ancient Estonian word with inferences to a gathering place around a crackling fire. This restaurant is a place designed to visit with friends or family. The menu can be eaten by a solo traveler, but you get a lot more bang for your buck if you eat family style. While I won't tell you the portions you get with the group menu are large, the food is delicious.
Hiro Takeda is a Canadian born Japanese Chef that you can see his culture reflected in the dishes he presents. He prepares dishes that are locally sourced from farms near Tallinn, with three menus that change seasonally with the theme of 'local, seasonal, and contemporary'. There is an extensive wine list here, as well as a decent selection of cocktails.
The restaurant is located right at the base of the medieval walls that surround Tallinn. If you aren't actively looking for the sign for Lee Restoran, you might miss it. You have to walk up some stairs, then pass through a lovely garden into the restaurant. Sitting down feels like sitting down in a cozy home. Making a reservation is highly recommended as the restaurant sells out quick and there isn't really a 'we can squeeze you in' option.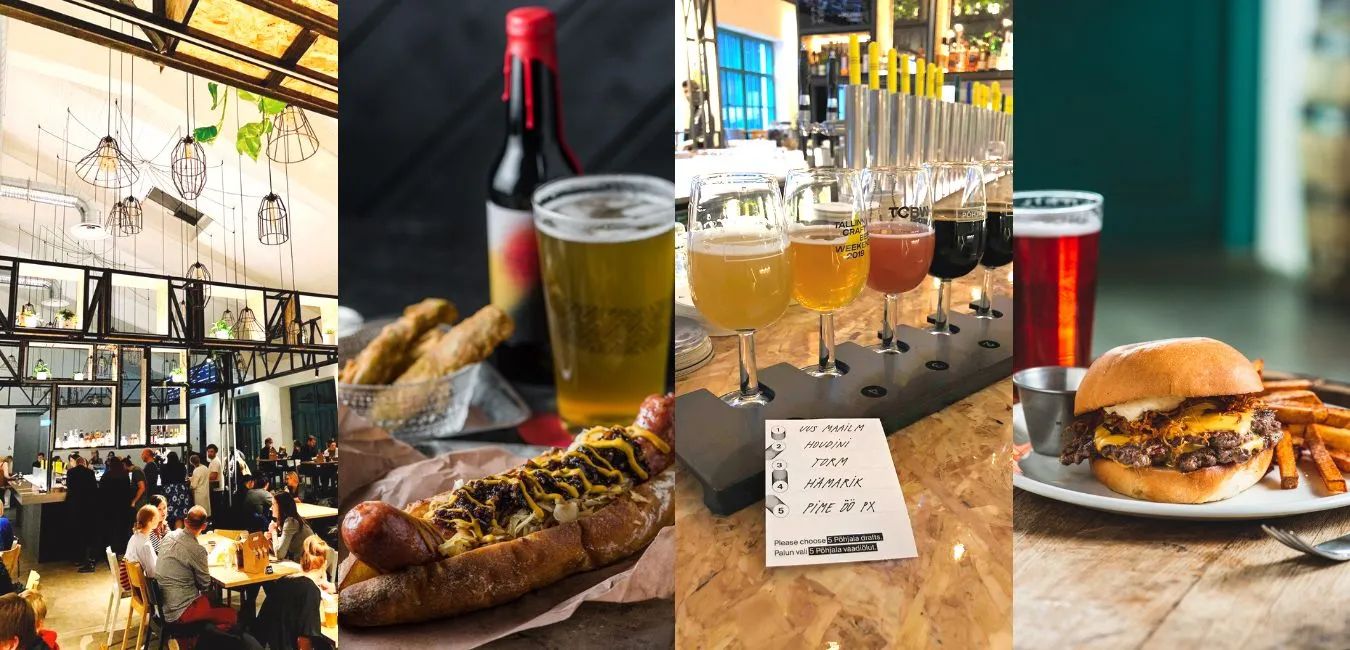 Põhjala Tap Room
If you are tired of fancy eats and treats, then head to Põhjala Tap Room for all my USA folks this will be a bit like having Texas BBQ with an Estonia twist. This tap room is located within a 19th century building near the Noblesser waterfront. If you are looking for a place to hang with your friends and enjoy the summer sun and sea breezes then this is the place to go.
They brew their beers on site, and there is such a selection of beers for any occasion it may take you a good 15 minutes to decide on one. If they still have the beer on menu, I suggest the 'Bison in the barrel room' to start. The food is hearty and delicious, with serving sizes to feed a large southern USA man. The price is kind to any pocket book, and really worth the cost to have a good meal with good friends in a relaxed and hip atmosphere.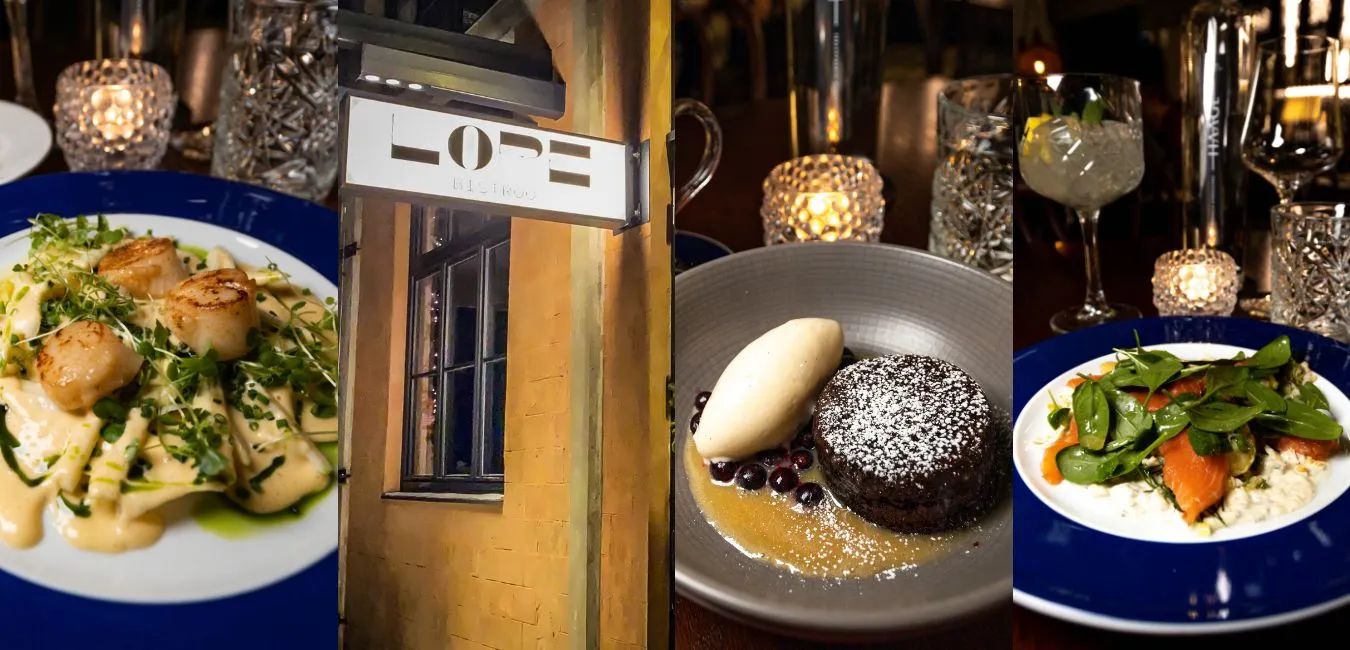 Lore Bistro
Tucked away near the Proto factory at the Noblessner Seafront is the deliciously comforting Lore Bistro. Taking comfort classics and putting a modern twist on them Janno Lepik and Kristjan Peäske, the chefs and sommeliers, do not disappoint. Each interaction with staff feels like you are being welcomed into their home, if you fancy a lemon drop that isn't on the menu, they can provide it. I visited during Christmas time and they even partnered with a nearby brewery to create their own special mulled wine! The menu changes based on the seasons and availability of the freshest ingredients and proteins.
Each bite felt like a memory of travels I've been on, the atmosphere was one where you could easily see a wedding party or a girls night out all in pajamas. Each detail from the glasswear down to the color of the plates complimented the flavors that greeted your palate and took you on a tour around the world. Eating here was by far one of my favorite restaurants in Tallinn, with this next one being a close second.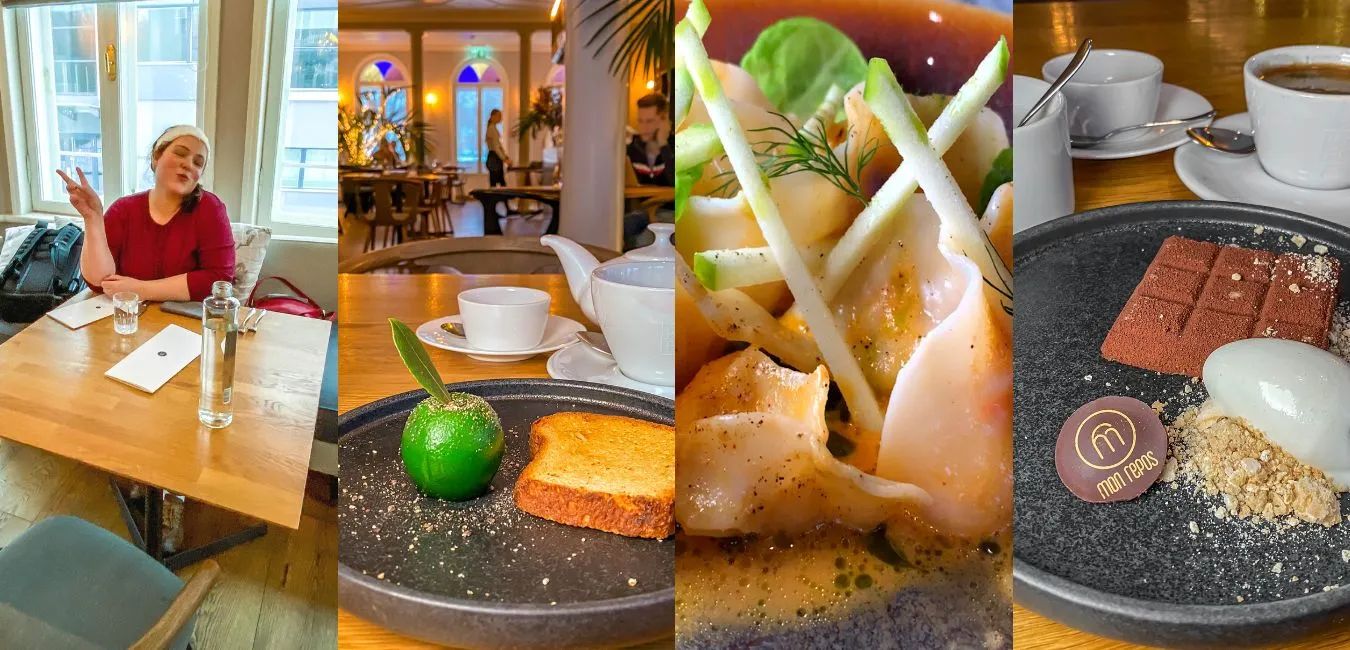 Restaurant Mon Repos
At first glance, you would think this is a Victorian House museum, but once you walk in, you are warmly greeted by staff with quiet demeanor and infectious smiles. This is Mon Repos, a restaurant included in the Michelin Guide in 2022. It is located right near Kadriorg Palace, and the Kumu Museum.
Since I was in Estonia in winter, my waitress helped me choose a delicious warm tea with artisanal honey. The menu spoke of French brasserie-style with hints of the mediterranean with an Estonia flare. The dishes are sometimes an illusion, like the apple looking plate that is actually an apple pate with toast. It was my first time trying pate, and I swear to you I couldn't stop a little moan coming out, lol....yep it's that good. The rest of the dishes followed suite in delectible artistry with the final touch like a love letter being the dessert as the Chefs signed off with a signature chocolate.
I visited during lunch and the only reason I liked Lore Bistro was better (marginally), was not because of the food or the pricing, but because I was the ONLY person in this restaurant for about an hour. When you are filming yourself (Youtuber here), and taking photos of every one of your dishes, it gets a bit embarrassing. I also think the owner was sitting at another table on his computer, which took away from the experience a bit. I cannot fault the food AT ALL though, so my suggestion is to reserve a table here about 2 hours after they open, or in the evening for a more romantic feel. You won't regret it, I promise.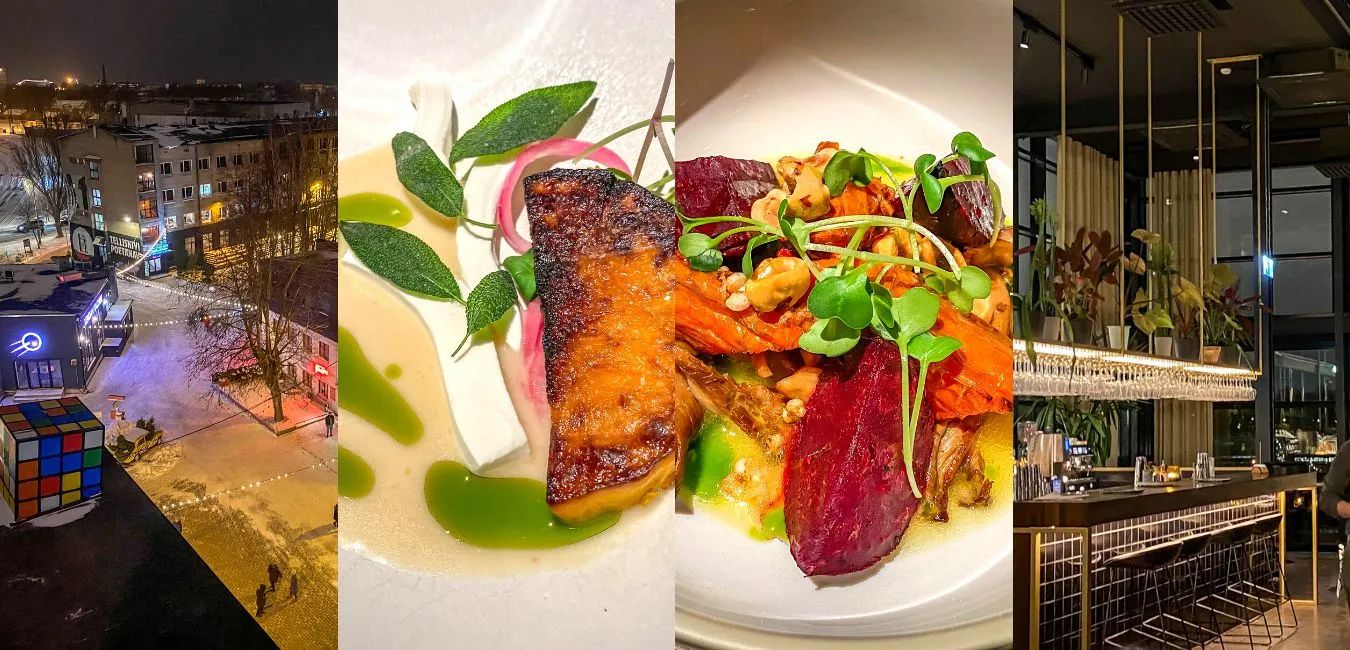 Fotografskia Restaurant
Food is artistry in and of itself, but when you walk into a restaurant devoted to sustainability inside an exclusive and widely respected photography museum - the food takes on a whole other level of moving. This place was packed with guests, with an open kitchen, impeccable cleanliness, and photography books to browse through (if you are eating solo) - it really was such an amazing experience.
The motto here is 'leaf to root, nose to tail' - basically this means there are no raw materials that go to waste. Every single element of a plant, protein, flower is used, and what is left is used for compost and put back into the local fields. They have even been recognized with a Michelin Green Star for gastronomy and sustainability. The chef is Peeter Pihel, and the seasonal wine curator is Kristjan Kiho.
The food was incredible, but the experience slightly cut short because of someone pulling the fire alarm unfortunately. The dishes I did have were refreshing, vegetarian seasonal dishes that left me feeling comfortably satisfied, but not to heavy on the stomach. With the floor to ceiling windows and such an open space, I could certainly see why this was a weekend hotspot.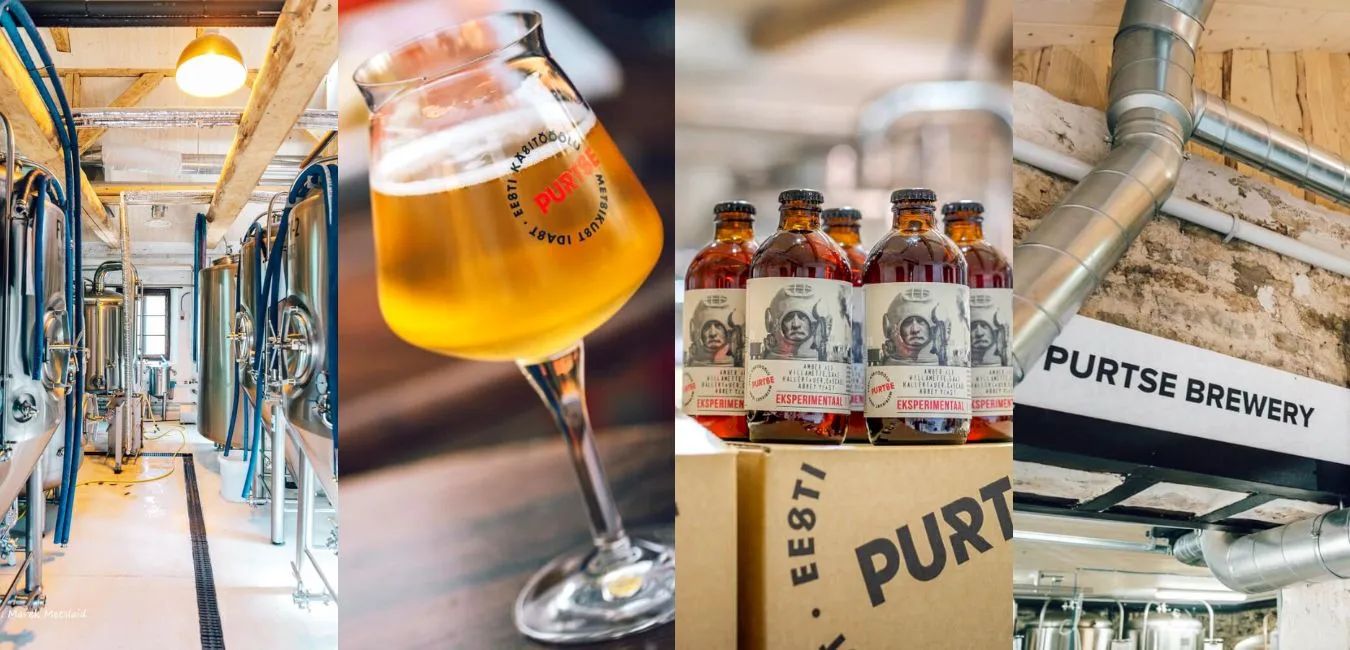 Purtse Telleskivi Tap Room
While I didn't personally get to visit the Purtse Telleskivi Tap Room, it was one recommended to me as a unique place for drinks by some locals. This brewery has eleven different beers on keg, with smaller packaging available to take back to your accommodations if you so desire.
If you are touring around the Noblessner seafront in the summer time it looks like a stellar place to start, grab a beer, unwind a bit and really take in the relaxing seaside chic atmosphere of Tallinn.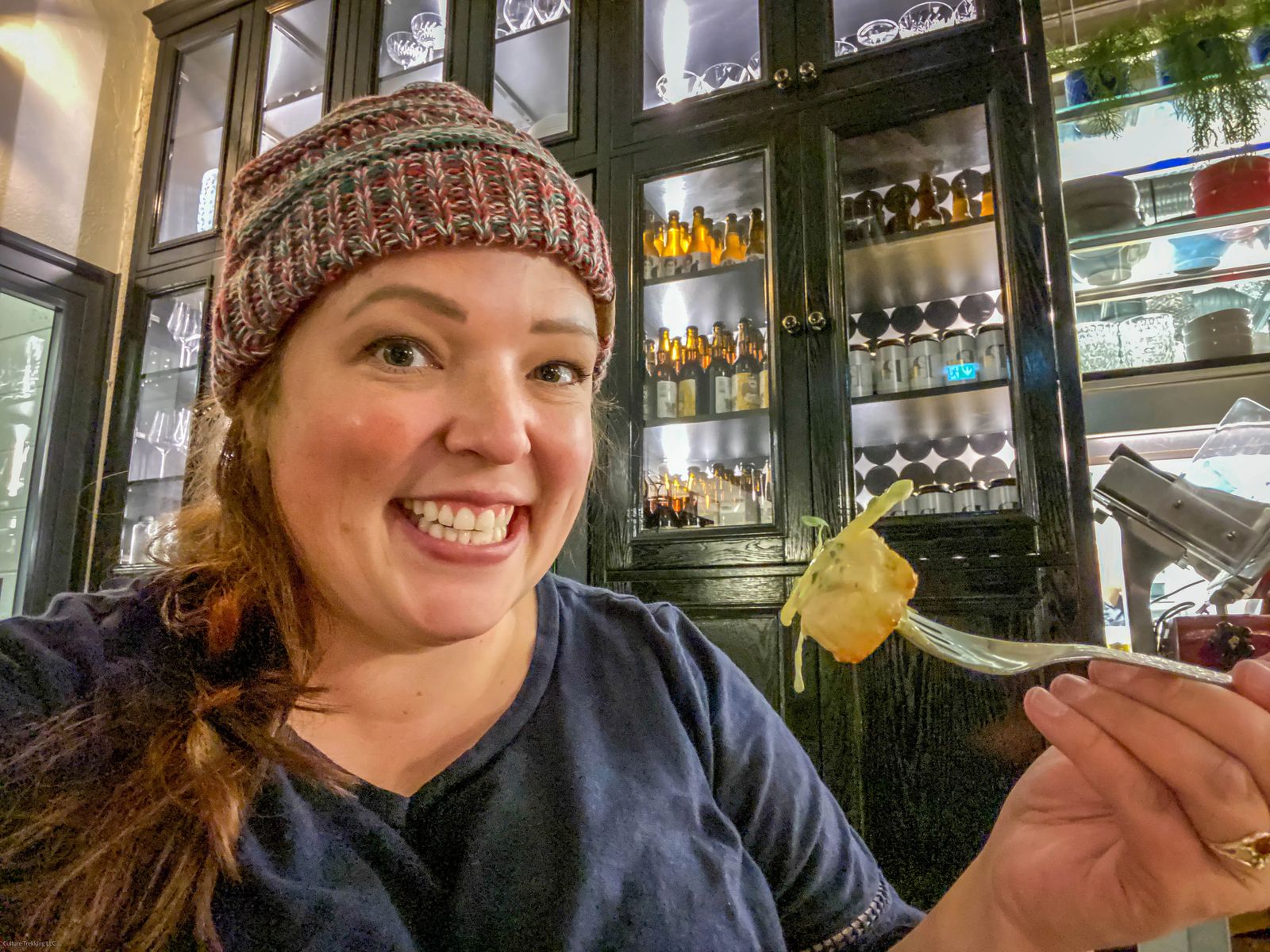 MY Takeaway Of Best Places To Eat In Tallinn
Don't go and eat at a restaurant right in Town Hall Square, please! These restaurants are located all over the city, run by locals who truly put their heart and soul into their food. There are menus here to fit every budget, from Michelin dining to comfort classics. I truly believe that while we don't all speak the same language, there is always a universal language of enjoying food. A culture can be represented on a plate, memories of your travels captures in the presentation or flavors, and this is how you truly discover how passionate a people are - but diving into the foodie side of their culture.
I hope this gave you a few ideas on where to eat in Tallinn to really get to know its culture, ideals, goals and people. If you have any other unique restaurants in Tallinn you have eaten at and would suggest, please feel free to leave them in the comments below.
Like it? Pin it for later! Sharing is caring ;)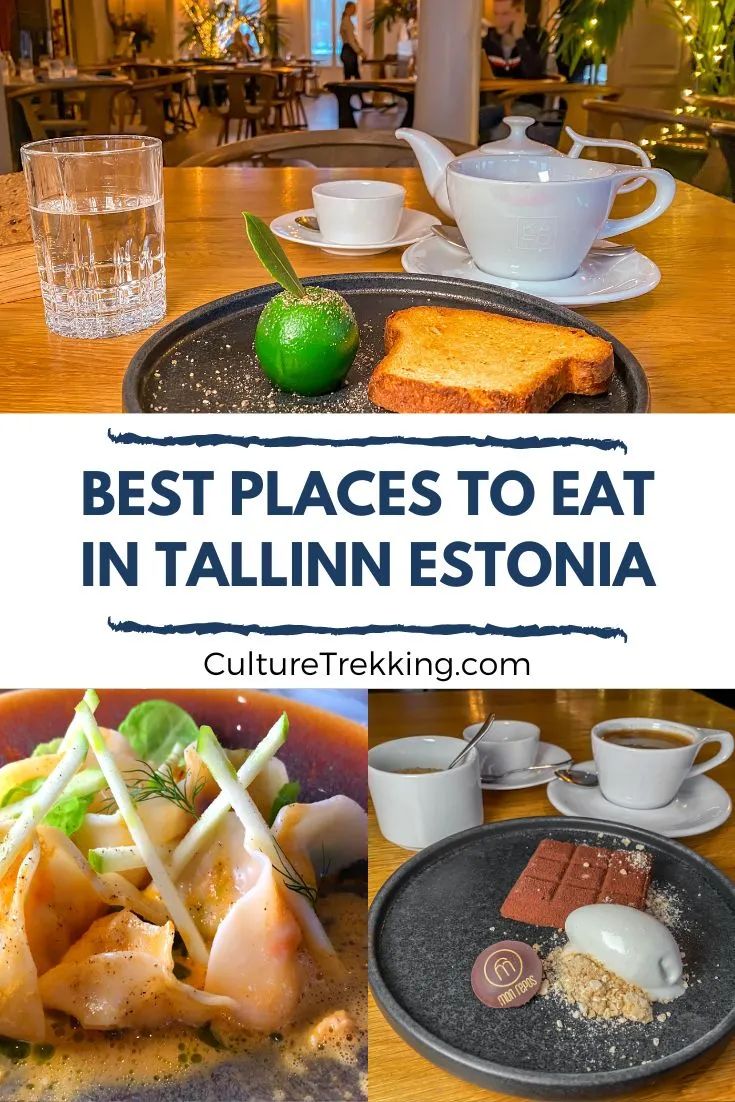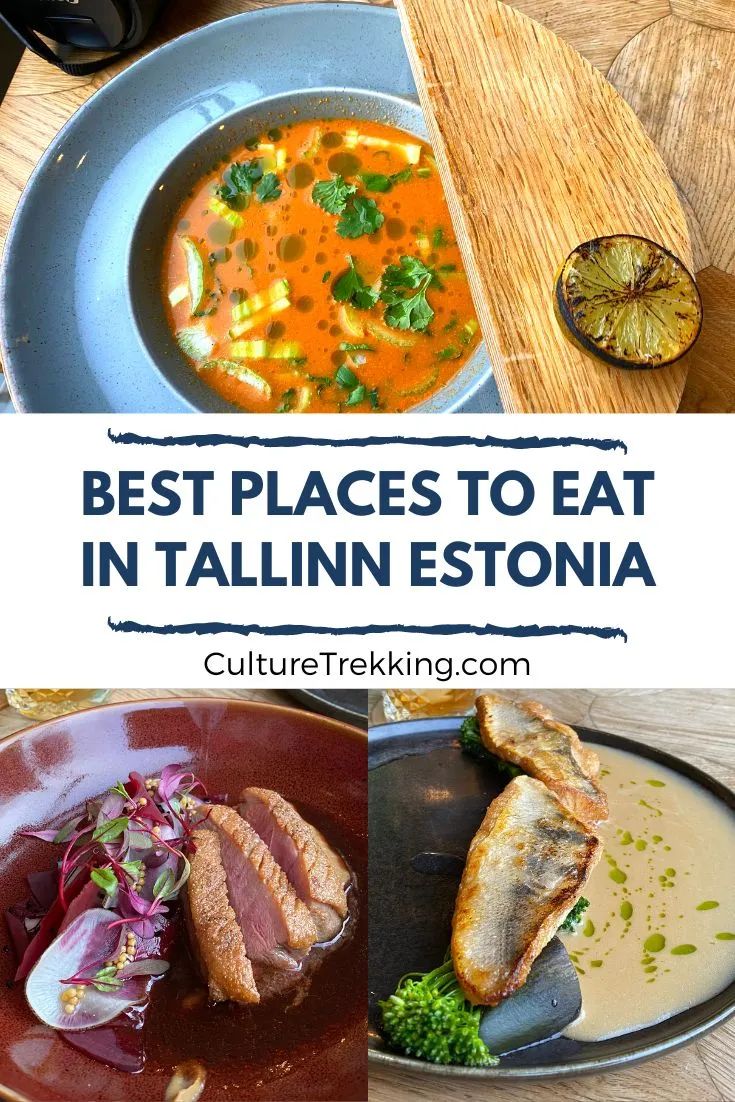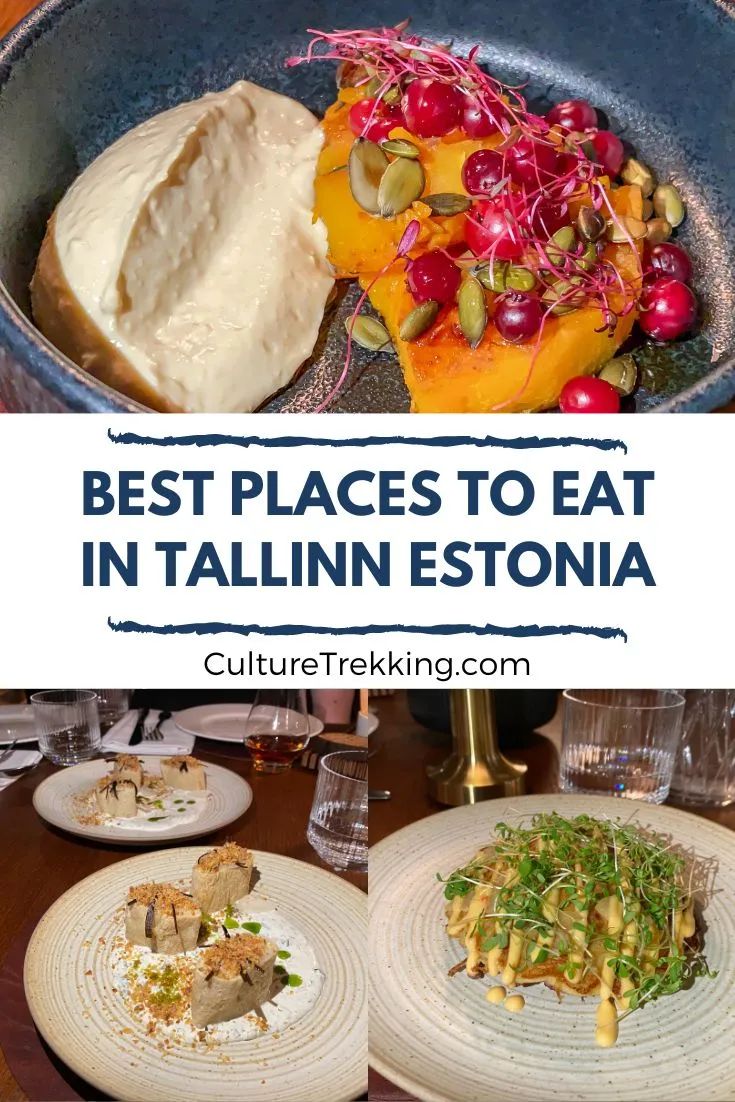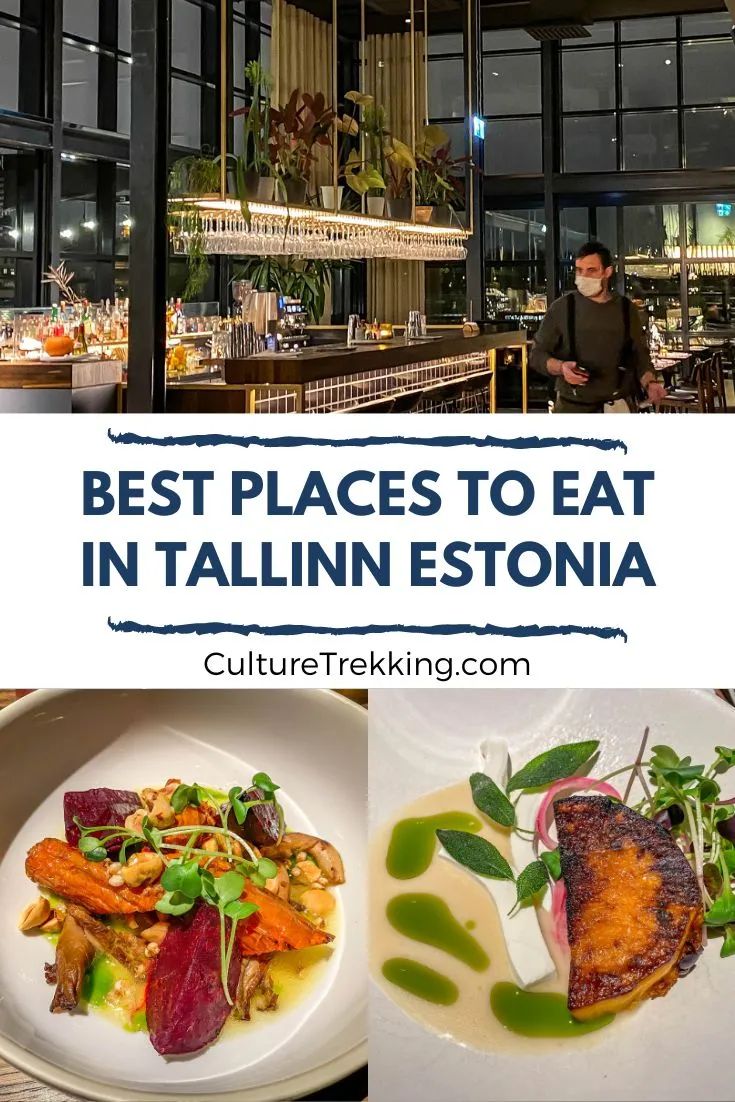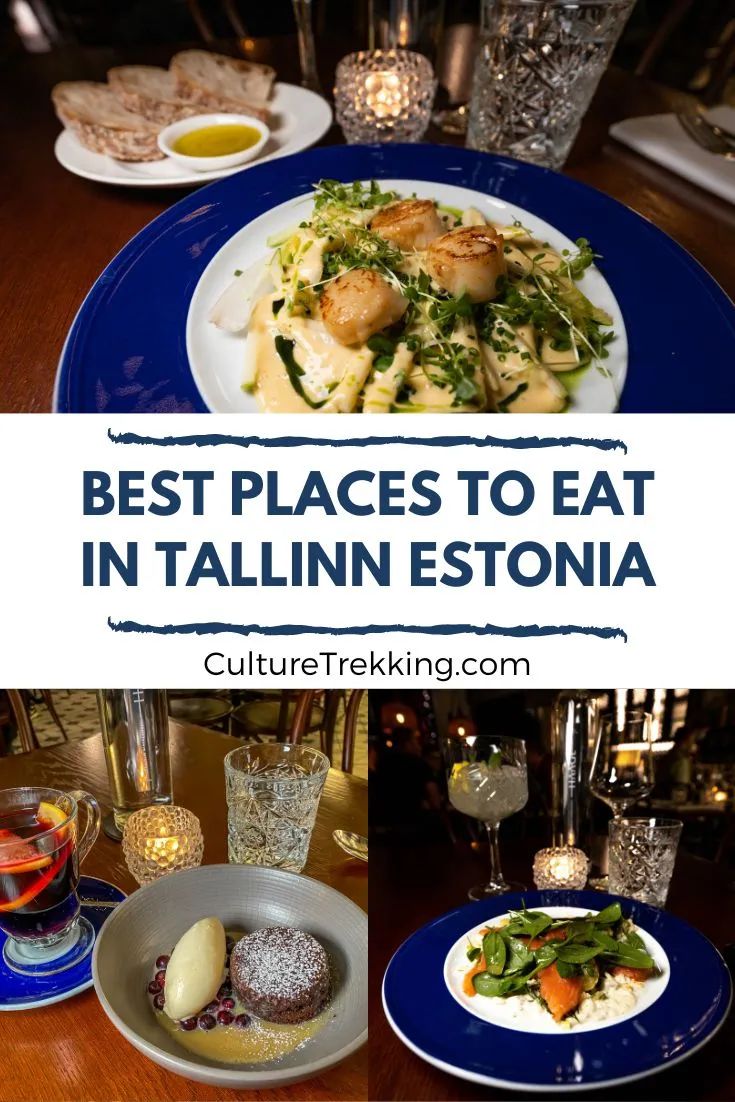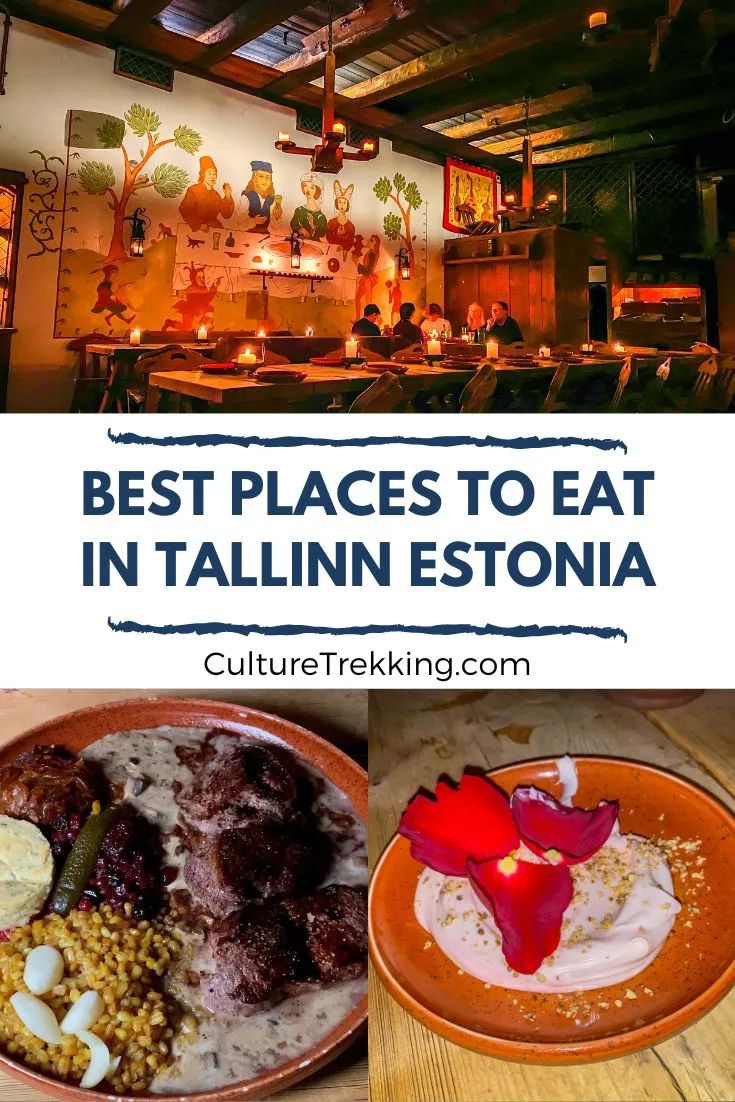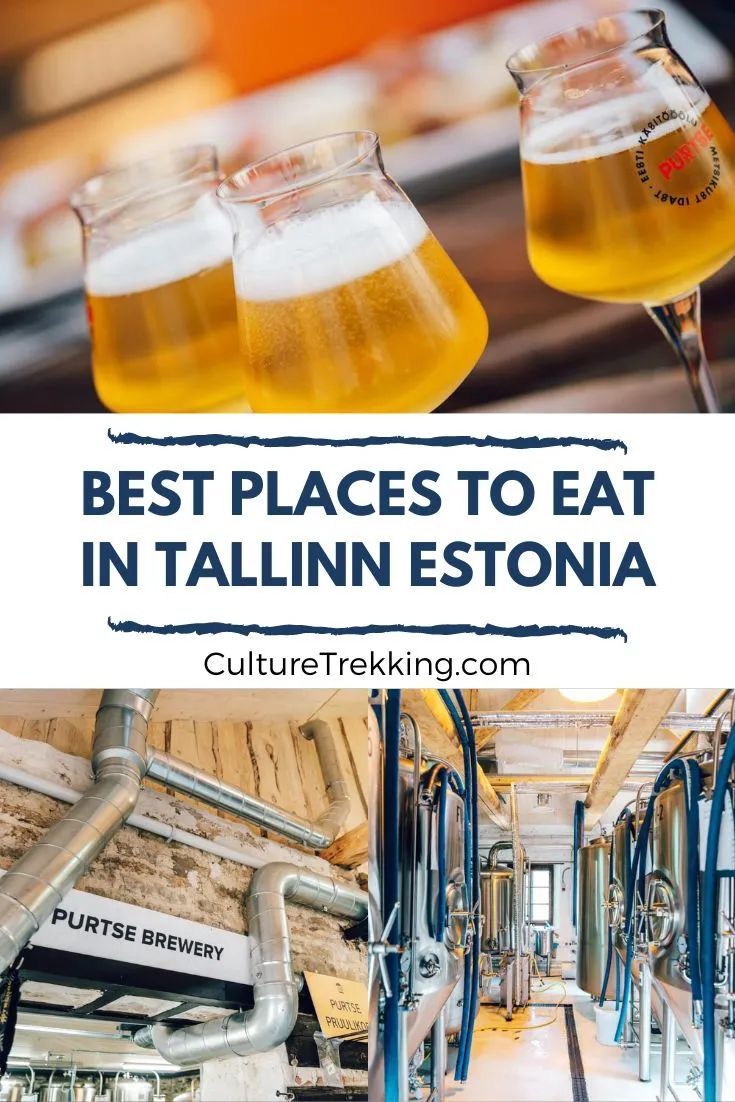 Latest Articles On Culture Trekking