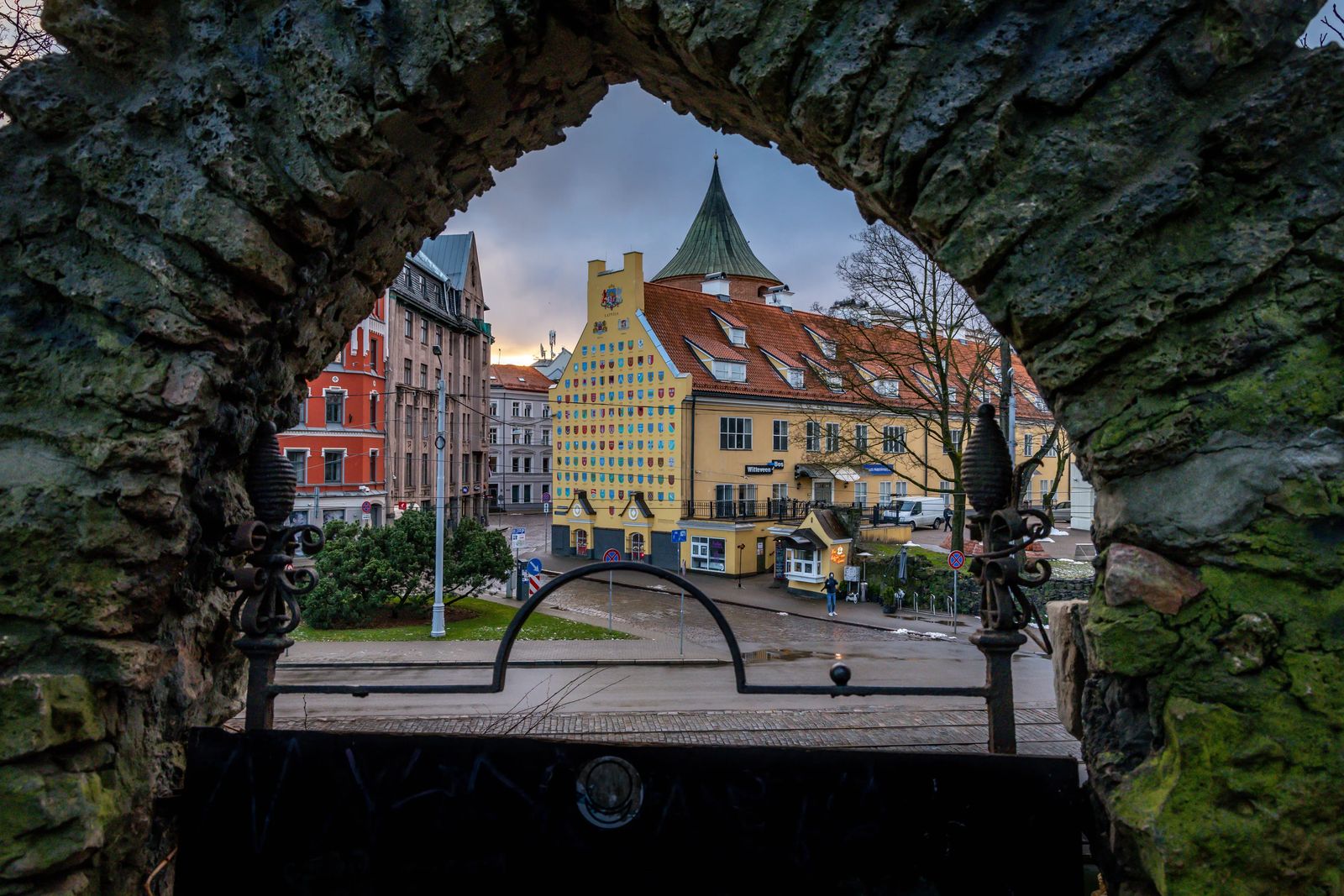 Best Things To See in Riga Latvia in Winter
Going to Europe in winter may not be to everyone's liking, however, I want to show you that it is actually an excellent time to go to avoid crowds, get cheaper rates on rooms, AND hit some of the BEST Christmas Markets in Europe. Some of the best things to see in Riga Latvia in Winter are the Freedom Monument, Ethnographic Outdoor Museum, the Cat House and the House of the Blackheads - while these are just a few, keep reading for more hidden gems and unique things to see in this UNESCO city.
I visited Latvia in November of 2021 and while I only spent about three days in the city, I could have easily spent five and definitely plan on going back. Riga also had another restaurant designated a Michelin Star in 2022 the 3 Pavāru Restorāns. We were able to eat here prior to this designation and it truly was like experiencing food art, they set out a canvas in front of your and artistically place your food in front of you. For more tidbits like this on unique things to see while in Riga, keep on reading and know I will be updating this article every year to help ensure you have the most accurate information possible for your visit.
Riga Old Town (Vecriga)
The Old Town of Riga is a UNESCO Heritage site, it is pretty compact as it is a medieval city with city walls to protect It so everything is pretty compact and everything is within a 15 minute walking distance. While many of the buildings were leveled during WWII the city was rebuilt with fervor by its citizens in 1990 to regain tourism and further financial independence from the Soviet Union.
Stop by the Rozena iela that is such a narrow street you can touch both sides of it as you walk.
Skarnu Street is where you will find the arts and crafts markets with local souvenirs.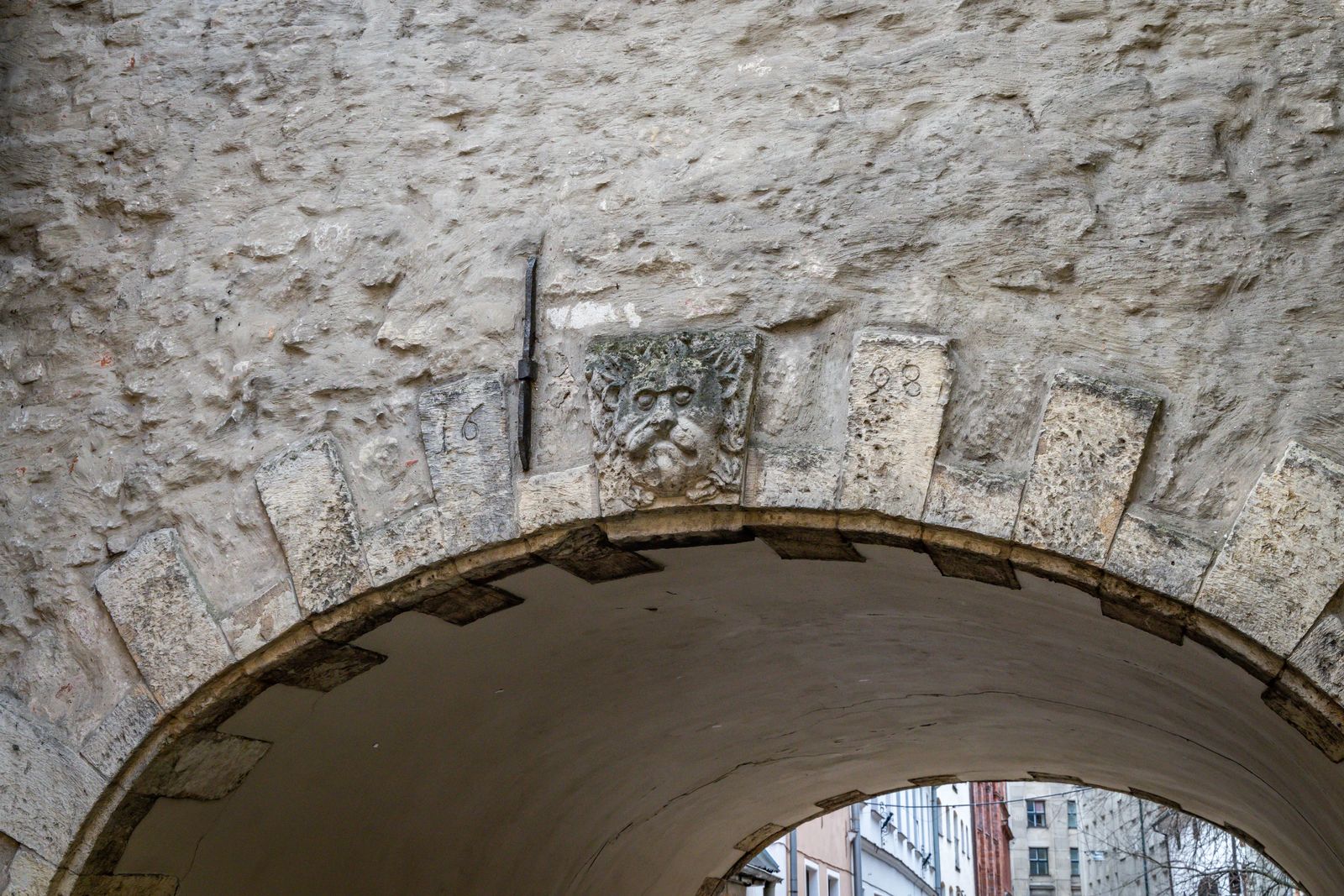 The Swiss Gate (Zviedru vārti)
Address: Atgriežu iela, Centra rajons, Rīga, LV-1050, Latvia
To really get a taste of the medieval times you have to find the outer gates that protected the ancient city. There were eight gates in Riga that controlled entrance into the city. Protection was key and an internal water source in every european medieval city as it allowed for greater resistance to sieges.
Riga was WELL protected with a massive stone wall, 20 towers, and a 295 foot (90m) moat that surrounded it.
This little section called the Swiss Gate, was turned into an apartment and thus survived the dismantling of the other sections of the fortification walls. The owner of the apartment? Well it was the city executioner himself. I always wonder about the mental stability of executioners in the medieval times......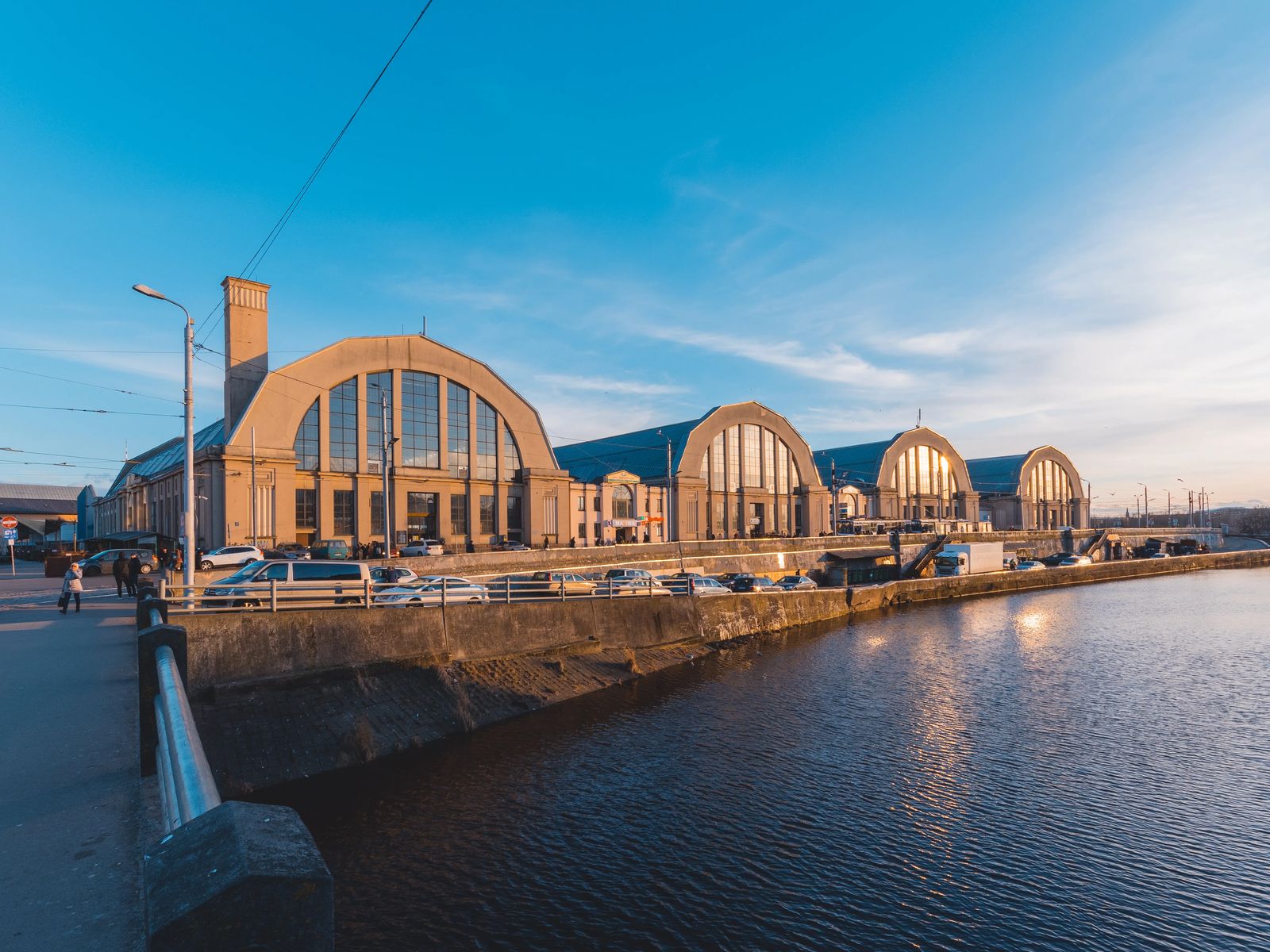 Riga Central Market
Address: Nēģu iela 7, Latgales priekšpilsēta, Rīga, LV-1050, Latvia
Riga Central Market opened in 1920-1930s in an old air hanger, this is a Latvian food and local artisan paradise. There are different sections, it is all indoors, and you get to try loads of different local delicies on the cheap. Don't underestimate the size of this place though, there are lots and lots of things to savor and try so don't fill up in just one spot. You can get smoked eels, a layered Rye bread dessert, reindeer meat, elk meat and hemp paste.
This market is included under the protection of the UNESCO World Heritage Site because it once housed the German Zeppelin Hangars in its pavilions. Each hanger has it's own special treat with fish, meat dairy or vegetables.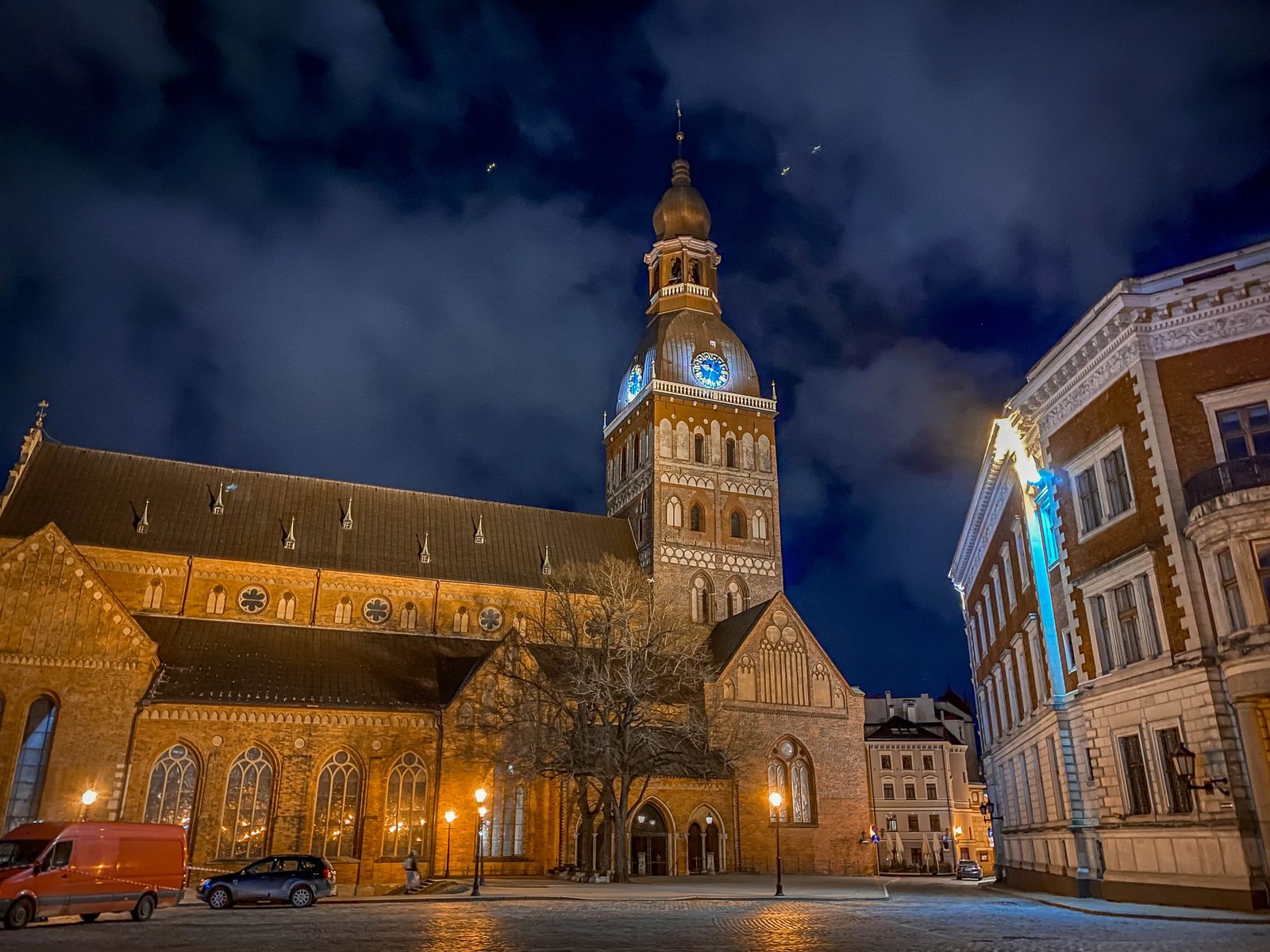 Riga Free Walking Tours & Airbnb Experiences
Free Walking Tours are a great way to see the old city and hear about the culture, people and do it quickly so that you can pick and choose which buildings in particular to go back to and explore more. The guides aren't particularly paid, but I do suggest bringing a tip (10-15% is customary).
It is fun to be able to get a locals perspective, ask questions about memories they have in the city, and where they go to hang out. Often when you follow a guide book or video you miss a lot of the authentic side of a city.
Another great way to get a locals perspective is by doing Airbnb experiences. Families and individuals offer up services to help you experience art, crafts, even cooking meals together. You meet some incredible people this way, and maybe can even learn a new skill.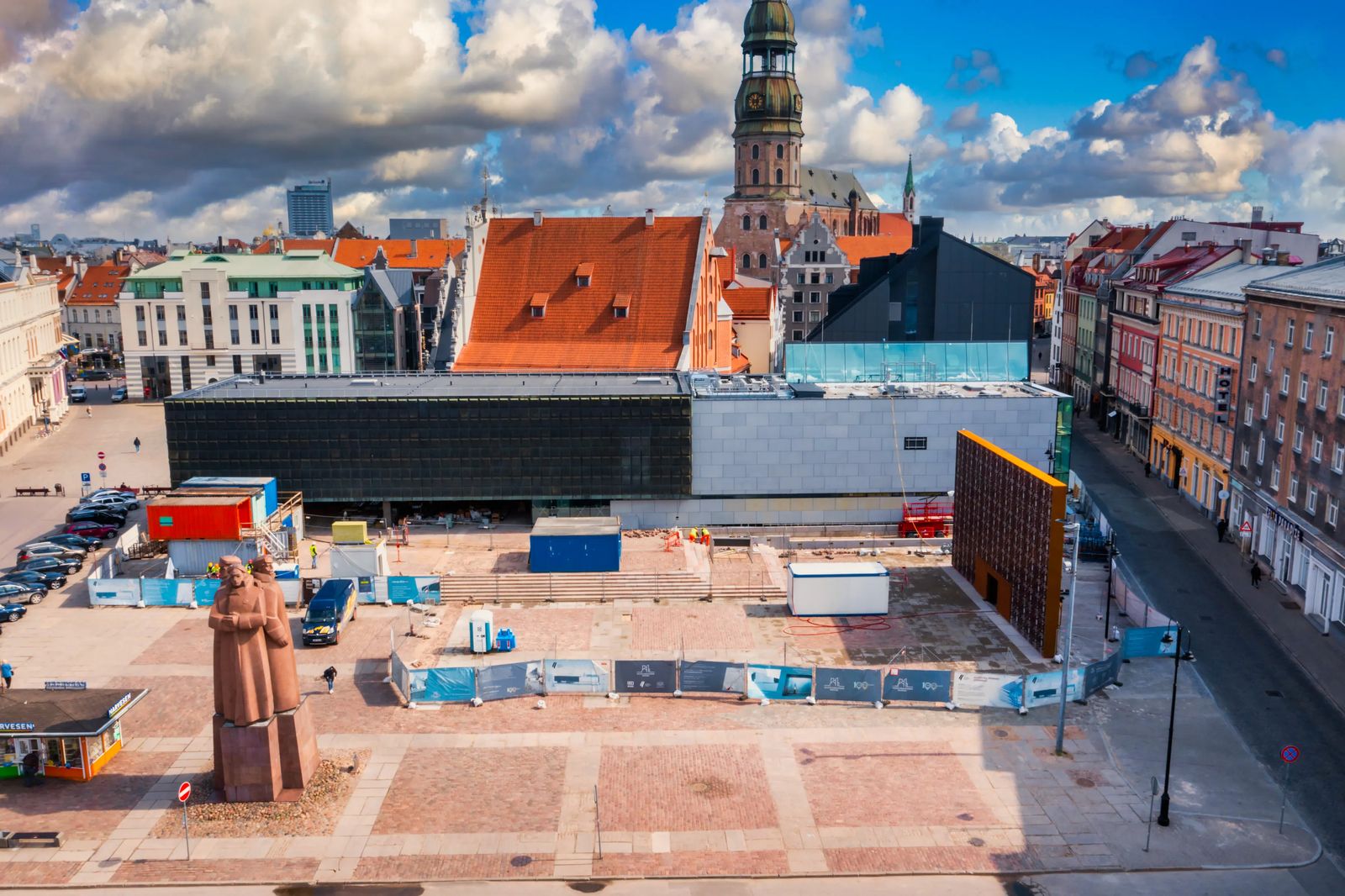 Museum of Occupation Of Latvia
Address: Raiņa bulvāris 7, Centra rajons, Rīga, LV-1050
The Museum of Occupation tells a dark story of Latvia's 20th's century. It was during the 1940's that thousands of Latvian citizens being deported to the Siberian Gulags and hard labor forced upon its citizens, and there was decades of hard rule from the Soviet Union.
It wasn't until 1991 that they were able to re-establish their independence and slowly start to regain their history and independence.
On Brivibas Street there is also a former KGB Operations Center now turned museum that will show you the prison cells they used. These KGB museums can be found throughout the Baltics and shows how Russians used brutal and harsh measures to both extract information, kill the prisoners and hide the bodies from the citizens. Consider yourself warned if you get a bit squeamish or are affected by things of this nature.
It tells of how Victims were shot in the back of the head. A hole in the corner drained the blood from the victims. The walls were lined with black rubberized fabric to dampen sound, the door was soundproof on both sides with 3 layers of felt and artificial leather - then they would turn on an automobile engine to further dampen sounds.
The bodies were wrapped in a Finnish army-style tent and loaded into a truck with a garage next to the chamber that was specially built to help dispose of the bodies. There is a basement with secret tunnels and isolation rooms without windows. All forms of torture and highly disturbing practices, yet I still think it is important to educate ourselves on what could be or has been so that we can prevent it in the future and stand up for those subjugated to this kind of thing.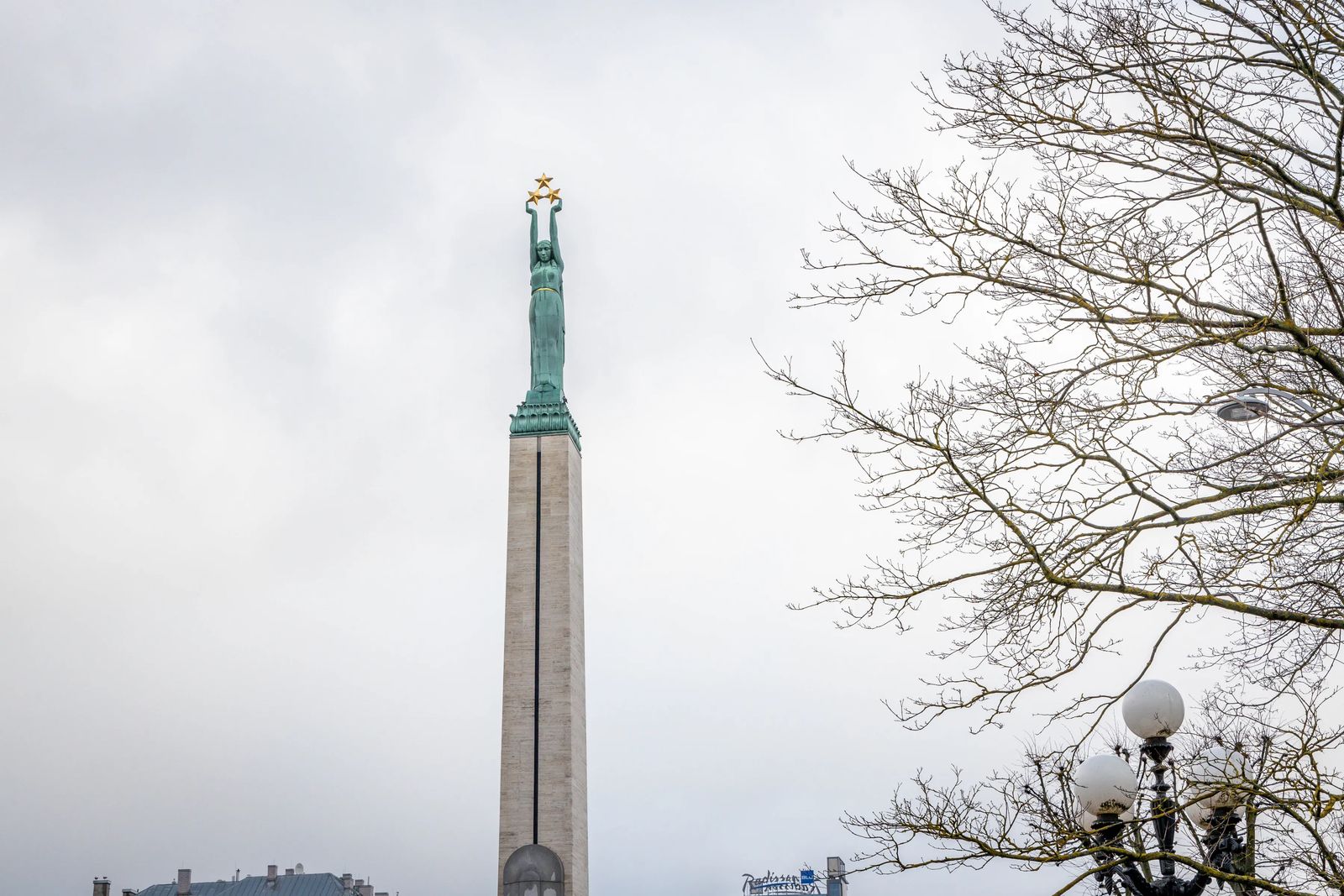 The Freedom Monument
Address: Central District, Riga, LV-1050, Latvia
This granite 138 foot (42.7m) monument represents the freedom of independence from Russia. It has 56 sculptures on it, with different groupings on four different levels to depict different time periods of Latvian history. It was built in 1935, right on the site where a statue of the Russian Ruler Peter the Great once stood. Not only does it symbolize independence but is also a memorial to those soldiers who were killed during the Latvian War of Independence. One of these is George Armistead, he is attributed to helping turn Riga into a thriving European metropolis of art, history and economy.
At the base of the monument you will find the Fatherland and Freedom motto.
At the top you see a woman, made from copper, holding three stars that are connected, which are said to represent both unity and the three different regions of Latvia.
The two-man honor guard, they symbolize Latvia's sovereignty. Every hour between 9 am and 6 pm you can see the guards change. If it is bad weather though, you may not see them there.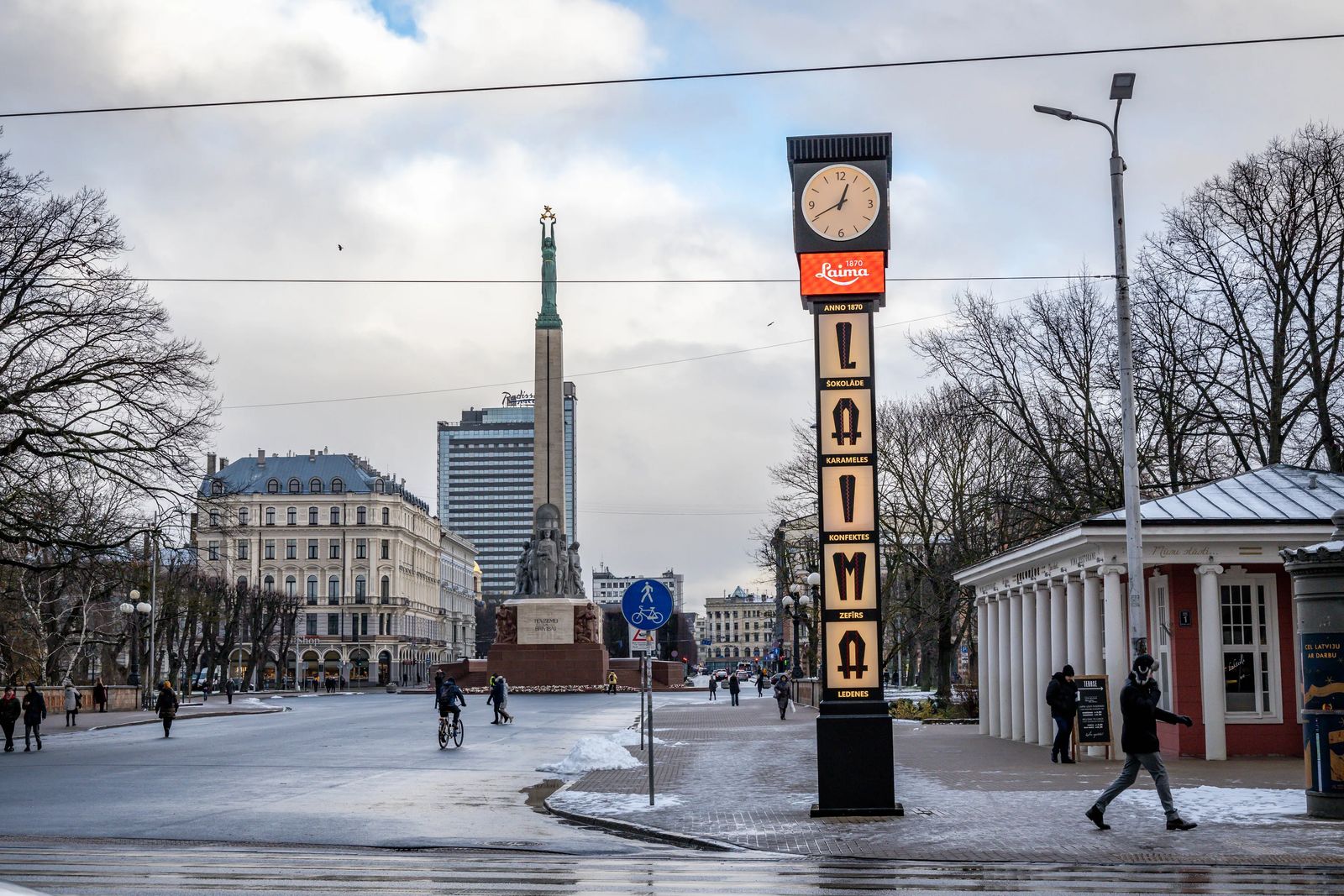 Laima Clock
Address: Aspazijas bulvāris 20, Centra rajons, Rīga, LV-1050, Latvia
This clock is a central landmark between Old Town and the commercial district in Riga. It is considered a central meeting place and a great starting place to do walking tours. Built in 1924, it was used as a Latvia SSR political information stand. Recently re-constructed in 2017 as a 100th anniversary of the Latvian Republic.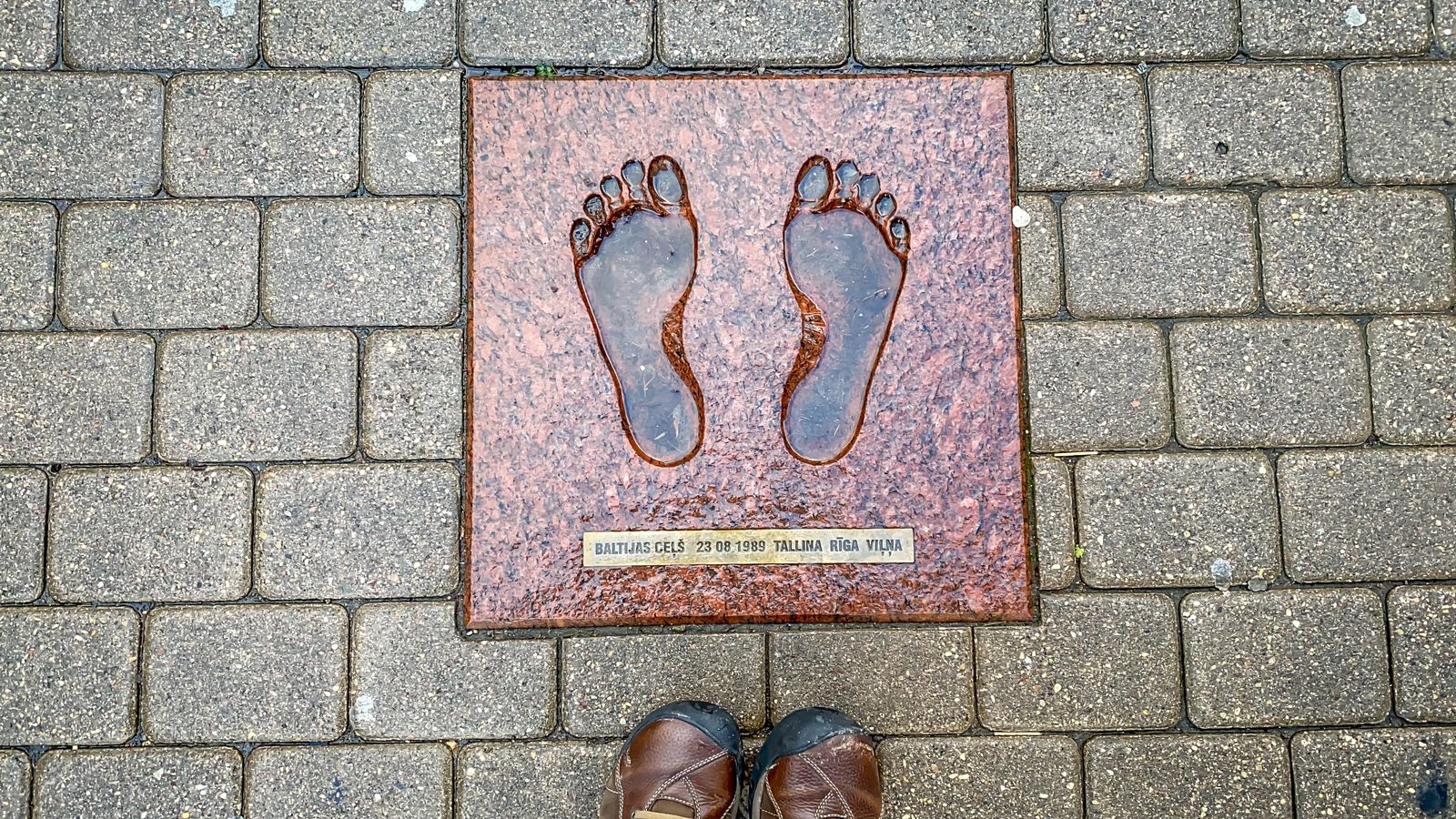 The Baltic Way Footprints
Address: In front of McDonalds right near the Laima Clock
The Baltic Way footprints are said to represent the unprecedented event of 2 million Latvian, Estonian and Lithuanian souls that joined hands in protest forming a 372.82 miles (600km) chain. It was done on the same day that the Molotov-Ribbentrop Pact had taken place 50 years earlier as a protest against the Soviet Occupation in the Baltics.
The protest was so significant and drew so much media attention, it is the reason talks with the UN were said to have been started to transition the Baltic States to freedom.
When you ask locals how they knew how to all do this without any internet, text messaging etc...They simply respond, "We knew in our hearts it was time".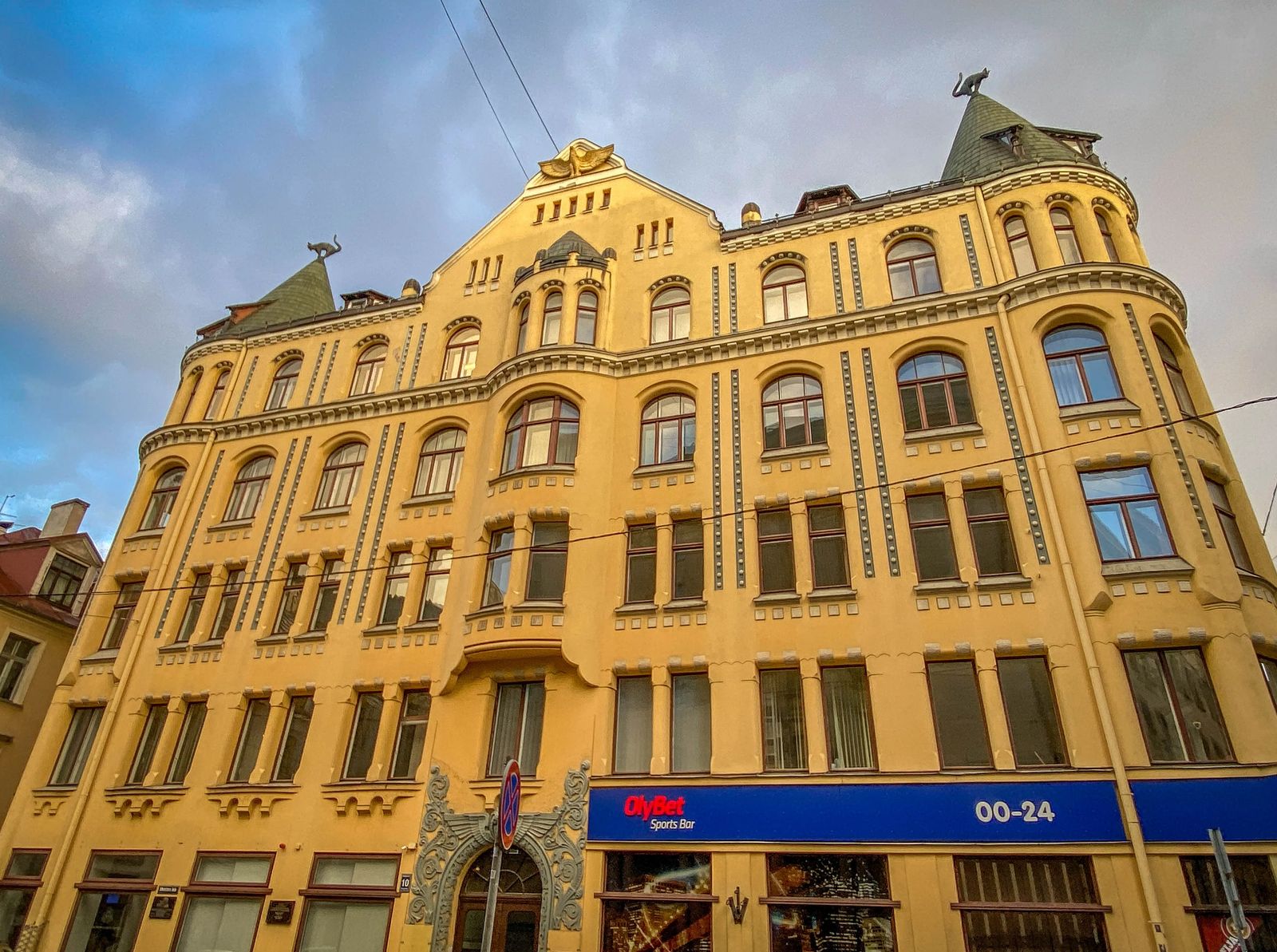 The Cat House (Kaku Nams)
Address: Meistaru iela 10/12, Centra rajons, Rīga, LV-1050, Latvia
This art Nouveau house on Mistrau Street was built by Friedrich Scheffel for a wealthy Latvian Merchant who was the most snubbed and petty man in the city. He was turned down by the Great Guild (kind of like a noble club of elites for German Merchants). So in true petty noble fashion, he built this building right next to the Great Guild Building, and put cats on the top with their butts facing this prestigious building.
The Great Guild could not be dishonored this way, so they took him to court, but the merchant won his case and was later, and most begrudgingly admitted into the Great Guild and the cats were then turned the right way. They became so popular in such a short amount of time over this tiff, that they stayed on the building, now watching over the city and the restaurant and shops below.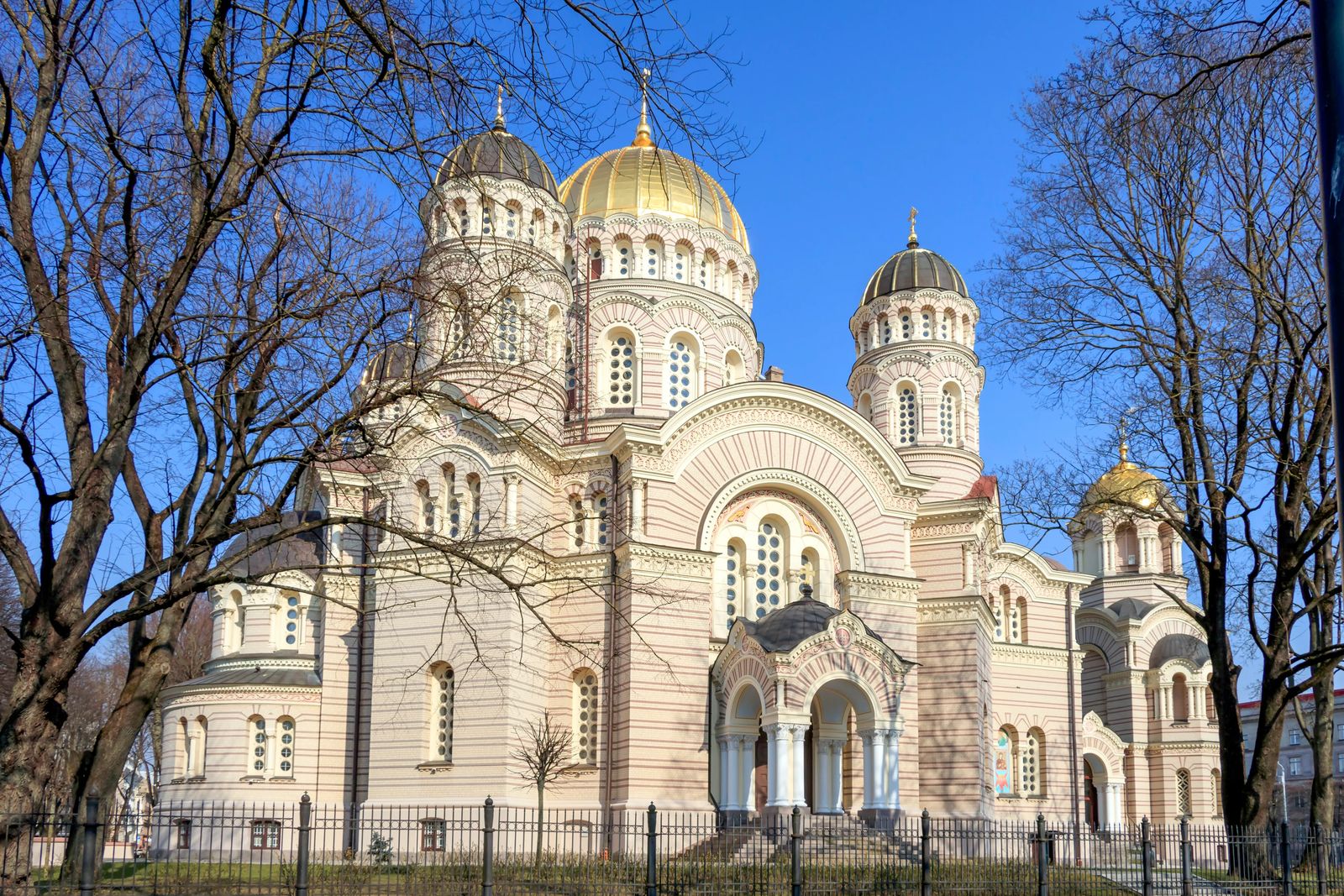 Riga Nativity of Christ Orthodox Cathedral
Address: Brīvības bulvāris 23, Centra rajons, Rīga, LV-1050, Latvia
This GORGEOUS Russian Orthodox Neo-Byzantine church was built in 1876 when Latvia was still a part of the Russian Empire. The central golden dome gleams over the street, almost mesmerizing patrons into taking a visit. Tsar Alexander II donated 12 church bells that later had to be melted down during the Soviet occupation for weapons, and the church was turned into a sort of University and Planetarium.
PRO TIP: Make sure you have a head covering to enter the church, and men are not allowed to wear shorts inside. (Yes I'm looking at your crazy men that think -10F is still good shorts weather)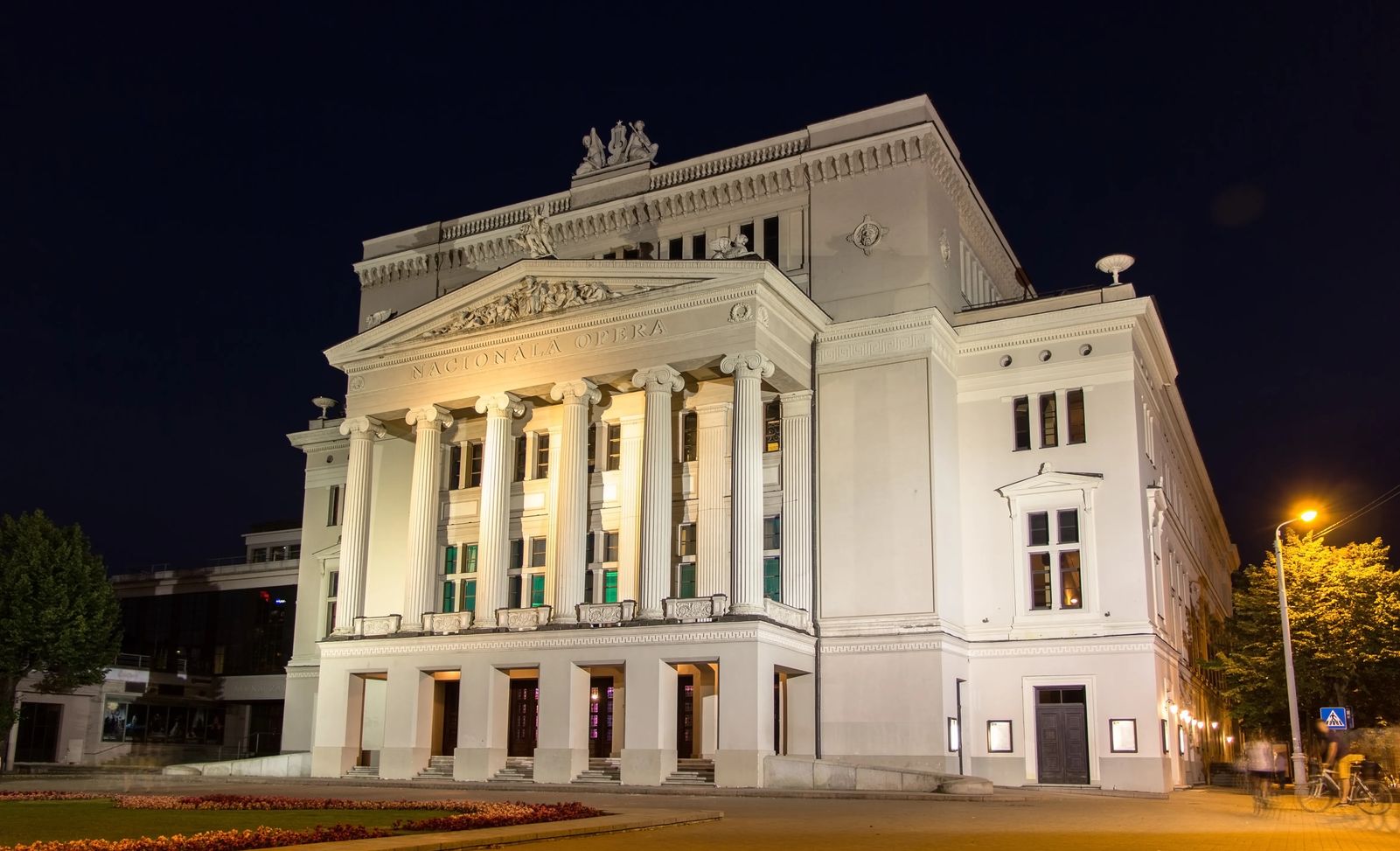 National Opera House
Address: Aspazijas bulvāris 3, Centra rajons, Rīga, LV-1050, Latvia
The origins of this building started back in 1782 with the Riga City Theatre, and have metamorphed into something celebrated throughout the country. It largely remained a theatre house from the 17th-18th century.
In 1912 the Latvian Opera began performing here with a production of Pyotr Tchaikovsky's Eugene Onegin. In 1915 the Riga Imperial Music School used this building for its concerts.
With the cold and dark winter months here, the people all across the Baltics take their Opera, Theatre and Ballets very seriously. Prior to the pandemic, the auditoriums would be filled to overflowing with evening performances with ballet, opera, plays, and concerts.
Jāzeps Vītols was instrumental in developing the Latvian Opera and has been revered since his time. Even when the Soviet power of the Bolsheviks came into town, Opera was still highly regarded, and funded by the Russian state budget. After a series of events the Opera House was finally restored, reconstructed and now plays host to an orchestra of more than 100 players, and 250 performances per year.
Fun Fact: The same architect that built the façade of the Blackheads house also built this building.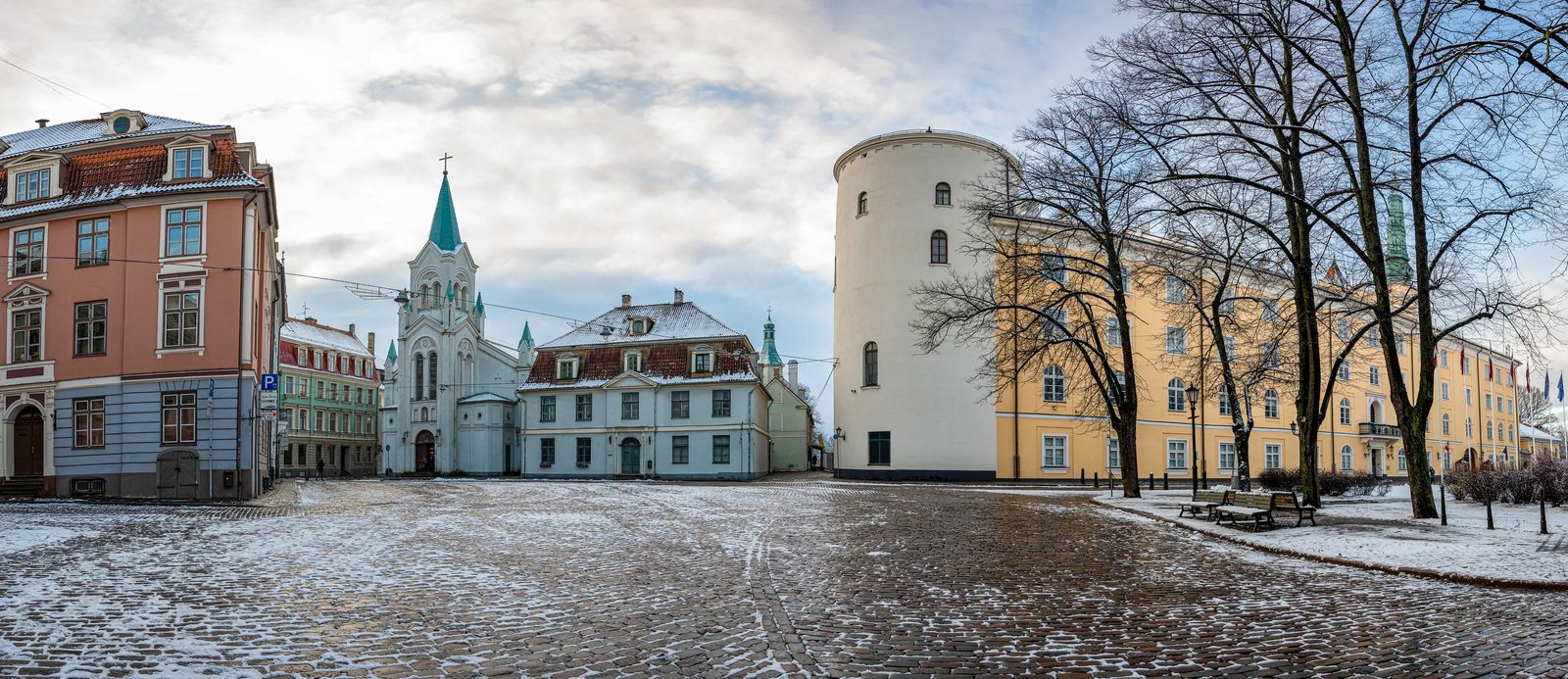 Riga Castle and Presidential Palace
Address: Pils laukums 3, Centra rajons, Rīga, LV-1050, Latvia
The Riga Castle has been the home of the President of Latvia since 1922, when the office of a president was officially established. It sits on the river bank of the Daugava and is an important historical and cultural landmark for Latvia. The Stone foundation that makes up the castle dates back to 1330, all the rooms were restored to their former glory with the occasional modern upgrade obviously.
You can read more about the history of the castle and it's construction here.
The Presidential Palace was on my list of places to visit while in Riga and is along the 'golden path' as I like to call it. A path that leads you to some of the top spots in the city, and you can pick up one of these maps at the Tourism Office near The House of the Blackheads. I ran out of time in the city as I was only there for about 36 hours unfortunately. The palace was also under major reconstruction and the area was closed off.
If you visit, please let me know in the comments below what you thought.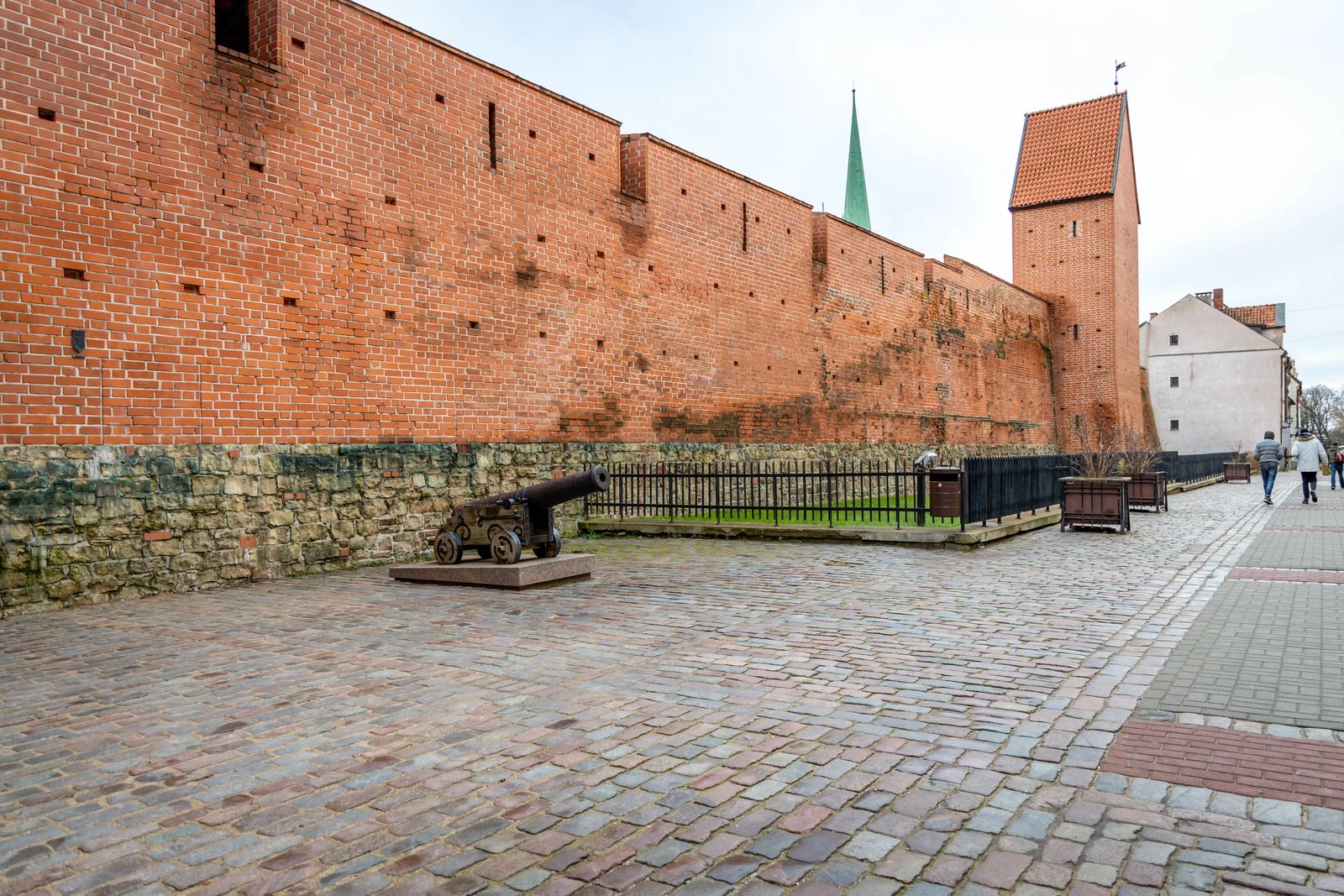 Museum of History of Riga and Navigation
Address: Brīvības bulvāris 32, Centra rajons, Rīga, LV-1050, Latvia
While many of the Baltic States had their historical items disposed of during Soviet rule, where there is a will there's a way, and the Latvian people have found a way to preserve a part of their history. Here at the Latvian National Museum of History you can browse through over a million historical treasures, clothing and more that will show you how Latvia has changed from the Iron Age up until now.
This is the oldest museum in Latvia and the contents were re-collected and sourced from communities to create it since the 18th century by the famous physician Nikolaus von Himsel.
This chapter house was built in the 13th century and has a groin-vaulted gallery with Column Hall that dates back to the 1778. The contents tell the story of the Hanseatic Port in the Middle Ages and the Polish and Swedish occupations from the 16th-17th century.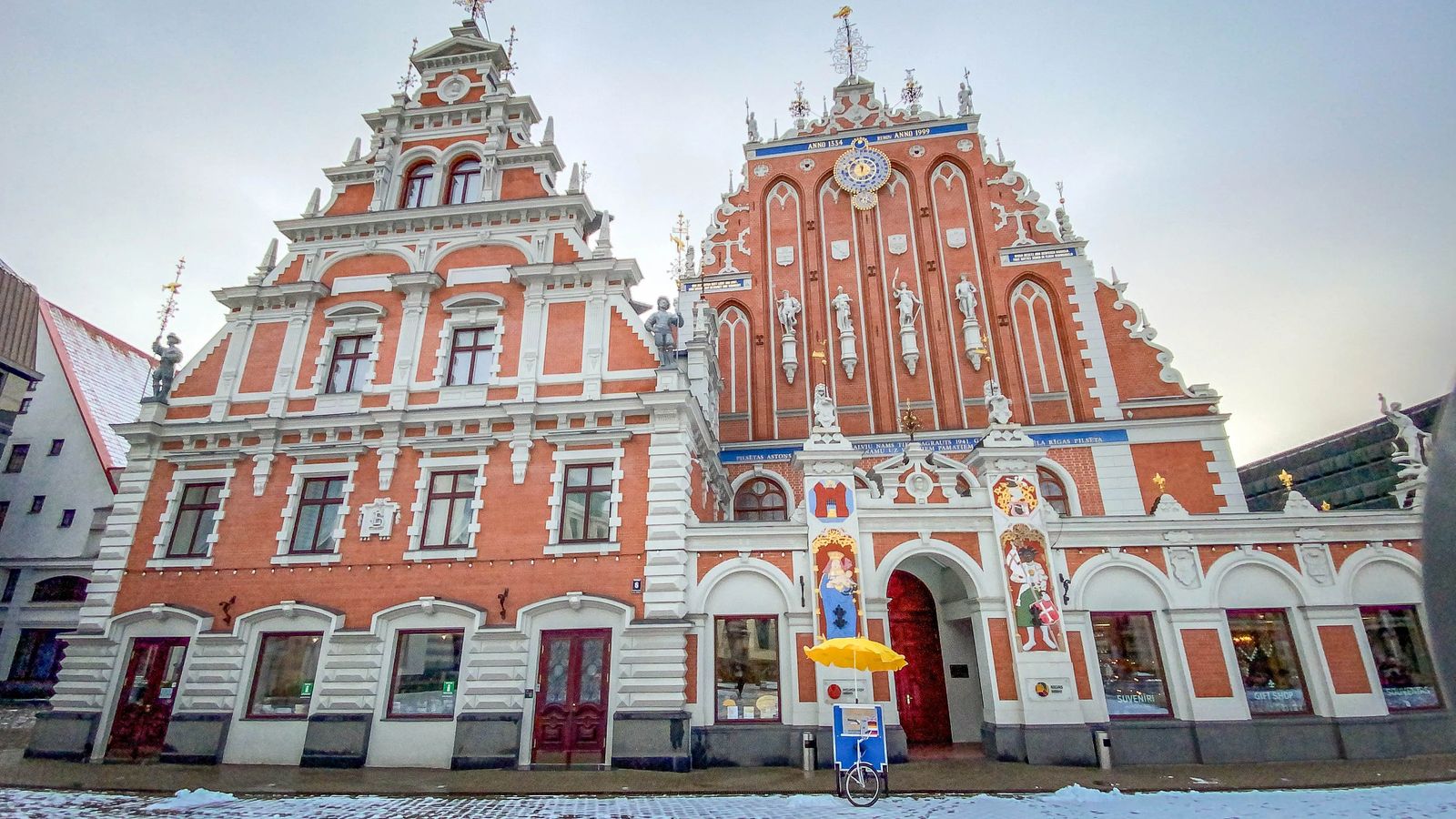 House Of The Blackheads
Address: Rātslaukums 7, Centra rajons, Rīga, LV-1050, Latvia
Constructed in the 13th - 14th century by the Brotherhood of Blackheads, a sort of upper class sect of unmarried merchants and shipowners in Riga. These Bachelors really knew how to throw a party and if you were anyone of importance or a maid looking for a husband, then this was the place to be.
The bottom floor has a museum dedicated to covering the history of the buildings, the middle floor with an impressive medieval silver collection and the upper floor that shows the beautiful ballroom and chandelier adornments.
There are painted ceilings in the conference hall, replicas of 19th-century chairs, sofas and weaponry. The building itself was completely demolished between WWII and the Soviet Occupation and was recently reconstructed in 1995-1999 but still maintains its original building plans and façade appearance. The façade is reminiscent of a Dutch Renaissance style and other various artistic trends of the time period.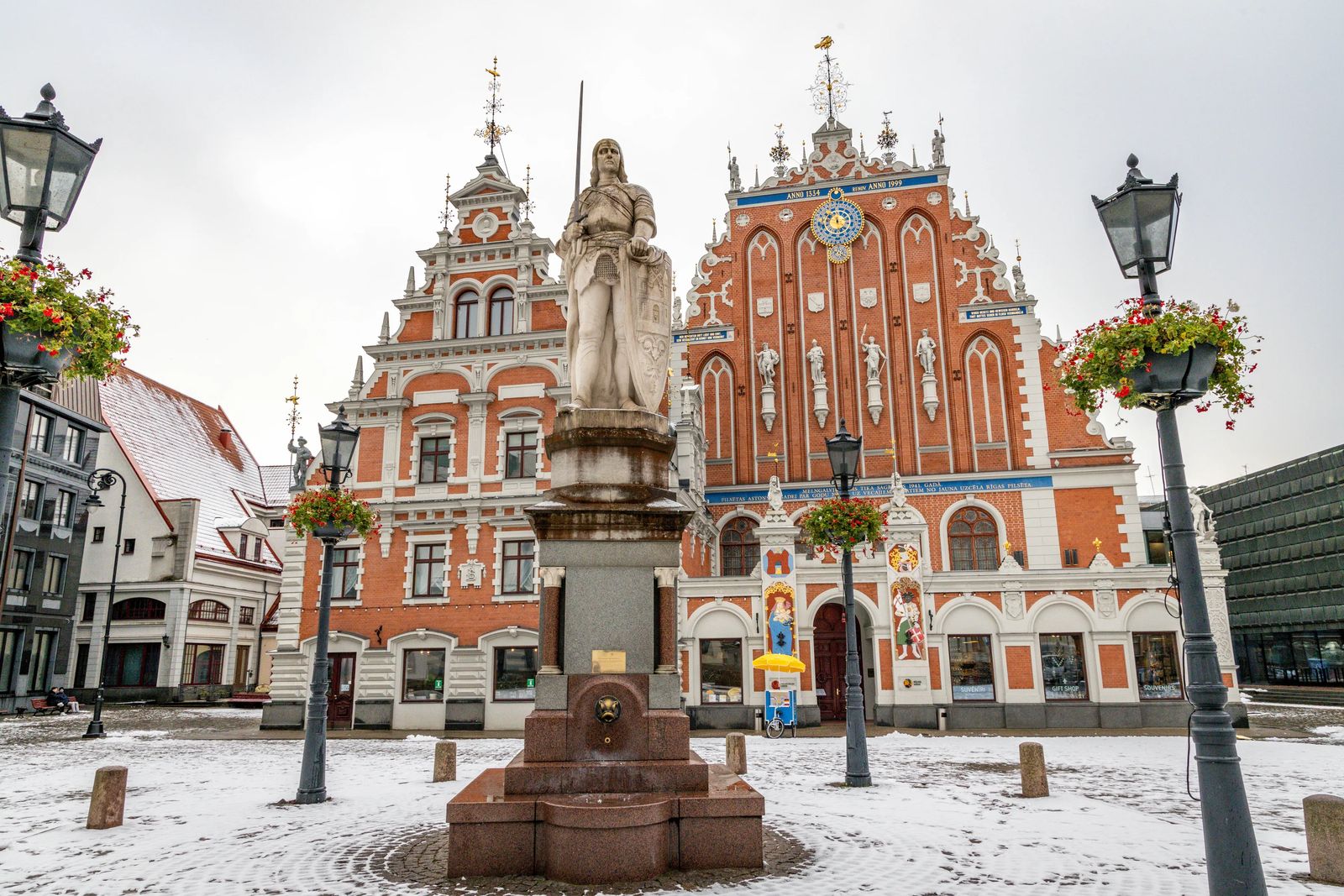 Roland Statue
This statue is said to represent the Medieval Hanseatic cities. He is a mythical knight with no real history, but makes for a great place for a picnic or meeting spot with friends.
There isn't much detail or story behind the knight itself, other than what your own imagination could conjure, so make up something fancy and tell your friends a grand tale that will make you look smart is what I say ;)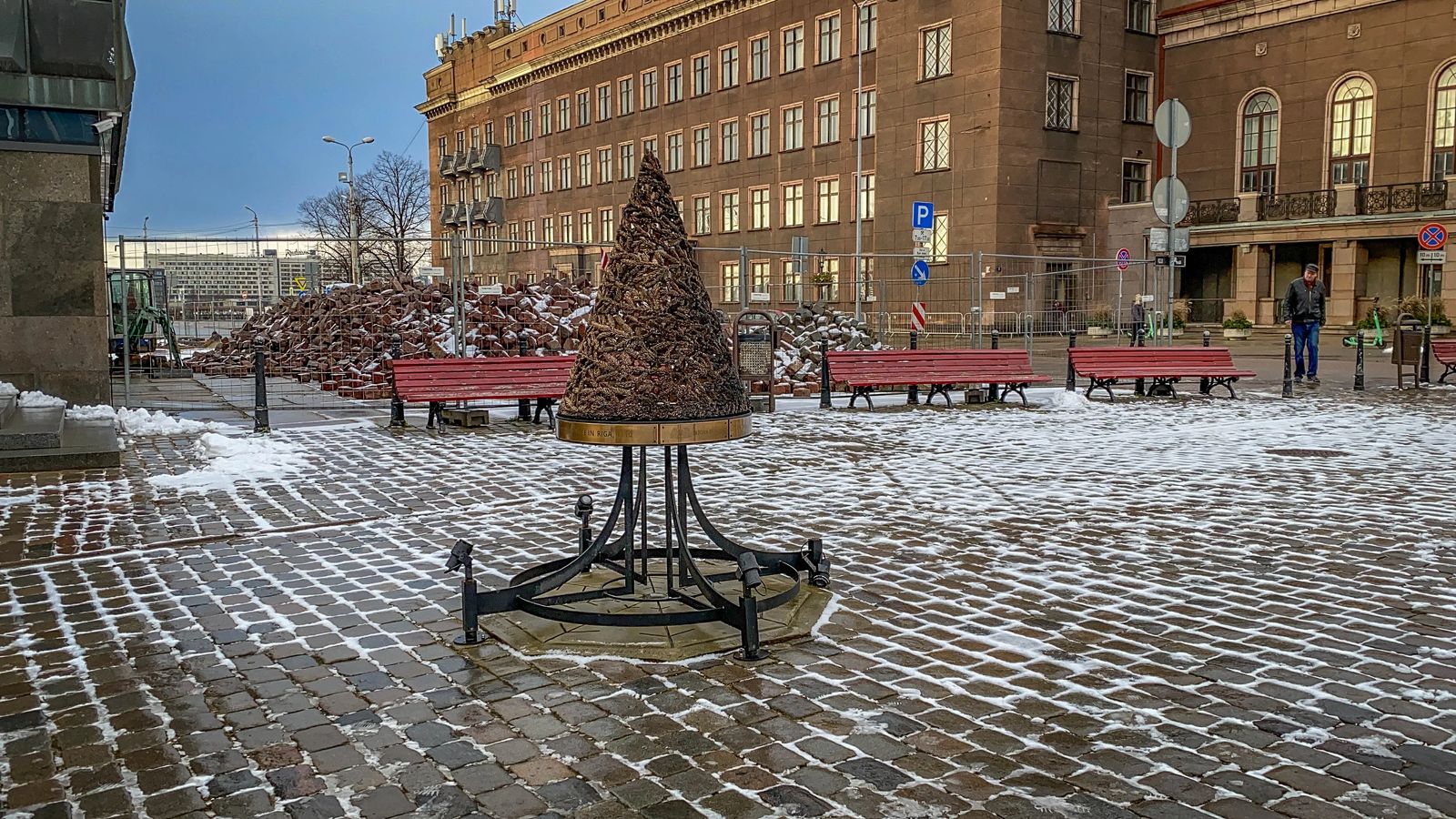 The first Christmas Tree
Outside the House of the Blackheads is a stone marker that is said to be the first site of the first Christmas Tree ever decorated! So if you are coming for the Christmas Markets then this definitely is a place to stop, point, take a picture and find somewhere warm.
They do put an actual Christmas Tree on that spot during Christmas, but we arrived just before they were going to put it up in November unfortunately.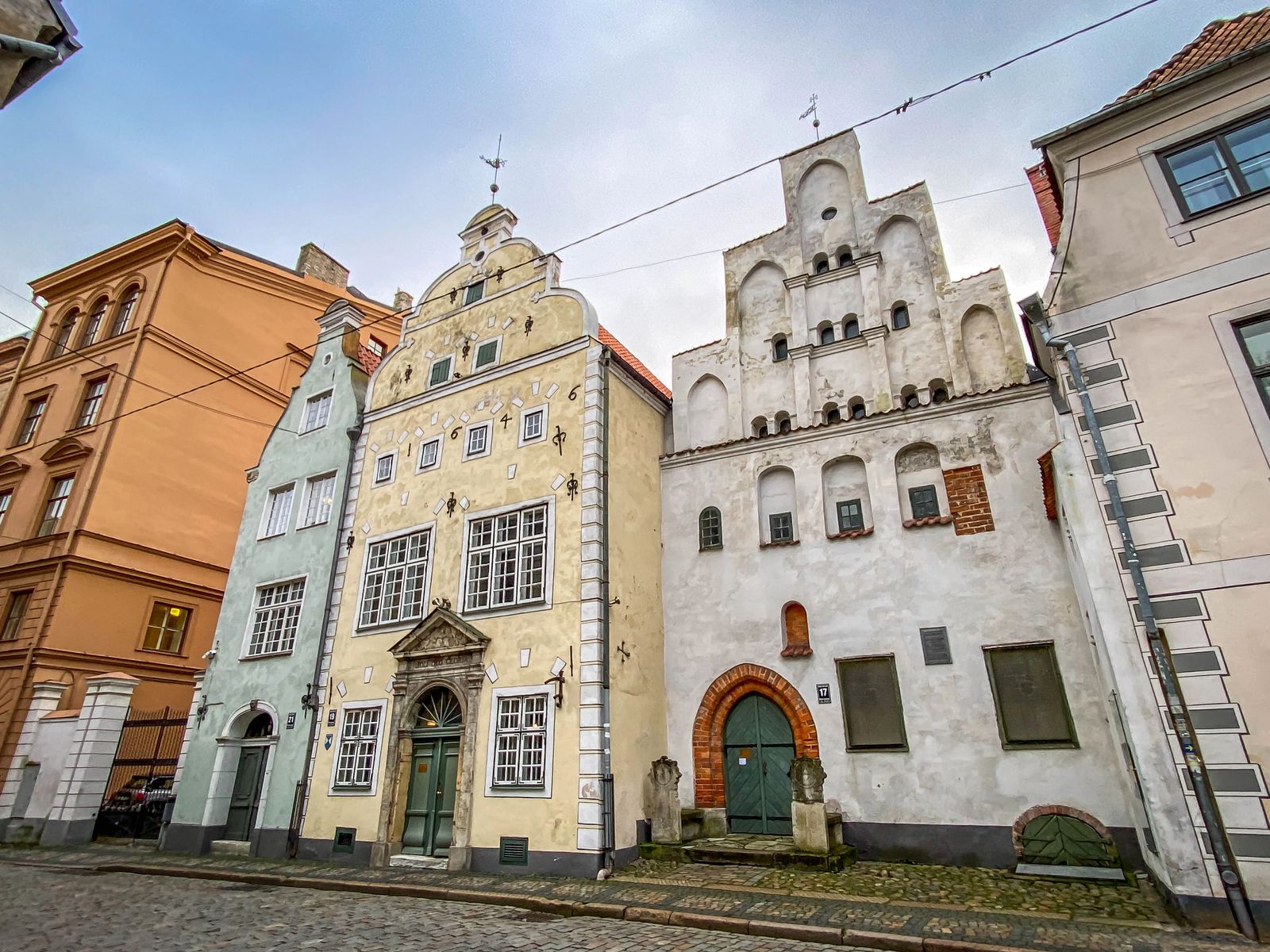 The Three Brothers Riga (Latvian Architecture Museum)
Address: Mazā Pils iela 17, Centra rajons, Rīga, LV-1050, Latvia
These three houses are right in Old Town and built closely together from three different descendants of the same family. They now house the Latvian Museum of Architecture.
These are the oldest complex buildings in Latvia dating back from the 15th century (not rebuilt). The oldest one is the one with the no 17 on it with the stepped gable and pointy door. Then follows No 19 from the 17th century in a Renaissance style, and No 21 in the Baroque style.
I didn't personally have enough time to go inside, so cannot vouch personally for the museum - however - it was really cool to see and be able to play 'what is different' between the different buildings. It helped me better understand how to pick out the different architectural styles between different time periods in this region.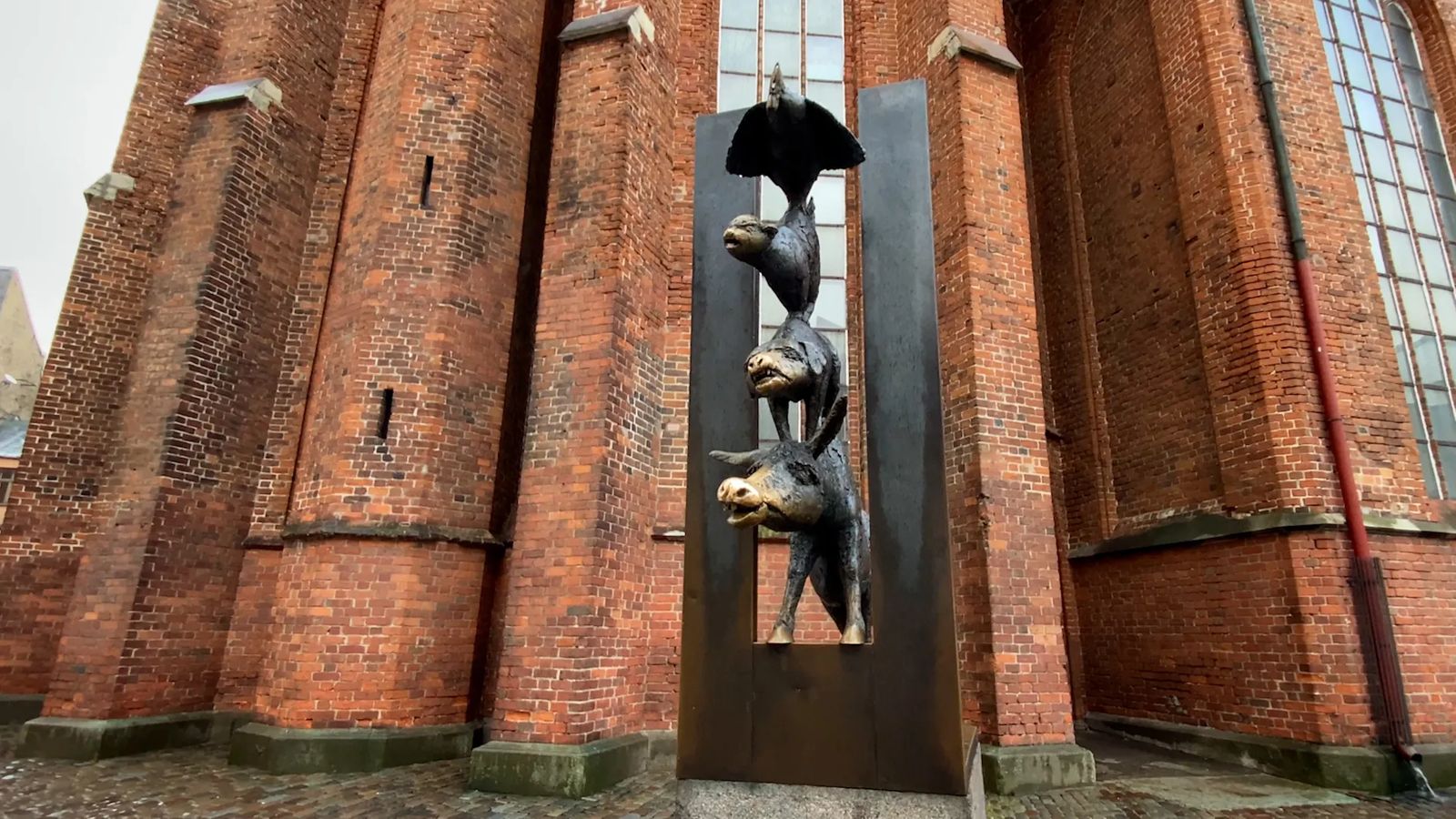 Town Musicians of Bremen
Address: Pēterbaznīcas iela, Centra rajons, Rīga, LV-1050, Latvia
Speaking of brothers, the Grimm Brothers inspired this sculpture of the four aging animals on each others heads. There is a donkey, dog, cat, and chicken who are terrified of being on the chopping block. They band together, literally, and become musicians that take off to start their own musical circus in Bremen.
It is said that if you touch each animals nose you will be blessed with good luck. It was hard to find where the Musicians of Bremen in Riga was located, so make sure to save the address above or use pin this page so you can access the map of all the locations mentioned here later.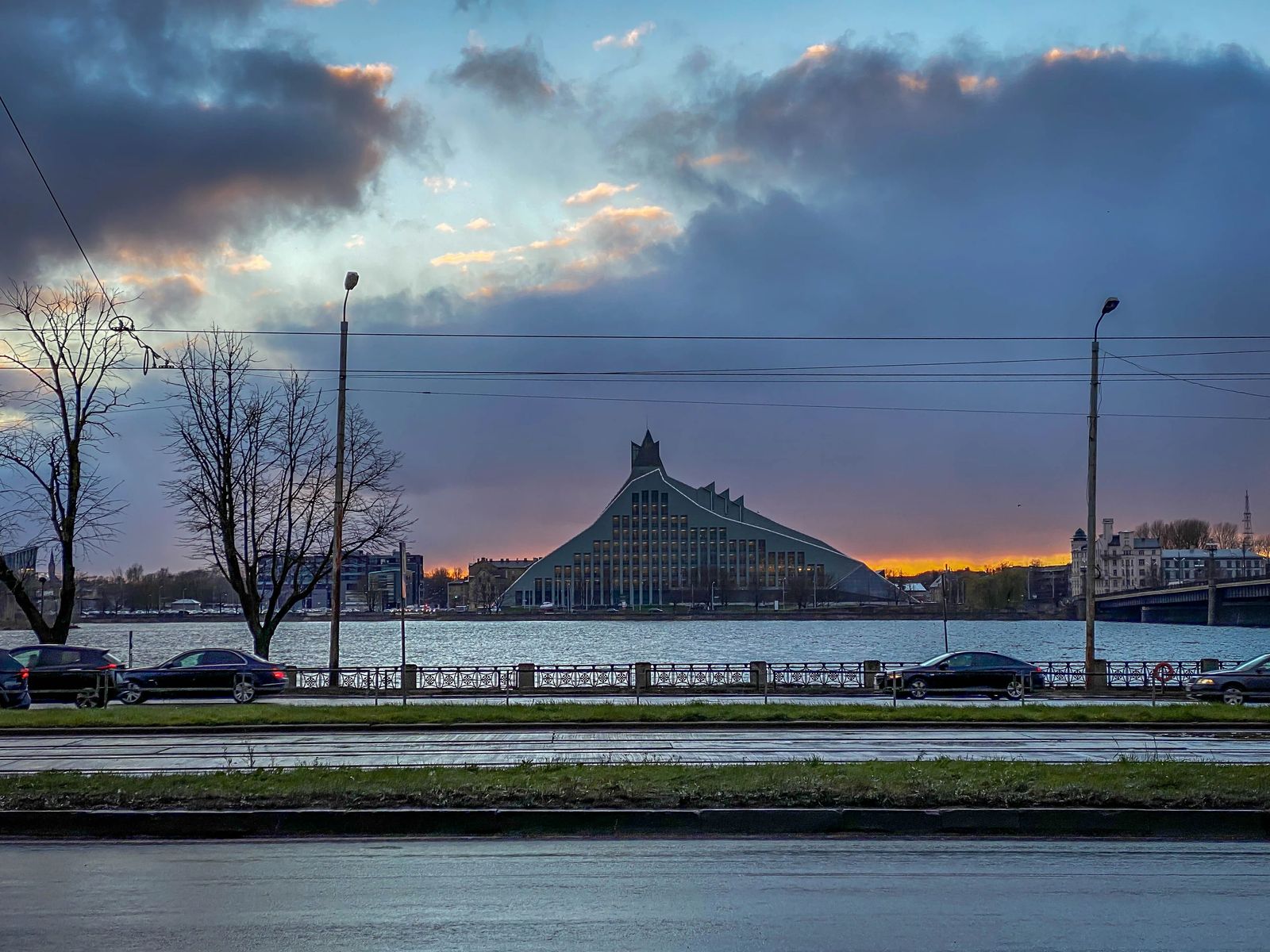 Cosmos Illusion Museum
Address: Doma laukums 1A, Centra rajons, Rīga, LV-1050, Latvia
If you run into a rainy day this is ALWAYS such fun to go in and get your camera out and let it trick the eye into seeing things that aren't exactly true to form. The optical illusions are fun, and are sure to put a smile on your face and lift your spirits. If it is rainy and wet, or snow and ice the Cosmos Illusion Museum is a great place to visit.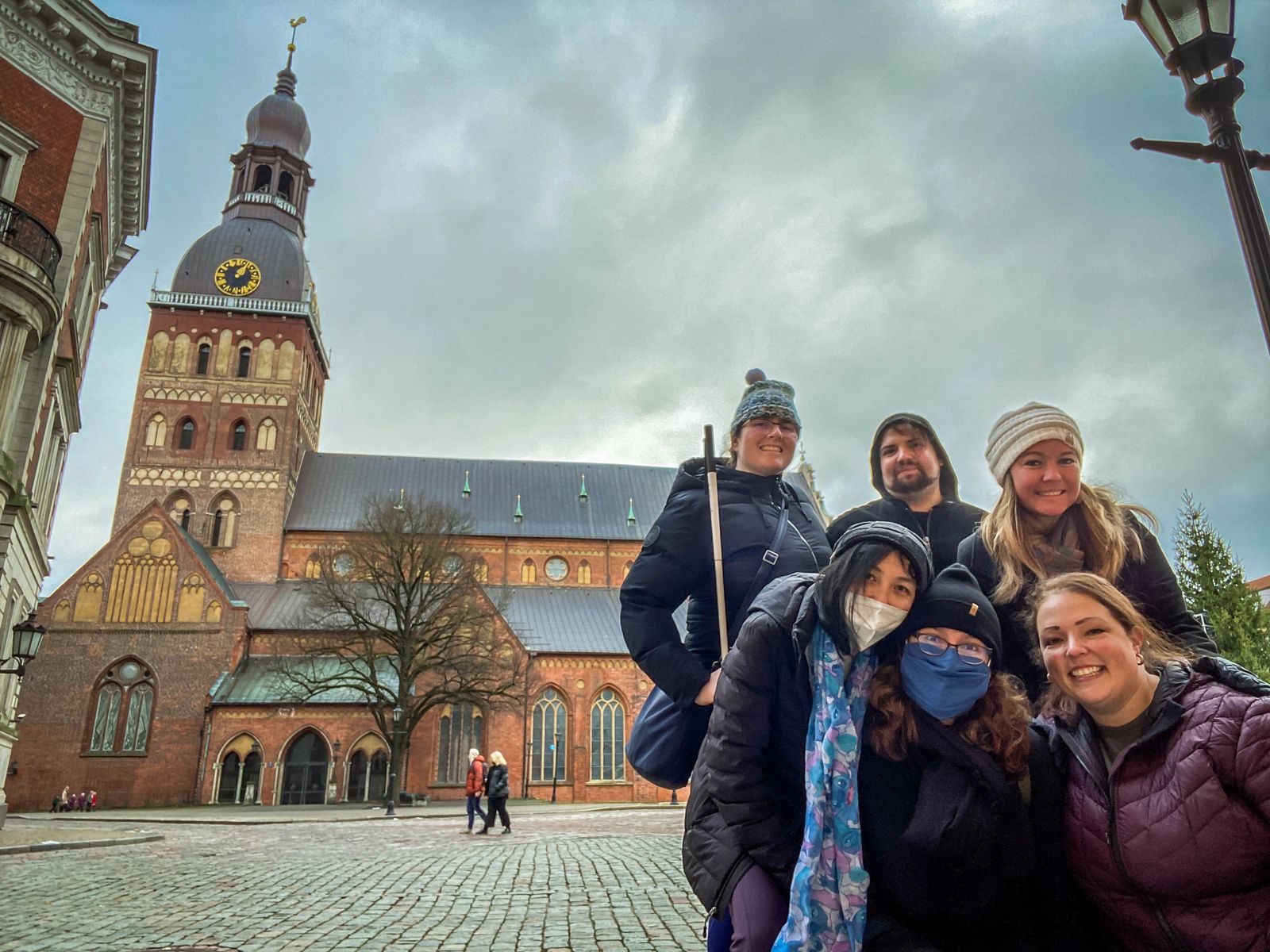 Riga Cathedral
Address: Herdera laukums 6, Centra rajons, Rīga, LV-1050, Latvia
The Riga Cathedral is a Lutheran Domed Cathedral near old town, it has been altered many many times since its inception in the 13th century but is an enduring symbol of the skyline of Riga. When you walk inside make sure to head to the Romanesque cloister, as it is one of the oldest parts of the building.
The Organ up front is from the 16th century and is a dome pipe organ, and was once the largest in the world. Unfortunately is was burned down in 1547, but rebuilt to now hold more than 6718 pipes and still boasts to be the largest Dome Pipe Organ in the world.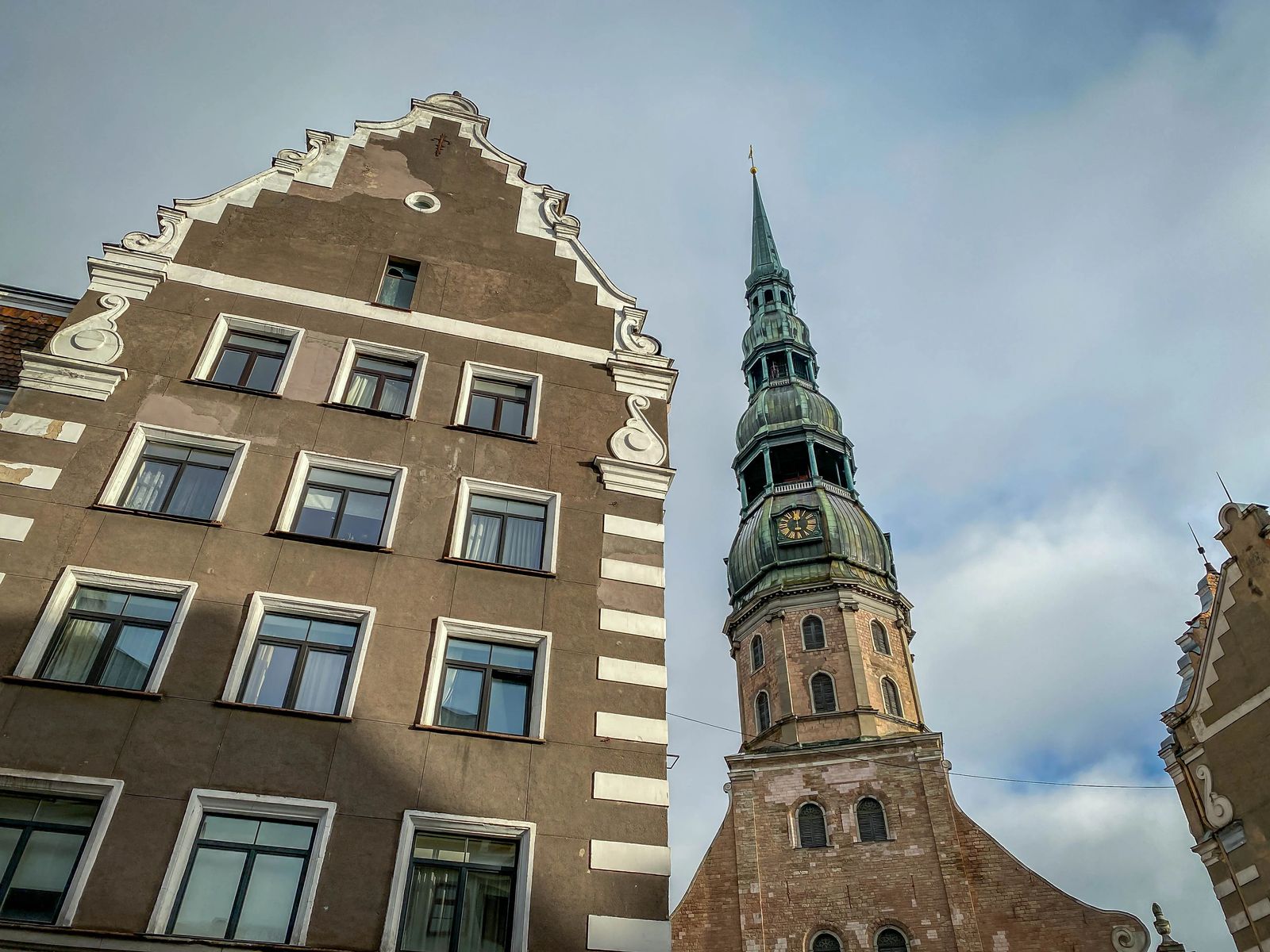 St Peter's Church
Address: Reformācijas Laukums 1, Centra rajons, Rīga, LV-1050, Latvia
St Peter's Church construction began in the 13th century and continued up until the 17th century, so it is a fabulous place to go and see the variety of architectural styles from Romanesque to Baroque. There is an elevator inside to take you up to the second gallery to get the best views of Riga.
If you climb to the top of this 403 foot (123m) tower, you will have fabulous views of the city - this is where the elevator is housed and takes you up to 239 feet (73m) above the city.
At the top of this church you will find a rooster, it is said that it was placed to symbolize when Jesus said that before the cock crowed three times Peter would deny Jesus. It is also placed on the highest point so that all may hear its crows. It is also a functional piece, in that it helped indicate which way the wind was blowing as Riga was a major sea port.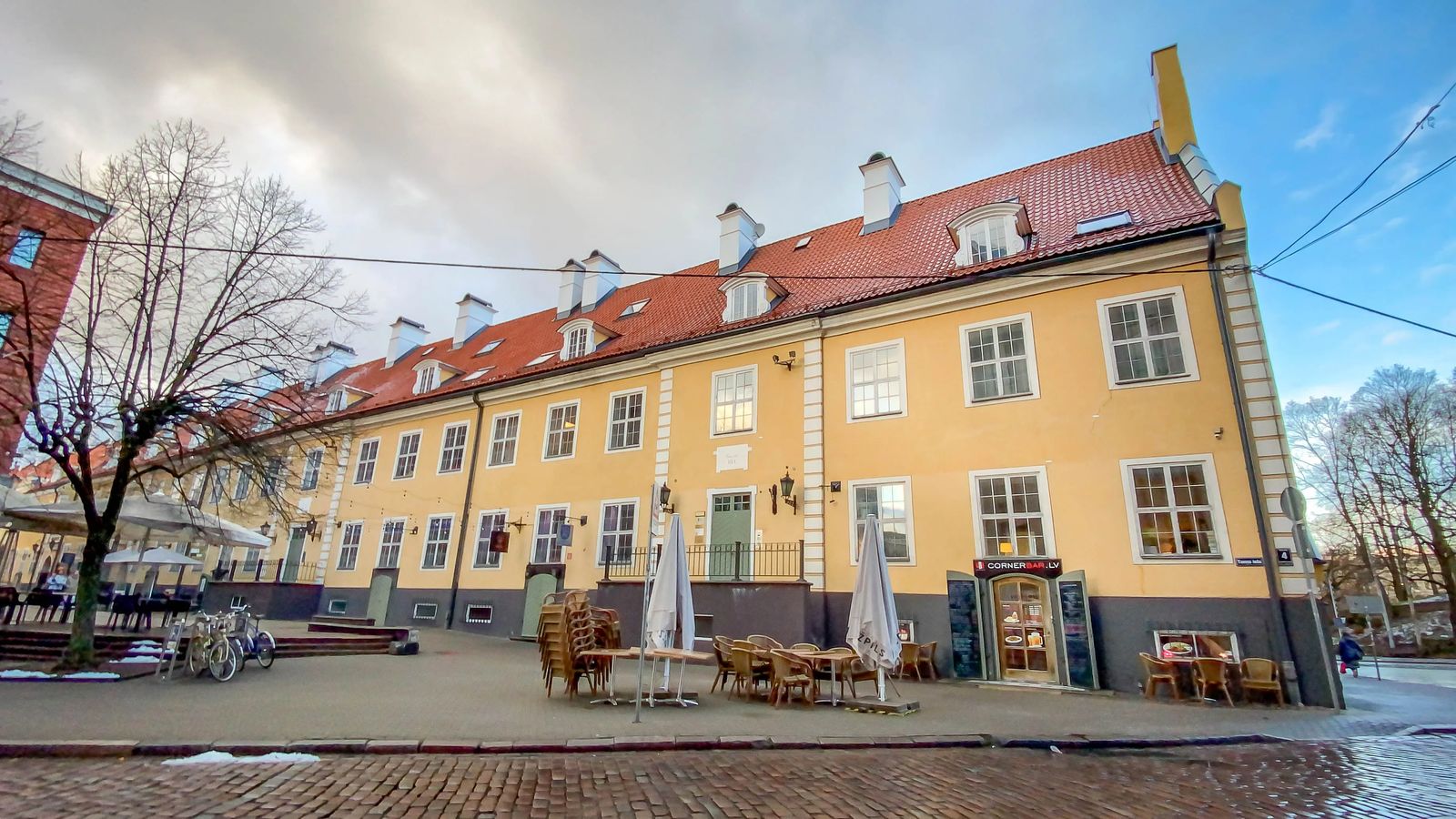 Jacobs Barracks
When your country has been ravaged by war for centuries, there comes a time where housing the rotating mass of soldiers through a city is necessary. Thus Jacob's Barracks were born.
The Northern War moved from being occupied by Sweden to being occupied by Russia in the 17th century and the barracks were severely damaged. It wasn't until 1739 that the barracks were built to house the Russian military. These barracks once housed over 1,000 men, stretching 755 feet (230 meters).
Through the centuries the barracks have been renovated to house different government agencies, schools, and stores. Today this is the hot spot to find the hip shops, bars, restaurants, cafes, and beauty salons. My favorite is a tasting menu from some of the BEST chefs in Latvia at the 3 Pavāru Restorāns, they even have a vegetarian option.
On the East side of the Barracks, you will find a large facade of the different coats of arms of the city of Latvia. If you continue around the corner and walk down to the middle you can also see some of the intact walls of the old Riga city walls as well.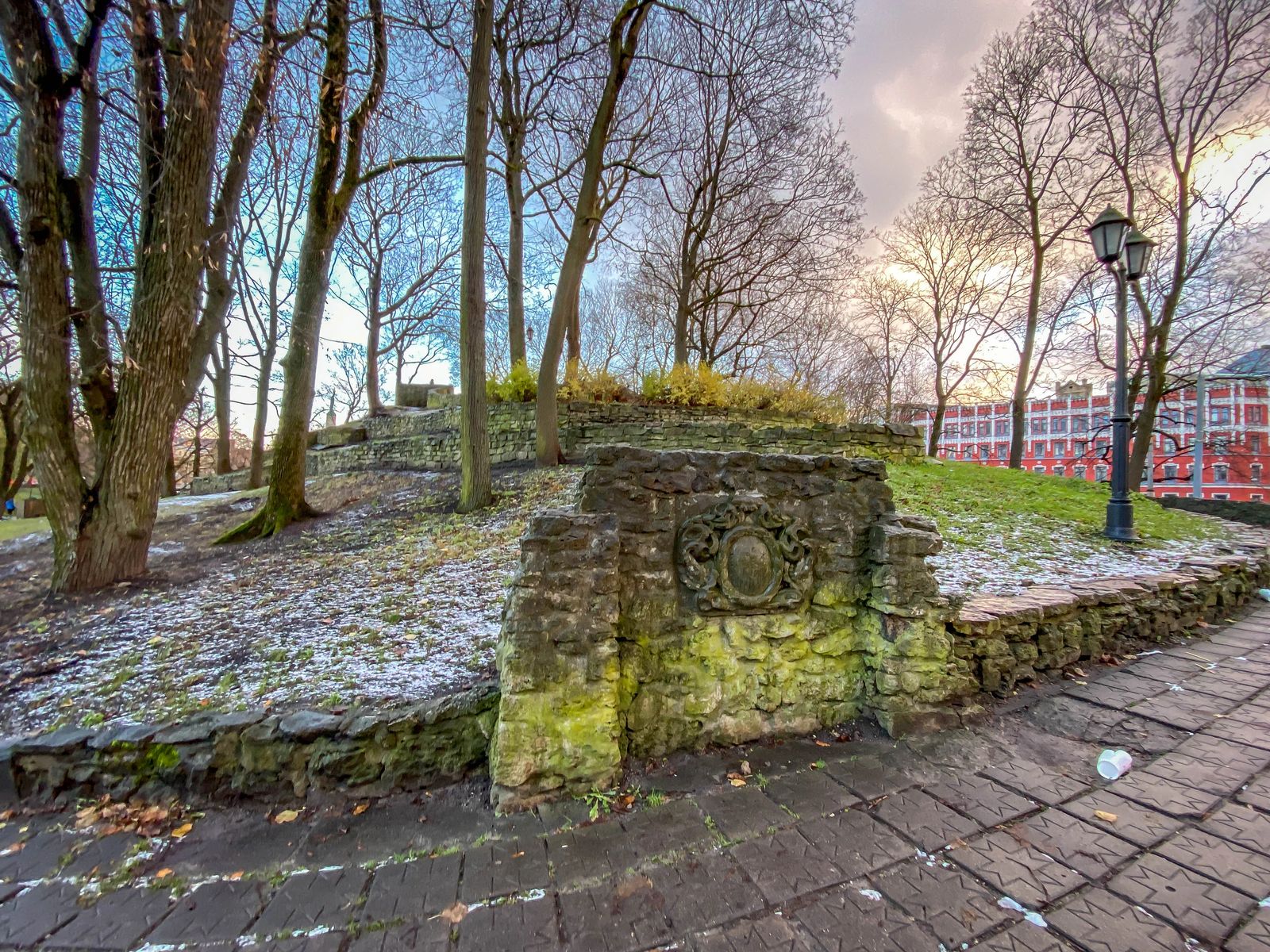 Bastejkalns Park 0r Bastion Hill
This was once part of the 1856 Riga Fortress that was demolished. It was part of the tower that once was part of the city walls and now is arguably one of the most romantic spots in the city with the best views of the city, Jacobs Barracks, and the Powder tower. In the winter the sun peeks through the old town and creates gorgeous sunsets against the backdrop of this UNESCO heritage site.
Living Silver Museum
In the Living Silver Museum you can both get warm and see how to warm silver to create beautiful works of art, like the famous Latvian silversmith Olegs Auzers. He has molded masterpieces for Elizabeth II, Pope Benedict XVI and George Bush.
While I personally didn't go to the Living Silver Museum, I did note it was a place to go if I had time as I had read that it was suggested site on many different platforms I use to do my research. Let me know if you are able to visit and if it is worth visiting in the comments below :)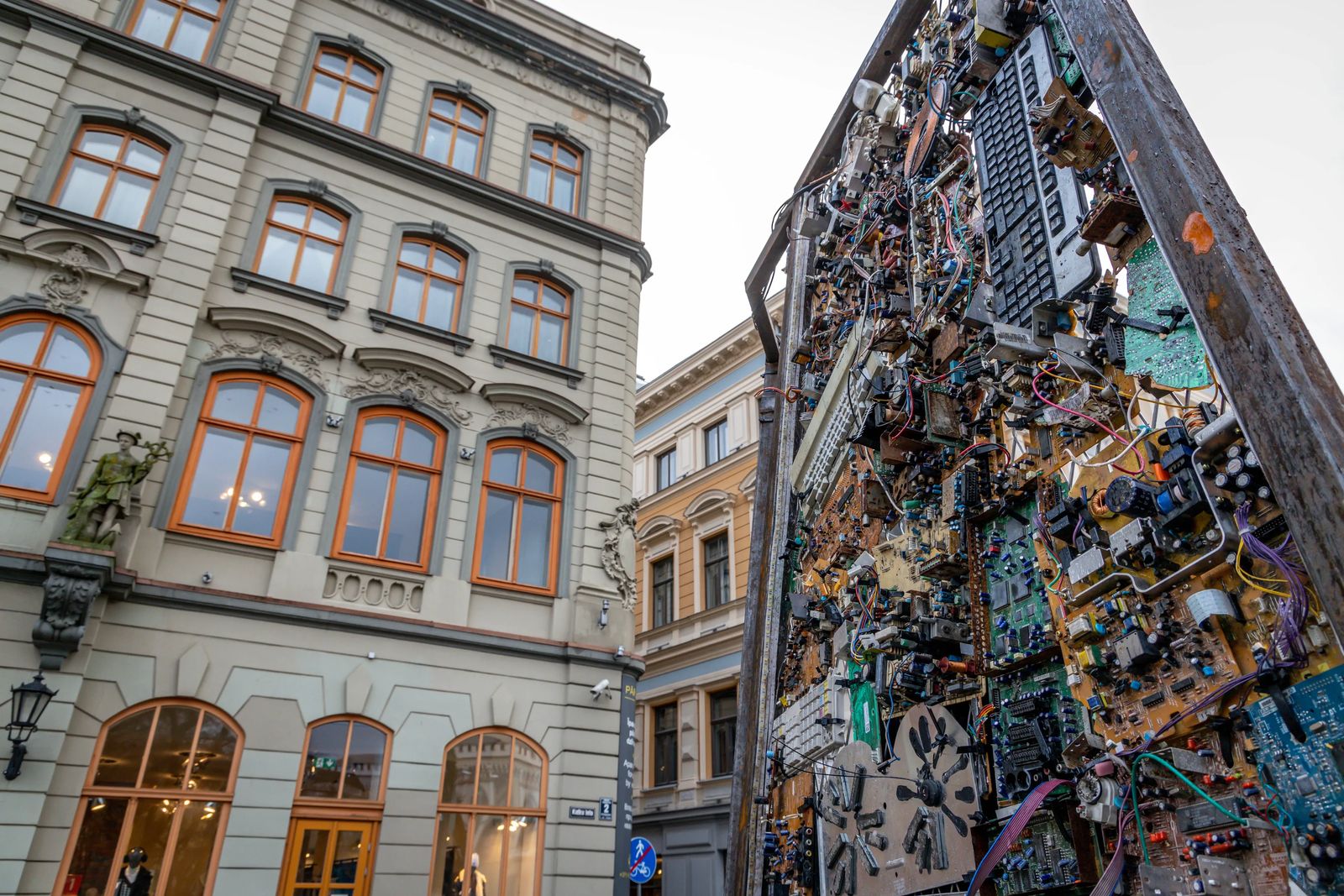 The World of Hats Museum & Fashion Museum
Hats Museum Address: Vīlandes iela 7-12 entrance from, the inner court, Centra rajons, Rīga, LV-1010, Latvia
Fashion Museum Address: Grēcinieku iela 24-1, Centra rajons, Rīga, LV-1050, Latvia
While most hats don't fit my big head (no really it is huge 62cm), I do LOVE some good hats and fashion history as it often tells more of a story than the paintings can of times of old. This museum houses over 400 hats from around the world, giving you a platter of comparison to enthrall every fashionista enthusiast.
After the Hat Museum, head on over to the Fashion Museum to see the unfolding of iconic Latvian Fashion pieces through the decades and see how things have changed. I find it fascinating to see what different decades, people and cultures find 'beautiful' for their respective time periods.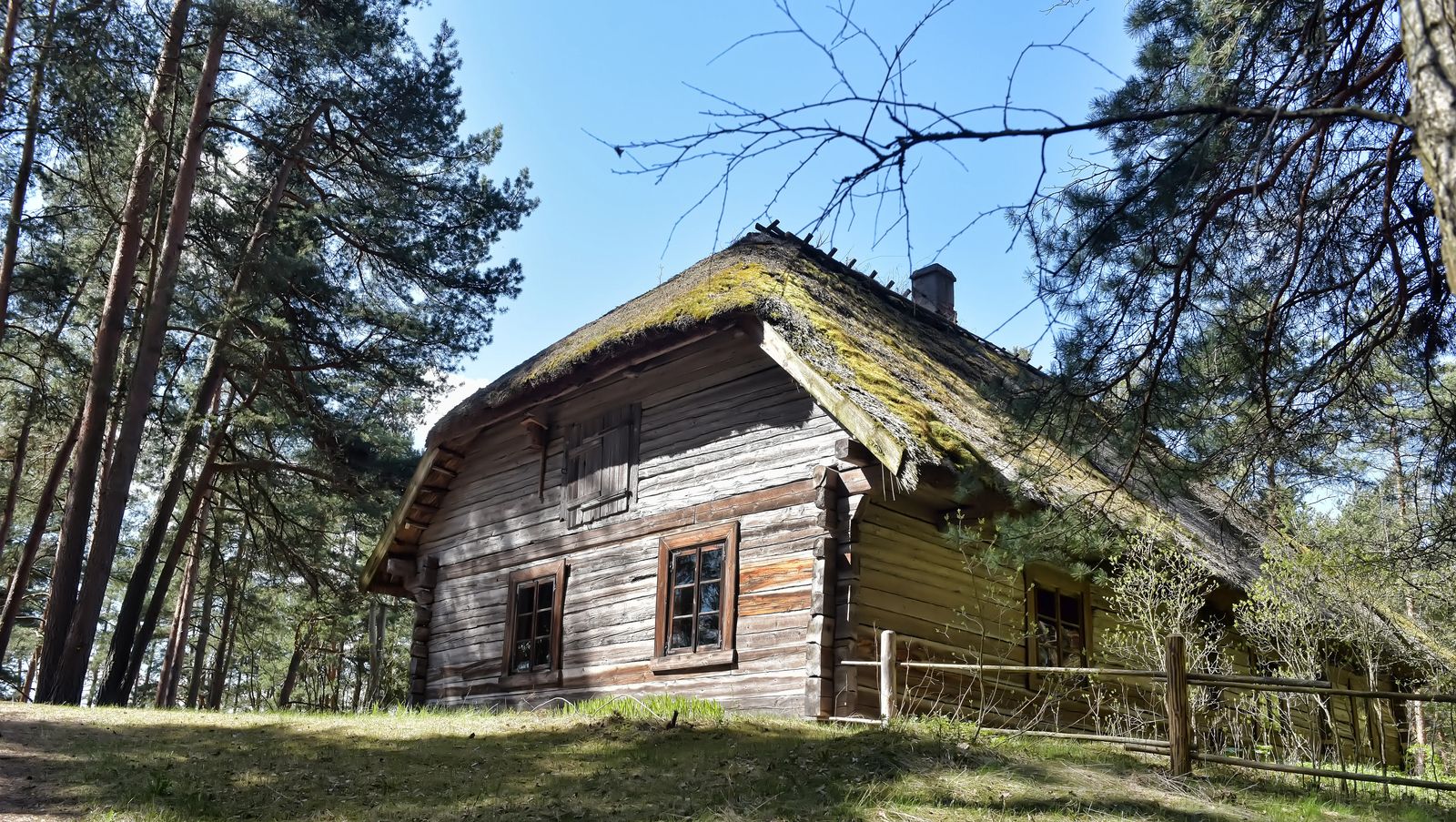 Open Air Ethnographic Museum
Address: Brīvdabas iela 21, Rīga, LV-1024, Latvia
The Open Air Ethnographic Museum opened in 1984 and is located on the edge of the Julga Lake and showcases what it was like living in the Latvian countryside and how people survived. You can see the Usma Church that is richly decorated, along with peasant homes, windmills and more.
This is also a great place to go and learn about Latvian customs and ancient crafts. During the winter solstice, the Meteni festival in February is a great way to see how Paganism sculpted much of its history as well.
Particularly ahead of Jāņi, Christmas and other celebrations there is explosion of fun and lessons in traditional crafts like weaving, ceramics, basket weaving, jewelry making, wood carving and forging metal.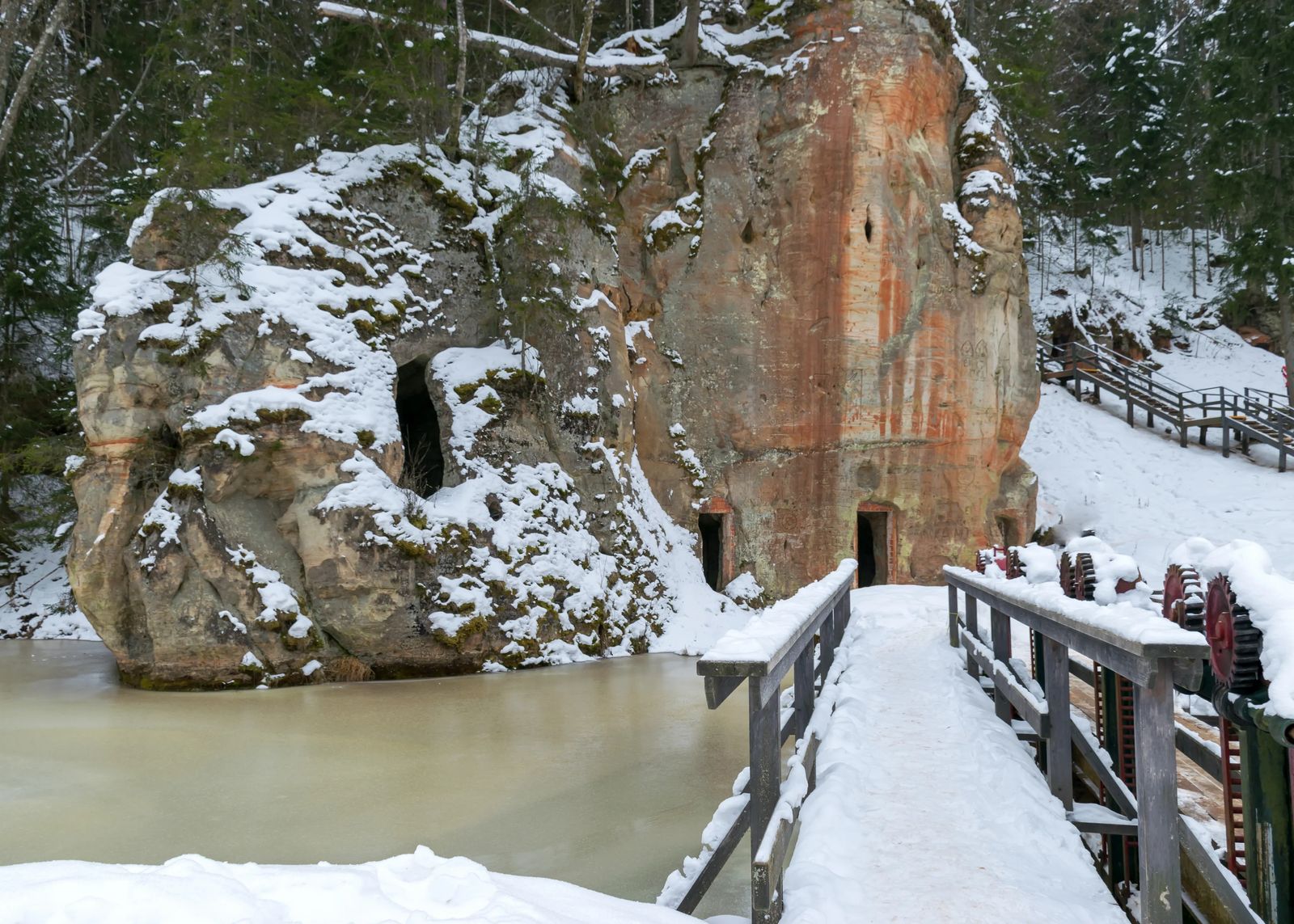 Līgatne Caves and Labyrinths
Address: Near and around Gauja National Park which is about a one hour drive North East of Central Riga
Just outside of Riga are some 300 artificial caves with twists, turns, and cellar caves that were used to hide bounty, people and more. Before the time of refrigerators they would often used these caves to keep food fresh and produce longer. So make sure if you are headed here in the winter months to bundle up good. The caves protect from the rain, but the cold can get really cold here, lol. Because it is easy to get lost in these caves, makes sure to use a tour guide (found at Līgatne Tourism Information Centre).
If you get bitterly cold you can also take a stop at the Ligatne Winery to warm up on the way back.....well.....as long as you aren't driving that is ;)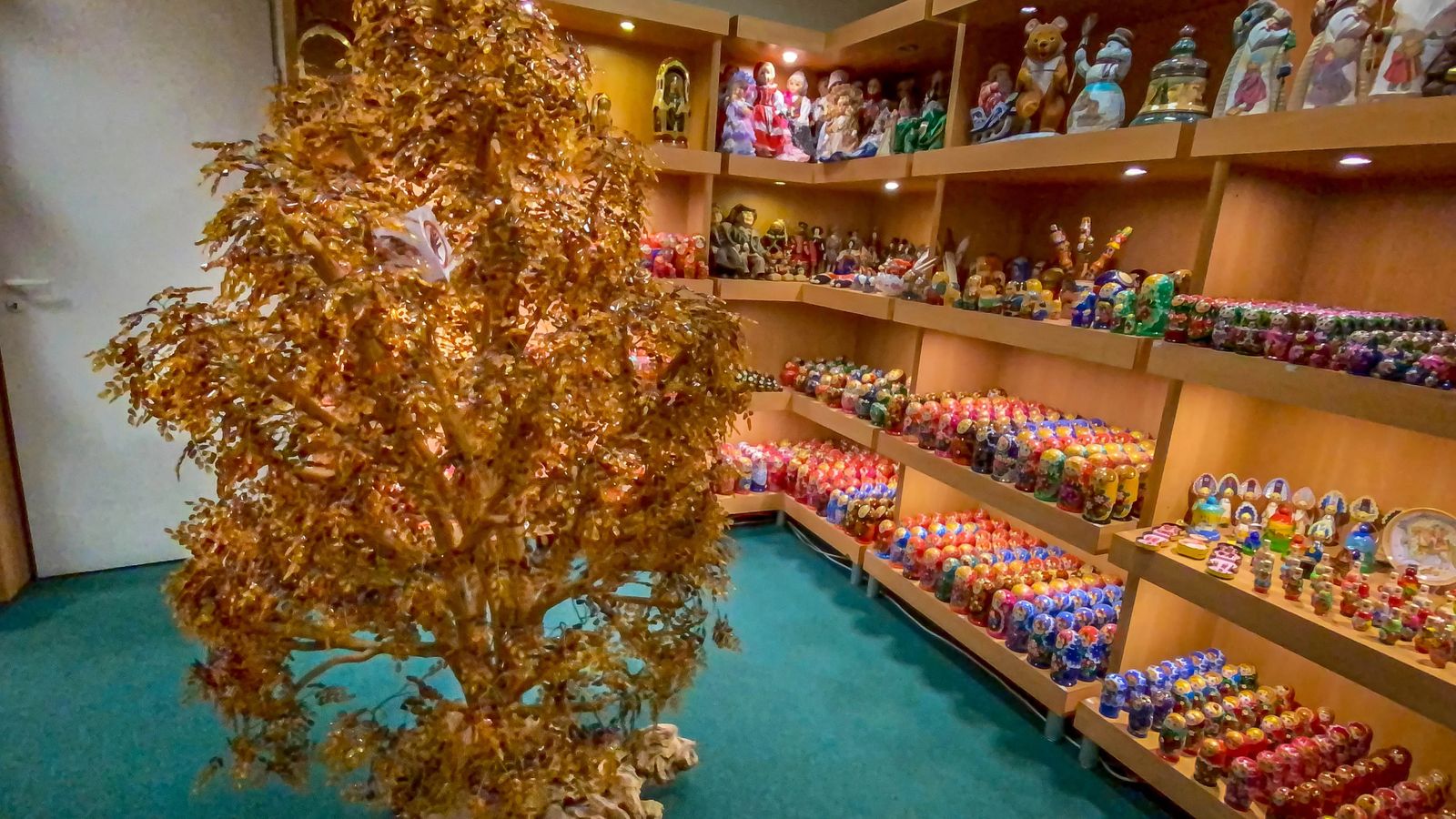 My Takeaways and Lessons Learned from Visiting Riga in Winter
Latvia is an incredible country that I most certainly did NOT allow myself enough time to explore. You need at least four days to quickly see all the sites in the city and experience the Spa. You would also need an additional 3 days to go and explore the natural sites, and the different hikes at the Gauja National Park.
If I was to do this trip again, I would take a camper van, or rent one from the city after I've explored the UNESCO City of Riga and then go see some of the incredible nature that Latvia offers.
Google Map Of Locations Mentioned
Where To Stay in Riga Latvia
Latest Articles On Culture Trekking