One Day In Mostar | The Best Things To Do
I was initially drawn to Mostar because of the turquoise waters of the Nereteva River flowing underneath the 80-foot arched white bridge. As I did more research on Mostar I realized I was missing the point of this place. They were ravaged by war, Serbian leaders were convicted of war crimes because of what happened here, 5 centuries of Islamic heritage was wiped out along with 95% of the city. There is now a fragile peace, where people once lived in harmony with one another, now they don't linger in the different neighborhoods. Mostar is beautifully rebuilt, the hospitality is like no where else I've experienced, the food is delicious, the past is incredibly impactful, but the future looks very bright for this city. Let me show you how to see Mostar in one day, and really understand the courage, resiliency and hope the people here, the best spots to photograph the bridge, how to jump from the bridge yourself, the difference between the Islamic and Christian sides and more.
My friends and I visited in October 2022 and have recently updated this article in 2023 to include the most accurate information.
A Quick 48 Hour Itinerary of What To Do In Mostar
Day 1
Stari Most (Ottoman Bridge)
Old Bridge Museum
Old Town and Bazaar
Kajtaz House (Ottoman House)
Lucki Most (best views of Old Bridge)
Mostar Peace Bell Tower and Church of St Peter and Paul
Bruce Lee Statue in the Park & Sniper Tower
Museum of War and Genocide Victims
Herzegovina Museum
Koski Mehmed Pasha Mosque
Balkan War Museum
Other Options
Kralja Petra Krešimira IV has a bunch of shops to peruse.
Partisan Memorial Cemetery honors the men and women who died fighting fascism during World War II
Muslibegovic House (Ottomon House)
Millennial Cross at Hum Mountain (Kriz na Hum). Already down at the city you can see the mighty white cross, which towers 412 meters above Mostar
Day Trip to Kravica Waterfalls, Buna Village, and Potejeli Kula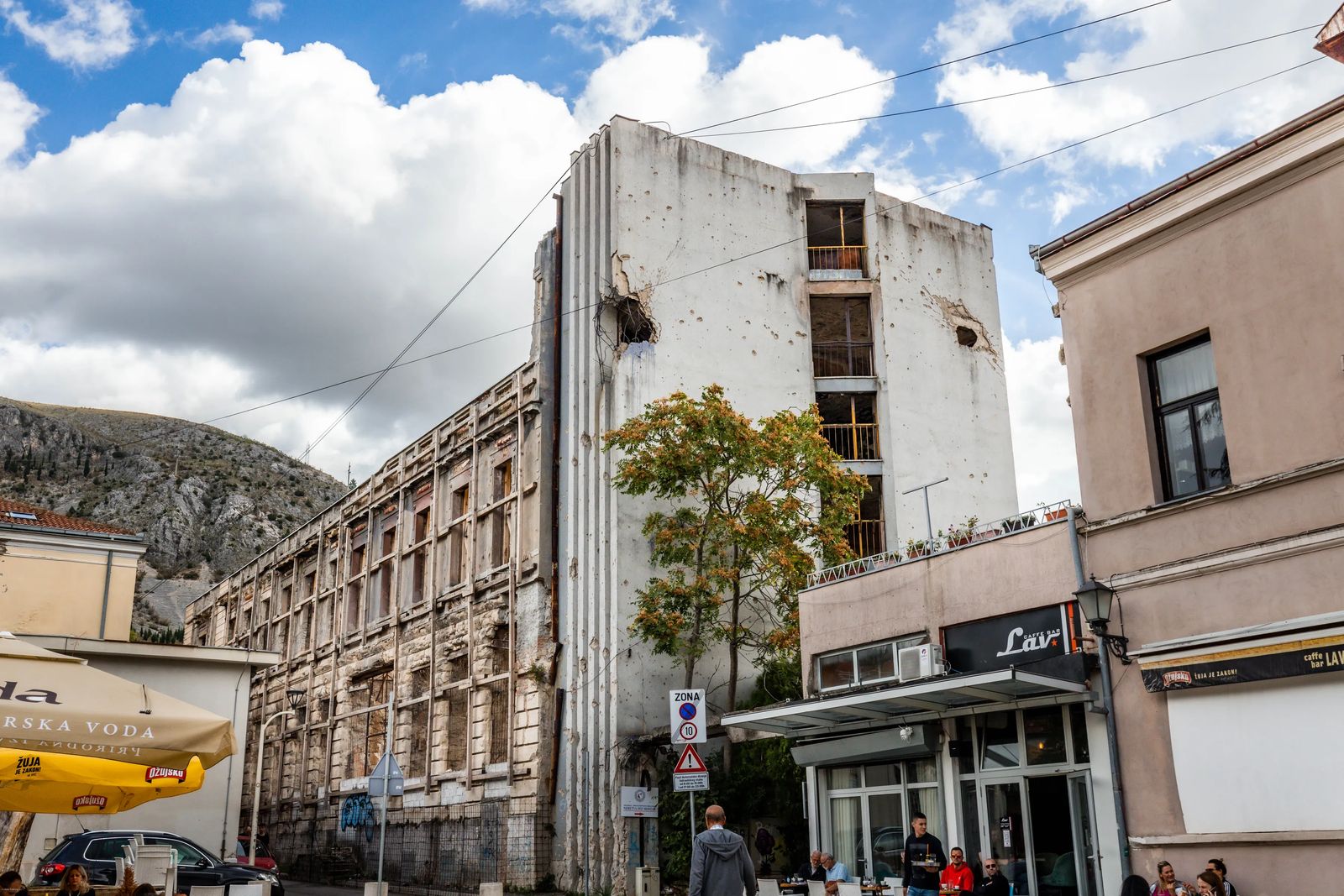 The Bosnian War
In the 1990s, within our own generation, a war of ethnic cleansing of Muslims and a desire for independence during the splitting of Yugoslavia. Due to the continued underlying tensions, I won't get into a blame game of who did what, because war has no winners - everyone loses something.
Of the Muslims that occupied the city center, 2,000 went unaccounted for. Their families (some still alive today) don't know if they were executed on the spot, before international intervention could happen, or if they died in concentration and forced labor camps.
The rest of the Muslims that lived here were expelled from the city. Nearly 5 centuries of Islamic life and culture were destroyed along with 95% of the city. After the war, it was estimated that nearly 100,000 people died in this war, and over 2,000,000 souls were displaced.
Four leaders, many of them Serbian, were convicted of War Crimes by the UN and European Union. There is now a fragile peace here, but divisions and generational pain are still evident. I would advise being sensitive about these issues when you visit, and celebrate the recovery and peace of the city.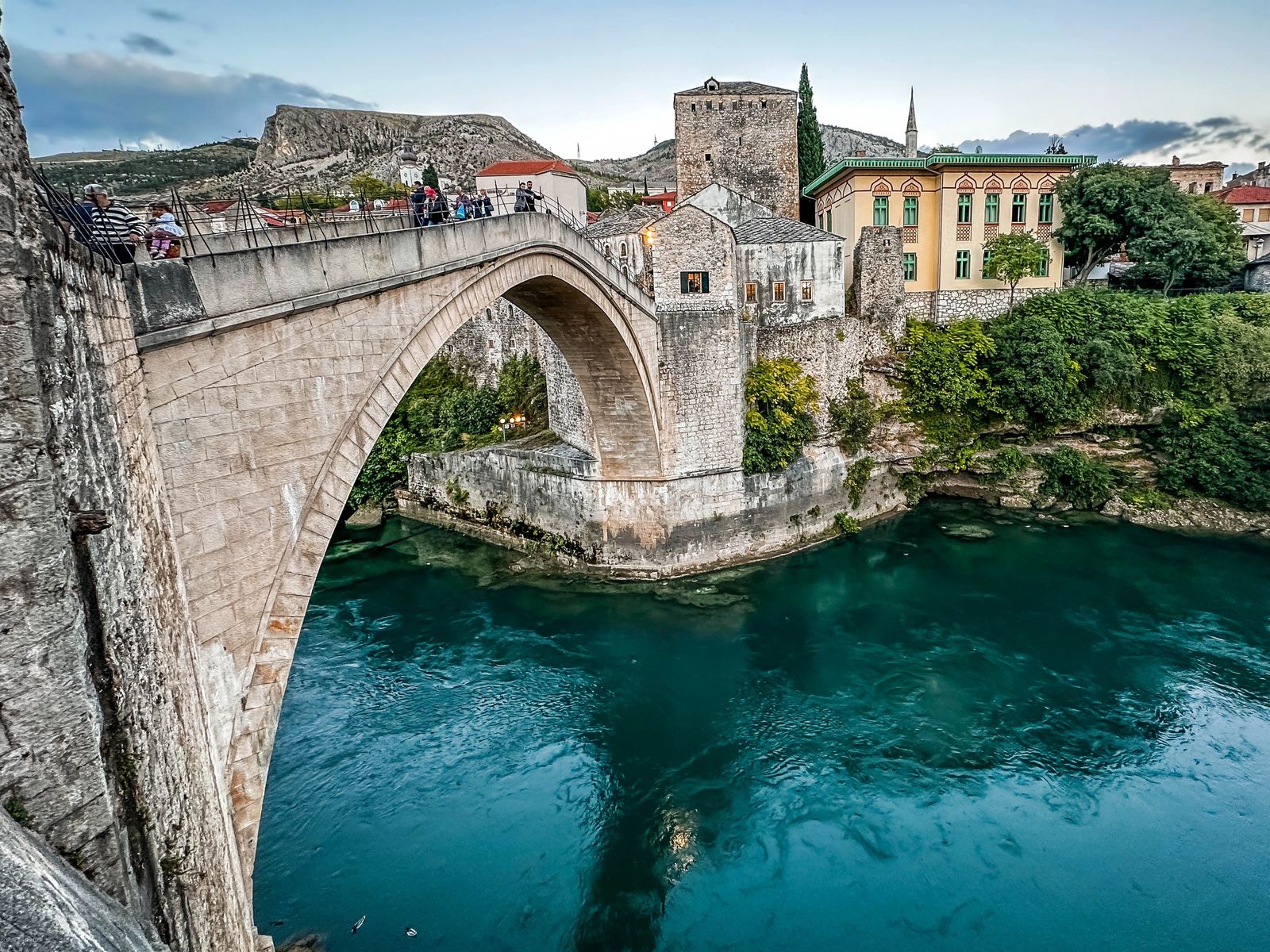 Stari Most & Old Bridge Museum
Designed by Ottoman architect Mimar Hayruddin and commissioned by Sultan Suleiman the Magnificent, Stari Most was built in 1566 to replace a wooden bridge that spanned the same section of the Neretva river. Stretching out for 95 ft (29 m) and soaring 85 ft (21 m) above the summer water level, it was an incredible feat of engineering at the time it was built.
When violence enveloped Mostar during the Balkan Wars of the 1990s, not even Stari most was spared: On November 9th, 1993 the bridge was hit by an onslaught of shells and collapsed into the river. In 2004, it was reconstructed using original stones salvaged from the riverbed below.
The name Mostar comes from the bridge keepers (mostari) who guarded the walkway in medieval times from twin stone towers at either end. Today, the bridge has different stewards: the Mostar Diving Club, who wow crowds by jumping off the bridge's highest point. They all hang out together in a small room just at the edge of the bridge on the Ottoman side.
If you want to see them jump, make sure you bring cash so you can pay the 35 Euro (approximately) fee to ask them to jump. Or you can pay the 35 Euro to have them teach you how to jump, get certified and take the plunge yourself.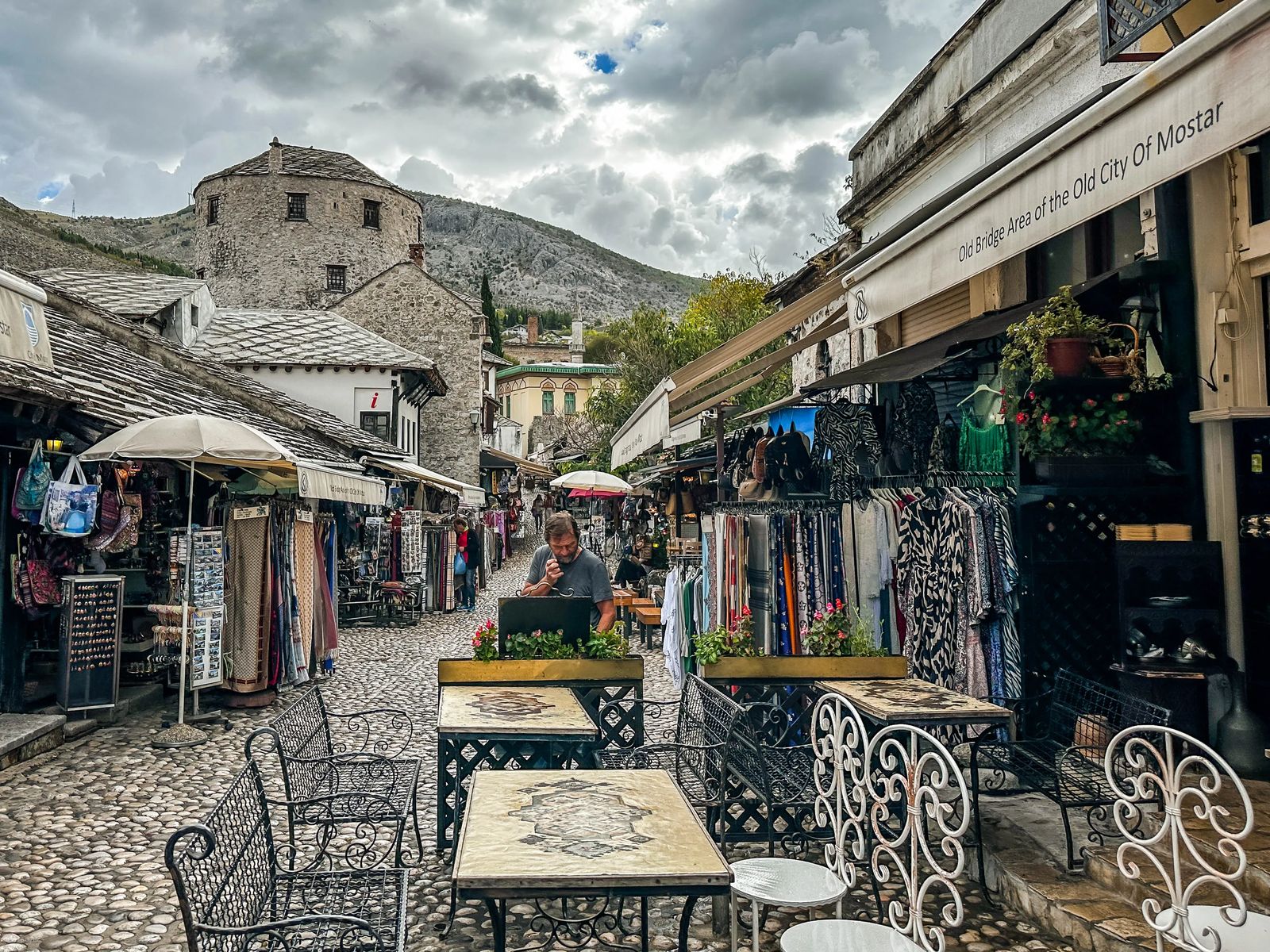 Old Town & Old Bazaar
There are a lot of Turkish and Ottoman influences in Mostar. If you are looking for souvenirs to take home the top things to buy are the gorgeous hand painted Turkish coffee sets, intricate metal work, quality jewelry pieces, Moroccan style lamps, delicious Coffee and Turkish delight. There are still shops dotted throughout Old Town and the Old Bazaar where you can see the tradesmen (and women) at work making the souvenirs right in front of you.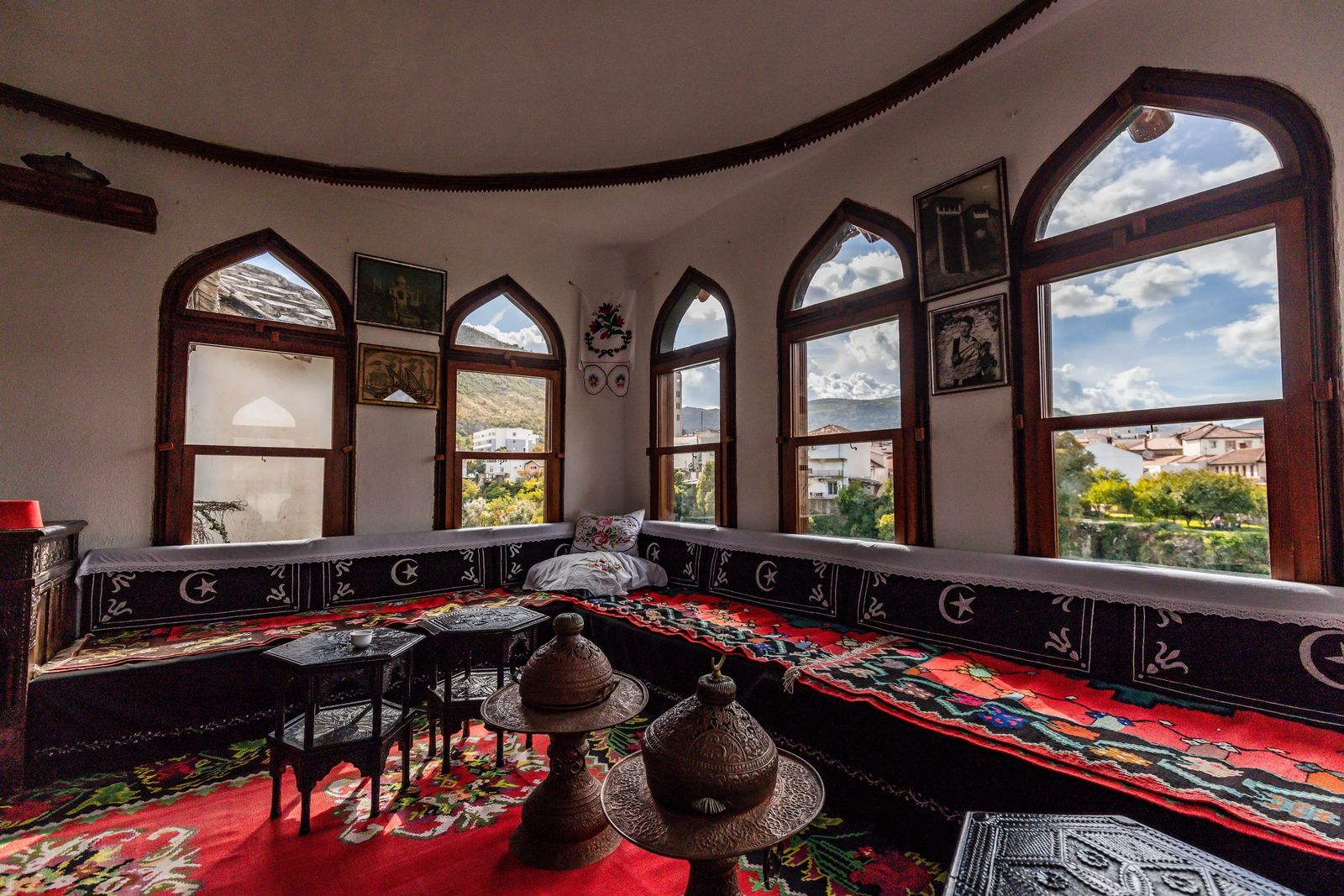 Kajtaz House (Bišćevića Čošak)
Previously the home of a haram to a wealthy judge Džemal Bijedić, and still owned by the descendents - this is a perfect example of an Ottoman home as it would have been in the 16th-18th century.
It is now under UNESCO protection and you can see how a wealthy Ottoman family once had their home configured and how they would go about their daily activities. How the home would have been heated, how guests were greeted, how and where they practiced their faith and more.
If there is a tour group inside it can get quite crowded as the small rooms and low doors are a bit cramped to try and squeeze past other people. There are a few Ottoman homes in the city (even one that turned into a hotel) but this one is the closest to the old city. So if there is a tour group inside I would just come back later and you can have the whole place to yourself. The best times to avoid them are typically before 10 am or after 2 pm.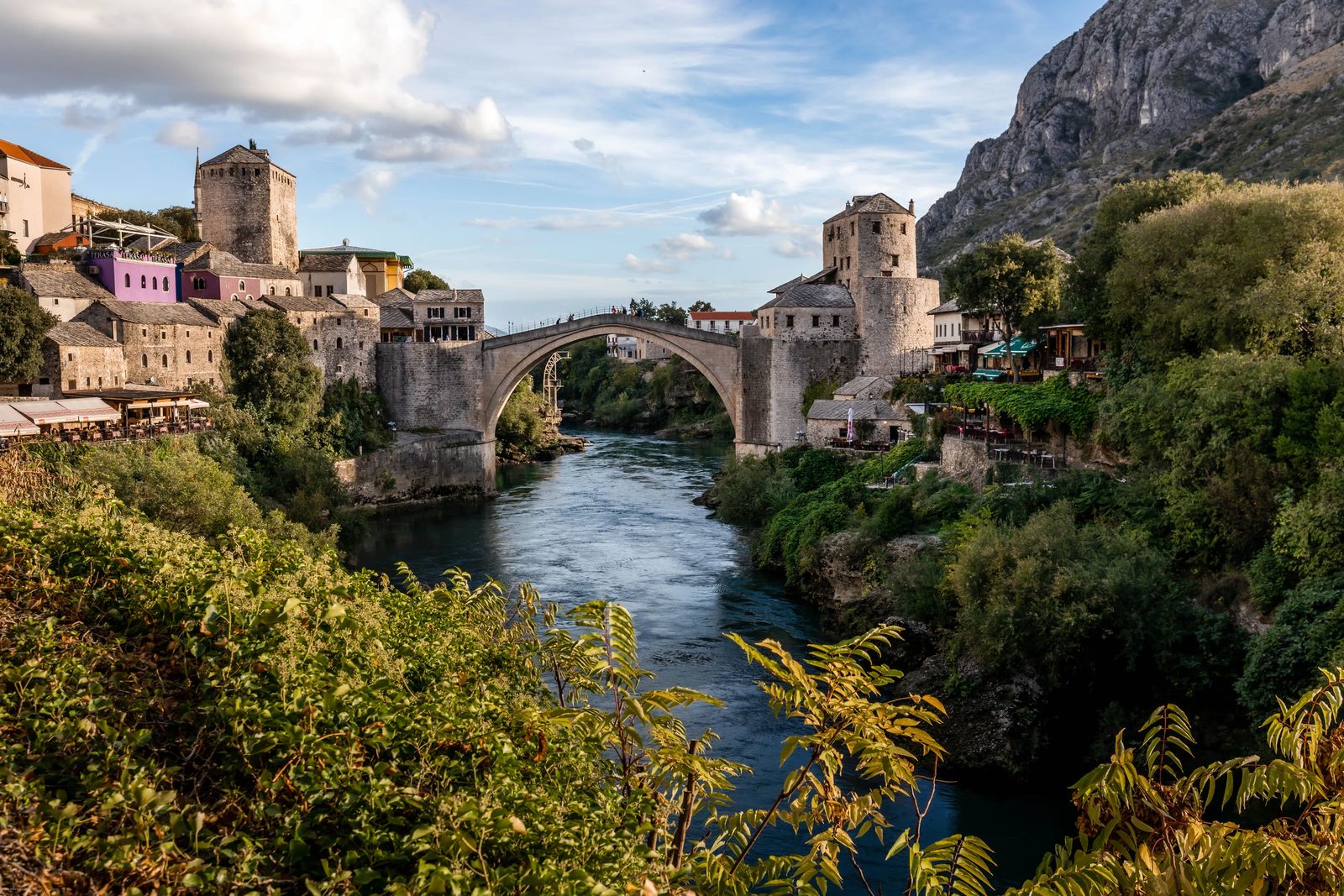 Best Views of the Old Bridge
When I was researching the best photo spots to photograph the old bridge (Stari Most) over and over again I would see that Lucki Most was the best place to photograph it. HOWEVER, I don't think that is true, unless you have at least a 200mm lens on your camera as it can appear far away.
The first spot I would suggest is a steep hike down to the sandy area where the Mostari Jumpers come out of back onto the banks. It gives you a bottom up view of the bridge.
The second spot I would actually say is when you pay to enter the Koski Pasha Mosque (the most well known mosque in Mostar). It gives you access to a small gate that overlooks the river and the bridge with an unobstructed view, great lighting, and not a lot of people trying to photobomb your picture.
The third spot is from Lucki Most, it is a walkway on a busy road, but gives you great lighting in the afternoons. The bridge does appear a bit small but you can take as many photos as you like.
The fourth spot is up by the bridge in the little alcoves at either end, however this is where most of the tourists are as well to take the selfies with the bridge. You can always wait awhile to try to get the photos in the early mornings or evenings.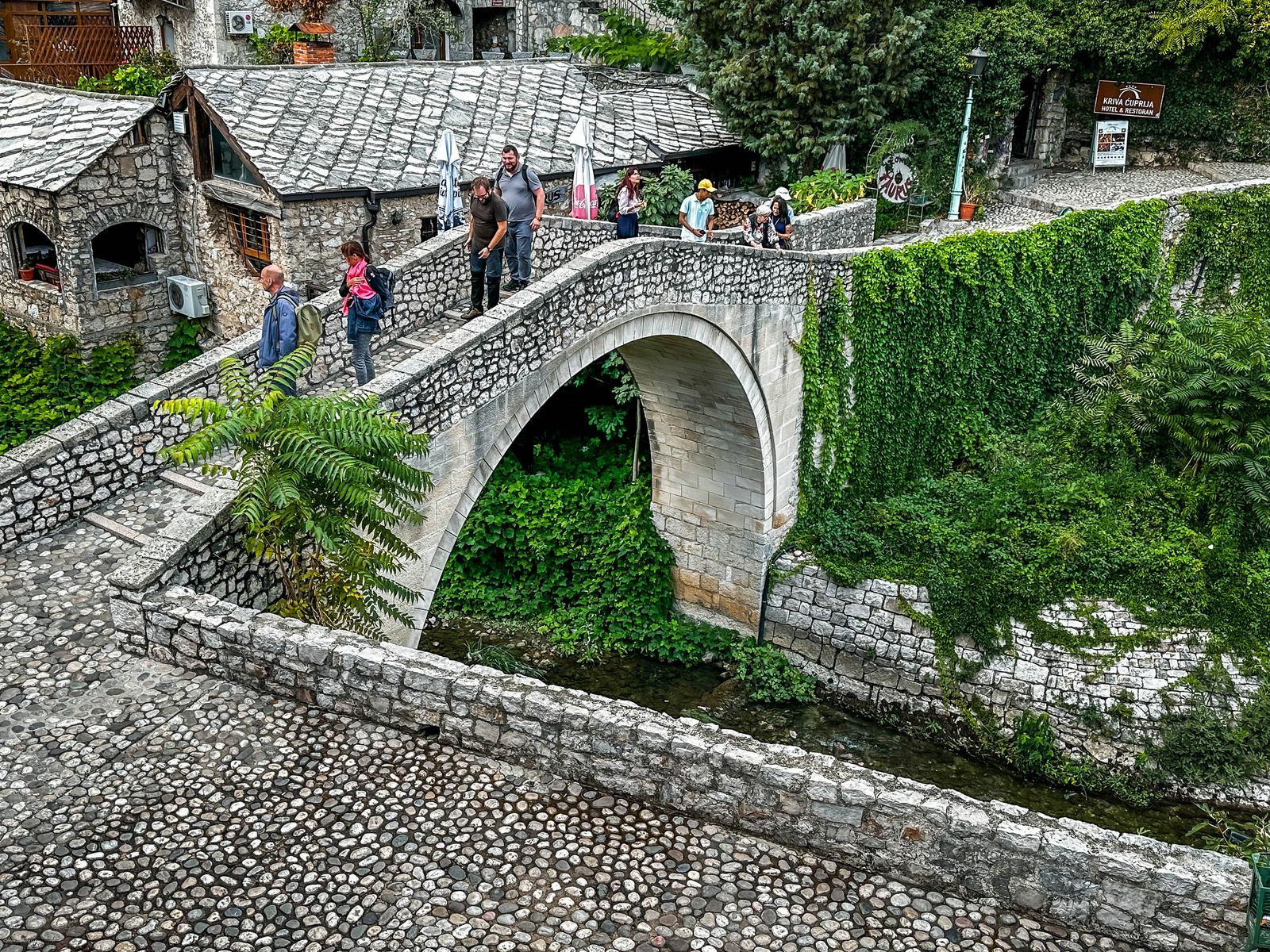 Kriva ćuprija (Crooked Bridge)
Call this the blueprint for the OG and larger version of Stari Most before it was built. Under UNESCO and to continue to get funding original methods of building the bridge had to be used as well as materials. An 80-foot tall bridge is a big bridge to mess up, so this was a good way to practice.
It is a quaint and quiet part of town that isn't as full of the buses of tourists that come in and is a nice reprieve. Grab some snacks at the grocery store and just listen to the bubbling brook that runs underneath the bridge, the birds zipping in and out of the trees, and let the cares back home melt away.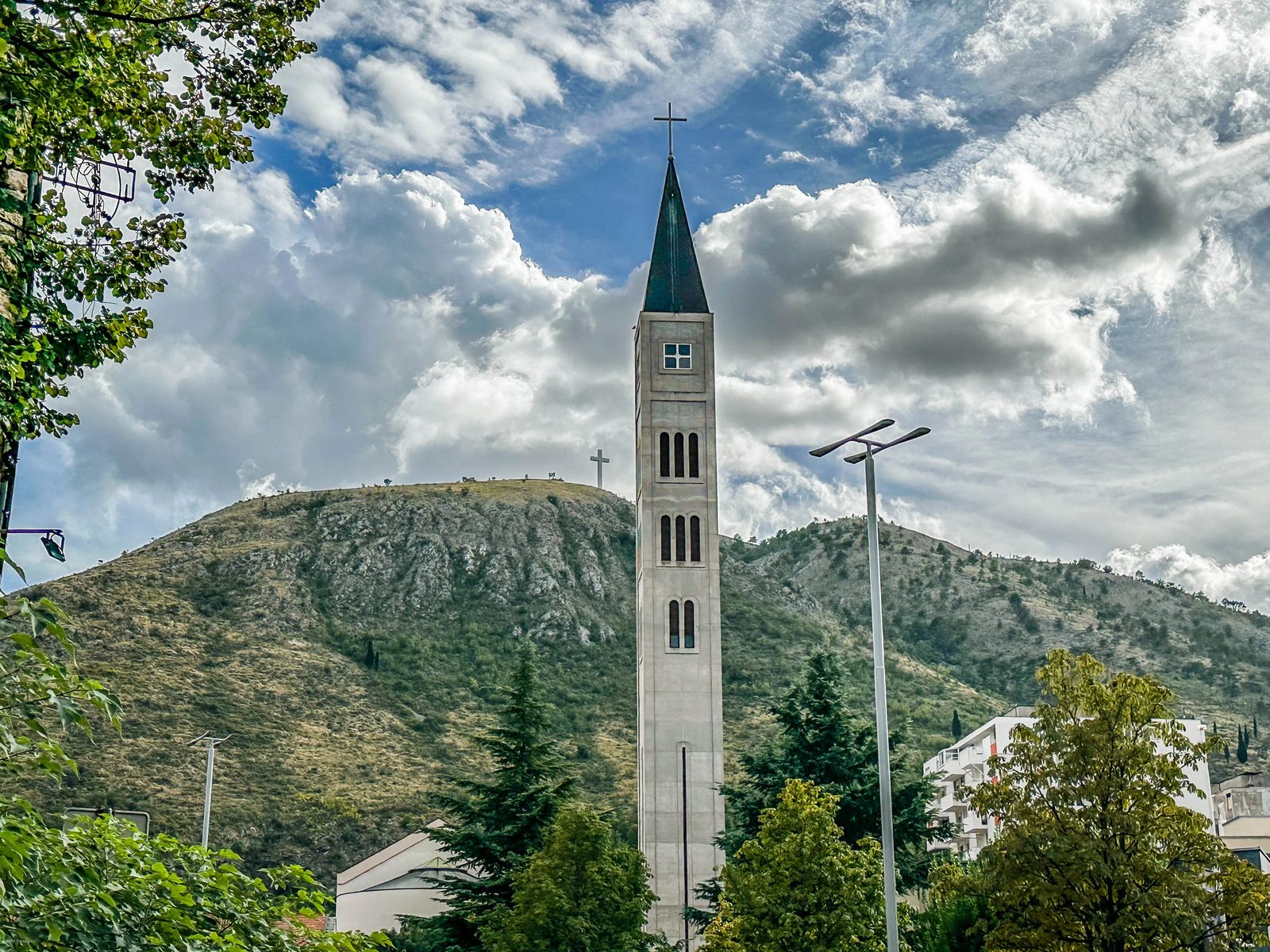 Mostar Peace Bell Tower and Church of St Peter & Paul
This Franciscan Church of St. Peter and Paul was rebuilt in the post-war years following its complete destruction in 1992. If you look closely, you can see bullet pockmarks on the walls of the nearby buildings. Next to the church, the Peace Bell Tower takes the accolade of tallest bell tower in Bosnia and Herzegovina and one of the tallest in Southeast Europe.
107-metre tower has a viewing platform roughly two-thirds of the way up. An elevator is on hand to whisk you up – but you do have to climb around 150 stairs at the end.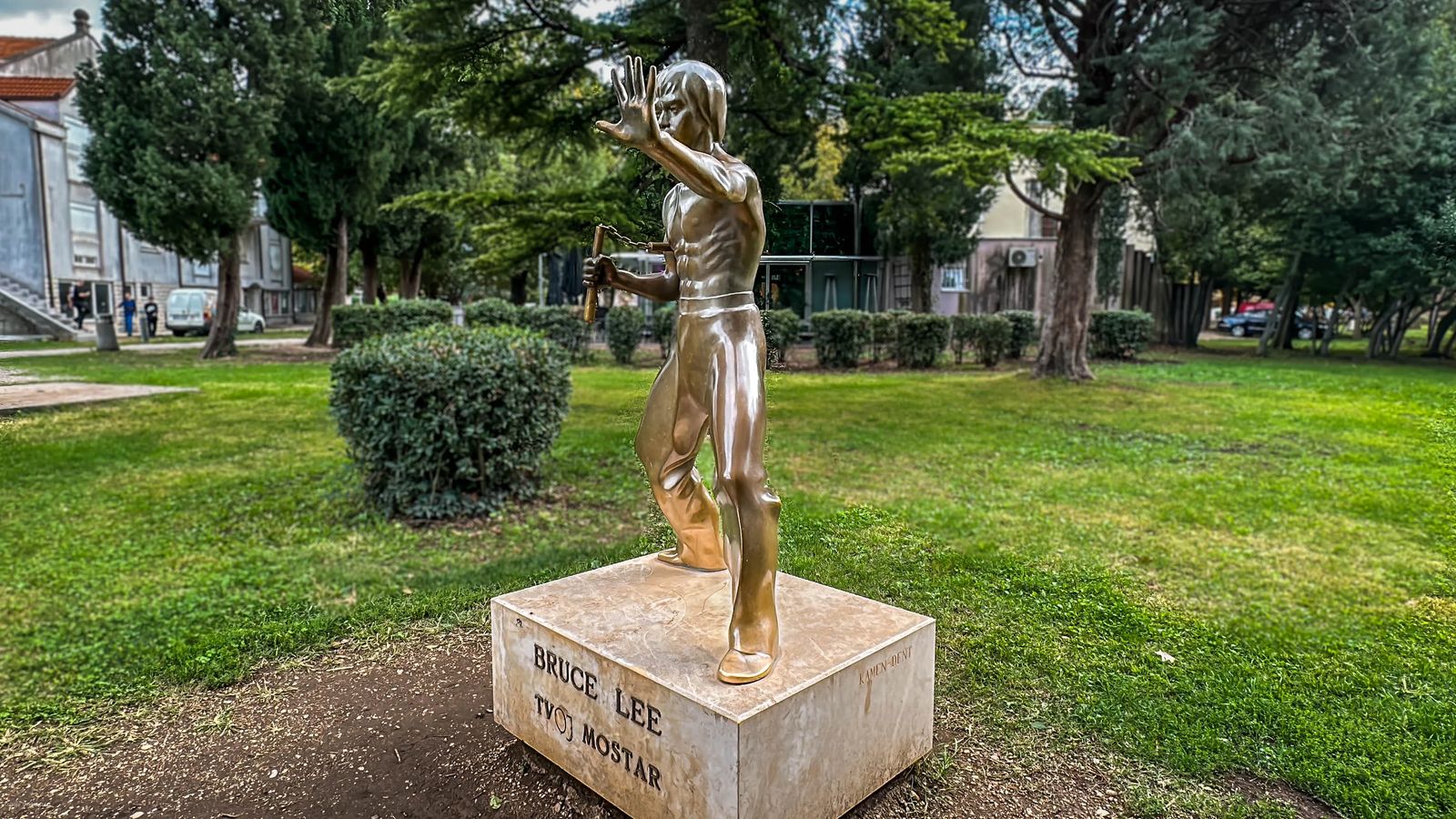 Bruce Lee Statue
When the people of Mostar were rebuilding the city, they wanted to put a statue in the park of someone important to the city. There were a lot of arguments about who it was going to be as each side had a different idea of who they thought was important. The only person they could all agree on at the time was Bruce Lee. So here we are, a fine example of compromise despite glaring differences.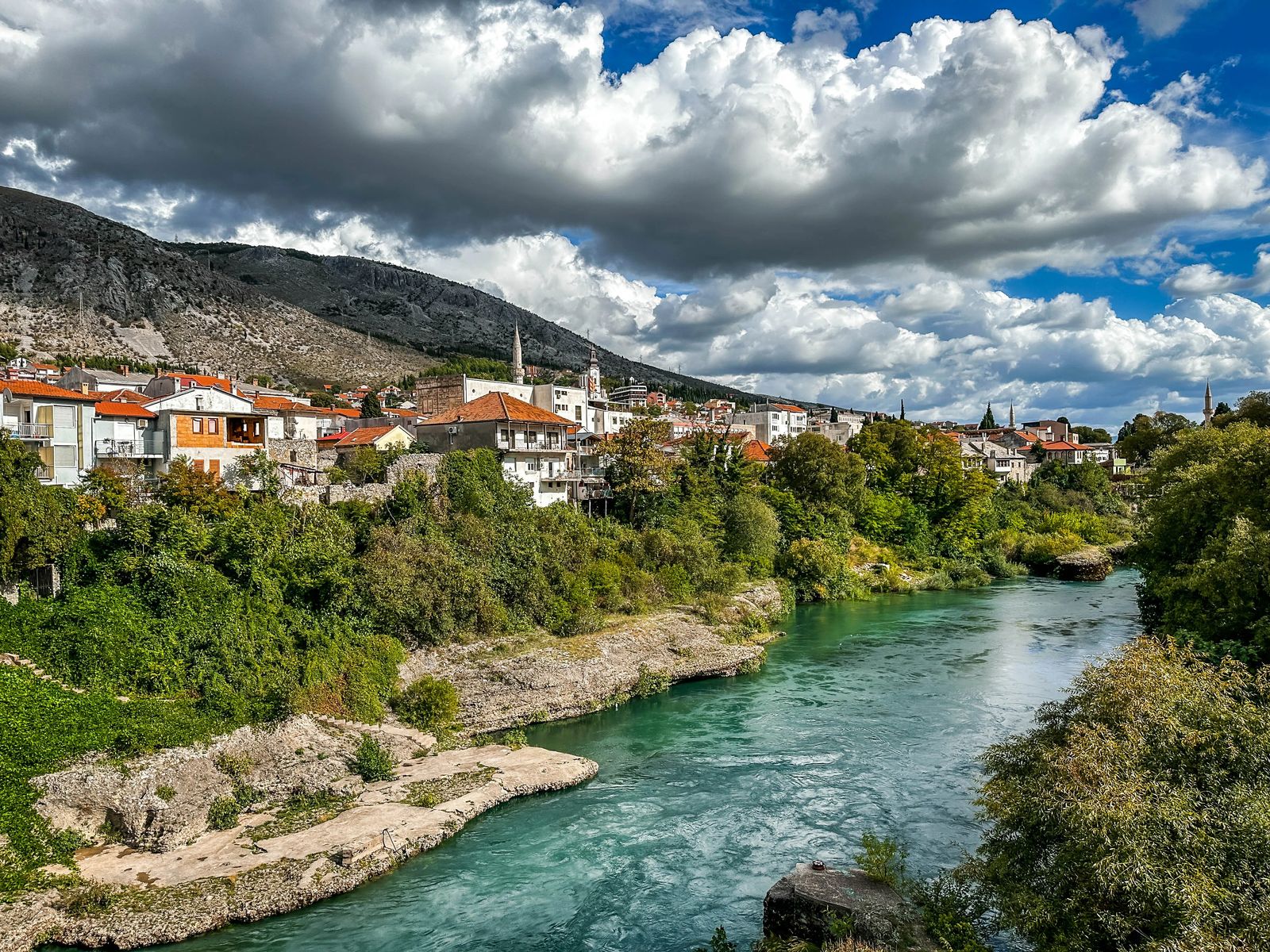 Muslibegović House
We ended up just seeing the outside of this house at the end of a very long day of touring Mostar and to be honest just didn't have the energy (#jetlag) to do another Ottoman Home. It is another elegant window into the lives of the rich and famous during those 400+ years of the Ottoman rule here and looks like part of it has been turned into a hotel as well.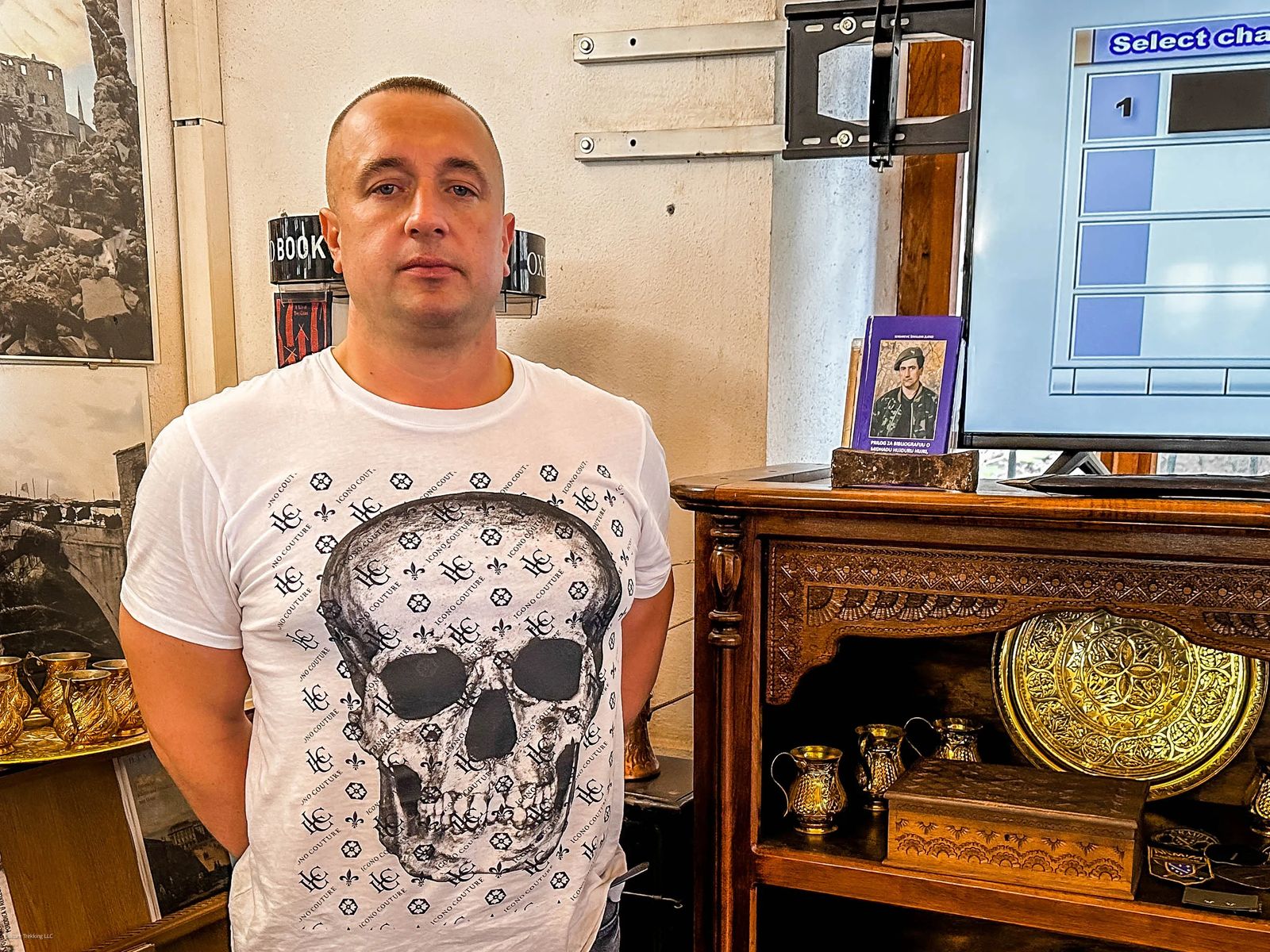 War Video and Photo Exhibit
This was a little confusing to find, but is on the Christian side of the bridge and is a shop with many many souvenirs, but also a moving account by the owner. You pay about 5 Euros to go sit on a bench, watch a video he made about the time in the war. At first it is a bit confusing, but just go with it - the video does a good job of giving an unbiased overview of the war, the aftermath, how the bridge came down, and all the footage about the time the bridge fell all wrapped up into about a 20 minute video. A
After the video the owner came back in, placed a book in front of the TV and started to talk about his commander - the man on the cover of the book that he wrote. He told us that he was 10 years old when the war started, that his commander was actually his school bus driver. They were tasked to aid in helping women and children escape from a forced labor camp across the river before they took all the bridges down. He commander saved him from a bullet that would have taken his life, but was still shot six times himself. His commander died right in front of him and as he looked at the book cover, he began to cry - saying that his commander was the best man, father he had ever known and hopes to be as courageous and proud as he was one day.
The presentation ended, we gave him a tip for sharing his story, and then he showed us all the photos about the time during the war as he remembered it. It was moving, chilling, and also really hard to listen to if I'm honest because of how real it was. It also made me grateful, that despite all the garbage that happens in the USA - I'm grateful I've never seen the brutality of war that close to home.
I do think it is well worth a visit to this unassuming shop at the end of the bridge, so that if nothing else it gives you a better understanding of the wounds of war the people here are still reeling from - even 30 years later.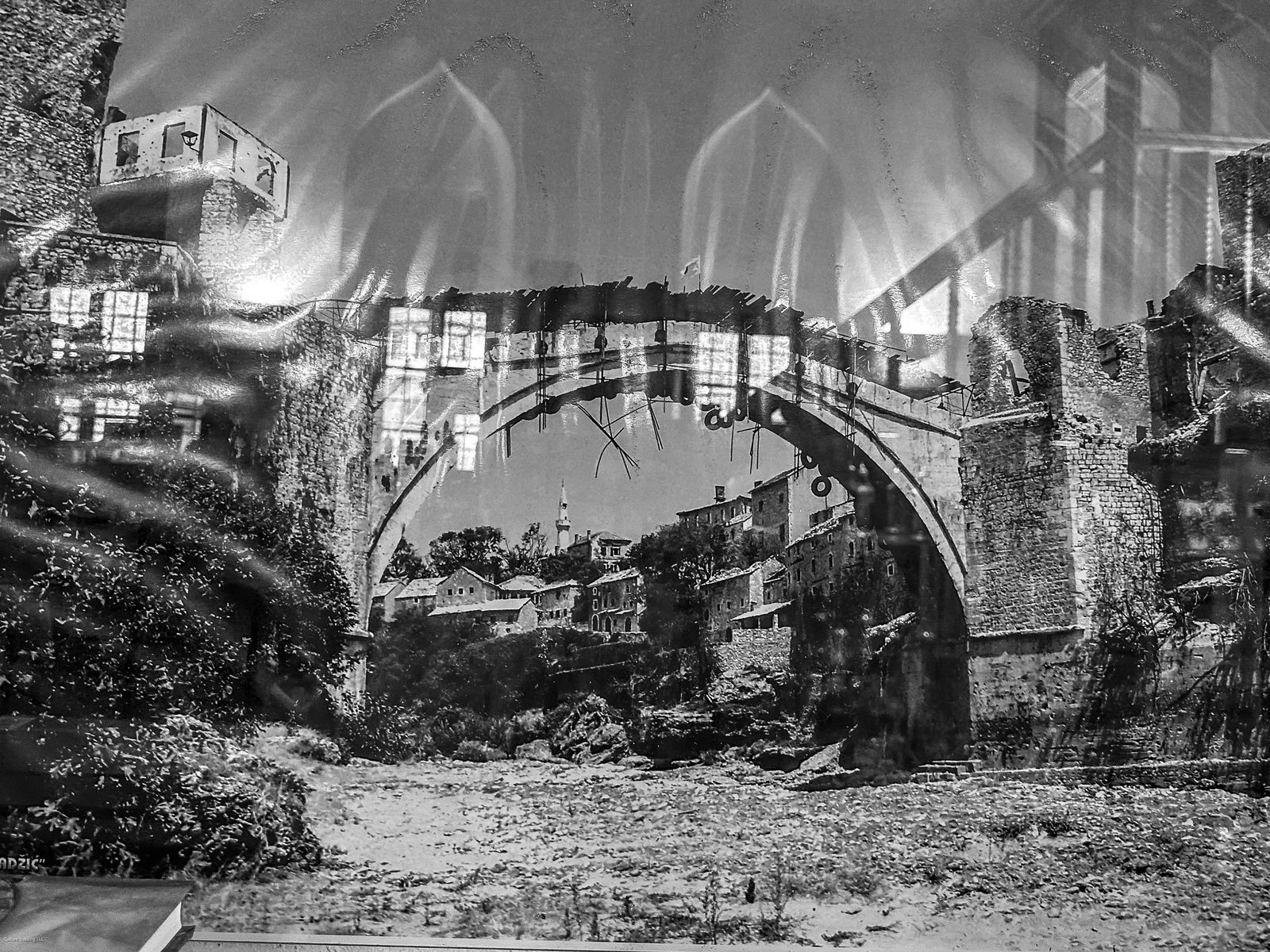 Herzegovina Museum
There are several museums located throughout Mostar, of collections of different kinds from the war. This museum is a little different from the many war museums in the area as it is a collection of archeological and ethnographic exhibits. From what was salvaged from the area of the Ottoman times, it shows different time periods and exhibits on the rich history of the area.
While I wasn't able to personally make it to the museum (thanks a lot Google Maps)....it is definitely one I think is worthwhile visiting. The more the museums like this are supported, the more they will be able to invest in acquiring items that preserve and restore the history of the area that was obliterated.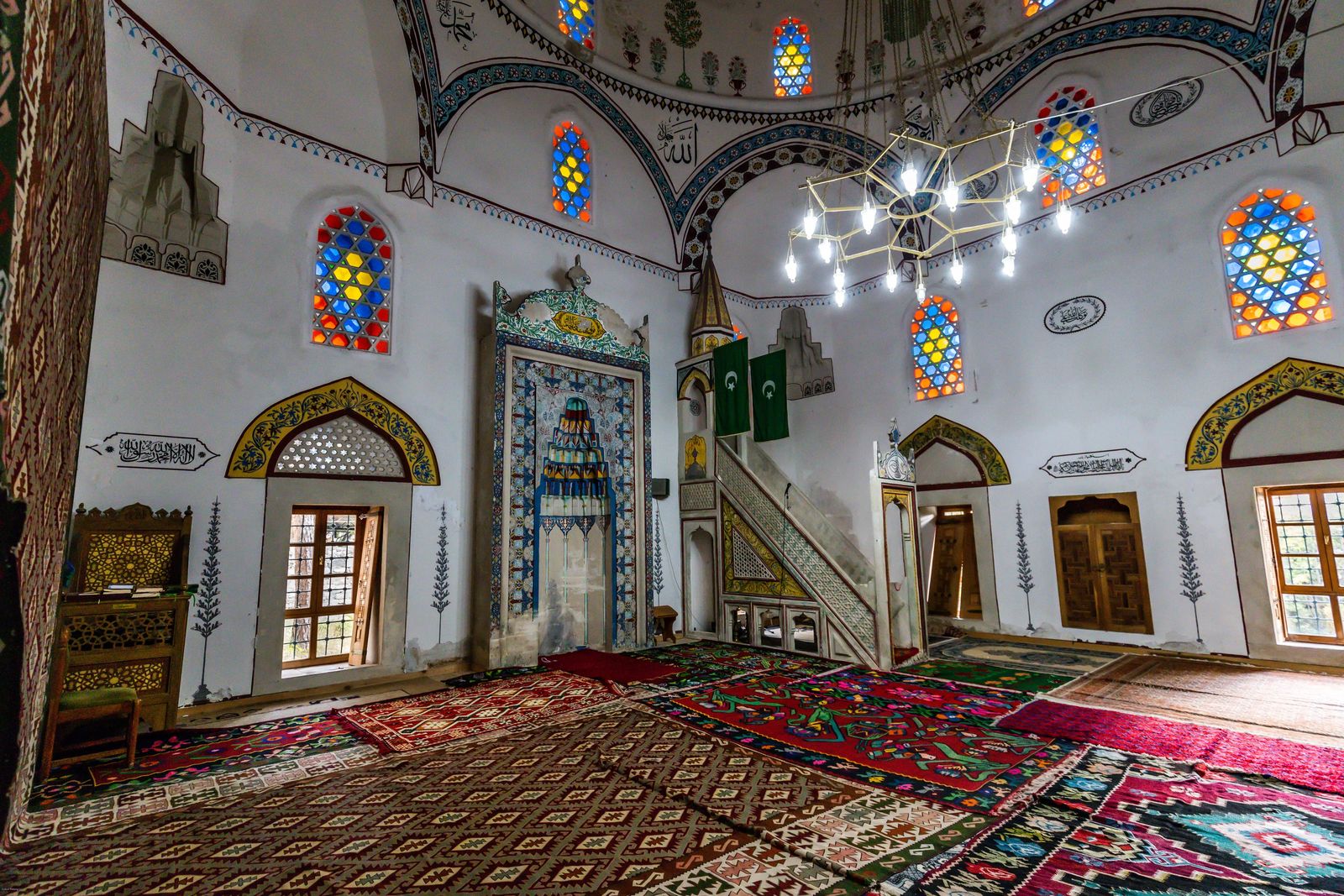 Koski Mehmed Pasha Mosque
Koski Mehmed Paša Mosque is one of six remaining mosques in Mostar. Before the war, there were 13, but the majority were lost along with one of the city's Orthodox churches. The Mosque has a tunnel entrance in the middle of the shops in the old city. You emerge from the tunnel and enter this serene area with large trees, a wash area (required before Muslims come to prayers). Make sure you wear modest clothing, a headscarf, and remove your shoes prior to entering the building out of respect to worshippers.
There is someone at the entrance to give the 3-5 Euro entrance fee (depending on the season). Make sure you have Euros in small bills or the Bosnian Marcs to enter as the don't take cards. If you want to climb the minaret it is 6-8 Euros.
The mosque dates back to 1617 and is very beautiful inside, with colourful wall paintings, Islamic calligraphy along the dome, and lavish carpets on the floor of the main prayer hall (including one carpet gifted to the congregation by Emperor Franz Joseph in 1910). My favorite part was the colored glass windows that glowed in the evening sunset. Everyone had just left from prayers so we had the entire place to ourselves and I felt really peaceful here.
Once you come back outside the Mosque don't forget to go to the left towards the river. There is a small gate there you can walk through, and your entrance ticket gets you views of the bridge. This is the absolute BEST place to get photos of yourself in front of the bridge honestly. Go in the early evening so you can get good lighting for your photo, and see the sunset glow through the windows in the mosque. You can thank me later.
Millennium Cross at Hum Hill
Some people may call this a 'thorn in the side' of the city, a symbol of triumphalism - but no one says anything about it because no one wants war again. Atop Hum Hill stands a giant Millennium Cross standing 108 ft (33 m) high, built in 2002, that overlooks the Christian side of Mostar. You can drive to the top, or hike to the top - but if you choose to hike, I would rate that trail as moderate to difficult because of how steep it is and takes several hours to do so.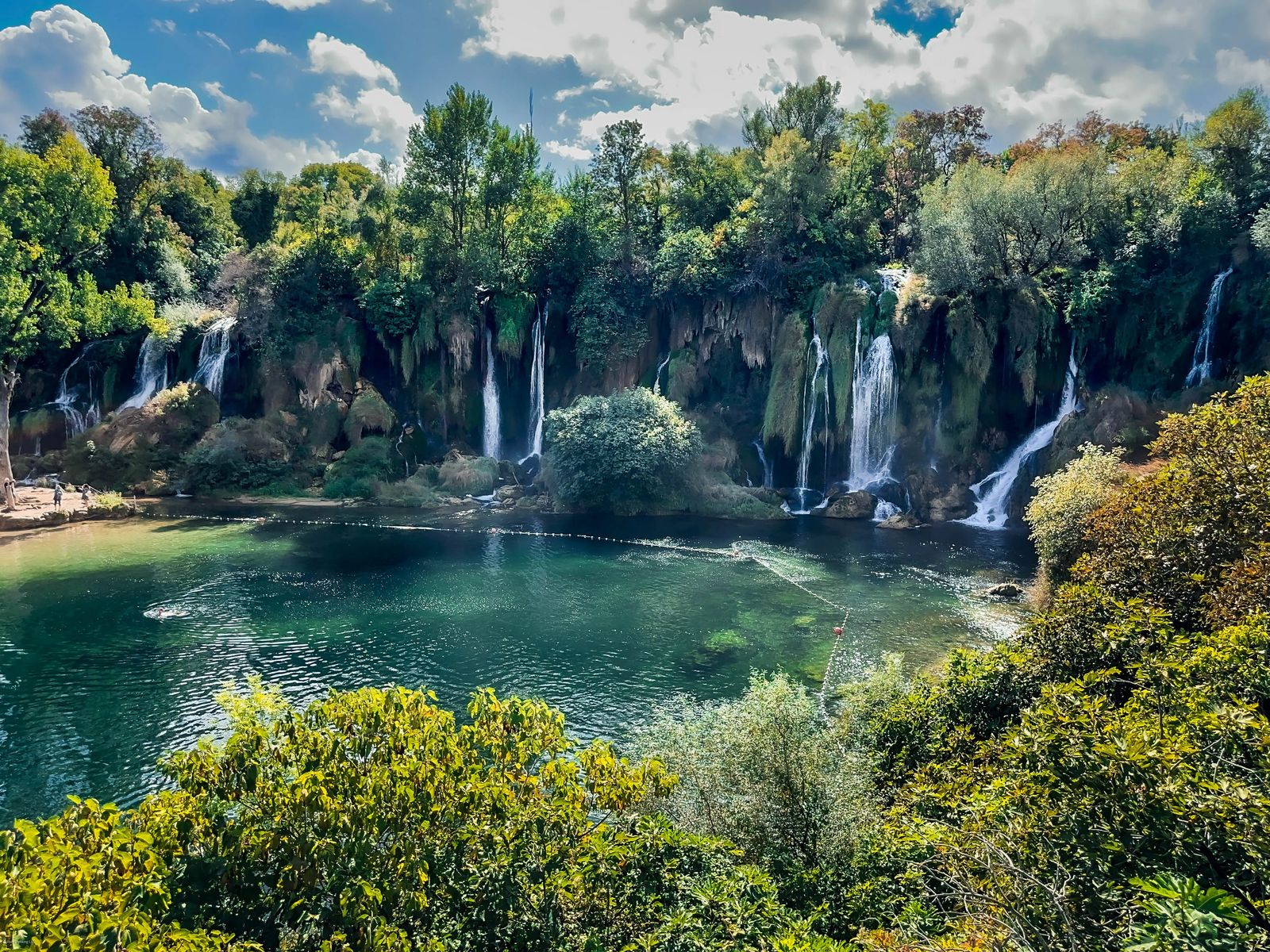 Day Trips from Mostar
Blagaj Tekke is about 8 miles (13 km) from Mostar, also called the Dervish House. It sits right next to the beautiful (but chilly) Buna River. The Buna River is a Karst Spring, and is considered the largest underground river in Europe. The Dervish house (yes in relation to the twirling dervishes) - was used by a sect of Islam that used rhythmic movements, and giving up all their possessions without the ability to beg, as a way to get closer to God. It is now a Muslim pilgrimage site, Mawlad, to celebrate the birth of the Prophet Mohammad.
Medjugorje is a Christian pilgrimage site that is 15 miles (25 km) away from Mostar. It is said that there have been multiple Marian apparitions seen here, which the Catholic Church hasn't officially accepted, but many come to visit this holy site anyway.
Kravica Waterfalls is an arc of 20 different waterfalls that are 82 feet (25 m) high, and fed by the Trezibit River so it stays a chilly 68 F (20 C) year round.
Počitelj Kula is a UNESCO site that was once the center of the kingdom of Dubrava župa in the 15th Century.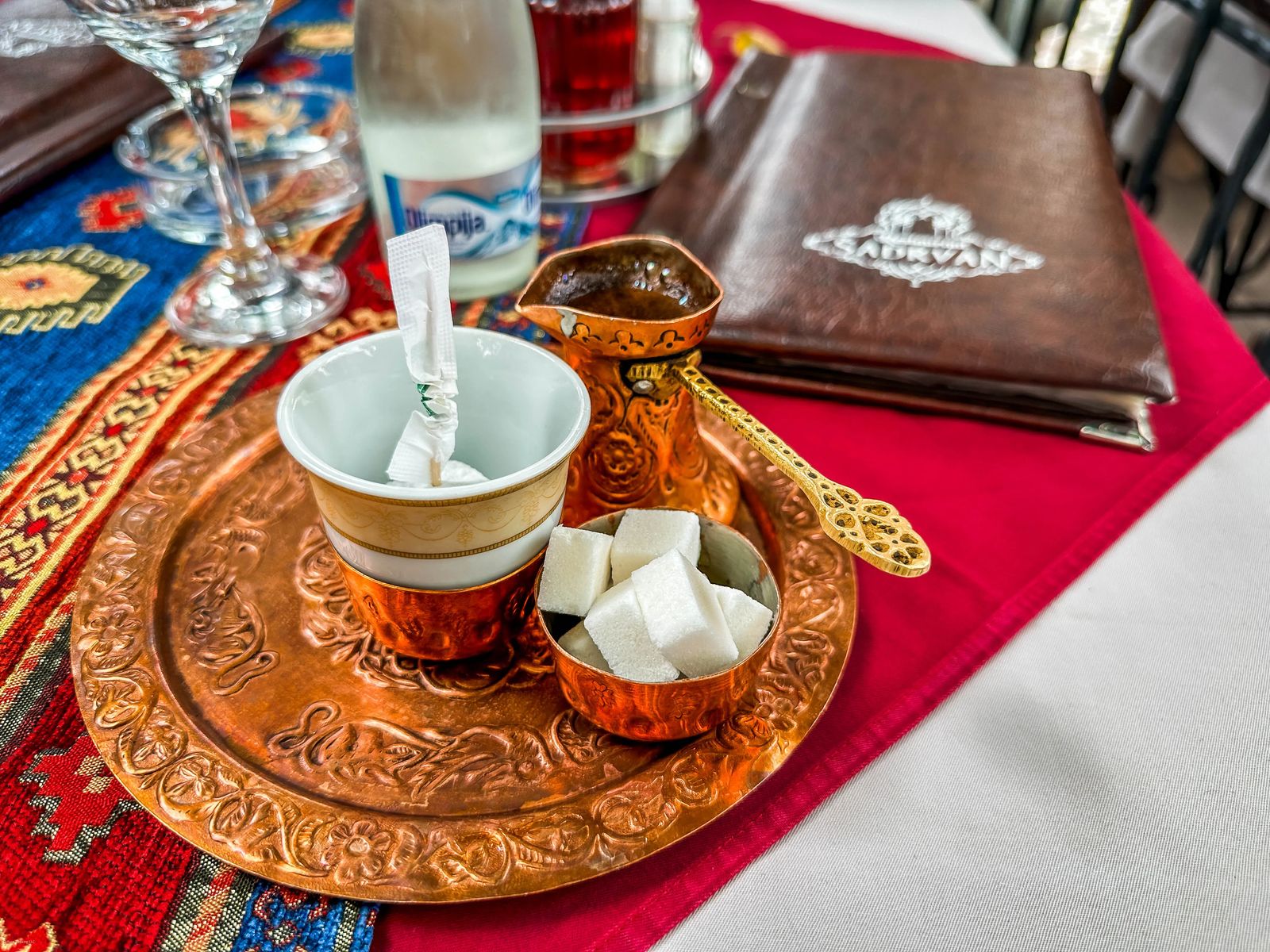 Coffee Culture
There is a distinct coffee culture here, and a unique way of serving it. If you don't know what to do, it can be a bit embarrassing or a massive coffee grounds blunder if you don't know what you're doing. So here it is step by step:
1- The coffee is served in a džezva, a special metal pot with a long handle, which is placed on an etched bronze tray along with a ceramic cup called a fildžan, sugar cubes.
2- There is often a Turkish delight covered in powdered sugar as well, but is meant to be eaten after you drink your coffee.
3- First take the spoon and gently scoop the coffee foam off of the top of the pot. Put that in the bottom of your cup. DO NOT STIR THE POT! No really, don't, the coffee grounds are in the bottom. Pour the liquid portion into your cup, but don't pour it out all the way. If you pour it out all the way, you will be getting your coffee grounds.
4- Take the sugar cube, and don't put it in your cup, you dip the edge of the sugar cube into the coffee to soften it - then nibble a piece of it and chase it with a sip of your coffee.
5- Dip and repeat with sugar cube, cleanse the palate with the glass of water they provide in between.
6- Finish your coffee with good company, and then crown it in all its delicious glory with the Turkish delight.....sigh.....I miss that whole ritual honestly - it really was like asmr coffee culture kind of experience.
Cafe de Alma on the western side of the river is one of few cafes in Mostar that roasts its own beans. They serve coffee the traditional way and will run you through the ritual if it's your first time.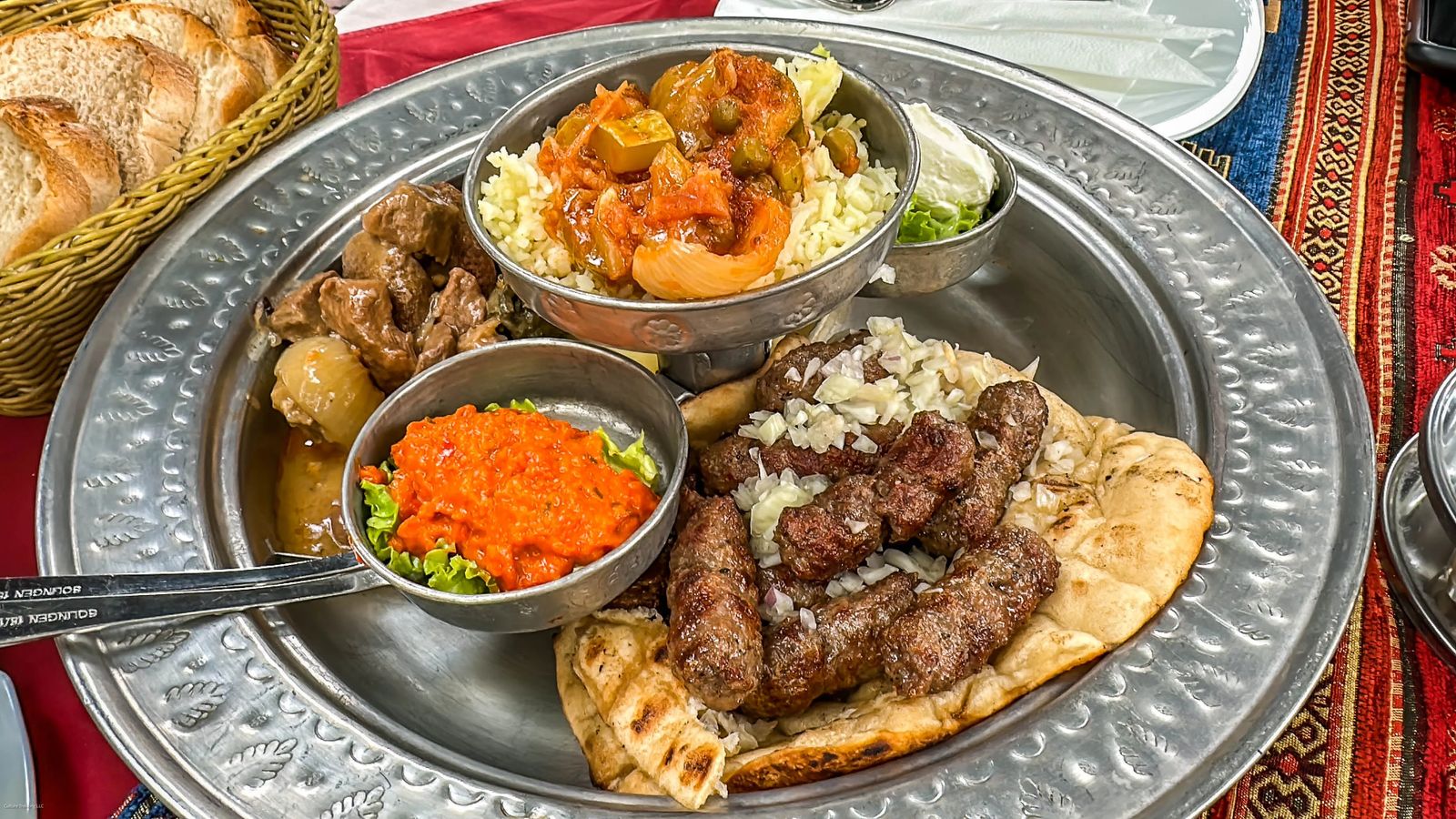 Foods In Mostar
If you want to try traditional Bosnian food, every blog and local will always recommend three to give you the best experience and I couldn't agree more. First up is the Hindi Han, this has the rakija (local hard liqor) in many different flavors and a Bible sized menu of delicious Bosnian food. Try the Sudzuk and Sagan Dolma and thank me later.
Šadrvan is ALWAYS busy, there always seem to be tourists in line, but if you go in the off peak lunch hours without a reservation you might be able to squeeze in with a small 2-3 person group. They have a beautiful outdoor seating area (which I recommend) that is shaded by rustling trees. The servers are dressed in traditional outfits and were very kind and accommodating. For my USA folks, just a reminder, when traveling abroad, eating is an experience - so take your time, don't be in a rush because no one else will be. Enjoy the ability to rest your feet, have a conversation and compare photos :) We weren't able to go to Cafe Alma, but Šadrvan also serves Bosnian coffee the traditional way here too. (Psst...the food in the picture above is from here.)
For the best of the best head to Hindi-Han, a restaurant tucked away down some stairs next to the river. At night you can see bats flying out from under the bridge from across the river (don't worry, they don't get close). They have a shaded area and indoor seating, we were grateful for it this night because it started pouring rain. We sipped our wine, ate the delicious meal, and headed back home for our last meal in Mostar. The food was delicious, the service impeccable and I think it was a toss up between Sadrvan and Hindi-Han on which one I liked more.
TRAVELER TIP: When you are in the Balkans be aware that smoking is allowed inside restaurants. So always opt for outdoor seating if you have issues with that or Asthma (like me).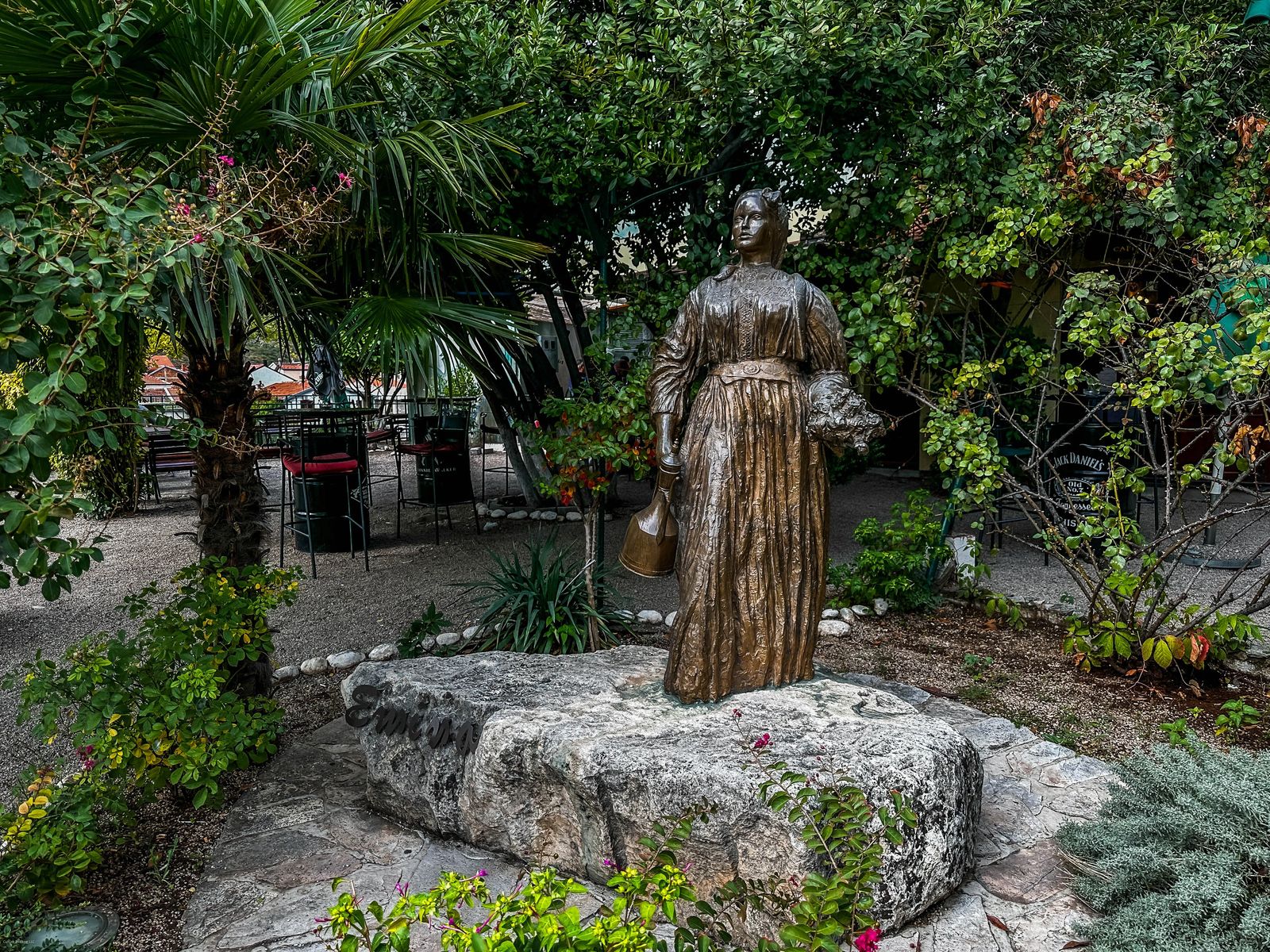 Getting To Mostar
We were starting our 1500 mile Balkan road trip from Dubrovnik, so we rented a car from Auto Will (Green Motion is good too) and for 16 days it was about $1200. We also had an extra driver, and daily car insurance (recommended for the Balkans) and were crossing borders. If you do this, make sure you get the green insurance card in order to cross borders.
If you want to do a tour from Dubrovnik to Mostar, you might be able to work out with your tour guide to just drop you off in Mostar. I always book through Viator, Get Your Guide, or Airbnb experiences for tours.
If you are going by bus, you can get a bus from Dubrovnik to Mostar for $22-$24. They also have buses from Sarajevo, Split and other surrounding areas if you wanted to jump around the area. To book your bus ticket go to Bookaway or Rome to Rio.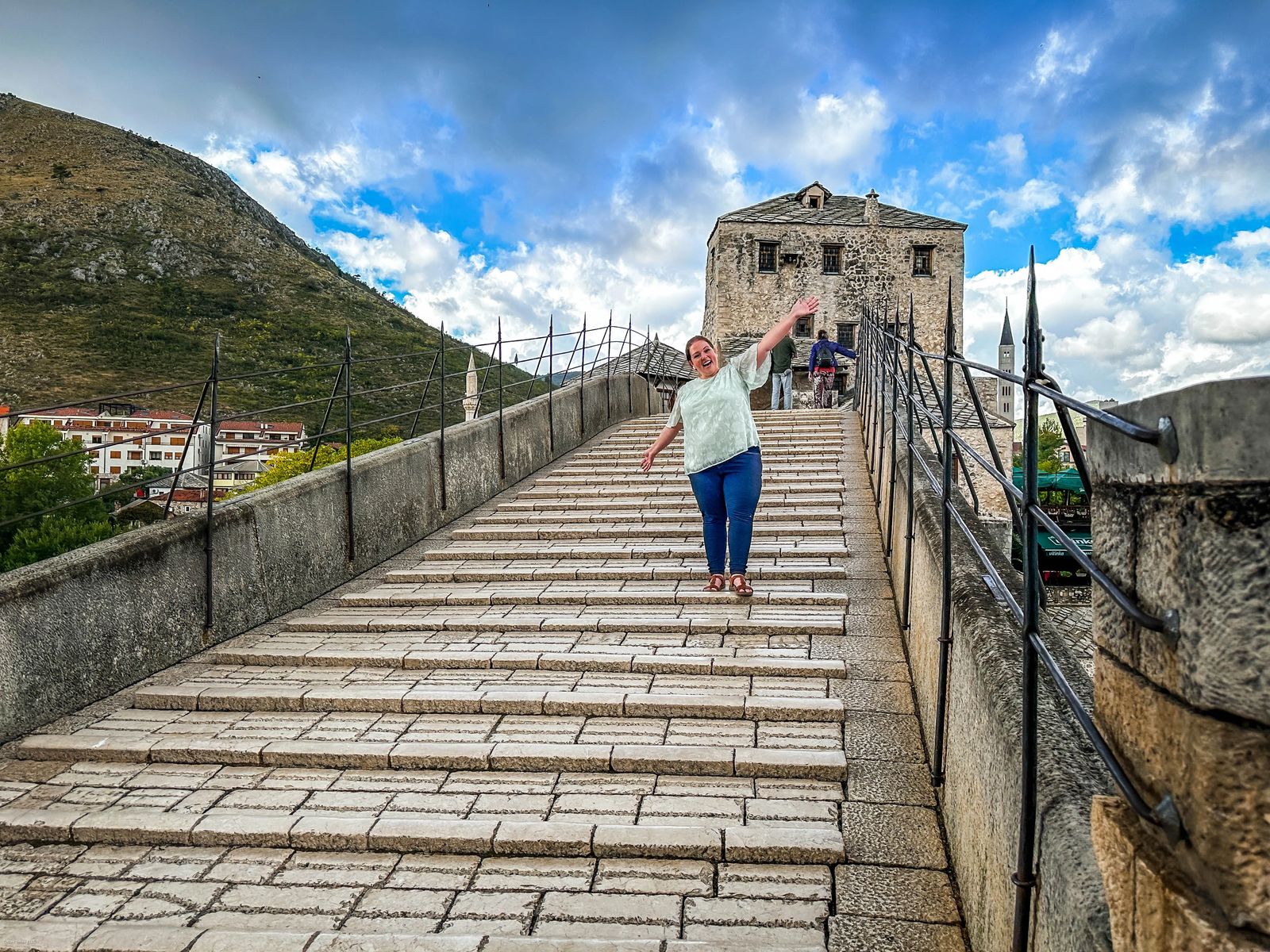 My Takeaway of 24 Hours in Mostar & What I Would Change
Mostar is moving, inspirational, and beauty can be found around every corner both in the landscape and in the hearts of the people....IF you go with an open mind. It felt like I was in the Old World Turkish markets, the stone roofs and bridges were just so unique to me and I really truly fell in love with Bosnia as soon as I crossed the border from Croatia. Don't get me wrong, I loved Croatia, but there is just something special about Bosnia that moved my soul in ways I did not expect and it is hard to explain. It kind of goes back to that whole example of "You can see a photo and video of the Sistine Chapel a thousand times, but nothing compares to when you see it, smell it, and feel what it is like to stand in that room". You just need to visit Mostar, and I highly encourage you to spend a few days in this city to really be able to see everything properly. One day in Bosnia is NOT enough, we actually spent two days there and it still felt as if we were incredibly rushed to see everything.
I hope this article was helpful for your adventure, please let me know in the comments below if you have any questions about visiting. If you do visit, I would love to hear how it went and what you thought of your time there as well.
Like it? Pin it for later! Sharing is caring ;)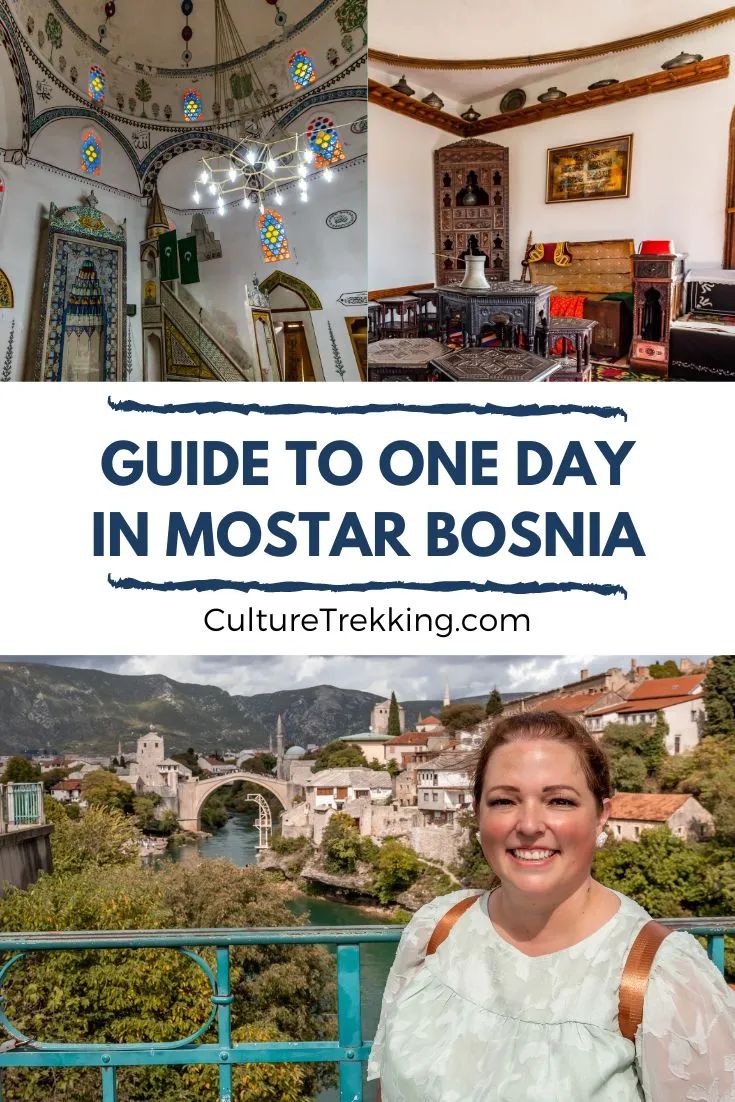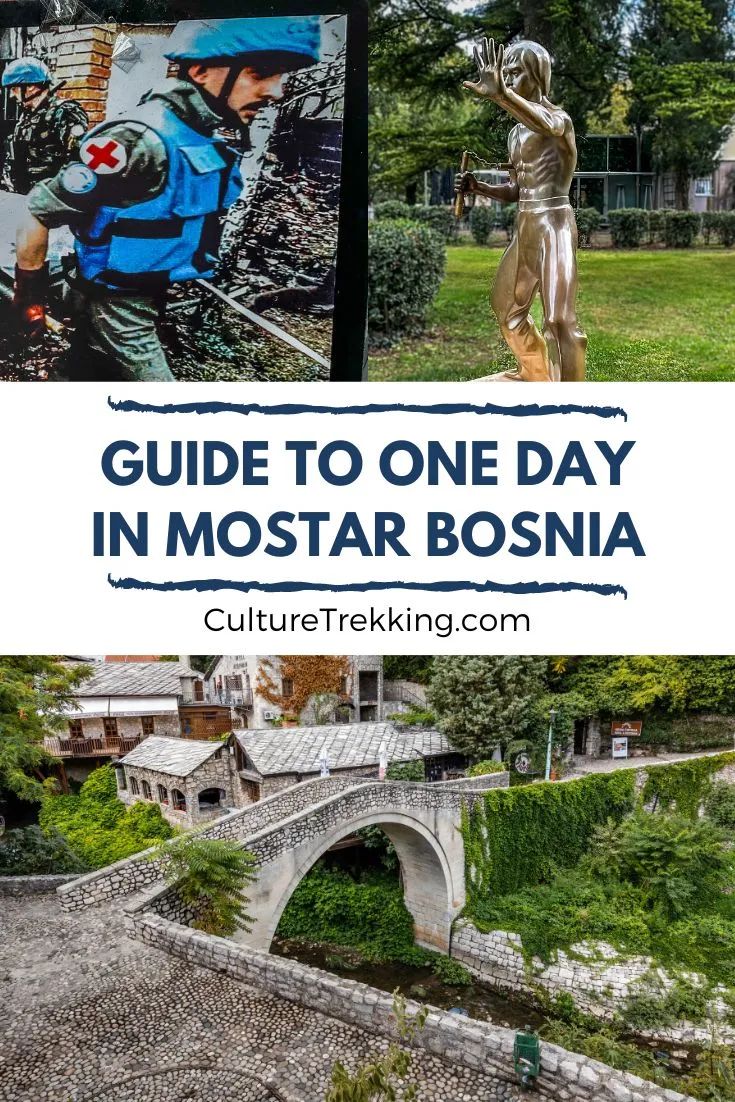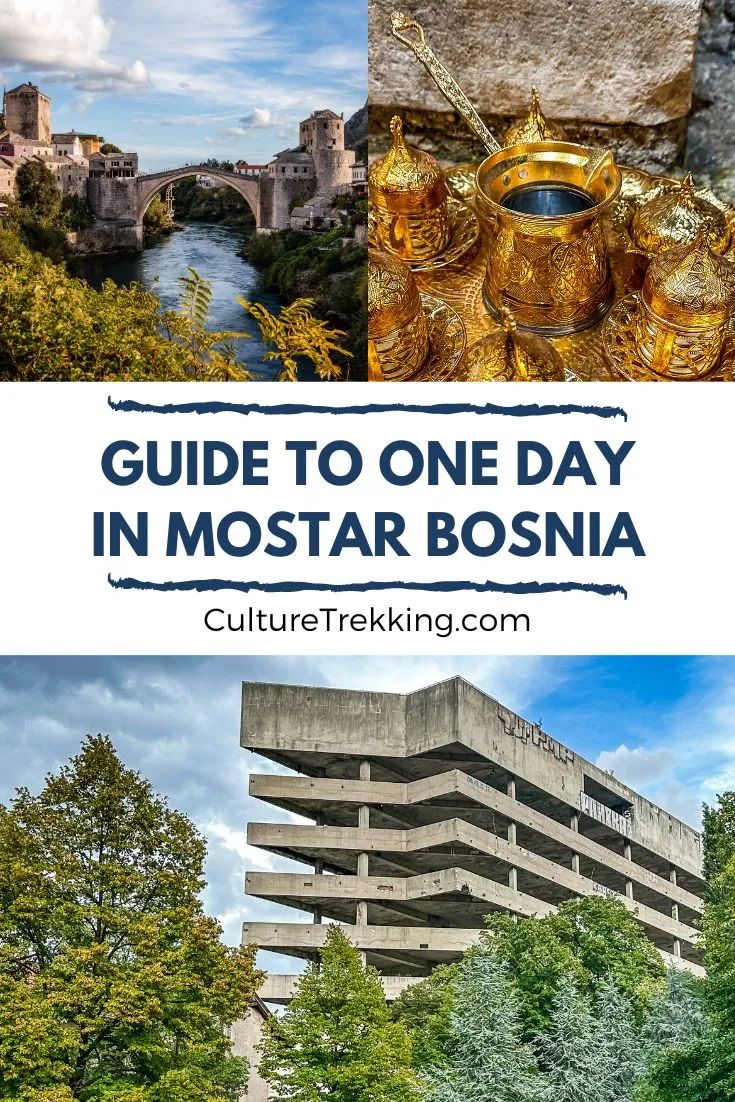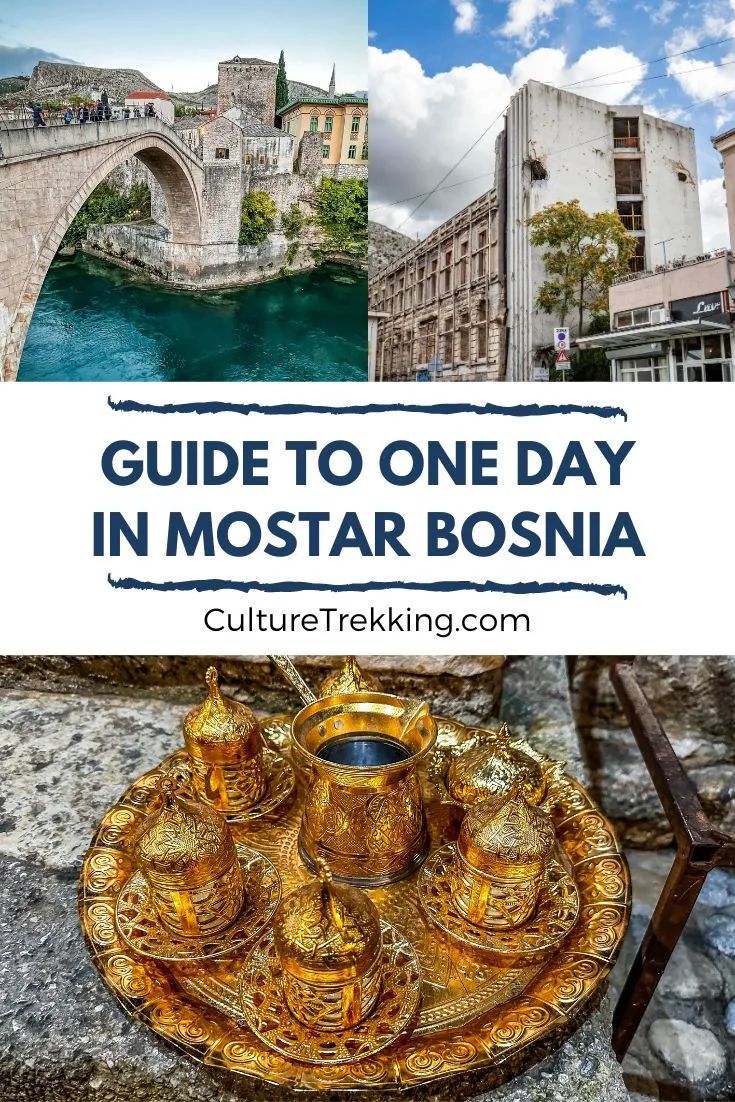 Latest Articles On Culture Trekking