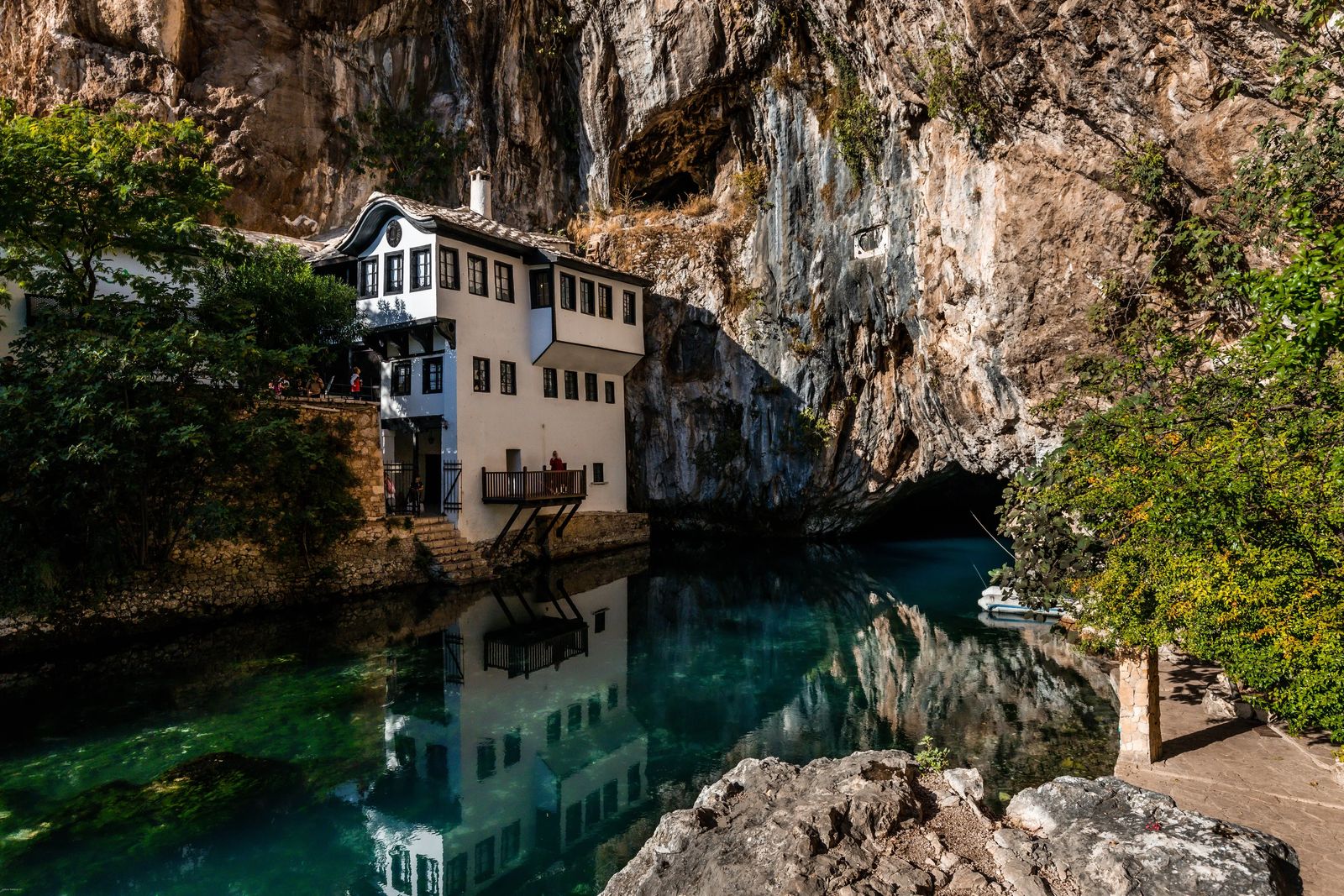 Visit Blagaj Tekke and Buna River In Bosnia
Driving along narrow stone alleyways I wondered if I really was headed in the right direction. A man stopped me to pay the 2 Euro fee for parking, and as I peered ahead I could see a paved road lined with souvenirs and I knew we had arrived at Blagaj Tekke (Buna Village) in Bosnia right next to the largest underground river in Europe, the Buna River. This is a pilgrimage site for Muslims which I will explain later, but it is highly debated among travelers on if it is worth visiting.
I personally find history fascinating, I love nature, rivers, and getting some exercise along my roadtrips so I feel it is a great stopping point between Mostar and Dubrovnik. Let me explain why I feel it is worth visiting below - but let me know in the comments below if you think it is worth visiting after you read my guide to Blagaj Tekke.
Day Trip From Mostar to Blagaj Tekke (or Tekija)
Most of the time visiting Blagaj Tekija is included with other stops like Kravica Waterfalls or Pocitelj Kula as a day trip. I was personally on at the beginning of a 1500 mile road trip with my friends through seven different countries through the Balkans headed from Dubrovnik to Mostar. Because of the logistics for this massive endeavor, I knew we needed a few stops to not murder each other at the end and to make the trip interesting.
To get into the house it is about 5 Euros per person, cash only. The house is considered a National Monument to Bosnia, so it definitely is worth a visit.
I love using Get Your Guide and have linked some of the day trips to Buna Village down below.
History of Blagaj Tekija
The Blagaj is along the river Buna, the largest underground river in Europe at the edge of the Bišće plain. this popular tourist destination is a must-see in Bosnia & Herzegovina. The Tekke (Khanqah, dervish house) has prayers three nights a week and was built on the site of a Bogmil sanctuary. There isn't much known about the sanctuary or its date other than that it existed.
Excavations around the area suggest that it was occupied in the middle ages, and was of deep cultural and religious importance. The Tekija was active until its last shaykh Sejdo Sehovic died in 1925. After World War II, the religious practices of the Dervish and Tekke were banned until the 1970s.
The Muslim community, moved in and started to use the house and protect it from ruin, and revived the house as a pilgrimage site for the religious Mawlid or celebrating the birth of their prophet Mohammad.
The first written records refer to this place as Sari Salutk's burial site. He was one of the most famous people in the Ottoman empire. Although, there are other accounts where he decided to fake his burial site and asked that multiple coffins be taken throughout the world so no one would really know where he was buried - further adding to this mystery.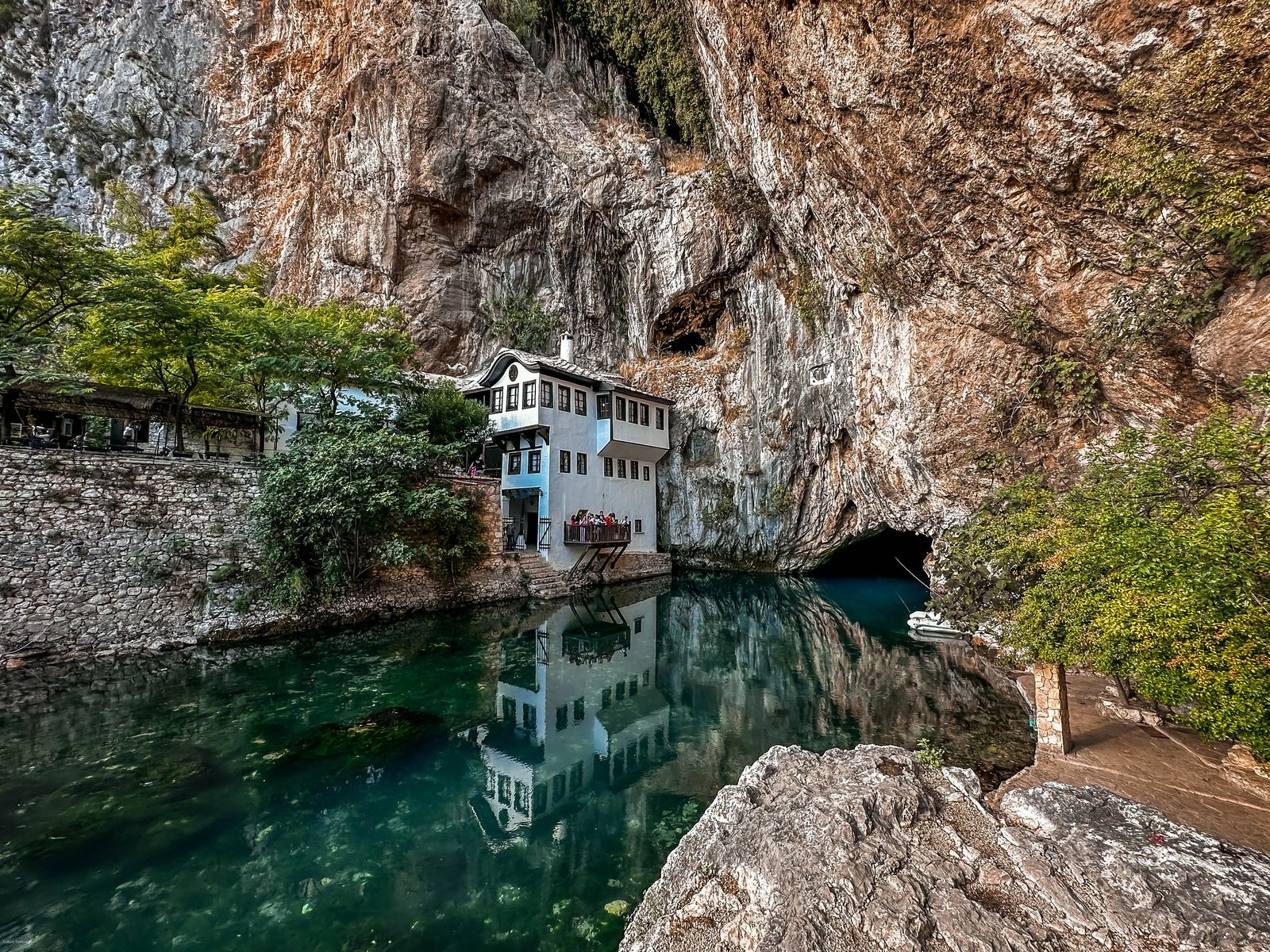 The Buna River
The cave is made of limestone, dolomite, and gypsum with sinkholes and drainage systems that help supply the rushing underground river. The Buna river travels for 6 miles (9km) and feeds into the Neretva river.
The Buna River is considered a karstic spring, with HUGE cliffs towering over the cave entrance. Every second the Buna River discharges 11,300 cu f/s (320 m 3 /s). The water is cold, crystal clear, and inviting on those hot summer days.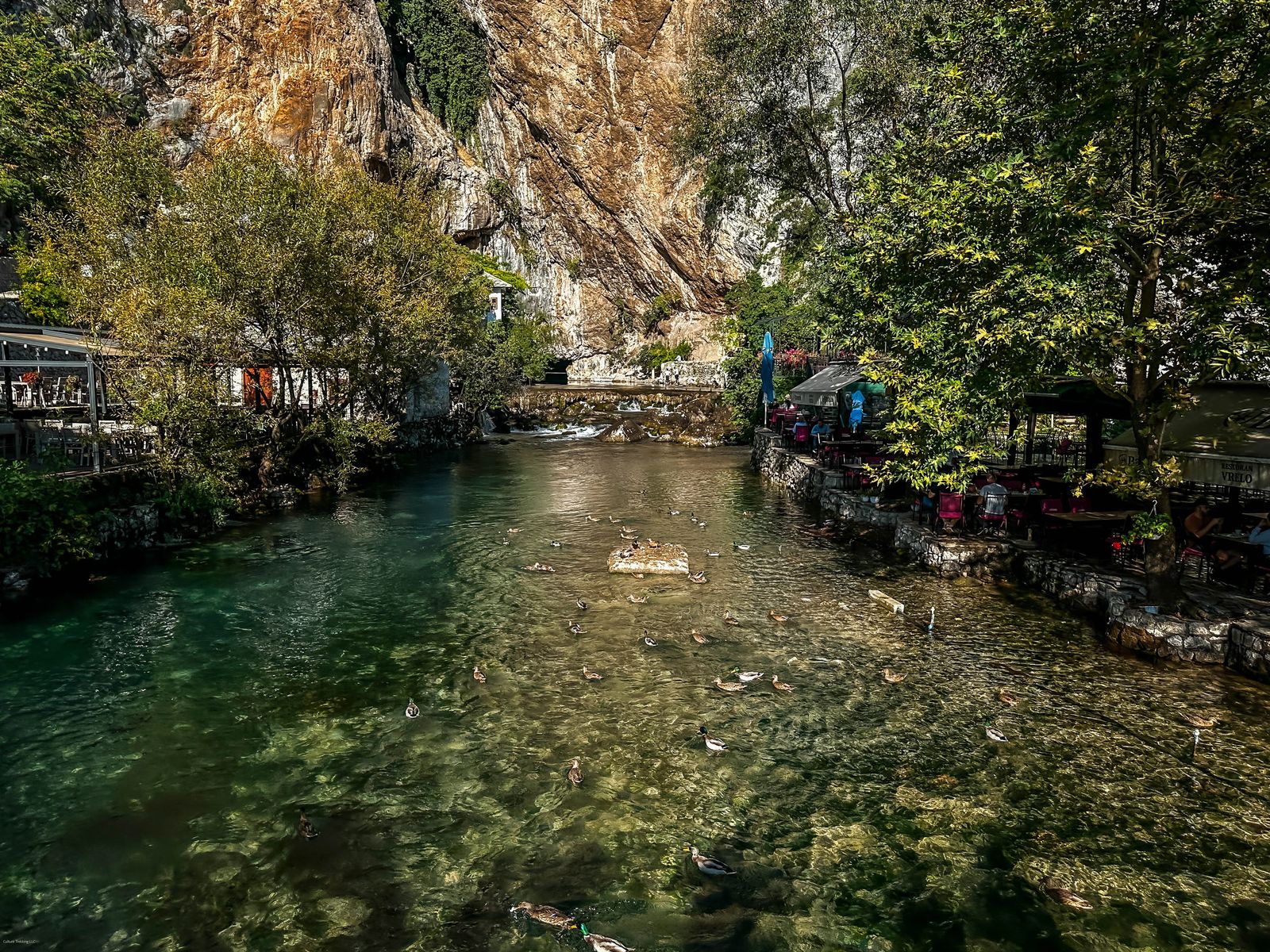 Who Were The Dervish People?
In Islam, the Dervish people were those who accepted poverty as a way to humble themselves before God. They forsook material positions and focused solely on the values of love, service, and giving up the illusion that they would somehow reach God.
They would often physically exert themselves into a sort of trance as a way to speak to God. These trances often led those who witnessed it to say that they were able to perform miracles, or had supernatural powers.
The Dervish weren't allowed to beg for themselves but were allowed to beg for others. The main reason for the acceptance of poverty was to instill humility. They valued personal experiences as a way to reach God as well, over intellectual studies.
Perhaps you have heard of Whirling Dervishes, these are very rhythmic movements that would allow the trance to reach God. There is a strong tradition of Dervishes in Turkey which is where many believe these practices started. It is now largely used as a tourist attraction now.
Although this was one order of Dervish practices, there are many different sects and groups that valued similar but varying practices.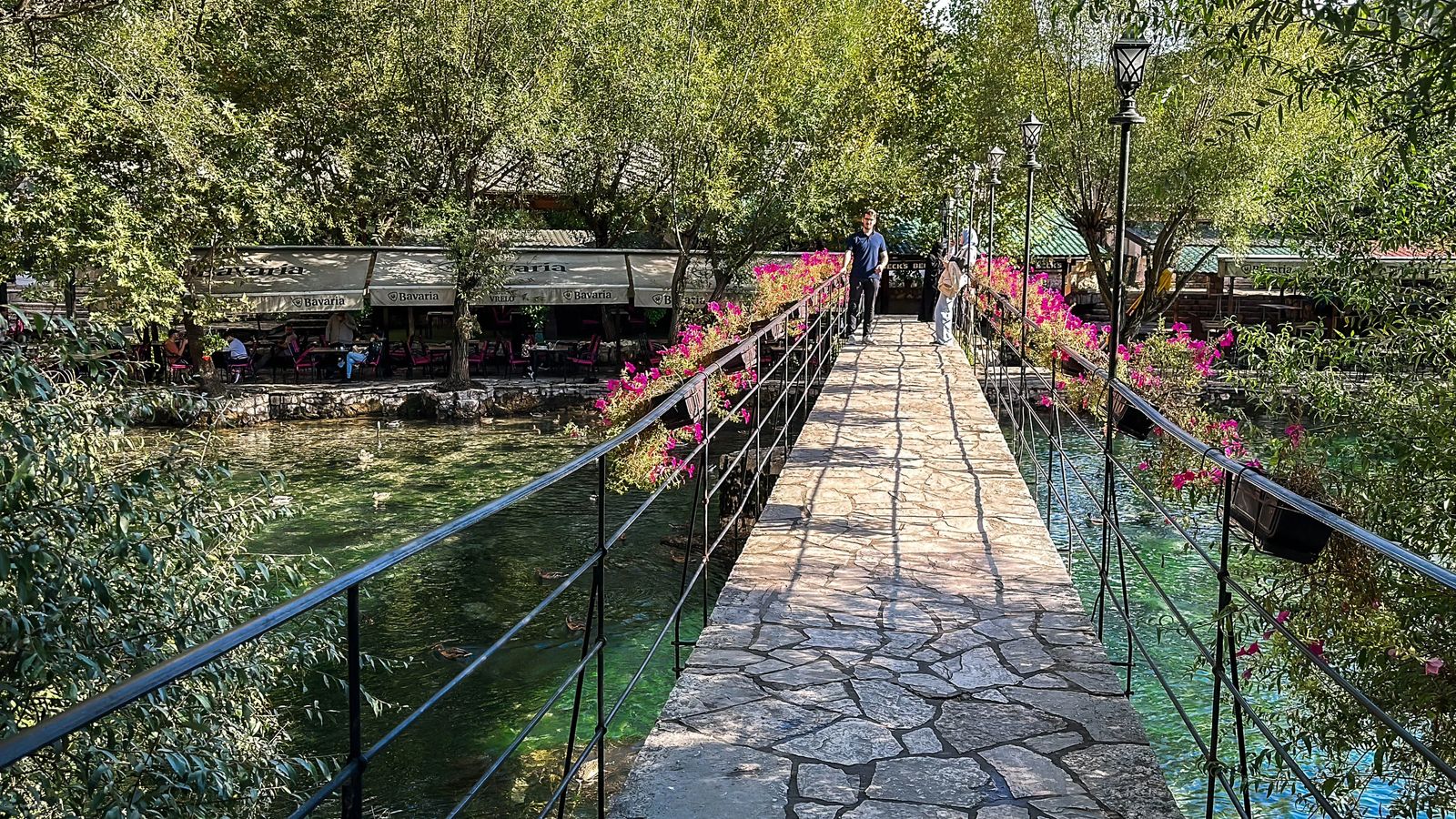 How to Get to Blagaj
Located about a 2-hour drive from Dubrovnik or 45 minutes from Mostar. There are buses that take people out here, but without cell service it may be difficult to translate the time tables to get back to your destination. I would highly recommend just taking a guided tour and be able to see a lot of the highlights of Bosnia in a short amount of time without having to worry about how to get back to your accommodation.
The house is open 8:30 am-8:30 pm (in the peak season) but closes around 5pm in the off season.
Address: 7W43+V7H, Blagaj bb, 88000, Bosnia & Herzegovina
Phone: +387 61 371 005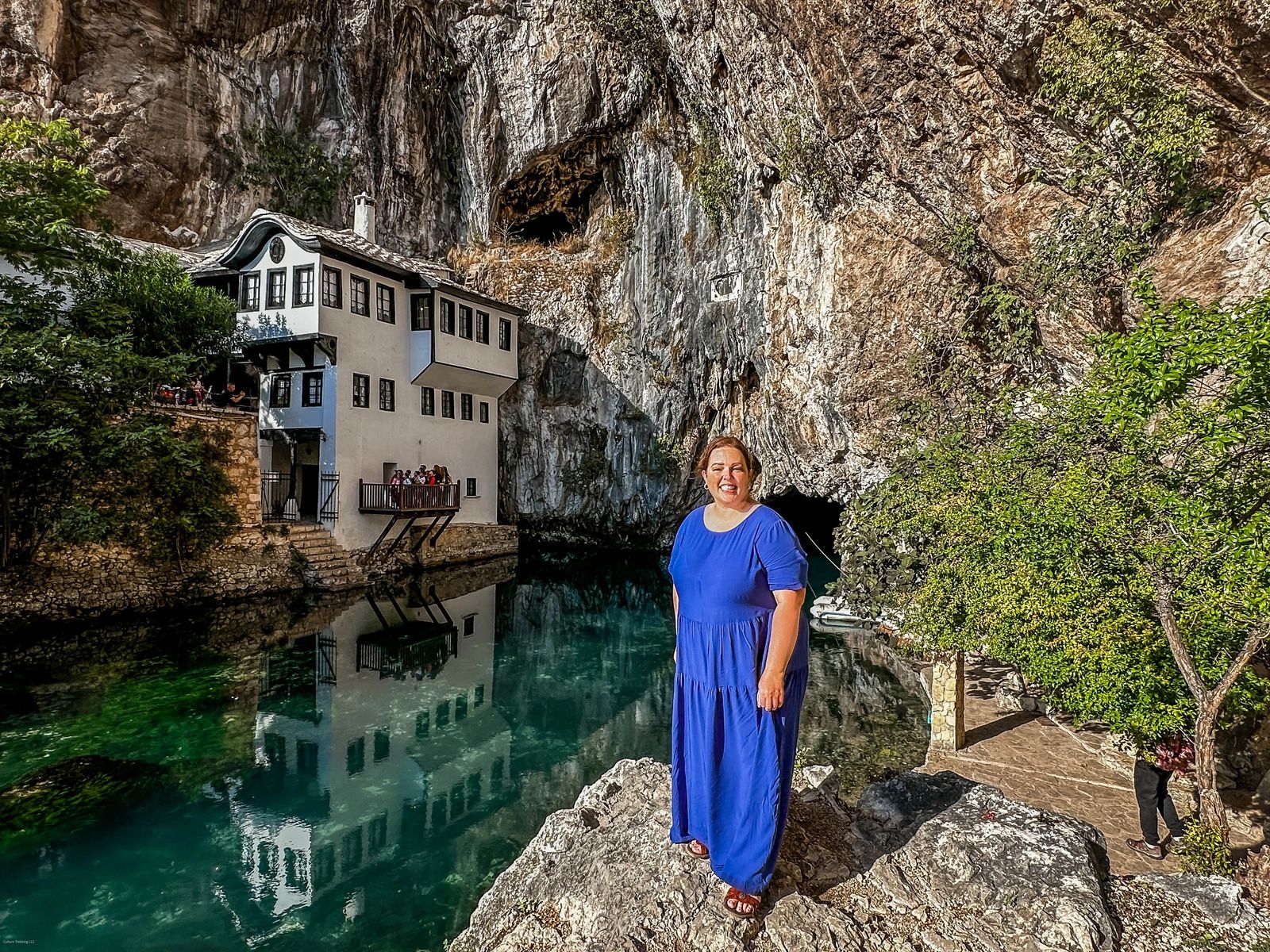 Amount of Time to Spend At Blagaj
If you just visit the House and look at the river from afar, you could only spend about an hour here. However we got sucked into the souvenir shops (which happen to be cheaper to get things here than in Mostar) but they only accept cash.
There are small boats that can take people inside the cave for a fee, but once you are in there, it doesn't look like there is much inside of it.
You can also get a Bosnian coffee or lunch at the restaurant and watch the river go by. I really wish we had allowed for a bit more time to explore the house, and spend some time swimming in the river, or taking a leisurely meal and watching the ducks swim about.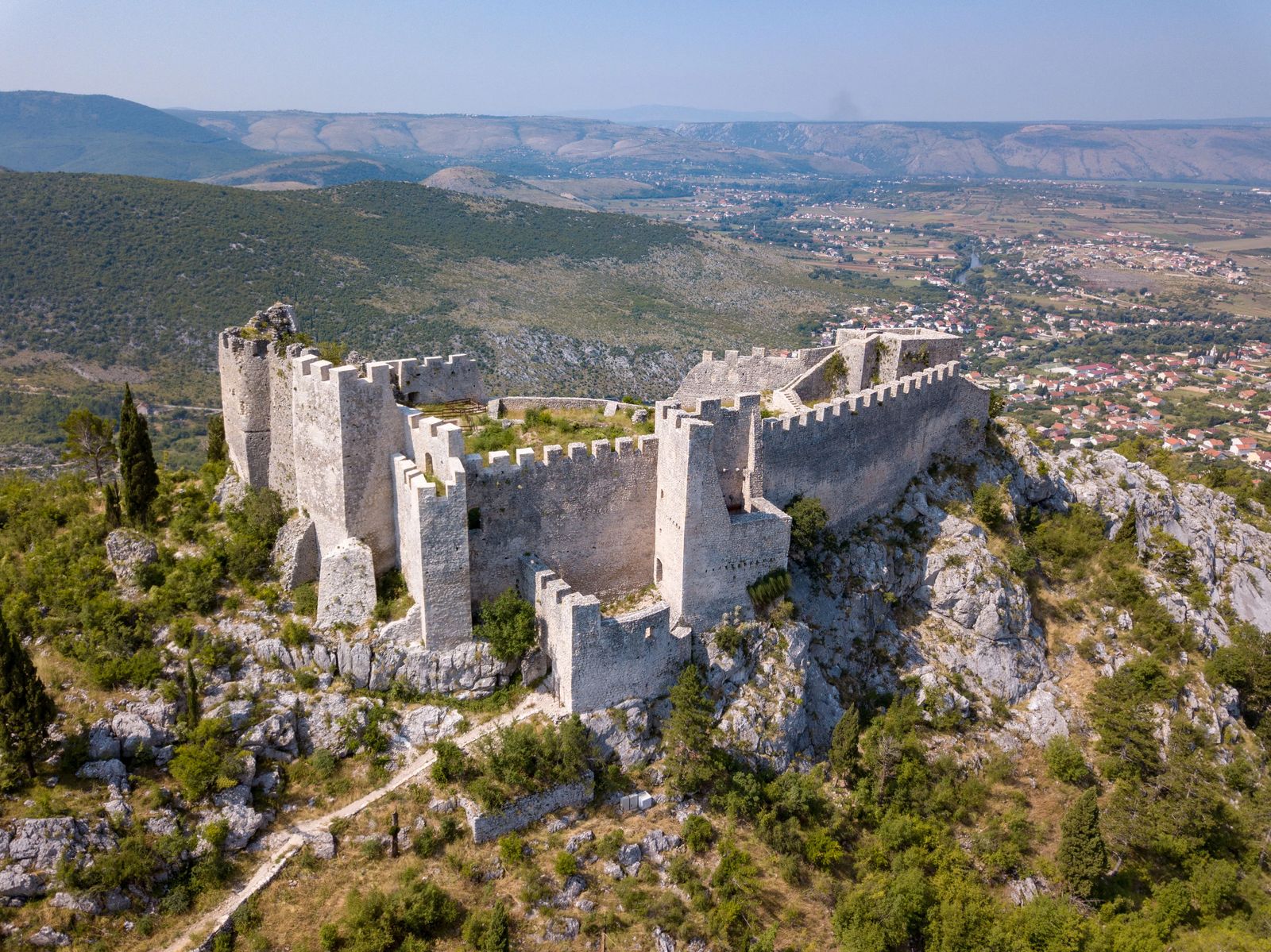 Blagaj Fortress
There are a few other sites near Blagaj Tekji that I suggest visiting like Kravica Waterfalls and/or the Blagaj Fortress. This is a popular historic site (where the Duke of Bosnia ruled, and the Queen of Bosnia was born) on the hill that many guided tours to the area also visit. Be warned that the hike to the fort can be quite steep if you choose to do it on your own.
The tourism in Bosnia is still slowly developing so keep that in mind if you decide to visit the fortress on your own.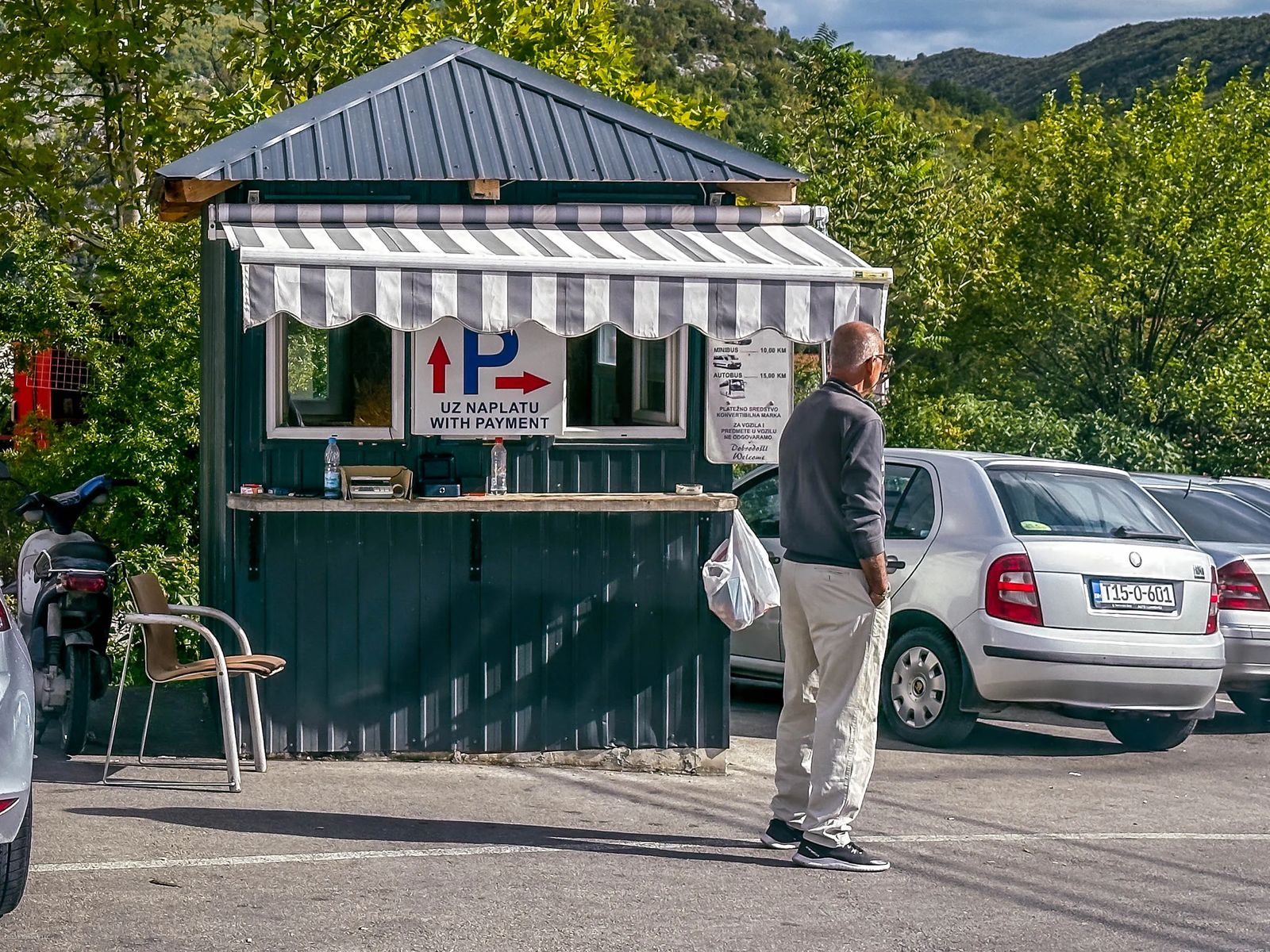 Parking at Blagaj Tekke
You need about 2 Euros (in the off season) to park closer down near the river and the house (it costs more for larger vehicles. There is someone that will stop your car, and is very adept at hand signals to let you know what you need to do. The streets are quite narrow (for all you Americans used to wide lanes), and it is quite a walk if you decide to park further up the street. I don't know what the safety is like further up the street, but as three females with all of our belongings in the car, we felt safer parking closer.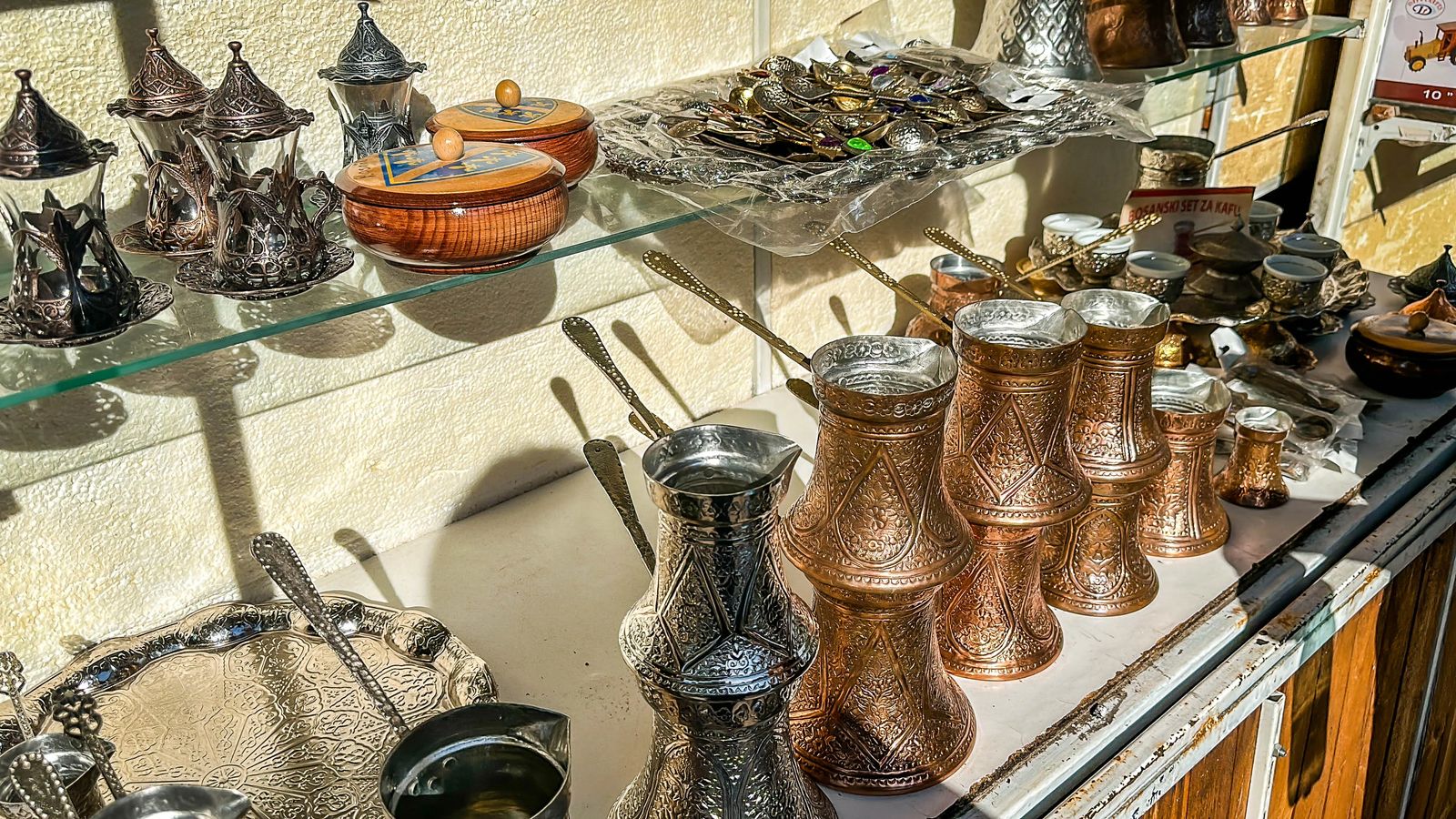 Shopping At Blagaj Tekke
Expect to find elaborate tea cups, tea trays, prayer rugs and more here at Buna Village. The prices are cheaper for the items here, certainly the metal work. As far as the prayer rugs, I felt the ones in Mostar had a better quality to them - they were softer and more ornately decorated.
There is no cell service here so you can't use credit cards, they accept Bosnian Mark and Euros.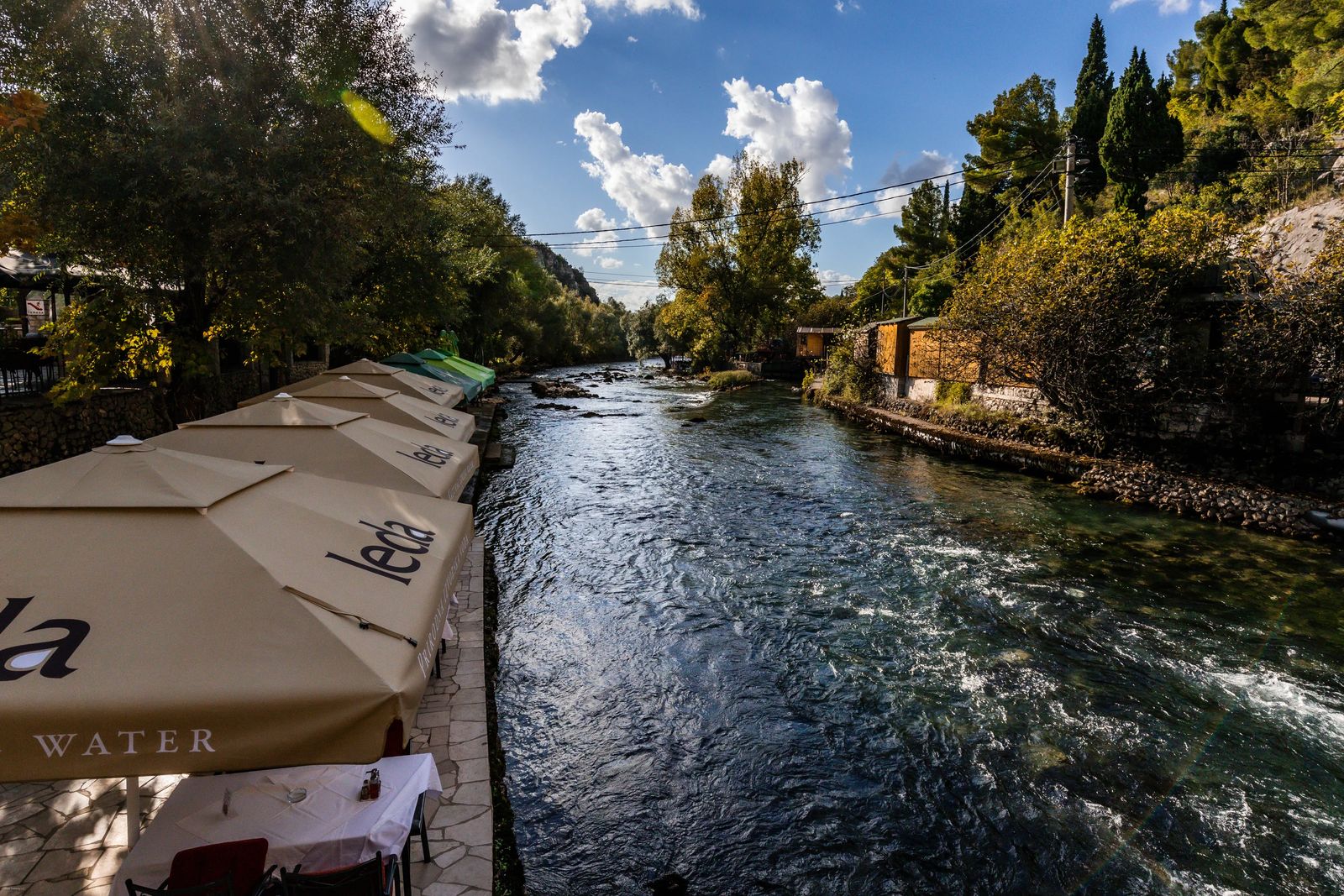 Is Visiting Blagaj Tekke Worth it?
I personally found that visiting Blagaj Tekji worth it, because of the beautiful scenery, the relaxing walk, the cute shop owners, the playful ducks, and the sheer amount of water and height of the cliffs surrounding Buna River to be quite impressive.
If you have a hard time slowing down and feeling peaceful while on vacation, I don't know that you would enjoy this area. This is a place you sit, you people watch, you watch the ducks, and the pilgrims walk about the area while sipping some tea or coffee away from technology and the rat race of life. Isn't that what vacation all about anyway?
Day Trips to Blagaj Tekke from Mostar
Like it? Pin it for later! Sharing is caring ;)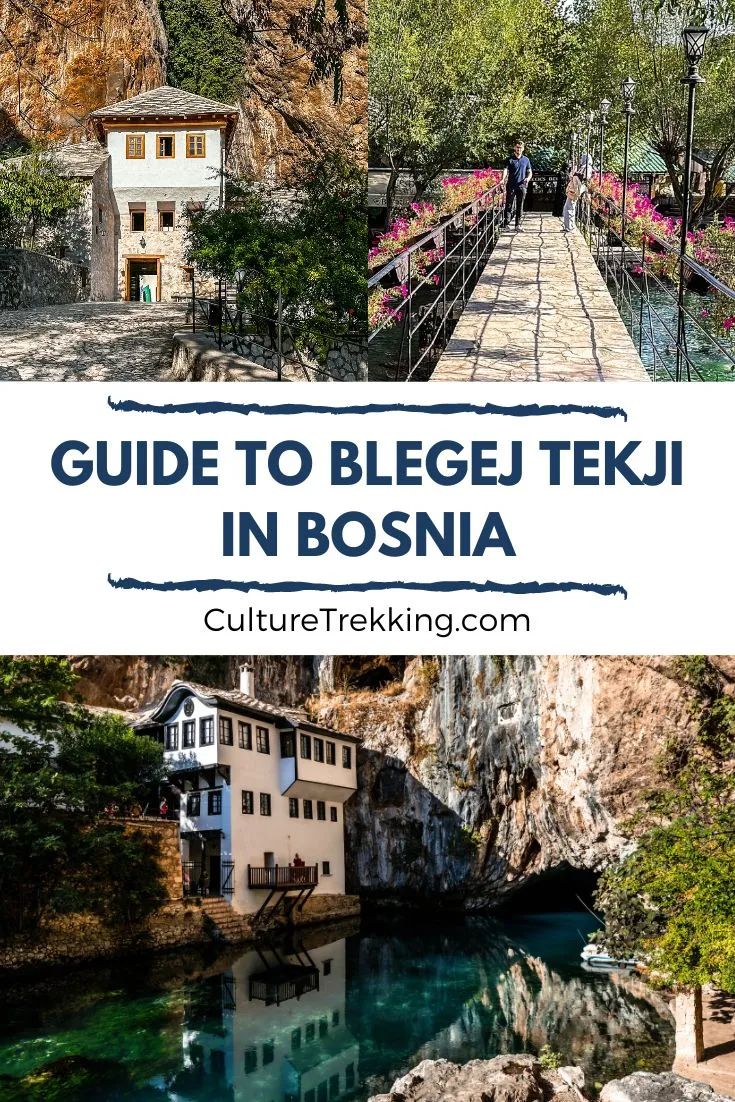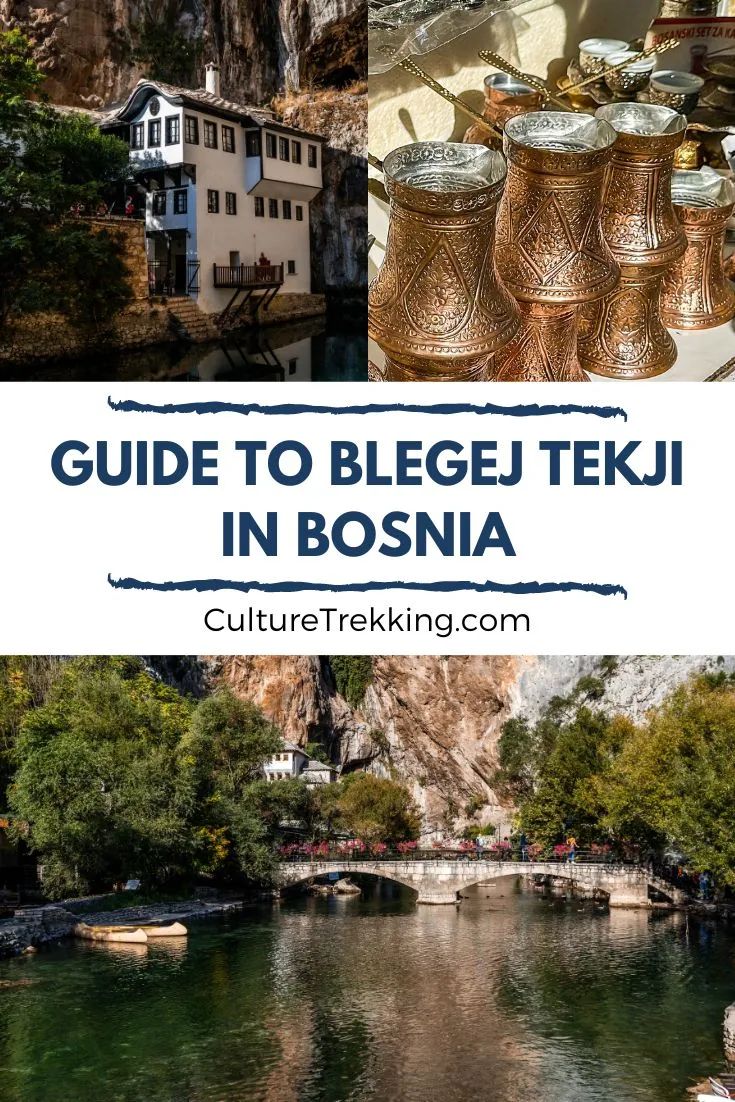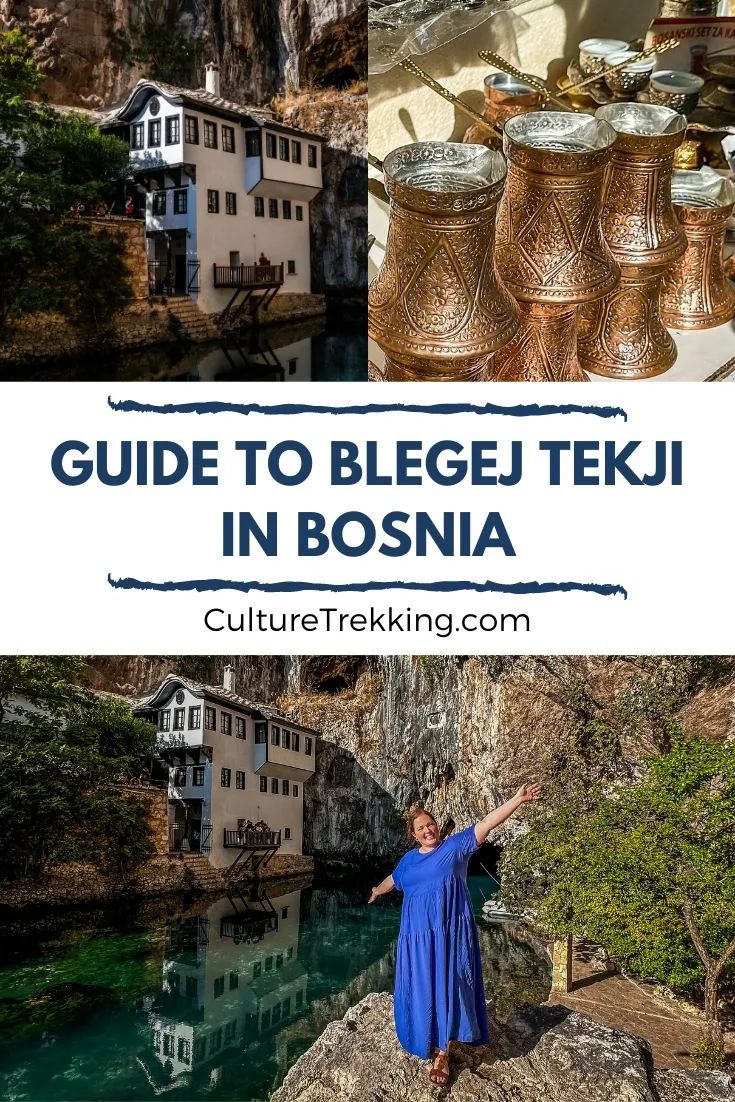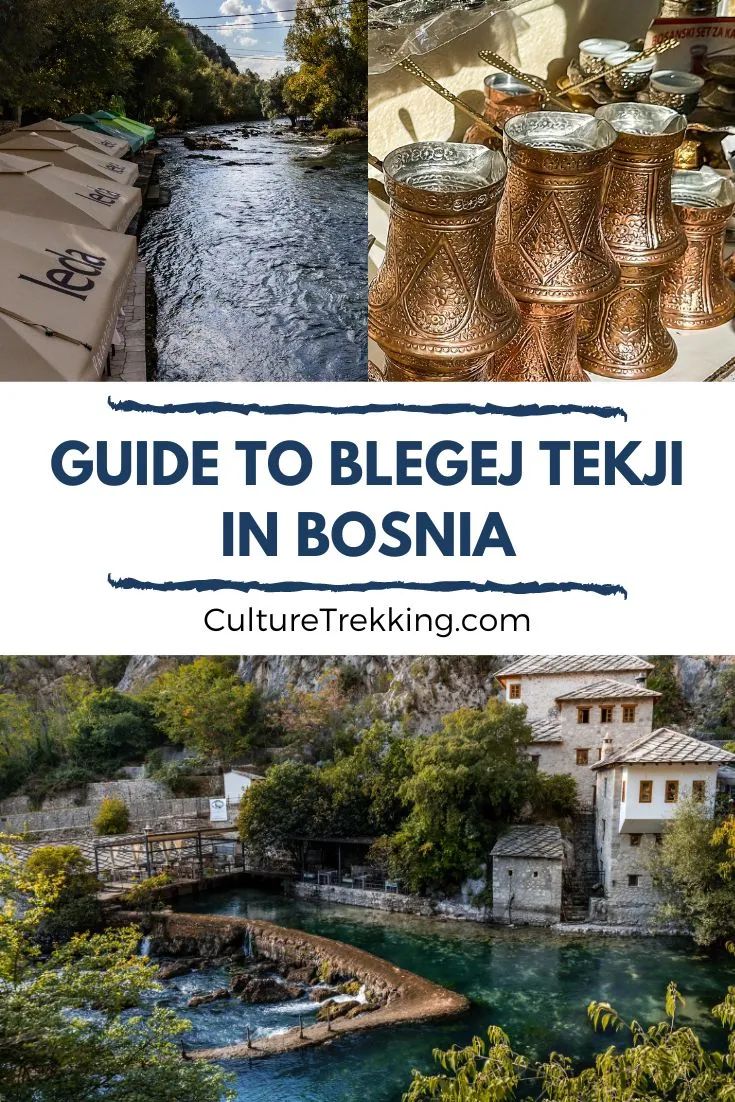 Latest Articles On Culture Trekking