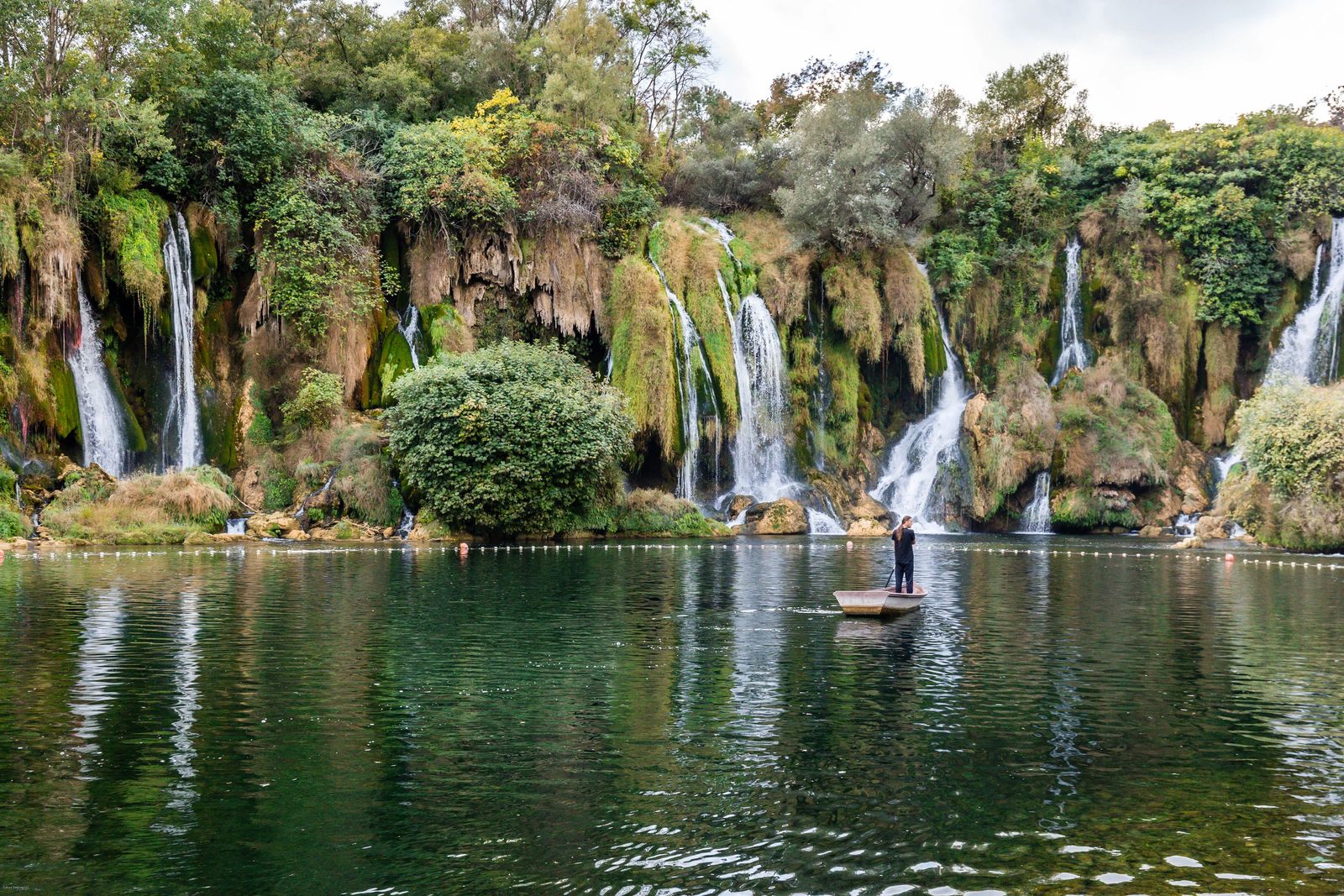 Kravica Waterfalls Bosnia A Complete Guide
On a crisp day, the sun felt amazing on my skin as I hiked down to a spot that resembled a green screen from an epic treasure hunt movie in the jungles. Even before seeing them, the thundering sound of the waterfalls could be heard. Streams teased me on the hike down to Kravica Waterfalls, weaving their way between the trees. As I descended the switchbacks, I ignored the viewing platforms and instead was greeted by an arc of waterfalls that looked like water goddesses between green drapery. In this complete guide to Kravica Waterfalls in Bosnia, you too can be blessed by these water goddesses.
Kravica Waterfalls, located on the Trebižat River in Bosnia and Herzegovina, is one of the most popular day trips from Dubrovnik, Split, and Mostar. It looks like something out of a Lord of the Rings novel, or a place where fairies could easily live. It's only a 45-minute drive from Mostar to Kravica Falls. There's a lot I didn't know before visiting the falls that I wish I had known beforehand, so keep reading to get all the details.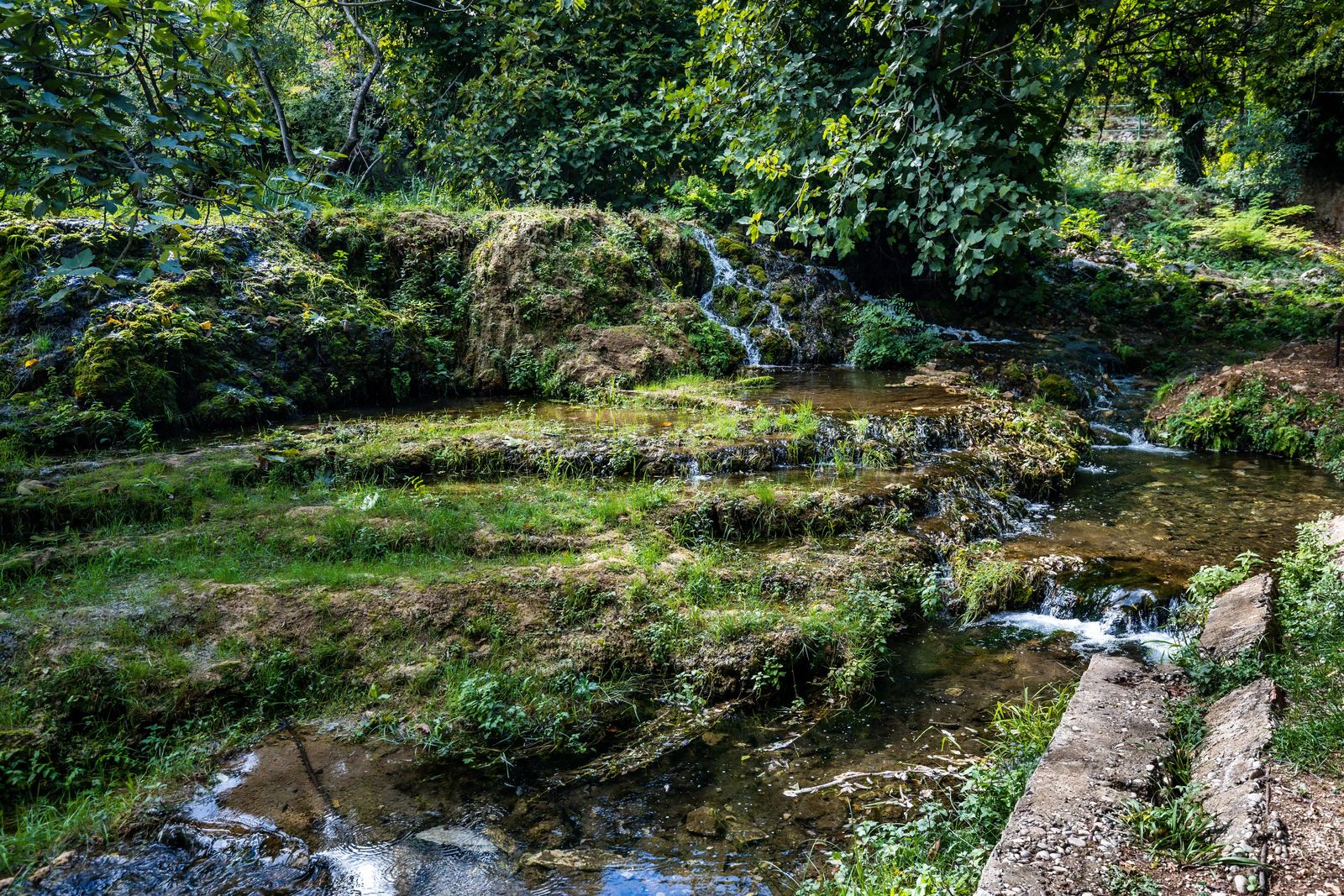 Getting to Kravica Waterfalls
If you are taking your own car, make sure you have the appropriate documentation (green card, license, and passport) to drive here as well as local currency. It takes about 45 minutes to drive from or to Mostar from here.
If you take a tour (see options below) you can also hit Blagaj and Pocitelj, an underground Bosnia airport hangar from the war, the Dervish Monastery or the Medugorje hilltop fort.
I have seen people take the bus to the falls, but I've also seen people get stranded here because they can't figure out the varying timetable to get back. This place is out in the middle of nowhere with very little cell phone service even with Sim cards so I wouldn't risk it.
You can take a taxi, but the prices are going to be about the same as a tour, or maybe more if you have them wait for you - so may as well take a guided tour.
Previously the area was hard to find, but now has clear signs from the M6 (Čapljina–Ljubuški Rd). We downloaded Google Maps for the area beforehand onto our phones and the navigation led us straight there. Between Google Maps and a phone with a SIM card it shouldn't be hard to find the falls if you decide to go on your own.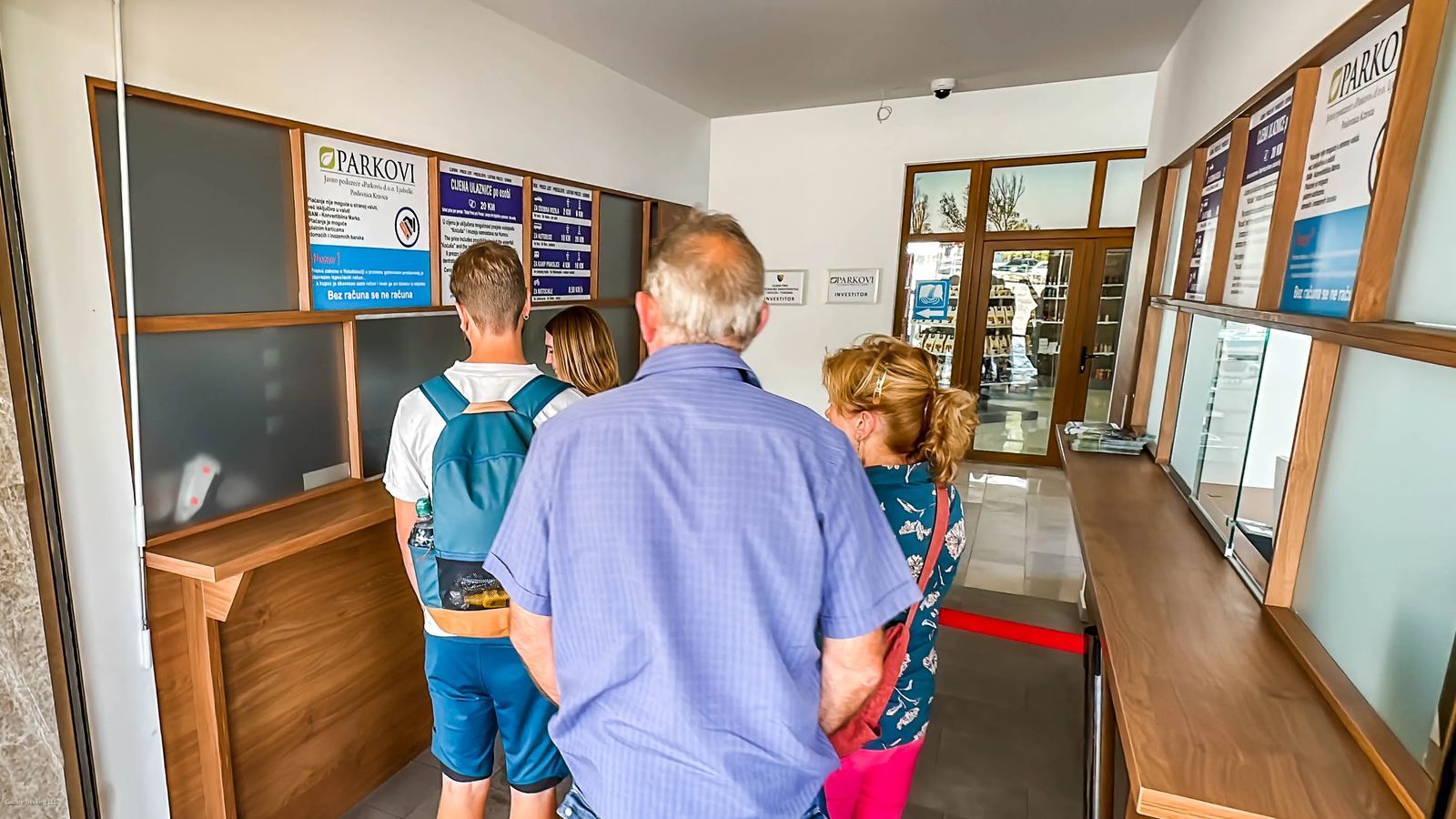 Cost, Parking, Opening and Closing Times
The admission to get into the park is 20 KM (8-10 Euros seems to vary based on the time of year), make sure you have exact change as they don't take cards. Your entry ticket also gets you access to a monastery museum in Humac and the Koćuša or Kravica Falls. I didn't personally visit the Museum because I got so distracted by the waterfalls but let me know in the comments below if you do.
There is a large parking lot available so if you bring a camper van it should easily fit. We visited in October 2022 and at that time we weren't charged anything to park, but in the summer I did hear that people are charged for parking. The park opens at 7 am and closes at 10 pm.
There are a few restaurants (2/5 stars if I'm honest) near the falls, as well as changing rooms, and two toilet facilities further away (for obvious reasons).
There are some shops in the parking lot area that have souvenirs and drinks before you head down as well. I think the restrooms at the top are more maintained so if you bring your suit, I would change there and then head down. Keep in mind Bosnia is quite a conservative country still, so to be respectful, bring a cover up to hike down if you decide to change up near the parking area.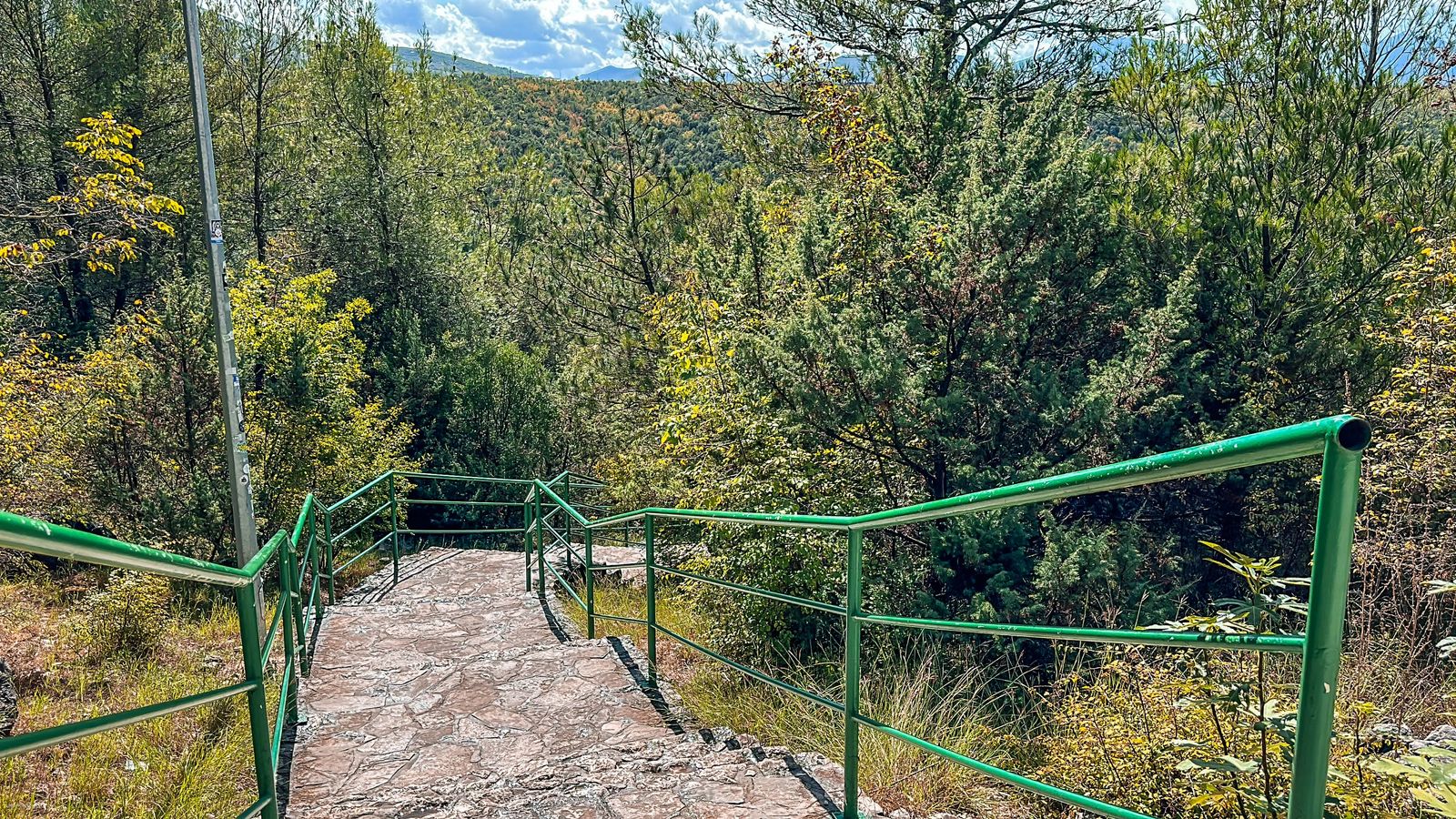 Hiking to the Falls
To get to the falls you need to hike down 426 feet (130 m) over 0.25 miles, and the rocks can be quite slick if it rains, so make sure you have good shoes. The trail is paved with stairs, and is quite gradual decline in with several shaded places to stop and some switchbacks.
There is no shade near the falls unless you bring your own umbrella or sit at the restaurant. Summer here can get quite crowded, so if you don't like crowds arrive early or visit in the shoulder season.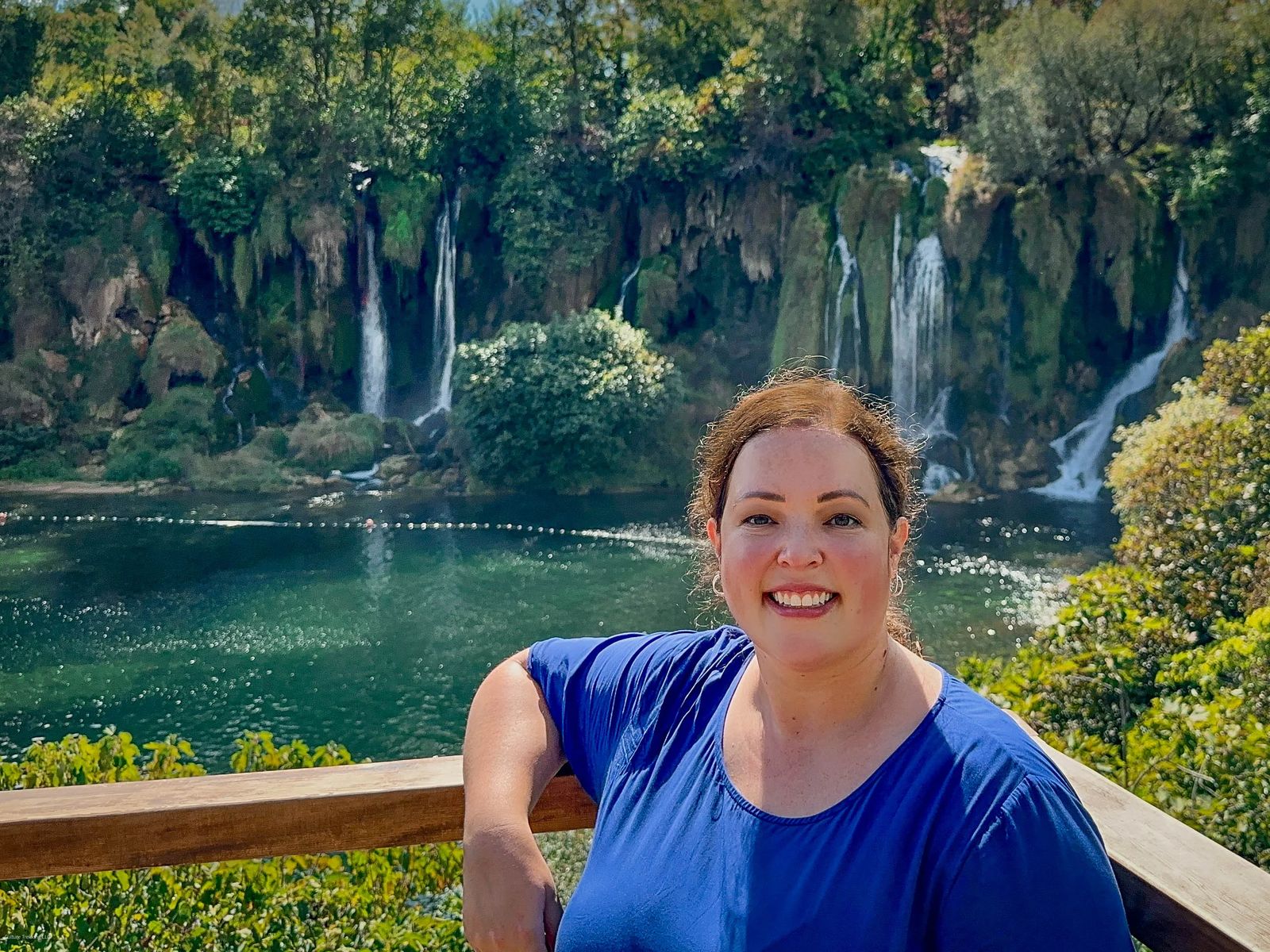 Kravica Waterfalls
The falls are 82 feet high (25 m) and fall in an arc of 20 waterfalls into the rocks and lake below. It is one of the most popular spots in Bosnia & Hertz, especially during the hot summer months. Because the waterfalls are fed by the Trezibit River/Spring so the water is a cool 68 F (20 C) year round.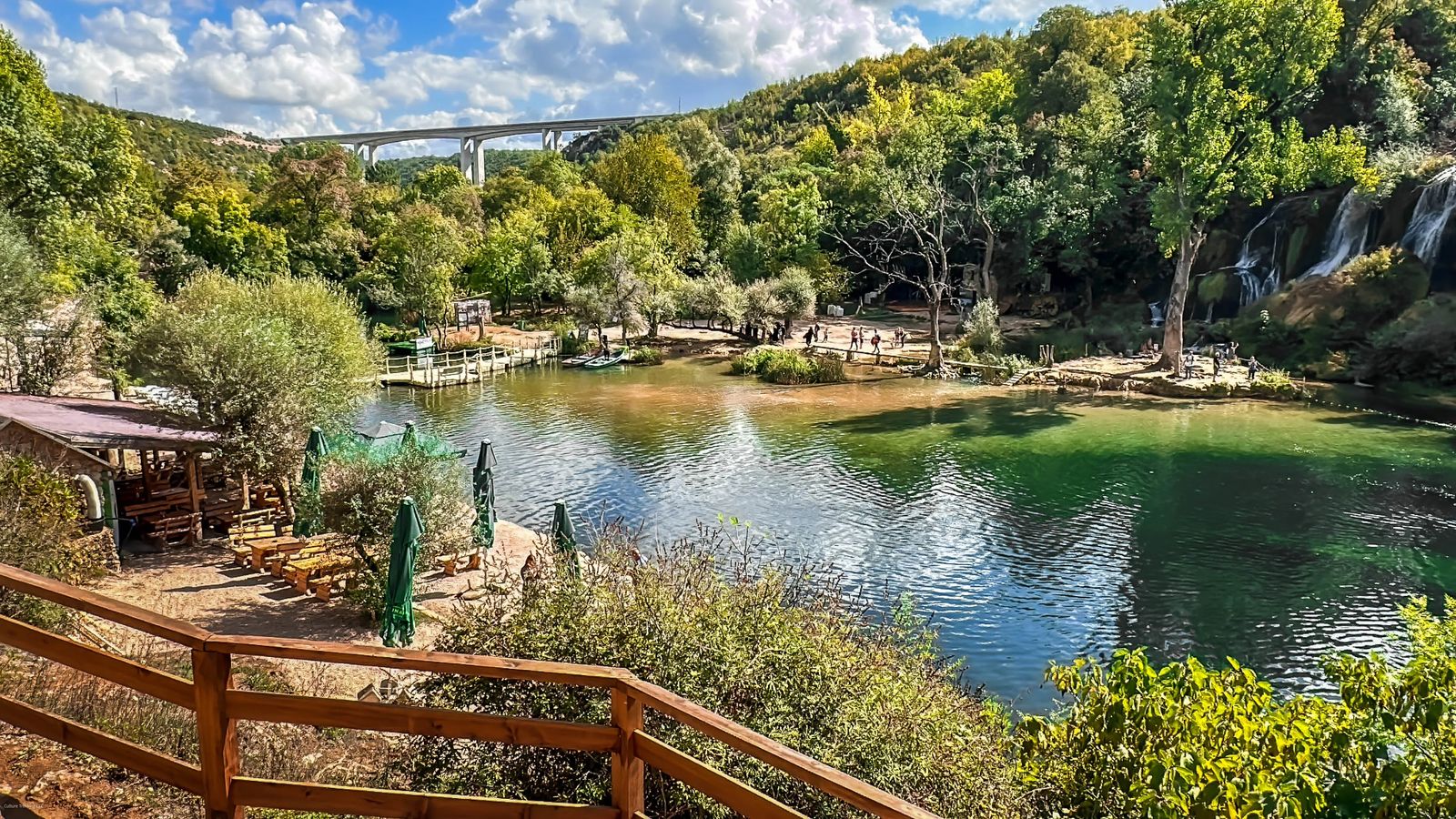 Swimming at Kravica Waterfalls
While you are technically allowed to swim here, the waters can be quite cold, we were there in October and still saw some people quickly get in for the experience and were out within 2 minutes. You can rent a canoe and Kayak for around 8 Euros as well if you don't want to get into the cold water.
If you decide to brave the waters, just make sure to steer clear of the base of the waterfall, as the current right under the waterfall is very strong. It made the lake basin the water flows, so that should tell you about the strength of the falls and the current.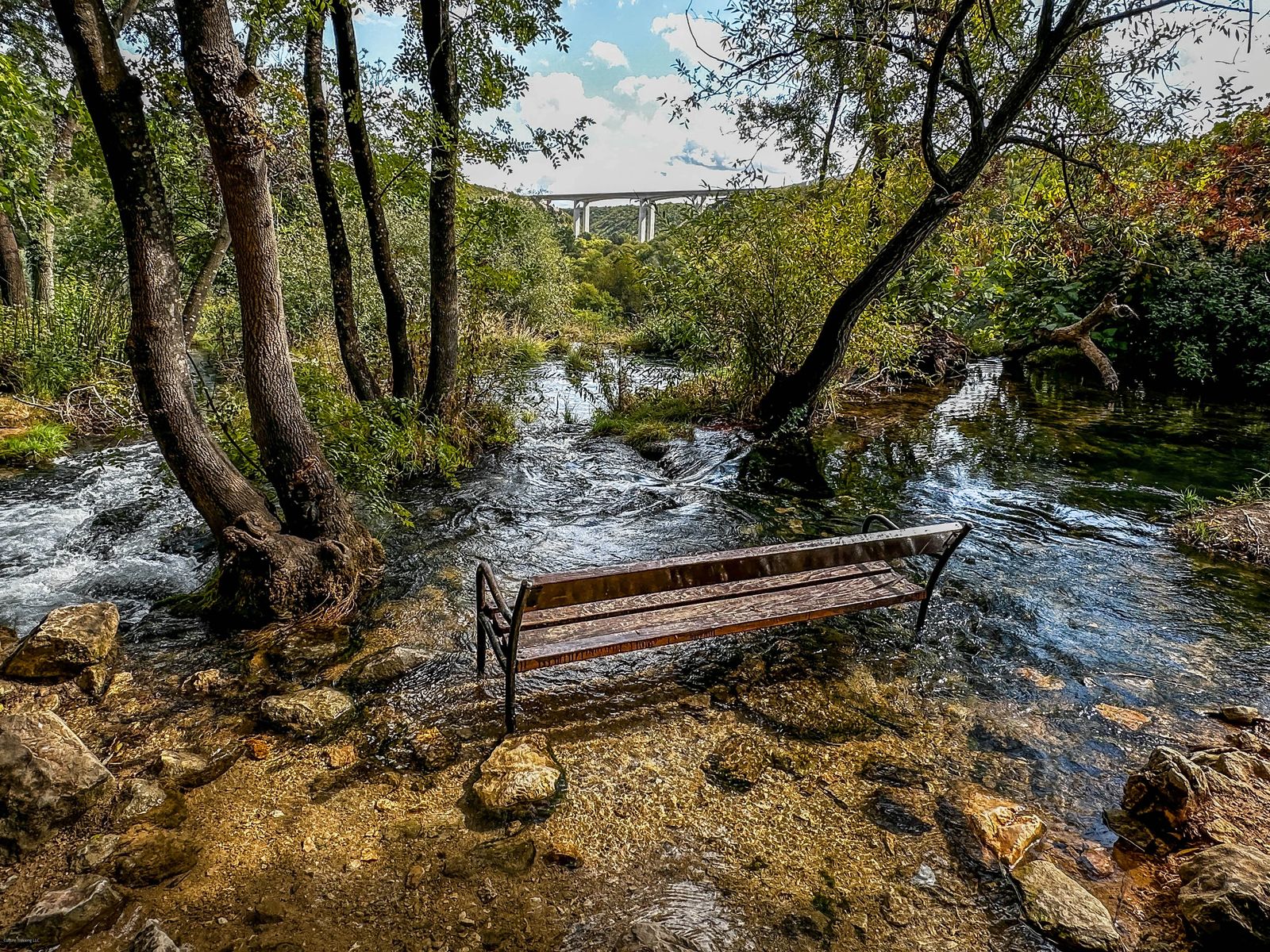 Natural Habitat
The main attraction isn't just the waterfalls, the entire park is home to several species of animals and plants including deer, boar, snakes, frogs, and a variety of trees and flowers.
The whole area is full of chaste trees, poplars and figs. You have tufts of thick lichens and moss all over the rocks that give it the otherworldly feel.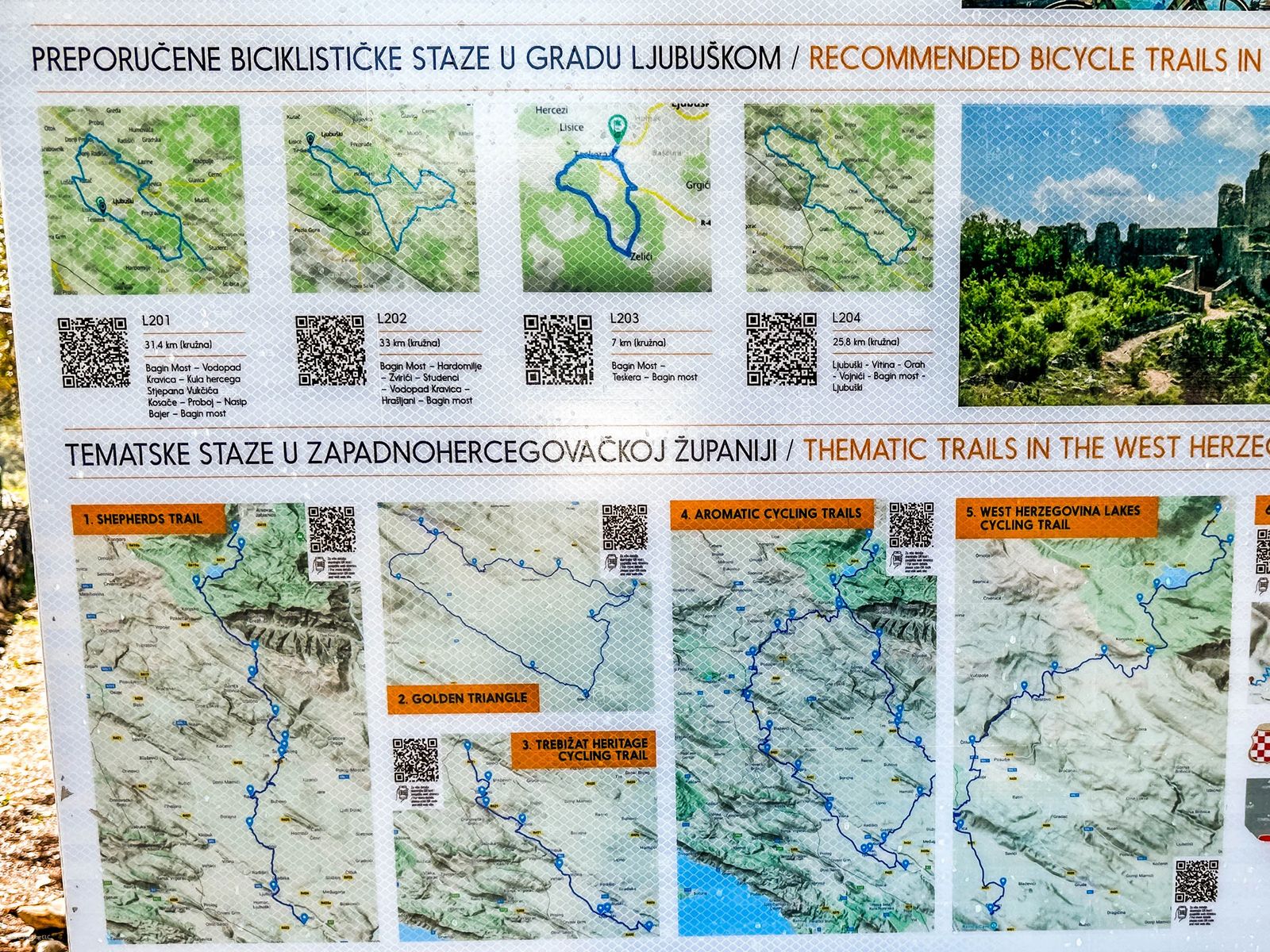 Cycling Trails Near Kravica Waterfalls
The Trebizat river that feeds Kravica falls is a great way to cycle through the best of Bosnia. If it gets hot, you can jump in the crystal clear waters for a quick cool off, roam through romantic villages like Ljubski (near the old Roman Camp), past the medieval fortress of Herceg Stjepan with over 67 miles (108 km) of cycling trails you certainly won't get bored.
If you wanted to stick to one area, you have different themed trails as well as four different cycling trails just in the town of Ljubuski. See the Photo above for the QR codes provided at Kravica falls for those wanting to plan your cycling trip through Ljubuski.
The themed cycling trails are Shepherds Trail, Golden Trail, Trebizat heritage cycling trail, and the Aromatic trail.
This is the trouble I find with trying to see too many places in a short amount of time. You lose out on exploring trails like this - having a more relaxed schedule and allowing yourself to slowly meander these beautiful places a bit more is something I hope to strive for in the future.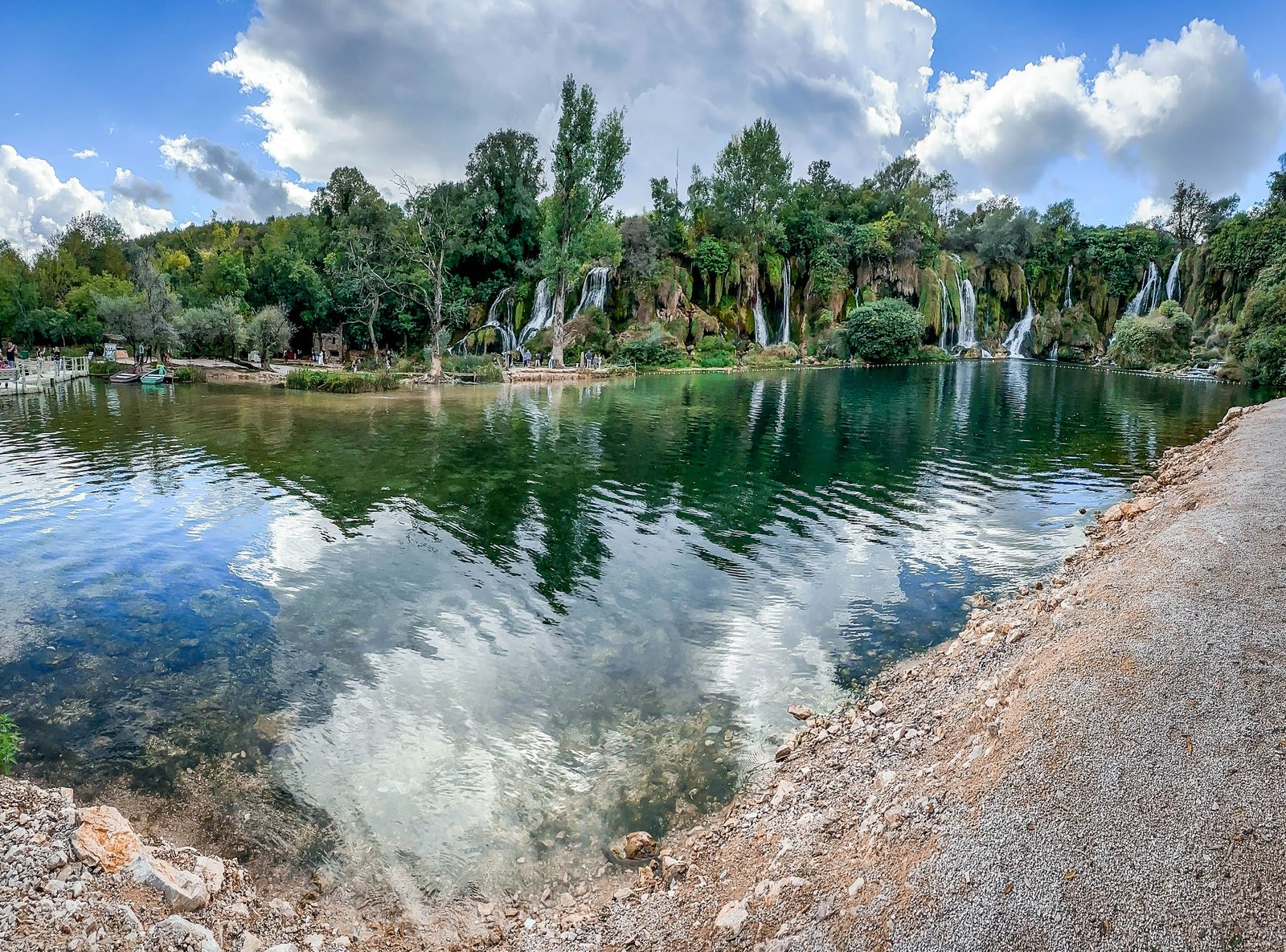 Other Things To Do Near Kravica Waterfalls
While we had only seen Kravica waterfalls online as a place to visit, once I got there I realized through talking with locals just how much there is to do in this area besides the waterfalls. Of course you have Kravica Falls (or Kravica Kocusa), but you also have some smaller falls and swimming hole at Kupaliste Božijak. There are some camping spots here, and is the locals swimming hole.
Down the road you will find other cultural heritage sites like the medieval fortress Herceg Stjepan, the remains of a Roman camp at Gajčine, the mountains in Visoko aren't hills but are 30,000-year-old pyramids, the Franciscan Museum of Humac which is the oldest museum in Bosnia.
You can also find rock climbing, rafting, horseback riding, winerys, scuba diving in caves, spelunking, fishing, white water rafting, old mills, museums and more.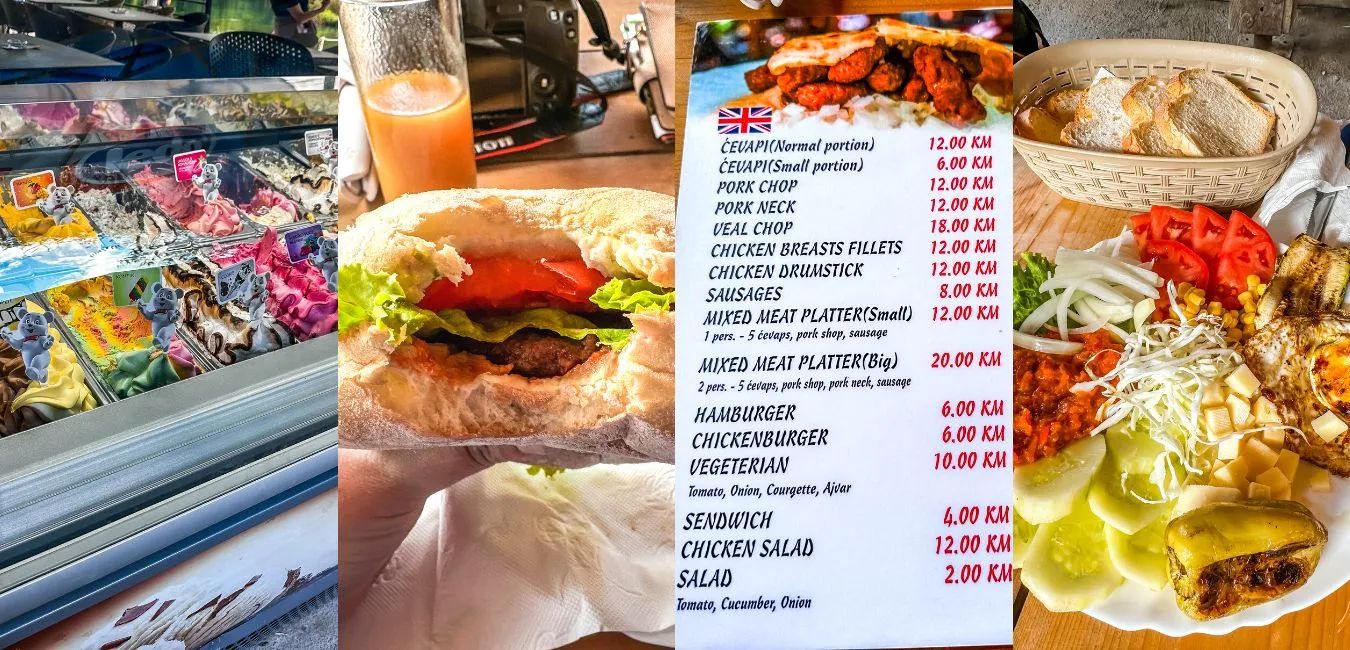 Food and Restaurants Near the Waterfalls
They have a decent selection of beers, wines, and other spirits down by the falls. They only take cash, Bosnian or Euros, no cards because the wifi and cell service here is spotty. They also have gelato, water, and vegetarian options. I only saw two diners near the falls and they pretty much offered the same types of food with small differences. The food was about a 2/5 stars if I'm honest. The sandwich was quite dry, and I wish I would have gotten the salad.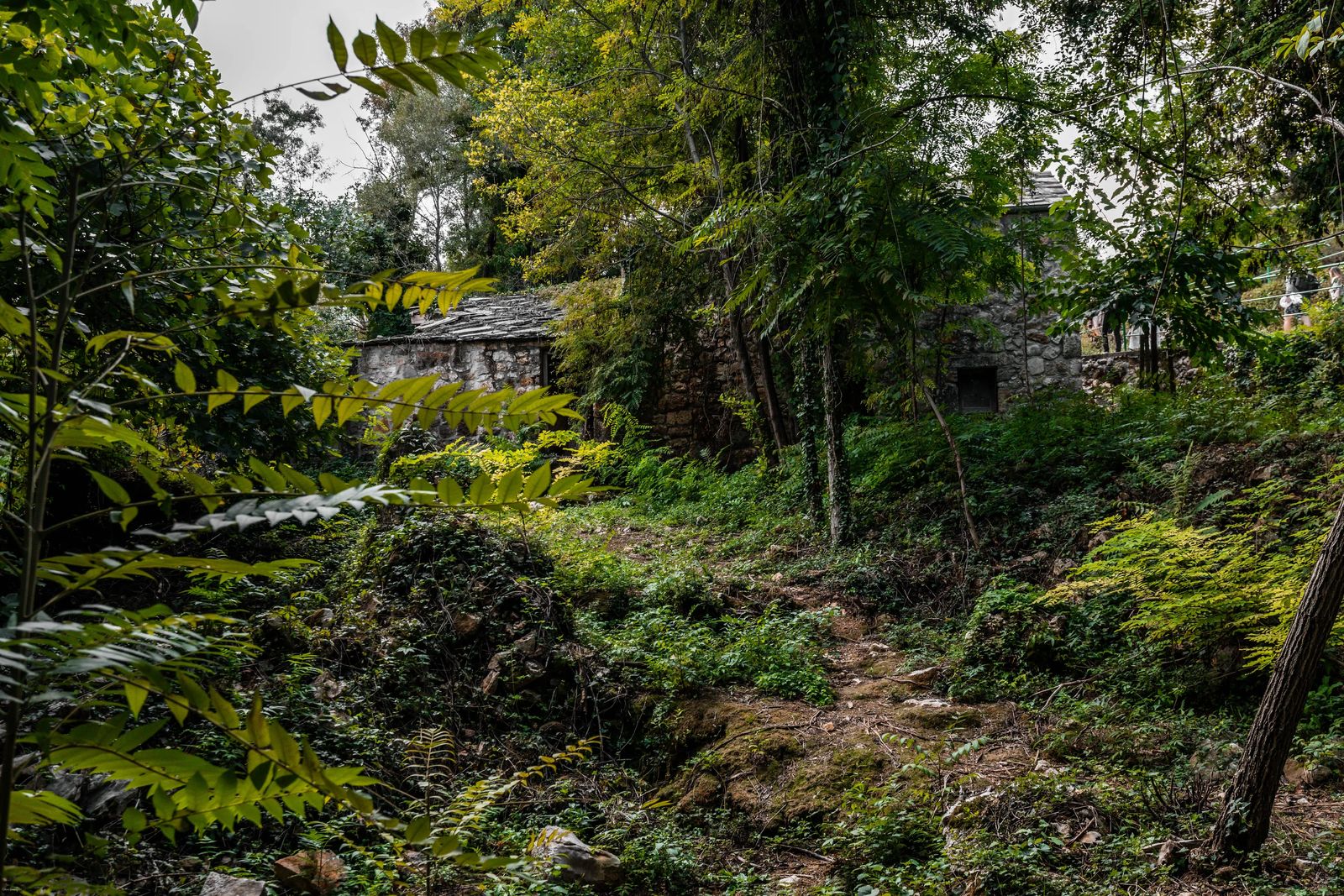 Is Visiting Kravica Waterfalls Worth it?
Kravica Waterfalls is DEFINITELY worth going to, even if you don't swim the views are stunning. If I was to do this again though, even despite the water being freezing, I really regret not jumping in, even if for just a few minutes. We were in a rush to get to our last destination we had planned (Buna Village) and hadn't planned very well to allow some additional time in order to really enjoy our time.
If I had known there were cycling trails, canoes, museum there - I would have certainly allotted more time here. So hopefully this has helped YOU plan your trip here. Let me know in the comments below if you decide to visit and what you thought of your visit in the comments below. I personally think it is well worth the effort to visit, whatever way you decide to get there - just do it.
Guided Tours and Day Trips To Kravica Waterfalls
Like it? Pin it for later! Sharing is caring ;)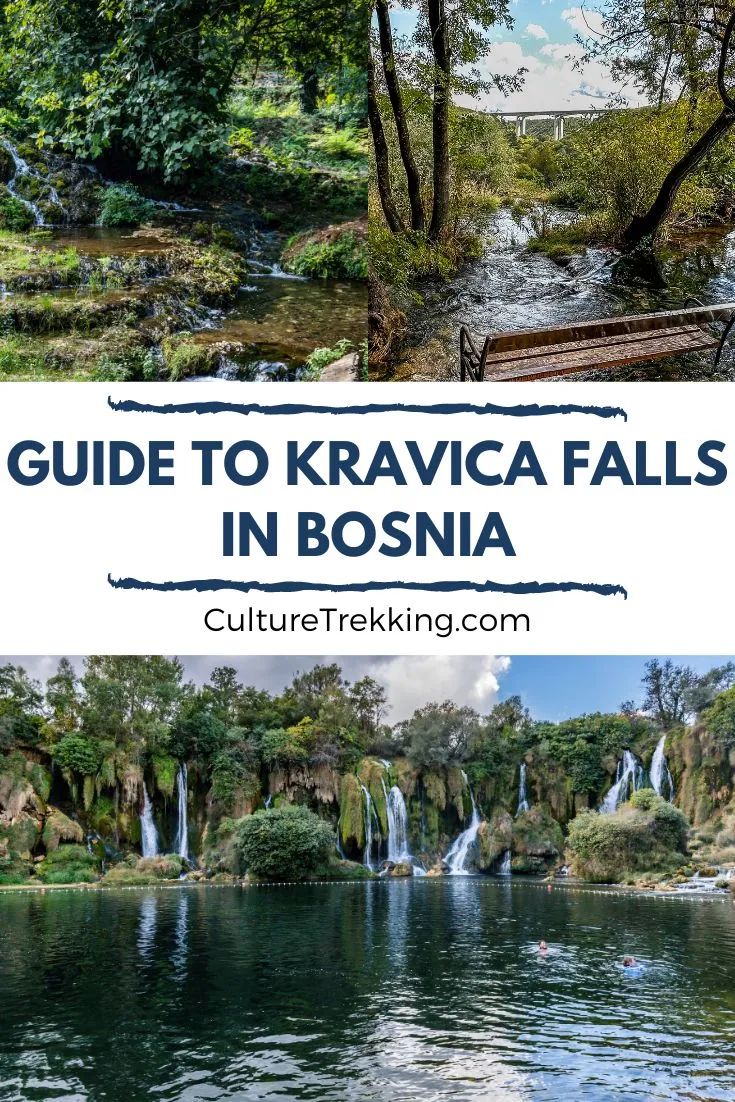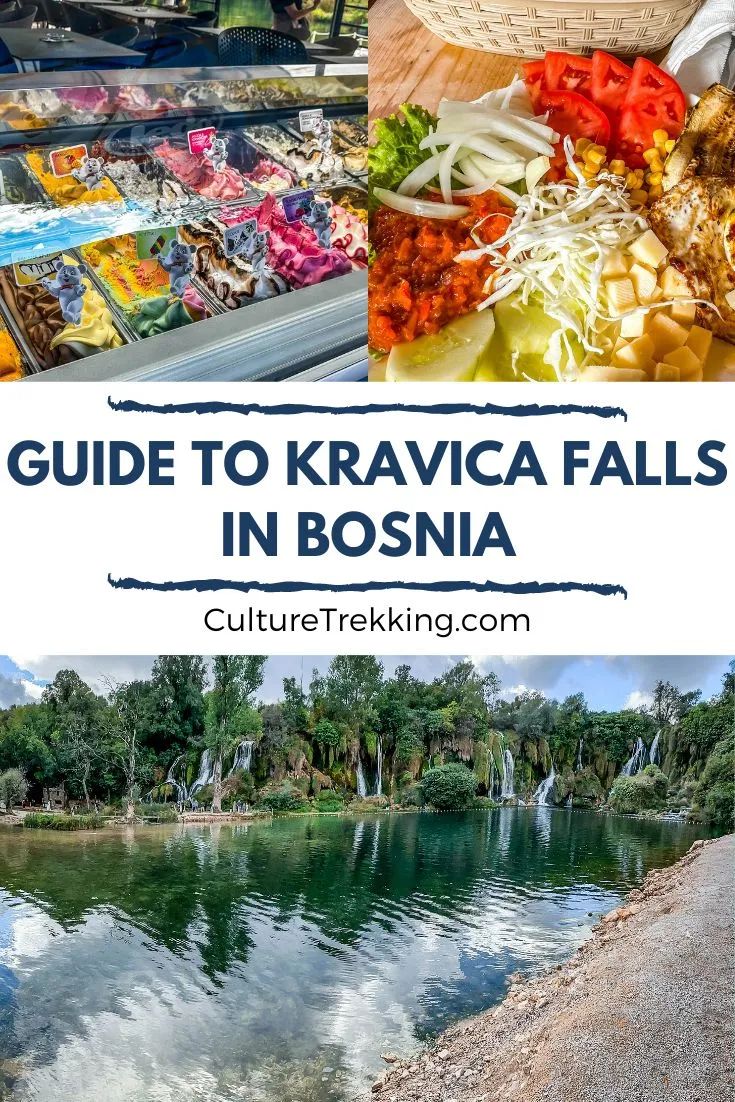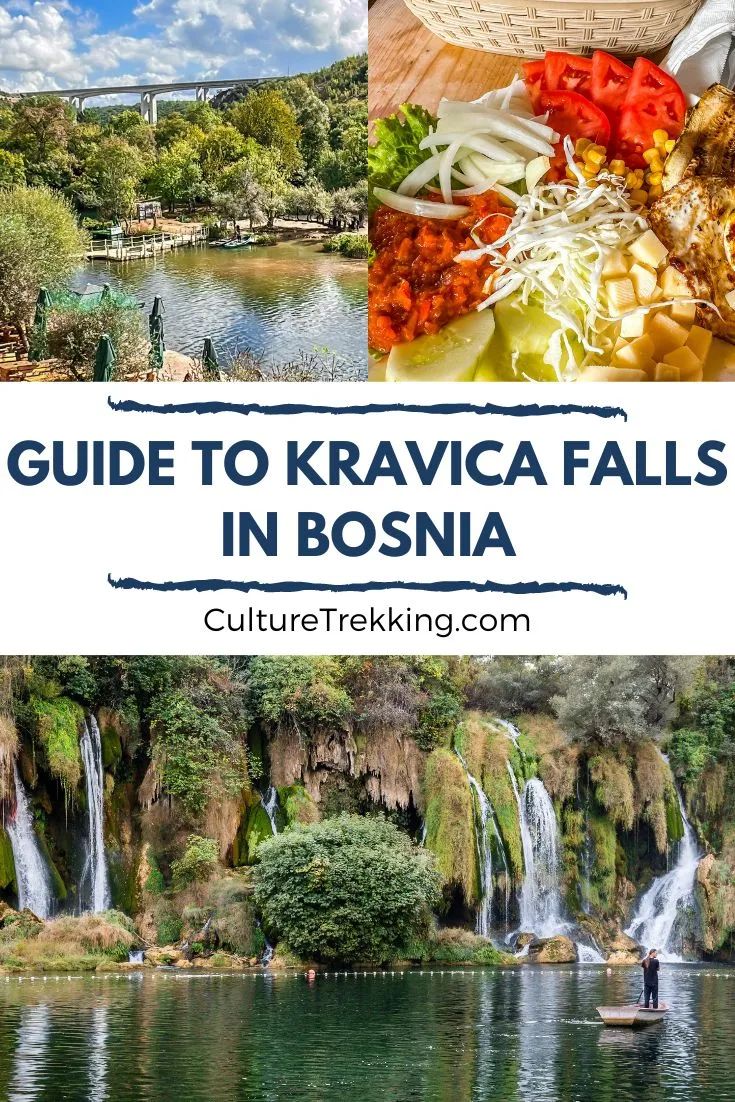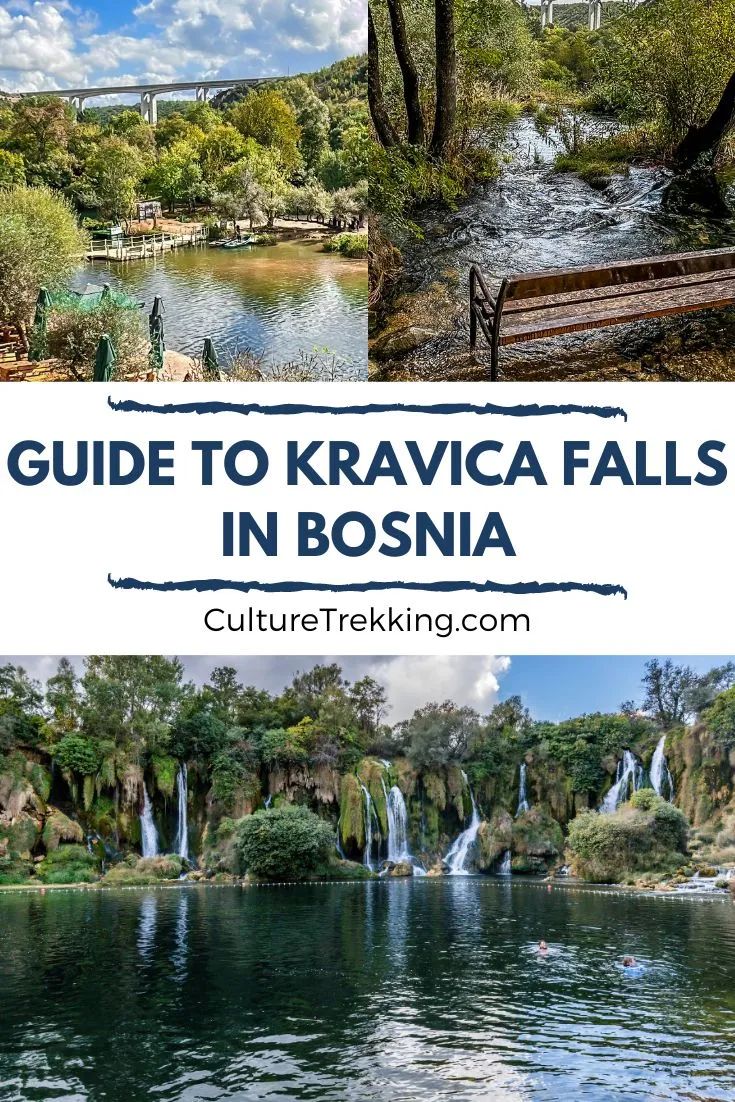 Latest Articles On Culture Trekking