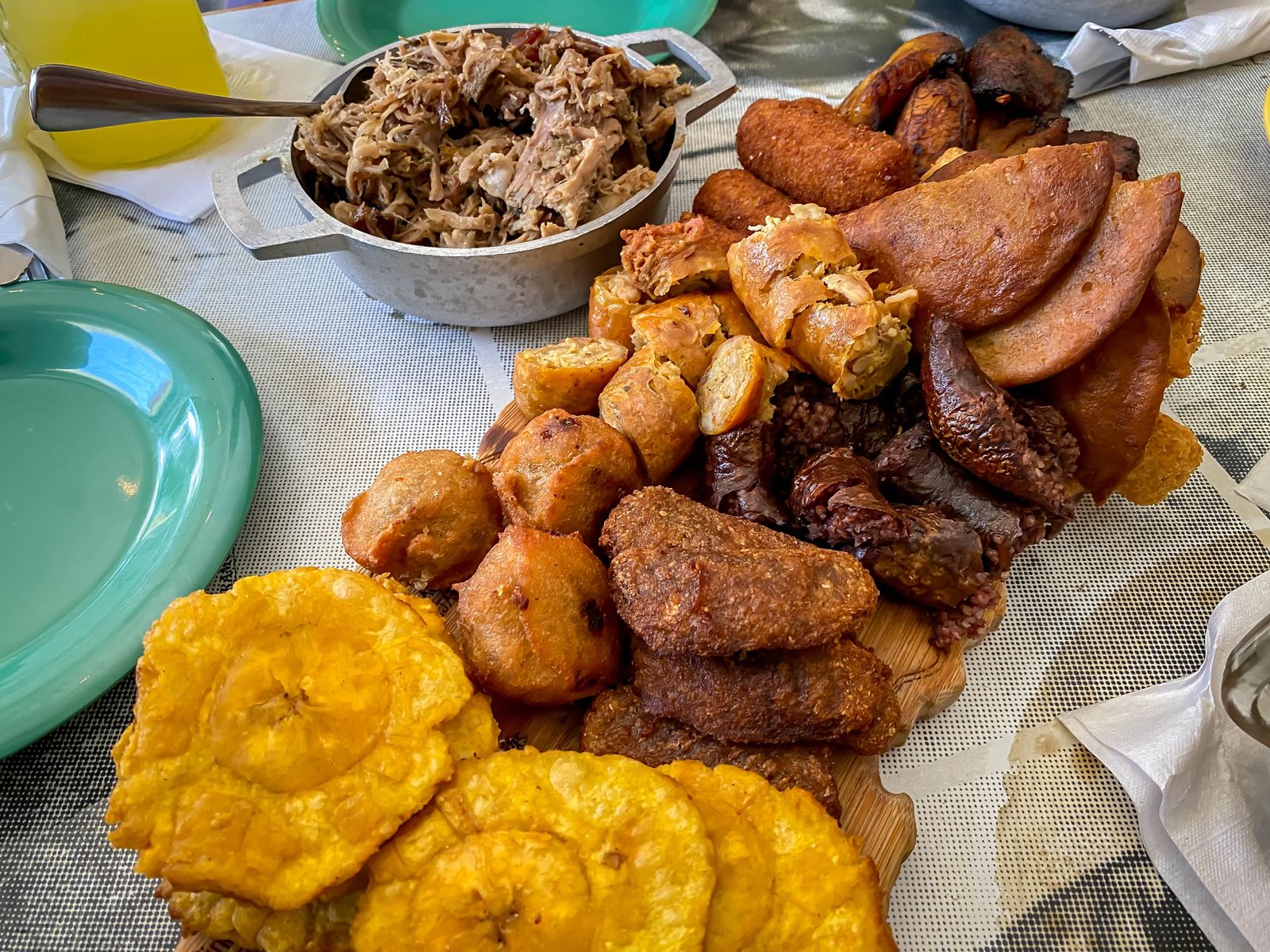 20 Best Things To Eat In Puerto Rico
Savory pork, fried plantains mixed with freshly caught lobster followed by a coconut rum Tres Leches - if that doesn't get your tastebuds working overtime I don't know what will. Puerto Rico is a caribbean island full of delicious delights. From the North Coast of Puerto Rico to the Southern Coast of Puerto Rico I tried and sacrificed my waistline to bring you the BEST things to eat in Puerto Rico.
I visited Puerto Rico for about a week and a half in May of 2022 and still miss the local beer they had there. That is the hard part about travel is diving in the cultural history of food that makes up a countries menu and when you return home you miss it. So if you have any recipes to share on any of these dishes make sure to share them in the comment section below! (My taste buds thank you in advance).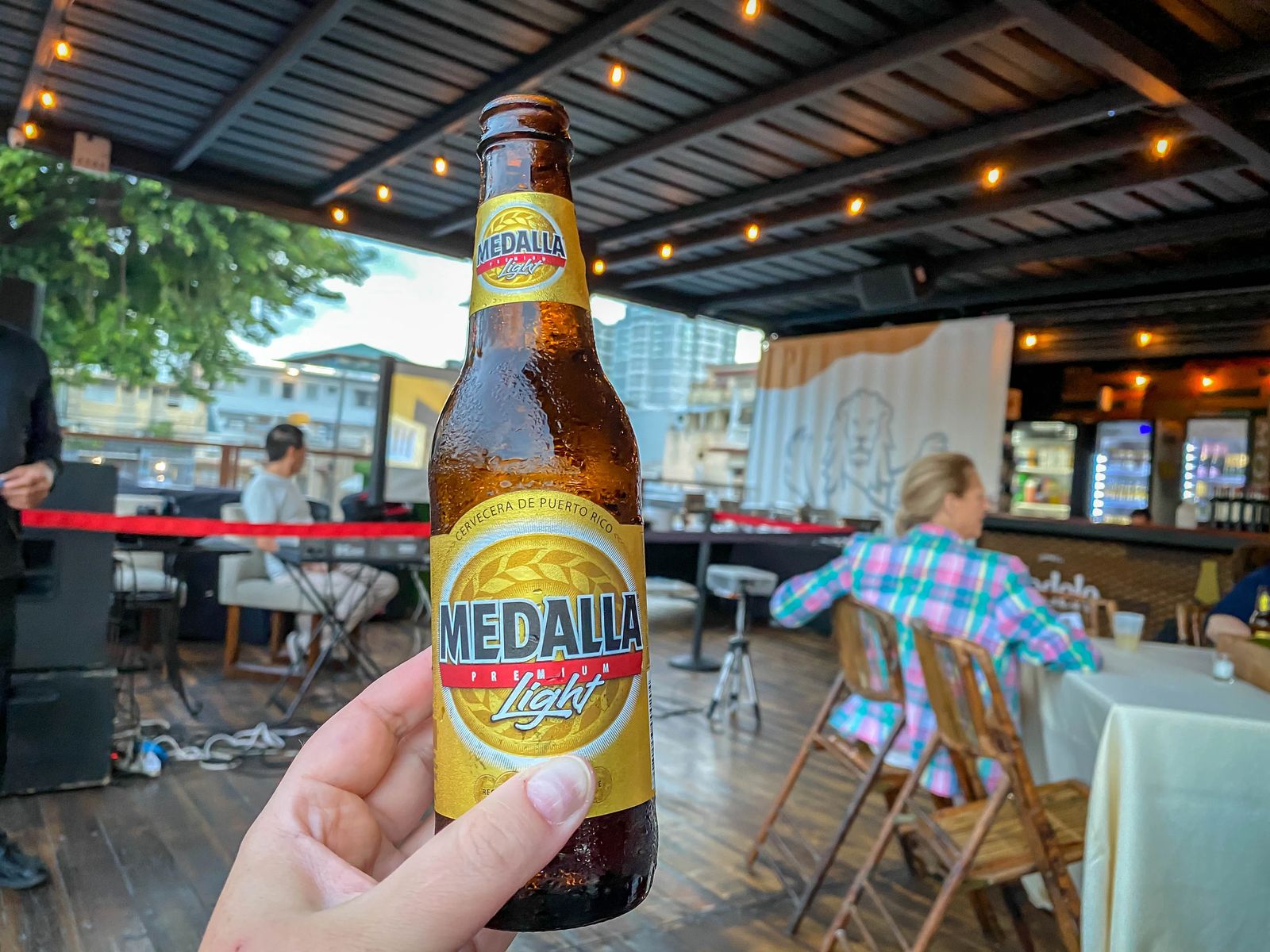 1 - Try A Local Beer
Medalla was started in 1979 by the Pan American Games to highlight the triumph of the Puerto Rican Athletes that made history that year. The Puerto Rican Athletes won 21 medals that year. While it is available now in 13 States in the USA, you can find it more in Puerto Rico.
Medalla is made from one of the leading barley companies in Latin-America. I'm not a beer person, but I genuninely was shocked at how much I loved this beer. Even the Beer Connoisseur rates this beer as a 91/100 just to give you an idea of how good it is.
You get a strong aroma when you open it and it tastes as good as it smells. It doesn't fizz too much in your mouth so it is easy to drink with a meal. I also love how the label kinda makes you feel like you are holding a beer medal in a way, lol. Really wish they sold it on the West Coast of the USA, but probably best that they don't yet....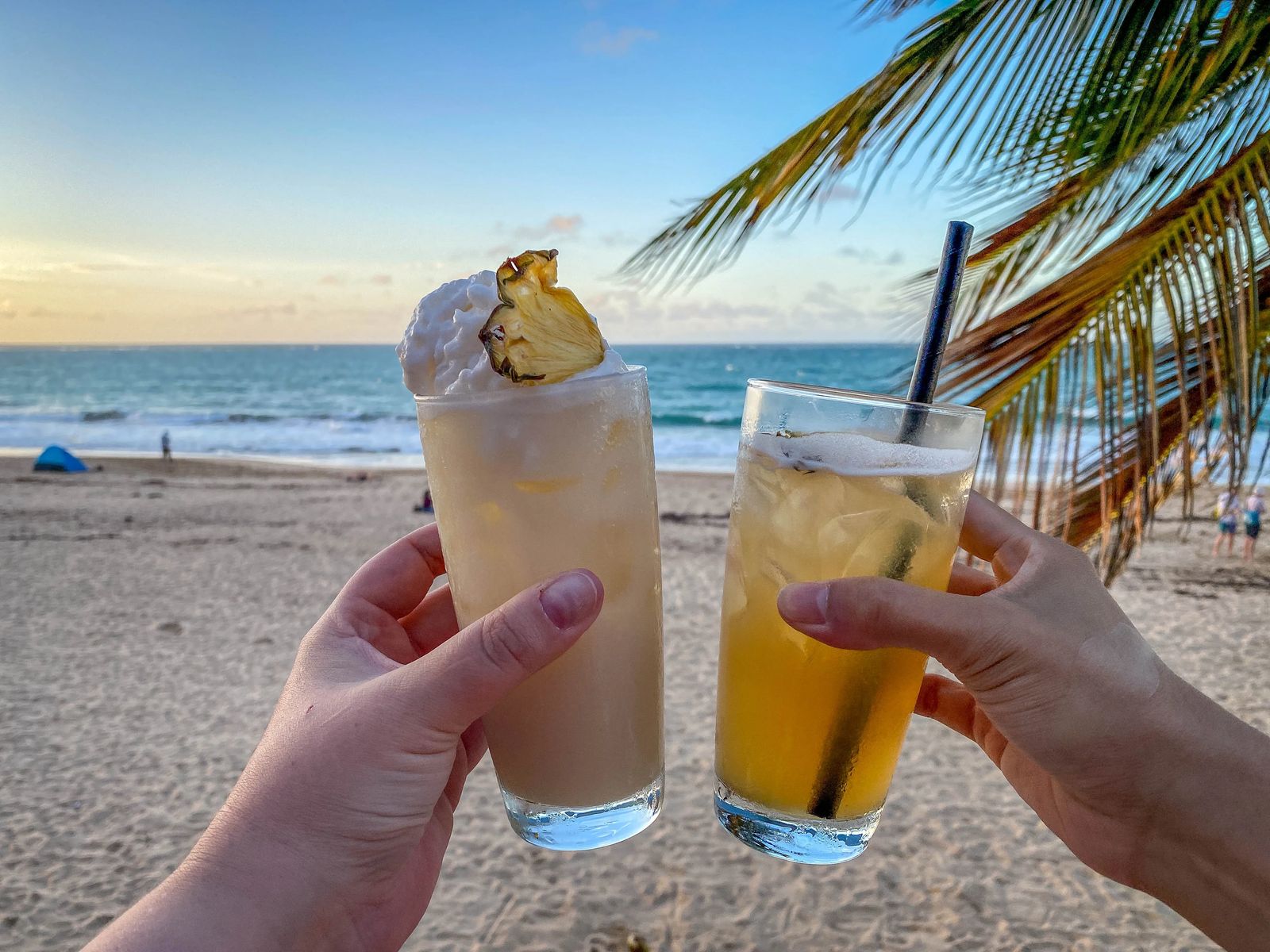 2 - Indulge In A Piña Colada
Every local in Puerto Rico claims that the original Piña Colada came from Old San Juan by a man named Ramon "Monchito" Marrero. They also argue (and have even put a giant granite plaque up) outside of Barrachina Restaurant in the middle of Old San Juan saying they had the original Piña Colada. It can get a bit confusing on who came first, but the point is - Piña Colada is a source of pride for Puerto Ricans and is basically on EVERY menu.
I also feel like I tried it on every menu, and to be honest I wasn't a huge fan of the Piña Colada at the Barrachina Restaurant. I went wild for the Piña Colada at Wicked Lily though (pictured above). It is a pricey restaurant and requires a reservation but it had good reviews on Yelp so we decided to go.
It isn't just the flavor, but also the setting that makes it a stellar place to get this popular drink. I suggest going at sunset, and expect to stay for awhile. While Puerto Rico is technically part of the USA, the service is good, but more on a relaxed timeline - so keep that in mind.
3 - Mofongo Madness
Mofongo is a mix of spices and plantains and is served with different varieties of protein from beans to pork cracklins and even lobster. The word Mofongo comes from the Angolan Kikongo term "mfwenge-mfwenge" which means 'a great amount of anything at all'.
Sugar cane was grown here for hundreds of years to produce not just sugar, but Rum. Unfortunately, this also came with slavery - along with the African dishes and traditions. The West African Fufu is mash of boiled yams and cultural experts feel this helped in the making of mofongo. As time went on the flavors of the Taíno Indigenous Tribe, as well as Spanish flavors were stirred in and Mofongo was made.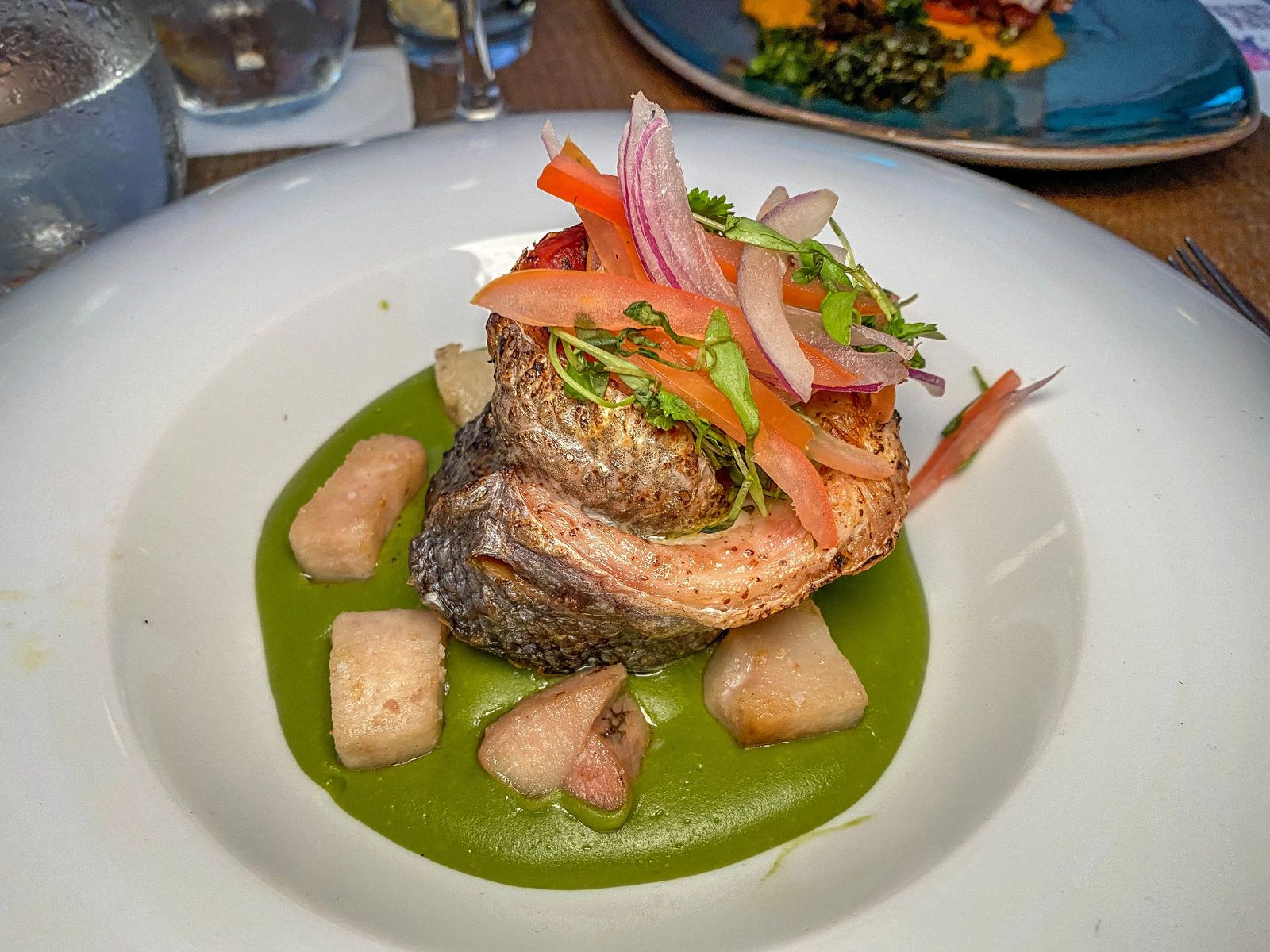 4 - Sample Seafood
It feels a bit like a requirement to have seafood when on a Caribbean Island. There is plenty of fish to try while in Puerto Rico. Ceti a small transparent fish and are eaten whole (kind of like Sardines).
You also have Carrucho on the menu of many restaurants typically included in fritters or empanadas. It is Conch mixed with different vegetables like peppers, onions, olives and capers dressed with lime juice.
I don't care for Ceviche, but I tried a bite of my friends dish (not realizing what it was) and LOVED IT! The Ceviche made in Puerto Rico is made with Red Snapper (popular light local fish), Mahi Mahi, Grouper or a variety of different white fish. It was so fresh and mixed with the fresh veggies it was so delicious and now shyly admit that I'm HOOKED!
There is always some kind of whole fish on the menu, be adventurous and try something new! I tried Hake (featured above) it is a delicious White Fish that tastes milder than halibut and less flaky in texture. You can find Hake on the menu at Wicked Lily as well as Octopus.
5 - Crush the Croquettes
Croquettes are a 'go-to' appetizer for any restaurant, and can come with any kind of combination of flavors like ham, beans, ground beef or many others. The Croquettes reminded me a lot of the Boudin Balls that you find throughout Louisiana if that gives you an idea of what to expect. The croquetes also are typically accompanied by a type of savory or sweet sauce for dipping. The breadcrumb exterior that is fried can be quite dry, so the sauce makes it a perfect combination.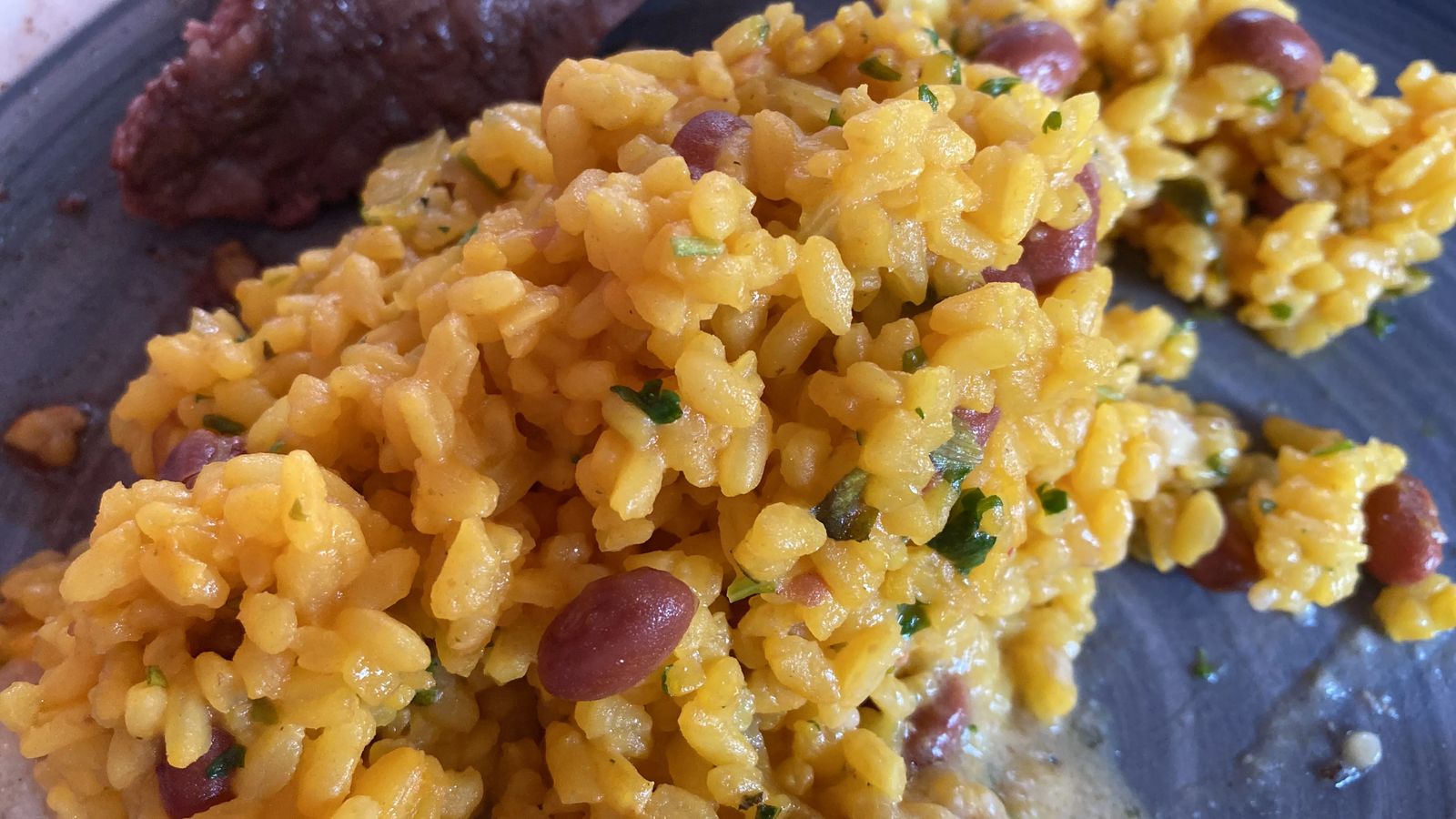 6 - Arroz Mamposteao (Moist Rice)
Arroz mamposteao is a stewed beans and rice iconic Puerto Rican dish that is commonly made with the leftovers of white rice and red beans from the night before. It isn't uncommon to have the rice and beans for breakfast in Puerto Rico.
A different variation of this is called Arroz Con Gandules that is a rice dish with beans, pork, red peppers, olives and a very aromatic sofrito sauce. Arroz Con Gandules is the national dish for Puerto Rico and definitely worth trying.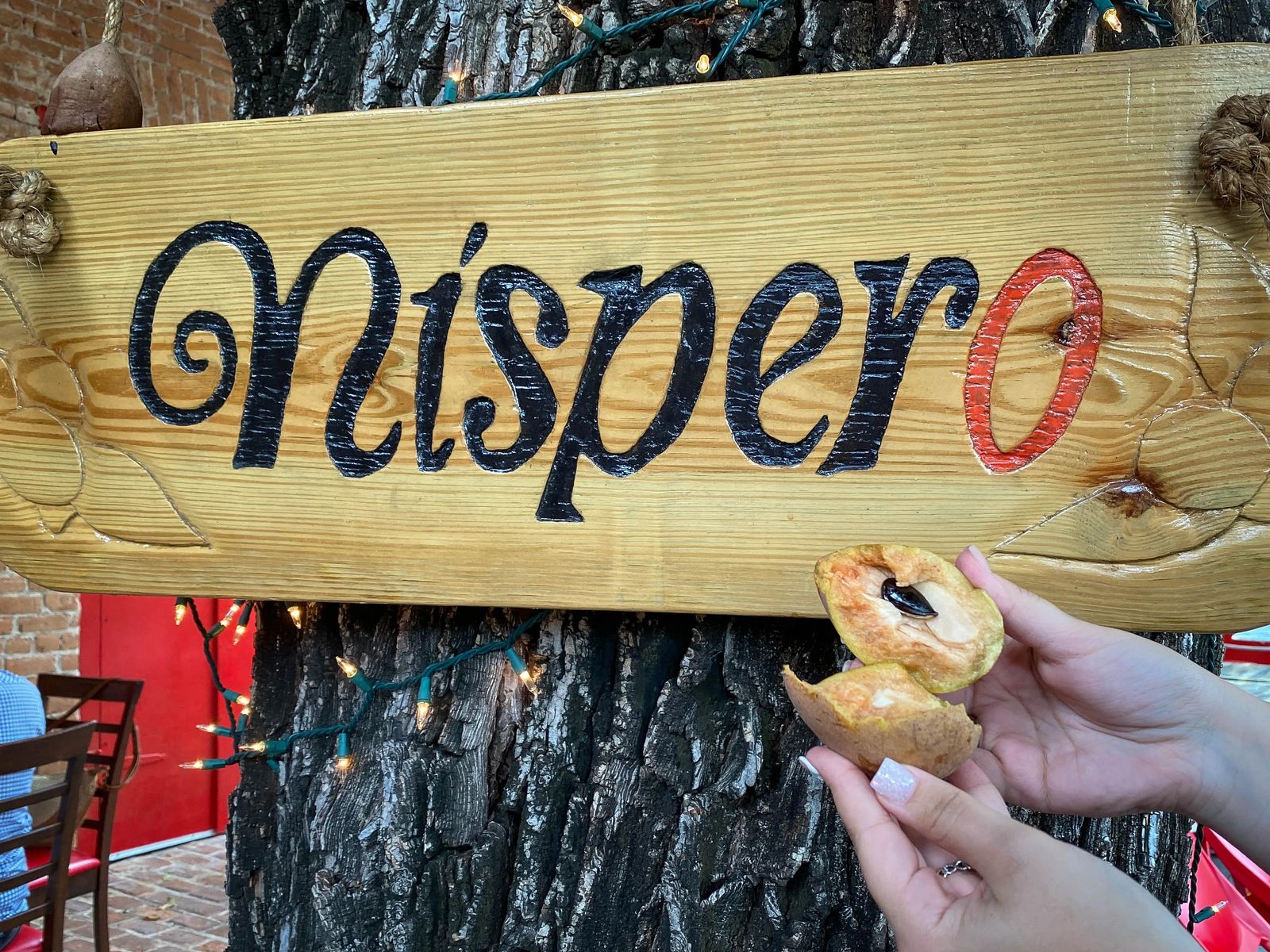 7 - Nispero Fruit
While the tree itself originates from Japan, and a variation of this tree can be compared to the bright yellow Dominican Loquat the Nispero fruit is very different in color, texture and taste. The texture of a Nispero fruit was like eating guava with the taste of an apple pie with hints of peach.
The Nispero fruit is a brown-skinned fruit with a pink pulp and a black seed in the center. The fruit has a high sugar content, and locals use it frequently in jams. You can visit the Nispero Restaurant during the summer and you can try one fresh off the tree. It is full of water, vitamins, fiber, tannins, citric acid, tartic and malic acids. Nispero also has potassium, magnesium, calcium and iron along with Vitamin B & Vitamin C.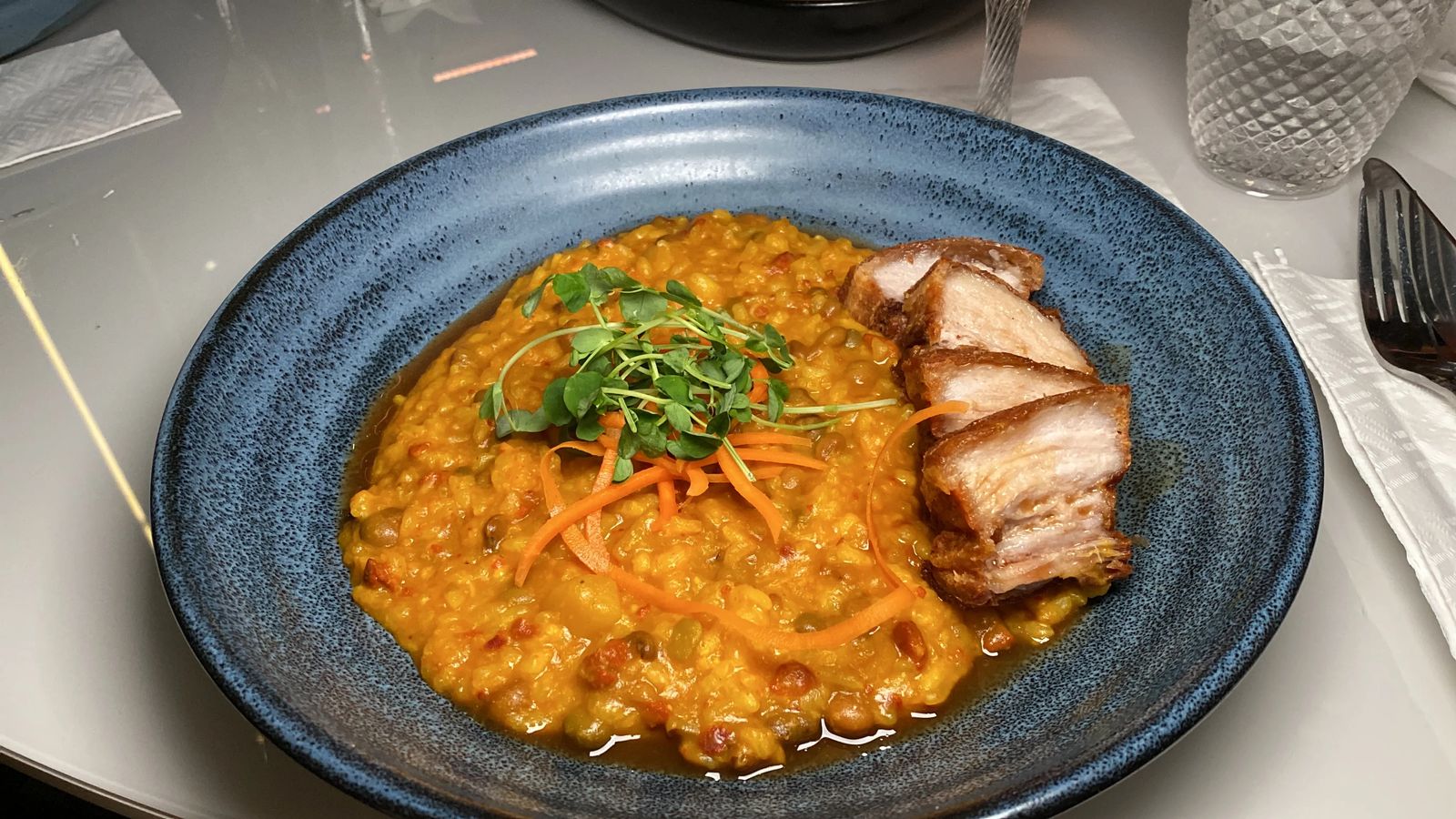 8- Pork Belly
If there is one thing that Puerto Ricans KNOW how to cook it is PORK. I like to think that because Pork and Ham is so popular in Spain this was a common dish now in Puerto Rico. There are different dishes that you commonly find on menus here like Chicharrones, Pernil, and Lechon Asado.
Chicharrones is fresh pork belly that is mostly fat with a little meat that is crispy on the outside with a delicious center (featured above). Pernil is the pork shoulder seasoned with adobo mojado, paprika, salt, vinegar, garlic and oregano. Lechon Asado is the entire pig that when it is cooking you can smell it from a mile away over a charcoal fire. The skin gets extra crispy and typically served with rice and plantains.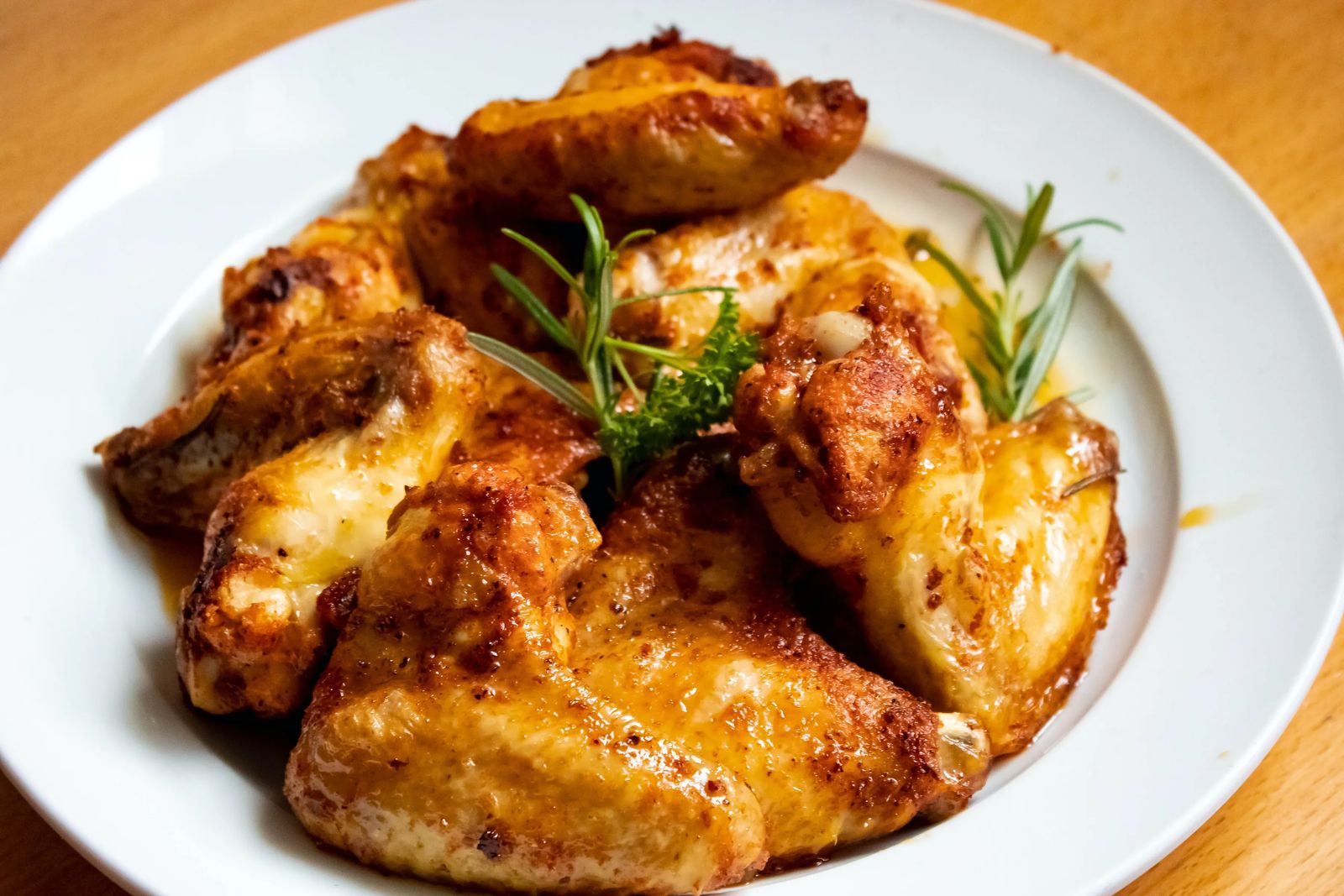 9- Roast Chicken
According to locals, when summer hits that's when the roast chickens start being sold on the beaches. Yes you read that right, right along the beach - apparently it is their 'go-to' snack on a hot summers day along with some steamed vegetables like Yucca. It isn't just the beach though, you can find roast chicken is commonly found along every long road pass in Puerto Rico.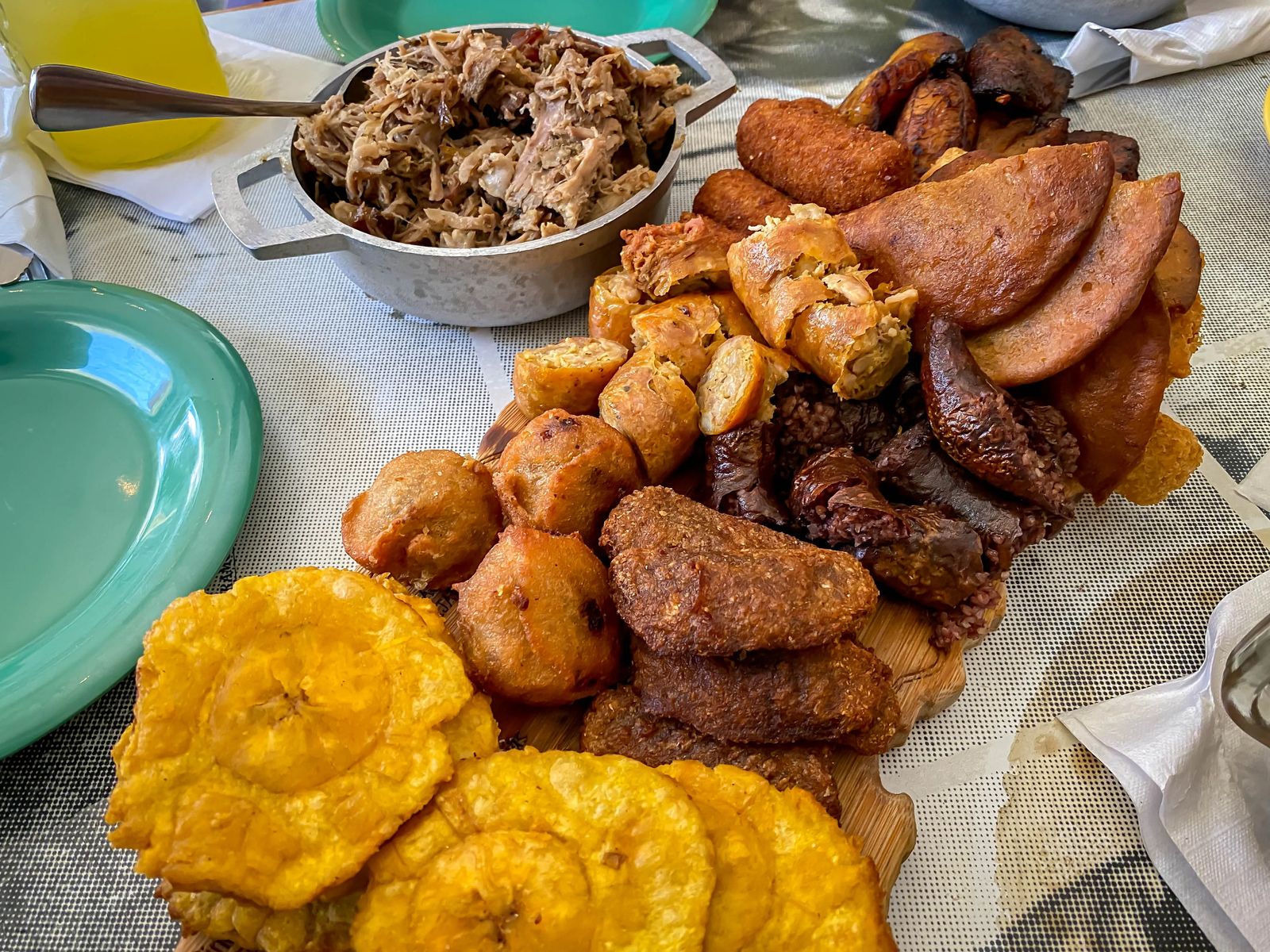 10 - Old San Juan Sampler at Deaverdura
Here you can try a variety of dishes large enough for four people all for just $20. You are taken care of by a woman who feels like a real Puerto Rican Mama has invited you into her home, complete with telling Pigeons that wander in off in in Spanish.
The sampler includes a non-alcoholic drink with:
Alcapurrias (similar to empanadas)
Tostones (smashed fried Plantains)
Amarillos (grilled Plantains)
Morcillas (Rice Sausage)
Longaniza (Like Chorizo)
Pianonos (Plantain Meat Pie)
Yuquitas Arroz (Fried Yucca Sticks)
While it may not look like a lot of food visually for four people, it is quite heavy on the stomach and is incredibly filling so keep that in mind when you order it.
I would certainly try to get there before peak lunch hour starts as it fills up very quickly, and on account of the pigeons she tends to chain the door shut until people leave. It is shady around her restaurant during lunch hour, but with how hot Old San Juan can get in the summer, I would make a Plan B if it is too busy for you to get a table just in case. No one likes to be hangry and hot.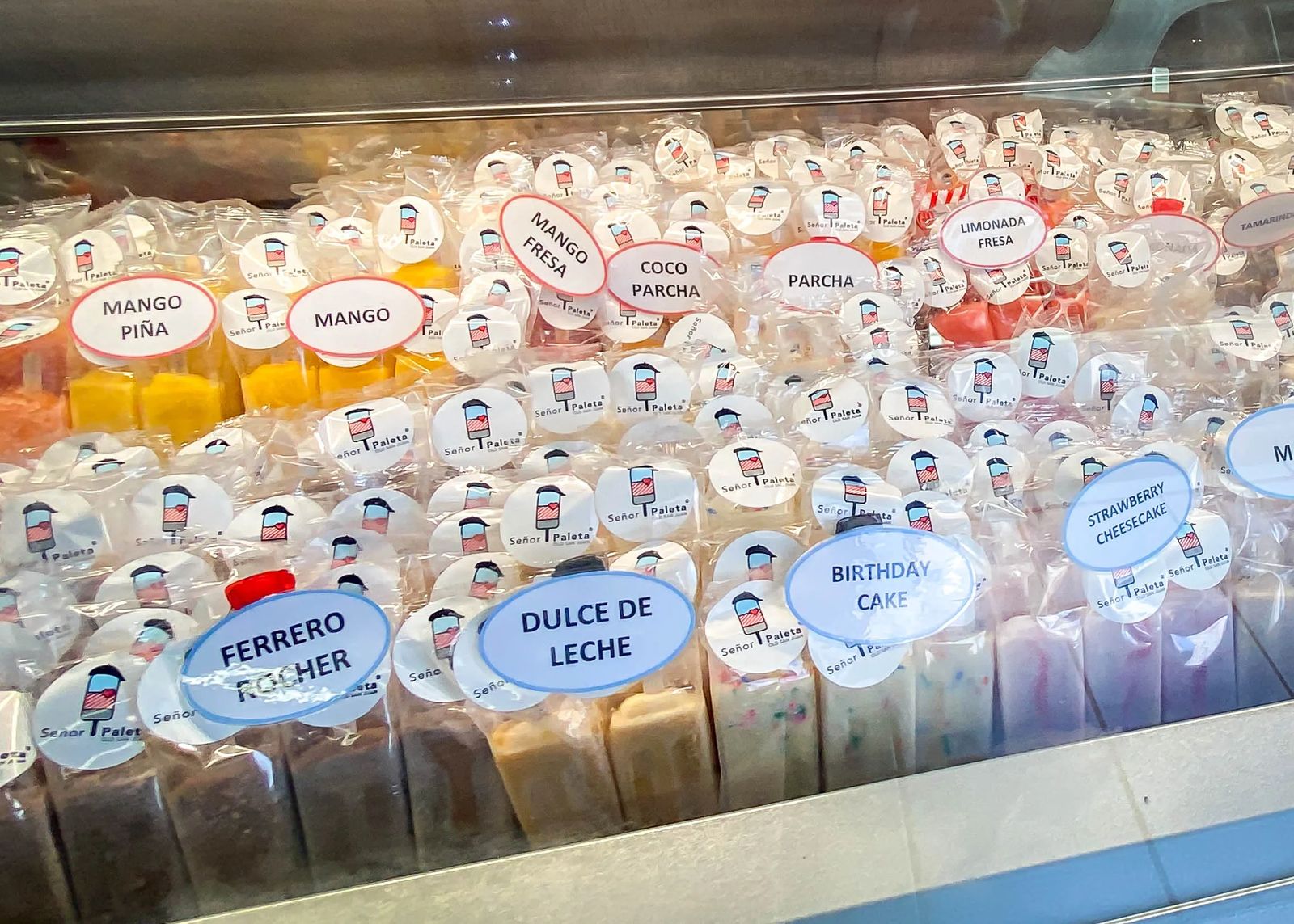 11 - Decorated Popsicle
I know a popsicle doesn't seem like something to traditionally include on a 'list of things to eat' in a country - but let me explain. This is SUCH a unique idea that I have never seen before, you get a popsicle, they provide a paper boat, and then you cover it in a topping or two and eat.
I got the Dulce De Leche popsicle and drizzled some carmel on it with graham cracker it was DELICIOUS! Getting popsicle is more functional than just a satisfying the sweet tooth though, with how blistering hot it gets in Puerto Rico it really helps cool you down during the hottest part of the day.
Really, don't underestimate how hot it gets in Puerto Rico. In the summer it is in the 100F range (37C). The UV index only goes to 12 and even in May when I was visiting the UV index as a 11/12 with 87% humidity. The point is, eat lots of popsicles, lots of them.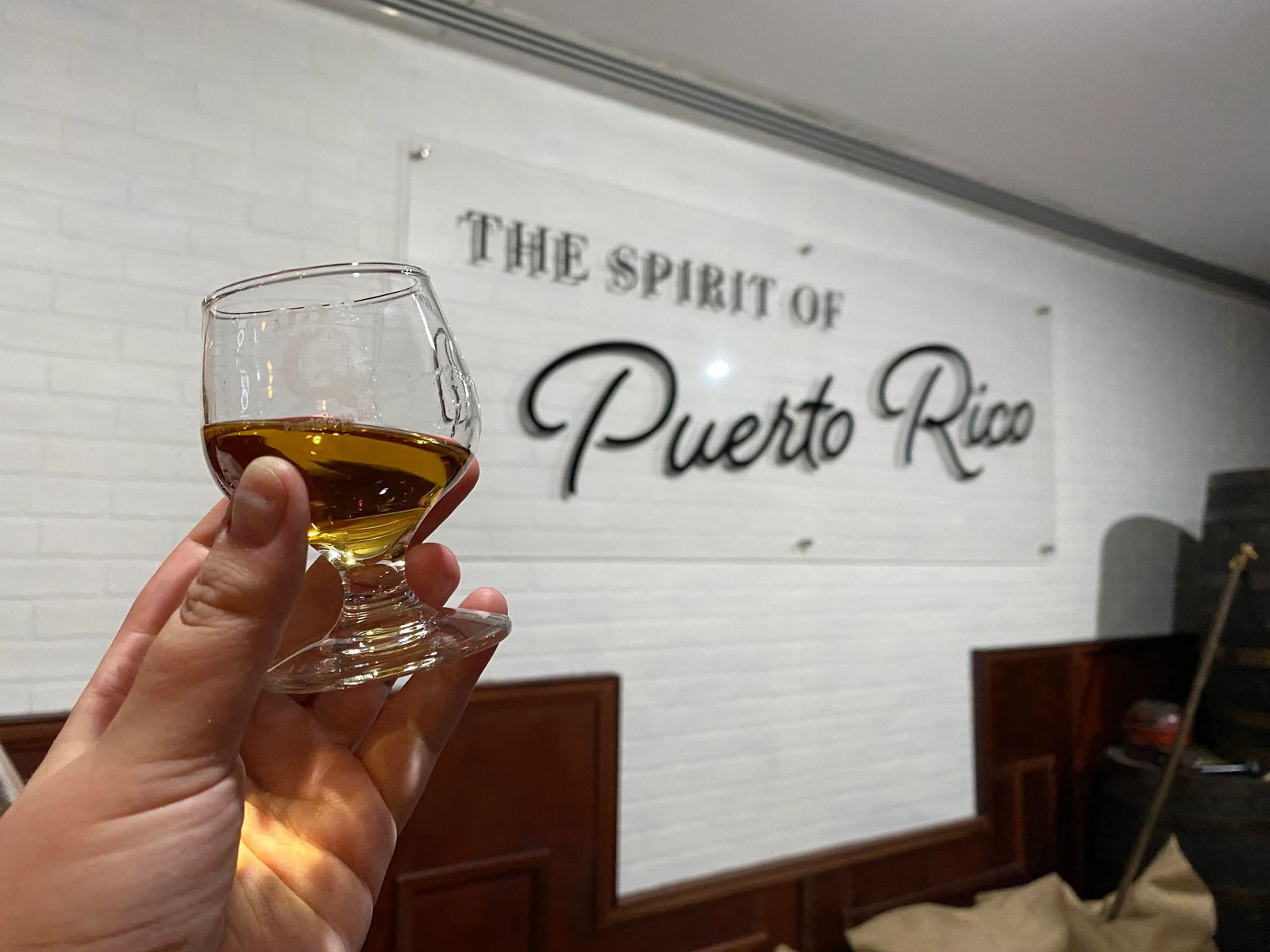 12 - Take A Rum Tour
There are five different Rums that are produced in Puerto Rico: Bacardi, Don Q, Palo Viejo, Ron del Barrilito, and Ron Llave. I was able to take a Rum tour when I was in Ponce at Casa Serralles (where Don Q started).
You start out by take a tour of the expertly manicured grounds and then are greeted by your guide with a Piña Colada (yes it was delicious). You then go into an auditorium and watch a movie about how Don Q was started, the history of the area, and where Don Q is today. Then you can tour the castle grounds (where lots of wedding receptions are held kind and pretty) learning about the family and different methods of brewing Rum.
Then you go into a tasting room and learn about how to properly age Rum and how different flavors are infused into the beverage. It isn't just any tasting though, they pour the Rum straight out of a 7 year aged Rum barrel right into a beaker like you would find in my Organic Chemistry class (but without all the mishaps).
Then they take you into a 'bartending class' where they tried (and I failed) at making anything resembling an 'Old Fashioned' and a Piña Colada. Make sure to check out my messy drink making mishaps on my Youtube channel (palm to face).
At this point I was thoroughly tipsy and also severely dehydrated because of how hot it was, which made the spectacle even worse (double face palm). Then they take you into a Virtual Reality Game to further the embarrassment and really test your ability to stay upright.....it is a good time....and a lot of good laughs.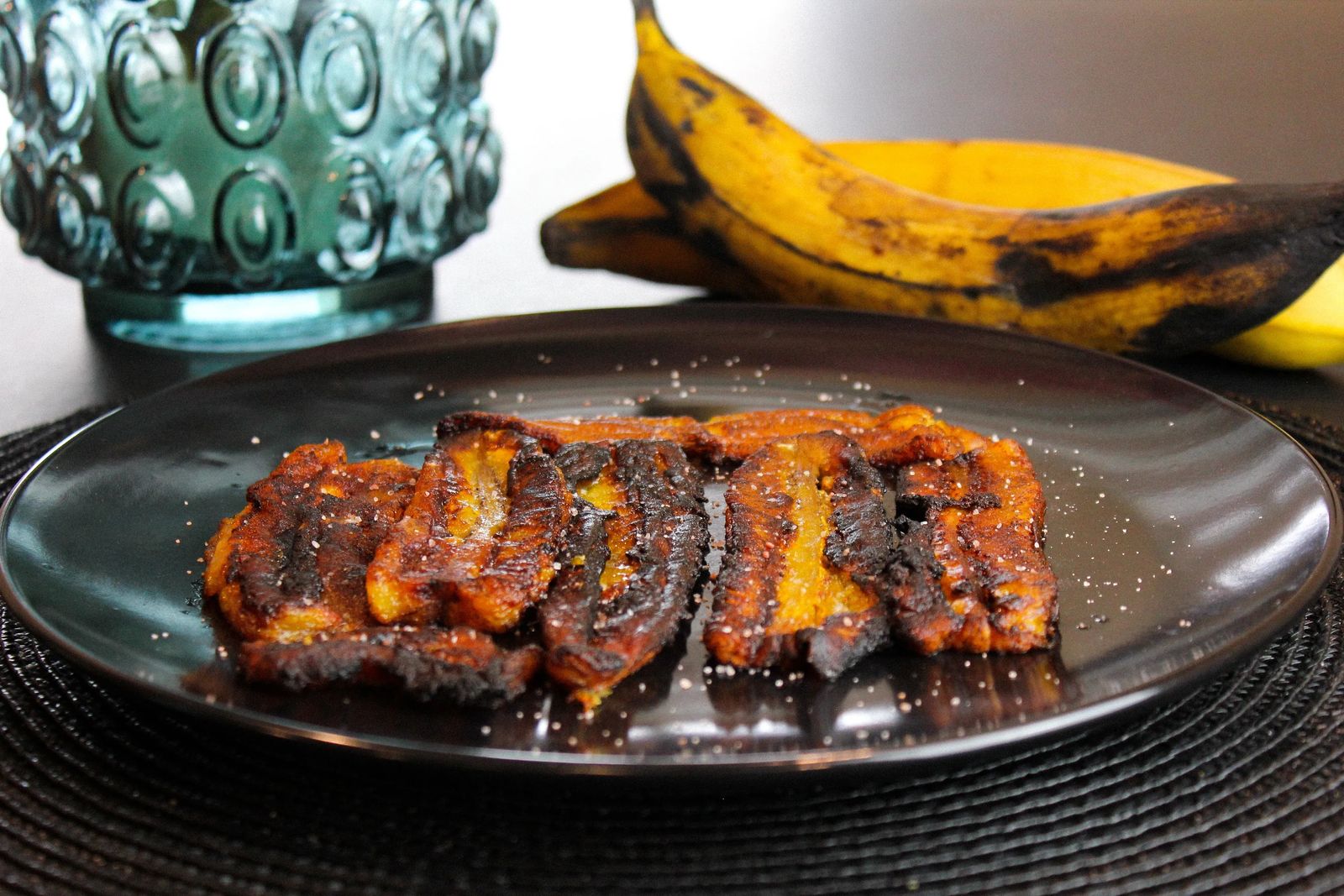 13- Tostones
There are a lot of ways to make Tostones, shapes sizes, and spices but the best way is simply to slice up some plantains add a little salt. Then you don't just fry it once, but fry it TWICE - yes ladies and gentleman, fry it TWICE, because once isn't enough to clog the coronary arteries ;)
They really do taste good though, but don't expect your waistline to thank you later. HOWEVER, I have a secret, a pro-traveler tip really - when you are on vacation any food you eat is full of fiber, no fat, and no sugar (j/k - but I wish).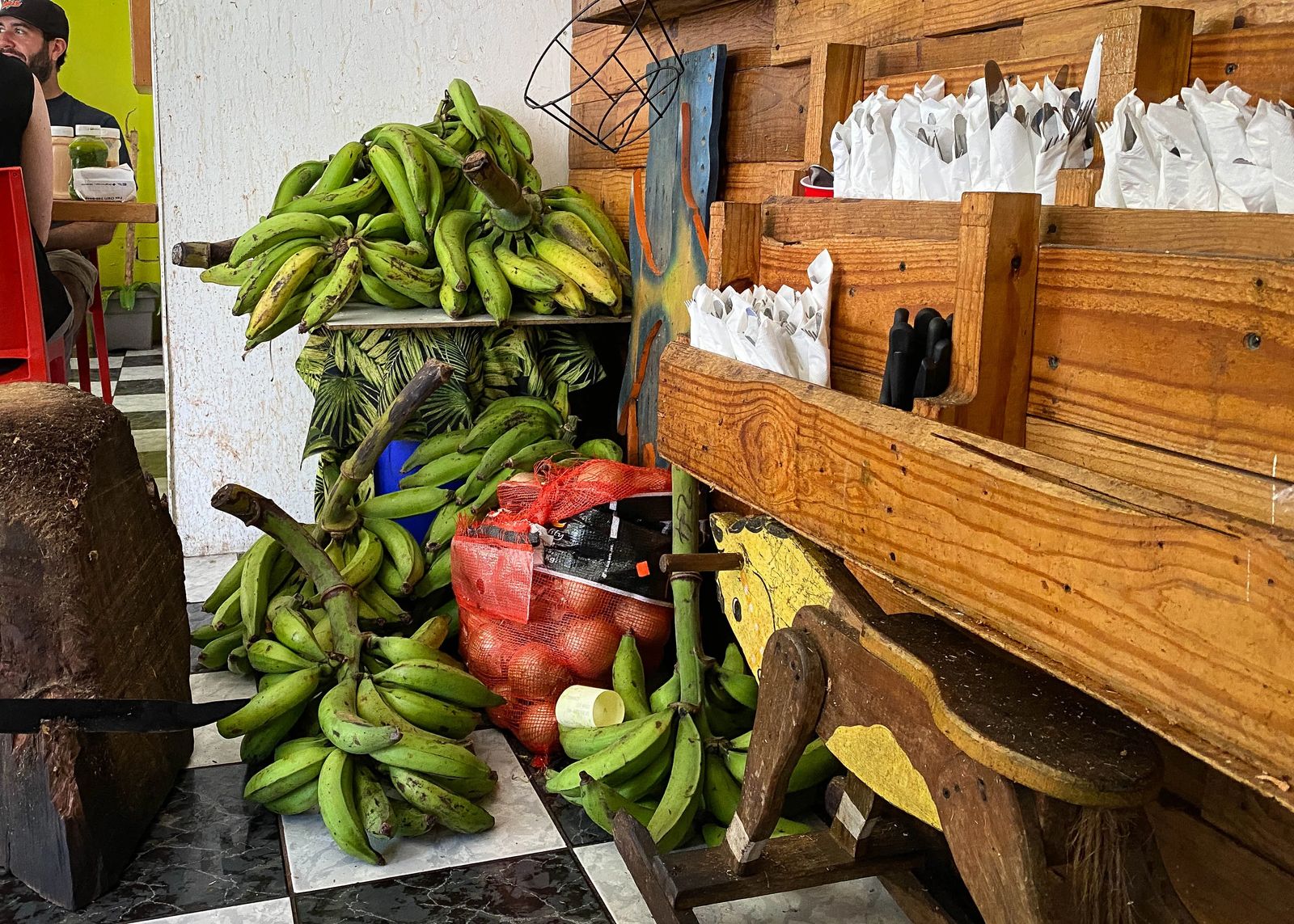 14 - Binge On Local Fruits
While the last sentence was in gest, eating fresh fruits closest to their source is the BEST thing you can do for your body. There is NOTHING better than getting fruit straight off the tree/vine. Here are some fruits that are locally grown in Puerto Rico I suggest digging into when the deep fried food gets to be too much.
Mango
Papaya
Pineapple
Guayaba (Guava)
Coconut
Carambola (star fruit)
Parcha (passion fruit)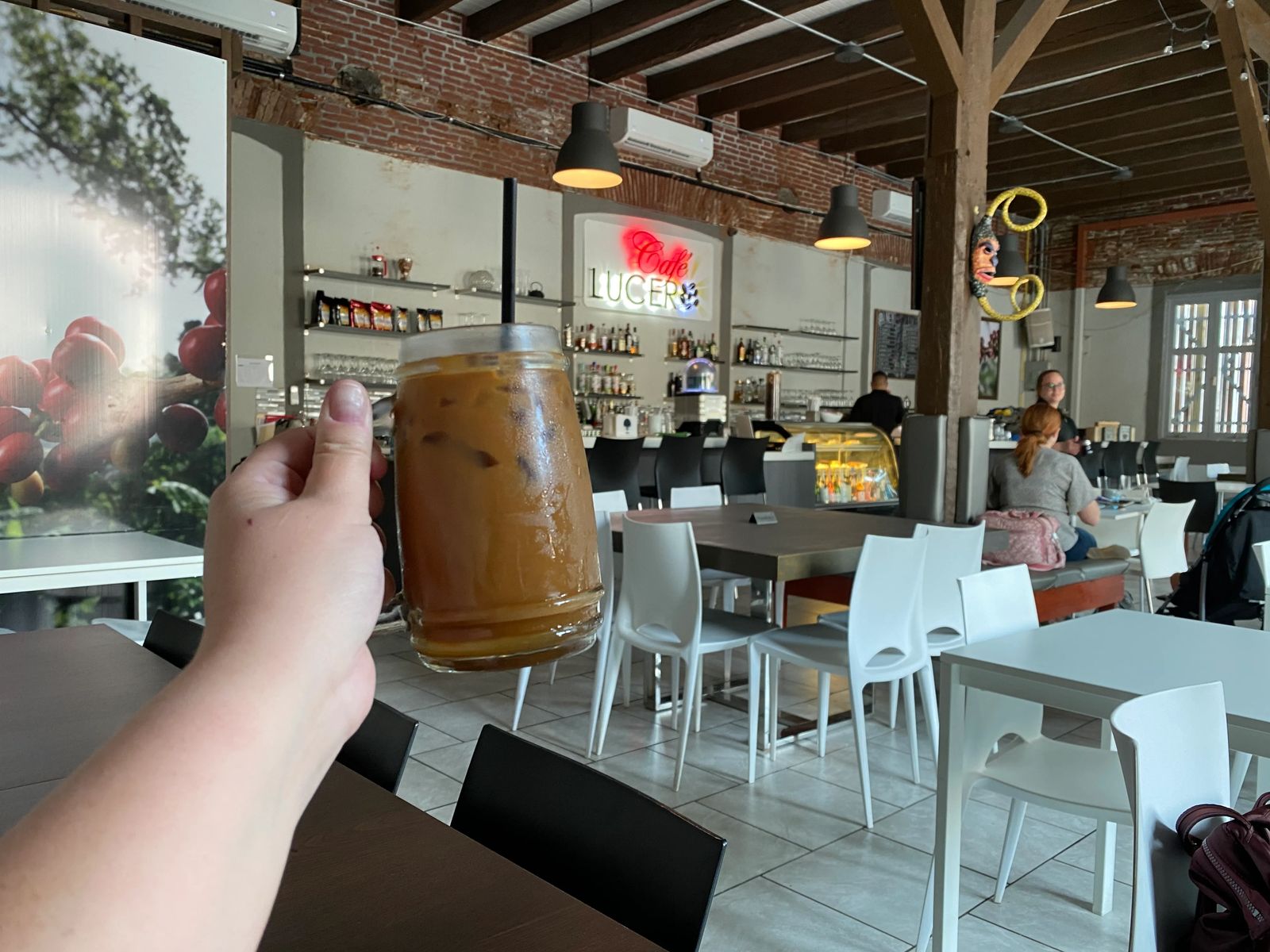 15 - Coffee Culture
Coffee culture is a real thing in Puerto Rico, hundreds of acres of coffee plantations dot the entire island. One thing I will warn you about is that even in the heat of summer, if you asked for an iced coffee anything - Puerto Ricans are going to look at you like you are crazy. Most of the coffee in Puerto Rico is consumed hot, they say it helps you taste the aromas and flavors better.
We were able to meet a woman who ran her own coffee hacienda and cafe in Ponce, called Cafe Lucero. She taught us that unlike wine that ages well when opened, coffee begins to lose its flavor and aromas as soon as you open the package.
Coffee in Puerto Rico is known for its chocolate and caramel notes. It has a sweet taste, with lower acidity (so those with heartburn will have an easier time drinking it). It isn't bitter and is extremely smooth and comforting to drink it.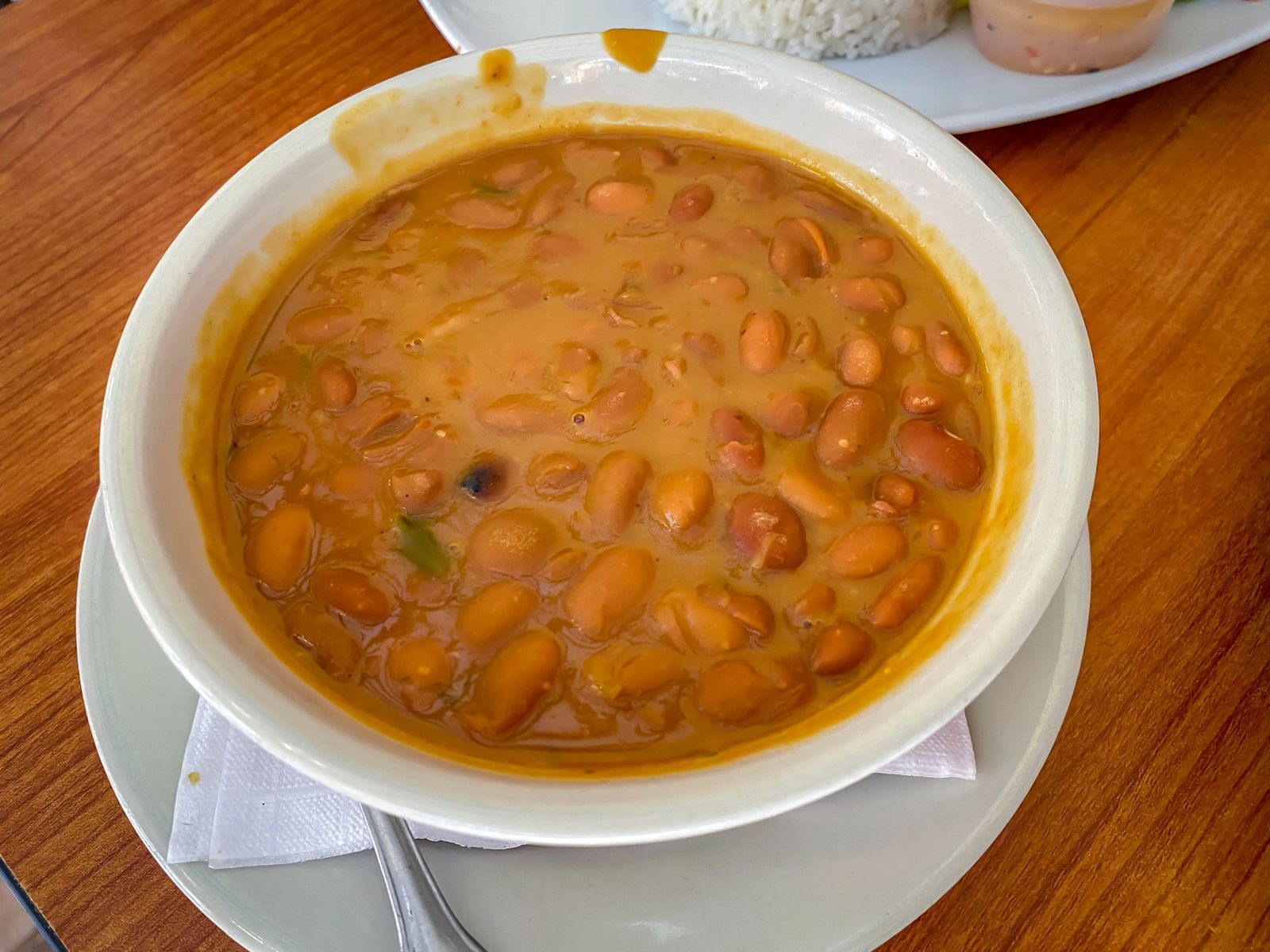 16 - Puerto Rican Beans
The classic Puerto Rican Beans are a staple in the island diet. It is a mix of red beans, tomatoes, onions, garlic, bell pepper spices and chunks of potatoes. If you are wanting something filling, but not heavy (and help you get your gut moving) then I suggest grabbing a bowl of beans. You can typically find them on any restaurant in Puerto Rico in the side dishes.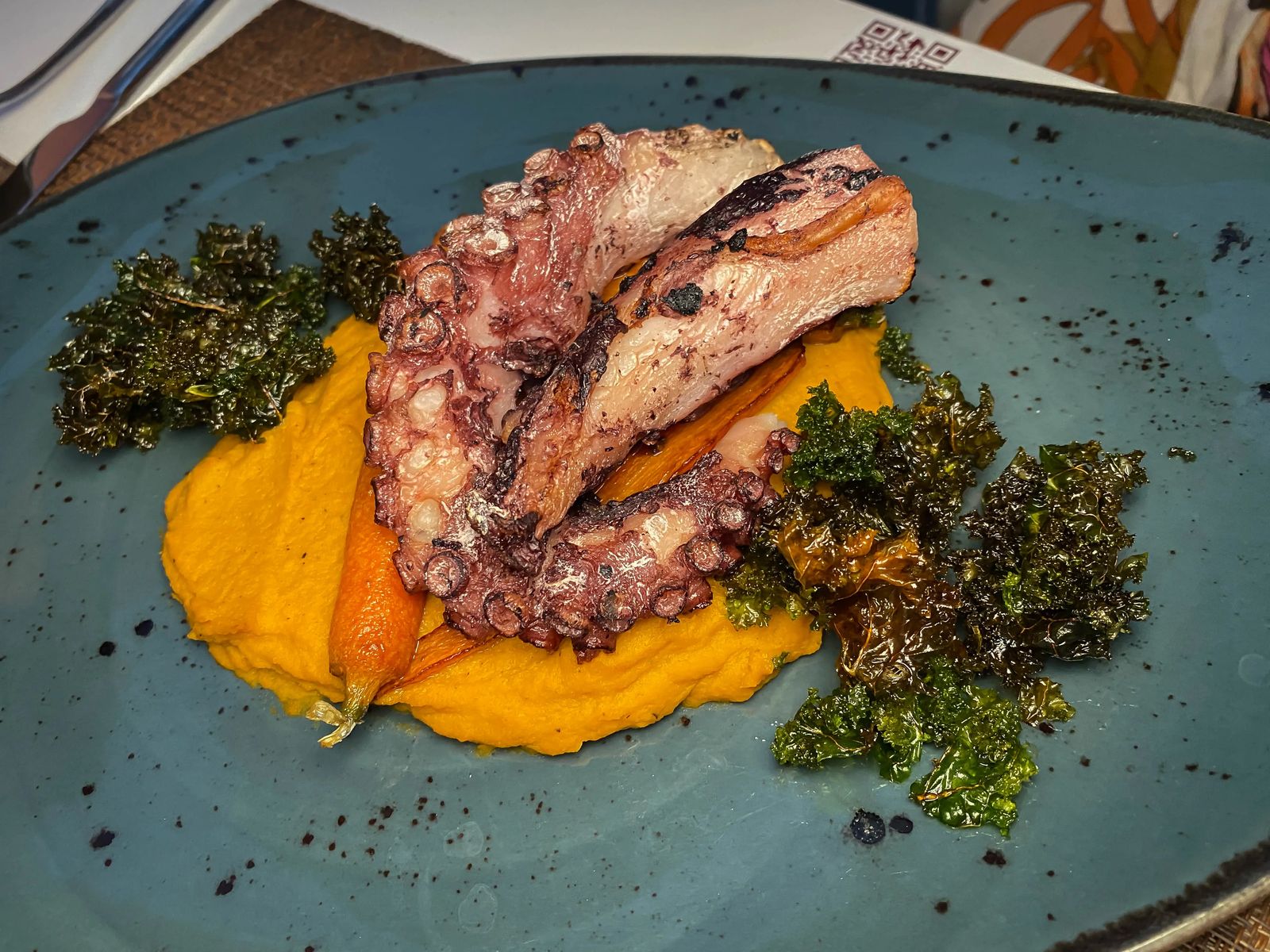 17 - Octopus
Northern Spain has a huge culture around Octopus so naturally Puerto Rico has some delicious dishes of Octopus on many of the menus. The Octopus is typically marinated in a garlic type brine and then grilled over charcoal giving it a great smoky bacon taste. A good Octopus should NOT have a rubbery texture to it, but should melt in your mouth IF the chef knows how to cook it well.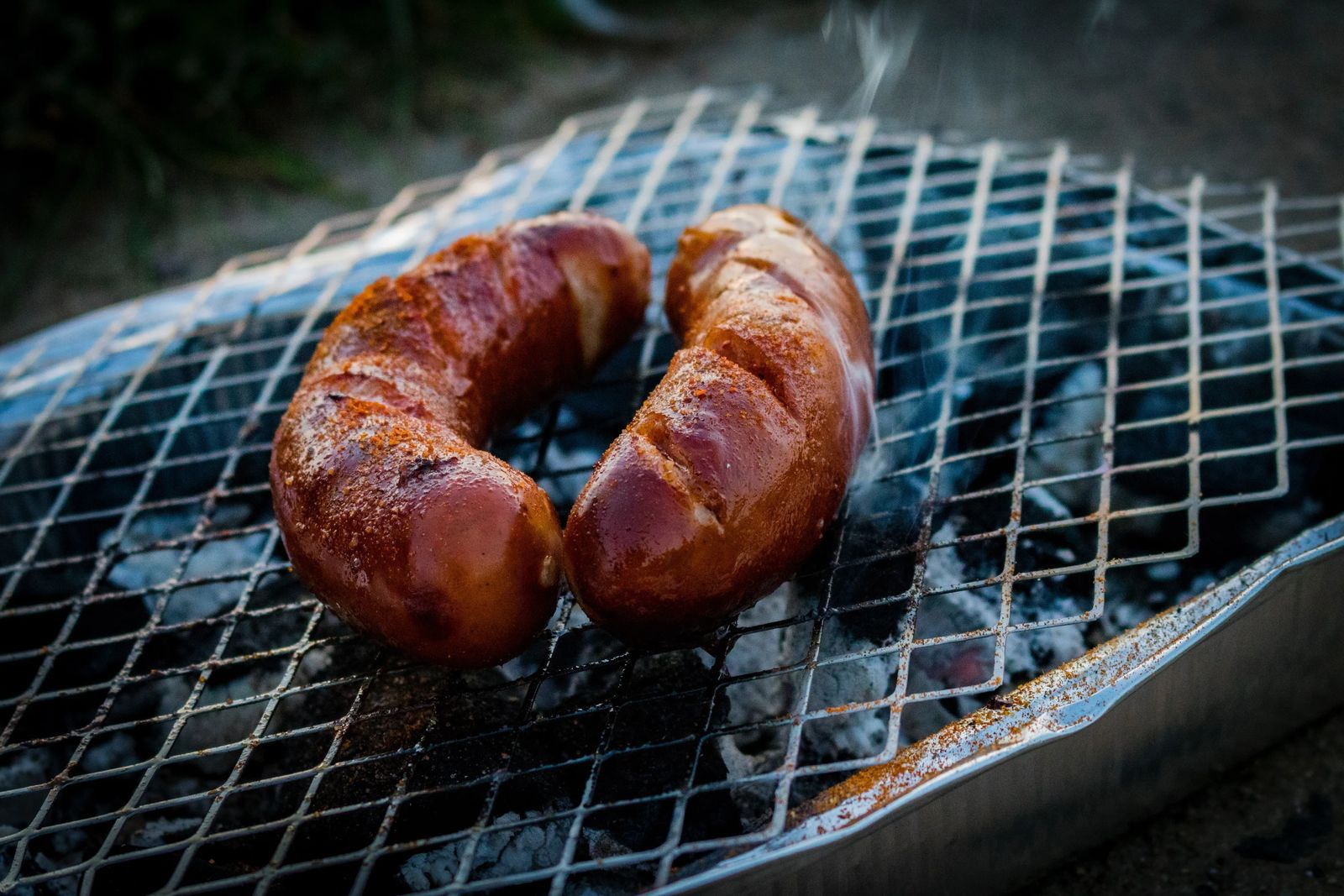 18- Pork Sausage
Think breakfast sausage combined with Chorizo, combined with the Puerto Rican rice it is a perfect lunch snack. You can also get the sausage for breakfast with a good cup of coffee. If you look for it on the menu then you you will look for Longaniza. The Sausage is typically combined with the annatto spice, garlic, and ground pork.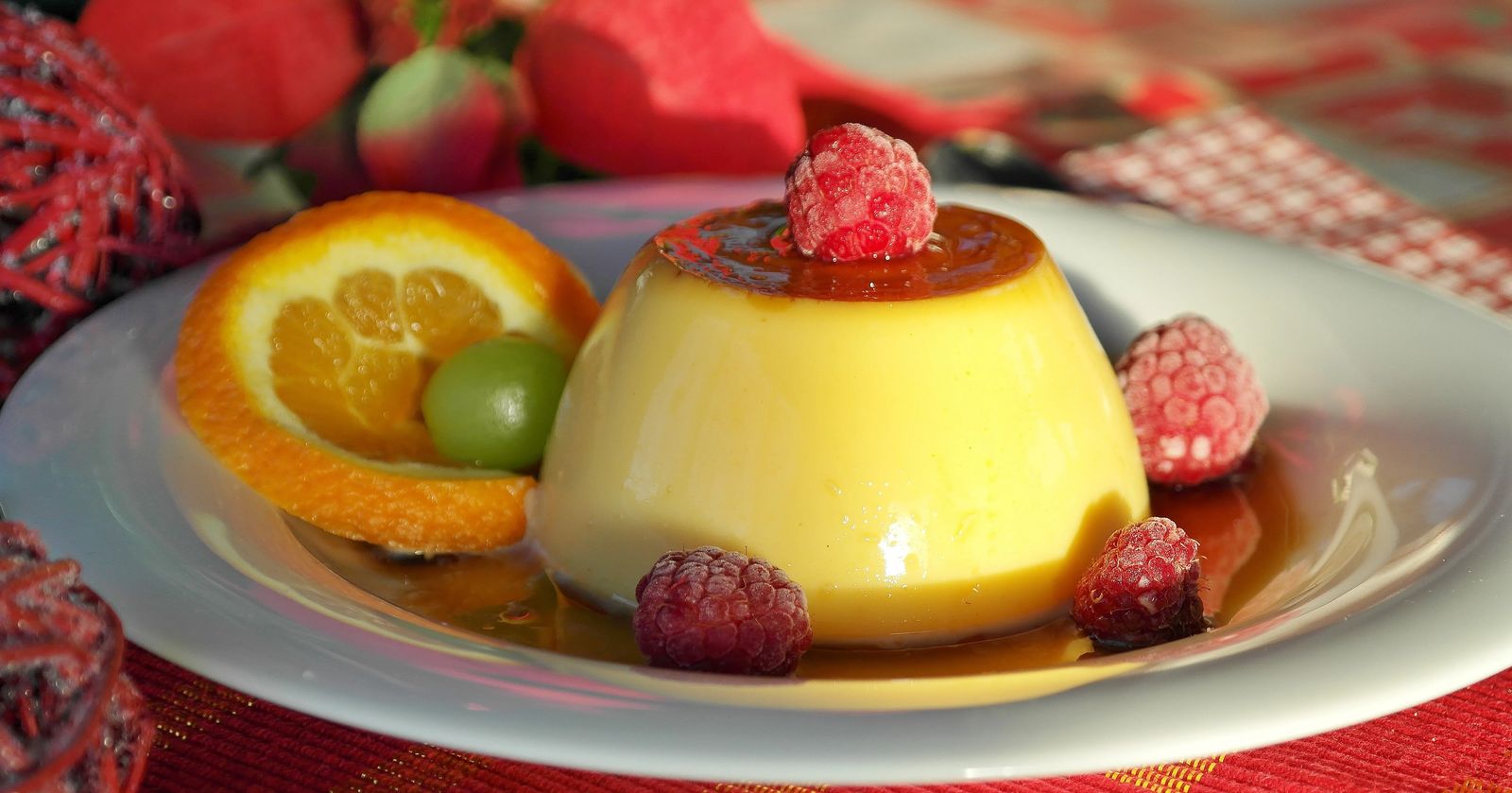 19- Flan de Queso
Flan de Queso is a caramel custard combined with Cheesecake. It is is a type of flan that is typically vanilla-flavored covered in caramel sauce, coconut or Nutella. It is made of eggs, sugar, evaporated milk, condensed milk, and cream cheese.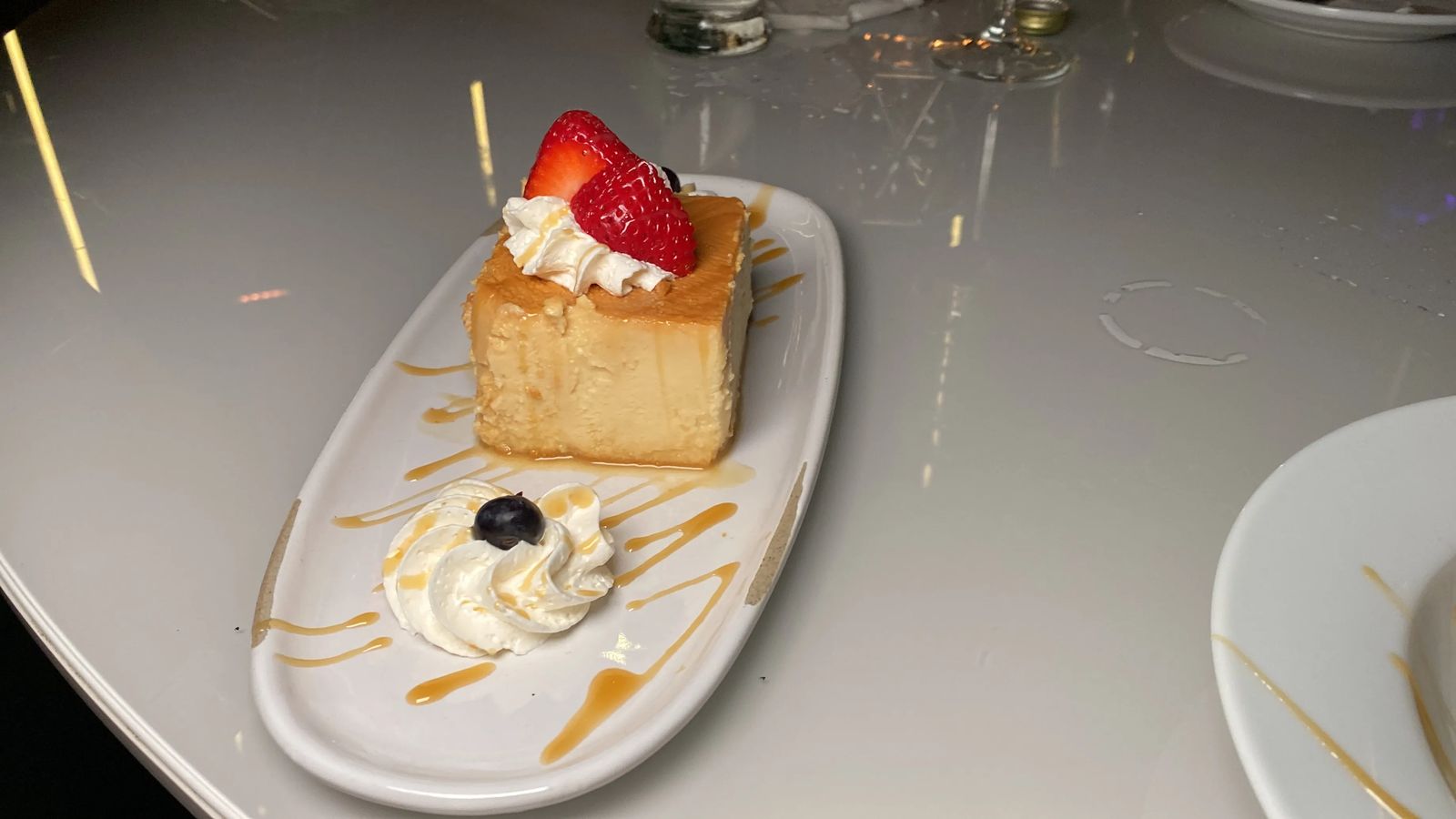 20 - Tres Leches
You can get Tres Leches in a variety of ways, but Puerto Ricans typically serve it as a light sponge cake then drizzle it with a mix of whole milk and condensed milk. You can also get it as a coquito tres leches cake, which is a boozy type of Tres Leches. I don't know how Tres Leches can get any more addicting (one of top desserts to be honest) but adding coconut and rum to the sweet milk mix is ABSOLUTELY DIVINE!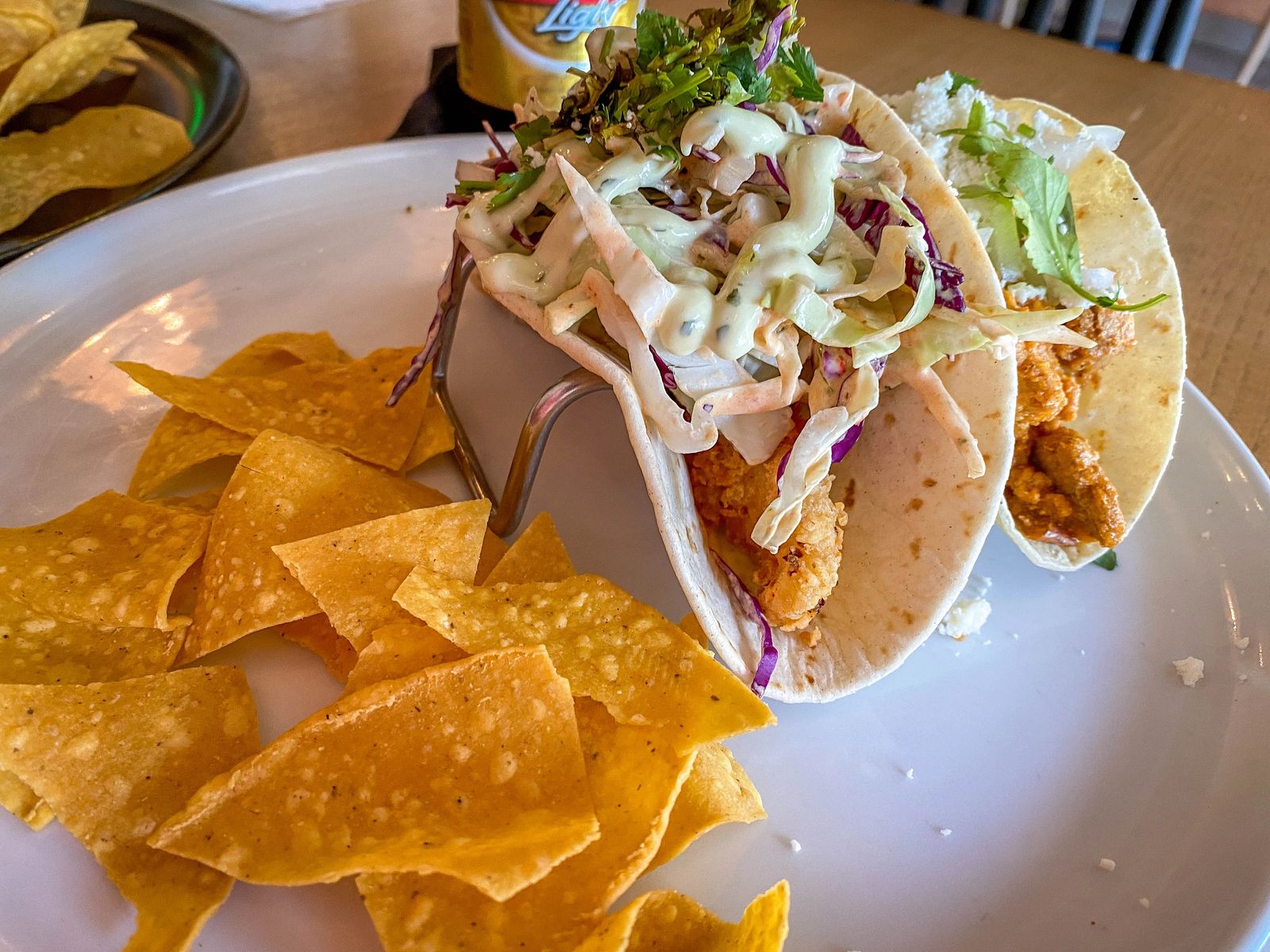 My Takeaway of the Food In Puerto Rico
When visiting Puerto Rico and wanting to indulge in the flavors of the island I can promise you definitely will NOT be disappointed. I do have to admit the with all the fried foods it can get pretty heavy on the stomach, so make sure to mix it up with some salad or veggies. Really, who am I kidding though - you are on vacation - indulge in the delights of the food culture of Puerto Rico and enjoy your hard earned vacation.
Like it? Pin it for later! Sharing is caring ;)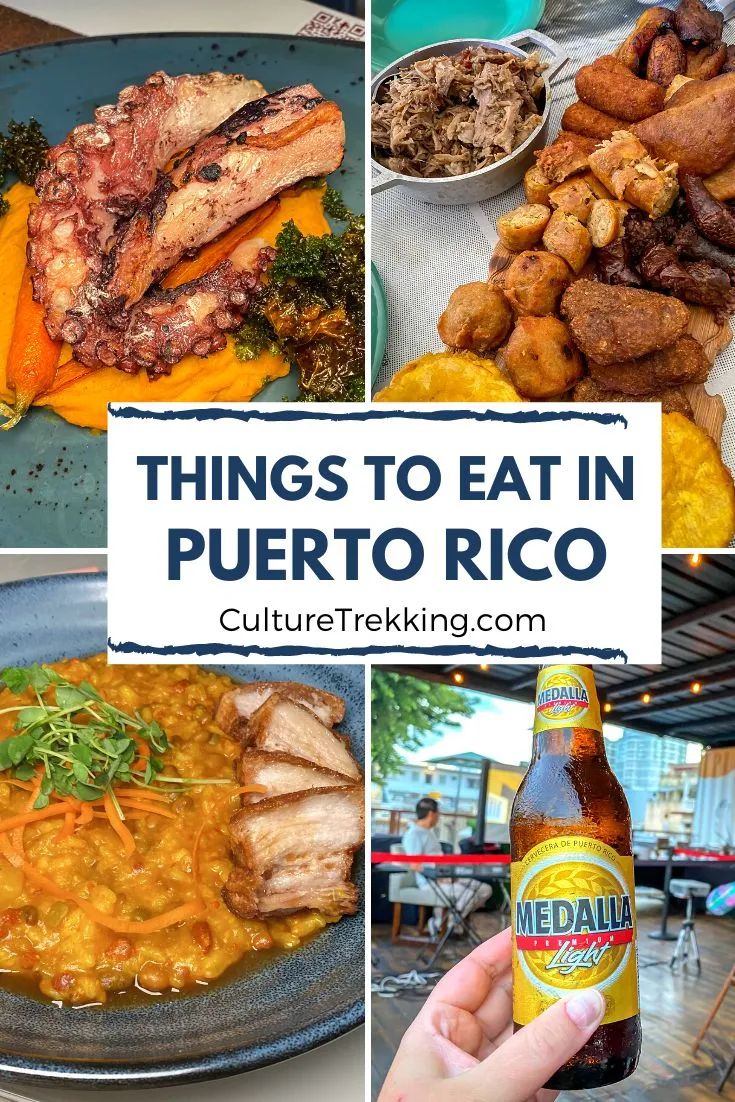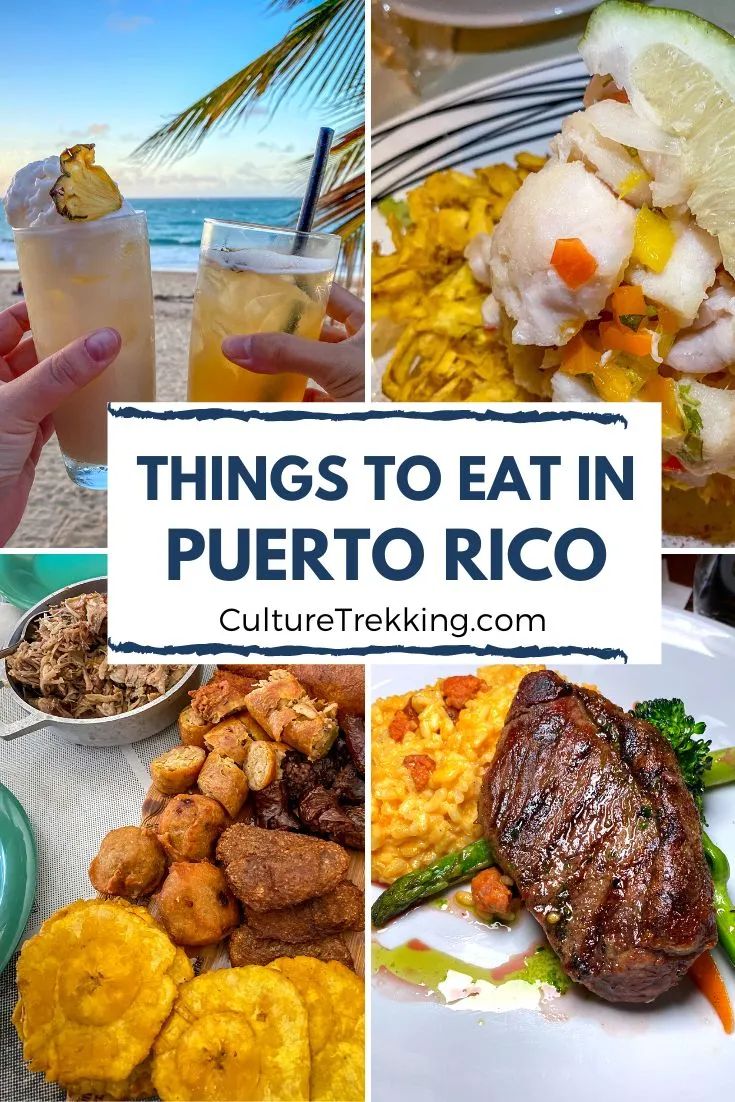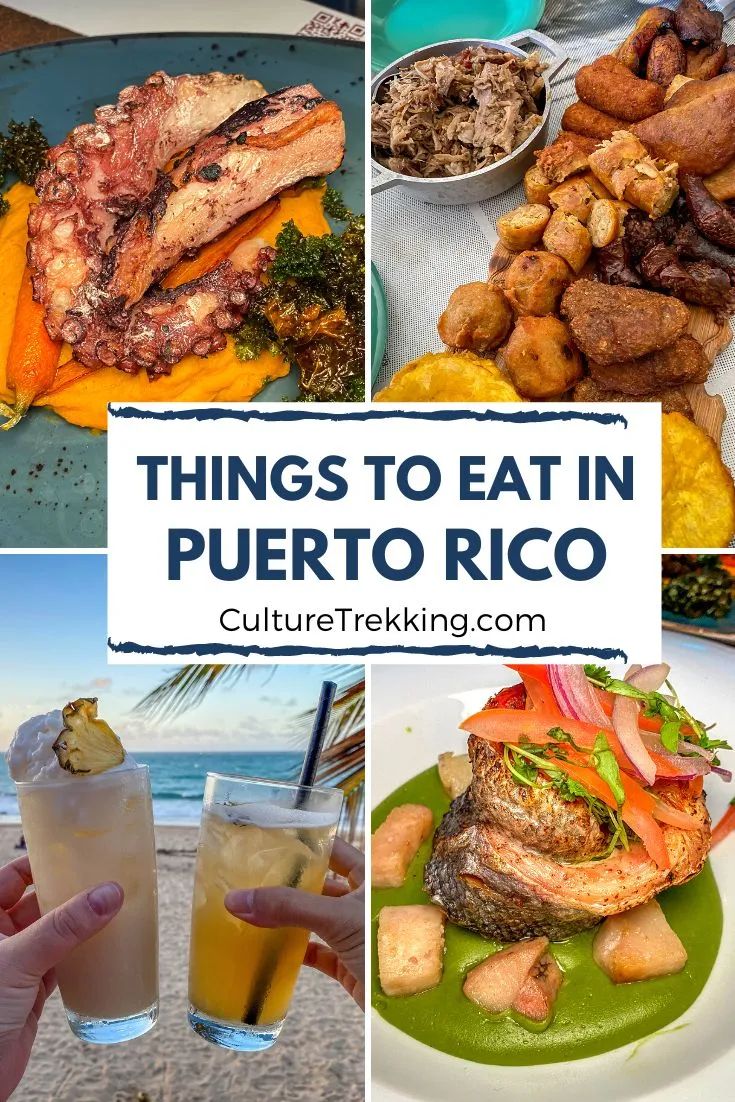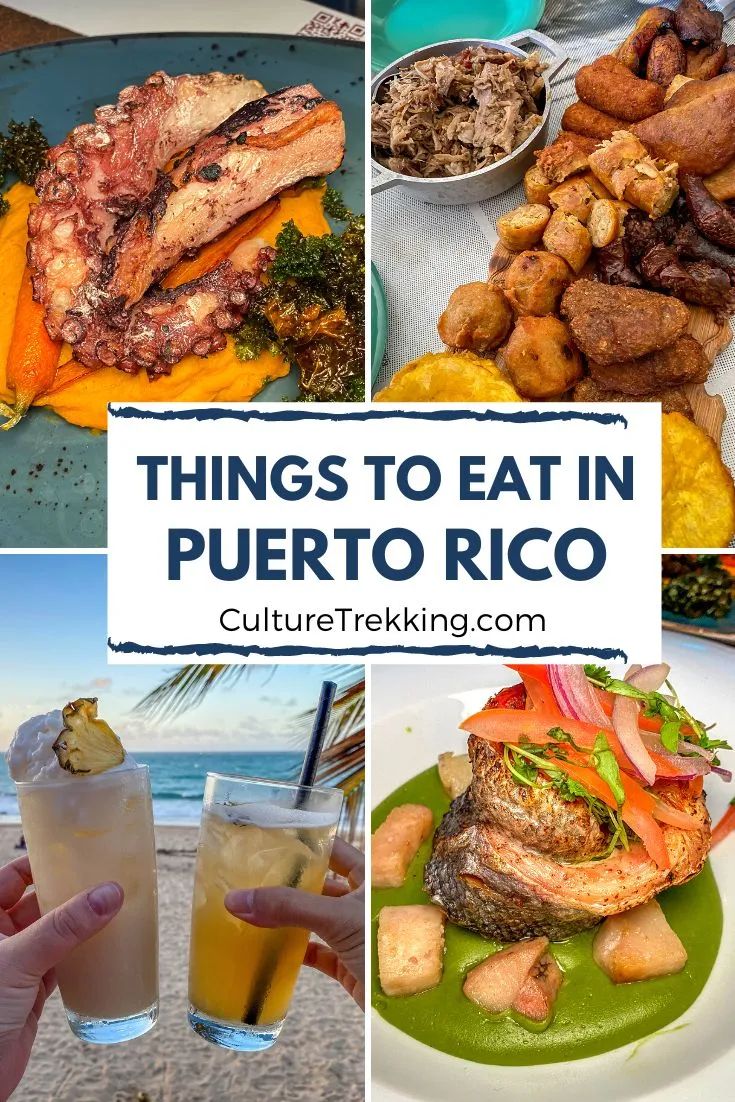 Latest Articles On Culture Trekking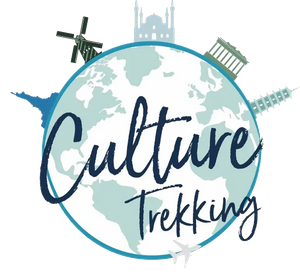 Culture - Connection - Art - Adventure