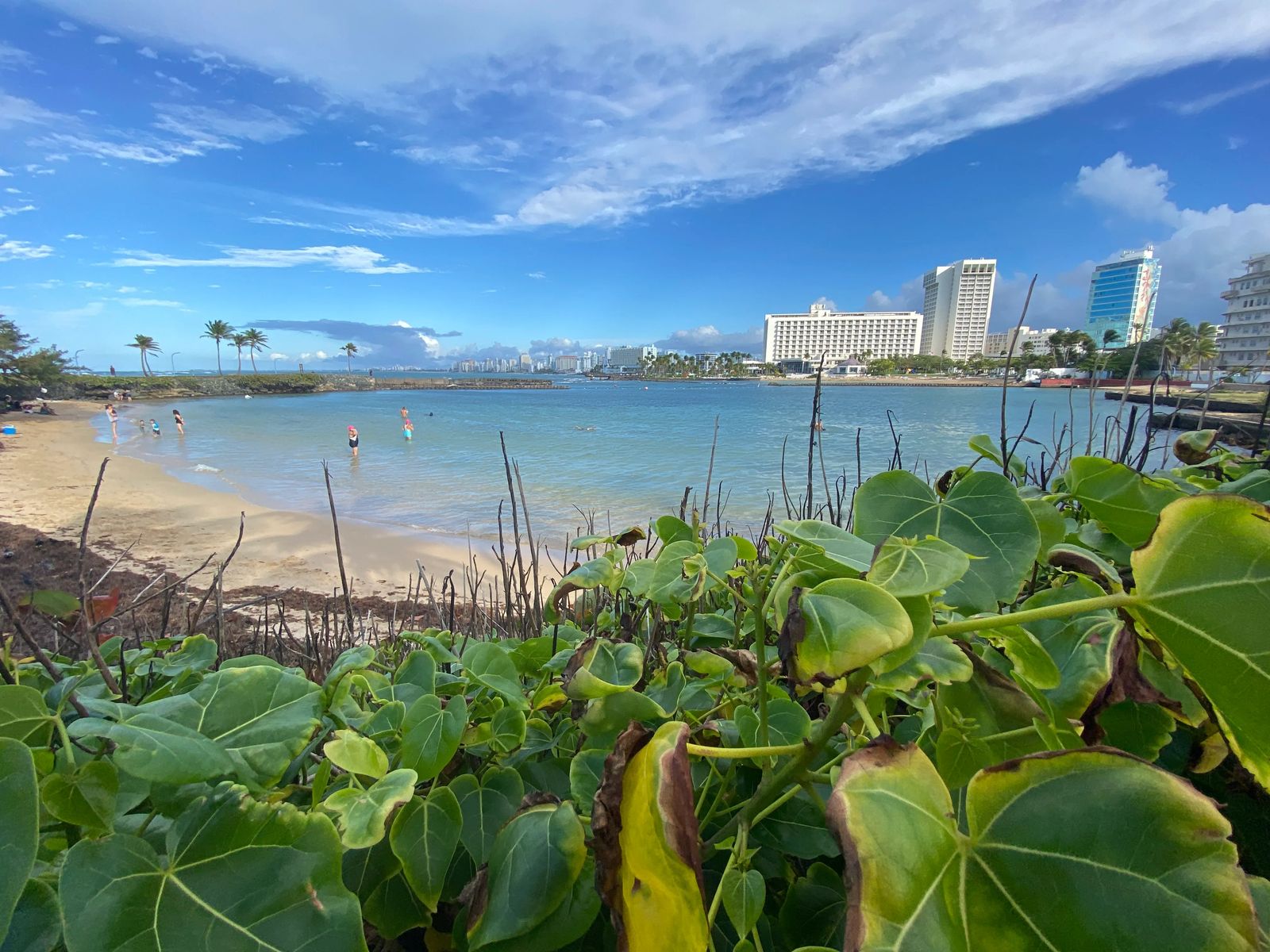 21 Things to See in Old San Juan Puerto Rico
Trade winds caress your face as you stand atop a 15th-century fortress in a UNESCO City staring out across the ocean lapping at the cliff edges as it has for centuries. Visitors pass by but you just reside in the stillness and friendship of the Iguana basking in the sun at your side. You get hungry and decide to head into the Old San Juan center to a restaurant along Fortaleza street. A wild-haired woman ushers you in, as she shoos two pigeon residents out of her restaurant that has been run by her family for years. You sit down and she hands you a local Medalla beer, you sip it, and realize that all your cares about life at home were washed down with that first sip of your cold beverage.
This is what I experienced anyway when I visited Old San Juan in May of 2022. I was there for a travel conference and was so enamored by the sites of Old San Juan and history here, I ended up ditching the conference to really DO what we were there to learn about - exploring and reporting better on cities from around the world.
There is a big difference between San Juan and Old San Juan, you see the difference in centuries collide within a matter of 1-2 minute drive through the city. You see the Spanish influence in the Castillos and fortresses, feel the religious devotion to the grandeur of the Chapel of St John, and learn about the miracle that influenced the Chapel of Christ. Walking along the blue cobblestone streets of San Juan is sure to delight every visitor, but there are a few suggestions and tips to visit that I will explain more about below.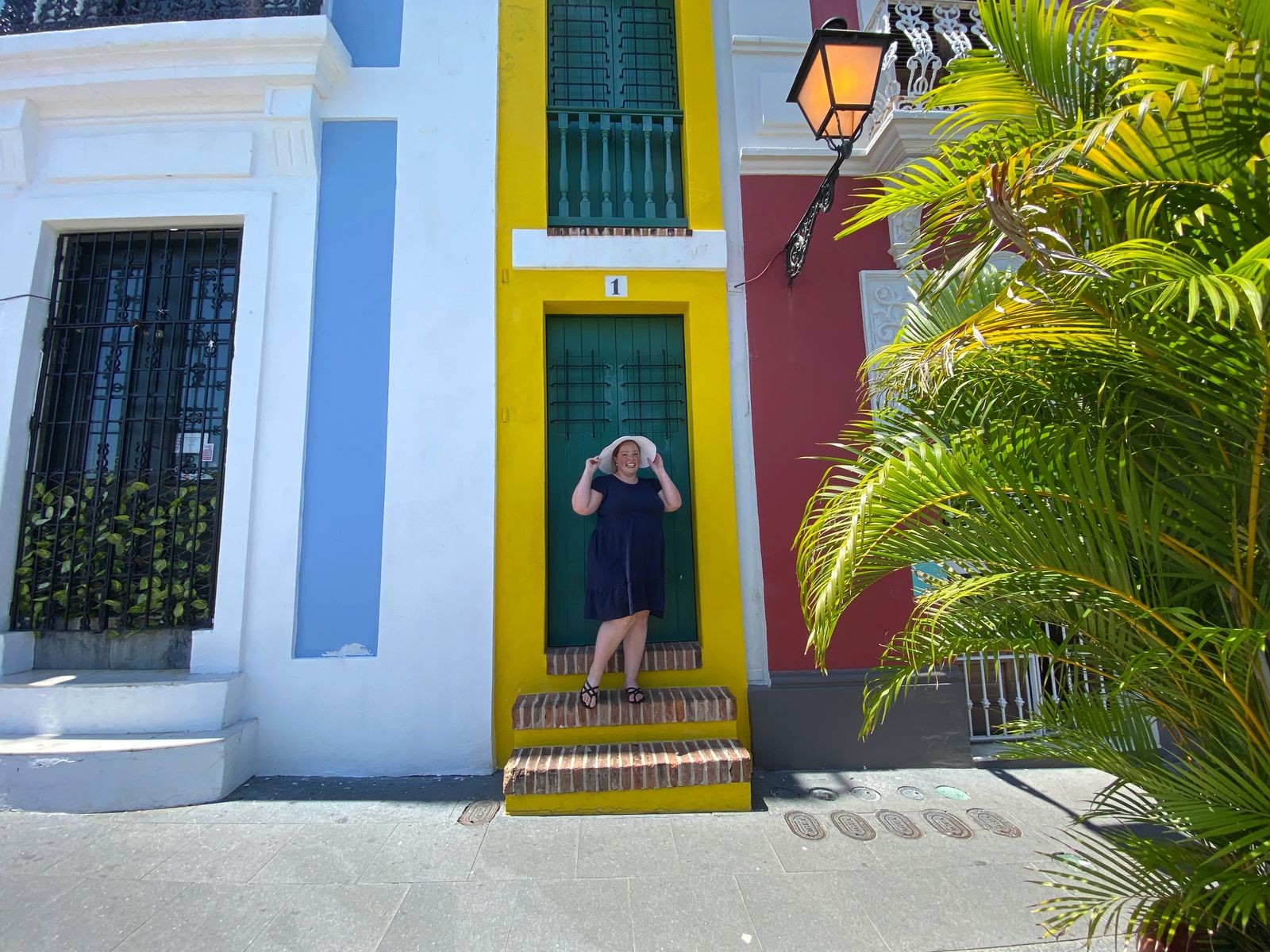 1 - Explore the Colorful Streets of Old San Juan
Puerto Rico is known for the colorful facade on the buildings of Old San Juan, but really this rings true anywhere in Puerto Rico. When you are looking for spots in Old San Juan on where the best instagram spots are to take photos, here are a few places I recommend.
Fortaleza Street at the very top of the street you will find a whole alleyway dedicated to Instagram photos (the alley is actually fenced off from cars). The overhead decor is changed periodically so you may get a Puerto Rican Flag one day, butterflies the next month, or umbrellas another day - that is what makes it fun is because it is always different and providing a fresh take.
Calle Imperial is where you will find the giant Puerto Rican flag displayed on the door that so many people take the classic Old San Juan photo in front of.
Calle Norzagaray is where you will find not just colorful houses, but the colorful doors AND impressive adornments to go along with it. If you didn't know already, Old San Juan is known for its colorful doors - they even have shops that sell small replicas of those doors for you to take home.
The Street next to Hotel El Convento - it is bright and beautiful and full of colorful buildings, plants and flowers lining each step and doorway.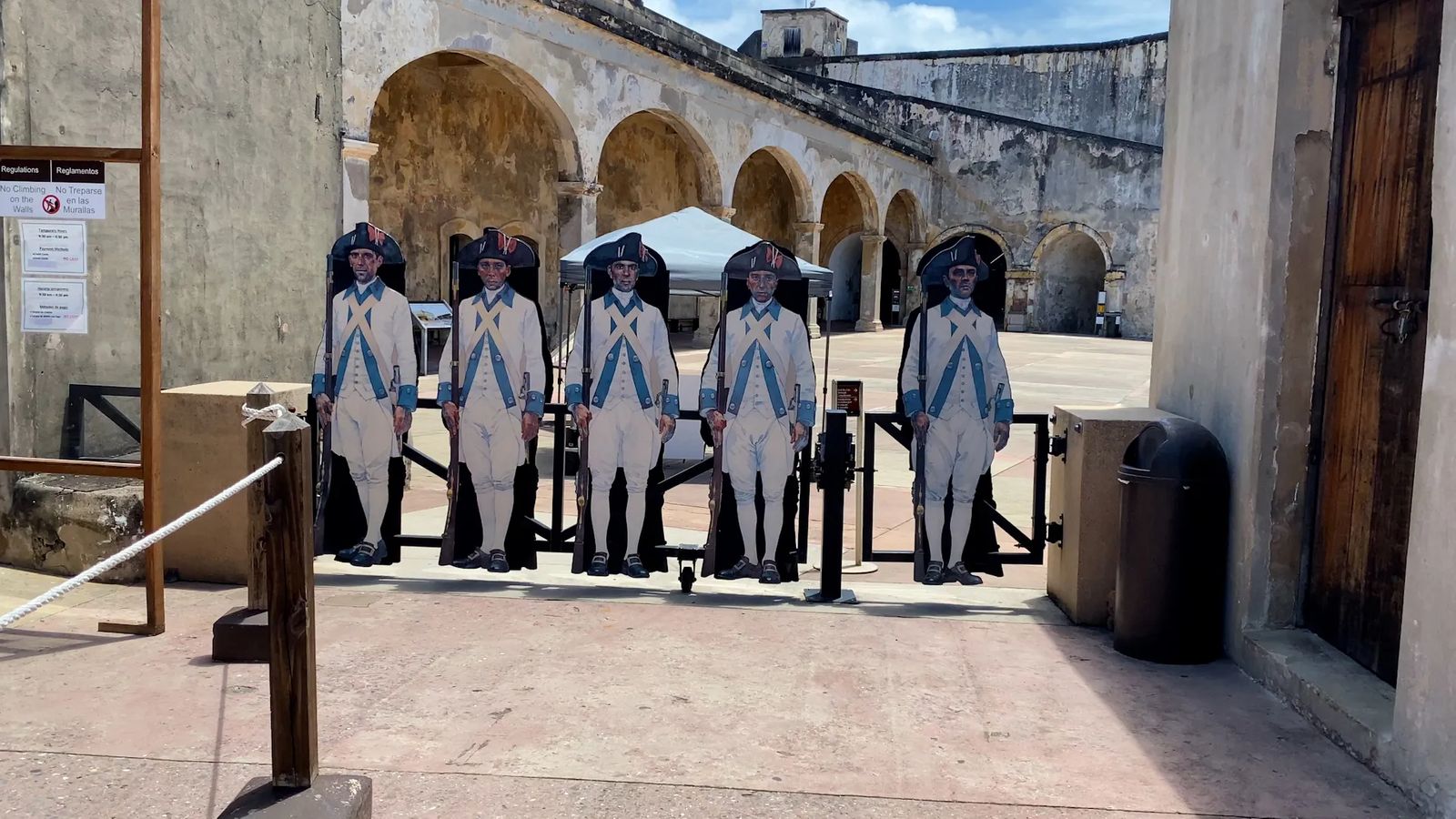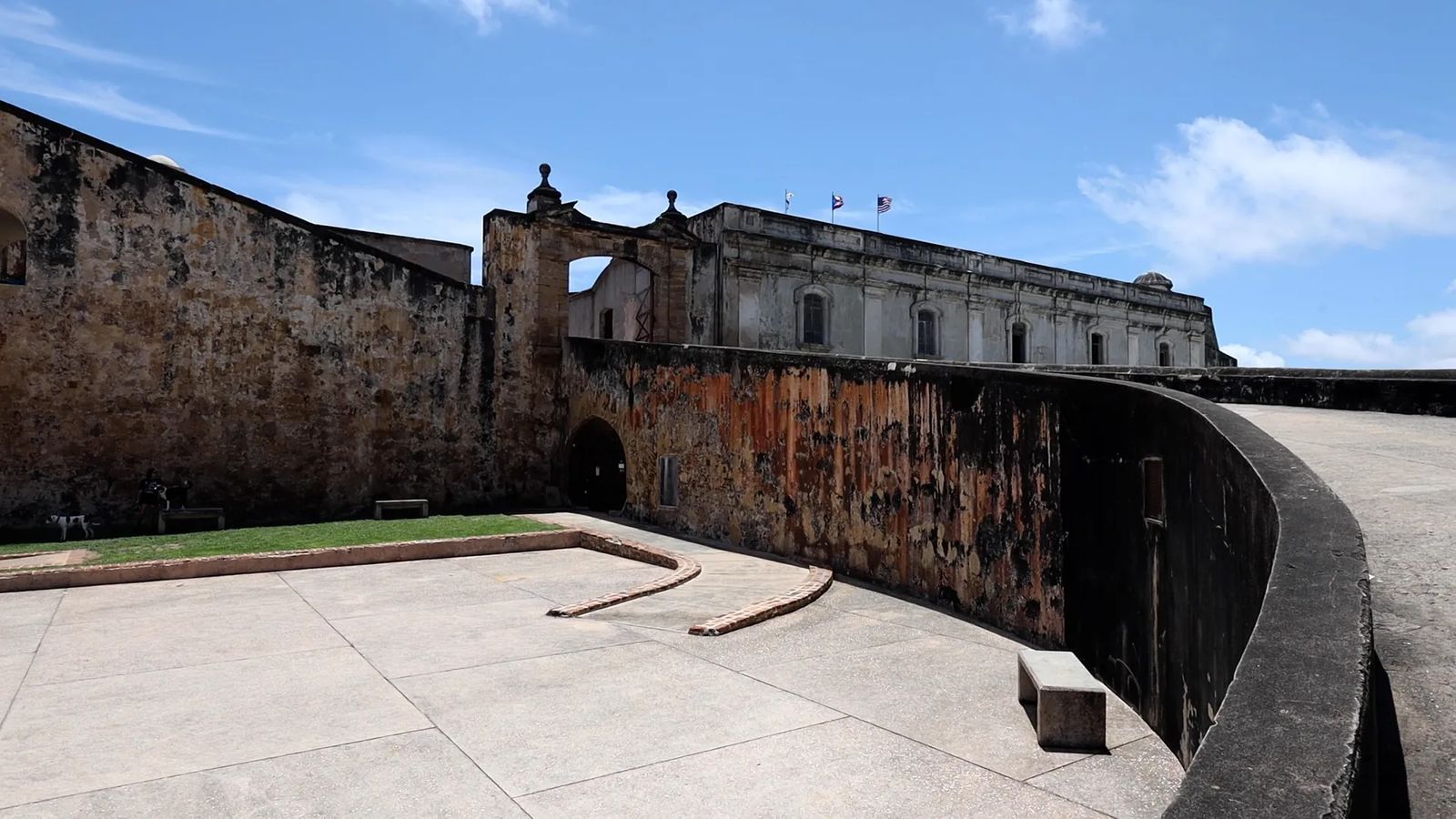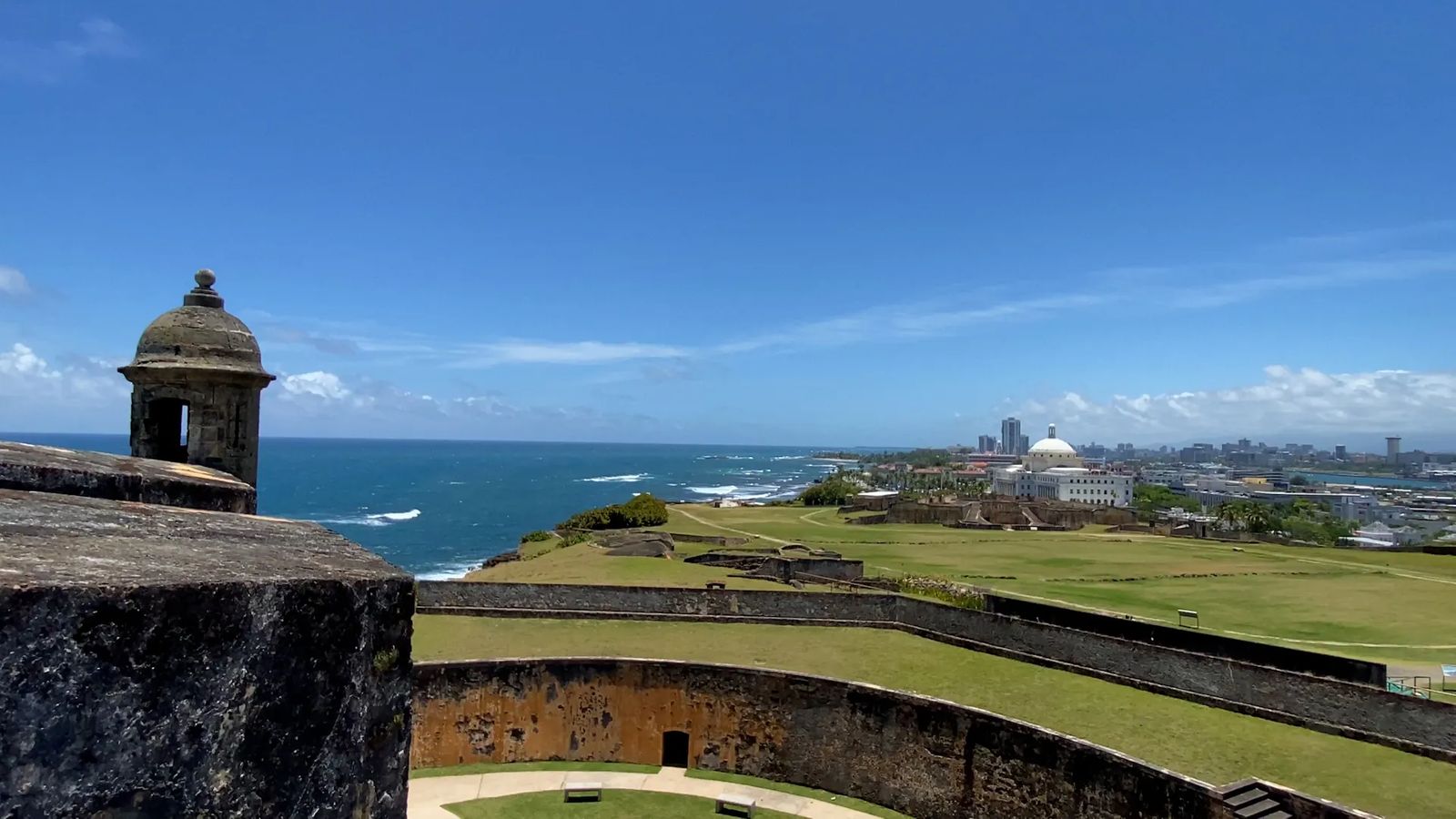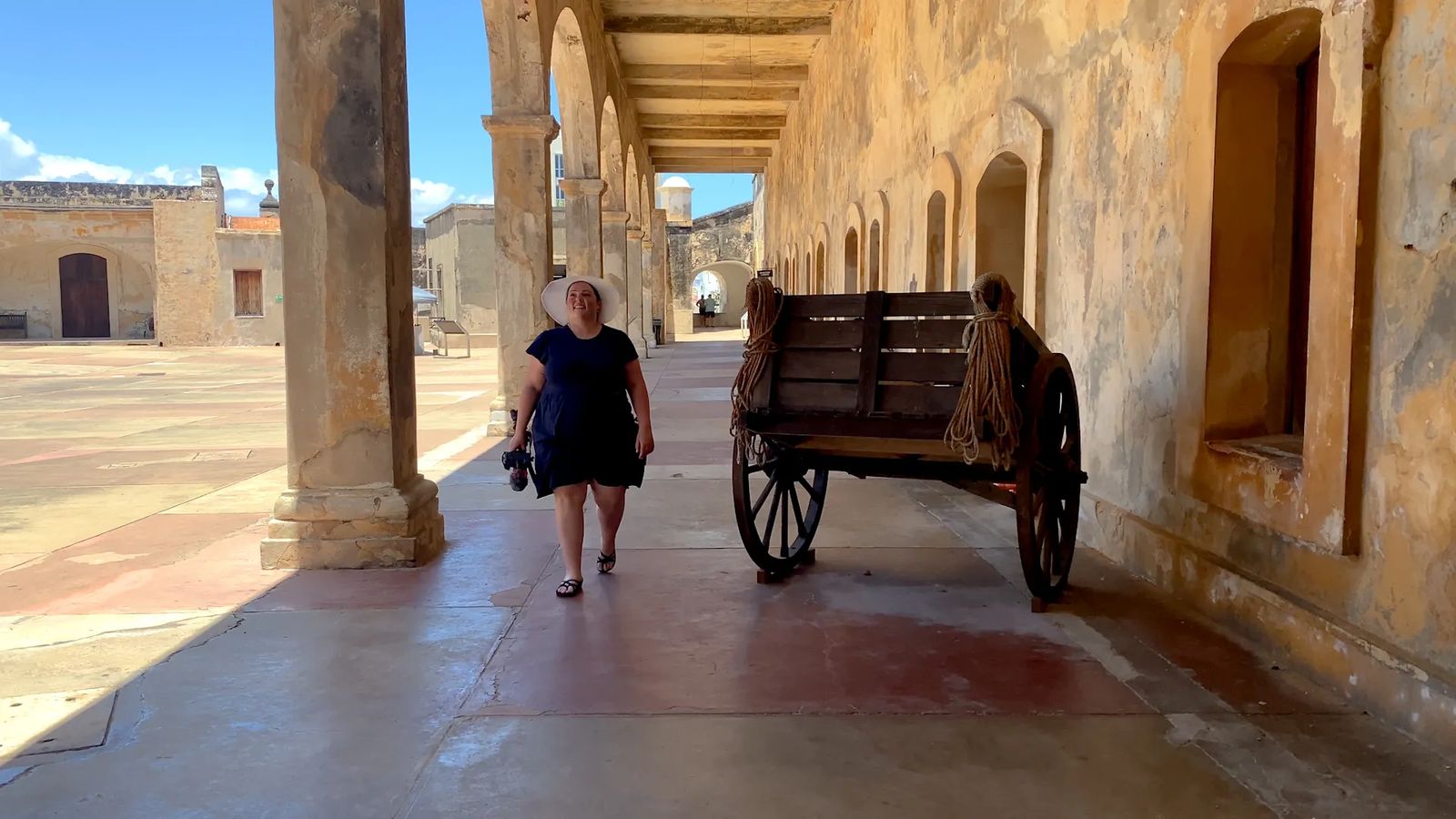 2 - Castillo San Cristobal (Fort San Cristobal)
This fort is named after the Patron Saint of Land Travelers, fitting given that most of you reading this article will be traveling the lands of Puerto Rico :) This fortress is one of the best places to not just take photos at the iconic guard towers (that do not smell of urine as of yet) - but also to learn more about the history of this important trade route stop.
When the Spanish came and colonized this island, it became vital because of the ability to resupply their fresh water to continue on to South America and other areas they occupied. Given its importance, this was one of the largest fortresses in the Americas that the Spanish built.
The building is three levels and took over 150 years to build. After the English attacked in 1598 and the Dutch attack in 1625 the Spanish knew they needed to complete it. The fortress has a dry moat, multiple tunnels to protect soldiers against enemy fire, as well as protect the gunpowder from being ignited by the enemy fire. These tunnels are fun to explore and make for great leading line photos, but they also allowed the soldiers to get ready before the enemy reached the gates.
There are historical plaques you can examine to learn more about the history. There were 5 cisterns used to catch water under the plaza (it could hold 800,000 gallons of rain water - and are used today to water the large parks in Old San Juan. They also have officers quarters with staged bedding and a guard, barracks, storage areas, HUGE cannons, and barrels that represent gunpowder that make it easy to imagine what life would have been like in Puerto Rico for the Spanish.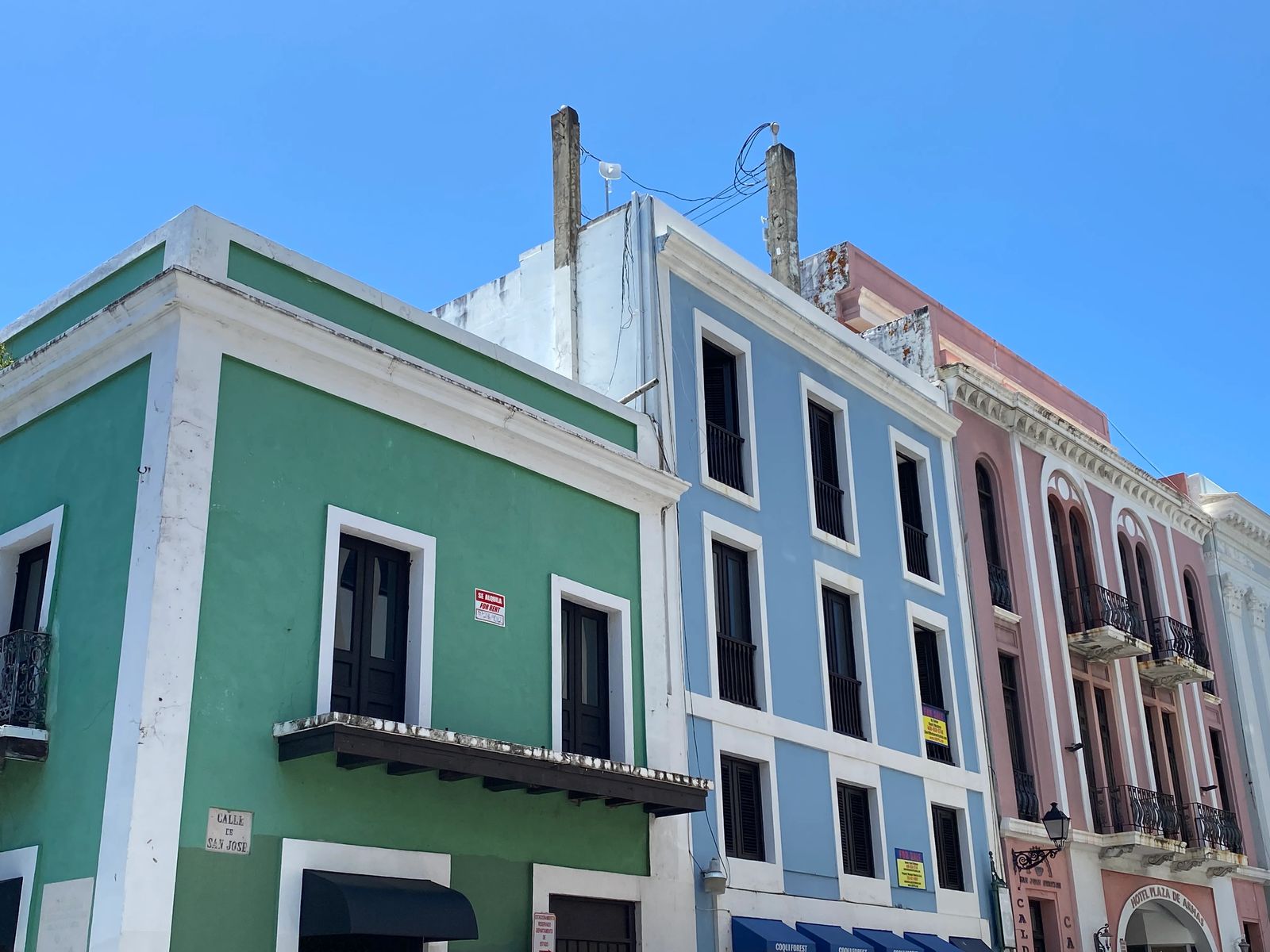 3 - Calle de la Fortaleza (Fortaleza Street)
Beyond the pretty picture at the top of Fortaleza street, if you look beyond the gate at the end with the guards that look incredibly hot and bored - you will spy the Fortaleza (the fortress). This fortress is now home to the governor of Puerto Rico and the road to it (Fortaleza street) has always been the main artery of the city.
As you walk along the street you will see all sorts of shops from skin care, to replicas of Puerto Rico's colorful doors and buildings, high end shopping, and I even found a shop with a rainbow colored penis incense holder. They also have some local eateries and mom and pop shops that have been owned by generations of families. You could easily spend three to four hours exploring this street.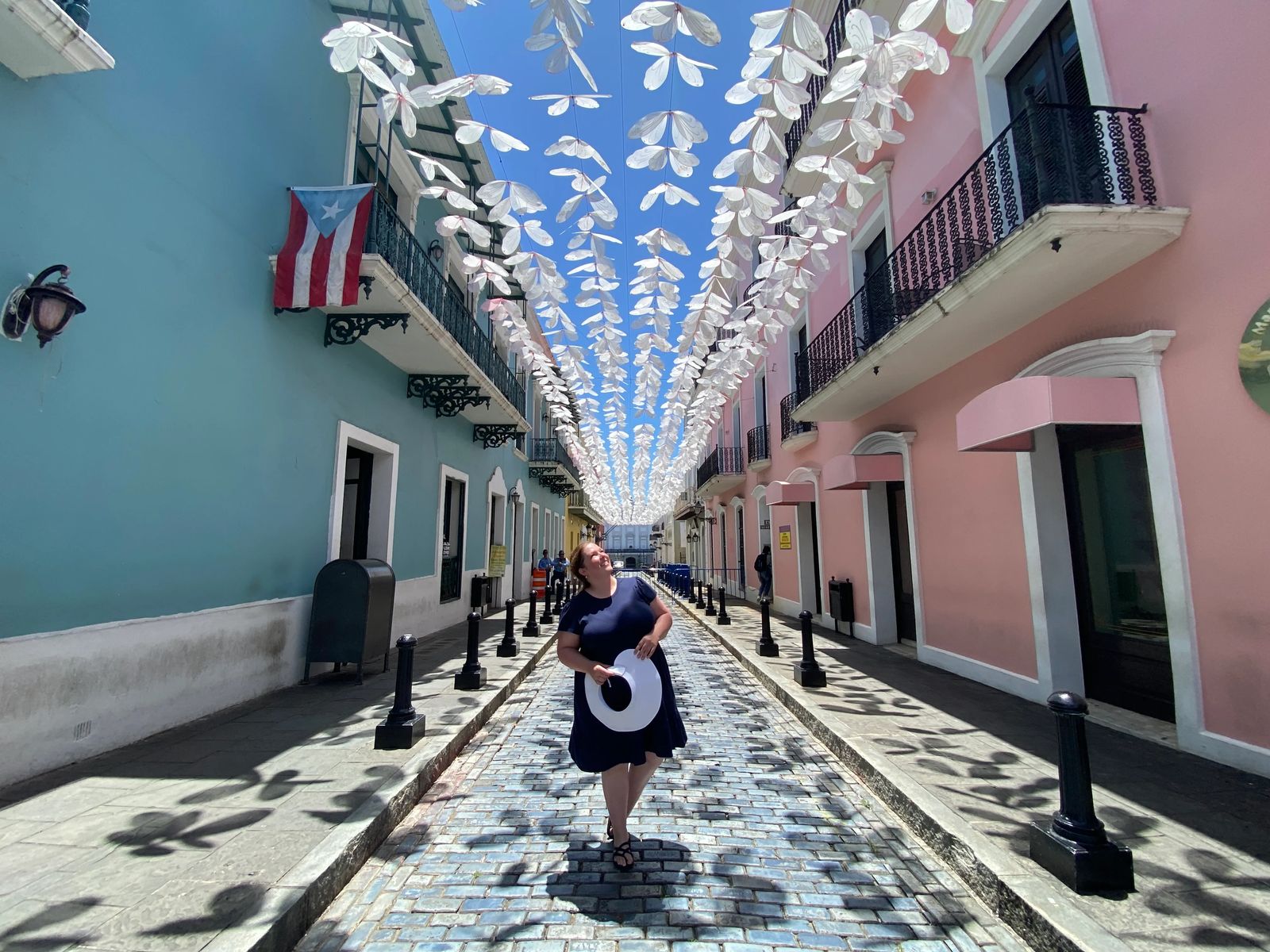 4 - La Fortaleza (Governor's House)
Built between 1533-1540 it was once a palace and is now listed as a UNESCO site as of 1983. It is the oldest continuous executive mansion still in use in the Americas. It is a combination of Italian Renaissance, Baroque, and French Enlightenment designs along with a myriad of defensive architectural techniques that spans centuries.
You can go inside for a guided tour that takes about 30 minutes when the government isn't in session. The gardens are where the tour is mostly given, but it is still worth it if you have a passion for architecture and the weather won't boil you to death.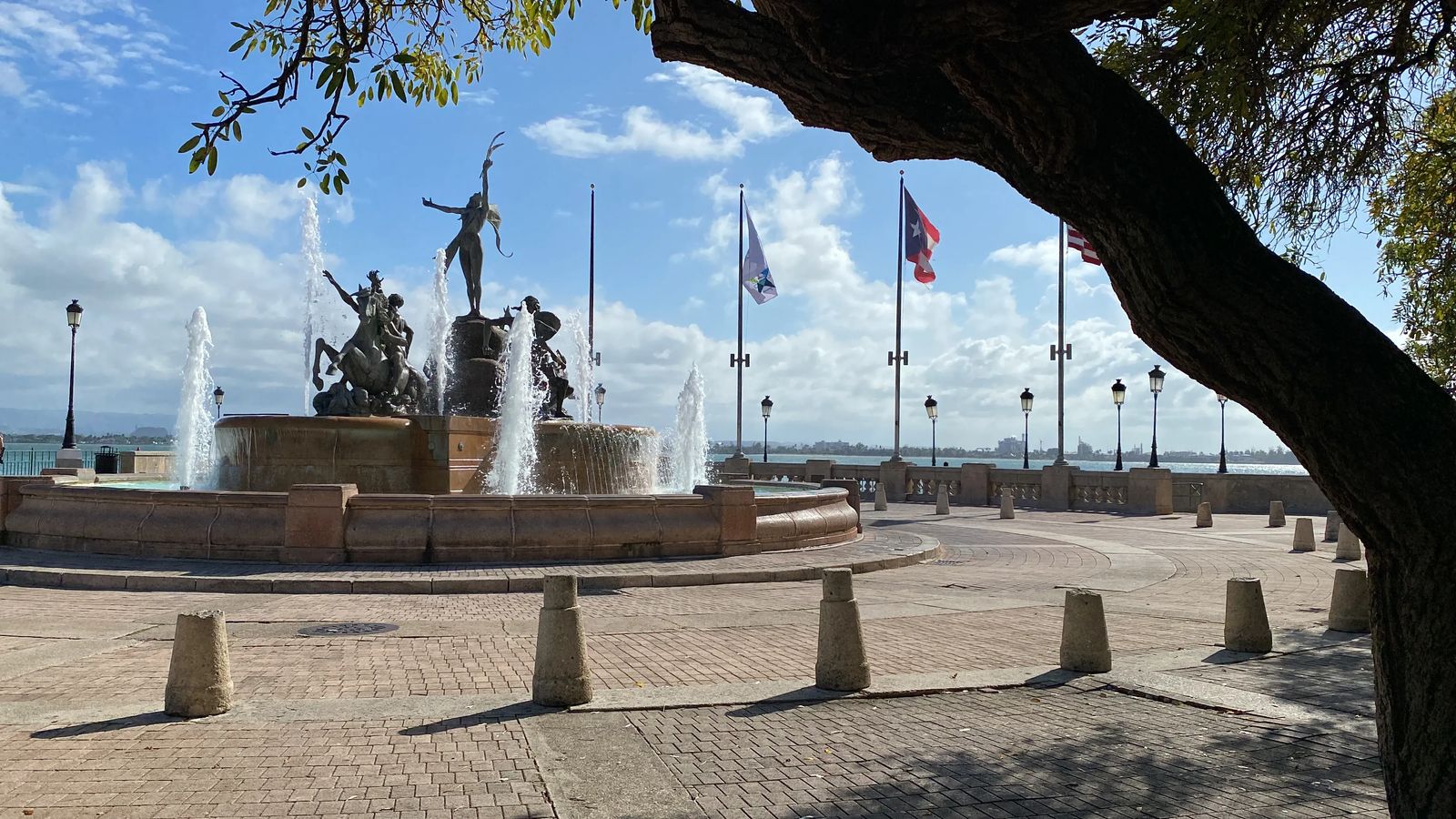 5 - Paseo De La Princesa (Princess Promenade)
This boardwalk is perfect for sunsets as it is just outside the city gates and leads you to the Porto San Juan which was once the main city gate into San Juan. It is lined with beautiful lamp posts that give a 'singing in the rain' type feel, fragrant flowers, the Jardin de la Princesa with a children's playground, as well as restaurants and various vendors.
You could spend a whole afternoon here enjoying the sunshine and admiring the views of the San Juan Bay and the city. During the weekends you can find live music, traditional food vendors, and arts and crafts of all kinds. This is really where the locals hang out (along with the stellar nightlife in town).
6 - See The Blue Cobblestone Streets
If you are walking along Fortaleza Street in Old San Juan you may notice that the cobblestones are blue! This was a result of the stone cast from a furnace slag which were then brought over on Spanish ships as ballasts. After a lot of wear and tear, age, and moisture, the streets are now cracked faded and blue. Despite the major repairs needed along the streets in Old San Juan, the locals don't want to lose that part of their heritage - so they remain and puzzle tourists that wander through.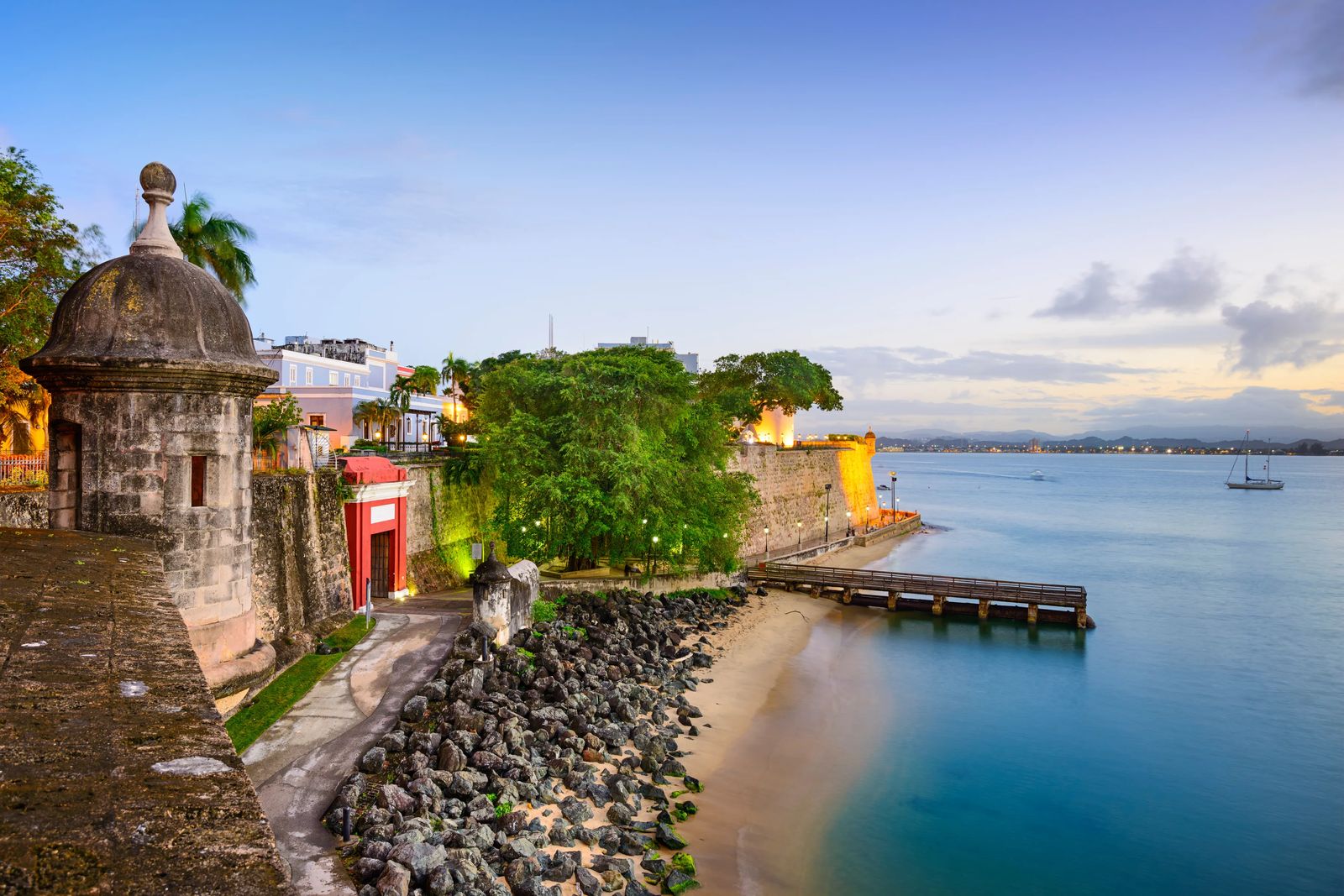 7 - San Juan City Gate and City Wall
The San Juan Gate was built in the 17th century, and is a 40 foot doorway that is one of the last five gates that allowed you to enter the city of San Juan. If you look at the top of the gate you will see an inscription from the Catholic hymn Sanctus or Holy.
The walls of the city give you a feeling that a man in shining armor will pop out at any minute asking for your hand in marriage (sigh and swoon). No knights popped out, but I was as equally impressed by the walls being 45 feet wide and 40 feet high. The folks they were mainly trying to keep out, were not just the Americans, but also the Dutch and other players of the caribbean colonized islands.
Because of all the foot traffic, motorized traffic and the elements the walls are in bad need of repair and some areas are quite run down and crumbling. It is a National Historic Site and Old San Juan is a UNESCO site as well - so they do get a little help in the upkeep, but there is still a lot to be done.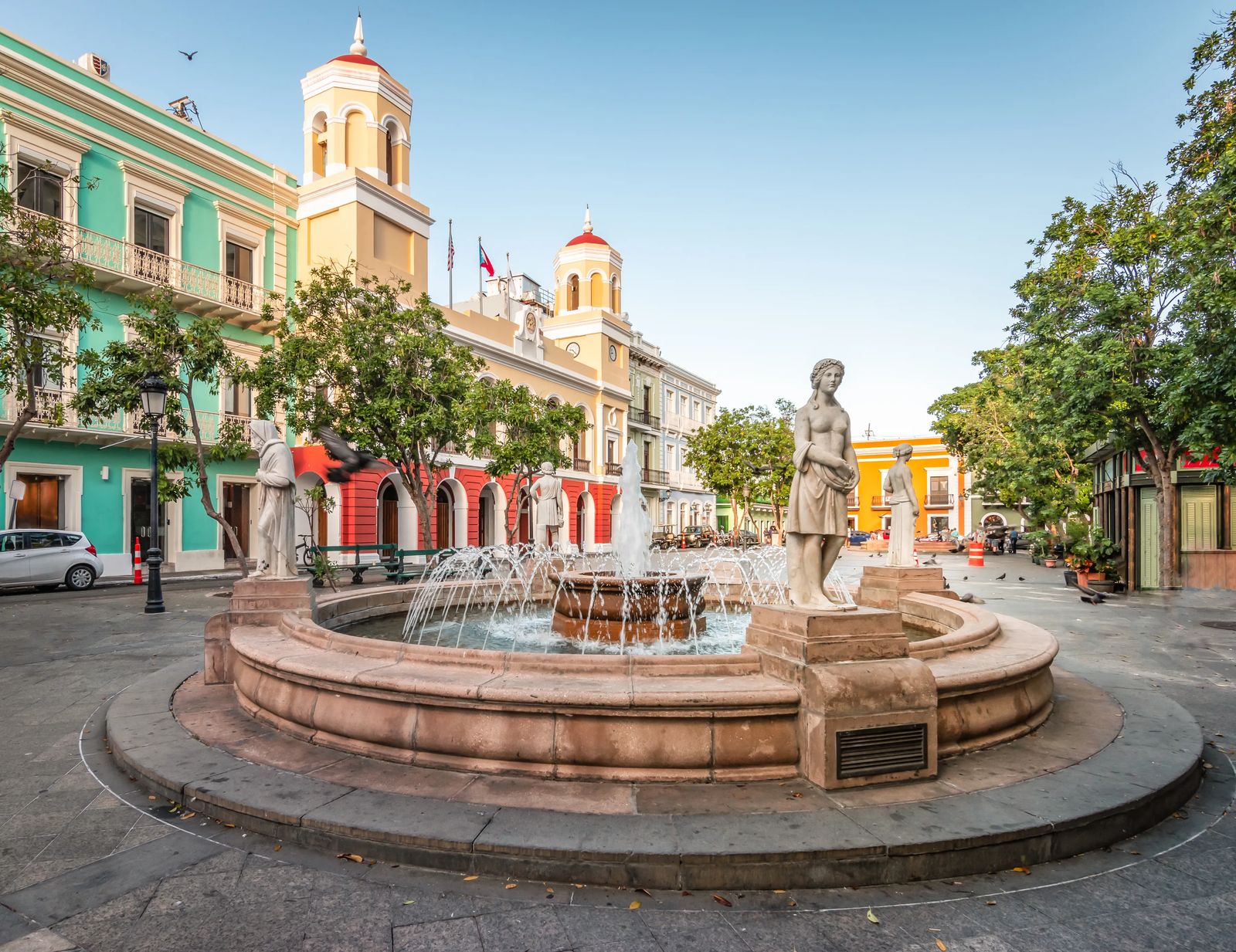 8 - Plaza De Armas (The Fortress)
Plaza de Armas in Old San Juan, is as for many latin american cultures, the main square. It is the place where if the city was under attack the fighting men would gathern in arms (with guns and weapons) to defend its people and the city. While men in arms are sadly not strutting around with their shirts off today, it still is a place to go and have a stroll and sit and solve the worlds problems with your travel companion.
This Plaza dates back to 1789 taking on the characteristics of many plazas in Spain. Fountains were a main source of water during a seige of a city, and no plaza is really complete without one. At the end of the Plaza you will find Palacio de la Real Intendencia and Edificio de la Diputacion Provincial both historic buildings for Puerto Rico that are worth a look into with their beautiful neoclassical designs.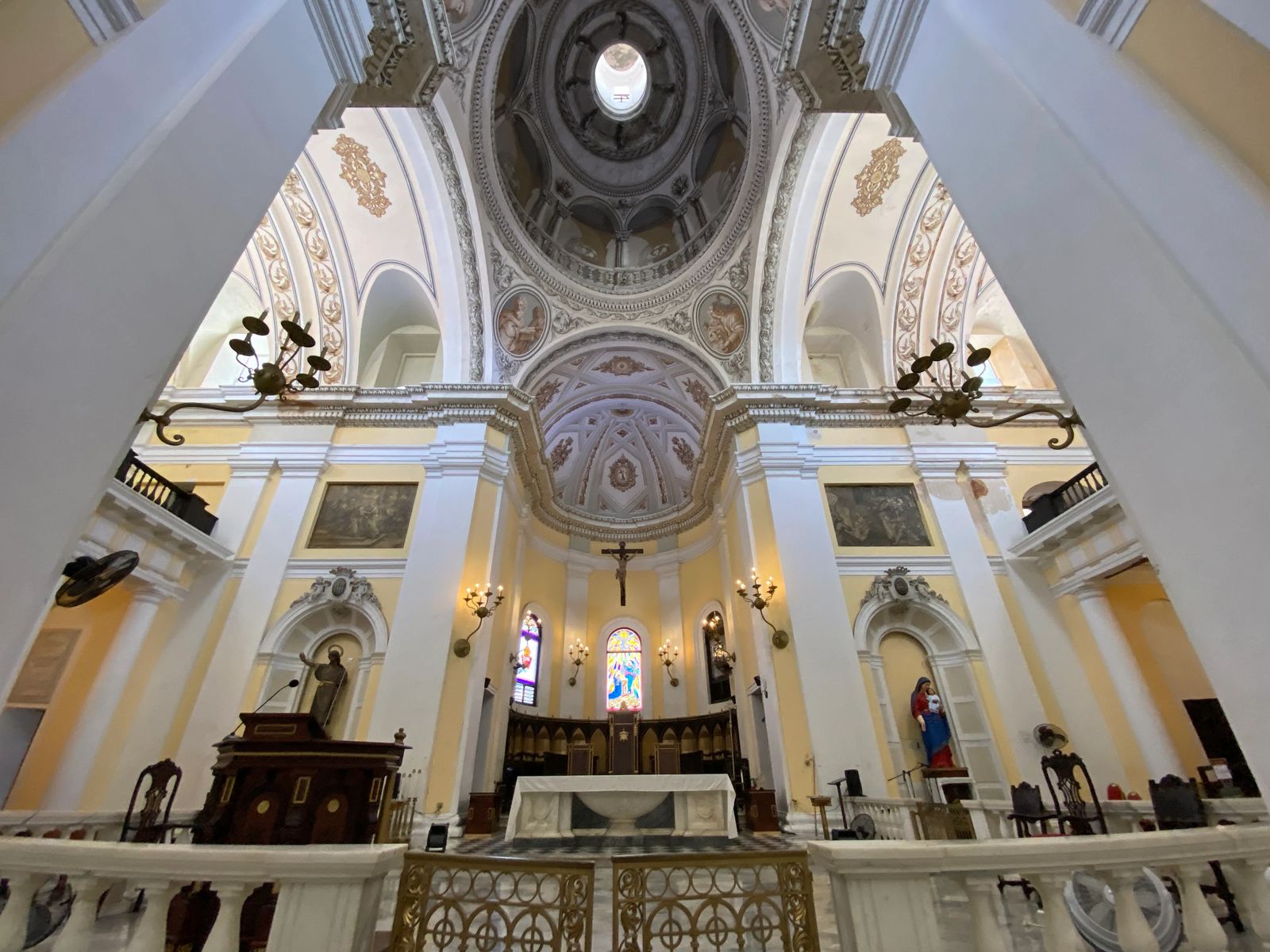 9 - Cathedral of San Juan Bautista
Tucked away on a side street right off Fortaleza street this gorgeous Cathedral of St John the Baptist will make you feel as if you are walking into a European grand cathedral. This Roman Catholic church is one of the oldest buildings in San Juan, in fact it is the oldest cathedral in the United States.
Inside you will find beautiful gothic arches, a ceiling that seems to try to reach the heavens and its HOT. No Air Conditioning in this place whatsoever, so for those like me who have heat intolerance, consider yourself warned. It is an odd juxtaposition, of sitting in church, and yet feeling like the fires of hell are heating this place up to boil any sins out of your soul.
Make sure to check out the tomb of the famous Spanish explorer Juan Ponce de León. He was responsible for leading the first official European expedition to Florida. His first expedition was with Christopher Columbus second trip in 1493. I'm not a fan of Christopher Columbus or what the colonization did to local indigenous tribes - but there you go. However, I will say the artwork, woodwork, statues and especially the stained glass windows in this place are so beautiful.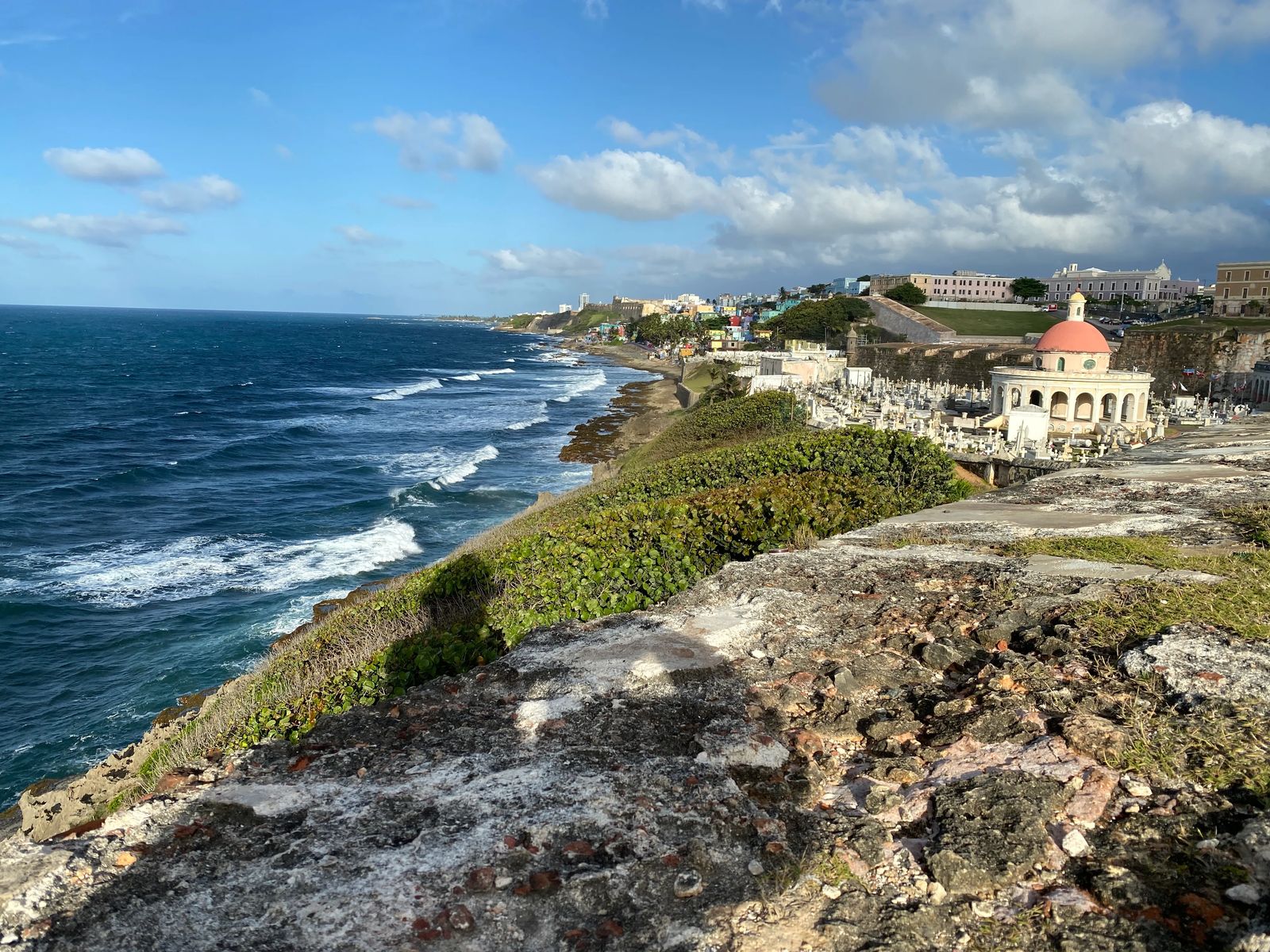 10 - El Castillo San Felipe del Morro (Fort El Morro)
If there is only ONE place you are able to visit in Old San Juan the Castillo San Felipe Del Morro should be it. It isn't just the fortress itself, but when you arrive you take a 5 minute stroll through about 5 football fields worth of grass on a sidewalk leading to the fortress. As you approach there are families having picnics, flying kites, soaking in the sunshine with the ocean breeze providing a natural air conditioning that doesn't cost anything to them or the planet.
Once you get to the castle, tickets are around $10 to enter, and if you keep your ticket it gives you access to both San Cristobal Fortress as well as this fortress. The only catch is that you have to visit both within 48 hours of when you buy your ticket.
Once you enter, you are surrounded by a yellow courtyard with white accenting lines and archways that lead to different rooms, small chapels, and bunking quarters. As you go through the archway with the flags, you round that corner and are met with a stunning 15th century Lighthouse.
El Morro was used as a film set in Amistad by Steven Spielberg, where slaves are auctioned off. Most of the building of this fortress was done by slaves, who were then forced to live outside the city walls.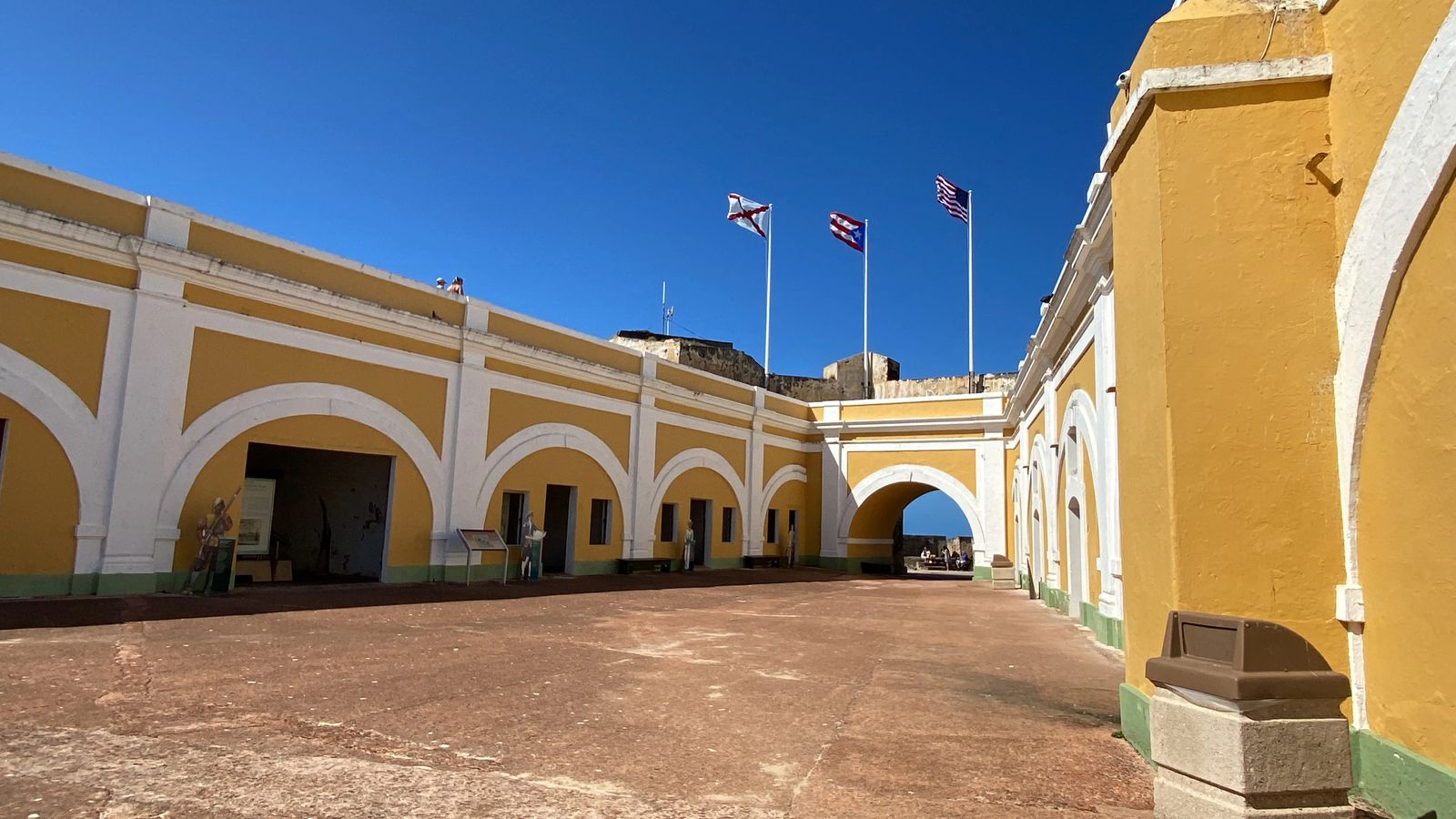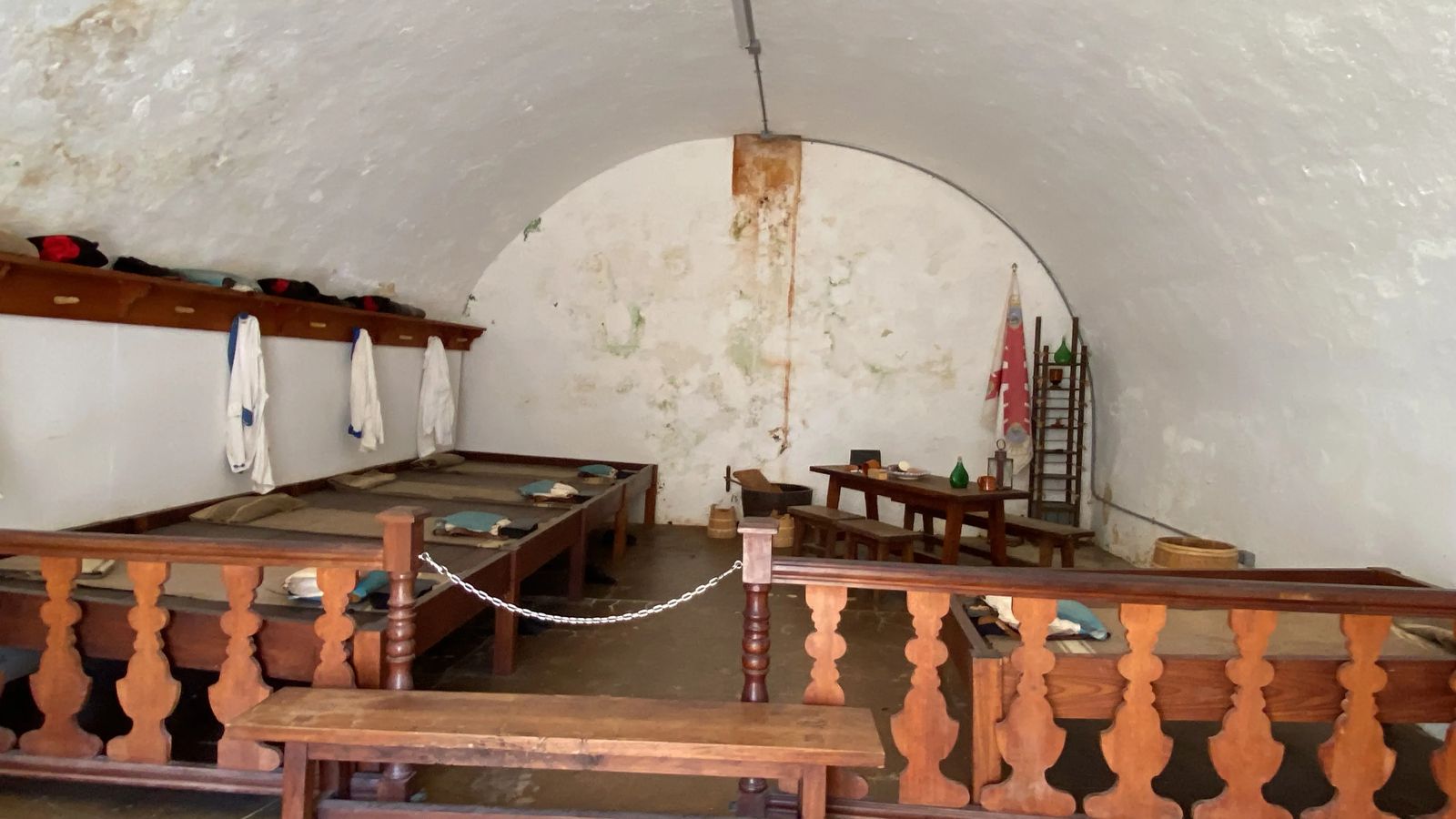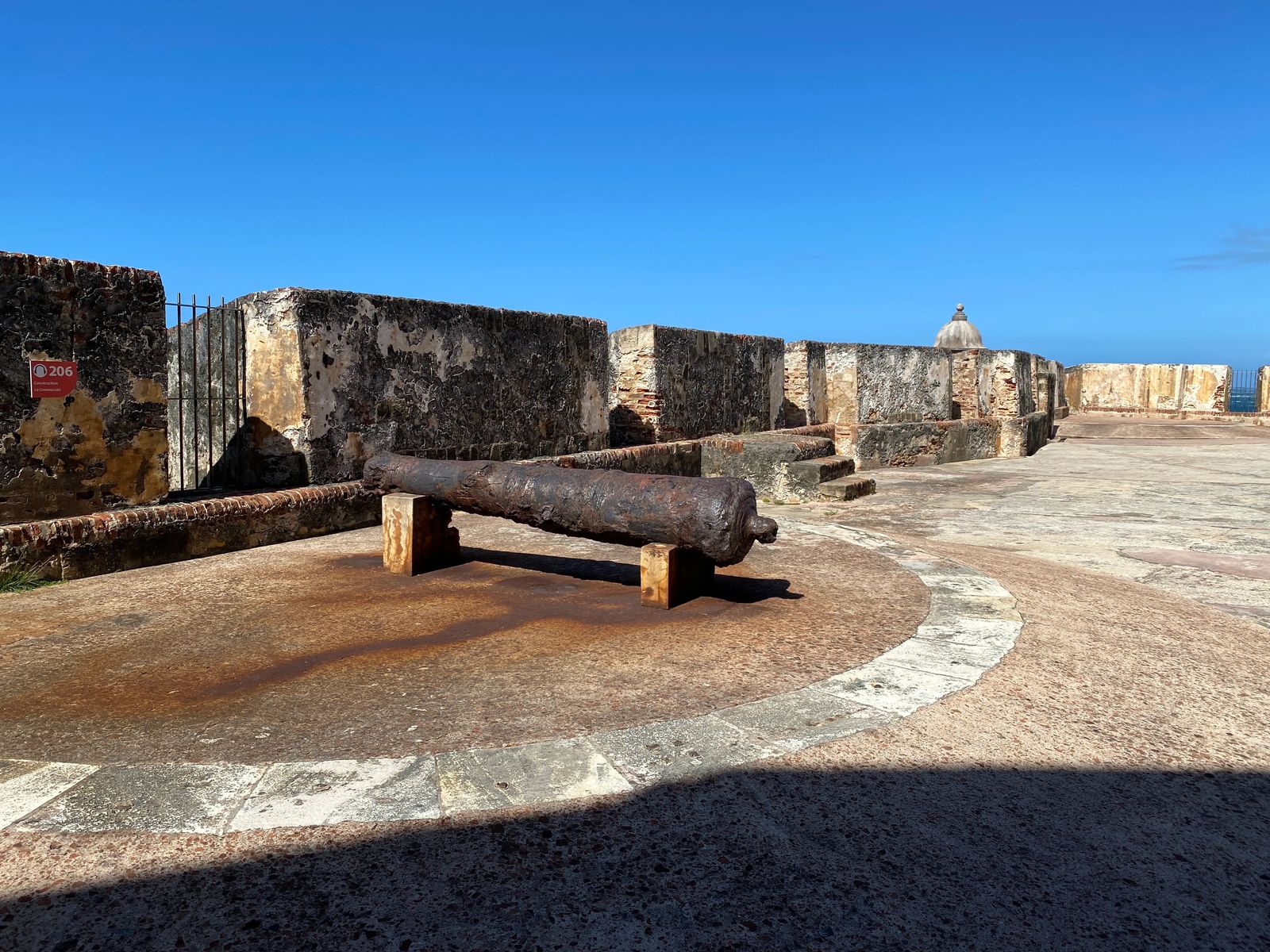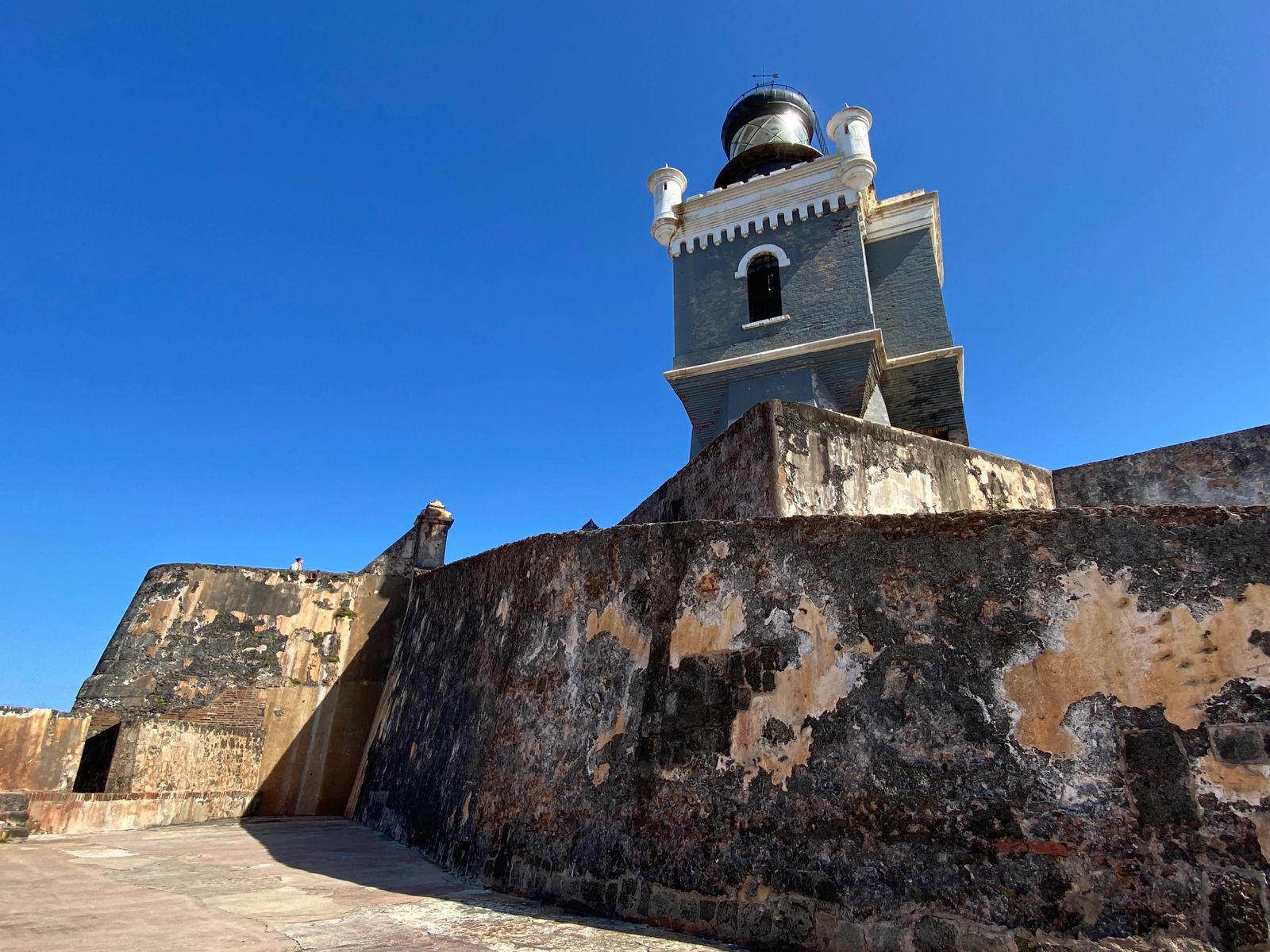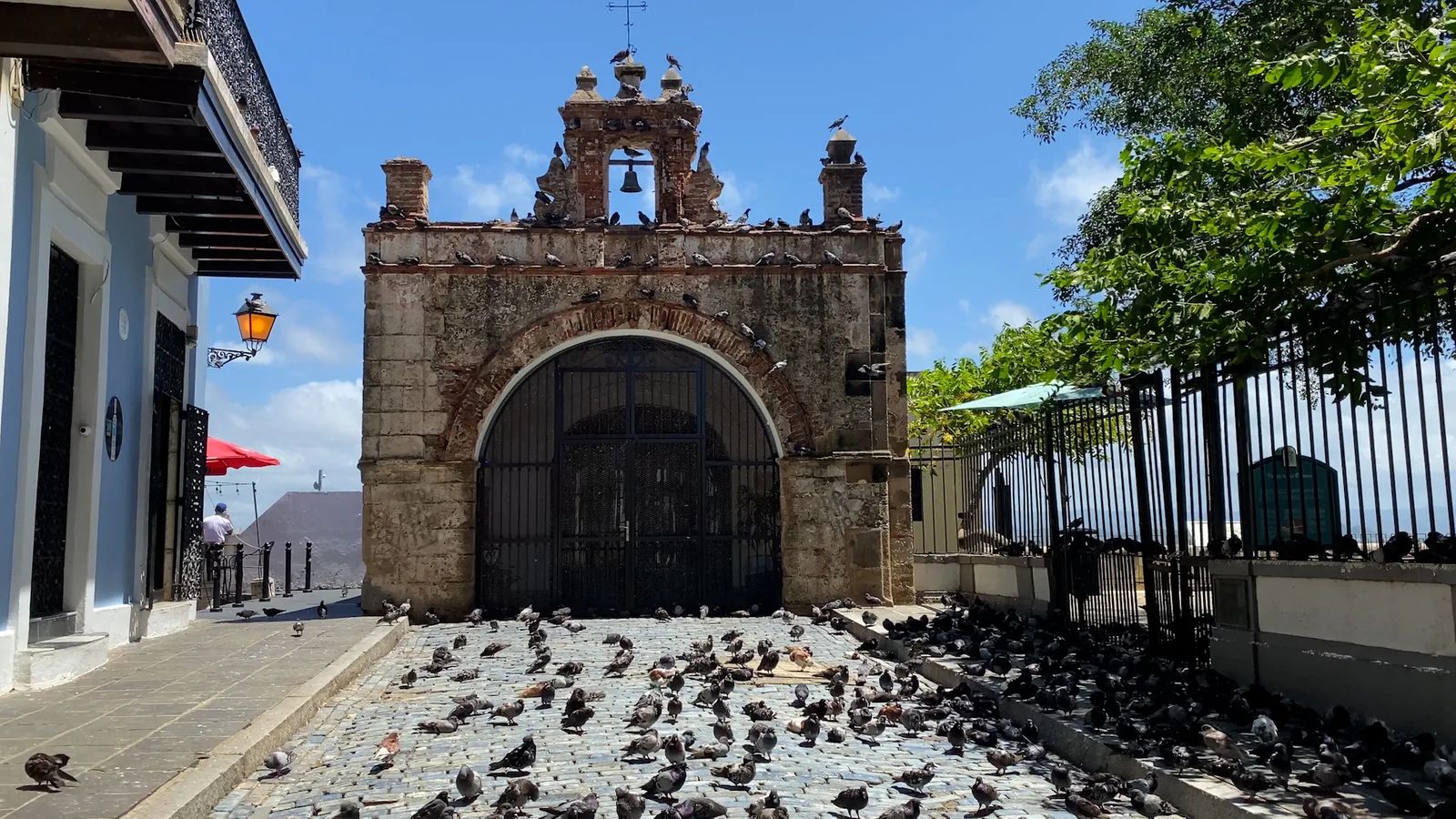 11 - Chapel of Christ (Capilla del Cristo) - AKA Pigeon Plaza
This is one of the most secluded areas you can find in Old San Juan, or rather right behind the chapel as the front of the building has been taken over by Pigeons. The pigeons are fed by children who buy dried corn from a vendor and then feed them up and down this street. It can get quite crowded at times with local school groups coming through. It doesn't matter if you participate in the feathery cacophony or not, it is sure to put a smile on your face watching.
What people often miss in light of the pigeon mayhem is the small chapel that was built in 1753 to celebrate a miracle. The legend says that during the celebrations of San Juan Bautista a rider lost control of his horse and plunged into the cliffs below. Despite the 40 foot fall into the cliffs the rider miraculously survived. It was that same year that the chapel was built on the exact spot of this miracle.
If you get a guided tour to the chapel of christ, you can see the small altar with silver and gold leaf surrounding a beautiful religious oil painting. Over the centuries small tokens have added to the chapel adornments, each one representing a part of the body that the pilgrims need to have healed. Please keep in mind the Chapel is only open on Tuesdays and on religious holidays.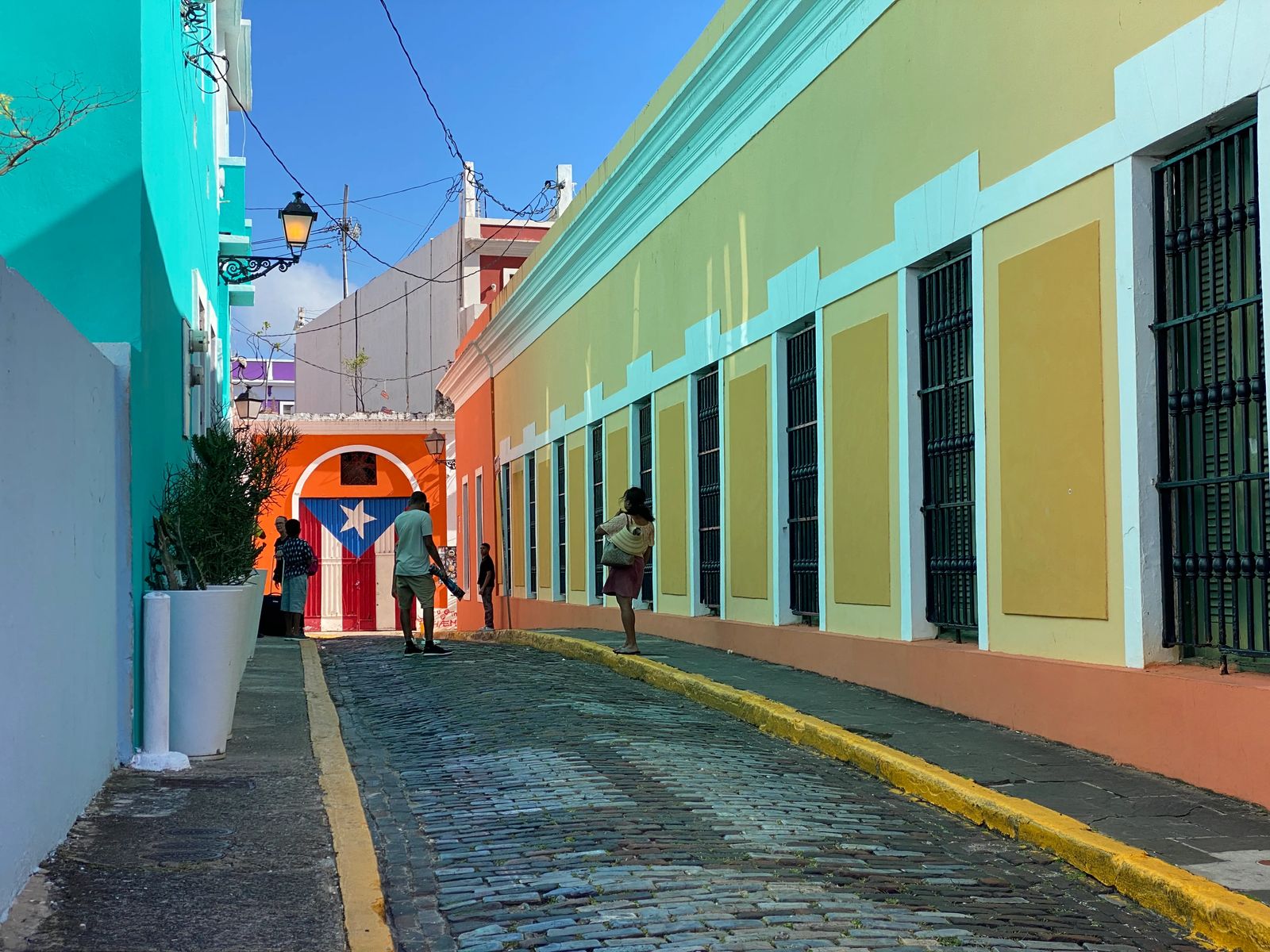 12 - Take Photos On The Colorful Streets
The photo of the Puerto Rican Flag door is the ICONIC spot to take a photo, but just be warned it gets crowded and you will likely be waiting in a line. It is located in the alleyway right near La Perla (see the google map below where I pinned its location).
You don't have to take a photo right here though, there are so many different colored alleyways and nooks and crannies throughout Old San Juan you can take incredible photos at. The photo in the beginning of this article was taken right around the corner from Pigeon Plaza, you go to the left of the Church and there is NO ONE over there and you get a nice little breeze from the bay.
The only thing I would encourage you to do, is to be original, but also get the memories and photos you want. I am a strong believer that photos are what will keep us company as we age and can no longer go out and walk around, or climb 20 flights of stairs to get to the top of a city wall. So go out there and invest in the memories, take a photo tour of Old San Juan if you don't like pictures of yourself - it will be the BEST investment you could make, not just for you but for your legacy.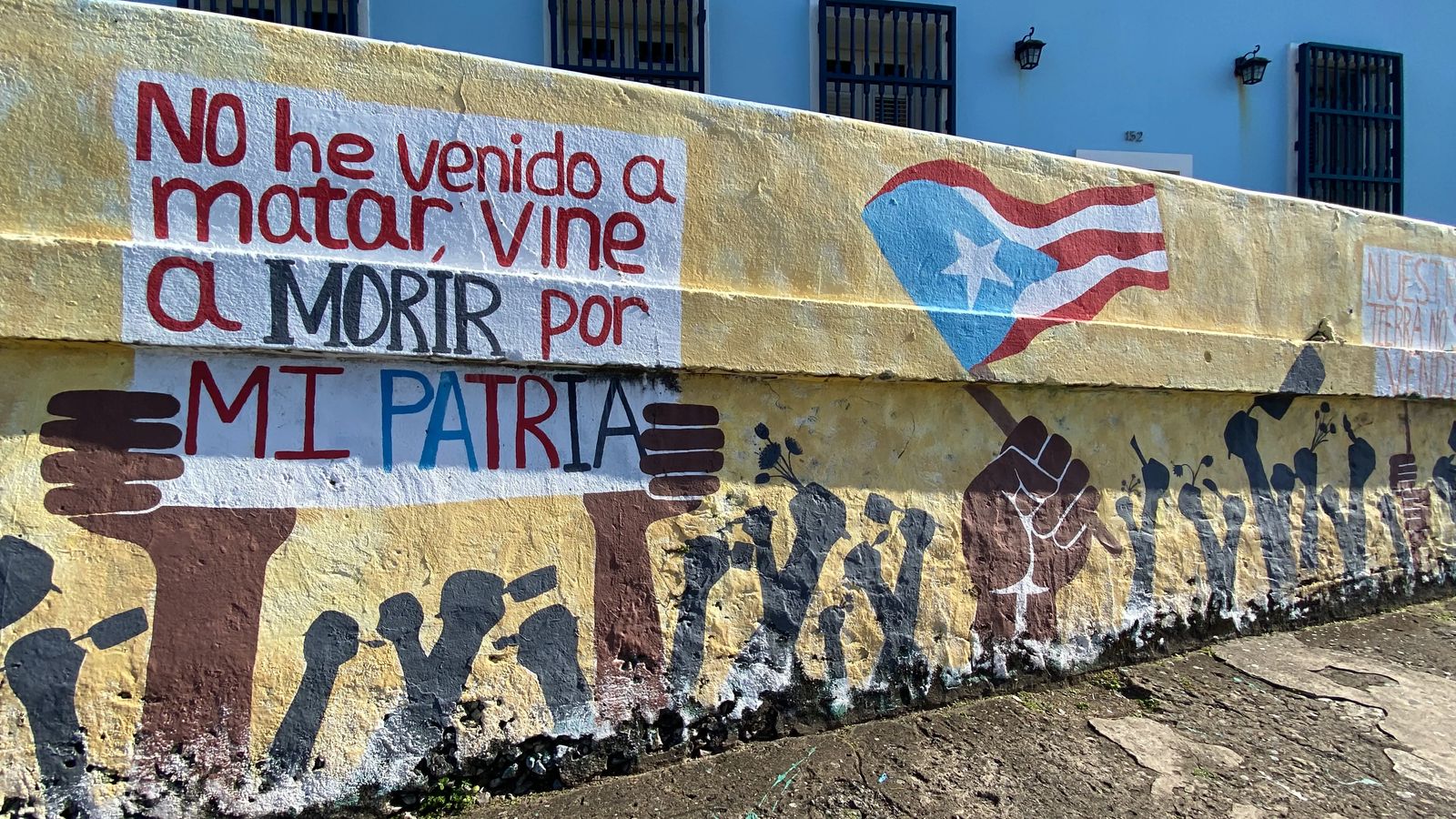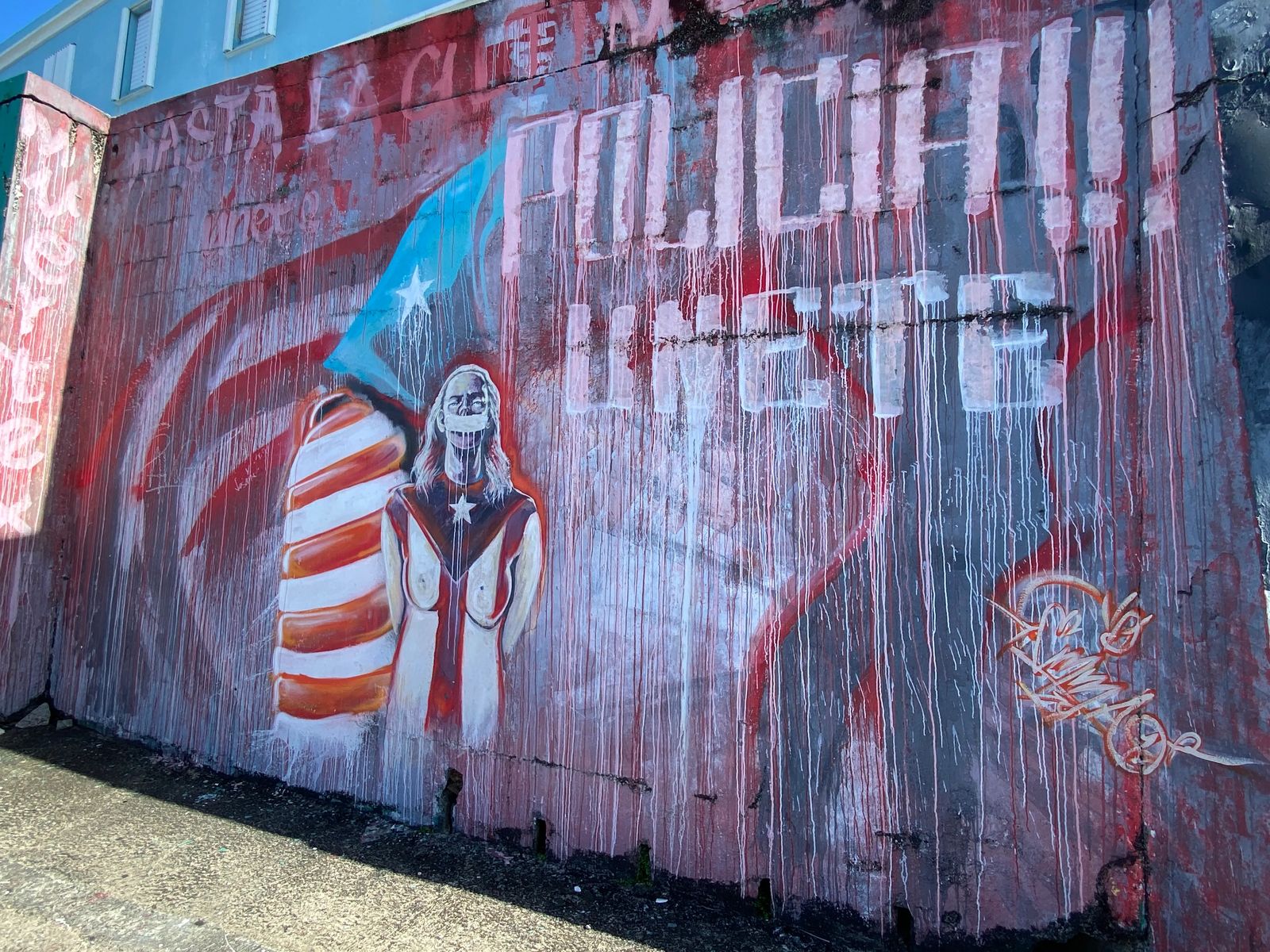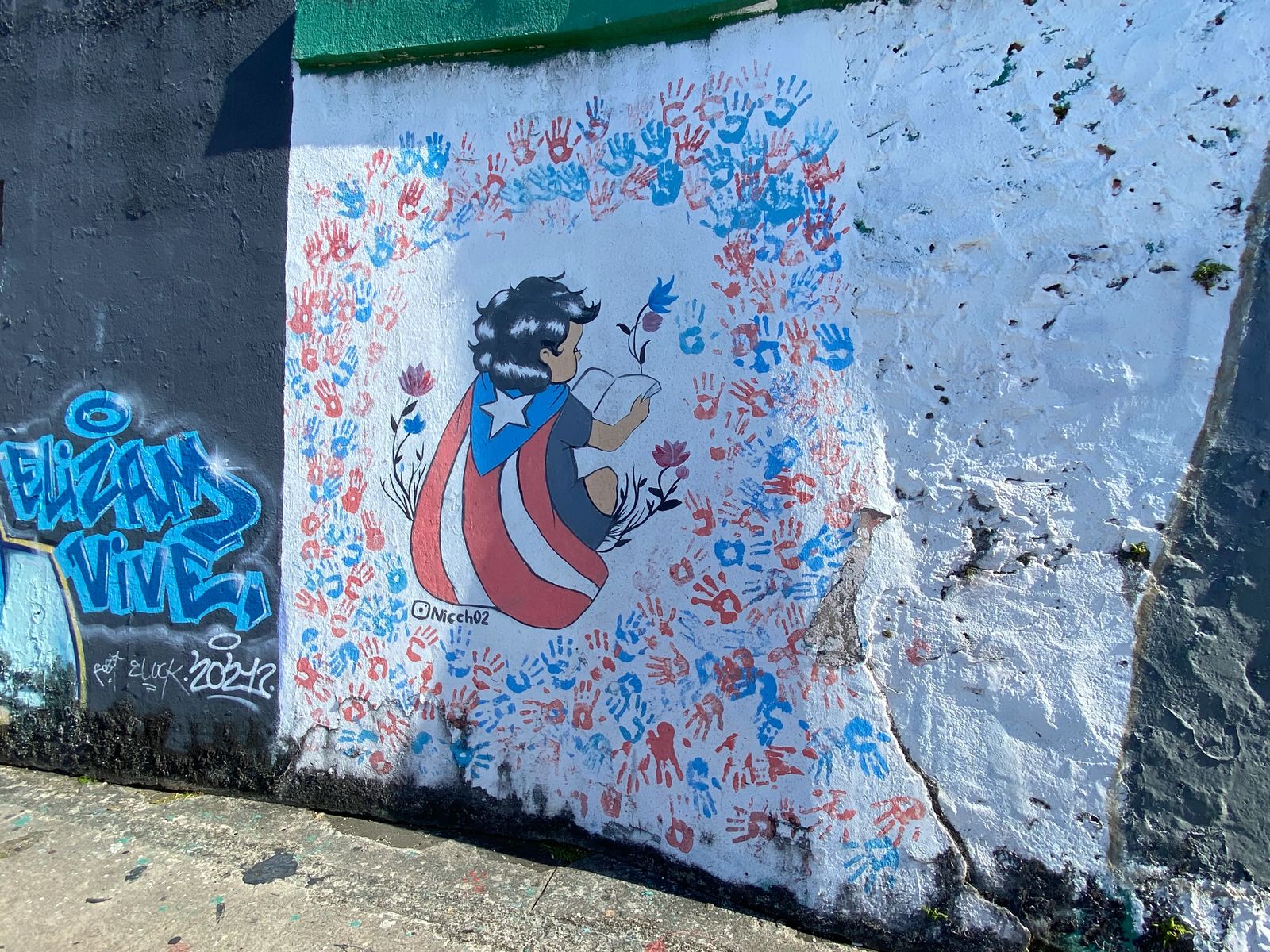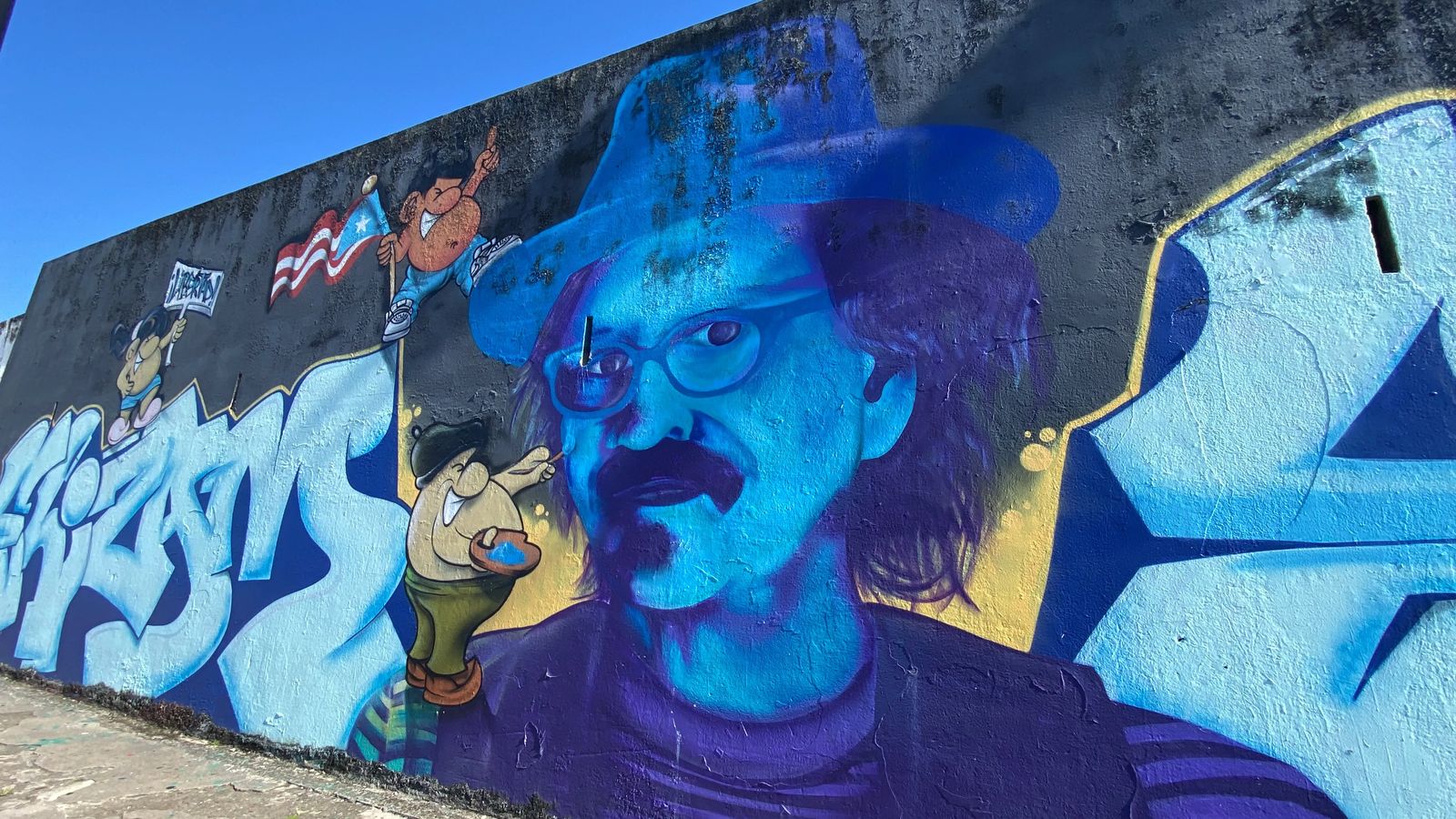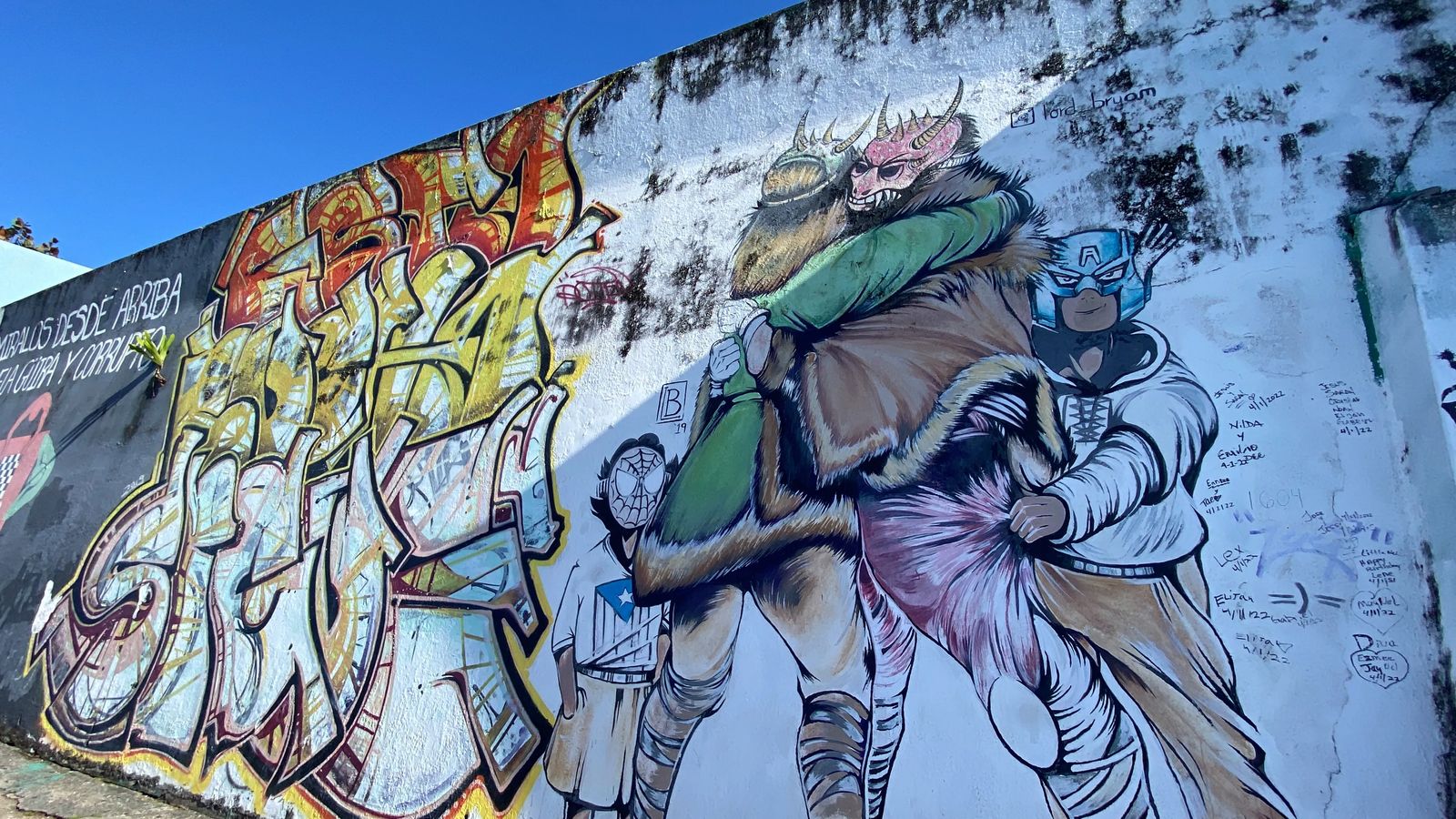 13 - Admire the Street Art
To find the BEST street art in Old San Juan I would head over to Santurce, it technically isn't part of Old San Juan but I did want to include it in this guide. This once forgotten neighborhood was transformed by local artists into a haven for expression and local pride. It is only about 10 minutes outside of Old San Juan but every corner is bursting with creativity and life.
You can still find Street Art in Old San Juan though, look at the walls near La Perla - it is filled with messages of hope, heartache, remembrance and imagination. This leads me into the next section though, going to La Perla, which also has some incredible street art scenes.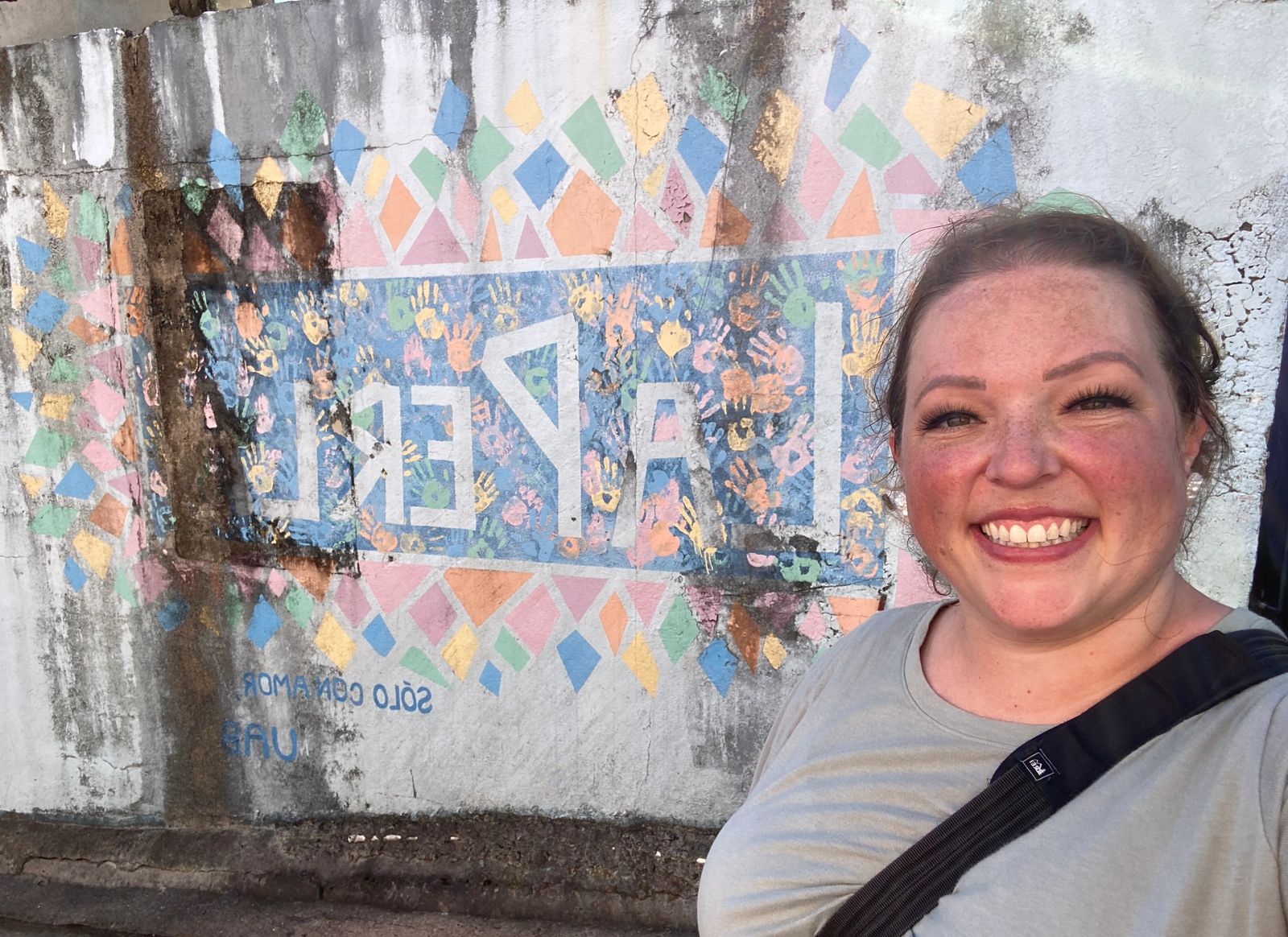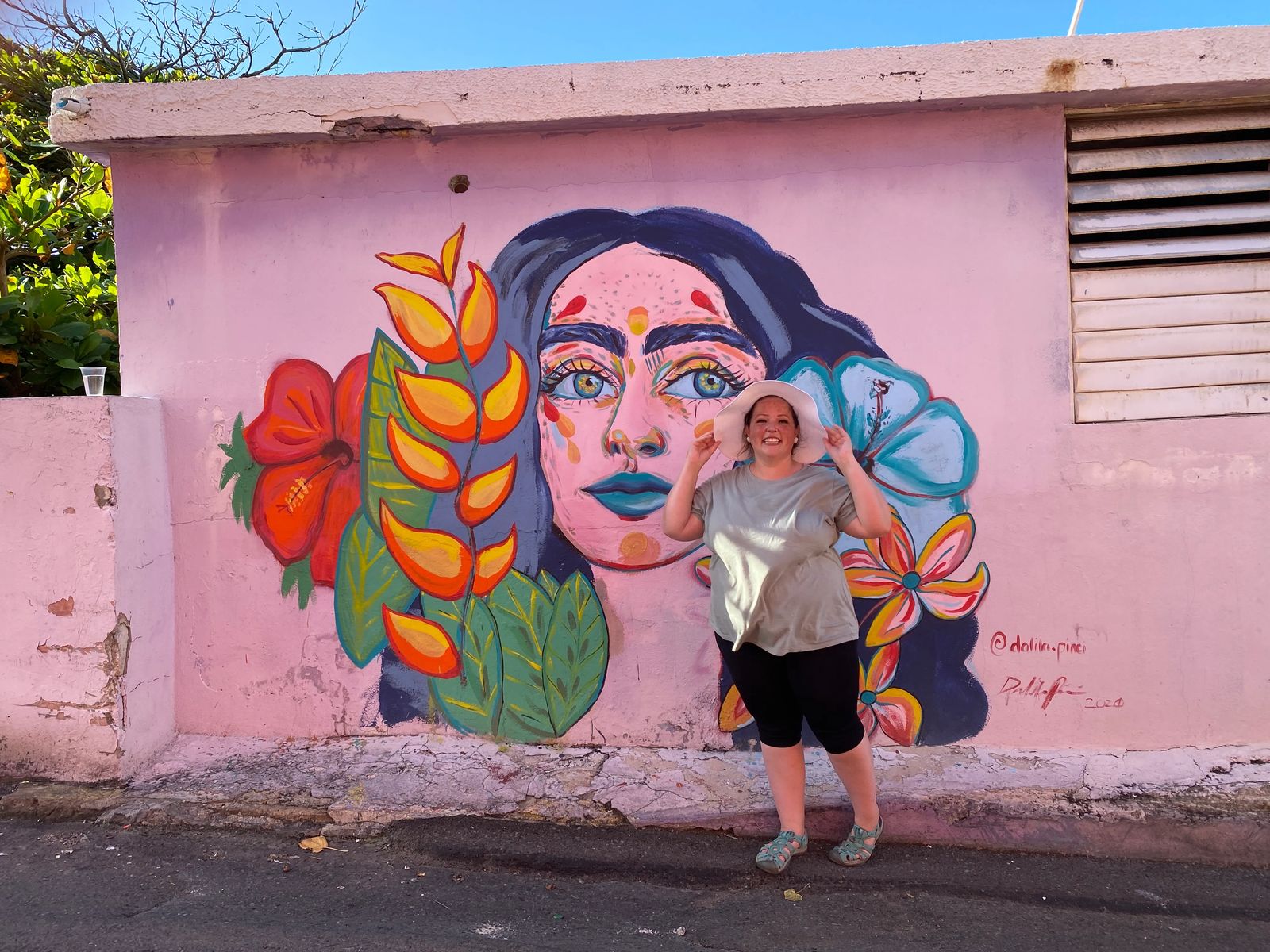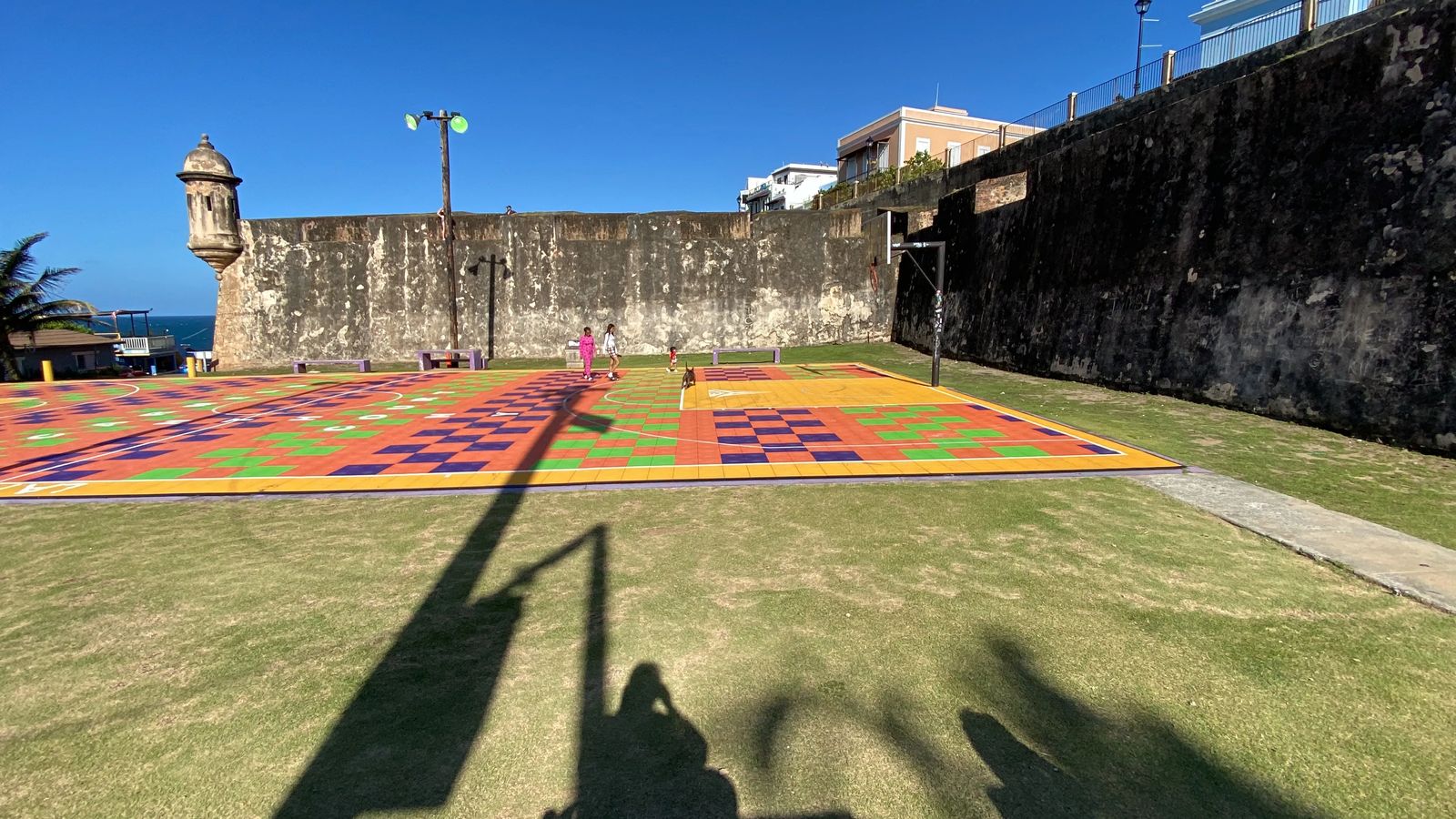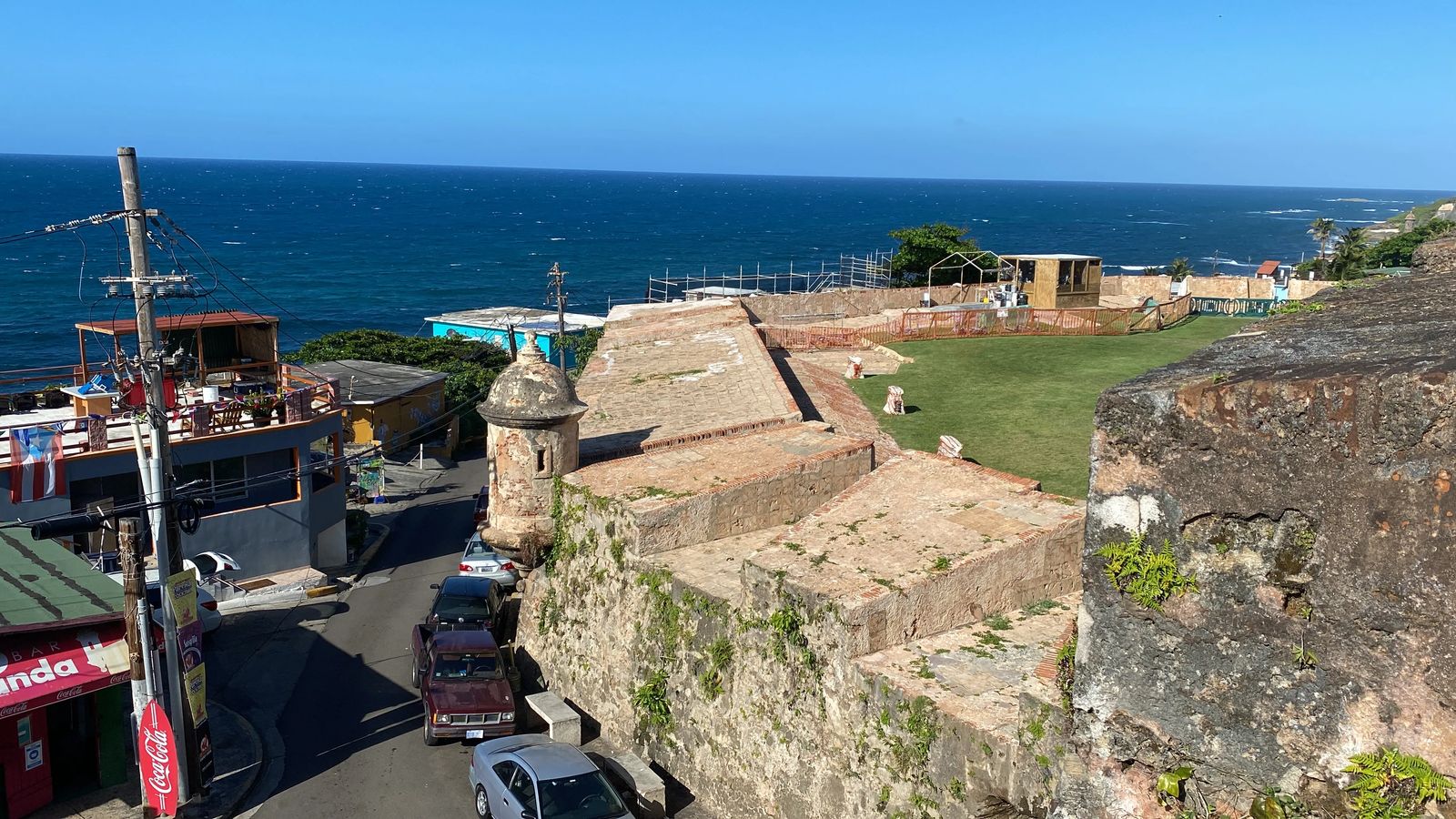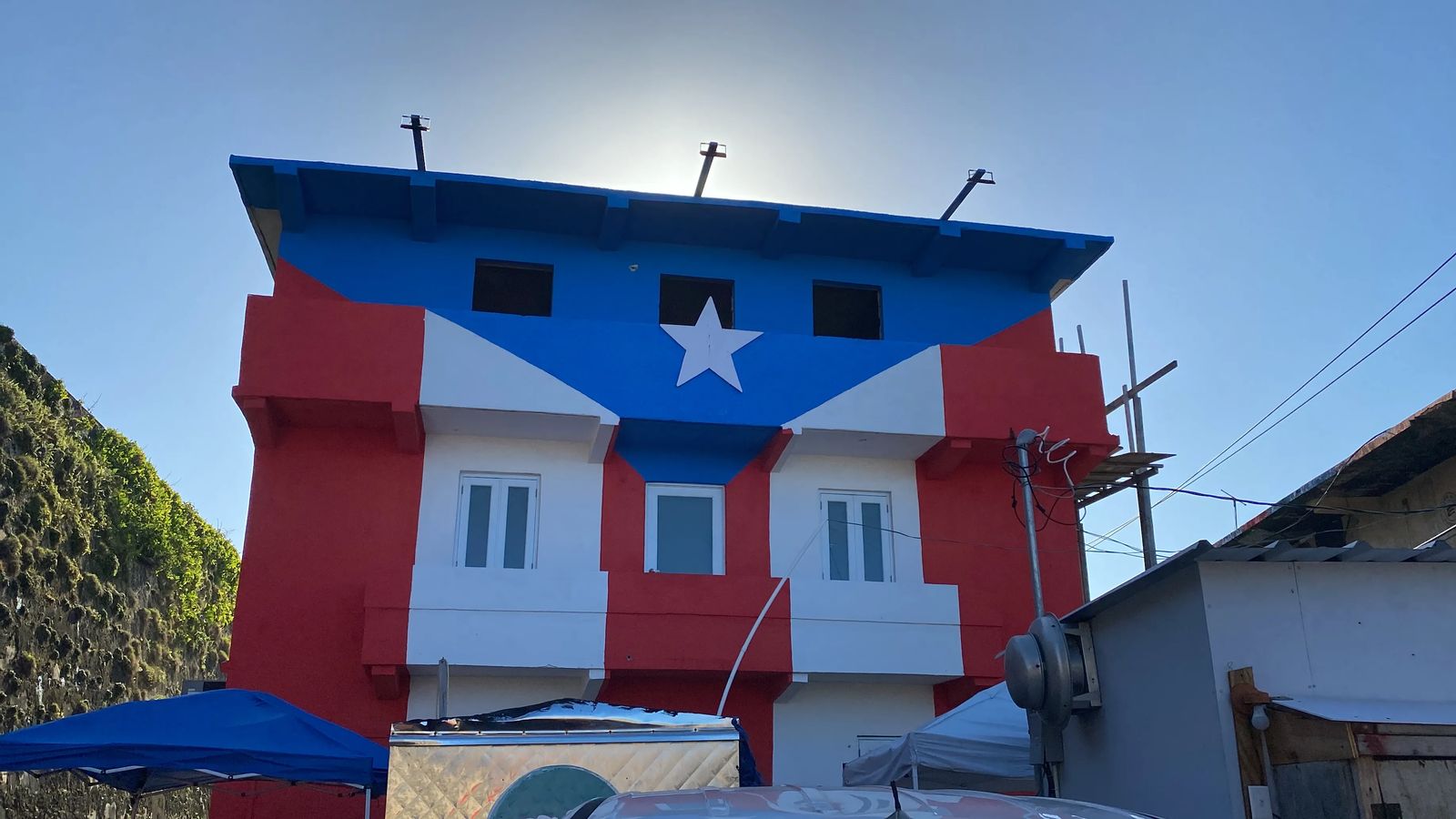 14 - Visit La Perla (Day Time Only)
La Perla was once a meat packing district and slaughter houses were kept here. It was also required that all non-white humans and slaves were kept outside the city walls (even though they helped build the whole city.....sigh). The area evolved into a dangerous place of crime and theft and things locals still shiver about.
Now, it can still be quite dangerous to visit at night, but during the day I would suggest taking a quick stroll through if nothing else to see the street art and murals here. It is a much quieter part of town, with curious cats roaming around, and chickens defending their chicks from the cats. I swear I have never seen so many free roaming chickens in my life in one small space that wasn't a farm.
My friend and I wandered into La Perla around 3-4pm and were greeted by curious stares (most likely because of our phone camera contraptions). I didn't feel threatened or harassed at all. That being said, I would still dress in clothing that won't make you stand out, don't bring big bills, a loaded wallet and your most expensive camera. Dress down, bring your phone a $10 bill, some cat food, and a beer and you will fit right in.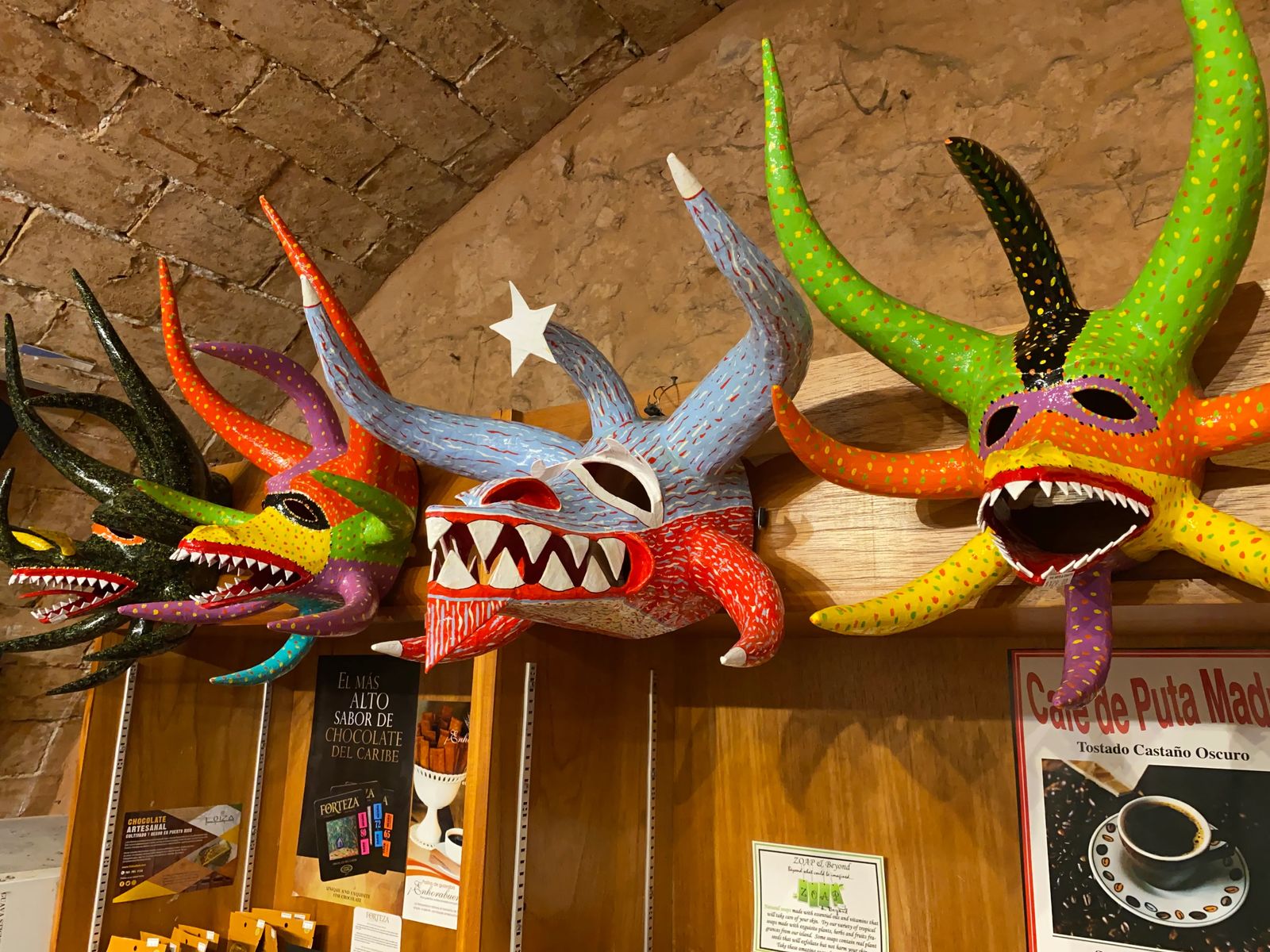 15 - Go Shopping
Walking along fortaleza street for shopping was the most varied shopping experience I have ever run into. While most of my money goes to running this website and my business to provide the best guides possible - (if your feeling generous feel free to buy me a coffee ;) - it was fun to window shop.
I was offered free sunscreen samples, anti-aging lotion, found a shop with custom doors and door numbers hand painted in the store. I also found a crazy shop that had a rainbow colored incense burning penis.......I had to do a double take......yep, it is exactly what I just said it was. There is a picture in my phone but for the more tender eyes decided not to share it here, lol.
There are plenty of bikini shops, clothing shops, and even this Puerto Rican arts and crafts store with loads of unique gifts. You can get the masks like the ones above that are worn by locals during the Carnival Celebration in Spring before the Catholic Lent starts. They also give out free Pina Coladas at a sock store we wandered into.
This isn't just a regular shopping experience, it is a fantastic way to see the imagination of the people of Puerto Rico. Looking at the souvenirs also gives you a sense of how and what is important to the story of the places you visit. If you do decide to buy some souvenirs, please make sure you are buying from locals shops, and not knock off souvenirs that are made elsewhere.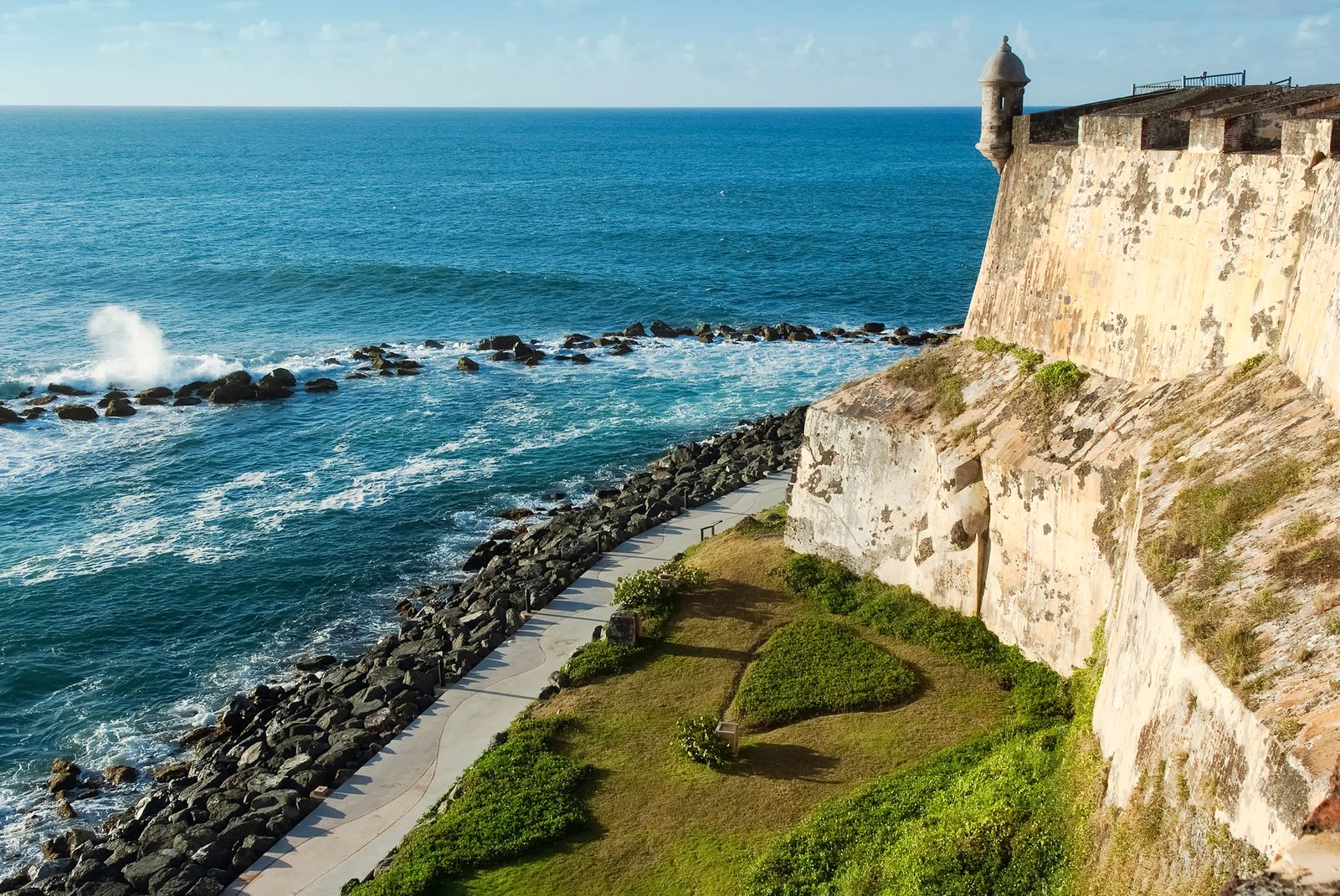 16 - Paseo Del Morro
This boardwalk is right next to Castillo San Morro and can be accessed by walking from the Paseo de la Princesa towards the historic San Juan Gate (see the above section). While I wasn't able to personally visit this walkway, it does have some scenic views and is a good way to take in the old city without the heat and hustle and bustle of the old city. If you are staying in the old city I highly recommend going for a run or a walk in the early morning light and having a serene moment of peace next to the 15th century walls and beautiful carribean ocean views.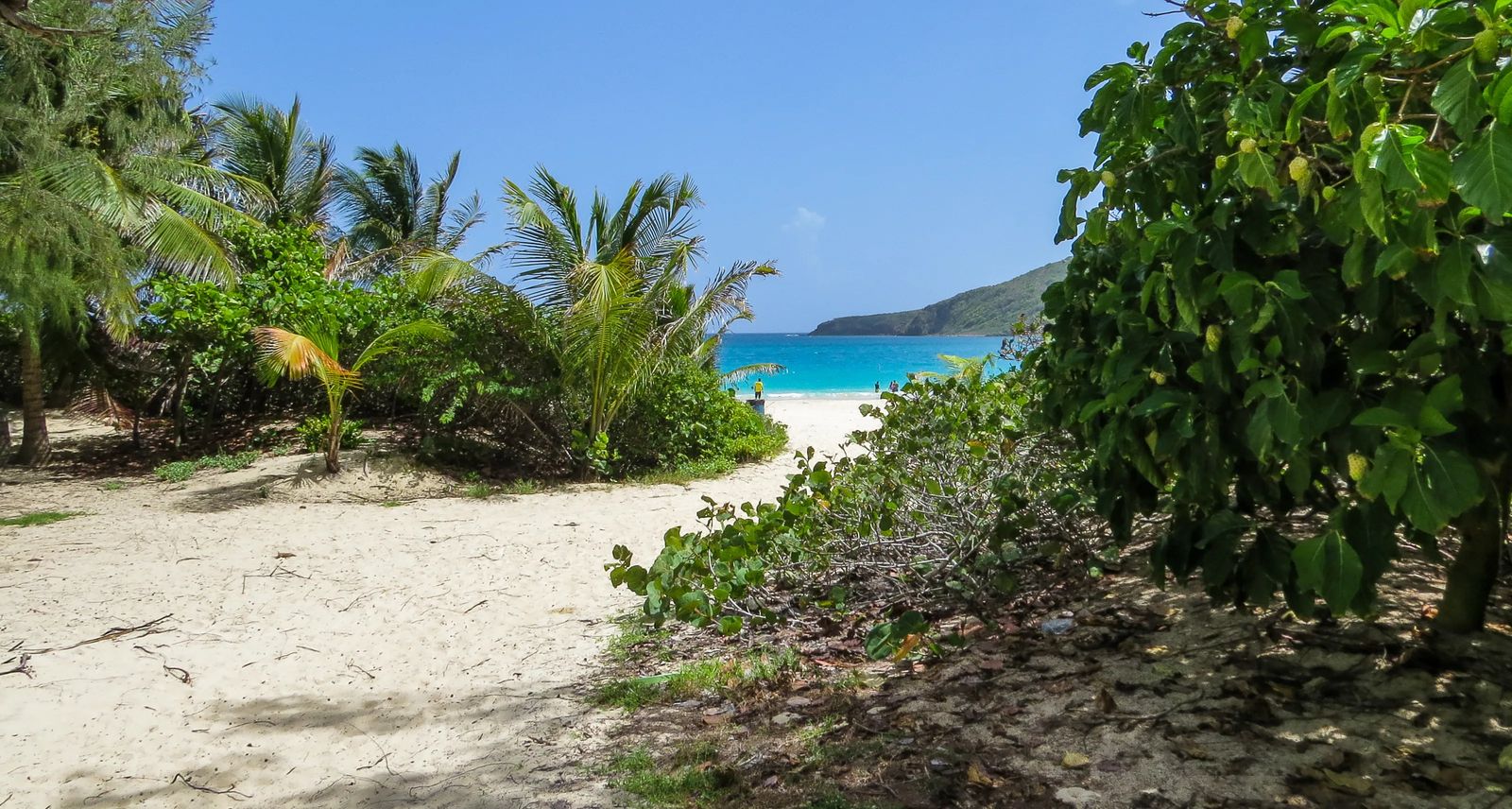 17 - Isla Verde Beach
This is one of two of the most popular beaches in San Juan with restaurants, rental chairs and umbrellas nearby it is a great place to relax on those super hot days. The beaches here tend to be more calm and a bit less rocky than Ocean Park and Condado Beach. If you plan on going to the beach for the day, I would definitely get there early as it fills up quickly and can be a bit hard to find a good view of the ocean.
If you really want some more privacy on the beach, then I suggest staying at the Courtyard by Marriott that has phenomenal beach access.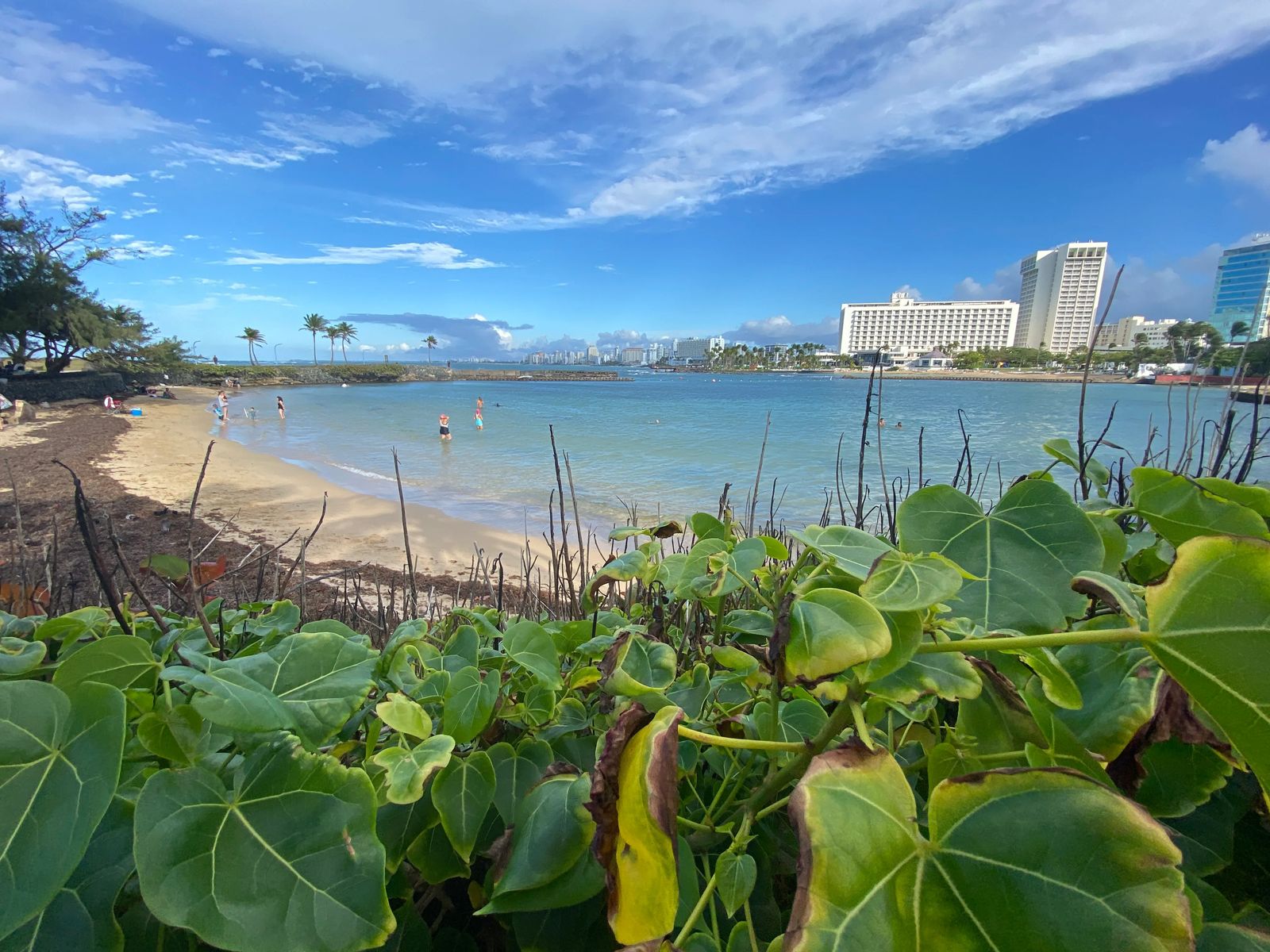 18 - Condado Beach with Hotel Transport
I was in Puerto Rico for a travel conference and ended up staying at the Sheraton Hotel & Casino. It is right by an 'I Love Puerto Rico' sign which is a great photo spot, as well as the Disitro T-mobile Center that has live music on the weekends. They also have a shuttle that takes you to the more remote beach called Condado Beach. While there aren't the amenities and touristy restaurants and rentals here, it does have a more natural feel to it vs Isla Verde Beach.
Make sure to bring your own umbrella if you want shade, plenty of water, a towel and some water shoes. While there is soft sand on the beach there were quite a few big rocks that were in the water as a water break that might be fun to explore.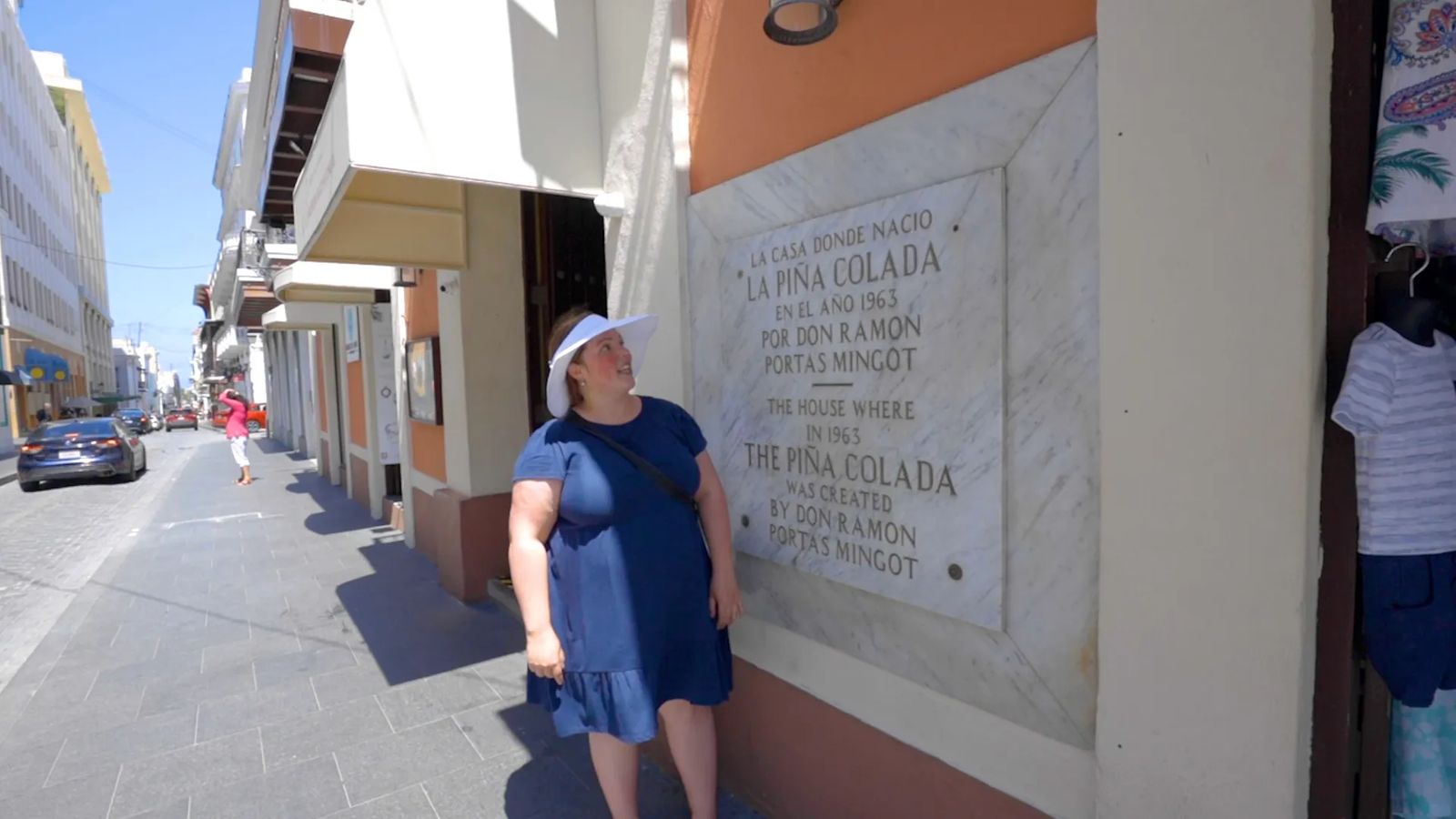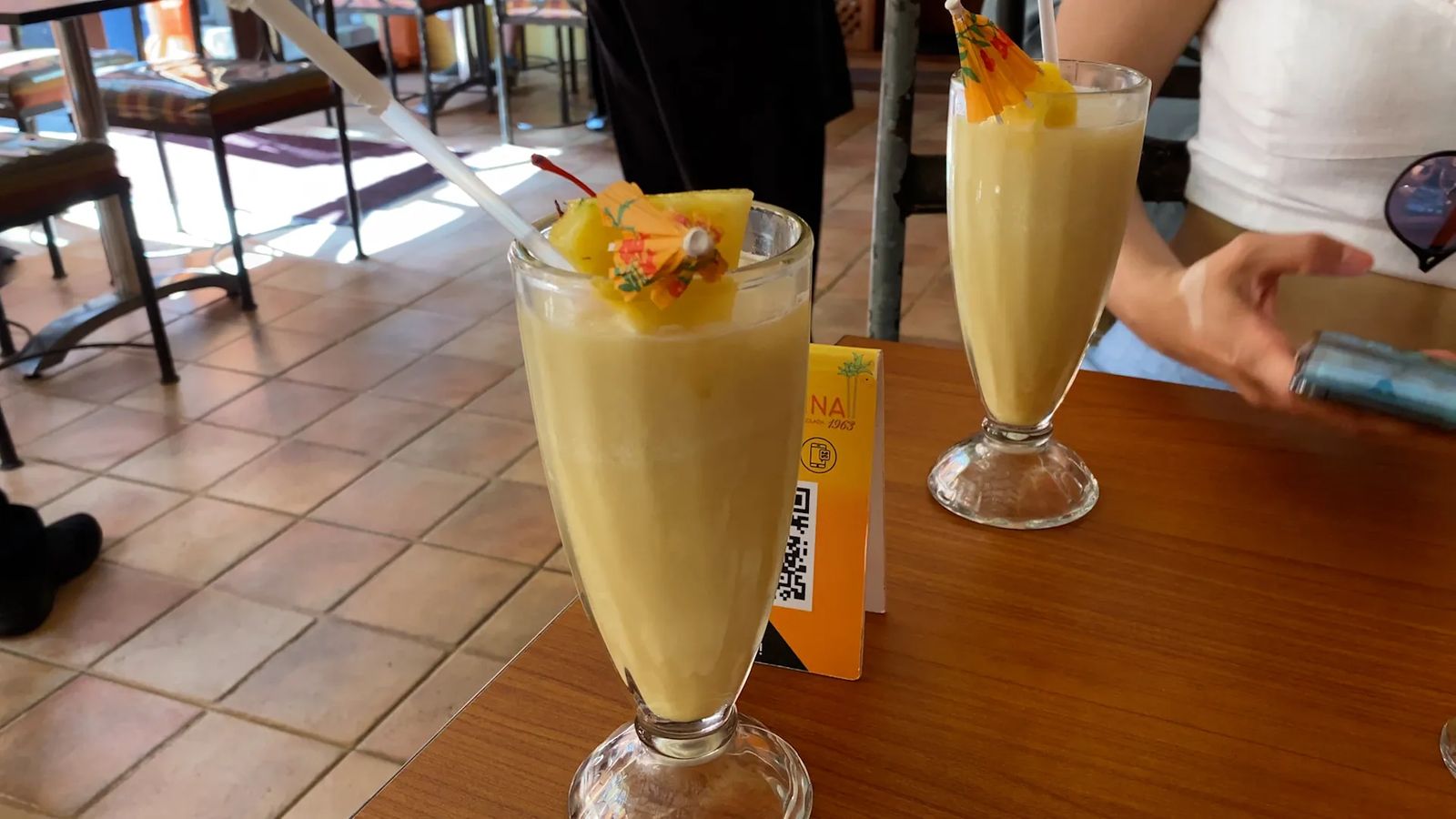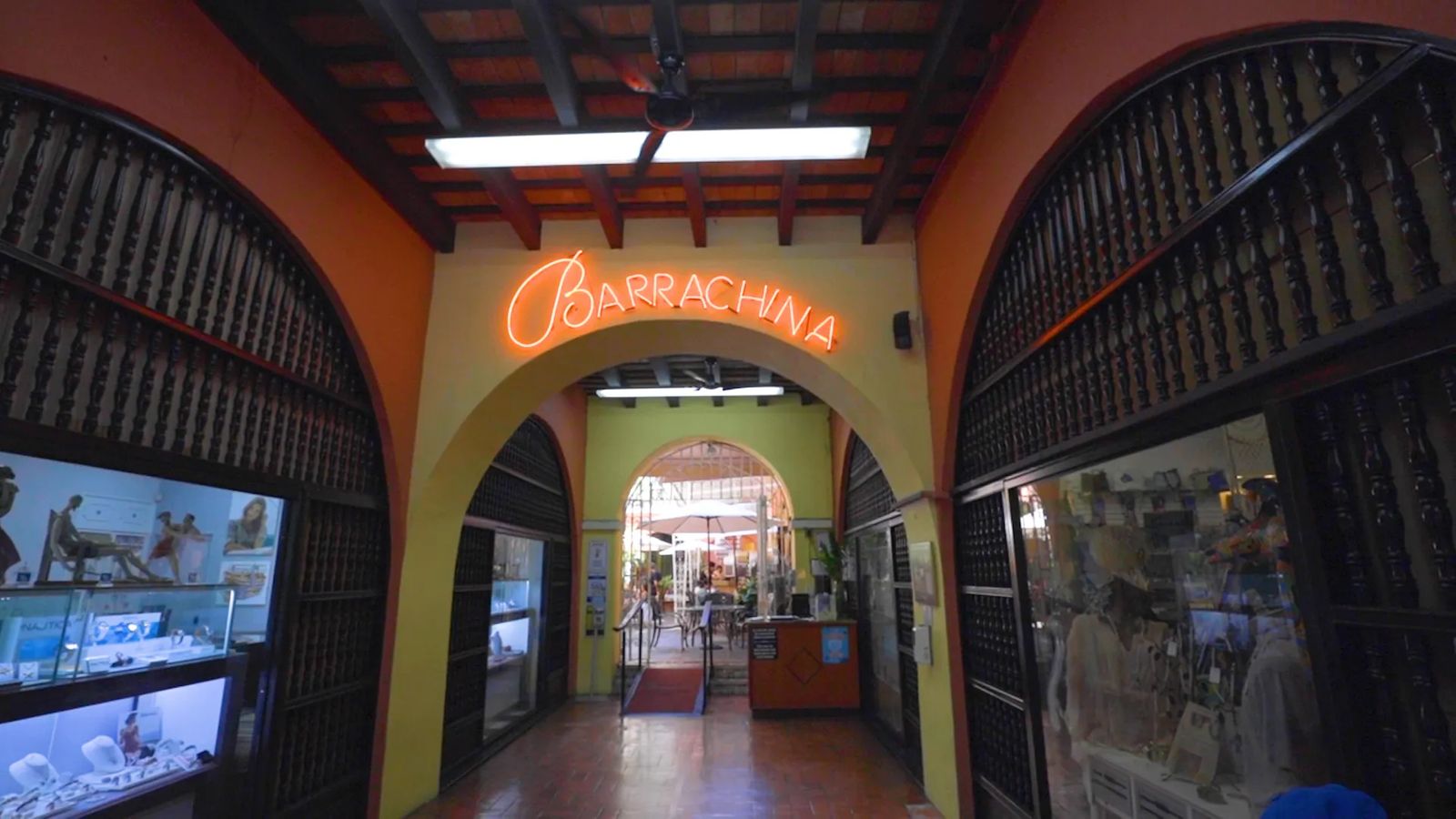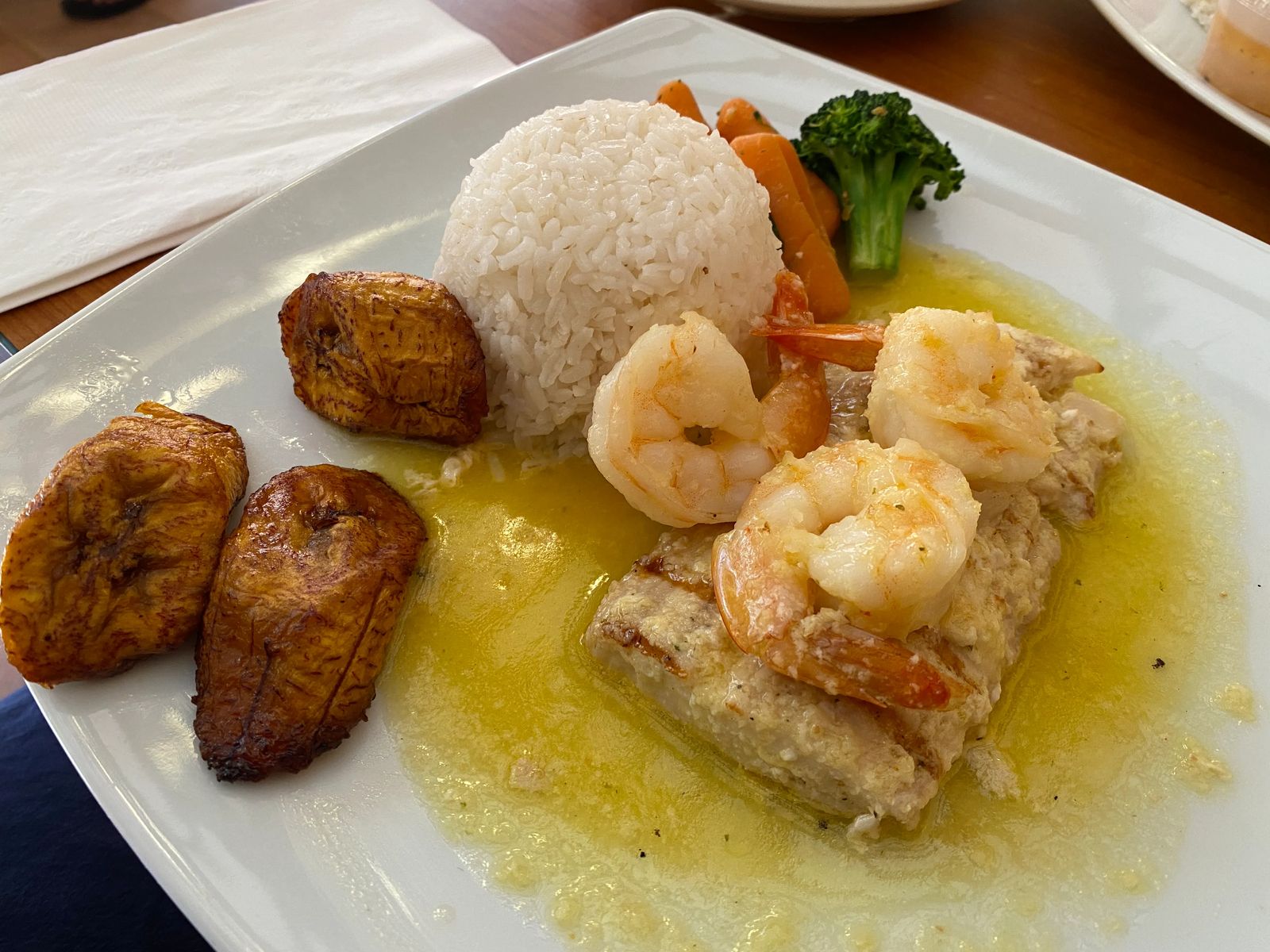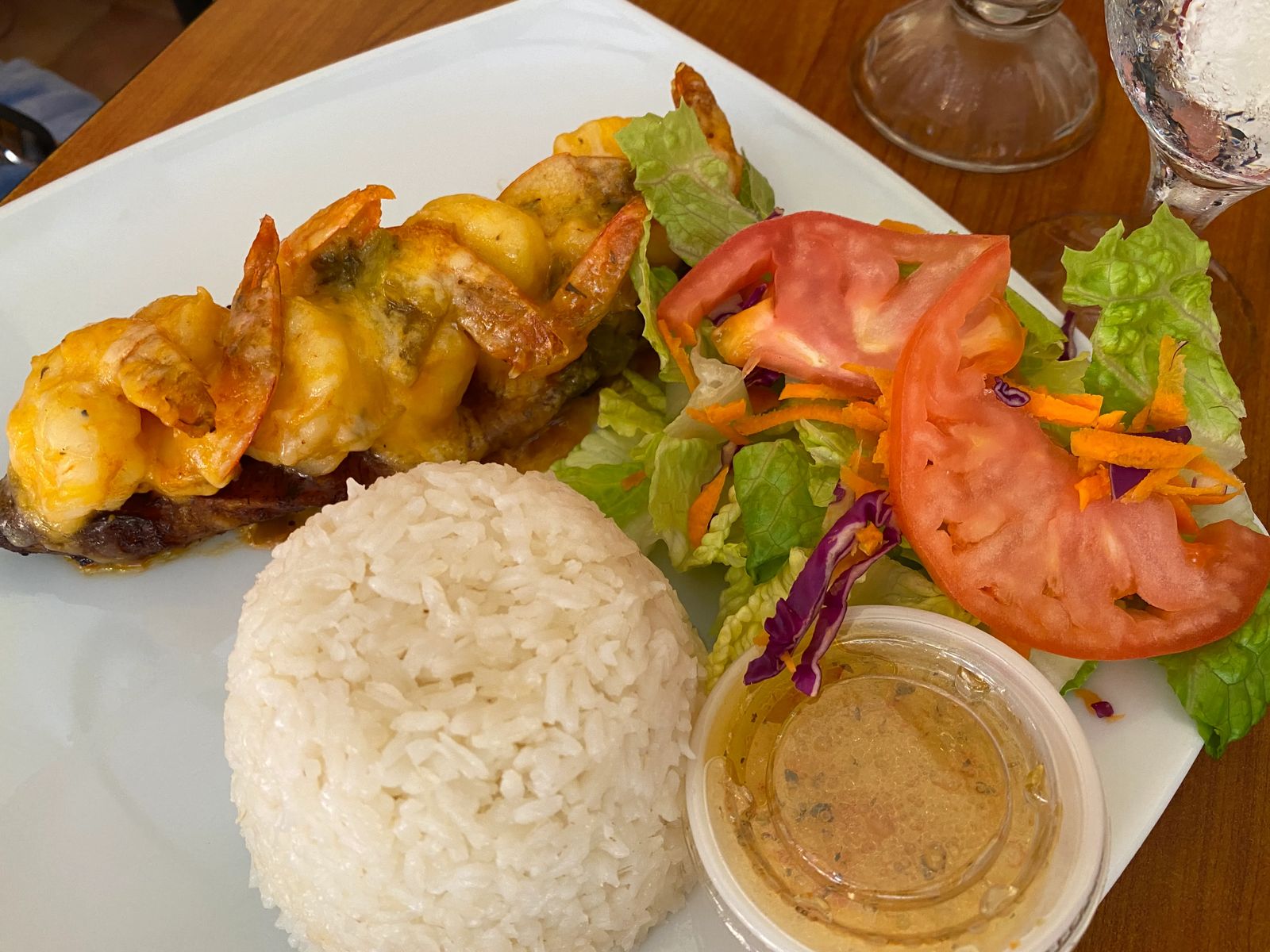 19 - El Barrachia (Original Pina Colada)
$48.52 Every local in Puerto Rico claims that the original Piña Colada came from Old San Juan by a man named Ramon "Monchito" Marrero. They also argue (and have even put a giant granite plaque up) outside of Barrachina Restaurant in the middle of Old San Juan saying they had the original Piña Colada. It can get a bit confusing on who came first, but the point is - Piña Colada is a source of pride for Puerto Ricans and is basically on EVERY menu.
I also feel like I tried it on every menu, and to be honest I wasn't a huge fan of the Piña Colada at the Barrachina Restaurant. Our meal was decent but nothing to rave about - the cost was CRAZY though compared to other less touristy places. For a Pina Colada and the Halibut with a bowl of rice 5 soggy veggies and plantain pieces it was $48.52 without a tip. Just keep that in mind when you go to the 'OG' Pina Colada place - sometimes it is just smoke and mirrors. If you want to know how to pick out a good restaurant though, pick out one that has a bunch of locals eating there - you will have a hit every single time.
I went wild for the Piña Colada at Wicked Lily though. It is a pricey restaurant and requires a reservation but it had good reviews on Yelp so we decided to go.
It isn't just the flavor, but also the setting that makes it a stellar place to get this popular drink. I suggest going at sunset, and expect to stay for awhile. While Puerto Rico is technically part of the USA, the service is good, but more on a relaxed timeline - so keep that in mind.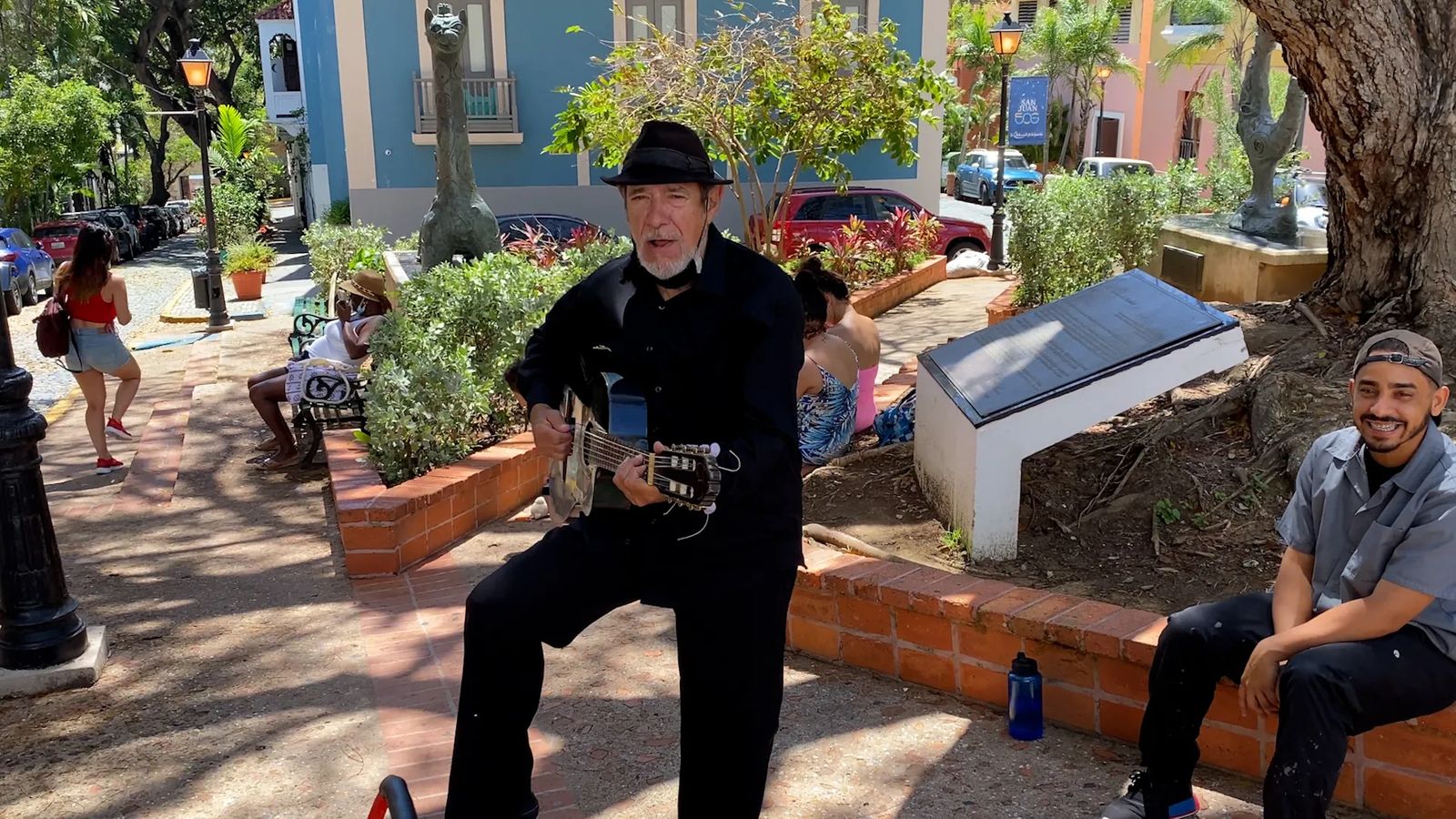 20 - Live Music
It is IMPOSSIBLE to NOT run into some kind of local playing their guitar, drums or other instruments throughout the city. I found this passionate player up near the Bautista Church across from the El Convento Hotel. They don't typically have a jar out for tips, but I go ahead and offer some money - because I feel it is important to support the arts to continue to be able to have these special moments.
From trucks lined with 12 stereos driving through the streets, a gangly man playing next to a Puerto Rico flag with no teeth to speak of, and this gentleman who dressed up just for the occasion to play his music outside a church - you cannot leave Puerto Rico without seeking out at least one of these gems.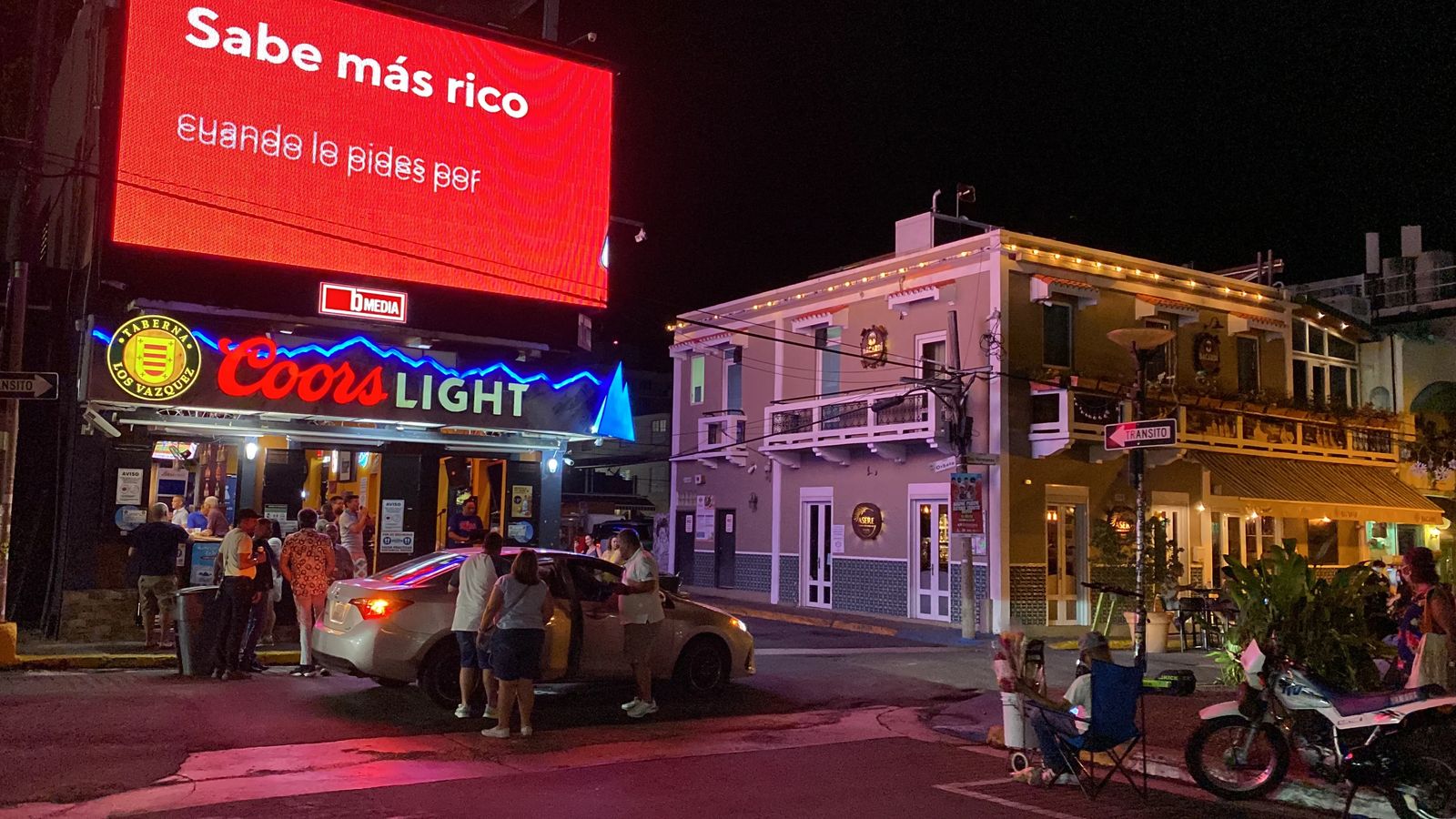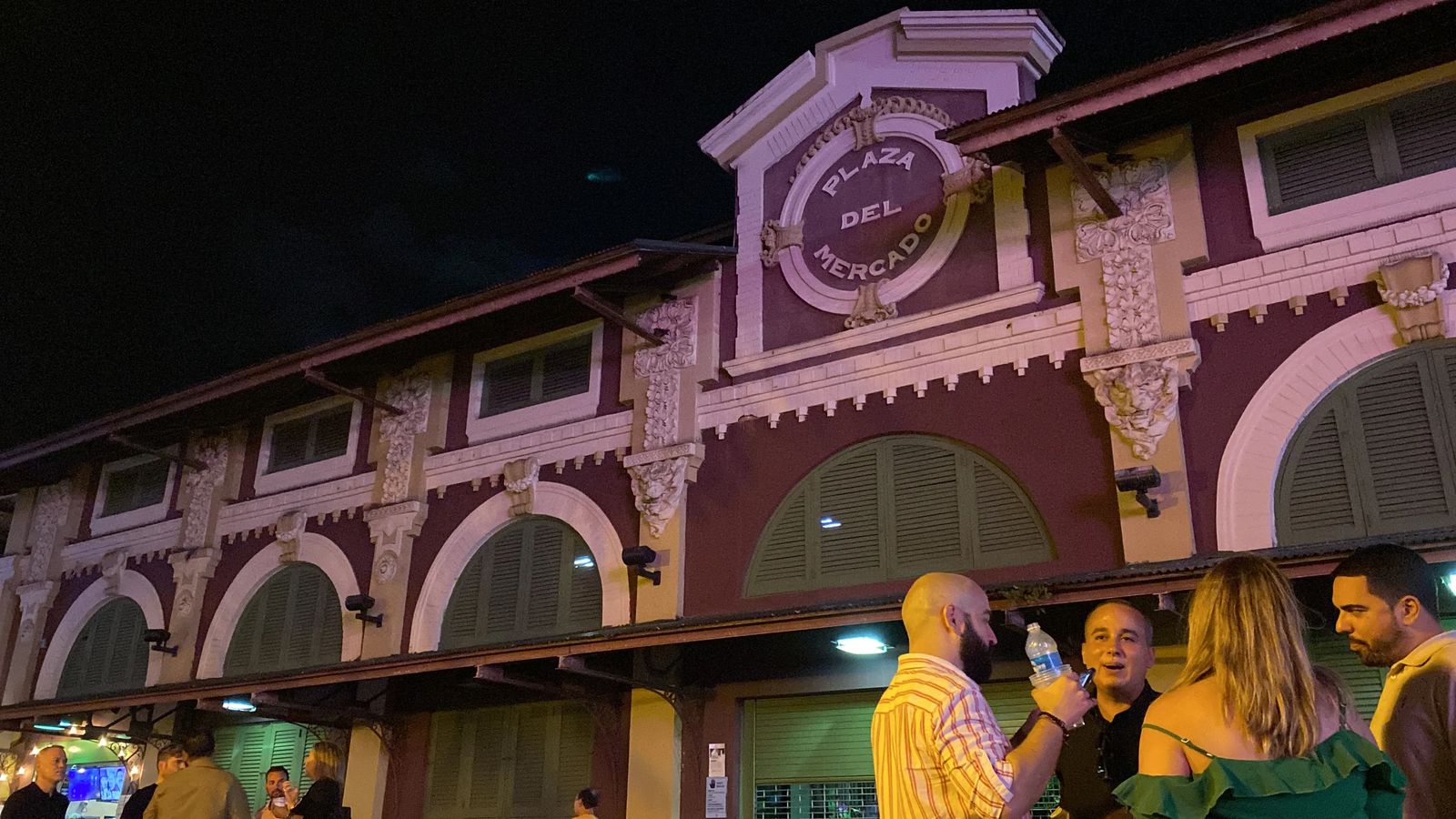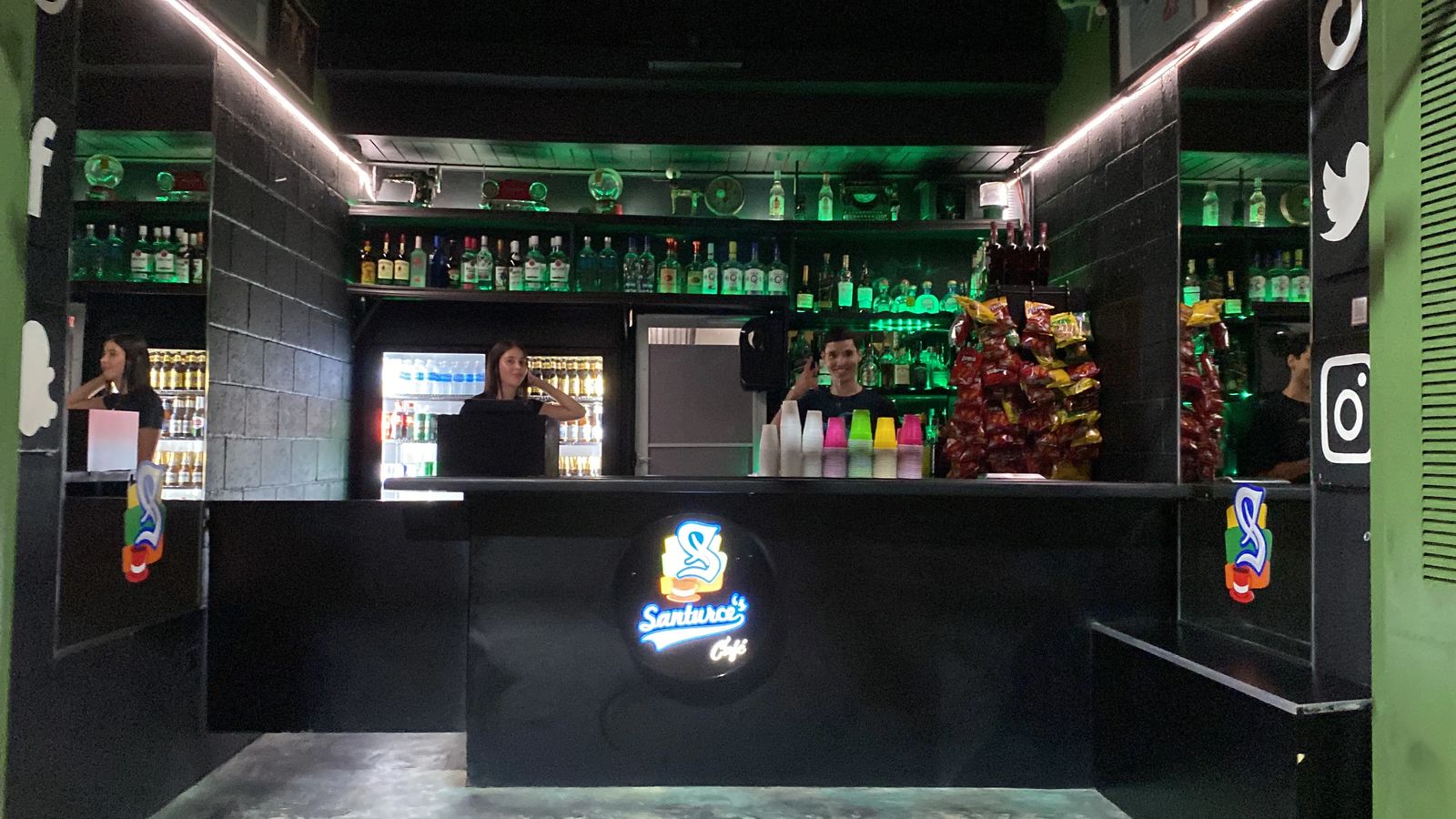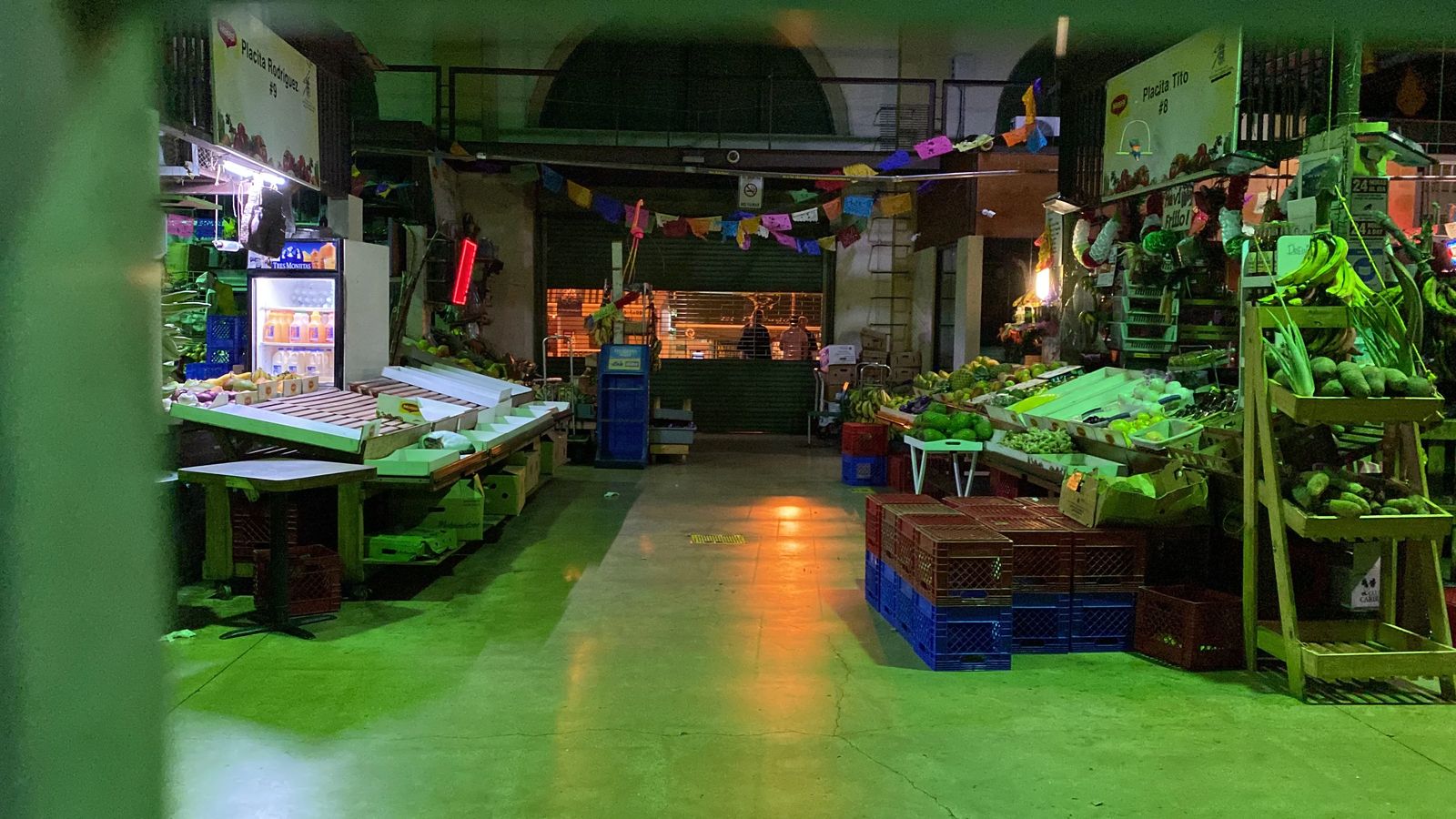 21 - Nightlife in San Juan
The BEST nightclub in Old San Juan is also the filming location of Despacito and right across from La Perla, it is called La Factoria. La Factoria is also ranked as one of the top bars in the world, so even if you aren't particularly a bar or club person it is certainly worth a quick visit. The other top rated nightlife bars are outside of Old San Juan are El Batey Bar, and the Cannon Club.
The place I would suggest going though is to Plaza del Mercado, also known as La Placita has a farmers market every day from 6am to 5pm. At night the place comes alive with locals, restaurants opening outdoor bars, people dancing and sitting on steps of the market drinking the local beer 'Medalla' and having a good time, every night.
The best time to go to La Placita for nightlife is Wednesday through Sunday from 10 pm and 5 am, as Mondays and Tuesdays businesses are usually closed. If you want to get a taste of the nightlife without actually participating, then make a reservation at one of the many restaurants surrounding the Mercado. If you don't reserve your spot they usually fill up and often turn people away. Opt to sit outside so you can watch the partygoers go by from the comfort of your chair.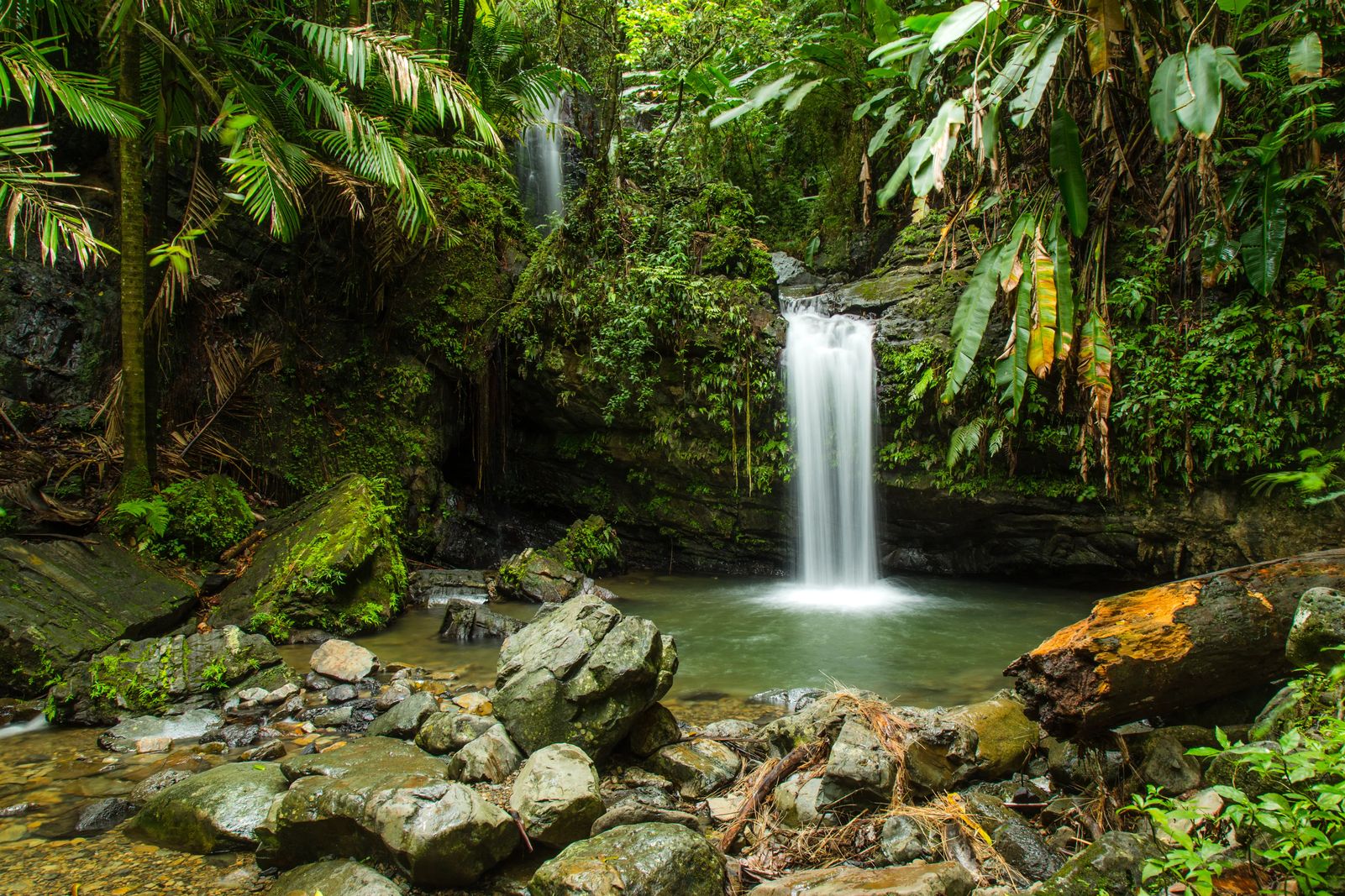 22 - El Yunque Day Trip
If you are going to Puerto Rico, visiting El Yunque is a MUST! I unfortunately was not able to go because of some unforeseen circumstances that prevented me. What I learned though is that if you decide to do it on your own, without a guide you have to reserve your ticket in advance. They only allow so many people in at a time, and yes it is timed, you do have to pay and parking can be a bit dicey if you don't know what you are doing.
IF you have a guide though, they usually are allowed to go in without any kind of reservation. I would highly suggest taking an Airbnb experience that is around $69-$79 per person, which does not include the 20% tip expected in cash to your guide. It is will worth it as just getting a rental car, the hassle of trying to get tickets, and the cost of gas is going to be incredibly more expensive.
The more popular thing to see in El Yunque is Juan Diego Falls (pictured above). The earlier you start the better, I would aim to get there before sunrise if you want to be alone. Then there is Mt Britton Tower, Baño Grande (can't swim here though), Yokahu Tower, Lo Coca Falls (85 foot waterfall), and THE most popular waterfall in El Yunque is La Mina Falls. Here at La Mina don't be surprised to find folks of all sorts vying for a epic photo in front of a 35 foot waterfall (including men in speedos posing ladies).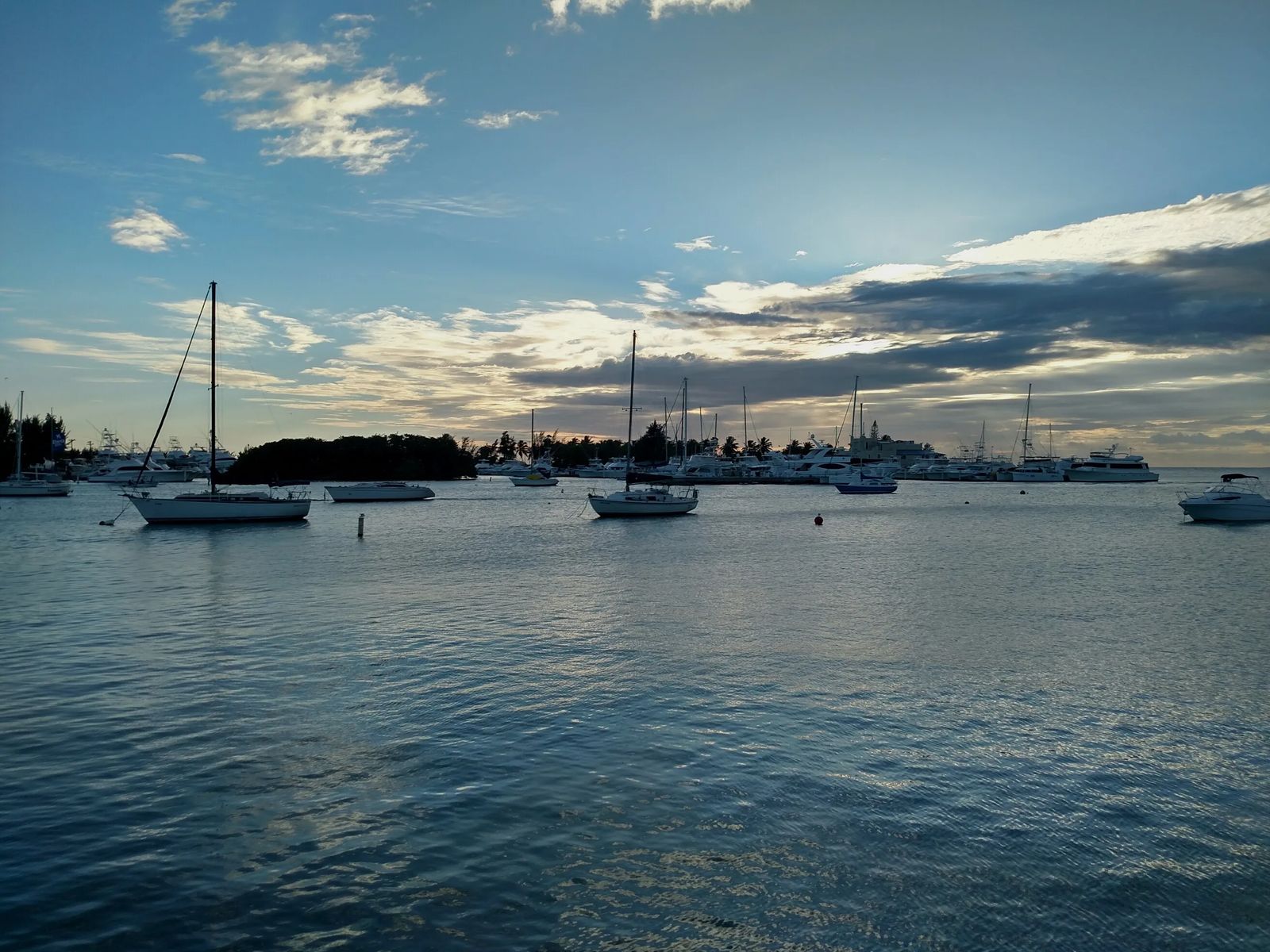 My Takeaway of Old San Juan
While my time in Ponce was thwarted by a horrible hotel stay, and torrential downpour of rain - Old San Juan was VERY different experience. I loved the ocean breezes, learning about the indigenous tribes, seeing the different shops, learning about the history of the city and WHY people wanted to colonize these remote islands.
I could have passed on Barrachia and gone back to Wiked Lily or even a side street for better food. The popsicles were a lifesaver to be as it was so incredibly hot in the city with the buildings blocking the ocean breezes, and the radiating heat off the cement and cobblestones.
I LOVED wandering the beaches at sunset and watching the waves roll in one after another helping me ease the feeling of impending burnout from working so much. All things considered, I had a WONDERFUL time in Old San Juan and can genuinely recommend visiting.
If I were to do it all again, the two things I would do differently would be to bring an umbrella for shade both in the city and on the beach. Take an early morning walk on Paseo de la Princesa, and making going to El Yunque a priority. I would also choose a hotel closer to the beach, that had beach access as it is so so so so worth it to have the ability to go grab a drink, meal, chapstick or a break from the sun without having to make the long trek.back into the city with a shuttle or an Uber.
Let me know in the comment section below if you have been to Puerto Rico, are planning to go, or if you would add anything to this guide.
Google Map of Locations Mentioned
Like it? Pin it for later! Sharing is caring ;)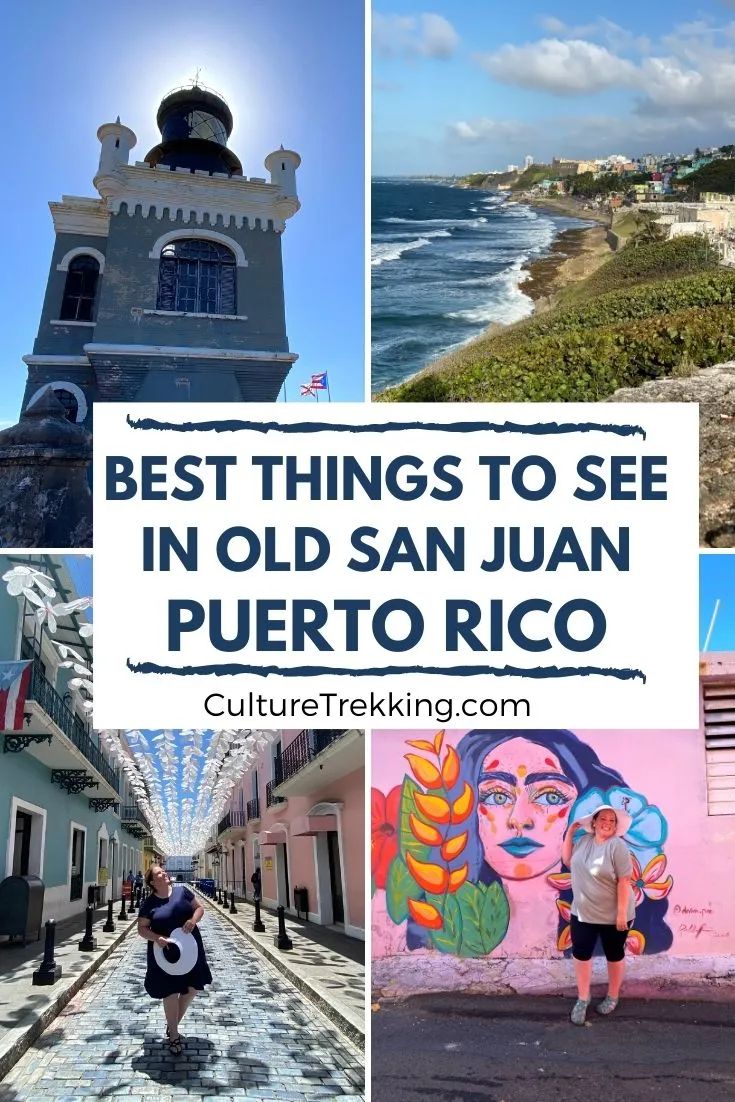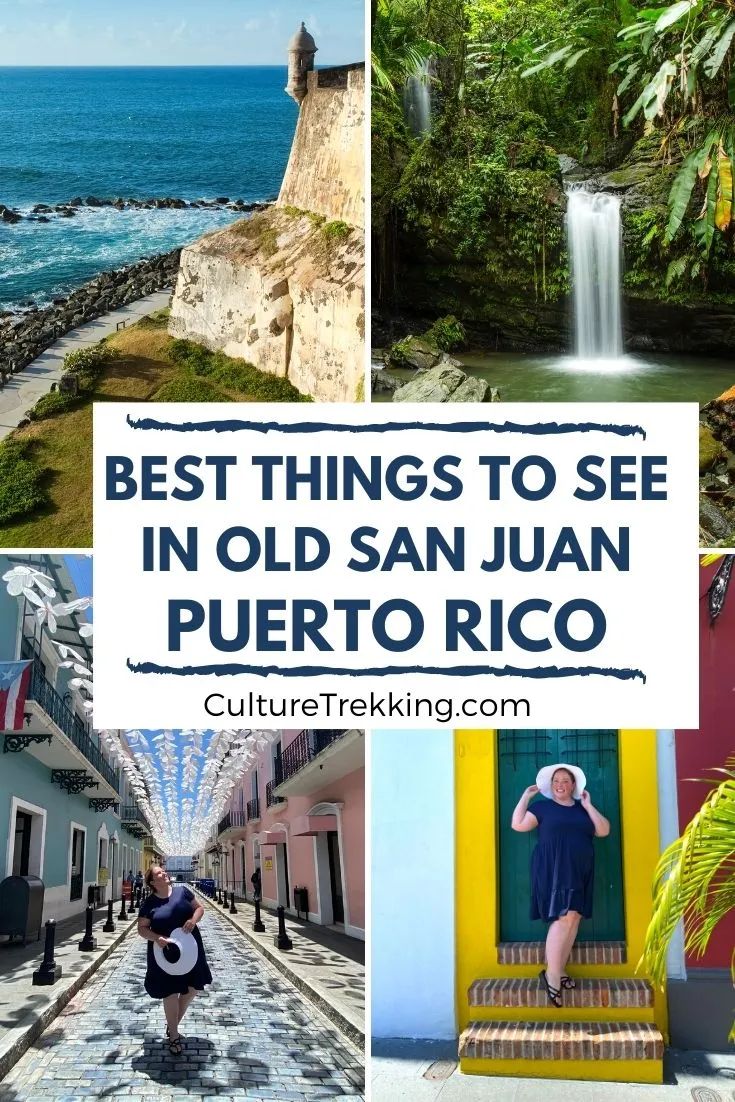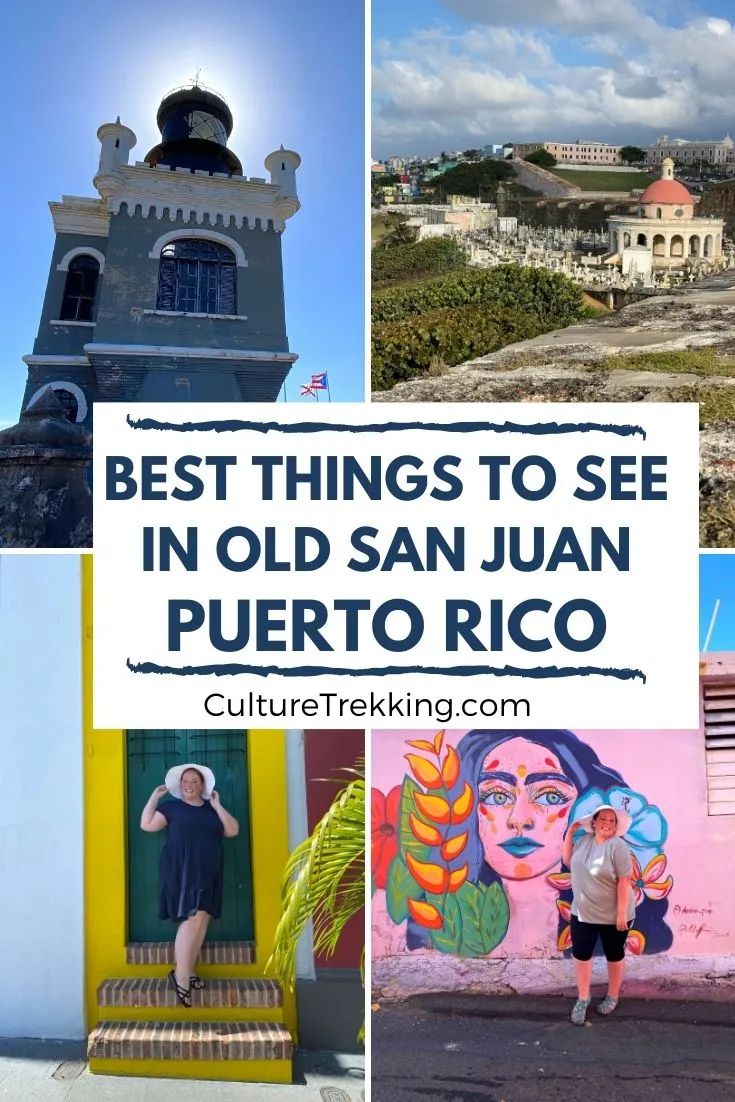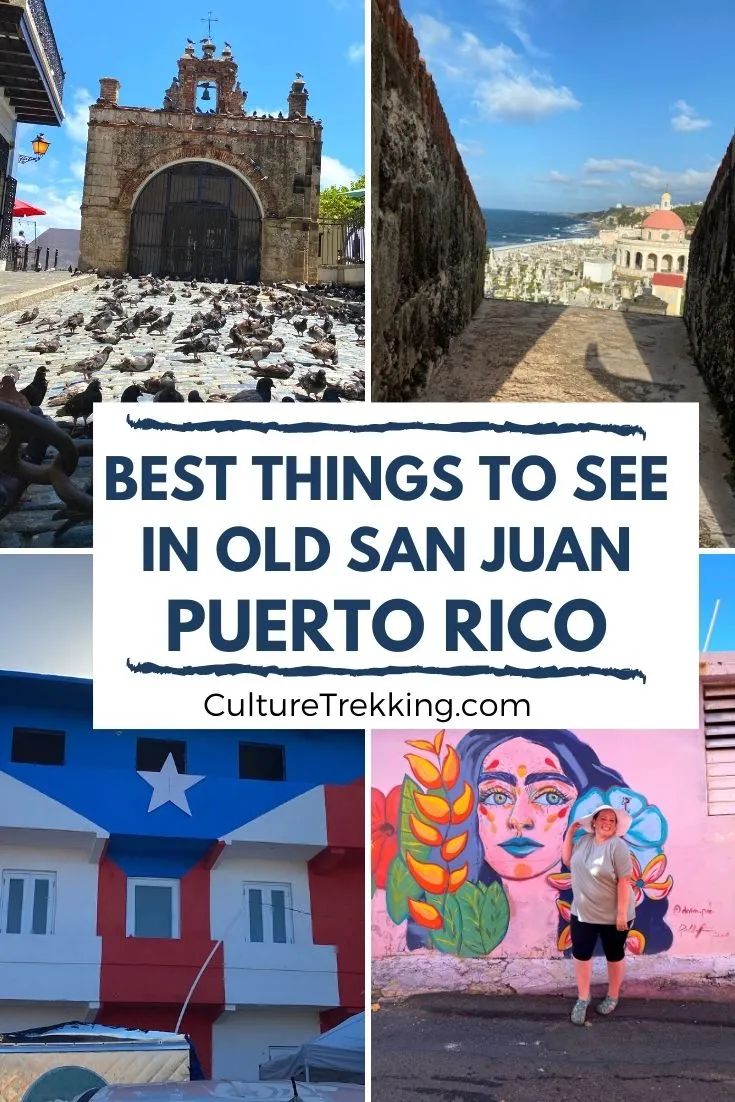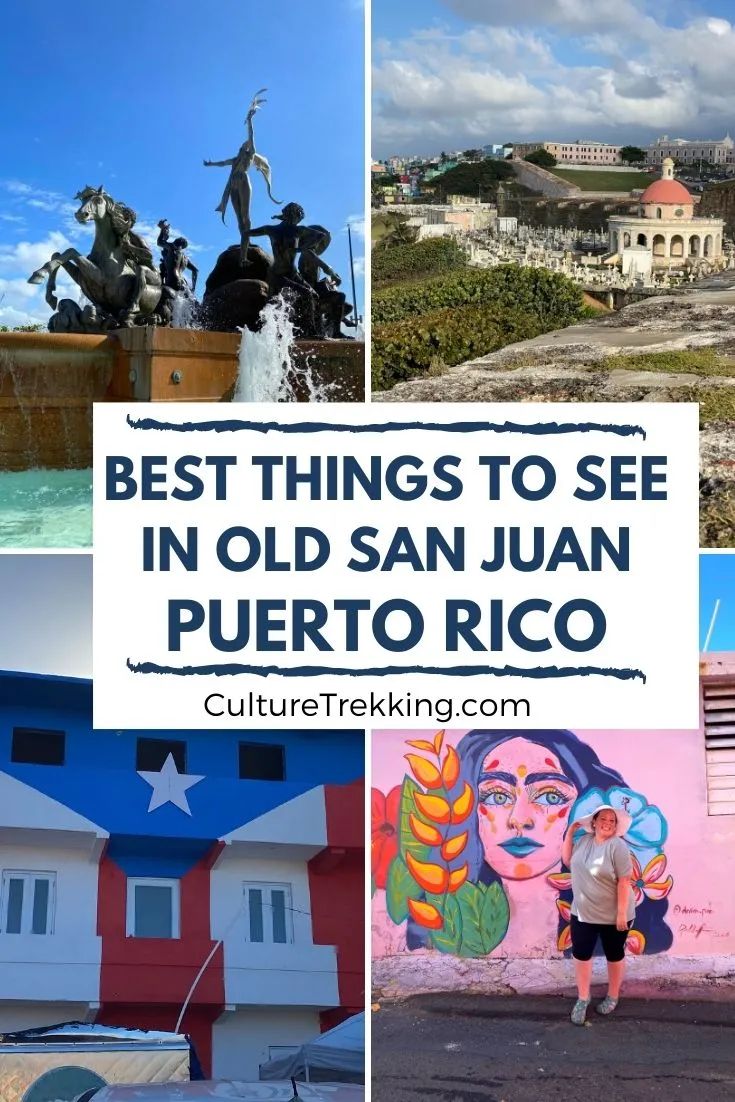 Where to stay in Old San Juan
Guided Tours Of Old San Juan
Latest Articles On Culture Trekking